Inspired by Lake Superior, I repainted the hallway triptych and created easy DIY modern coastal art. The lake is mesmerizing and always surprising. A calm, sunny day with water so still that it reflects the trees like a mirror can morph into choppy, moody teal waves in seconds. That unpredictably has really helped me live in the moment – Hubby and I have learned to live on "lake time" and enjoy the beauty of a day before the moment passes. We will literally leave the lawn mower parked on the lawn, grass half mowed, and go boating. It's been life changing for a type A like me, who used to schedule "free time" when we traveled. I really, really miss the lake when it freezes it over so I wanted to bring a little more of the lake inside. I created these abstract paintings that remind me of waves. You might remember that I created a colorful little triptych back when we lived in the townhouse and then I reworked the canvases and made them even brighter. I reused those same canvases to create my DIY modern coastal art, so to everyone who has written to me and expressed their worry about "ruining" a canvas – don't worry! You can always paint over it.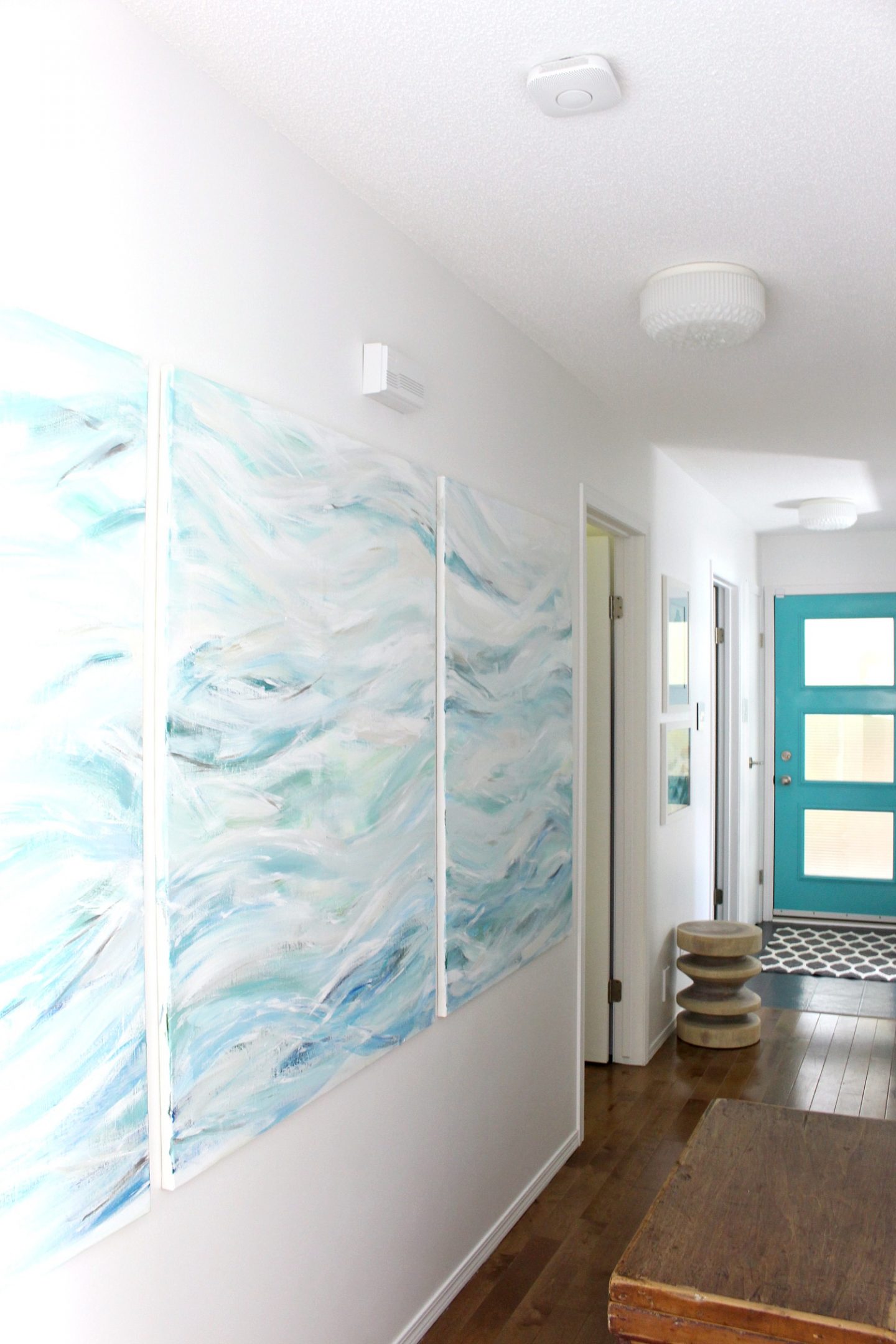 Supplies:
Here's How to Make Your Own DIY Modern Coastal Art
I am definitely NOT an artist, but I really enjoy painting and I think that the best way to approach it is to just relax and let go! I find it difficult to provide tutorials, even though I have done quite a few and I'm asked daily for more. I took some photos of the progression but my advice is always this: grab a canvas, some acrylic paint in colors you like, apply that paint to the canvas and enjoy the process.
To cover up the colorful paintings beneath my new DIY modern coastal art, I used some old white latex wall paint to restore the canvases to a neutral state. Then I built a bold base of swooshes (or "waves"), in deep colors: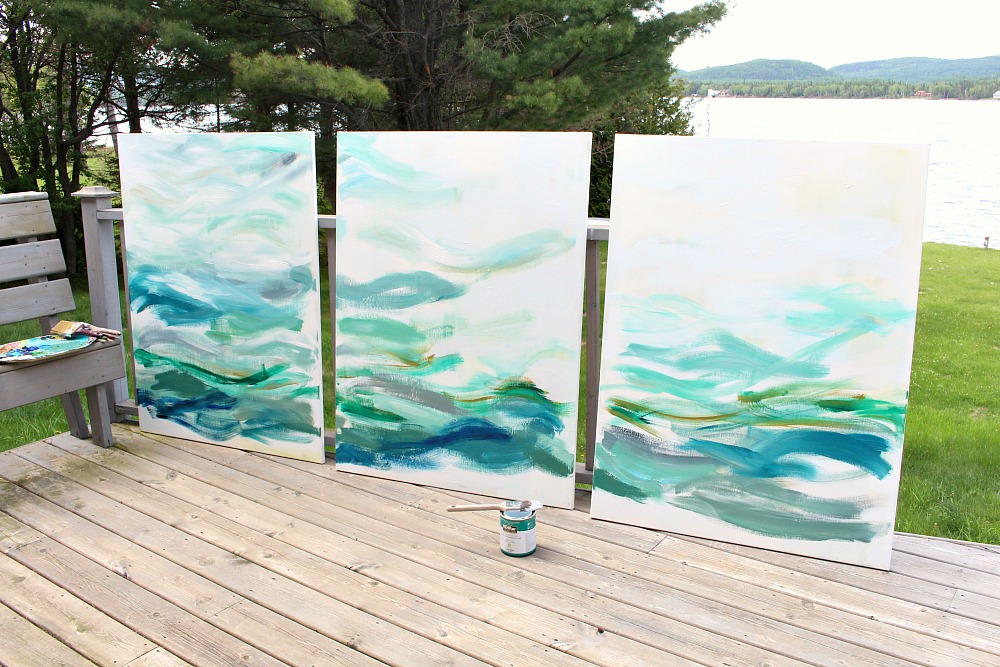 Then layered on some lighter "waves" and some darker waves with a dry paint brush. I personally like to create depth in a painting by adding layer upon layer, letting bits of each peek through.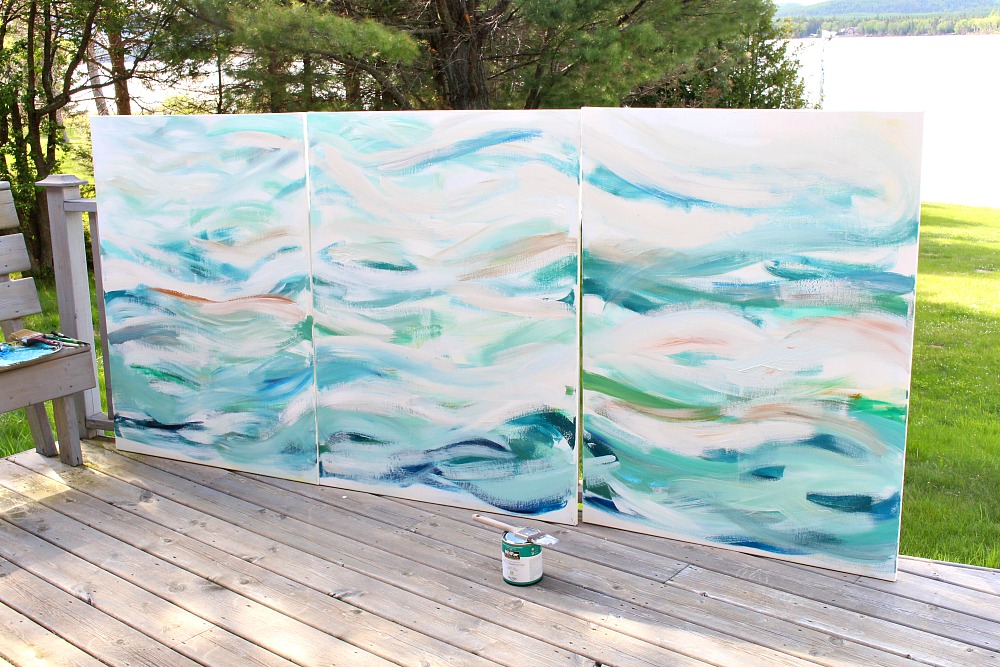 It looks more washed out in photos – especially in the sun, on my deck – but you can see that I just kept layering in "waves" with the darker colors mostly in the layers behind. That layering is something I do often and I'm always happy with the result – plus it's easy to work in to later!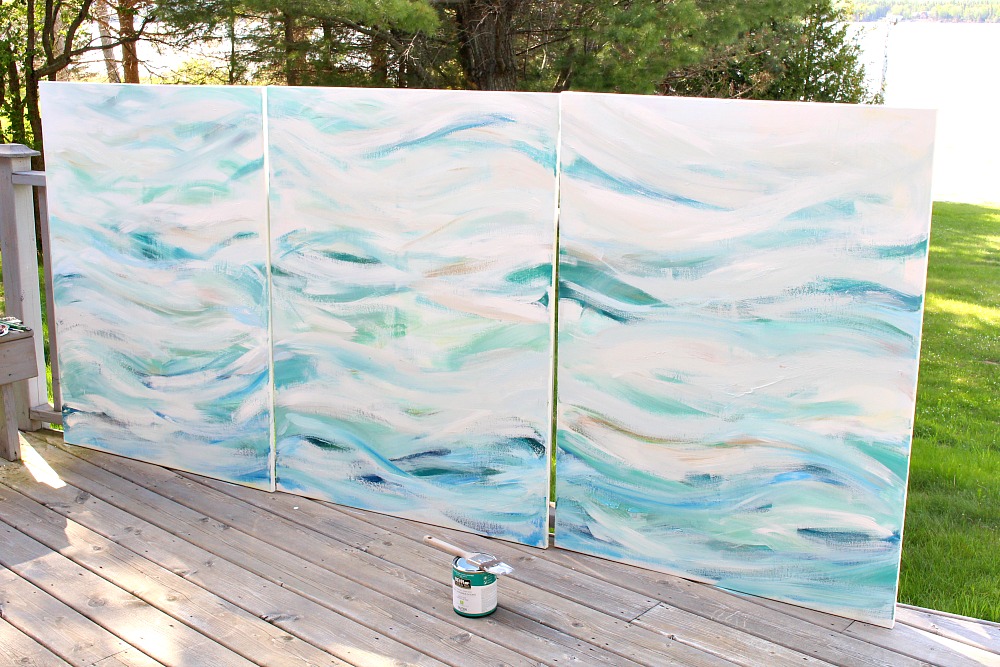 Here was my trio, already taking shape. With my Mom's help, these three paintings only took a few hours to transform. One trick is to step back and take a look because it can look really different from where you'll look at it, versus one foot away while you're painting.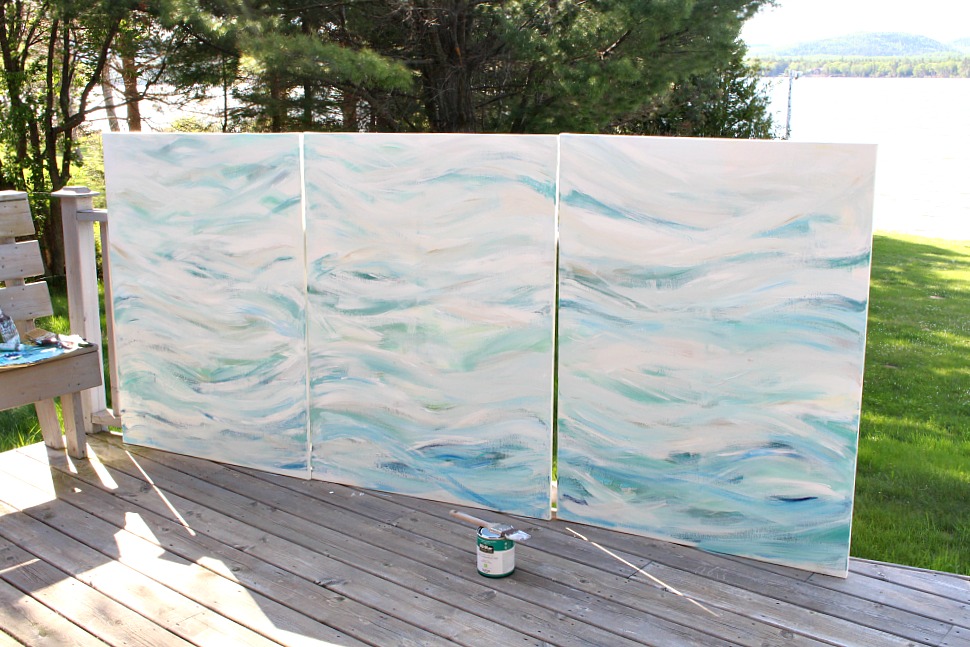 Painting outside was a lot of fun! The canvases wanted to blow in the wind, so I tied the stretcher frames with string to the deck. I'm staining the deck black, so I didn't worry about paint dripping, which was really liberating.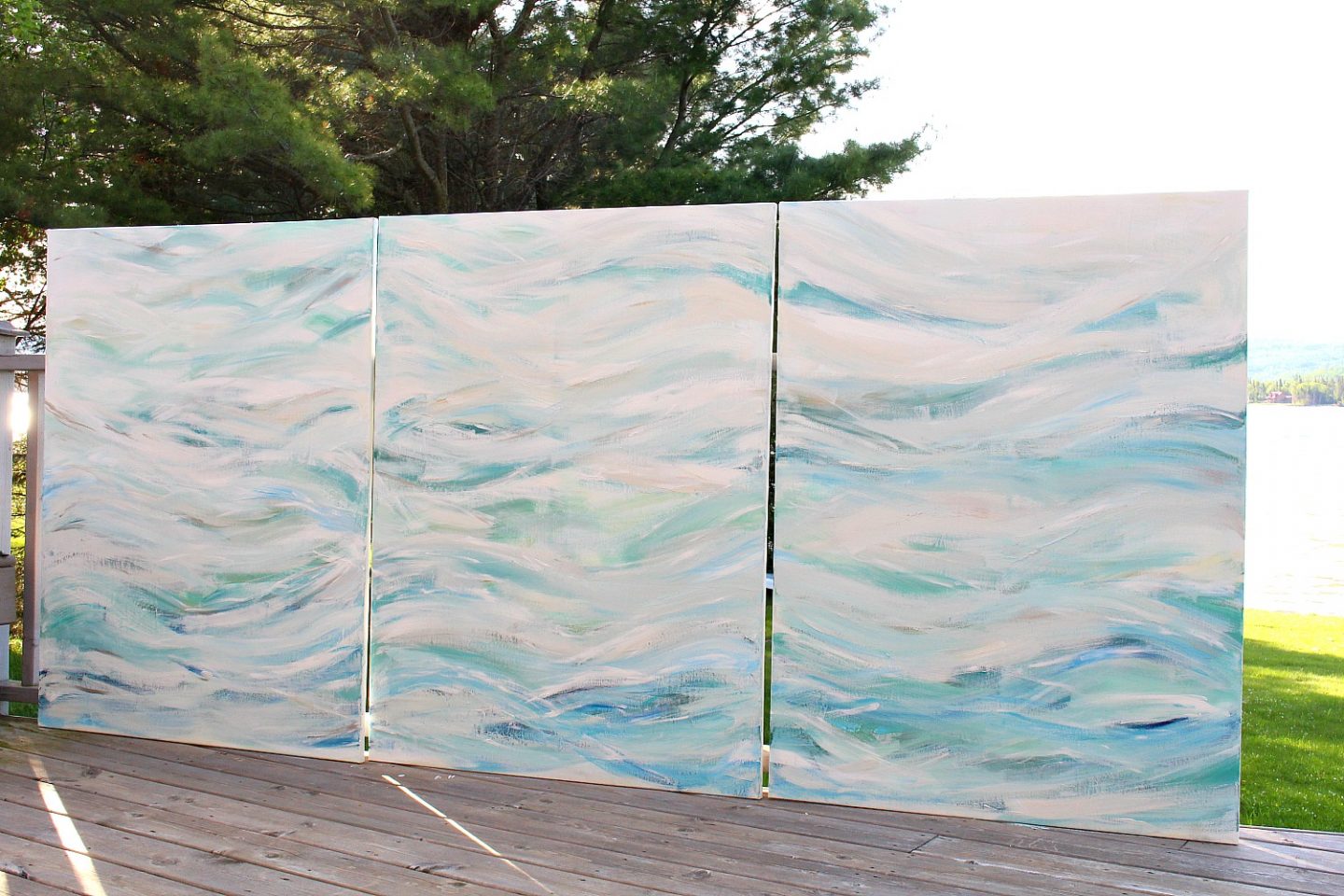 And of course, having the lake in the background was a nice backdrop, but it's fun to paint outside no matter what the view is. Just being out in the sun, working away, was so relaxing. I should really find time to paint more often, I hadn't realized how much I missed it.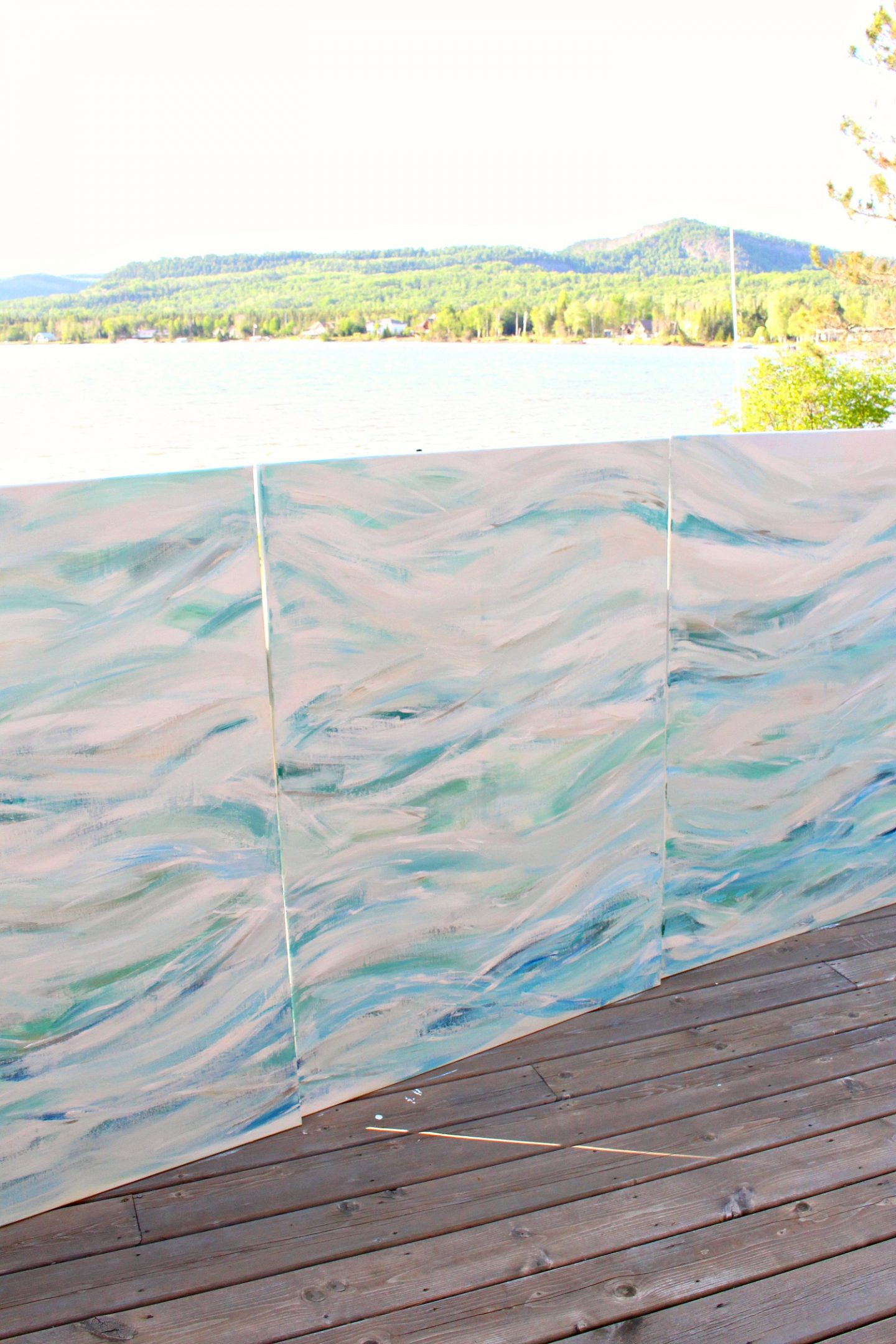 Here's a close up view so you can get a better look at my layering: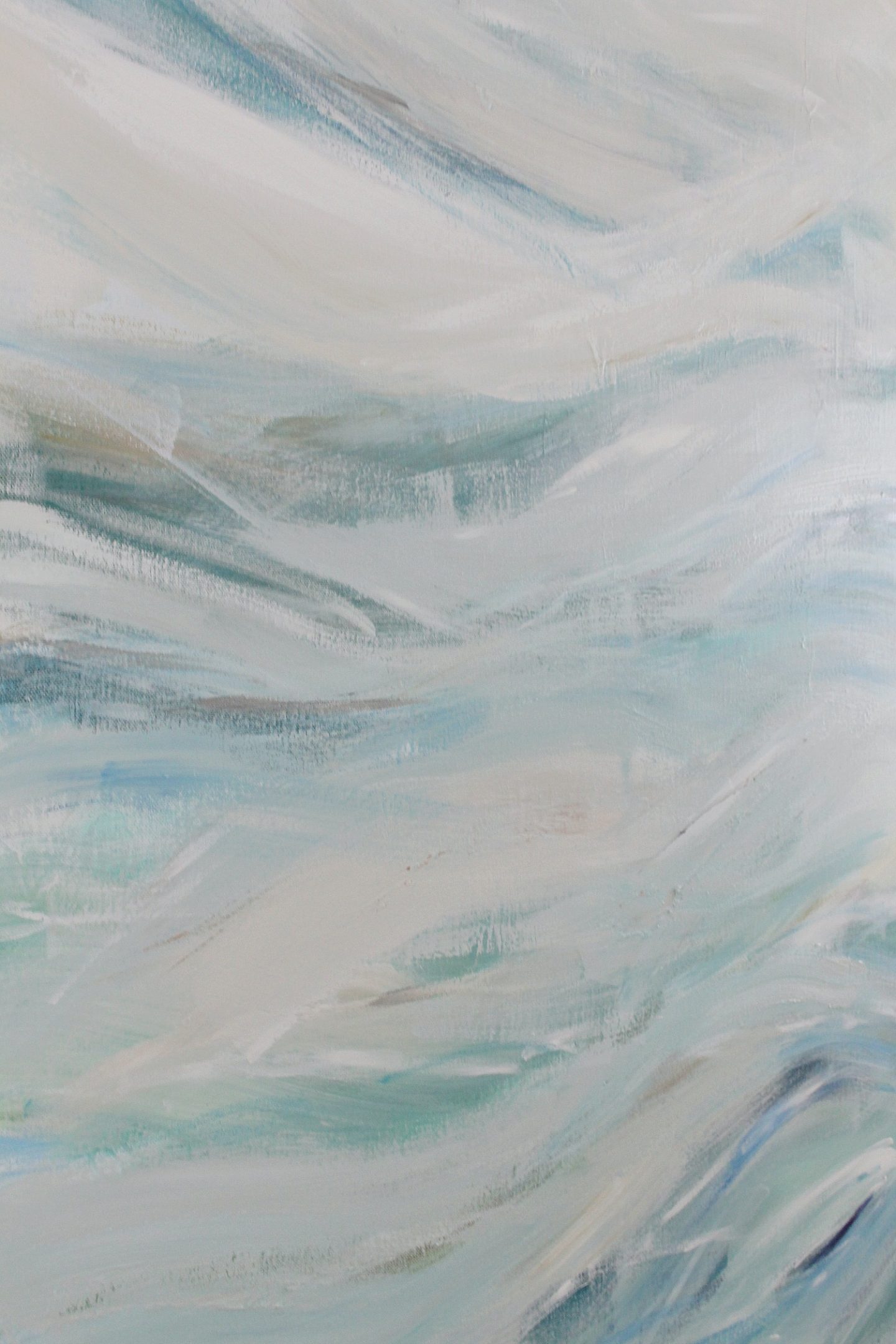 I do find the hallway a lot more calming now thanks to my DIY modern coastal art – and I definitely think I brought the feel of the lake inside with this easy DIY art.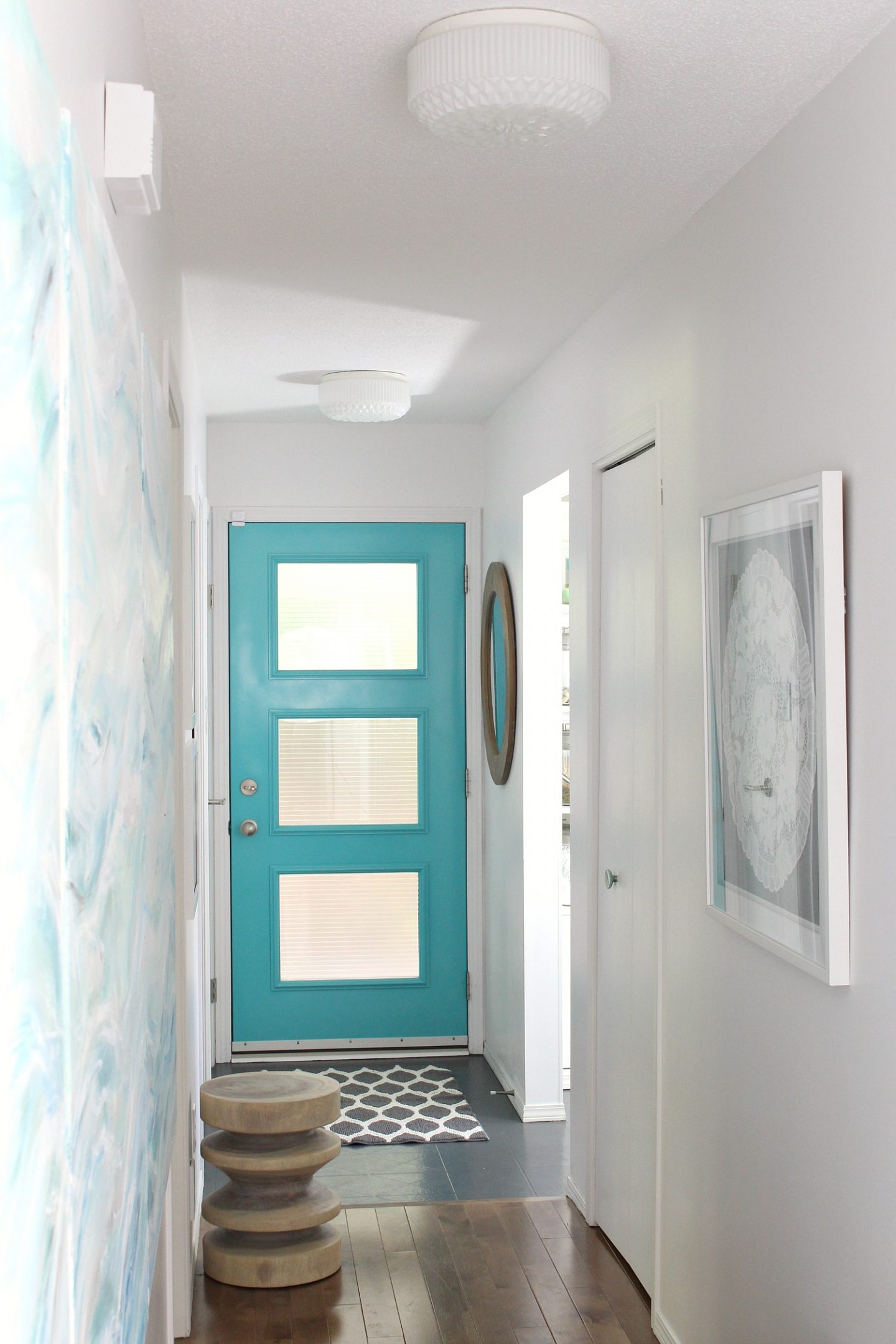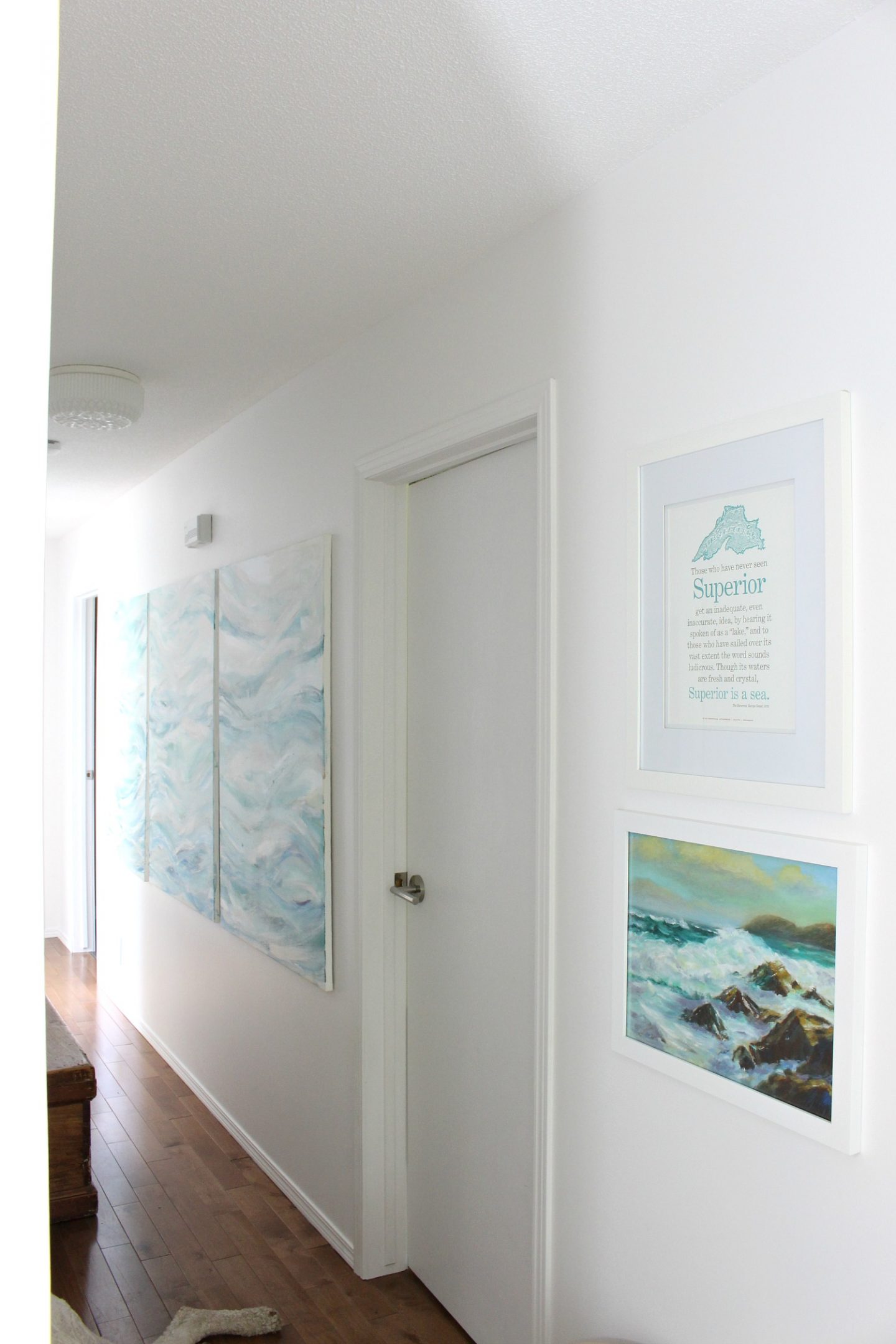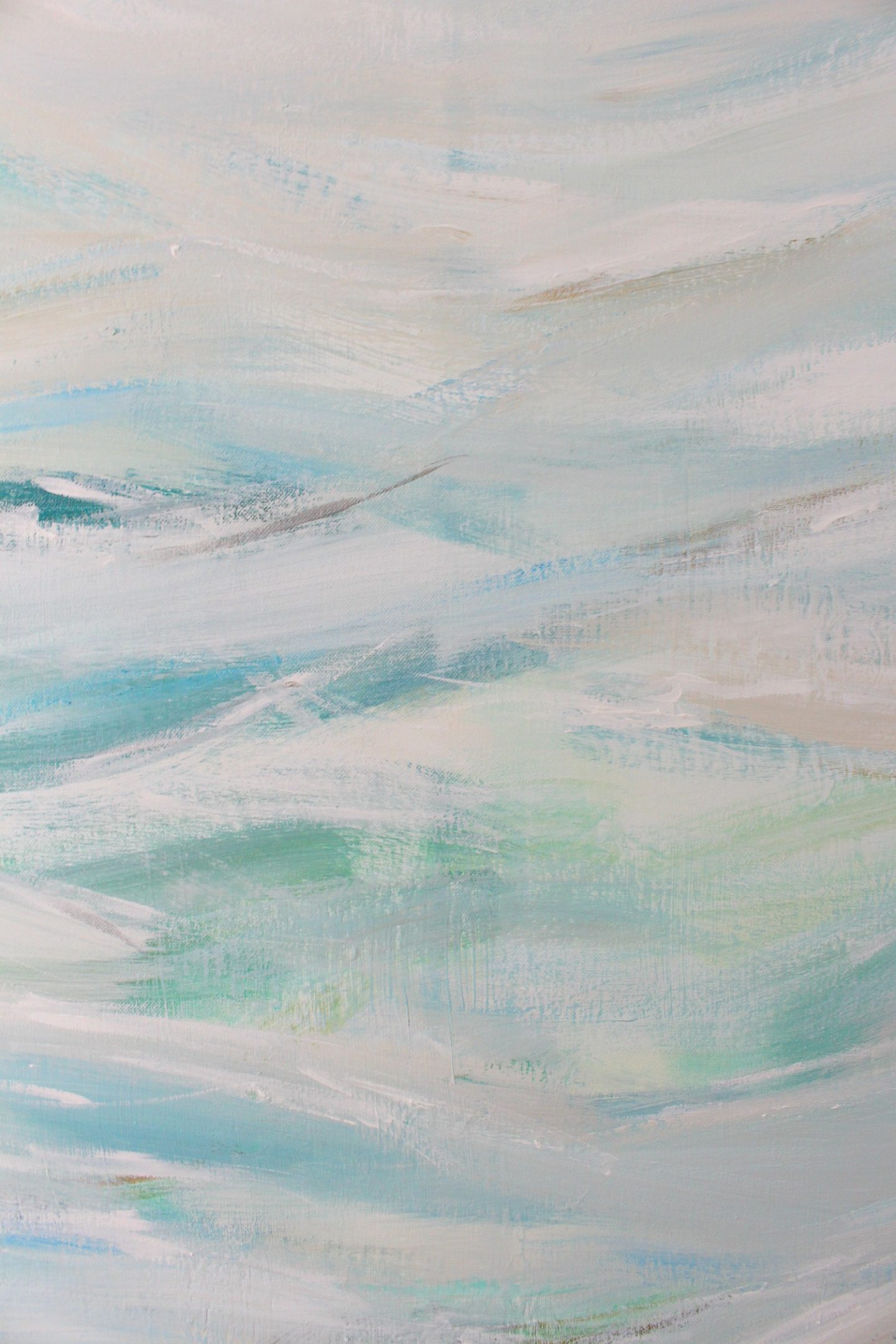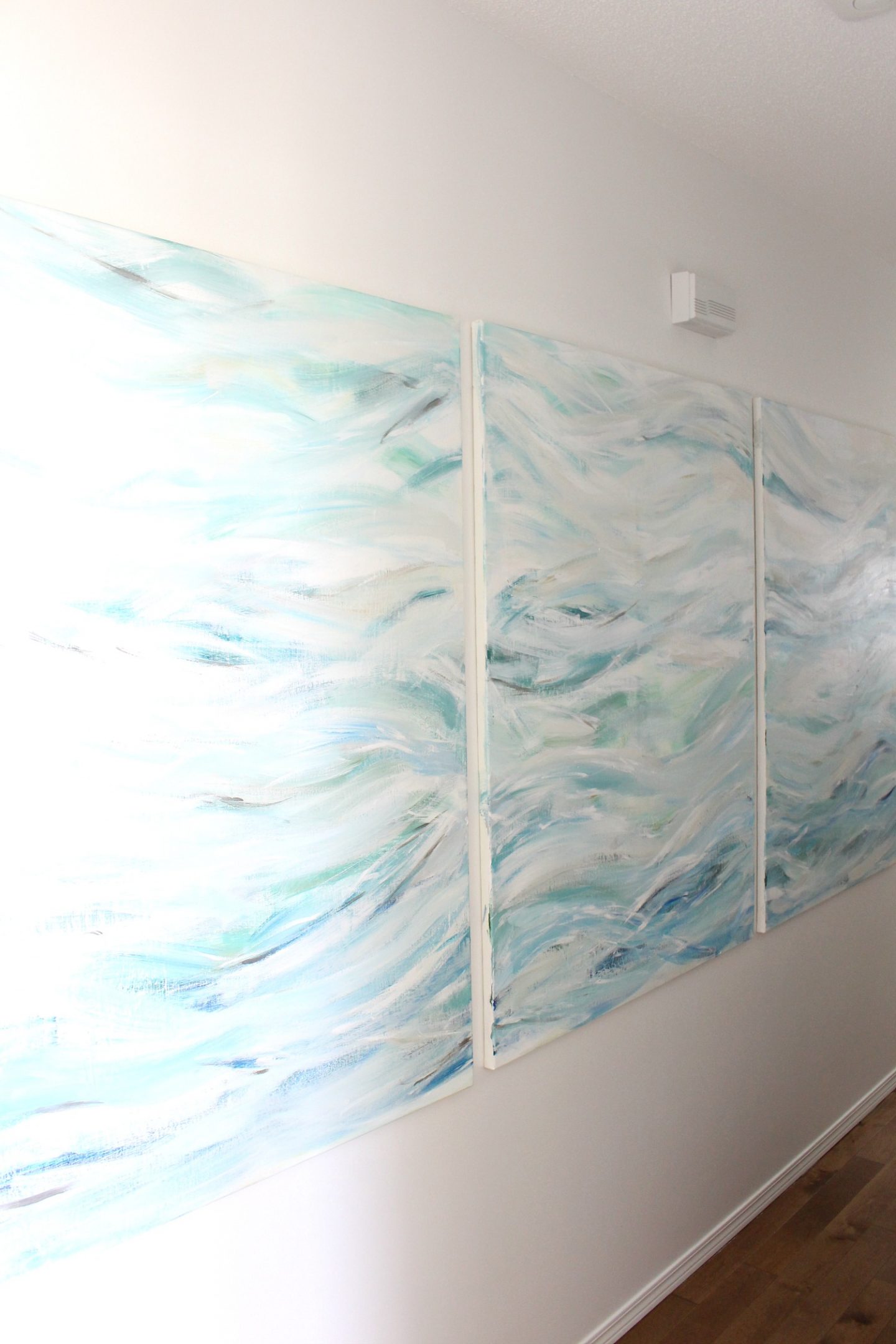 You can see a peek of these paintings from the living room and I much prefer this version as a backdrop to our other artwork. The old artwork competed too much with everything around it and introduced a lot of bold colors, even though the paintings had a lot of white. I have been contemplating making frames for these (using this DIY frame tutorial), but for now I just wanted them back on the walls.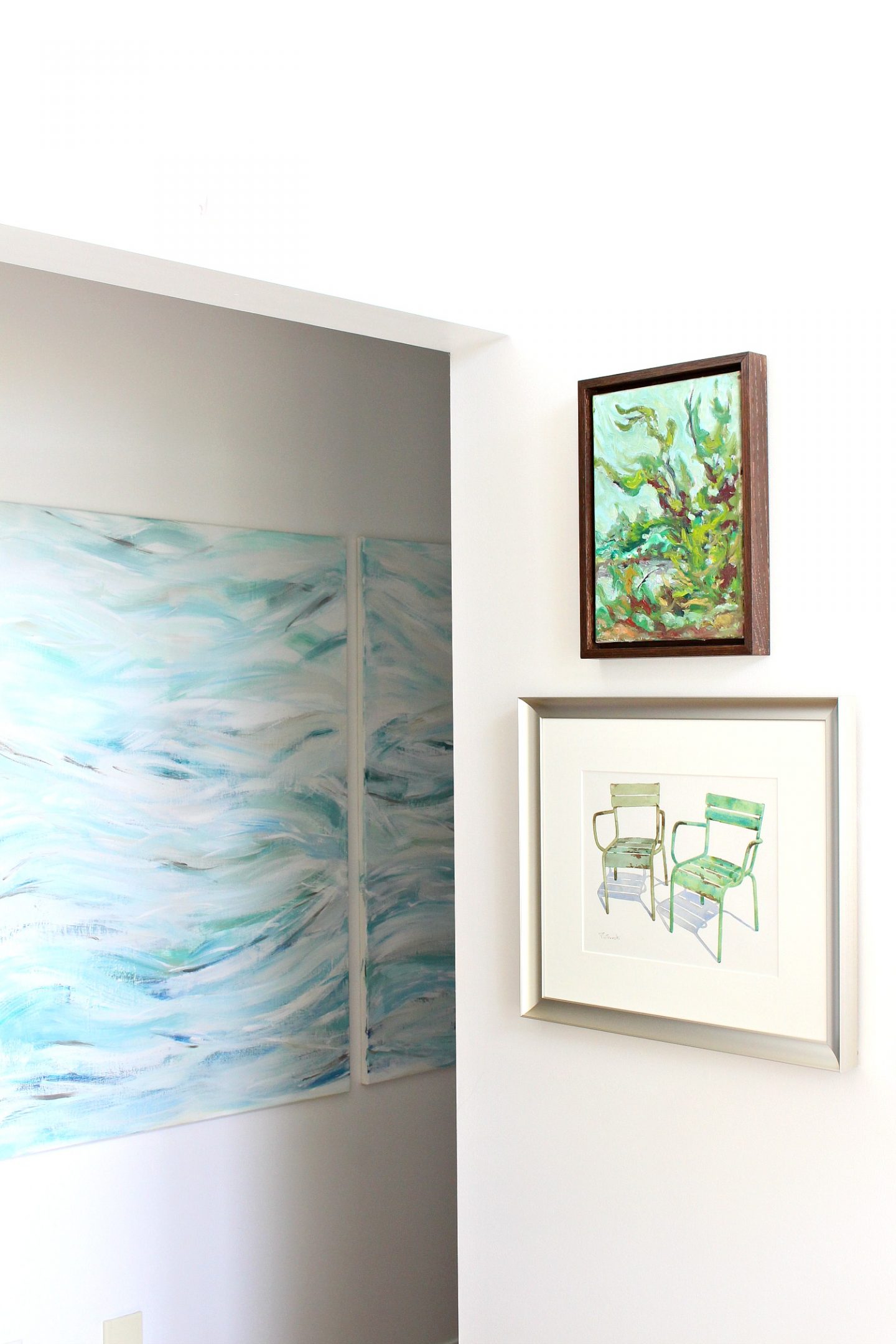 There is still some summer left (I don't want to talk about fall) so I highly recommend grabbing a canvas, some paints (maybe a glass of wine?) and heading outside to enjoy the weather and create something (maybe your own DIY modern coastal art) to remind you of these beautiful days before they're gone for another year.
P.S. Don't Forget to Save for Later!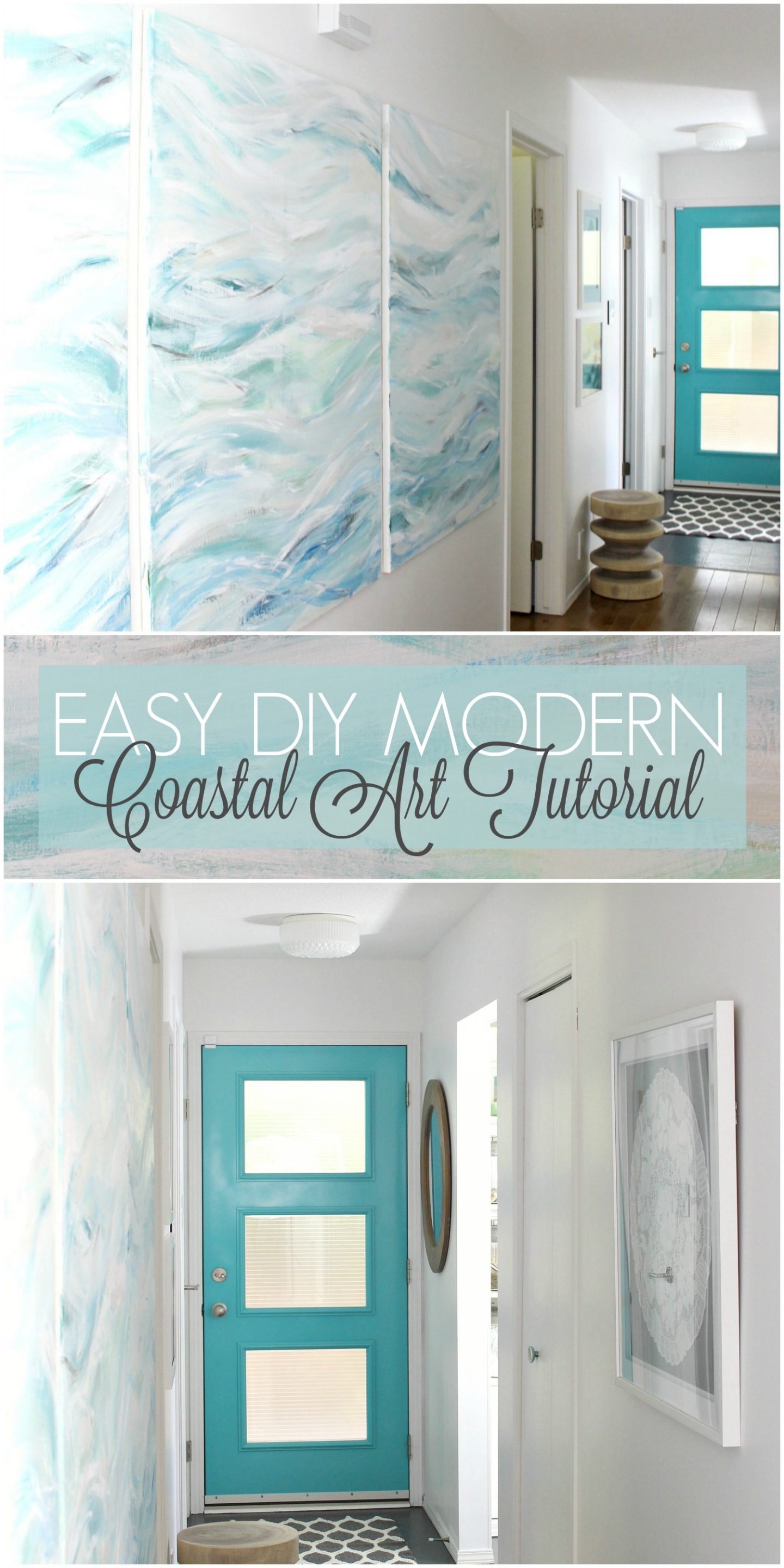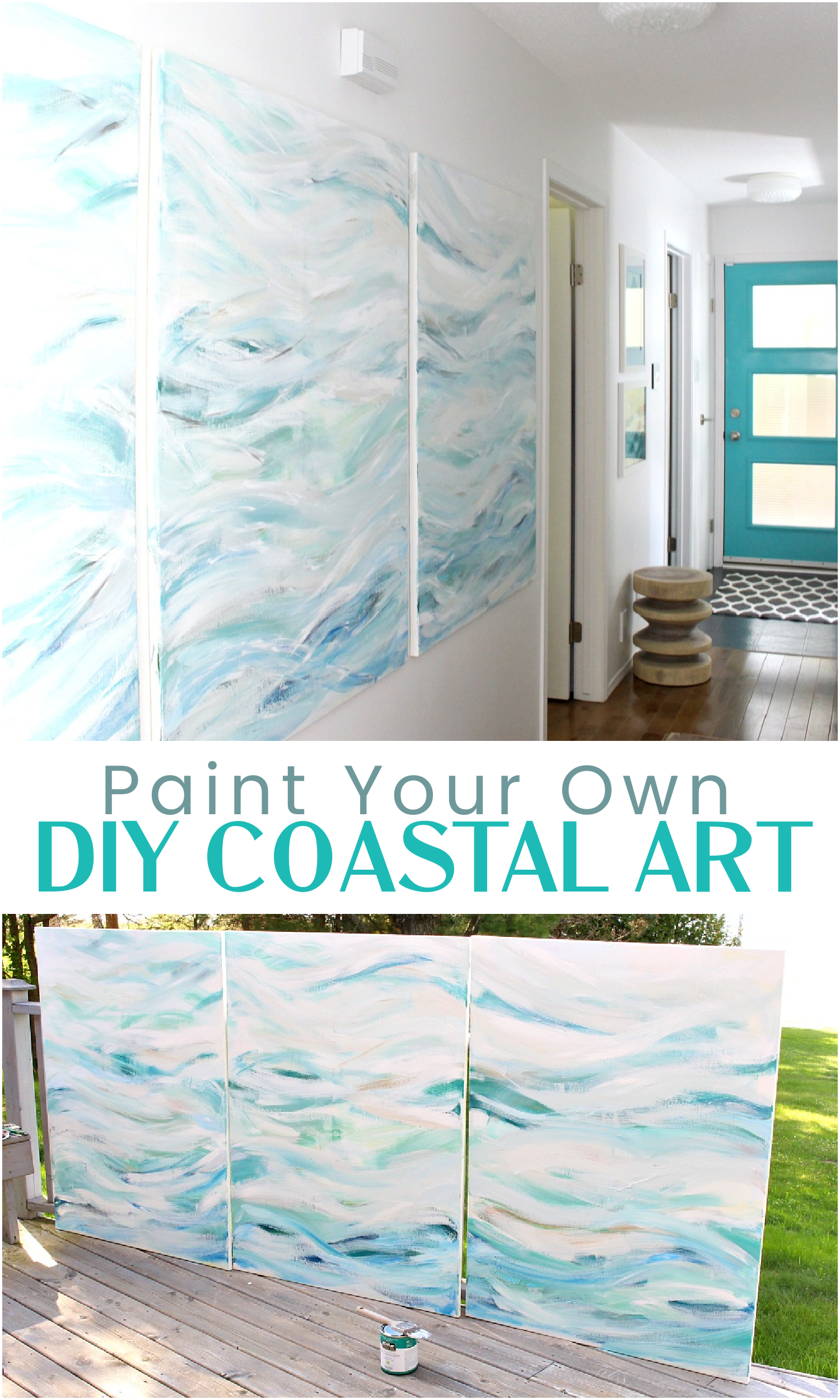 Looking for more DIY art tutorials?
Here are some favorites from the archives: