This DIY mural is a collaboration with Rust-Oleum, but all thoughts, opinions, and wild ideas are my own.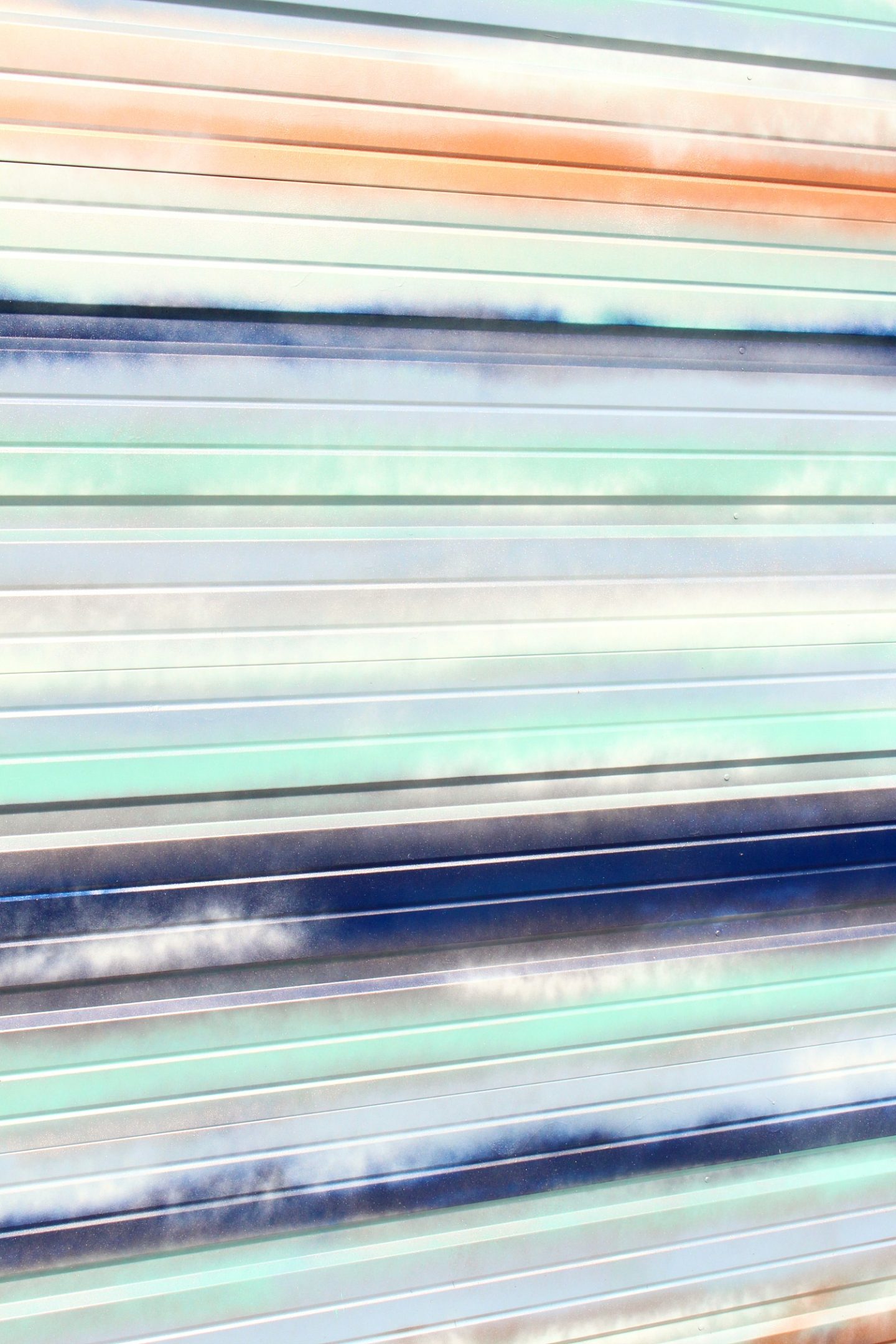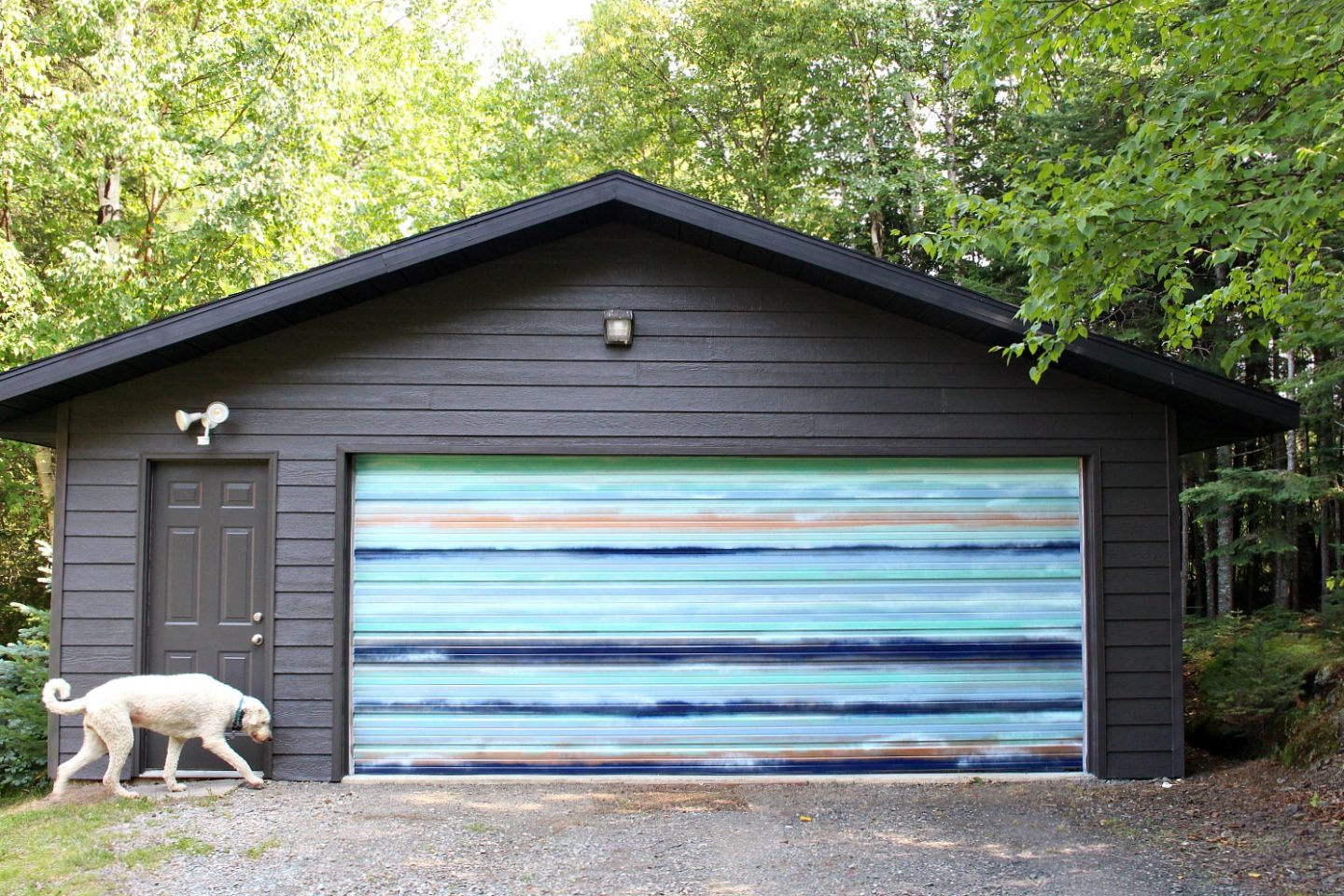 Yesterday you saw how Hubby and I painted our soffit and fascia black, but today I'm sharing an even cooler project: the DIY mural I created on our garage door. I am SO excited about how this project turned out but it doesn't look quite as awesome in photos as it does in real life. Nothing ever does! I'll do my best though, to capture this DIY mural in all its shimmering, lake-inspired glory.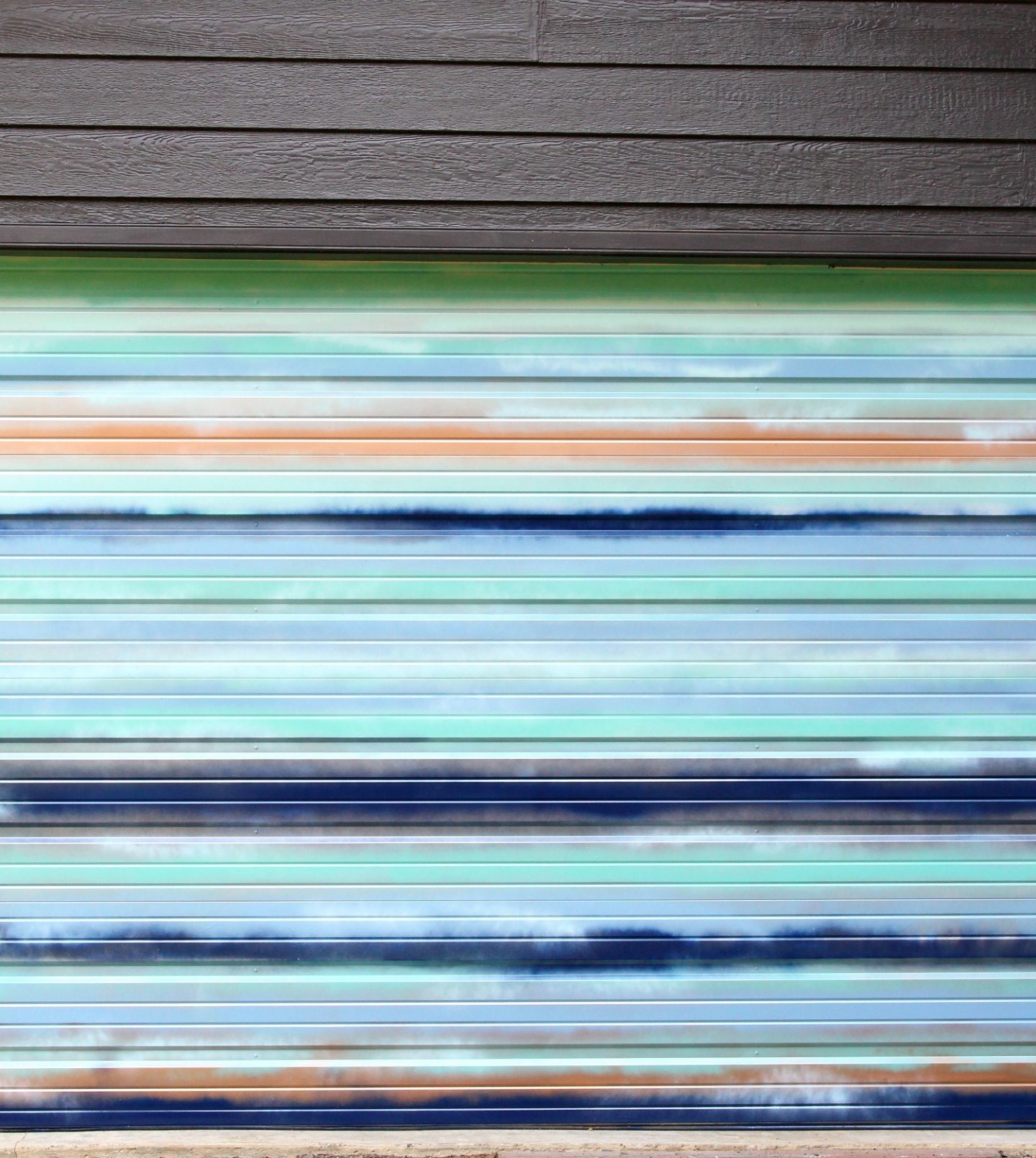 I had decided to do a mural on the garage door awhile back, but it took a long time to decide on what kind of mural. I actually experimented on the door before we started painting anything, trying out different shapes and colors, even taping off some sections for a more geometric design. A spray painted mural is not easy! In the end, I was (very) loosely inspired by this wallpaper: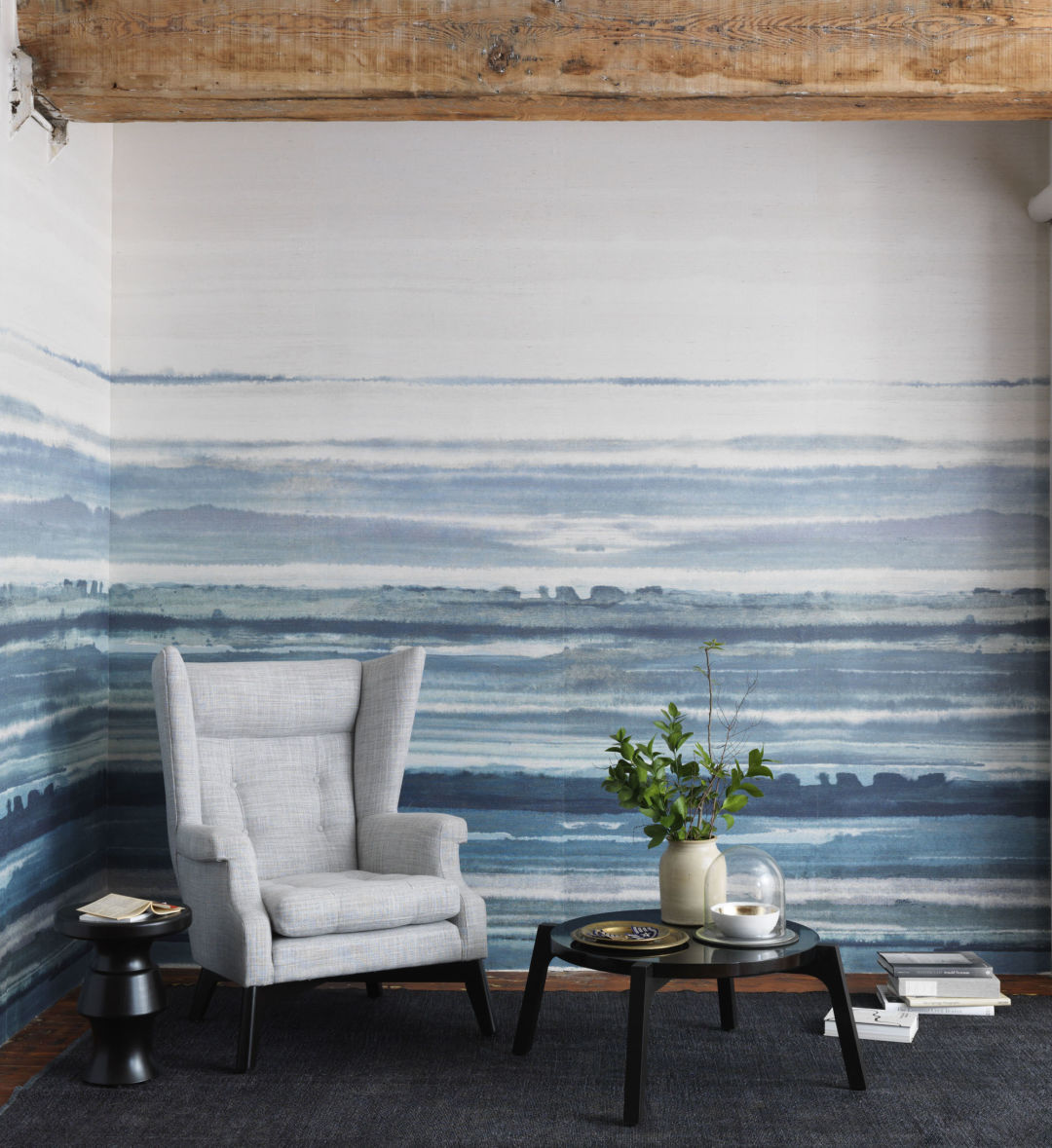 Here's the practical and aesthetic reasoning behind my DIY mural design choice: I wanted a horizontal design that worked with, not against, the horizontal panels on the garage door. I also wanted something easy to fix – just in case. The tester design I created stayed put for months, with no issues, because the door doesn't rub anywhere, but I figured with a wishy washy design like this it would be easy to touch up areas if I needed to. I also wanted to play up the coastal/lakefront/cottage vibe and this design reminds me of aerial beach photos – an abstracted interpretation, of course, but it's still pretty beachy. Although my inspiration has more shades of blue, I was limited a bit by spray paint choices (the inspiration wallpaper is based on a watercolor design) so I added copper to tie in with the new metal roof and the blues tie in with our front door color.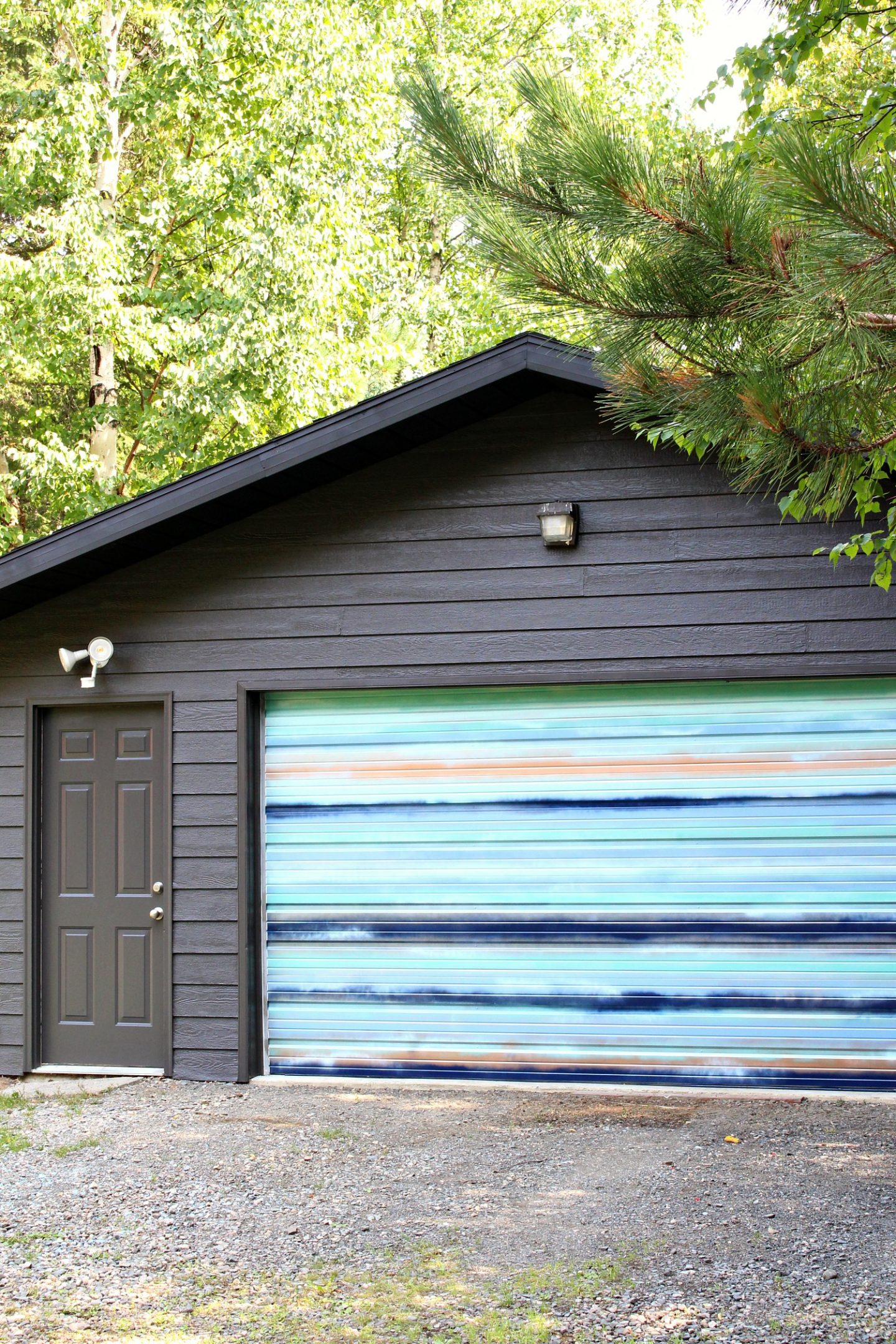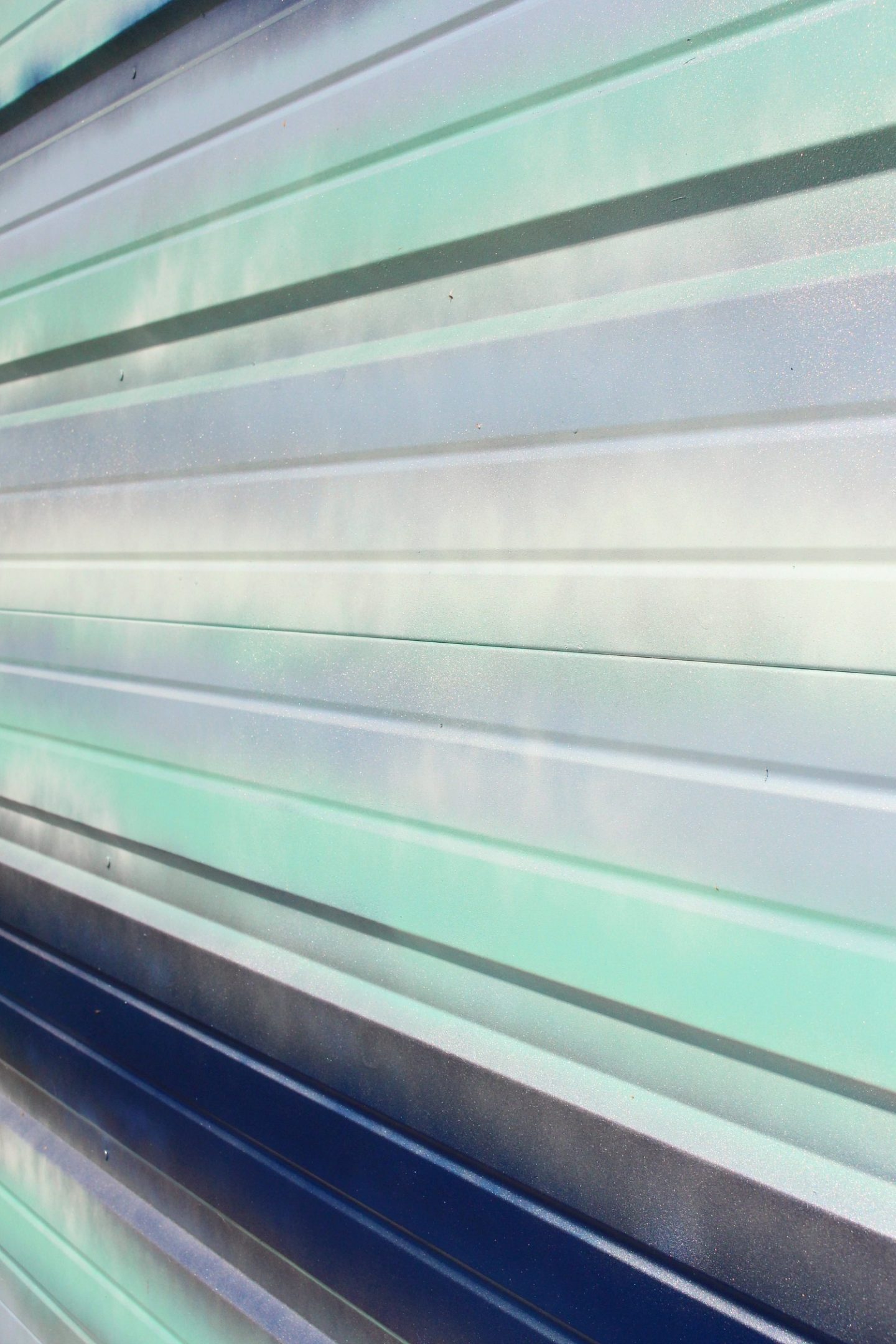 Here's How I Made This DIY Mural:
First, I scrubbed the garage with a TSP solution and a stiff bristle brush. I rinsed the surface super well with a pressure washer and let it dry for a few days. When I painted the mural, I kept a small dust broom on hand to sweep away cobwebs because those spiders are industrious and formed them while I was painting. Rust-Oleum sent me a case of each color I had asked for, but in the end I overestimated how much paint I'd need – and how much I'd want to use the darker charcoal greys and browns – by a lot, so I'll be doing a lot of spray paint makeovers this fall! In the end, I think that I used about 10-12 spray cans.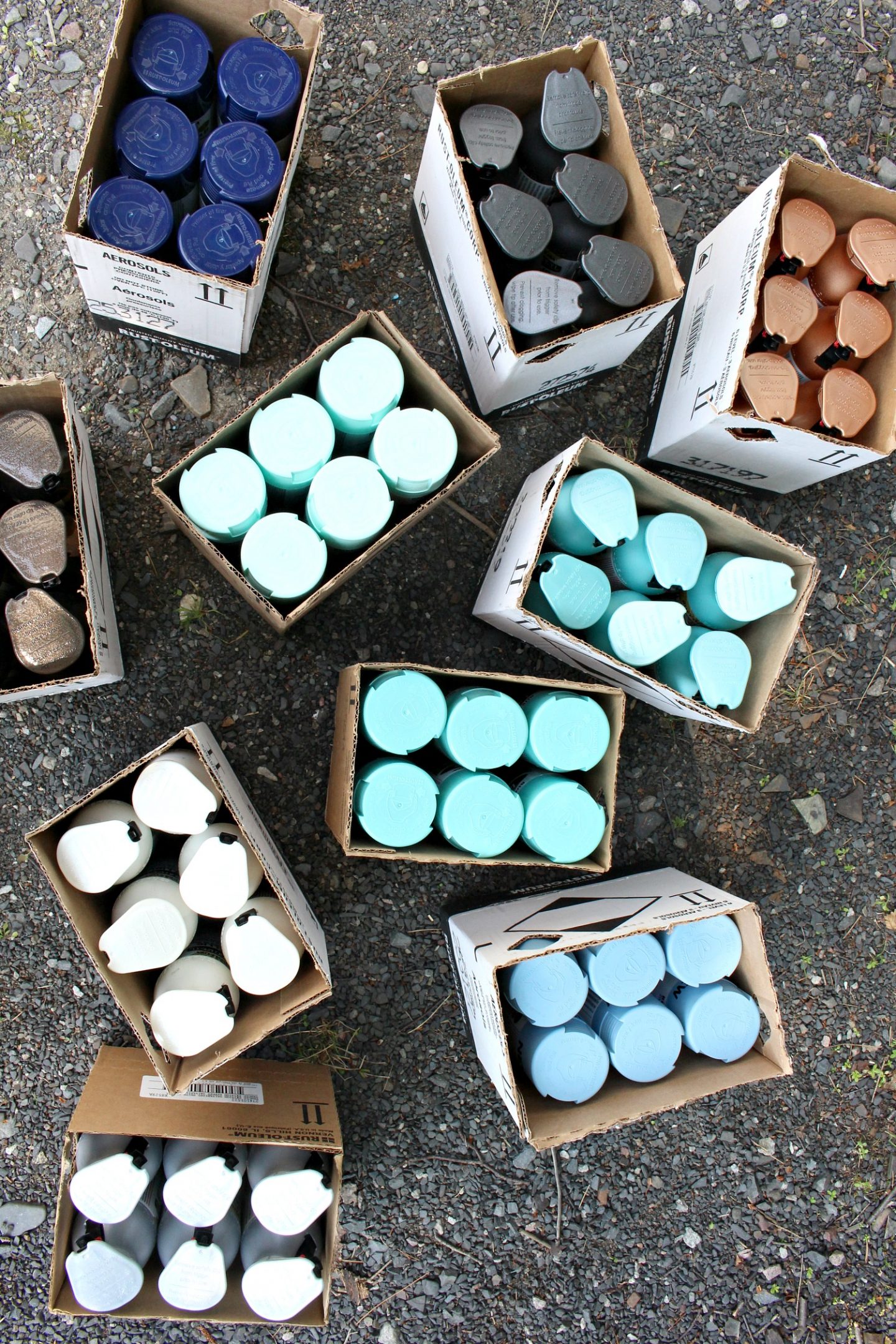 I chose paints in my preferred palette of blues, mixing gloss, lacquers, and shimmery finishes. Here's a complete list of the paints and colors that I used:
To begin a DIY mural, you can apply a thin layer of spray rust primer if your garage is currently very dark. I only used primer to cover my test swatches so that those areas didn't muddy up my DIY mural design. Most of these Rust-Oleum spray paints are a primer+paint in one, so if your garage door is already white – or you don't mind a dark color shining through a bit – you can ditch priming for your DIY mural.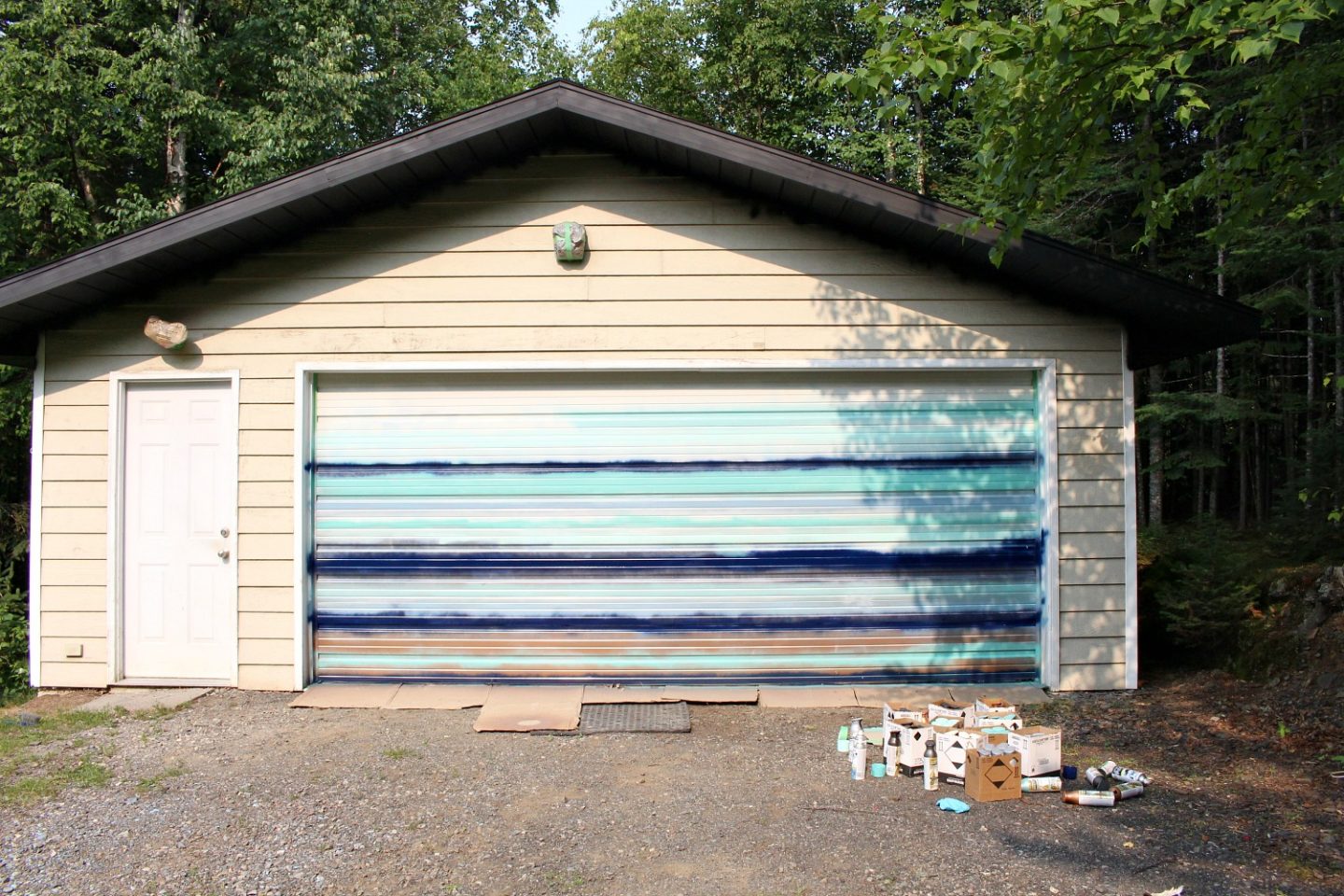 After a little trial and error, I learned to start by spraying on bands of color block, focusing on the navy, mid-tone blues, turquoise, and copper. Then I blocked in lighter colors, overspraying a little onto the darker colors. I kept layering and layering, stepping back occasionally to see what it looks like from the driveway. I used Rust-Oleum Universal Metallic: Pearl Mist and Rust-Oleum Universal Metallic: Titanium Silver to blur and blend between the colors because I wanted my DIY mural to have a dreamy vibe. The Pearl Mist is VERY sheer, so it's perfect for this kind of project, adding a hint of shimmer and helping soften the colors. It was the best tool in my DIY mural arsenal, which was surprising! The sheer layering is lost in the photos a bit, but it real life it helps my mural look more like a painting.When I was satisfied with the color blocking and the layering that was happening, I applied some frothy, random strips of Rust-Oleum Universal Metallic: Sea Mist, a pale mint color with lots of sparkle, to create the little "white caps".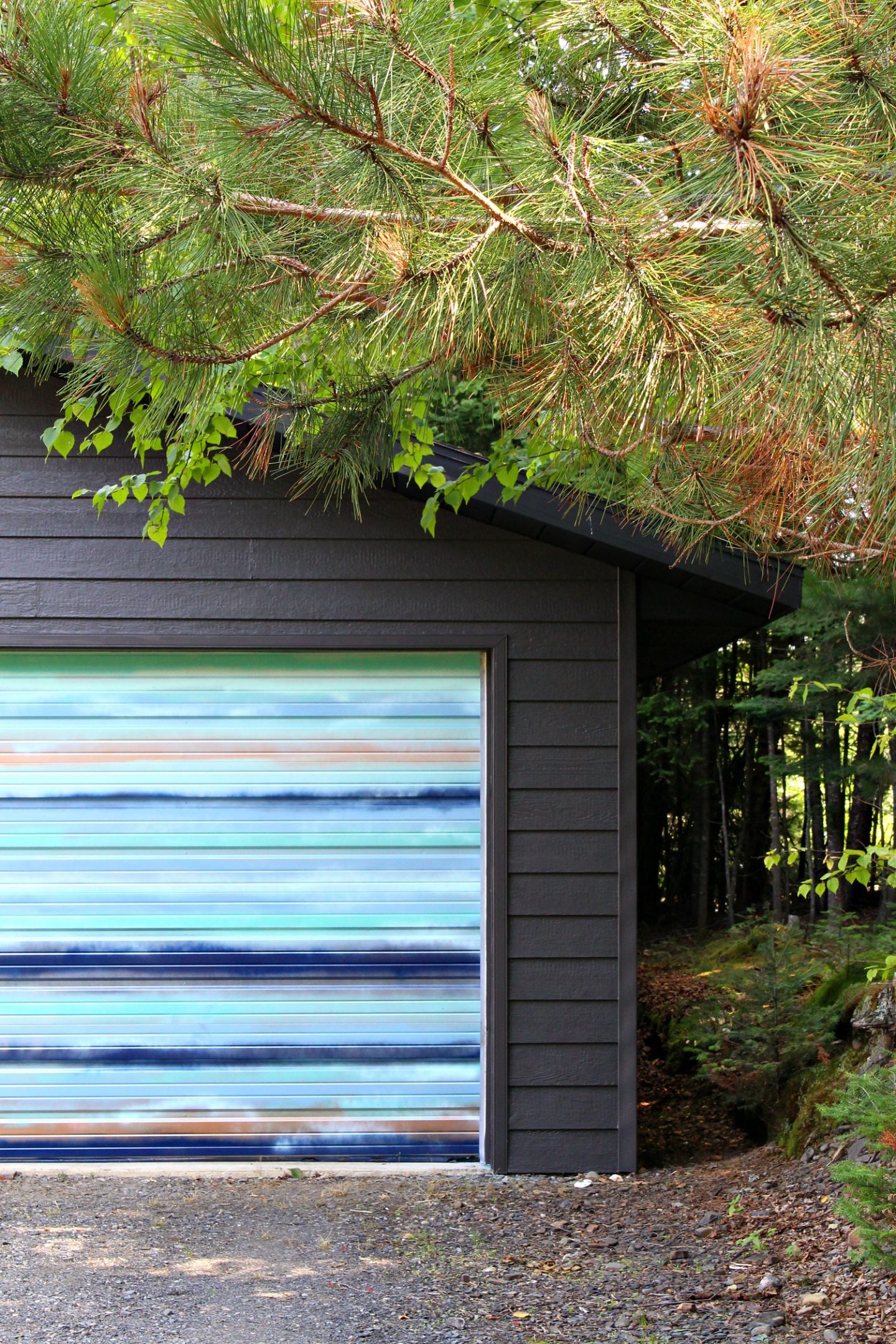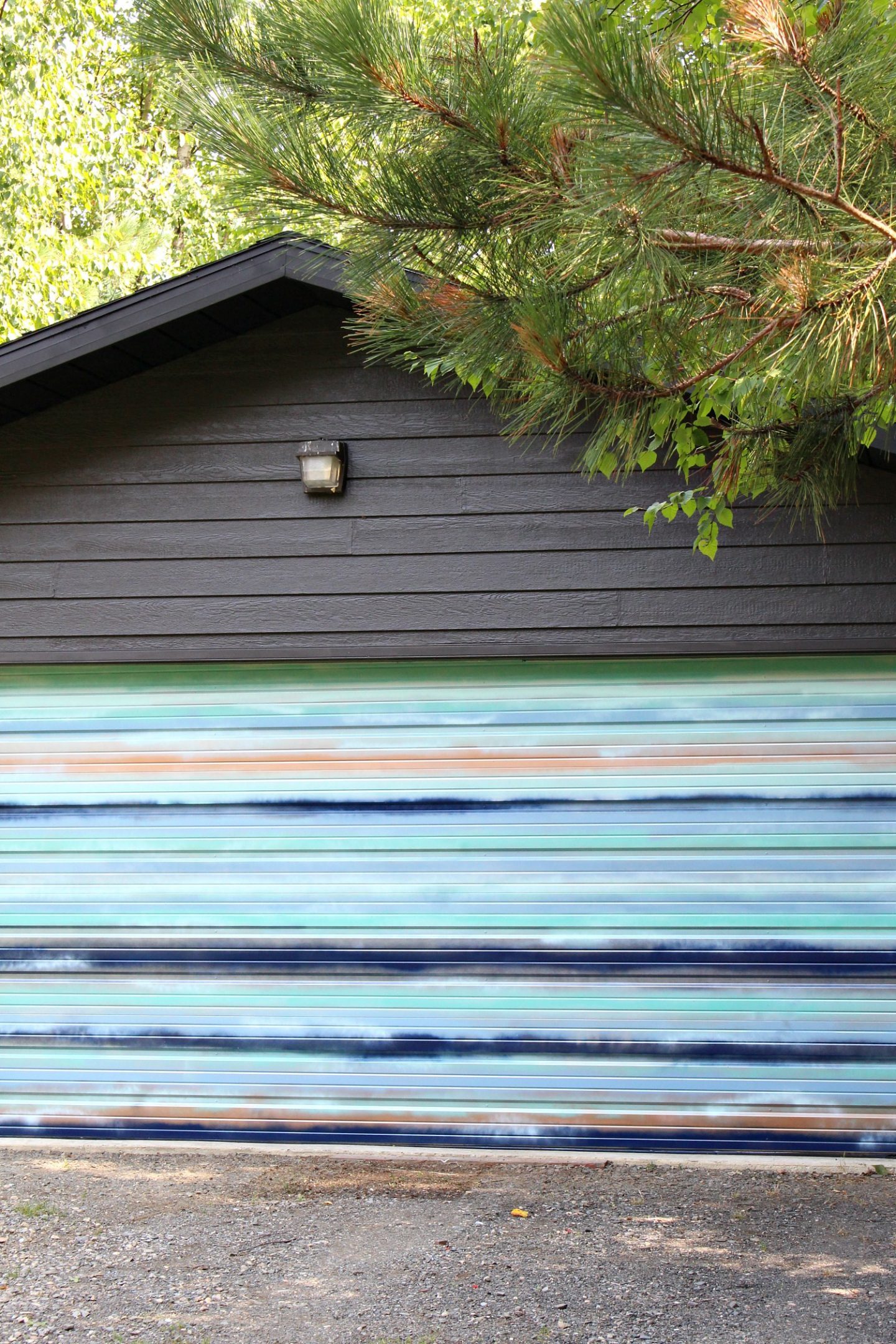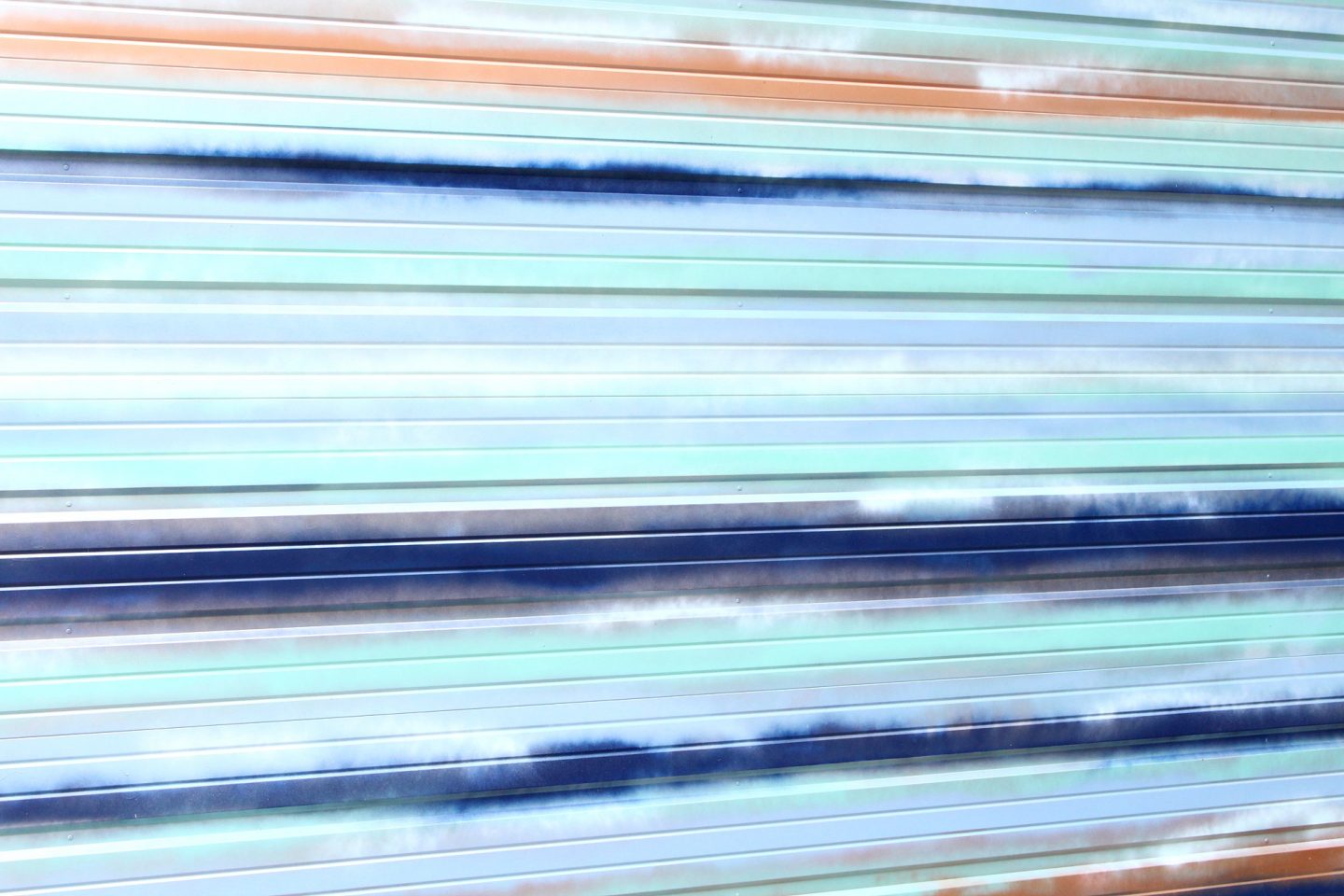 Some of the spray paints I chose were glossy, like the navy and the new turquoise lacquer, but the real beauty comes from the metallic paints I chose. They photograph more flat, but in real life this door shimmers and catches the light so beautifully.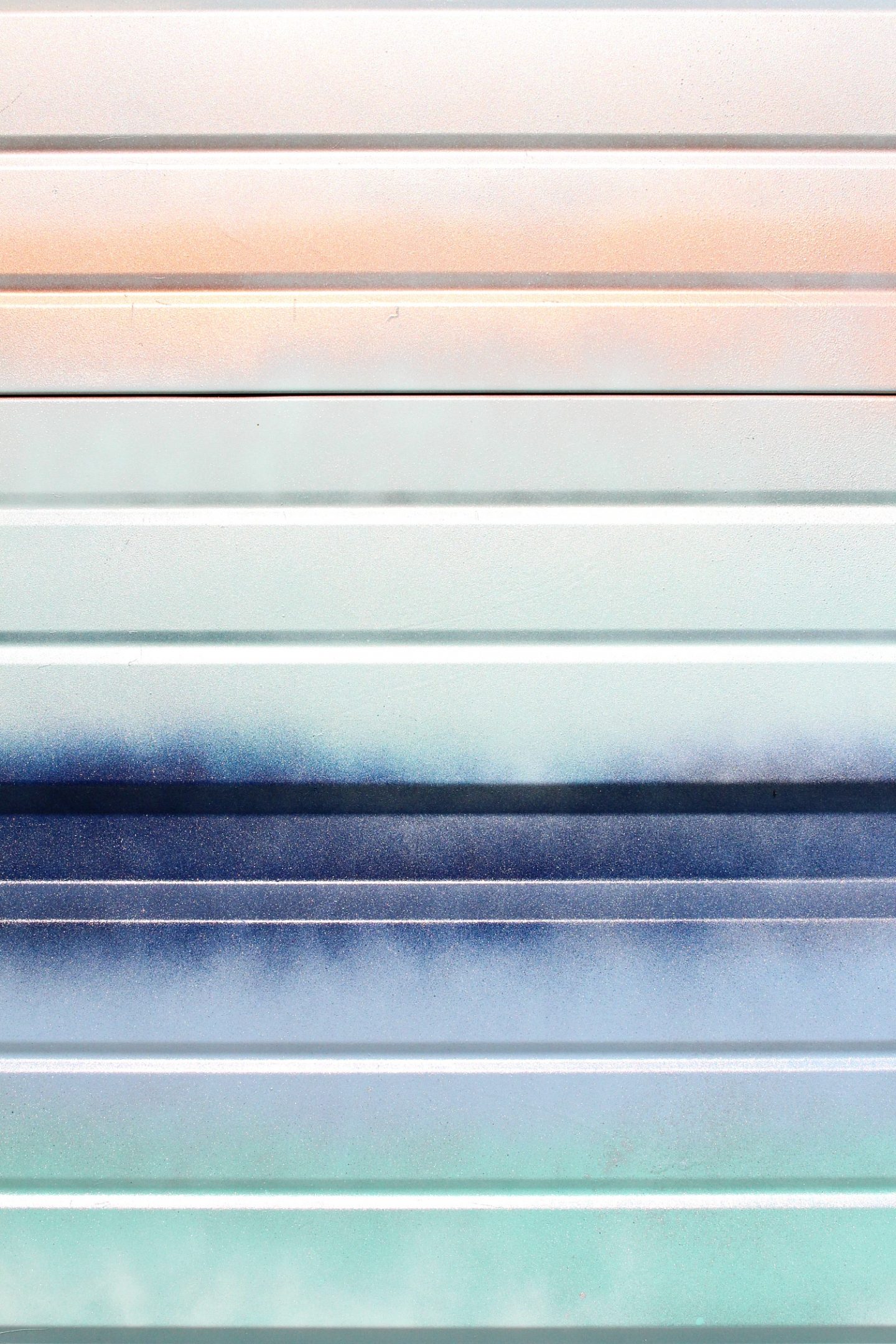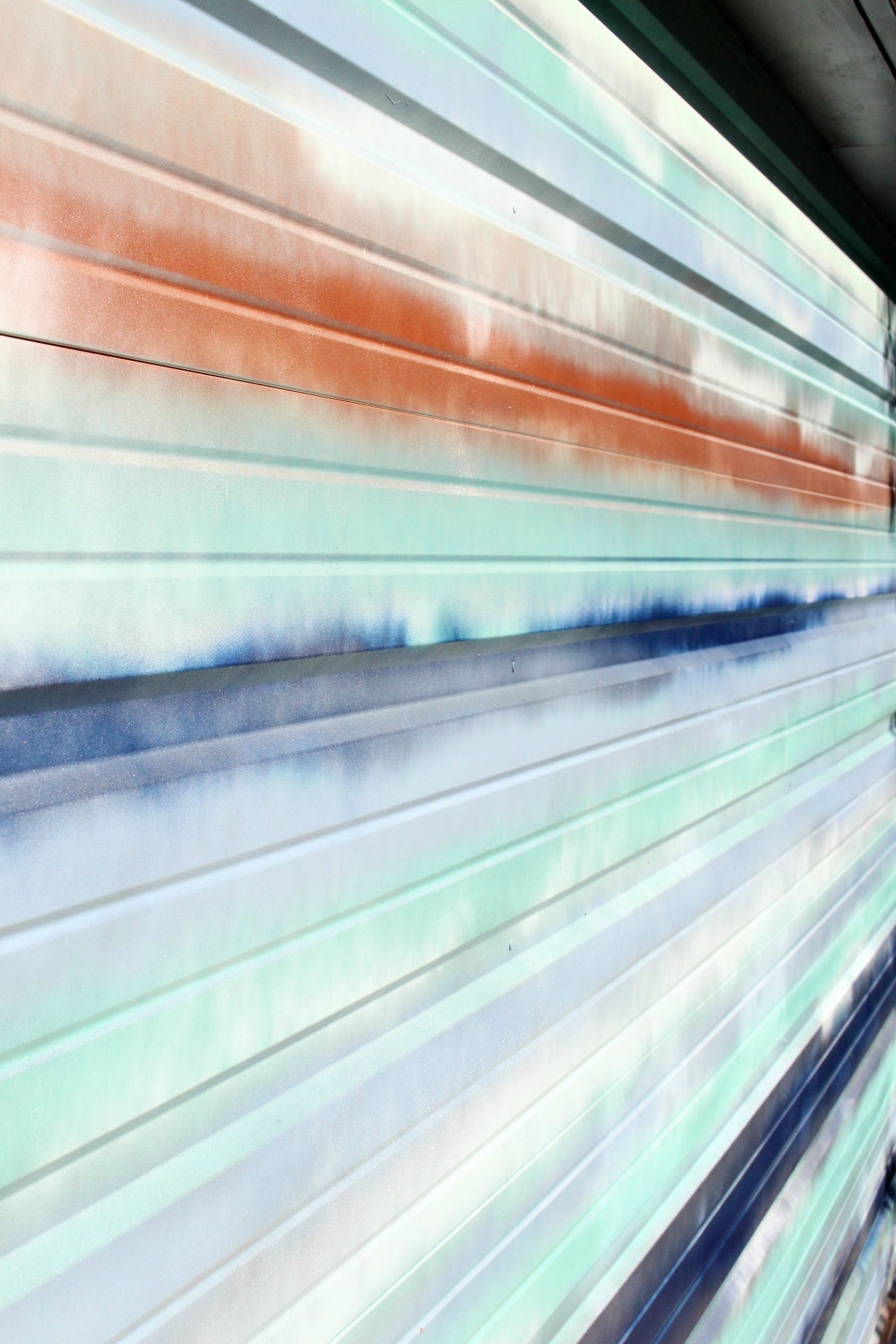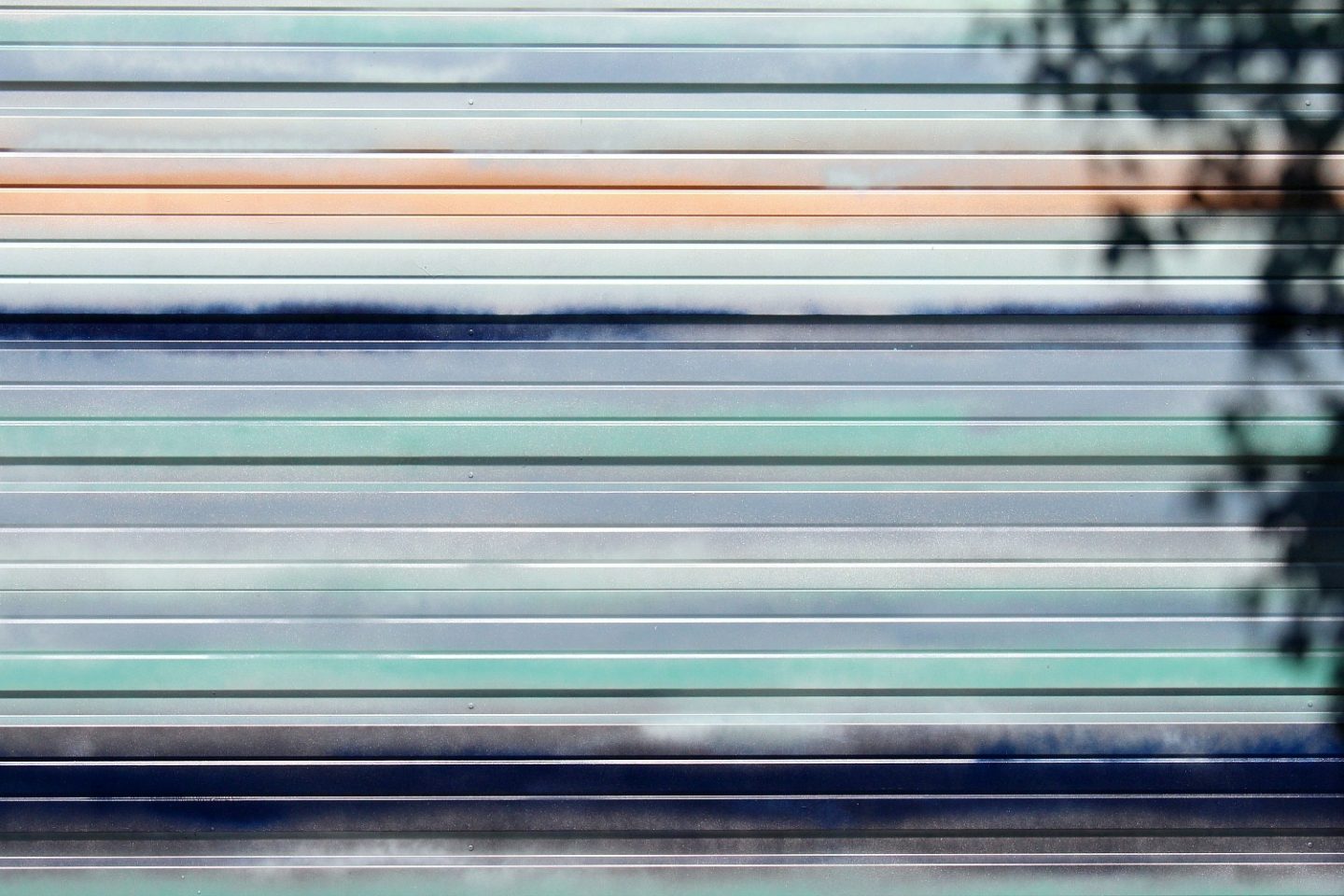 Working with spray paint is DIFFICULT and I have a newfound appreciation for graffiti artists. I'd love to experiment more, so if anyone has a blank garage door and a passion for whimsy, shoot me an email, because this was so much fun. You'll just have to cover my airfare, but you're welcome to pay me in brie and wine. Preference to folks with a garage door in California, Hawaii, Australia, Mexico, Punta Cana… you get my drift. My neighbors say they love my new DIY mural, but I'm not sure how much of that is that they love this mural, and how much of it is that they're happy I finally painted over my rough draft, which may or may not have contained a rather phallic shape (Hubby dared me and I don't back down from dares).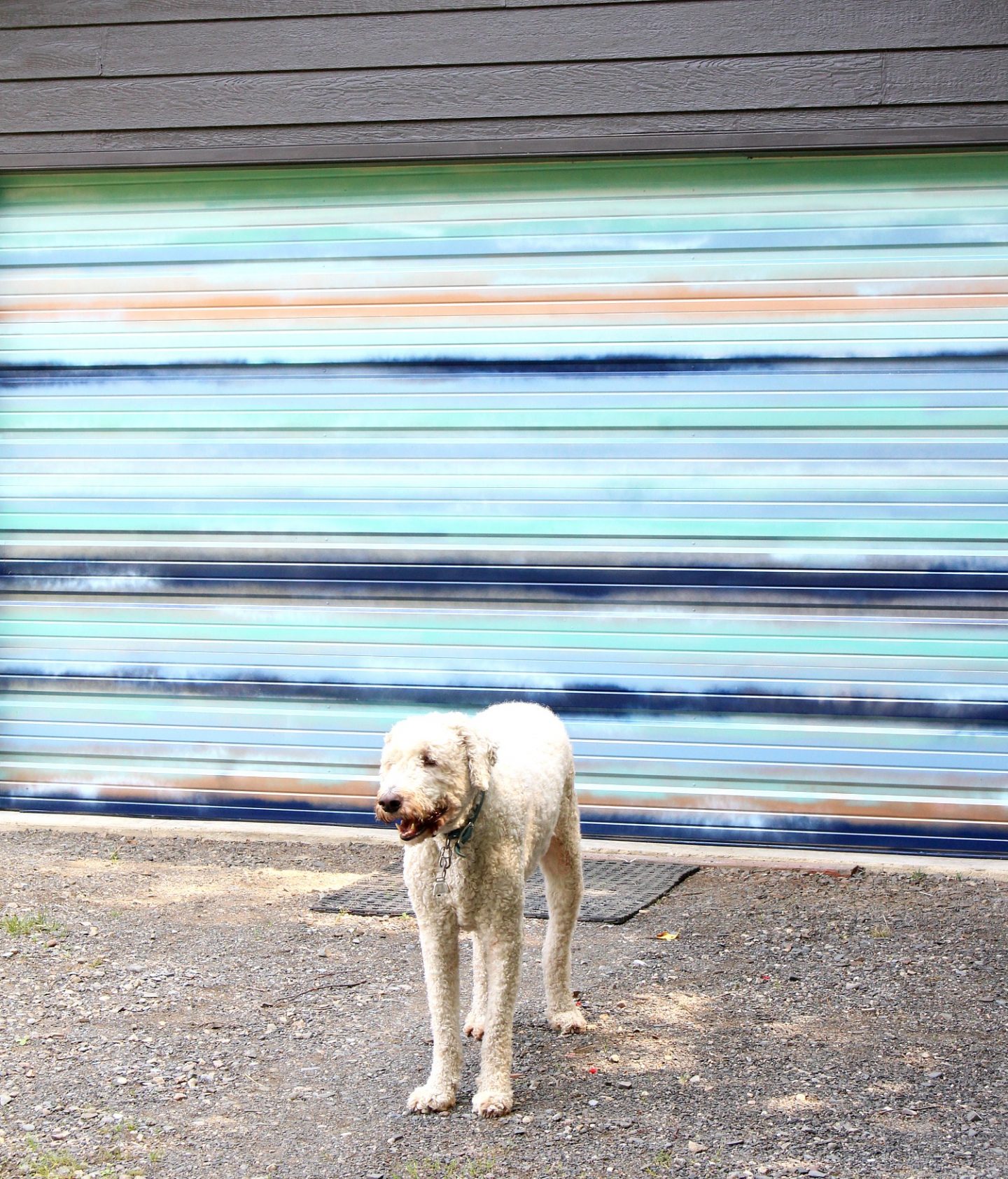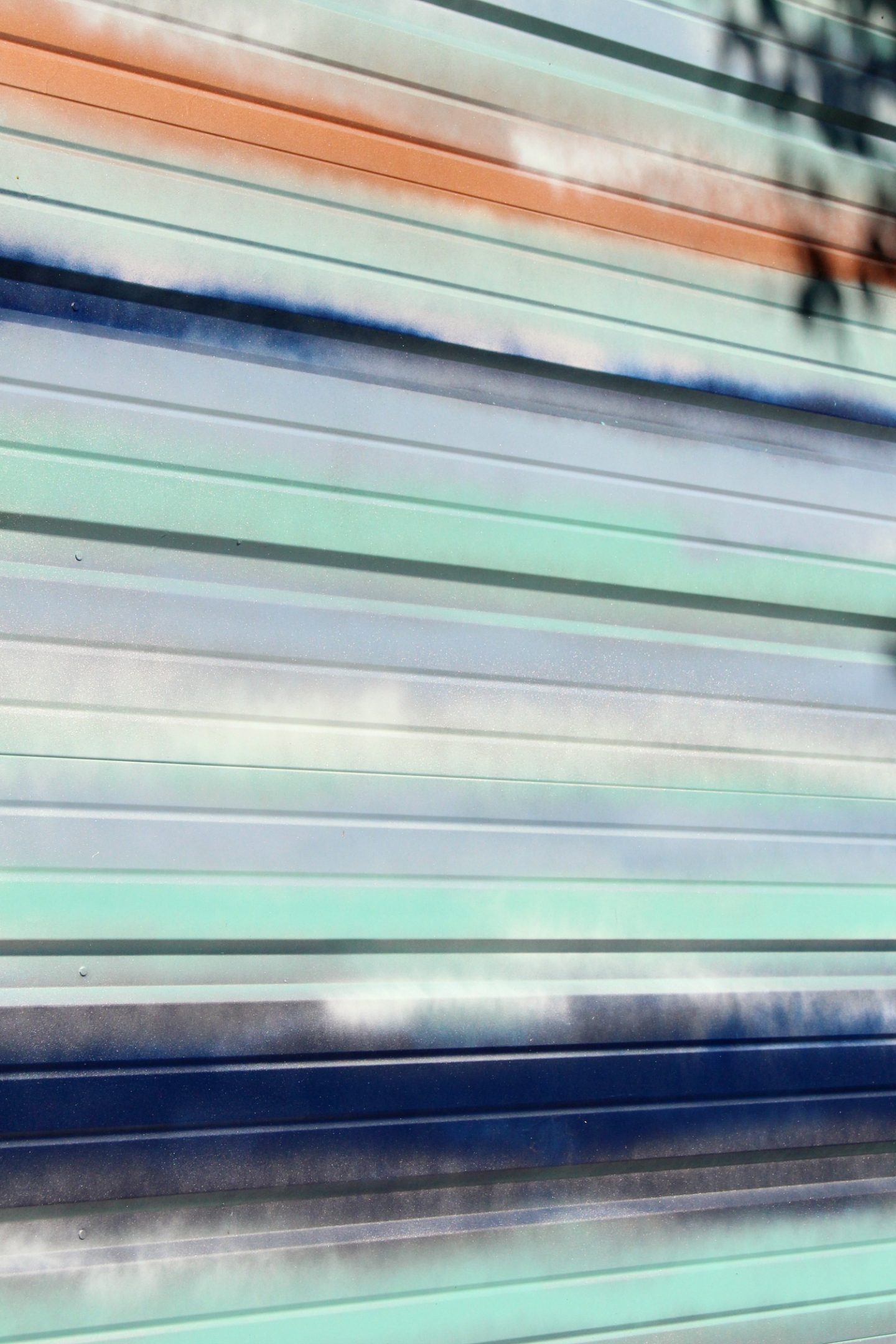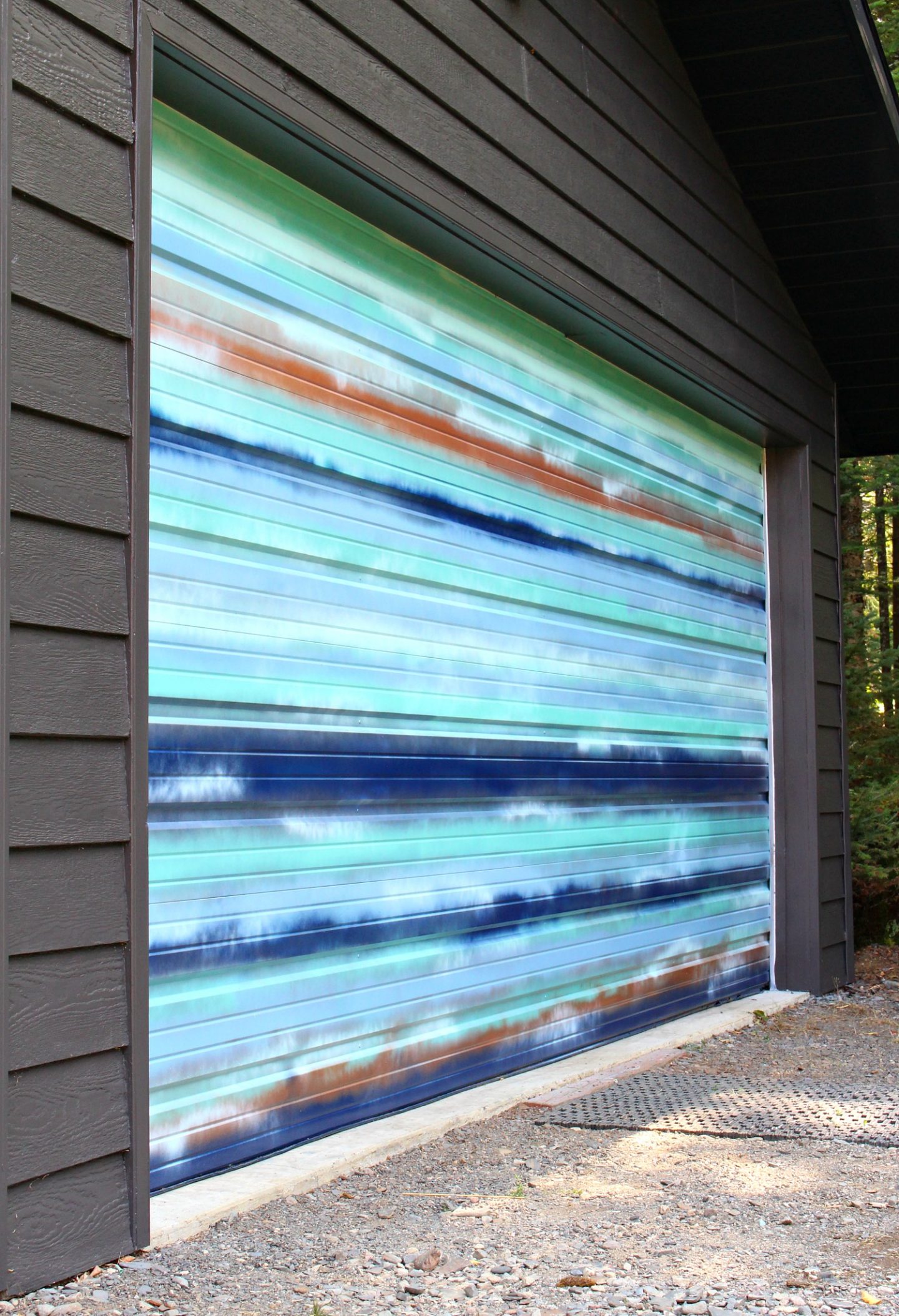 Would you ever paint a mural on your garage? I am curious how nutty this idea is, on a scale of 1 to Tanya.