Wondering what to do with vintage patterns? Sure, you can just use the patterns as intended and make some beautiful clothes (which has been on my DIY bucket list forever), but the artwork on vintage patterns is so stunning that I wanted to use it in some way too. I was wracking brain for ideas and suddenly it came to me: decoupage a box with vintage patterns to use as my new sewing box! My old fabric covered sewing box was overstuffed and coming apart at the seams, so I was thrilled to upgrade to something larger and more modern – and covering it with vintage patterns seemed so very appropriate. It turned out so beautifully, that I just want to display it in my craft room!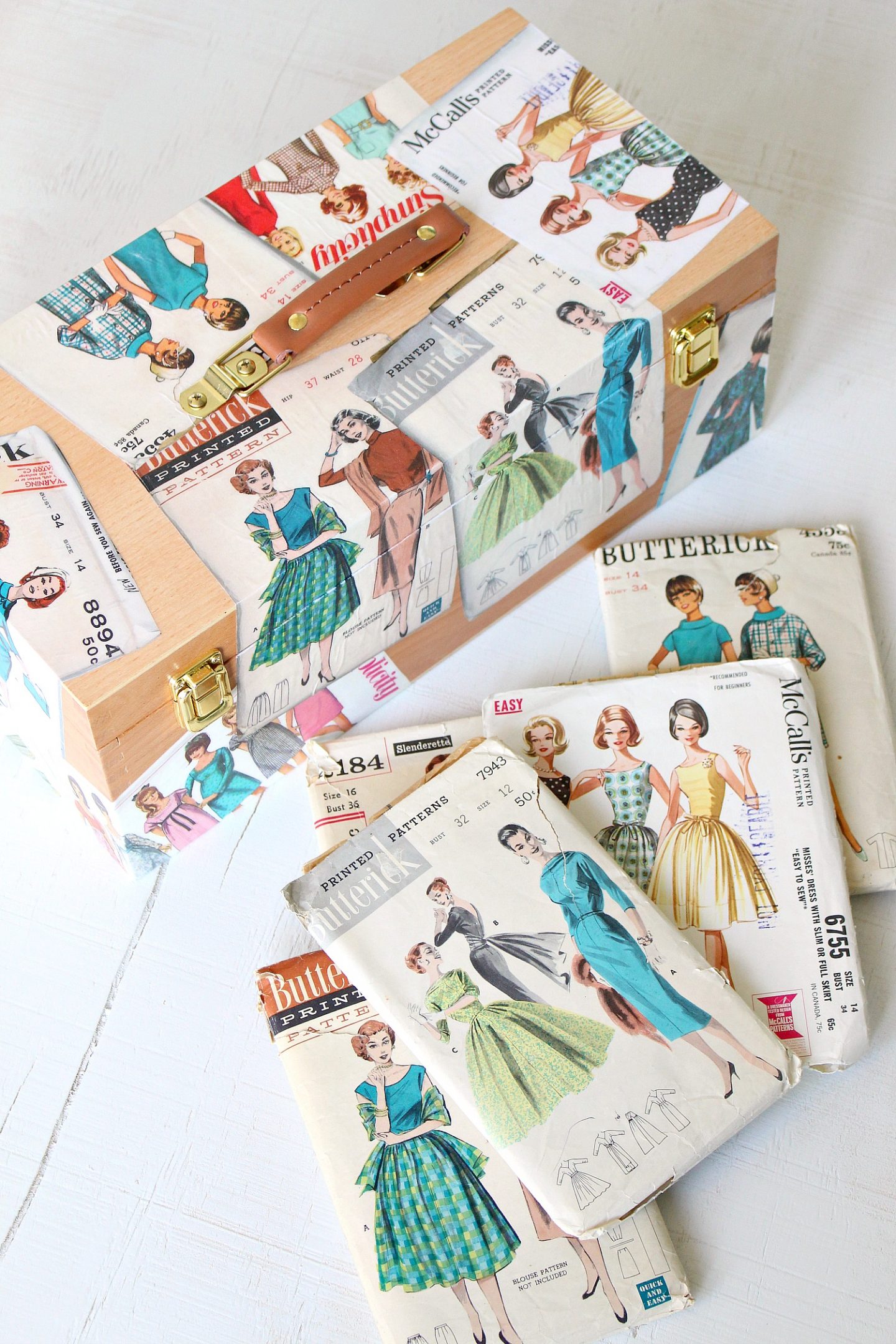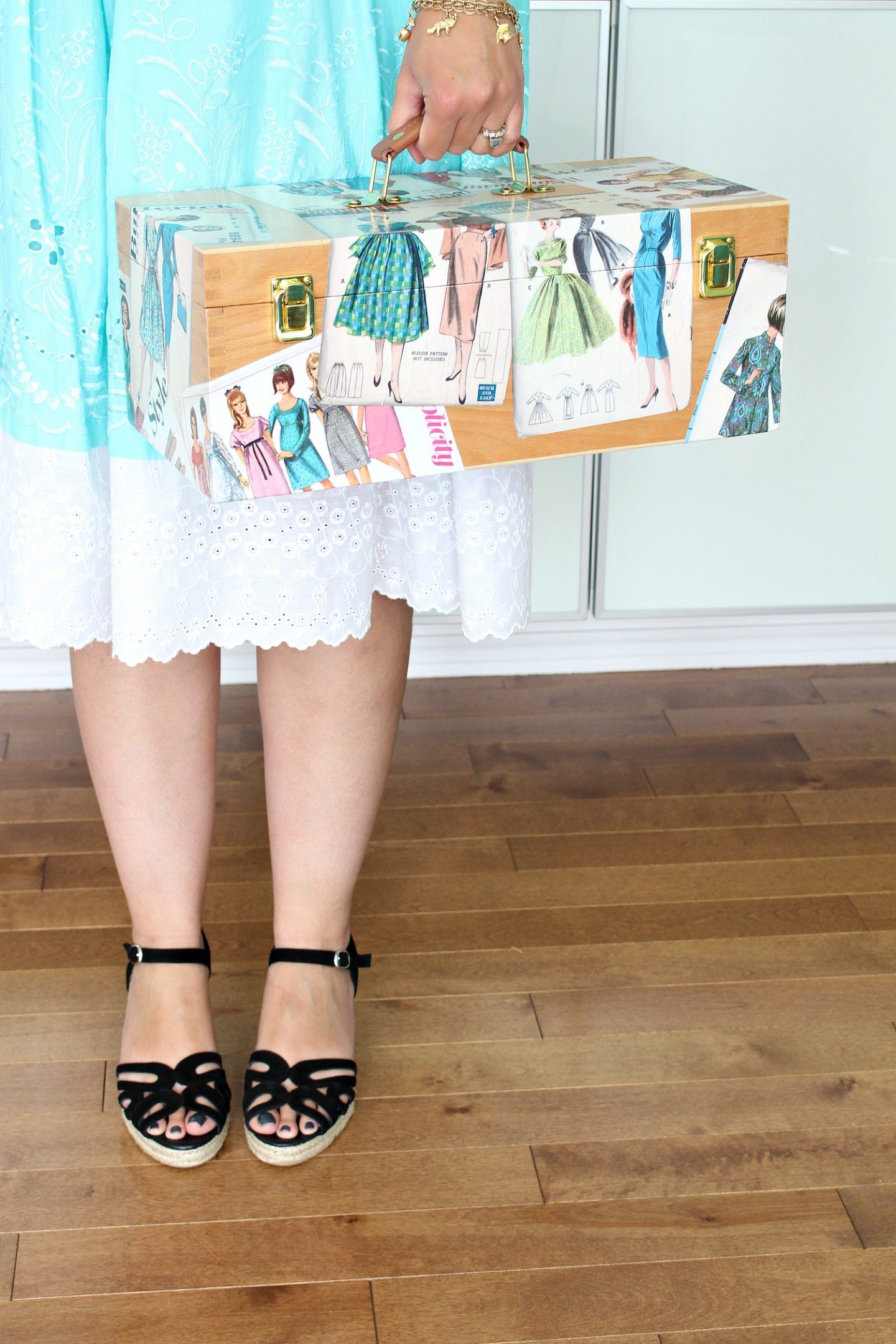 If you've been wondering what to do with vintage patterns, here's what you need to make your own vintage pattern covered sewing box!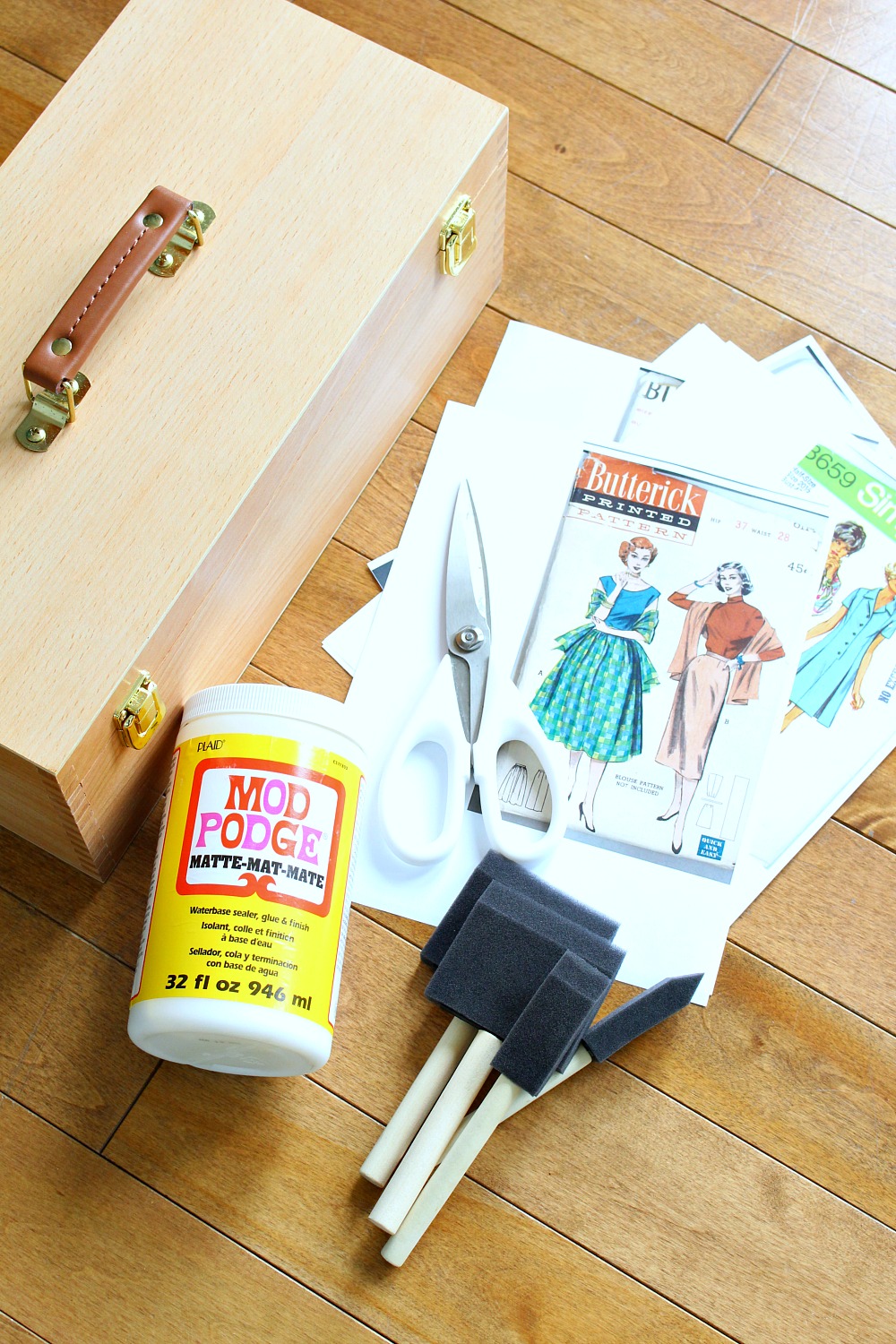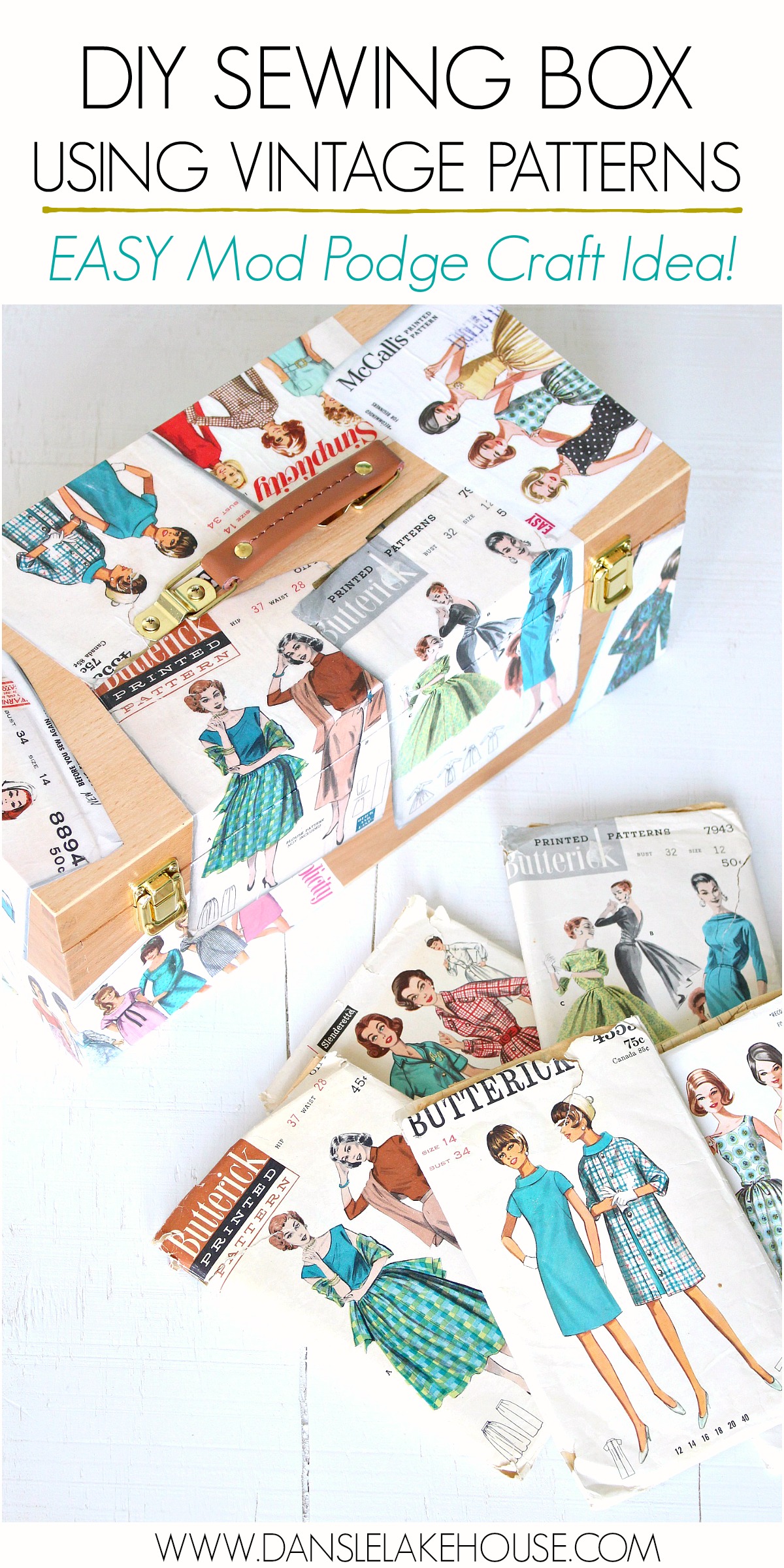 Supplies:
Wooden box (I've linked to the one I bought, which is designed for art supplies so it has the perfect little cubbies – plus that faux leather handle is a pretty touch)
Vintage patterns (color photocopied)
Scissors
Garbage bag or drop cloth (to protect surfaces)
Small screw driver (to remove handle – optional)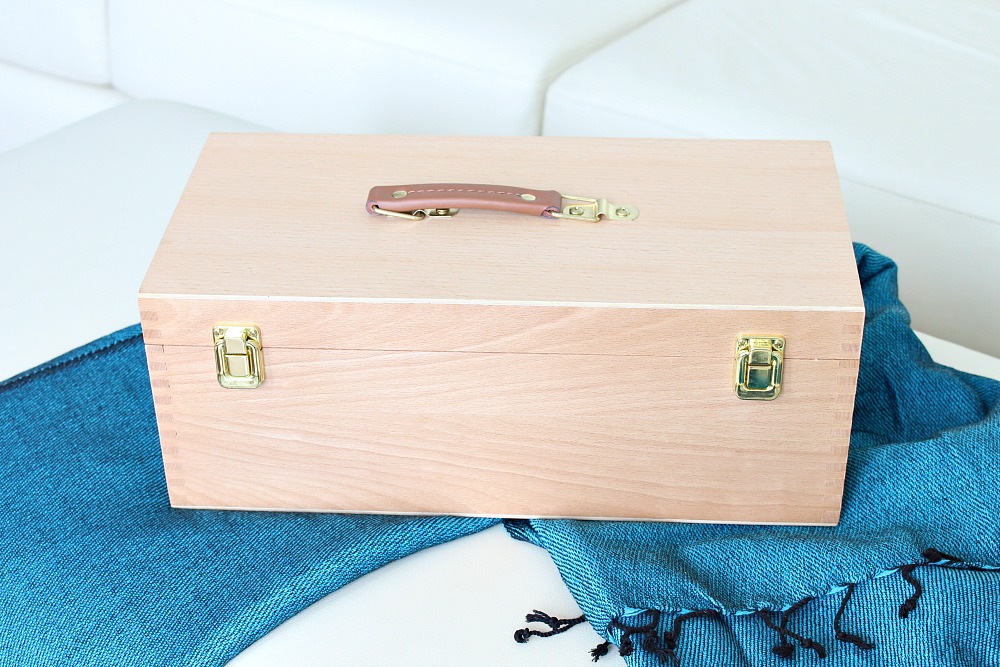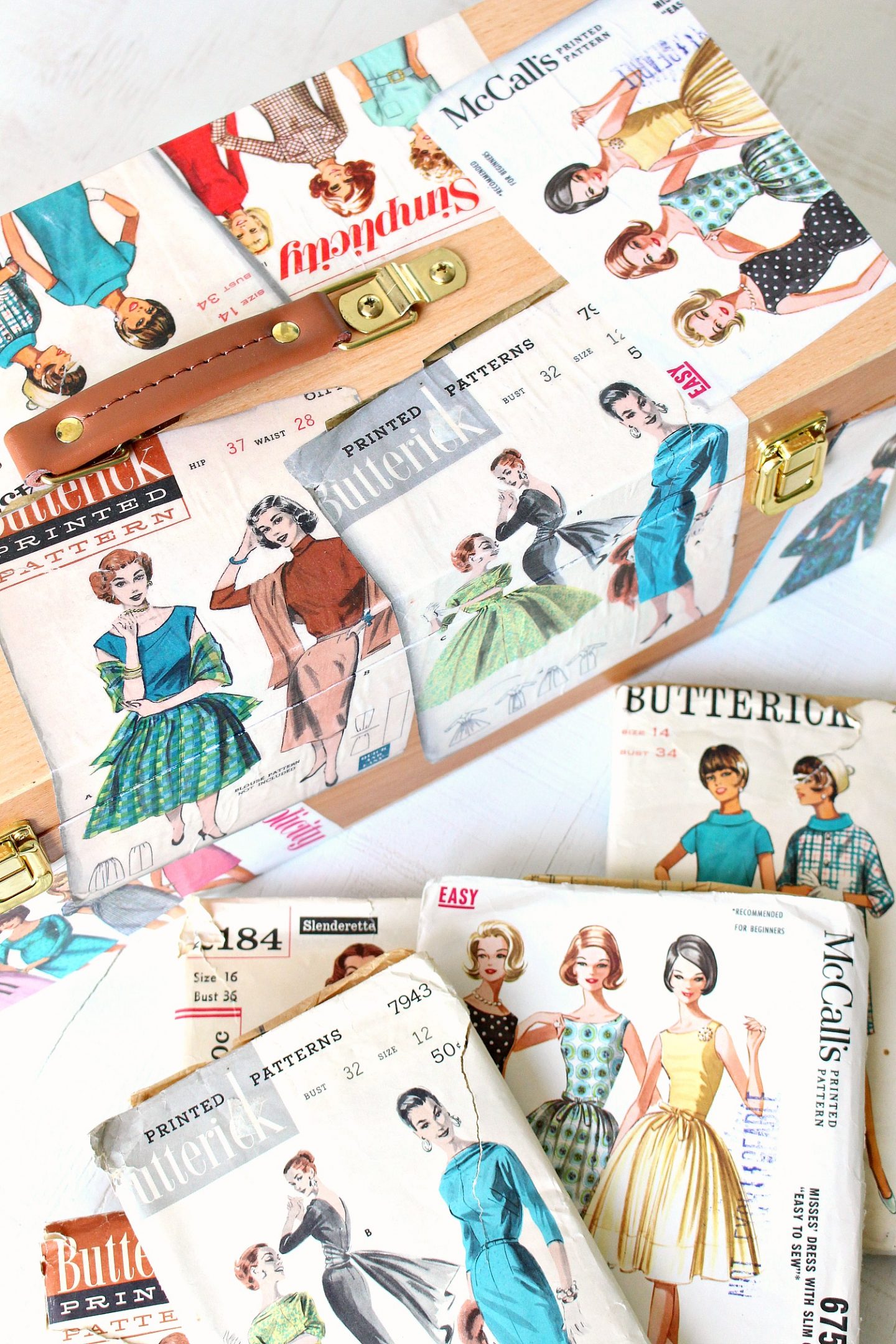 What to do with Vintage Patterns: DIY Decoupage Sewing Box Instructions
The first step was to photocopy my vintage patterns using a color copier. You could just use the patterns as-is because they're inexpensive enough at the thrift stores (never more than $1 a piece, often only 25 cents), but I couldn't bring myself to ruin them so I copied the designs instead and they looked very realistic.
After photo copying, I cut out the patterns by following the natural tears and creases (as opposed to cutting out basic rectangle shapes) to emphasize the realness of the designs. I wanted these sheets of paper to look like real, aged patterns – not photocopies.
Before even cracking open the tub of mod podge, I dry fit the layout. It's always surprisingly difficult to get that perfectly imperfect "random" arrangement, so please feel free to appreciate the layout that took me 45 minutes to achieve, lol. I removed the handle for this step, but that's optional (you can work around it).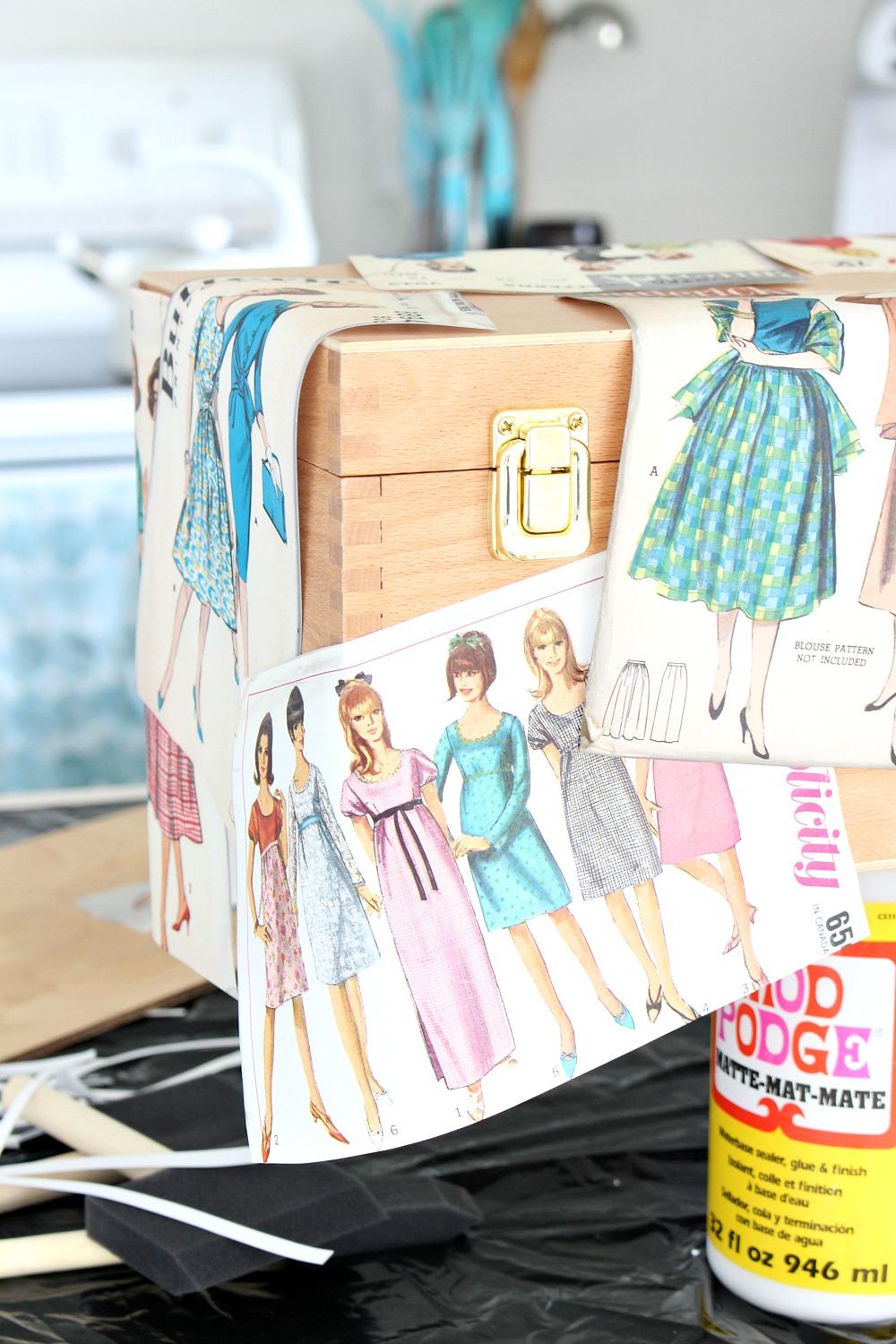 I used a piece of tape to hold each pattern in place while I hmmmm'd and hawwww'd over placement. With the layout determined, I set about securing each pattern in place with mod podge. I used a cheap foam brush and brushed on some mod podge onto the wood, laid down the pattern, and then sealed with another layer of Mod Podge. I worked my way around the sewing box.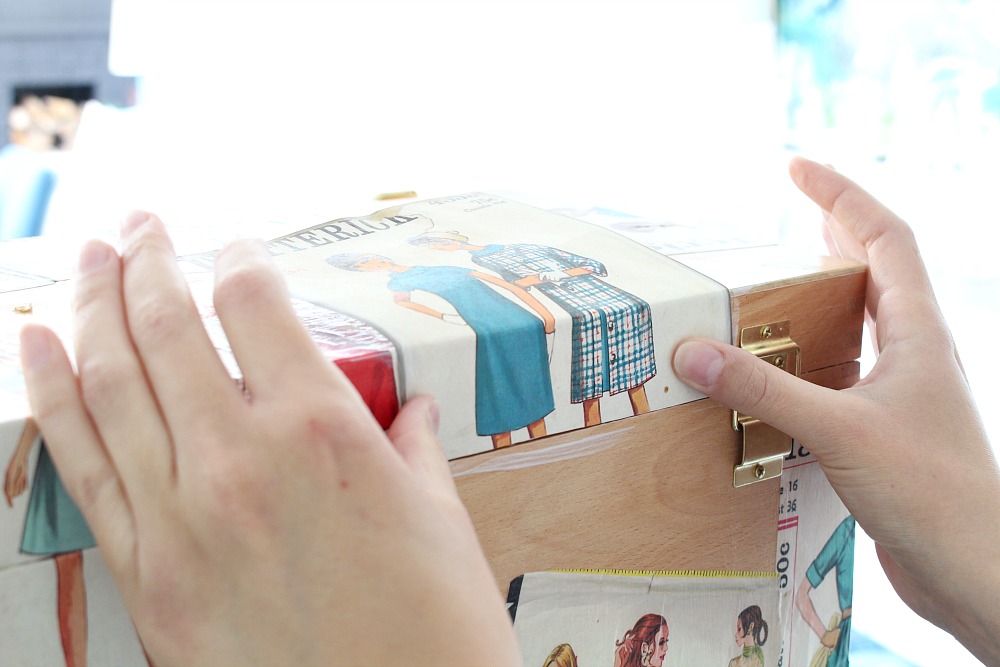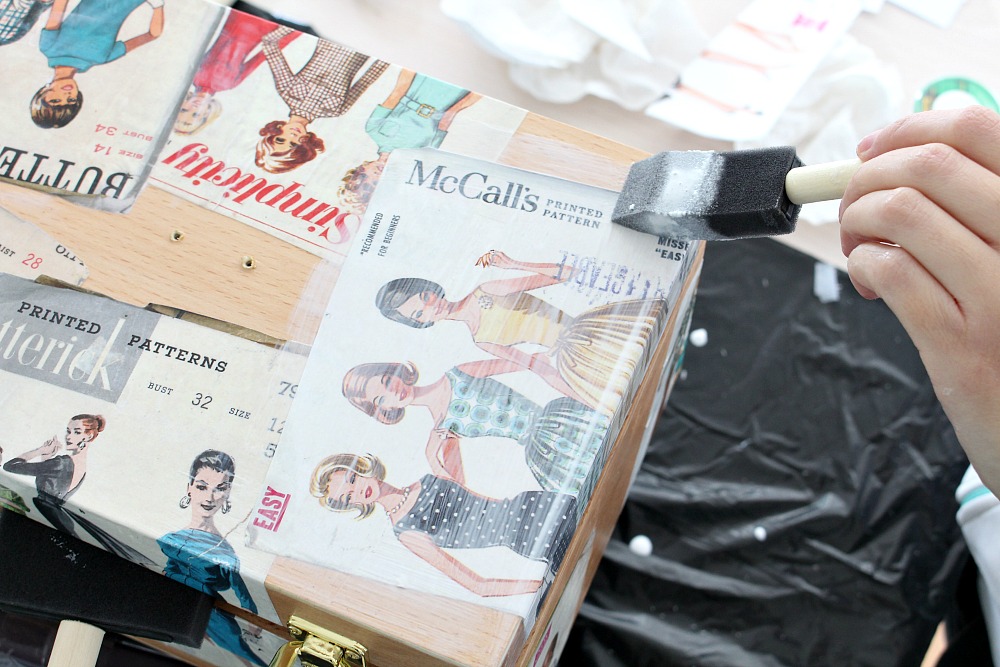 For the lid, I closed it and laid the pattern over it and ran my fingernail along the pattern, sort of tracing the opening of the lid.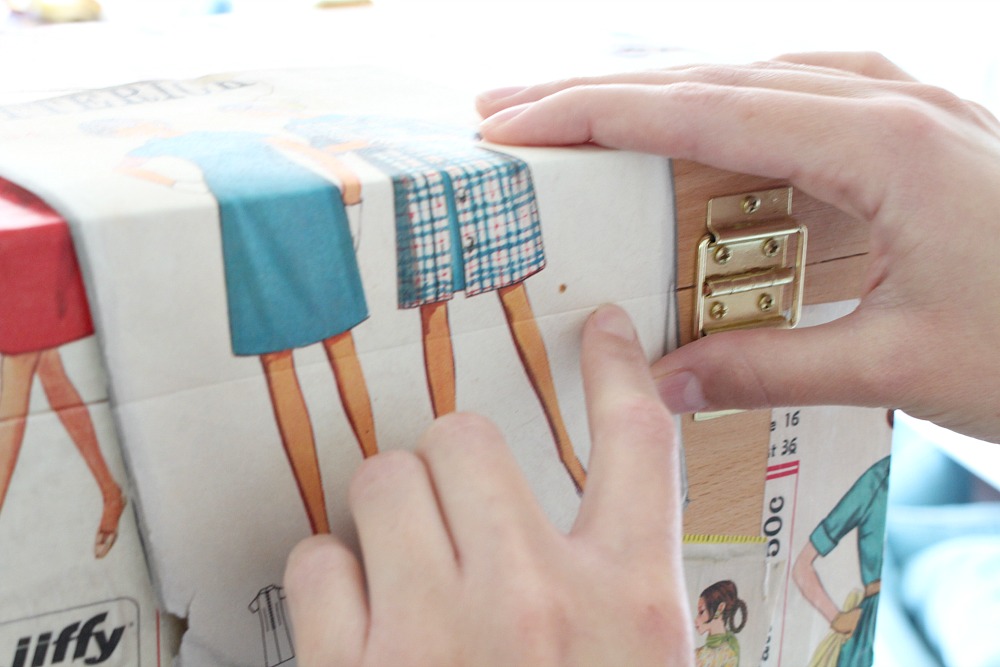 I cut it with a pair of scissors where I had marked it with my nail and carefully secured it with mod podge, making sure that the two pieces lined up seamlessly when the lid was closed.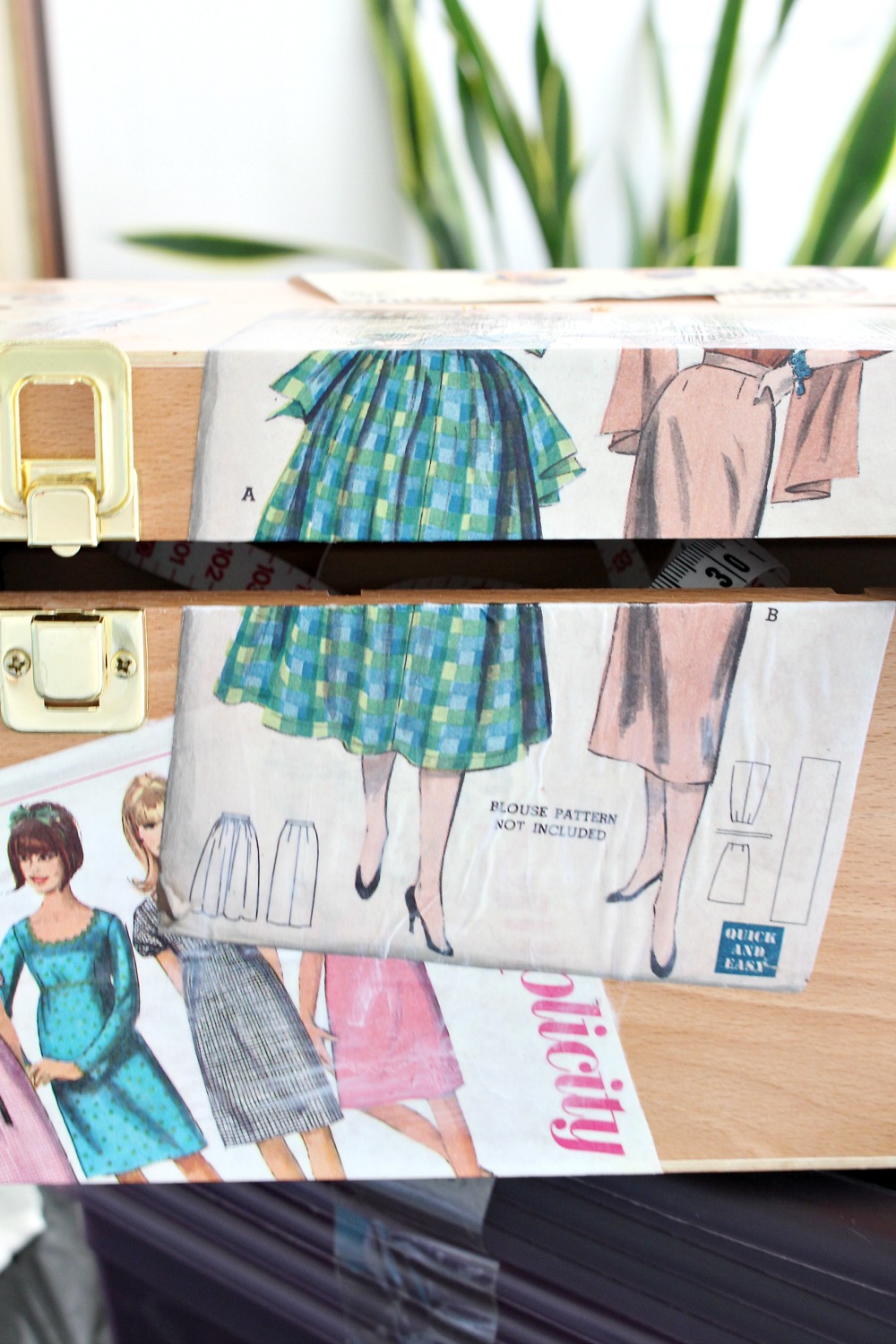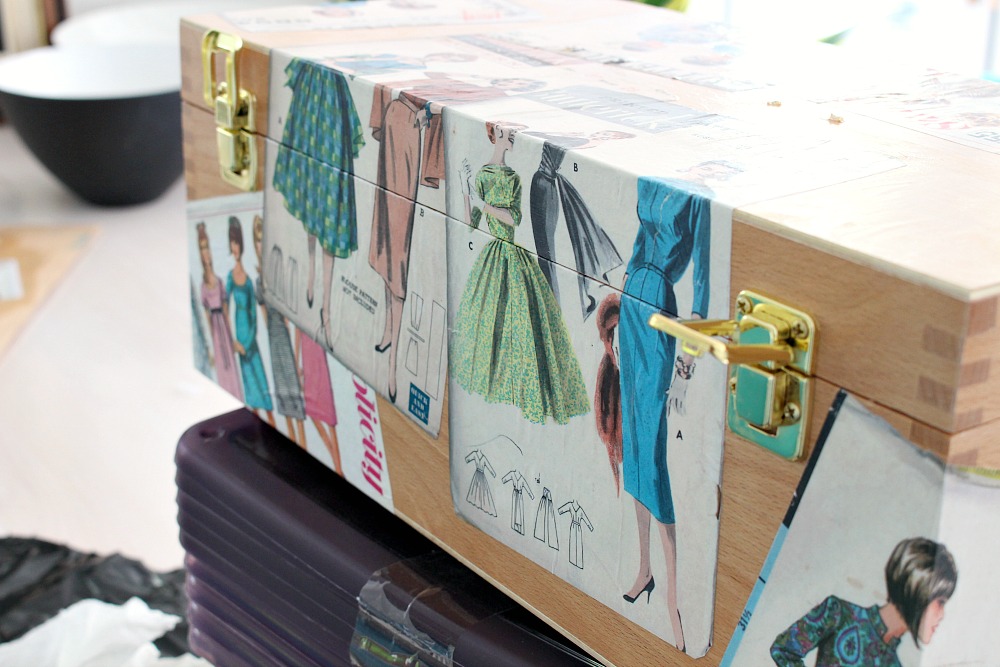 This was the trickiest part!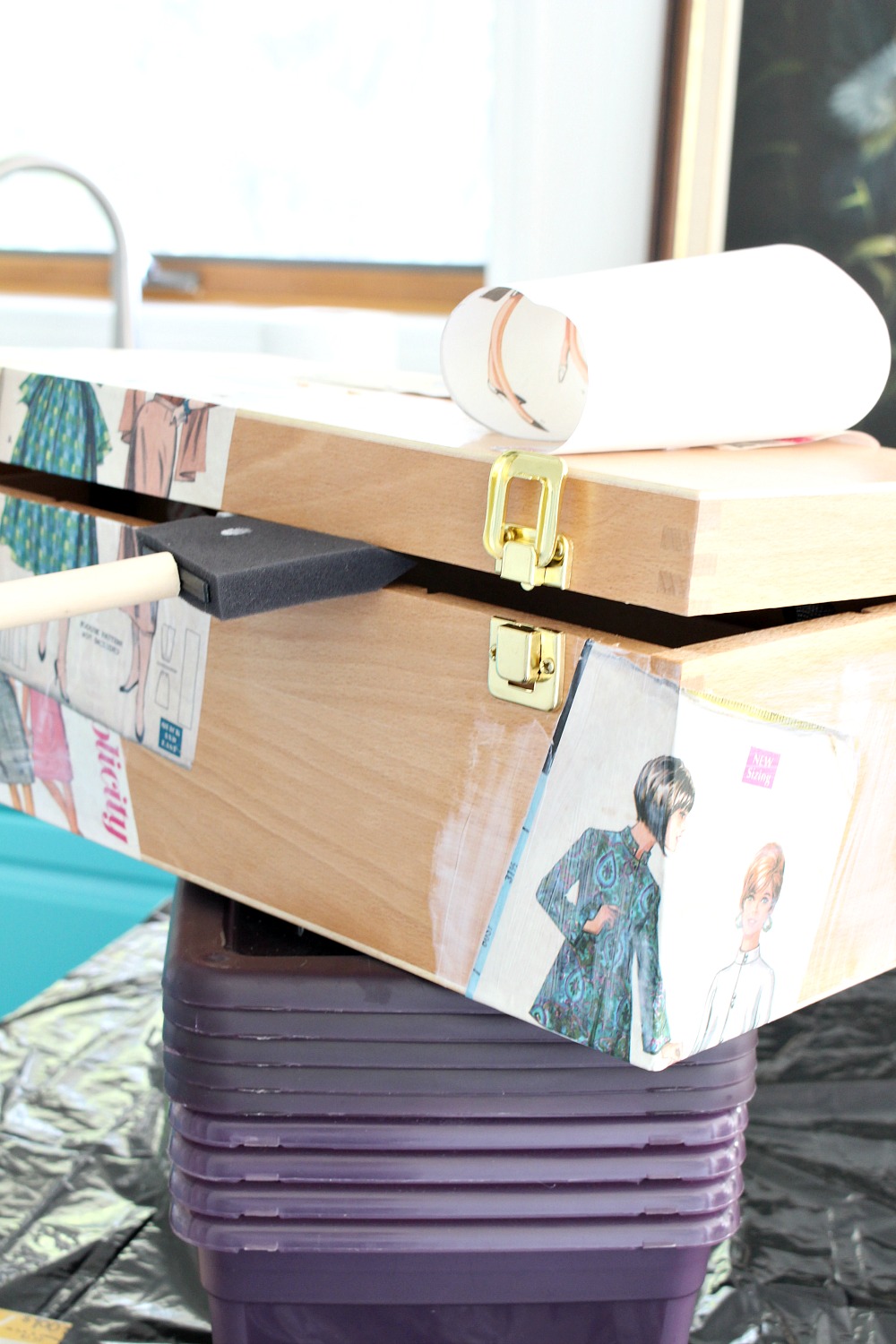 When everything was secured, I gave the entire box a coat of mod podge, let dry according to instructions and followed up with a final coat. The mod podge changed the color of the wood the tiniest bit so covering the whole thing in mod podge ensured that the color was uniform. I made sure to keep the screw holes clean of mod podge so the handle can be re-installed.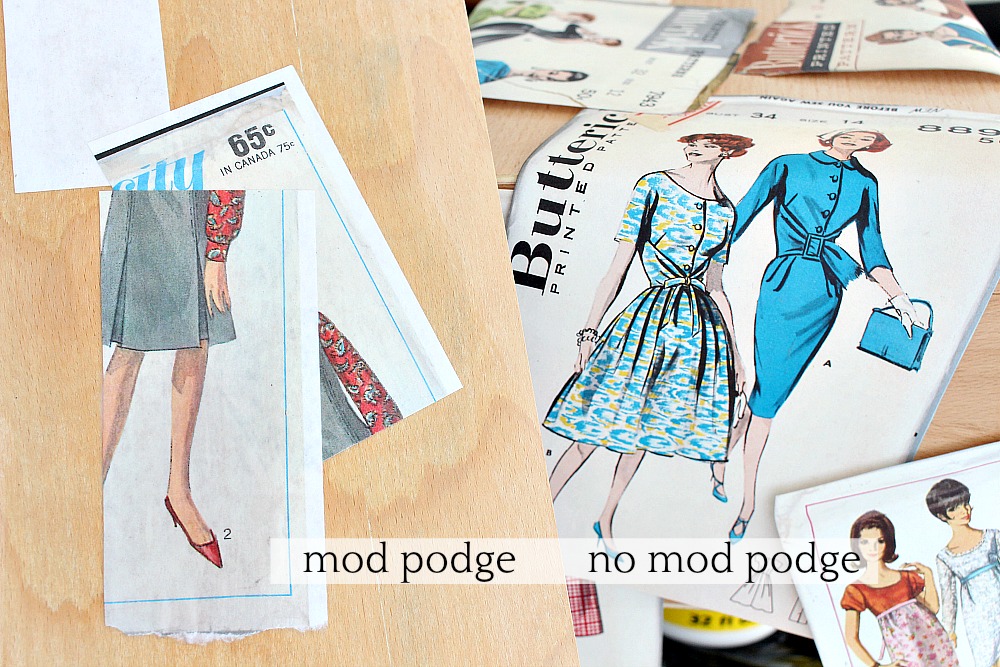 When the mod podge was dry, I re-attached the handle and, voila, THE world's cutest sewing box! So if you've been wondering what to do with vintage patterns, consider mod podging (photocopied!) patterns onto a storage box or journal – someway to immortalize those beautiful illustrations and chic vintage style.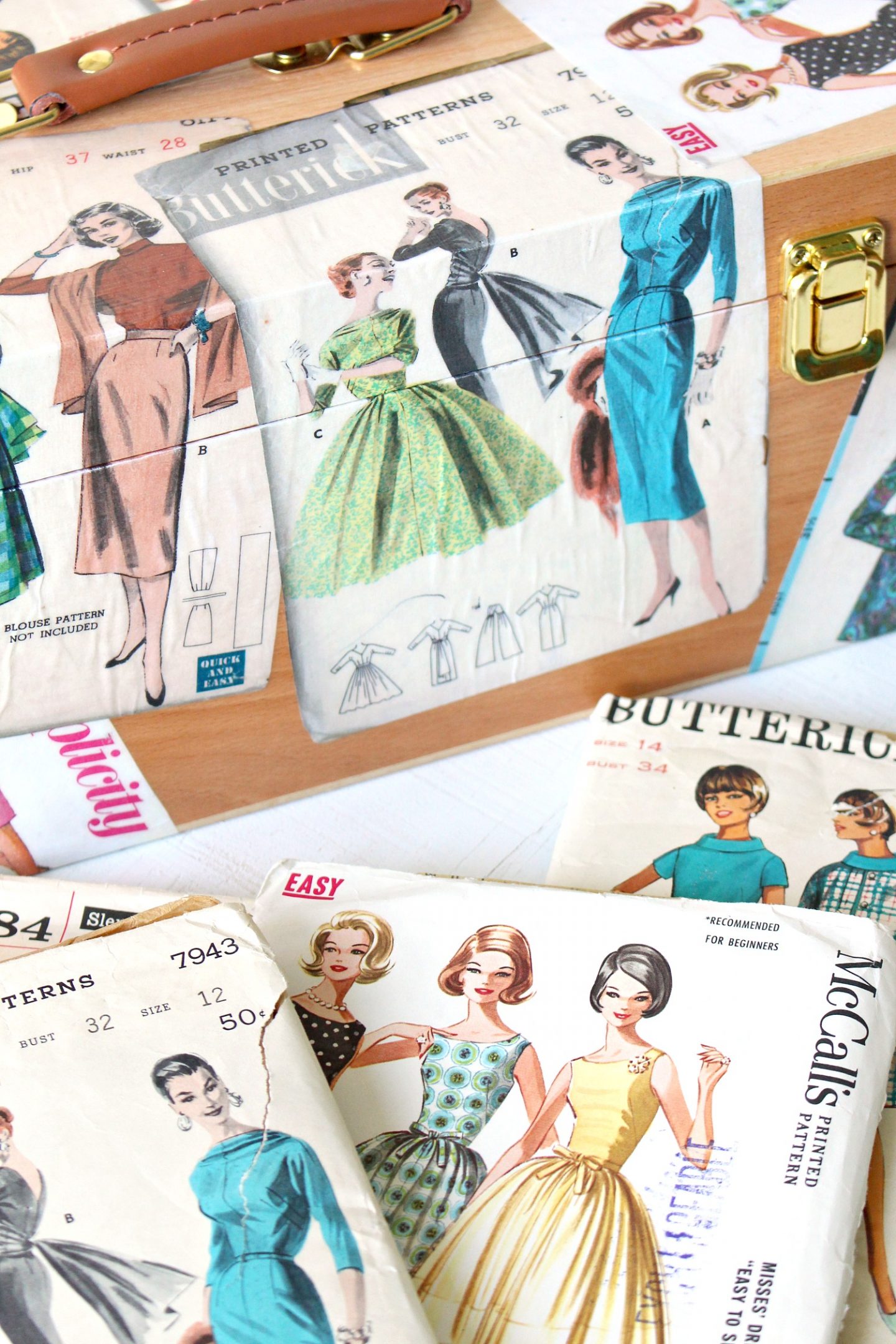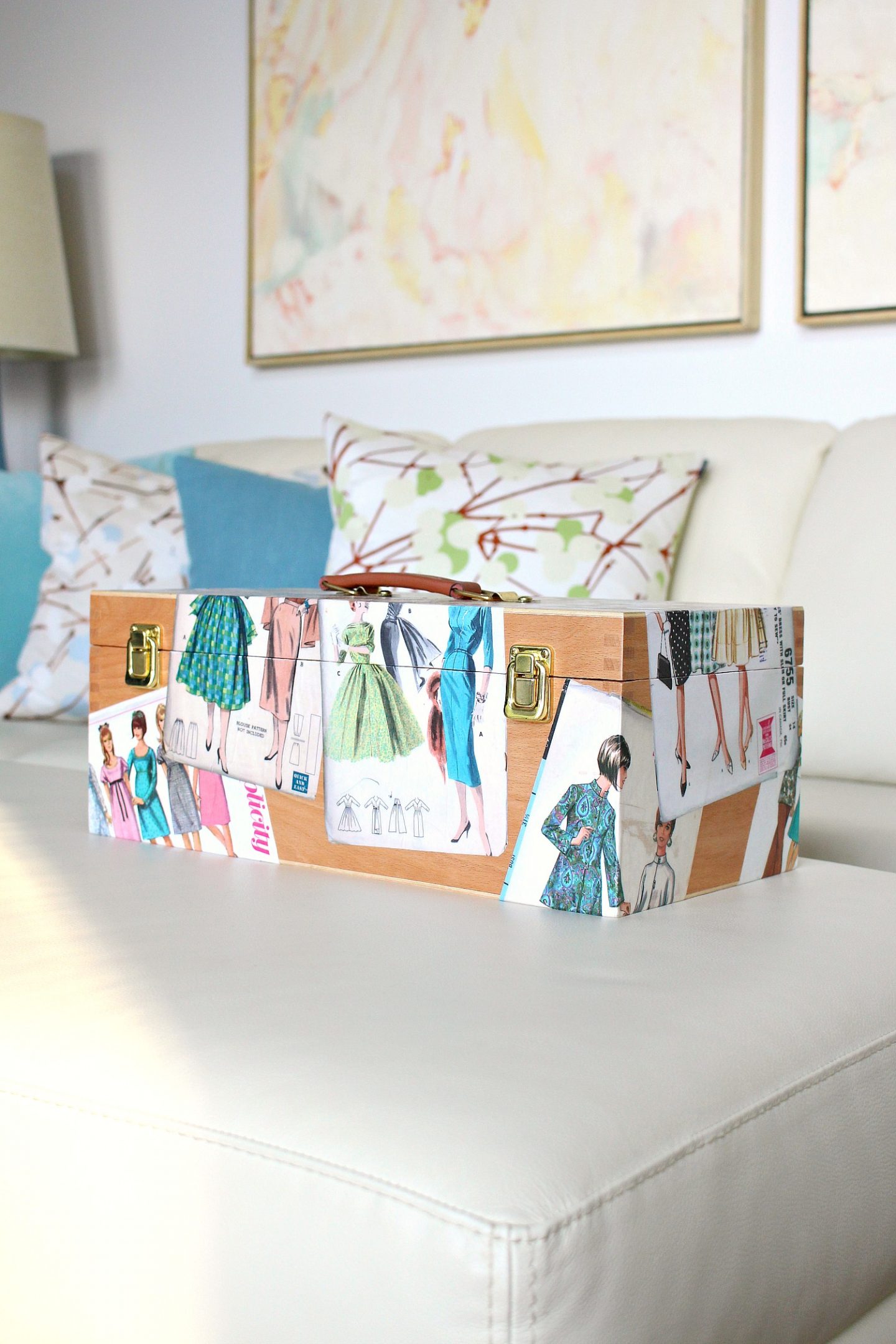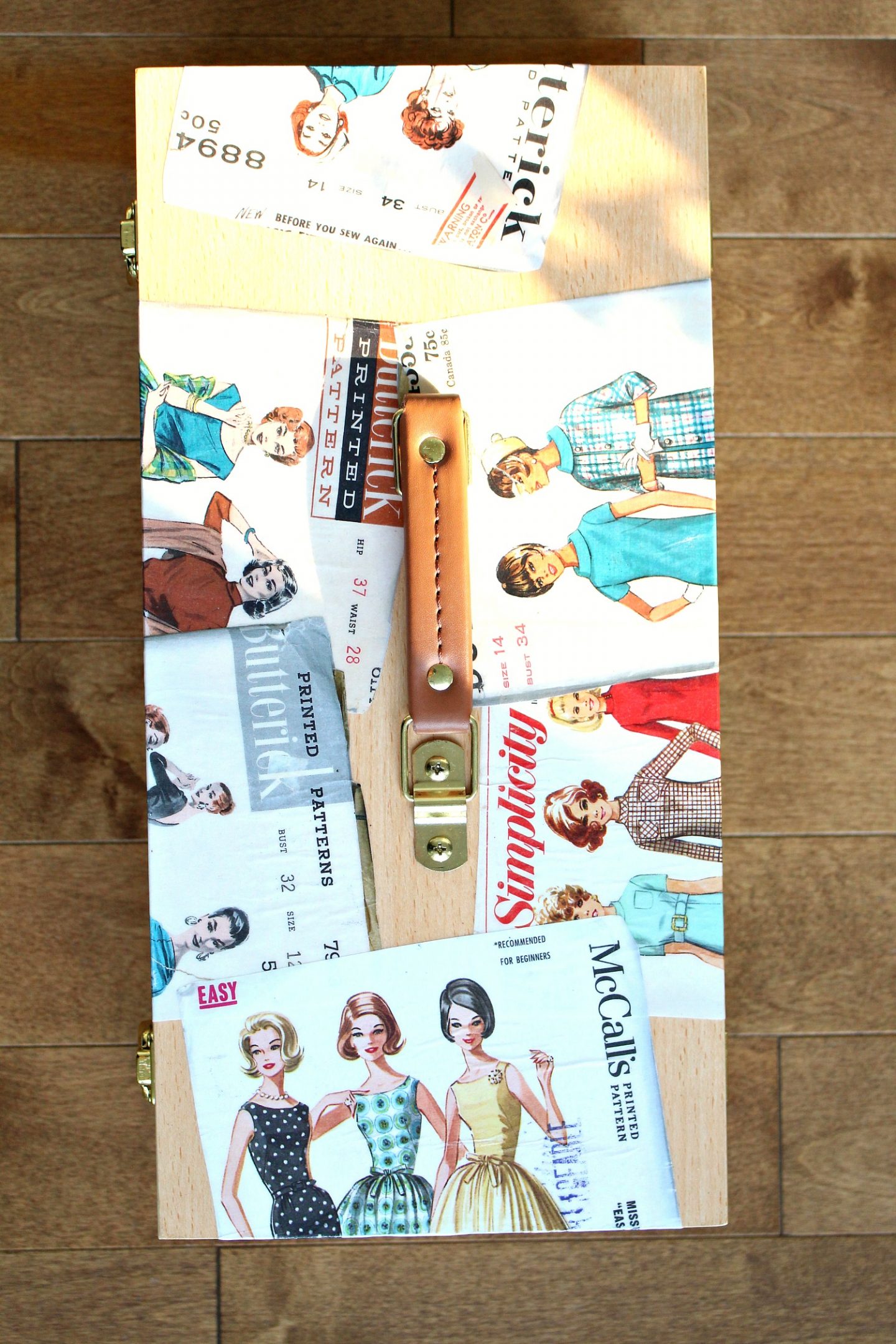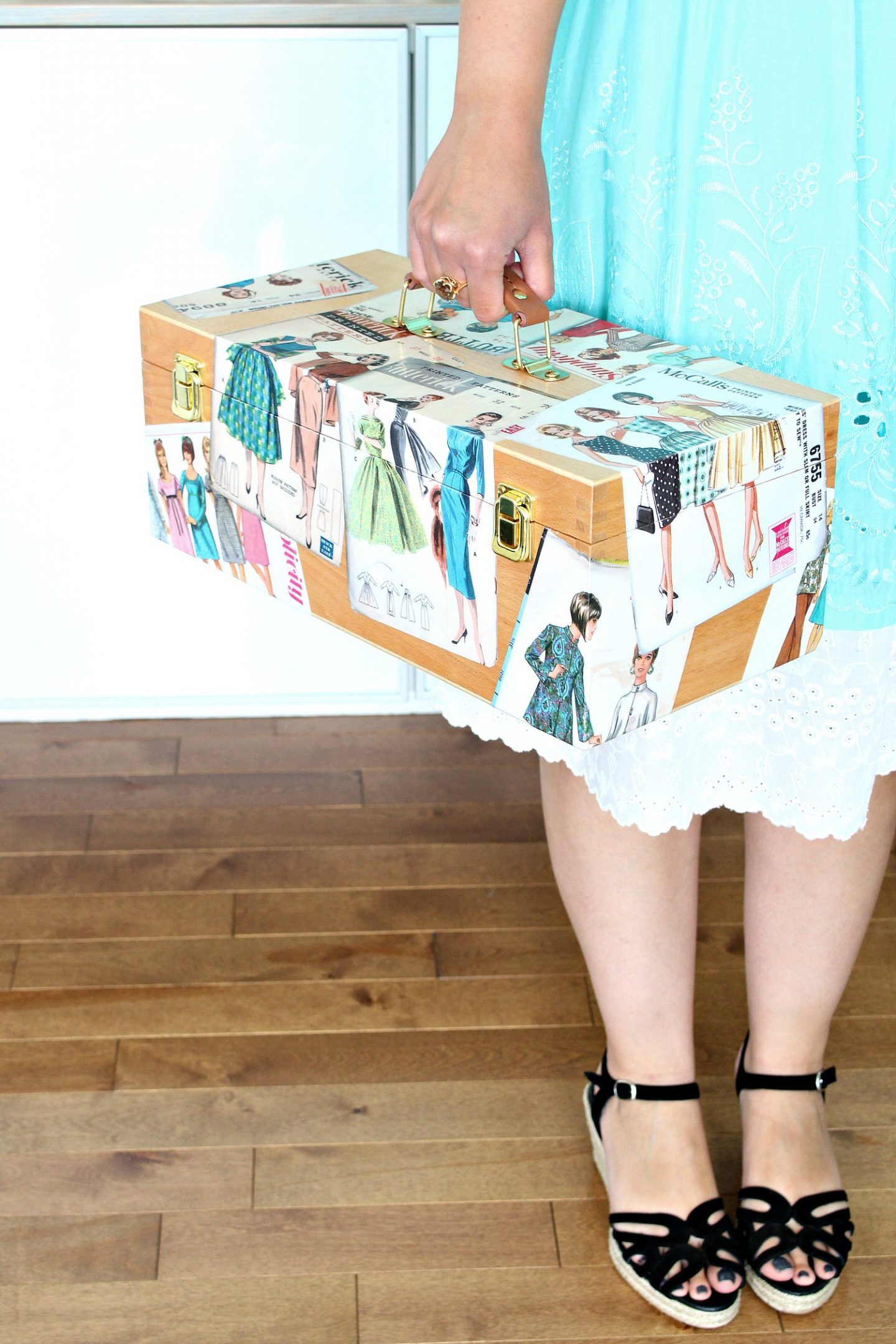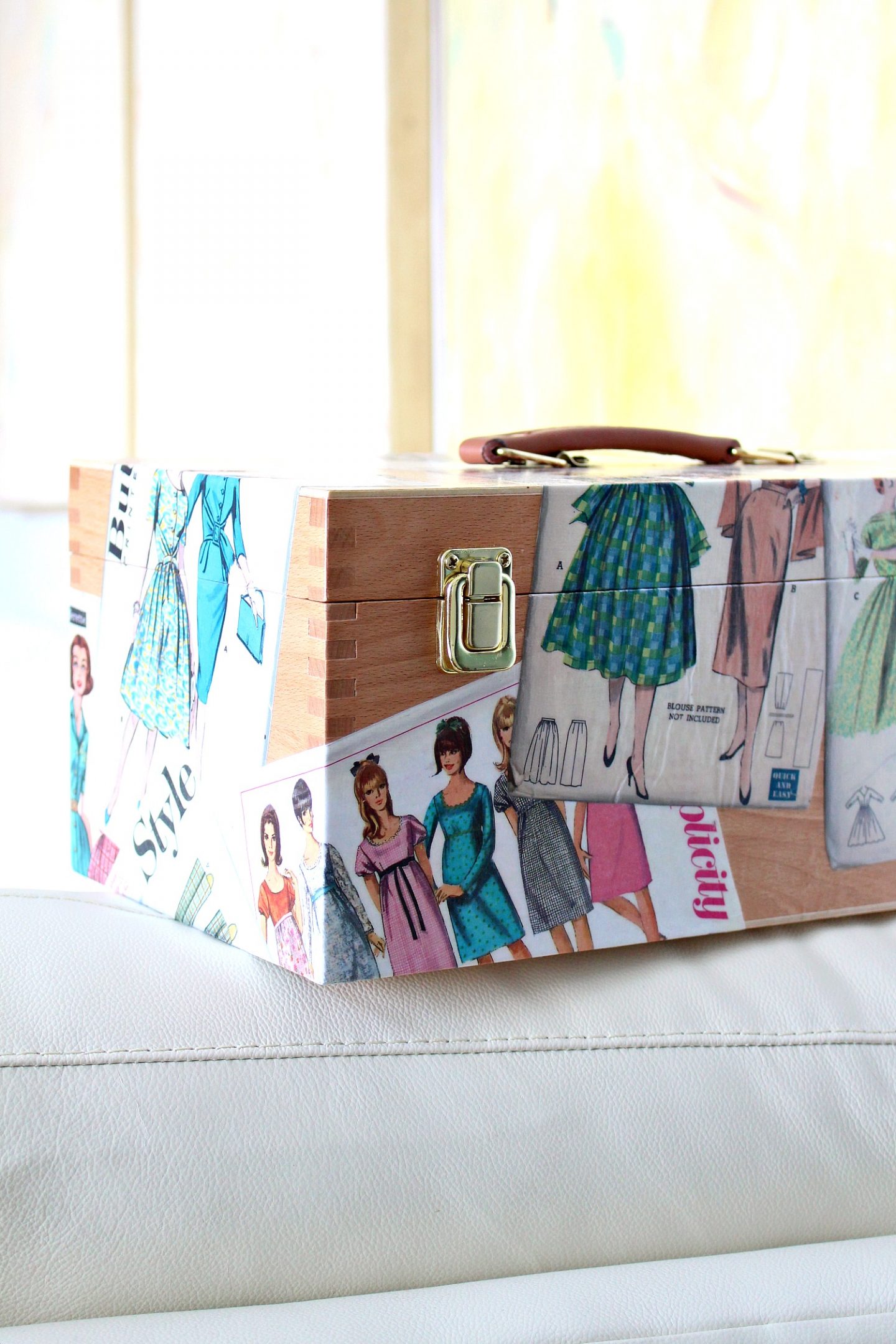 Even thought it's been a few years since I wrapped up my PhD and felt any real sense of "back to school" madness, I still can't help but want to get organized for September. I guess those habits are deeply ingrained! I feel so good that my sewing supplies are freshly organized. Now I really have to hunker down and sew some of these patterns this winter…
P.S. On the subject of what to do with vintage patterns, have you seen these vintage pattern notecards? So cute!