Like an embarrassingly large number of projects I share (*cough* tulip table makeover *cough*), this mid-century sectional sofa makeover is something my longtime readers have had to wait a loooong time to see! Some of you might remember that I impulse bought this vintage sofa at an estate sale the day before we moved 1000 miles to the lakehouse. It was only $200 and I fell in love with the lines and the tall back – the design is so comfortable. It can be difficult to find a vintage sofa that beckons one to lounge. We didn't have the money to reupholster it after we moved, so it sat in our garage. When we finally had enough money saved to replace the leather sofa we scored secondhand, we decided to splurge on a beautiful – even cushier and loungier – cream leather sectional sofa. As much as I pined for a turquoise, mid-century modern sectional sofa, Hubby and I decided that we wanted a longer, bigger sectional than this. Luckily I was able to sell the mid-century sofa for the $200 I paid – plus I was even able to help choose the perfect fabric and help guide this mid-century modern sectional sofa makeover. Spending other people's money on decor is one of my top 10 favorite hobbies, lol. Without further ado, here's the mid-century modern sectional sofa makeover some of you have patiently waited five years to see: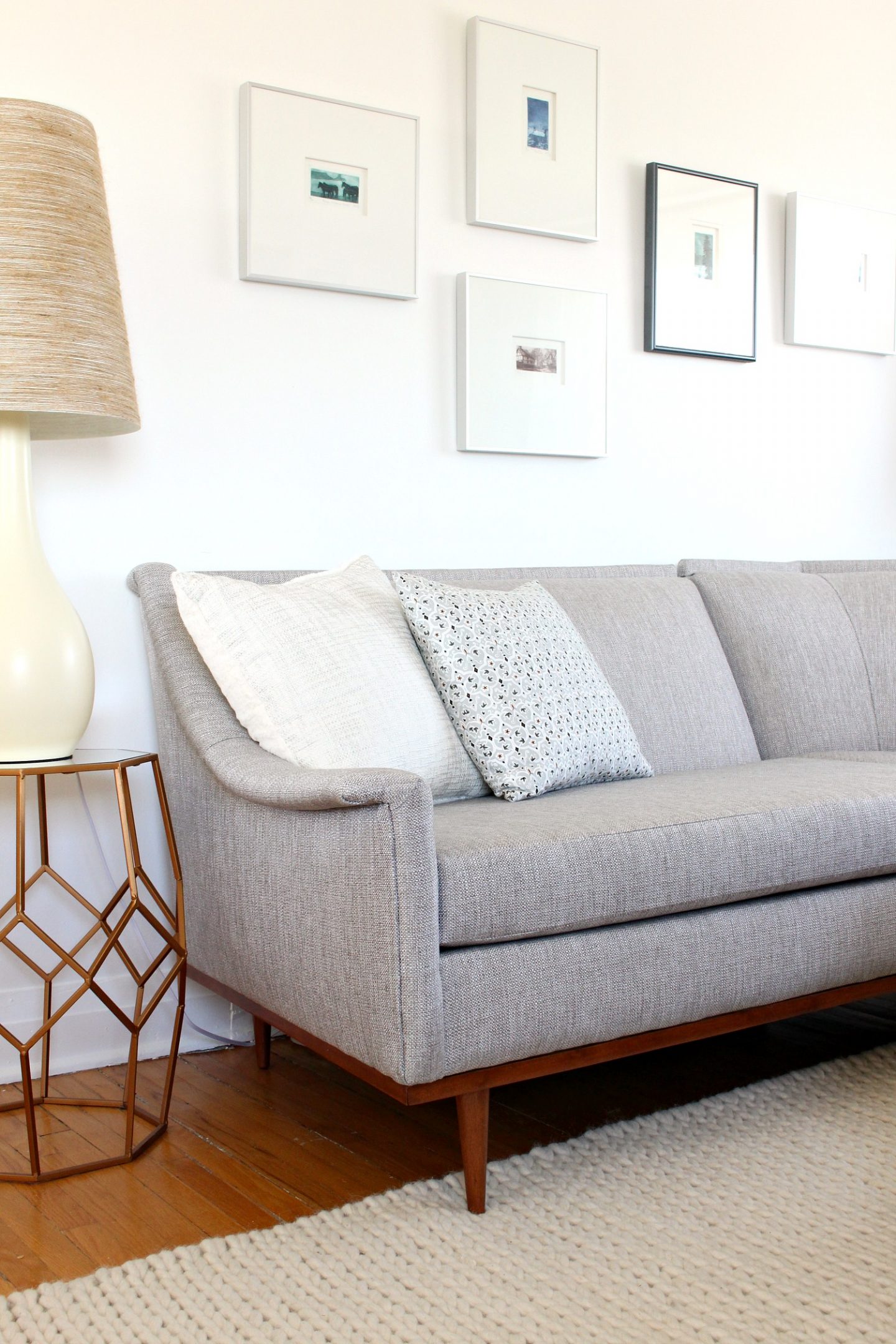 I have SO many more photos to share, but let me remind you of the before – plus I'll show you the fabric choices and the cute coffee table ottoman hack I came up with.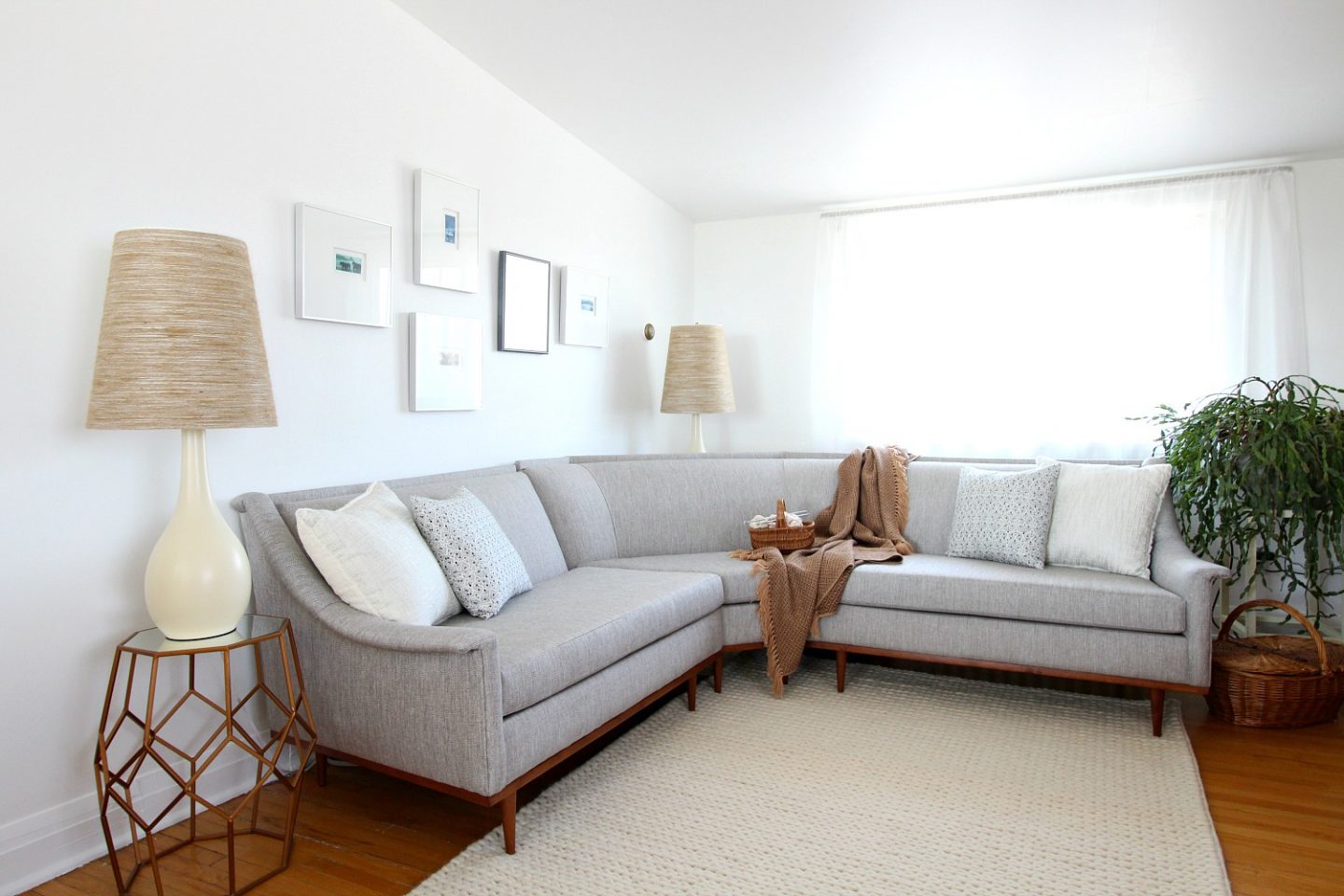 Mid-Century Modern Sectional Sofa – Before:
Below are some photos of the "before". At one point, this was a really beautiful, quality sofa. The upholstery was chic, with an ornate design that was still subtle, thanks to the tone on tone pattern in a warm wheat color (I bet that hid dirt really well – so smart!) I think it had little fabric arm covers, but I probably ditched those before the sofa even made it into the u-Haul. Sadly, this sofa was a little worse for wear, with a wood frame that needed repairs and refinishing, completely shot upholstery, disintegrating foam and – gift with purchase! – a mouse living inside.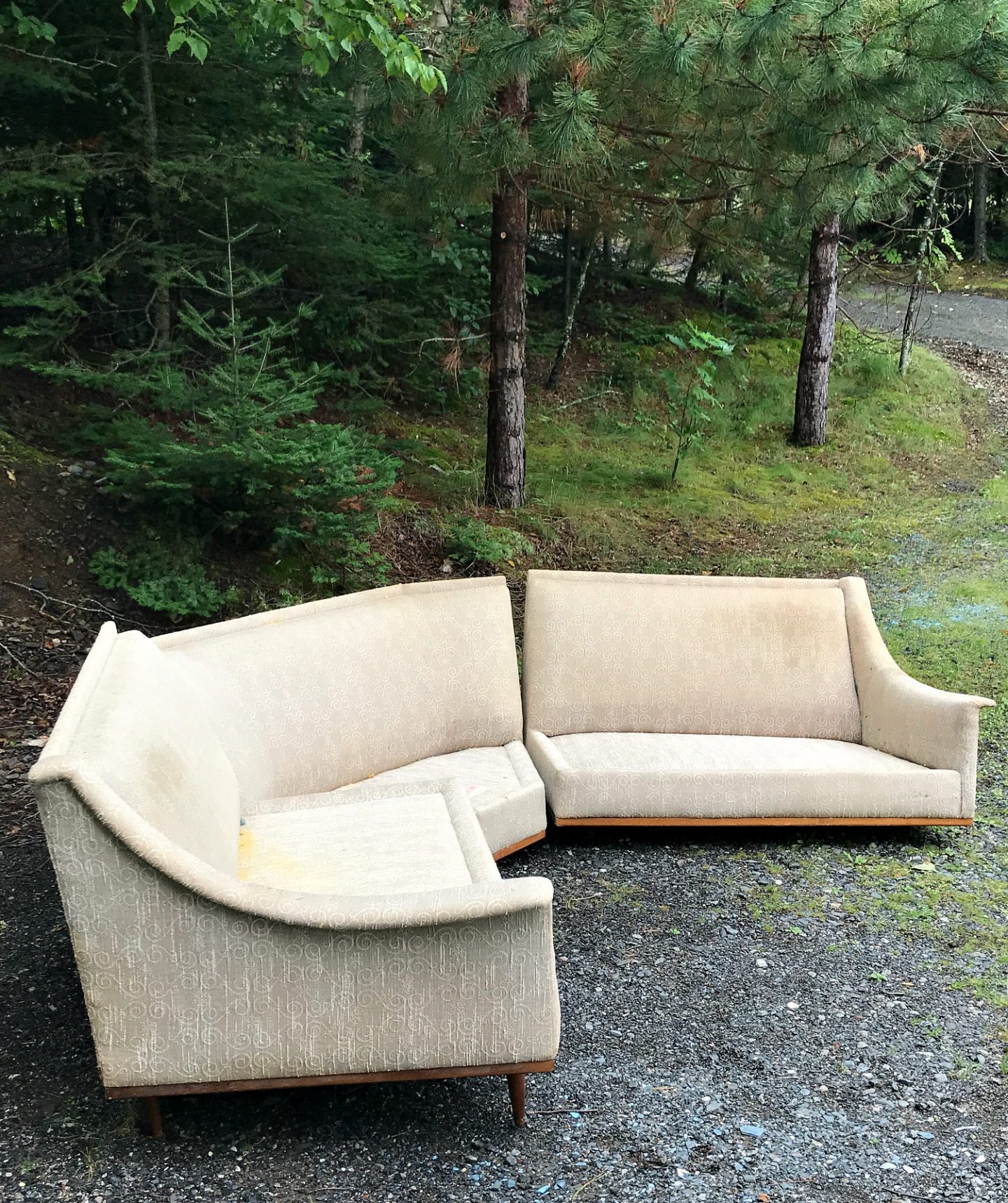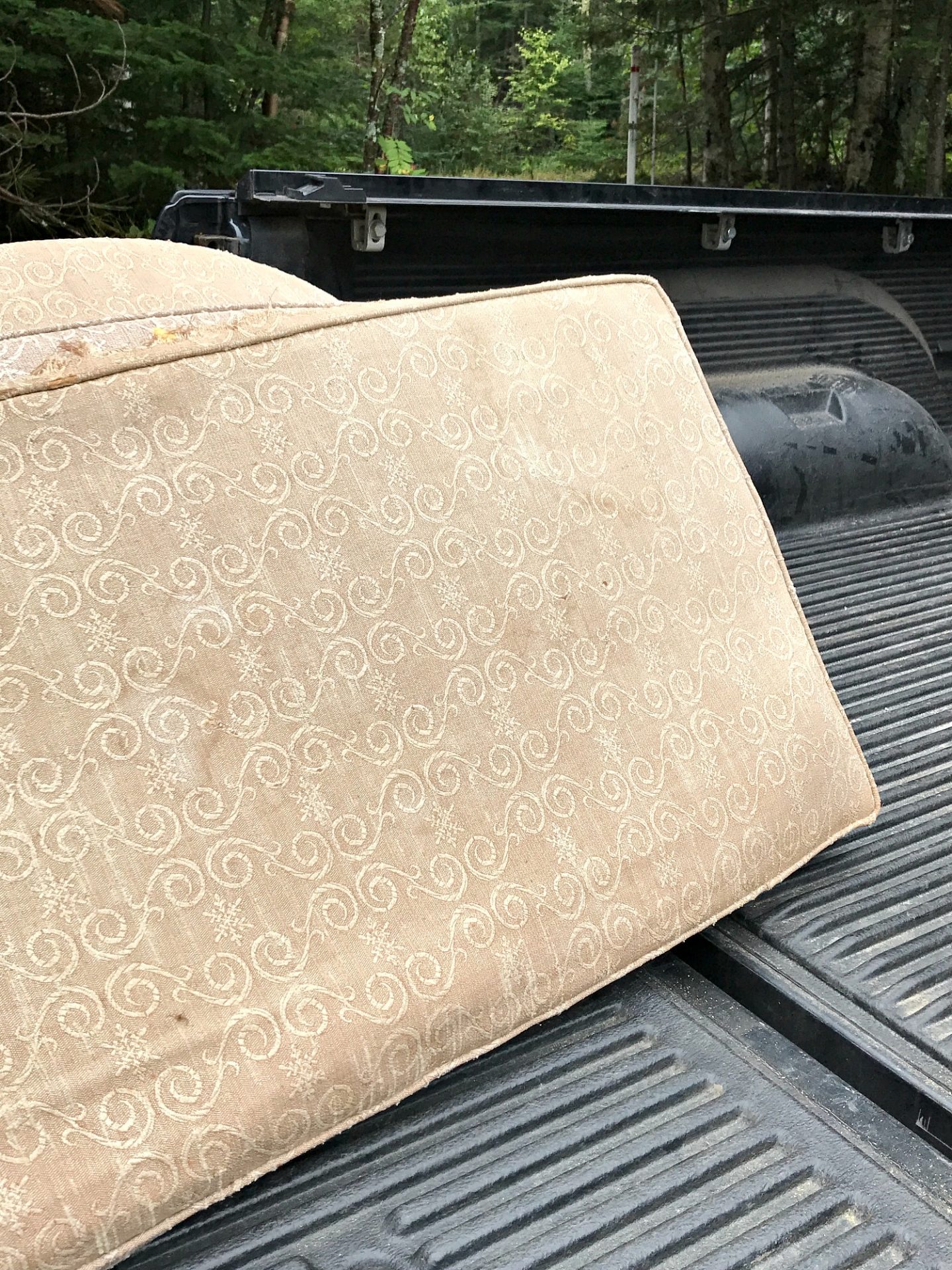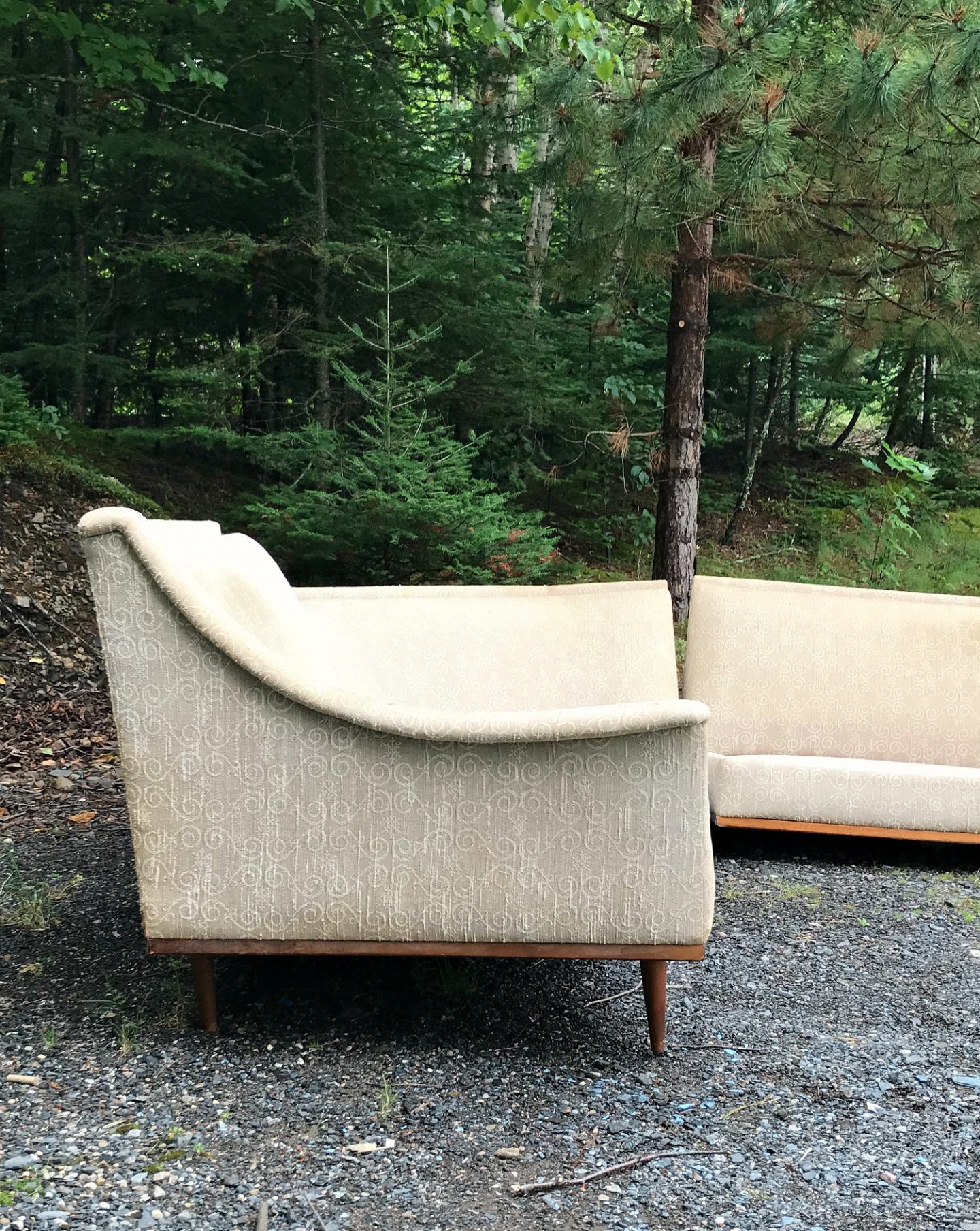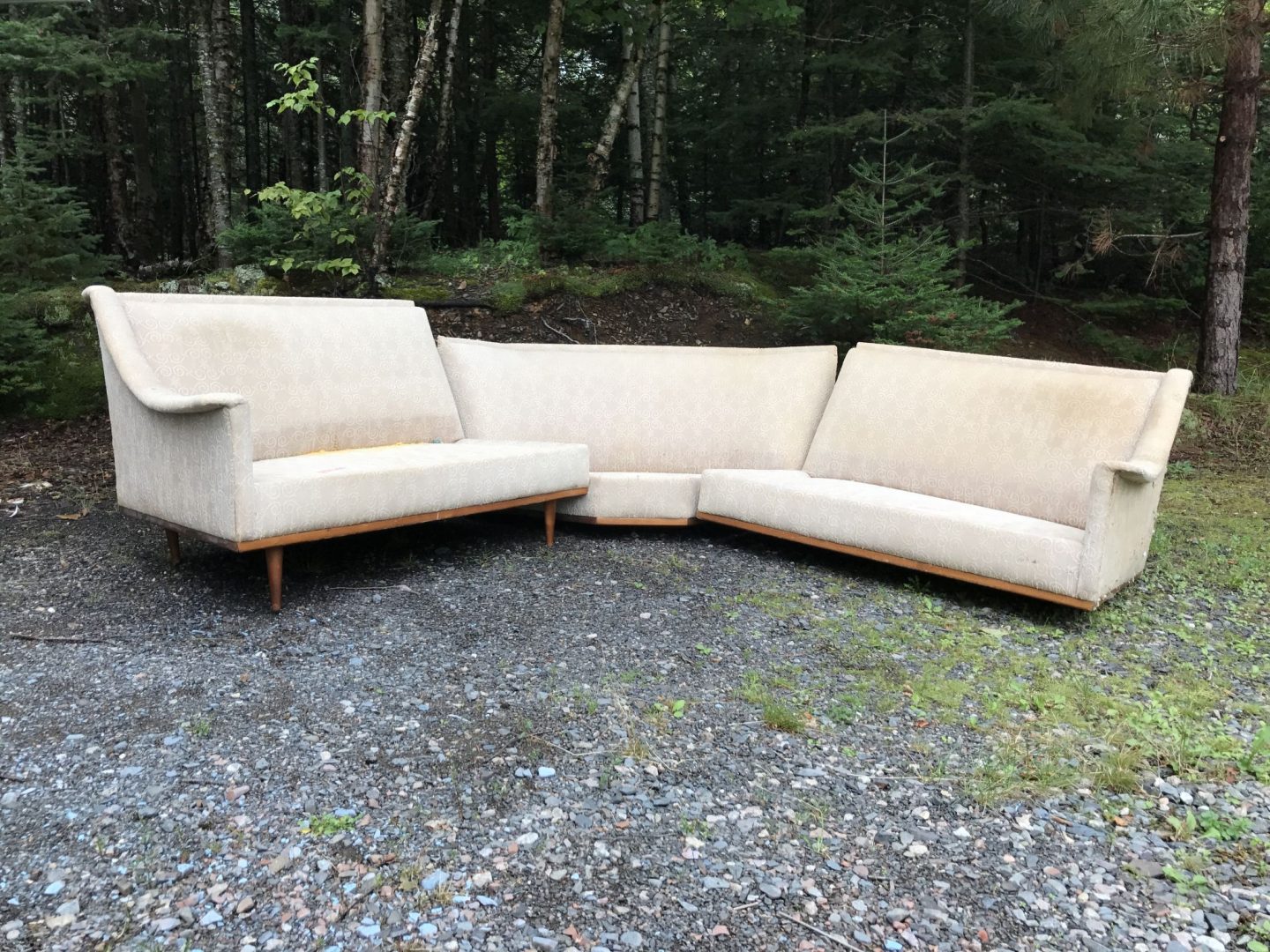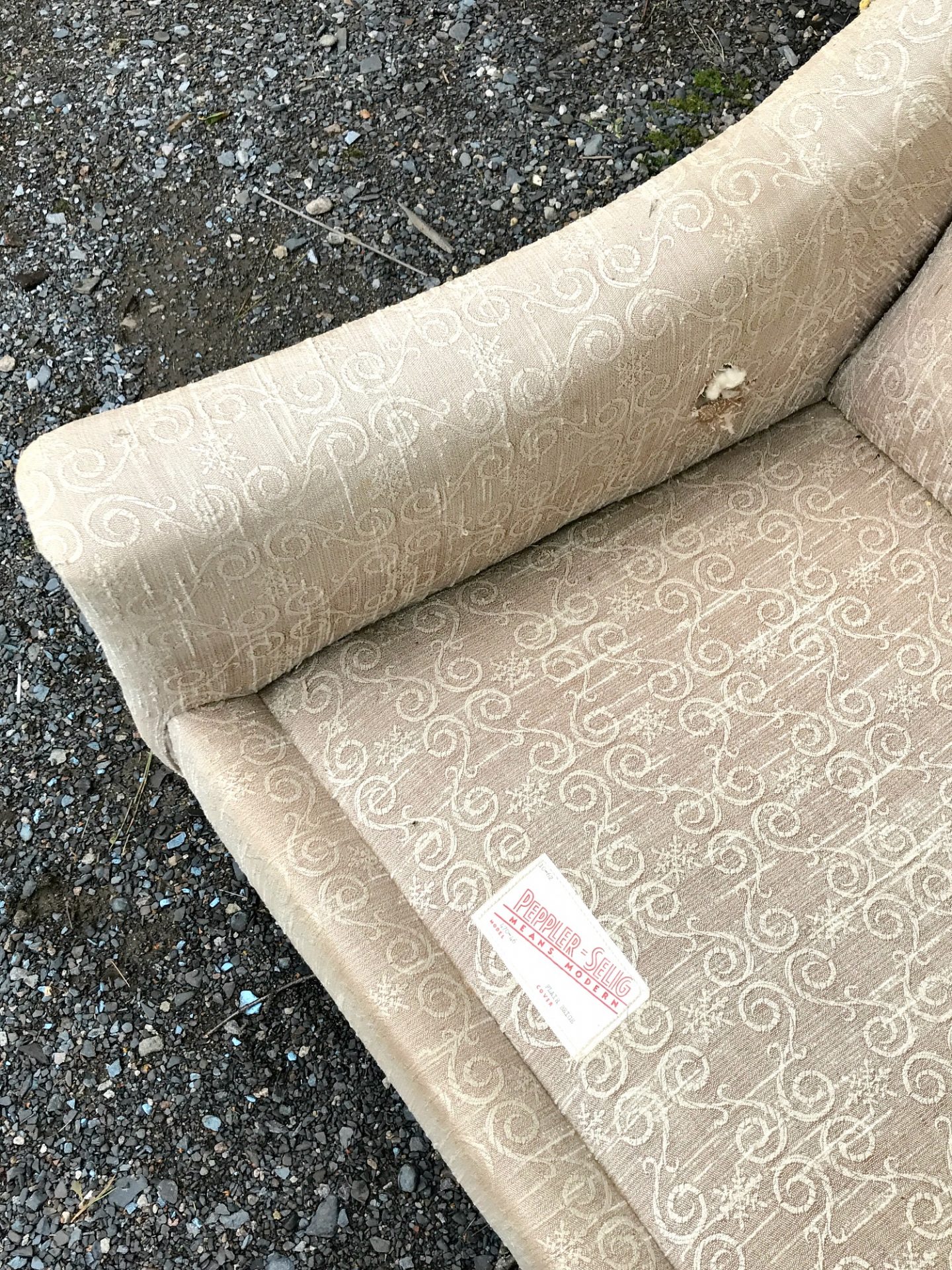 Choosing the New Upholstery Fabric:
When I was asked where to bring this sofa for its makeover, I recommended the same upholsterer who did our sailboat cushions. Even though they made a couple of mistakes – and there were a few wobbly seams – I wasn't familiar with any other local upholsterers and this company came highly recommended by the local furniture shop where we bought our leather sectional sofa, so I wanted to give them a second chance. For the fabric, we narrowed it down to an era-appropriate tweed and it was an easy choice because one sample book really stood out thanks to the gorgeous lustre of the fabrics. Even on the greyest days, these fabrics glow and have a beautiful sheen, bouncing light around the room. Of course I was drawn to the teal (I love a good mod teal sectional sofa) but we chose the more moody greyed out indigo hue (second photo) instead – only to find out it was discontinued!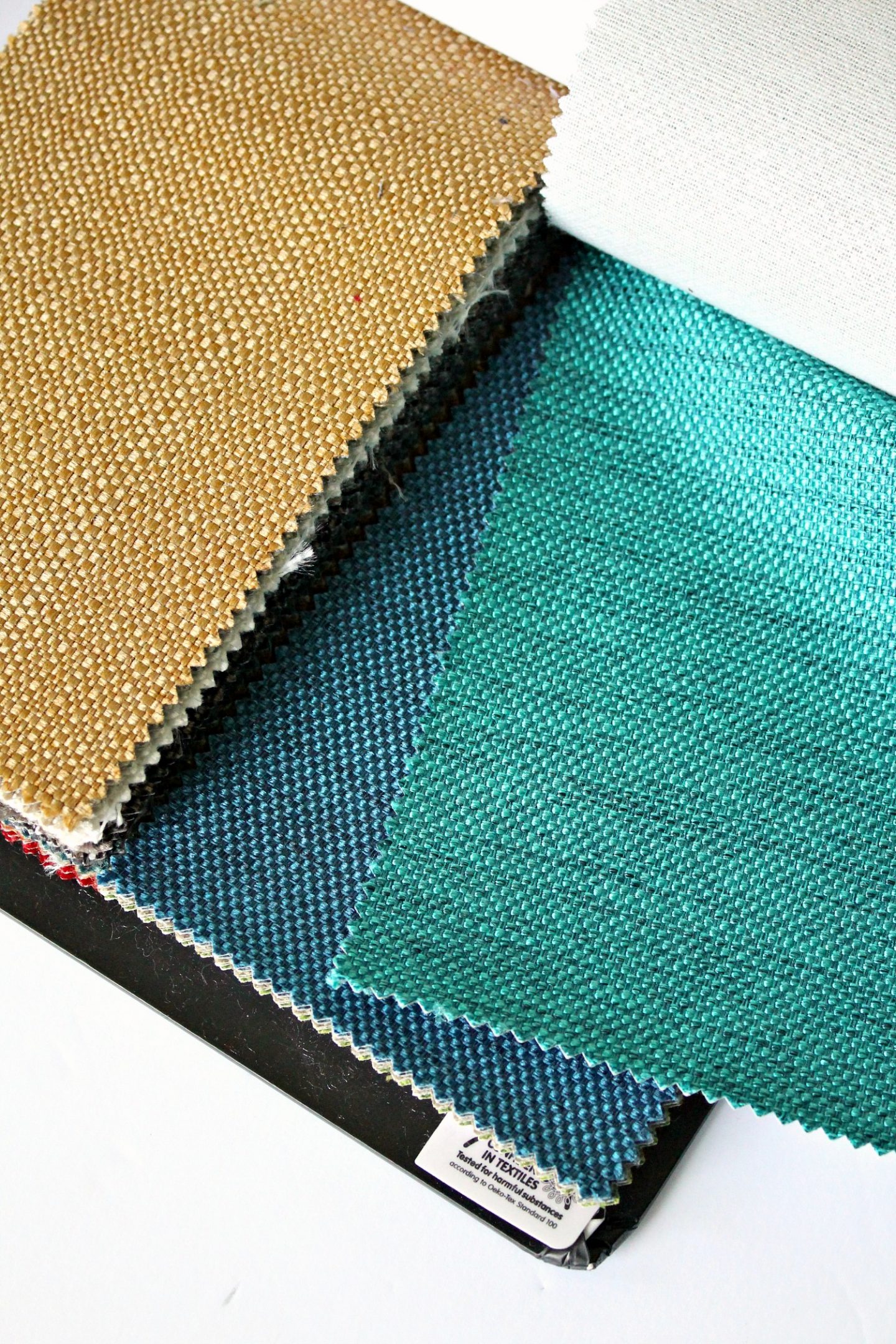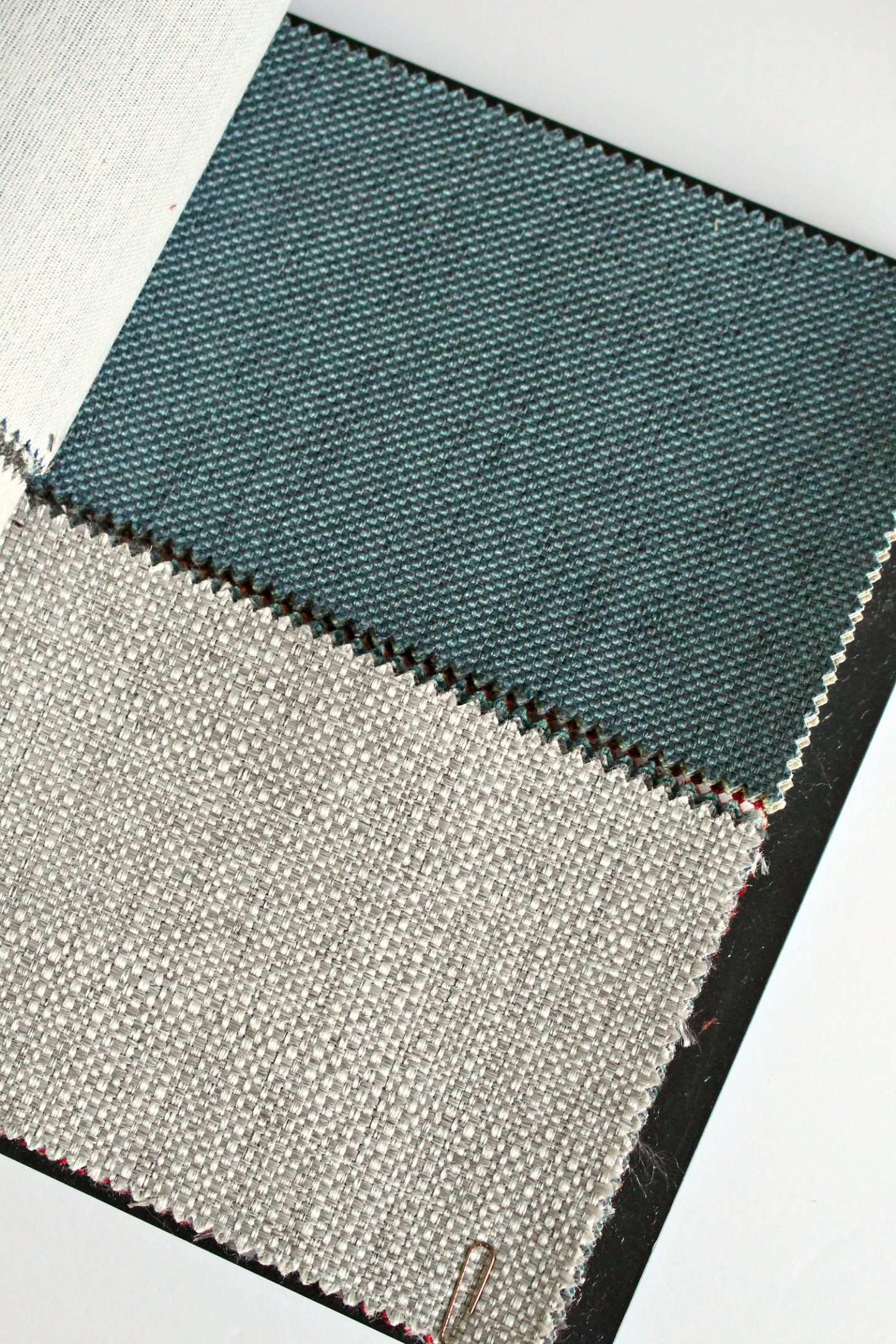 In the end, we chose this lighter silver tweed fabric (shown above and below) and it's the perfect neutral. HUGE thanks to Fanny, who tracked down a link for everyone and left it in the comments: Maxwell Fabrics Tundra #02 Silver.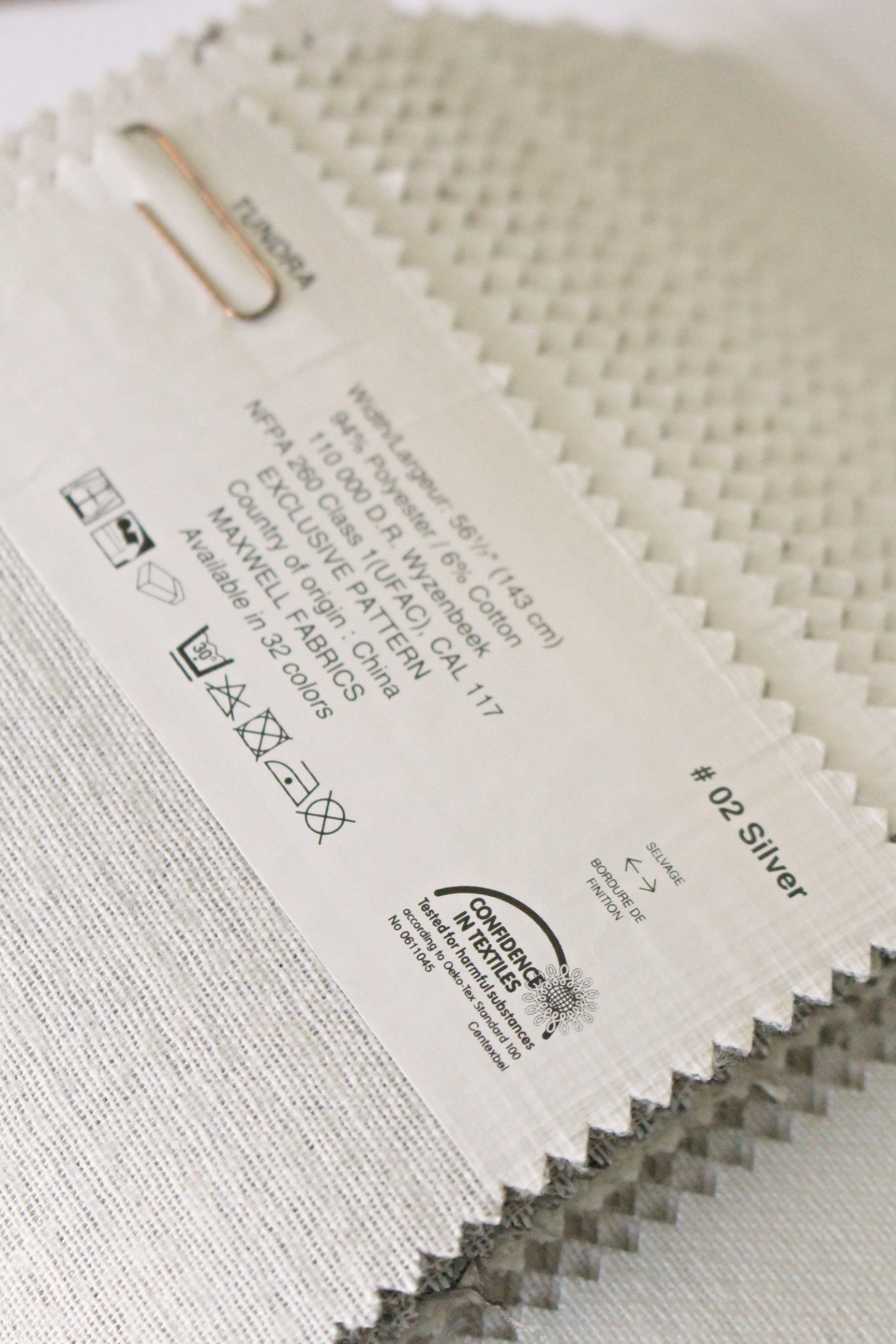 Once the fabric was chosen, the upholsterers got to work replacing the foam and making the necessary repairs. The new fabric was too thick for piping, so that was jettisoned and it ended up creating a much sleeker look. The upholsterers had a connection with a professional wood refinisher who did an AMAZING job bringing the wood back to life. I wish I could have watched the process.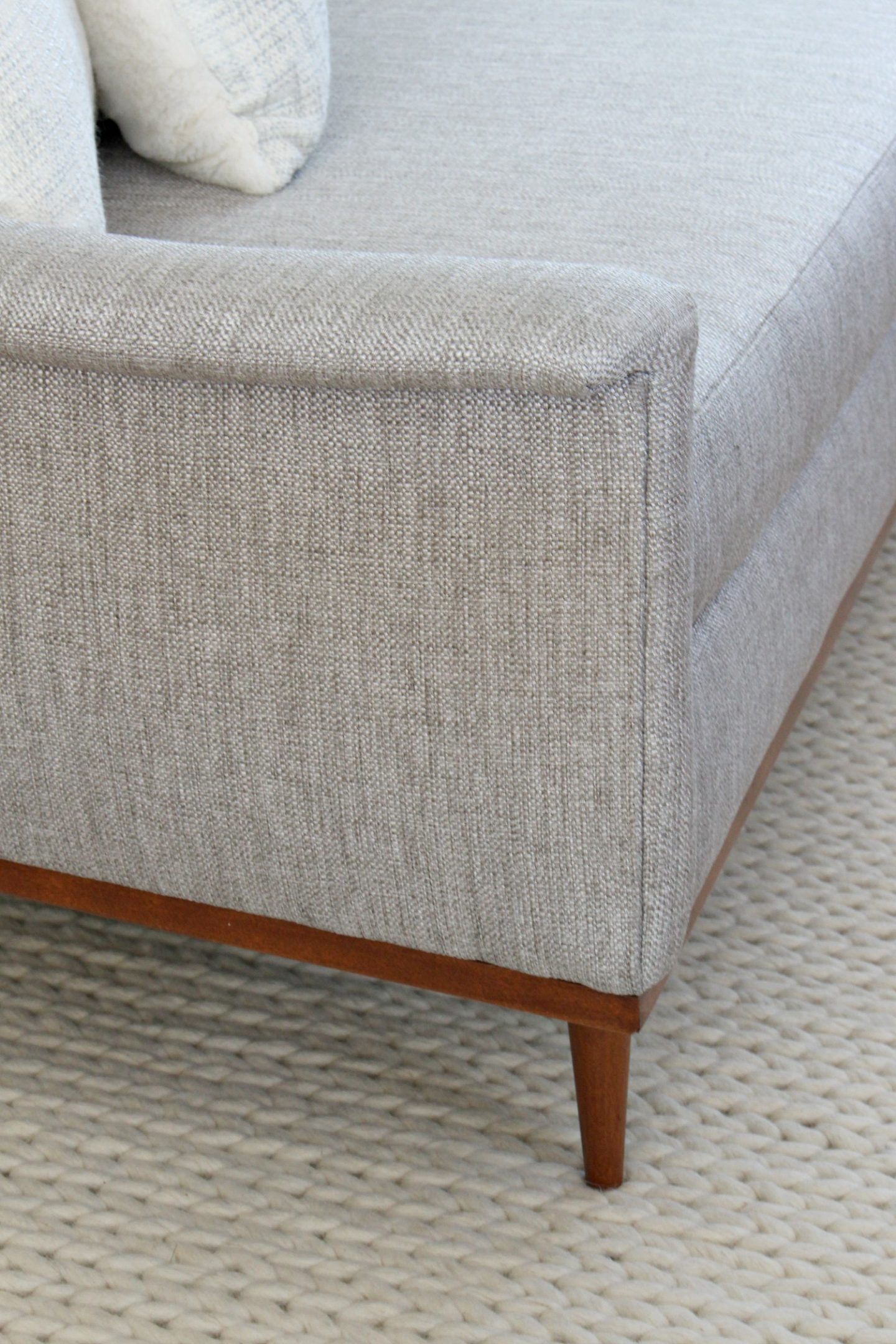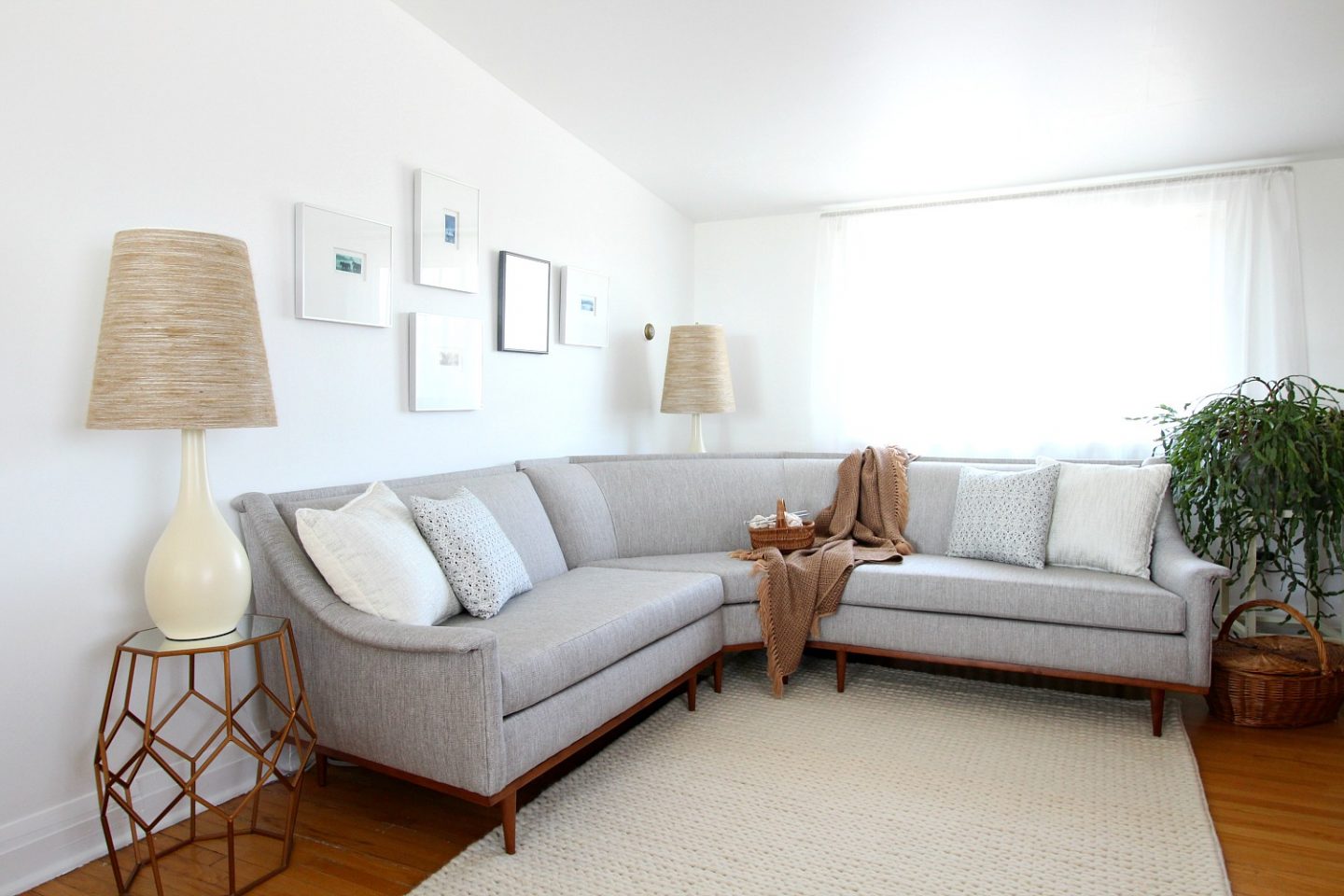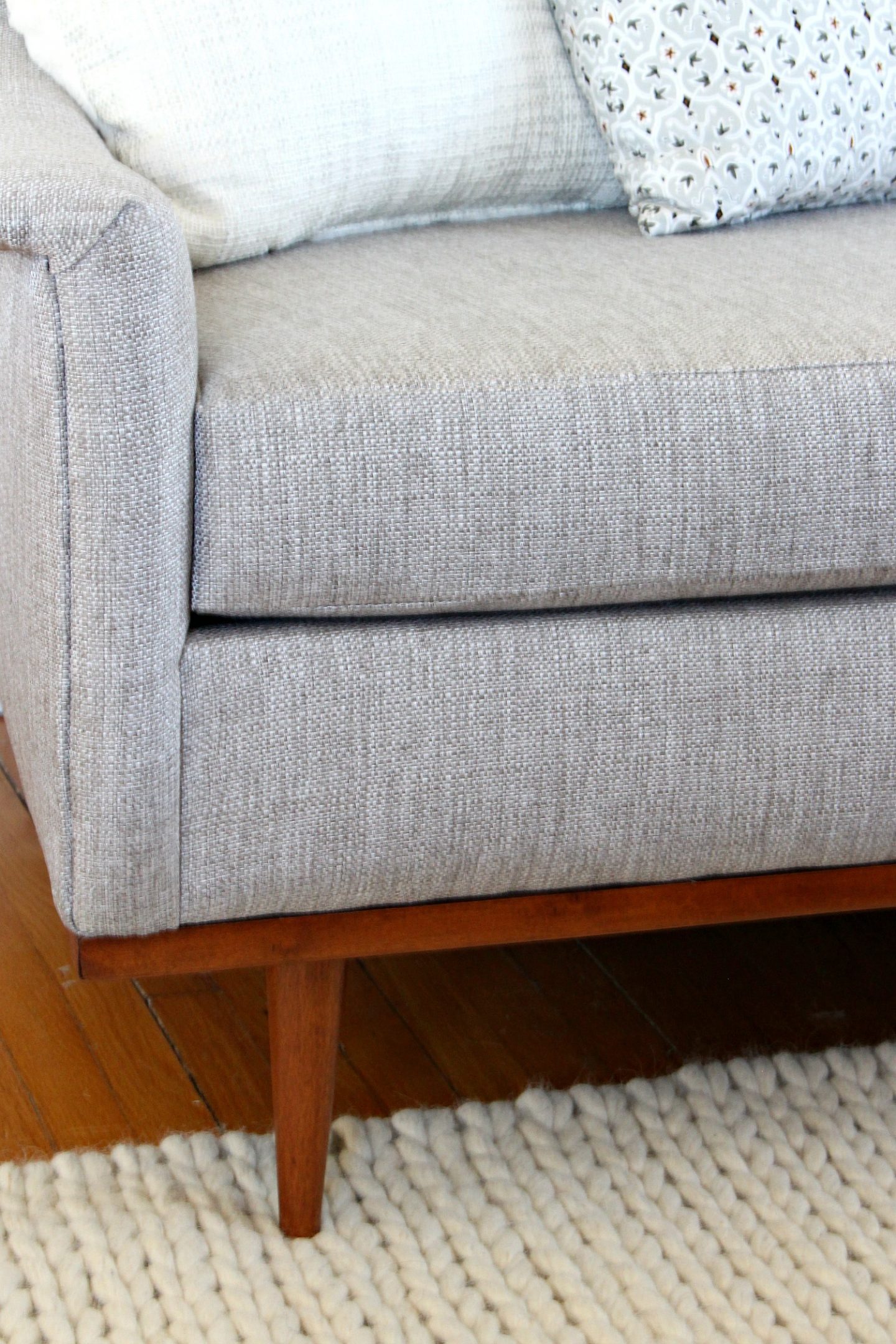 How to Turn a Coffee Table into an Ottoman
You might be thinking that the mid-century modern sectional sofa makeover is gorgeous, but the room needs a coffee table or ottoman, right? Ottomans are my preference over coffee tables for living rooms meant for lounging. But it can be a challenge to find an ottoman that's comfortable, the right height, the right diameter, and not a million dollars. I scored an unusual vintage oval teak coffee table for cheap that I hacked into a round table. The upholsterer then made a round zippered cushion with leftover tweed and backed it with a grippy material – like what you place under a rug. The end result is a comfy ottoman with a little storage underneath for a book or cup of coffee.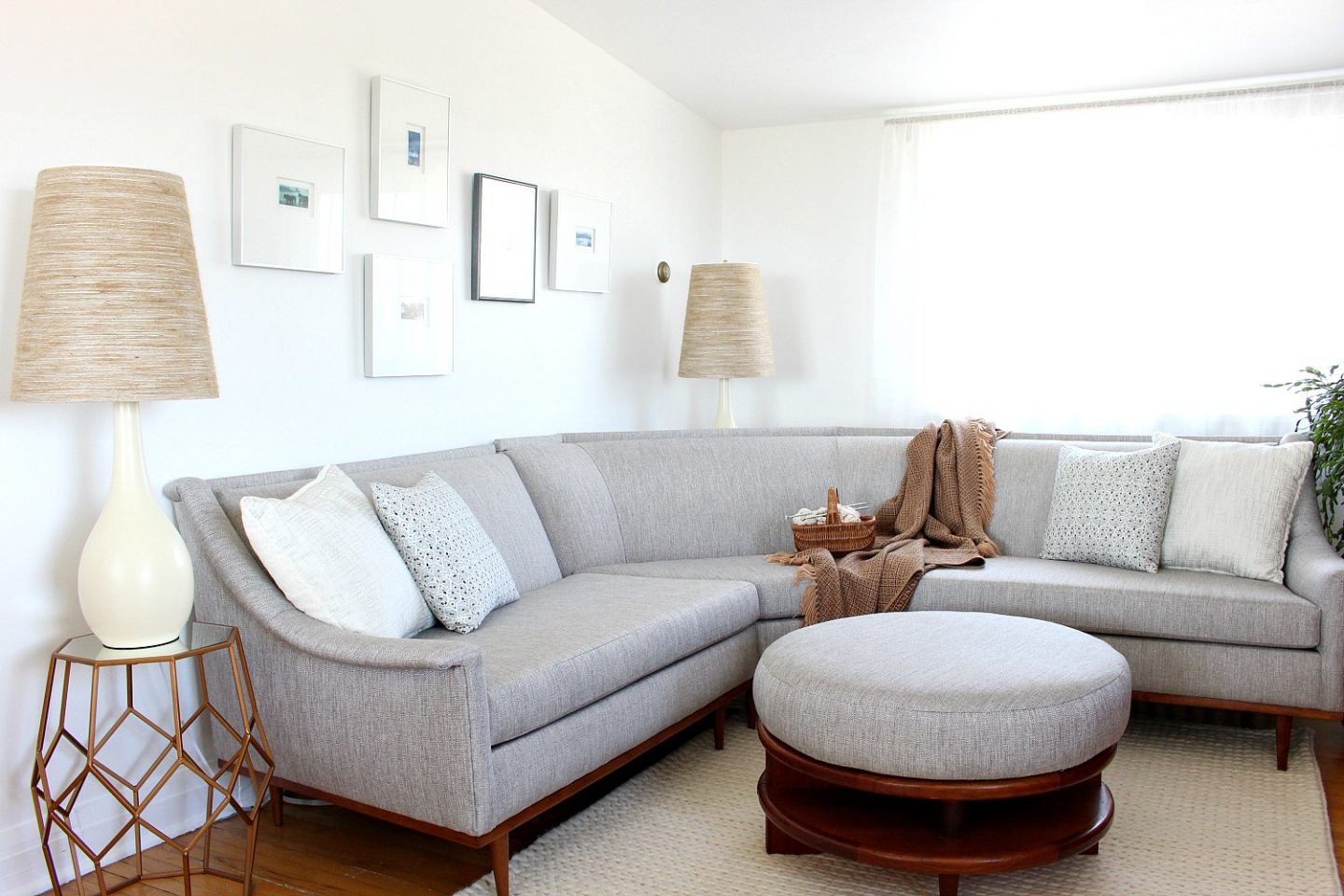 Here's the coffee table I scored – like I mentioned, it was actually an oval and I put together the two ends to form a nice round shape: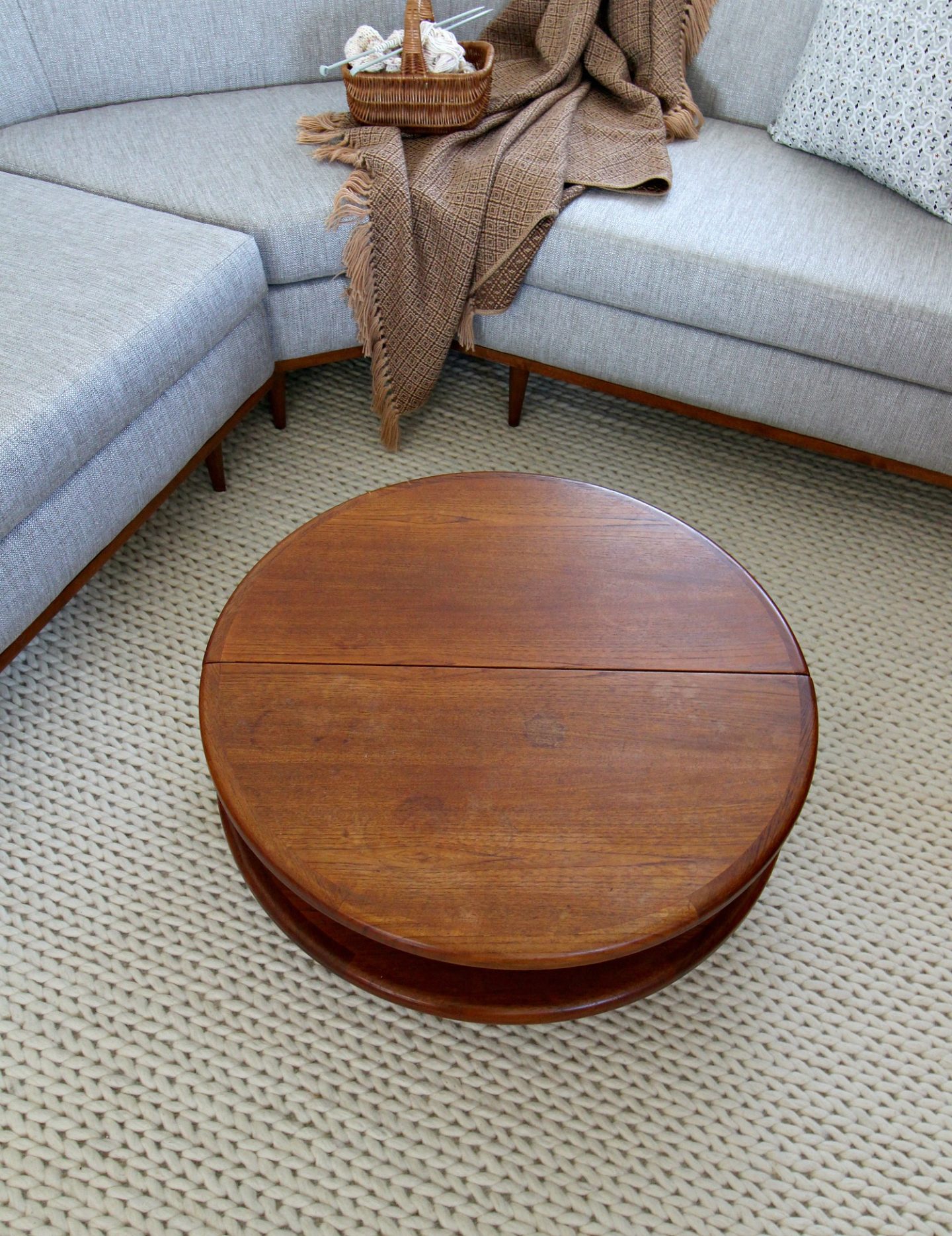 Then we had the cushion custom made by the upholsterer, using leftover fabric from the sofa. On the back of the cushion, the upholsterer sewed a piece of grippy material. It keeps the cushion from slipping, without having to permanently affix it to the wood. It does NOT budge!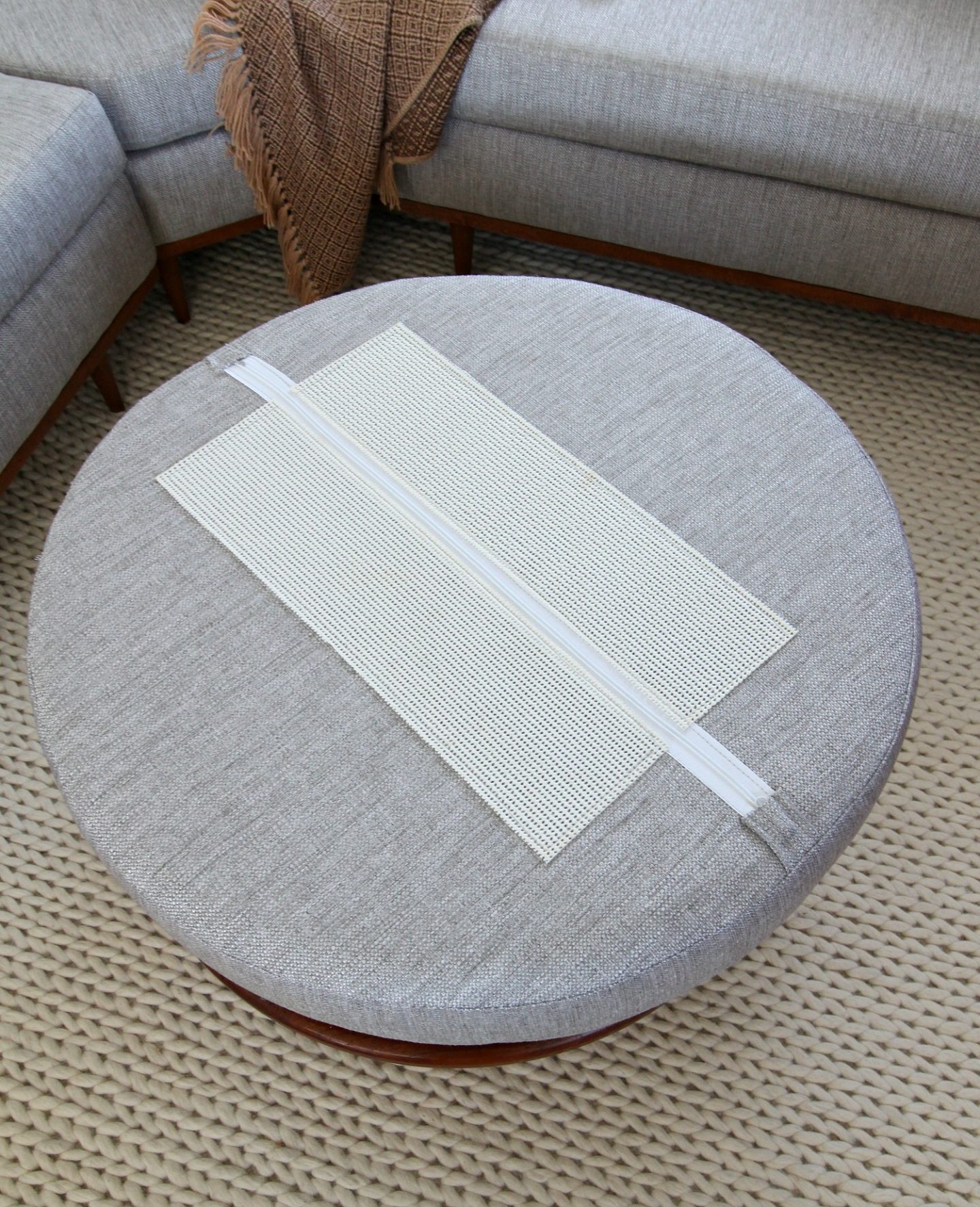 Look how cute it looks! The cushion can always be removed if a coffee table is needed or wanted again (I love a versatile piece of furniture).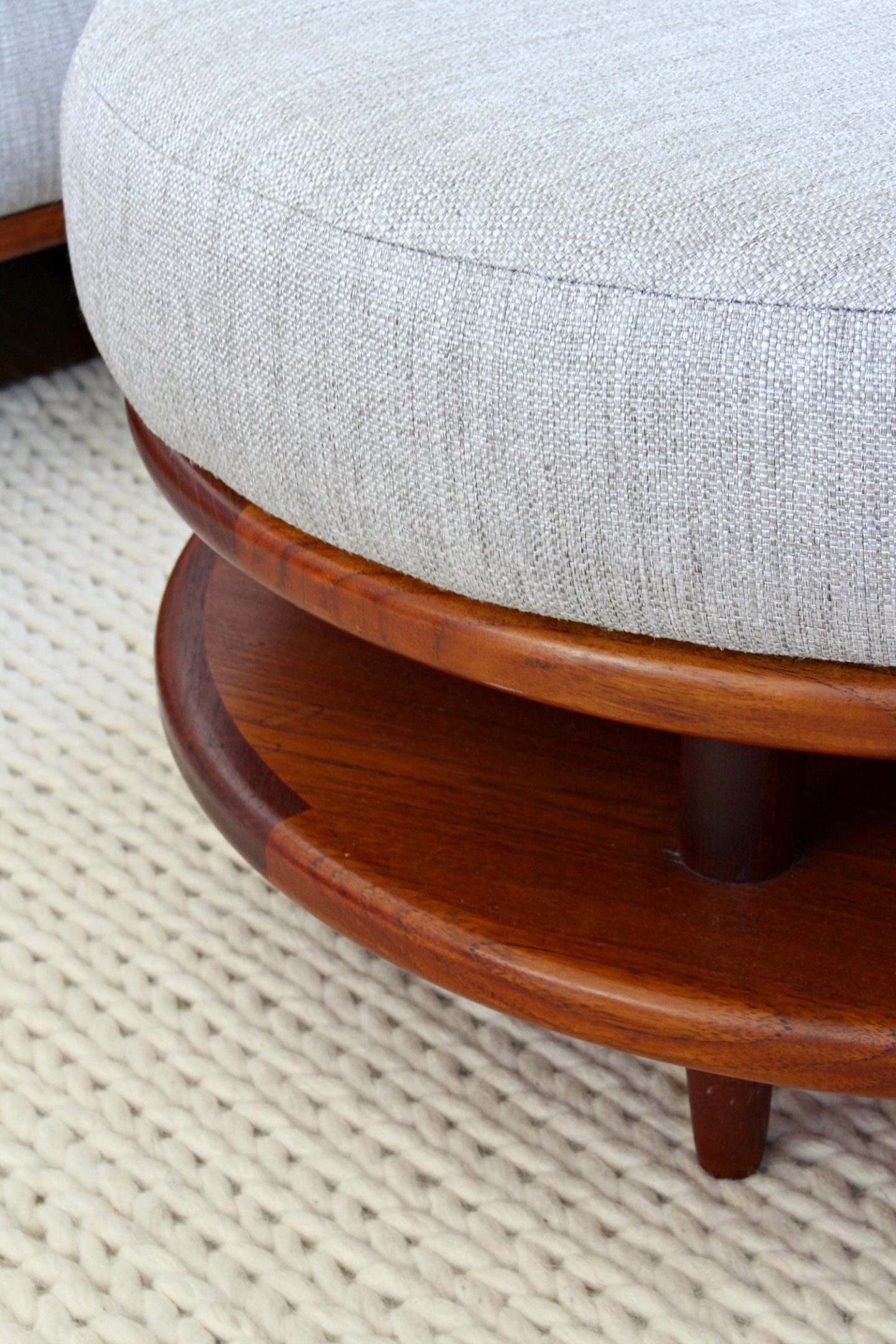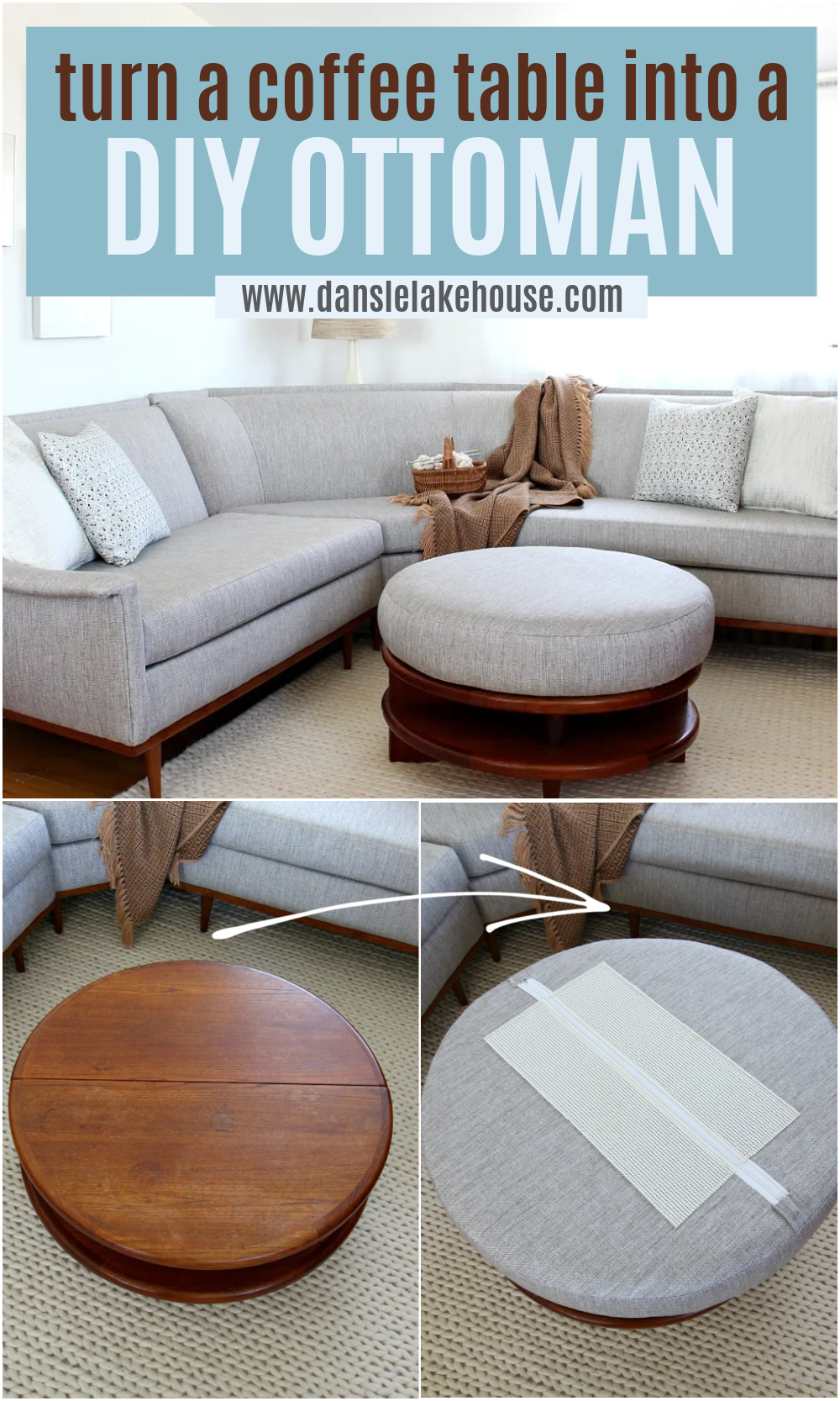 I am so happy that I could play a small role in this mid-century modern sectional sofa makeover. It's always so rewarding to bring a vintage piece back to life! You can see the vintage chair I hauled from a curb and had recovered in teal velvet here, and the Ekstrom Mingo chair I really revamped with a bold new fabric here.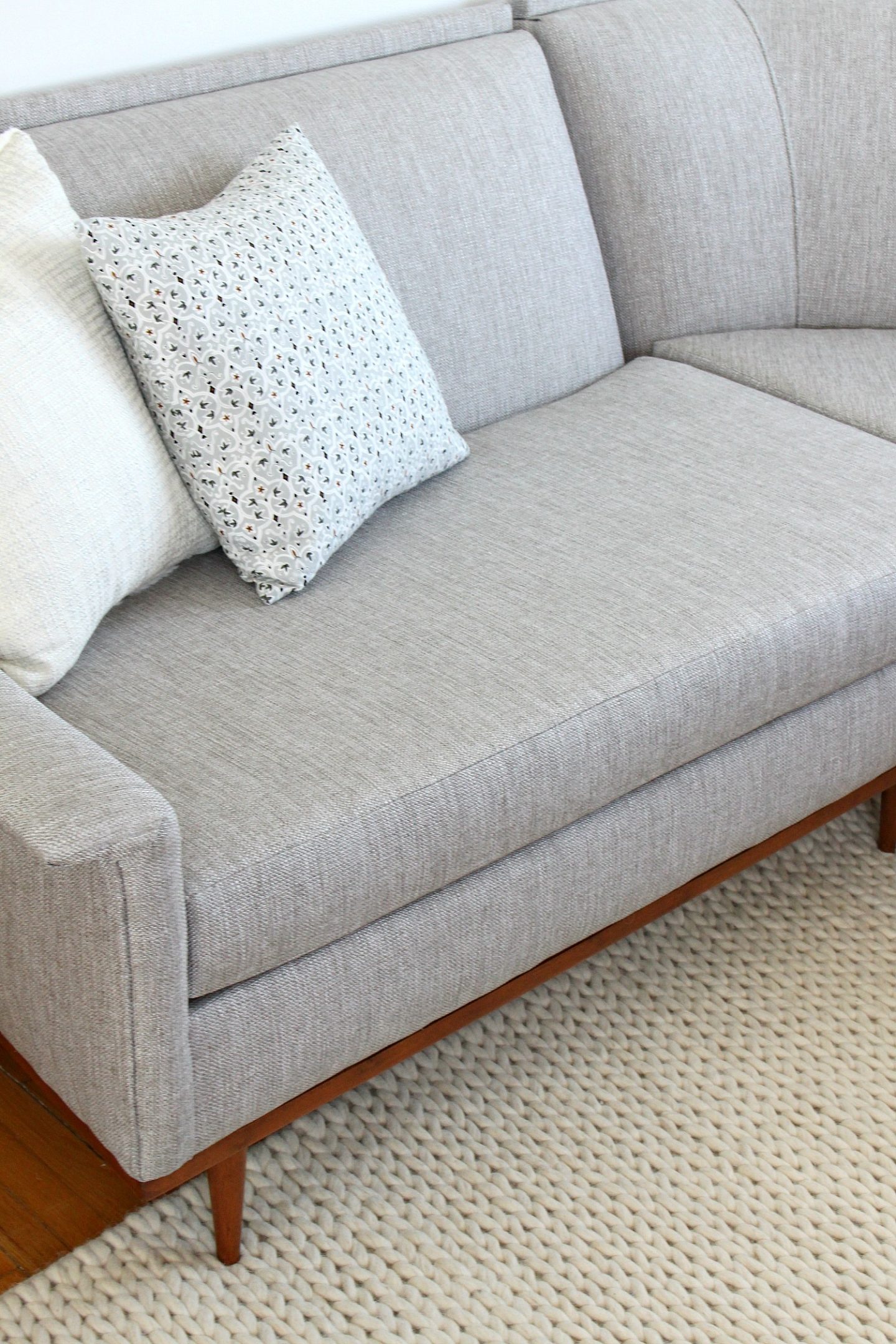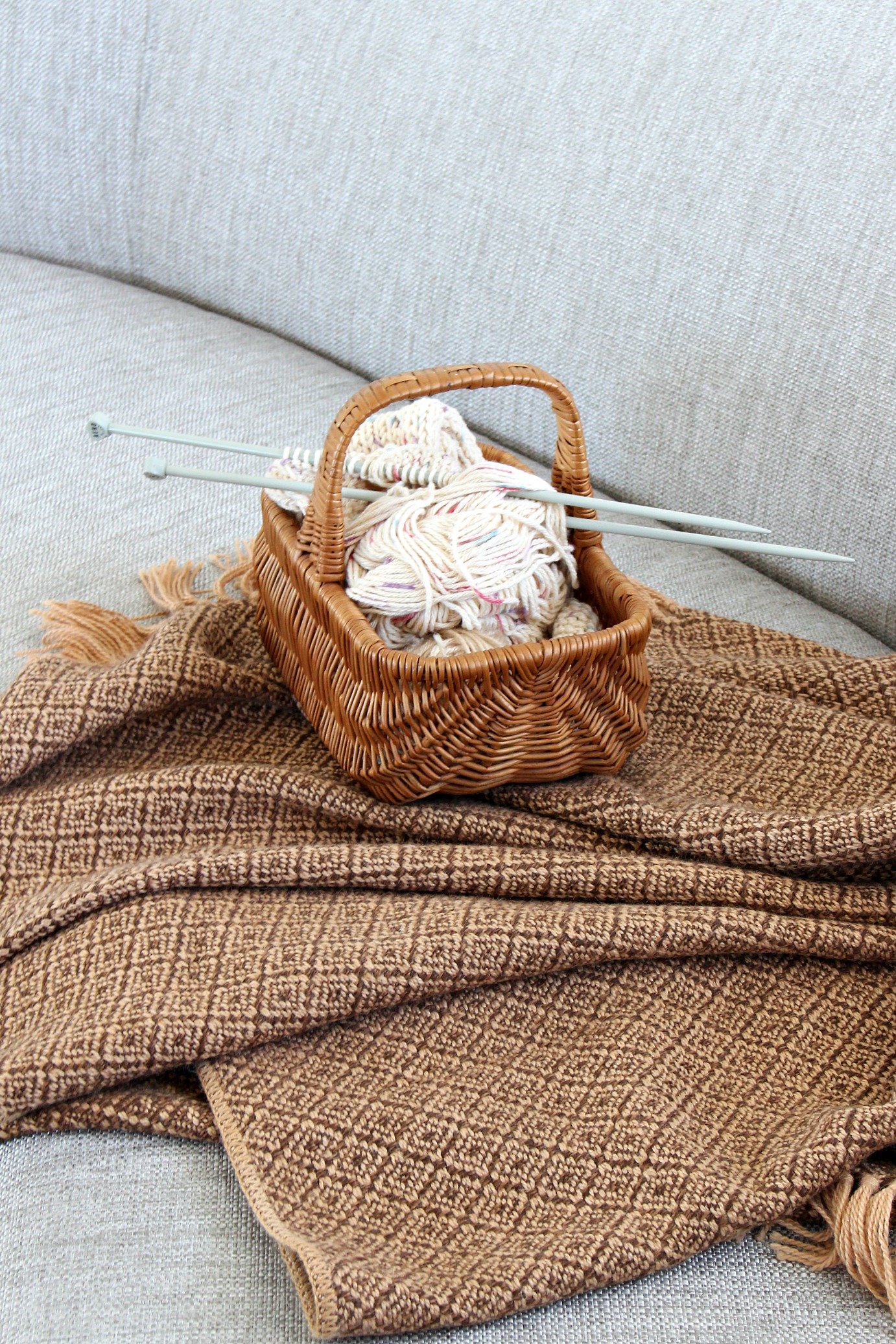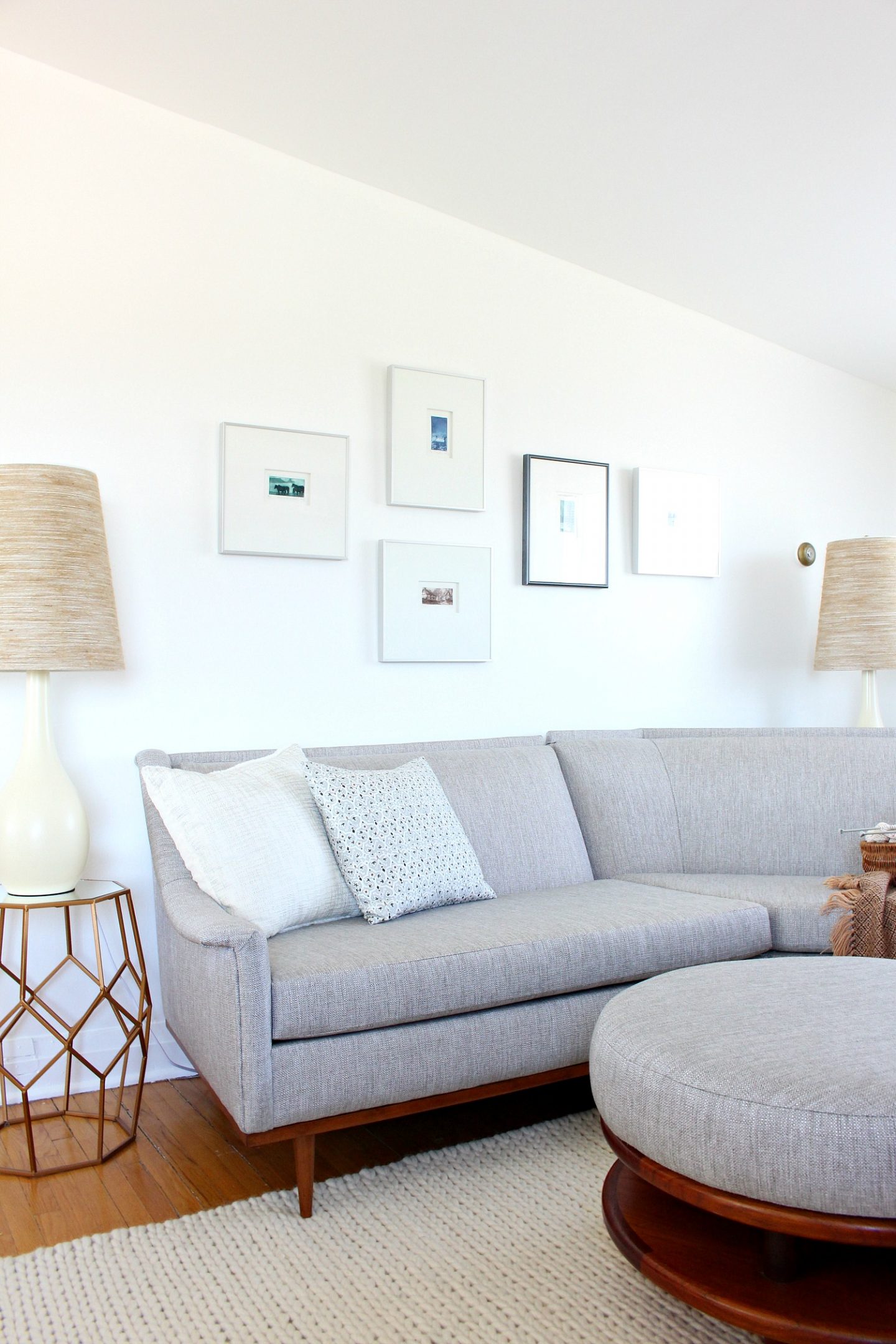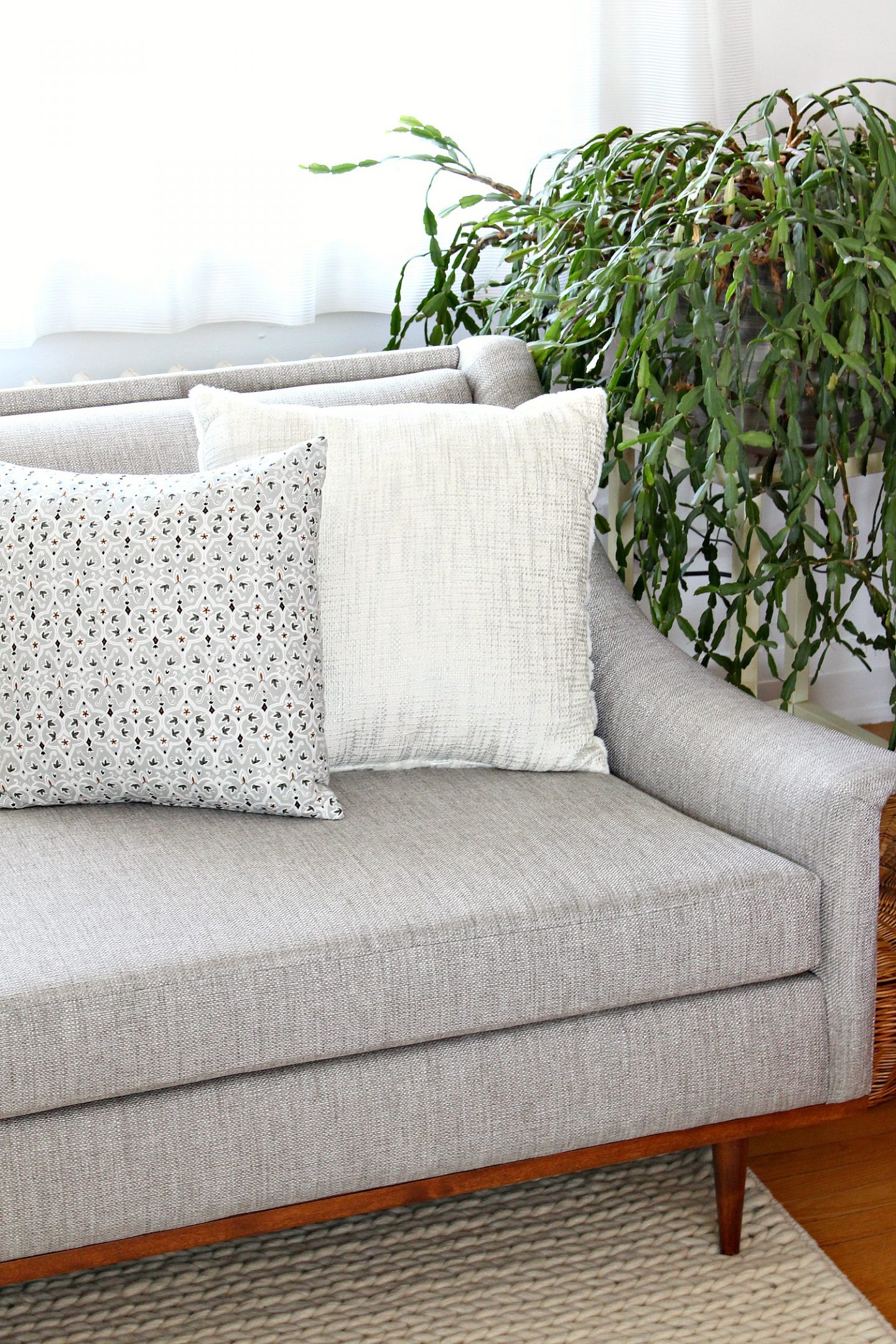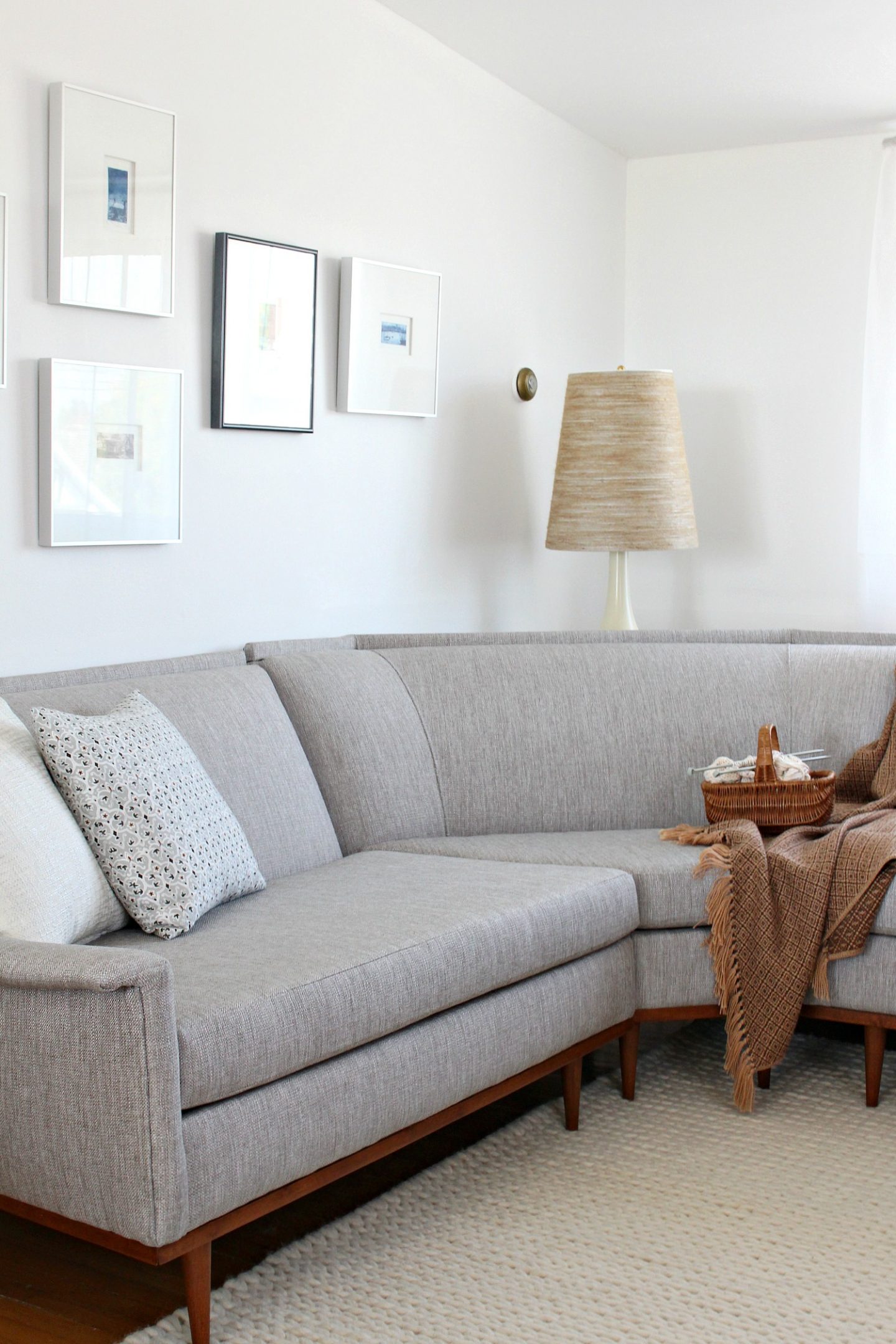 What do you think of this mid-century sectional sofa makeover? Was it worth the wait? I love the pale grey tweed with the warm wood tones and earthy accents, like vintage wicker baskets and a brown alpaca throw (here are some similar cozy alpaca throws for fall: this brown and beige diamond design, made in Peru, this neutral alpaca throw that comes in tons of other colors – including some gorgeous blues, and this adorable design).
P.S. Don't Forget to Pin for Later!