I am so excited to share this DIY folded silk pillow tutorial with you because it's one of those rare DIY projects that is quick and easy, but looks high end. I can't take credit for the design because it's actually a knock off of this Donna Karan Collection silk essentials throw pillow (which retailed for almost $400USD, but is on sale for $299). You know that I value quality and will invest in beautiful handcrafted pieces, but I get sweaty just thinking about spending that much money on a pillow so I made a budget-friendly version – keep reading to find out why it's sentimental too!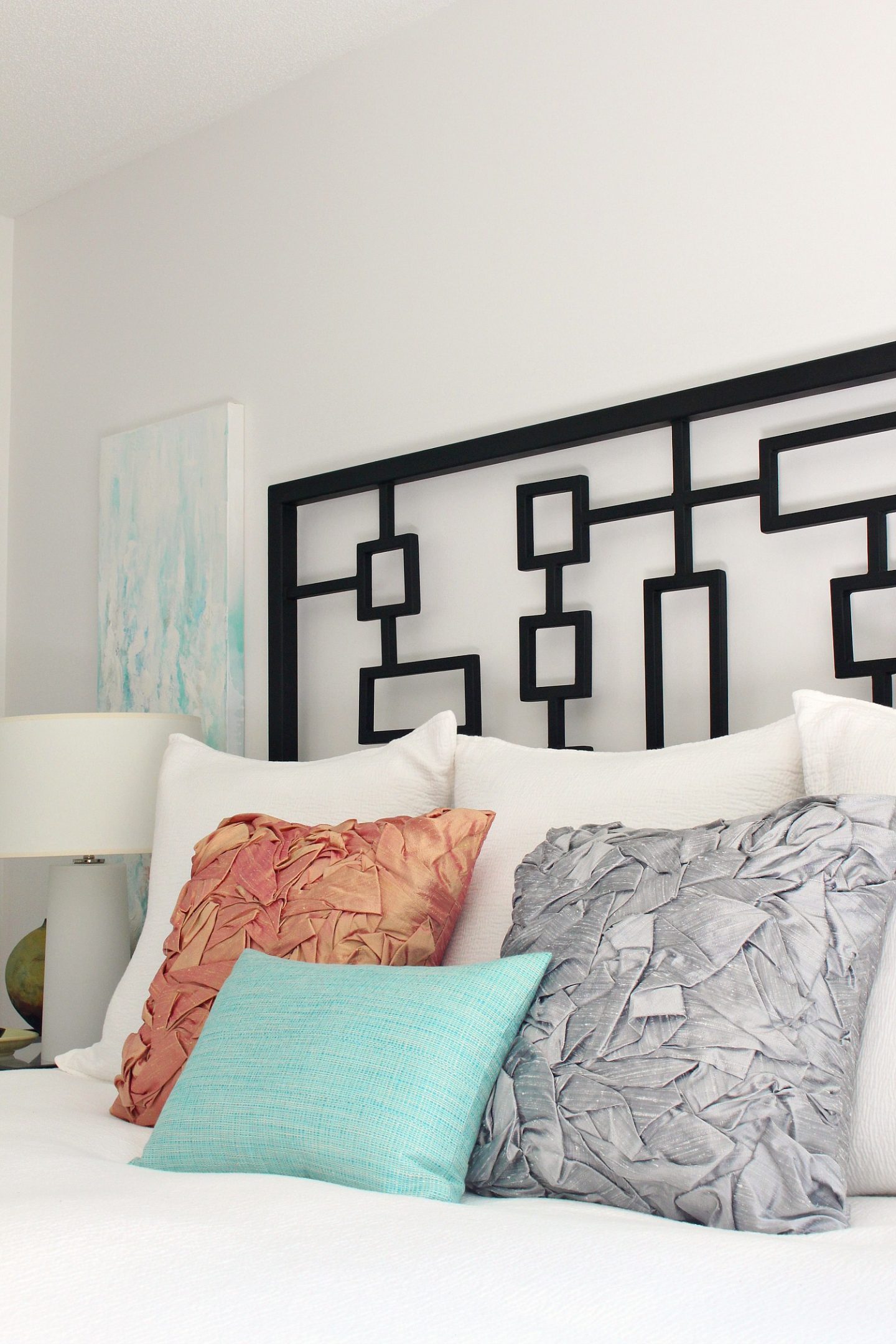 After inheriting some paintings by Hubby's grandpa, (he passed away recently), I decided to give our bedroom a little budget-friendly refresh to make a new home for the artwork. I always let Bert's art shape our decor and home. He apparently didn't like it when people bought art to match decor, so I need it to be very clear that I moved the paintings in here and then redecorated so the artwork had a worthy space in which to shine. But if I'm being honest, the room needed a little refresh anyway – I've had the same green silk throw pillows on the bed since 2011. That's kind of a problem because you might remember that an abundance of throw pillows is actually part of my heritage. I really had step it up and not only replace the bedroom pillows, but sew something that looks impressive. I achieved that and managed to incorporate pieces of leftover silk from my wedding dress into this DIY folded silk pillow – something I'd been wanting to do for years. The timing is sweet, because Hubby and I celebrate our 10th wedding anniversary in a few months.
Get me a wagon because if all of this doesn't impress the townsfolk, I'm clearly not Hungarian enough 🙂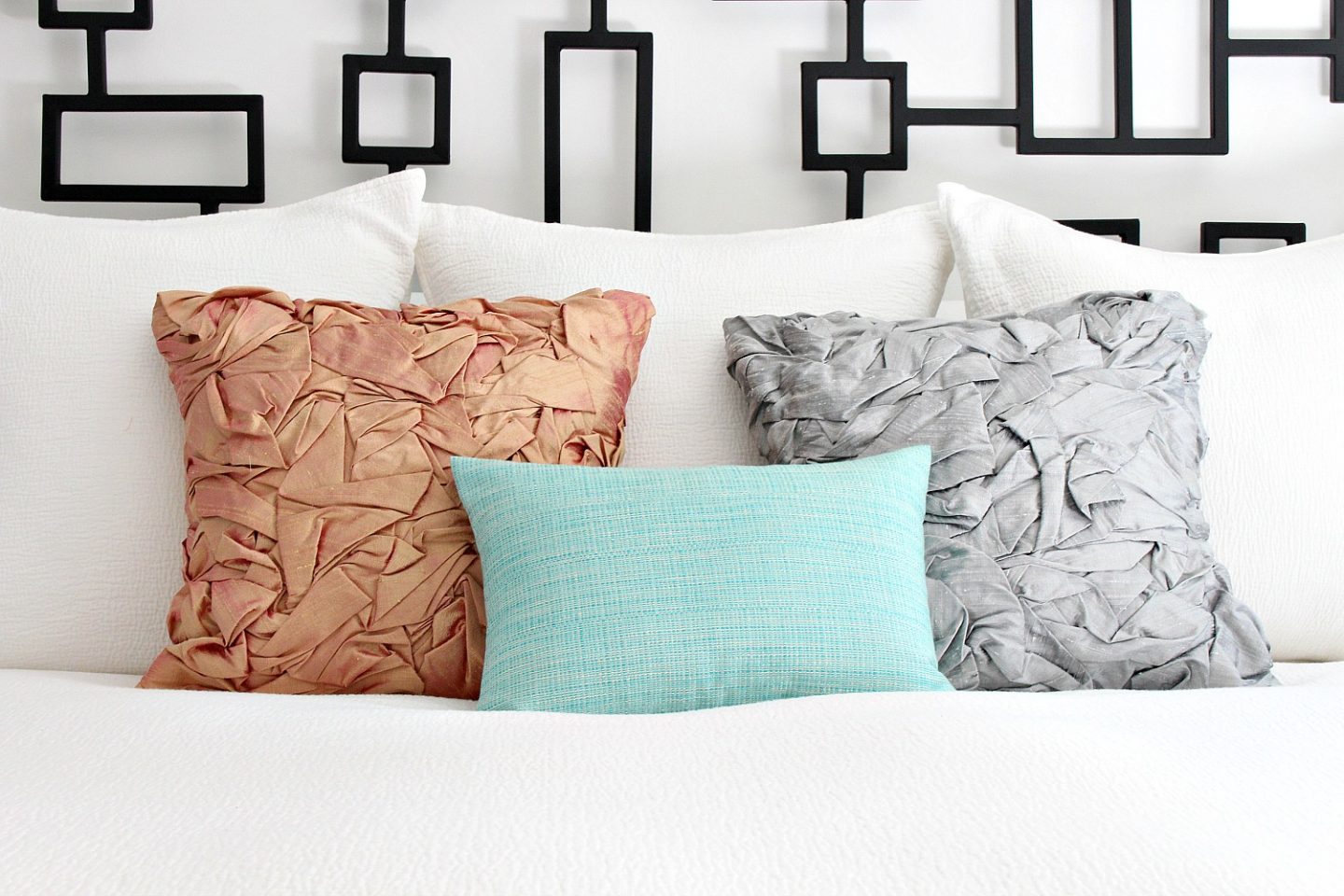 I was searching for modern takes on fabric manipulation and ruching with a relaxed, organic vibe and that's how I stumbled across these pillows. We squash the heck out of the living room pillows but the silk throw pillows in the bedroom are admittedly decorative. We use the big Euro shams behind them for lounging/reading, but this is a safe place to have a slightly more handcrafted, potentially less durable throw pillow.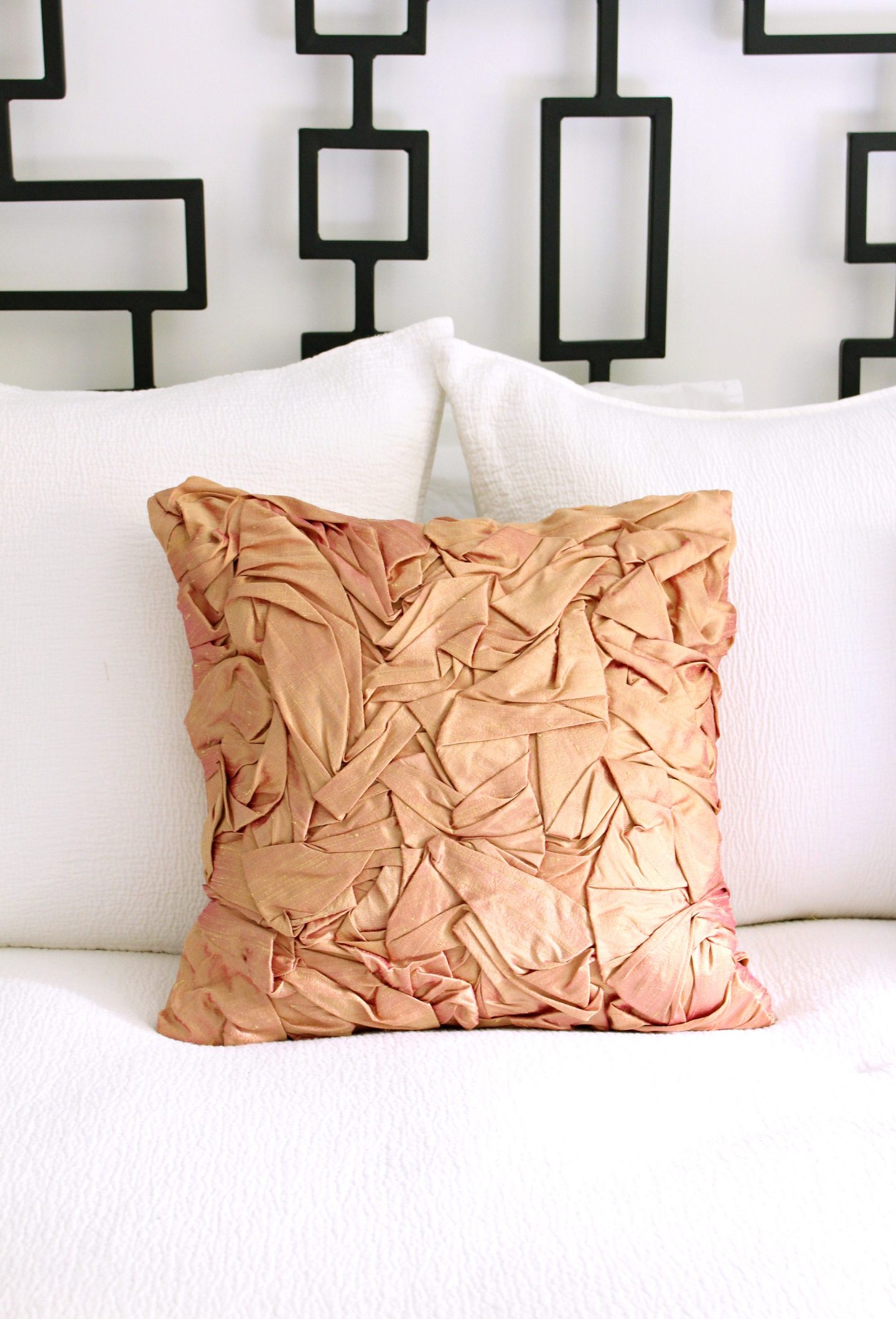 I'm so excited that I could incorporate leftover silk from my wedding dress because I've been wanting to use it somewhere, somehow, for years but could never find the right spot. The crushed folds of this DIY folded silk pillow make hiding seams a breeze, so I was actually able to piece together three smaller pieces of fabric. If you have any scraps of fabric lying around (especially silk, which can be pricey), this is such an elegant way to use them.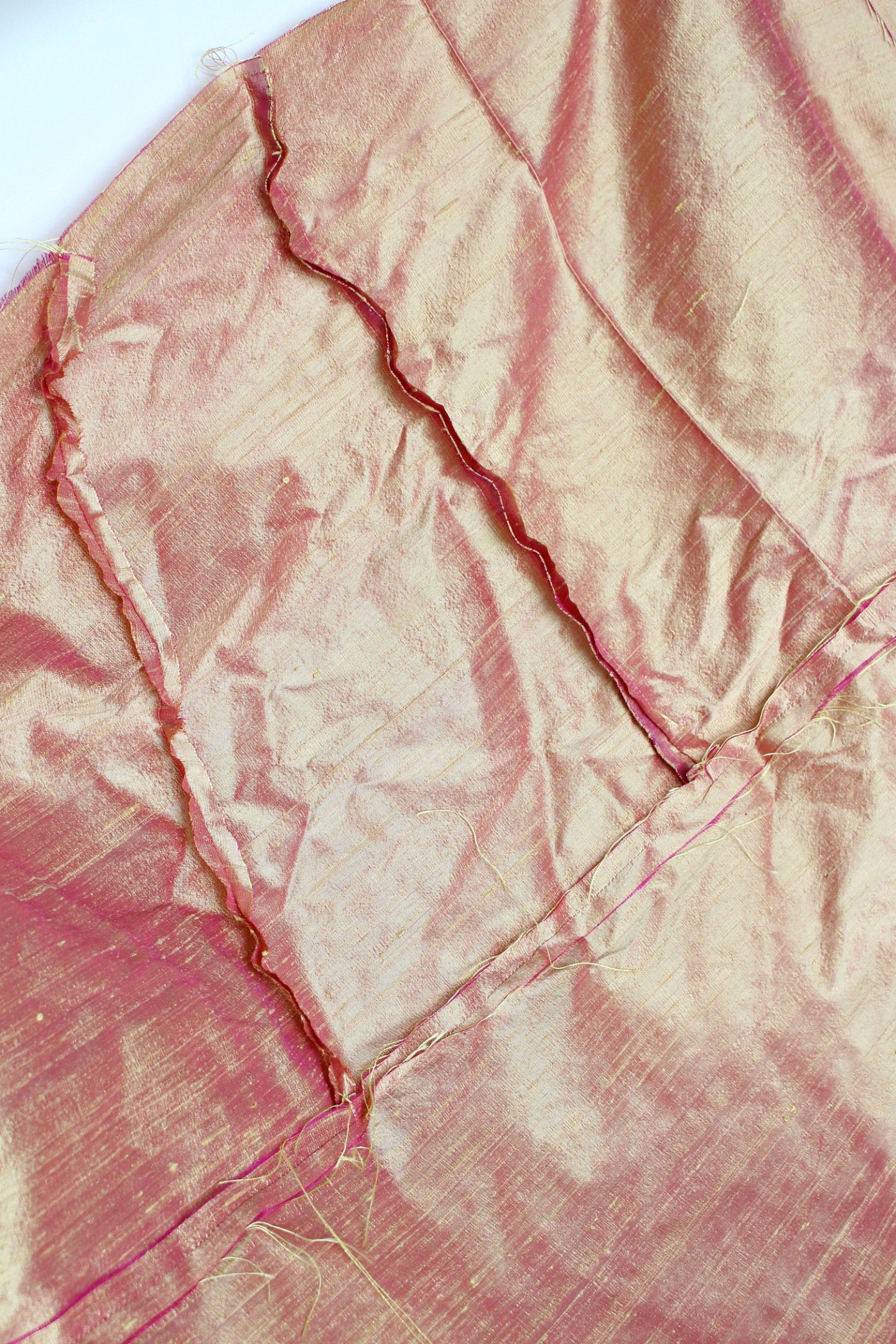 I moved my framed Hungarian embroidery into the bedroom, so I also used the same grey silk I mounted the embroidery onto for a second DIY folded silk pillow to mix things up a little. I whipped up a little turquoise tweed kidney pillow as well, but I'd really love to find an aqua silk and do a simpler pleated pillow to round out the trio.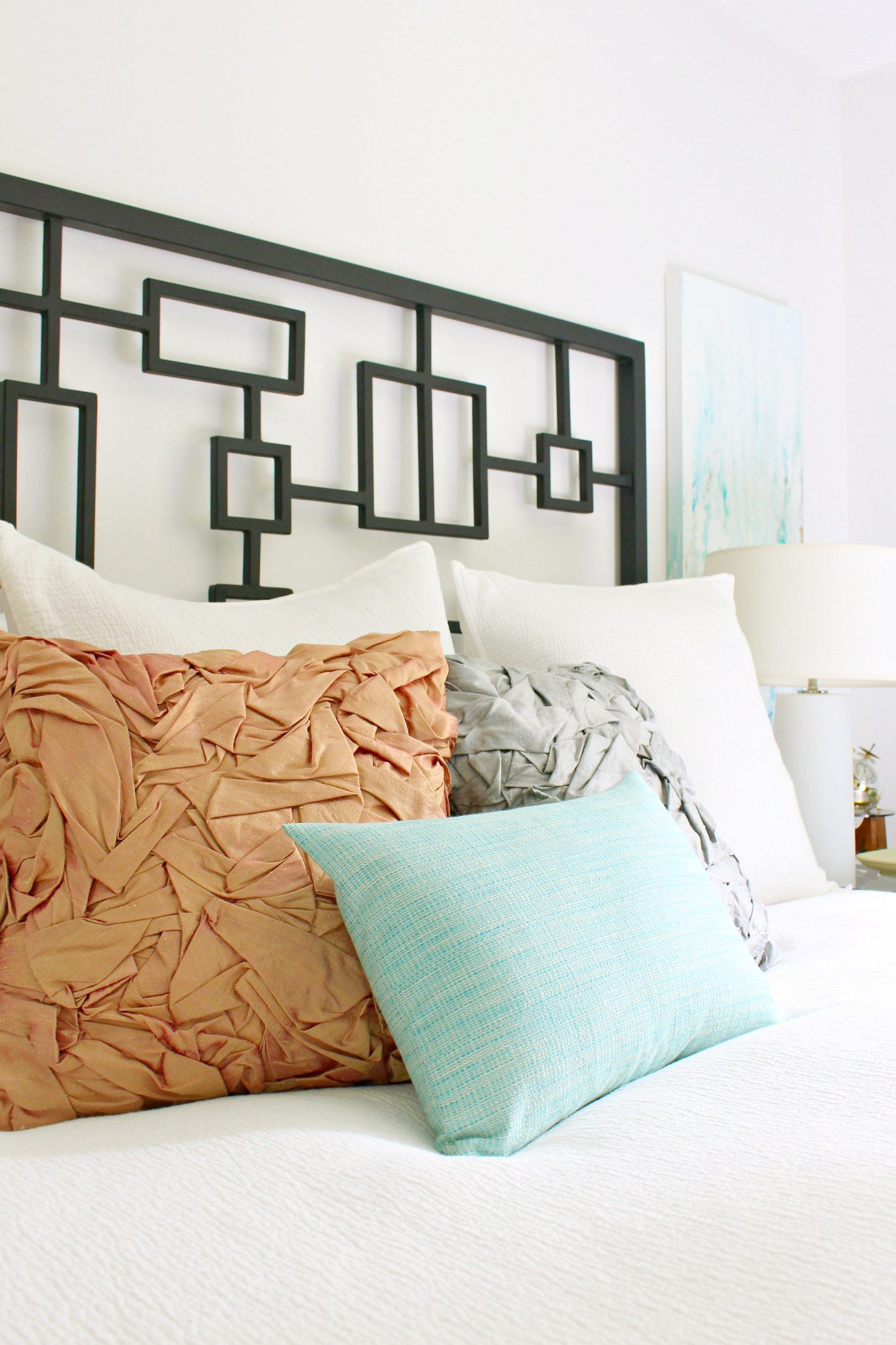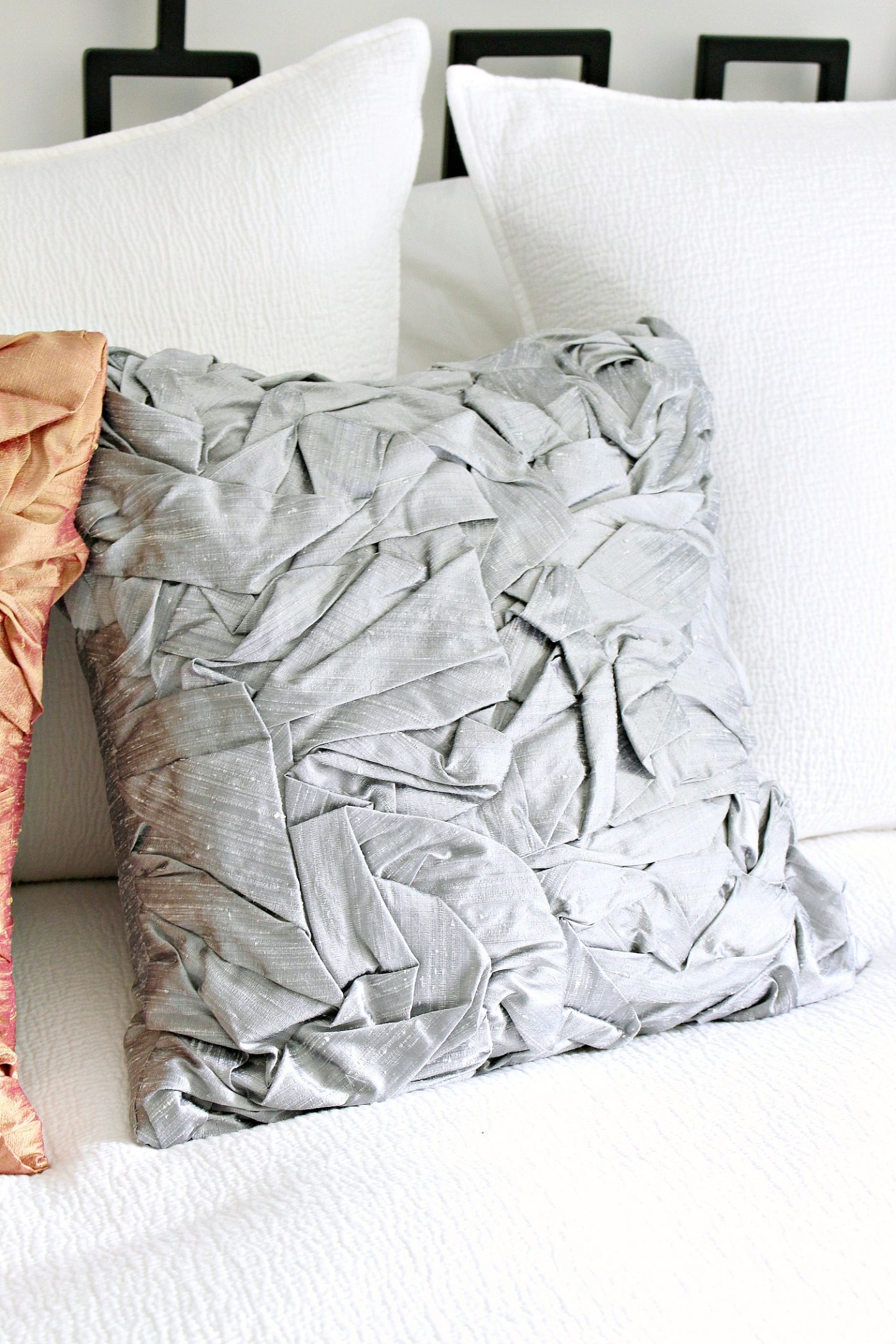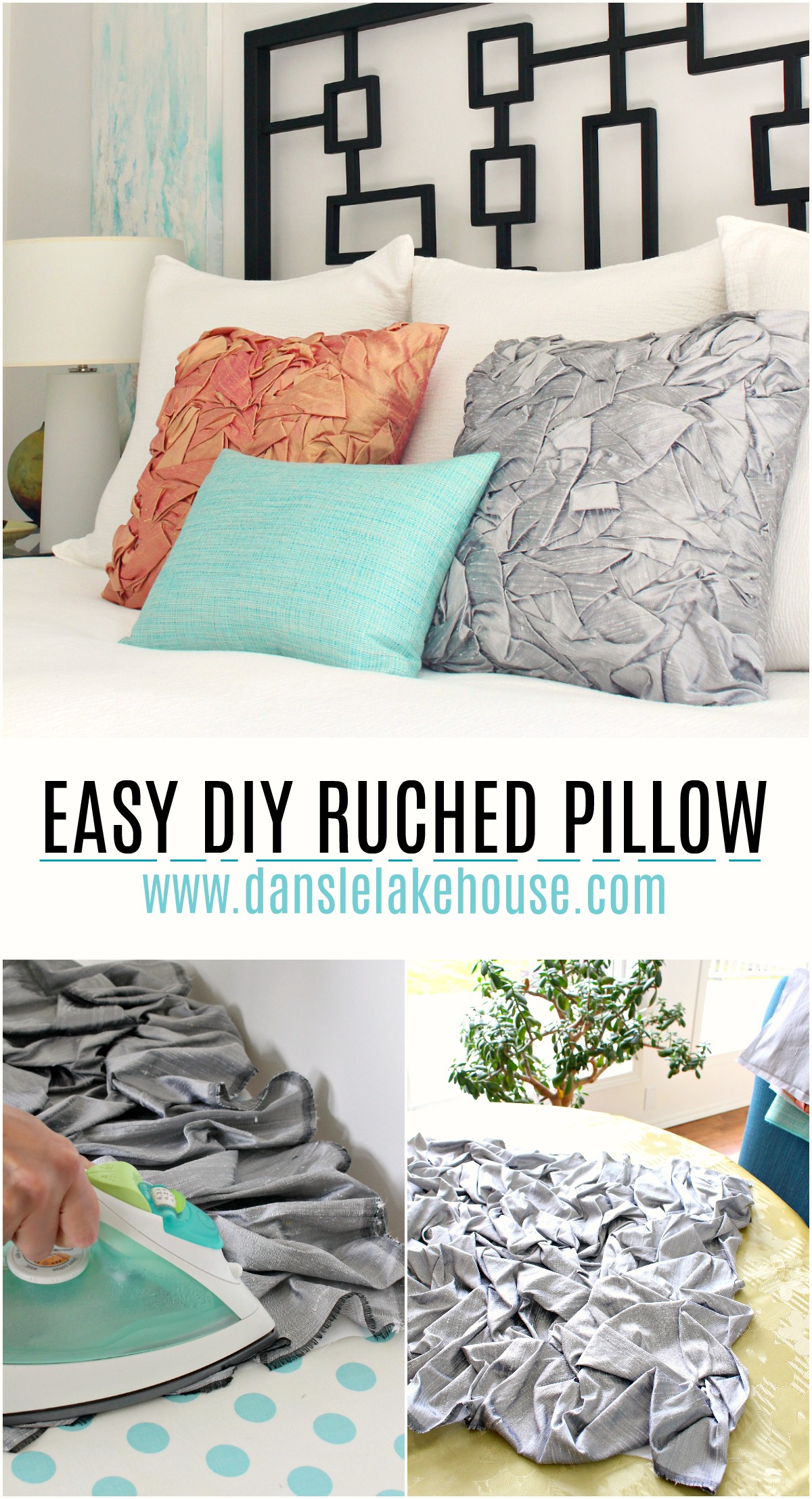 These pillows are so pretty – I wish photos could capture the sheen but the photos just don't do them justice. You will have to make your own to see how the folds of fabric play with the light. Here's how to make this DIY folded silk pillow – you won't believe how easy it is!
Supplies:
How to Make a DIY Folded Silk Pillow:
If you need to stitch together pieces of fabric, do that first so you have a nice square or rectangle shape to work with (see my measurements above, which are highly flexible). Lay the silk fabric on a flat surface, on top of a piece of woven interfacing cut to size, and match the edges together. Then pin or baste the silk to the interfacing before ruching. Then rumple it, scrunch, ruche it, fold it – basically just arrange it artfully and randomly: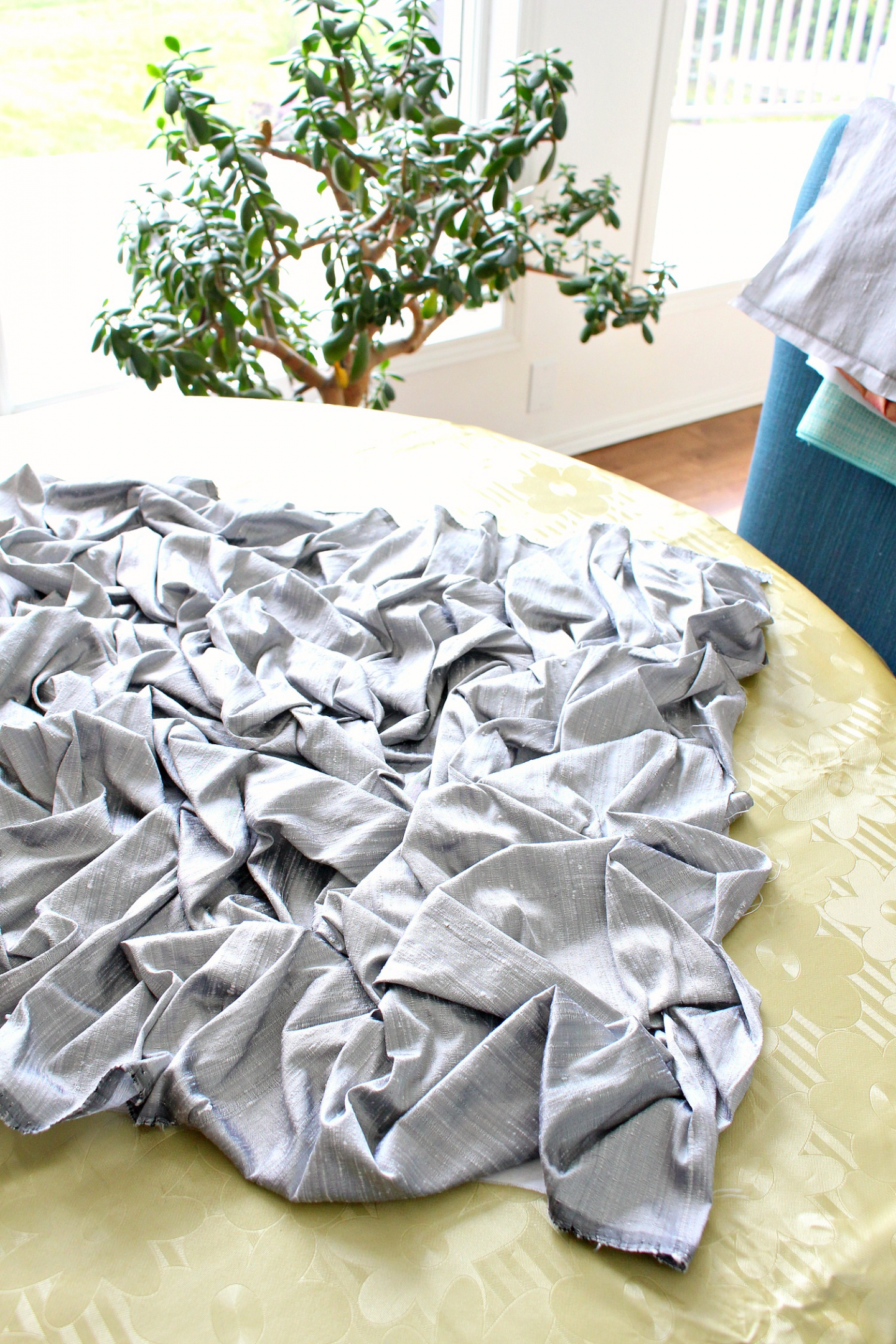 When you're content with the arrangement, lightly press it with an iron (no steam, on a delicate setting):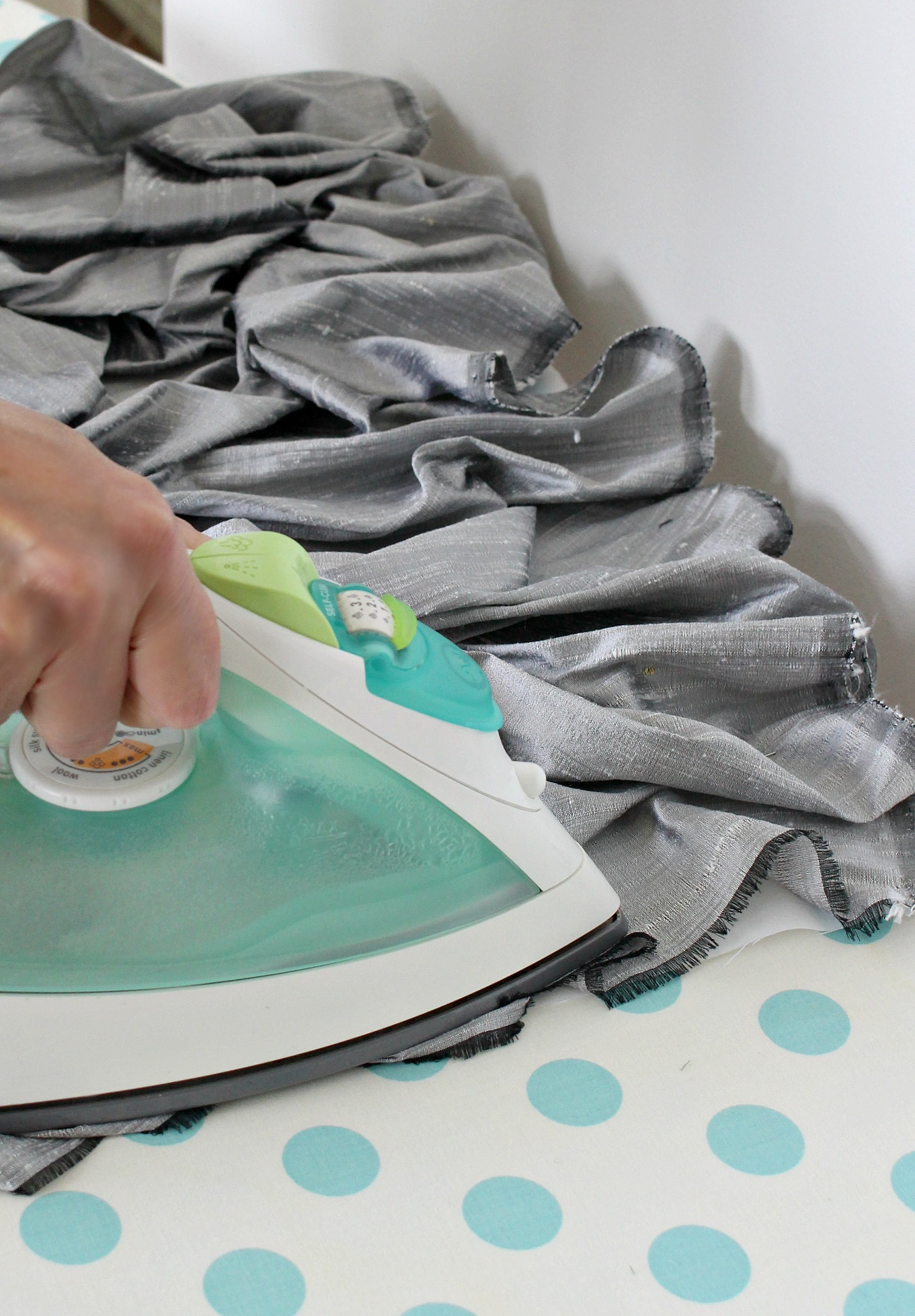 With the folds and gathers ironed, hand tack them to the interfacing, which is a simple enough job but it takes some time. This DIY folded silk pillow is a perfect sewing project for a rainy Sunday curled up in front of the fireplace.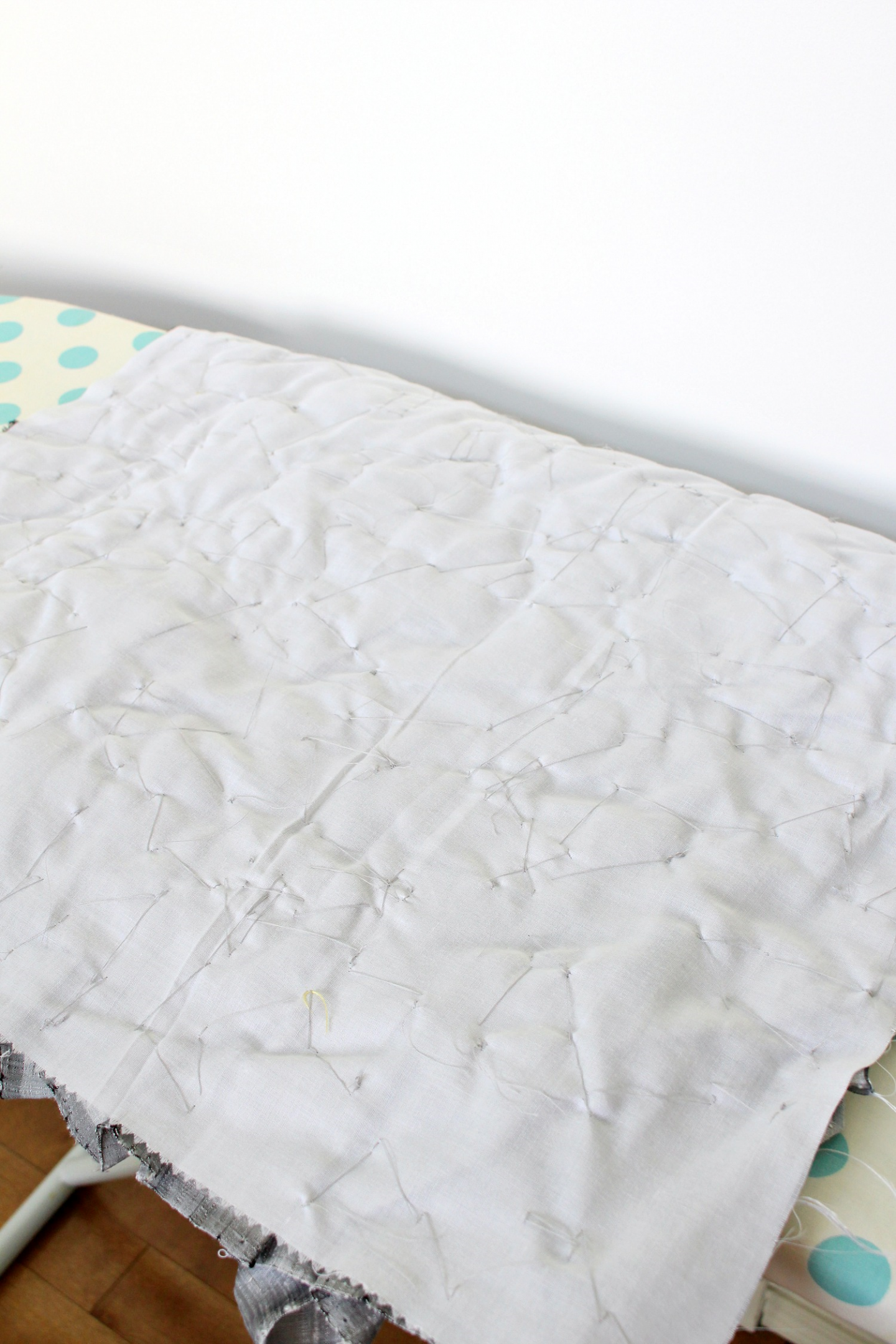 When the gathered silk is tacked down, you can use this tutorial for how to sew a pillow to finish it off – I used the matching silk fabrics for the backs, but you can use a contrasting fabric too (or a less expensive fabric in the same color to stretch the silk). One trick I can offer up is to insert the zipper in the middle of the back of the pillow, as opposed to the bottom, because the folded fabric made it a bit difficult to sew the zipper neatly where the folded fabric met the smooth fabric.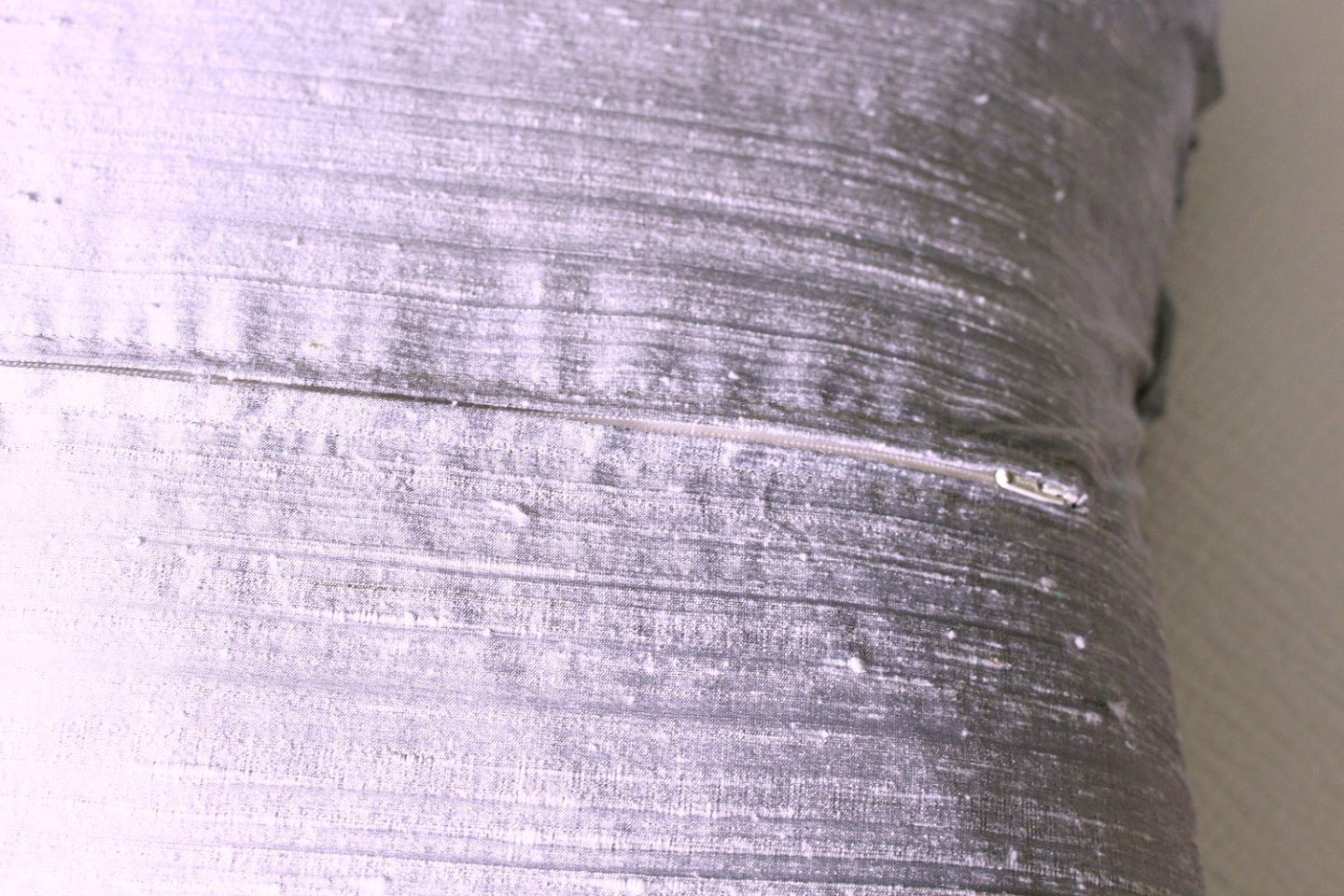 After making and using them, I decided to tack down one or two more spots, but otherwise these pillows were super simple to make and they look gorgeous! They're not too delicate, although I still probably wouldn't make a pair for the living room, where we squash the guts out of our pillows.
These DIY folded silk pillows are perfect for adding some sparkle to the bedroom, which doesn't get a lot of light because of the forest and mountain behind us, but this technique definitely plays up the assets of silk (especially a two-tone dupioni silk like this peach fabric):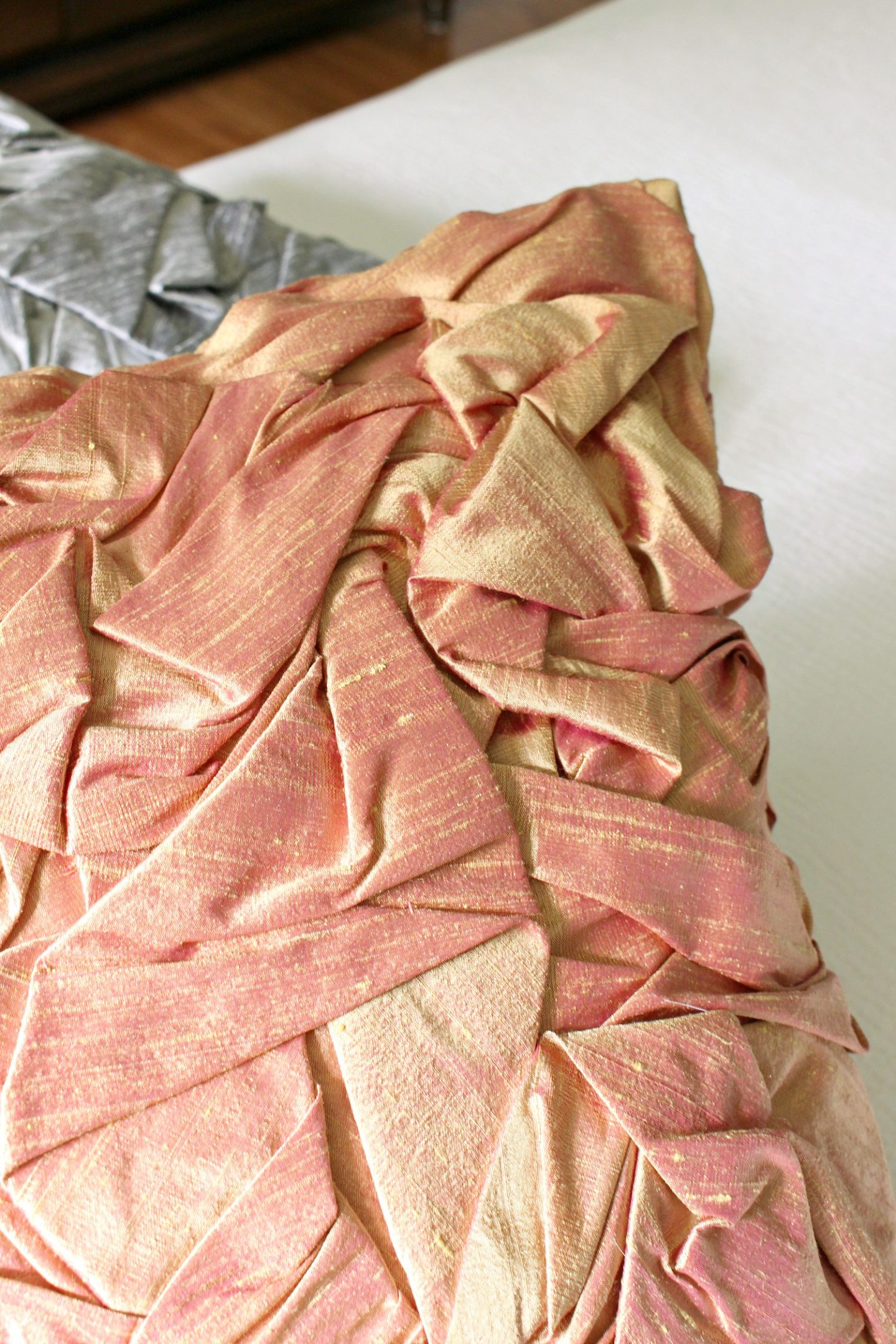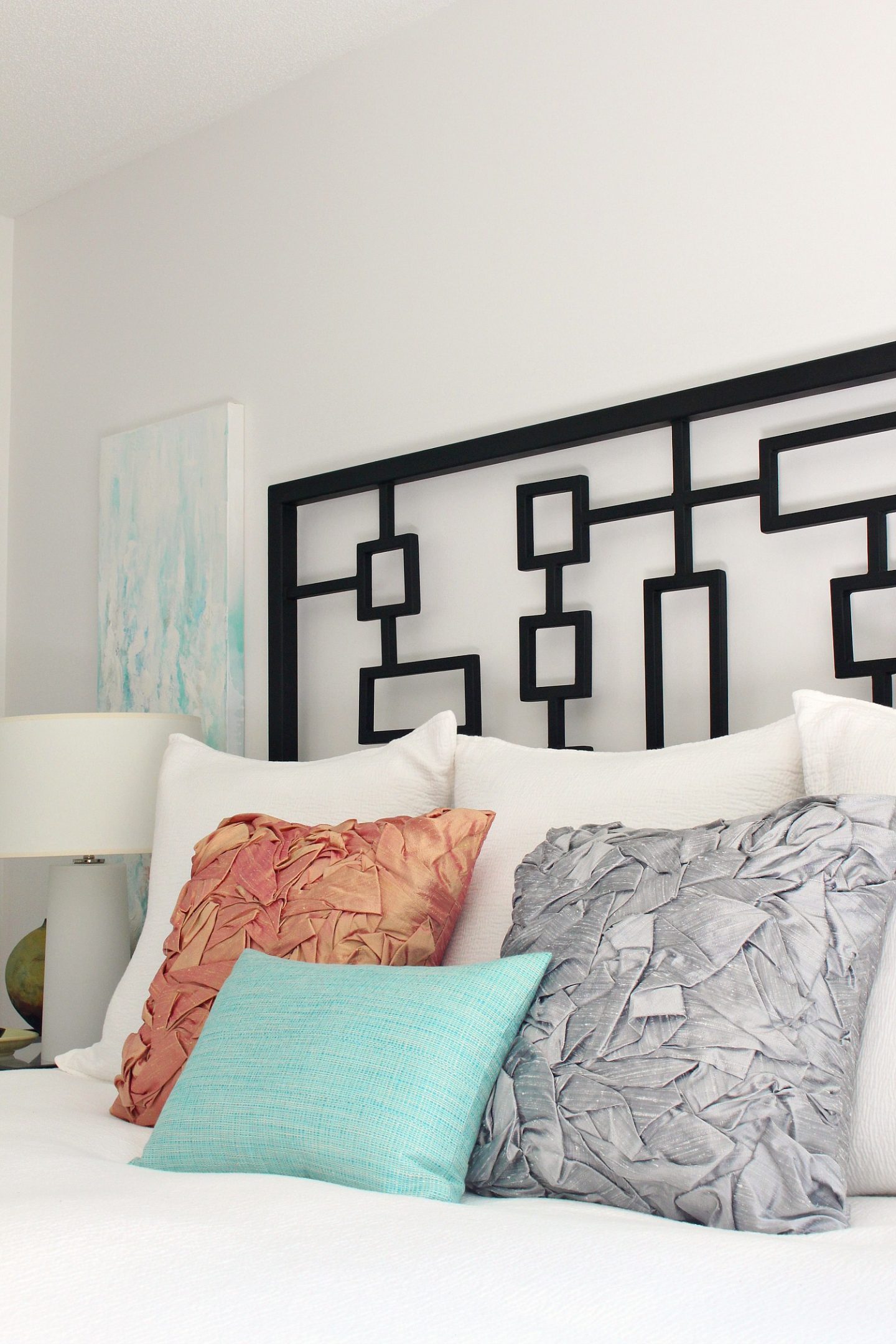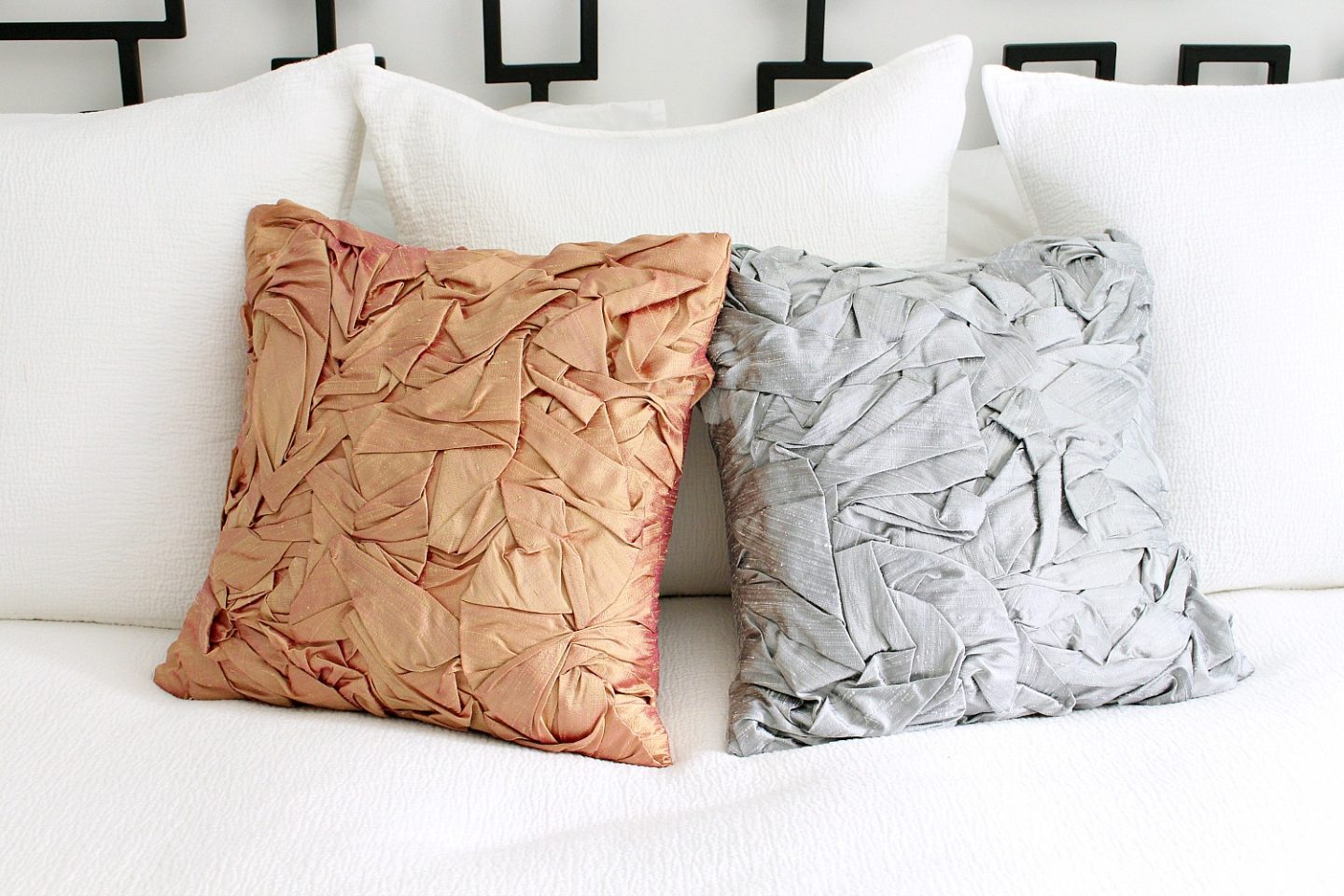 I think I can love these DIY folded silk pillows even longer than I loved my gorgeous green silk pillows. How often do you switch up your accent pillows? Am I totally weird?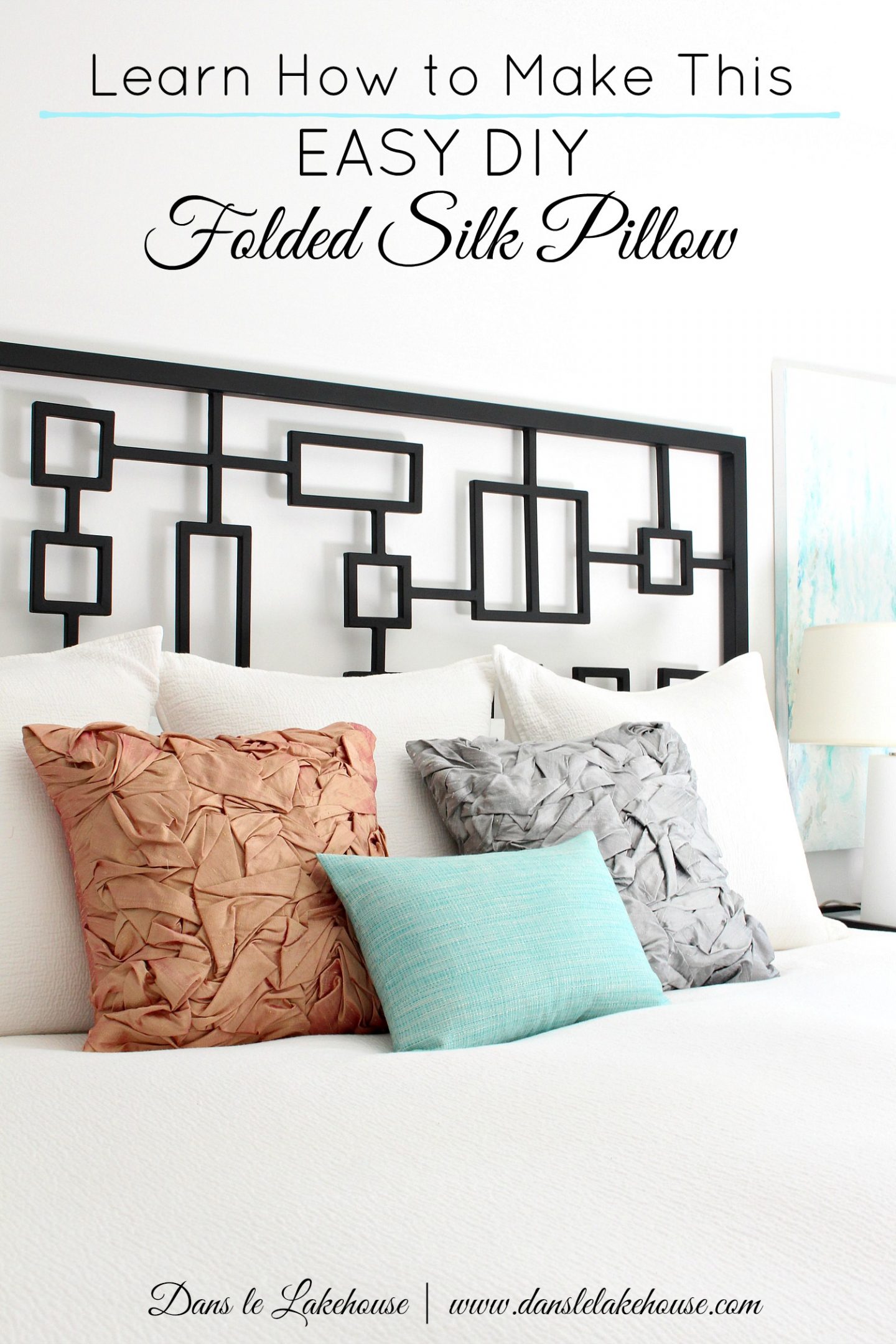 P.S. I'll be sharing a full tour of the refreshed bedroom next week so be sure to stop by the lakehouse again.