I recently thrifted a set of beautiful teak wood coasters but when I unwrapped them I realized that they were water stained beyond hope – so I used them to make these DIY gold leaf coasters! I love how festive the metallic flakes look with the warm wood. They're so perfect for holiday entertaining and gift giving because they sparkle and glow, especially during candlelit fêtes. I've been wanting to experiment with decoupage and gold leaf – and this was such a perfect beginner project.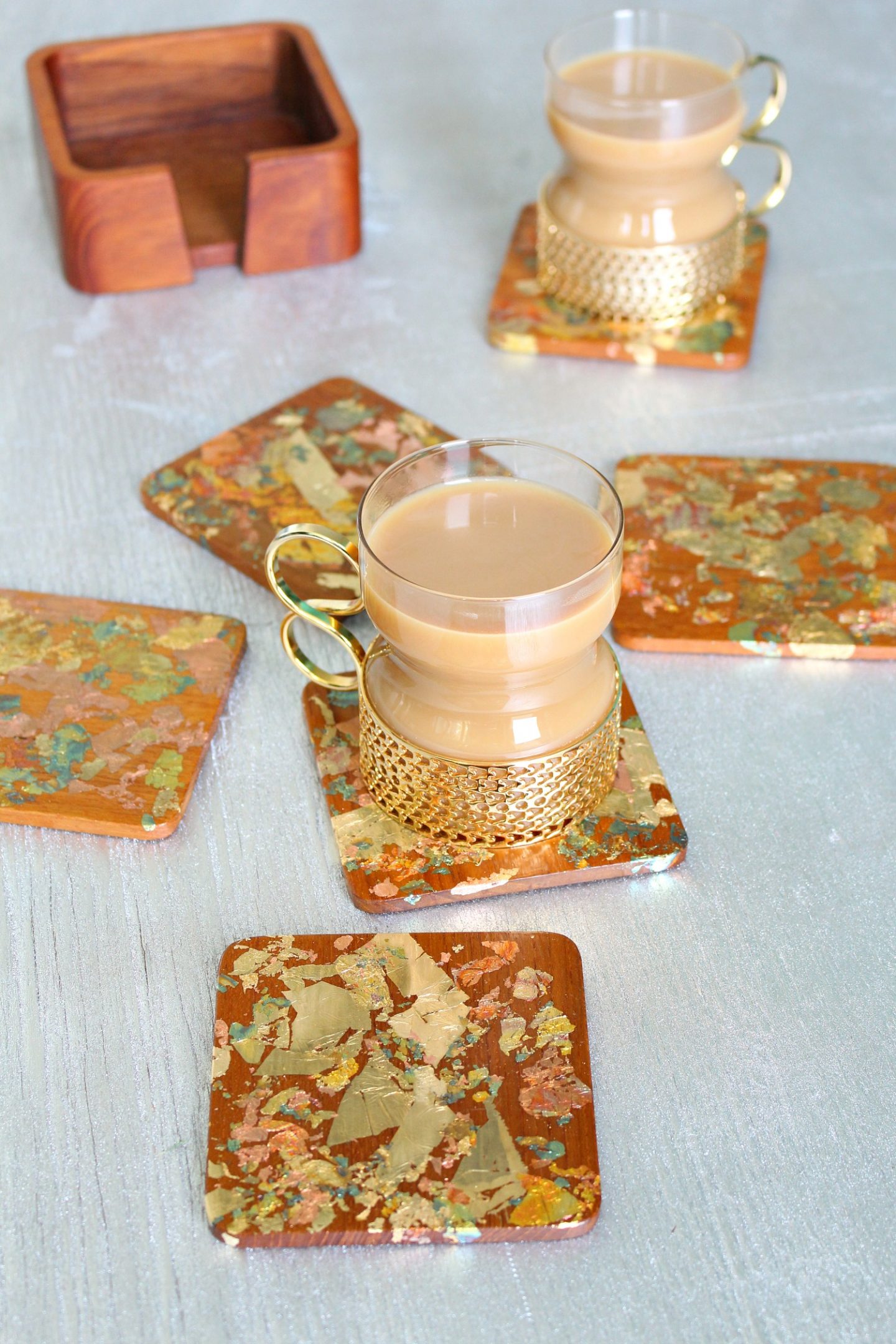 DIY Gold Leaf Coaster Supplies: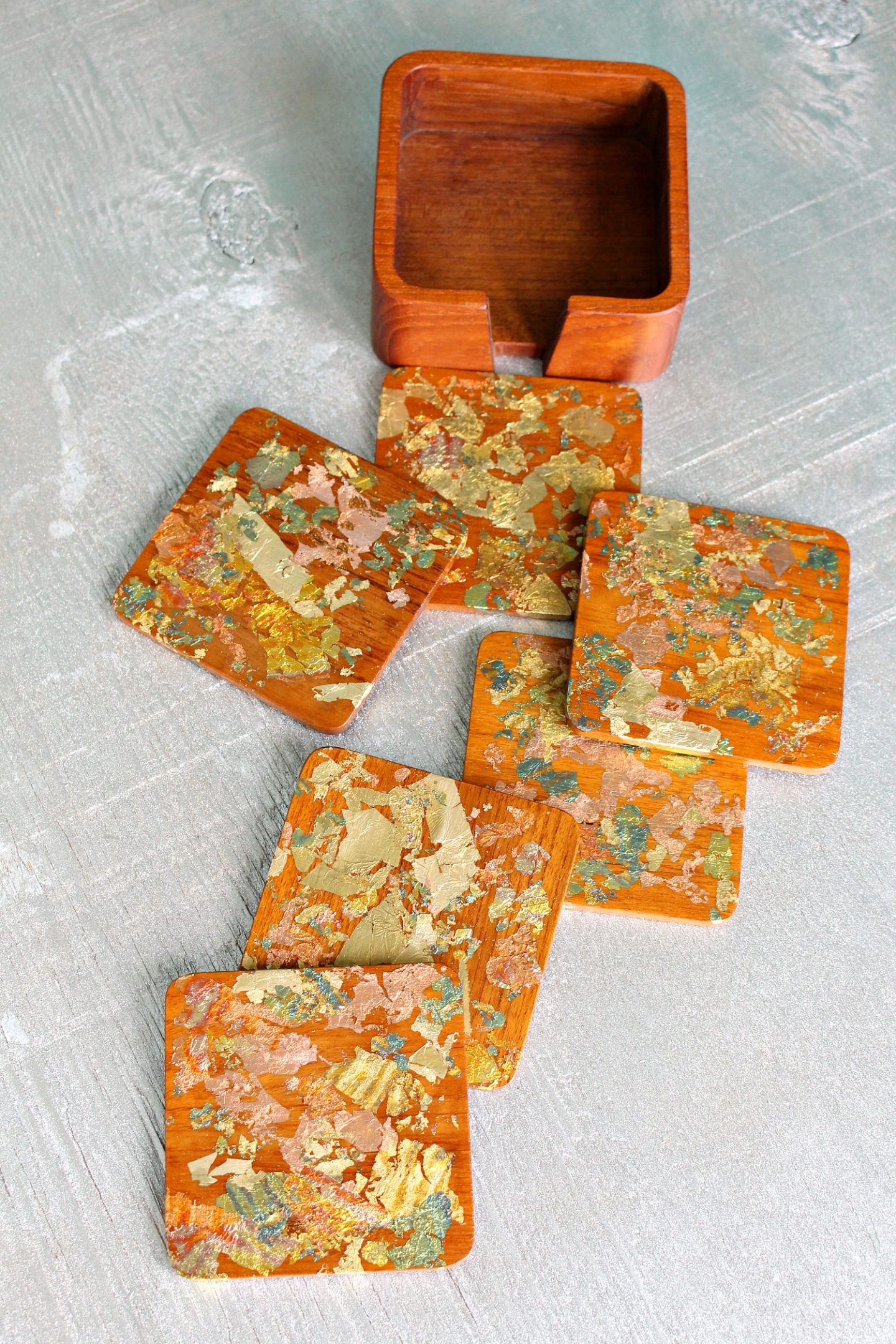 A note on supplies: Although you can find many varieties online, I bought my metal flakes from Michael's. There were plain sheets of copper, gold, and silver but the variegated metal leaf, which has that shot of teal I'm always drawn to, only came in these flakes. The flakes were a little more difficult to use (don't sneeze!) but either sheets or flakes will work for these DIY gold leaf coasters.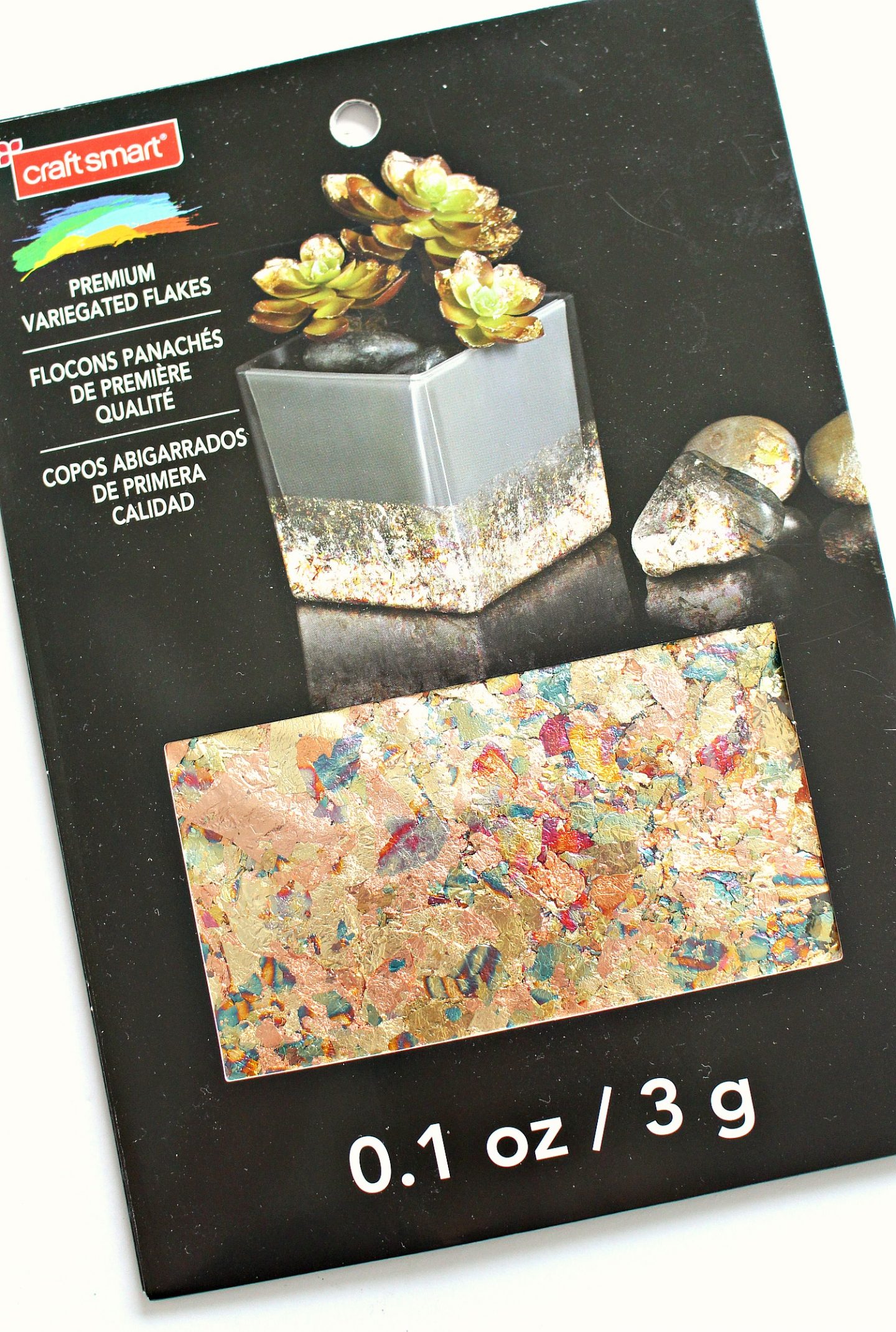 How to Make Gold Leaf Coasters:
The first step was the apply the gold leaf, and I worked on each coaster individually. Using a foam brush, I brushed on a thin coat of Mod Podge and applied the gold leaf using tweezers, pressing down gently and trying to smooth it out. I think sheets of gold leaf would be easier because these smaller pieces wanted to bunch, but it just took some extra time to keep everything smooth. When I was happy with the random arrangement of gold leaf (and it covered any water damage), I set aside the coaster. I propped it up on another foam brush to dry and moved on to the next one.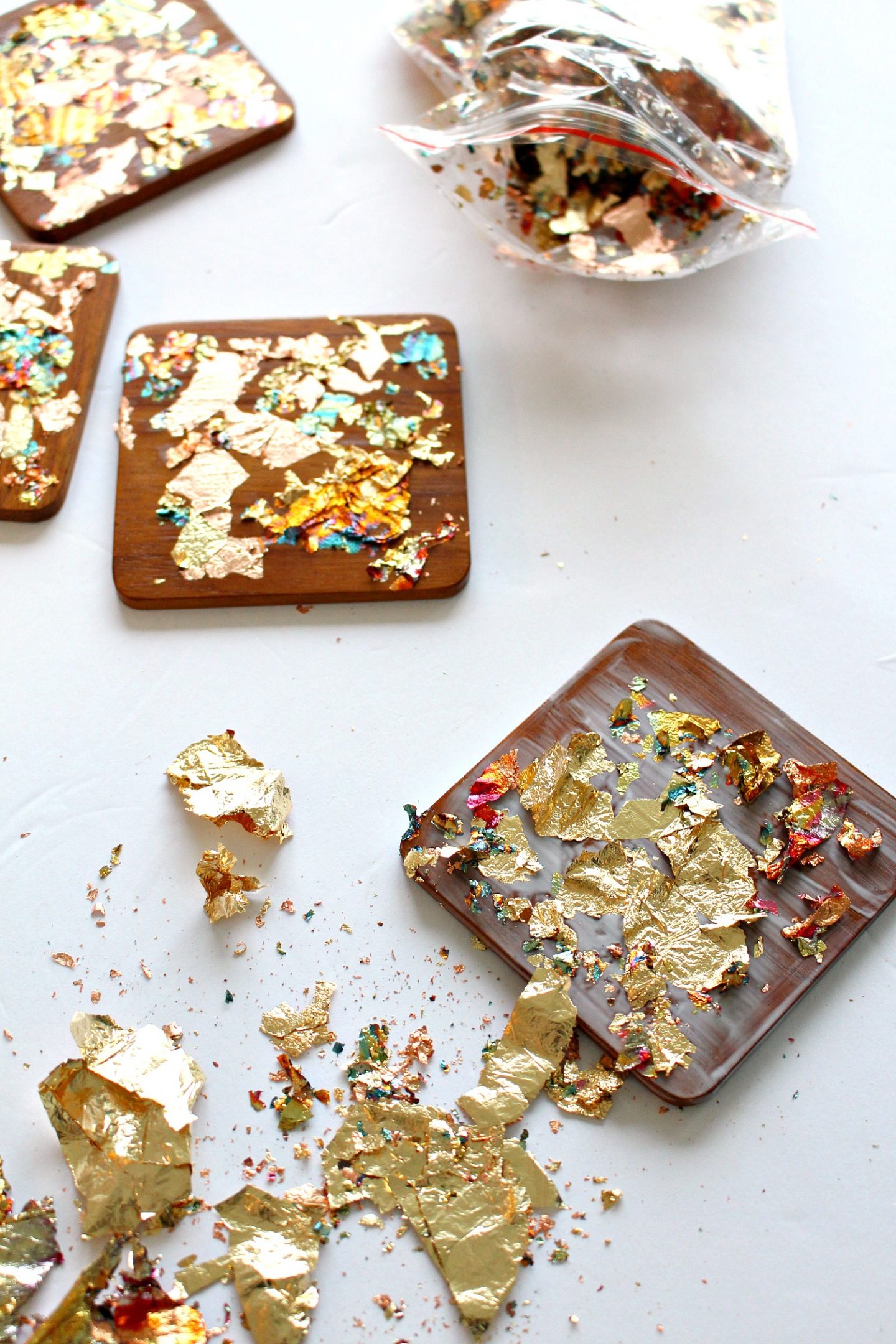 When the modge podge was dry, I applied a final coat of mod podge to seal in the gold flakes and let it dry completely.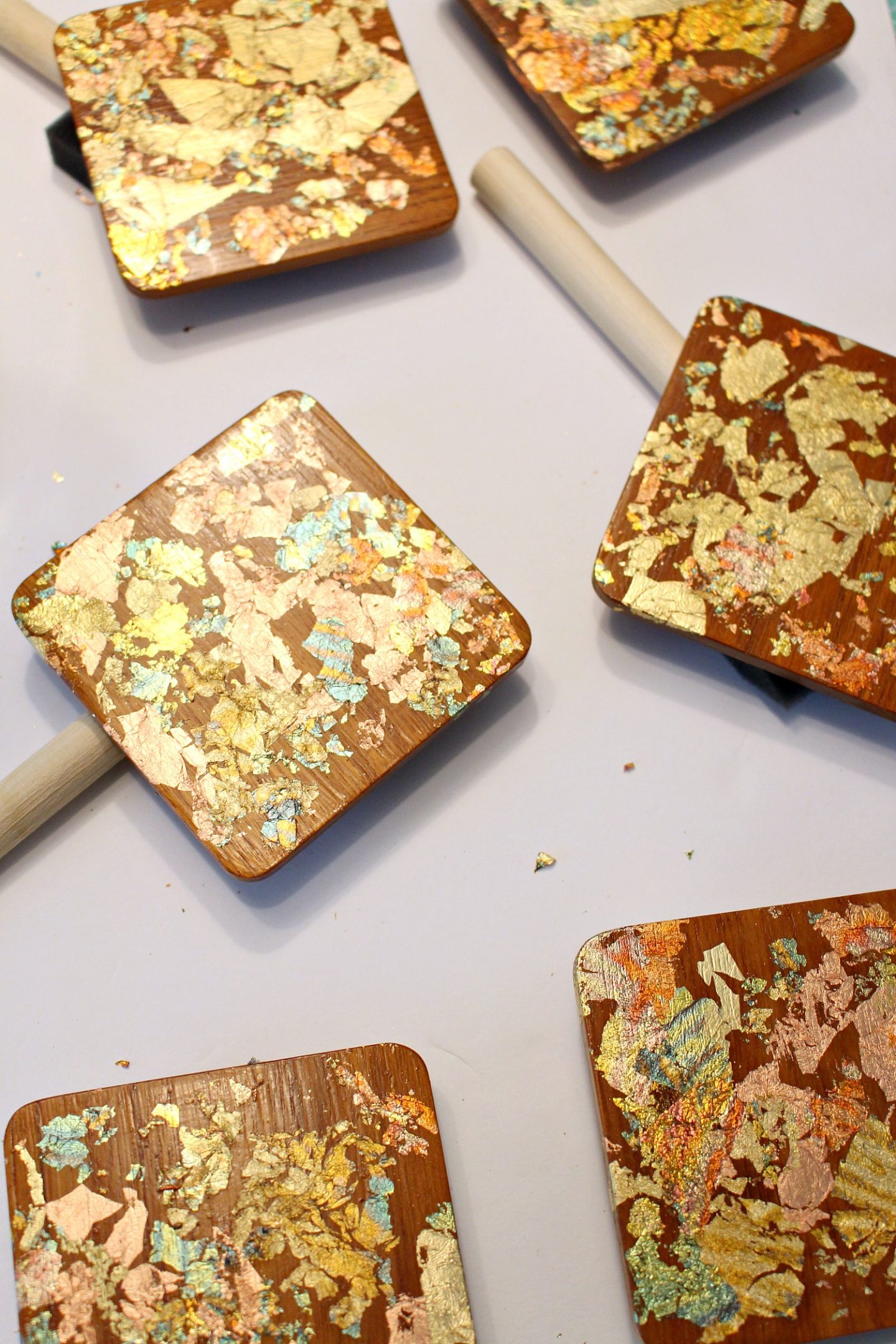 I loved how it looked, but was worried about potential tackiness with the mod podge, and there were also a few bumps of gold leaf I couldn't smooth out fully, so I lightly sanded any troublesome areas with a fine grit sandpaper. This step is optional, and it did dull the gold leaf in some spots, but it really smoothed the surface. Afterwards, I blasted the coasters with some of my favorite Watco spray lacquer and let them dry again.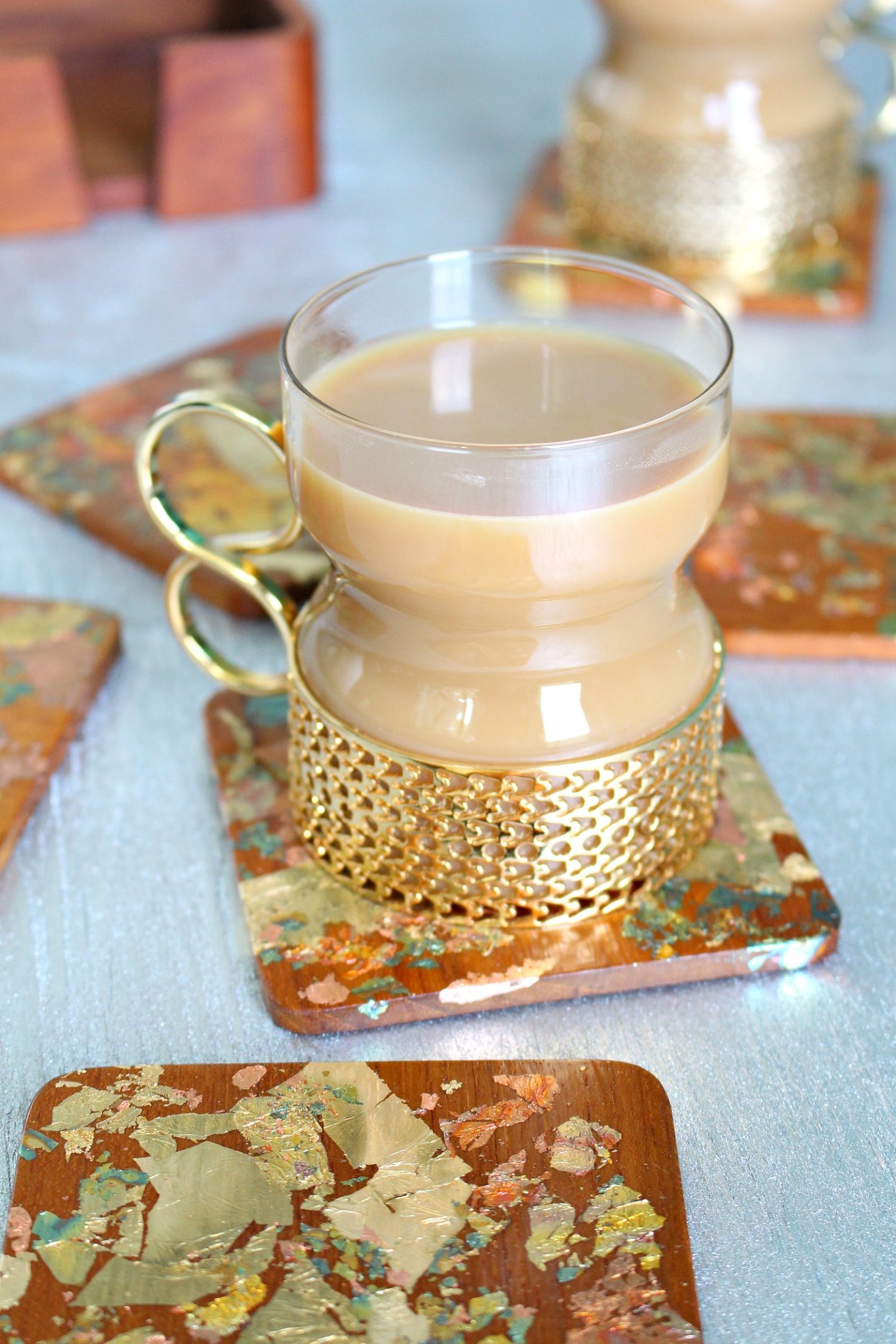 These DIY gold leaf coasters were so easy to make – I think you could even make them with kids, to create a handmade gift people will love to receive.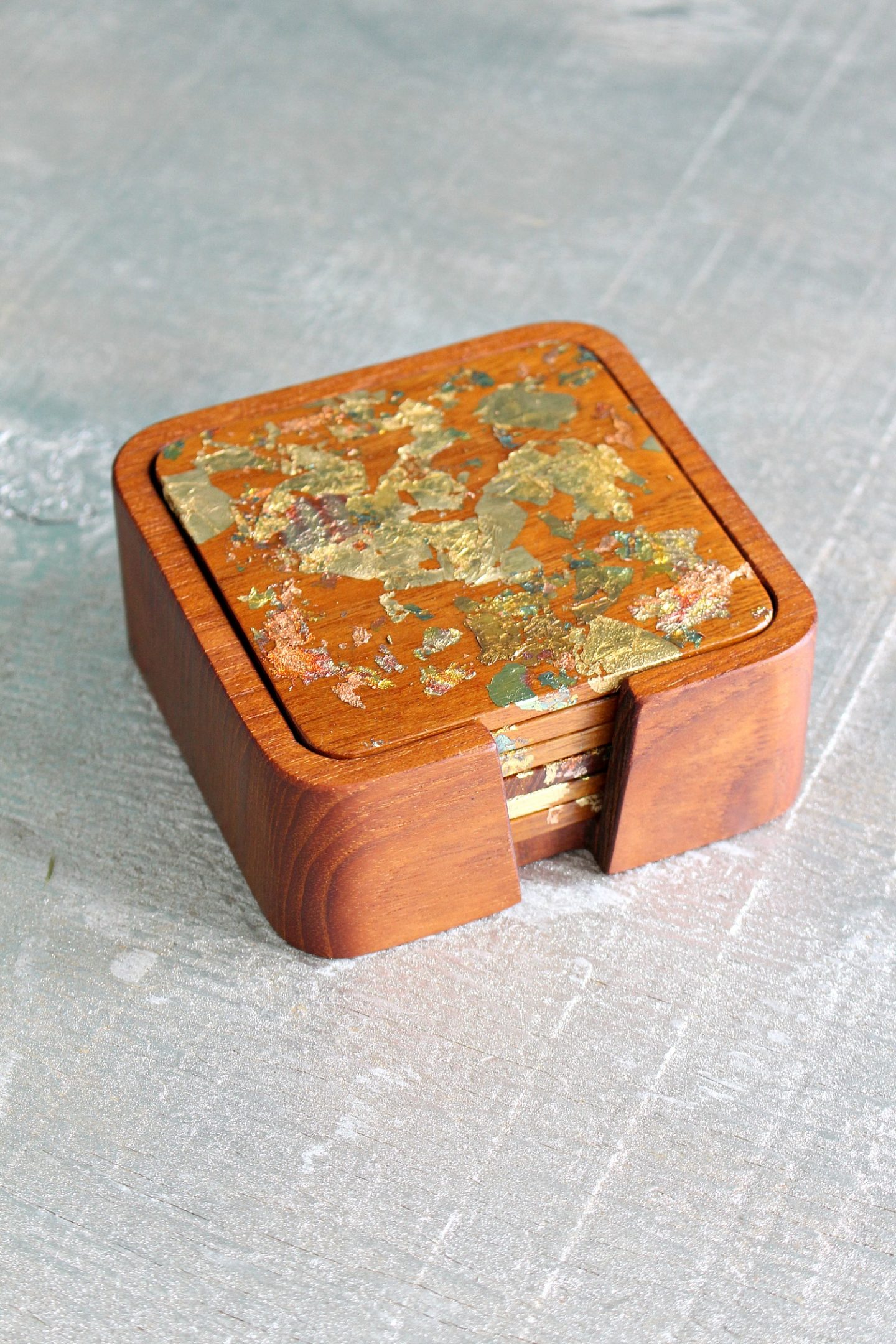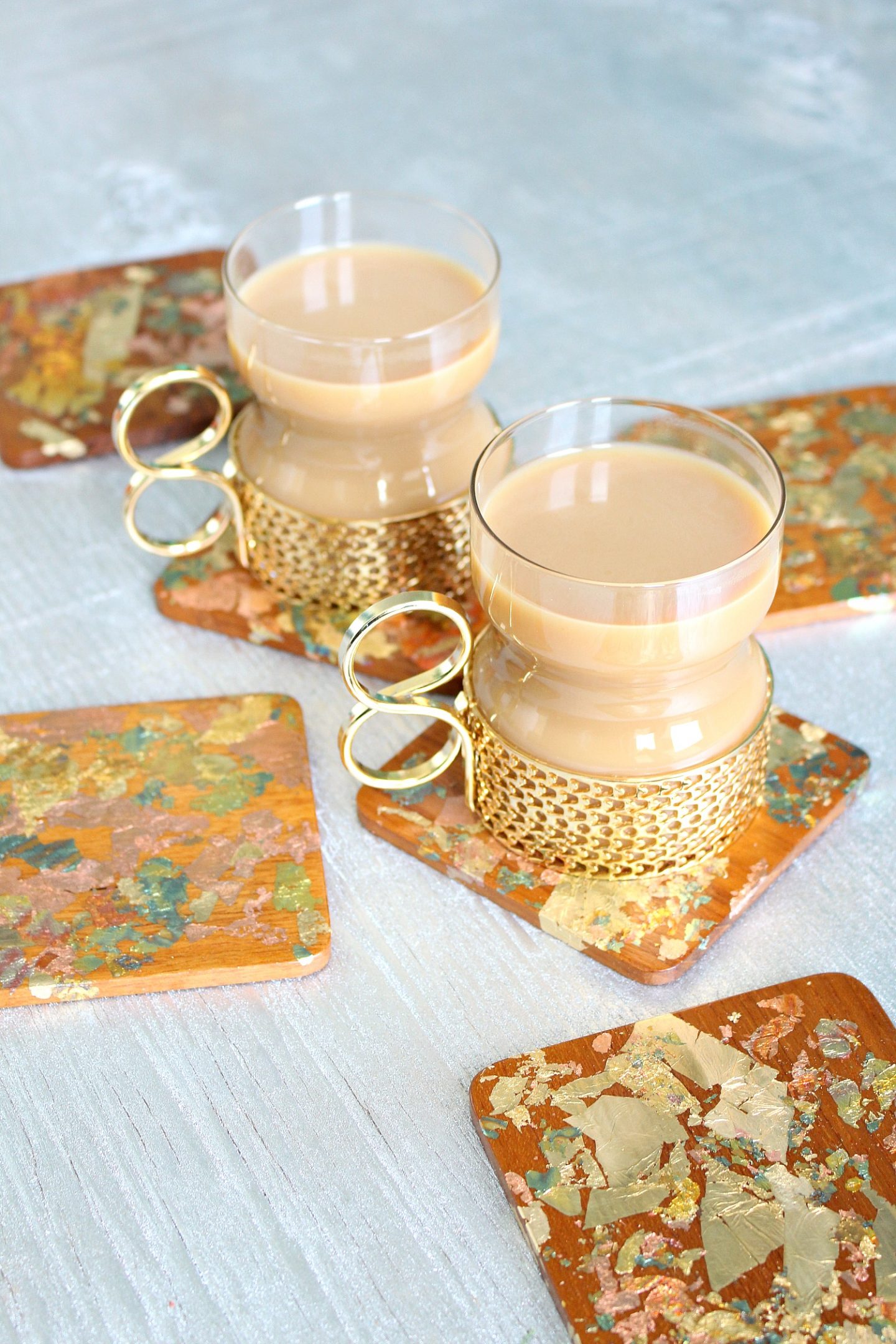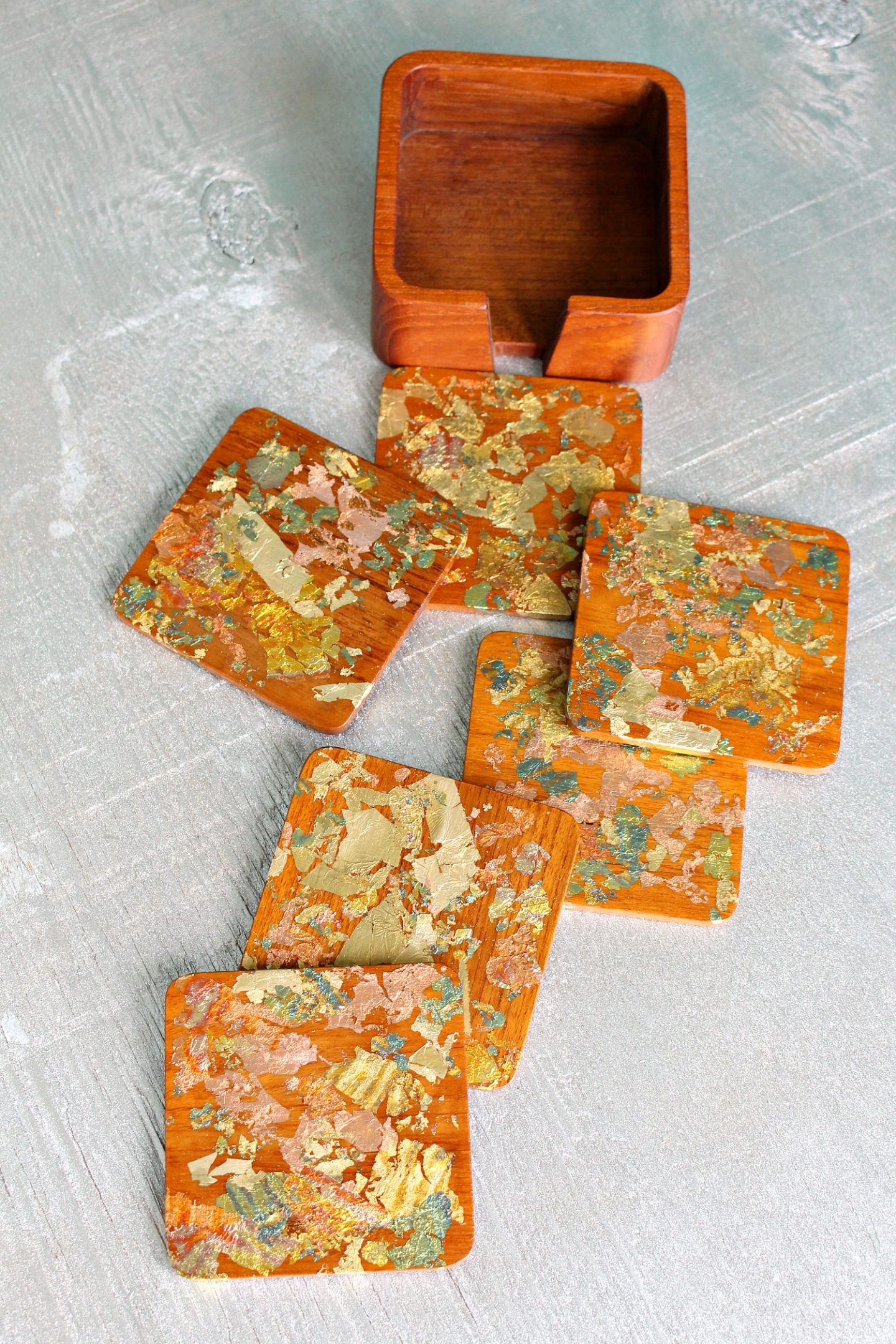 P.S. Don't Forget to Pin for Later!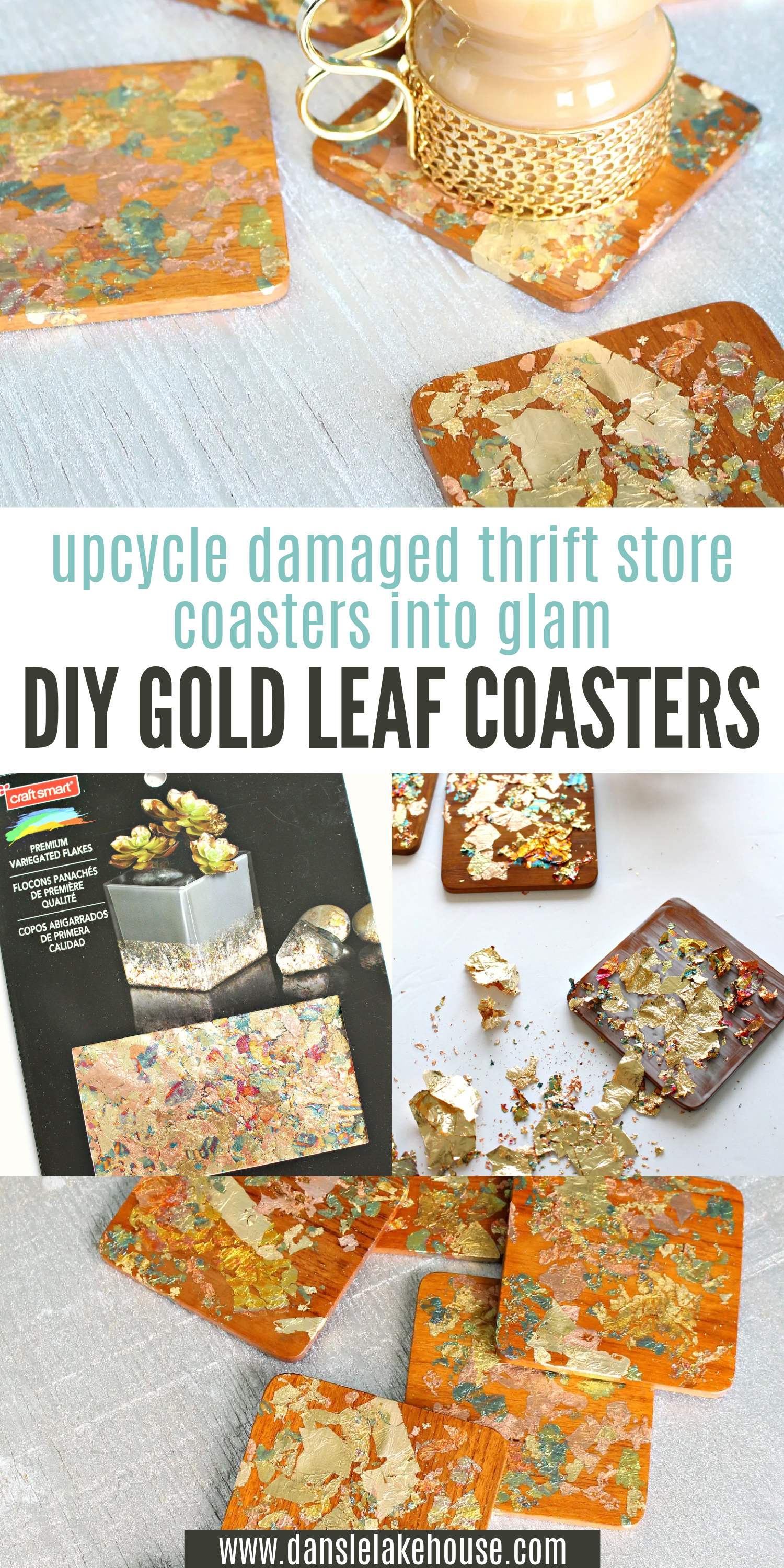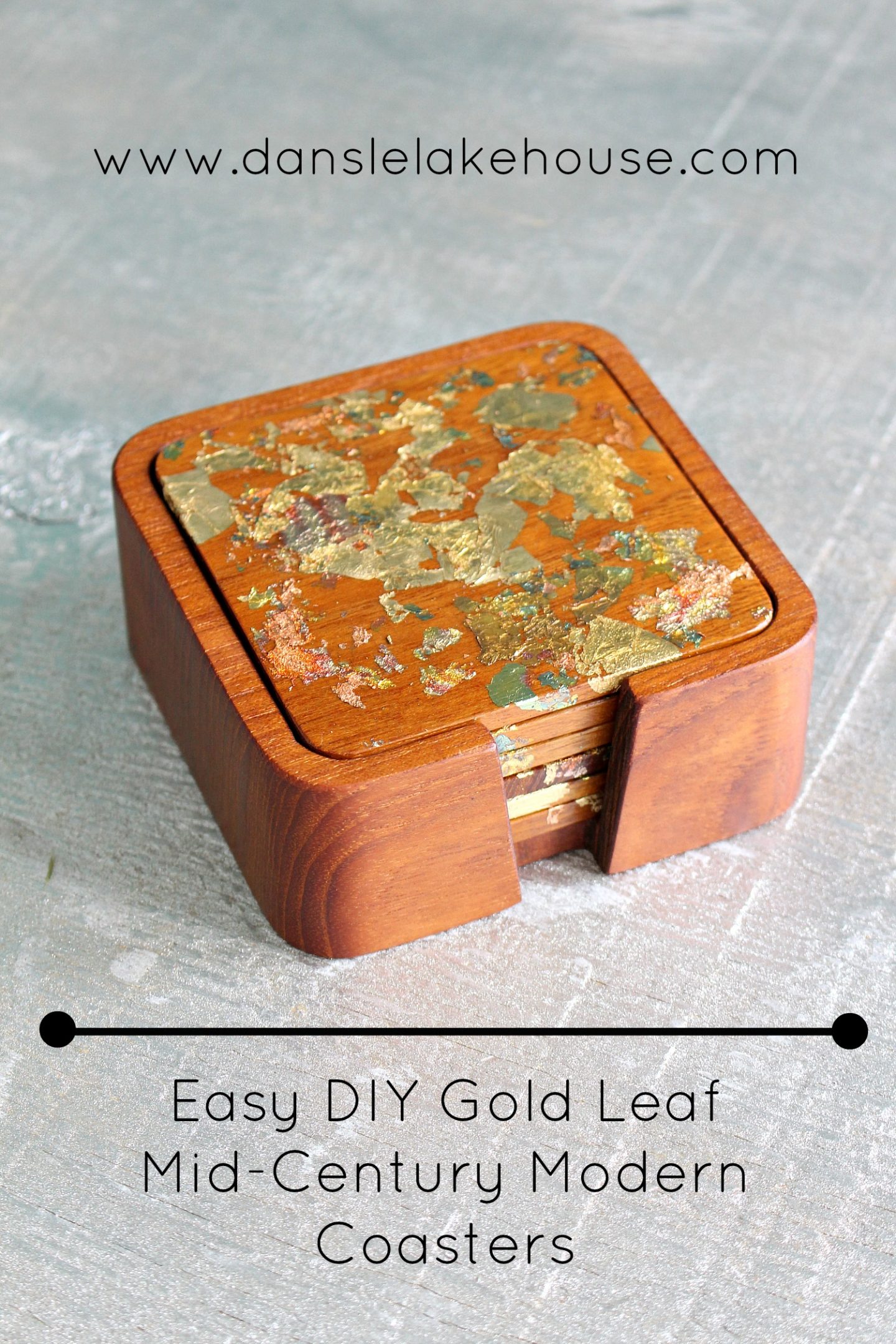 Looking for More DIY Coaster Ideas?
Check out my DIY alcohol ink coasters, DIY painted birch slice coasters, and DIY wood hex coasters! Or if you're looking for another fun decoupage idea, check out my DIY sewing box decorated with vintage patterns. I honestly never thought I'd type the phrase, "another fun decoupage idea," but I actually have had a lot of fun creating modern decoupage crafts. Plus you have to buy a massive tub, so, in for a penny…