The peaceful bedroom decor makeover I'm sharing today is my favorite version of our bedroom to date! Our bedroom decor has slowly evolved in the five years we've lived in the lakehouse. I think this was the last room to really feel like it still belonged in the townhouse, thanks in part to my mid-century posters from Hungary (which really made a statement in the townhouse kitchen). While the rest of the lakehouse decor moved toward a beachier, more organic vibe with softer colors and way more blues, the bedroom stayed bold and retro. Hubby recently inherited five paintings when his grandpa Bert, the artist who painted so much of the beautiful artwork we own, passed away. To make room for the new paintings I'm refreshing a lot of our spaces so the new-to-us artwork can shine. Bert's art has always been important to Hubby and I, so I let his color choices and the mood of the paintings direct my decorating. Here's how his art shaped some subtle changes in the bedroom and helped me find a more peaceful bedroom decor style.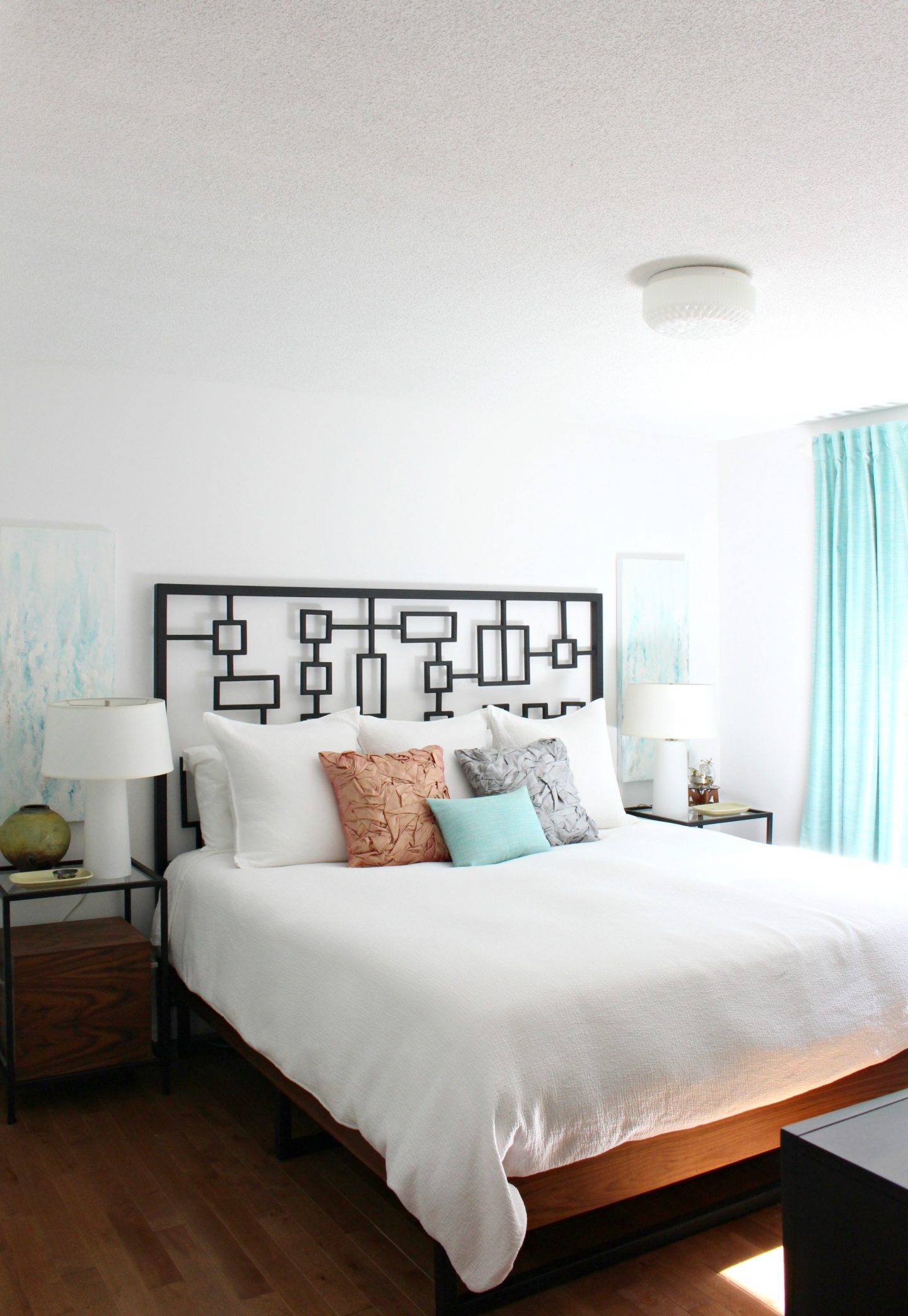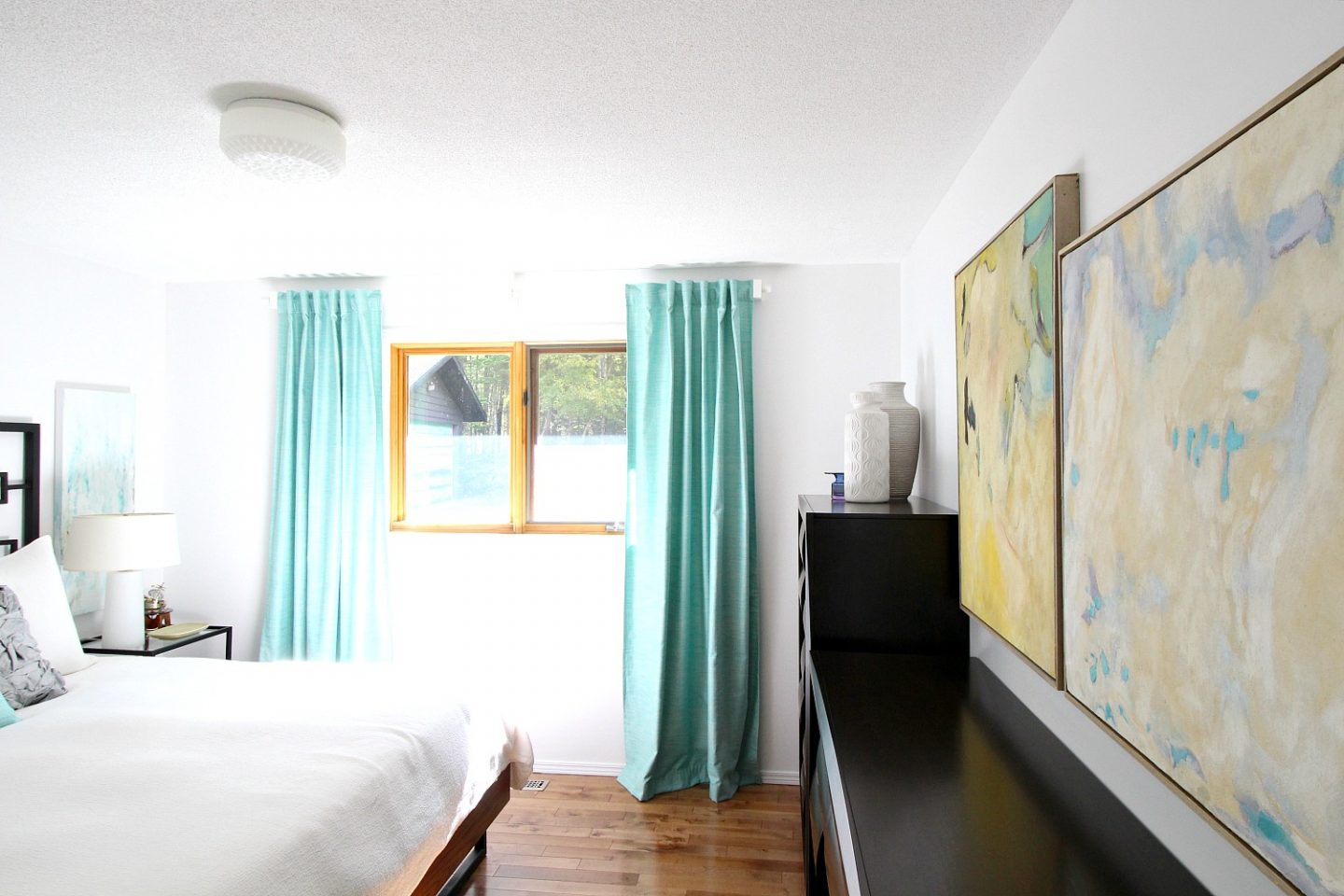 After the art reshuffle we did to make room for the new paintings, two of Bert's dreamy abstracts replaced my posters (which are now homeless!) above the dresser. The painting on the left is one that we already owned. Bert gave us a painting when Hubby and I moved in together, 11 years ago, and this was the one we chose. On the right is a new painting, which has an even more ethereal quality.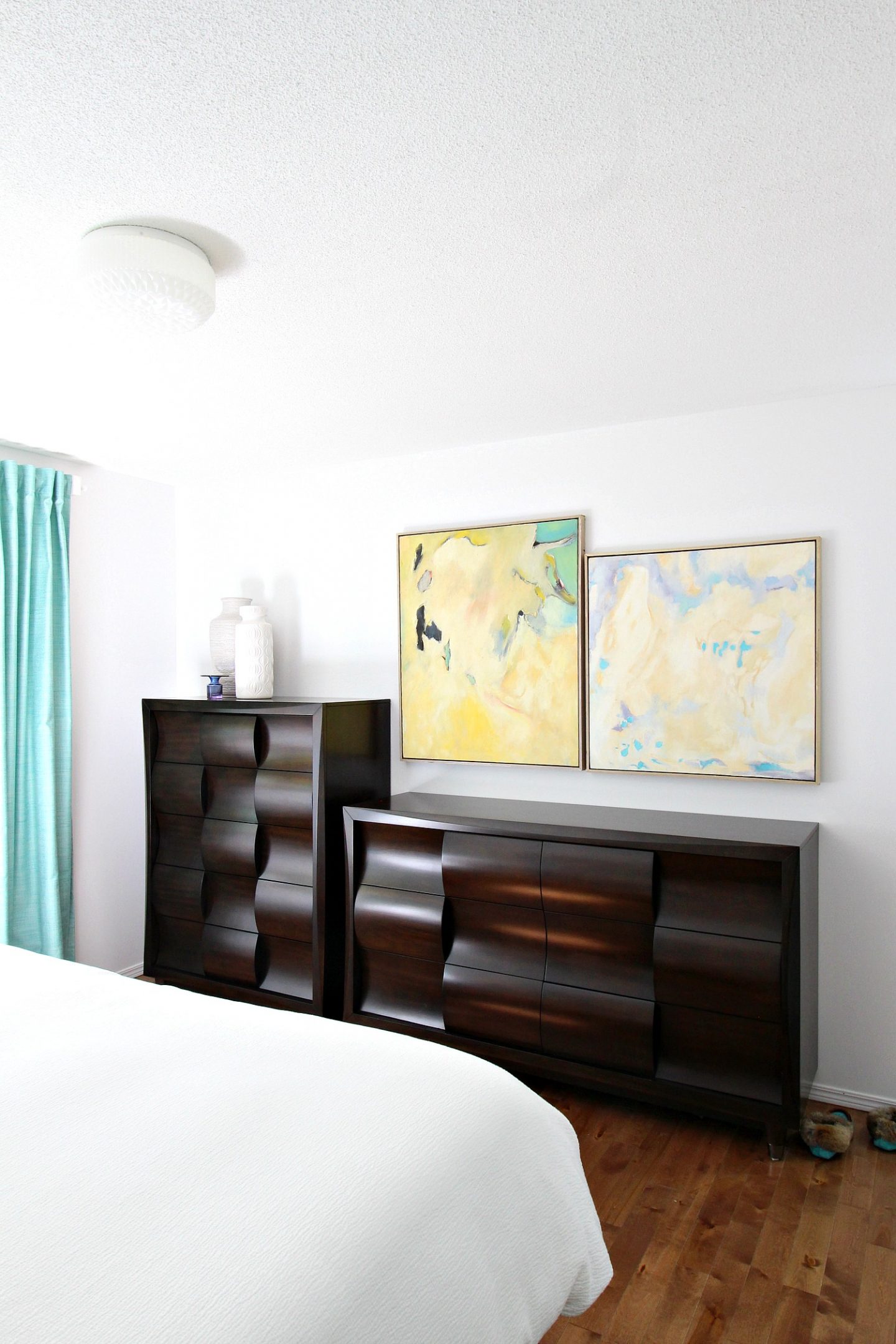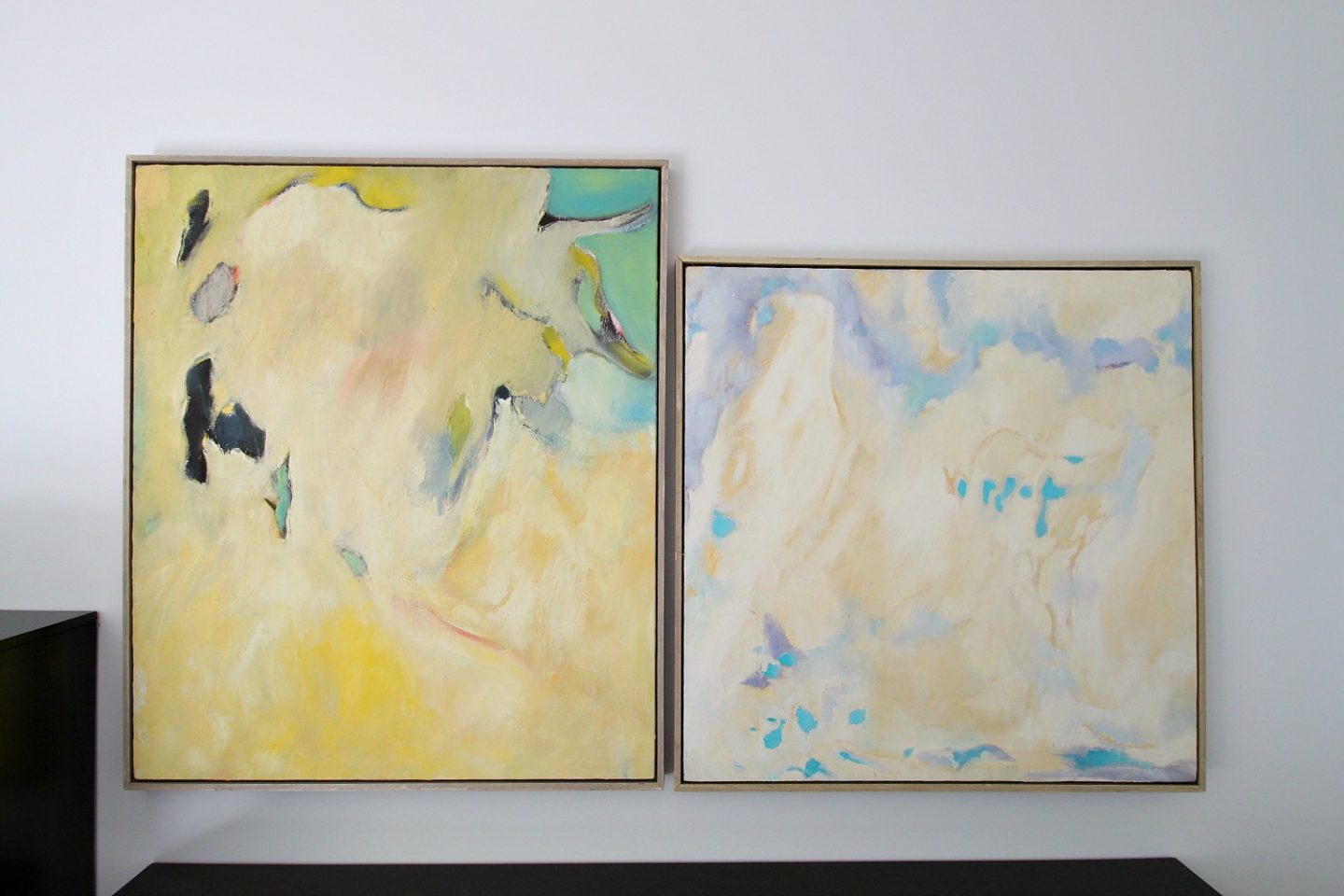 The paintings don't "match," but I think they have a similar mood. They're both from the 1980s era of Bert's career, when his work was often light and airy, but had beautiful depth thanks to layered colors. Picking up on the spots of turquoise in the new painting, I moved over the tweed drapes from the office. I'm not sure they will fit when the new, larger windows are installed, but for now it was nice to switch out the bolder green tweed, which really competed with the softer artwork. I also de-cluttered a bit, removing the George Nelson-inspired ball clock and the McCoy planter from the dresser. I keep the surfaces really spartan in the bedroom because I like to pile the pillows there at night – plus having less visual clutter contributes to the peaceful bedroom decor.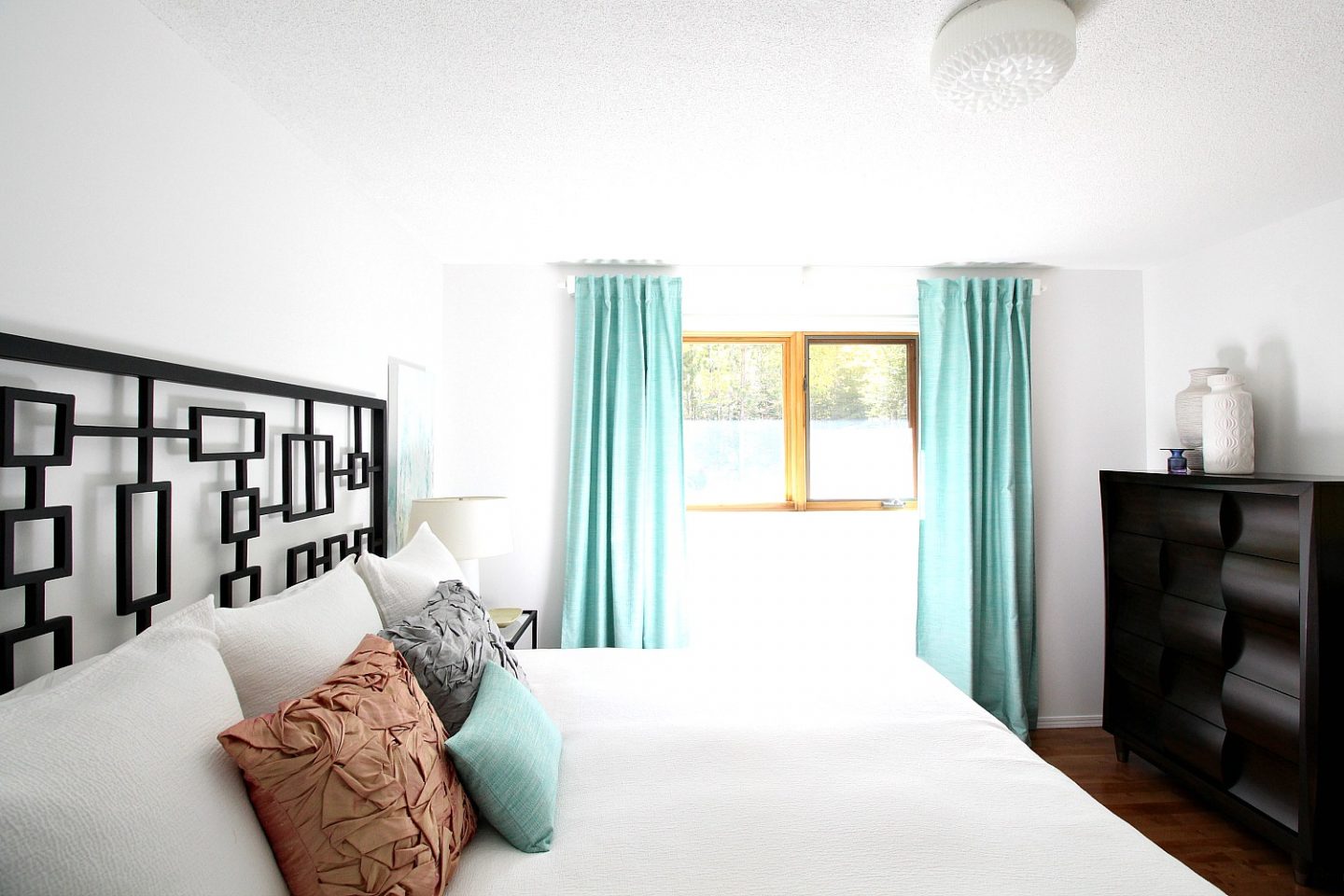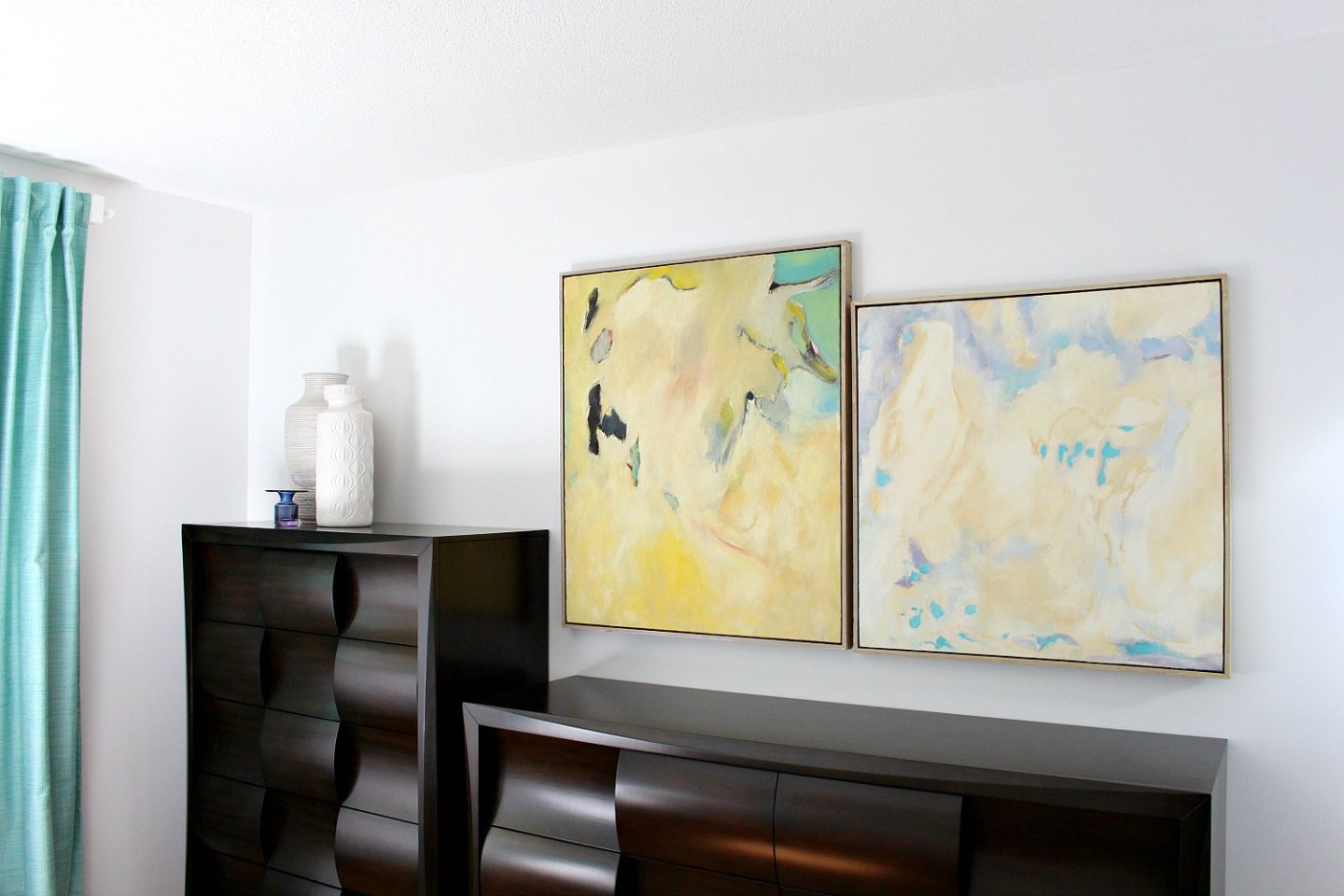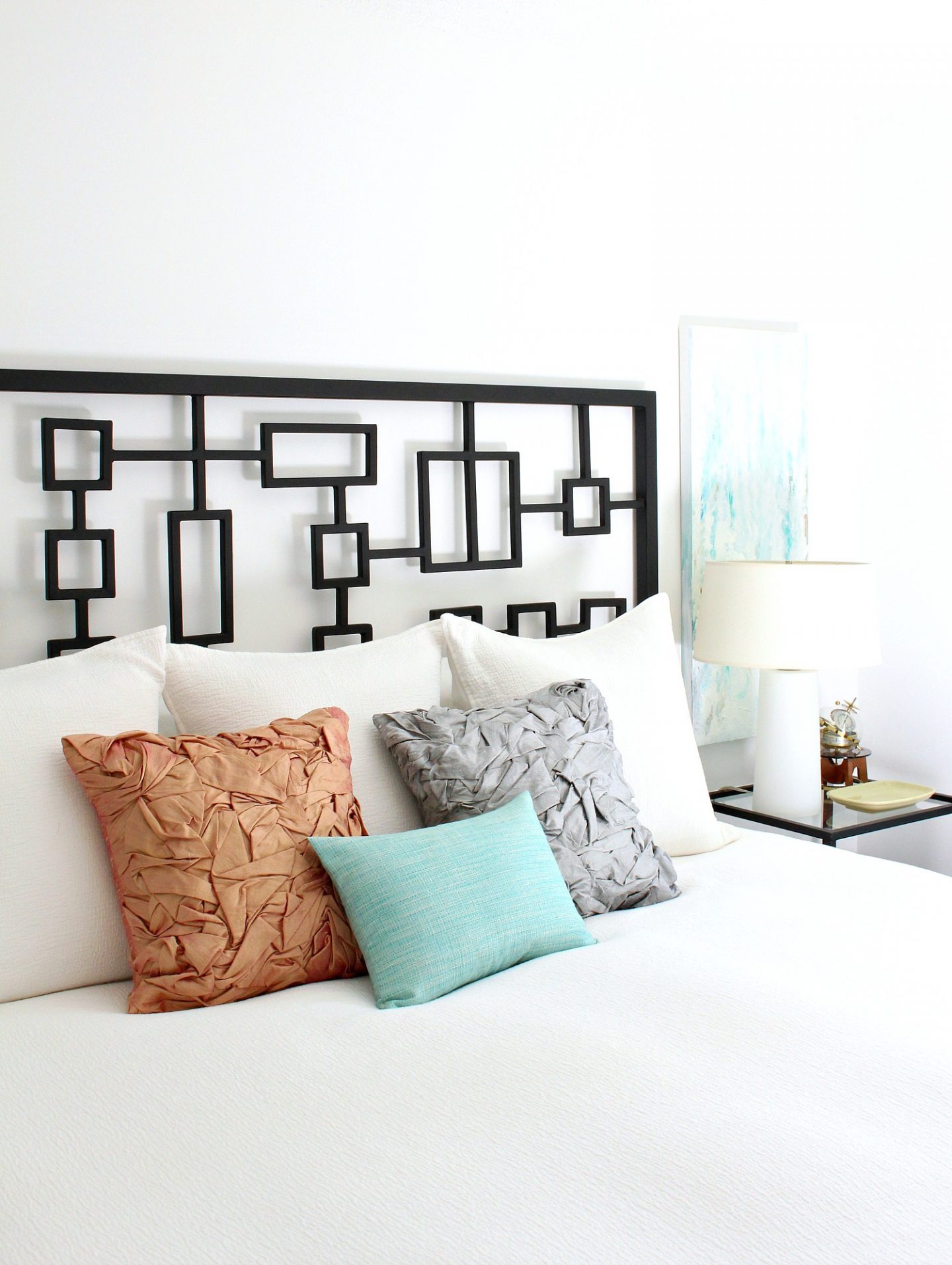 On the other side of the room, key pieces were kept: the walnut bed with welded legs we built, the welded headboard and nightstands my grandpa made us, and the textured white bedding from West Elm (linked to in this post). I also kept our lamps, because we love the light up base, but I stole the white lamp shades from another pair of lamps in the house to lighten up the look (plus I got tired of dusting the black shades). After seven years, I finally switched up the green silk pillows too! I loved the color but I wanted something lighter and more textured, so I made these DIY folded silk pillows using leftover peach silk from my wedding dress and leftover grey silk my framed Hungarian embroidery (which also moved into the bedroom). I keep the side table decor pretty simple: just the walnut storage boxes we made, which hide my books and kleenex, and then a tray to corral jewelry and lotion. I've added a large vintage raku pottery bowl because I'm on a major pottery bender right now, and I love the organic texture of this piece.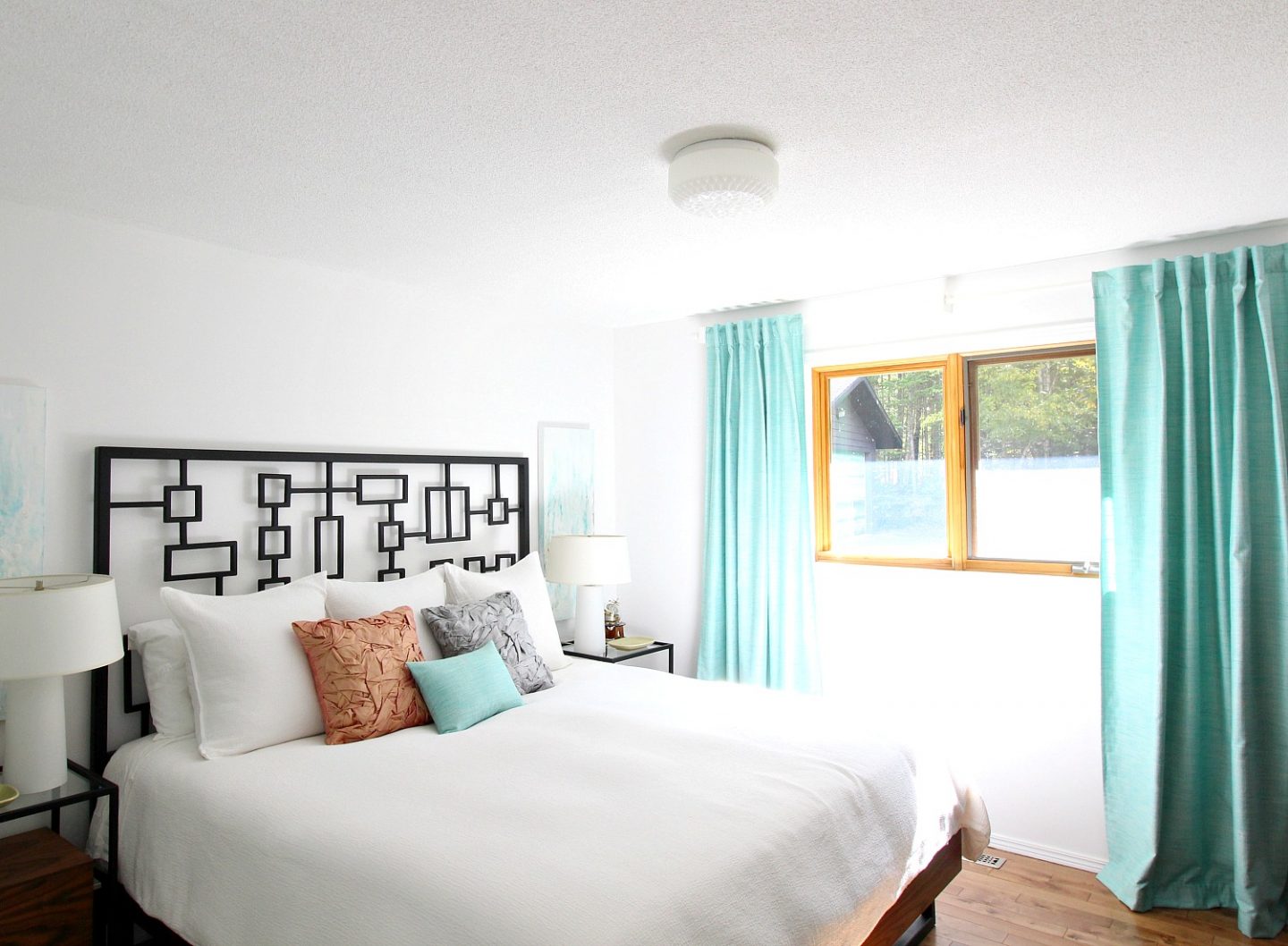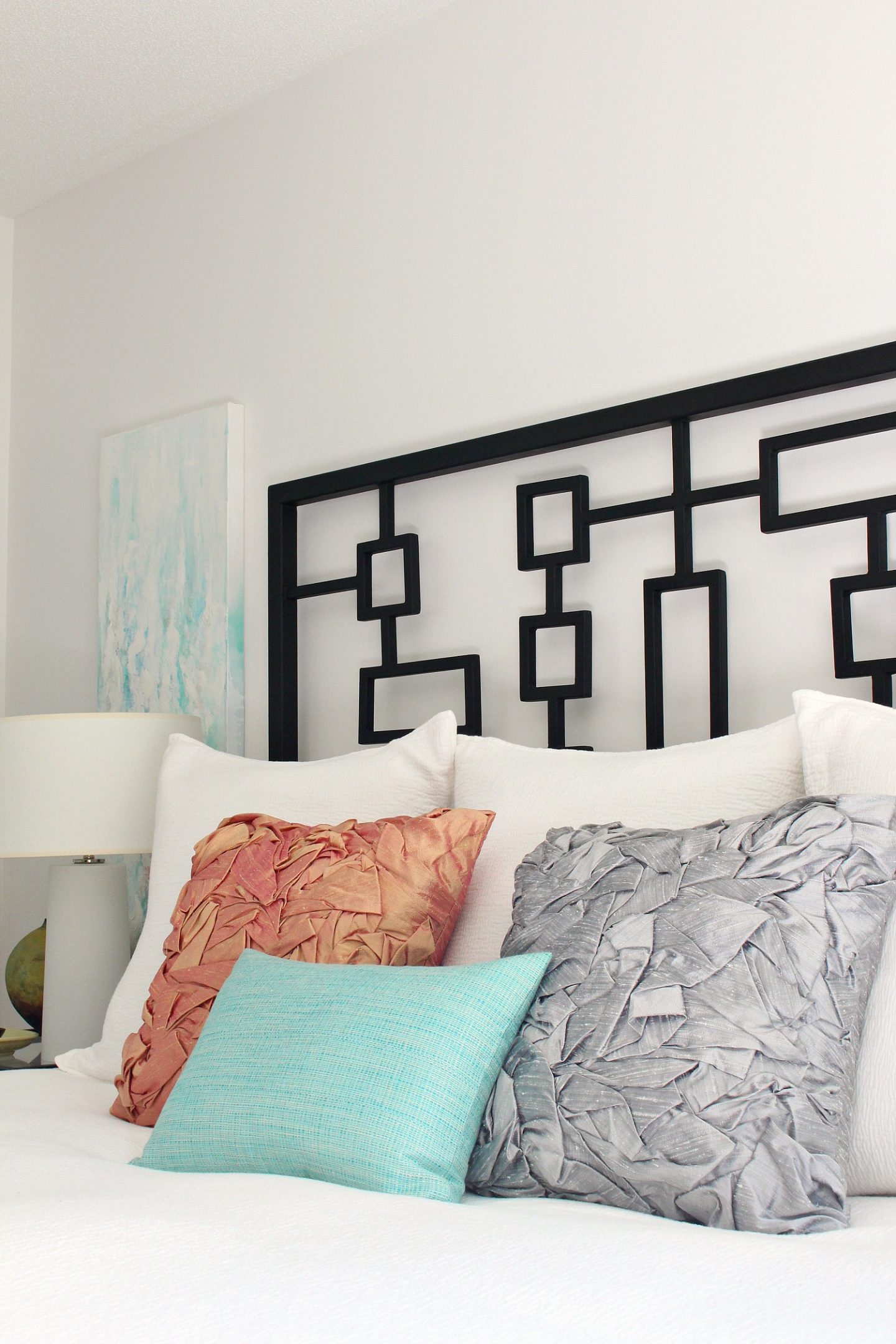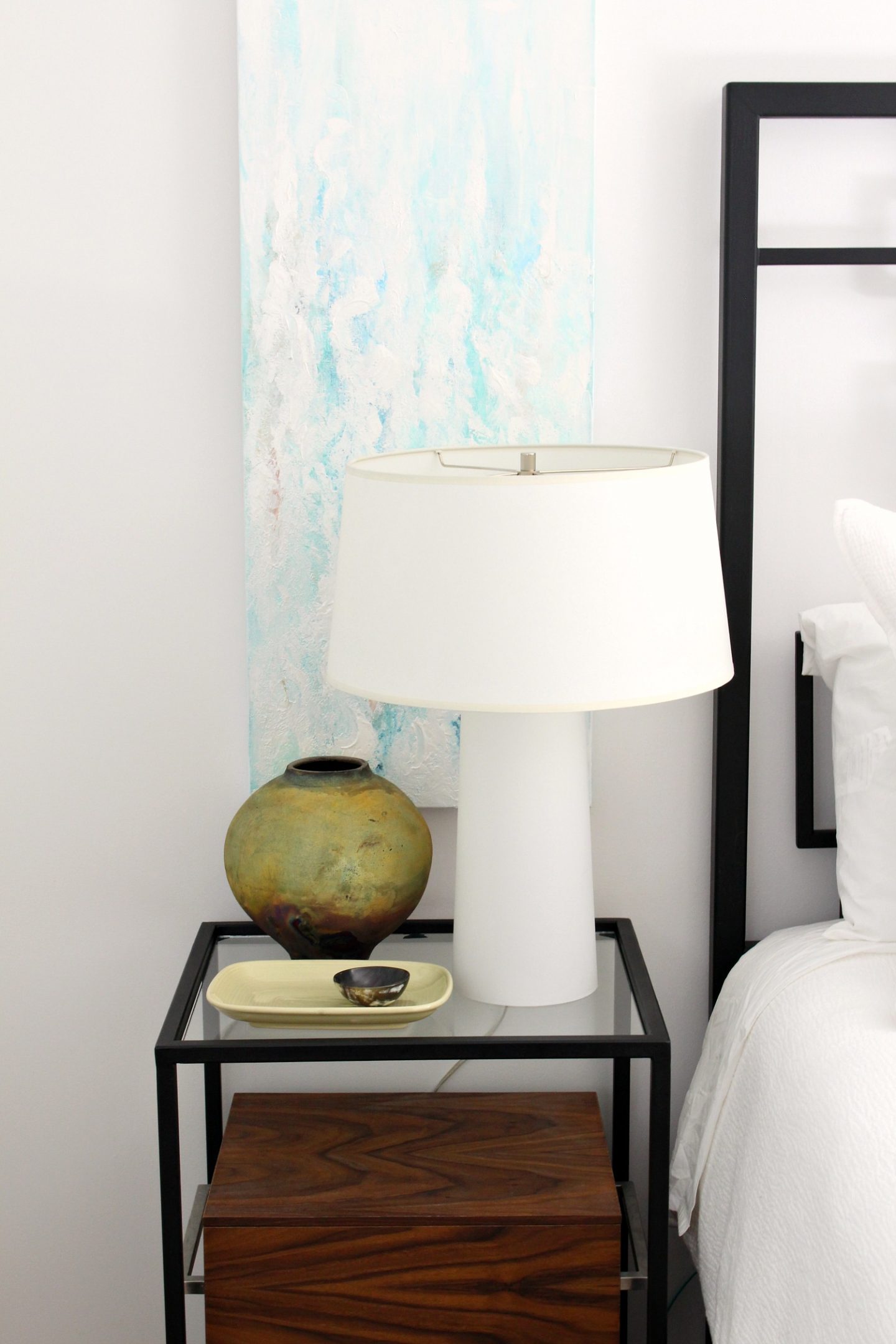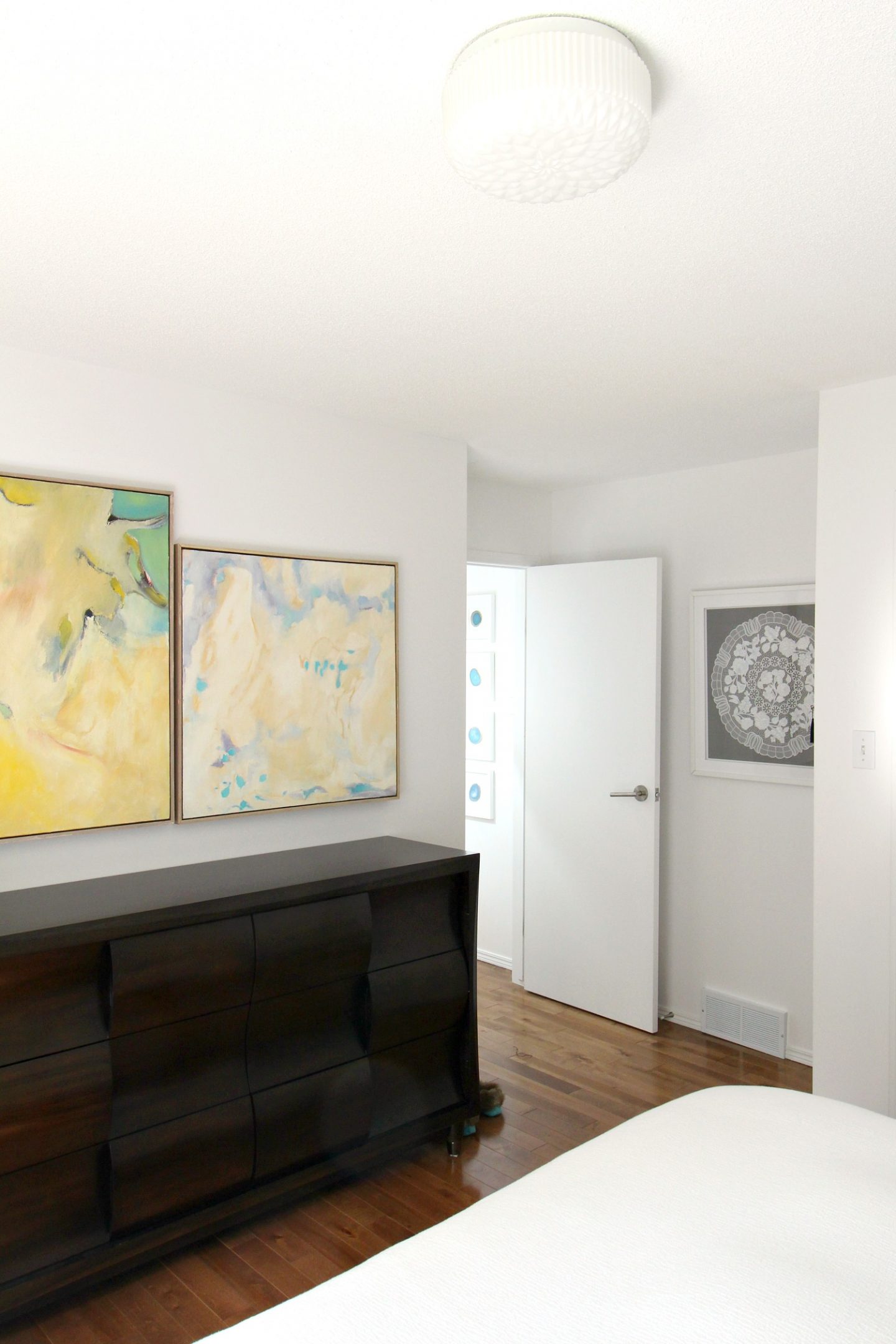 Remember my pair of DIY abstracts, flanking the headboard? To match the new peaceful bedroom decor, I repainted them to look lighter and airier, with a little more texture, and then I discovered a neat trick. Rust-Oleum Metallic Pearl Mist is a spray paint that is so sheer that it really just dusts surfaces with a hint of glimmer. I spray painted my completed paintings once they dried with Pearl Mist and the entire surface now has a pretty sheen.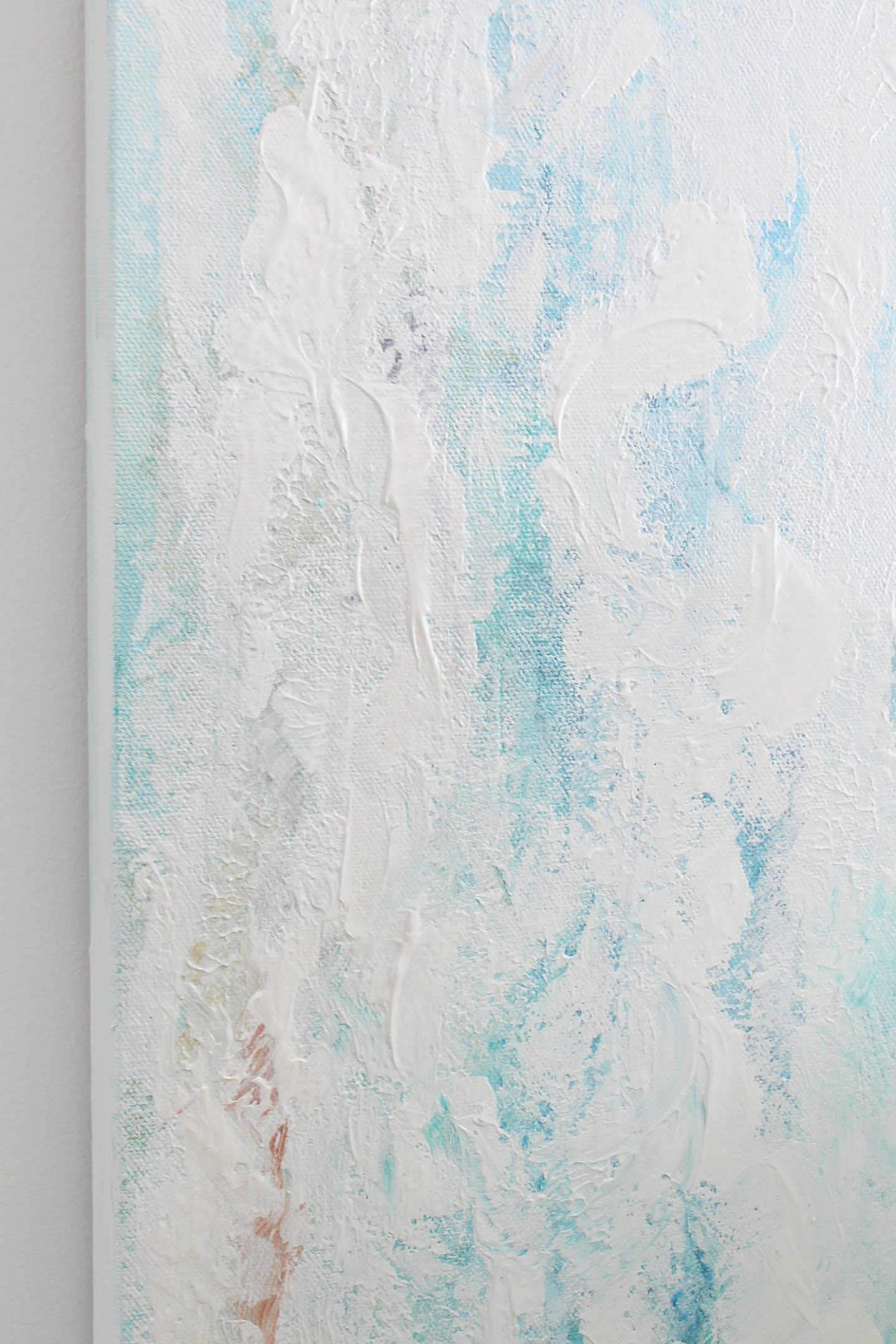 Our bedroom is SO small, we can really only fit our bed (which is a king, so that definitely consumes a lot of the footprint), two night stands, and our pair of dressers. The white walls paired with the dark furniture definitely create a lot of contrast, so it's refreshing to lighten up the artwork and accessories a little. It's difficult to photograph the entire room because it's so small that I can't back up far enough, but I grabbed the wide angle lens so you can see how things work together (it just distorts the angles a little bit):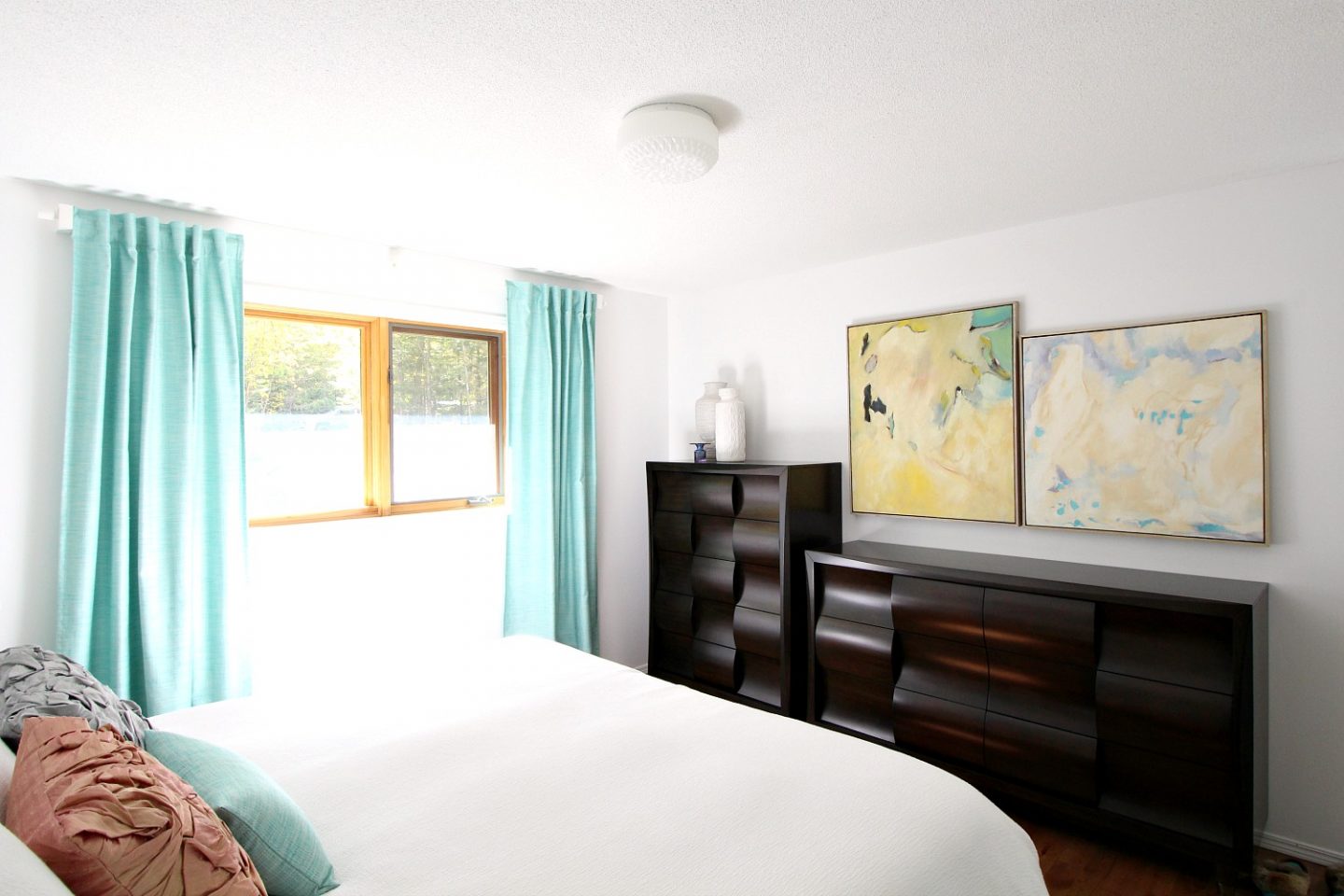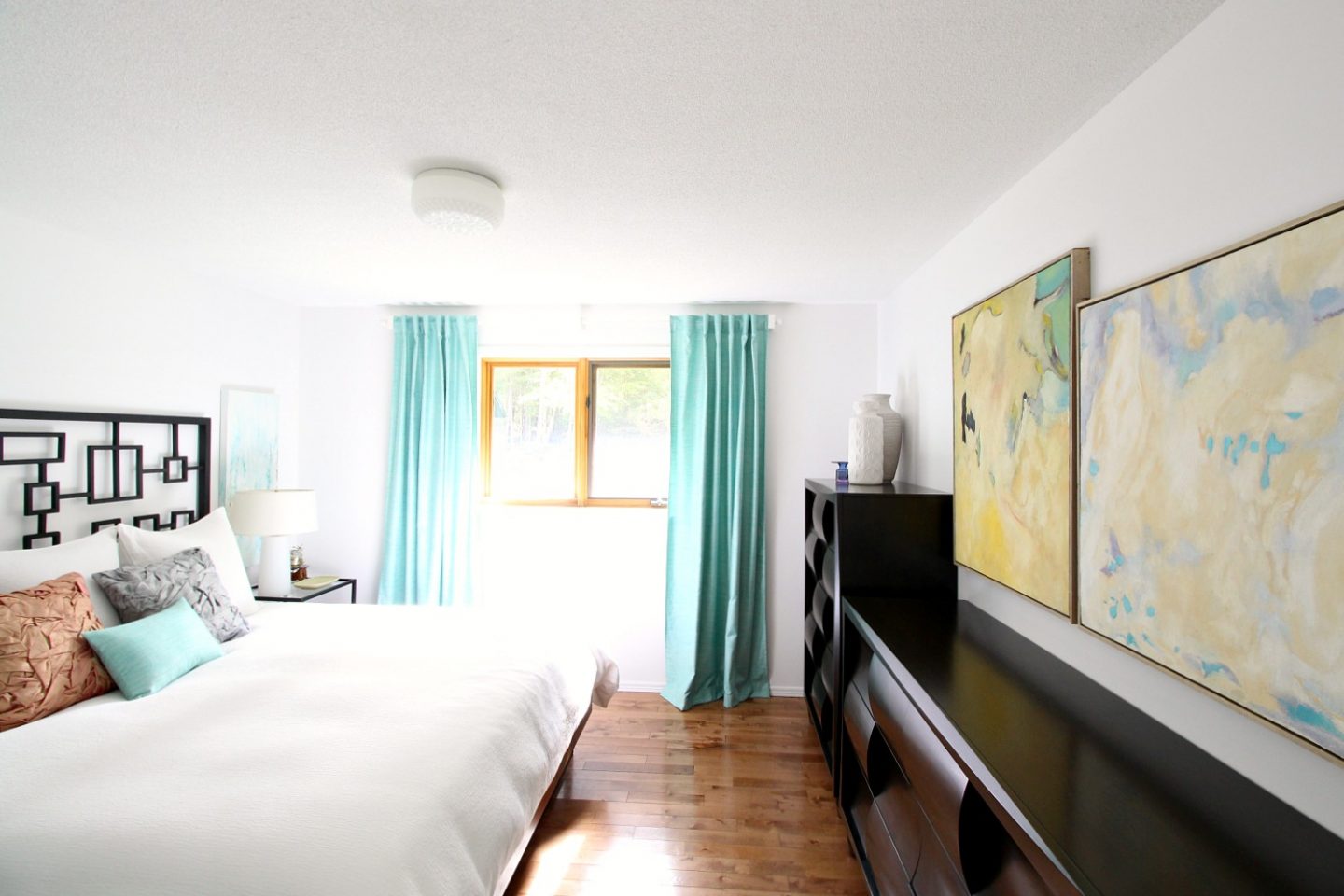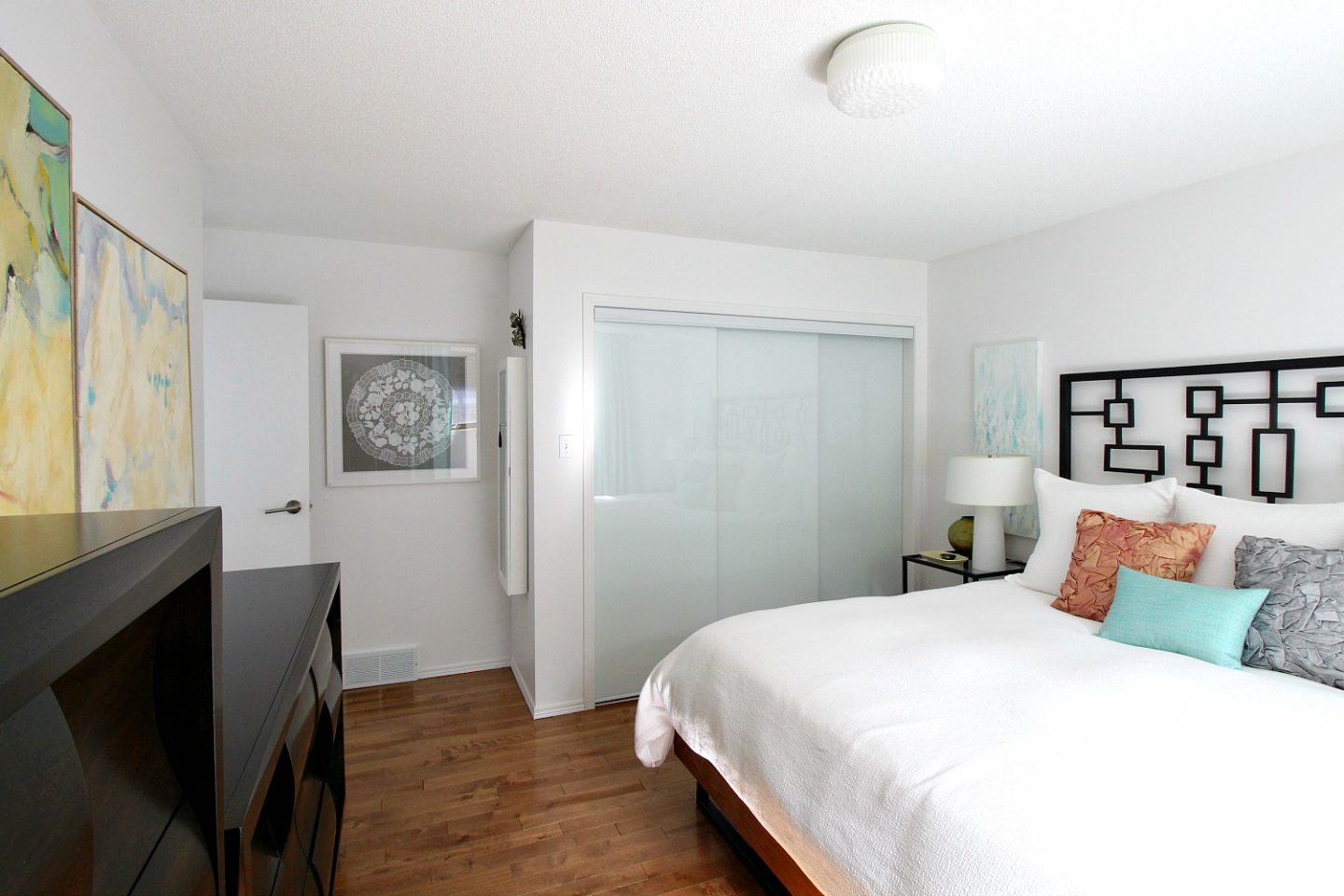 The peaceful bedroom decor definitely works better with the rest of the house and I love waking up to this newly restful space. This bedroom will continue to evolve, I'm sure, and sometimes it feels like I move really slowly (largely because of our budget), but when you see the changes from photo to photo it's a satisfying transformation. When we first bought the house, the walls were tan, the trim was oak, and the closet had cracked, mirrored doors: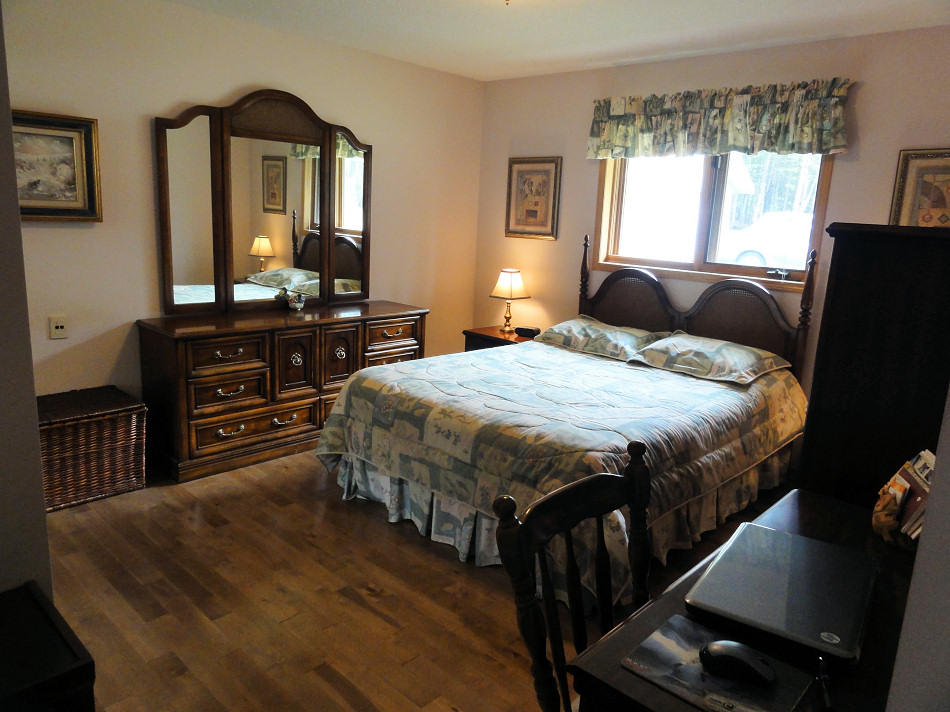 Our bed couldn't fit in front of the window without removing the headboard, so we changed around the orientation. Although I definitely nailed down my style (textured white bedding with pops of color), a welcome style change after the dark days of patterned bedding that competed with the headboard, this particular version was temporary until we found a pair of dressers we liked.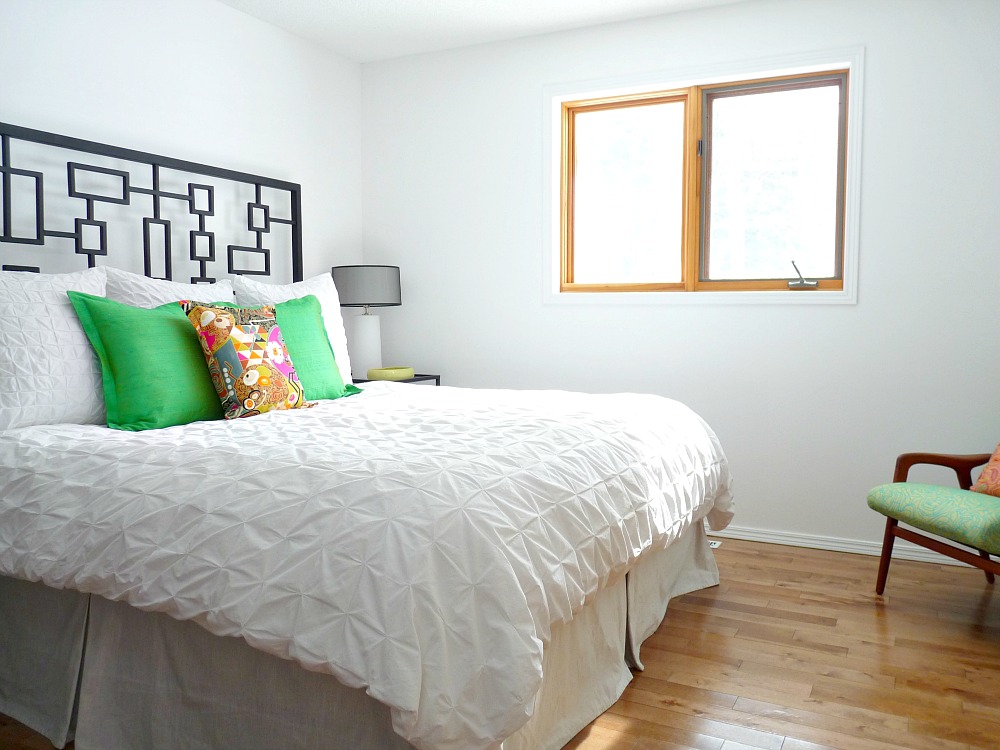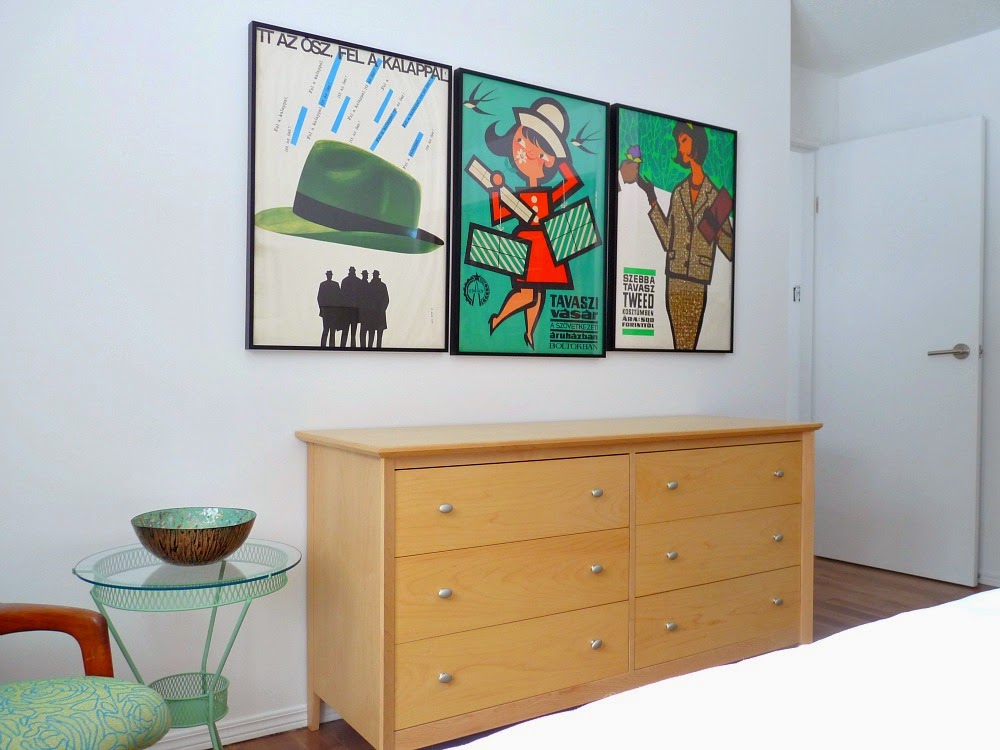 The teal patterned drapes were a great solution to peeping neighbors, but I grew tired of the pattern quickly because it was just too busy.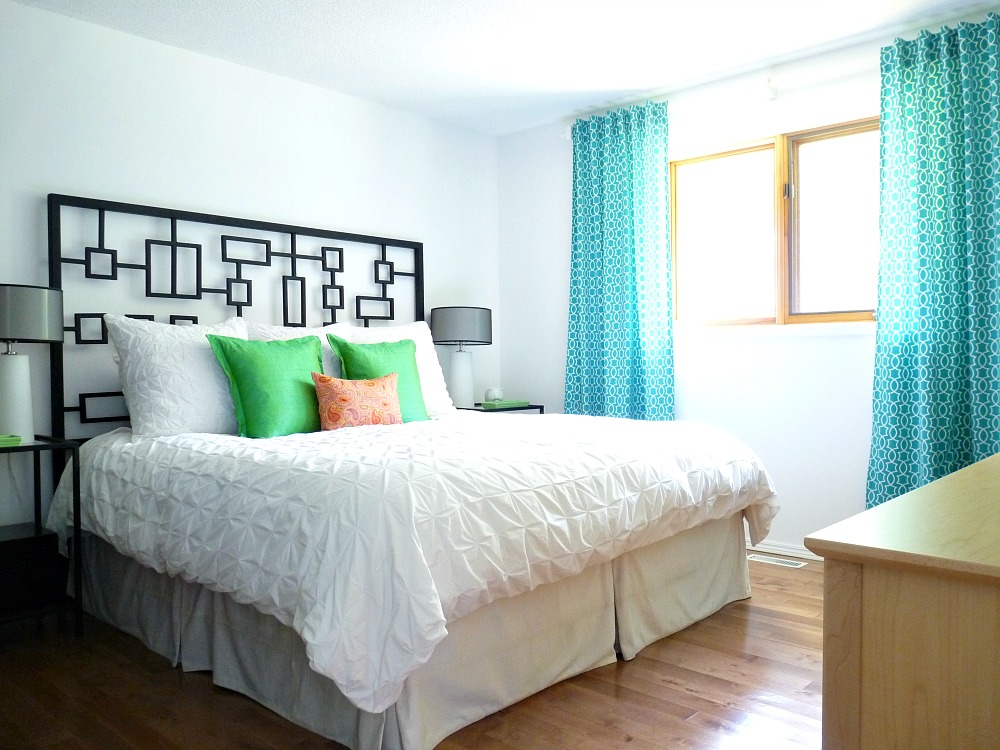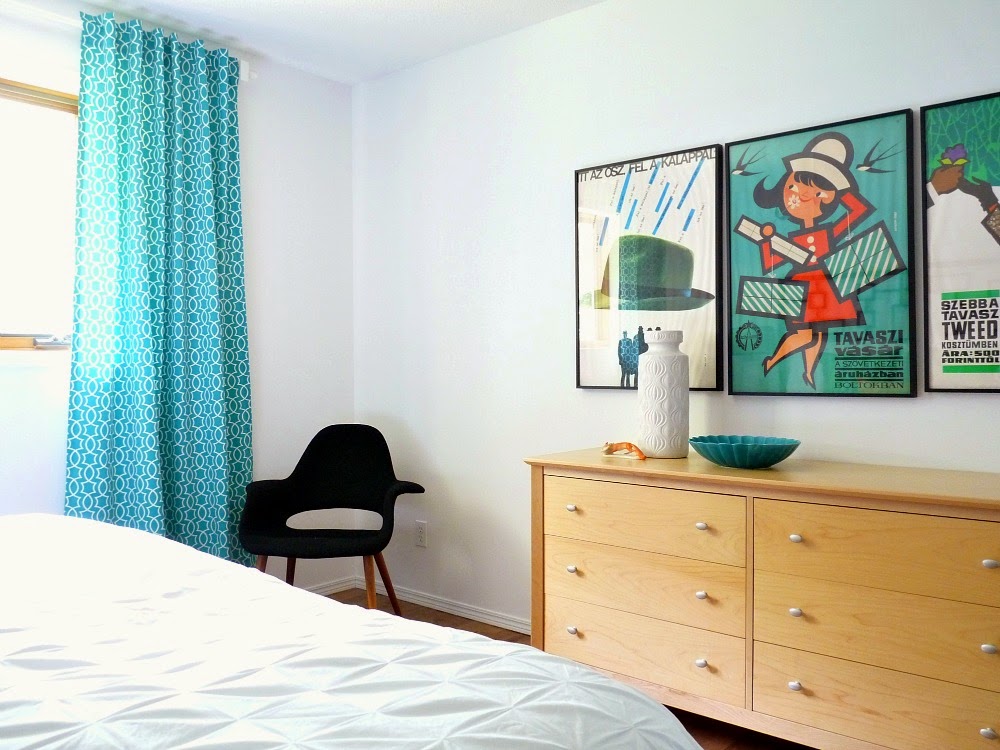 Green tweed drapes added a more sophisticated pop of color and our DIY walnut bed replaced our rumpled bed skirt (click to read the hilarious reason why we made this change!). Plus we got larger, matching dressers and finally installed beach glass-inspired closet doors. These changes helped the room feel more complete and homey.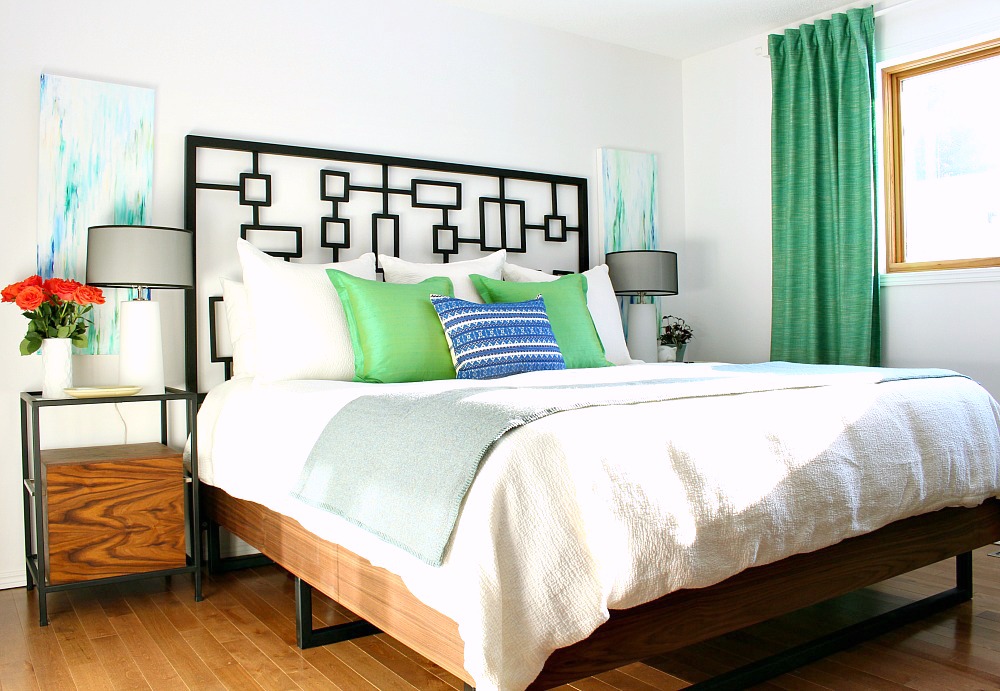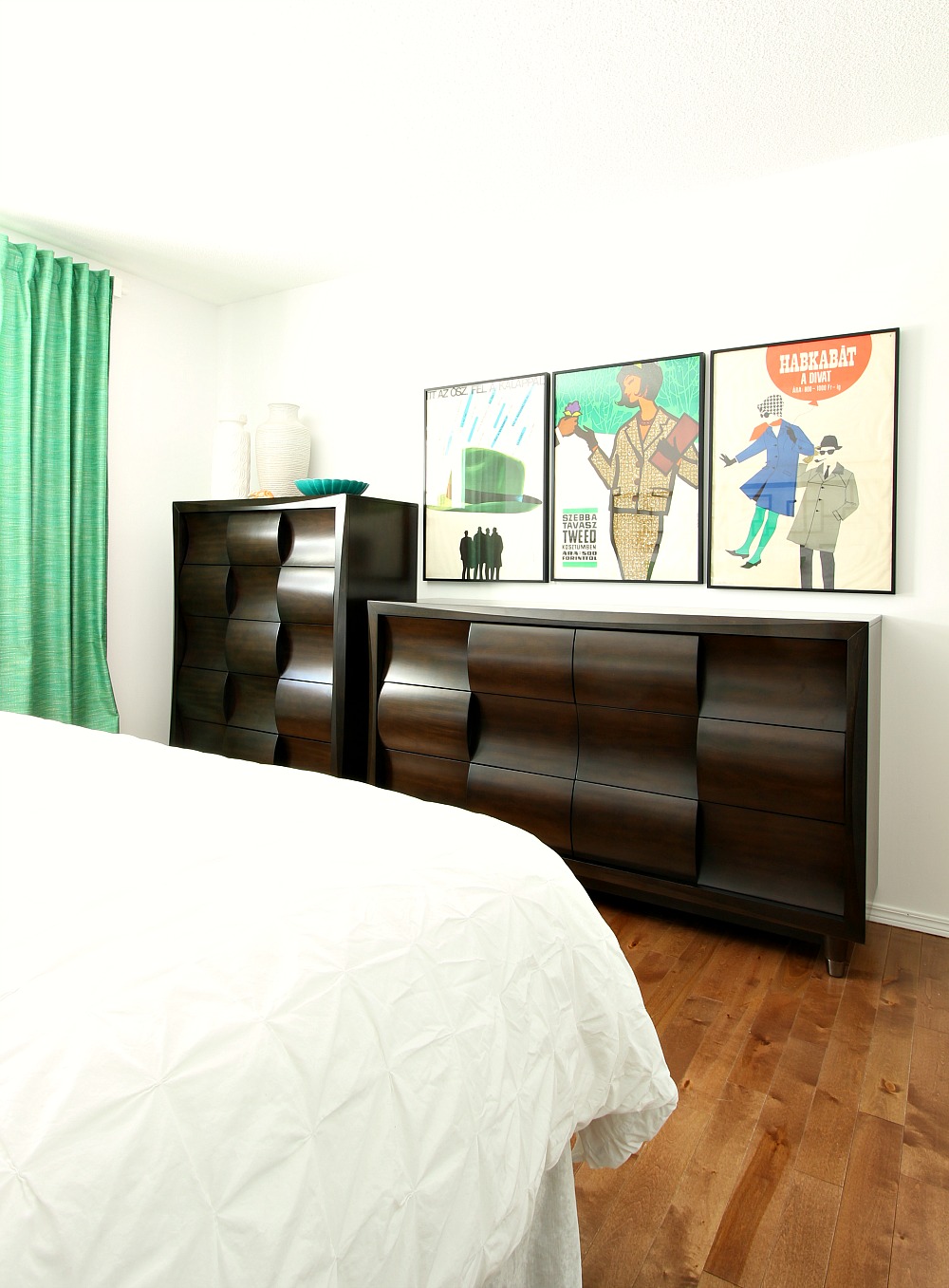 With those major pieces in place, it was easy to shift to more peaceful bedroom decor with only a few minor changes. I'm still deciding on a window treatment for the new, larger window so you'll definitely see this bedroom again because I think the new window will make a major impact!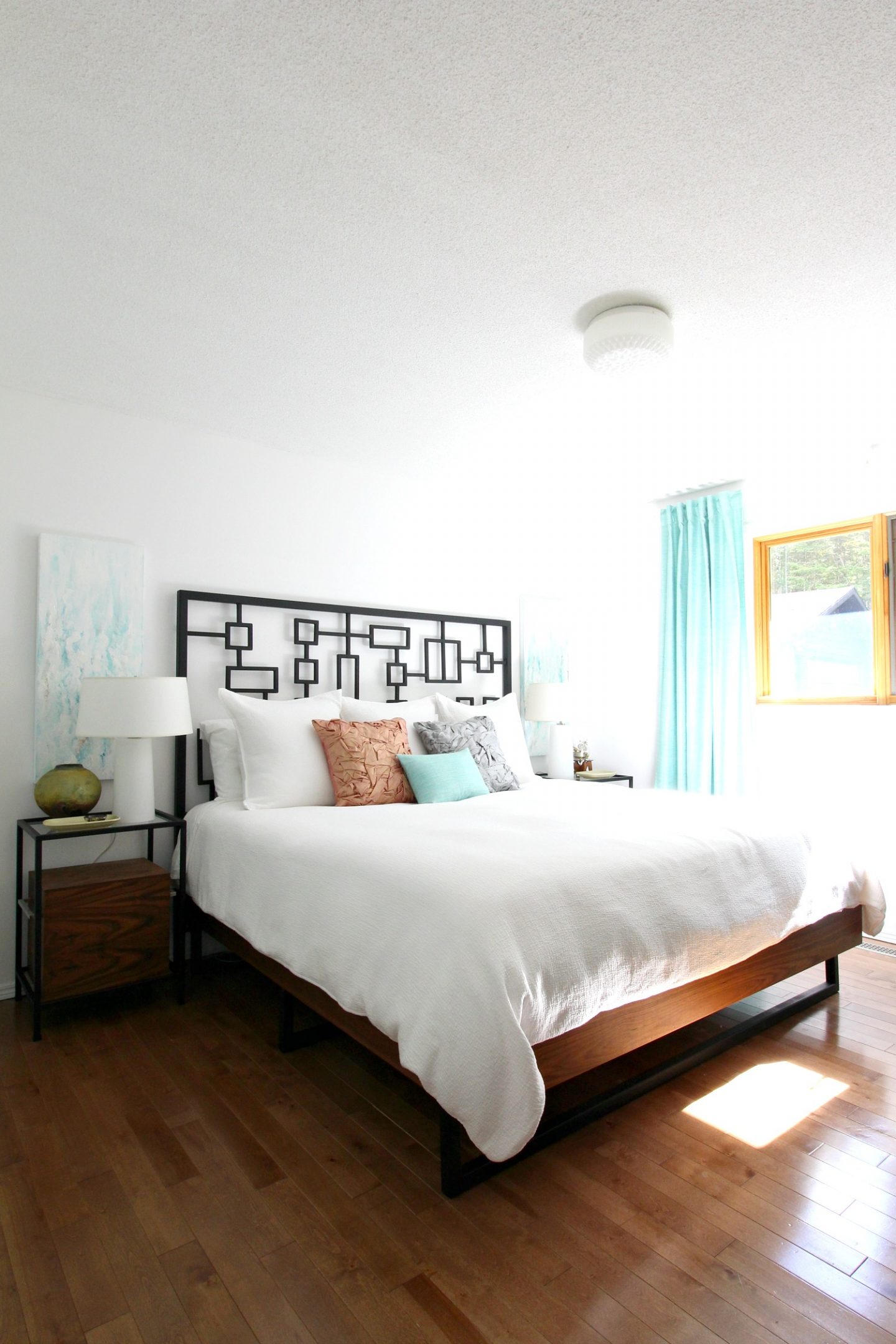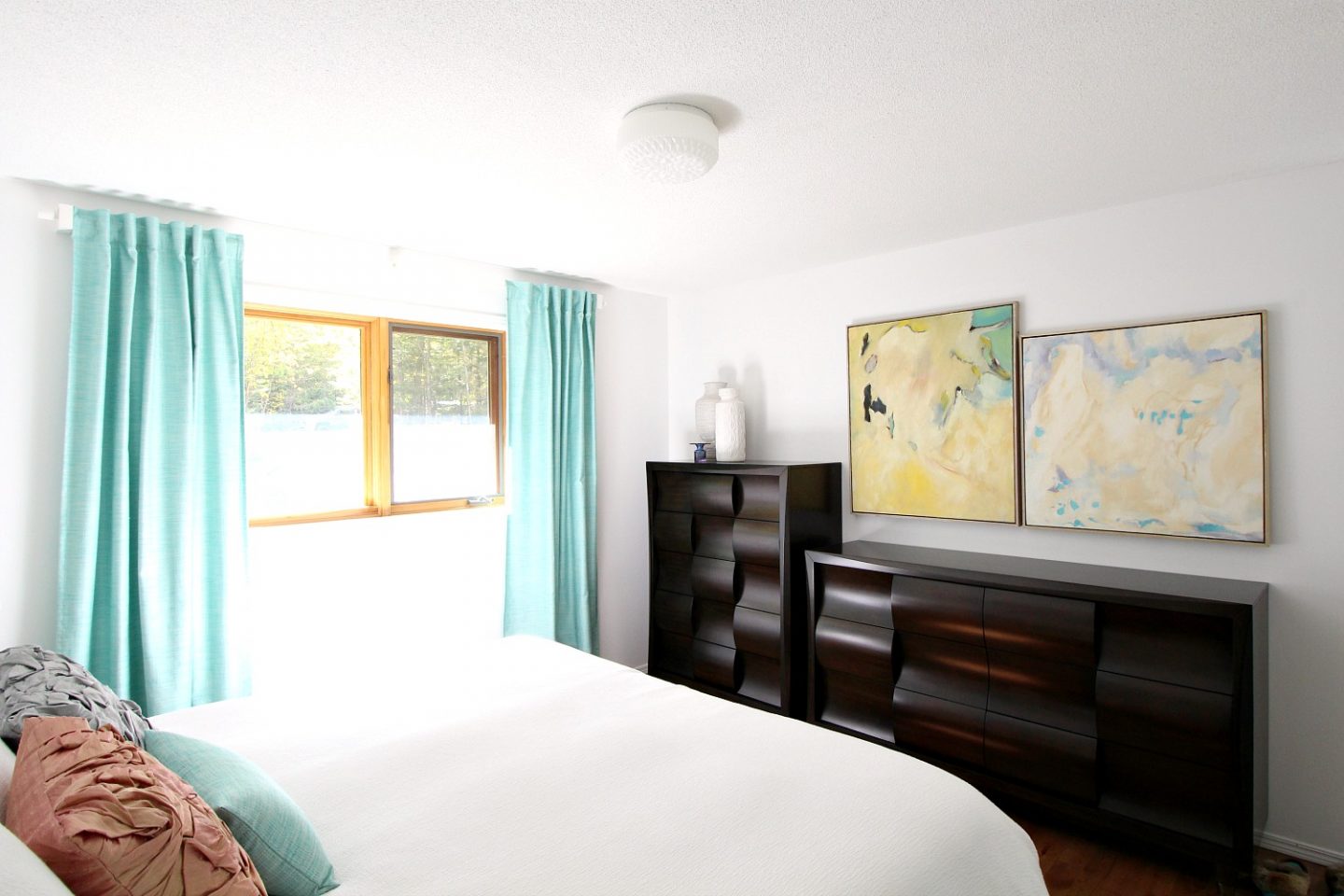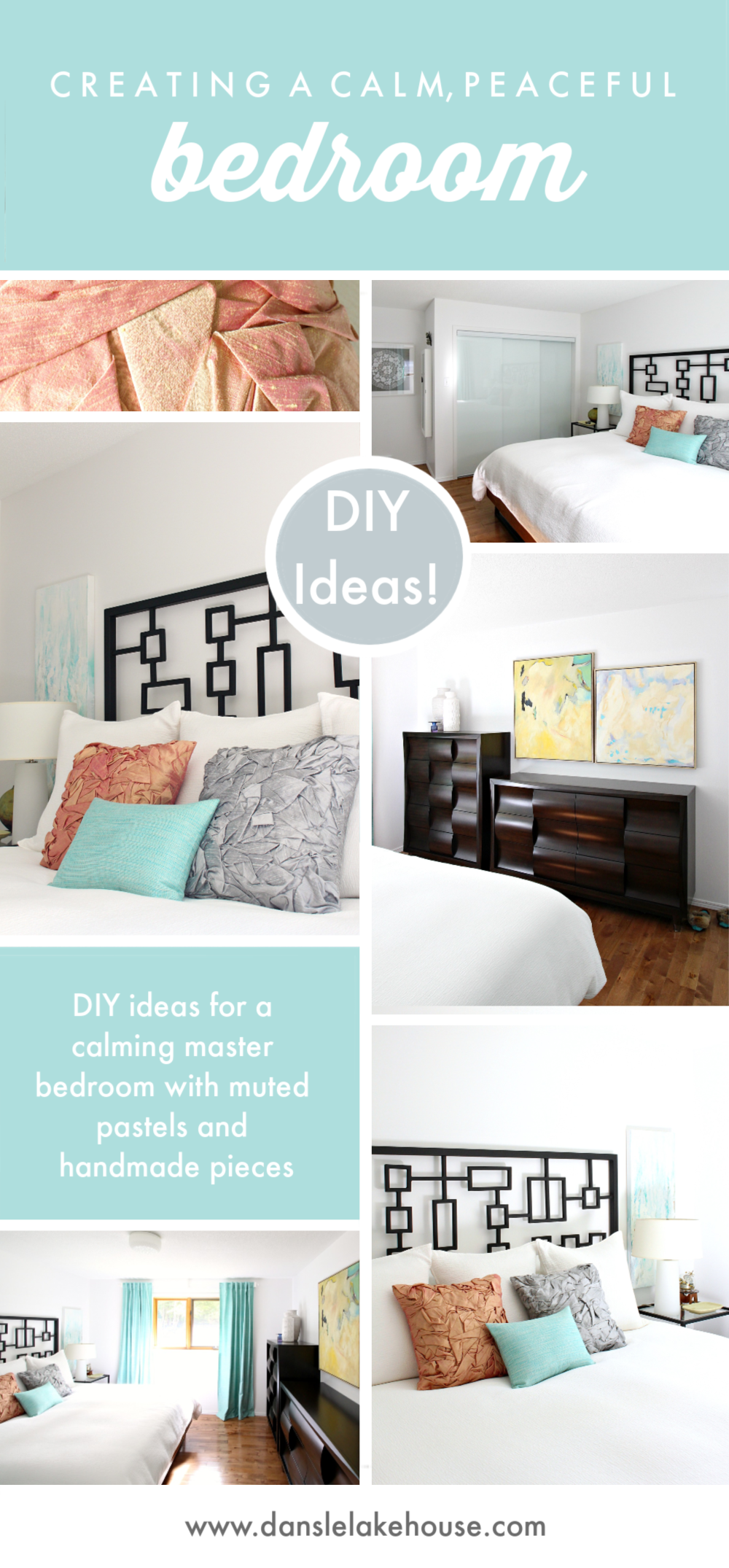 Here are the bedroom DIY projects mentioned:
So much of our bedroom decor is handmade, but here are some beautiful pieces to help create a similar calming vibe and inject some peaceful bedroom decor into your space! I especially love this framed woven tapestry art from West Elm, for its soft texture in calming colors, and for anyone who prefers their art underfoot, this dreamy rug in soft hues will definitely create a restful bedroom too.