I found a hanging hoop planter at a yard sale in the spring and then these vintage hoop planters multiplied like tribbles because shortly after I found another identical vintage hoop planter at the thrifts and then a week later I found two more, in a slightly different style. Suddenly I was swimming in vintage hoop planters but I'm not complaining because they're so pretty! Do you ever find that when you're thrifting, all of a sudden you keep finding the same thing, again and again? Sometimes I'll find tons of bakelite knives, week after week, and then nothing! Or I've had an epic Iittala haul and then a dry spell for months – or years. I'm grateful for the flurry of vintage hoop planters because they helped add some greenery around the lakehouse!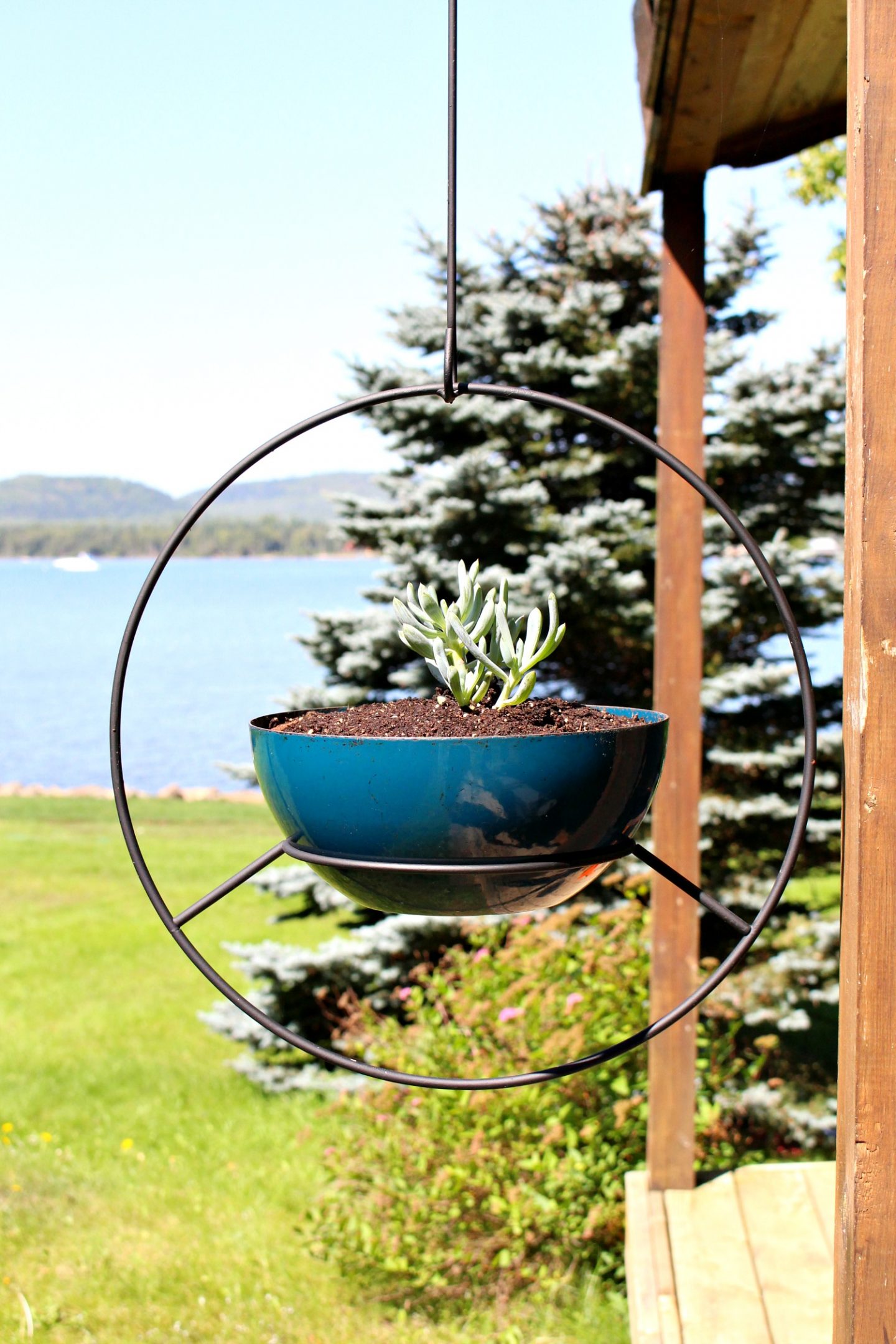 I love the mid-century modern shape (although I think they might be from the 80s), but one of mine was a really beat up yellow and the other was brass which, as you know, is just not my favorite. I am LOVING copper right now, so I'm not against a warmer metal tone (although brushed nickel will always be my fave), I just never loved brass in my home. I sanded them both down and gave them a blast of Rust-Oleum's Tremclad Rust Paint in matte black.
Here's a peek at one of the before photos: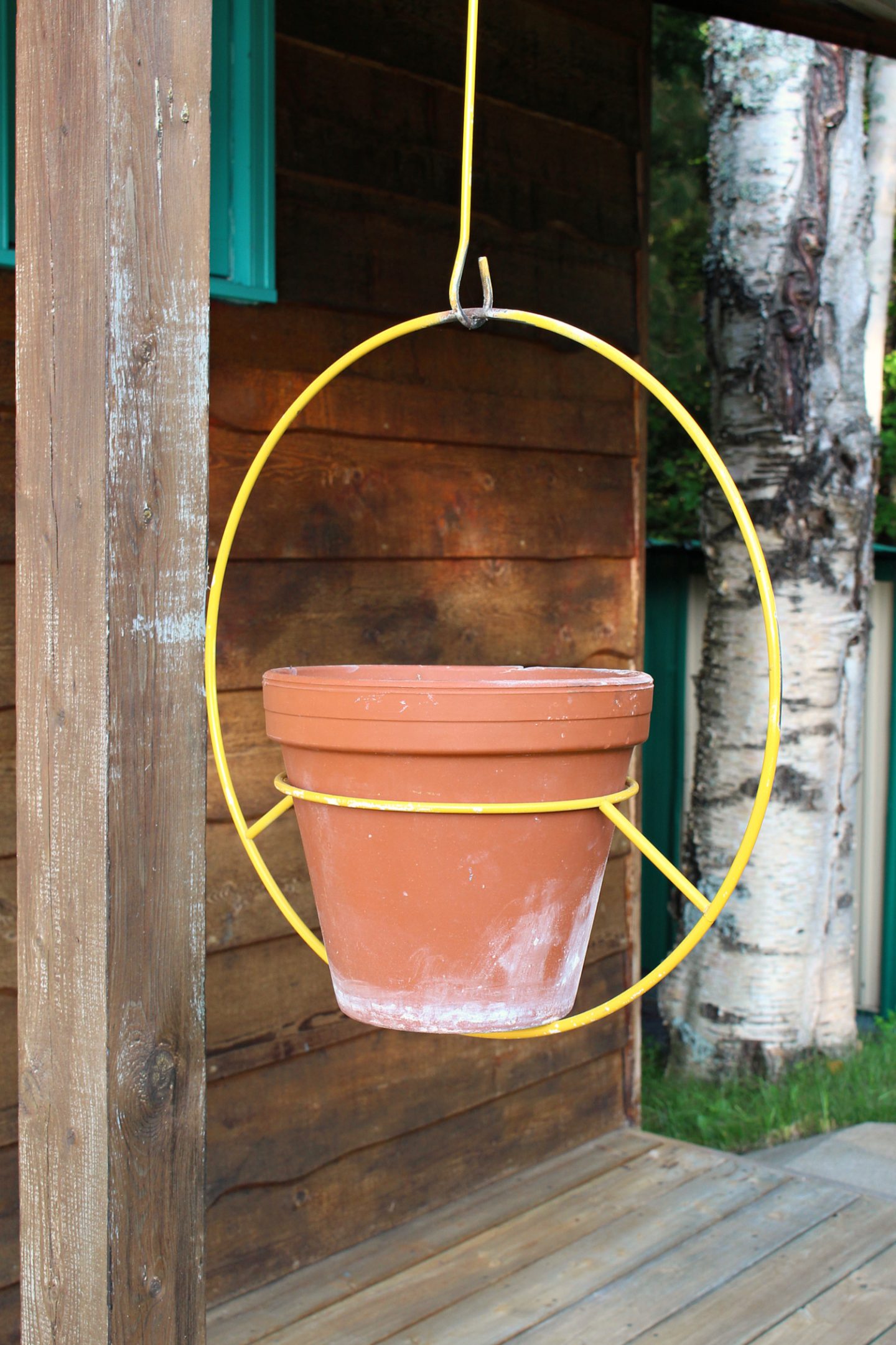 Once my vintage hoop planters were painted matte black, I decided to use one outside because the bunkie had a hook for a hanging planter that looked so forlorn.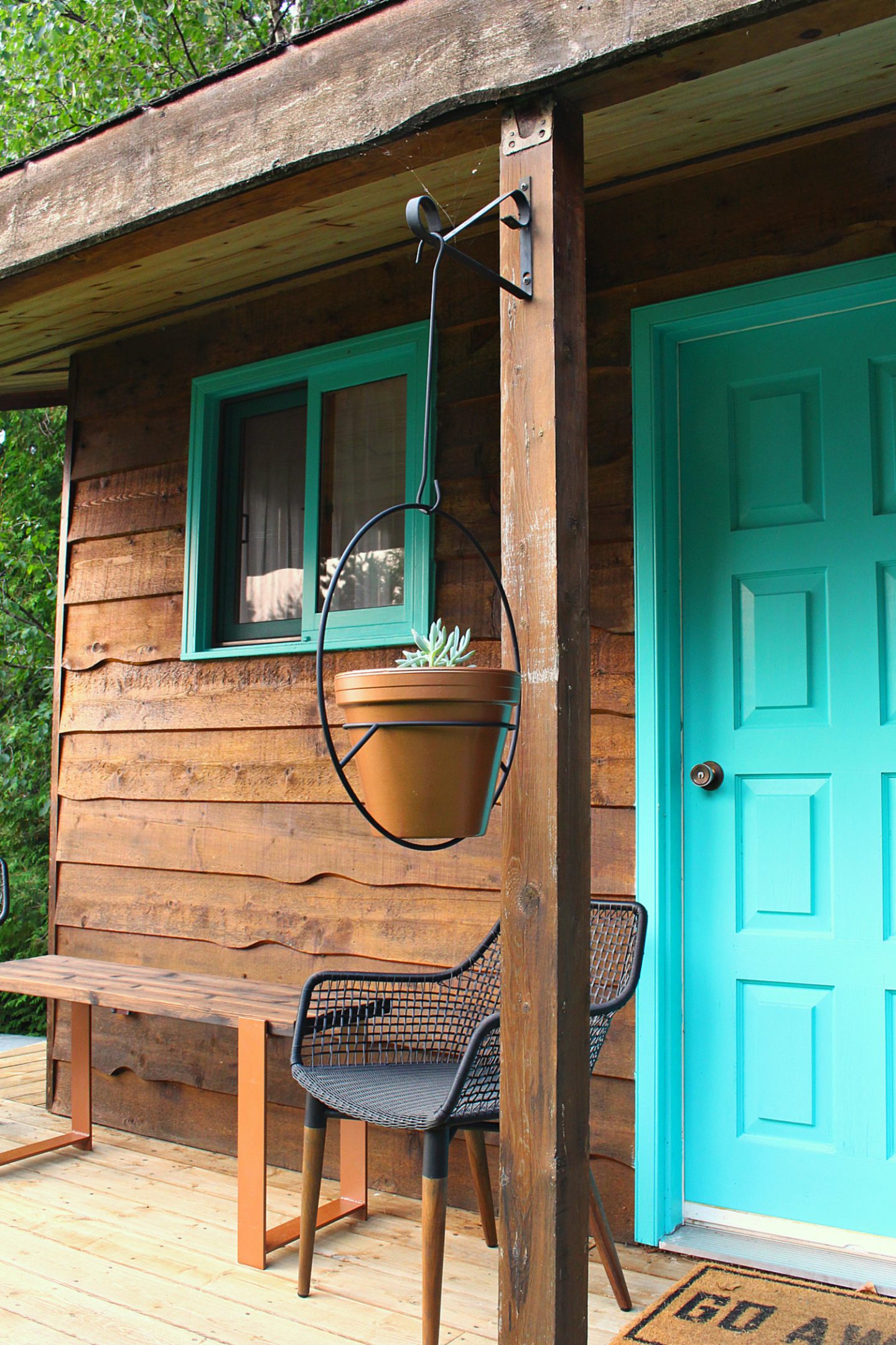 I originally had a terracotta planter I painted copper in there, but it didn't fit 100% so I was thrilled when I found a really cute, but really beat up, Cathrineholm bowl for $1 that fit perfectly. I love how the bowl plays up the mod vibes of the hoop planter and because it's outside, I don't mind how rough it looks. Although, would it be terrible to spray paint a vintage Cathrineholm bowl? I think next spring I'll drill a little hole in the bottom for better drainage, but this sweet little succulent didn't mind its new home and thrived all summer.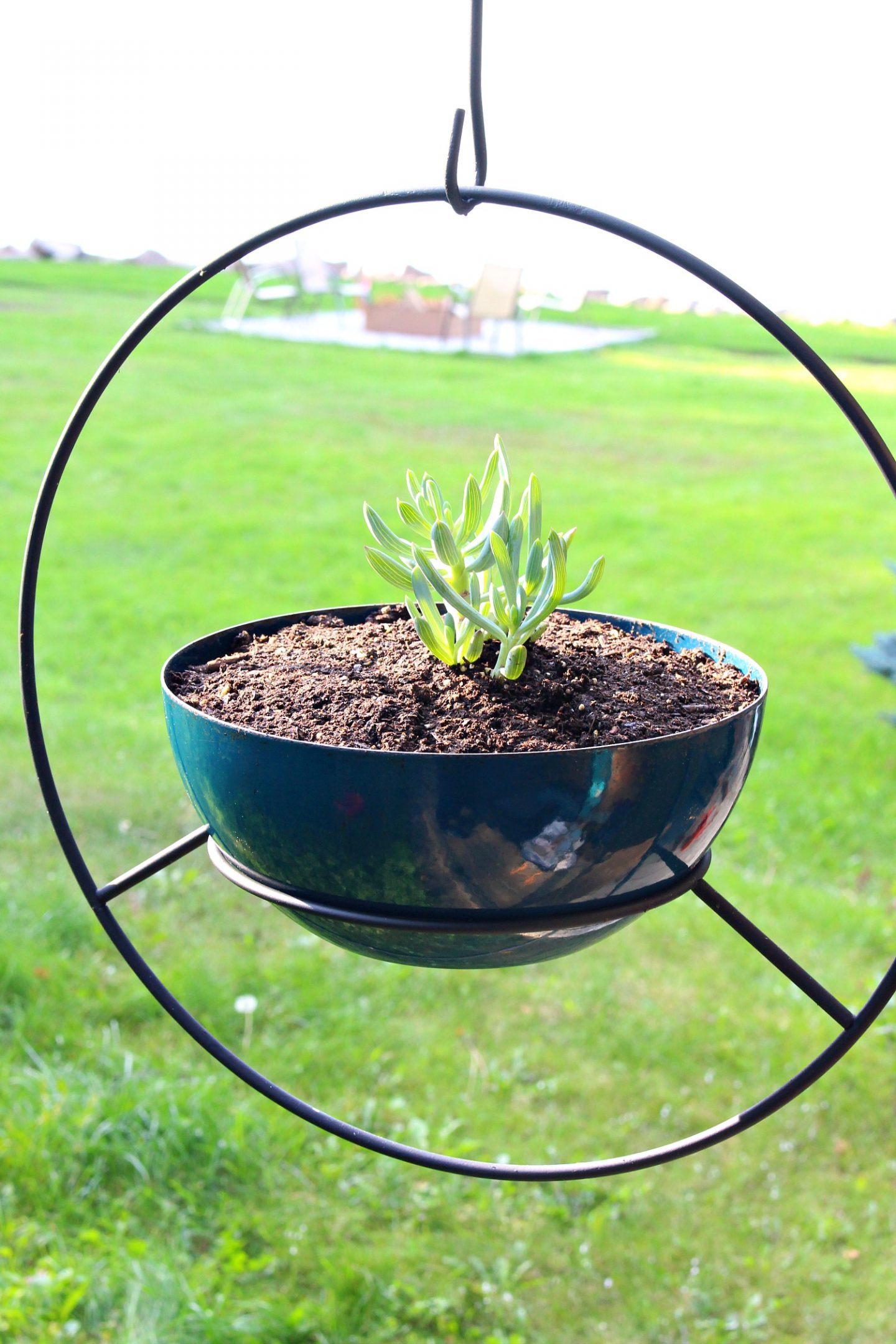 For the second vintage hoop planter, I ditched the metal hook and softened the look by adding a couple of looped pieces of leather from Michael's. A clear glass bowl (thrifted, but originally from Michael's as well) means the air plant can easily be seen and it's such a cheery way to liven up a corner. I hung this in the bunkie because I wanted a little greenery in there without taking up valuable surface space (of which there is none, haha). Plus an air plant is nice and low maintenance – I think that I can remember to go out there a couple of times a month and soak it for a bit.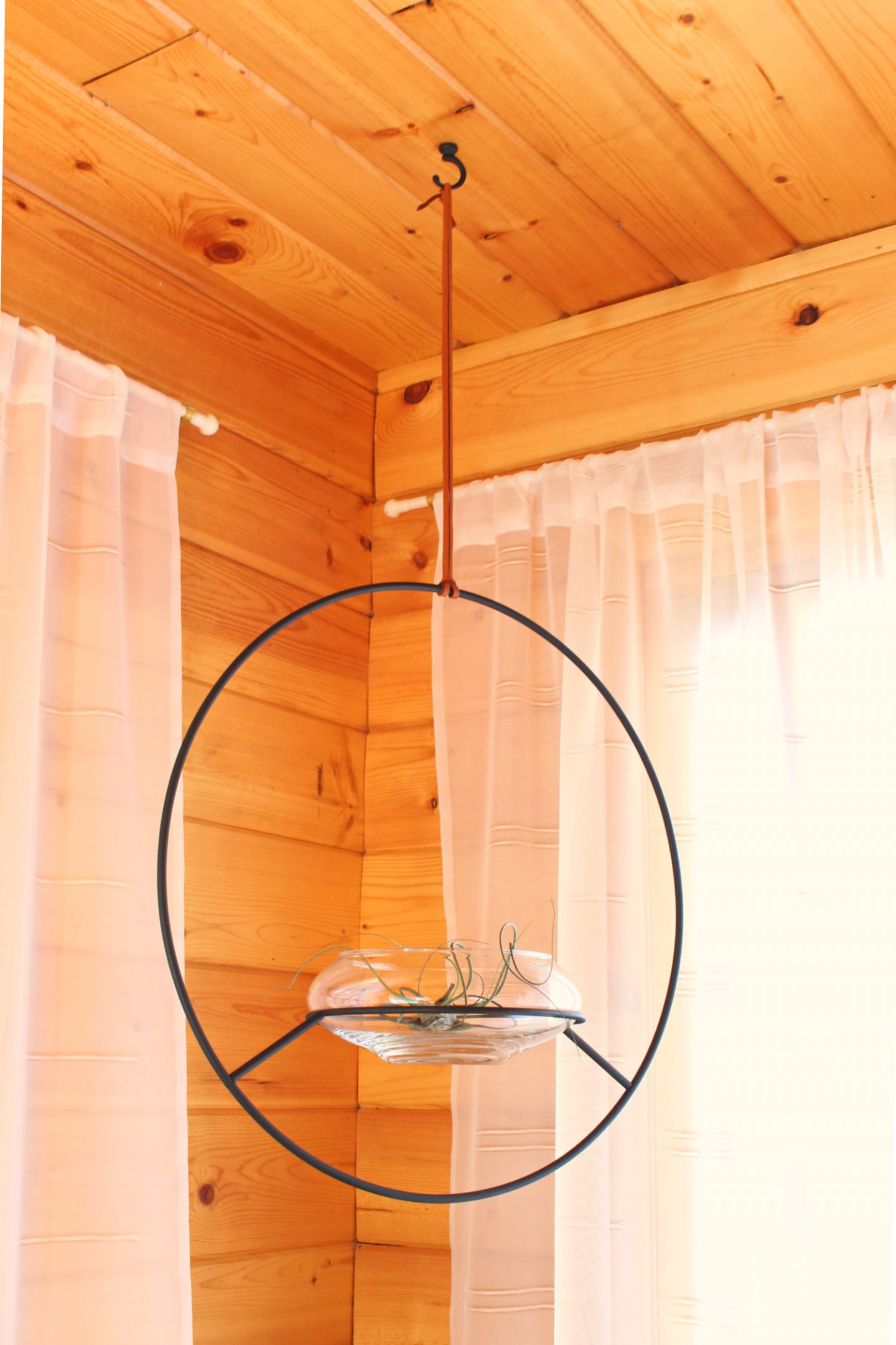 I decided that two vintage hoop planters is probably enough for one house, so I listed my other two in my freshly re-stocked Etsy shop. They're brass and these ones can stand or be used as hanging planters, which makes them really versatile.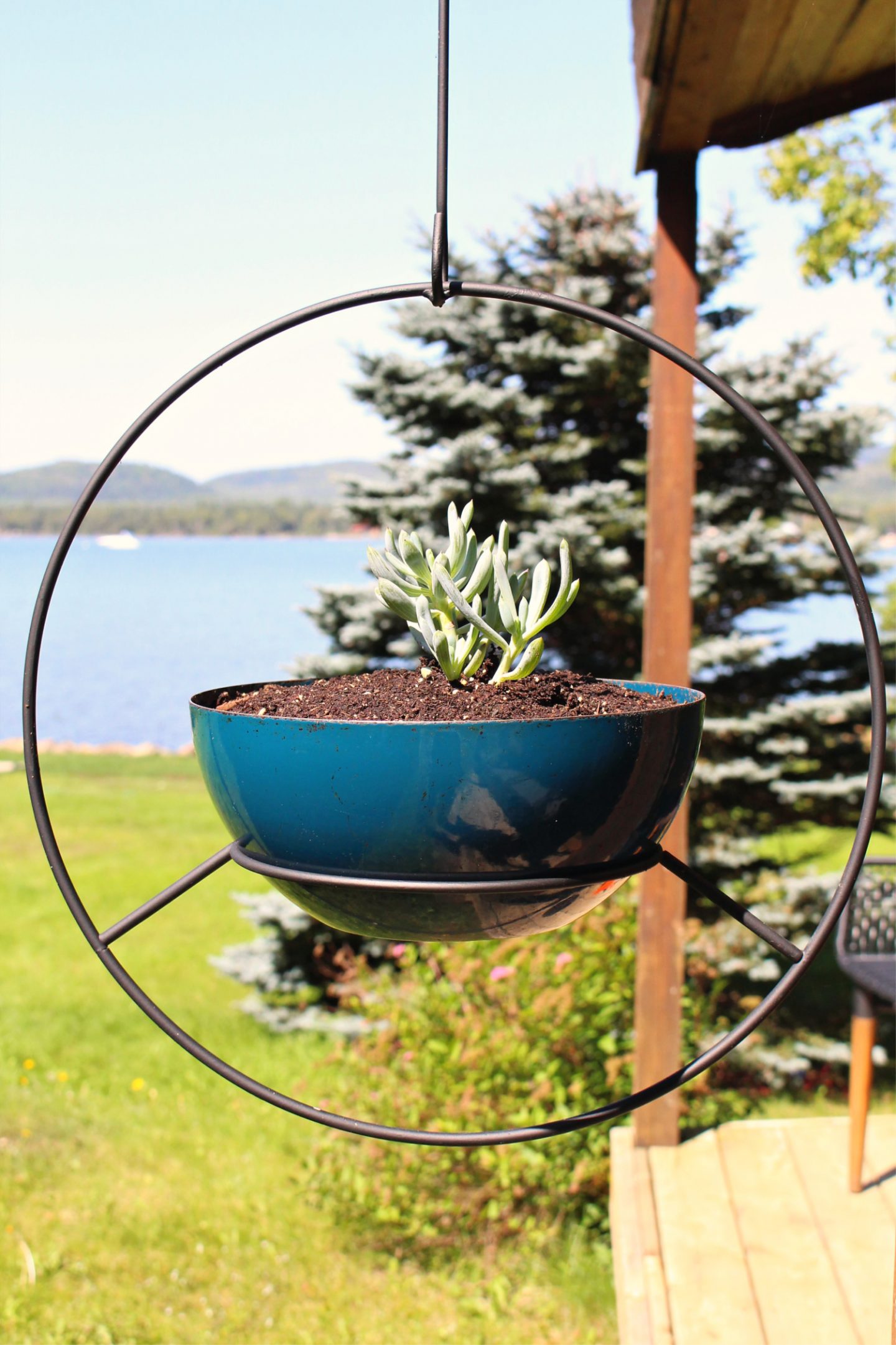 If those vintage hoop planters aren't your jam, Hayneedle sells the Border Concepts Circle Hoop planter, which is matte black like mine but with a cute loop at the top for a chain.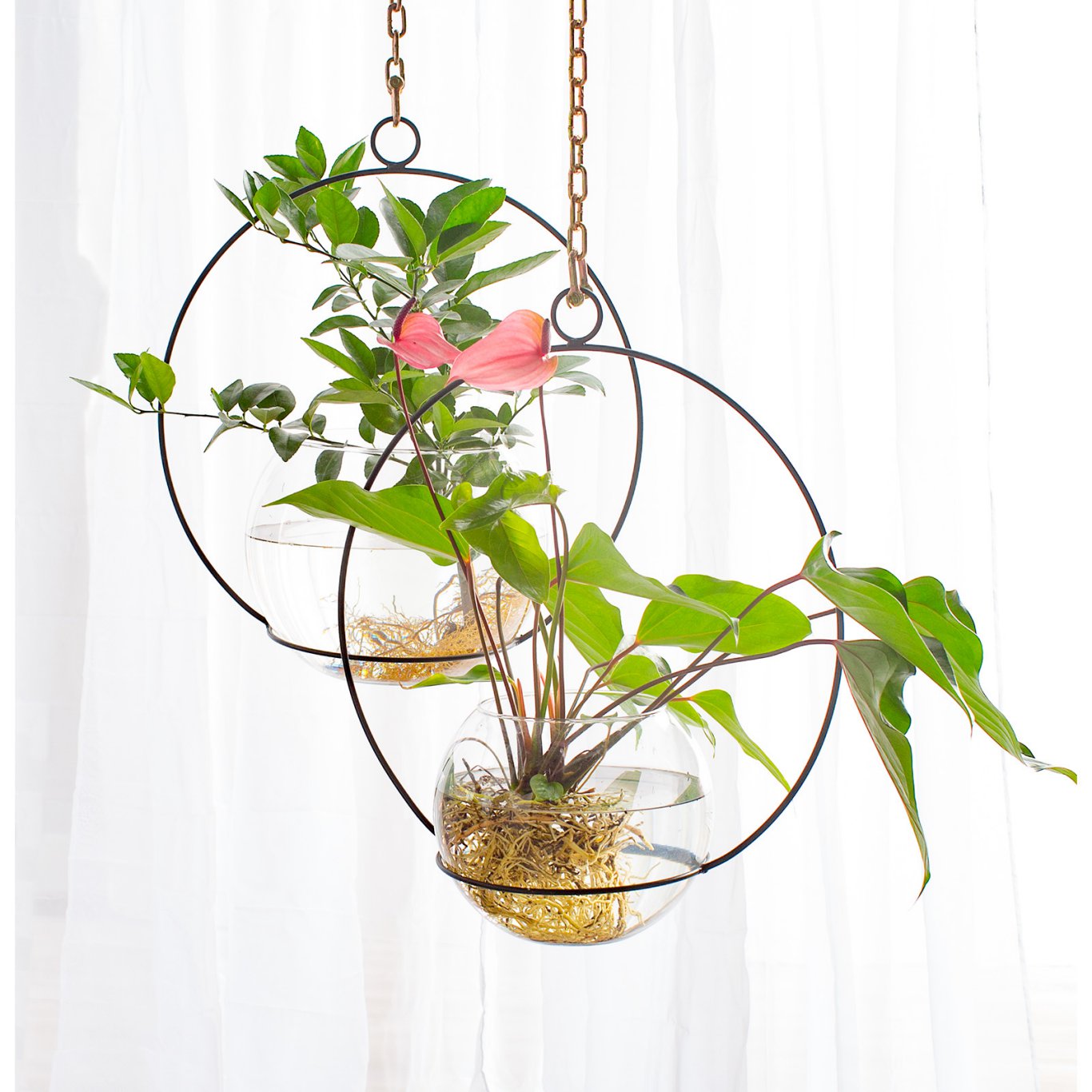 I found another similar hoop planter on Amazon that is also matte black already and I love that it comes with the pot, so you don't need to try and track down the right size. That definitely took me some time and I made many trips to the thrift stores, armed with a measuring tape!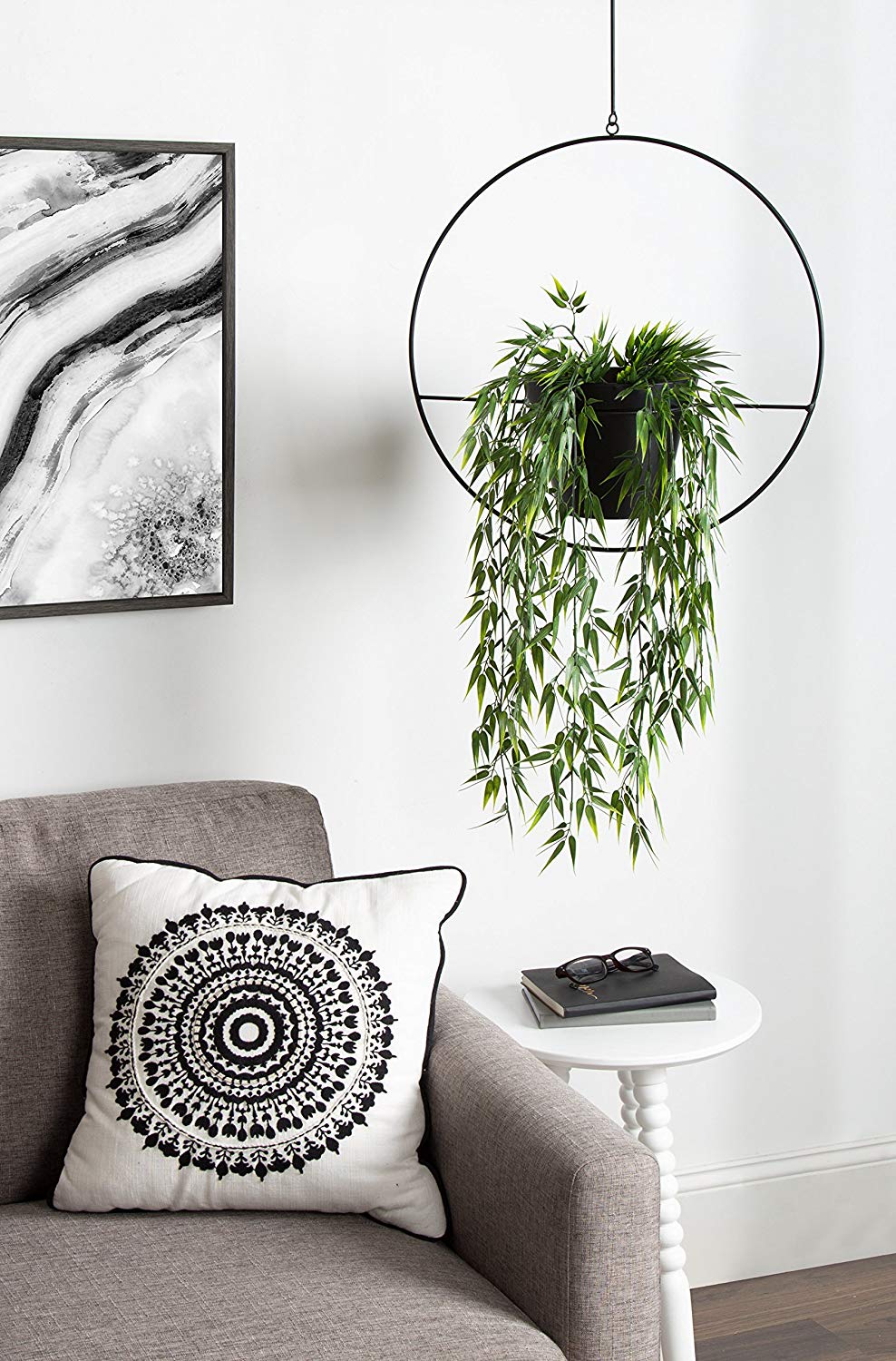 If you find these metal hoop planters a little pricey, this little mini version from World Market is only $10, so it's a great way to get the look on a budget. There are some great DIY tutorials for making hanging hoop planters too! I love the look of this brass and wood hoop planter DIY from A Beautiful Mess and this Urban Outfitters DIY hoop planter is super ambitious!