I'm so excited to share today's handmade holiday project with you because not only do these DIY alcohol ink note cards have a gorgeous Lake Superior theme I'm obsessed with, they're perfect for this time of year. If you can't find the perfect cards for the holidays, or just want to create something personalized, here's a beautiful but simple idea for making your own note cards. I promise it's really easy!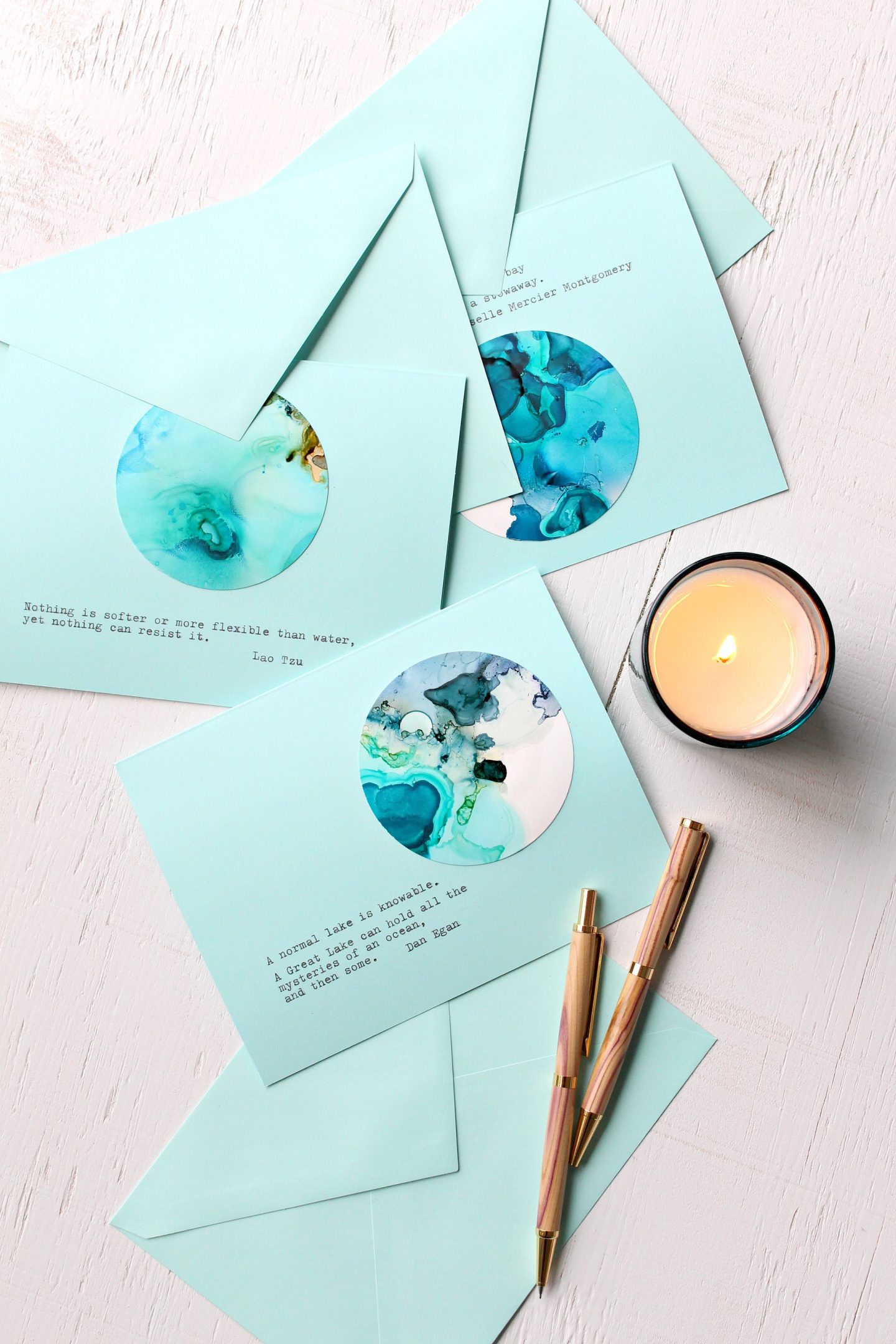 I really enjoy working with alcohol inks, which you might have gleaned from my alcohol ink upcycled china, alcohol ink coasters, and alcohol ink art. The alcohol ink art turned out so beautifully but I didn't really have a spare wall because Hubby's grandpa's gorgeous art fills our spaces with so much color. So I turned the artwork into these Lake Superior note cards. They were so quick to make. So I made a bunch: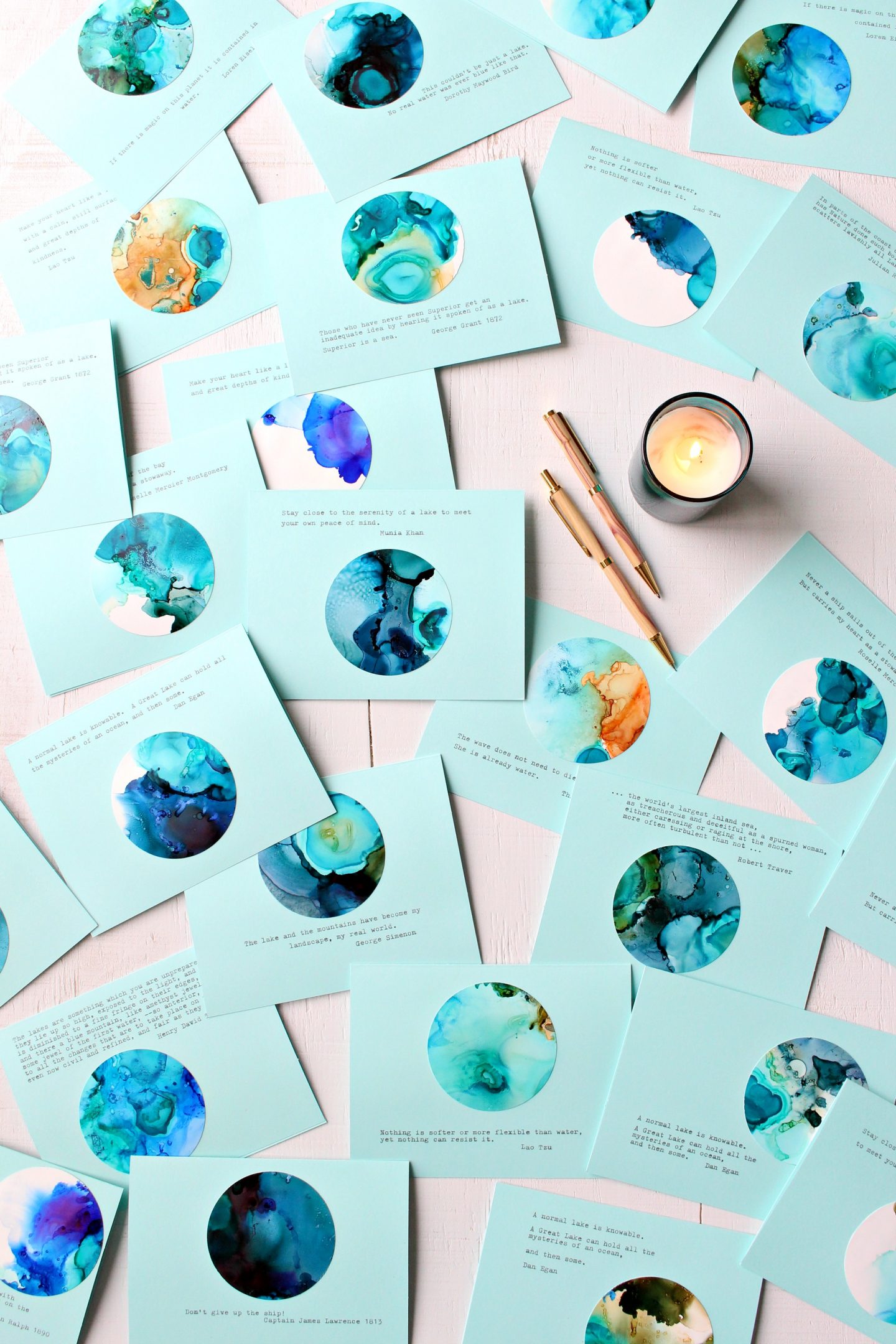 And by a bunch, I mean 100.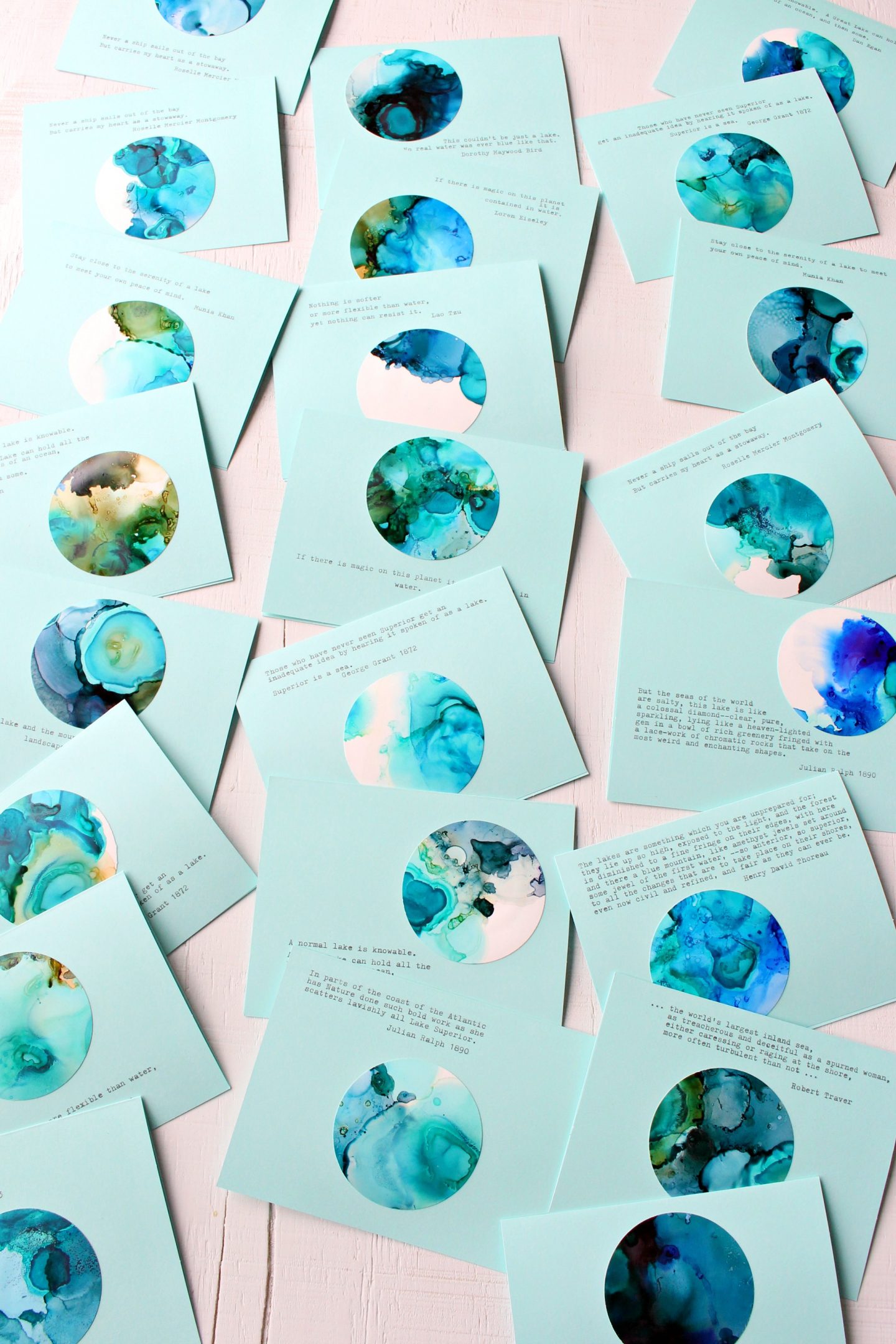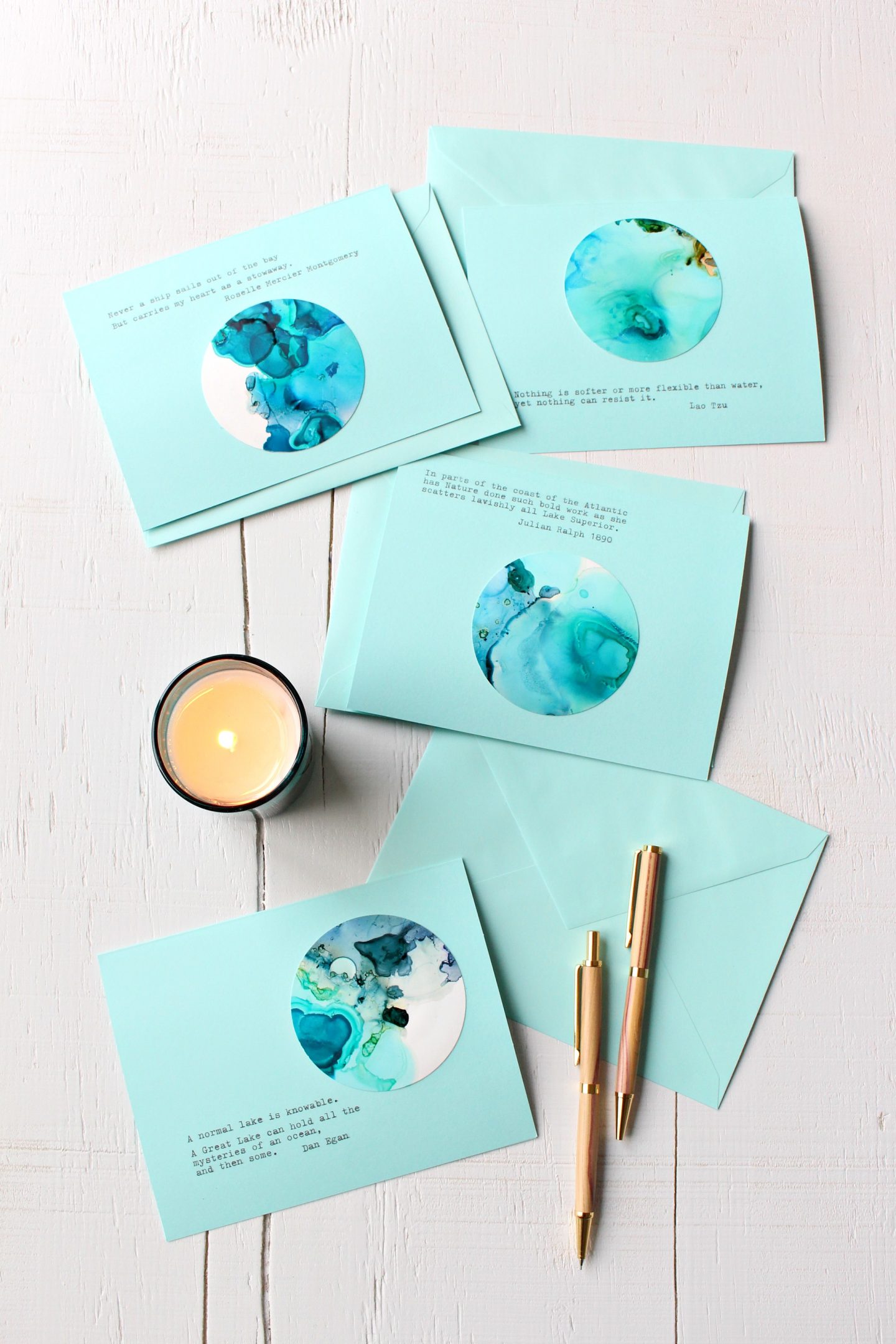 Here's What I Needed to Make These DIY Alcohol Ink Note Cards: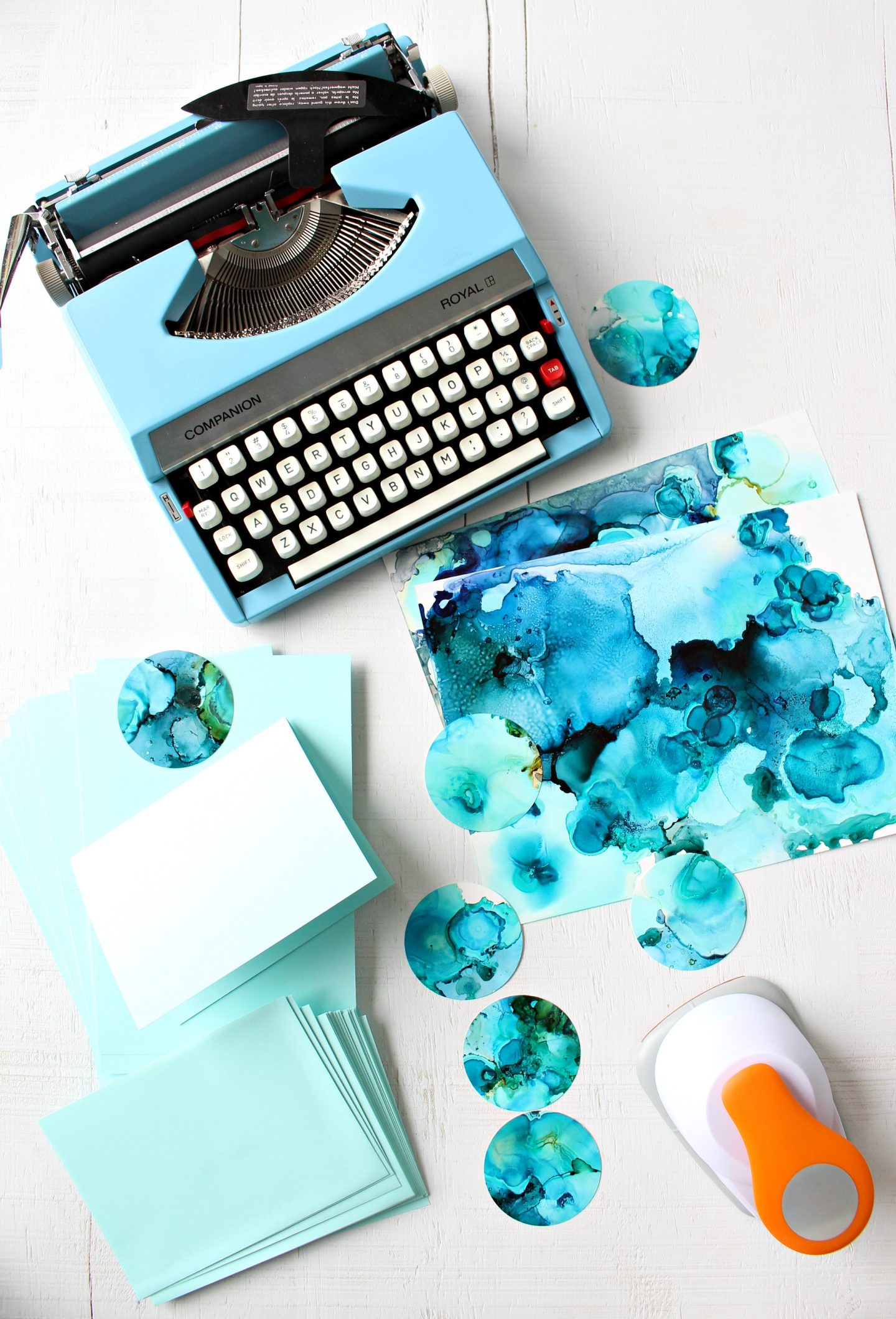 You can totally make these DIY alcohol ink note cards with an Inkjet printer. If you buy your blank note cards from an office supply store, you'll find that there's a free online template included, which you can download and customize. I've made business cards this way and it's super easy. You could even just do calligraphy, if that's your hidden talent. As a lover of all things vintage and blue, I just happened to have a retro typewriter which I had bought for the Etsy shop but my Mom, tech-savvy woman that she is, absconded with it because she doesn't own/know how to use a computer. This is how she types up her correspondence, which is adorable. I had to trade her chocolate so I could borrow it to make these cards, but I just thought that the typewriter adds a vintage feel and handcrafted touch. We also used the typewriter to make some pretty packaging for some handmade earrings I am selling in a local shop. If you're feeling super ambitious, thrift stores are usually stocked with typewriters – this is the second one I've bought (the first was a teal one with a racing stripe that I wish I hadn't sold).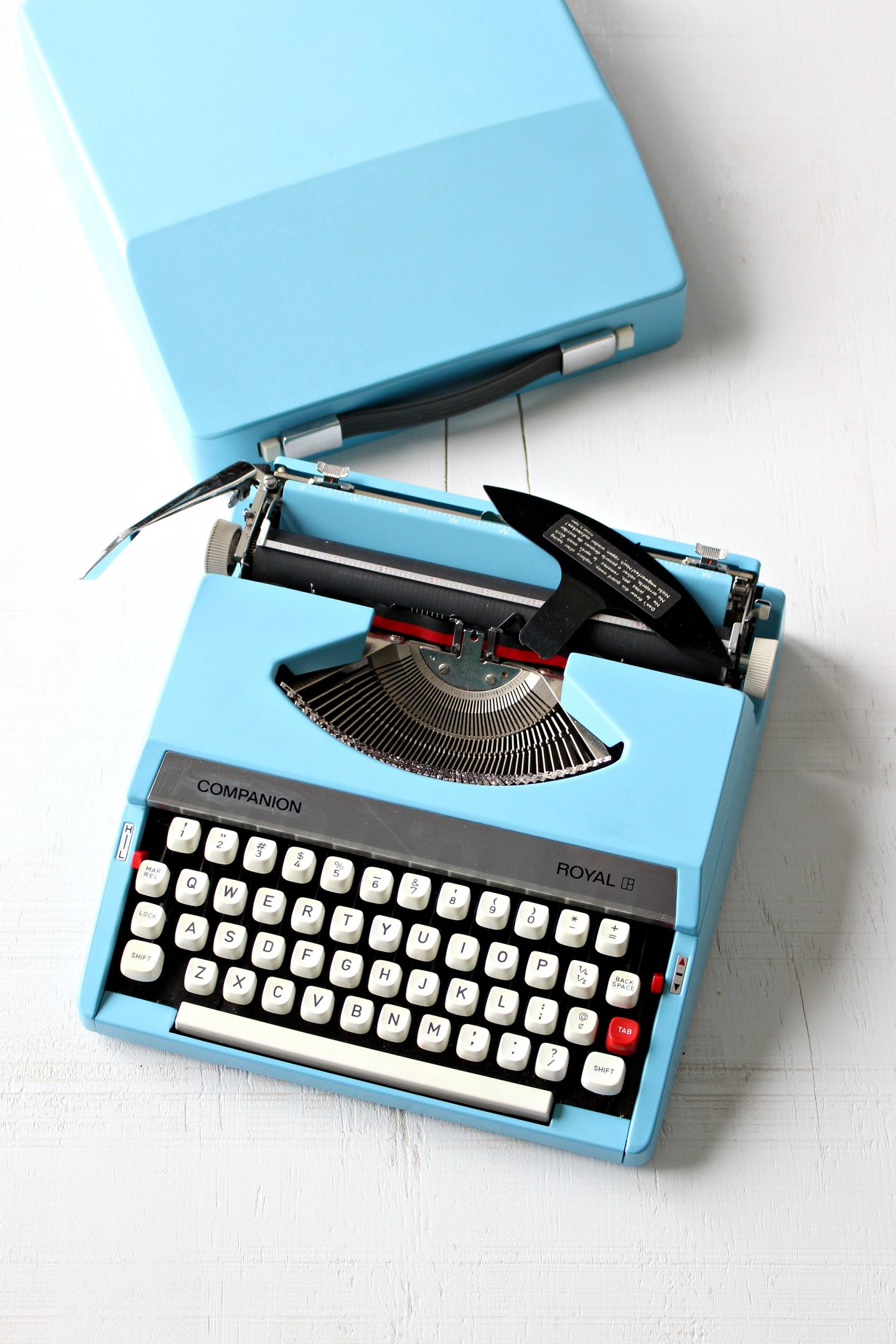 But let's get back to these DIY alcohol ink note cards! First step: pop over to my DIY alcohol ink tutorial and make a few sheets of swirling abstract art – in blues for the lake theme, or maybe or coppers and greens for the holidays! Alcohol ink comes in literally every color of the rainbow, plus every metallic you can dream up. Making these sheets will only take a few minutes per sheet, but do give them a day to dry.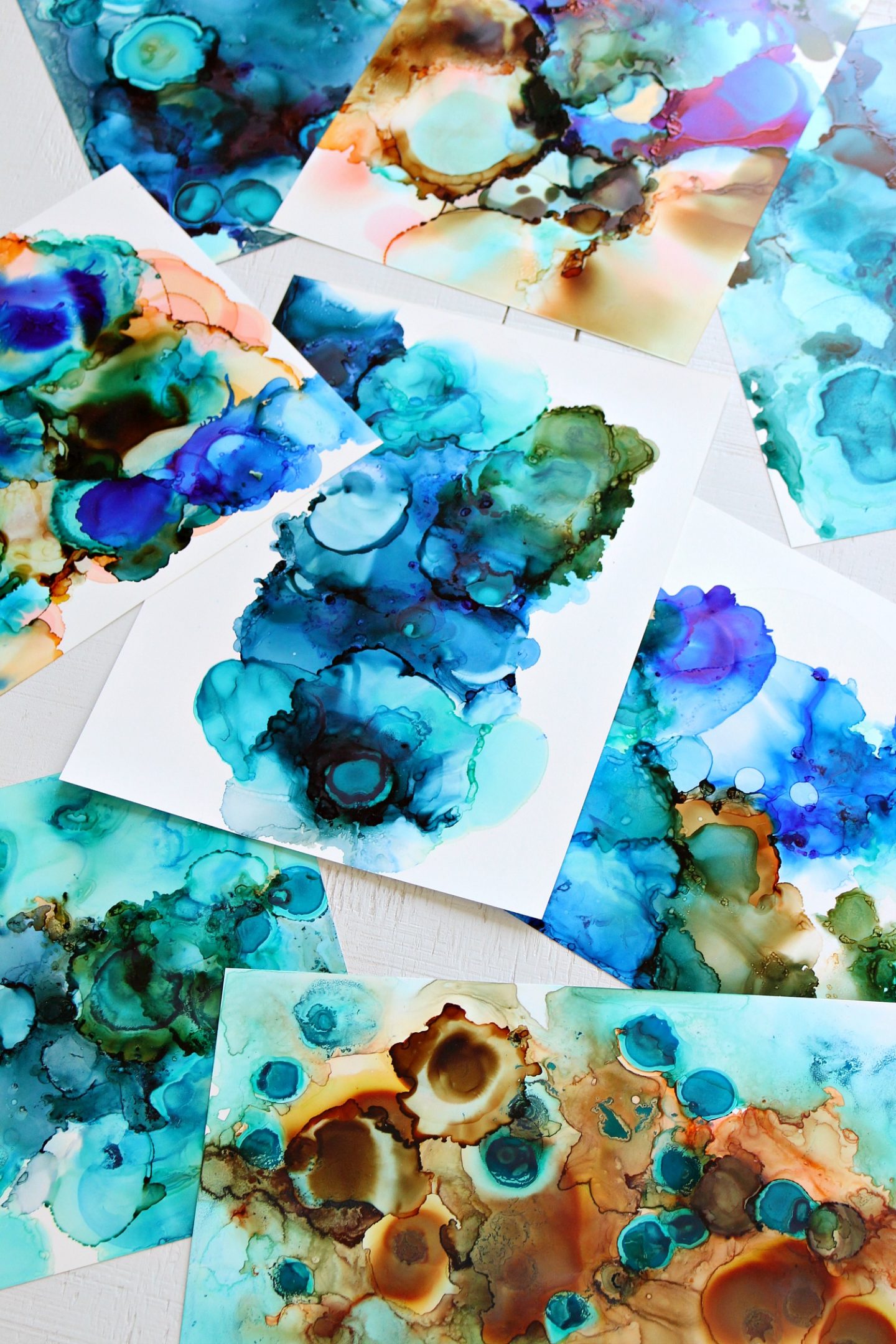 To make the circles, I used an extra large circle punch. These come in all kinds of shapes and sizes, so you could make silhouettes of Christmas trees or hearts instead. The punch I purchased has a clear bottom so you can line up the paper and be certain you're capturing the perfect snippet of the alcohol ink design. Because yupo paper is pretty thick, be sure to press down firmly or the paper won't cut – this probably isn't the best time to get a cheap-o punch from the dollar store because you want something that's sturdy and sharp.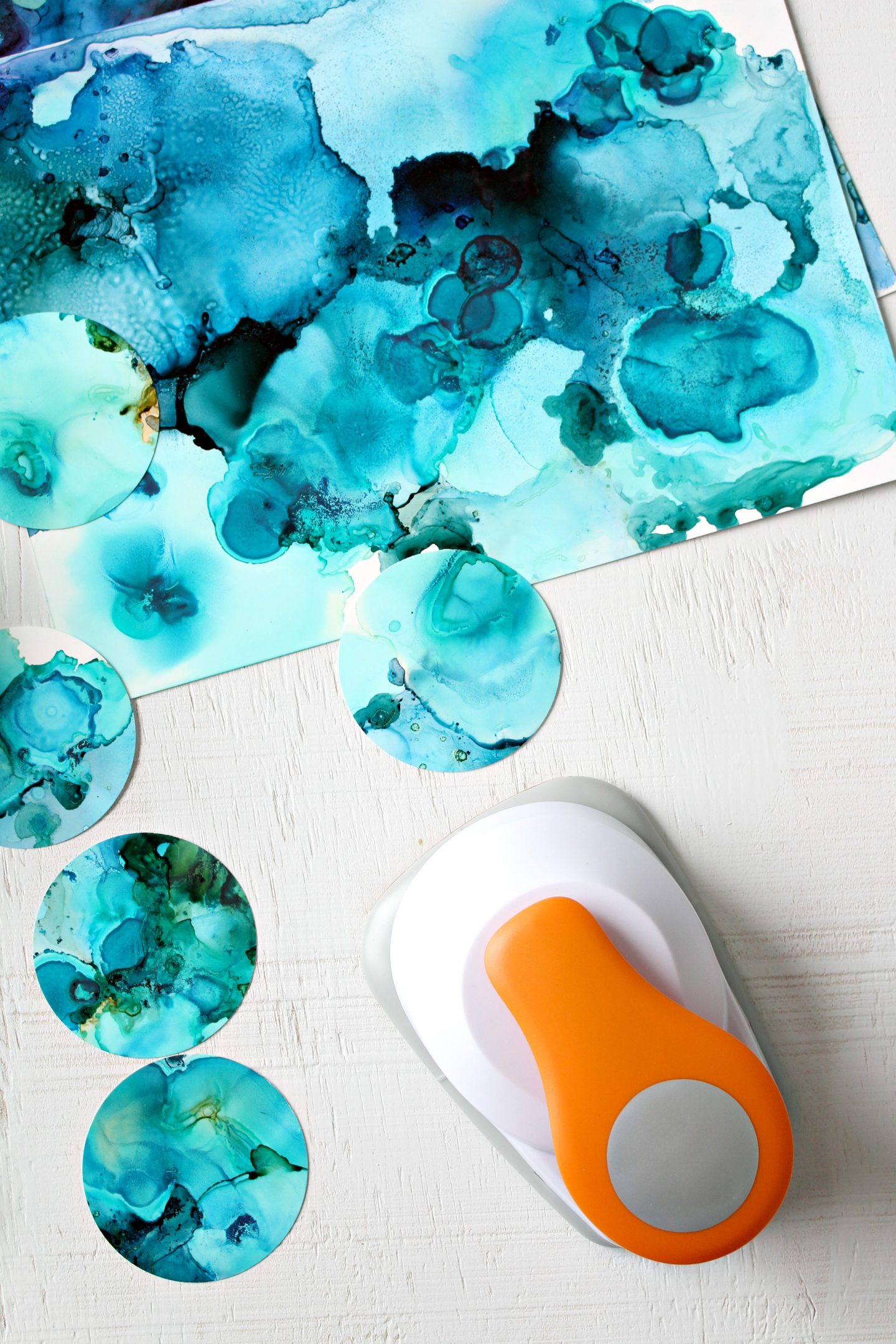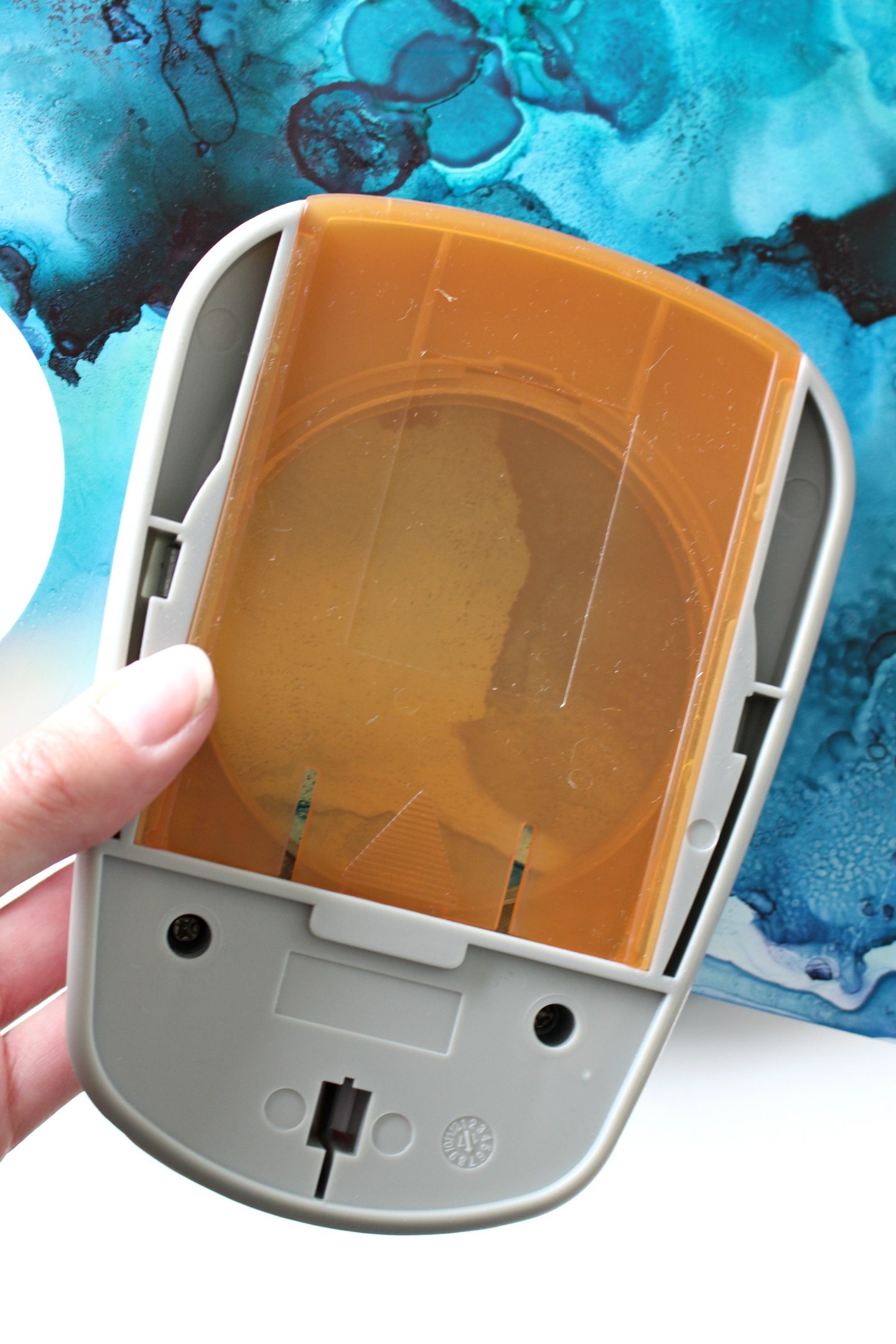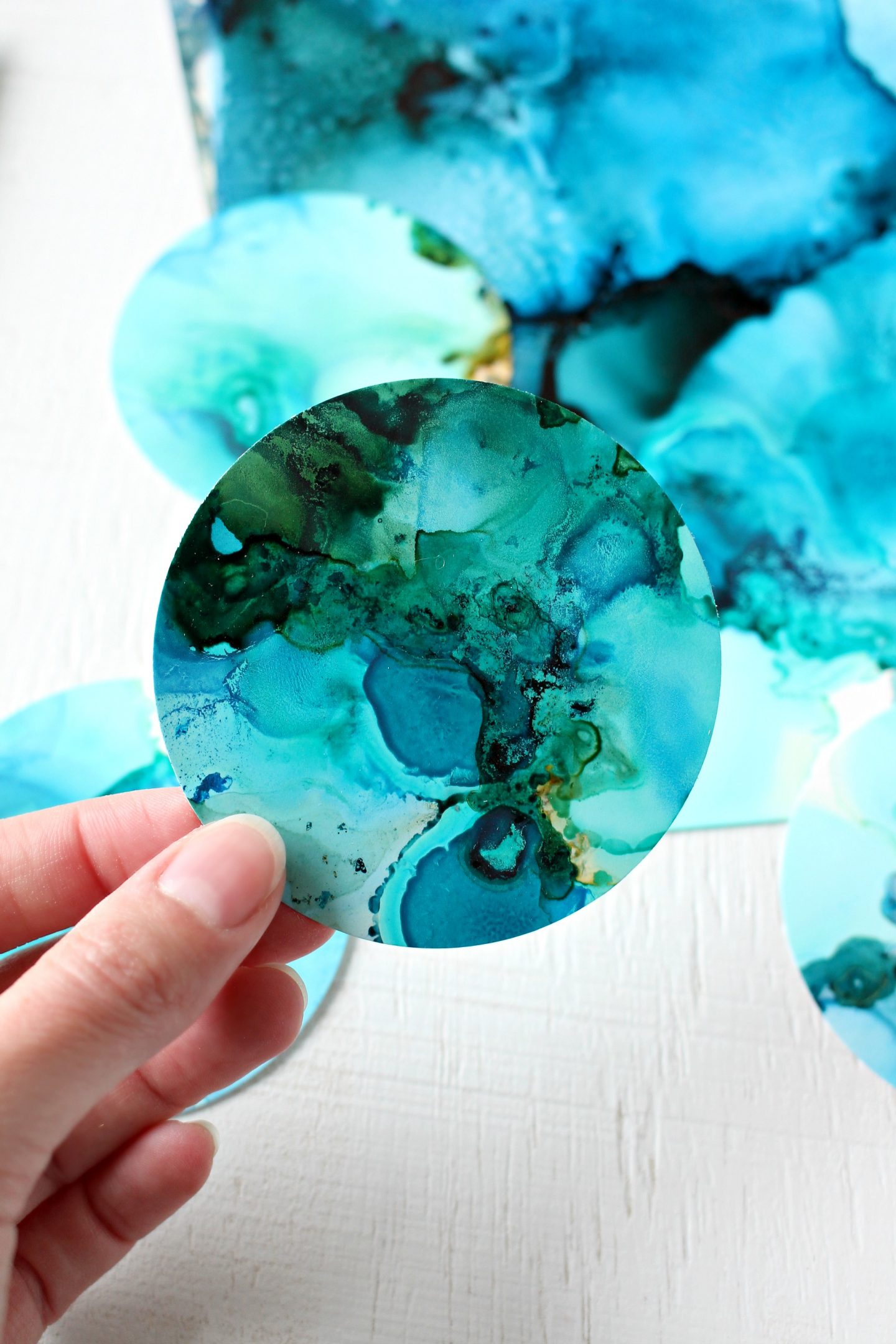 I found it easiest to eyeball the location of the typed messages first, before adding the alcohol ink circles. I Googled Lake Superior quotes – and added ones I knew by heart – to create a master list and typed up a batch all at once. It's easier to get into a rhythm and do this all at once. I let the ink dry and then I just used a glue stick to affix the circles – easy peasy! The circle shape on these DIY alcohol ink note cards feels like a porthole window, providing a glimpse into the depths of my favorite lake.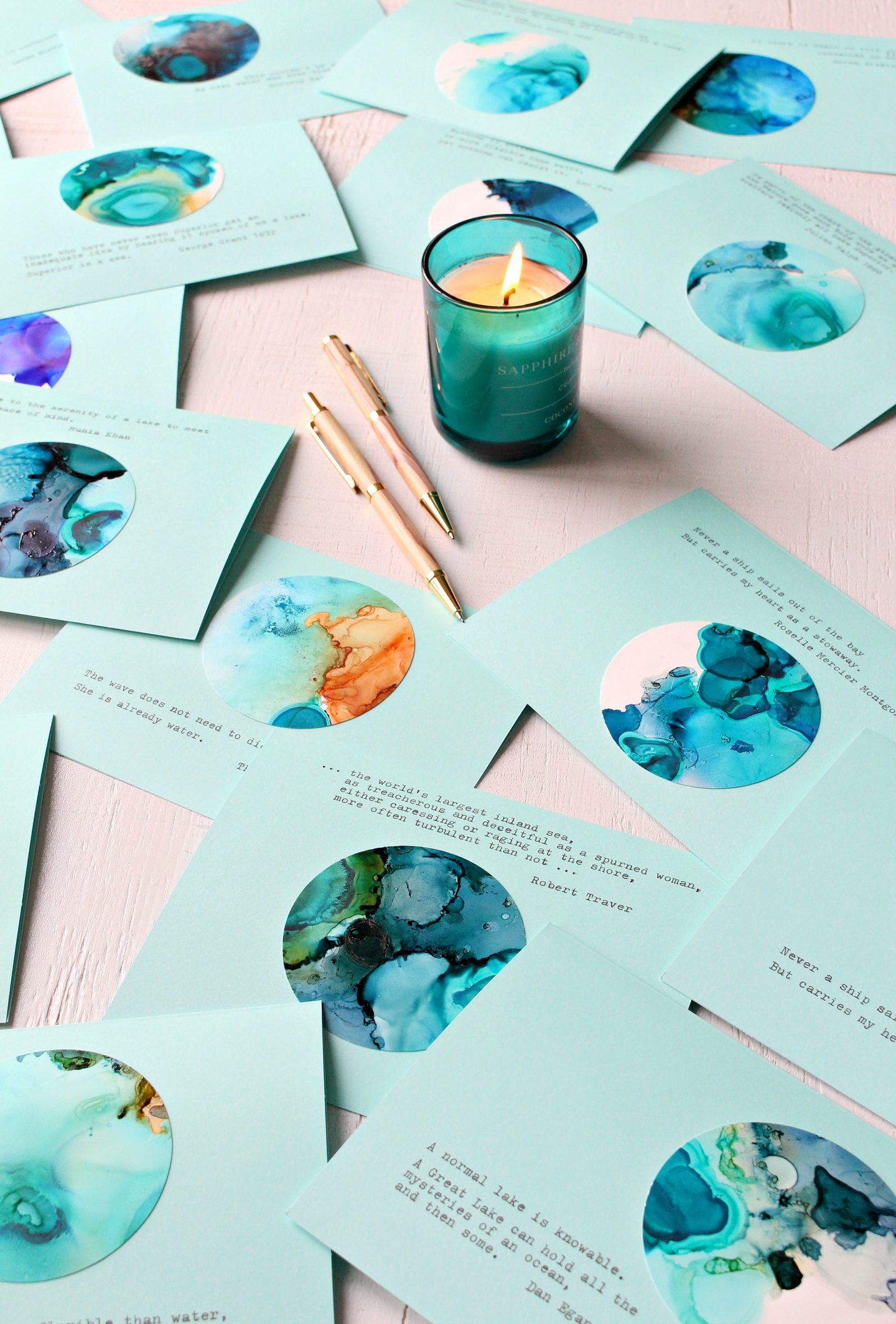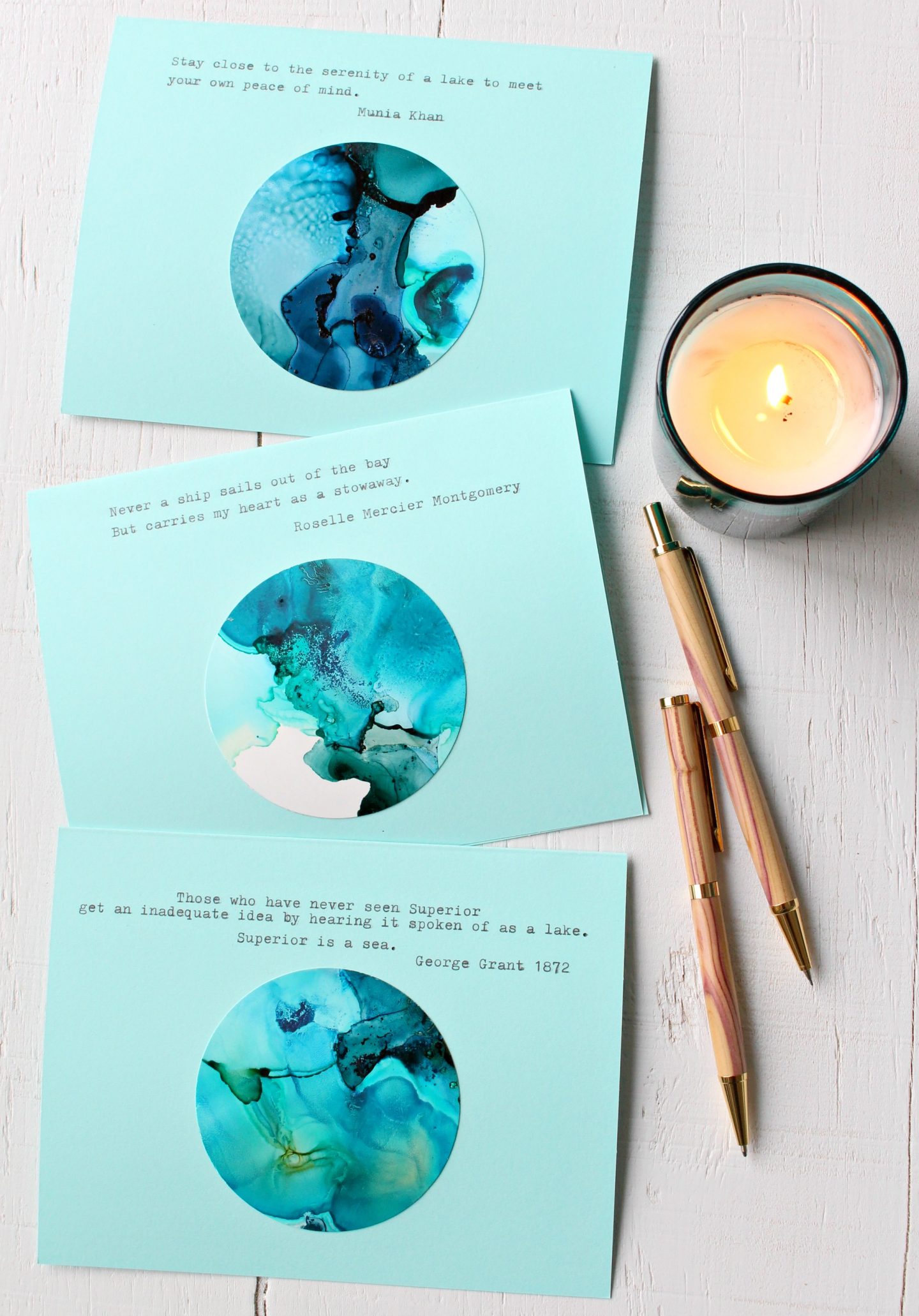 I bought 100 cards for about $6.00 (with a coupon) and if I hadn't owned some of the other supplies already, tallying up the yupo paper, blending solution, three alcohol inks, and hole punch, these cards still would cost only 50 cents per card! If you already own some of the supplies, or use them to make more than 100 cards (the inks and paper can make way more than that – you just need more blank cards), these DIY alcohol ink note cards are really budget-friendly. Plus you can personalize them and add custom quotes or names. Or make pink swirly hearts for Valentine's Day or wintry grey and white snowflakes for a Scandinavian-inspired holiday card. Plus these are SO easy to make with kids because alcohol ink is fun and foolproof.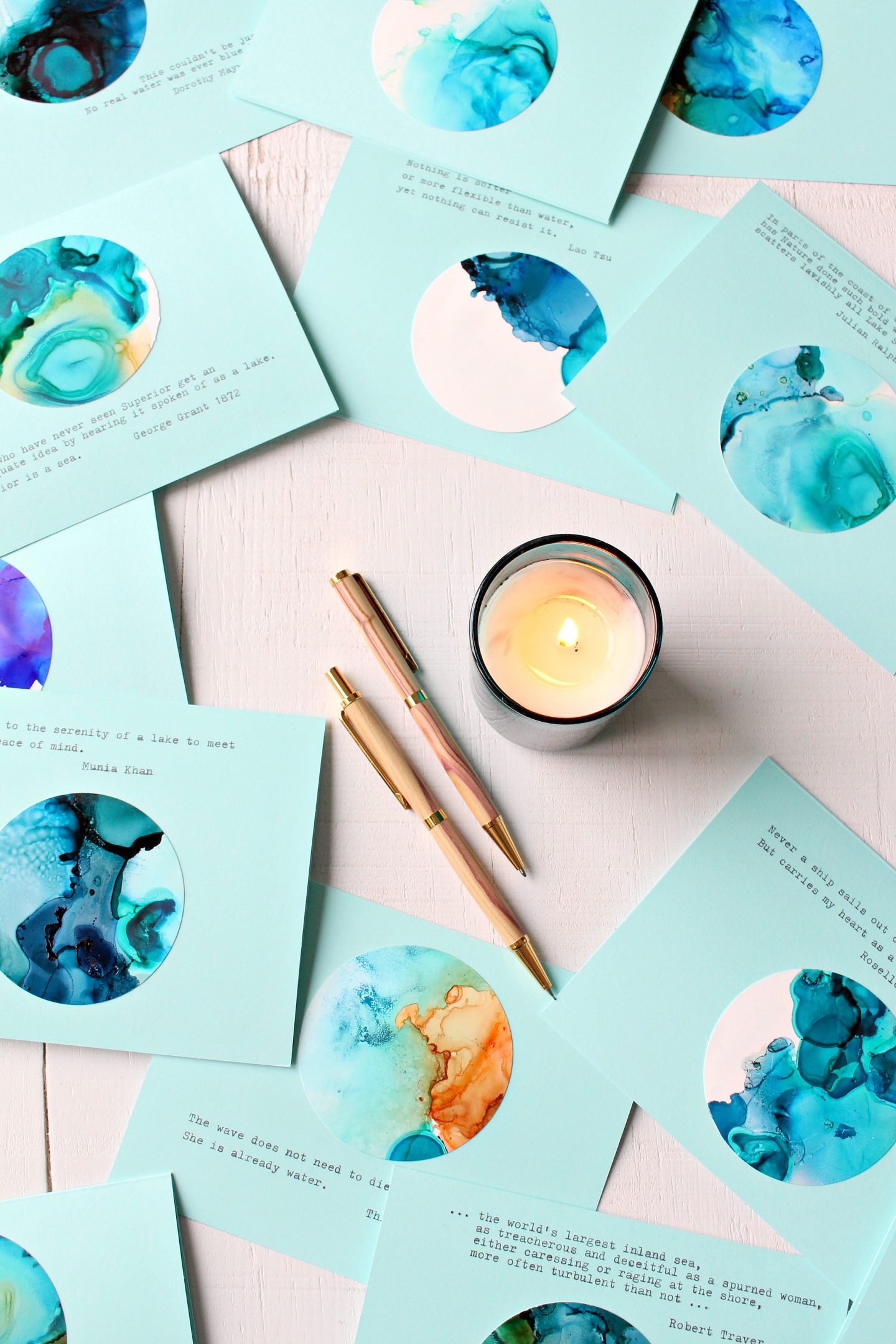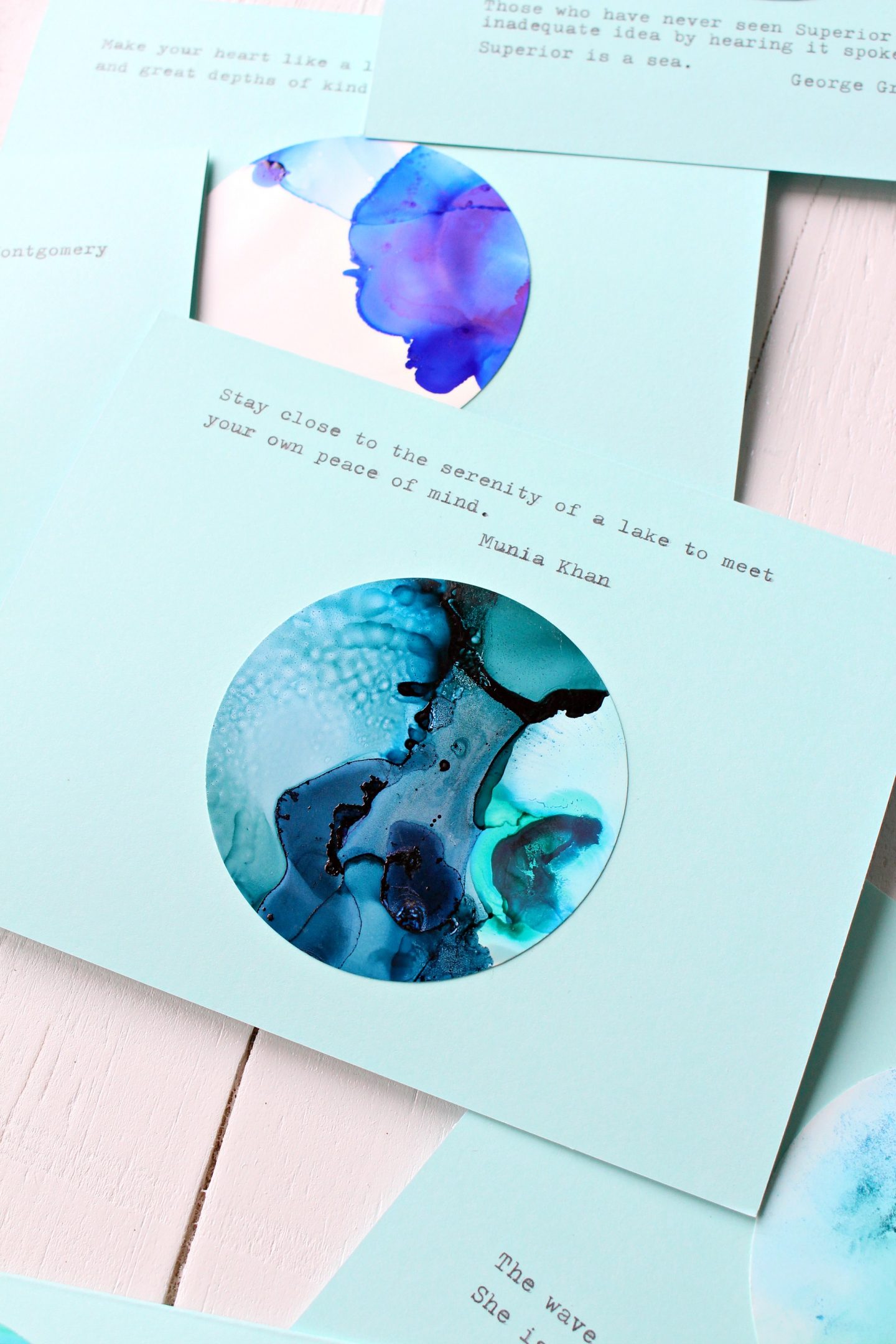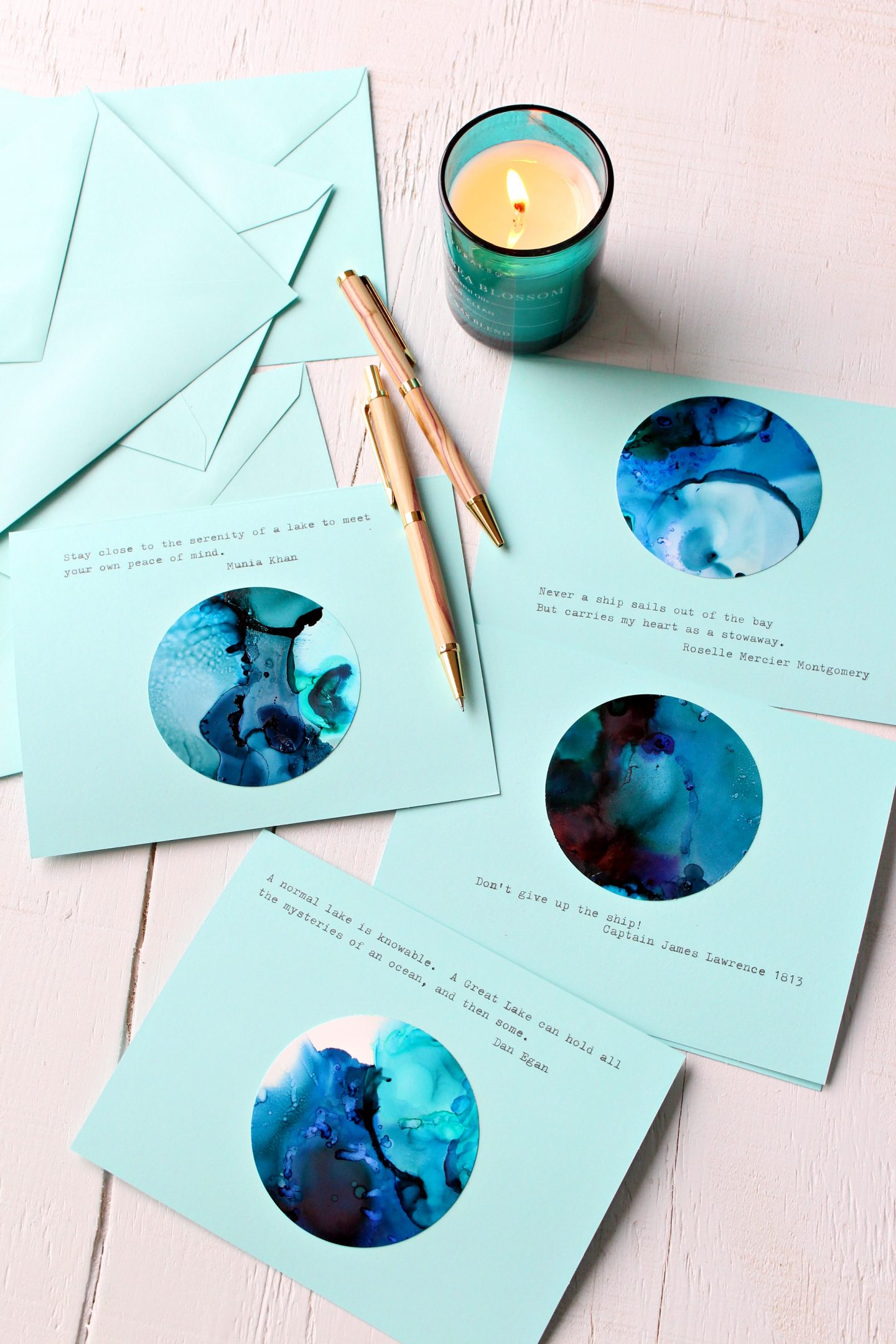 Birthday and holiday cards are so expensive these days but I really enjoy sending (and receiving!) handwritten notes and cards. I have bought packs of handmade cards from Costco (like this) and those kind of boxed sets are a really good deal, except I don't end up using all of them. I love this method of making cards and I can either send everyone I know a lake themed DIY alcohol ink note card with a handwritten message inside, or I can personalize them ahead of time with my trusty typewriter. Either way, if you know me, you'll be getting one of these. And all of my love.