I hope you love today's gift guide: 25 gift ideas for homebodies 2018. It's the season for gift giving and I have been asked by readers to put together more comprehensive gift guides than previous years. One of my hidden talents is that I am an excellent gift picker-outer and many of my friends/family rely on my skills to help find the perfect gift. It's a little more challenging to create a list like this, but hopefully you find some perfect gifts for your favorite homebodies. I'll be sharing gift guides for cottage dwellers, the dudes in your life, the makers and DIYers, and hosts/hostesses, plus I've put together an epic handmade gift guide chock full of DIY presents people will actually want, as well as a gift guide for adult stocking stuffers. Let me know in the comments if you need help shopping for any category, but let's get to these gift ideas for homebodies!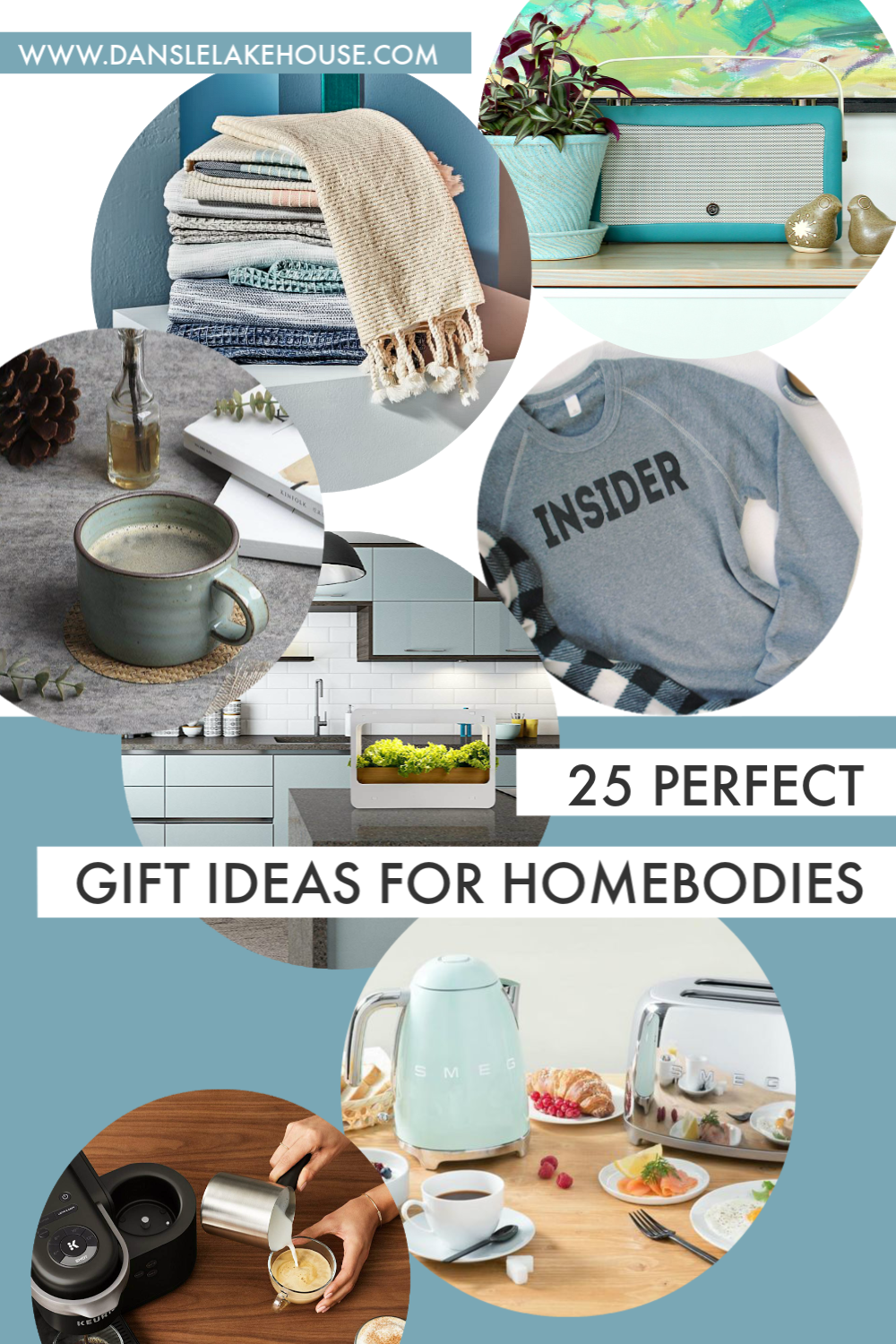 This shopping gift guide for homebodies has 25 gift ideas for folks who love to stay in and get cozy! I've tried to find gift ideas for homebodies in a good range of price points, and focus on foolproof gifts that will be the most likely to put a smile on that indoorsy person's face.
The retro-inspired Smeg Tea Kettle comes in different colors (although why you wouldn't buy a minty hue is beyond me), and it's such a beautifully designed kettle. If you know anyone who loves a good cup of tea or pour over coffee, they will love this sitting on their counter – plus it actually has lots of great features, like an auto-shut off when it's empty and a removable lime scale filter. There's also a Smeg Toaster, if you're feeling generous or pooling funds to buy someone a nice juicy gift. It's a beautiful take on a classic kitchen staple, one of the many gift ideas for homebodies I wish I'd get, haha.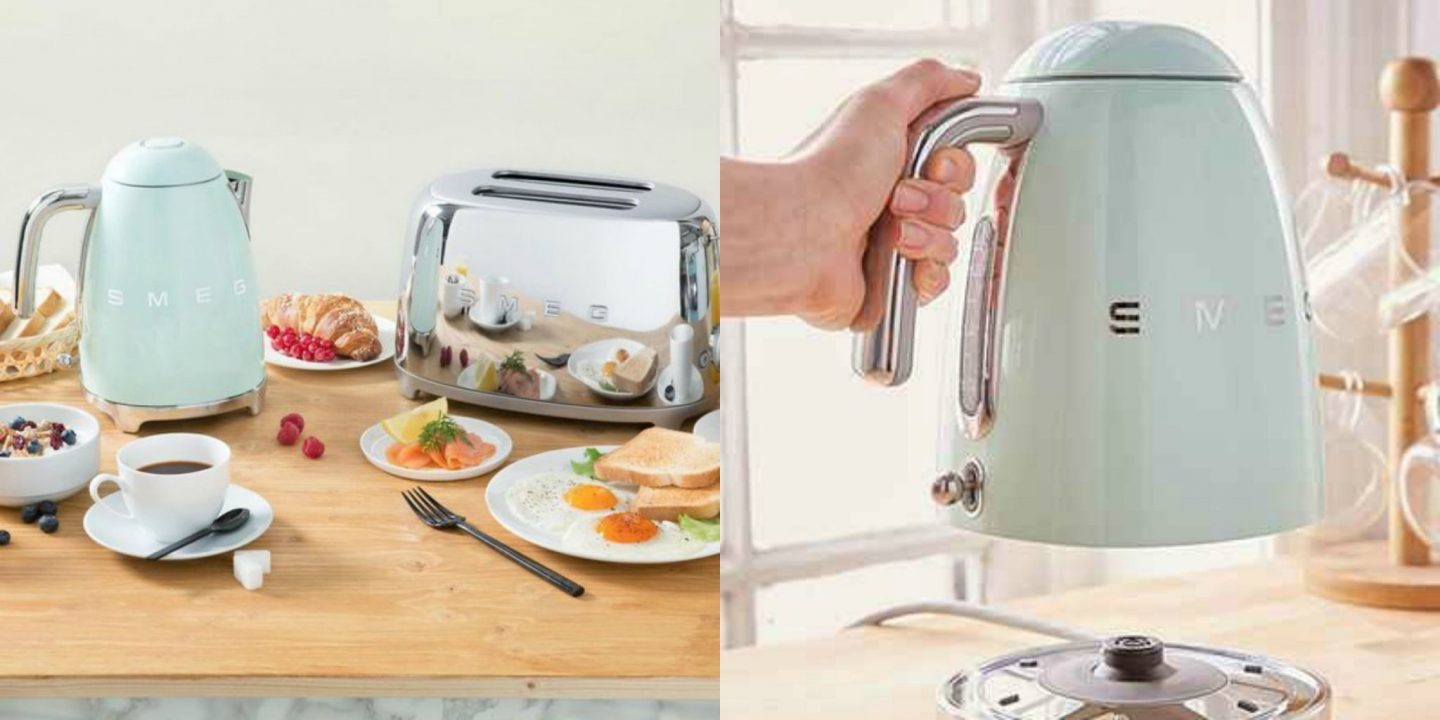 Now House by Jonathan Adler Terrazzo Droplet Vase
Now House by Jonathan Adler brings his chic and quirky designs to Amazon and I love this Terrazzo Droplet Vase because it's an affordable but impactful gift and anything terrazzo is really on trend right now.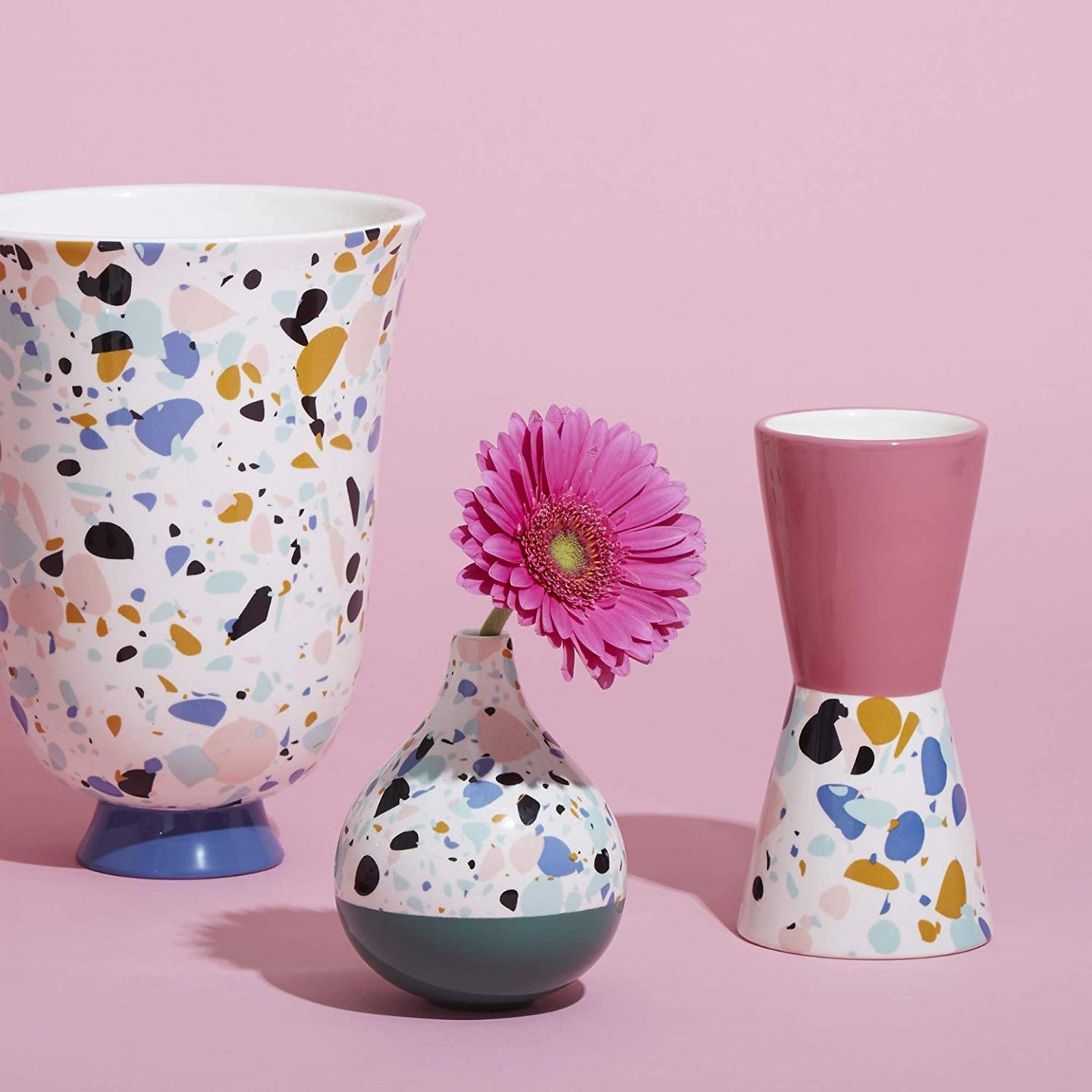 Dansk Kobenstyle & Le Crueset Cookware
A lot of stores sold out of the re-issued Dansk Kobenstyle Enamelware, but you can still find some on Amazon for really great prices and colors, from bright red to a luscious navy. Even more classic is a piece of Le Creuset because even those of us who aren't chef-trained love a beautiful Braiser with Lid in Marine Blue. Yum. I have a yellow skillet that I use on the daily but this aqua (Carribean) pan is still my dream. It's expensive, but it's a gift that can literally be passed down if well care for and I love a gift with longevity.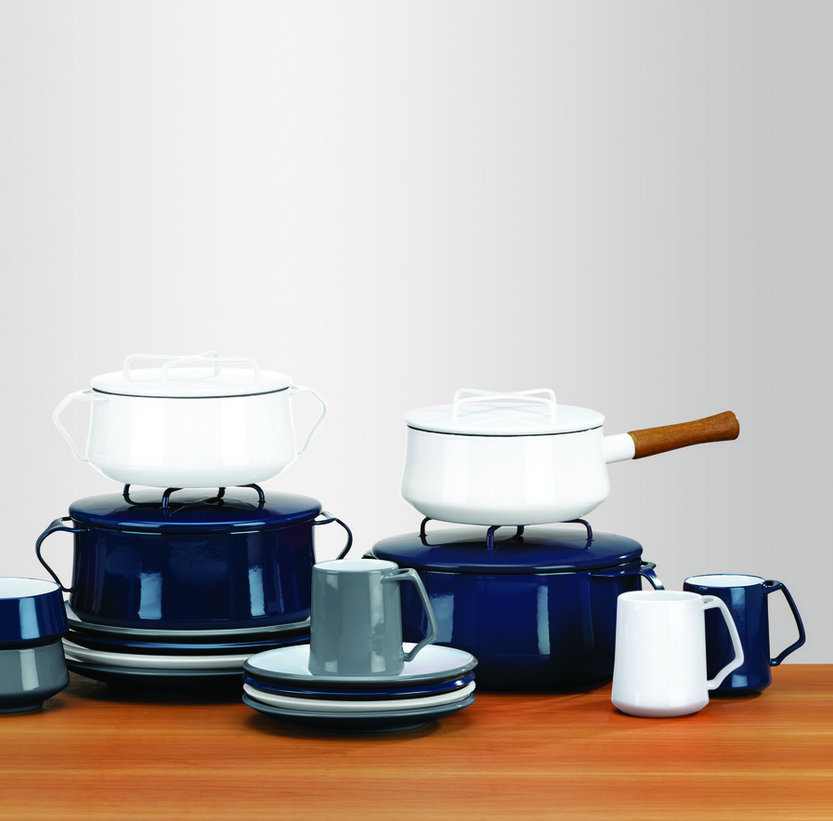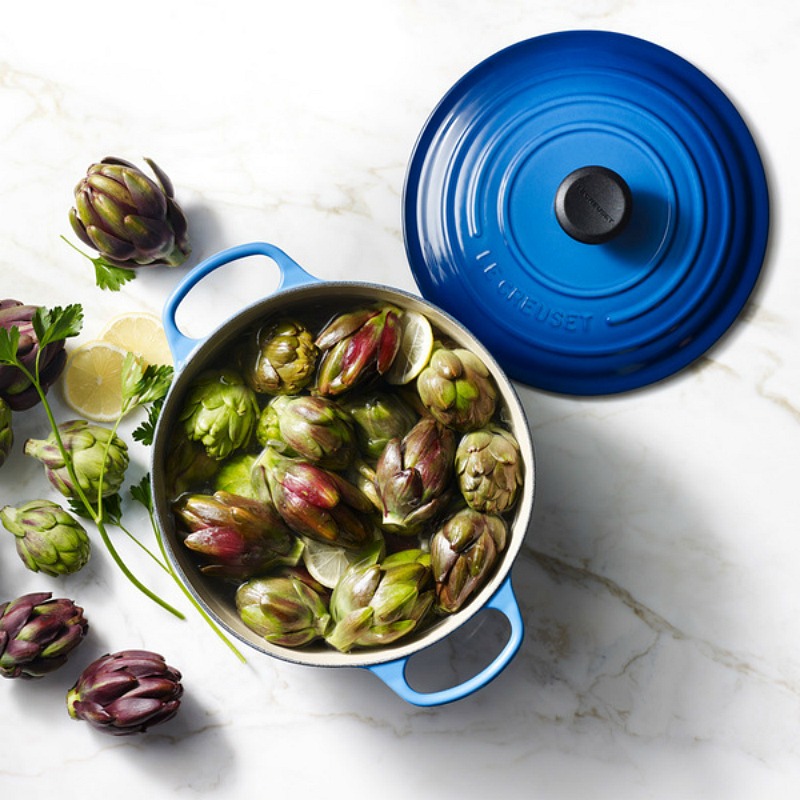 One of my favorite gift ideas for homebodies is a new throw pillow – who the heck doesn't love a new pillow? – and there are some gorgeous boho ones by Loloi that are textured and trendy, but neutral enough to complement any decor, like this ivory and black pillow designed by Justina Blakeney or a beautiful Indigo hued one – this light blue one is my favorite because it's boho but simple.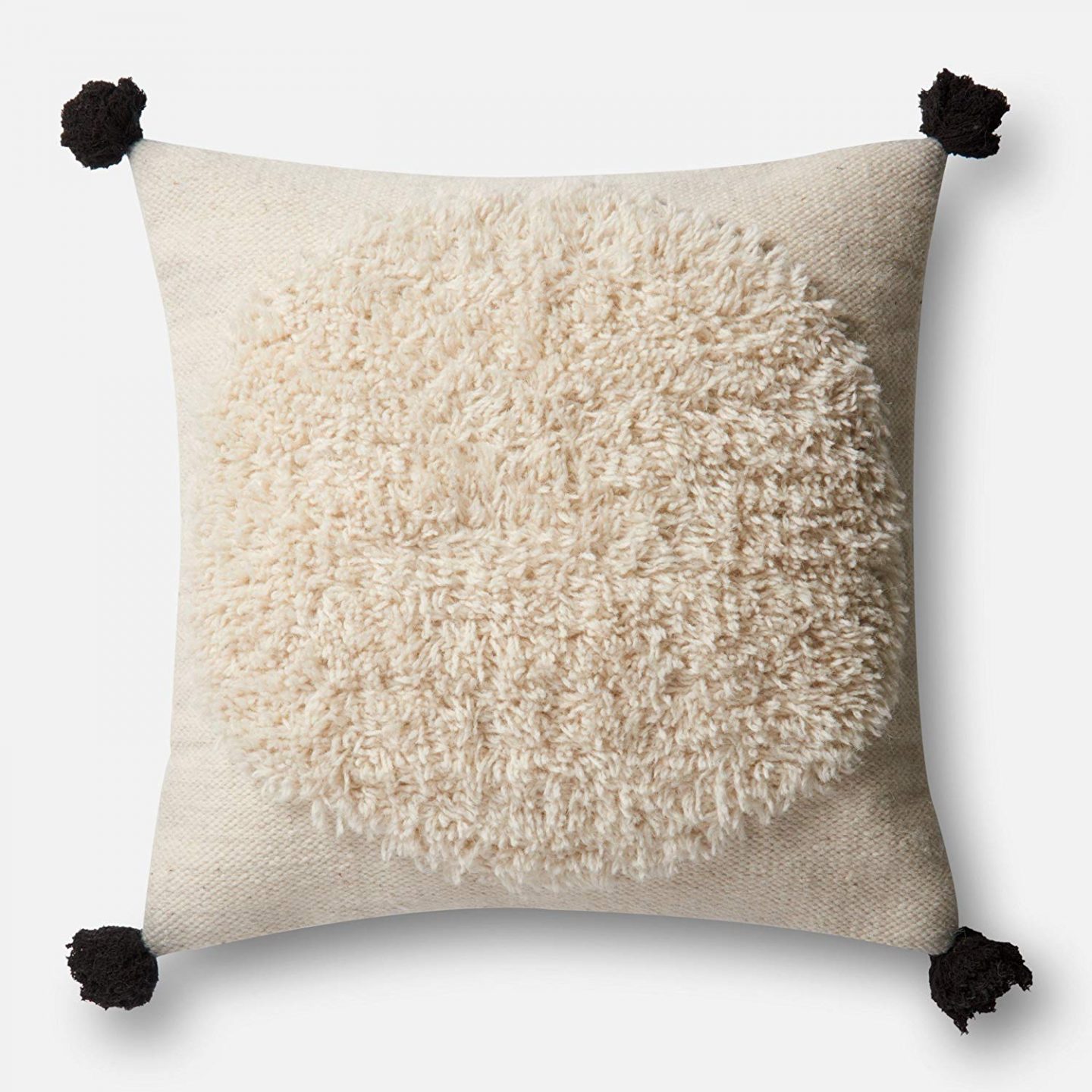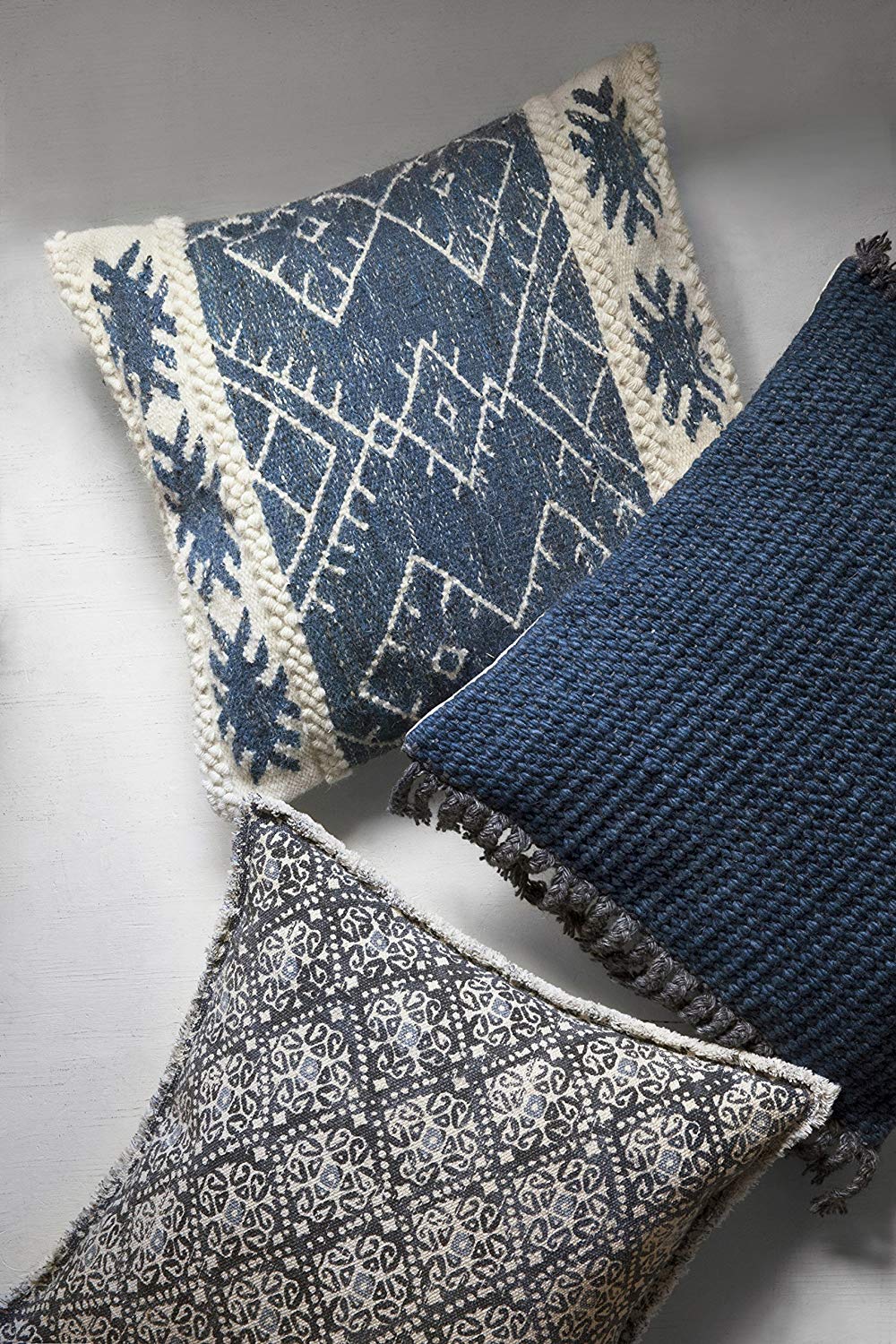 This stoneware Sagaform Bird Feeder can also be used as a tea light holder or vase, but most homebodies will love the chic design and welcome the neighborhood birds.

Bring the outdoors in for homebodies who like to hibernate with an indoor herb garden. It can be used to grow herbs but also to keep healthy succulents and other plants alive. Plus there are so many sizes and chic designs available. As far as gift ideas for homebodies go, this one is a gift that keeps giving (mmmm, fresh herbs).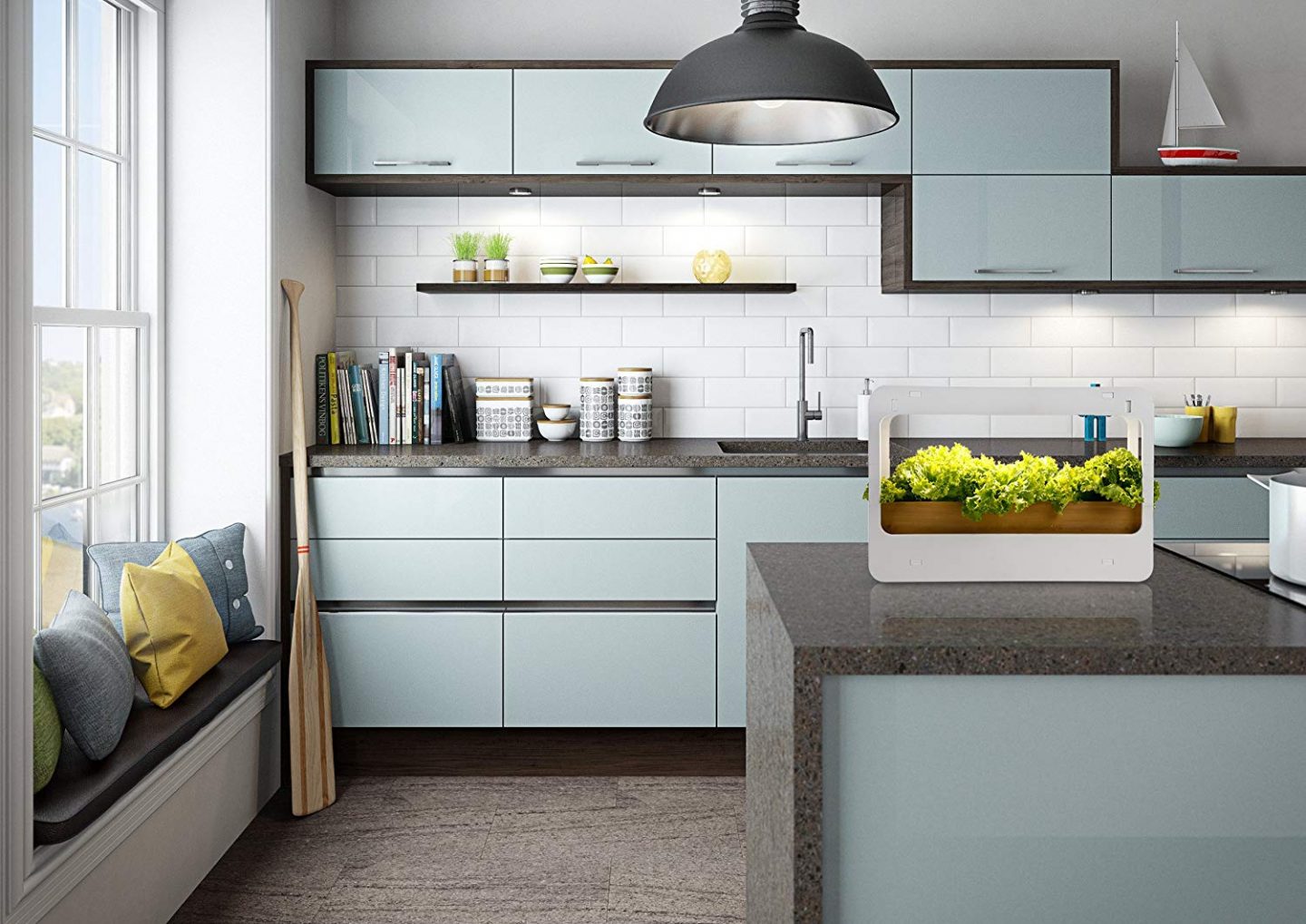 I recently splurged on a gorgeous handmade pottery tea pot – plus I recently made my own tea pot cozy – so I am ready for staying inside this winter. Even the most avid tea drinkers probably have a boring, tea stained tea pot so help them indulge with a tea pot beautiful enough to display! Check local pottery shows for a real gem, but if you're strapped for time, here are some of my faves, including this rabbit tea made in Japan, turquoise Bauer tea pot with retro vibes, Russel Wright tea pot (for any MCM enthusiasts) or this gorgeous Ocean Waves pot from West Elm.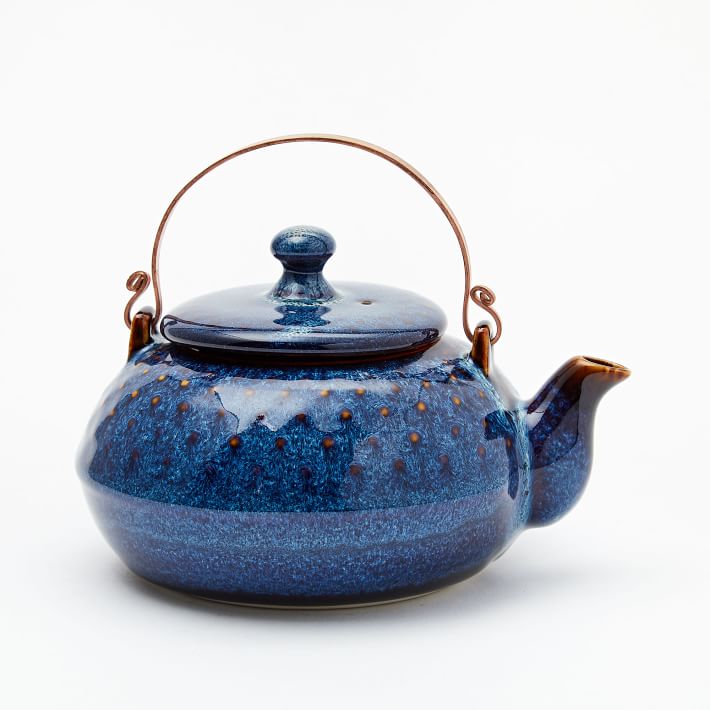 What's a tea pot without a beautiful pottery mug or two? The one pictured is designed by Yoonshin Yi and carefully handcrafted by Yido artisans in Yeoju, a major center of contemporary South Korean ceramics. This handmade turquoise mug is also a gem, with a glossy, vivid glaze. Add a sampling of loose leaf teas and you've landed on one of the easiest gift ideas for homebodies – you can't go wrong.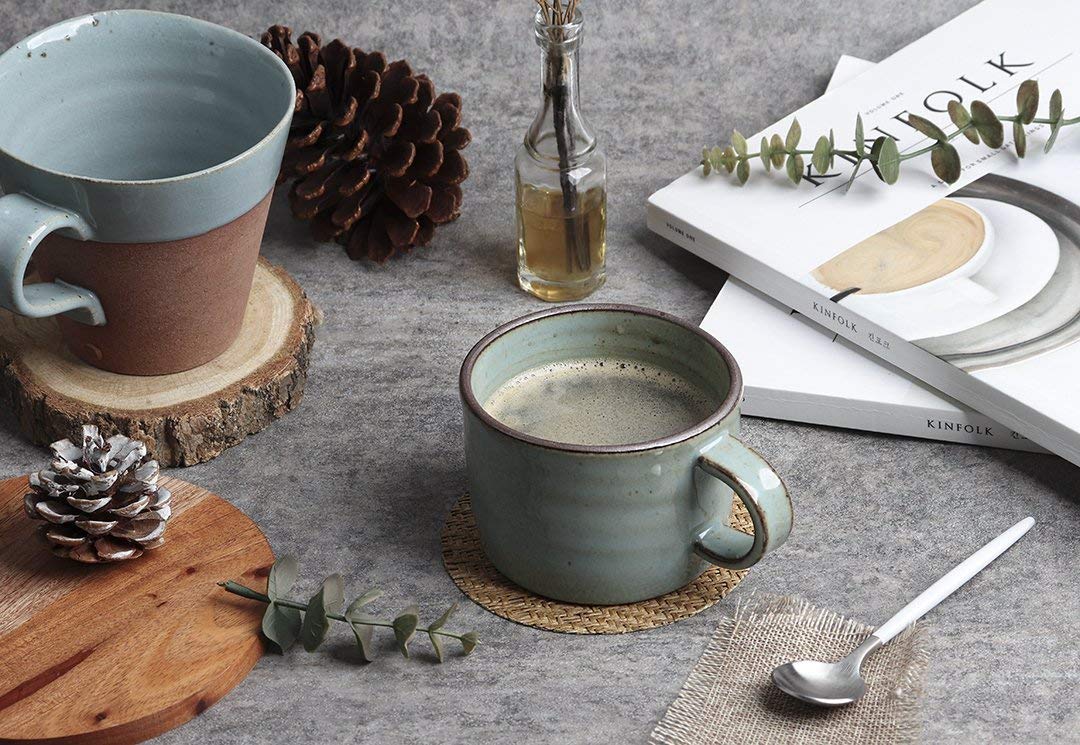 Keurig K-Cafe Single Serve Coffee, Cappuccino and Latte Machine
I have a basic (white! shocking!) Keurig K-cup which I love (it comes in really fun colors for gifting) and now you can buy compostable pods so I'm even more obsessed with mine, except recently I've been eyeing up the Keurig K-Cafe Single Serve Coffee, Cappuccino and Latte maker. I'm thinking of moving my old Keurig into the bunkie for guests and splurging on one of these because winter will be so much more tolerable with lattes at the touch of a button – I don't think any homebody you know would be disappointed to find one of these machines under the tree! I'm just waiting for them to make it in aqua (Smeg makes a powder blue espresso machine but yowza, the price)…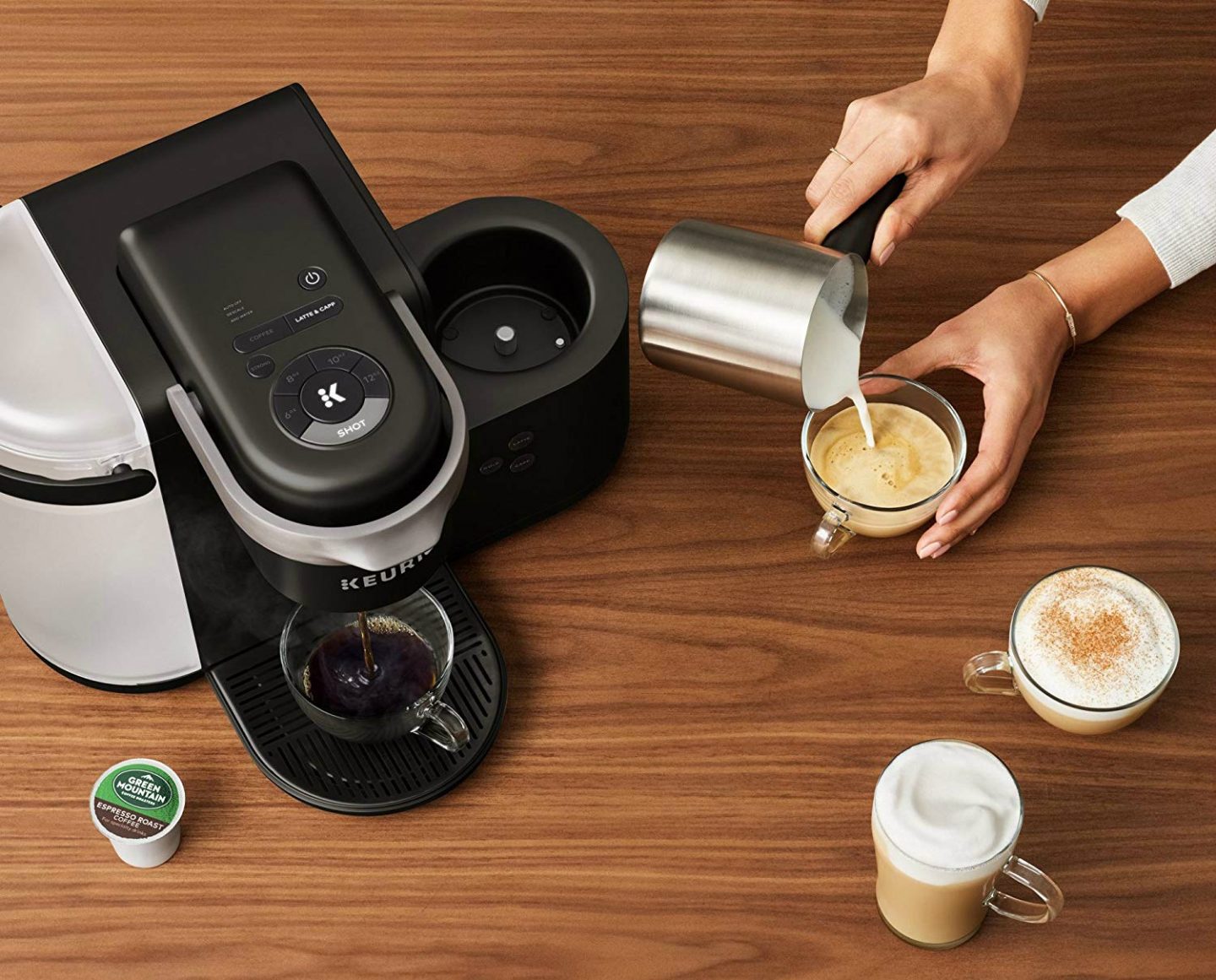 This journal is created by the bestselling author of The Book of Awesome and it's designed to help create awesome days by helping people let go of stress and focus on the good. Add a beautiful rosewood pen and it's one of those most thoughtful gift ideas for homebodies.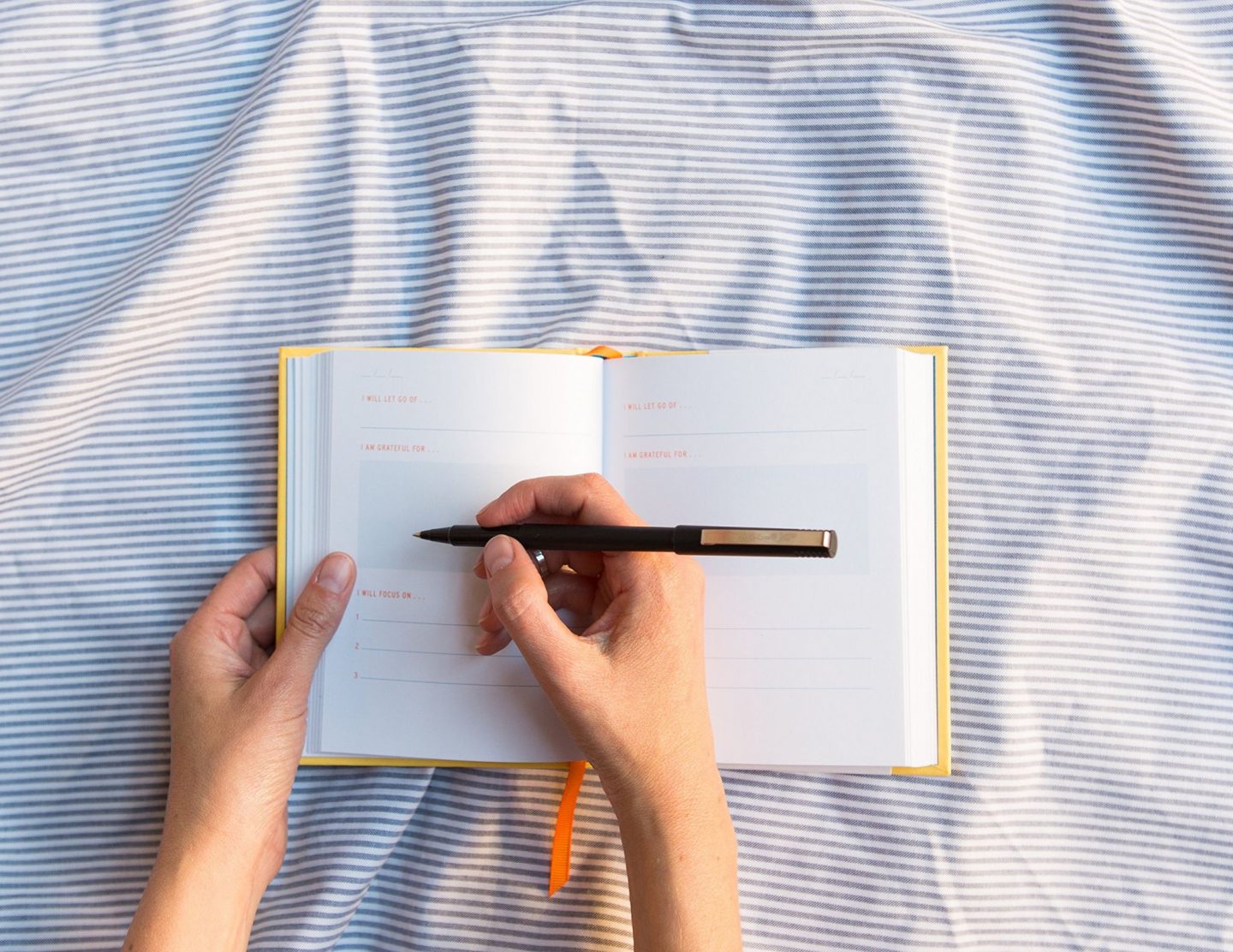 If you're looking for the perfect one-size-fits-all gift for a homebody, you can't go wrong with a nice quality throw. Pre-puppies, I had a cashmere knit throw that I treasured and even though I hand wash my cashmere at home, these days I love a faux fur throw because I can toss it in the washer/dryer quickly. Loloi makes many gorgeous boho throws, like this ivory and blue cotton throw and Jonathan Adler has a really luxe faux Mongolion fur throw, but my favorite might be this Woolly Mammoth teal and cream plaid wood throw.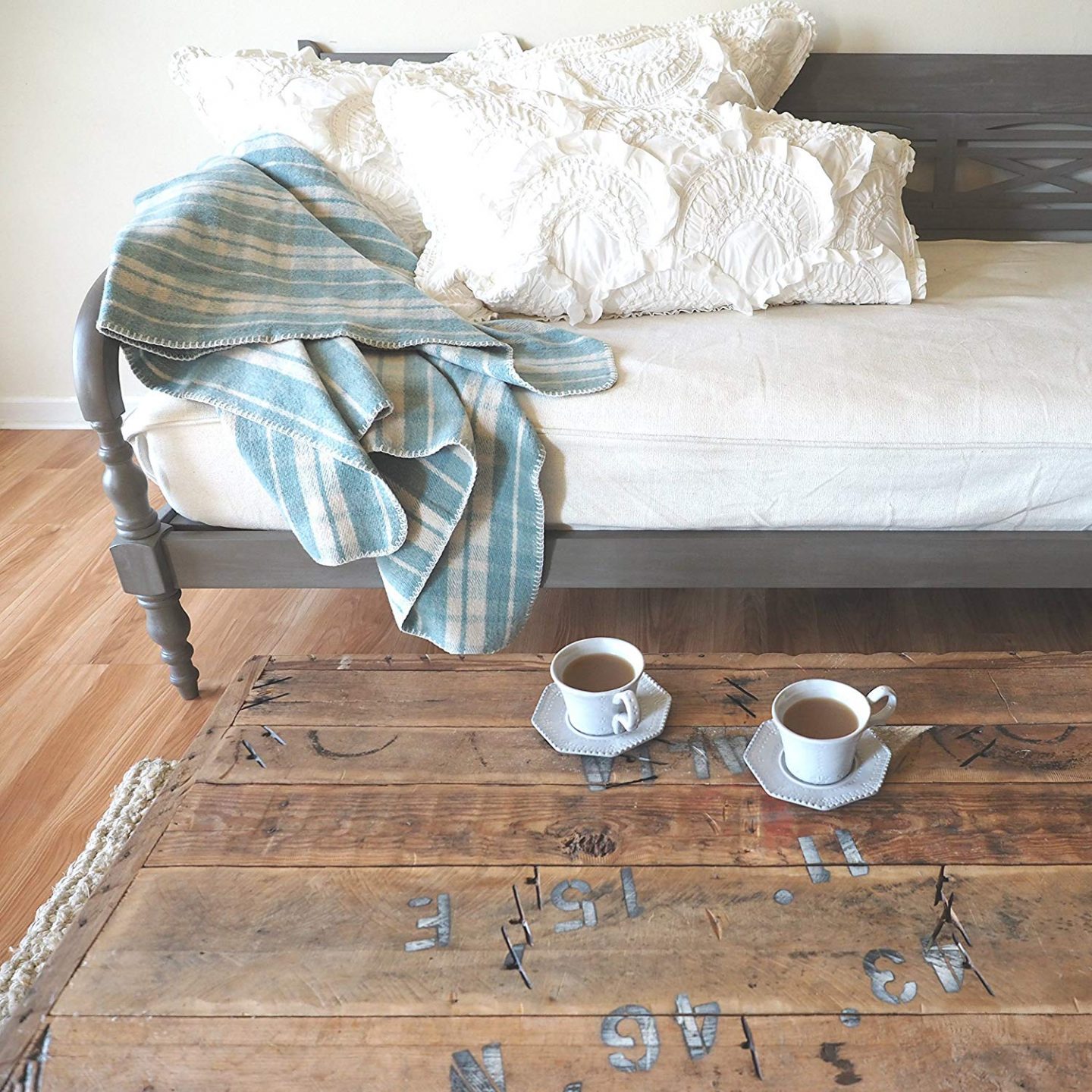 Although this John Hanley herringbone wool blanket (made in Ireland boasting a touch of cashmere) is also a winner – it looks so soft and that pale aqua with charcoal grey is so dreamy.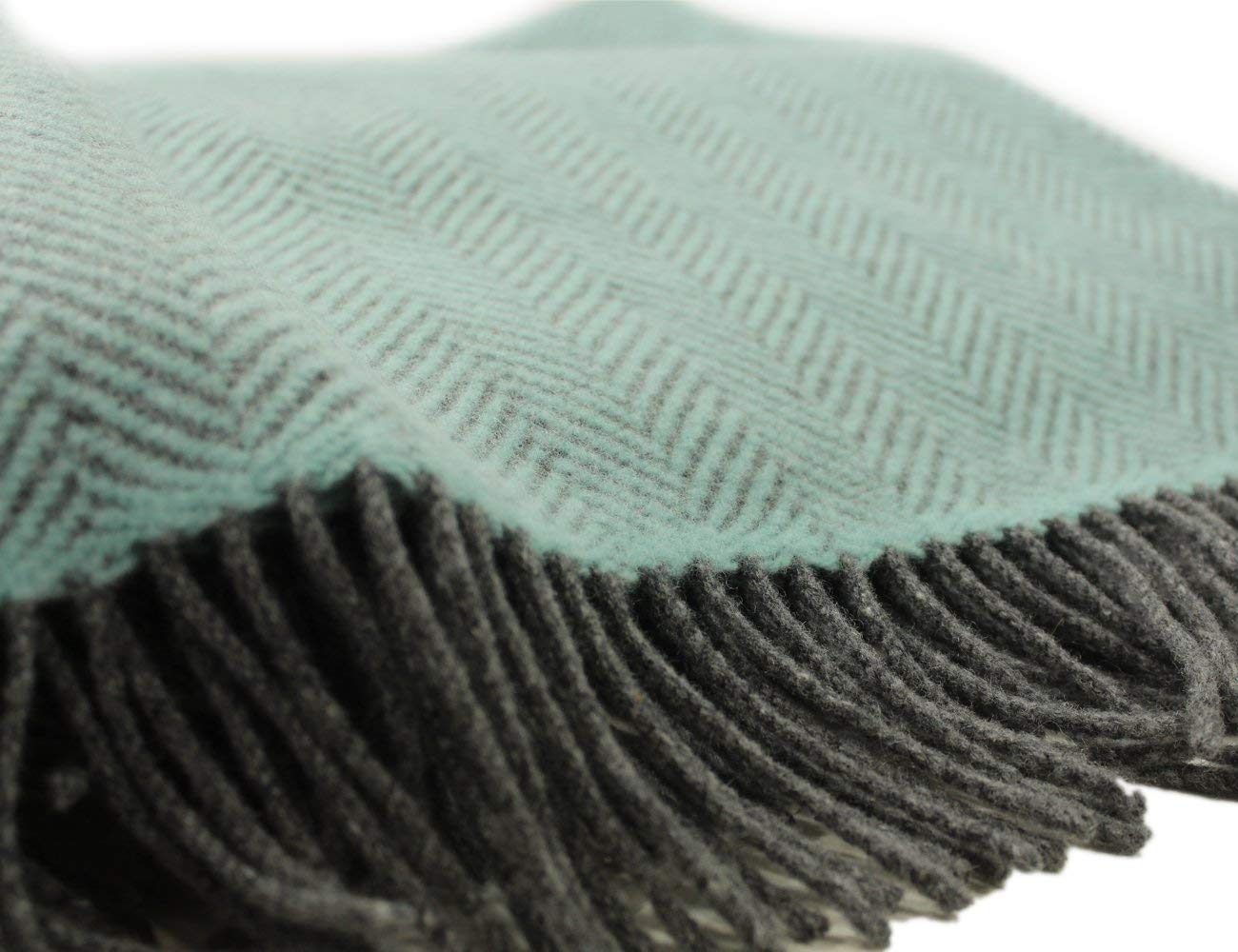 Modern Diffuser with Essential Oils
Essential oils are SUPER trendy right now and even if someone already has a diffuser, they can always use it in another room so it's a safe bet as one of the foolproof gift ideas for homebodies! I love the round shape and dark wood grain of this Kmise Diffuser and Humidifer (it comes in different wood tones to blend into furniture). This marble look essential oil diffuser is less earthy and more glam, but just as modern and chic.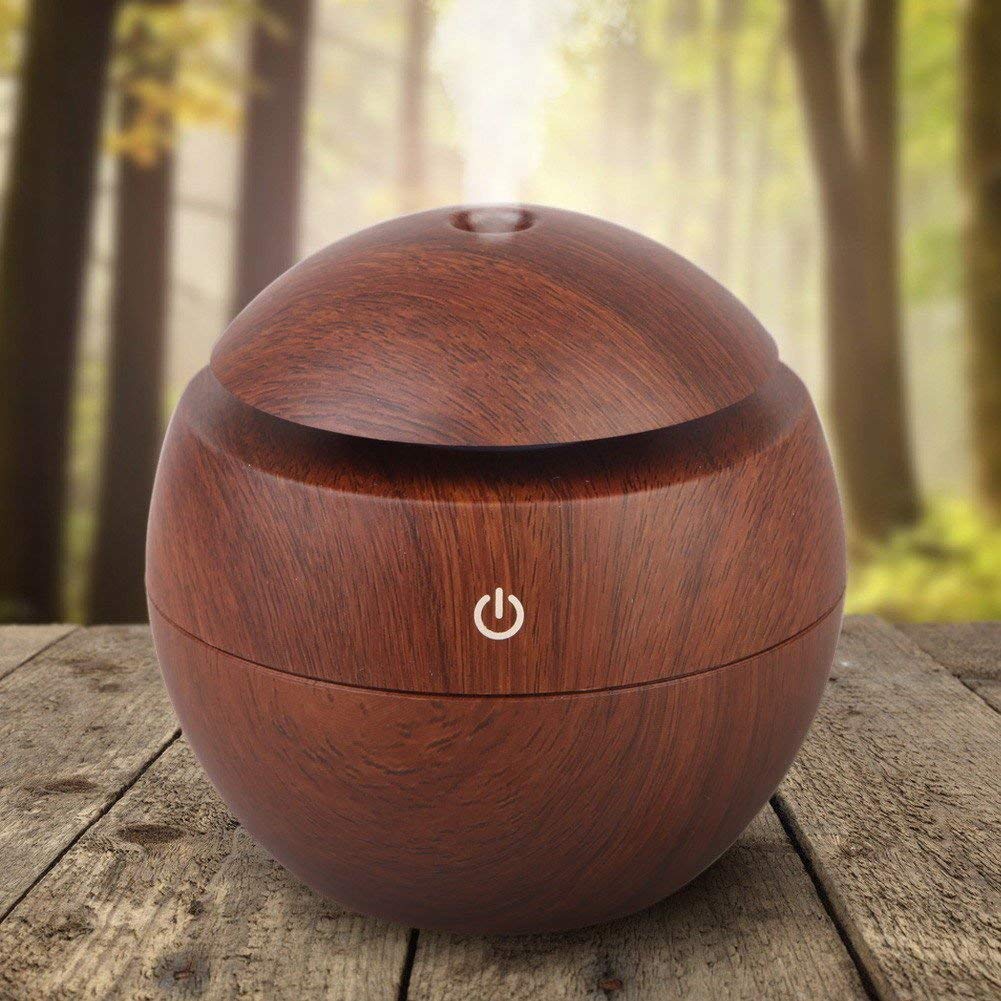 Plants are another foolproof gift for any homebody because, try as we might, plants do die so it's always nice to have someone freshen up the greenery. Make a plant feel fancier by gifting it in (or with) a mid-century modern inspired planter – maybe something on legs, to add style to a home and life to a room. You know I'm partial to the Case Study Planter, but it's kind of expensive – this Rivet Ceramic Planter with Iron Legs is a fraction of the price but still looks high end.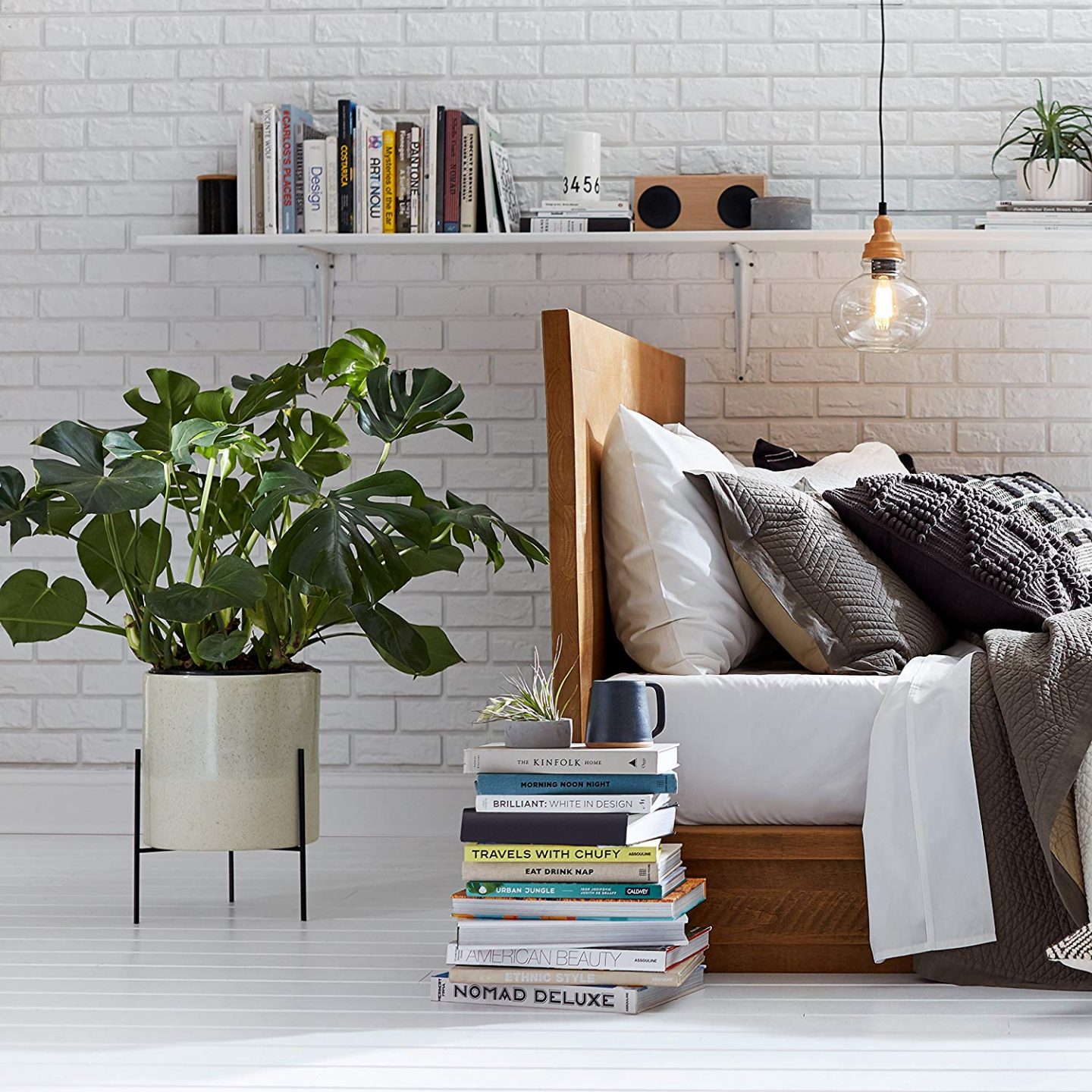 For just a table top planter, this Geometric Ceramic Planter is adorable! Local greenhouses and florists will have tons of gift ideas for homebodies if you want to shop local.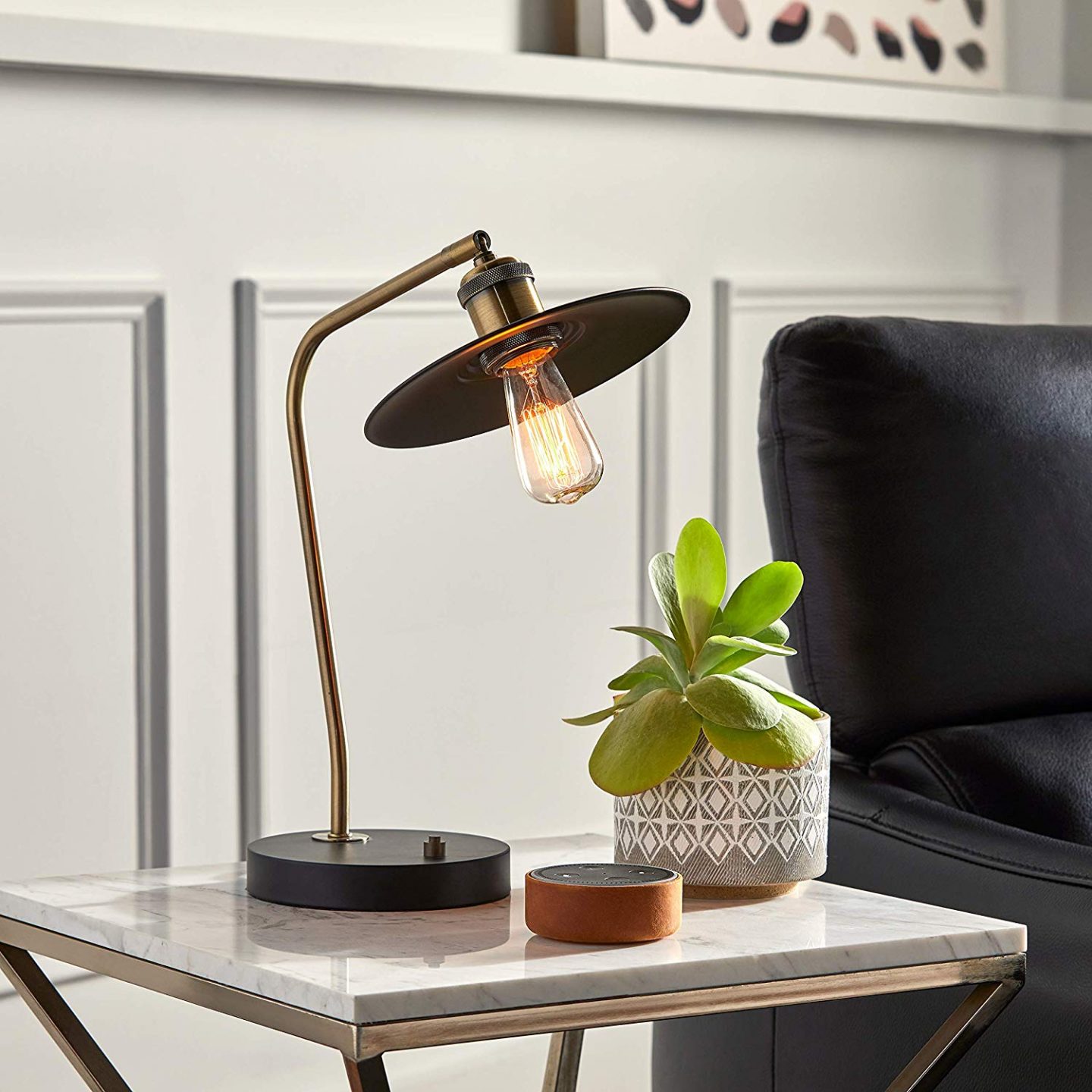 I have a plastic $2 watering can that I keep under the sink, but watering cans have become works of art that someone can leave out on display. Here's my faves: this gorgeous brass one, this super modern stainless steel one, and – of course – this bold teal blue metal watering can. It's one of the gift ideas for homebodies I've given out myself and it's always well received.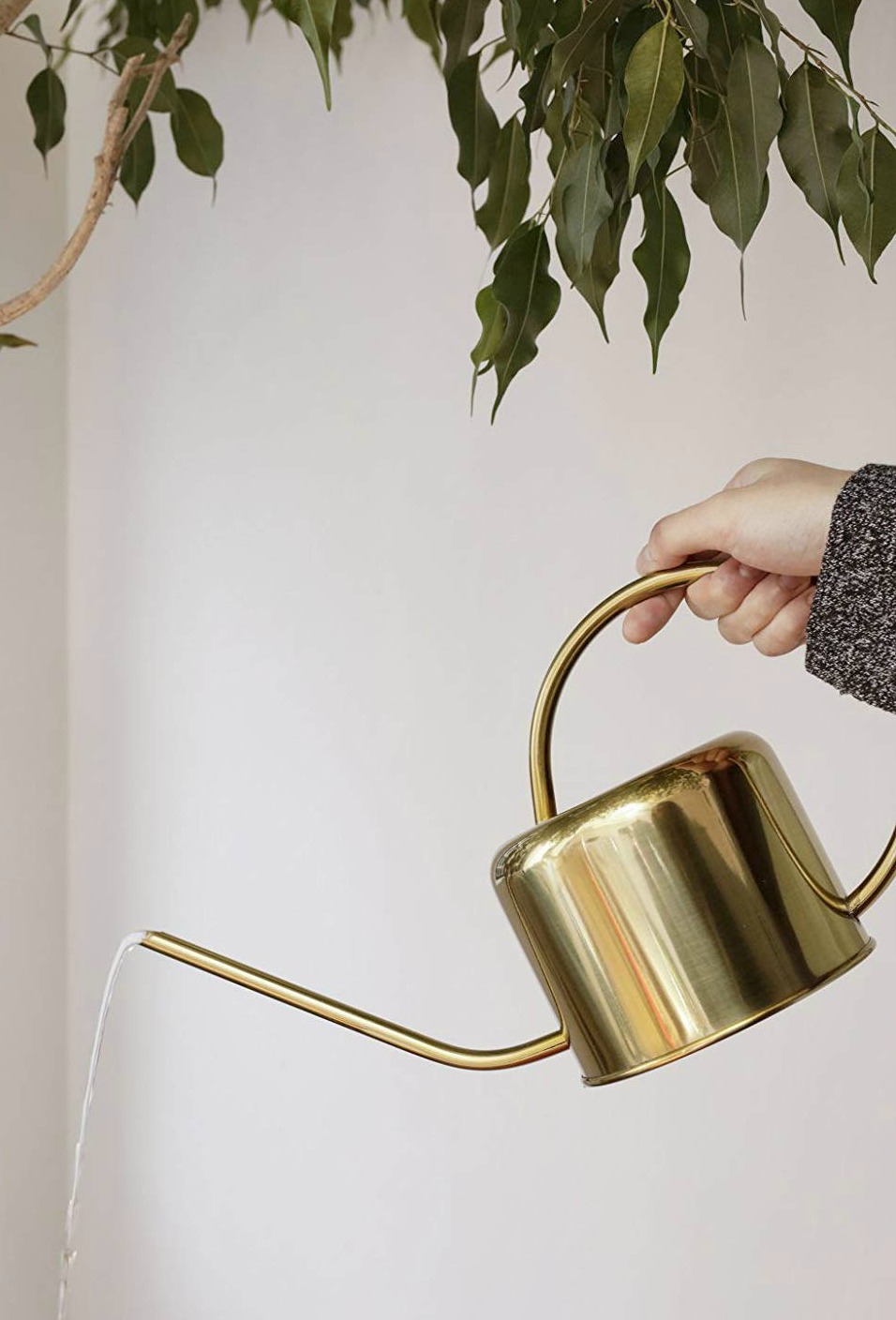 Space-Dyed Organic Cotton Tea Towels
Any quality linens, like these beautiful Turkish teal towels, are a lovely gift for homebodies because they wear out and always need replacing. Replacing them with something a little more luxurious than what someone would buy for themselves is a real treat. Plus towels and kitchen linens are the easiest to buy because the size doesn't matter like it does for bed or table linens.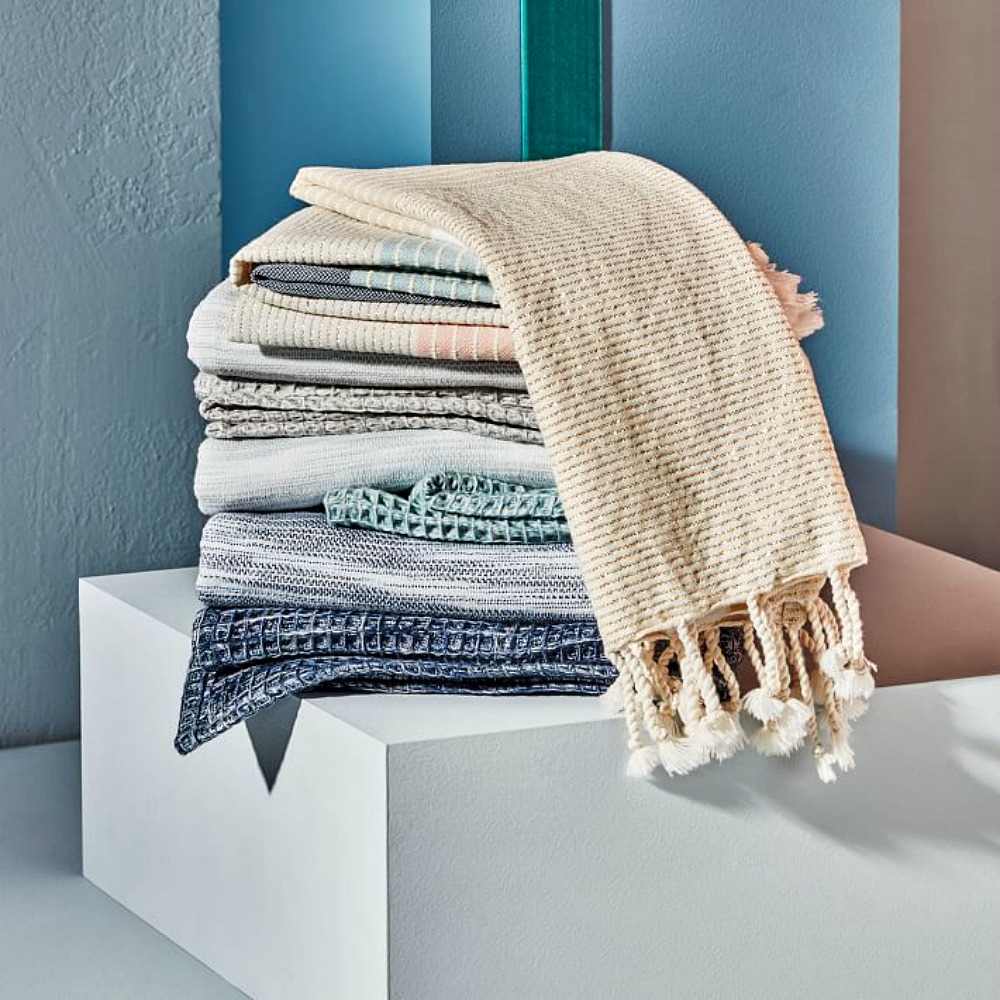 I don't have a very smart home. We have a Nest thermostat and smoke detectors, and security cameras and home alarm monitoring, but I haven't really been sold on anything else. But then I was sent a color changing LED light bulb in a press pack and I'm obsessed! What I love most is that you can control the cool/warm to recreate my beloved incandescent light bulbs exactly, but there are also fun colors and soft hues for ambiance. Although it's a ton of fun, it's also clever because you can set the bulb on a timer to wake up to soft light. For anyone ready to dip one toe into a smart home, this is a fun gift idea and as far as gift ideas for homebodies are concerned, it's cute as a stocking stuffer or stand alone gift.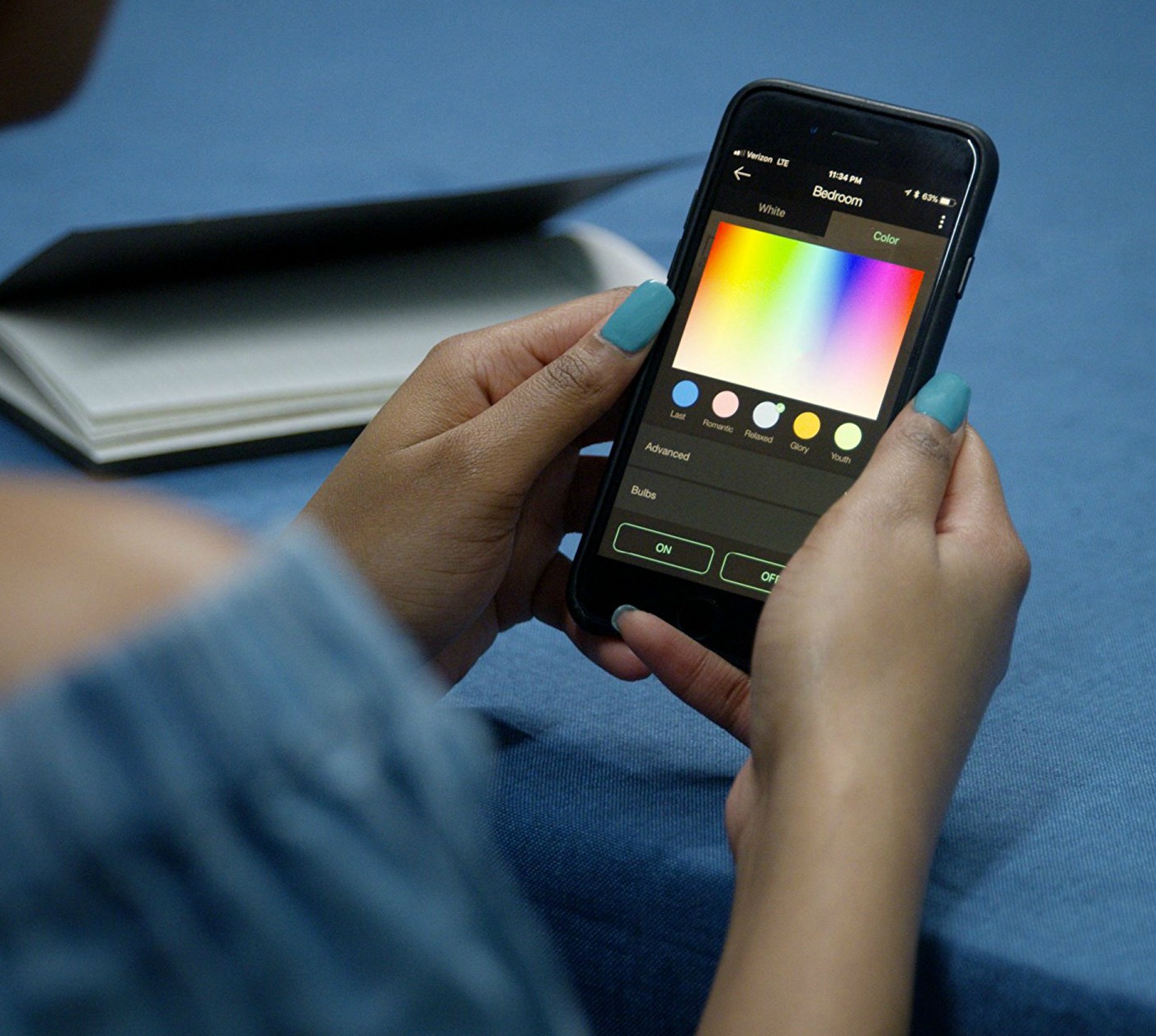 This screen-printed t-shirt is handmade in Pennsylvania and perfect for anyone who'd rather be inside than out. I definitely want to order a couple new hoodies and long sleeved tees for my impending hibernation.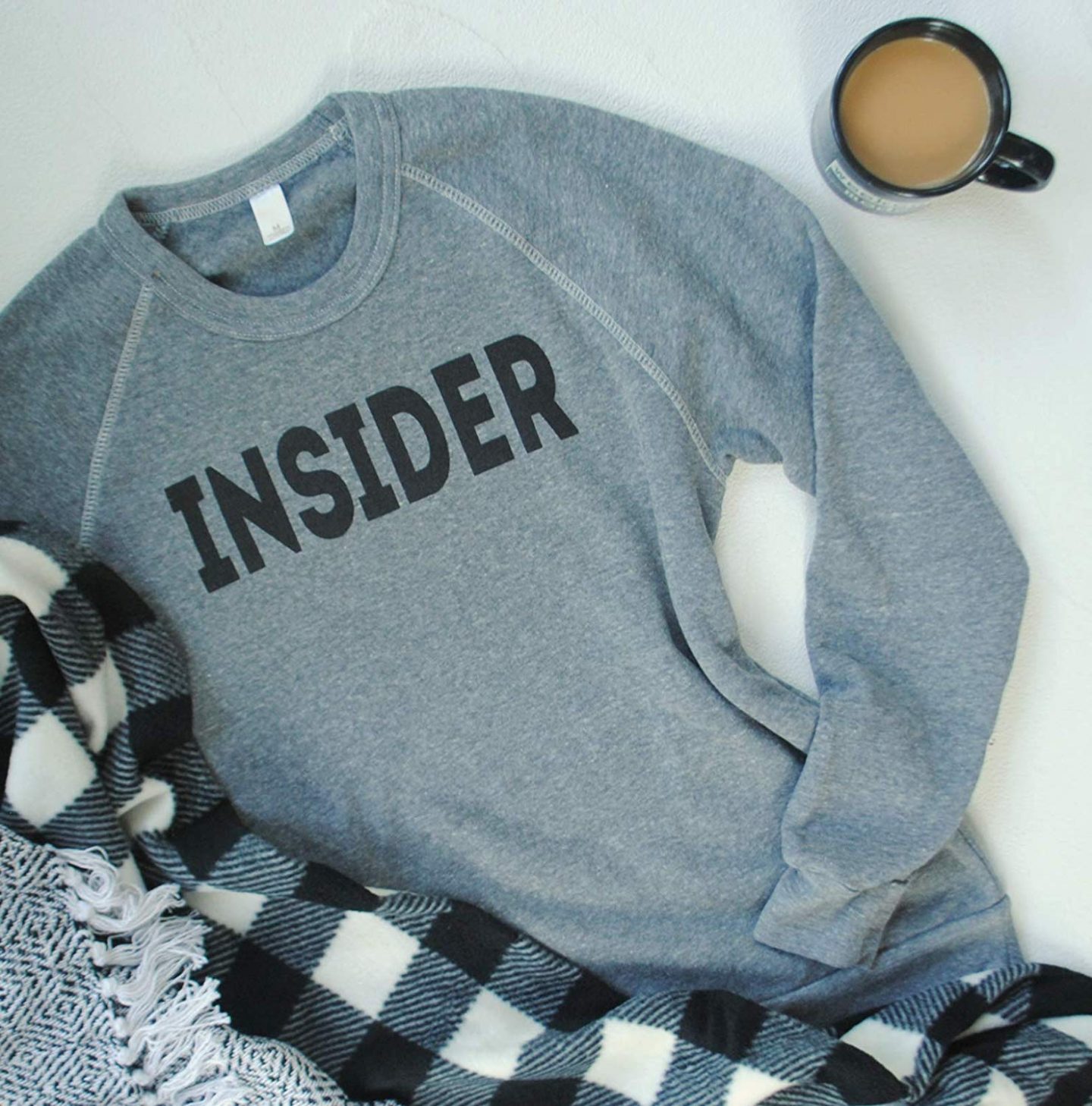 I only recently got a pop socket and now I recommend them to everyone! I wasn't the last to know about them, haha – even though it felt like it. These little guys stick on a phone or tablet and act like a stand or handle. I was getting severe pain in my hand from using my heavy iPhone and once I got one of these, the pain all but disappeared!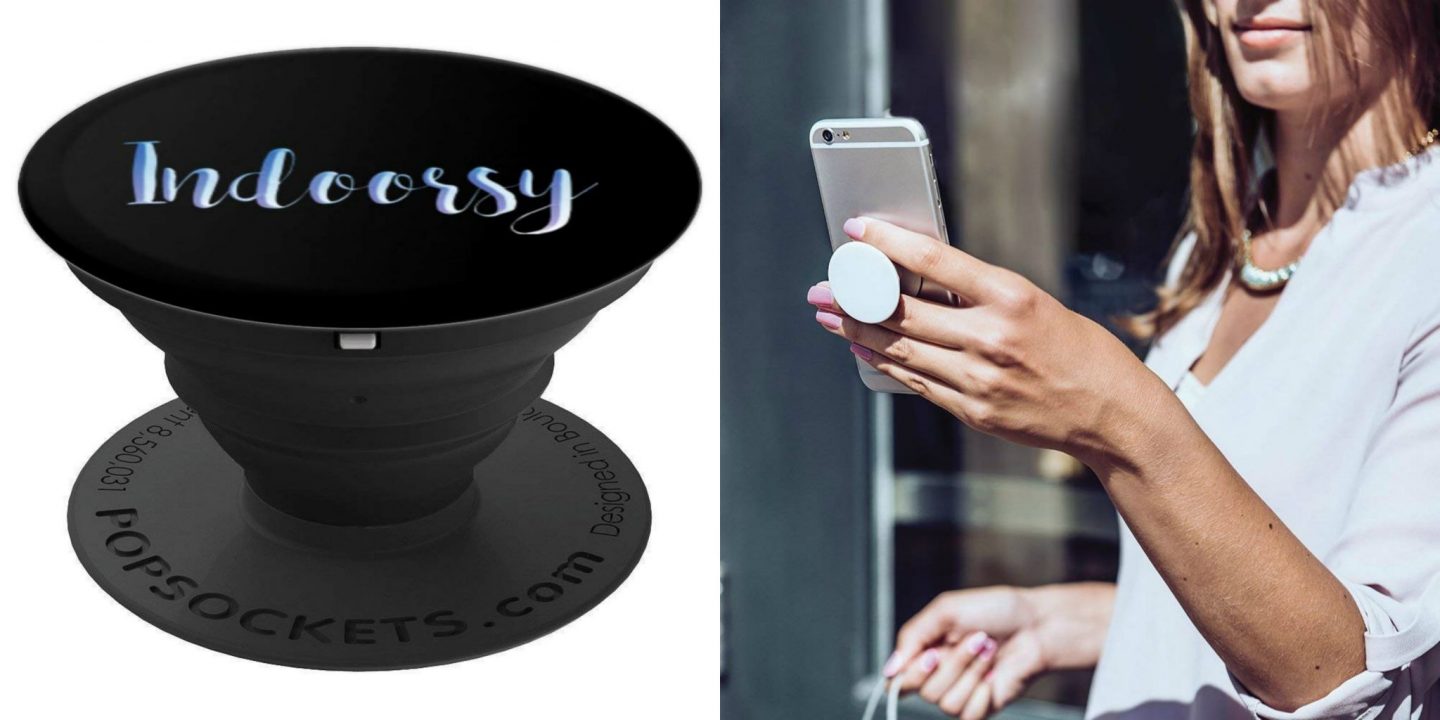 I love my VQ Hepburn MK II radio because it looks cute on my shelves and it's easy to use. The Hepburn Bluetooth Radio is a fun gift to unwrap because it has such a unique, vintage-inspired look. Another great option which I've tested and used is the Bose Wave Sound Touch – super easy to use, really great sound and you can connect it with other Bose speakers to have music flow throughout a house. The Hepburn is a steal at around $90 compared to the $500-600 Bose system, so that's why I love my little teal radio, but for anyone super picky about sound quality, anything Bose is a good bet.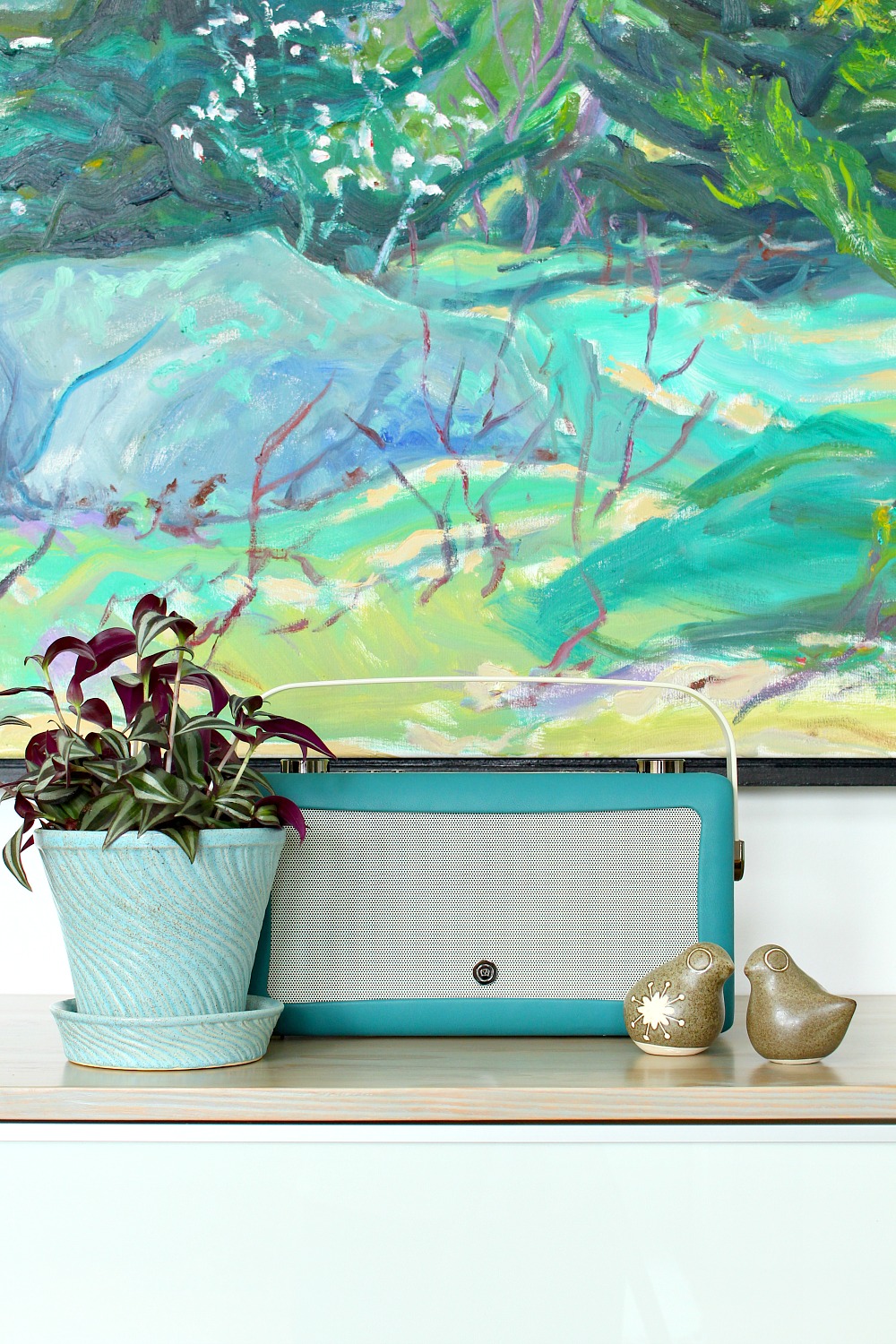 I love my Bose sleepbuds (read my review here) but they're the kind of gift people might not buy for themselves because they seem indulgent – but seriously, quality sleep is so important for health and happiness and what kind of homebody can successfully nap with so much noise? Gift them with a cute silk sleep mask for fun.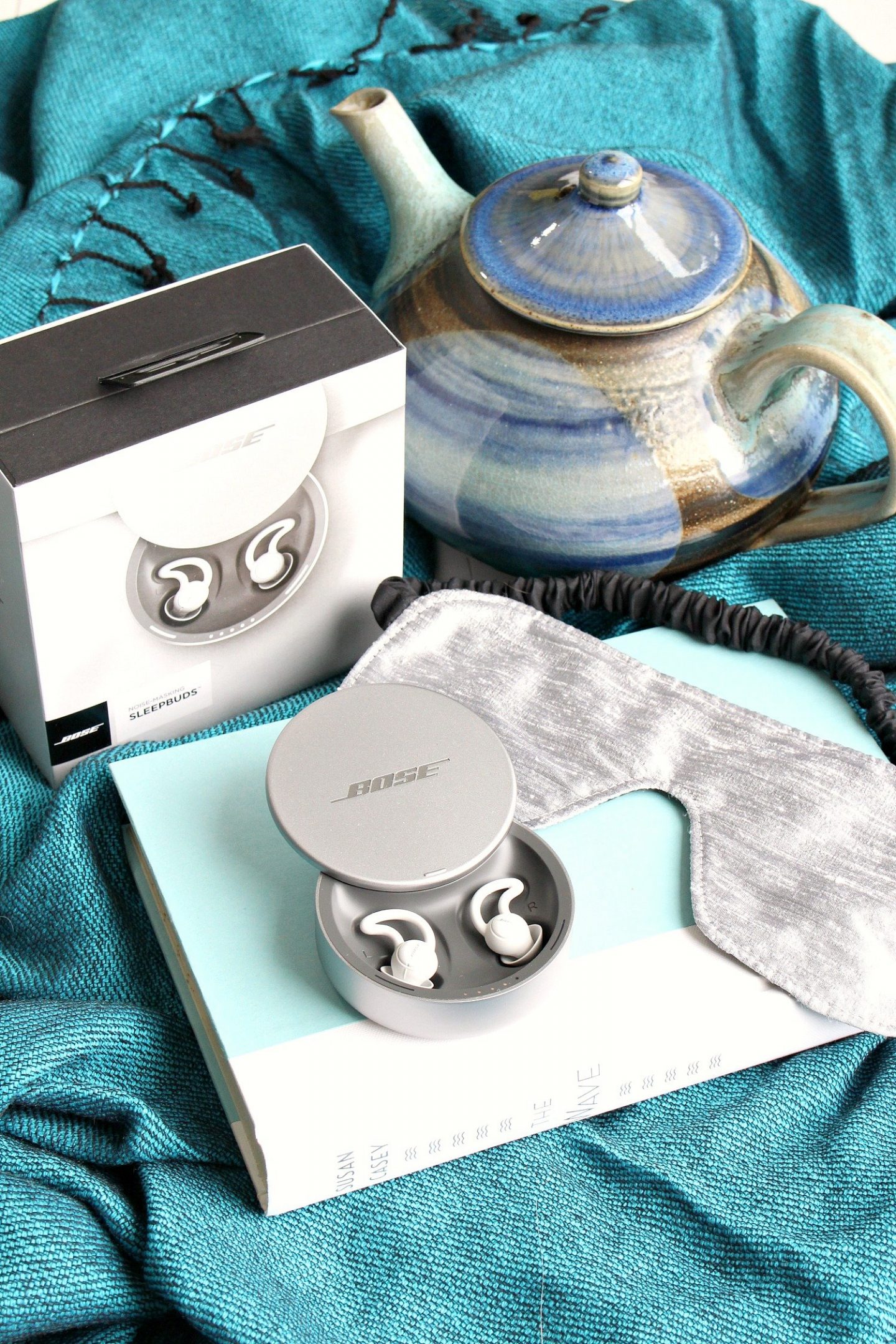 These beaded moccasins of mine are a favorite with readers and I'm always asked about them here on Dan le Lakehouse and on Insta – I get a lot of compliment IRL too – so I can guarantee they'll get rave reviews as a gift! I've had them for a few years and they wear really well (they're handmade in Canada so the quality is great) – I even stepped in something sticky, but leather cleaner got them looking new again. These turquoise Minnetonka moccasins are cute too, but they're actually more of a shoe but I know some folks prefer more support for indoor footwear.
Gray Malin's prints and accessories add instant dreaminess to any space. I love the Hawaii Swirl Decorative Tray because it features his gorgeous photography but it's practical too. Gorgeous on a coffee table or bathroom vanity, this tray is sure to ease the winter gloominess and find a spot in any home. I also recommend Beaches by Gray Malin, a hardcover book with his aerial photography.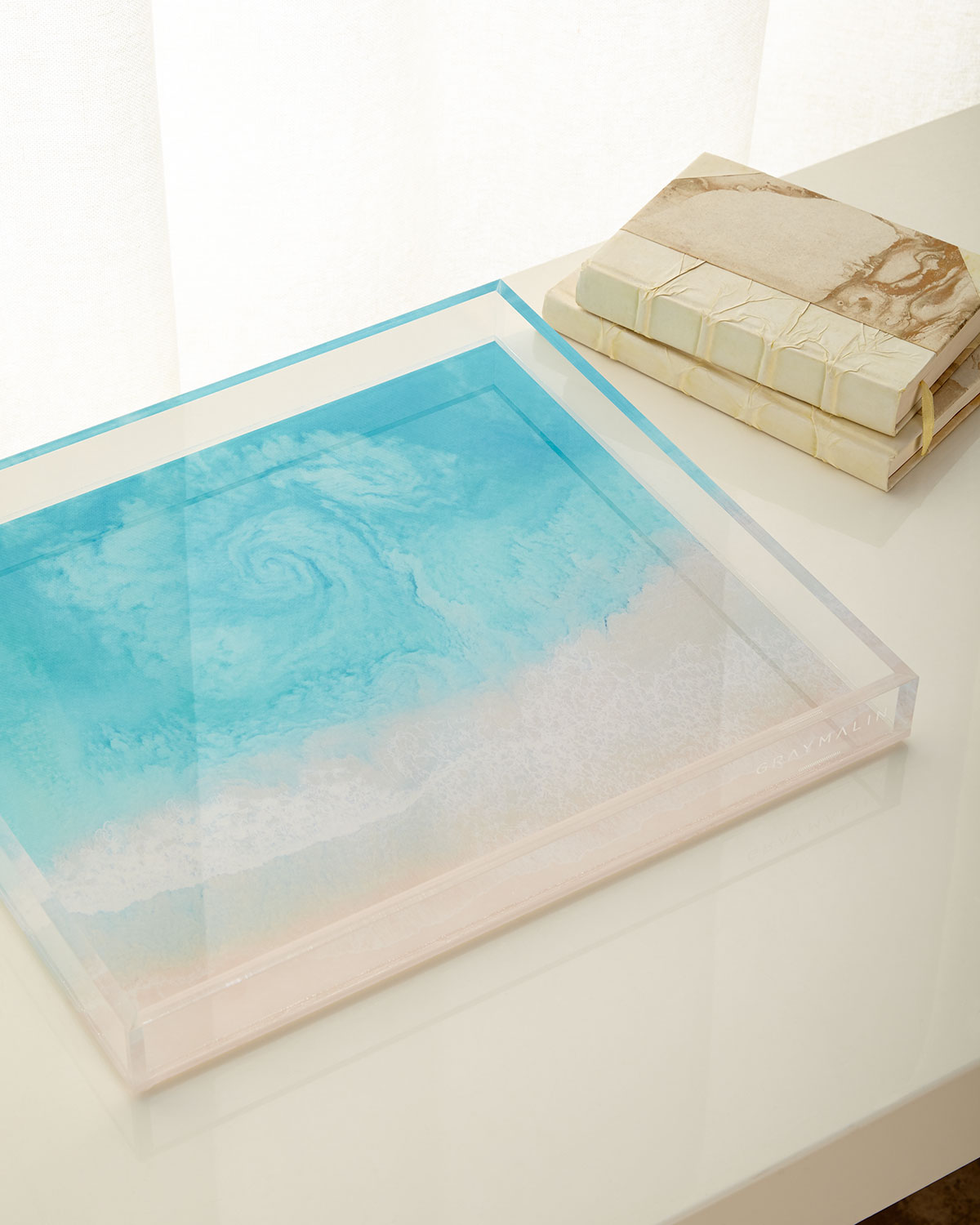 These carbonated foaming face masks are one of my silliest gift ideas for homebodies but they have been a huge hit because they bubble up to an epic foamy finish, which is fun for a spa night at home, but they're also great for skin. You could whip up your own DIY spa gift basket with a thrifted basket, some paper from your office shredder (keep it green), and beauty/skin care products like this foaming face mask, a jade roller, and a great moisturizer.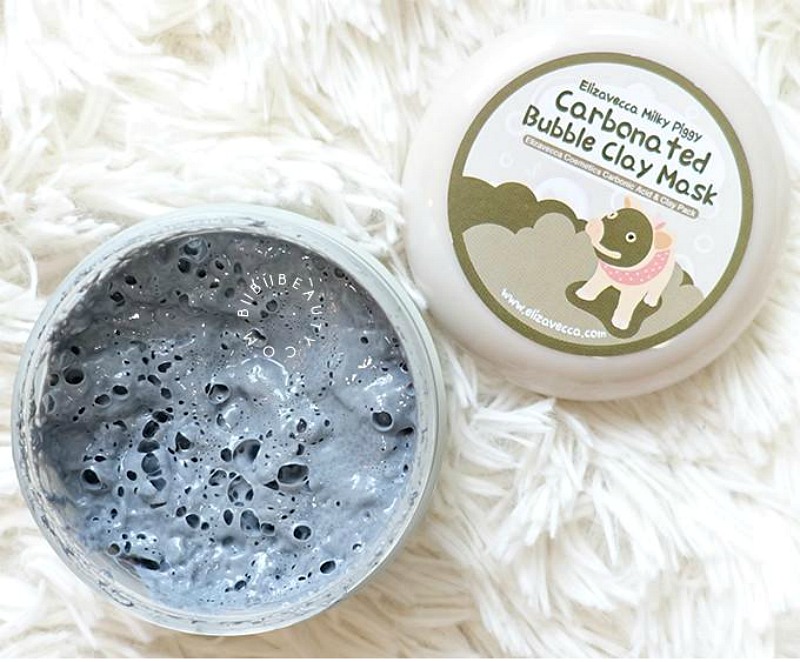 Walnut and Turquoise Storage Table
I haven't included a ton of home decor/accessories because I think it's super personal. A throw pillow, a tray, a throw – those are safe bets – but furniture can be a little iffy. However, this walnut topped side table with a storage basket is so cute and so easy to put anywhere. I keep the pupper's toys in a floor level basket so they know what's "theirs," but now I want this so I could stash a jar of treats and a box with their collars on top and keep it by the door. Or buy this for the knitter in your life, so their yarns are close at hand and they can top this with a gorgeous lamp to make nighttime knitting easier.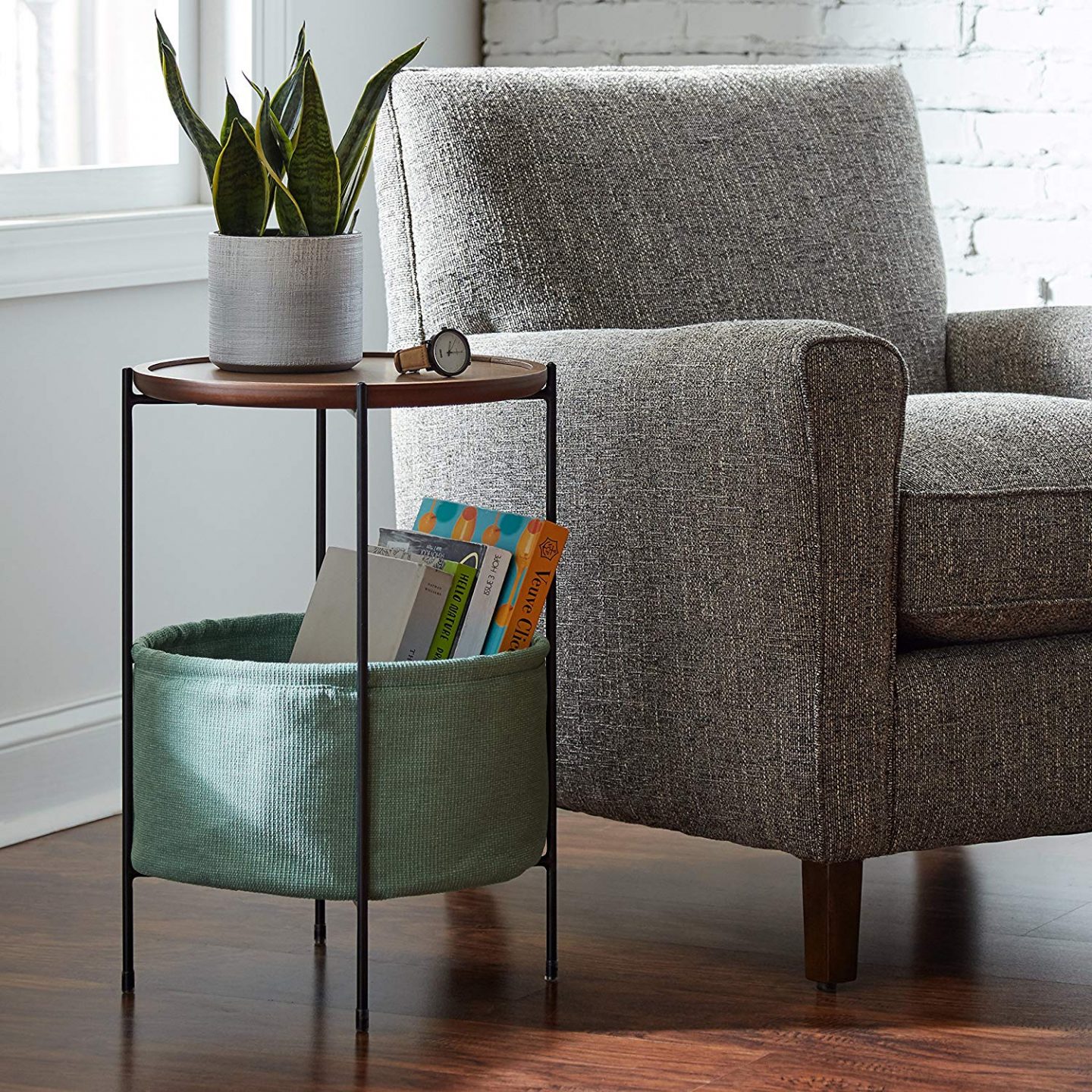 Wow – are the reviews ever phenomenal. If someone is going to log a lot of hours indoor, clean air is so key to health and happiness, so this might just be the healthiest of the gift ideas for homebodies. This air purifier removes 99.97% of dust, pollen, smoke, odor, mold spores, and pet dander – it actually filters particles as small as 0.3 microns. Plus the sleek white design looks modern and it's only $89.99.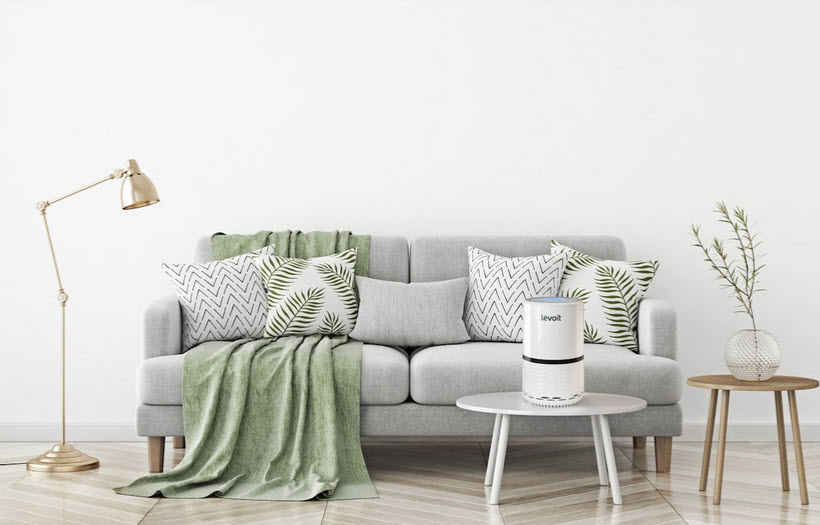 Do you have your own gift ideas for homebodies? Let me know in the comments! Happy shopping.