I'm so excited that I can finally share my modern cabin bunkie bathroom renovation, which is sponsored by Lowe's Canada! I'll talk a little bit about the renovation process and my design choices, but first let me show you the transformation: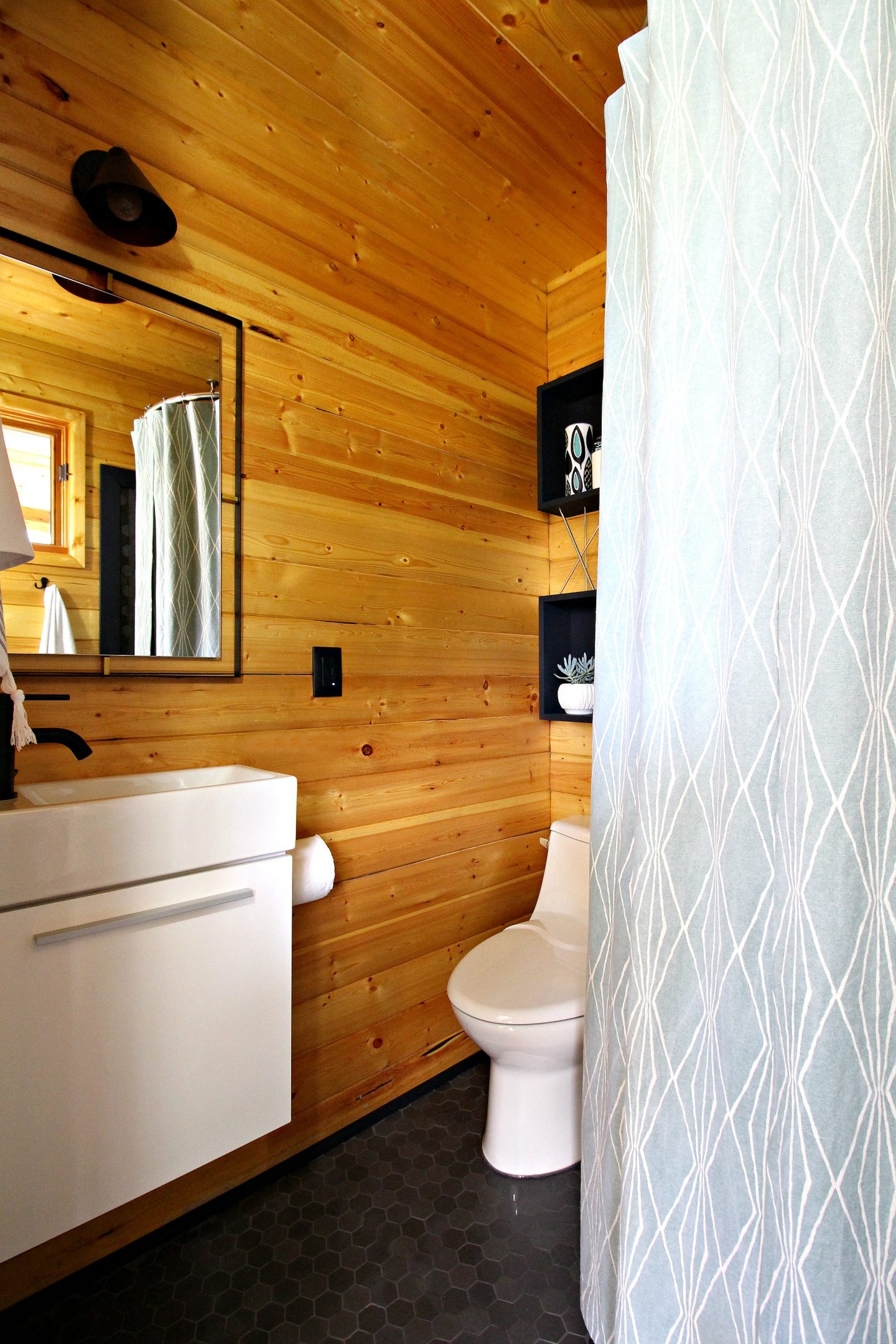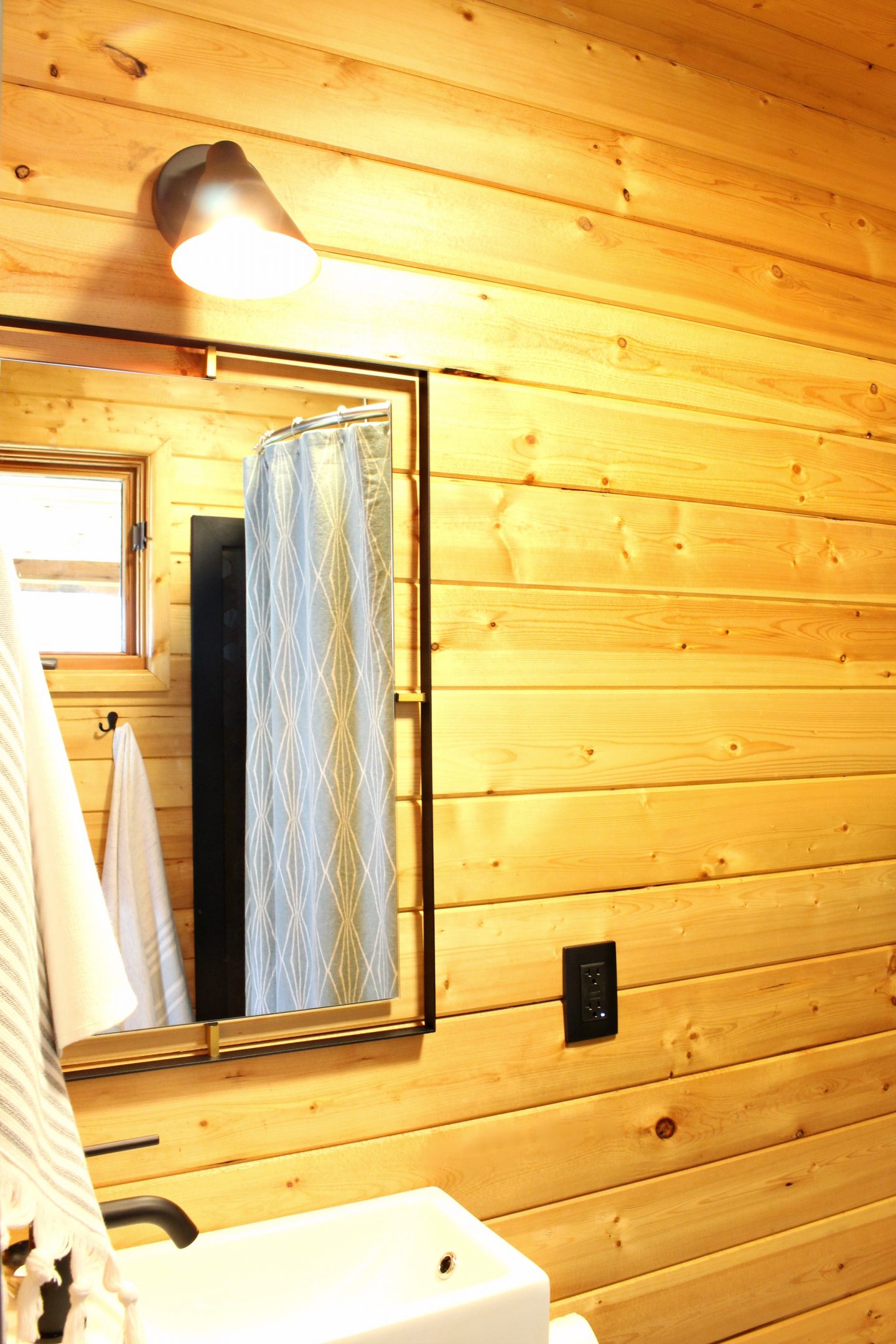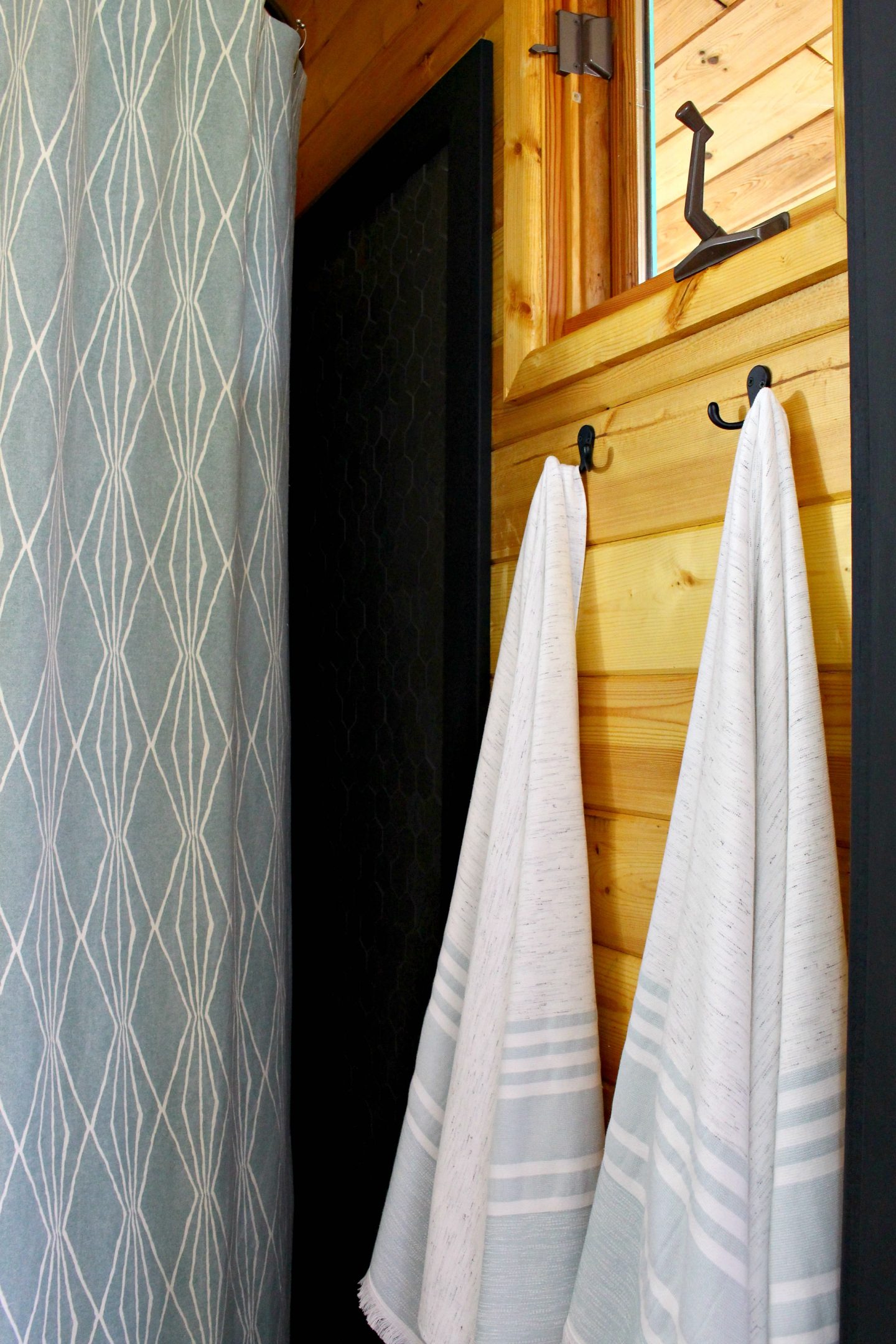 My modern cabin bunkie bathroom renovation came together so beautifully, with just the right amount of cozy and quirky! You might remember this little sneak peek I shared (you can click here to get the look, if you don't have access to a Lowe's where you live):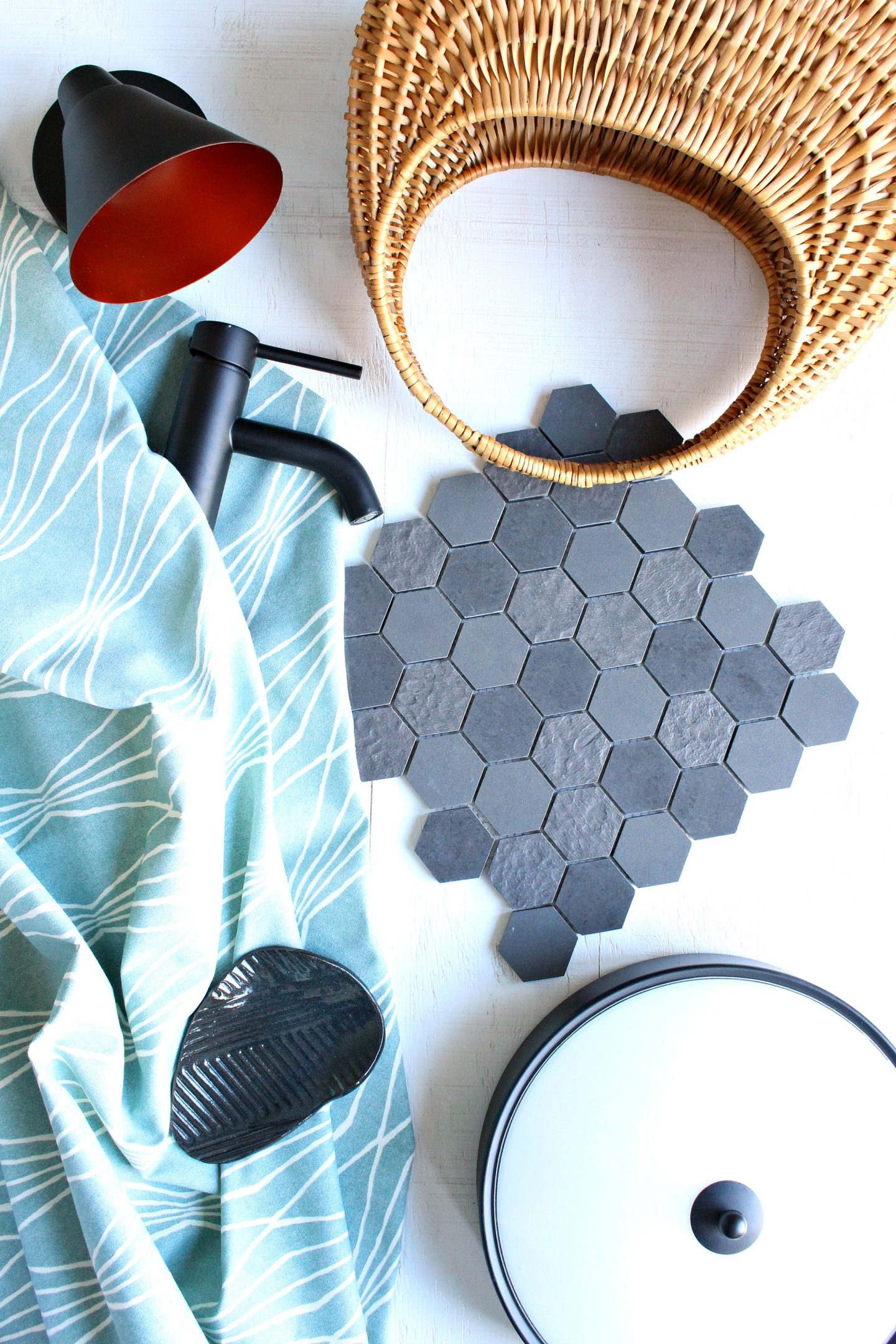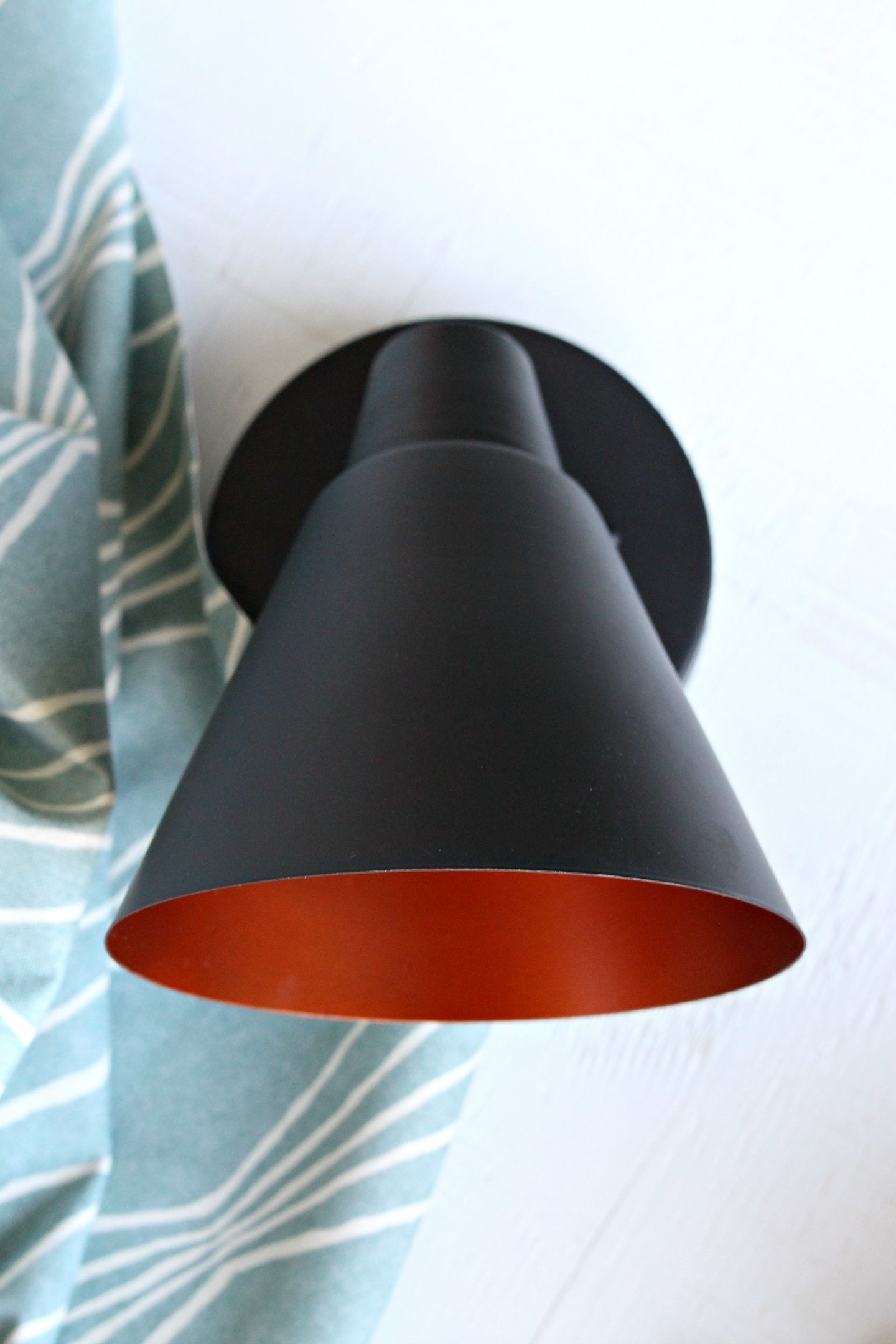 The Before
Although we kept the original pine paneling, the rest of the room has been completely renovated! When I shared my plans for this space, I mentioned that the leaking shower had caused so much damage that the sub floor was dangerously squishy underfoot. Although this damage definitely bumped the bunkie bathroom up on the long list of rooms we need to renovate, the annoying layout might have pushed us to renovate anyway! The door to the room swung in and hit the shower (and therefore couldn't open all the way). Then, when you emerged from the shower, the shower door hit the vanity (and therefore couldn't open all the way), which made exiting from the shower really difficult. All in all, this bathroom was really irritating to use and it was starting to show its age. I wanted it to be a fun – not frustrating! – place for guests.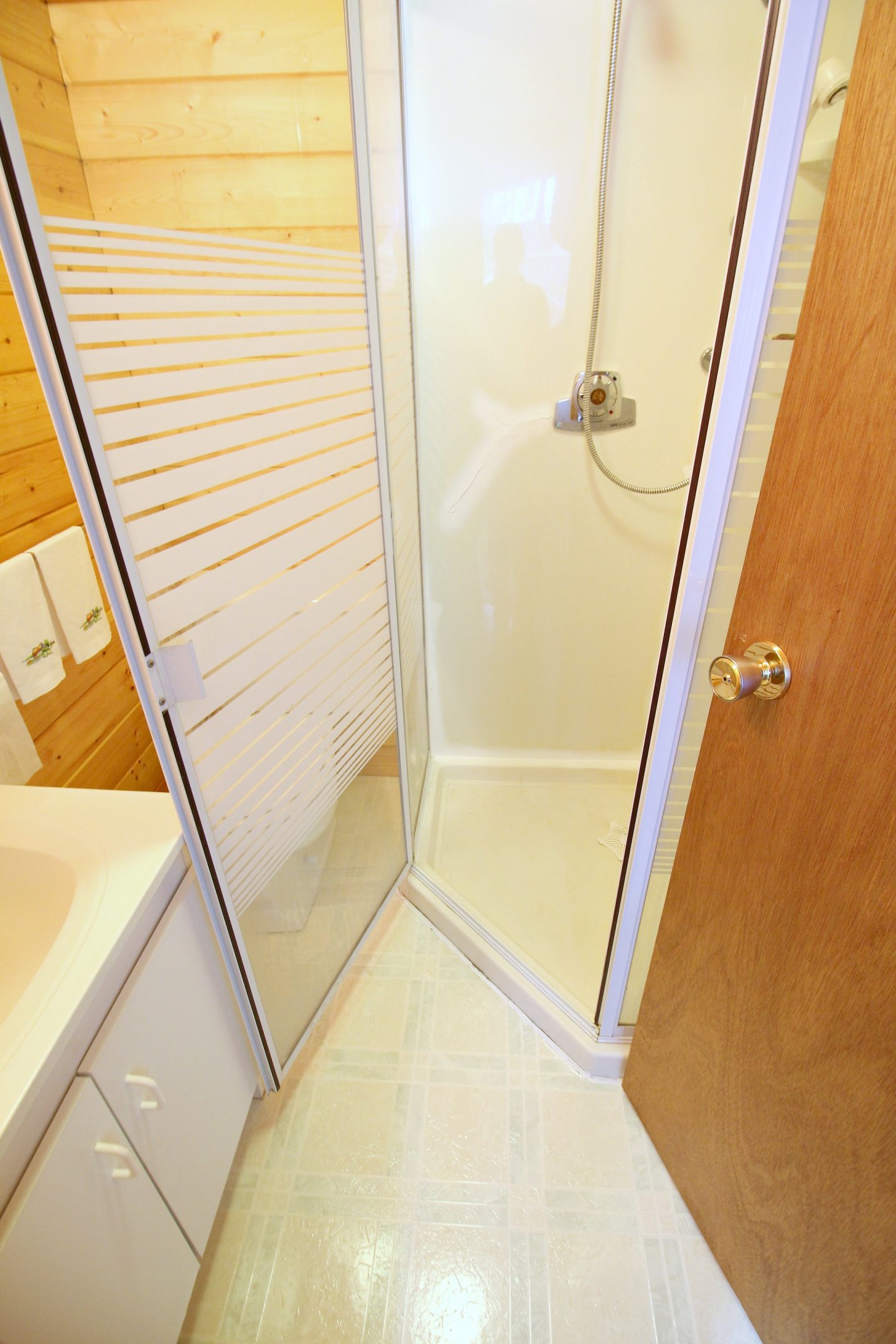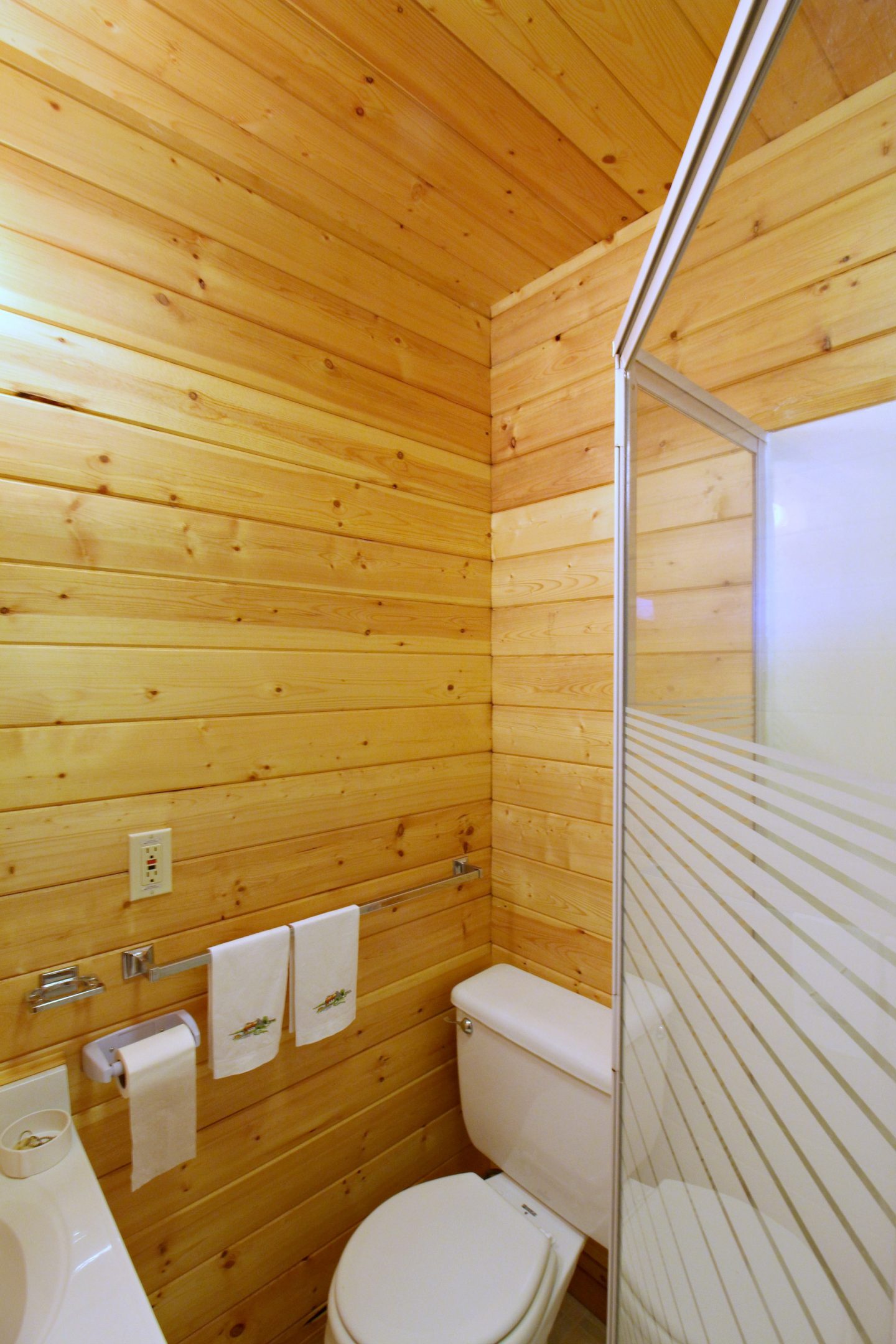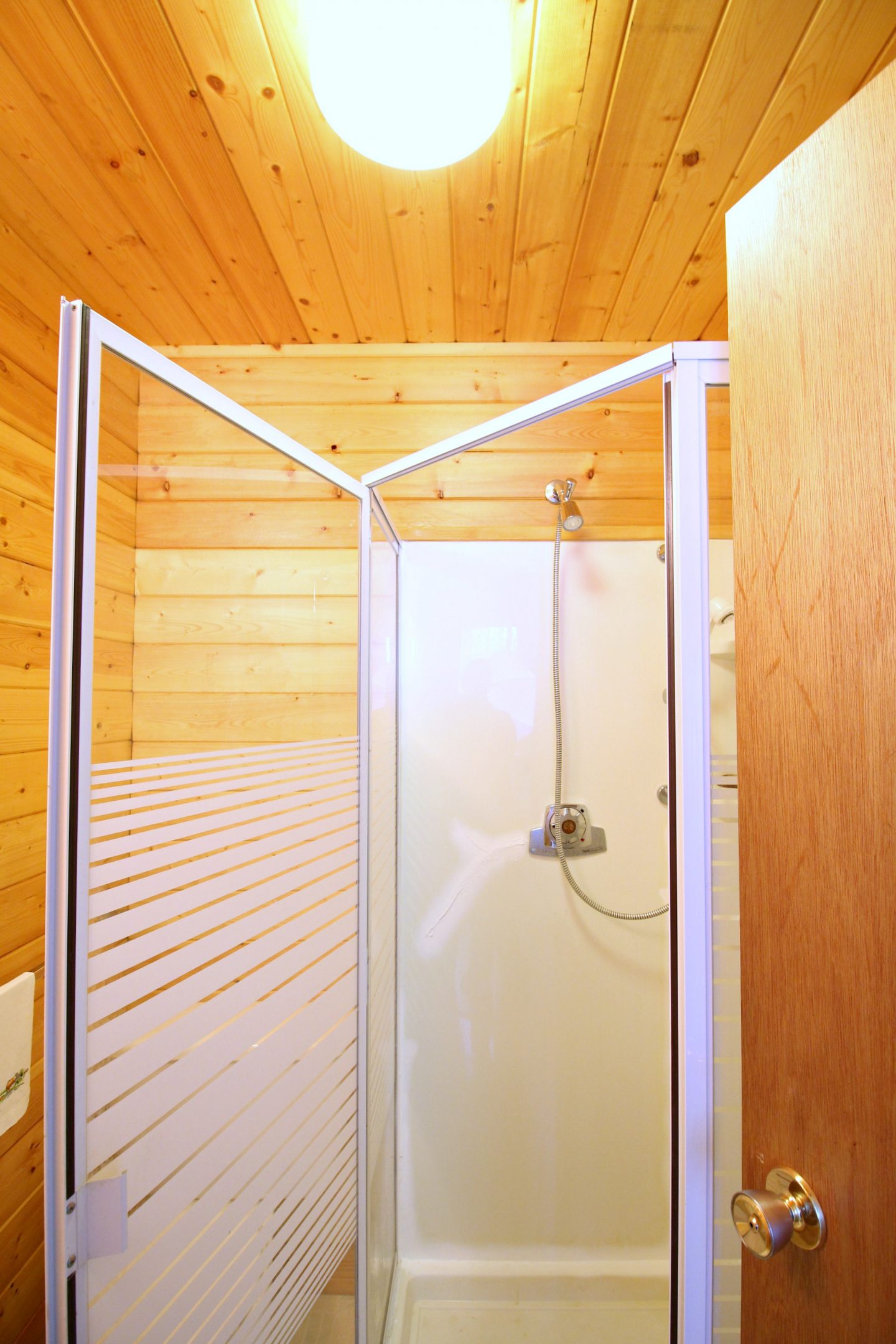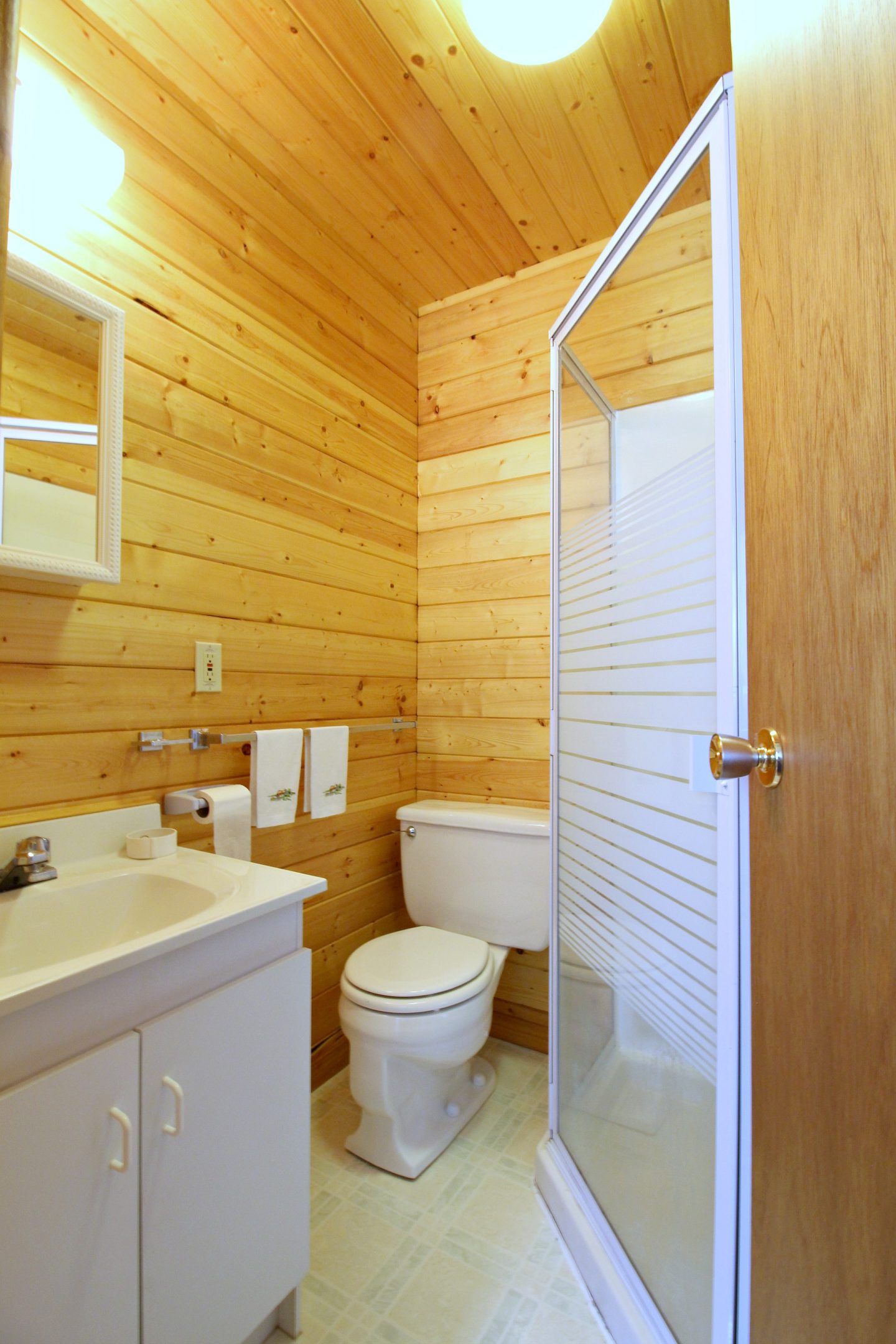 The Progress:
This project is really all about the before/after, but I did snap a few photos of the progress. I opted to keep the natural pine walls because they create a cozy cabin vibe. At first I thought about replacing the corner shower with a brand new version (but with a round door that slides – like this one). I even bought one, dragged it home, then changed my mind and returned it! They're actually surprisingly expensive (I paid around $600-700 on sale) and I just wanted to do something more fun. So I decided to carry the hex floor tile up the walls where the old shower had been, and then use a stock tank as a mini tub/shower, with a ceiling mounted shower curtain rod and rainfall shower head. But first we had to remove everything and then replace the subfloor and soaked drywall. We installed CertainTeed Mold Resistant Drywall where the shower had been.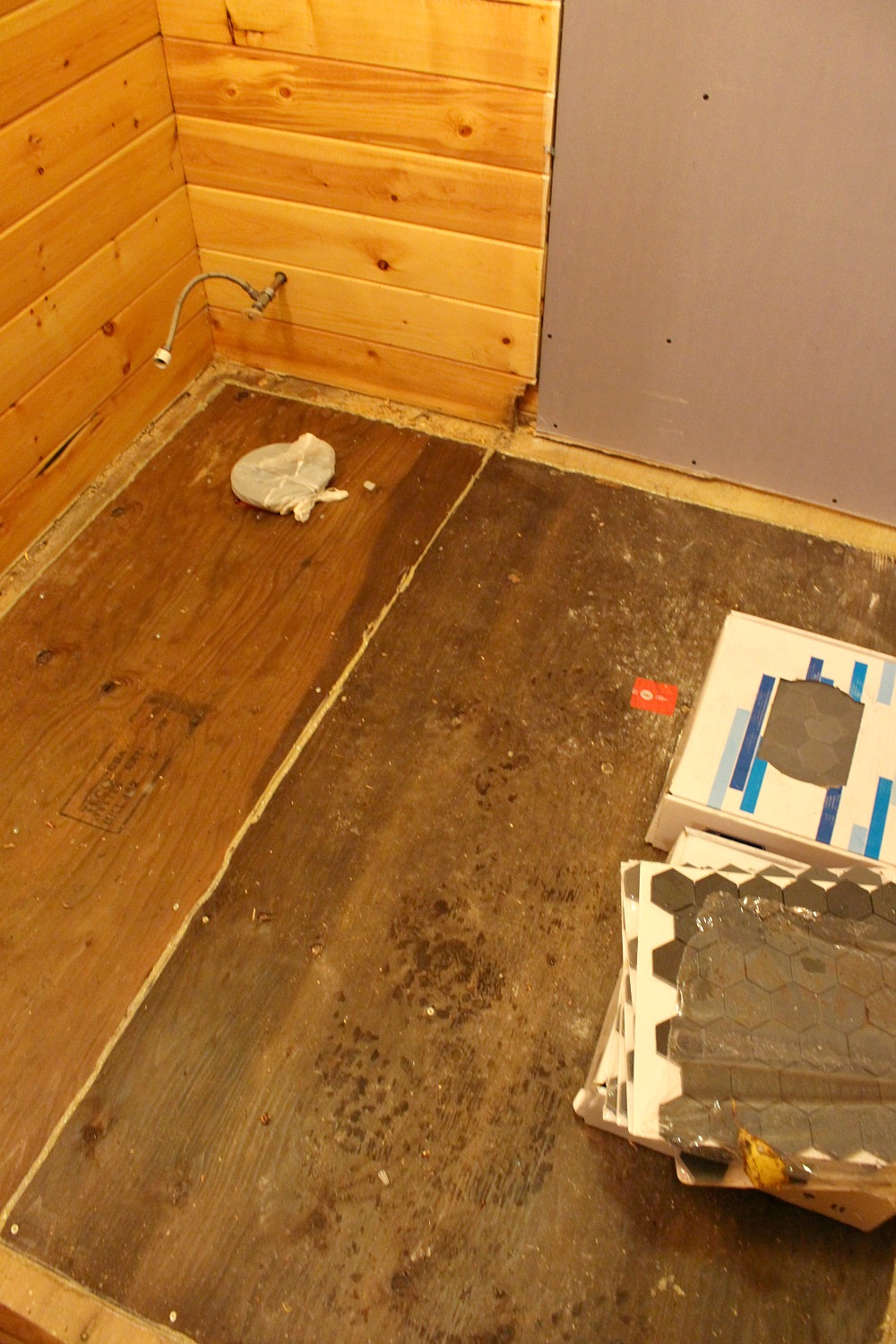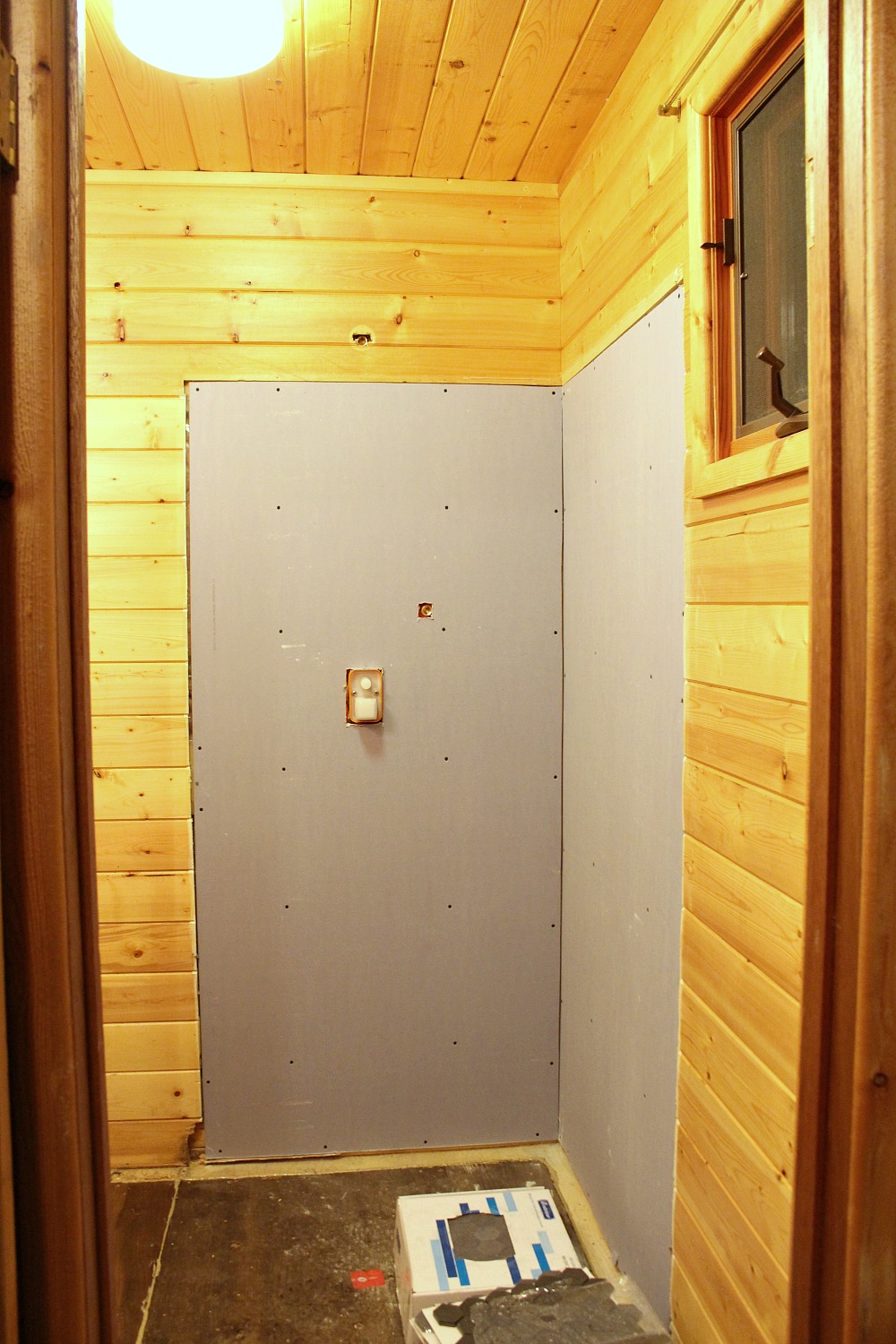 Neither Hubby nor I like tiling, and this was a LOT of tiling! We installed the hex tile on the floor over the Schluter Systems Ditra Membrane, which helps eliminate cracks in tiles surfaces, and then we installed the tile up the walls where the shower had been.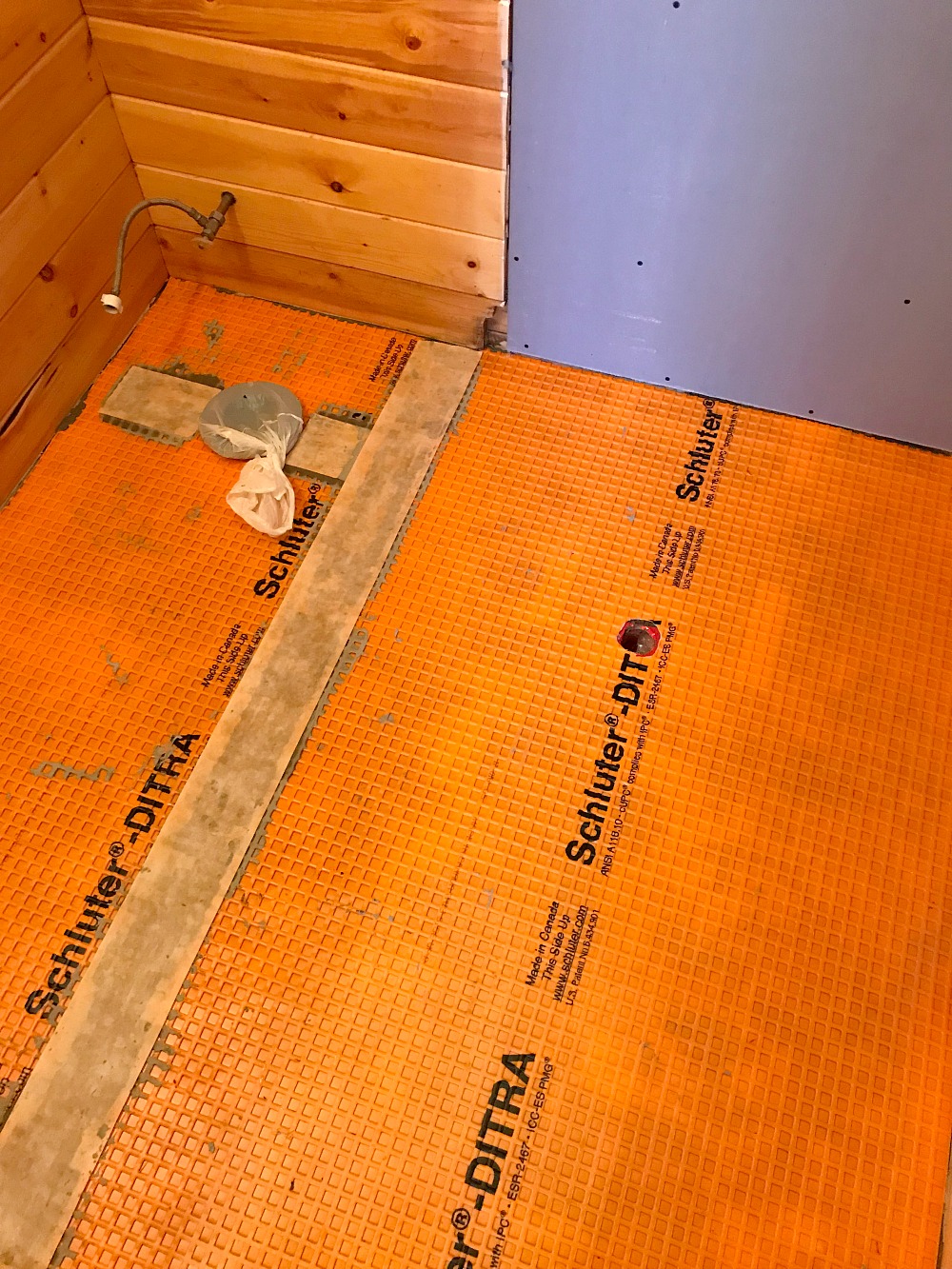 It's a great way to disguise the fact that there was no paneling there, plus it protects against future water damage. I would ordinarily use some kind of Schluter metal edging for tile, but the ends of the pine were cut too roughly to be hidden by metal edging. To hide the seam, I used a 3-inch window casing trim, which I affixed with construction adhesive to hide the seam and an air nailer (into the wood, only). I patched and painted the trim with Valspar's Exterior Paint and Primer in the colour Cracked Pepper. I used exterior paint so it holds up to water and humidity better.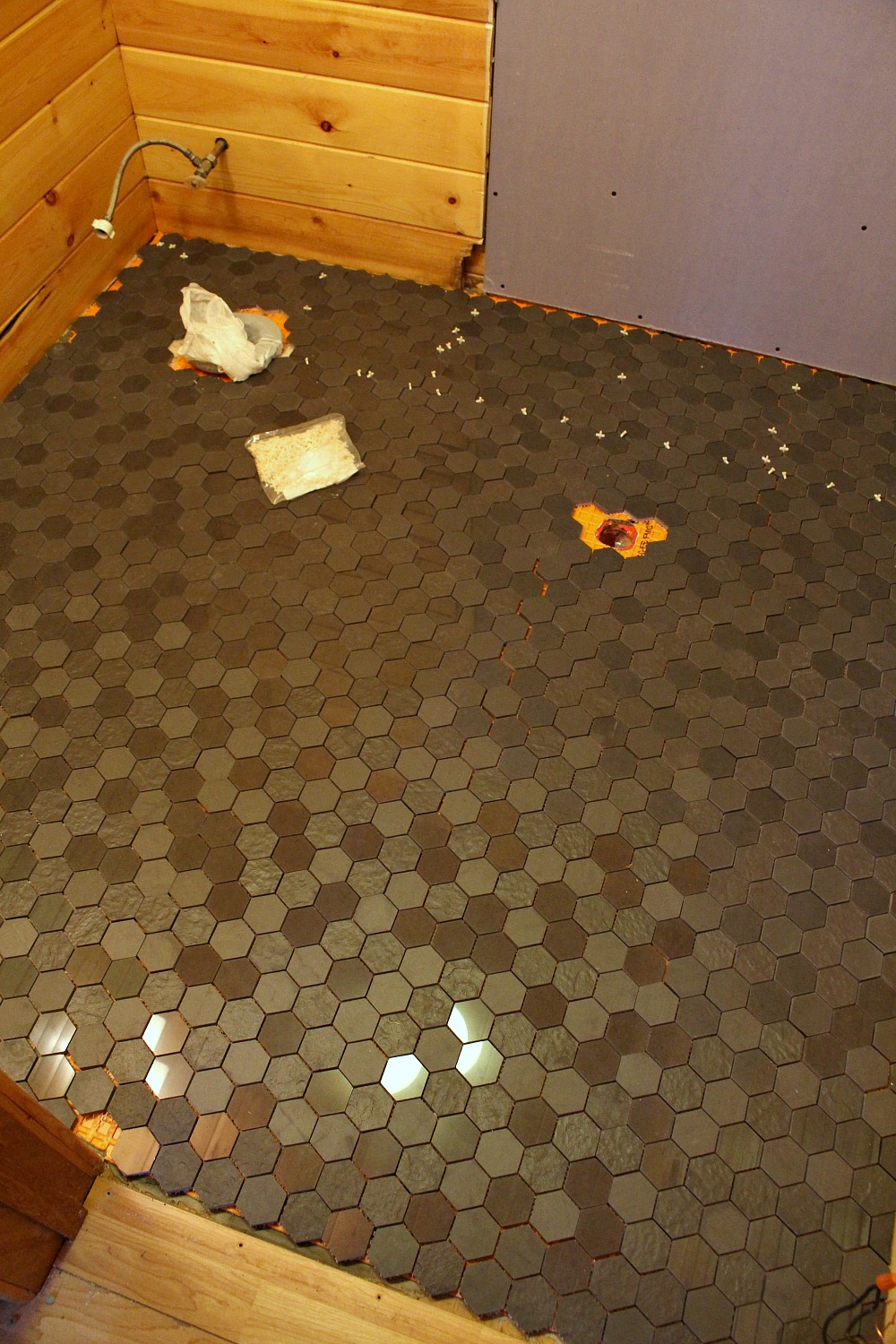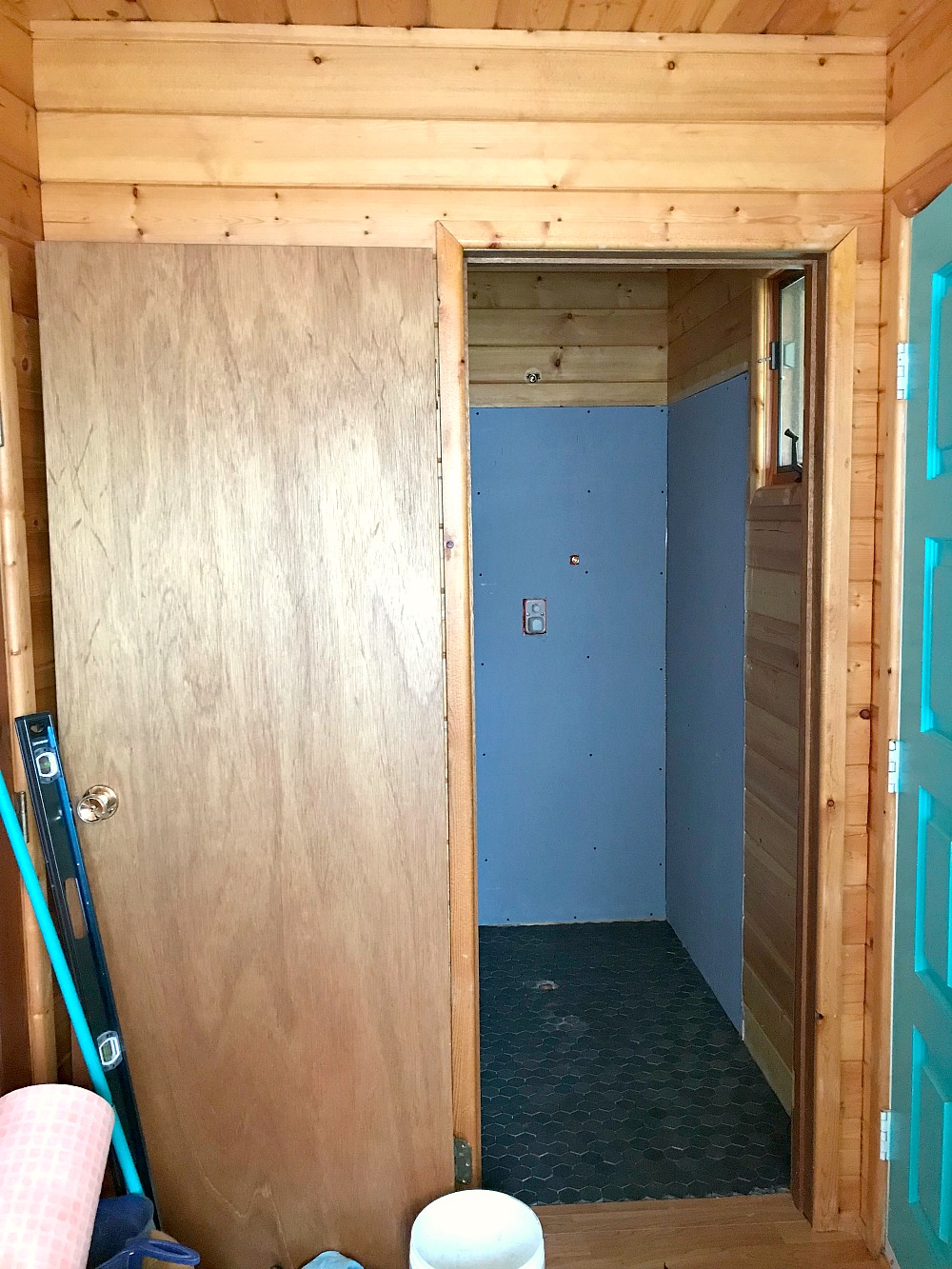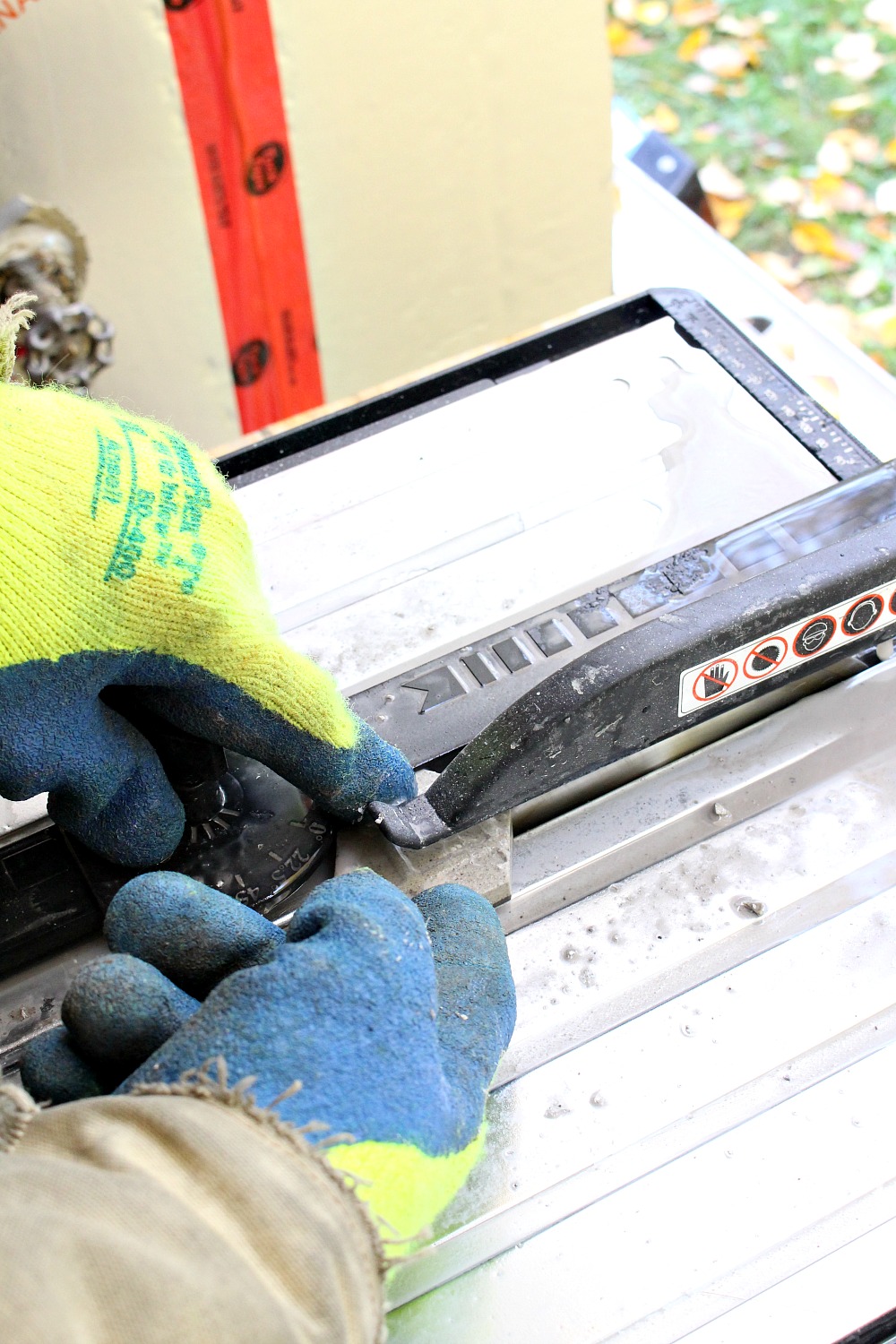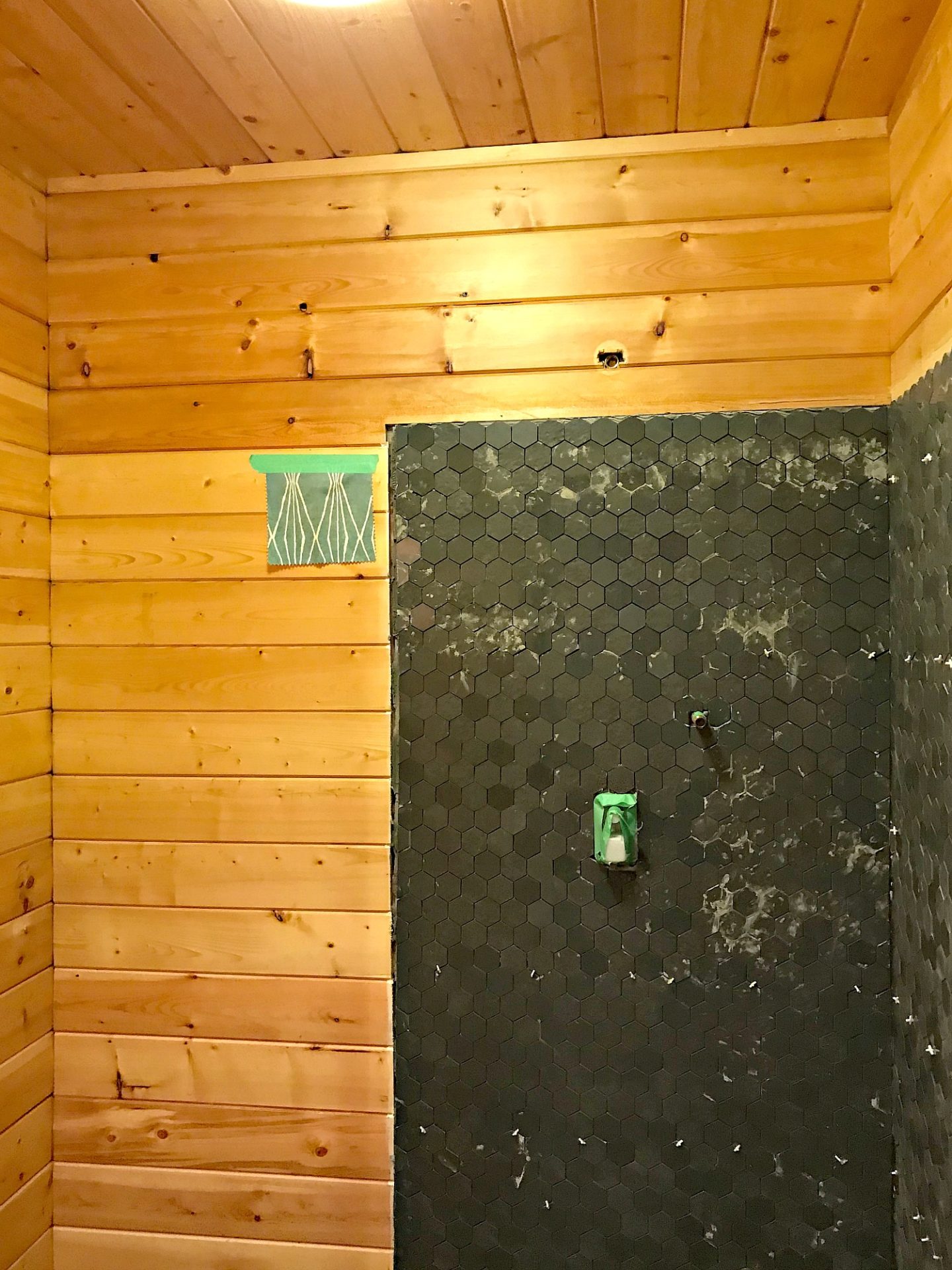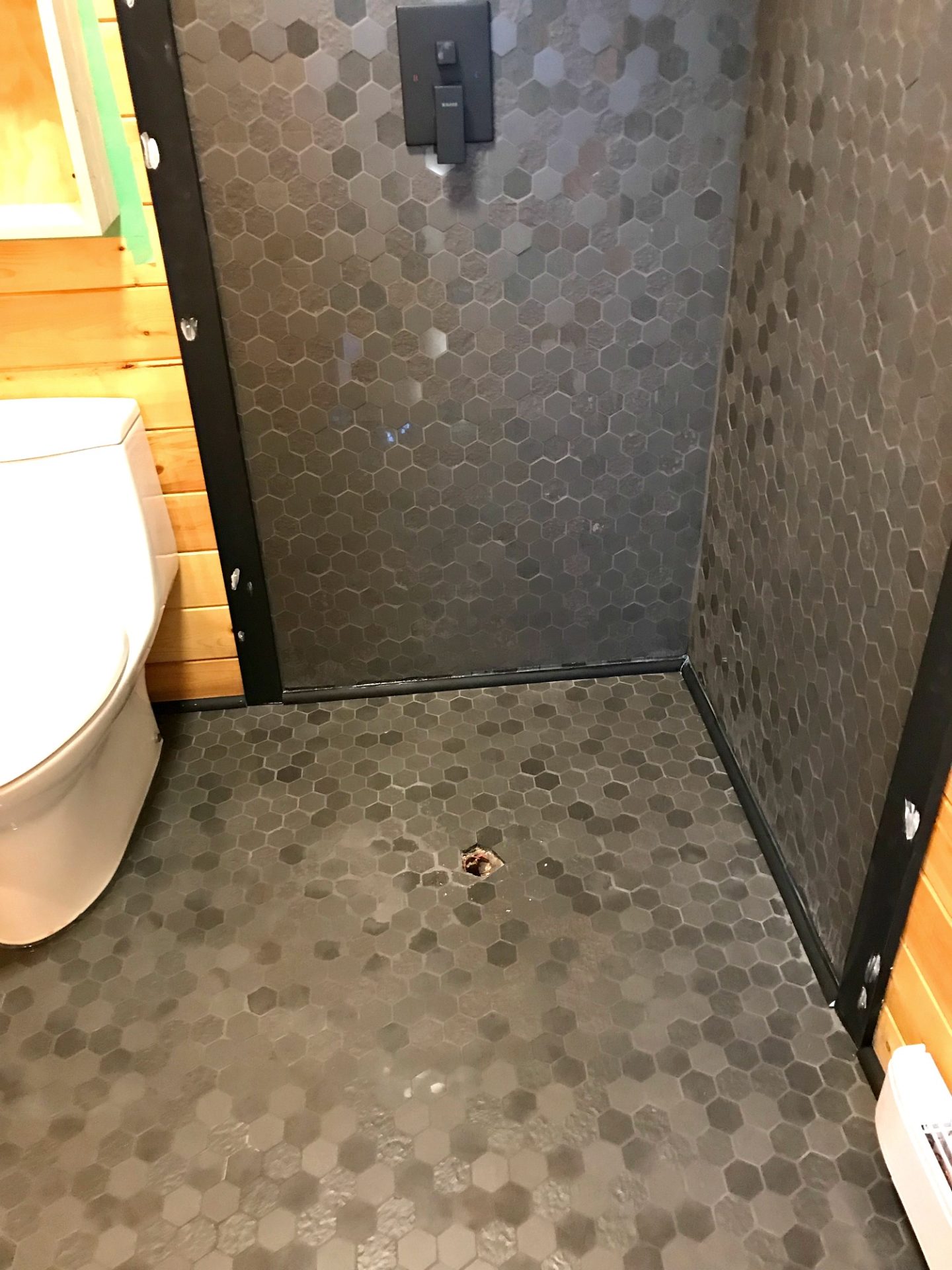 With the tiling and trim done, we installed a super narrow vanity, brand new skirted toilet (which is easier to clean around!), and matte black rainfall shower. We also made little storage cubbies above the toilet, which I also painted black. Finally, we installed the stock tank shower (which you can read all about here). We did that almost last because, in such tight quarters, it was easier to complete the other parts of the room without it in the way.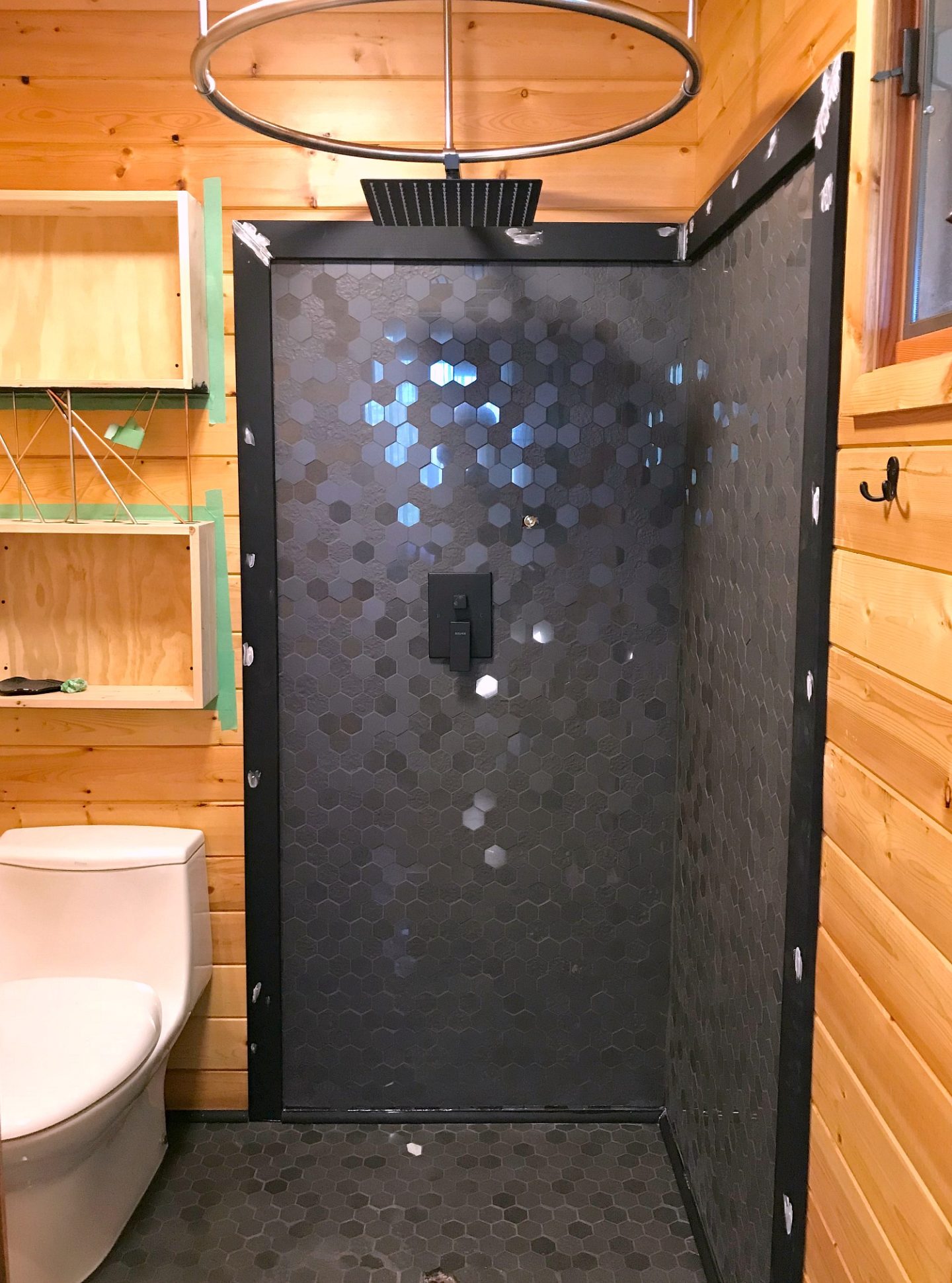 I used a Galvanized Round Ultra 105 stock tank from Tartar USA (it's 3 feet by 2 feet) for my stock tank shower. I visited a lot of farm supply stores to pick the perfect stock tank because some are too rough or sharp for this application. If you decide to try this idea, I recommend tracking down this particular stock tank because there are no sharp edges. I liked this idea because it keeps the water in and, in a pinch, it could act as a tub (for kiddos or for handwashing/soaking some laundry or swim suits). Living on the lake, guests get a little sandy that's for sure!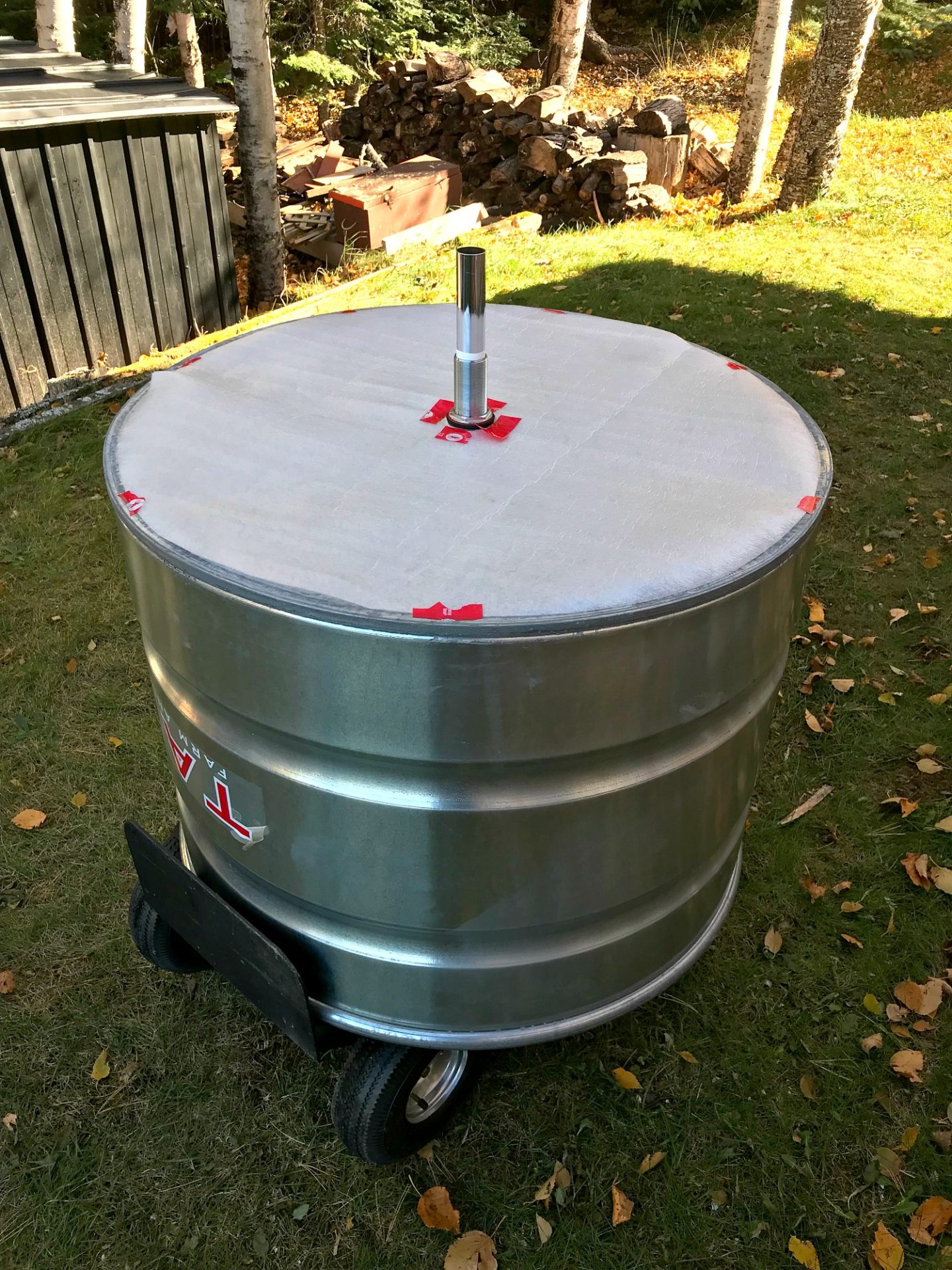 I also hacked the old swinging door into a sliding barn door with modern barn door hardware. I trimmed out the door and added pocket door hardware to hide where the hole for the door knob was. I also patched the indents for the old latch and hinges, and then painted the inside of the door frame black to hide my patch job. Converting the swinging door to a barn door saved SO much space – now there are NO swinging doors in the bathroom.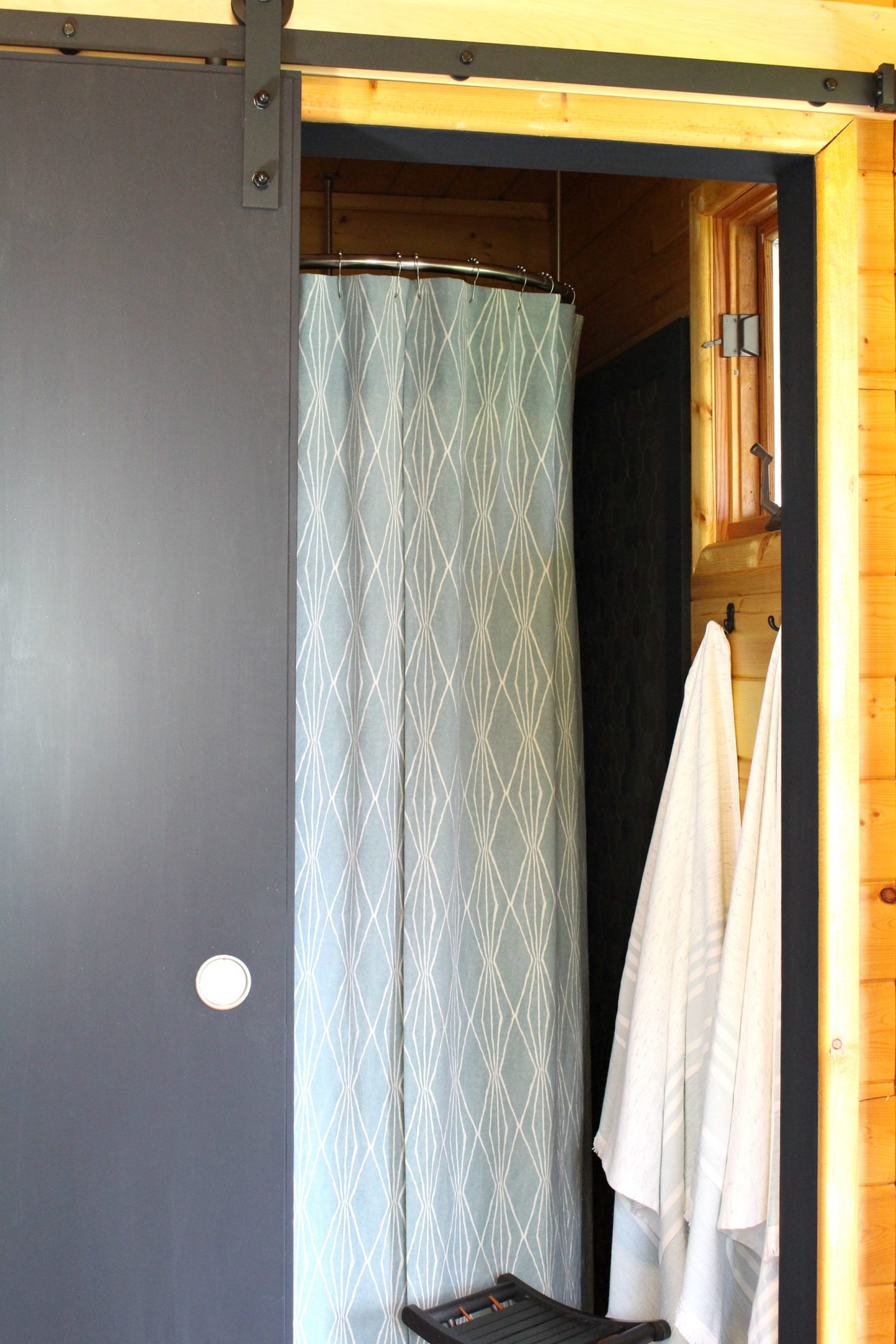 The After:
I hope guests love the quirky, cozy, and fun modern cabin bunkie bathroom renovation. The new, much more narrow vanity and the stock tank shower with a curtain (good bye swinging doors!) makes it so much easier to move around in this tiny bathroom. Plus the sliding barn door frees up a lot of floor space too. The pine walls keep the cozy cabin vibes, which are complemented by the natural feel of the charcoal tile (which looks like slate) and contrasted by the modern details.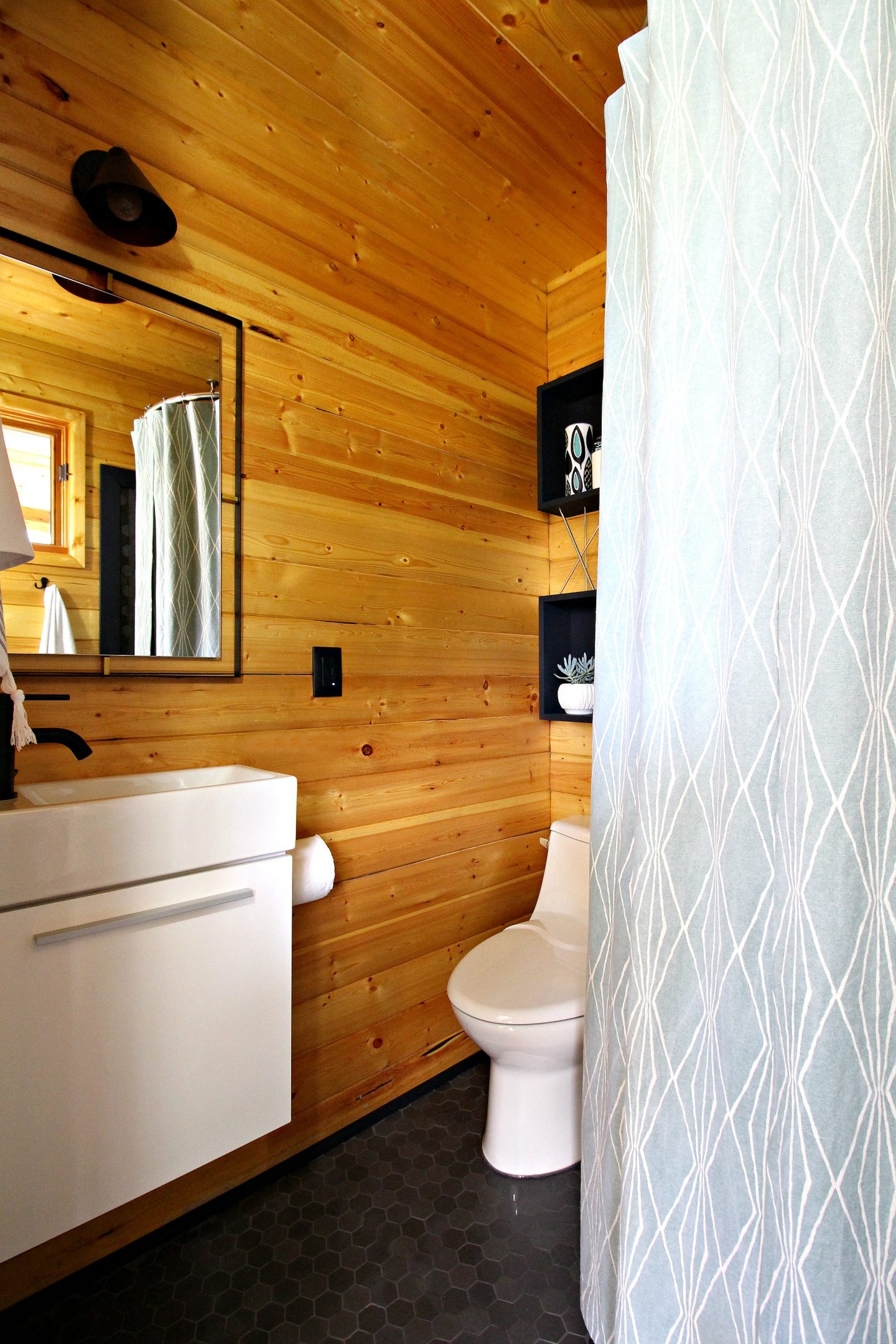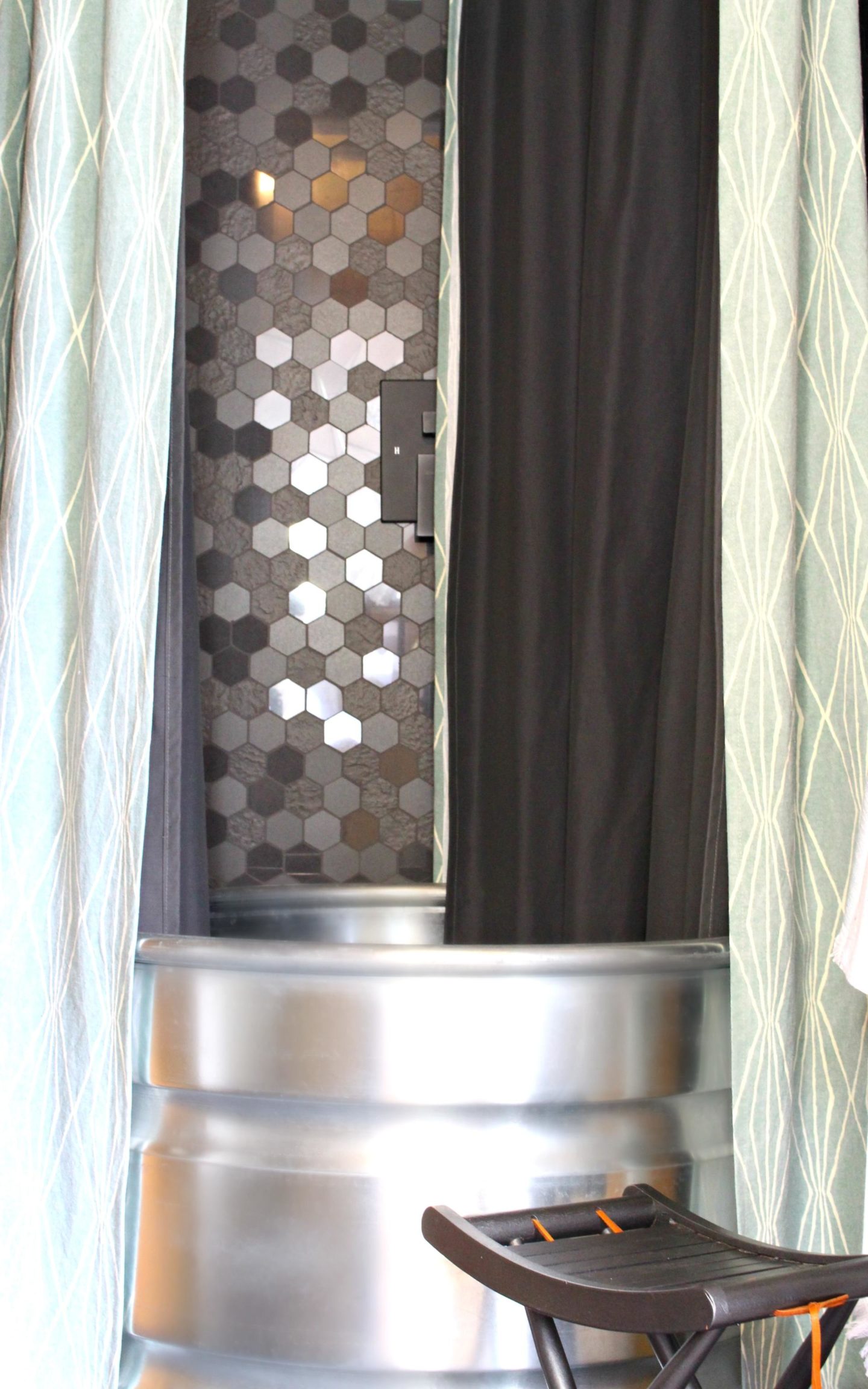 The charcoal grey hex tile was the driving force behind this design because I loved the different textures and color. It defined my other choices and my penchant for choosing matte black fixtures and decor for the space. I think the black is a great way to modernize the pine walls.
I wanted to keep the color palette very restrained: black, white, soft watery blue, and the natural pine wood. I did, however, mix and match metals, using silvers, copper, brass – which are tied together in the mod storage cubby we built for above the toilet.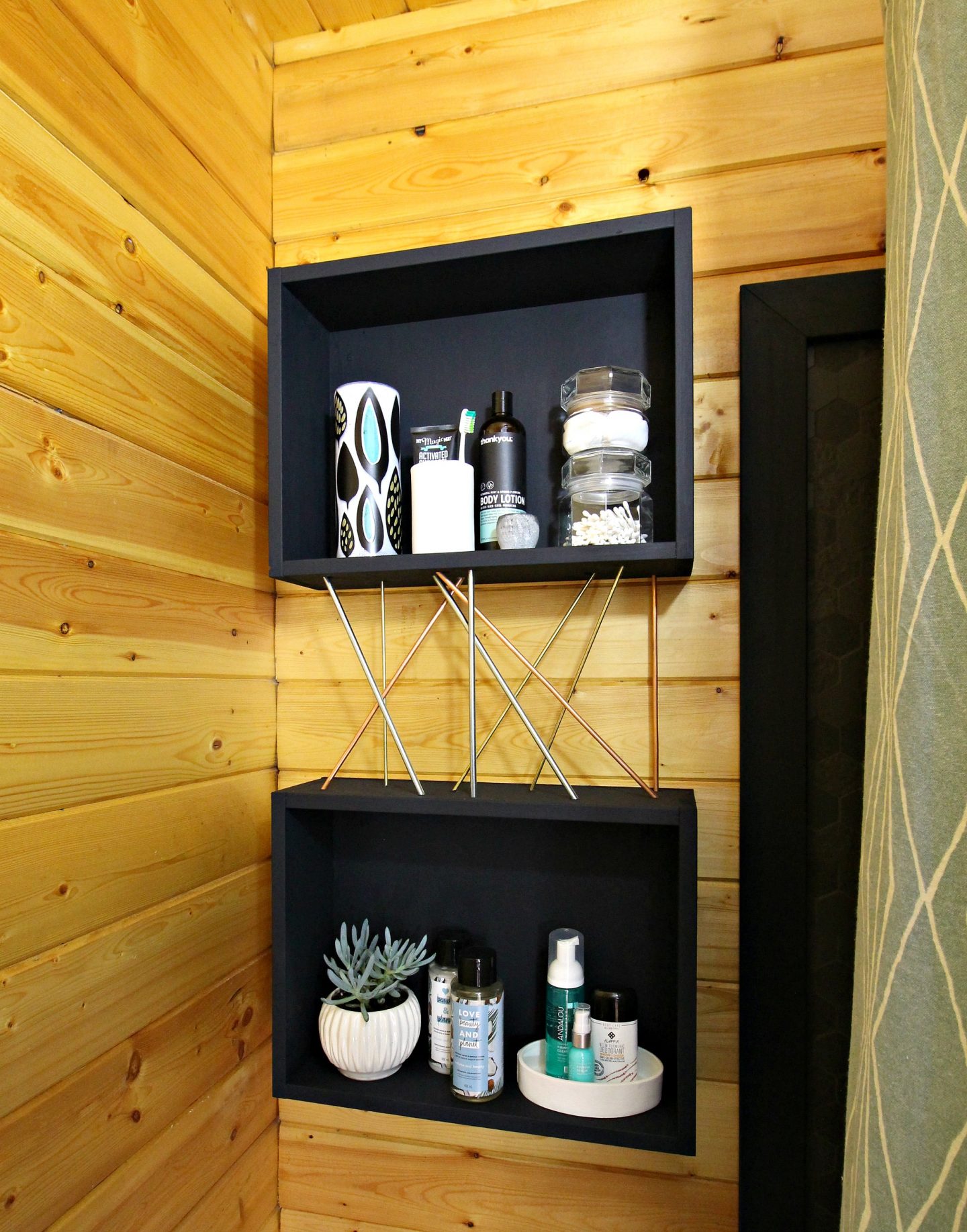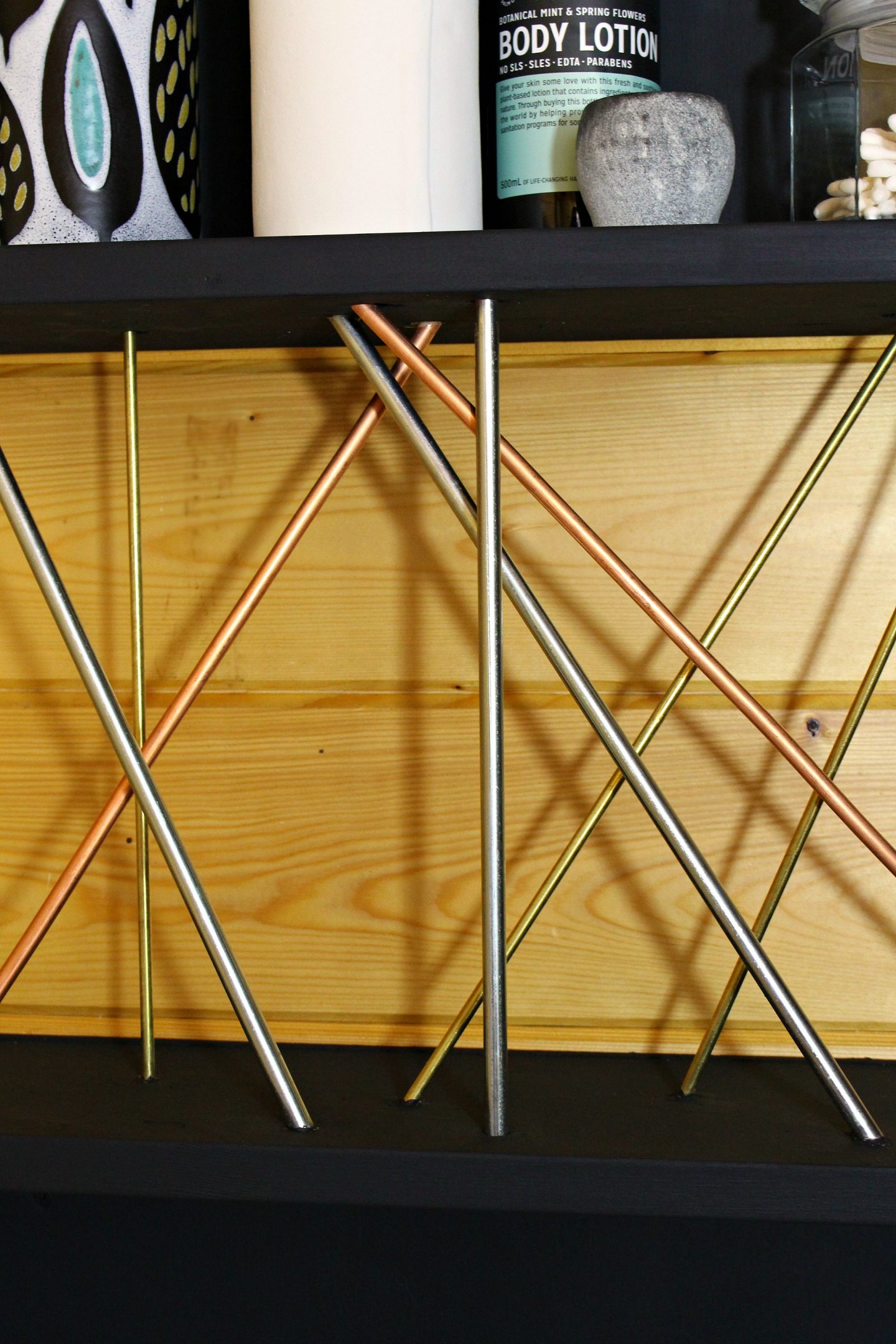 I tried to keep clutter to a minimum and keep it practical: hooks for towels and robes, a storage cubby for little toiletries, a little stool to lay toiletries kits or a pile of folded clothes.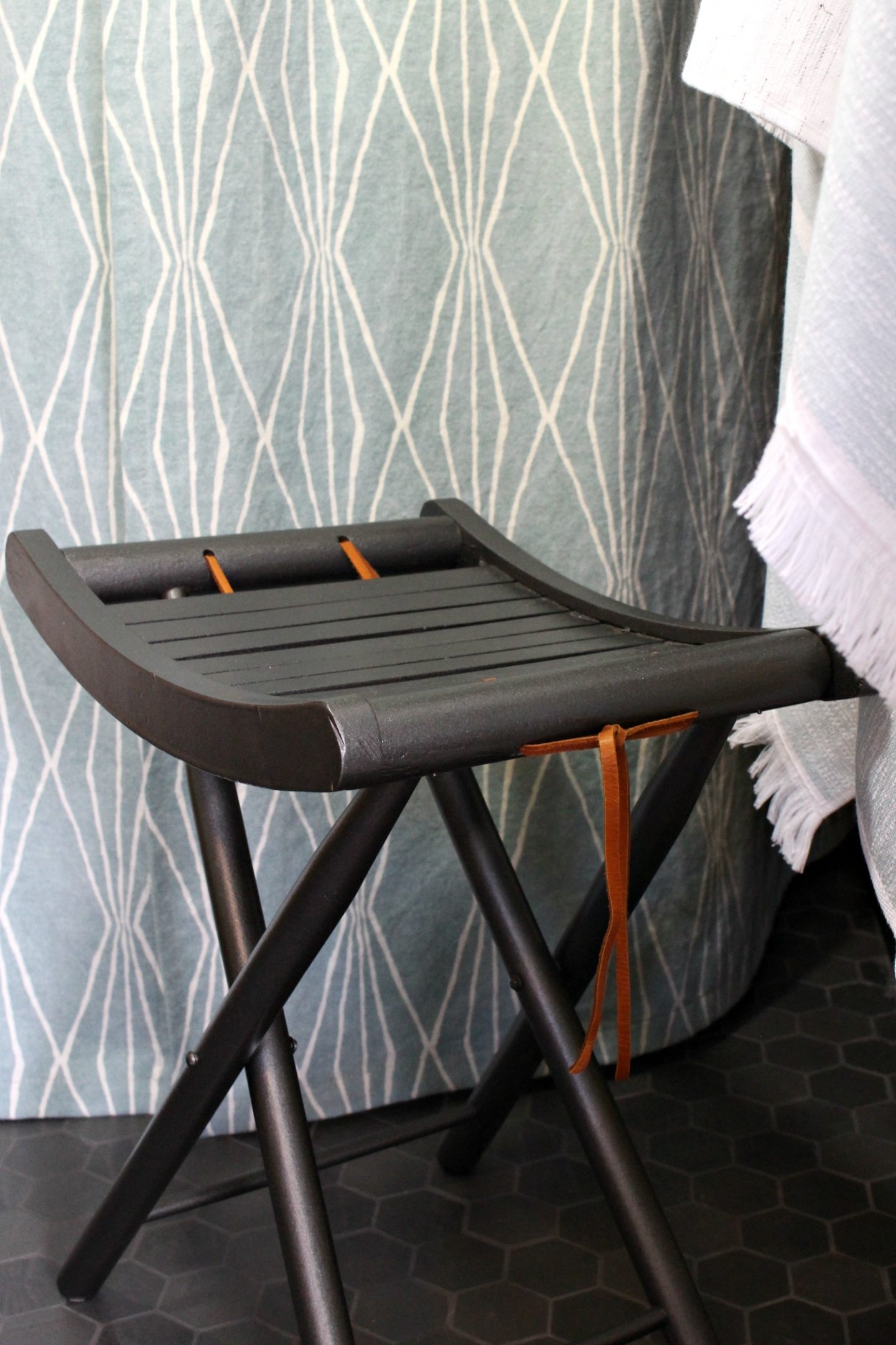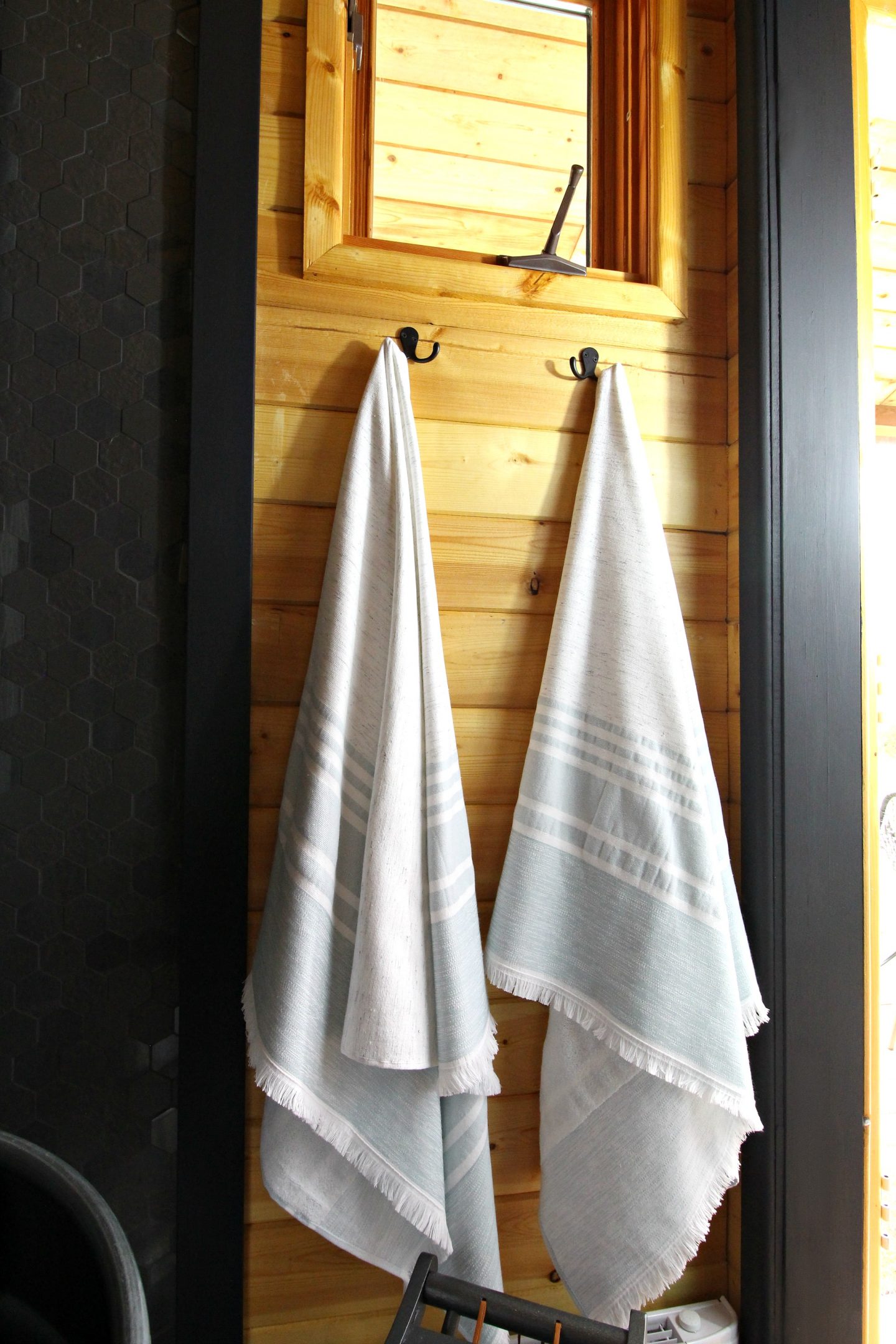 In the otherwise neutral space, the watery blue is a welcome addition and is the color of the lake – just outside this bunkie.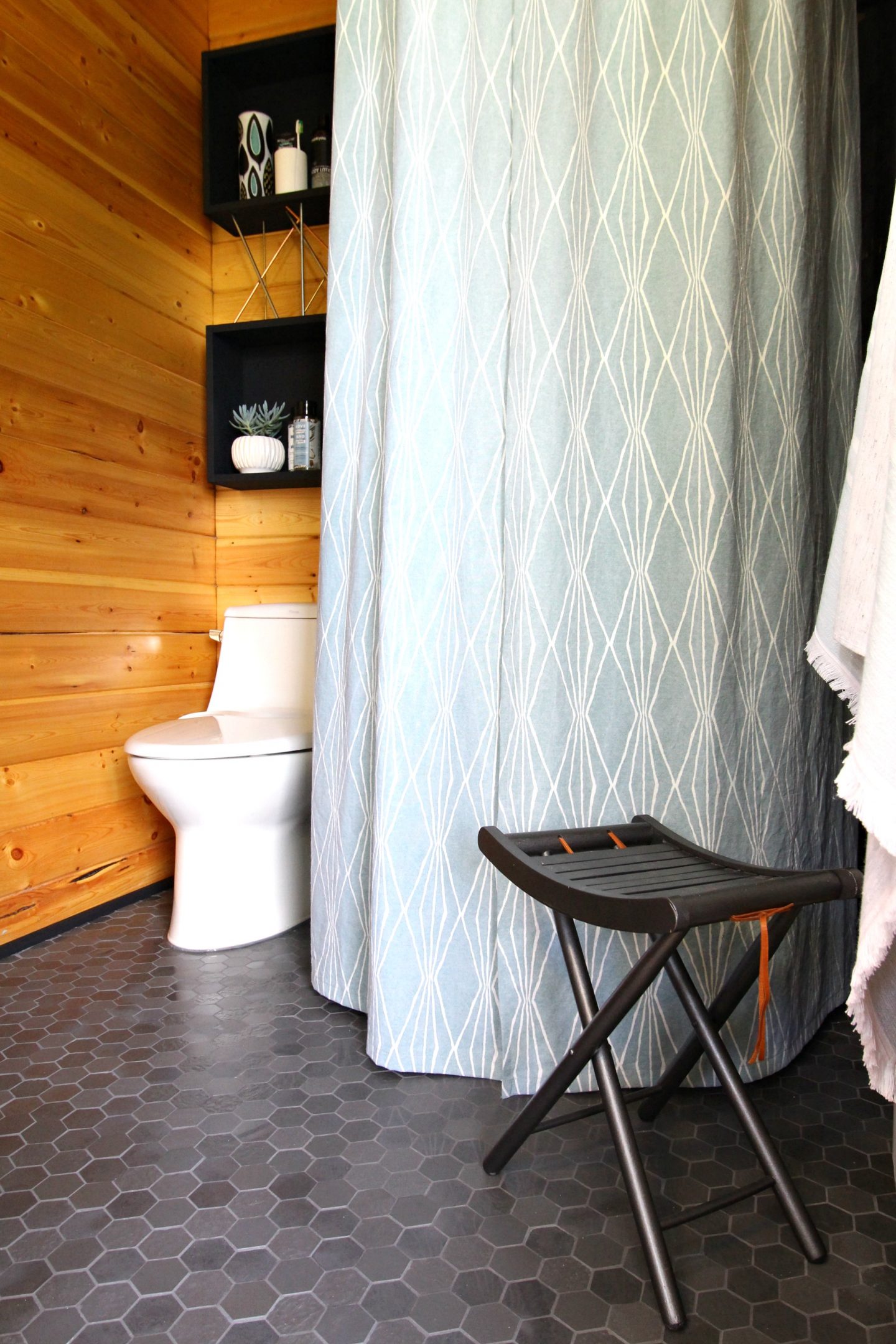 The toilet from Pfister is beautiful and I loved the skirted design – so much easier to clean, a bonus in a small space like this!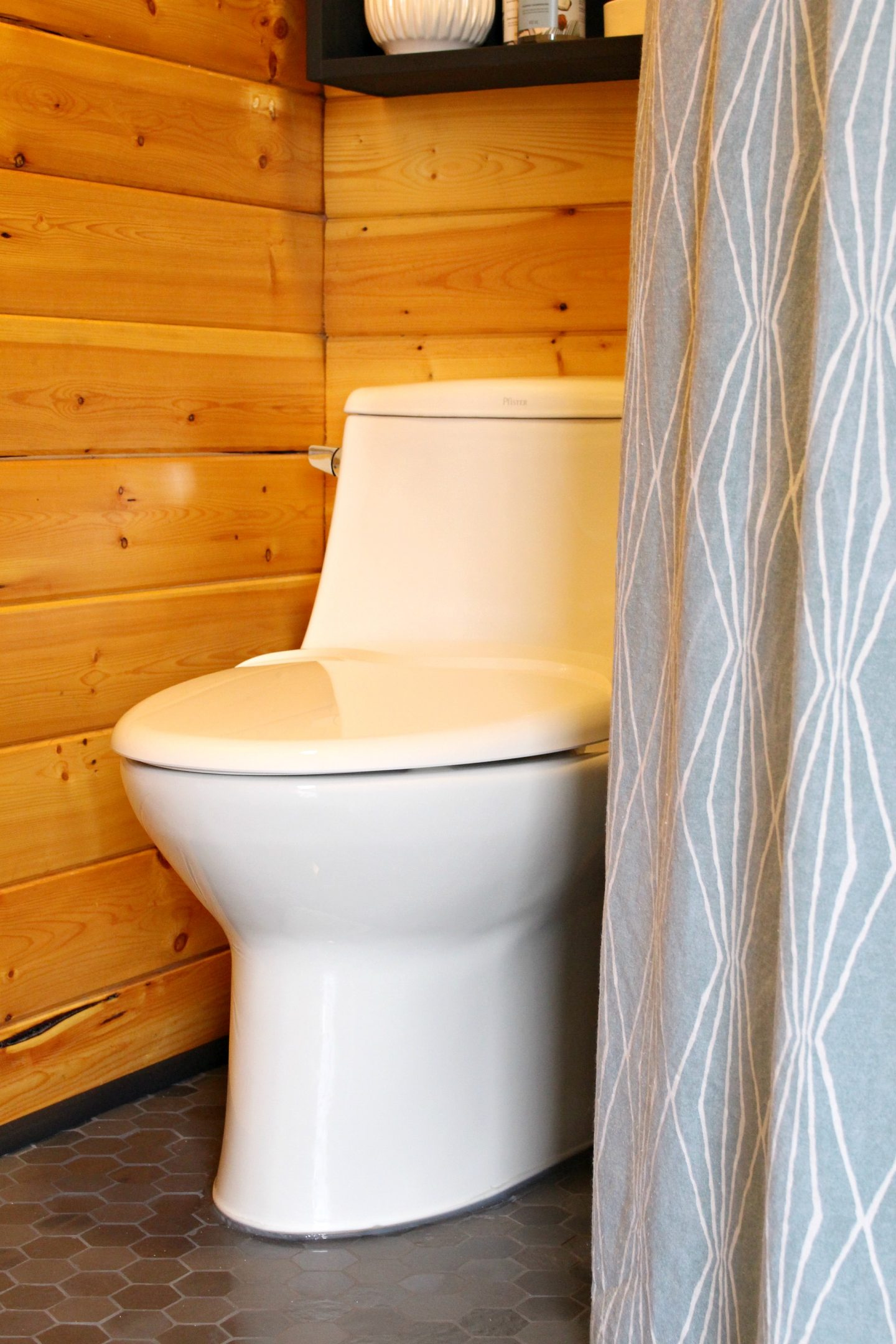 Check out my post on the Lowe's Canada website to read more about the progress of this modern cabin bunkie bath renovation.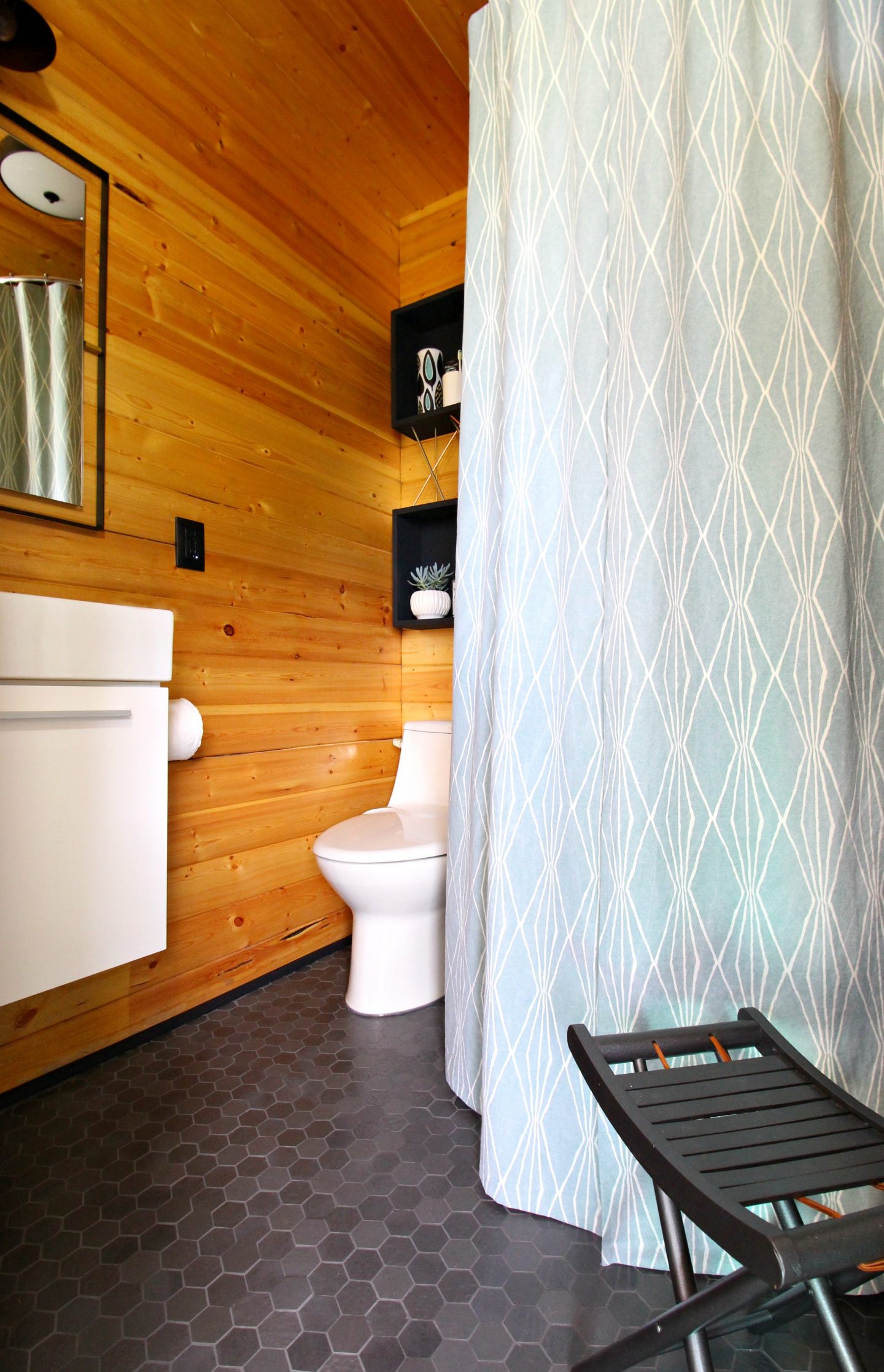 I used mostly products from Lowe's Canada to create a space that has a Scandinavian cottage vibe (I share all of the sources below) but if you can't find the items online or in your local Lowe's, I also created an Amazon Storefront with a list of cute finds with the bunkie bathroom vibe – click here to take a look around.
DIY Projects:
Shower Curtain | Stock Tank Shower | Retro Folding Stool Makeover (DIY Vintage) | DIY Wood Wall Cubbies
Products & Sources:
Vanity (c/o Lowe's) | Mid-century Inspired Sconce (c/o Lowe's) | Curtain Fabric (c/o Online Fabric Store) | Stock Tank (c/o Tarter USA) | Hex Tile (c/o Lowe's) | Ball Shower Curtain Rings | Ceiling Mounted Shower Curtain Rod (similar) | Skirted Toilet (c/o Pfister) | Turkish Towels (similar) | Sliding Barn Door Hardware (c/o Renin) | Square Rainfall Shower Head (Amazon) | Matte Black Toilet Paper Holder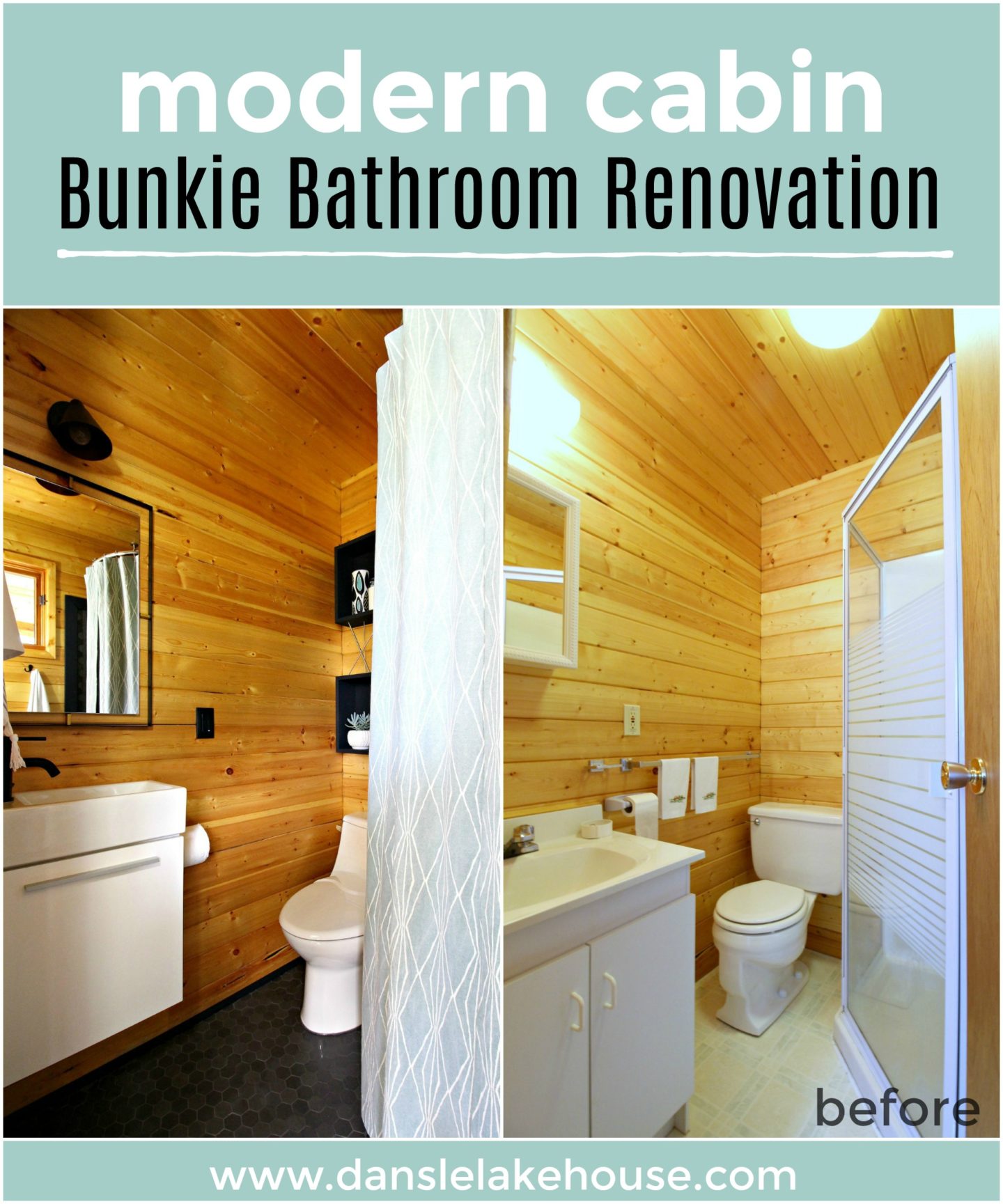 This makeover was sponsored by Lowe's Canada but all thoughts and opinions are my own.