Although I'm sharing this DIY boho wreath in December, I plan to keep this up until spring because it makes me happy. This wreath developed really organically but I guess the idea sort of started when I found a cute garland, with big brass metal bells, on sale at Michael's. Garlands were 60% off so the bells only cost $10, but I had no idea what to do with them. Once I got them home, I starting combing through random odds and sods I had and – voila – my new DIY boho wreath was born! It's teal, it jingles, and brightens these short, sun-less days – I love it!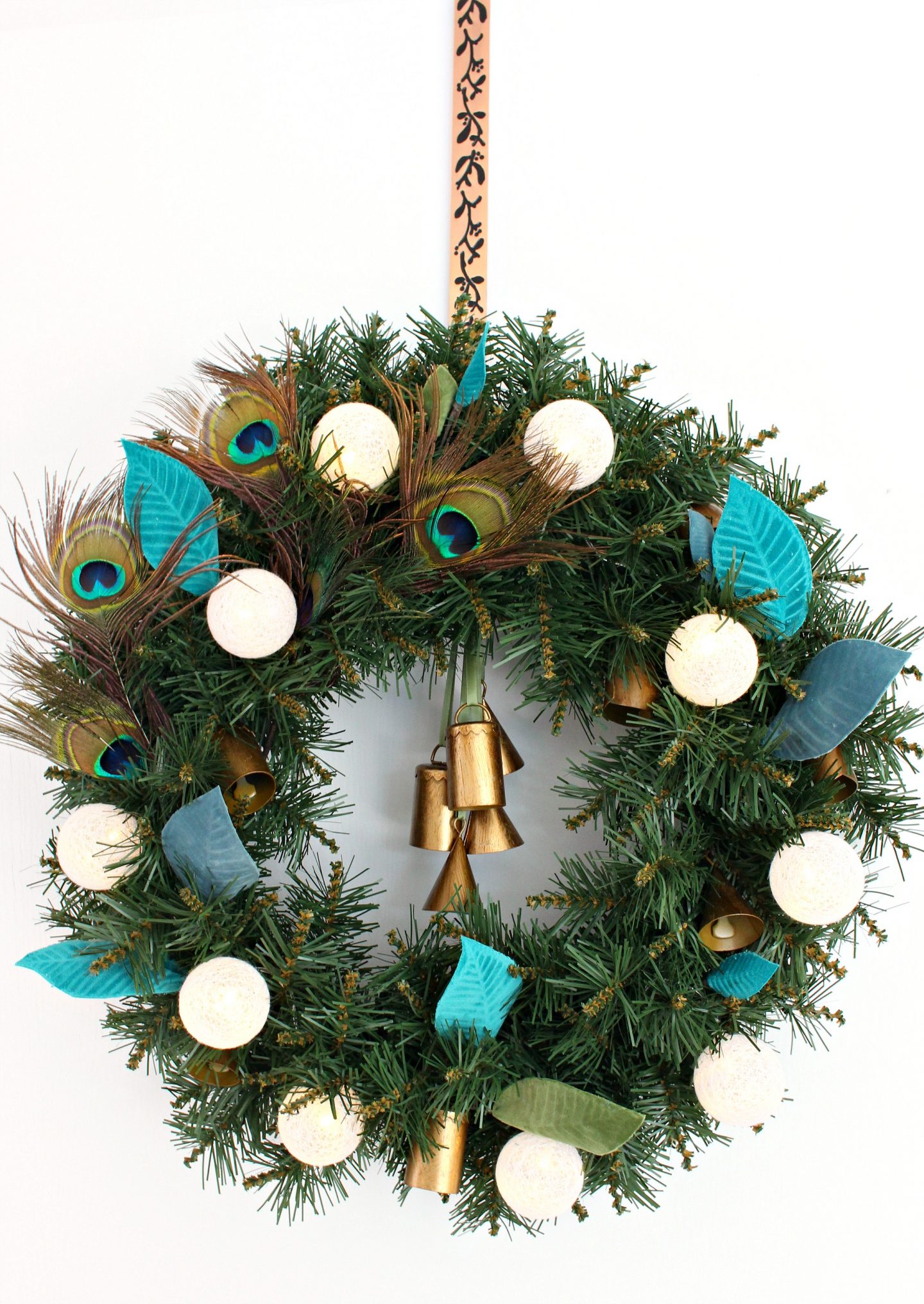 I'm sharing the list of supplies I used and how I made this exact DIY boho wreath, but the beauty of an organic, relaxed wreath like this is that you can improvise, shop your own craft supply closet, or swap in some easy/affordable replacements.
Supplies for a DIY Boho Wreath: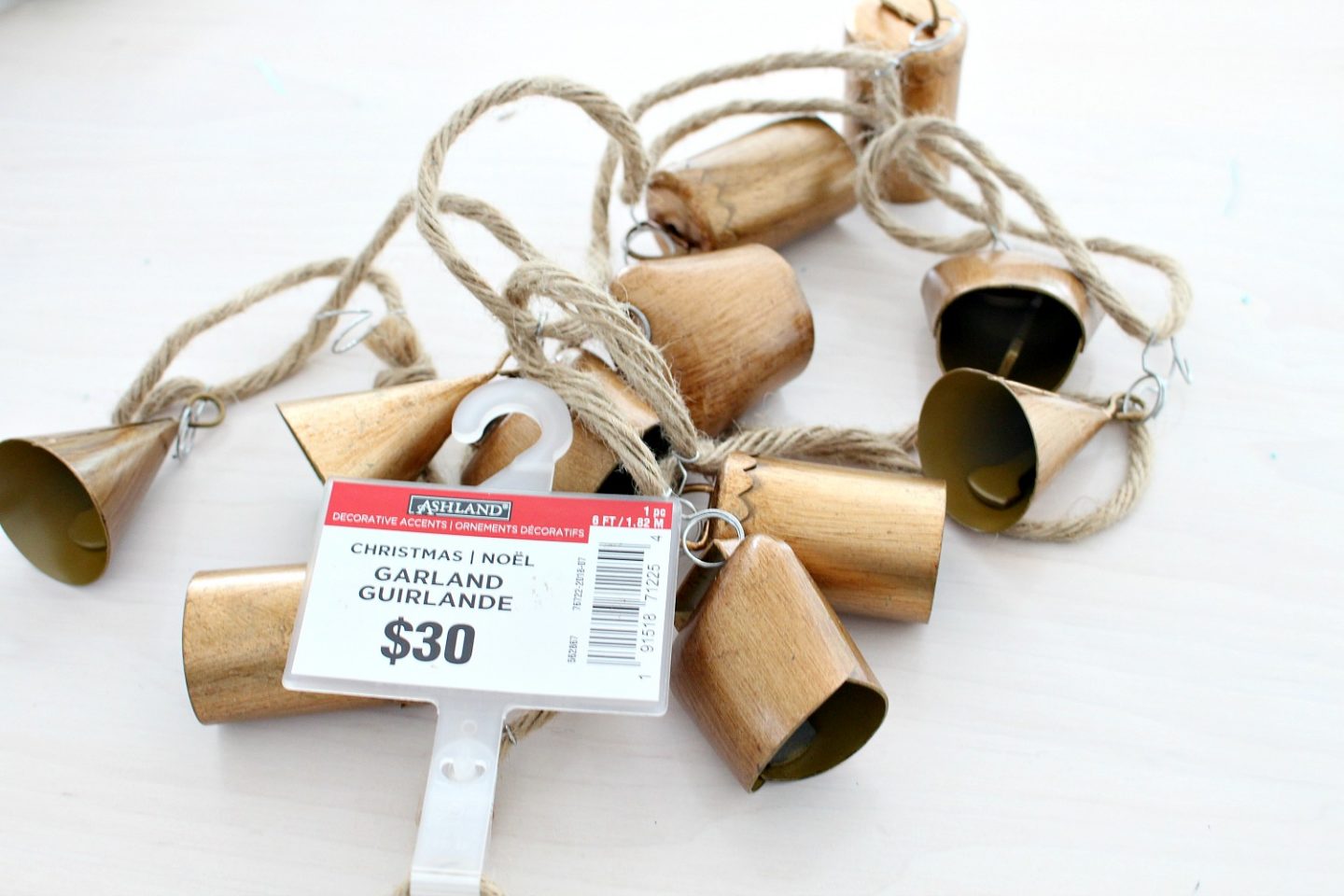 How to Make Embossed Velvet Leaves
You can buy velvet leaves or use pre-made velvet leaf appliques, but my Mom and I had just sewed a bunch of new pillows for the living room (they're STUNNING – details soon) so we still had the fabric scraps out. Plus I wanted teal – of course! And it turns out that embossing velvet is SO easy.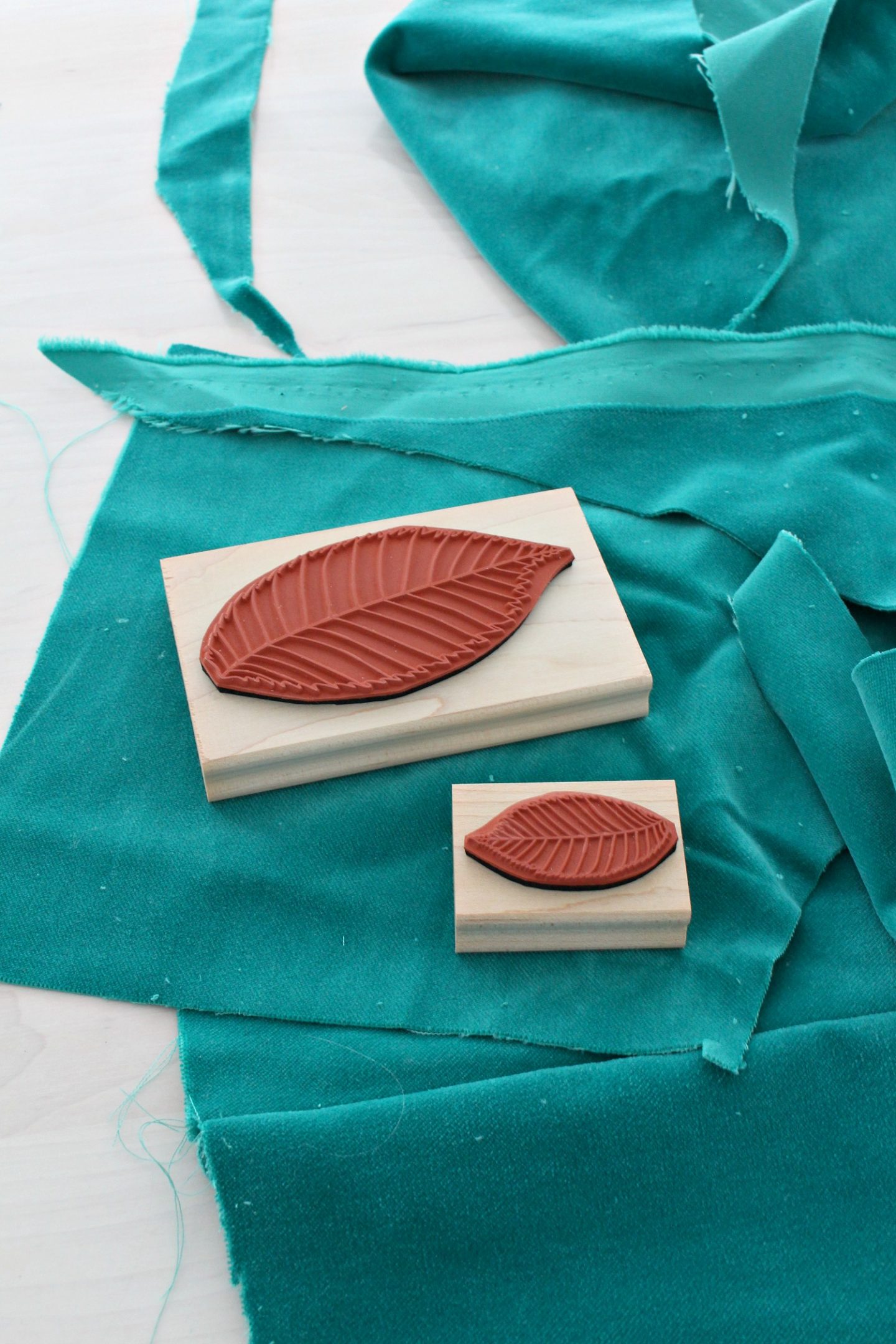 Just take a small piece of fabric and place the right side of the fabric onto a rubber stamp, then place a piece of Heat Bond iron on adhesive (leftover from my DIY doily pillow) with the sticky side facing the back of the fabric. Take an iron on a fairly high heat setting (I used cotton, but my iron is old so experiment a little on lower heats first) and then press for 5-10 seconds. The rubber will leave an imprint and once you peel the backing off the Heat Bond adhesive, the velvet "leaf" will have more substance and stiffness. Just trim the edge to complete the leaf.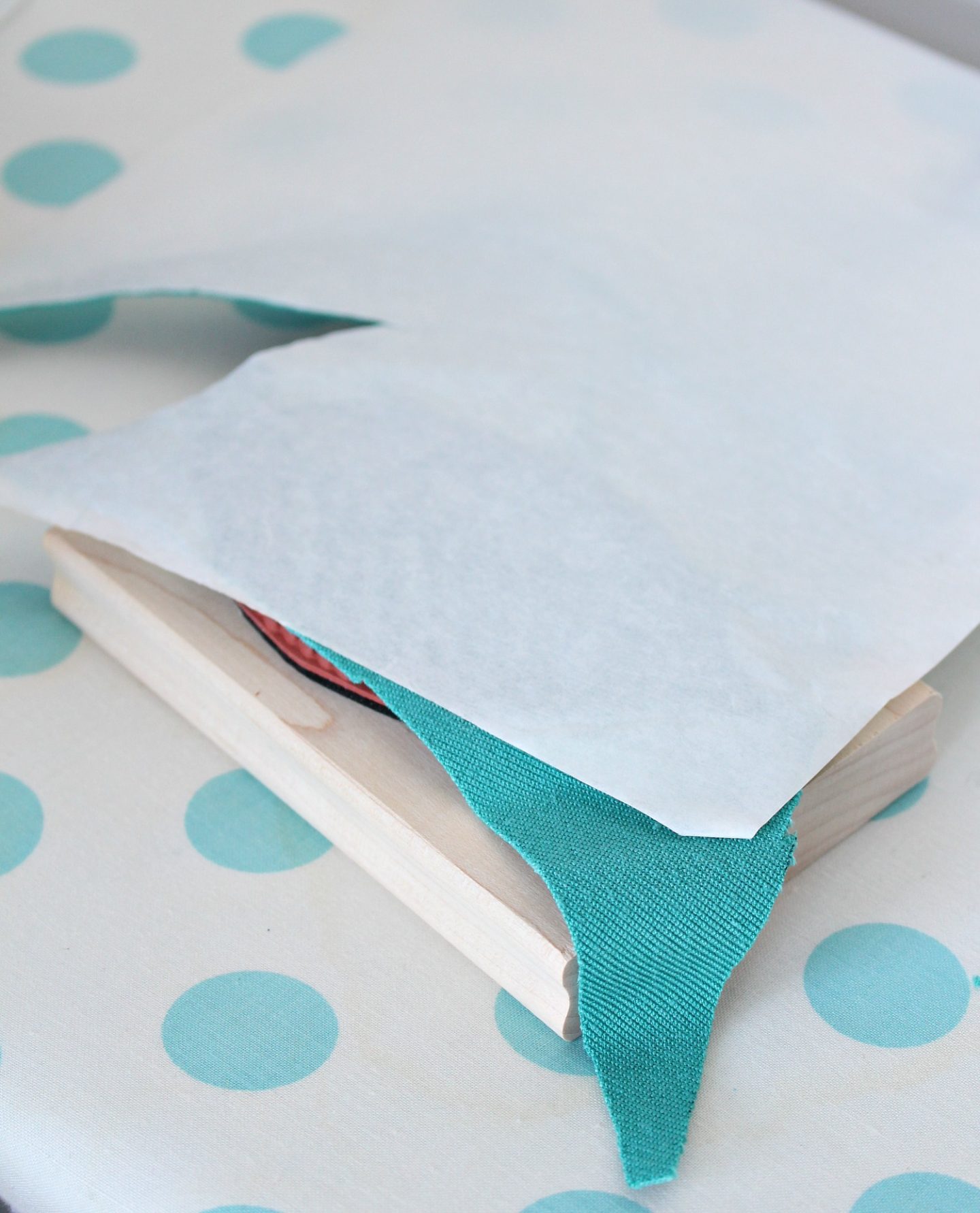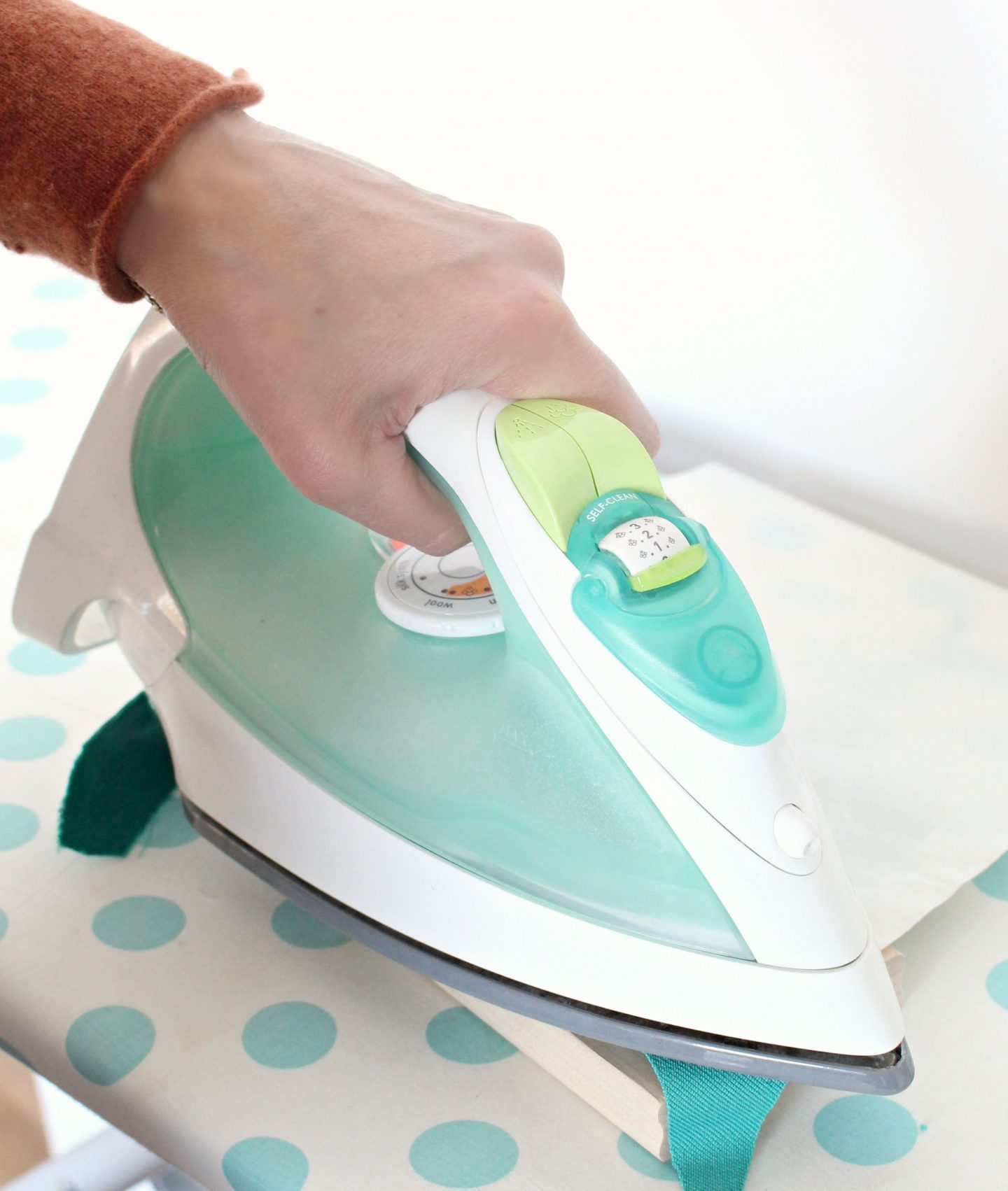 I used some floral tape to affix the leaves to wire, which helped shape them into a livelier leaf form, and also made them easier to add to the wreath. I happened to have some peacock feathers that I brought home from my grandmother's house after she passed away. It's weird the things we take as mementos, but for some reason I wanted these. I had no idea what to do with them but then I realized they'd be beautiful in this boho wreath, so I affixed them to wire as well to make them easier to work with. I'm so happy I can enjoy these every day now!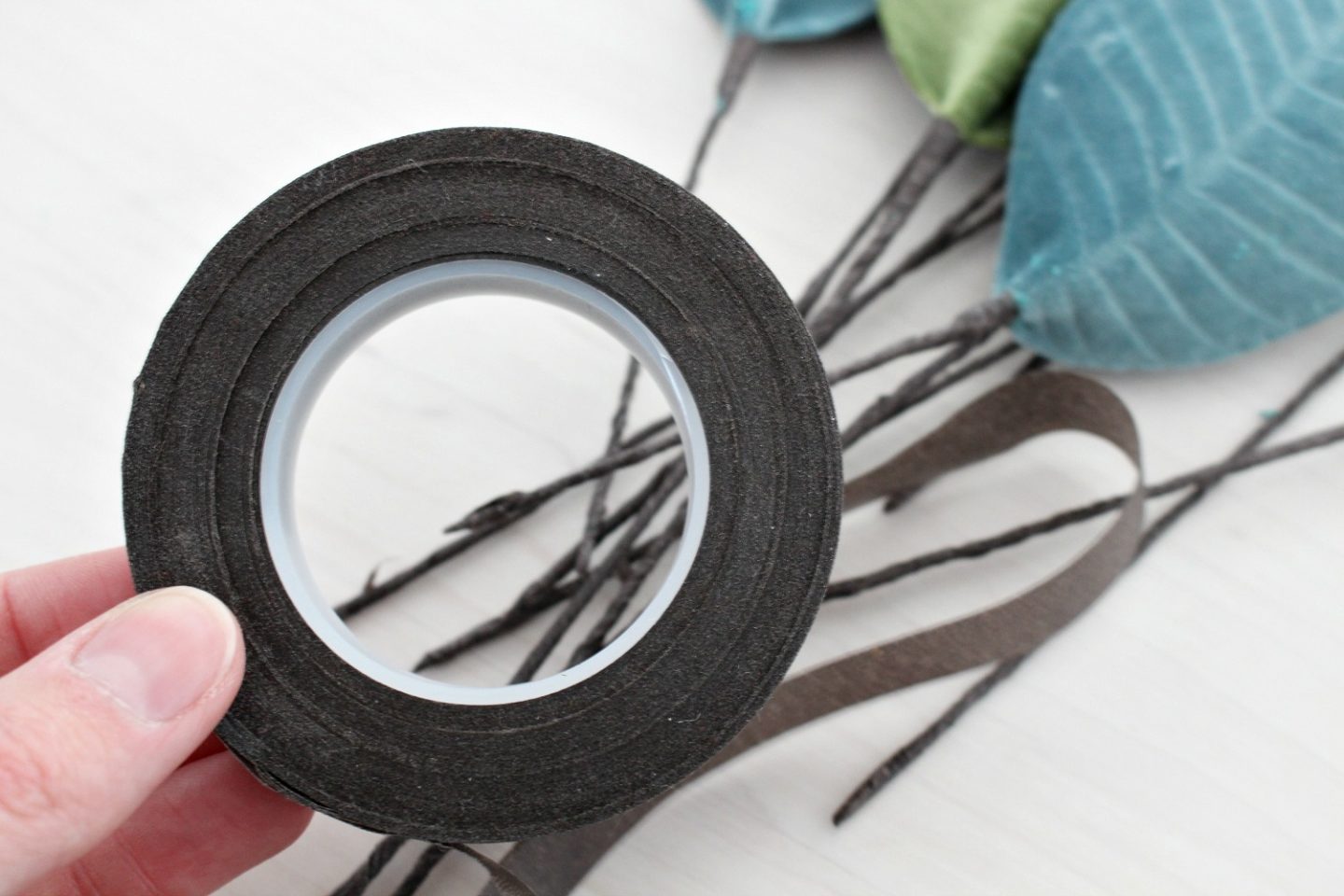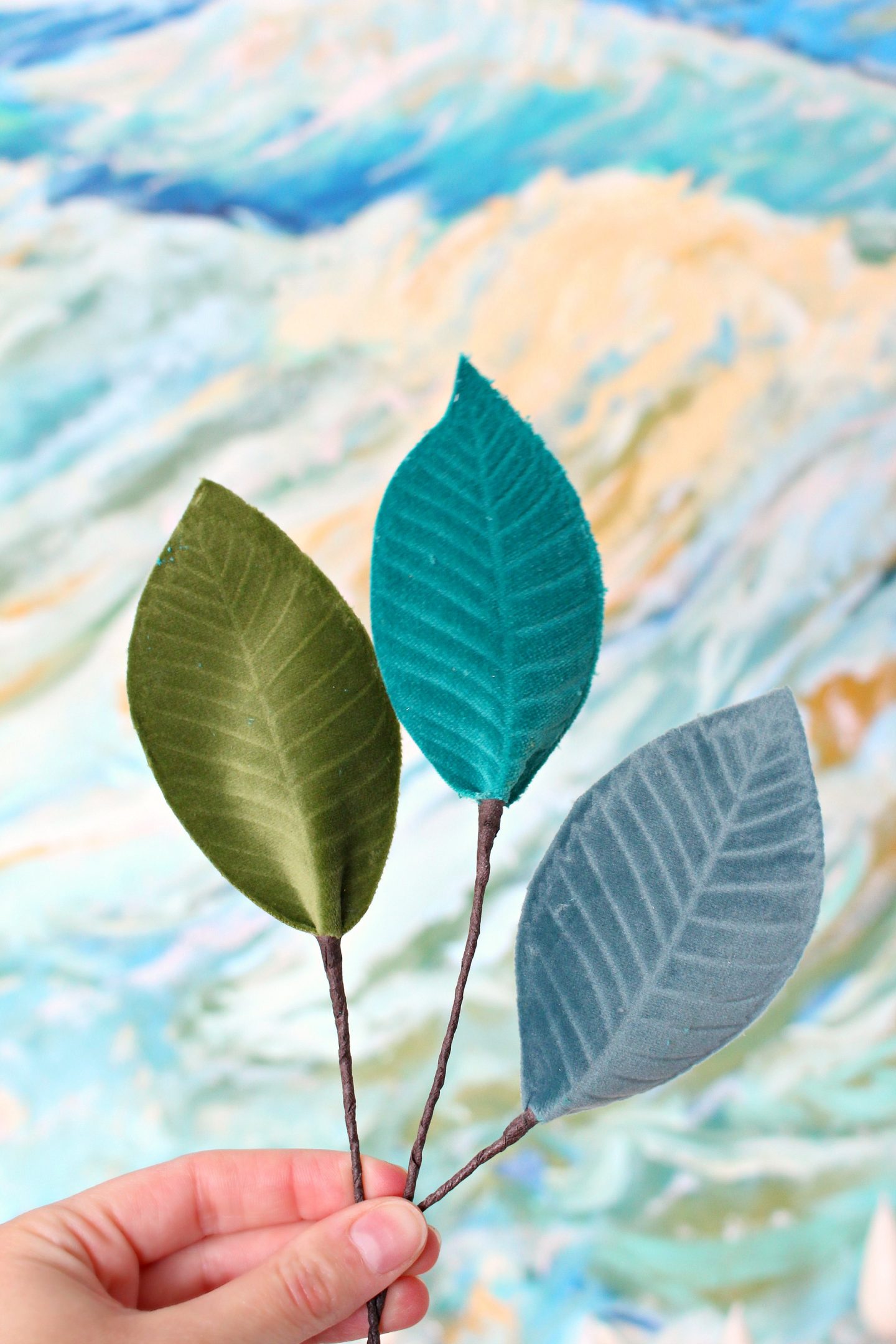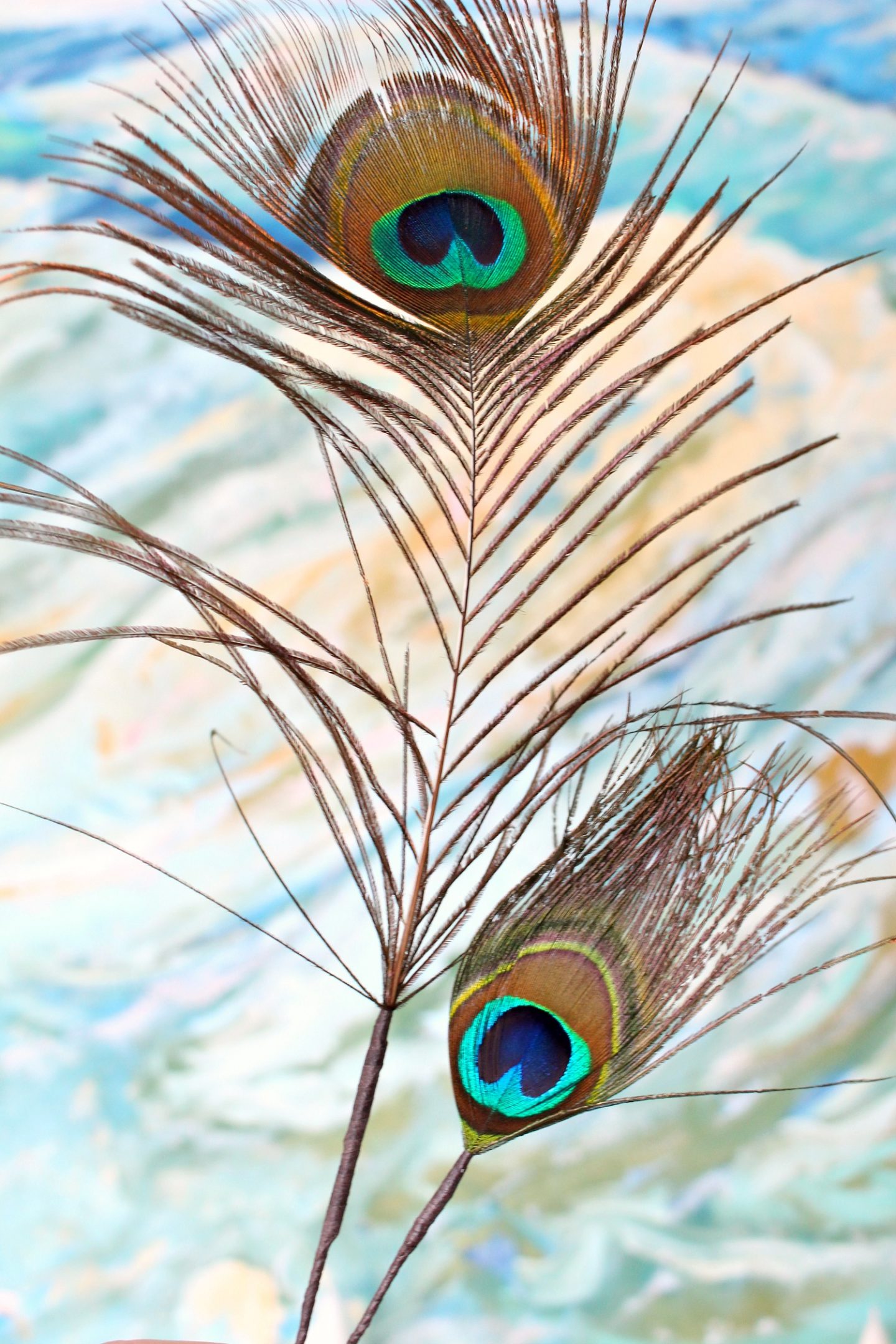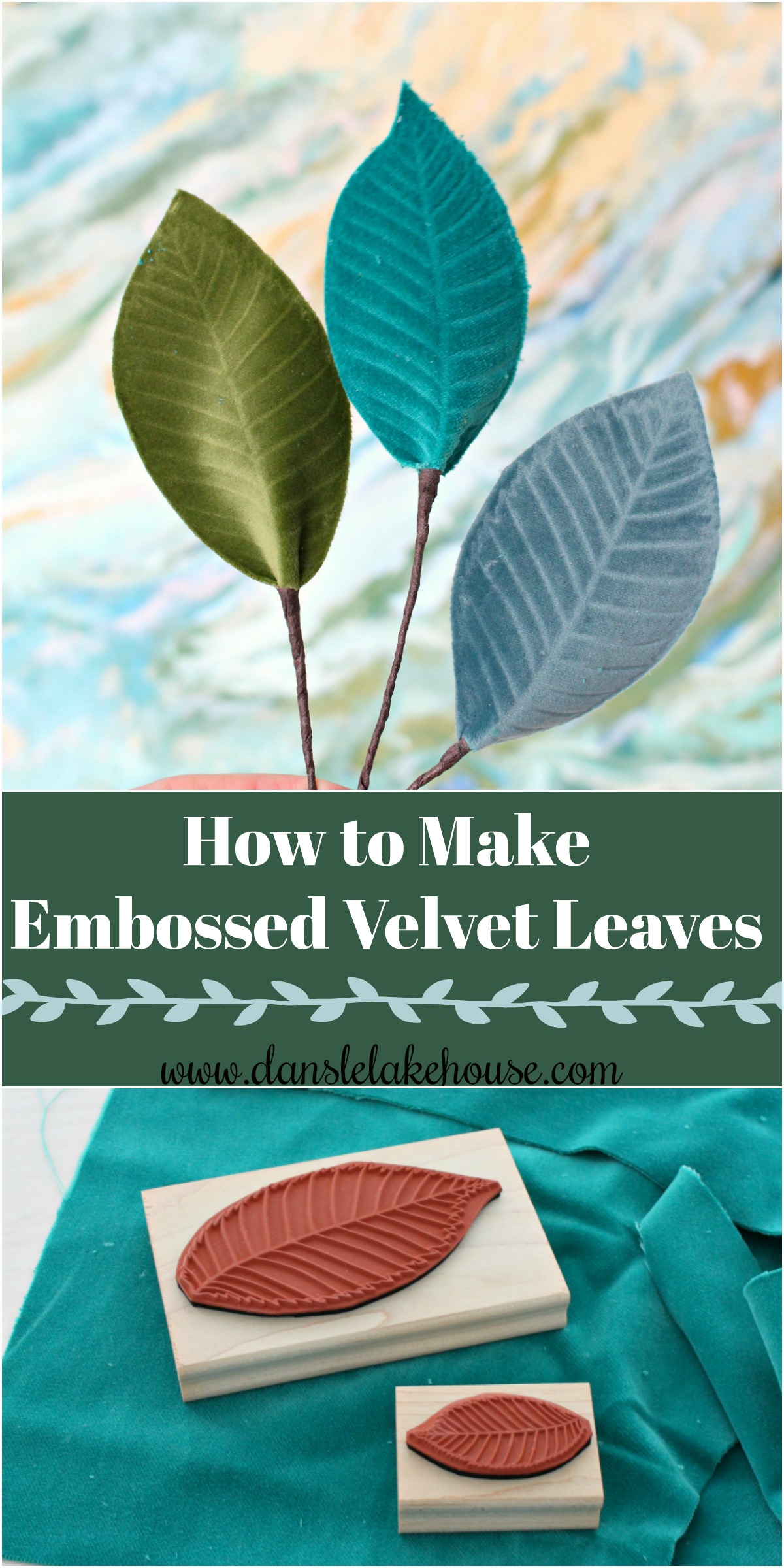 Assembling my DIY Boho Wreath:
To assemble my wreath, I found it easiest to hang it on a door so I could get a better sense of placement.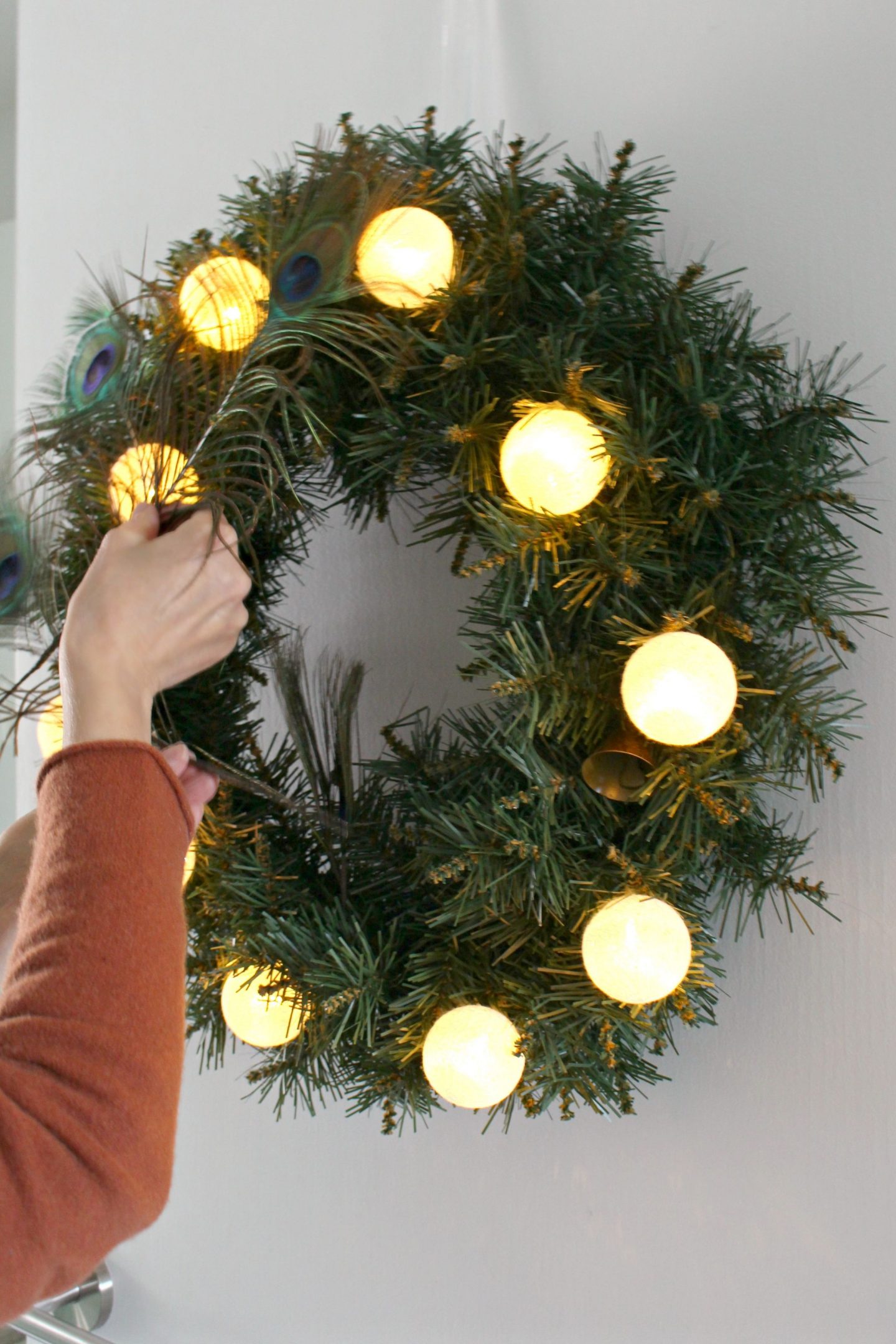 I first attached the string lights by burying the strand deep into the wreath, affixing it to the frame with twist ties, and then nestling the bulbs in among the evergreen "boughs" and shaping the boughts to hide the wire. I hid the battery pack near the bottom, behind the wreath and nestled in. I can reach it to turn the wreath on/off, but the battery pack cannot be seen. I love these lights because they look like the Mooi Random Light! But they're from Dollarama, of all places.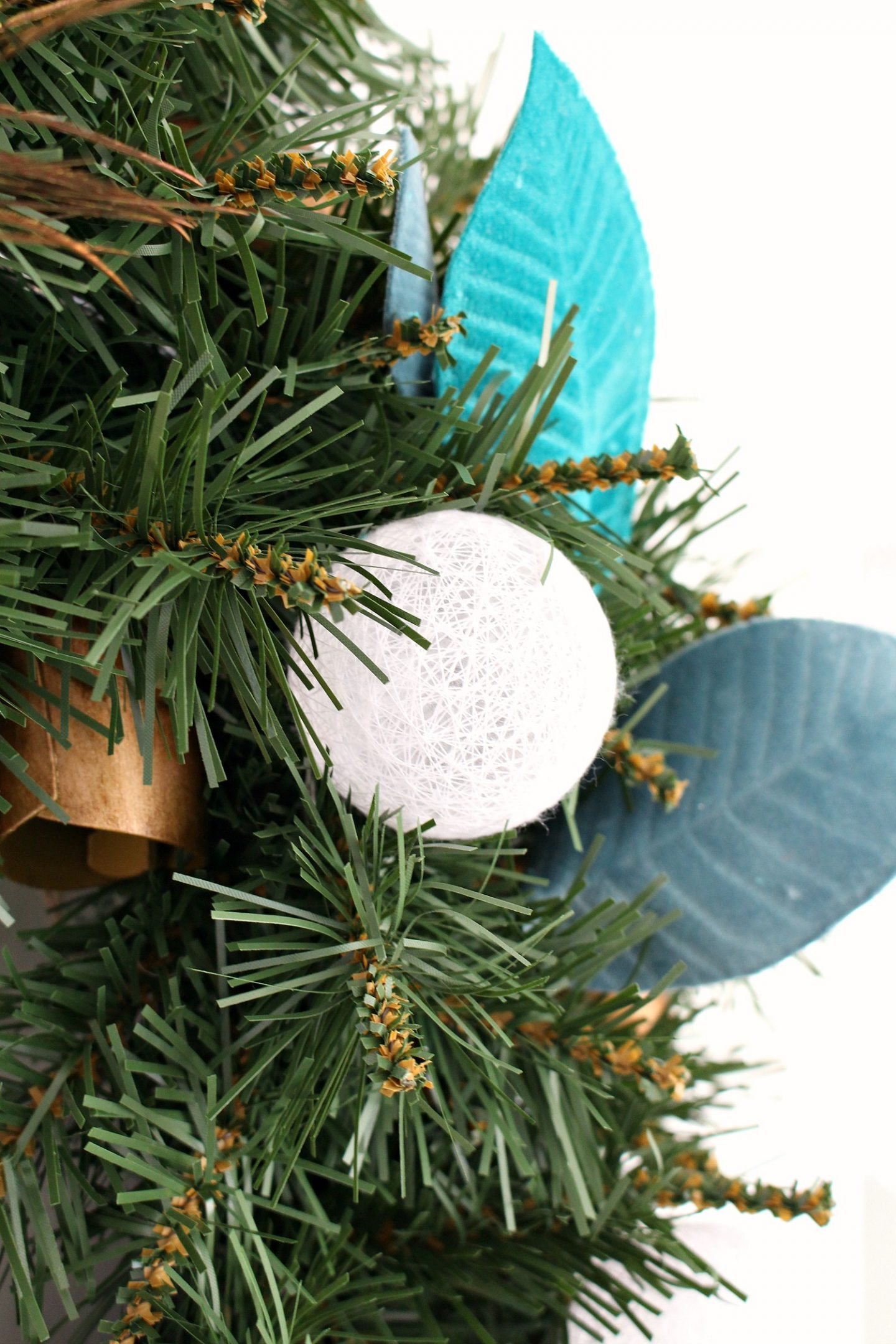 Next I cut the bells garland apart and tied the bells individually to the wreath, affixing to the metal frame. I grabbed five for the center and strung them on some pretty green ribbon. I ended up tying those on to a large safety pin and clipping that to the back of the wreath, but you can also just tie the ribbon right on – easy!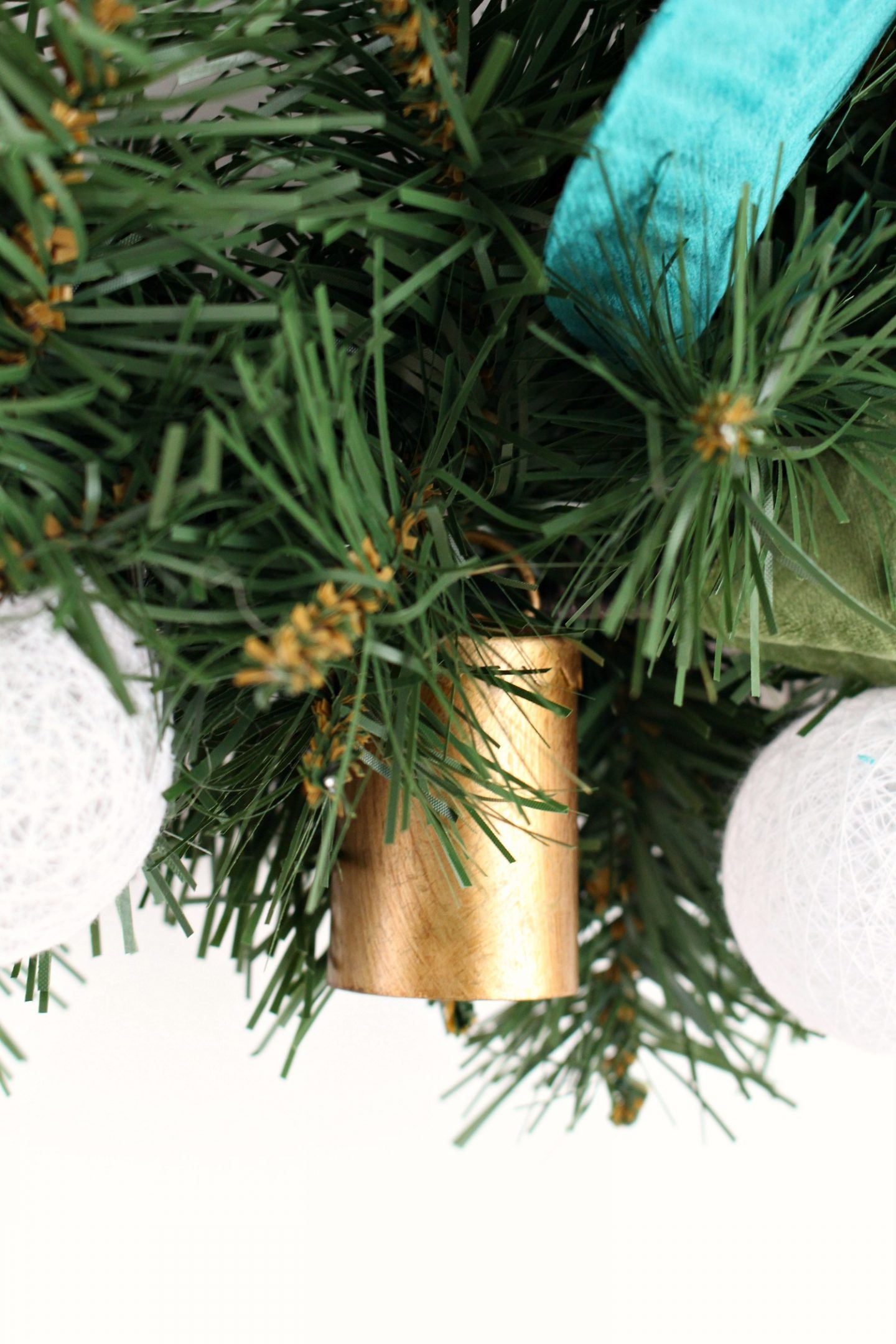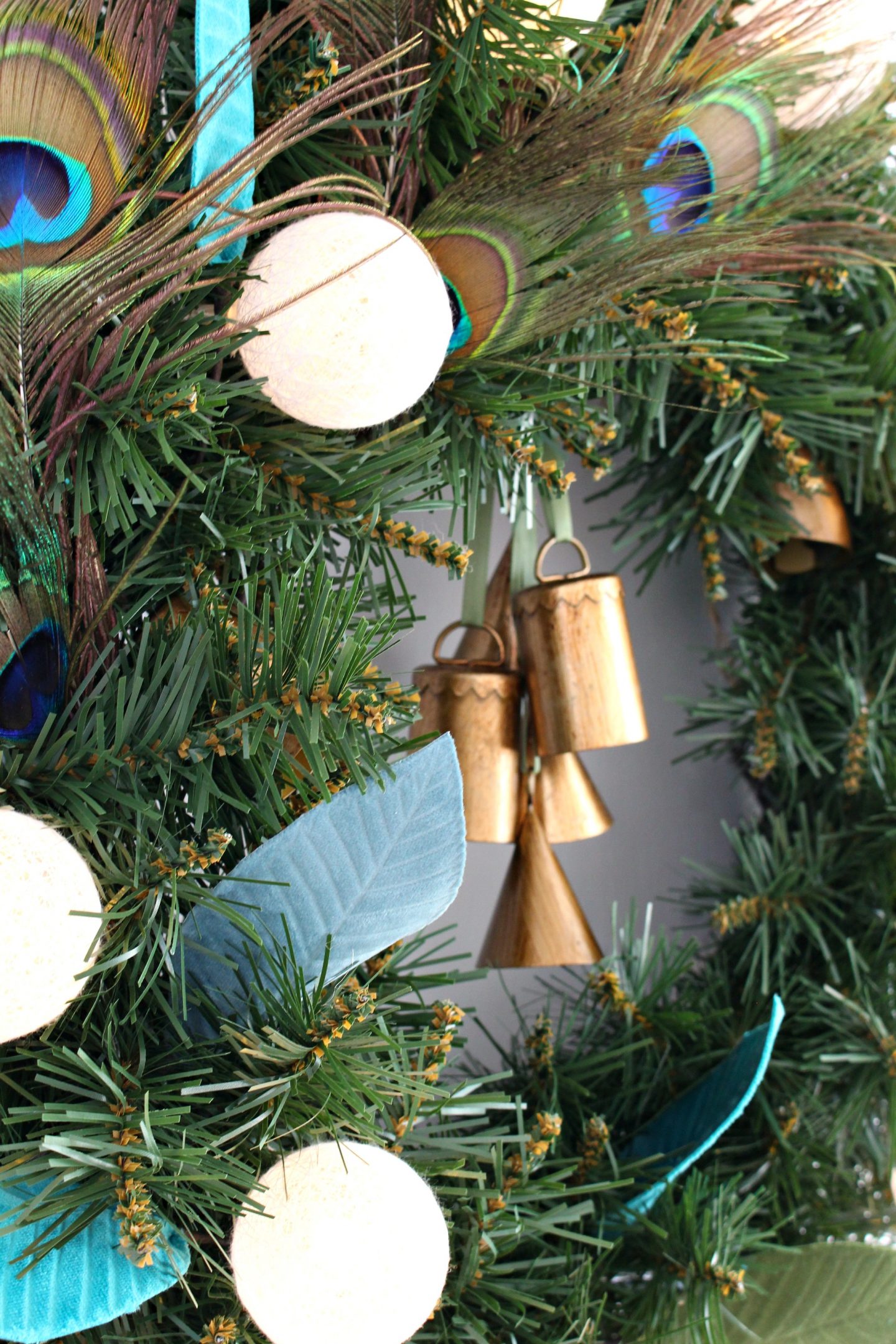 Lastly, I nestled in the velvet leaves and peacock feathers, which are friction fit and stay put but, if you're hanging this where it might get manhandled a lot, I'd recommend a dab of hot glue.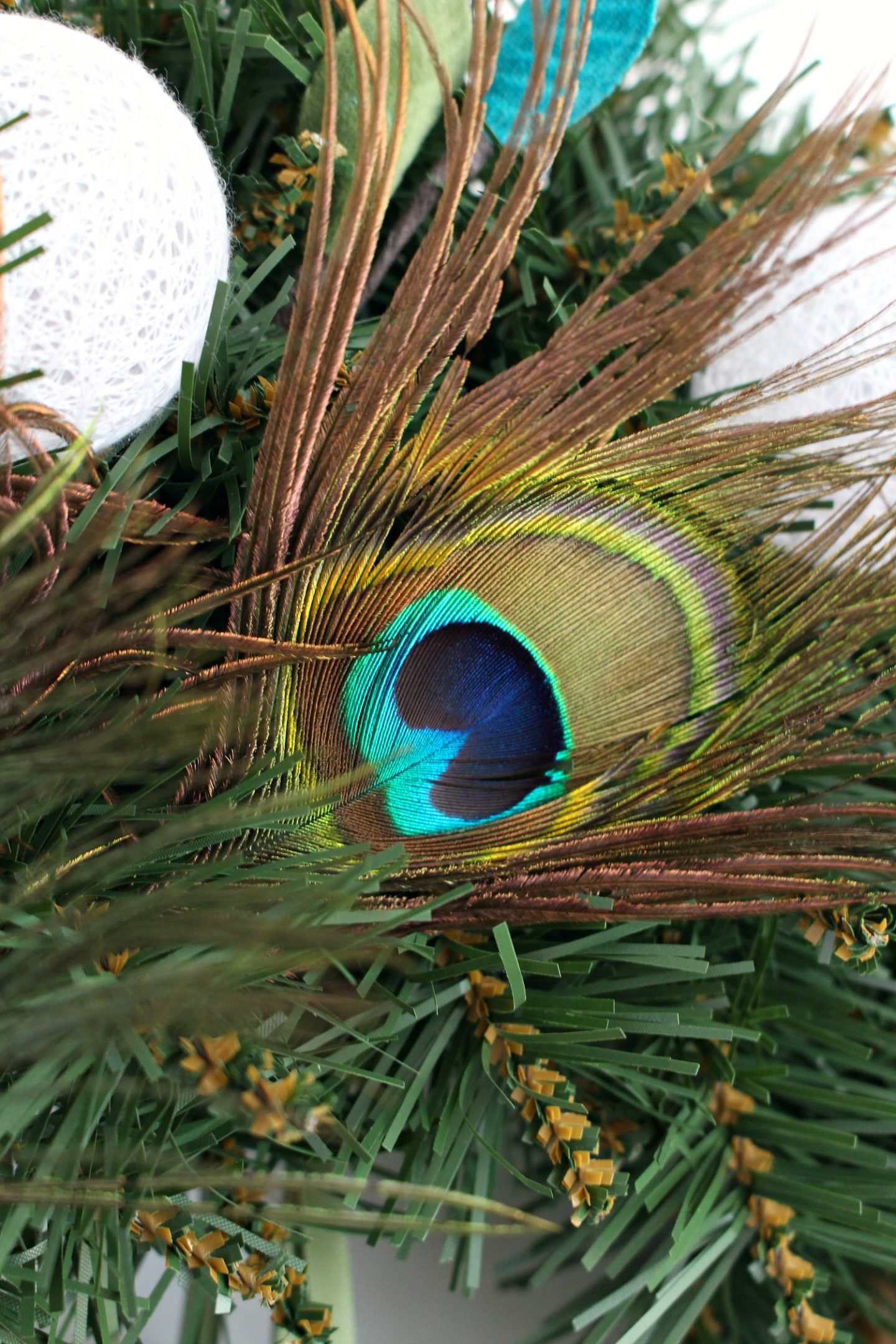 And that's it! My DIY boho wreath took barely 20 minutes to complete – even with the handmade pressed velvet leaves (those took 15 seconds each to make, no joke).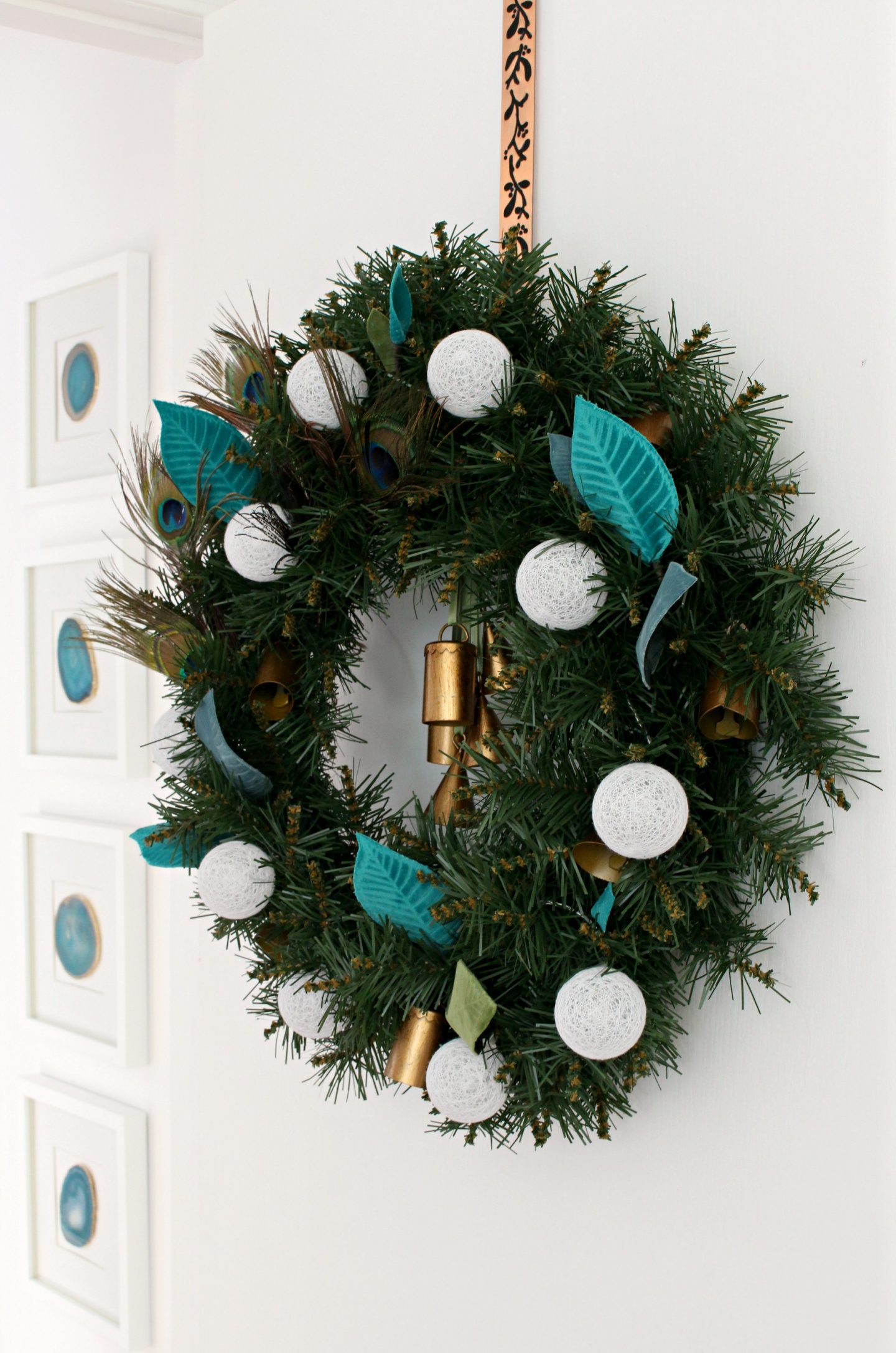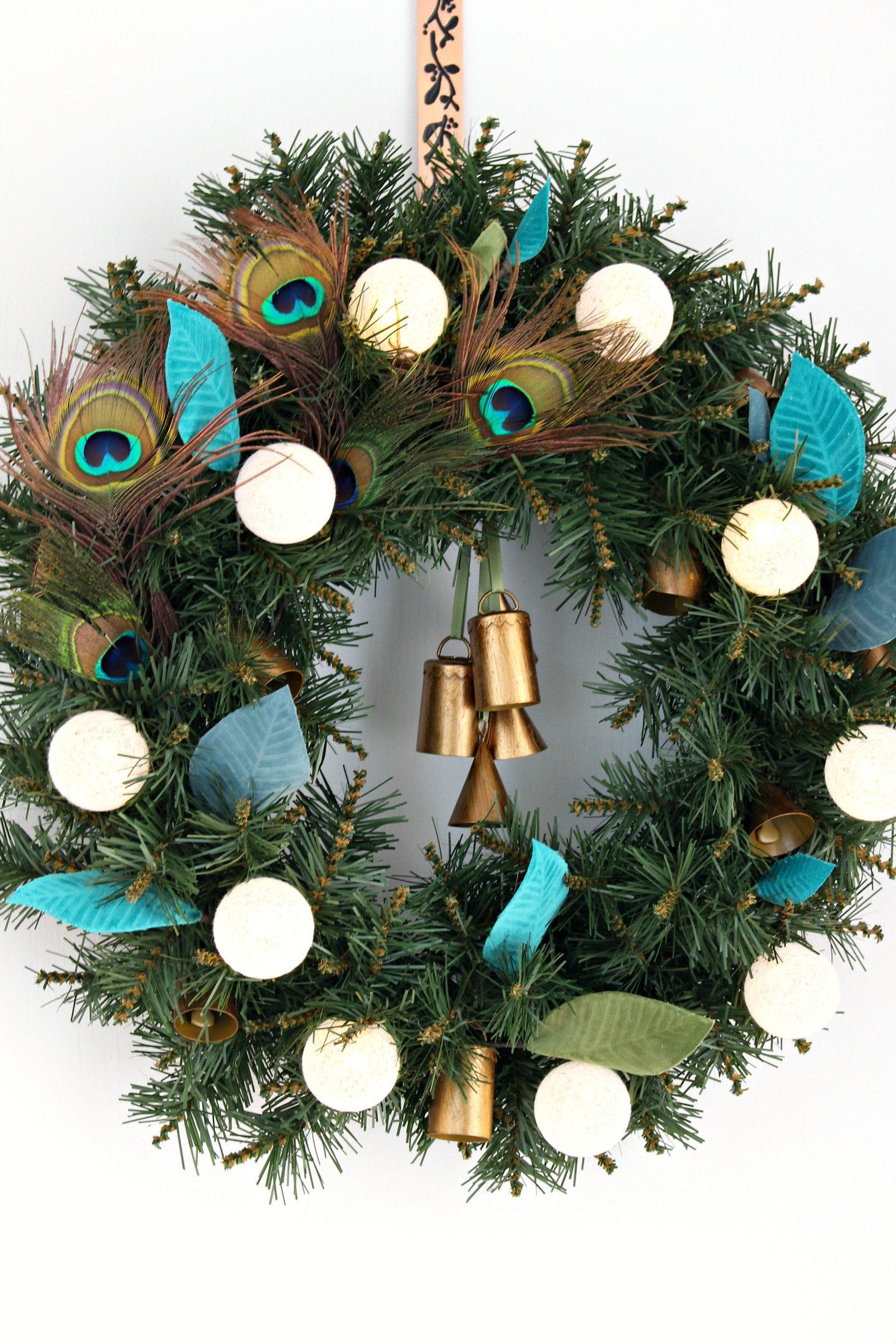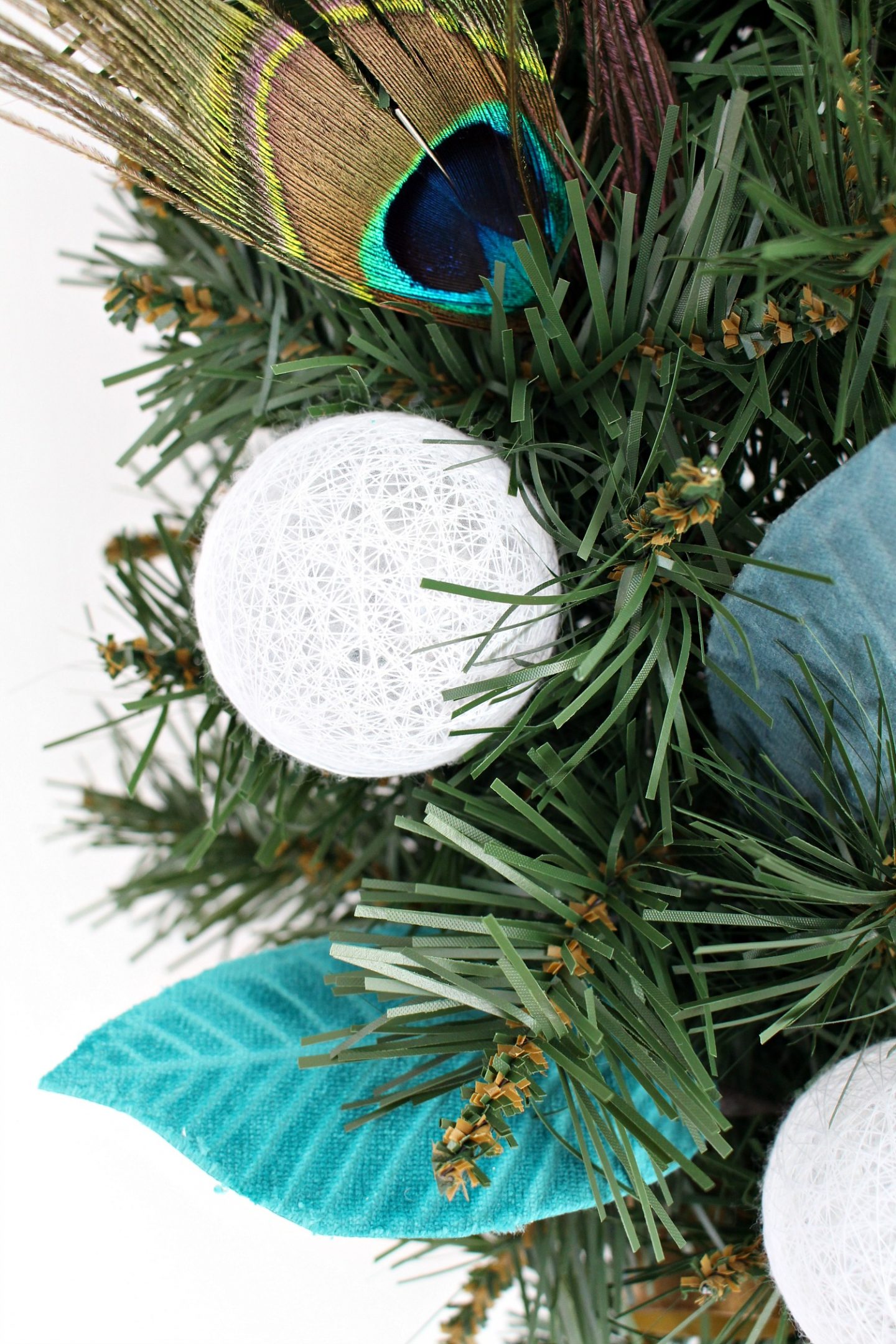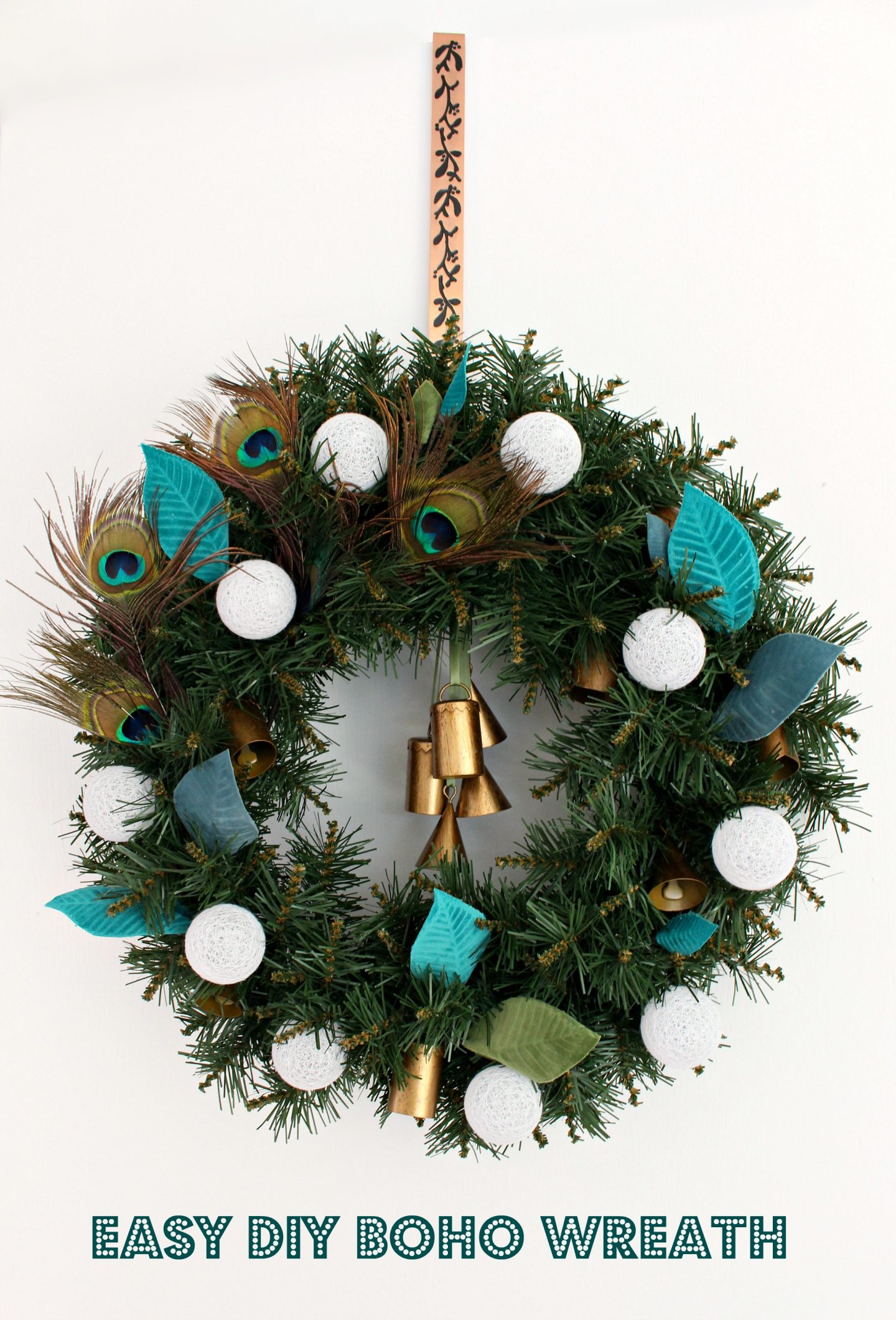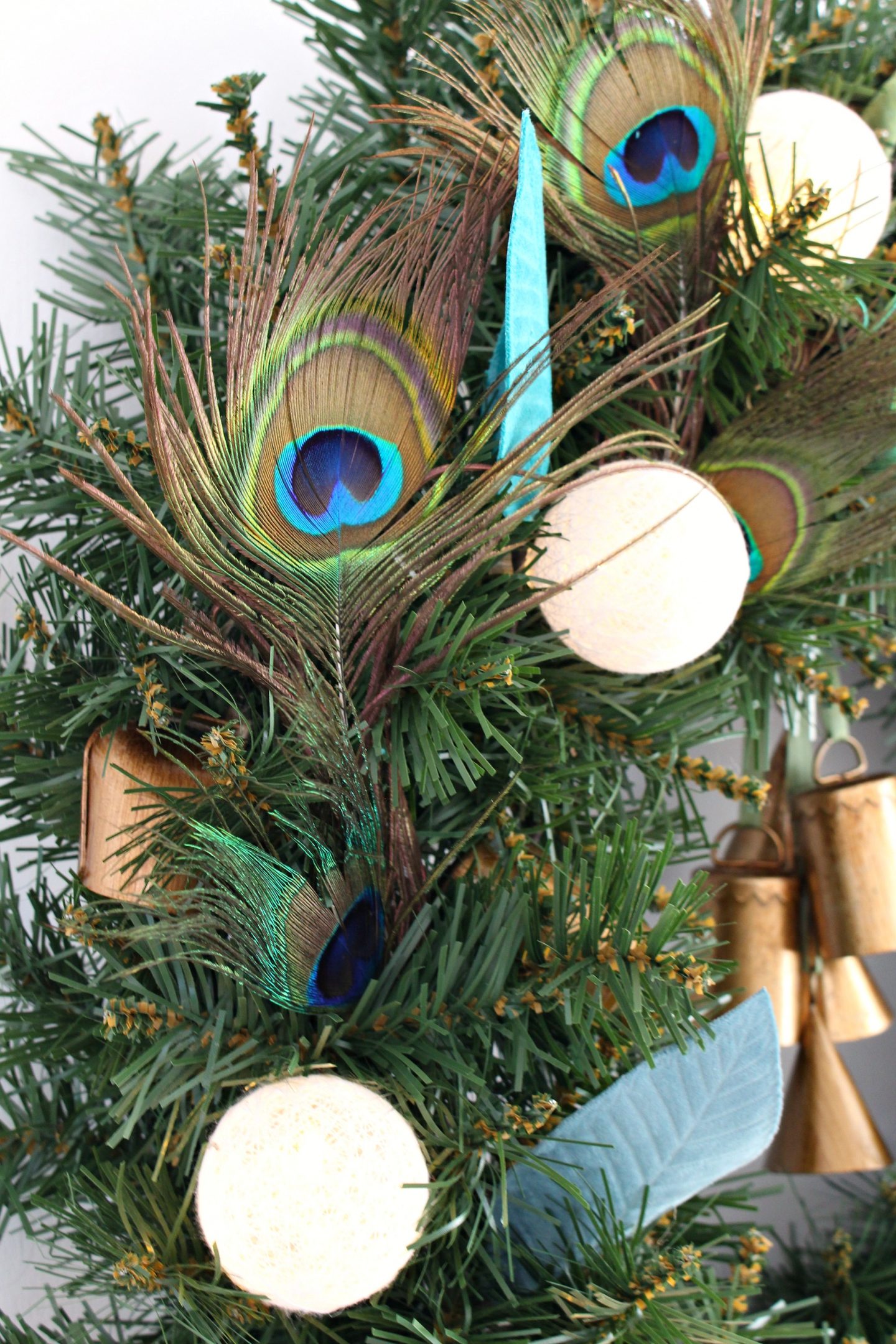 P.S. Don't Forget to Pin for Later!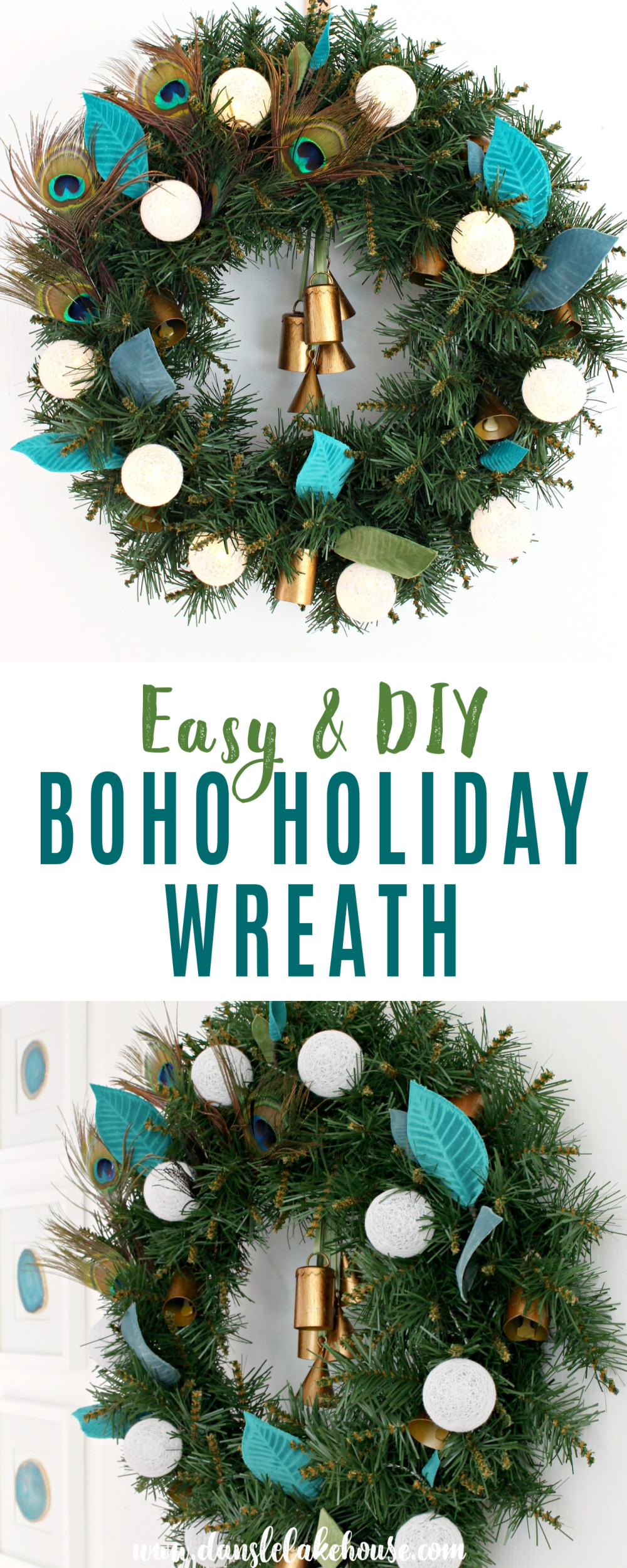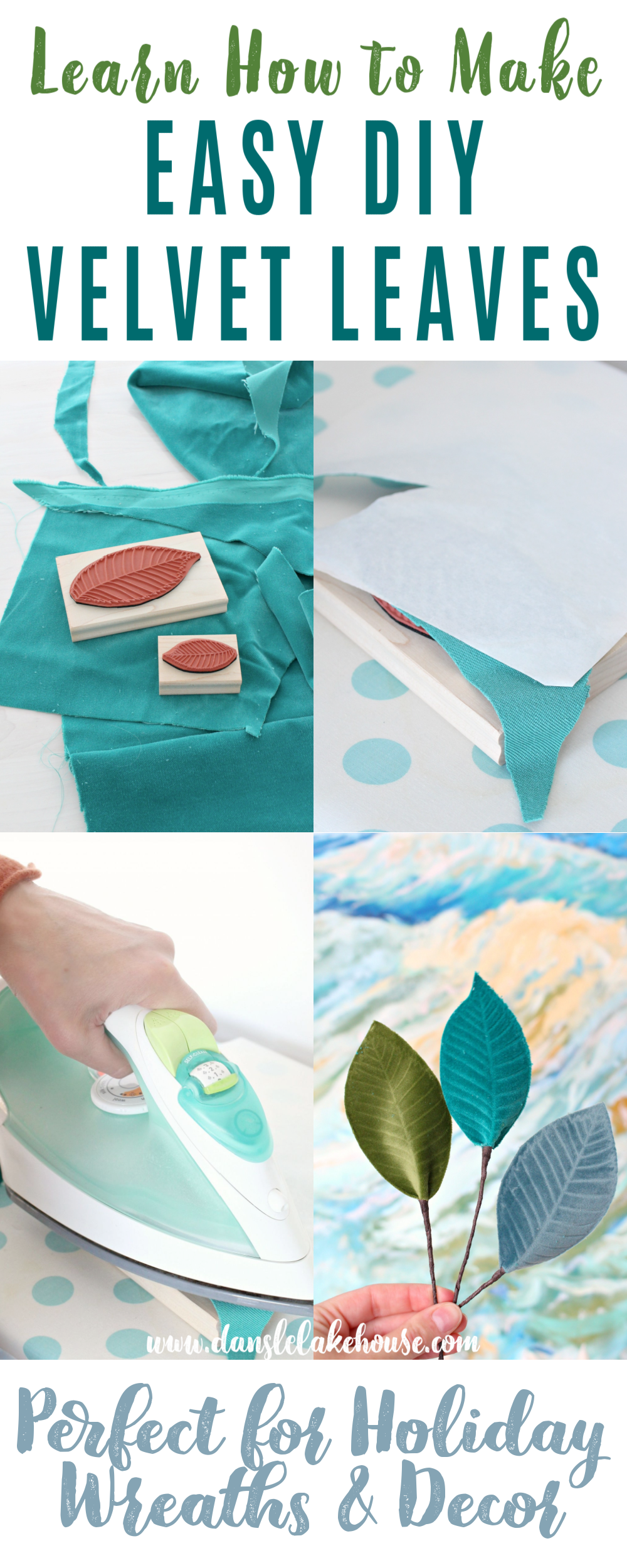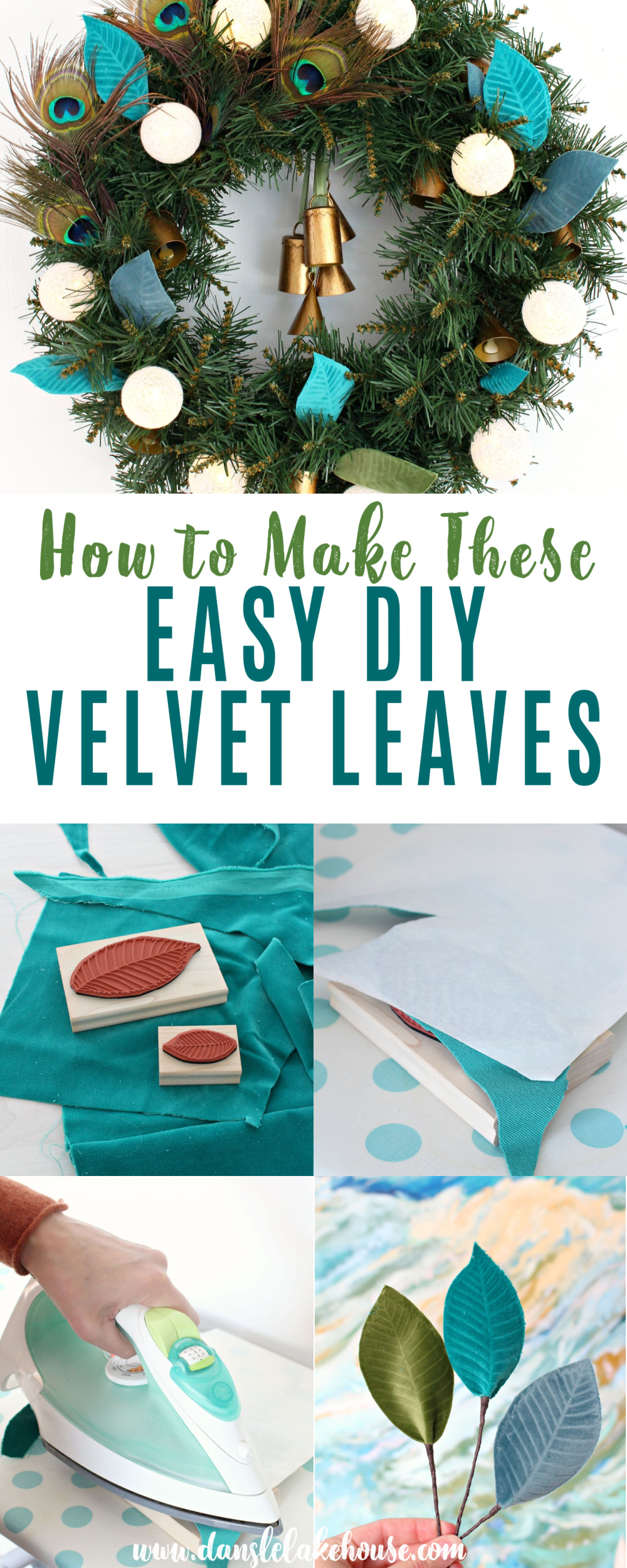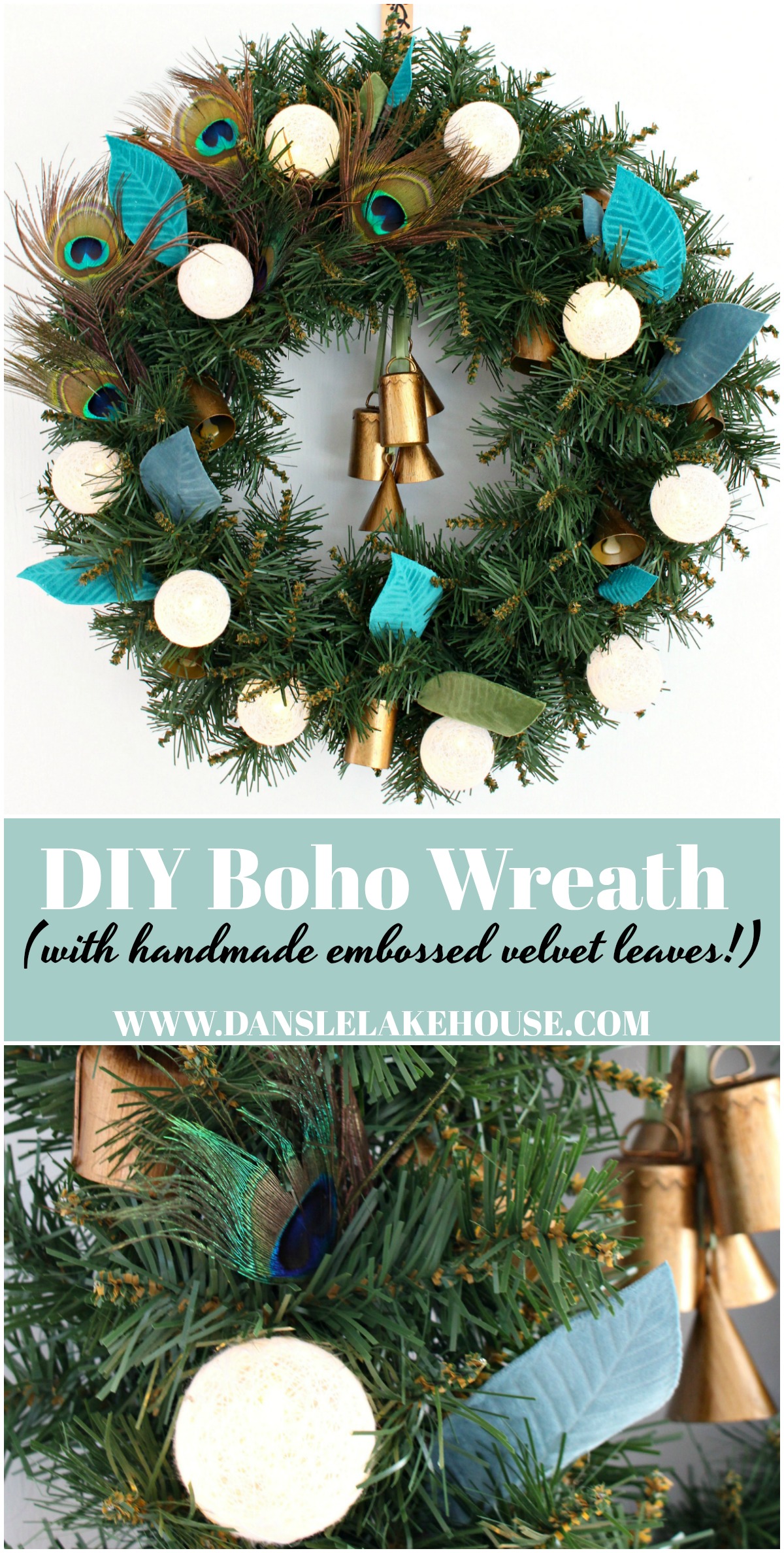 If you're looking for more modern wreath ideas, check out my natural evergreen and goose feather wreath here and take a peek at my modern agate slice wreath here.