My aesthetic is kind of torn between an organic, textured, coastal MCM kinda vibe and straight up kitschy retro design – so I made two wreaths this year: my earthy boho wreath with feathers and velvet leaves, and this bold turquoise DIY tinsel wreath. This DIY tinsel wreath took minutes to make, cost less than $10, and is just the cutest thing ever – I love the retro vibes. I was at Dollarama when a bunch of turquoise tinsel caught my eye. I had just found the battery operated lights with a MCM meets Mooi light vibe and I knew they'd look amazing paired with this retro looking tinsel. It's a little less fluffy than the more expensive tinsel you can buy from craft stores, but it was so cheap (but not so cheap that it fell apart; I barely lost any pieces while I was making this, so I know I can use it for years to come).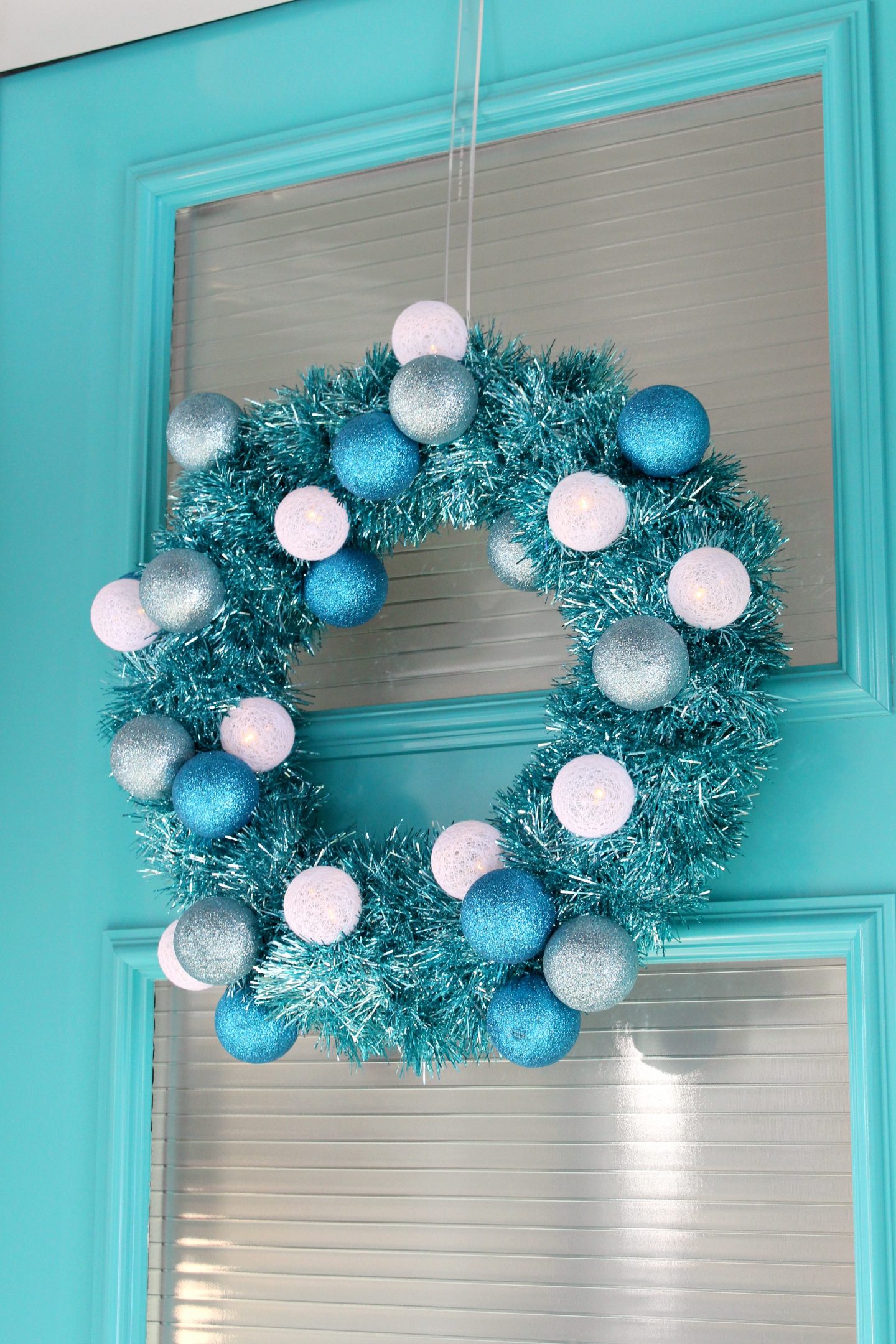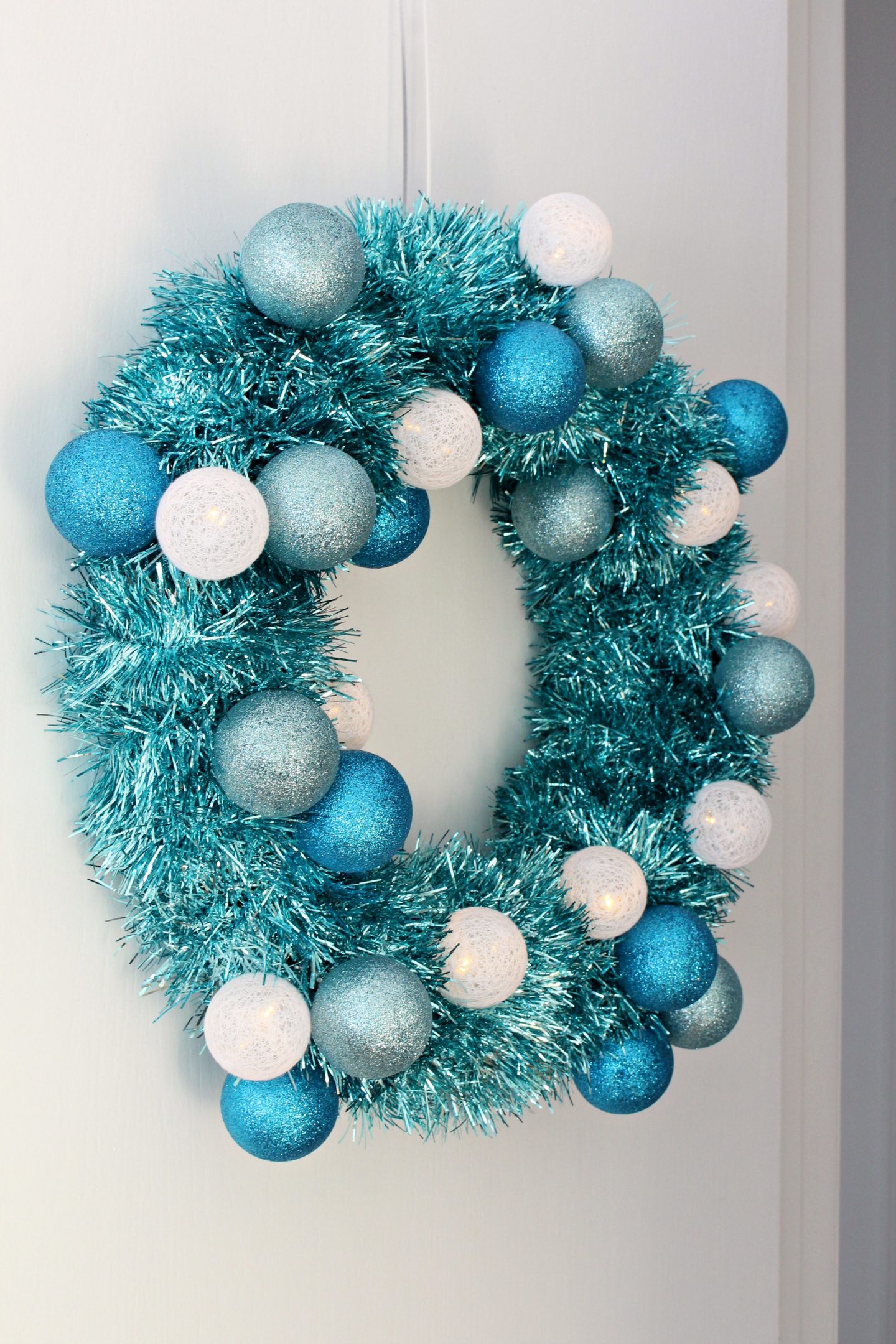 Supplies for a DIY Tinsel Wreath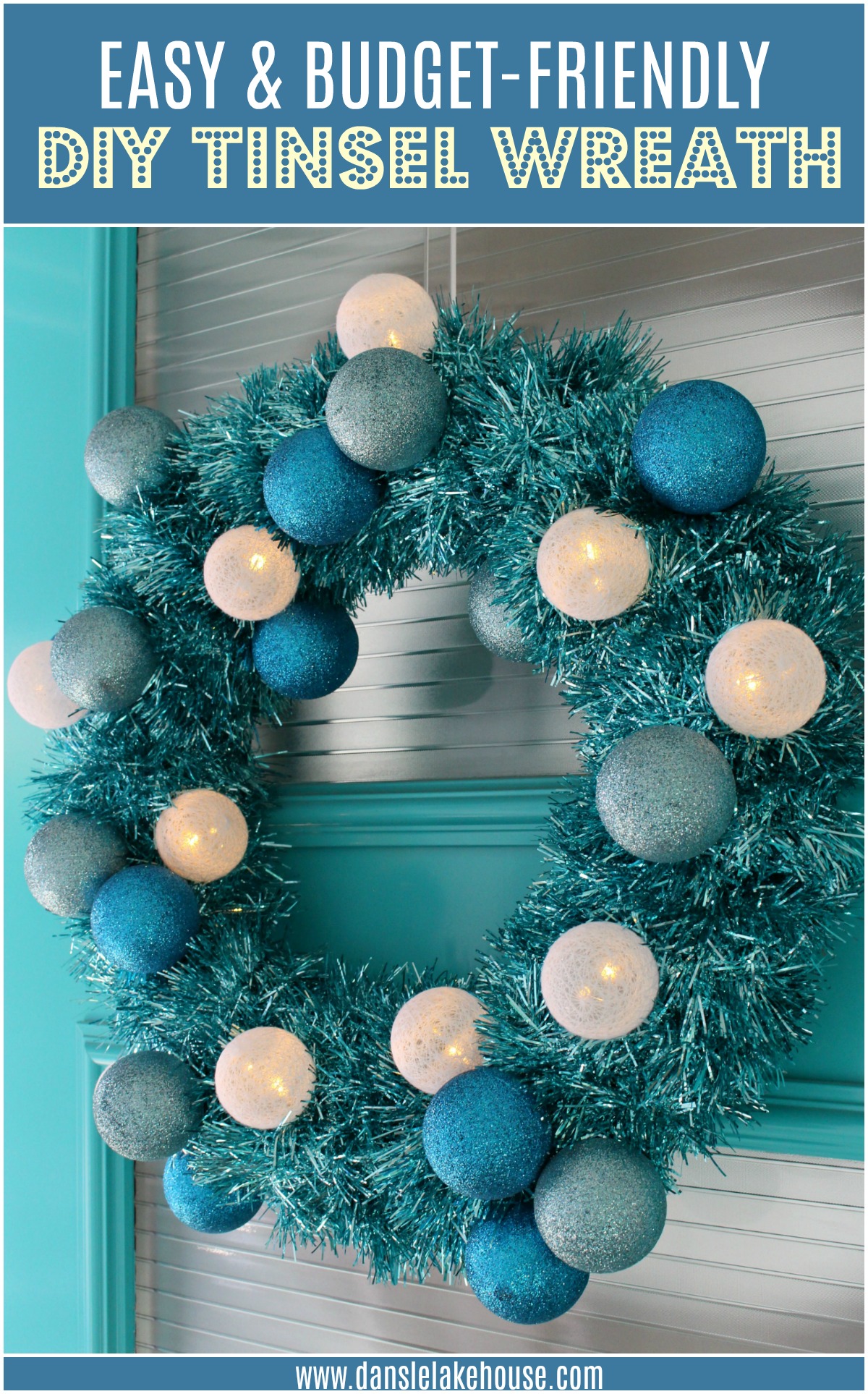 How to Make a DIY Tinsel Wreath
Making this tinsel wreath was a breeze – even easier than the DIY boho wreath I showed you the other day. I grabbed my trusty grapevine wreath, which I literally use for everything (my DIY agate slice wreath, my "Ghost" rat wreath, and my aqua gradient pumpkin wreath). You just need any kind of form but if you're buying something new, go for foam or straw. You can even turn a pool noodle into a wreath base. Plus the thrift stores are always brimming with old wreaths for only a buck or two.
First I attached my lights, using twist ties to affix them to the grapevine wreath. I wanted the tinsel to cover the cord. If you're using a foam wreath, you can affix the lights with some string.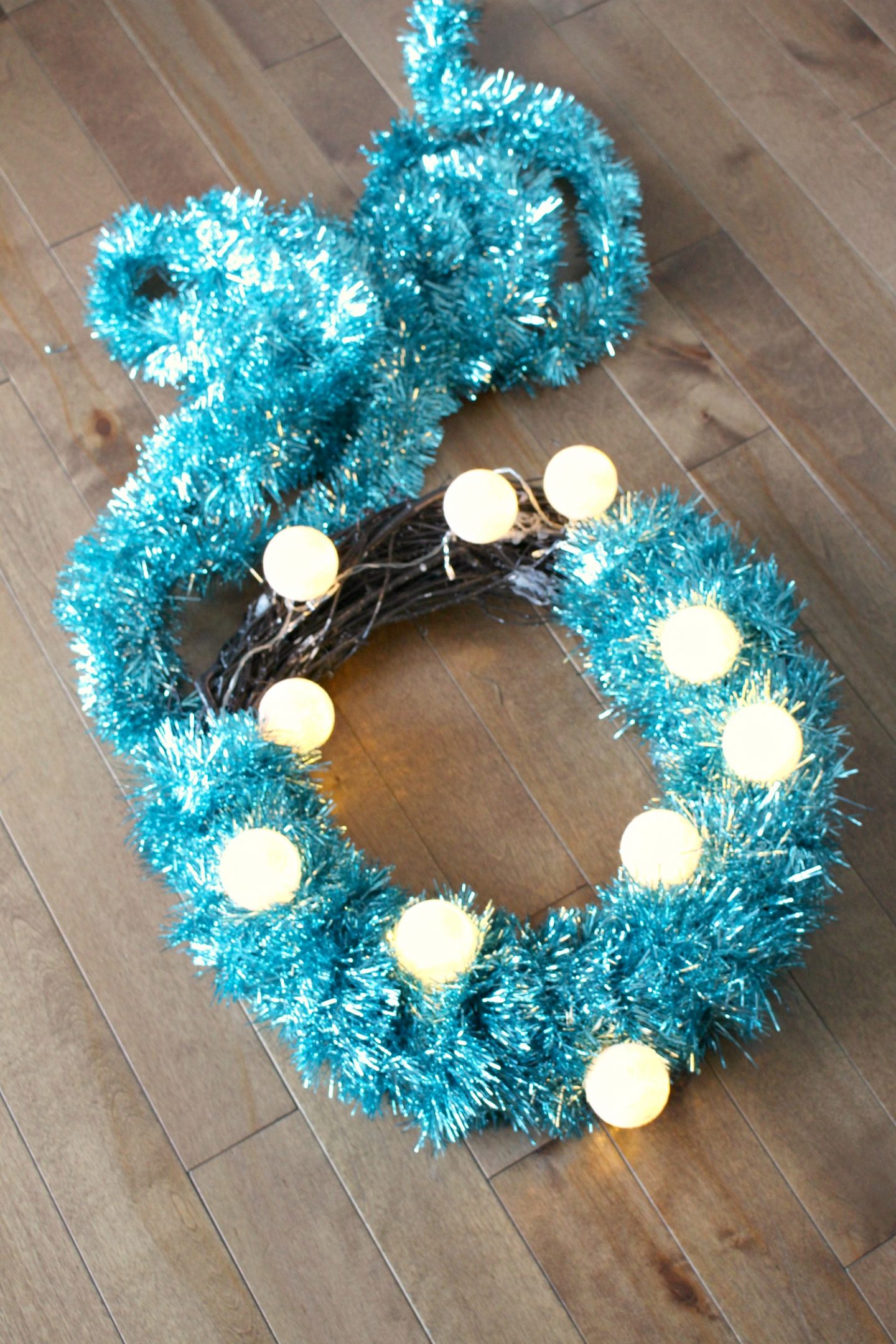 Next I took the end of the tinsel and affixed it to the back of the wreath using a twist tie. Then I wrapped it around the wreath base. Each strand covered about 1/4 of the wreath, but that will depend on the size of your wreath/length of tinsel/how densely you wrap it. When I reached the end of the tinsel, I secured with another twist tie. Then I grabbed some sparkly, plastic ornaments (from the dollar store years ago – remember them from my A-frame ornament stand?) and used twist ties to secure them to the grapevine, tucking them in beneath the tinsel. The tinsel is fluffy, it hides everything – even the battery pack for the lights – with ease.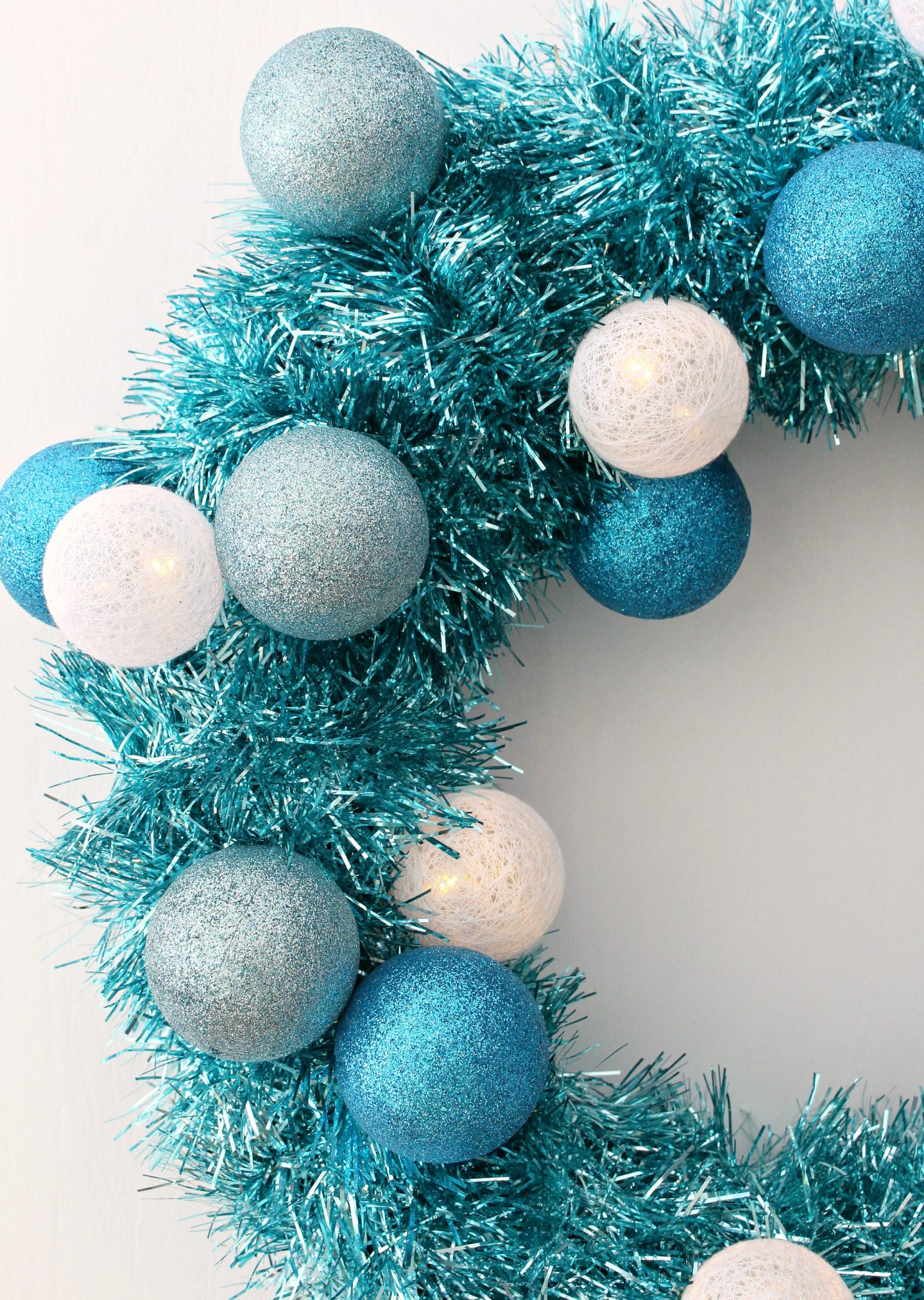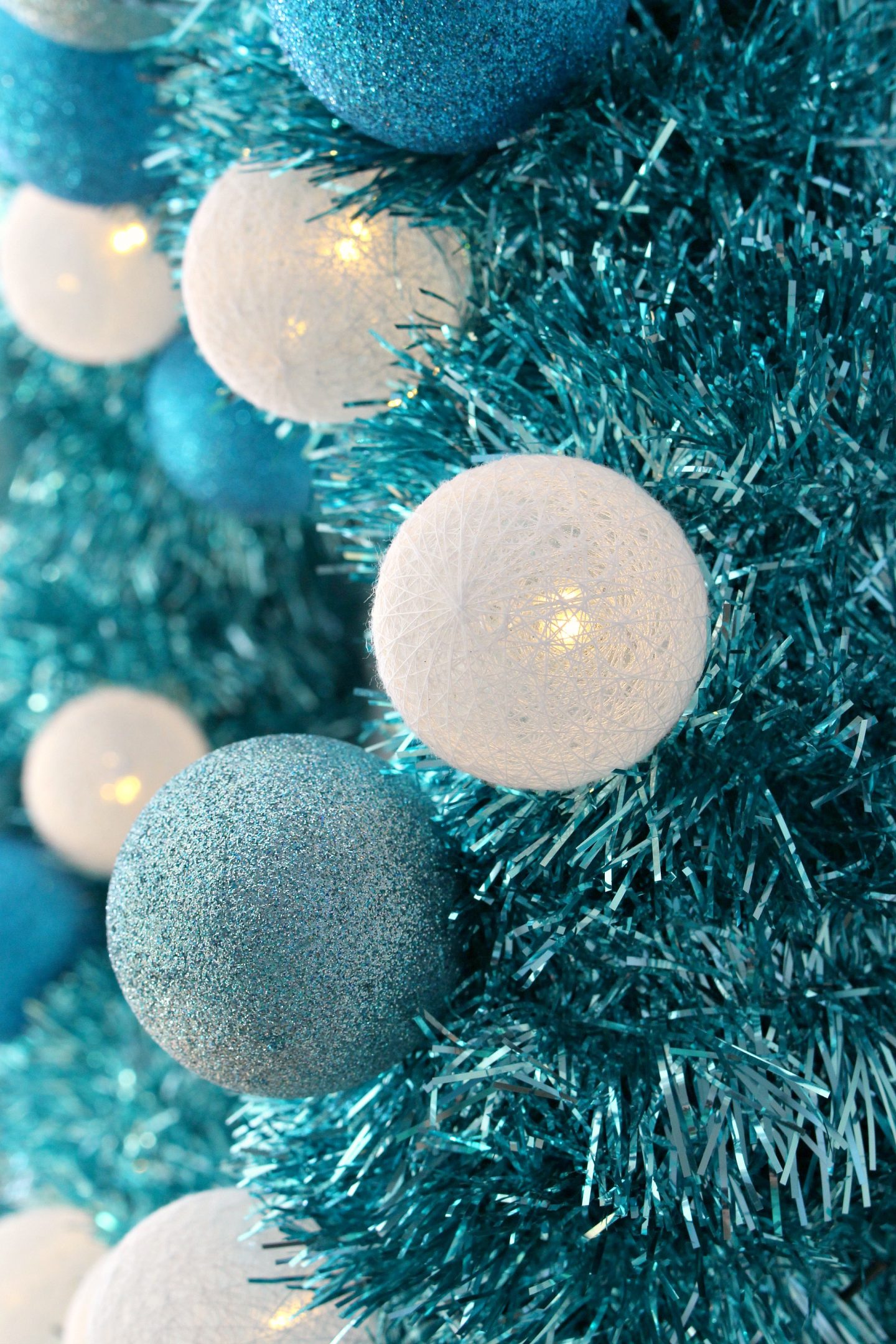 I love the turquoise tinsel with my turquoise front door – it's almost enough turquoise for me!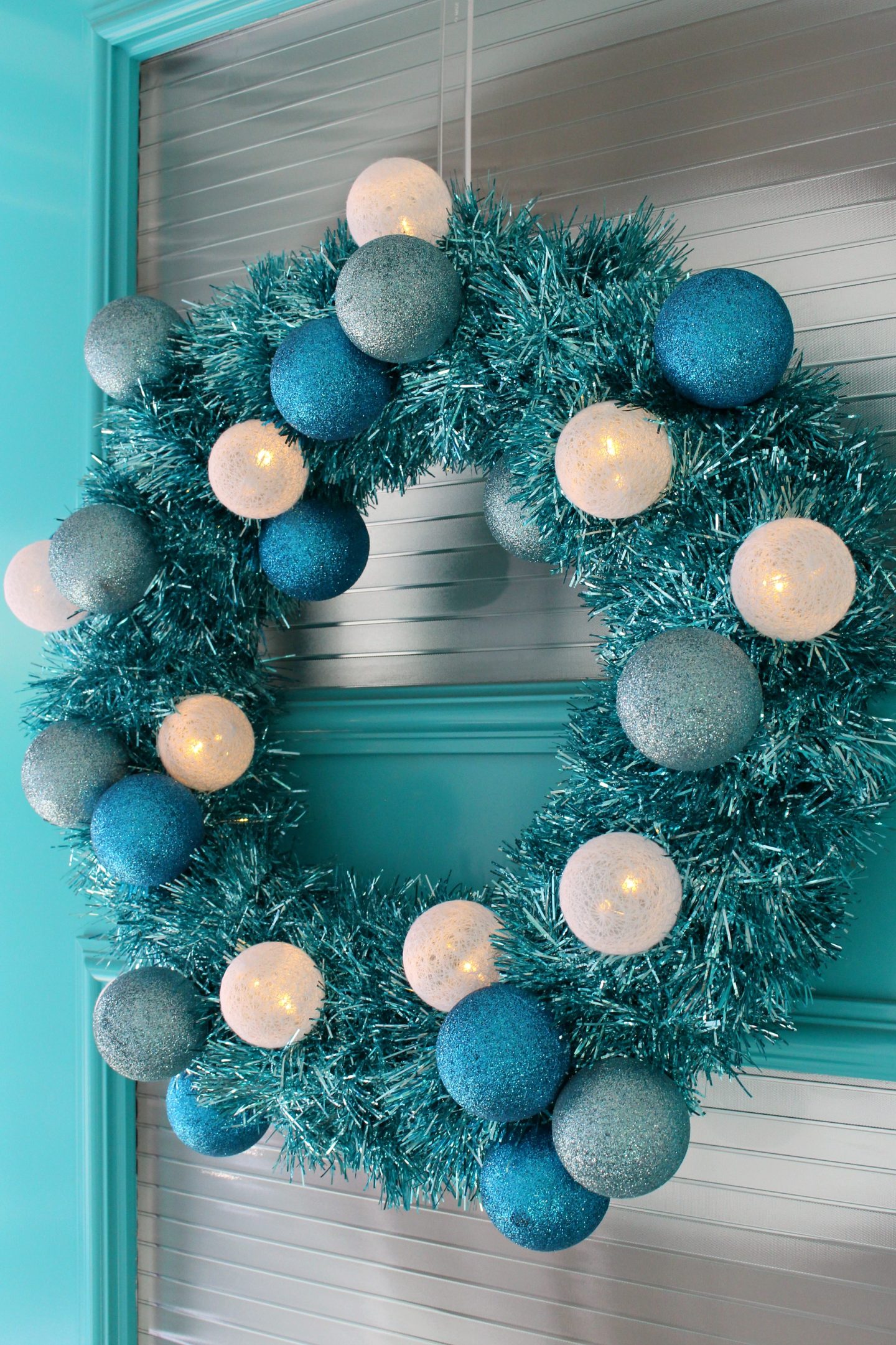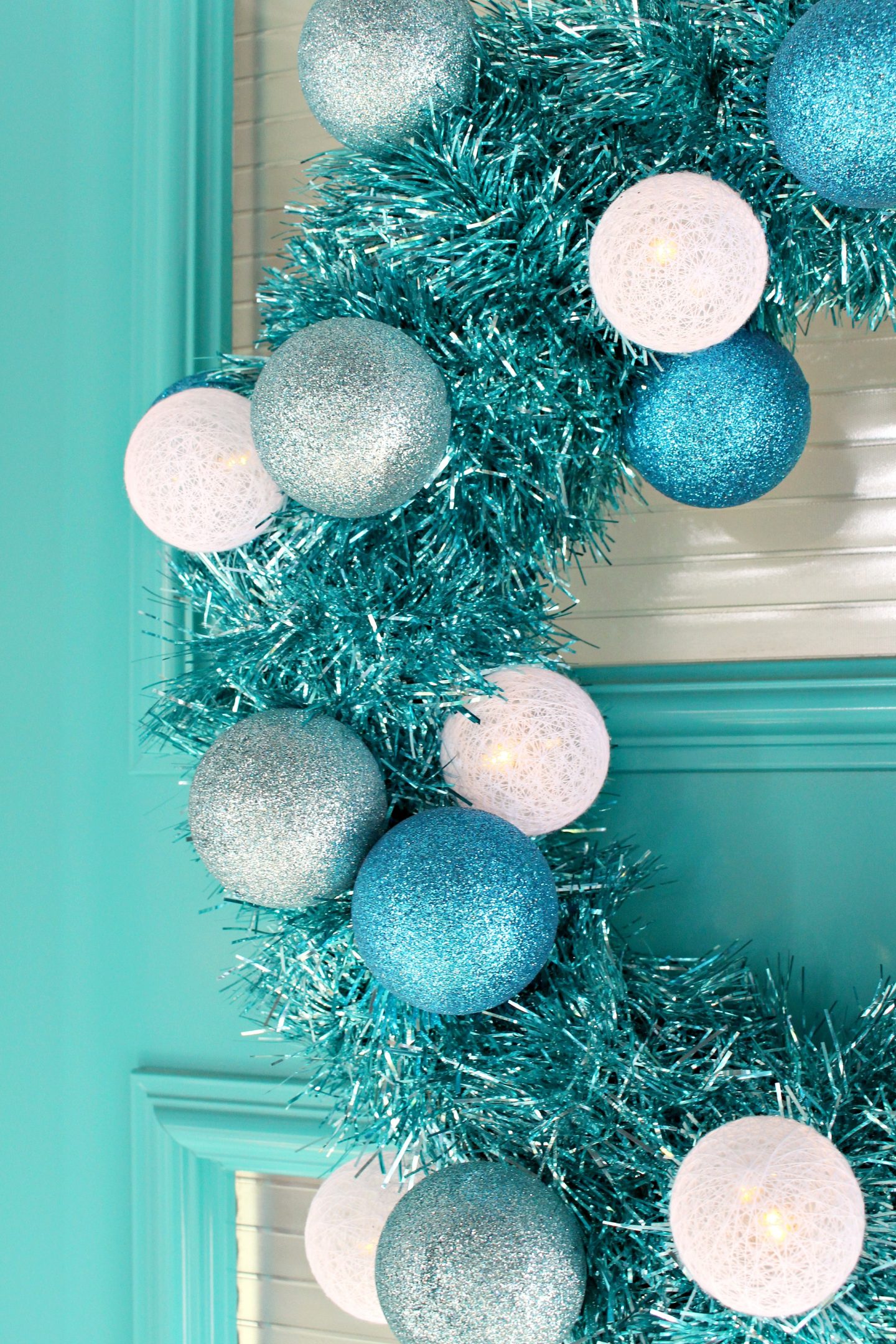 At night the lights make the tinsel and glittery balls sparkle like crazy – I love coming home to this wreath at night because it's just so welcoming.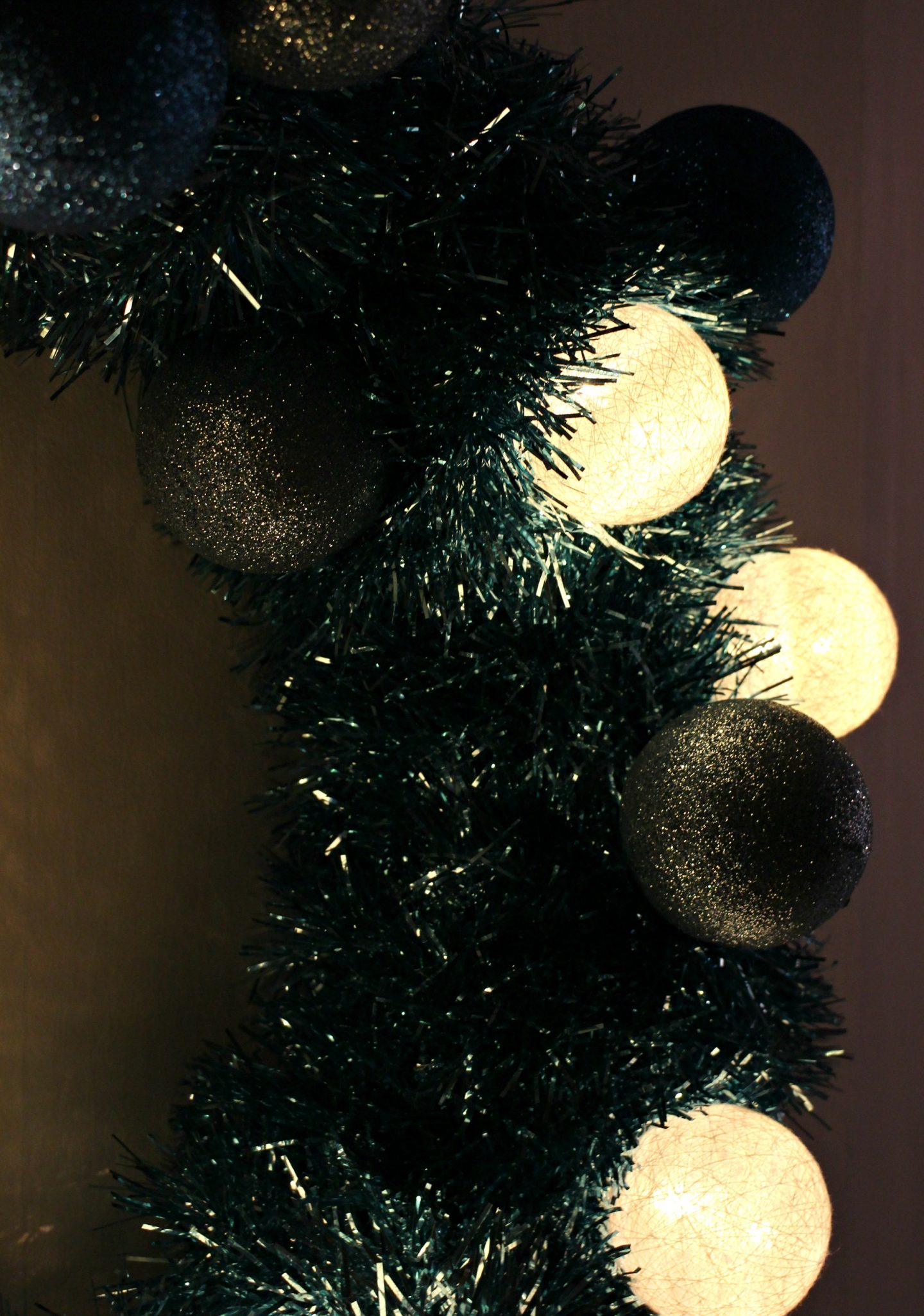 It's so easy to make a DIY tinsel wreath and I love the retro vibes.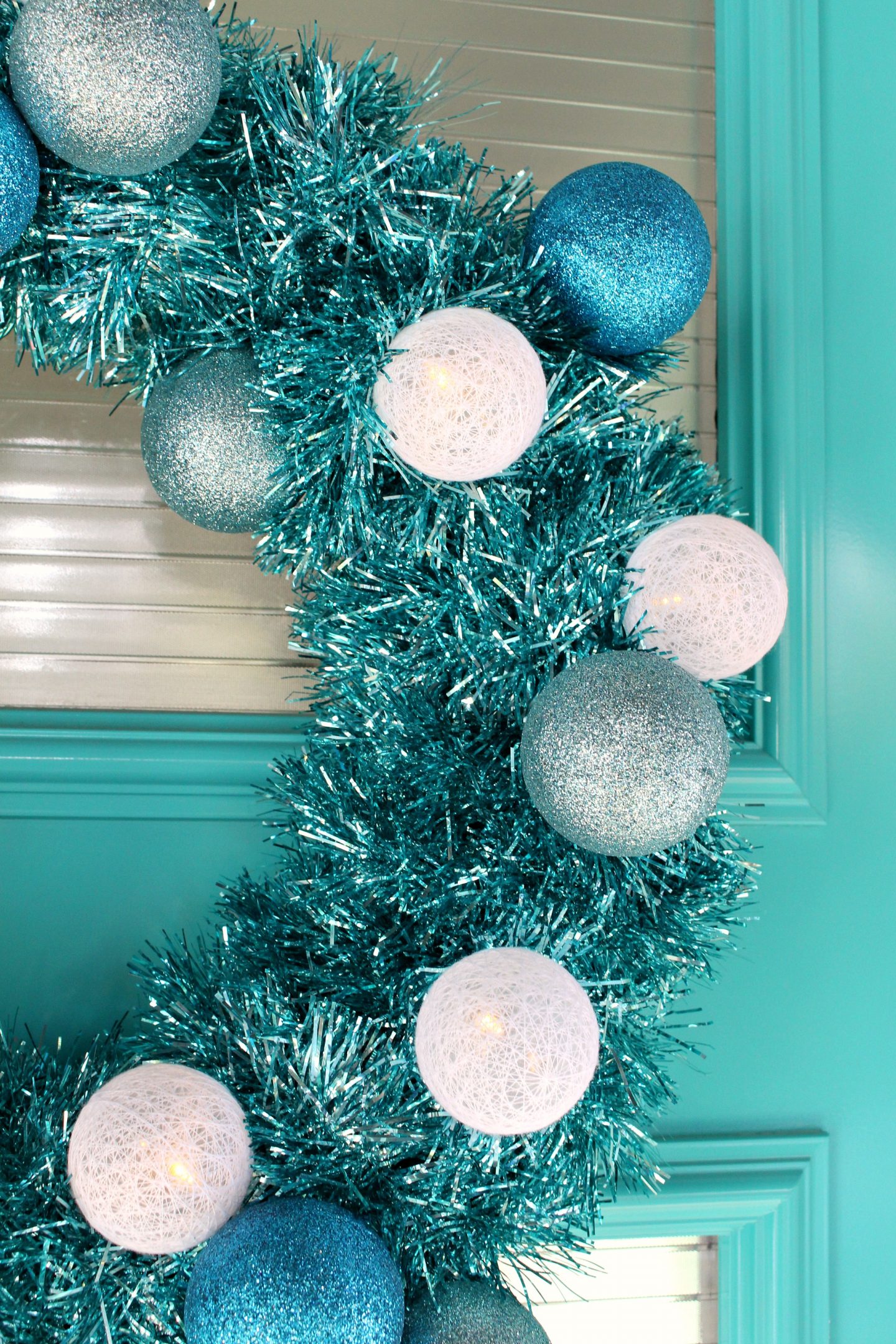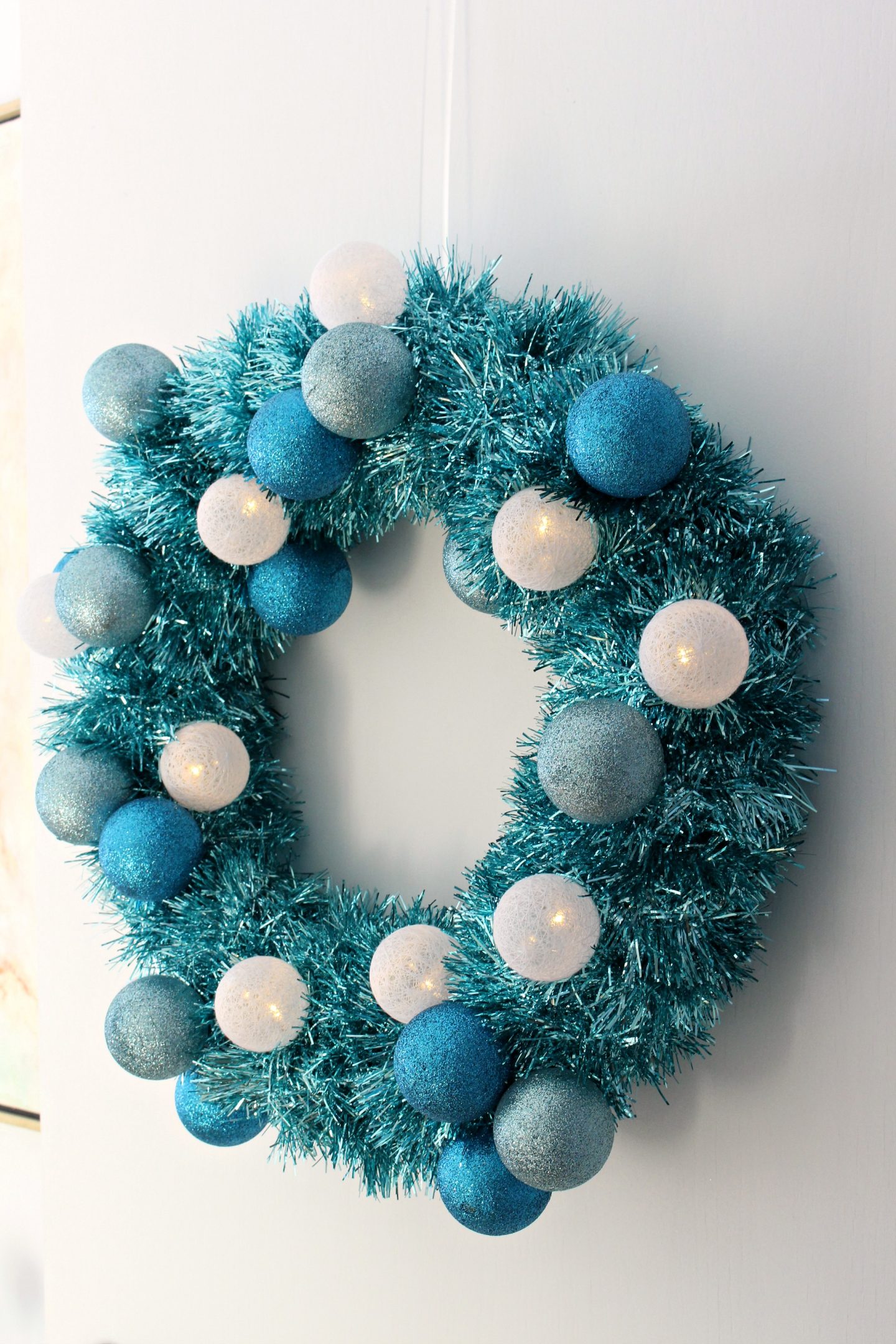 For the BIY (buy-it-yourself option) I found this simple turquoise tinsel wreath for $40 and this tinsel wreath already bedazzled with glittering ornaments. And for my turquoise loving friends, did you see this Turquoise Tree???