This post is about how to build a fireplace bump out to hang a TV and I'm so excited about this project because we solved a major problem with our living room floor plan. Our house was built in the pre-flatscreen TV era and the former owners just put their boxy TV in the corner of the living room. When we moved in we couldn't mount our flatscreen TV on the fireplace because the mantle was way too high and the vents, which circulate the hot air, were in the way. We ended up placing our furniture pretty much exactly how we had it in the townhouse, which meant that we had our backs to the view, which was silly. Knowing we'd someday renovate the fireplace and make a spot for our TV (and build a secret door to access the fish room!), we eventually rearranged the furniture to capitalize on our view. We invested in a Canadian-made sectional we knew we'd love for years to come, and then we took a page from the former owner's handbook and shoved our TV in the corner. It was somewhat disguised because I had previously painted our fireplace dark grey, but the TV in the corner wasn't my favorite look especially because the view was still partially blocked, but at least we were facing the lake so it was a step in the right direction!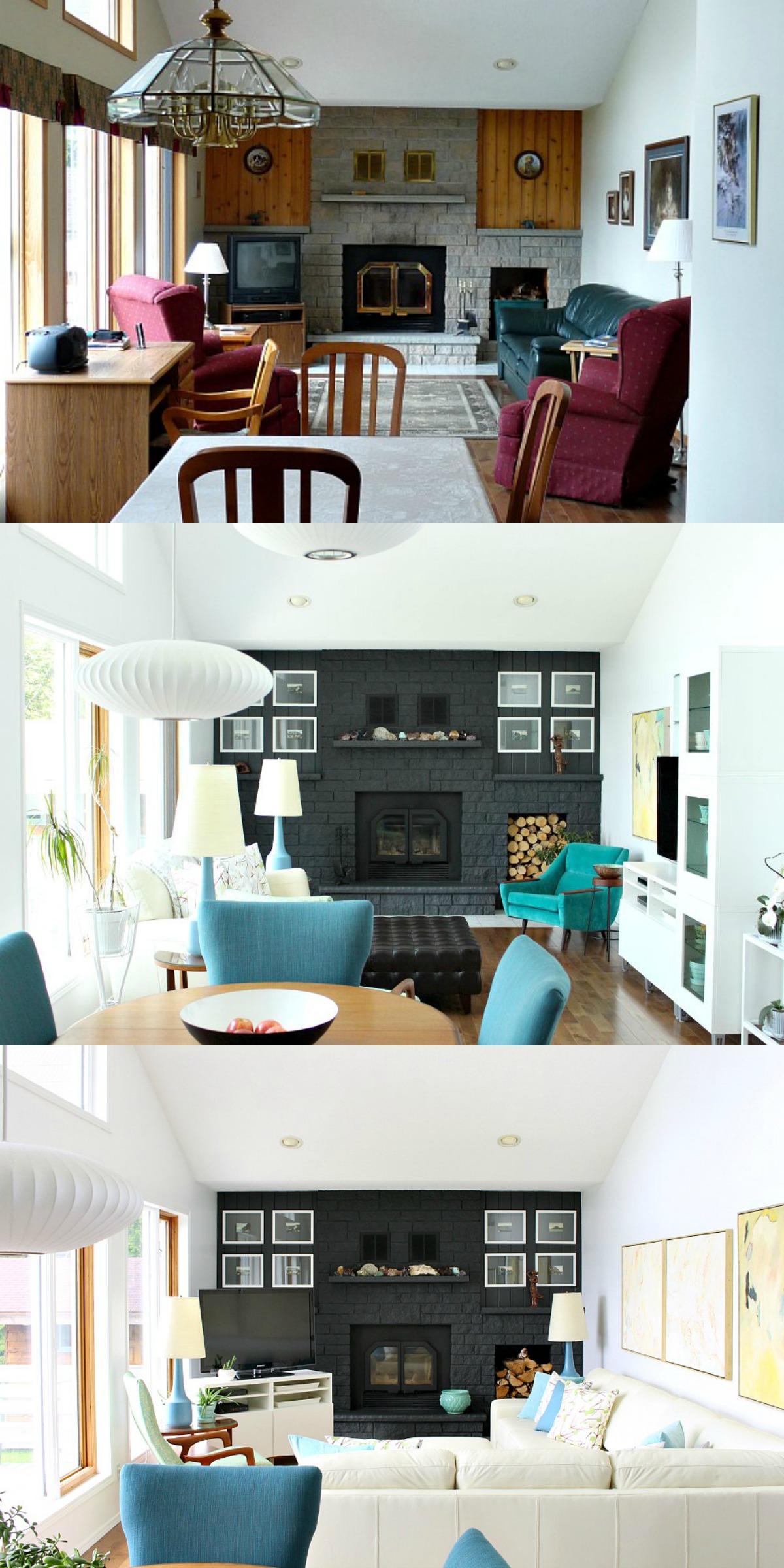 Recently we had all the windows replaced and I made the decision to switch out the casement style windows on the lakeside for big picture windows and – WOW – is the lake view ever incredible now! I can't believe what a difference the new windows have made. With the fireplace reno still far in our future (kitchen reno first, at some point…), I started to really wish we could get the TV above the fireplace now. I guess my brain was working on this problem a lot because suddenly, as I was actively thinking about something quite different, an idea popped into my head! If we could build a bump out to hang a TV, we could circumvent the inconveniently high mantle and also hide some ducting inside to redirect the heat from the fans! With a little kernel of an idea, Hubby and I fleshed out the details and made our TV over the fireplace dreams comes true. I wanted to share how to build a fireplace bump out to hang a TV, just in case anyone else has a fireplace that makes hanging a TV difficult – at the very least, maybe this project sparks an idea of your own! Just make sure it doesn't spark anything else. As a volunteer firefighter and first responder, I should caution anyone renovating or adding to their fireplace to make sure the new additions are to code and not a fire hazard – we meet code by having any combustible materials the appropriate distance from the top of the fireplace opening, but double check before you start any project like this.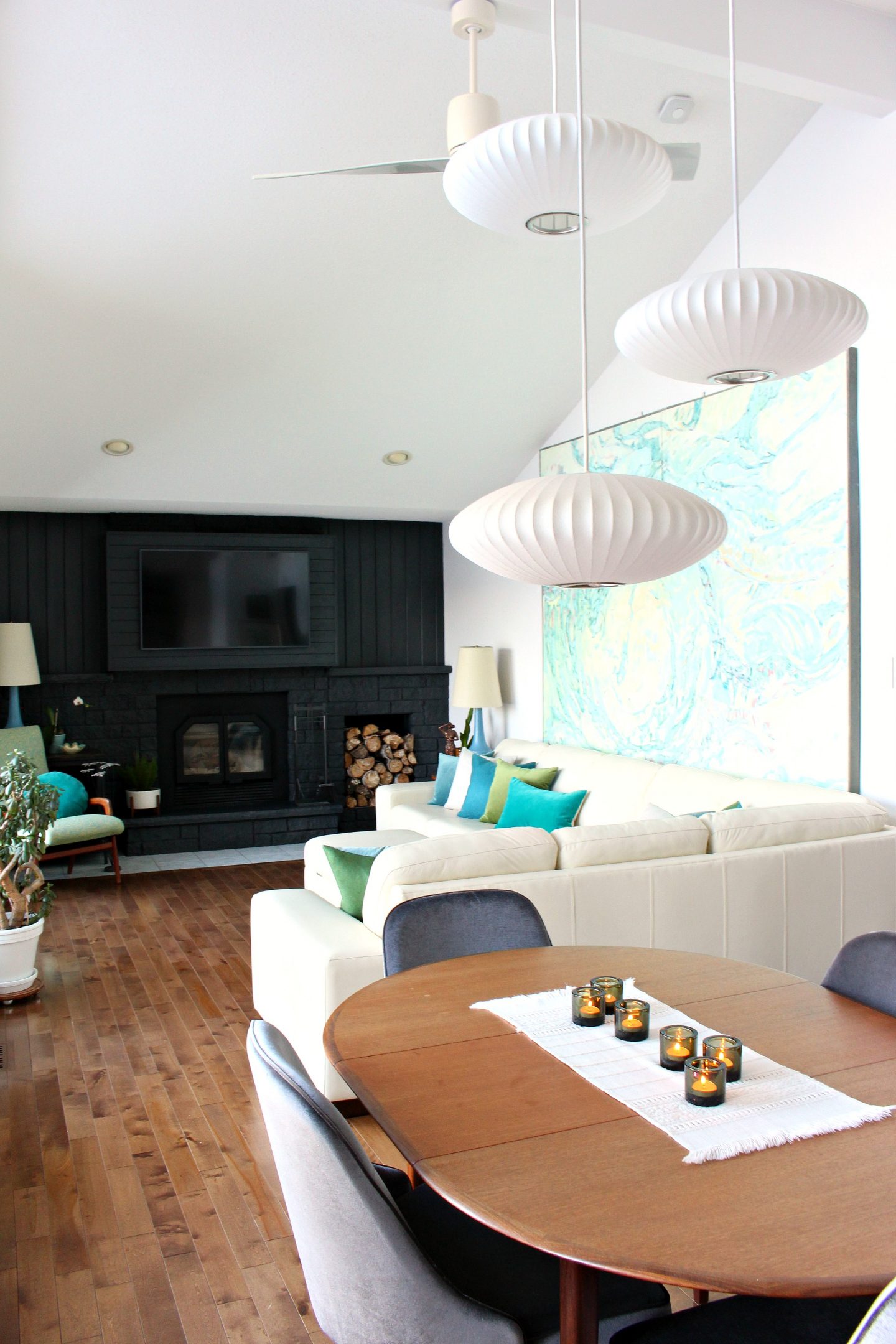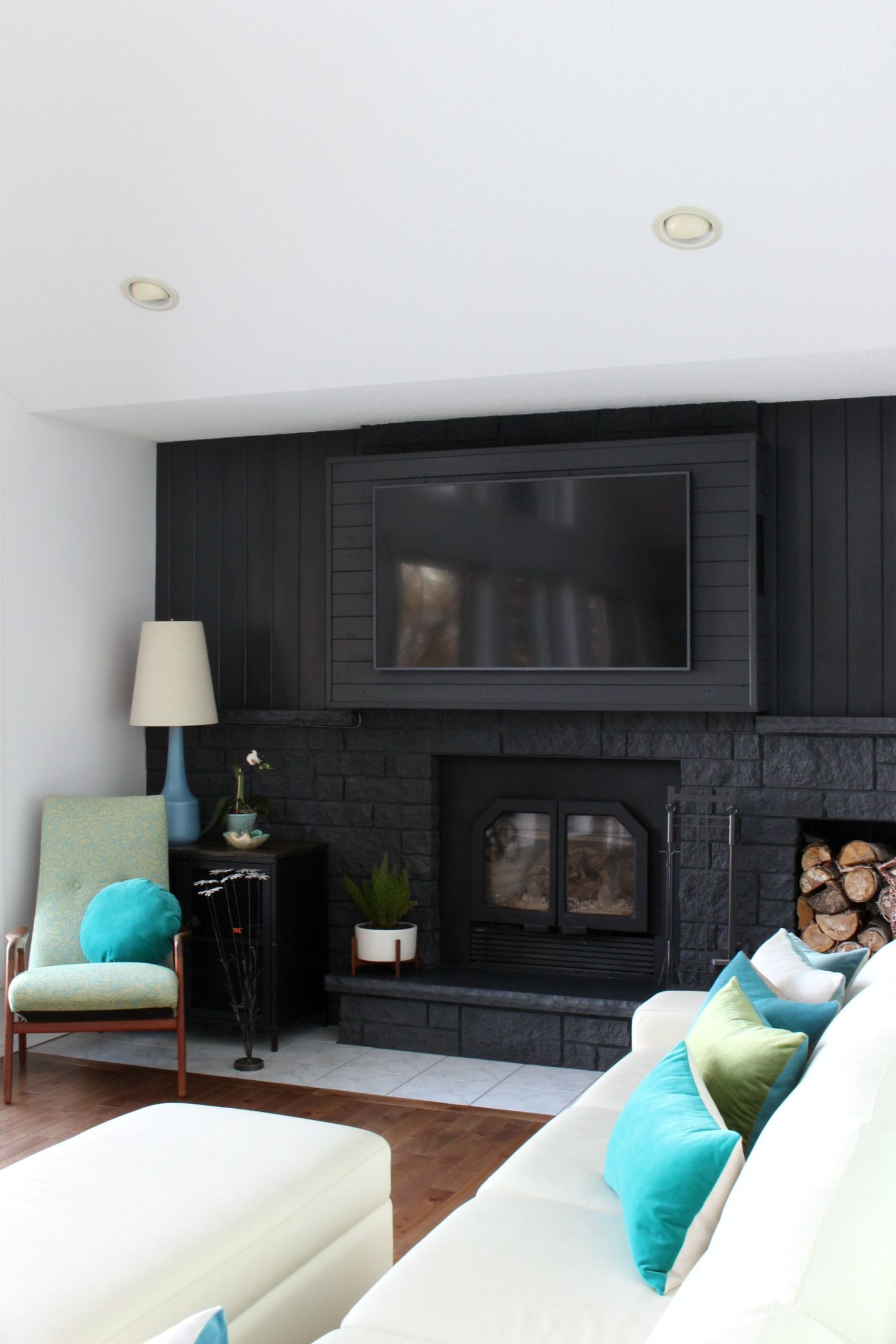 Here's what the fireplace looked like when we started, but you can check out this post for better photos. We don't really use the fan a lot because it's loud, but a little heat consistently leaks from those vents any time we use the fireplace: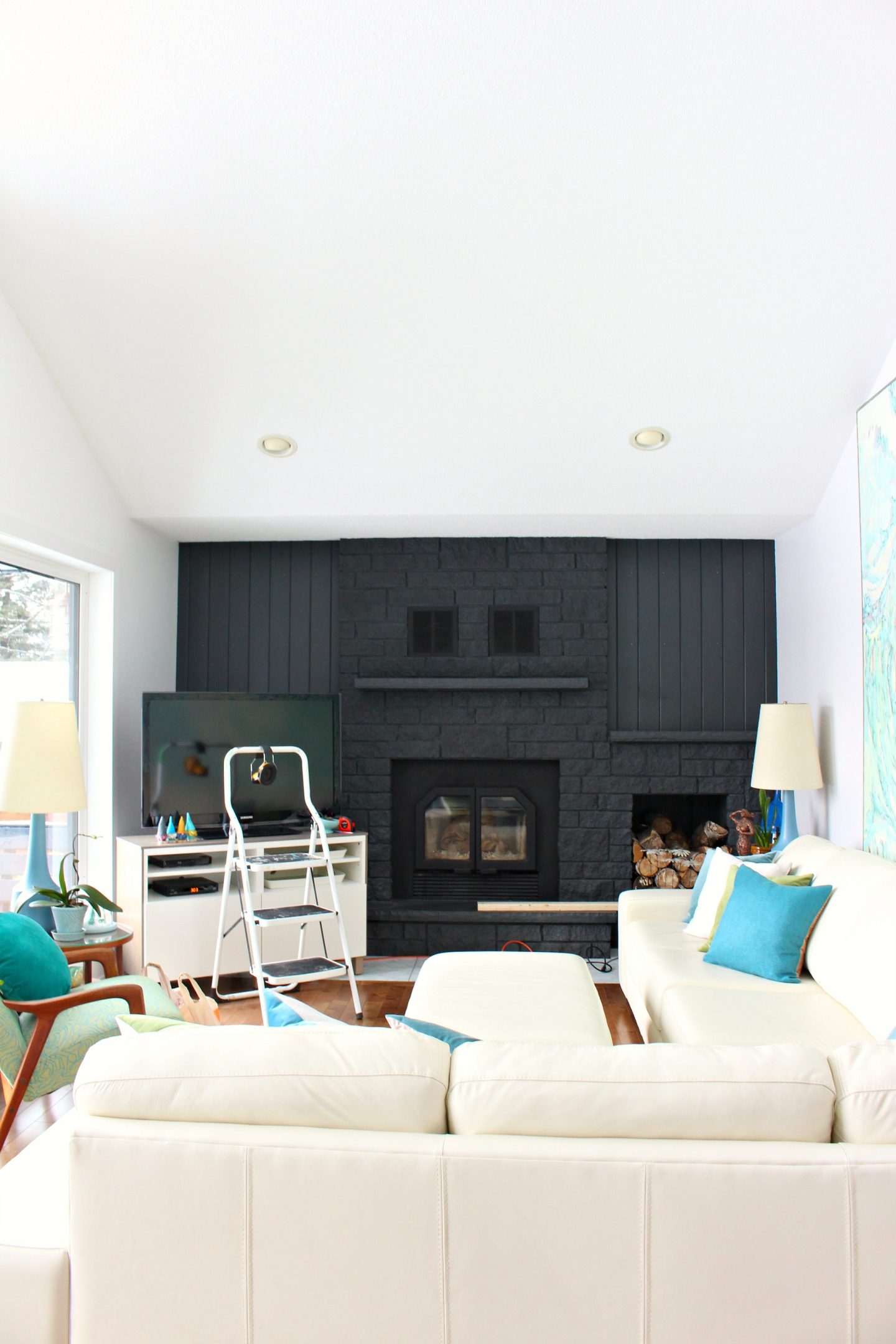 Supplies to Build a Fireplace Bump Out to Hang a TV:
3/4″ plywood (1 sheet)
3/8″ plywood (for bottom panel – bought one sheet and had lots of waste)
Two 2x4s
Two 2x2s
Four 8 foot long, 1″ L-shaped outside corner trim pieces
Thin tongue and groove pine paneling
Hammer drill (I bought the Makita because it's teal – but it worked so well)
2-1/2″ wood screws
3/4″ sheet metal screws
3/4″ 18 gauge air nails
Construction adhesive
Ducting
Table saw or circular saw (for cutting panels)
Miter saw (for cutting outside trim and the paneling)
Jigsaw (for cutting the vent holes)
Compressor and air nailer
Angle grinder (for cutting holes in ducting – could use tin snips also)
Behr paint/primer in one
Brushes
Modern black floor vents (one for each side)

How to Build a Fireplace Bump Out:
First we mounted 2x4s directly to the manufactured stone with heavy duty Tapcon concrete screws. We drilled them into the stone (not the mortar) with our fancy new hammer drill and this task was surprisingly easy. I bought extra bits, convinced they'd wear out after hours of painful drilling, but it was as smooth as drilling into wood – except a heck of a lot louder. We grabbed some ducting, which came in two halves, and cut square holes for the vents using an angle grinder, before securing the ducting to the 2x4s with sheet metal screws: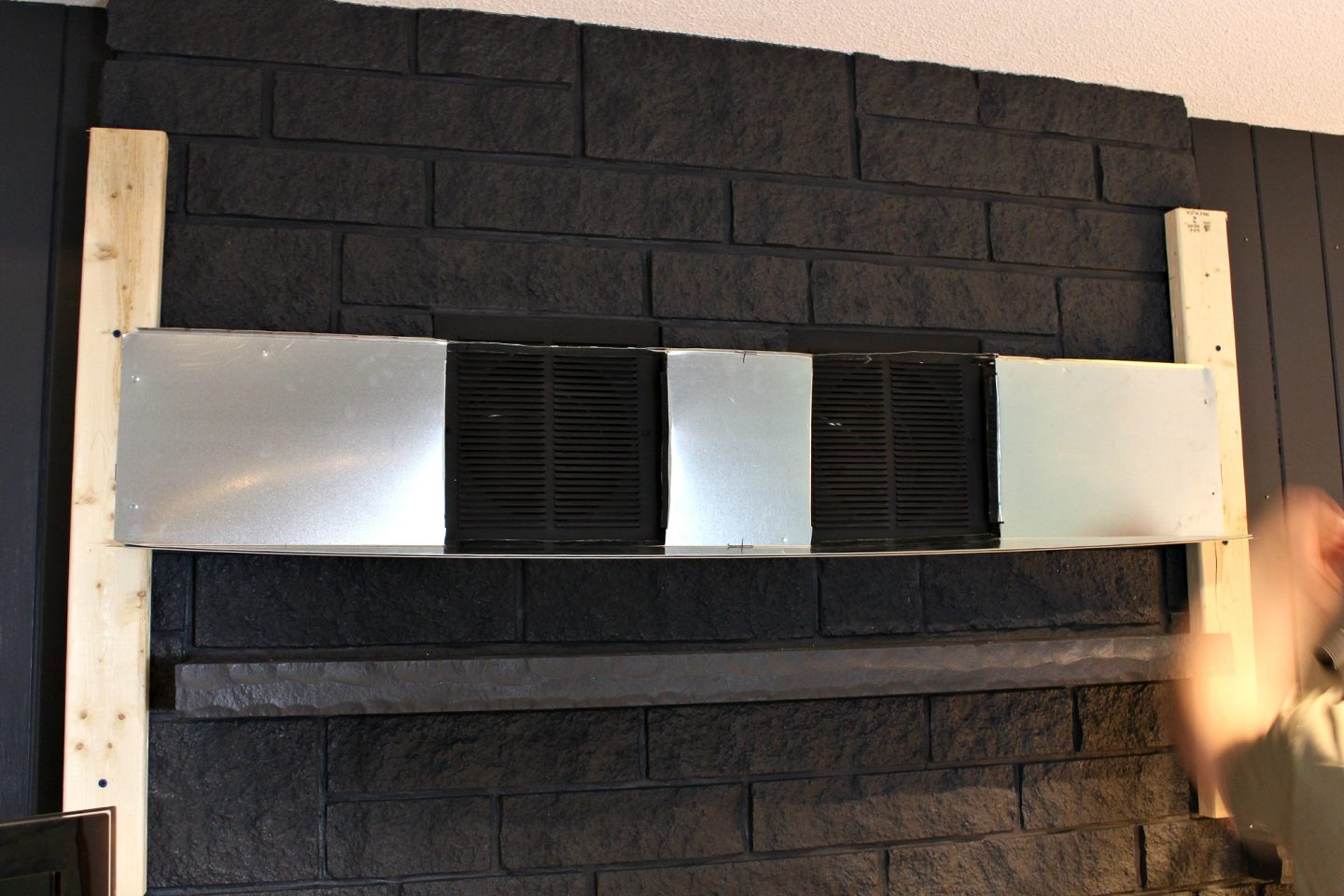 The ducting has two halves and we taped them together, and taped around the vent, with duct tape to seal it as much as possible. With this little hack, we could redirect most of the heat away from the TV out the sides of our bump out.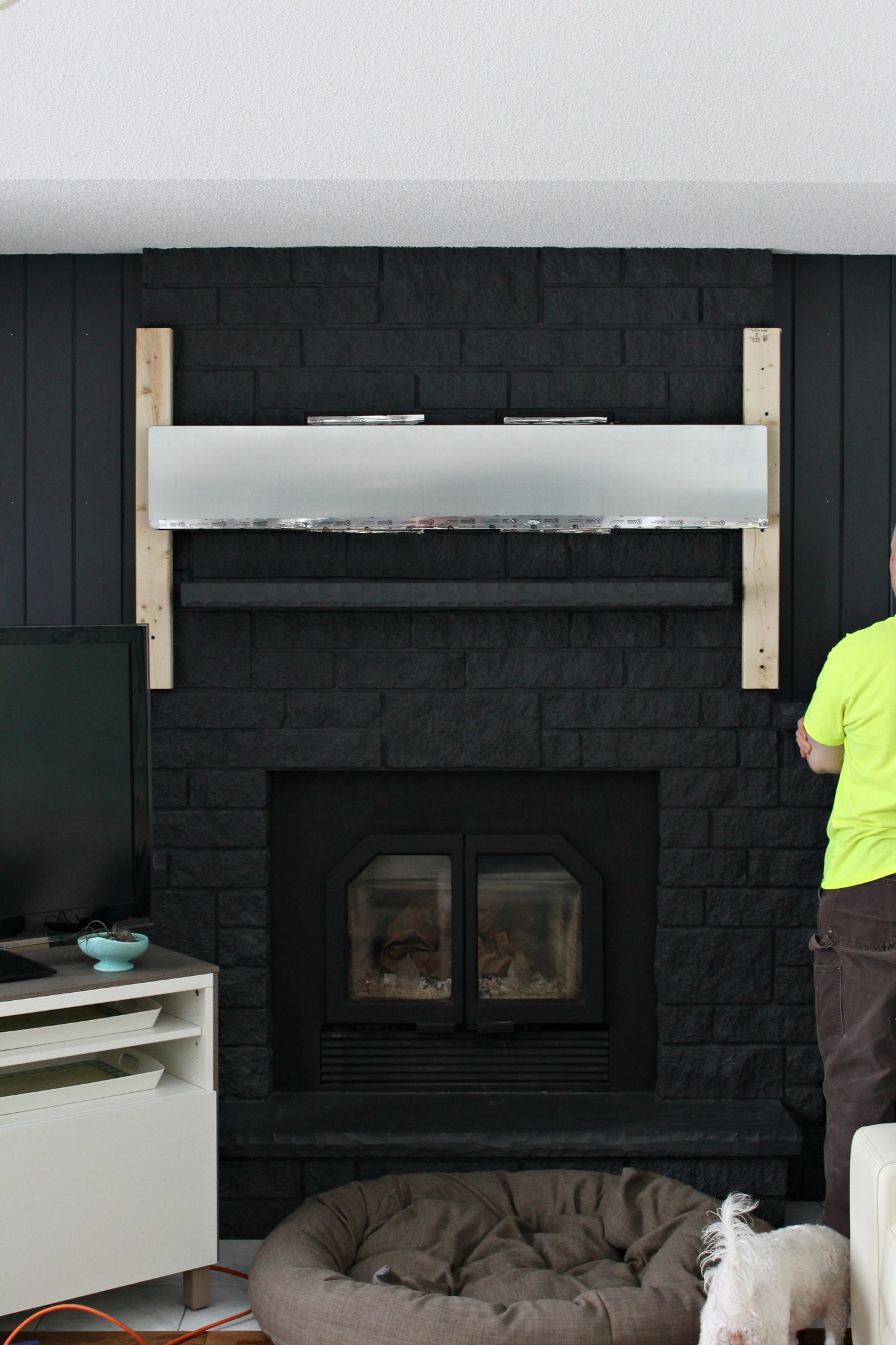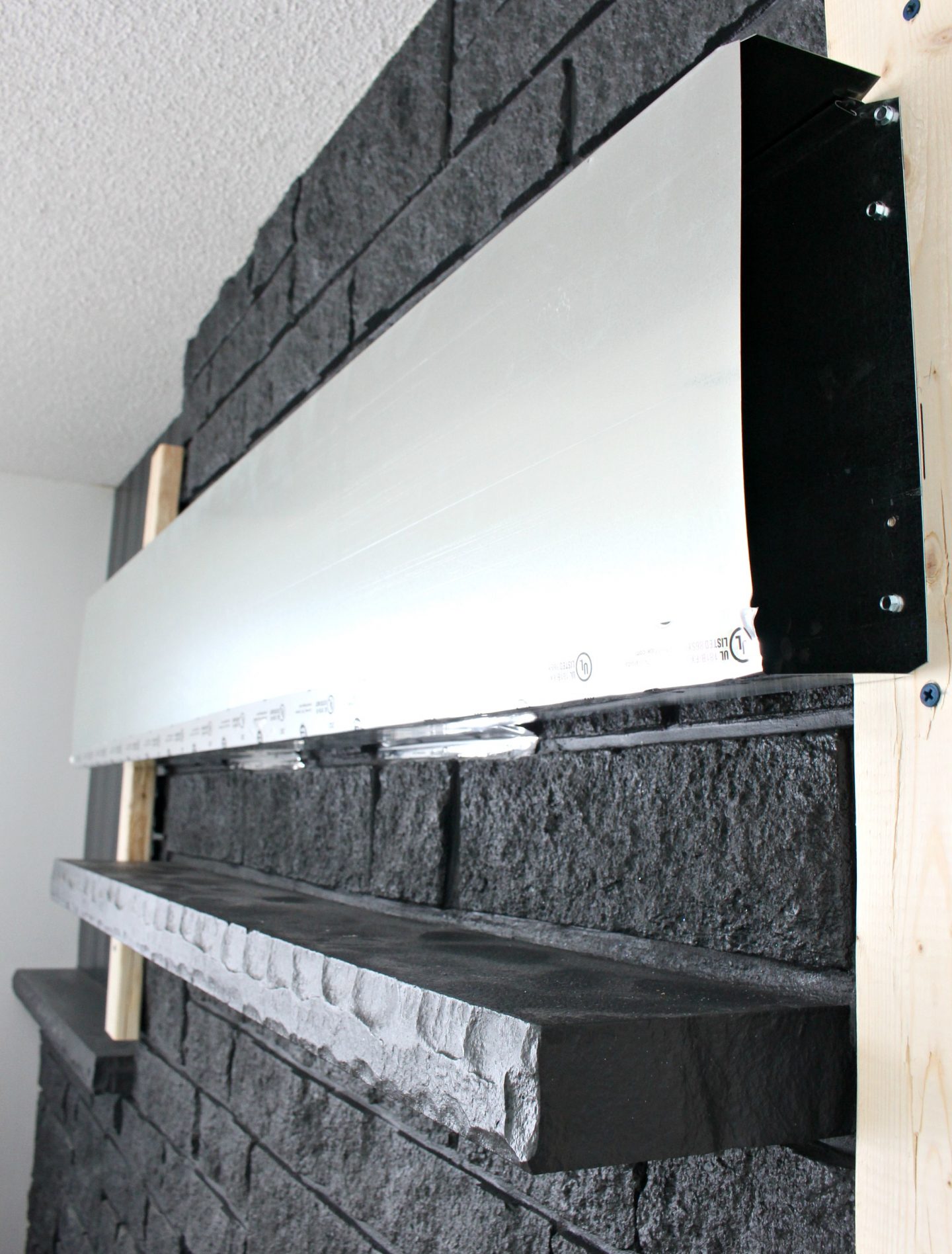 Although securing our bump out to the 2×4 would have been enough, we also made use of our existing mantle for some extra strength and added another piece of 2×4 which sits on the mantle surface (screwed to the back of the front panel), helping to take some of the the weight. At this point we also cut two side panels out of the 3/4″ plywood, cutting out holes for the venting with a jigsaw, to line up with the ducting. These panels were screwed to the side of the 2x4s as well as the stone, using the heavy duty Tapcon screws again. Theoretically we could have screwed it just to the stone or just to the 2×4, but we wanted to have many anchor points and overbuild it for strength. As well, while first assembling this, the bump out was only screwed to the 2x4s which made repositioning easier and we screwed into the stone once we were fully committed. The screws going in to the side of this bump out, as opposed to the front, are stronger – the screw would have to actually shear (snap) whereas ones just going in to the front could theoretically be pulled out by the weight of the TV.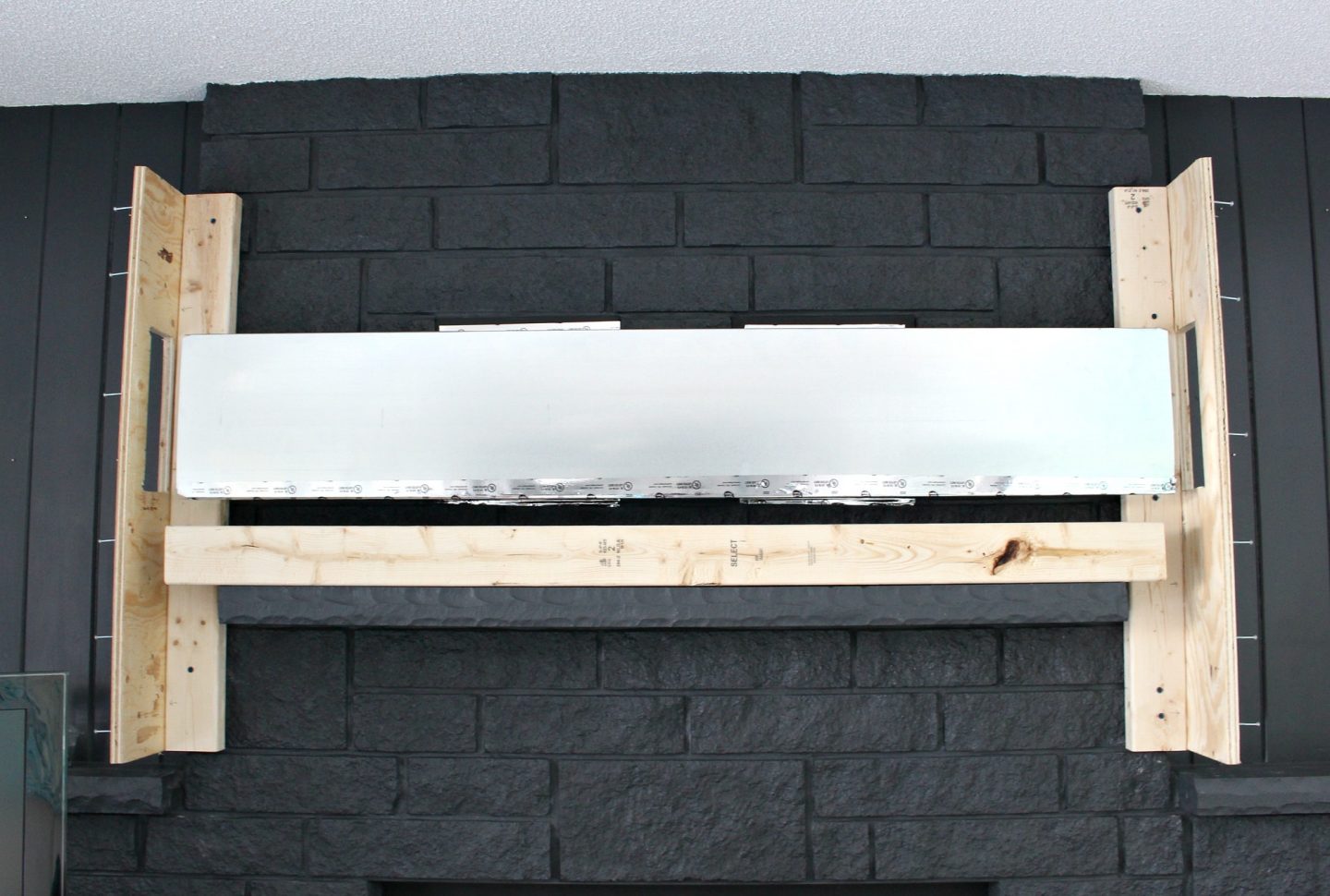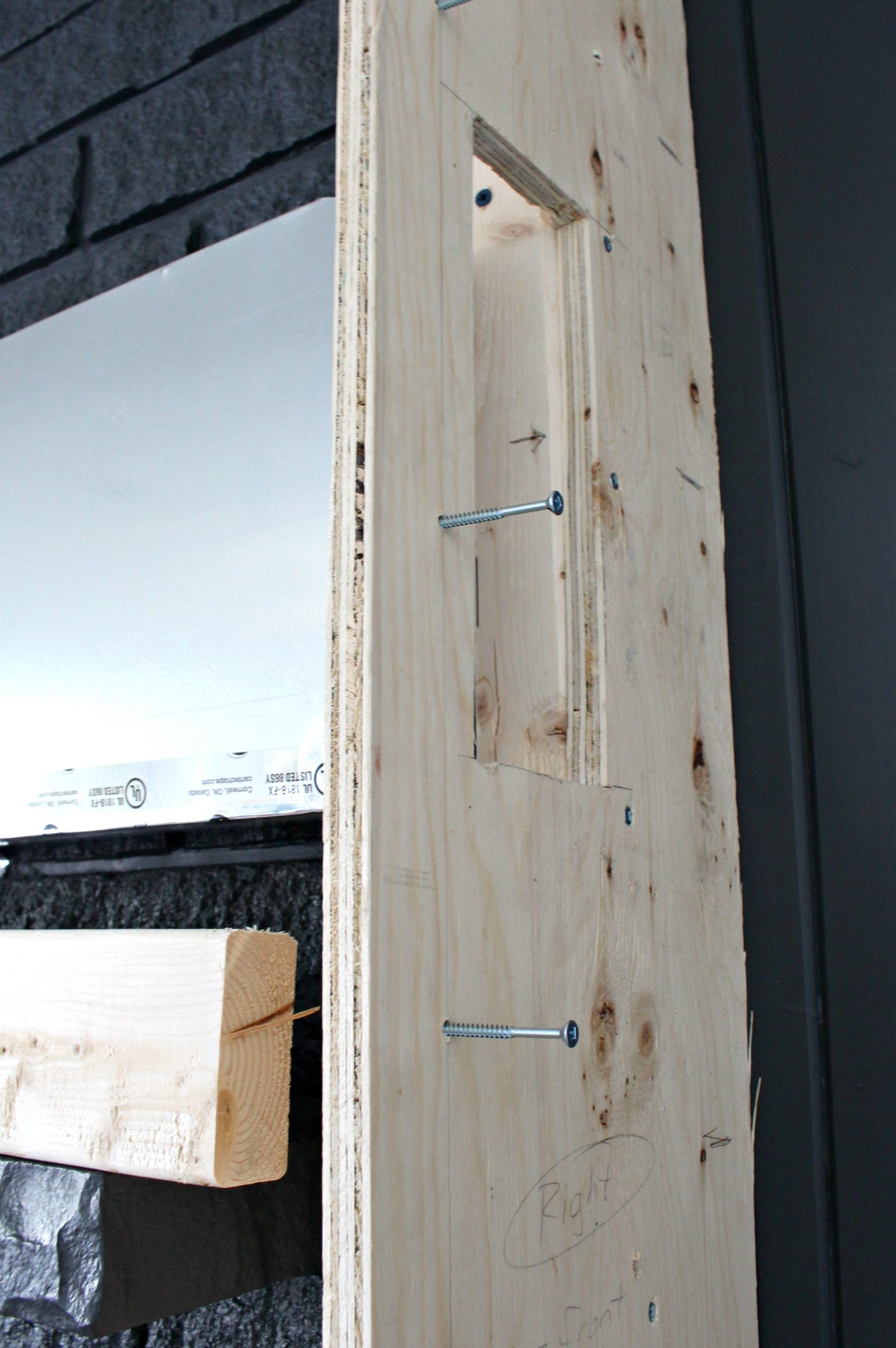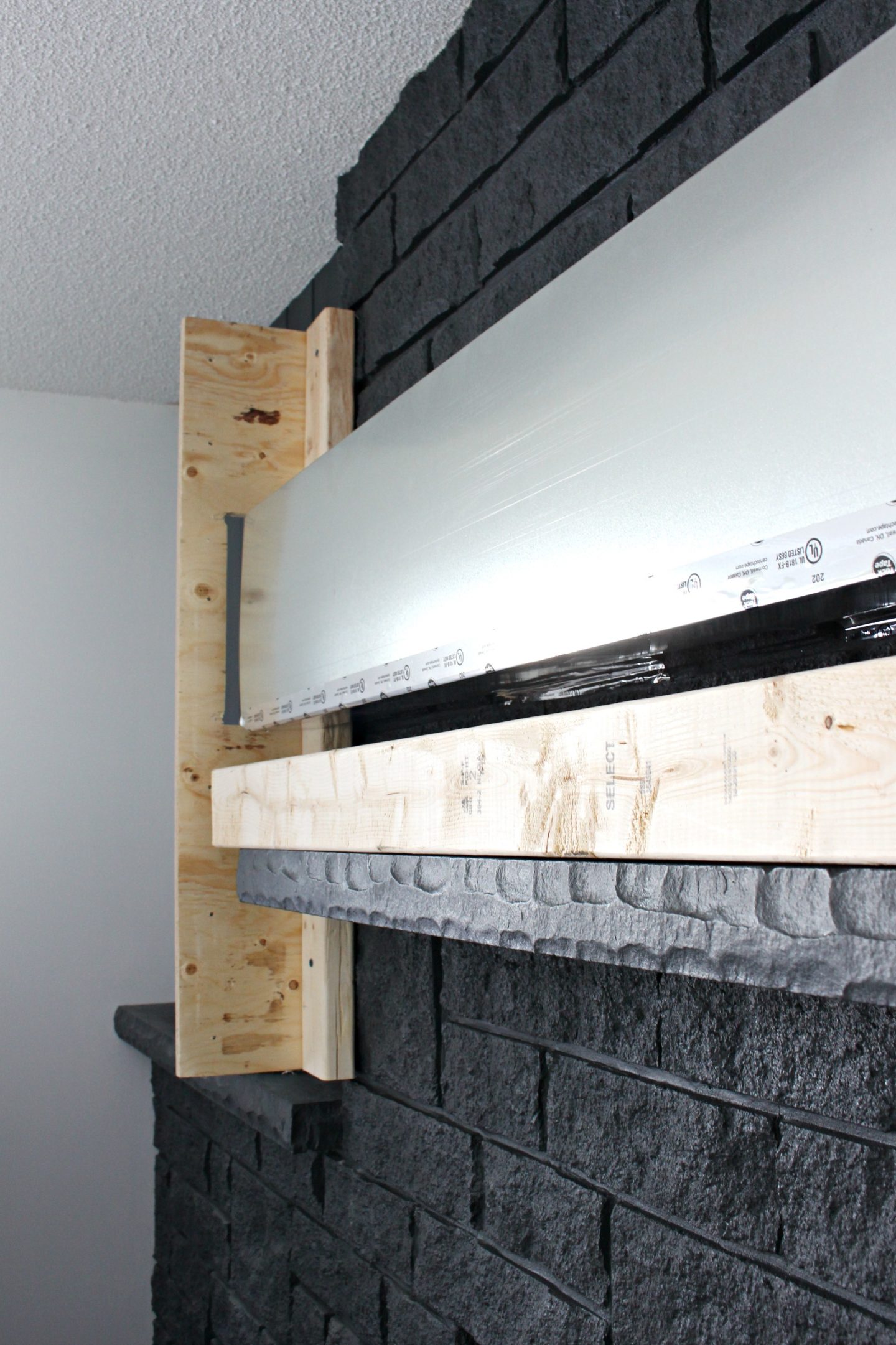 The front panel is also 3/4″ plywood, but there's a trick here. Inside the corners are 2×2 pieces of wood so the plywood sides and front don't just screw to each other. There's extra wood affixed in there for a stronger hold. We used longer screws for this and that adds strength as well. We chose to position the plywood so it sits inside a mortared seam on the bottom, which makes it look less "tacked on". The top is open, in case any hot air does escape our ducting system it can go up, but it's also positioned to visually stop at the corresponding mortared seam and there's a nice big stone centered on the top, and the bottom, which I think helps this hack look a little more intentional and thought out.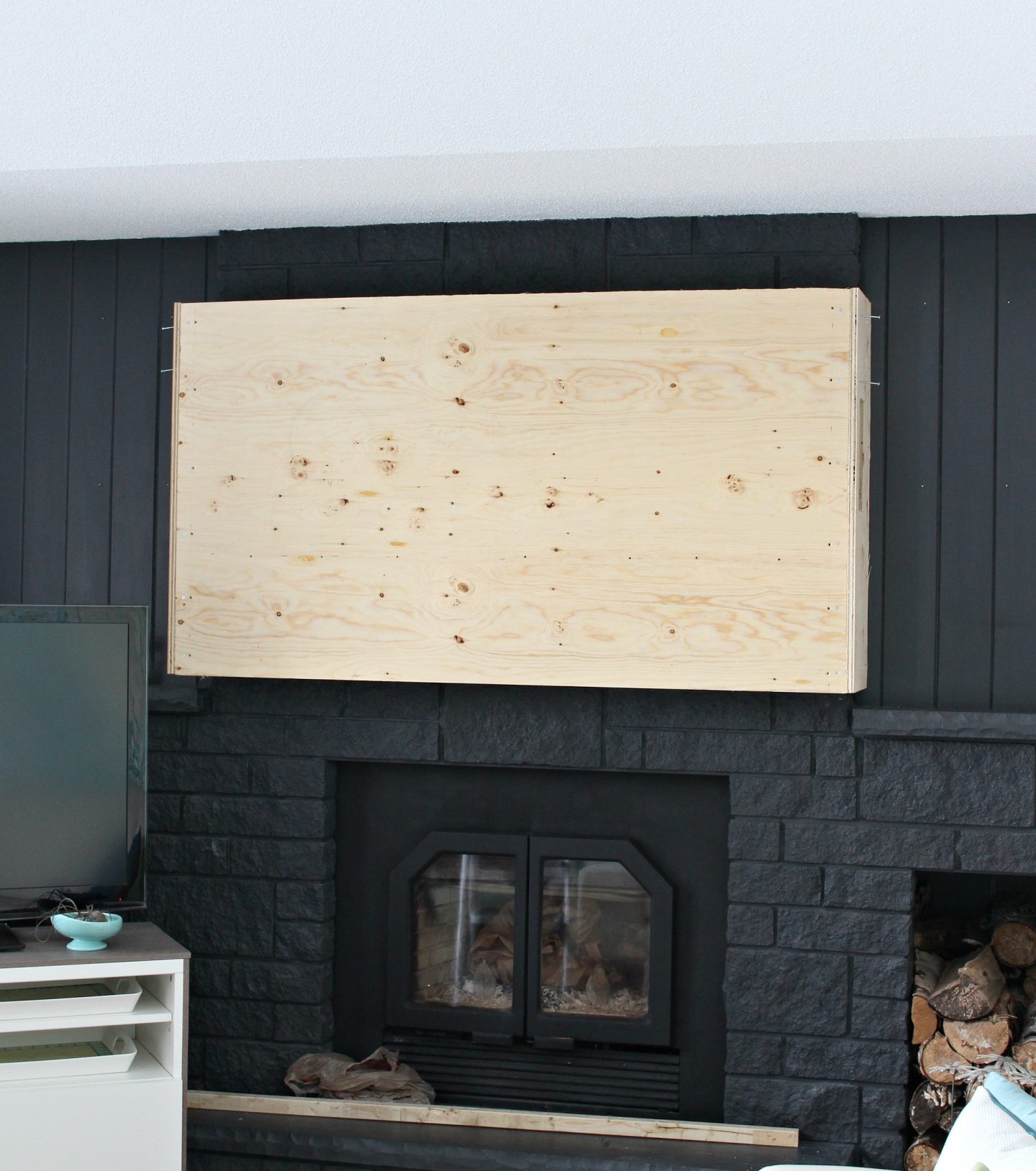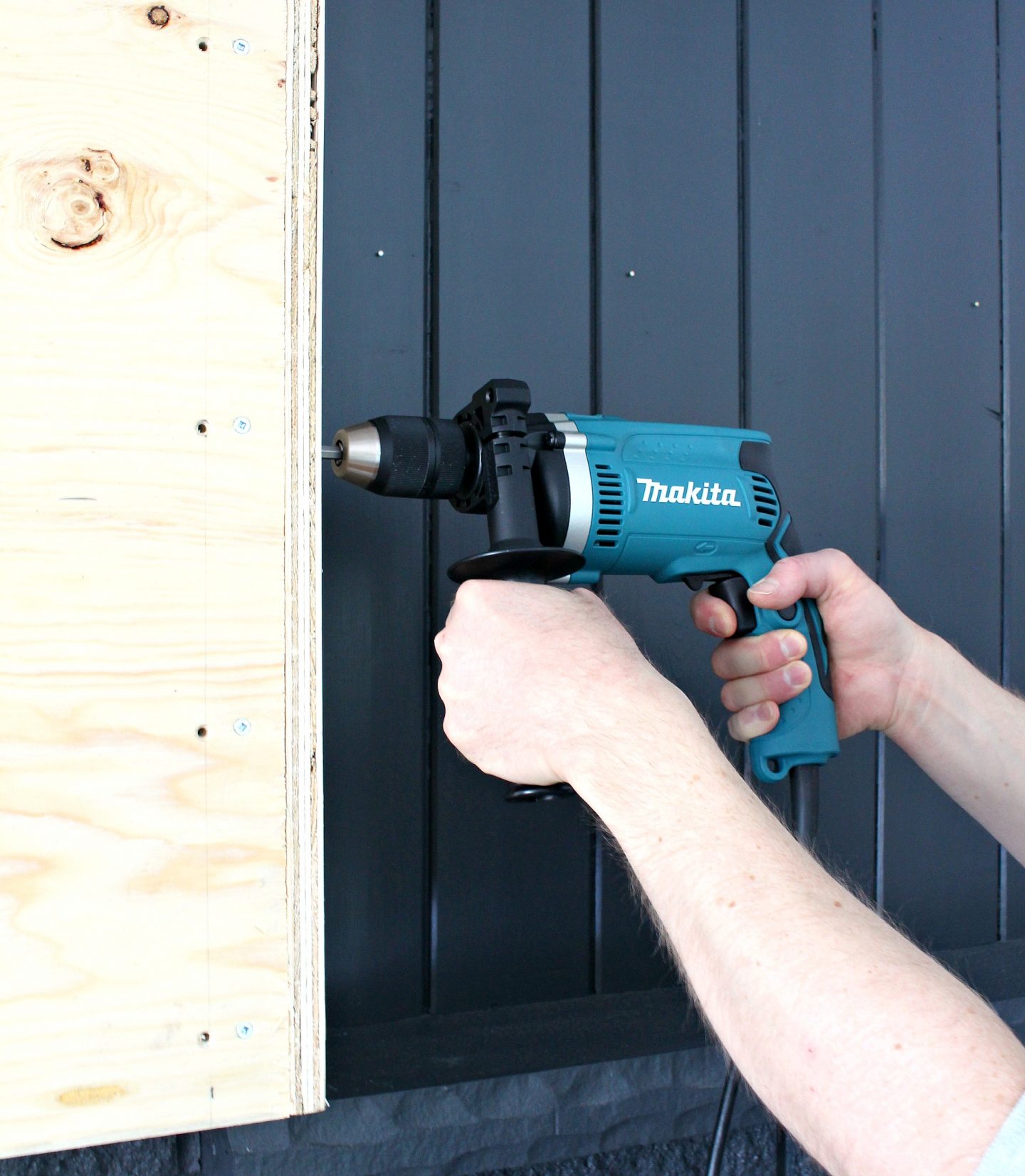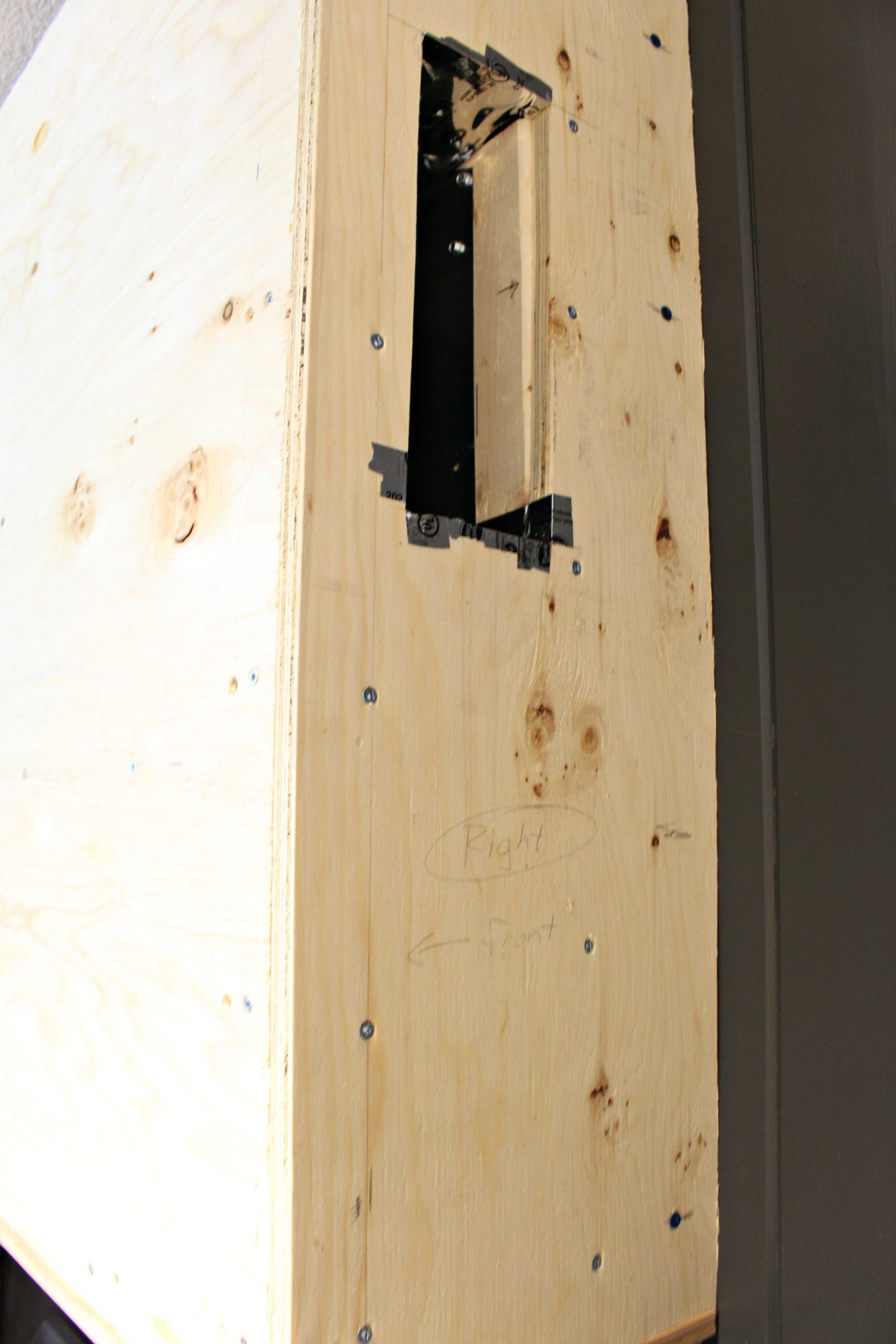 Underneath the bump out is a recessed piece of wood (made from 3/8″ plywood) with two half circles notches out at the ends. This recessed piece is just screwed into place and easily removed. This hides the messiness but also the cable for the TV comes through the left side and under the left mantle and down the wall.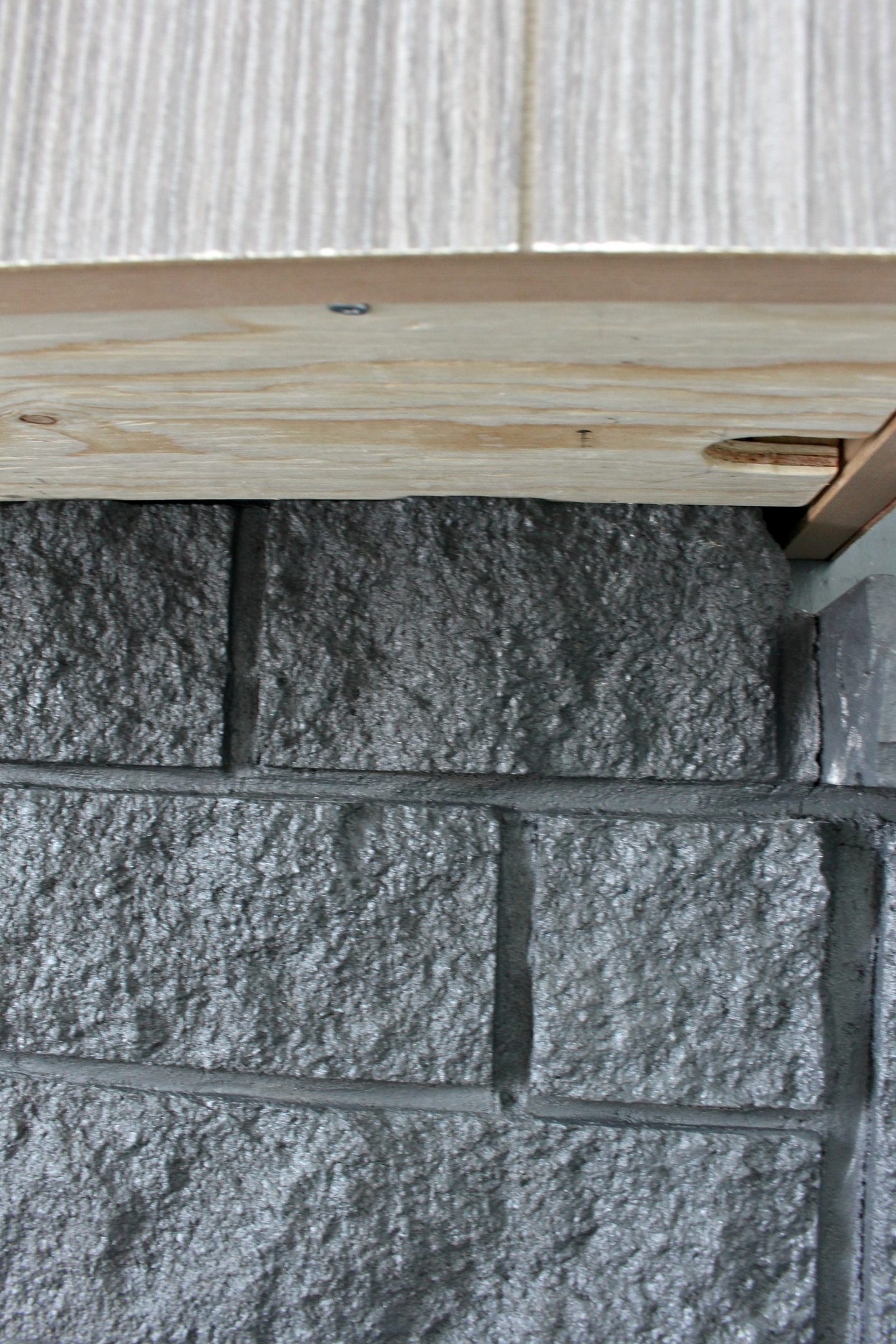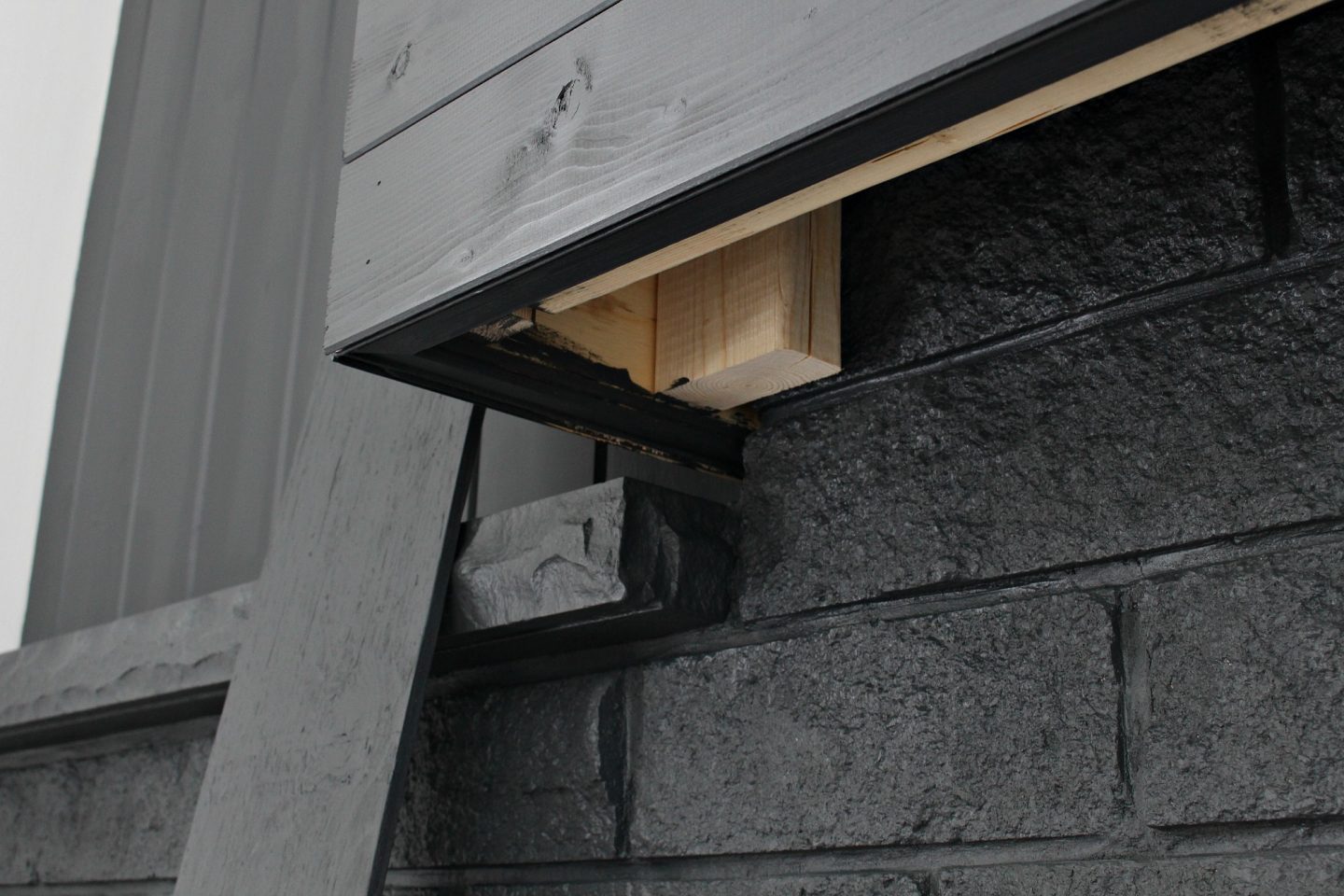 We originally faced the ugly builder's grade plywood with faux paneling that we thought would match the existing tongue and groove paneling, but it looked a little off (read: cheap).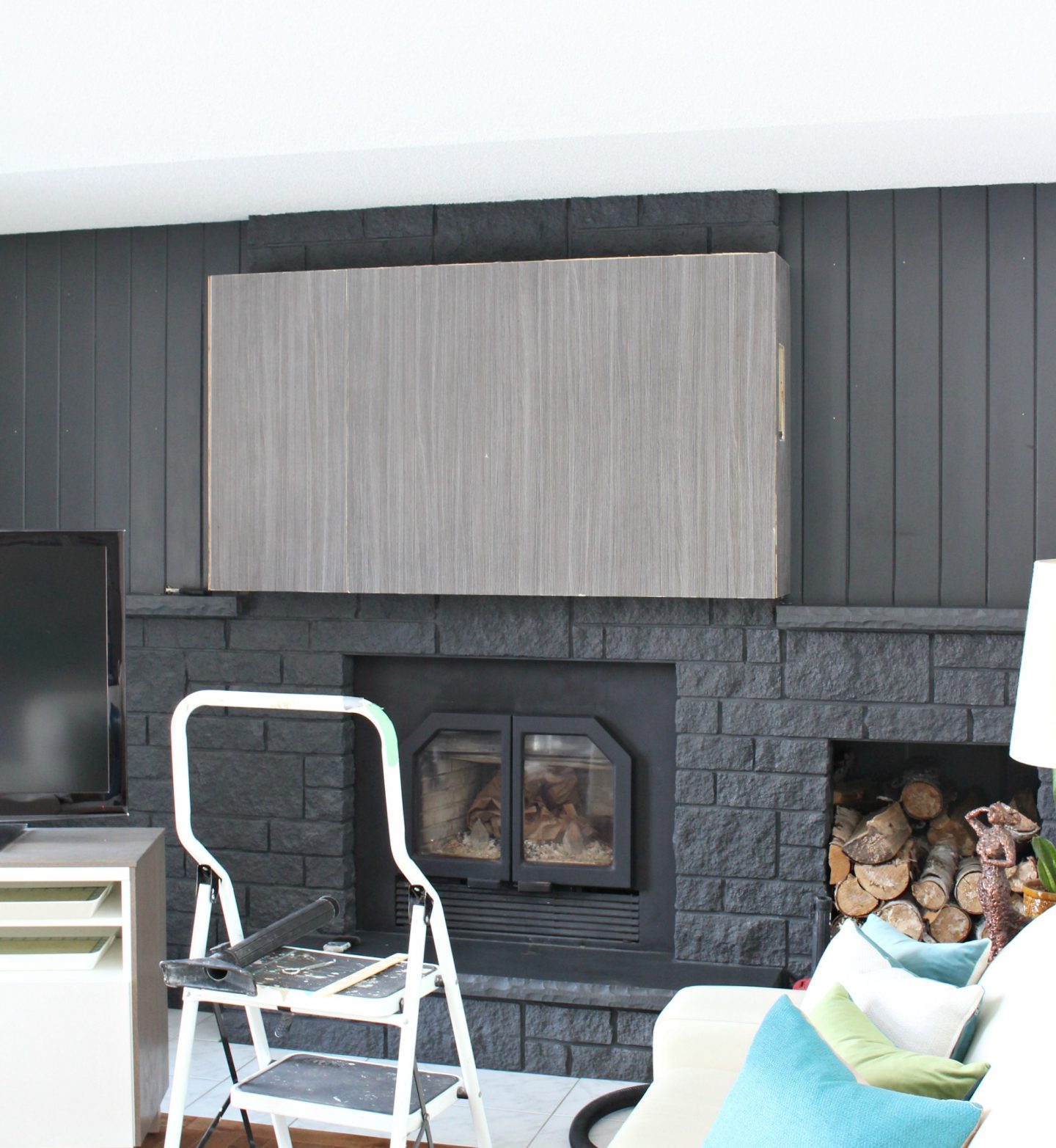 We made another trip back to the home improvement store and found a really thin tongue and groove paneling. We didn't want to add bulk or thickness, which is why we chose cheap paneling in the first place, but this was a much better option. It has the same v-groove that the original pine paneling flanking the fireplace, it's just thinner and narrower. I wanted to install it horizontally so that it would be a design feature and look a little more intentional. We installed it with construction adhesive, which meant we could use much fewer air nails so it looks better (really we just used a few air nails to secure it while the adhesive dried).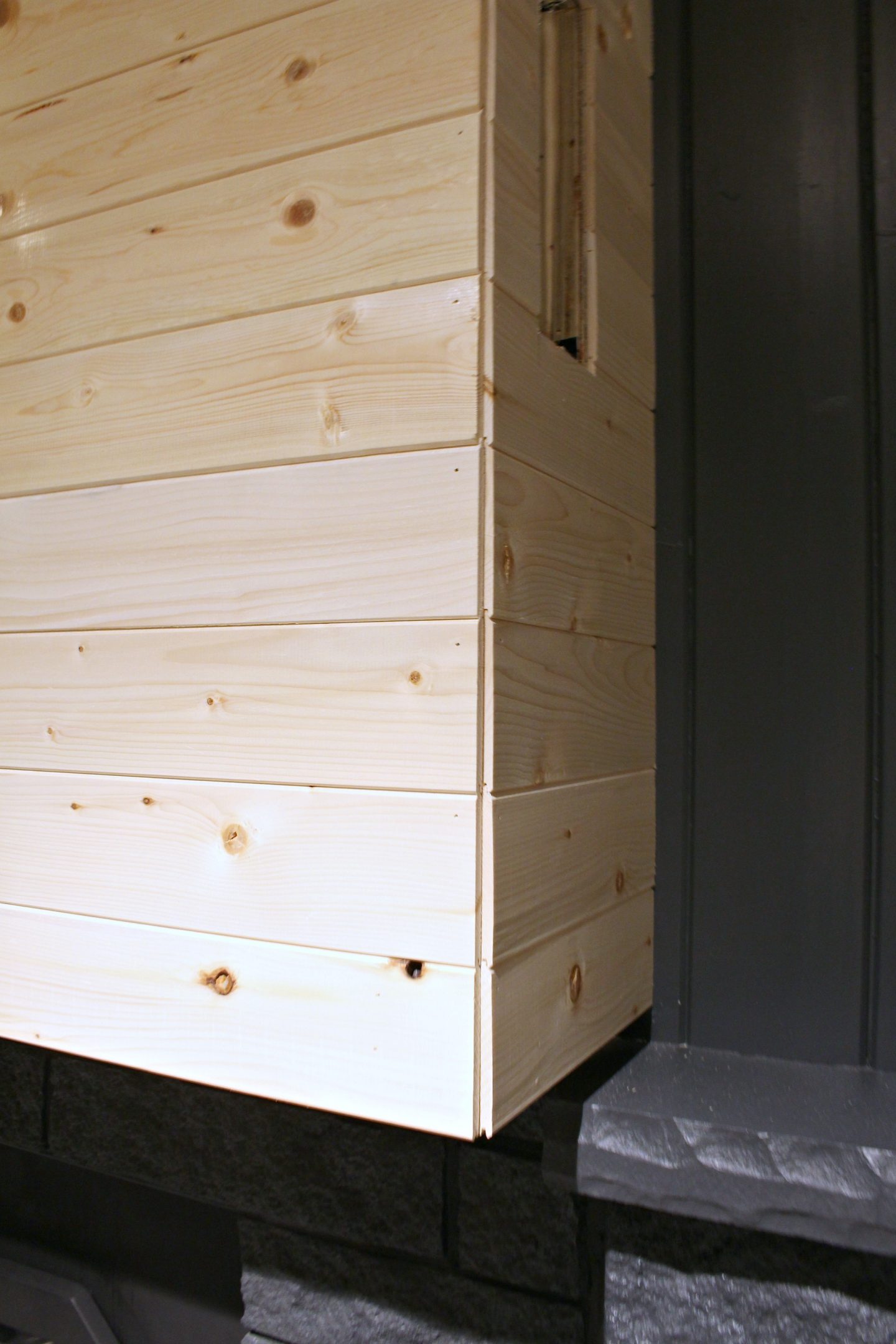 I filled the nail holes and painted the new paneled bump out and the bottom panel (it's standing to the left in the photo below) using the same paint color I used originally to paint the fireplace dark grey.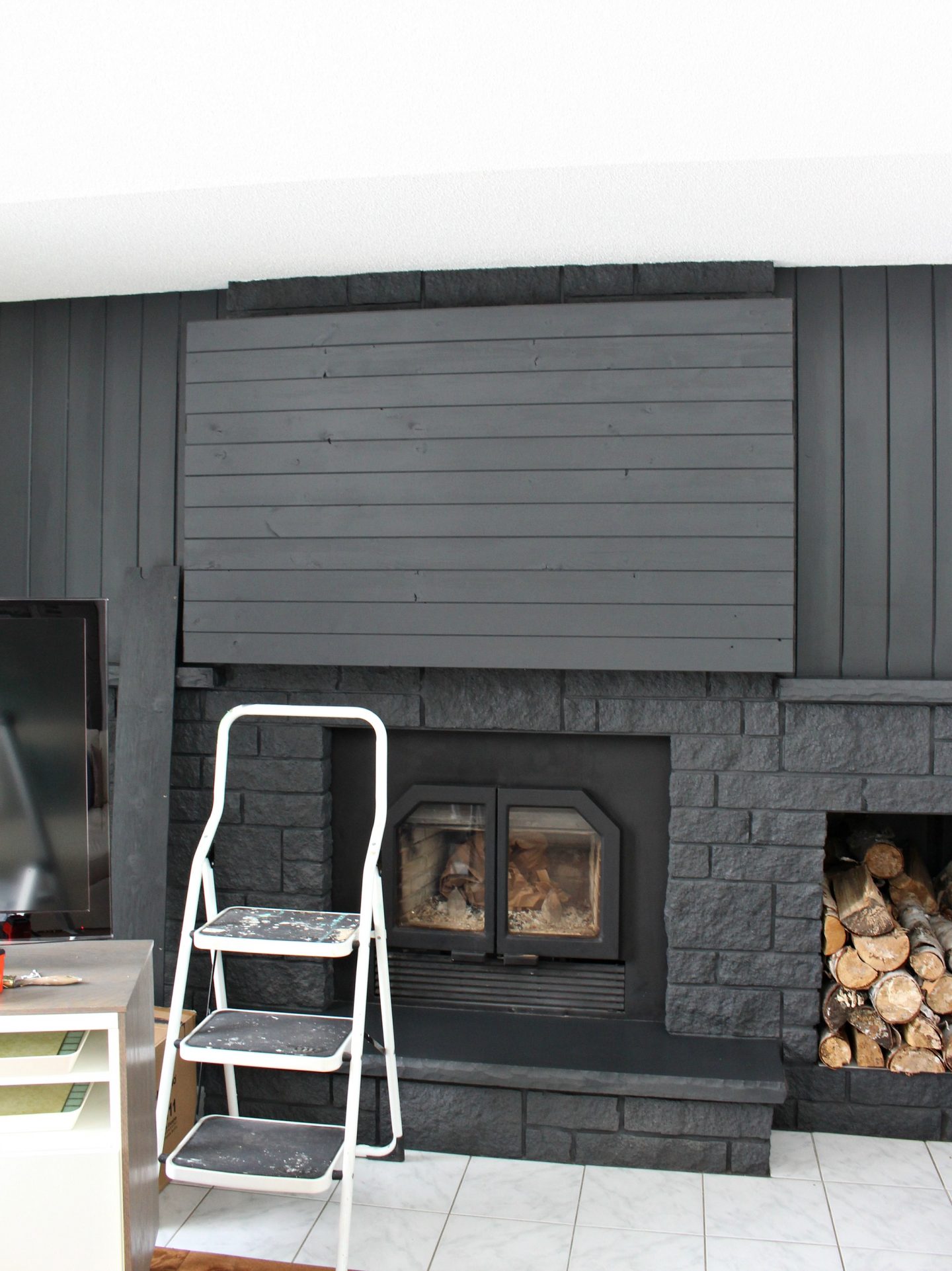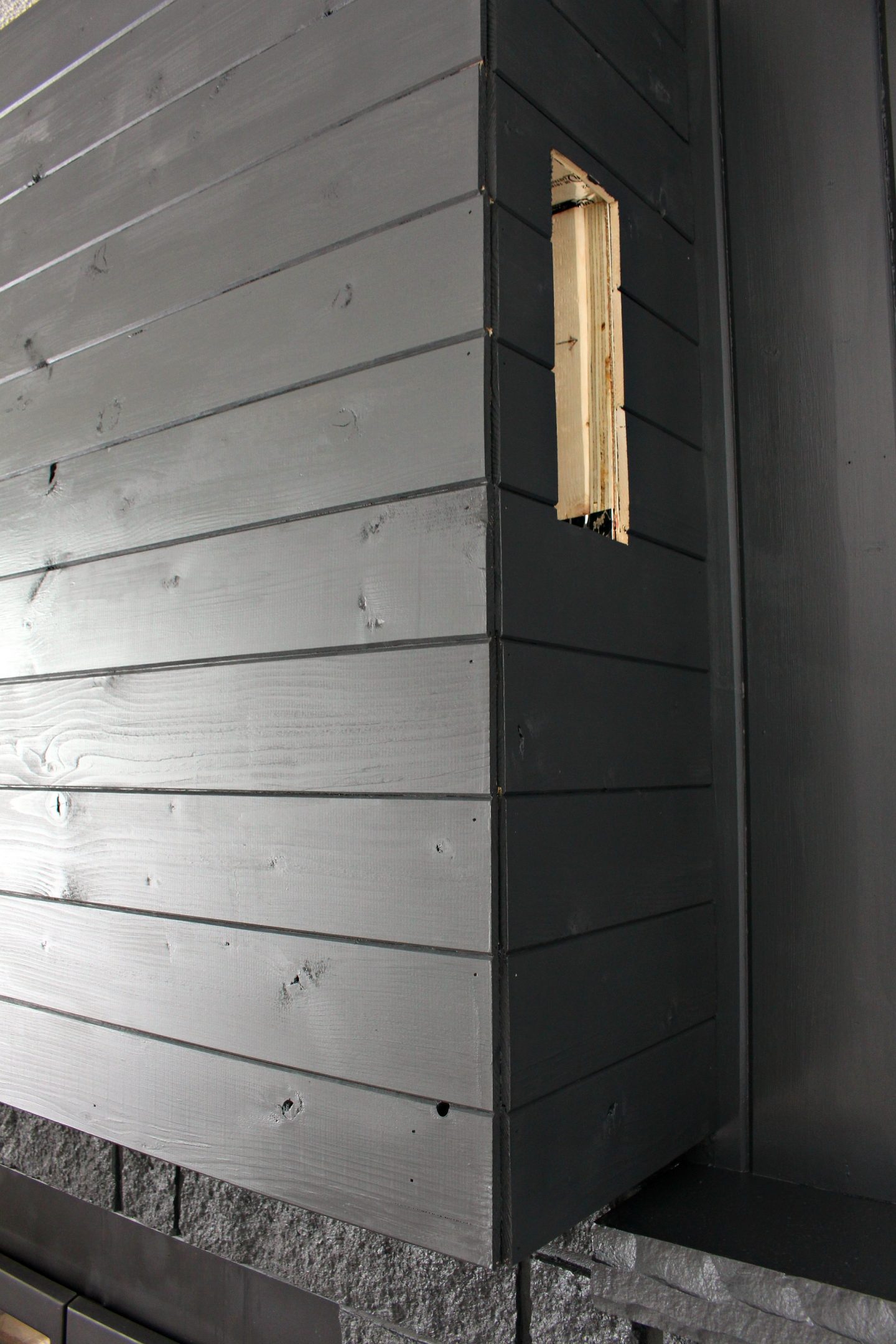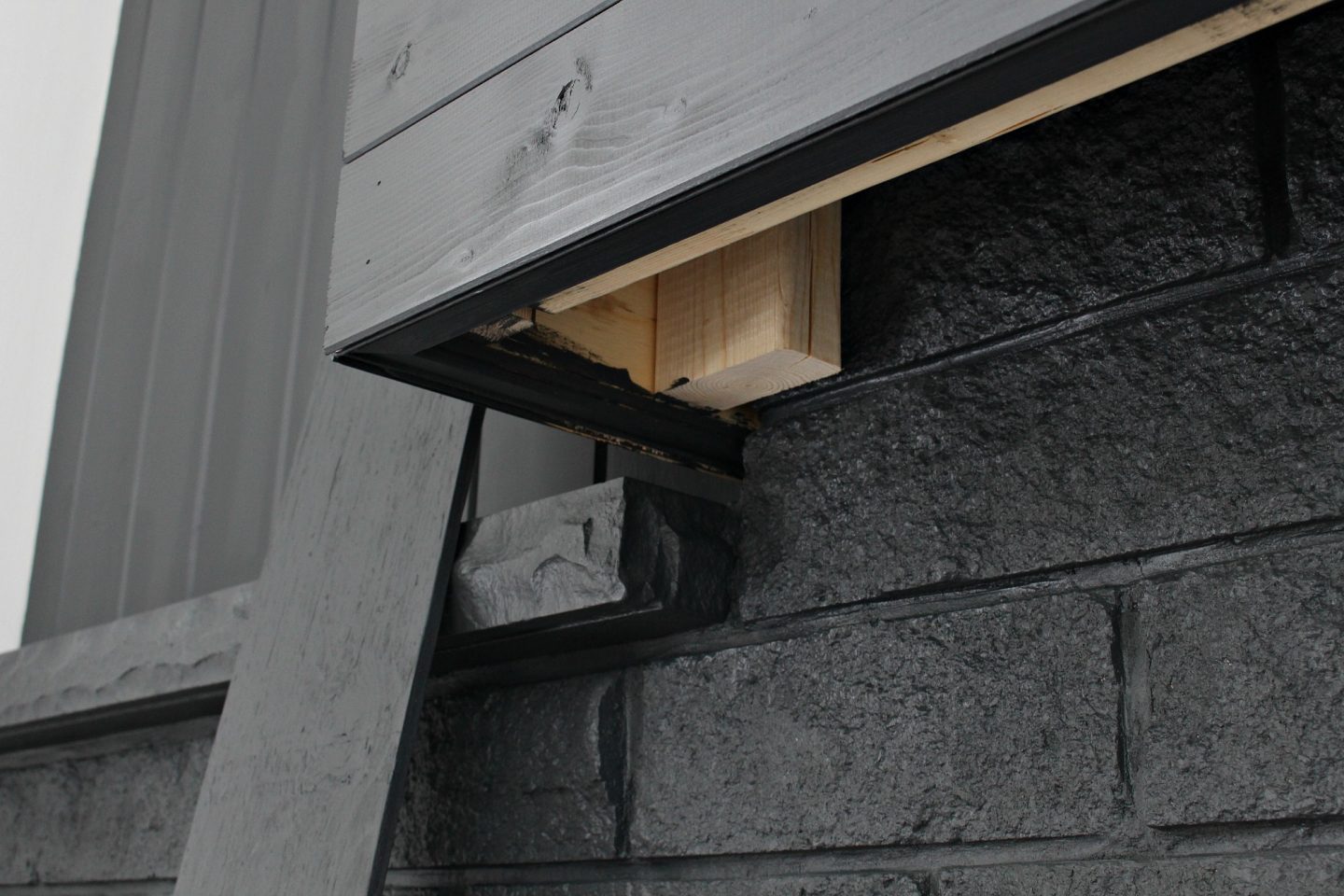 To finish off the bump out we used 1″ L-shaped outside corner trim, and Hubby did an insane double miter joint on the corners which looks so polished. I touched up any spots of paint and then painted the new trim to match.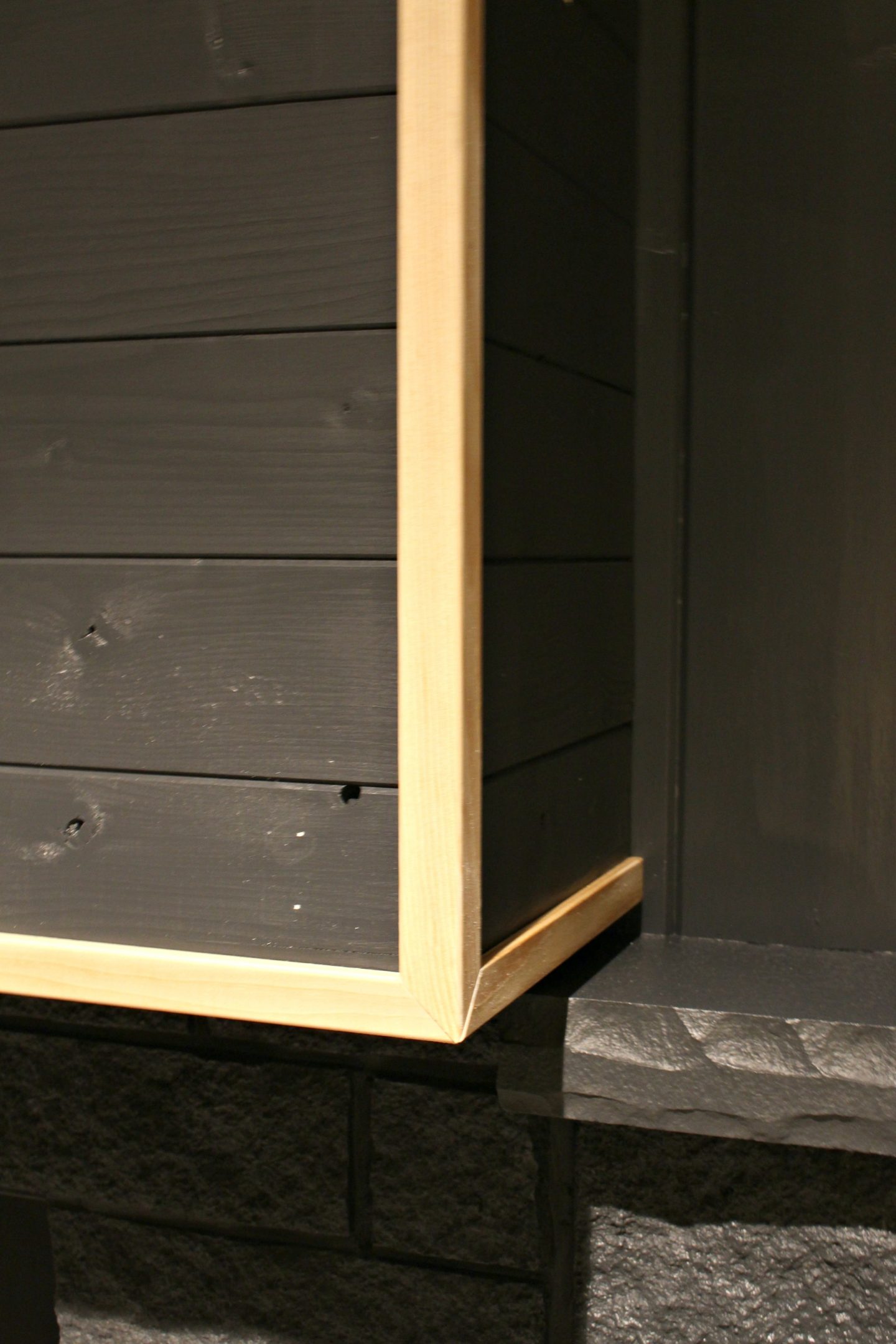 To complete the side panels I grabbed two floor vents in a matte black finish – we're so lucky floor vents come in so many styles and finishes these days! We just used the cover and took out the "guts". We drilled two holes to install the vents to the side panels on the bump out and they really blend in.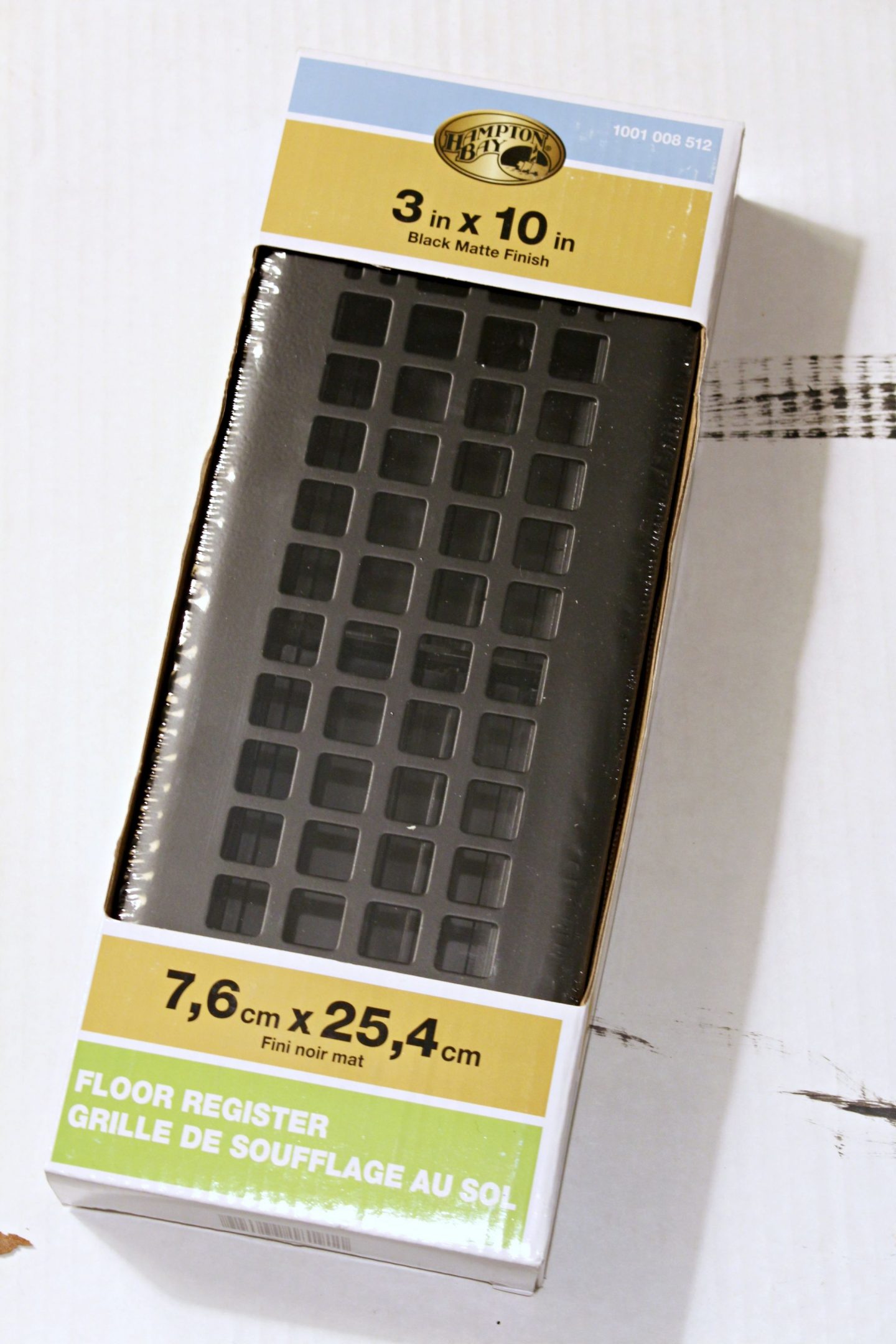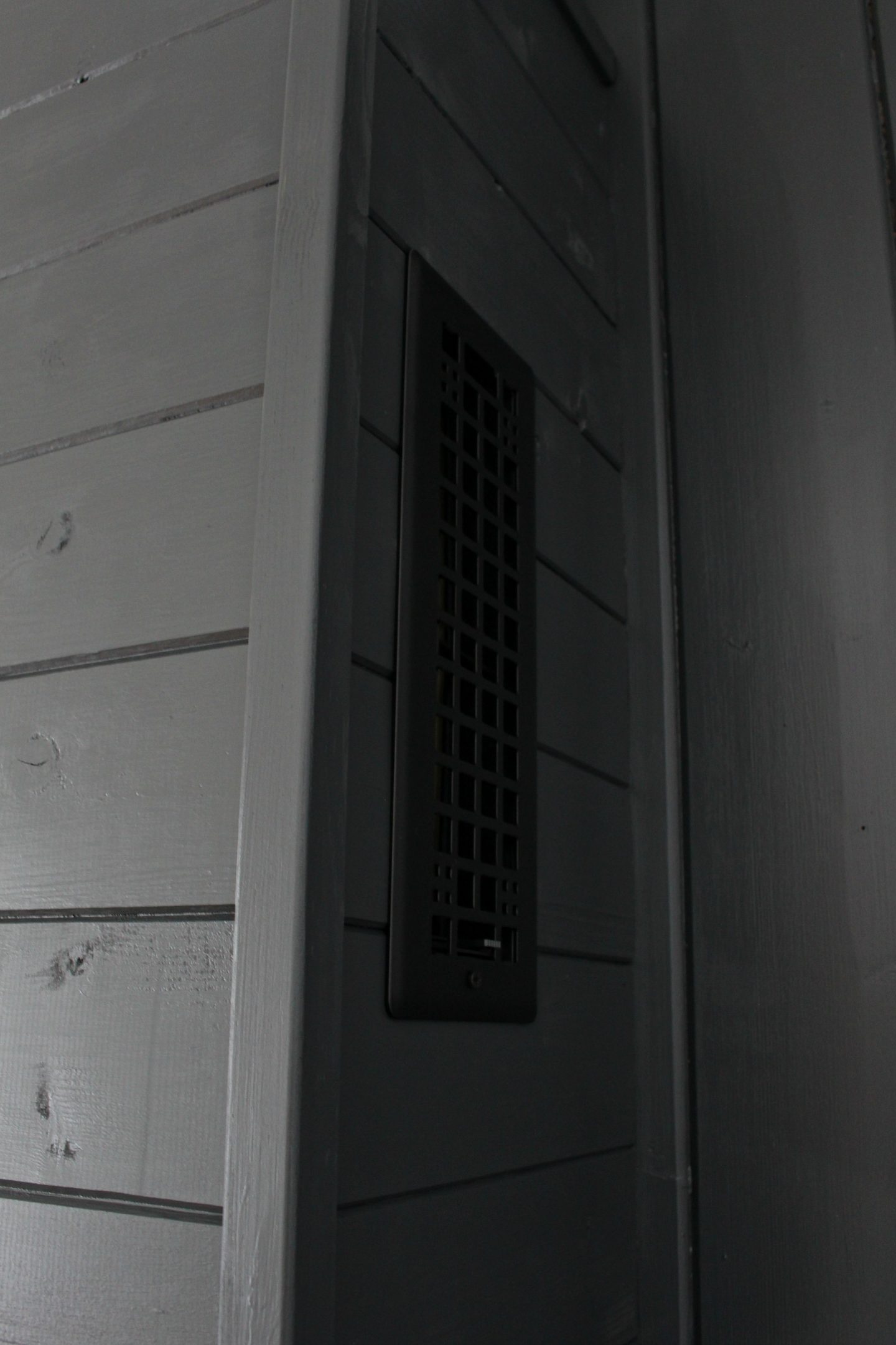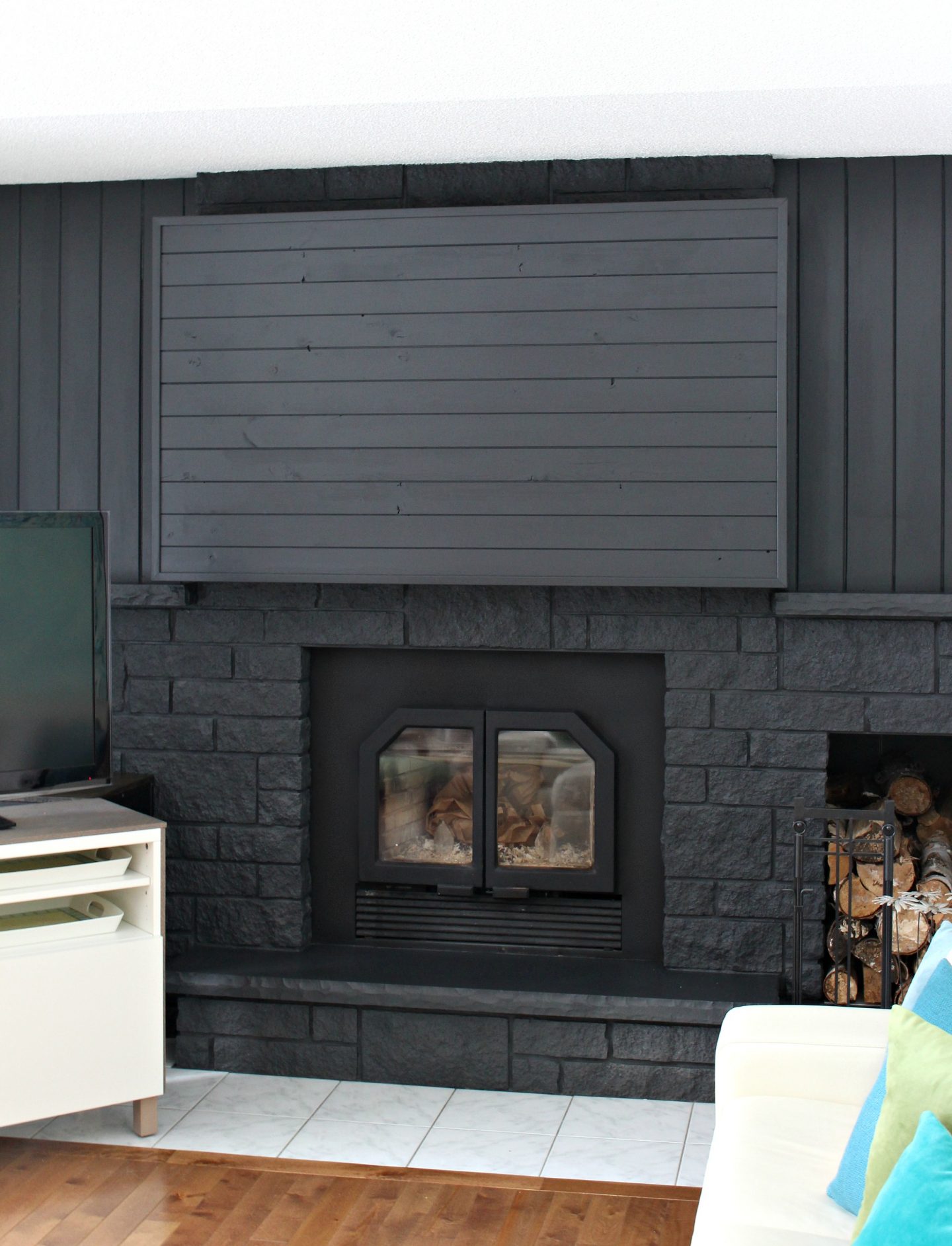 And that's how we built our bump out to hang our TV above the fireplace!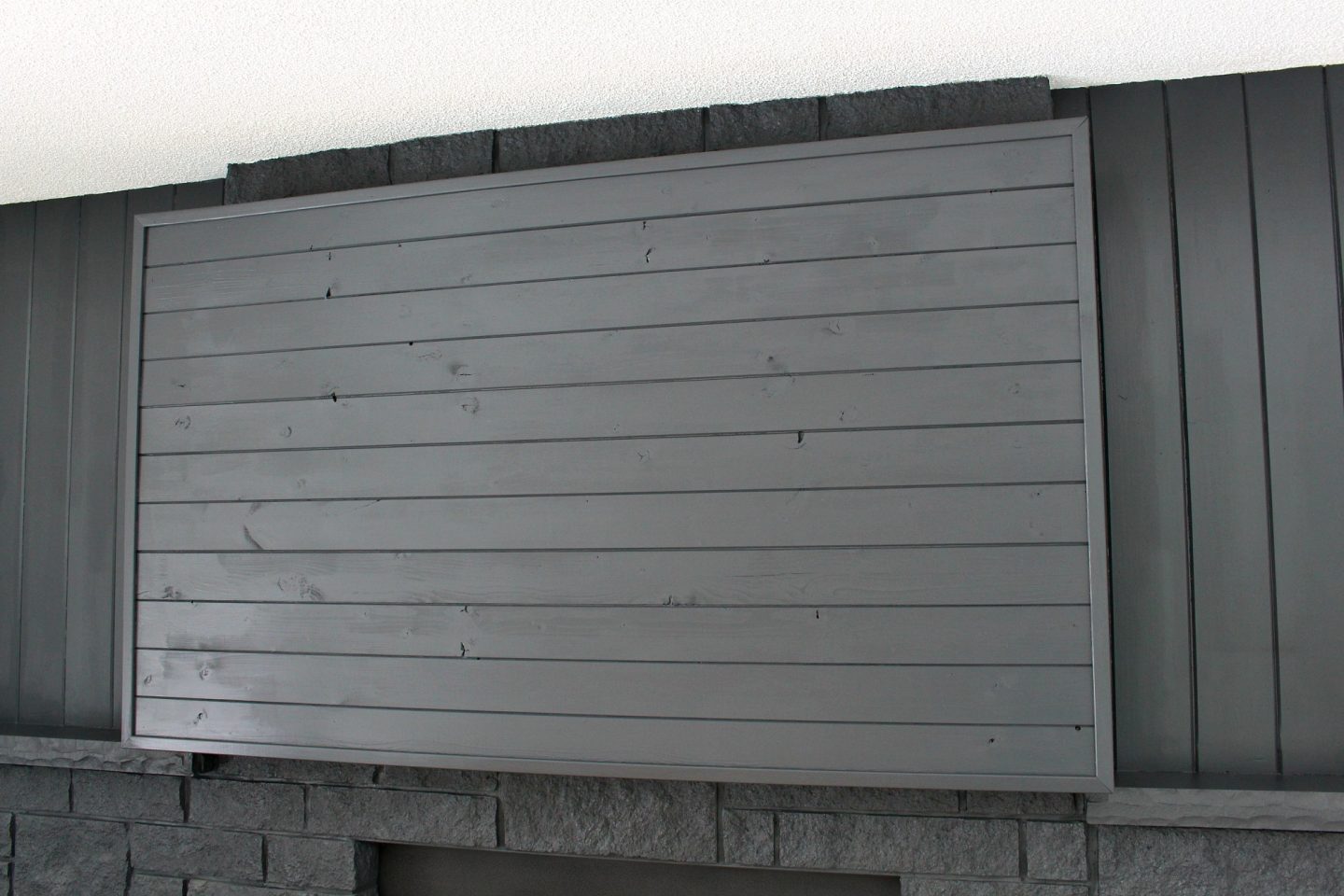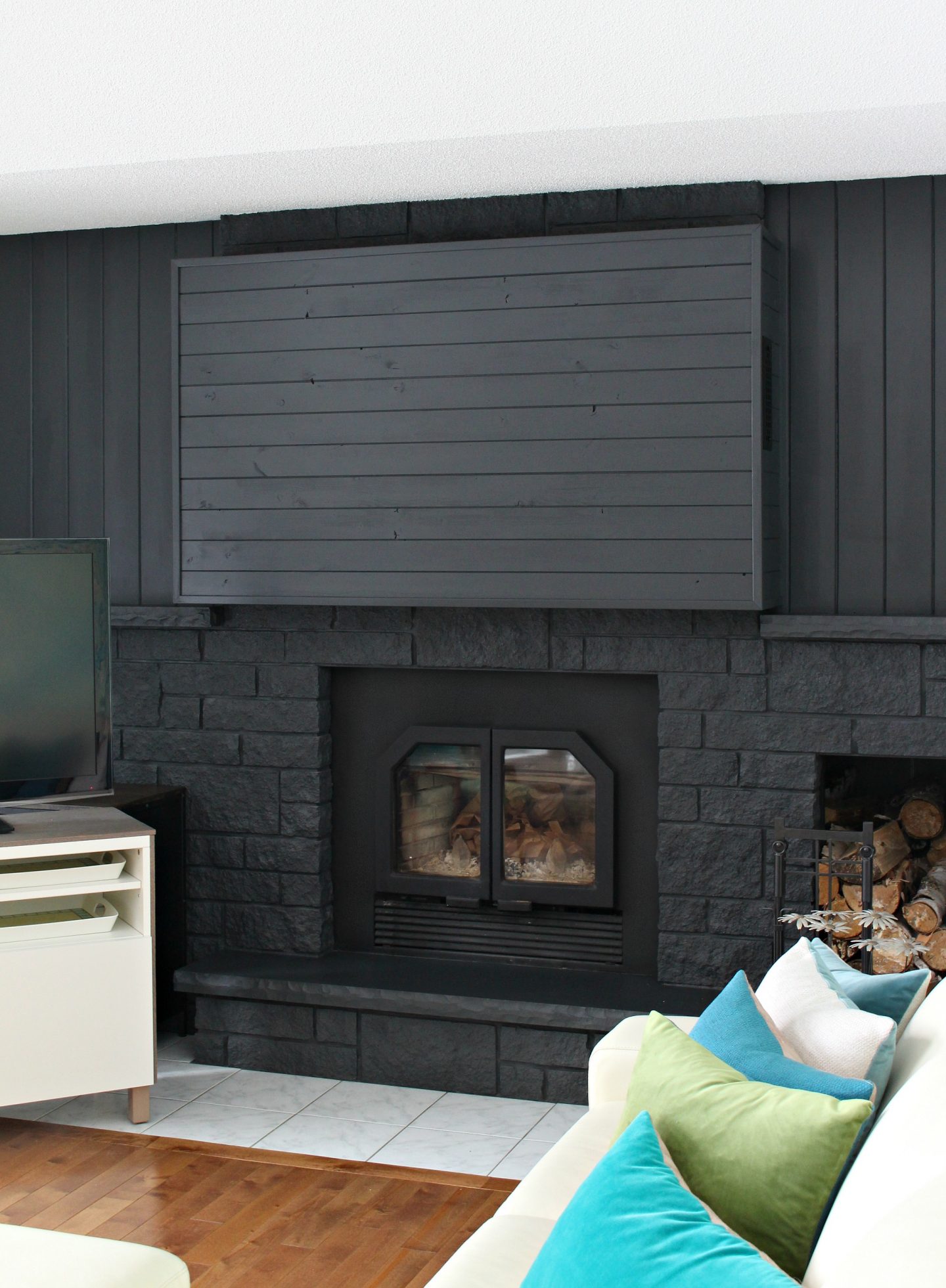 We ditched the beloved Ikea unit we hacked with a new plywood top and sides, and I bought a really small metal media cabinet. It was such a challenge finding a media cabinet that met my criteria: fairly inexpensive, narrow enough to tuck in beside the hearth, deep enough for our stuff (we're installing a speaker system soon and the sub woofer and receiver are huge), tall enough to house everything, a dark grey or black with a modern look, and not look horribly cheap feeling. Eventually we might build a custom cabinet, but it's way too cold to be spending any more time in the garage, so this Furniture of America TV stand fit the bill. It's metal, which is nicer than some similar melamine options, and the metal doors mean it can stay closed and we can still use the remotes.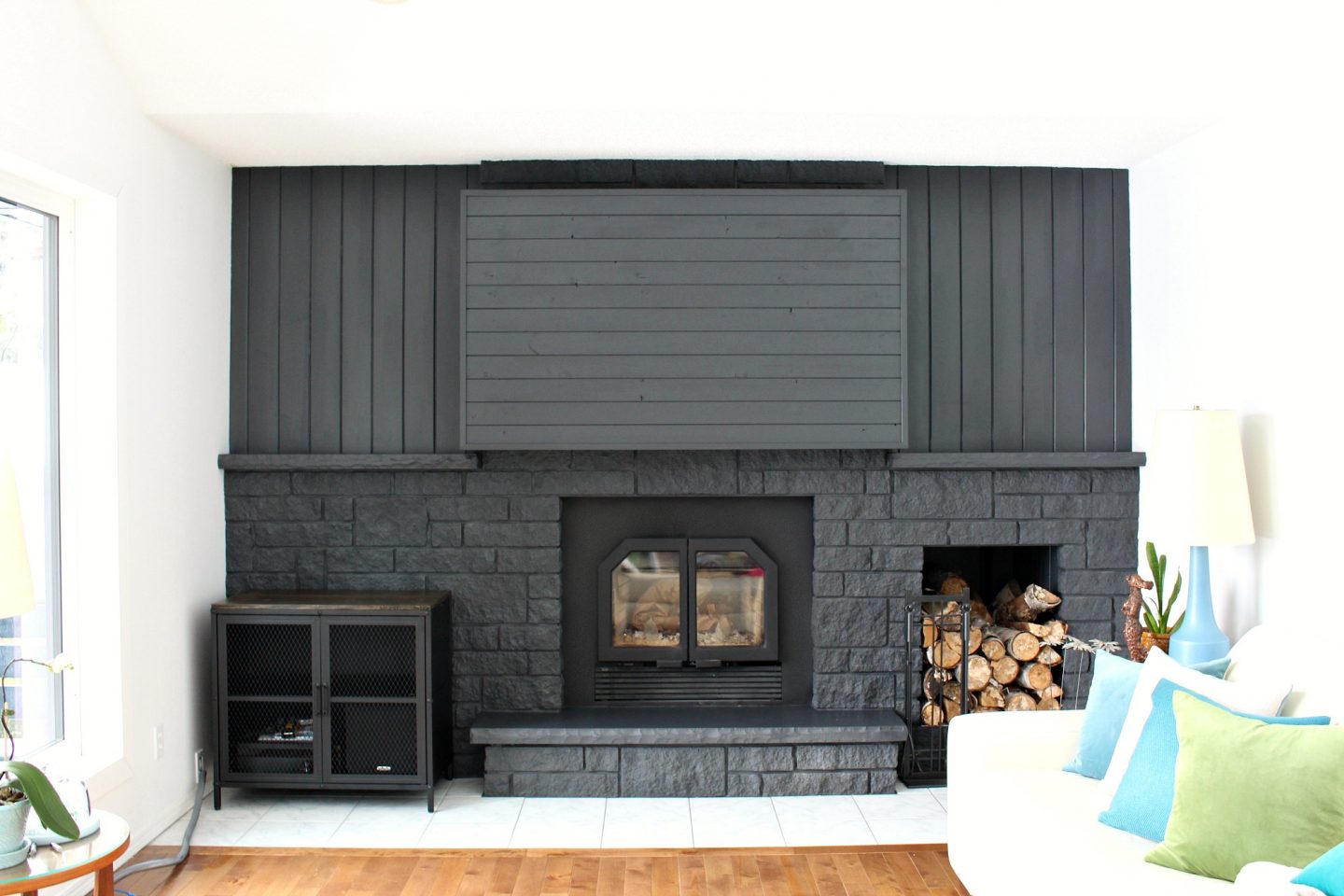 I have one secret: we bought a new TV (a 65″ Samsung Frame TV) but although it was only supposed to take a week to get here, it's been many weeks and no sign of it. I explained my dilemma to the local shop I purchased it from and they agreed to loan me their 55″ store model so I could take these photos and share my tutorial. So right now the cord just runs under the mantle loosely but when it's our own TV we'll tuck it under better and find some type of casing I can paint to really hide it well.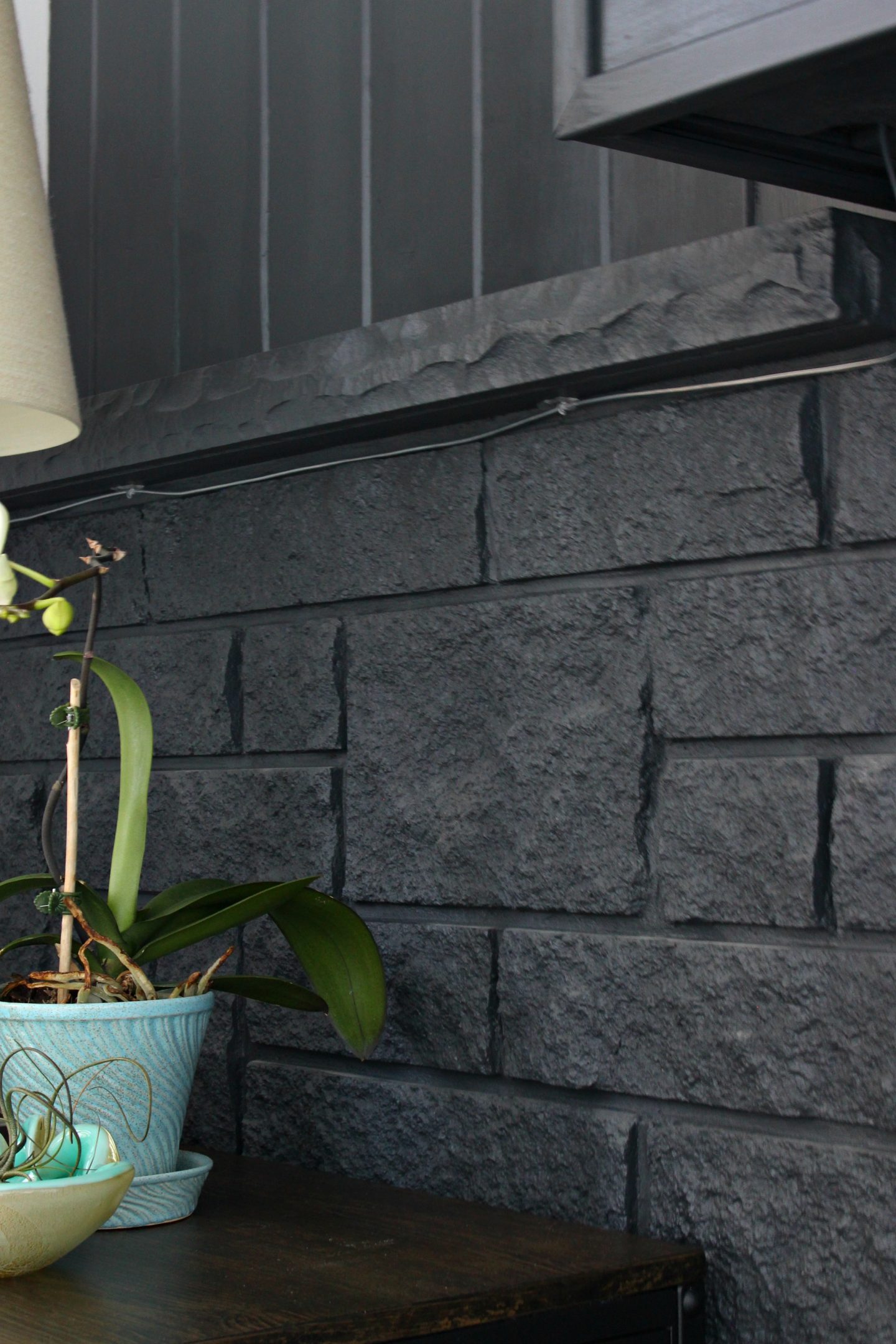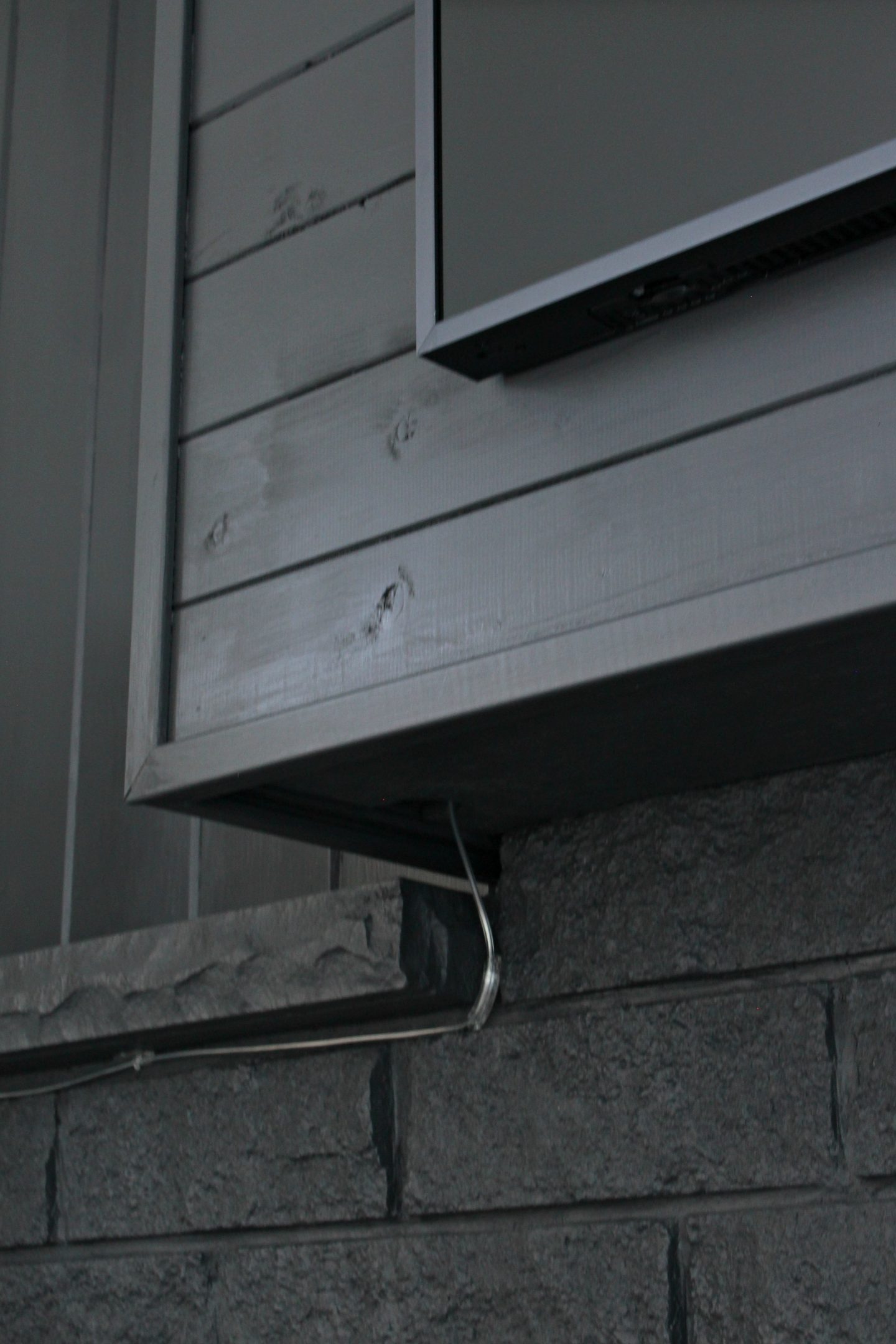 I immediately styled the new media cabinet with one of my blue Lotte lamps, some plants and put the Mingo chair in front of it to create a cozy reading corner – I love that we no longer have furniture blocking the lake view. I love how this fireplace hack turned out and I am SO excited that the TV is finally mounted above the fireplace! The living room feels HUGE and the TV is no longer a focal point.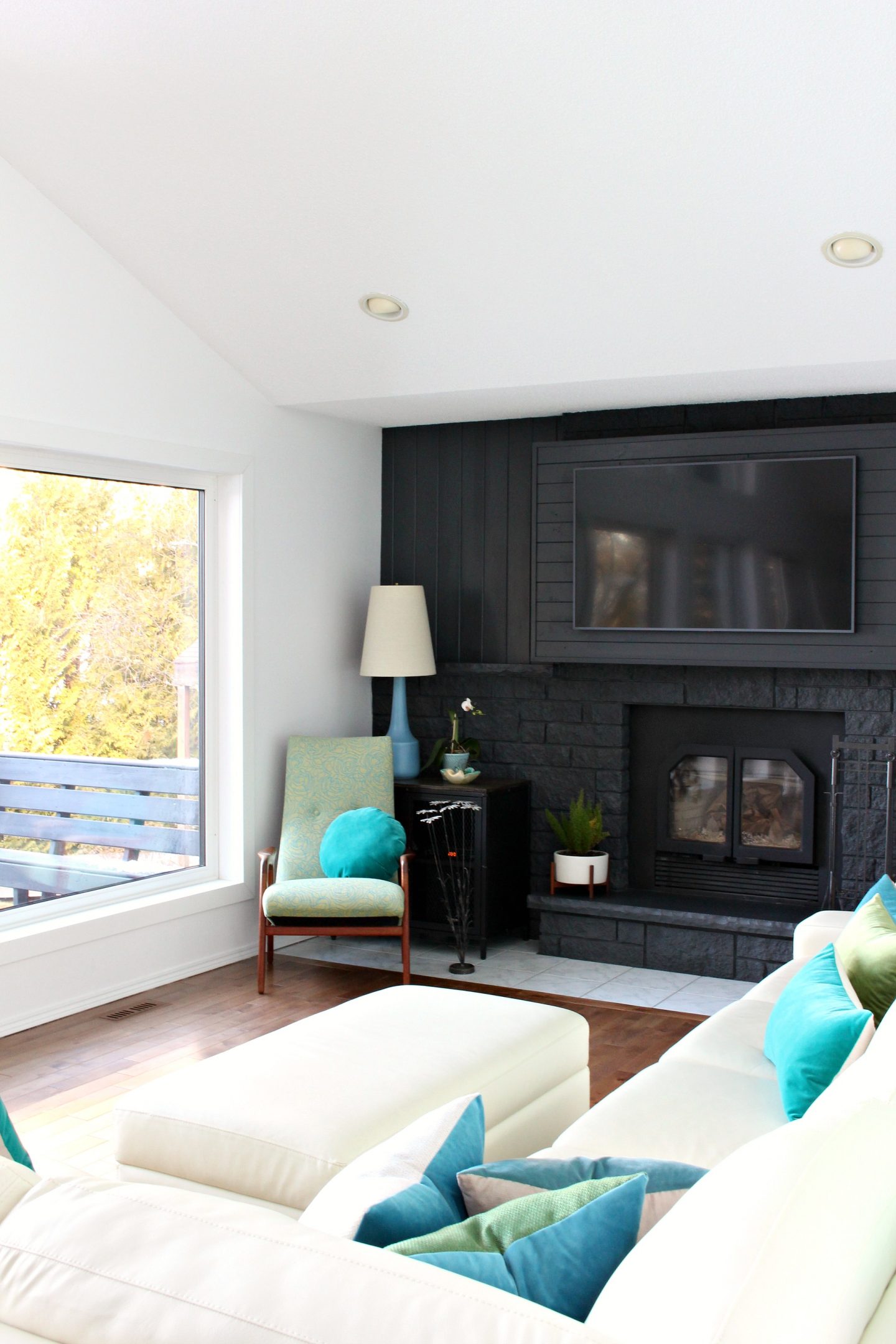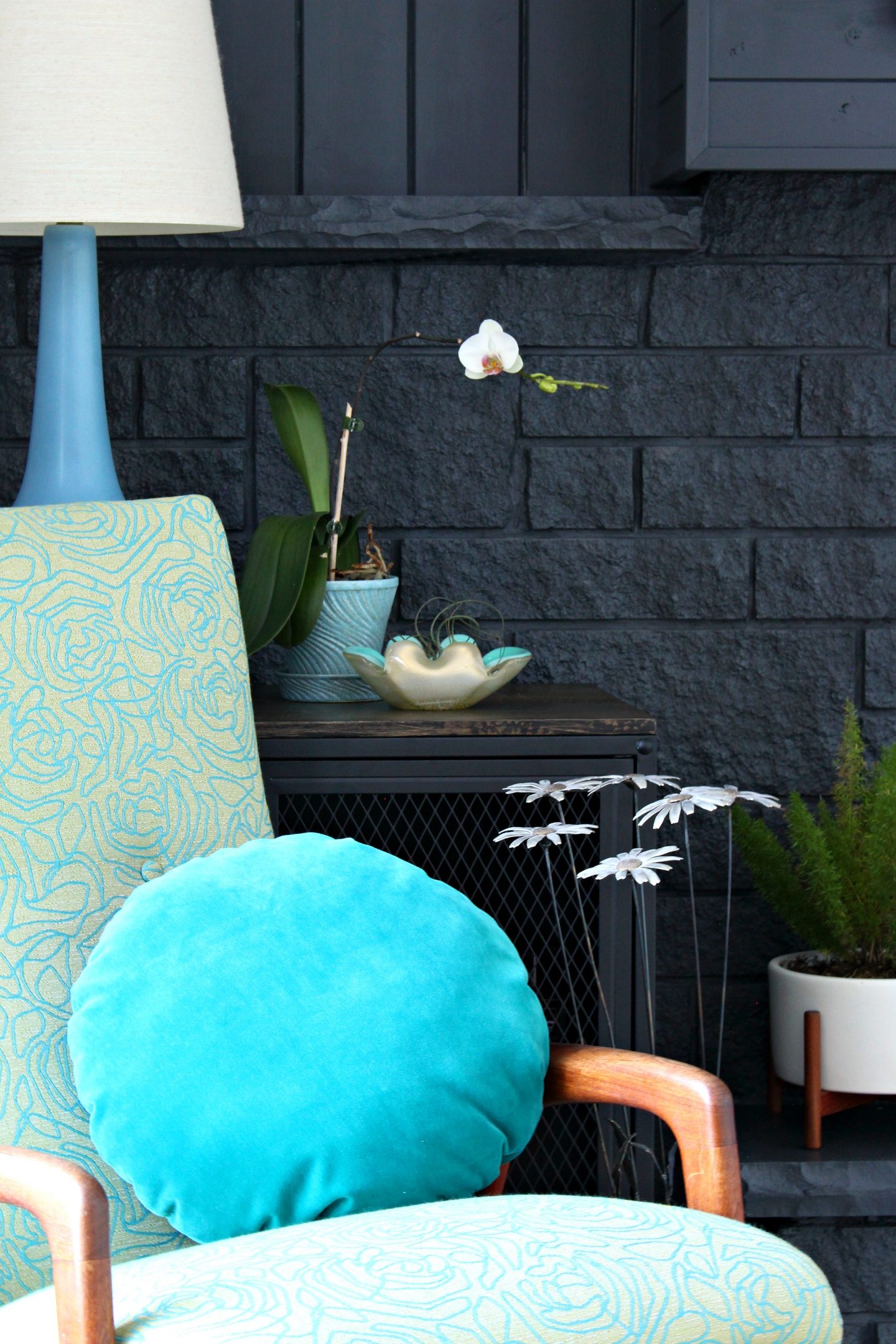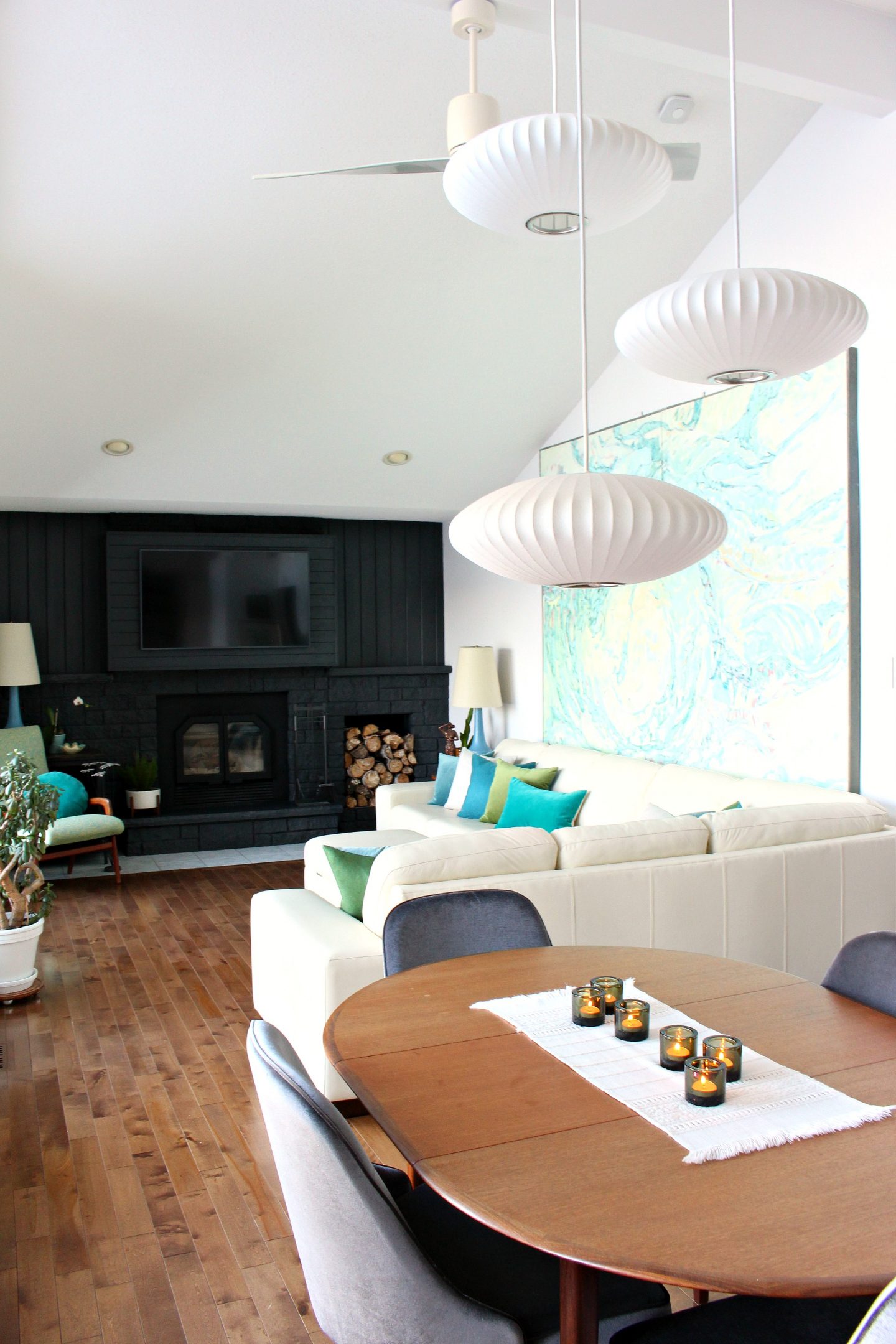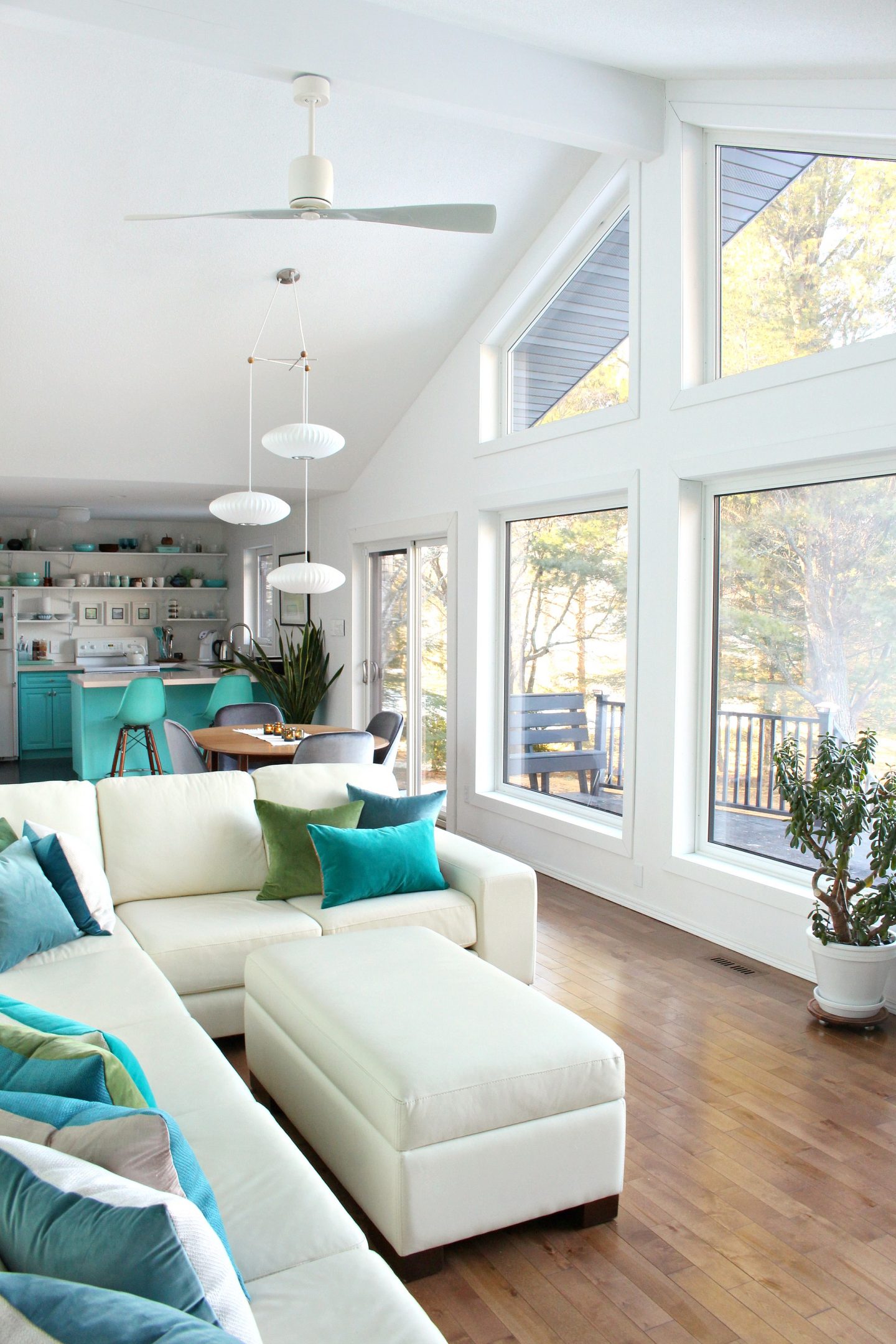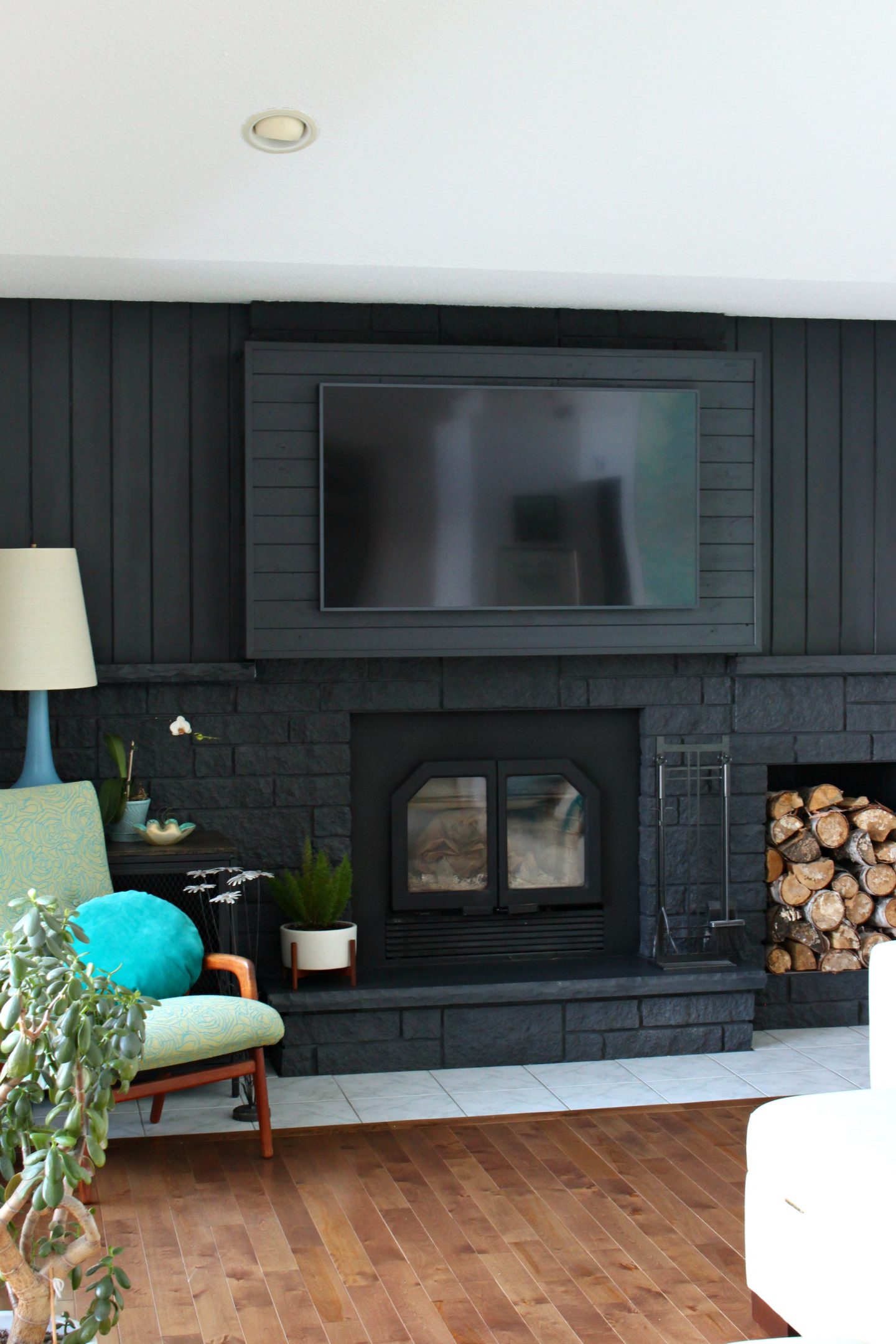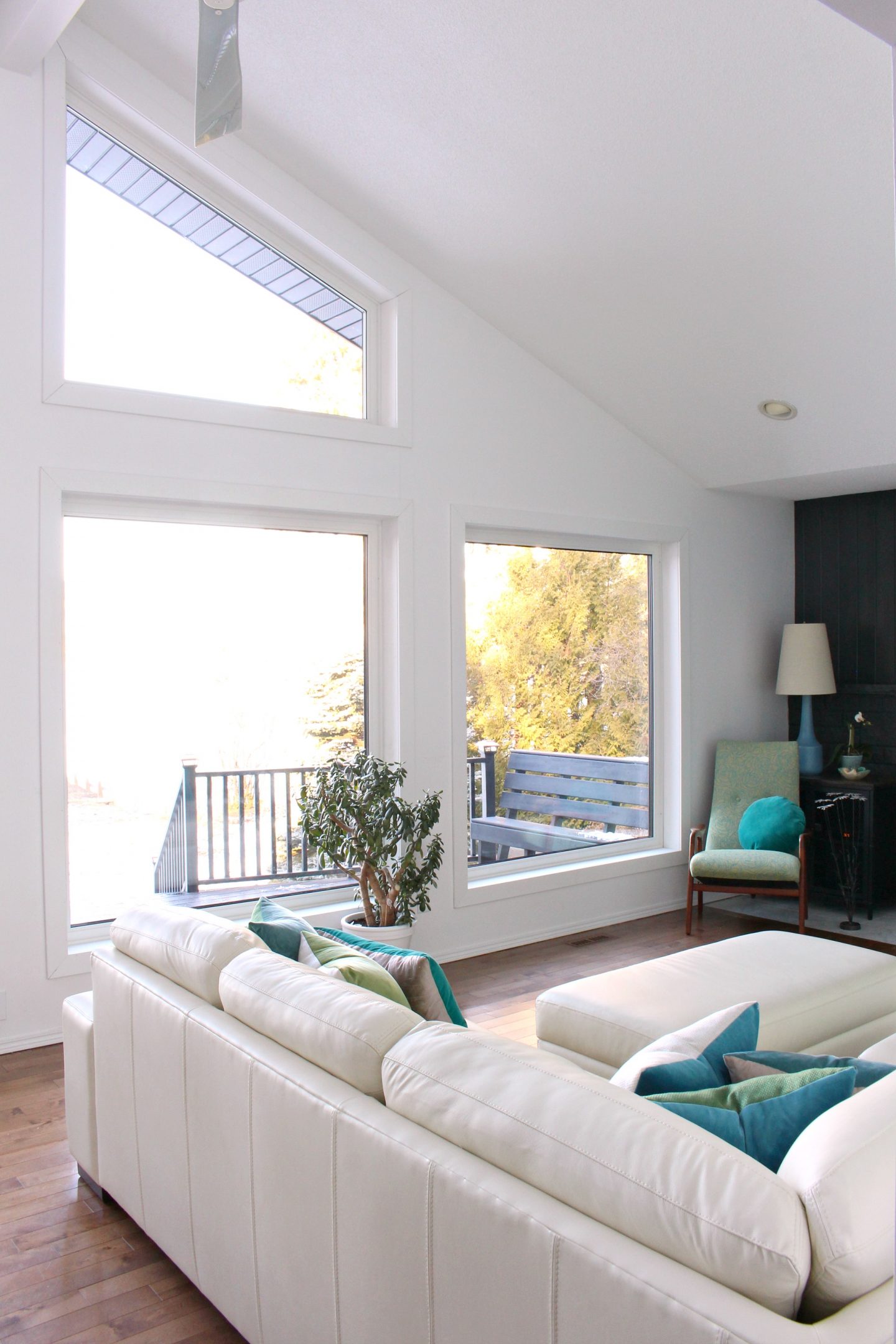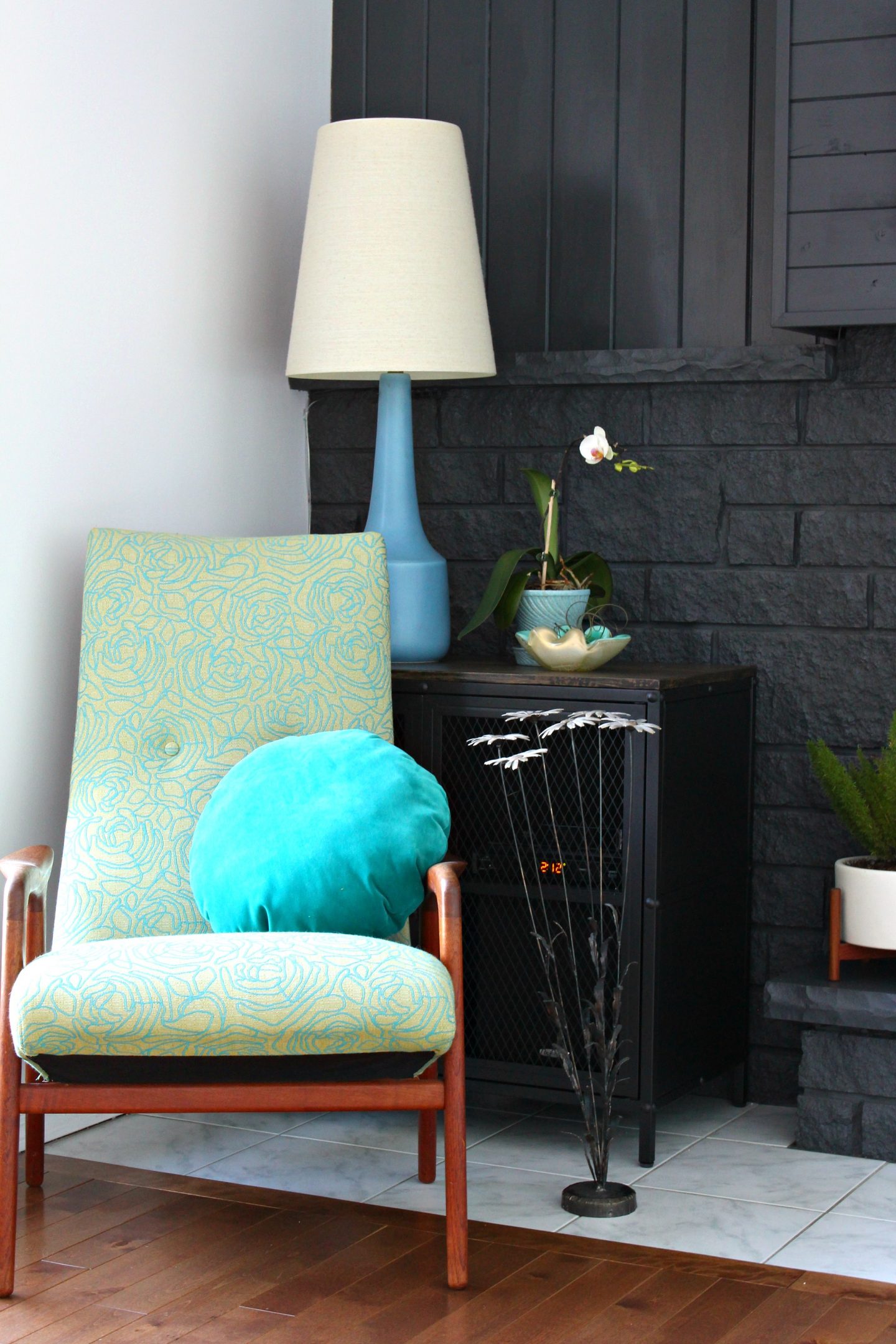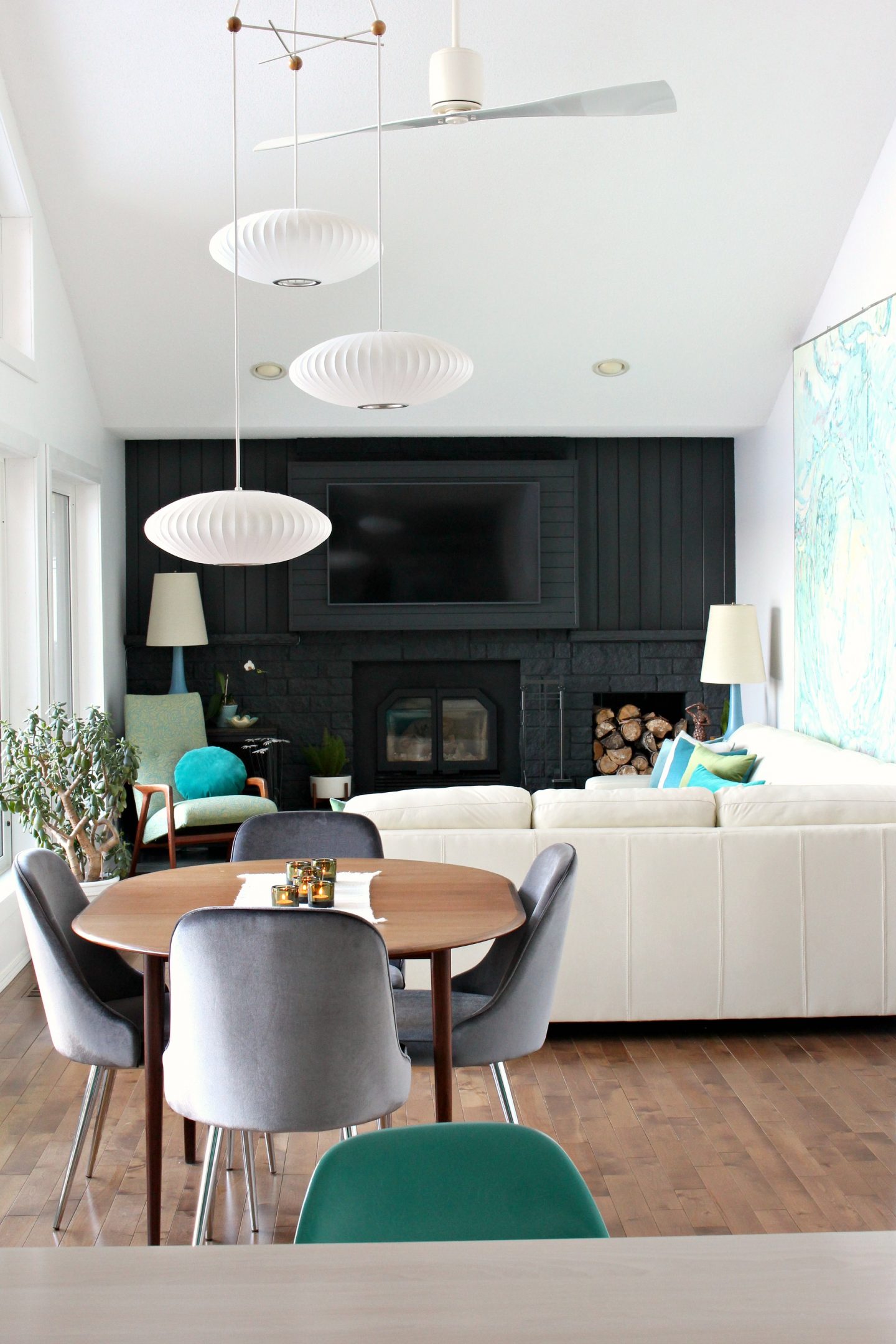 Here's a look at the living room and how it's changed since we bought this house: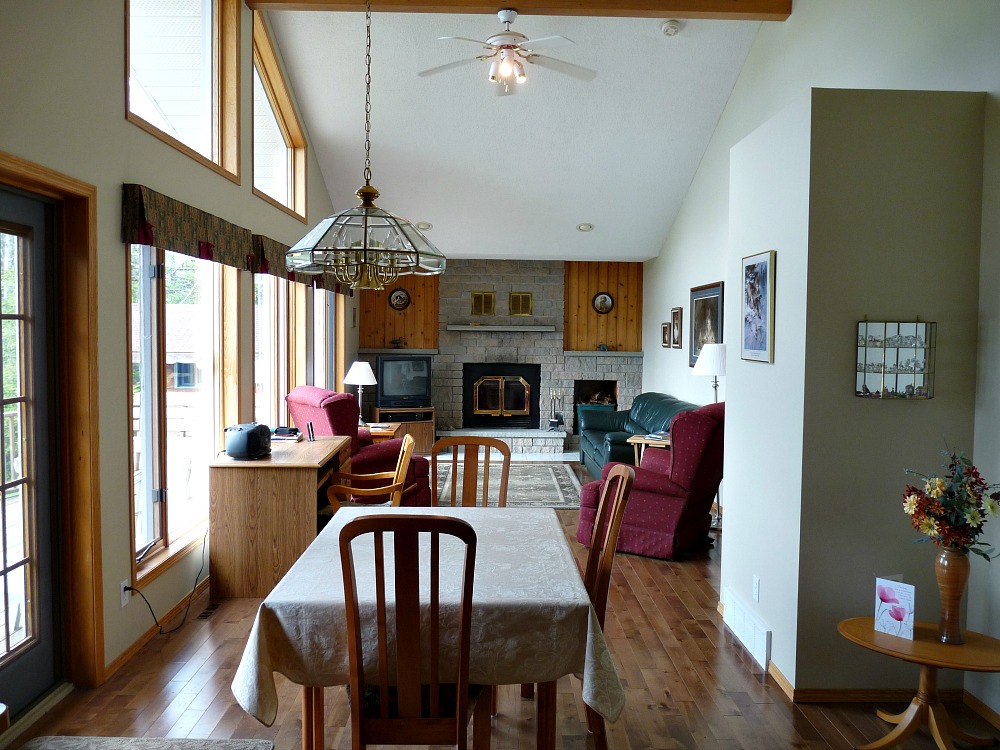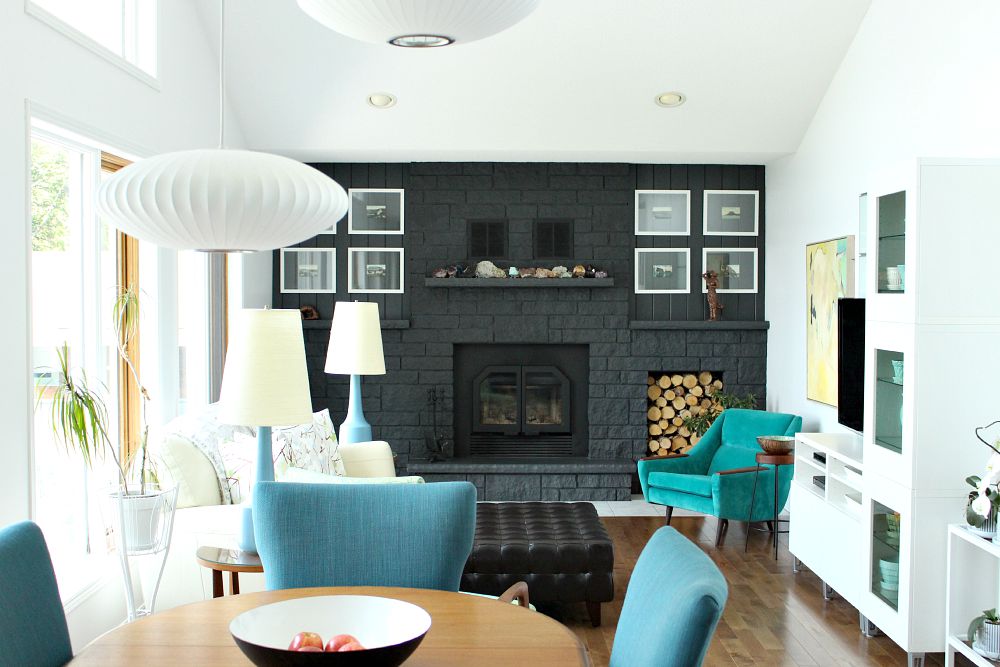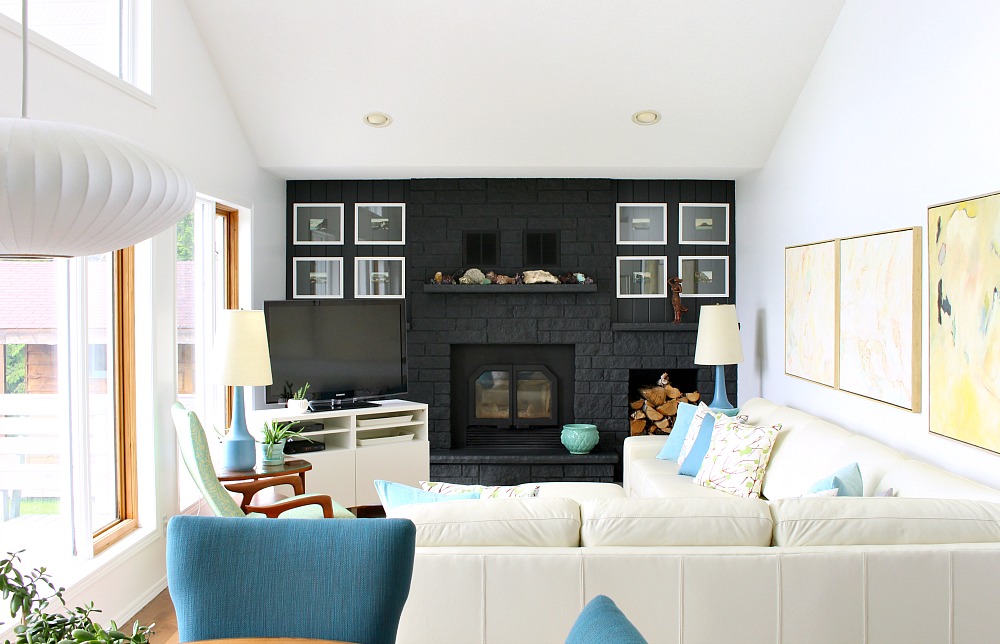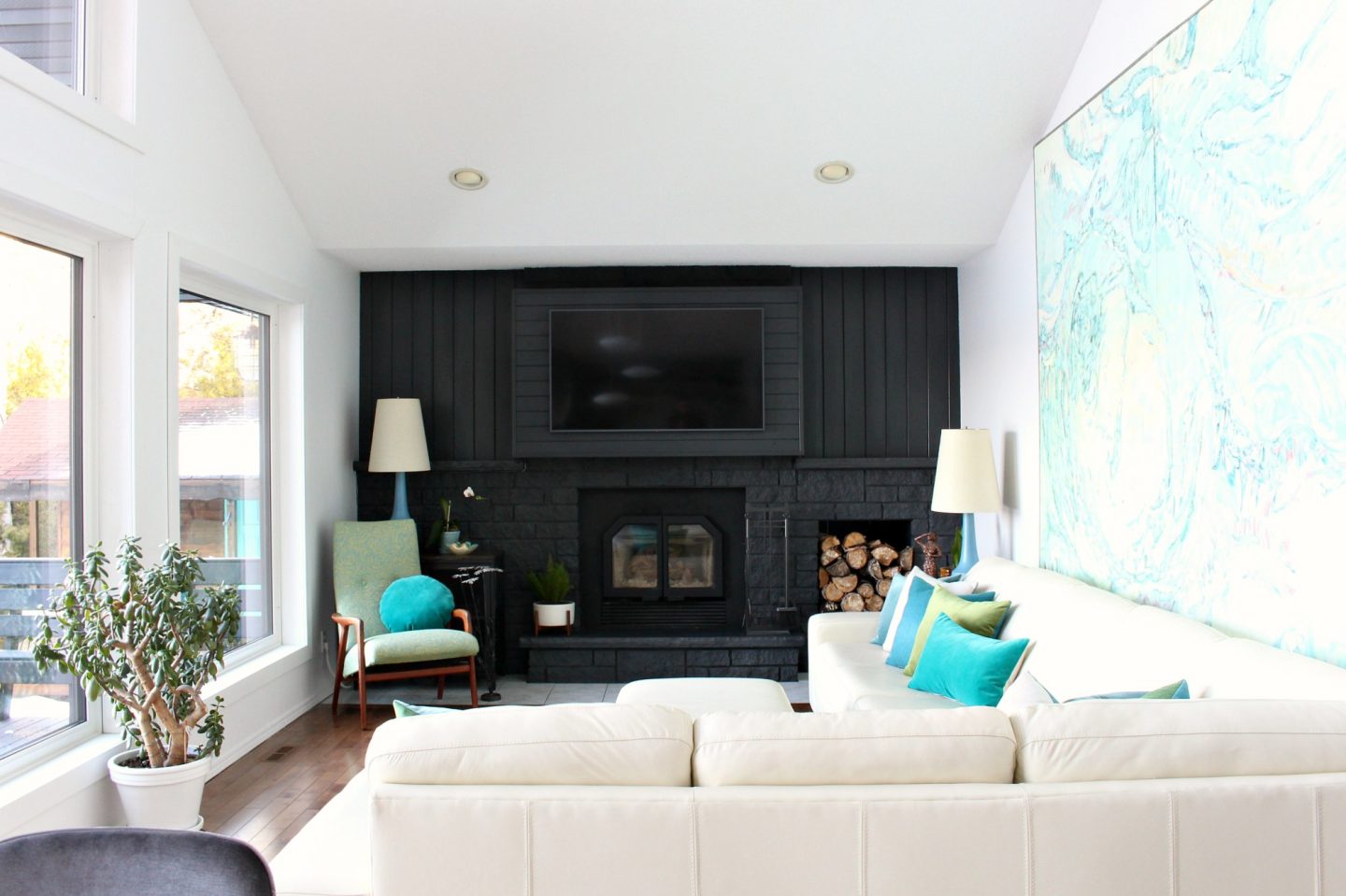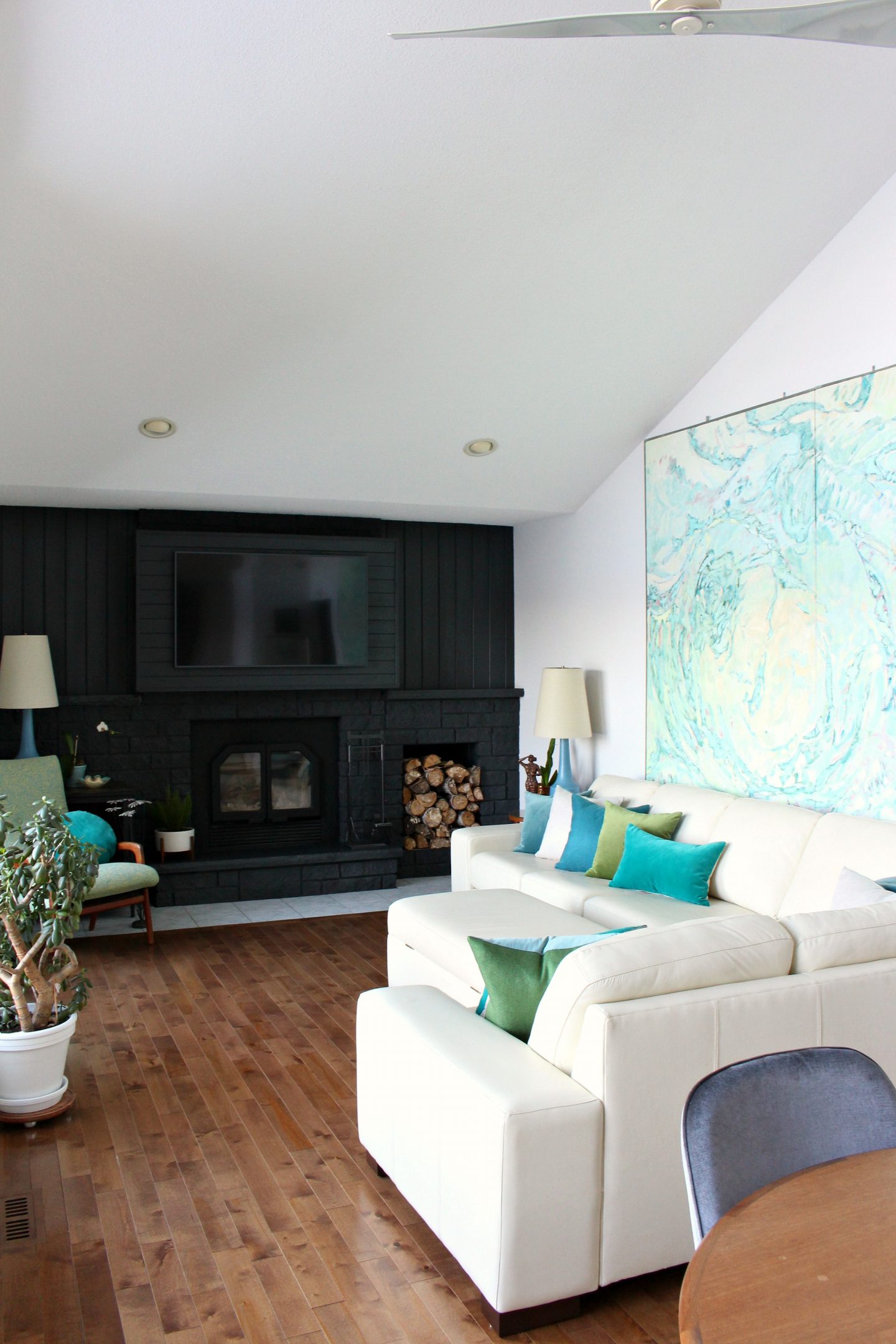 I'm going to take some better pictures when the new TV arrives (let's hope for a sunnier day) but I couldn't wait to share the details on how to build a fireplace bump out to hang a TV. I'm also planning to post a review about our new Samsung Frame TV but – spoiler alert – we LOVE it. Plus I've got the scoop on those new DIY velvet pillows, the cute new MCM style velvet chairs, and a before/after tour of the completed house exterior!!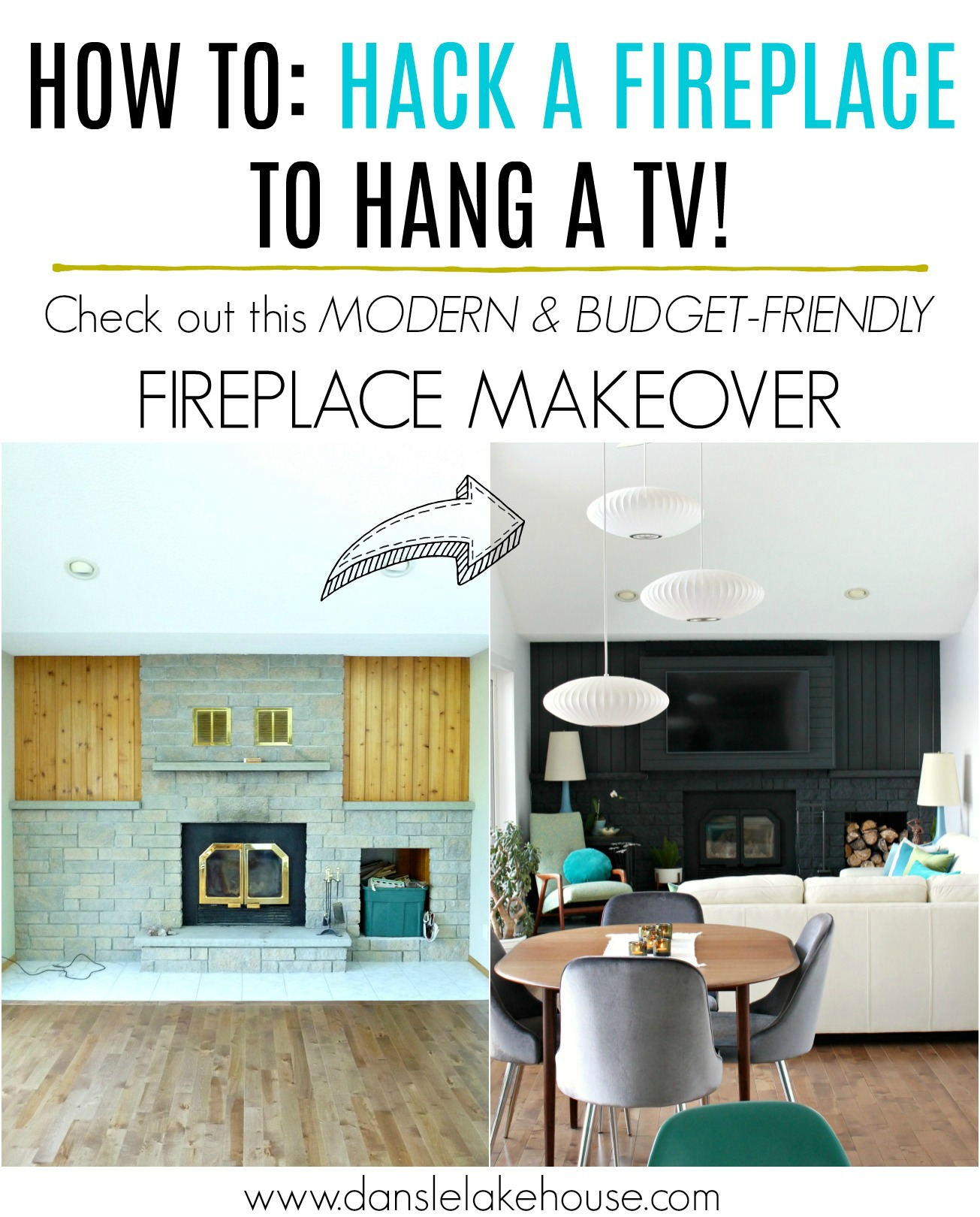 Sources:
Metal Media Cabinet | Samsung Frame TV | Behr Paint: Evening Hush (770F-6) | Mint Green Mid-Century Chair | Blue Lotte Lamps (Vintage, Similar) | Velvet Pillows (DIY Coming Soon!)