I've shared DIY floating frame tutorials before, but today I'm showing you a way to frame art at home that is even simpler: an easy DIY canvas frame that only requires four pieces of wood and some nails! If you buy an inexpensive miter box, you could literally build this easy DIY canvas frame without any power tools.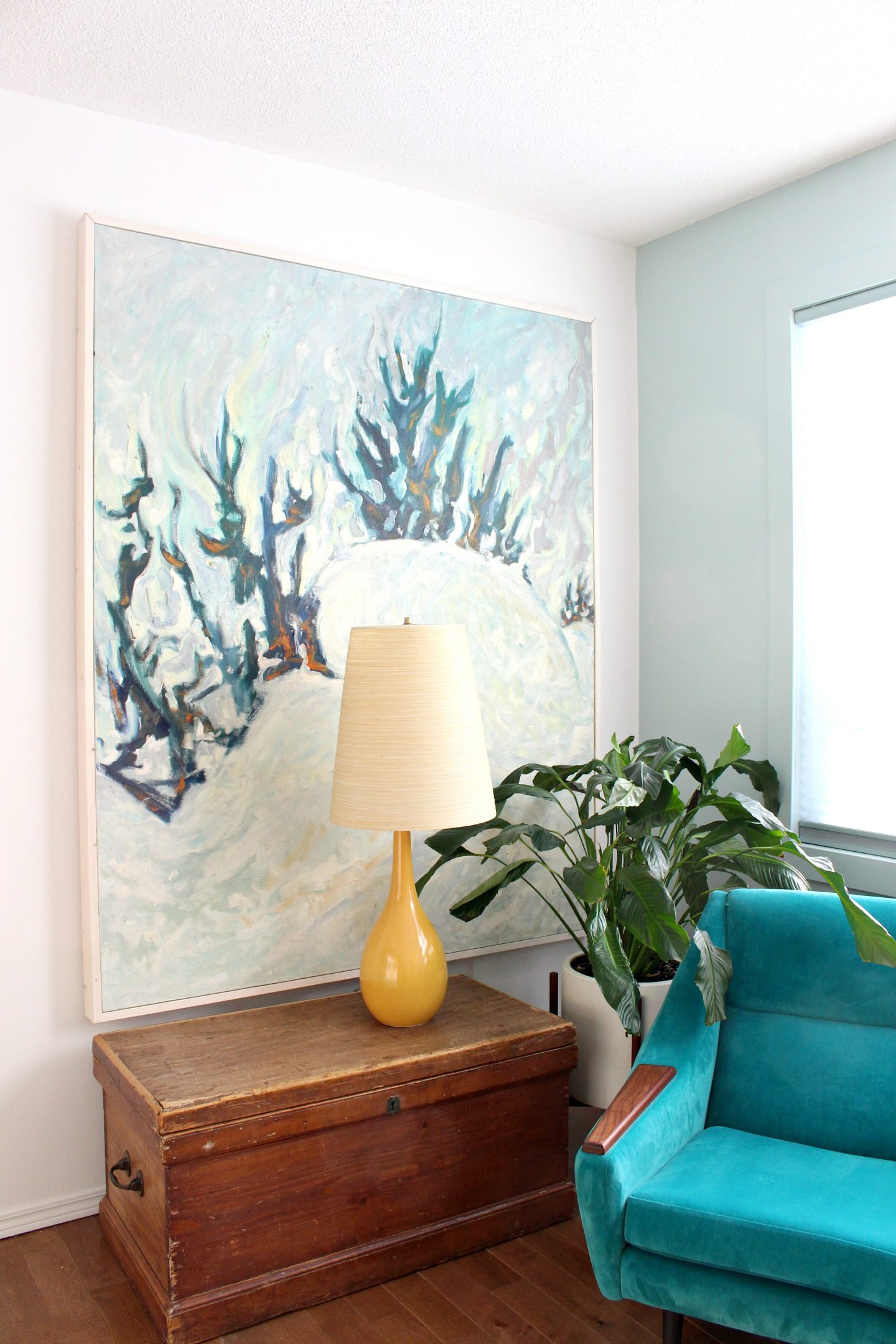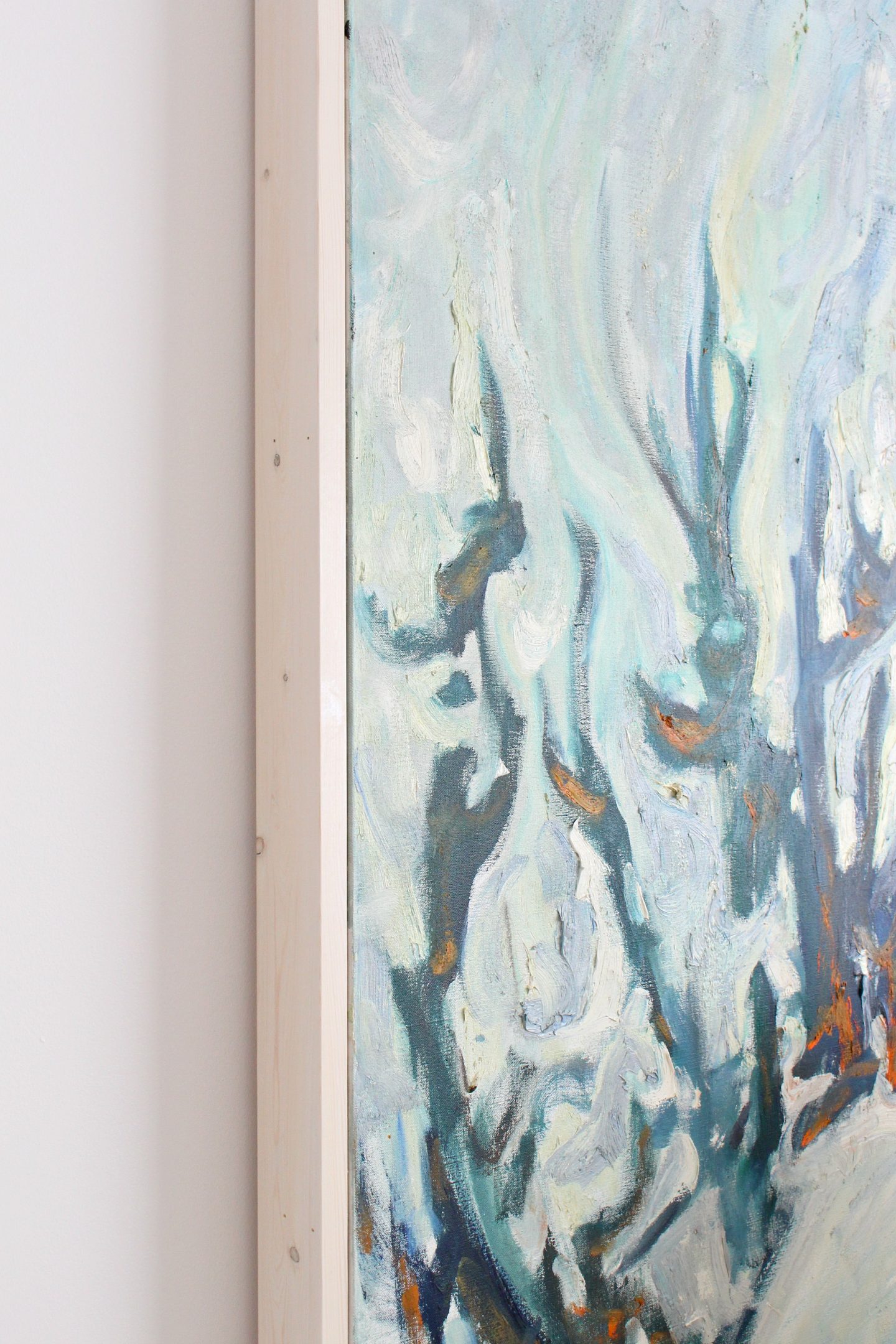 When Hubby's Grandpa Bert passed away last year, he left Hubby five paintings of his choice. We drove to Parry Sound in the fall so Hubby could choose and it was a whirlwind because we were renovating the bunkie bathroom and working on house projects so we didn't have much time. We drove 13 hours there in one day in our truck, towing my Father-in-law's trailer, spent one day with family (but spent the afternoon choosing our five paintings from literally hundreds), before we had to turn around and drive 13 hours home. The morning before we left for home, we got up super early and ended up switching out two of our original choices made the day before, and this painting in the office is one of the ones we traded for and I'm so glad we did because it's so beautiful. We also had a really lovely visit with Bert's wife that morning; we spent a few hours talking about Bert and she showed us a quilt she had made from his colorful shirts and the last painting he had worked on. This wintry scene in this painting feels happy and vibrant, which we love because we live in a (sometimes miserable) winter wonderland for so much of the year – as did Bert – so it's uplifting to see it depicted as beautiful and magical (it's how he saw the world!). I'm planning a post where I'll share photos/stories/background for all of our paintings by Bert – including a new one no one has seen, plus what prompted us to choose the ones we did. But today I just wanted to focus on this easy DIY canvas frame.
This was the only painting we took home that wasn't framed and we wanted to keep the frame simple. A lot of Bert's own framing jobs were rustic and natural. You can see that we chose an airy white wood stain with lots of wood grain peeking through, but I also tested Behr's Blueprint hue (the same color I used for the mod plywood ornament display we built for Christmas). The color was perfect because it pulled out that same shade of blue from the painting: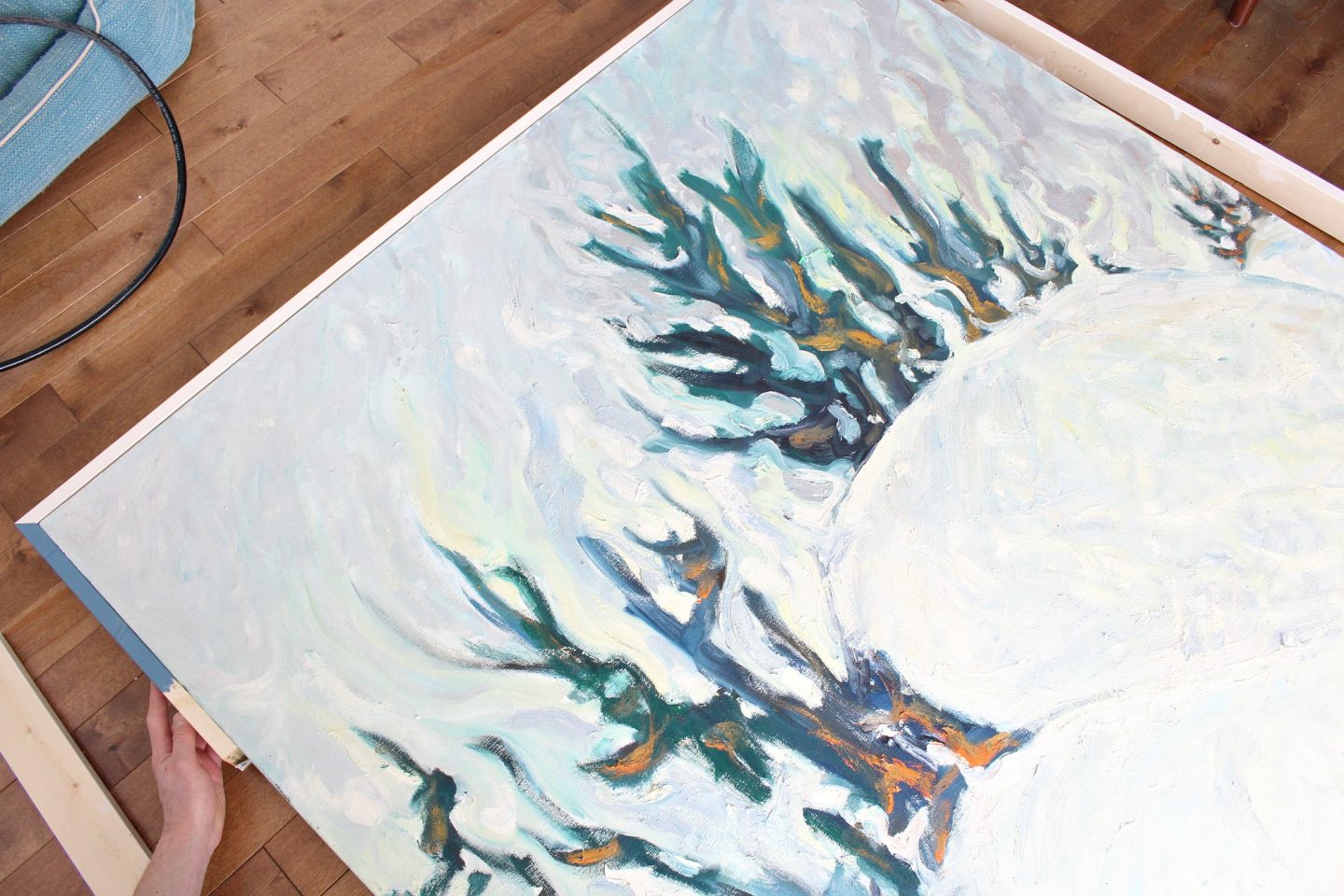 But Hubby and I agreed that the blue drew the eye to the frame. We wanted to finish off the sides nicely, and hide the stapled canvas, but with a more subtle frame that kept the focus on the art.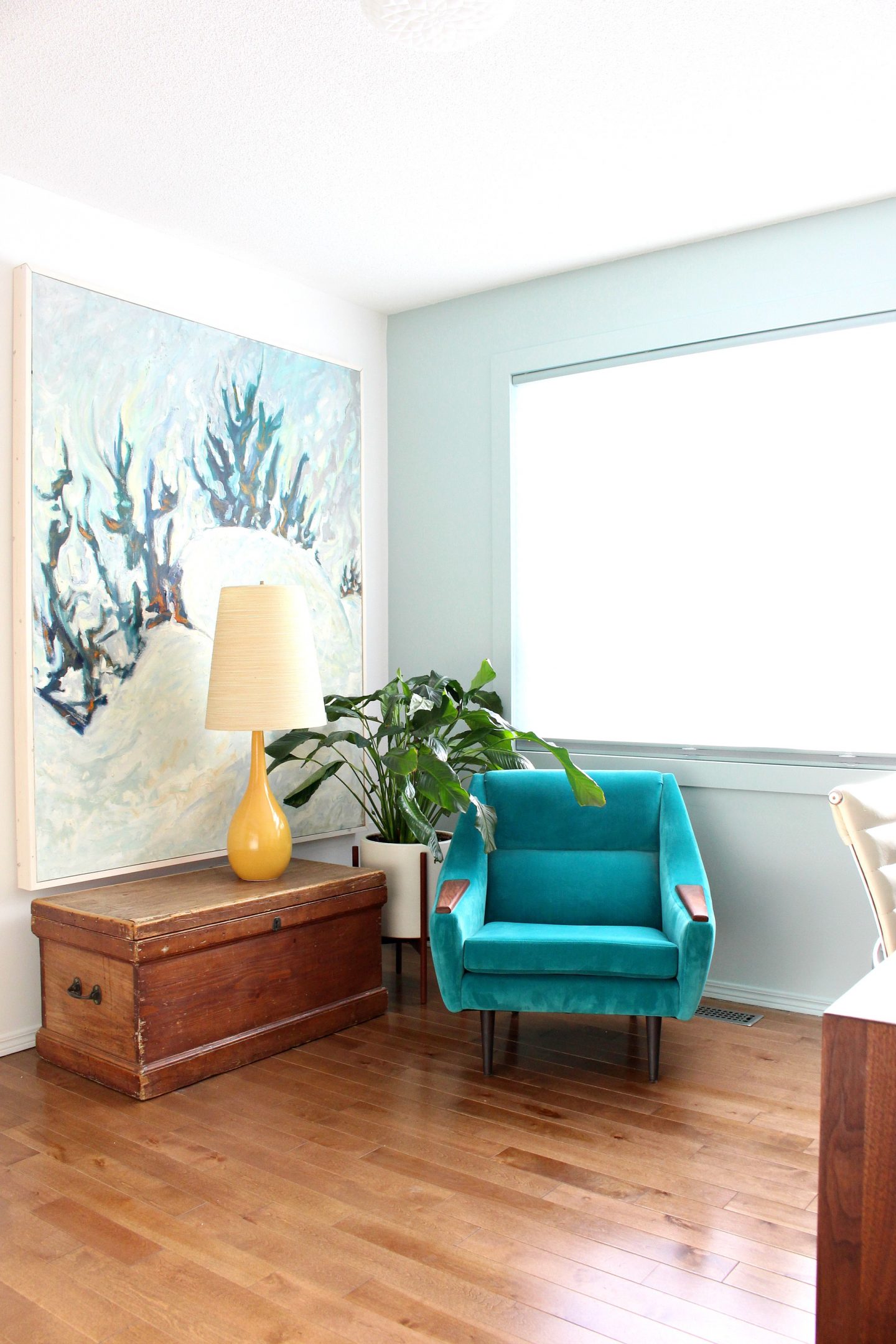 If you have a canvas to frame, here's how we made this quick and easy DIY canvas frame.
Supplies:
**The first step was to find the right wood. Our table saw stopped working recently and it's been too cold to go out there and diagnose it, so instead of buying lumber and ripping the boards to the right size like we tend to do, we found the depth/width we needed at Lowe's (it's just called a 1×3 board, found with the trims). We opted for solid pine, which is very inexpensive, but if you don't like the look of knots even a basic home improvement store will have a few options for wood species. We don't usually head to the home improvement store for this kind of project. We prefer a place like Windor Plywood because the wood is typically better quality – home improvement stores are focused on construction, not building furniture. Builder's grade wood is therefore not dried as well as furniture grade wood so you might end up with pieces that are bowed and warped. We looked for four pieces that are straight and because they're affixed right to the canvas stretcher we don't foresee warping, but I wanted to explain our choice.
How to Make an Easy DIY Canvas Frame:
With the wood in hand, we measured the four sides of the canvas and cut the boards to length with a 45 degree cut at each end. I lightly sanded the surface and edges. I propped up the pieces and stained them, applying the stain with a clean rag, letting it sit for a few minutes and then wiping the stain off. I applied two coats because I wanted the wood to have a sheer finish and allow the grain and knots to peek through (you can also skip staining and try my favorite wood burning technique). I opted for the white, because the white stain ties in the white magazine files we built that are still in the office, where this new-to-us painting hangs.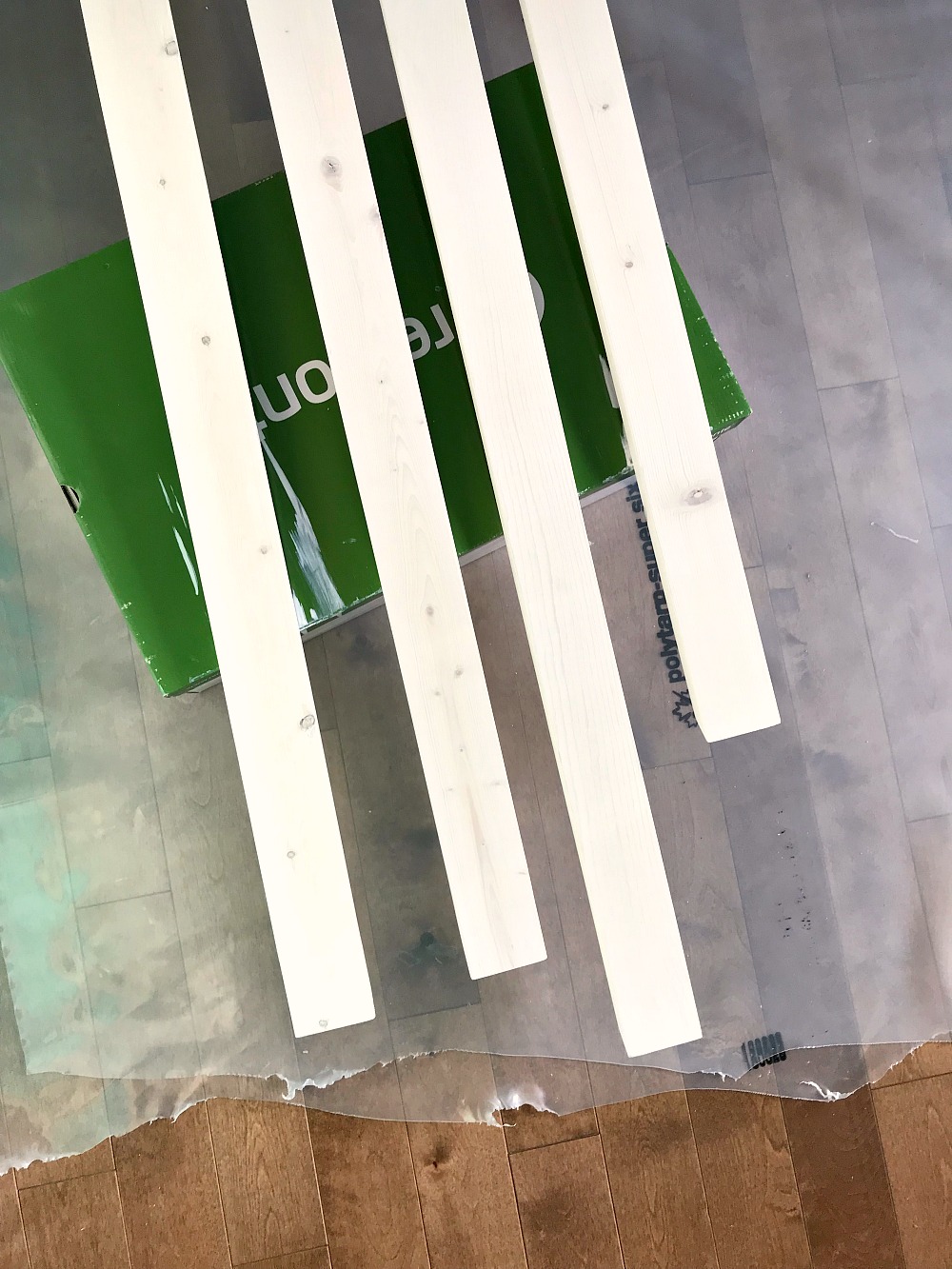 We let the stain dry overnight and then used our air nailer to affix the lengths to the canvas, putting the nail right through the frame into the wood canvas stretcher. You could just use a hammer and finishing nails for this – just counter sink the nails a bit (using a nail set) so it's easy to fill the holes if desired. It helped to dry fit before nailing, and then one of us held the wood while the other affixed the nails. You can use a wood filler to fill the nail holes, and a clear coat to finish the wood – but both steps are optional.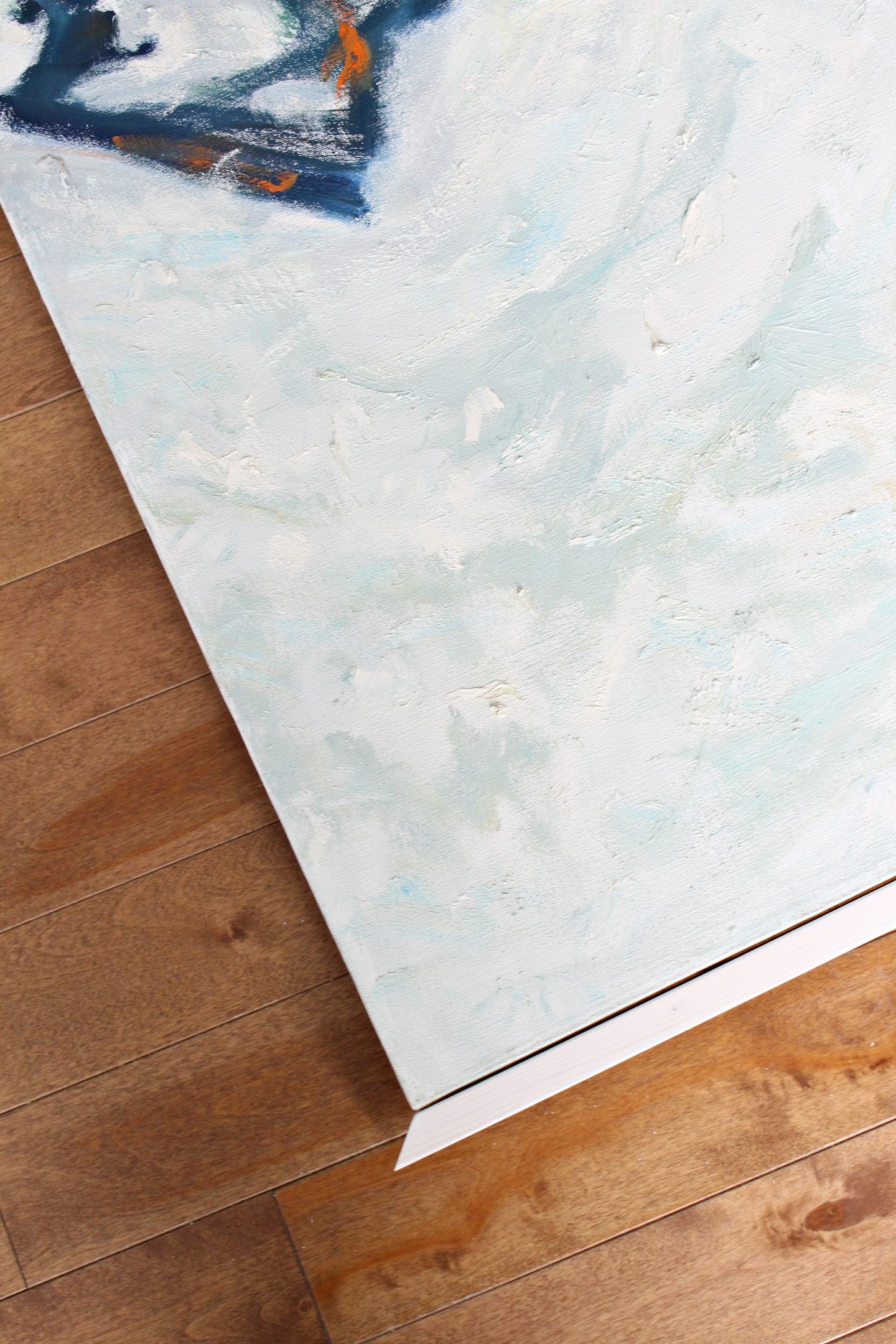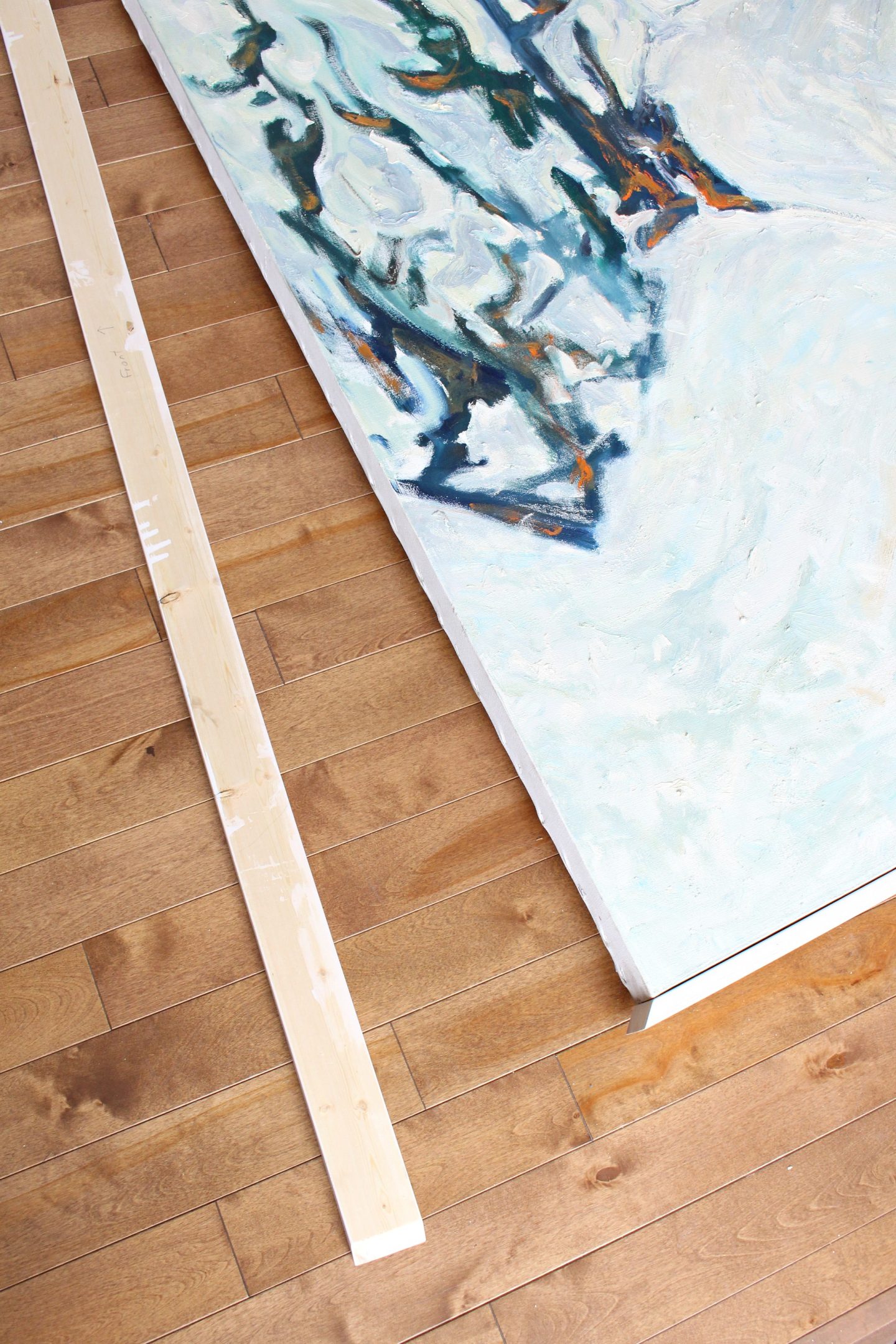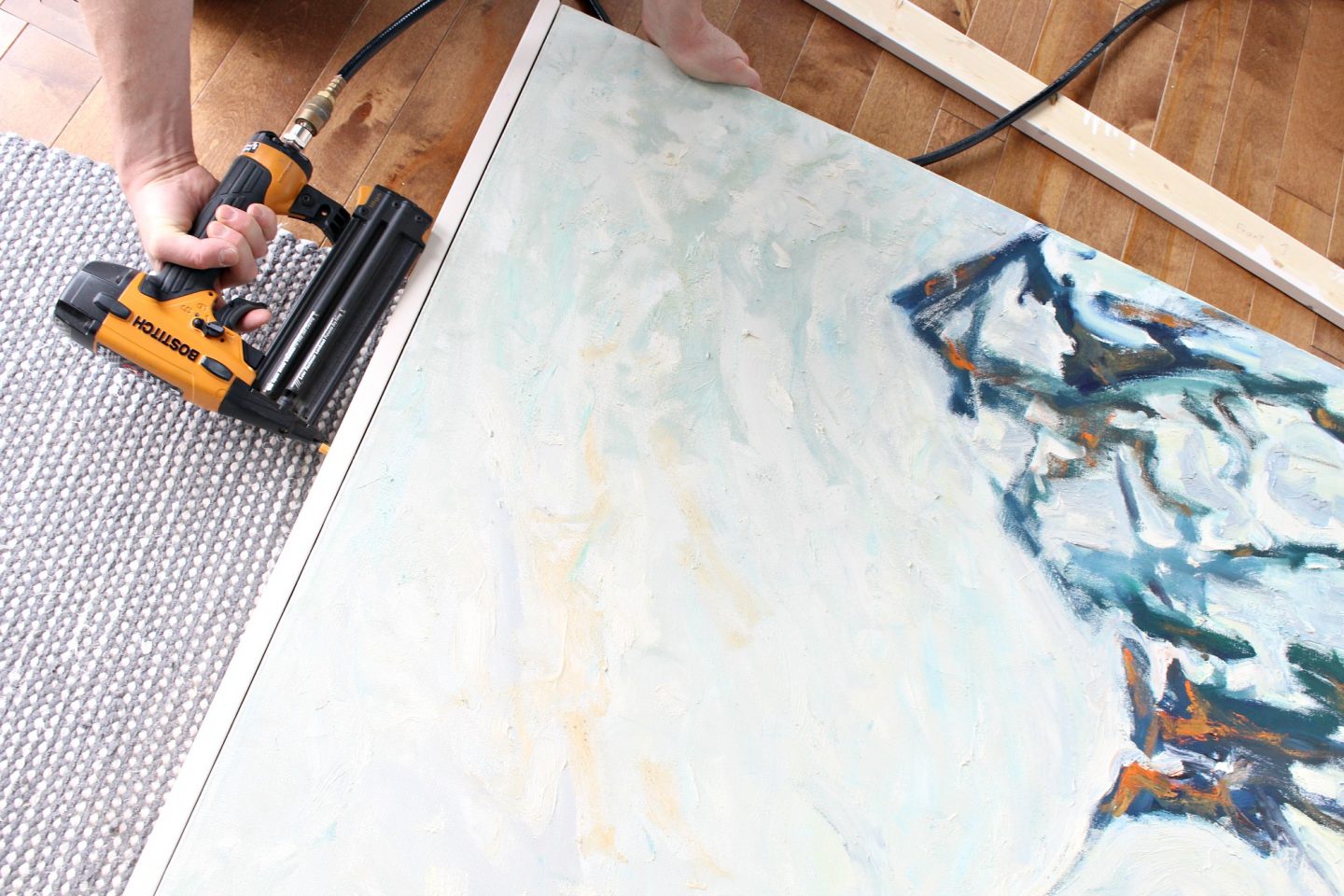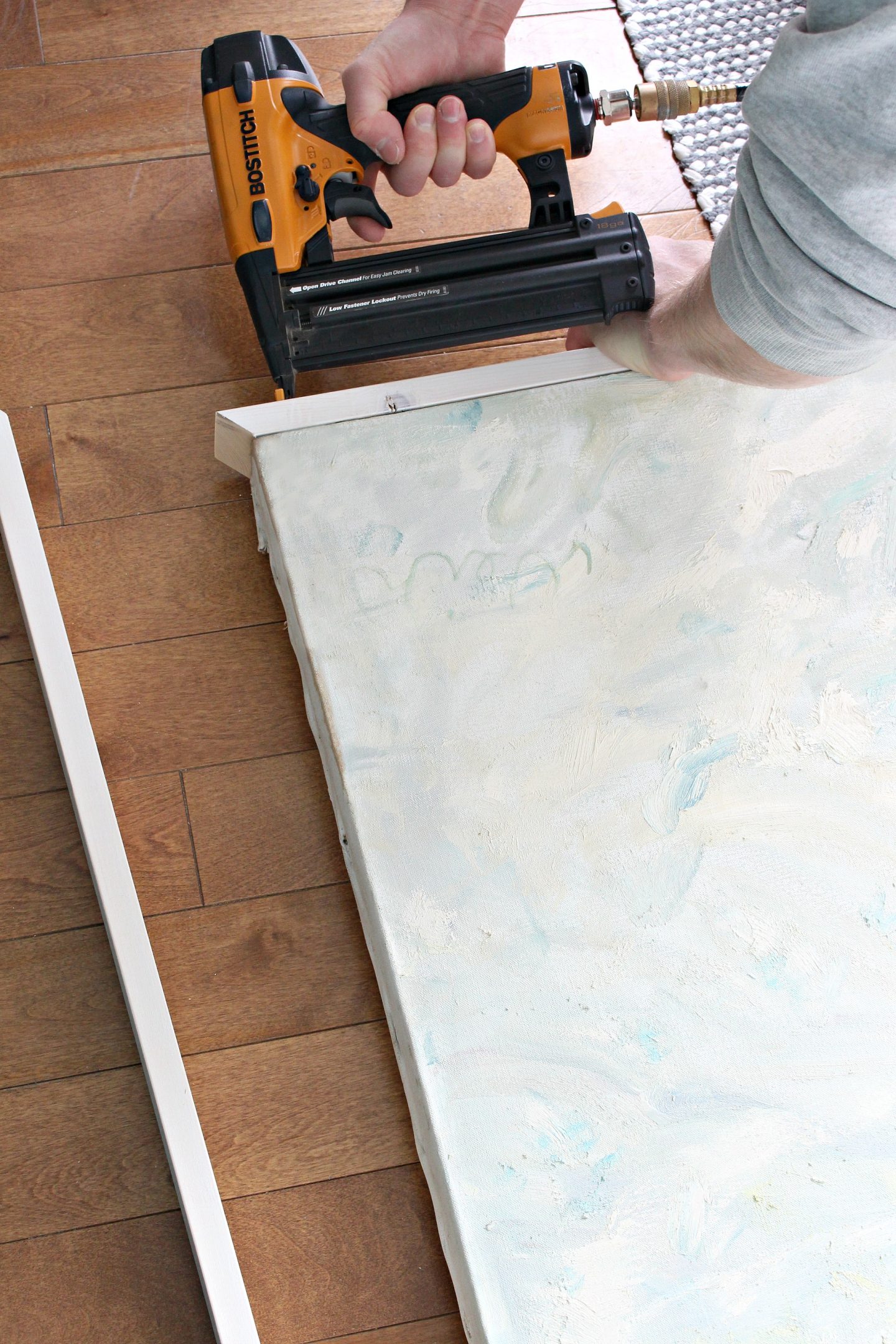 That's it! I promised that this was a super easy DIY canvas frame project. Even easier than making a floating frame for art. I love how our new painting looks more finished, without the frame drawing the eye away from the beautiful artwork.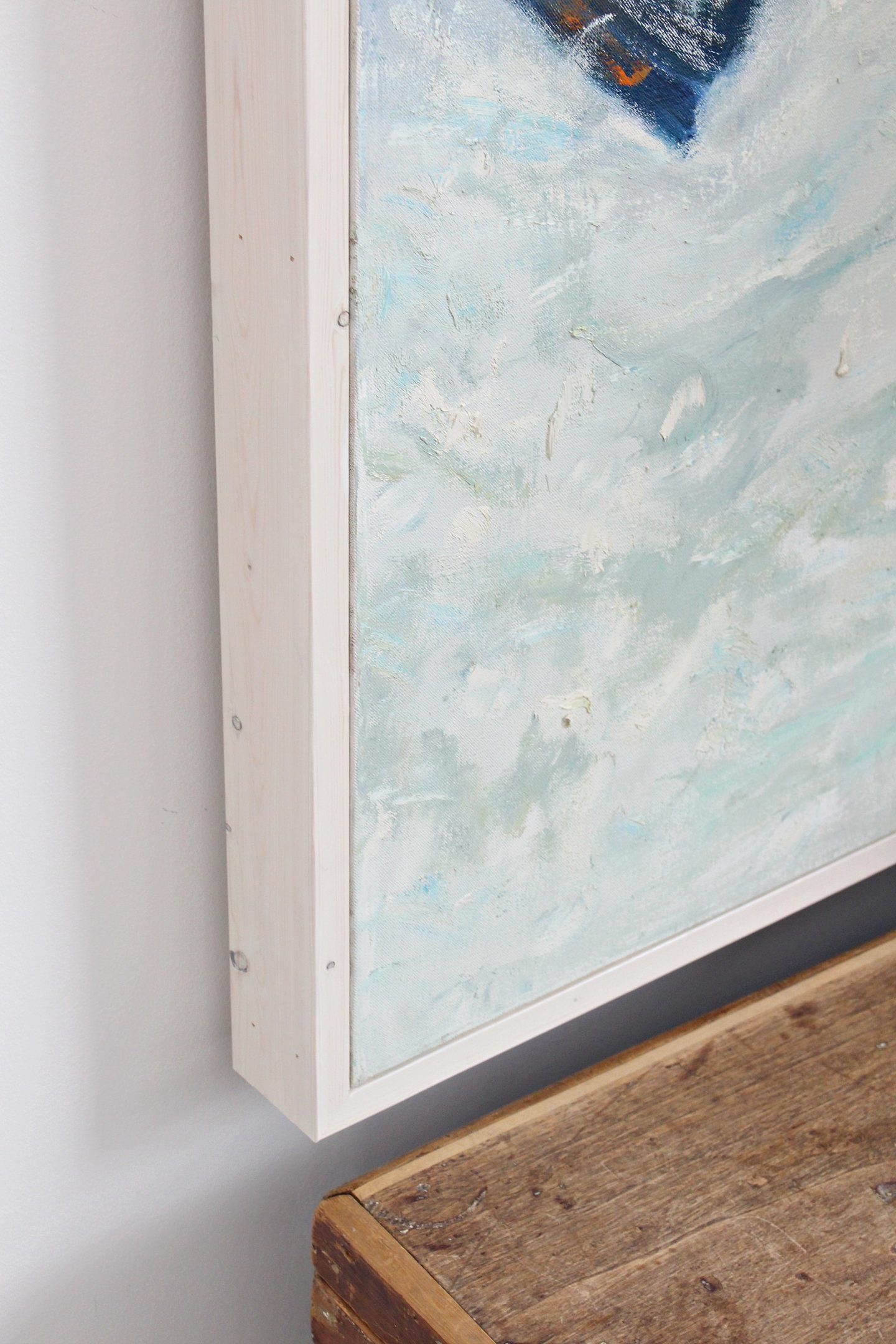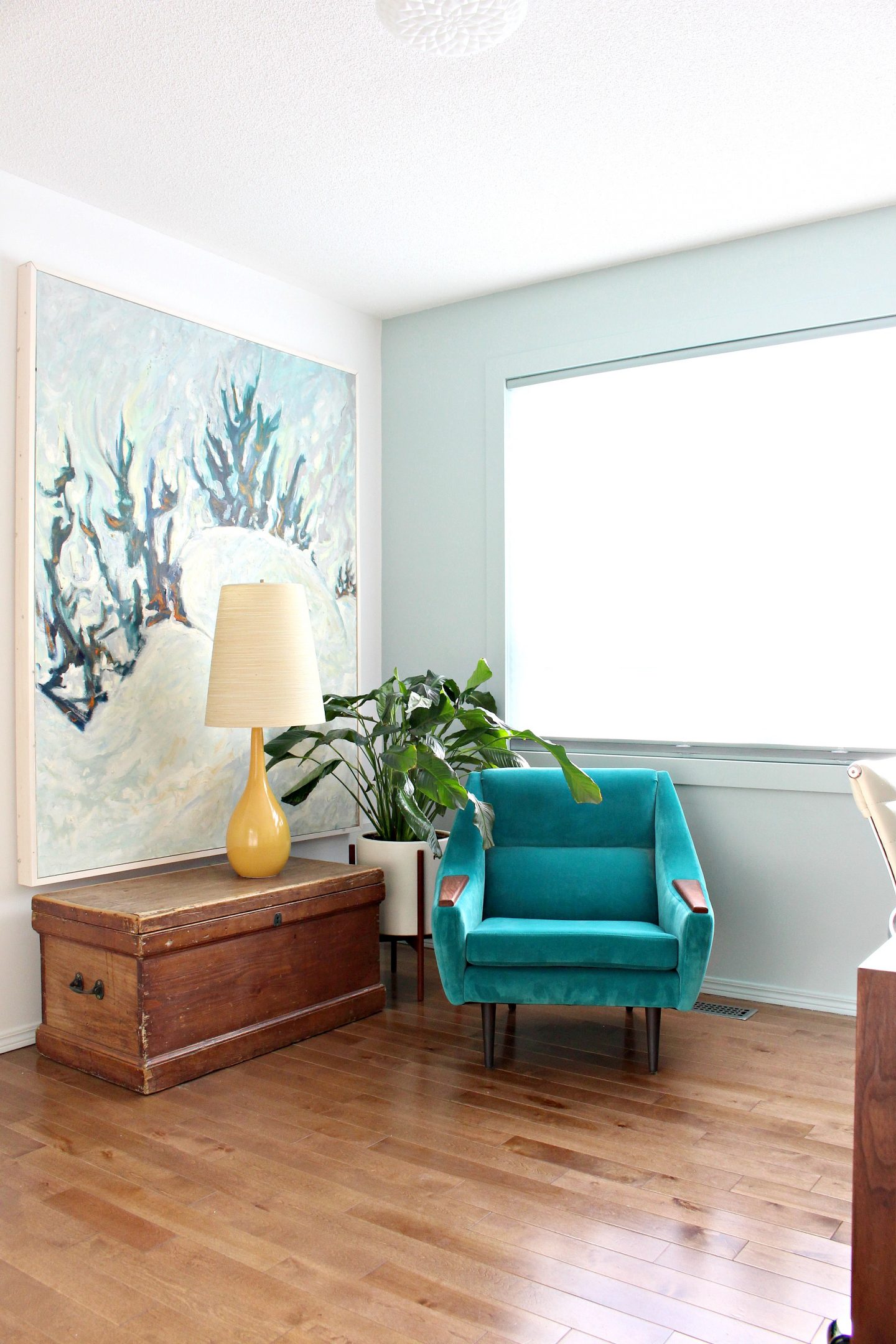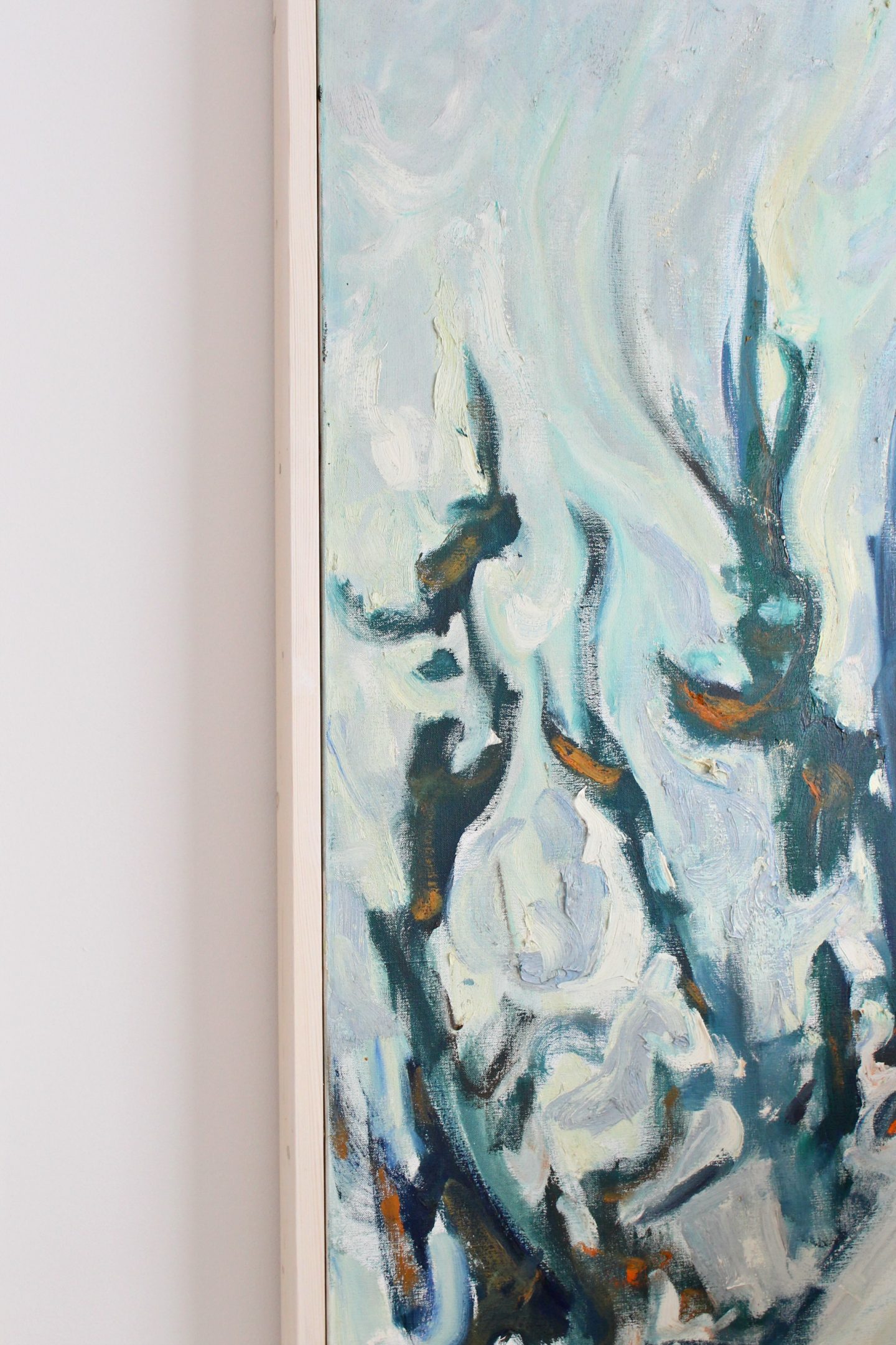 I'm working on photographing each room and sharing a new room by room tour, because there are so many updates: new windows, new blinds, new accent walls, new art – the whole lake house feels freshened up and I'm really behind in sharing these updates. One thing that stayed though, is my bookcase with my growing pottery collection which complements Bert's art so perfectly. I recently thrifted a new vase for my collection but I'd love to add a Strawberry Hill pottery polar bear…fingers crossed I can thrift one!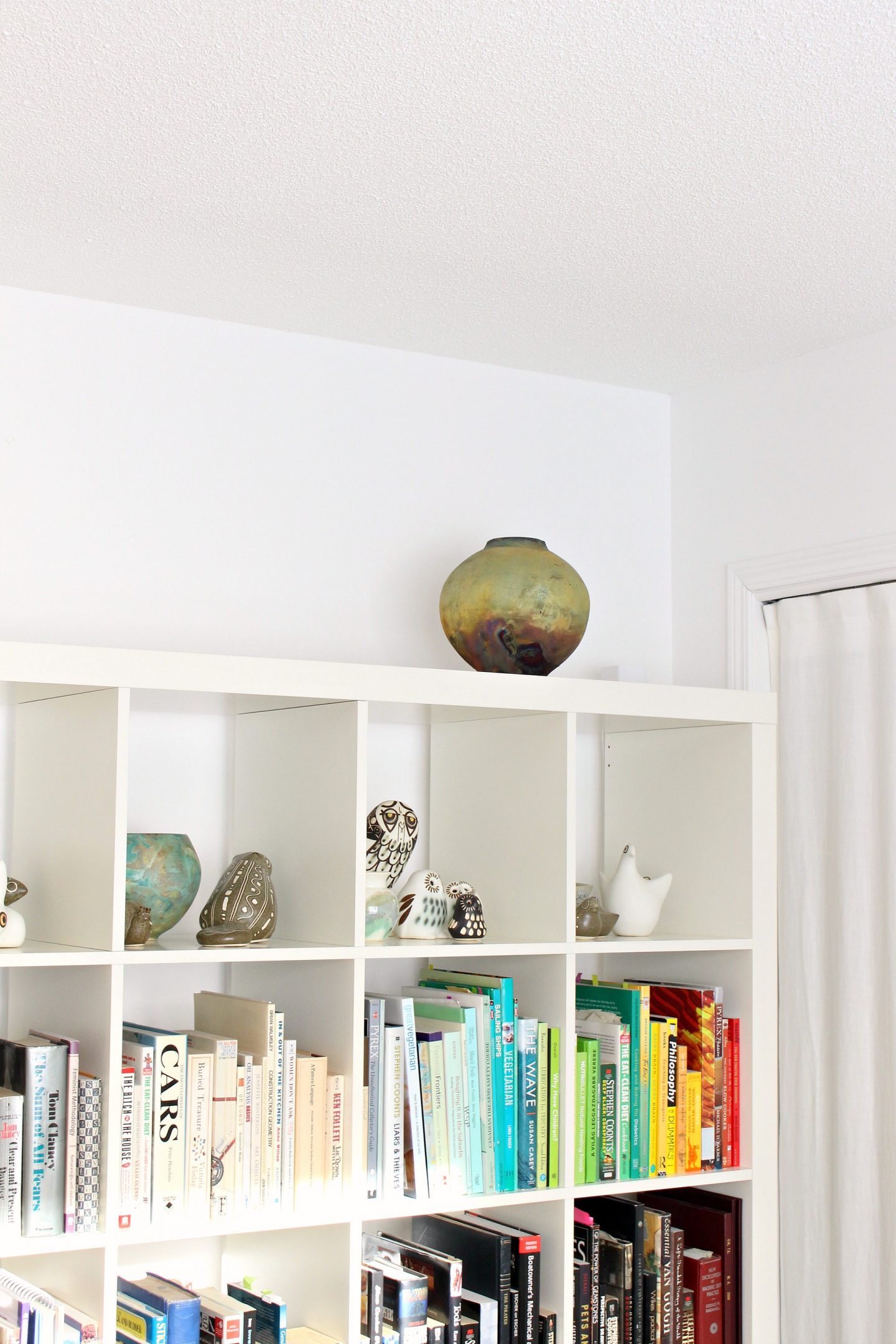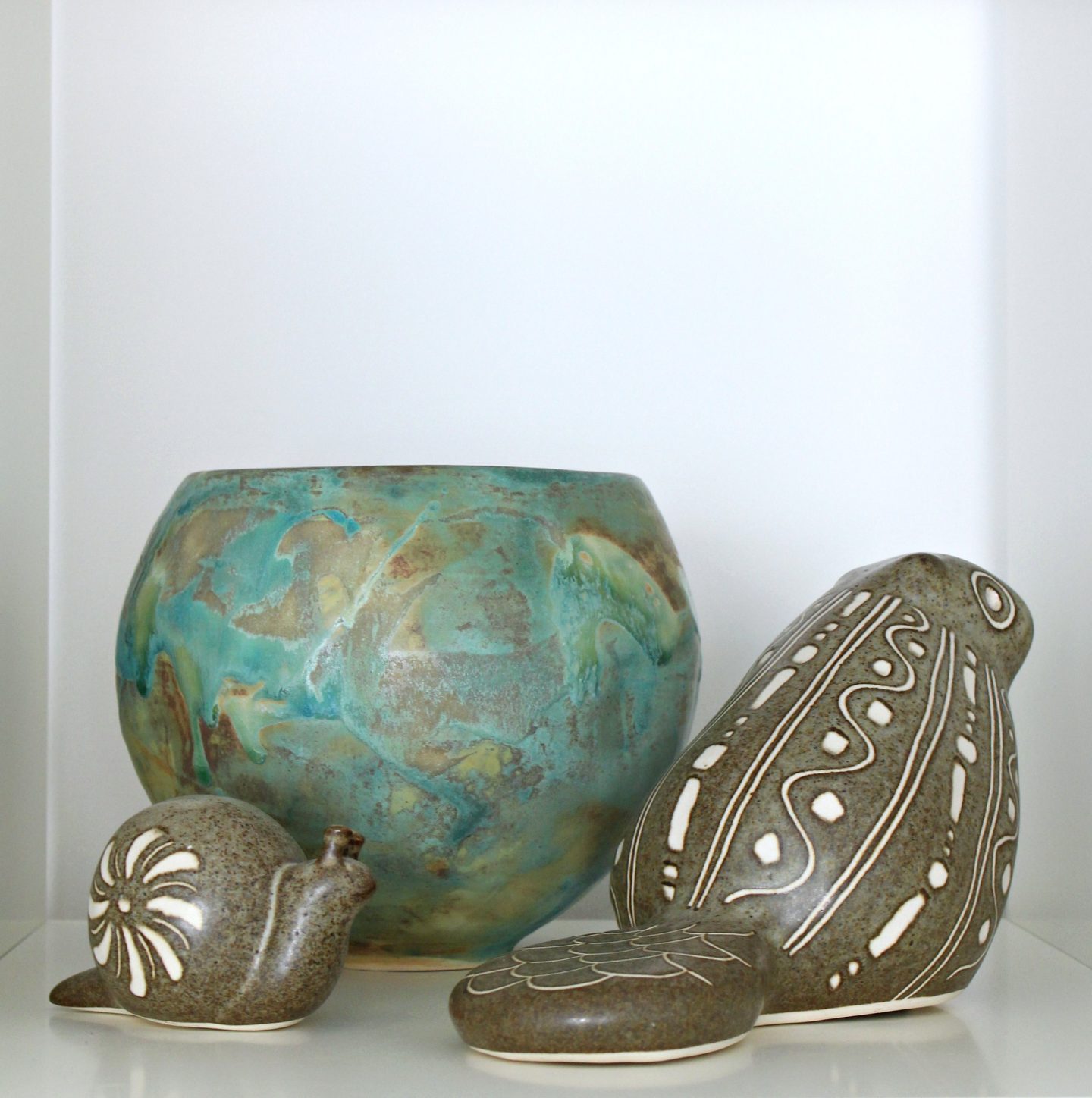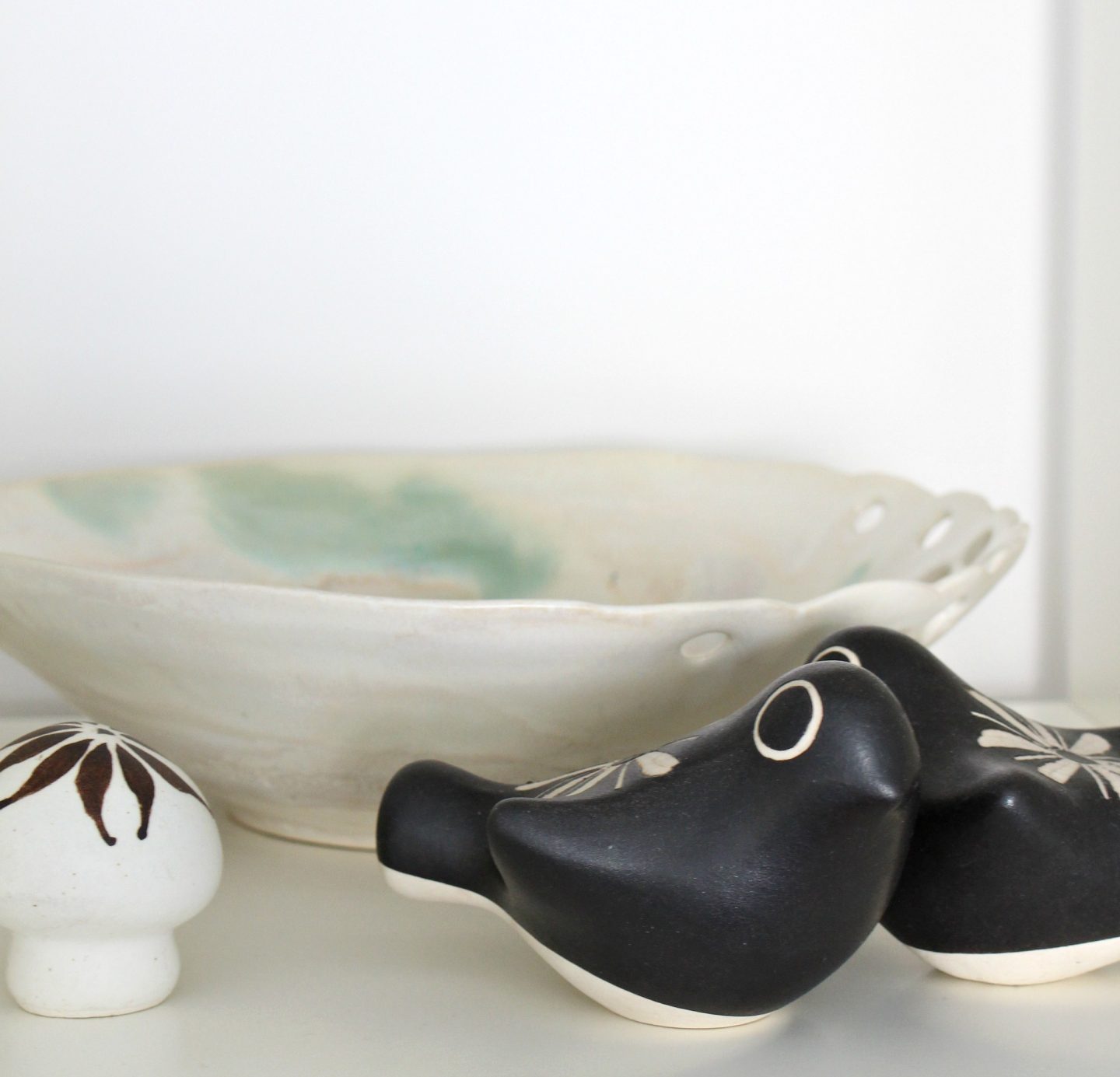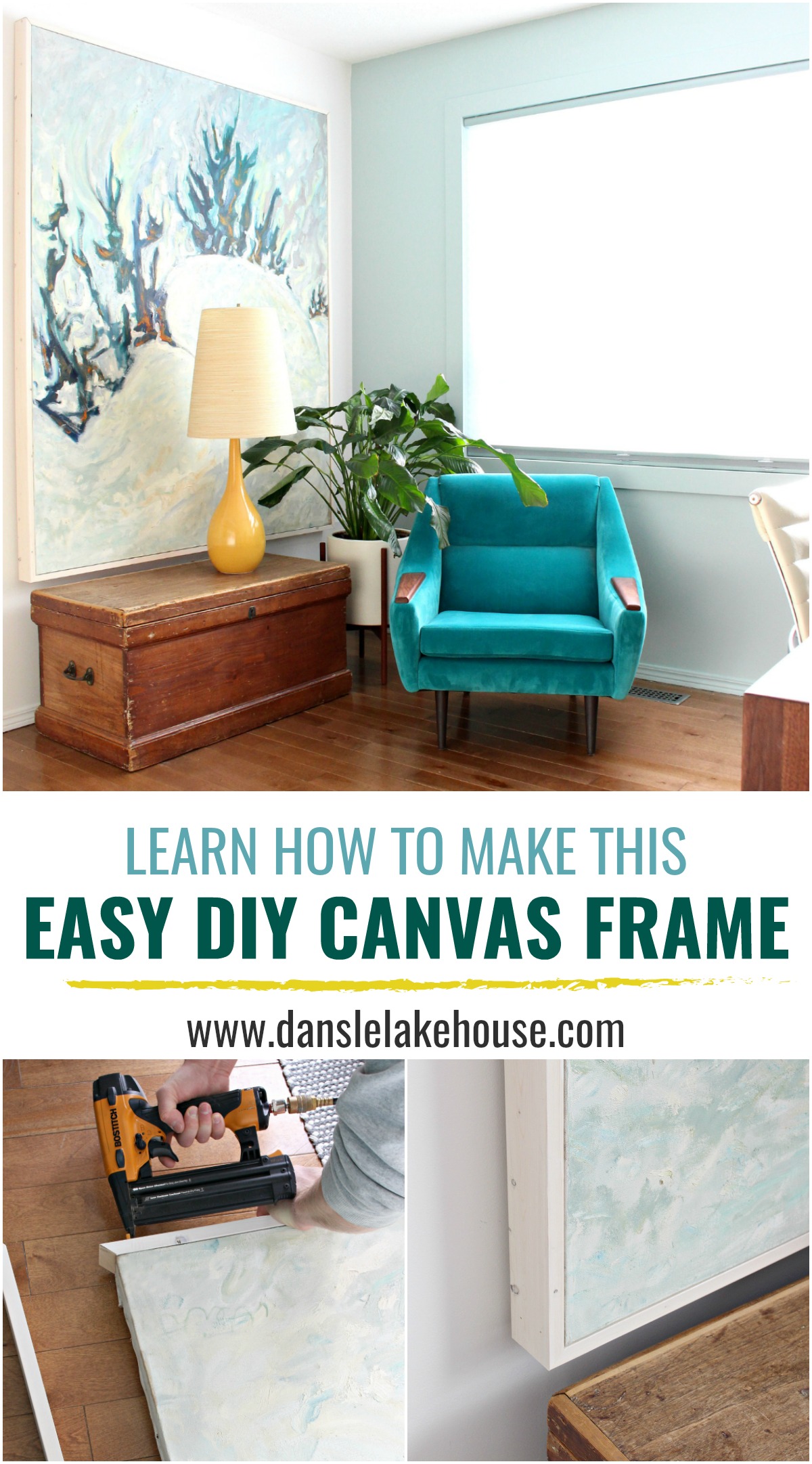 Sources:
Teal Velvet Chair – Vintage (Similar) | Yellow Lamp – Vintage Lotte (Similar) | Wood Trunk – Vintage (Hubby's Great Grandfather built it!) | Planter – Modernica Case Study | Wall Color – Soothing Spring by Behr and Snowfall by Behr