I finally put together the how-to for the DIY stock tank shower that you saw in the bunkie bathroom renovation. I have gotten so many questions about this project! It's such a fun surprise because when you walk into the bunkie bathroom, you see this: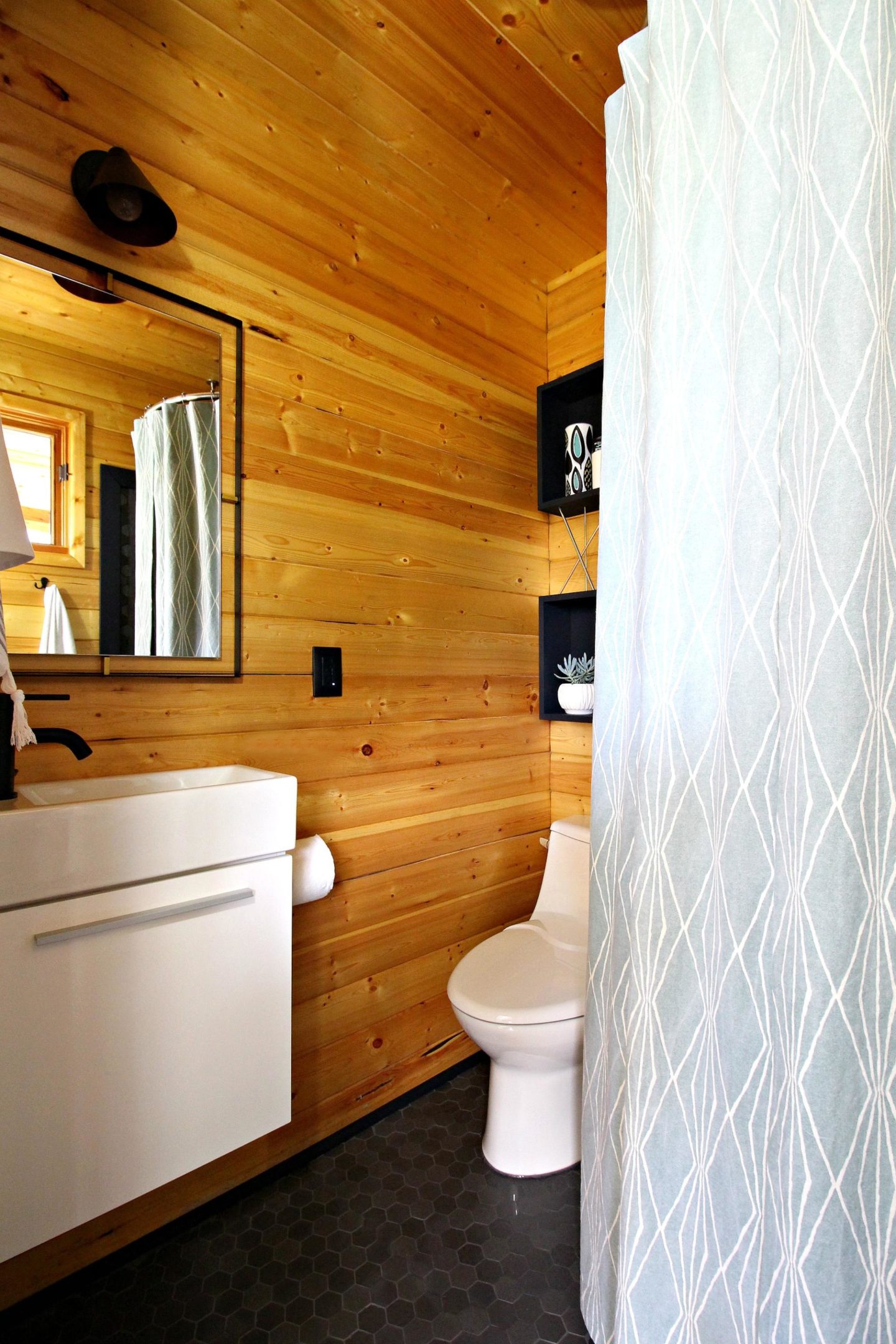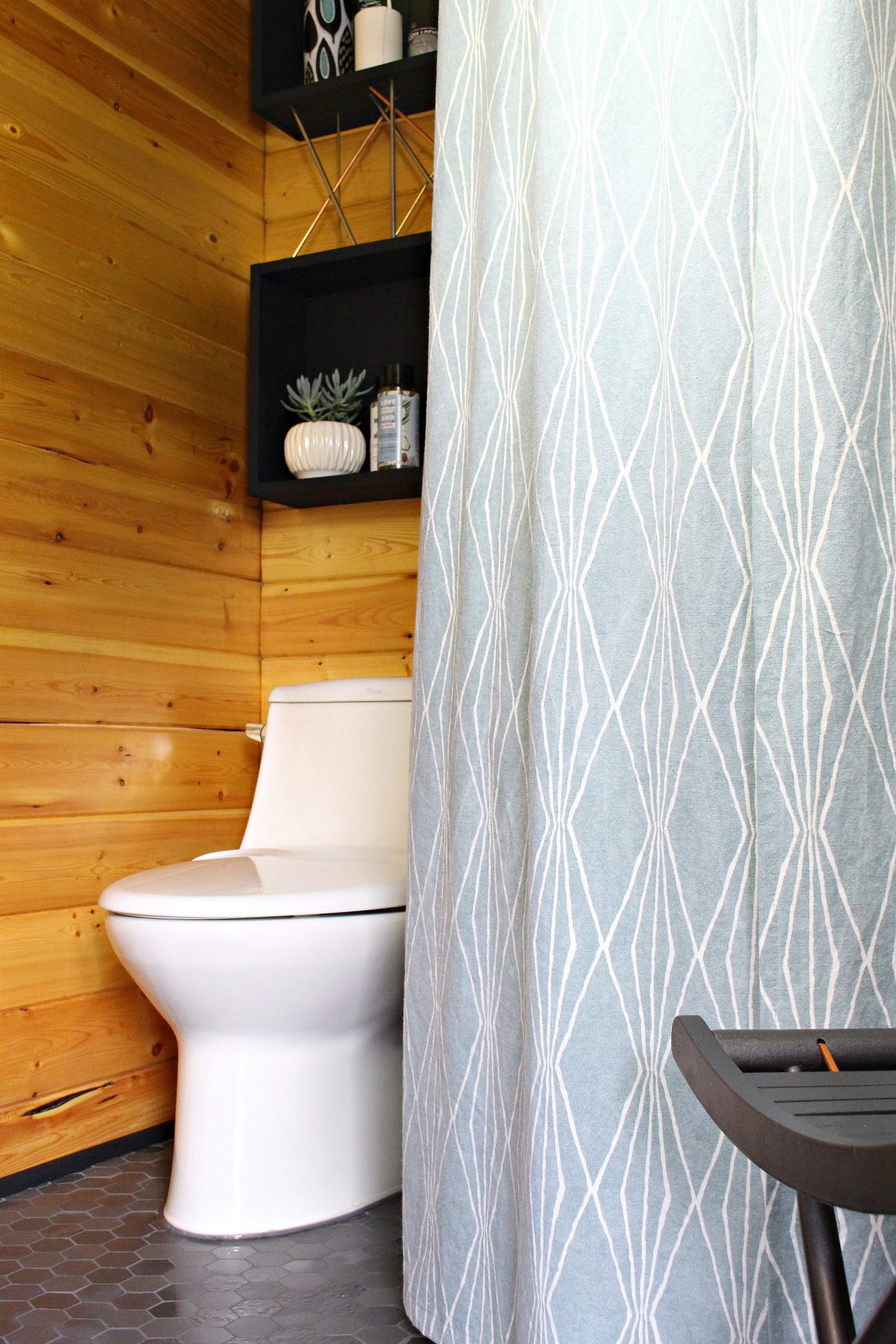 But SURPRISE!! Behind that custom shower curtain is a DIY stock tank shower!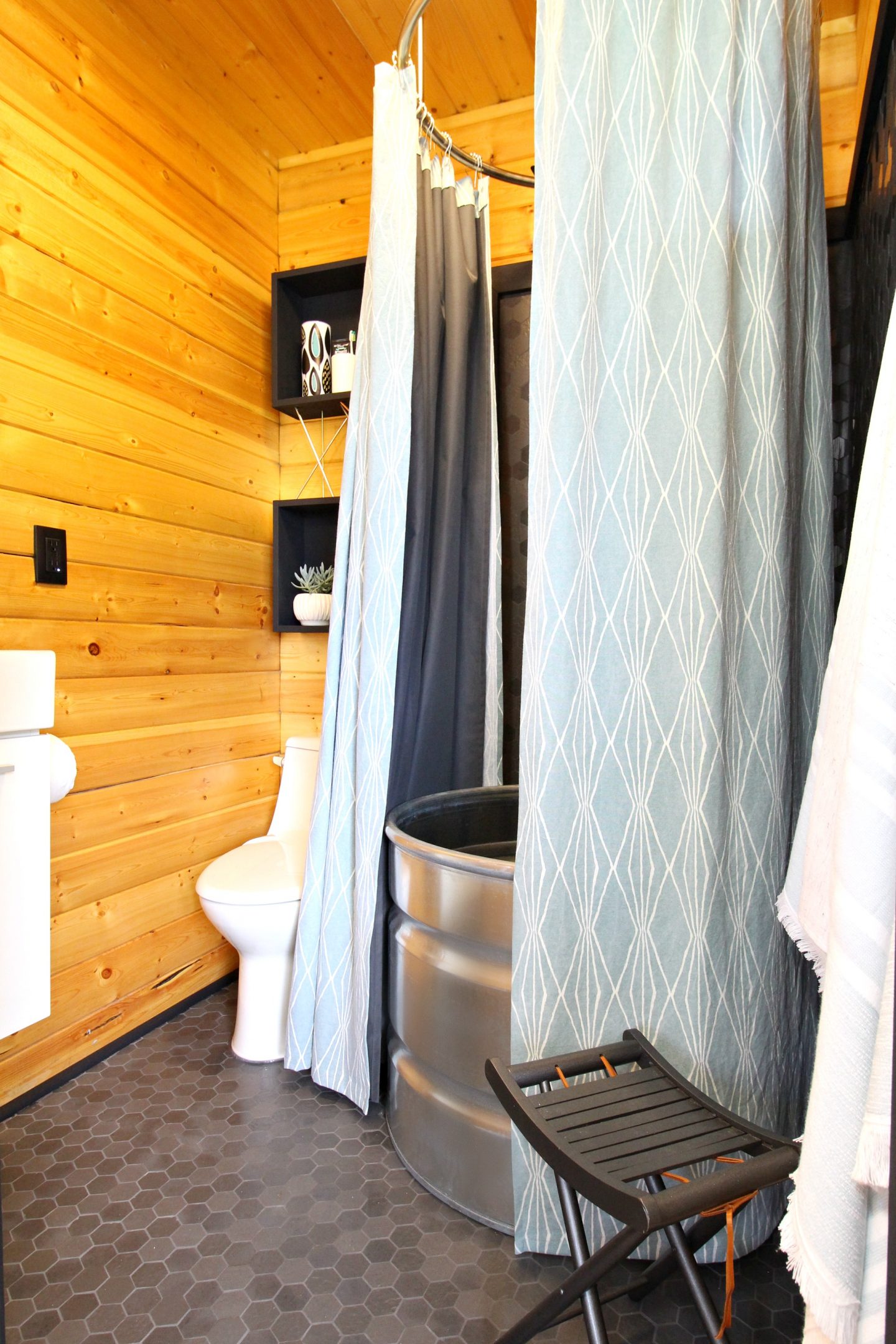 The scariest part of the bunkie bathroom renovation was creating this DIY stock tank shower. But I hopped online and did some research. Once Handy Hubby and I knew it was doable, we forged ahead.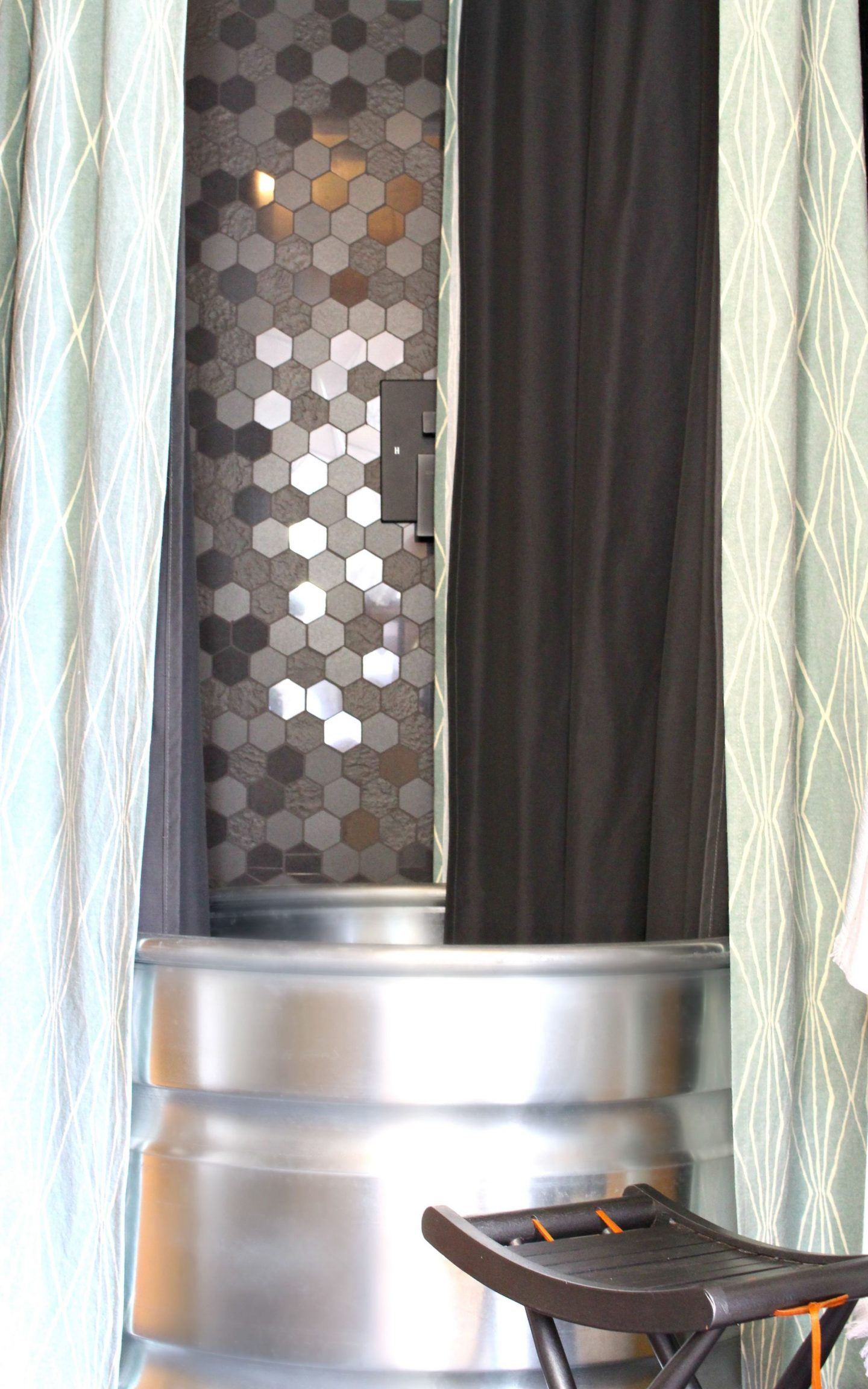 The Bunkie Bath Before
Here's a quick reminder of the bunkie bath before – you can see lots more photos by clicking here.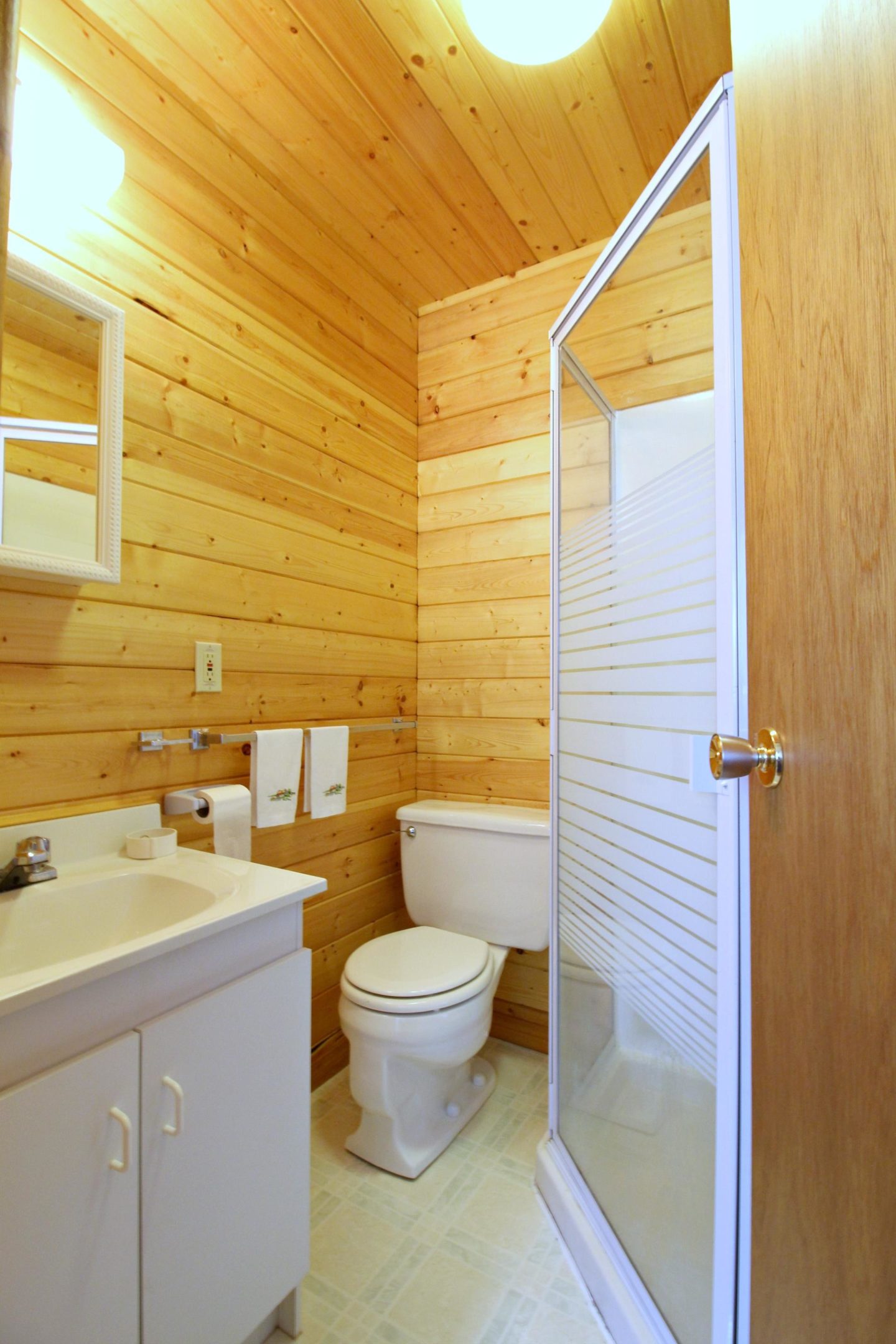 How to Choose a Stock Tank for a DIY Stock Tank Shower:
The first step was tracking down a good stock tank. We checked around locally but all of the stock tanks were really dented with somewhat rough edges. They're for livestock, so of course they weren't designed for beauty! I think people around here genuinely think I had gone off the deep end when I rolled up at the local farm supply store in my bright green Camaro, asking about a stock tank to use as a shower. After doing a lot of research online, I found Tarter USA and realized that their galvanized stock tanks were perfect! I love the simple design. Plus the rounded edge (meant for livestock safety) looks good and ensures human safety too. Tarter designs their stock tanks with multiple uses in mind, so they don't seem as… rustic as other brands I looked at. I reached out to Tarter and the company generously sent me a stock tank (and a spare) to use in my bathroom reno. I learned that the 36″ size that I needed is actually shipped nested, so some are smaller than others. This worked out perfectly because one of the tanks I was provided was actually about a 32-33″, which fit even better in the tiny bunkie than I had planned. I had measured for a 36″ but this bought us a little more wiggle room and the bunkie feels way more spacious.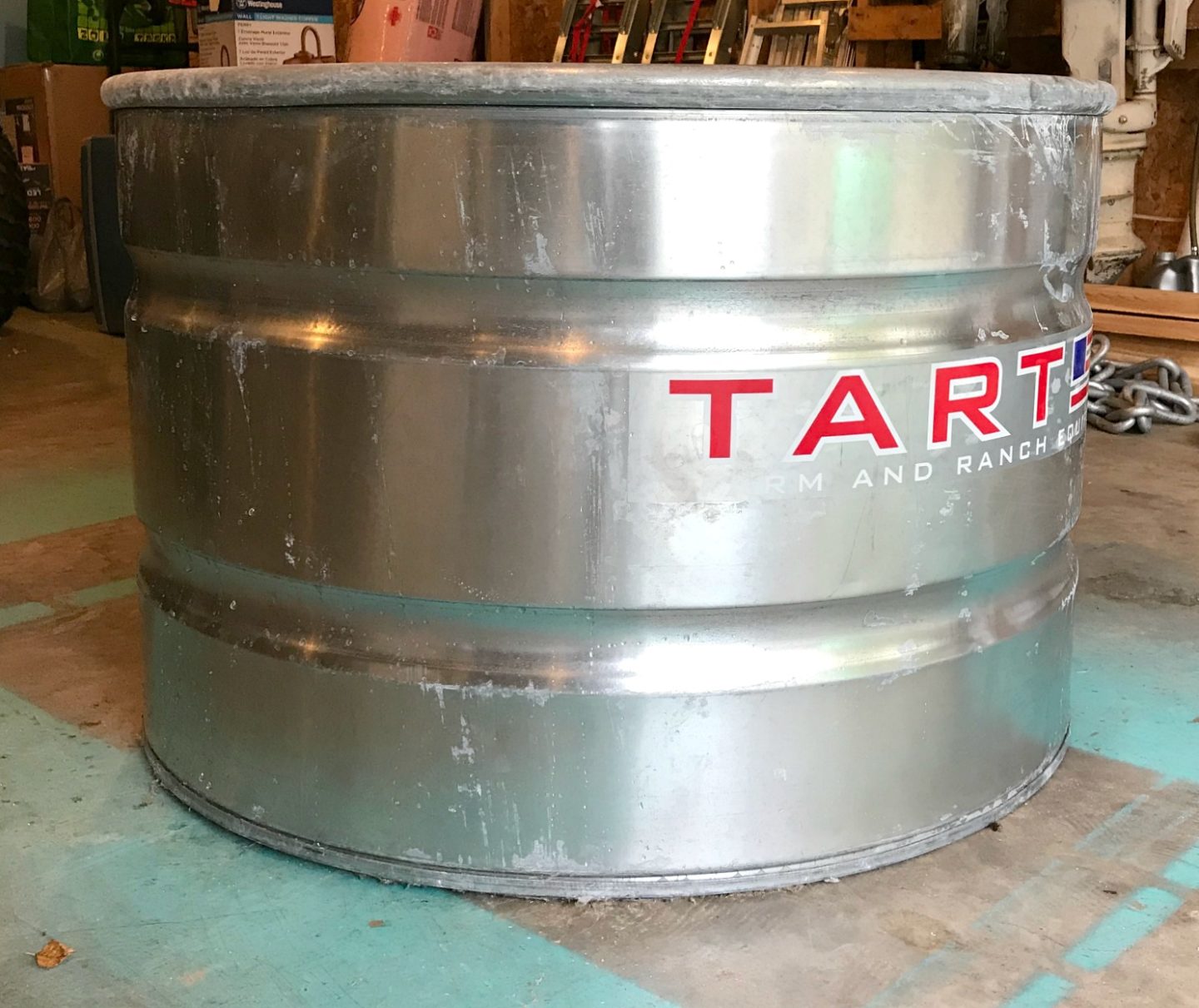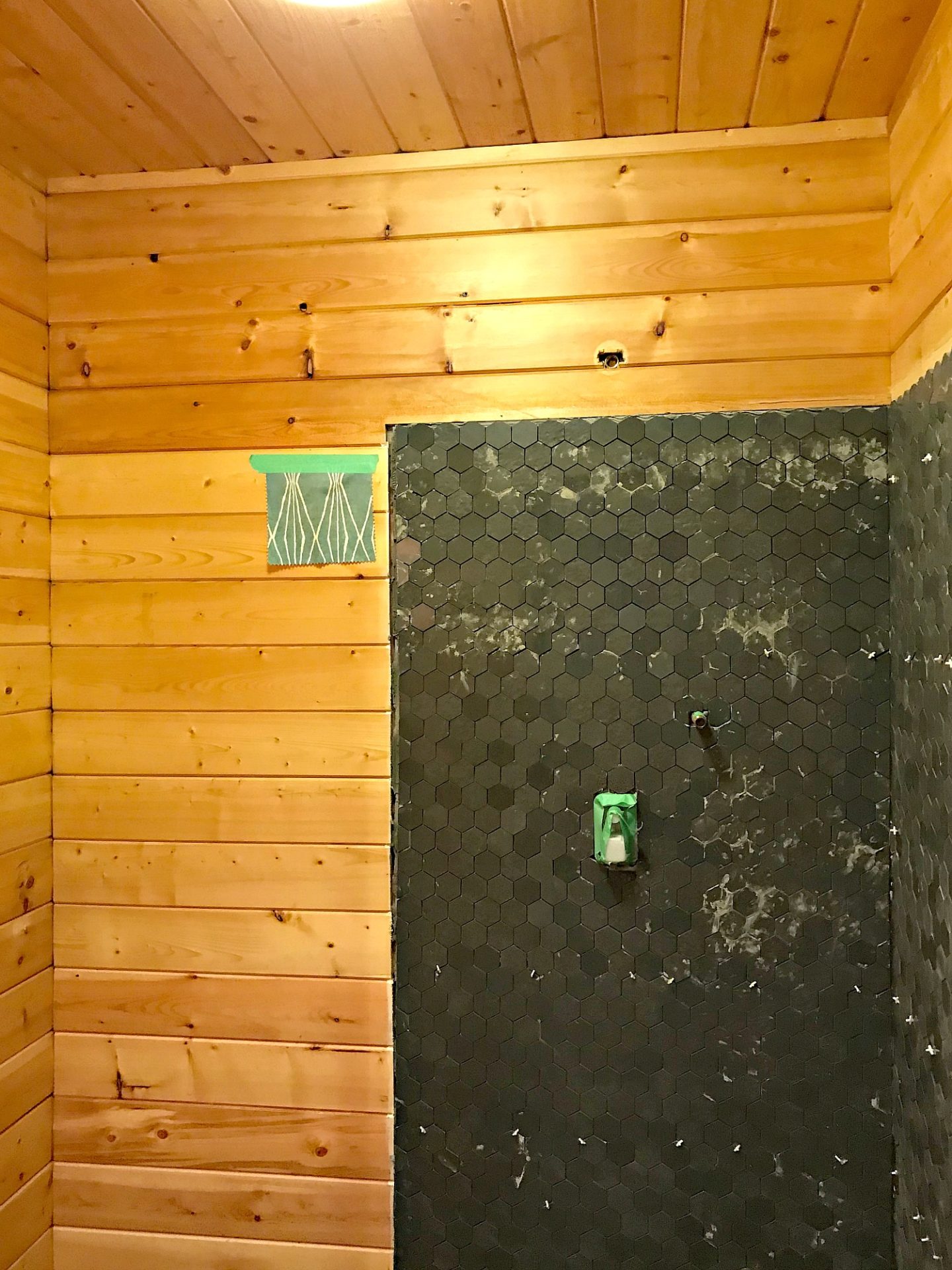 Prep for Installing a DIY Stock Tank Shower:
Prior to installing the stock tank shower, we tiled the bunkie floor with a small charcoal hex and ran that tile up the wall where the old fiberglass corner shower had been. The pine didn't run behind the shower, but I think the tile running up the wall from the floor to cover the drywall helps make this look intentional. Plus, although there is a shower curtain, and the sides of the stock tank are plenty high, the tile is more water resistant than pine in case someone splish splashes water out. If you're prepping a space for a stock tank shower, having a level floor will help the installation go more smoothly. Because the stock tank shower uses a lot of the footprint of the room, before installing it we also installed, patched and painted the trim, installed the ceiling mounted shower curtain rod, the shower head and valve. It was easier to do this before the stock tank was in place – just something to think about!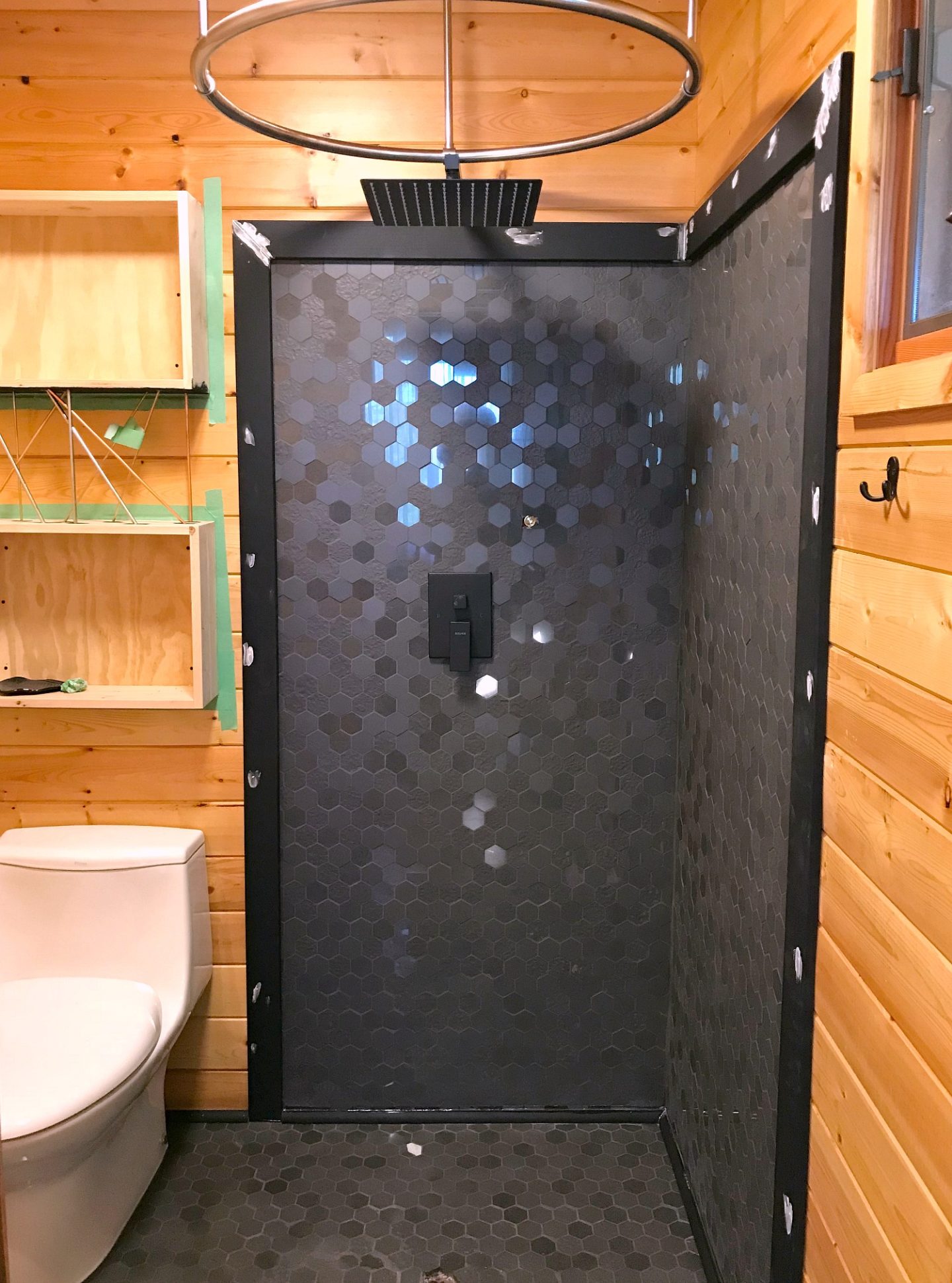 We already had a hole in the floor for the old drain but we had to reposition it first. We were replacing the sub floor anyway, because it had totally rotted due to the leaking fiberglass shower, so this was no big deal. In terms of positioning the drain, we left enough room around the sides to keep a comfortable distance between the stock tank and toilet, plus I left enough room between the walls and tank so that I can reach a cloth in there and clean. I didn't want it butted up to the walls, leaving me a sliver of space that would collect dust. This placement is personal preference – you just want the drain positioned in line with the center of the stock tank bottom. I suggest marking the floor with masking tape so you can clearly envision where the stock tank will be.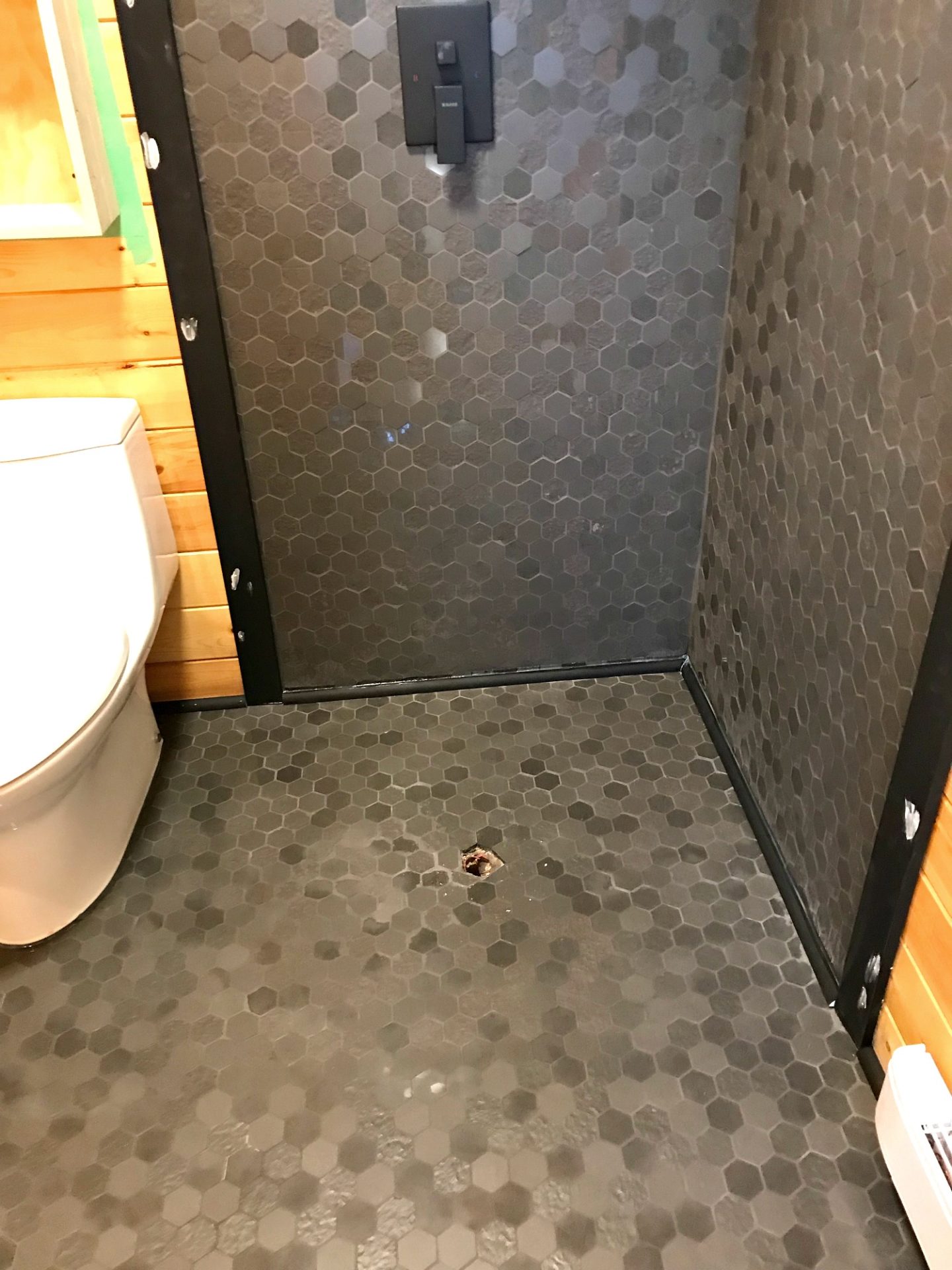 How to Make a DIY Stock Tank Shower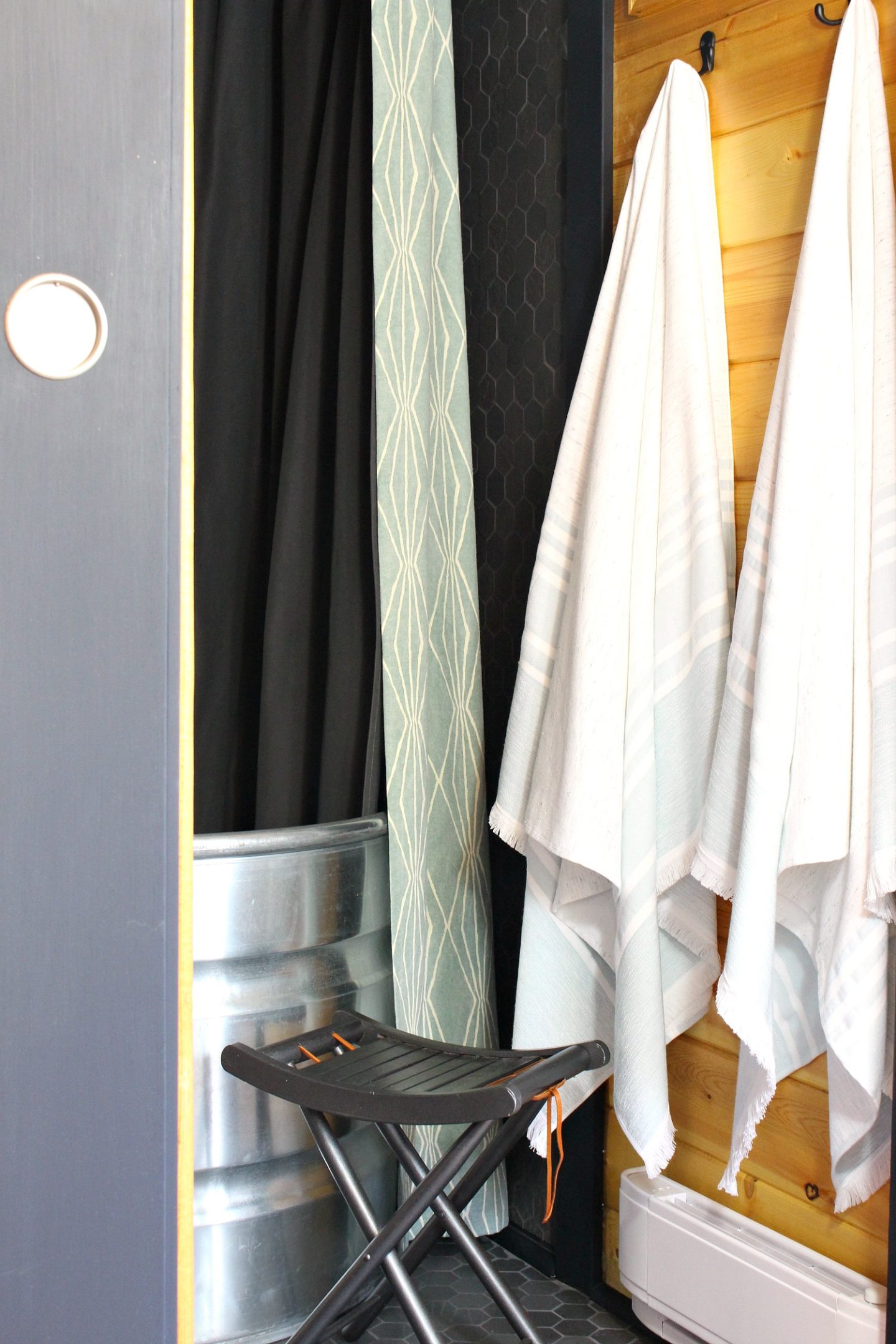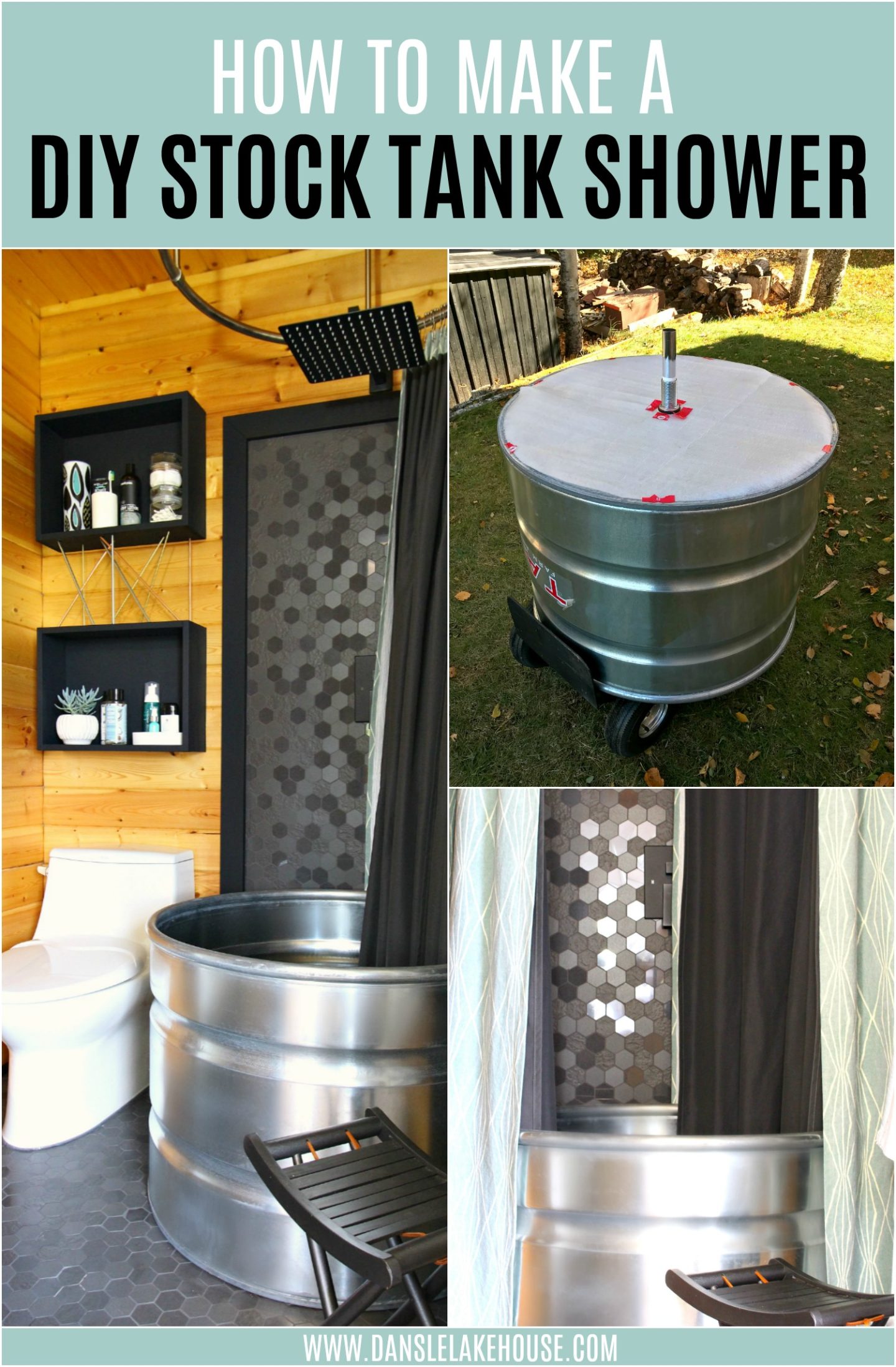 Supplies:
Stock tank
Drill and metal bit
Hole saw (sized for drain)
Tub drain (pop up drain if you want to ever use this as a tub)
Super fancy homemade jig for hammering (you'll see)
Pencil
Masking tape
Measuring tape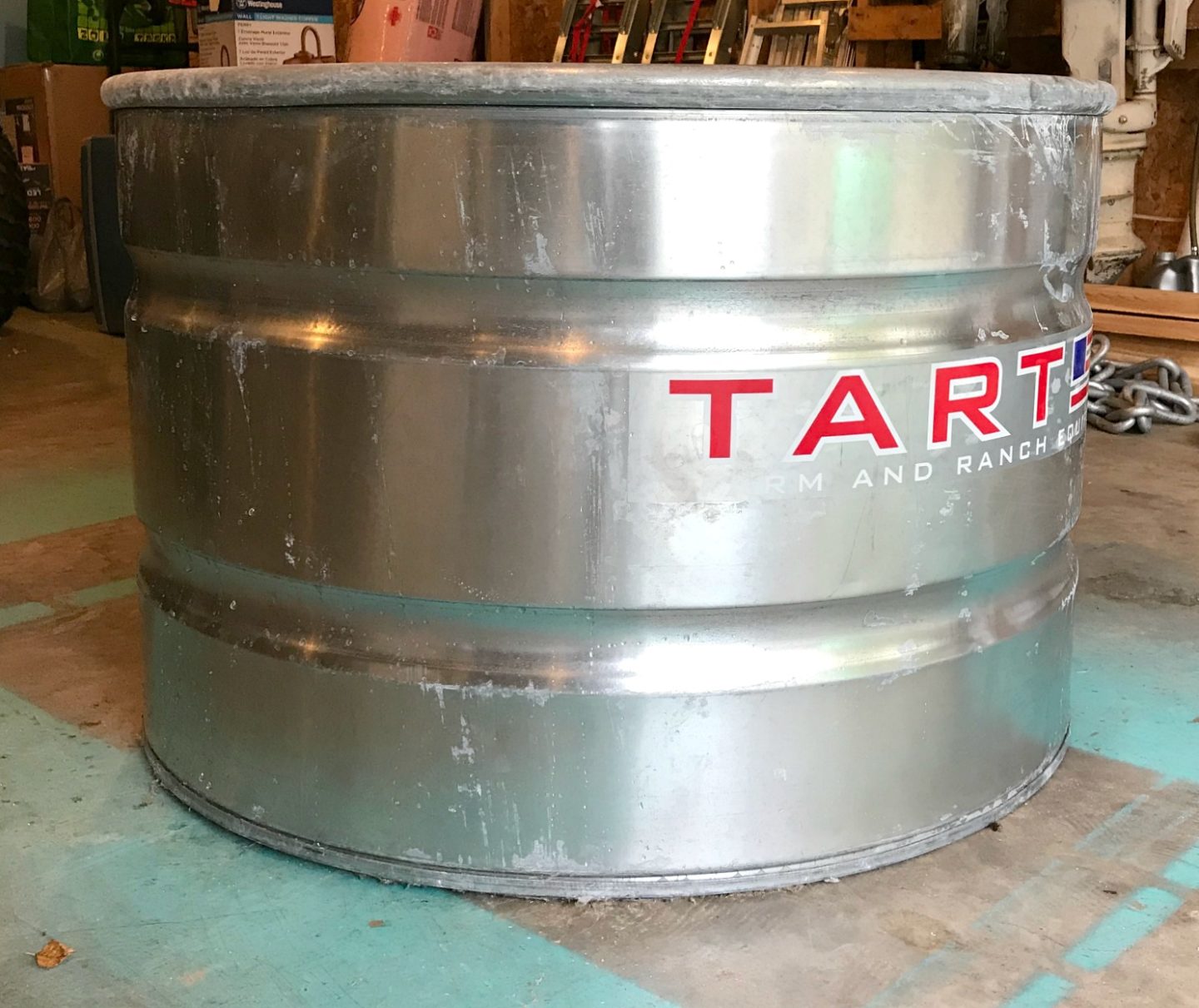 How to Add a Drain to a DIY Stock Tank Tub:
Adding a drain to the stock tank was pretty simple but one concern we had was that water might sit in the bottom. After I messaged other people who had done this, I learned that some people ended up building up a base with mortar and penny tile to create a sloped bottom so the water can drain. We hoped to work around that by ensuring that the drain is not higher than the floor of the stock tank. We might need to revise these plans as the bunkie shifts seasonally, so I am tentatively sharing these instructions. If we make changes I'll be sure to include those alterations in this tutorial.
Before creating the hole for the drain, we wanted to counter sink it by creating a concave hole slightly larger than the drain hole so that the water can flow toward the drain. Basically, we wanted to make sure that the drain is not higher than the bottom of the stock tank, when all is said and done. Here's how we installed the drain – I chose a pop up drain as opposed to a plain grid drain or non-closing umbrella drain, because I wanted the option to fill the stock tank with water so people could soak a swimsuit in here or steal baby geese, I don't know. We'll see how practical it is in the long run.
Flip the stock tank over and measure to find the center of the bottom. We stuck on a piece of tape so we could clearly draw a guide. These stock tanks are designed for livestock so they're not 100% round, so the "center" might be an "ish" measurement. But to the naked eye, our mark is perfect.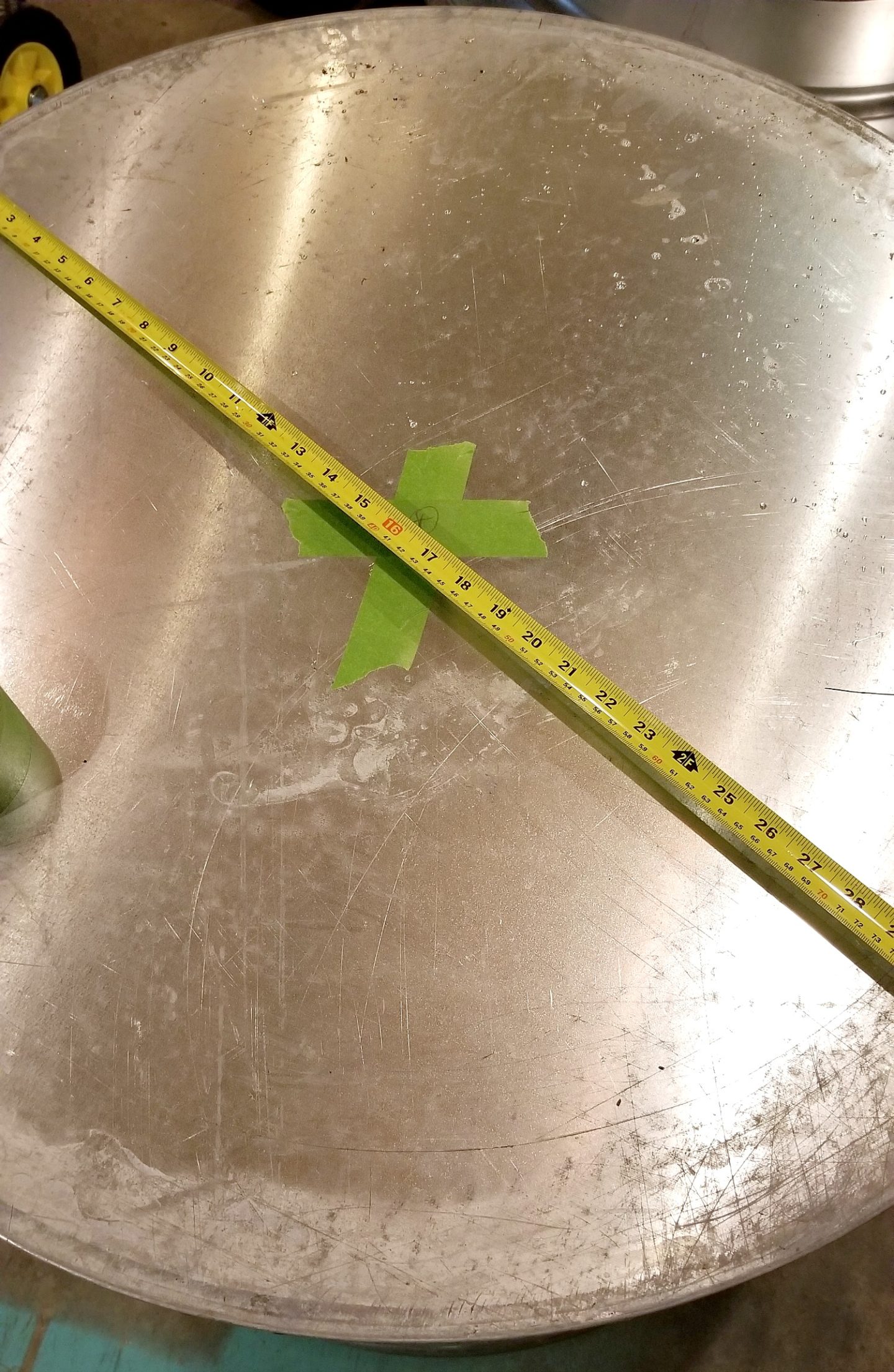 Next, drill a pilot hole for a hole saw, using a metal drill bit large enough for the pilot bit to chase it.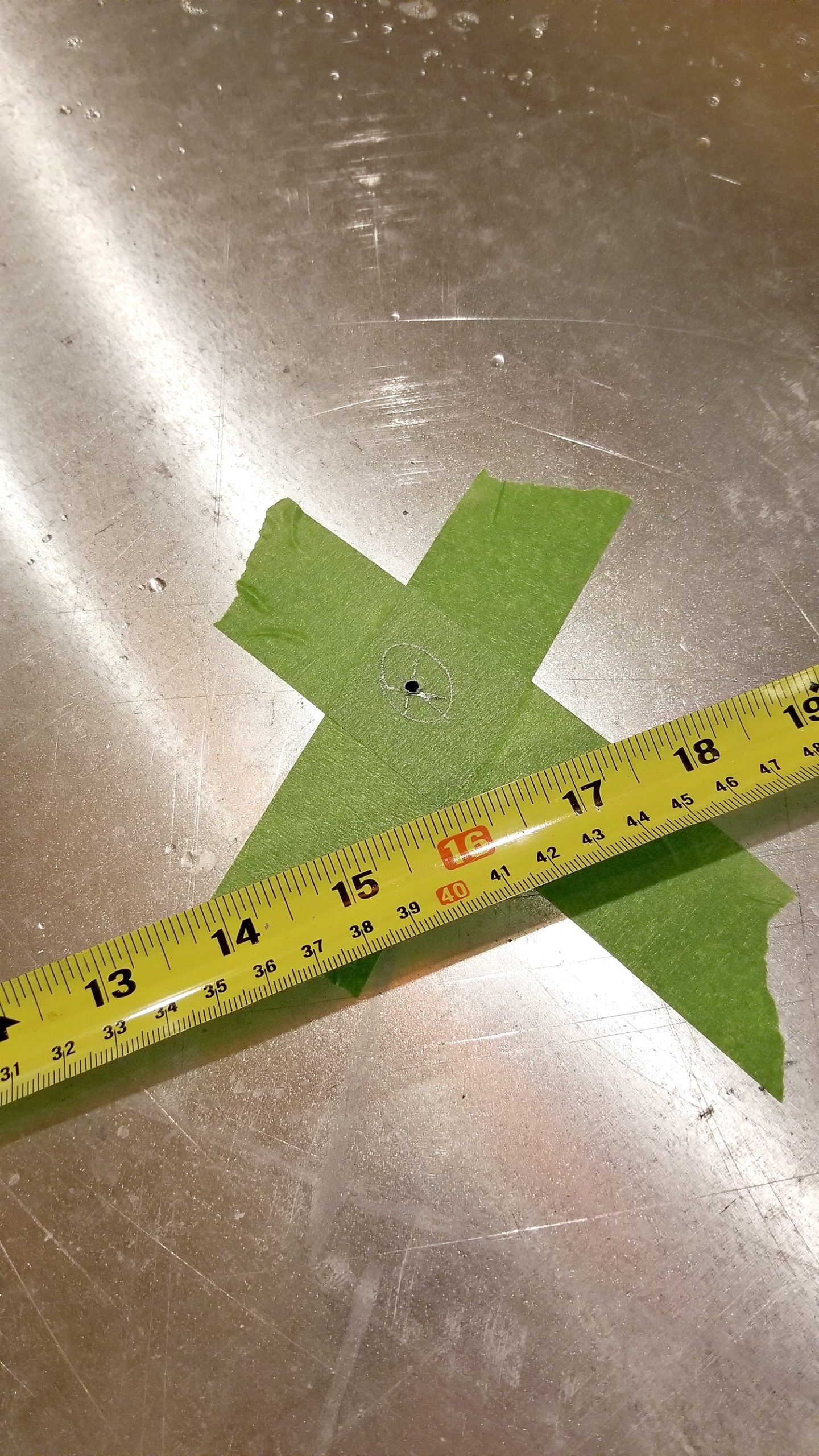 Now we made a homemade "jig". It's just a piece of plywood, with a circle roughly cut out. This circle is sized for the indentation we wanted for the drain. The two stir sticks are spacers to allow the circle to sit lower than the rest of the wood. With this "jig"taped in place, we flipped over the stock tank and hammered the center with the ball peen hammer from the inside.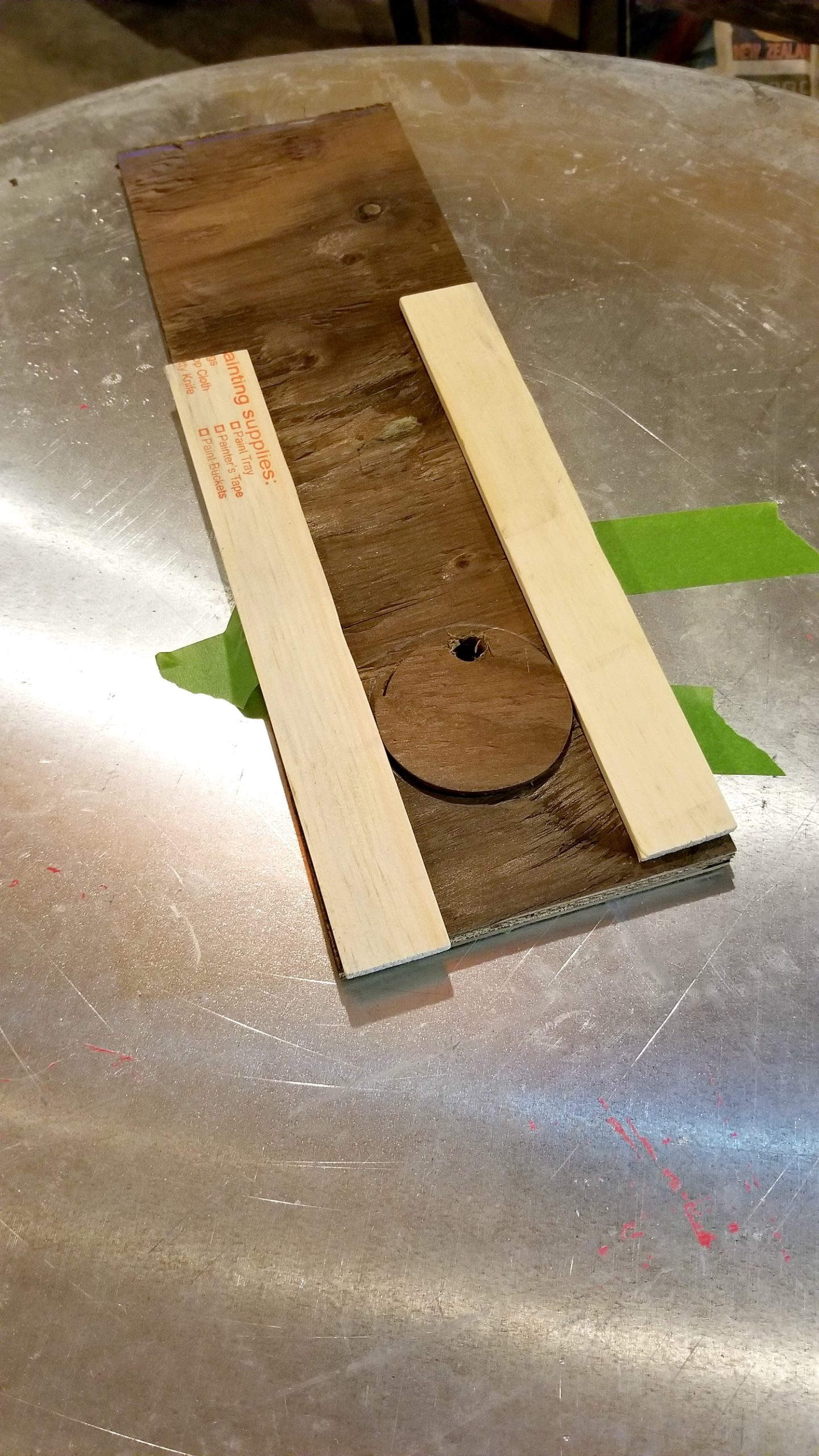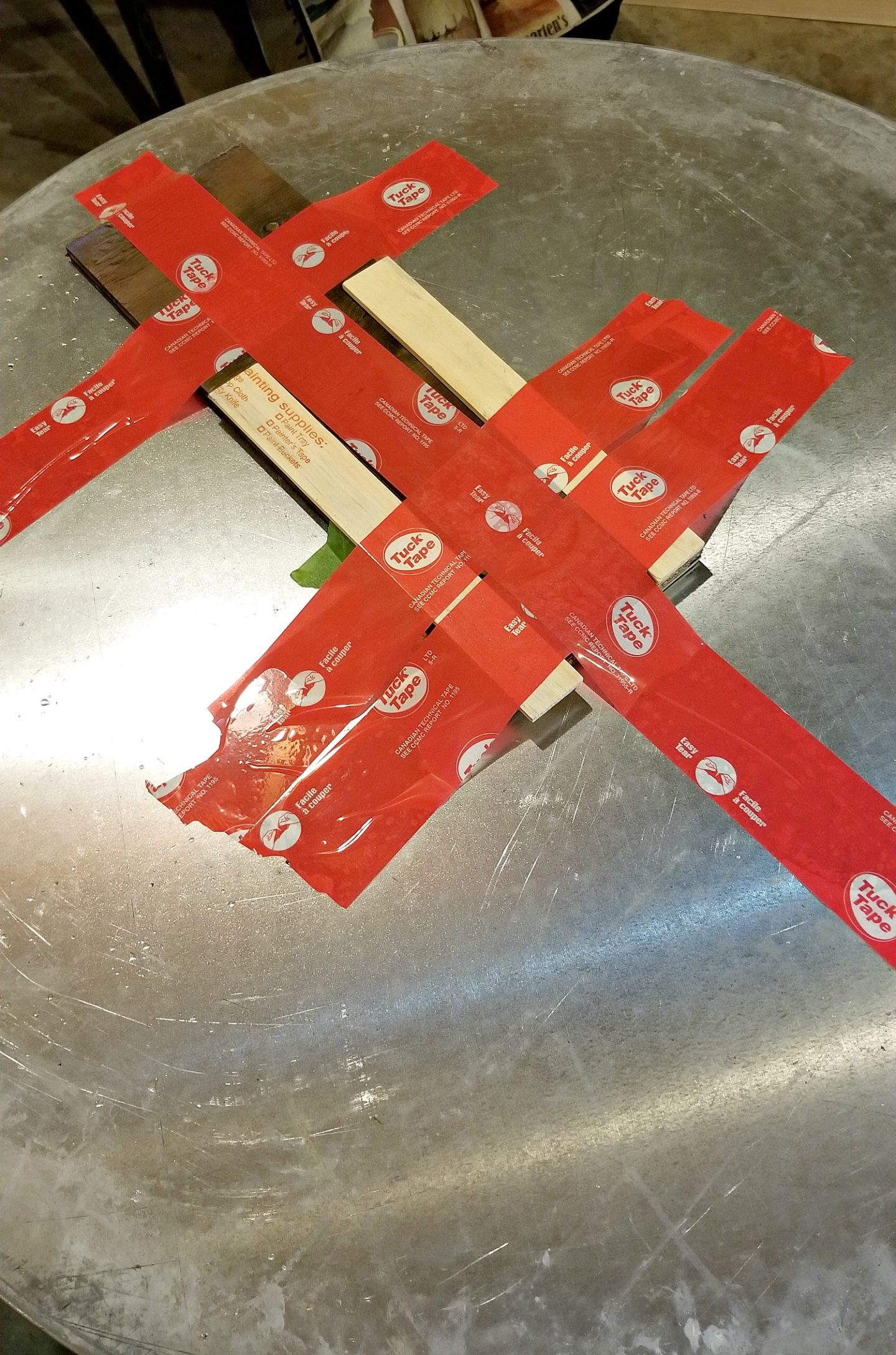 From the inside, this is what we ended up with: a counter sunk area larger than the actual drain fitting.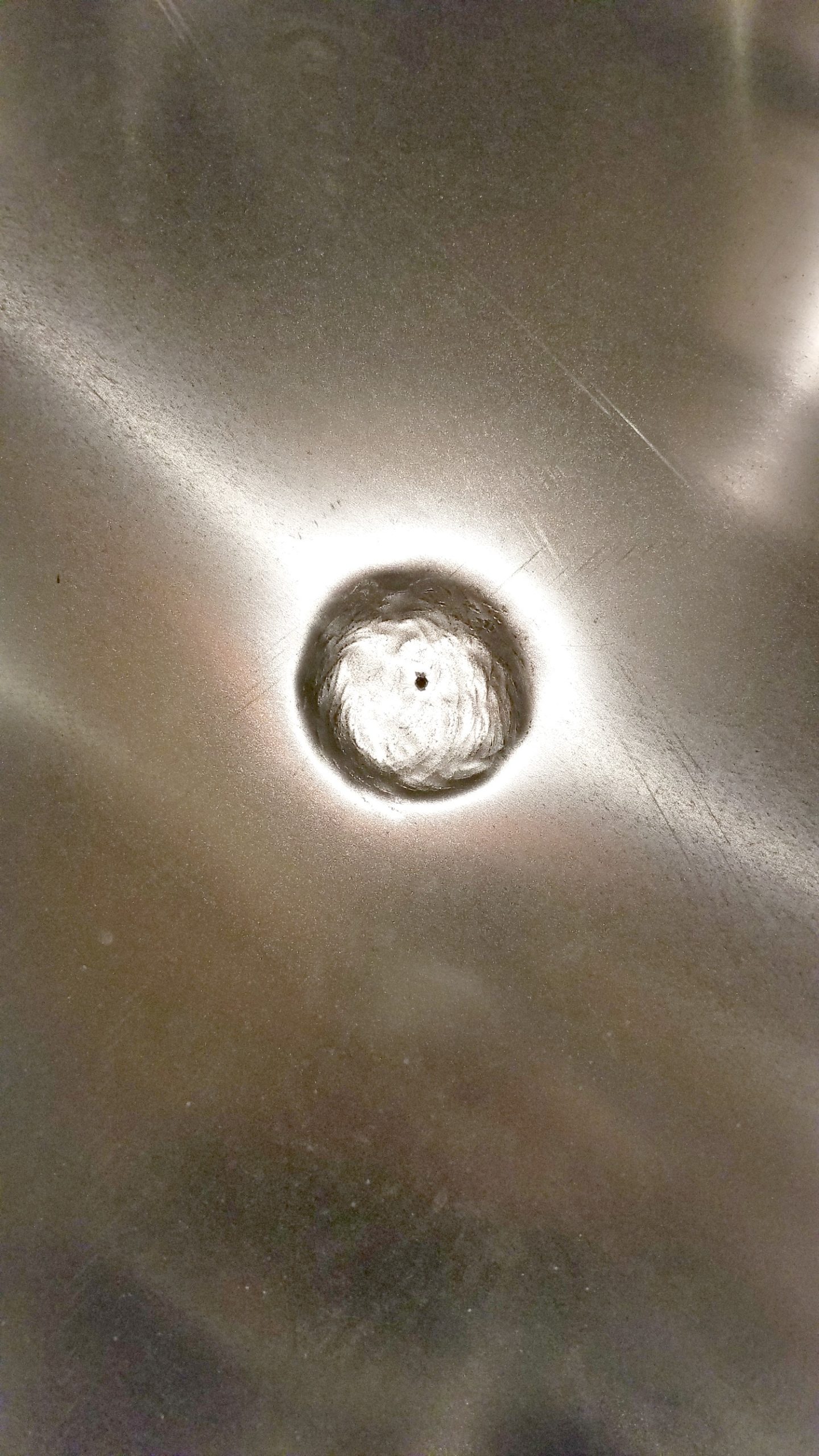 Here's a look from the underside: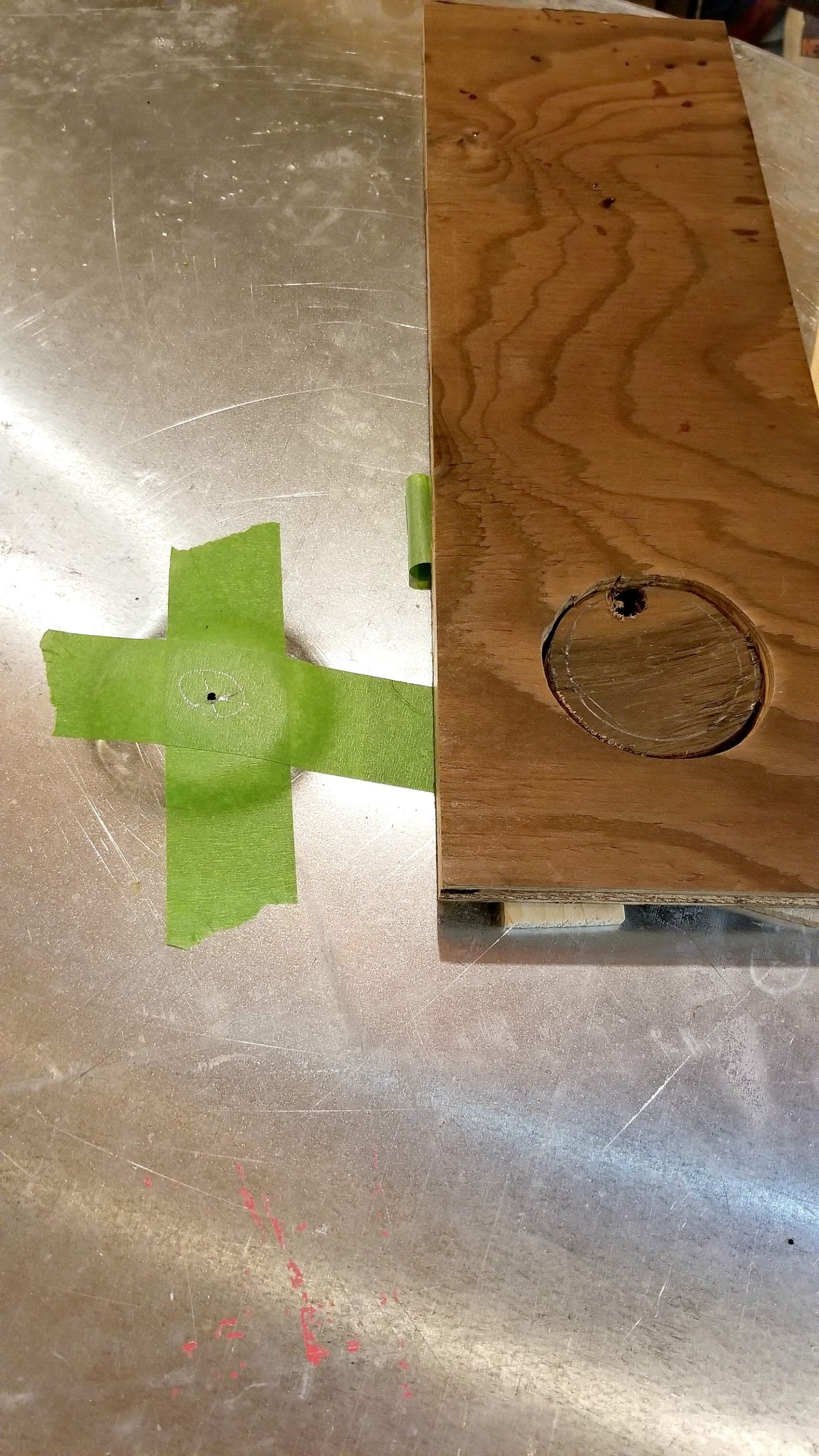 Then we used a hole saw to drill out the hole, from the bottom. Then we filed the edges with a metal file to remove any burrs. With those steps completed we were able to install the drain – per manufacturers instructions.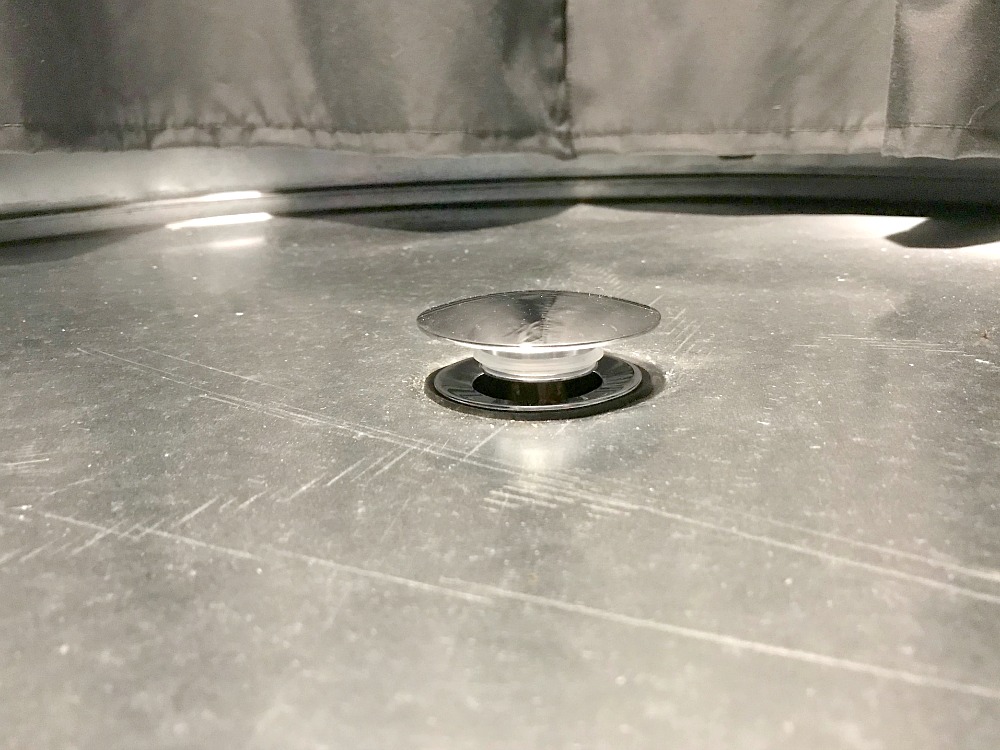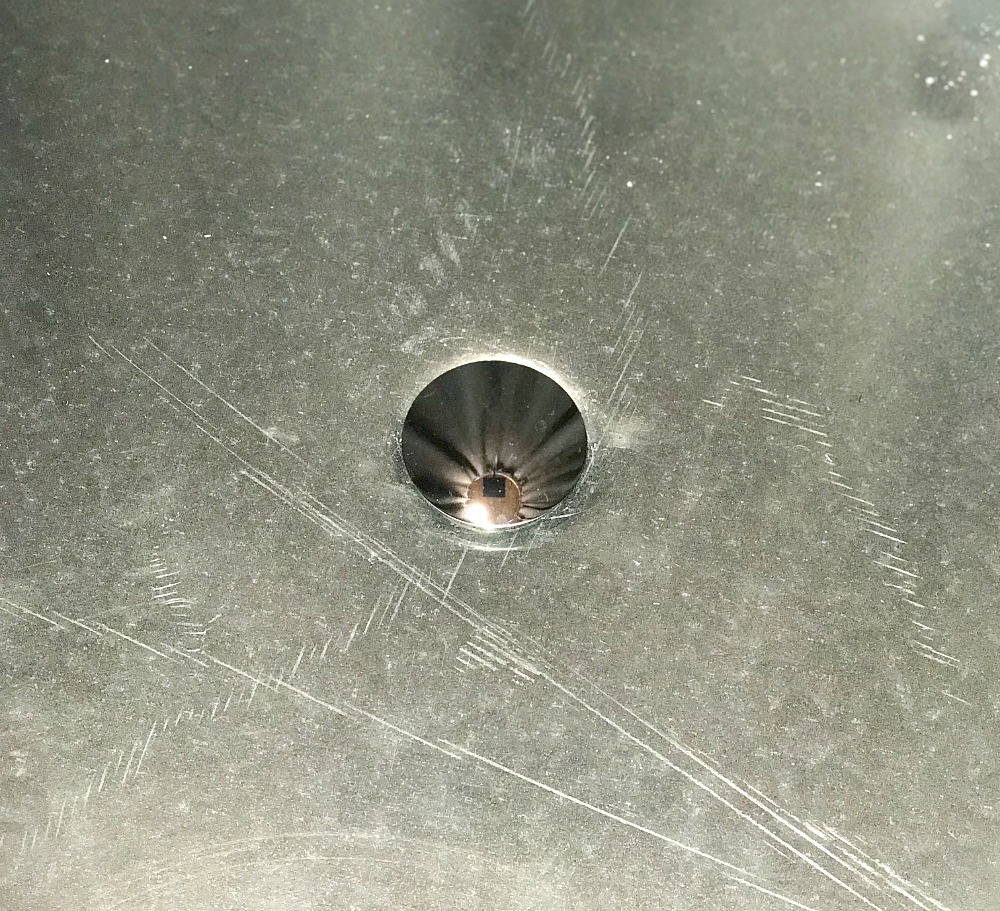 How to Install a DIY Stock Tank Shower:
Before installing it in the bunkie, we added a thin layer of foam under the stock tank to compensate for unevenness in the tile. This foam just helps the tank sit more evenly.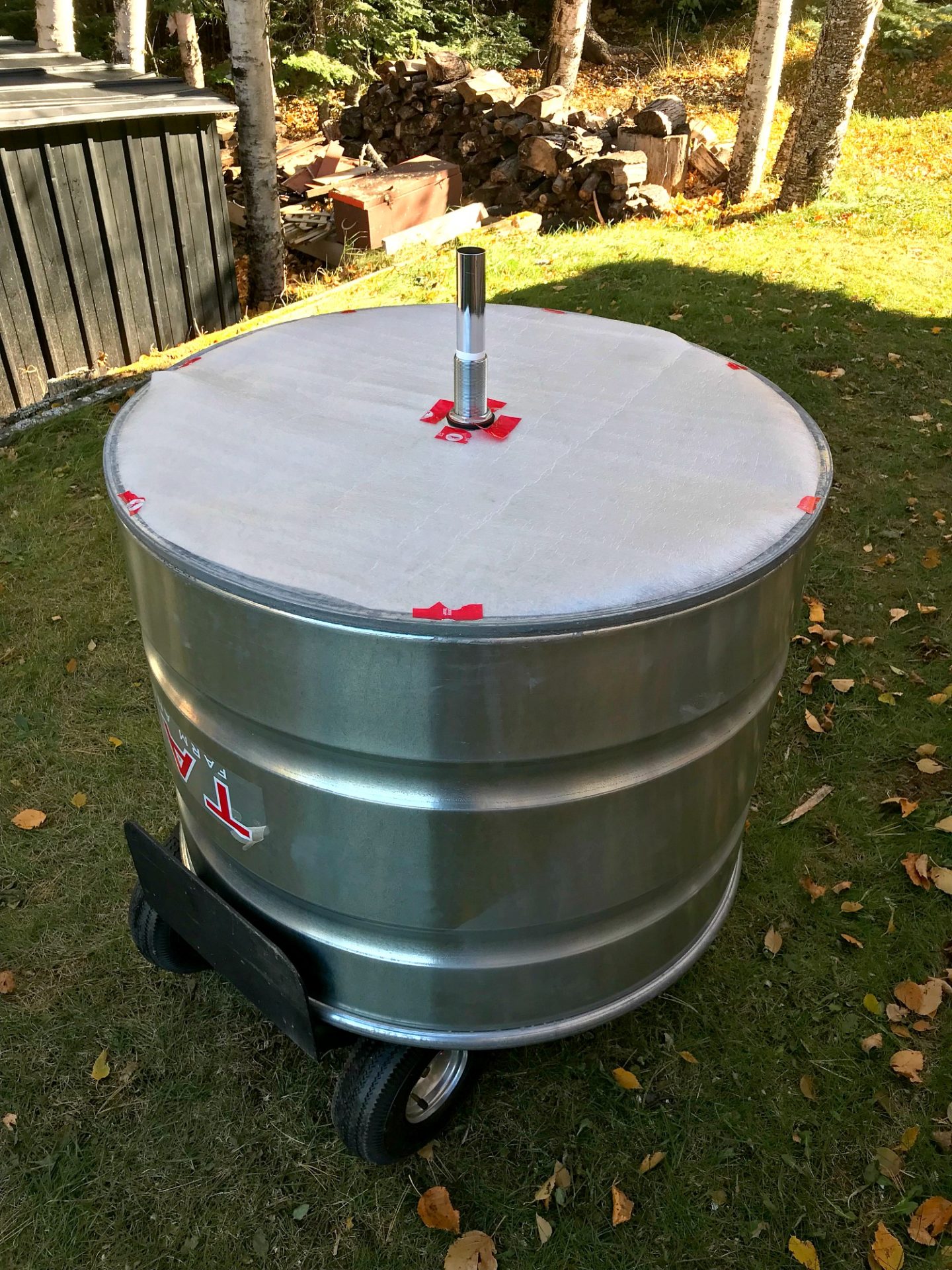 We carefully placed the tank where we wanted it, running a bead of construction adhesive along the underside edge. We will also go back and do a bead of clear silicone along the outside bottom edge (the same way you do this for a toilet base), but we just didn't have time before the colder weather set in – so that's a spring job.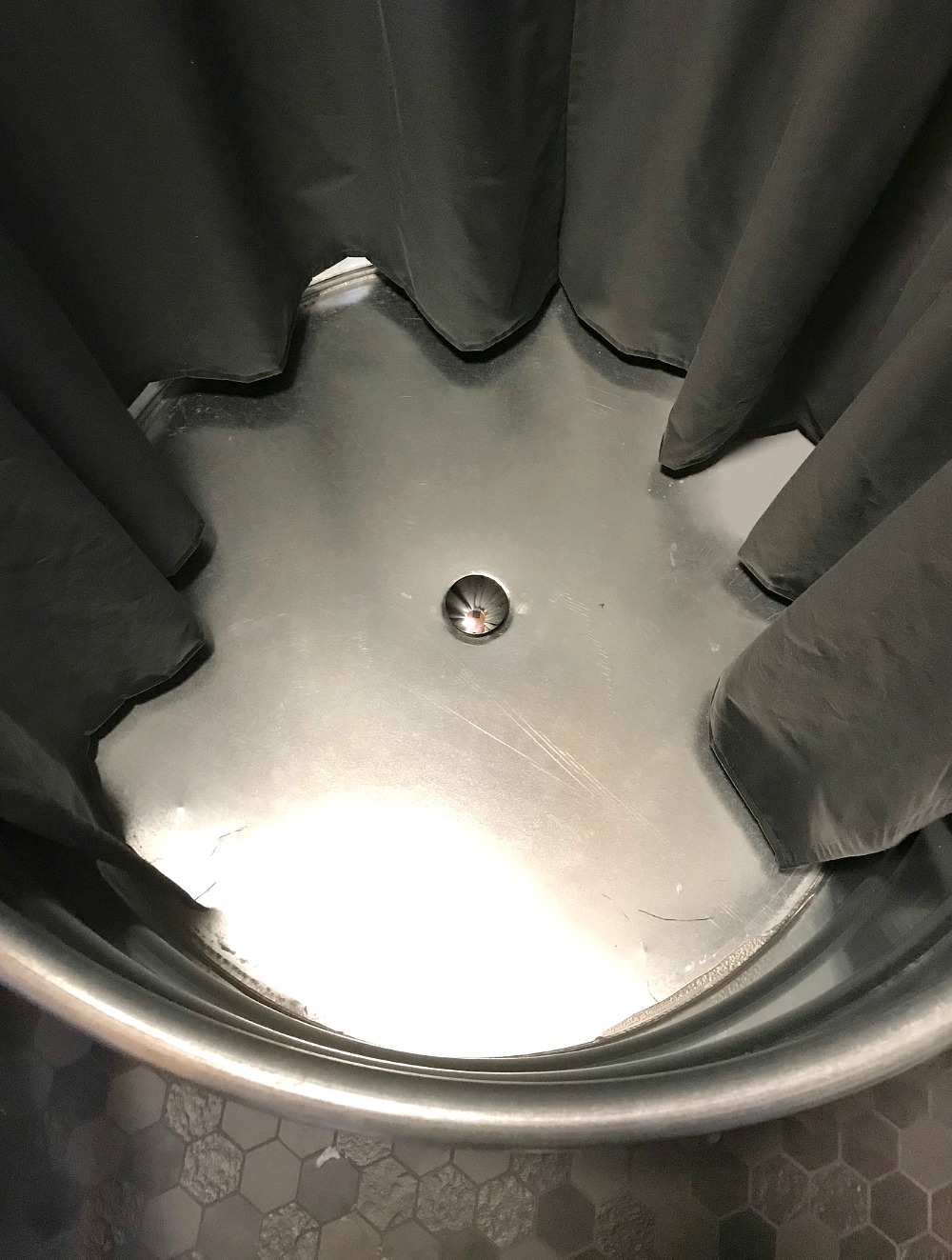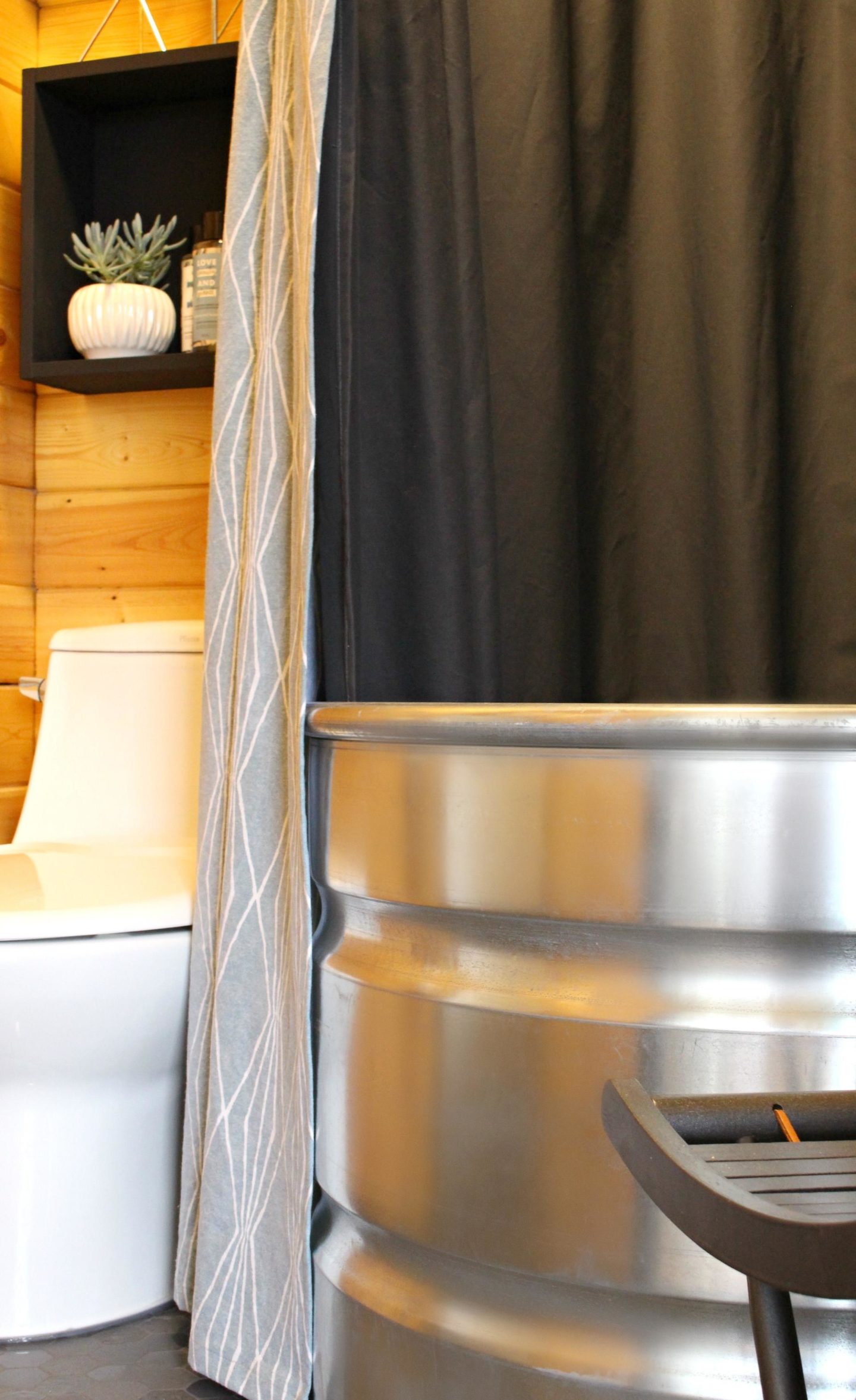 This DIY stock tank shower is definitely a fun and quirky feature – perfect for a bunkie! I'm not sure I'd use this in a main bathroom, but out here I love it. I didn't want another fiberglass shower after the major leaking that happened with the old one. And I didn't want a tiled/glass shower because I HATE cleaning glass! This is a bunkie, meant to be casual and fun. I'd rather toss the shower curtain in the wash from time to time than spend hours out here with glass cleaner. I also didn't want corners – it's a tight spot and this round stock tank shower fits in here nicely. With the old shower you couldn't open the door without hitting the vanity, and I often stubbed my toe on a corner. This spring we'll re-open the bunkie and get to use the stock tank shower some more and I'll definitely let you know what we think of it when it's been used for a full year.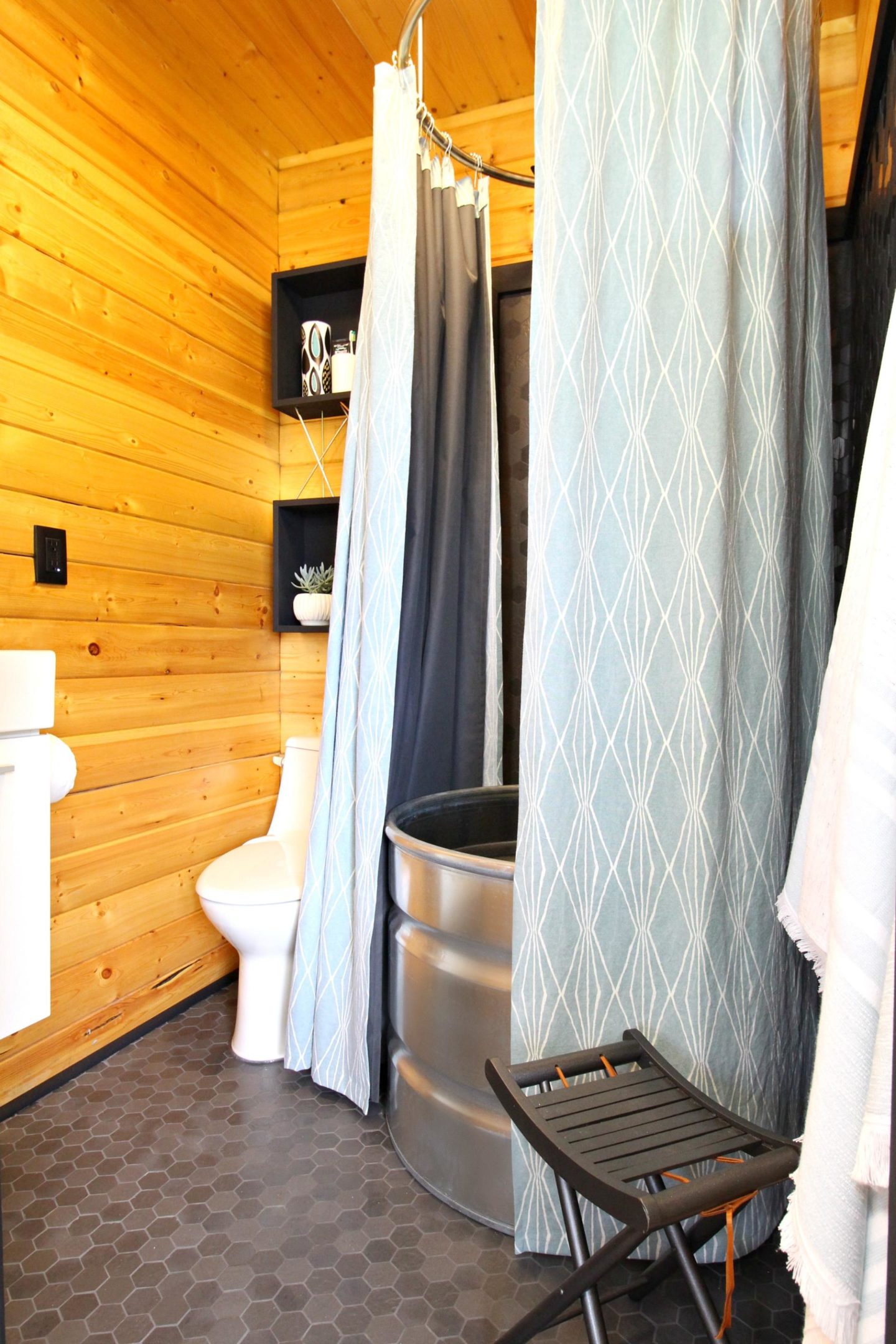 To finish off the shower, we hung a ceiling mounted shower curtain rod – it wasn't easy tracking down the right size, but it was worth it. To play up the charcoal tile and matte black faucet, I ordered this modern square shower head. I wanted a rainfall style shower head so the water would flow straight down the middle of the stock tank: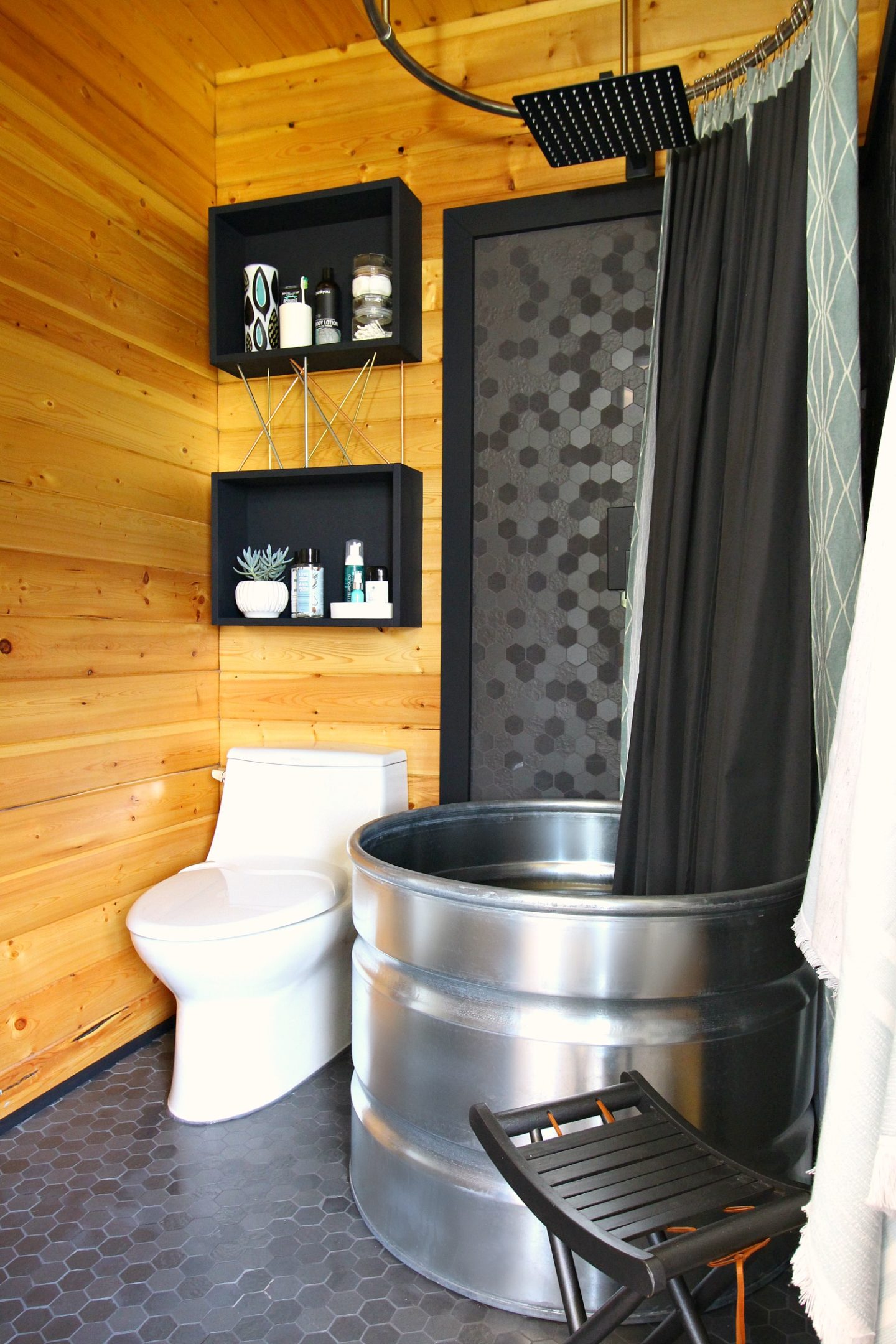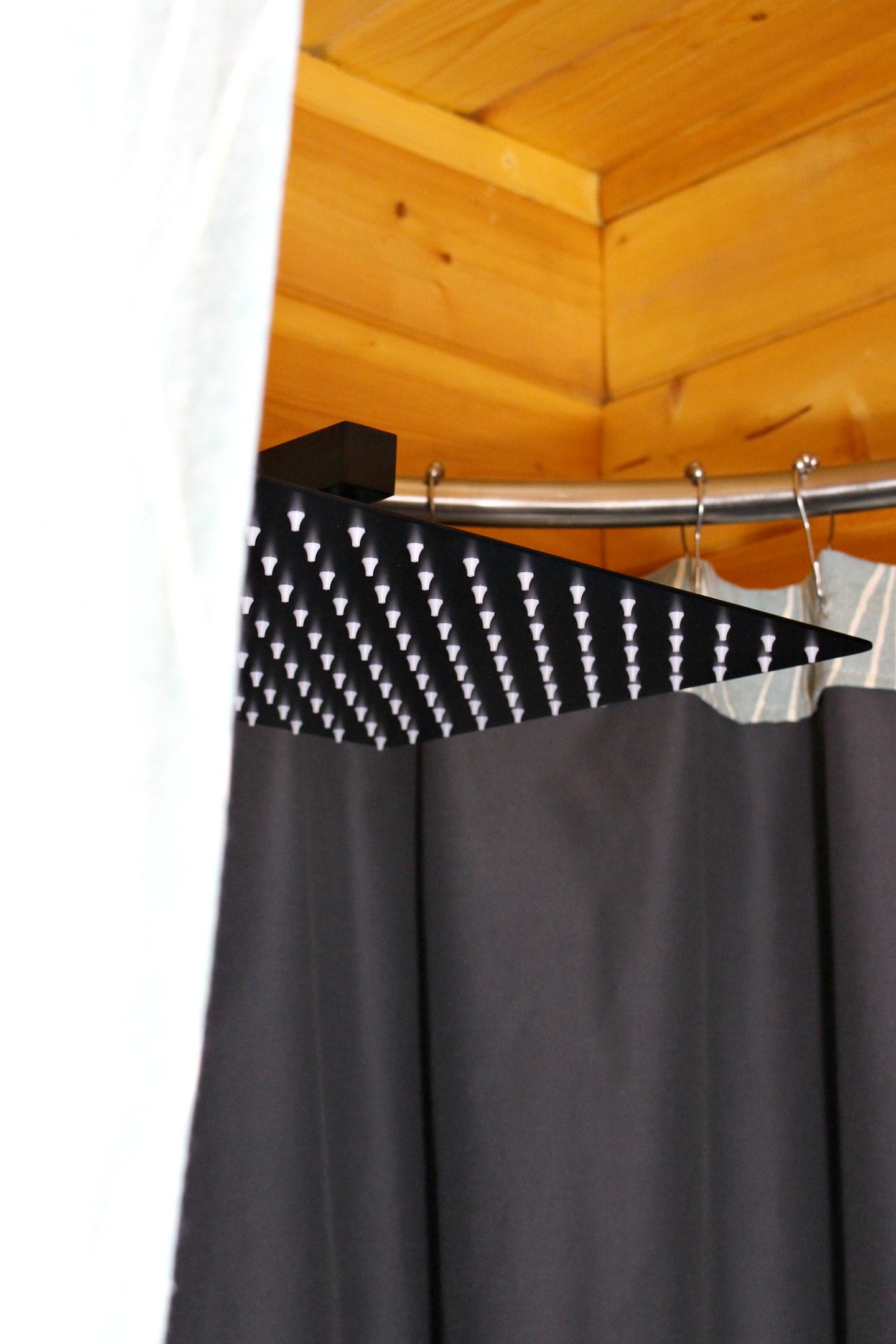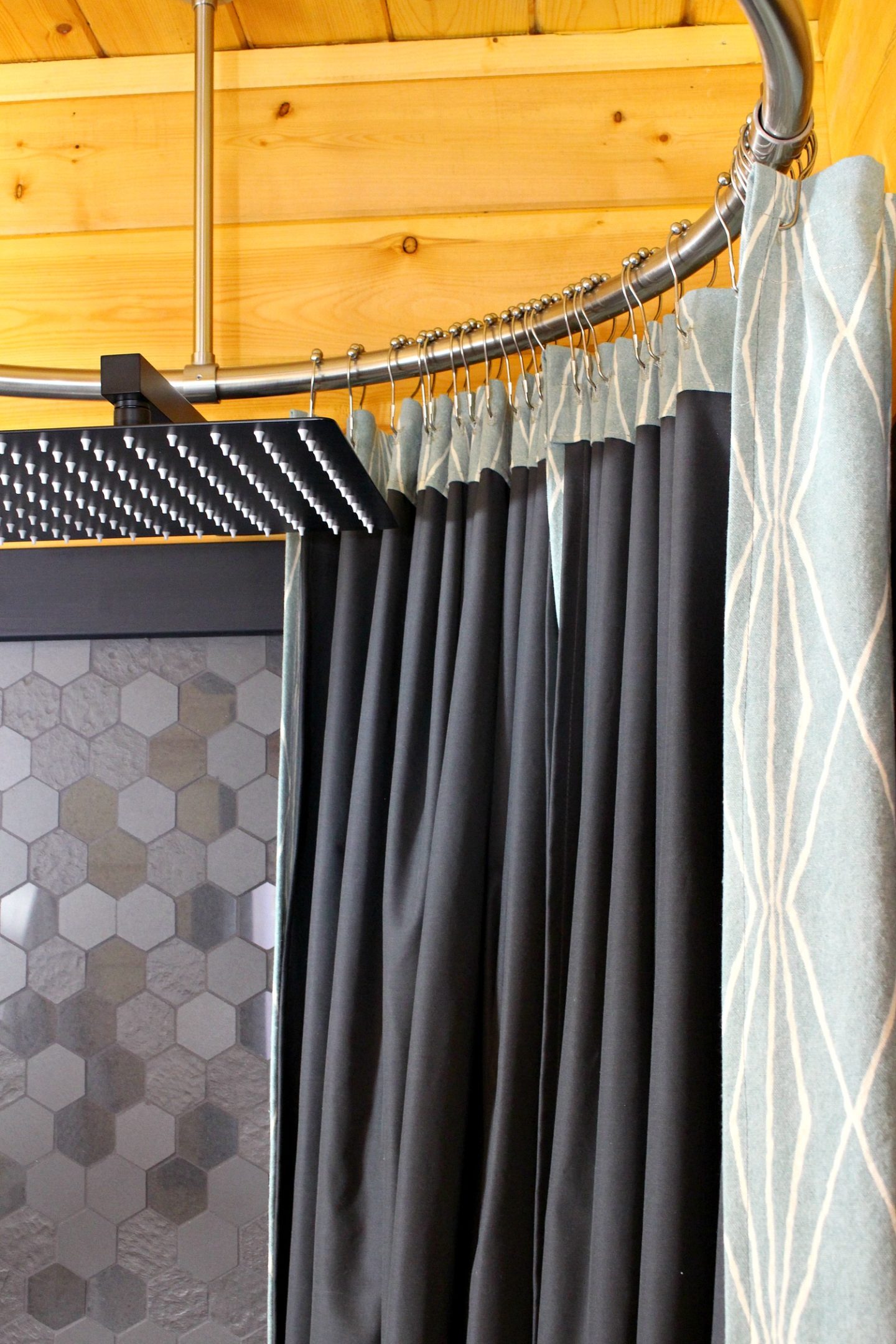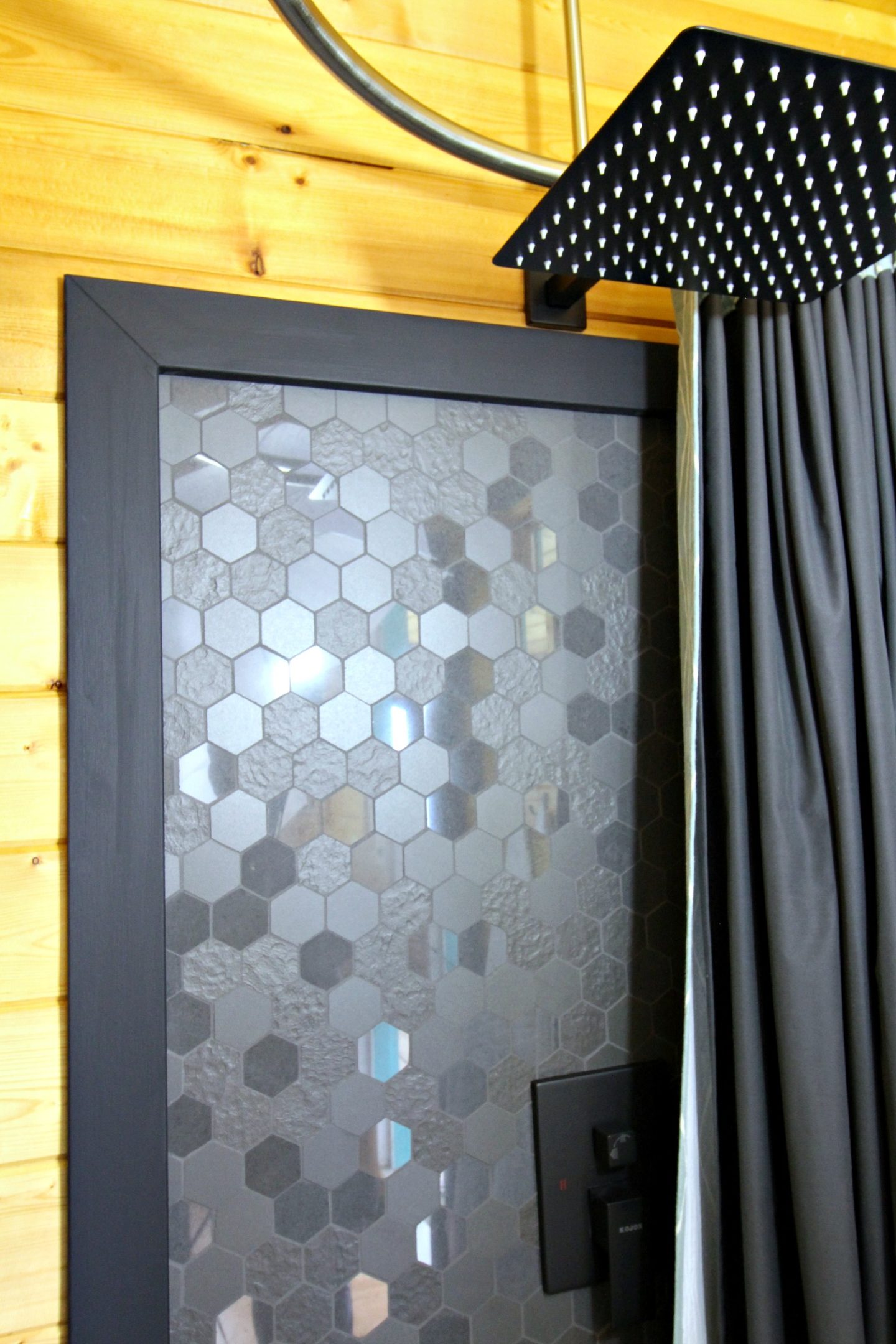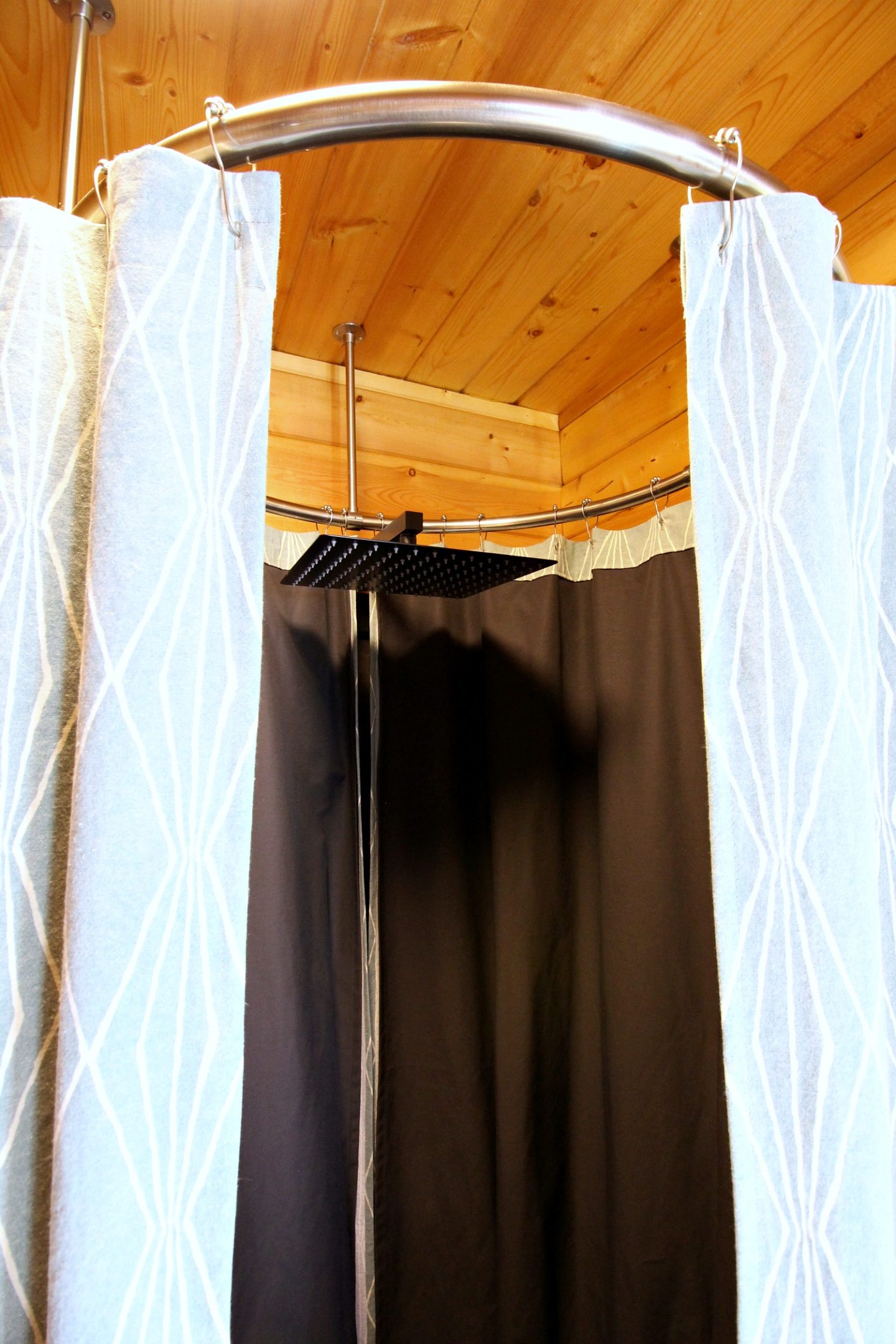 It's difficult to see it with the shower curtain, but this corner of charcoal tile running up from the floor looks so good! The tiles were three different materials so there's a bit of variations which lends a handmade quality. I finished it off with wood trim, painted with a matte black outdoor paint for more water resistance.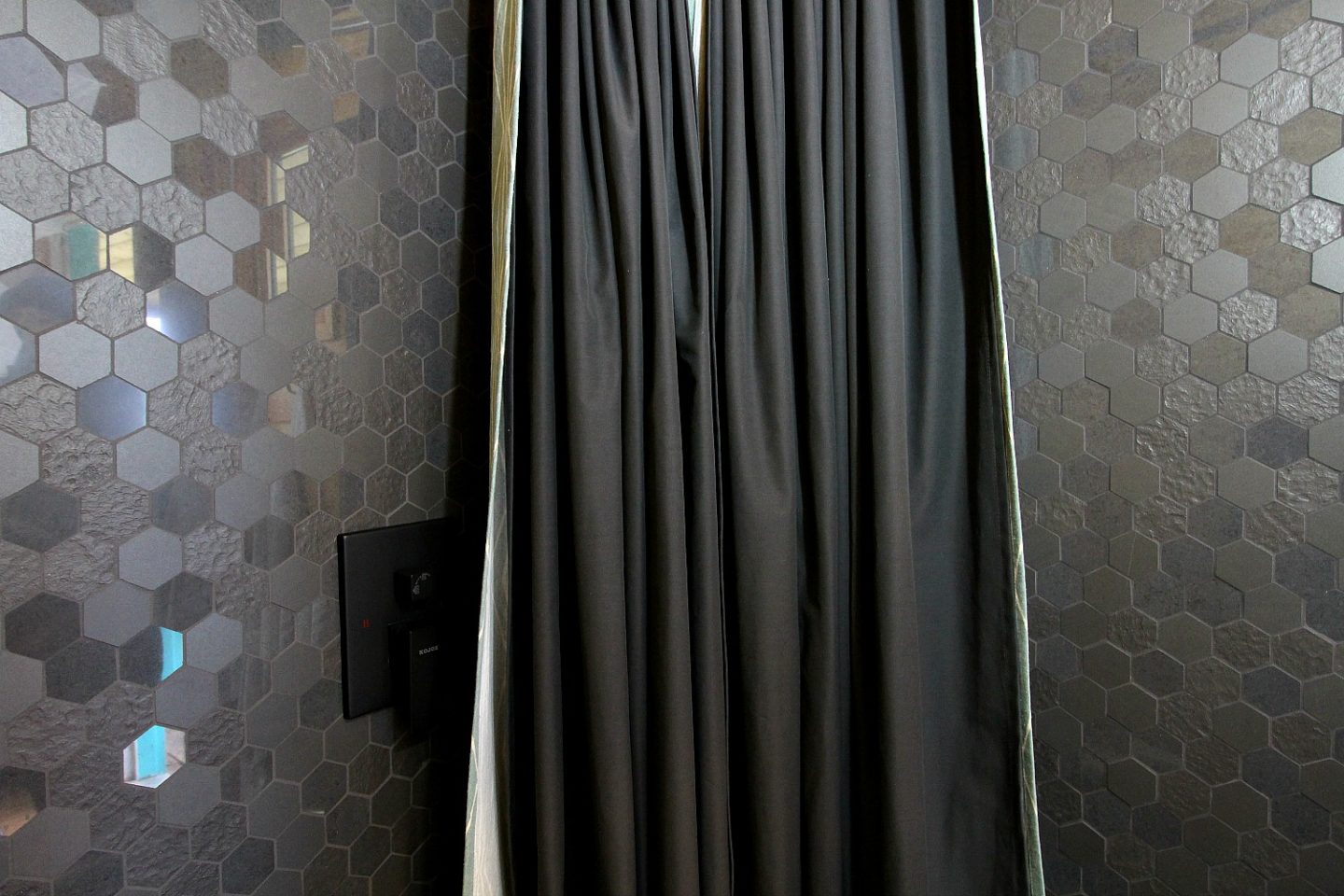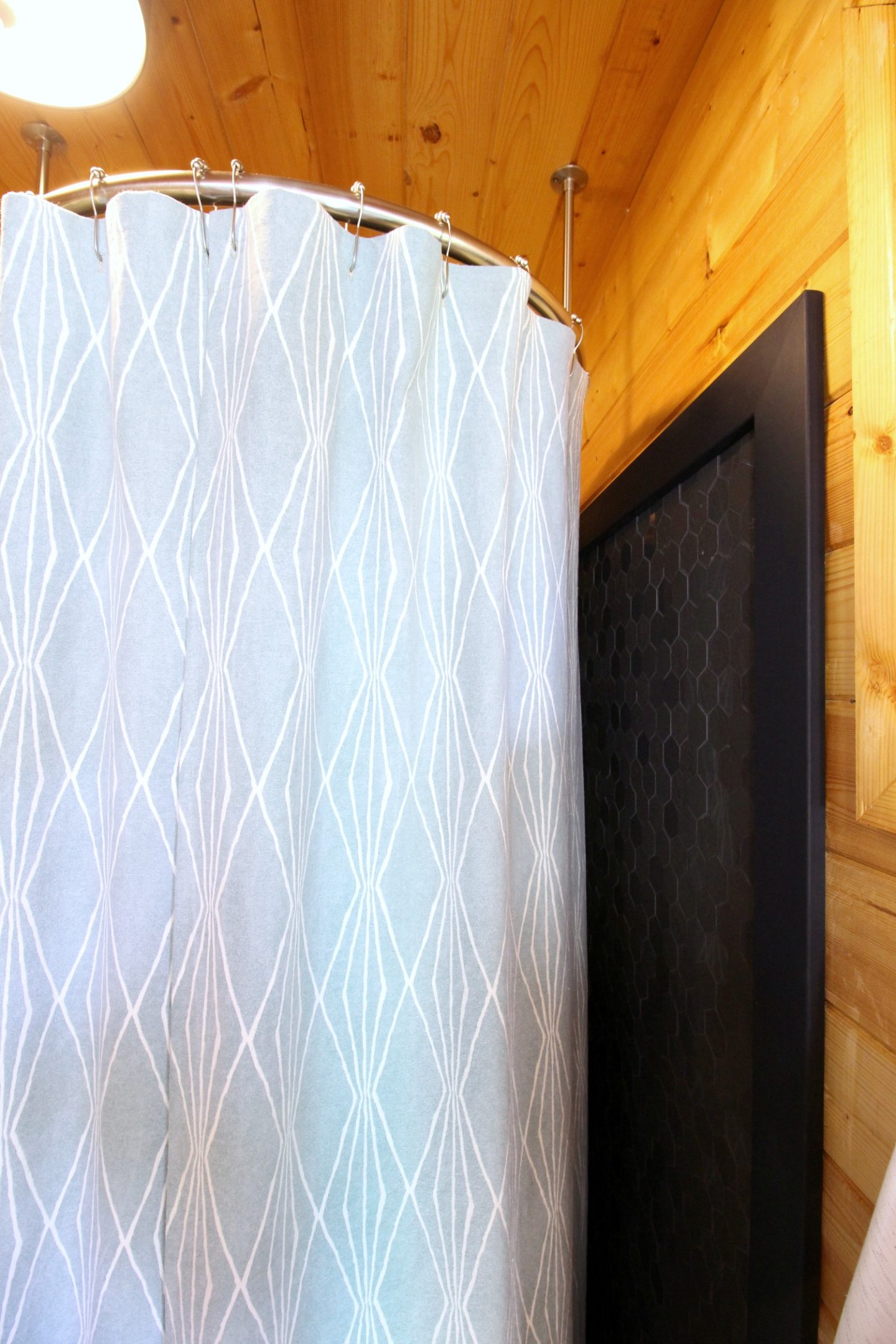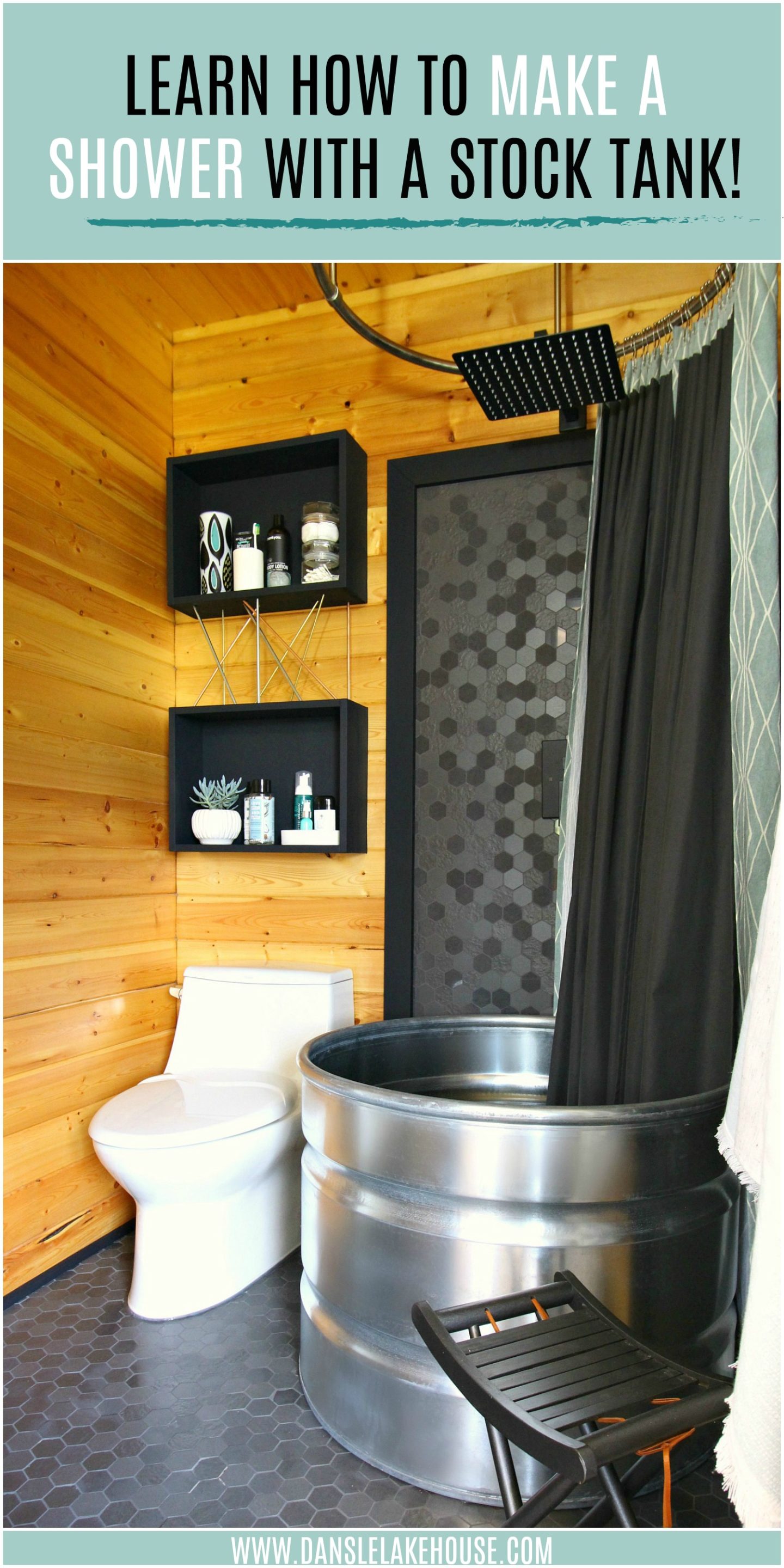 I'm so ready for spring so we can start using the bunkie again. I still have some decorating I want to do, plus we're finally going to re-build the sauna benches and start using it (which we haven't done for five years!). I also want to tackle some outdoor projects, like maybe a new roof? Definitely black deck stain to match the house. But the bathroom, and its DIY stock tank shower, is still pretty perfect, if you ask me – if you missed the before/after reveal, check it out here.
Sources:
Square Rainfall Shower Head (Amazon) | Shower Curtain (DIY) | Curtain Fabric (c/o Online Fabric Store) | Stock Tank (c/o Tarter USA) | Hex Tile (c/o Lowe's) | Ball Shower Curtain Rings | Ceiling Mounted Shower Curtain Rod (similar) | Skirted Toilet (c/o Pfister) | Turkish Towels (similar) | Sliding Barn Door Hardware (c/o Renin) | Retro Folding Stool (DIY Vintage)
P.S. I recently created an Amazon Storefront with a list of cute finds with the bunkie bathroom vibe – click here to take a look around.