I'm sharing a laid back and simple spring home tour of the lakehouse today – but get ready for TONS of inspiration because I had the pleasure of teaming up with 29 other bloggers who are all sharing their spring home tours this week too! For anyone struggling with a winter that won't end, hopefully these spring home decor ideas help brighten your day. Even though I'm still staring at heaps of snow, I looked around at my heavy blankets and half dead plants and decided that it was time to inject a little life and lightness into the lakehouse. The changes I made were super simple but the overall result makes me feel so much happier at home! Take a look around and tell me what you think!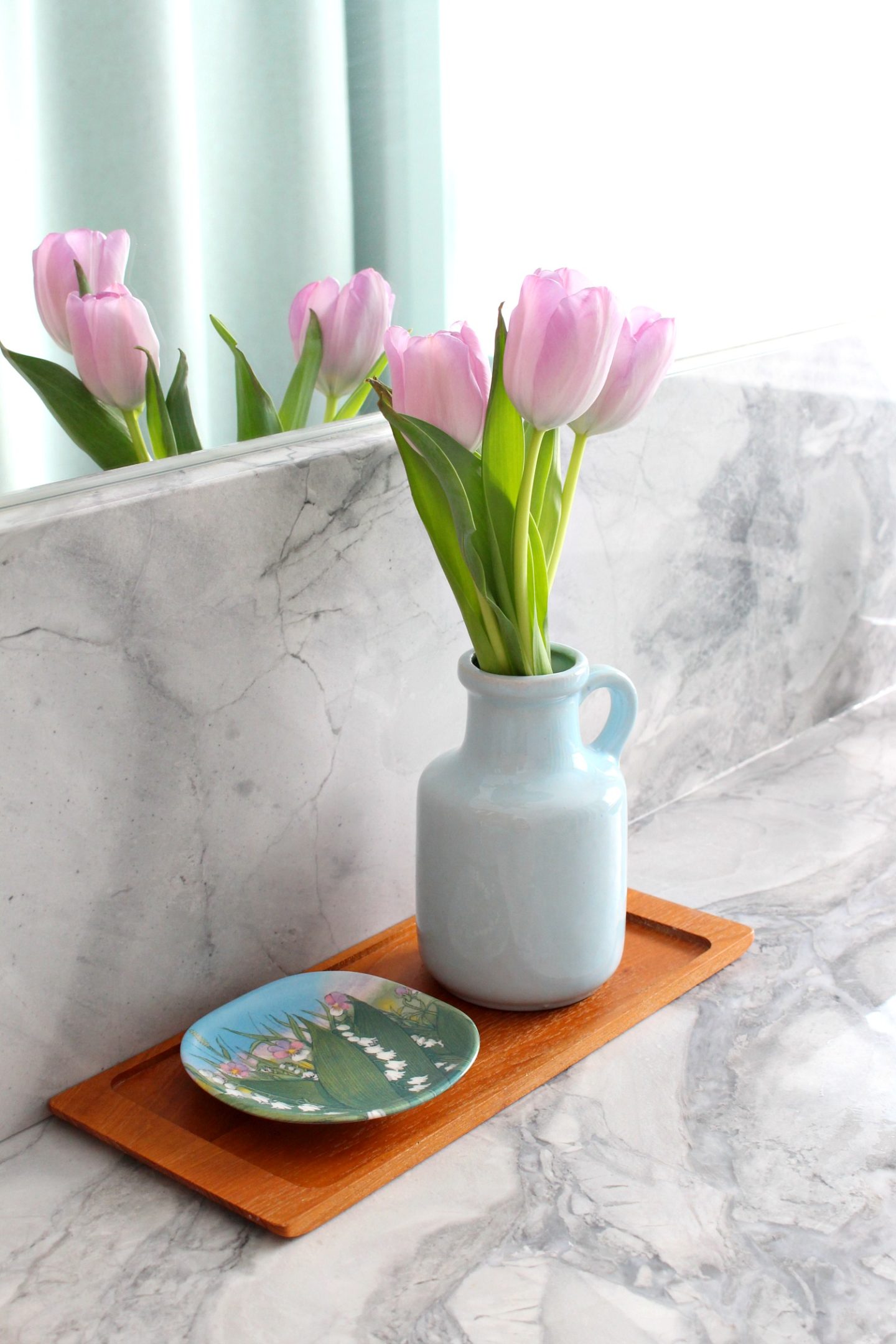 The Living Room:
In the living room, I finally chucked my crunchy, dried up fern (sorry buddy) and bought a beautiful peace lily for my Modernica planter. Because I've done so well with my formerly teal orchid (it's bloomed TWICE in my care, although it's white now) I treated myself to a new orchid and hopefully they bloom staggered so there's always one flowering. Did you know that you can order all kinds of beautiful live orchids on Amazon?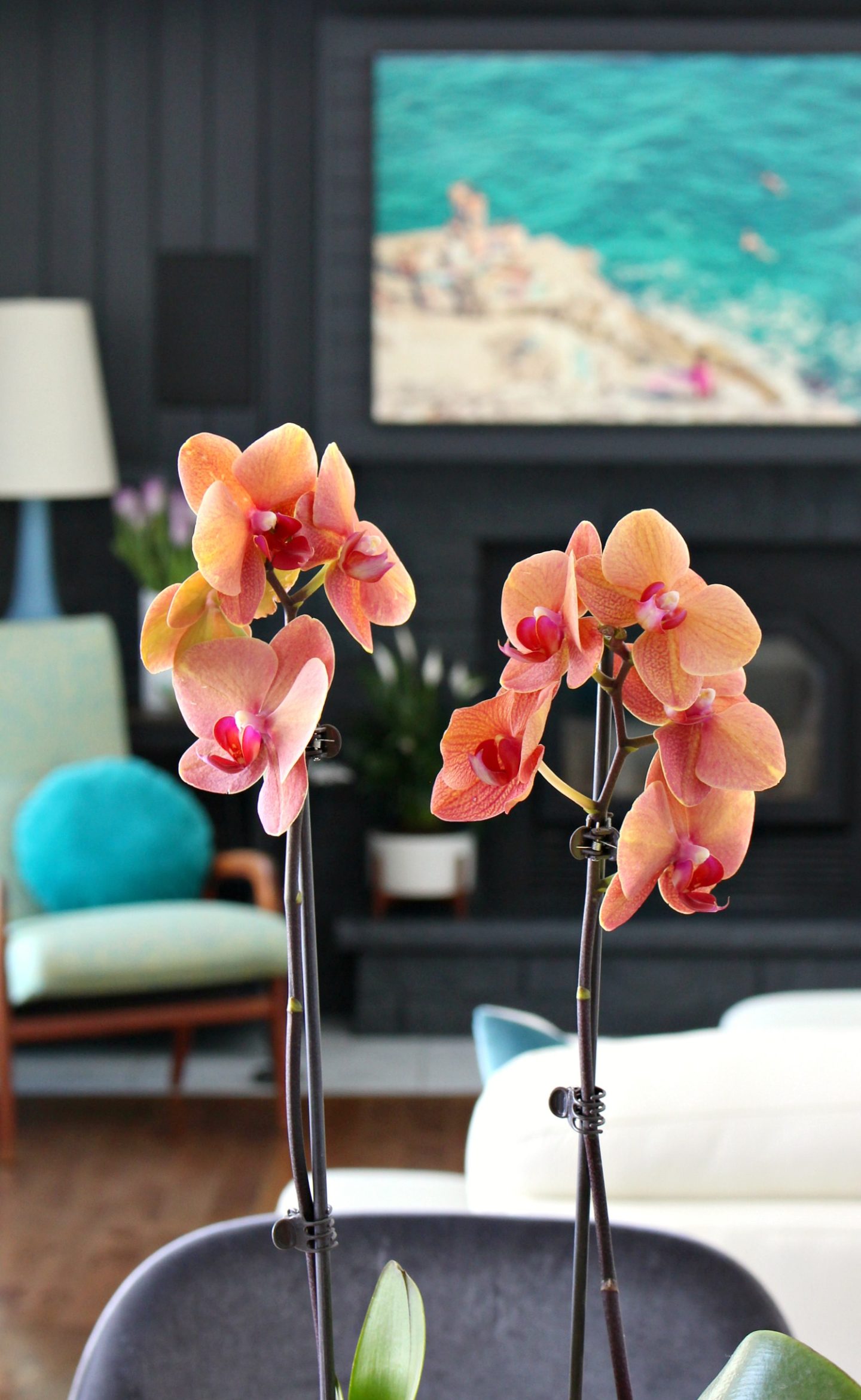 Since getting our Samsung Frame TV, I've been changing up the look of the living room with its "art" more and more. To celebrate the upcoming warmer seasons, I've been rotating through some more spring-like choices to inject a little color and fun. I also tucked away our winter sofa blankets and flipped over my two sided pillows for a more spring-like combo. I still love my mix and match pillow idea!
The Dining Room:
In the dining room, I tucked away the deep and moody wool table runner and made a new spring one! I found THE prettiest blush pink silk at the fabric store and I had been eyeing the turquoise beaded trim for months. It was on clearance so I bought what was left and it happened to be exactly what I needed to complete this project (tutorial coming soon!). The blush pink is soft but injects a little warmth into my all blue and green color palette and the beads pick up the light, sparkling like dew. This pink runner is super similar but if you love teal like I do this handmade hemstitch runner might steal your heart. I also grabbed a sentimental mint green vase (this Jonathan Adler one is a similar color) from my kitchen shelves for some grocery store tulips.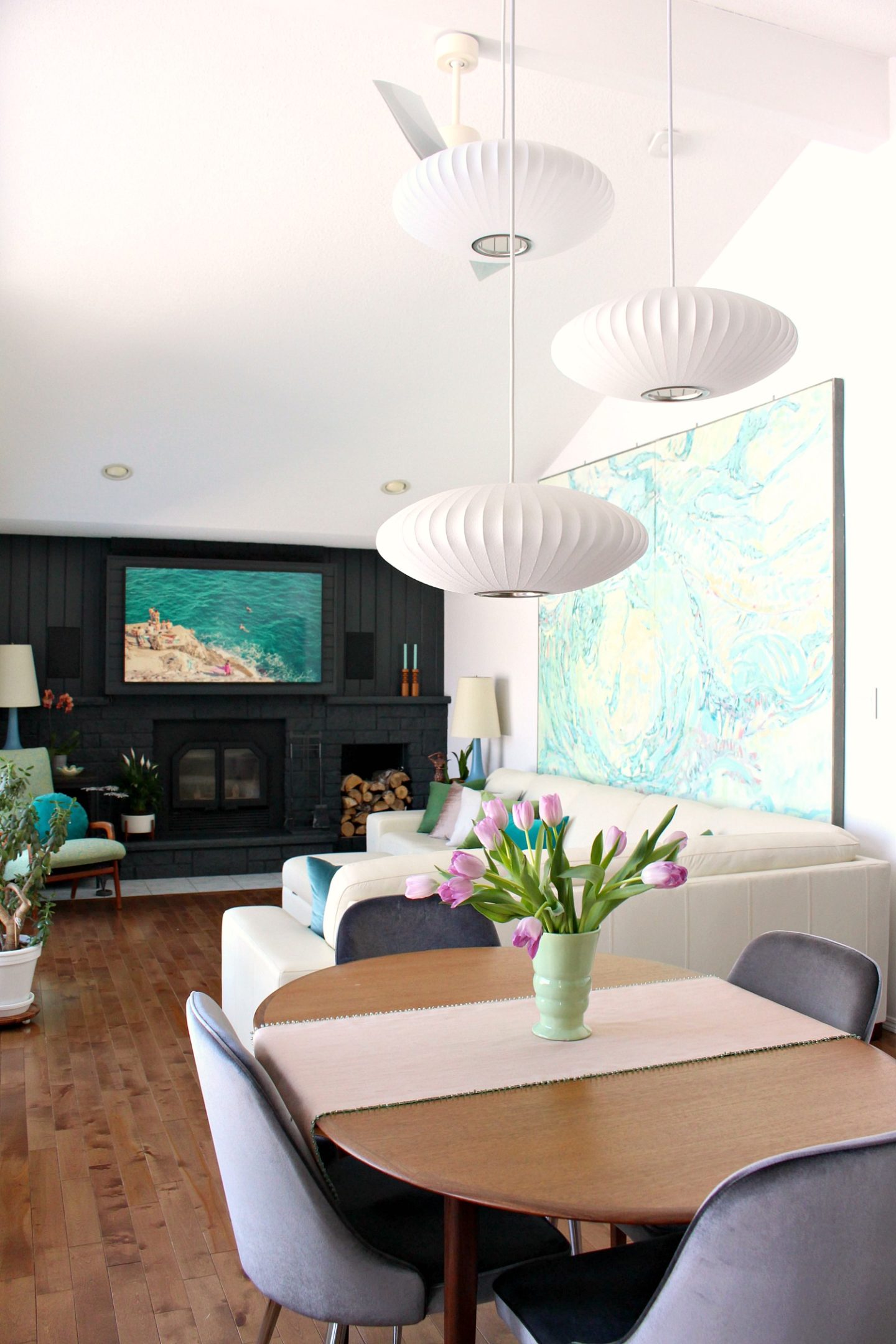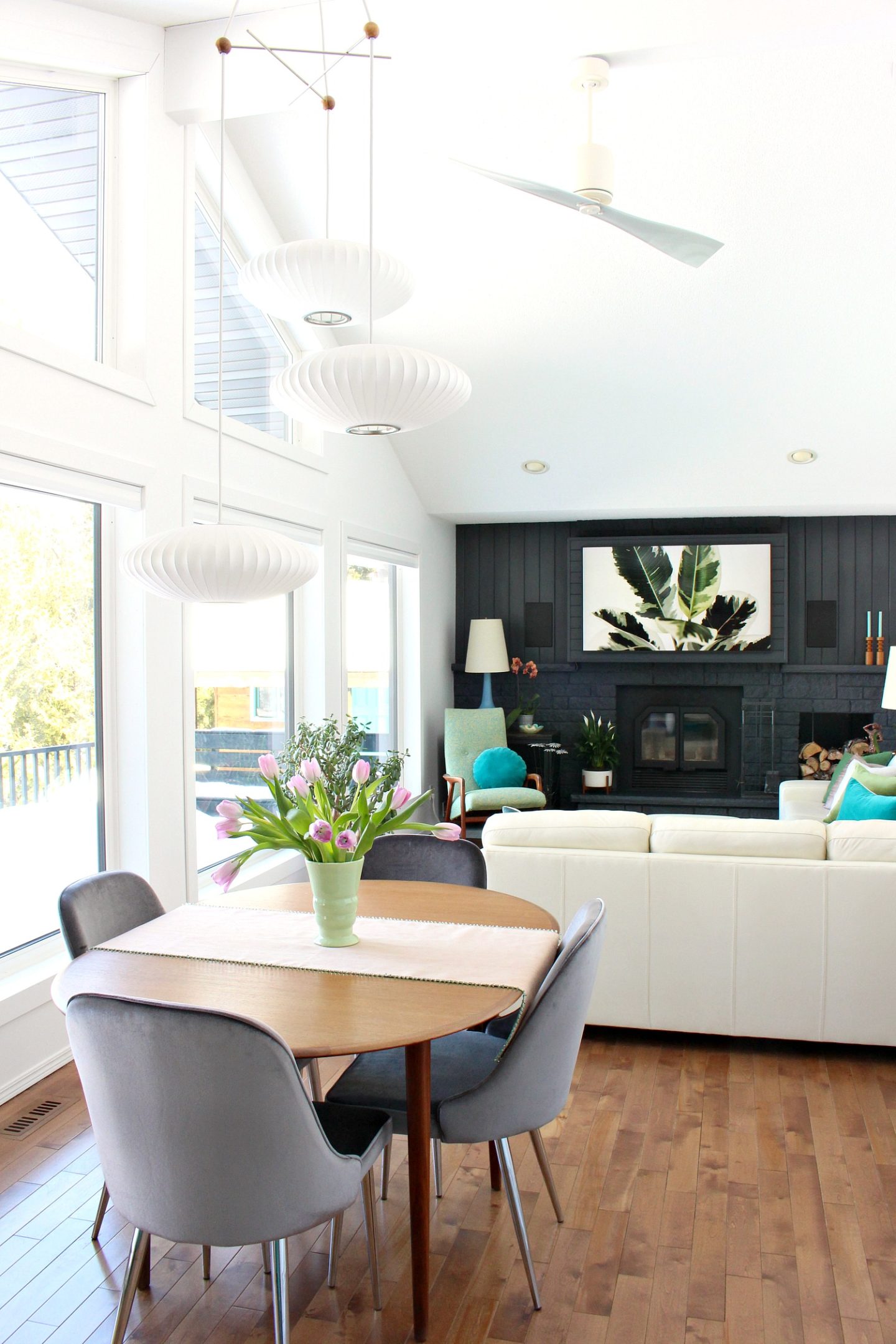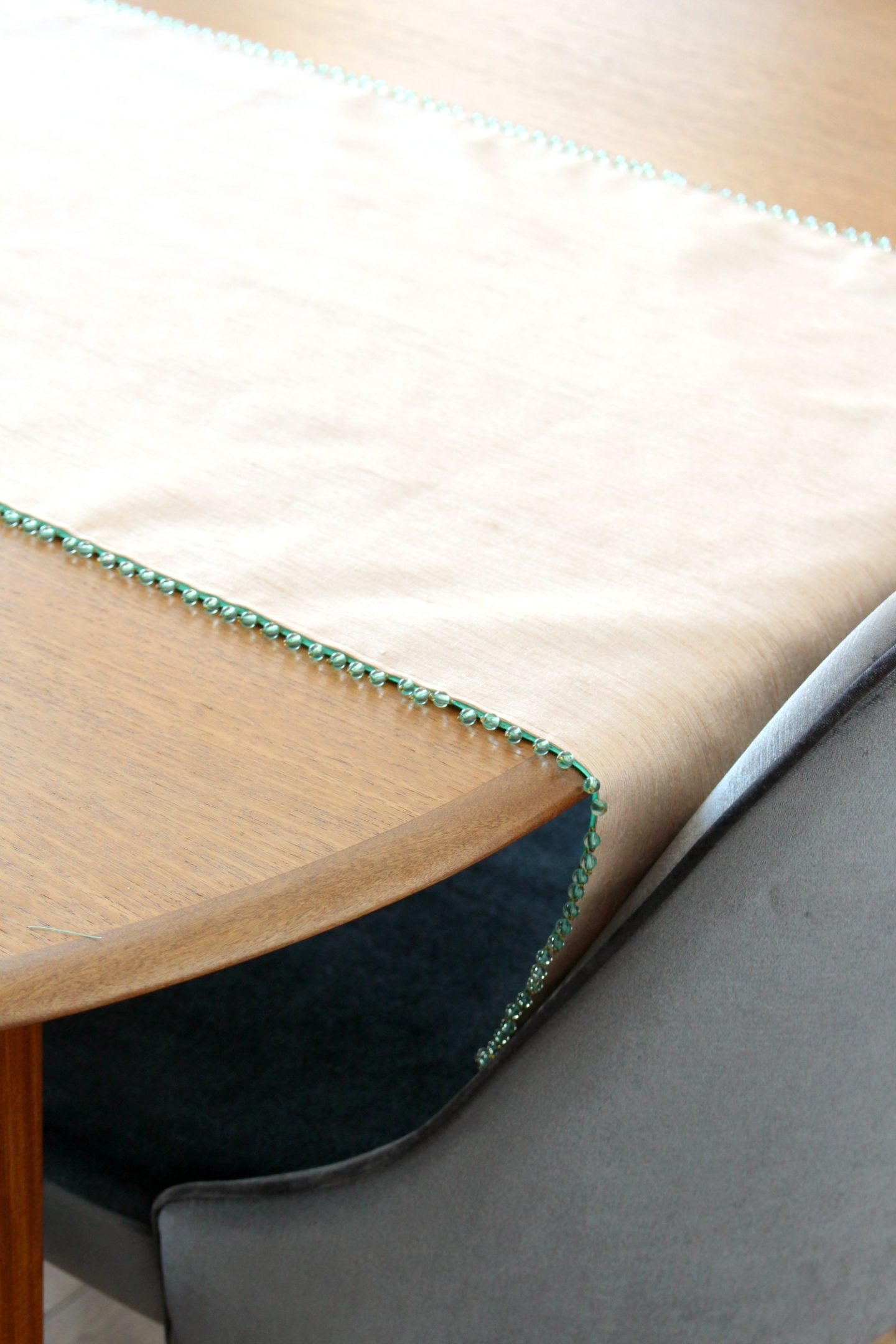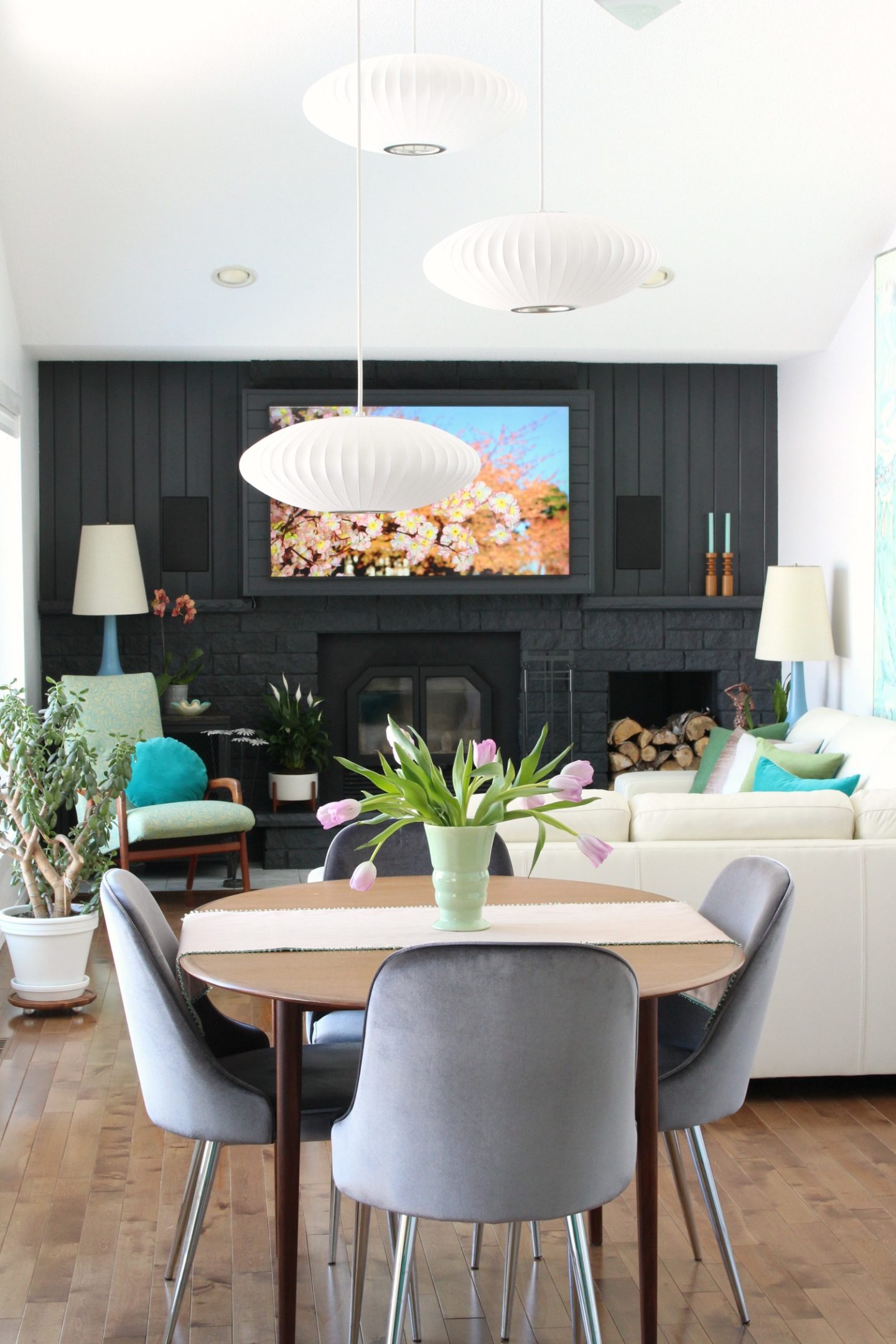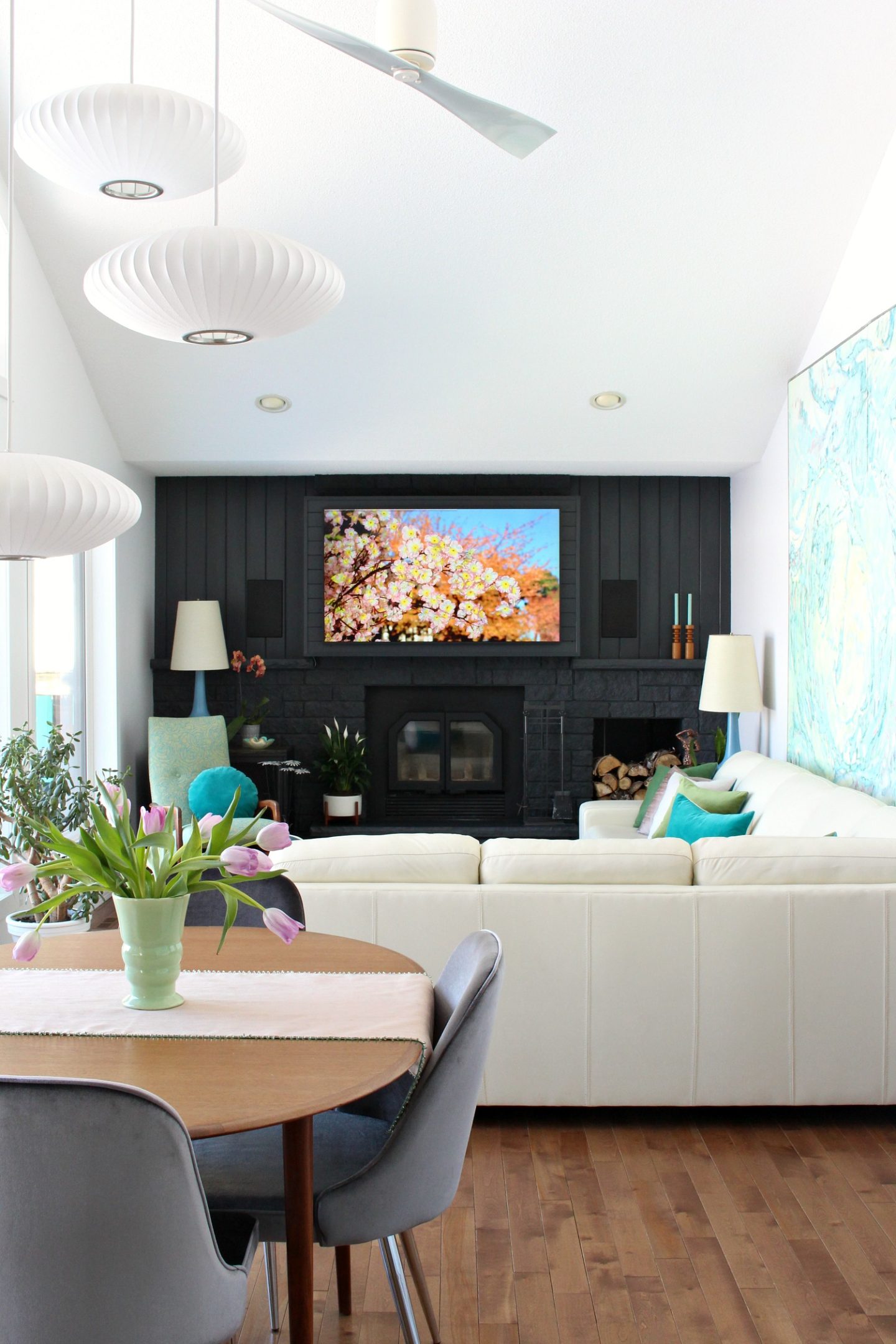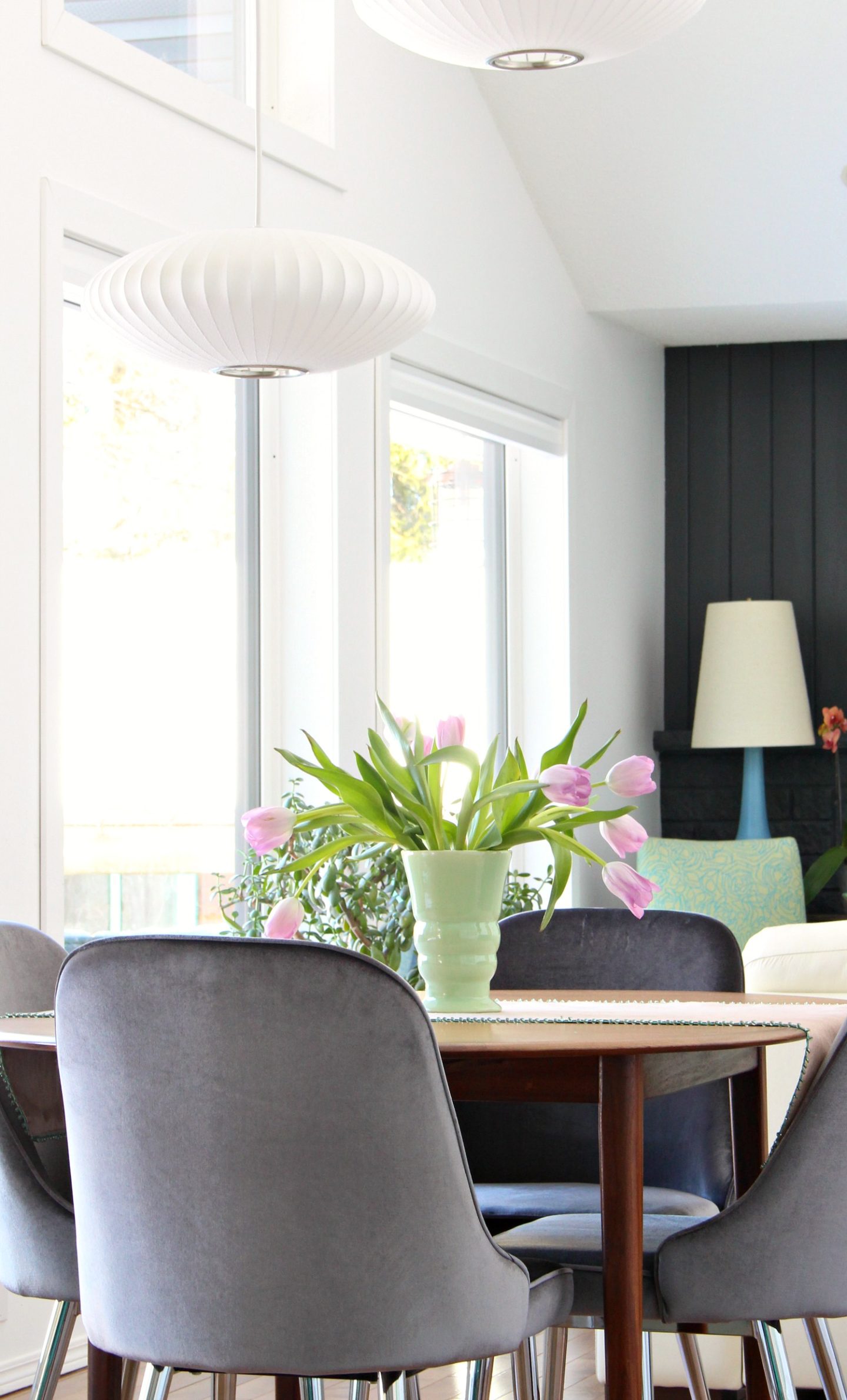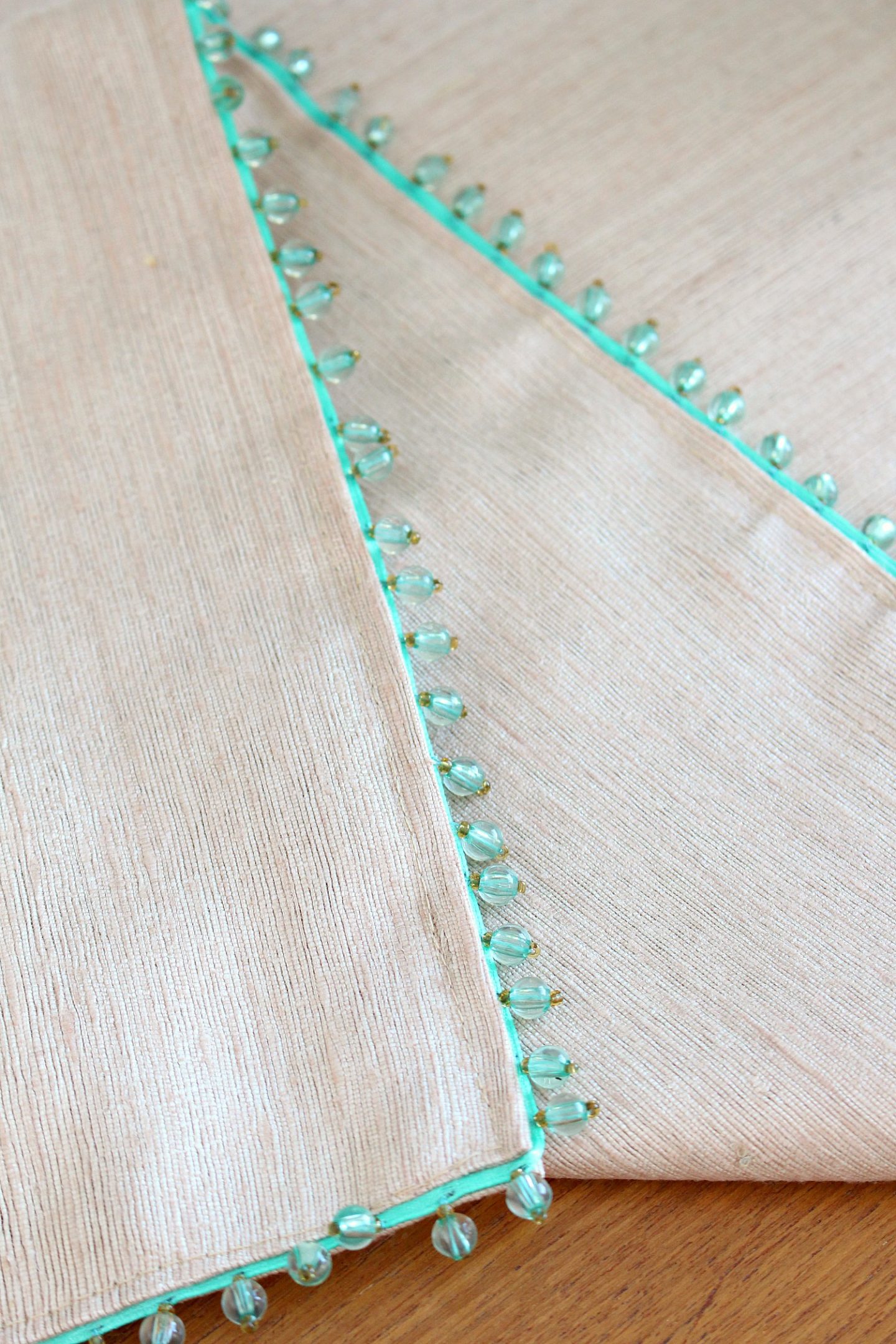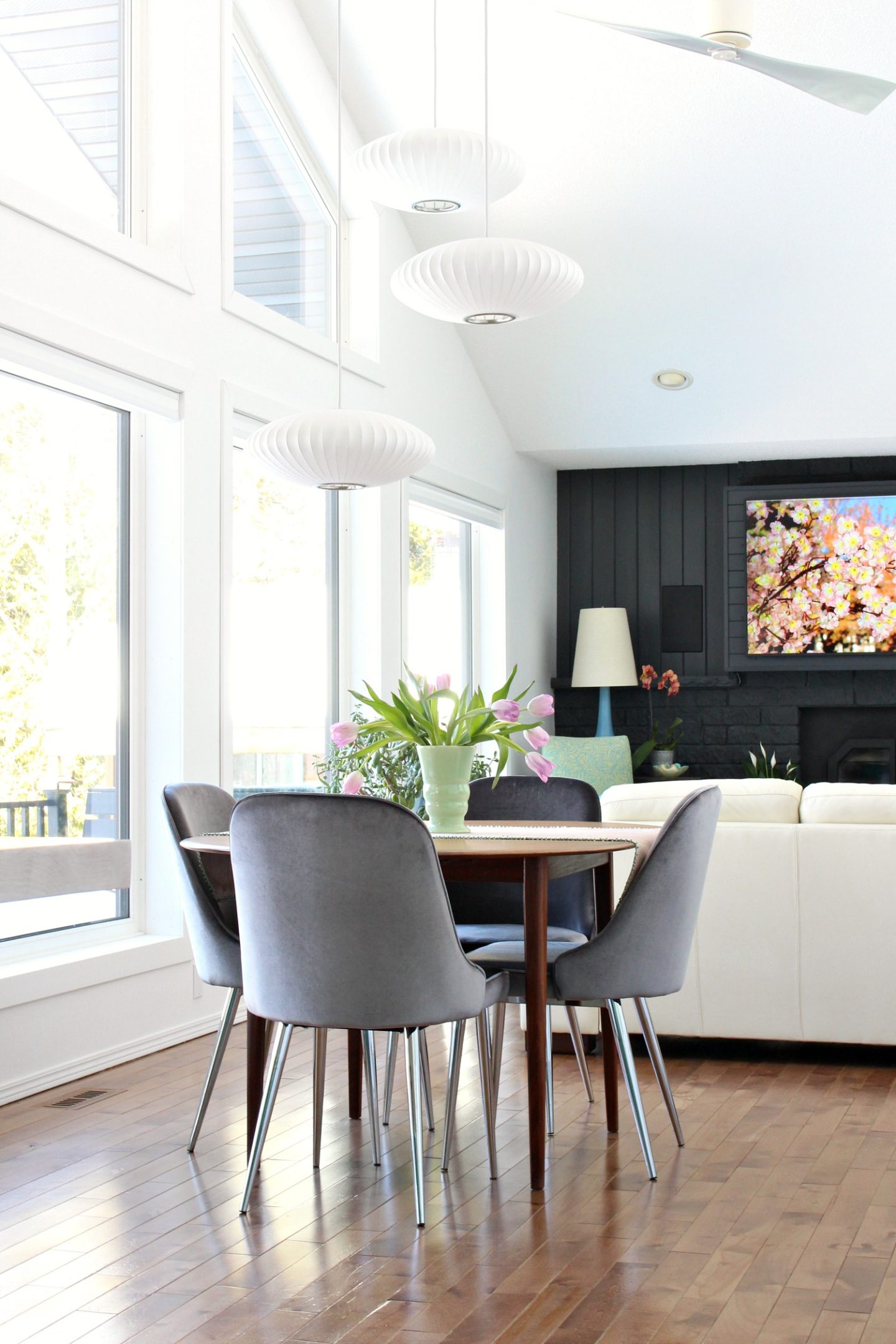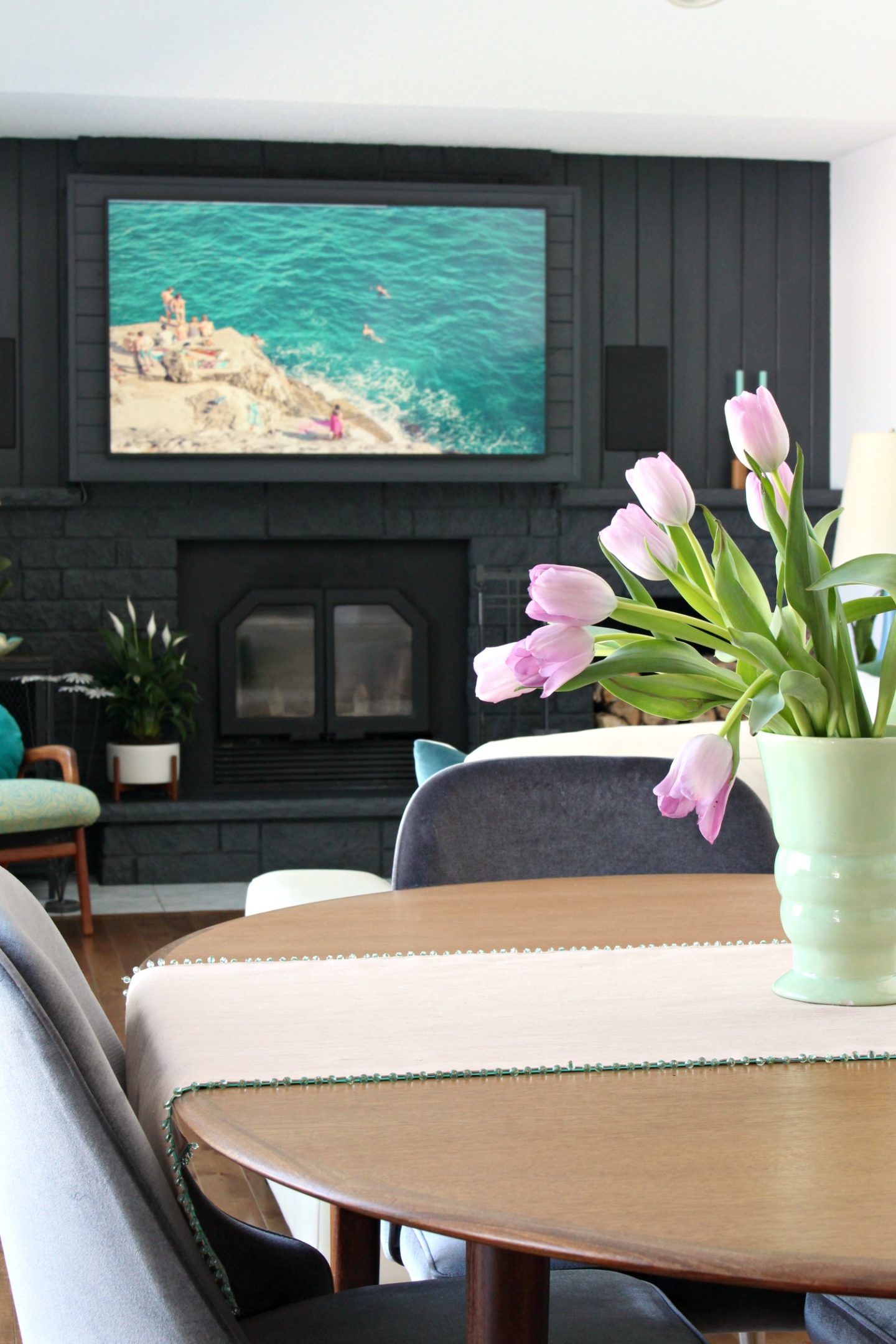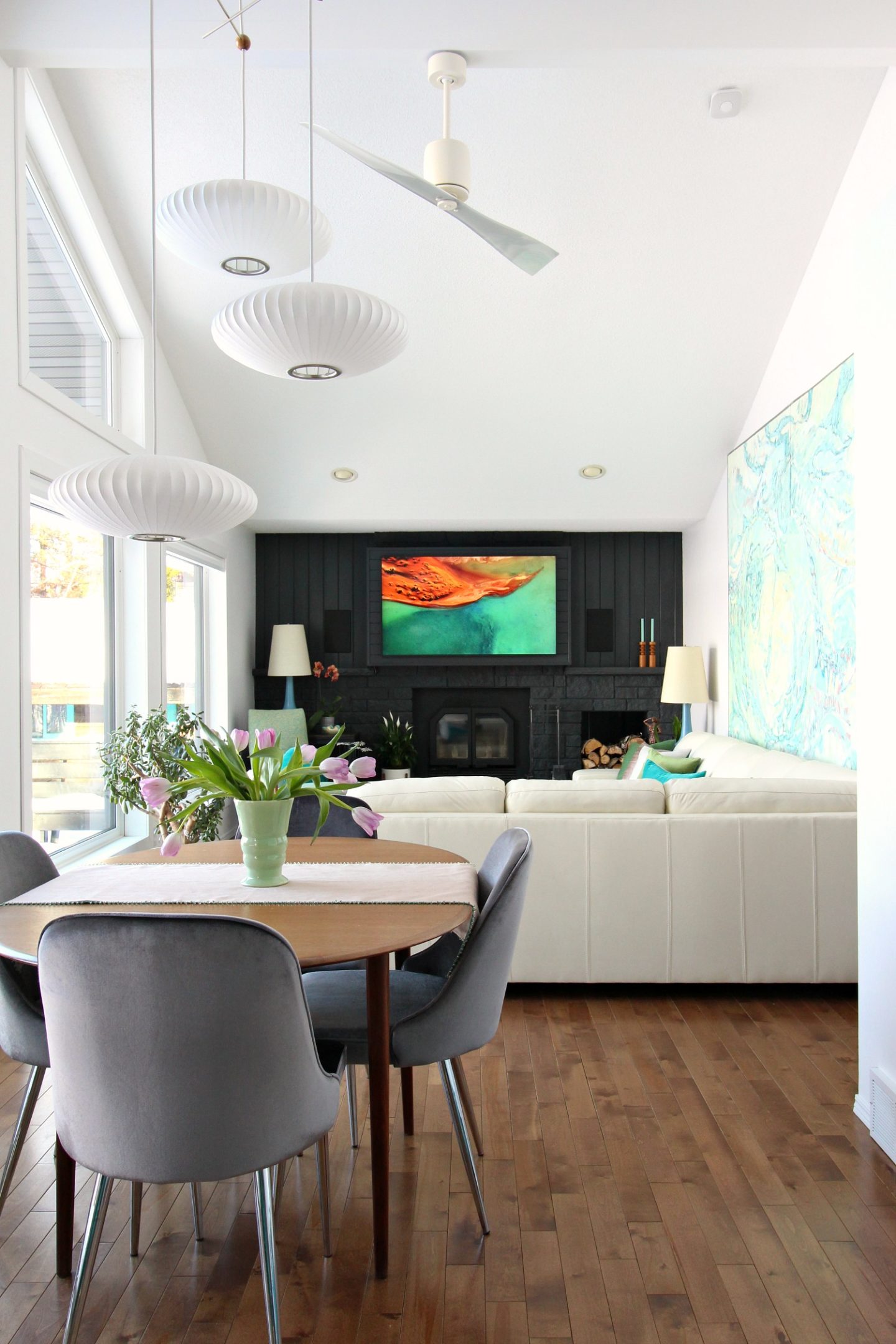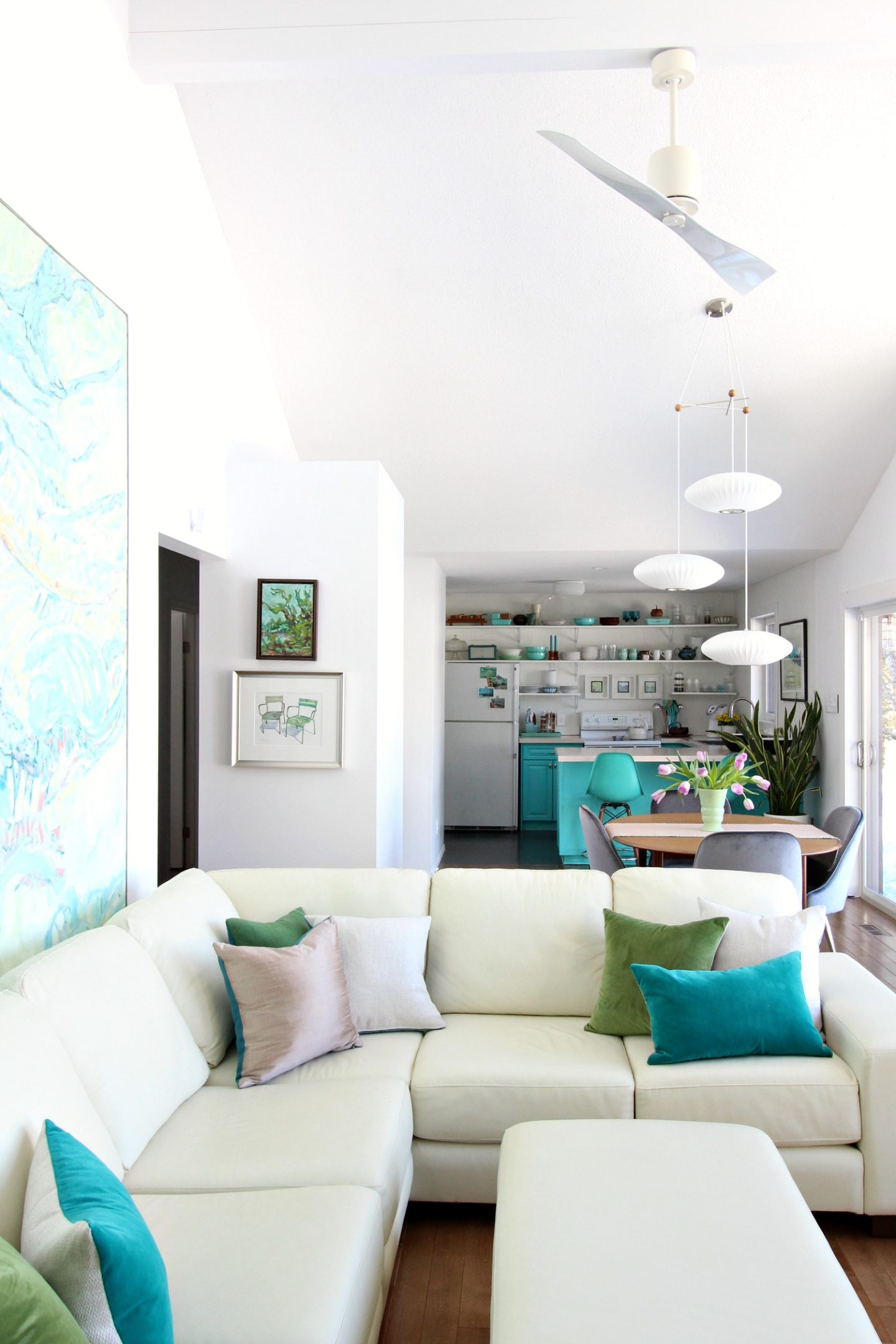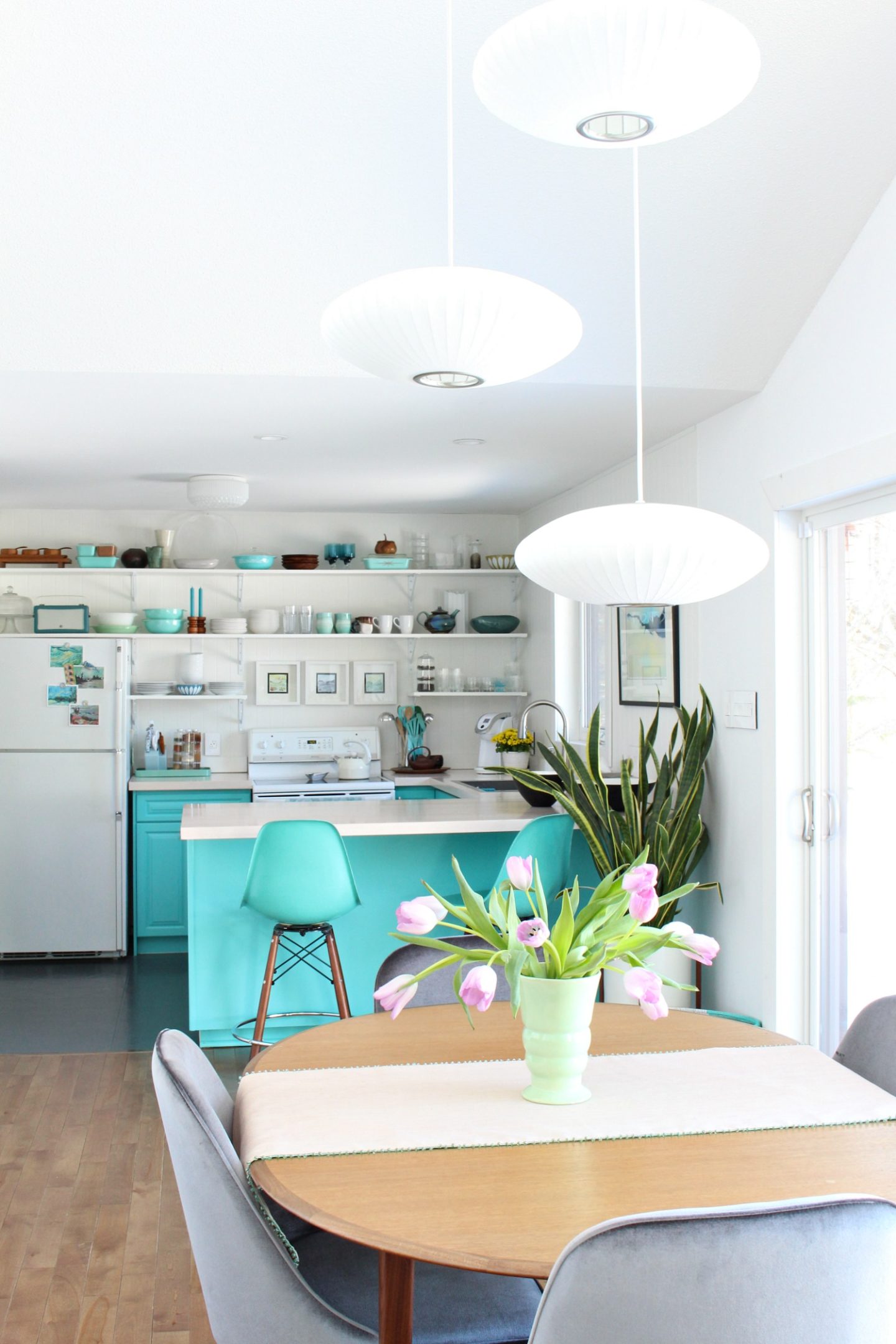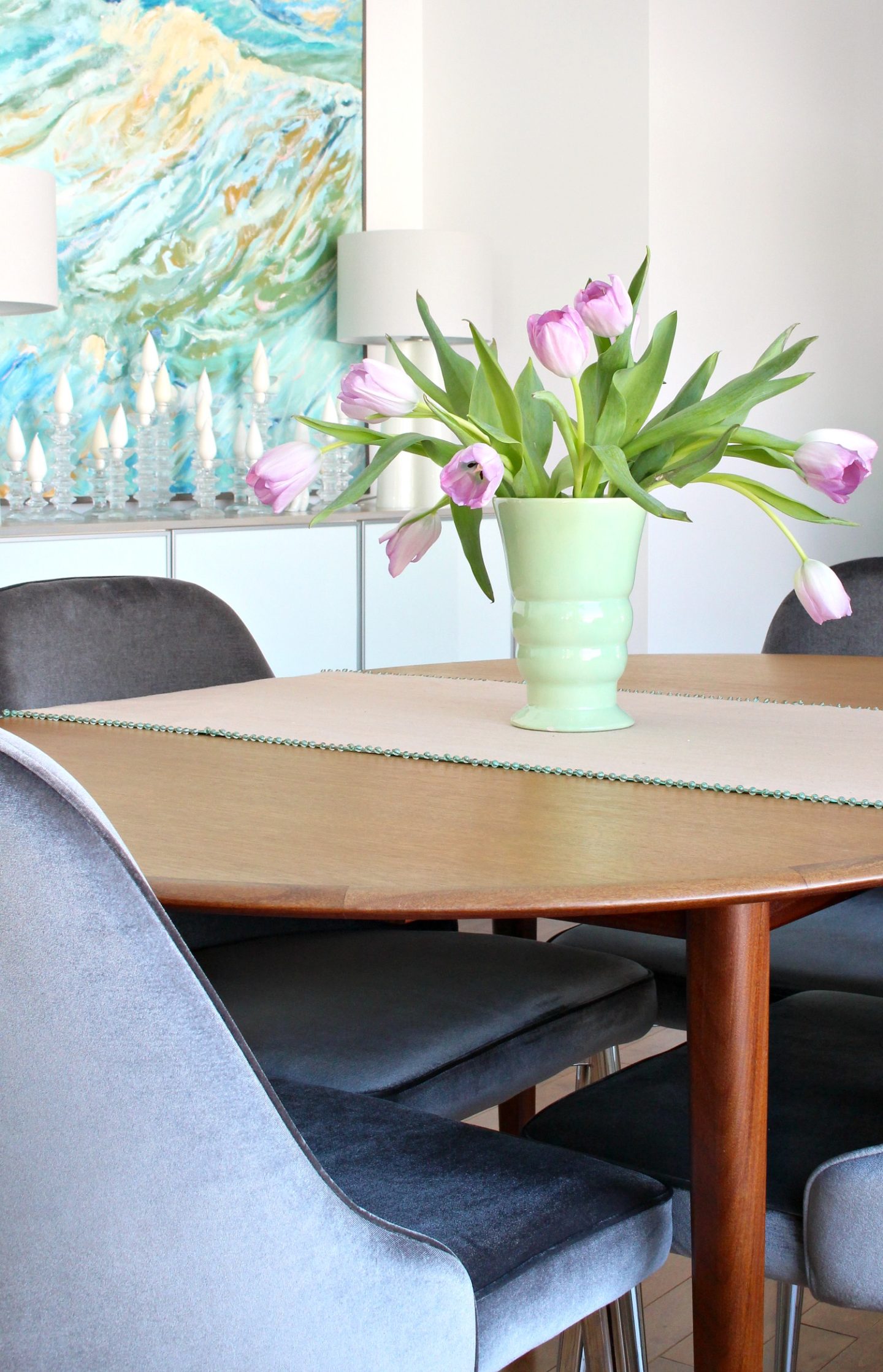 The Kitchen:
In the kitchen, I just gave the shelves a good spring clean so everything sparkles again, and added a pretty potted plant. Easy-peasy.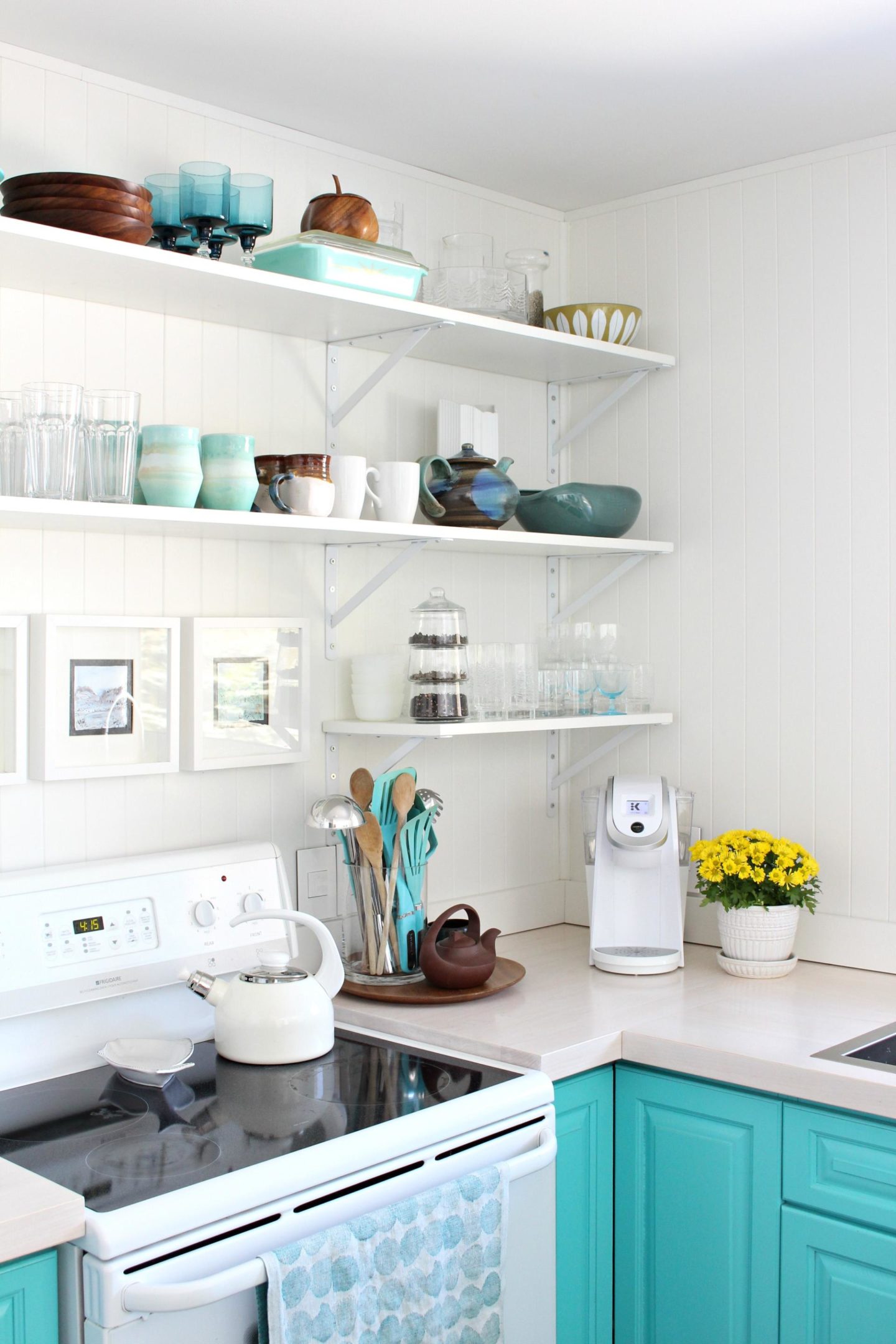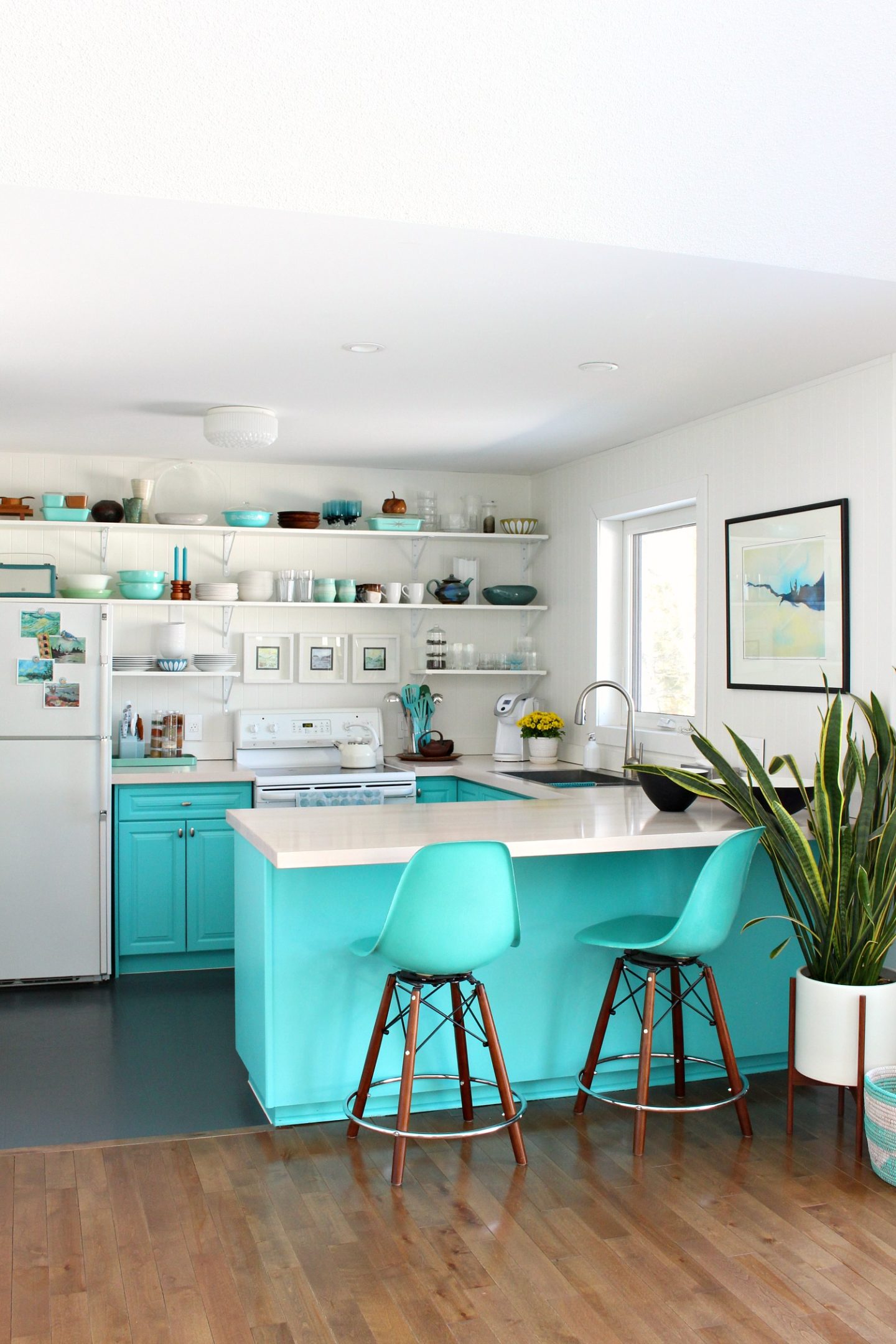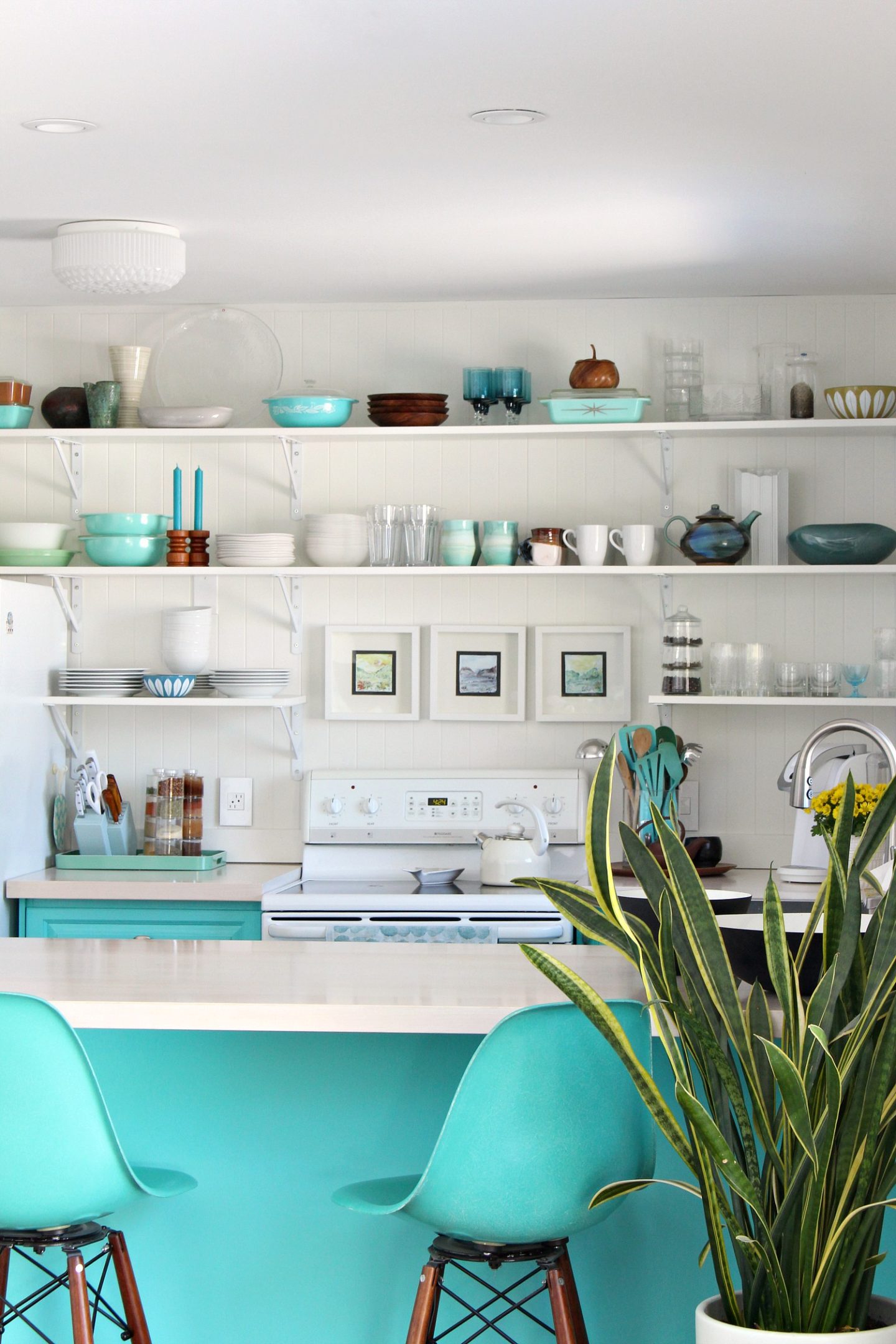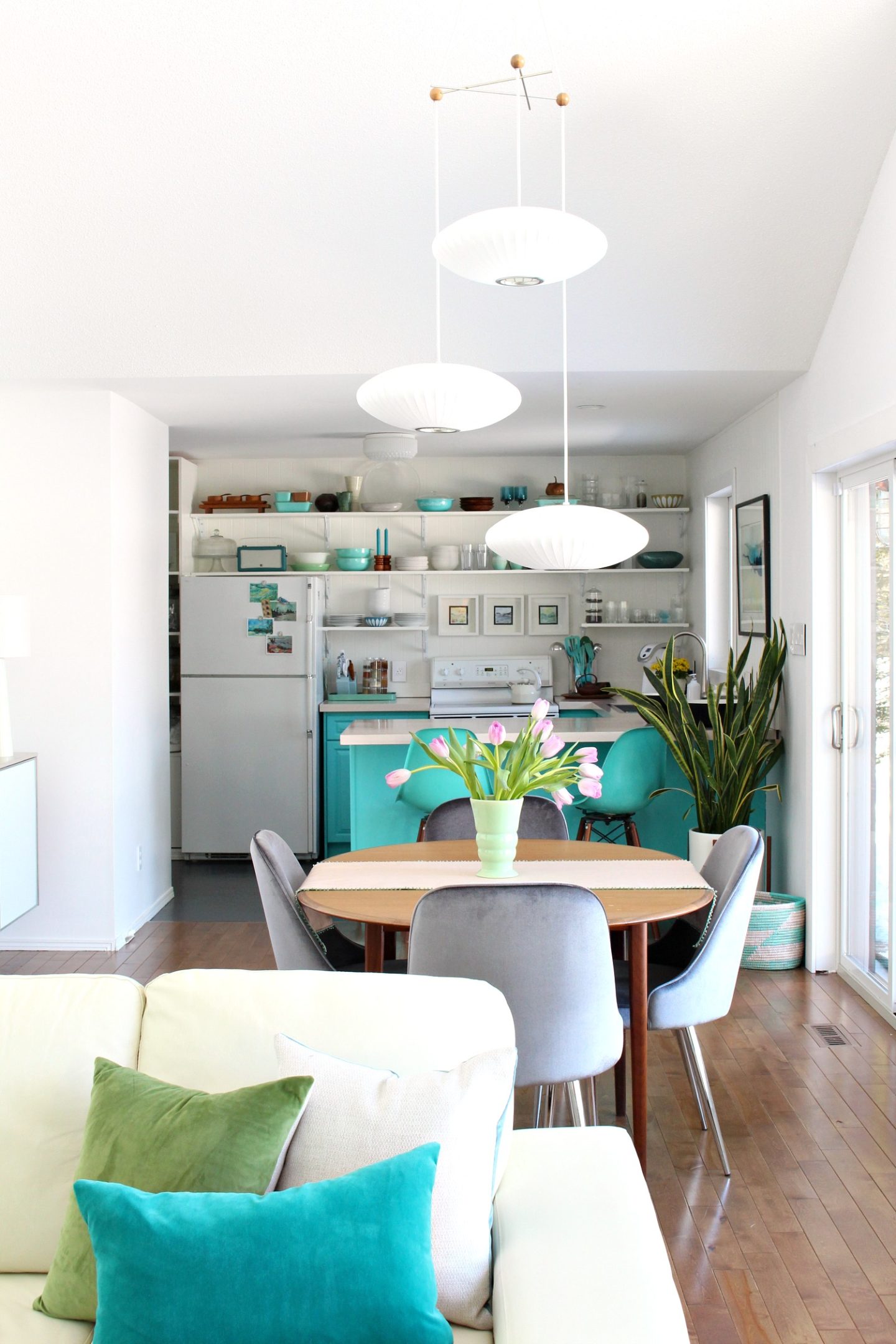 The Home Office:
In the office, I added a bit of wicker with a thrifted magazine holder. Anything wicker, or reminiscent of a baskets, just says "spring" to me. A potted plant in here is nice addition, but luckily this room doesn't need much spring decor because the sun pours in and the art above my desk is so warm and sunny.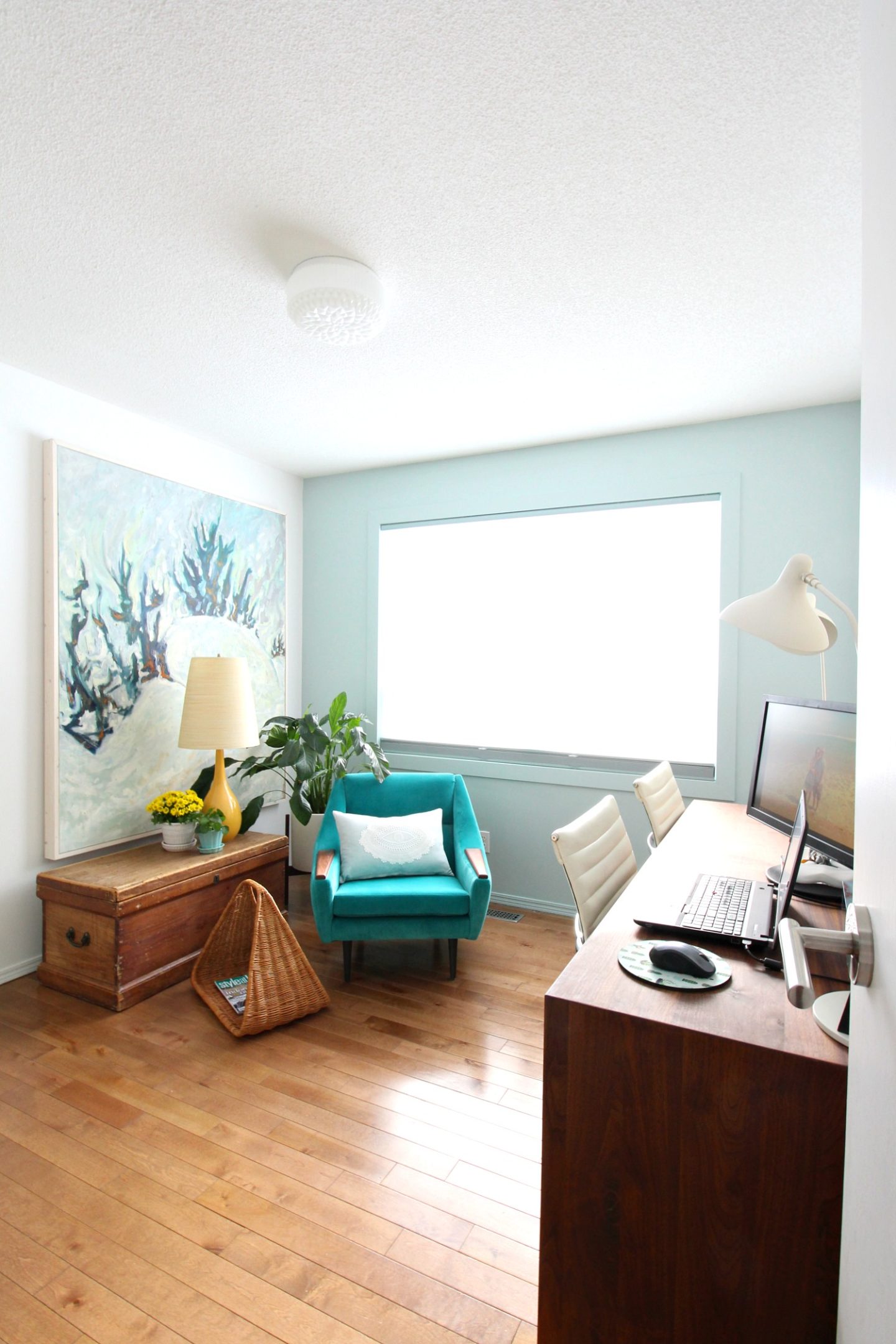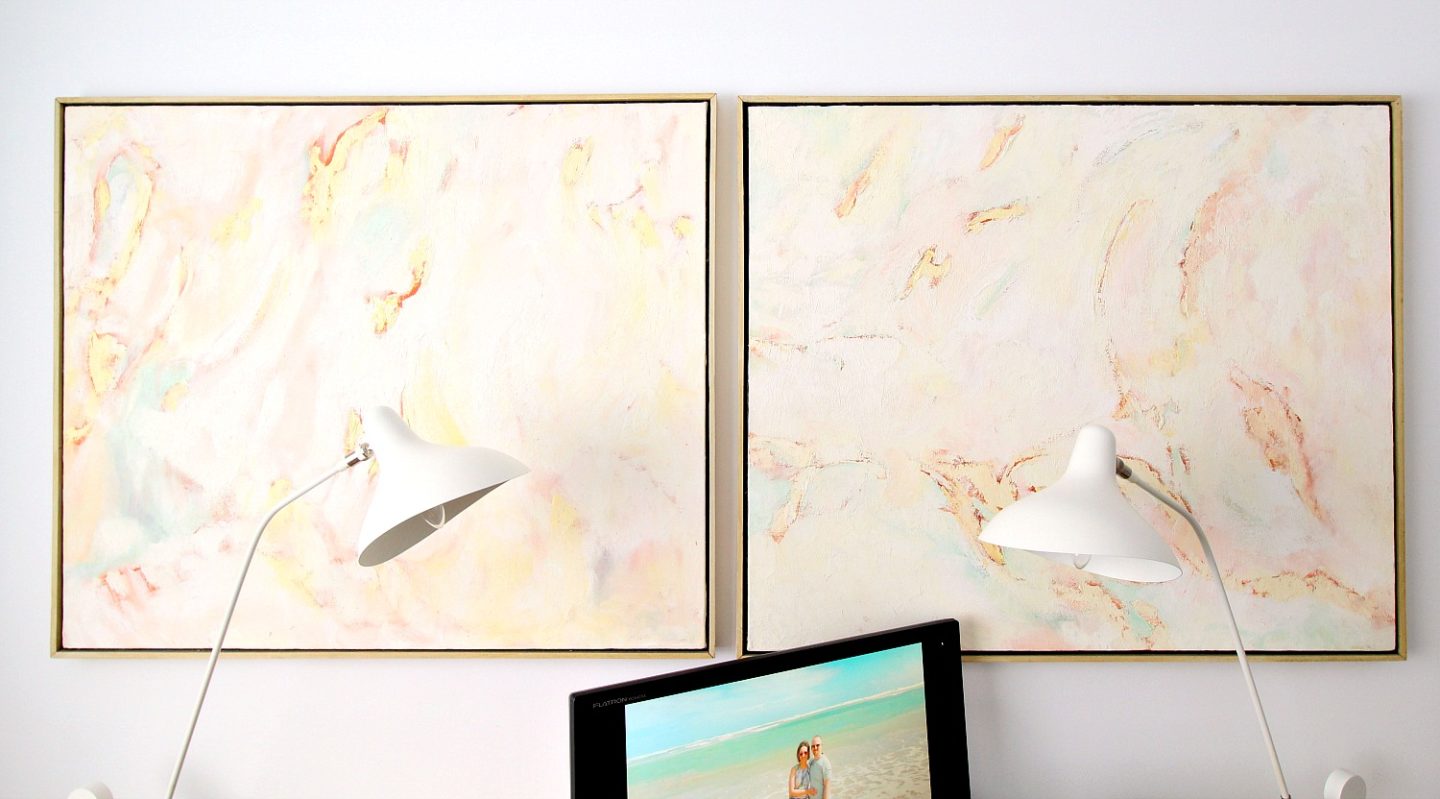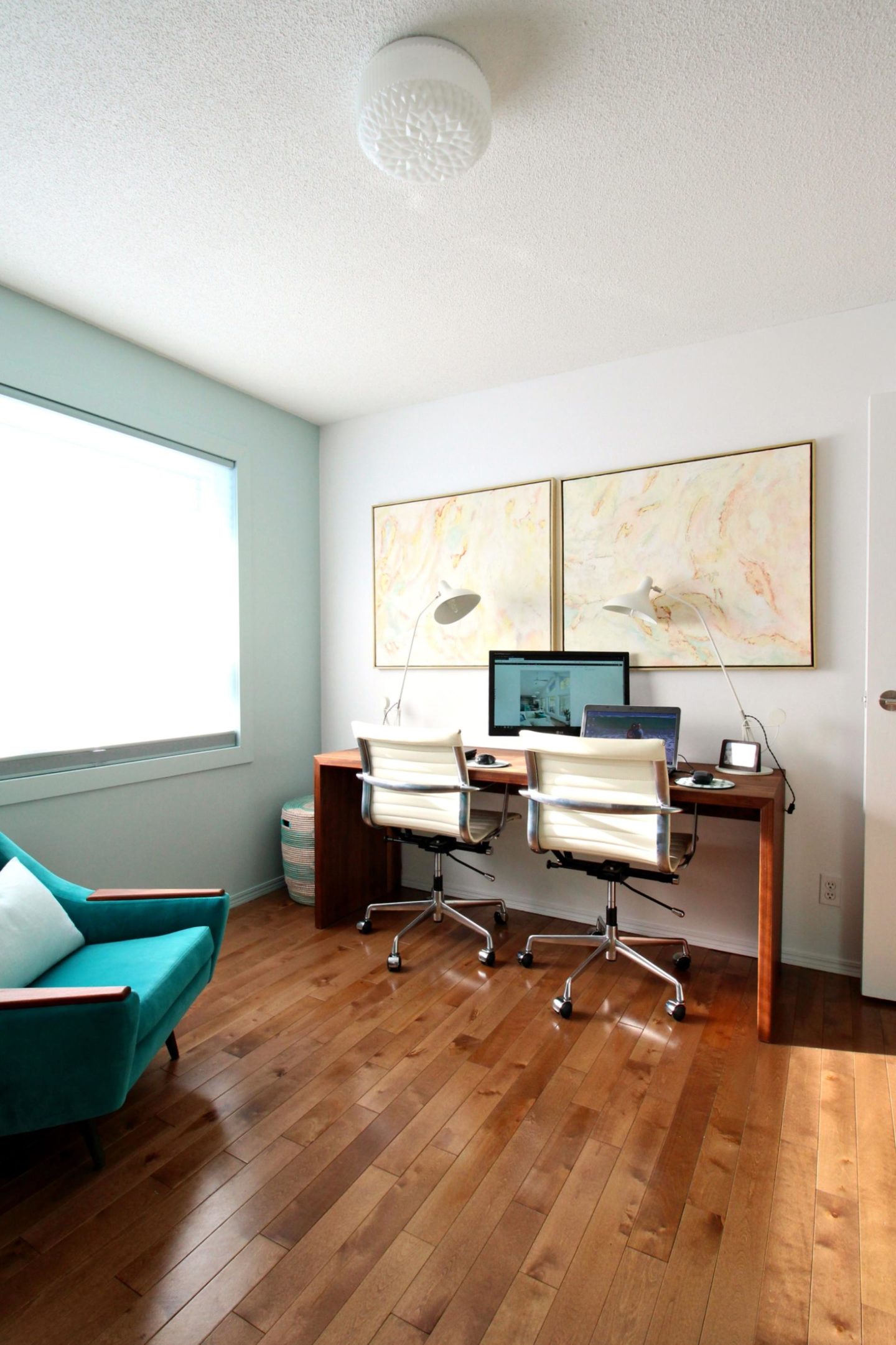 The Bathroom:
In the bathroom, I added a vintage teak tray and new-to-me thrifted vase. This little West German Pottery vase has the prettiest pale blue glaze. At the till, the cashier flipped it over and asked, "oh, Germany, is this a fancy vase?". For some reason the first thing my brain spat out, in a thick German accent, was, "ya das ist gut vase". She froze for a minute, kindly complimented me on my fake German accent, and that was that. Don't ask me things when I'm thrifting – I'm in the zone and most of my brain power is focused elsewhere. I nabbed a few tulips from my dining room bouquet, I love how they pick up the pink from the artwork. I'm on the hunt for some pretty pale pink towels in here too because we have a couple that are headed into the dog towel pile soon.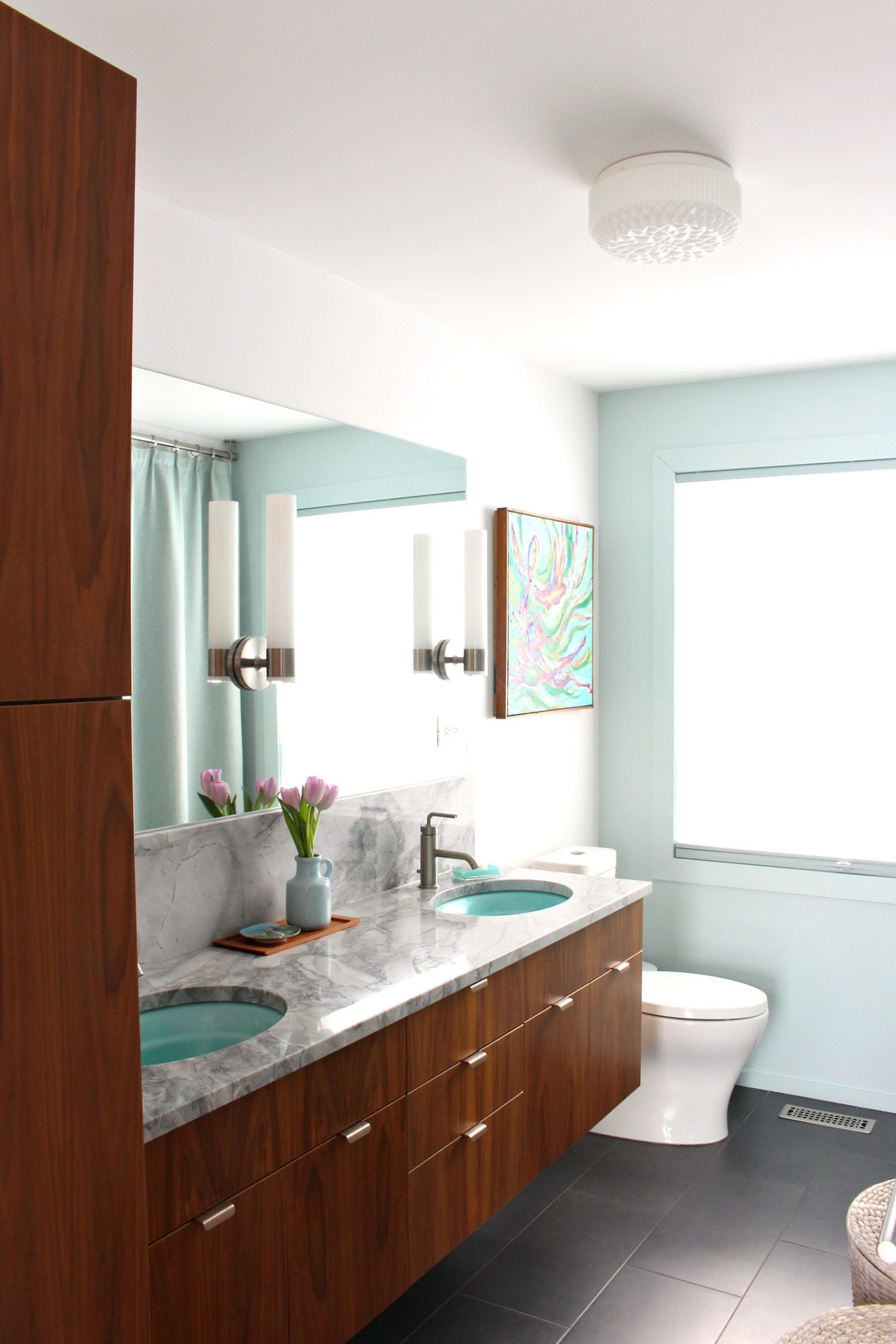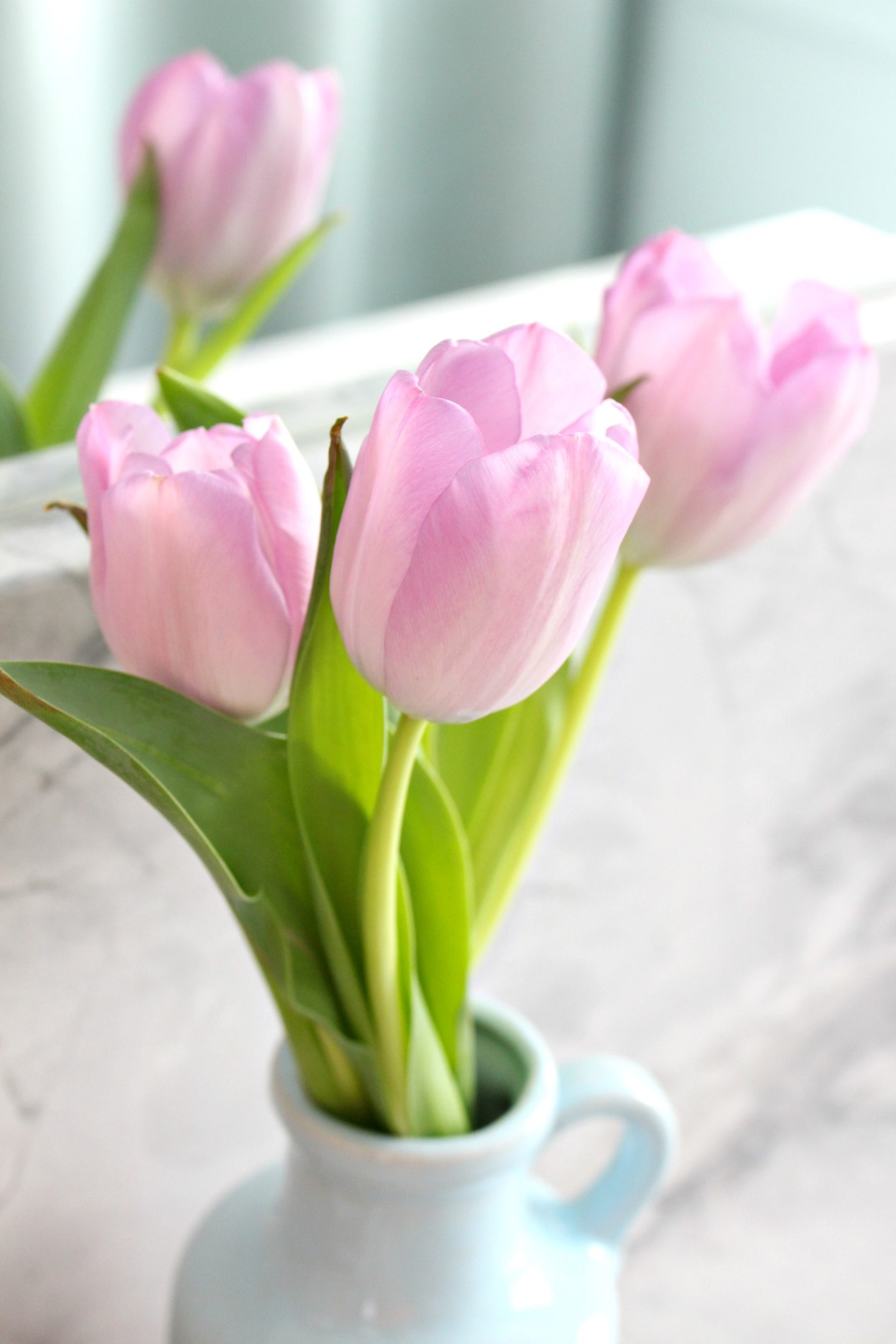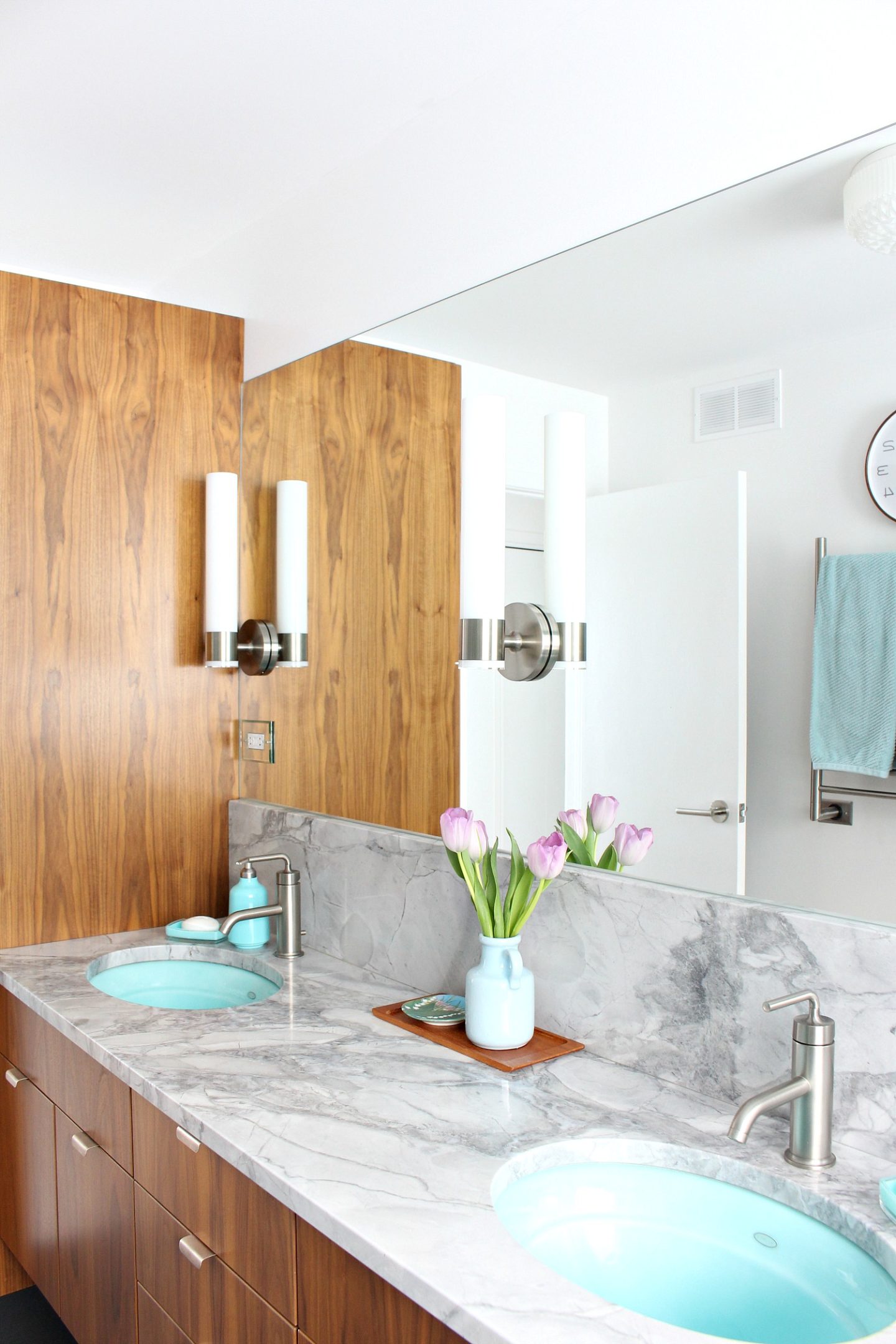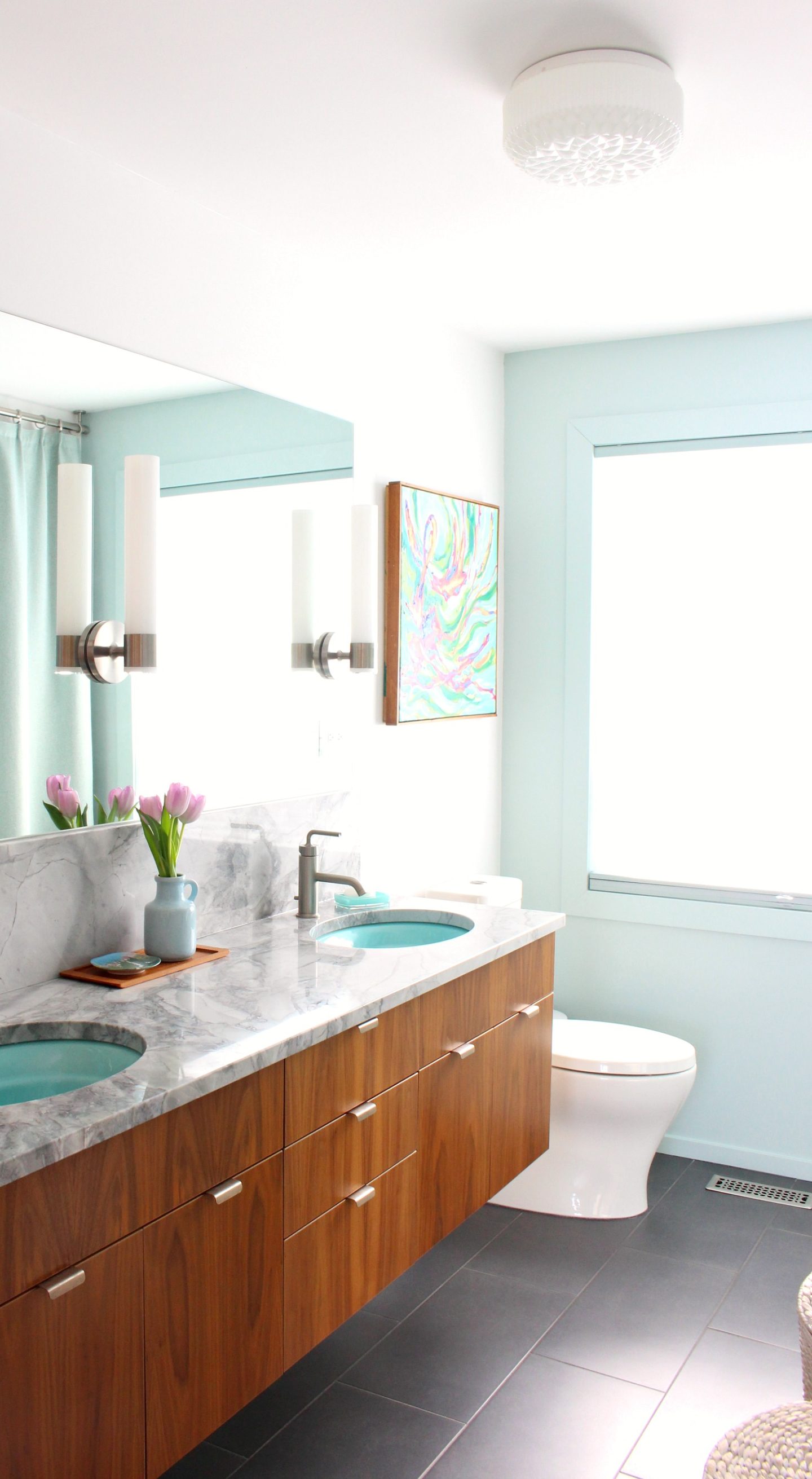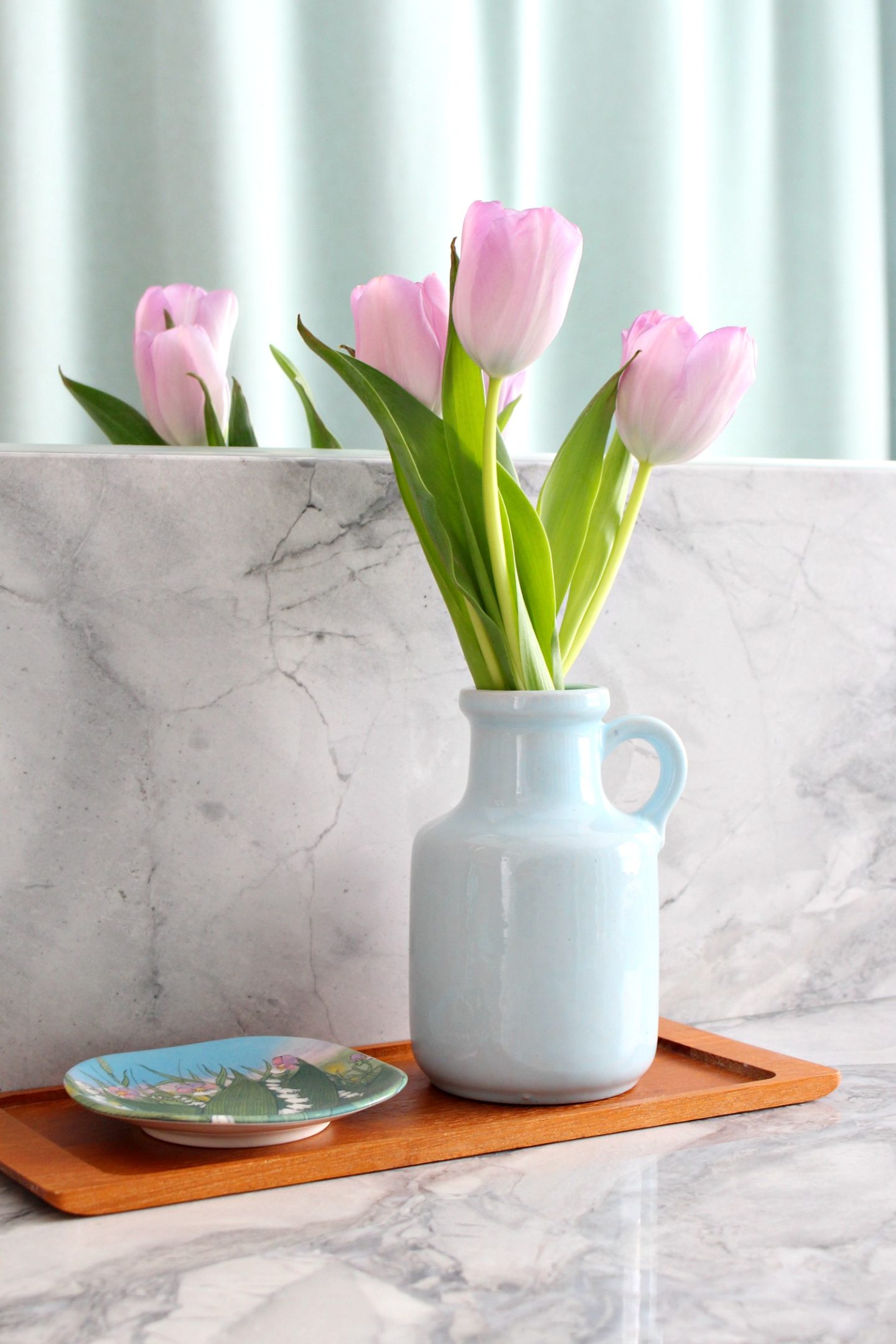 The Main Bedroom:
In the bedroom, I lightened up the decor a lot! After living with soft muted pastels through the fall and winter, I introduced way more blue in the accessories for spring because of my new DIY bed throw. Now, I'm on the fence about this project. I had tucked away my heavy Pendleton blanket for the season but the bed felt naked. I envisioned a boho cotton throw using my favorite ice dye technique but the company I ordered from sent me the wrong dye! I'm still waiting for the correct color, but I rushed ahead and used what they sent. It turned out way too bright blue/lime green so I layered over and re-dyed it with "teal," which ended up way darker and splotchier. I still love the idea, but I don't know if I love this exact version… I think I'll revisit the idea with the pale blush silk from the dining room table runner (it's still on sale), with a slightly more muted teal and maybe some bolder fringe. But I will say that a few changes instantly made the bedroom feel springier and much more like a beach house!
Let me know what you think of my DIY ice dye project in the comments! I'll be sharing a how-to soon for anyone who likes the look (ice dyeing is so much fun and goodness knows I have a lot of it around still), plus a tutorial for that easy beaded table runner so be sure to check back.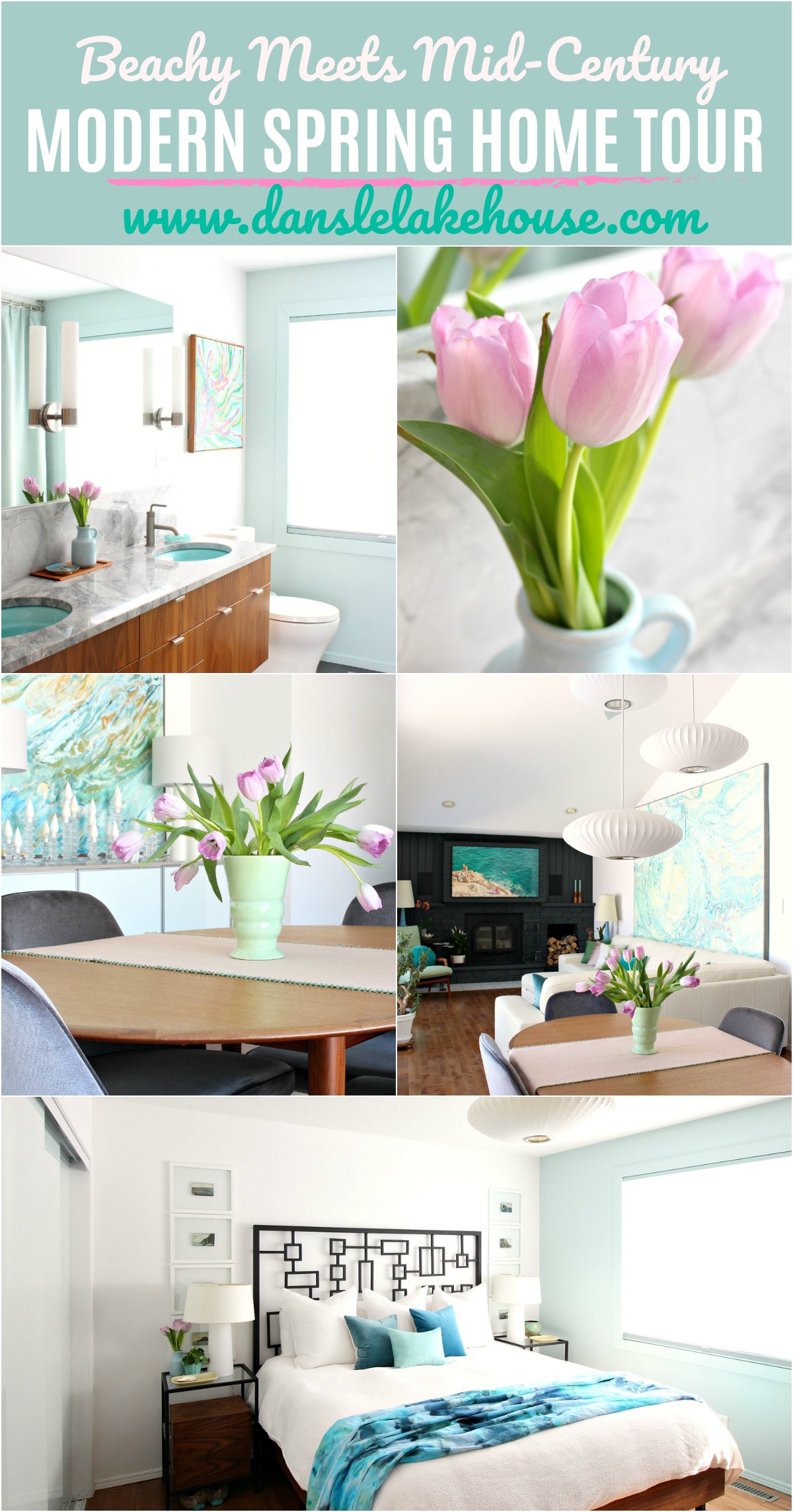 Bring Spring Home:
If you're looking to add some cute spring decor, check out my list of similar finds from Amazon right here. Or check out some of my favorites in the gallery below.
Continue the Tour!
If you've stopped by the lakehouse from one of the other tours, like Home Style Life, welcome! Take a peek at my DIY Projects Gallery, Renovating Projects Gallery, and Lakehouse Tour. If you're following this spring home tour in order, you're hopping over to Strawberry Road Online next. But be sure to check out all of the inspiring spring home tours: