The large painting in the living room (painted by Hubby's grandpa Bert) is definitely an eye catching piece and I've gotten a lot of questions not only about how to hang large art, but also how to put a sofa in front of art without causing damage. Today I'm sharing our two hacks to solve both problems!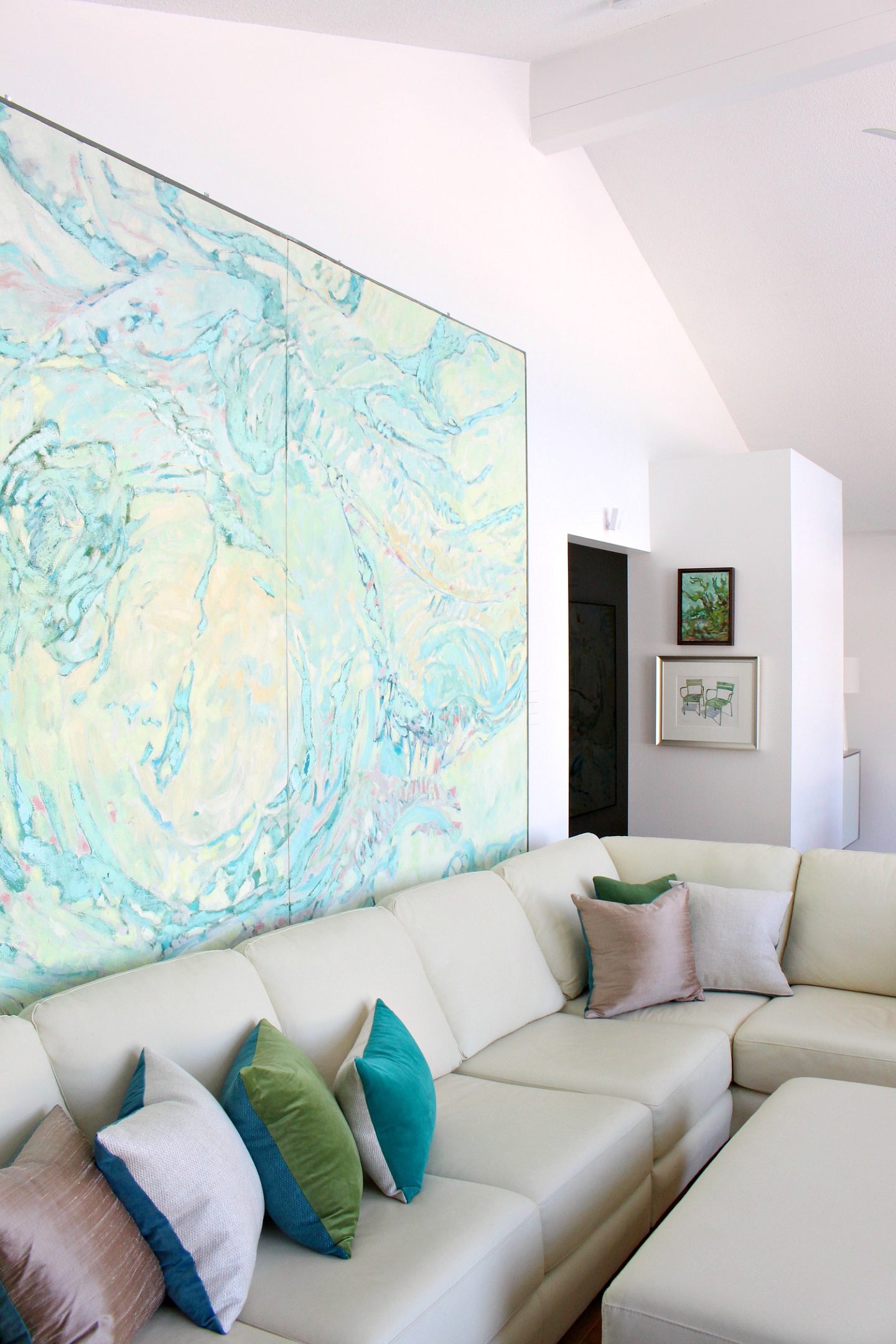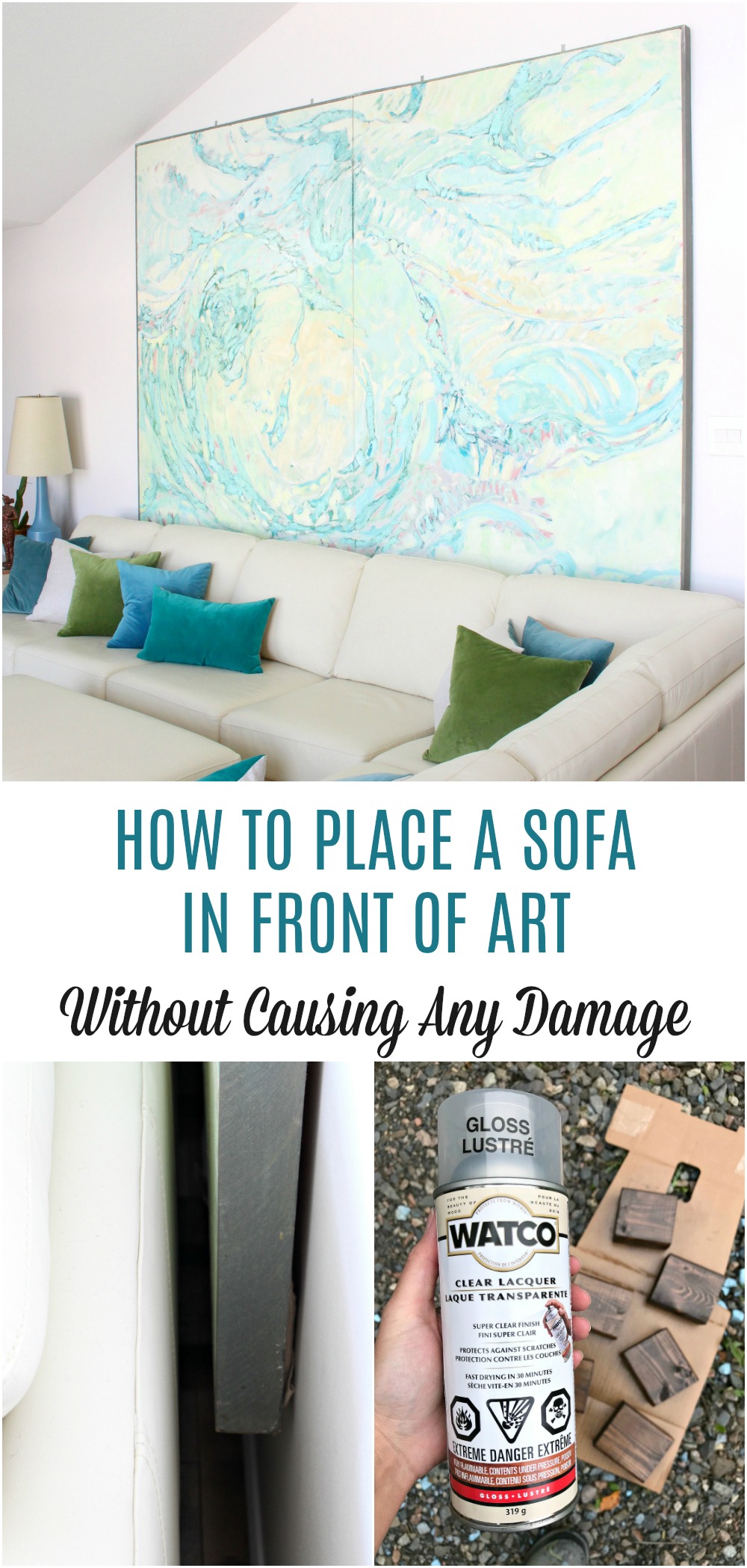 How to Hang Large Art
Let's start with how to hang large art – this painting is 112″ x 91″! It's huge! But luckily we picked up a trick. Last fall we drove to Bert's studio because Hubby had been left a choice of five paintings in Bert's will. Sadly he passed away last spring. On our way home, we stopped by the library of Laurentian University. Some of Bert's art hangs there, and we wanted to see it. I didn't realize that so many of his paintings are hanging there – mingling with paintings by the Group of Seven! – and there was one I loved so much that I wanted to rip it right off the wall and smuggle it home (we did have a trailer, so it was reaaallly tempting, haha):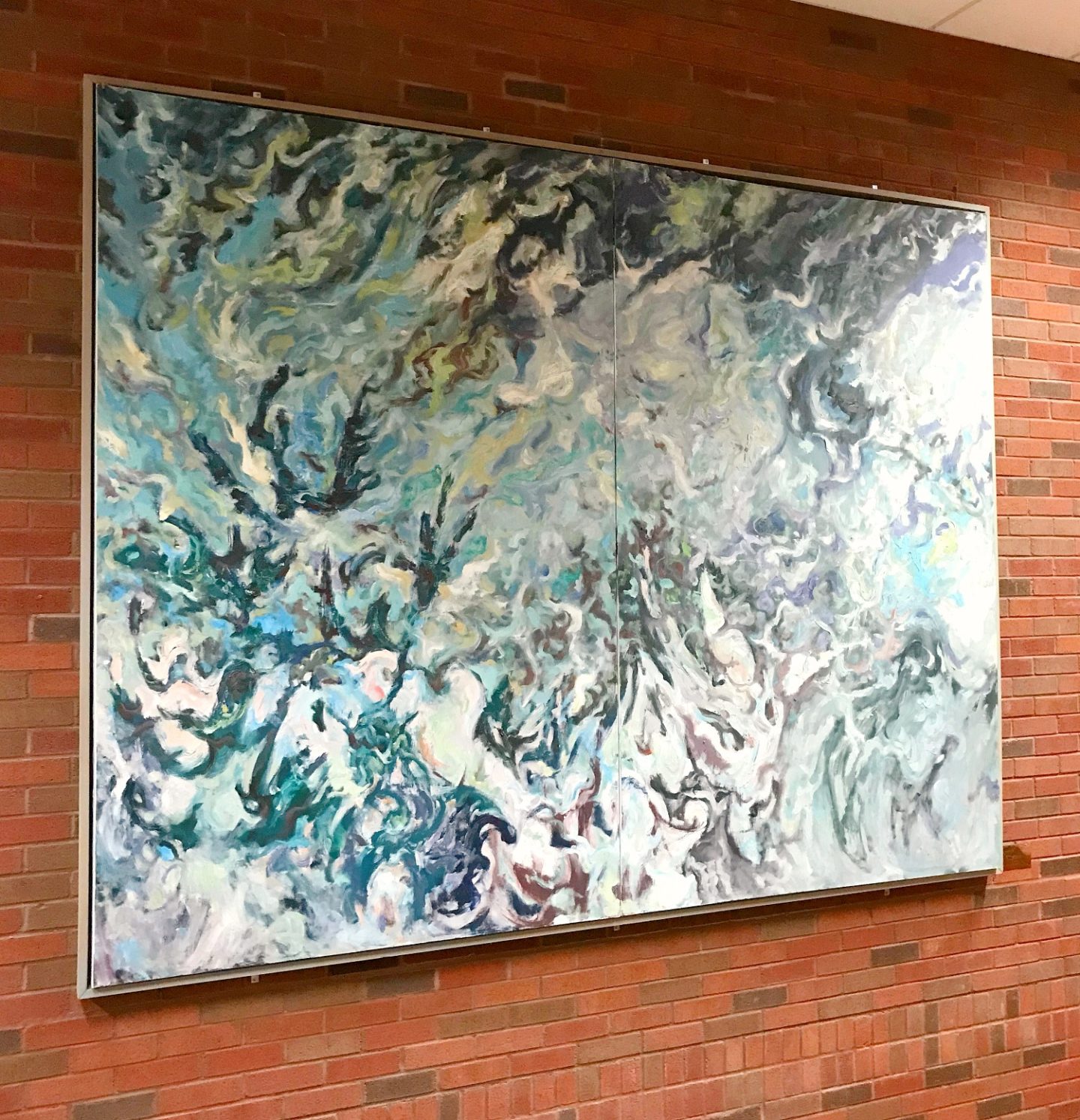 In the process of mooning over it, we studied how it was hung and realized it was a clever and easy system. Basically, it was hung using heavy duty corner brace hardware which comes in different sizes (kind of like an L-bracket). You can kind of see them at the top of both paintings (above and below). For smaller paintings, we like D-rings and picture hanging wire but for bigger paintings we'll just use a pair of heavy duty D-rings. But this large diptych needed something more intense and this solution works so well.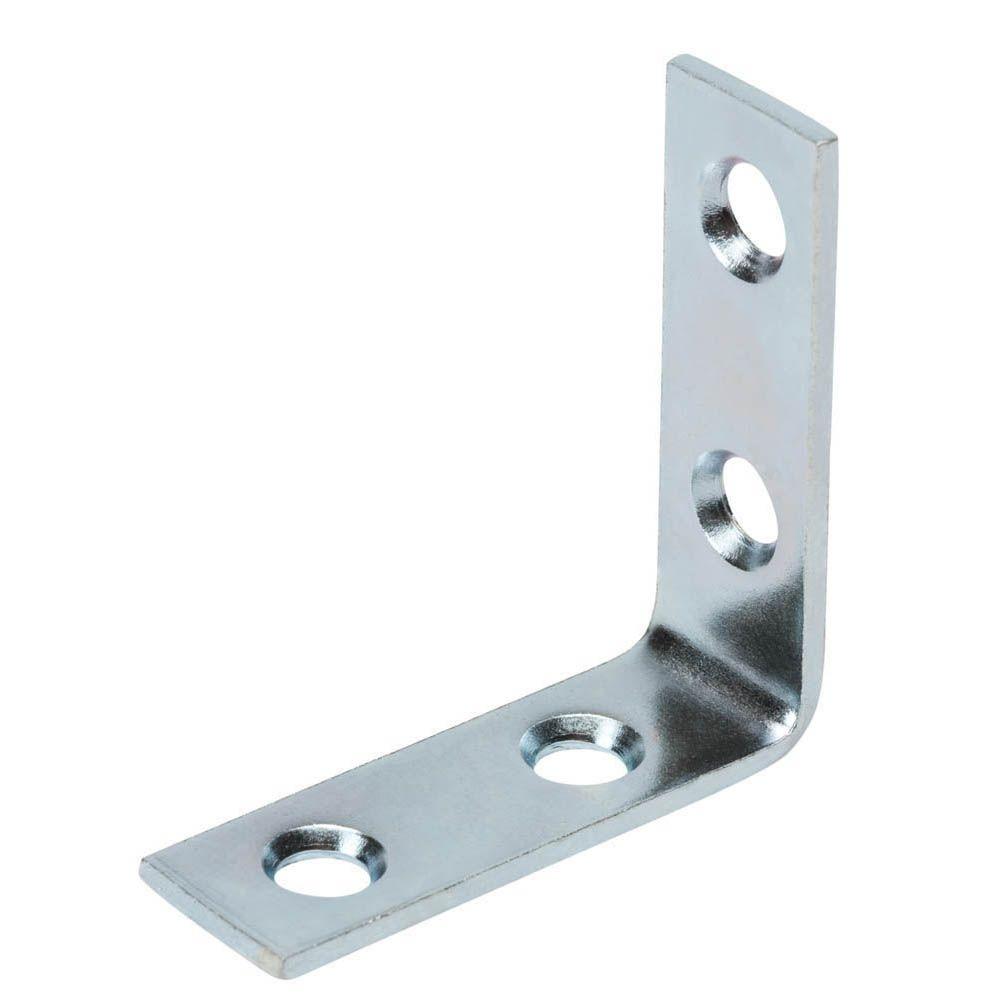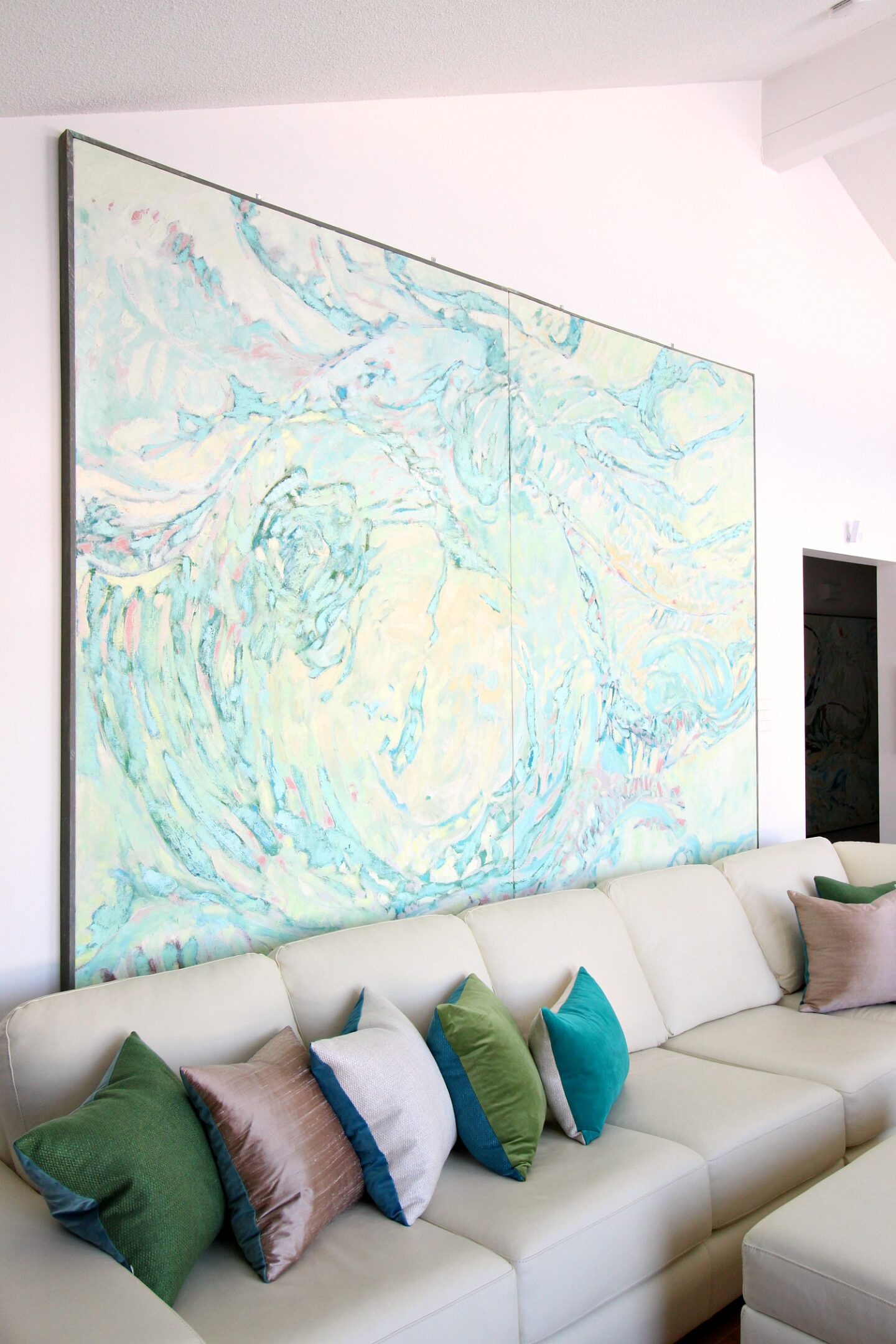 The braces screw into the wall and then into the top of the frame right through the canvas stretcher. On the bottom of the painting, we screwed the corner braces into the wall and then set the painting on top (like they were a little shelf) and then screwed them into the canvas frame and stretcher from the bottom. No progress photos because it took both of us to maneuver this massive painting, but I think you get the gist of it. We did two braces per panel, top and bottom, for a total of eight – all screwed into studs. It has held perfectly and the corner braces come in different sizes for different size canvases – the trick is to make sure the screws grab the wood stretcher of the canvas, and not just the frame.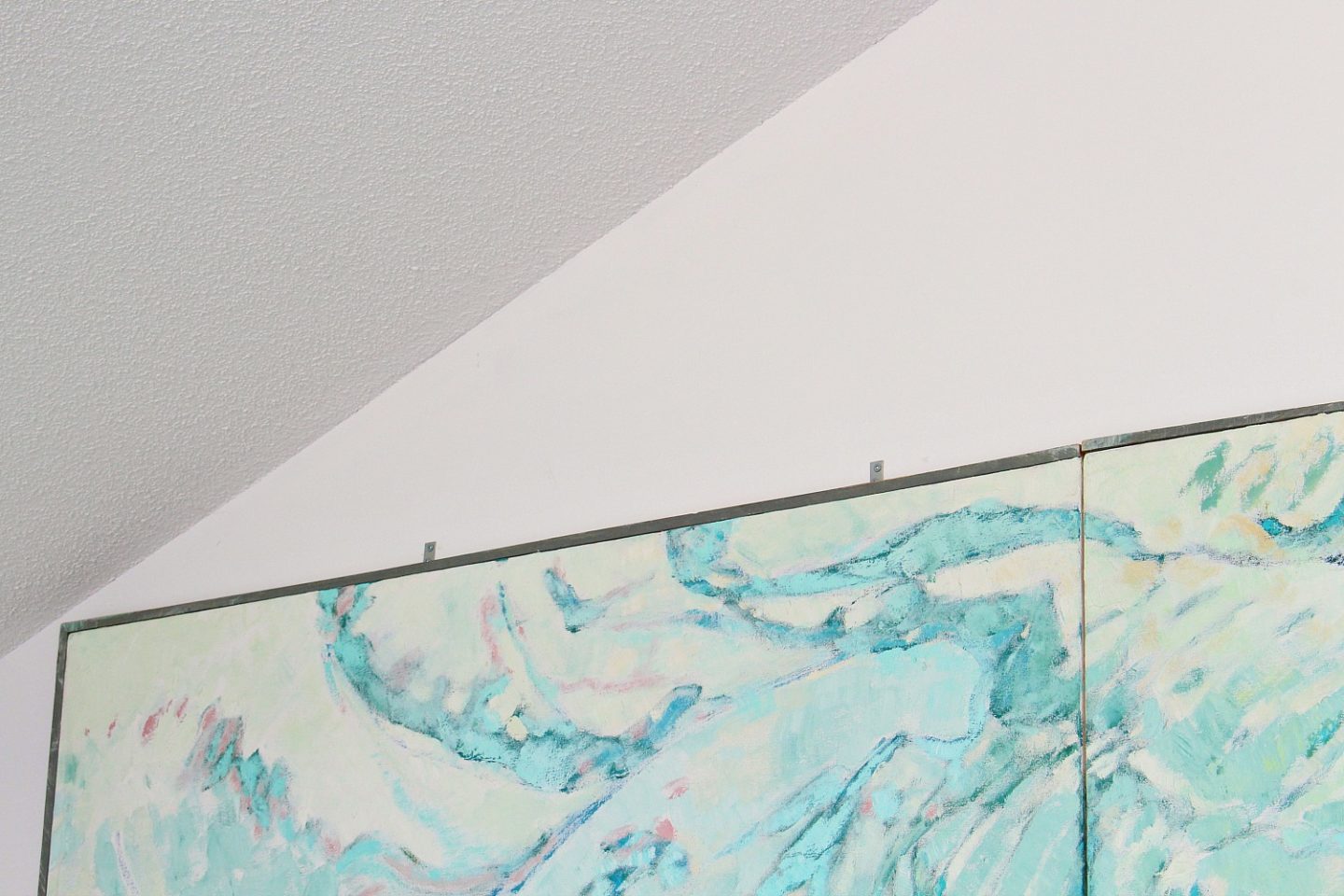 How to Put a Sofa in Front of Art Without Causing Damage
When we went to pick out Hubby's paintings, we were prepared with measurements of basically any space we could hang something. We had originally wanted one of Bert's huge Wave Series diptychs for over the sofa until we realized that we didn't have enough ceiling height on the left side (it couldn't clear the top of the sofa)! We decided to hang it in the hallway, until we came home and realized that although it would technically fit, there was no way to stand it up. Oops. BUT, this painting had actually been in Bert's studio, where he had a daybed in front of it, so we decided that putting it a little behind the sofa would be appropriate.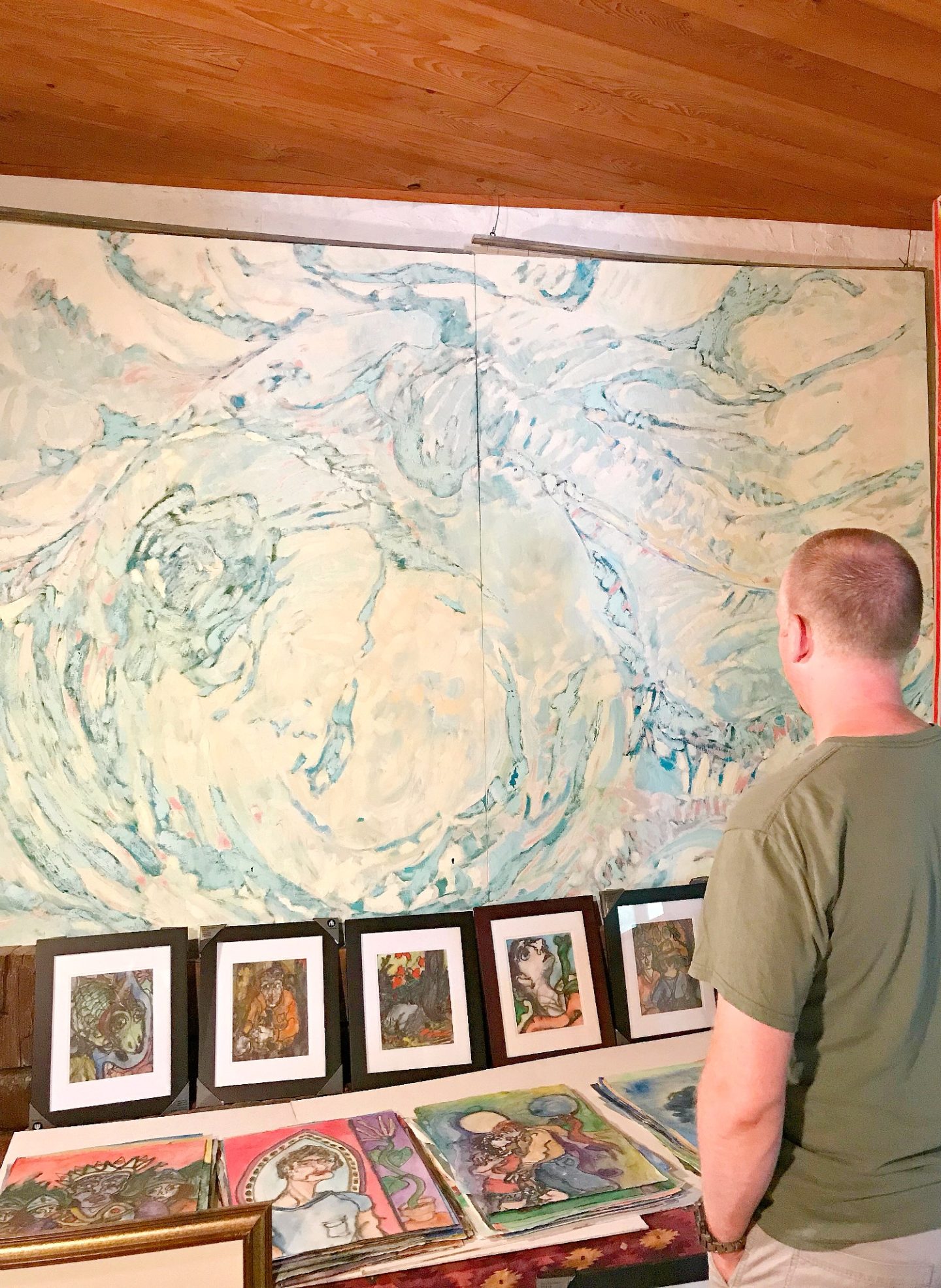 I didn't want the sofa sliding and banging into it though, so we made little wood spacers. You can't tell in most photos, but there's a little gap between the sofa and the art: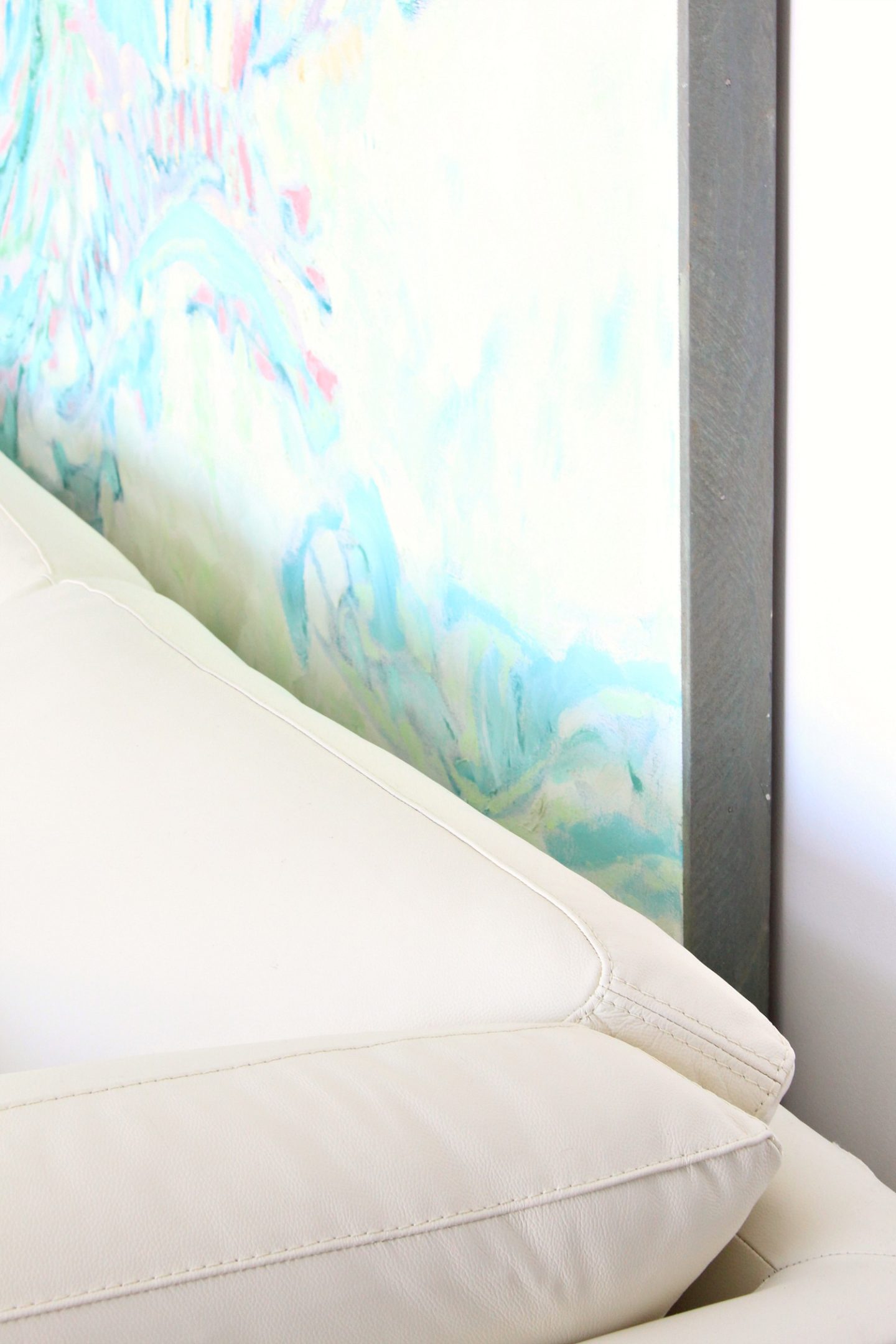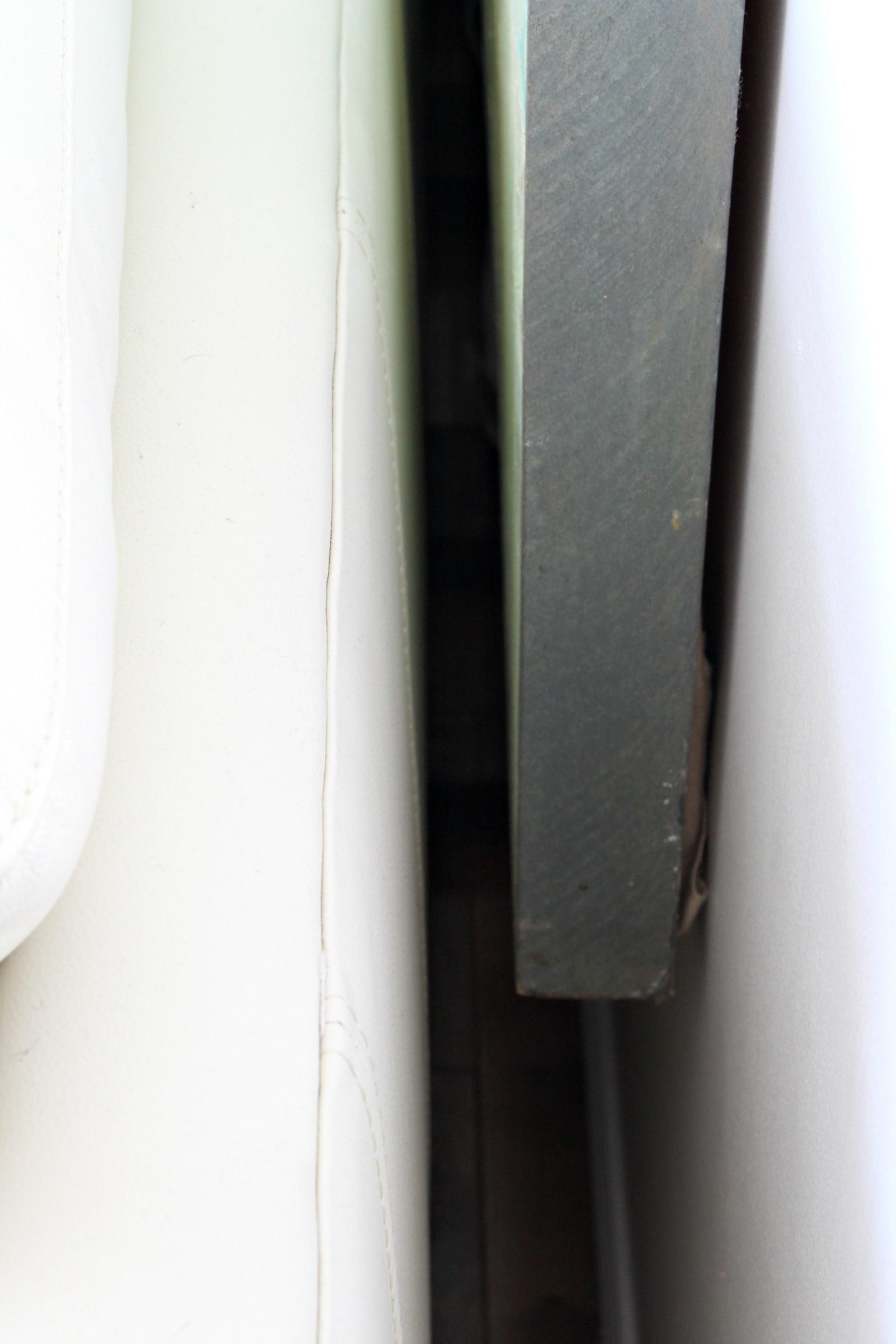 Basically we cut 2×4 wood, leftover from another project, into 4″ long blocks, then sanded and stained them to match the floor (well, they sorta match – I used what I had on hand because they disappear into the shadows any way). I gave them a few thin coats of spray lacquer and added felt feet to the bottom and sides.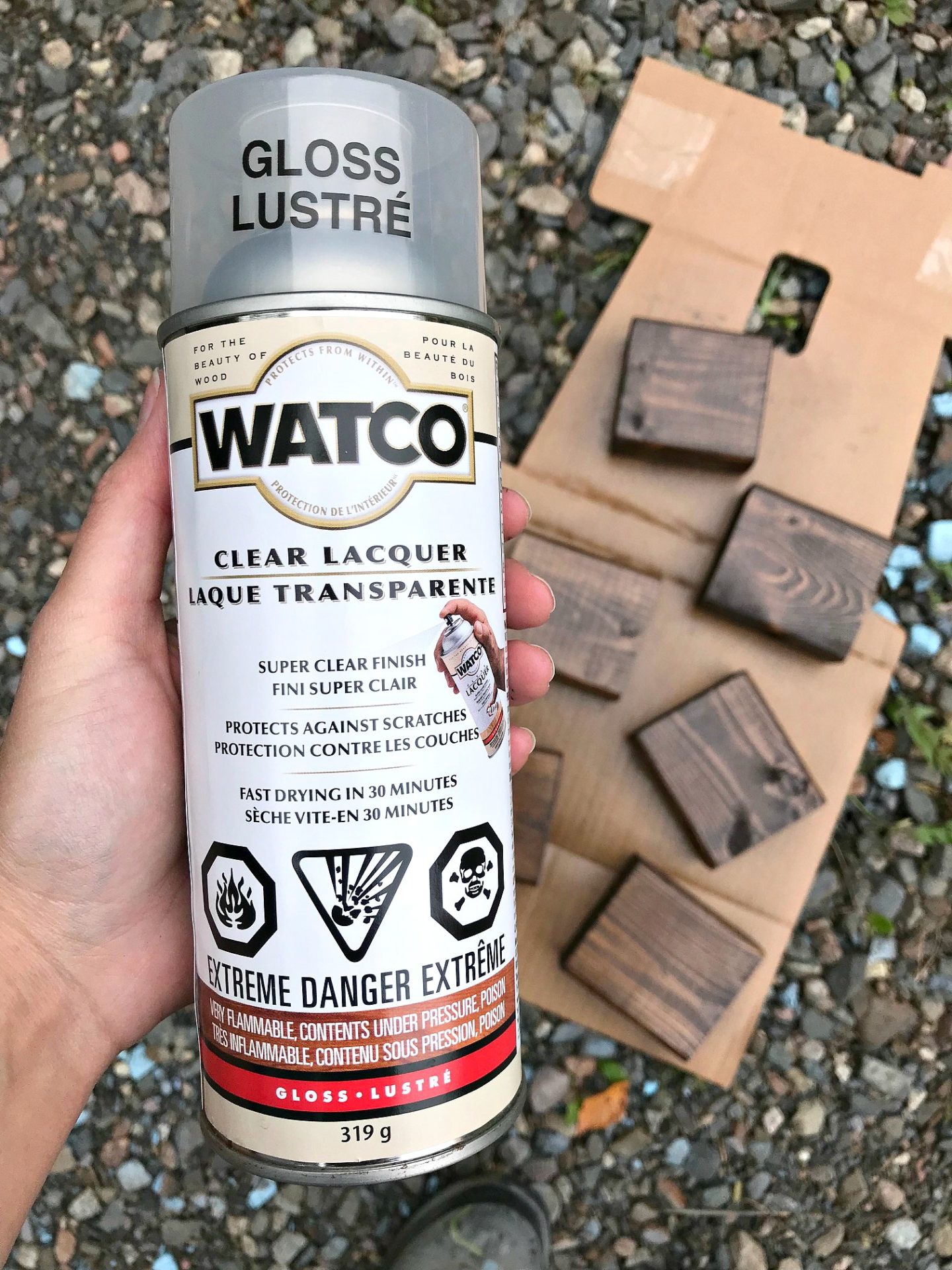 They slide in between the sofa legs and the wall, preventing the sofa from hitting the painting. I could have taken the time to color match the stain exactly, but they blend in quite discretely. Please excuse the dog hair (ugh):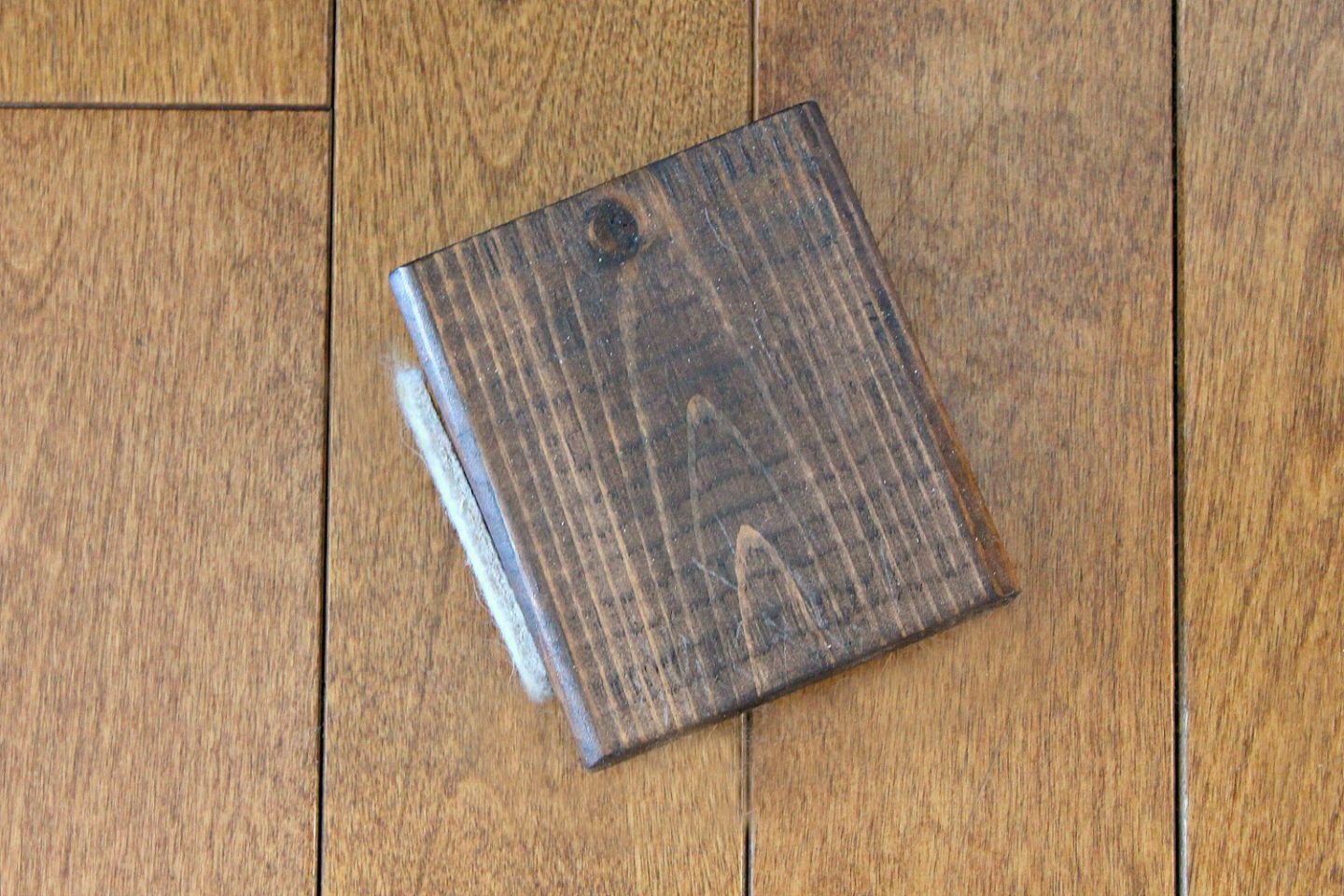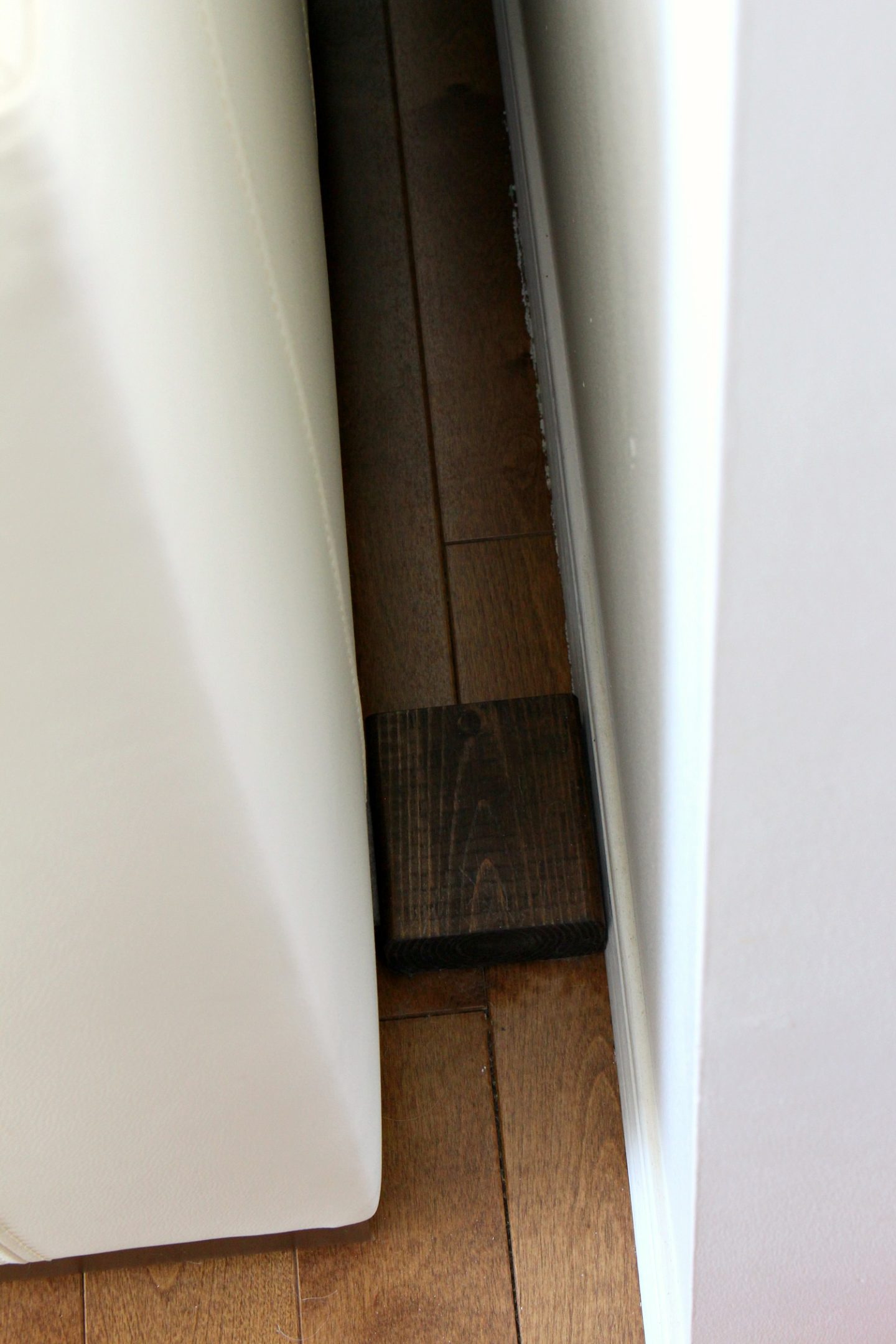 And voila! Those are my tips for how to hang large art and how to put a sofa in front of art without causing damage.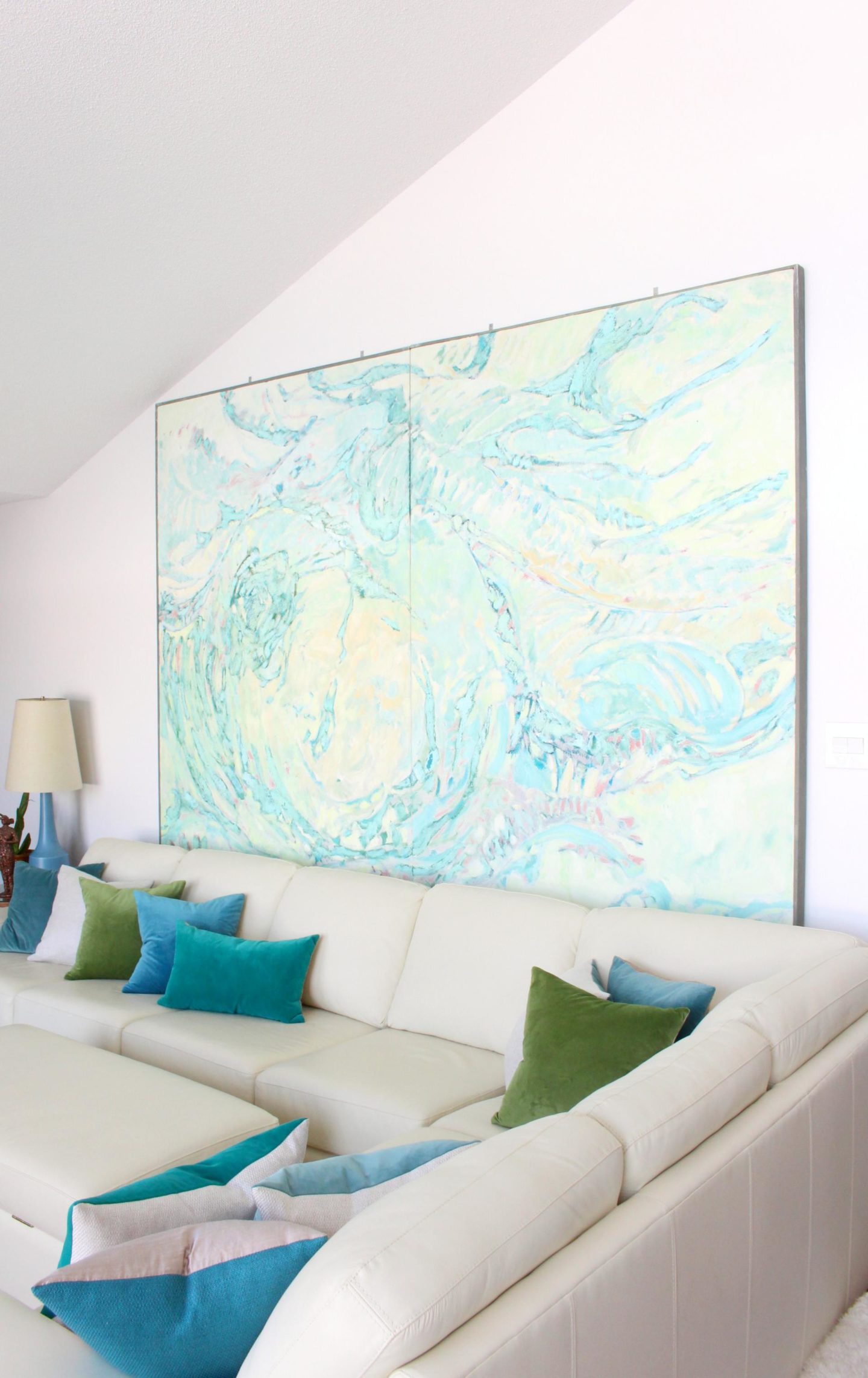 We feel so fortunate to have Bert's artwork throughout our home. He was so talented – and one of his favorite colors was teal, so you know that he and I got along just great! I decorate around his artwork, making sure it's front and centre. Even though he passed away, he inspires us every day to embrace color and appreciate the natural world around us. This series was inspired by his adventures sailing, so we feel a special connection because we're sailors too!
For everyone who has asked about the painting, this wave inspired wallpaper could create the same vibe: