Welcome to the lake house summer home tour! I'm joining some of my favorite bloggers on a summer home tour blog hop, so settle in with a cup of (iced! it's a summer tour) coffee and soak up some inspiration. If you're stopping by from Caitlin Marie Design, welcome to the lakehouse! You can check out my spring home tour here (with photos of more rooms!), my DIY Project Gallery here, and my Renovating Project Gallery here. I caught myself second-guessing why I joined this summer home tour because I'm typically a season behind, thanks to the Second Winter we get here on Lake Superior. My home isn't very summery yet: it's been raining, so it was grey and blah when I took my photos, the grass is still brown-ish, nothing is blooming and it's been so cold I've been wearing a (lightweight, summer) toque to work outside. But then I realized it's a great way to chronicle changes! I am always making little changes, here and there, and a seasonal home tour is a great way to capture that! I'm not sharing photos of the bedroom or bathroom this time – because they look the same – and the fish room and bunkie interior didn't make the cut either. I haven't shared the laundry room or powder room in ages because I'm making changes in there. But the kitchen, dining room, and office look a little different since the spring tour. I'm slowly starting to work on outdoor projects, so you can catch of glimpse of my deck – now that it's no longer covered in snow!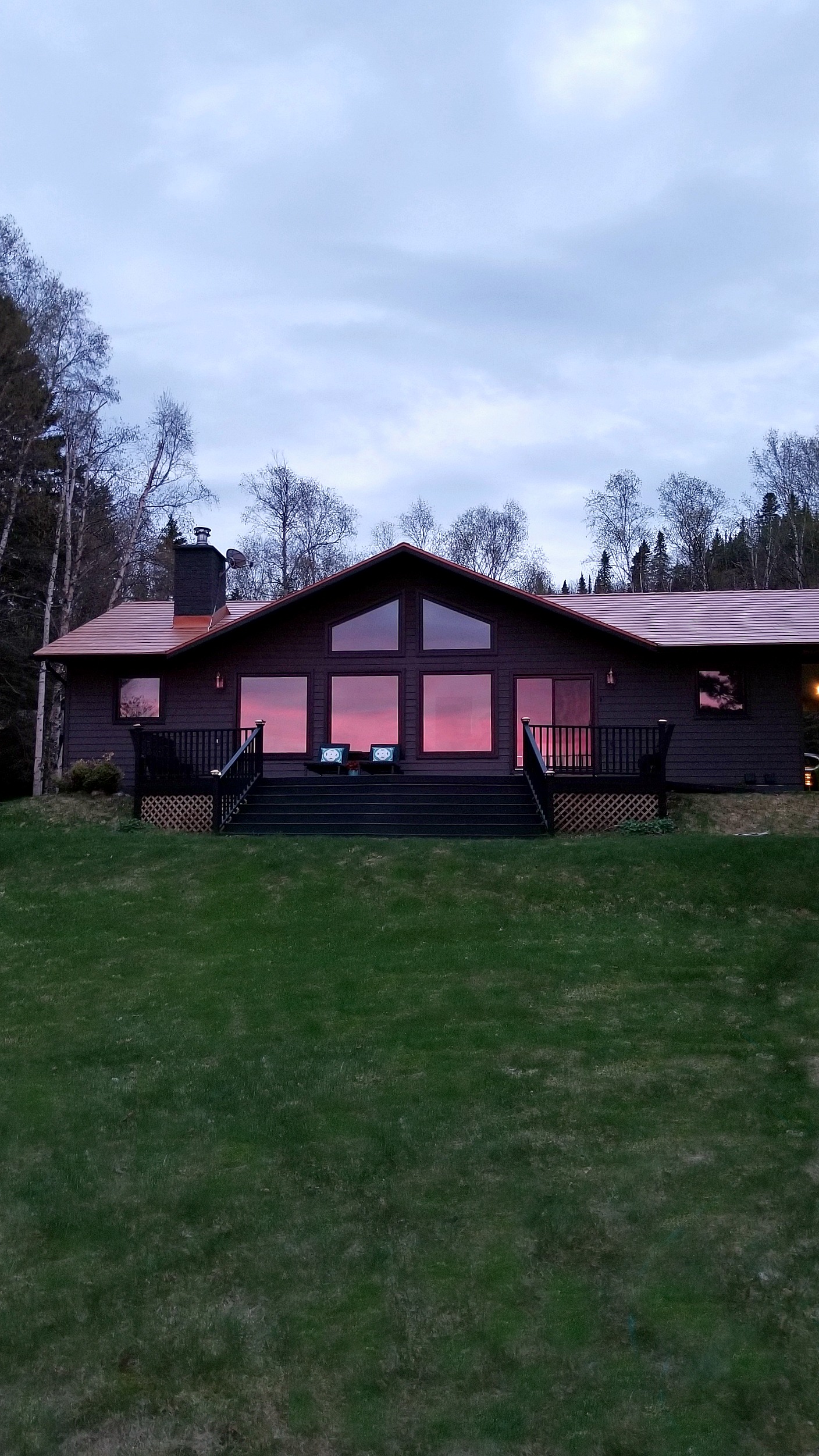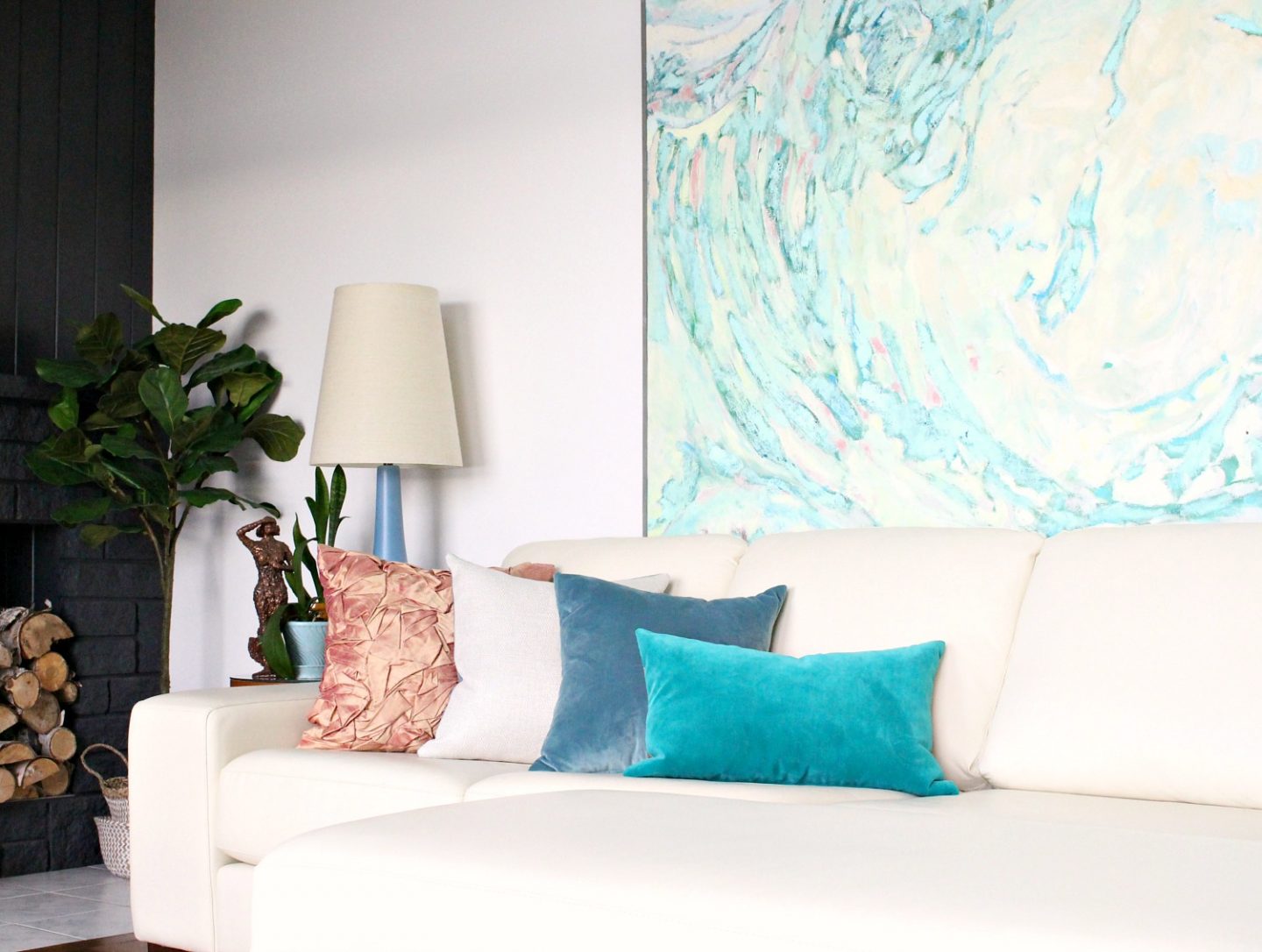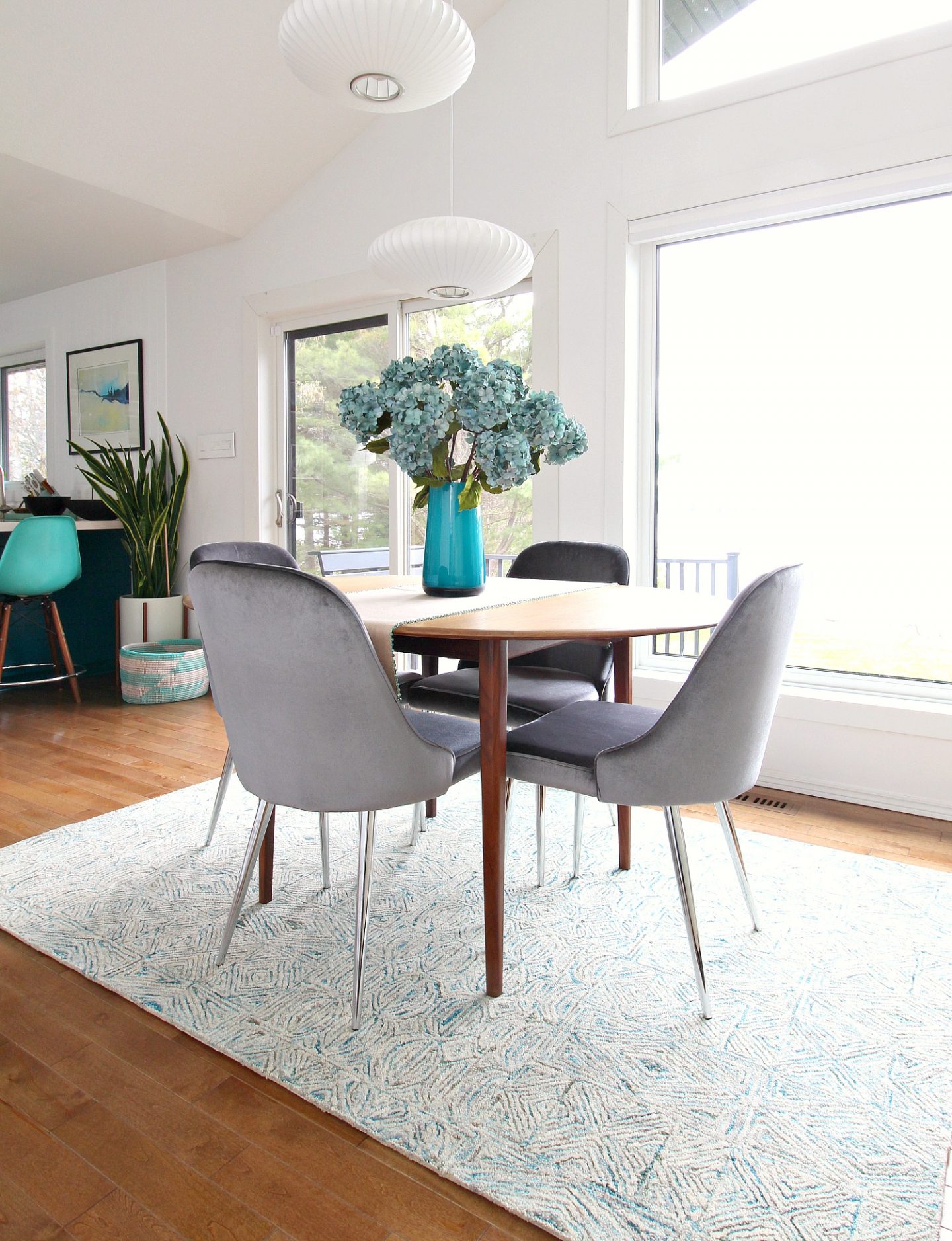 Lake House Summer House Tour – Office:
My office closet got a quick upgrade: new closet doors! I used to have a DIY pleated curtain covering the closet but I finally splurged on a set of glass sliding doors to match the ones in the main bedroom. I love how much more polished my office looks now – and I love the beach glass hue of these doors!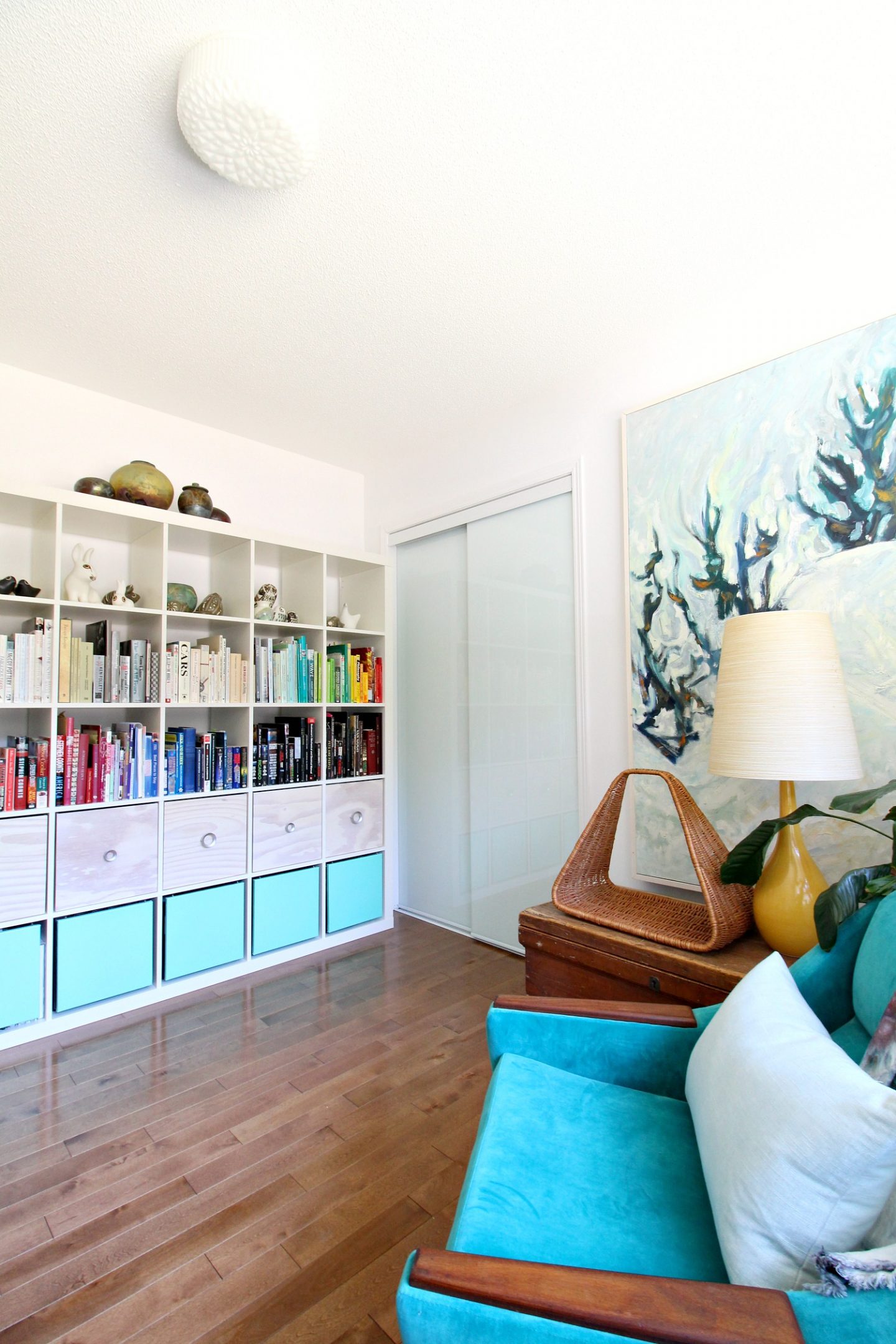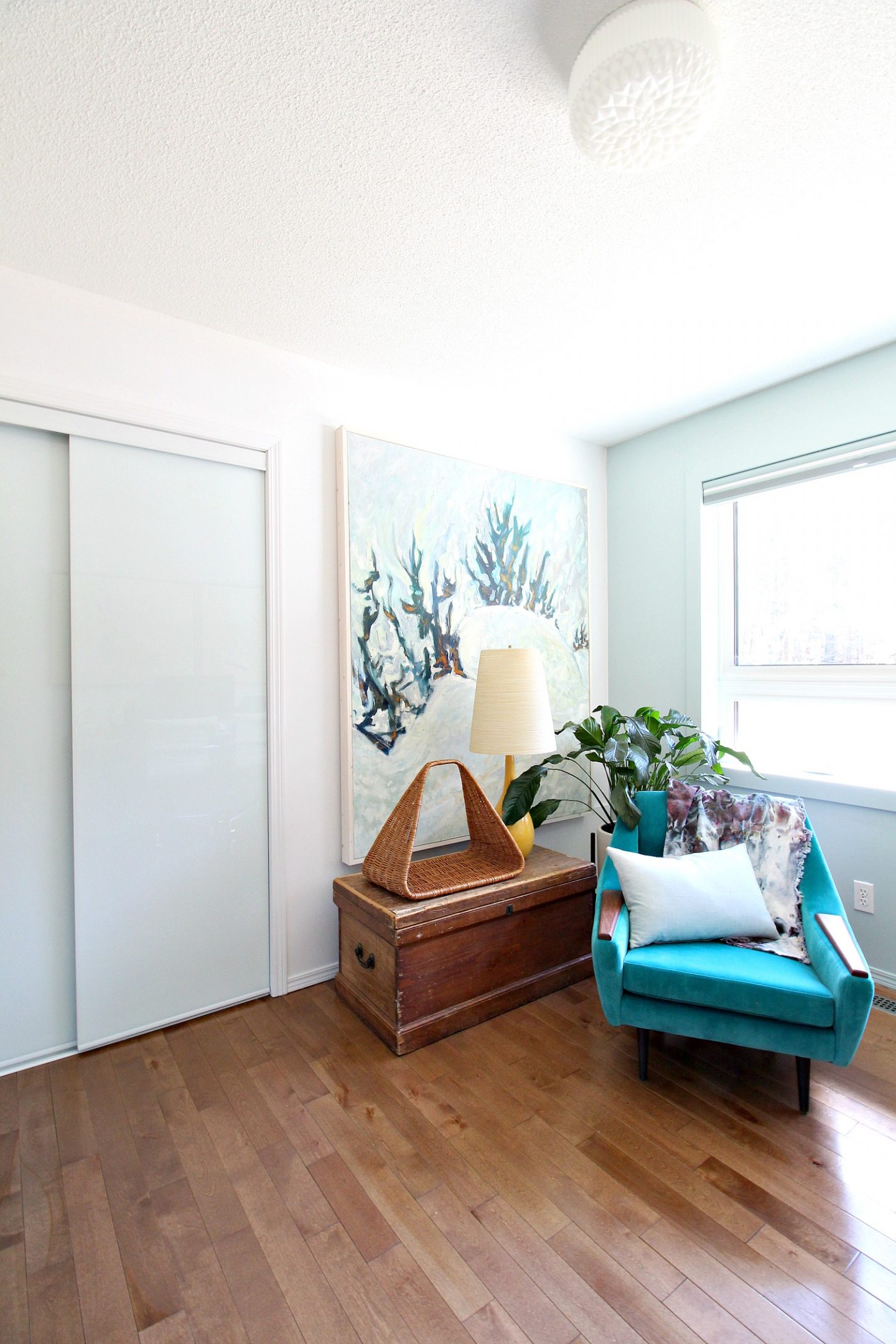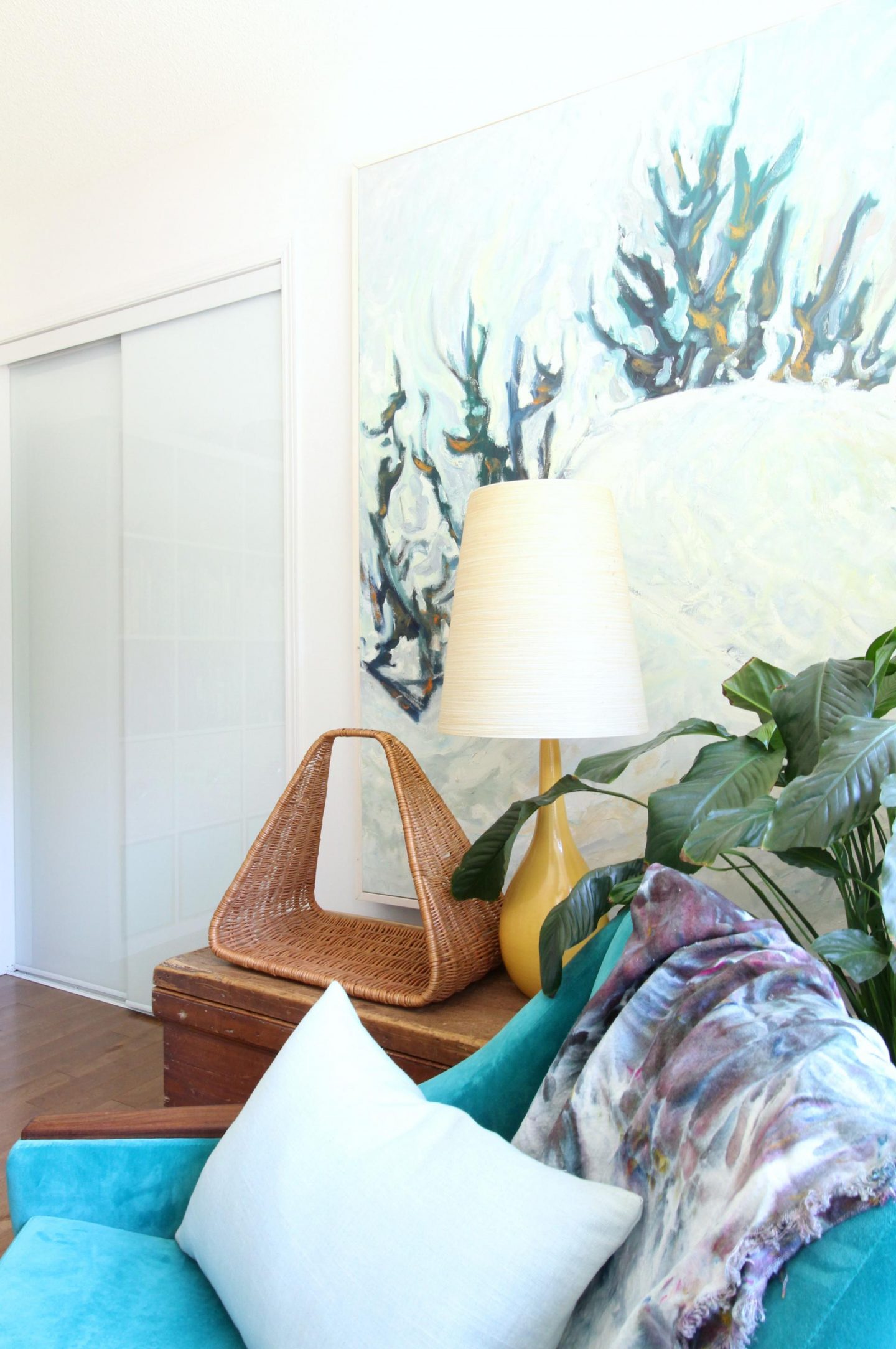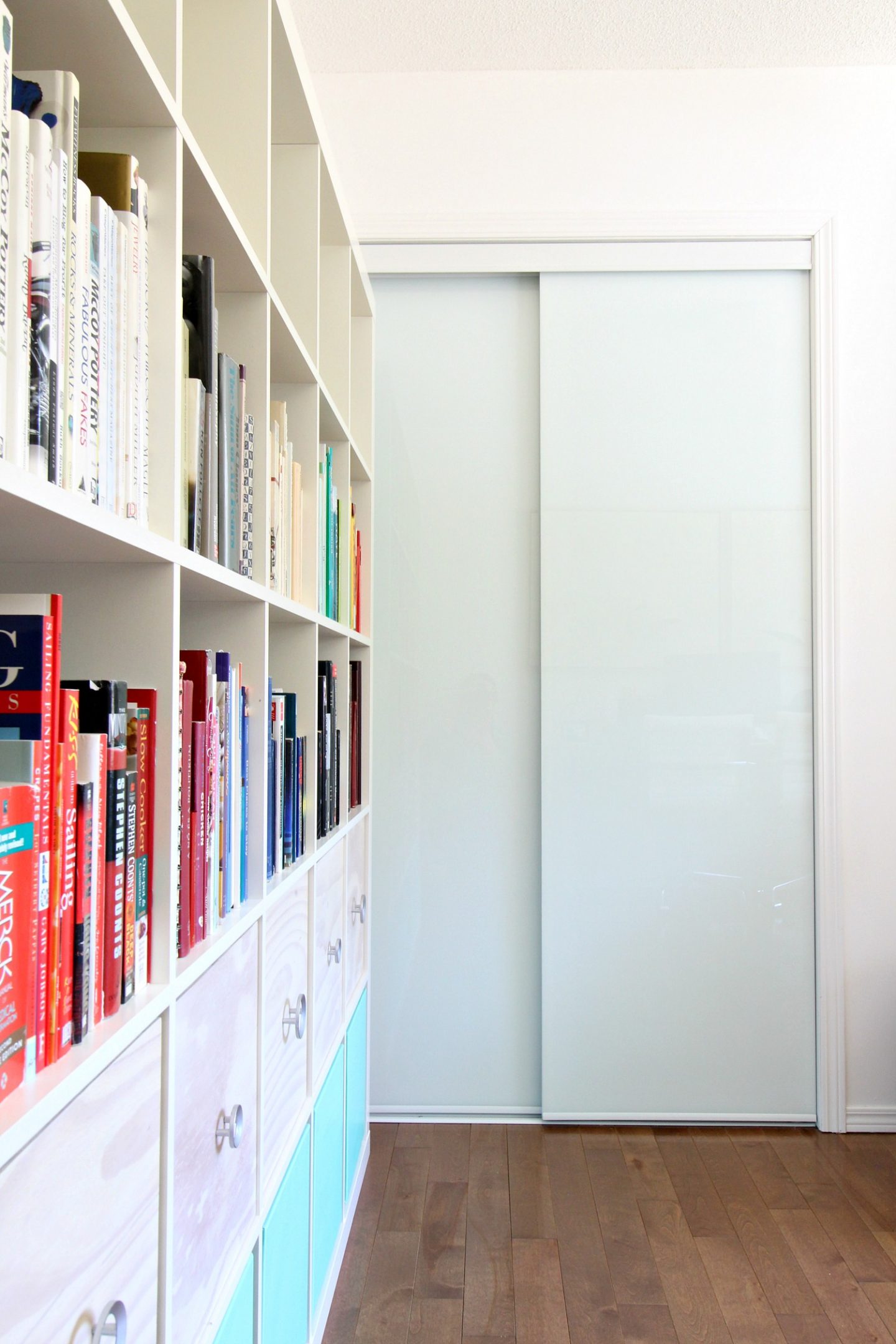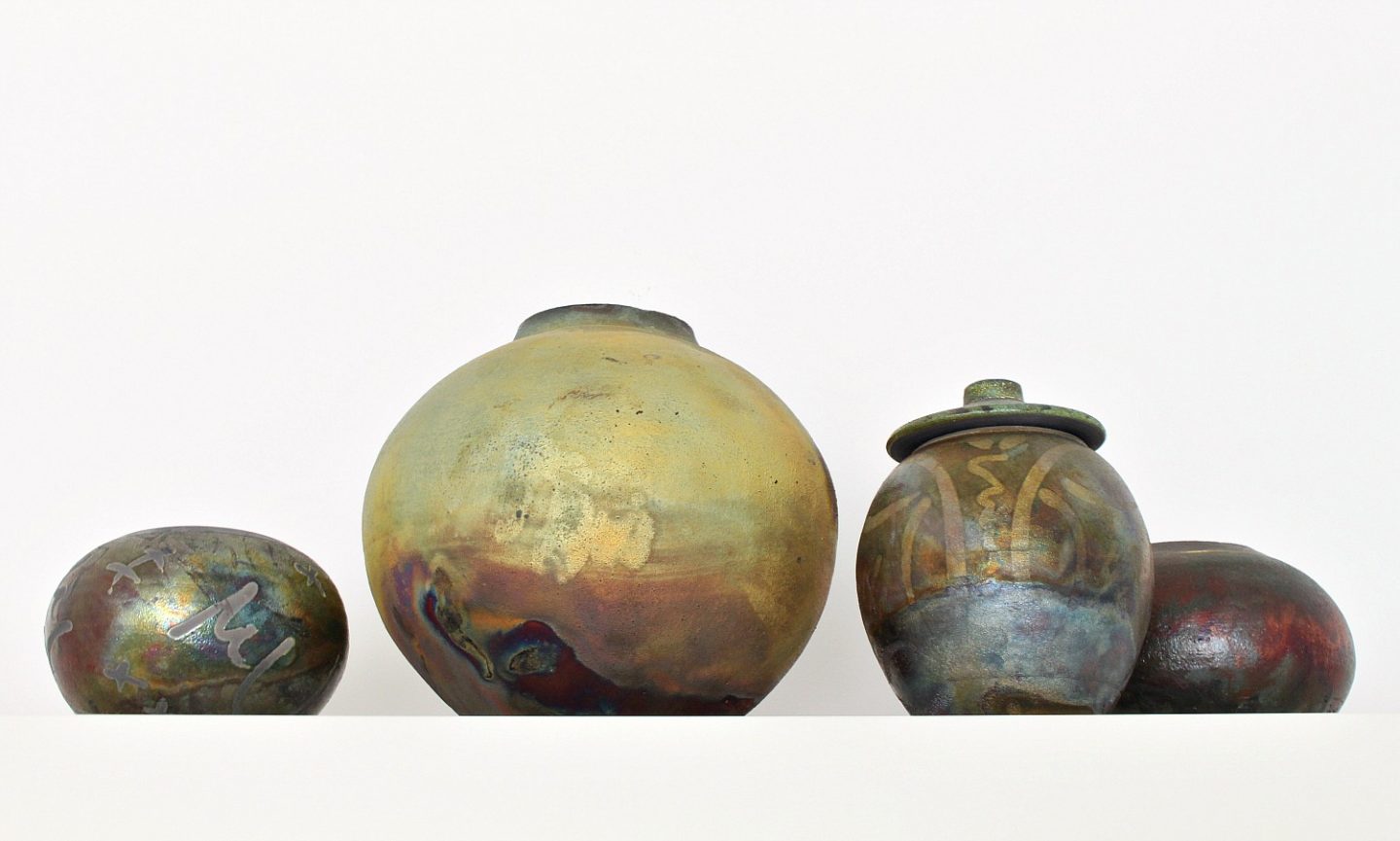 Lake House Summer Home Tour – Living Room:
Not much has changed in the living room – other than the view is now of the lake and not a frozen tundra! I moved my faux fiddle leaf fig to the corner, where nothing would grow, and I love how it adds a little greenery (and a summery vibe, thanks to the belly basket). I also moved a white washed, carved tree trunk stool from elsewhere in the house into the living room. I still love walnut and teak (and MCM everything), but I've been adding more wicker, woven accessories, and white washed woods for a slightly beachier vibe.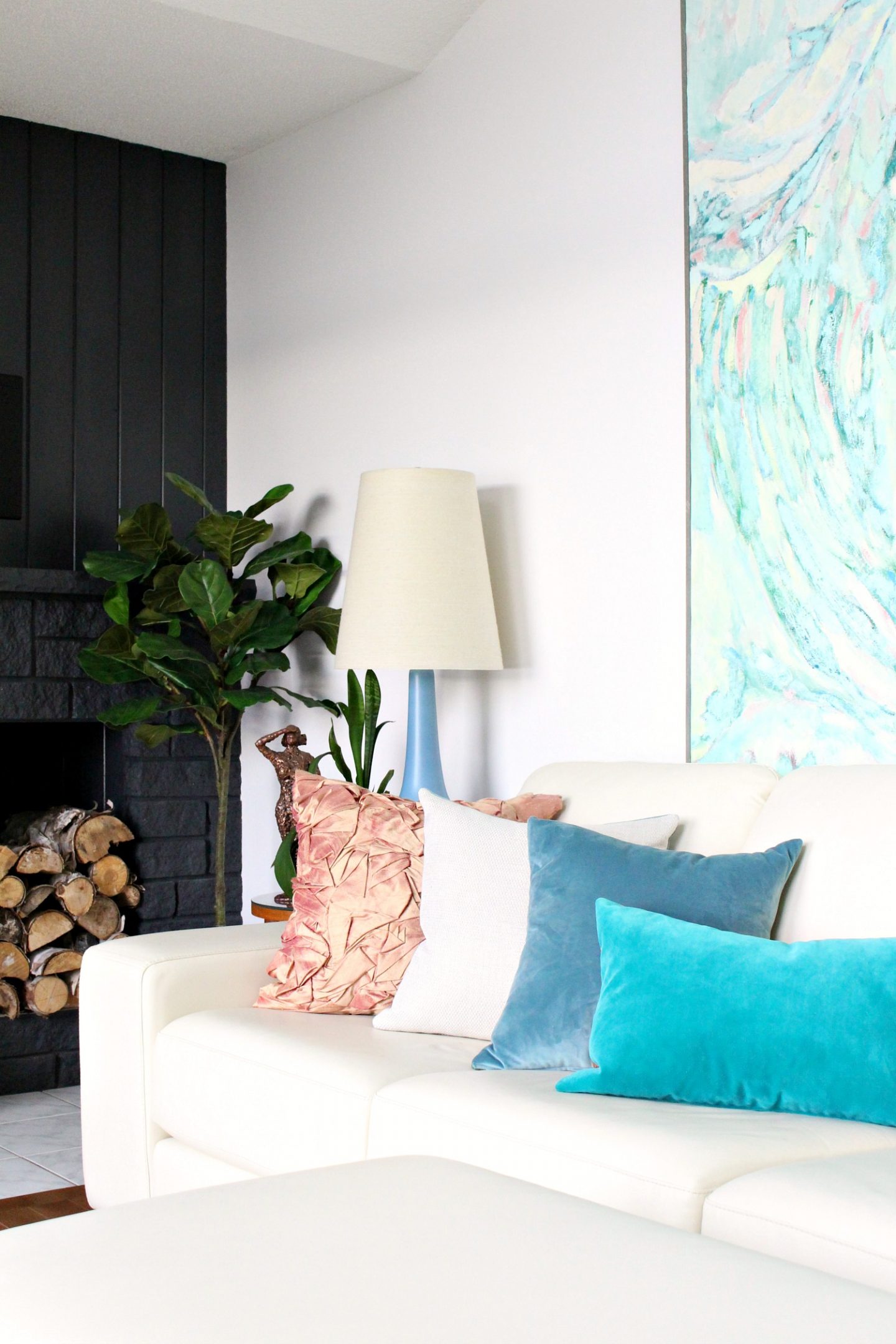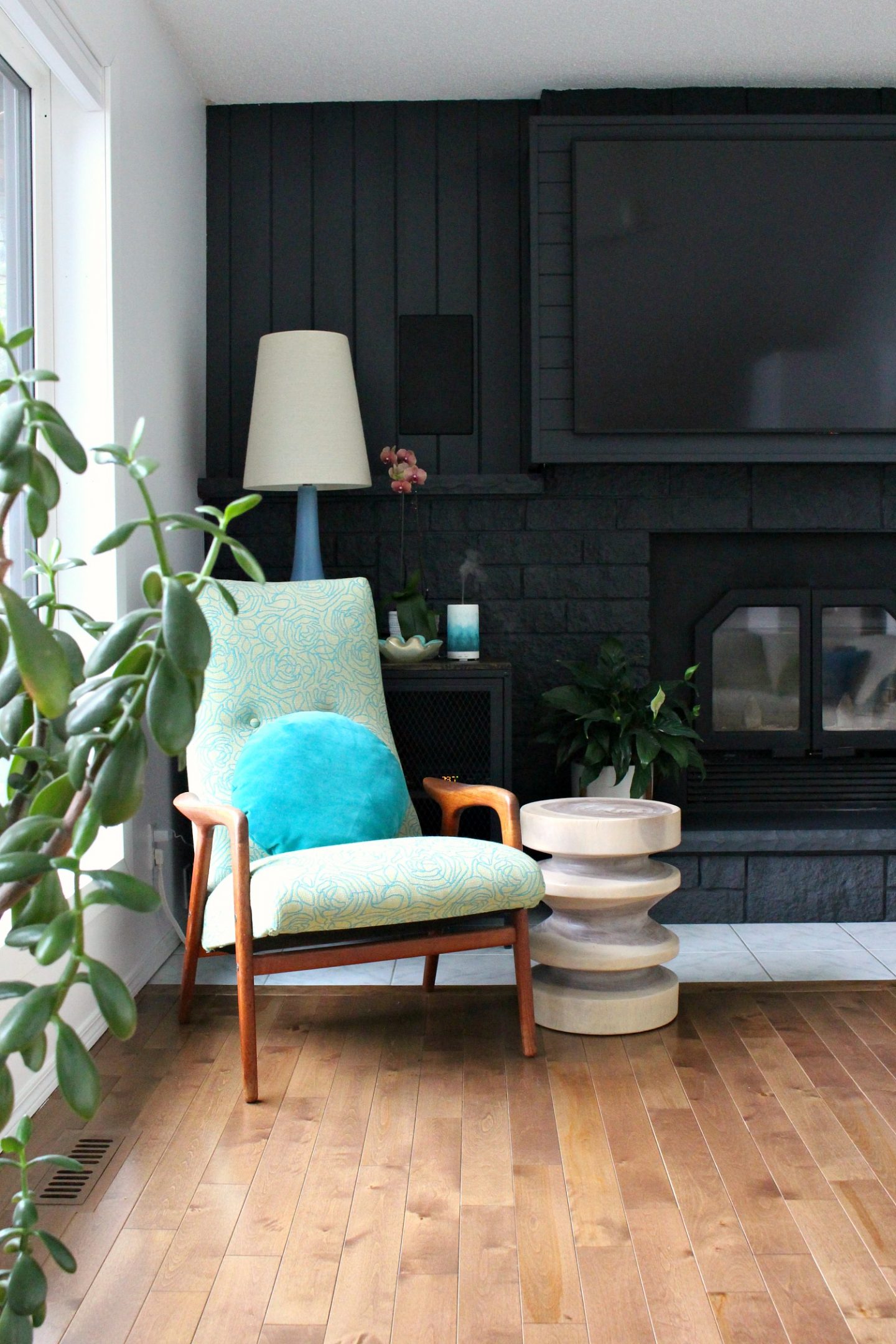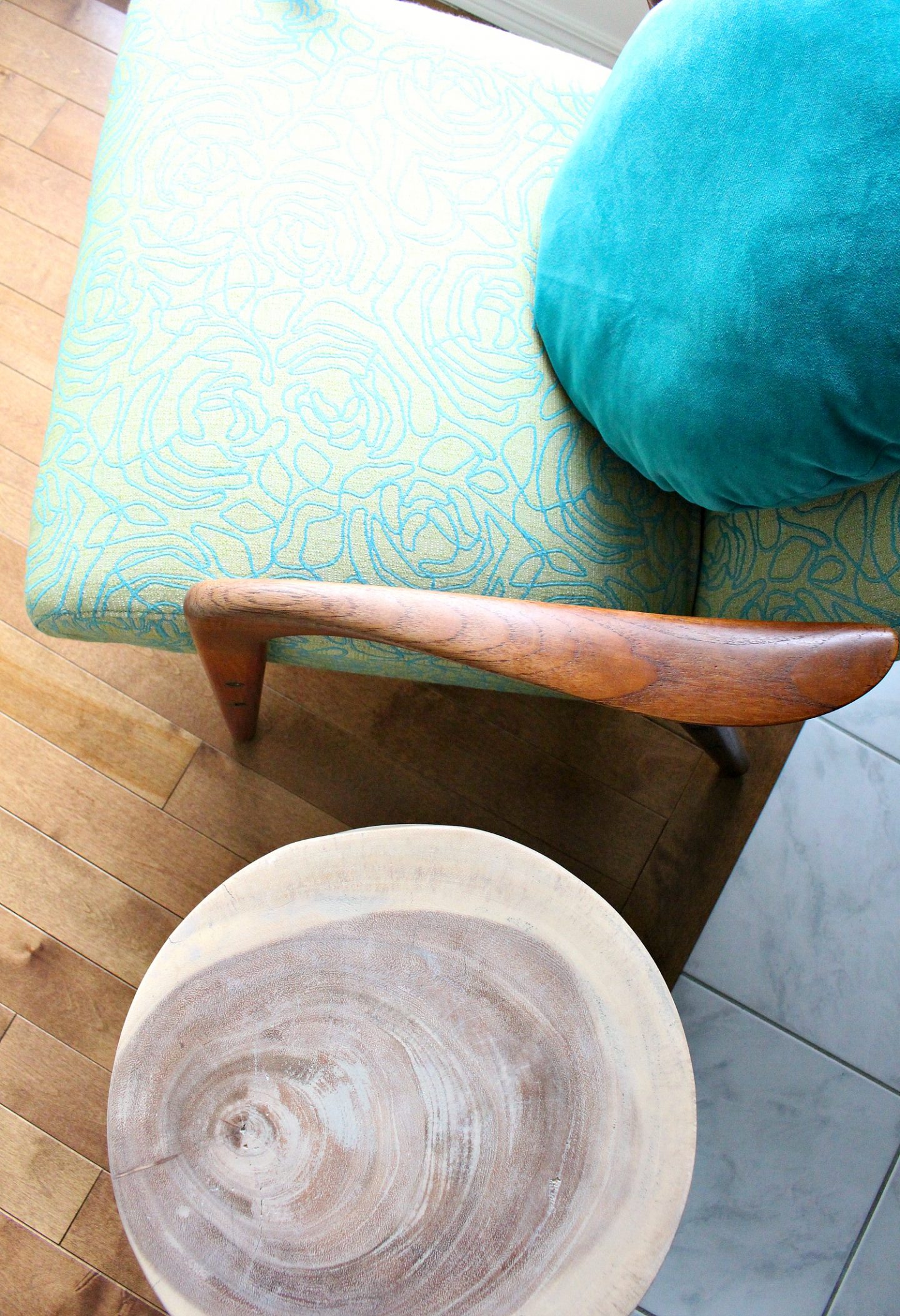 Lake House Summer Home Tour – Dining Room:
The dining room got a major upgrade for summer! I wanted to add a cream or beige rug, to introduce some lightness. I love our walnut toned floors but they can be very dark. I pictured a beachy, woven rug (maybe jute?) but then I fell in love with this rug from the Peregrine collection by Loloi. The color palette and organic pattern look MADE for this room and complement Hubby's grandpa's large paintings without competing for attention. This hand tufted rug is wool, with a soft feel underfoot. I love the variegated blues, greens, and teals, softened by cream. I reached out to Loloi and they generously sent me the perfect size for the dining room. It might seem unusual to add a rug for summer, but keep in mind that where I live it's rarely HOT. We get a couple hot weeks, a few warm weeks and lots of "grab a light jacket" days here on the lake.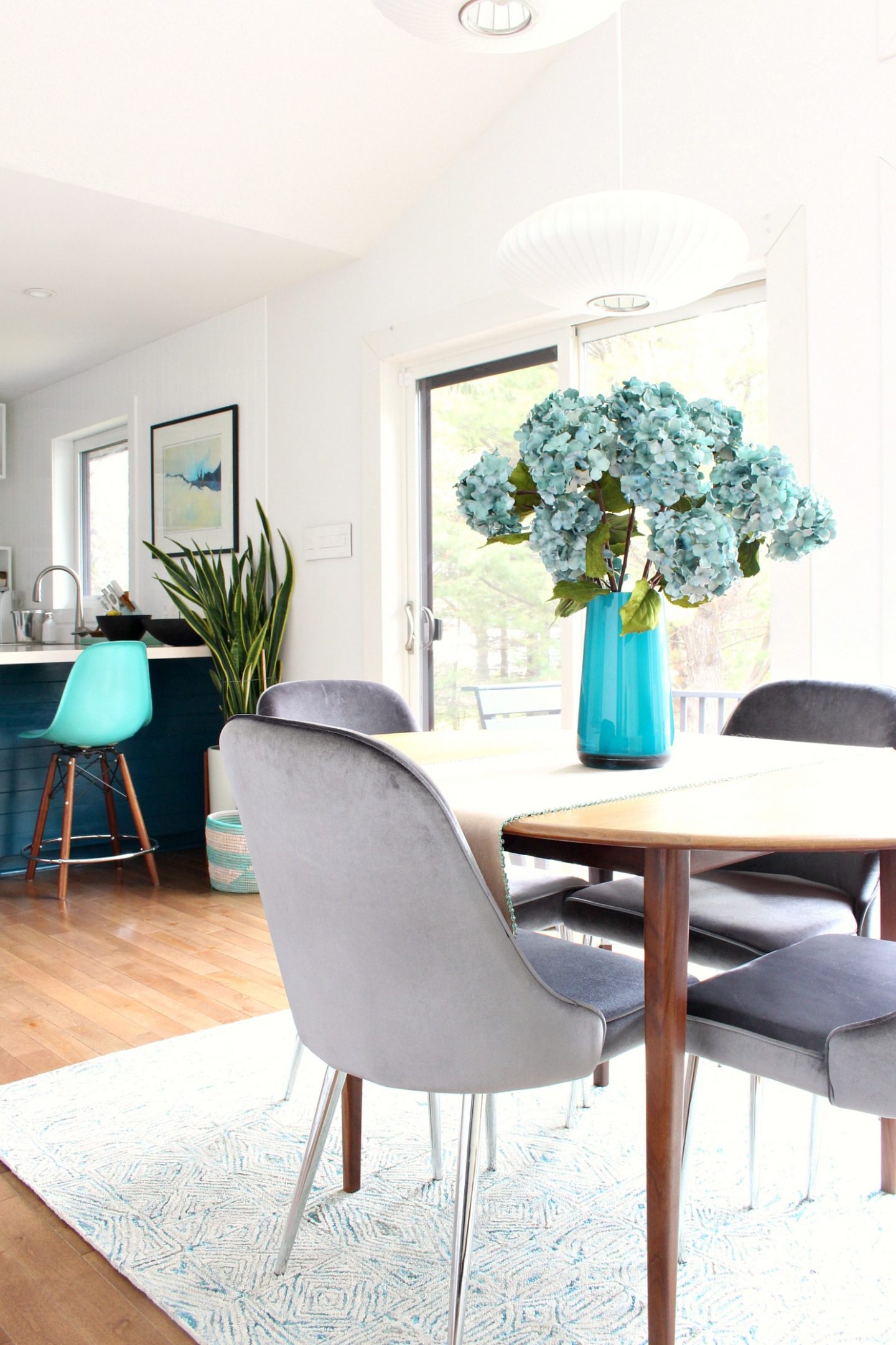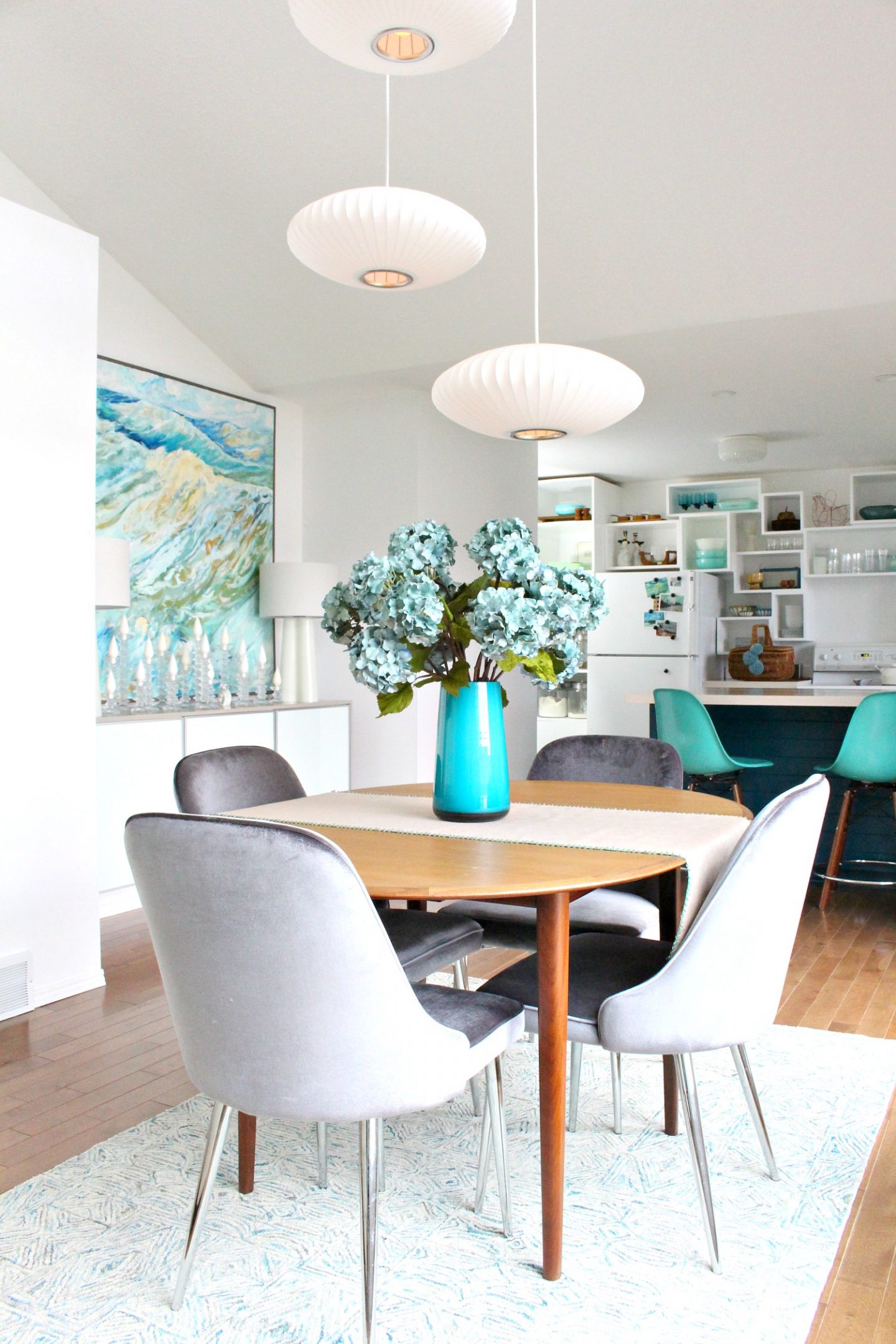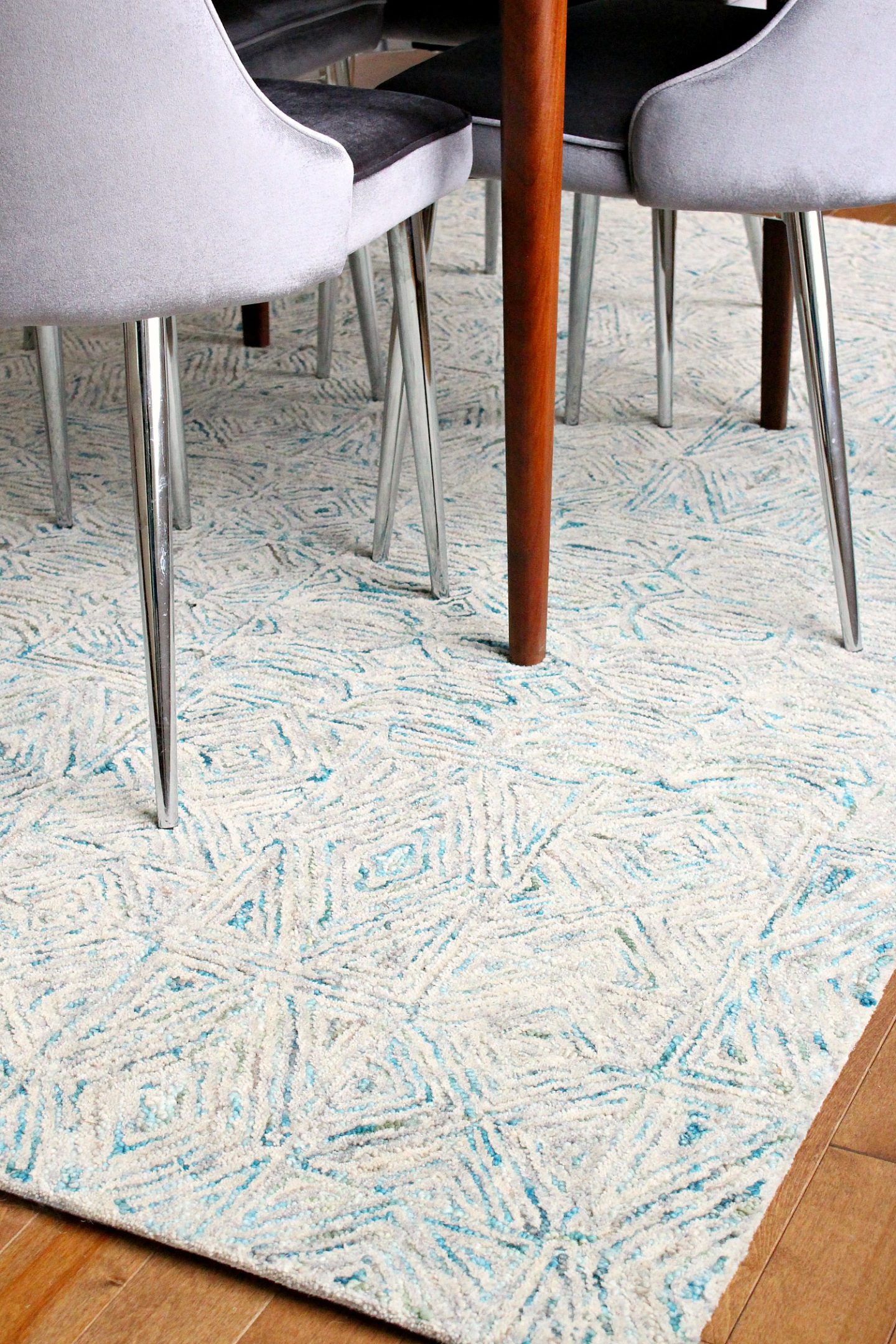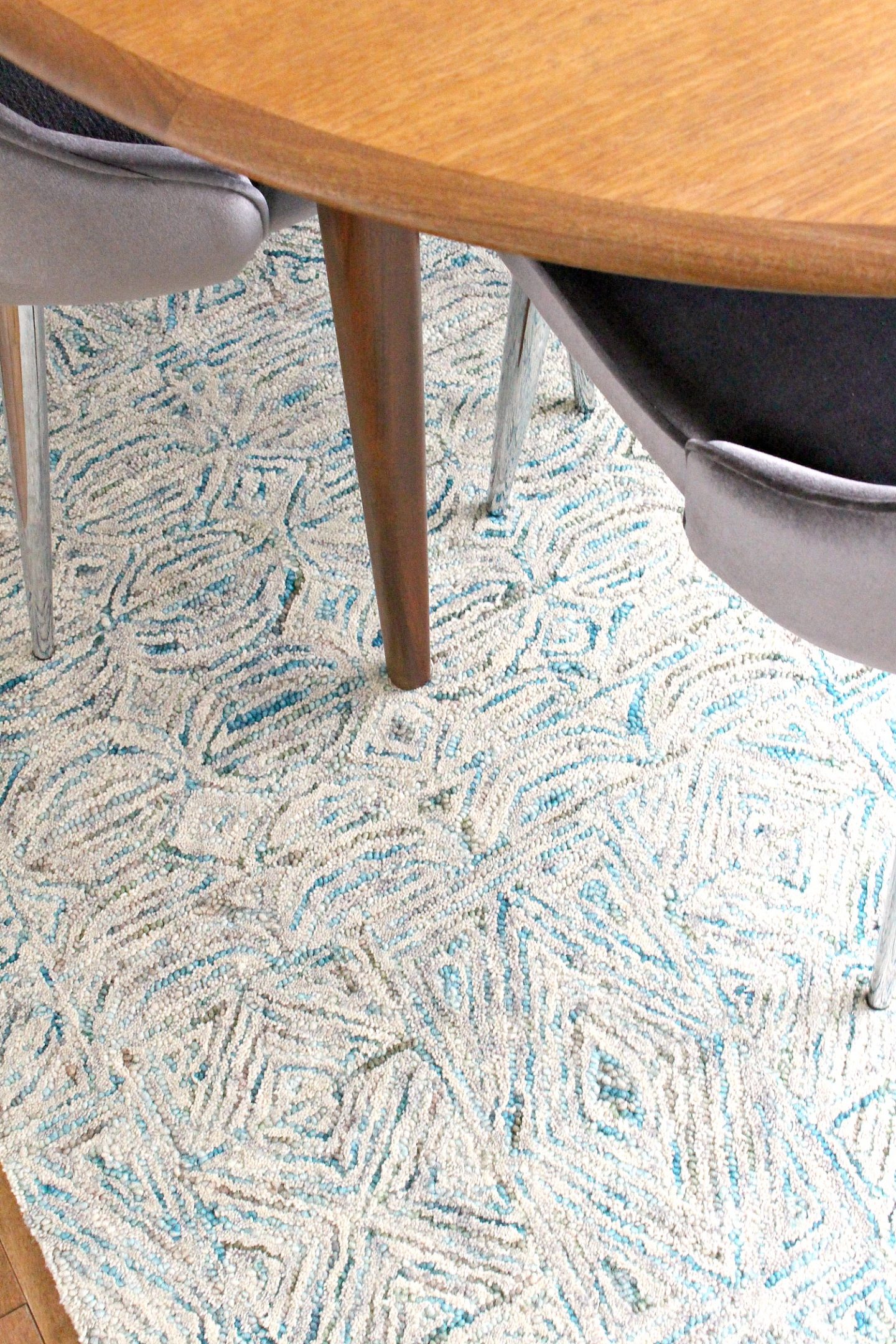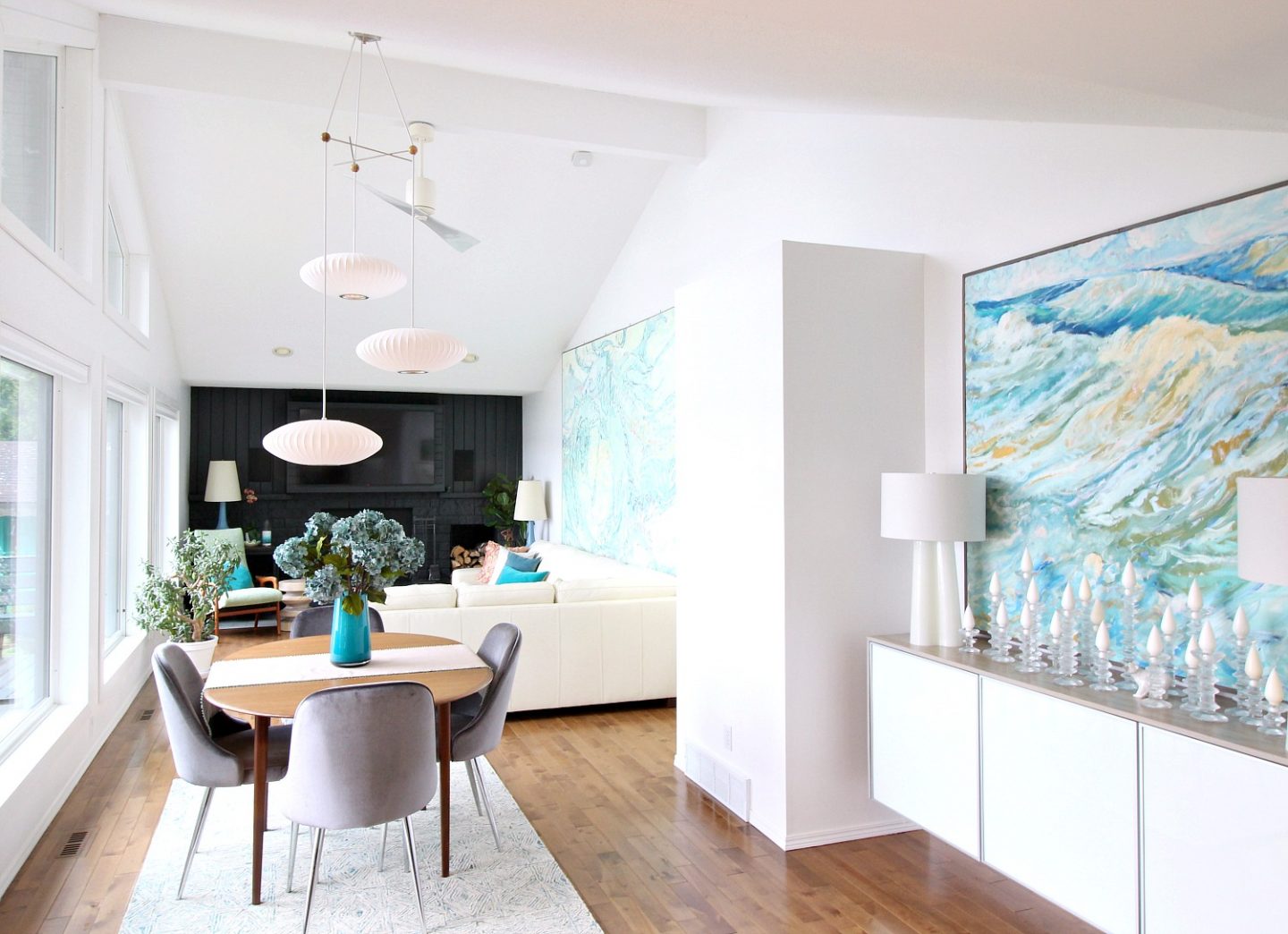 Look at that gorgeous design! I love how there are organic shapes mixed with geometric designs. It has a really beautiful movement that feels perfect for the lake house. I have probably long surpassed the acceptable number of photos of this rug but I am SO smitten with it! I've never had a dining room rug – or living room rug. I've always preferred bare floors, especially with sandy beach outside and two messy puppers, but this one really caught my eye and it's been really invigorating to try something new to me.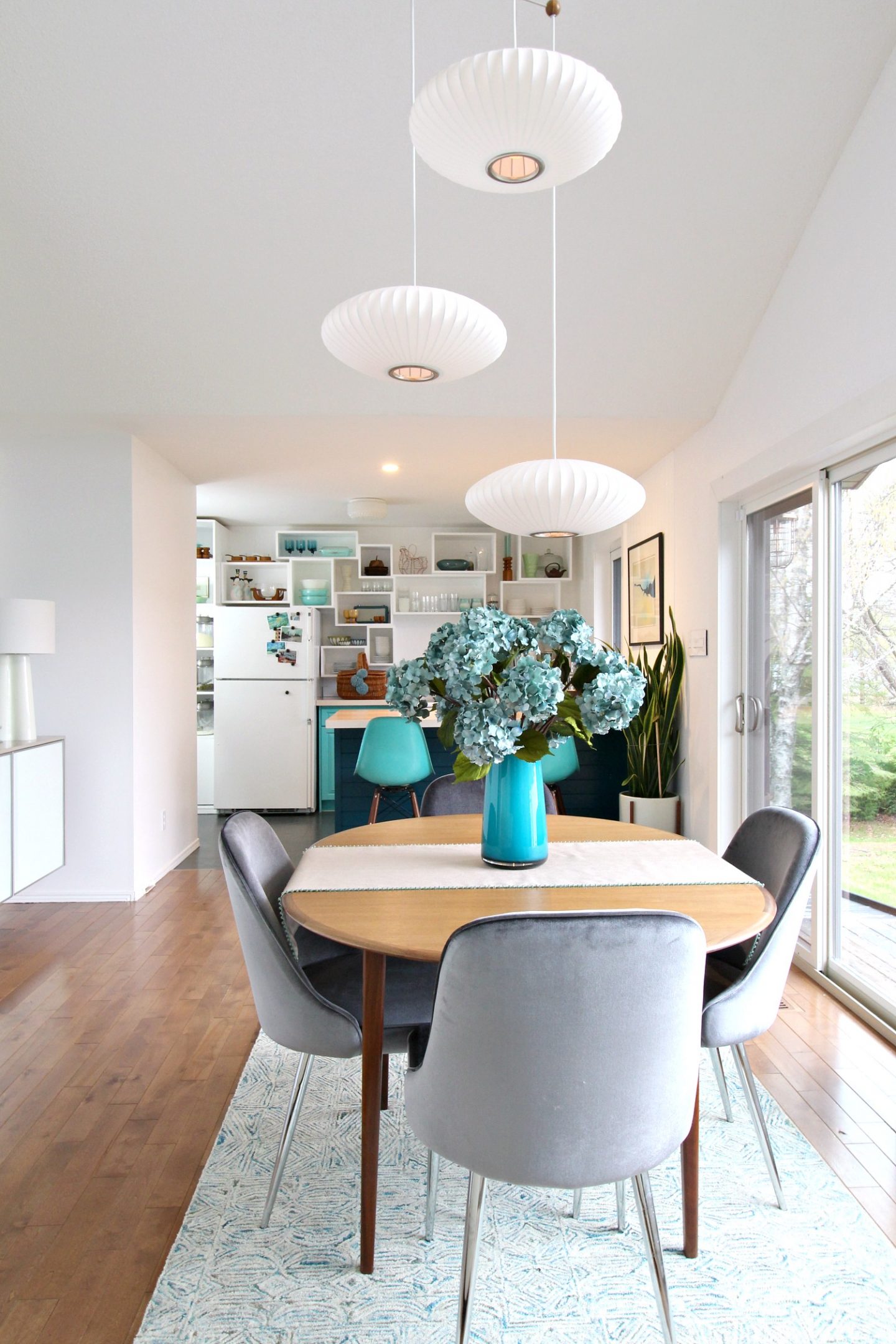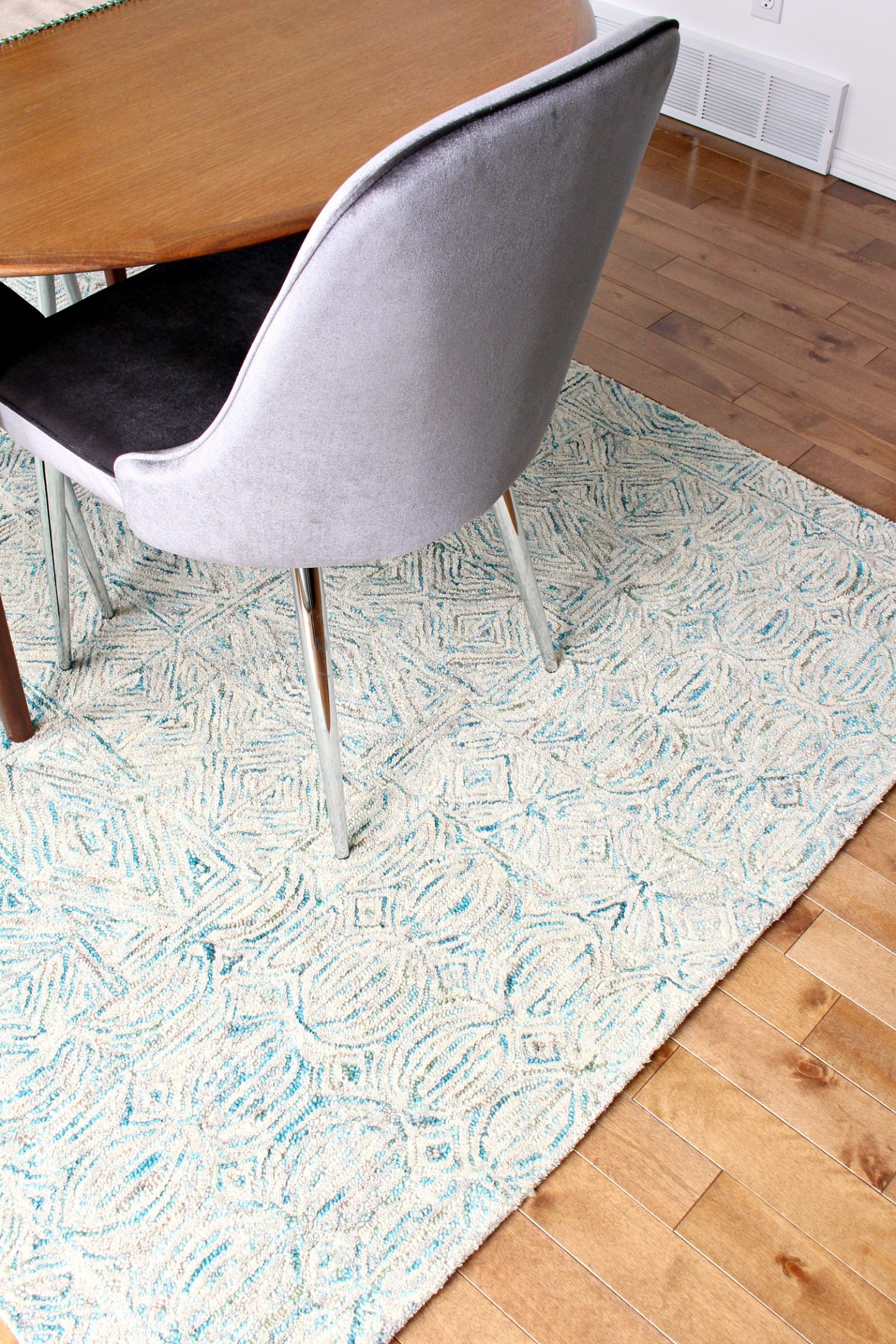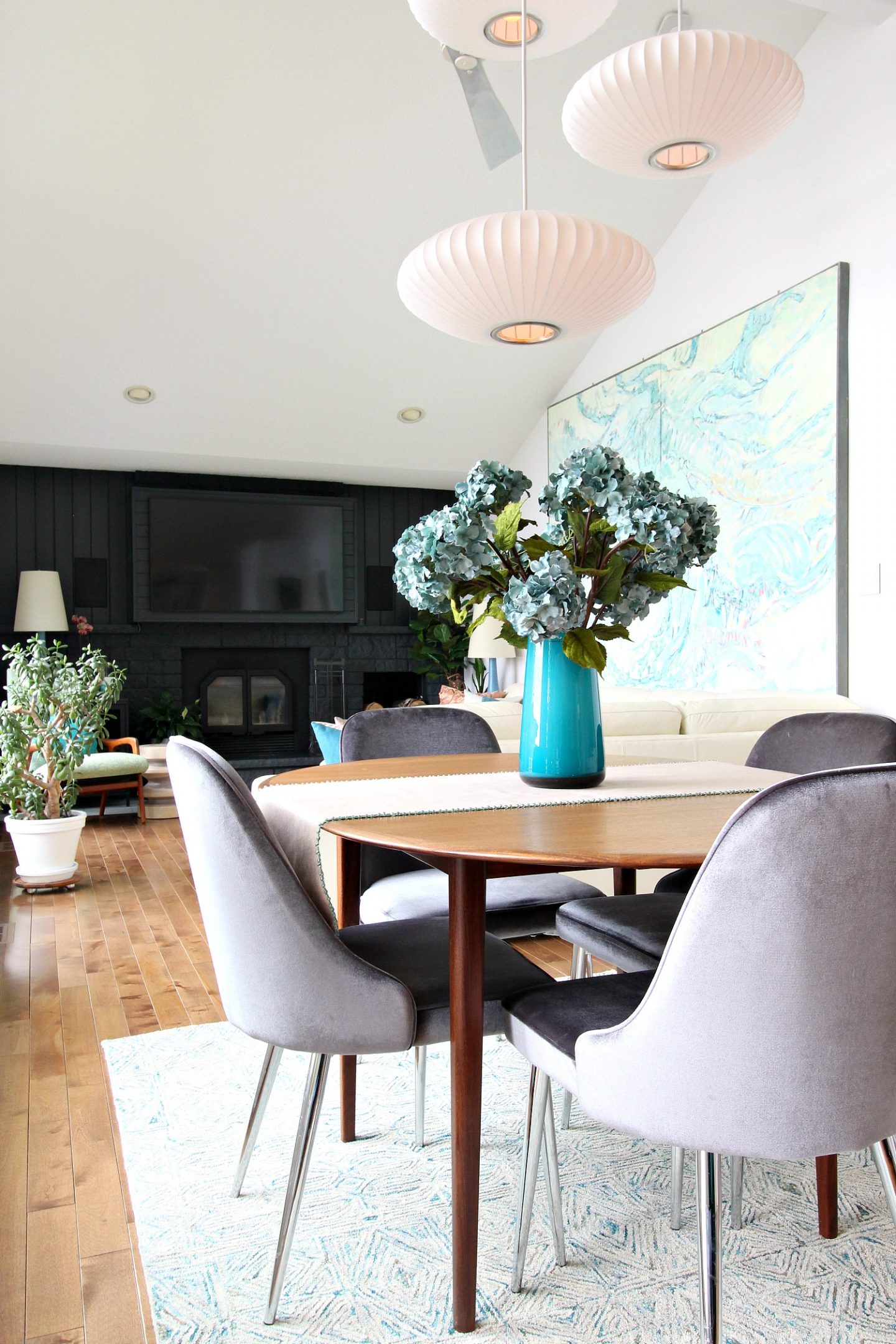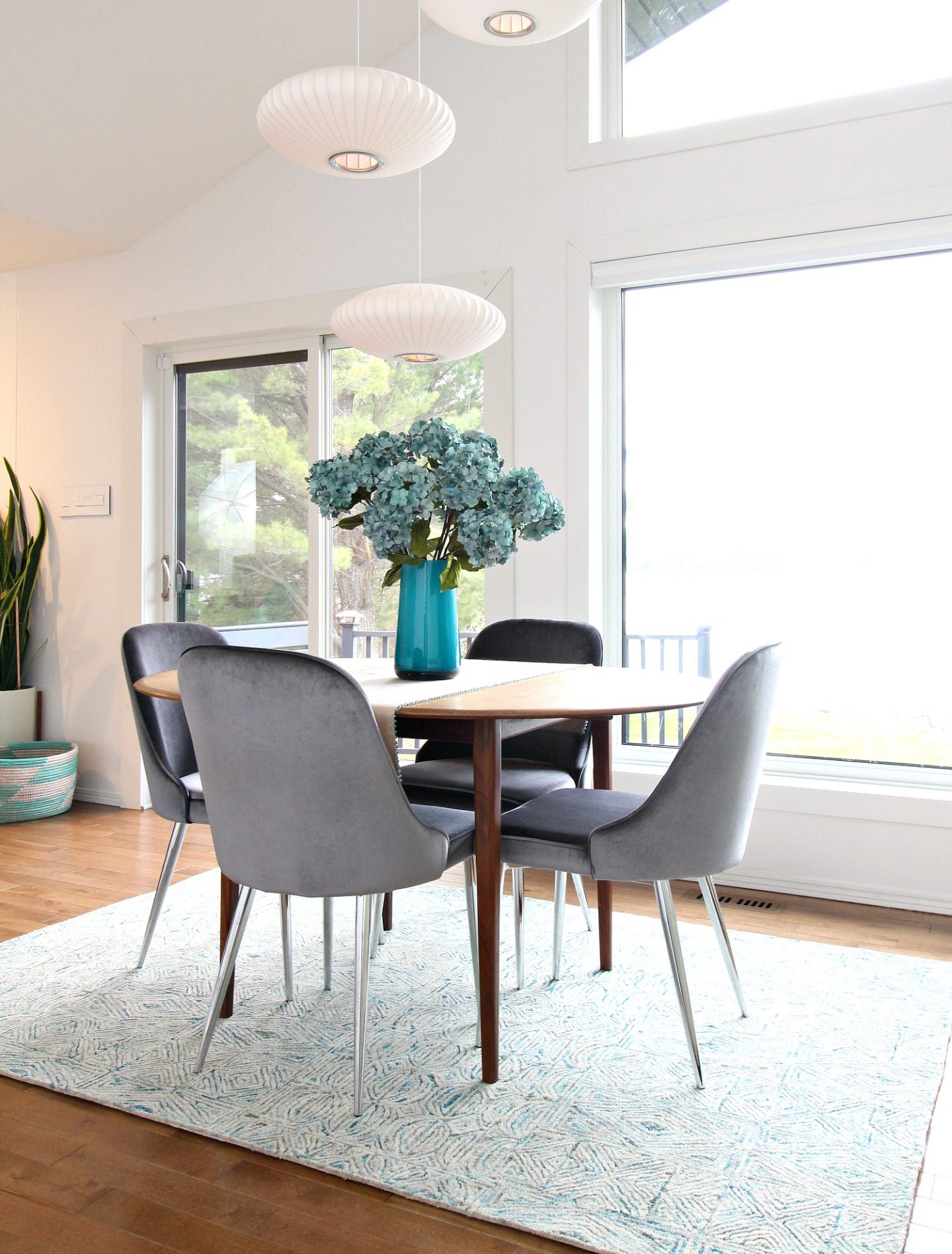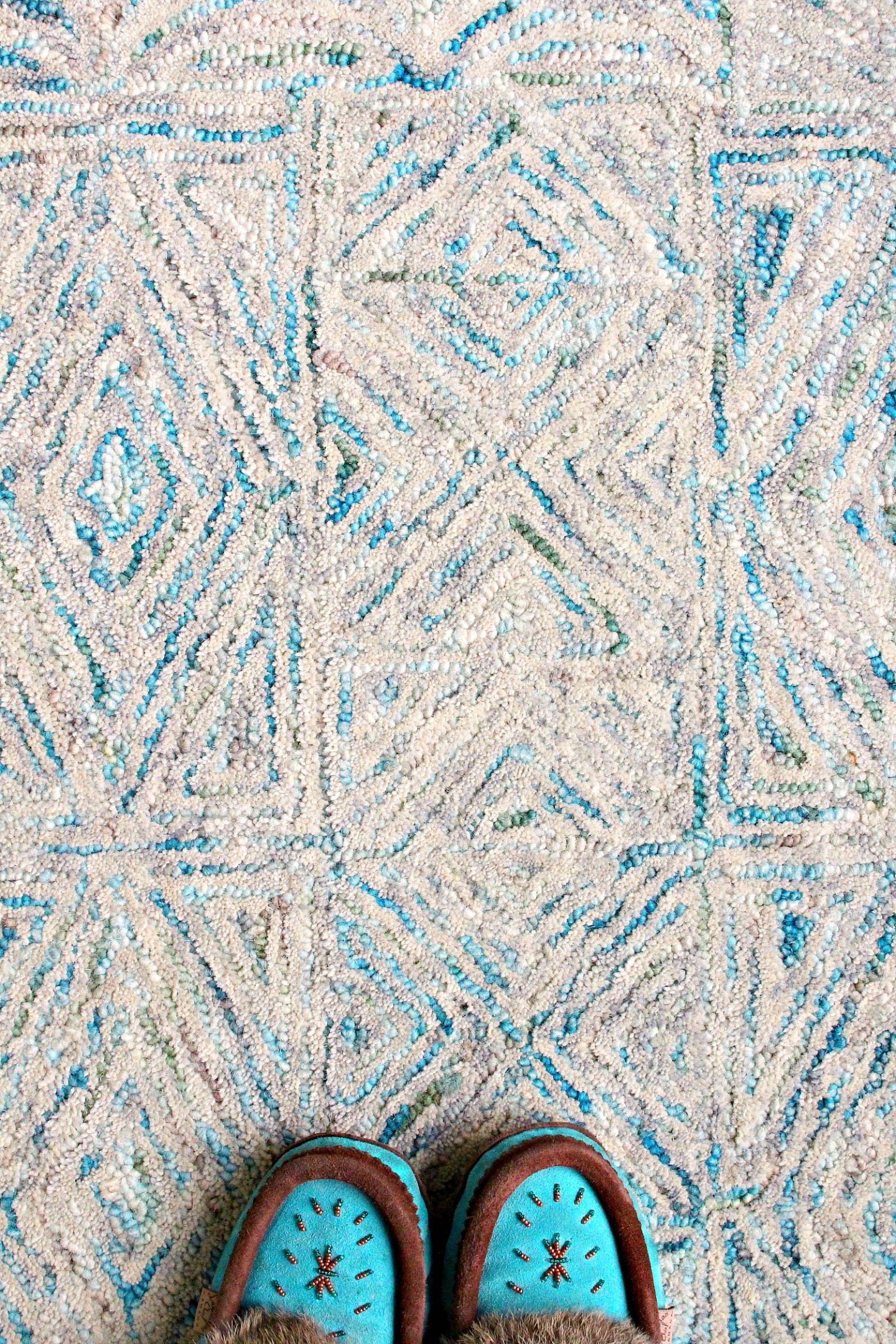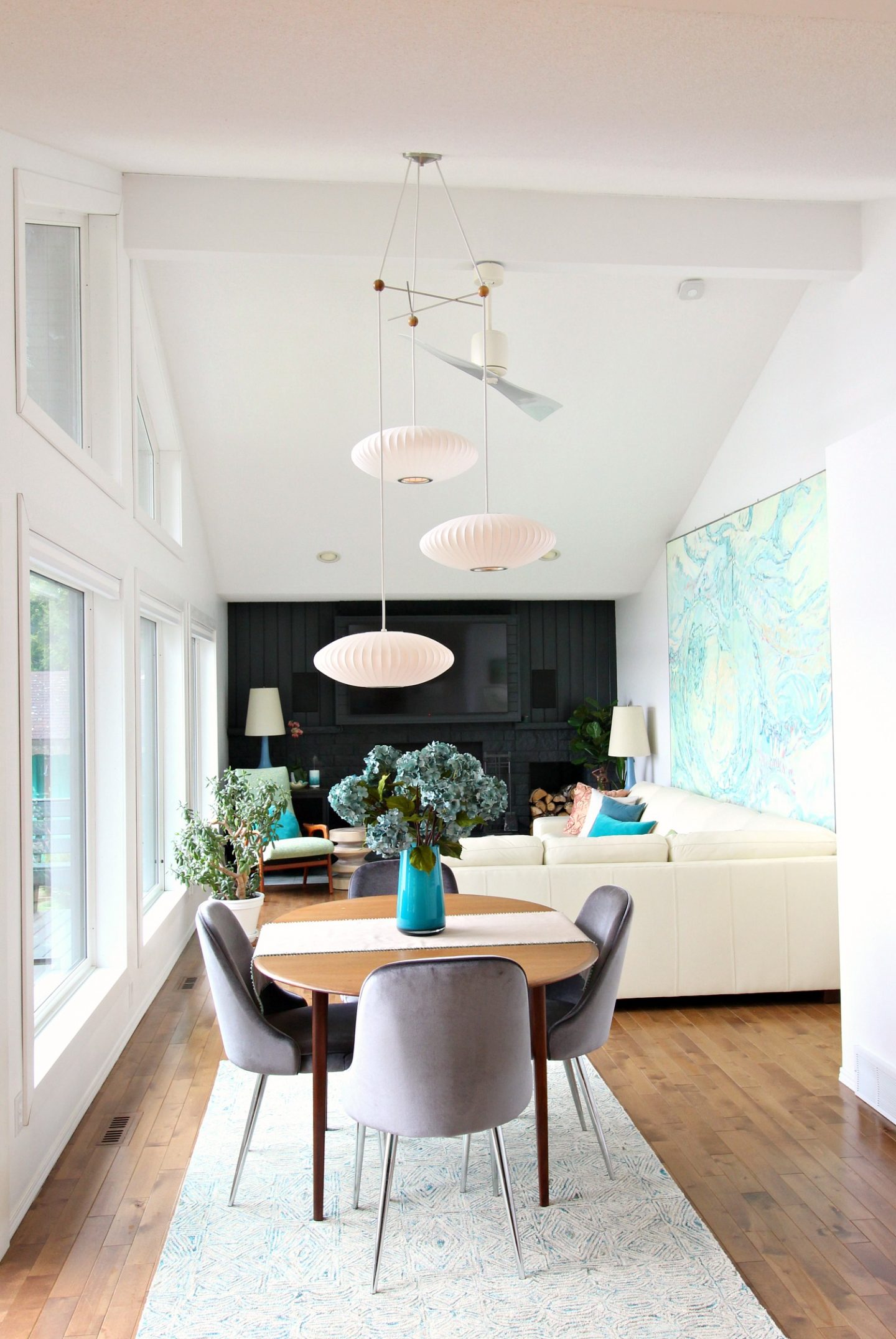 The blooms are faux! Nothing is blooming for real outside yet – but I see green little buds. These are from my modern DIY planter box project and I love that I can shape and bend the stems and leaves for a more realistically and imperfect arrangement.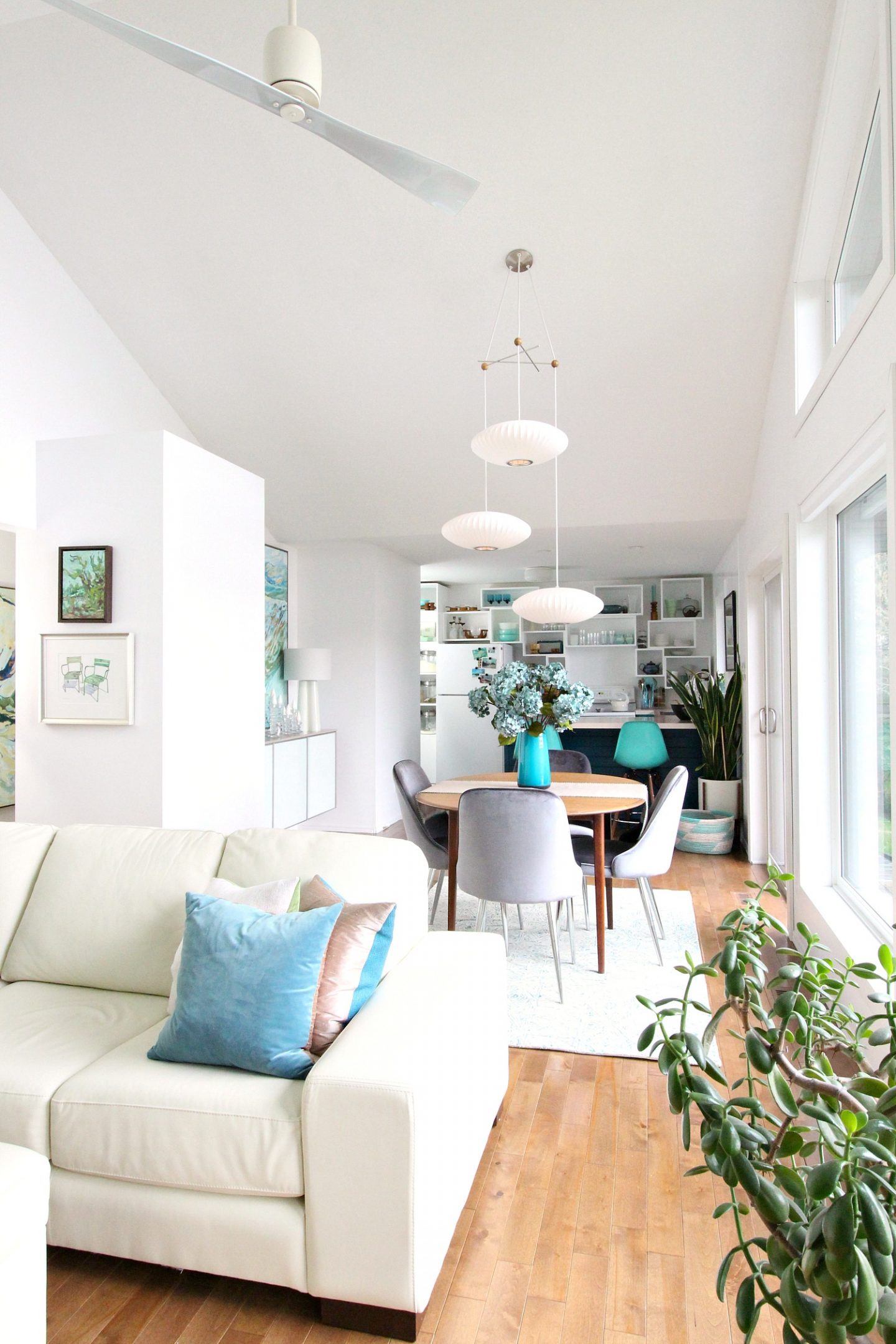 Lake House Summer Home Tour – Kitchen:
The kitchen has changed a lot since the spring home tour! It's still "temporary" while we save up for a renovation but after five years I had the itch to make changes (and I needed some brackets for another project!). We added some tongue and groove paneling and painted the backs on the cabinets a richer teal. Then I replaced the open shelving with a asymmetrical grouping of DIY storage cubbies!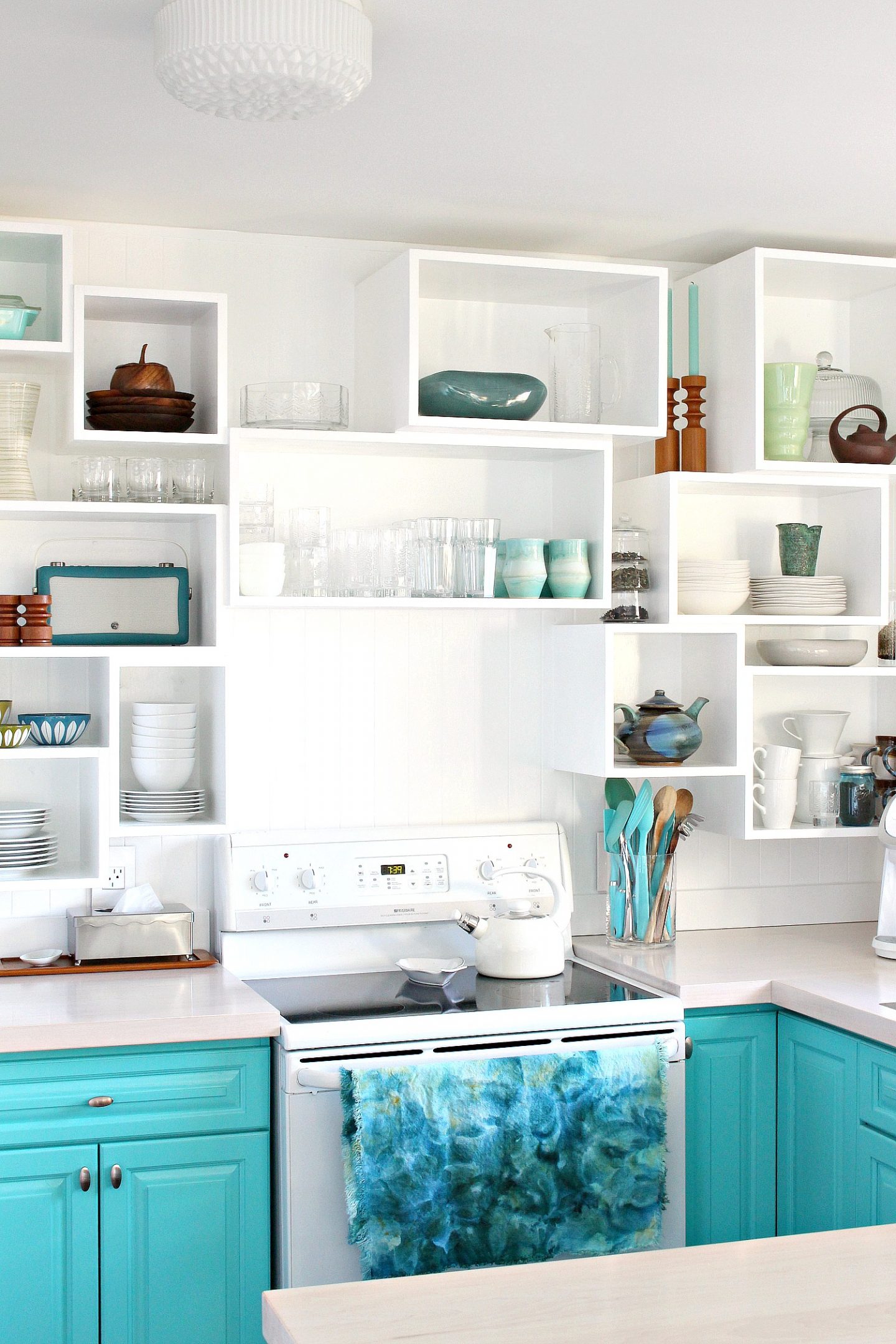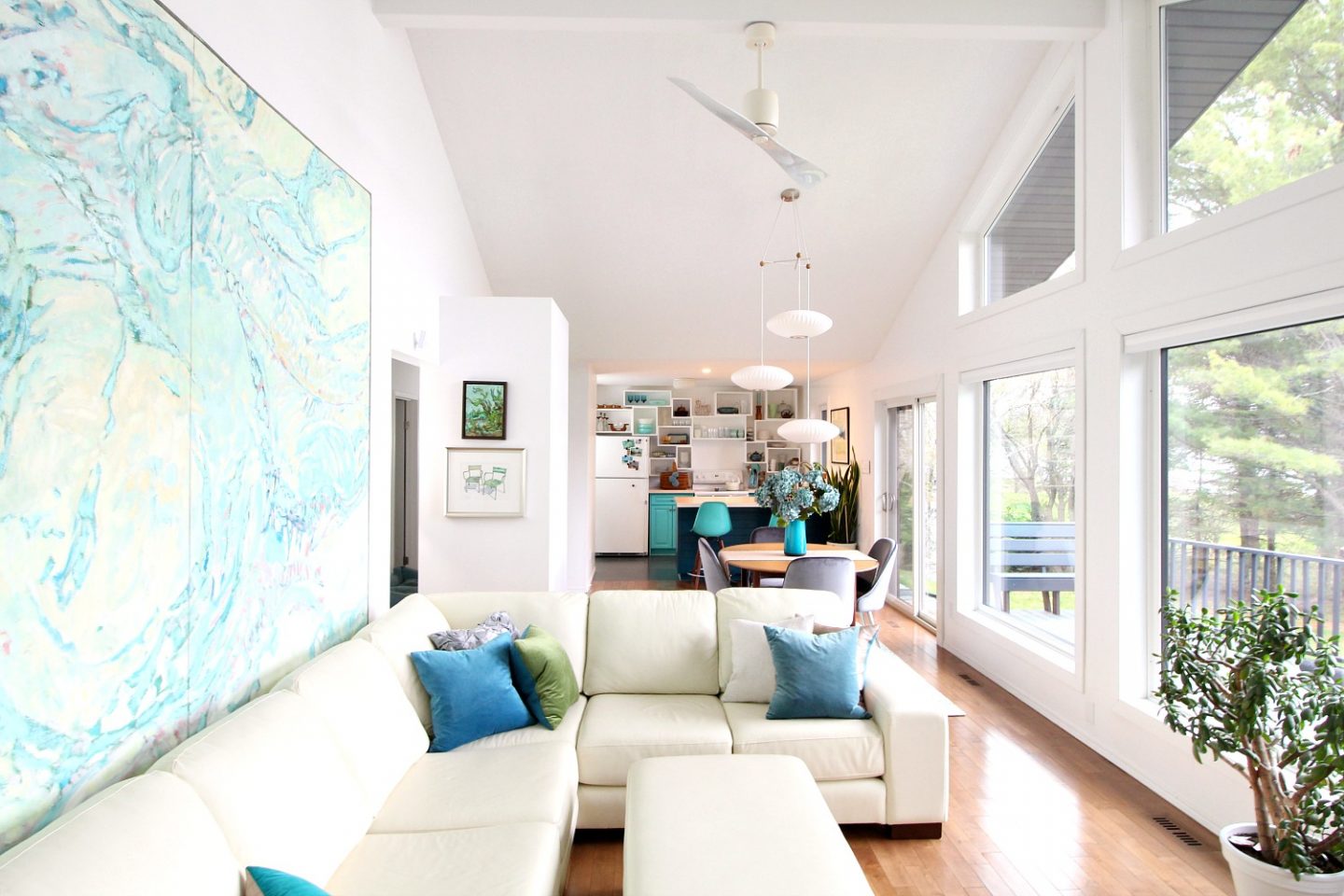 I thrifted a chicken shaped basket and scored a vintage woven picnic basket too – and also three additional baskets. I'm on a weird basket collecting spree for summer.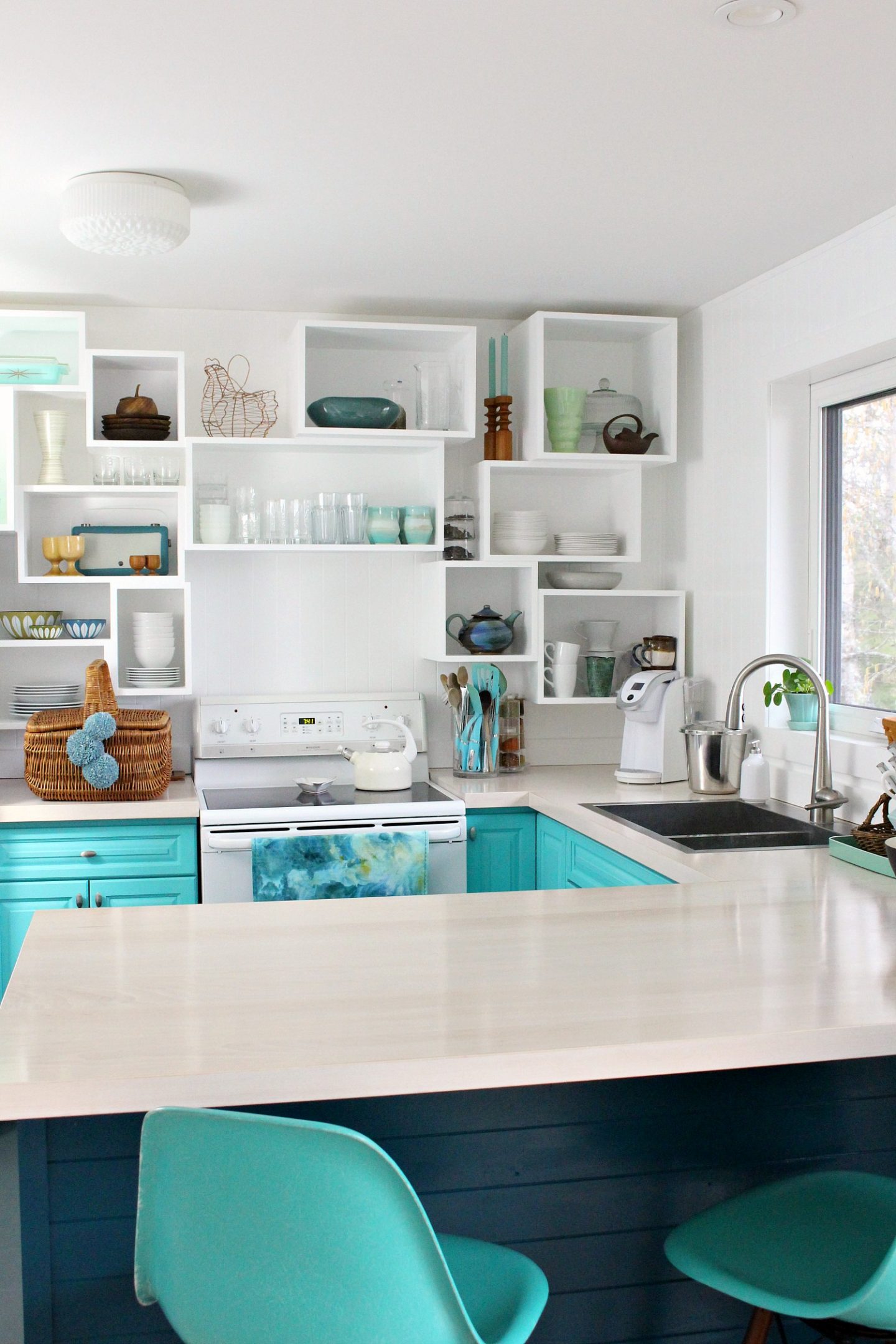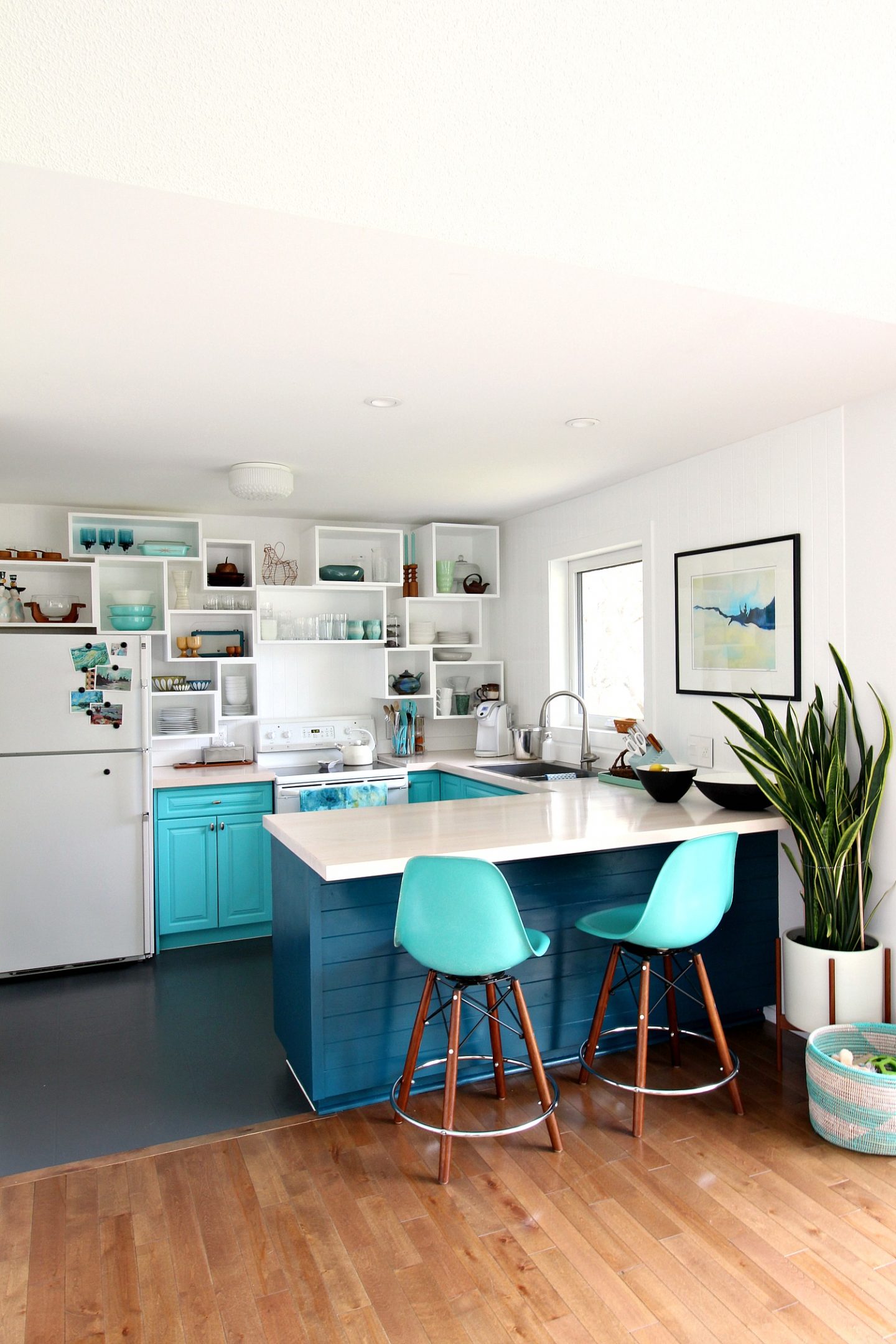 Lake House Summer Home Tour – Moving Outside!
You can see little peeks of the outside from some of my photos. The bunkie, a few patio loungers…summer is coming!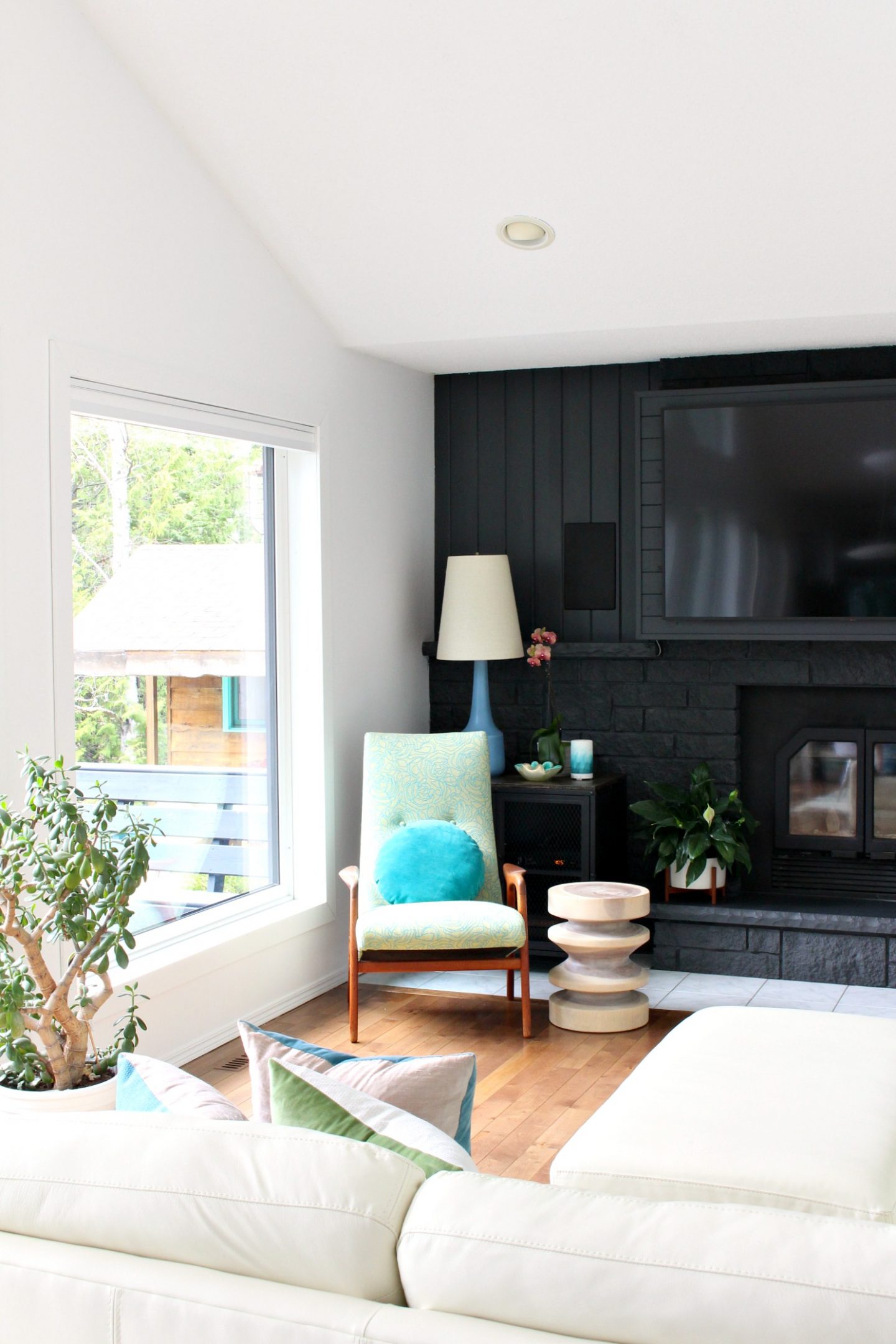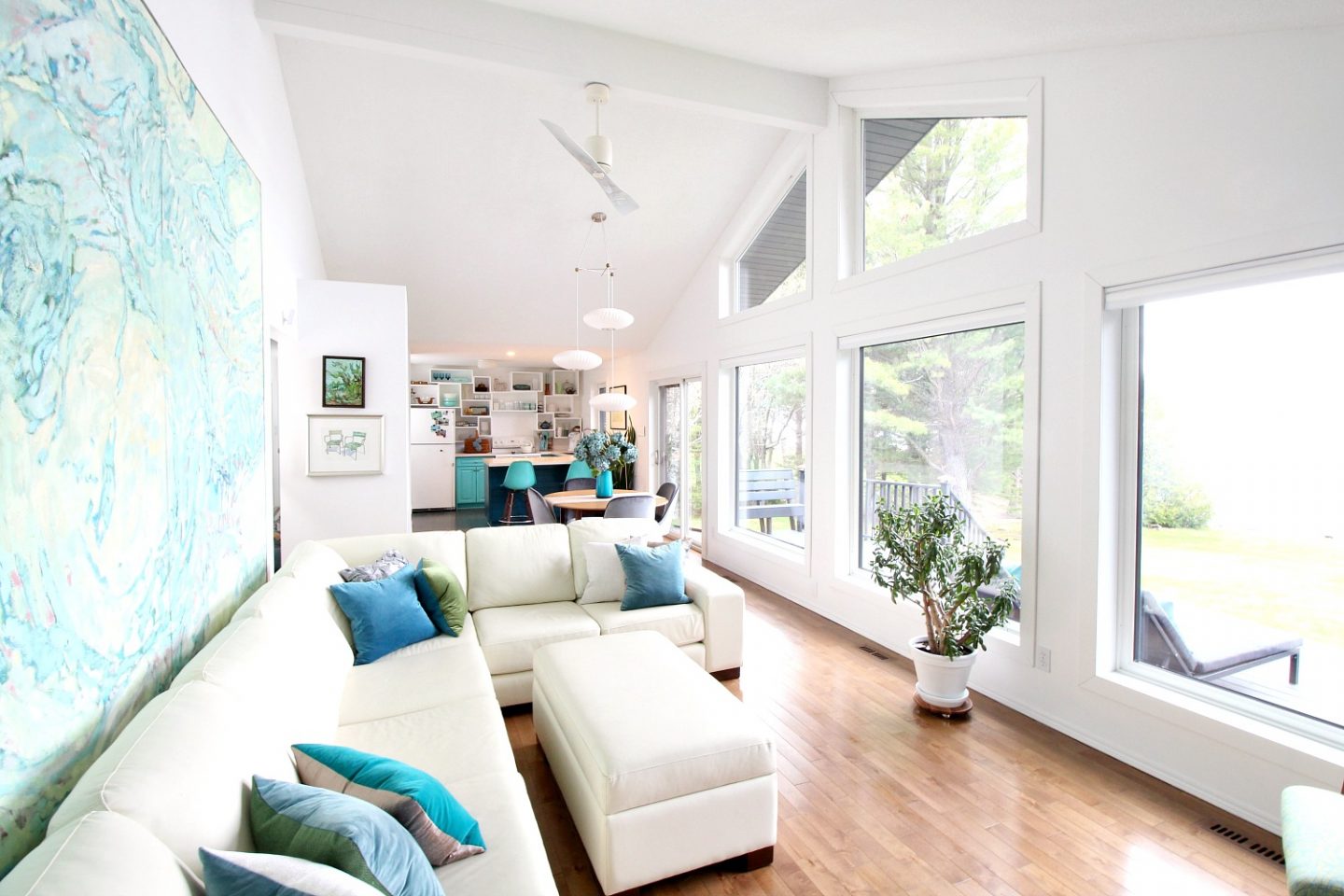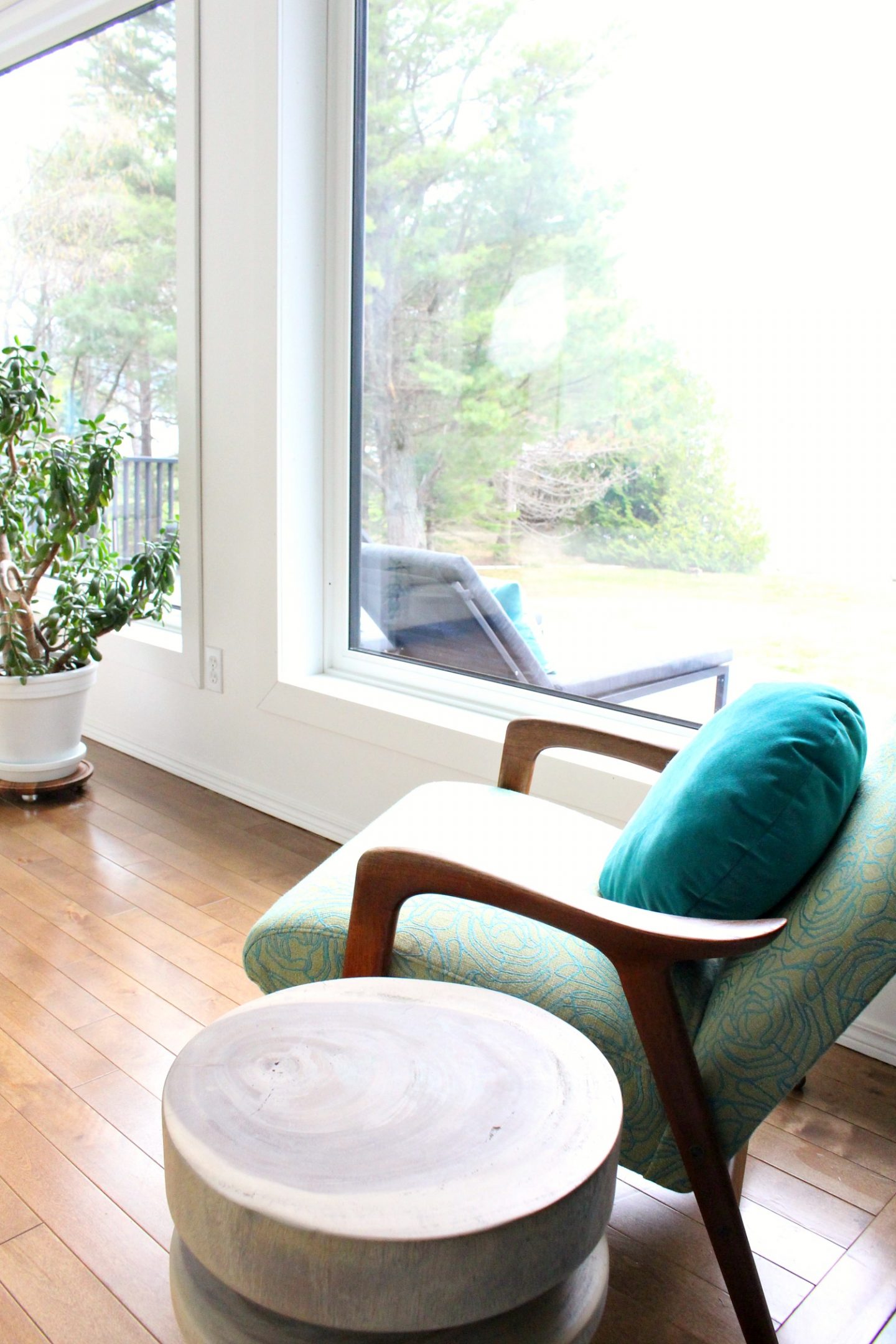 We had our first bonfire of the season! Winter was really harsh on the woods around our house and the weight of the snow actually knocked over a lot of trees and tore off branches. I spent a few days picking up and breaking down the brush so the new growth doesn't get smothered. All of my hard work meant we had enough wood for an epic bonfire – with marshmallows and everything.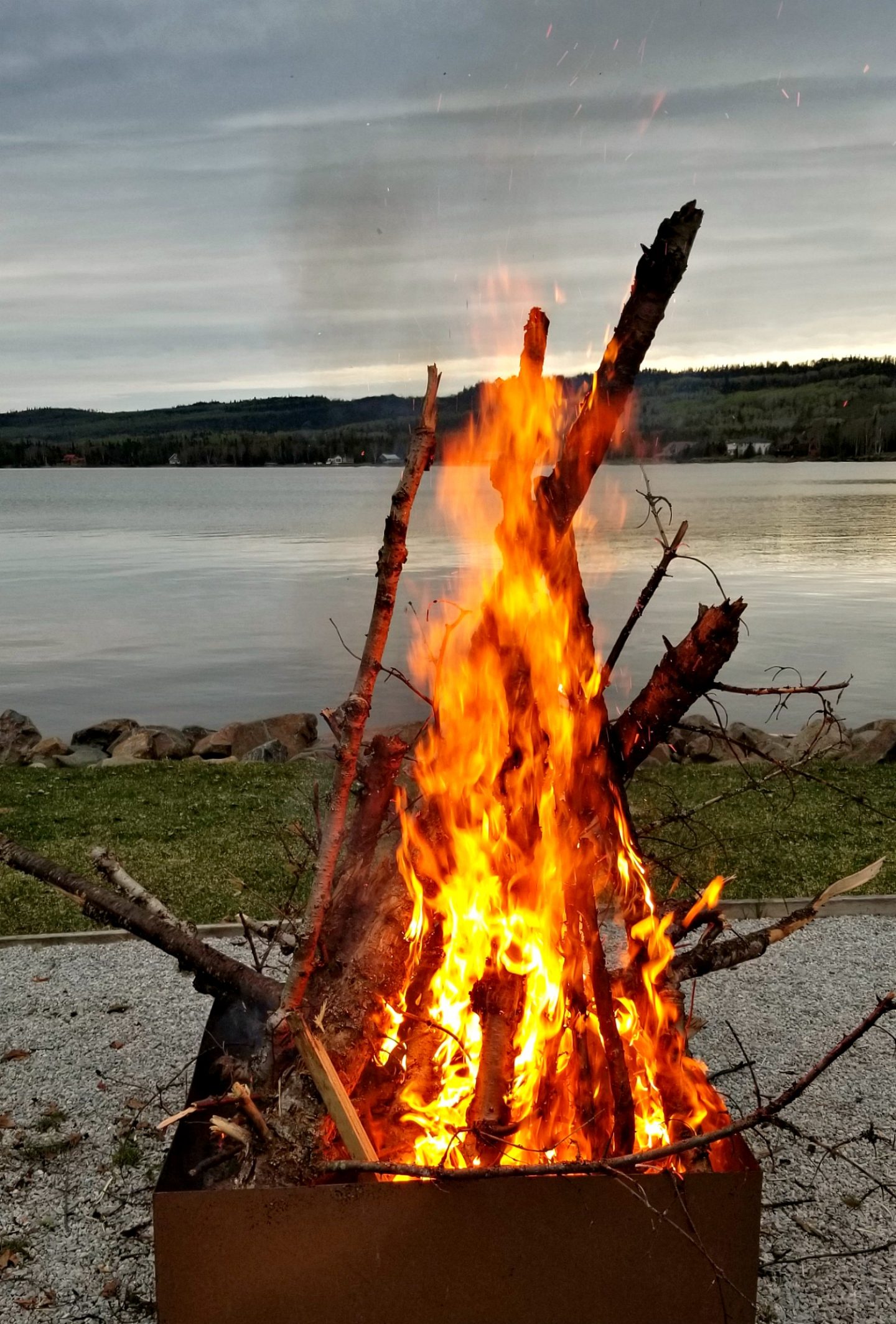 We were also treated to a vibrant pink sunset that actually made the house glow pink!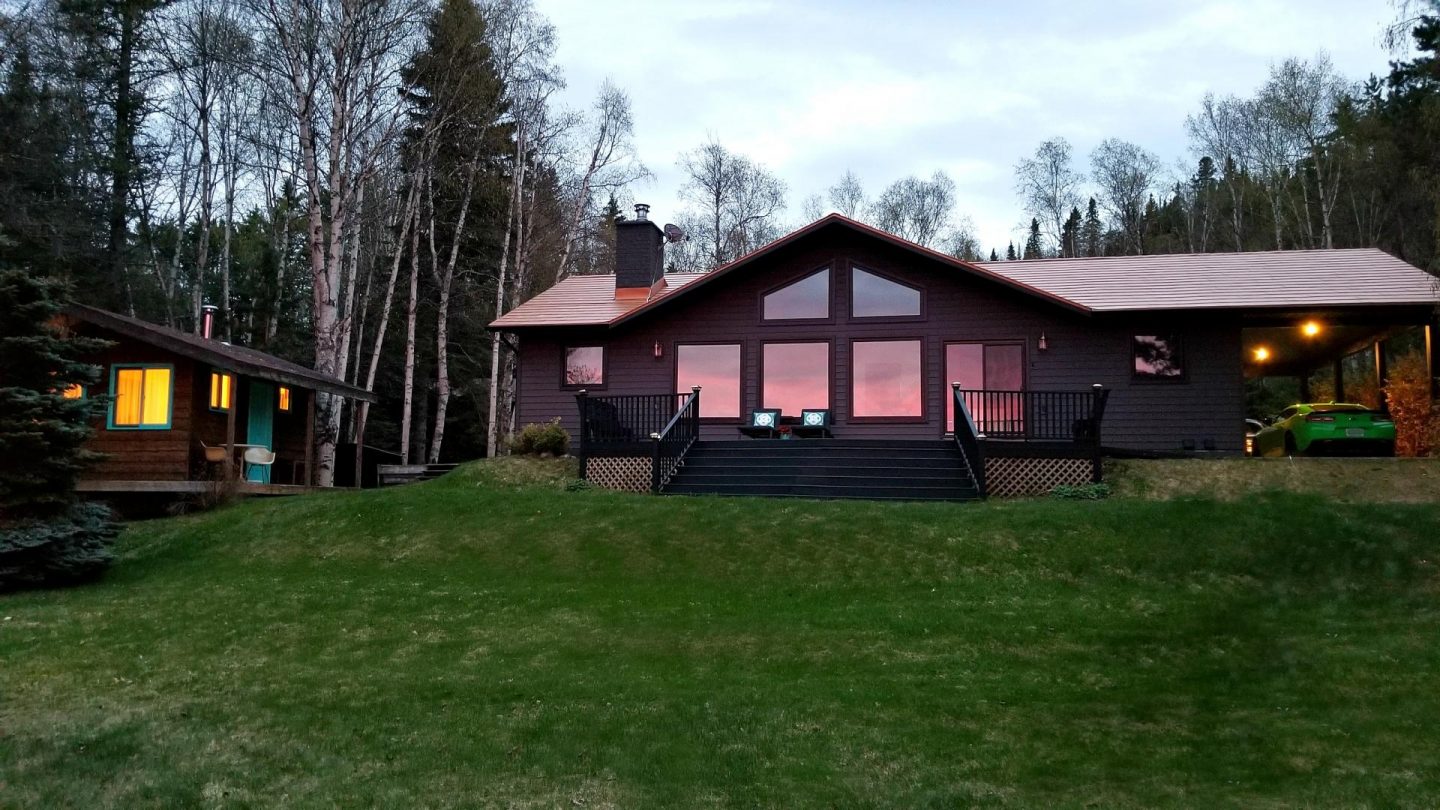 So pretty! I missed these sunsets!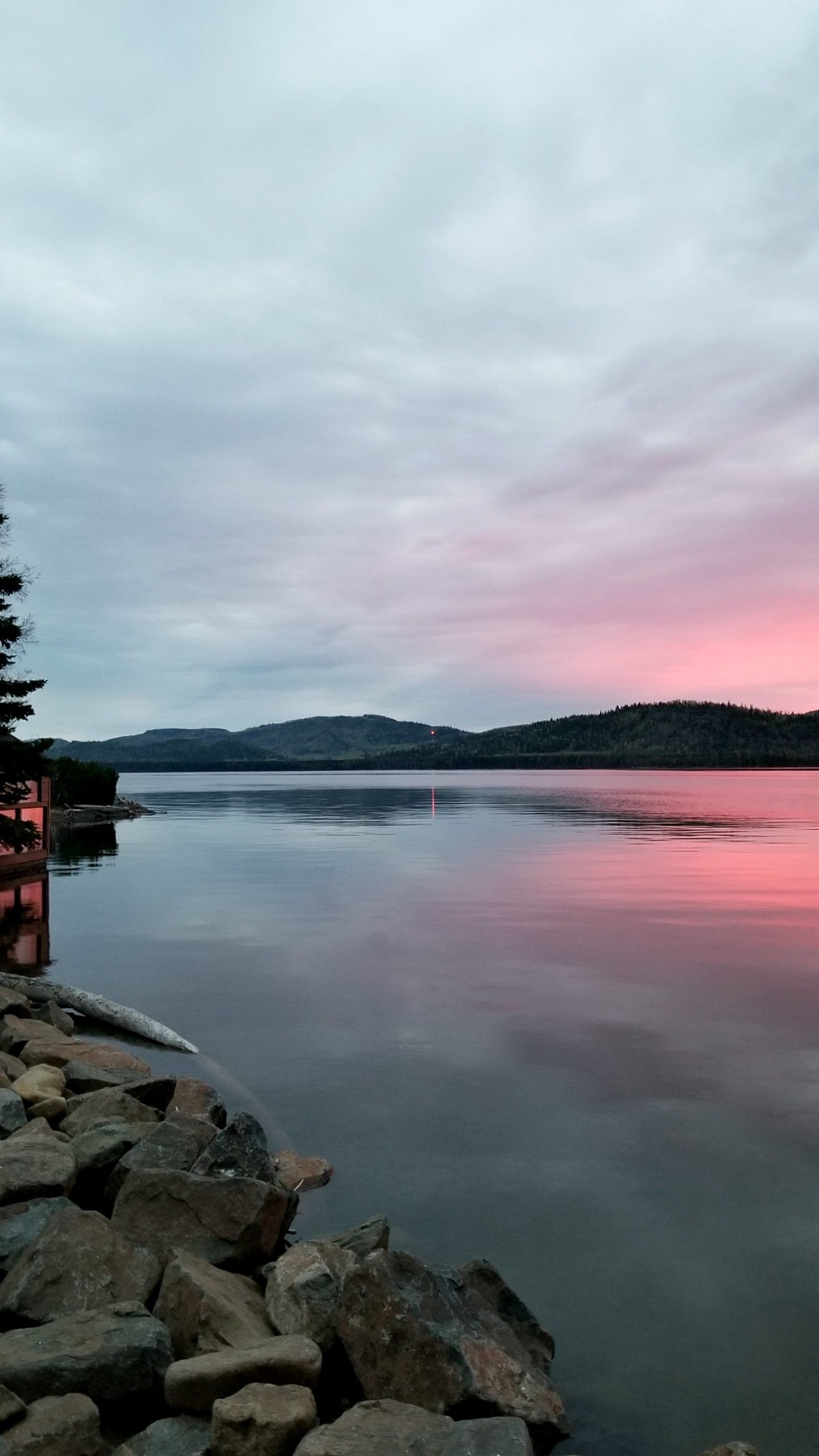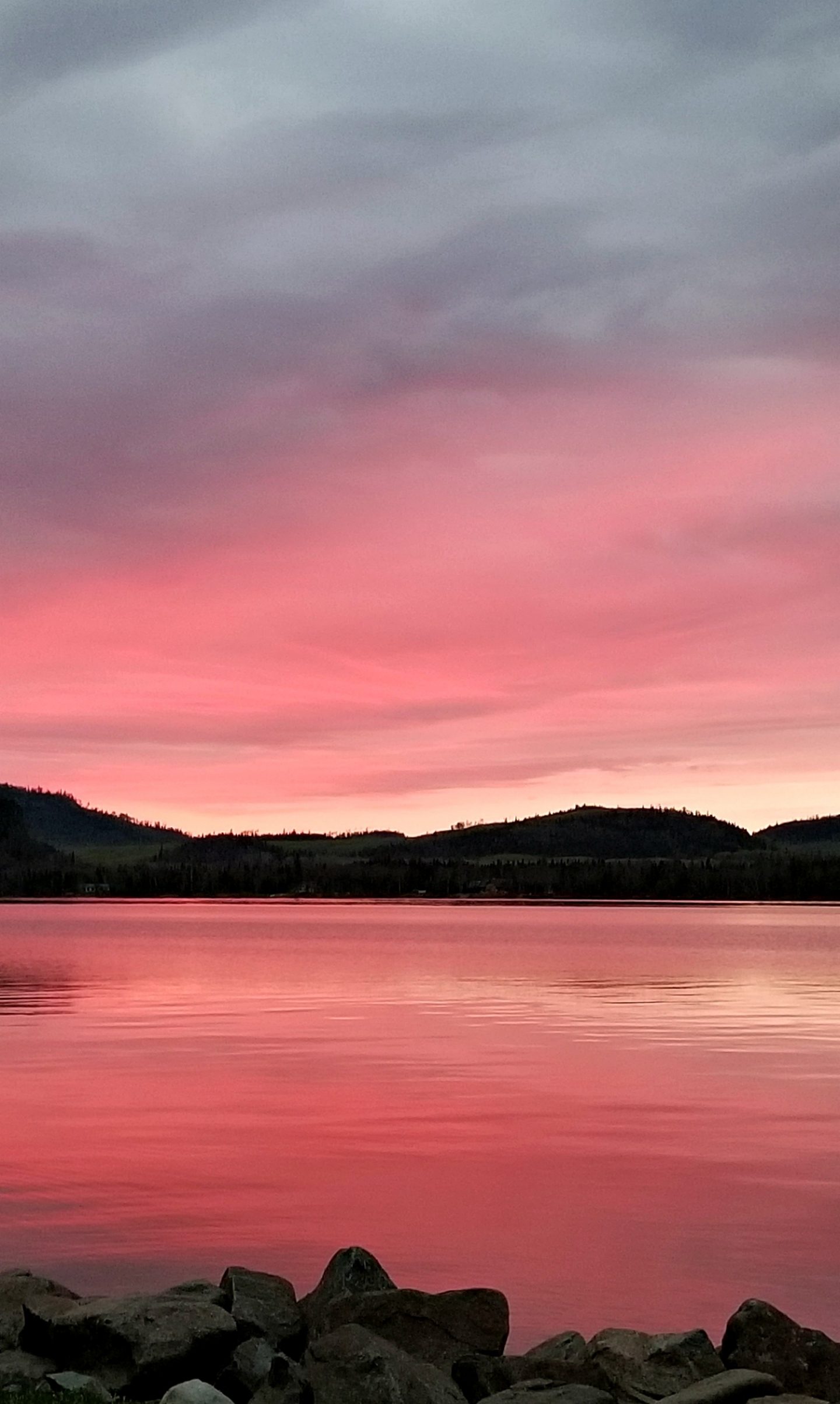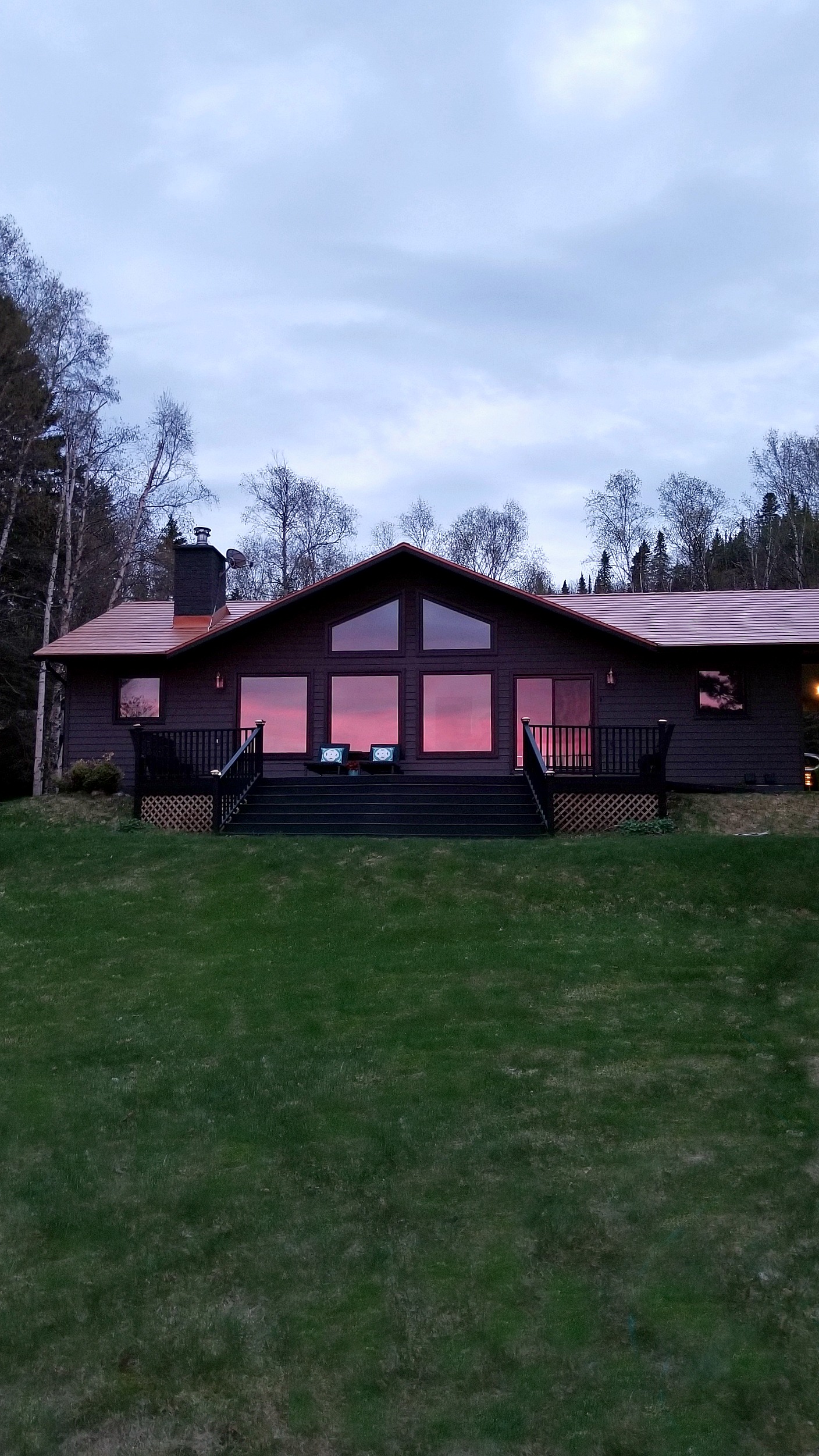 On the patio, I want to build a new patio table plus I need to fix up some paint and the (new) deck stain that got totally trashed during the exterior renovation last fall – but I wanted to put out my patio loungers already! It will be fall before I know it, so I want to soak up every last minute of summer even if things aren't looking photo ready yet. The table is a thrift store score I spray painted copper to match the roof!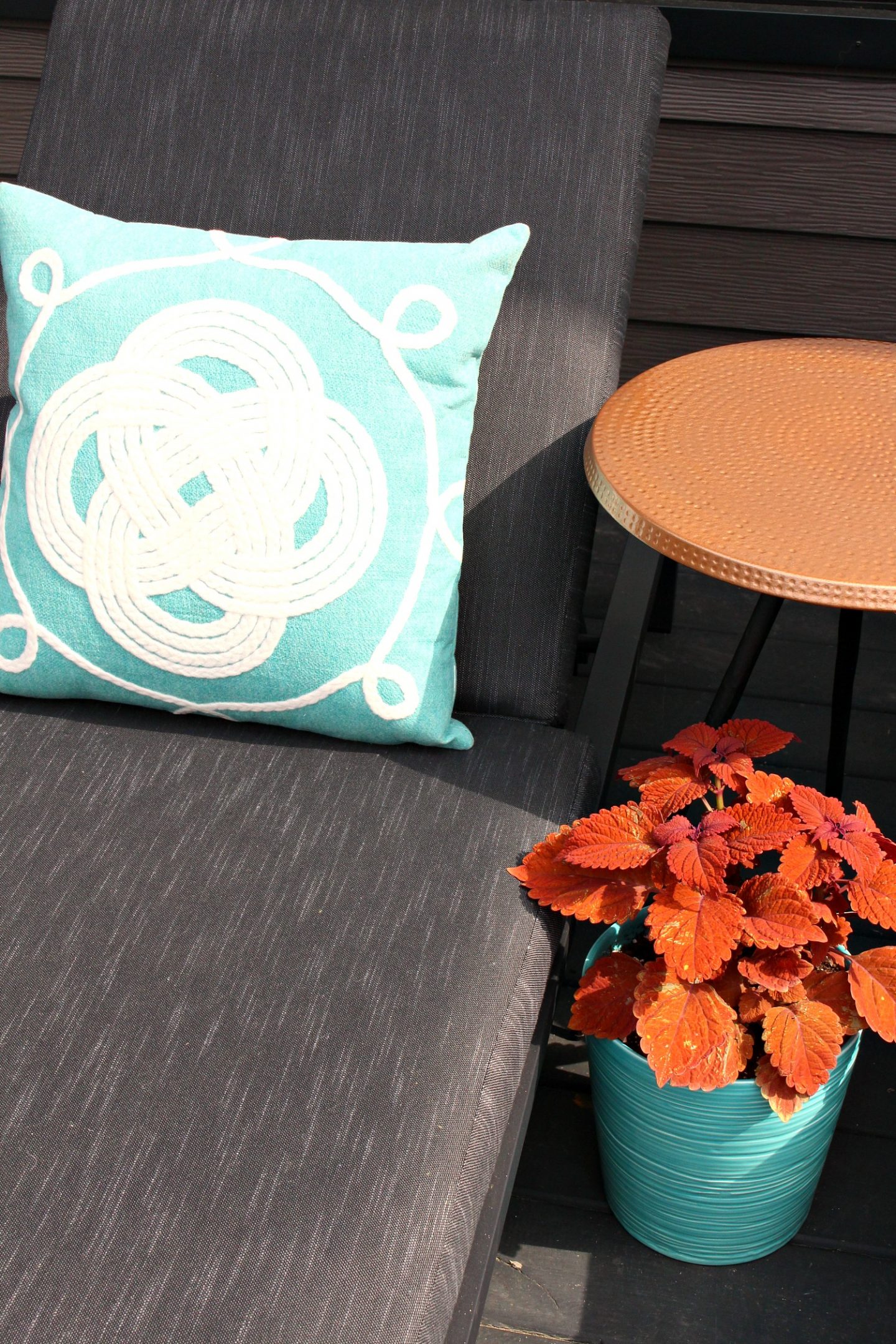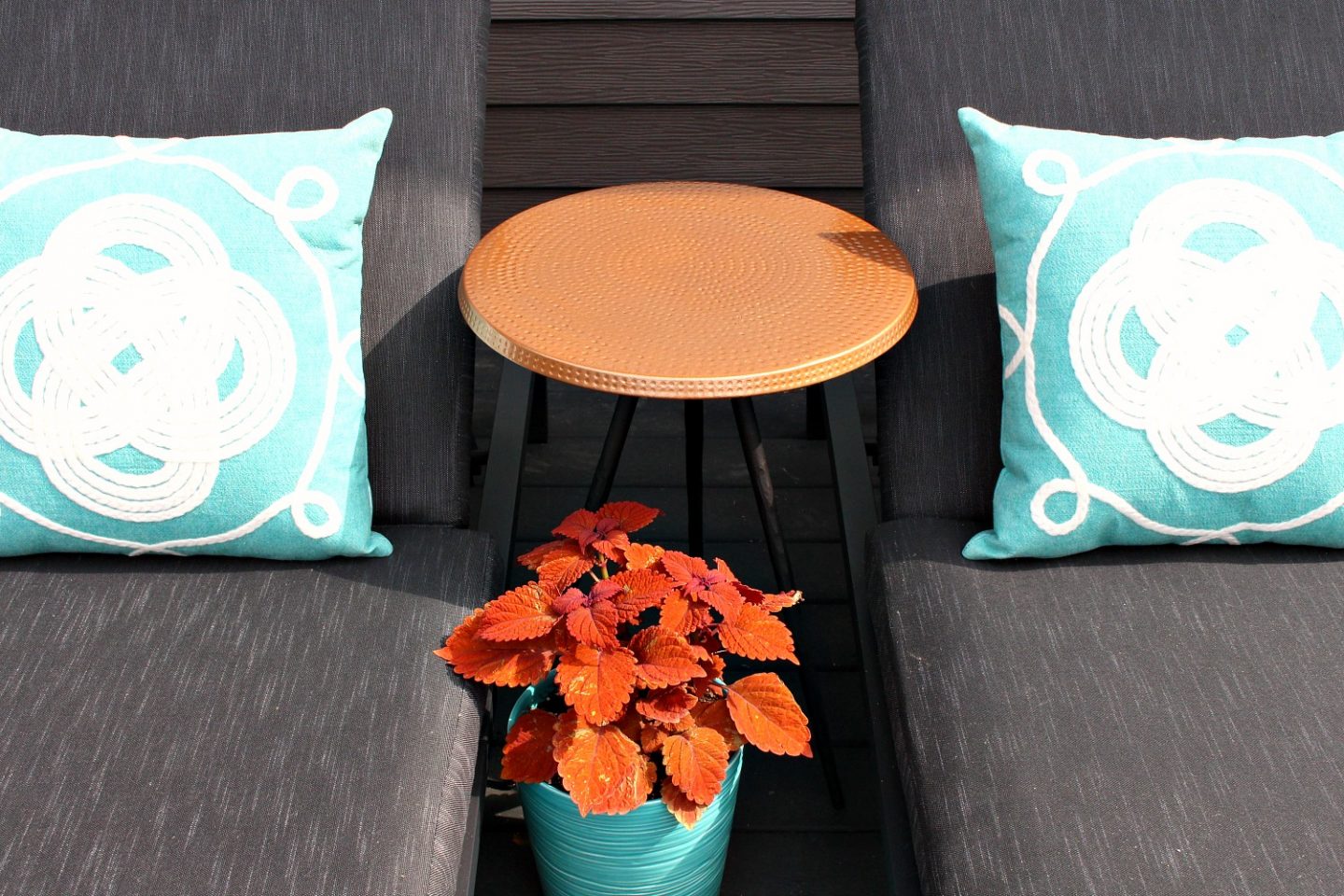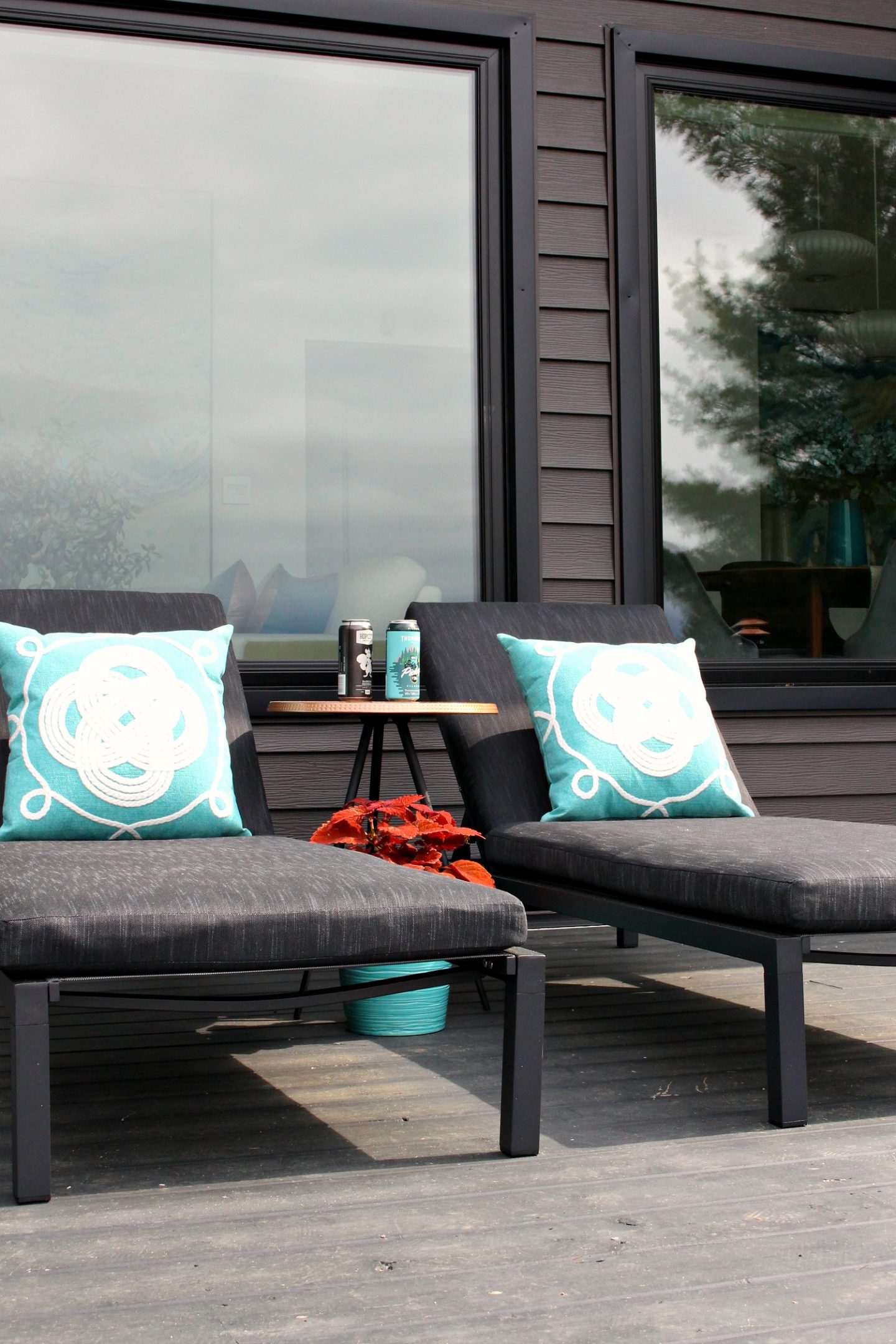 In addition to having out first bonfire, we ate our first outdoor meal recently! Because my DIY patio table plans are still just plans, we sauntered over to the bunkie where I have a vintage tulip table set up with a perfect sunset view.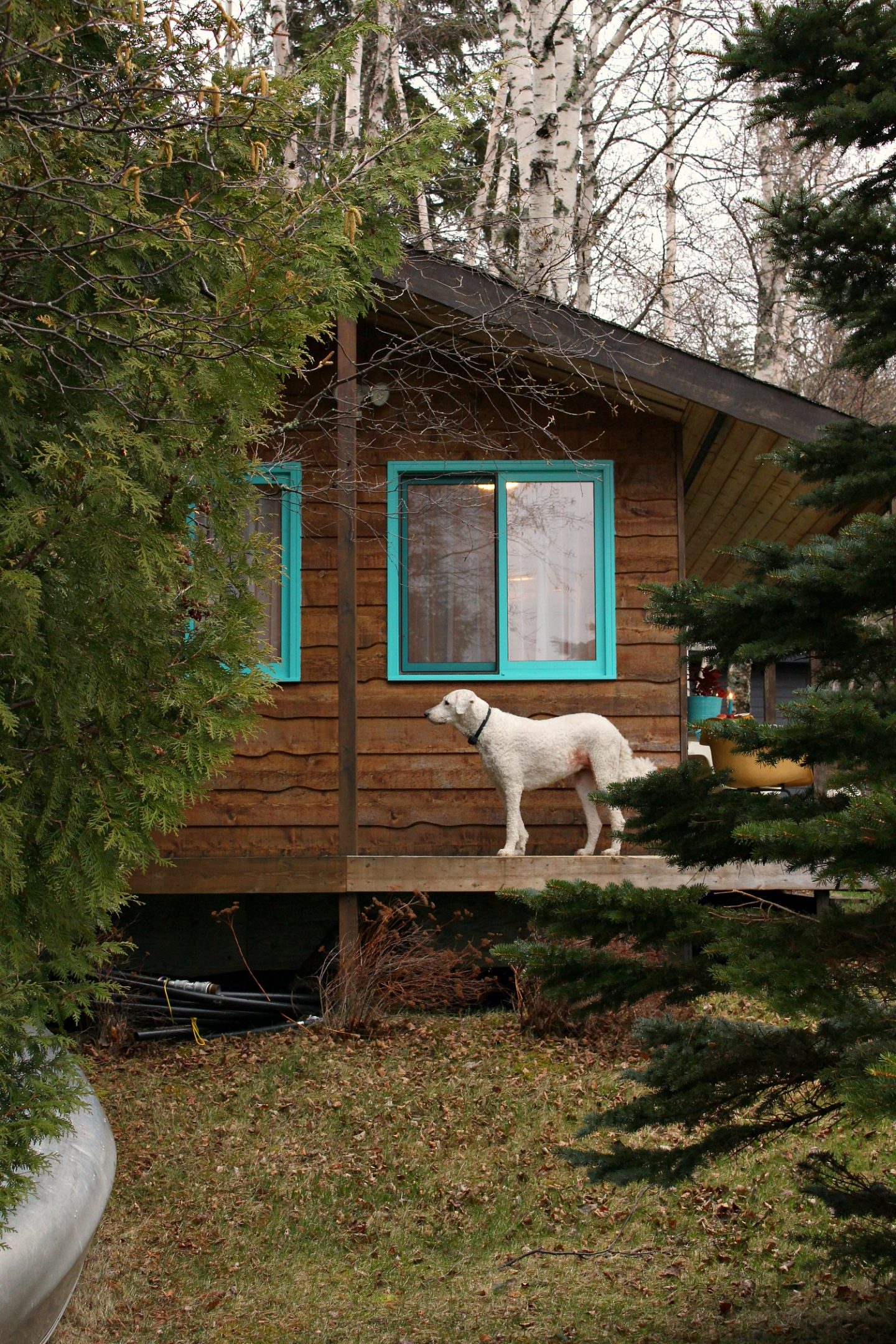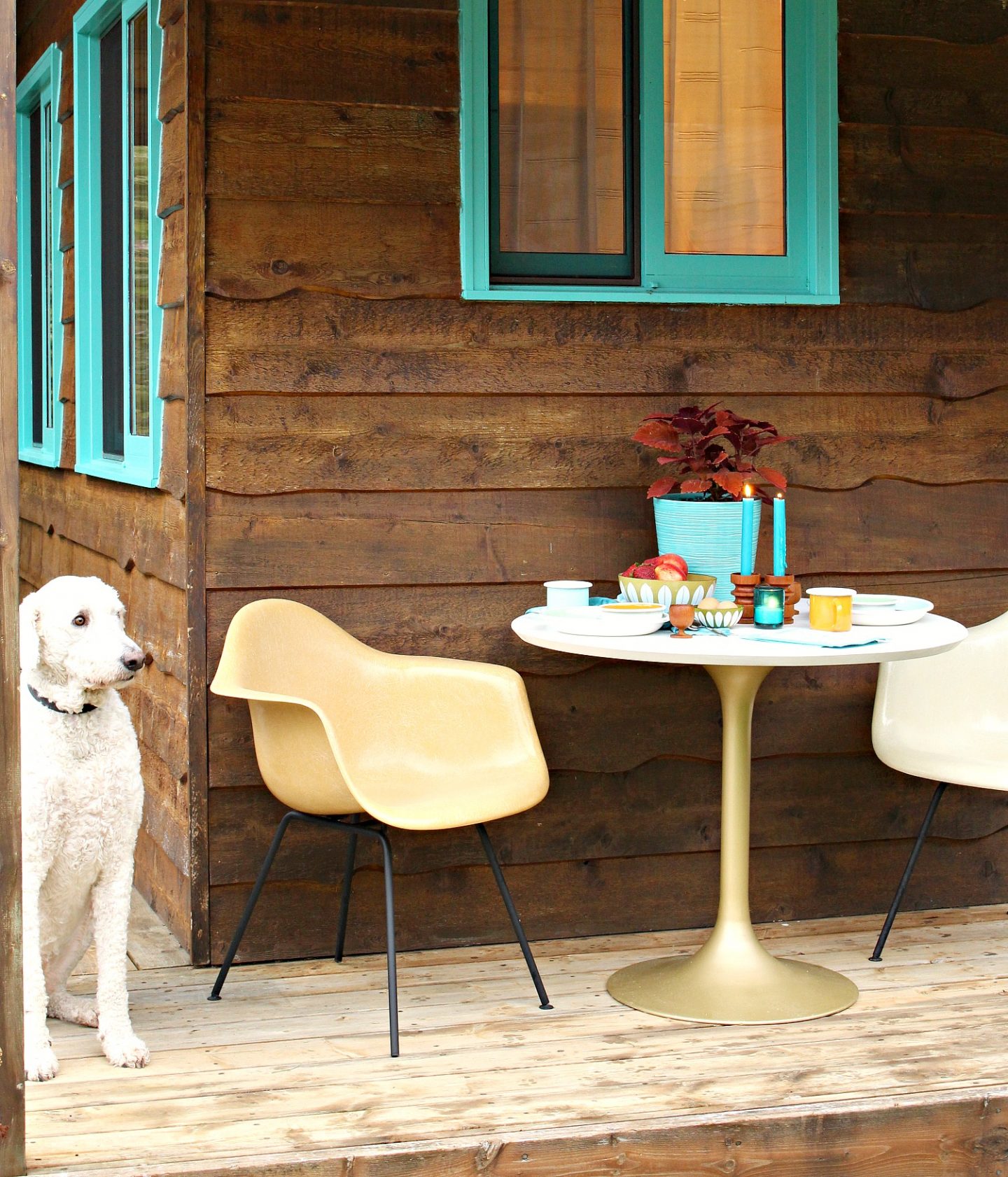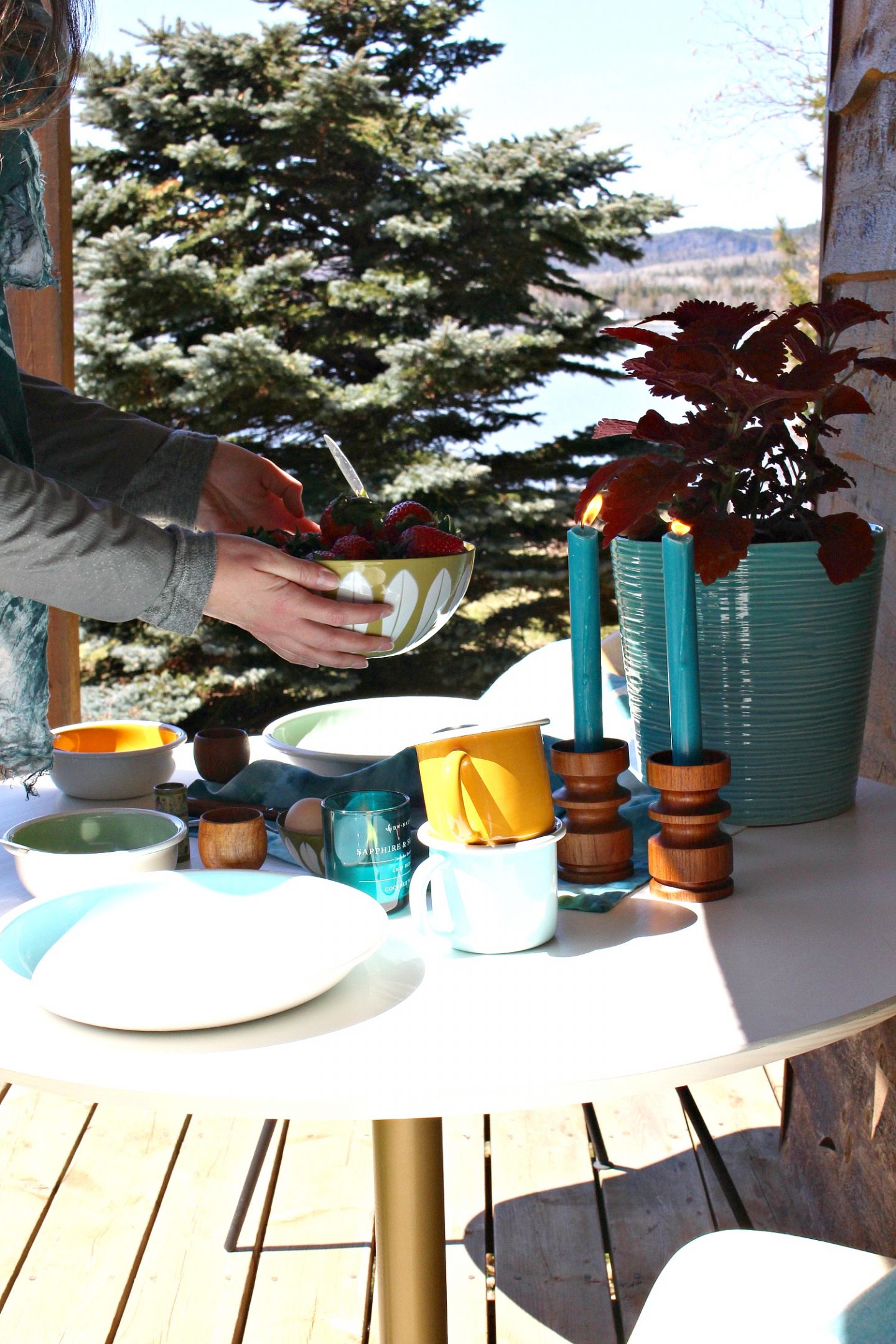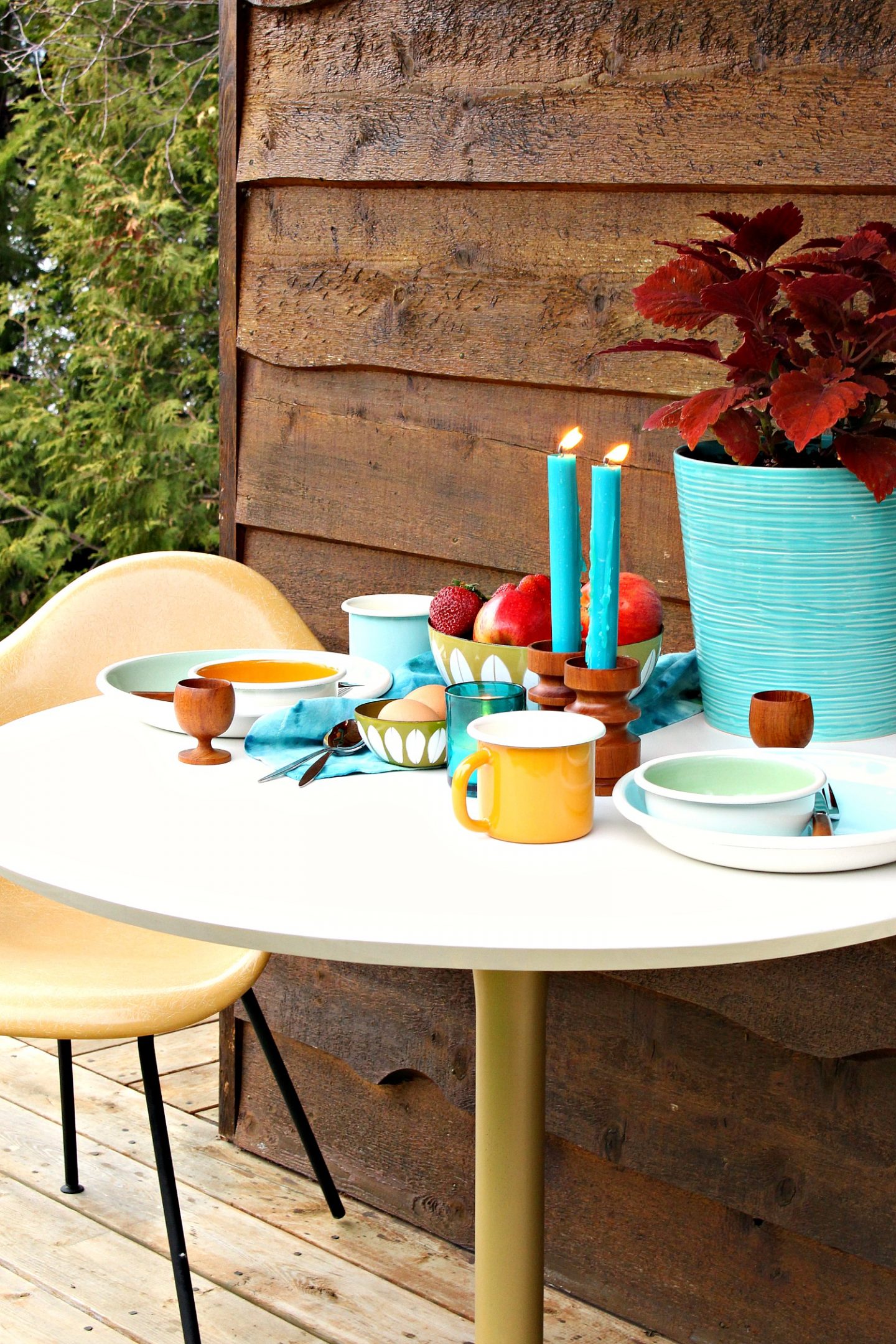 I am SO excited for summer! I have so many plans for projects – and fun! If you're following this Summer Home Tour Blog hop, your next stop is Blue Agate Abode (a fellow teal lover, like me!). You don't want to miss her home tour! And take a peek below to see the other summer home tours: