Making DIY pom poms is easy but there's a couple of tricks if you want to learn how to make fluffy pom poms that are GIANT and DENSE! I recently shared a photograph of a new thrifted picnic basket on Instagram and everyone wanted to know where the pom poms came from – I made them! Here's my super easy tutorial for making DIY poms poms and my tips for how to make the best pom poms, with the easiest pom pom method available.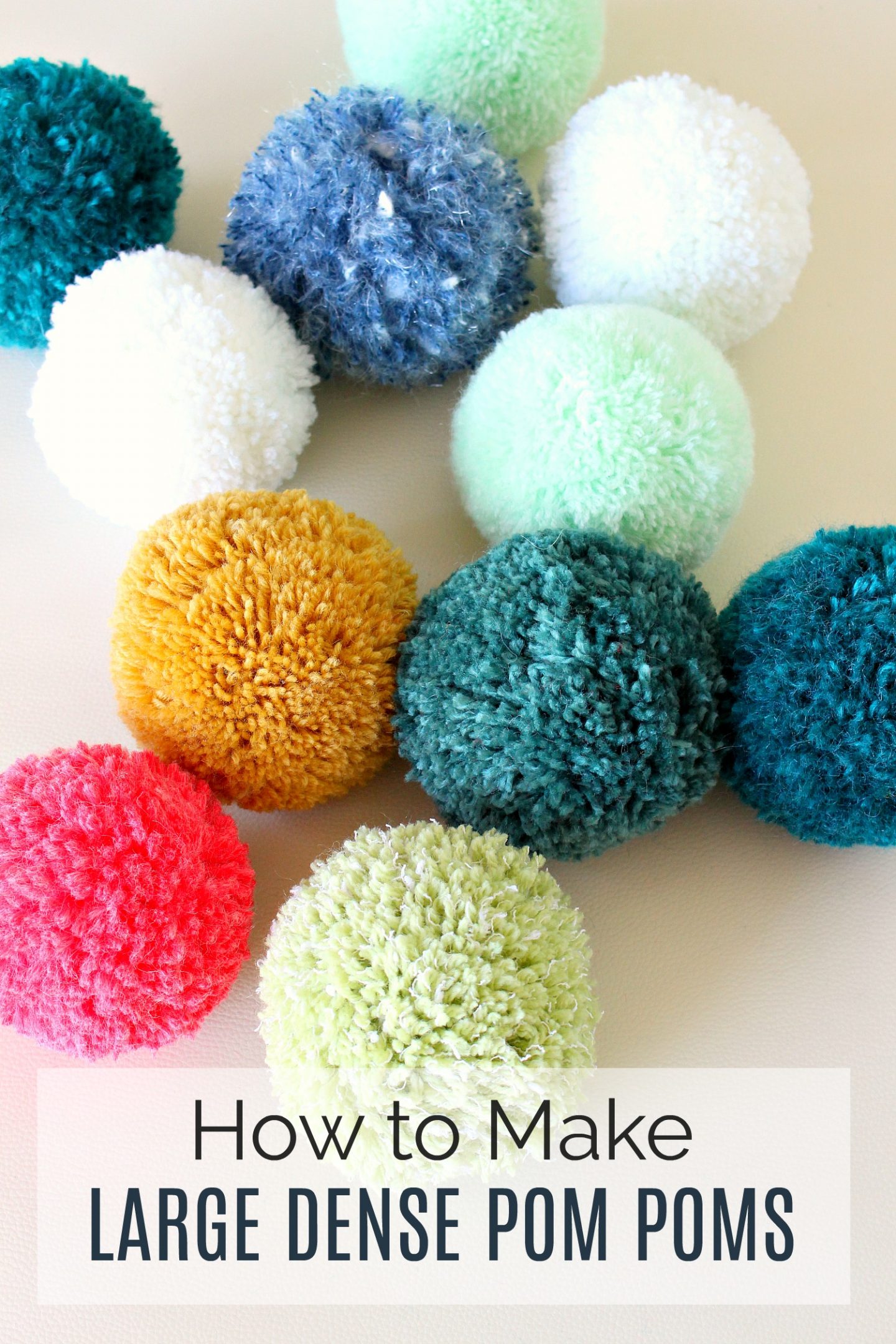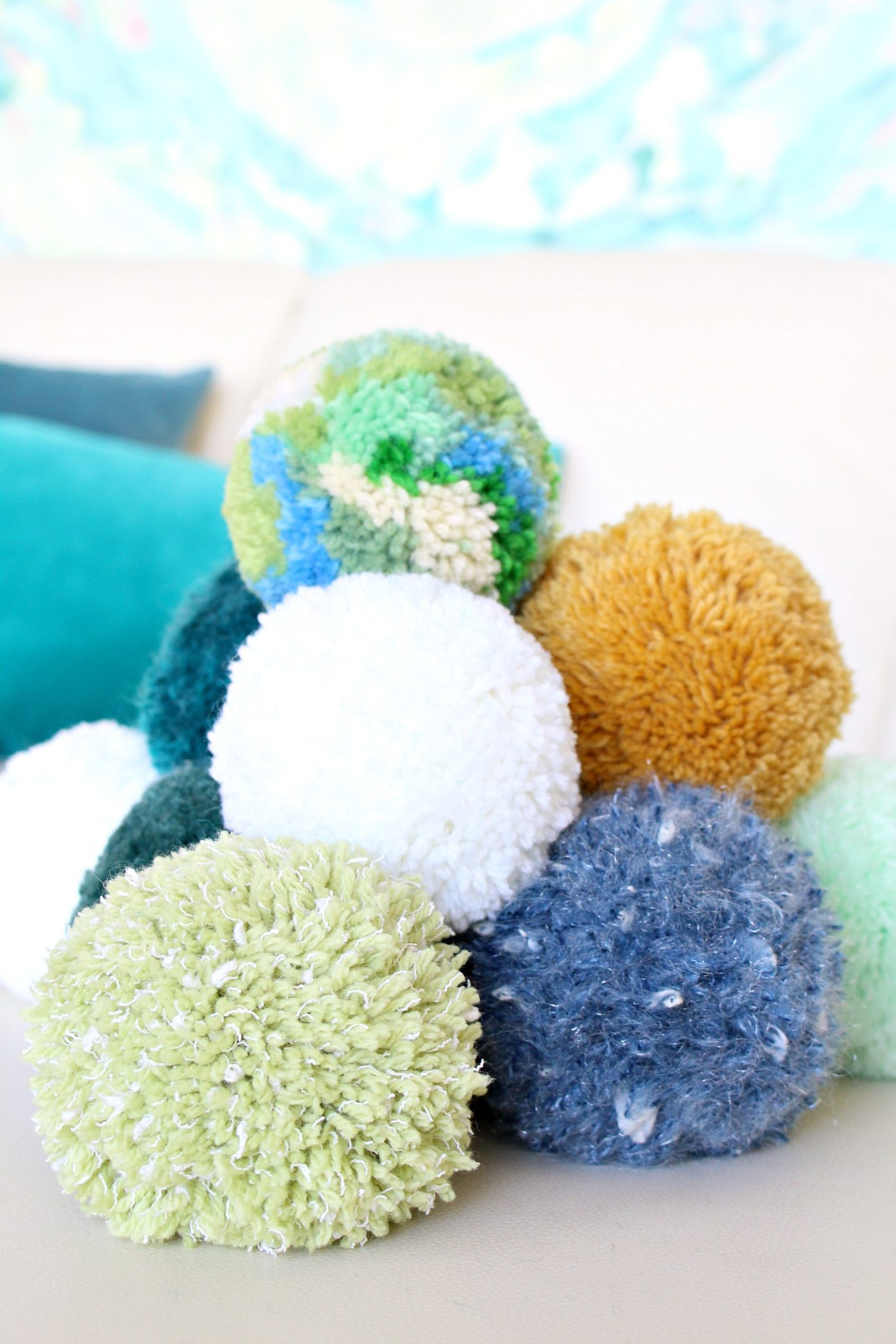 Supplies for DIY Poms Poms:
Pom pom maker (this one is the best – and at the time of writing, it's on sale for $5 from $14)
Yarns*
Strong string (if your yarn is prone to breaking)
*The amount of yarn you need per pom pom will vary, depending on the size of the pom pom maker, how tightly/densely you wind the yarn, how thick the yarn is, etc. But for a rough estimate: 5 oz (142g or 251 yards or 230 meters) of 100% acrylic yarn in medium (4) weight, yielded 5 very dense pom poms, using the smaller of the two pom pom makers I use here.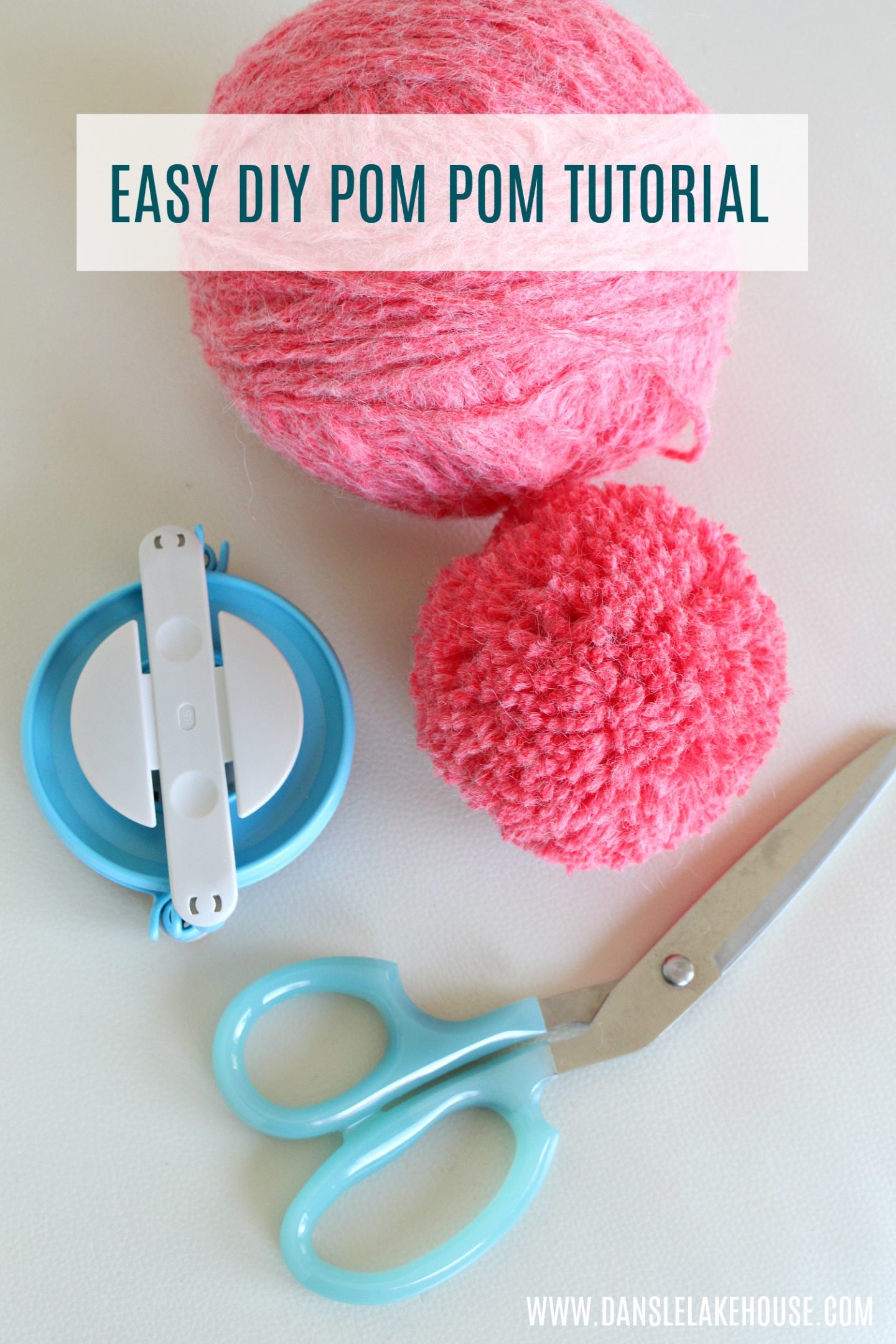 You can use a fork or create your own pom pom maker with cardboard, but this pair of large pom pom makers is really worth it – and I think they're the key to making super dense pom poms, because they are super sturdy and thus make it easy to wrap lots and lots of yarn. I highly recommend adding one to your next Amazon order (they're currently on sale for $5 with free shipping over $25). The pom pom maker is really simple, but a really cool design. There are two halves that attach with a pin (it should arrive put together):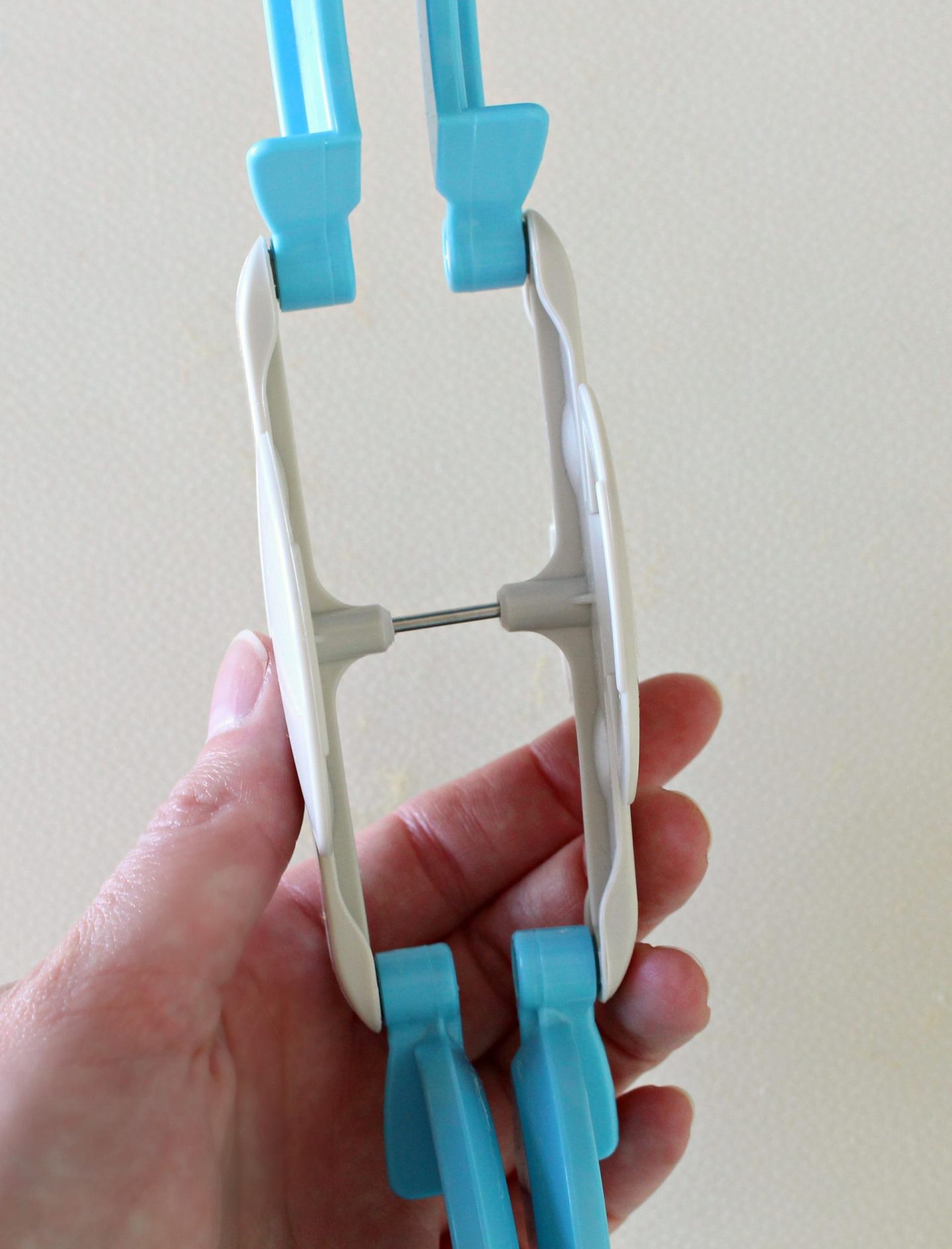 It comes apart completely, like this (it's how you liberate the completed pom pom – I'll show you exactly how it works below):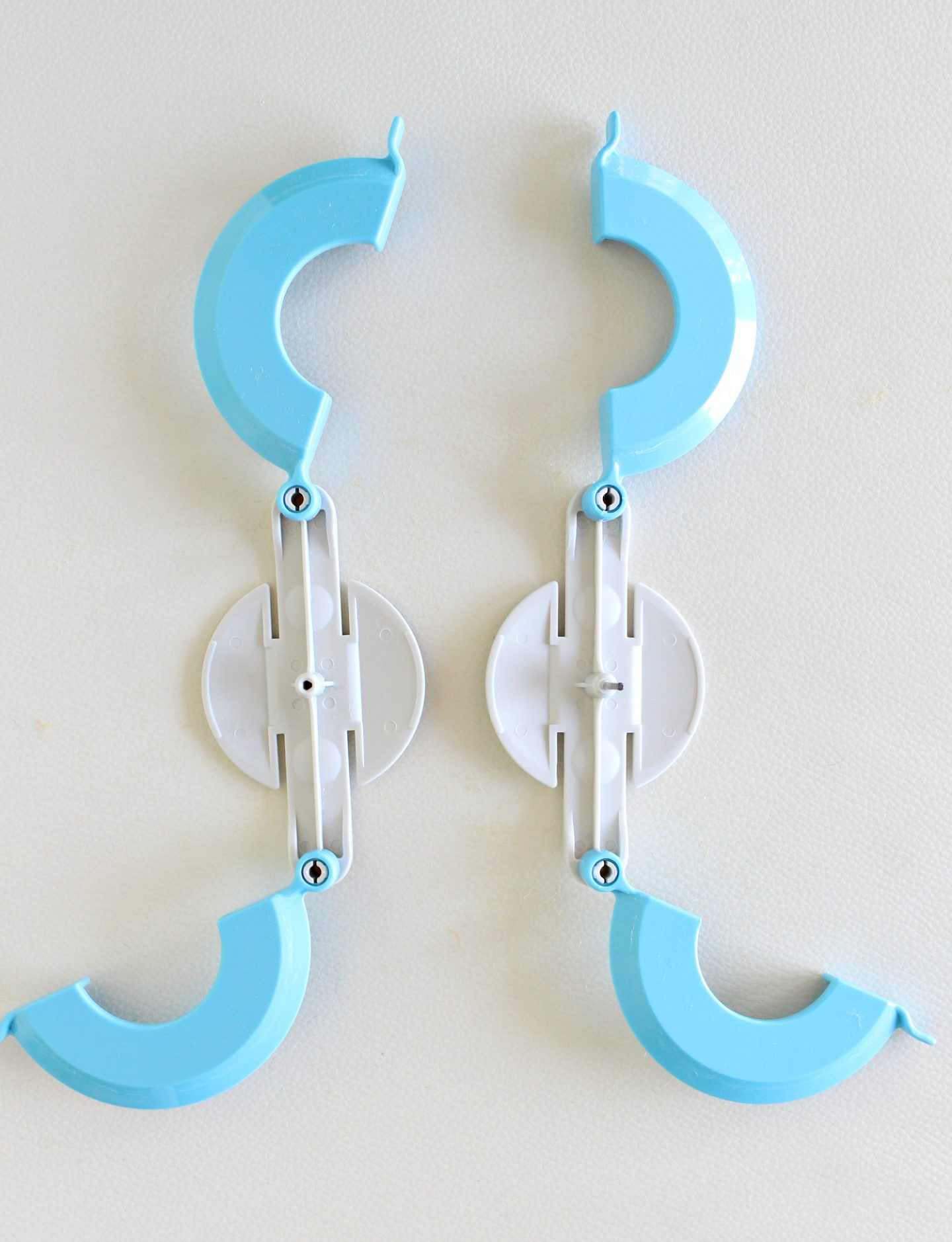 Here's a reference for the two sizes this pair of pom pom makers can produce: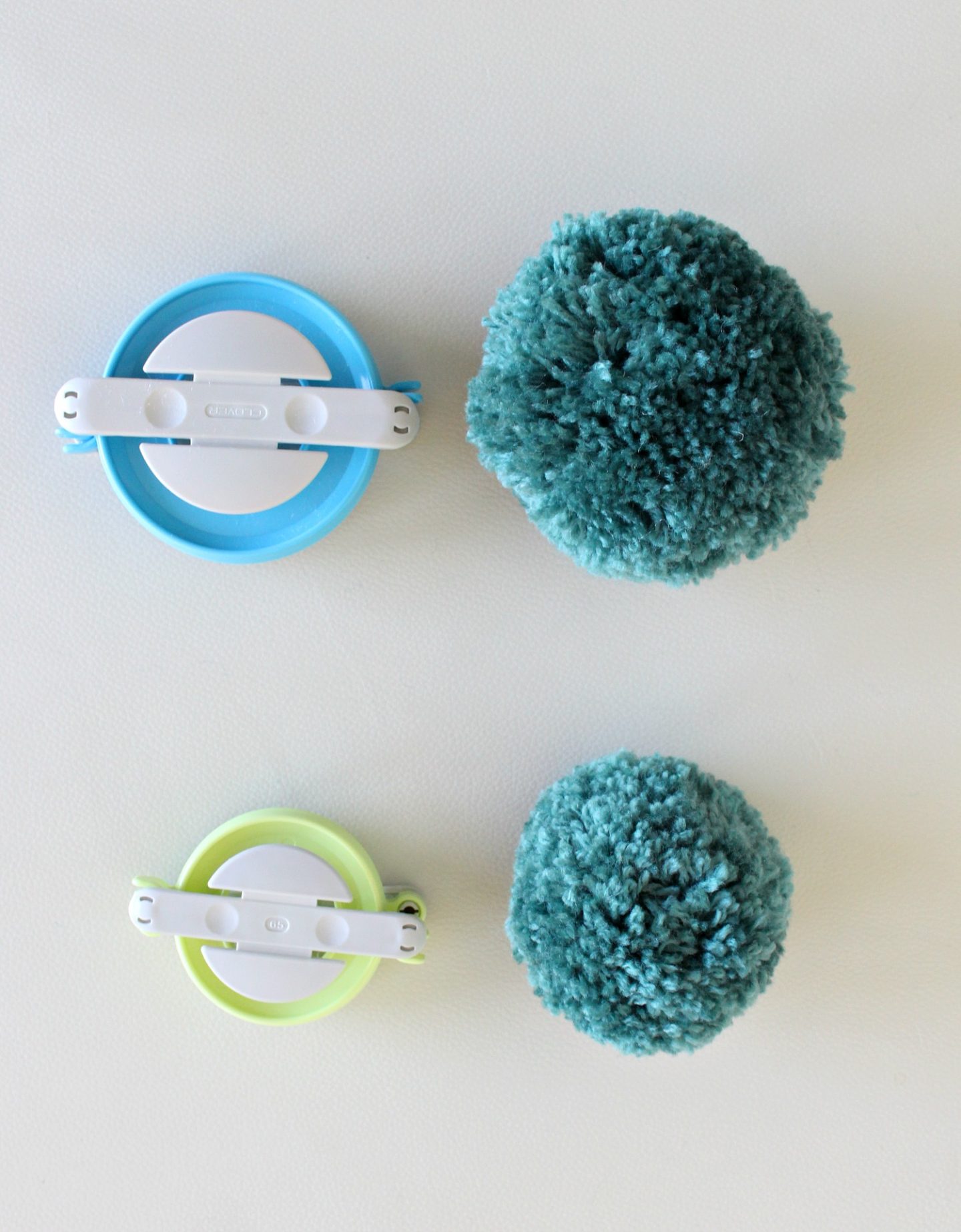 Notes on the Yarn – How to Make Poms Poms with Wool
To save money on these DIY pom poms, I thrifted bags of yarn. This helped me experiment with the types of yarns that produce giant pom poms and helped me figure out how to make dense pom poms. If you're shopping for yarn, look for something really fuzzy, like an acrylic or wool. Yarns that look like spaghetti noodle will look less dense (but still cute). The fuzzier and woolier the yarn, the more dense and fuzzy the pom pom! Here's what I mean: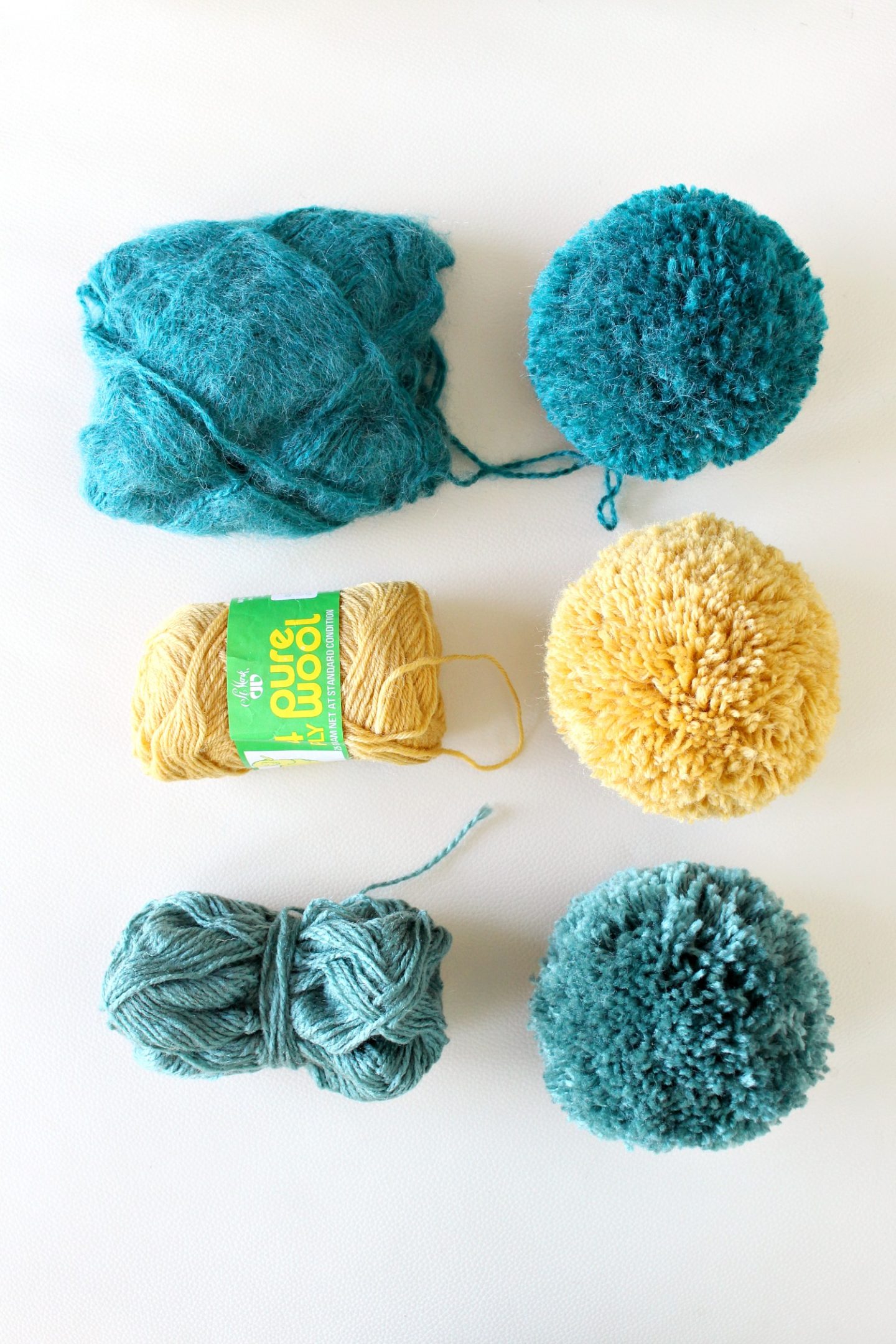 So look for super fuzzy yarn (the thinner the better) if you want a really want my best trick for how to make dense pom poms: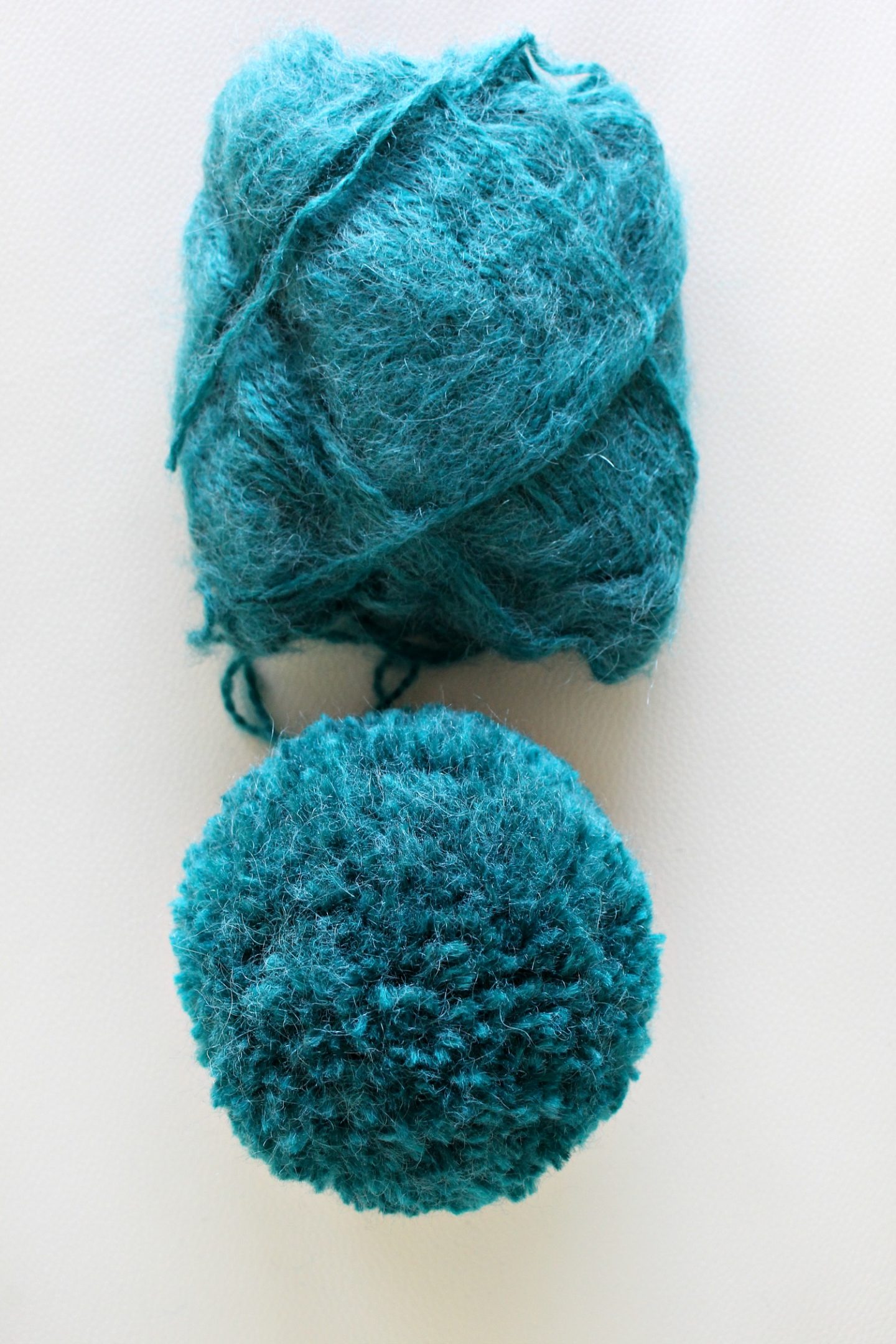 How to Make Fluffy Pom Poms:
So my first tip: thinner, fuzzier yarns, especially wool, produce the fluffiest pom poms. But the pom pom maker is really a game changer because it is really sturdy and allows you to wrap lots of yarn – but you can still make a straggly and limp pom pom by not wrapping enough yarn. As you'll see, the second more important trick is to wrap as much yarn as possible on the pom pom maker. You also want to work on wrapping the yarn on the pom pom maker back and forth, to create a pom pom with a perfect shape and density. That's the trick to making fluffy pom poms, but I'll share the step-by-step photos as well, so you can see this in action.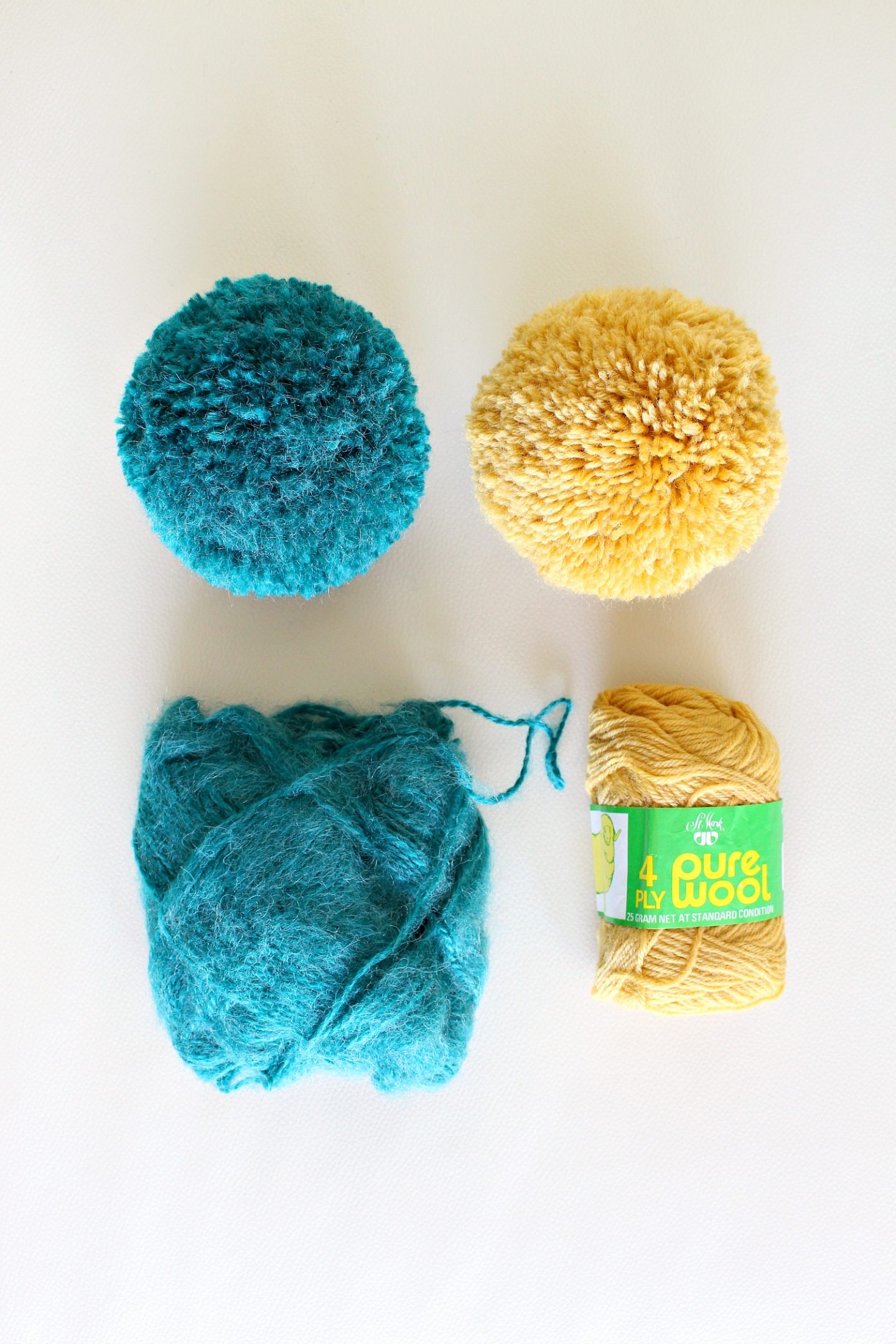 So, How Do You Make Easy Pom Poms?
The amount of yarn required for a pom pom varies, depending on the size on the pom pom makers, the thickness of the yarn, the way it's wrapped. If you're worried about not having enough, you can cut your ball or skein in half but the best thing is to just try it and you'll quickly get a sense of approximately how much yarn you need. To get you started: 5 oz (142g or 251 yards or 230 meters) of 100% acrylic yarn in medium (4) weight, yielded 5 very dense pom poms, using the smaller of the two pom pom makers I use here.
The pom pom maker can come apart, like I mentioned, so you want to click the inside pins together and open the two "arcs" (each arc has two pieces – keep them together). Start wrapping the yarn around one of the arcs, lining up the yarn as you wrap and moving from one end to the other and then back again. Don't cross the yarn or wrap it randomly – try to keep it as lined up possible and work back and forth across the arc: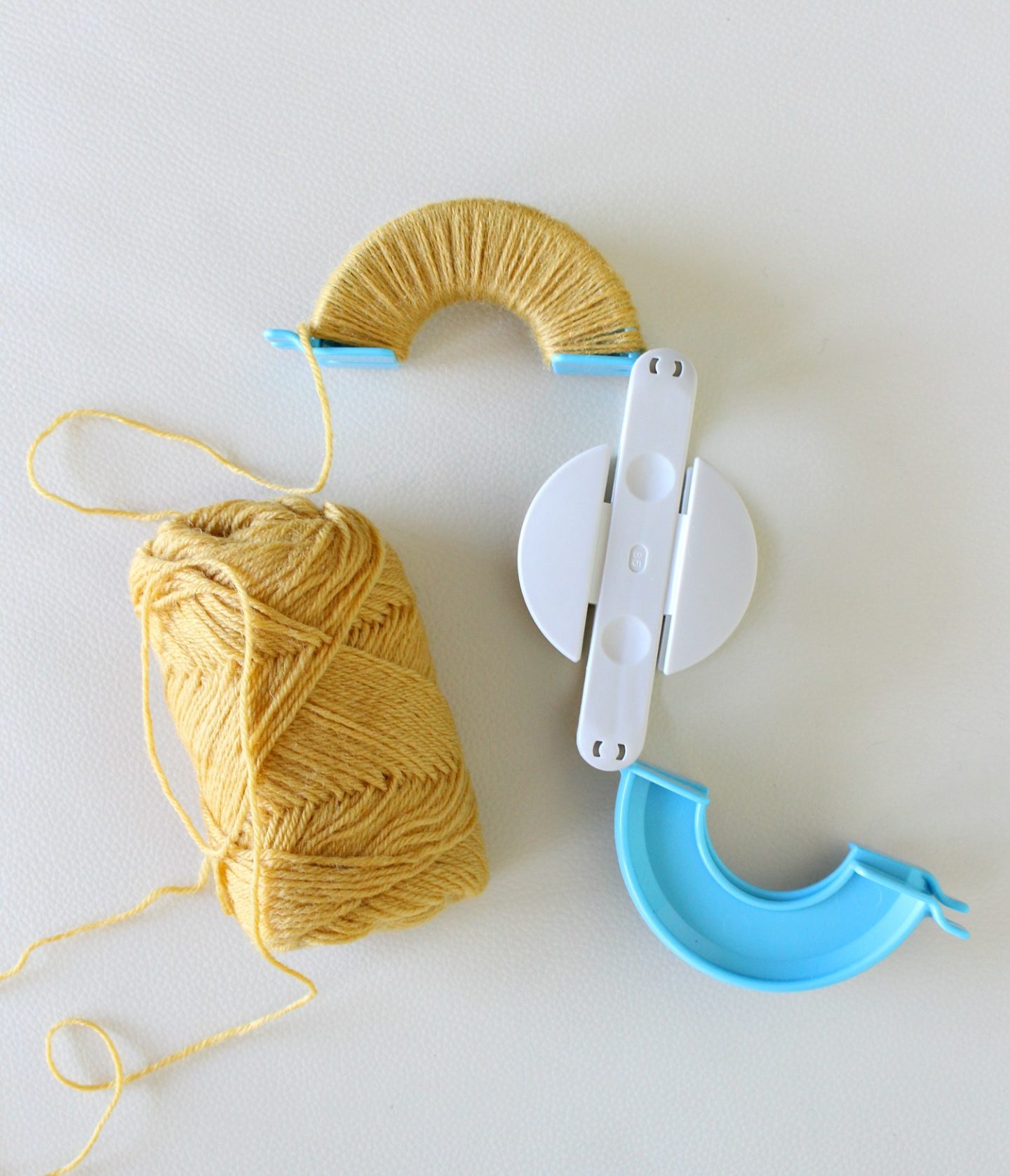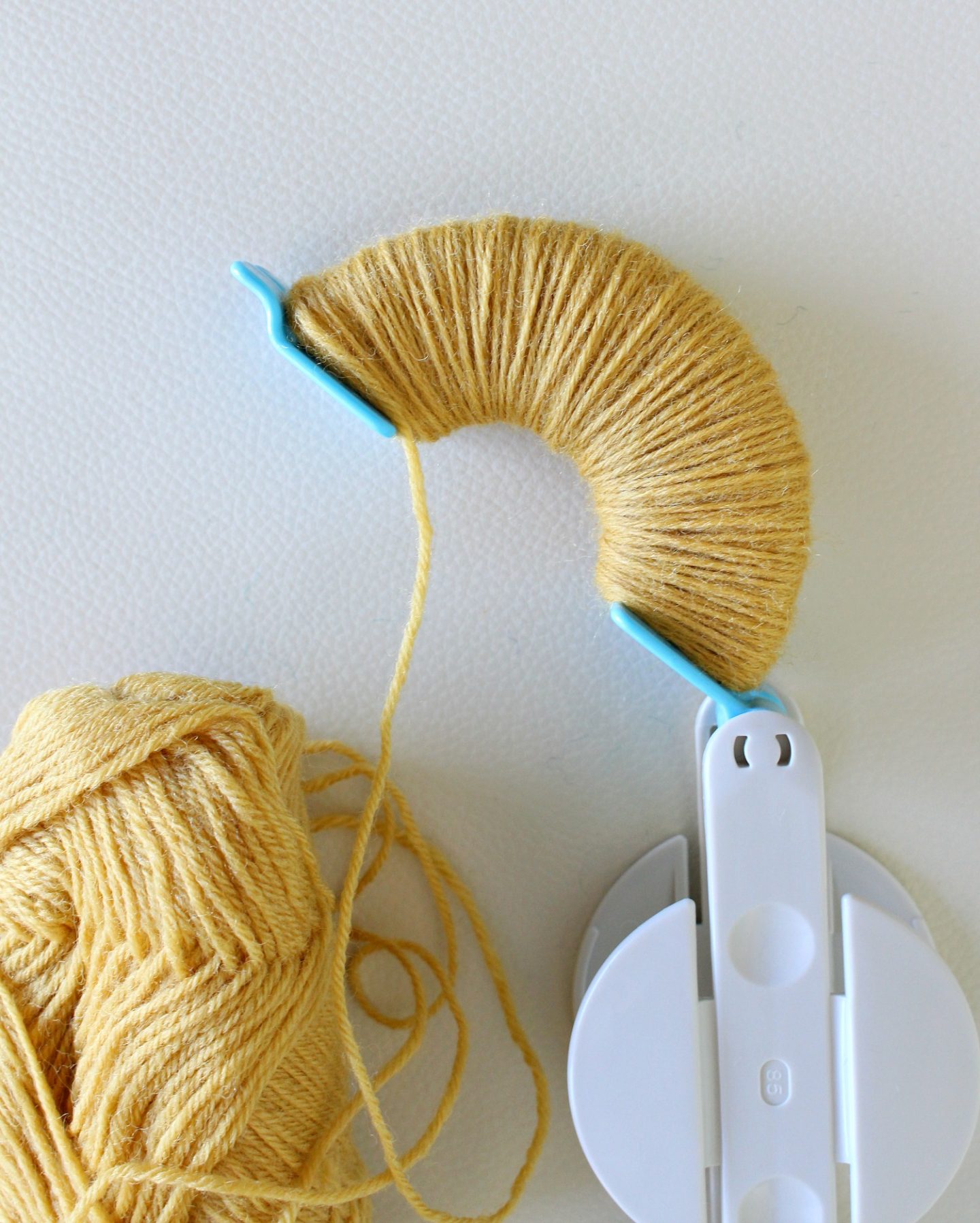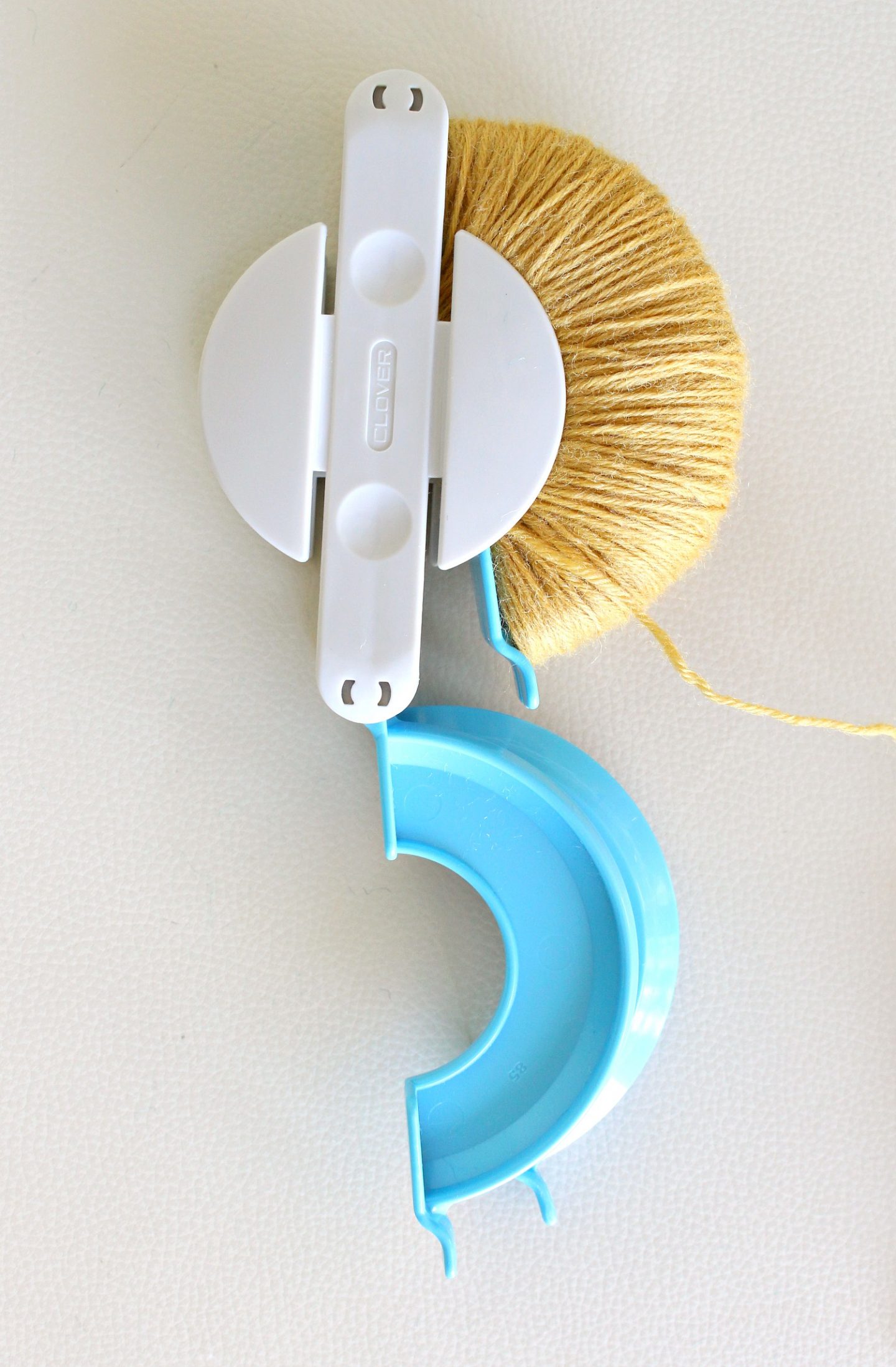 Keep adding and wrapping yarn and test closing it – you want to wrap until it barely closes (that's when you know you have enough for a giant pom pom).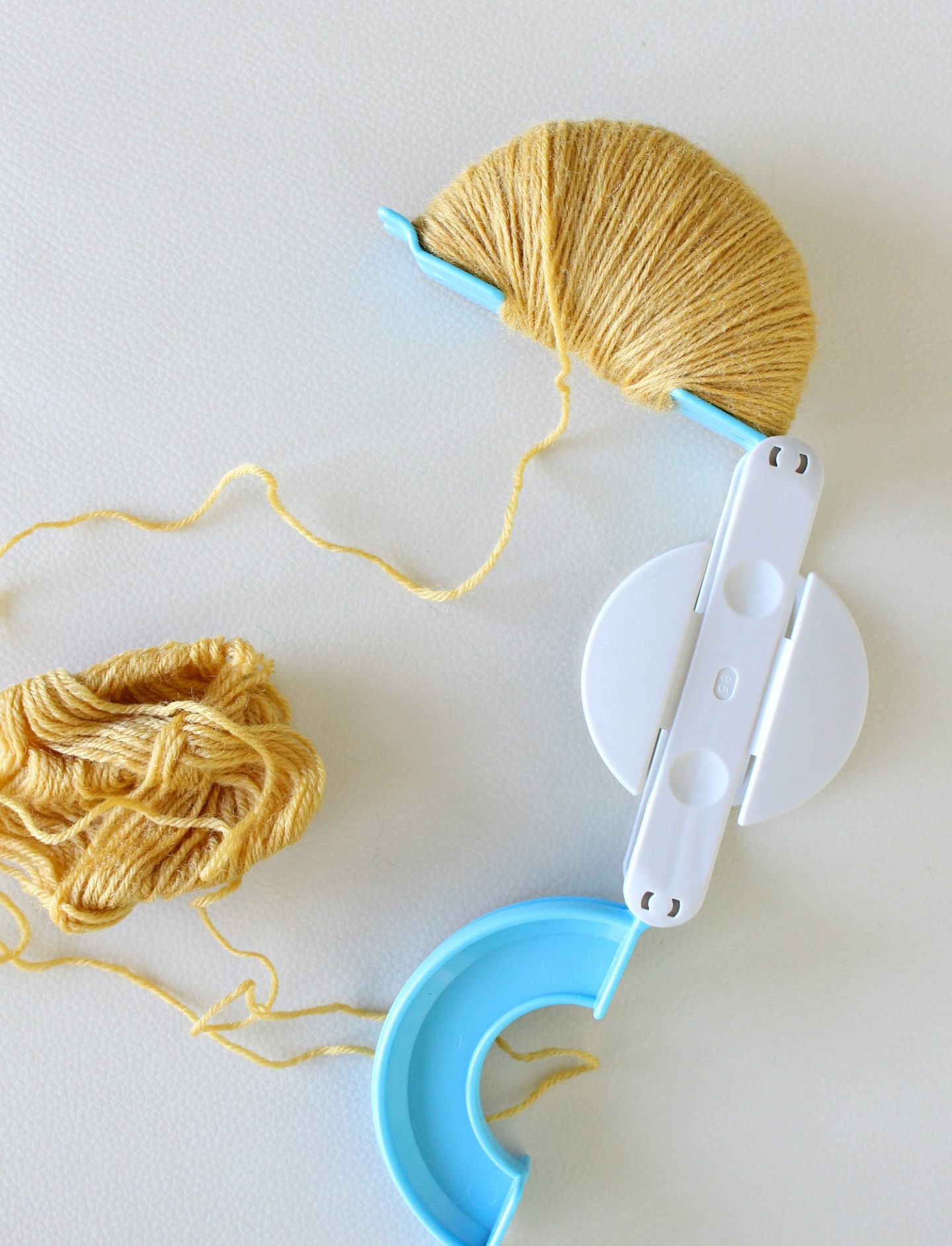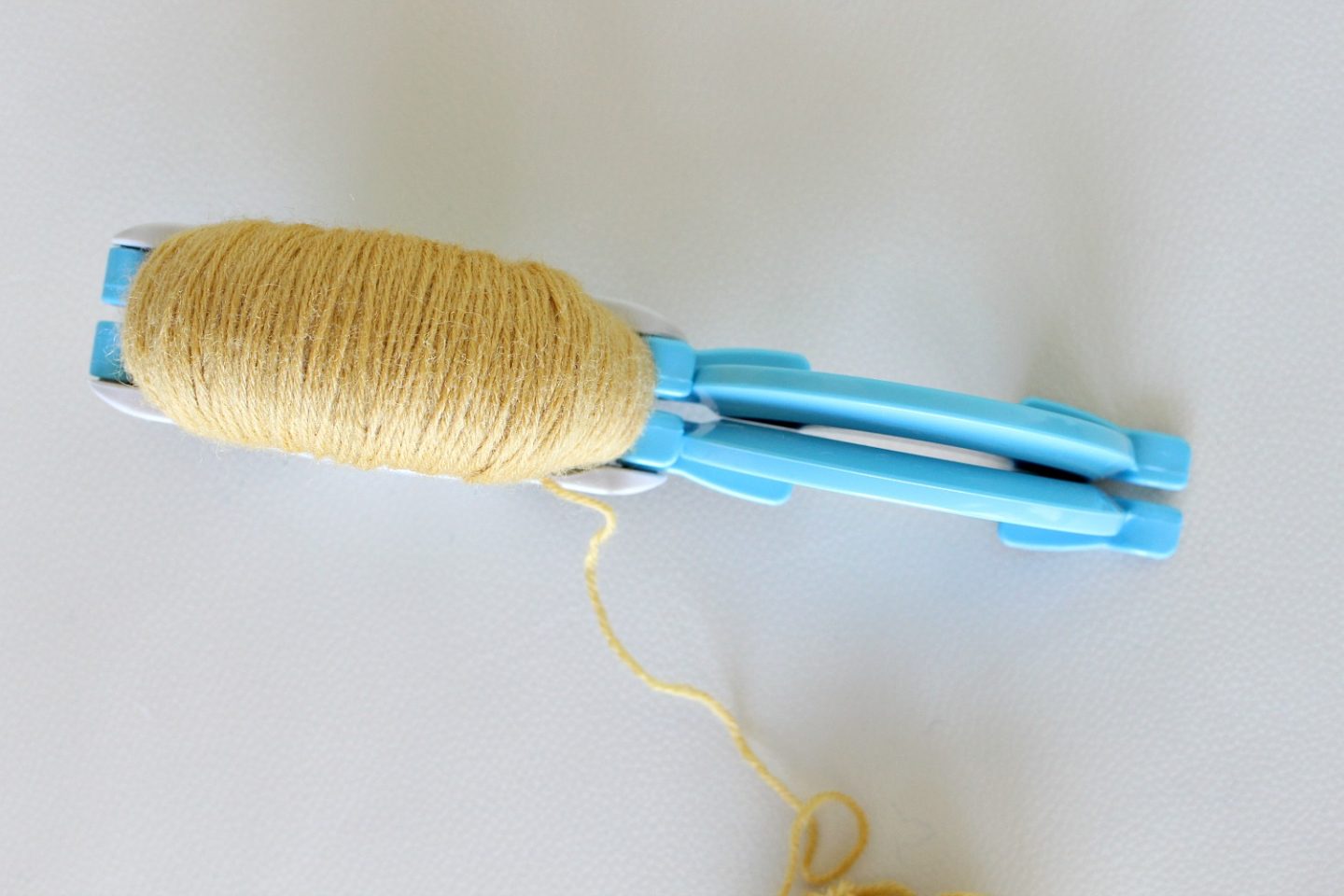 Then close the finished arc and continue the yarn to the other half and repeat the process: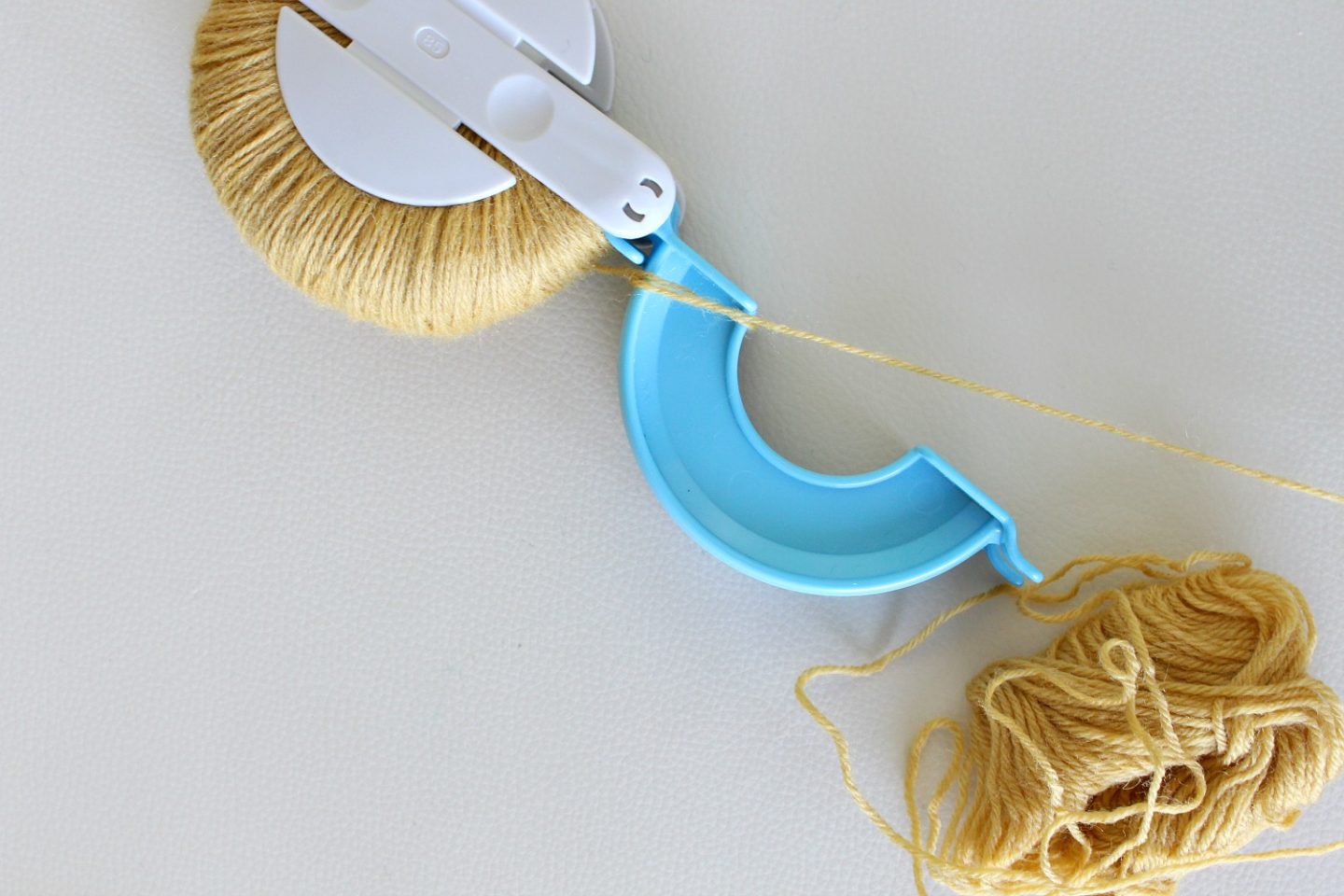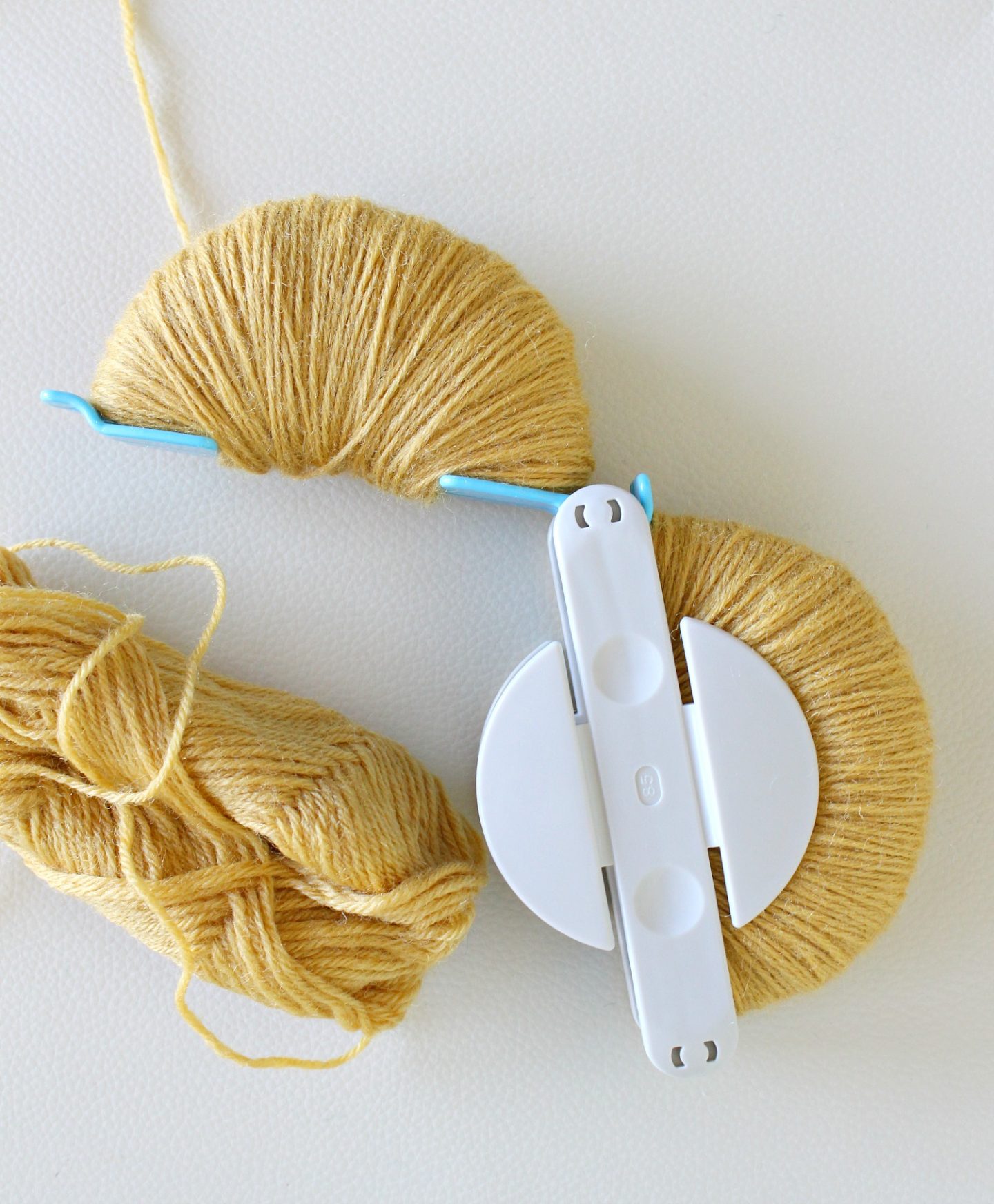 Then close both of the pom pom maker arcs, careful not to let go – you don't want the arcs springing open.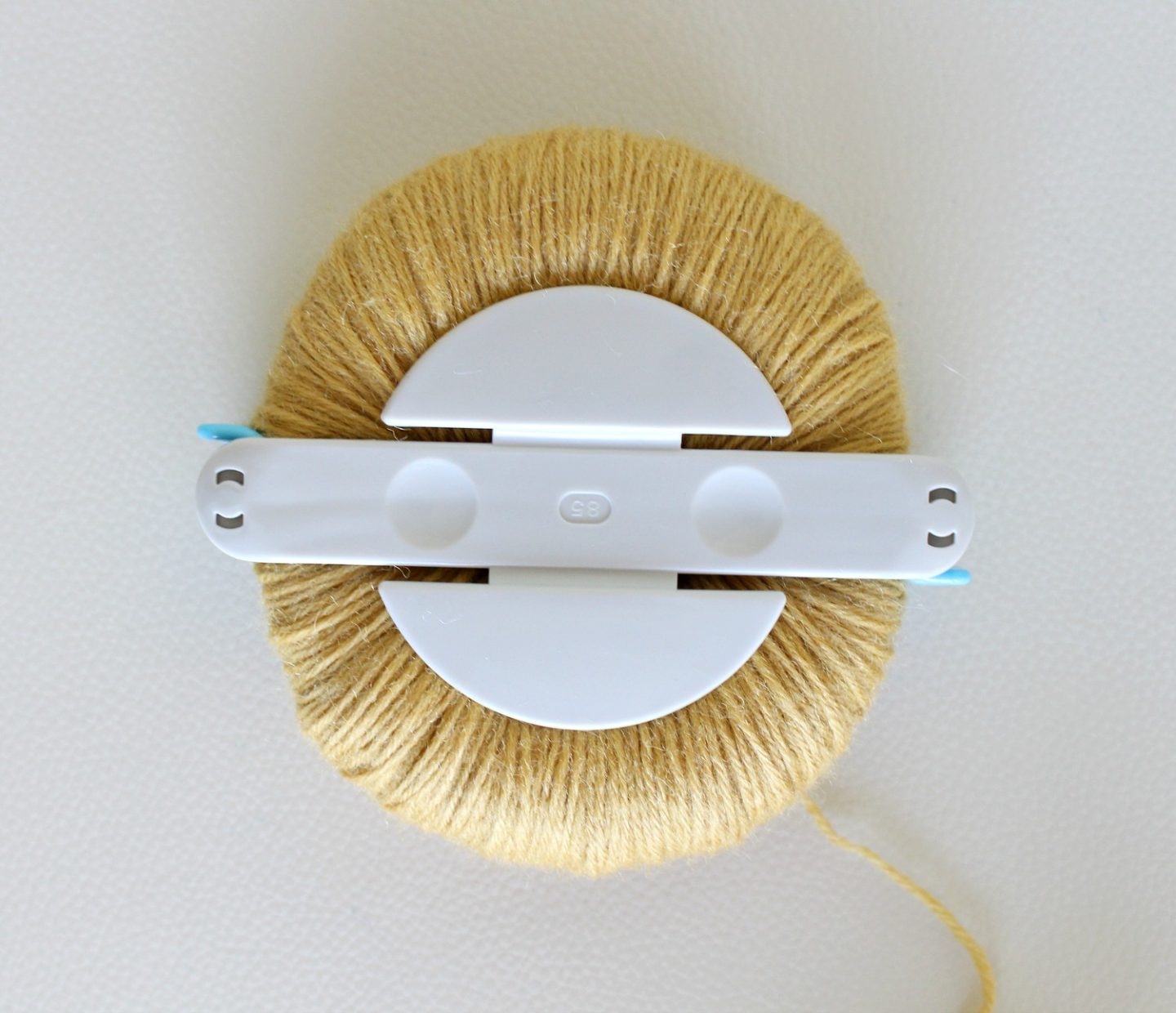 This pom pom maker has a channel and that's where you slide in the sharpest scissors you own. Let the scissors slip into the guide and cut along the middle of each arc: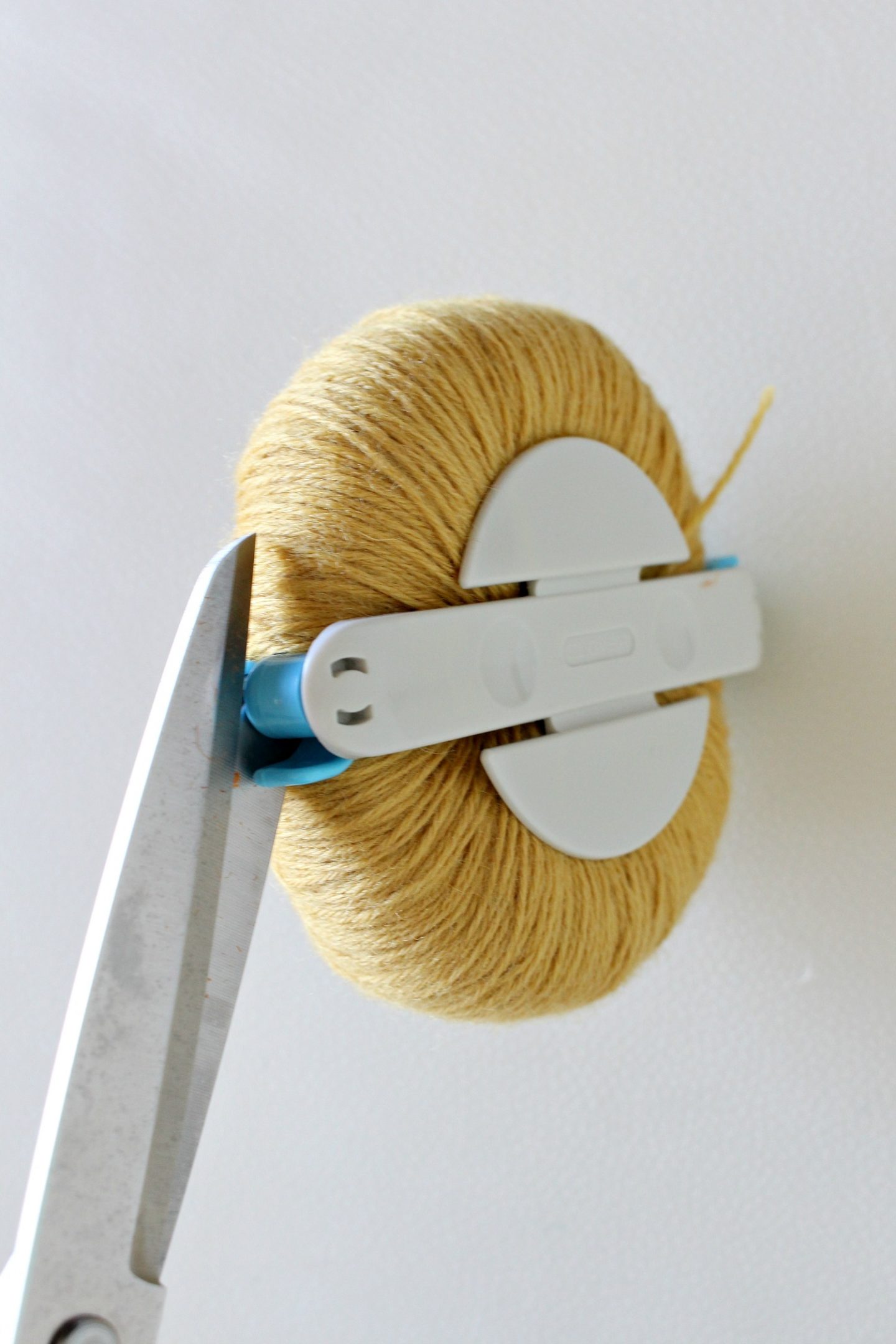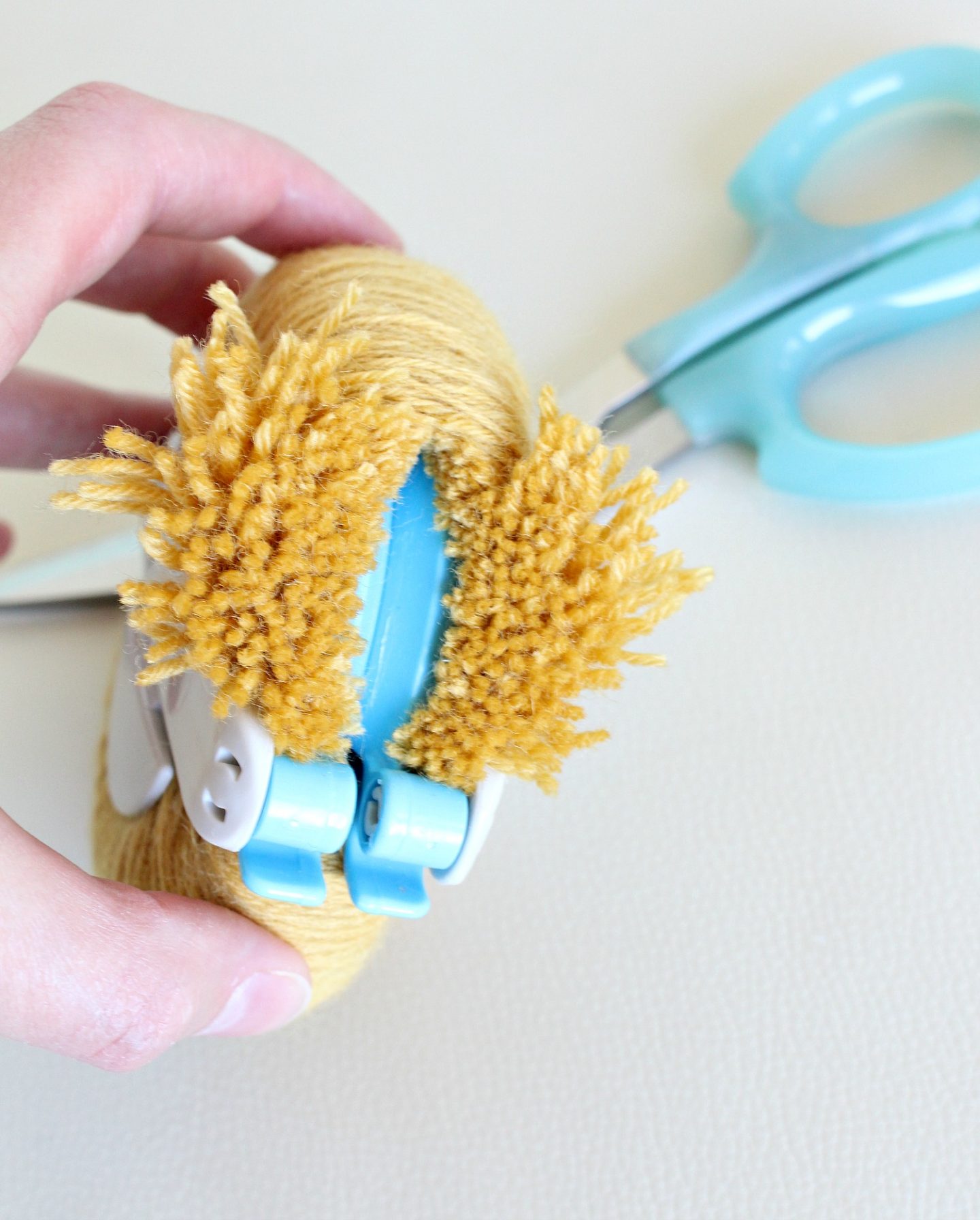 Grab a length of matching yarn – or string, if your yarn is weak and prone to tearing. Thread the yarn/string into the channel and pull tightly, wrapping a couple of times and tying in a knot – this is what holds the pom pom together and why the yarn needs to be strong. If this tie breaks, your pom pom will fall apart.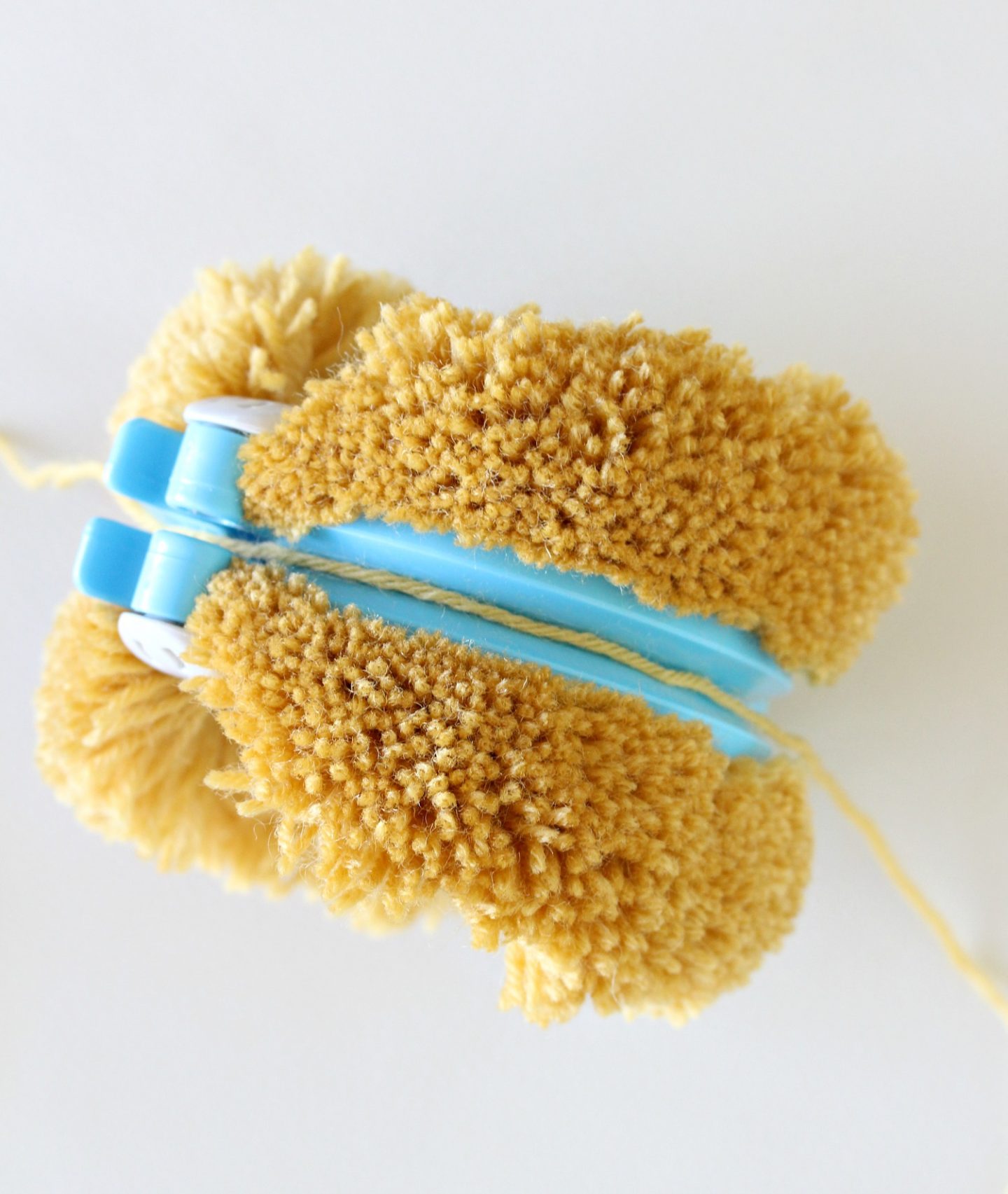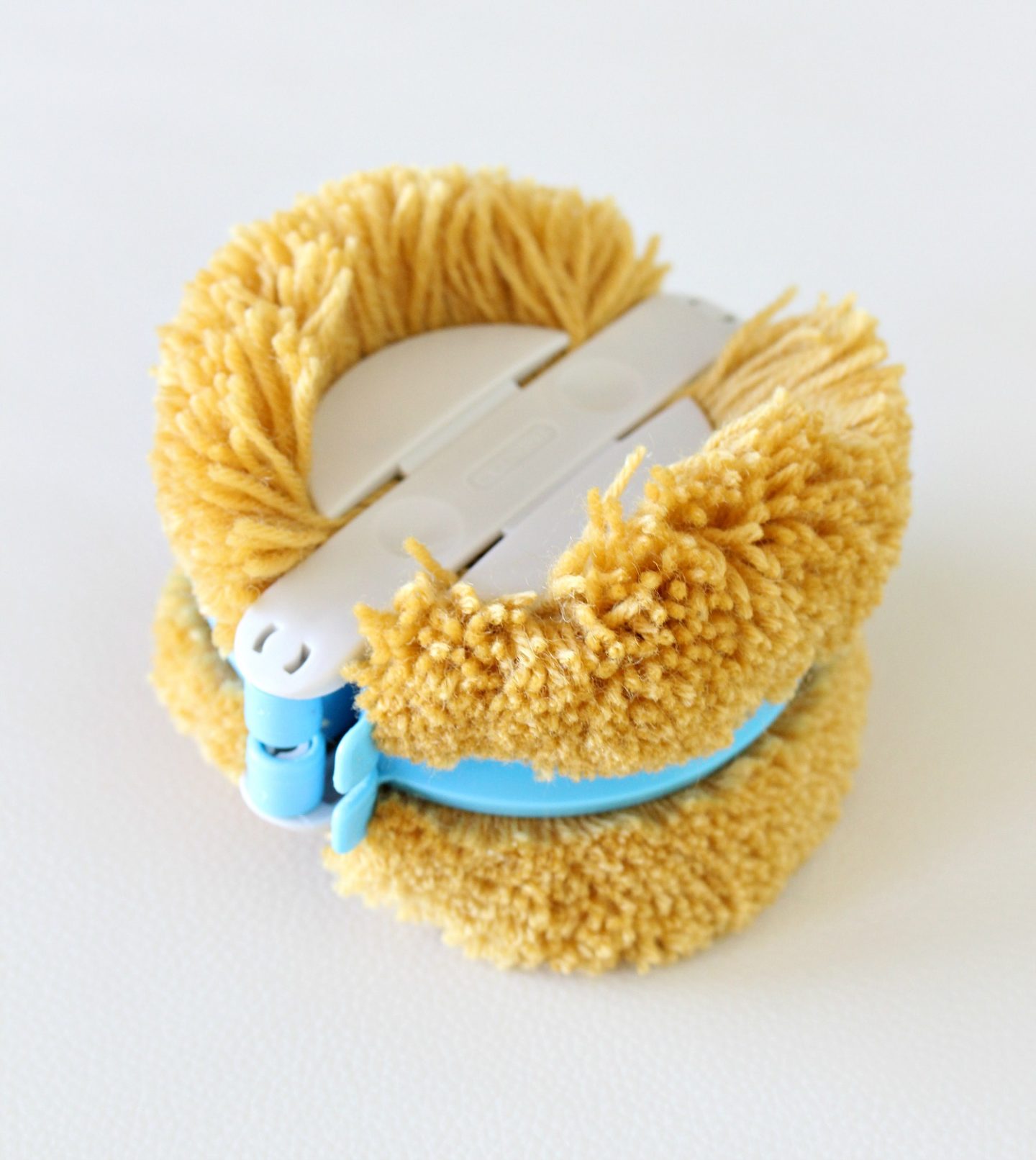 With the centre tied, you're ready to pull apart the pins to release the pom pom: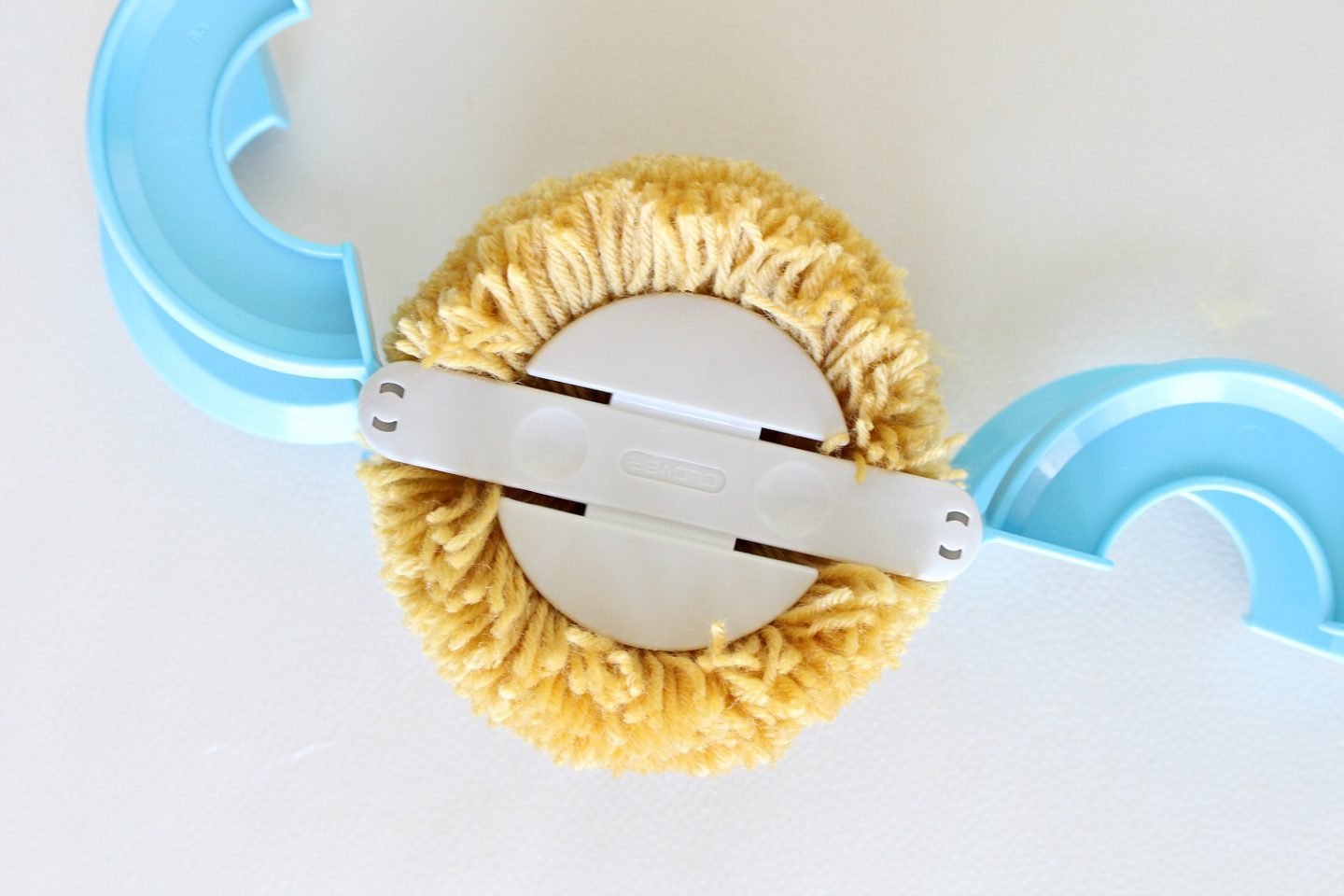 Ta da! You made DIY poms poms – and learned how to make giant pom poms to put all other poms to shame.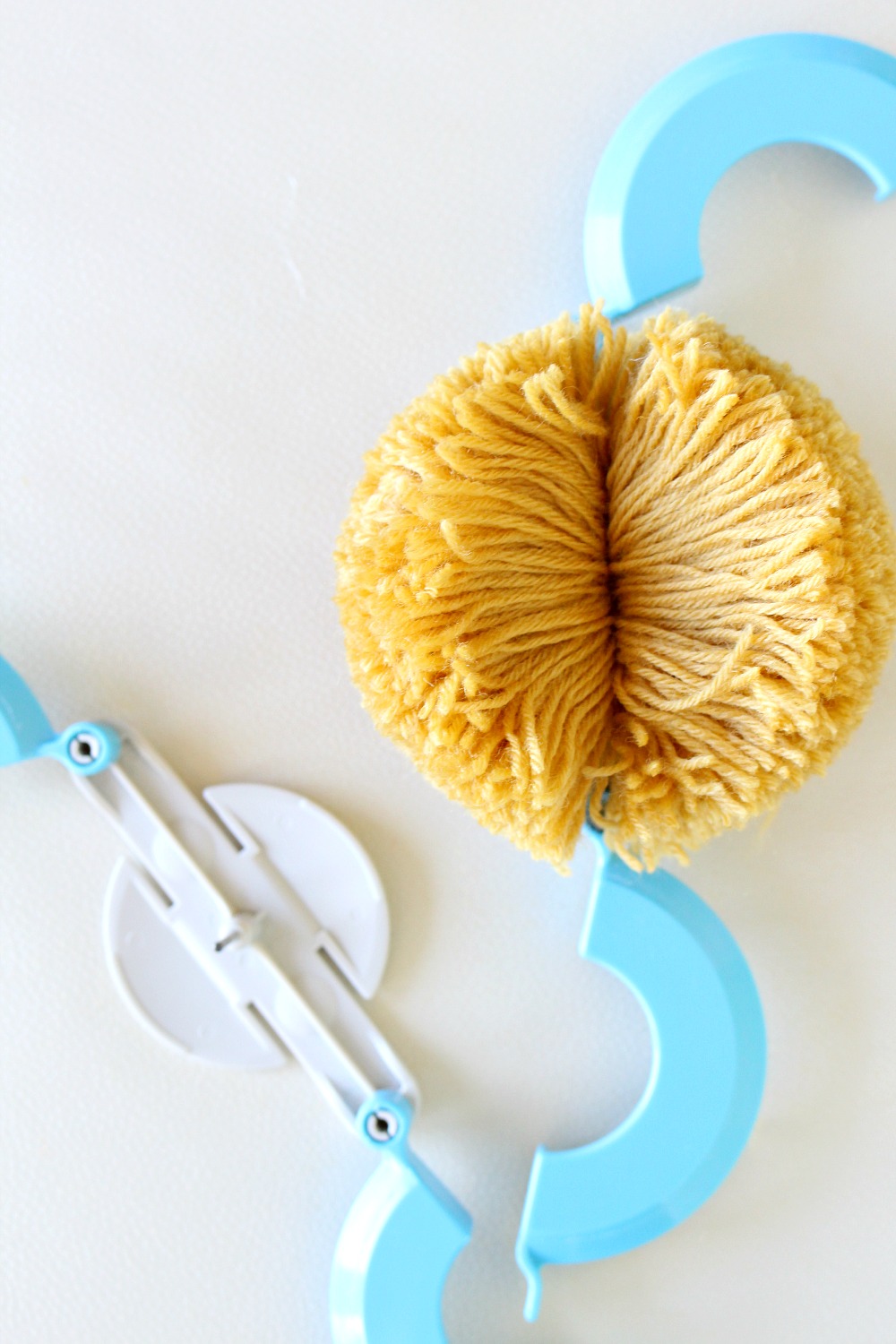 Your DIY pom poms will pop out of the pom pom maker a little scraggly, so roll them between your hands a bit to get the yarn to settle and then take the sharp scissors and trim into a spherical shape. This takes a few minutes but it's worth it! You can take a pom pom from this…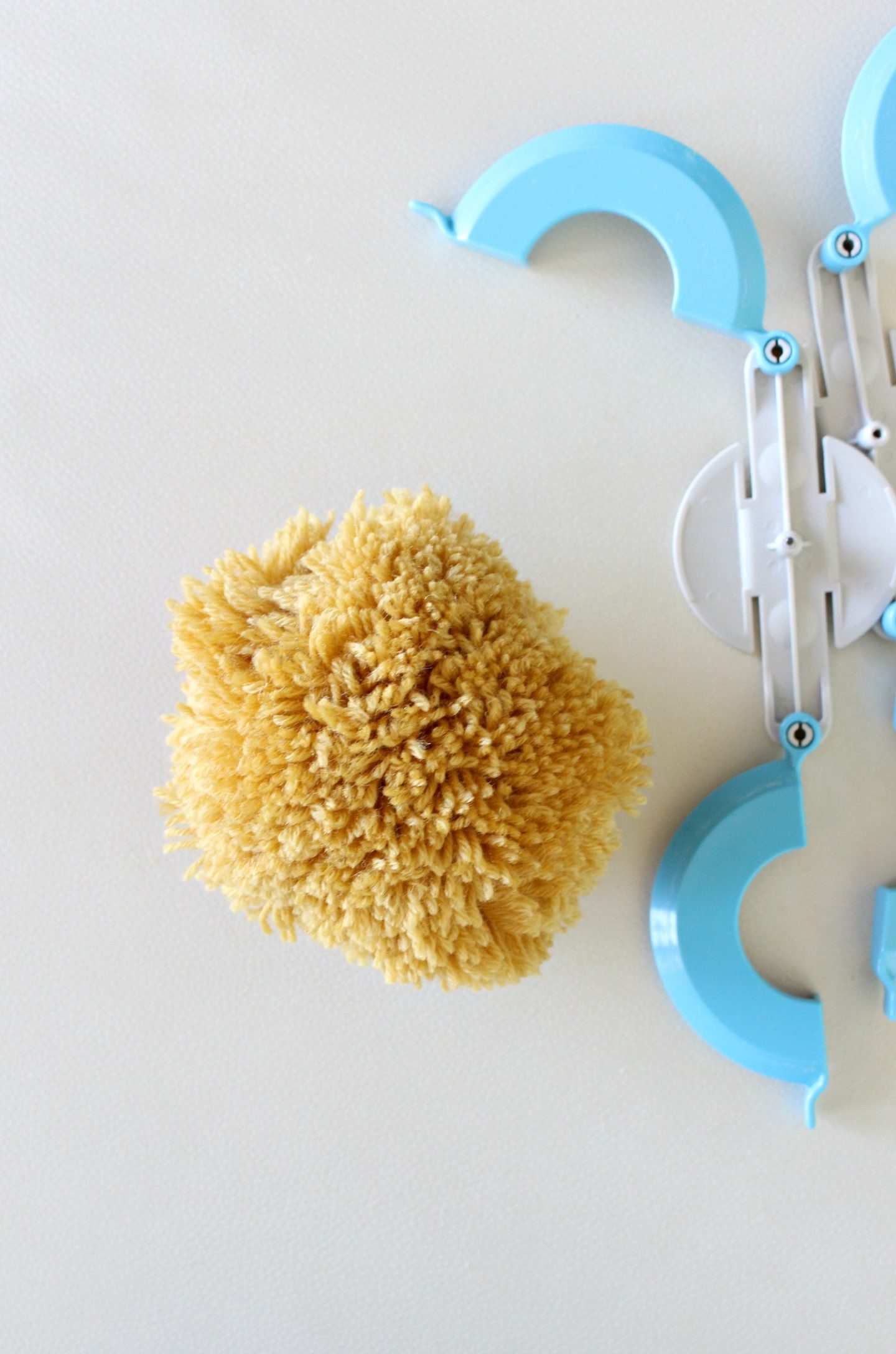 …to this, with a little trimming.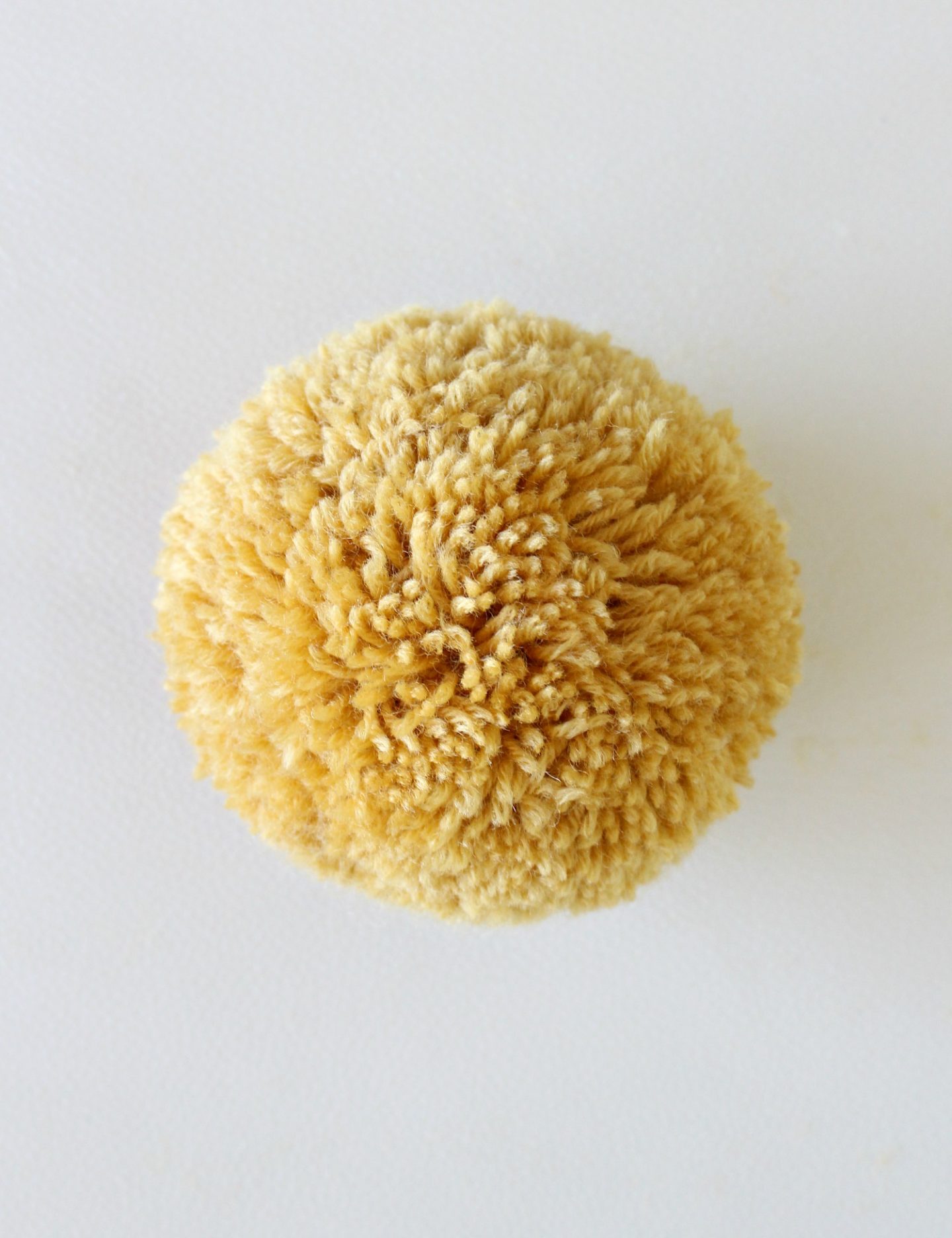 That's all it takes! As long as you use this massive pom pom maker, wrap it FULL so it can barely close – with the fluffiest yarn you can find – you'll get really large and really dense pom poms. Making DIY pom poms is super easy, but it does take some time. This is a perfect craft for a lazy Sunday afternoon – but I should warn you that making these is super addictive!
Making DIY pom poms is also a great way to use up leftover yarn! You can wrap random odds and ends – or do the two halves different colors – to really have some fun!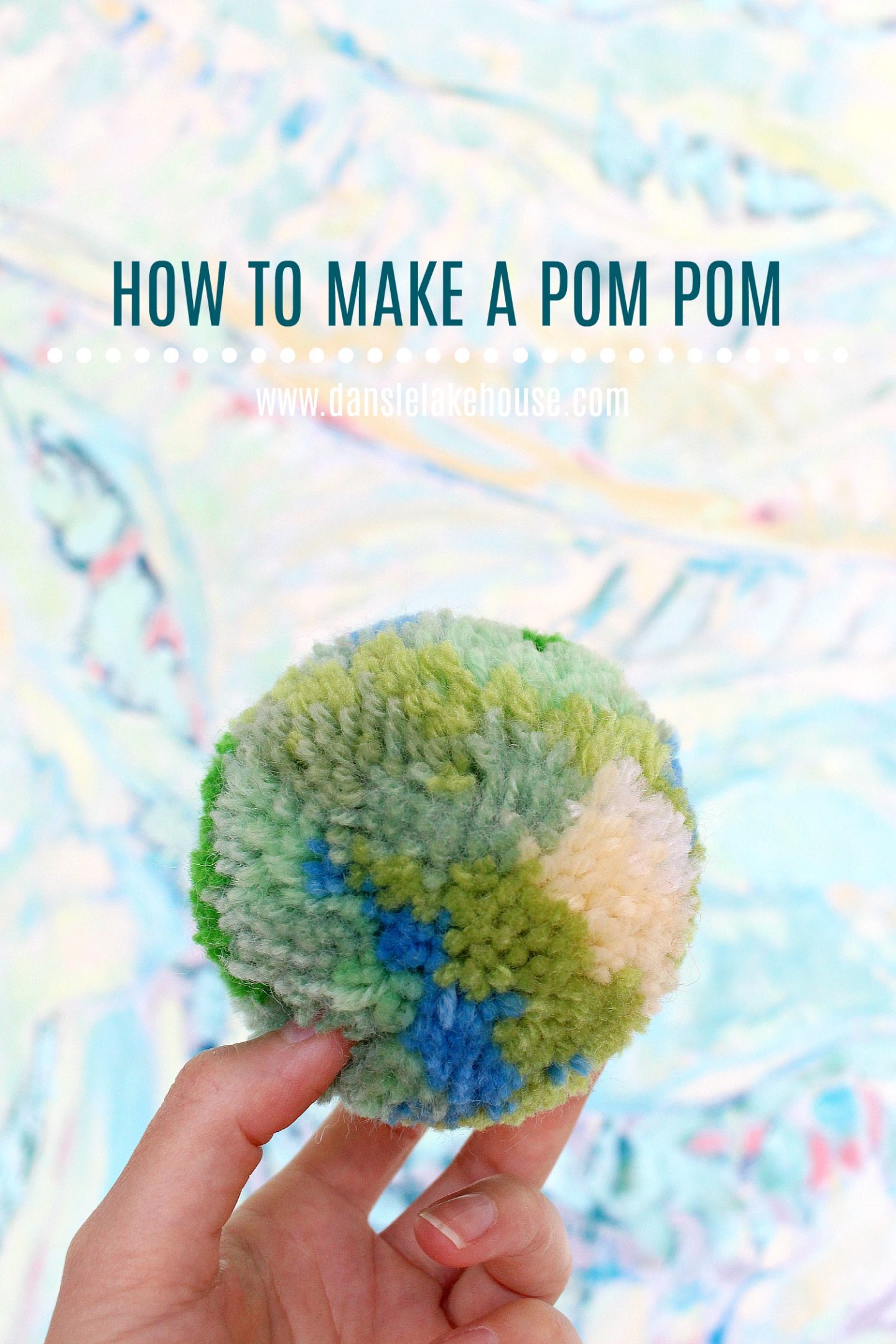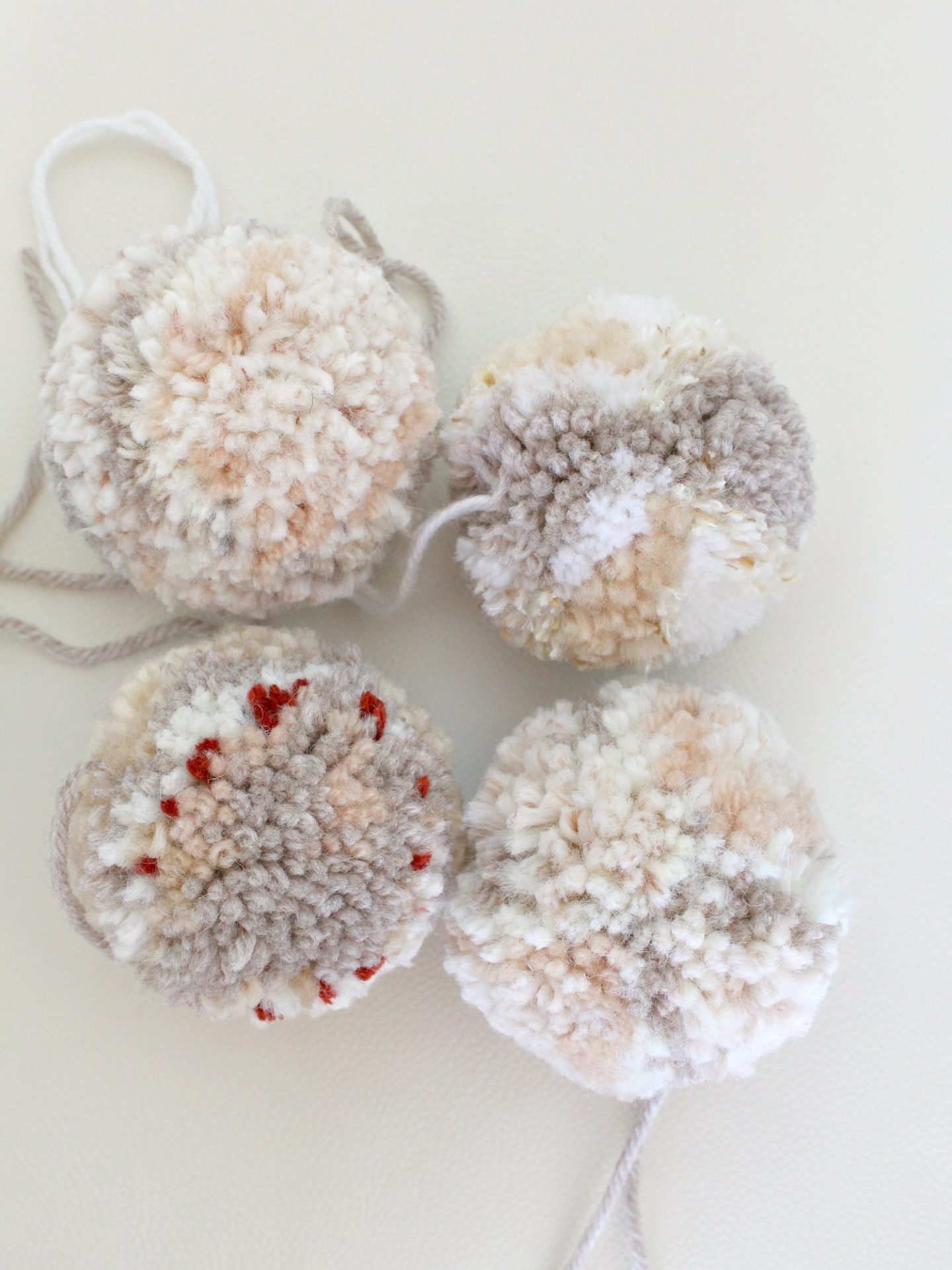 P.S. Don't Forget to Pin for Later!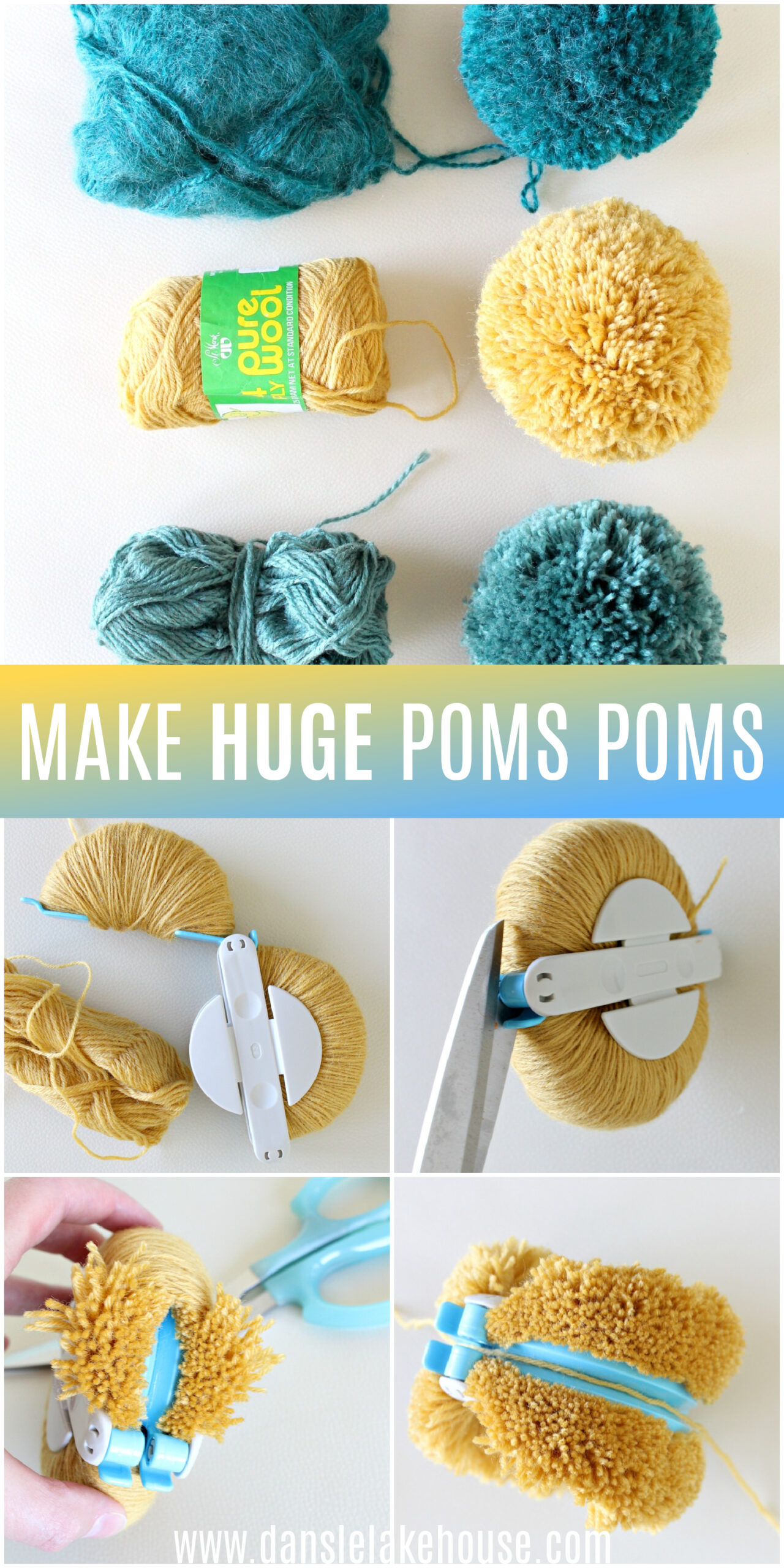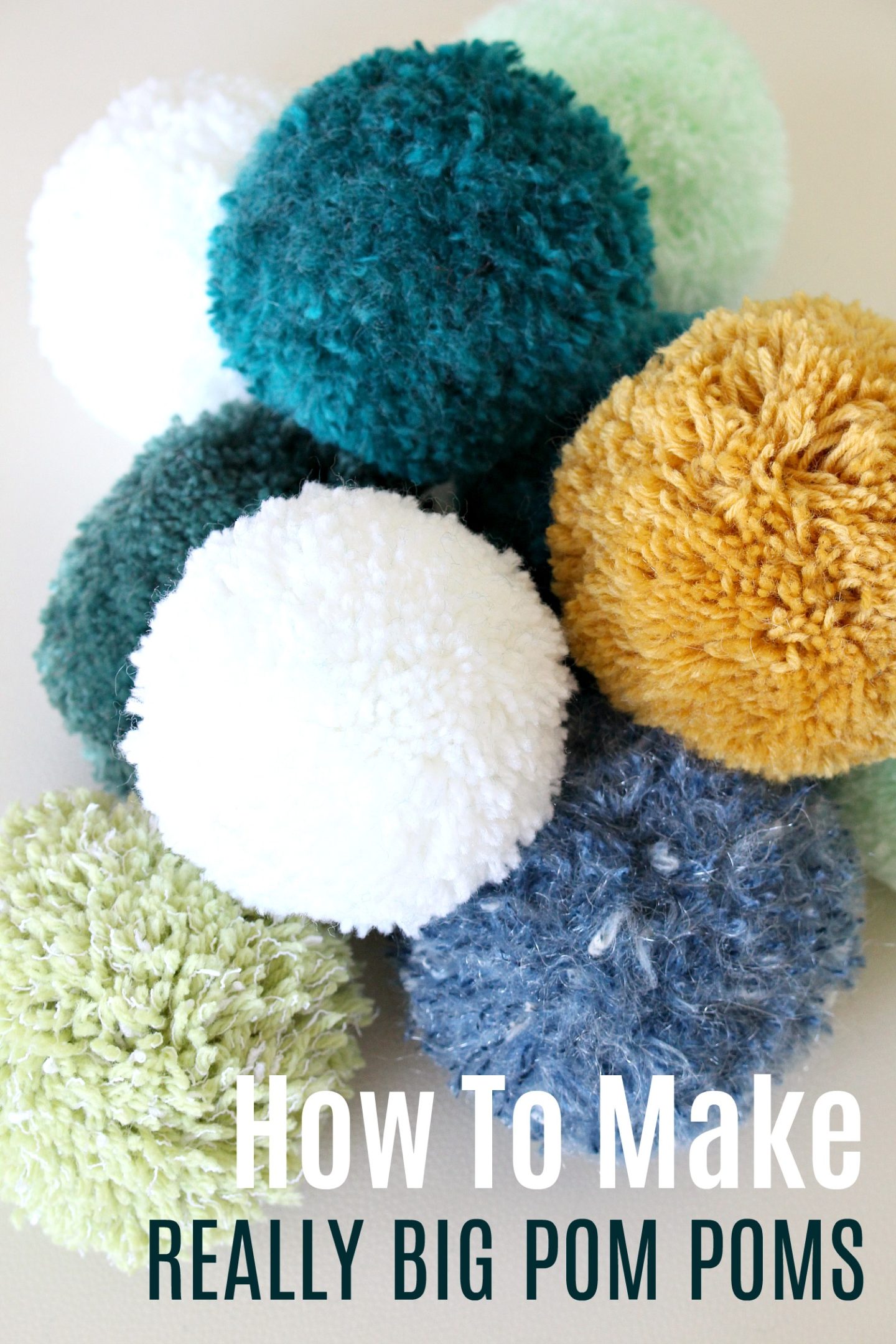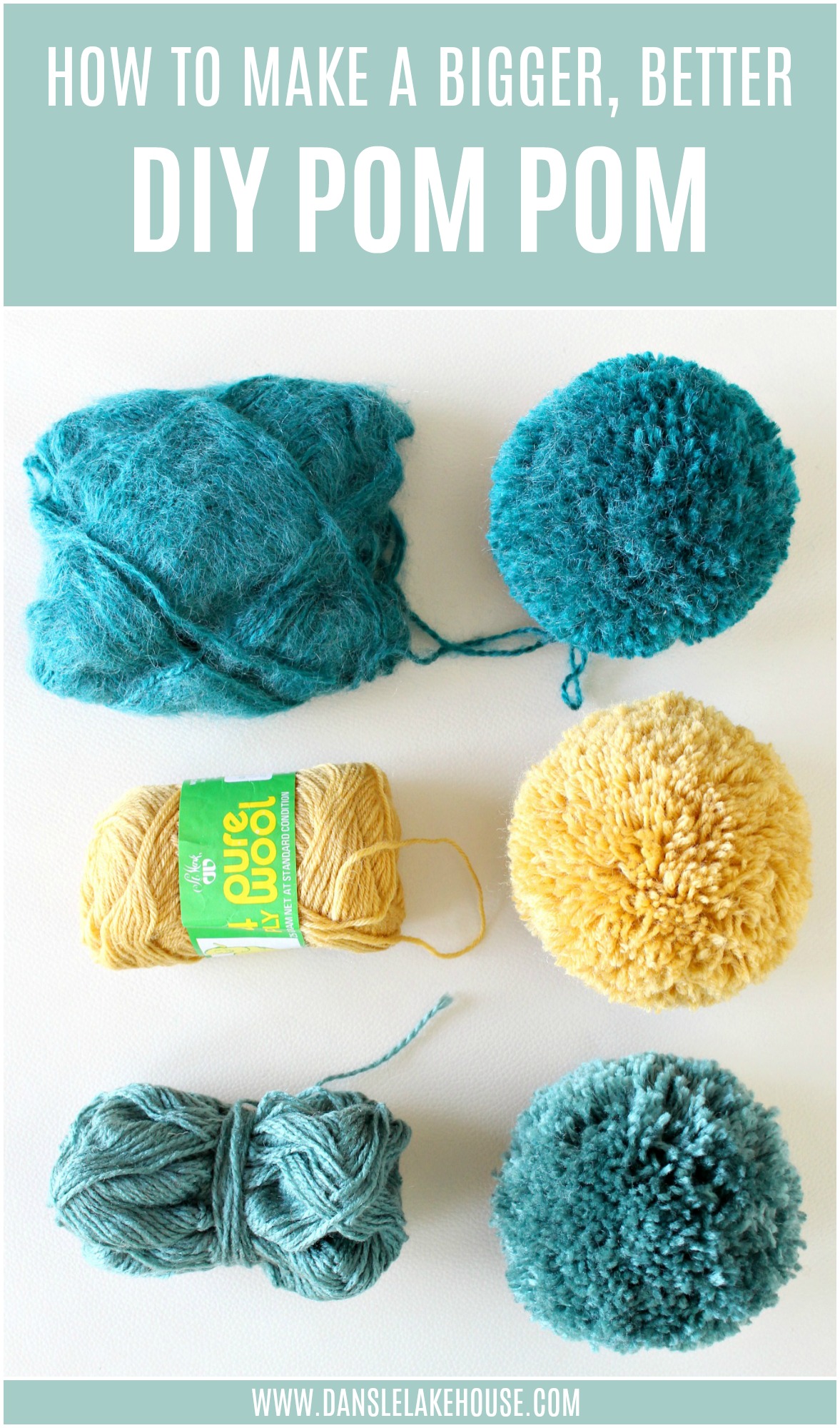 And if you're in the mood for more supersized crafts, learn how to make really giant borax crystals with this tutorial.