This easy DIY faux flower wreath (a Lily of the Valley wreath, to be specific) combines my two loves: turquoise and my favorite flower. Lily of the Valley used to flower around my birthday (mid-June) so it always felt like Mother Nature's gift to me. But this year it bloomed a little late and seemed to finish flowering really quickly. I still managed to fill a few vases and enjoy them! I probably enjoyed my Lily of the Valley even more this year because I knew they wouldn't last as long. The tiniest little bouquet made the house smell so amazing.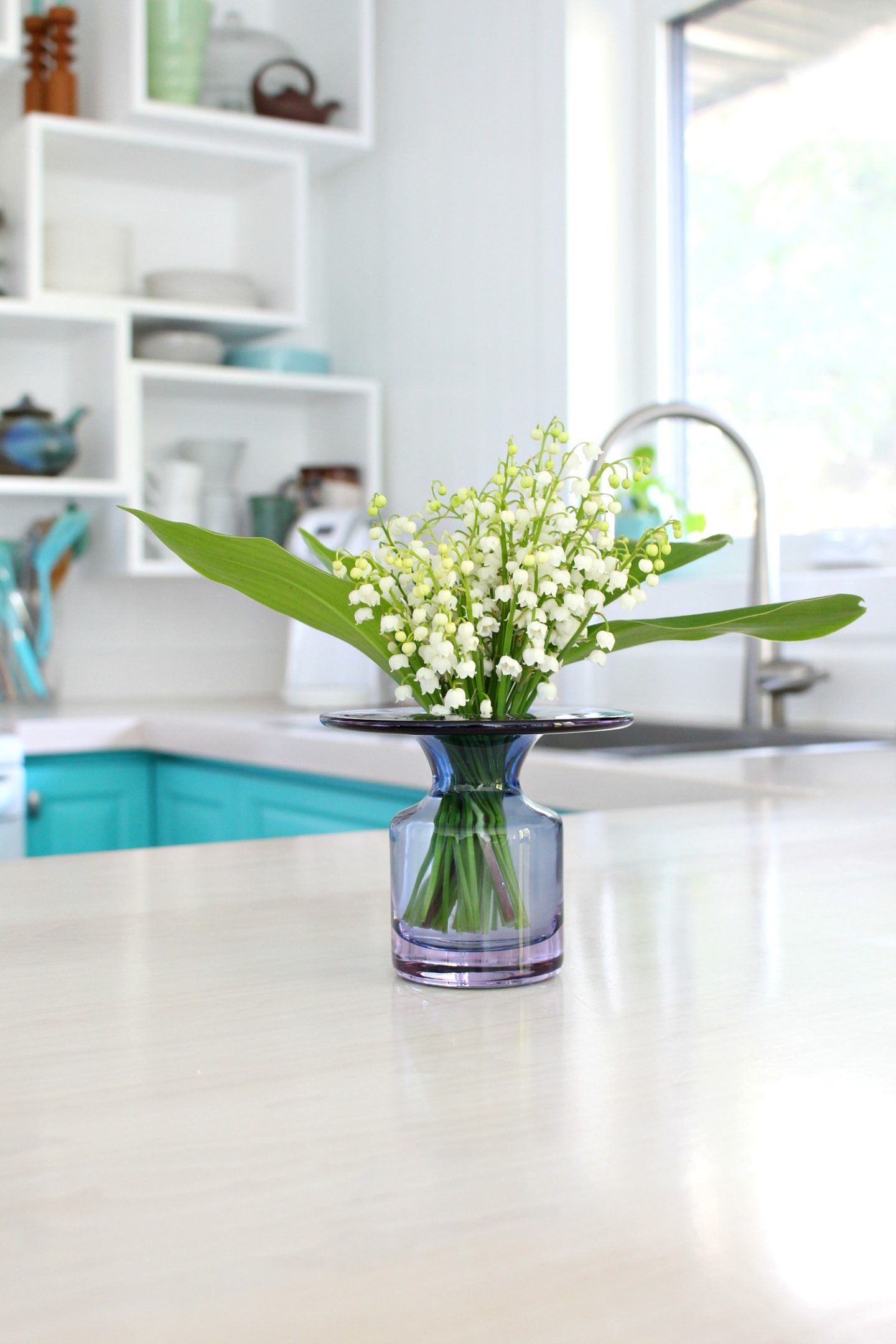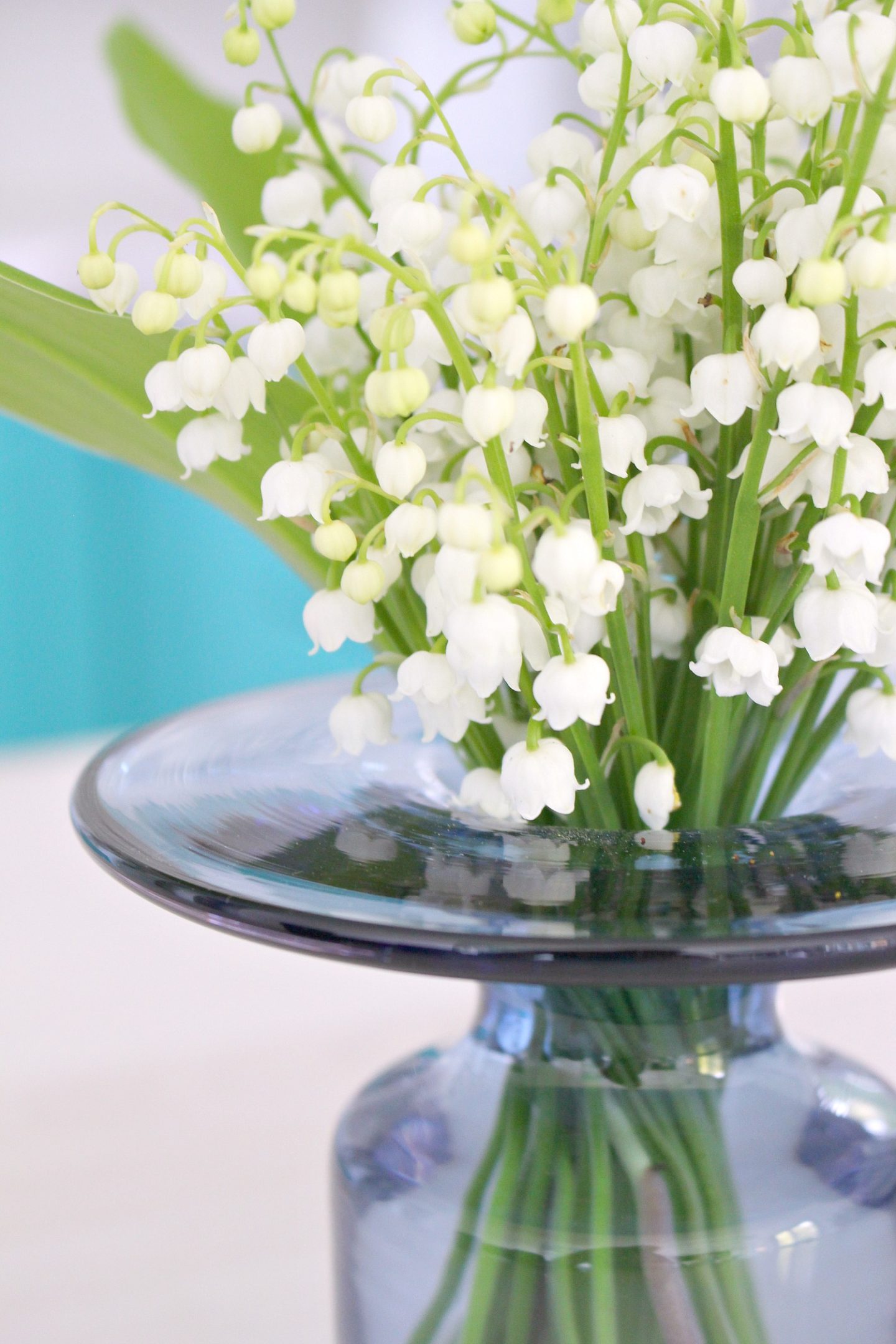 When they had finished flowering, I decided to make a faux Lily of the Valley wreath. Of course, the aroma is half of the appeal – but I do also love the delicate bell shaped flowers. And a DIY faux flower wreath is so easy to make – I whipped this up in about twenty minutes (while using my truck tailgate as a work surface and soaking in that sunshine).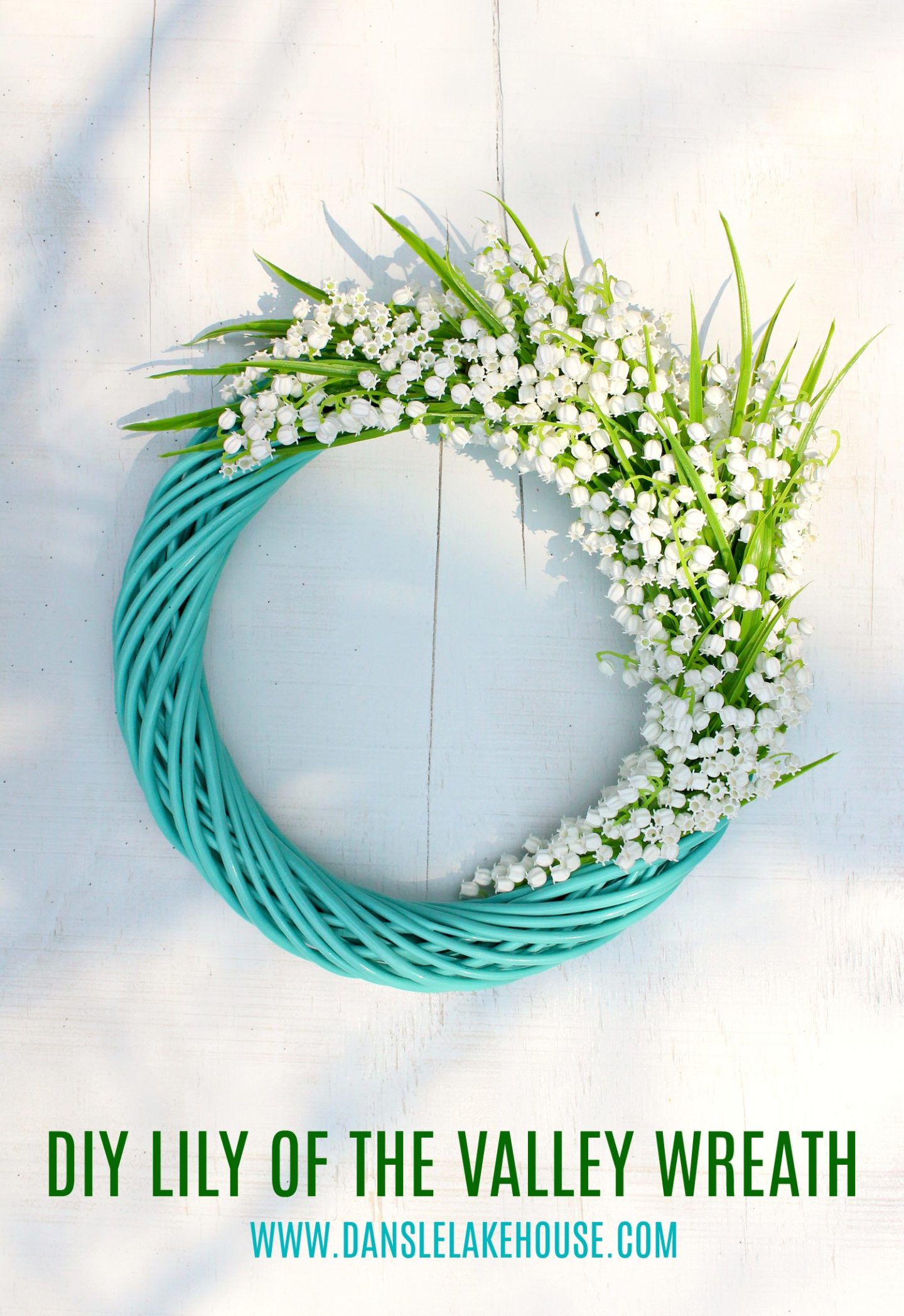 I really love how my new Lily of the Valley wreath pops against my dark grey/brown garage door – it adds a little color and cheer (and looks cute with the garage door mural I painted last summer):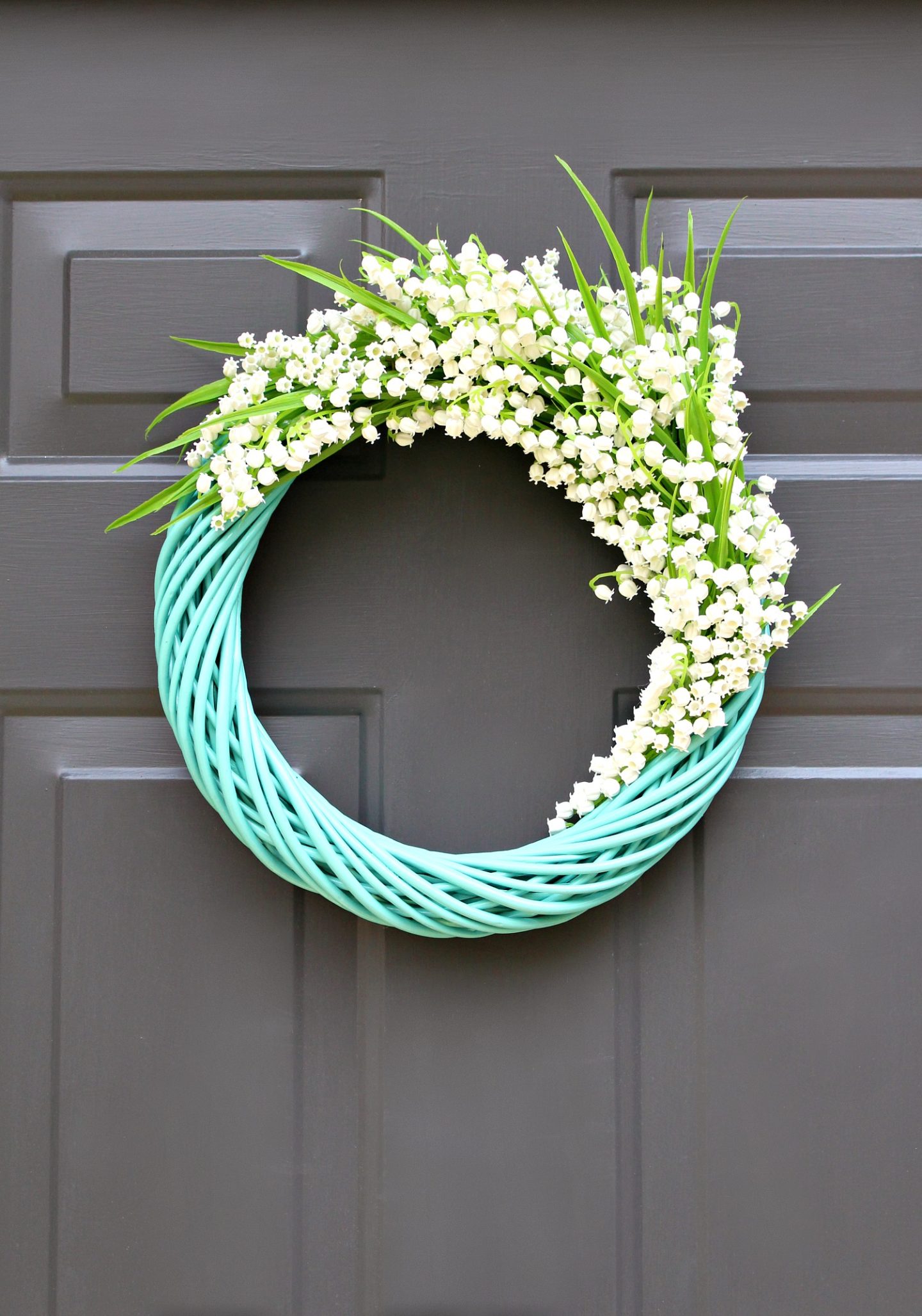 A DIY faux flower wreath is super simple to make so it barely needs a tutorial, but I'll share my steps and supply list to make it even easier (do you remember these faux Lily of the Valley flowers from my Spring Tablescape?). I suggest hitting up the thrift stores for a wreath form and flowers because you can save a lot of money on craft supplies by buying secondhand.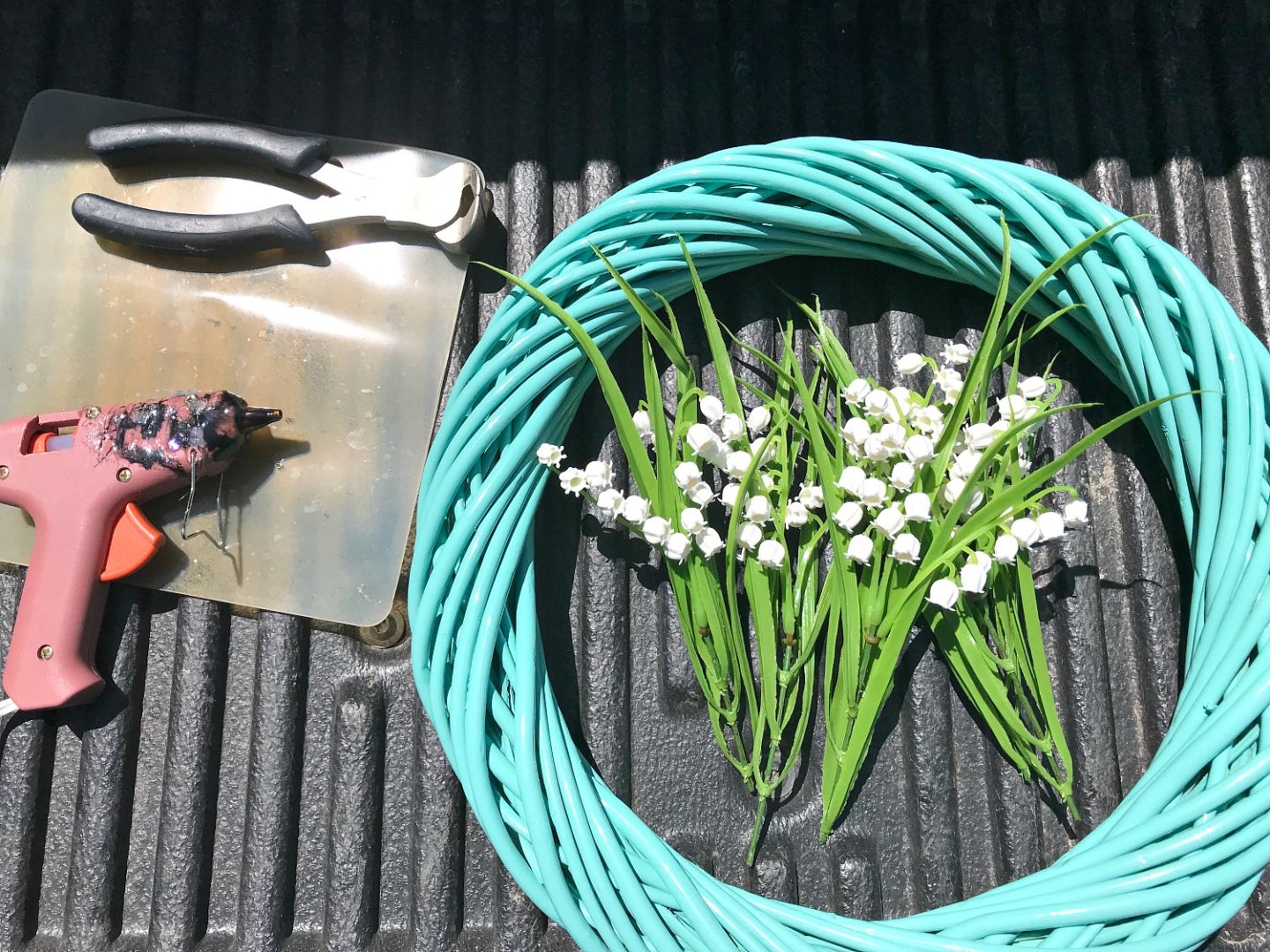 Supplies:
(I may or may not have photographed my supplies on the tailgate of my pickup truck because somewhere in the last five years I went full country, lol).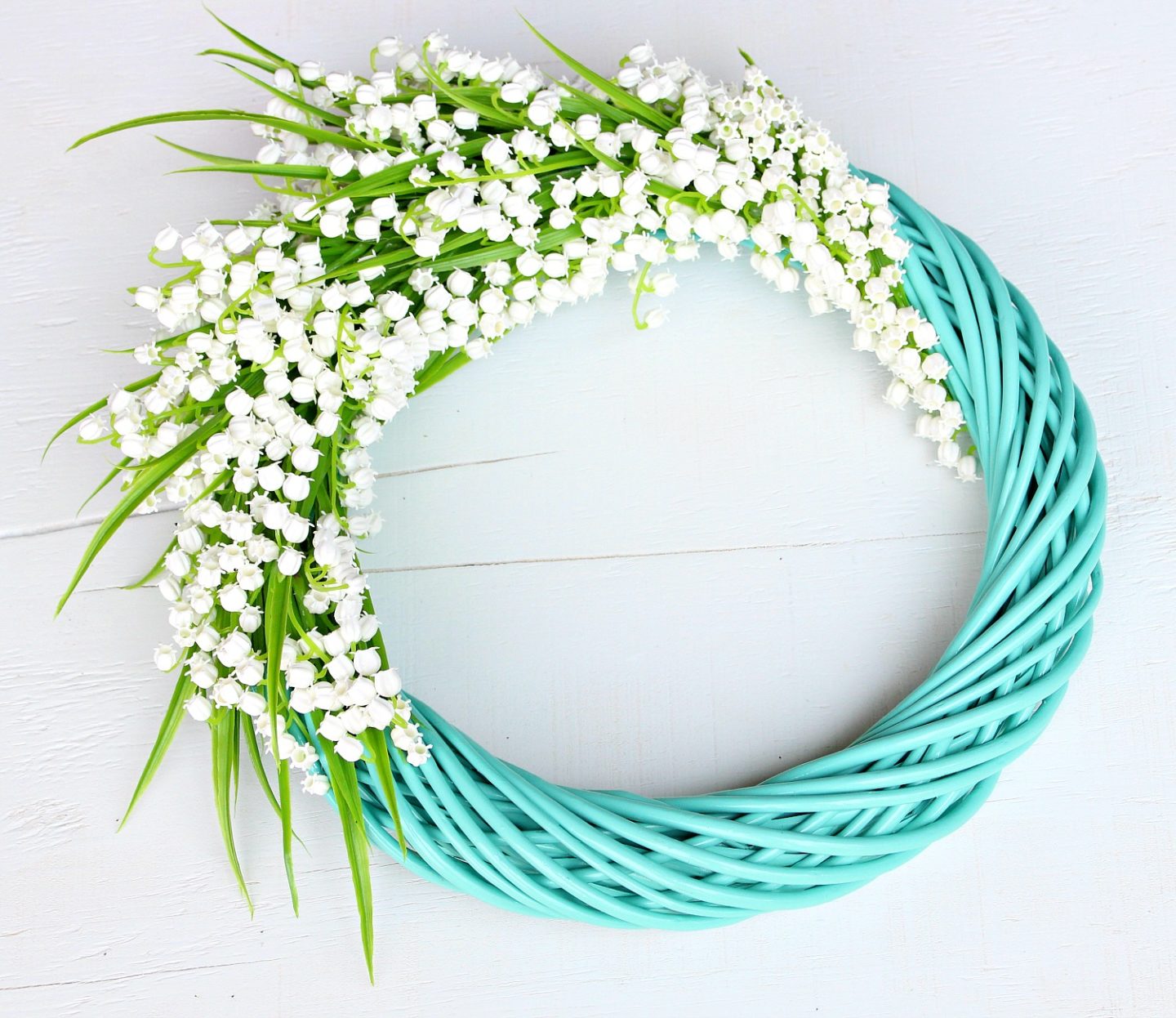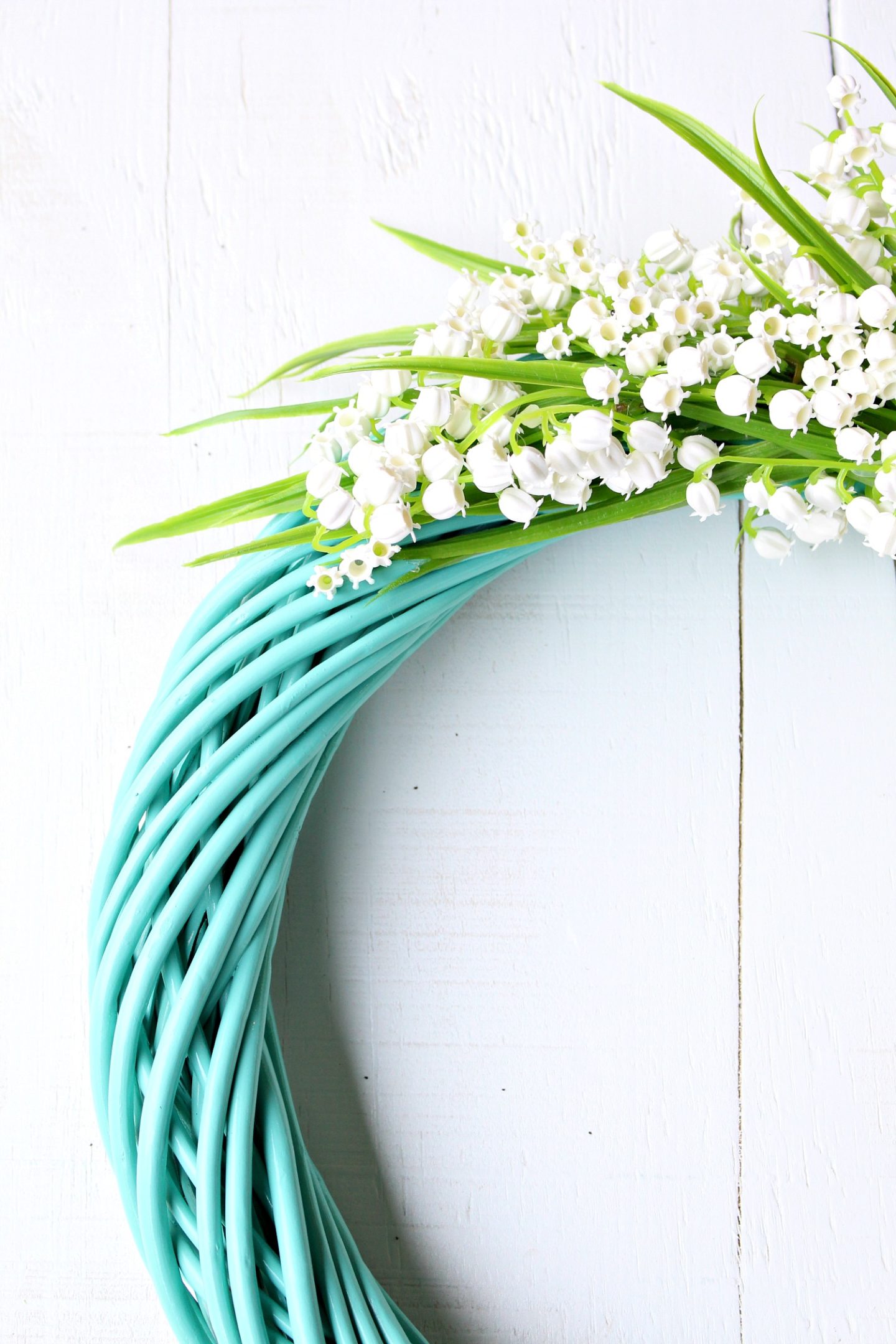 How to Make a DIY Faux Flower Wreath:
First I spray painted my thrifted willow wreath form a bright aqua, using Rust-Oleum's Spray Lacquer in Turquoise. It's left over from my turquoise lacquer stool makeover!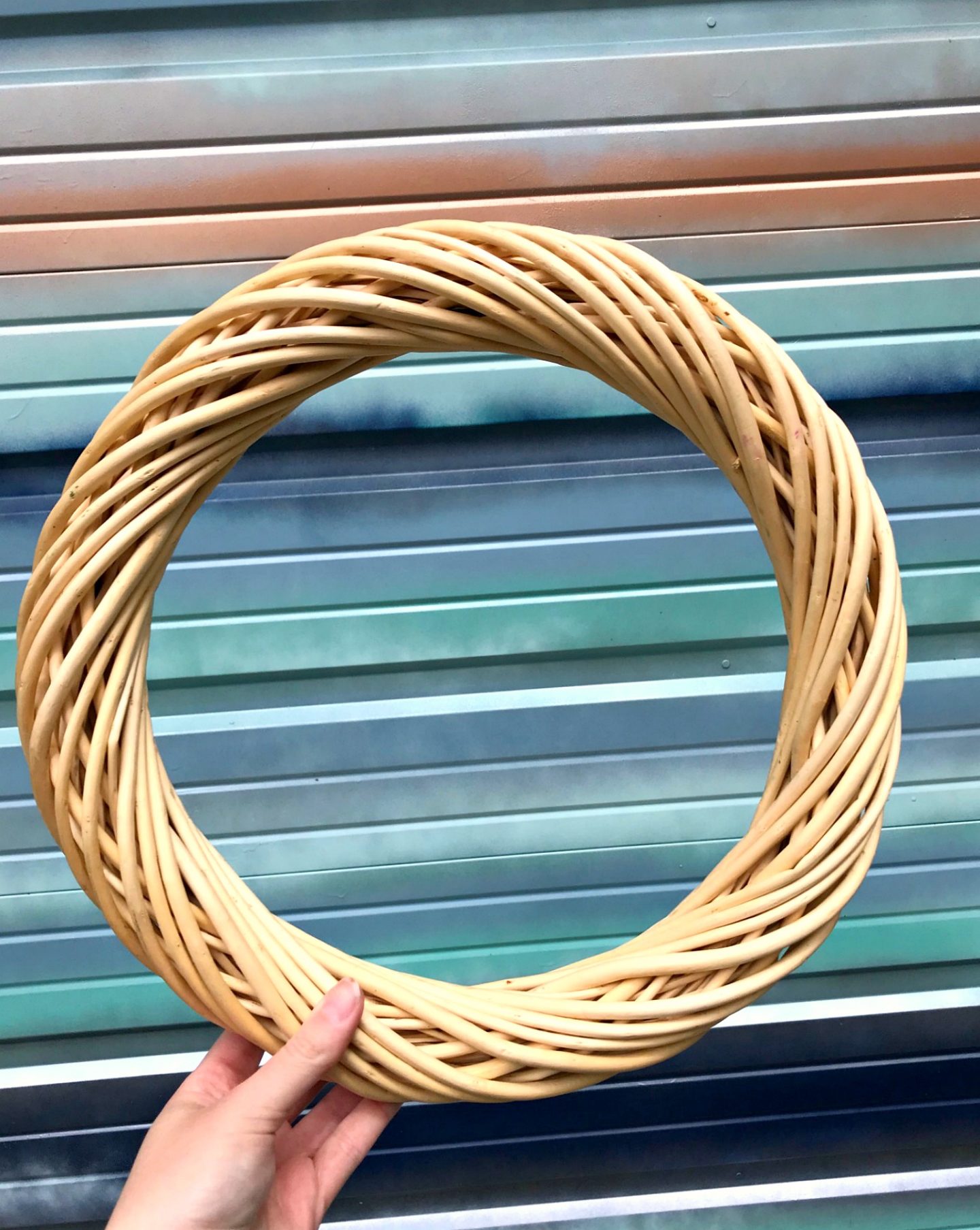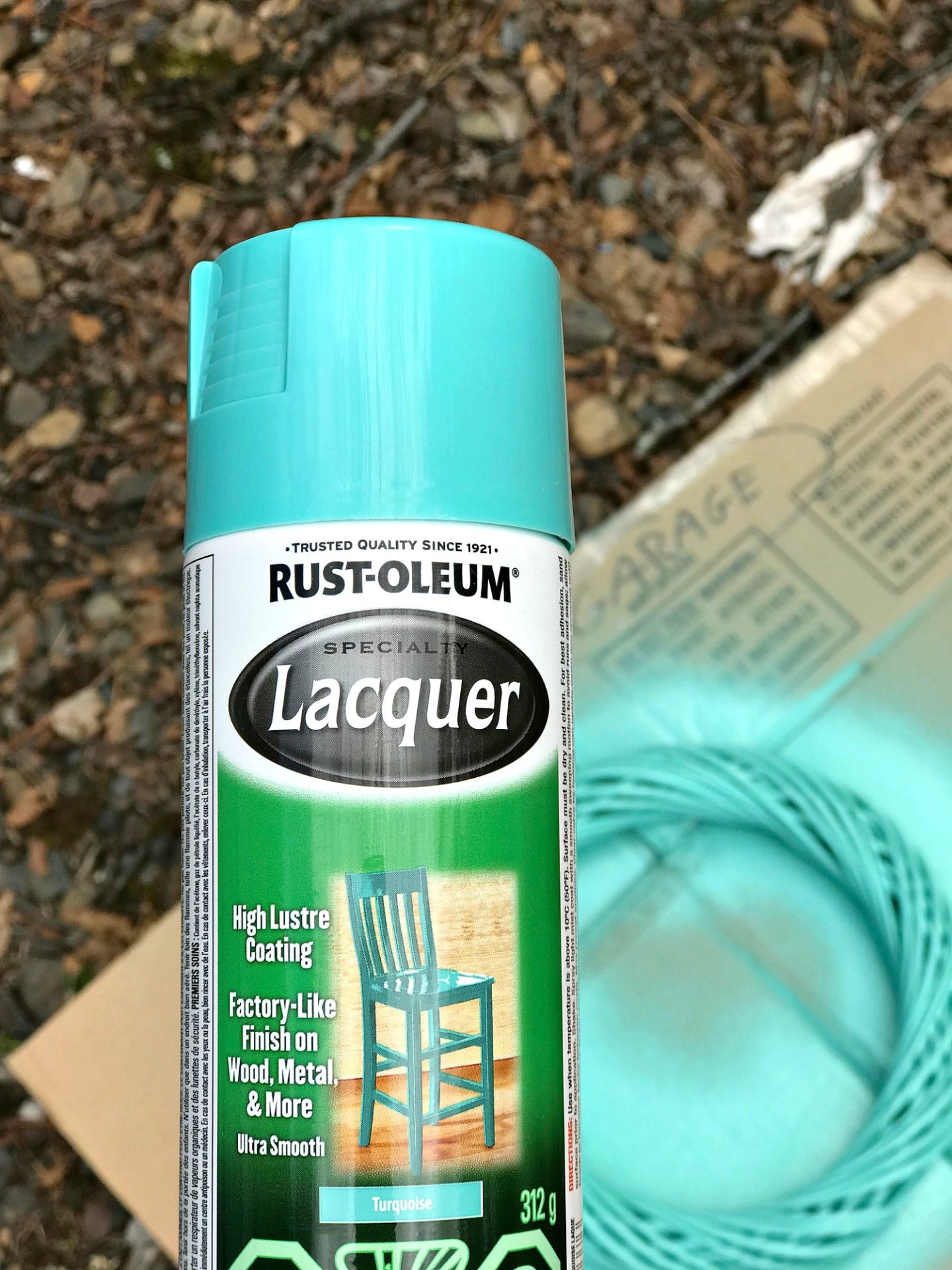 I let the spray paint dry overnight. The next day, I started cutting apart the bunches of flowers. My faux Lily of the Valley came as one big bouquet, so I cut them into smaller bunches and even individual stems so I could affix them more easily.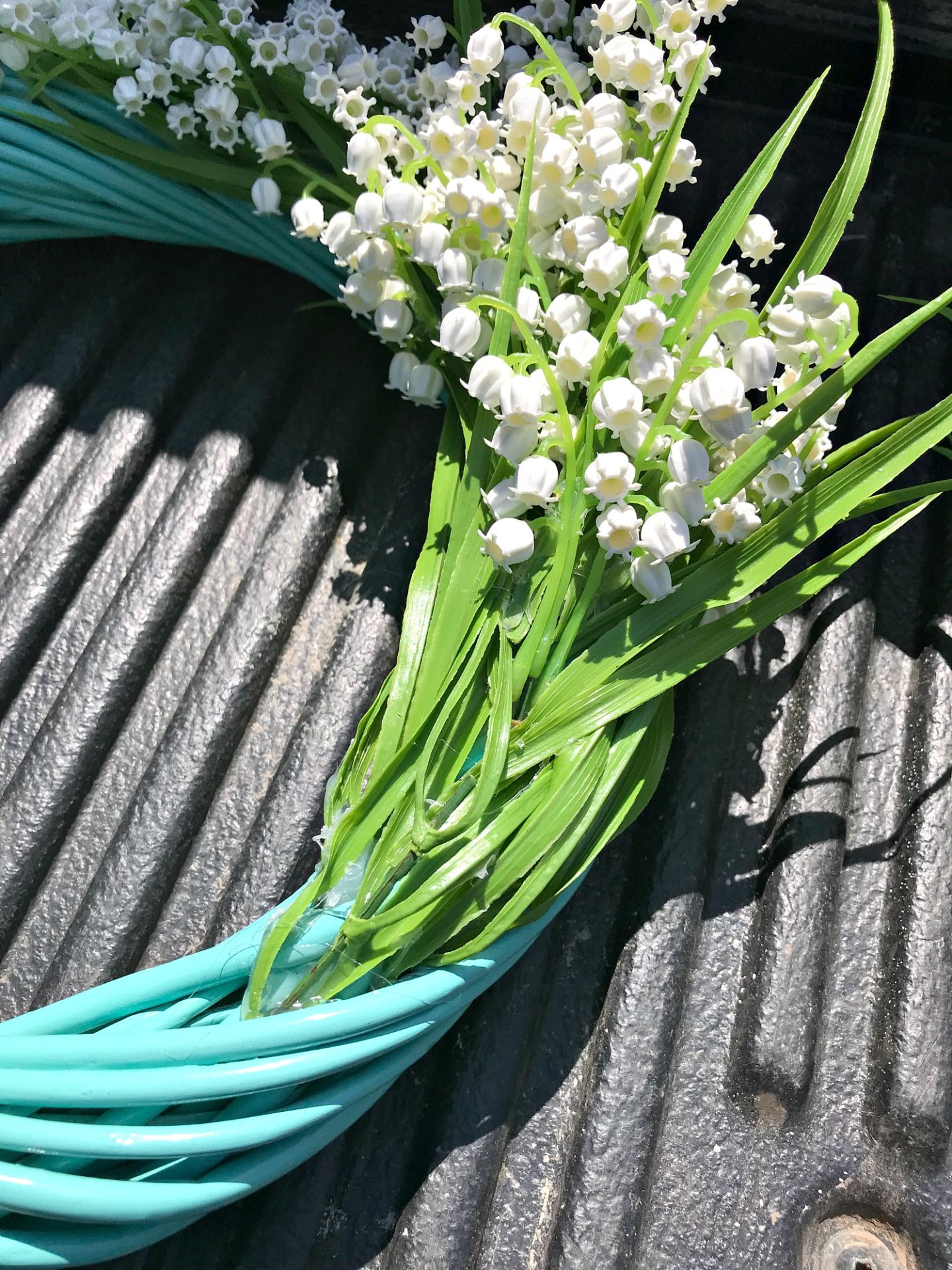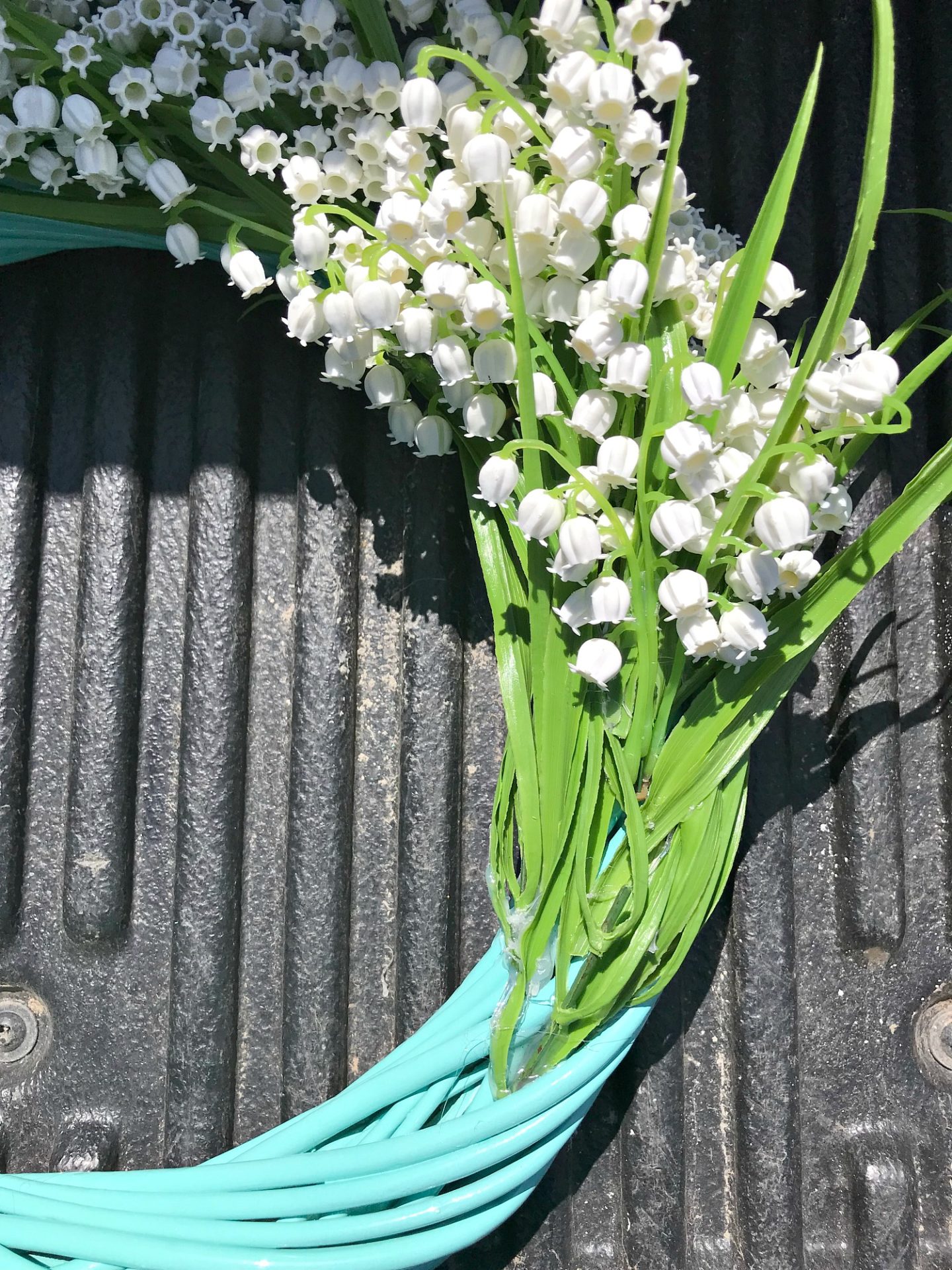 Then I started gluing them to the wreath form with my hot glue gun. I started at the "top" of the wreath and worked my way down the right hand side. First I glued on a rough grouping, wrapping the leaves around the sides of the wreath to hide the glue. When I was happy with the placement, I went back and layered in more individual stems, carefully hiding the glue and tapering off the design. That's it – it's so easy! The only trick is thinking about placement so the glue is hidden. By the end, I glued on a few individual flowers at a time to really hide any signs of glue. And if you're wondering, the hot glue has held up so well on all of my seasonal wreaths, withstanding heat and cold and wind and rain – I don't even have a storm door to protect my wreaths.
To hang the wreath, I just fashioned a little wire loop: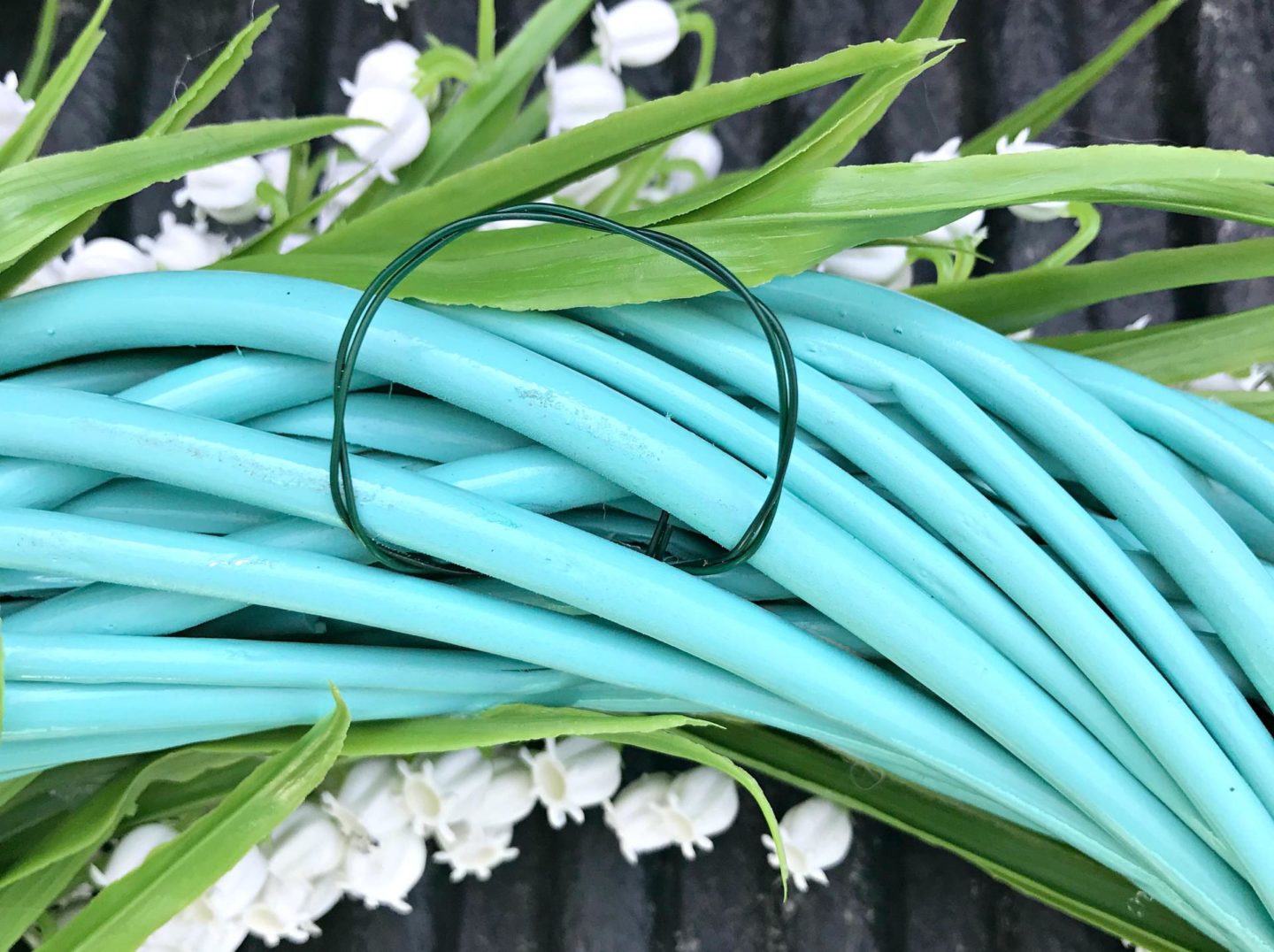 Of course you can make this DIY faux flower wreath with any flowers and spray paint the wreath form any color! But I love the aqua with Lily of the Valley – it's so fresh and pretty. Check out my DIY project gallery for more easy wreath and craft ideas.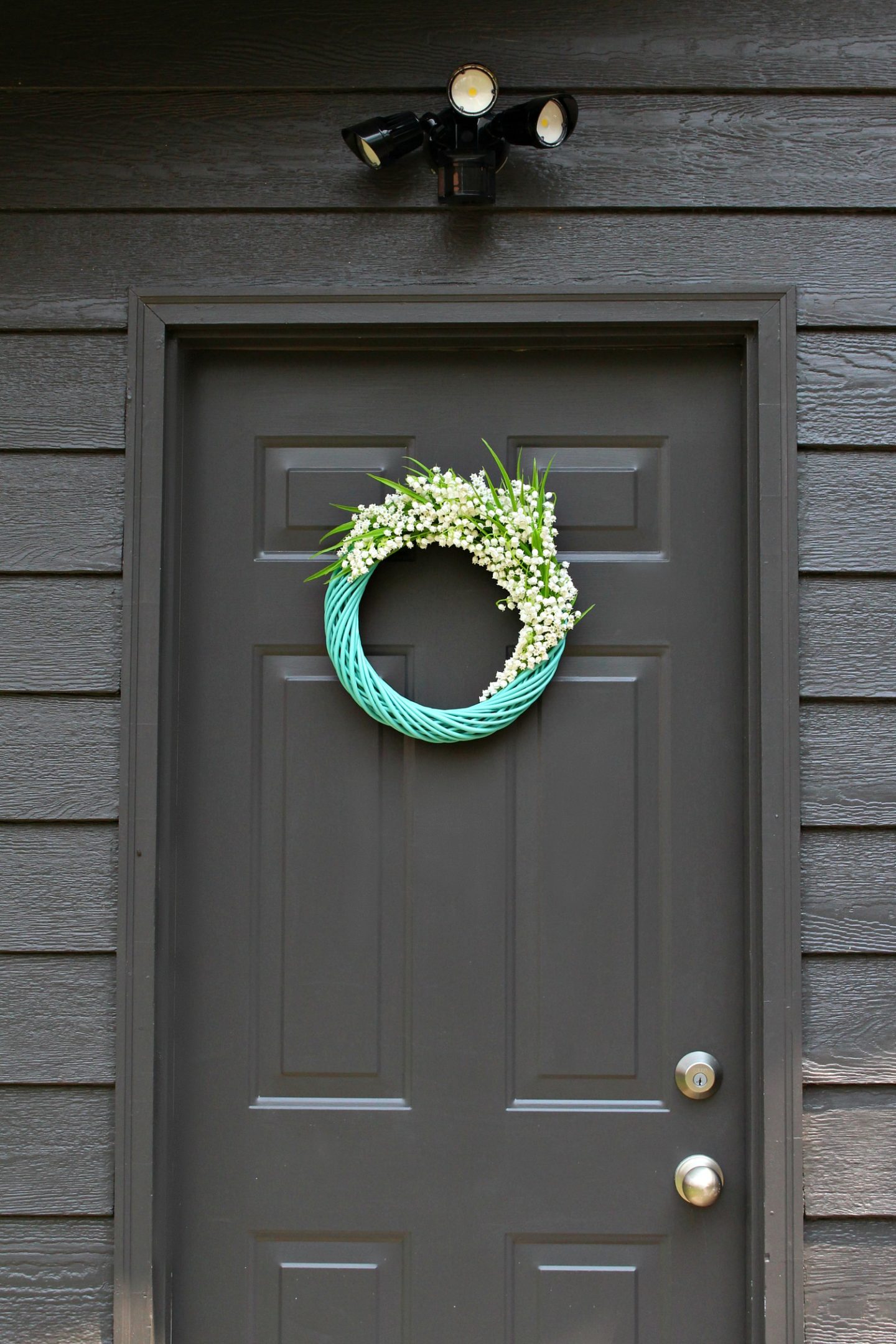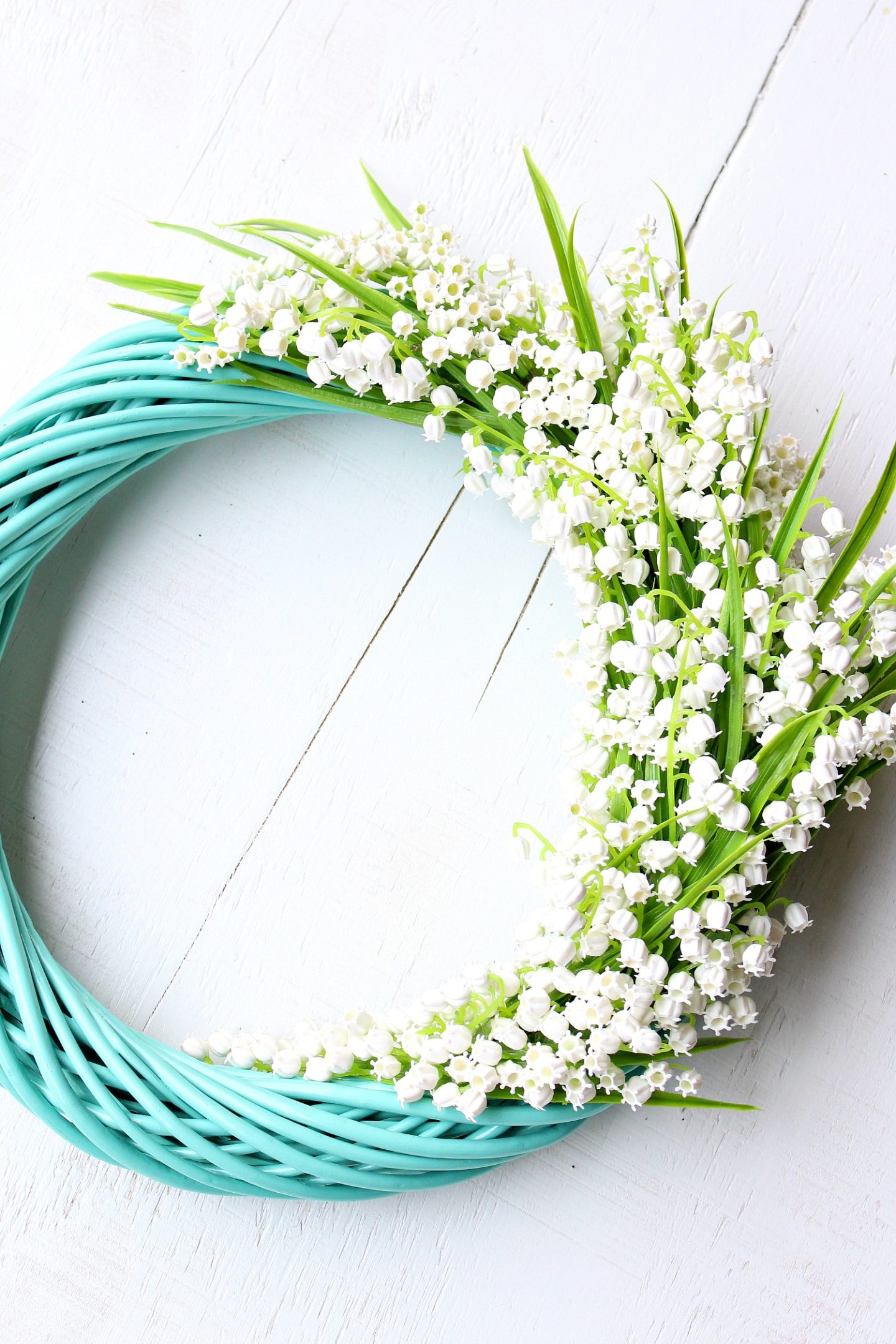 P.S. Don't Forget to Pin for Later!