Thank you Onelink by First Alert for sponsoring this post. A smart home should start with smart protection and Onelink by First Alert welcomes you to a smarter, safer home.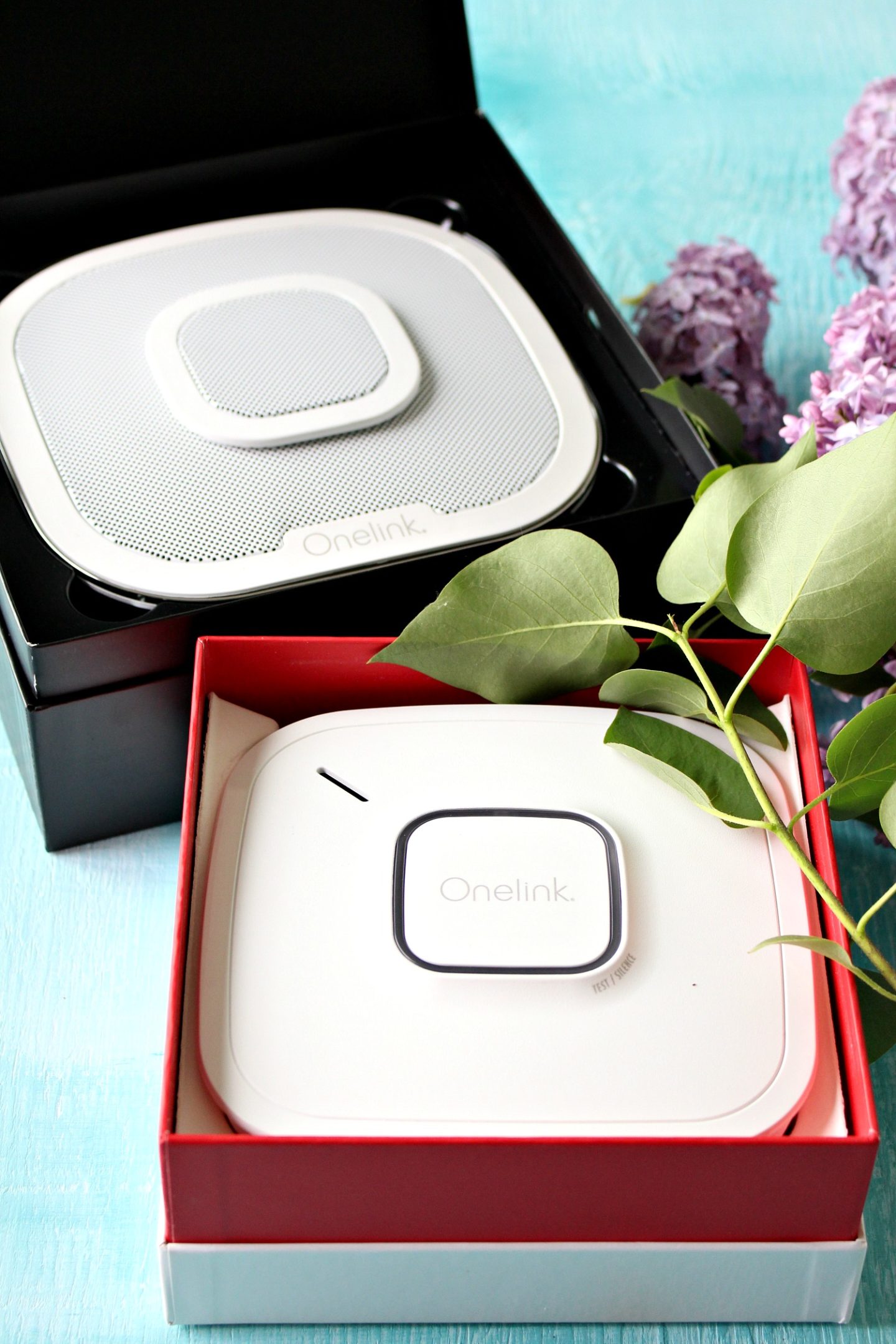 As a volunteer firefighter and first responder in my municipality, I see and hear things. Scary things. I've been in training for a couple of years – there's tons to learn. I'd been to motor vehicle collisions and medical calls, but no fires until this spring. I happened to arrive on scene in full bunker gear quicker than most and asked what I could do. The reply: "you're in gear, get in there!". And that's how I ended up a few feet from the flames, fighting a rapidly spreading fire.
The experience made me even more committed to serving my community (where there isn't a paid fire team – just us volunteers), but it was also really eye opening and made me think even more seriously about fire safety. I've started sharing more safety reminders on Instagram, but I've tried not to be a downer! I know people follow me for advice and tutorials – but also for beautiful decor ideas! Which is why I am thrilled to have the opportunity to review and share with you the Onelink Smart Smoke & Carbon Monoxide Alarm and the Onelink Safe & Sound, by First Alert. These devices inject smart technology – and even some fun – into a smoke detector. Let me show you why these Onelink smoke detectors are so clever, and how they can help keep your family safe.
Keep reading for a chance to win nearly $400 worth of Onelink products!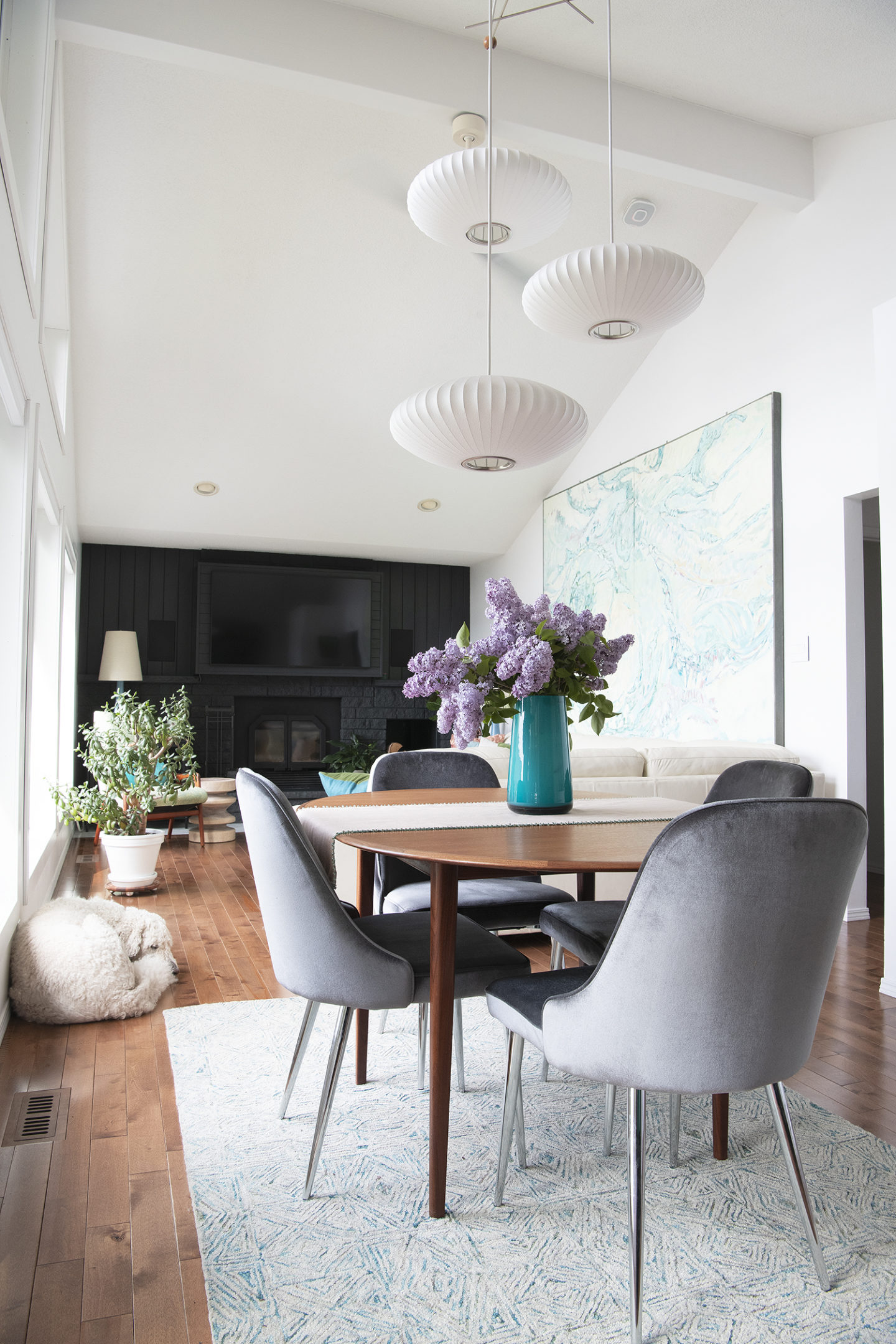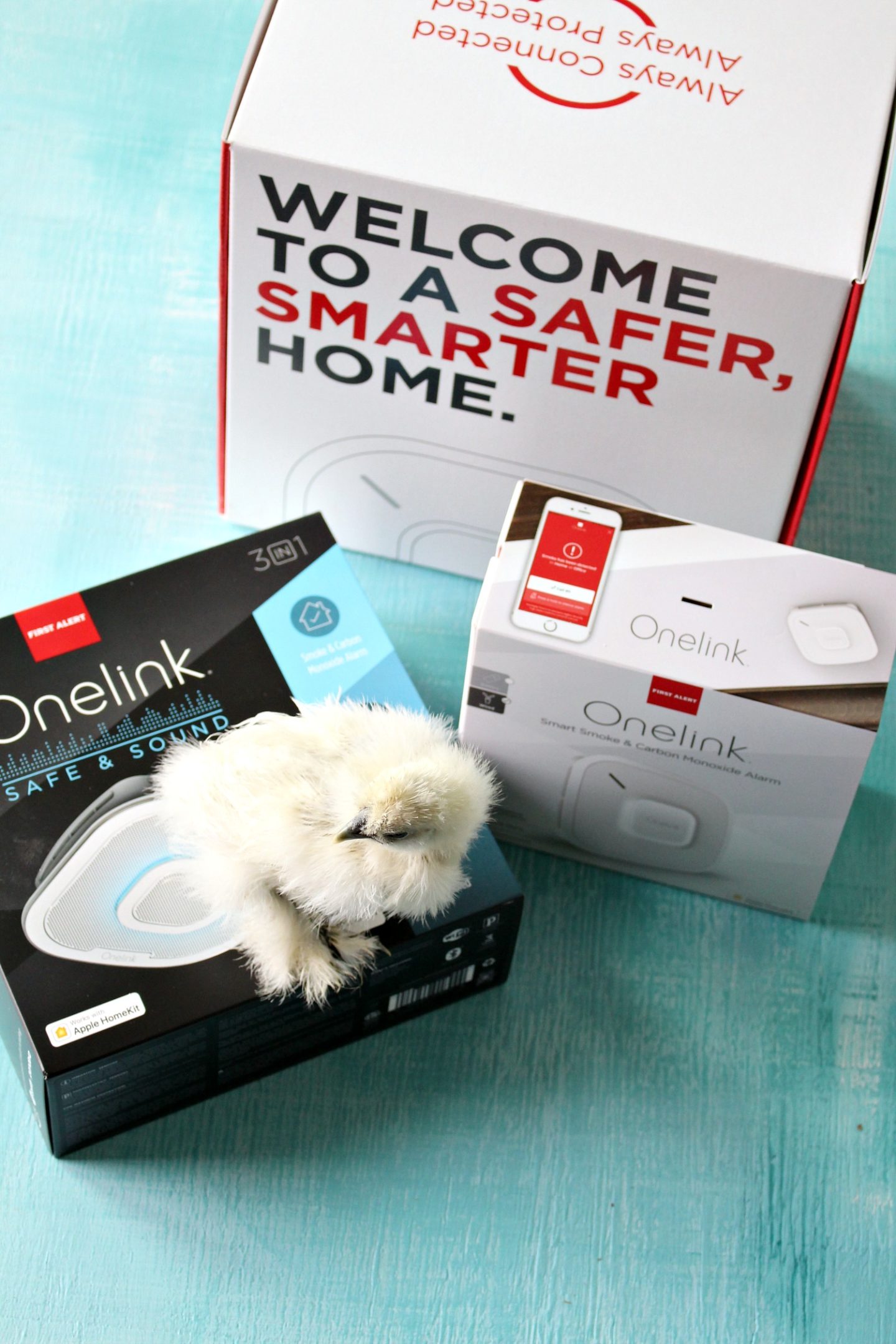 Onelink Safe & Sound
The Onelink Safe & Sound is a hardwired smart smoke alarm and carbon monoxide alarm, with a twist! There's a premium home speaker and Alexa built-in. Yup, you can listen to music and talk to Alexa through your smoke detector! Isn't that cool? And it even works when mounted on our 13 foot ceiling – the Onelink Safe & Sound picks up on our voices perfectly. If you're going to install a series of smoke detectors throughout your home, why not make them sleek and modern, built with First Alert safety technology, plus an immersive and quality sound experience? I love these fun features because I think they really encourage people to upgrade smoke detectors by offering great bonuses. Smoke alarms don't last forever! They should be replaced after ten years and the Onelink Safe & Sound offers a great incentive to do it.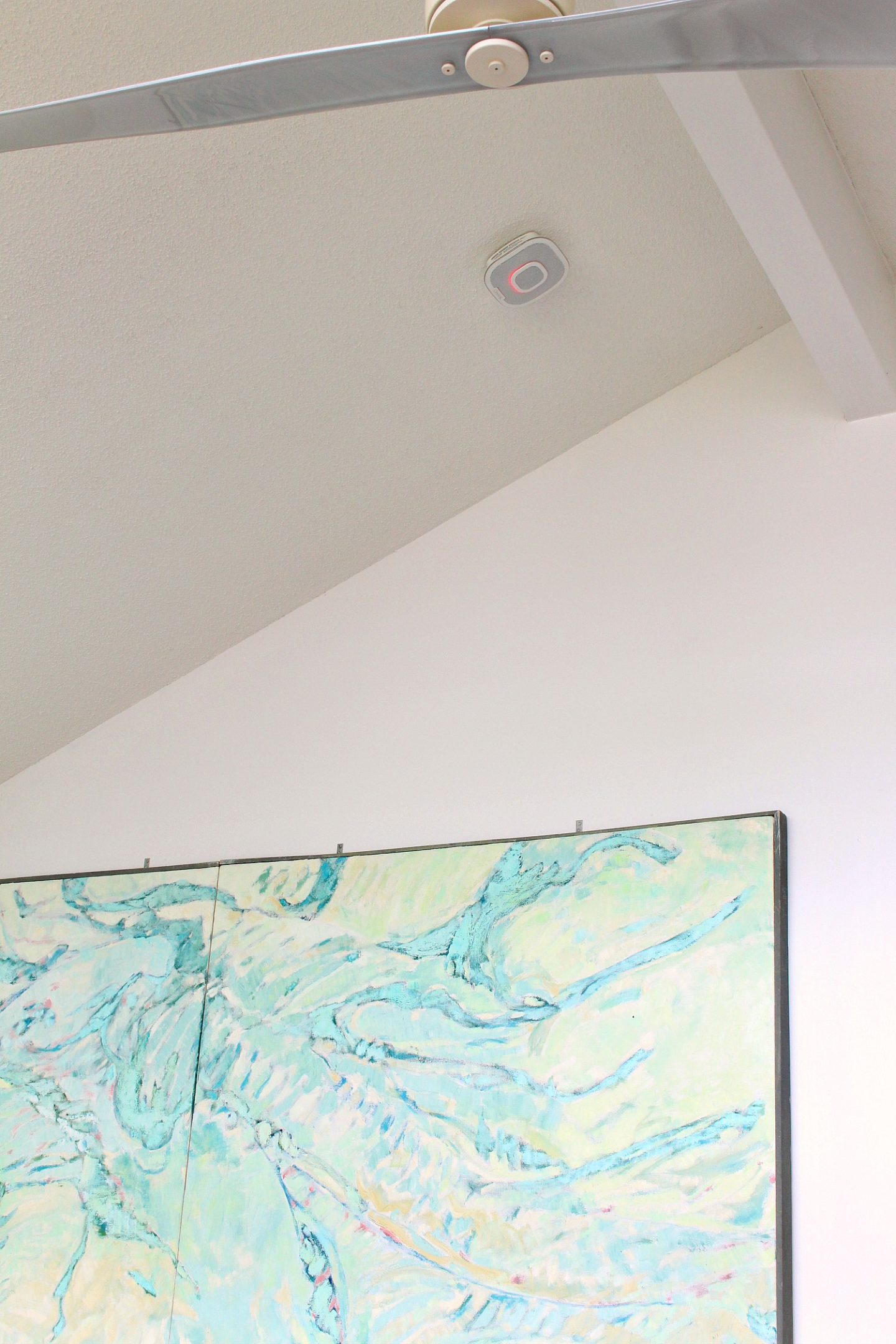 Although those bonuses are neat, the safety features of the Onelink Safe & Sound are even more important! It offers intelligent smoke & carbon monoxide alarms. If smoke or CO is detected in your home, it alerts you by sending a notification to your smartphone through the Onelink app (letting you know if there is an emergency whether you are home or away), along with using exclusive voice and location technology (telling you the type and location of the danger in your home). The voice is clear when speaking, making it easy to understand the danger.
Safe, smart, fun, and it looks great too! As a home decor enthusiast, I am so annoyed when technology gets in the way of my designs! But the Onelink Safe & Sound is beautiful – it blends right in.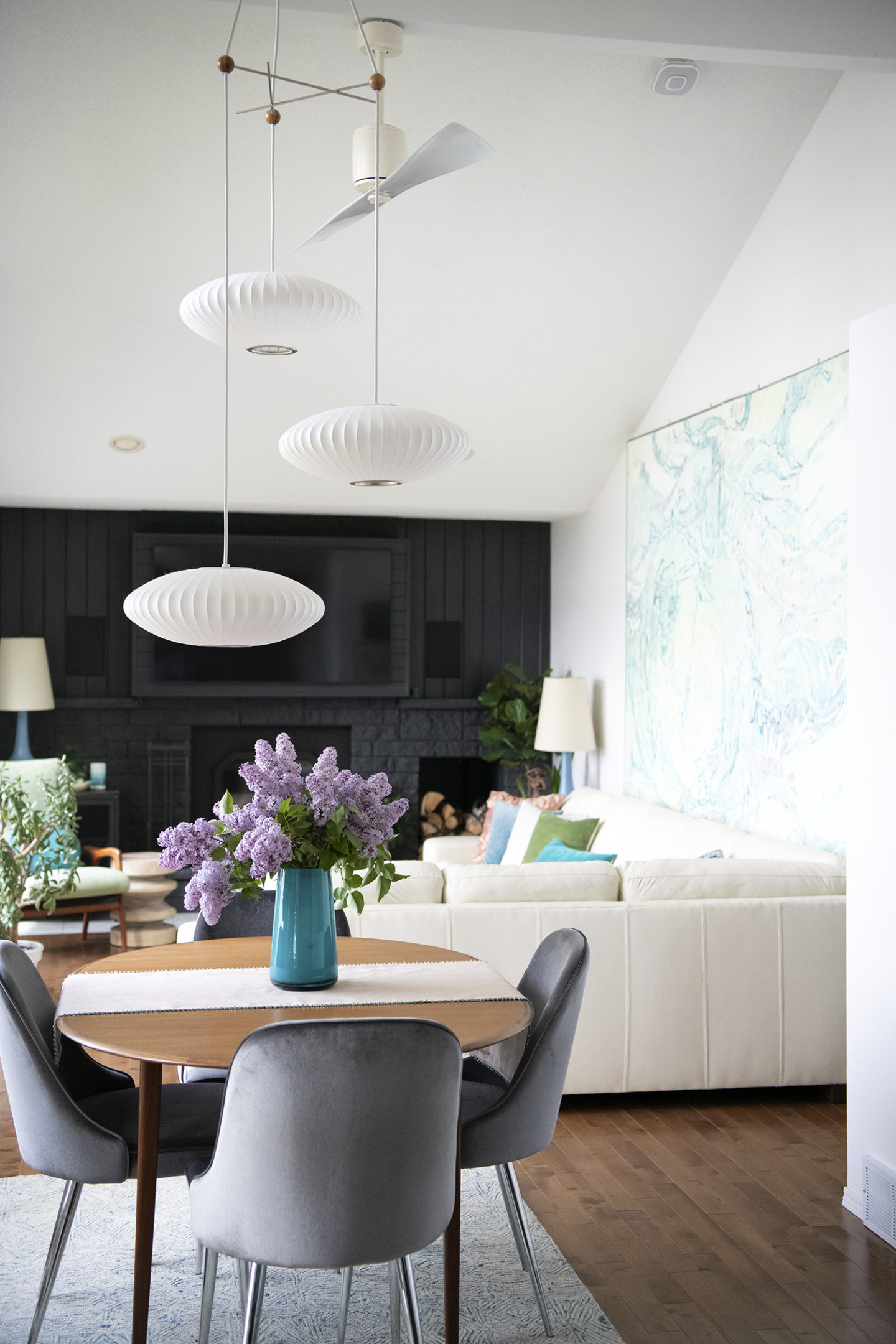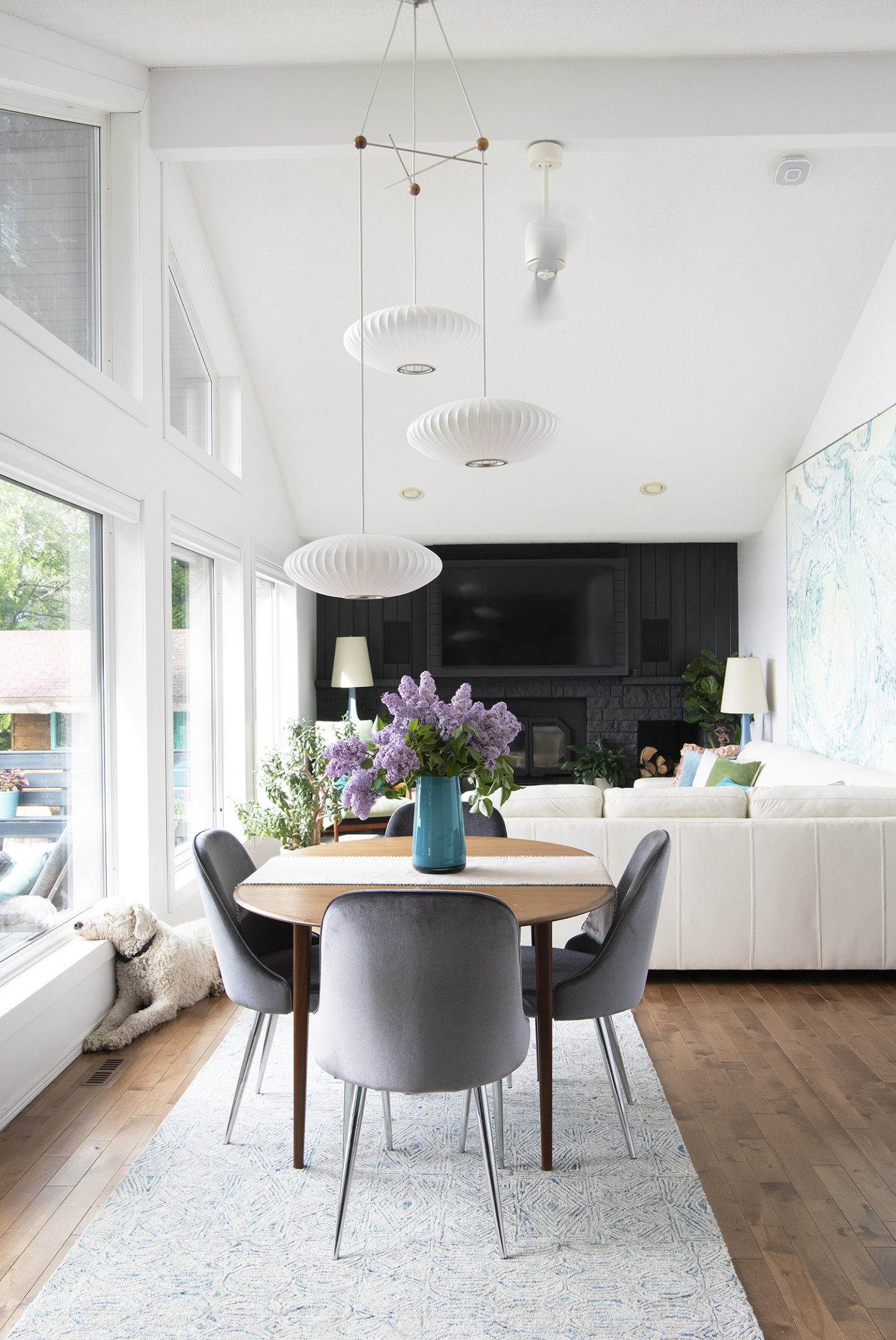 Onelink Smart Smoke & Carbon Monoxide Alarm
The Onelink Smart Smoke & Carbon Monoxide Alarm will also notify you on your phone, through the app, if there is a smoke or carbon monoxide emergency in your home so you know of the danger whether you're home or away. It also has voice alerts, which let you know the type of danger and where it is in your home. I can tell you that from my experience, sometimes a fire will break out from a source you'd NEVER expect! And in the precious few minutes your family might have, knowing exactly where to go to avoid danger is critical.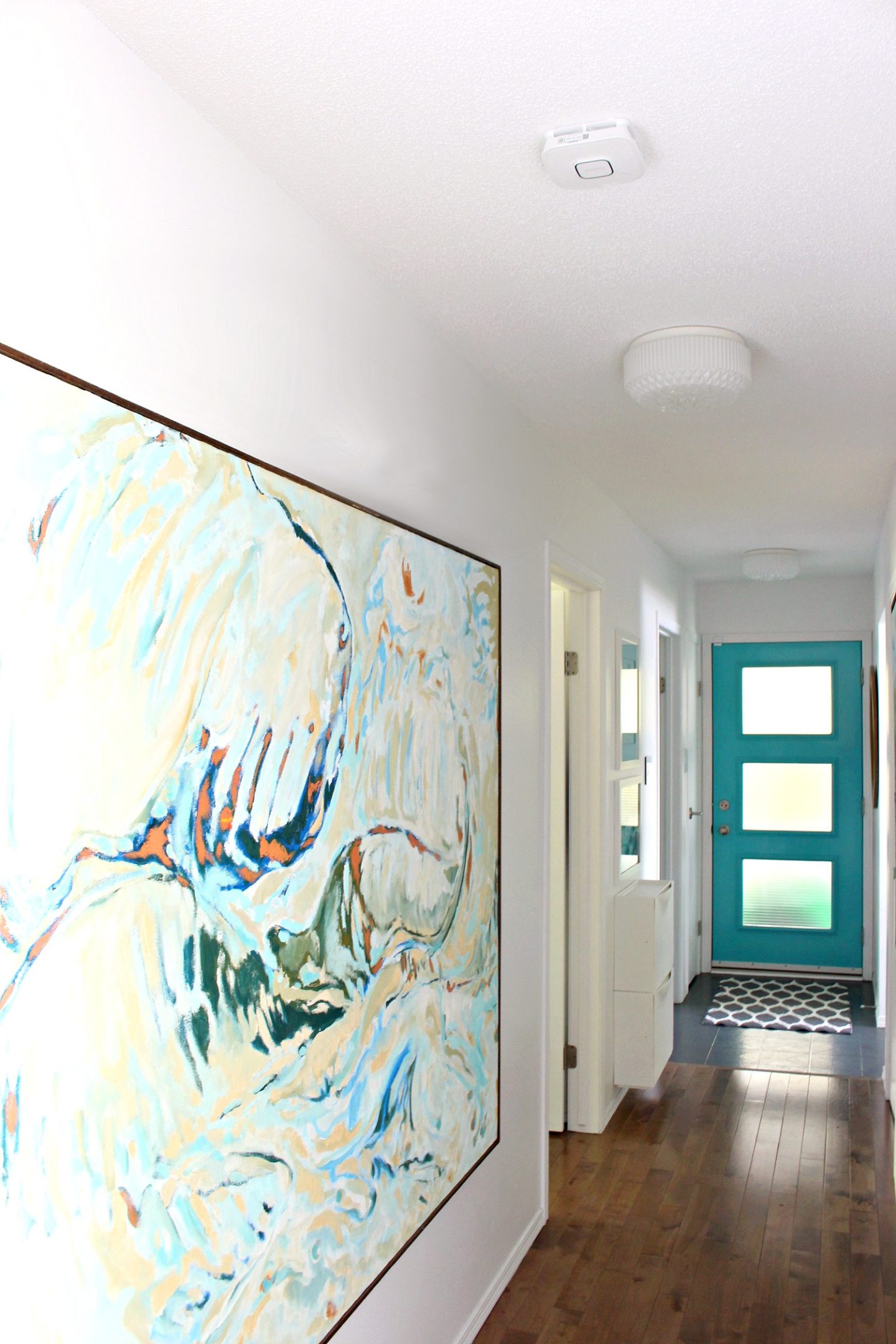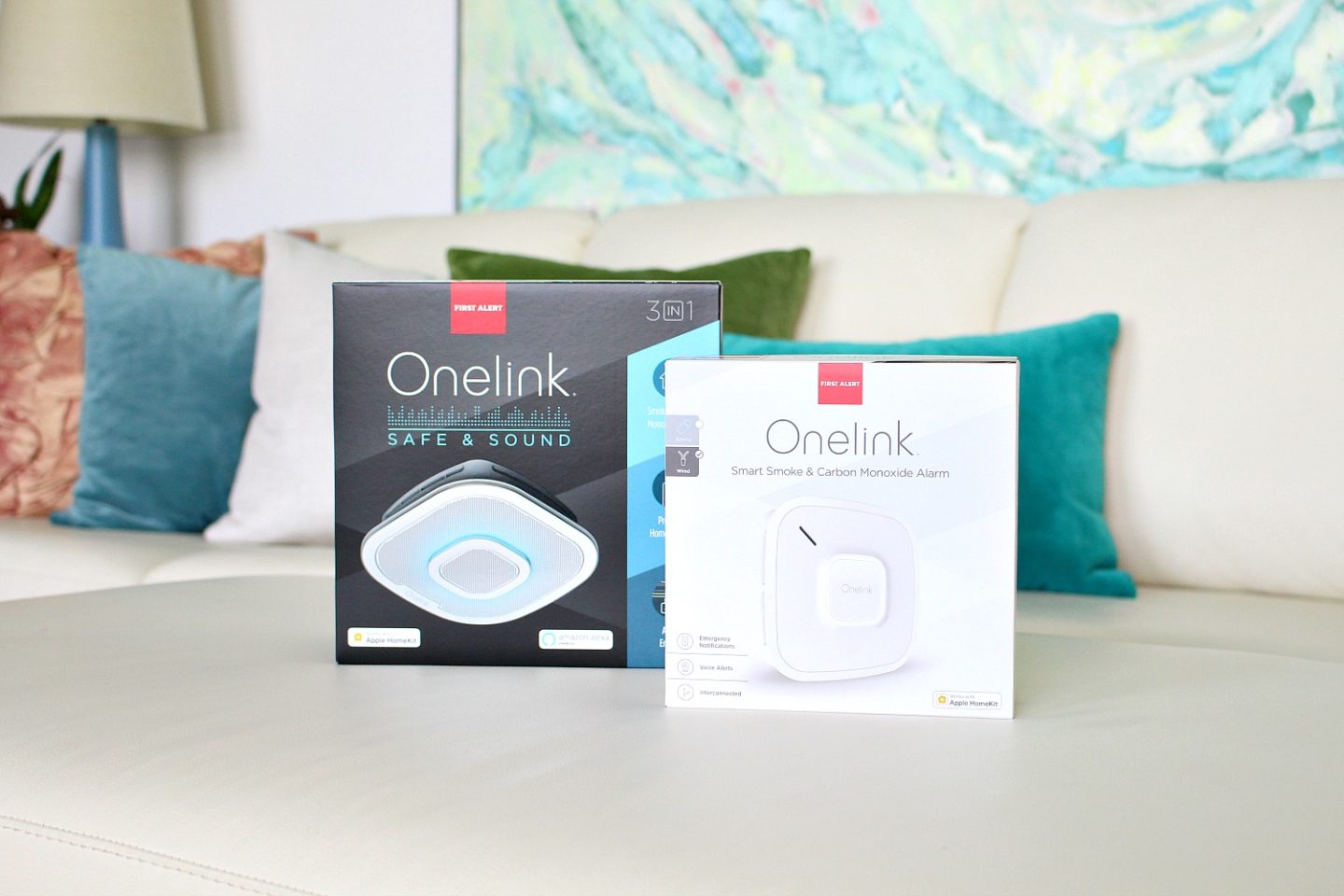 If you're reading this and feeling worried – warily eyeing up your ancient smoke detectors, here's some good news! Both smoke detectors were super simple to install. It took longer to get the ladder from the garage, to reach our 13 foot ceiling, than to replace the smoke detector. Seriously – so easy! And if you have any difficulties, the manual is easy to follow but the app offers up instructions too. You can replace all of your smoke detectors in an evening and sleep soundly tonight.
I have both wired and battery operated smoke detectors in my house, because we added more than what was in the home originally; the two Onelink products featured in my home are both hardwired. BUT you can get the Onelink Smart Smoke & Carbon Monoxide Alarm in a battery operated version, which makes it so simple to add a smoke detector wherever you need one.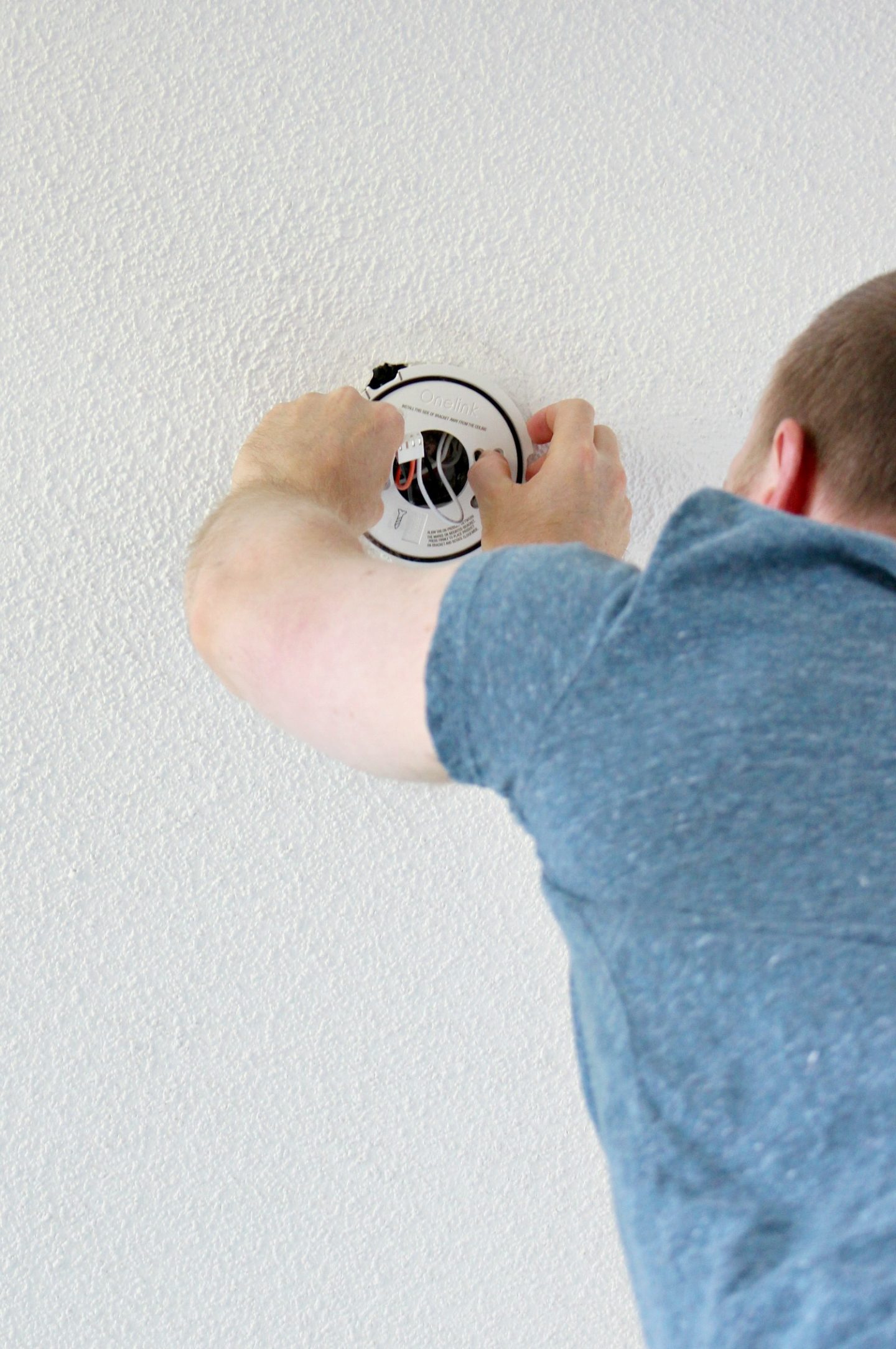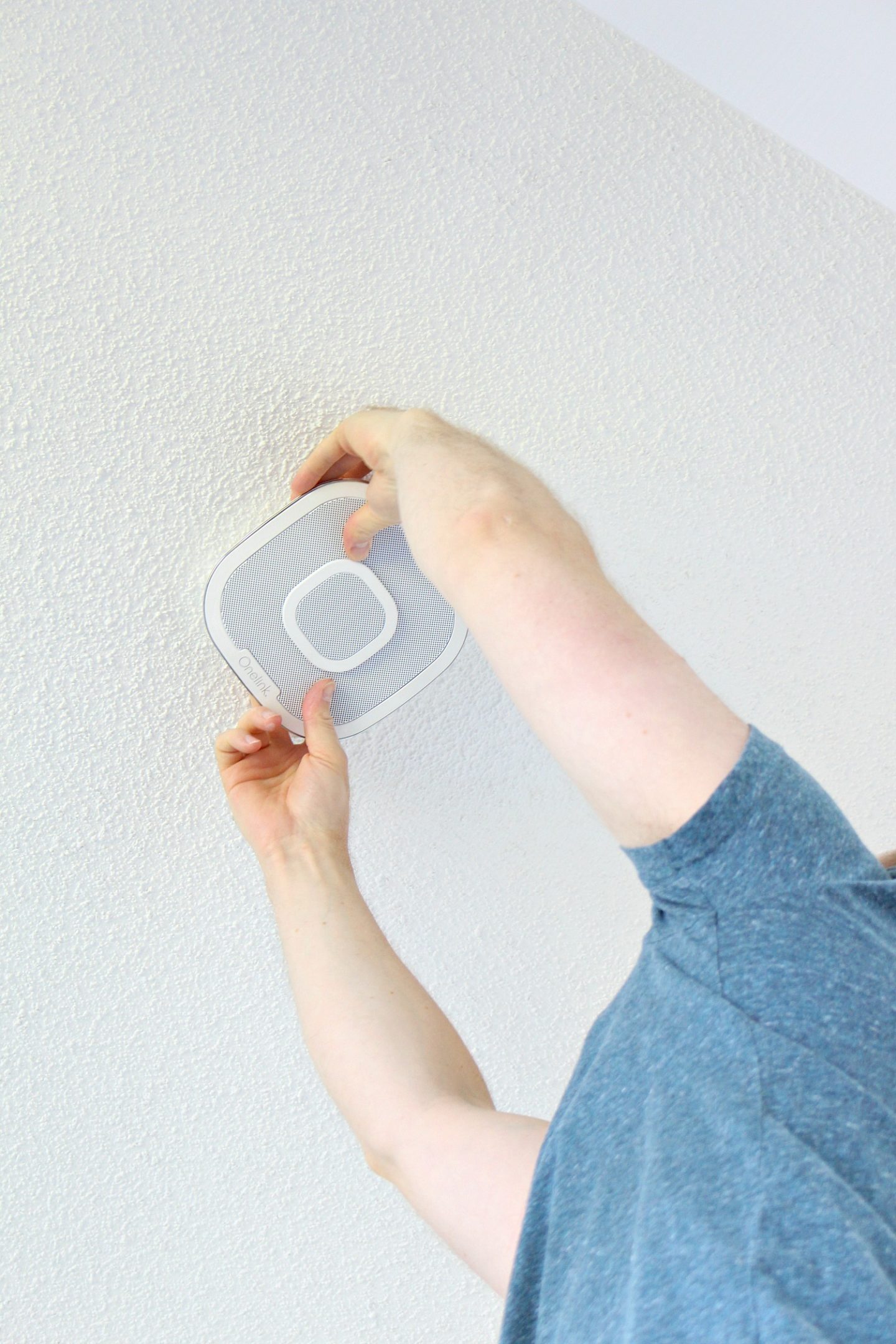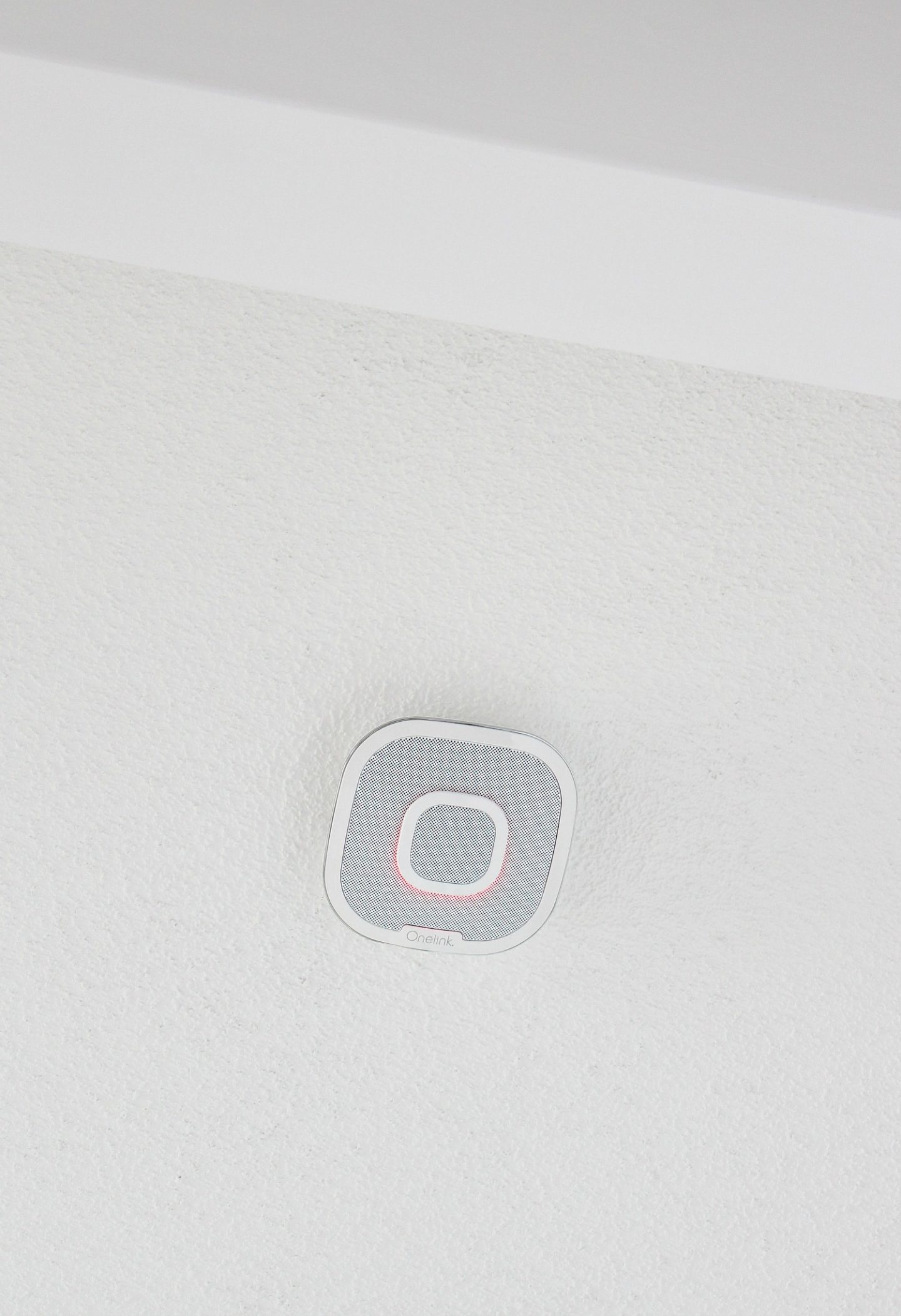 Check Out the Video!
Some Important Fire Safety Tips:
There are so many safety tips to think about, but here are some basics you can do tonight!
Install smoke and carbon monoxide alarms on every level and in every bedroom of your home.

Test smoke and carbon monoxide alarms regularly. With the Onelink Home app, you can easily test Onelink devices from your phone!

Alarms don't last forever, so replace your alarms at least every ten years.

Plan and practice an escape route with your family and think about unlikely scenarios – also make sure kids recognize the alarm's sound and know what it means.

Don't block escape routes with furniture or decor – when seconds count, you want to egress quickly!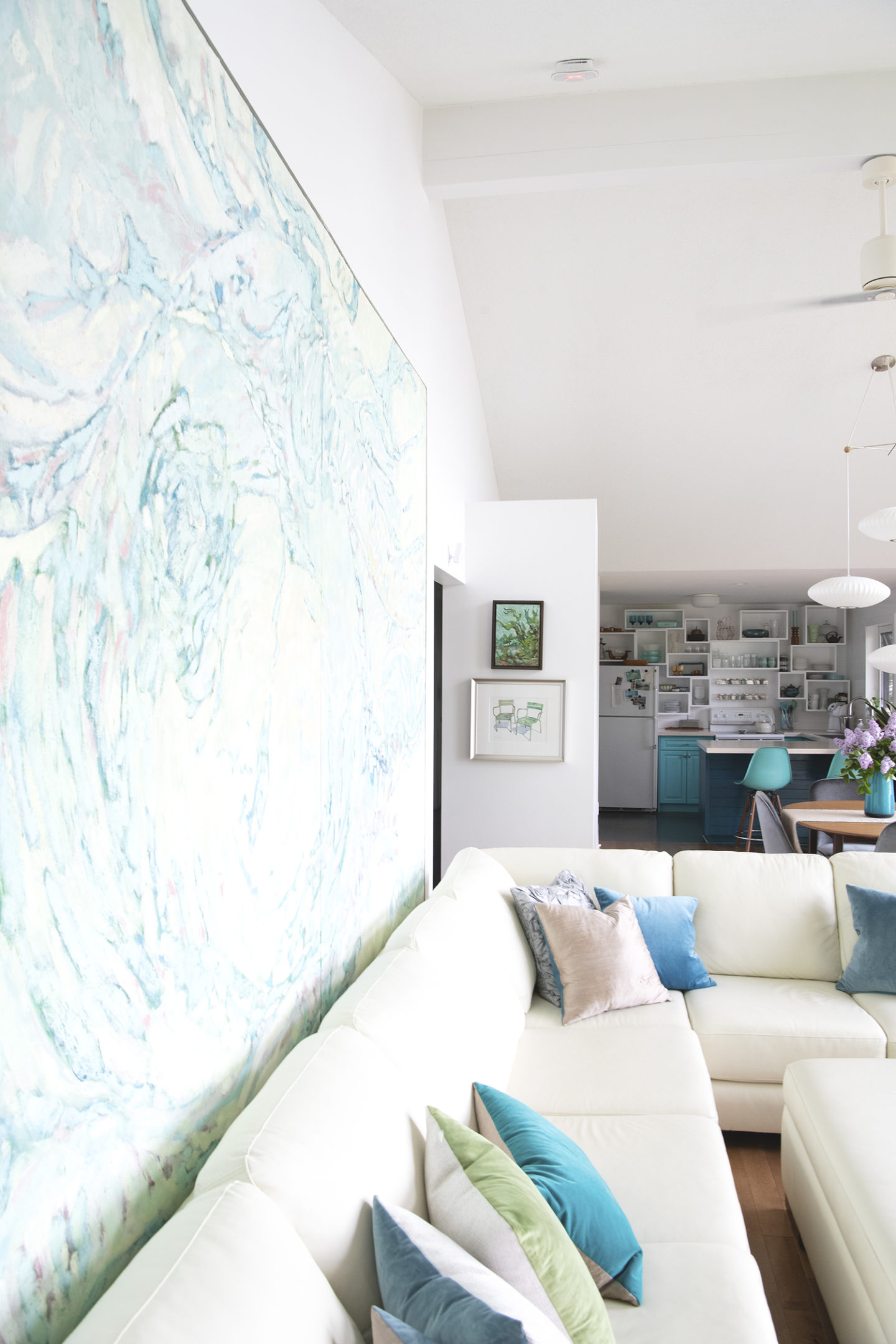 Want to win a Onelink Smart Protection Kit (

worth $386USD

)?
Let's get you started upgrading your smoke and CO detectors. Use the entry form below, and to enter just follow Onelink on Twitter and visit their Facebook and Instagram page – easy peasy! See below for the terms and conditions.
Onelink Giveaway Details (Contest Runs June 24 – July 8, 2019):
Prizes: (3) Onelink Smart Protection Kits (Onelink Safe & Sound and Onelink Smoke + CO Alarm (worth approx $386)
How to enter: use the widget above!
Winners will be randomly selected and notified by the week of July 8
Terms & Conditions: You must be 18+, a US resident, and there's only one winner per household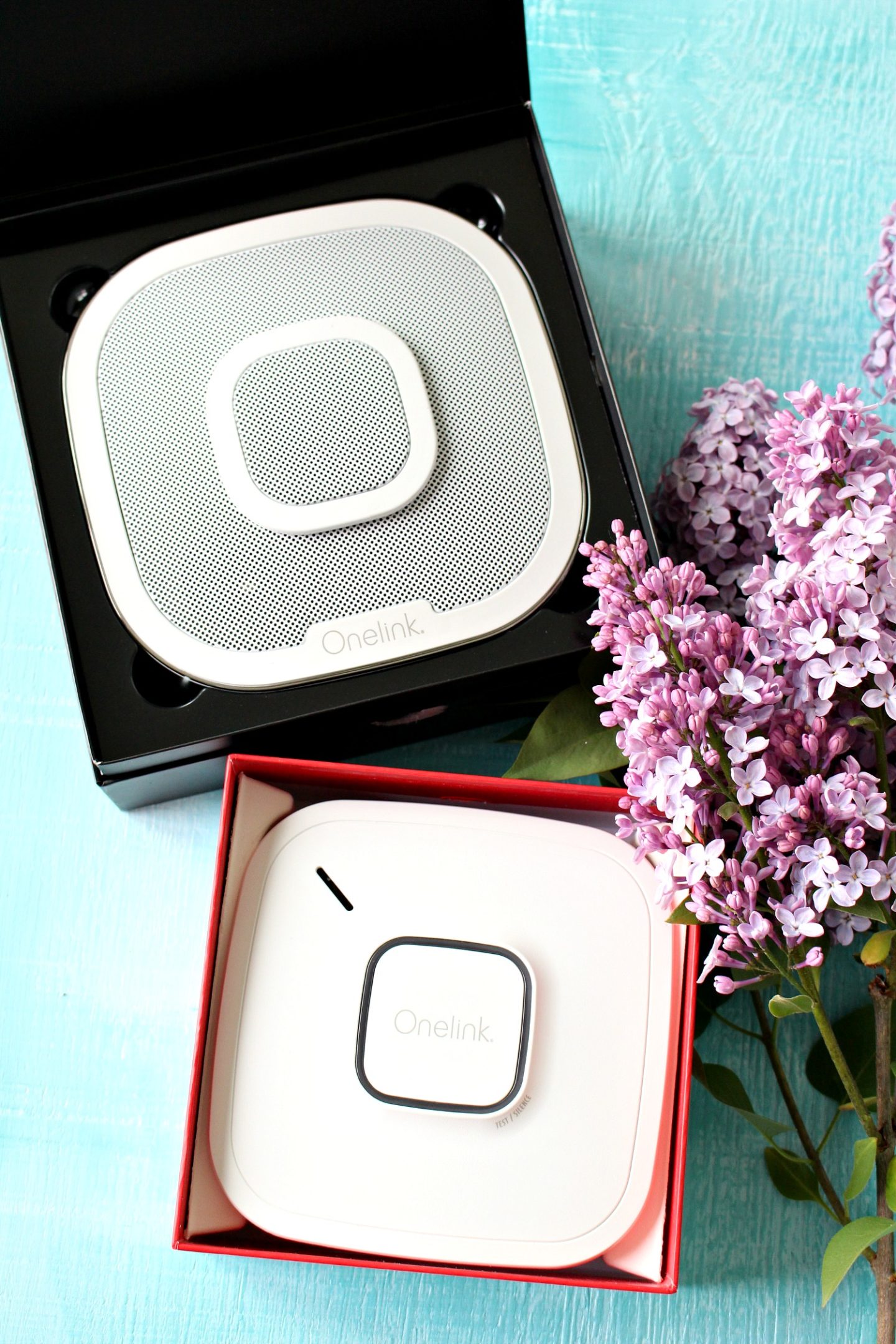 Good luck!! And stay safe.