I promised the tutorial for these super simple DIY scrap wood napkin rings with daisies. I know that I should be sharing fall crafts and decor but I'm not ready. I love summer. I patiently endure a cold rainy fall, terribly cold winter, and blustery second winter, just for that tiny sliver of summer weather. I don't want to rush through it – it's not even September yet 😉 Lots of summer left. So I will hang on to summer just a little bit more, and use these cheery turquoise, DIY daisy napkin rings all winter while I wait for them to bloom again.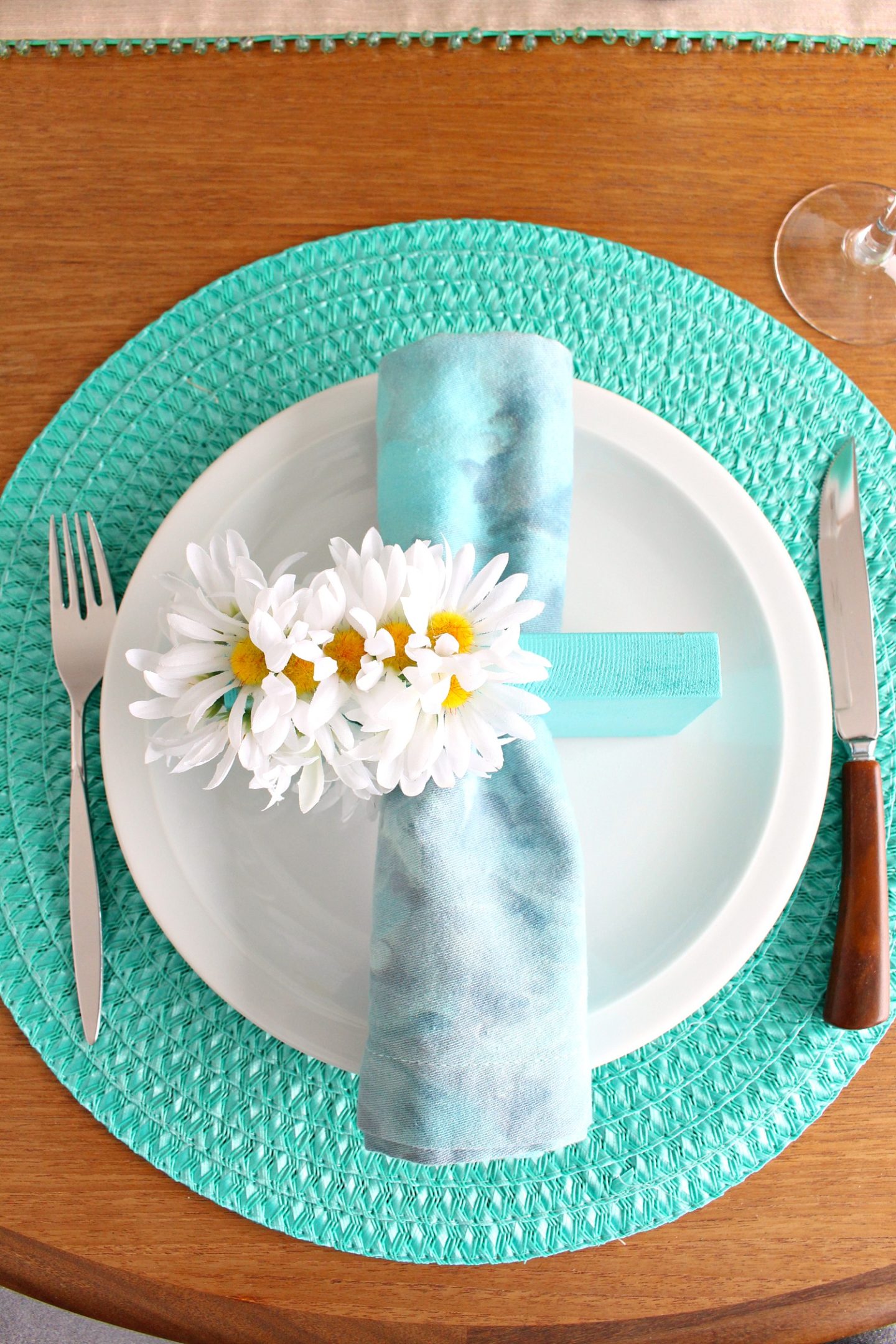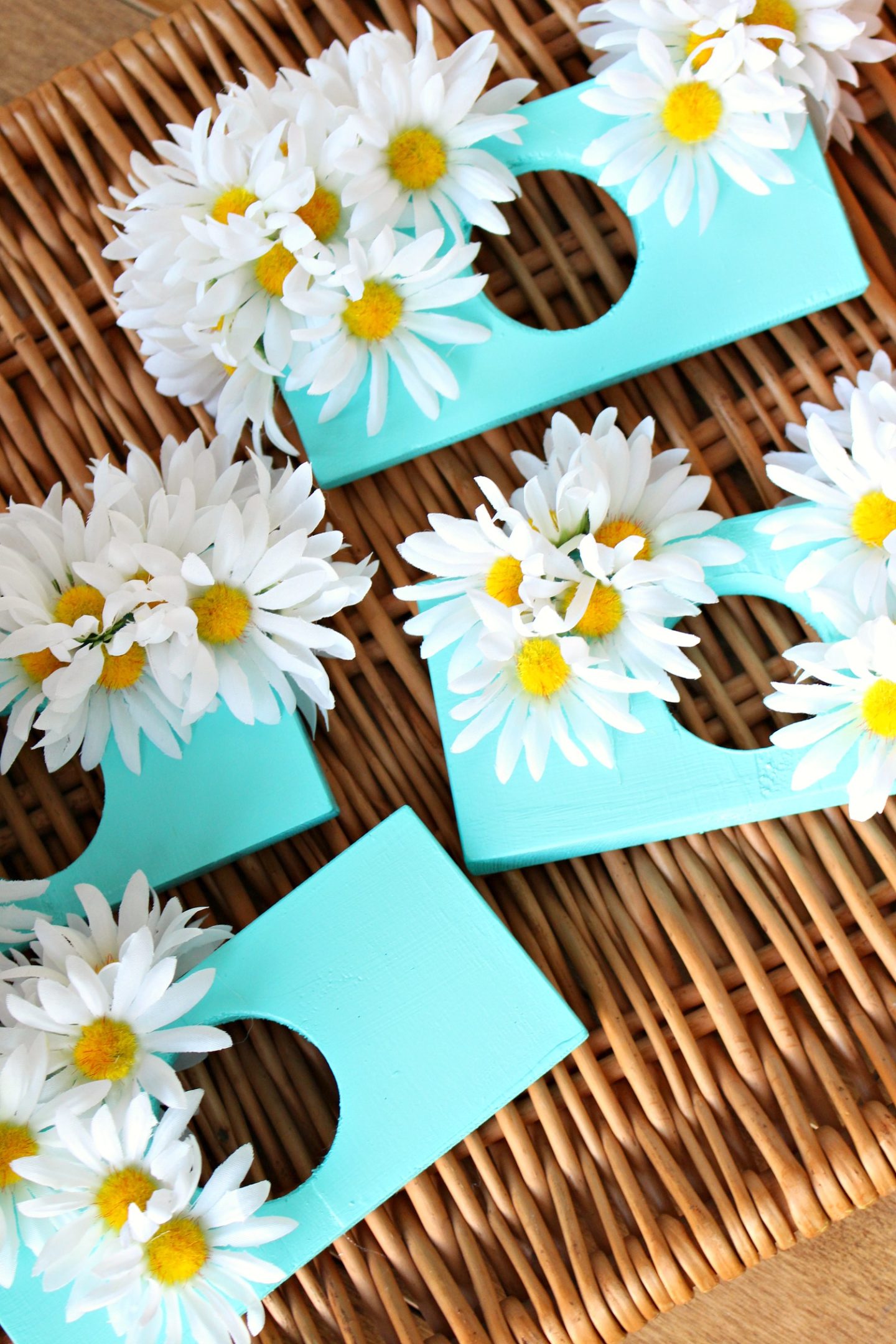 Supplies for DIY Wood Scrap Napkin Rings with Daisies:
The supplies for this project are easy to rustle up and I highly recommend using what you have on hand to make this DIY napkin ring project free and fun!
Wood scraps – like 2×4 leftovers
Hole saw (something to fit a rolled up napkin, we used 1-1/4″)
Compound miter saw or even a miter box saw could work (if your wood scrap fits inside)
Sandpaper
Paint or stain (optional)
Faux daisies (I used one bunch, from Décors Véronneau)
Scissors
How to Make DIY Wood Scrap Napkin Rings with Daisies: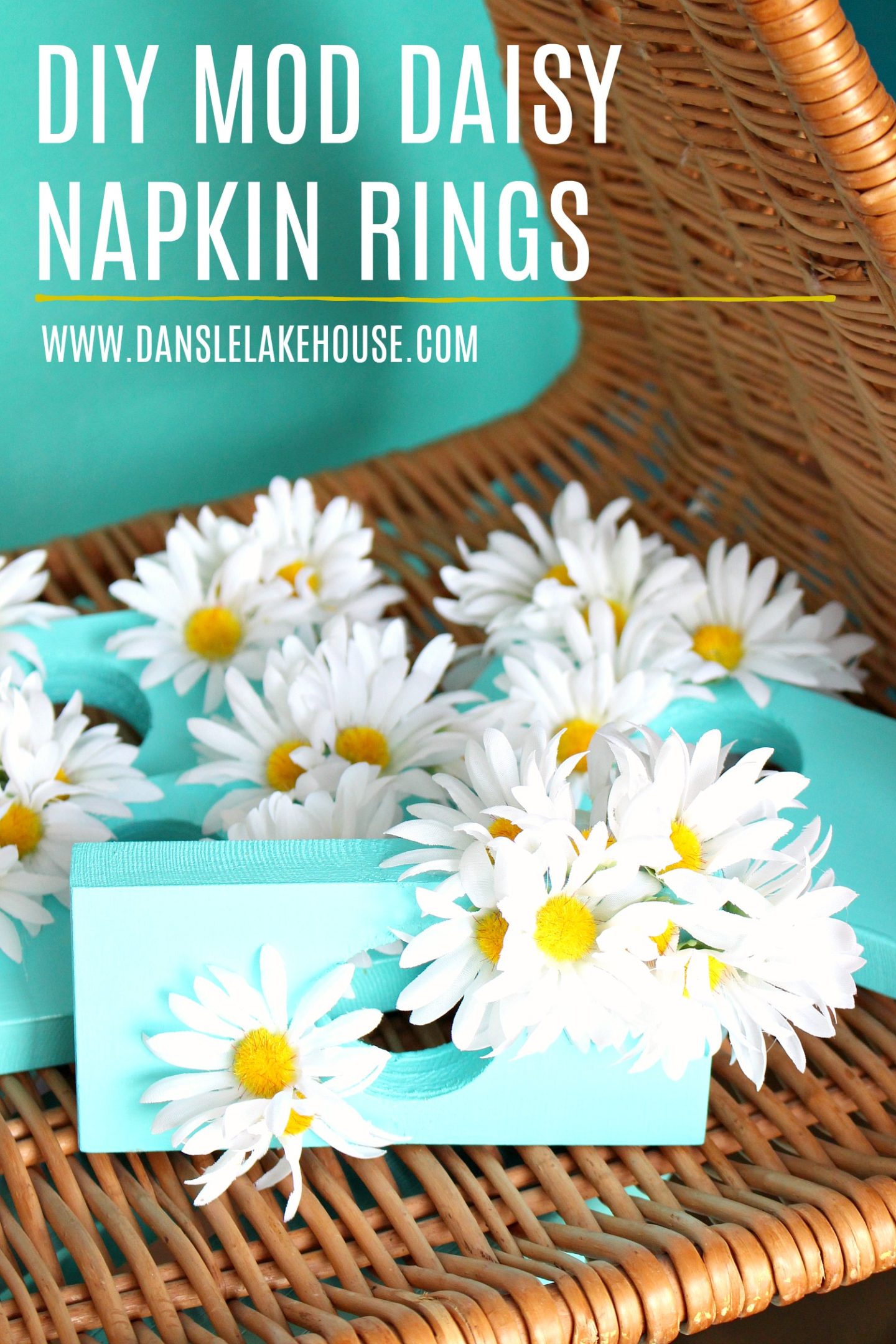 The idea evolved kind of organically, with me mucking about in my scrap wood pile, armed with a bouquet of faux daisies. I wanted to create a modern base and ended up just using scraps of 2×4.
First we cut holes using a hole saw: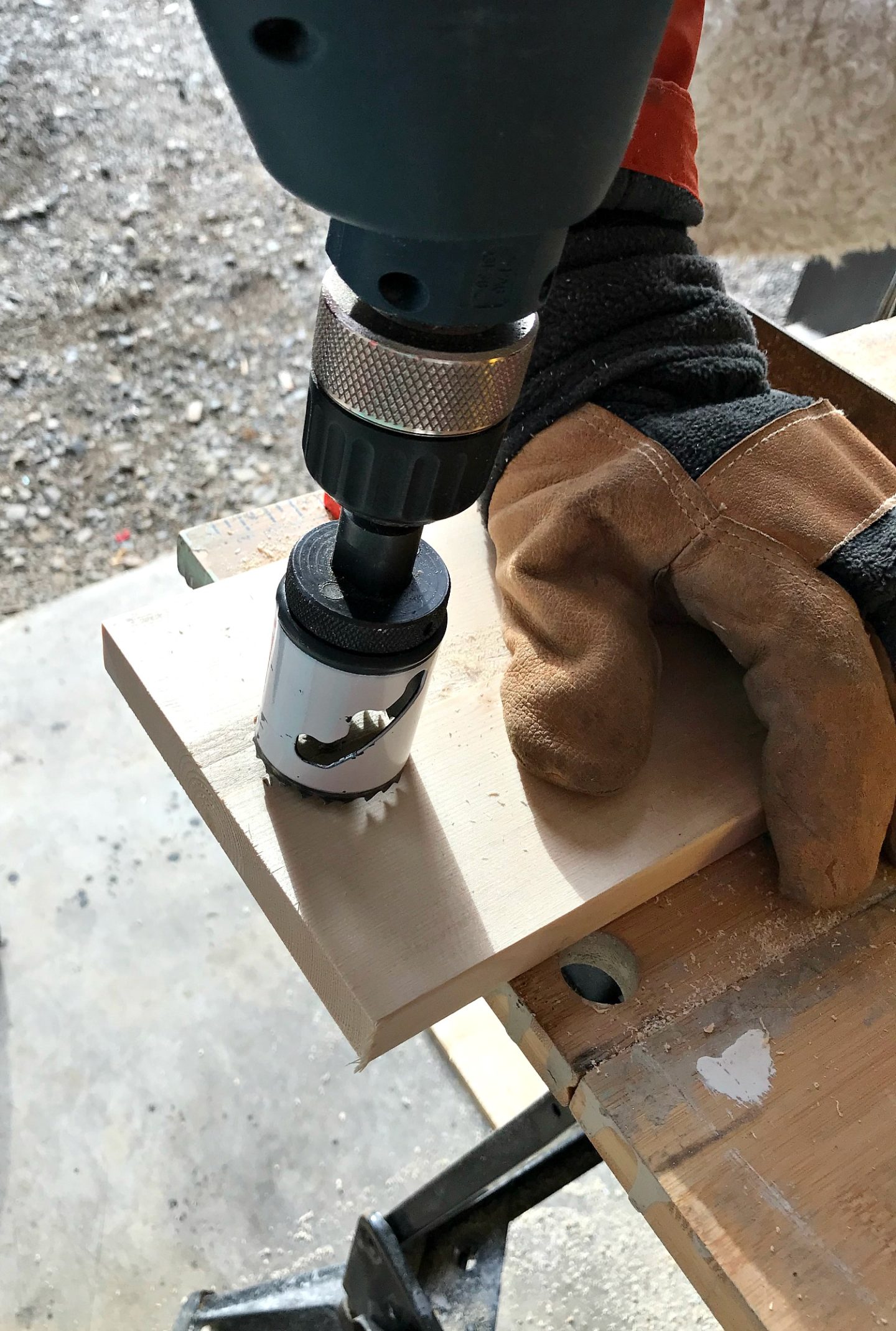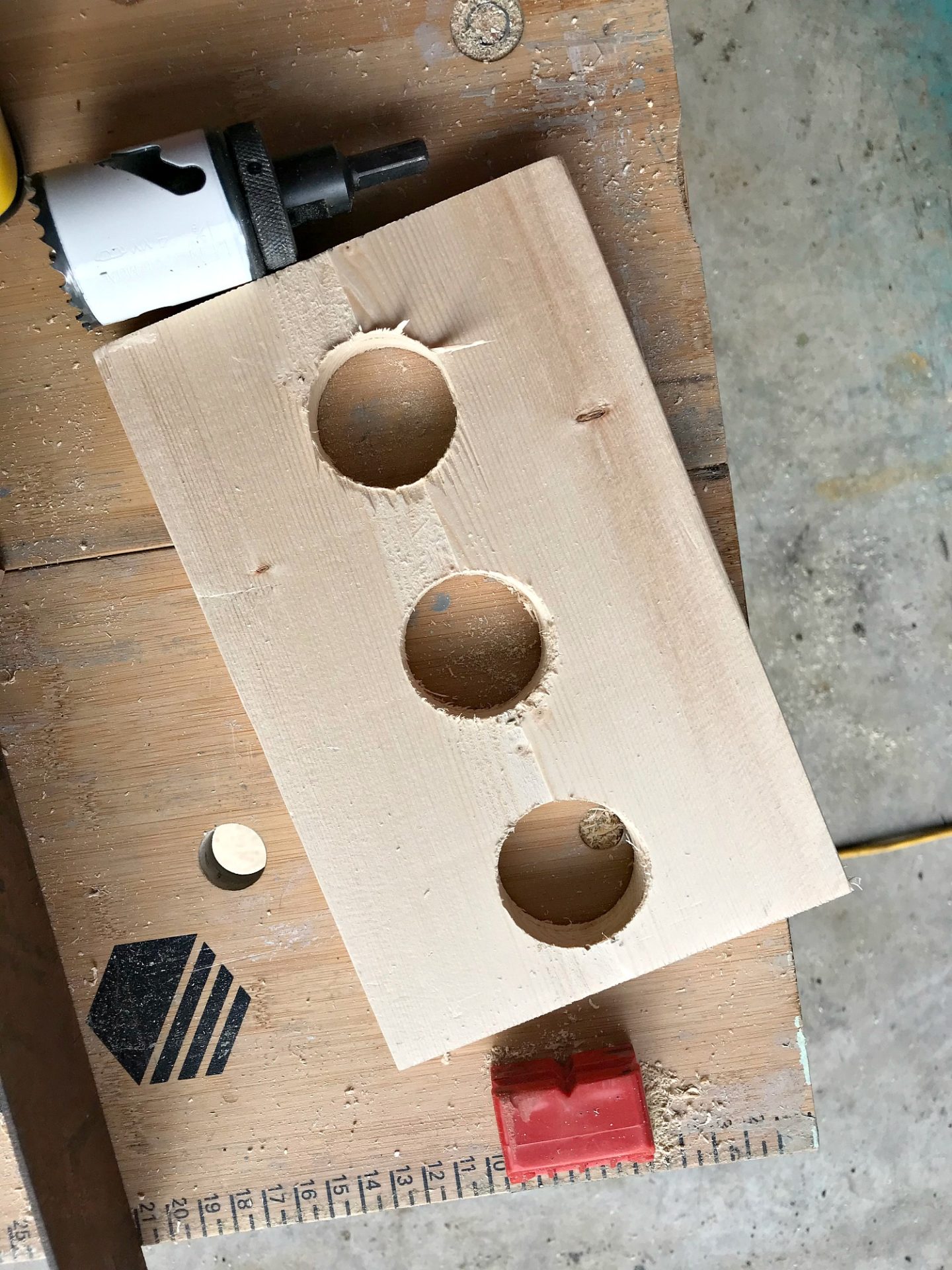 Then we cut the lengths with the compound miter saw, to section the wood into individual napkin rings – size it totally up to you! You just want to leave a little space around the hole: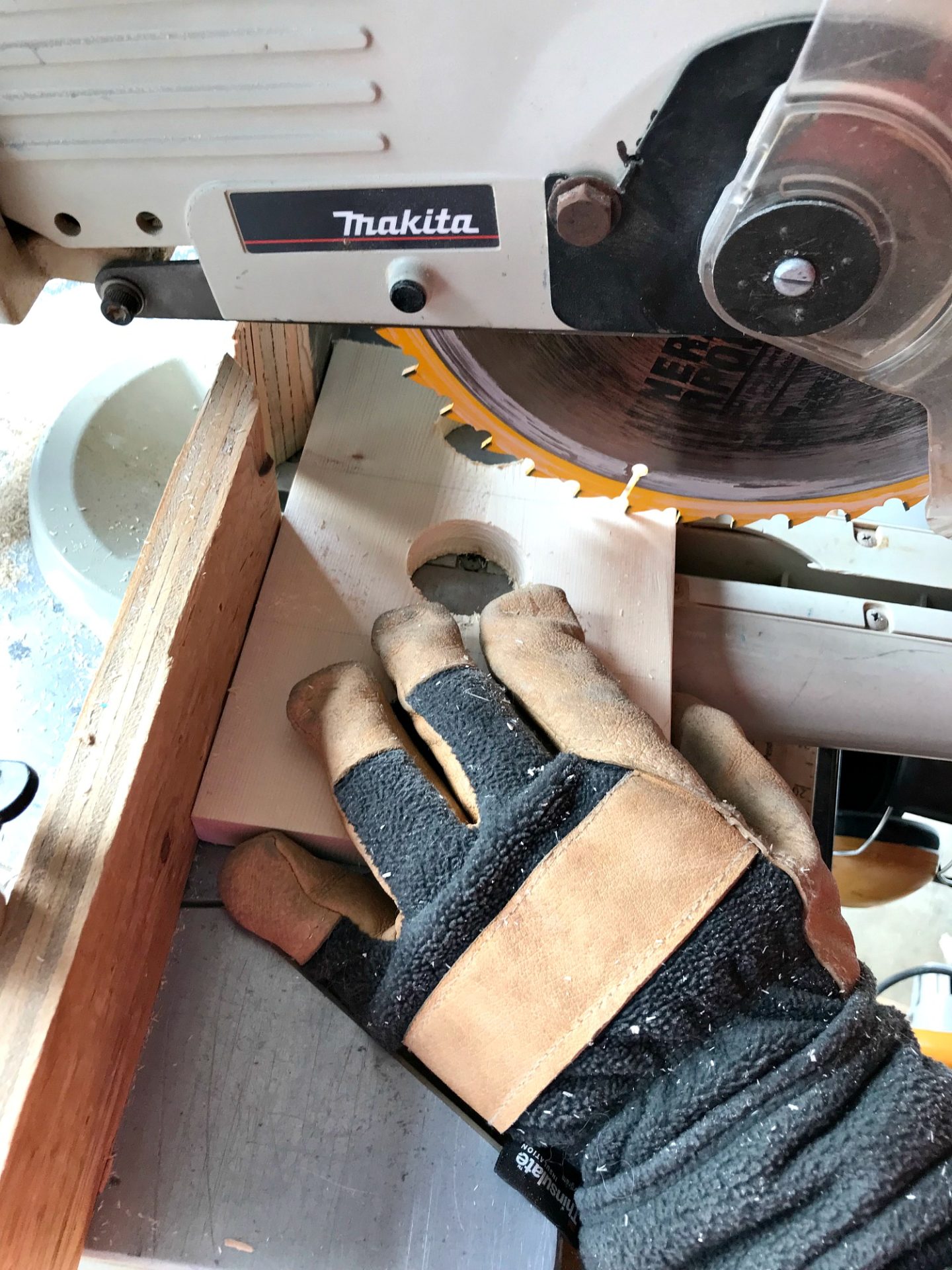 It took all of two minutes to cut out four and then I lightly sanded each one – you can see the difference between sanded (top) and un-sanded (bottom):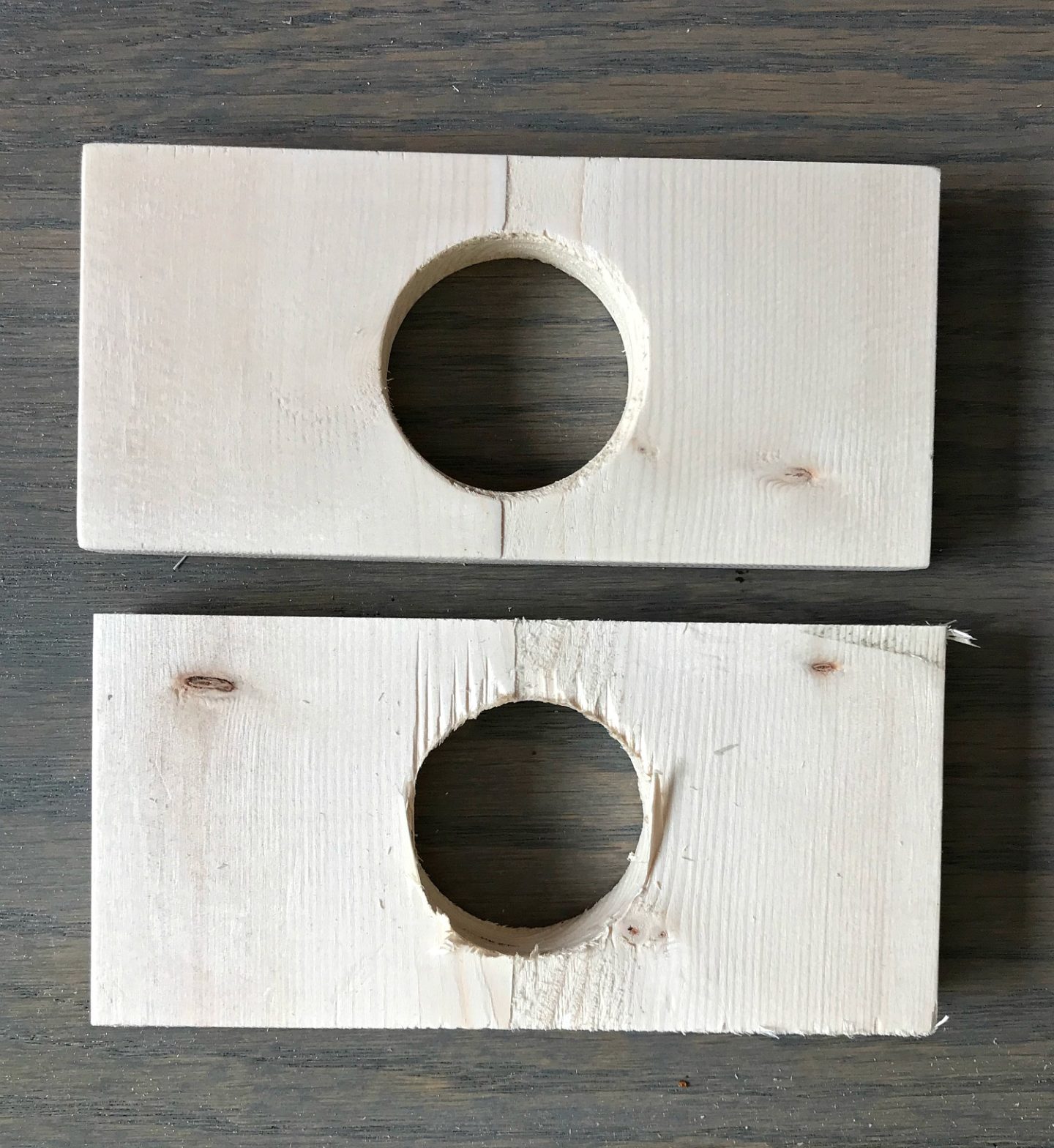 Once I sanded them all, I gave them a few coats of leftover turquoise paint – although the bare wood looked good too (picture them done with solid walnut scraps!).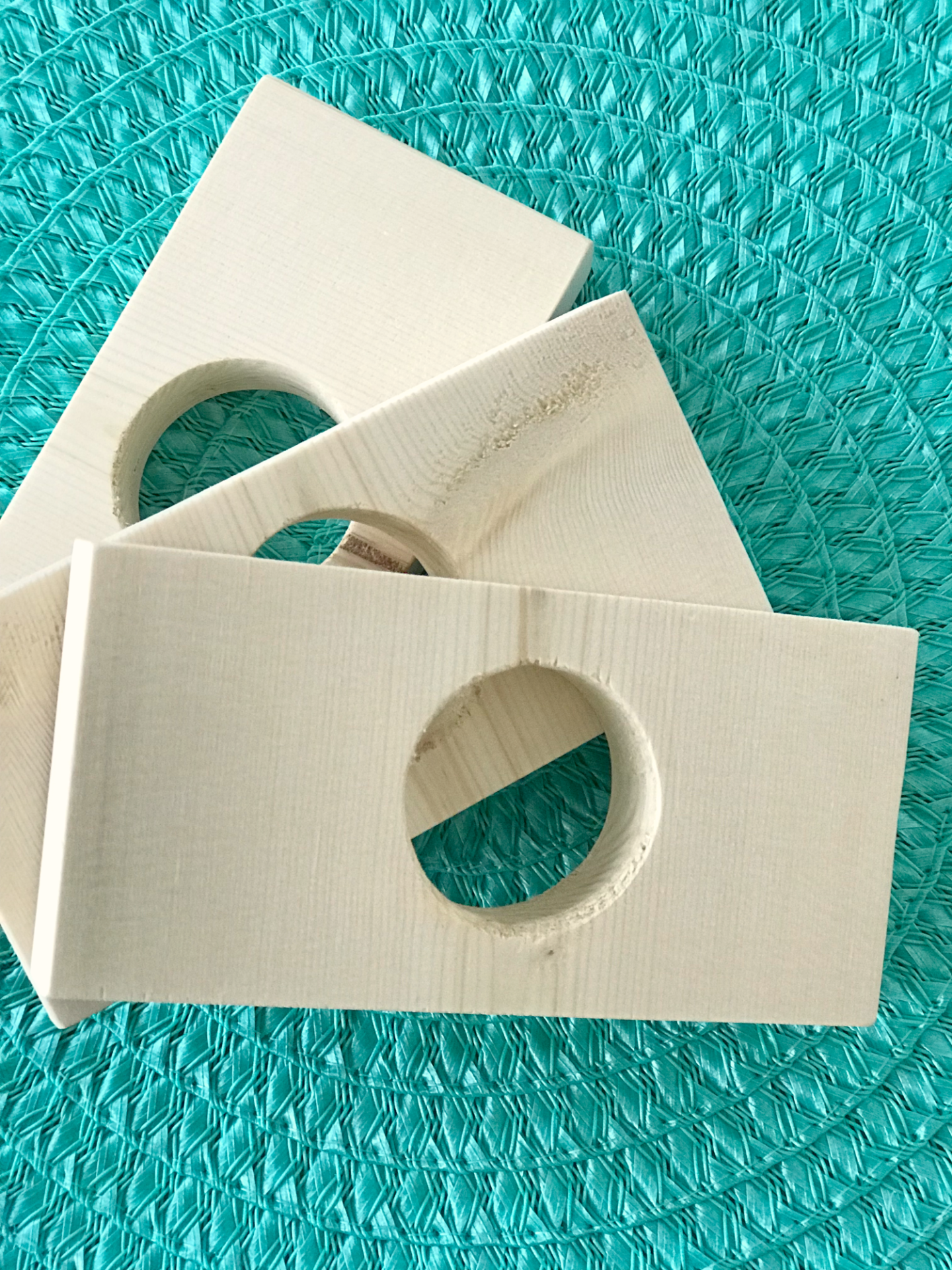 While the paint was drying, I cut the individual daisy flowers off the bouquet, snipping as much stem off as possible to make the blooms very flat.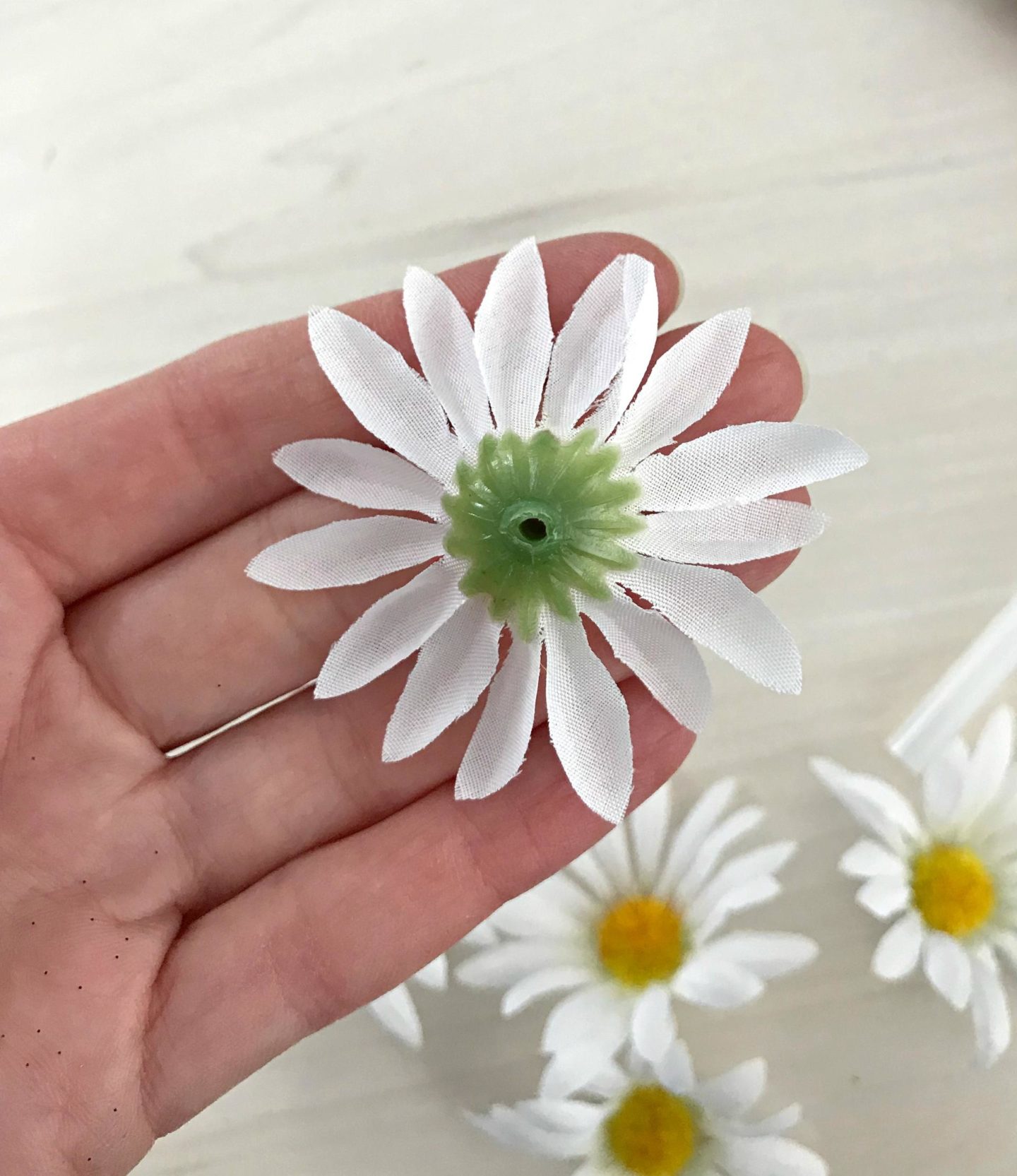 I divided the daisies into roughly four equal piles. When the paint dried, I warmed up my glue gun and simply affixed the daisies to the wood with glue, clustering them so each napkin ring is unique. I love how they look modern, but with a distinctly summery and quirky vibe.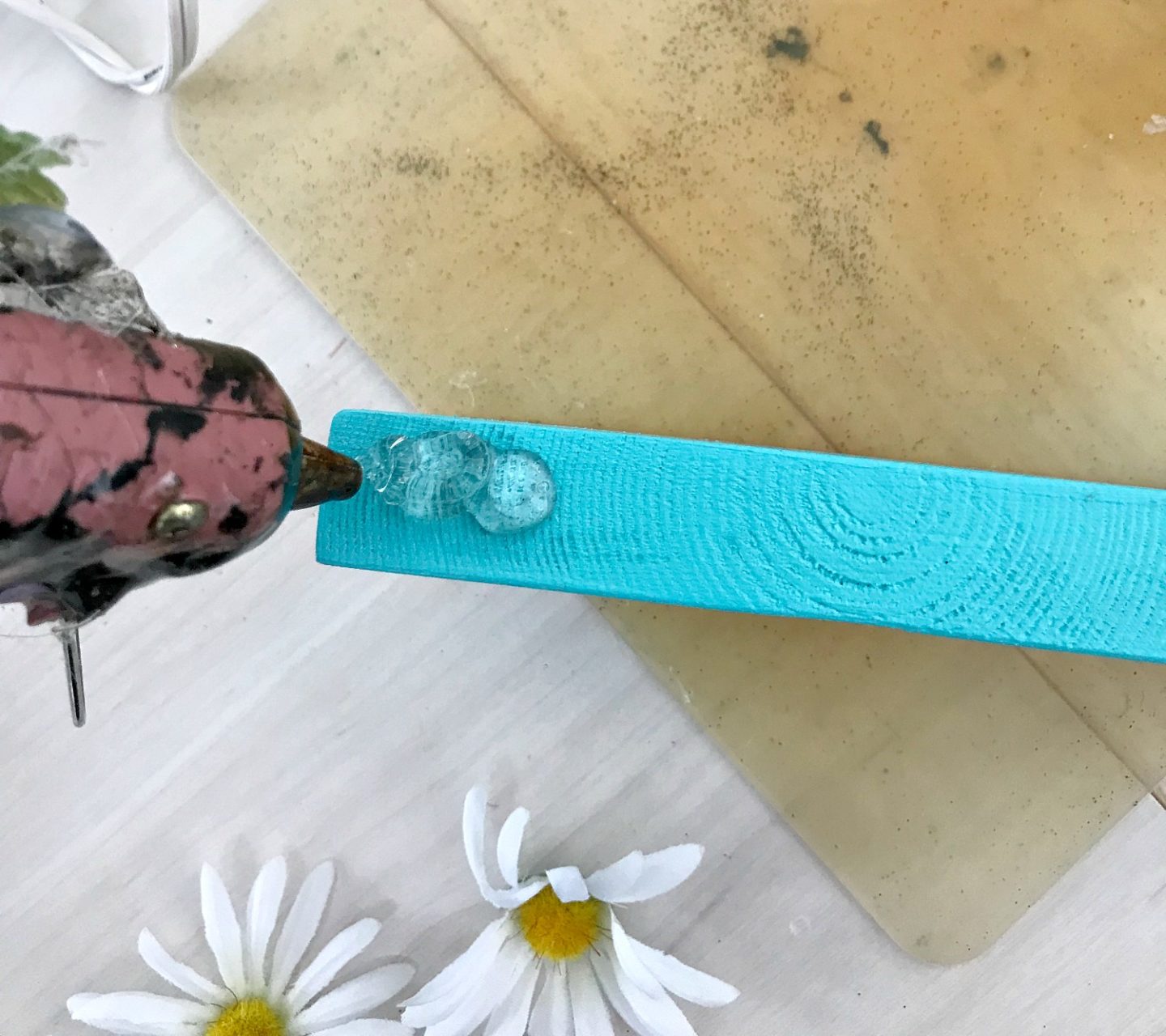 And yes, my glue gun in filthy. I used a stick of black glitter glue once in the 1990s and I'm still paying for it, lol: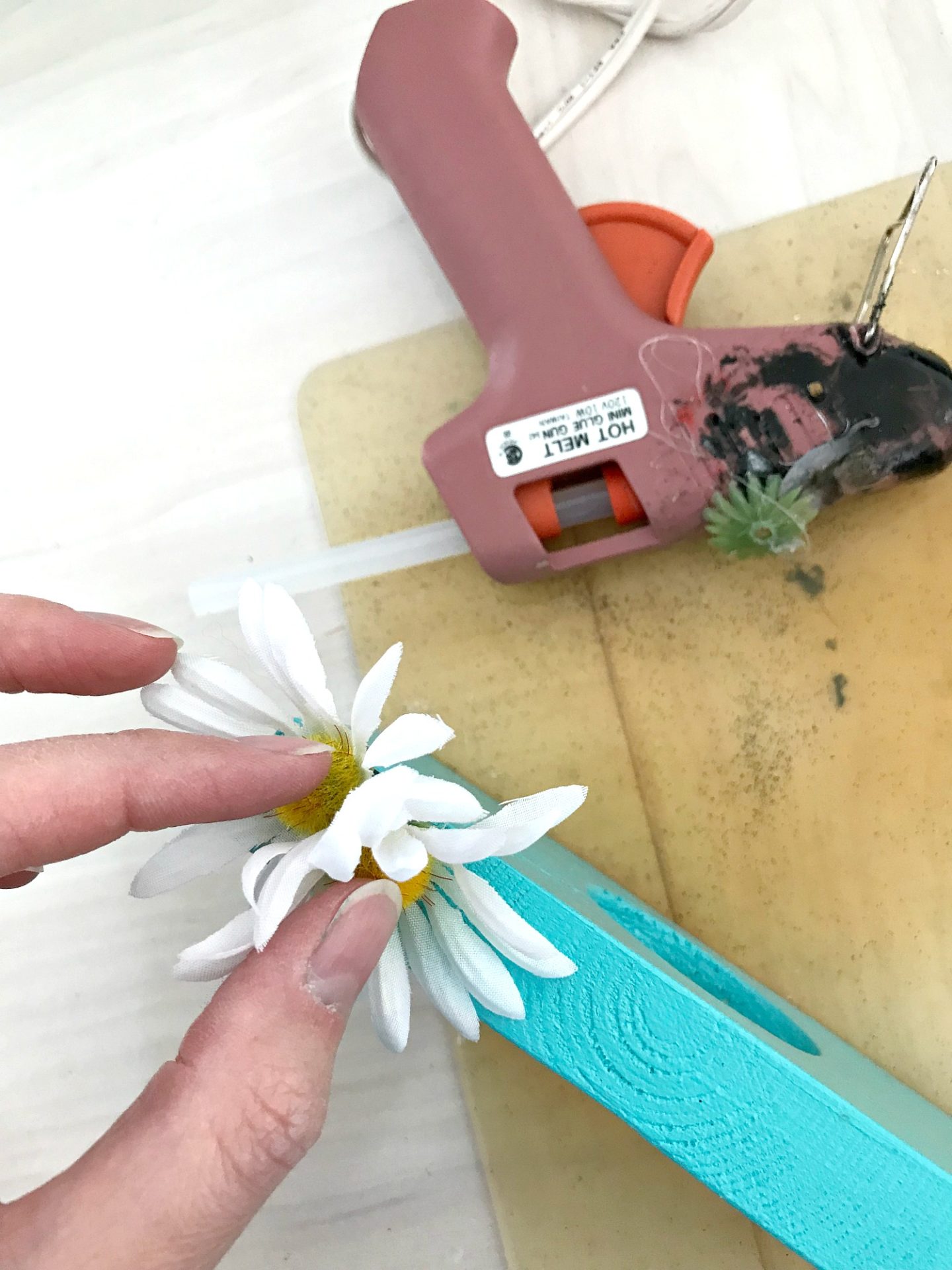 That's it! I loved the idea of the rectangular napkin ring because it really holds the napkin nicely on the plate – and it's a unique spin on the classic "ring".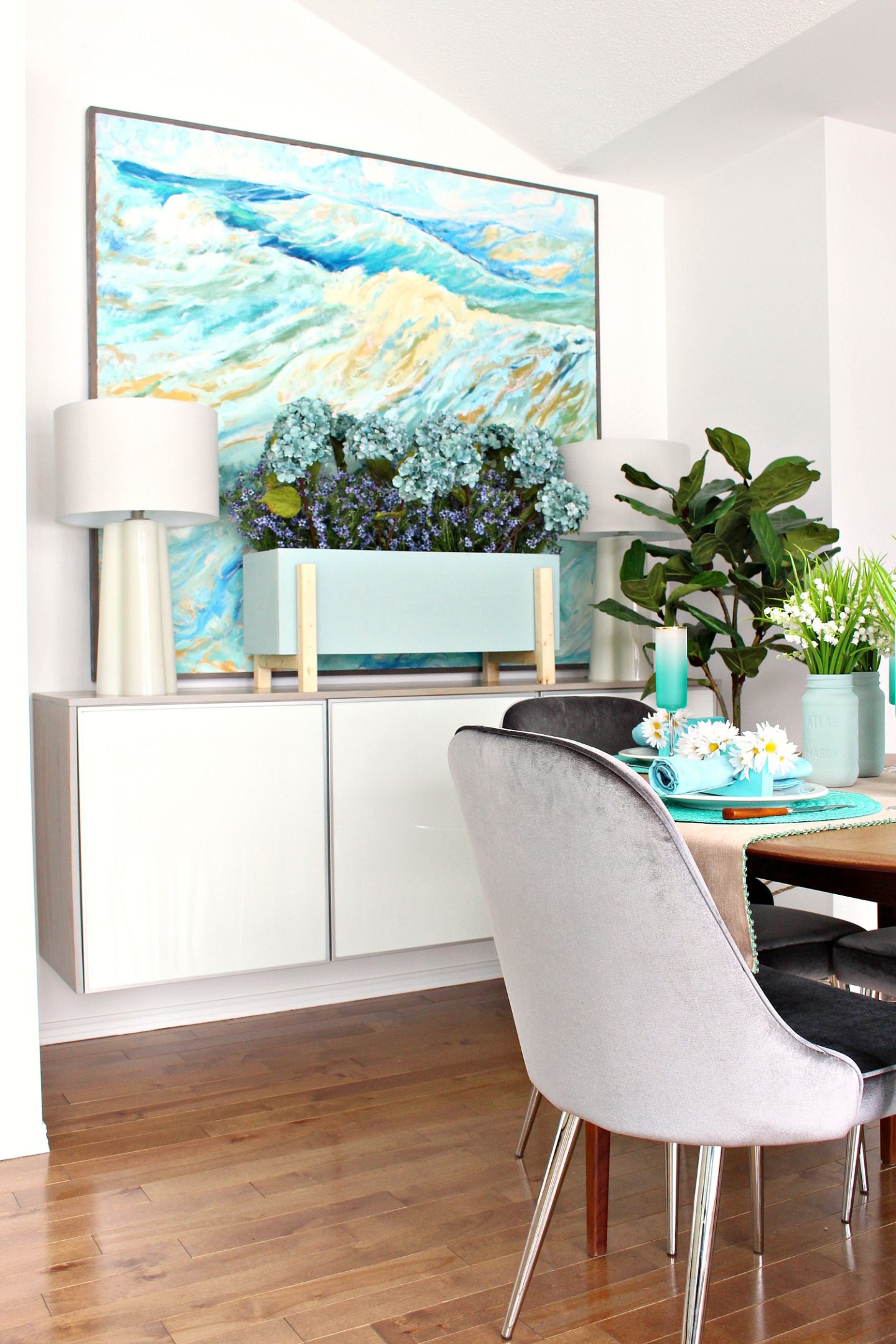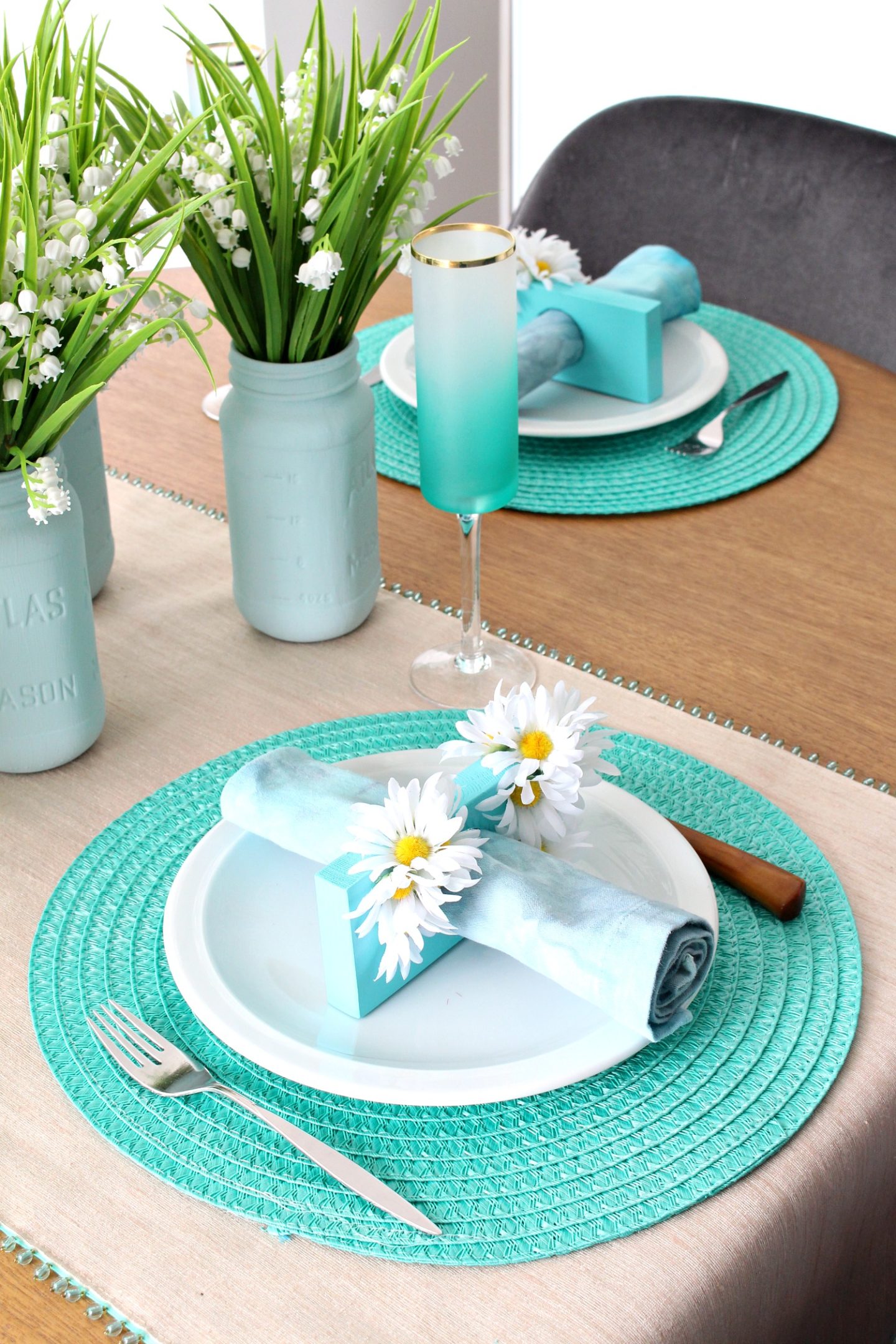 For you fans of fall, picture them with little orange faux pumpkins glued on – or painted green with holly berries for Christmas! They're so easy to make and you can customize them with any kind of topper – and this is the perfect craft for using up little crafting odds and sods too. Those random little flowers and leaves and ribbons that get left behind. Use 'em up and make some cute, mod napkin rings holders.
Happy crafting! To see the rest of my faux flower tablescape, click here. If you're looking for those round woven turquoise chargers, here's the link. And if you reaalllly want some fall crafts, check our my nail polish marbled pumpkins, gradient pumpkin fall wreath, Pyrex-inspired pumpkin, and my rhinestone no-carve pumpkin. I even rounded up 15 modern ways to decorate a pumpkin, you see it right here.