When I shared an Instagram story sneak peek of the IKEA KARLBY walnut counters Hubby and I were installing in the turquoise and copper powder room makeover, I received a TON of messages asking about cutting/installing/quality. It turns out that lots of you consider IKEA when you're shopping for counters! It makes sense, because IKEA has a variety of countertop options ranging from quartz, laminate and wood. I'm going to share my thoughts on using the IKEA KARLBY walnut counter in the bathroom. Full disclosure: IKEA generously provided the counter (along with some other pieces) for my One Room Challenge makeover, but I already had my heart set on this gorgeous walnut counter.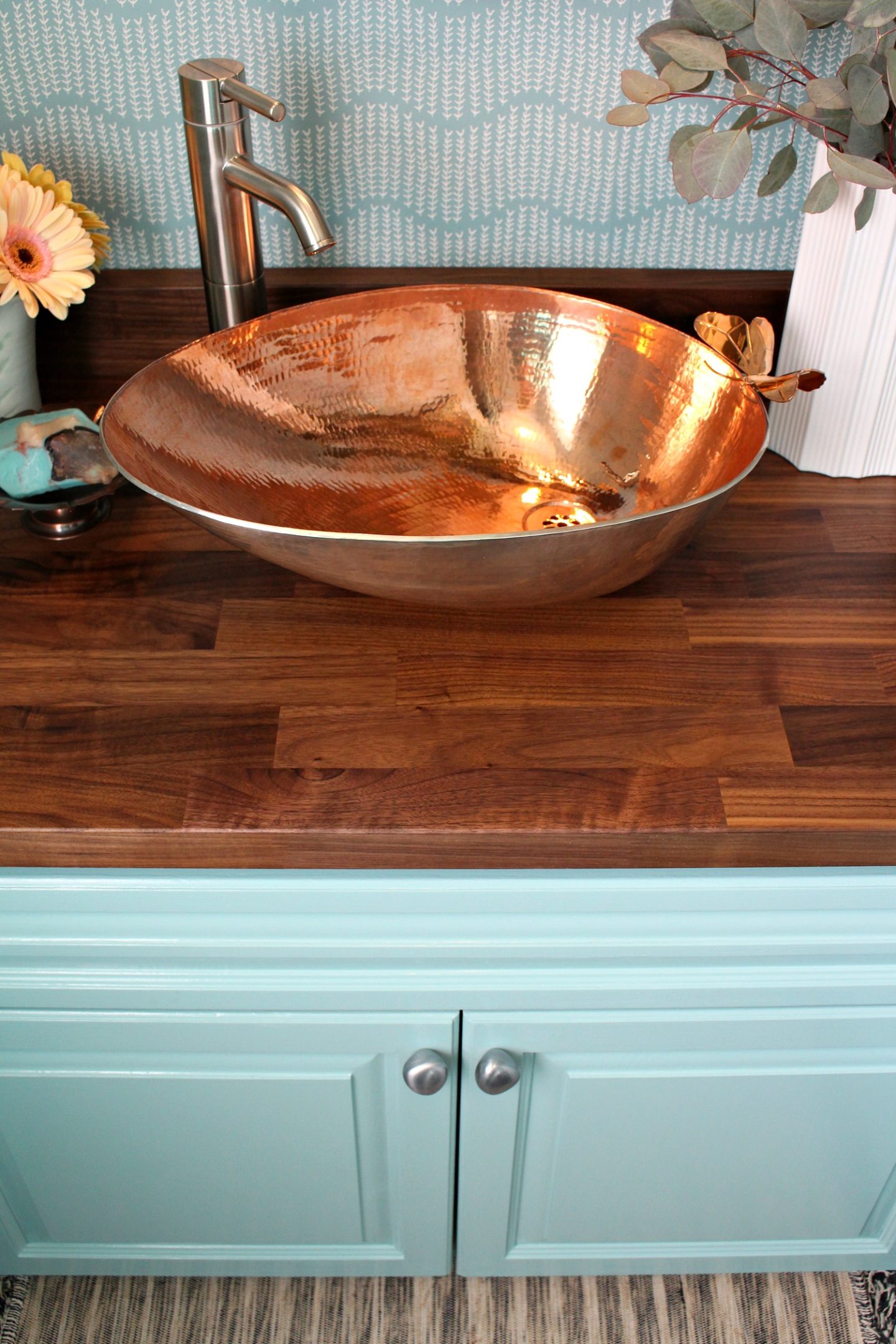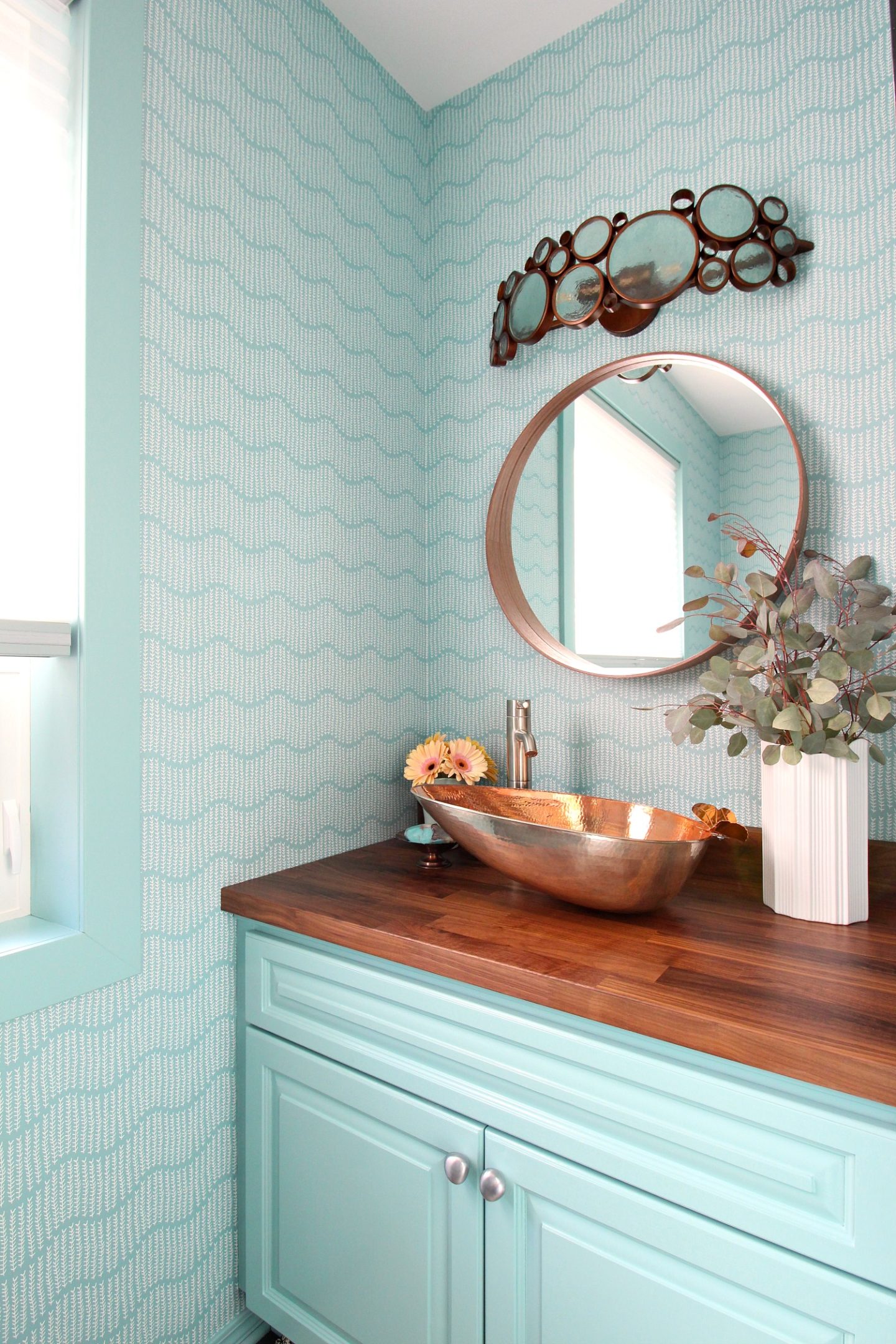 Shipping the IKEA KARLBY Counter
The counter was shipped in one large piece (comes in two sizes: 74″ L or 98″ L), and it was packed really well. Even though it clearly said "do not step" on the package, there were dirty footprints all over it. Honestly, the shipping companies around here are the BANE of my existence. I live so far flung in the boons, I have to order so much online and I'd love for the shipping people to at least not actively try to ruin things. Despite the footsteps, the counter was perfectly intact! Whew. If you have the right size island or counter for one of the two sizes – it comes ready to install!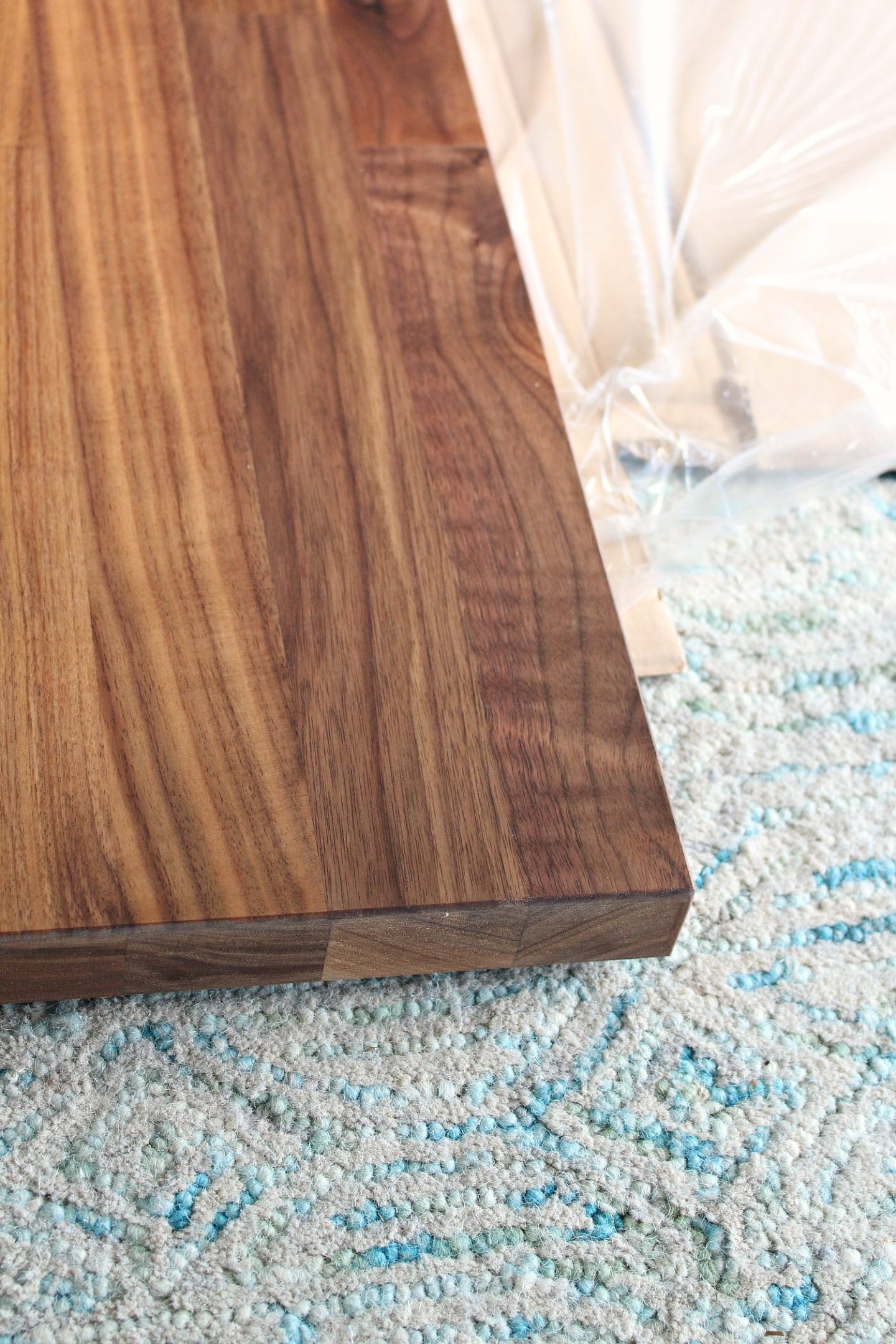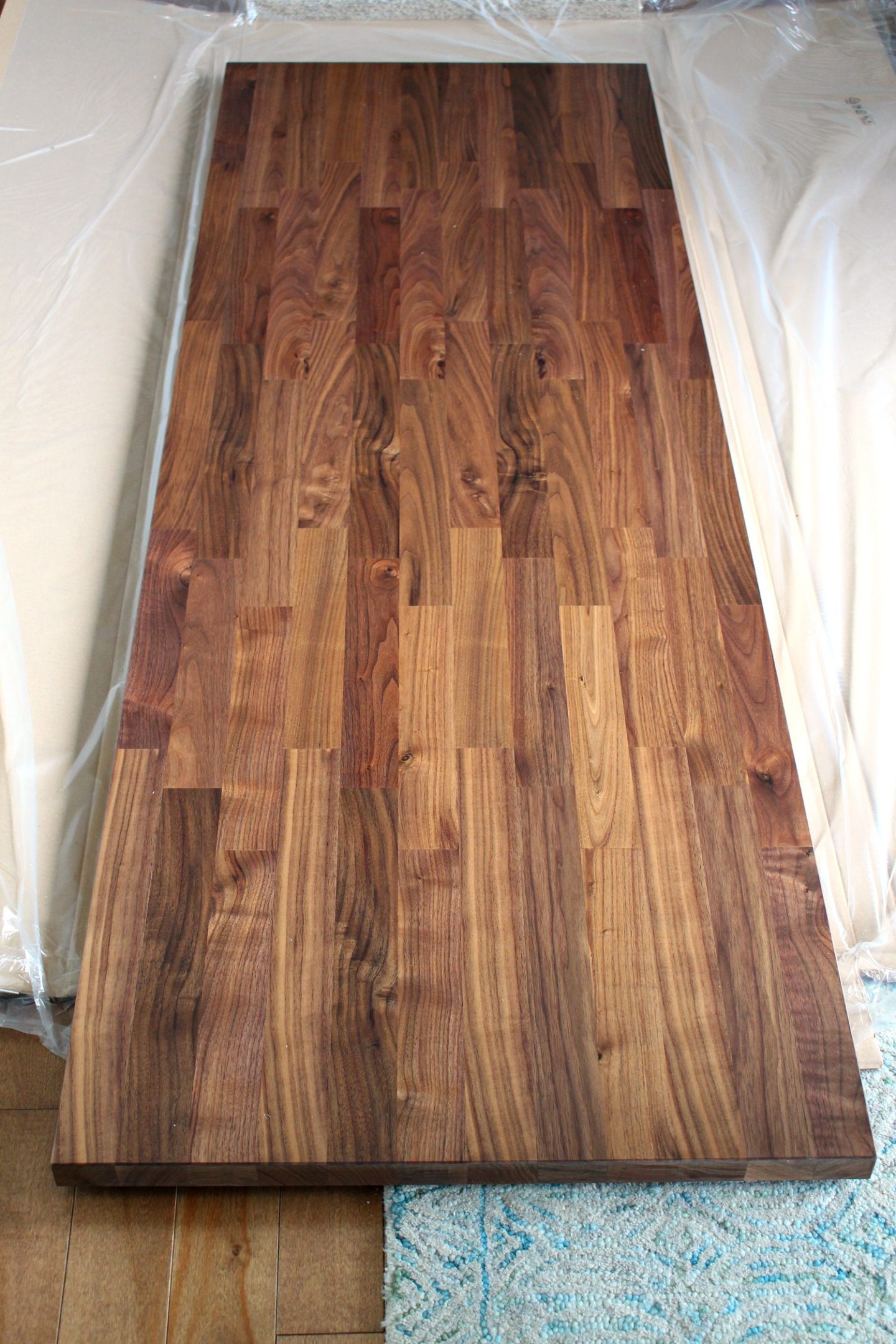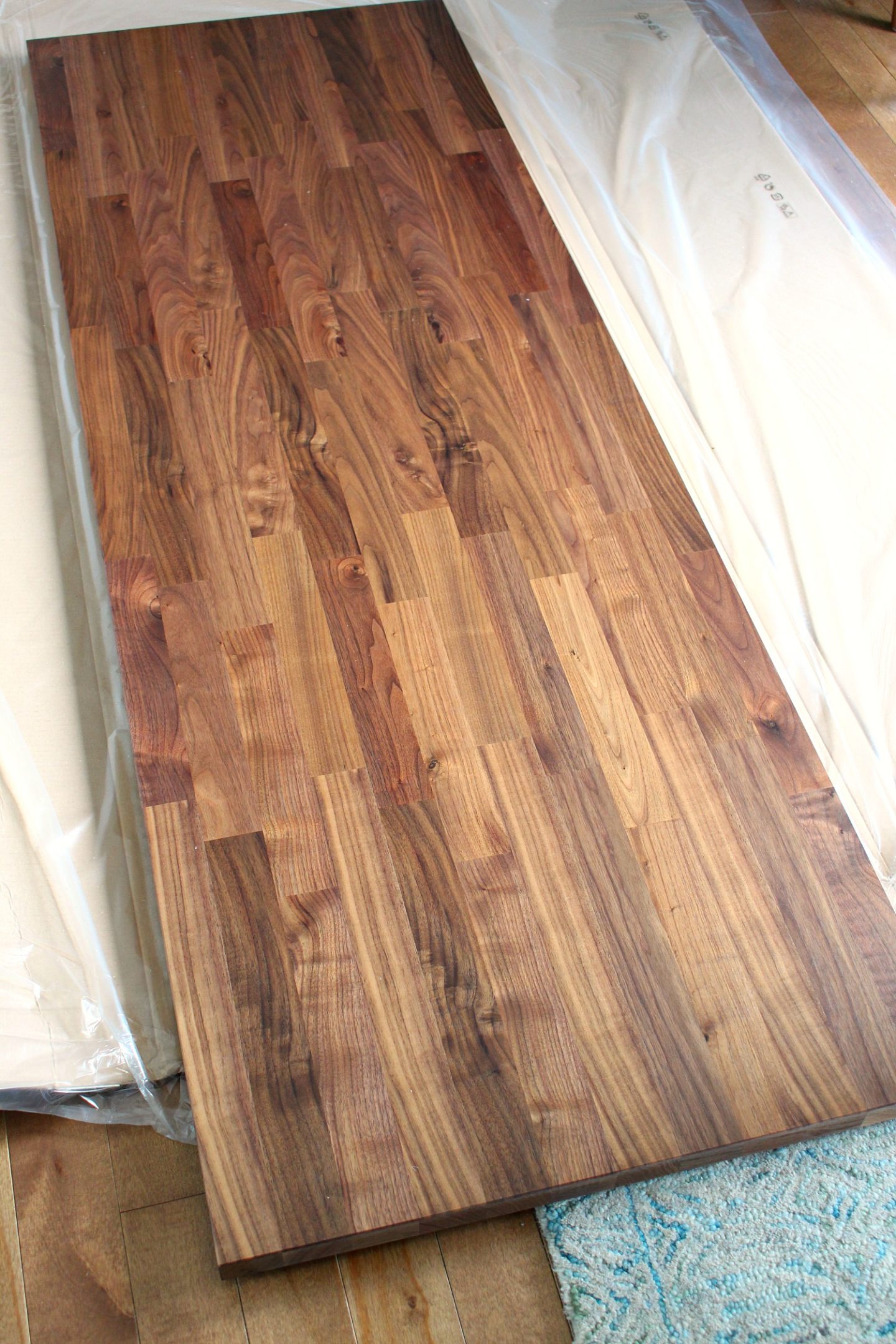 The Quality of the IKEA KARLBY Counter
The quality was excellent: no flaws, dents, weird spots. It was just a perfect hunk of walnut veneer. You might have guessed from the price that this massive slab is NOT solid walnut. With this counter, you get the look of walnut butcher block for a lot less, without sacrificing the ability to sand. The KARLBY wood countertop offers the best of solid wood and veneer. With efficient use of natural resources, it offers the look and feel of walnut with a durable surface that can be sanded. I was actually surprised by the incredibly generous veneer – it's thick. You can easily sand this surface down and refinish it, if it sees a lot of wear and tear.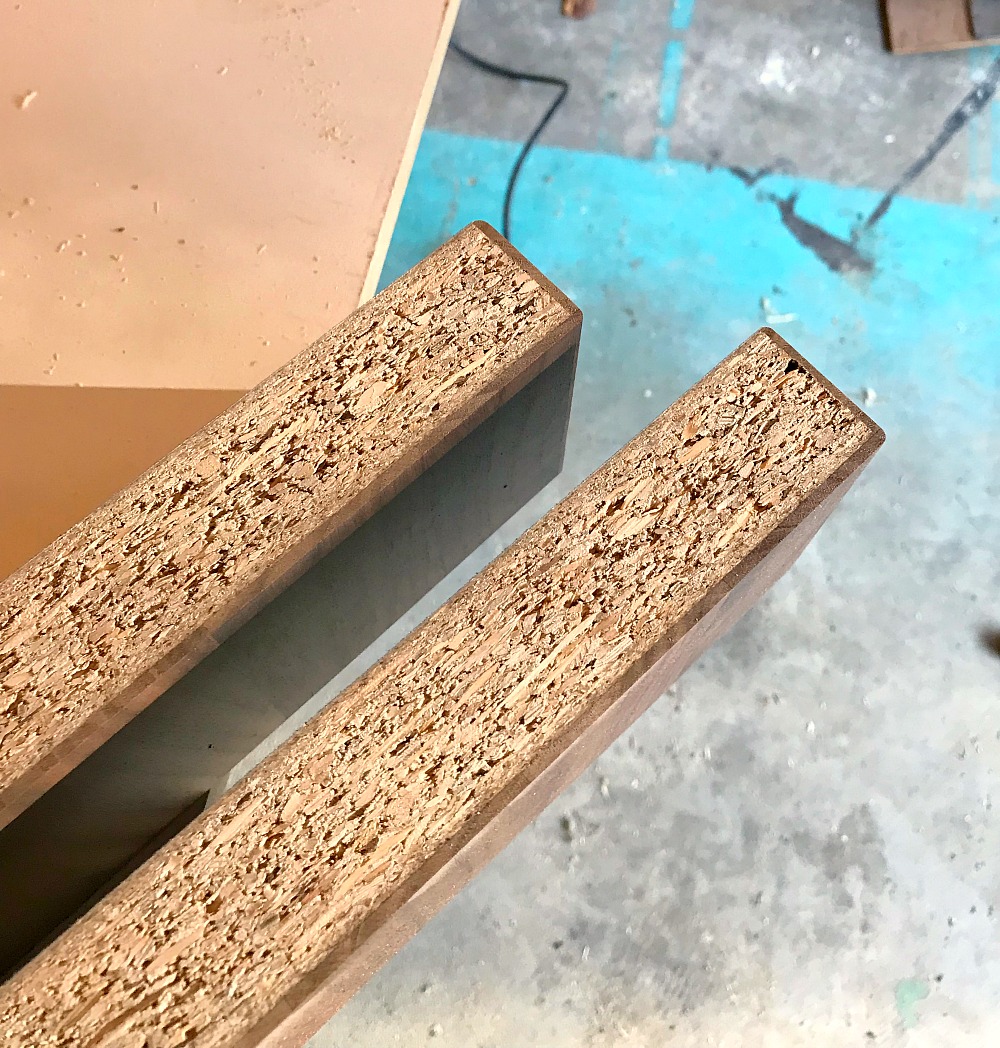 If you need to cut or shorten it, it comes with two edge pieces to affix to the cut edge: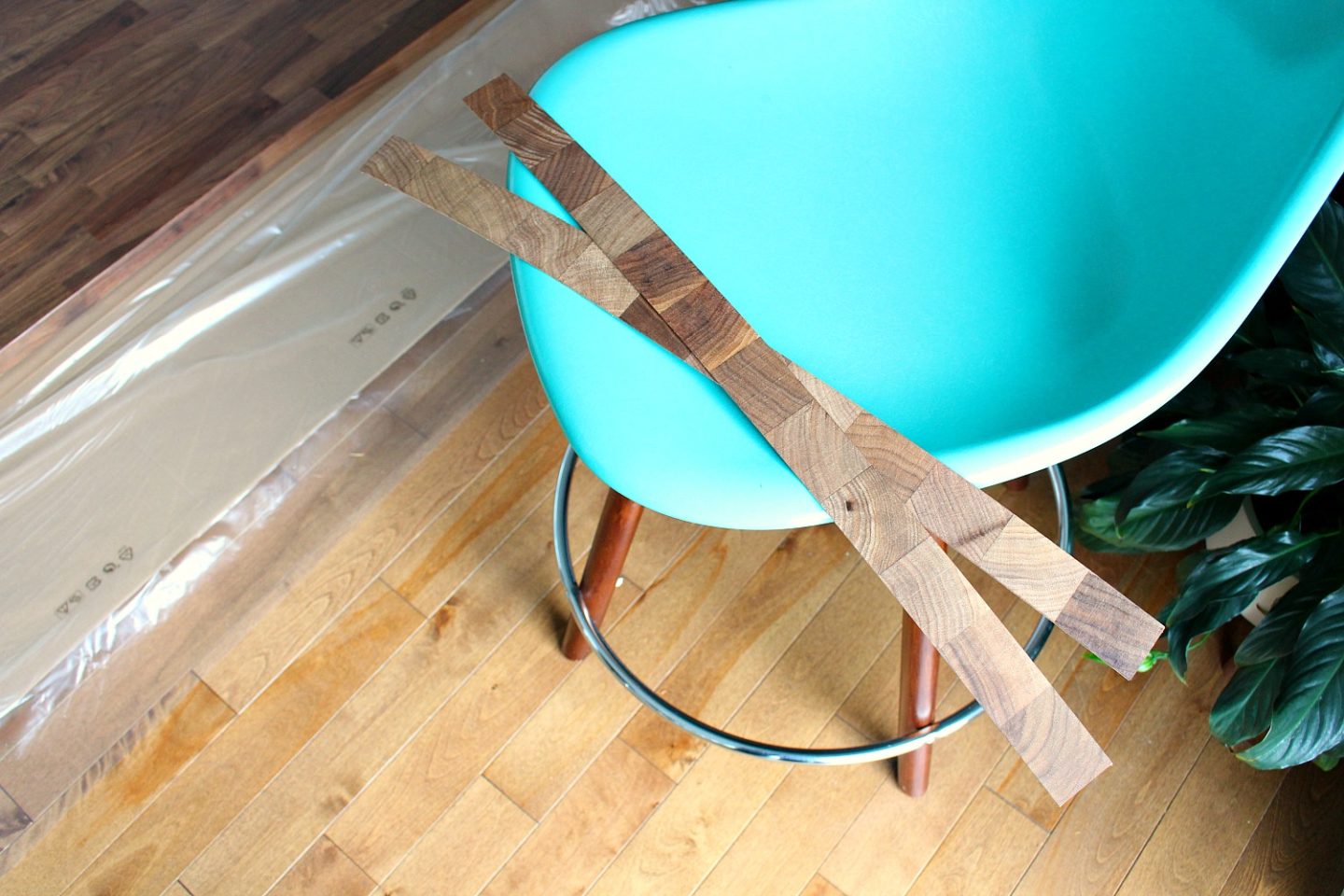 Measuring/Cutting the Counter to Fit Between Three Walls:
This installation was a tiny bit tricky because we had to snugly fit the counter in between three walls and there was no room for error! And the walls aren't straight; the room isn't square. After removing the old counter (and I had wallpapered already too), we started by measuring the space and figuring out how not-square the walls are with a framing square. When we took measurements, we measured the front and back widths.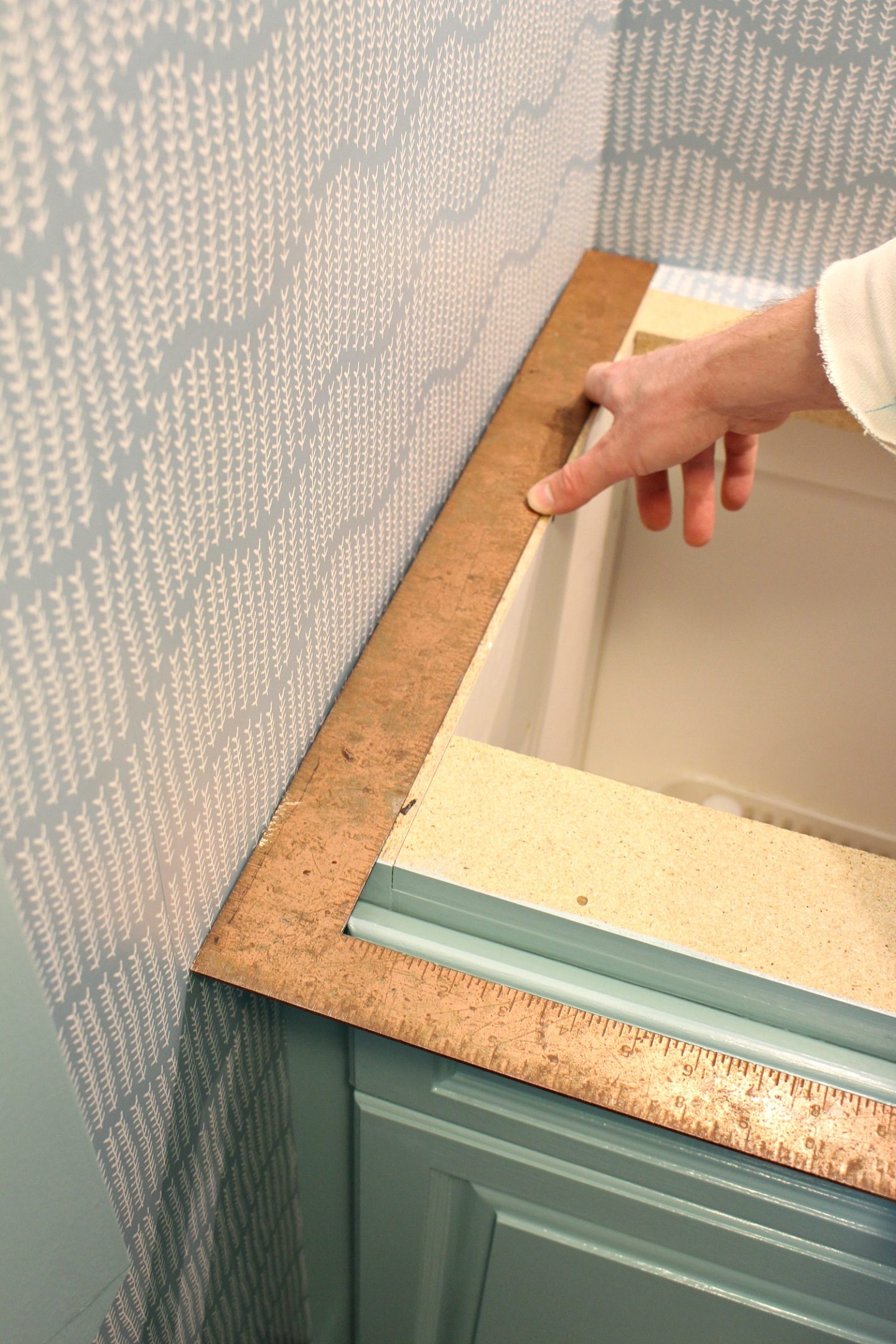 Then we made a template! We wrote down all of the measurements and used a scrap piece of plywood to double check the fit. The right hand side angles in toward the back, so I just wanted to check and see how it would look.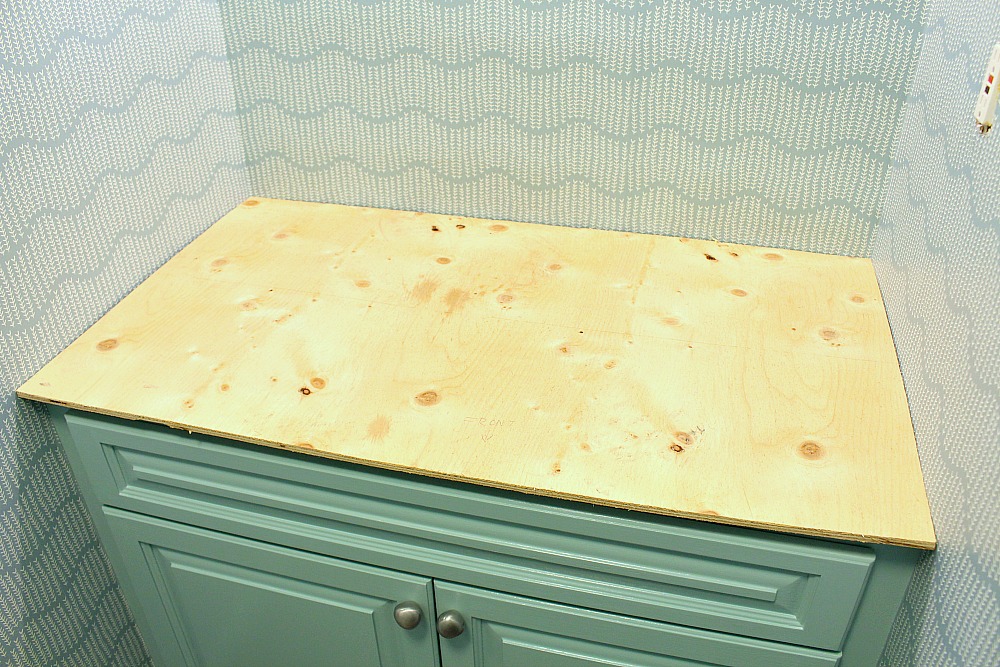 When we knew the fit was as good as we could get it, we marked out the measurements on the counter. We used a table saw for one cut (it was a straighter wall) – I don't have photos because we both needed to manhandle this giant counter. We also used the table saw to cut it narrower – the depth was a bit much for our tiny bathroom.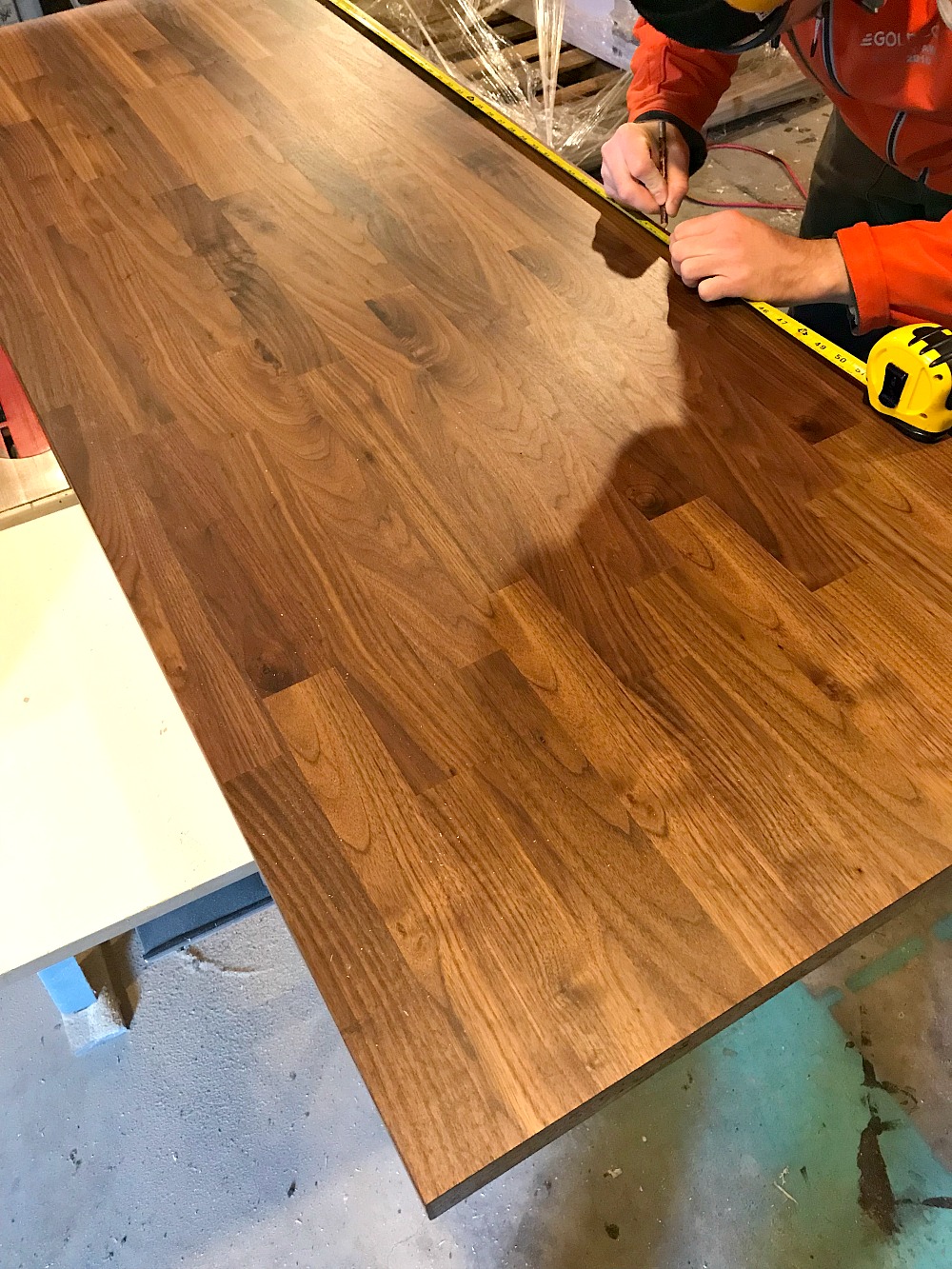 Because the other side angled in a little, we marked the line (using our template and double checking measurement!) and then used a skill saw to cut the second end. Cutting it was a DREAM! Like cutting through butter. Without any knots or irregularities (problems with solid wood), the table saw blade and skill saw blade just slid right through – nothing to catch the blade on. And we only had one teeny tiny spot of tear out (our fault). I was nervous about cutting the counter because we only had one shot, but it was the easiest part of the makeover.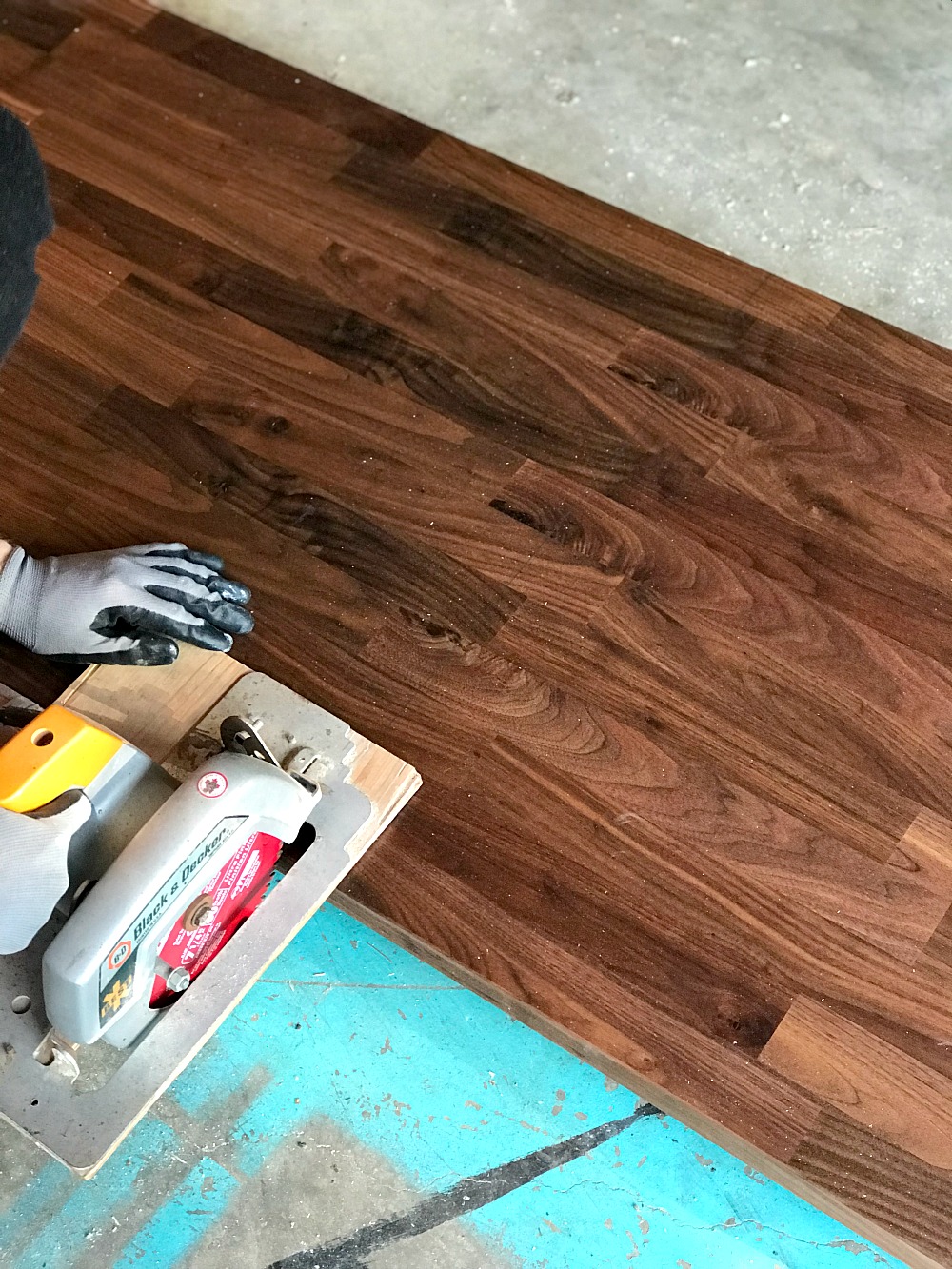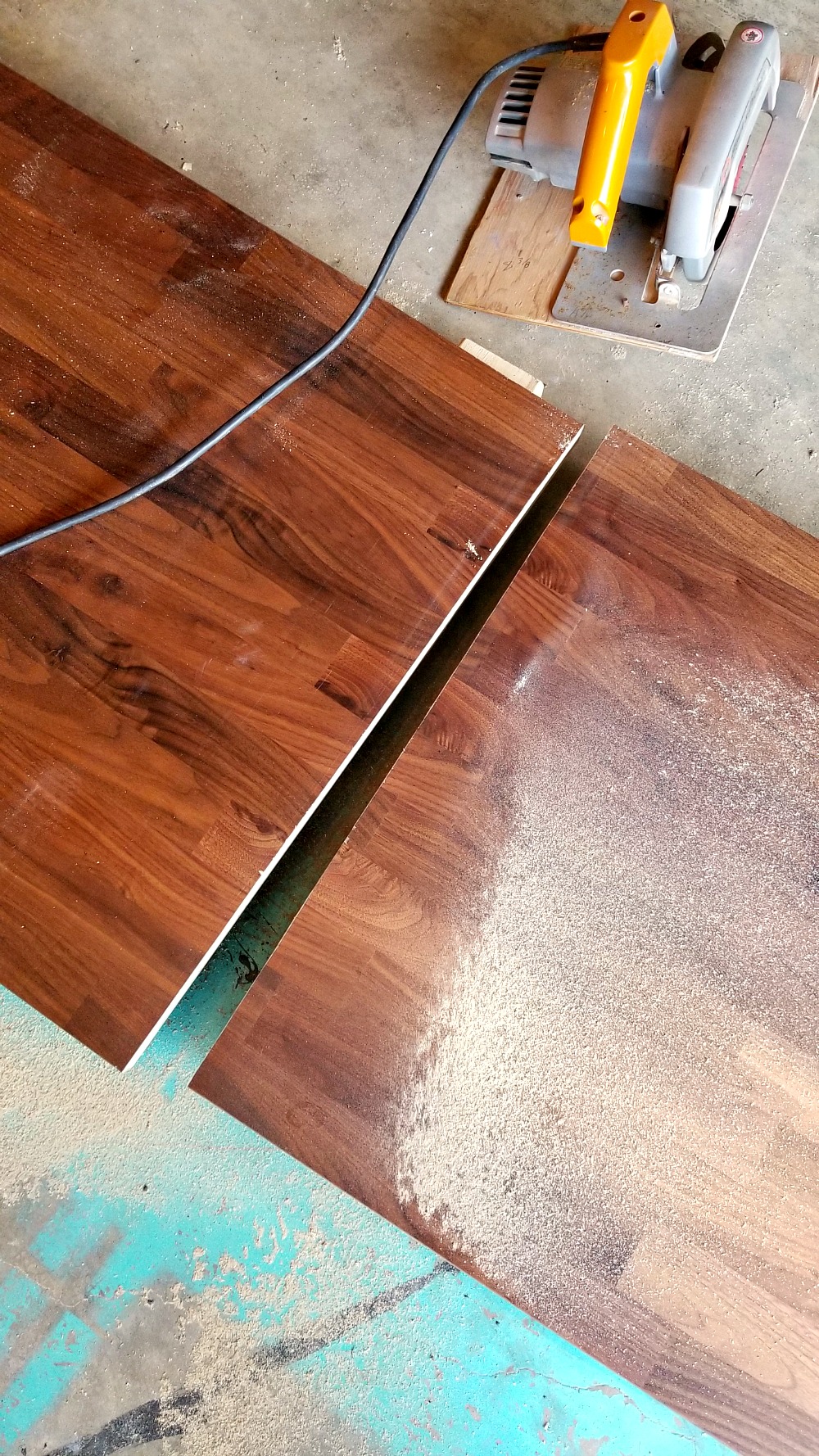 Because we also cut off some of the depth, we used that leftover piece to make a little backsplash. That wall was the wonkiest, so this helps disguise it. We carefully slid it in and then installed it from underneath with screws.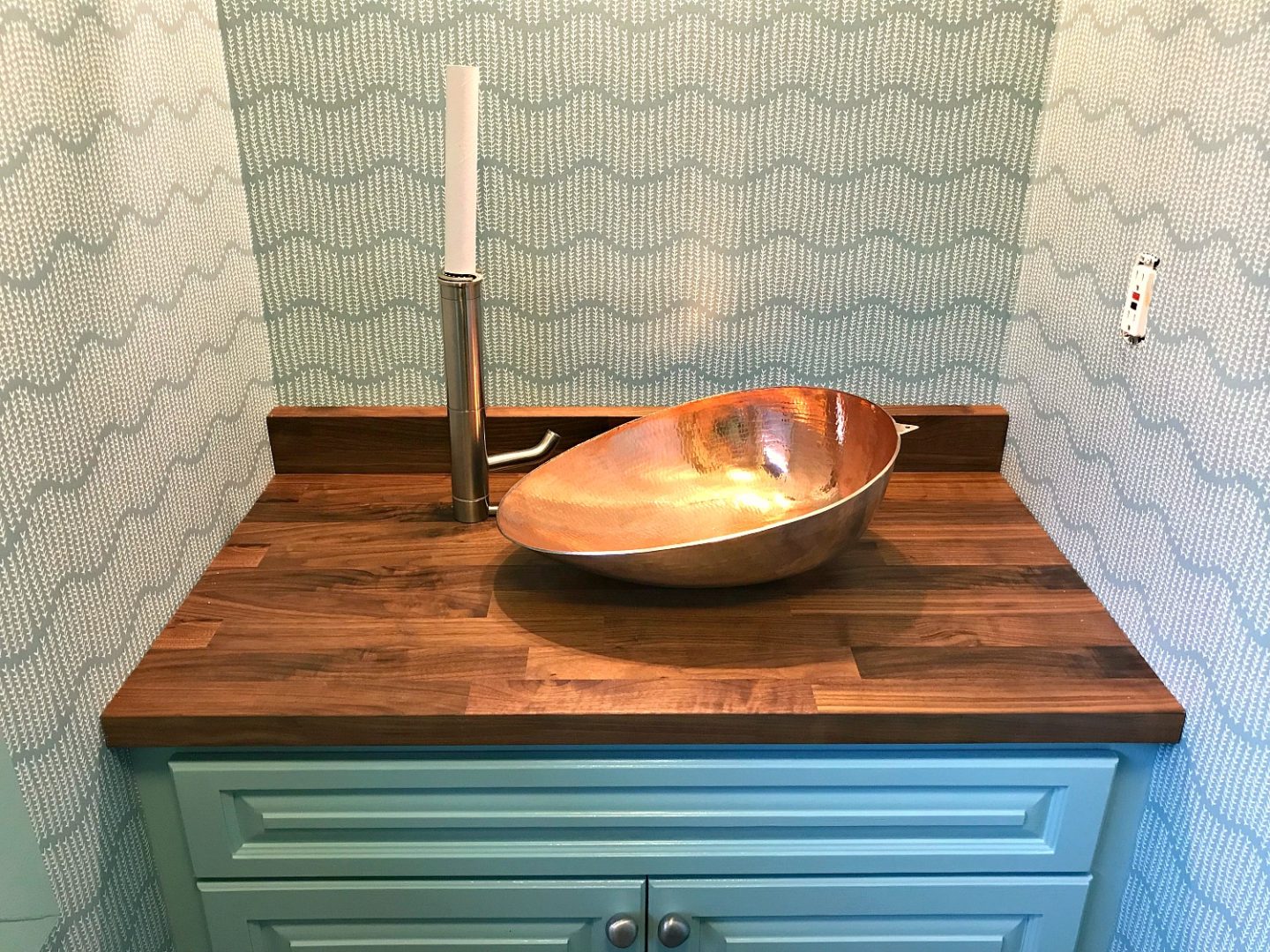 I had extra counter for two side splashes, but opted against them. I put a poll on Instagram and you were all just as divided as I was! It was nearly 50/50… I prefer the look of no side splashes, but I thought it might help protect the wallpaper? But the wallpaper is so smooth and feels so durable, I doubt water will be a problem.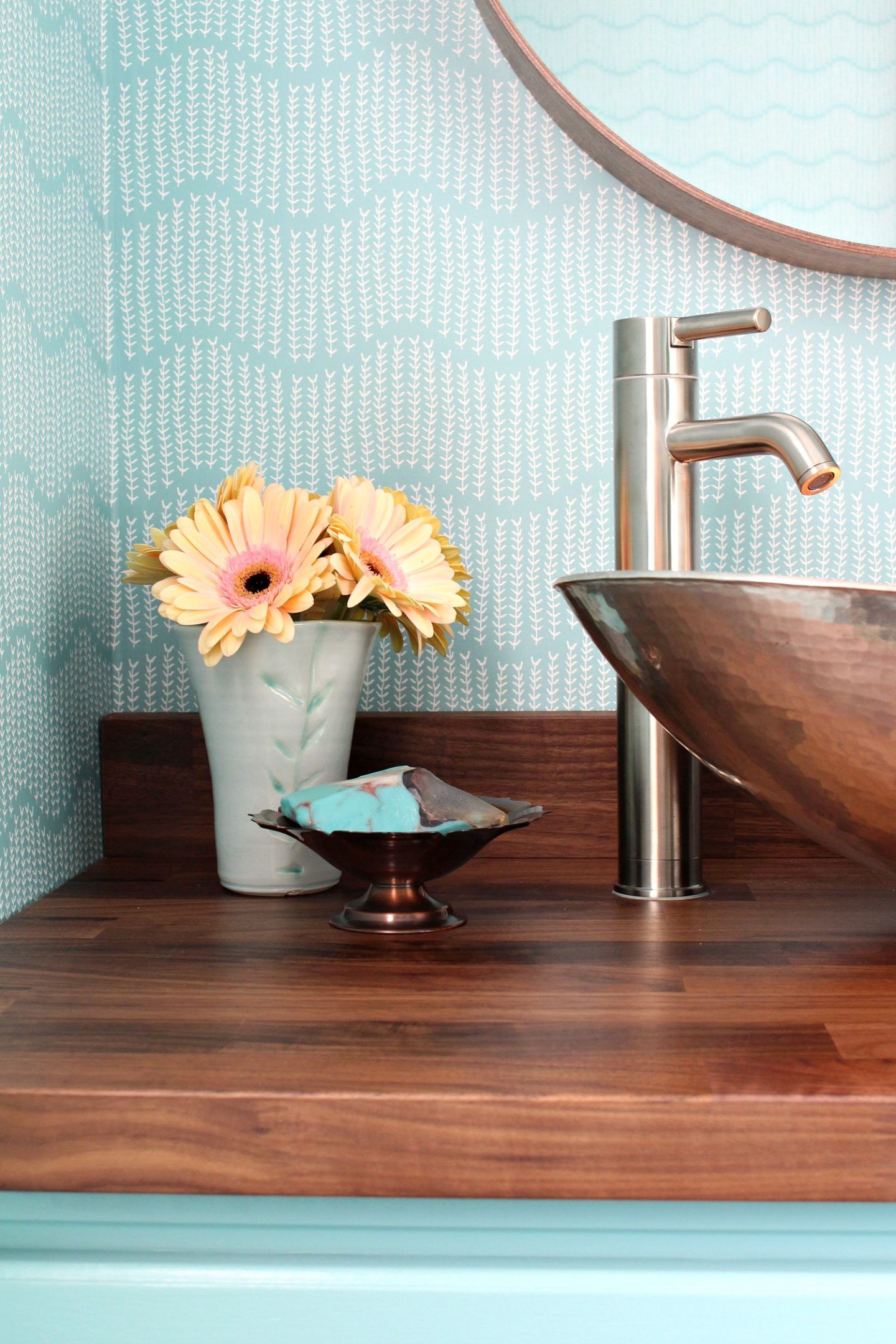 Installing the Sink and Faucet
It took me forever to decided on sink and faucet placement and when I finally did, Hubby used a post it to mark the hole. I think he worried I'd change my mind at the last minute, haha.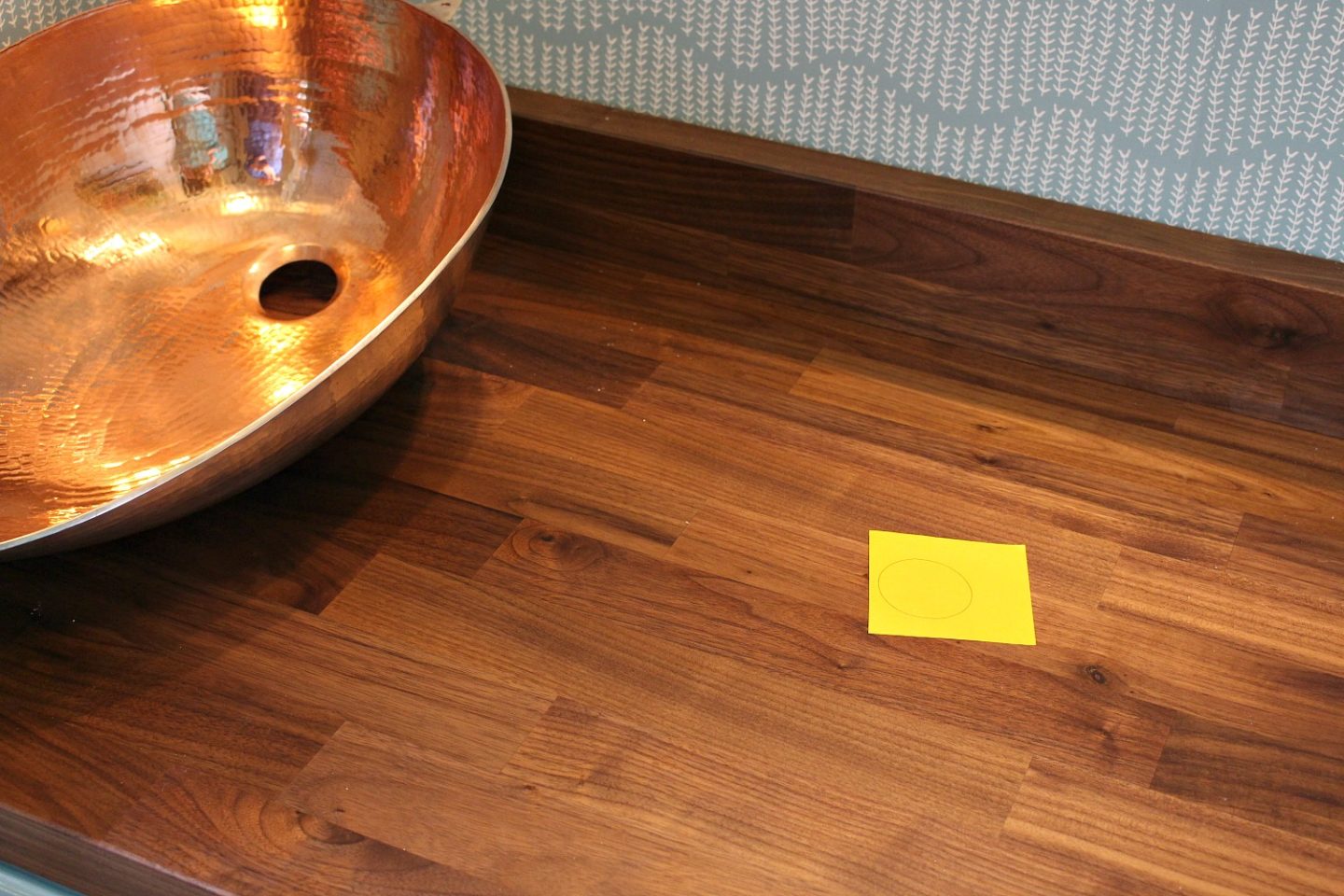 To reduce tear out, first we used a drill to start a pilot hole: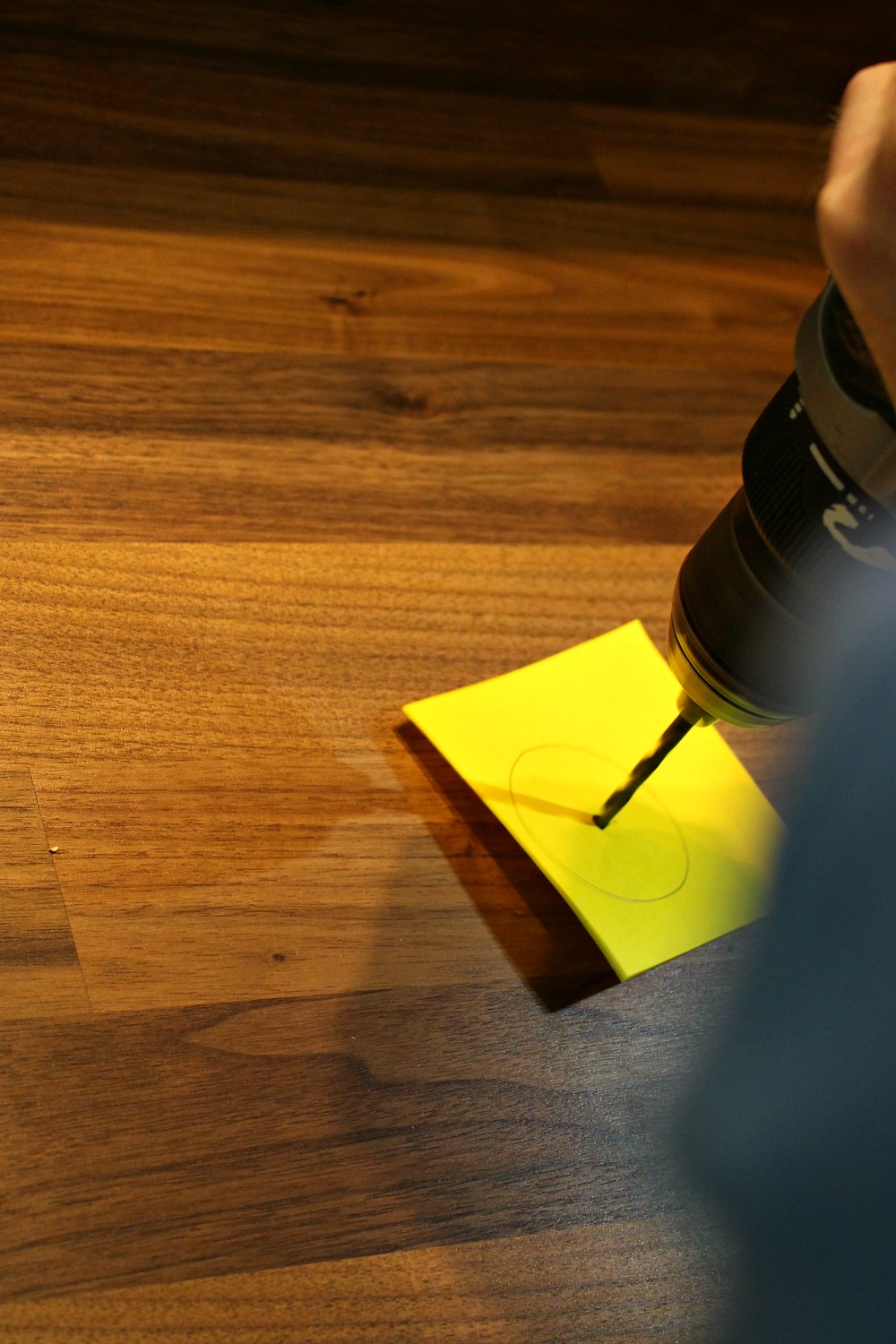 Then our trusty hole saw to cut the holes for the faucet and sink.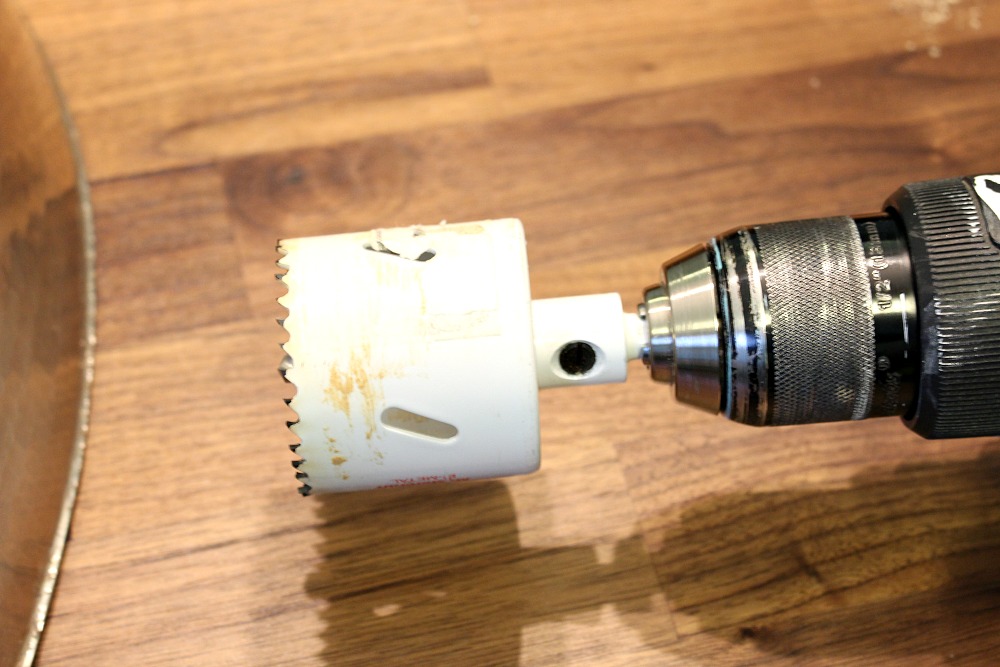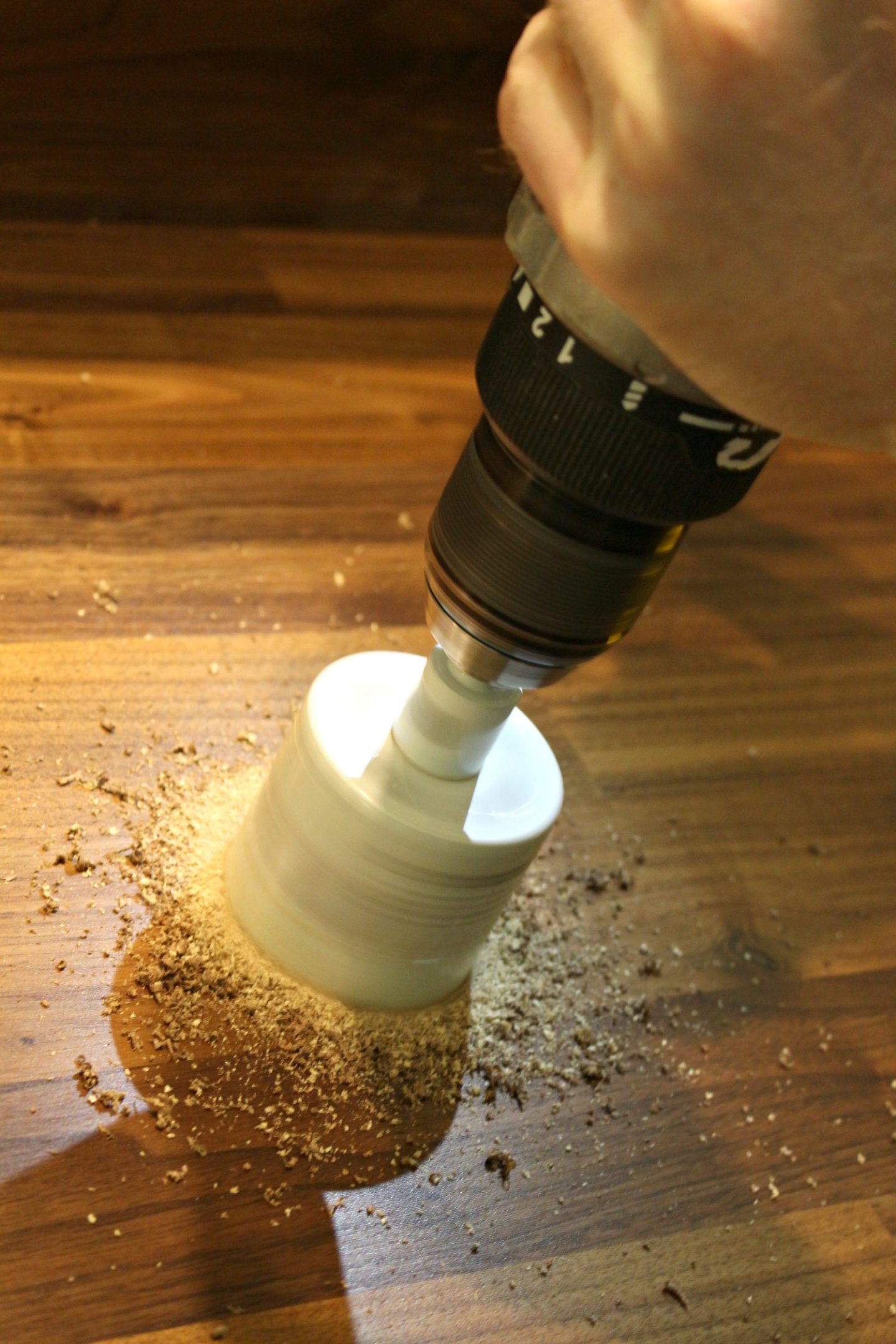 We test fit the sink and used a file to slightly bevel the hole opening to reduce chipping possibility and improve the sink seating area. The we repeated this process for the faucet. Following the instructions from IKEA, we used a thin layer of silicon to seal the exposed particle board in the hole. This will reduce swelling issues, if there is any moisture present next to the drain. We then put a small ring of silicon around the hole where the sink sits and installed it with the sink drain holding it in place, following the drain installation instructions. Once the sink was in place, we confirmed the faucet orientation and installed that as per the instructions and tightened it down. New supply hoses and PEX shut off valves were installed below the sink and connected. Hubby likes to install new ball valves because almost every time we have to turn off one of the original valves – it leaks. Once a sufficient amount of time had passed for all silicon to dry, we turned the water back on and tested it. No leaks!!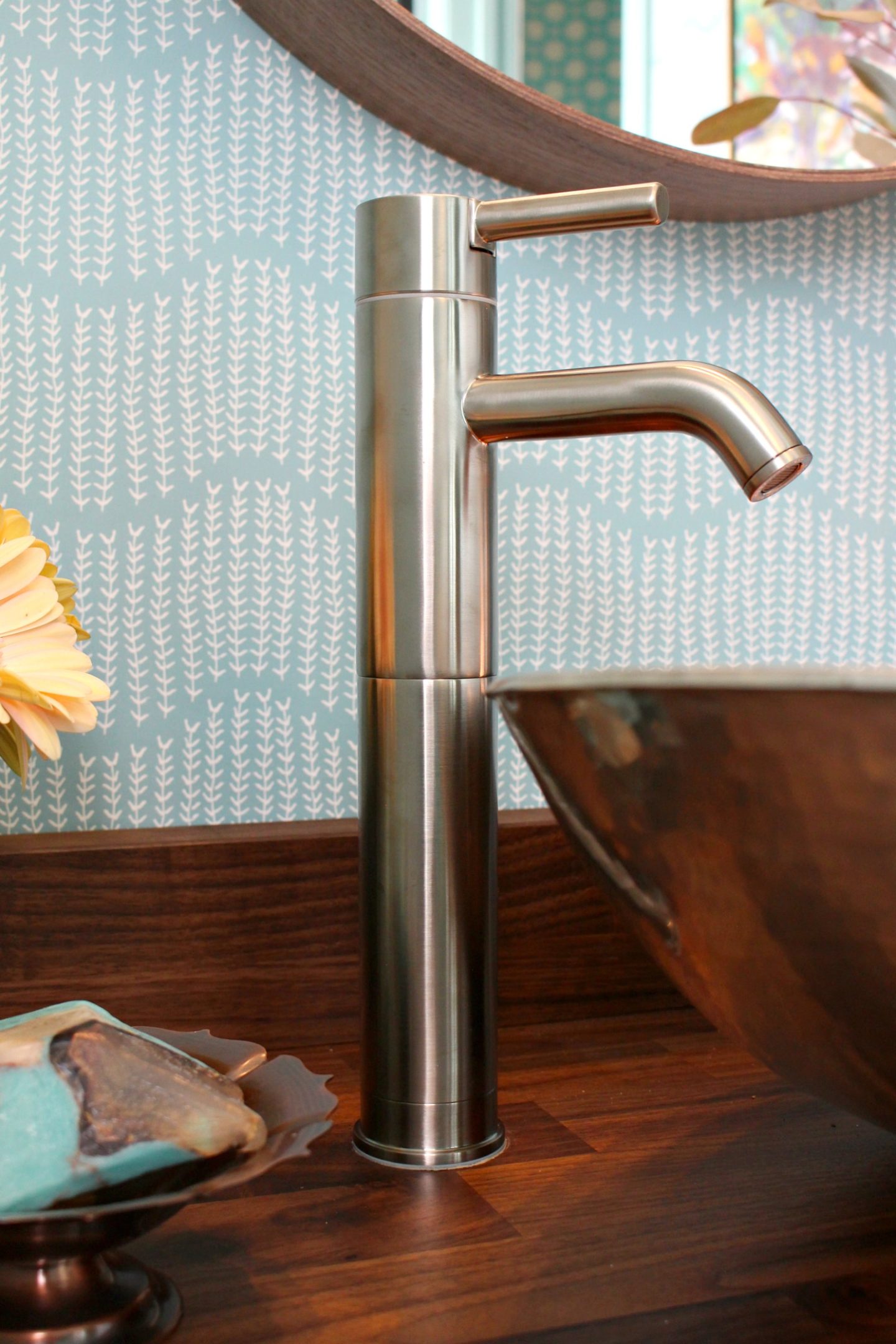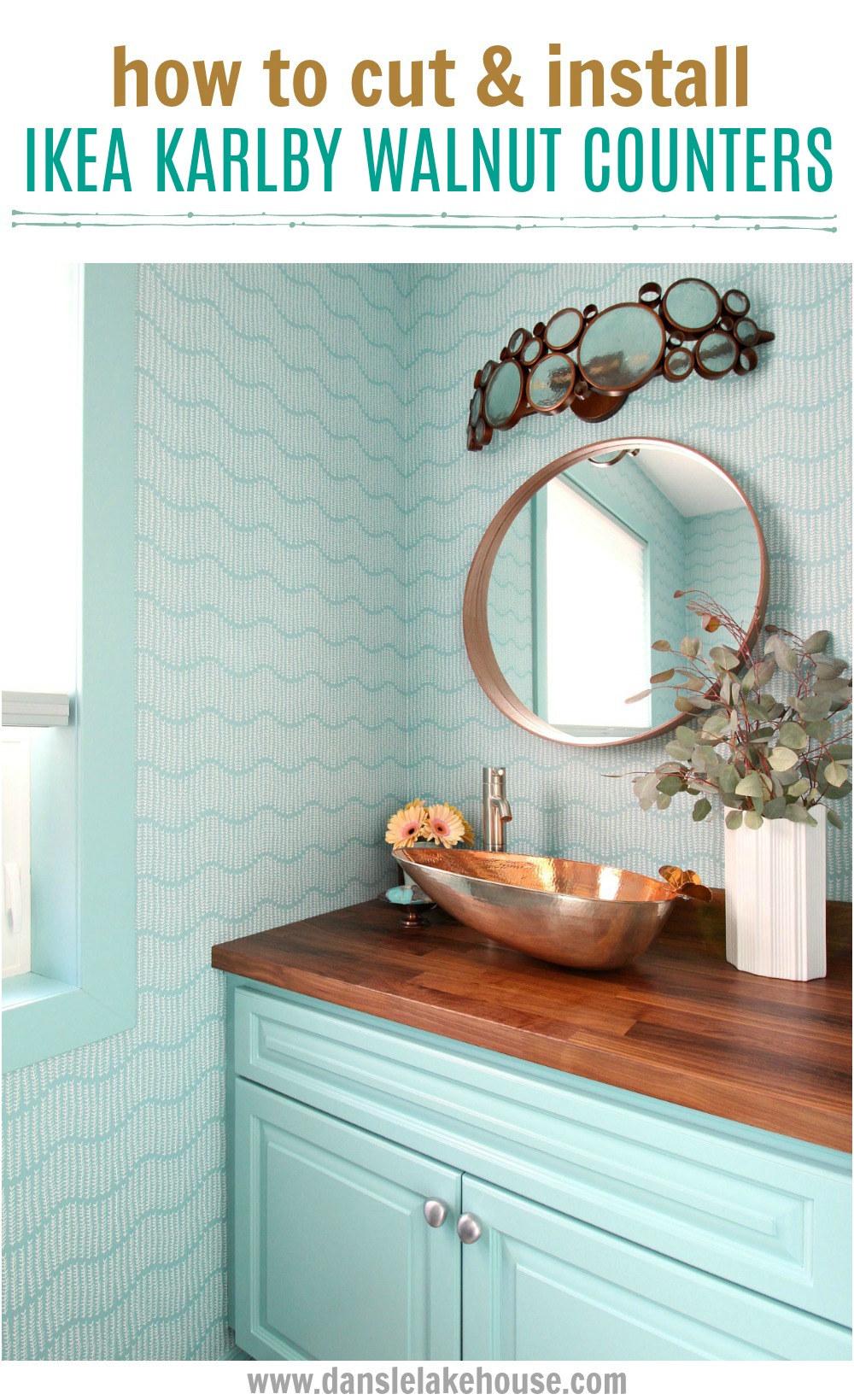 I still have to apply some clear caulk between the walls and the counter – I just wanted to wait a few days and make sure I didn't want to add the side splashes. Nope, I love it this way! I'll keep you posted on how this IKEA KARLBY counter wears, although I suspect I'll be able to go a long time without having to oil or refinish it. Especially because this bathroom is so pretty, guests are required to pee outside and wash their hands in the laundry room – I'M KIDDING!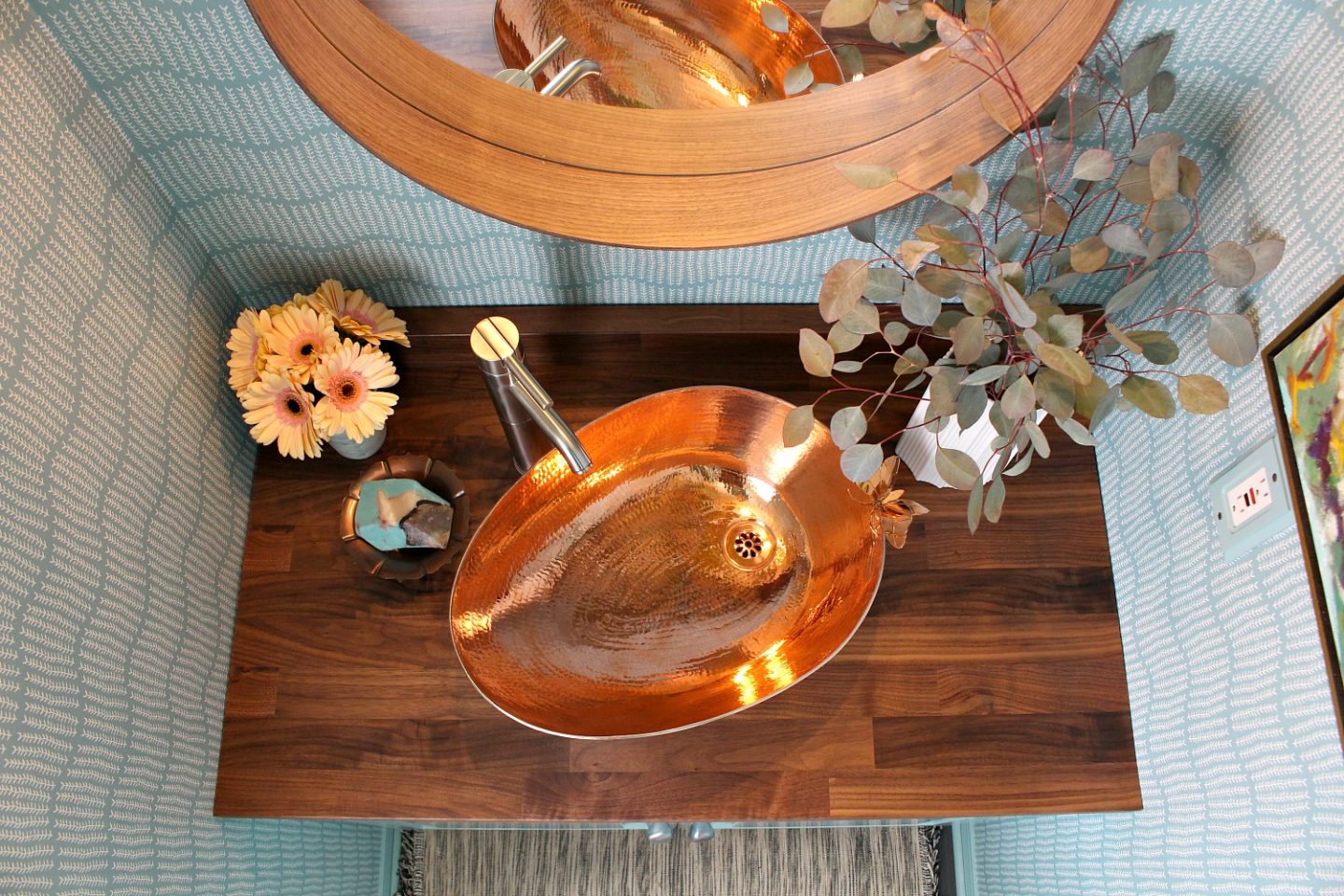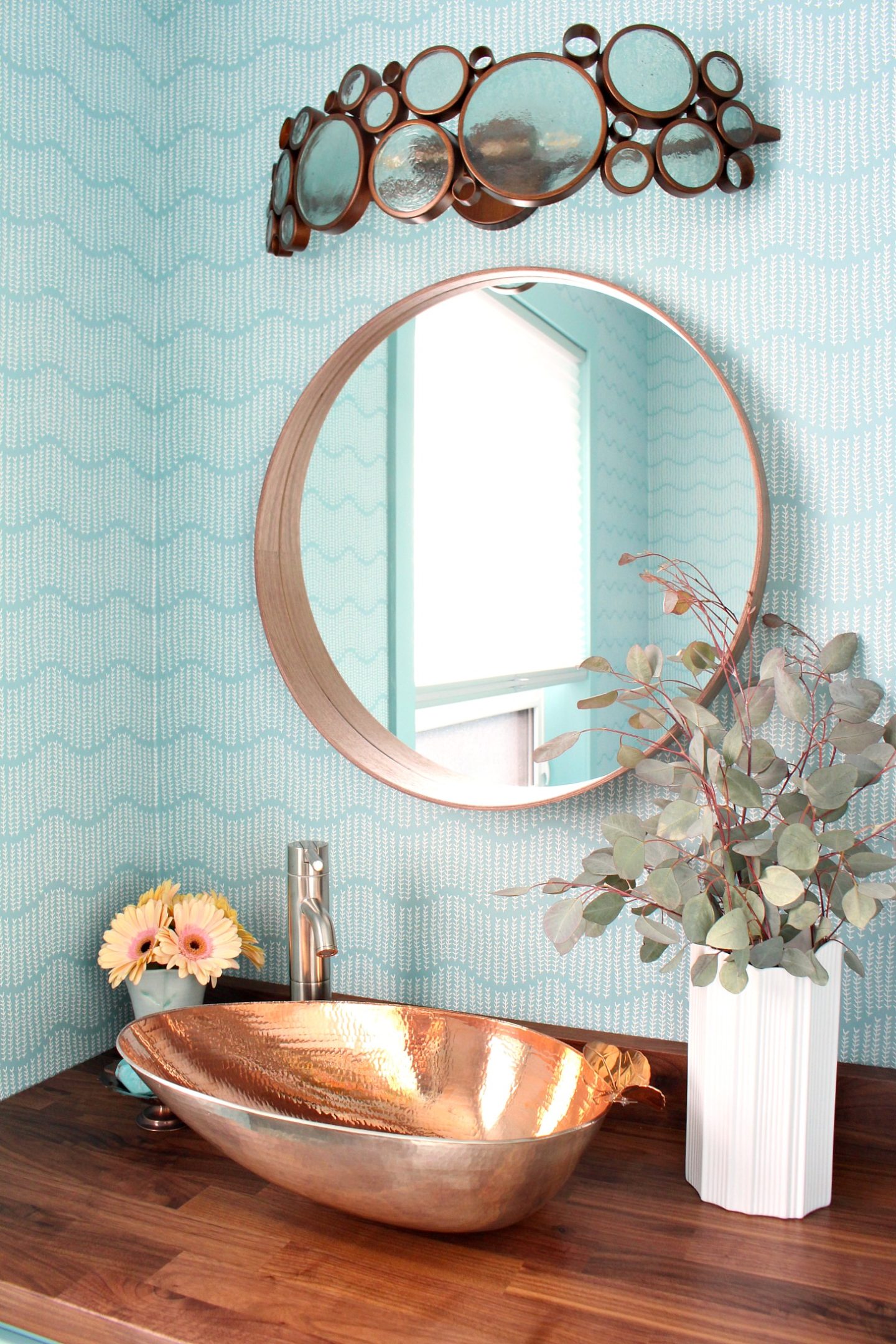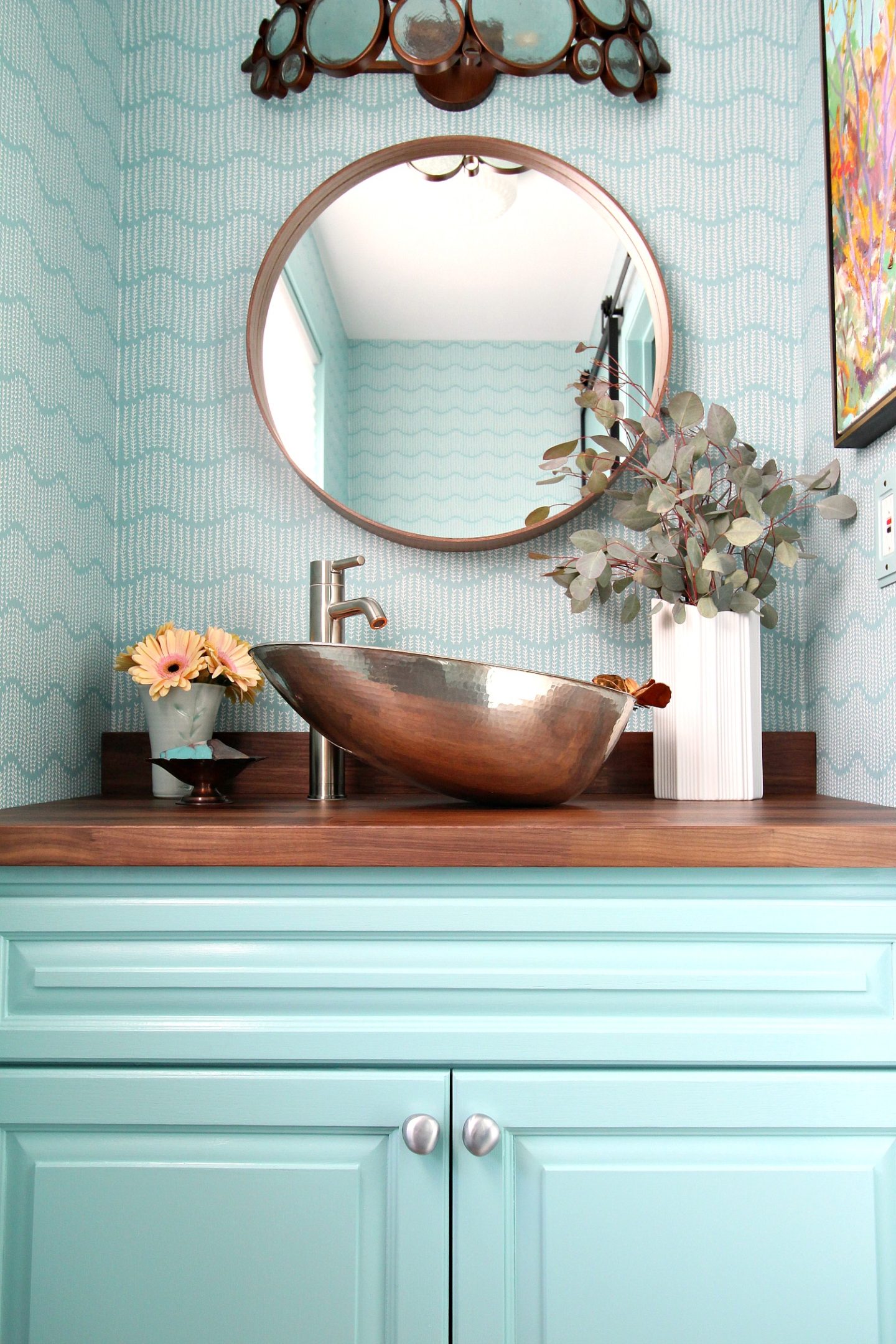 Verdict: I'd buy this counter – it's great quality and easy to work with. Aesthetically (and purely subjectively), I love the warm walnut wood against the turquoise. Plus it ties in all of the walnut from the rest of the house (like my DIY waterfall walnut desk, walnut bathroom cabinetry, DIY walnut bed, and more!). My main objective with decorating the house has been to create a nice flow and cohesion and this room now fits in with my decor – but still shines.