This modern DIY vertical slatted deck skirting project is sponsored by The Home Depot Canada, but all thoughts and opinions are my own.
Little by little we are making progress on our landscaping and house exterior. This fall we finally ditched the old, beat up lattice deck skirting and made our own modern DIY vertical slatted deck skirting. We also created a cleaner and simpler flower bed on either side of the deck stairs (although we swapped flowers for cedars). After the exterior reno (mostly) wrapped up last fall, I had stained the deck black and added the copper solar deck caps, so this was the final push to wrap up the deck makeover. Here's a look at the finished projects – keep scrolling for the before and how-to.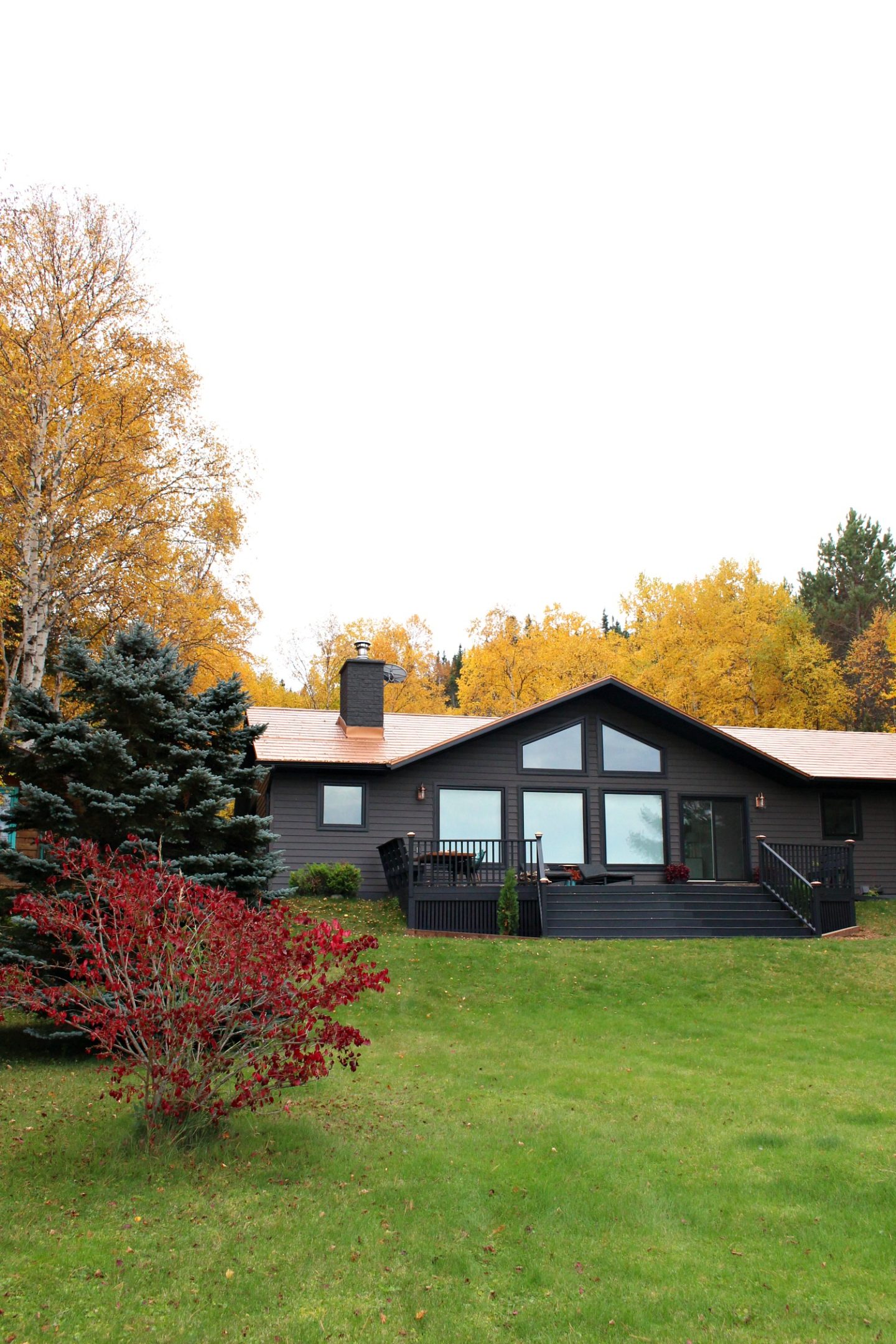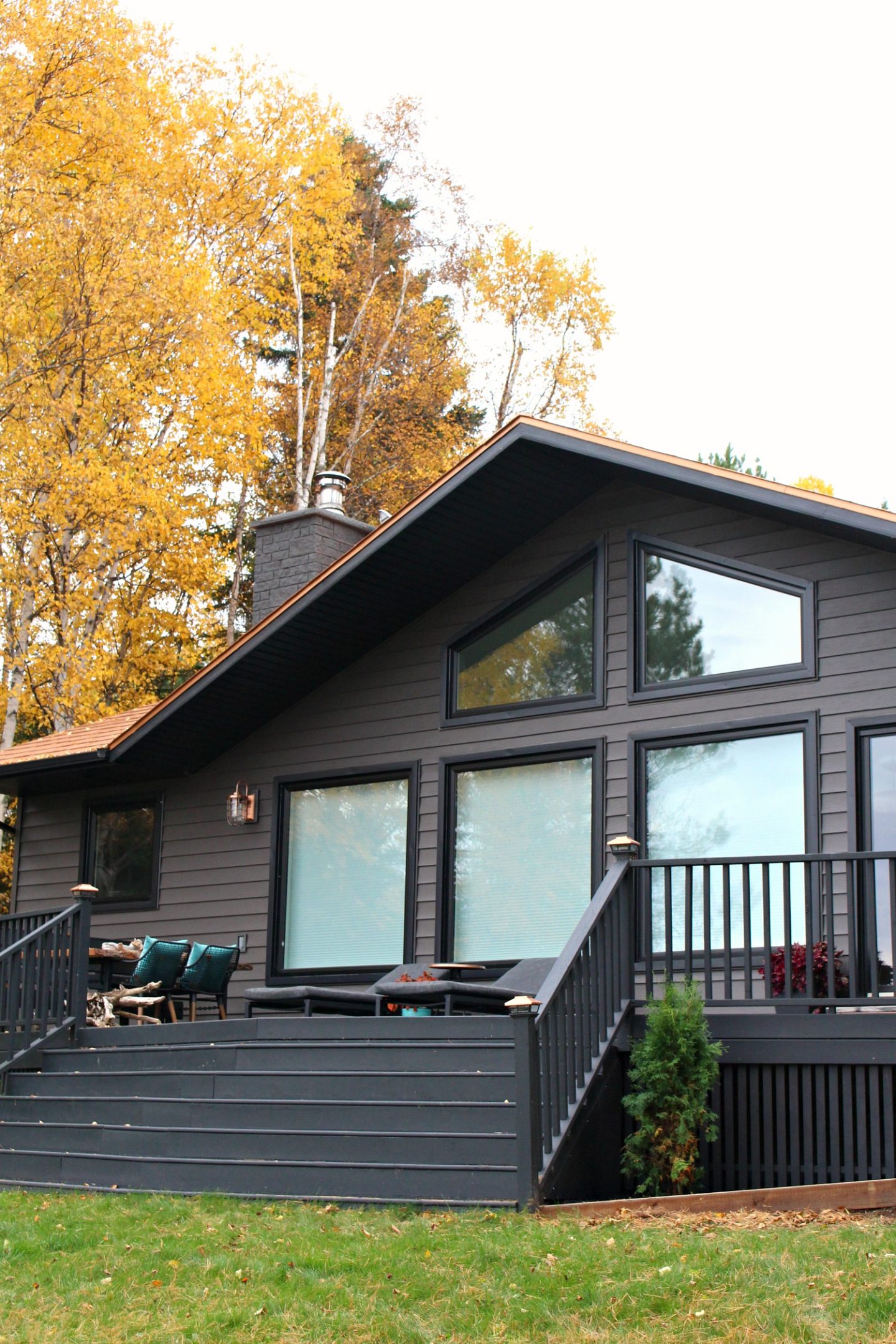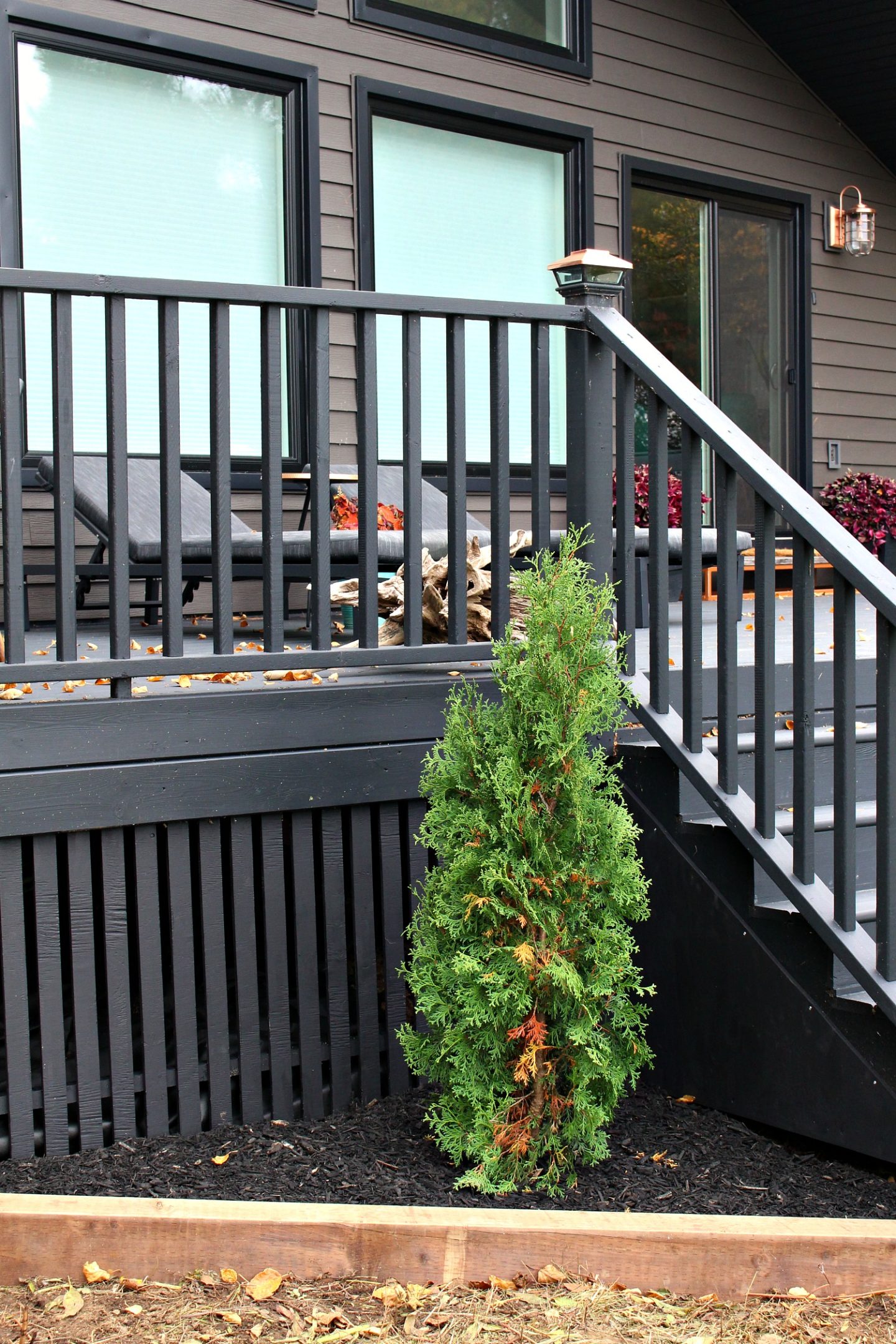 The Deck Skirting and Garden – Before:
When we bought the lakehouse, the flowers on either side of the deck were so pretty! The former owner and his wife were much better gardeners than us, and the flower beds were full of flowers that all bloomed at different times in the summer, which was a delight. But in the spring, fall and winter the flower beds looked totally naked and dead.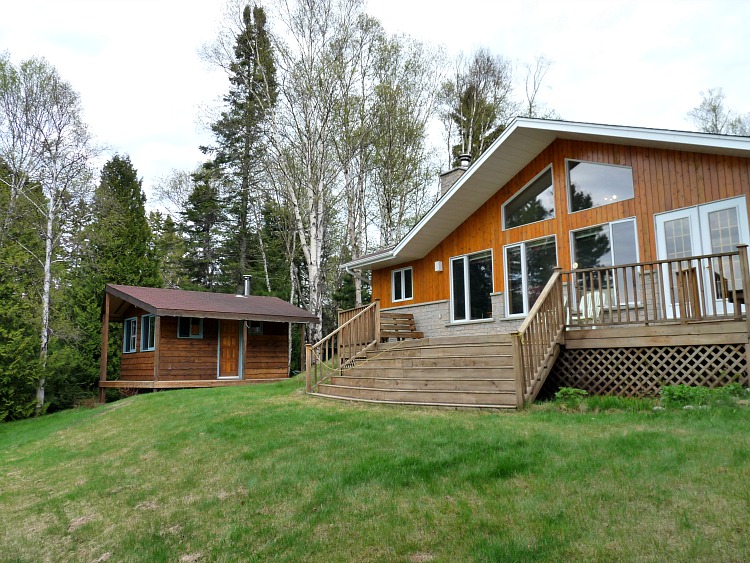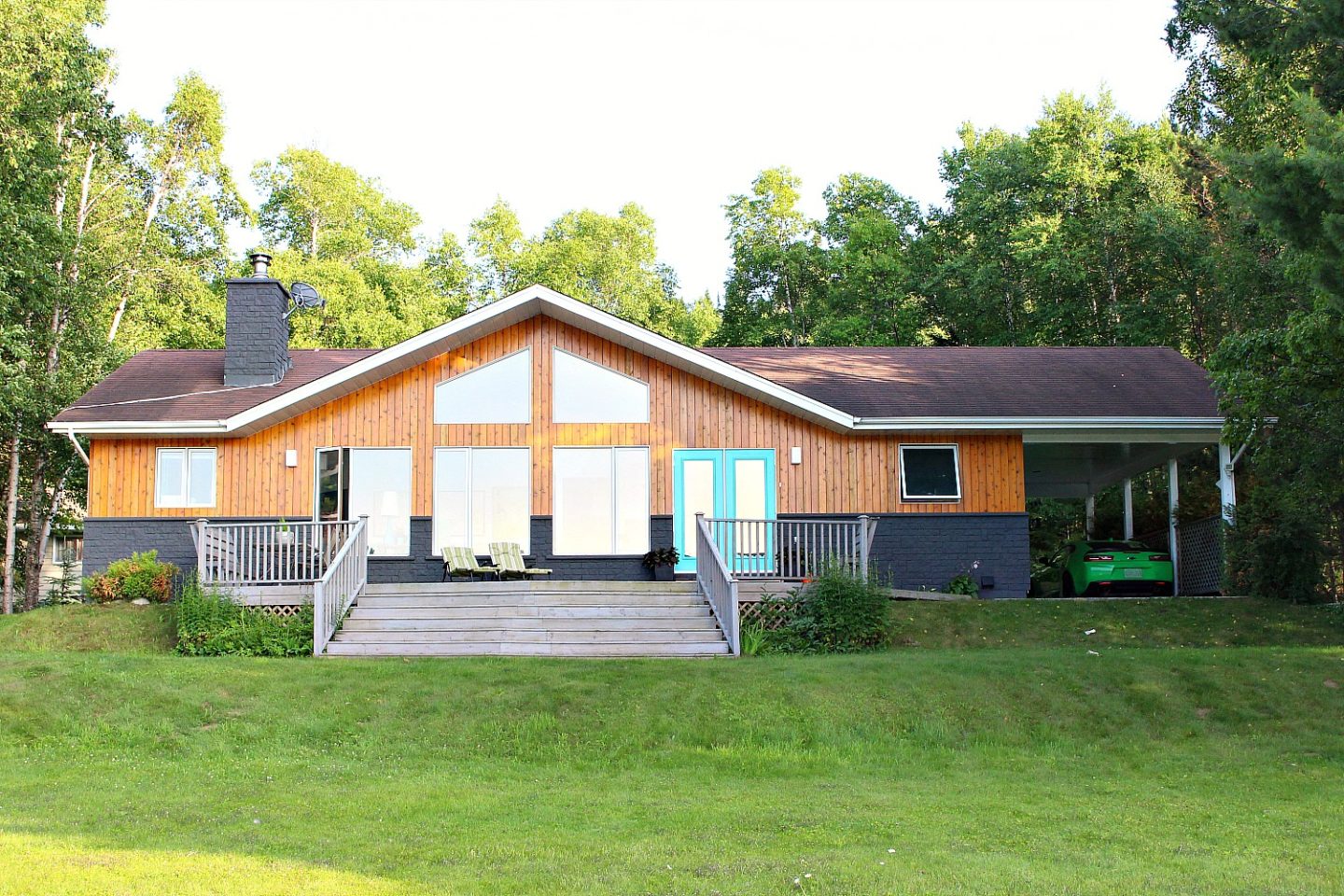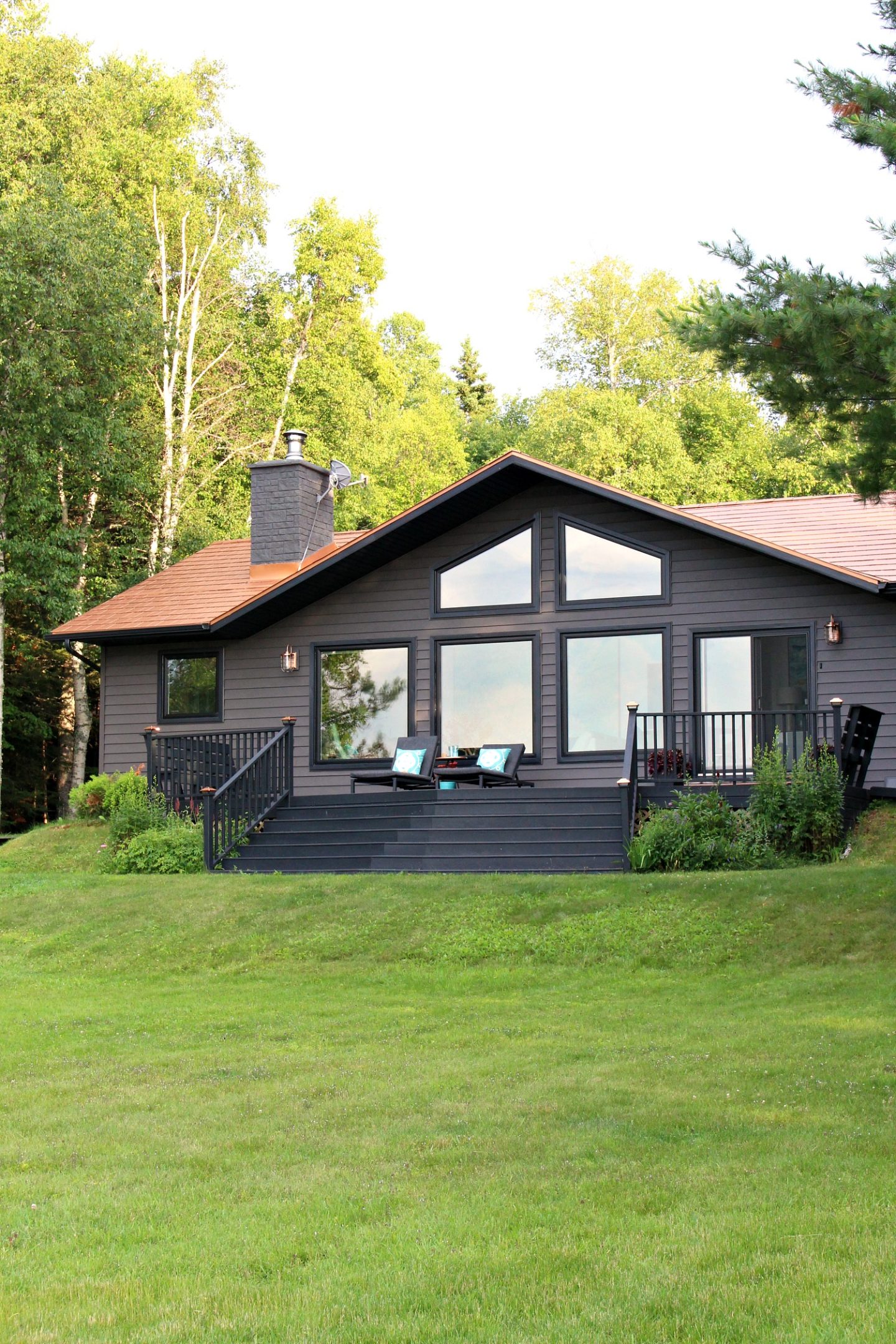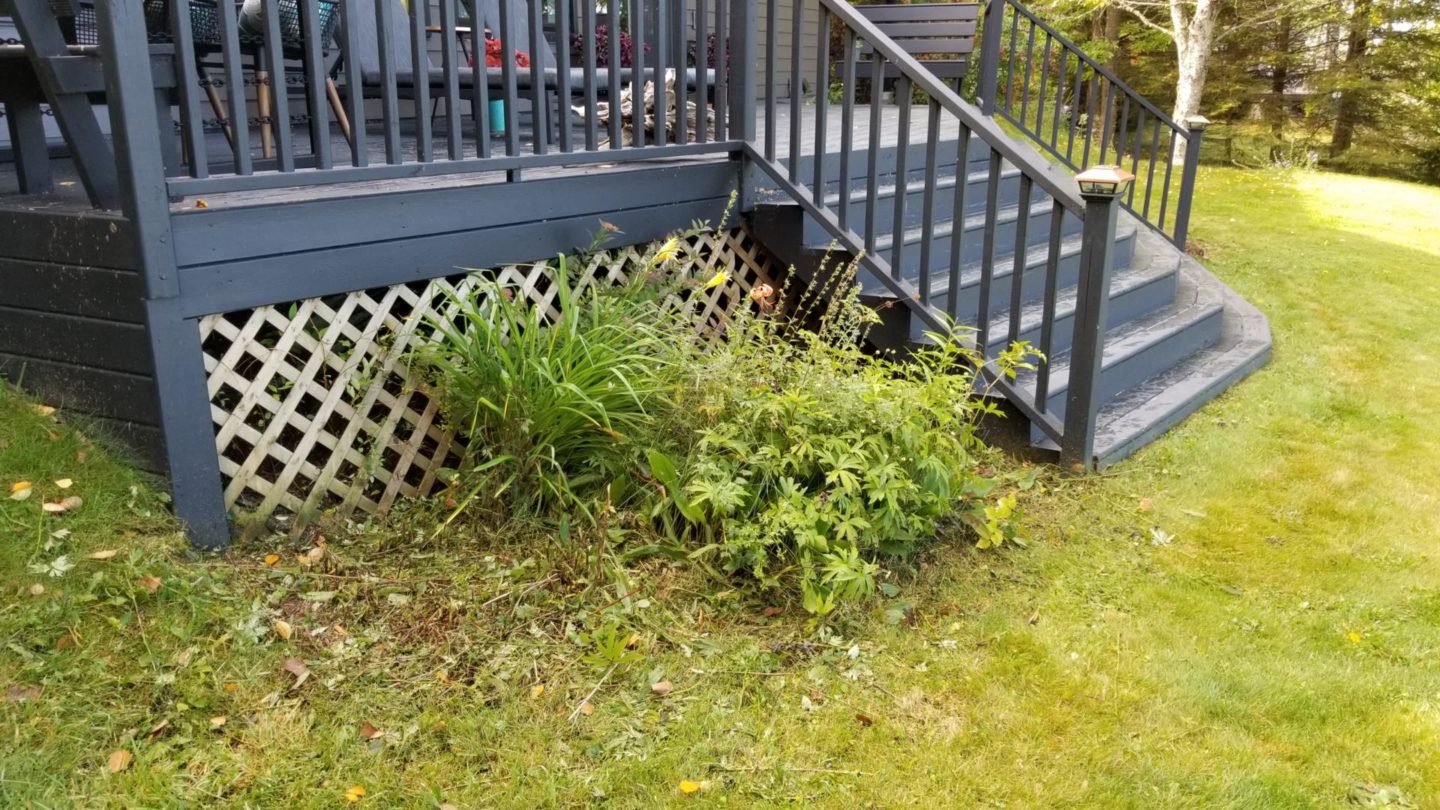 Sometimes I love how it looked – other times I hated it. The fix was simple: weed it and take care of it. But I hate weeding. I don't know what to pull! When they're not flowering they all look like weeds to me. I'm not good with plants. And if I am going to spend time gardening, I'd rather grow a vegetable garden because the chickens have expensive produce taste. So we transplanted what we could to the bunkie. I don't mind if things get a little wild over there – it helps hide the weird construction under the building, haha. Hopefully they take!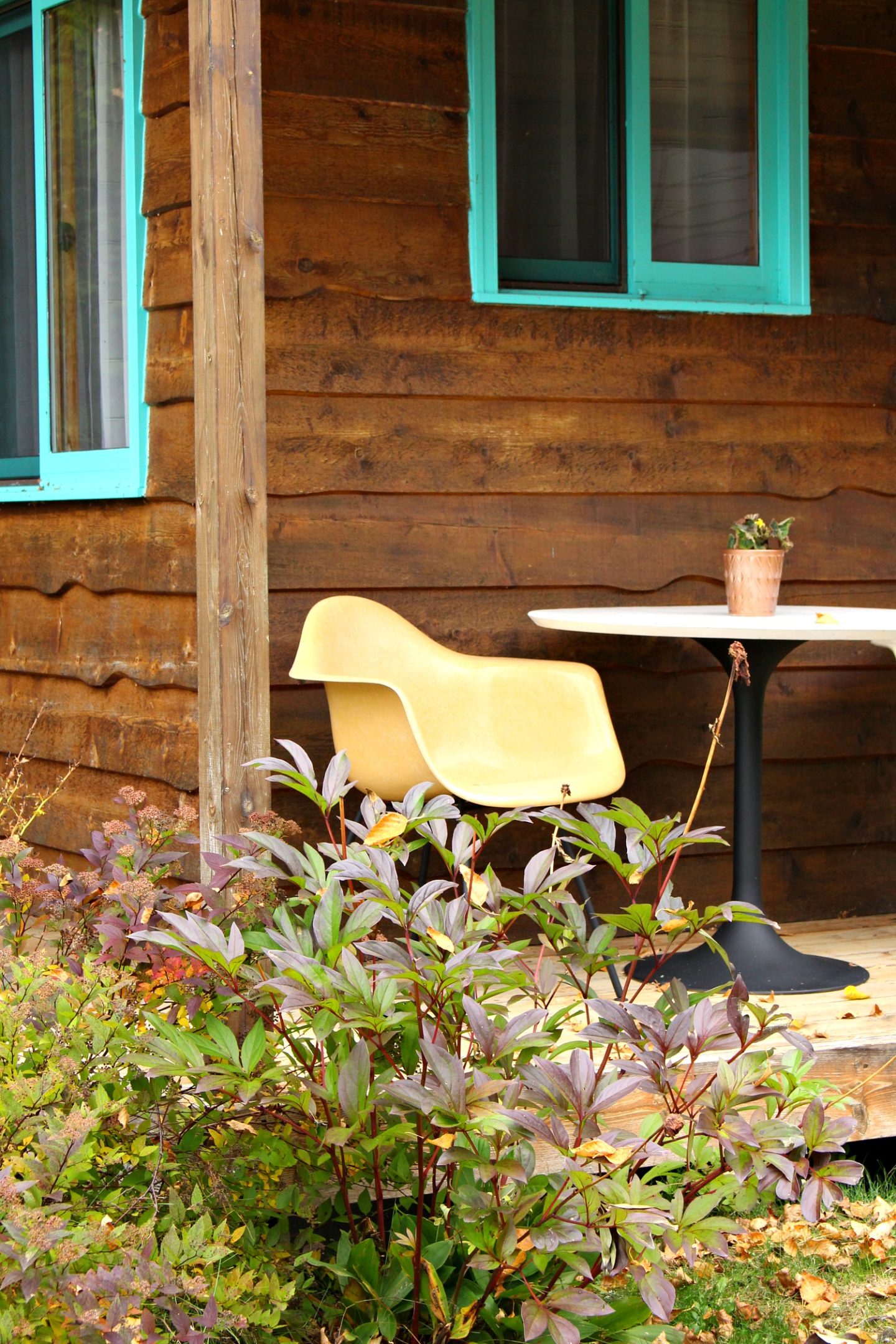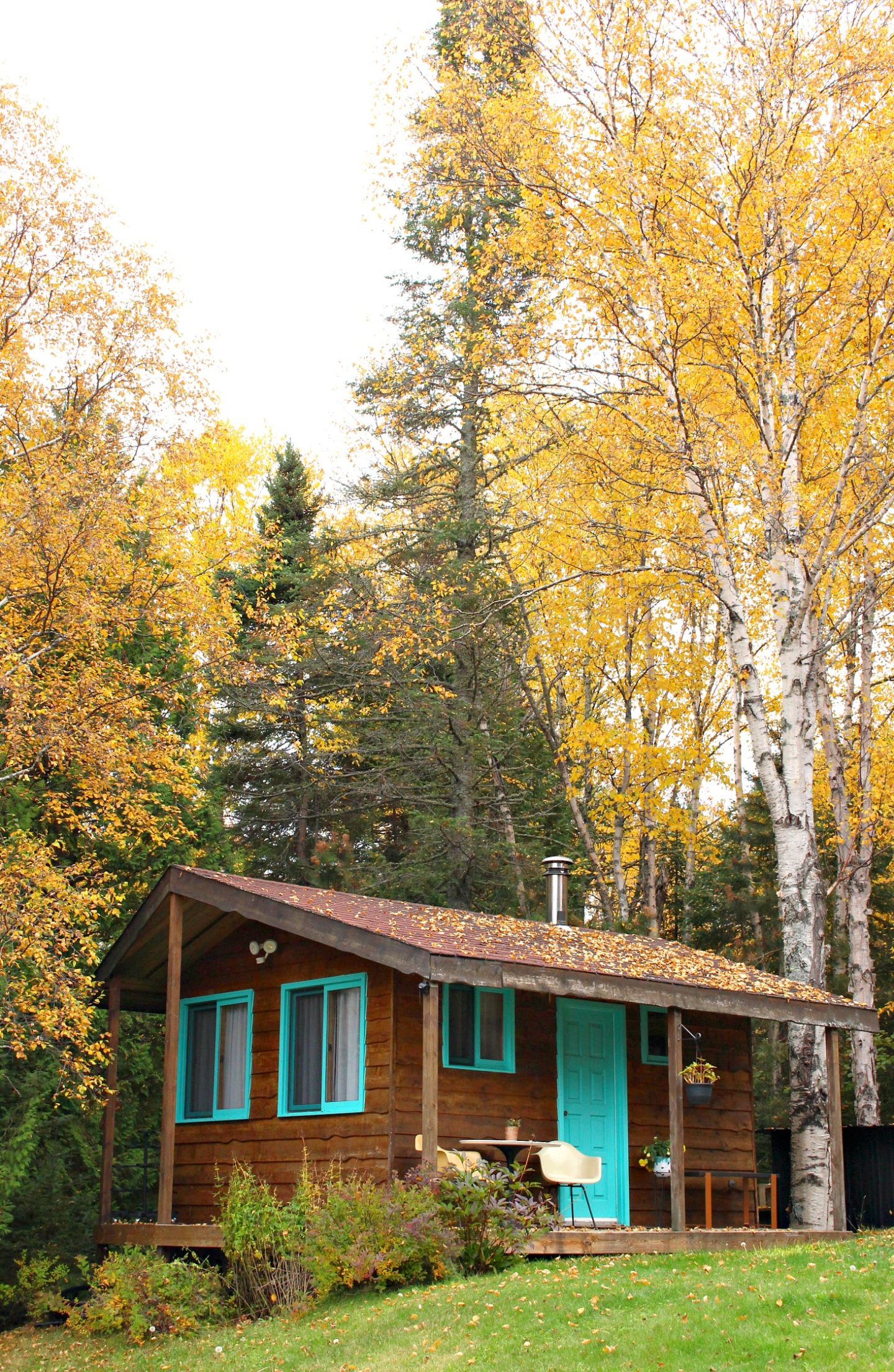 DIY Deck Skirting & "Garden" Makeover – in a Nutshell:
Once the flowers were transplanted, we replaced the Secret Garden with something easy: landscape cloth, one cedar on each side, black mulch. Easy. Any weeds that pop up are easily removed and the look is simple, modern, and clean. We also added a chunky piece of pressure treated wood to keep the mulch contained and make it much easier to mow the lawn and weed whack. Previously the garden bed just bled into the grass and it was a nightmare to cut the lawn around it. We did something similar to this (bush and mulch) in the townhouse, and we loved it for years!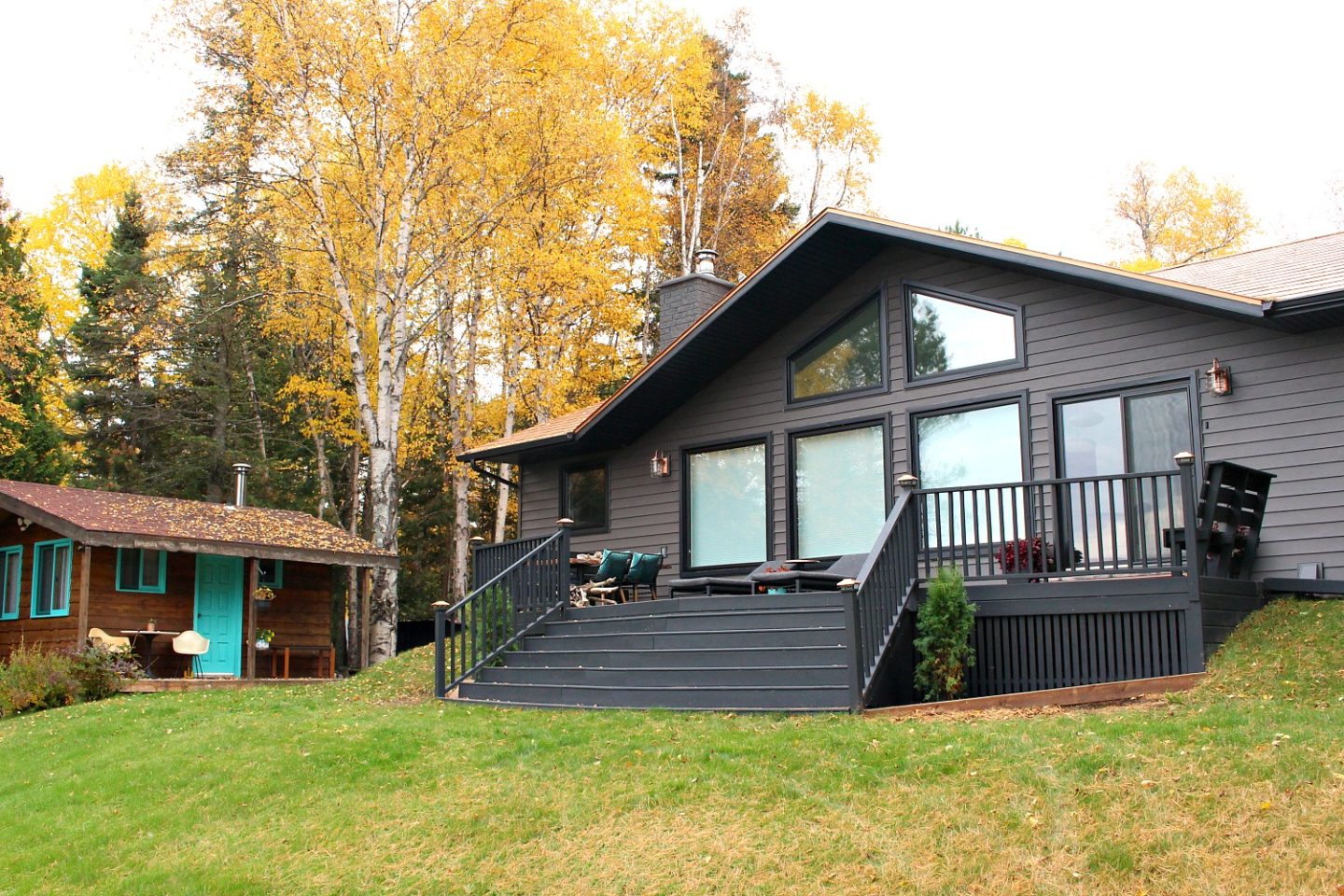 As I mentioned, we also removed the old lattice and also sealed off the steps because the dogs kept running underneath and getting covered in dirt. We just cut little triangles from plywood, screwed them to either side of the deck stairs, and then stained them black to match the deck. The dogs were not pleased! Then we made a new deck skirting with vertical strips of plywood we ripped on the table saw.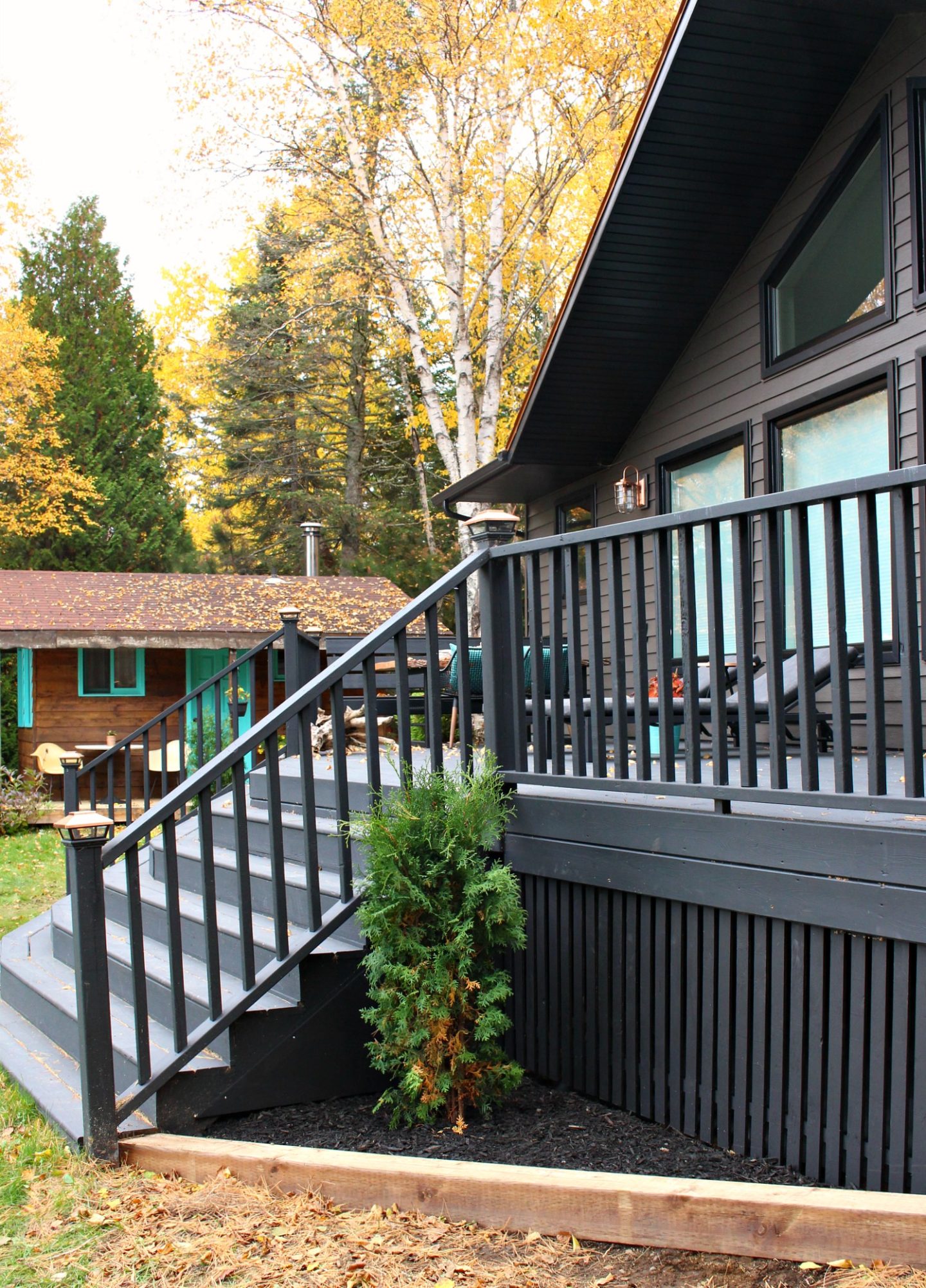 The cedars immediately hated it here and turned a little brown – we can always replace them with something more hardy if they don't make it. But the concept still works: one bush or tree I can take care of. 23 different plants I cannot, lol.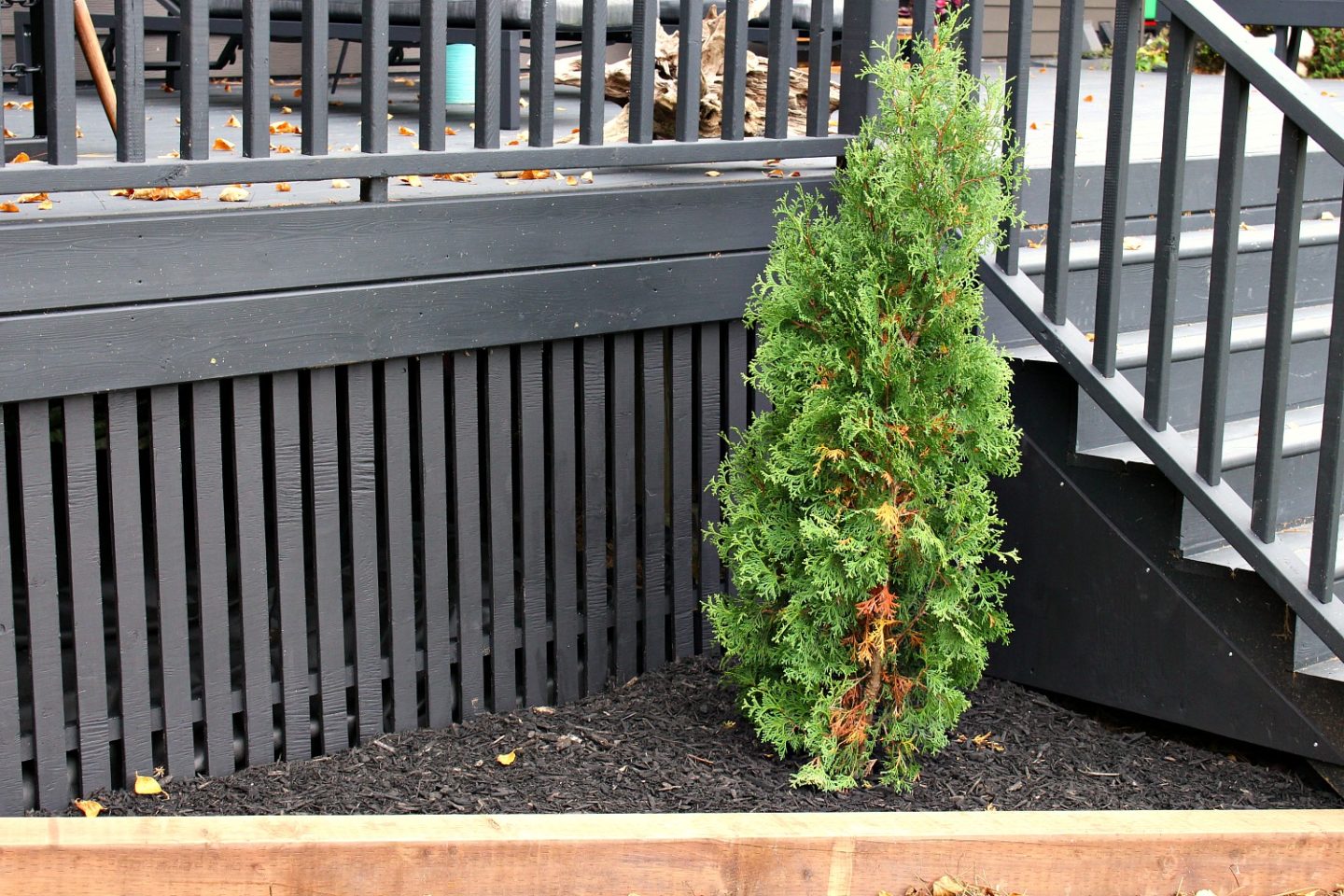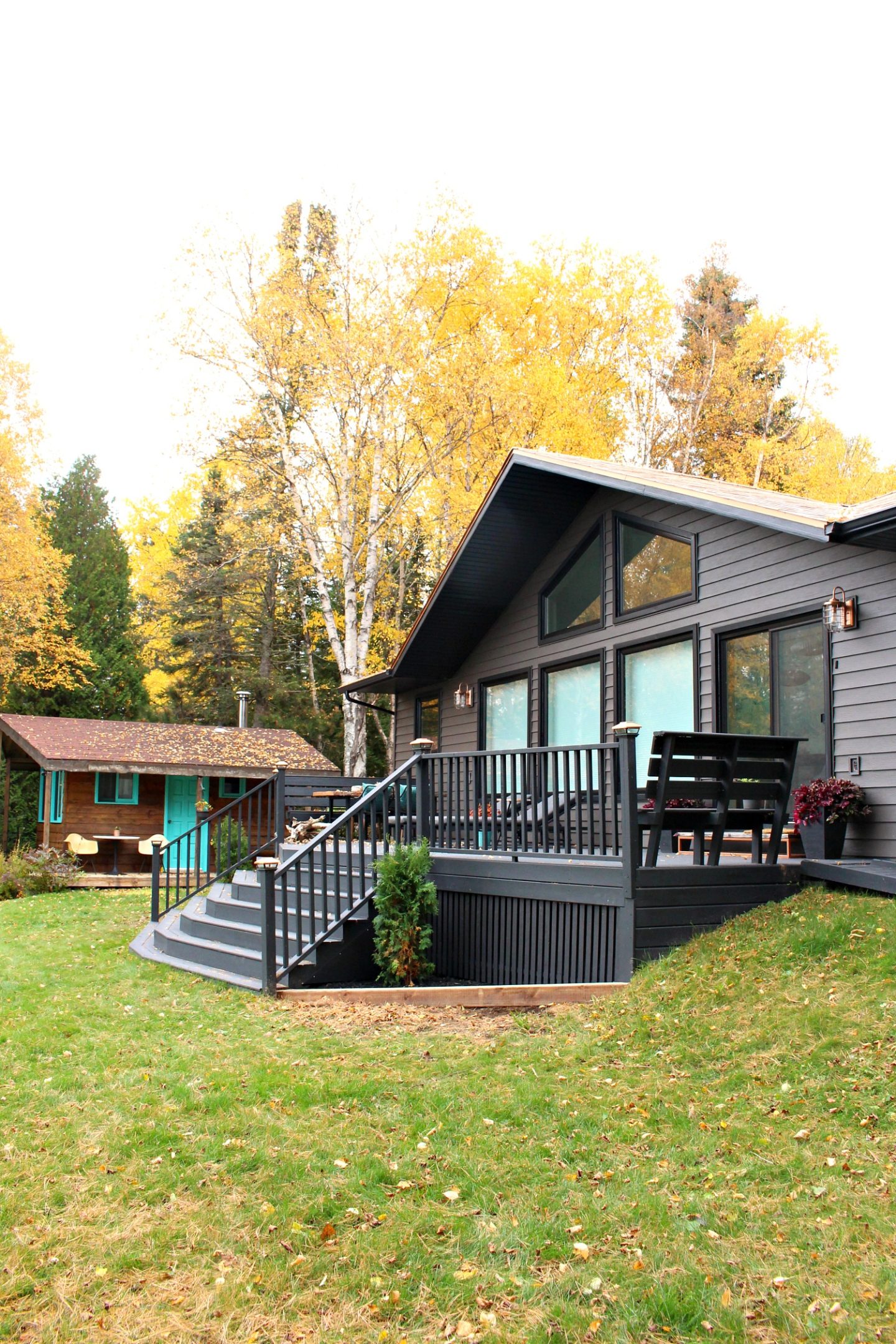 While at The Home Depot Canada, I also bought two blue spruce. We have a big one the former owner planted and I LOVE it – it's my favorite tree! So when we found these two beauties, I considered them for either side of the deck too but ultimately decided they would grow too big (hopefully!). But I kept them and planted them elsewhere on the property to fill in some gaps in the treeline between us and the new neighbors.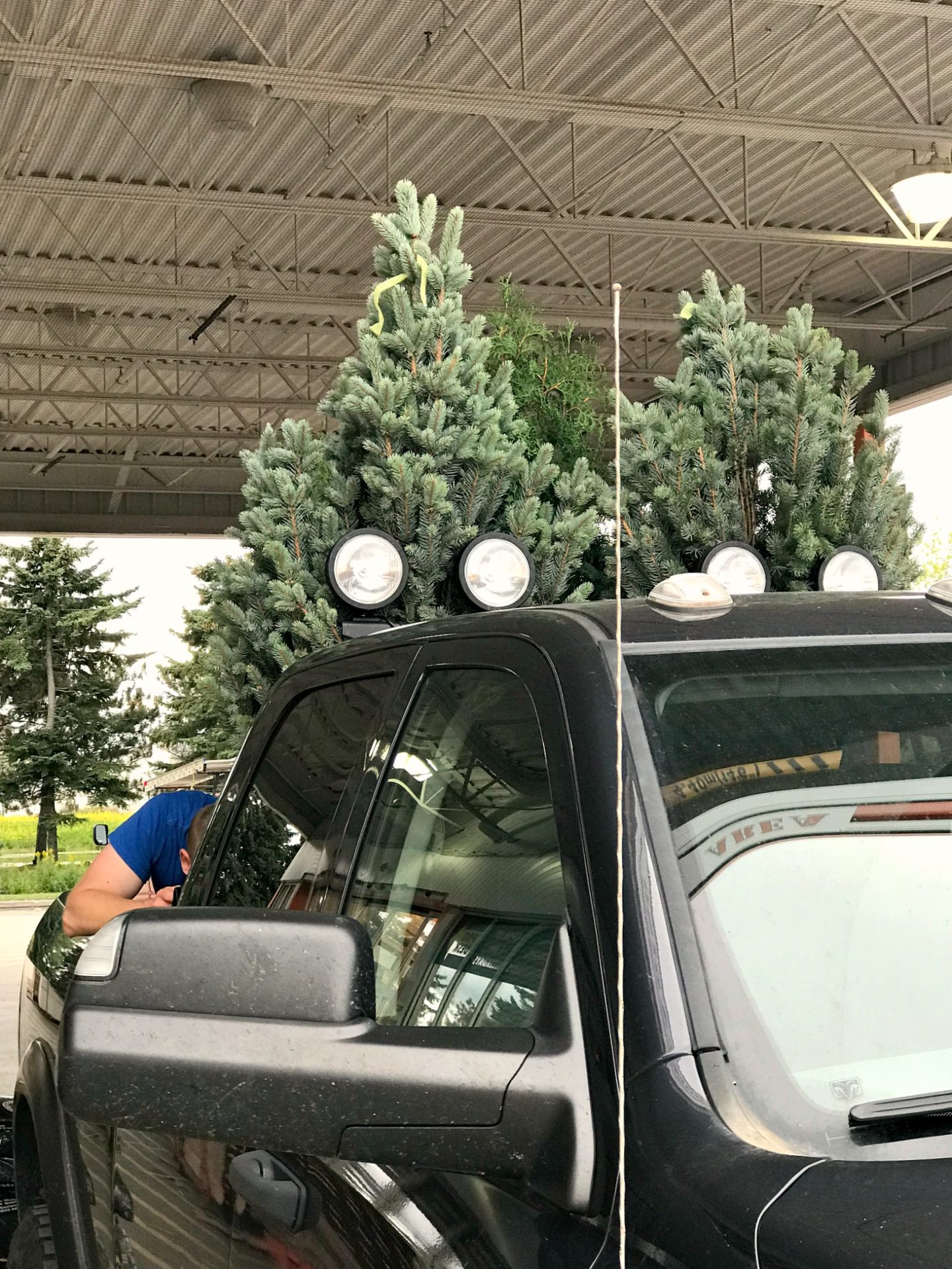 The cedars were super healthy when we bought them and it's my own inability to grow things that caused them to brown a little. I'm trying to become a better gardener, I swear – it's just taking a little trial and error. I blame the winds whipping off Lake Superior.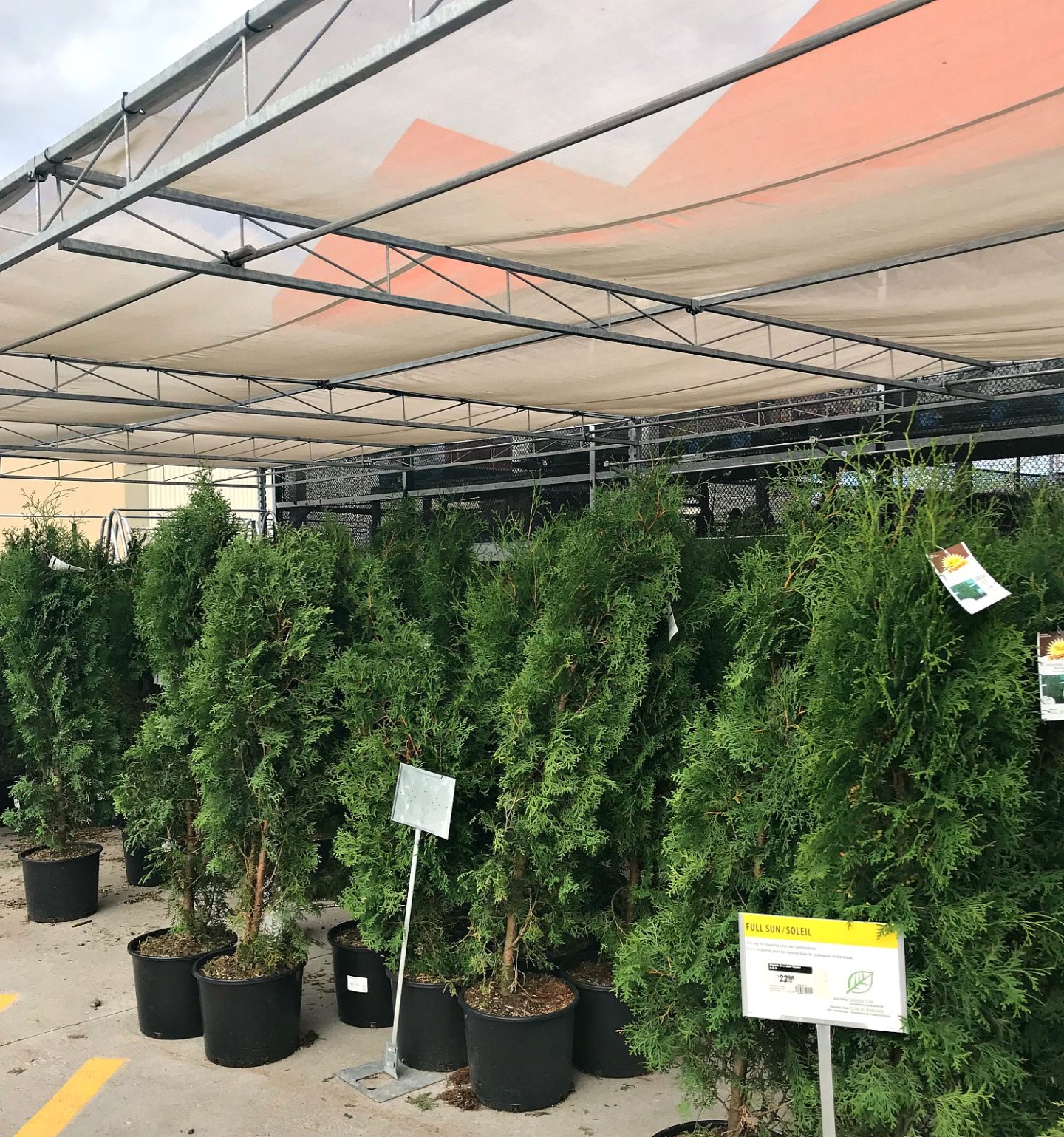 DIY Deck Skirting & "Garden" Makeover – More Detailed Steps:
Here's a closer look at the progress. We planted the cedars first – to make sure they had as much time to take as possible before winter. Then we cut and fit the triangles to cover the tunnel under the deck stairs. We took a 6×6 pressure treated deck post and cut it with a reciprocating saw to fit diagonally between the deck railing and main deck. I love the color of the pressure treated wood and it will last for years.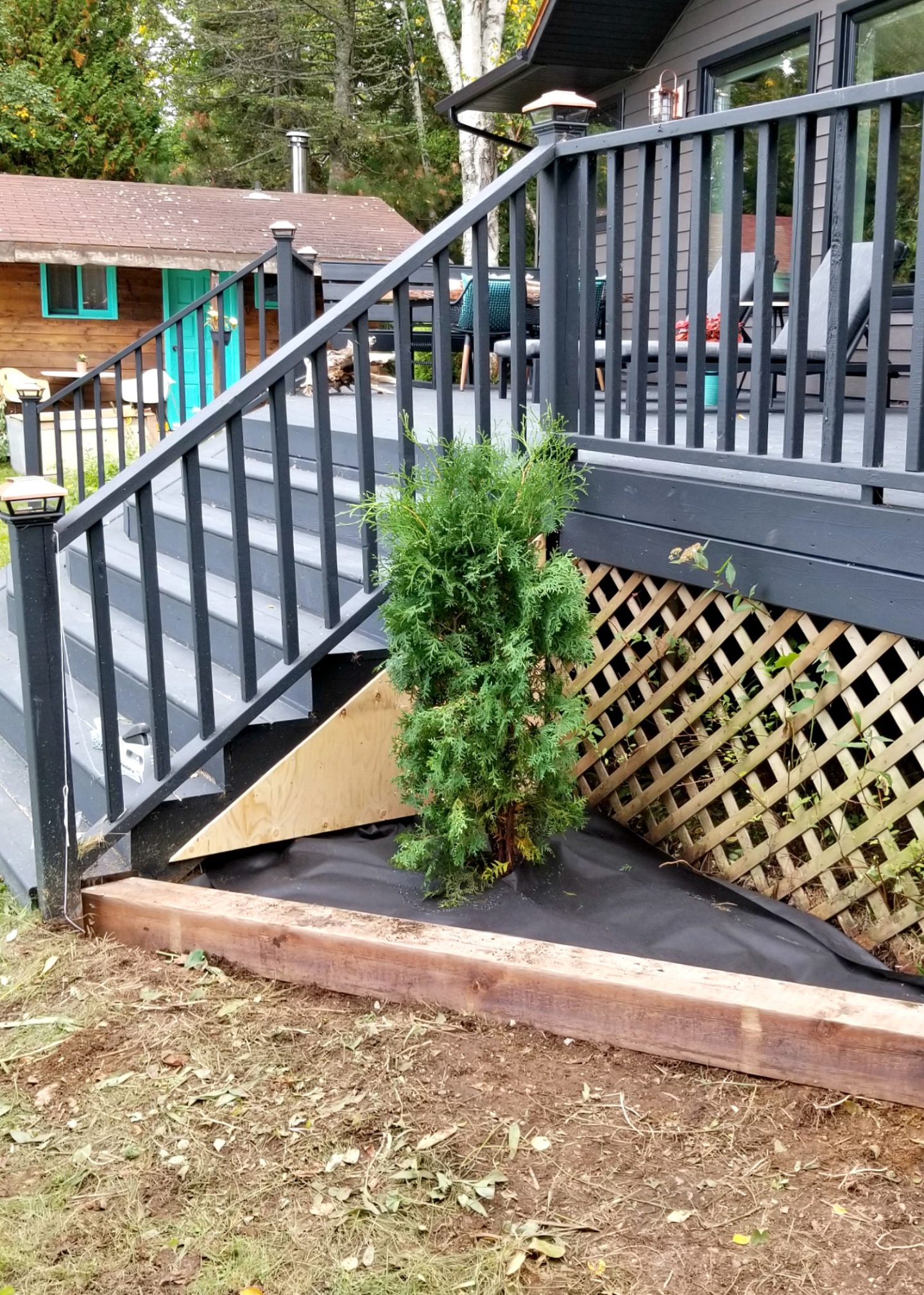 After we tore out the old wood lattice, we laid down some fresh landscaping cloth under the deck too, to keep weeds and plants from sprouting up where we can't reach them.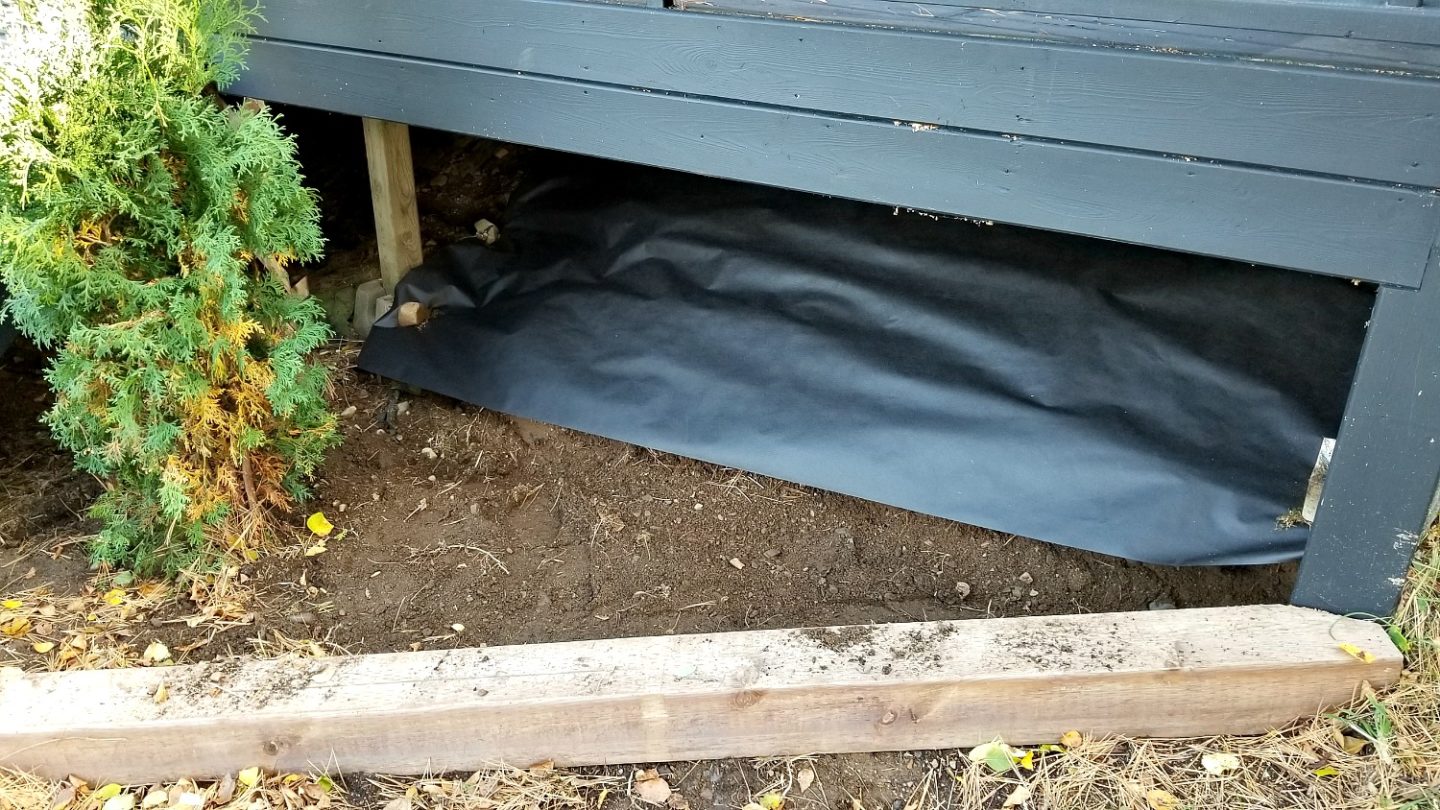 Making the DIY vertical slatted deck skirting was surprisingly easy! We took a sheet of 3/8″ plywood and cut it on the table saw to the height we wanted the strips. Then we ripped them into 2″ wide pieces which, with the two of us working, went SO quickly.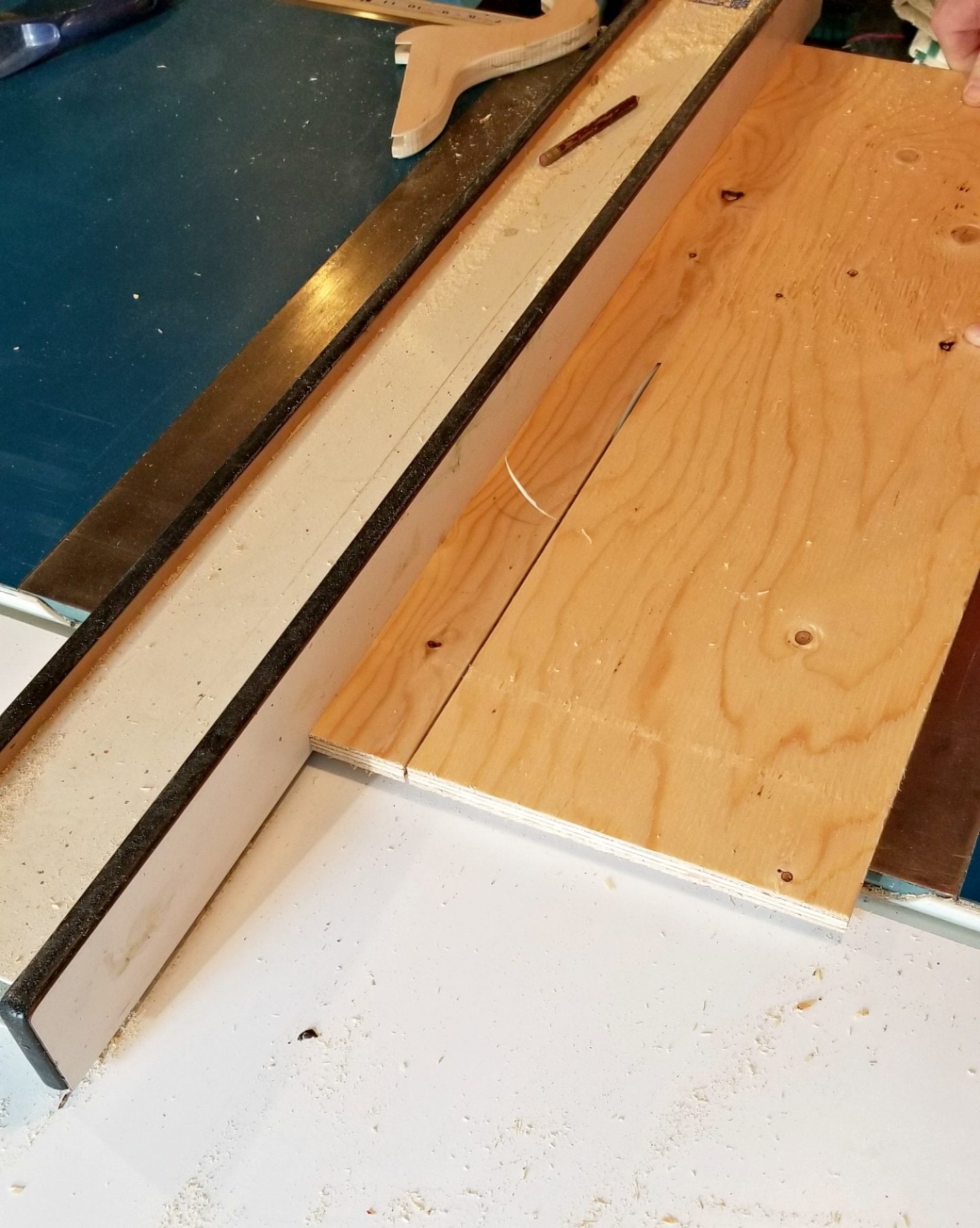 We used a spacer to place them 1″ apart and affixed each end to a 2×2 using an air nailer. You can use wood glue as well, for a stronger hold.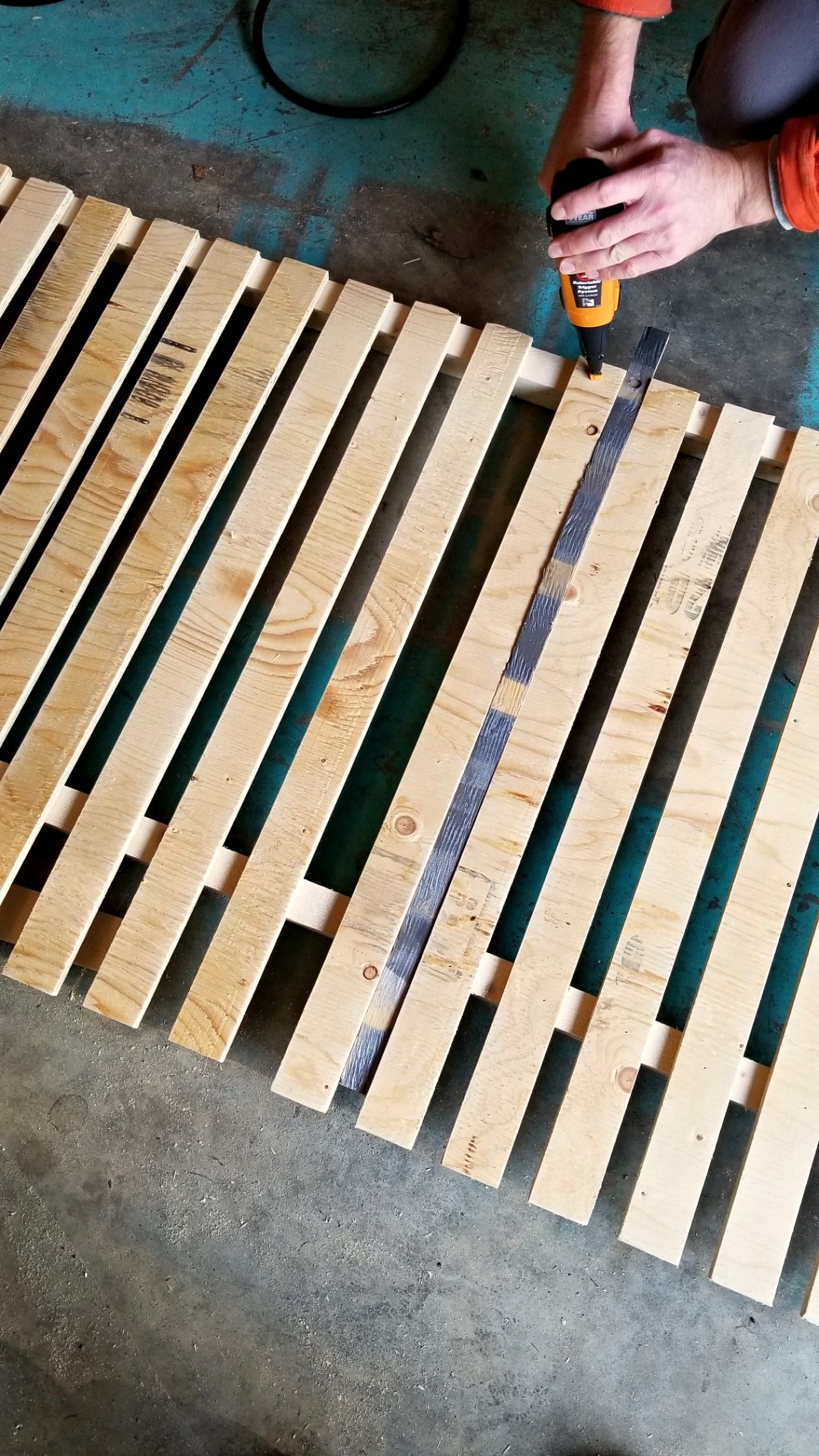 Then we painted it all a matte black with Behr exterior paint to match the black deck stain.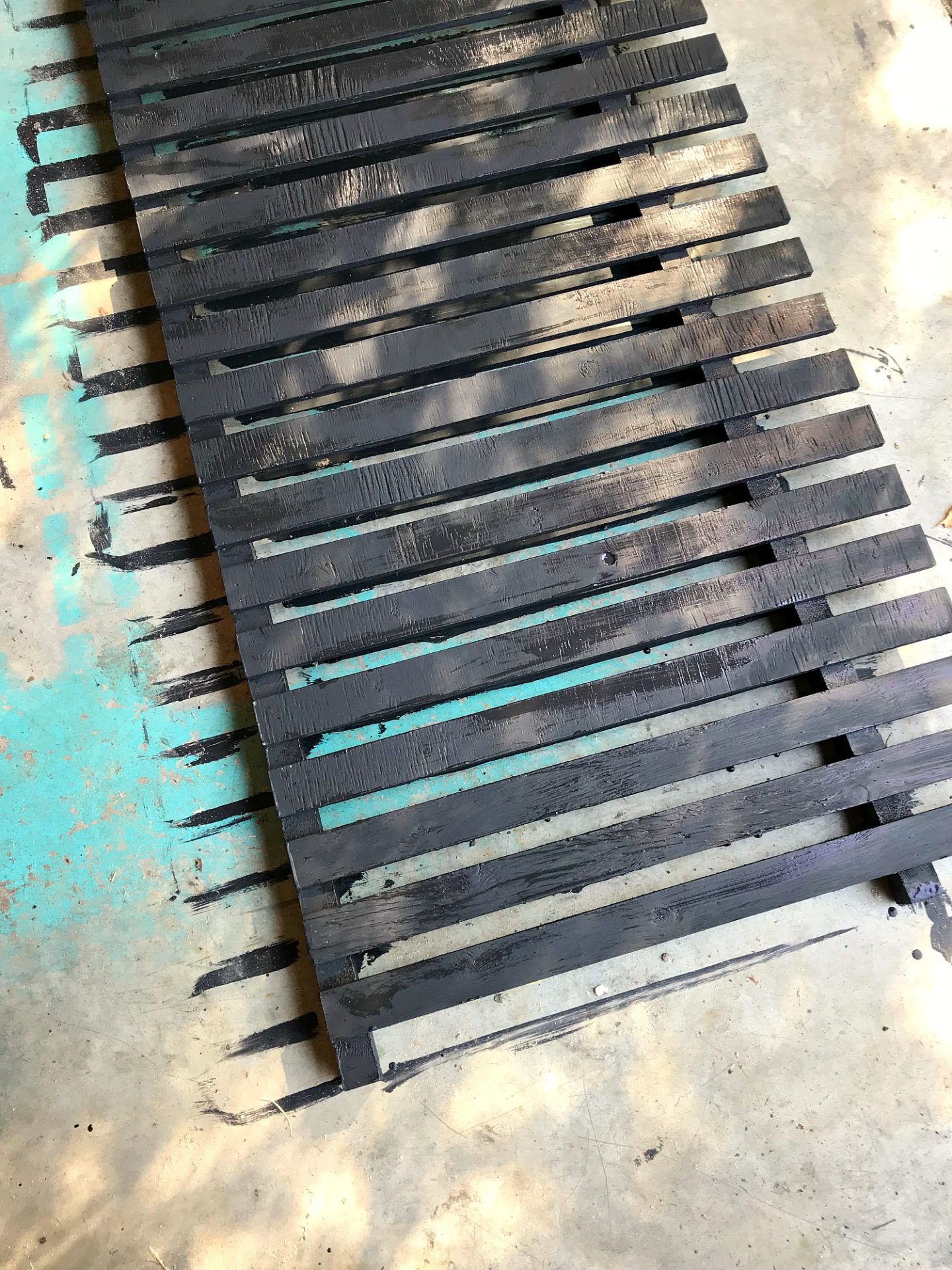 To affix the new deck skirting, we simply screwed it into place (through the fascia into the 2×2):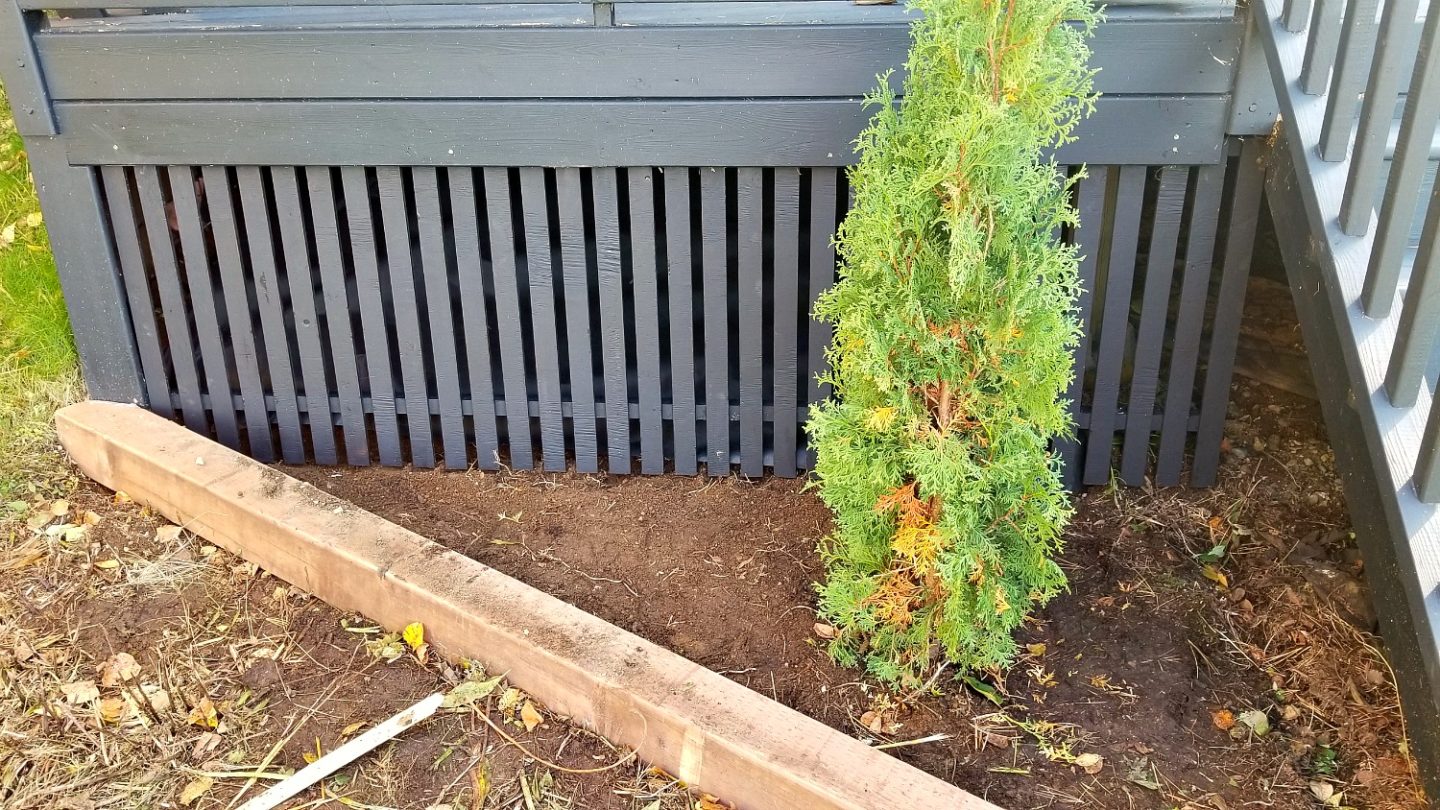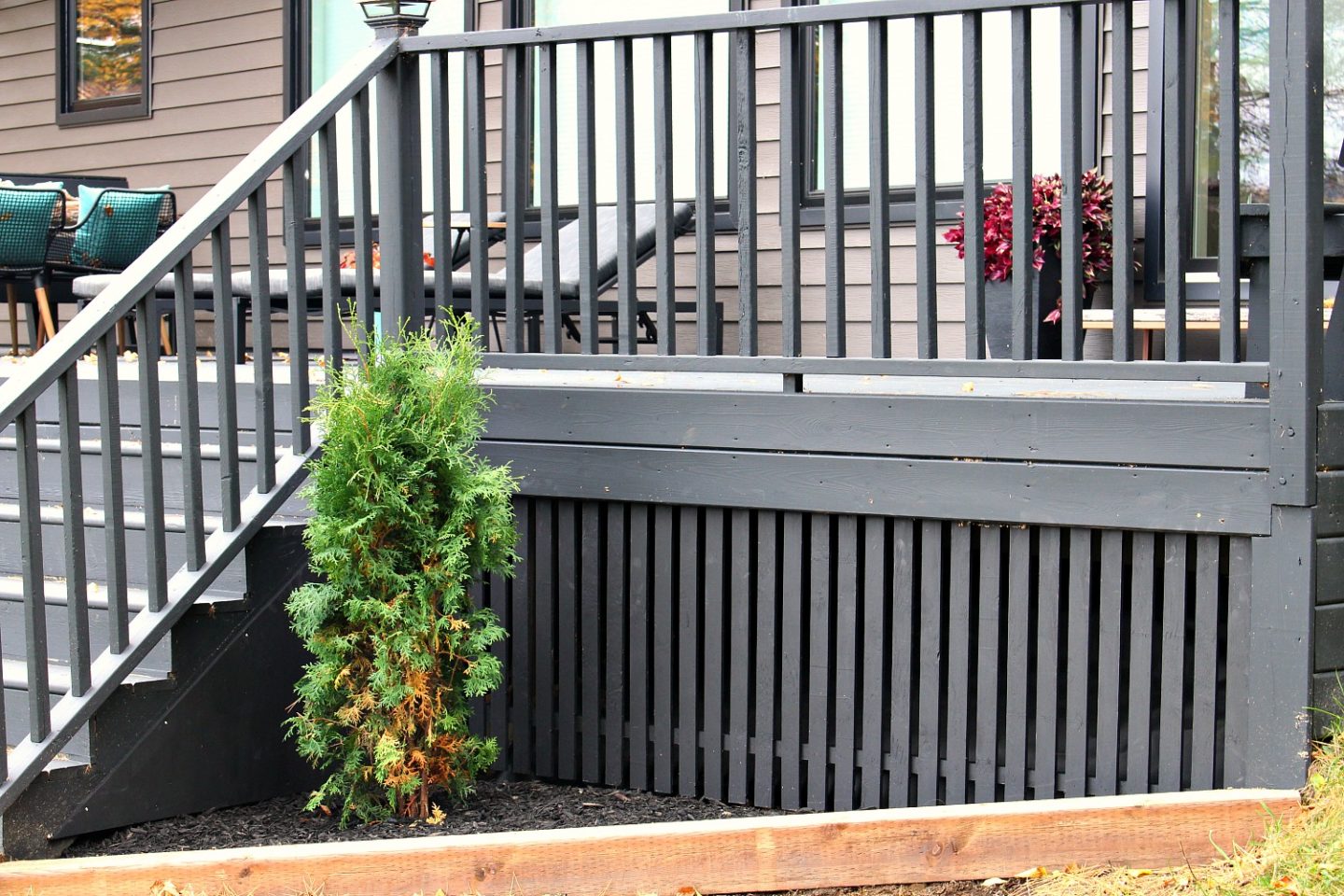 The black mulch was the finishing touch!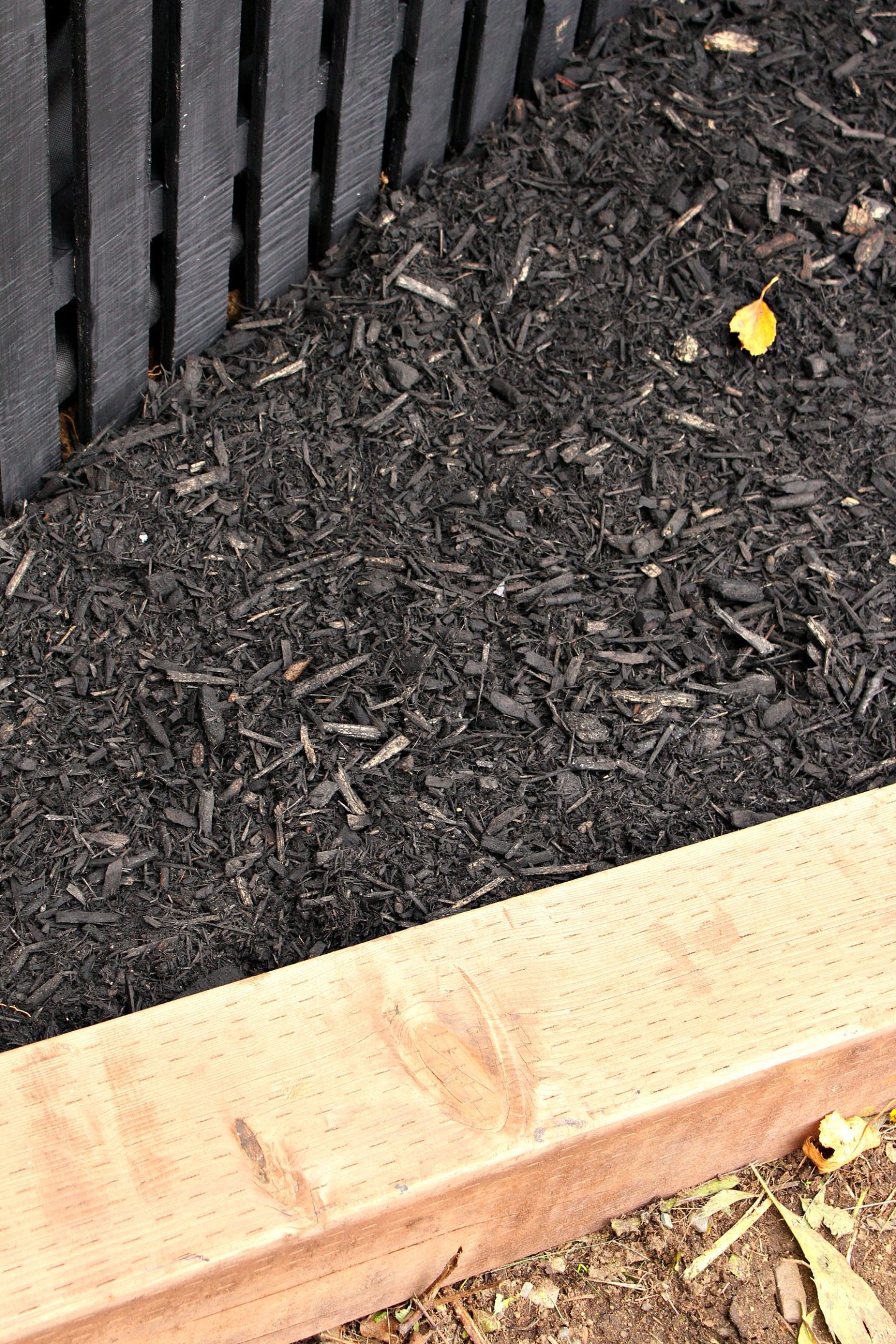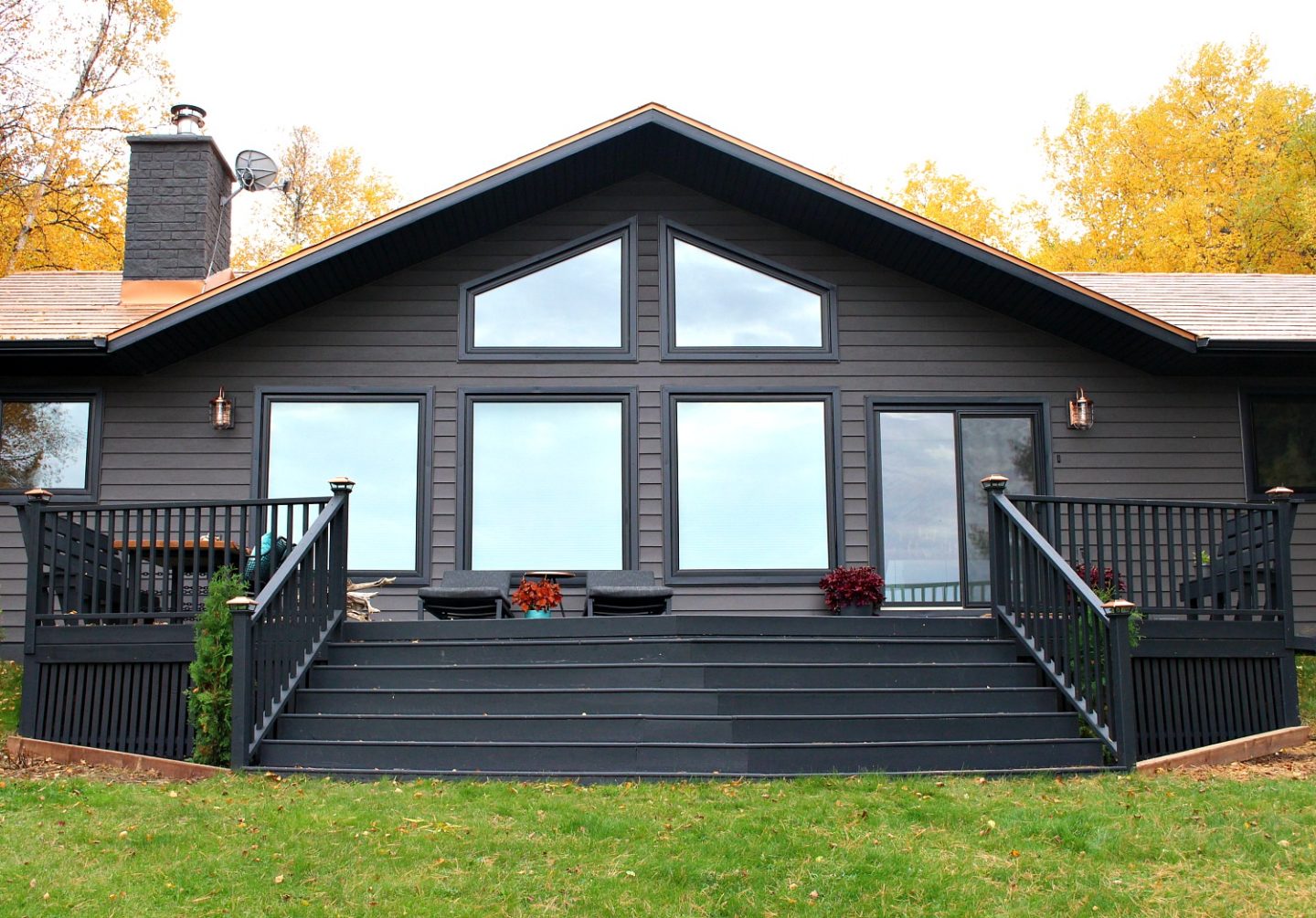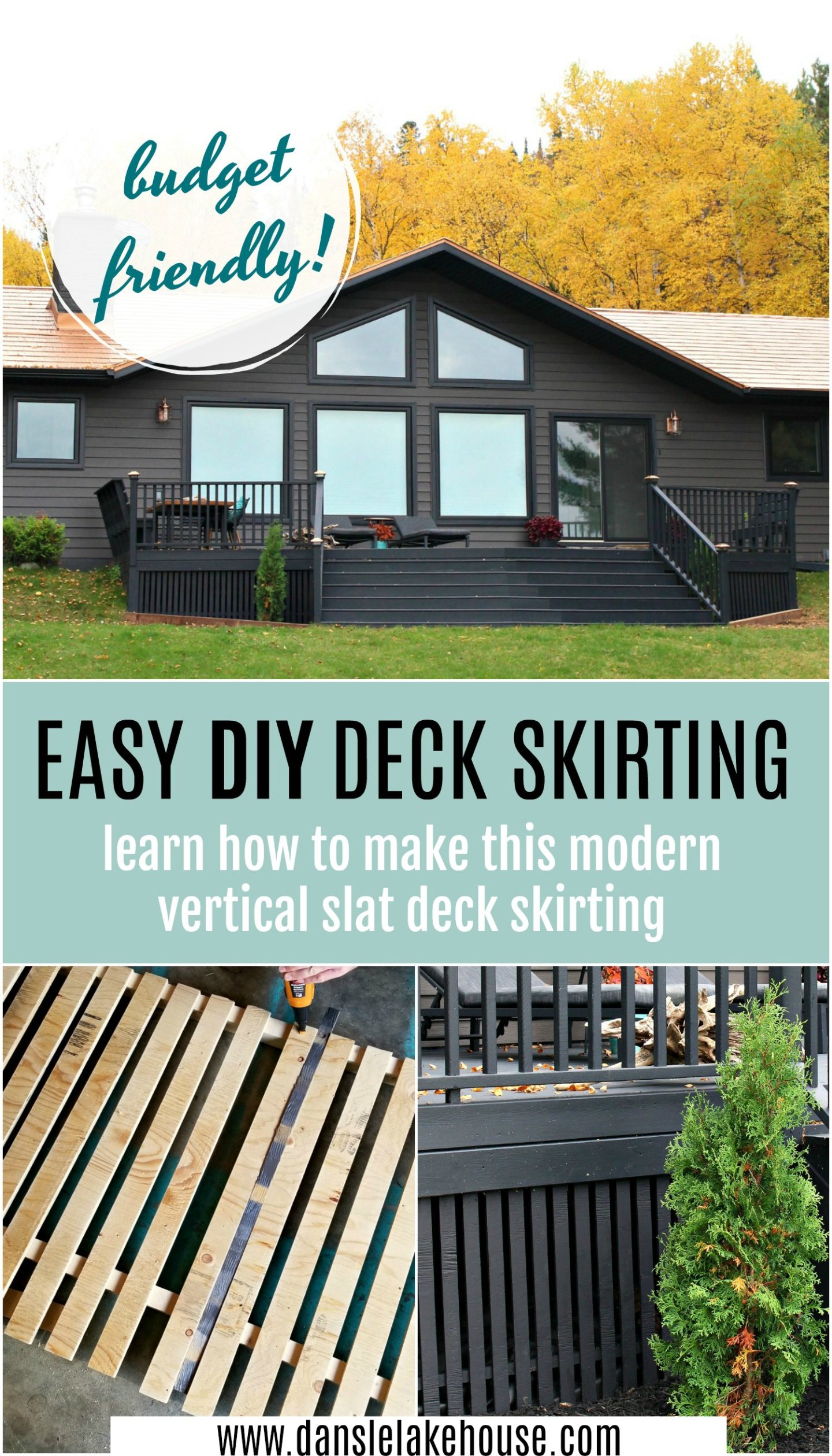 I love how the new modern DIY vertical slatted deck skirting, and the simpler take on garden beds, turned out. It's been really exciting to see this property transform and become ours. And I really enjoyed fall this year, which I don't normally because it's over in the blink of an eye! But even I have to admit that the property was beautiful this fall and I really savored the season. But I have to admit that I'm already waiting for next spring and summer – and I'm getting my new exterior to-do list prepped!