Today's the day: I'm sharing the before/after of my turquoise and copper powder room makeover! This was my first time doing the One Room Challenge (I joined as a guest participant – you can see my progress the last six weeks here). The ORC provided such excellent motivation to design and complete a space in six weeks. I chose an easy project for my first time: the powder room. It's small and there were no structural changes – it was all cosmetic. Even though I tried some new things – like wallpapering! – the bathroom makeover was enjoyably stress-free. Next time though, I'll have my design decided before the challenge starts, because I waited a little too long to order things and shipping problems threw me off course a little. A few items arrived damaged or missing pieces – and one item didn't arrive in time (can you guess what's missing in the photos)? Other than those shipping problems, this turquoise powder room makeover was FUN – and it's currently my favorite room in the house!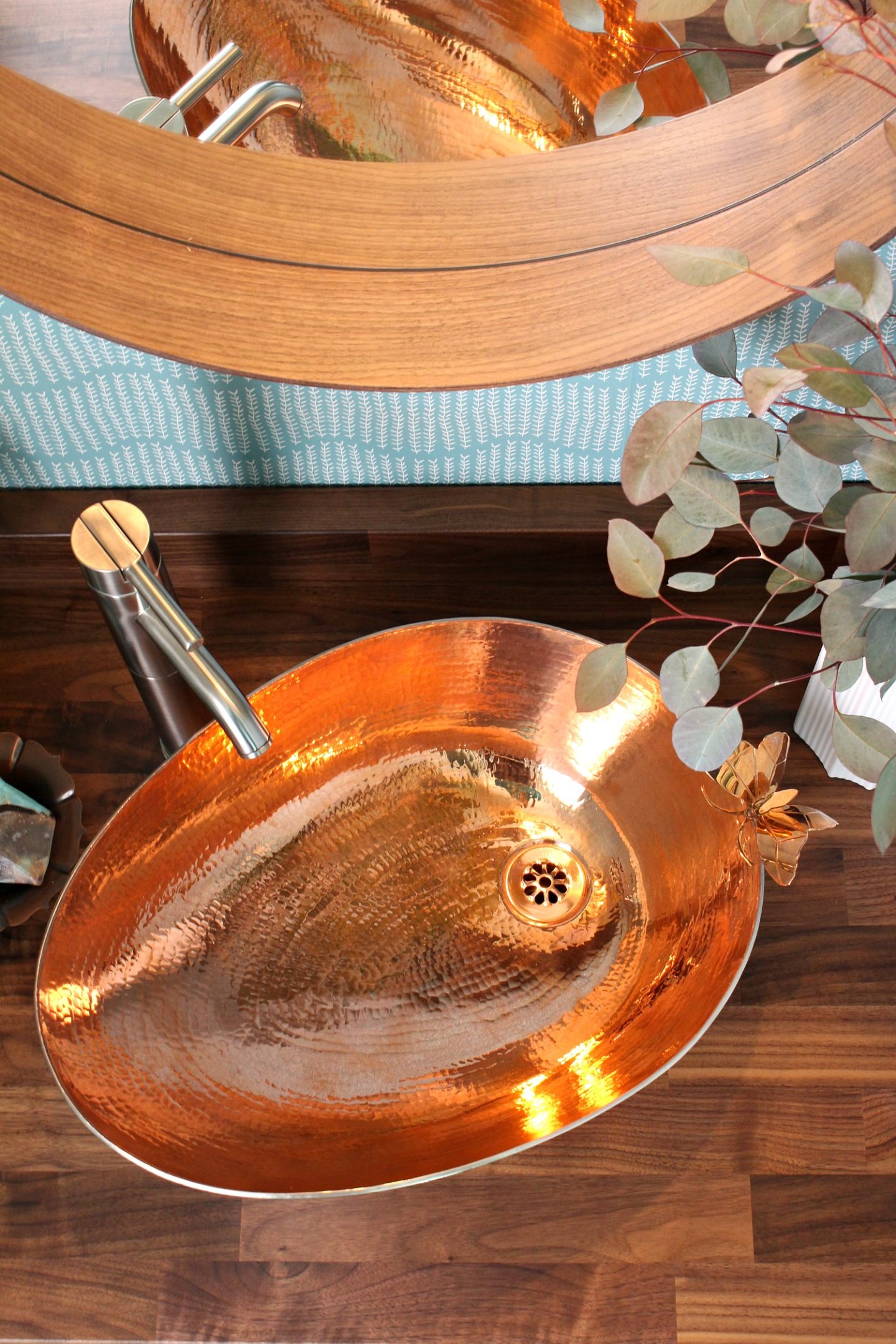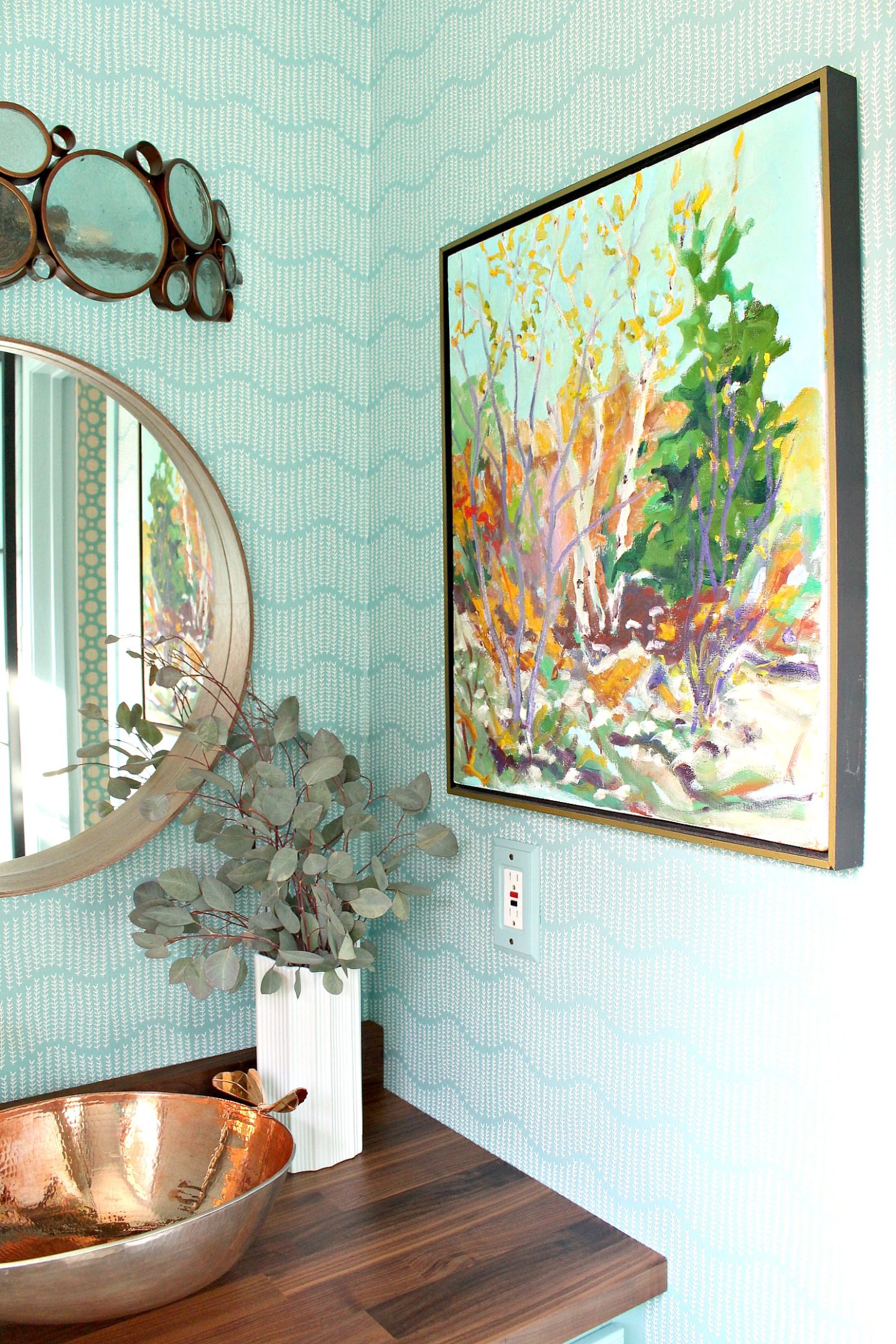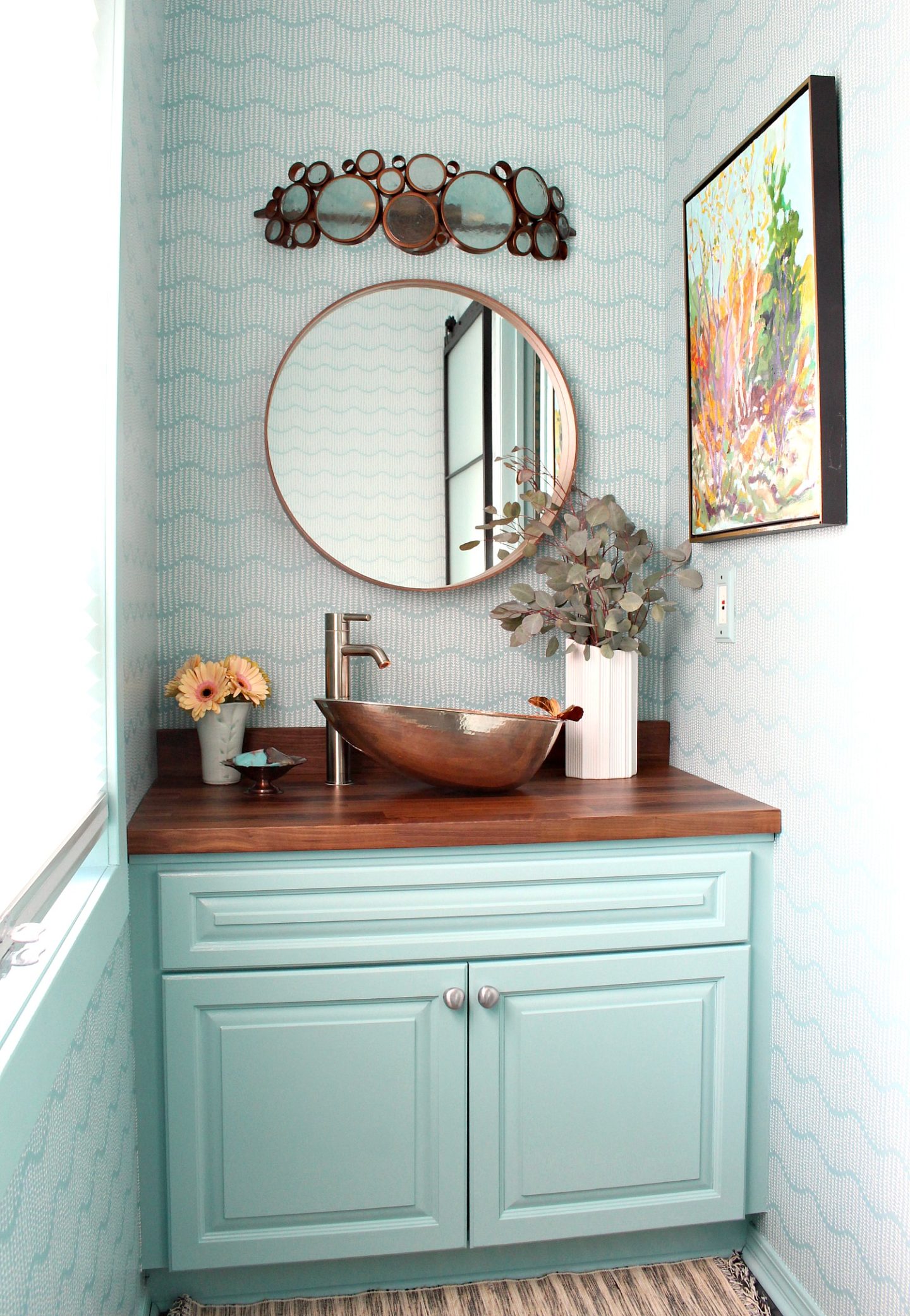 In this post I'm going to show before/after photos, share a little bit about why I chose everything, and discuss how the design took shape. I'll be sharing some more detailed posts (like my experience applying the wallpaper as a first timer, and cutting/installing the IKEA counters) in the next week or so. So if you have any questions about the products or DIYs, just let me know in the comments. This post is alllll about the eye candy – with way too many photos!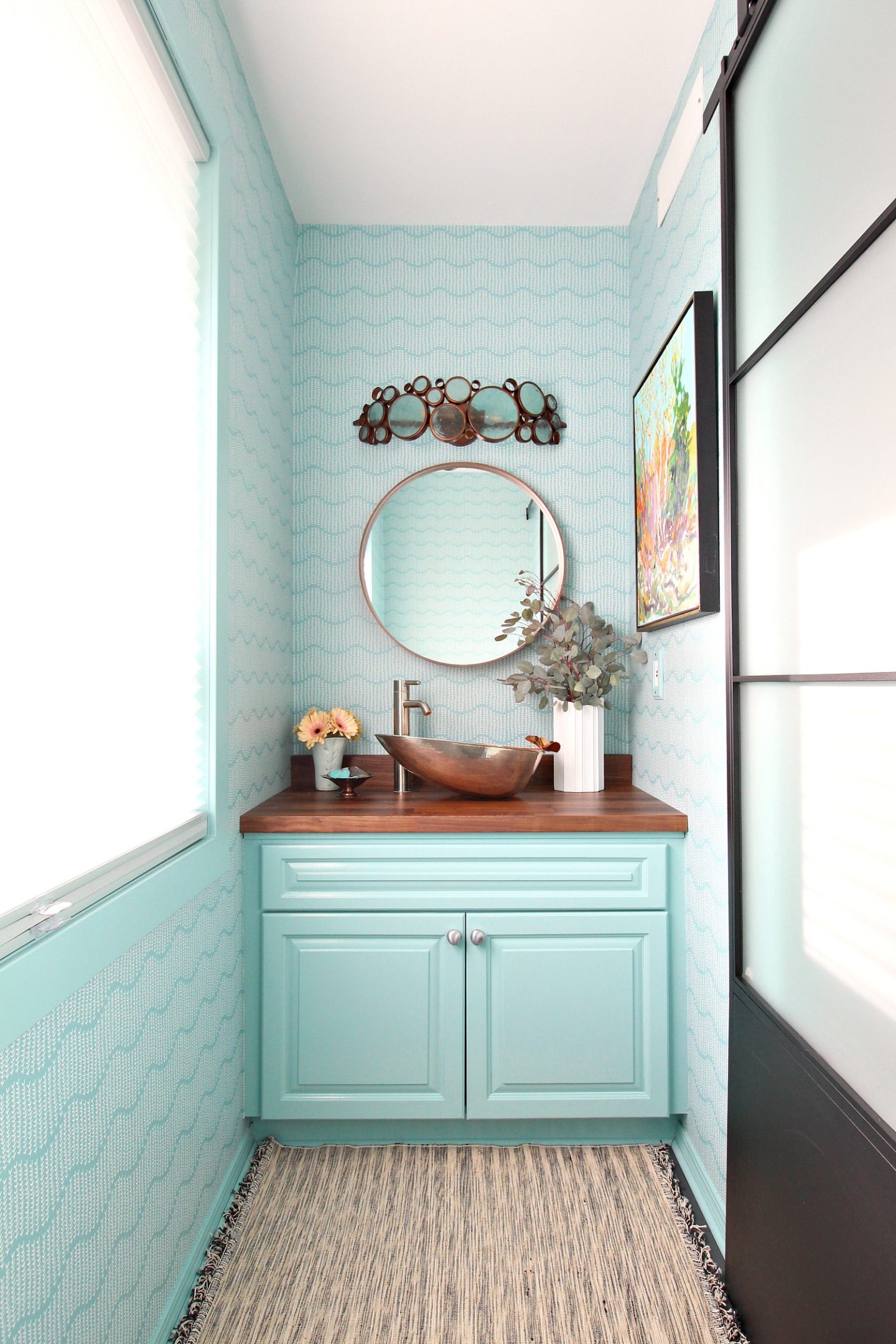 The Powder Room Before
As a reminder, here's the powder room before-before: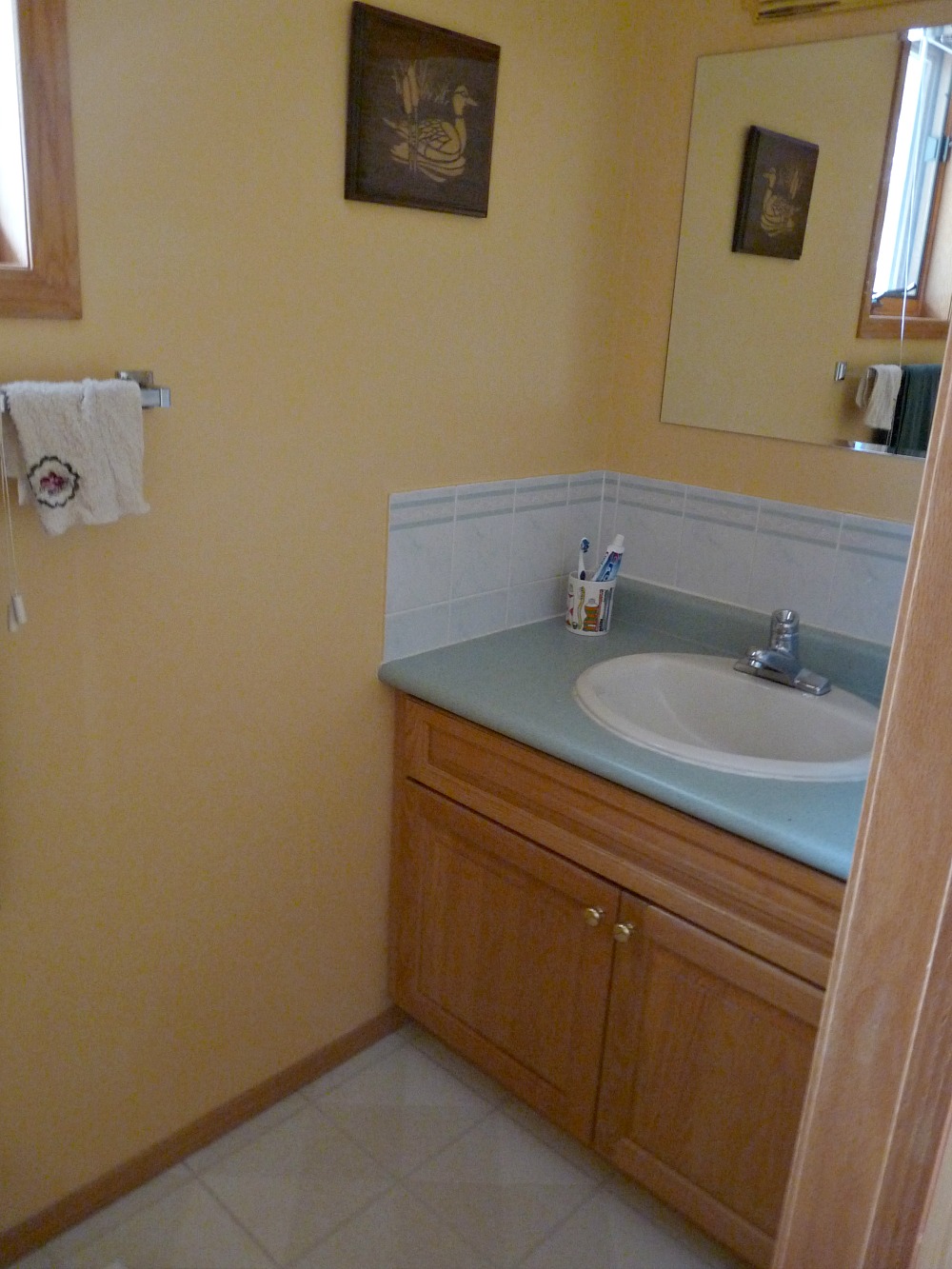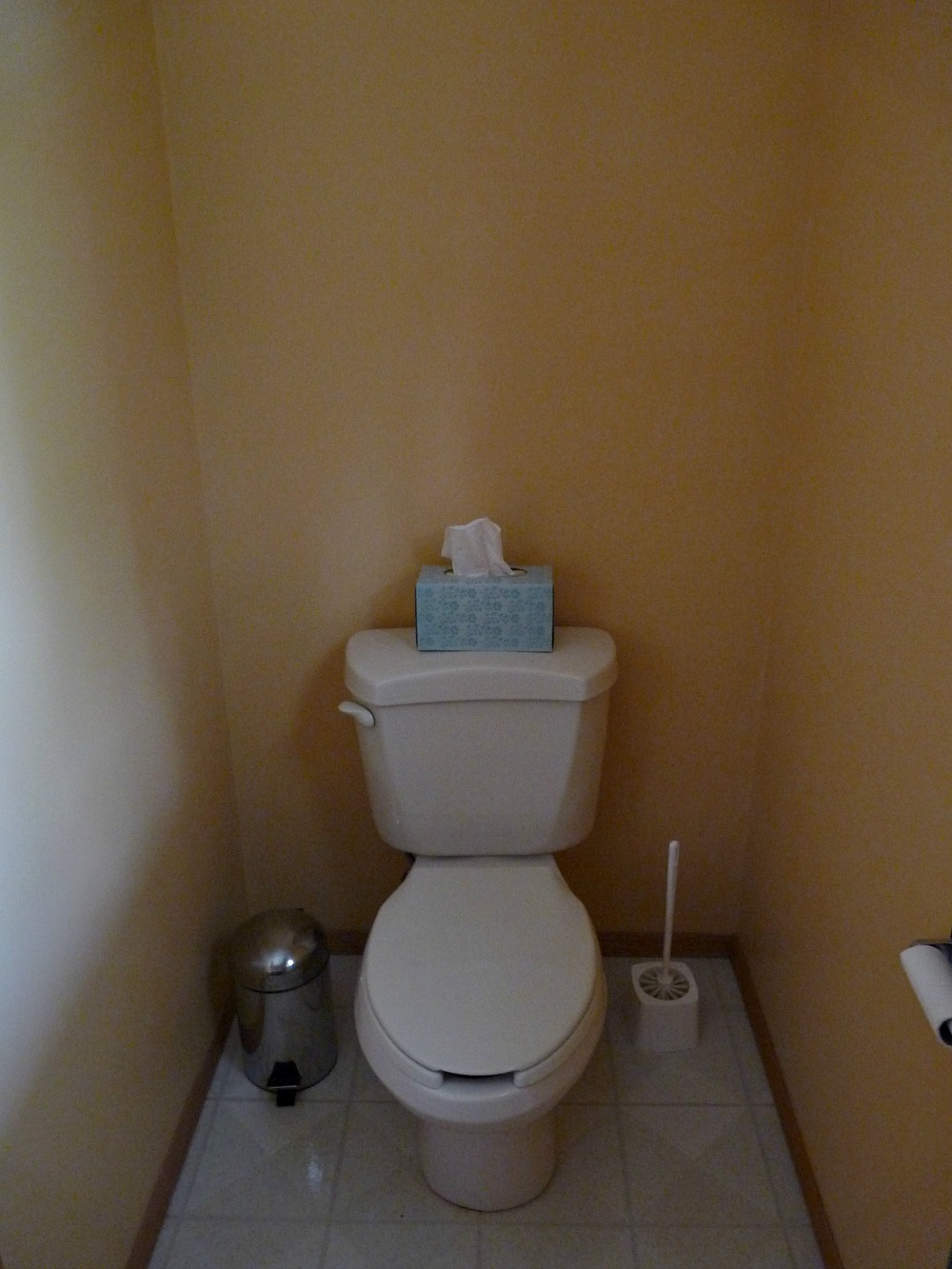 When we did a temporary makeover in the main bath (which has since been fully renovated), I used leftover supplies to give this room a tiny facelift (so this is technically the before):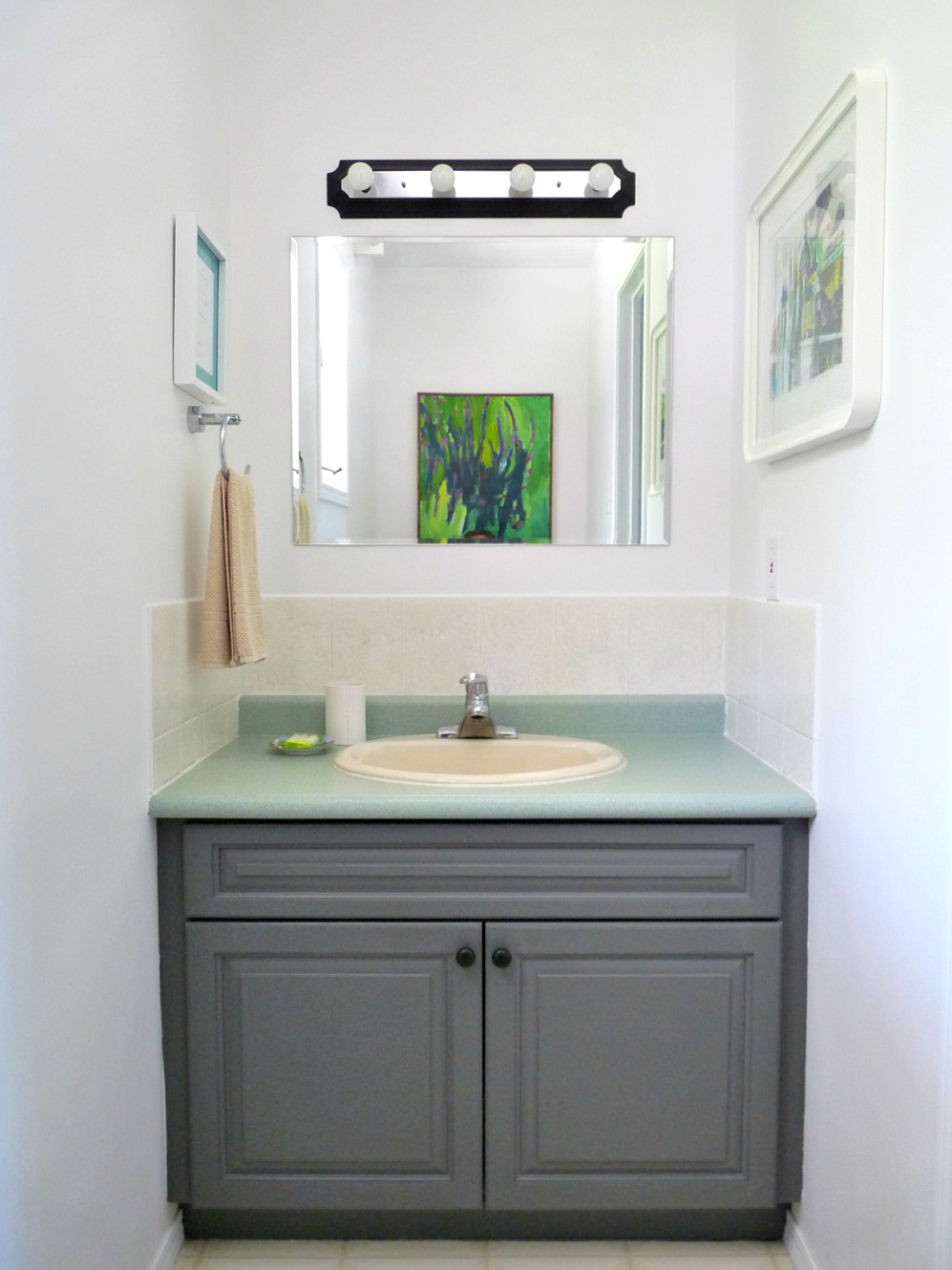 But it's the first room most guests see (an hour long drive out here means people usually need to visit this room immediately, lol) and it just looked a little blah. I wanted to create a little jewel of a powder room – and now the small space just glows!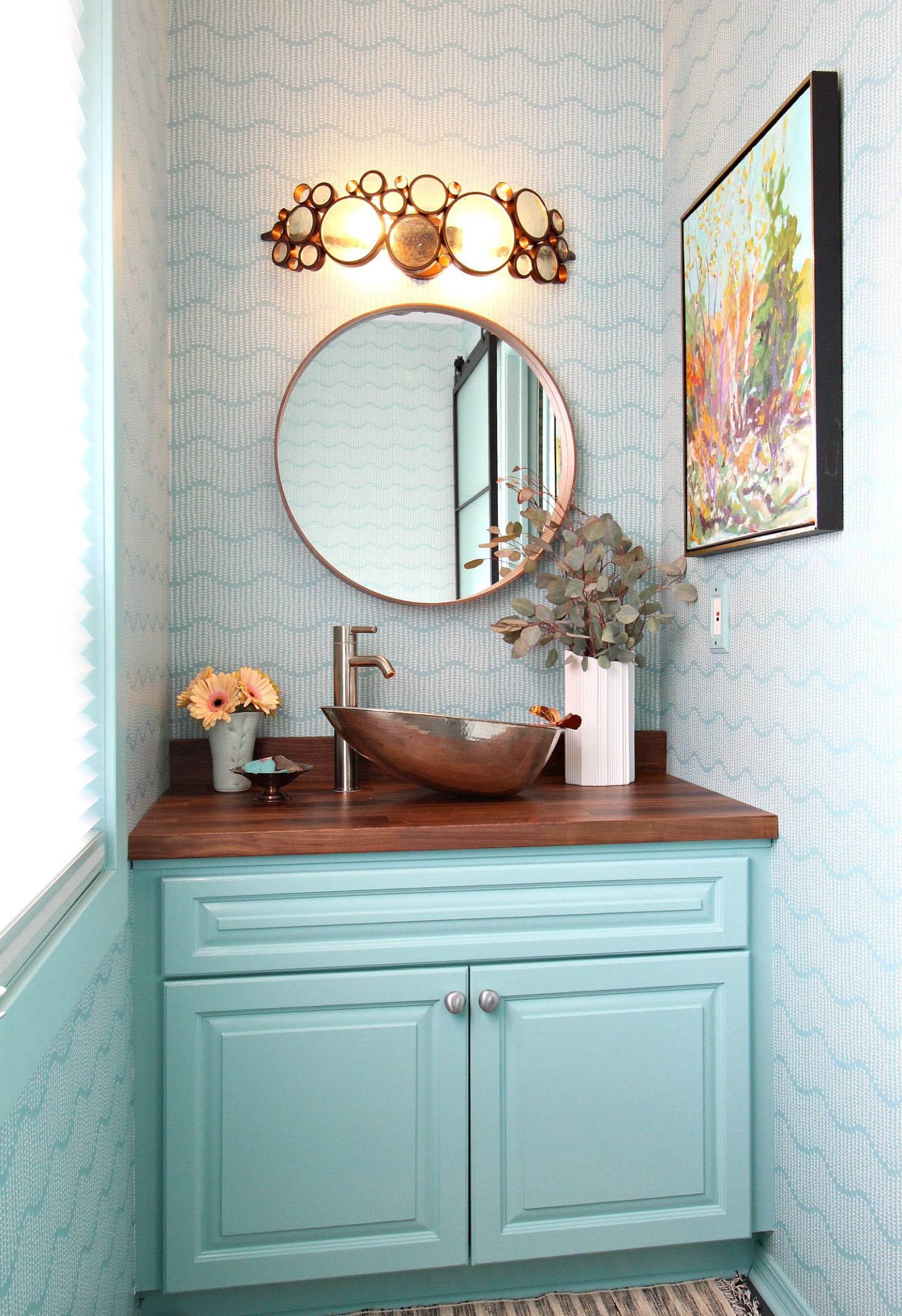 The Artwork
This painting was my jumping off point for the space and my inspiration for not only the color palette, but also the nature inspired design. This landscape was painted by Hubby's grandpa (Bert) and it's a painting we spotted, but didn't take home, when we were given the opportunity to choose five paintings after he passed away. After we came home, we kept thinking about it and Hubby's mom generously let us trade another painting we already had for this one. You can read more about the painting in this post. I love all of Bert's paintings but this one has moved me to appreciate fall and celebrate the beauty in nature, at a time when I'm usually pining for summer.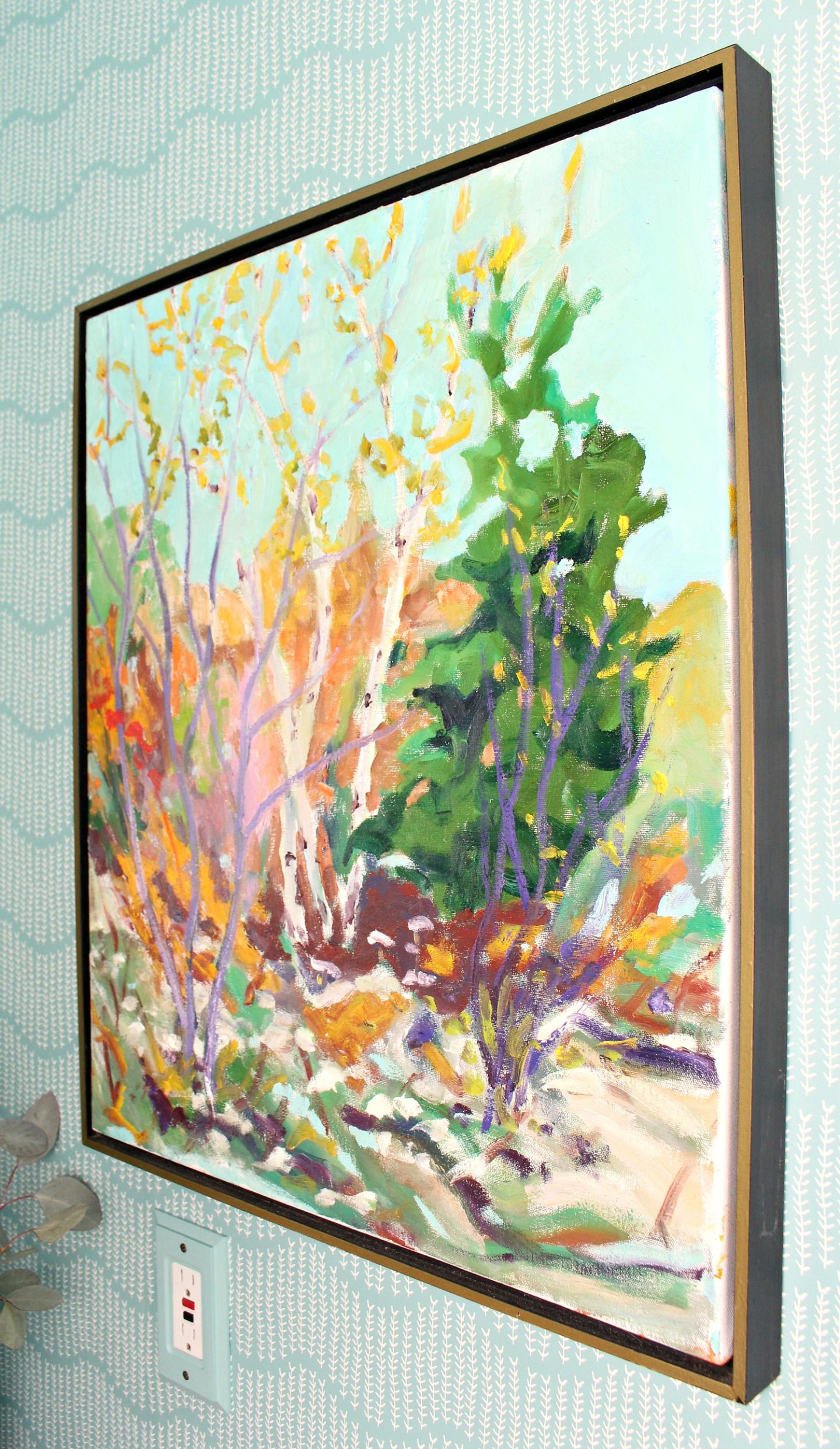 The Wallpaper
The wallpaper MAKES the room! It's called Sprigs on Ocean (generously provided to me by Spoonflower). It's a prepasted removable wallpaper, so it was surprisingly easy to install – even for a beginner like me. I'll be sharing a more detailed post about the installation, along with some tips and tricks I picked up. Honestly though, choosing a wallpaper was more difficult than installing it, because there are so many (too many!) gorgeous designs to choose from. In my installation post, I'll also share the wallpaper samples I ordered but didn't choose – and the totally different direction this room was going to take!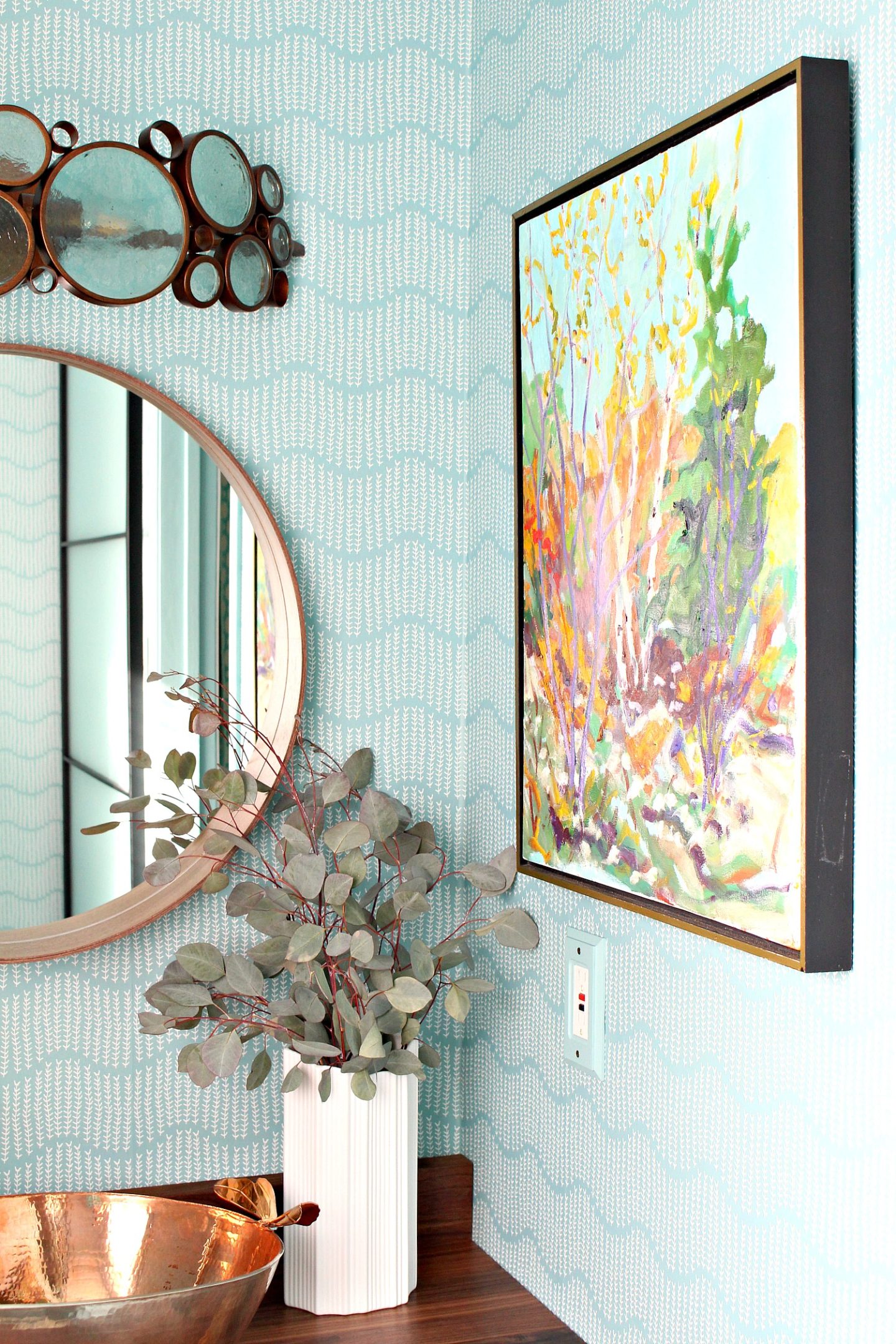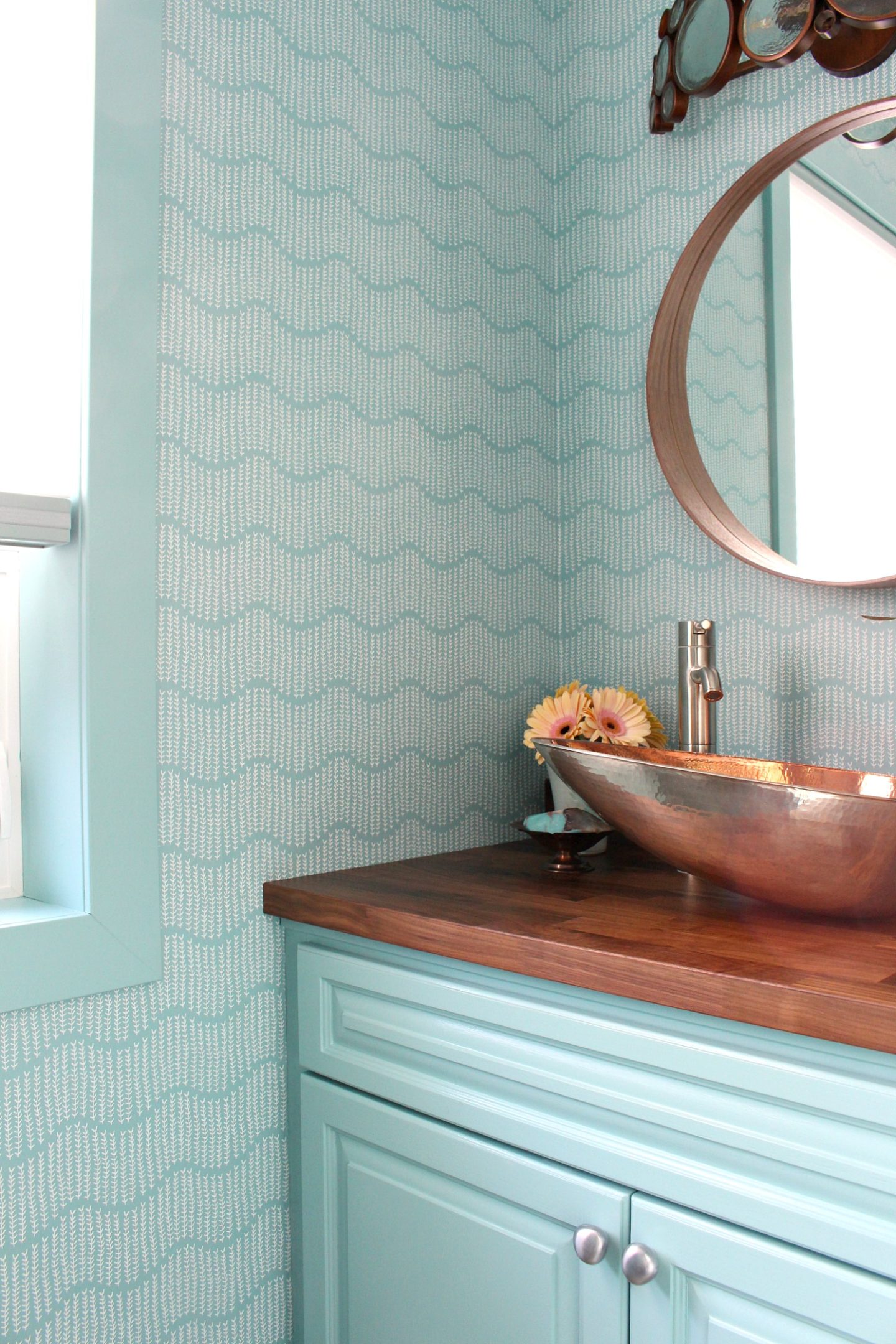 The Vanity
Whenever we renovate the kitchen, I plan to install the matching cabinets in here (probably a floating walnut vanity, like in the main bathroom) but for now, I just painted the original oak vanity again. I waffled between white and aqua, and ultimately decided that white would really "pop" and draw attention to the vanity – which is arguably the least attractive thing in the room, so I decided to paint it to blend in. I took the wallpaper sample to The Home Depot Canada, hoping the paint department could color match the background. Interestingly, instead of creating a custom color, the system suggested two paint chips. Lap Pool Blue was the perfect match to the soft aqua of the wallpaper. I bought a sample pot in semi-gloss for the vanity.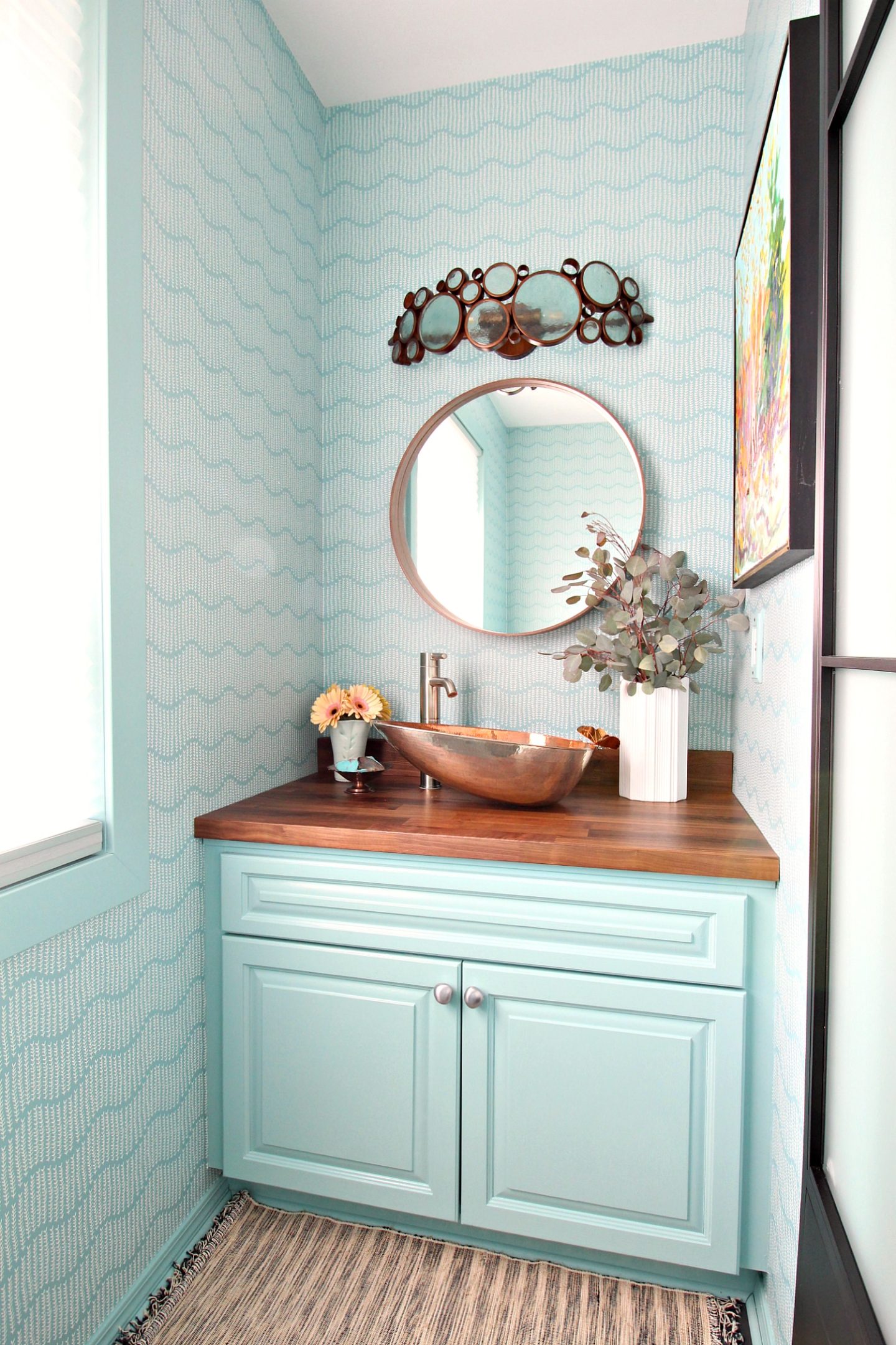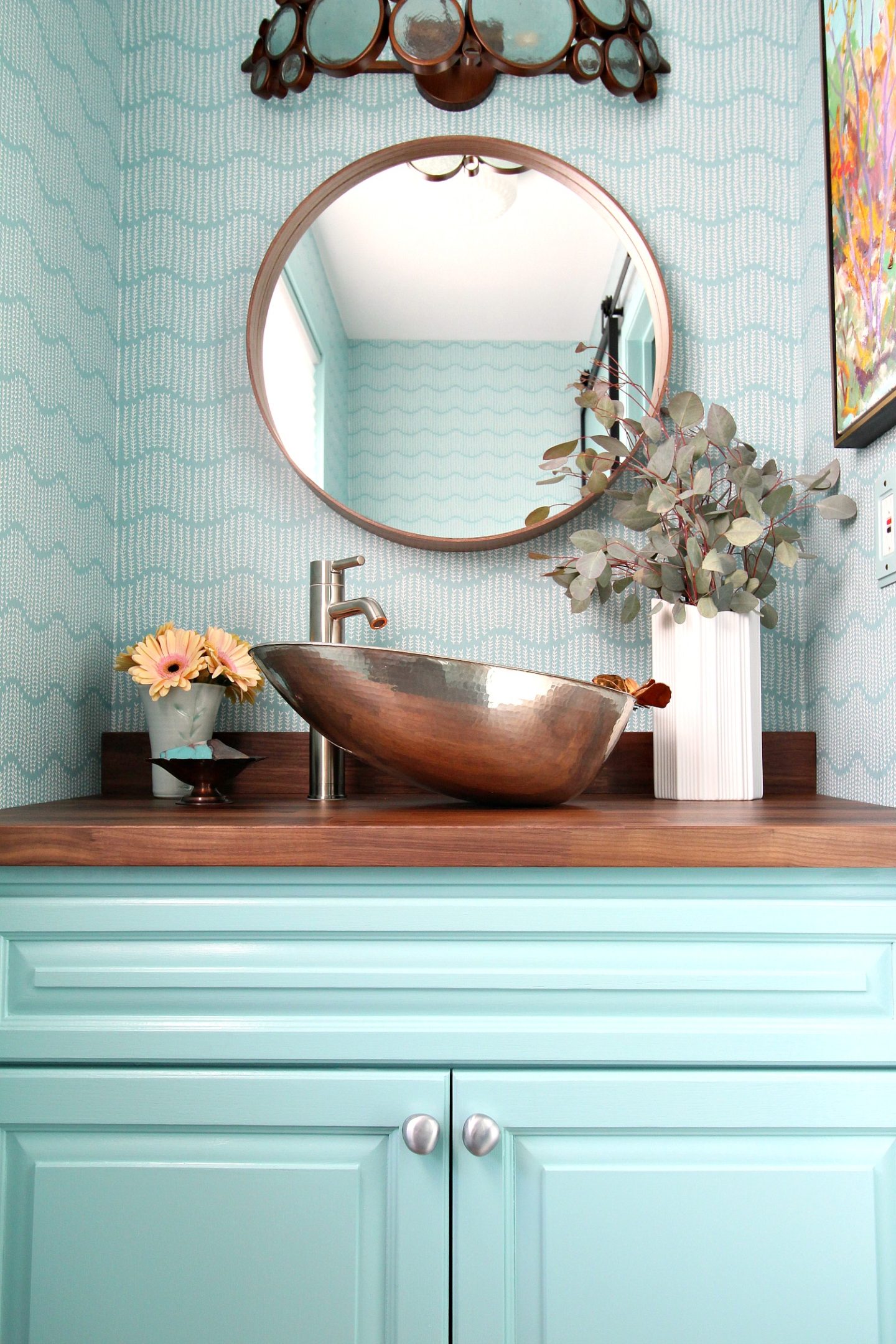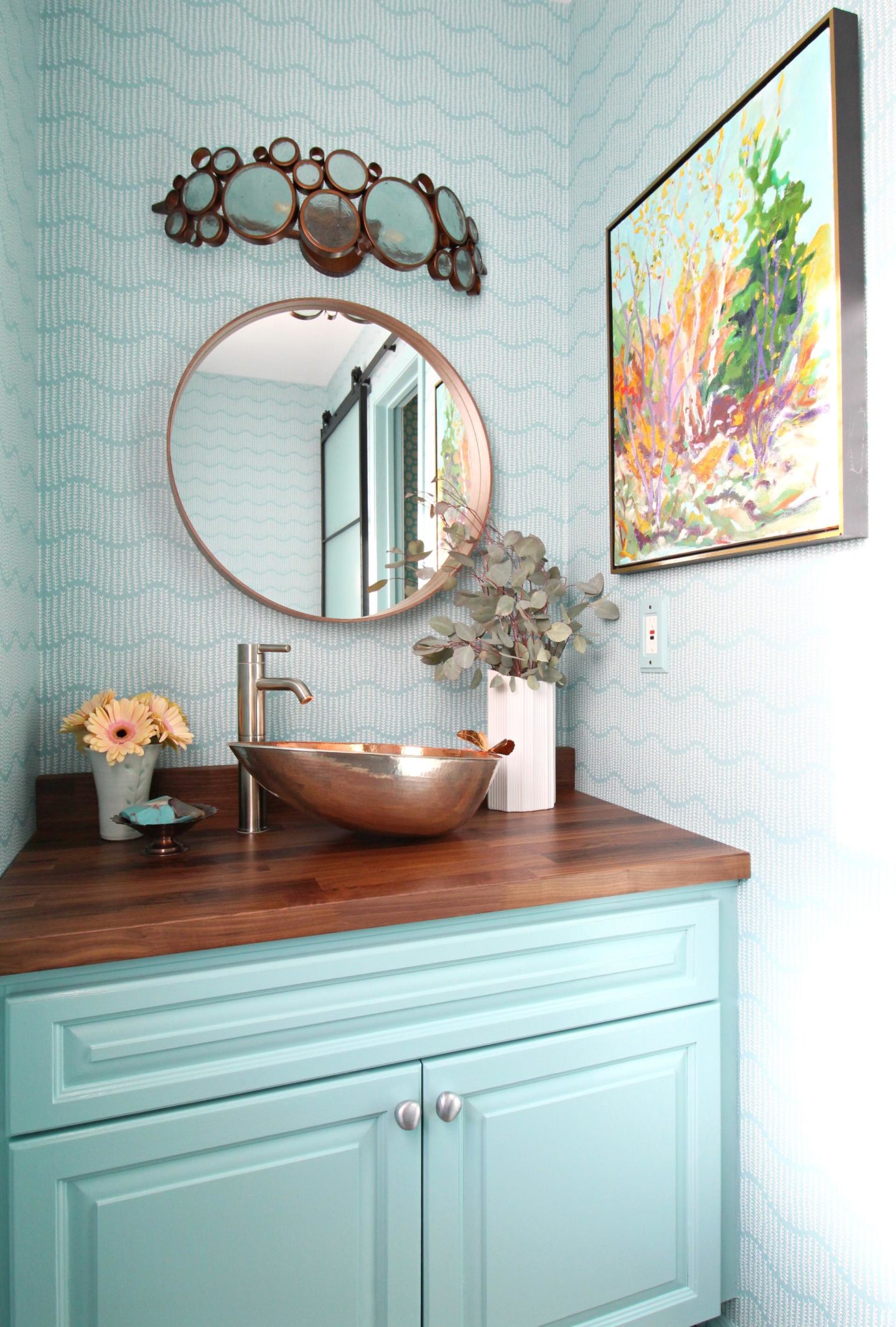 The Trim & Window Coverings
I didn't want the trim to stand out either, so I painted it the same Lap Pool Blue, in an eggshell finish. It's a personal preference, but I always paint my trim eggshell and my cabinets semi-gloss. After we had the window enlarged in here last year, I ordered the same custom blinds the other three windows got, so that stayed the same and the soft green is perfect with the new decor. Having a large window in here has made the room feel so much more spacious and sunny.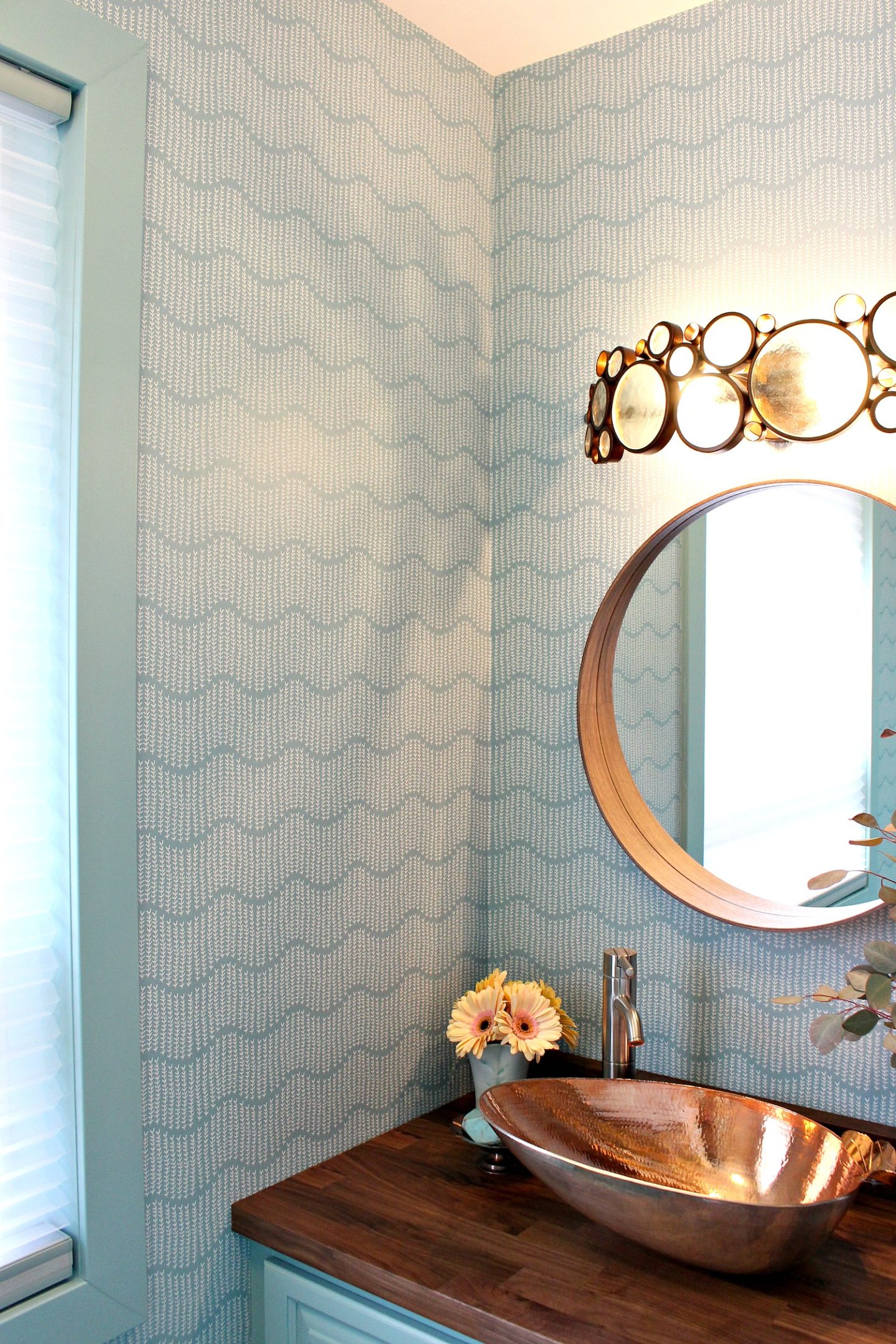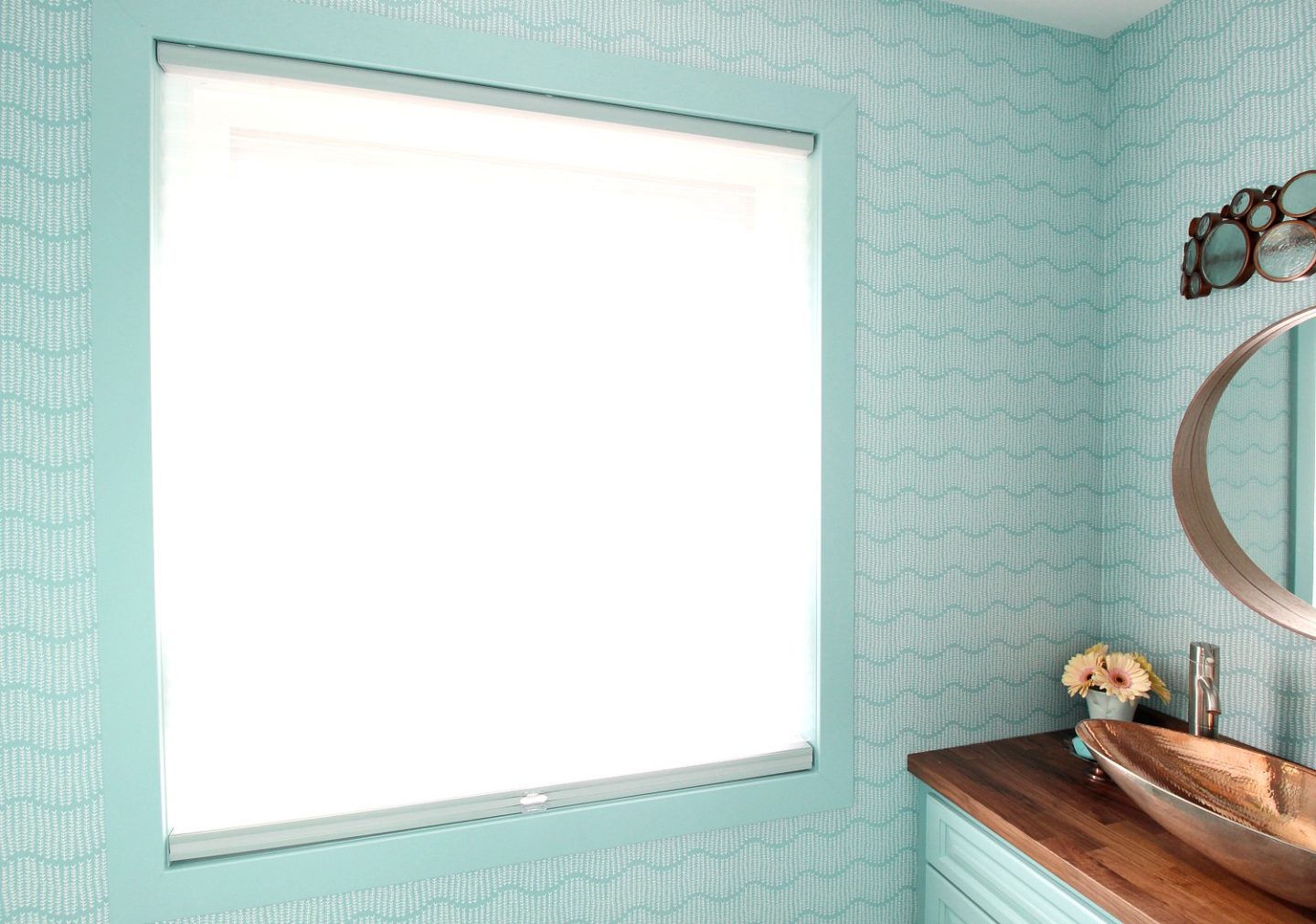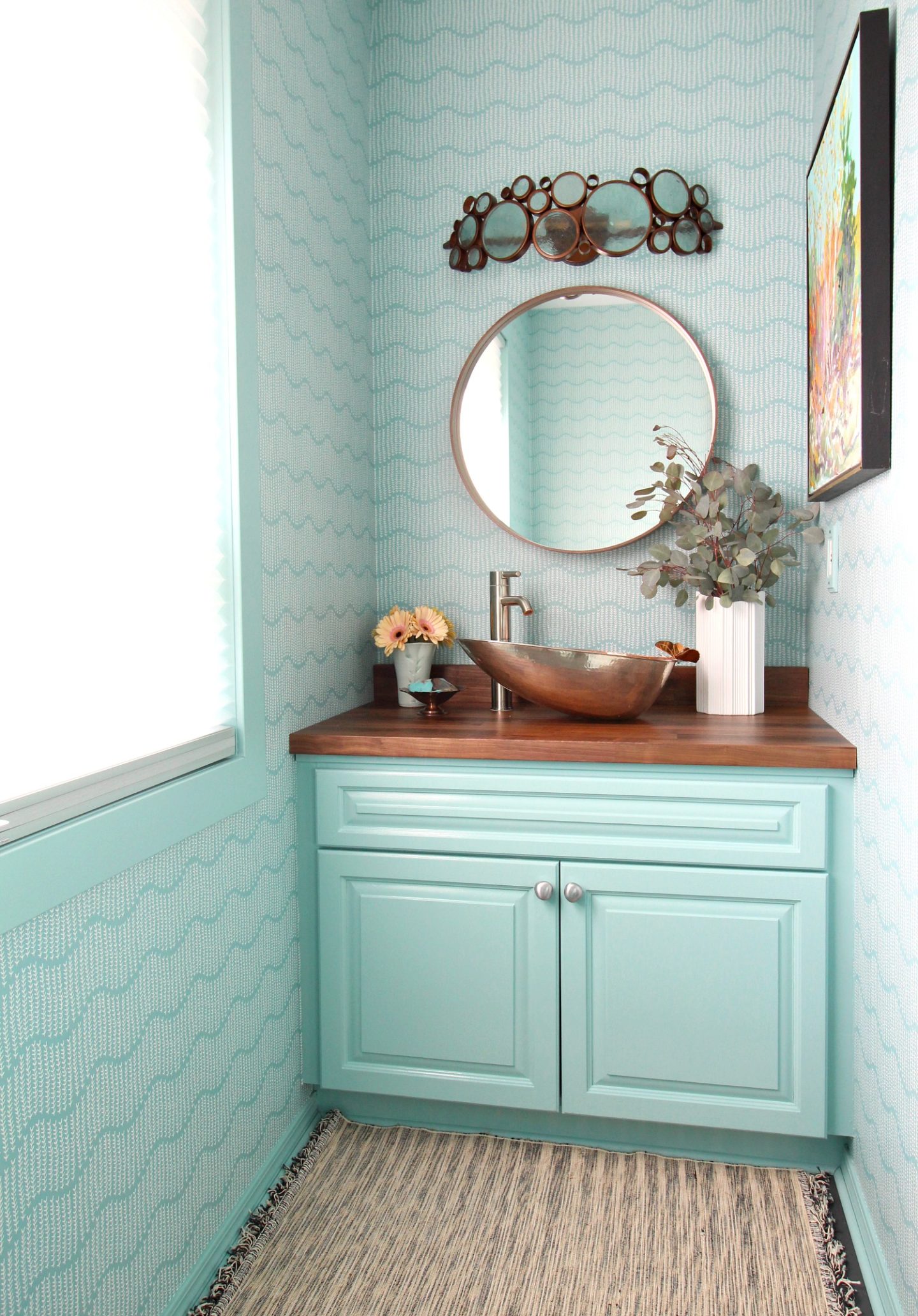 The Light
The Varaluz Fascination 2-light bath fixture was provided by Lamps Expo and it was the very first piece – other than the art – that I chose for the room. I originally had a totally different vision planned (a more nautical vibe) when I chose it. But I loved it so much that even as my plans evolved, I still wanted this fixture.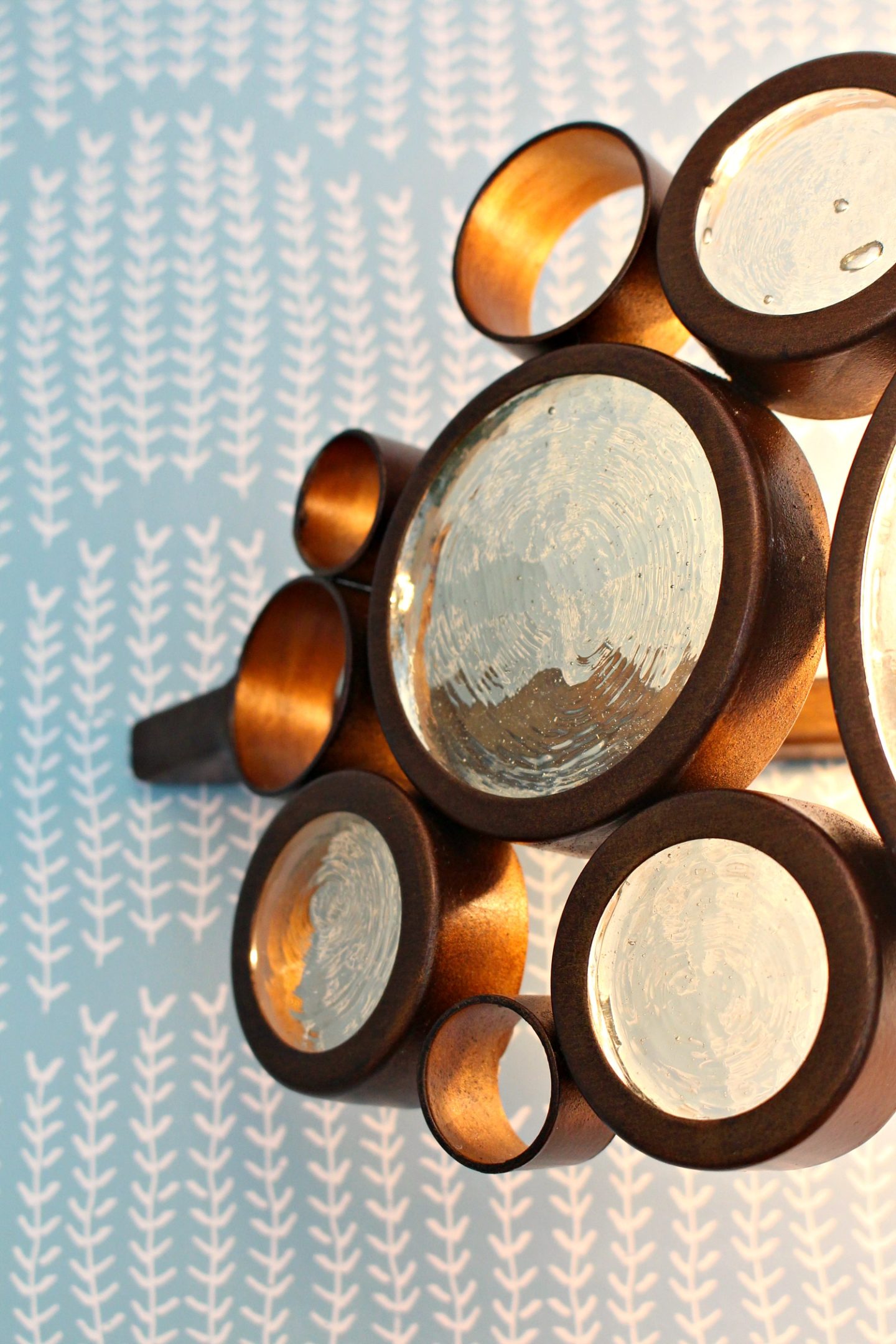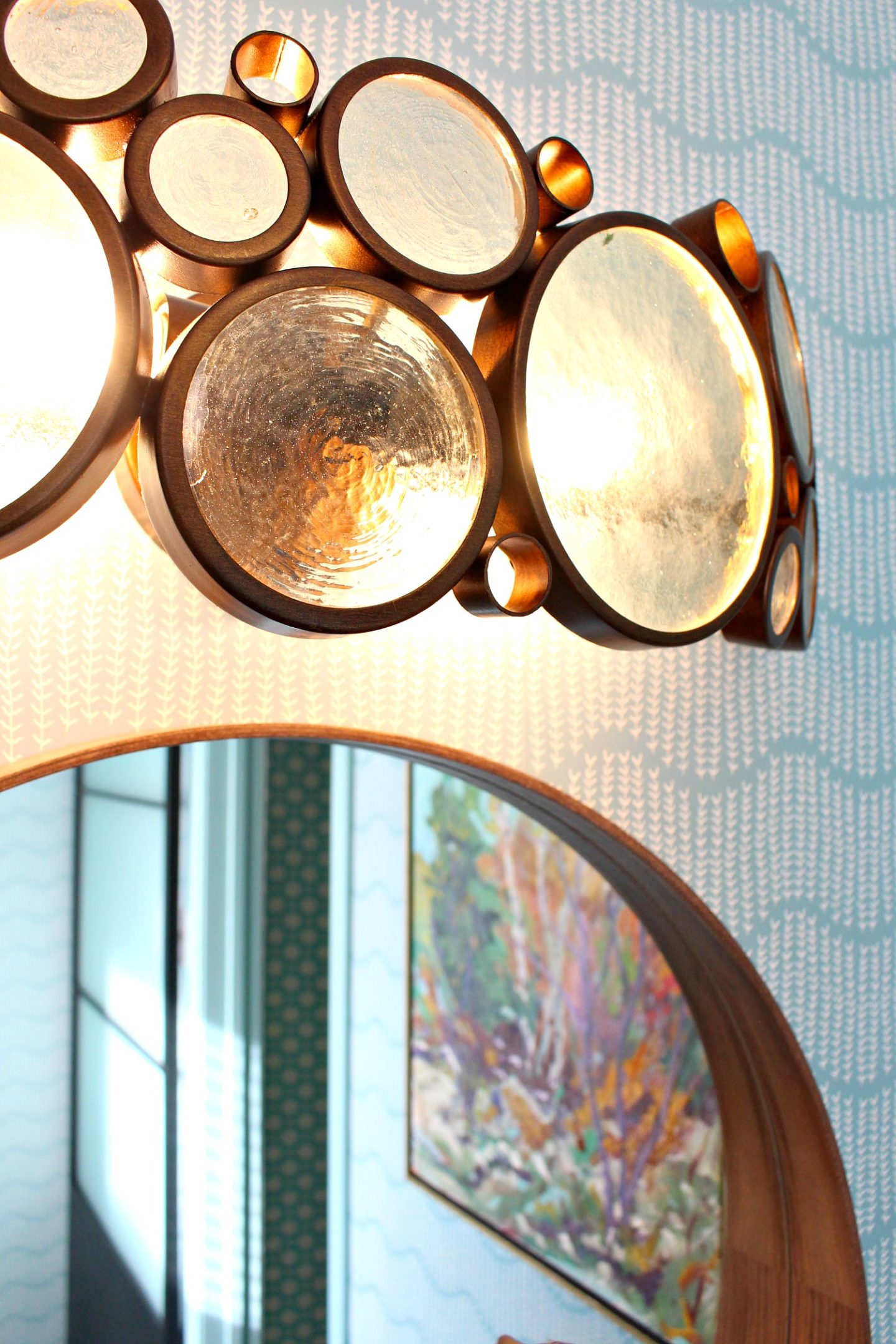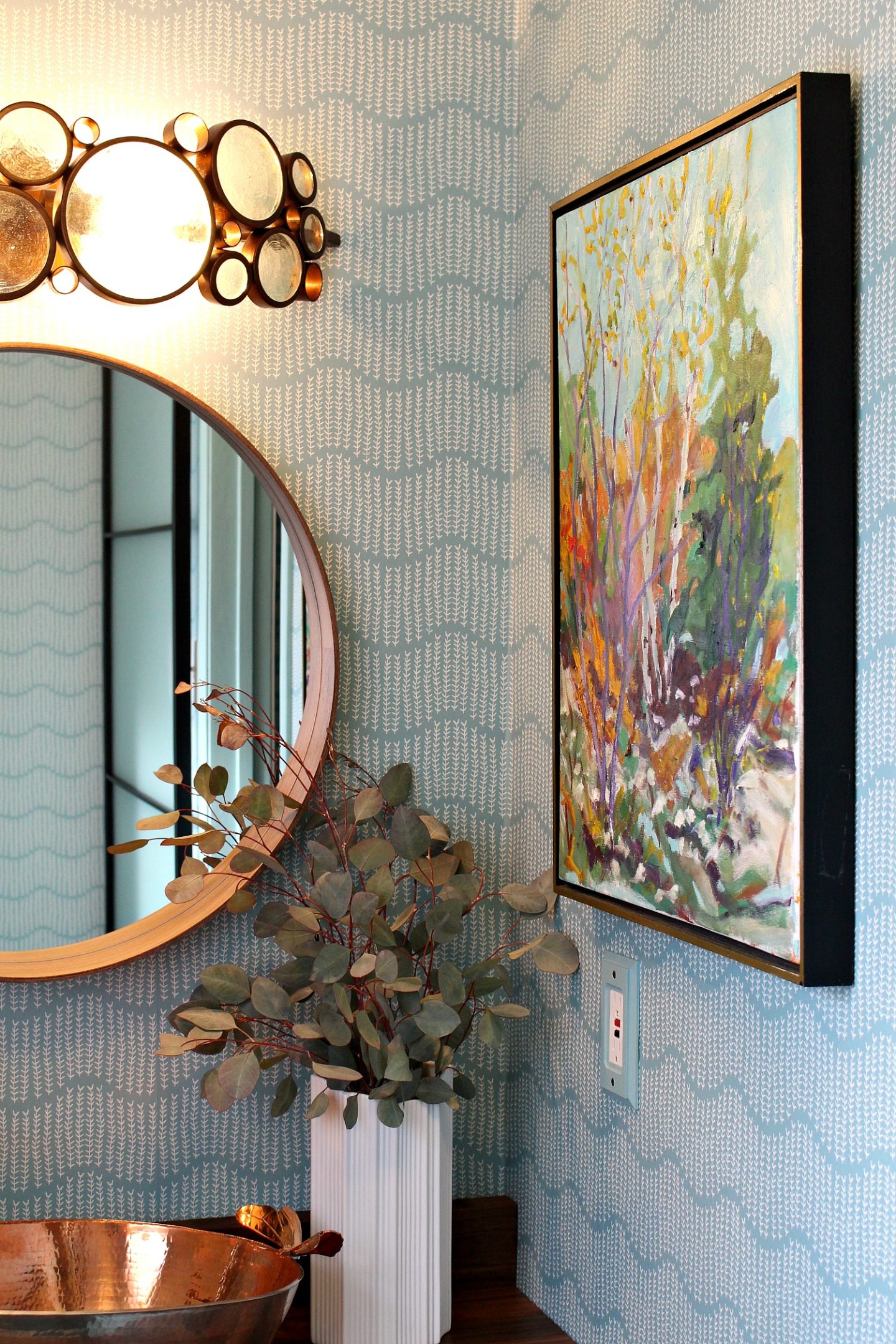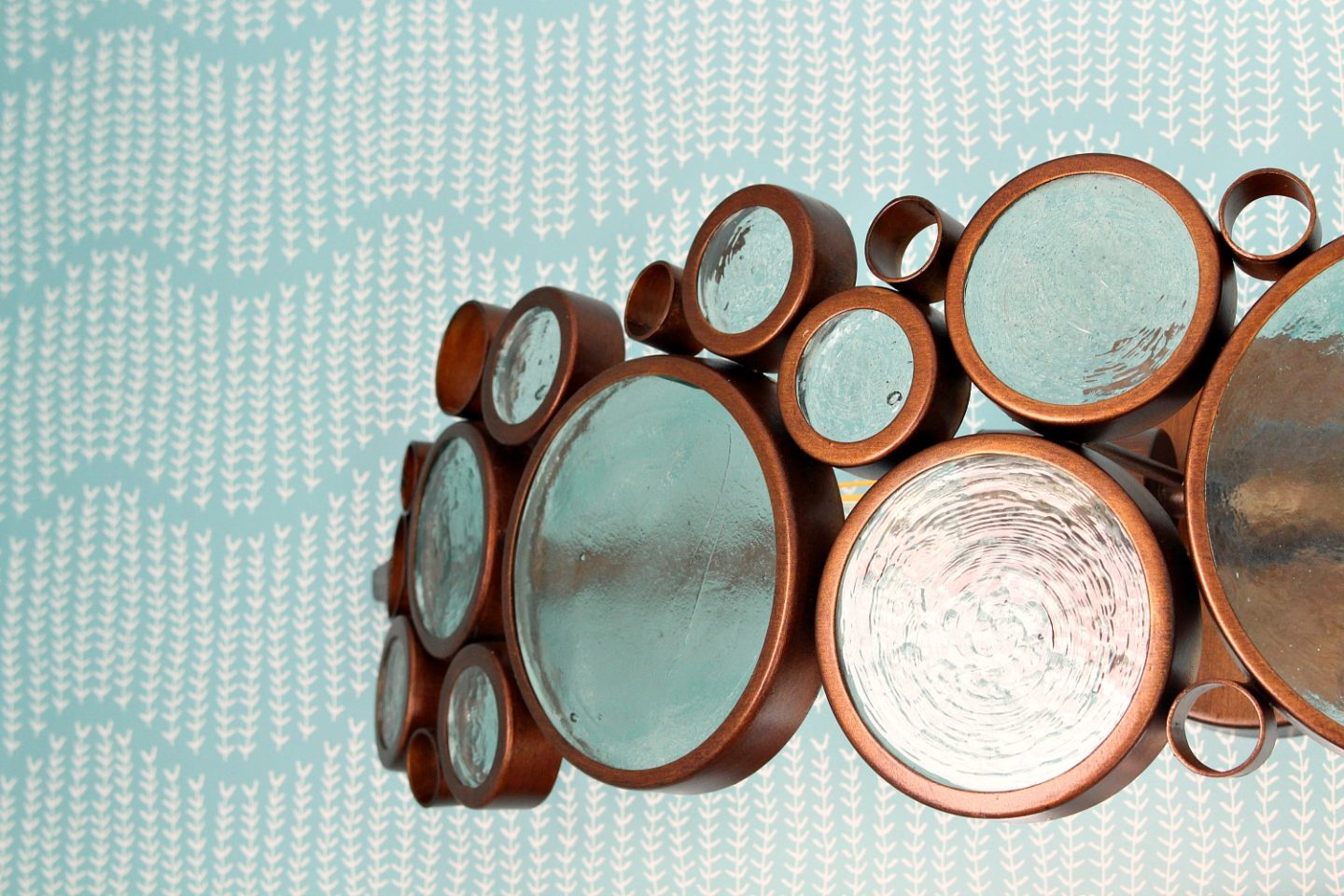 I have loved the Varaluz Fascination collection for years and now I can confirm that the quality is amazing. The shape is mesmerizing and the recycled glass casts the most beautiful glow. I worried that the hammered ore finish would compete with the brighter rose gold over copper sink, but this finish plays well with the walnut wood tones and warm colors in the artwork. It lets the sink shine – literally!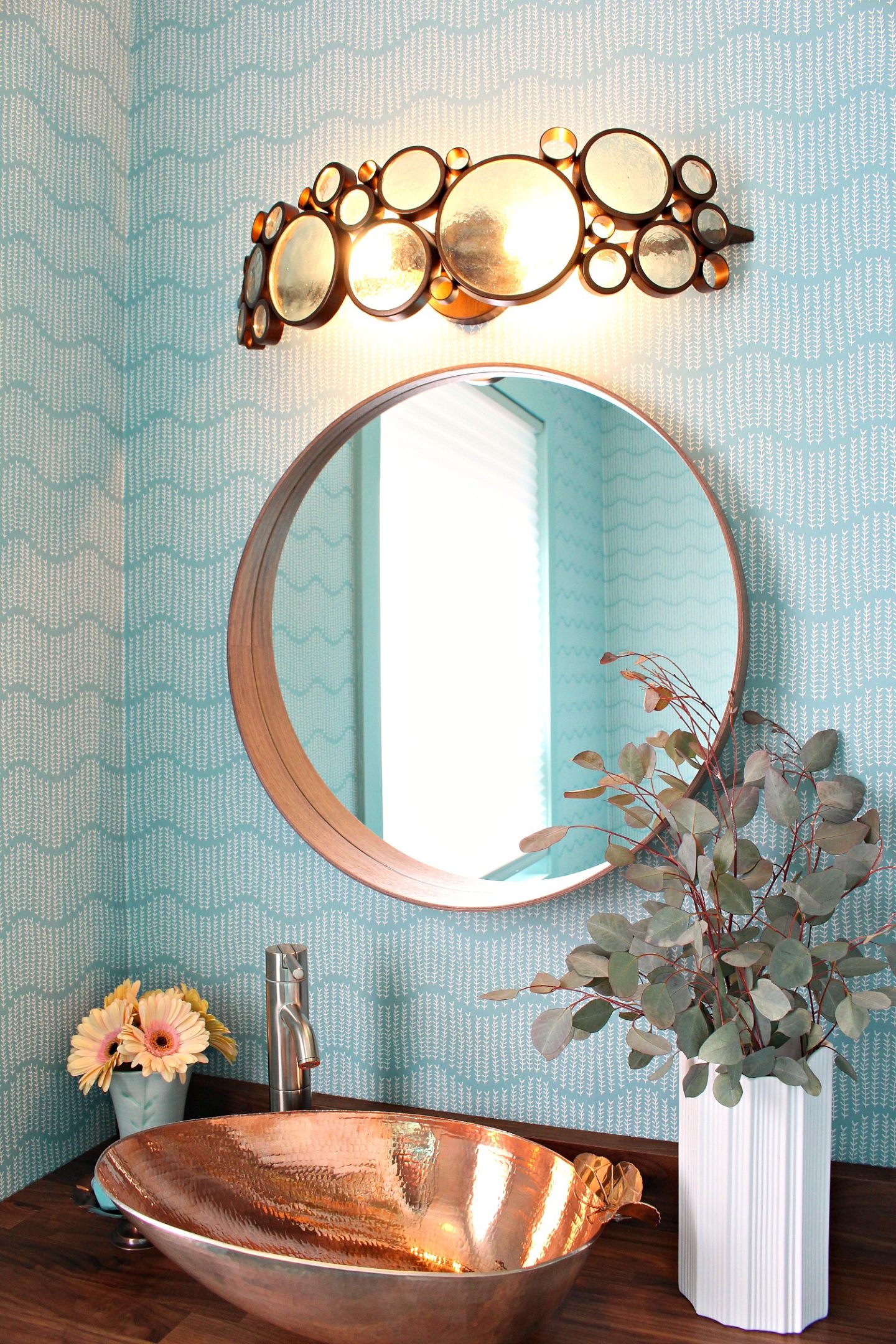 The Mirror
The STOCKHOLM mirror (provided by IKEA) is another piece I've long coveted. When I unwrapped it, Hubby even said, "hey, isn't this the mirror you wanted for the main bath?" I did! He remembered! It was too big for that space – but it's perfect for here and I'm so excited to finally have one! This mirror is perfect because it ties in the walnut veneer of the counter, and also the shape of the light fixture. And the little ledge is practical for guests to keep a ring or watch safe while they wash their hands.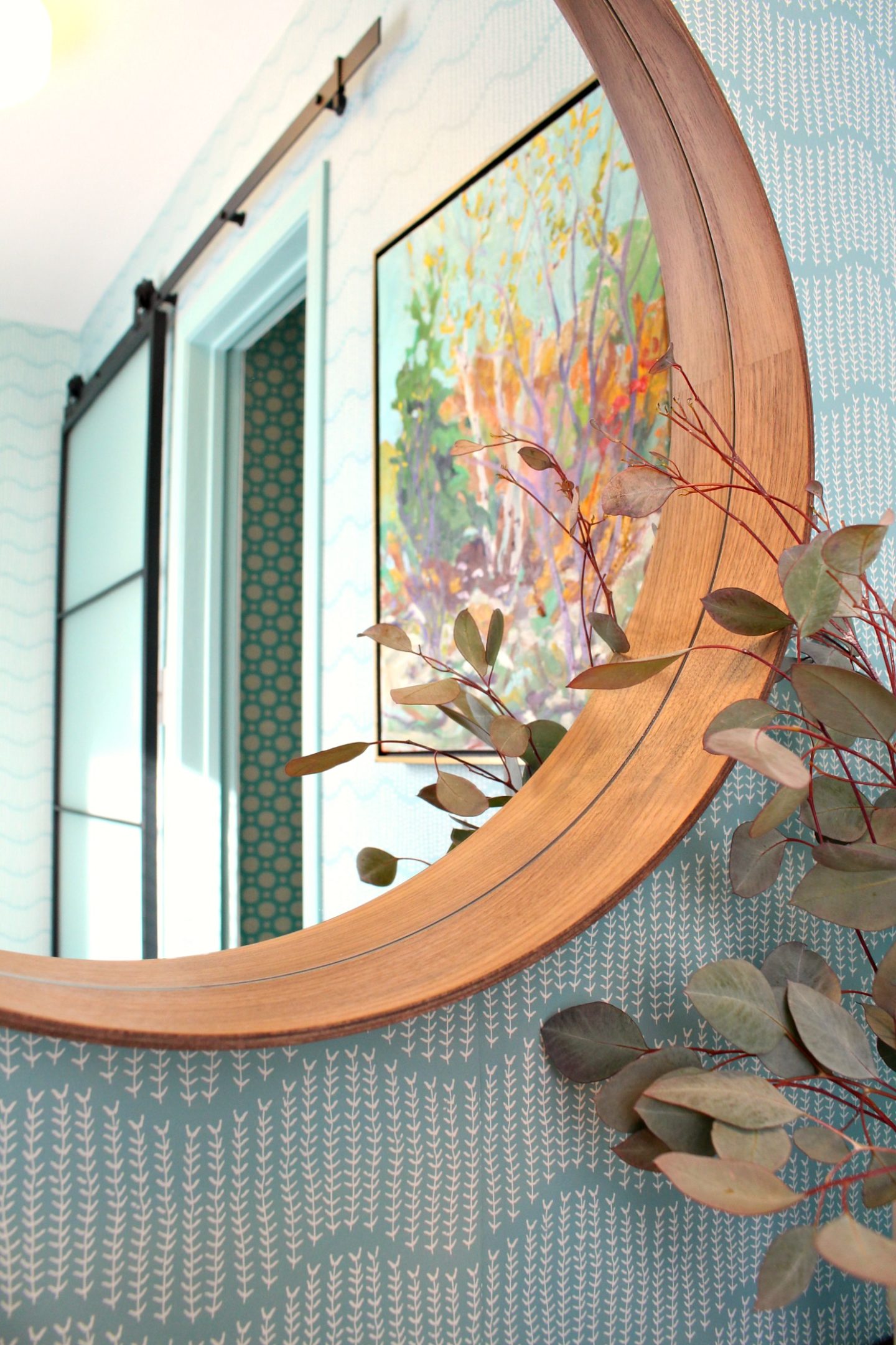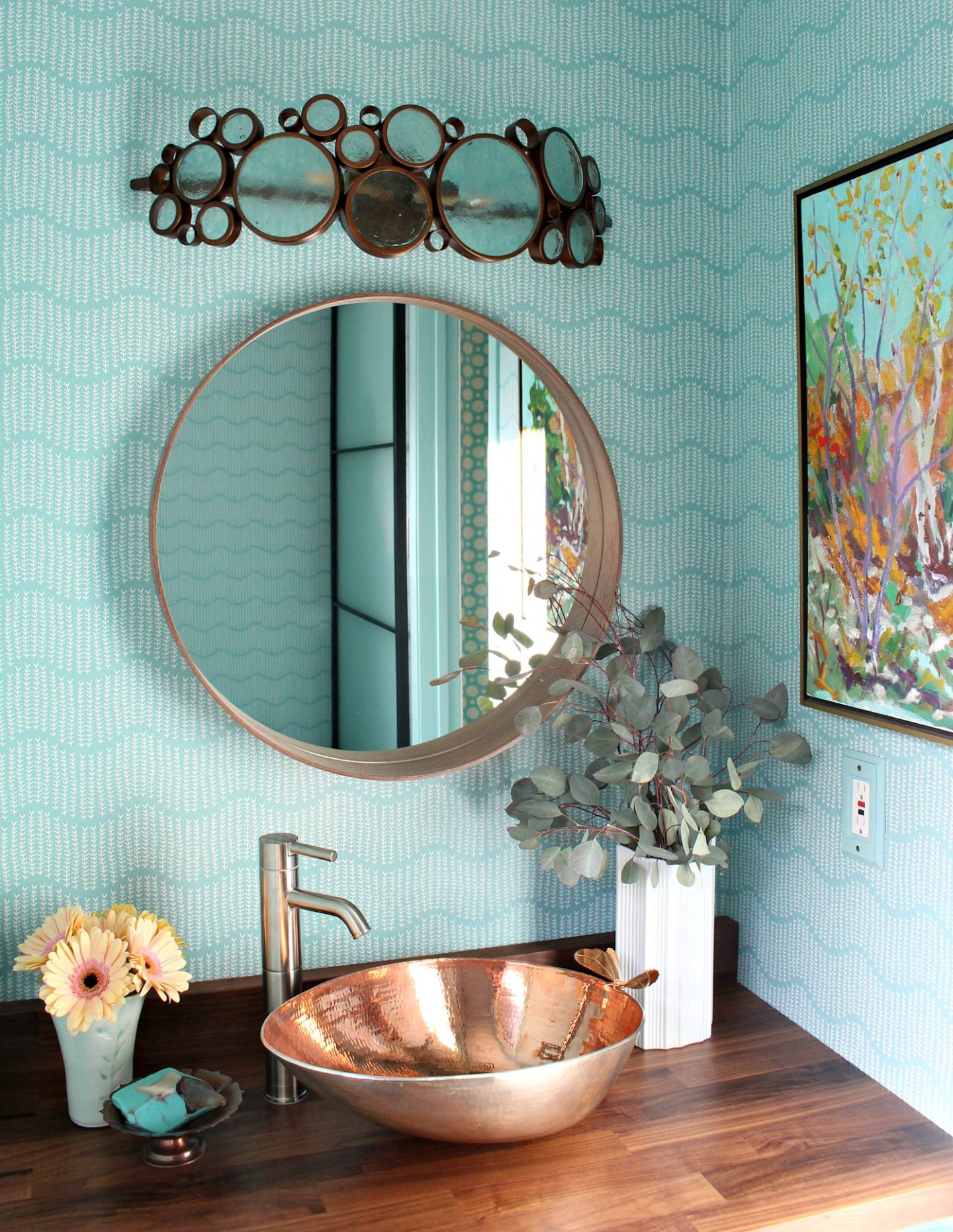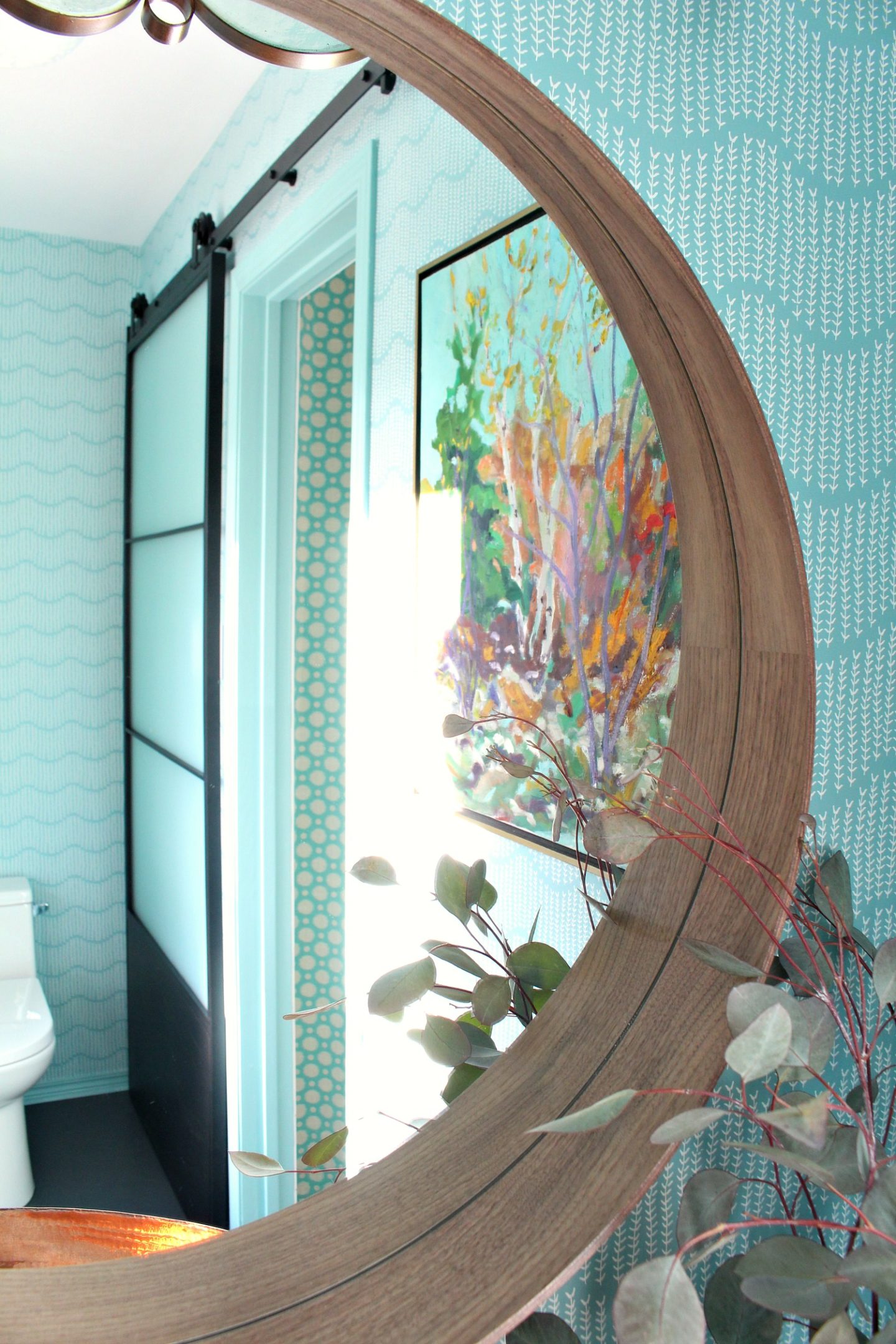 The Handmade Copper Sink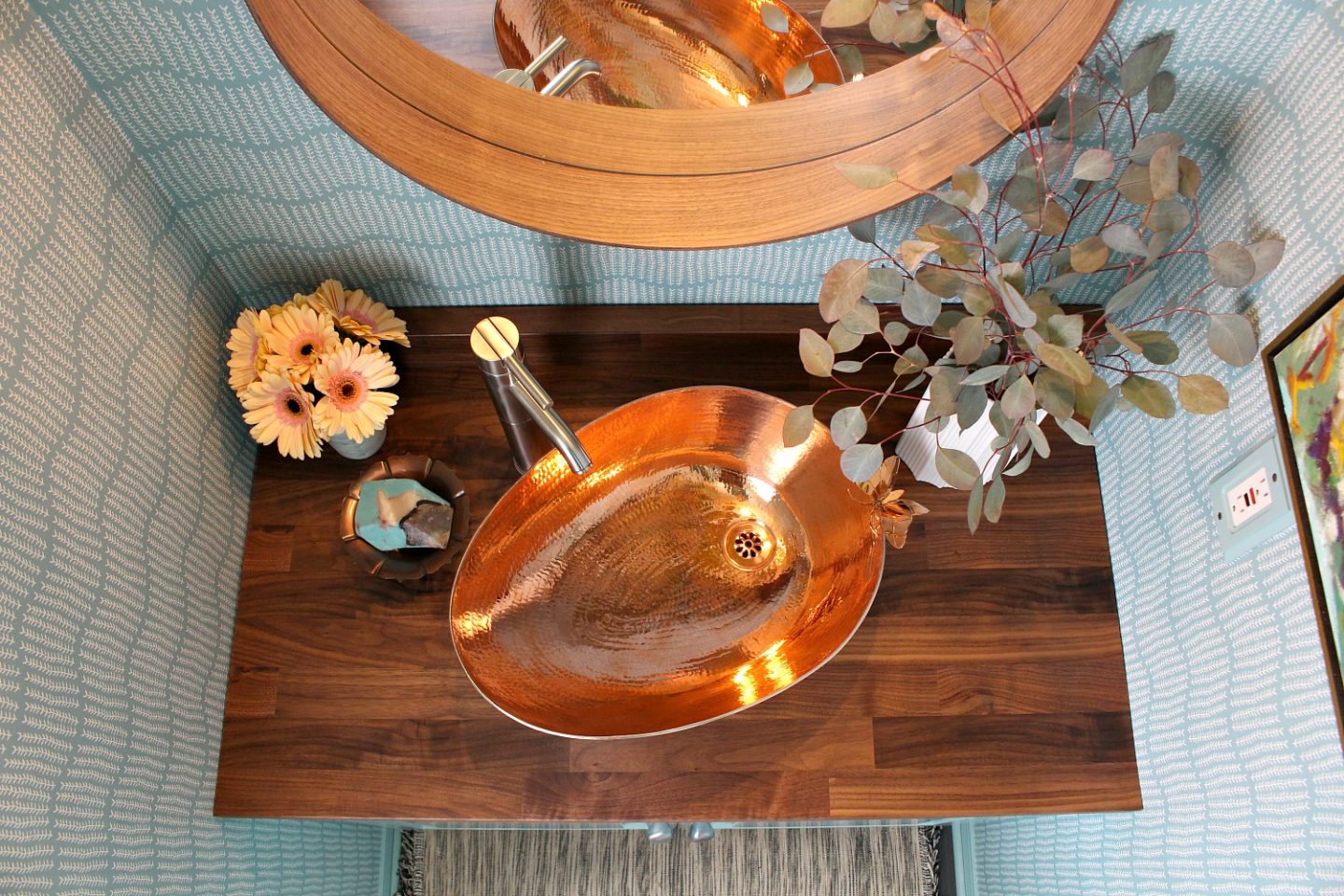 This Otomi Rose Gold and Hammered Nickel sink is what really helped me commit to a nature inspired design. Actually, the sink started the design because Thompson Traders generously offered me a sink and I immediately thought of the powder room – but it deserved a much prettier space. I had already committed to changing the light, but figured I might keep the updates minimal. But the sink inspired me to do more and it kick started this whole project! I wanted to design a space beautiful enough for a handcrafted piece like this!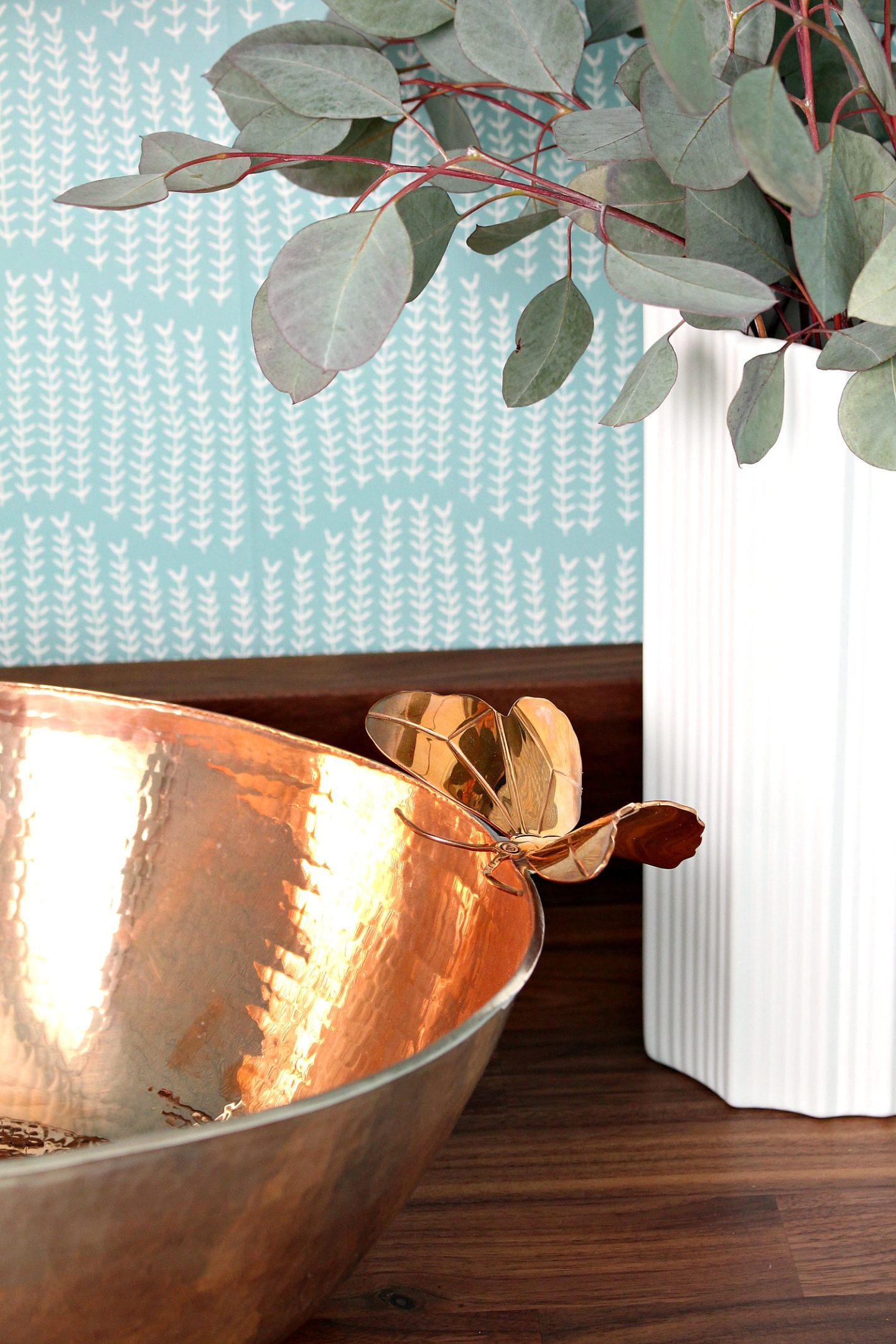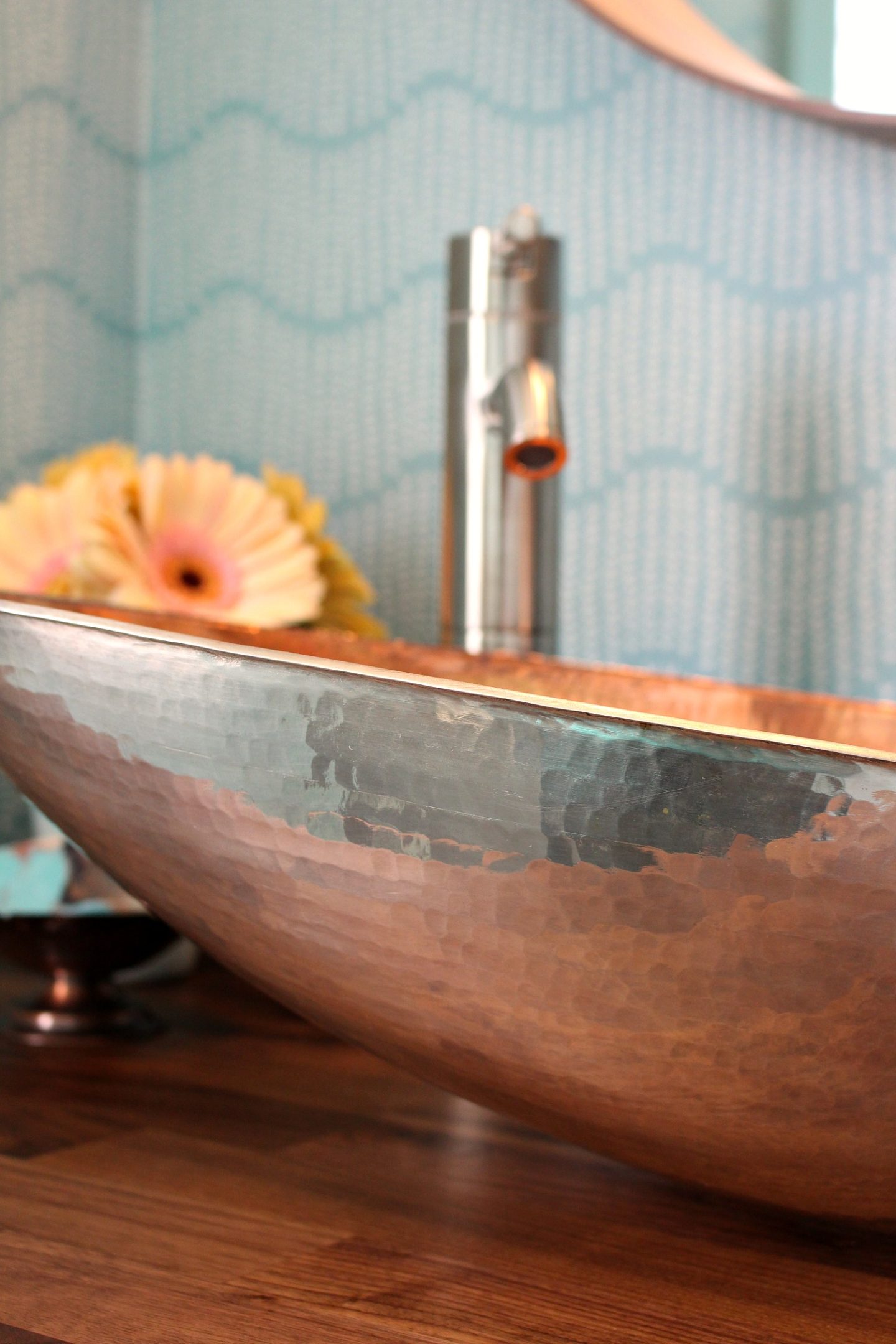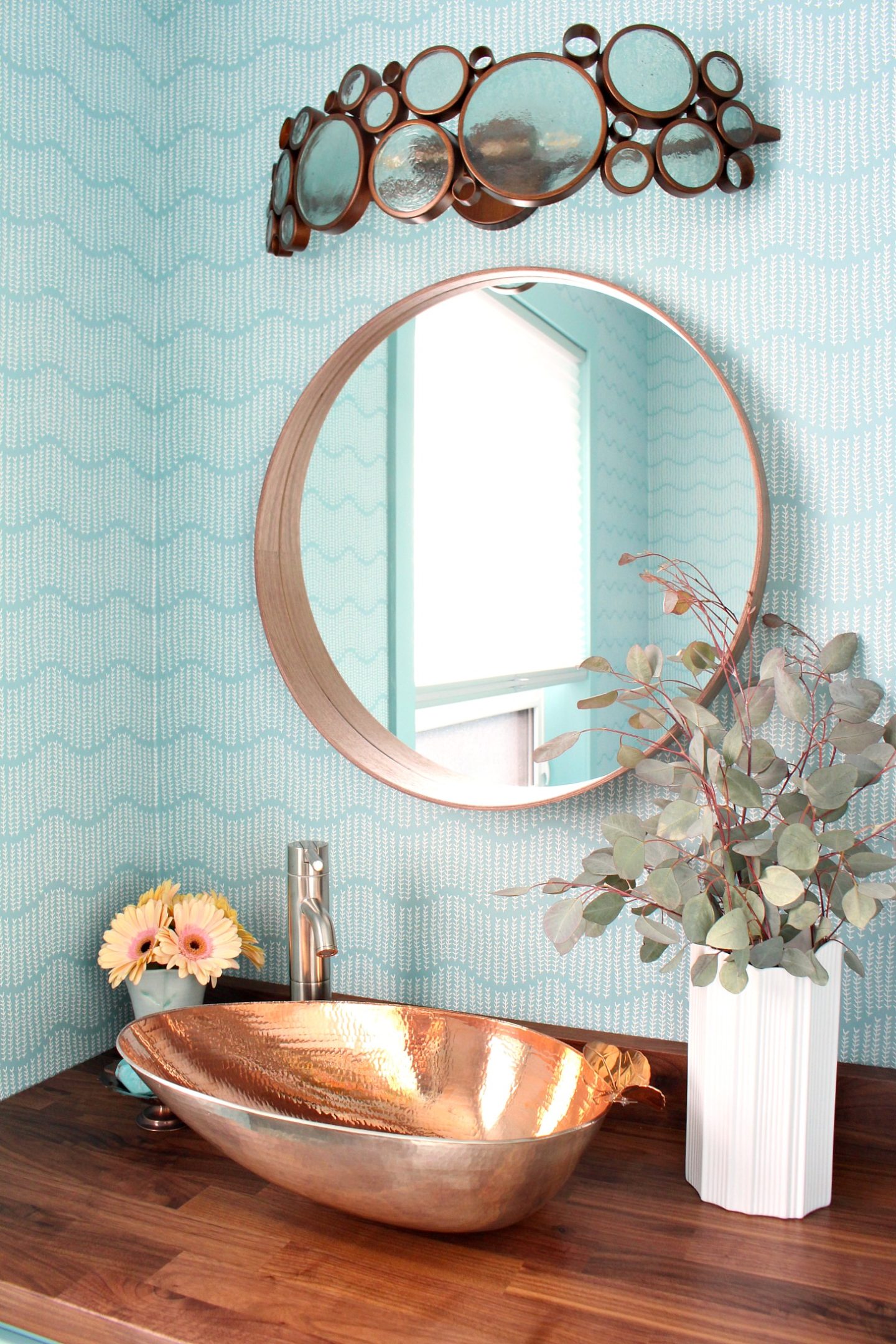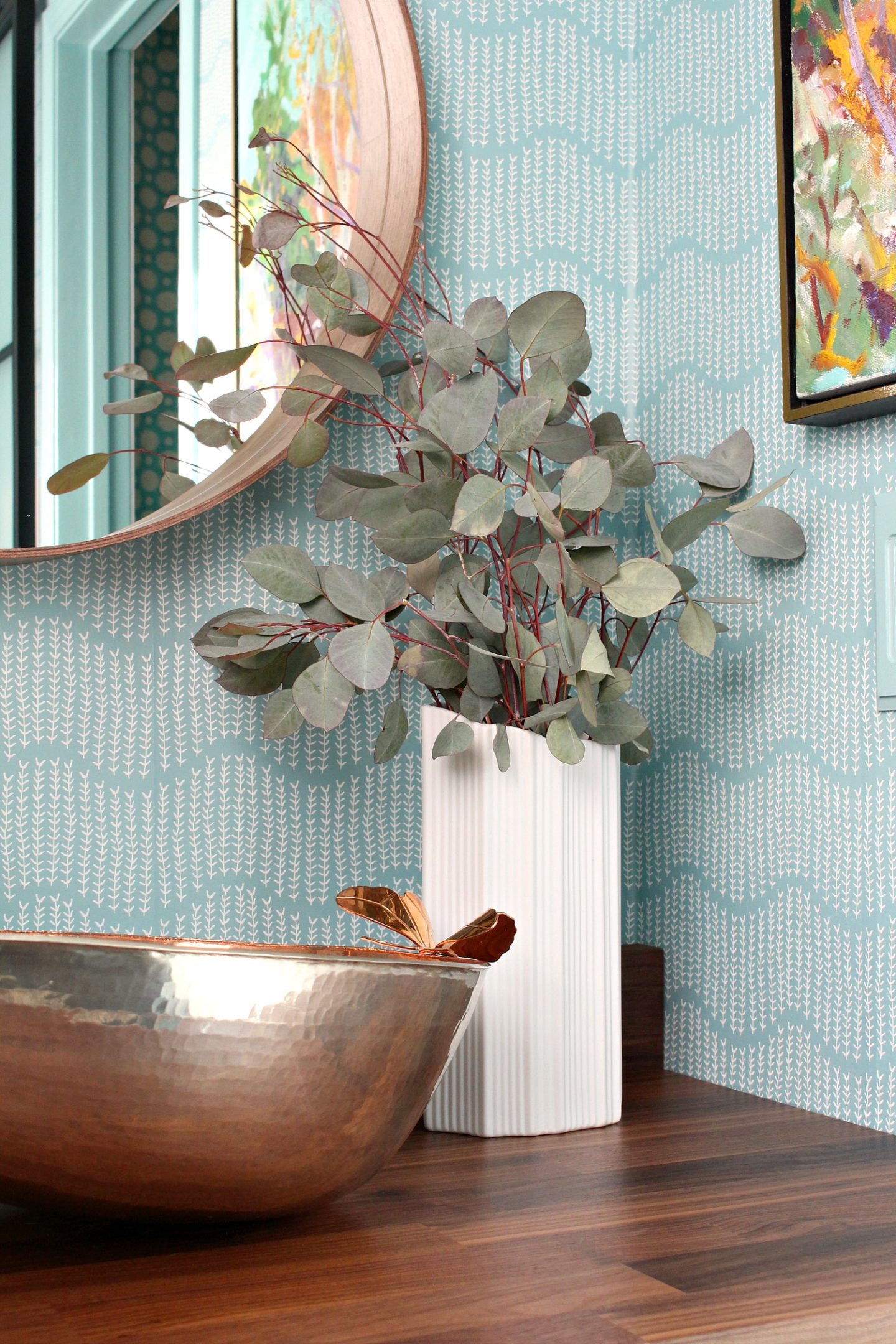 With my first vision for this space, I had a different copper sink picked out but then I spotted this sink! It literally made me change all of my plans – after already changing my plans. I loved the organic shape, the bright rose gold on copper finish, and the butterfly detail! That butterfly is so sweet and it just makes me smile. I'm not even particularly enamored with butterflies – I was just so drawn to this sink (and maybe now I am enamored with butterflies, haha). I think home should make you happy, so if a sink can make me smile it's a keeper. I was sent the matching copper drain too.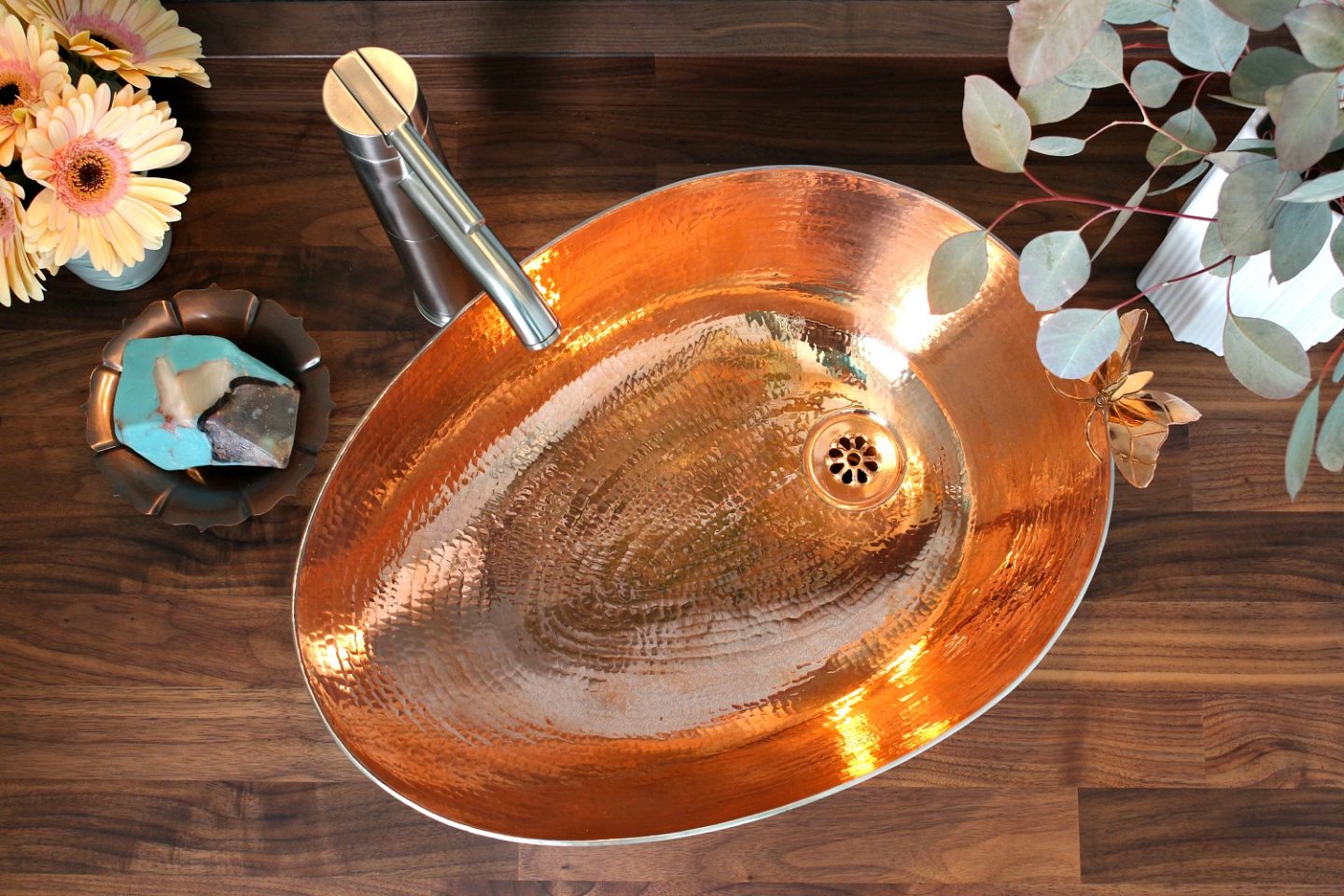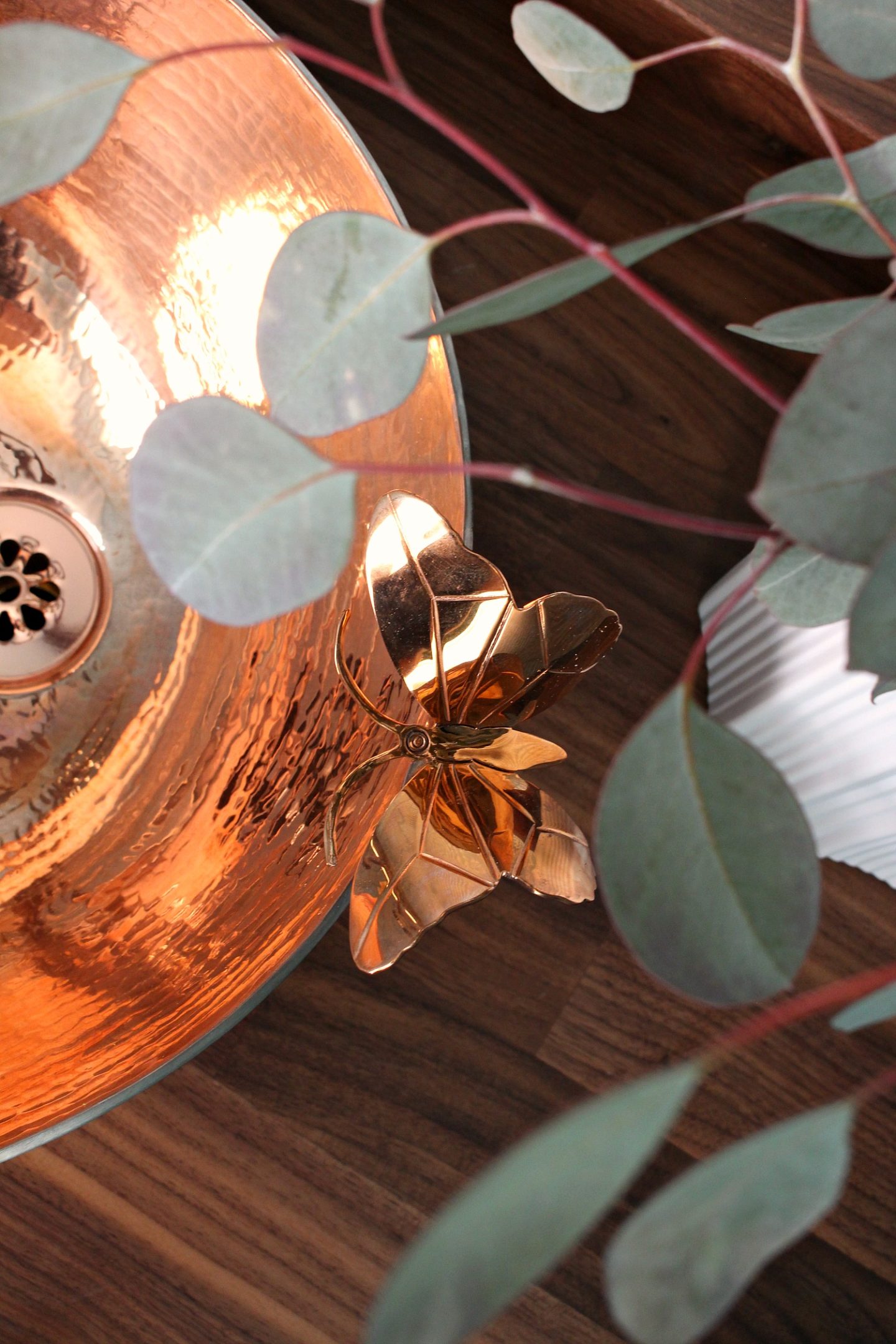 Because it's asymmetrical, it took us a solid two days to decide where to drill the hole. When I shared the mock up on Instagram, people correctly guessed that I'm a lefty because I positioned the faucet on the left. I chose this arrangement because the towel ring (the missing puzzle piece!) will hang on the left wall, and I worried that if we positioned the sink with the butterfly on the left, someone might catch a sleeve reaching over it for the hand towel. The butterfly is securely fastened, and not sharp (or delicate) at all, but I still worried. So the faucet and hand towel are to the left, opposite the butterfly. I know vessel sinks are a contentious issue for cleaning around but we installed one in the townhouse powder room and loved it! It's perfect for a room like this, which gets lighter use than a main bath.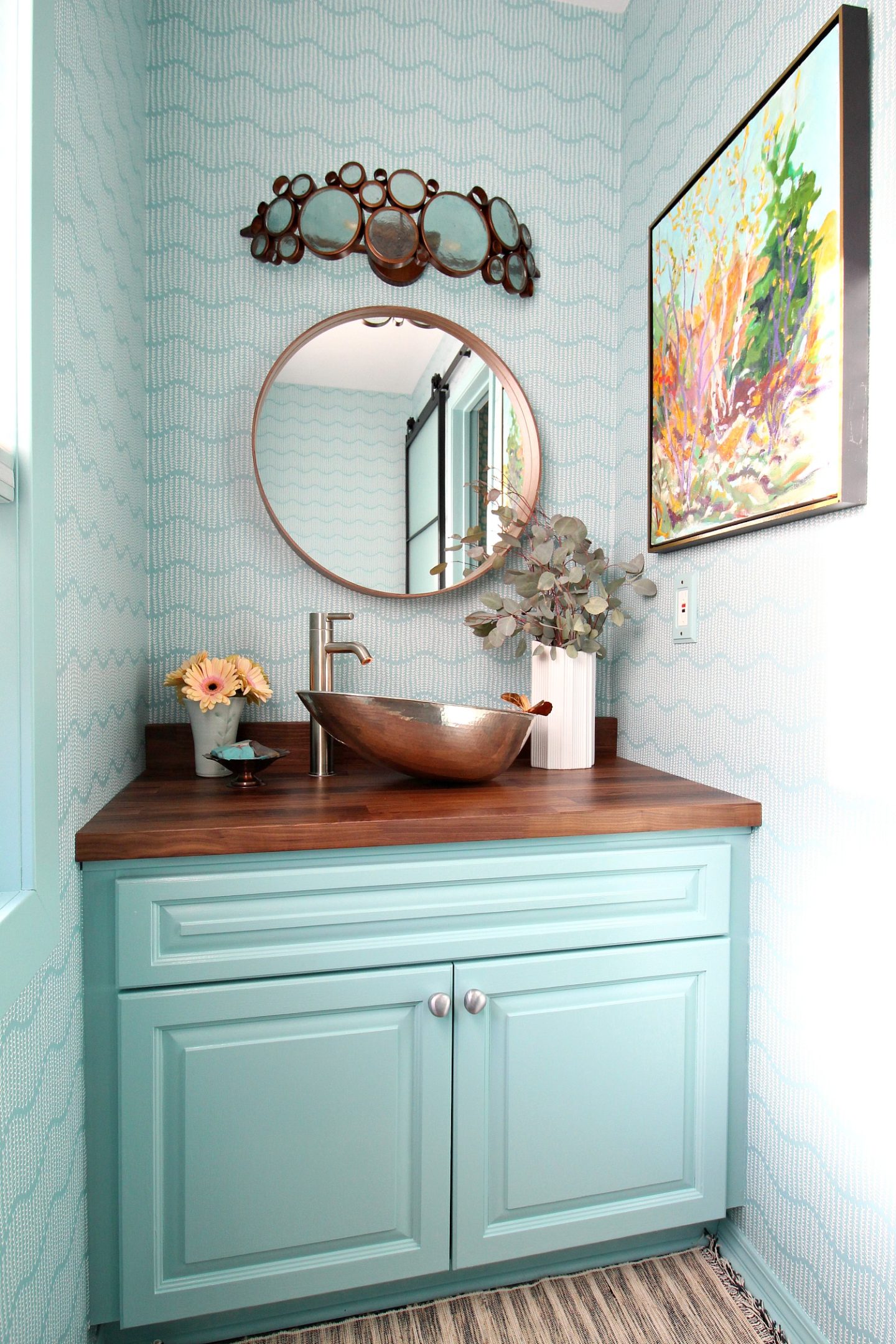 The Walnut Veneer Counter
The counter is the KARBLY walnut countertop (provided by IKEA) and I'll be sharing a full post about the quality, construction, and installation. IKEA has a variety of countertop options ranging from quartz, laminate and wood. The KARLBY wood countertop that I chose has the best of solid wood and veneer. With efficient use of natural resources, it offers the look and feel of walnut plus a durable surface that can be sanded – it's incredibly thick walnut veneer. I just love the warmth of walnut paired with cool aqua – and every room in the house has walnut furniture or cabinetry, so having it in the powder room really ties this space together with the rest of the house. I used the leftover from cutting the counter to fit to create a little backsplash, because the wall isn't 100% straight there and this backsplash hides that nicely. I contemplated installing matching side splashes so I posted a poll on Instagram – and you were divided almost 50/50, although no side splashes won by a tiny bit. Until I showed photos. Then I received a ton of messages from people asking to change their vote! For now, I left them off but we haven't caulked yet so I can add them. What do you think?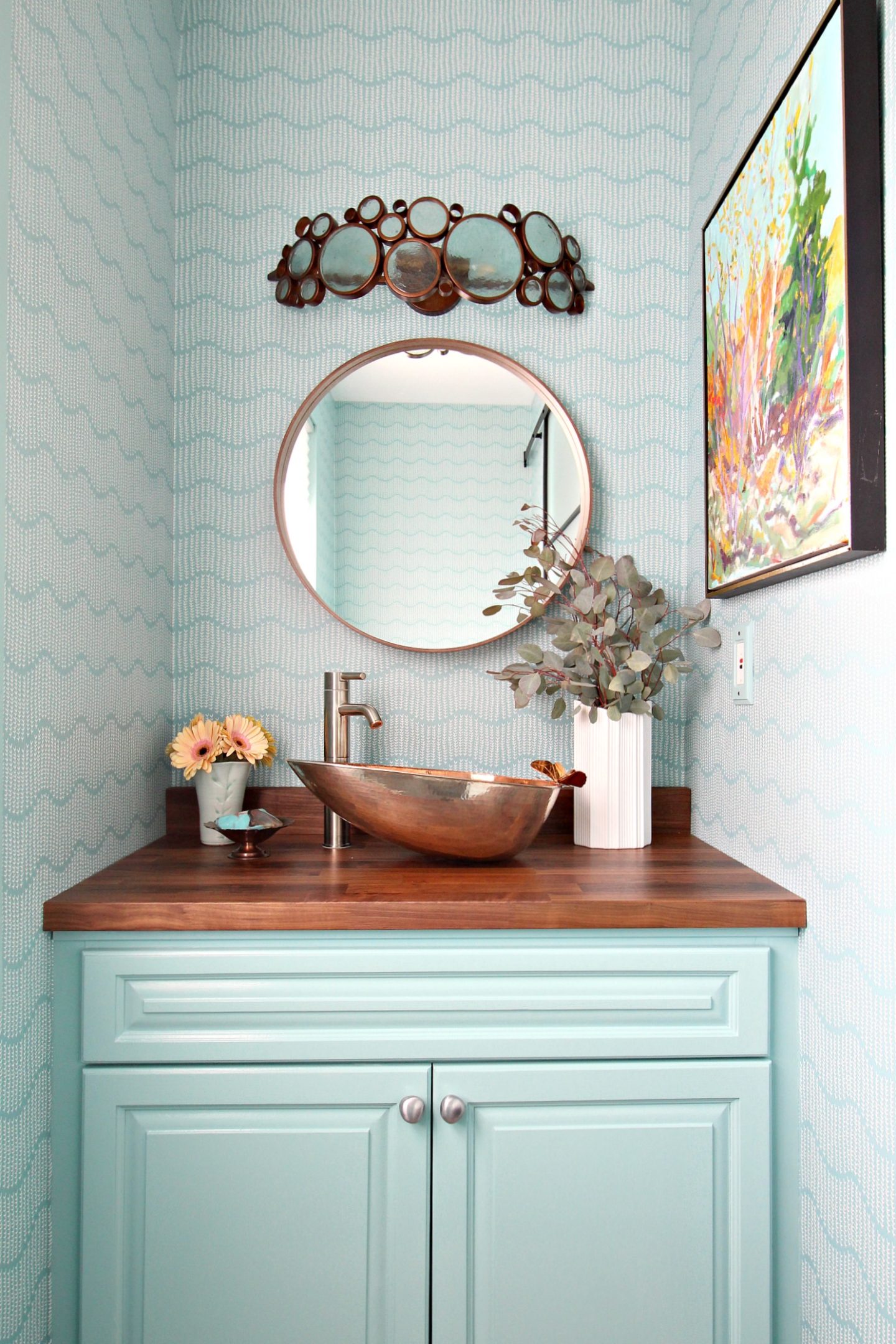 The Vessel Faucet
The faucet is the Contempra Vessel faucet (provided by Pfister) and I chose it because of the clean, modern lines. I deliberated between the matte black and brushed nickel finishes. At first I decided black, because black goes with everything. Then I changed my mind and decided to go with brushed nickel, my old favorite. When the faucet arrived, I tore into the box like a bear and was so relieved to see that it matches the outside of the sink perfectly. It's so beautiful and sleek, with a quality feel – the perfect complement to the handcrafted sink. We've had a Pfister faucet in the kitchen for five years and it still looks and feels brand new.
The Accessories
The towel ring didn't arrive in time for photos so I'll have to share an update when it arrives because I have some beautiful hand towels from Antiochia Home Linens to show off as well!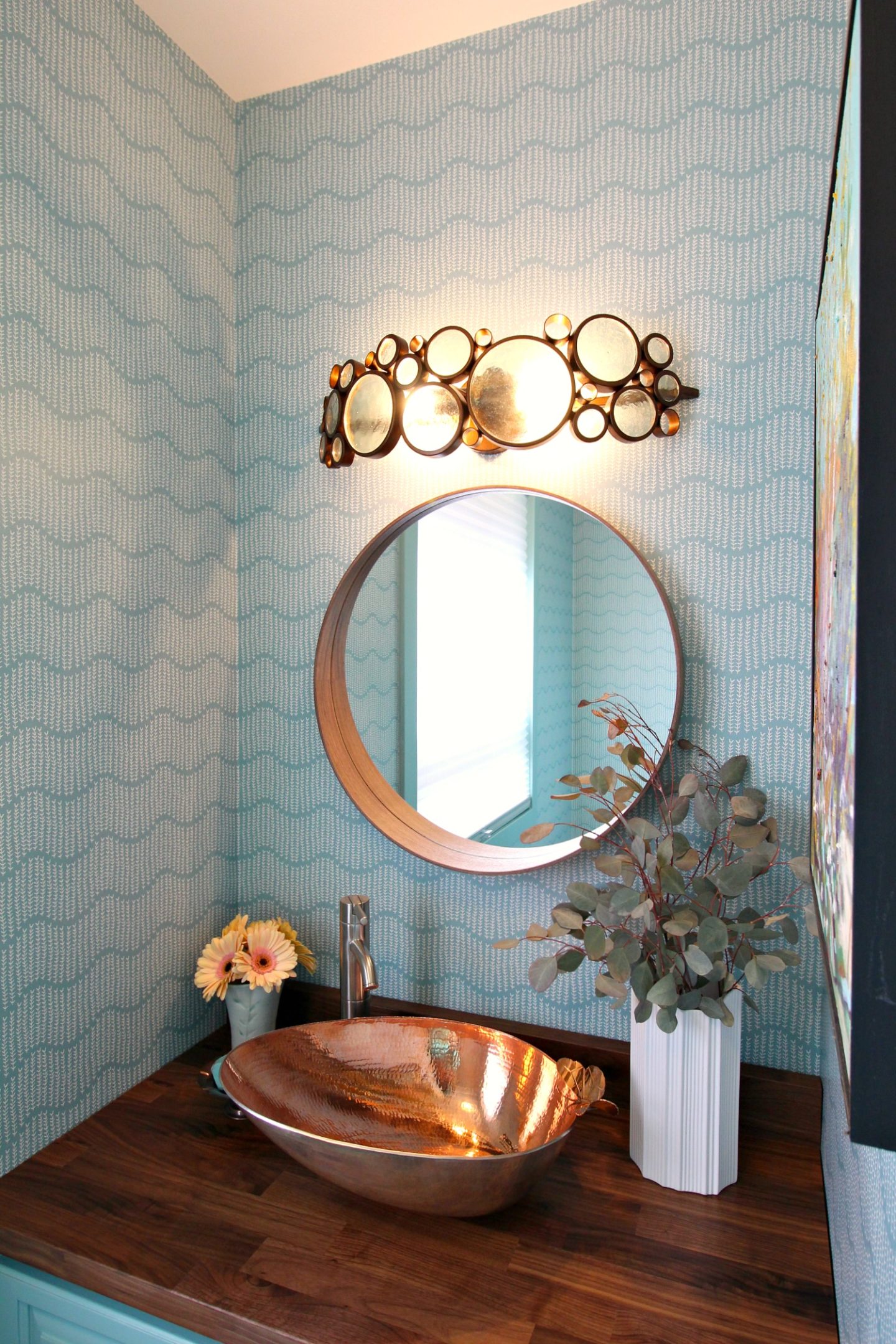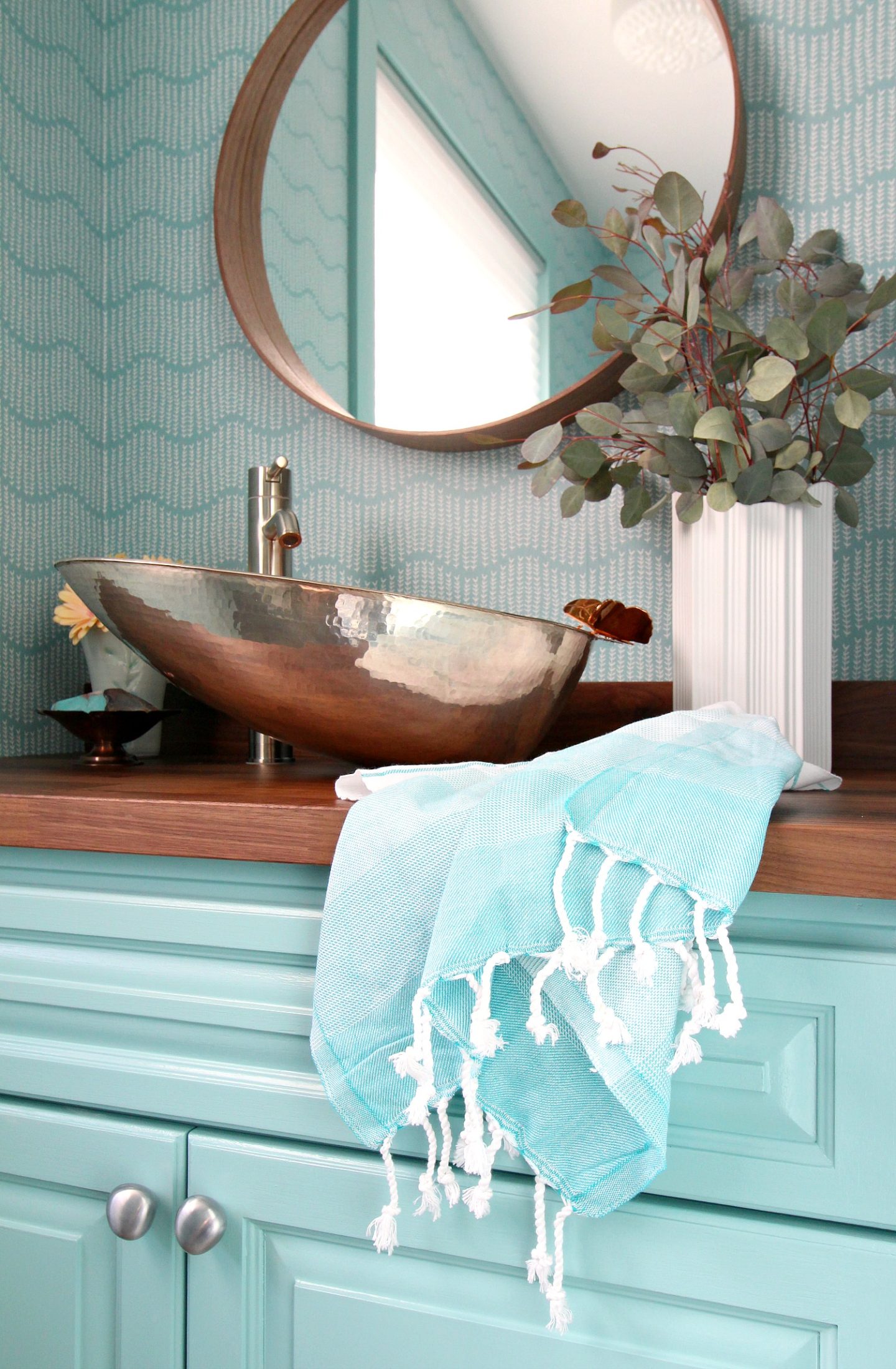 Accessorizing this space was fun, but I also wanted to keep it simple because the sink + wallpaper + art is already a bold look. The vessel sink made normal soap dishes look oddly low, so the night before photographing I went thrifting and just happened to find this copper craft footed dish. It's the perfect size for even a generous bar of soap.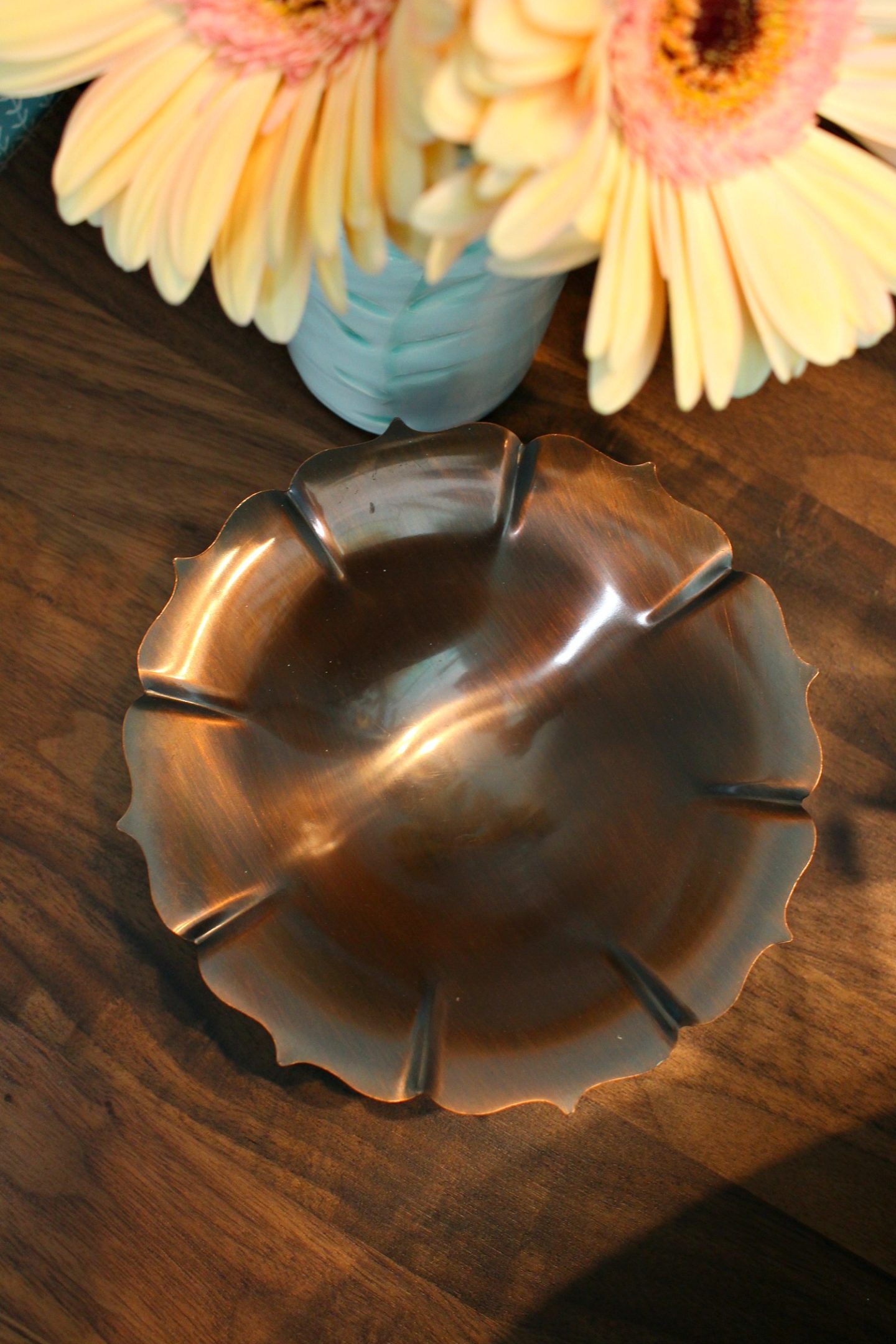 It matches the hammered ore finish on the light fixture so perfectly! And the flower shape is a cute complement to the butterfly, which is a happy accident. And then I found the little pottery vase – notice the sprig design and color? What are the odds…?! Clearly I needed to buy that as well!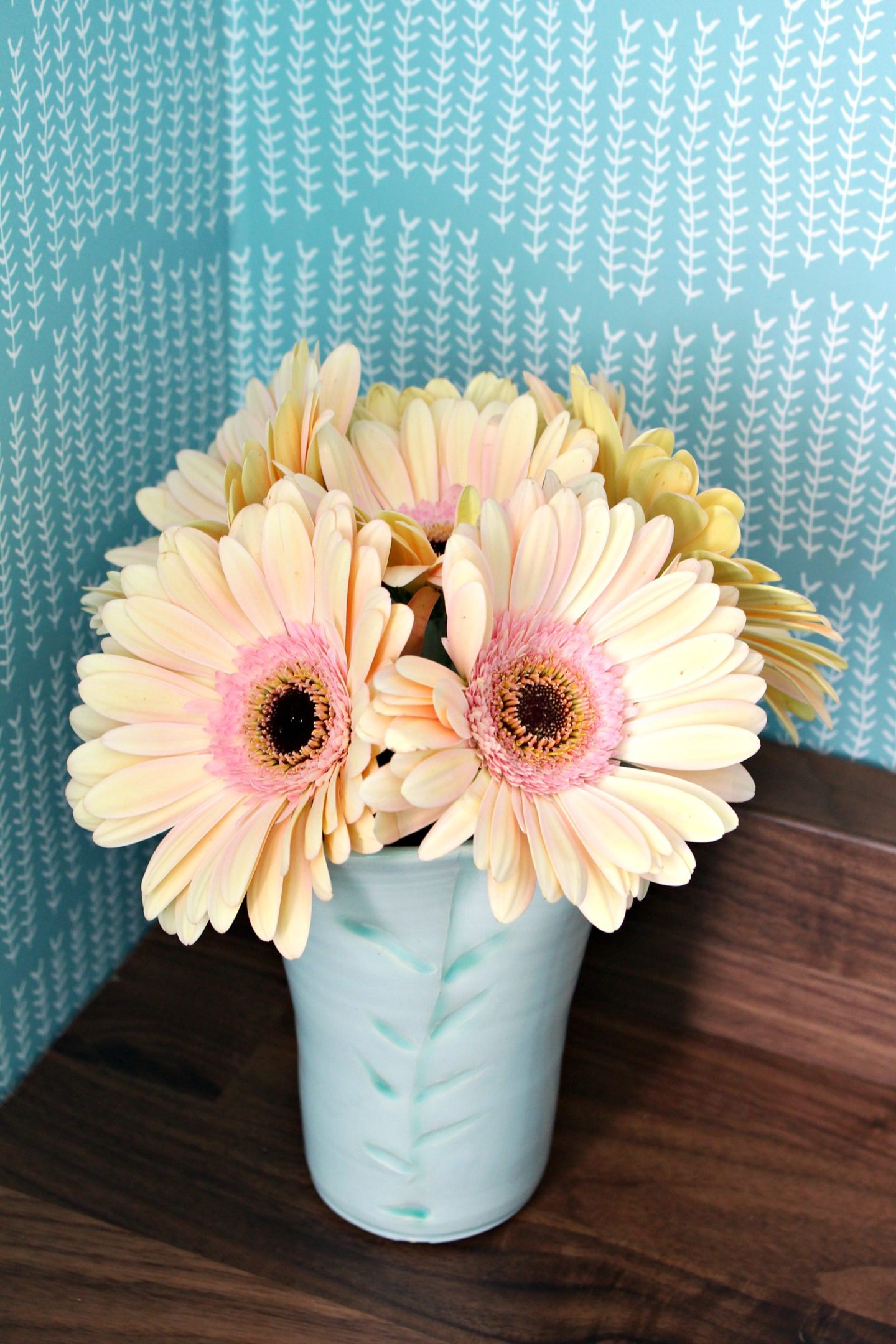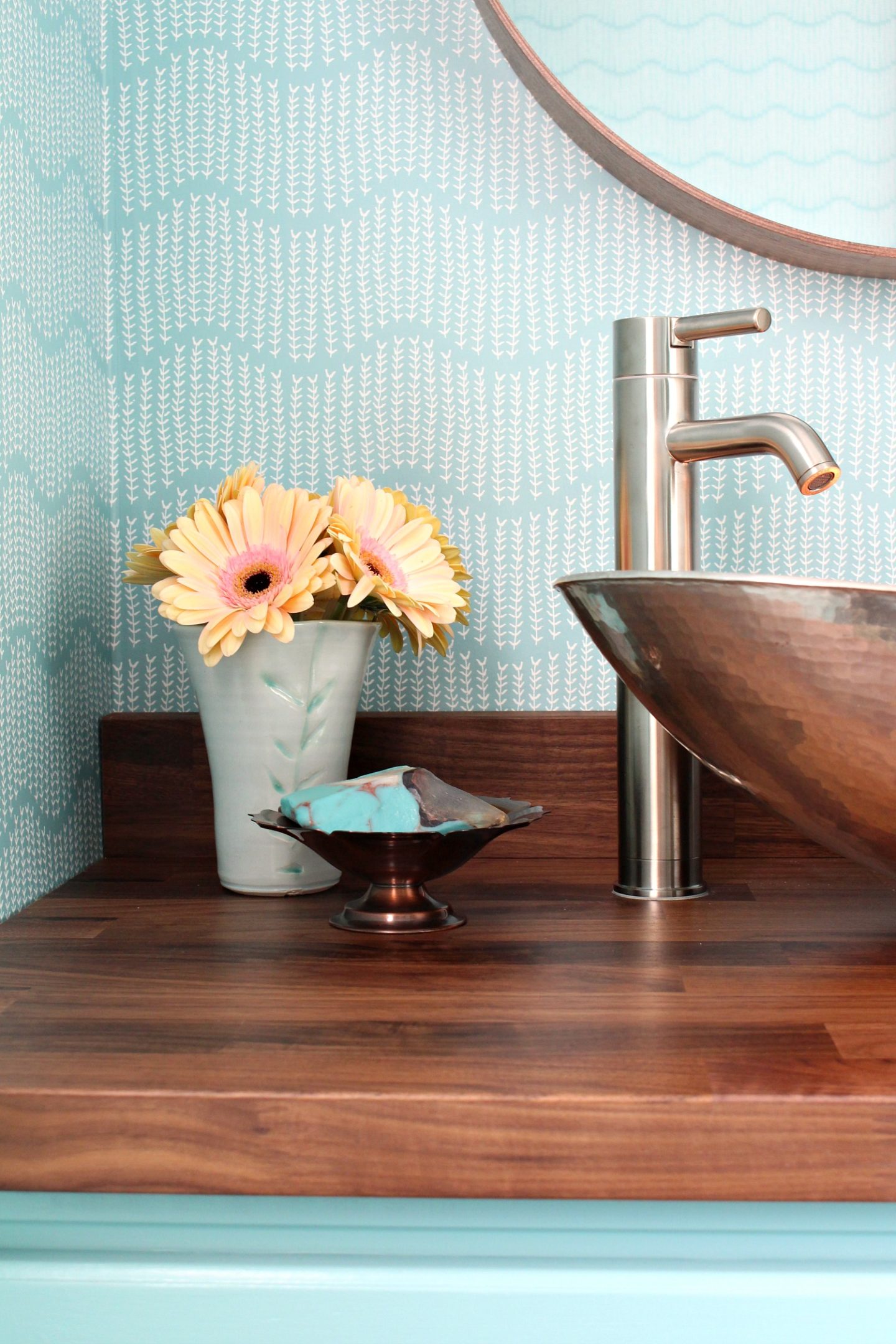 I also bought a large mustard yellow ceramic vase to pick up on the gold tones in the painting, but in the end I loved this simple white vase because the size and shape is striking, but it doesn't steal focus. But maybe I'll swap it with some more colorful accessories when the flowers and eucalyptus are toast.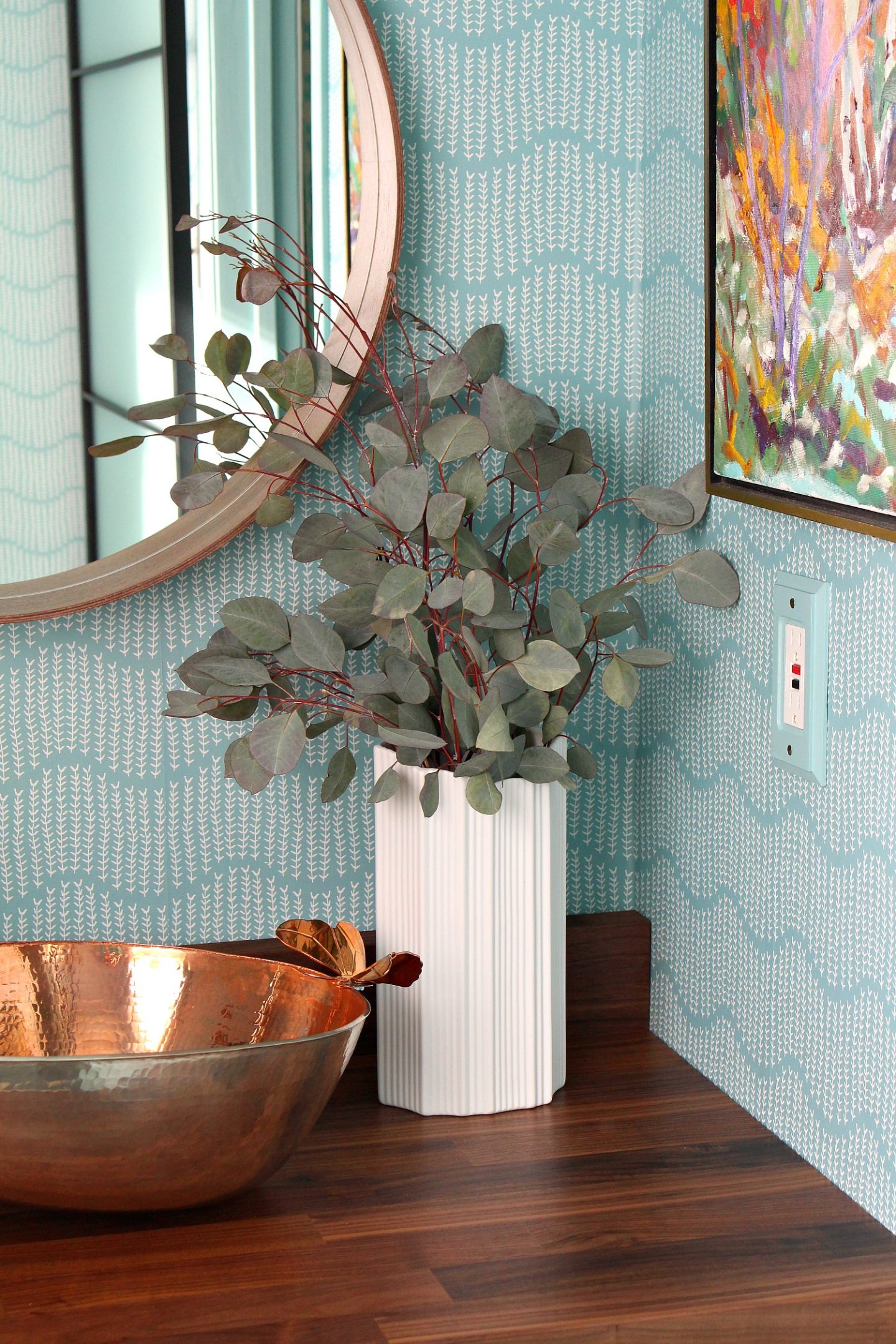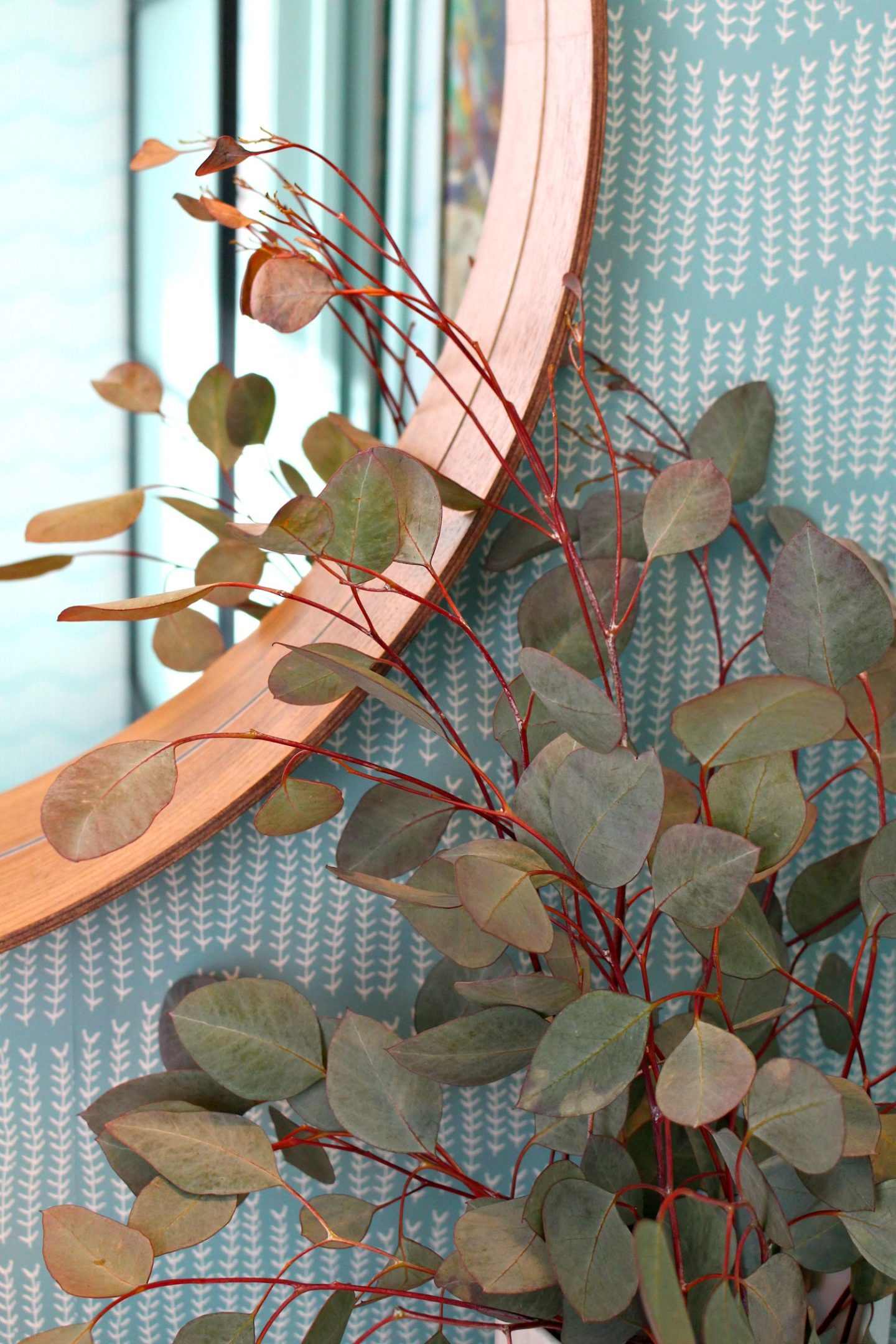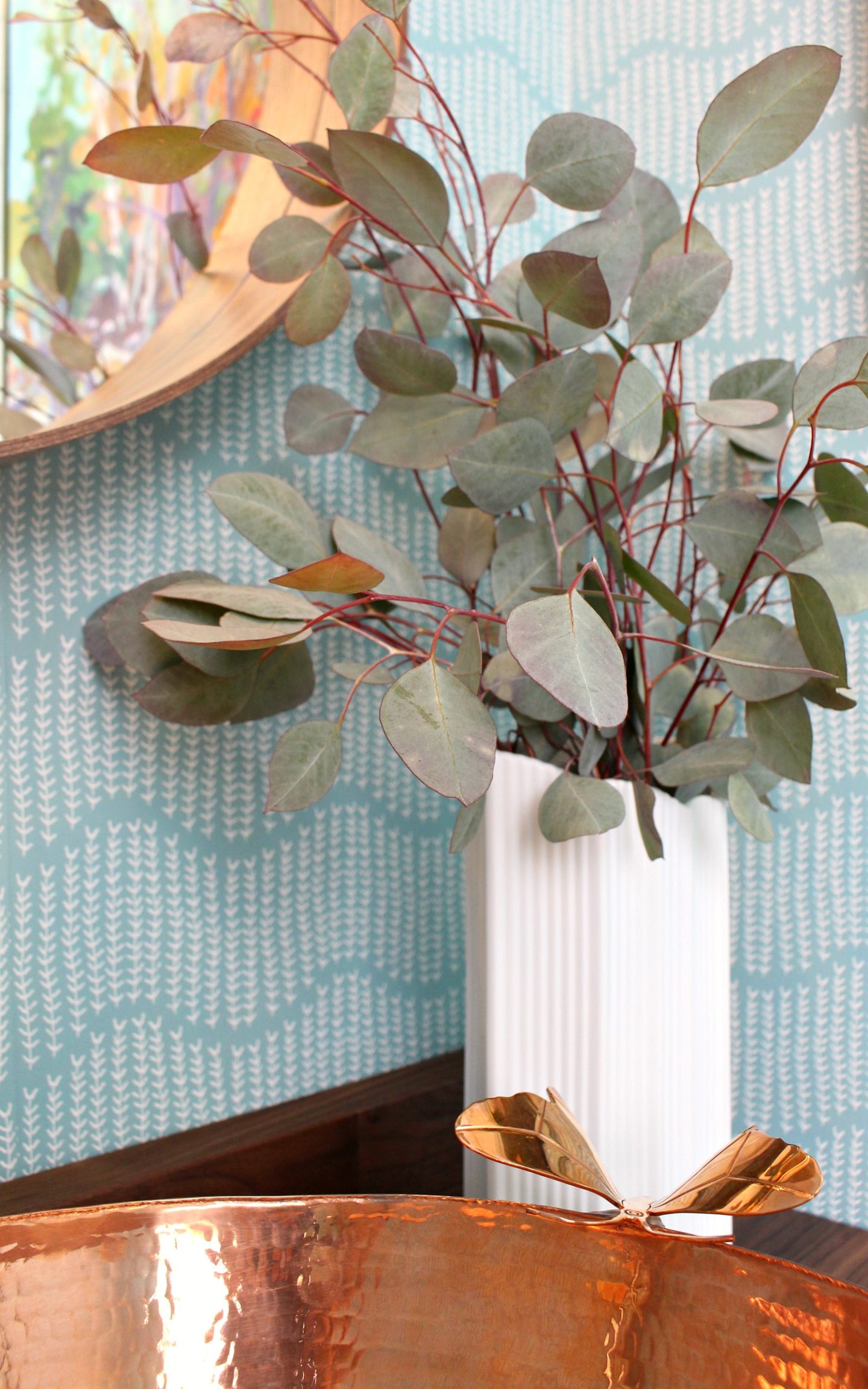 For the knobs I chose these beauties (KLACKBERG, c/o of IKEA). I originally thought I wanted something boldly colored, or maybe bright copper, but, like with my paint choice, I didn't want to pull focus toward the cabinets. I love these knobs because the silver matches the outside of the sink and the faucet, and they have an organic shape and feel – like a stone, which subtly picks up on my nature inspired theme. But they're still simple. You might have also spotted the little rug – it's the TAULOV (c/o IKEA). This jute and cotton flatwoven rug is the perfect petite size and adds a little warmth and texture underfoot.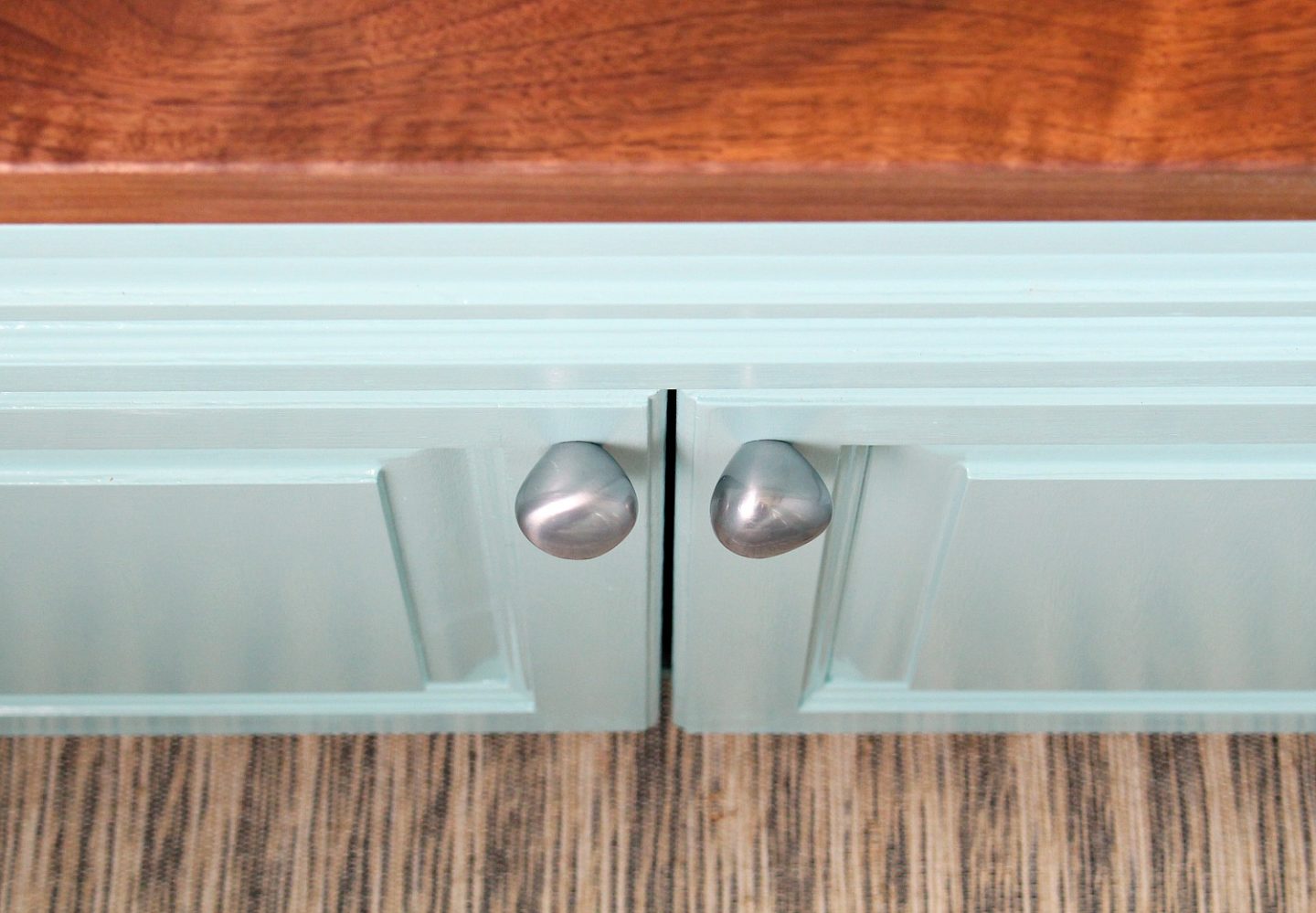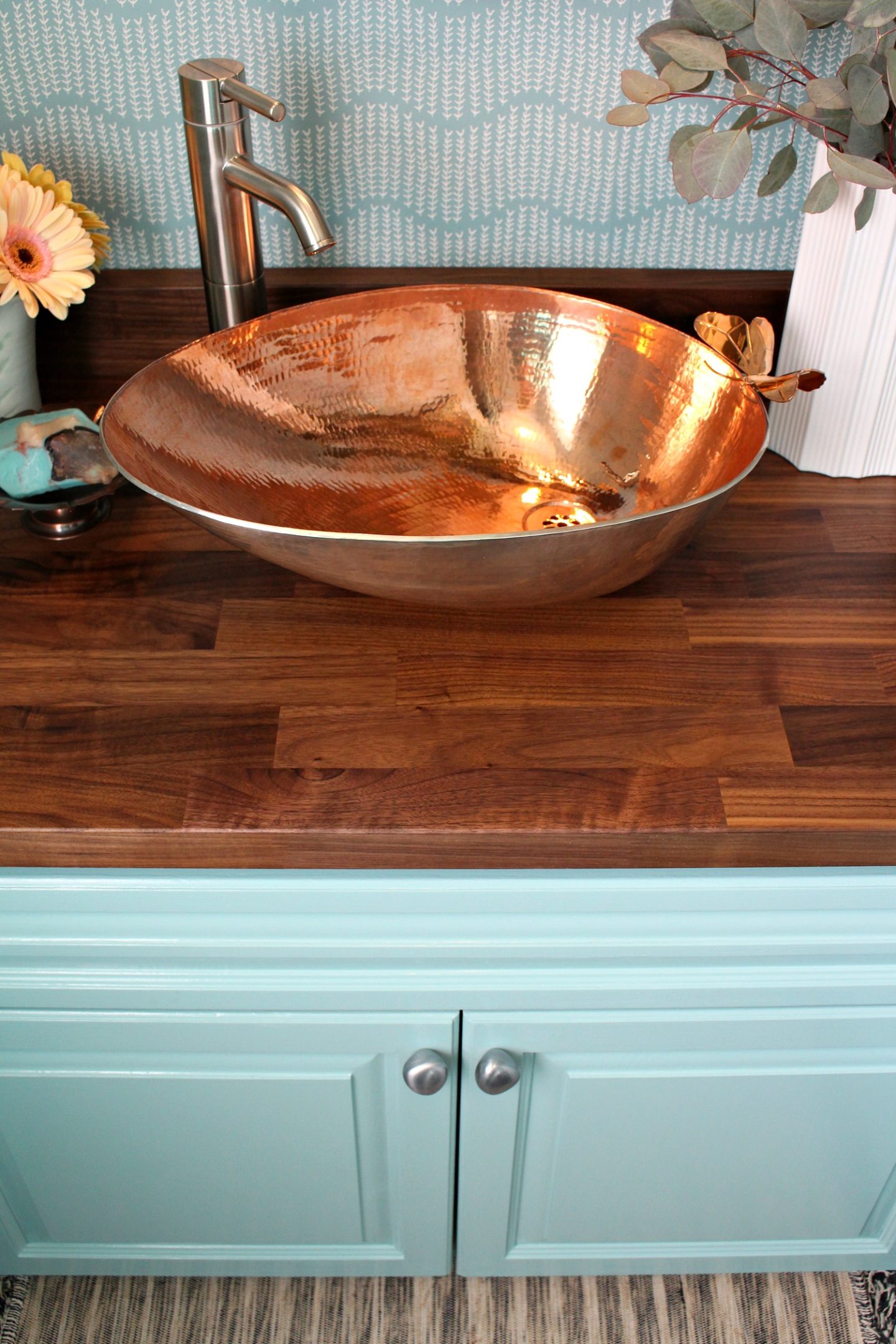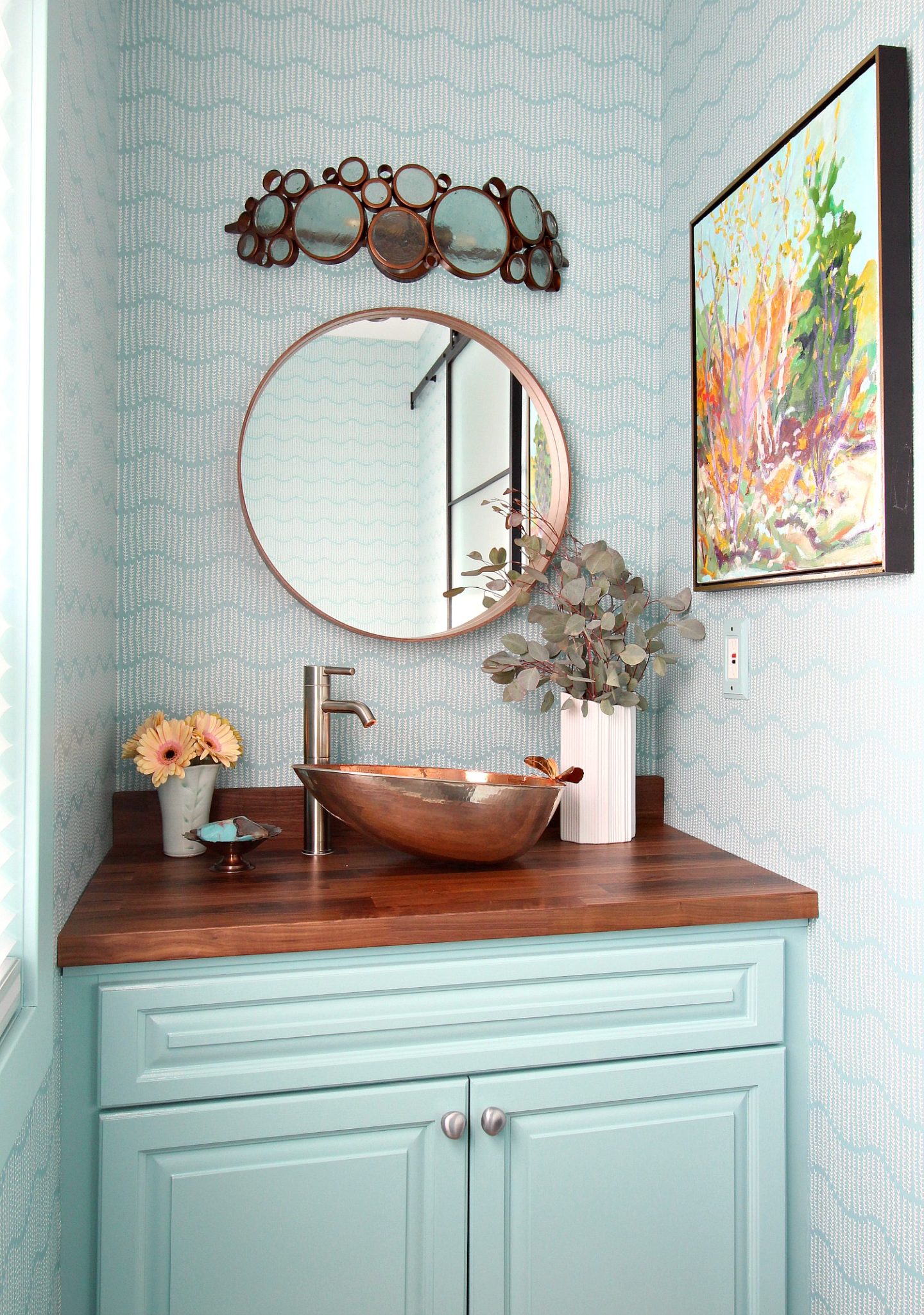 The Barn Door
One issue with this bathroom is the abundance of doors. To reach the space, you enter the laundry room through a door that swings into the laundry, and then open a door that also swings into the laundry room to enter the powder room. Basically two doors open into the tiny laundry room. The powder room door used up so much space in the laundry room, and often there was a dog bed or laundry basket in front of it, so guests had to do some rearranging to close the door. Many just secretly crept into our main bath (argh I hate that!), so I dreamed of a barn door or pocket door to save space. When The Home Depot Canada asked if I'd be interesting in the Cartier Black Metal Barn Door Kit with Frost Insert, I jumped at the chance! I love the modern style and the black ties in all of the welded furniture around the house – it's the one item I didn't choose, but I would have chosen it anyway!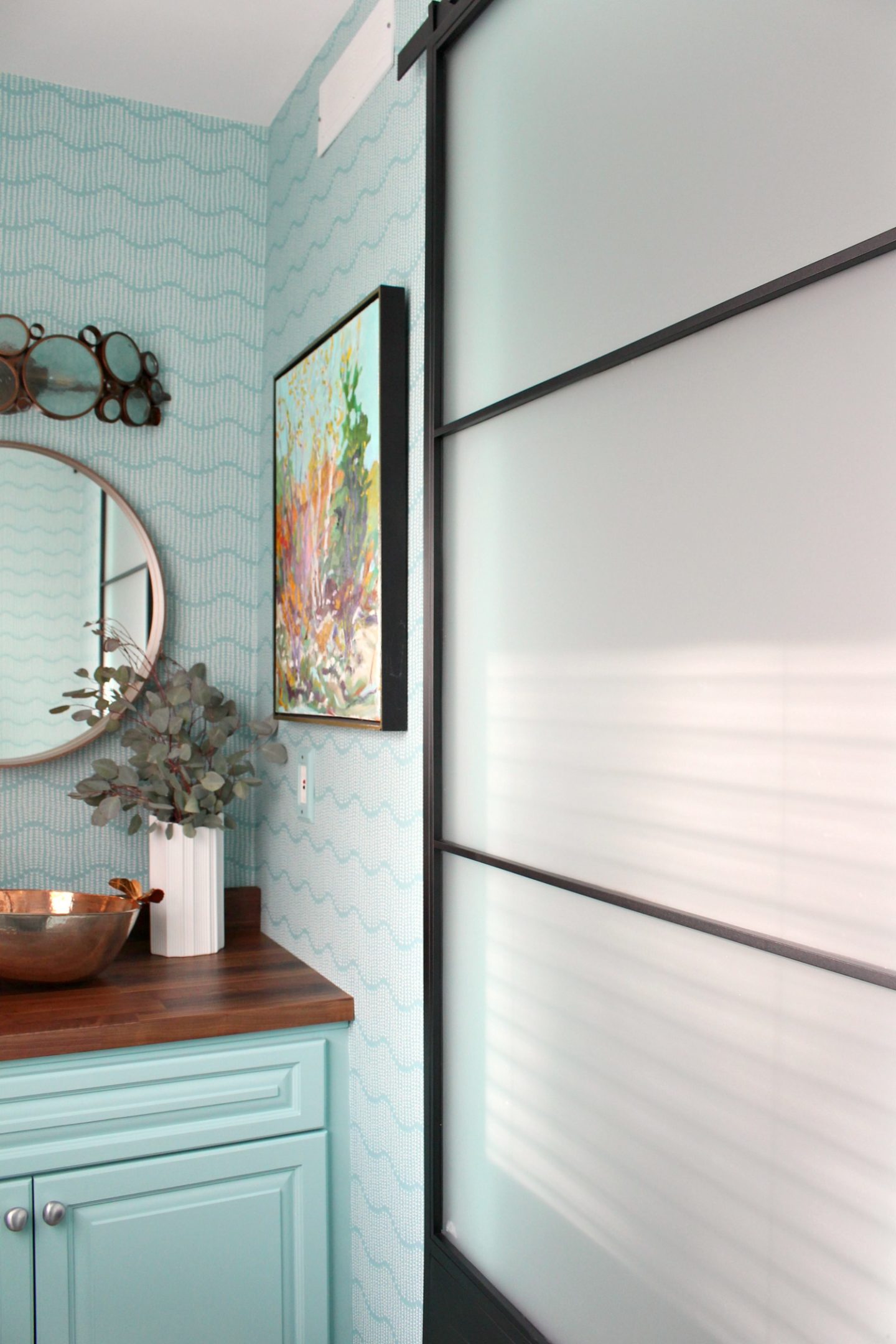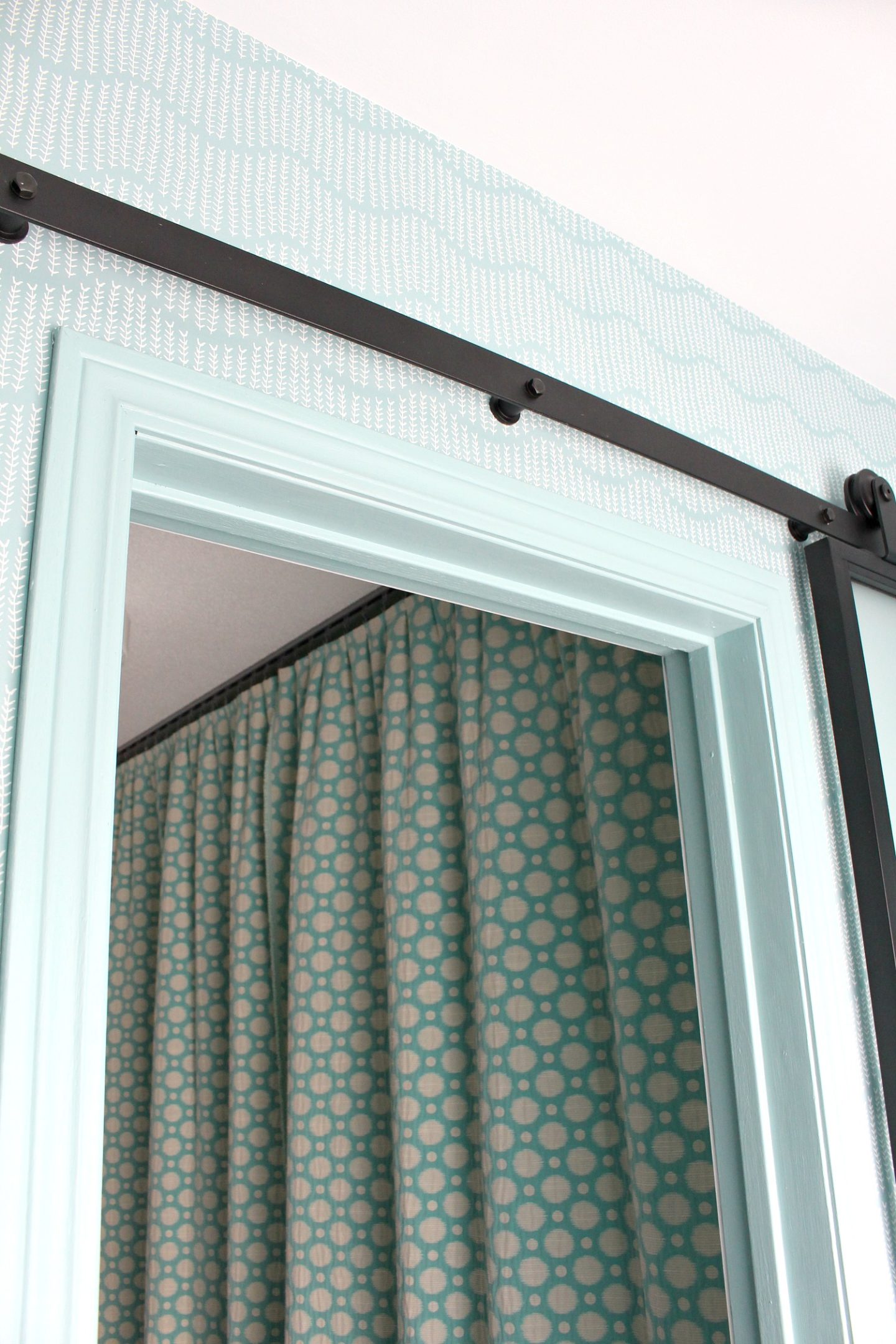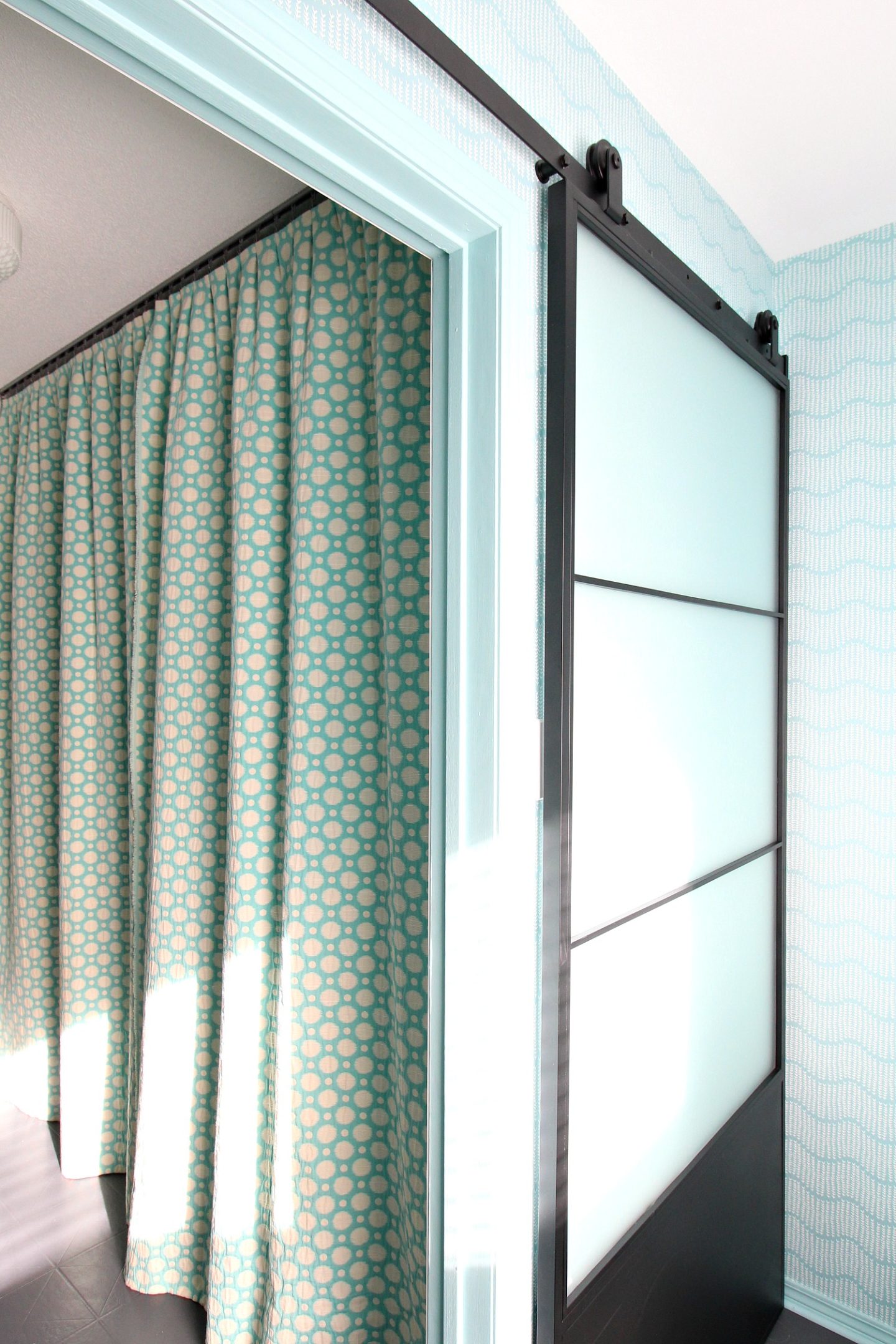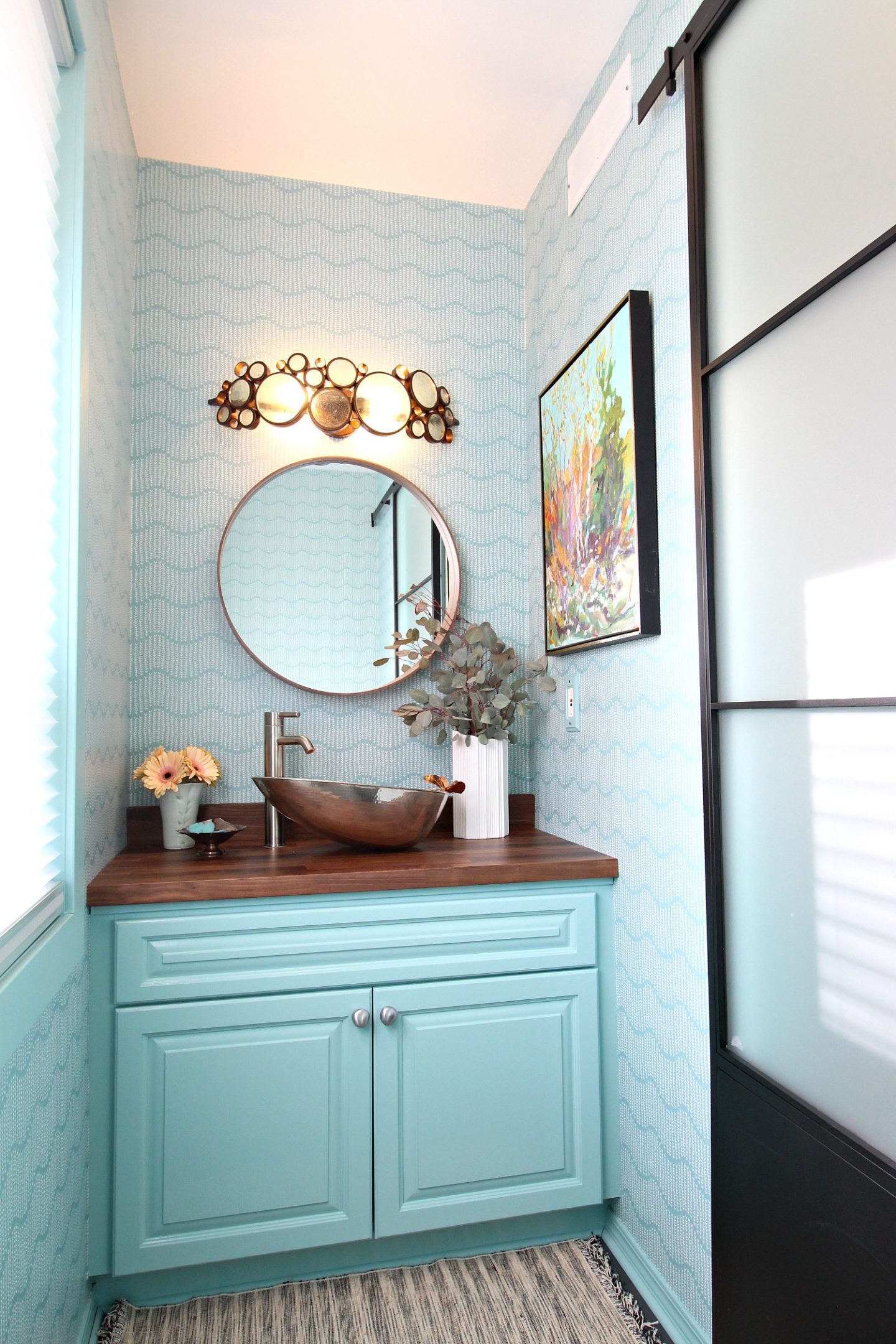 The frosted glass offers total privacy, but also lets light into the laundry room if it's closed. It hugs the wall so you absolutely cannot see into the bathroom at all – there's total privacy! For anyone totally weirded out about using it, we moved the door handle with the privacy lock to the laundry room door so guests can still lock that door if they really worry we'll burst in on them, lol.
The Toilet
I know there was a time in my life when I wasn't excited by a new toilet, but I don't remember it, lol. This toilet is the Pfister Halifax (provided by Pfister) and I love that it looks like a skirted toilet, but was much, much easier to install. In a powder room, the toilet is definitely a major focus which is why I'm so thrilled that we now have a toilet that is modern and sleek – and doesn't have that commercial washroom vibe our old one had.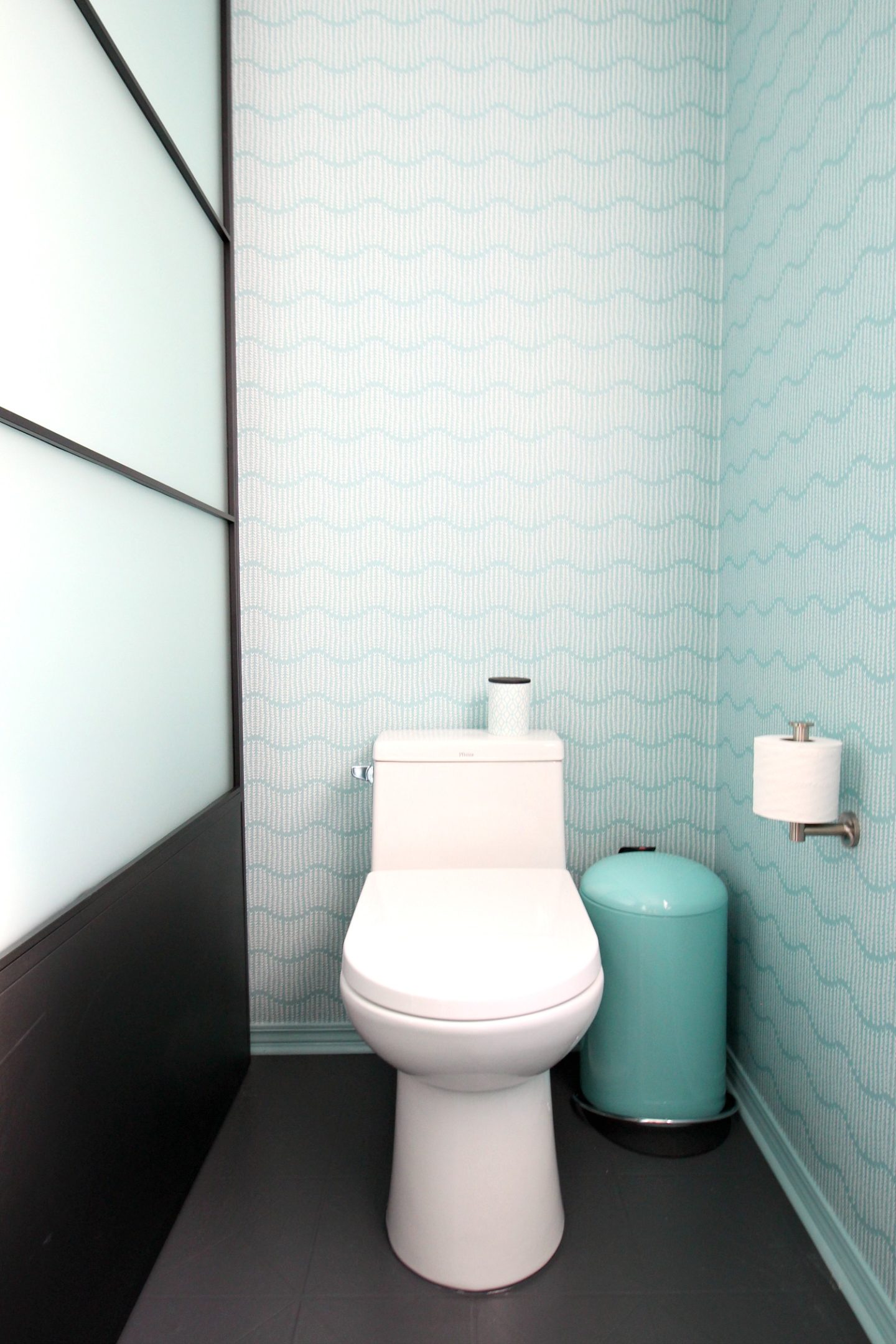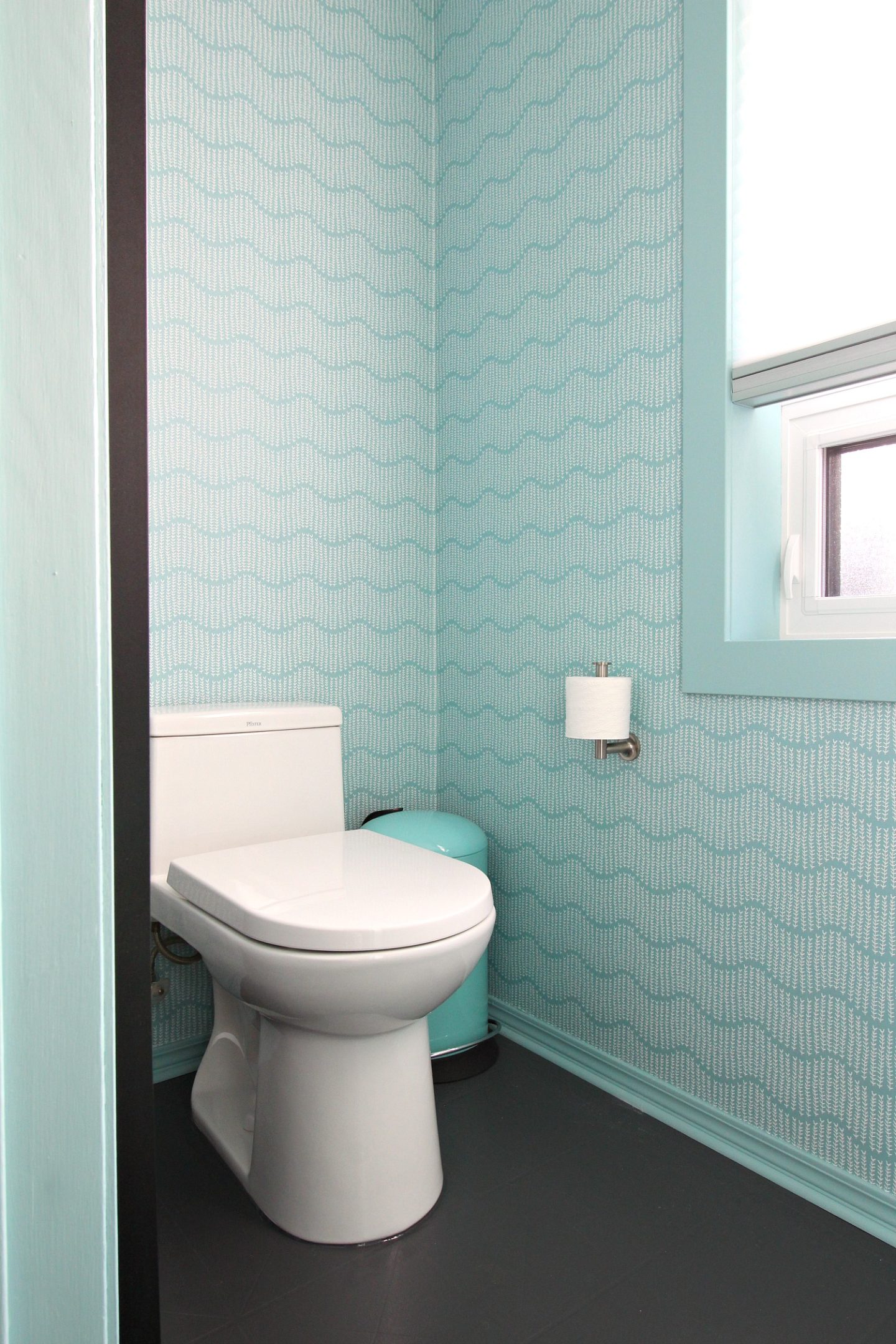 The Brands That Collaborated on this Powder Room Makeover
I'm so excited about how this space turned out! It has so many of my favorite things and it's definitely a little jewel of a space now. I love how it's inspired by nature – and Bert's painting – without being too obvious of a theme. I hope you enjoyed seeing this transformation! I have to say a HUGE (!) thank you to the amazing brands who collaborated with me and provided products for the makeover: Spoonflower, IKEA, Pfister, The Home Depot, Lamps Expo, Thompson Traders, and Antiochia Home Linens. Other than the barn door (which was a happy accident), I chose everything in this space. I'm so grateful to be able to work with companies who help me bring fun and happy design ideas to life. I'd also like to thank the One Room Challenge, and media partner, Better Homes & Gardens, for inspiring me to start – and finish! – this turquoise and copper powder room makeover. Stay tuned for detailed how-to posts and some secrets behind the design.
Sources
Sprigs on Ocean Wallpaper (c/o Spoonflower) | Varaluz Fascination Light Fixture (c/o Lamps Expo) | Rose Gold Otomi Sink (c/o Thompson Traders) | Cartier Black Metal Barn Door Kit (c/o The Home Depot Canada) | Walnut KARBLY Counter, Walnut STOCKHOLM Mirror, KLACKBERG Cabinet Knobs, TAULOV Rug (c/o IKEA) | Contempra Towel Ring, Contempra Vessel Faucet, Halifax Toilet (c/o Pfister) | Paint Color: Lap Pool Blue (Behr) | Turkish Hand Towel (Antiochia Home Linens) | Vases, Soap Dish (Vintage) | Gem Stone Soap (See a DIY Version Here)
P.S. Don't Forget to Pin for Later!