I really like the look of natural garland (in past years, I've made a natural evergreen wreath, used natural evergreen and cedar as a makeshift mantle garland, and even made easy dried orange slice garland), but my house is really dry right now. It's been bitterly cold, so I'm permanently camped out in front of the wood burning fireplace, lol. I've been keeping toasty, but the downside is that natural garland doesn't last as long as I'd want in dry heat like this. I'd like to experiment and see if I can get it last longer, but in the meantime I wanted to quickly add a little (faux) greenery to the mini fireplace mantles and the kitchen window. I went around to all of the home improvement and decor stores to pick up some lighted garland, and I was really surprised how expensive it is. I'm talking $30-60+ for faux garlands with lights and some decoration – and I would have needed at least three, maybe four. I hit up the dollar store instead and found pretty cute garland for only $3.50 (!). I bought two strands for the kitchen and one strand for either side of the fireplace. I added my own lights, some ornaments, etc. and I ended up creating my own lighted garland for less! And I can dismantle my dollar store garland DIY and re-use it next year. It's on a very sturdy, bendable wire base so I can use it to make wreaths or wrap around railings and easily add new baubles and lights to update the look. I like when holiday decor is flexible and usable in many ways. So expect to see this dollar store garland DIY recycled next year, but here's how I used it this year in the kitchen and living room!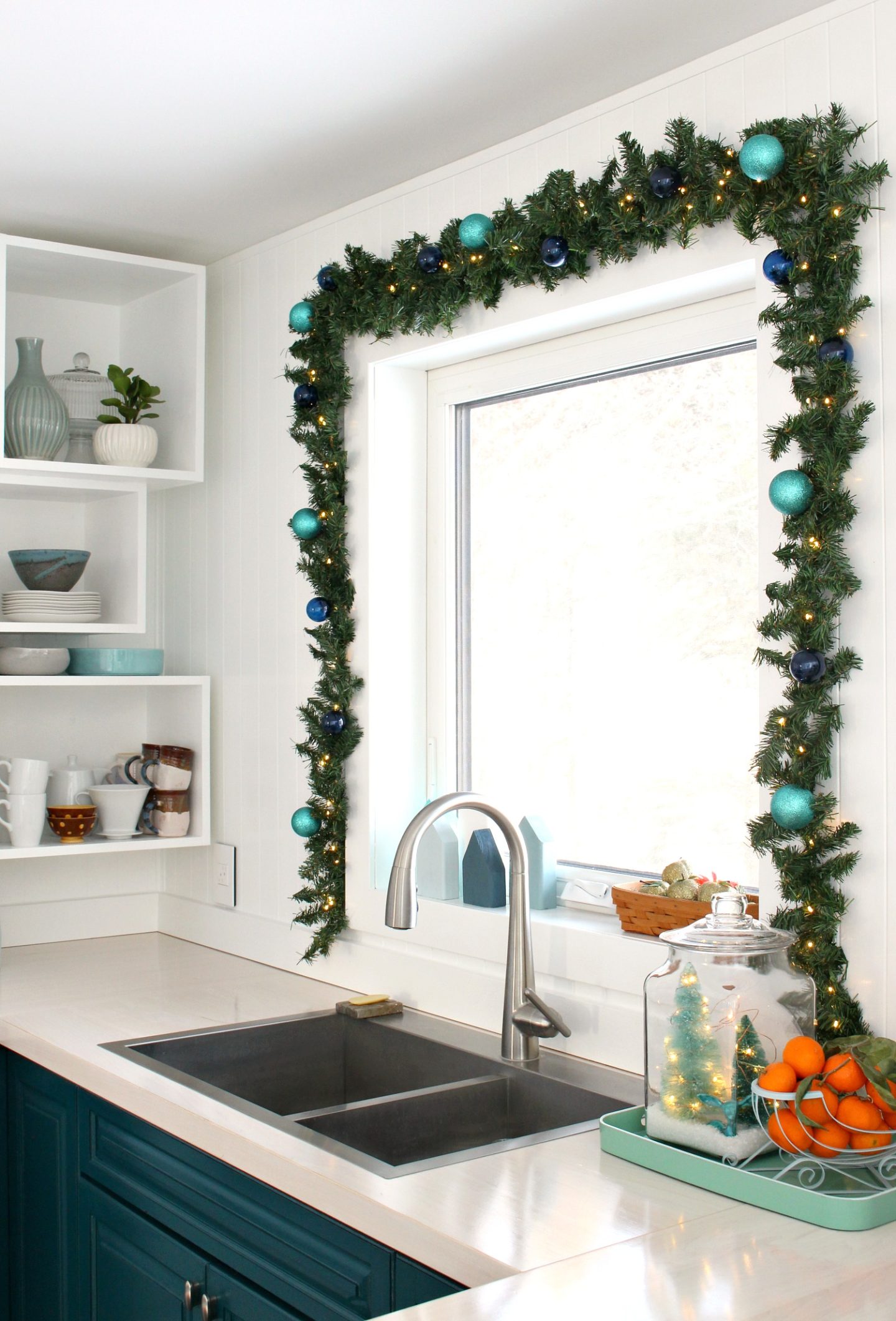 Here's What I Used For My Dollar Store Garland DIY Around the Kitchen Window: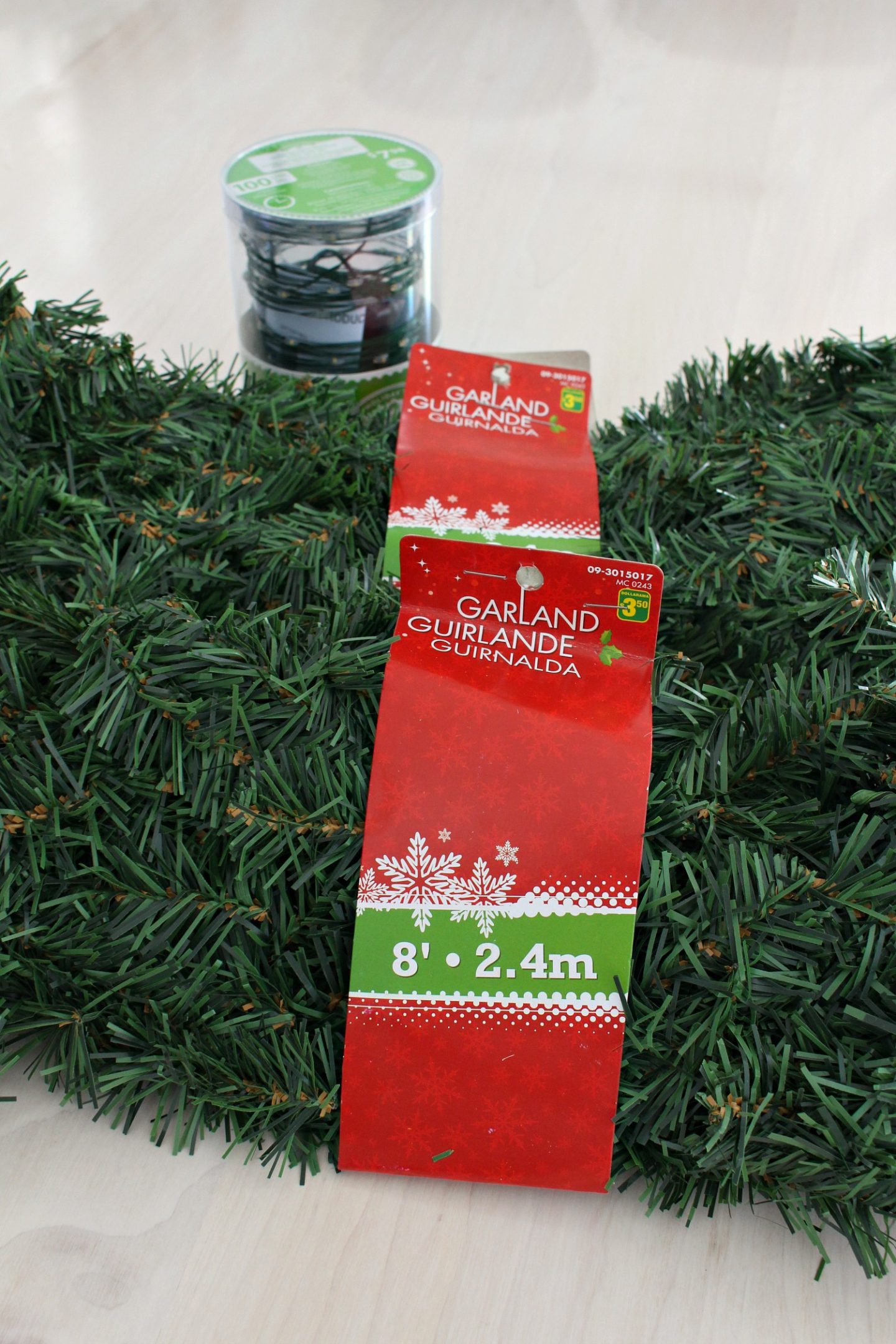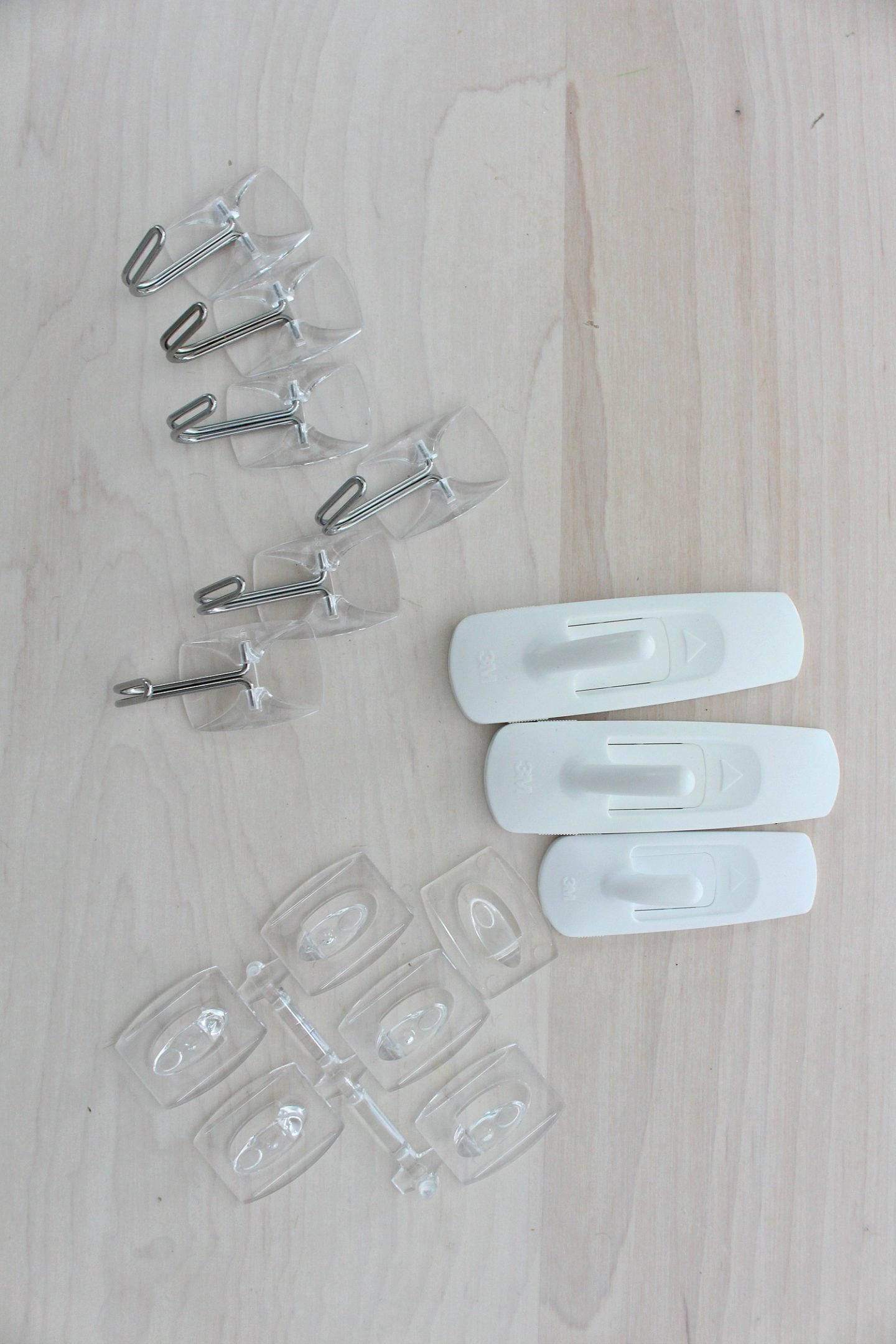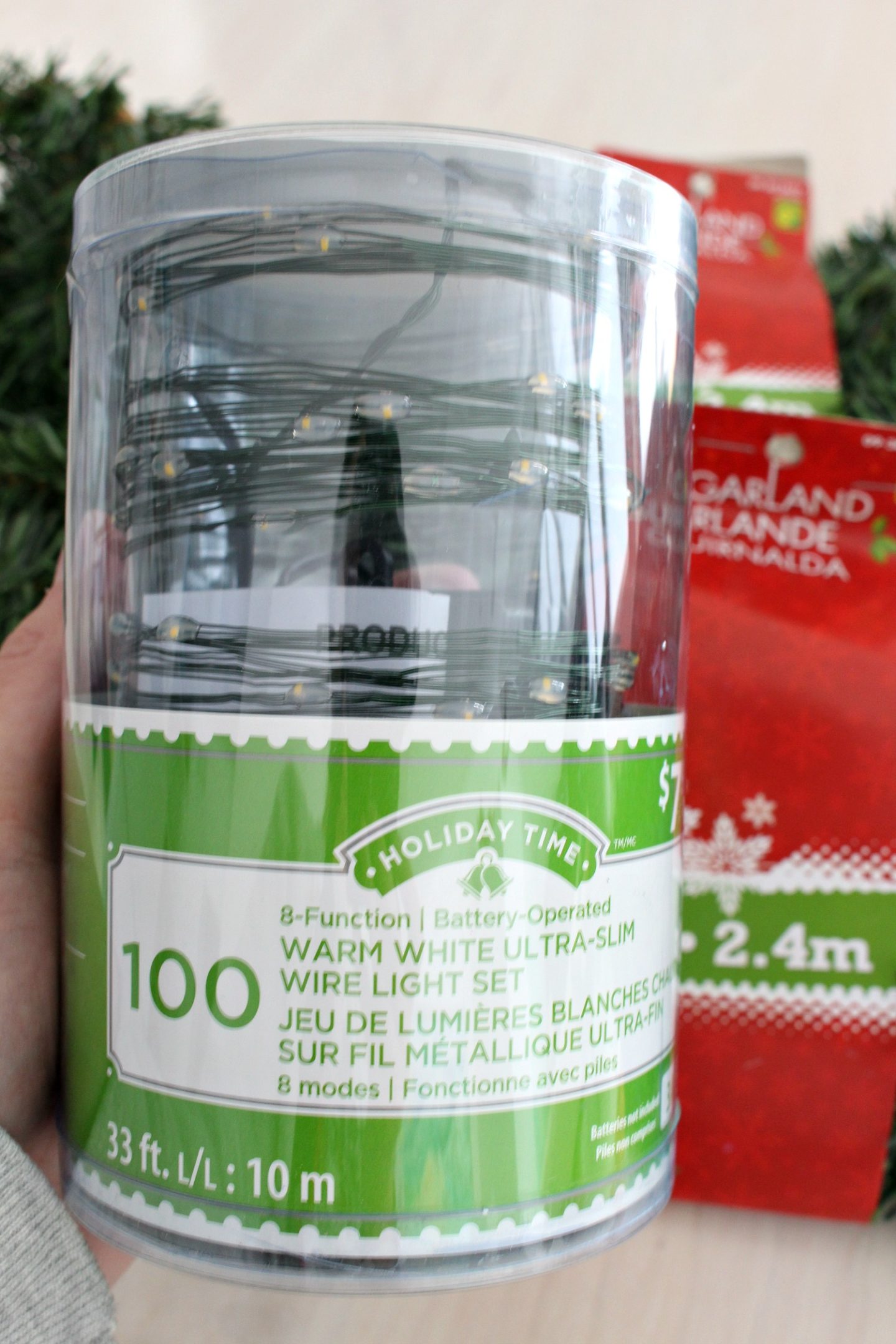 For me, it ended up much less expensive to buy plain garland, then add my own lights and customize with my own ornaments. But I also love that I created something custom to match my decor with this dollar store garland DIY.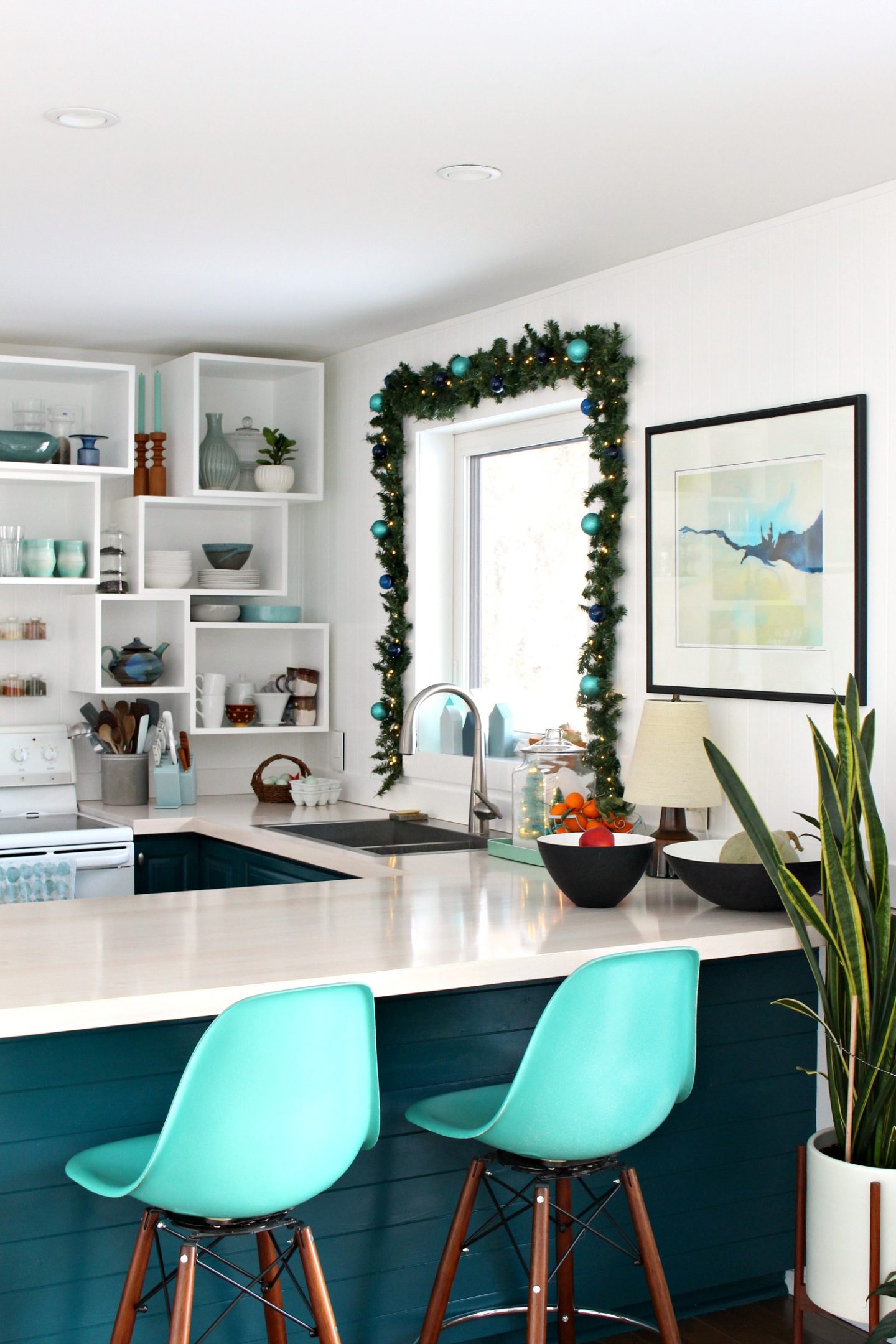 How to Hang Garland Around a Window:
The first this I did was attach the 3M hooks – one in each corner, one in the middle, and then two along either side (one in the middle and one down closer to the counter). You have to let them adhere for an hour before hanging anything, so I did that first. Then I unfurled the garland and started fluffing it a bit. When the hooks were ready, I hung on the garland, starting at the bottom right and wrapping it around the corner and along the top. I shaped it around the window as I went, so it hugged the window trim. Then I hung the second garland, repeating the process from the left side. This way the sides are even in length and there's extra oomph where they overlap at the top.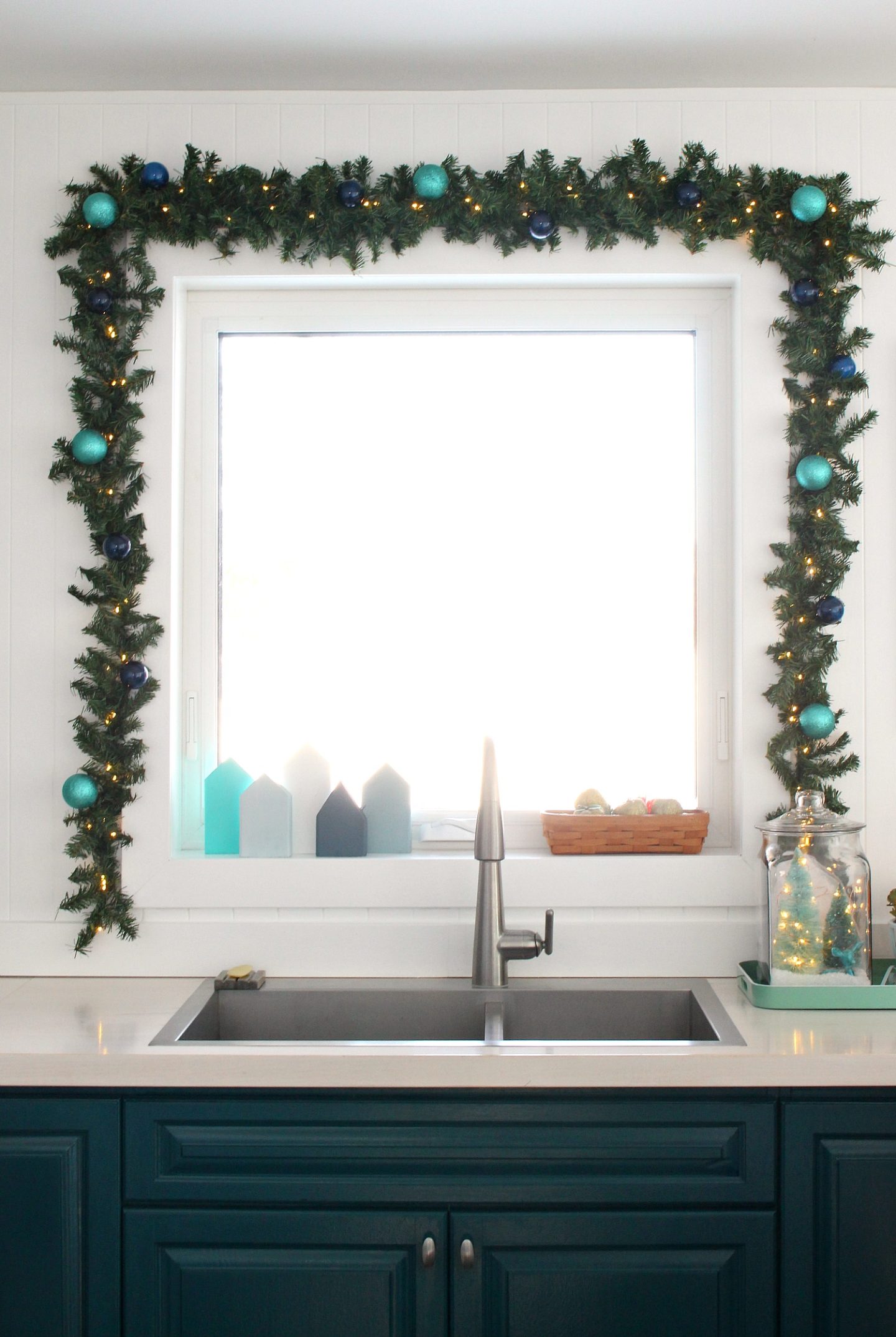 The lights are super delicate and light, so I roughly placed them so I knew they're reach end to end and then tucked them into the branch. The branches are flexible and they hold the wire lights perfectly – I chose a green wire base so it would blend in. I used green floral wire to attach the ornament – I just cut a small piece, threaded it through the ornament top, and twisted around a branch – that's it!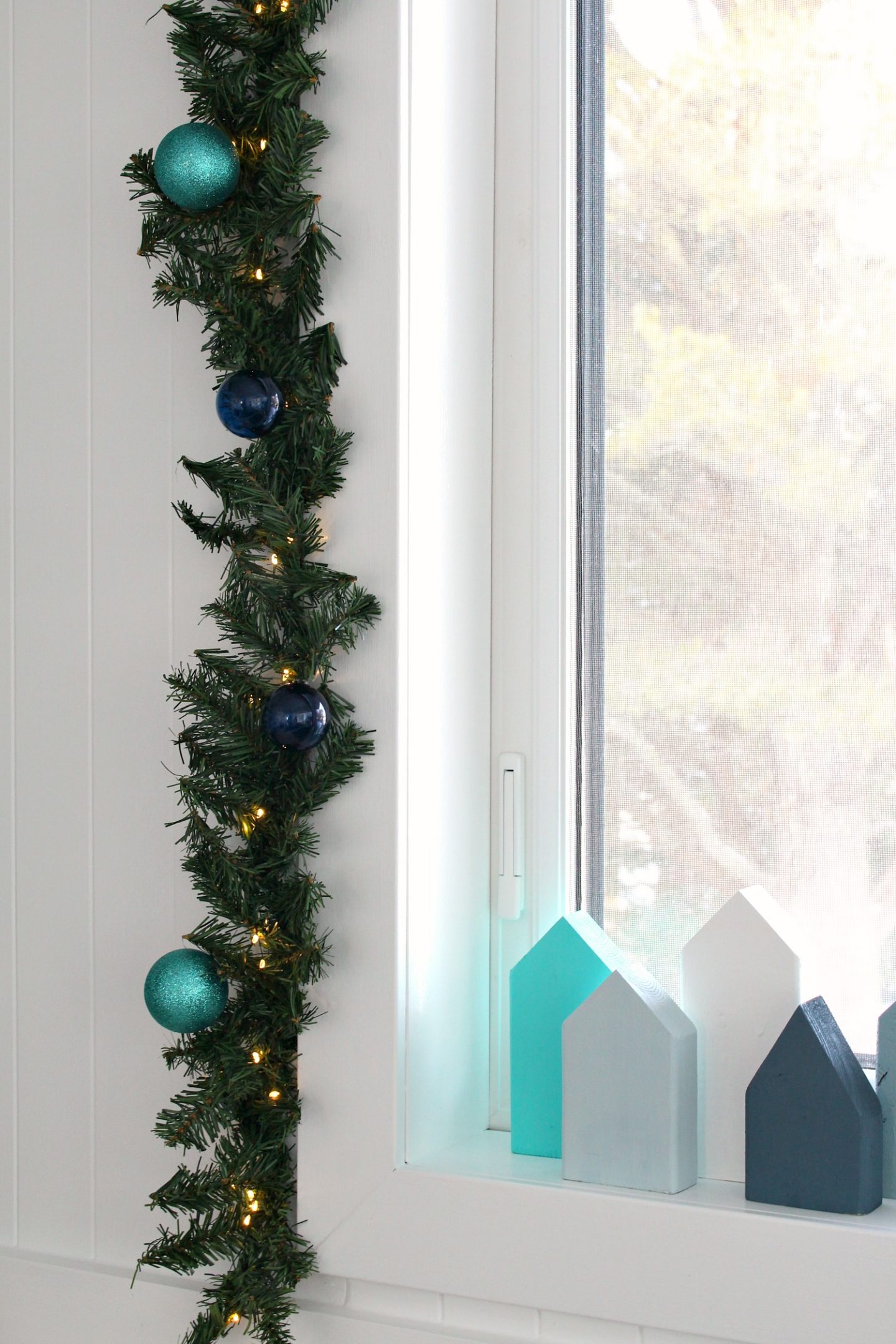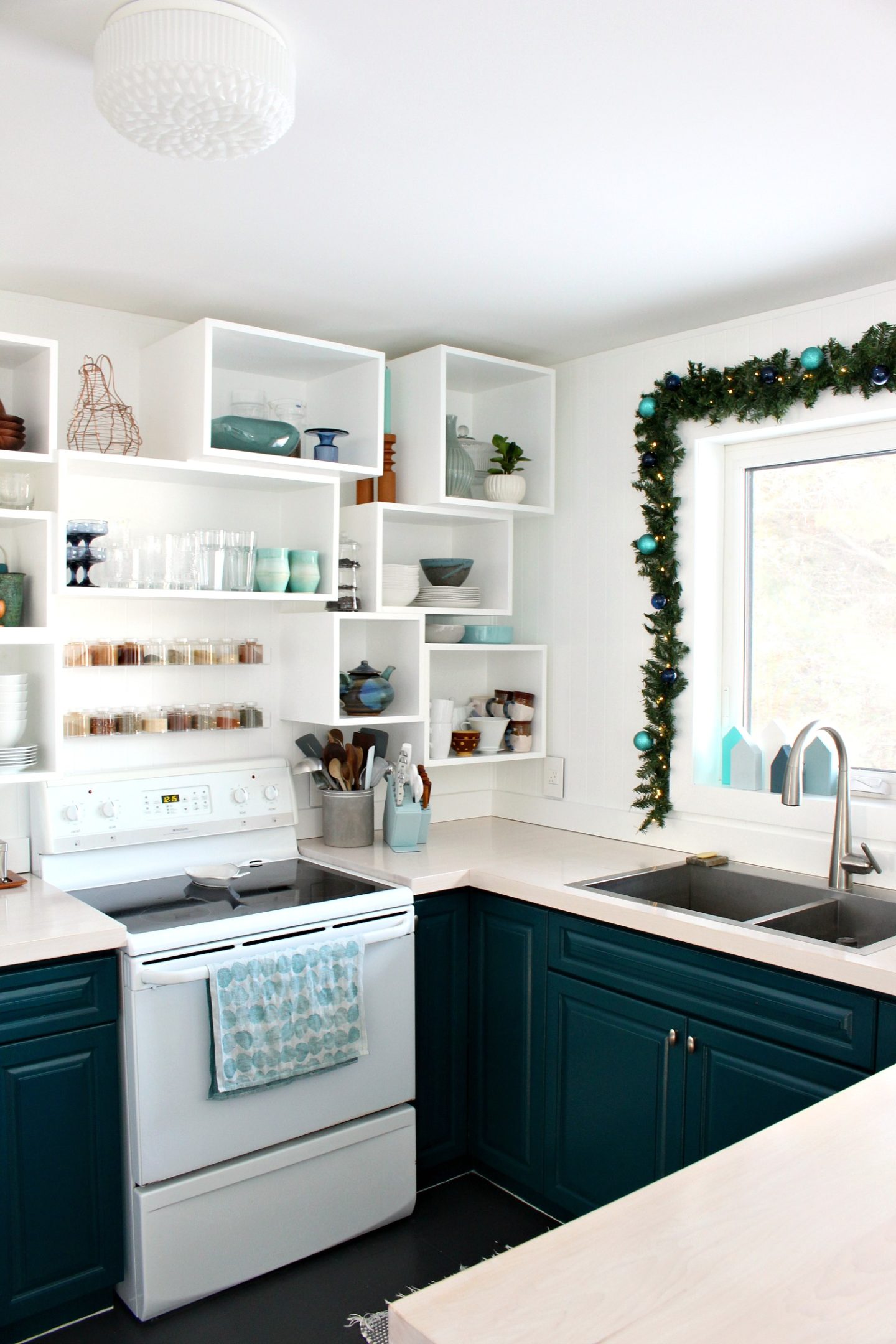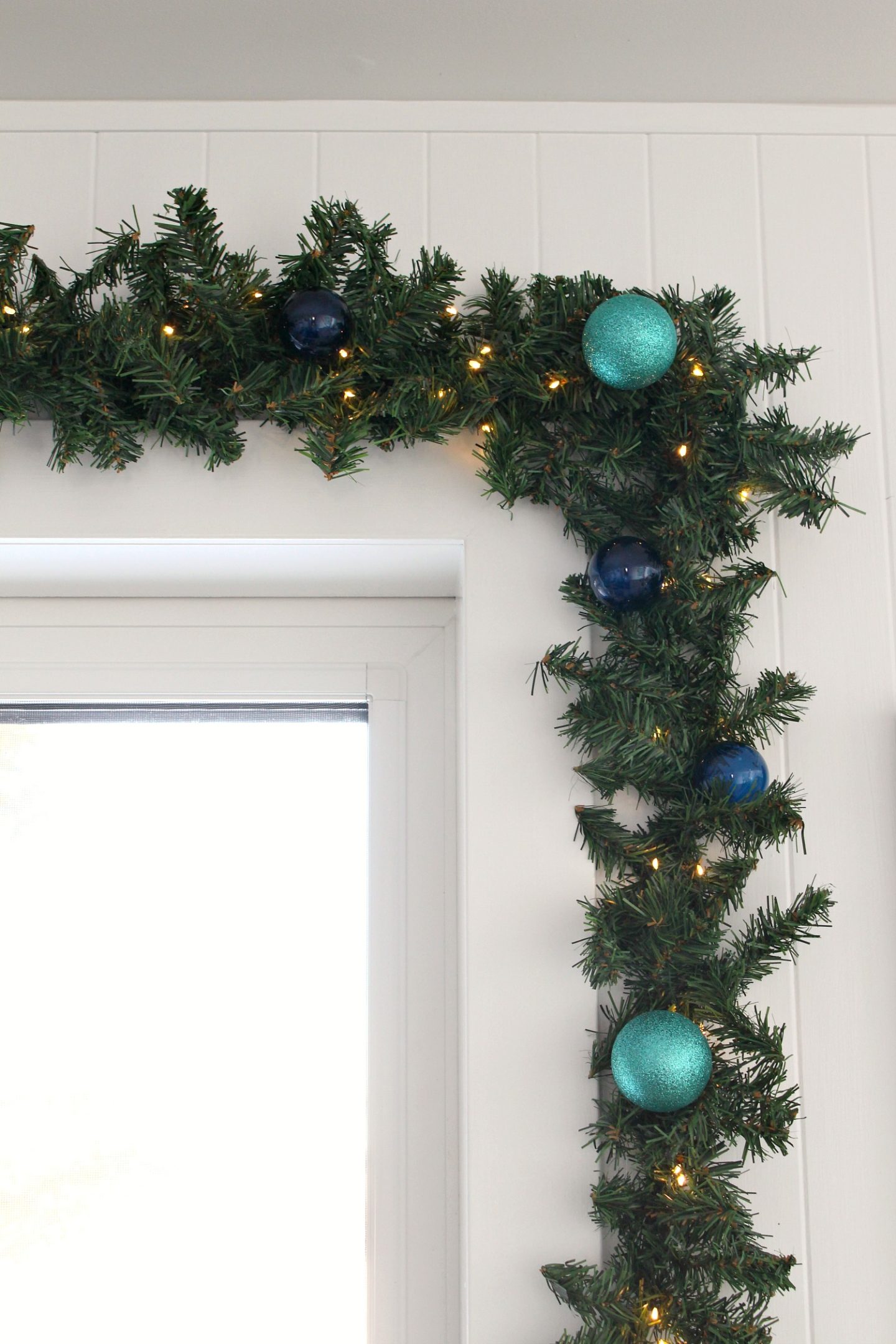 I made some extra pieces when I cut my DIY scrap wood holiday village and they ended up here, alongside my dollar store garland DIY!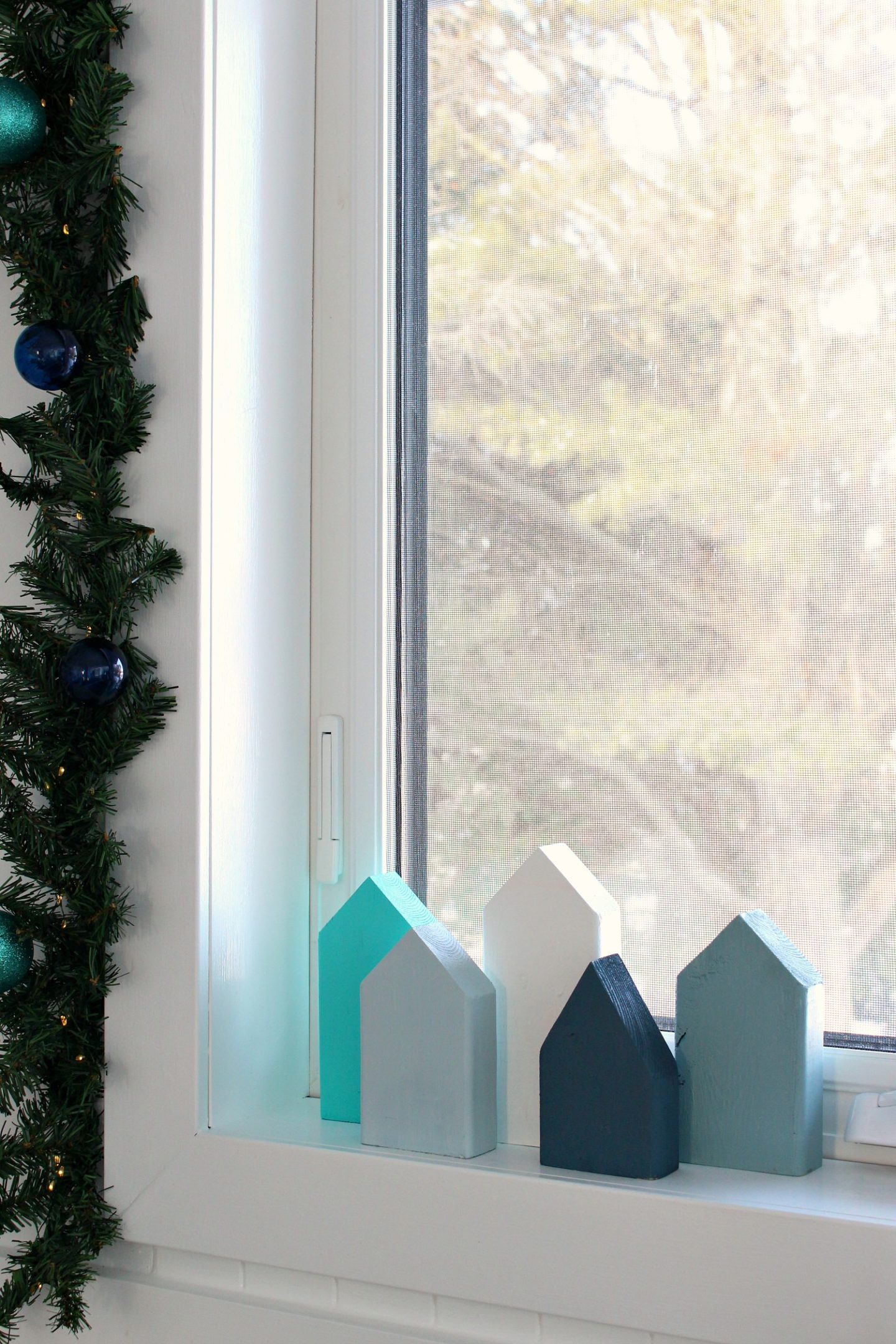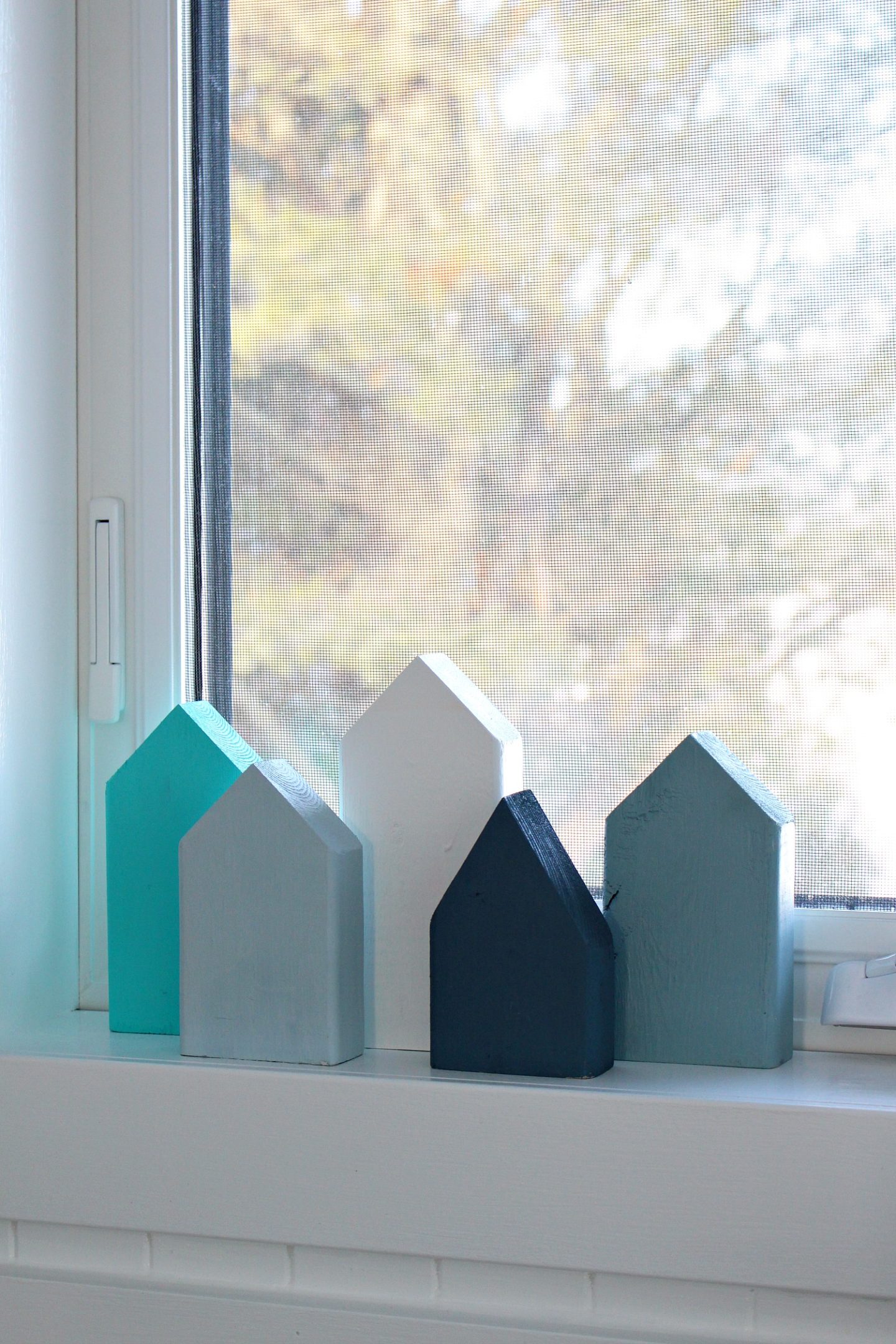 It's been really cheery having the garland in the kitchen! Next year I want to gather some pine cones and cedar (this year snow blanketed everything before I had a chance), and fluff out my faux DIY christmas garland with my own natural accents. Maybe that will be a nice bridge between real – which doesn't last as long – and faux.
I have a secret: if you zoom out a little, you can see my holiday decor weakness: my Jingle Buddies. I've had these for so long. I think I was a teenager when I bought them. You press a button and they sing a song and dance – the penguins wiggle their tails. I can't help but put this out, year after year.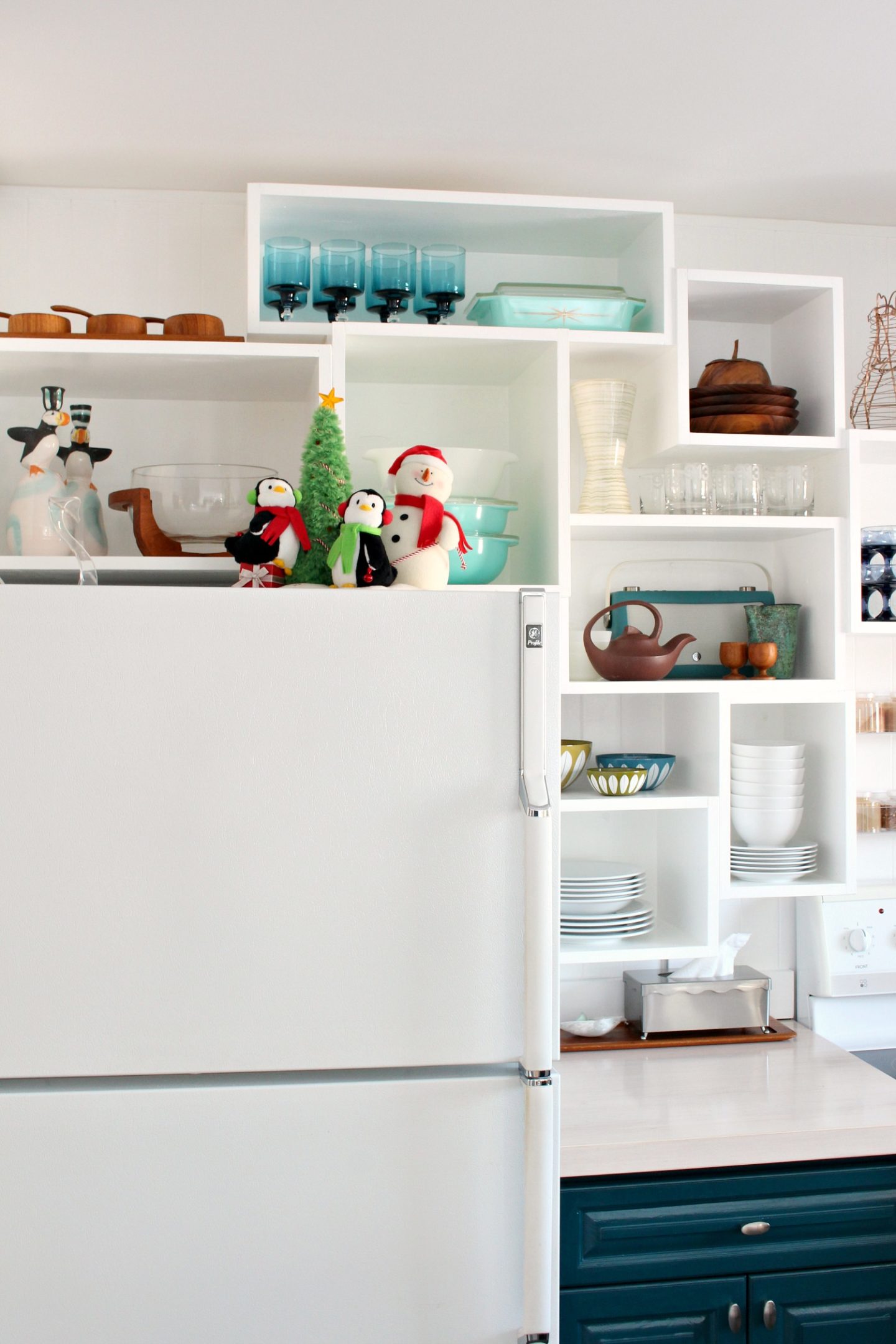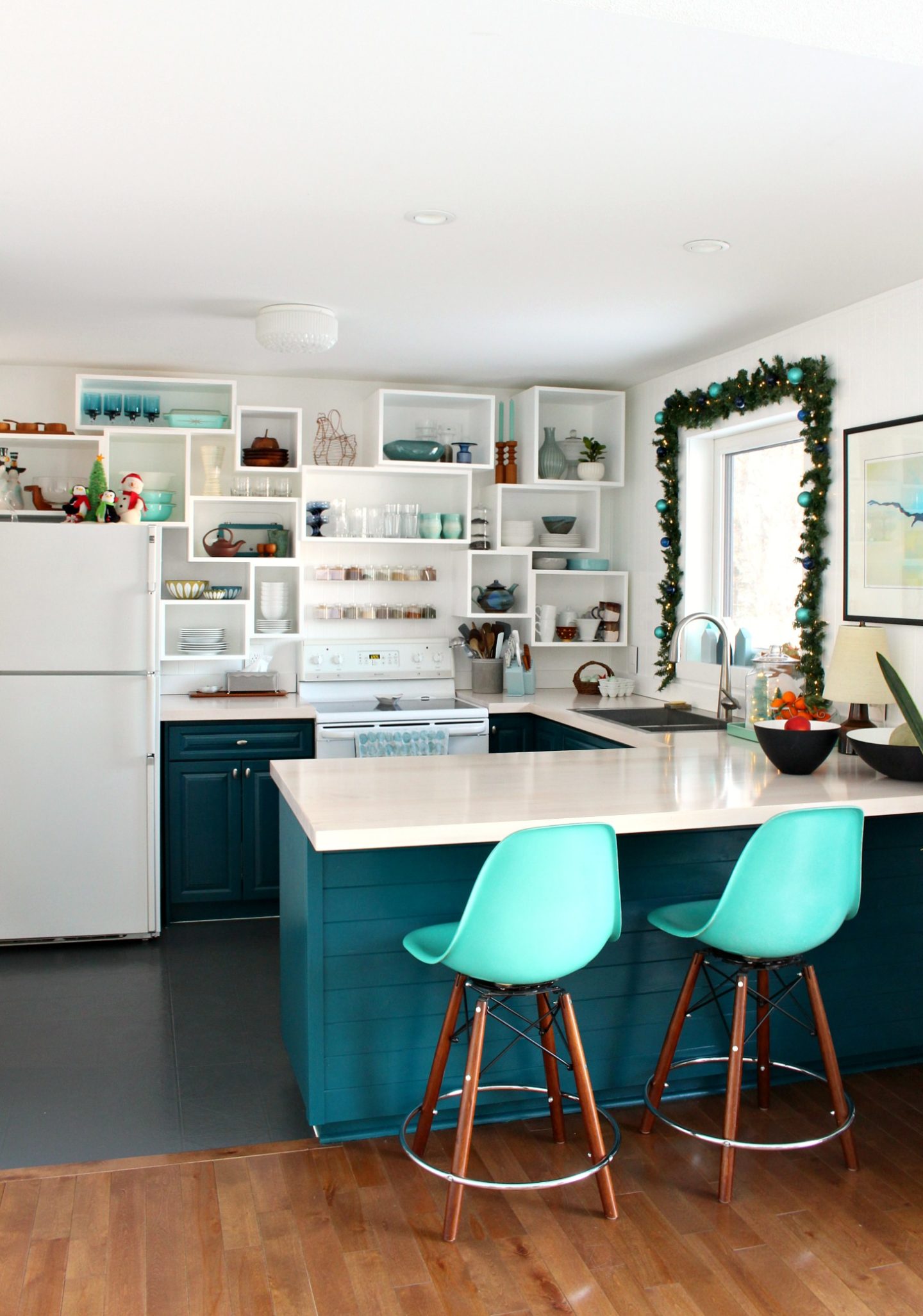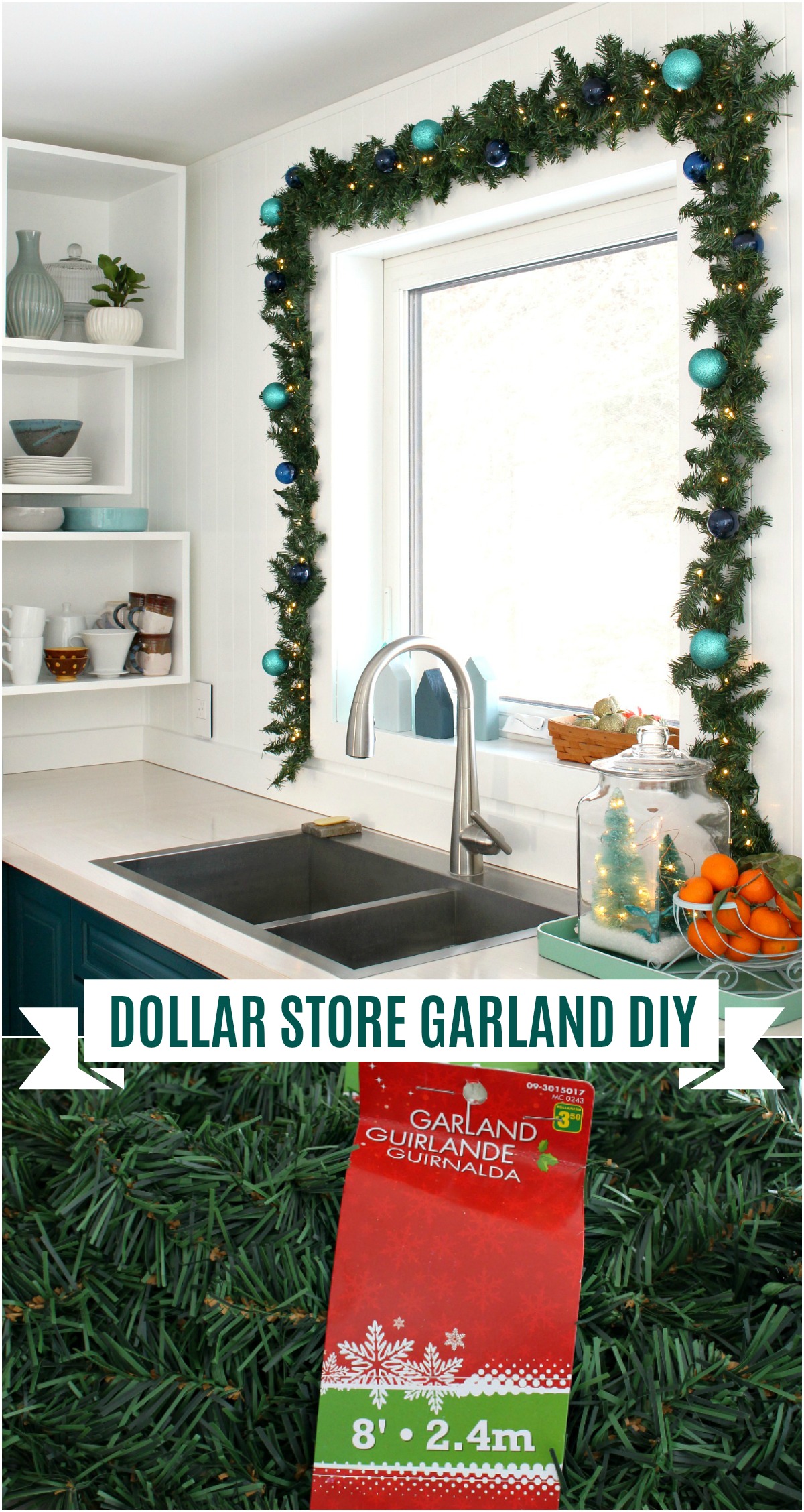 Here's What I Used for Dollar Store Garland DIY on the Living Room Mini Mantles:
How I used my Dollar Store Garland DIY for the Mini Mantles:
In the living room I also used this same dollar store garland on the two mini mantles flanking the fireplace. I used one strand of garland per ledge and folded it back on itself to make it the exact right length. Then I fluffed out the branches and tucked in battery operated woven string lights, leaving the battery pack (and on/off switch) easy to access but hidden by the garland. The woven string lights are SO cute! Mine are from Dollarama, and I bought two sets last year (for my DIY tinsel wreath and my DIY boho wreath) and they are SUCH nice quality! I'm using both wreaths again this year and the lights are perfect (they didn't even need new batteries!), so I bought two more strands for the fireplace. I found these online and they're virtually identical. The finally step: I added some leftover ornaments and the glittery wicker balls from last year's DIY light up plywood ornament display.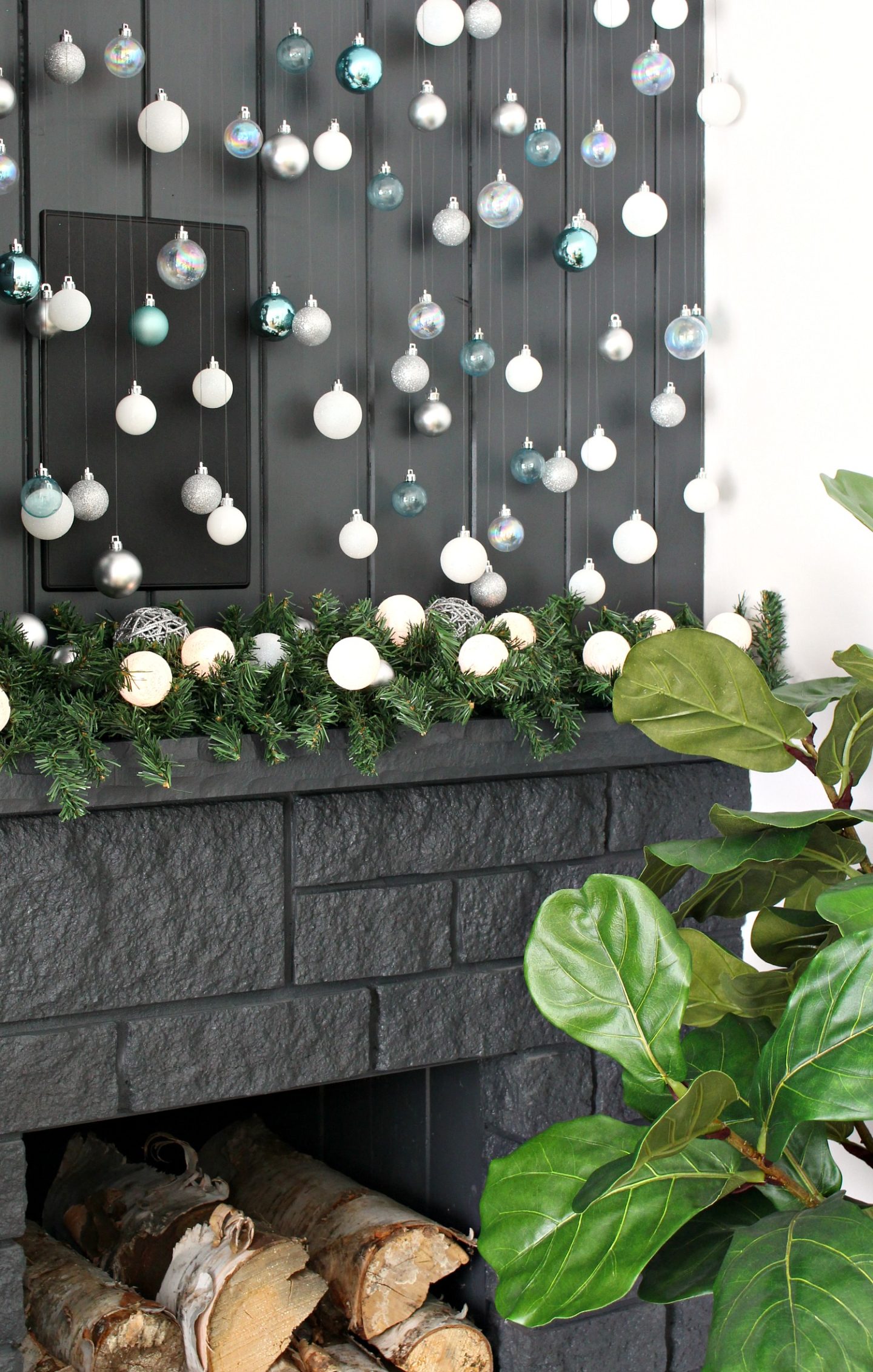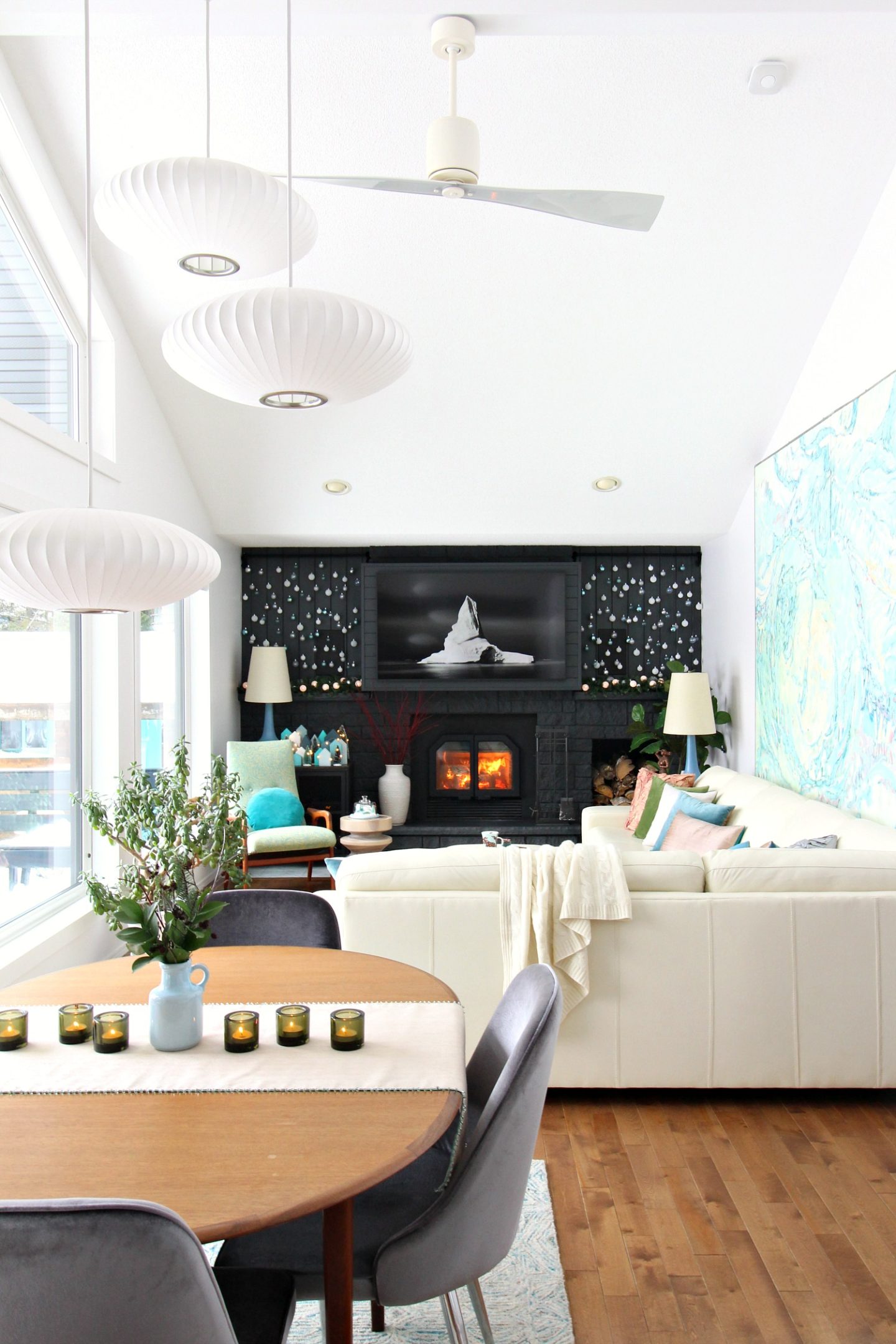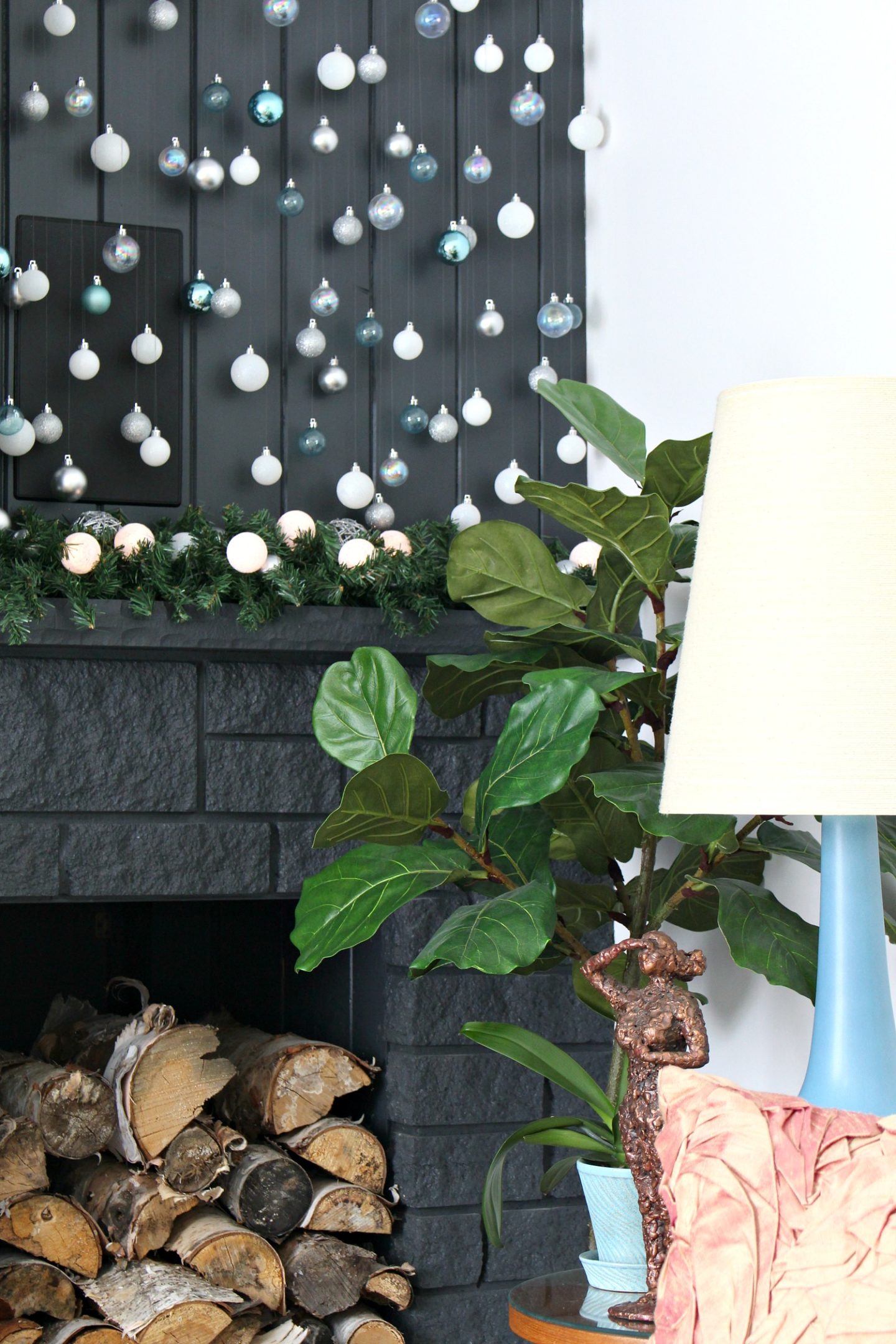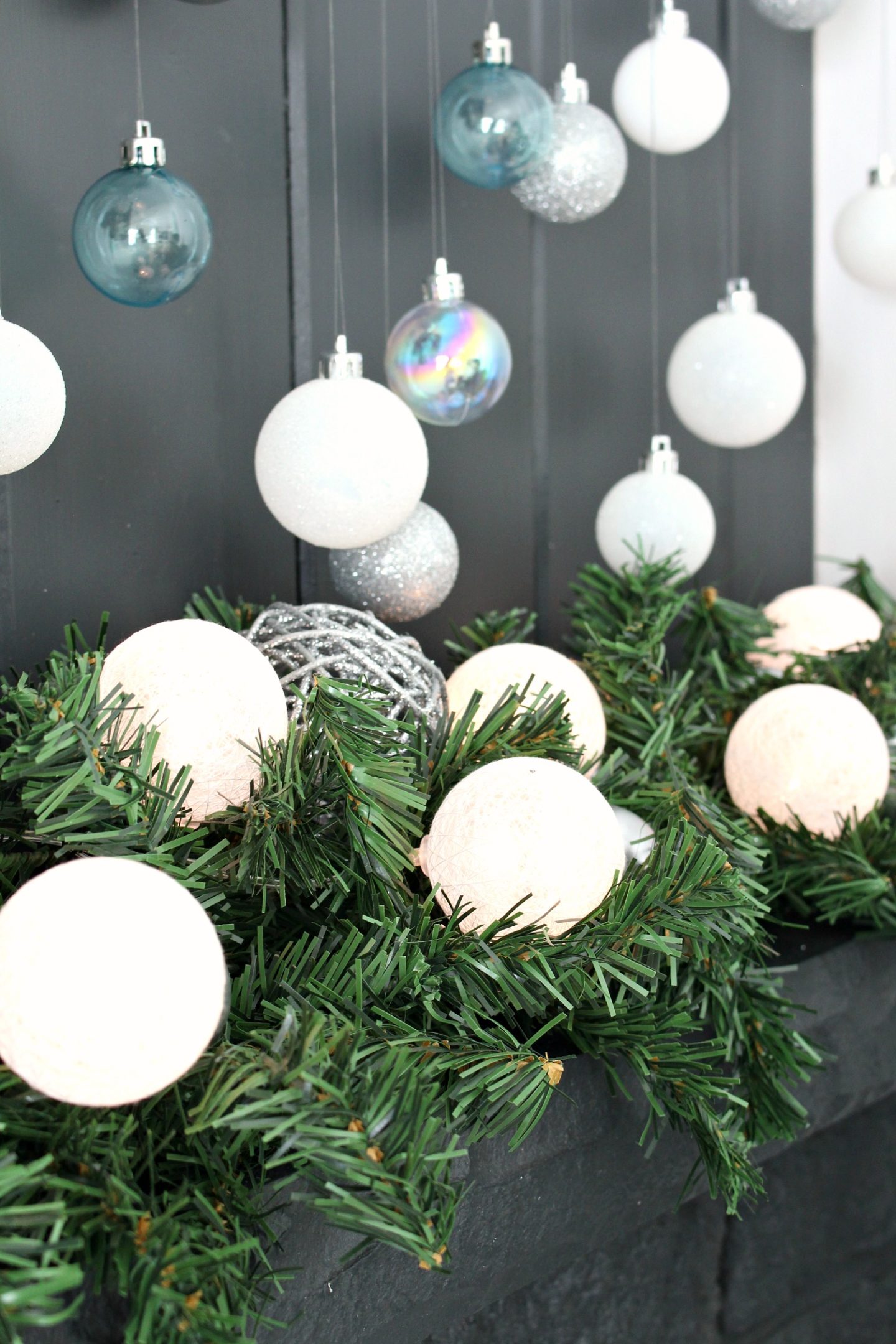 Those are my two dollar store garland DIY projects this year and I'm really glad I saved money and got lighted garland for less! This year I went a little glittery and sparkly with my decor – those cascading ornaments really gleam at night! But I think next year I want to bring more nature in, like I have in past years. If you have tips on getting natural garland to last longer, I'd love to hear your DIY garland ideas!