This free DIY holiday village (aka The Scrap Wood DIY Christmas Village) is inspired by my recent bout of financial bad luck. Although we did recently win the lottery ($25, don't hate), the parking break on our truck failed the same week we got a huge chip in the windshield. The chip was okay – $100 to fix it (which is actually awesome, because originally they thought it was too big and I'd need a new windshield). But I brought the truck to the dealer and almost fainted at the staggering $2300 quote to repair the parking break. Luckily my Mom lent me her car for a few days so we could bring our truck to a local, rural mechanic. We usually only go see him when our car is on the road, because we have to leave the truck with him for a couple of days so we need a way to drive the hour home! In the winter the truck is our only vehicle, so we take the truck to the dealer in town because it's just easier. On a job this huge though, our mechanic managed to save us over $1100. I'm so grateful his shop rate is so reasonable, and that he's such an excellent mechanic, but I still spent $1200 I didn't want to spend, plus I had to buy my Mom a marzipan bar as thanks, lol. So life really added up this month. That's why this year's holiday decor theme is: how much can I decorate for free? Actually, that's probably the theme of 2020, to be honest. But I don't mind an extra little nudge to think outside the box – my DIY winter window box was almost totally free too and I loooove how that turned out! So I knew I could create some other holiday decor by scavenging.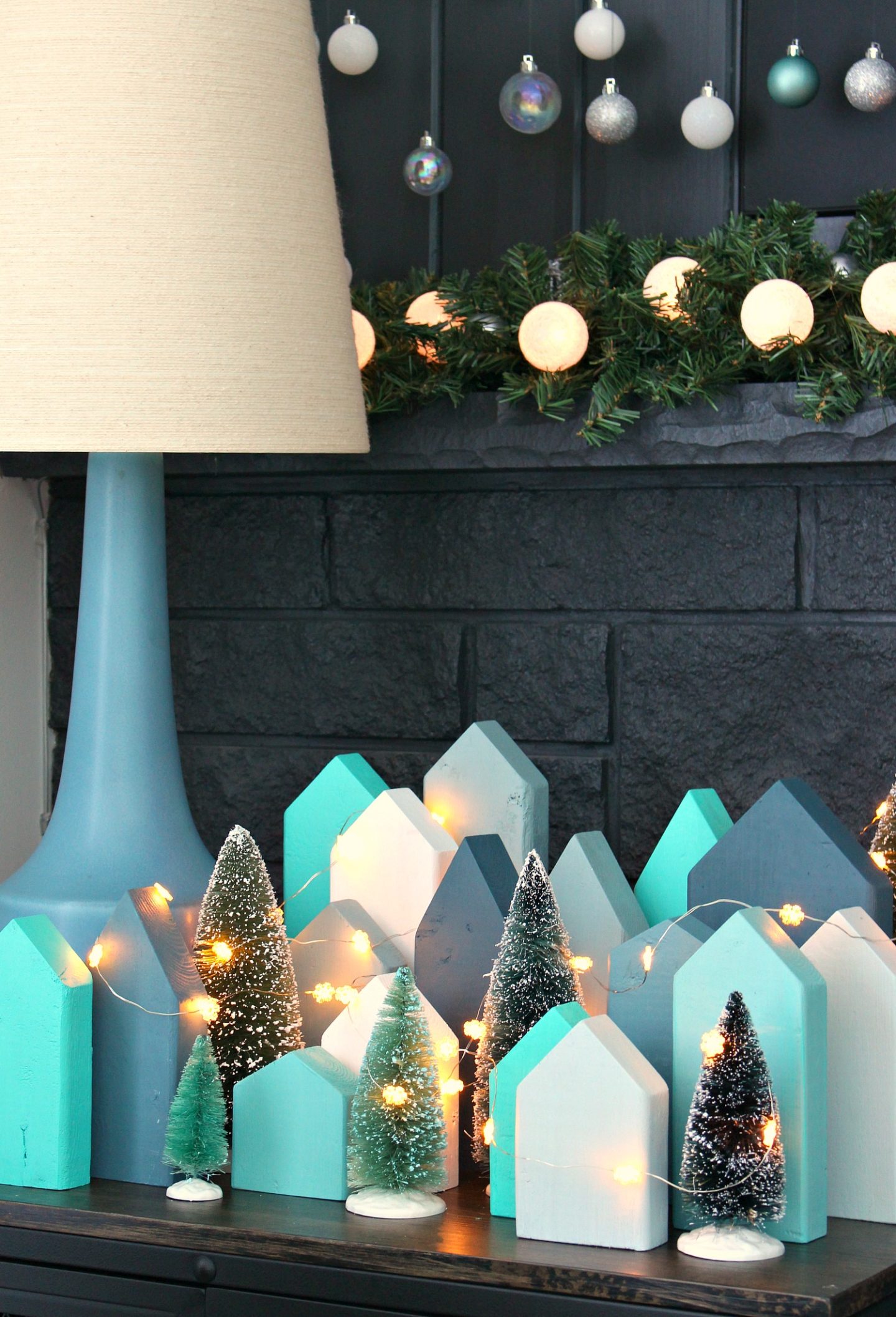 After building the chicken coop this summer, we ended up with a heaping pile of wood scraps and the more I looked at them, the more I saw a little scrap wood holiday village.

You might have spotted my little DIY holiday village in the post about my ornament display idea (the DIY cascading ornaments):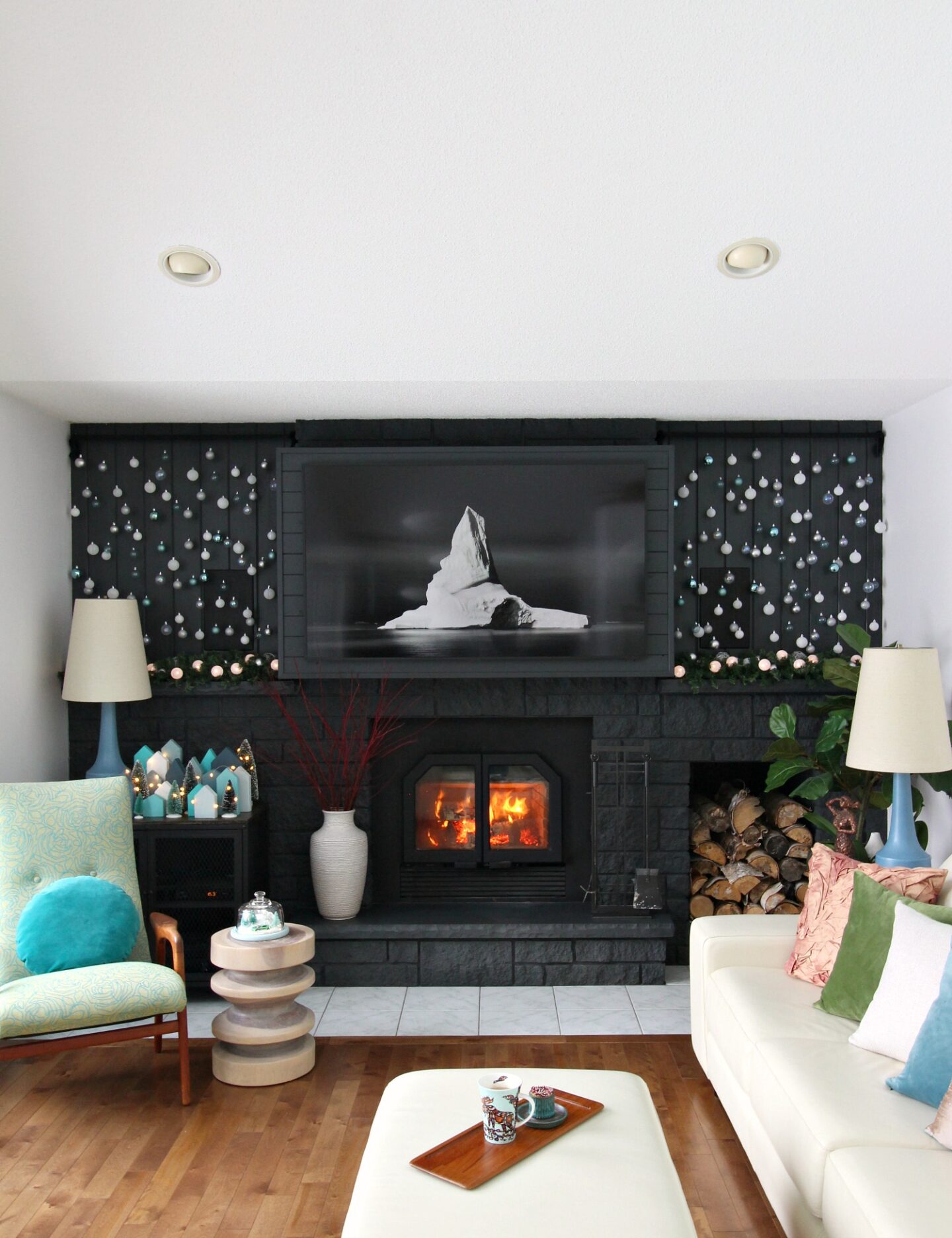 Supplies:
2×4 or 1×6 wood scraps (or whatever you have!)
Compound miter saw or even a miter box saw could work (if your wood scrap fits inside)
Paint (great for sample pots or any leftovers)
Battery operated lights (these are similar; optional)
Bottle brush trees (optional)
How to Make a Scrap Wood Village:
This project is super easy! I hauled out our miter saw but you could use a miter box saw if your scrap wood fits inside. Most of my wood scraps already had a straight edge for the "bottom," but for the ones that were uneven or angled, I quickly cut them again for a nice flat edge so they sit properly.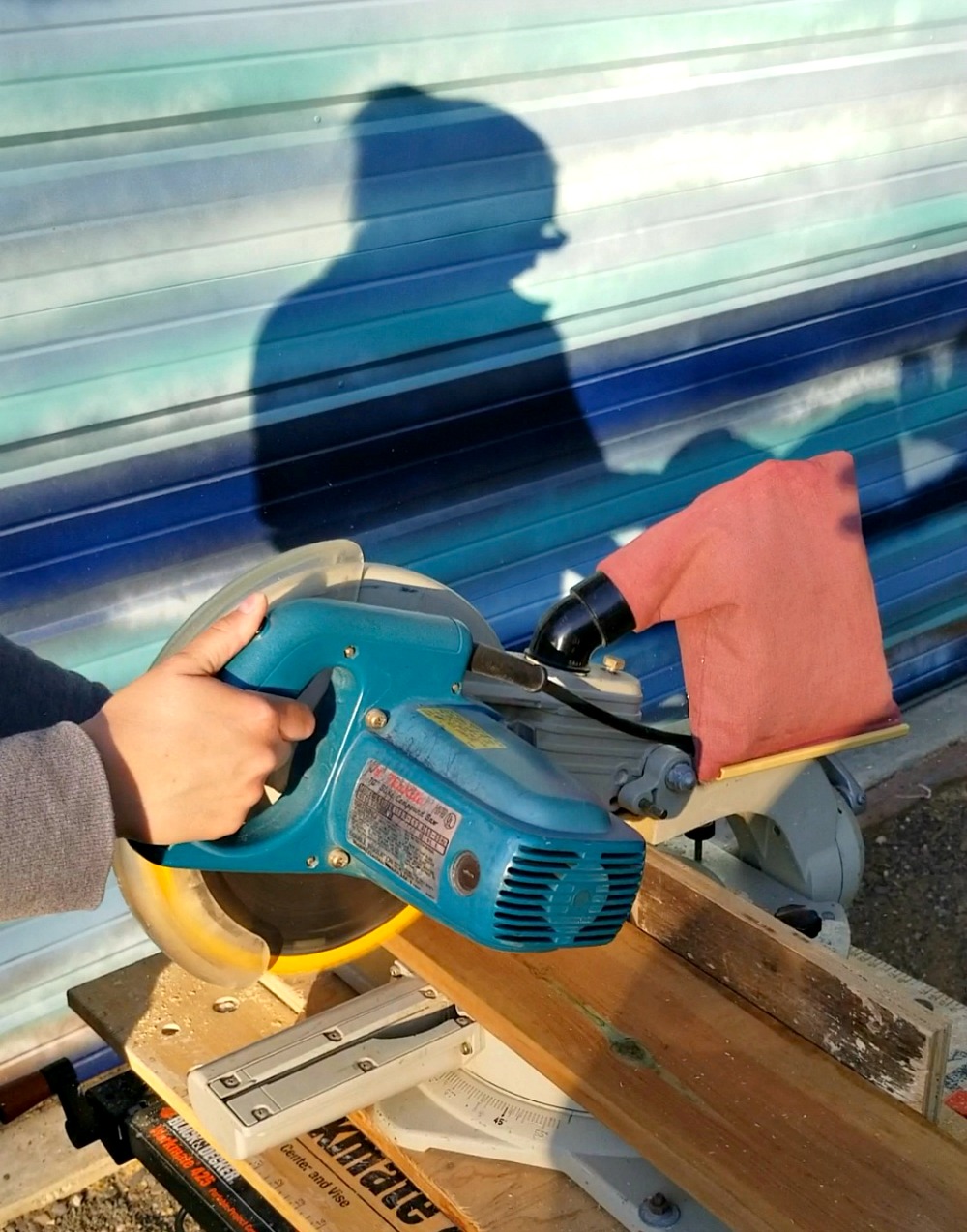 Then I changed the angle on the miter saw and cut the tops – I worked in batches and used different angles for each to create steeper or shallower roof lines. My one trick is to draw a line across the wood on both sides and use that to line up somewhere against the miter saw (and use that spot each time), so you can match the roof line on either side (you can see my guide line in the photo below):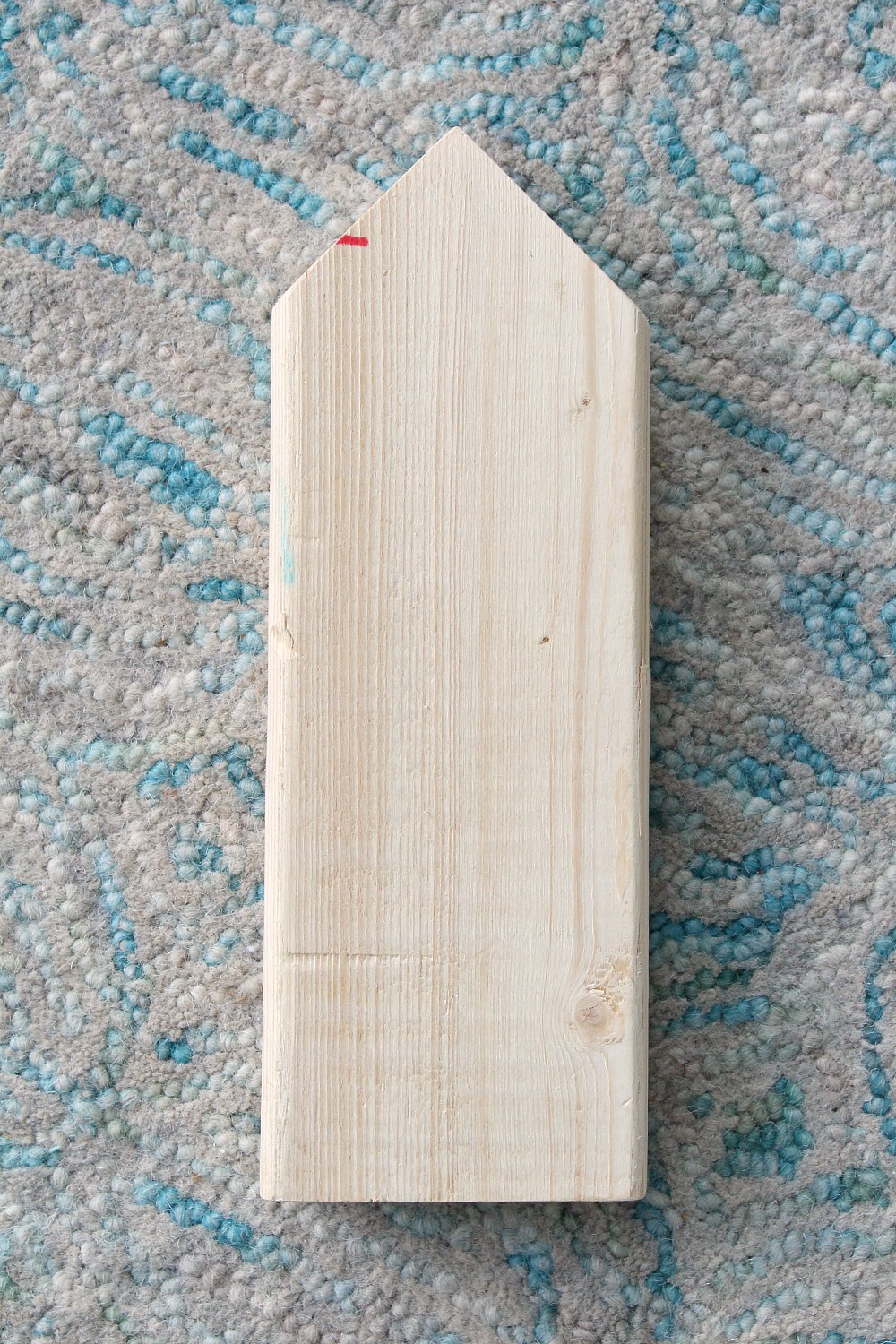 I cut them all at once and then sanded the edges smooth. Then I used some leftover sample paint pots and a small paint brush and quickly painted them. I had some battery operated lights left over from last year, along with some bottle brush trees from my post on how to bleach and dye bottle brush trees. I added the trees to fill out the village a little and then wound two strands of lights around, hiding the batter packs at the back. My DIY Christmas village looks so cute with the lights at night.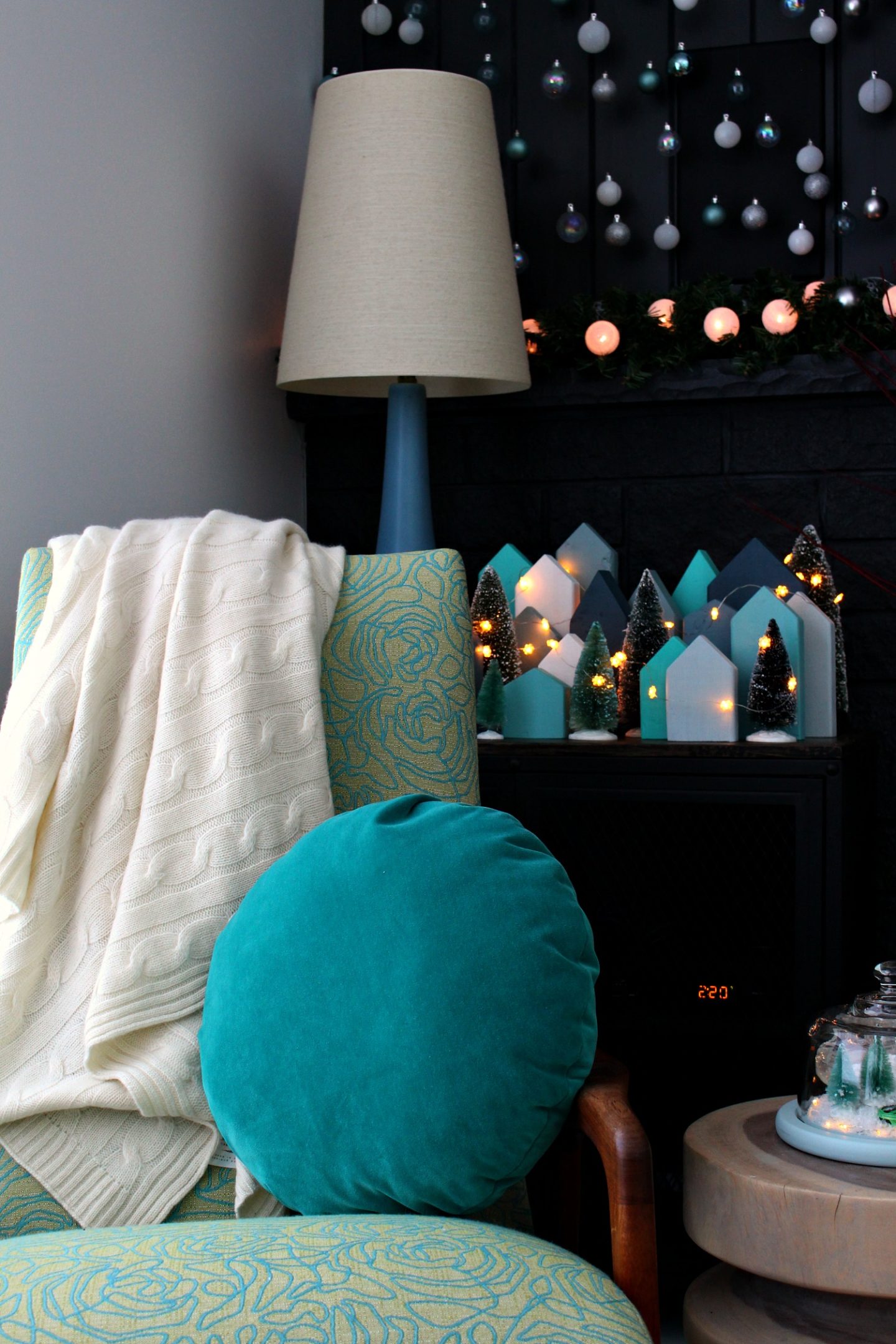 I didn't paint any windows or doors because I wanted it to look minimalist and modern, but I think next year I might add more detail – and maybe build a tray for them so I can add fake snow! I love this little DIY Christmas village, it's been a fun and festive (and FREE) addition to my winter decor. You can see all of my other Christmas DIY projects right here.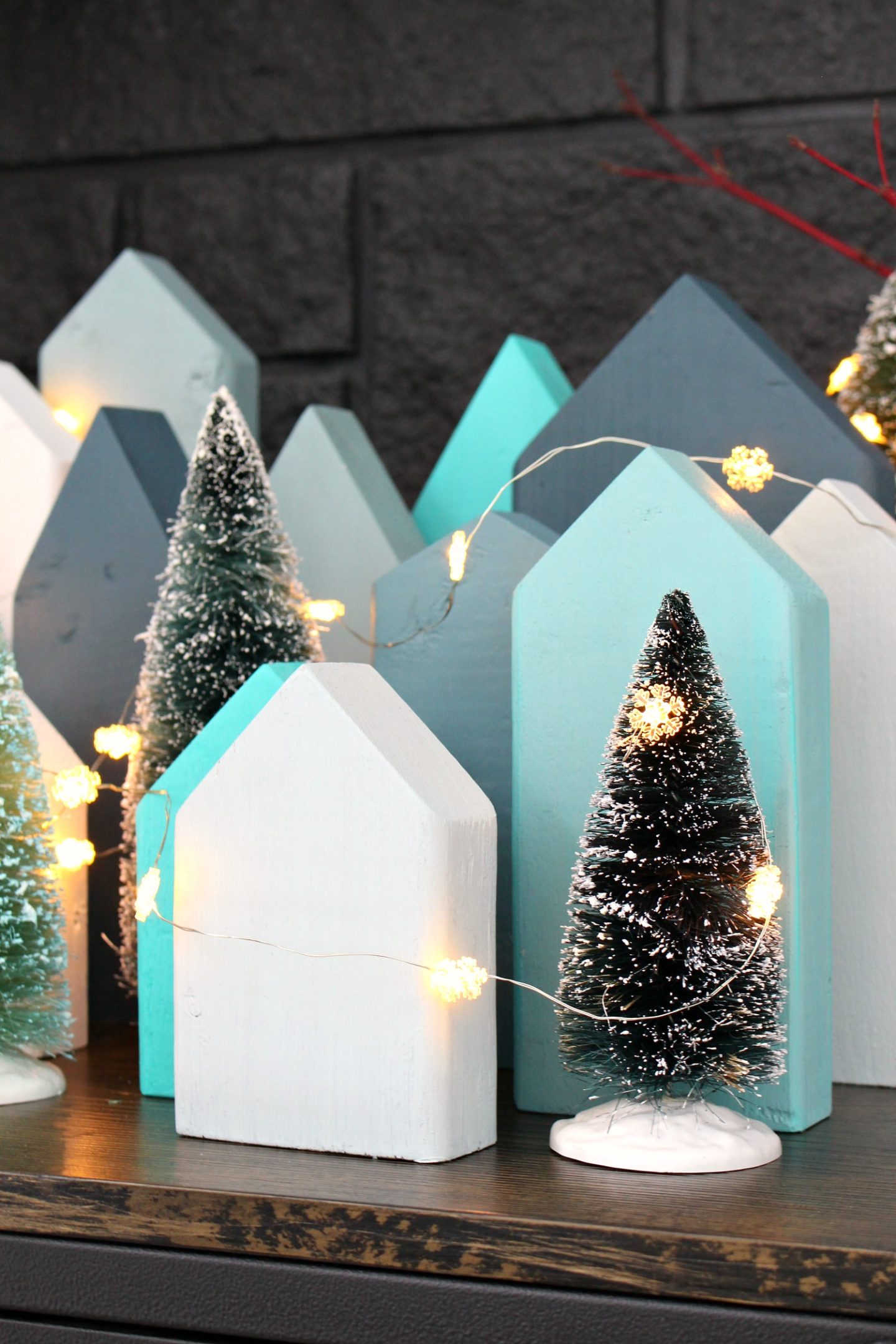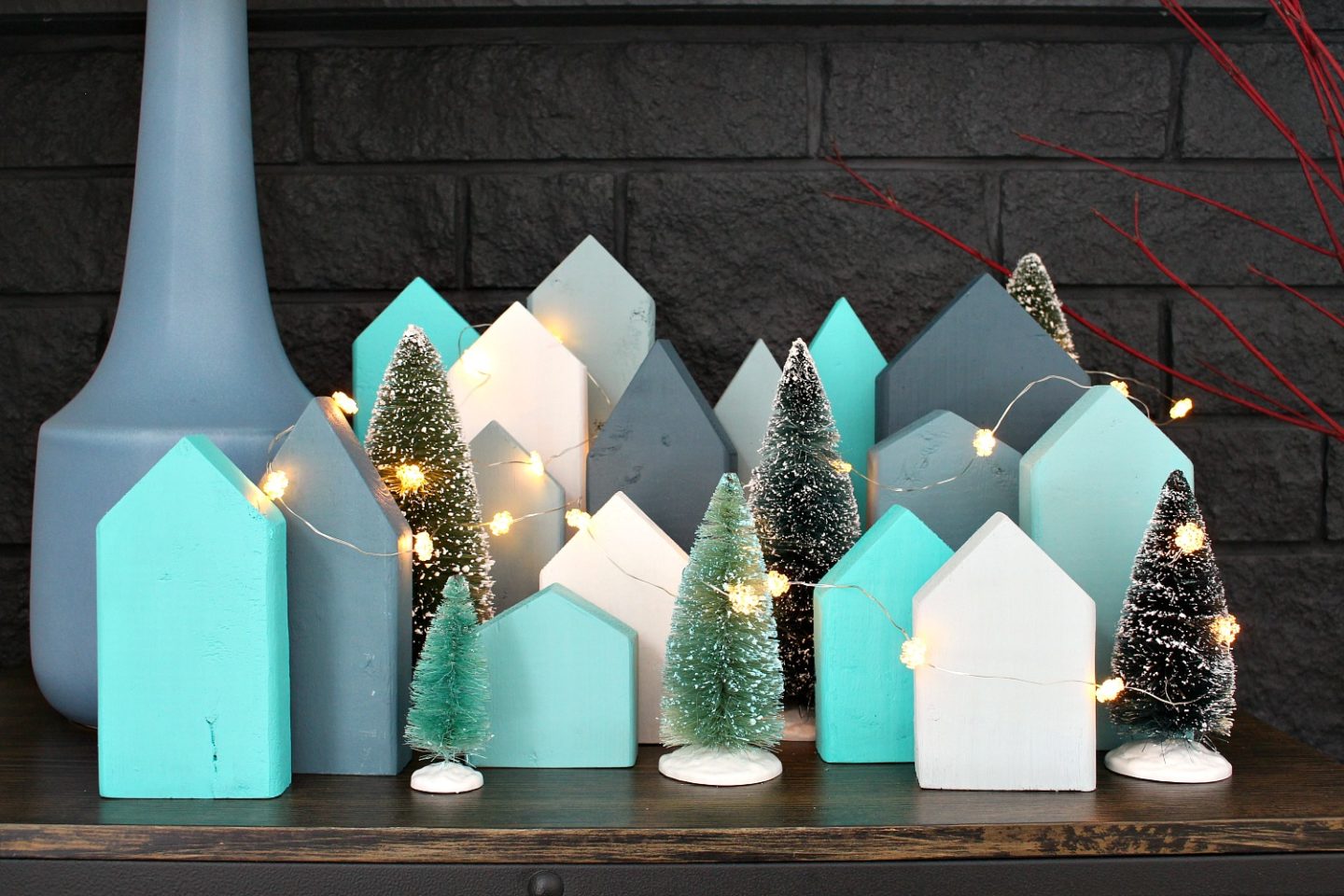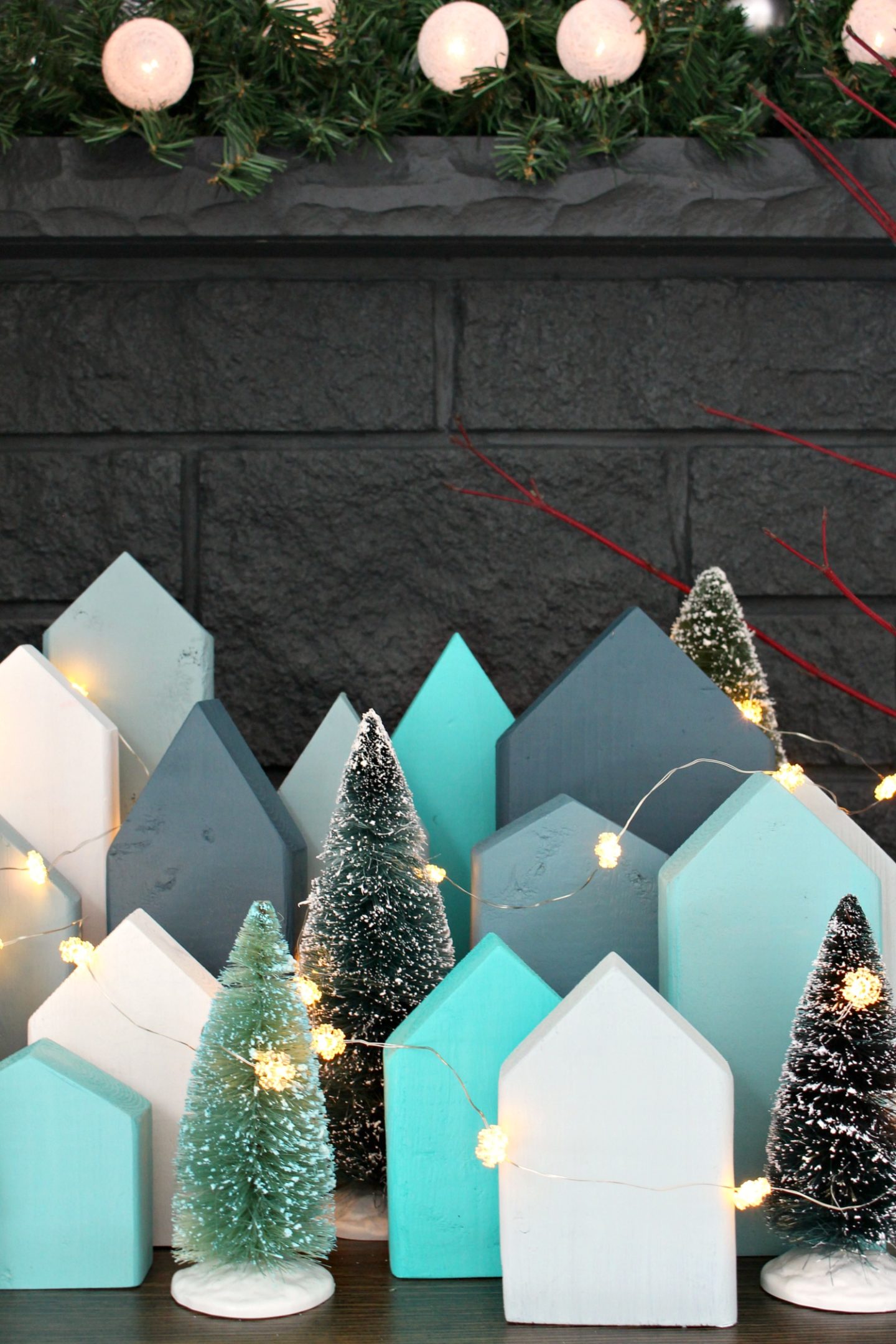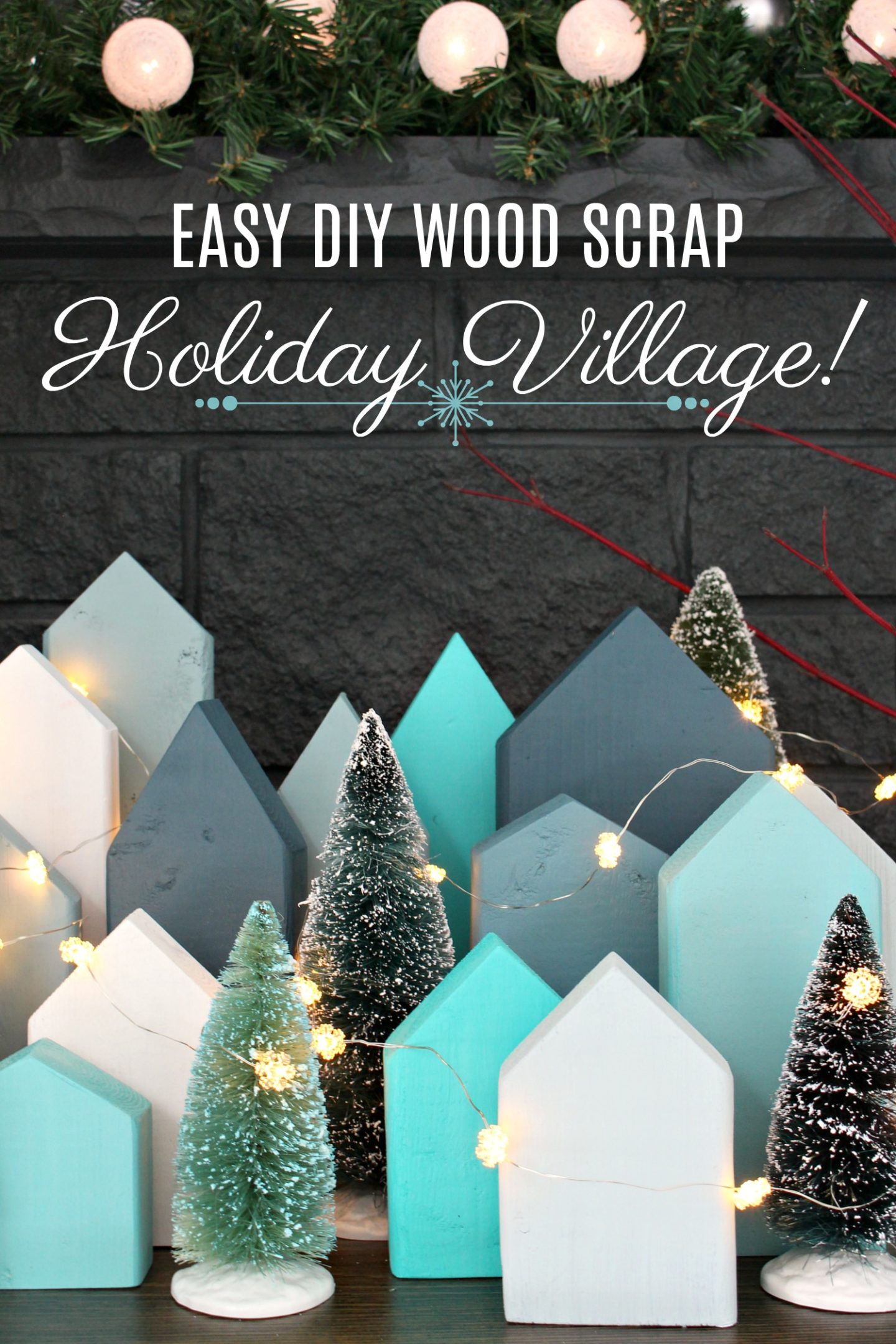 While you're playing with wood scraps and making your own DIY holiday village, why not make these DIY scrap wood napkins rings? Instead of daisies, glue on some mini faux poinsettias or paint them in your holiday decor colors.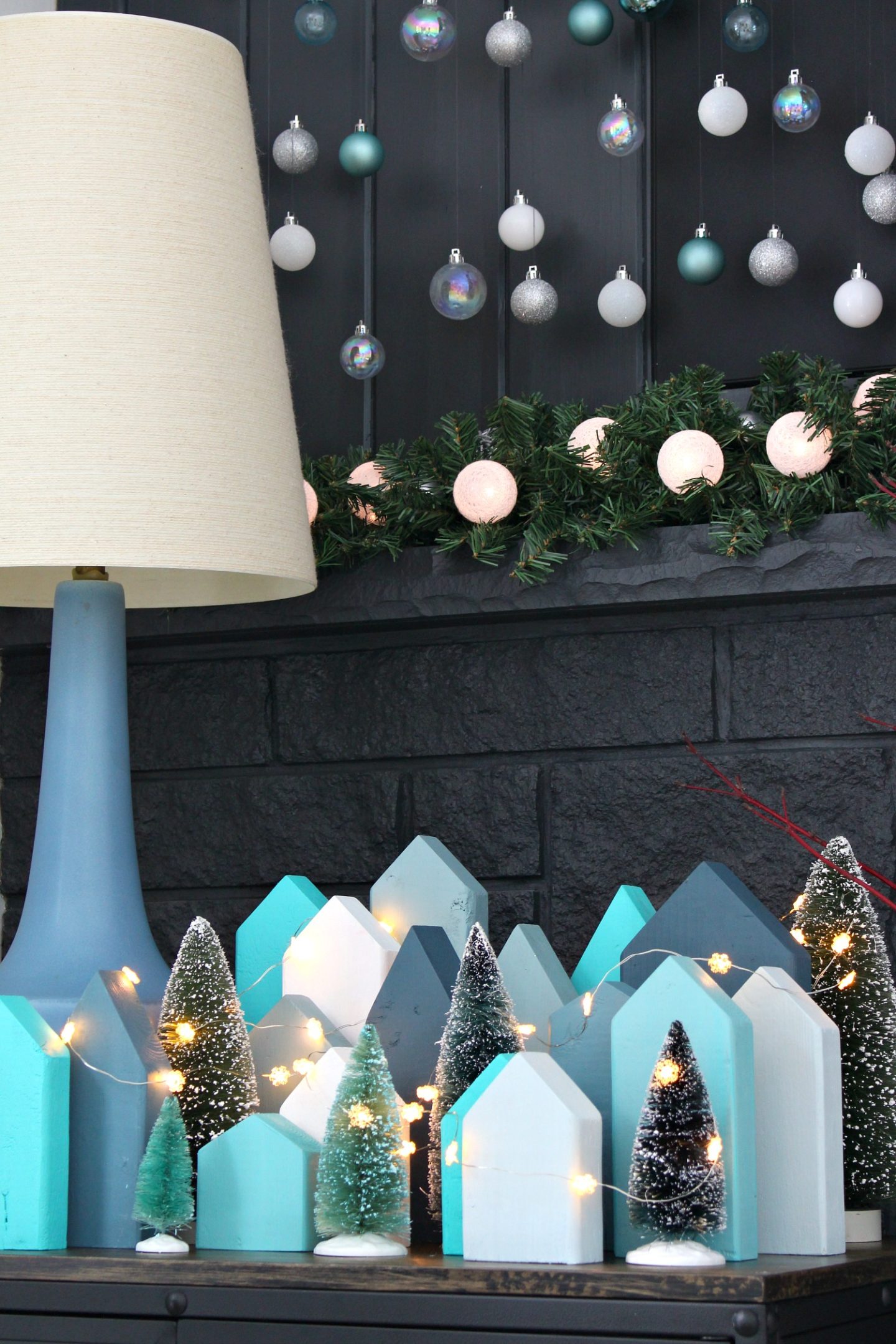 P.S. my thrifty cheese cloche turned winter diorama is still going strong too! Maybe next winter I'll combine the DIY Christmas village with the Camaro Cloche and make an epic winter scene.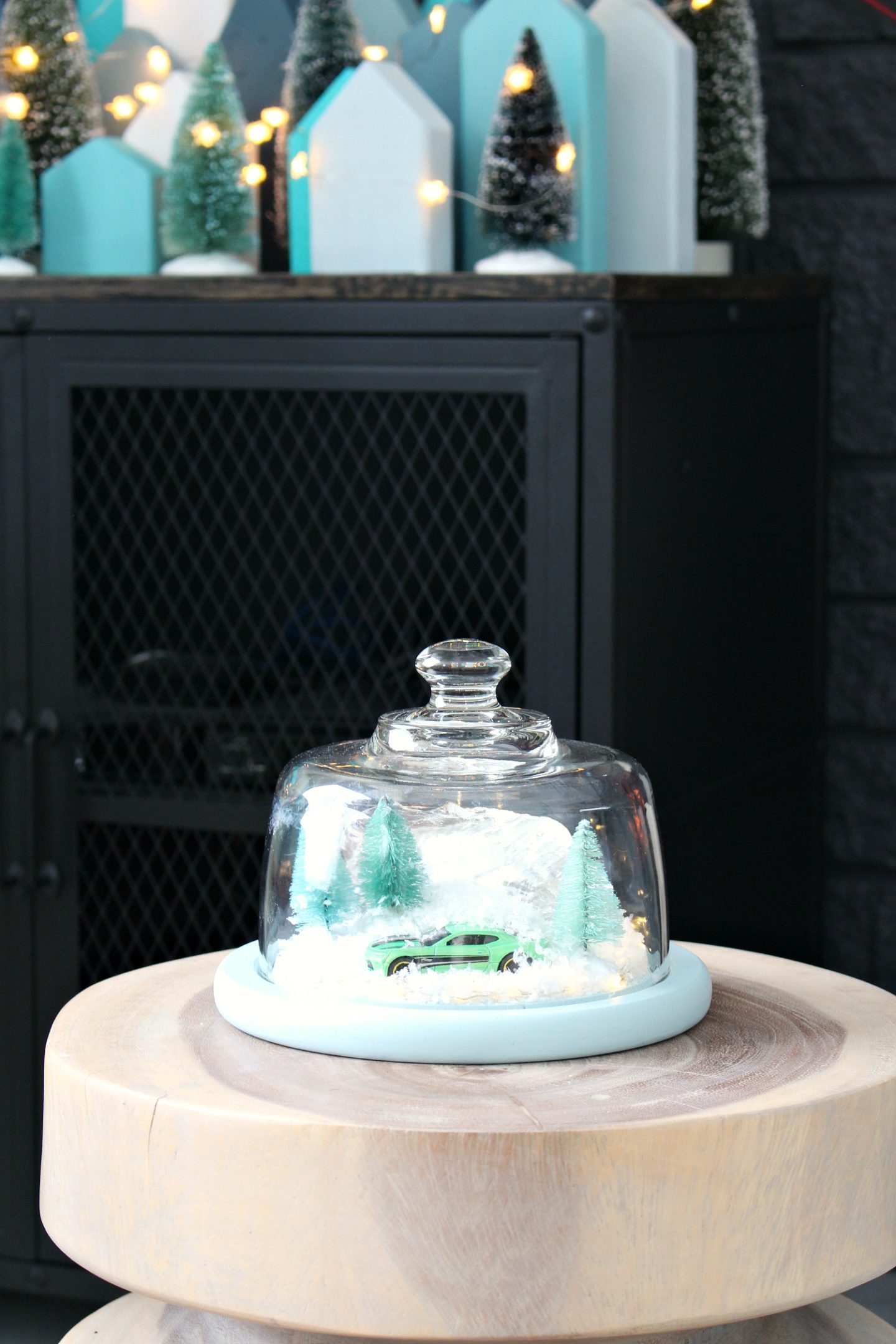 P.S. Don't Forget to Pin for Later!