If you're looking for an easy DIY ornament project, with limitless possibilities, check out this nature filled DIY fillable ornament (and keep reading for lots of other simple fillable ornament ideas).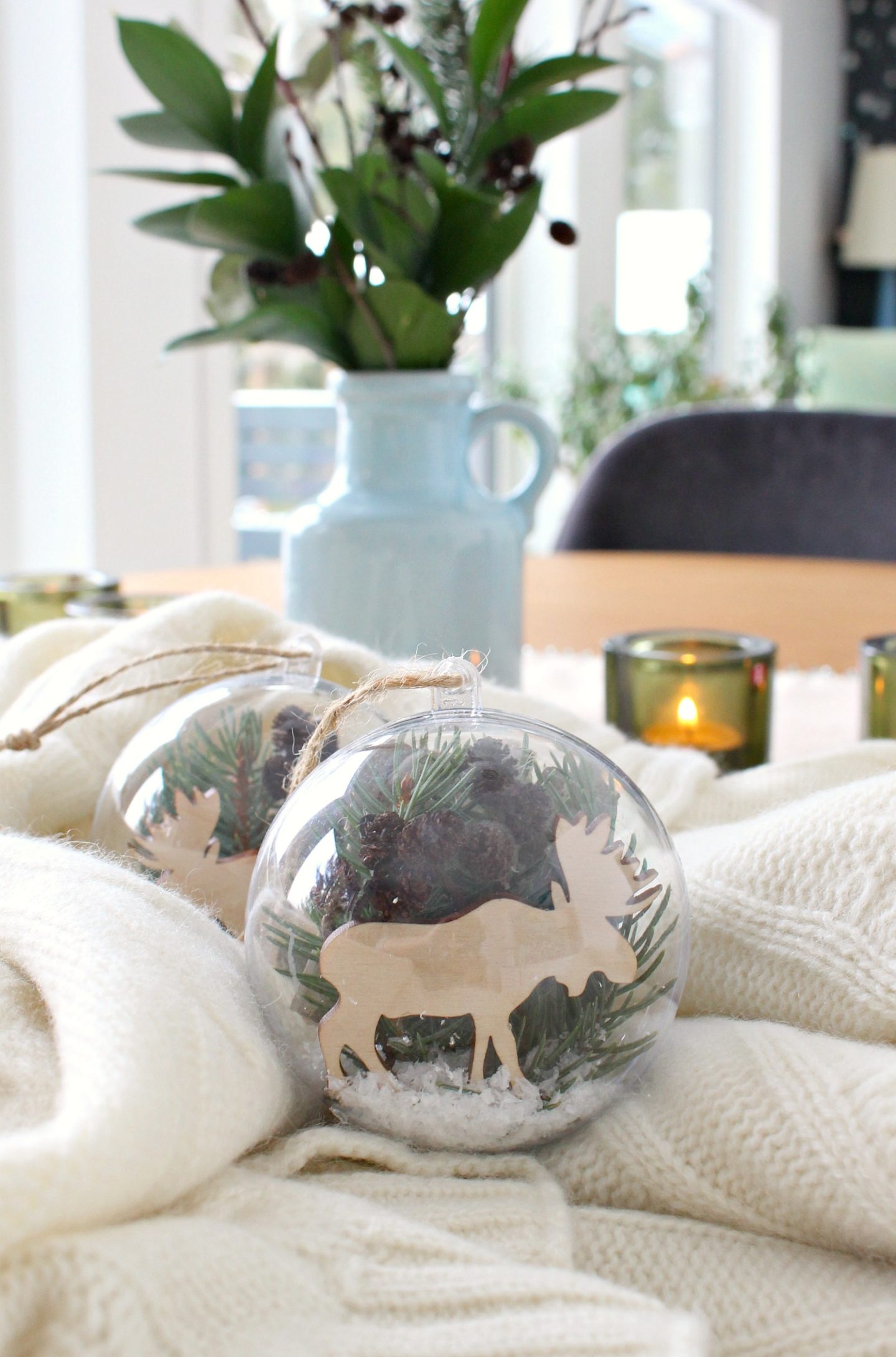 Isn't it cute? I was at Dollarama the other day, buying a couple of supplies (like the cute mantle garland you saw my DIY ornament display idea), and I spotted these fillable ornaments: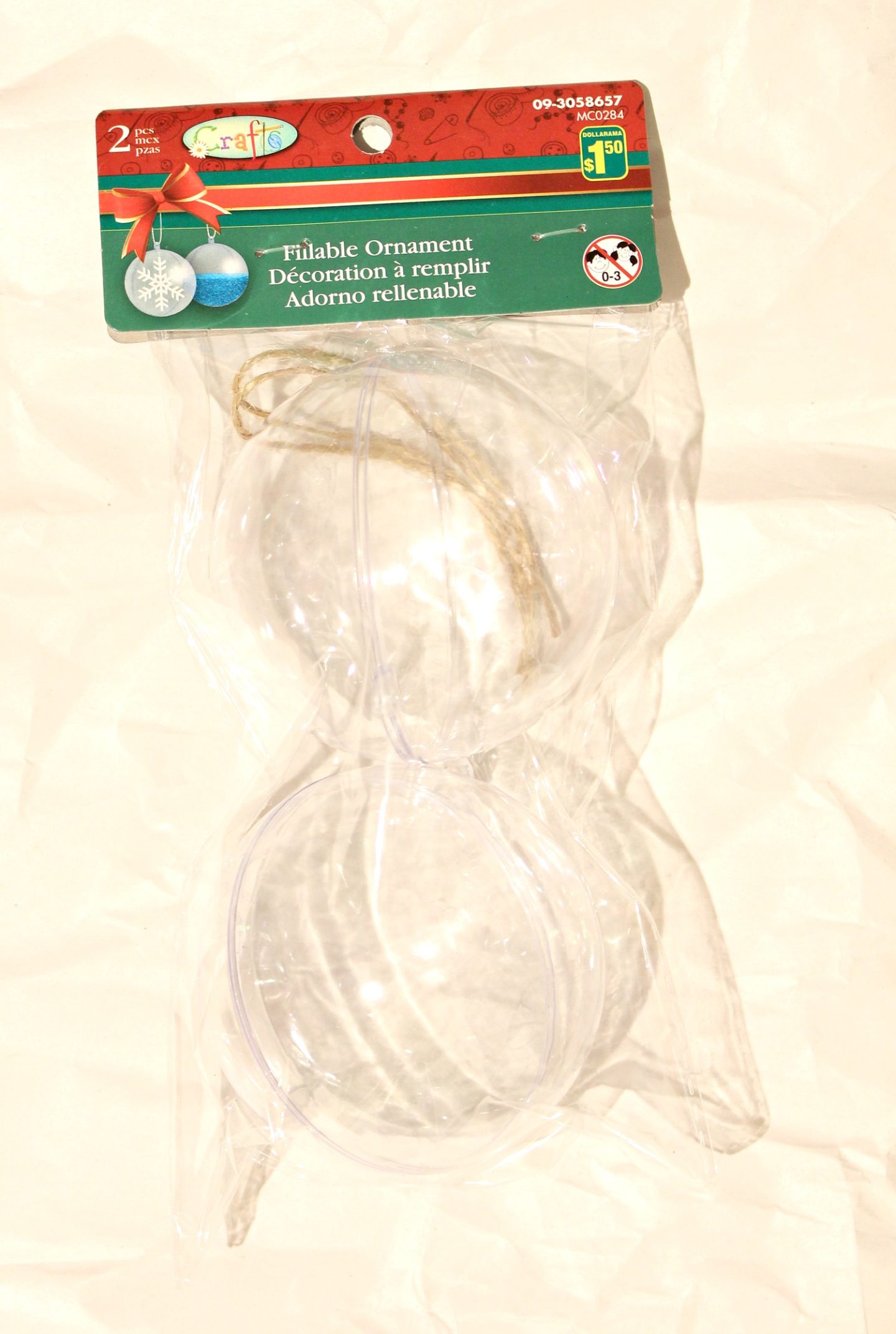 They actually split open into two halves, as opposed to being fillable from an opening in the top, which means they can be filled with much larger odds and sods. I had so many ideas for these fillable ornaments: felted wool balls, tinsel, candies – the list goes on. But in the end I settled on this nature filled ornament. I made a few variations, but my favorite is the little moose diorama because it's just so sweet and unexpected. Plus I already had the moose, for some strange reason.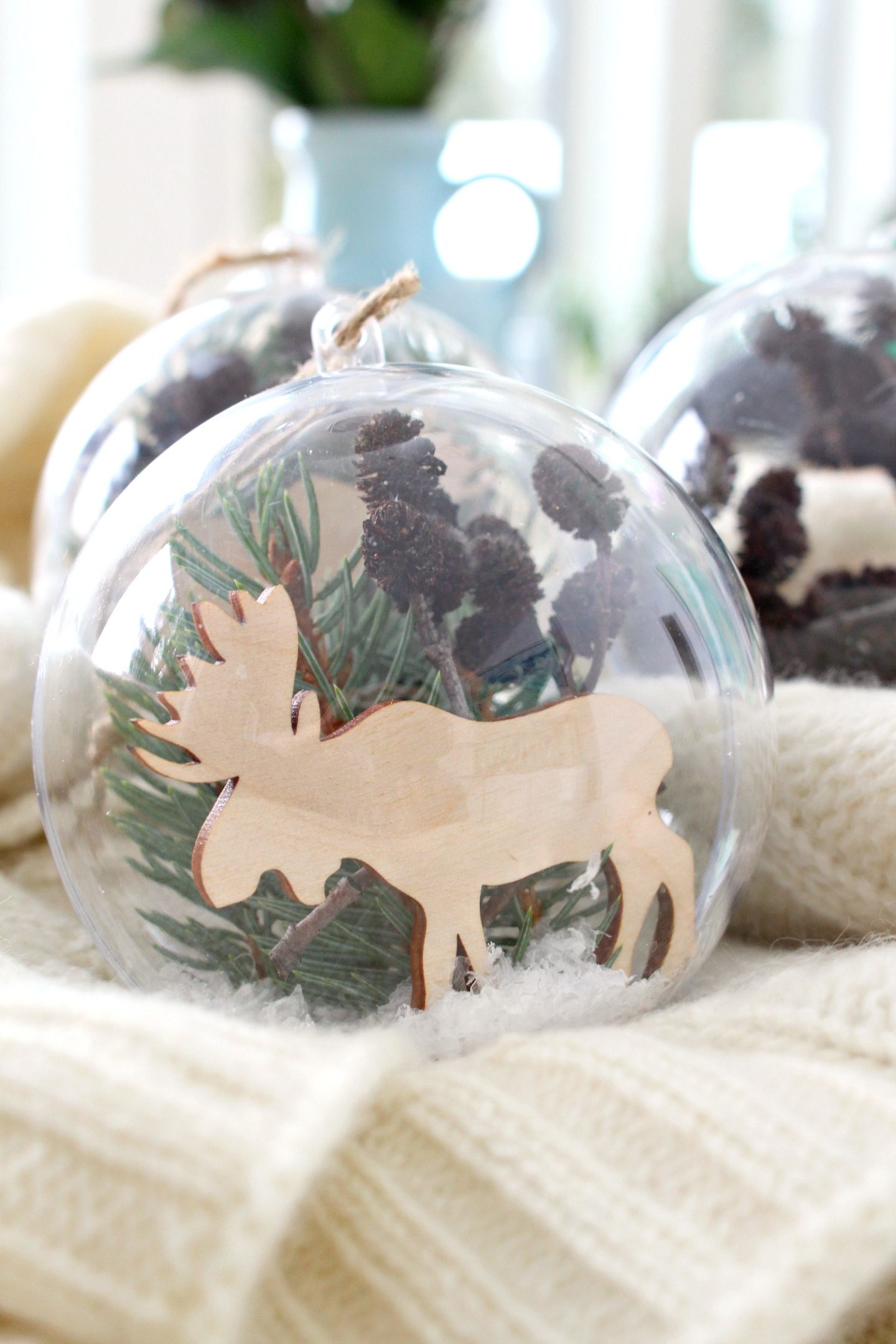 Supplies: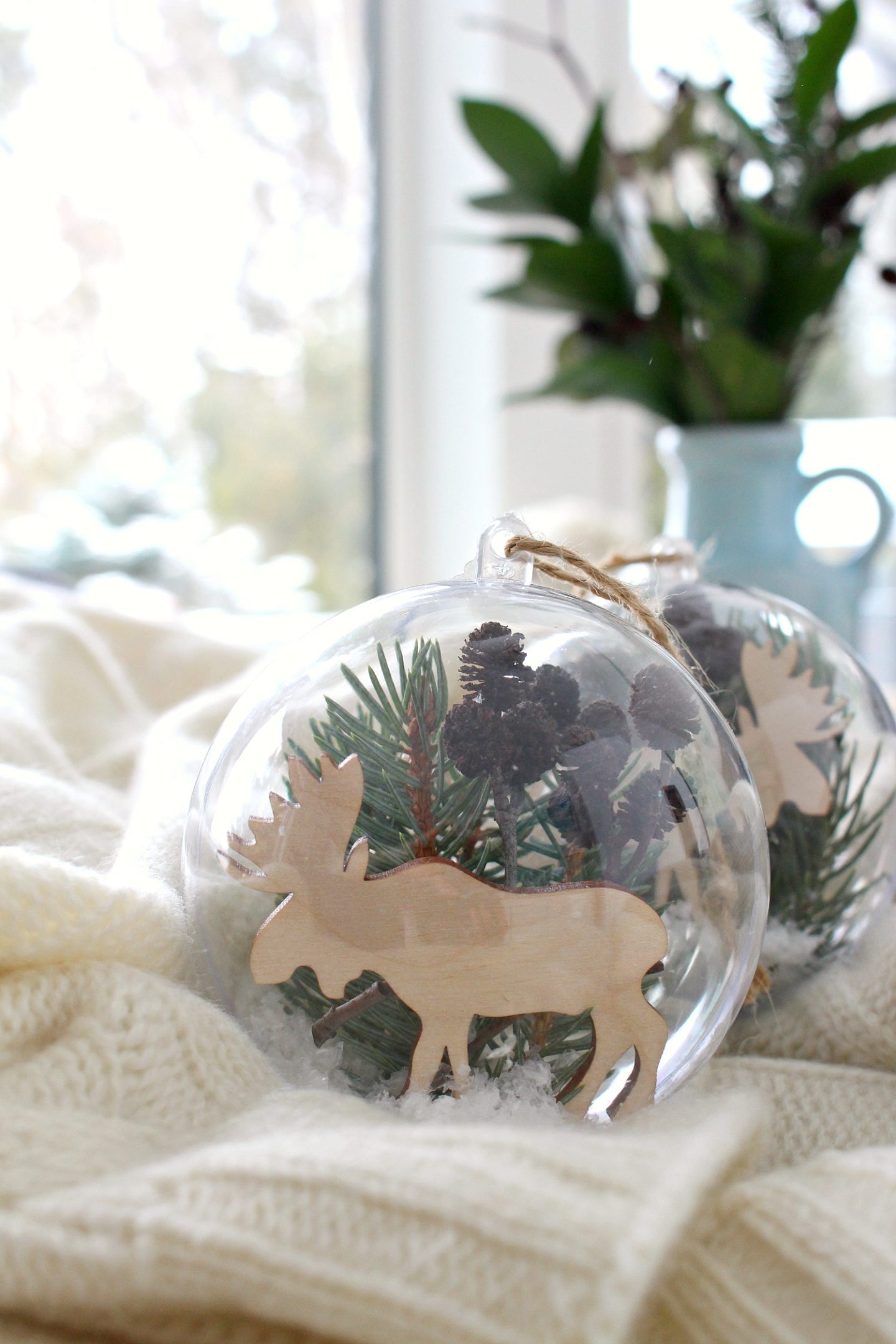 How to Make a Mini Diorama Fillable Ornament
This nature-filled ornament idea is easy! When I made the all natural winter window box for the chicken coop, I saved some of the extra branches and clippings and then trimmed a few pieces off my blue spruce too. I cut them to size to fit inside the fillable ornament. I just opened it up and set the moose silhouette inside first. I placed the little branches and clippings on top. I tossed in some fake snow (leftover from my DIY Winter Diorama) and then added some more branches and clipping to the other half of the ornament. Then I very quickly closed it tightly and held it upright so the snow settled. Everything is held in place by virtue of fitting so tightly (that's why I filled both halves – so it wouldn't just slump into the empty half). You could also add a dab of glue, but I want to re-use these again next year with a fresh idea.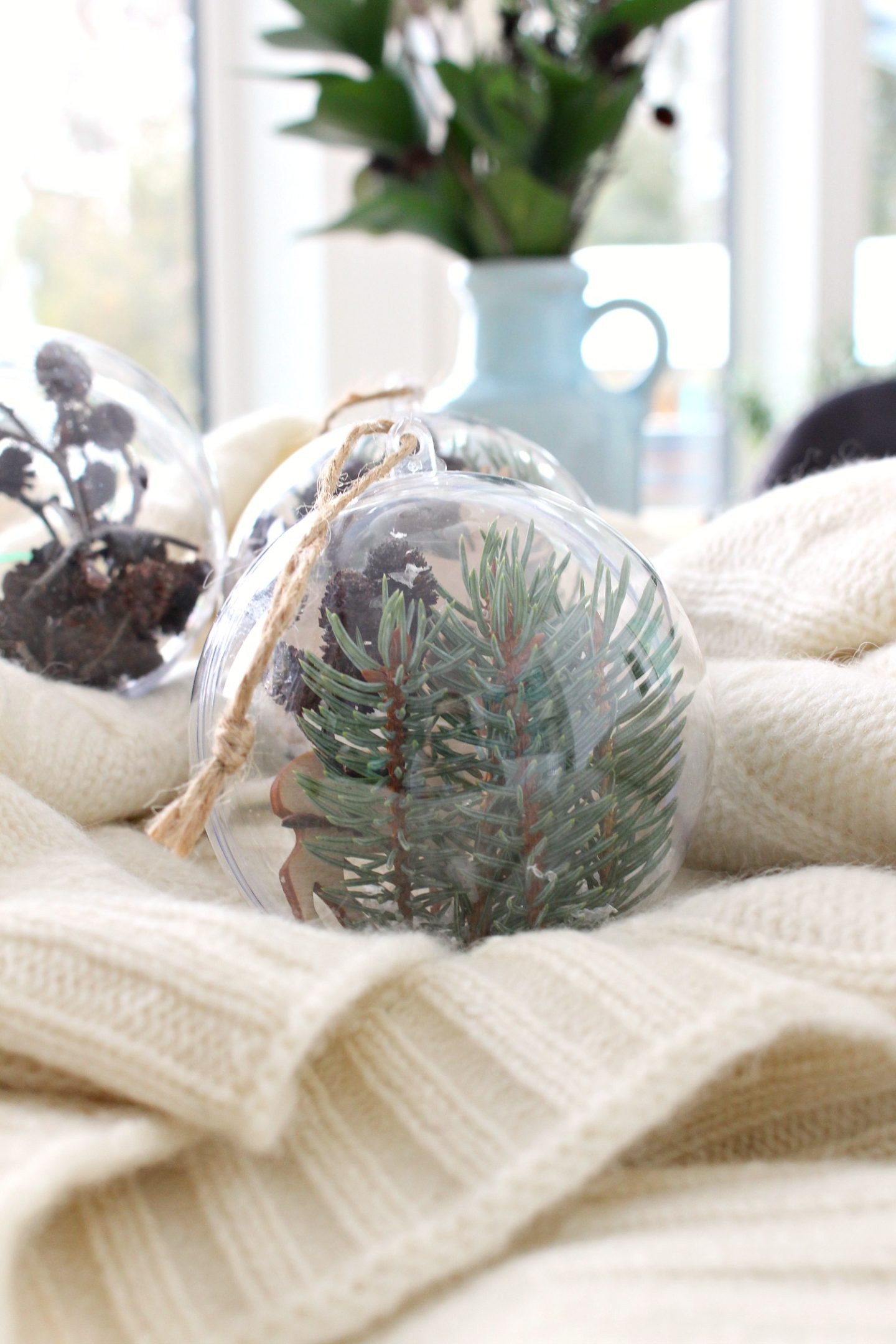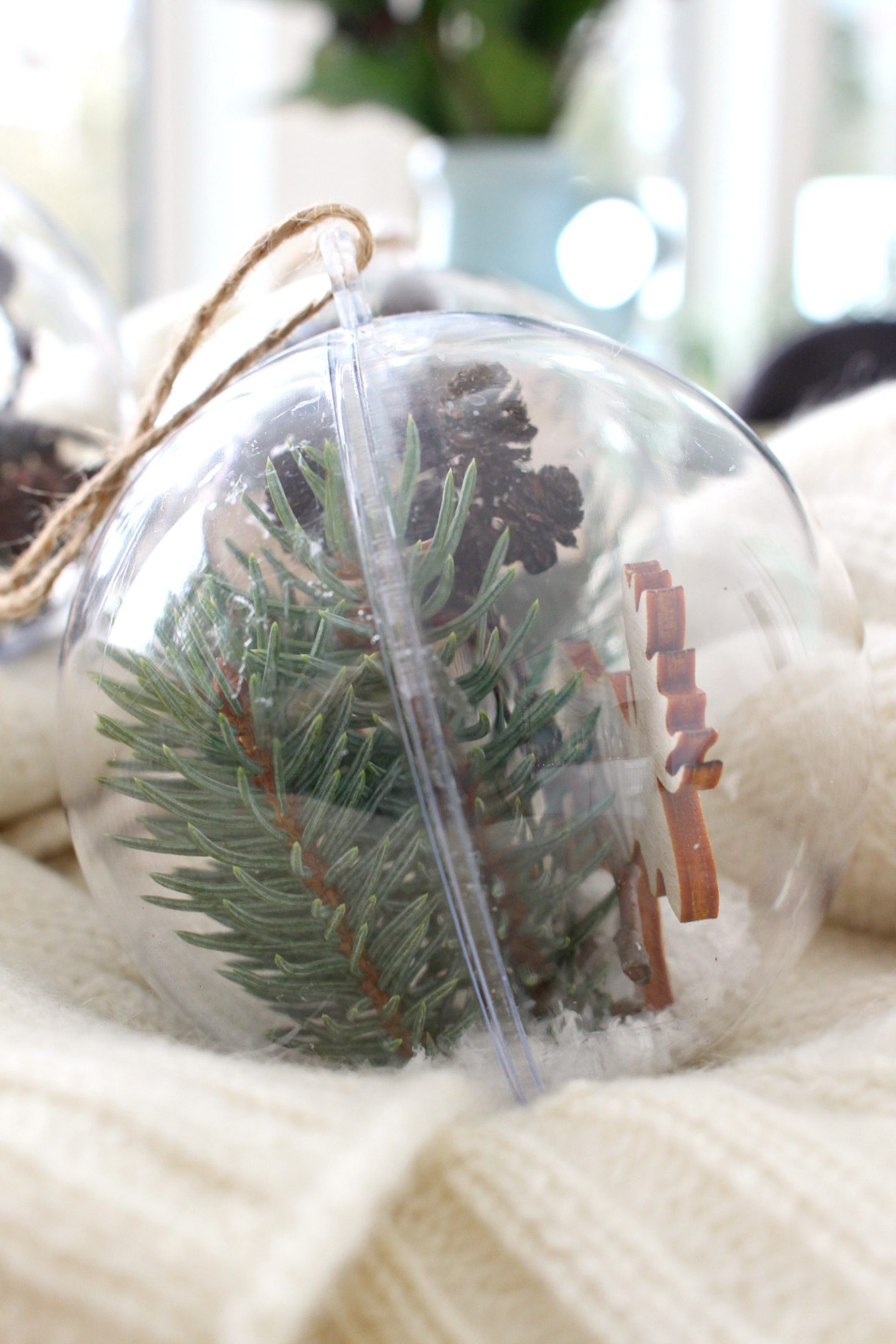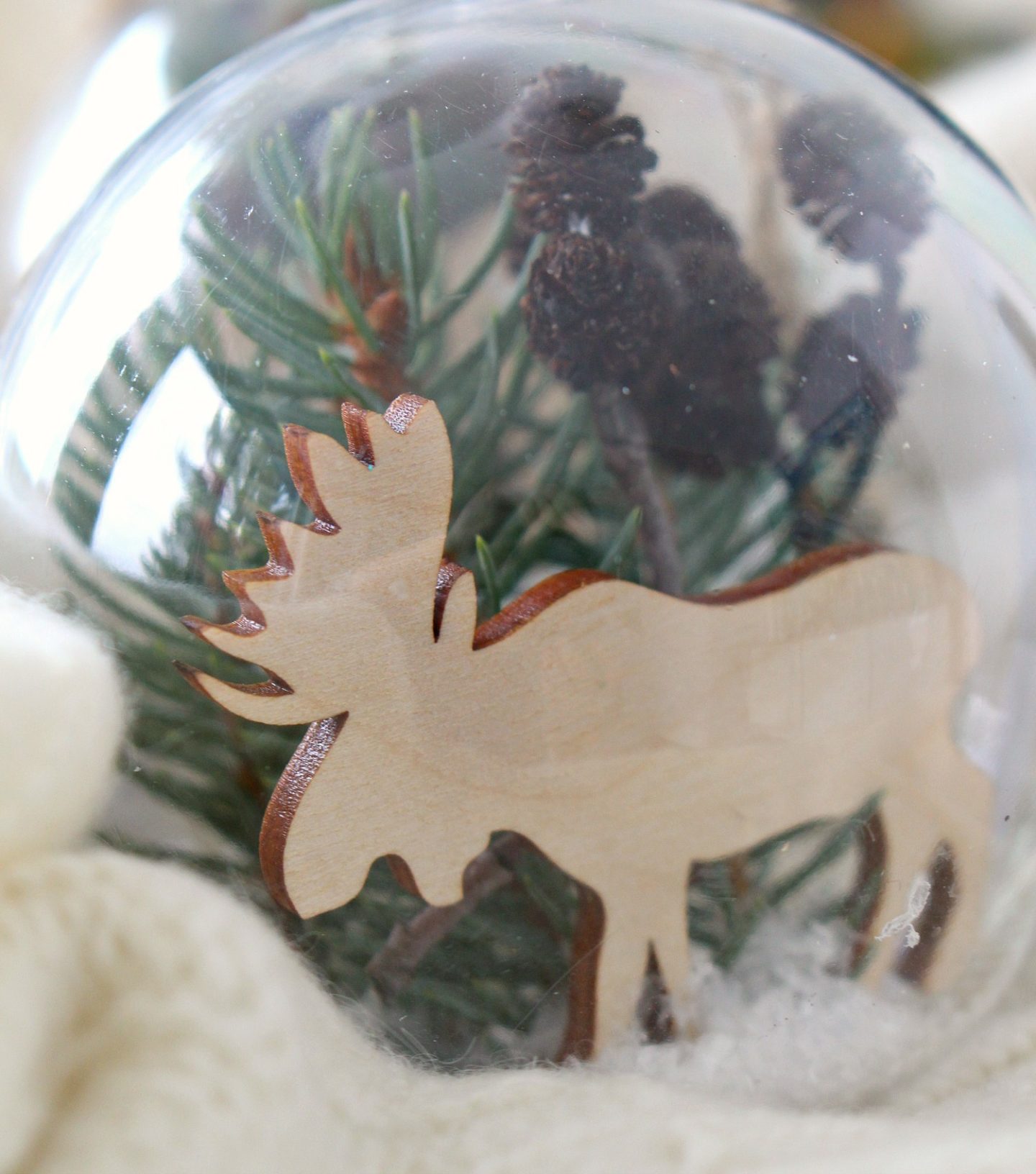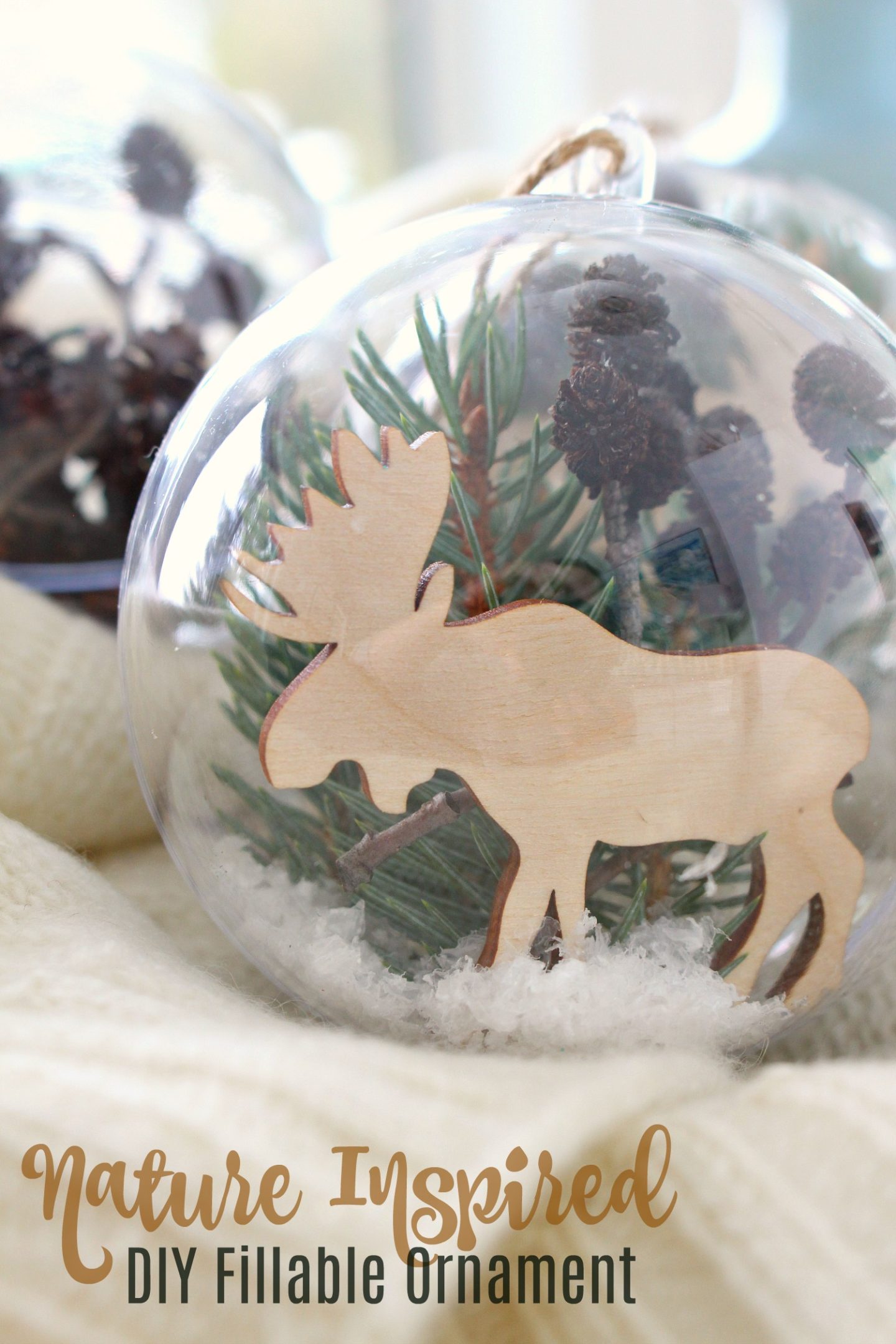 Isn't this the cutest fillable ornament idea? It will look so ethereal and dreamy, backlit on a tree!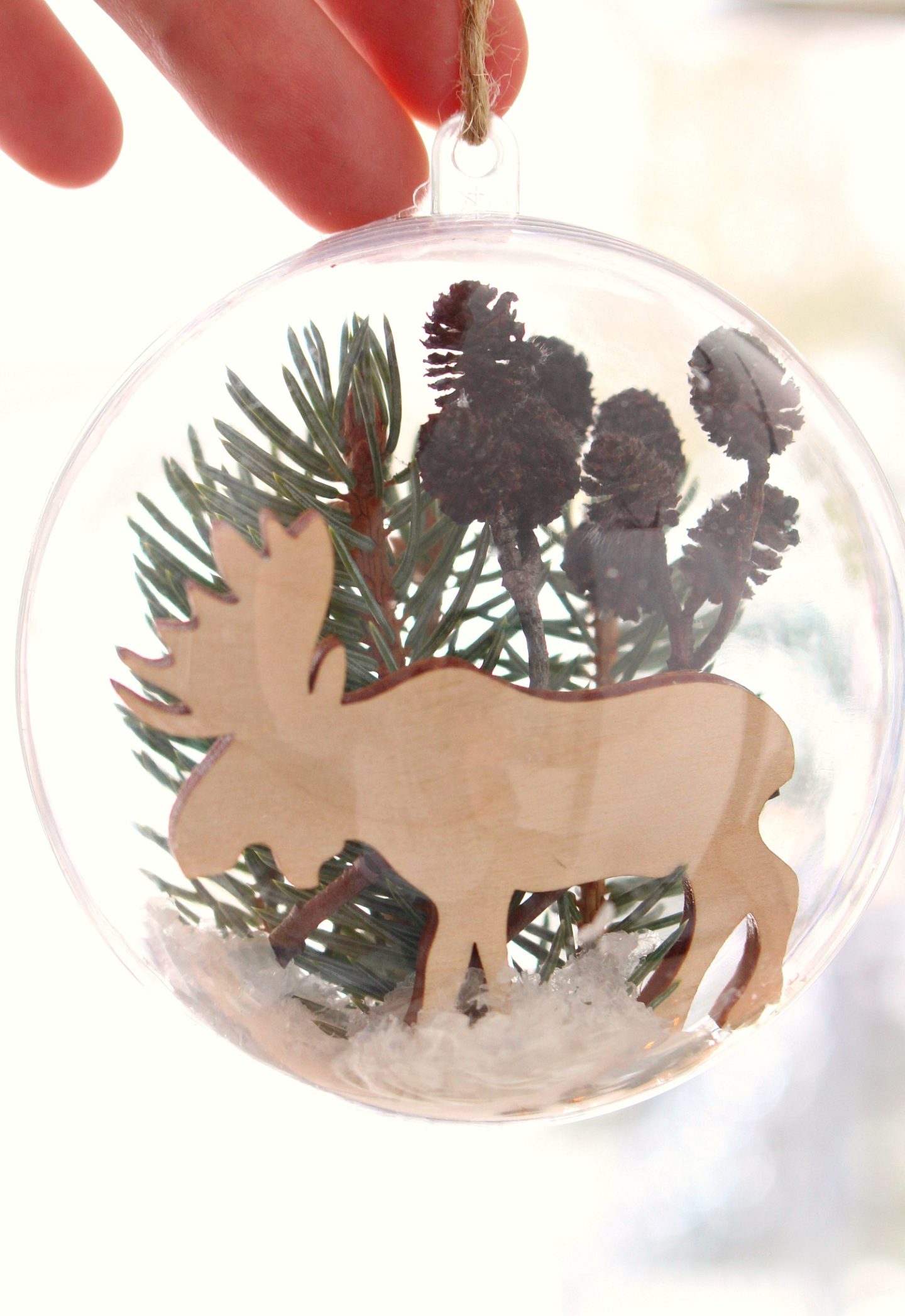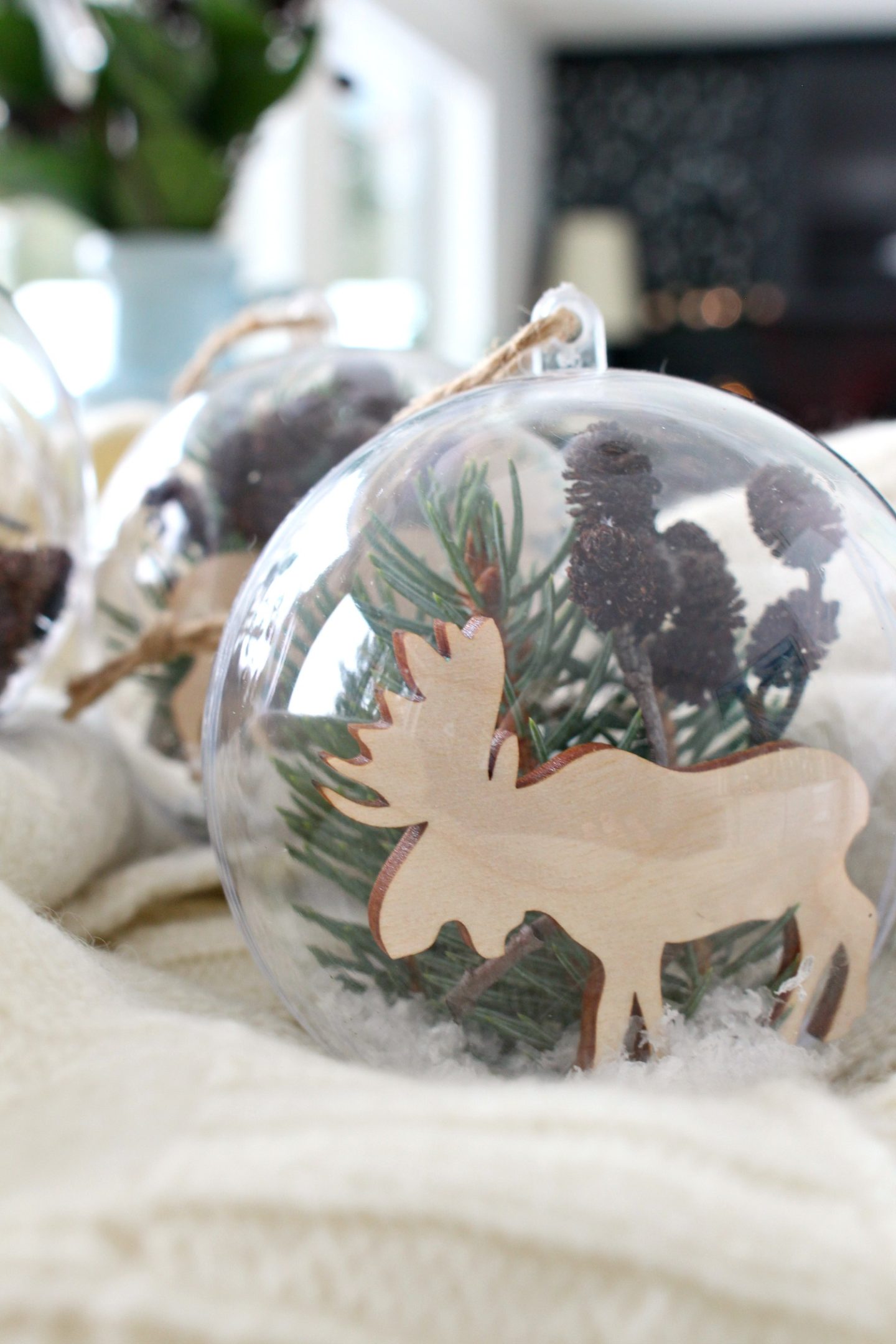 Other Fillable Ornament Ideas:
Here are a couple other versions I made when I was just fiddling around with leftovers: this turned out so sweet (just add a little faux bird to some natural branches with a dab of glue):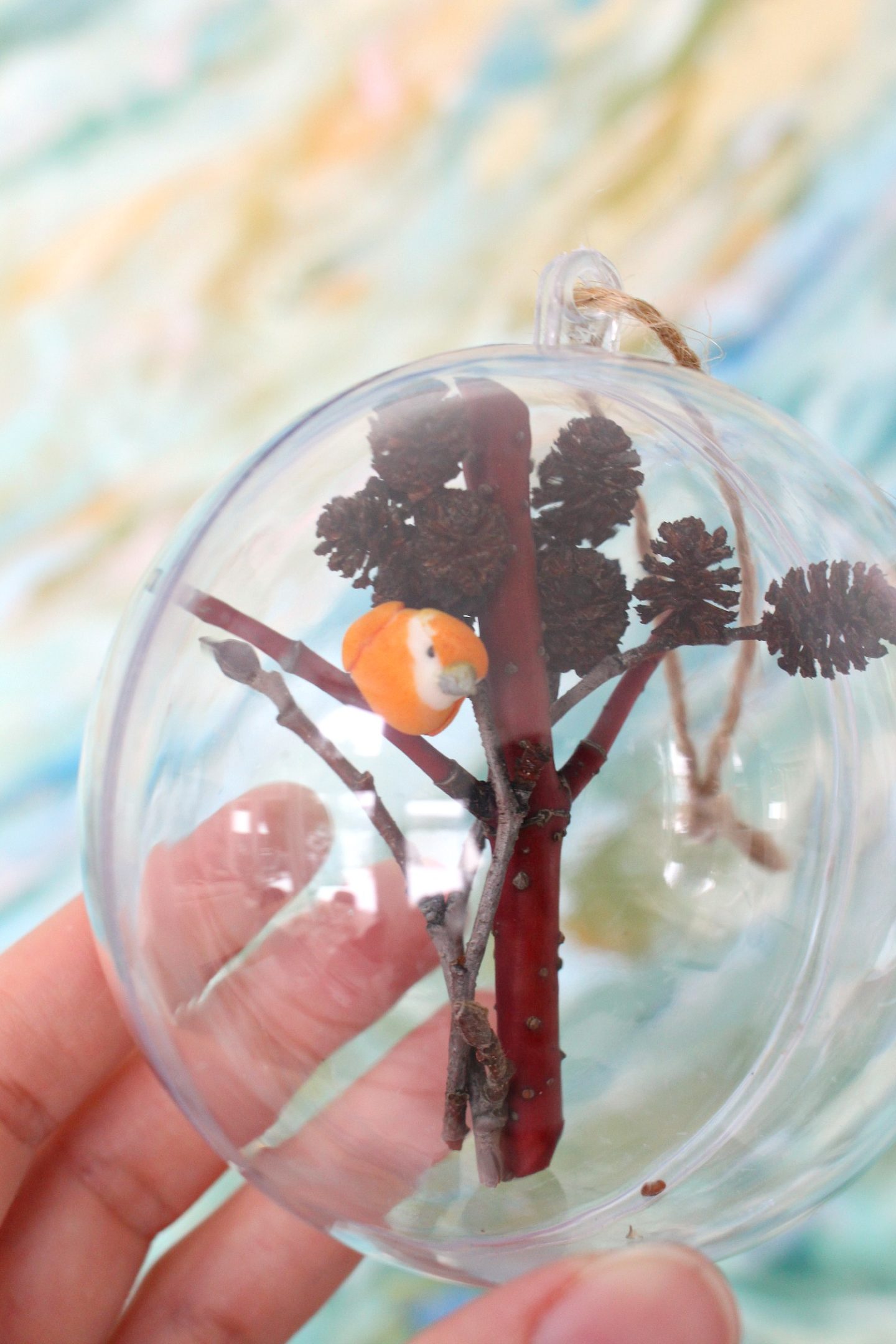 I also made one that I just filled with little branches.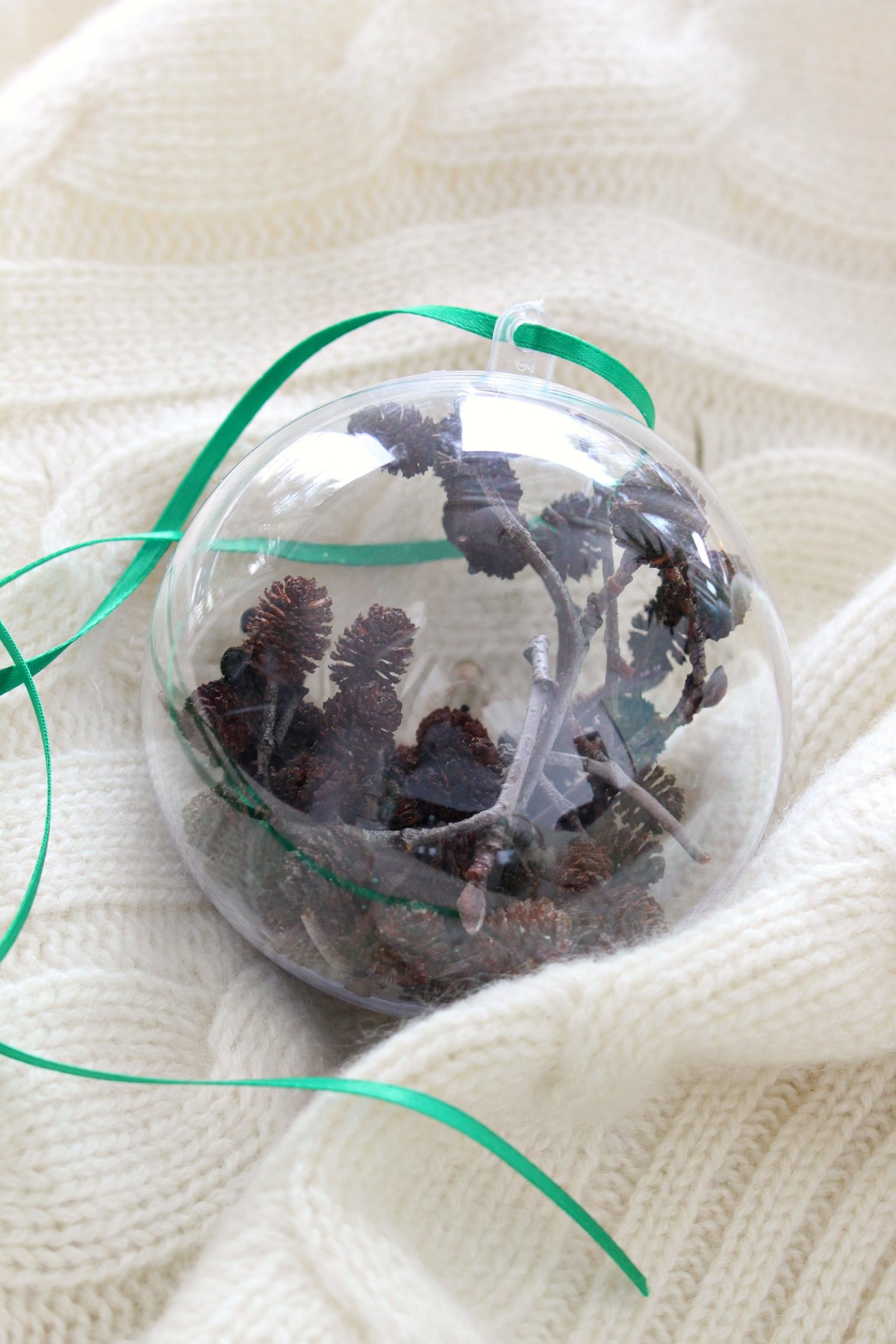 And here's one I made filled with stovetop potpourri ingredients: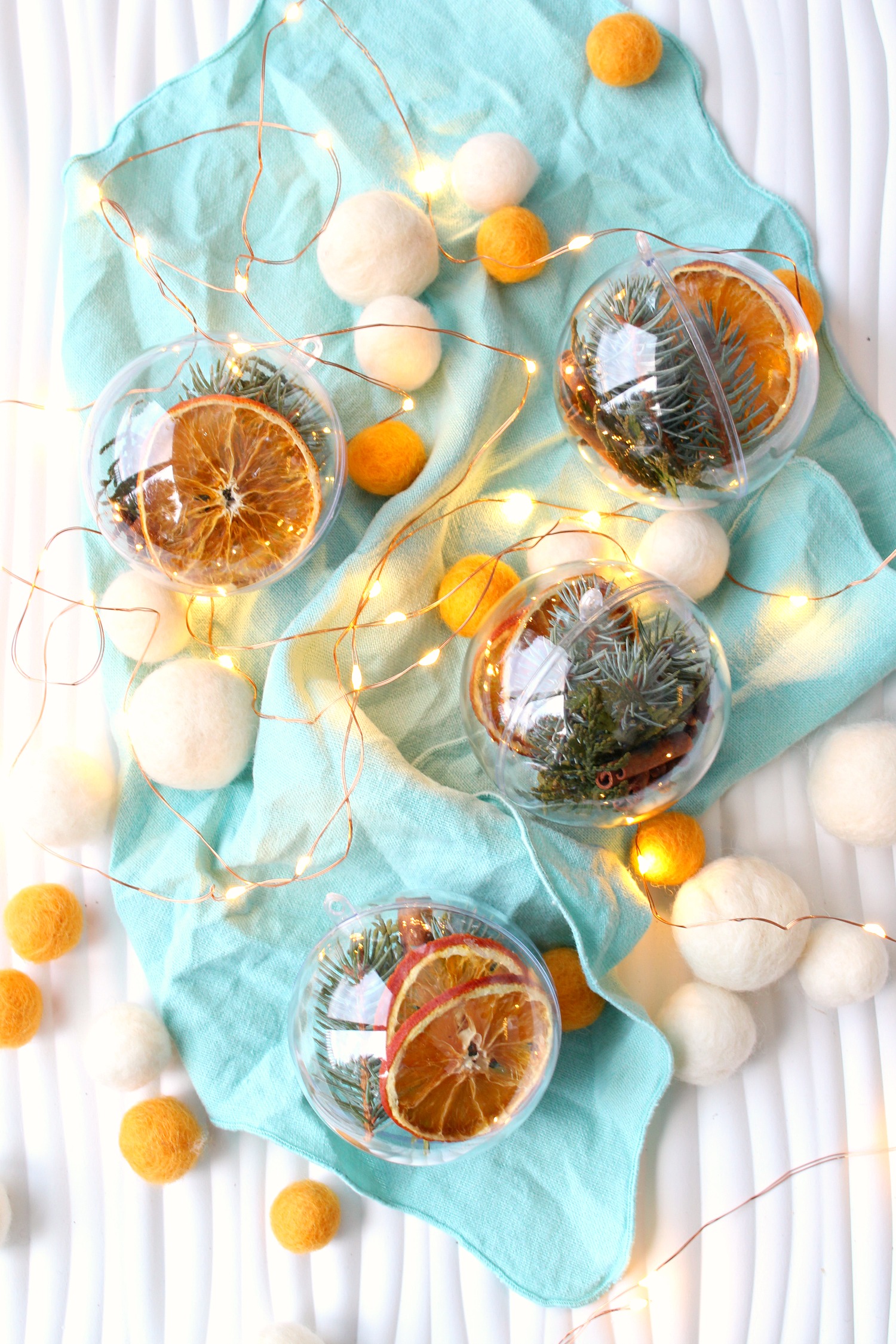 More Fillable Ornament Ideas:
Other natural ideas: just evergreen branches (maybe epson salt "snow" to make a snow globe), real cranberries, dried leaves, dried orange slices, pressed flowers, moss, lichen, (it's so colorful), a little sand, beach glass and seashell.
Crafty ideas: Make some felt balls or buy mini pom poms, fill with yarn or ribbon scraps.
Reduce/Reuse/Recycle ideas: Grab scraps of tinsel that break off after decorating the tree, shred some colorful paper, or stuff with last year's bows and ribbons.
Kid-inspired ideas: Spray paint toys with glittery paint, dip some mini pine cones in paint, or fill with candy.
Fillable ornament ideas for kids could get really wacky and fun, and I bet little ones will love assembling these. These would be fun to make with kids, because you don't have to use any scary supplies (like glitter or glue, haha). Go foraging in the back yard or park for things to fill the ornaments with and make a day of it. You can add a few dabs of crazy glue to seal in the content forever, or screw them tightly (they hold, but not if they're handle roughly) and re-use them year after year.
P.S. Don't Forget to Pin for Later!