I'm excited to share this ornament display idea and show you my DIY cascading ornaments flanking the fireplace, but first I want to share a little back story. This time last year, we hacked our fireplace and as a result, were were finally able to hang the TV in the middle (and I splurged on a Samsung Frame TV to celebrate – you can read my review of it here). Below is a recent photo of the dining/living room area, post-hack: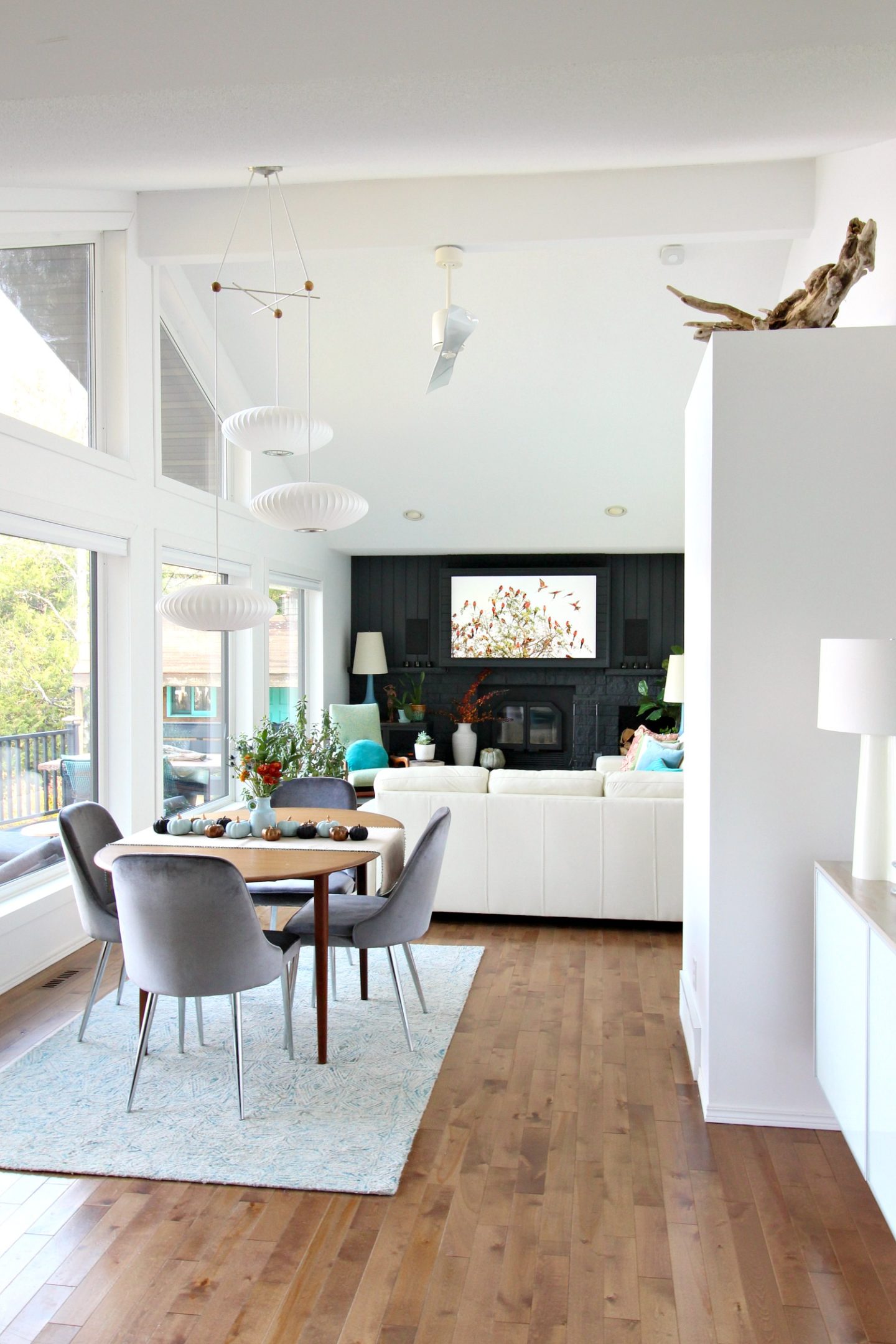 When the DIY fireplace update was done last December, I was already envisioning this year's holiday decor: a pair of massive wreaths on either side of the TV (I previously had four framed vintage postcards on either side of the fireplace, which I moved to the bedroom after the TV was installed). But then Hubby installed the speakers at eye level and totally crushed my dreams, lol.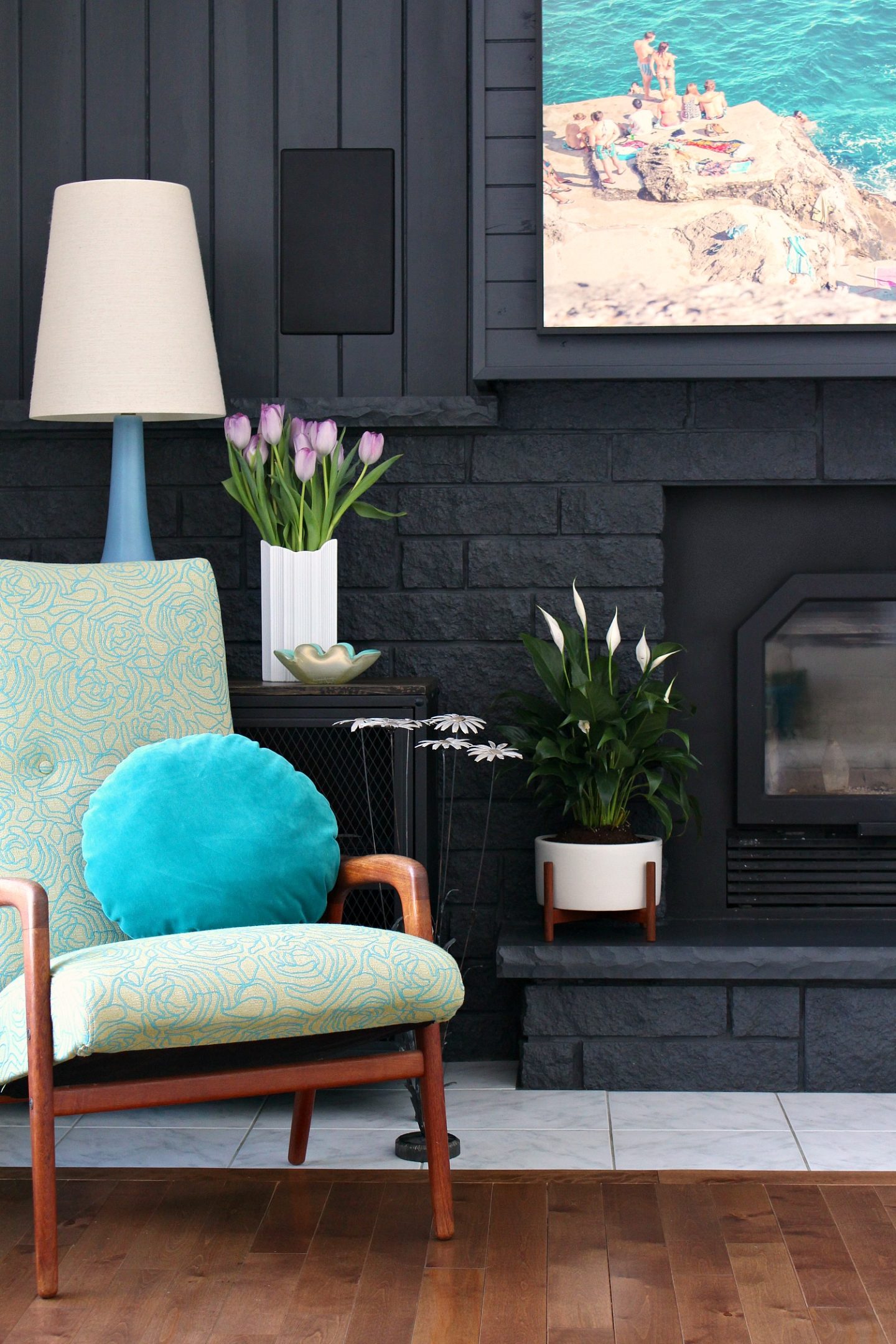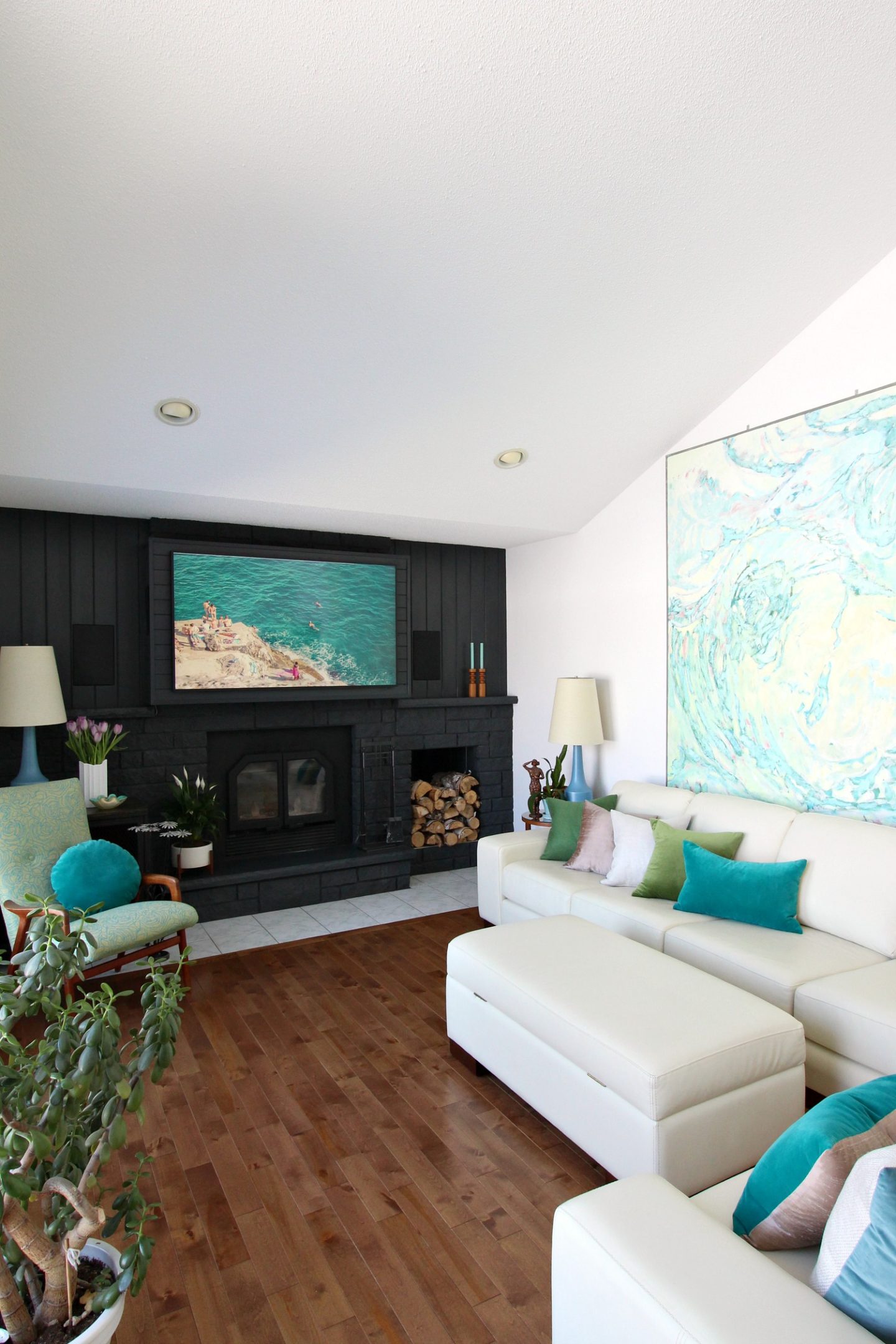 Undeterred, I noodled on a way to add a little festiveness to the fireplace without blocking or damaging the speakers – but maybe disguising them just a tiny bit? I ended up creating this cascade of shimmering ornaments, anchored by a lit up garland on either mini mantle, to draw the eye down. Obviously you can still see the speakers, but I think that they're way less noticeable and the end result is festive and sparkly – especially at night.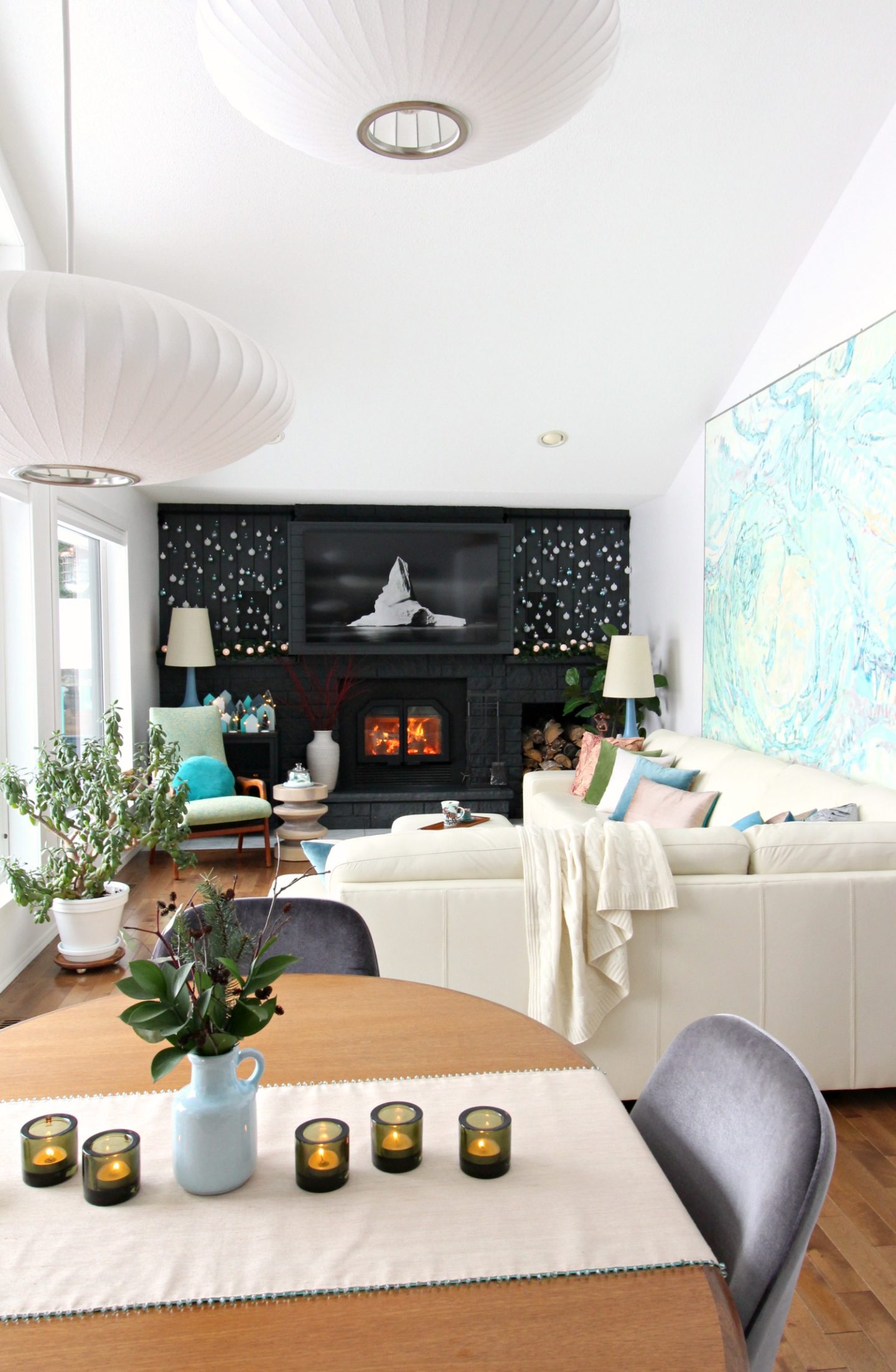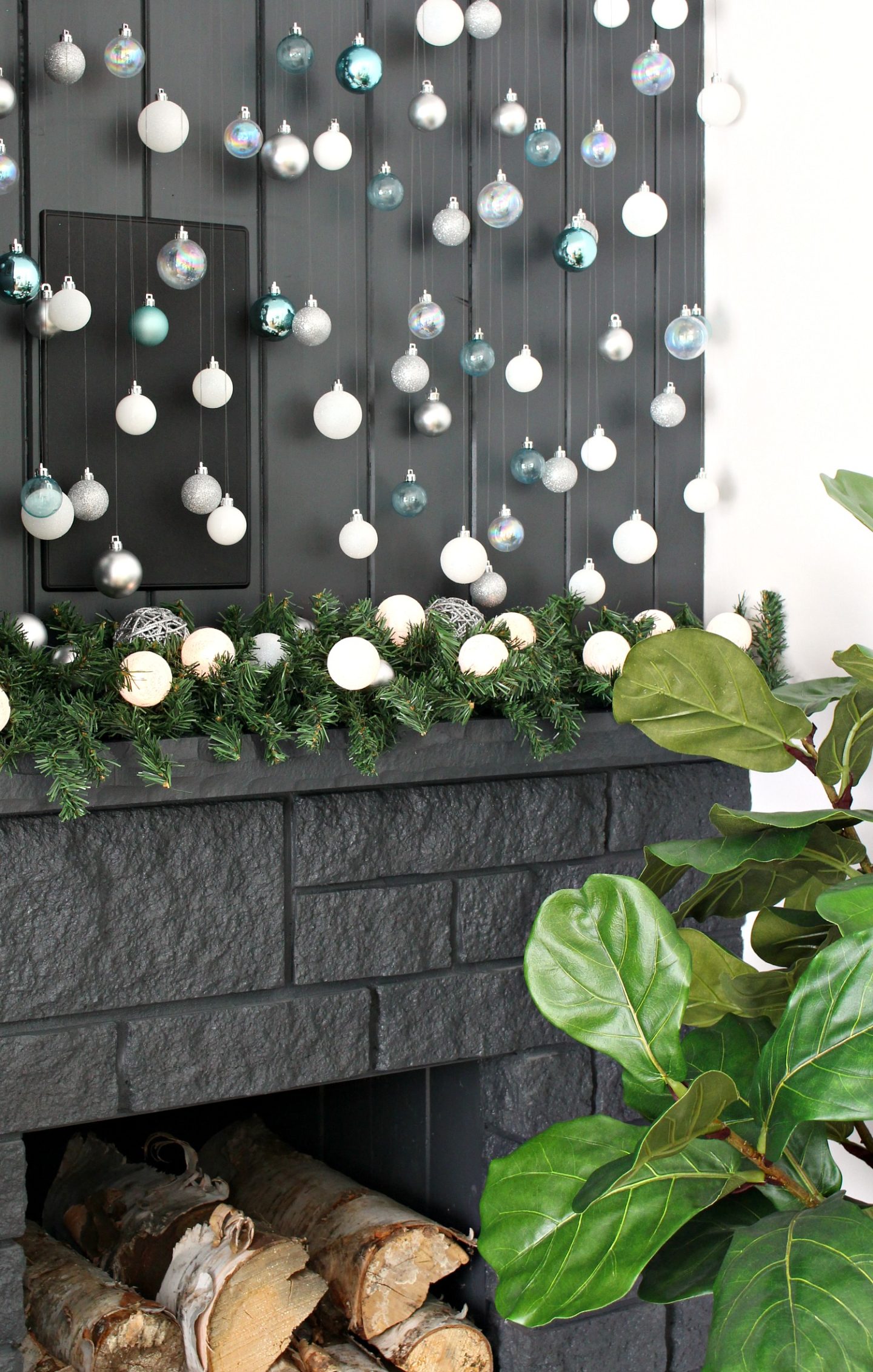 I originally planned all-white ornaments (to look like falling snow!), but then I spotted a tube of 100 ornaments at Michael's Crafts with some teal baubles and I couldn't resist. I bought a silver/clear mix and the teal mix (for 200 ornaments in total). They were on sale at the time for $20/tube of 100.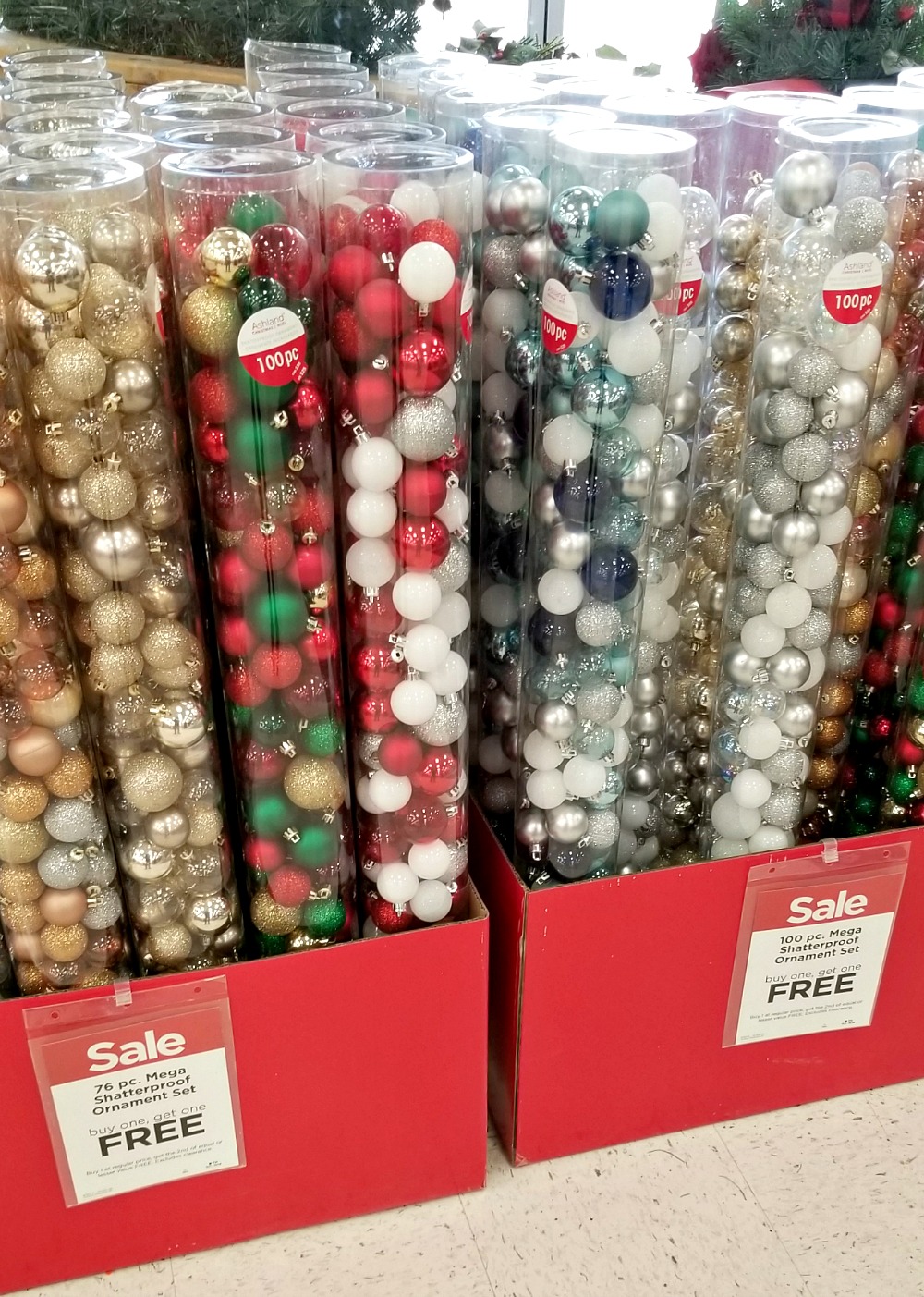 With this large turquoise painting right beside the fireplace, aqua always works!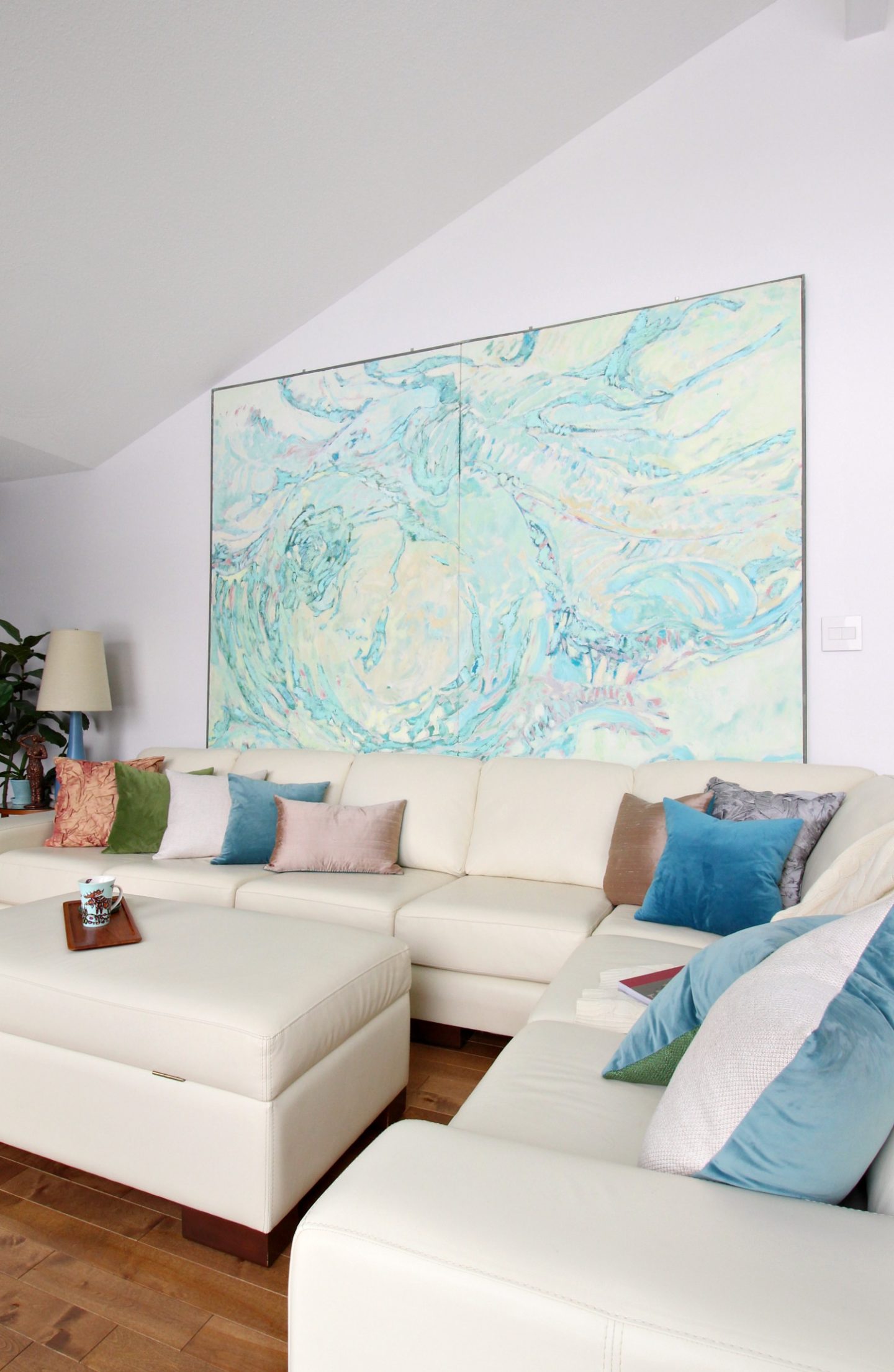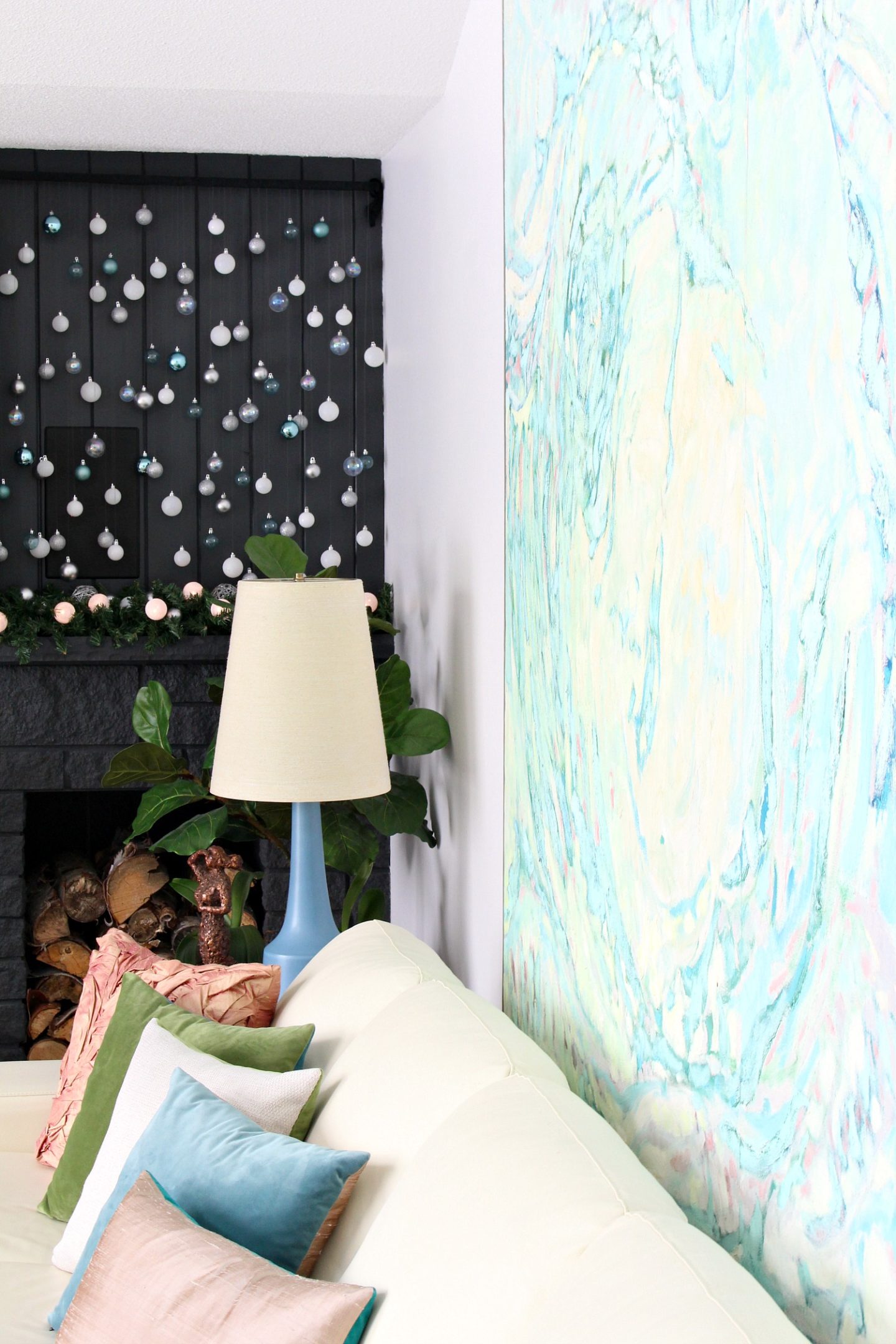 I did also buy a tube of copper ornaments, but they just didn't pop against the grey and I love how this looks sort of ethereal and dreamy.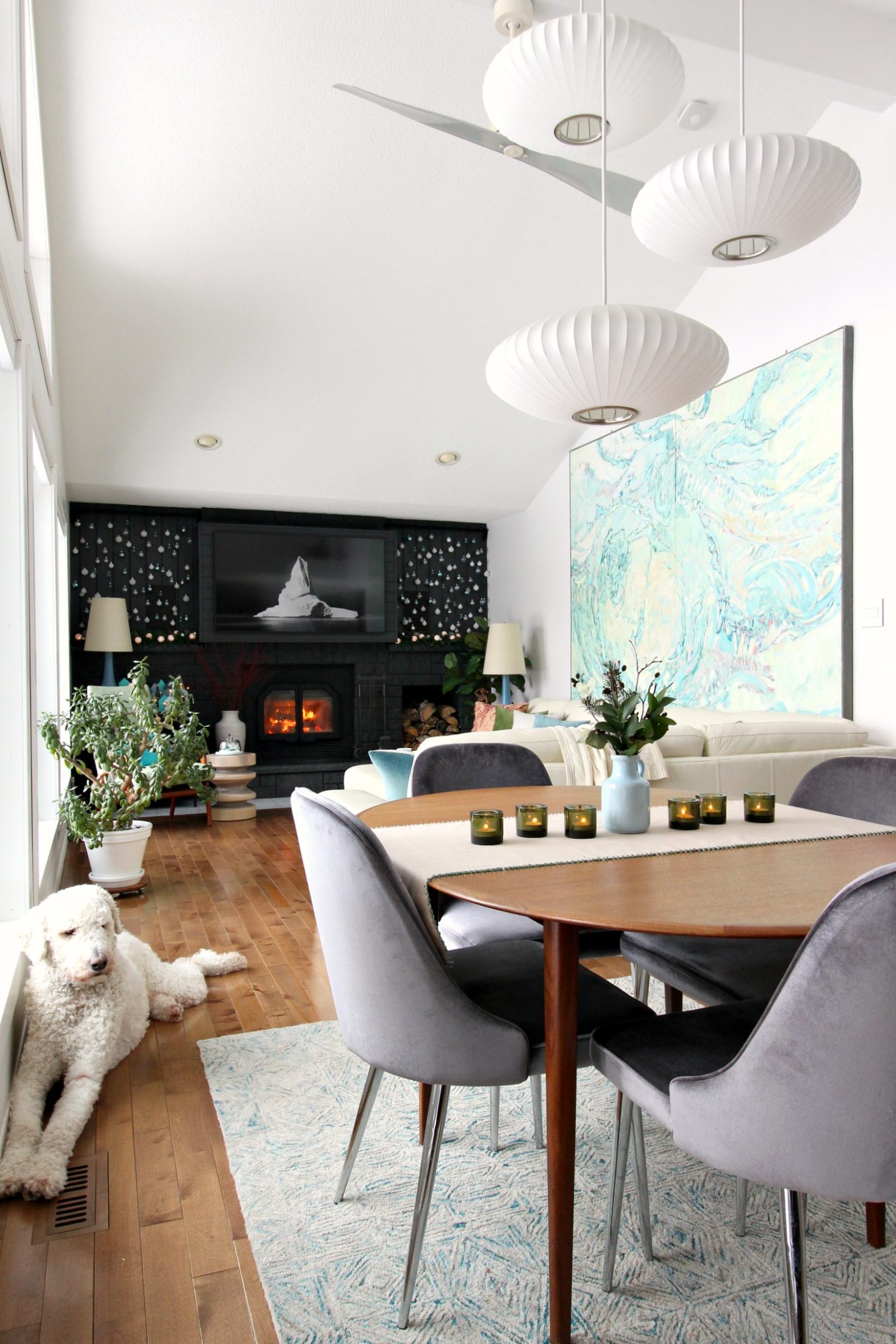 Szuka could not care less.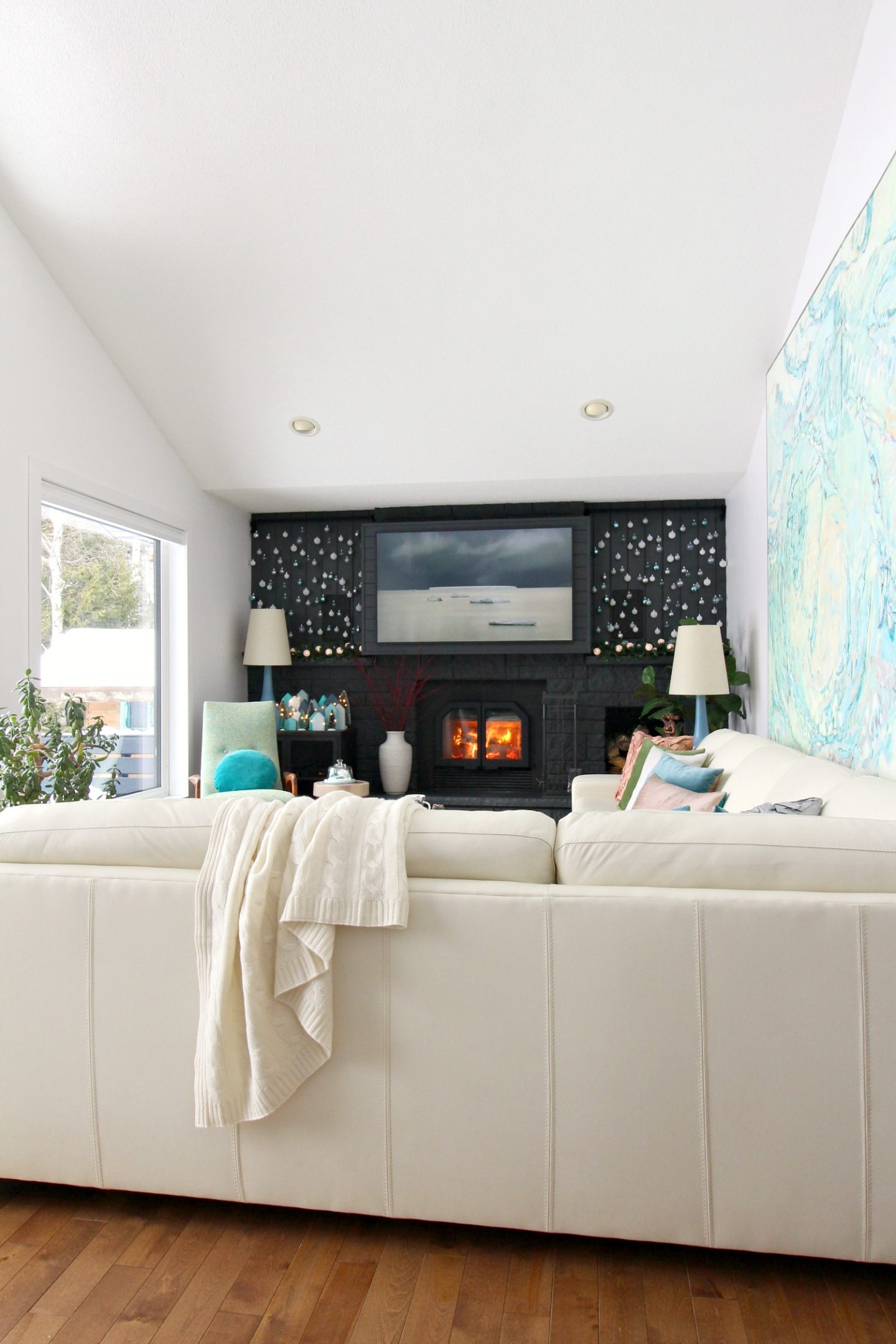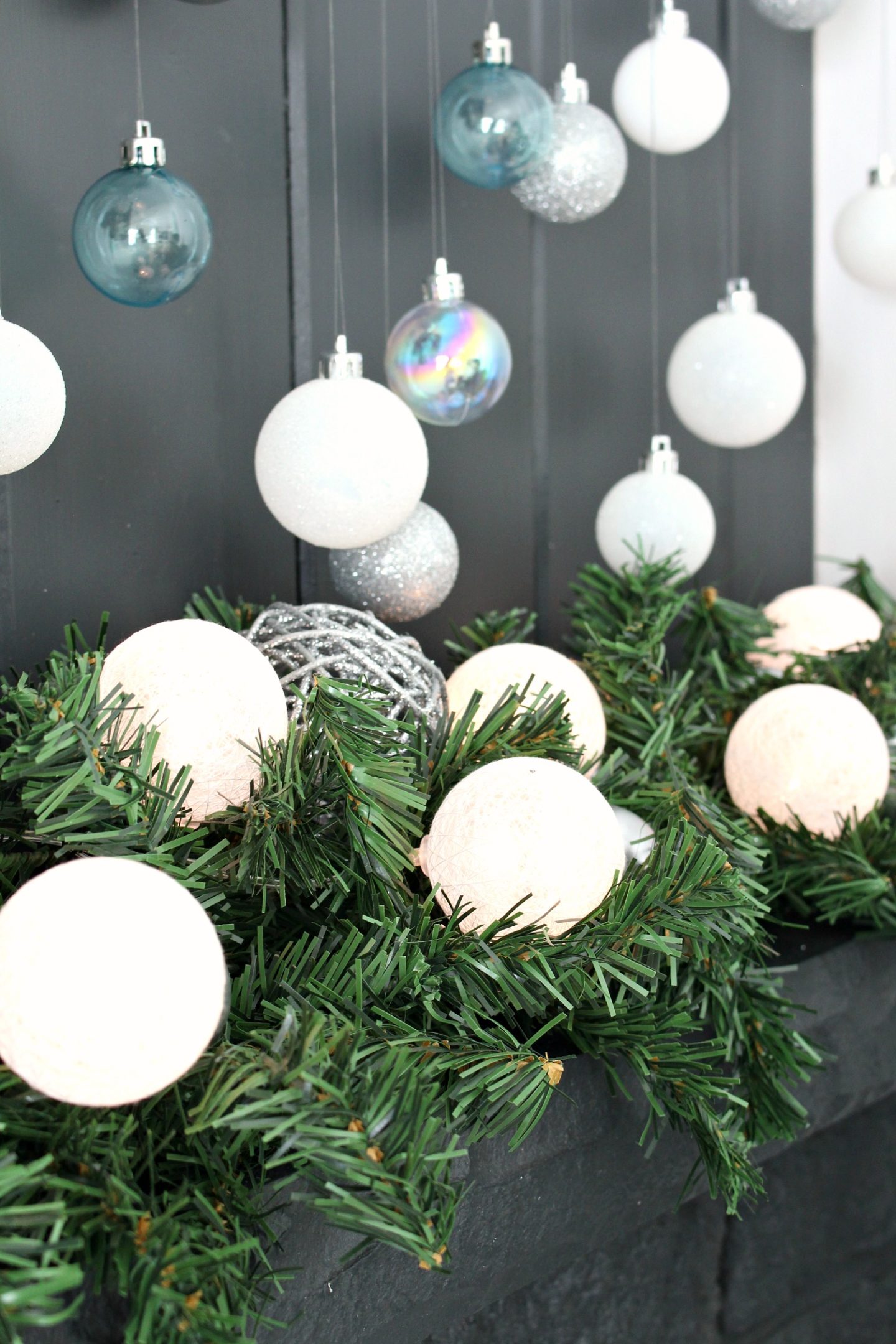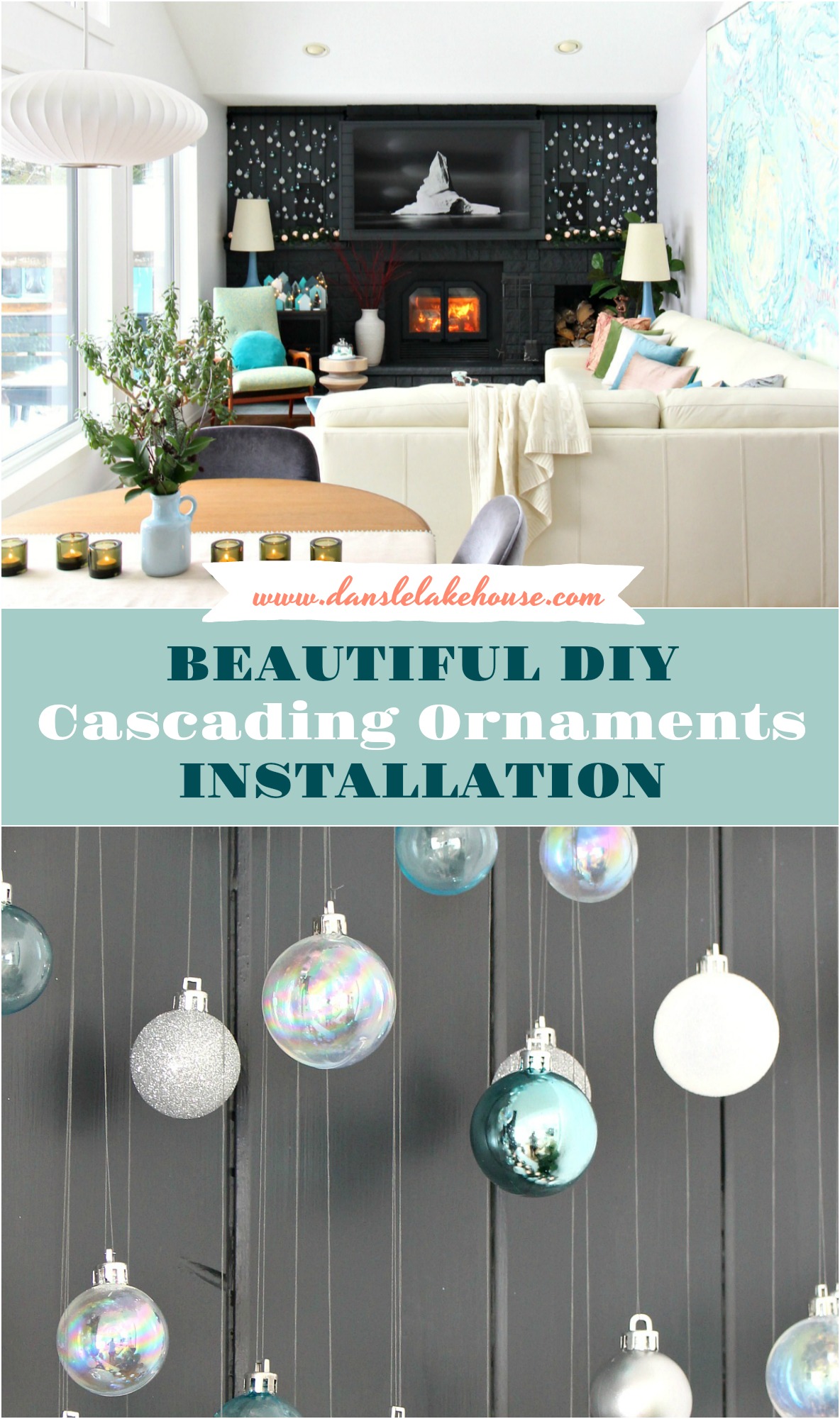 Here's how I created my cascade of ornaments.
Supplies:
What Kind of Curtain Rod to Use:
* I actually screwed in two inexpensive cafe curtain rods but I have done something similar with a tension rod in the kitchen window.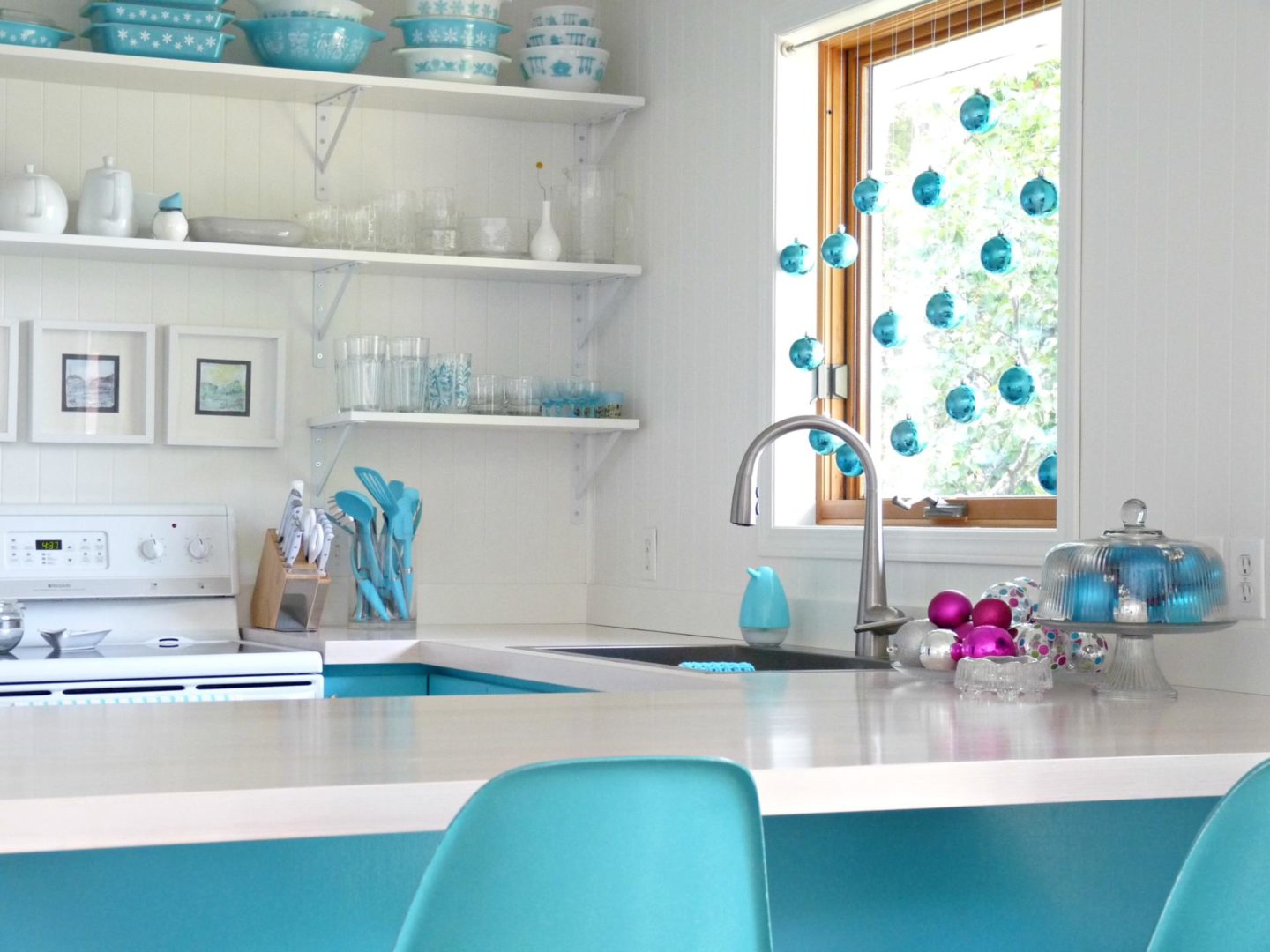 A tension rod is damage-free, but because my brick is so textured I wasn't 100% sure it would hold. I had one in the bathroom before we installed the ceiling mounted rod and the tension rod would not grip the textured tile (we went through a couple styles). I didn't want to find out the hard way that it couldn't grip the brick – when the rod fell down and knocked over my Lotte lamp, lol. I decided that it was easier and safer for me to screw in a rod and then touch up the holes later with paint – it won't be the first touch up, so no harm no fowl in my situation. You could also use a series of clear mini 3M hooks along the top and hang the ornaments from them as another temporary option.
How to Create the Cascade of Ornaments:
This project is easy! I installed the curtain rods on either side and then tied on the ornaments using thread that disappears against the dark grey. I staggered the heights and it helped to have a friend who could hand me the ornaments while I teetered on the stepladder. Then I hid the curtain rod by wrapping a ribbon around it (lightly basted onto the rod with thread).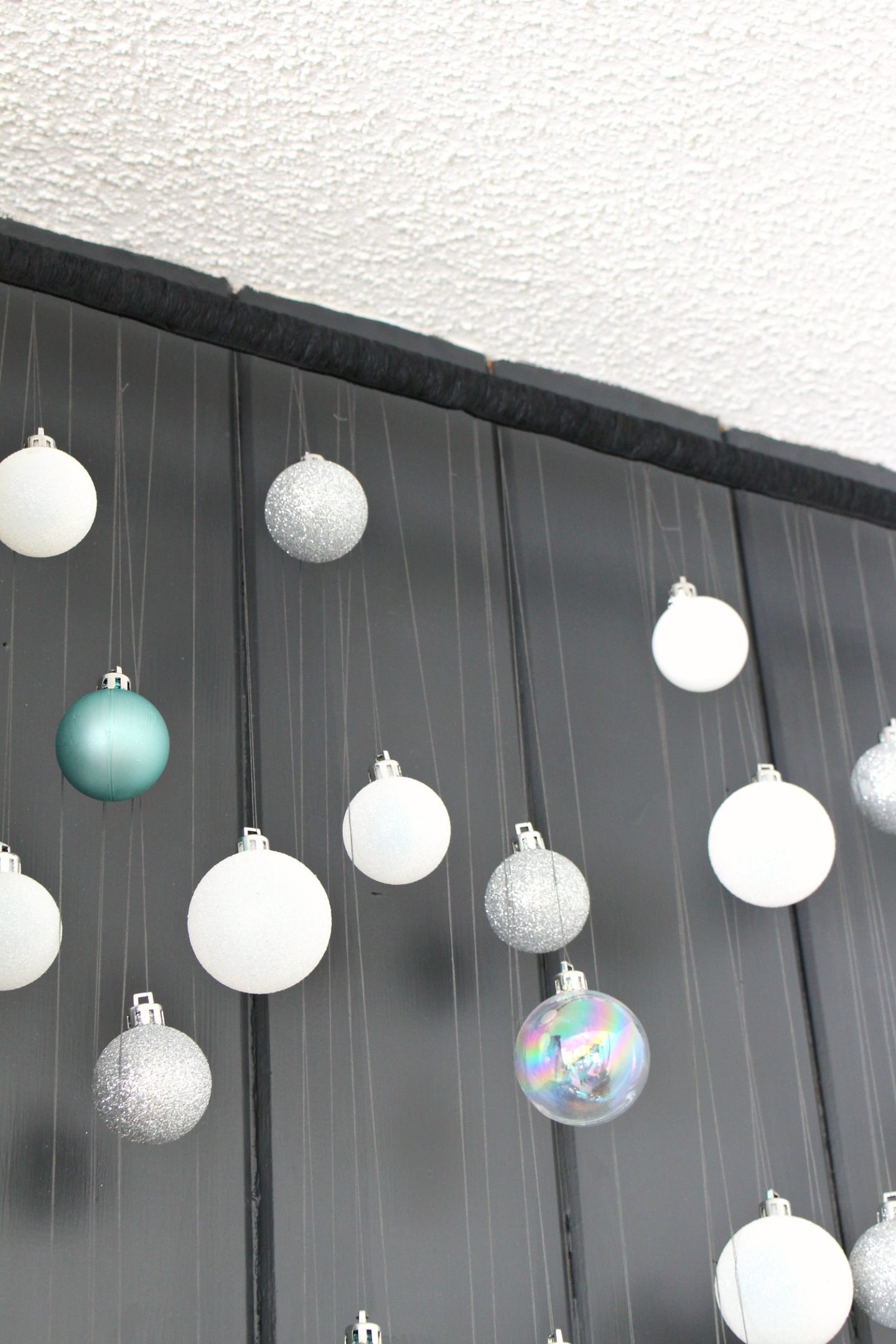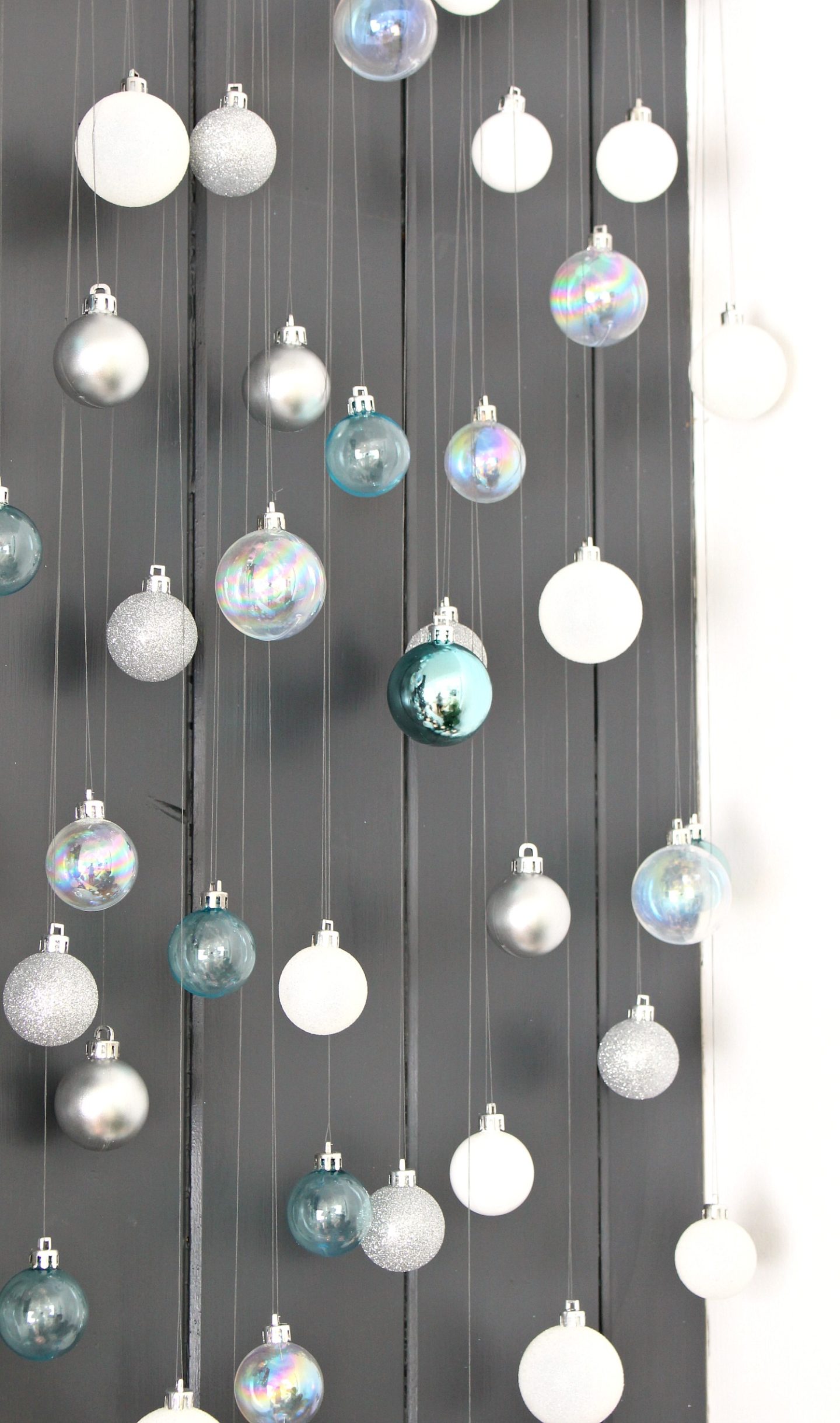 I tried to line up all of the knots under the ribbon but they were a little shifted as I fiddled with it. But, from even a foot away, the thread disappears, so it's not a problem. But if you can, try to keep the knots at the top so they're covered by the ribbon.
The ornaments are a mix of metallics, glittery ones, and iridescent ones and they really catch the light. I don't put up a tree (I don't even celebrate Christmas) but there's one thing I can't resist: anything sparkly, glittery, shimmery. In the past few years, I've started to bring in a little "holiday" decorating because I like to indulge in some lights and sparkle. Winter is long and cold and horrible where I live, and some sparkle makes it more bearable! This is a fun way to get into the spirit without putting up a Christmas tree and doing the whole thing – I'd say it's more wintery than Christmas-y 😉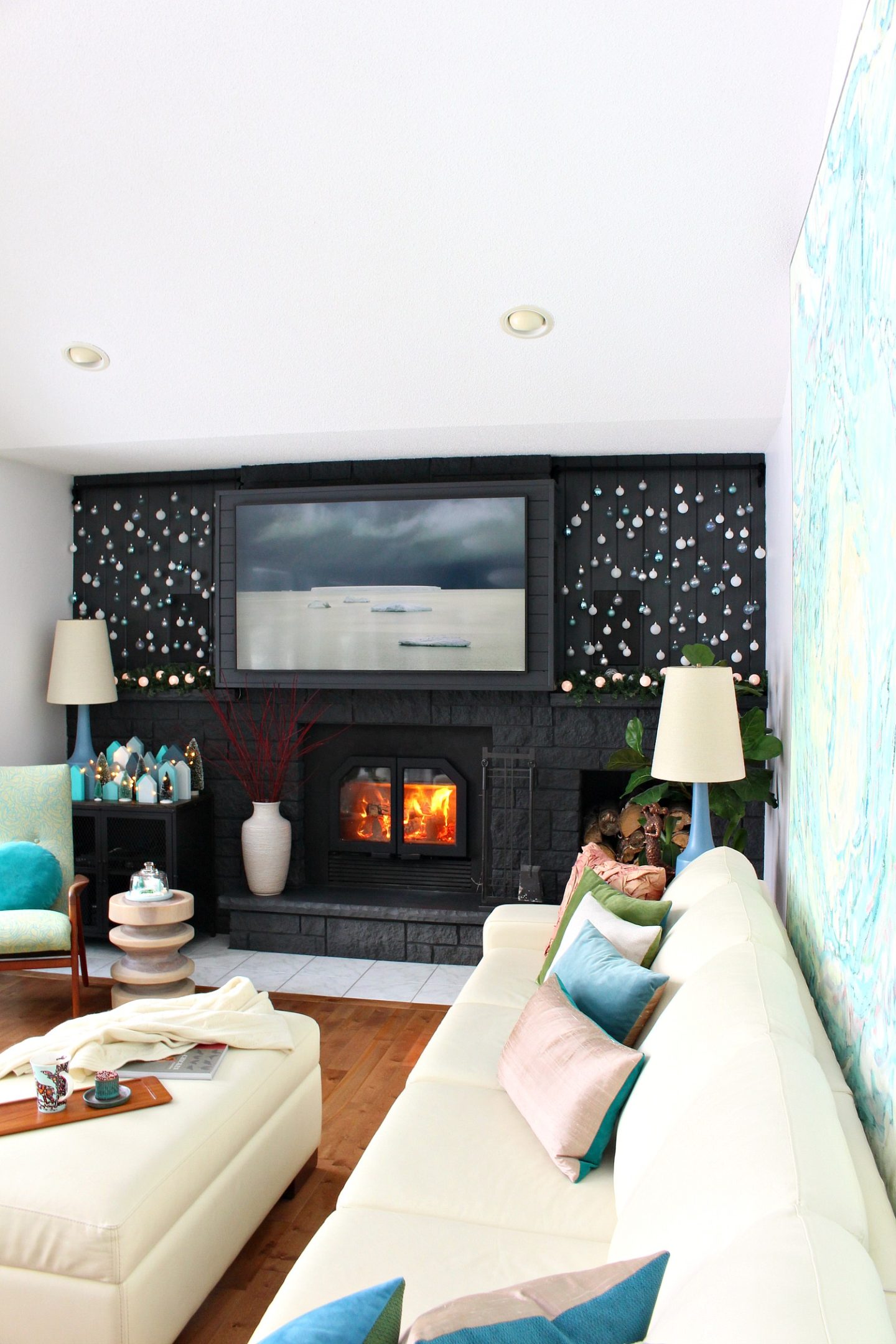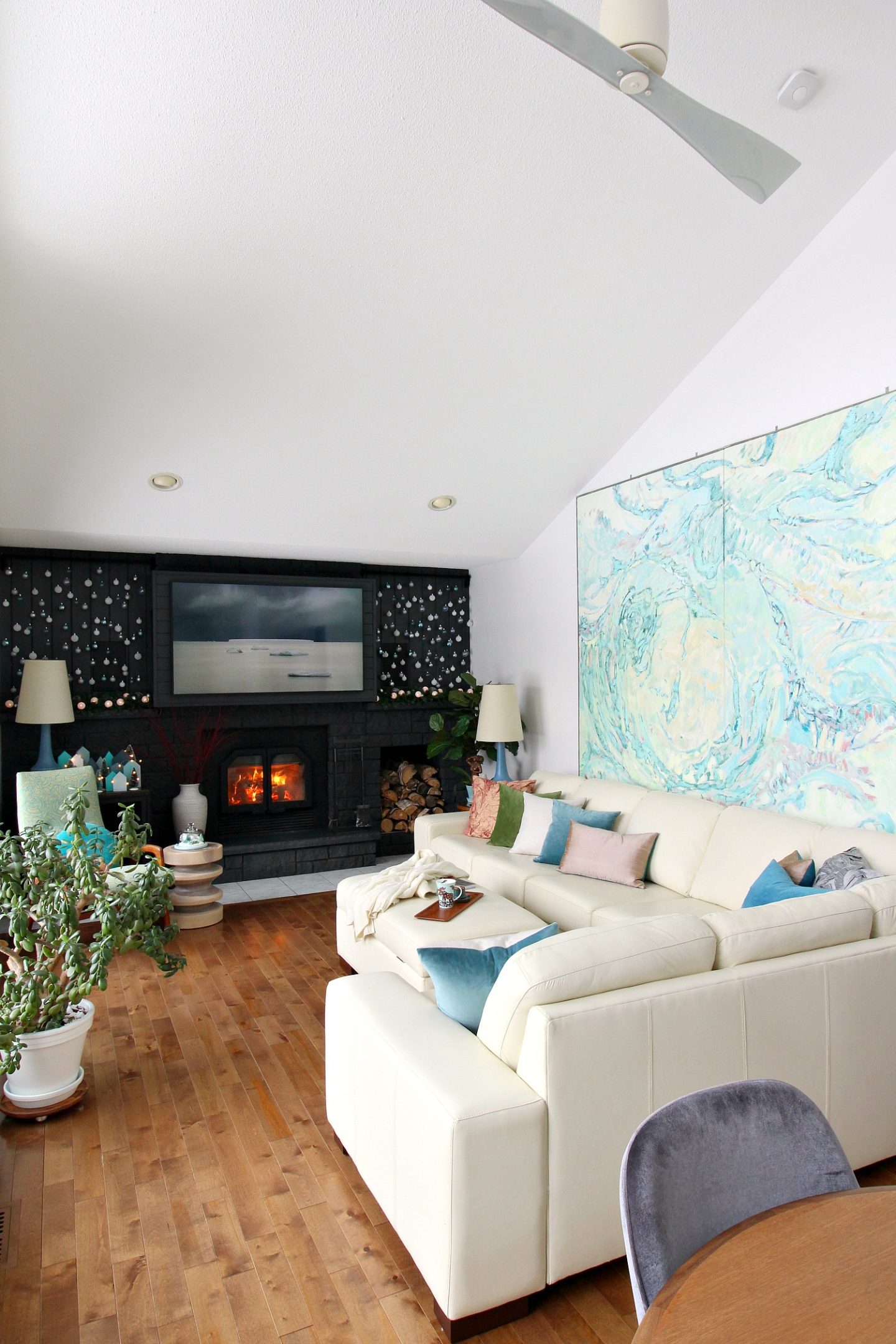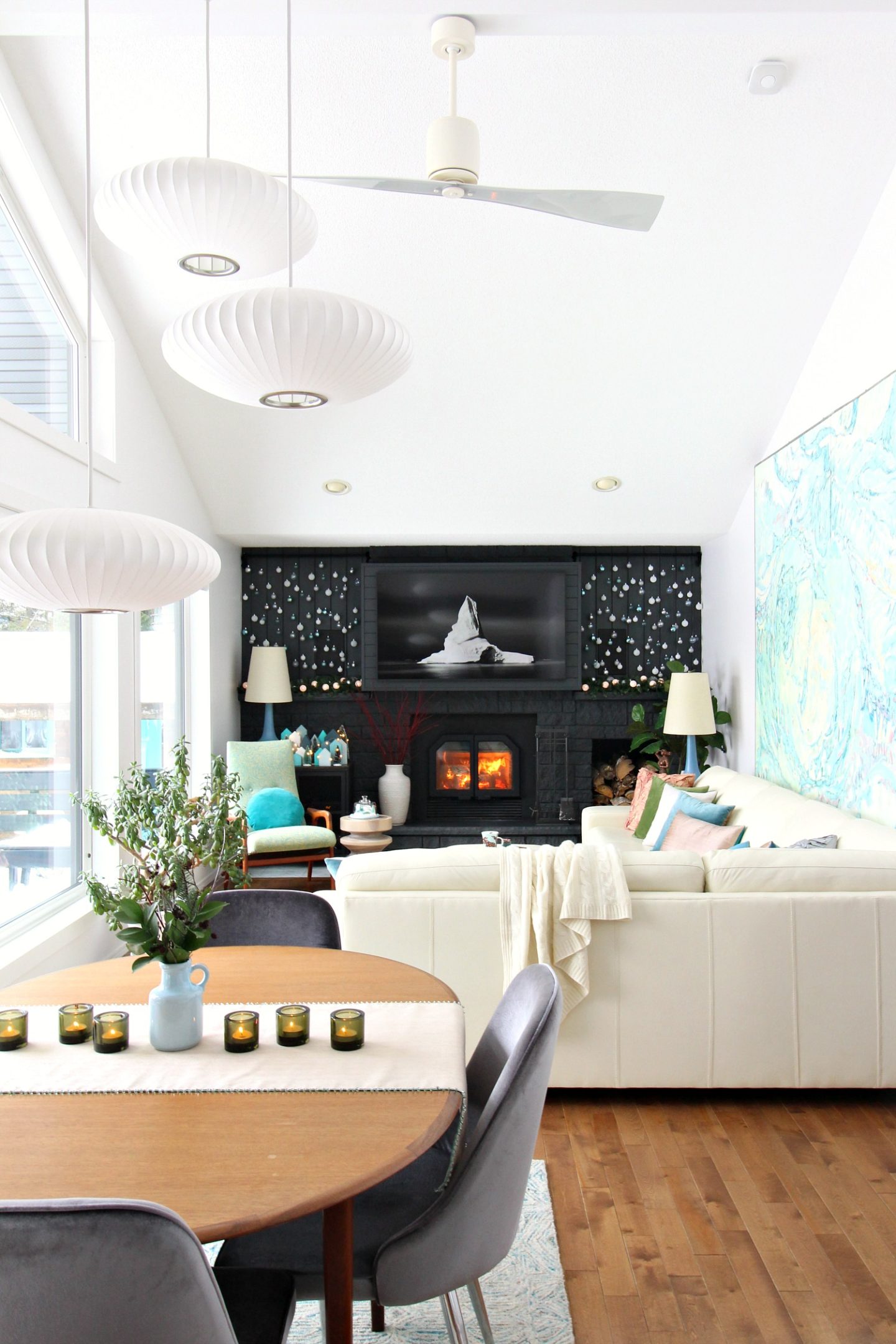 P.S. Don't Forget to Pin for Later!