The narrow entryway storage solution I'm sharing today has been life changing and if you have a small space, you will definitely want to read my IKEA Trones review! There are a few things I don't love about our home and I have to confess that the entryway really annoys me (it's so small and awkward), but I recently made it a little more functional with this easy (and affordable) small space storage idea: I repurposed ten TRONES shoe cabinets from IKEA!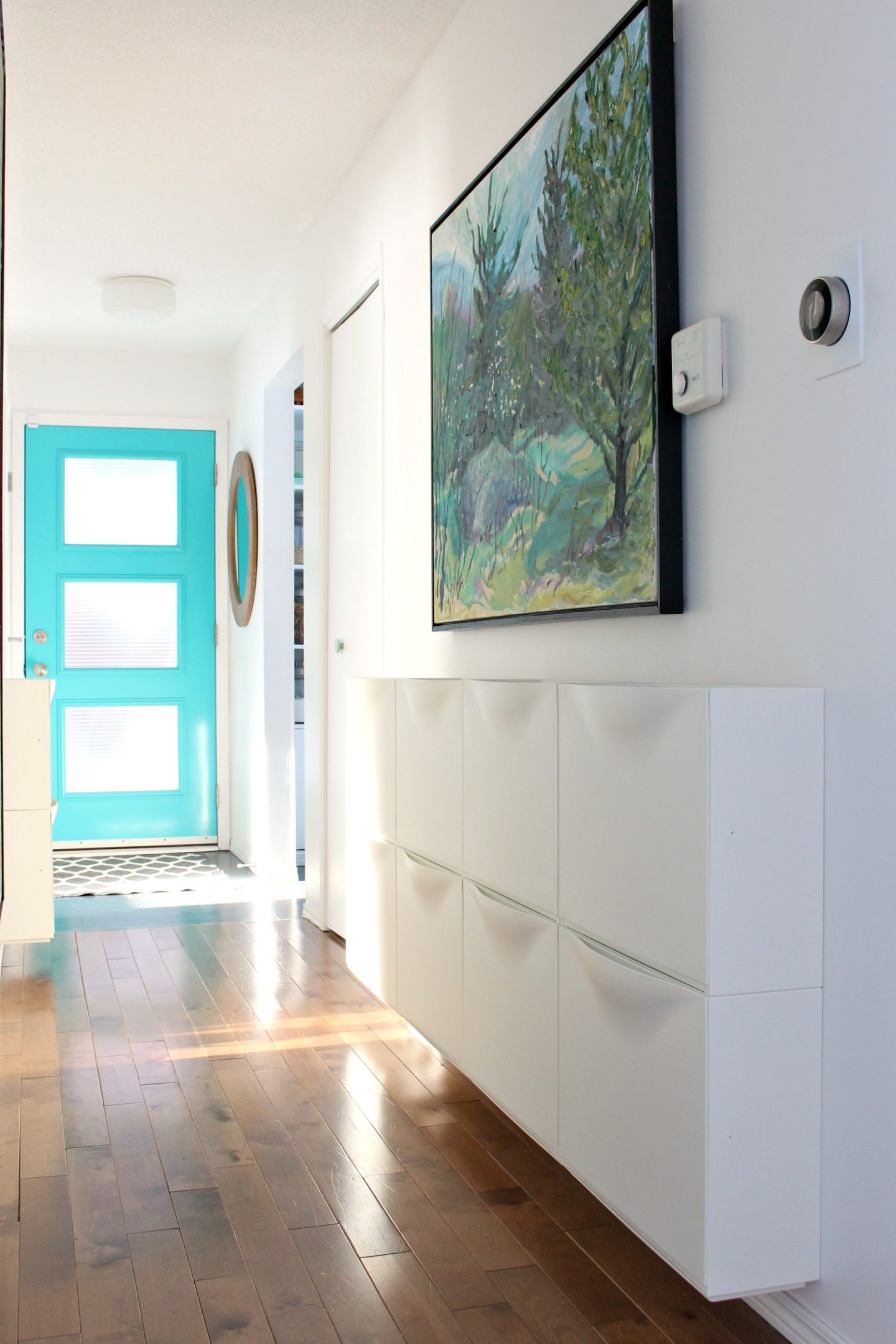 Narrow Hallways Storage Solution:
In the entryway we have a small closet by the door which is awkwardly placed because I can't open the door if Hubby is coming in/out with the dogs (or just waiting for me to hurry up), so while I used to store my shoes there, now we use it as a pantry. The only other storage is our coat closet, which is pretty small. There's a rod for hanging coats and a shelf, where I kept three bins for hats, scarves and mitts. It was the same system I used in the townhouse, but that coat closet was much wider. Here, I had to remove the middle bin to reach the other two and there was a lot of shuffling involved. The hallway didn't offer many storage alternatives either, because it's narrow so a standard depth dresser or cabinet took up too much space. I couldn't find a narrow entryway storage cabinet – until I started looking at narrow entryway shoe cabinets. The IKEA TRONES cabinets, designed for shoes, have such a shallow depth (just over 7″ deep) that they all but disappear – but offer up a ton of easy storage, that's surprisingly versatile!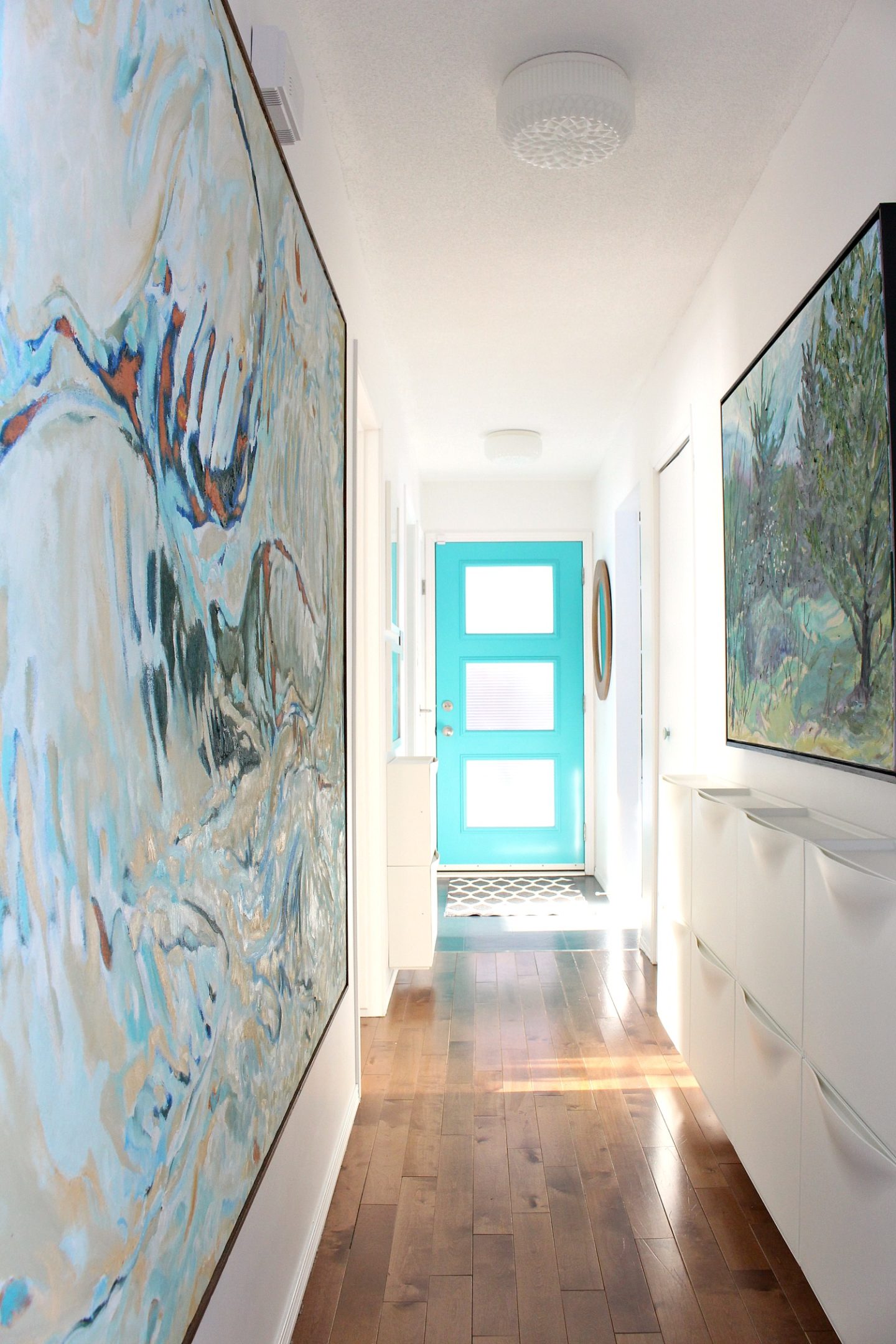 What is IKEA TRONES?
The IKEA TRONES is a shallow and affordable wall mounted cabinet that is designed to hold shoes, but can act as easy and accessible storage for so much more! Made from polypropylene plastic (min. 20% recycled material), the IKEA TRONES is incredibly durable and easy to clean (the doors can be removed), making it perfect for messy spaces like bathrooms, kitchens, kids' spaces, and entryways – where I use mine!
IKEA TRONES Review:
I had bought a pair of IKEA TRONES cabinets in the fall, to store dog leashes and collars. I was intrigued by their potential as a narrow entryway storage cabinet, but wasn't sure what the quality would be like. We installed them, stacked, right by the front door, and it's been such a handy spot for storing pupper stuff, plus a flash light, bear spray, bear bangers, etc. Both Hubby and I LOVE the convenience and the 7″ depth is perfect – the cabinets never feel like they are in the way or protruding too much. Plus the top of the cabinet has a little recessed area, where we can place eggs when we're coming in from the coop, without worrying they will roll away, haha. Plus the quality, given that this is a cheap pair of plastic cabinets, is surprisingly good! They're very durable and I like the look!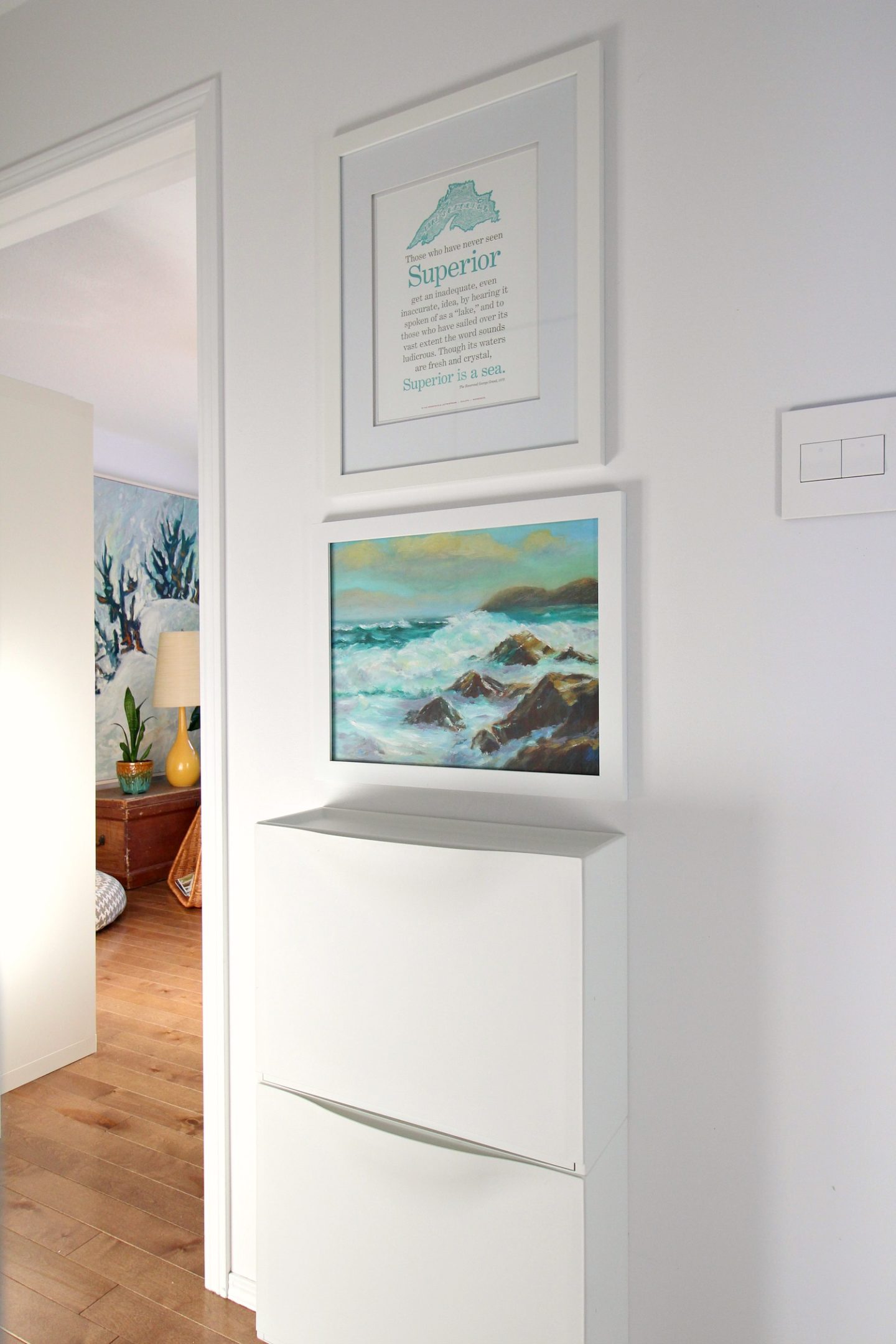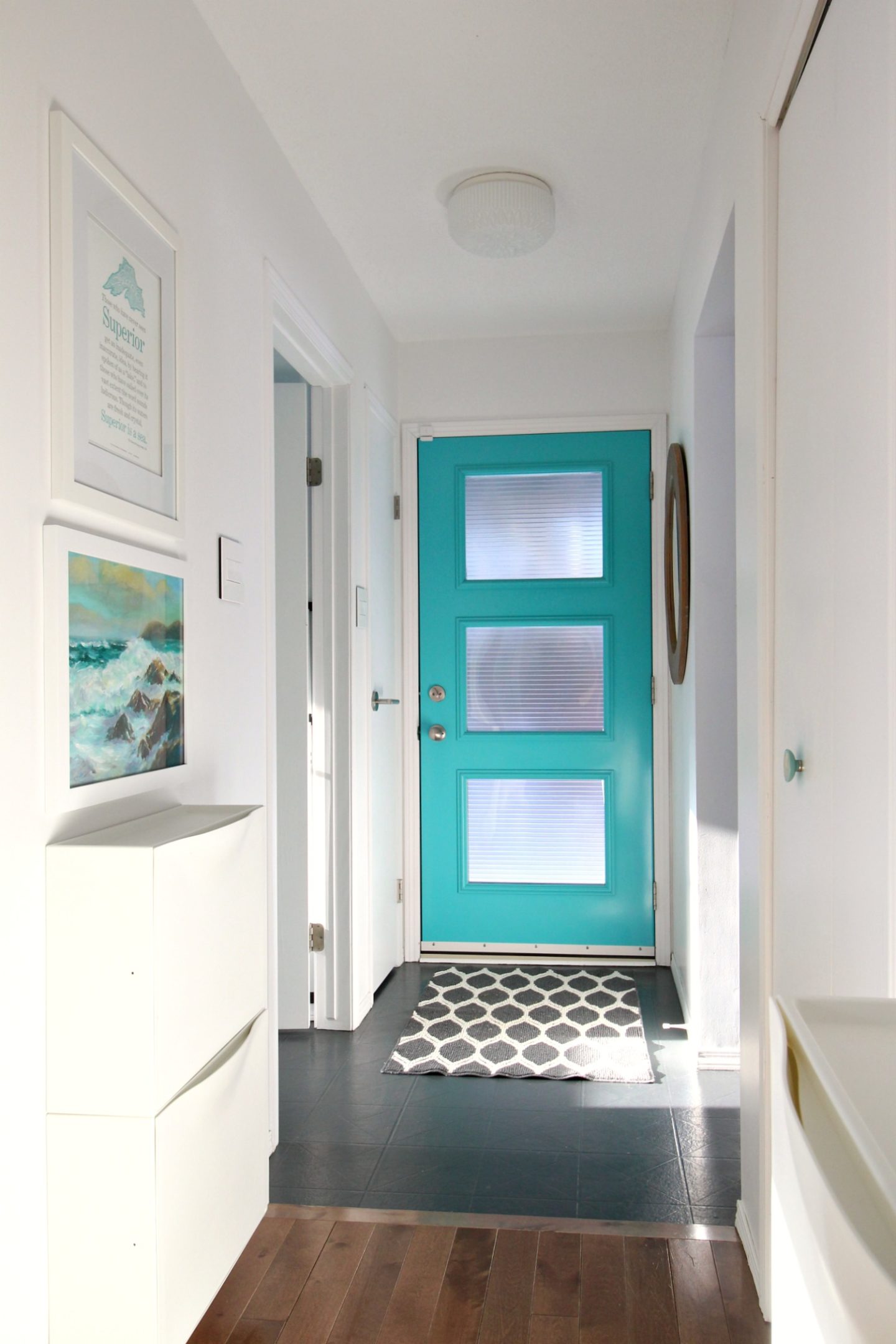 (The artwork is still the same as before: a letterpress piece about Lake Superior and an original painting I thrifted in Ottawa and re-framed).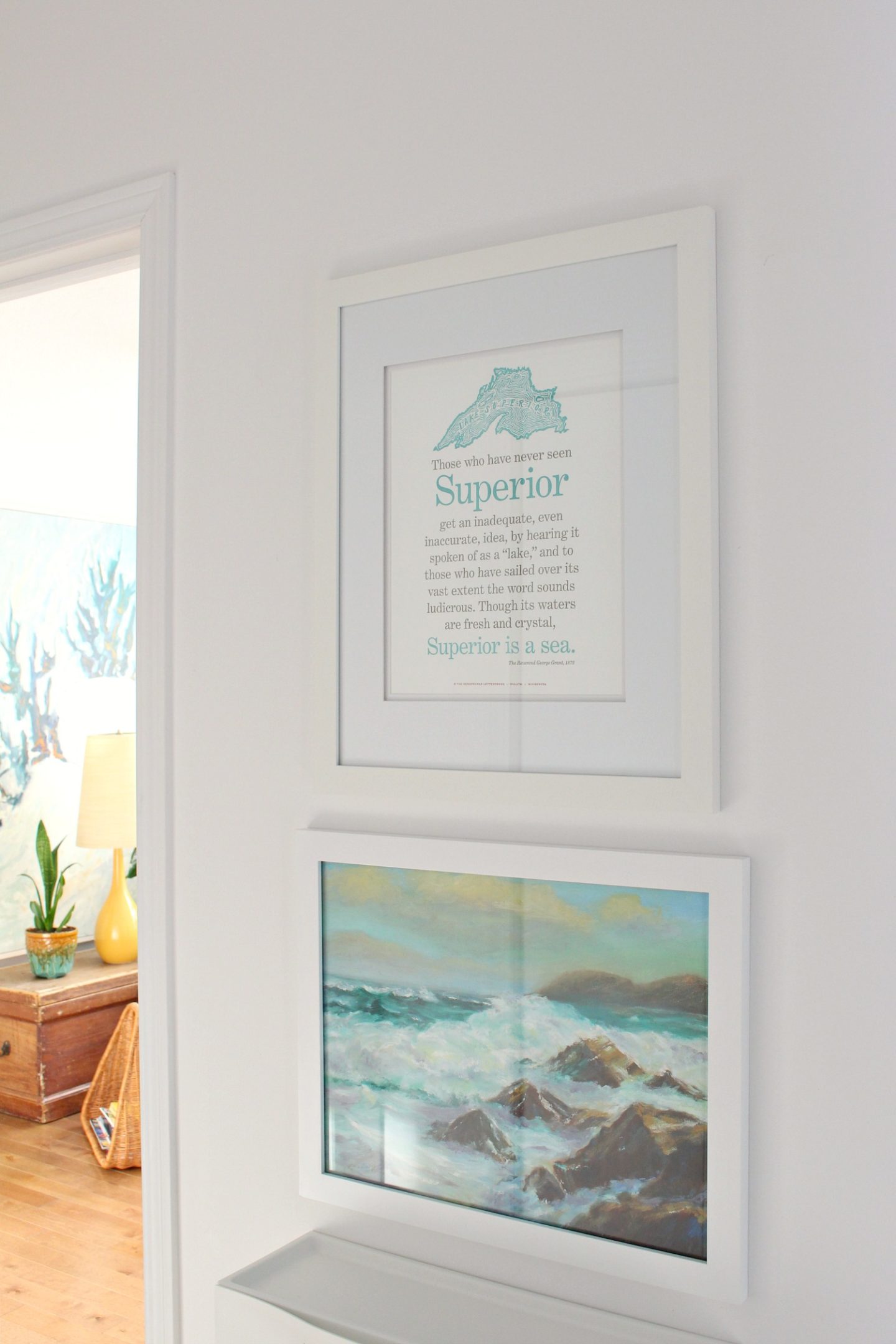 I loved the new TRONES cabinets so much, I decided to order eight more for the hallway! These shallow drawers tuck under the painting nicely and we wall mounted them at the same height as the ones closer to the door – you know I love floating furniture, lol (the DIY IKEA credenza, the bathroom vanities, now these….). The white blends in with the wall and they have a sculptural quality that I really like. The only thing I didn't like was those little holes, so I ordered the IKEA plugs as well, but they don't fit these holes (darn). I was tempted to add a plywood cover to the top and sides, like how we turned three Besta cabinets into a floating credenza. Except these have a little recessed area on the top, for keys and change, and I don't want to give that up. So we decided to wait and see how much those little holes bother me. So far, not at all.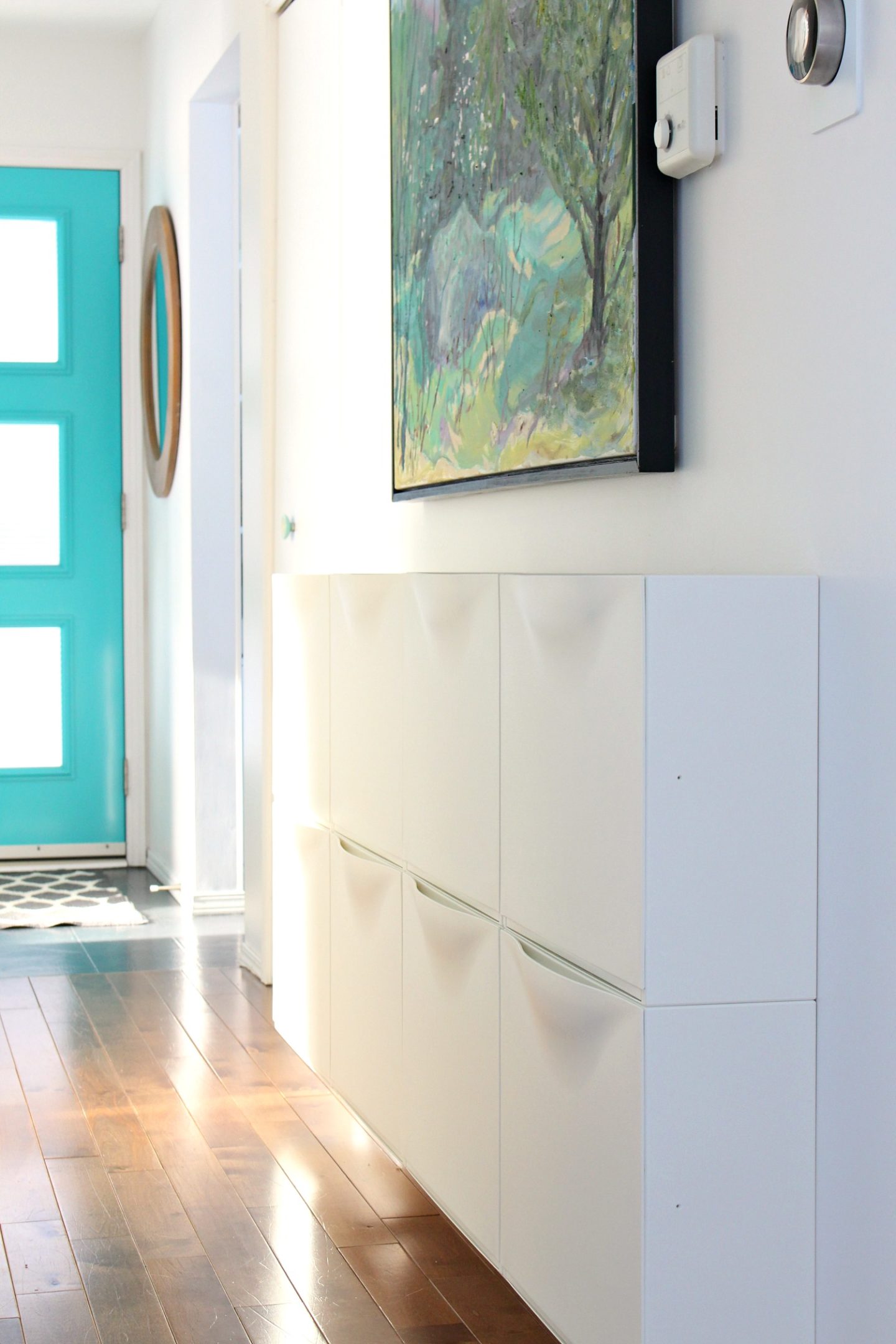 IKEA TRONES Storage Unit Pros & Cons:
IKEA TRONES Pros:
Inexpensive
Durable
Easy to clean
Shallow
Quick to install
Recessed top for corralling change/keys/cell phone/etc
Versatile (can be installed anywhere)
IKEA TRONES Cons:
Can bulge/not close if overfilled
Little holes can't be easily hidden/filled
Overall IKEA TRONES Review: I LOVE these IKEA TRONES shoe cabinets and recommend them to anyone in need of some shallow storage. This type of show cabinet comes in different materials, but for the price, I thought this plastic was better value. I like the look, because it looks kind of sculptural and playful, which suits my home but I know plastic isn't ideal for everyone's aesthetic. IKEA makes other, more furniture-like, shallow shoe storage cabinets that lend themselves to IKEA hacks with wood tops, new paint, etc.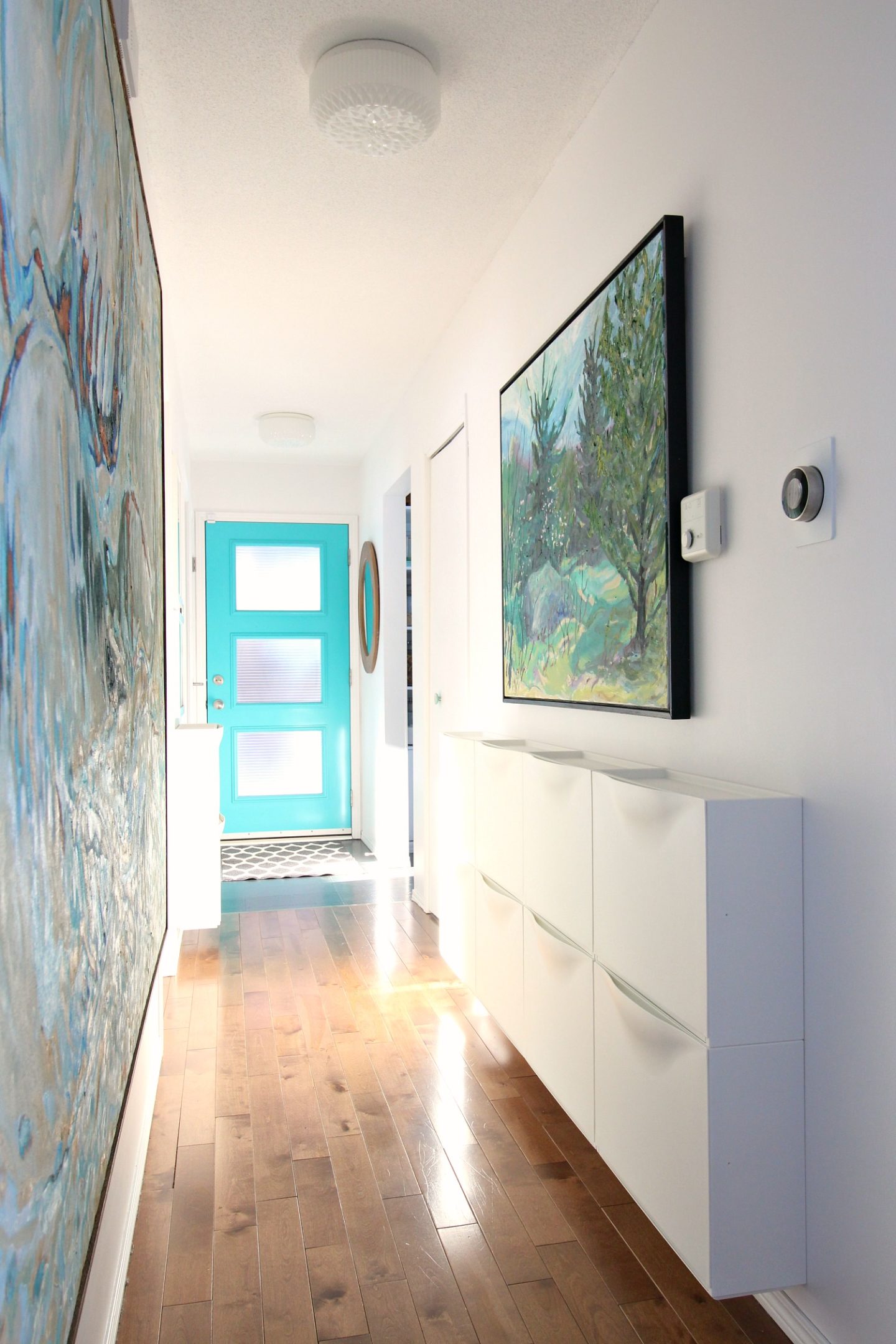 I know it sounds hyperbolic, but finally finding a narrow entryway storage solution has been LIFE CHANGING!! It is so much easier to pile on the winter layers. Honestly, getting dressed to brace the cold is a treat now because all of my hats and mitts and scarves are at my fingertips (Hubby's too). And we're not crowding around the same tiny closet trying to root through our bins.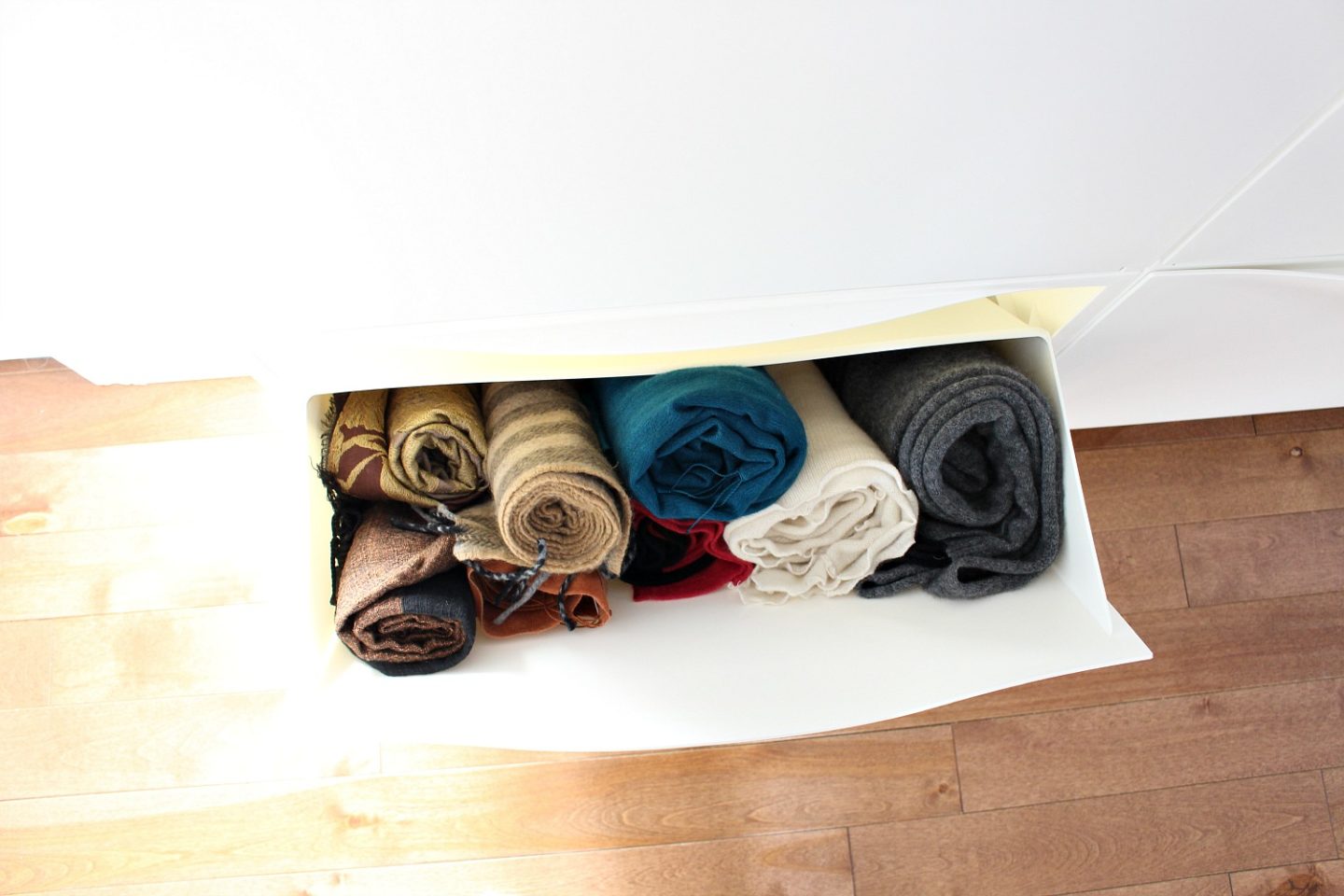 I even organized the cubbies by season for my scarves. Before, I had to dig through my bins if it was suddenly too warm for a thick wool scarf. Now that they're rolled up – and not stacked in a folded pile – I can easily see what I have. I LOVE scarves and gloves. Hats, not so much, but I love scarves so I have a pretty collection that makes it a little more fun to warm up to the cold.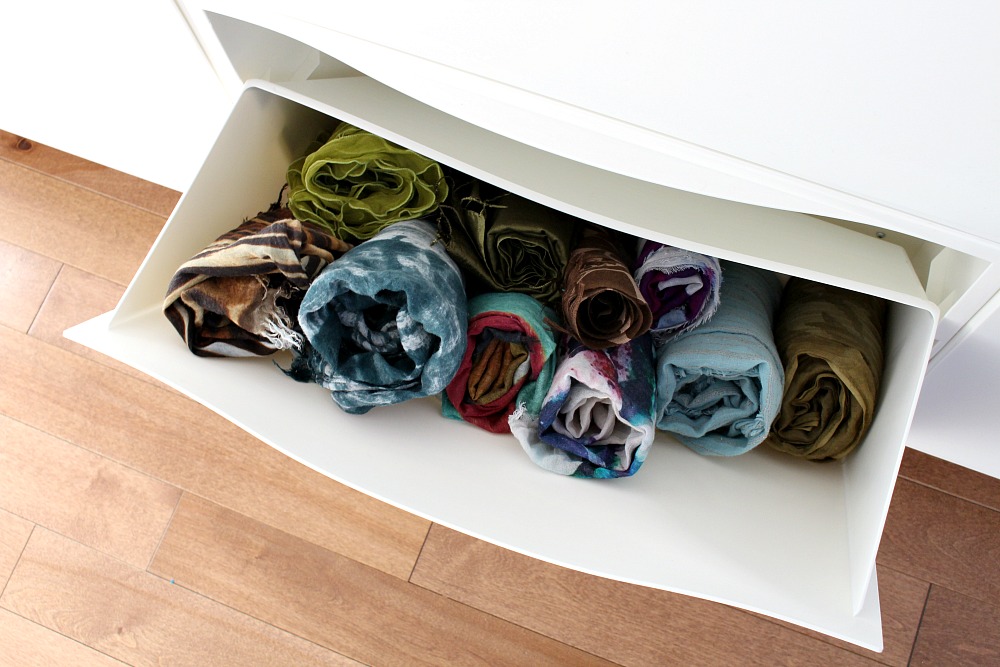 In organizing the process, I moved one of Hubby's beautiful cashmere scarves to my drawer (shhhh). He wasn't wearing it – he's not as enamored with scarves as I am and he only own ONE pair of nice gloves, the rest are work gloves. But he has 14 different toques, lol, so now they have a home.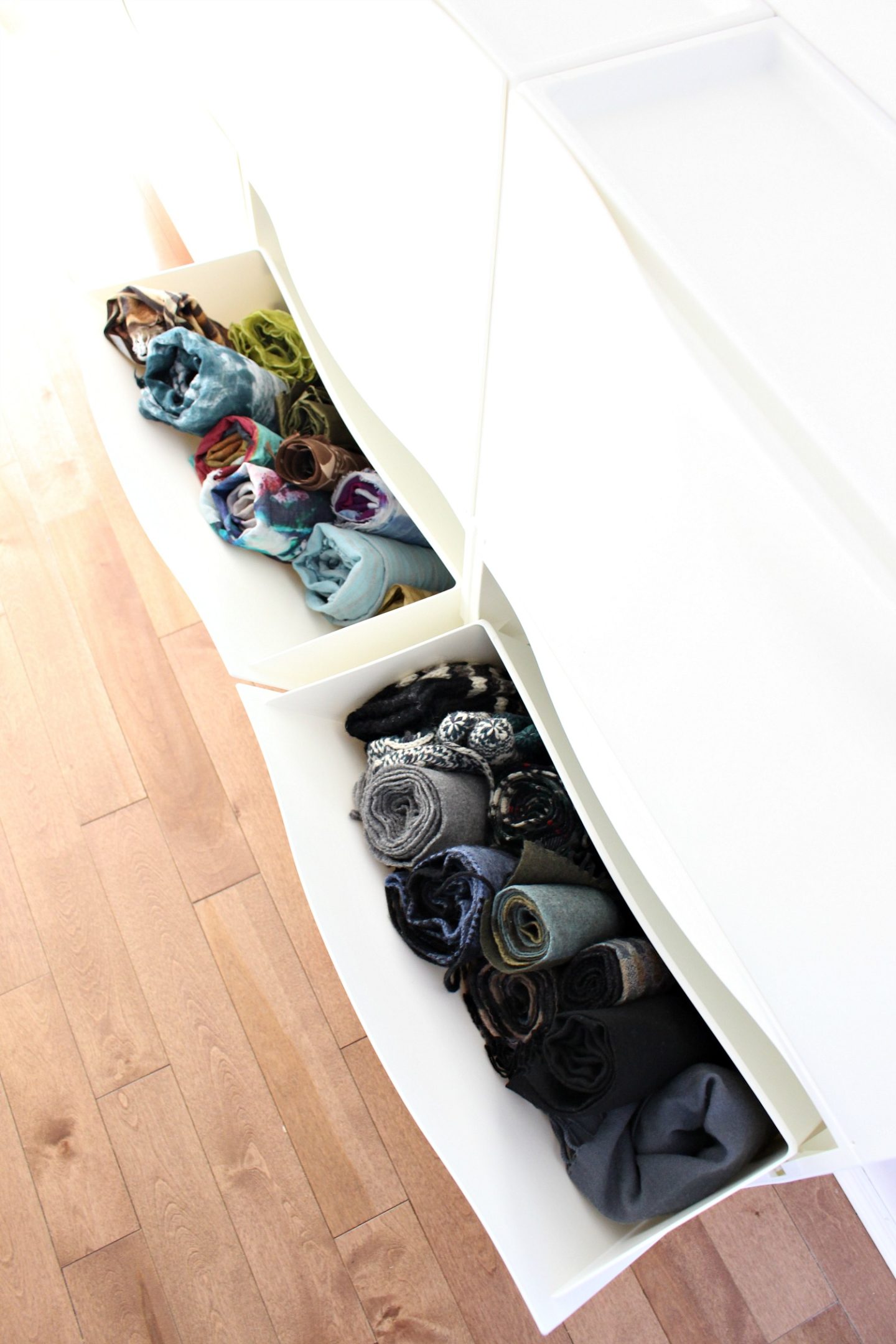 My Worst Winter Hat
Speaking of winter attire, I have to tell you a funny story about how much Hubby LOATHES one of my winter hats. It's my favorite (so cozy!) and I wear it all the time at home. We have "town clothes" and "home clothes" but this hat made the leap across categories because one day I wore it for a trip to town, for reno supplies, and, before I could hop out of truck in The Home Depot parking lot, Hubby turns and innocently asks, "do you want my hat?". "No, I'm wearing a hat" was my reply (duh, look at my woolly head). He looked at me, then up at the floopy hat, and sighed, "I know". LOL. This is the hat: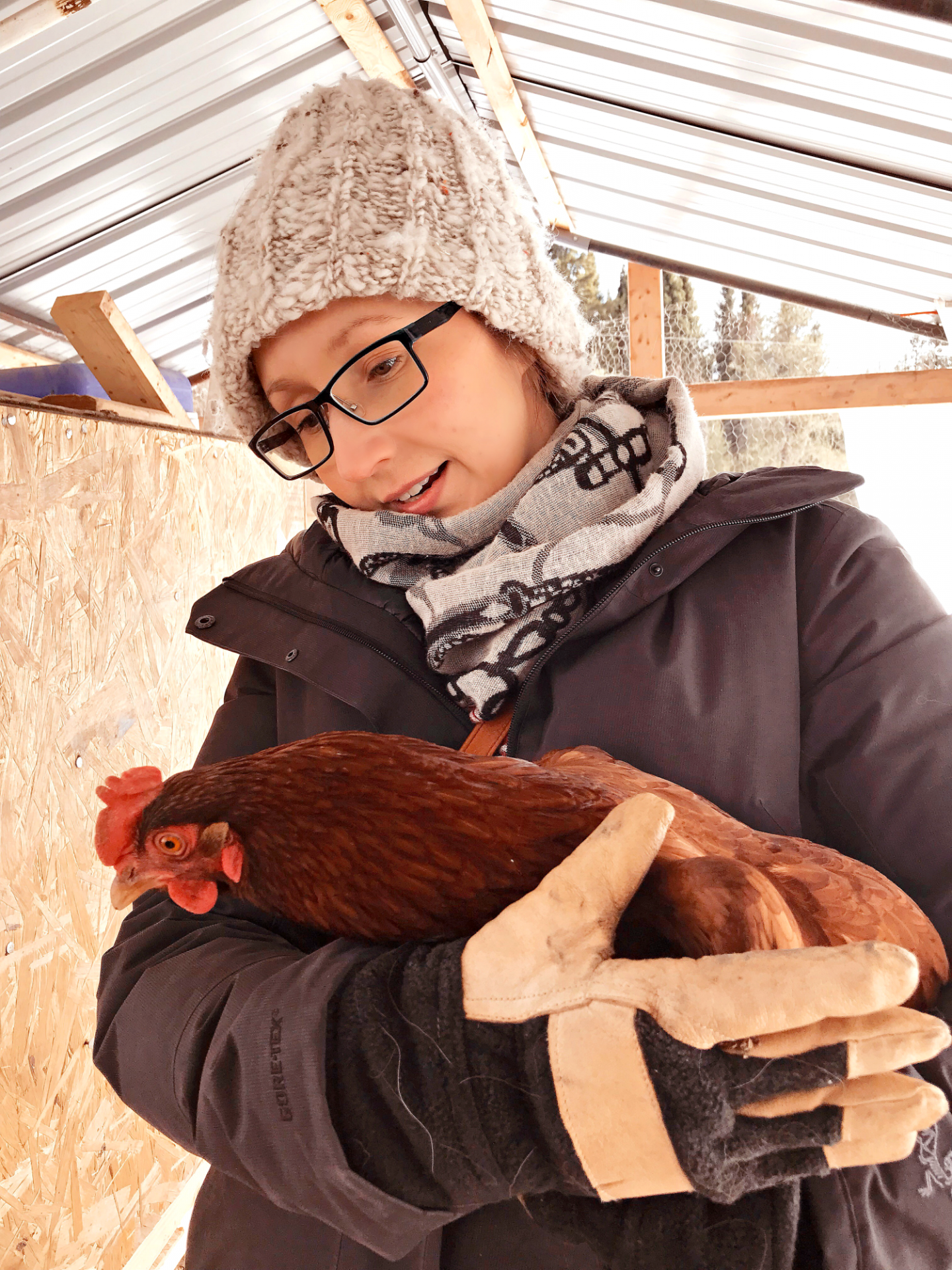 I think it's cute! According to Hubby, the ridiculous high-vis faux fur trapper hat I got for when we're doing outside stuff for the Fire Department (but don't need full gear) is apparently a much better choice, lol (it's like these). Granted, I do love it because I am SO warm when I'm plowing the driveway now, but I really don't get the hate for my floopy hat and not the high-vis one, which is equally ridiculous in my book.
Did I mention that these cabinets are perfect for stacking mitts and gloves? Two piles fit perfectly: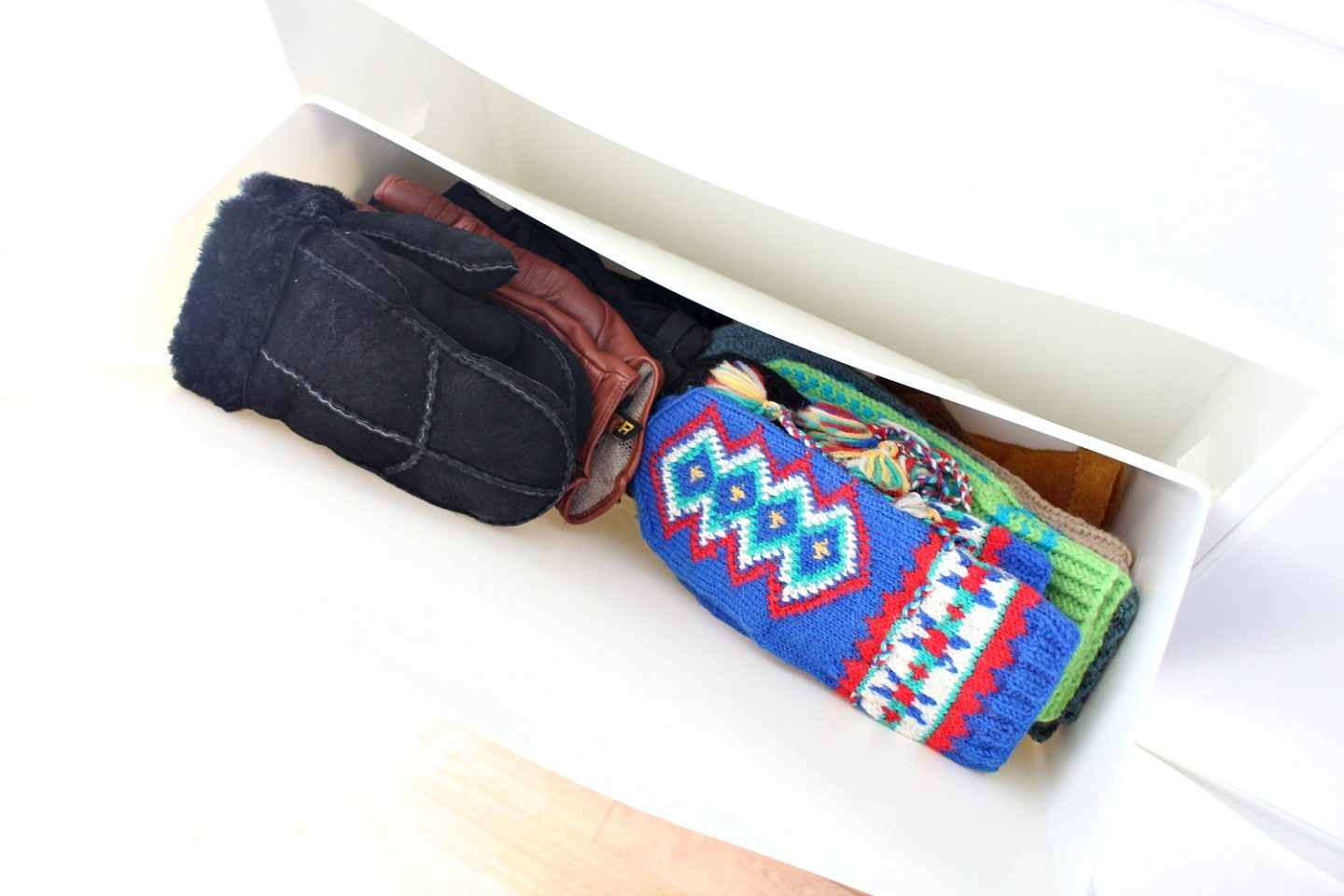 What Do You Put in IKEA TRONES Cabinets?
Beyond their intended purpose for storing shoes, you can put so many things in IKEA TRONES cabinets, from toiletries to socks to kids' toys and books. I used my IKEA TRONES for mittens, gloves, hats, scarves, and even binoculars and flashlights! Really, the storage potential for the IKEA TRONES is limitless, especially because they're so super easy to keep clean. You can hang just one or an entire wall of IKEA TRONES cabinets – I've seen TRONES used in bathrooms, kitchens, even as a headboard for clever bedroom storage.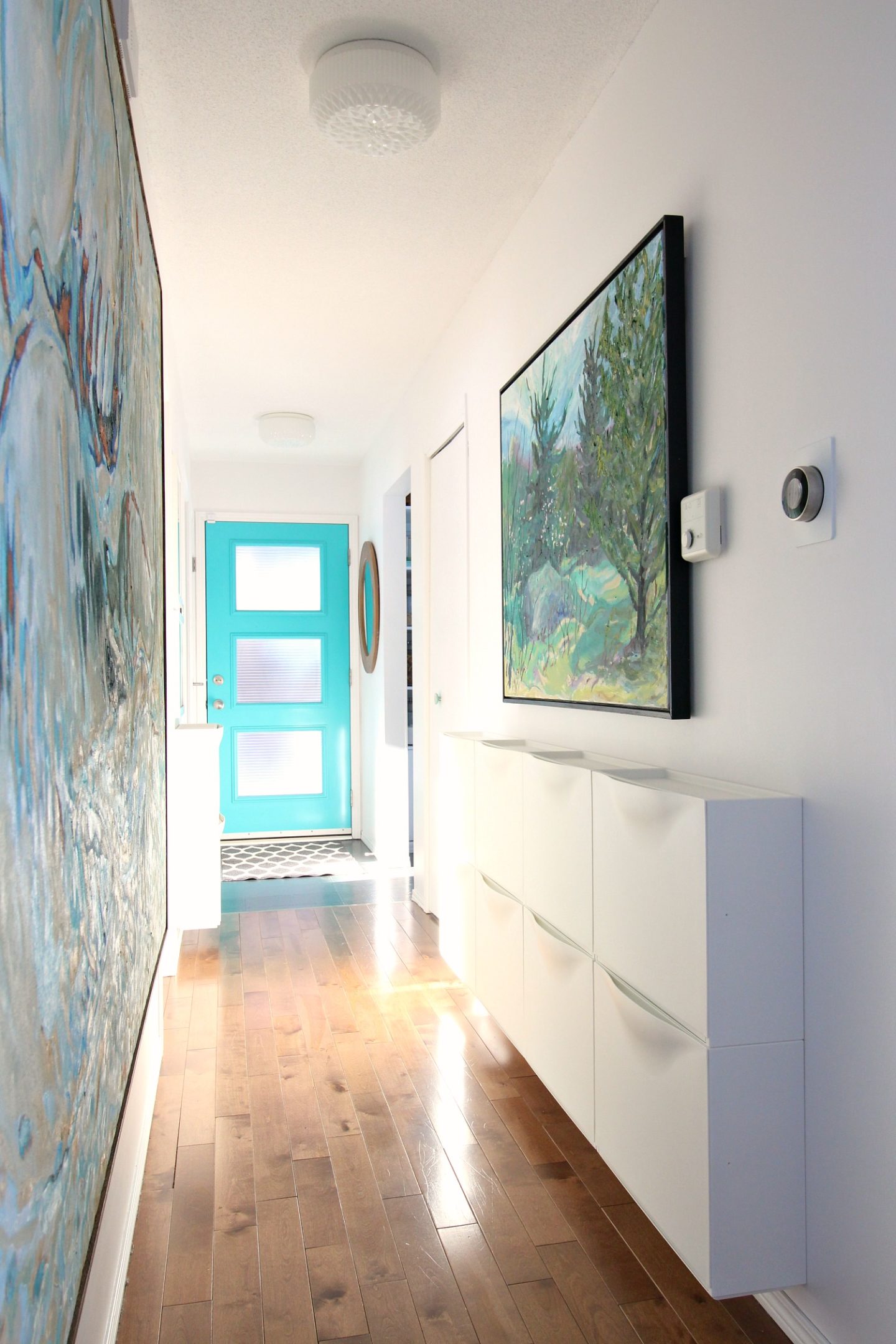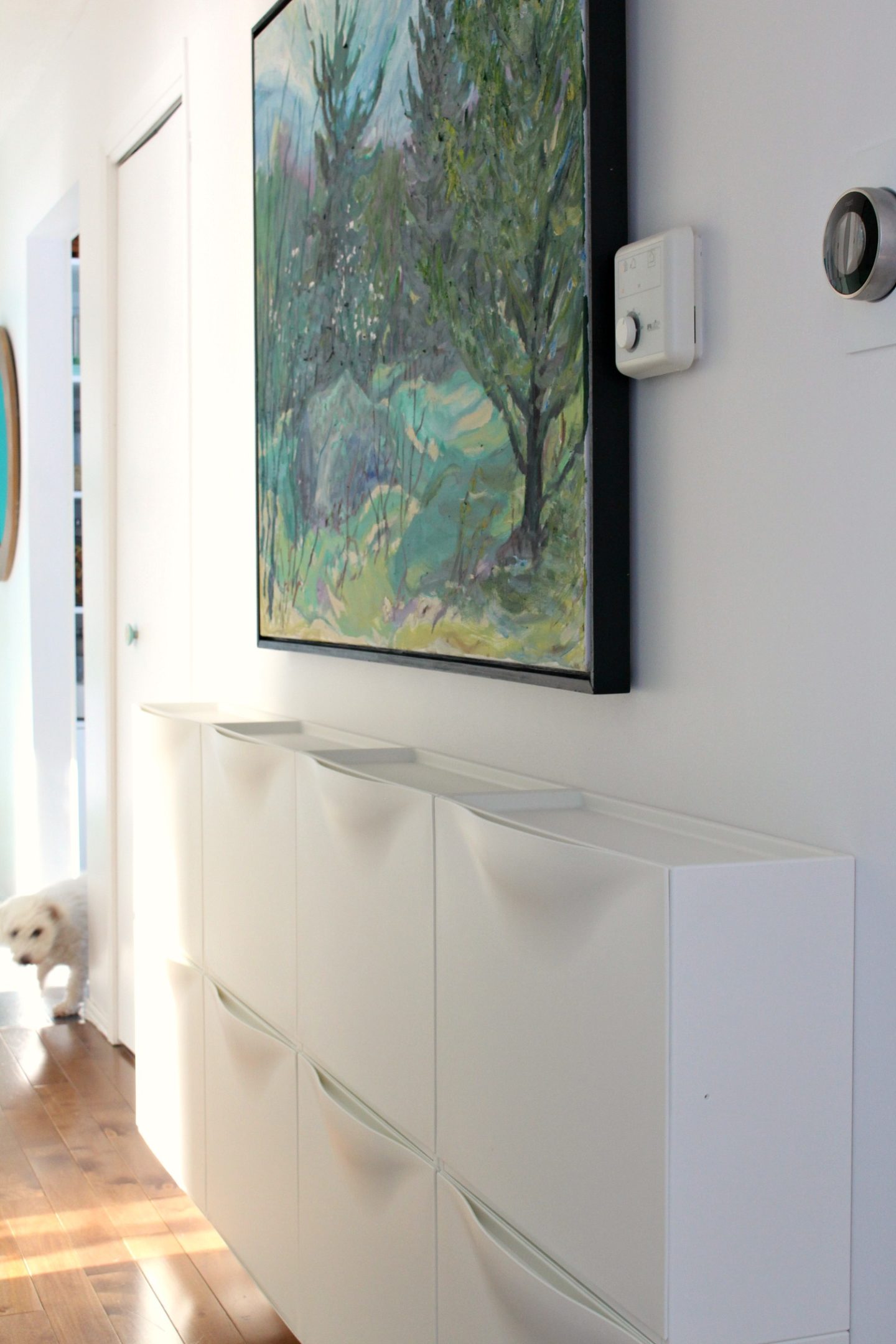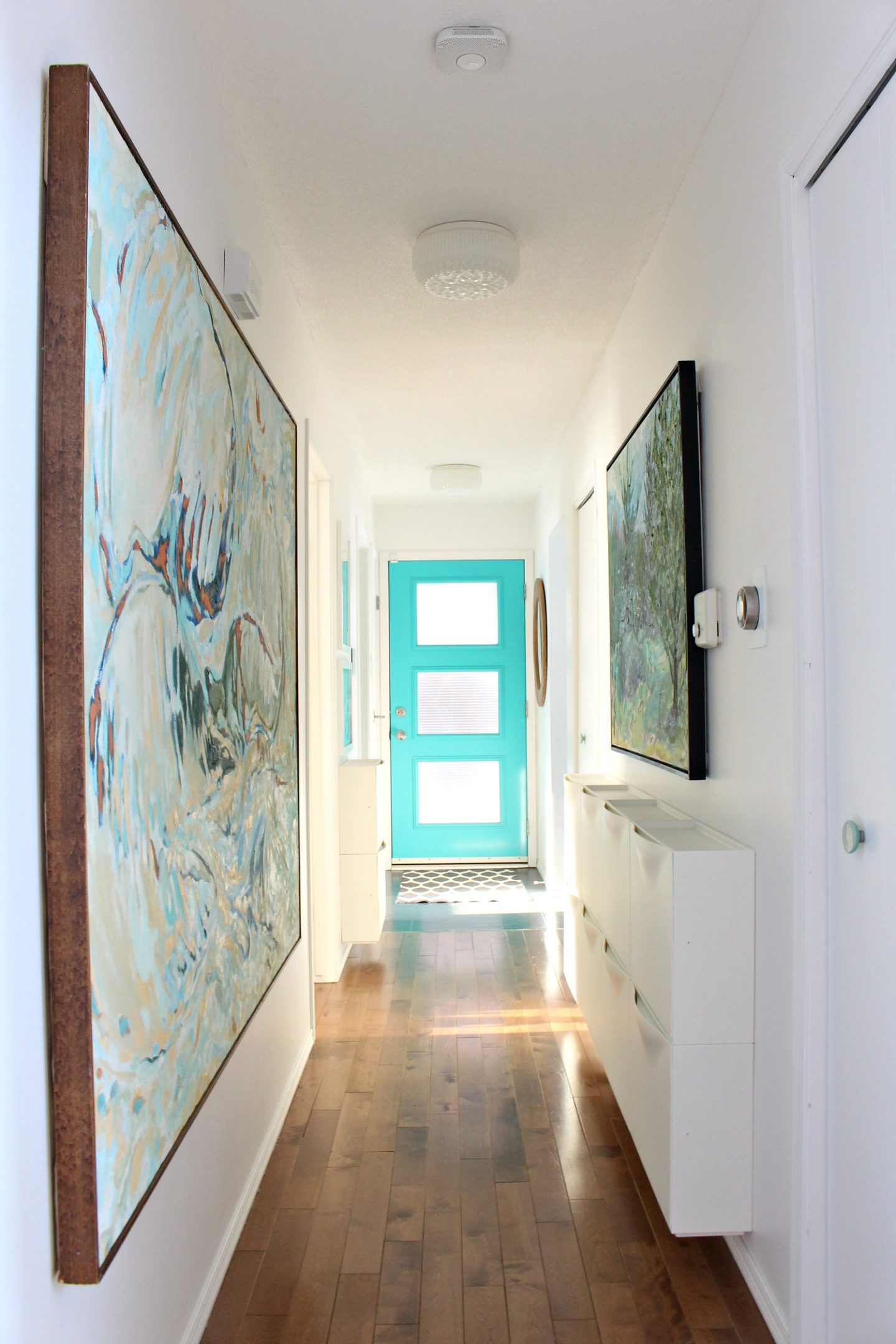 Hopefully this idea for a narrow entryway storage solution has sparked some ideas for you! IKEA has quite a few of these narrow entryway shoe storage cabinets so you can choose a different style or design, but still reap the benefits of a super narrow cabinet. I considered the others (and looked around on Amazon for shallow shoe cabinets), but I liked how inexpensive these IKEA TRONES show cabinets were, and they have kind of a mod look I like too. But seriously – the price. At time of writing, they're only $35 for a two-pack (compared to $150 for a four-pack of the melamine ones). UPDATE: currently they are $49.99 for a two-pack.
P.S. Here's a look at our hallway "before":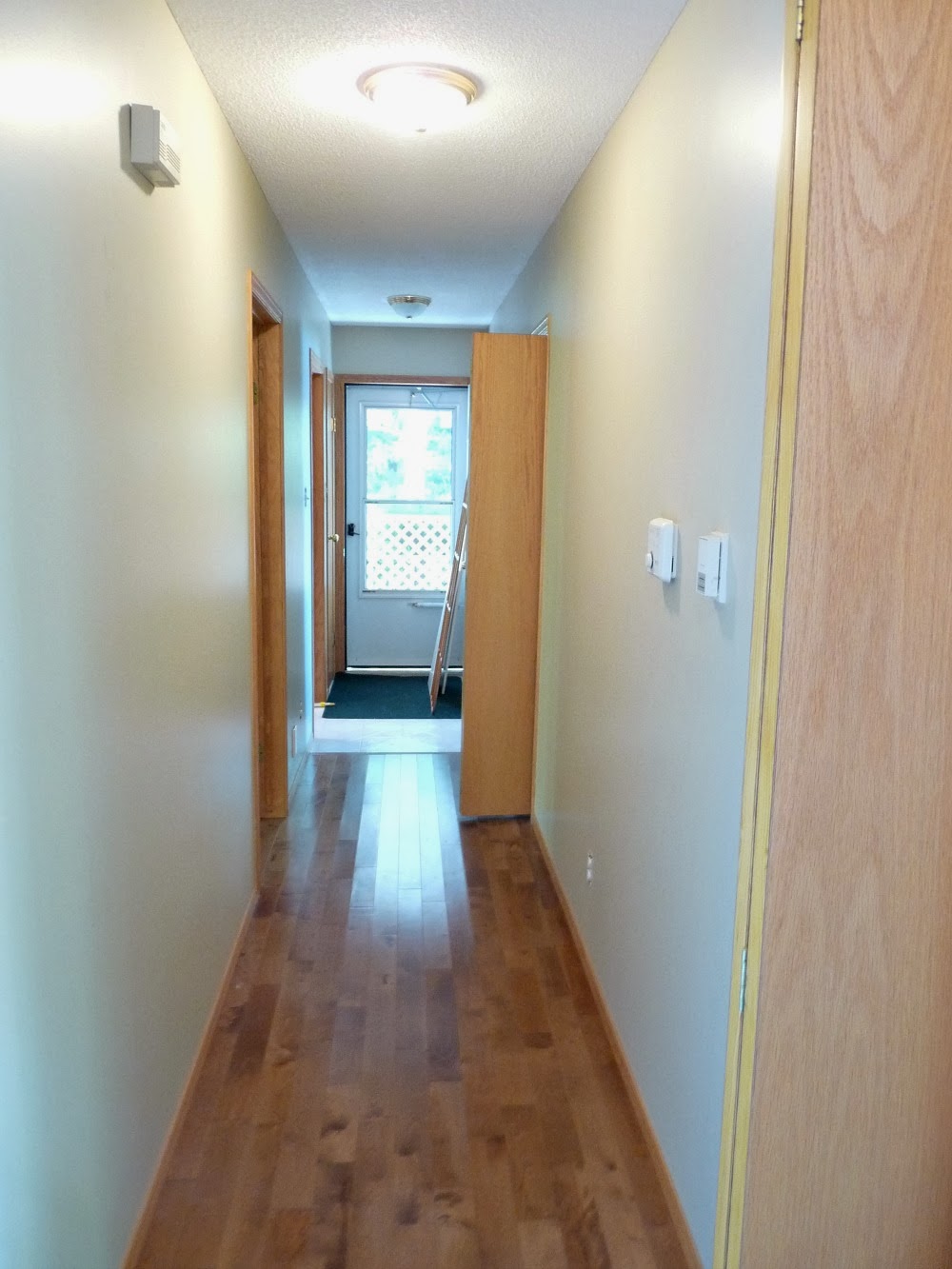 Don't Forget to Pin for Later!