I have such a fun before and after to share today: a budget-friendly DIY stairwell makeover! You might have caught some behind-the-scenes videos of this makeover in my Instagram stories. You also might have been wondering where the heck I was, because the lakehouse doesn't have stairs! My Mom lives in a rental and when you enter her apartment there's a small little nook for her coats, and then you turn to the left and there's another little area with a window and to the left are the stairs that lead up to her pad. The stairwell provided a very dreary "welcome," so I offered to help her with a budget-friendly DIY stairwell makeover. Luckily her landlord is super chill and he was totally game with me painting the stairs and walls for her – he even paid for the paint and runner, so all my Mom bought was a small little accent rug to hide the older tile floor. Even if you don't have a landlord footing the bill, this stairwell makeover is affordable because the magic is in the paint (and an inexpensive runner, that's a snap to install)!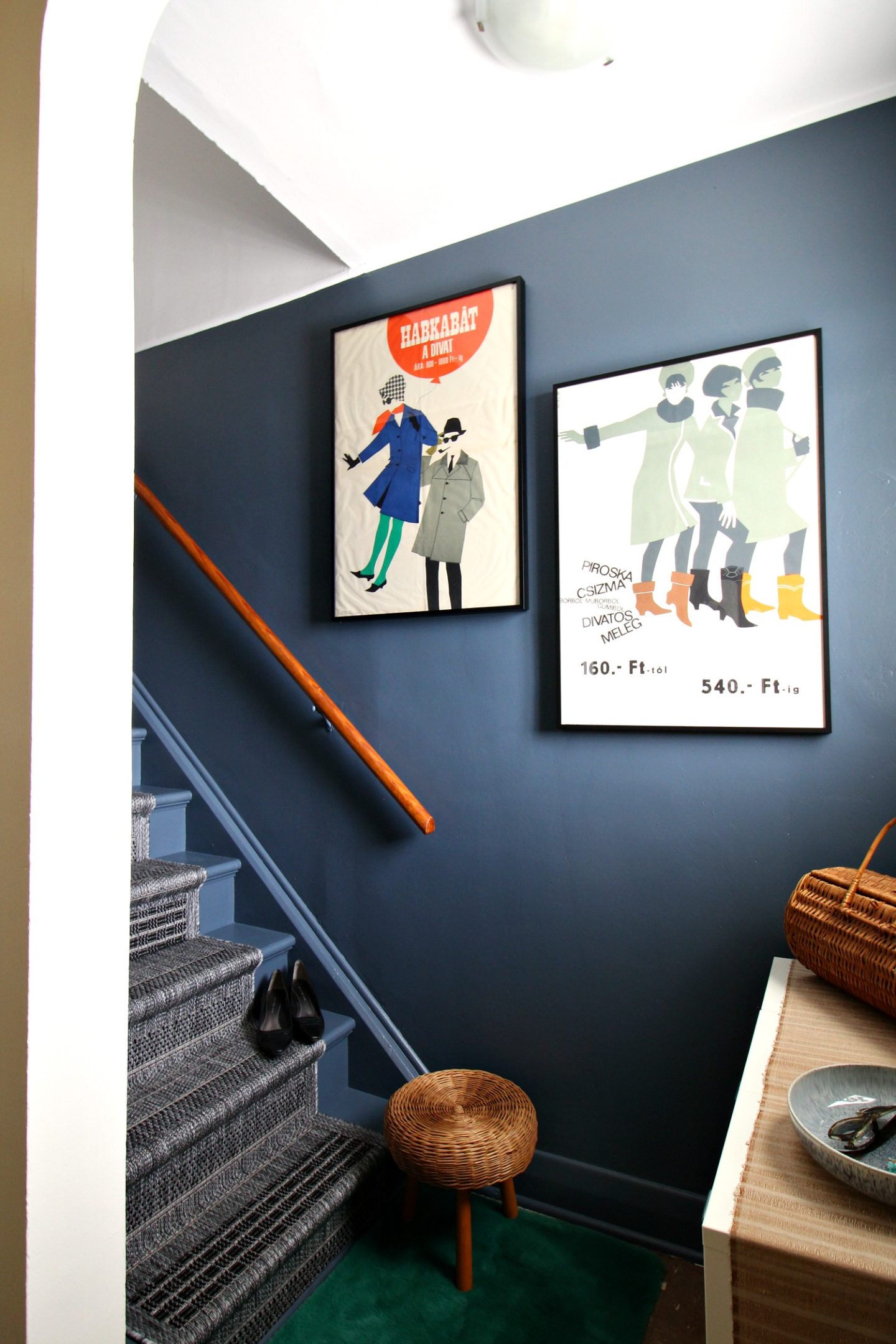 Before I get into the nitty gritty, I'm going to wow you with some back to back photos of the before/after, taken from the same angles. The before had beige walls, worn wood stairs with rubber anti-slip mats, and a beat up railing. There was nothing truly horrible about it, it was just really worn out and it had a 1950s schoolhouse vibe instead of feeling homey.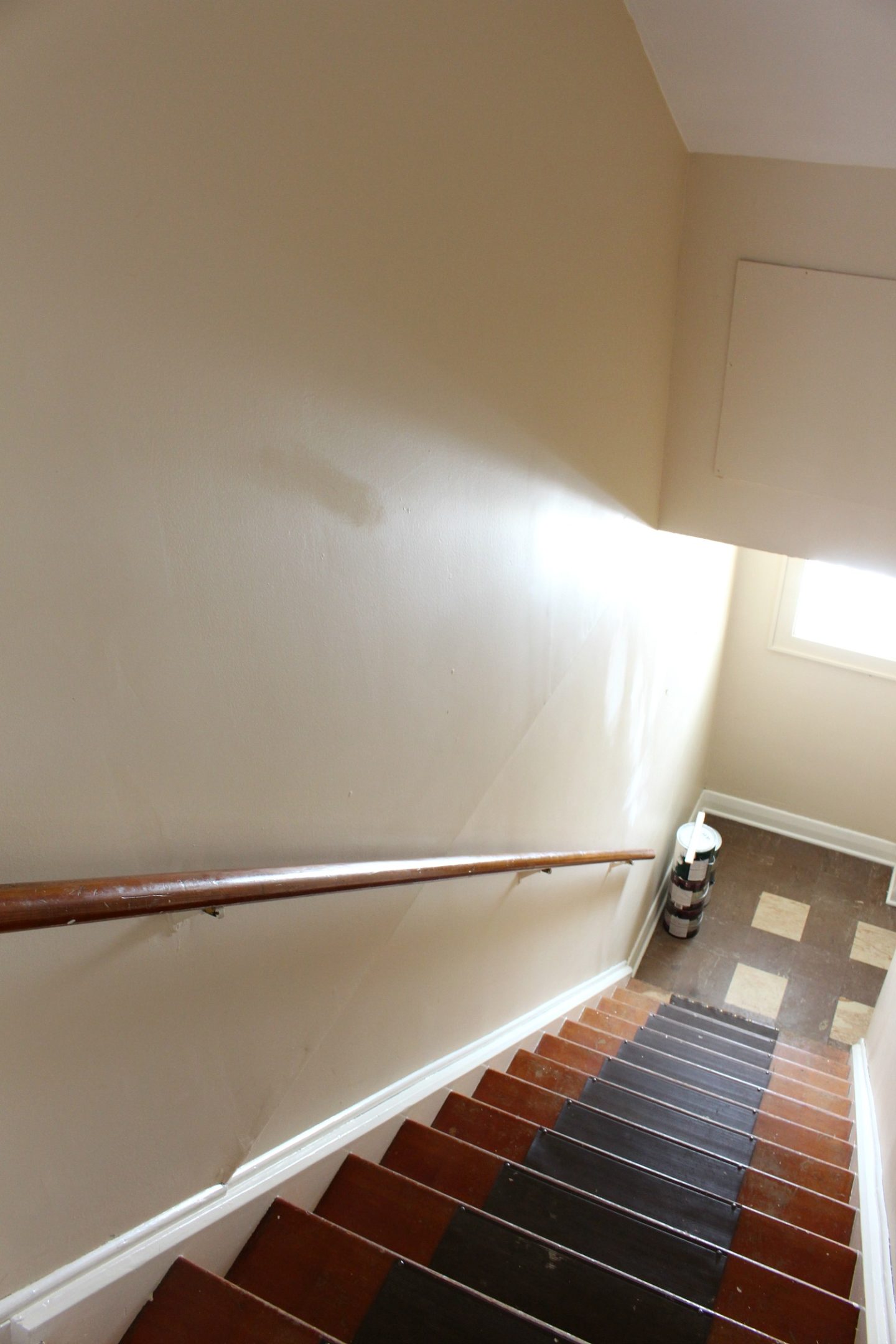 Here's the same angle now: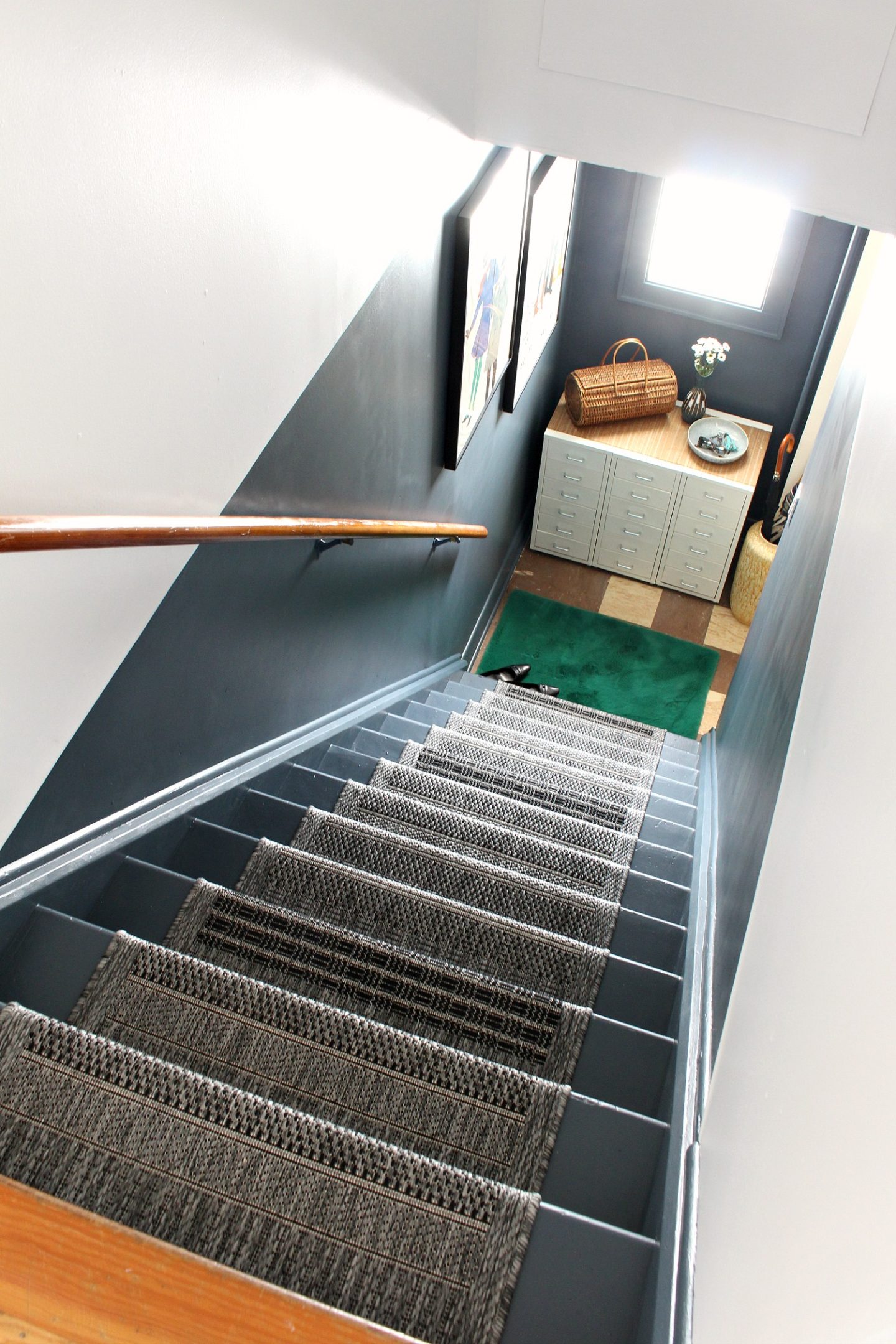 The wooden stairs were surely beautiful at one point, but they had become really beat up and the rubber mats were a little ugly. The new runner is cushy underfoot, but still helps provide traction on the stairs. But it no longer looks like a commercial space, it looks like a home!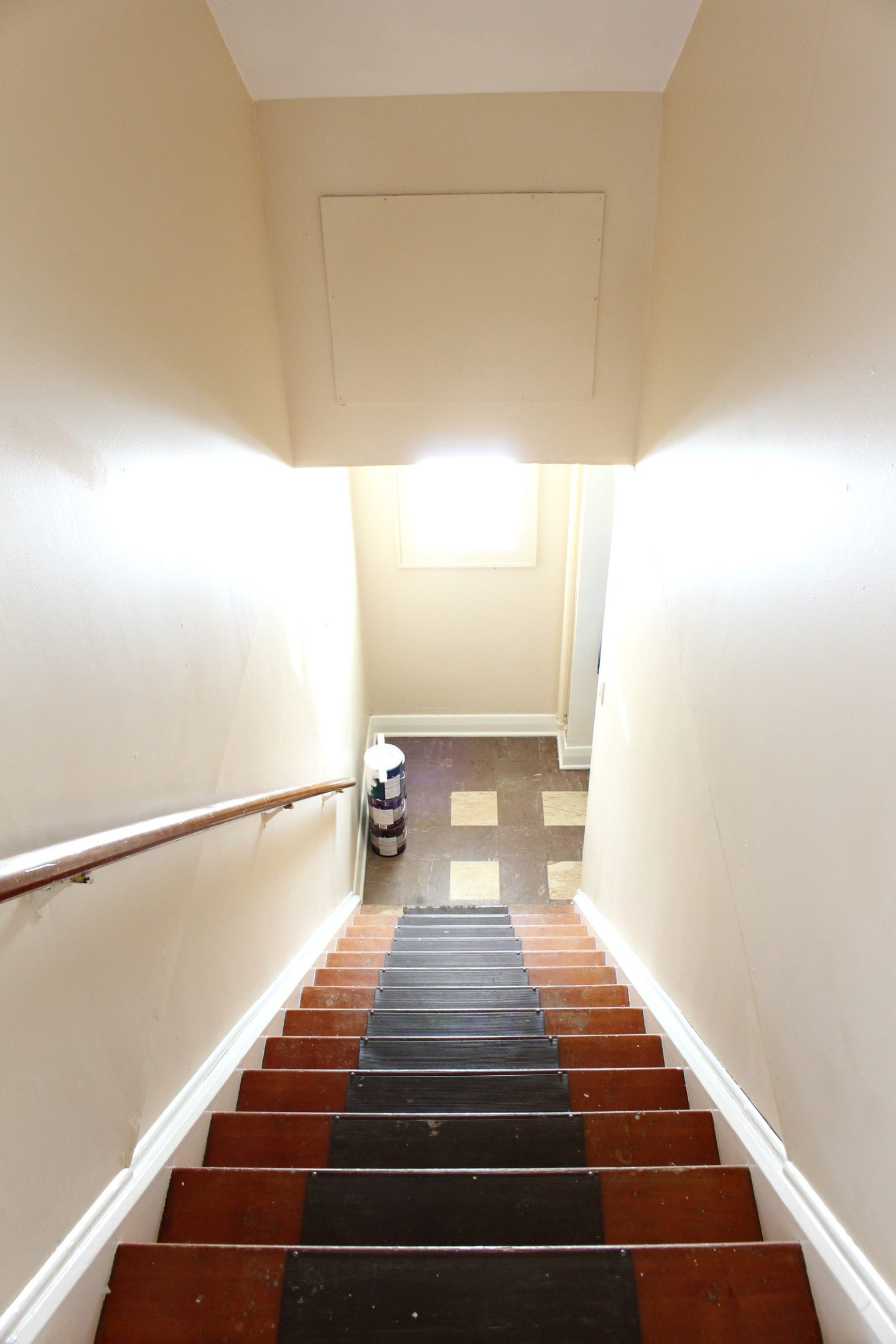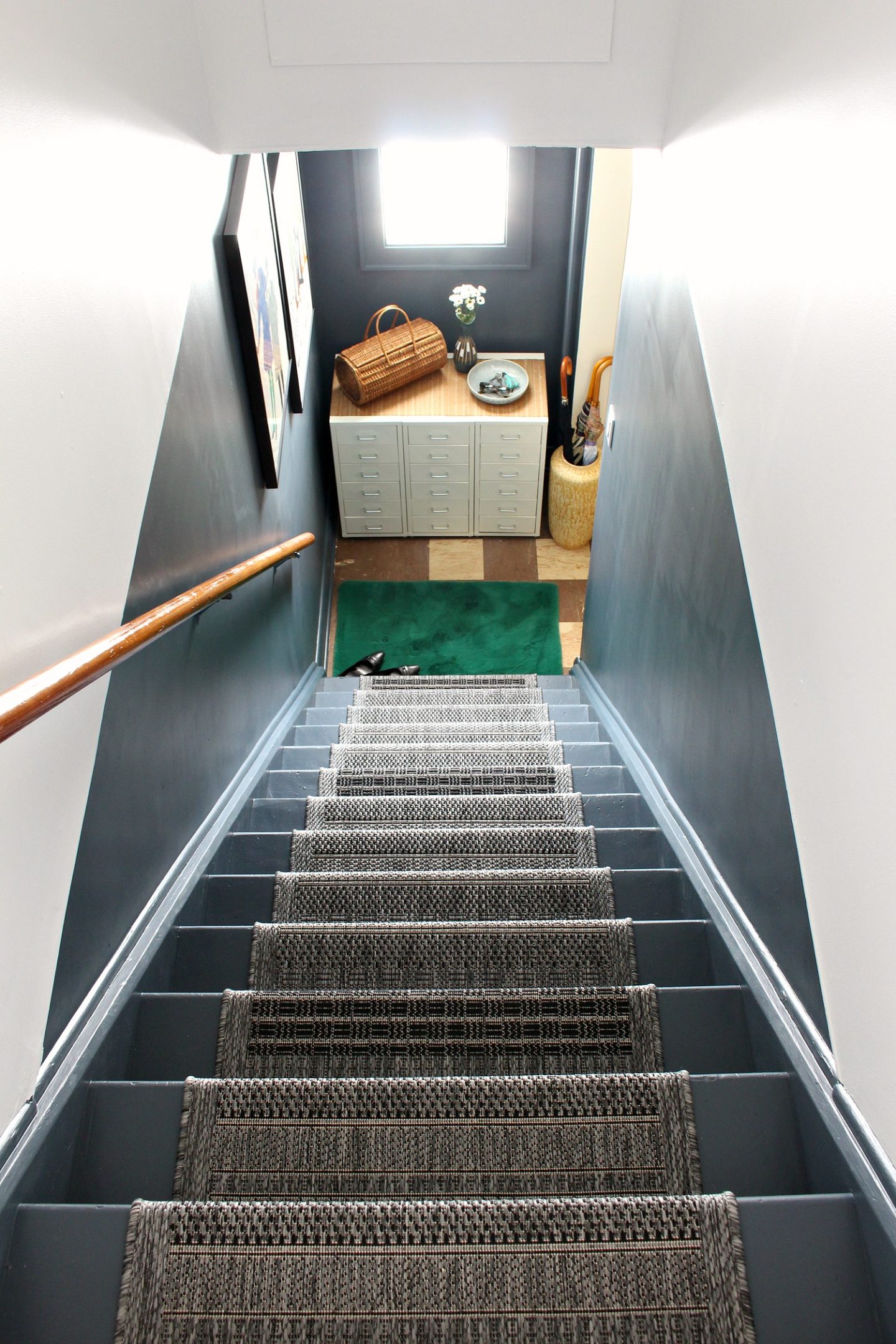 The wall is divided by some quarter round and I caulked the seams and did my best to edge around them with our two-tone wall colors. I halfheartedly patched, but the walls are still pretty flawed. I think the bold colorblock paint job is the focus now, though – it's an excellent distraction tactic: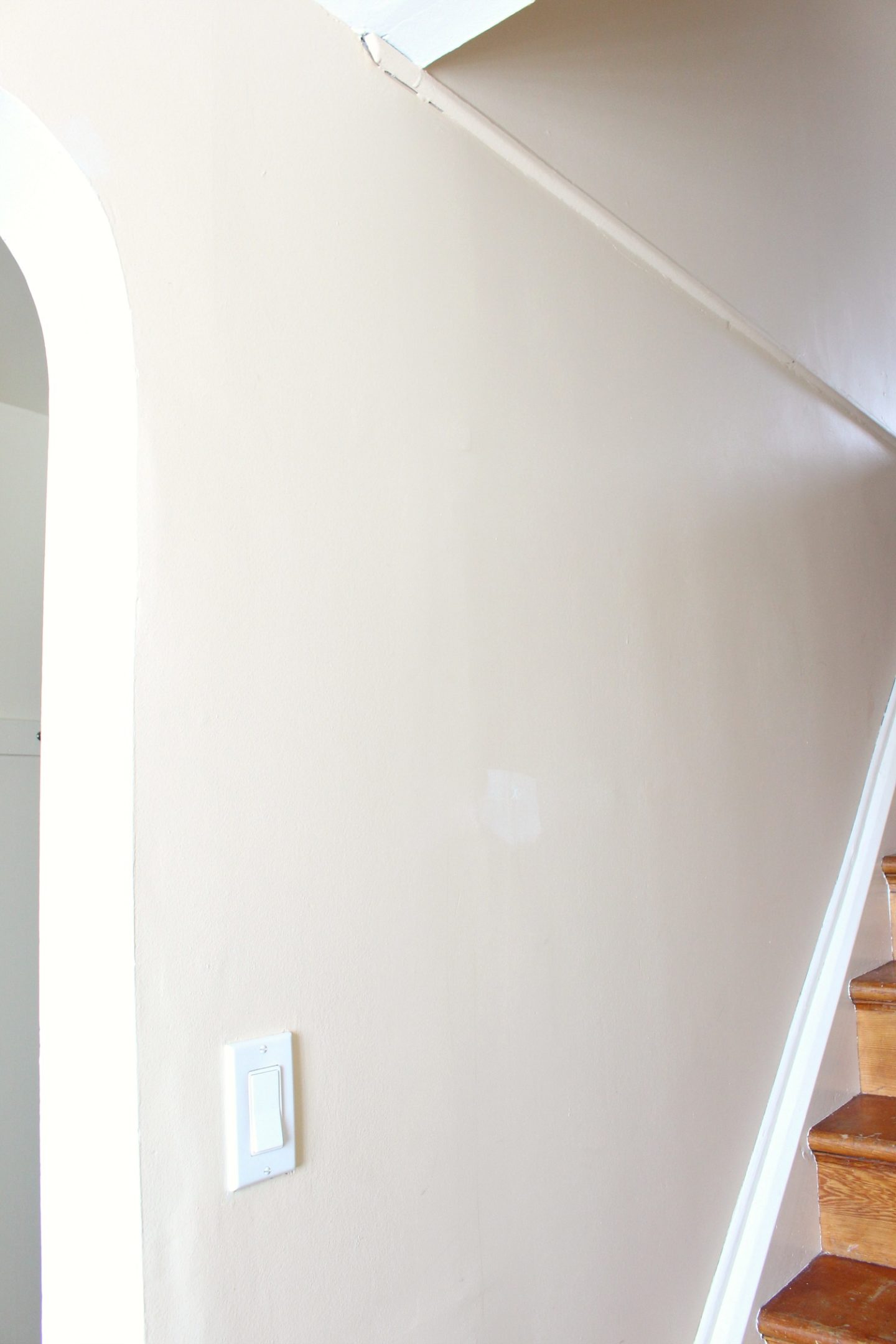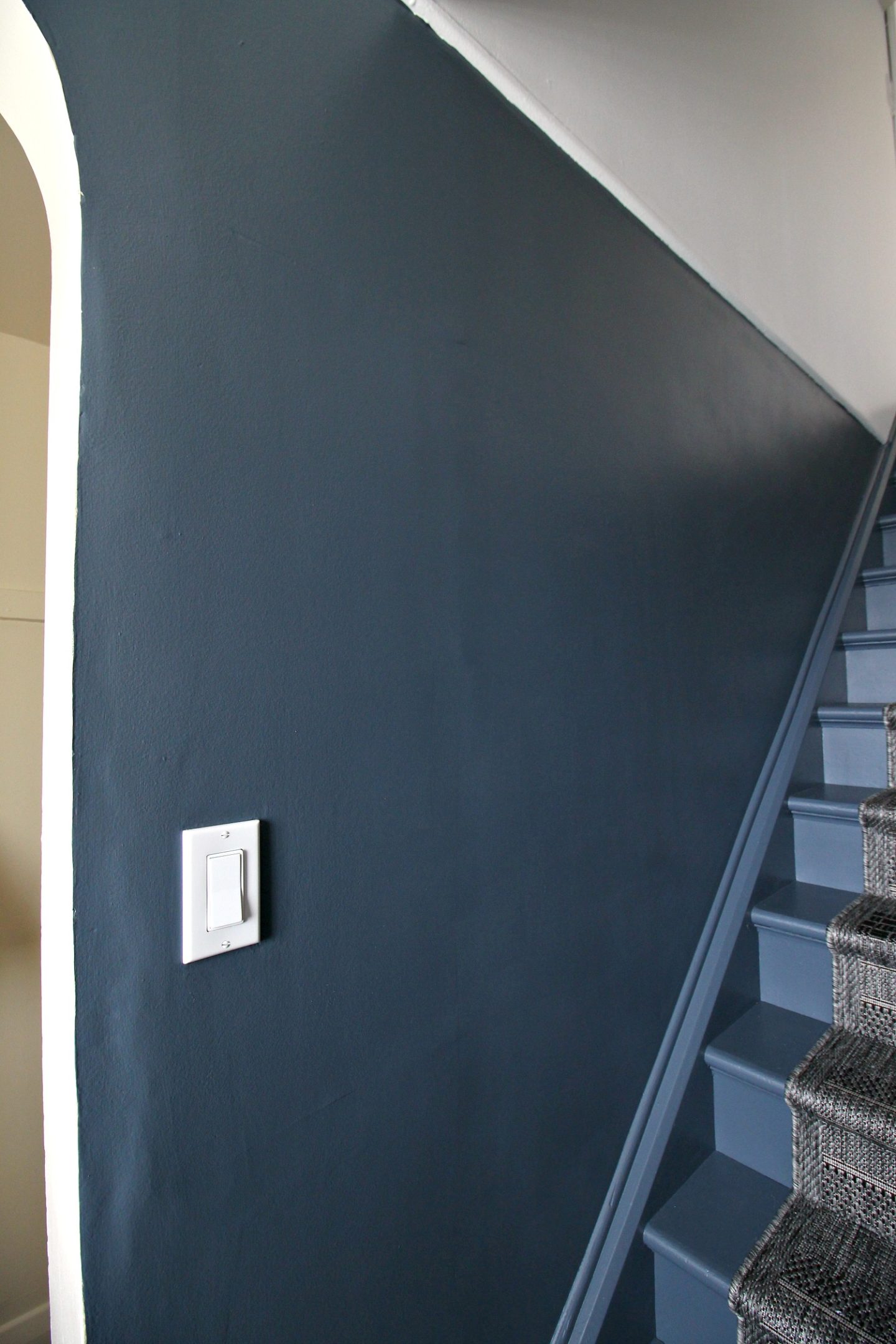 Here's a closer look at those wooden stairs.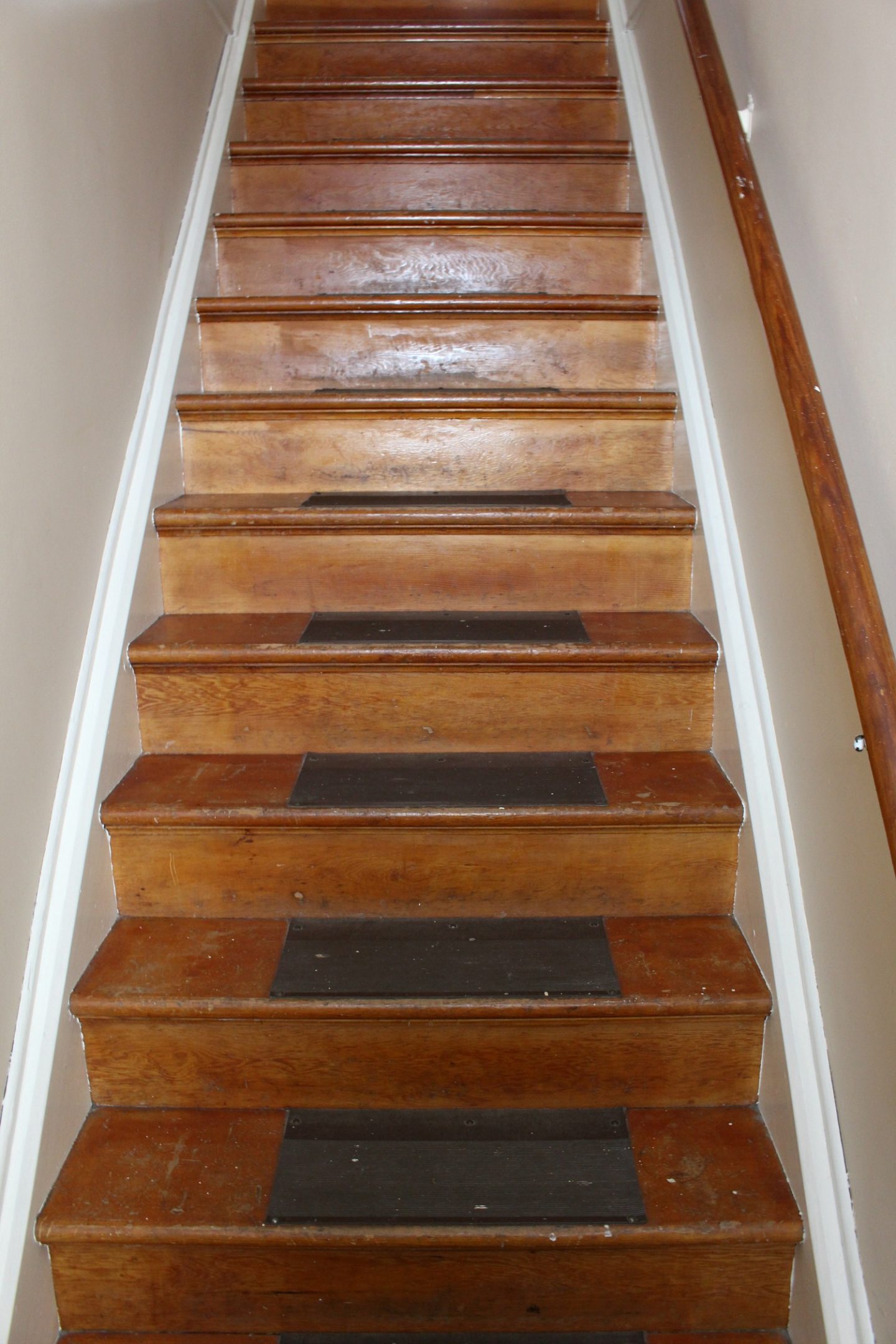 Yikes, that first step had a LOT of wear!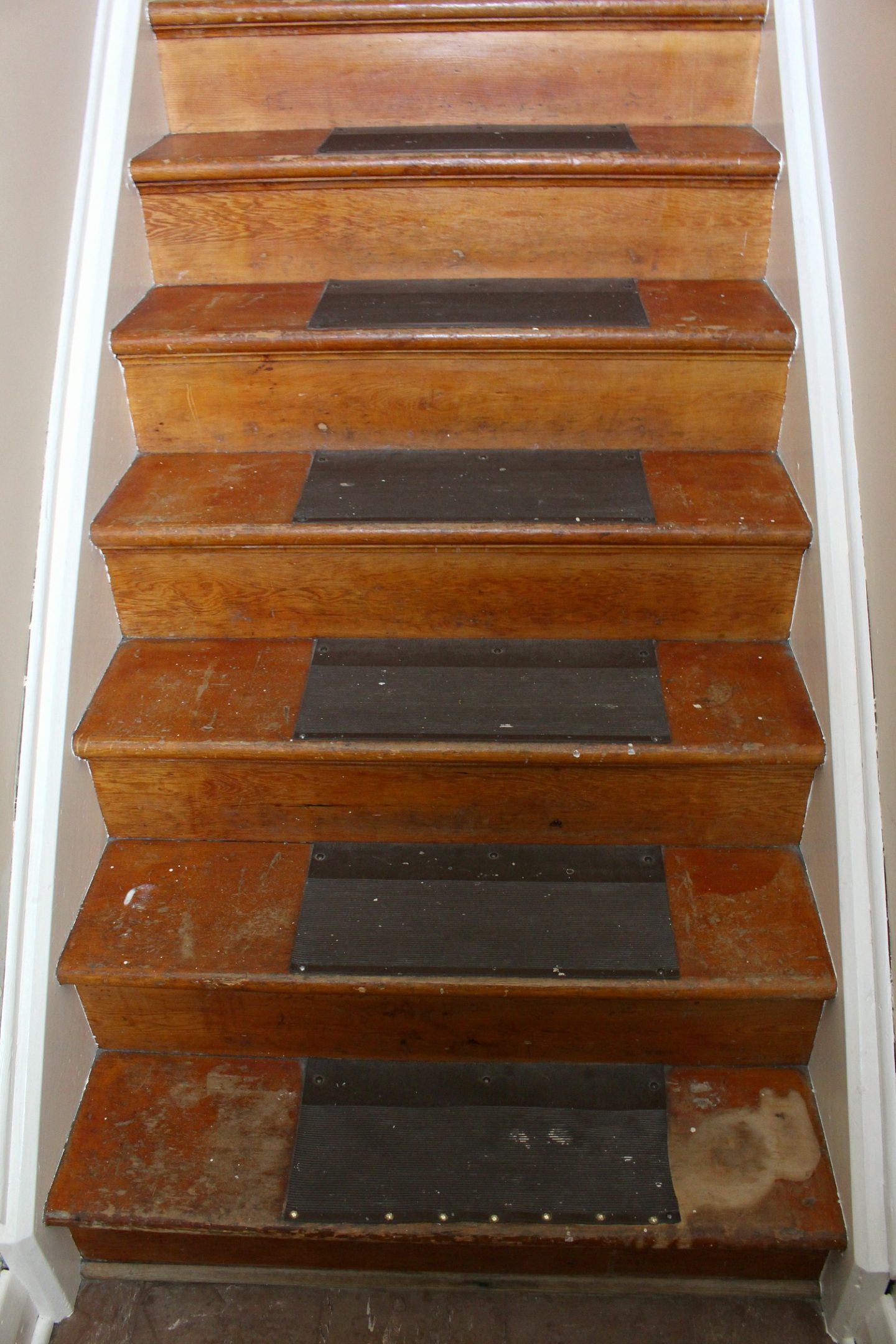 Freshened up with paint, the damage and wear is so much less noticeable. You can still see the dints and dings if you look closely, but I think it looks fresher and newer.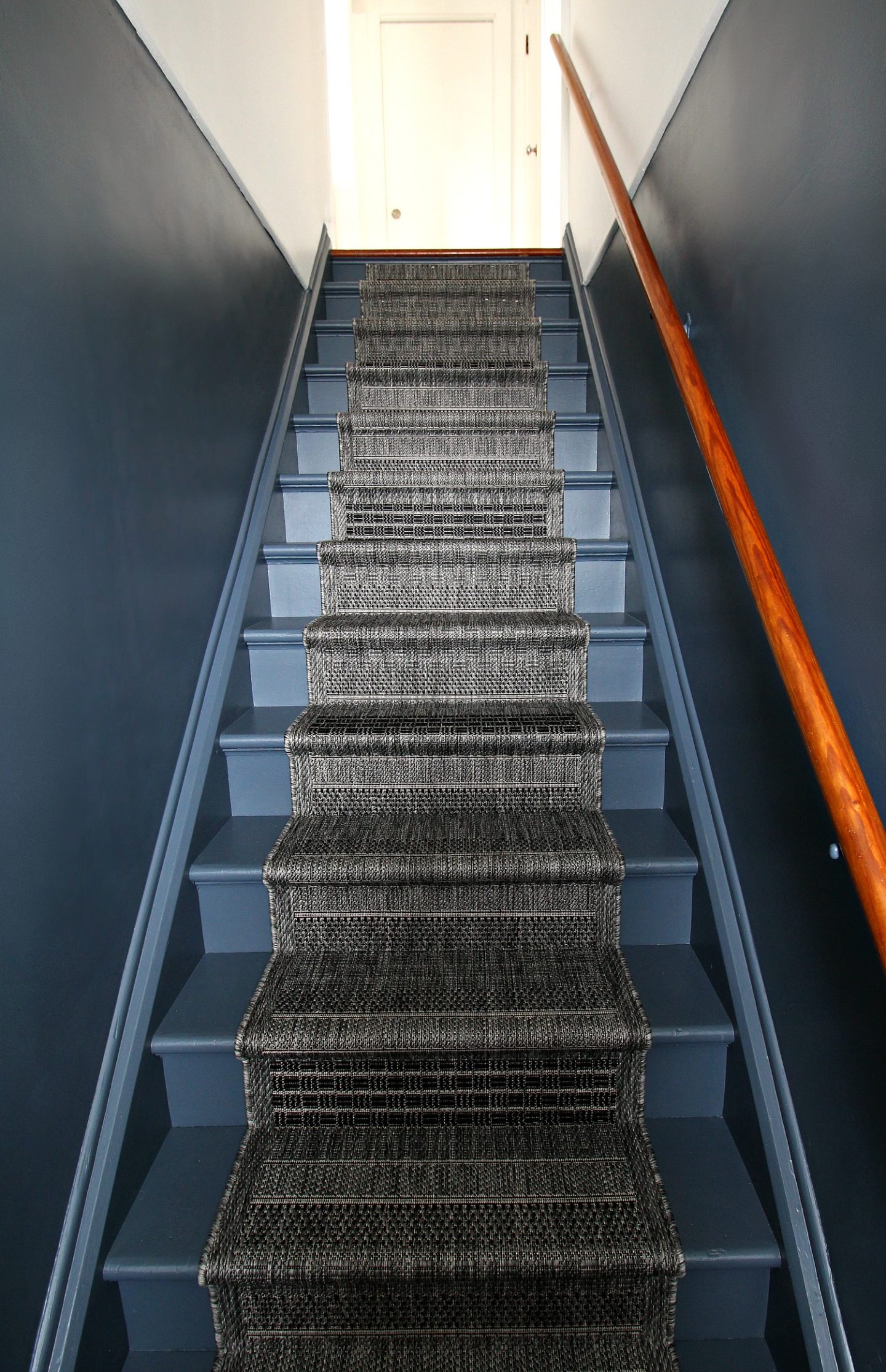 This wall is definitely eye catching now, with a pair of vintage posters we bought in Hungary many moons ago – my Mom pulled the wall color from the artwork (Behr Calligraphy):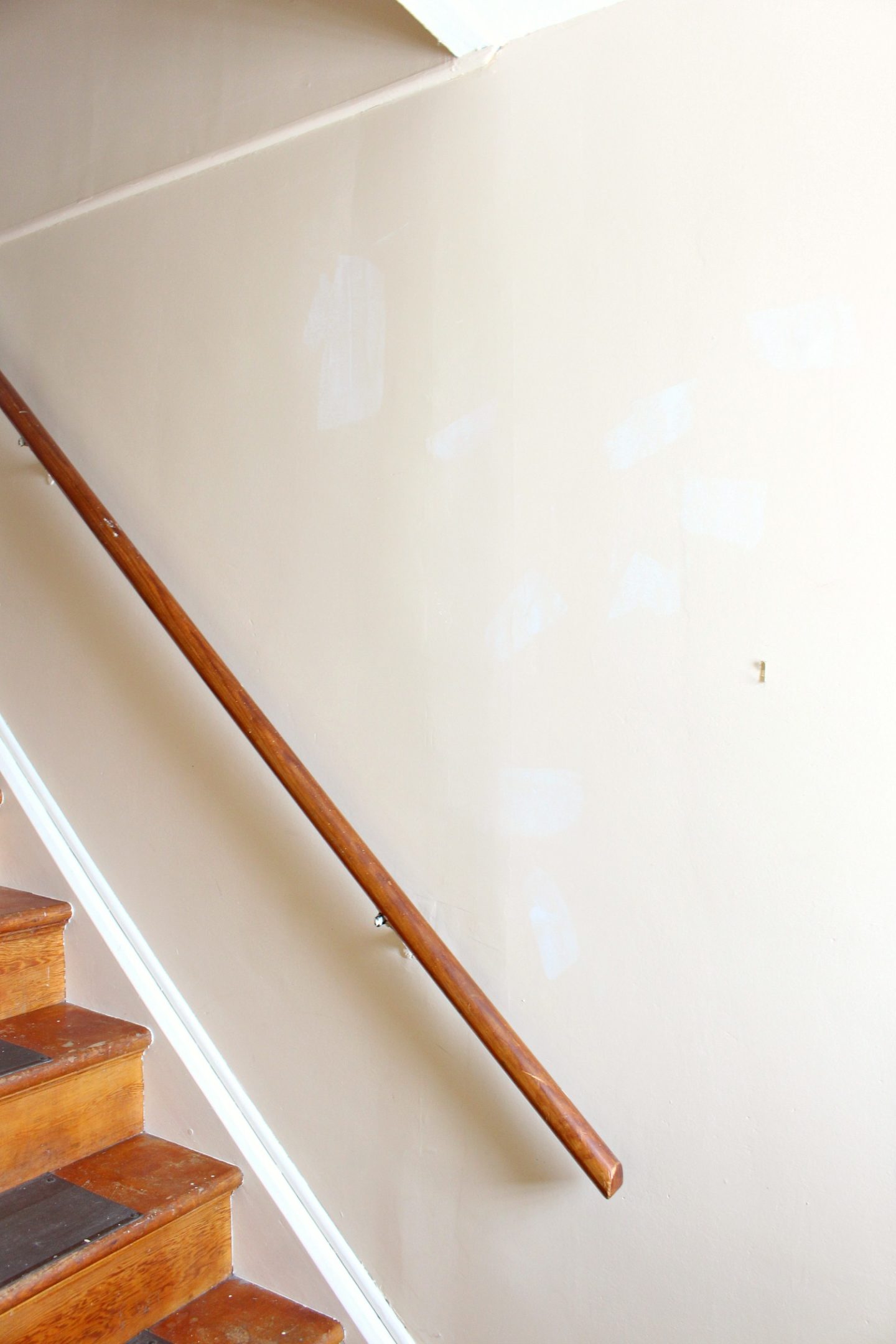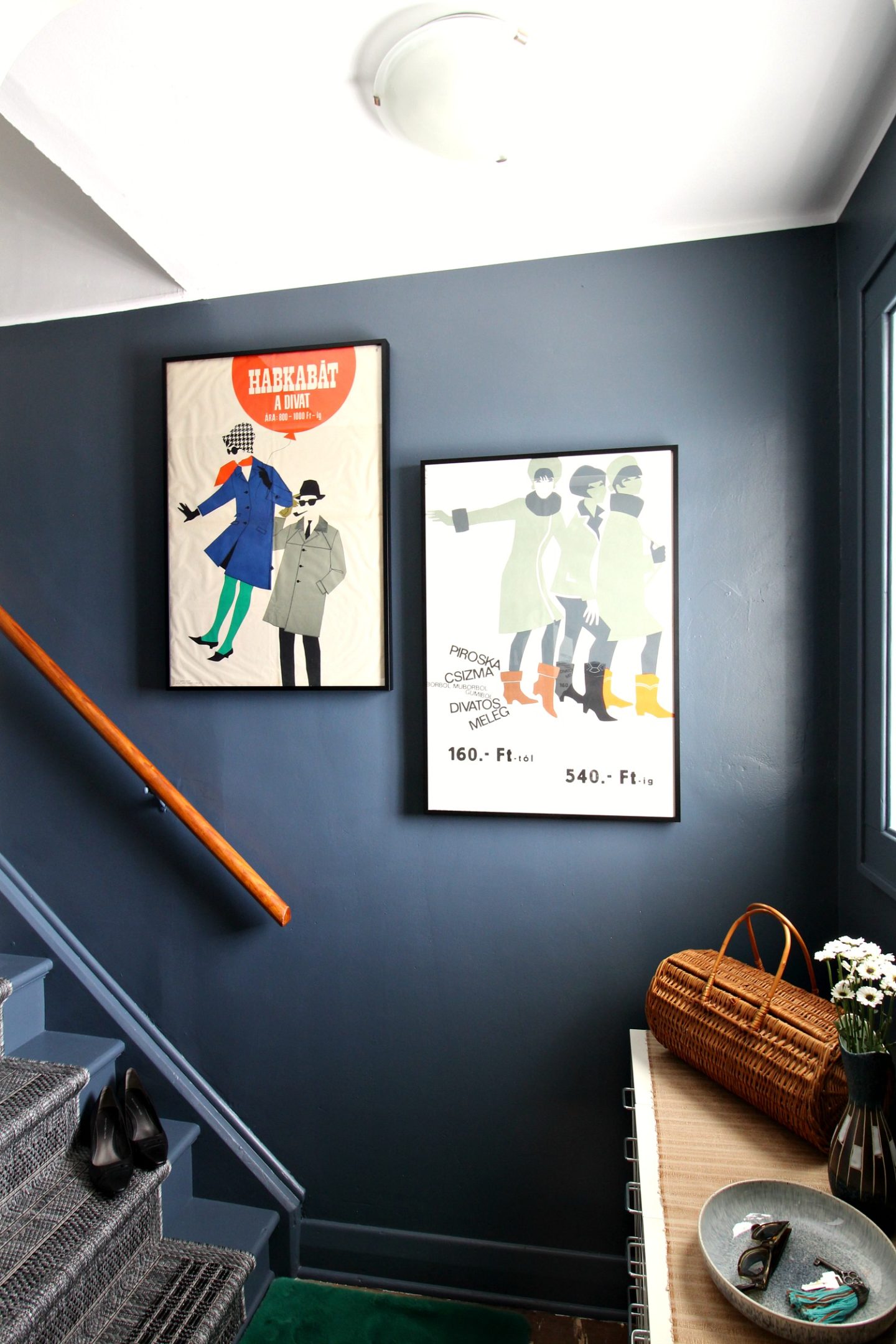 Here's a slightly different angle: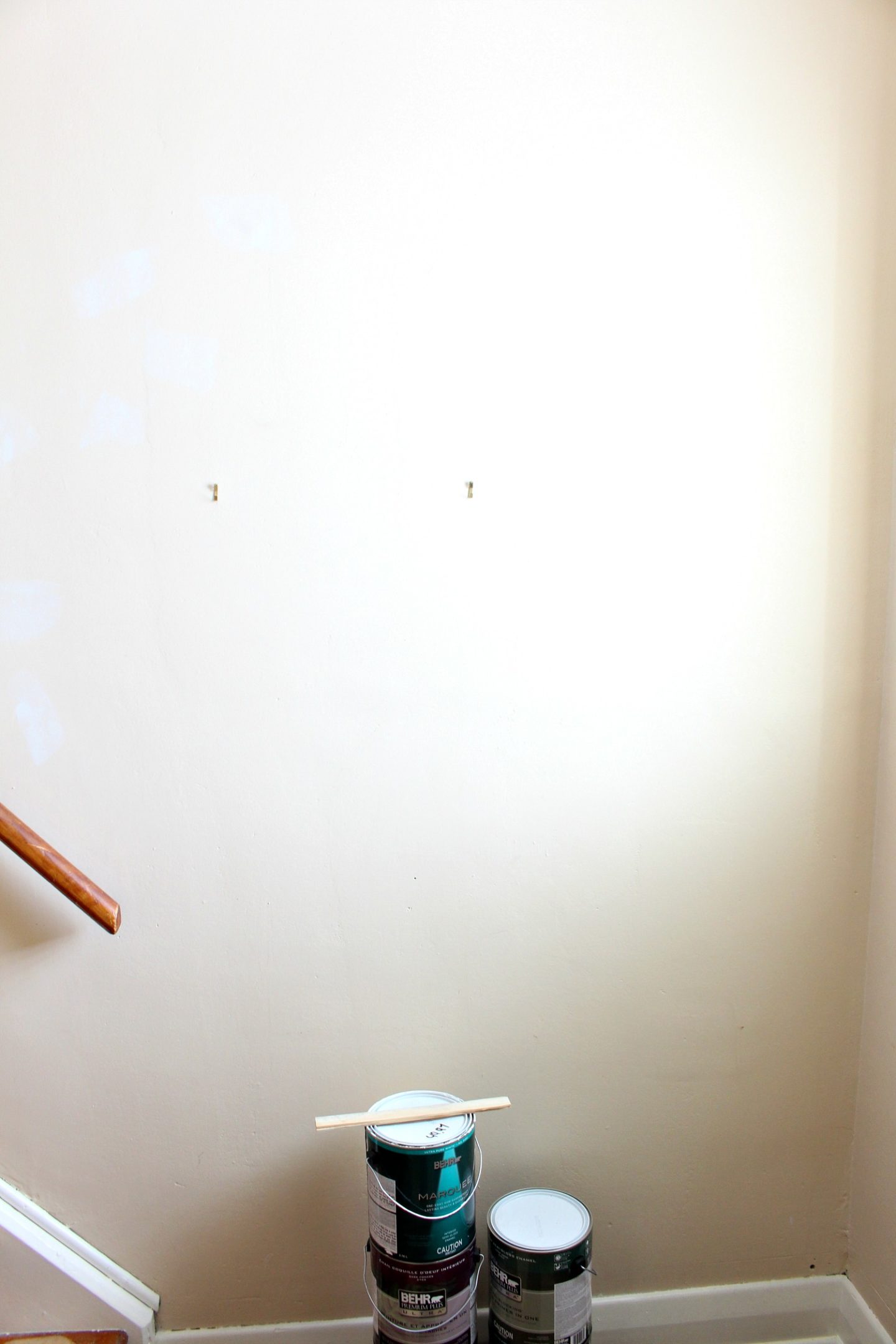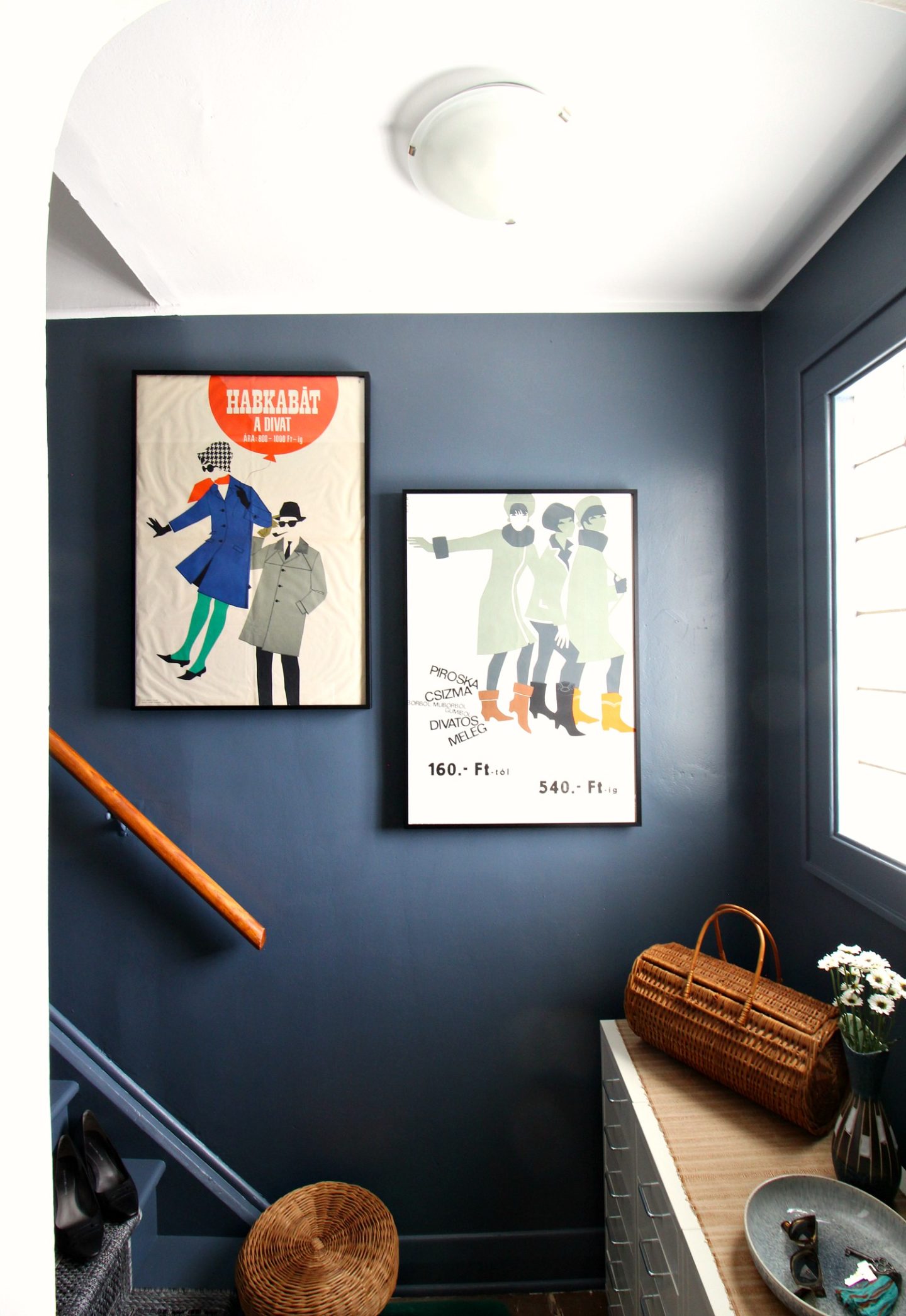 There's a window in the space, which is a rare treat for a hallway! I caulked the window trim too and painted it – along with the baseboards – the same color as the walls because, like the stairs, the trim was chewed up a bit and painting it all the same color helps it blend in and recede so the eye is drawn to the decor!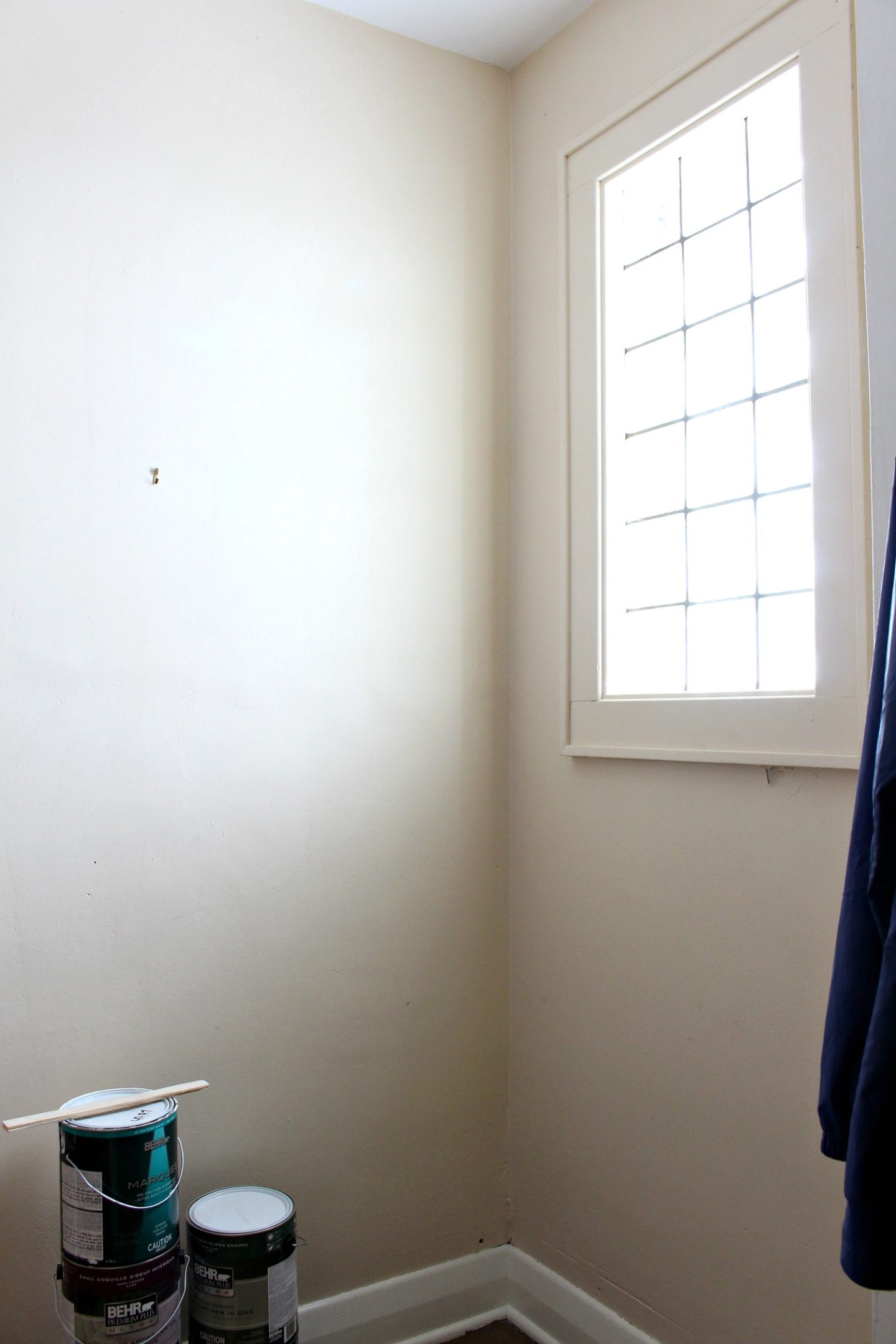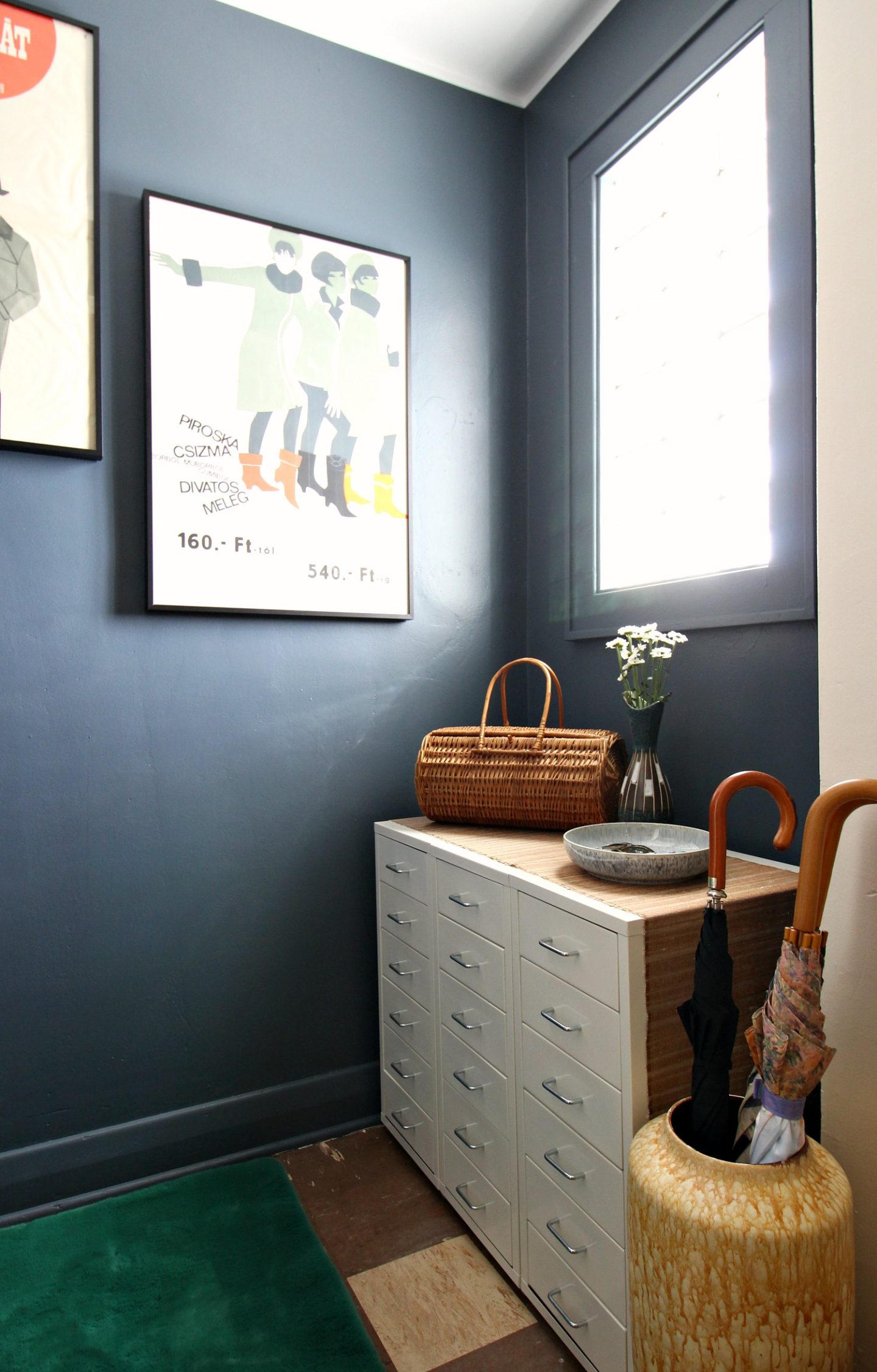 This budget-friendly DIY stairwell makeover is such an amazing transformation, if I do say so myself! Now that you've seen the before/afters, I'm going to chat a little about the work I did to update the space for my Mom. The design decisions were all my Mom's: she had the cool idea to do this bold color block on the walls and paint the stairs. She also picked the new runner, cute green accent mat and then we "shopped" her space for everything else. Although she used me as a sounding board (YES! Go bold, go dark, I encouraged haha), the design is totally hers and I want to give her credit! I just came in for the labor – I prepped, painted, and installed the runner.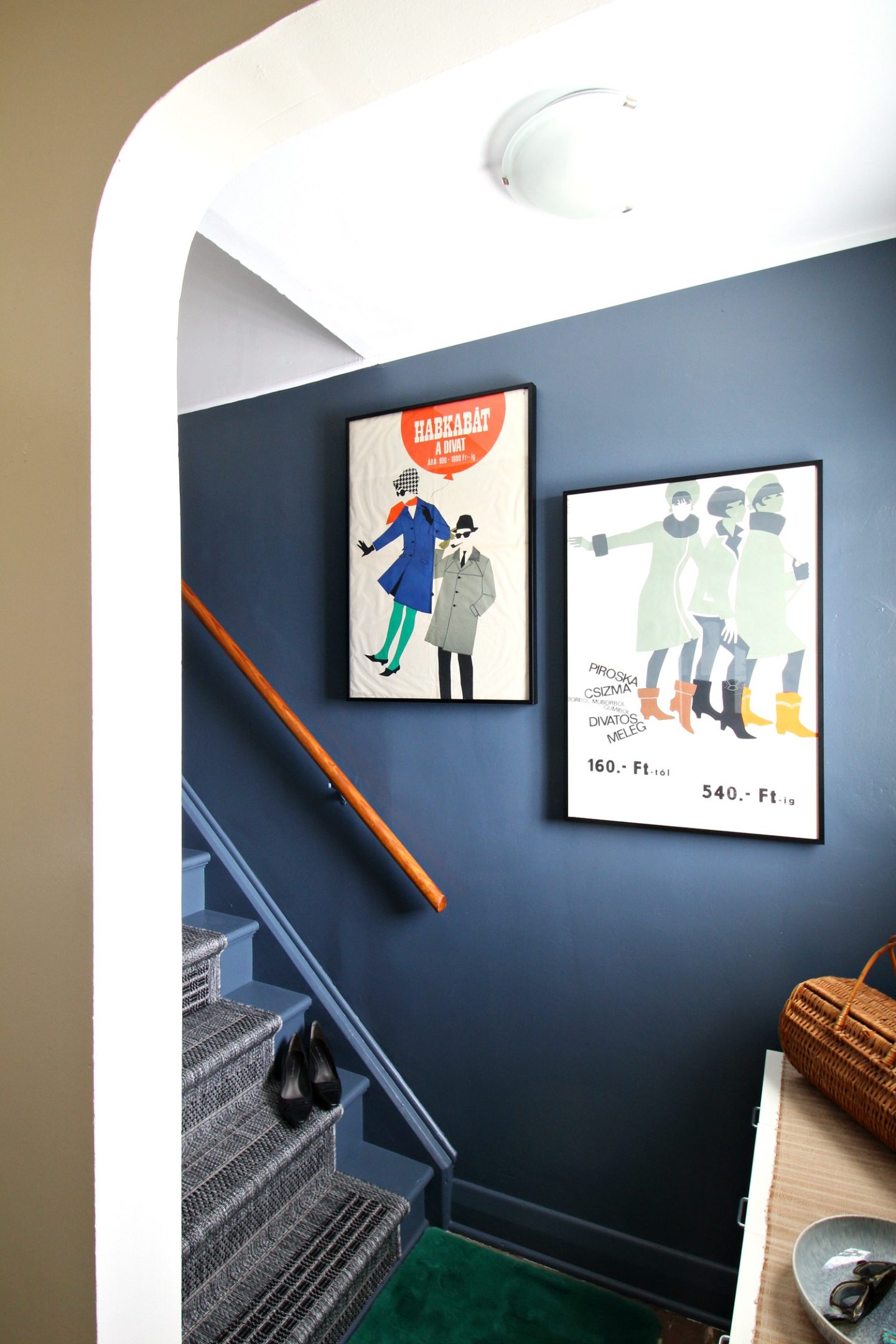 Prepping, Caulking & Painting
After I gave the space a good scrub, the first thing I did in this budget-friendly DIY stairwell makeover was to caulk around all of the baseboards, window trim, and around the stringers. I had some paintable caulk leftover from other projects, so I went to town because I am obsessed with how much of a difference caulk makes. Then I pried off the old rubber treads and washed underneath – WOW, did a lot of dirt every accumulate under there.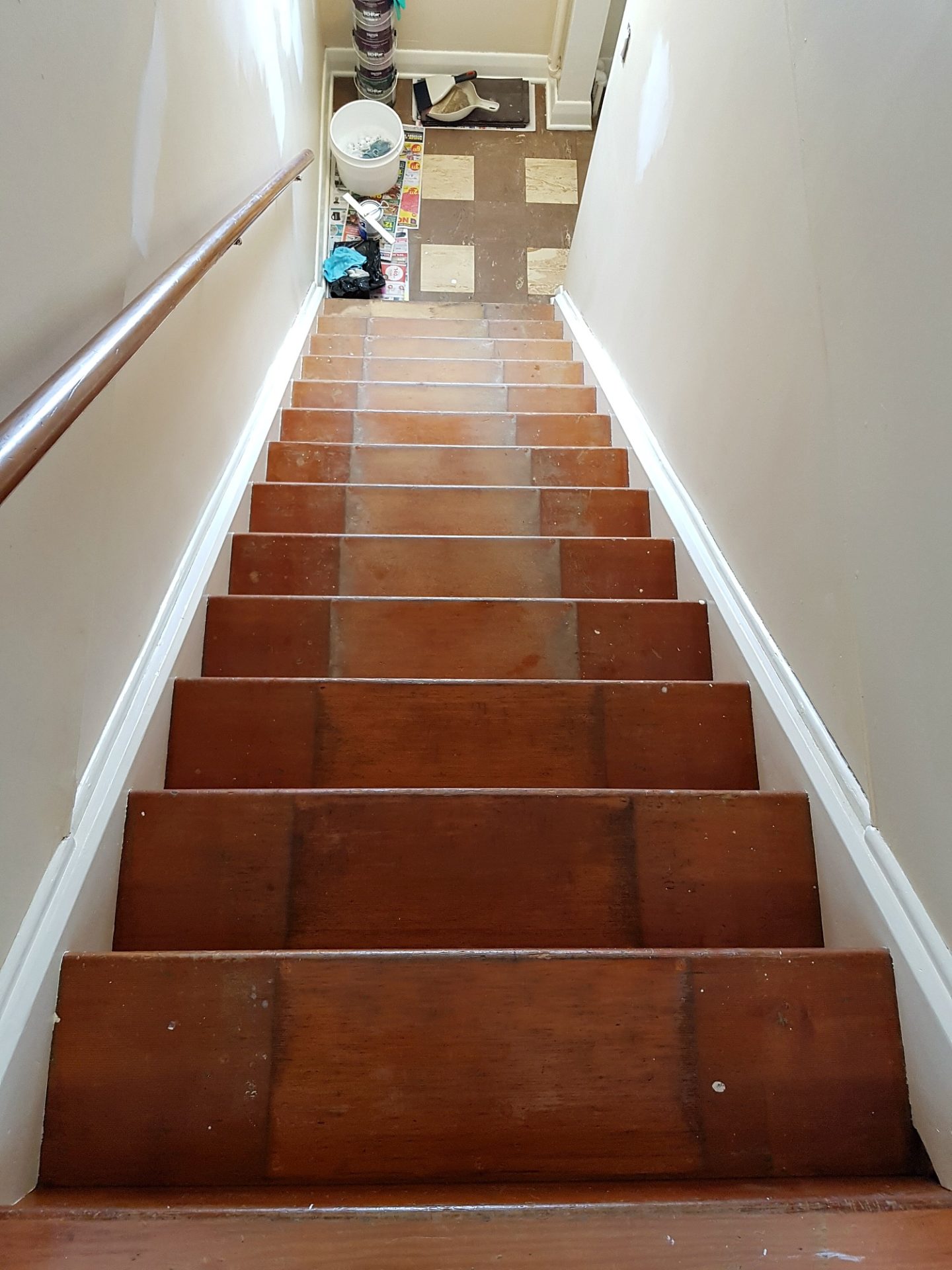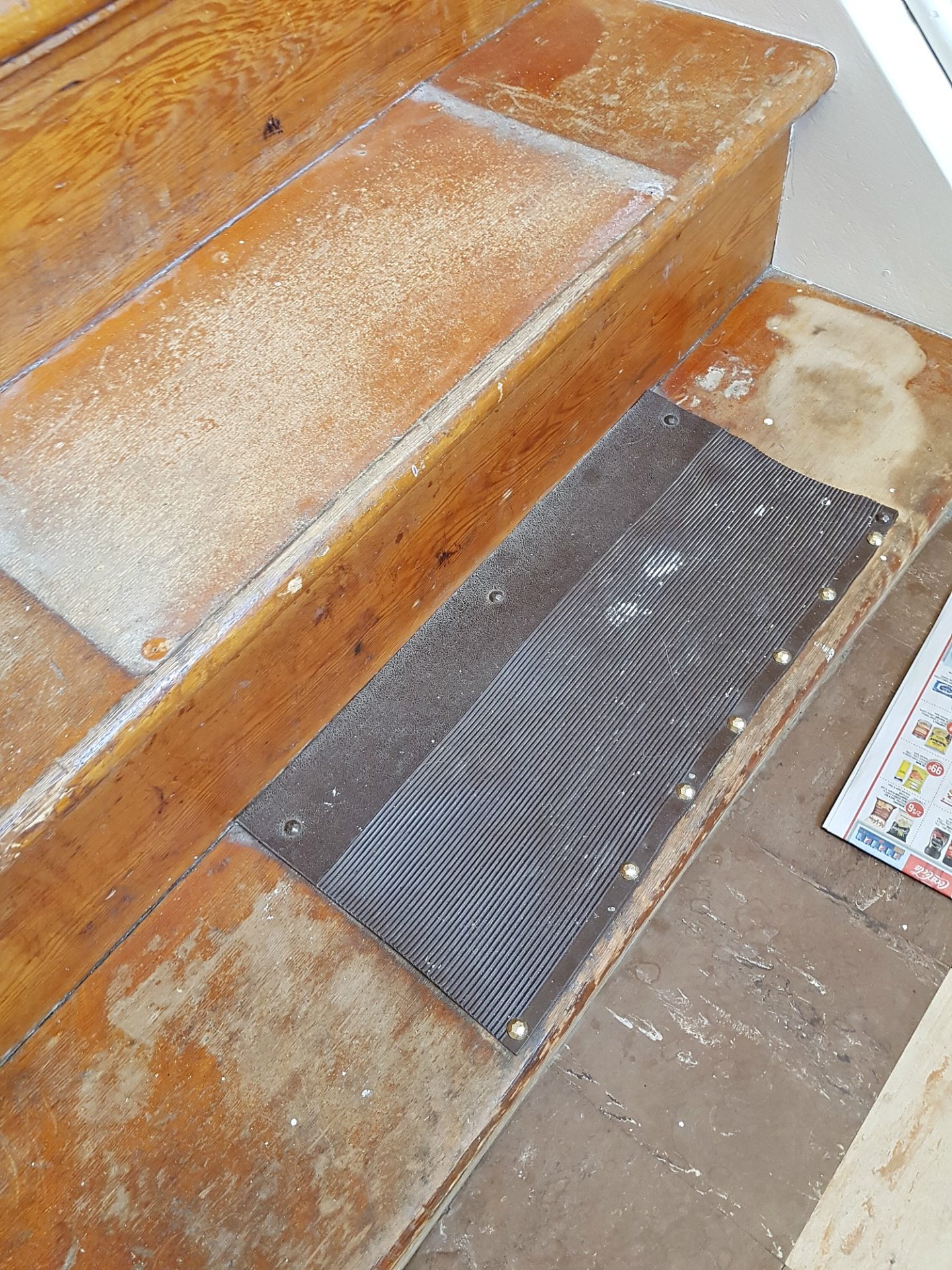 The stairwell is naturally divided by some quarter round, so we decided to use that as a dividing line for the cool colorblock wall treatment. I painted the upper half, the part that leads into the apartment, un-tinted white. We convinced my Mom's landlord that un-tinted white is better than the beige he was using because he could never match the color 100% for touch ups but the white is easy – just grab a can off the shelf! He's sold. The ceiling in the lower part of the stairs was also painted white to keep it from feeling too dark with the bold grey wall. I'm excited that my Mom is so adventurous and that she chose a really cool blue-grey color for the bottom of the stairwell, the little nook – and even the stairs! (For painting stairs, make sure you use a good primer and porch and floor enamel). I painted the walls, trim, and stairs dark grey and then even used a small artist's brush to paint the railing brackets to blend in with the walls. If you look closely at the photos, you can still see some wear and tear: the walls have a lot of damage from past repairs, water damage, and just general wear – and the stairs definitely have a lot of character, but we both think the color block detracts from that because you immediately focus on the cool walls and not the flaws – a good tip for other renters! Another tip: we didn't paint under the runner, this way my Mom wasn't left homeless while she waited for the paint to cure – she had a little unpainted area to go up and down the stairs.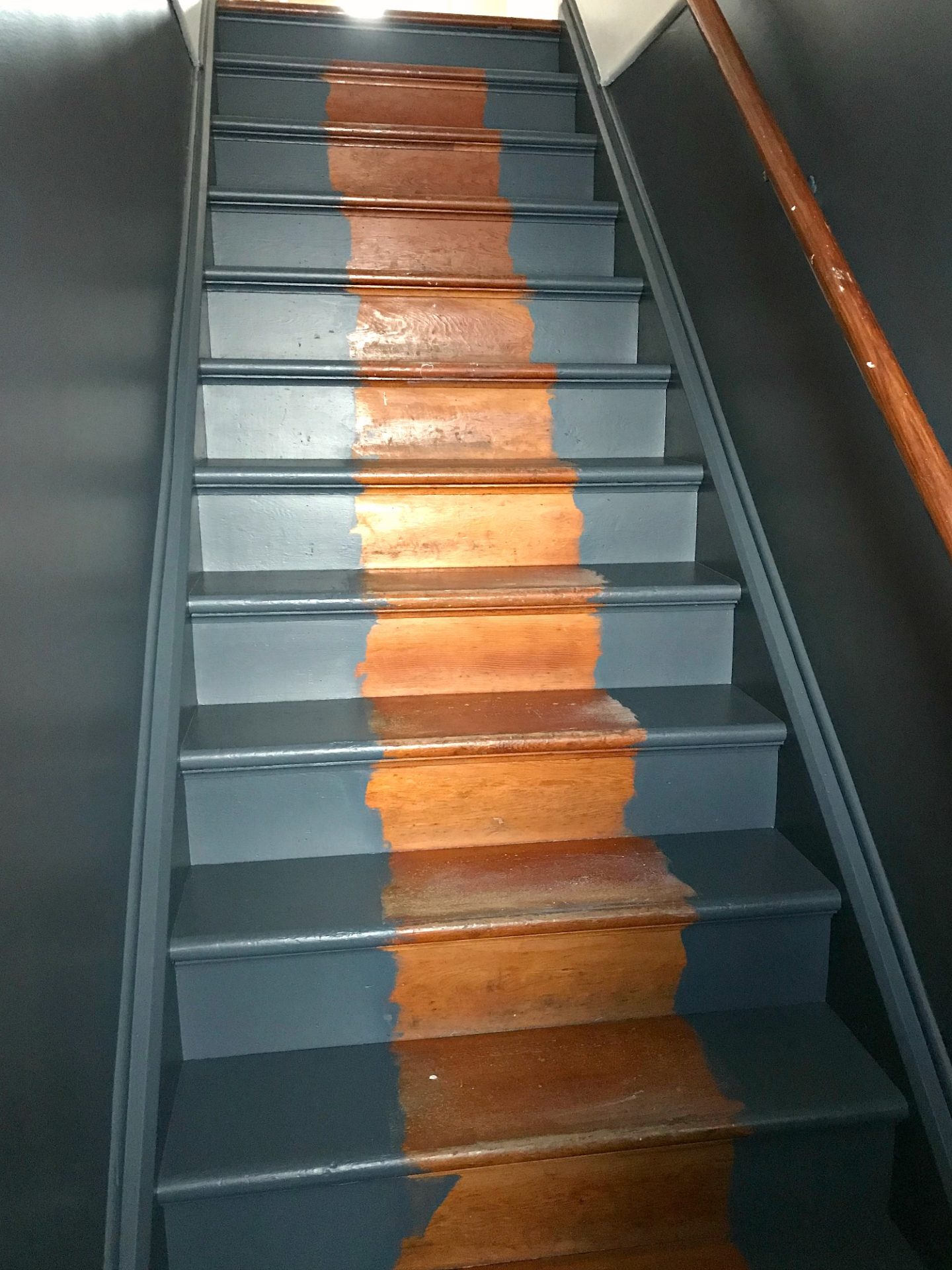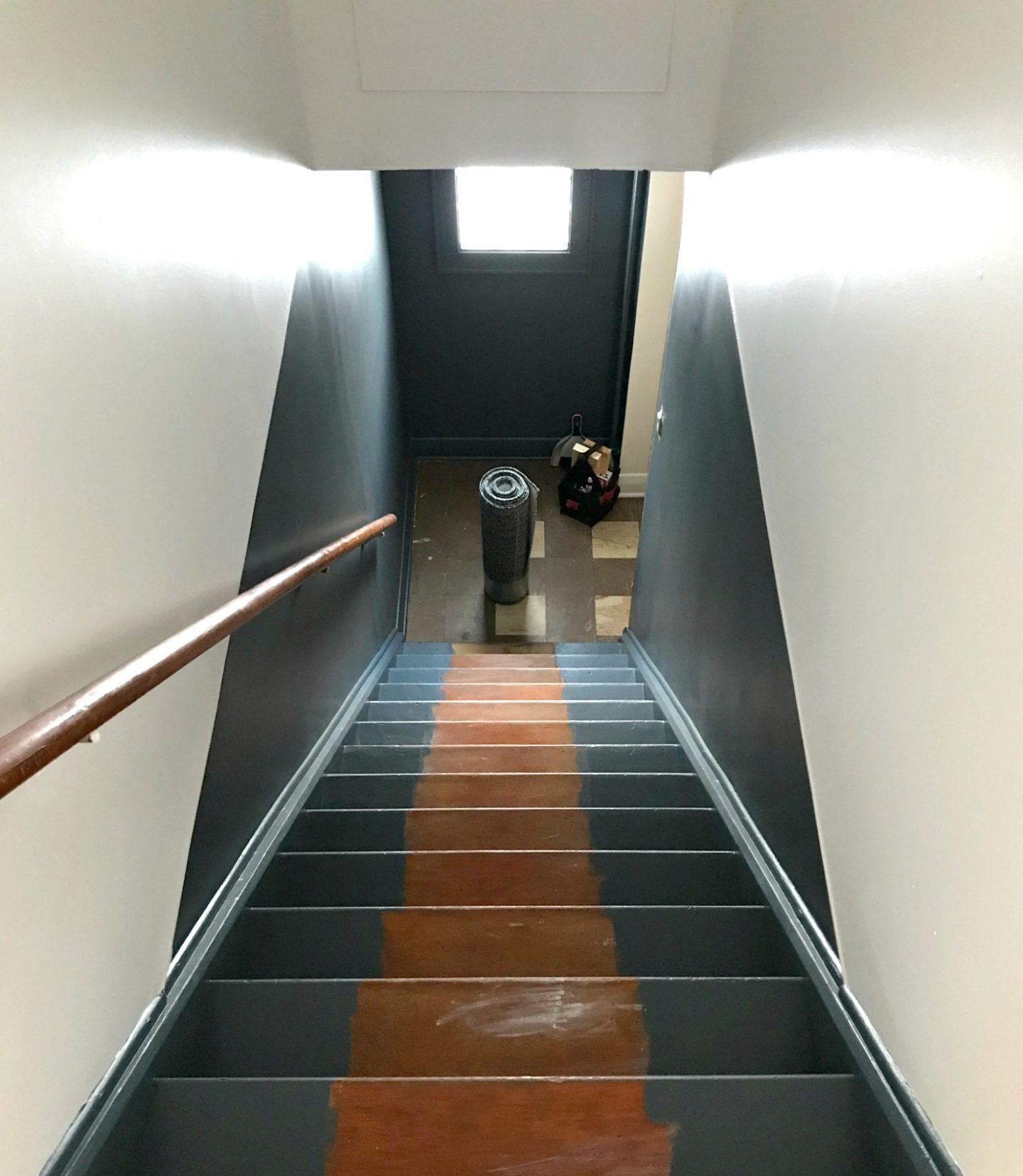 Installing the Runner:
I'll share a tutorial for installing the stairway runner soon (it was super easy). We found this at a local carpet place and it's sold by the foot so you can get exactly what you need in one long piece instead of having the wrestle with a series of smaller runners. It was about $5.50 a foot and we bought 20 feet (we only had to cut off a tiny amount). So the total was $124 with tax – something her landlord didn't mind paying, because he saved a bundle on labor because my rate ($0) is a bargain, haha. Here's a somewhat similar one on Amazon.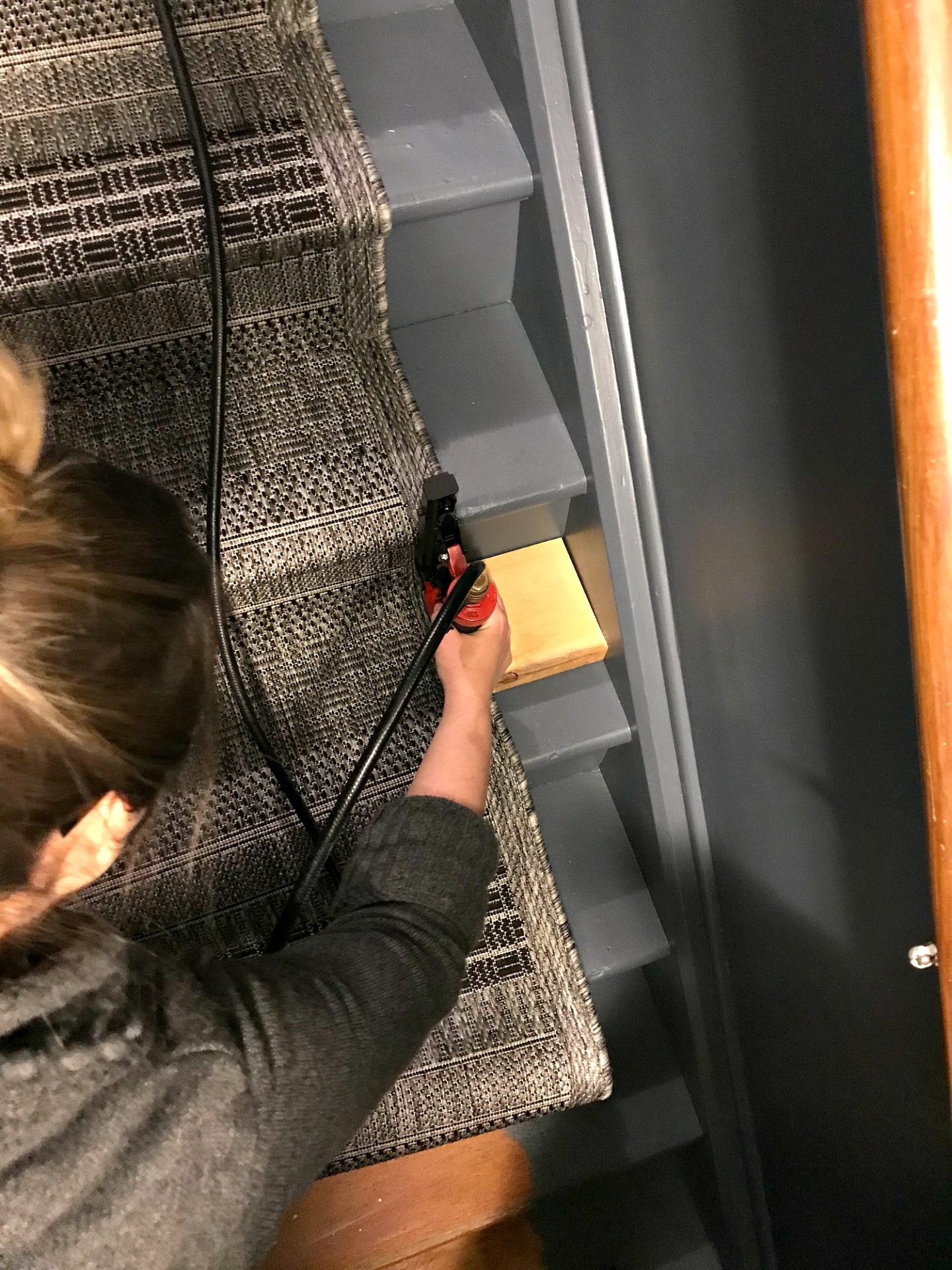 The runner made such a huge difference and it was genius of my Mom to ask her landlord to pay for it in exchange for getting the labor for free. Another tip: landlords love to save money and love to see their properties improved, but "improved" is subjective. If you'd like to update a rental space, send your landlord inspiration photos (even of other, high end rentals that have the feature you want – like painted kitchen cabinets) and see if your landlord would be willing to pay for supplies. In this case, Mom was given carte blanche to choose a rug but she made sure to pick one that wasn't too trendy or weird, and she texted a photo to her landlord for approval.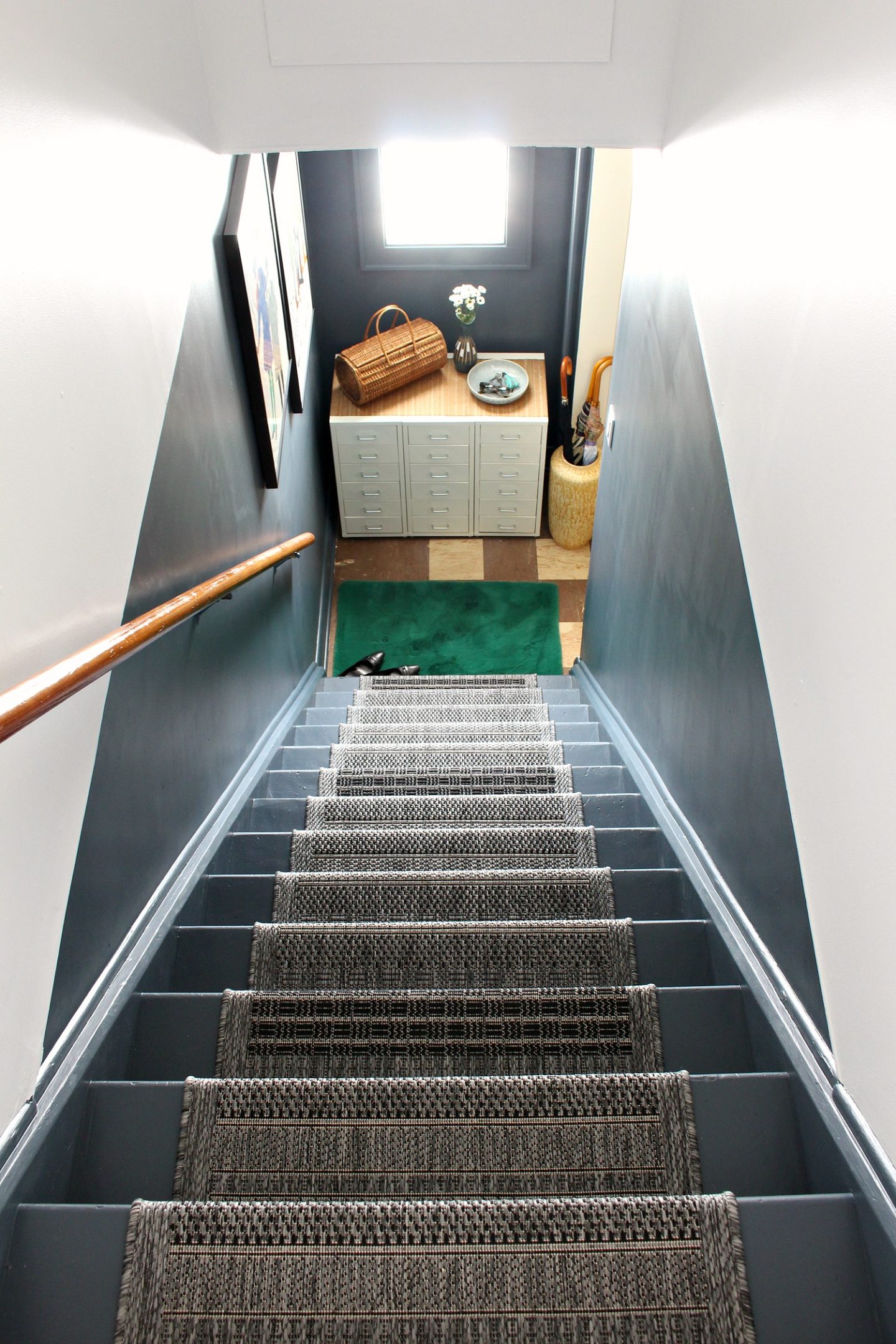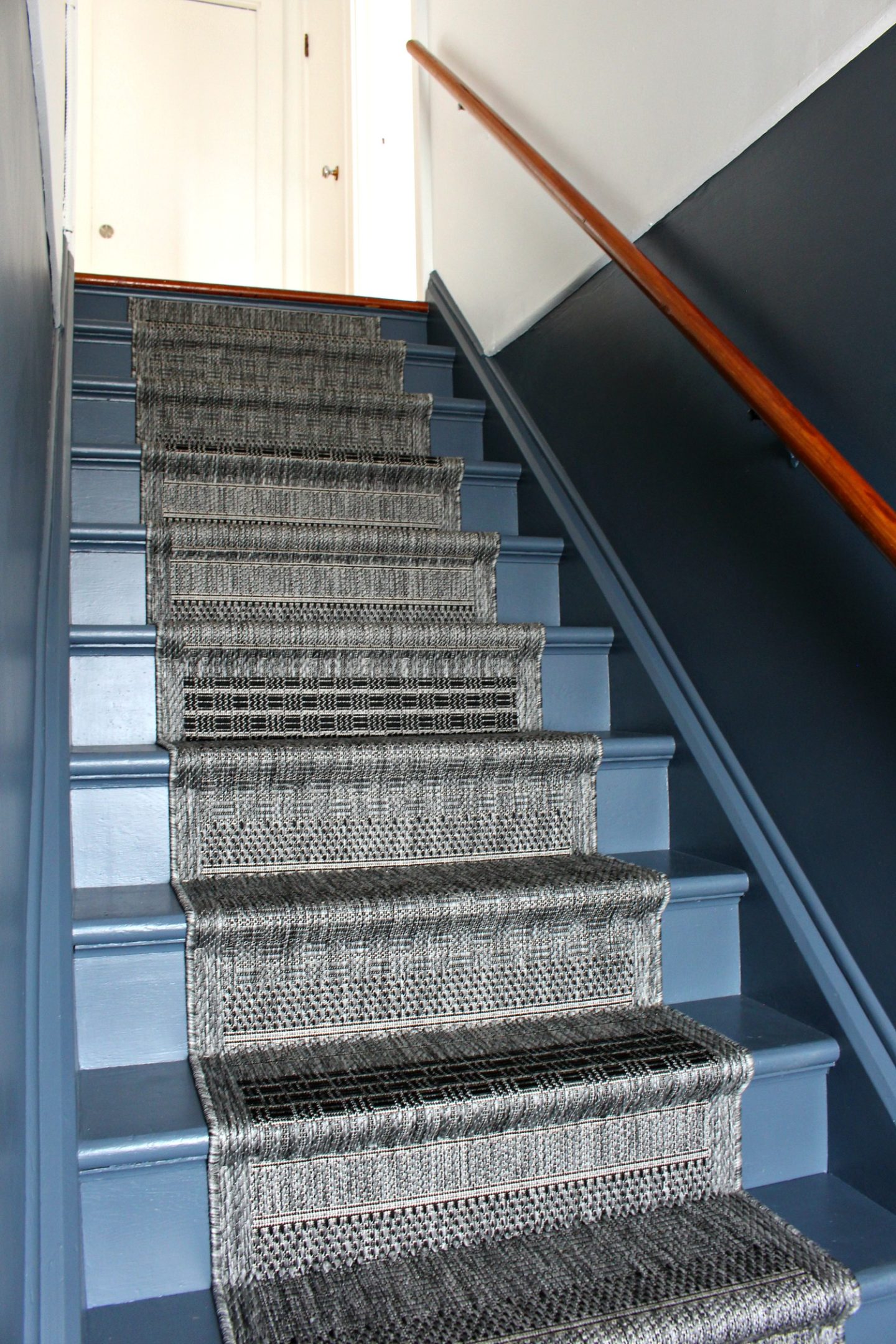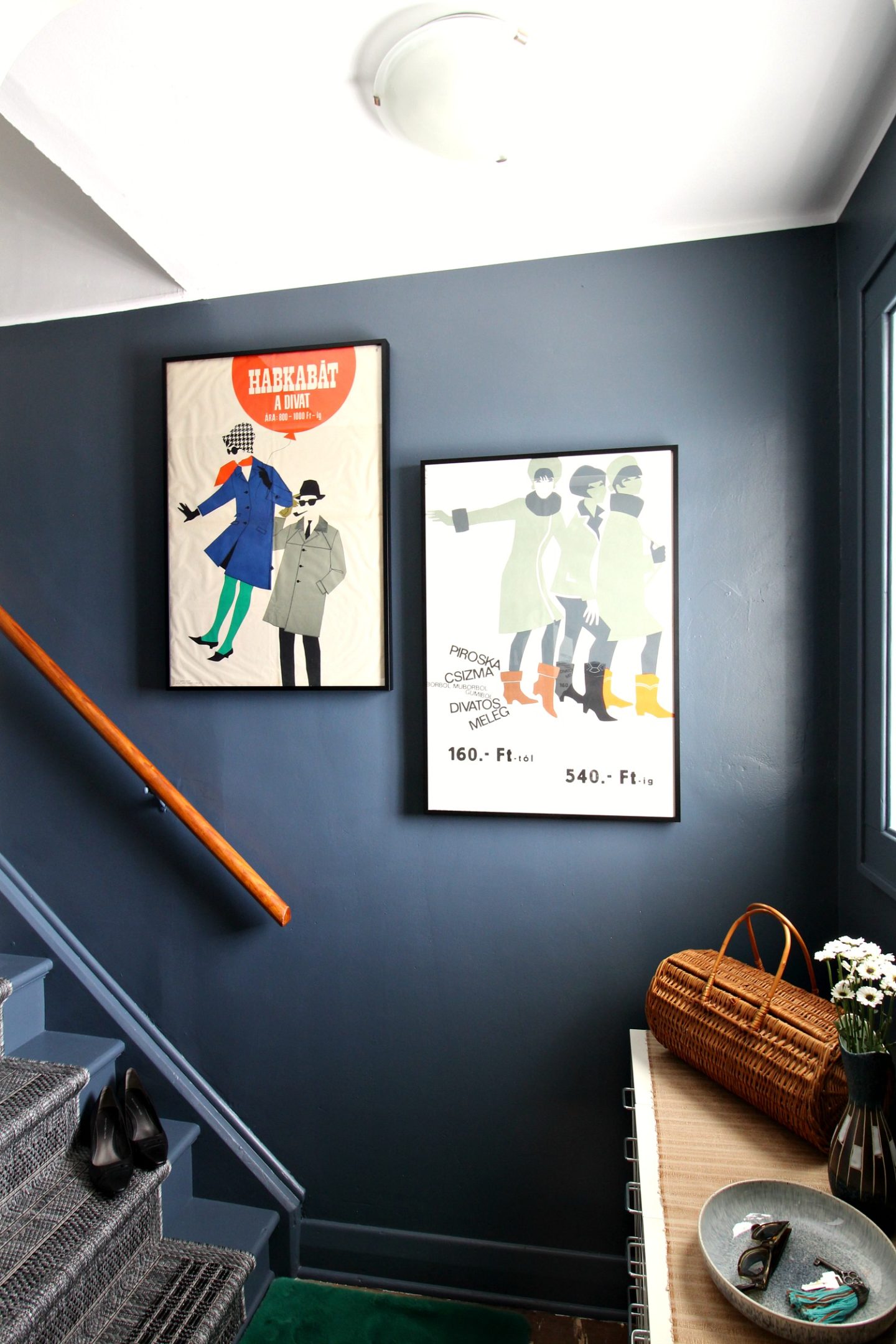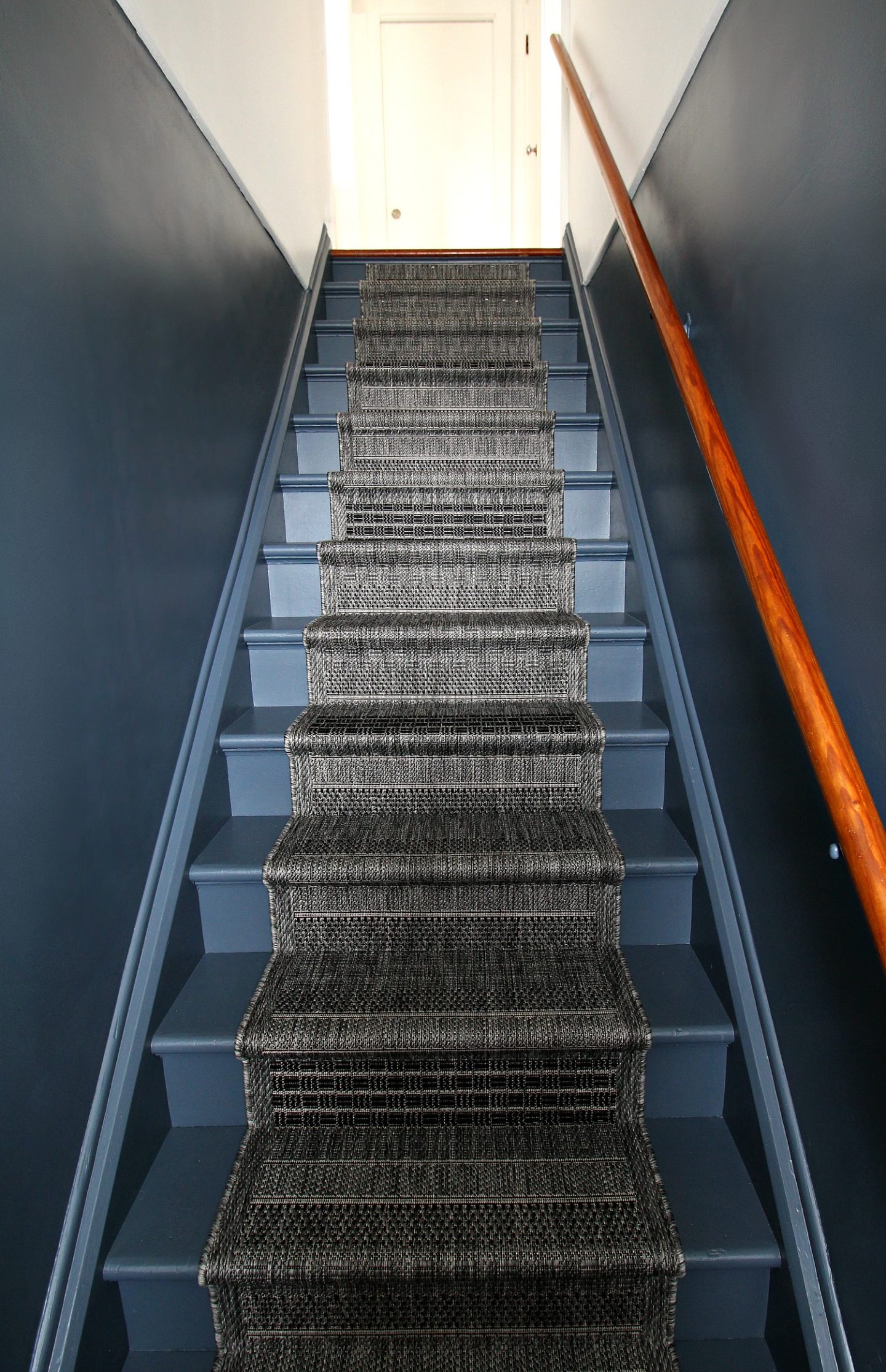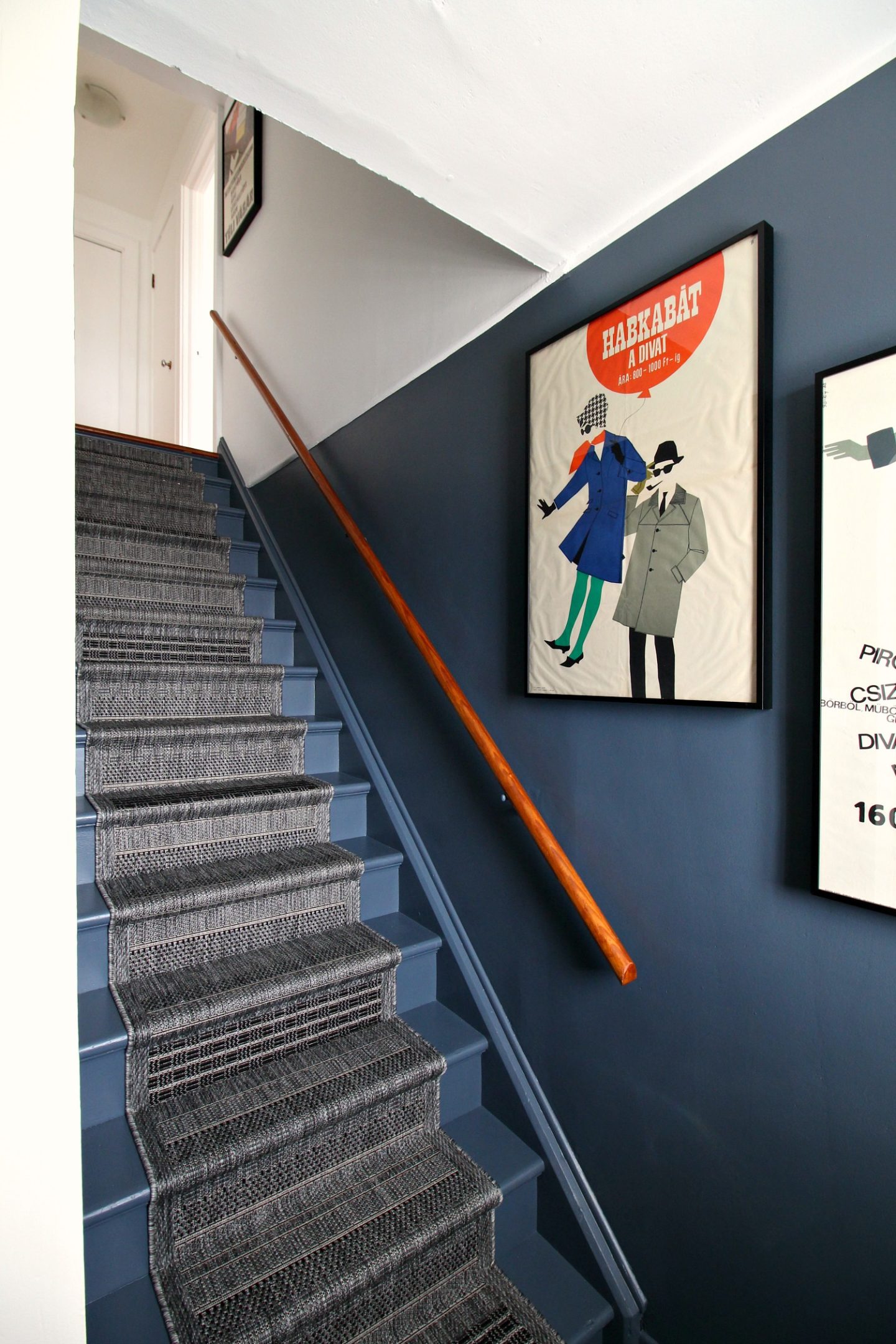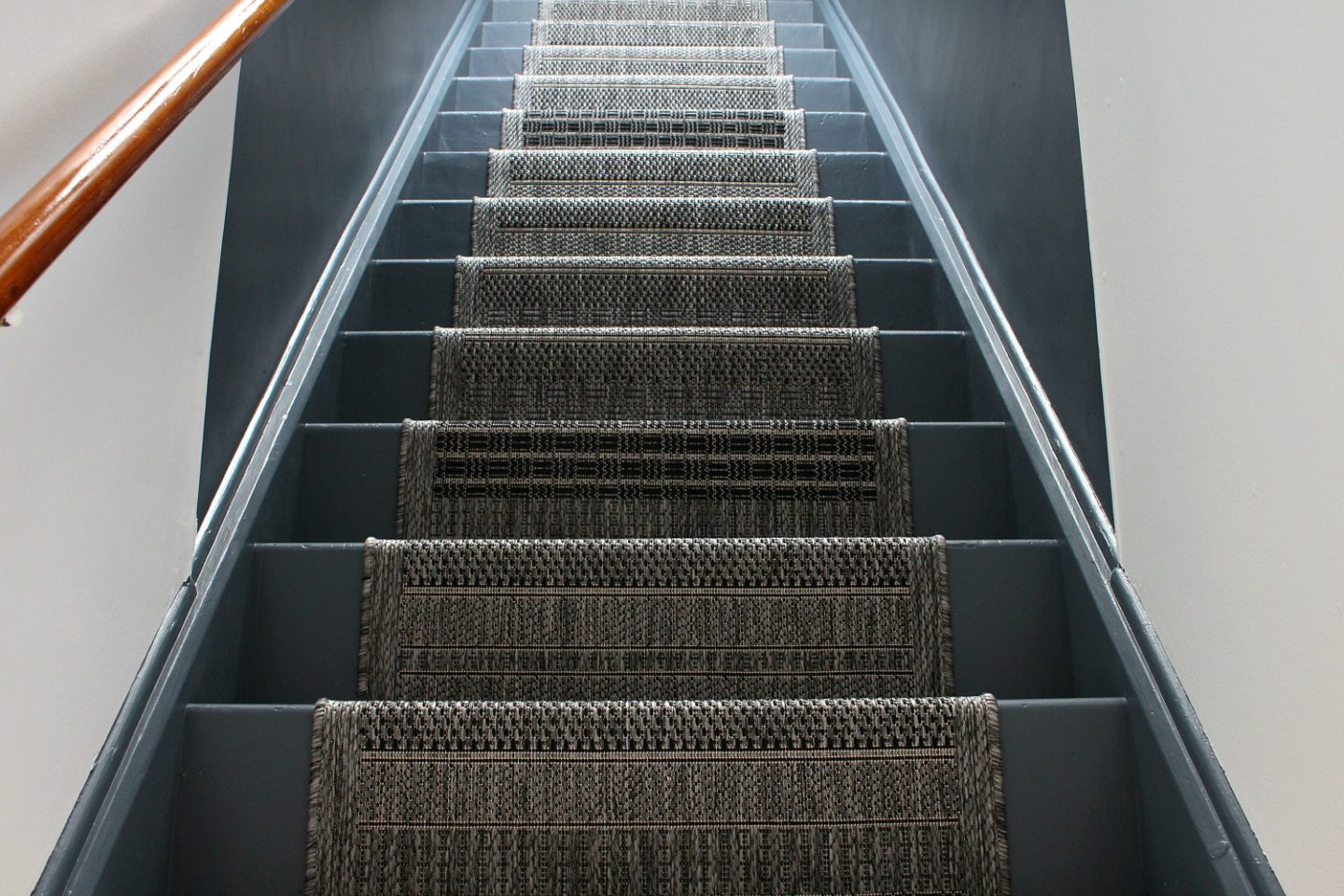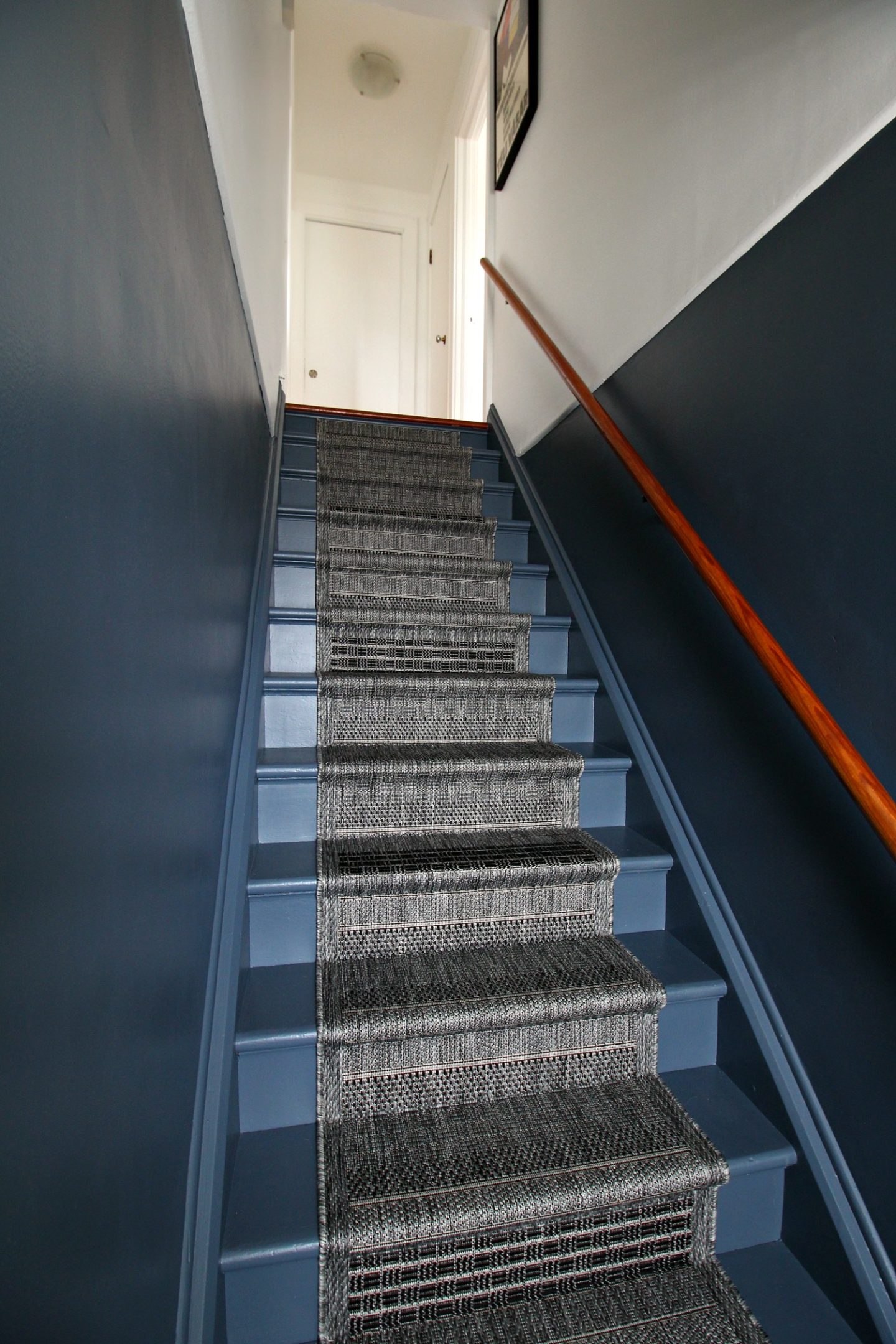 This pattern of the runner is perfect because it has a cool mid-century feel and it hides dirt – and the staples! – really well! Although it has some pattern and texture, it's also not a dizzying pattern – something to think about for stairs. If you're choosing a runner, place it on the floor and make sure the pattern doesn't make you woozy from that distance.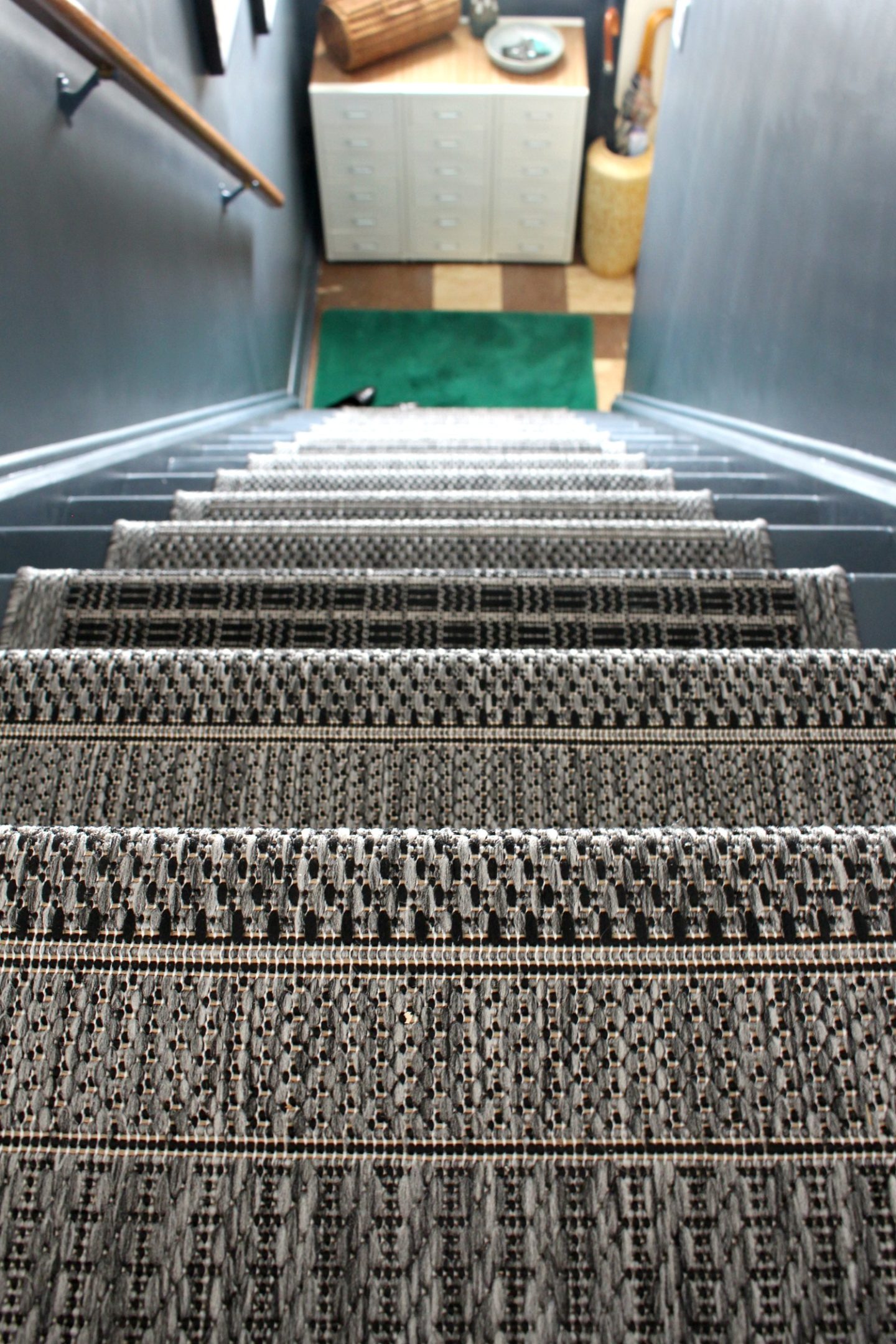 Refinishing the Wood Railing:
I wanted to paint the railing to match the colorblock walls, but my Mom preferred the natural wood – even though it had decades worth of paint and grime ground in. She found that magic eraser did a great job removing even the old dried on paint, but it also removed the finish. We restored the wood with a light sand and some leftover wood finish I had kicking around and I have to admit that keeping the wood was the right choice. Now that I see it glowing again, it adds a lot of warmth and character to the space.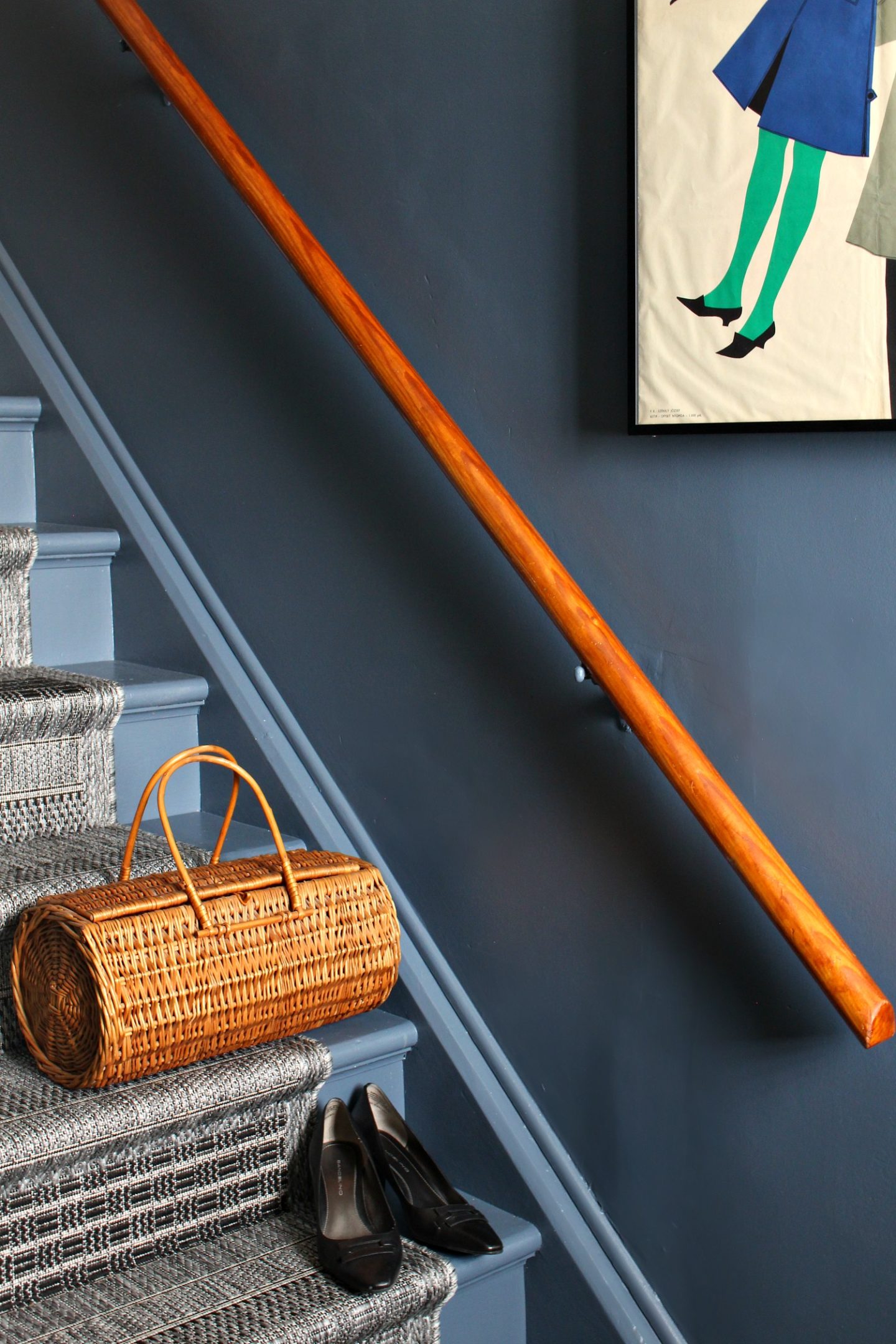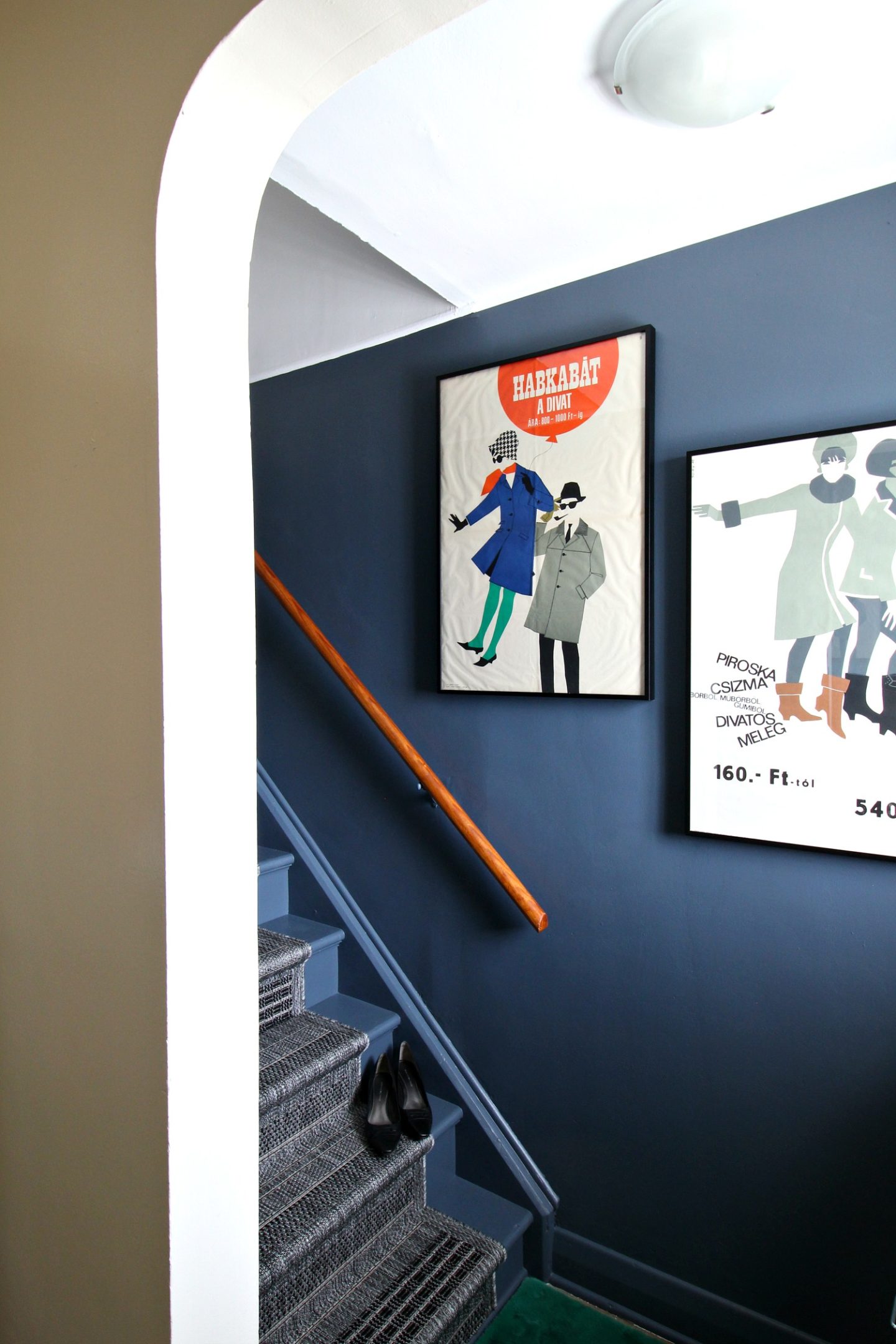 It's not perfect and has lots of signs of wear (that's definitely the theme of today's budget-friendly DIY stairwell makeover, lol), but it is pretty gorgeous against the white and grey! It was a good call to keep the natural wood.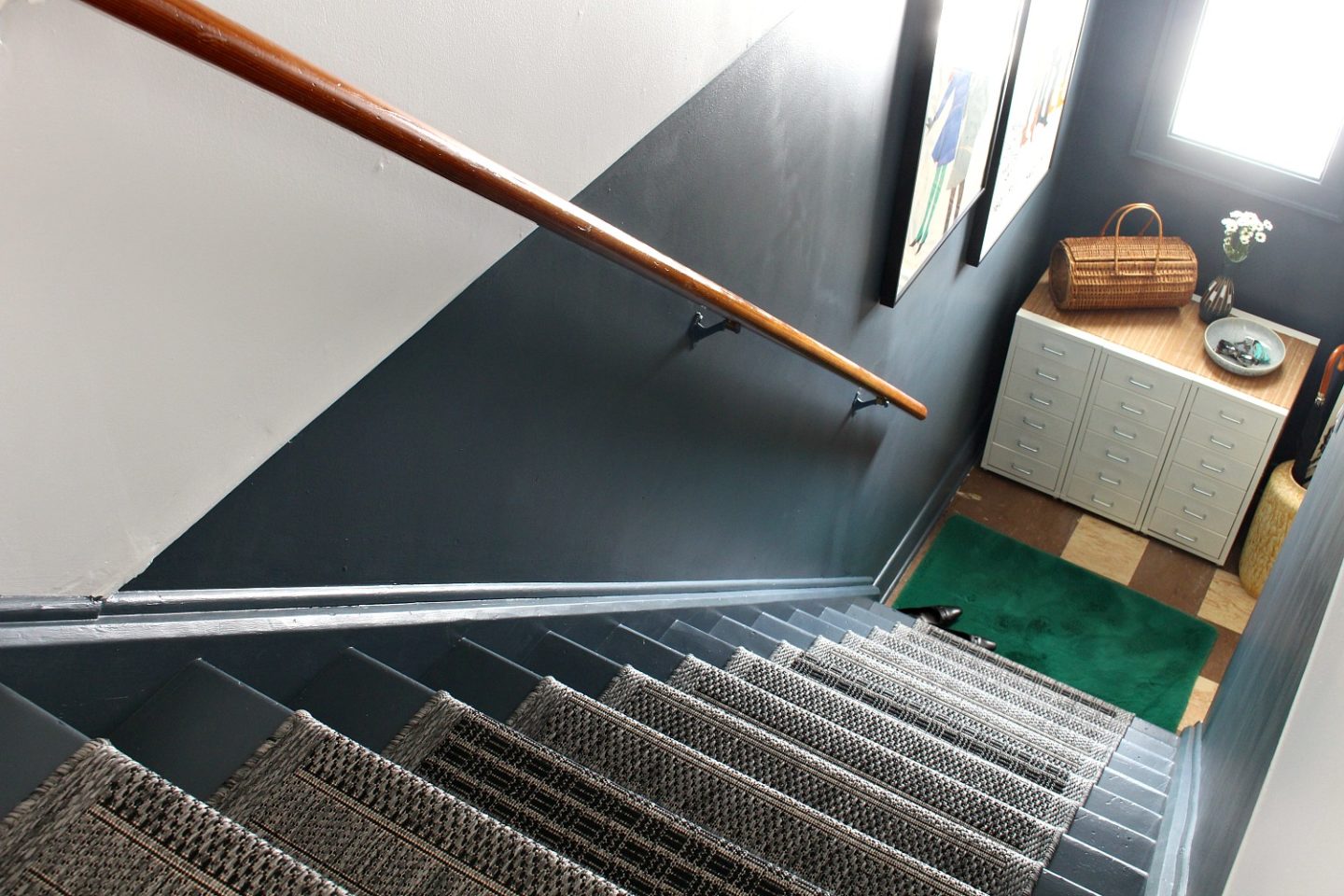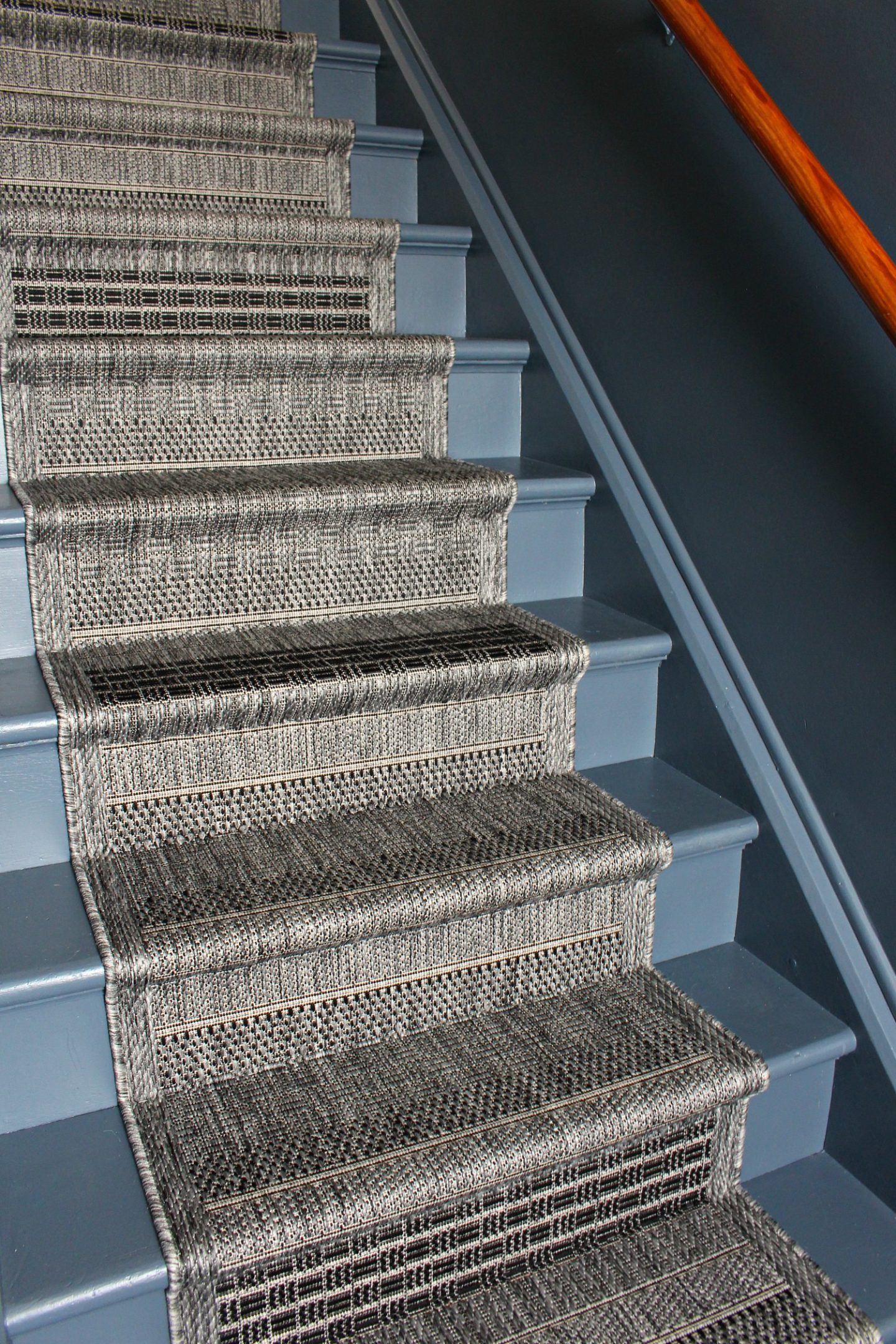 Decorating and Accessorizing:
With the paint and runner installation checked off my to-do list, it was time for the fun part: art and accessories! My Mom already had some vintage posters from when we went to Hungary together for my PhD research. We hung a smaller one at the top of the stairwell and it's such a fun piece: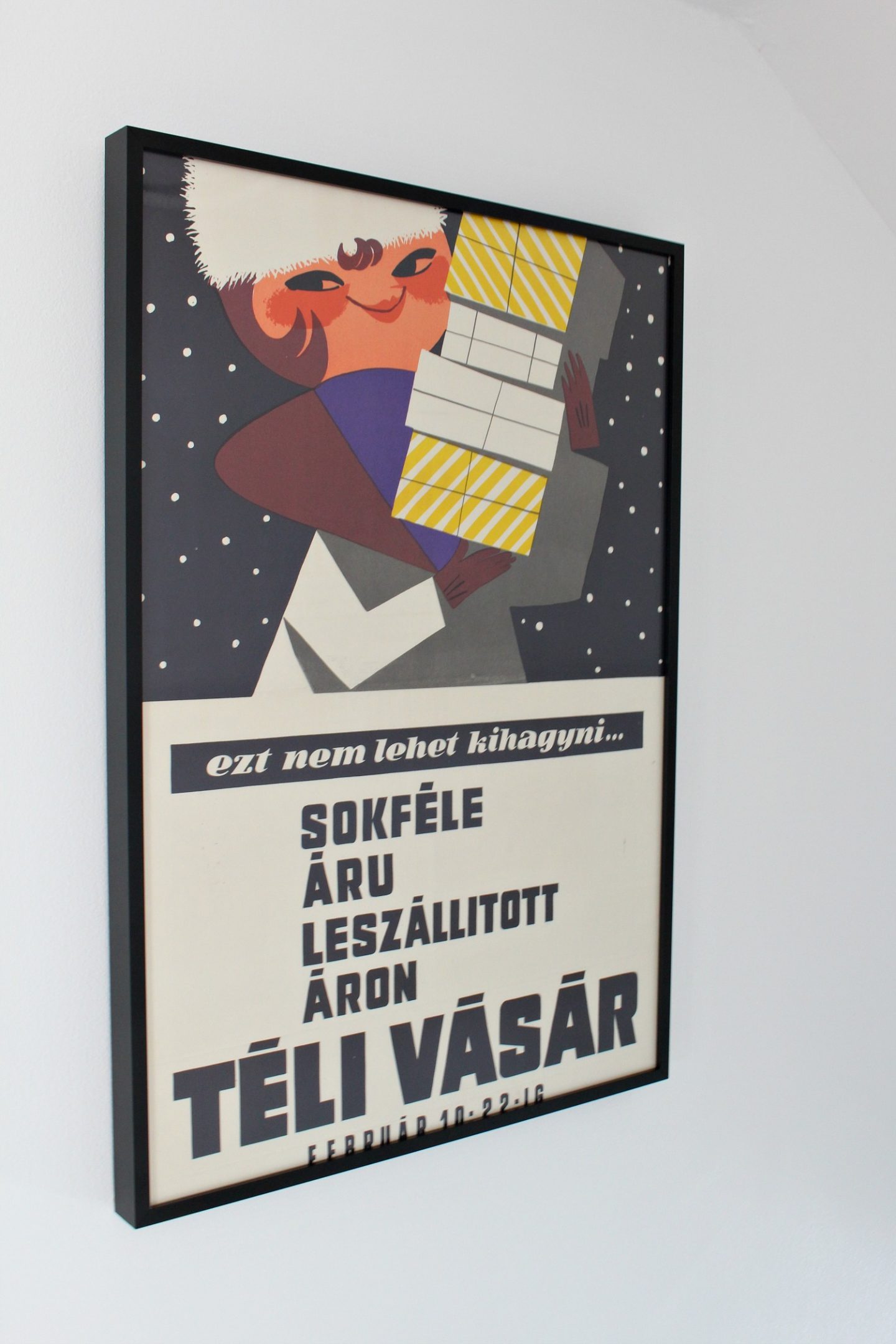 At the bottom of the stairwell is one of my posters and one my Mom bought on our trip – I gave her all of my posters and encouraged her to use the frames if she needed them because, since inheriting paintings by Hubby's grandpa, I don't have the wall space. She had them wrapped up safely and I have missed seeing these posters because they remind me of our trip! It's really fun for me to visit my Mom and be greeted by them now. Plus they were designed in the 1960s to encourage Hungarians to buy clothing, which is really a cute them for the entryway, where my Mom's coats, hats, mitts and gloves are stored.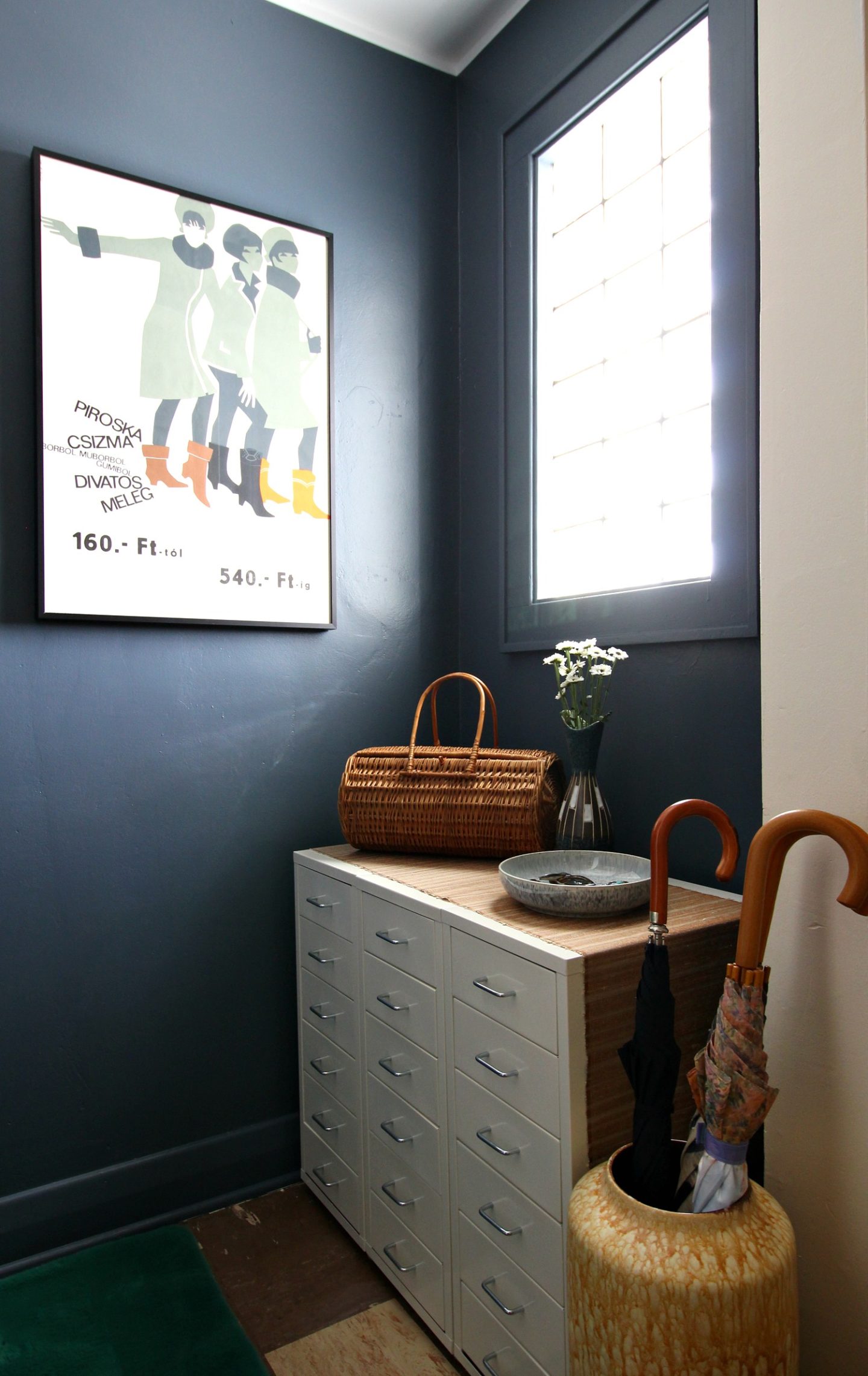 The artwork really pops against the grey walls. I have to admit now, seeing them in her stairwell, that they were somewhat lost against my white walls.
Those three metal cabinets are from IKEA and my Mom has had them forever – they just happened to fit perfectly underneath the window. The coat closet has hanging storage for coats and shelves for bins, but this is excellent storage for winter stuff and even batteries and household stuff. The surface is handy to toss keys or set a purse – that vintage wicker one belonged to my Grandmother and I covet it, haha. The vintage West German floor vase is perfect as an umbrella holder (it's not hard to find a cute umbrella holder).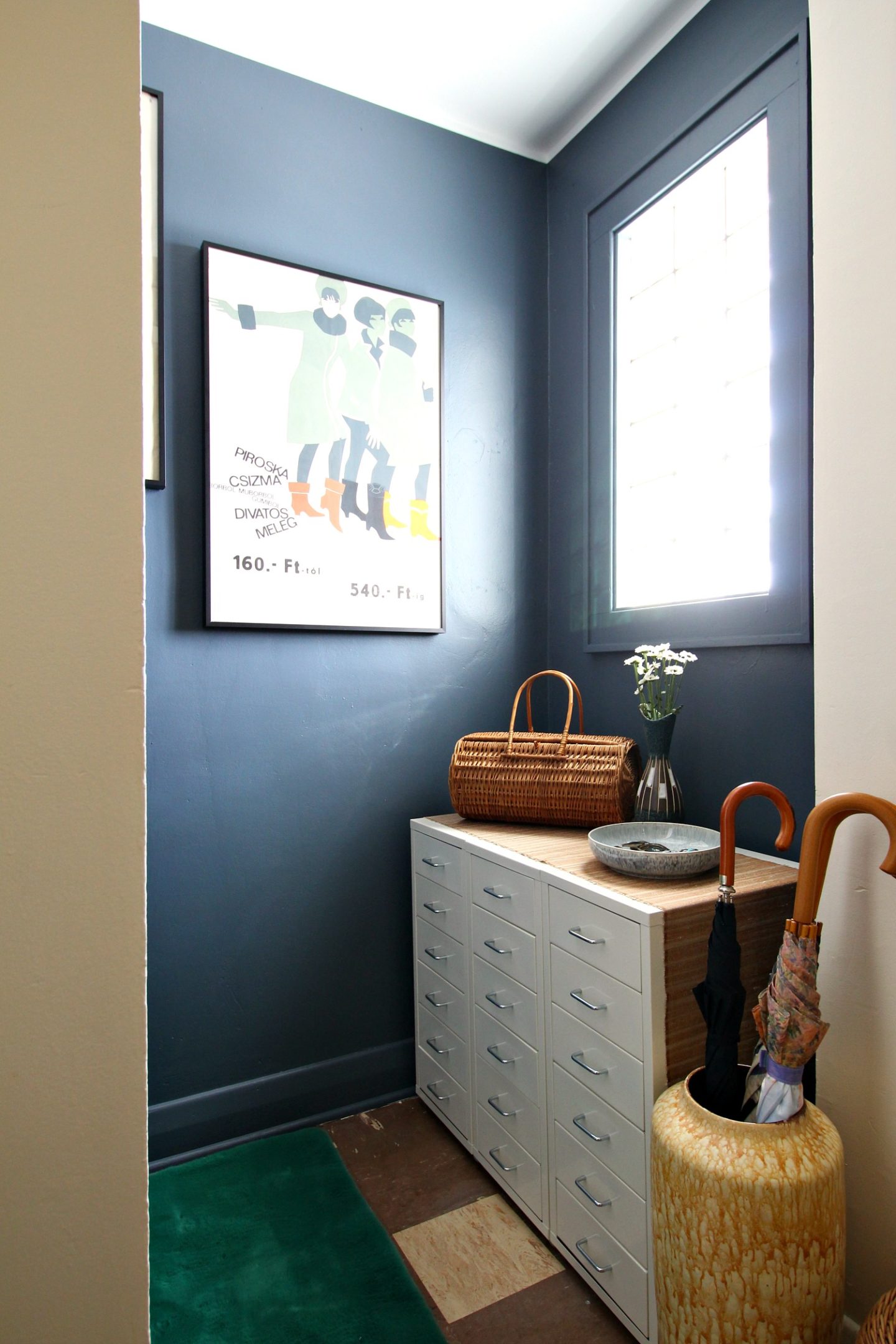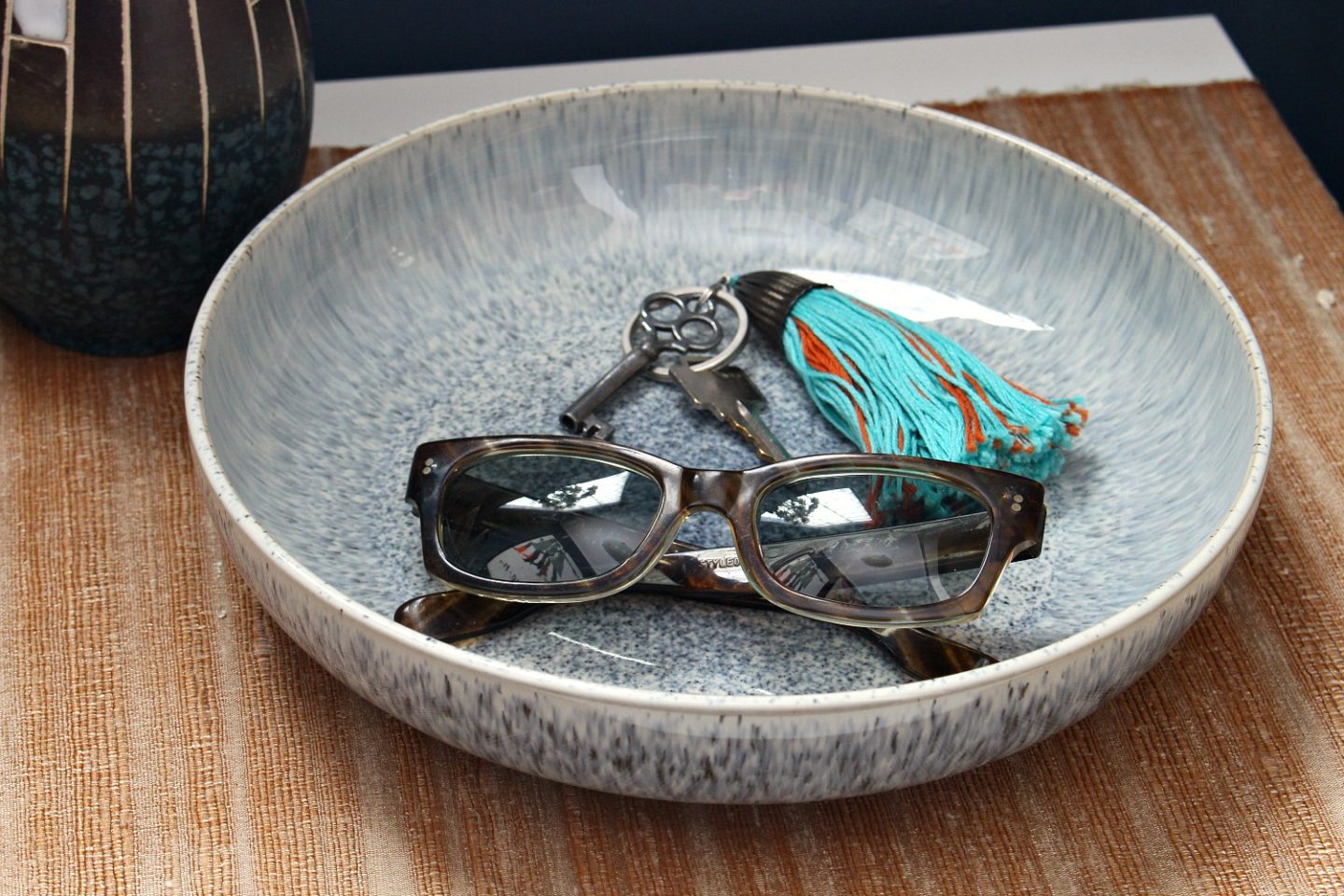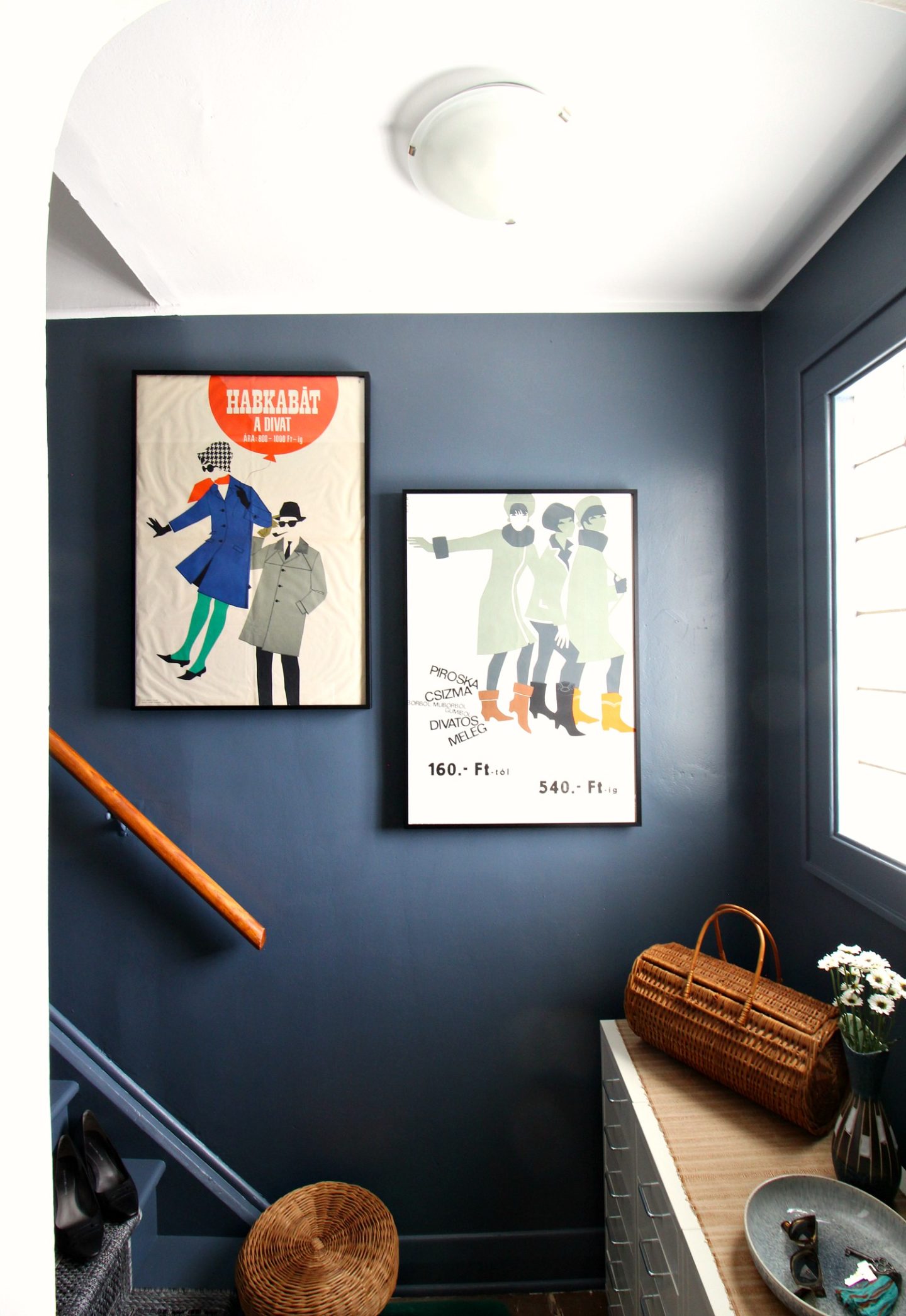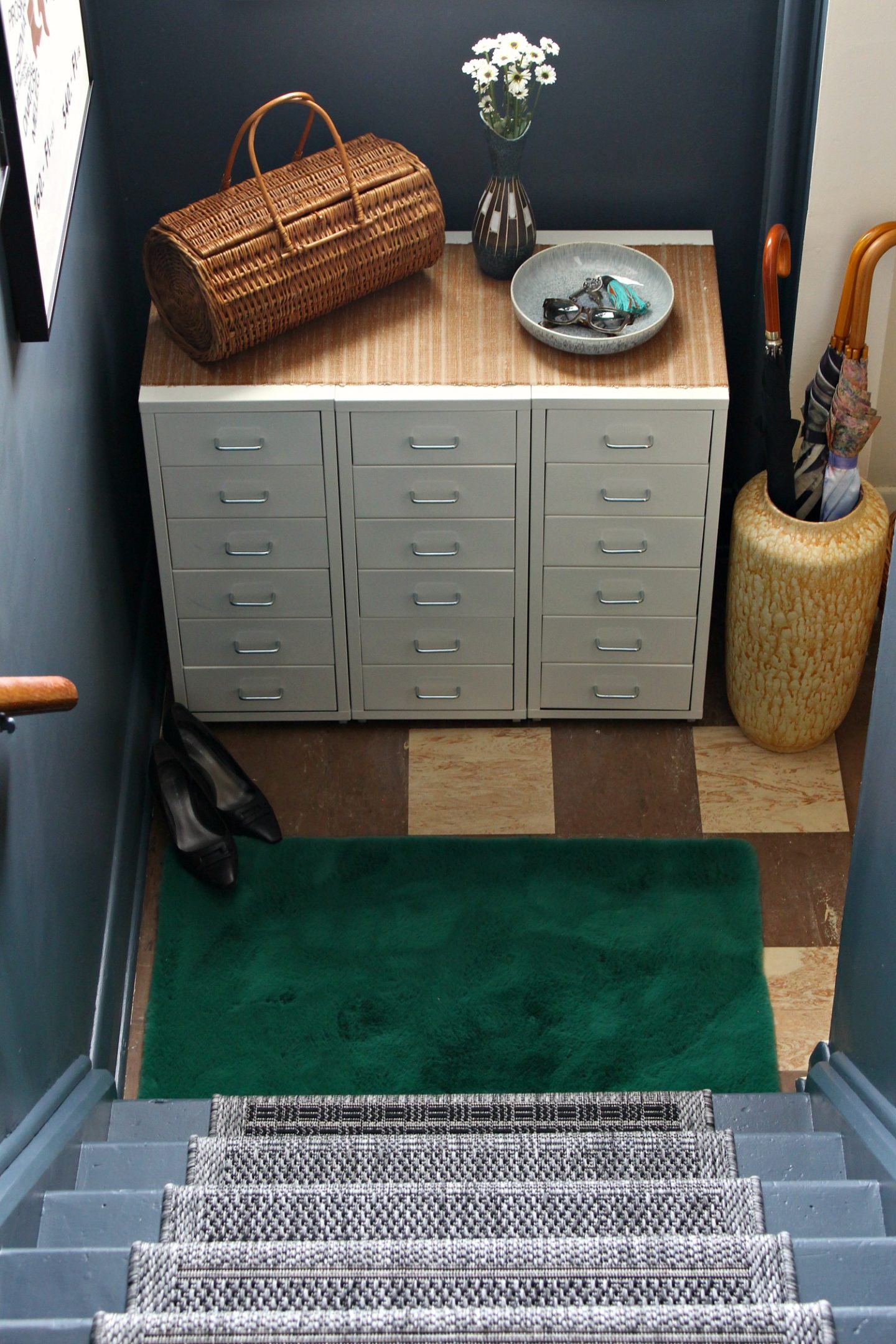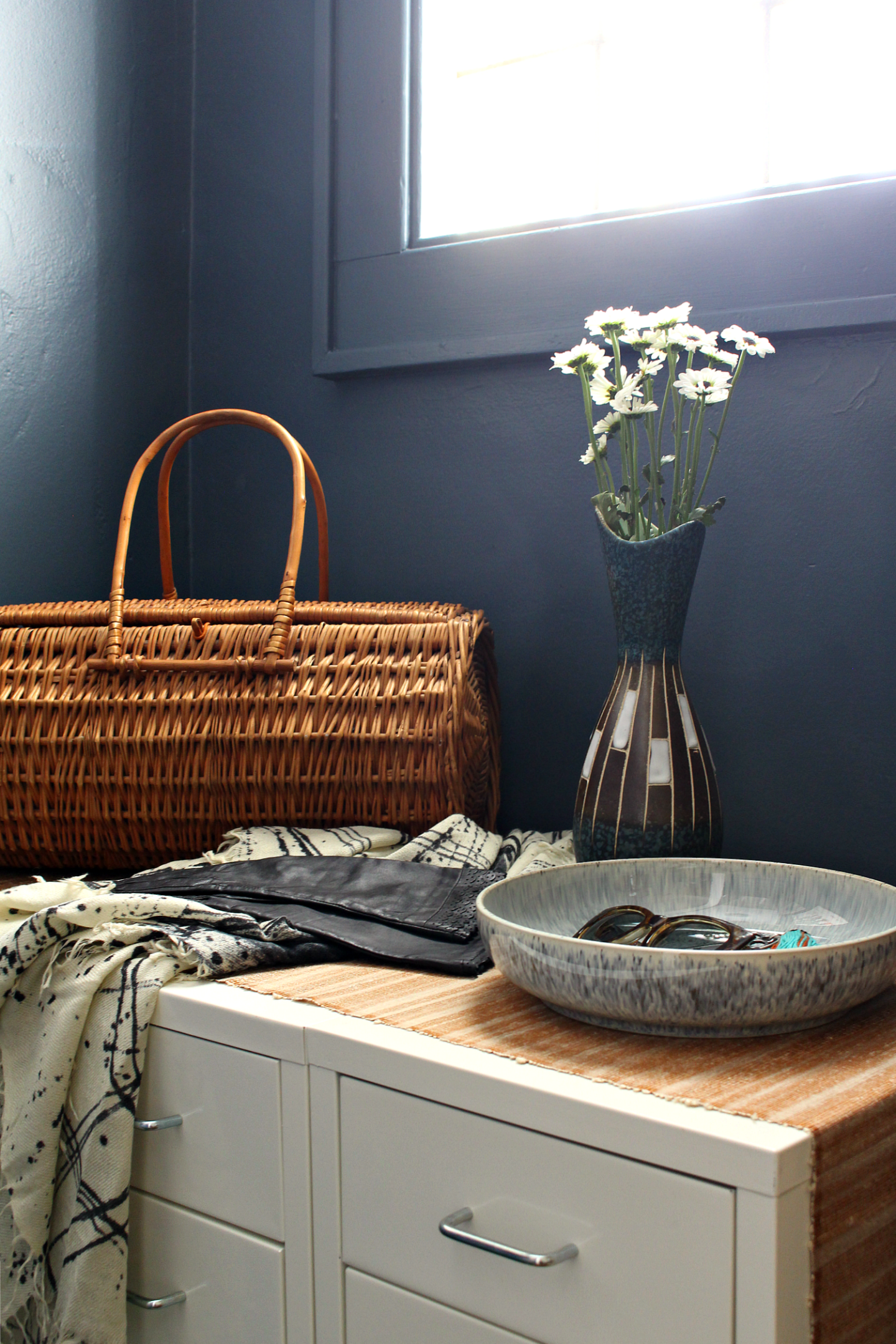 The only new thing my Mom bought was this bold green faux shearling rug. I sent her to HomeSense to find a large mat that could cover as much of the old tile floor as possible. We can't do anything about it – we can't even lay down peel and stick tile because when her front door opens, it scrapes the tile so we don't even have an extra mm of clearance to paint or add anything. She ended up finding this bold green rug and it doesn't hide all of the tile but she loves it because the color ties in with the posters and it's this happy pop of color. It's an element of quirky that is just right (this one is kind of similar).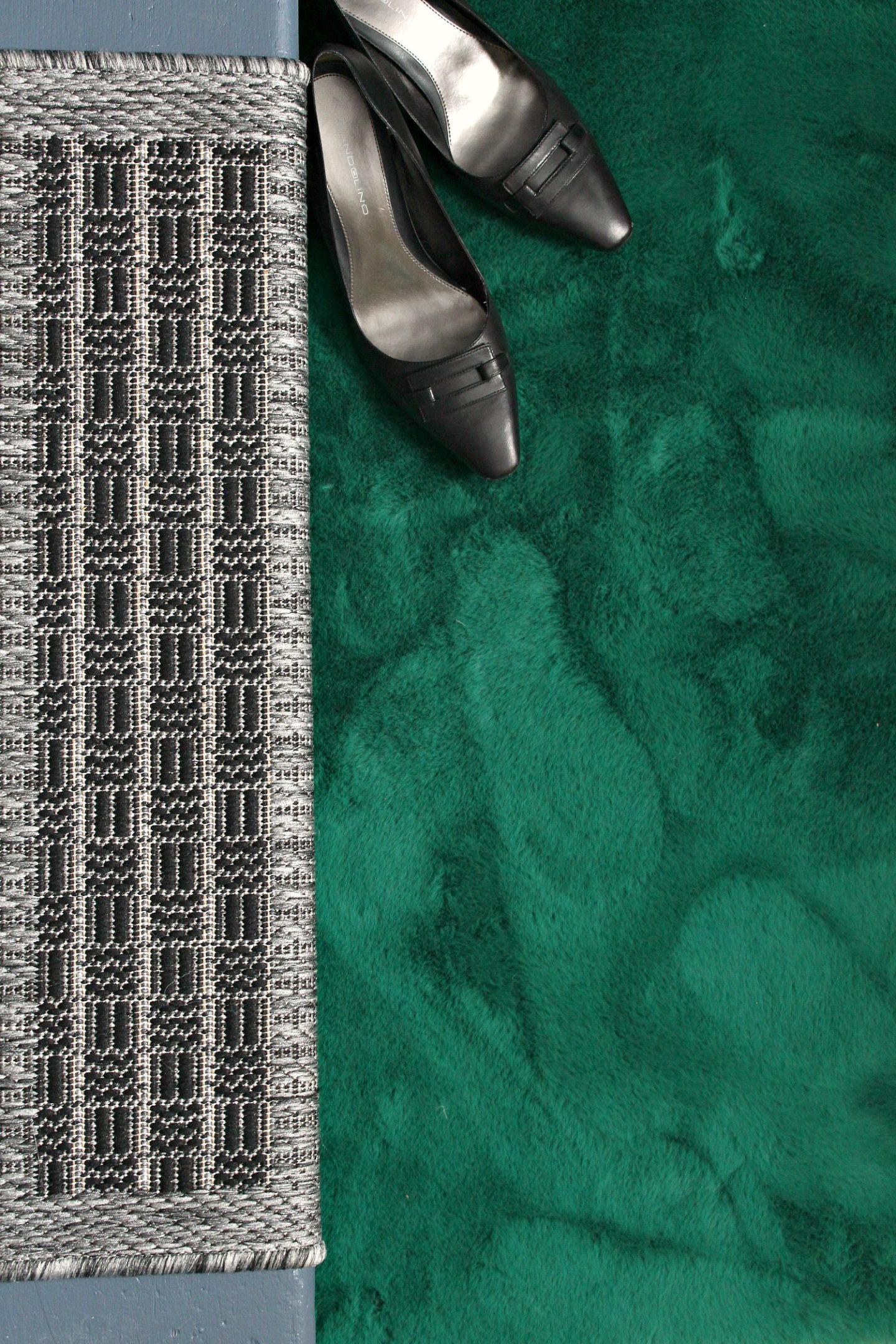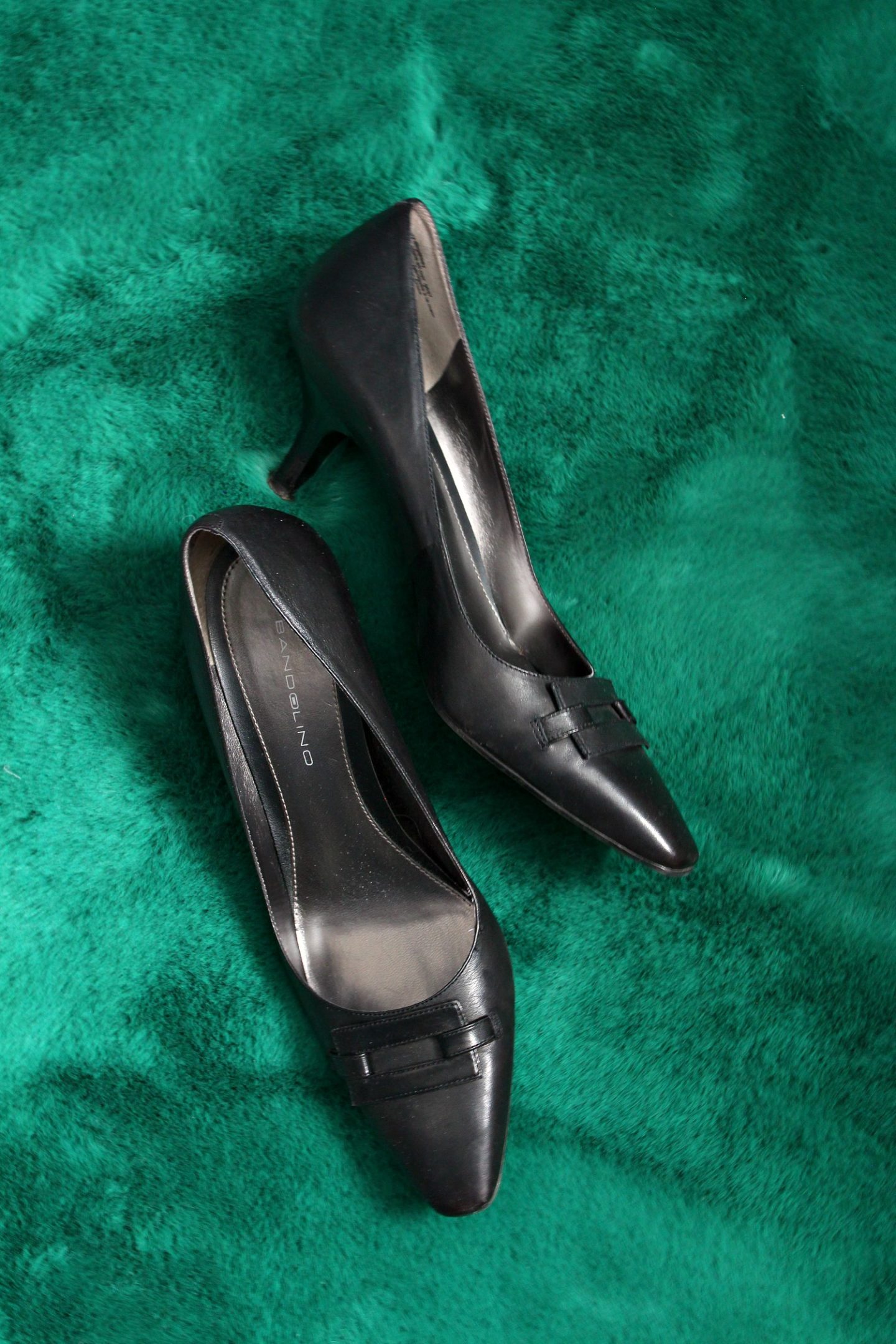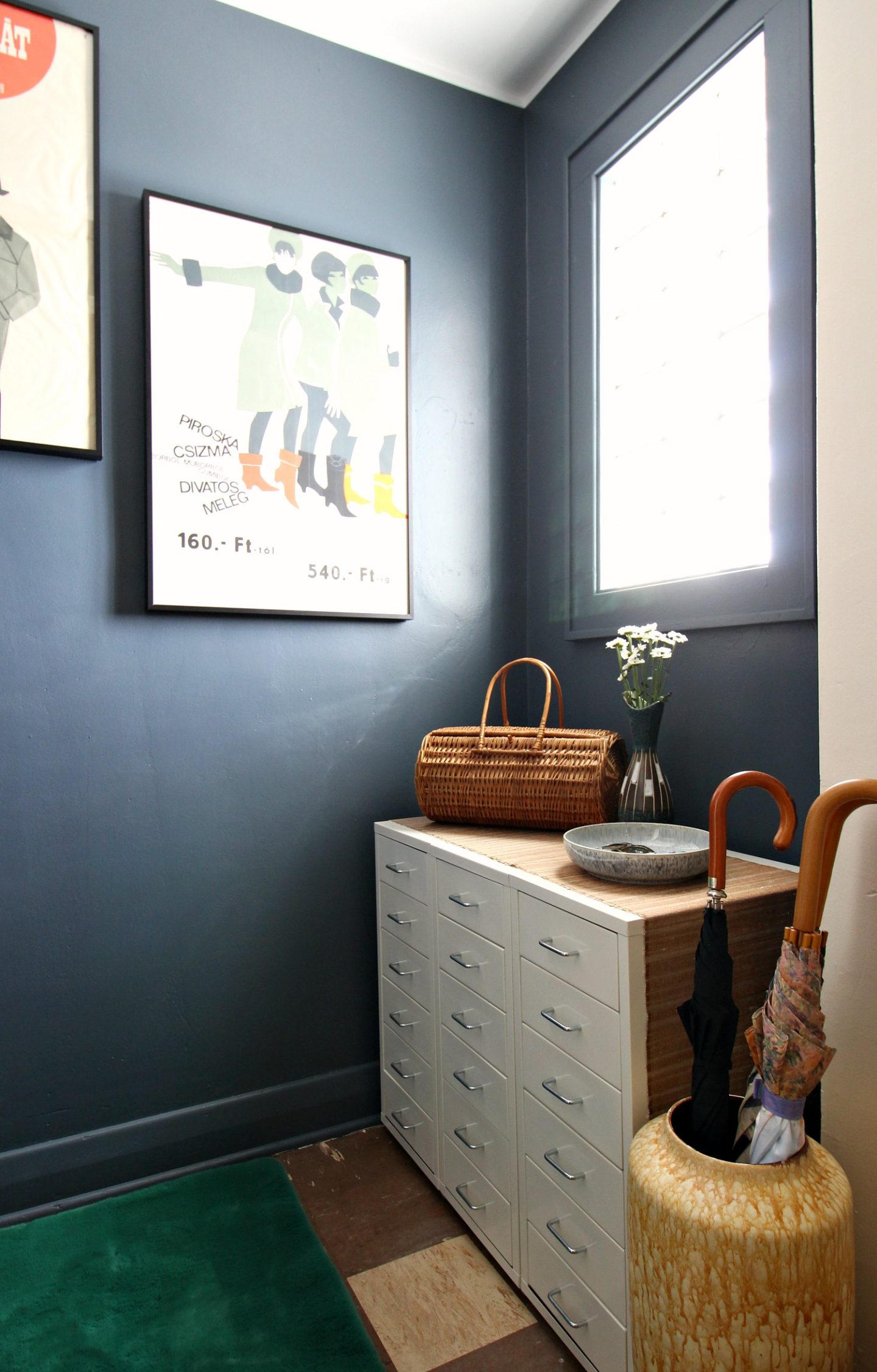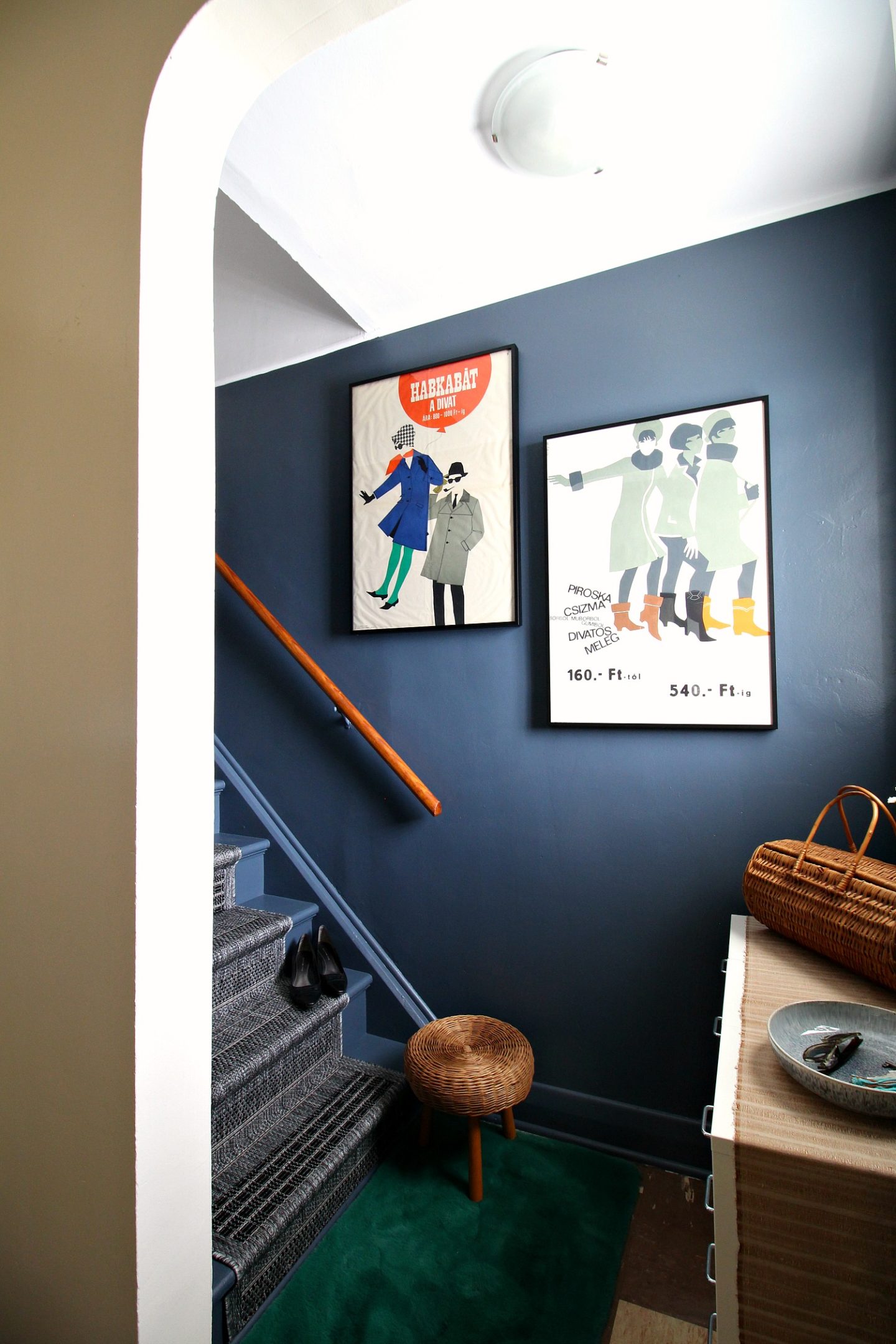 I hope you loved this budget-friendly DIY stairwell makeover! With a little elbow grease, creative painting, and a new runner, I was able to transform the stairwell of Mom's rental. Now she has a welcoming site greeting her when she steps in the door. We're still finishing up the first part of the entryway, but when we're done painting the shelves I can share a photo of that too and show how we repurposed something from my house (and the landfill!) to eke out as much storage, and style, as possible in the small space.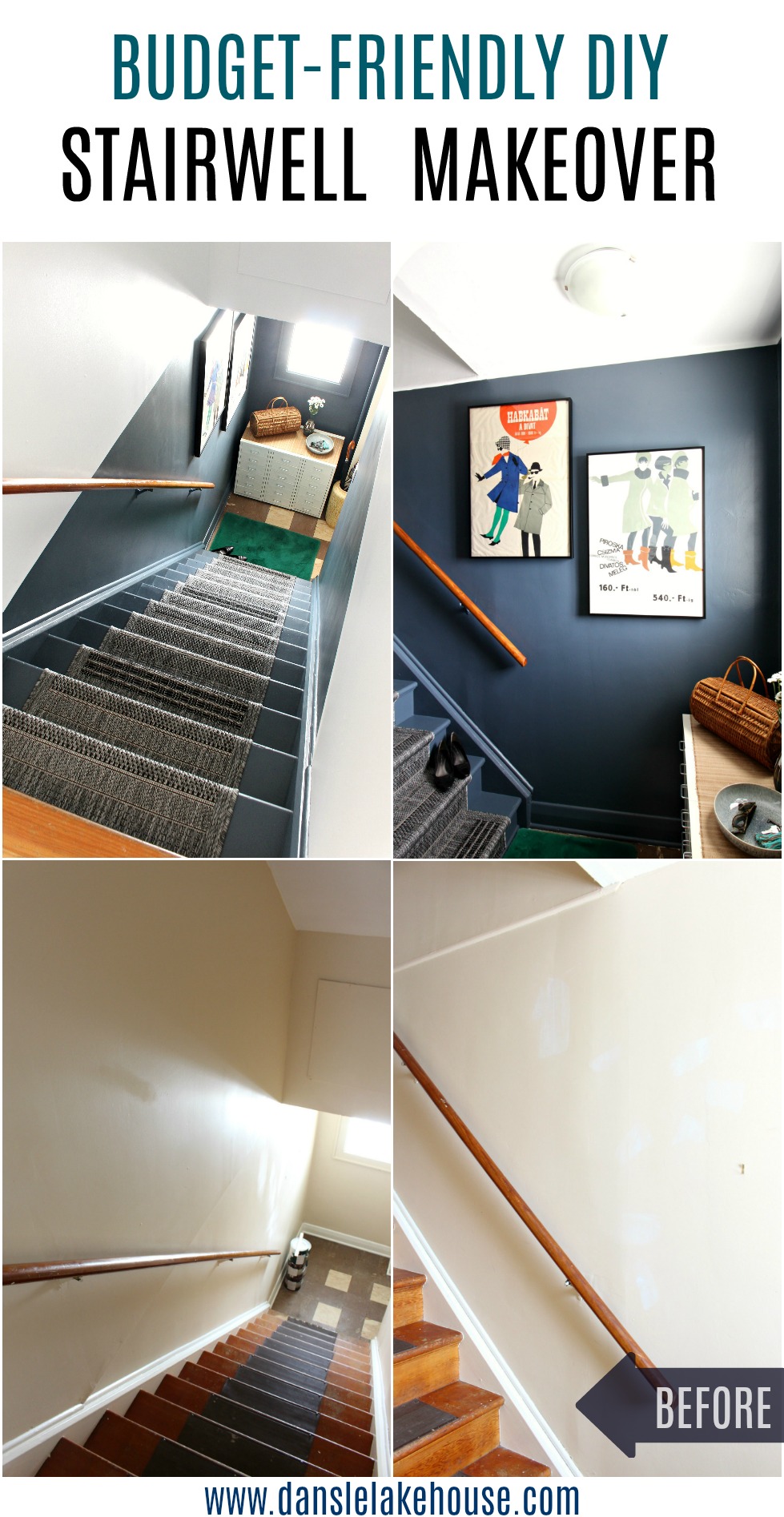 Sources
Grey Wall Color: Behr Calligraphy
Runner: Local Carpet/Flooring Shop, (See Here for Similar)
Artwork: Vintage Posters (See Here for Similar)
Small Chests of Drawers: IKEA (See Here for a Cute MCM Inspired Version)
Green Faux Shearling Rug: HomeSense (See Here for Similar)
Wicker Stool (See Here for Similar) and Purse (See Here for Similar): Vintage
Umbrella Stand: Vintage West German Pottery (This aqua one is cute too…)
Vase: Vintage (See Here for Similar)
Bowl: Part of Denby 4 Bowl Nested Set
Turquoise Tassel Keychain: DIY