Valentine's Day is coming up soon, so I wanted to share these easy DIY Valentine's Day cards made with alcohol inks. My lake inspired alcohol ink note cards were such a hit, so I wanted to share a variation of that simple design. The steps for these DIY Valentine's Day cards are the same and this is an equally easy project – kids can even get involved in helping to make these alcohol ink cards (just be aware that it's a bit messy, so a smock and gloves are a must!) The end result is a pretty, marbled card that you can customize with your own sweet message or quote!
Supplies For These Easy DIY Valentine's Day Cards: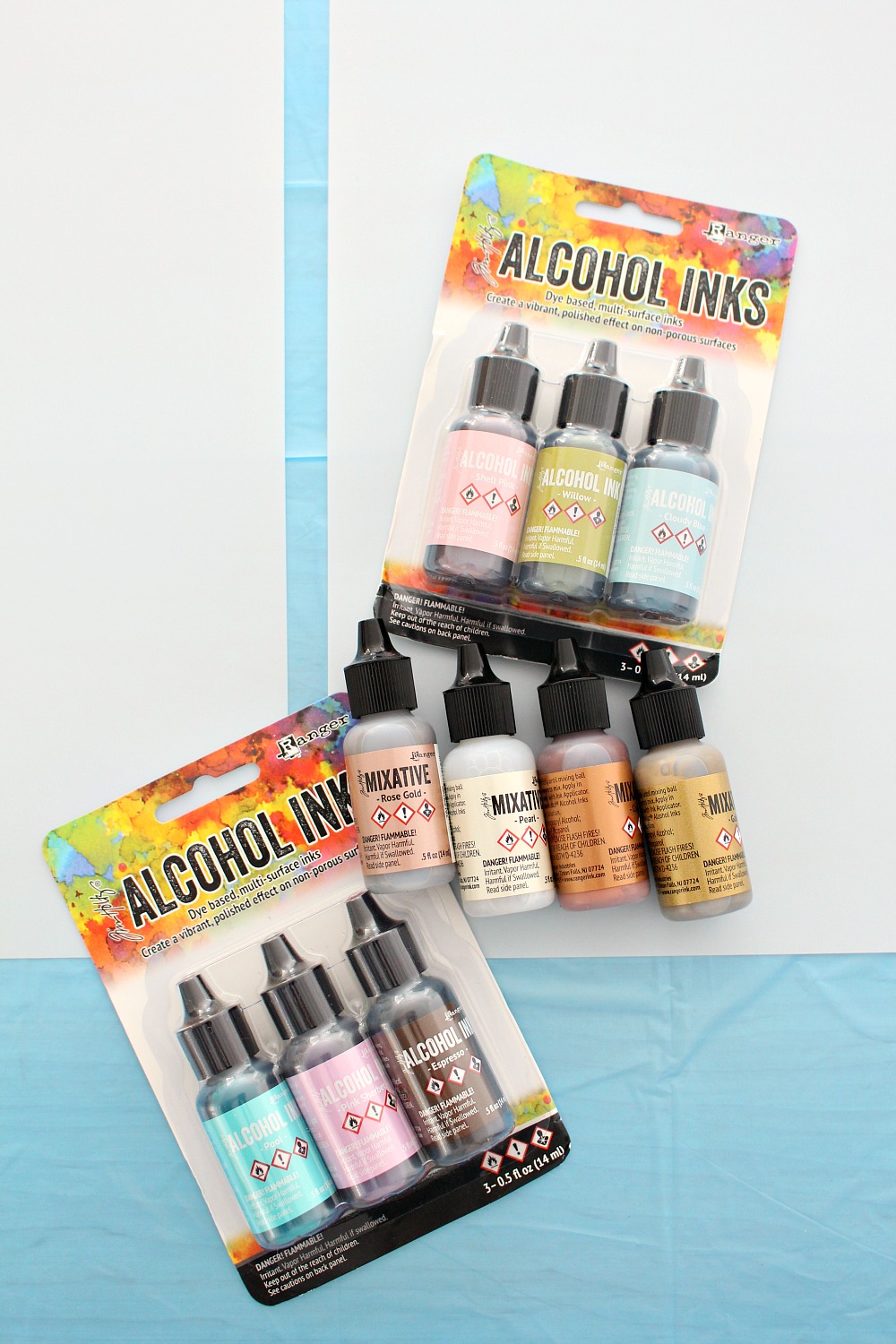 I recently bought this kit of alcohol inks because ordering them a pack at a time was costing a lot in shipping – and my local craft stores never have them in stock. I pulled out the pinks, purples, and aquas for these easy DIY Valentine's Day cards, and then also bought this kit of metallics (which is totally optional, but I like the shimmer). I like to use alcohol inks and I've done a lot of projects with them, like my alcohol ink art tutorial, alcohol ink ceramic plates, alcohol ink note cards, and alcohol ink coasters, so I will use up a large pack of inks. If this is your first time using alcohol inks, invest in a single pack of three to keep costs low. You can buy the alcohol ink solution or save money and use rubbing alcohol – the solution produces a prettier effect but you probably have rubbing alcohol already (see this post for explanation on the difference).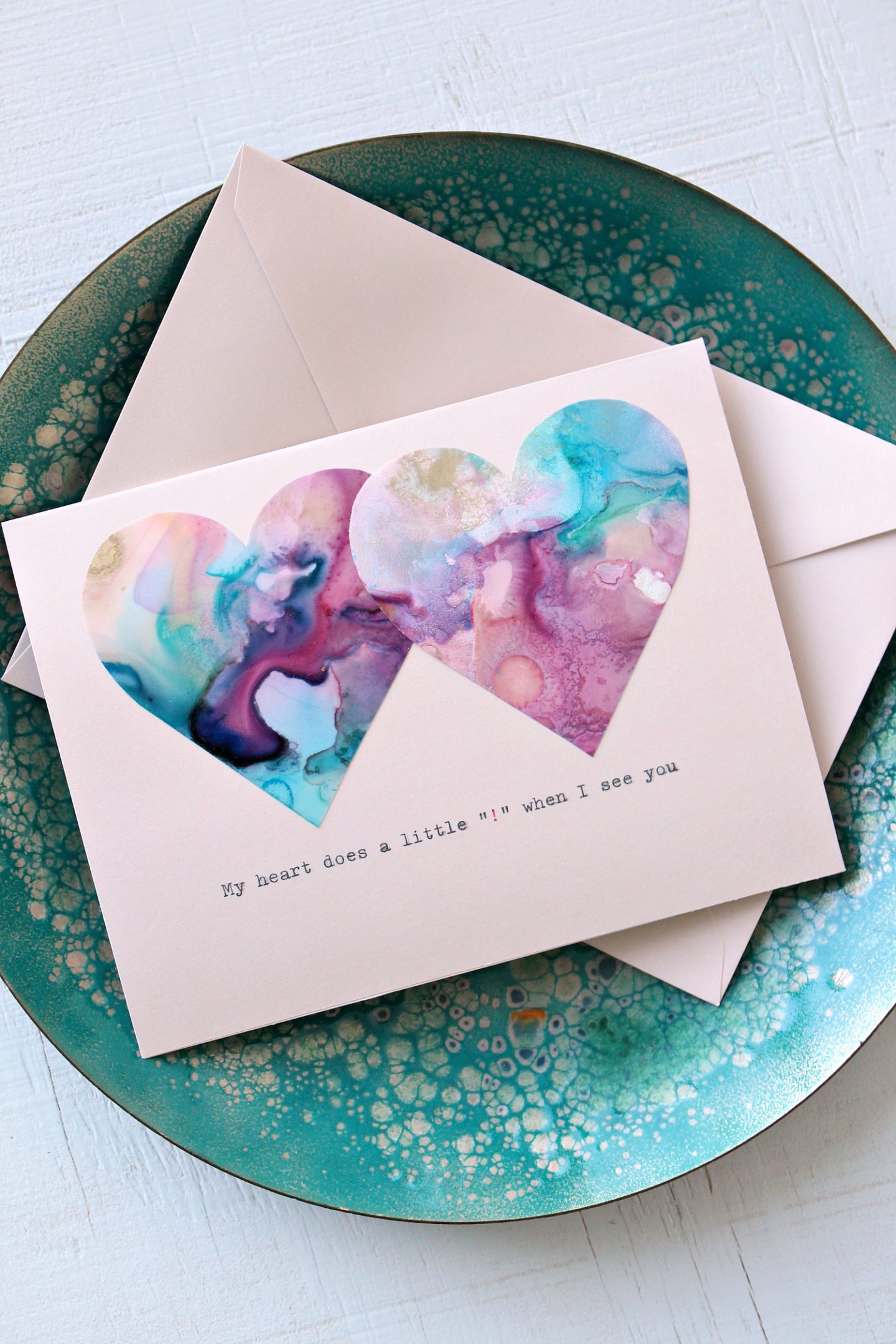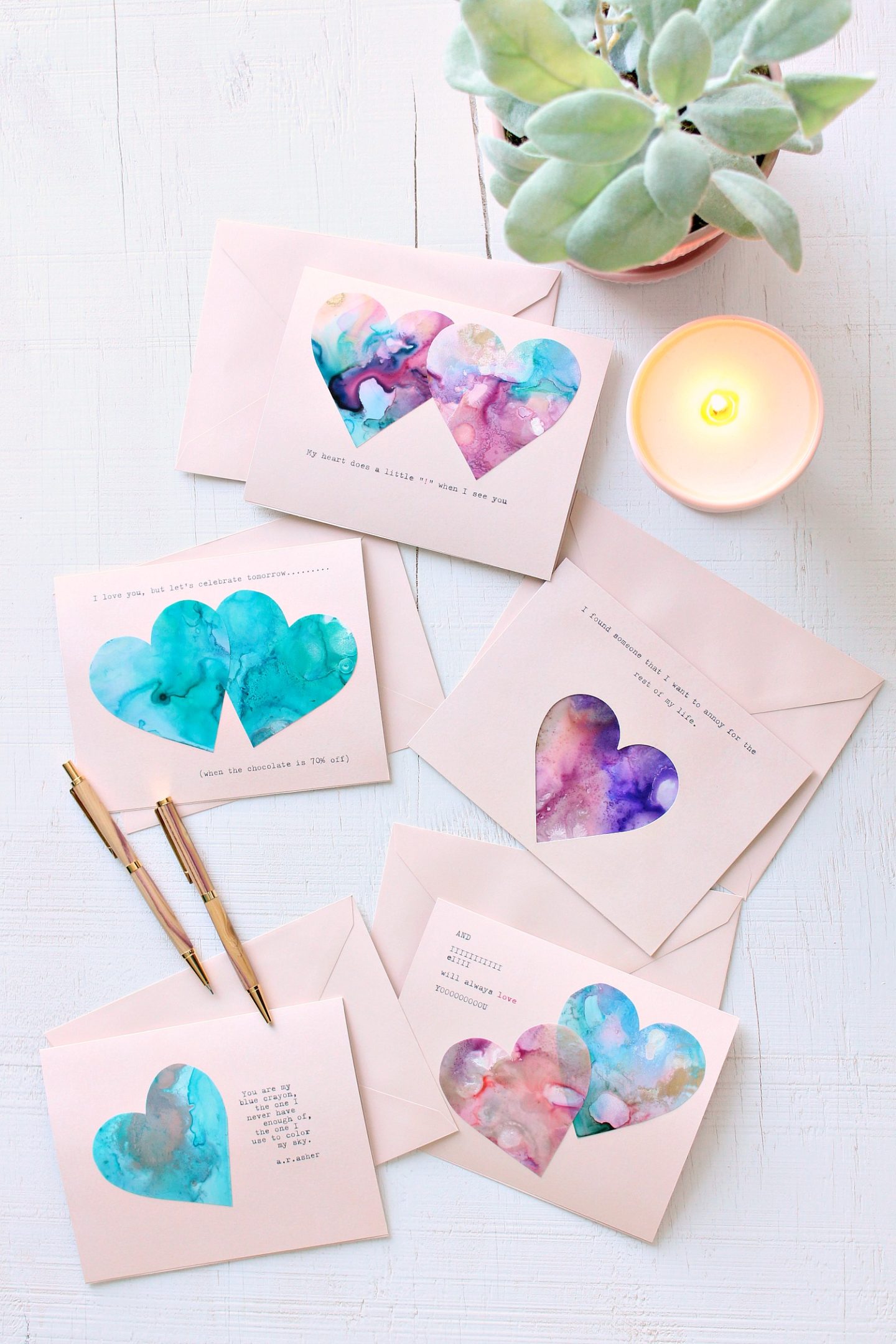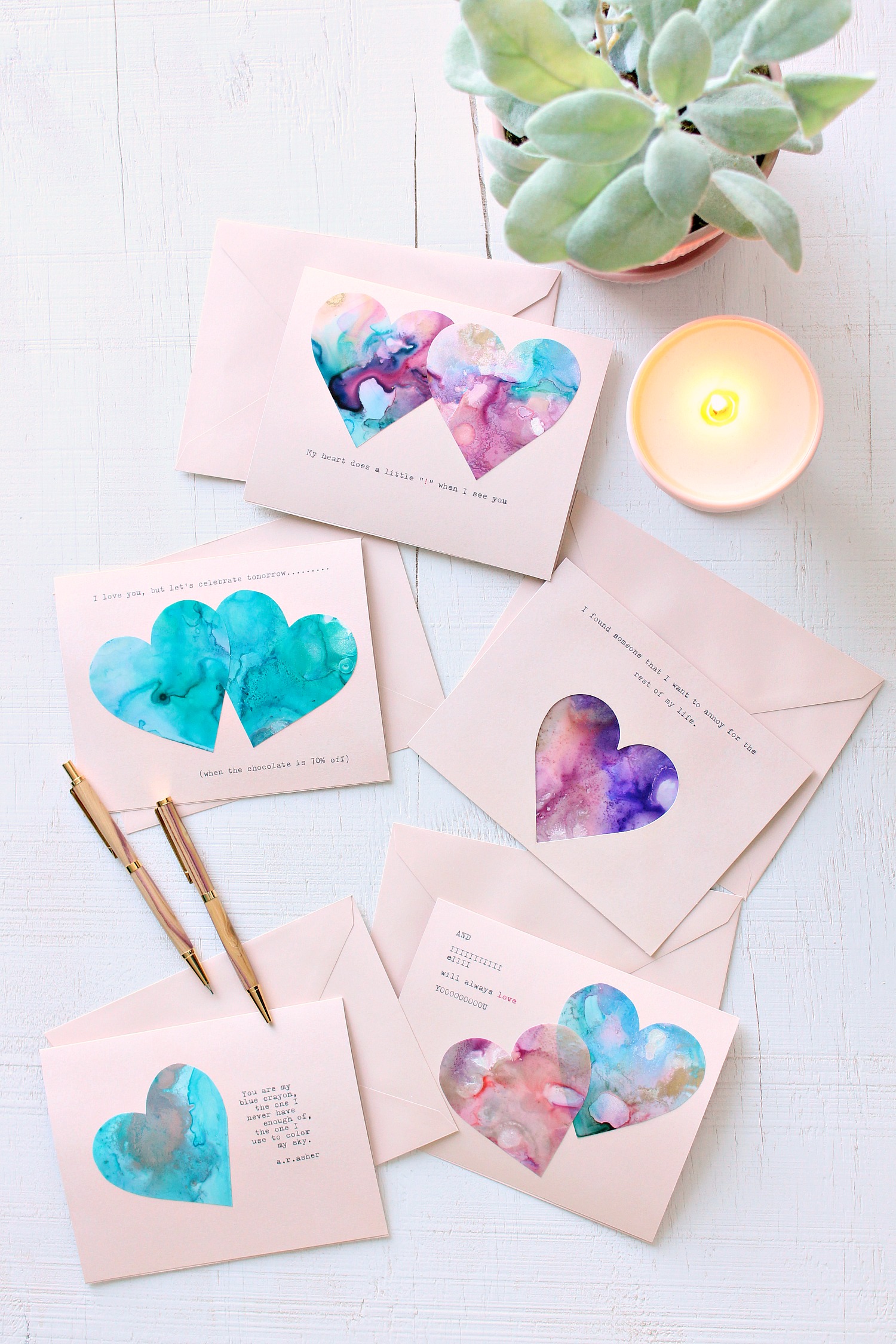 How to Make Alcohol Ink Valentine's Day Cards:
Click here to see my tutorial for how to make alcohol ink art. For these easy DIY Valentine's Day cards, start with a sheet of yupo paper and create alcohol ink "art".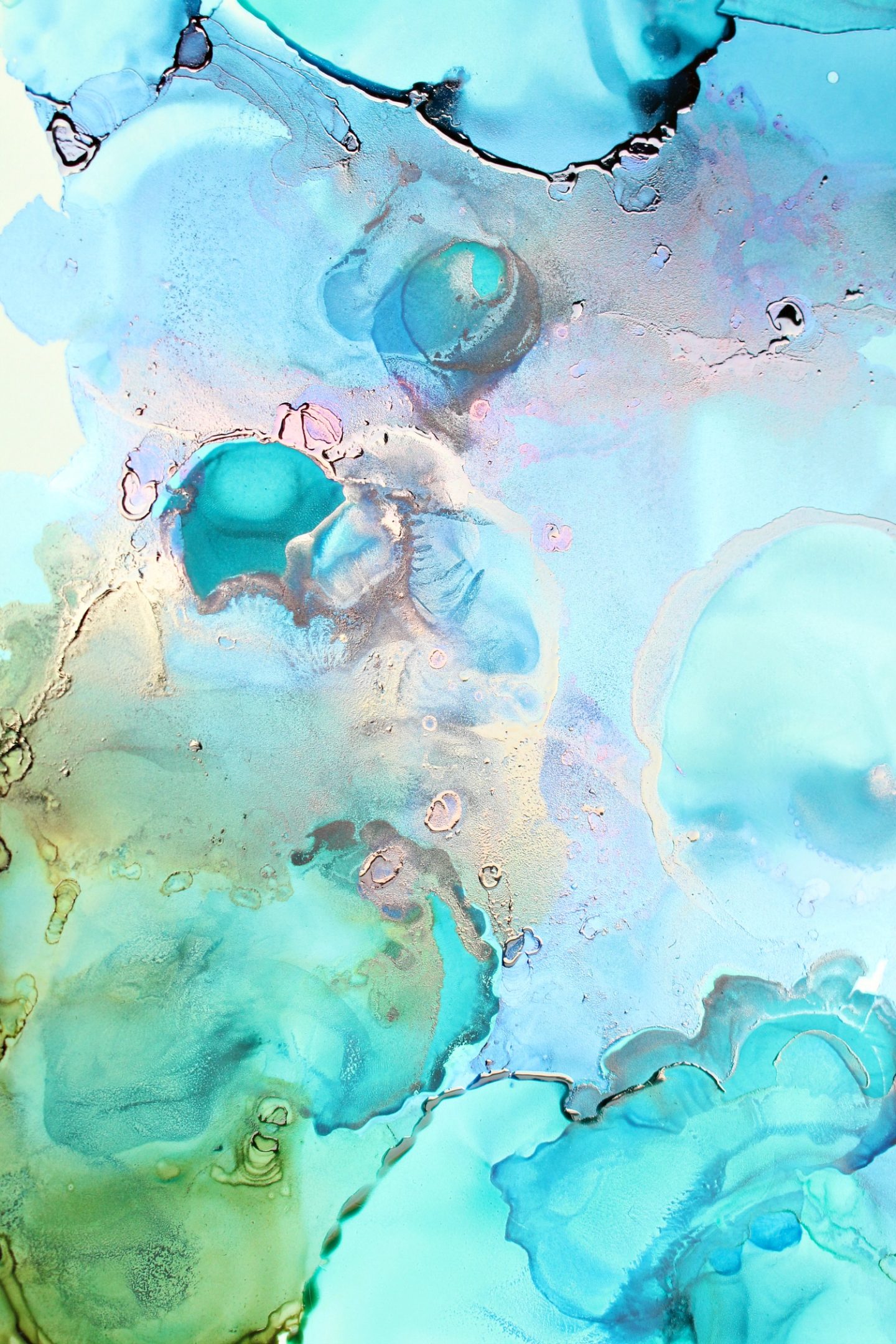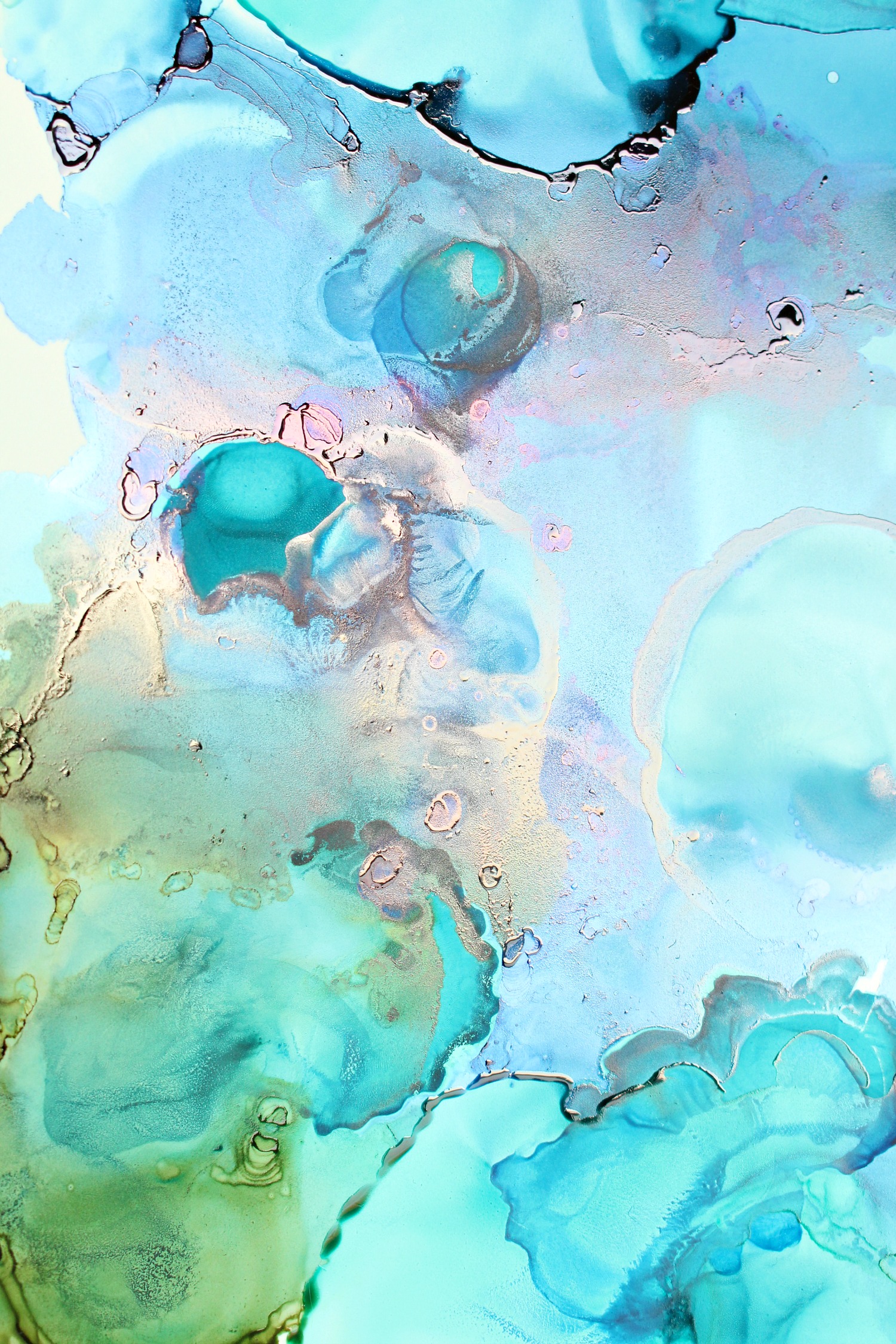 It's simple: add drops of pinks, aquas, and metallics (or any colors you choose) to the yupo paper – just be careful with red, because the swirling design can accidentally look like blood: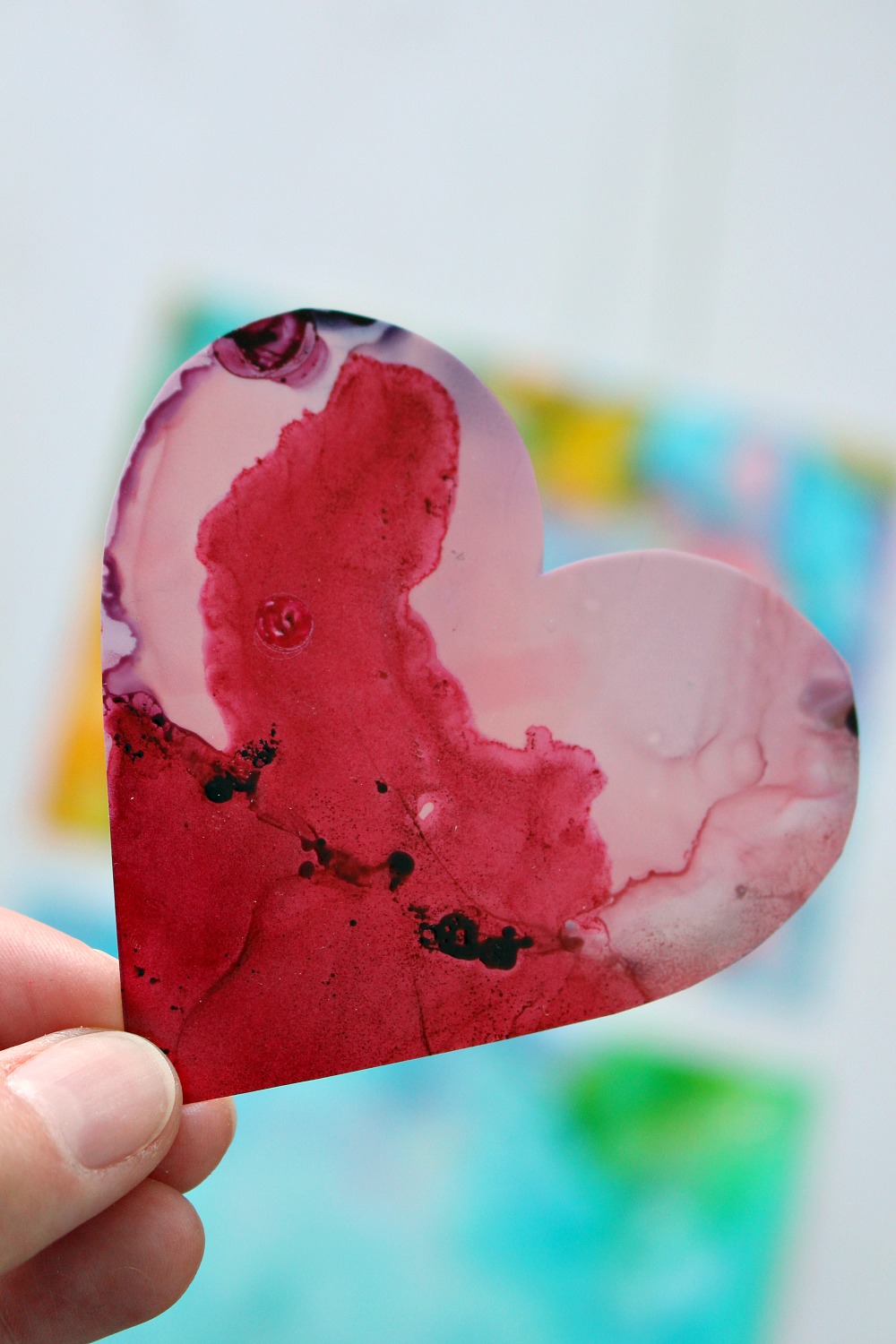 Swirl the ink around the yupo by pouring on some alcohol and using a paper straw or hair dryer to move the ink around – it will swirl and sometimes has a mind of its own so you don't need any artistic skill to create a beautiful sheet of marbled designs. Fill an entire sheet with a swirling, marbled design, adding metallic inks last. Let the work of art you've created dry, and then rub the surface to see if any ink transfers – some colors do and some don't. I didn't need to seal my cards but sometimes the ink transfers and, if so, you can just spray with a coat of Krylon clear glaze.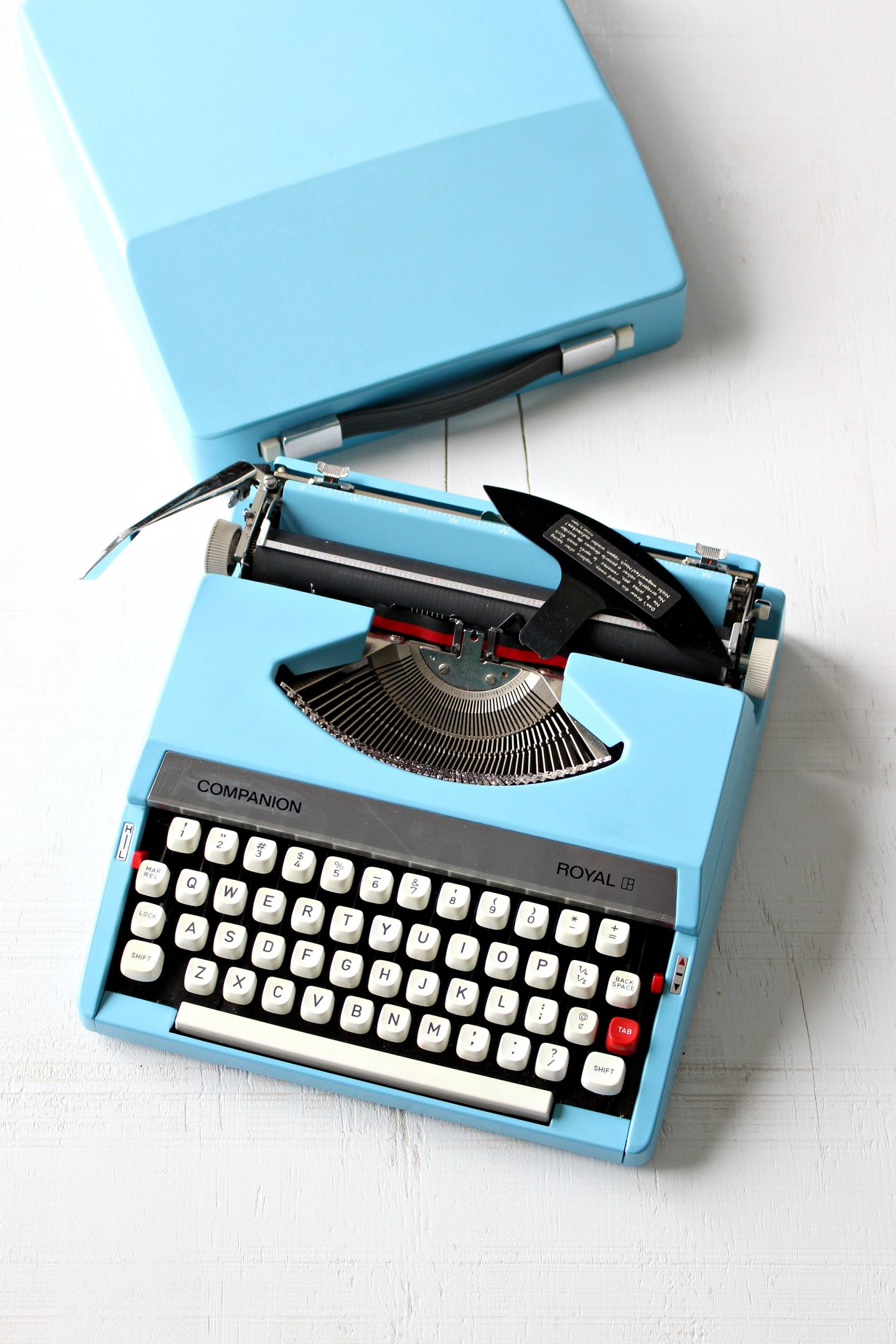 While my ink was drying, I used my Mom's (stolen) typewriter to type up some cute messages, but you could use a printer, stickers letters, or some pretty hand lettering instead. I bought a heart shaped paper cutter, but it's not sharp enough to puncture the yupo paper, so I used a cookie cutter to trace a heart shape onto a piece of scrap cardboard. Then I cut it out and used that to trace hearts onto the back side of the yupo paper. I cut out my hearts and glued them to my cards using a glue stick – that's it!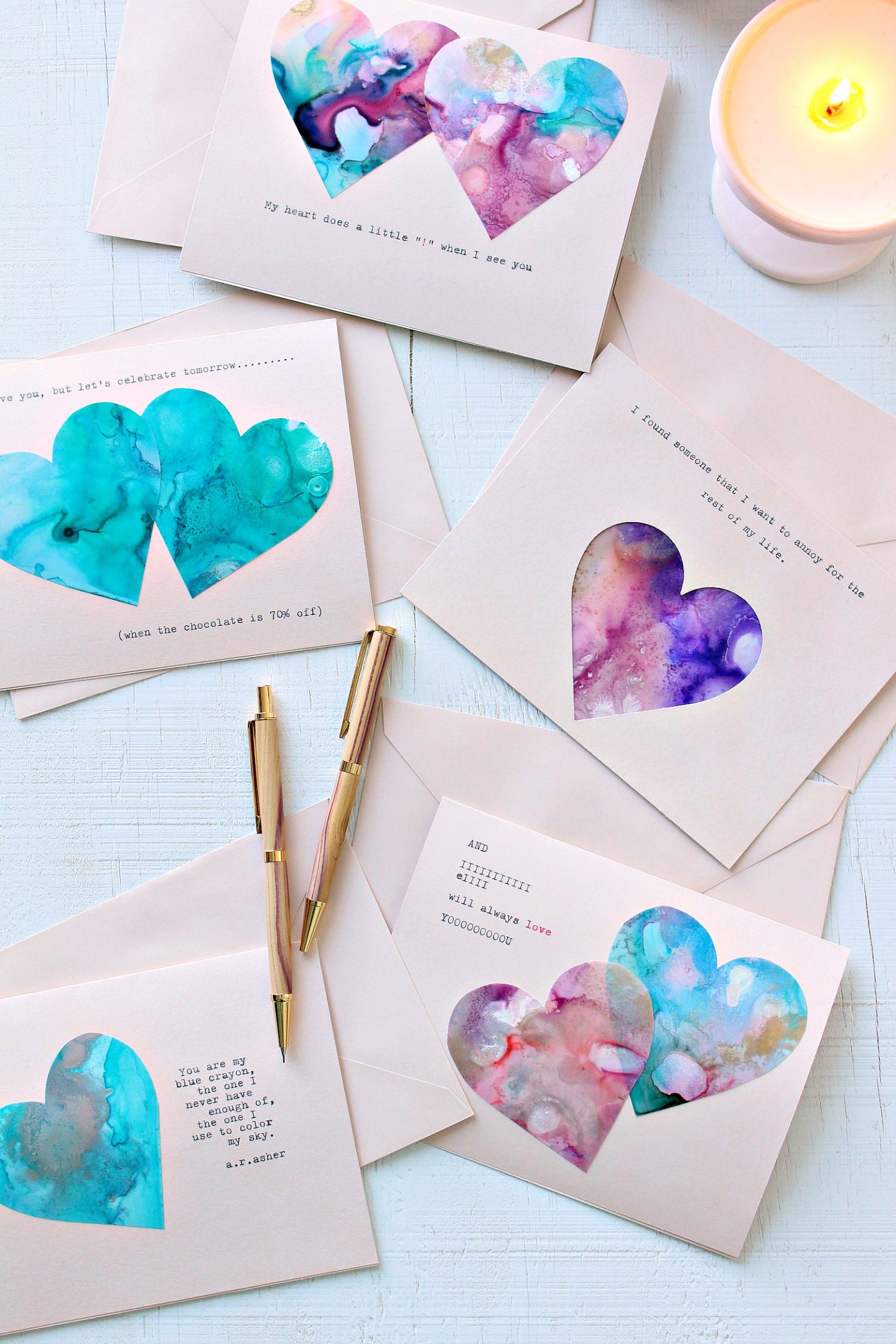 I LOVE how these easy DIY Valentine's Day cards turned out! The pink and aqua marbled hearts are so pretty and you could easily make a huge batch of these for kids to give away at school. To save money, use a post card style note card blank because they can be less money (or cut out sheets of cardstock to make your own cards).
I was at a bit of a loss for messages, so I just searched on Pinterest for some cute ideas and quotes. Here's a closer look at some of them individually: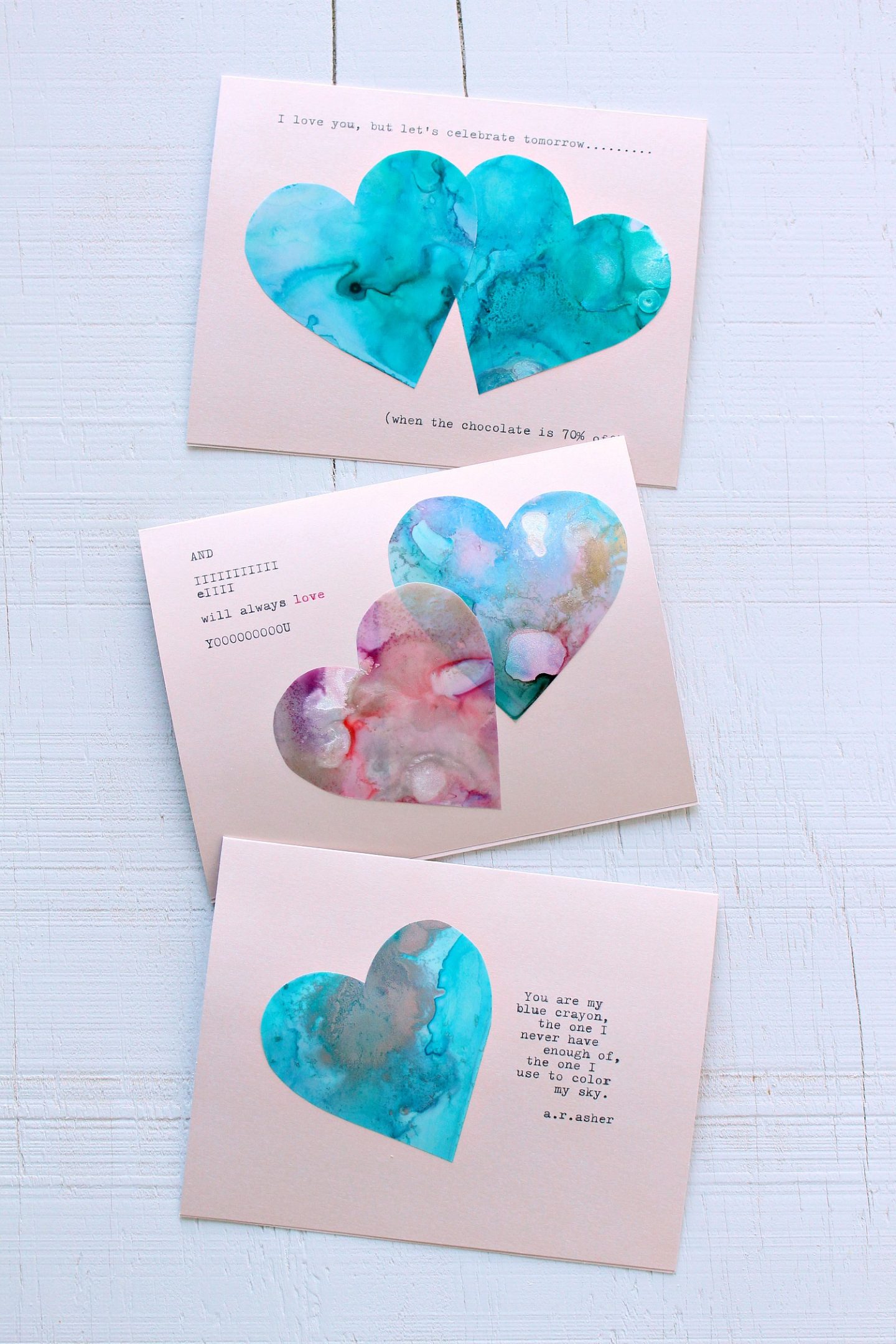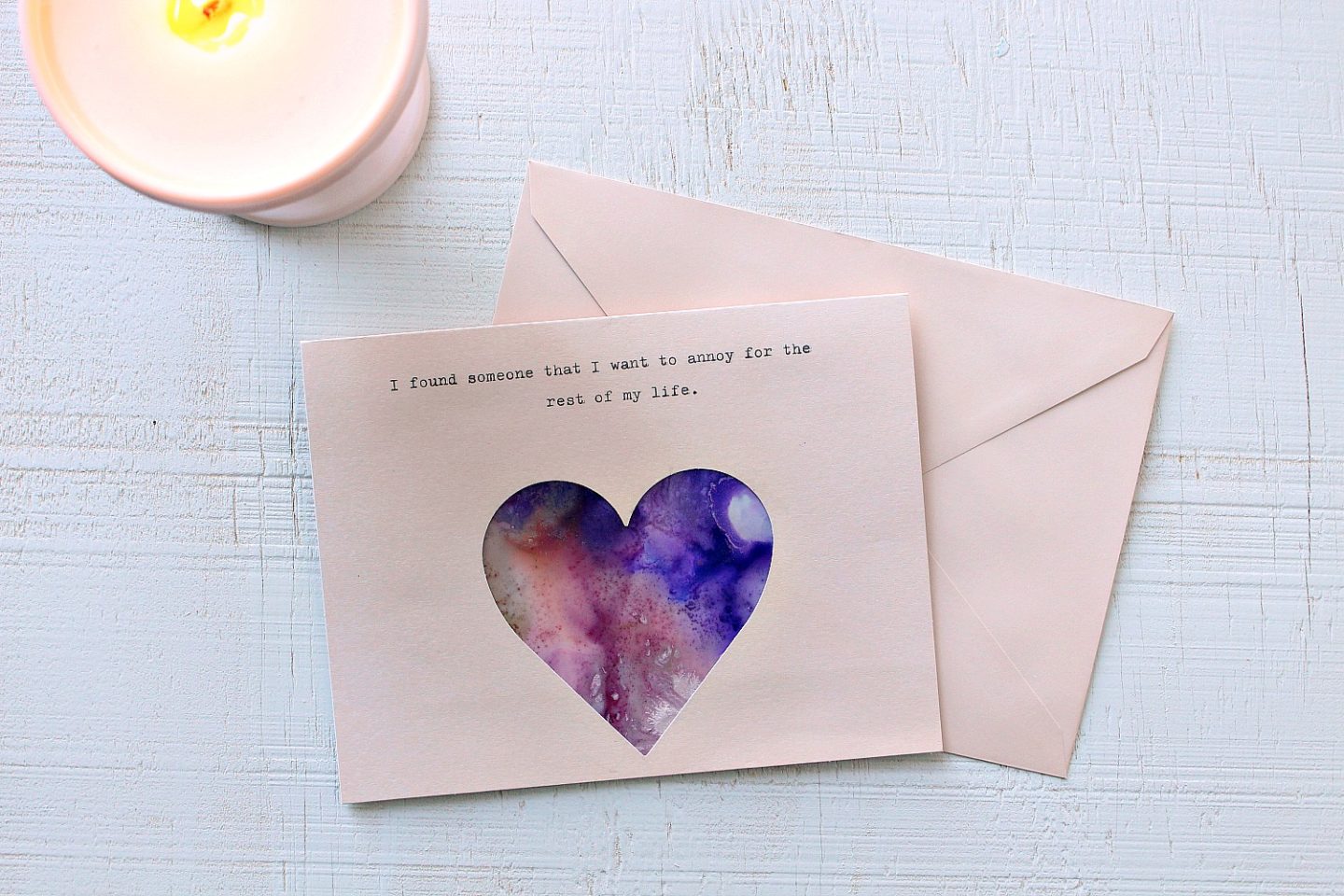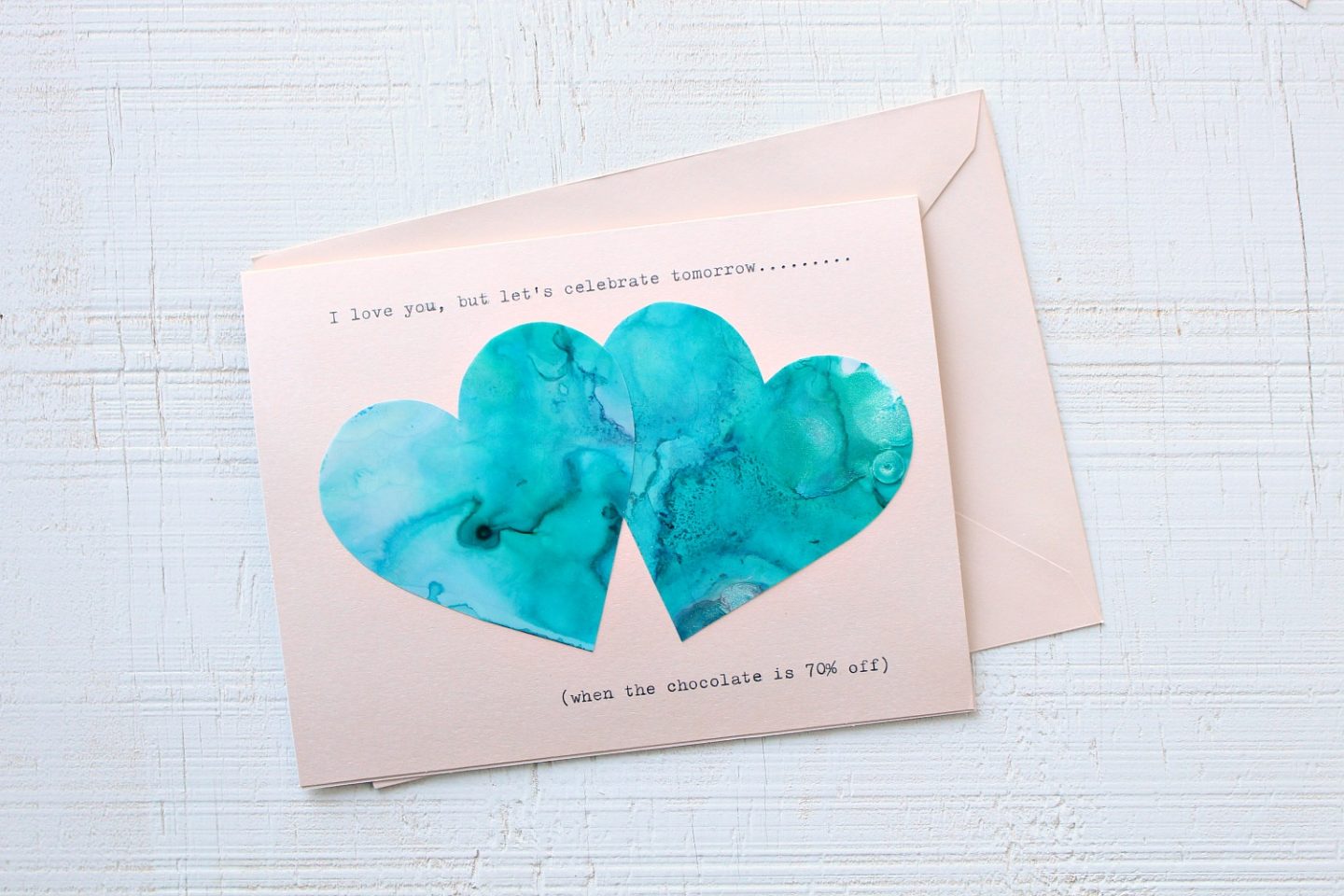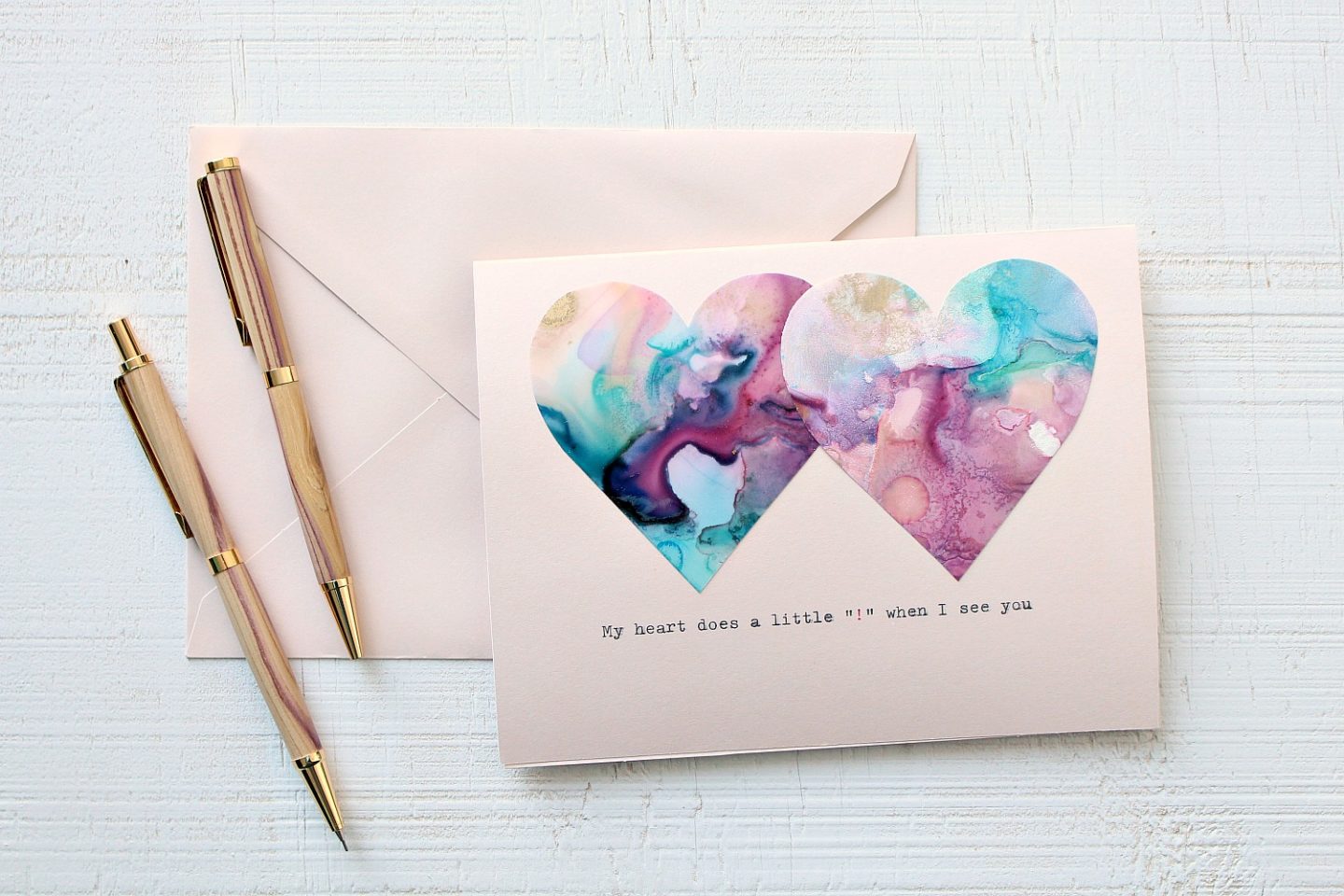 This one is, obviously, my favorite!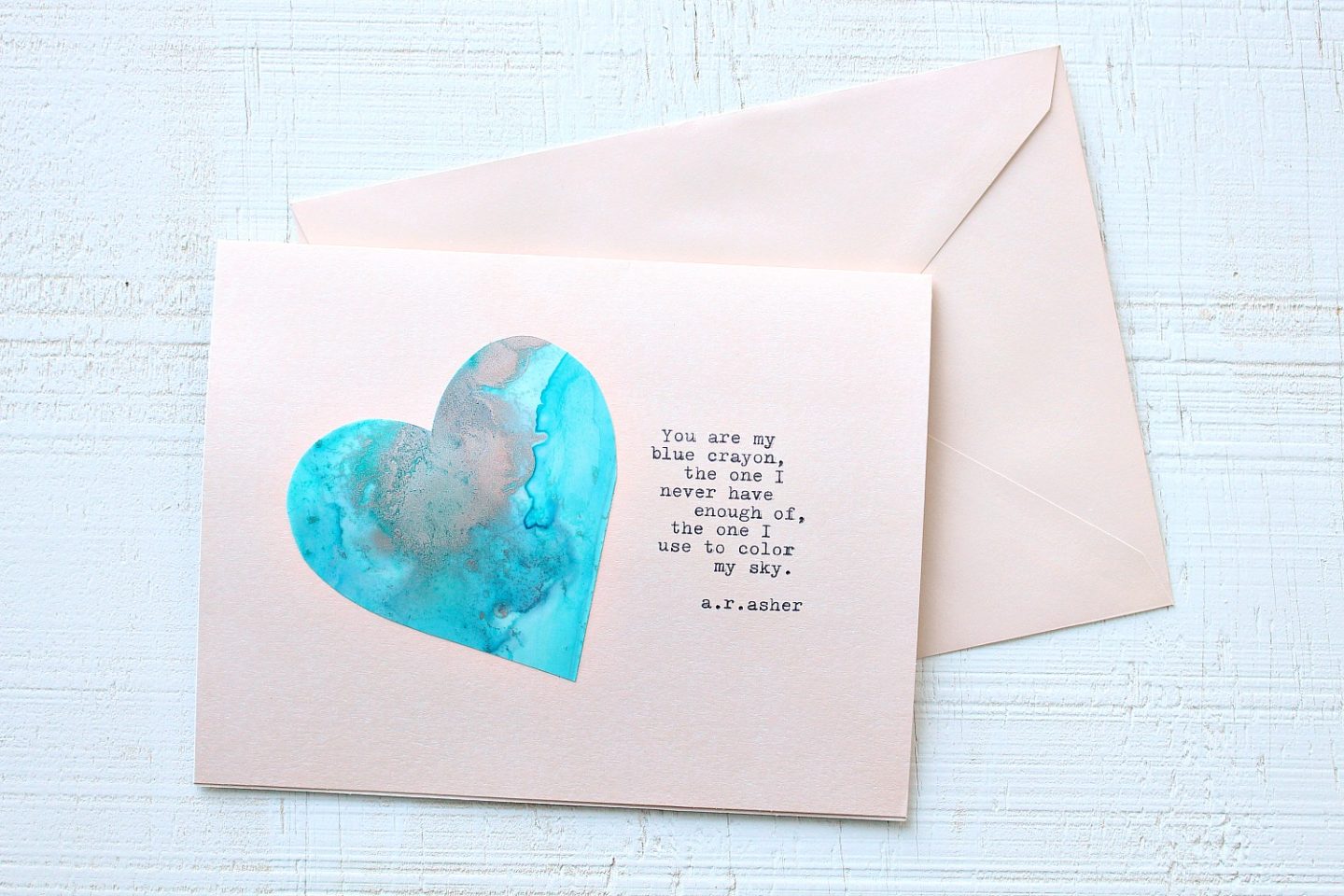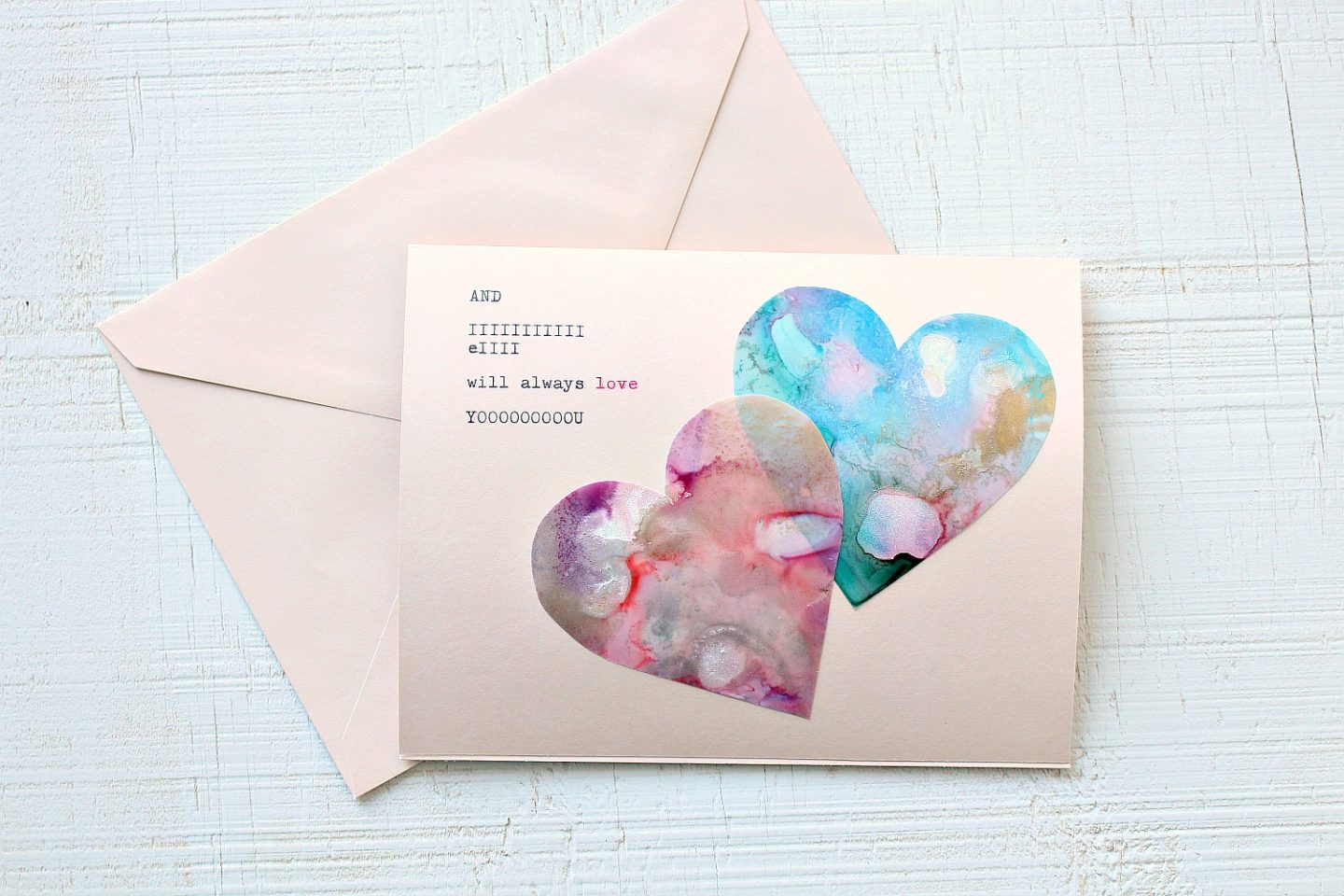 I also made a few with no message, just a pair of marbled hearts: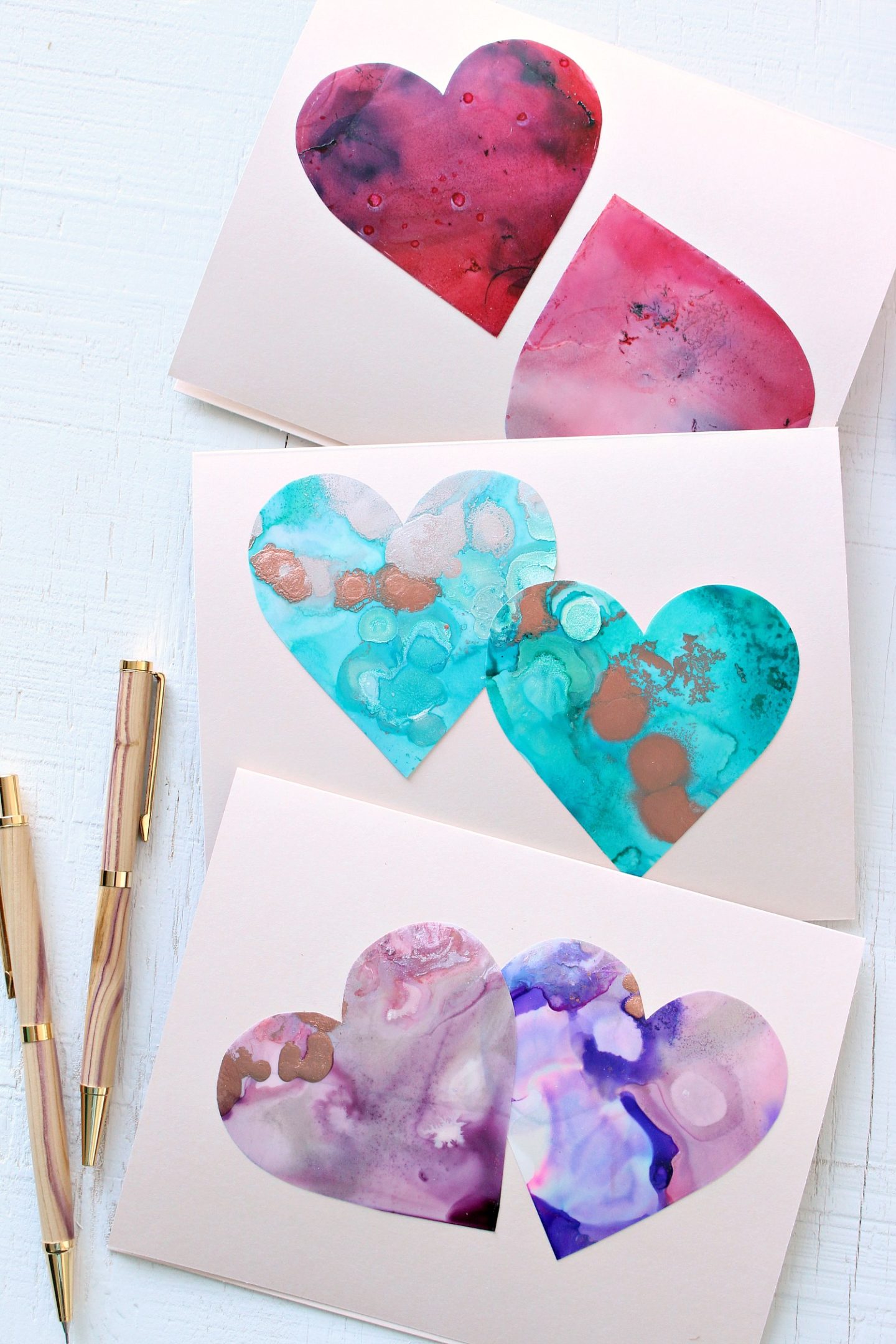 Another variation I did, when I realized my heart shaped paper cutter couldn't pierce the yupo paper, was to cut the heart out of the card instead and then glue a rectangle of alcohol ink "art" behind it, which is a cute effect also: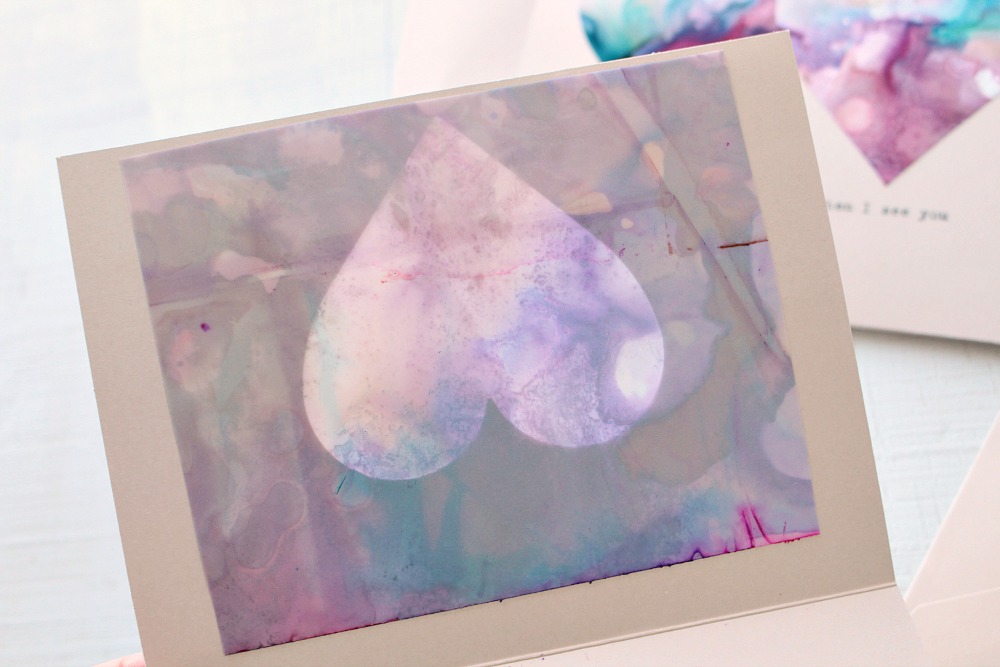 In the photo below, the cut out one is second from the top, on the right – not sure if you can tell a huge difference between the heart cut out and glued on, or the heart cut out of the paper and the alcohol ink yupo glued on the back… Both methods are easy and equally pretty!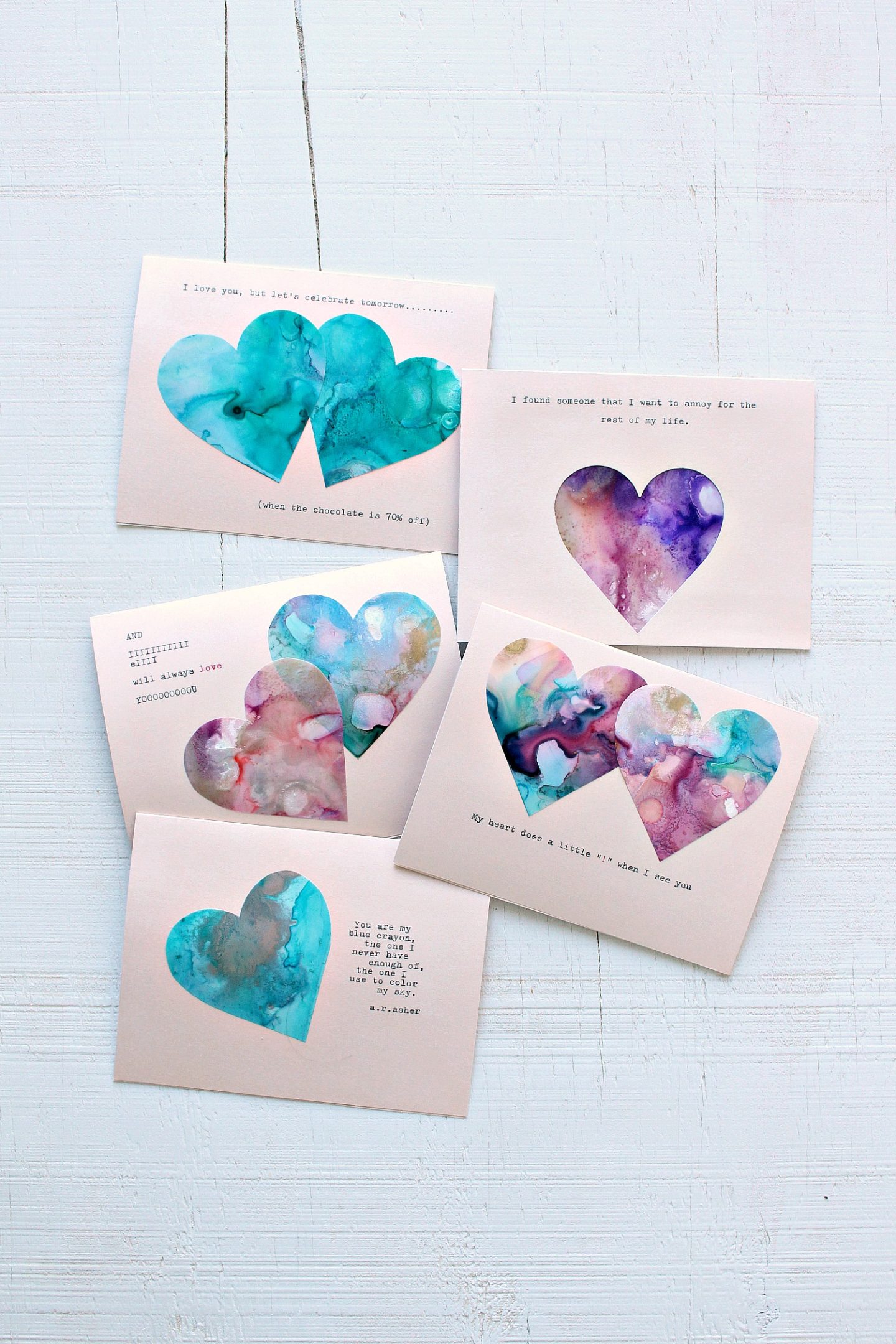 I hope you liked these easy DIY Valentine's Day cards made with alcohol inks. I've really enjoyed working with alcohol inks and I find it very relaxing because the way the ink flows is very mesmerizing and it's so easy to create something beautiful. It's excellent stress relief and a fun project to make with kids – kids you can trust not to get too messy, lol.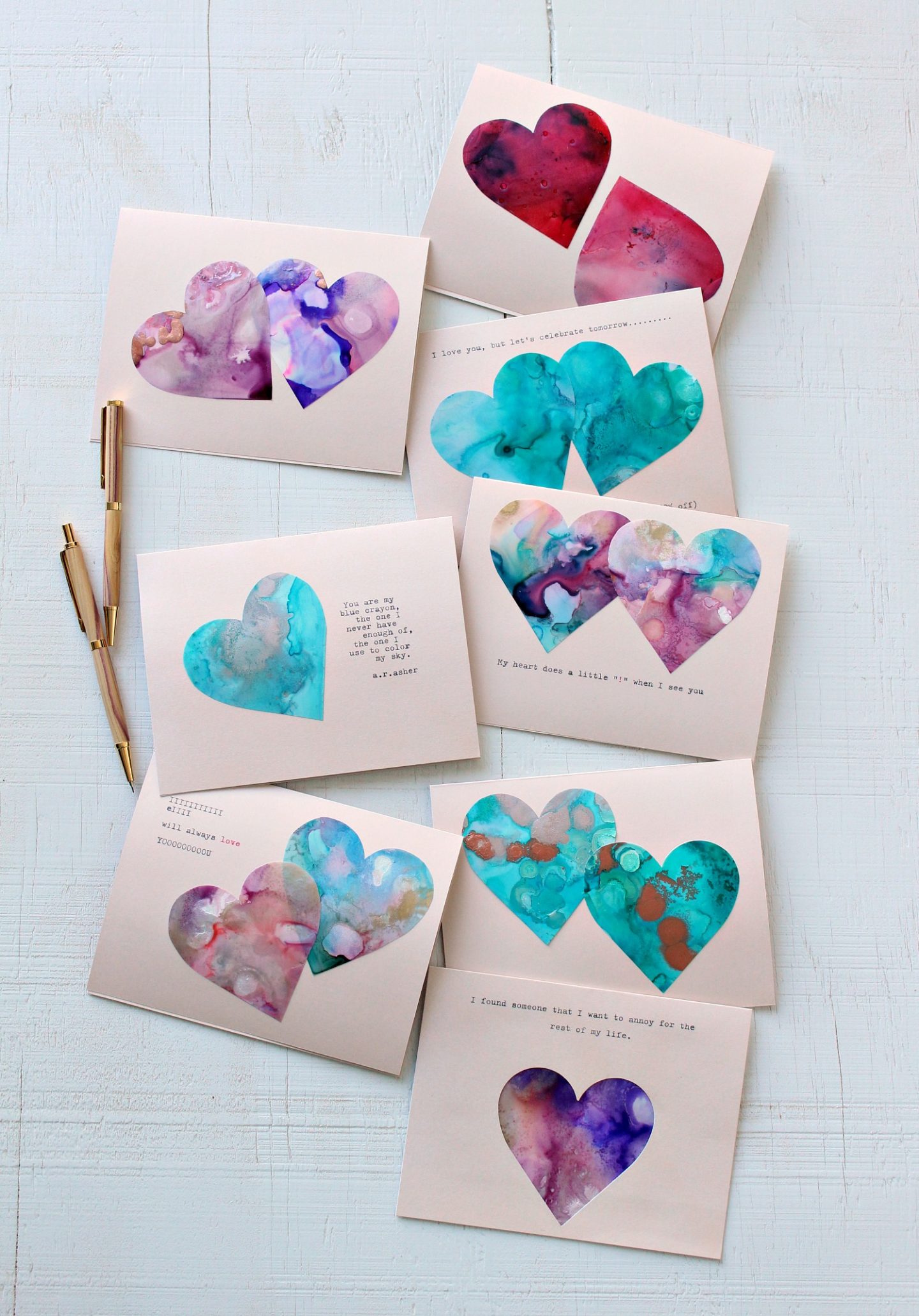 Don't Forget to Pin for Later: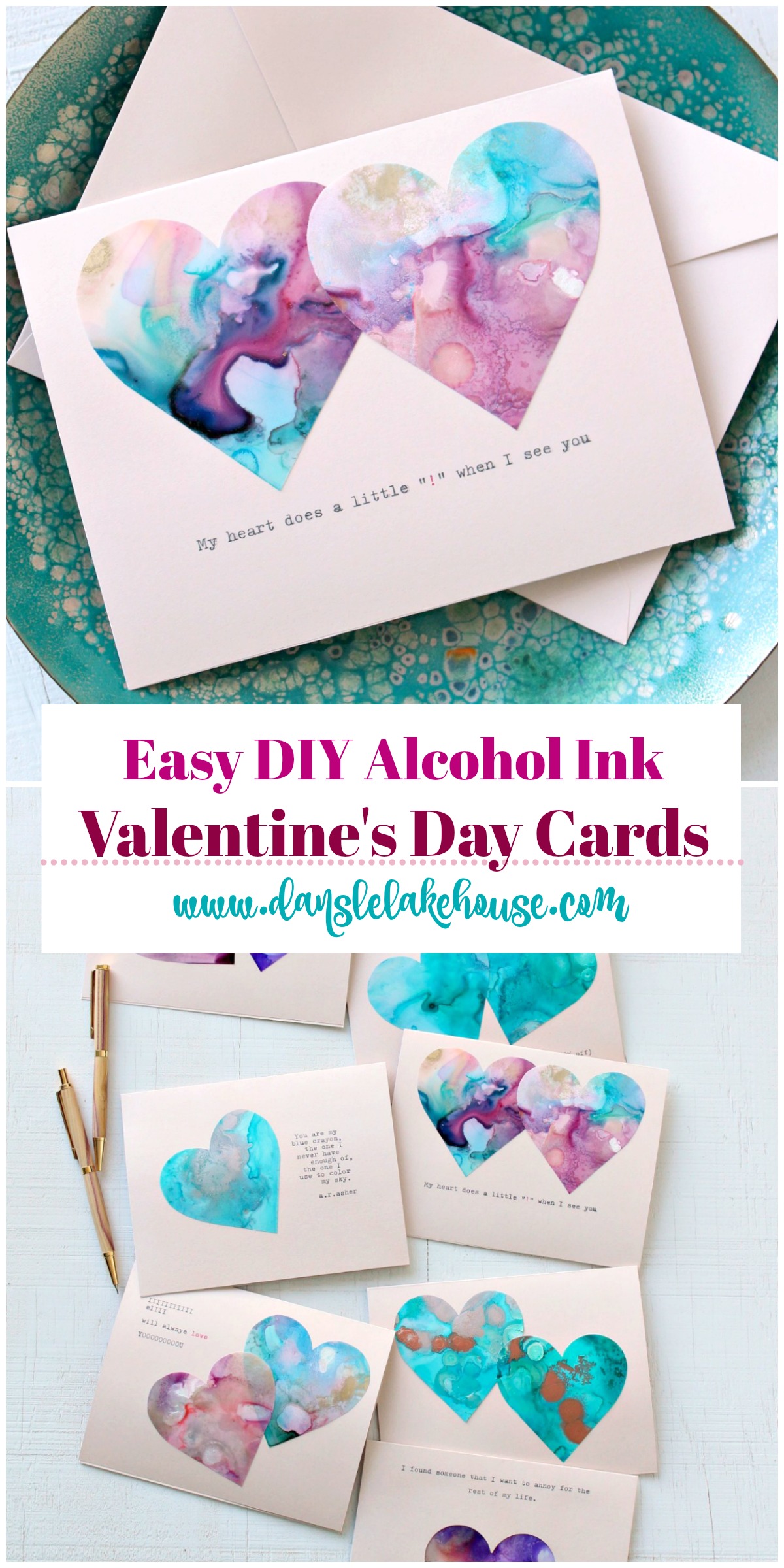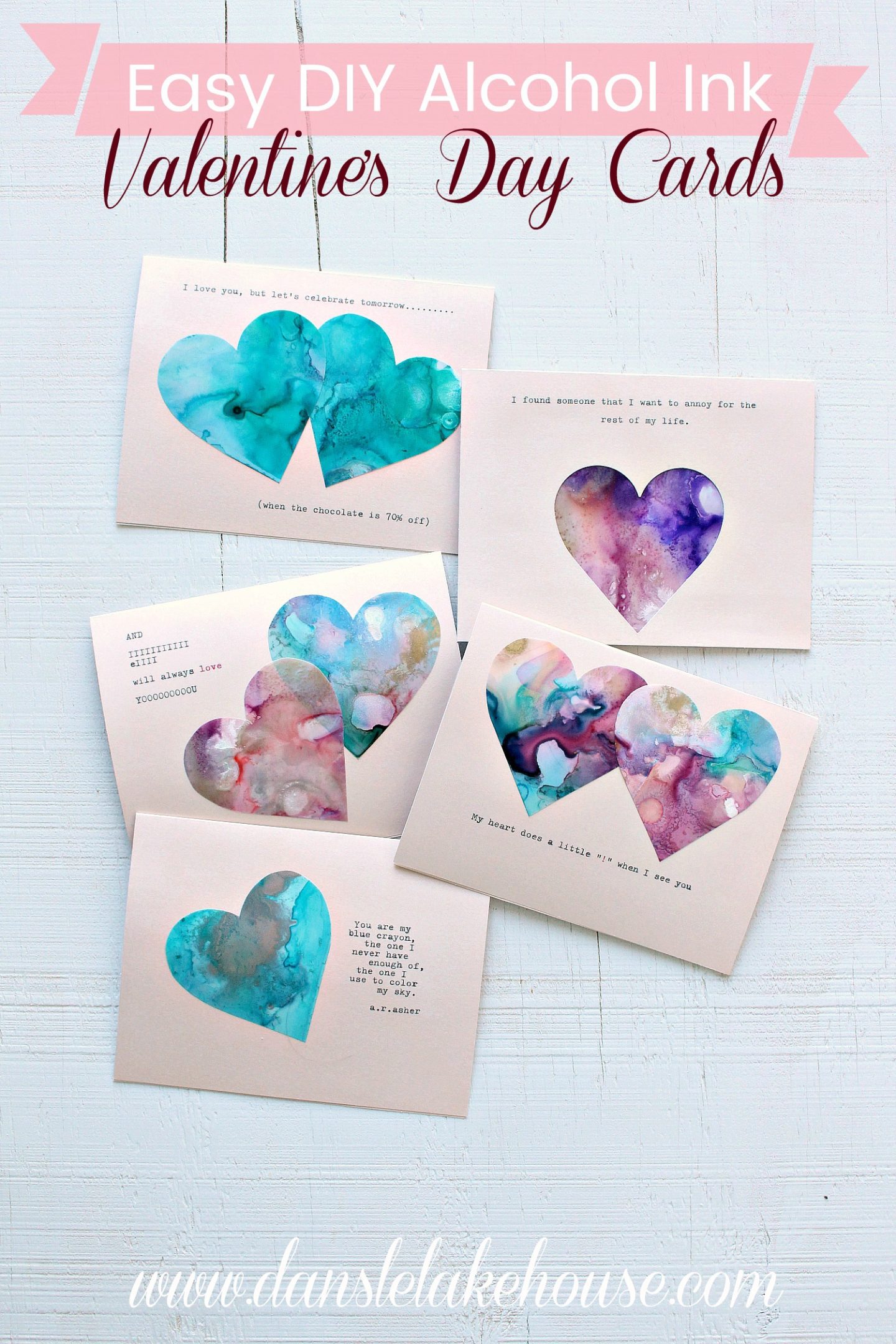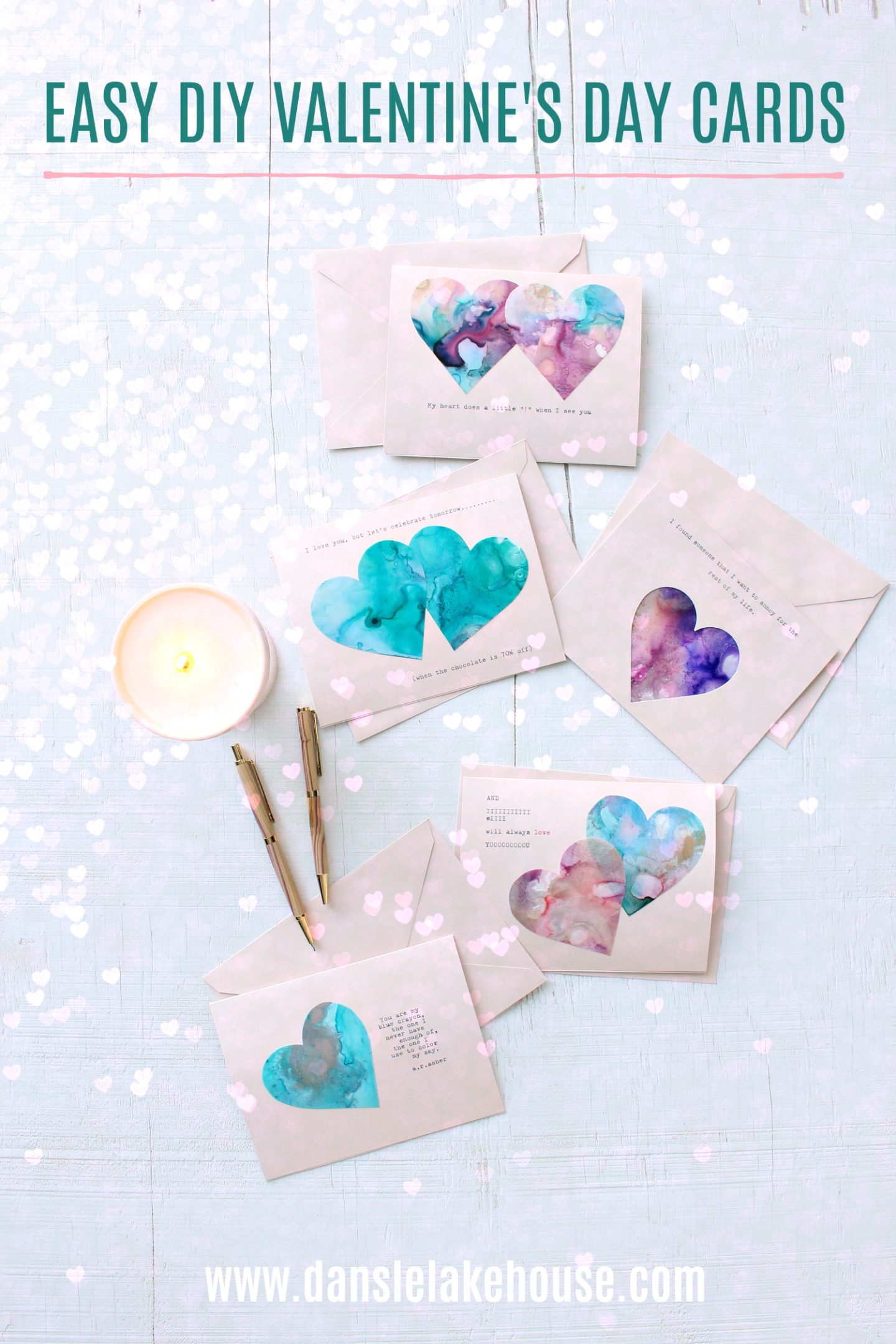 Don't forget to check out my other DIY alcohol ink craft projects here!