I am so excited to share this easy DIY hydrangea wreath today and break down, step by step, how to make a hydrangea wreath for summer. This faux hydrangea wreath for front door decorating is so pretty – and of course you know I love an aqua blue hydrangea wreath (but you can use any color of faux hydrangea blooms)! Can you believe I've been waiting a whole year for this hydrangea wreath project?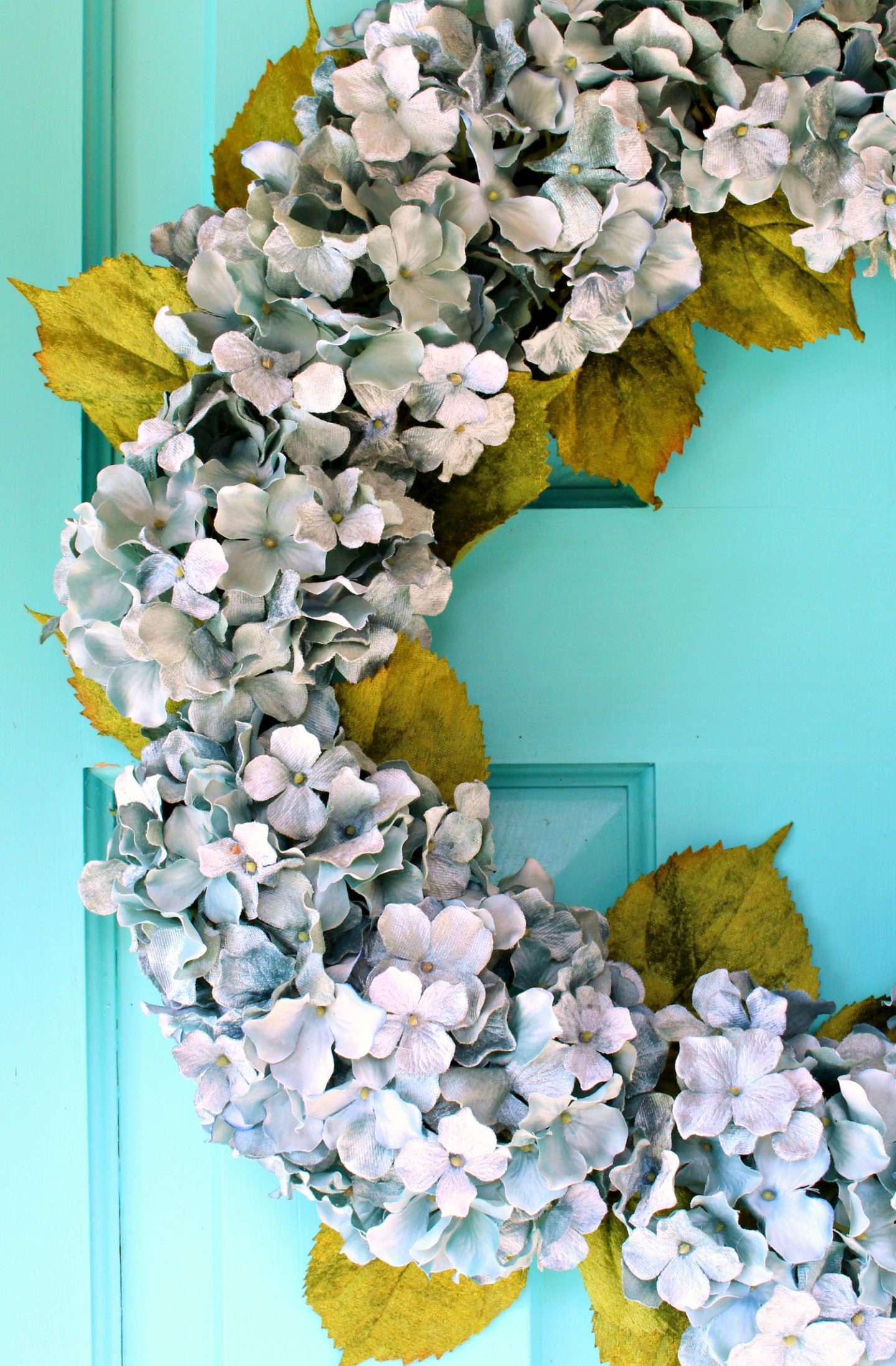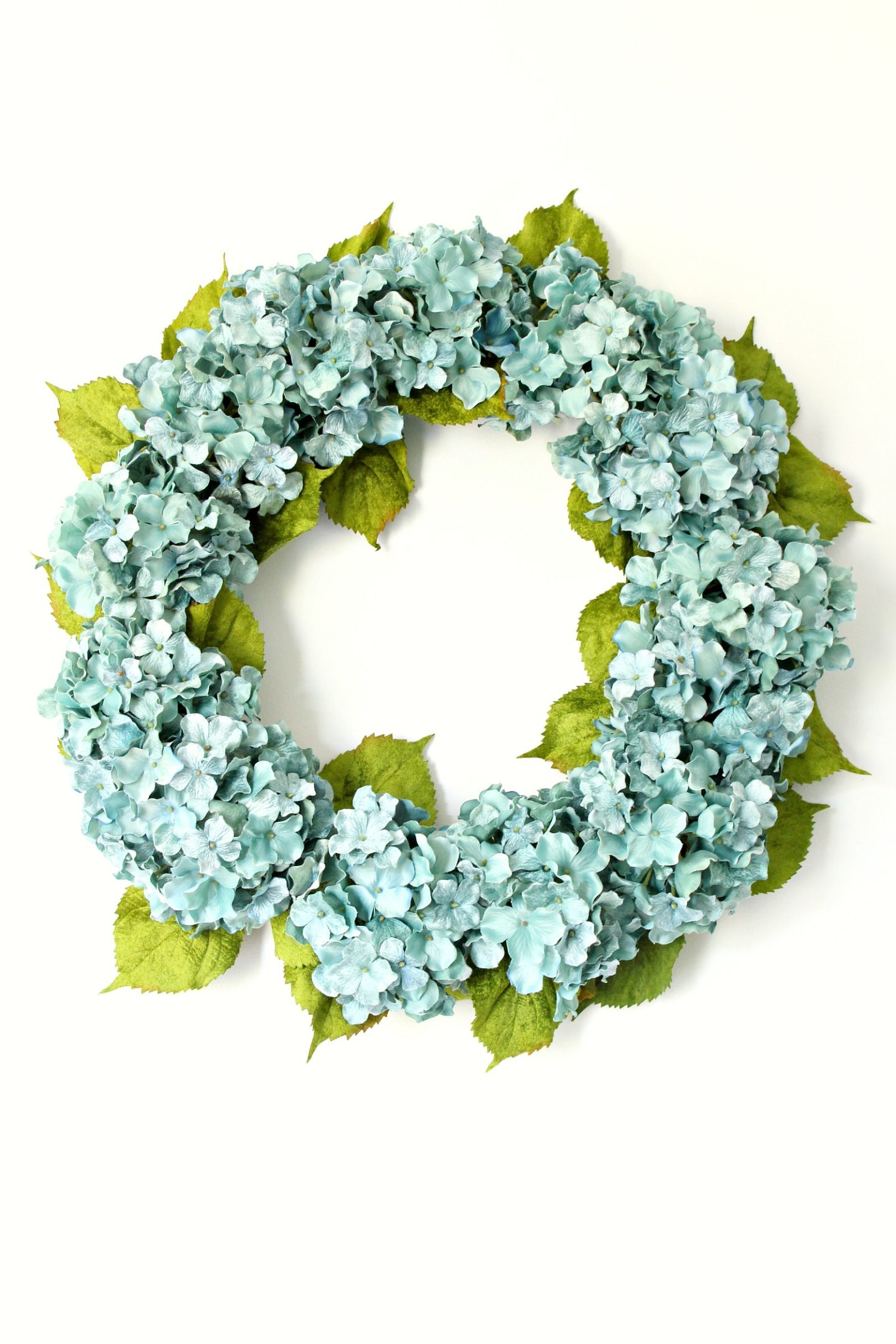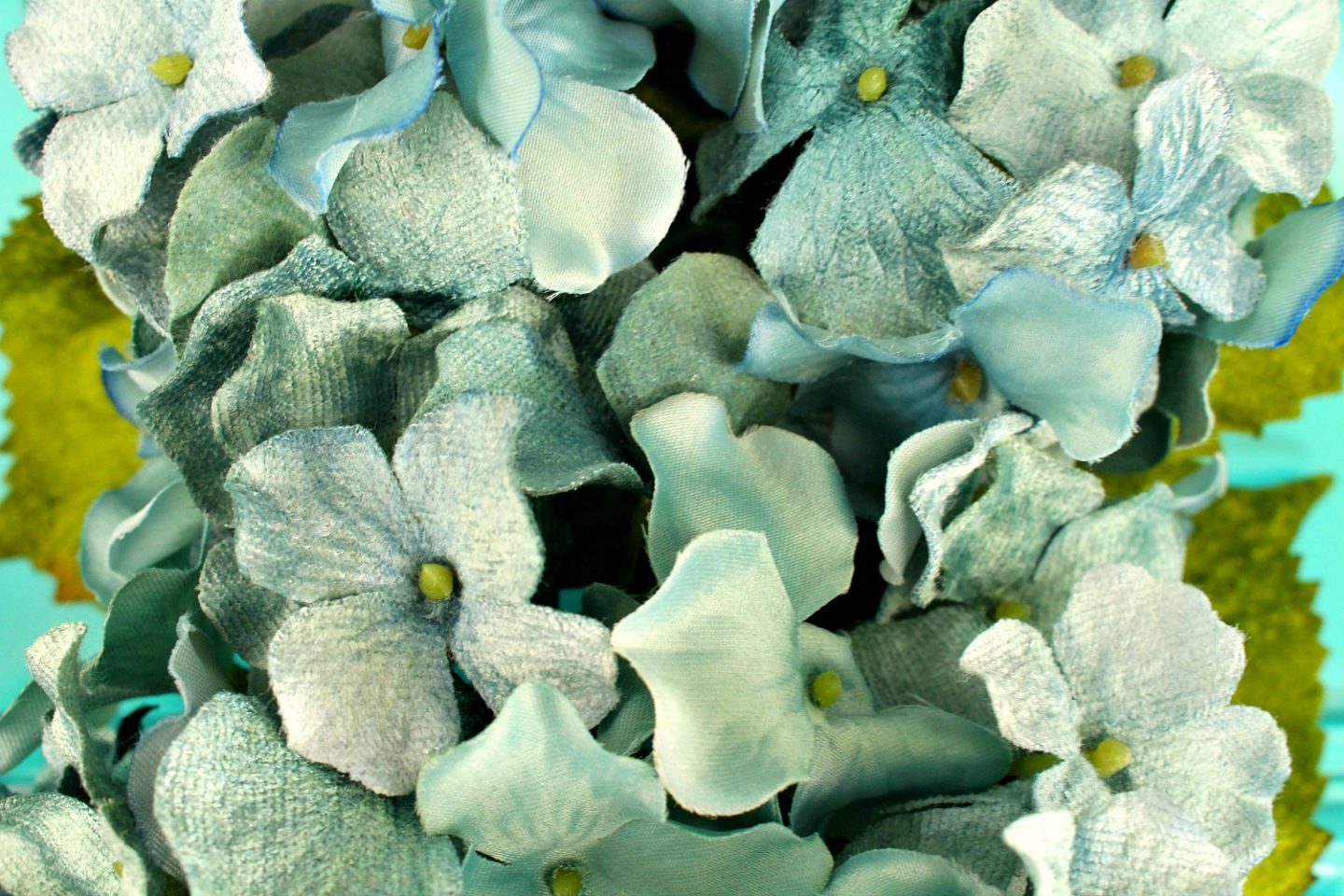 Where Did I Find These Beautiful Faux Hydrangea Blooms?
I actually planned to make this hydrangea wreath when I partnered with Décors Véronneau last year. My plan was to use their gorgeous faux hydrangeas to make a wreath for my front door, but when they arrived, they were too pretty. I know, that sounds like such a silly reason. They're gorgeous and velvet and the perfect icy shade of aqua. I didn't want to put them outside – I wanted to enjoy them inside. At least for a little while. I ended up using them in a mod flower box I built instead, so I could also avoid cutting them up, lol.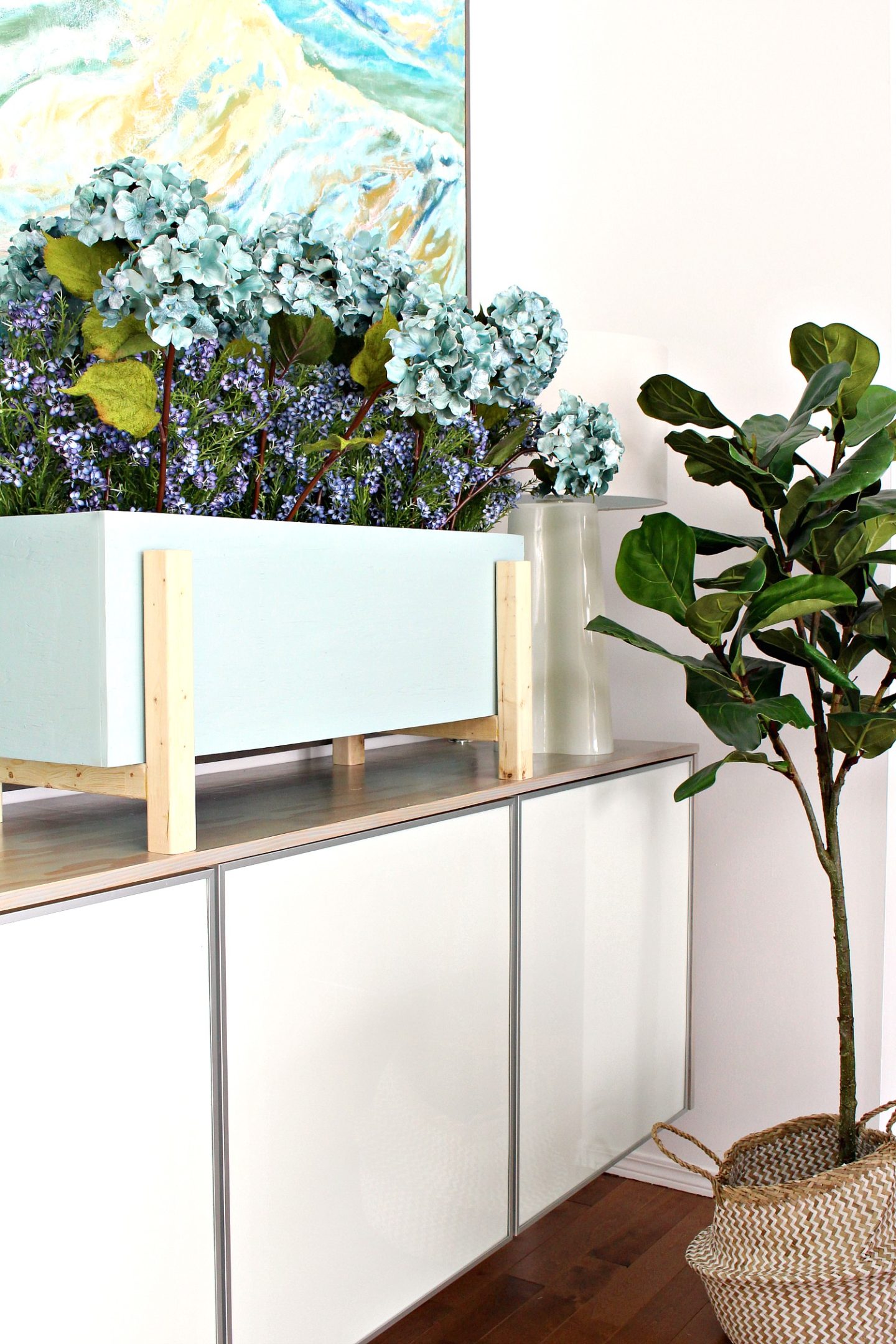 Then I used them again, in lieu of real flowers, in my summer home tour.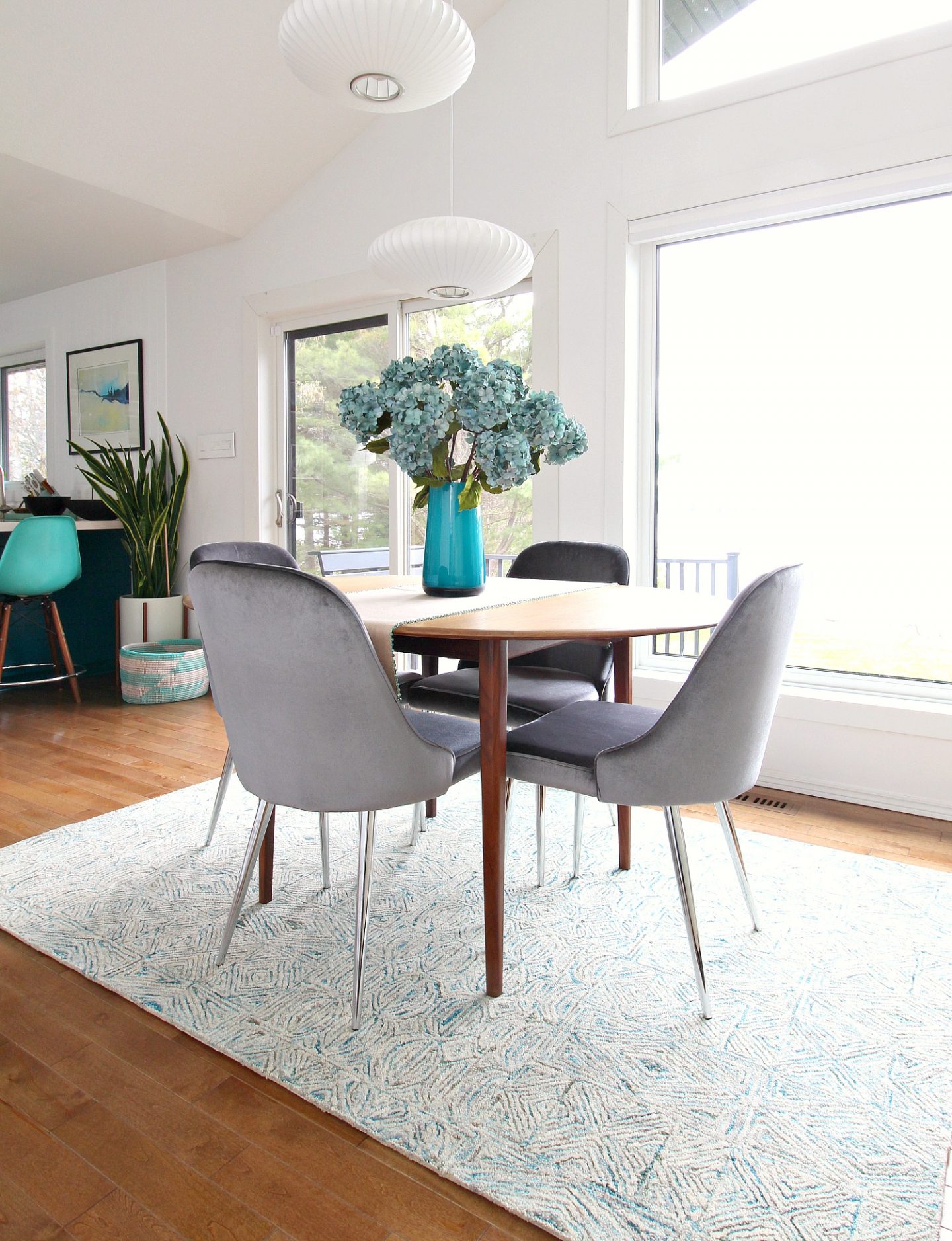 But this spring I decided it was time to make the DIY summer wreath I've been dreaming about for 365 days – and I love how this hydrangea wreath DIY turned out! I'm especially thrilled with my easy DIY hydrangea wreath because nothing much is blooming here, so seeing this cheery wreath on the door is so mood-lifting. I just can't decided which door: I keep switching between my MCM inspired turquoise front door and the more rustic turquoise bunkie door. Seems like I kinda need two of these DIY hydrangea wreaths. They're easy to make, here's how!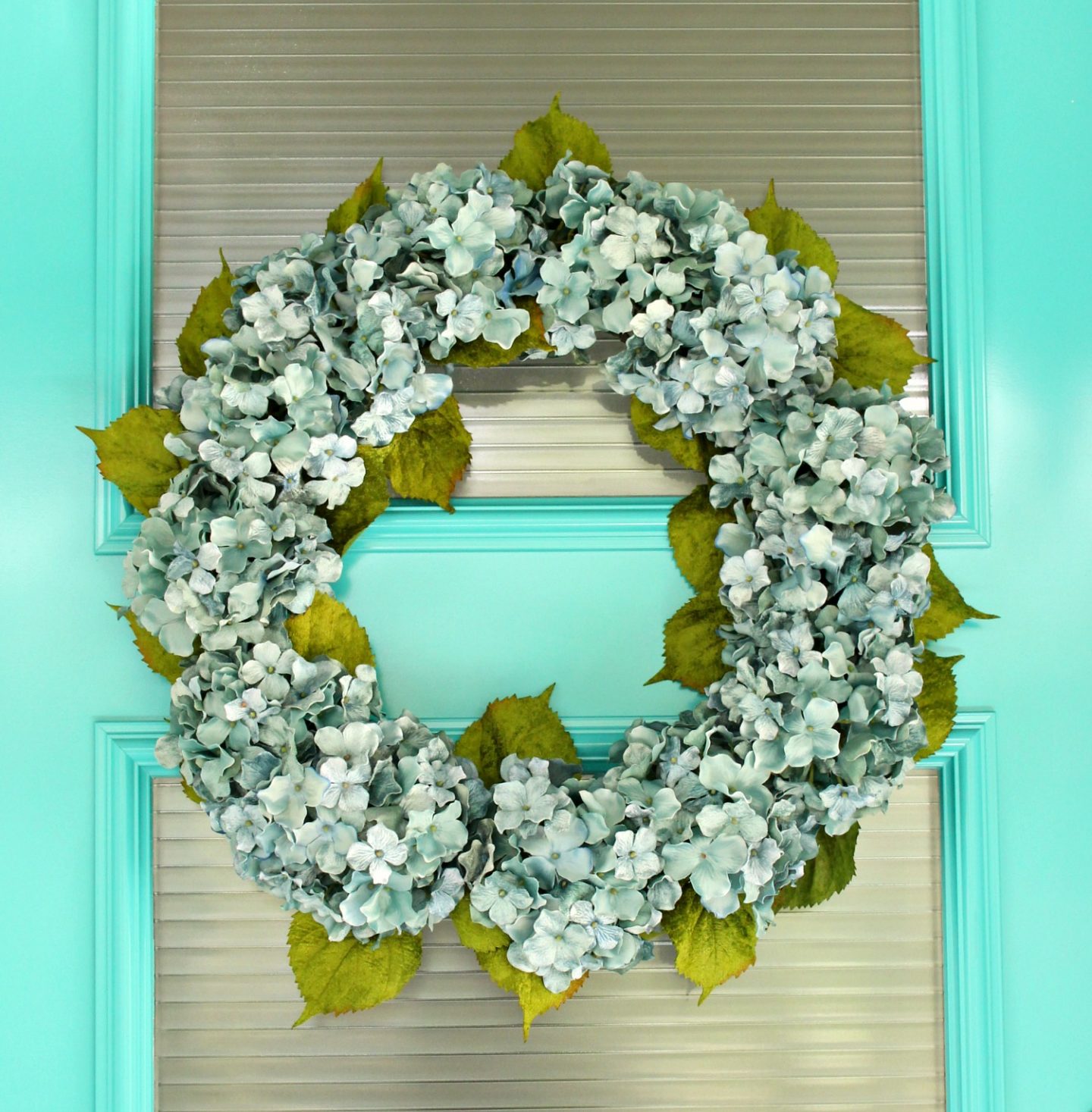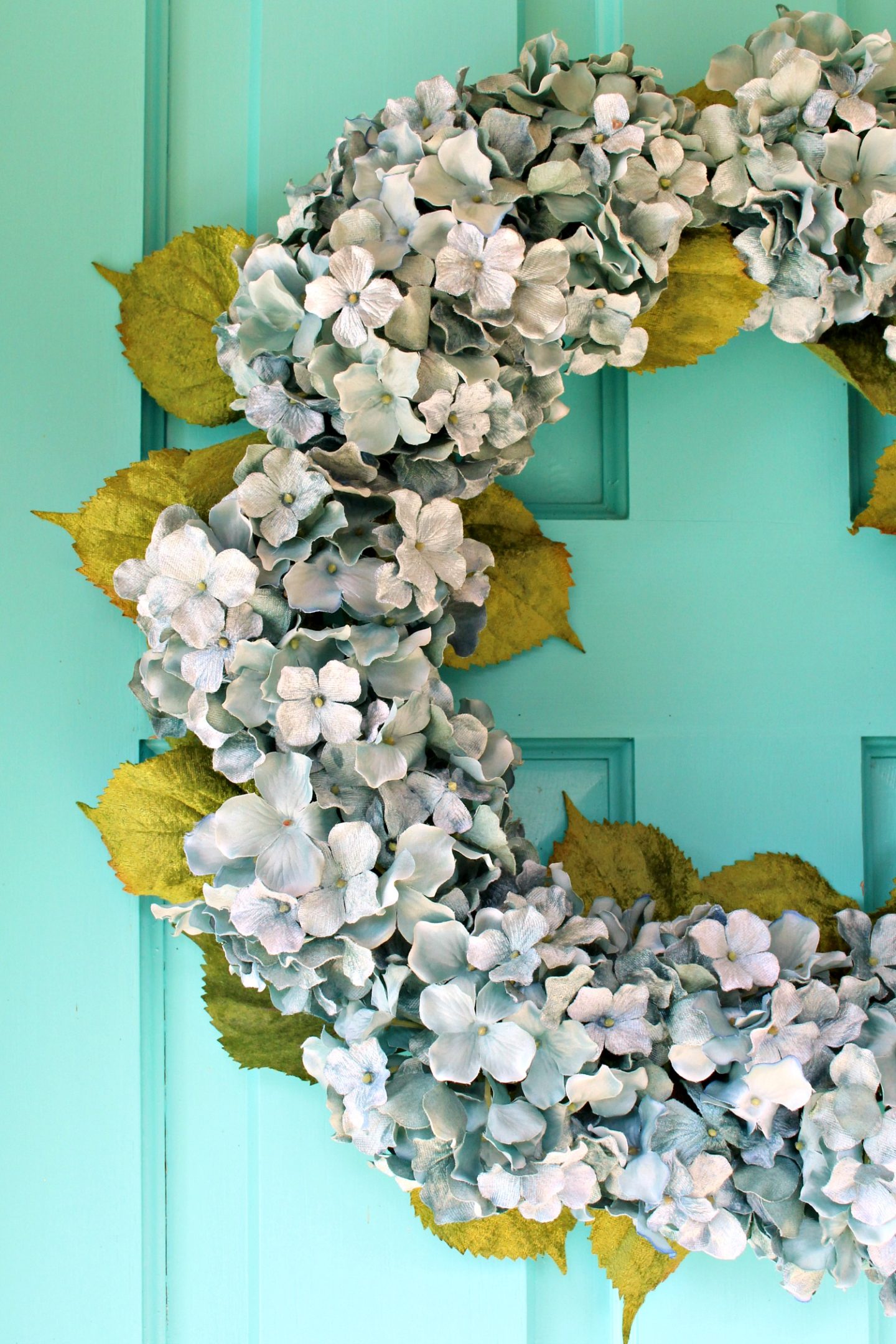 Supplies for DIY Hydrangea Wreath: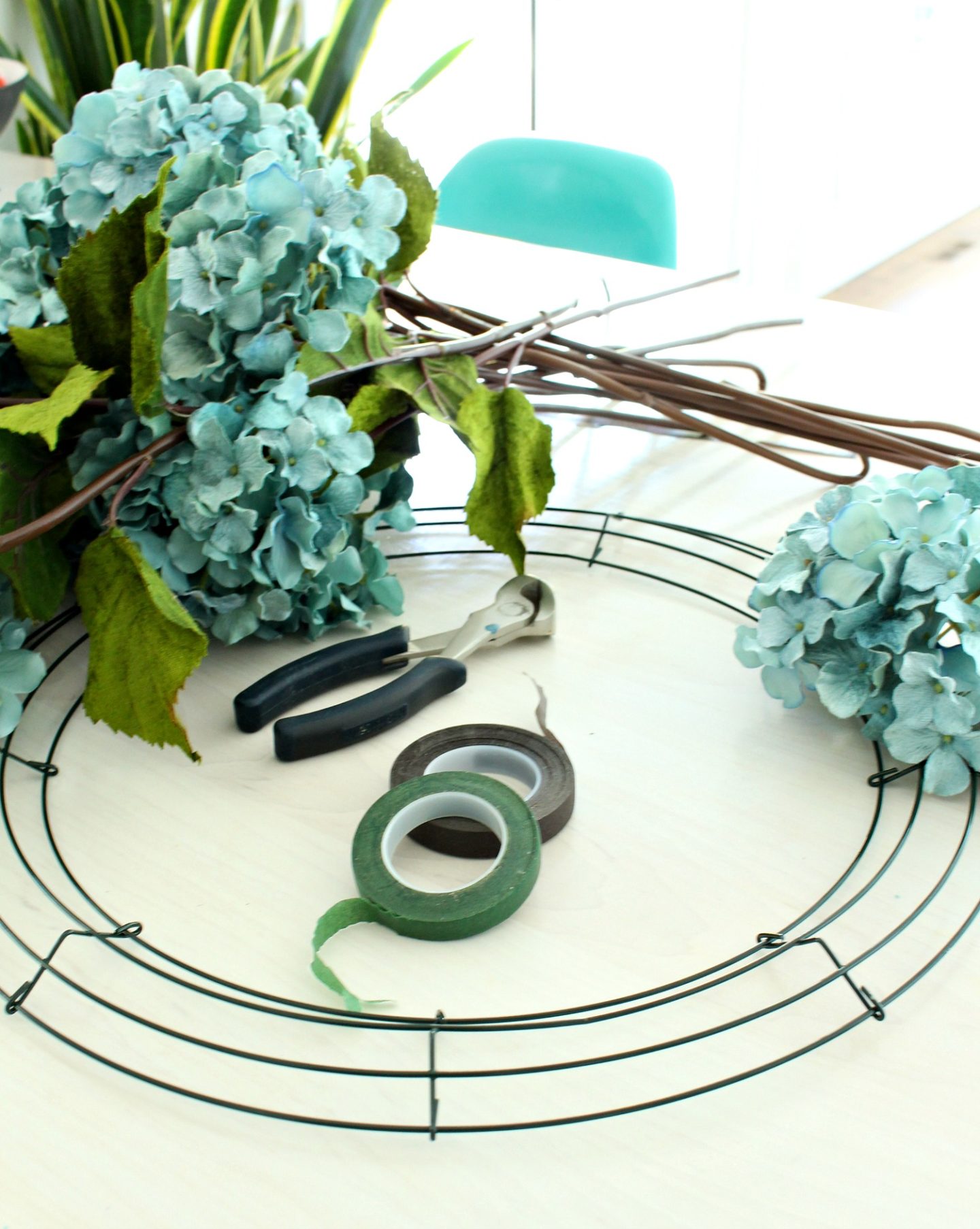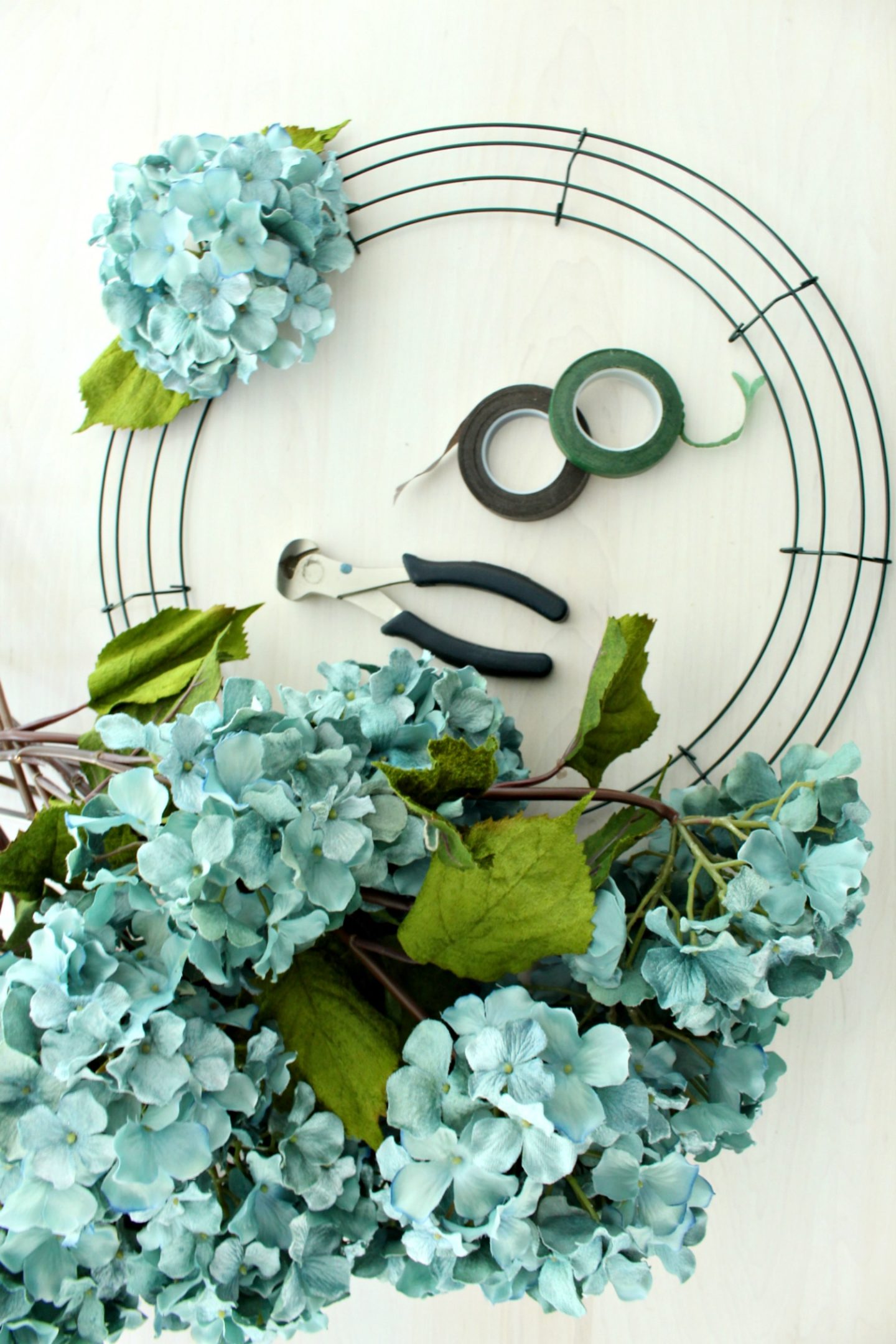 How to Make an Easy DIY Hydrangea Wreath:
Cut the faux hydrangea blooms from the stem using wire cutters
Cut off any leaves as well, leaving an inch or so of stem
"Dry fit" the flowers around a wire wreath form to roughly determine placement
Cut a piece of floral tape and wrap it across the base of the flower to affixed it to the wire wreath form
Repeat for all faux hydrangea blooms
Randomly place a few faux leaves (optional), affixing with floral tape in the same manner

How Do You Attach Hydrangeas to a Wreath?
First, using the wire cutters, cut off the flower from the stem – but be careful not to cut too high, or the individual stems might fall apart (depending on the design of your fake blooms):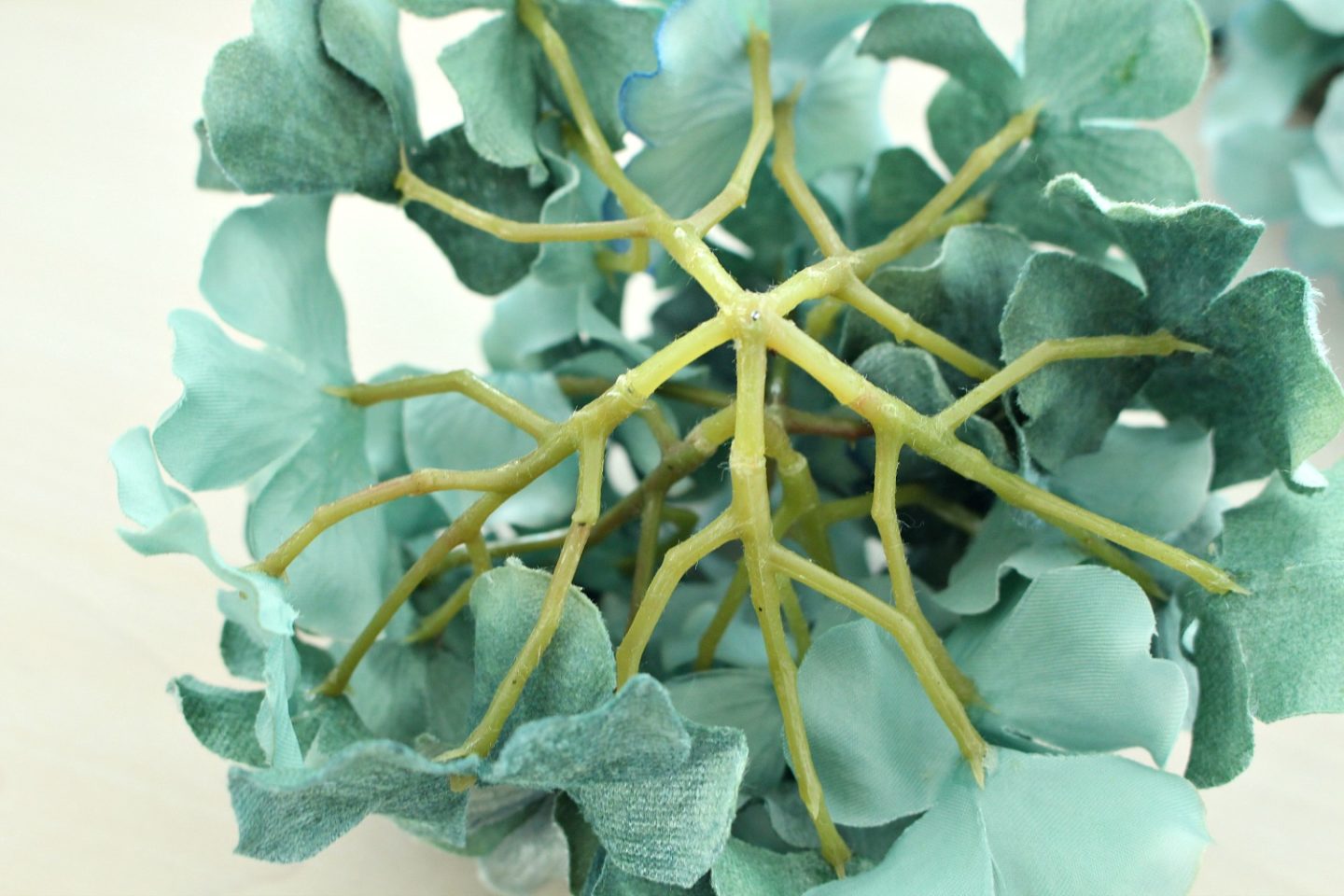 I also cut the leaves off, leaving a short stem (an inch or so). Then, I grabbed a piece of floral tape and wrapped it across the base of the flowers and affixed it to the wreath form – I fit the center of the flower, where the stem was, in the center of the wires of the wreath. I tried this with floral wire first, and the wire made it difficult to secure the flowers really firmly. I wanted to control exactly where they were placed, and I found that the tape gave me much better control. I've used floral wire before with success, but this project floral tape worked better.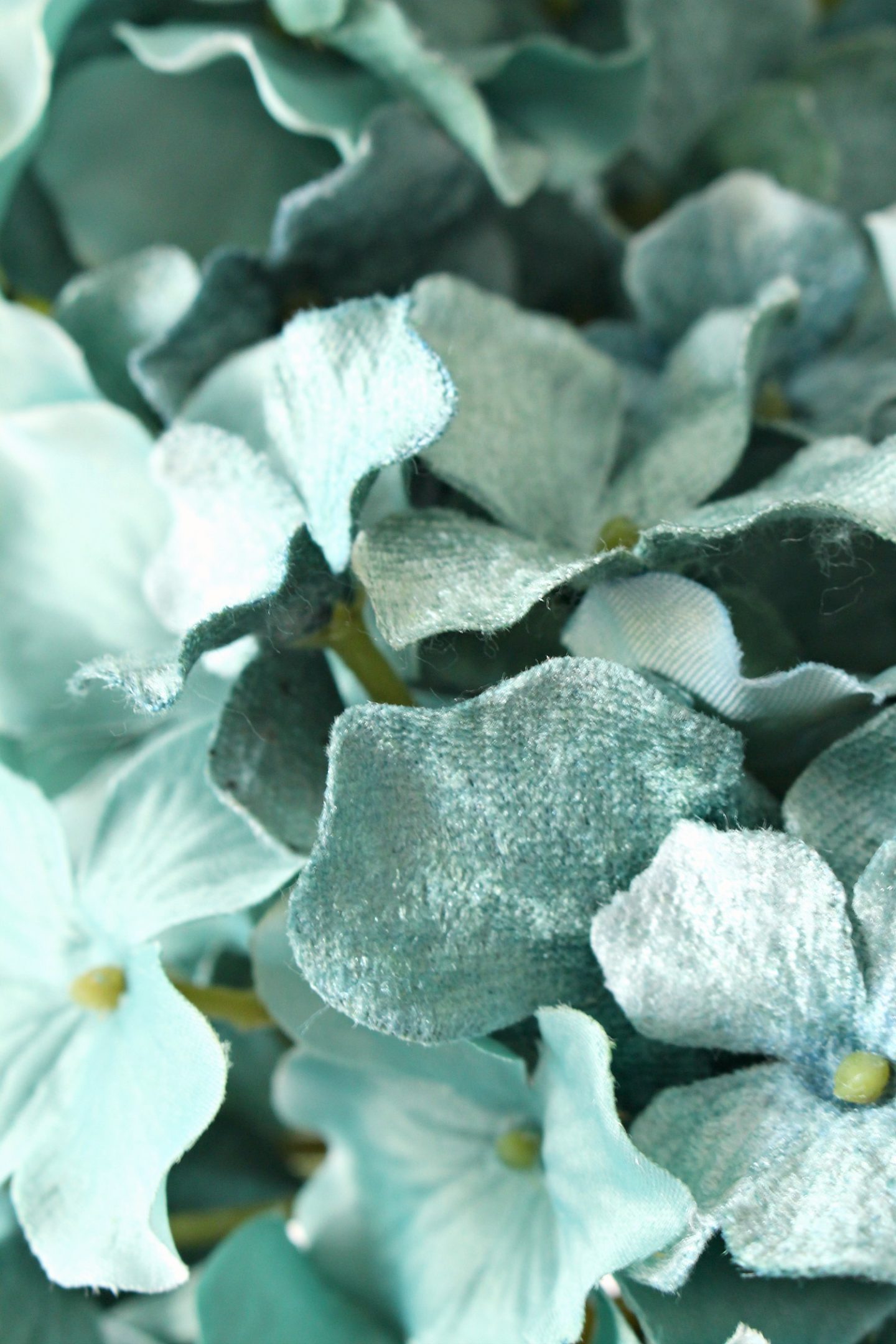 After placing the first flower, I roughly placed out where each flower would go so I didn't start placing them too densely and run out. I really liked the look of three blooms per "section" of wreath (marked by the vertical wire), but I didn't have enough so I spaced them out a bit more and filled in the gaps with the velvet leaves. After every four flowers, I'd hold it up against my wall to double check and make sure it wasn't too sparse and that the wreath frame remained hidden. I affixed the leaves as I placed the flowers, and then doubled back and added more leaves when all of the flowers were in place. This helped me create a nice, balanced wreath. Working with the floral tape was a little finicky, but it only took me an hour or so to put together this hydrangea wreath.
Here's a look at the back, so you can see how I affixed the faux hydrangea blooms and leaves: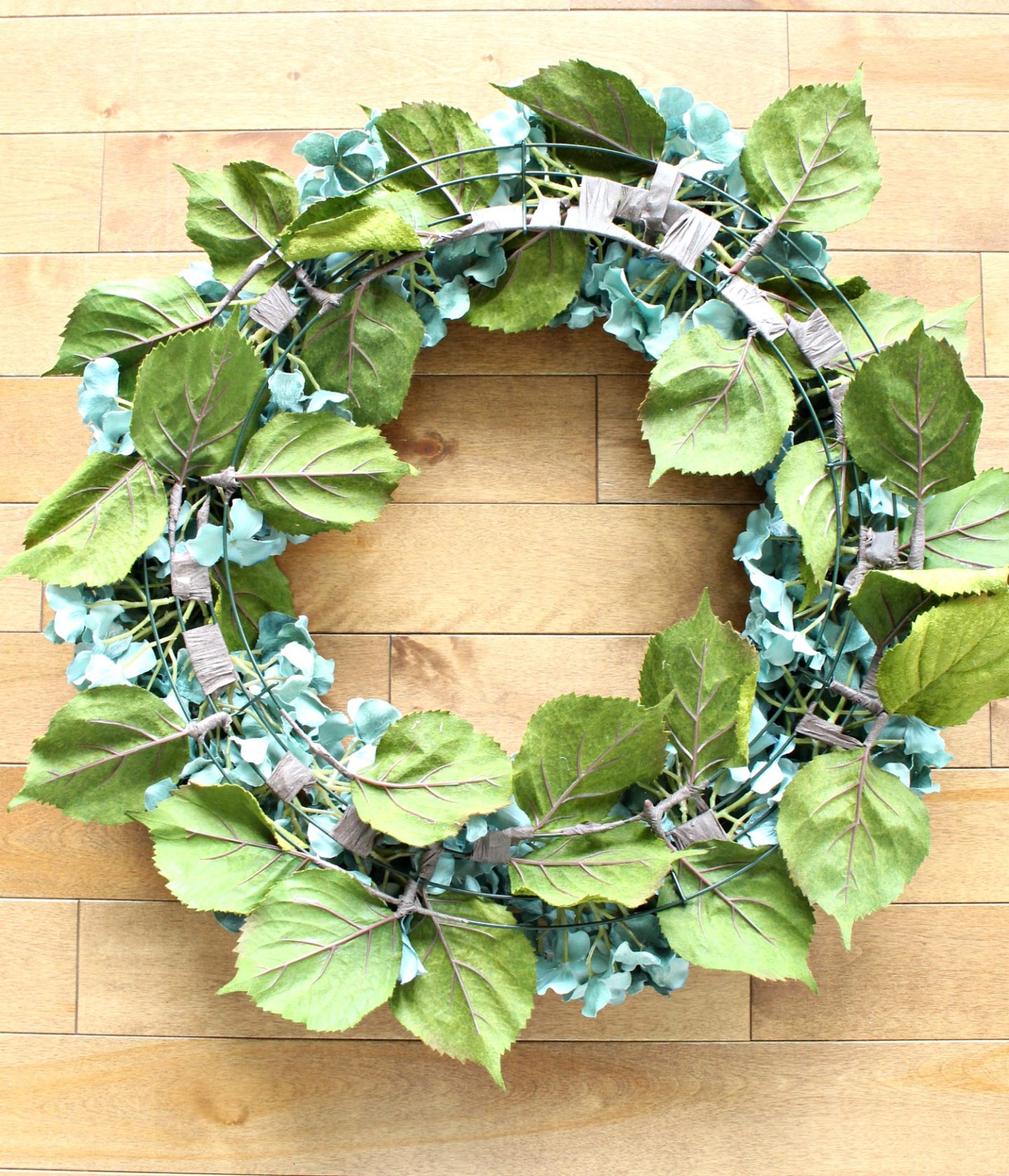 How to Use Floral Tape:
If you've never used this floral tape before, you stretch and wrap it, which activates its stickiness. It's very thin, but also super sturdy. To use it, I just held the stem of the leaf, or the back of my bloom, against the wire and wrapped the tape around the stem and the wire frame, securing it in place. I wrapped it at least six times and then pressed the end of the floral tape down – stretched and pressed – to secure the ends. If you're wondering: yes, this floral tape is suitable for outdoor use!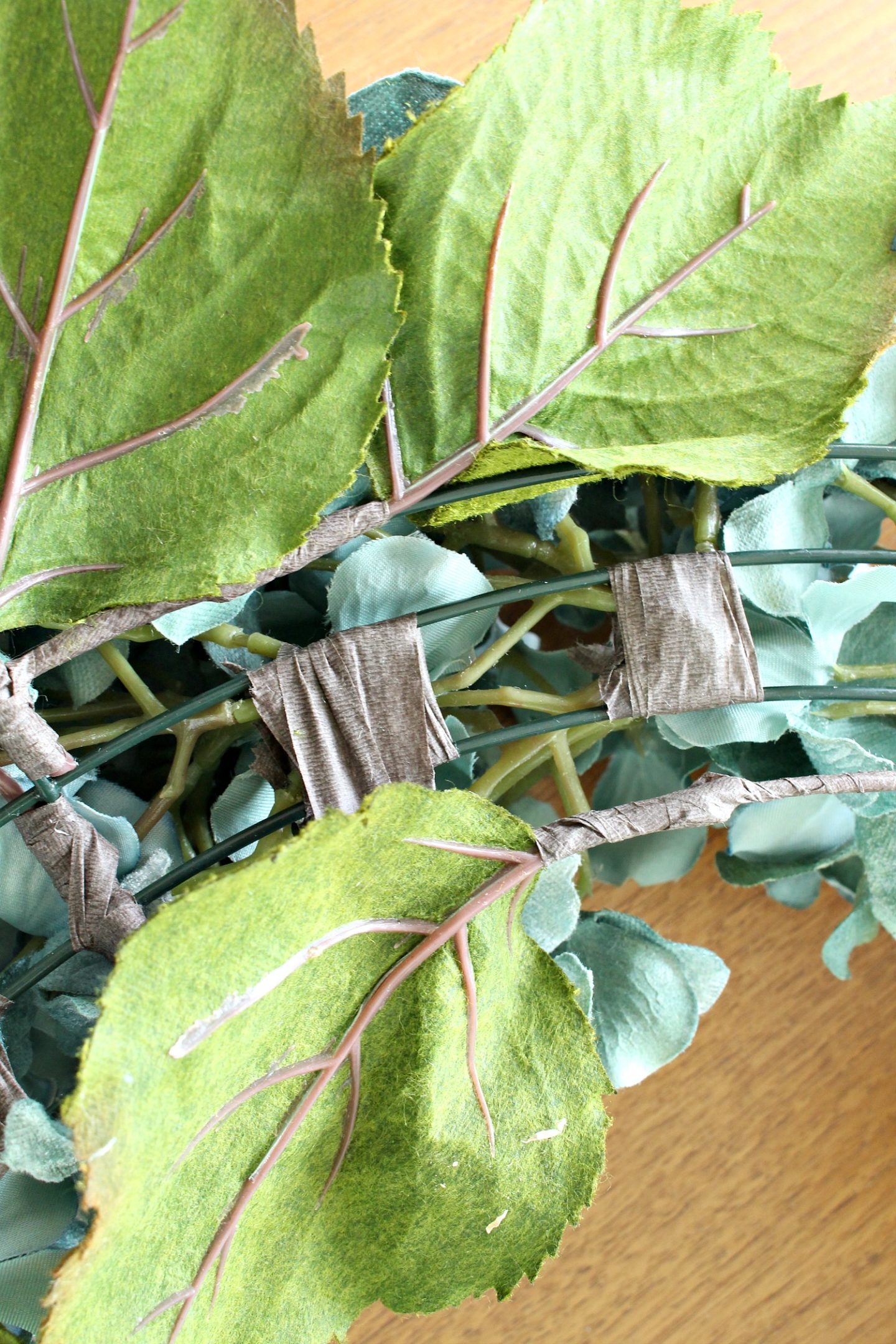 My Finished DIY Hydrangea Wreath
That's it! I promised this was a super easy DIY hydrangea wreath to make!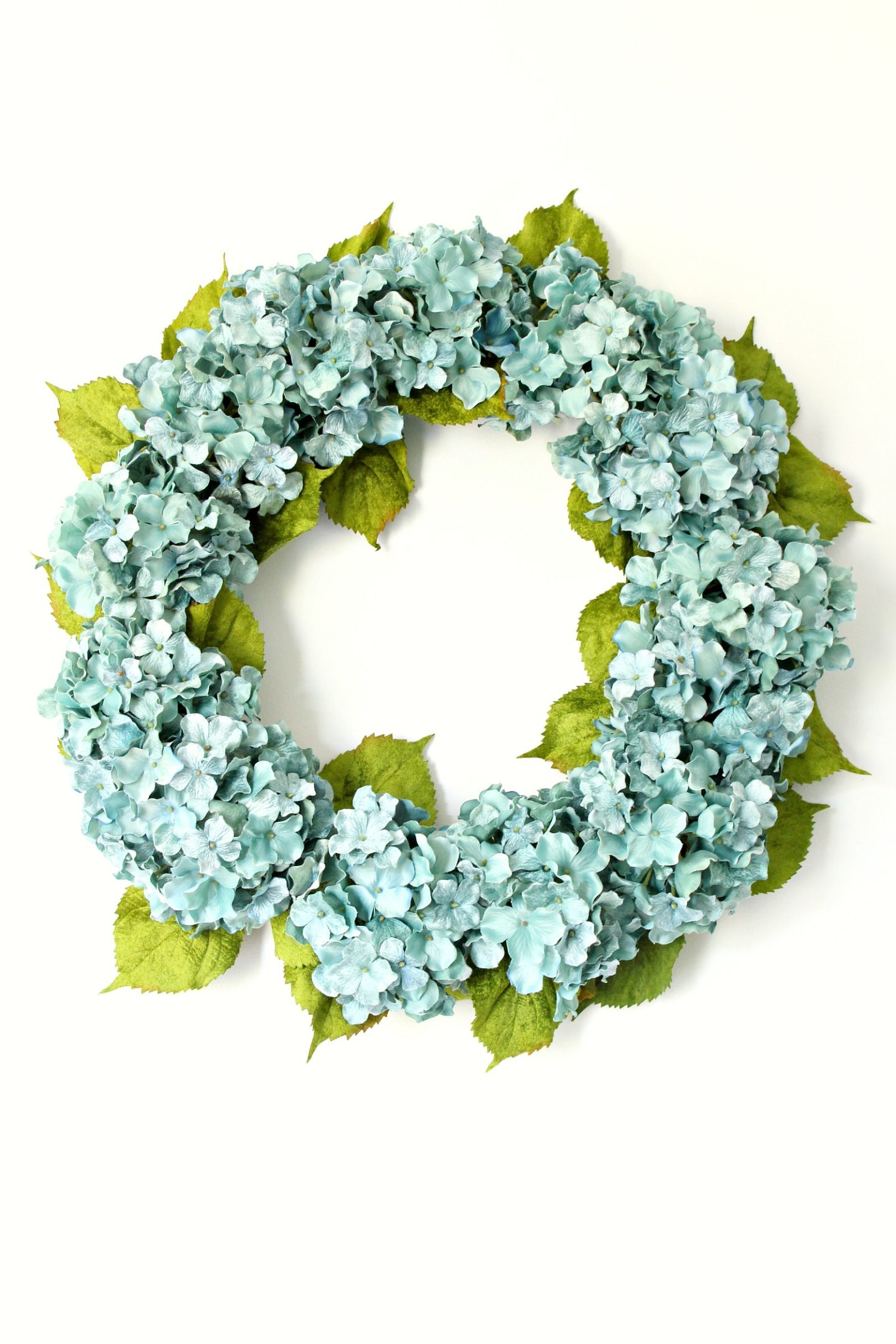 The soft color of these faux hydrangea flowers is so pretty against my aqua door! In real life, in the sunlight, the velvet just shimmers and looks so gorgeous. The greenery from the leaves adds some interest – I could have skipped them, but they were too pretty not to use and they filled the wreath out beautifully. Plus I love a little pop of green with all this blue and aqua.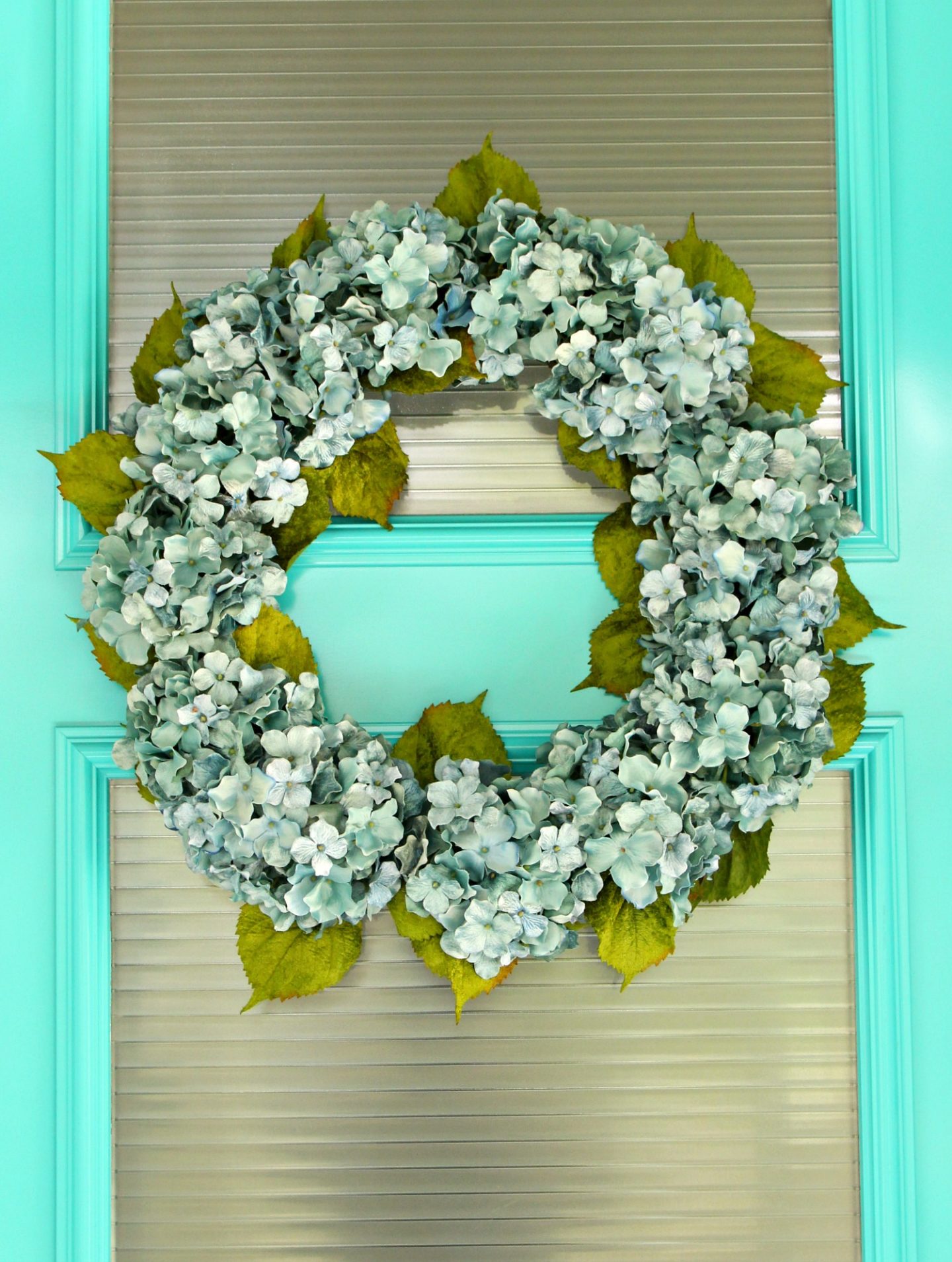 Here are a few detail photos – I am loving this easy DIY hydrangea wreath! I'm so happy I finally tackled this hydrangea wreath DIY project.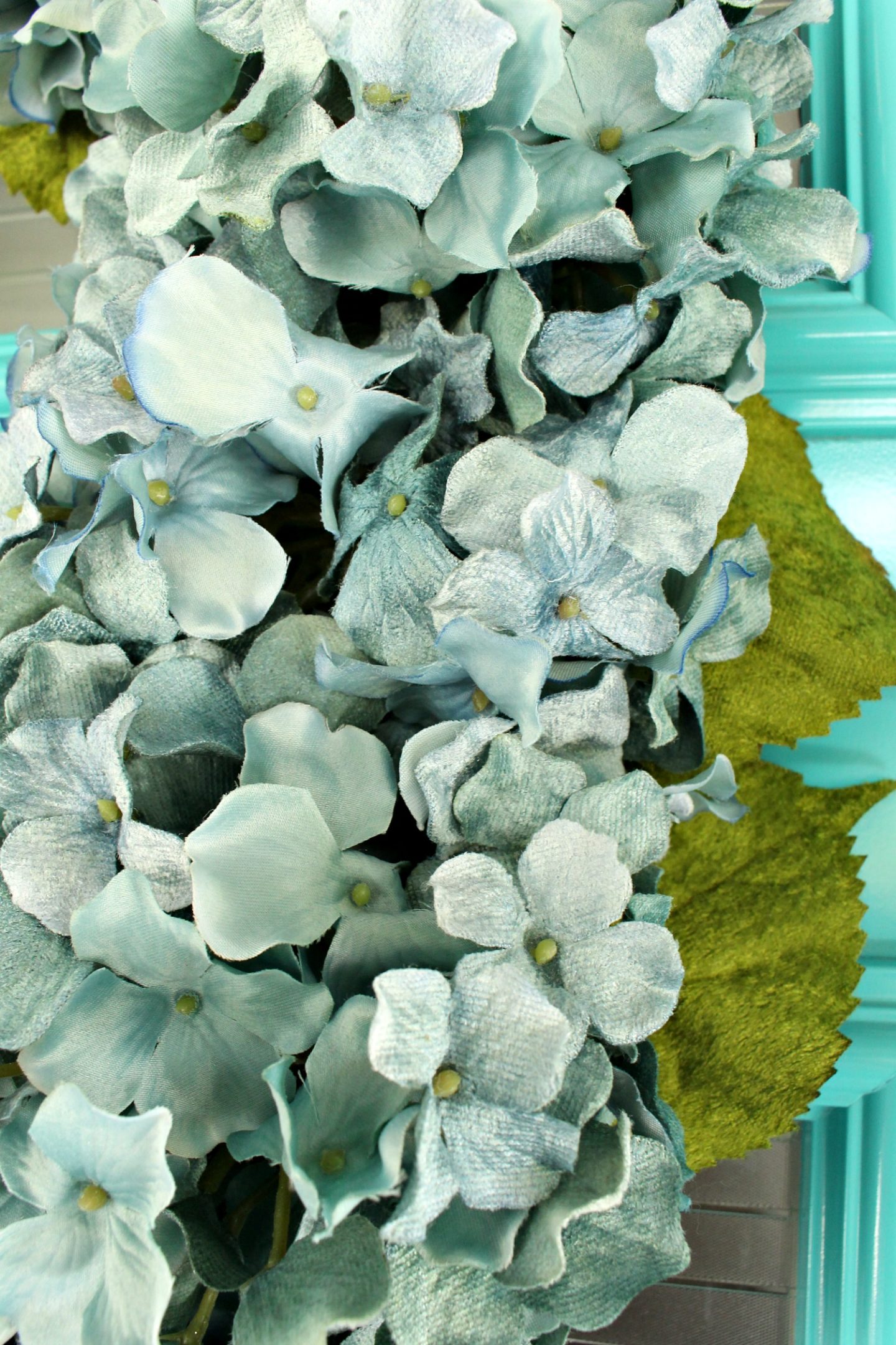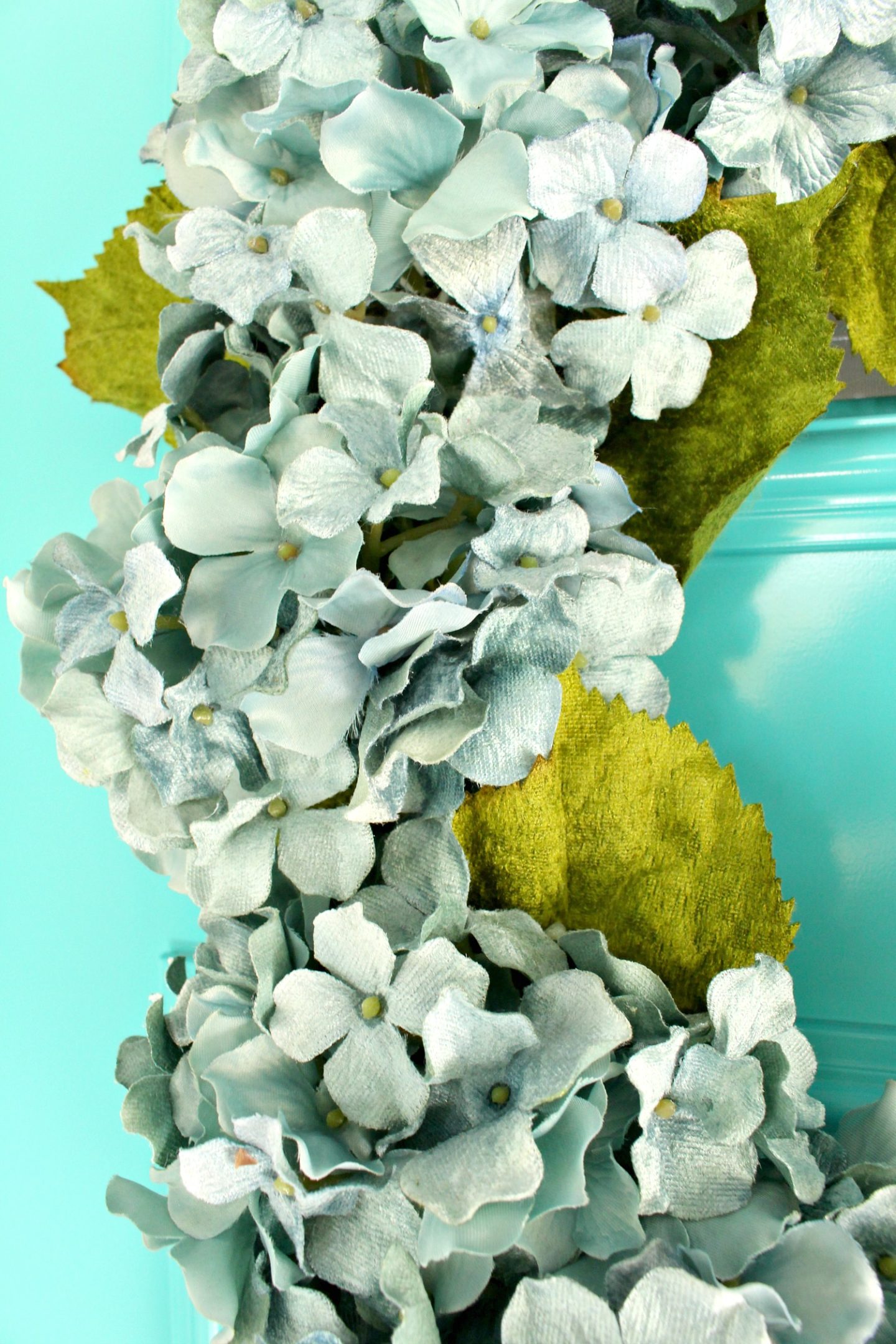 The above photos were taken on the front door and these are on the bunkie door – same paint color, but the bunkie door gets way more sunlight so it's more difficult to capture the color accurately.
I hope you liked this easy tutorial for how to make a hydrangea wreath! I'm so excited for the warm weather and to finally see things bloom and grow. The lilacs have little green buds and the grass is struggling to grow a little too. We've had some gloriously warm days so we've been building garden beds so I can plant – hopefully next weekend! There are only a few teeny tiny patches of snow left (lol), under some tress, so I can say that winter is finally – FINALLY – officially behind us! Bring on SUMMER!!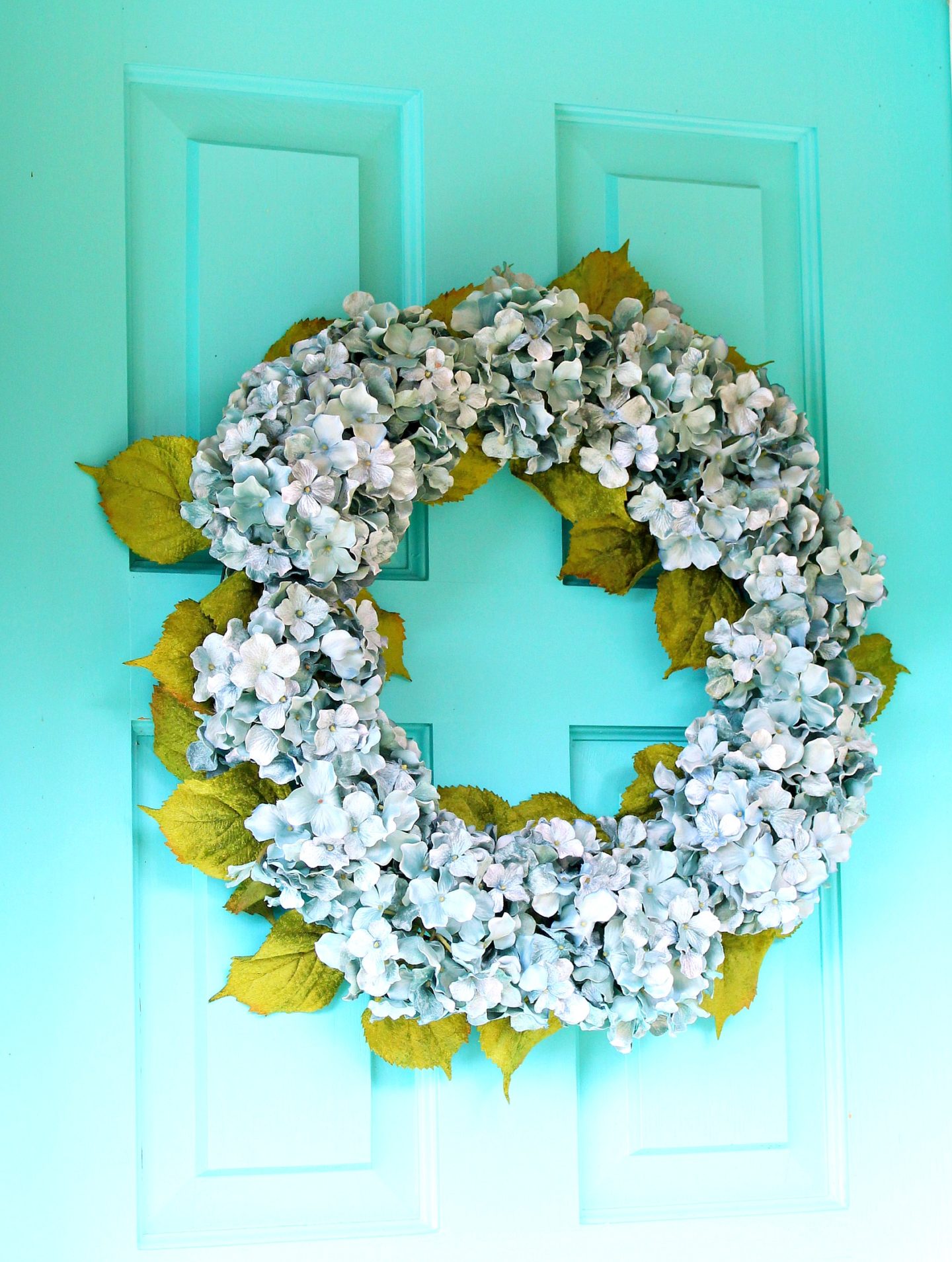 Don't Forget to Pin for Later:
Today I'm joined by some of my blogging friends who are also sharing their summer wreath ideas! Just click the links below the images to be taken to their post…
DIY Dollar Store Lemon Wreath with Ferns at The Happy Housie
Blue Hydrangea Wreath at The Tattered Pew
DIY White Rose & Eucalyptus Wreath for Summer at Modern Glam
Summer Basket Wreath at Clean & Scentsible
Swiss Cross Door Basket at Cassie Bustamante
Foraged Wreath at Life is a Party
Minimalist Modern Summer Hoop Wreath at This is Simplicite
DIY Hydrangea Wreath at Dans le Lakehouse
Nautical Summer Cottage Wreath at Tatertots and Jello
DIY Floating Starfish Wreath at Finding Silver Pennies
DIY Easy Crafts Wreath Pillow at My 100 Year Old Home
Edible Fruit Salad Summer Wreath at My Sweet Savannah
Summer Vibes Wreath at Amidst the Chaos
Cheery Summer Yarn Wreath at a Pretty Life
Summer DIY Wreath at Joanna Anastasia
DIY Summer Wreath Idea at She Gave it a Go