I'm experimenting with some string wall art and this easy DIY macrame and driftwood wall hanging is part of that experiment.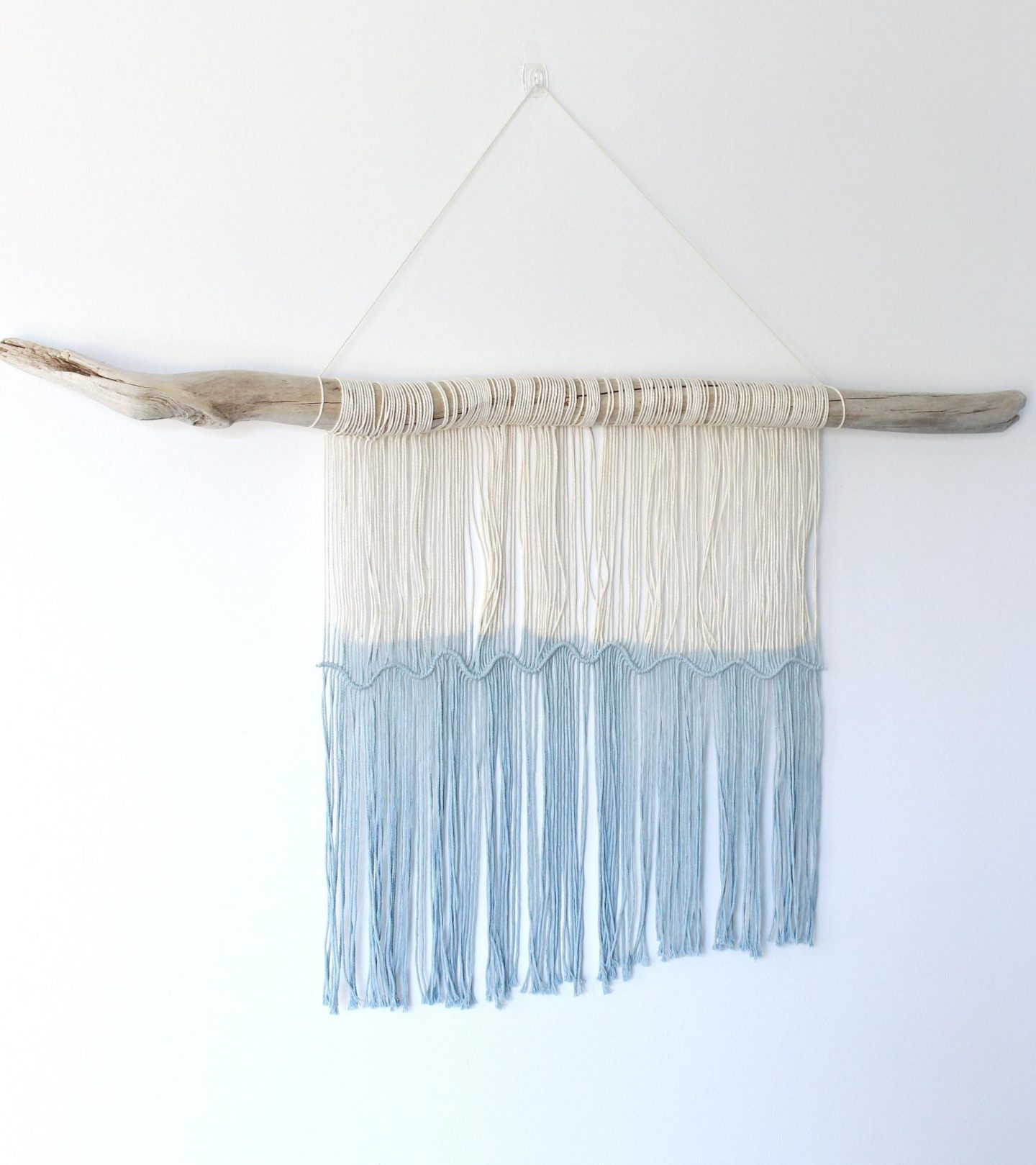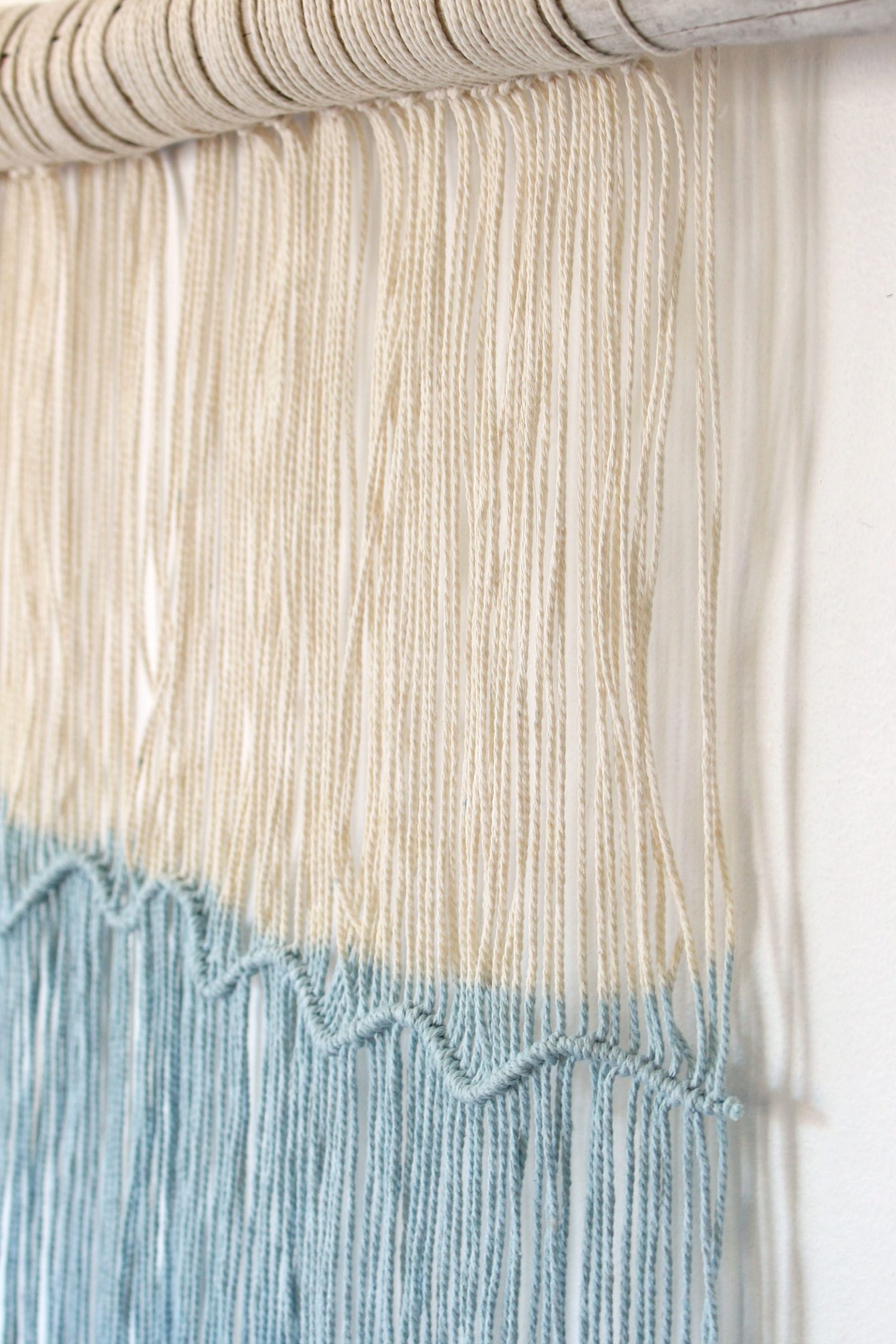 I recently saw a really cool DIY string wall hanging on Instagram that I liked a lot; it was just string, hung on a dowel, and hand dyed. I bought myself spools of the same weight of string to make my own, but then I deviated from the path. I thought using driftwood instead of dowel would create the beachier vibe I want. Lots of driftwood washes up on our shore, here on Lake Superior, but in the summer we also boat to a nearby beach where I collect more to bring home. I've been saving it for a massive sculpture but it's taking me forever to collect enough – plus I still have no idea how to make such a sculpture, lol. So my driftwood pile grows but I rarely use any of it (although I did make an easy no weave wall hanging two years ago).
Once the snow finally melted, and revealed my driftwood stash, I was really excited about this DIY string and driftwood wall hanging idea. I thought it would be the perfect way to add some summery vibes to the lakehouse walls! And help fill a blank space between the kitchen and a large painting – another painting would compete, but I thought maybe string art would add some texture and interest without drawing too much attention away from the painting? This weekend I started to create a massive version that would be installed on a diagonal, but as I got closer to completing it, I couldn't commit. Is it too boho? Too beachy? Here's hubby, patiently holding it up so I can show you: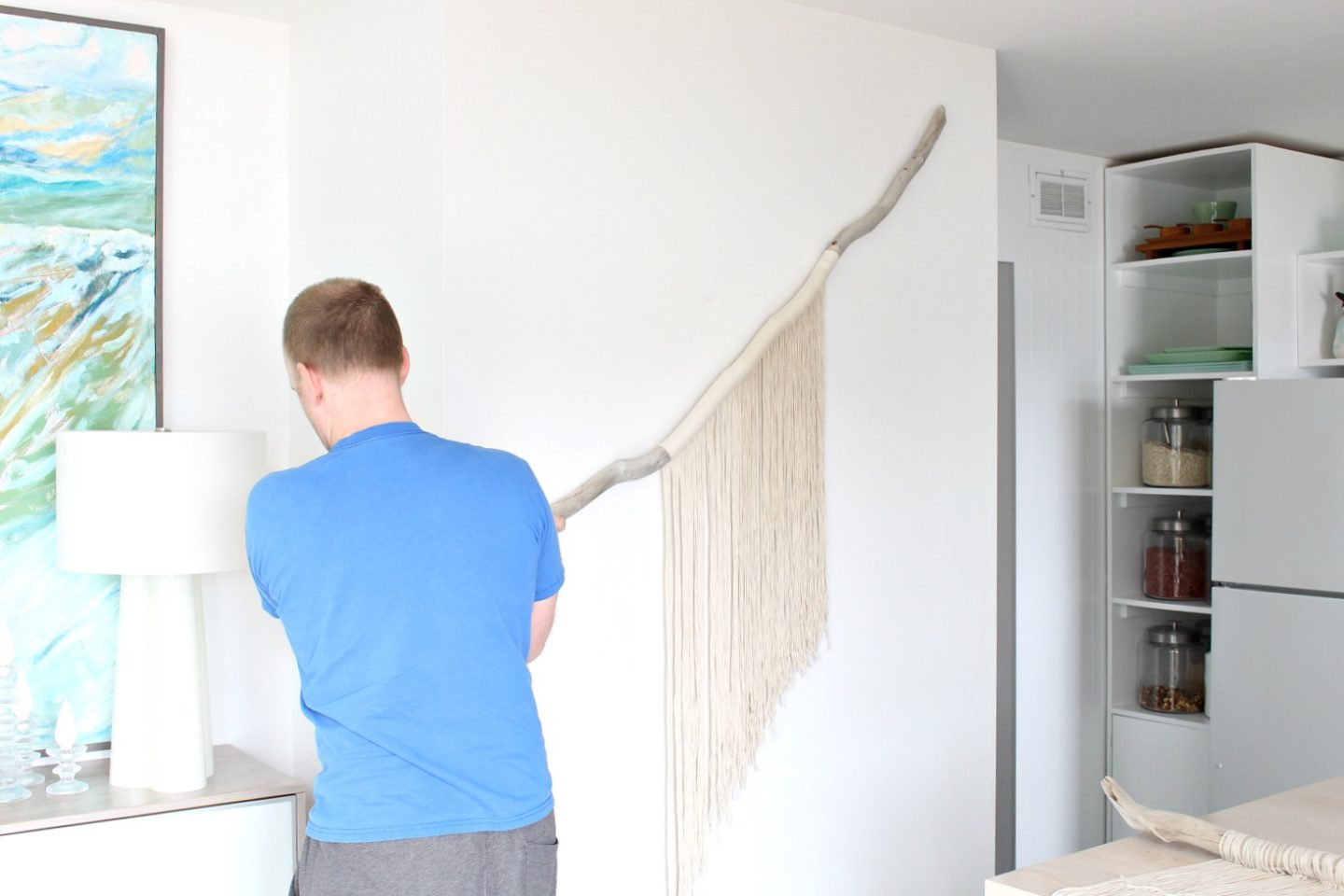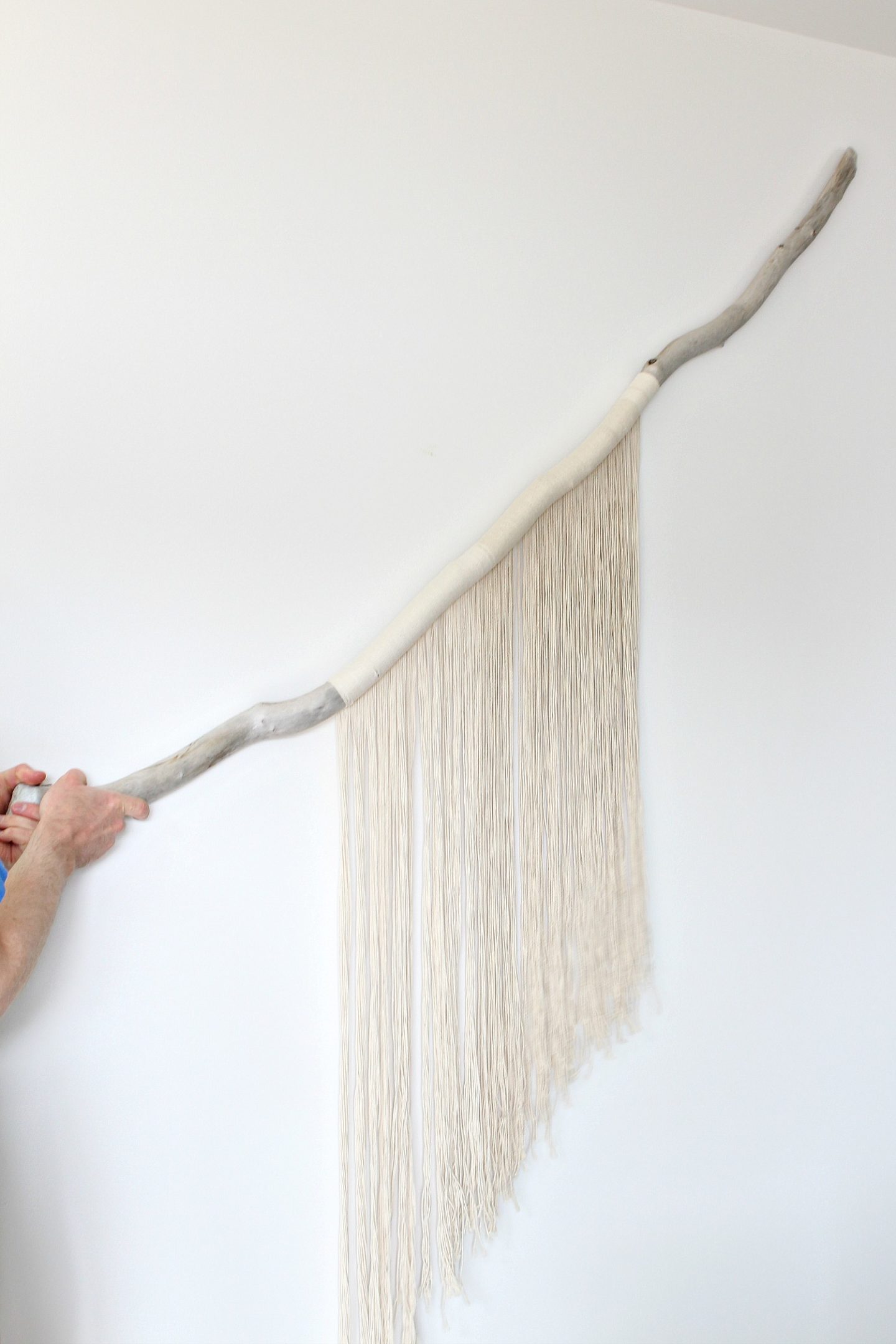 My giant driftwood and string wall hanging also didn't hang the way I envisioned, so I ran back out to my driftwood heap and grabbed a smaller piece to do some experimenting with knots. I used a super simple, basic macrame knot to make a "wave" pattern through the string. That helped the string lie a bit more controlled (otherwise it wants to twist), but I did keep the knots loose and a bit messy to keep the wall hanging looking effortless and beachy. Then I dip dyed it for fun. I like how it turned out, but I'm not 100% sure if it's "me" yet – the dip dye and knots seem to lend it a more boho vibe, so I'm going to keep experimenting and maybe revisit my plans. It's definitely too small for where it's hanging right now, but I wanted to see it in the space so I can ponder some more.
I'm still stuck on creating a HUGE piece, but can't decide if I like the plain string or if I want to improve my macrame skills and make a bigger knotted piece. I'm leaning toward ditching the driftwood and going back to the dowel idea, but building a frame for it and staining it grey so it still looks a bit coastal but maybe not so organic… This is the part of the creative process I love to share: how an idea is formed and reshaped and eventually snowballs into something really cool (or, sometimes not so cool – I share my failures too, haha). But this is how my brain works as I experiment and tease out an idea.
I wanted to share this easy DIY macrame and driftwood wall hanging version because this one macrame knot is super easy to do and if you're on the fence about macrame – or can't commit to the many hours it takes to make a big piece – this might help you dip your toe into this craft. With summer around the corner, it's the perfect time to scavenge for the perfect piece of driftwood (or branch) and spend a lazy weekend on the deck, knotting and dyeing the string.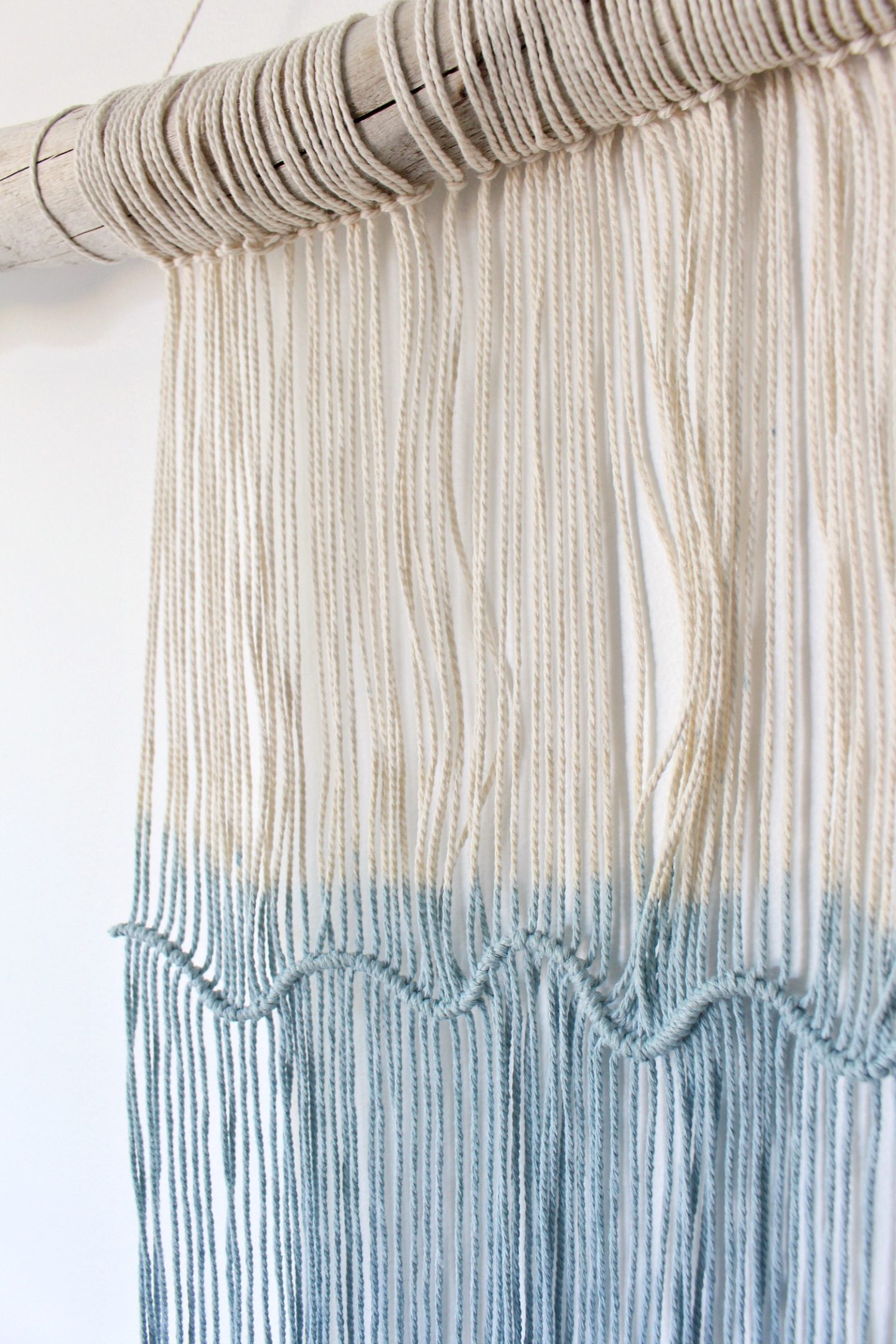 Supplies:
Cotton Cord/String (I used KingCord medium weight cotton cord – I used less than 250ft for this project)
Driftwood or branch or dowel
Dye (optional and any kind will work, cotton takes dye well and this won't be washed)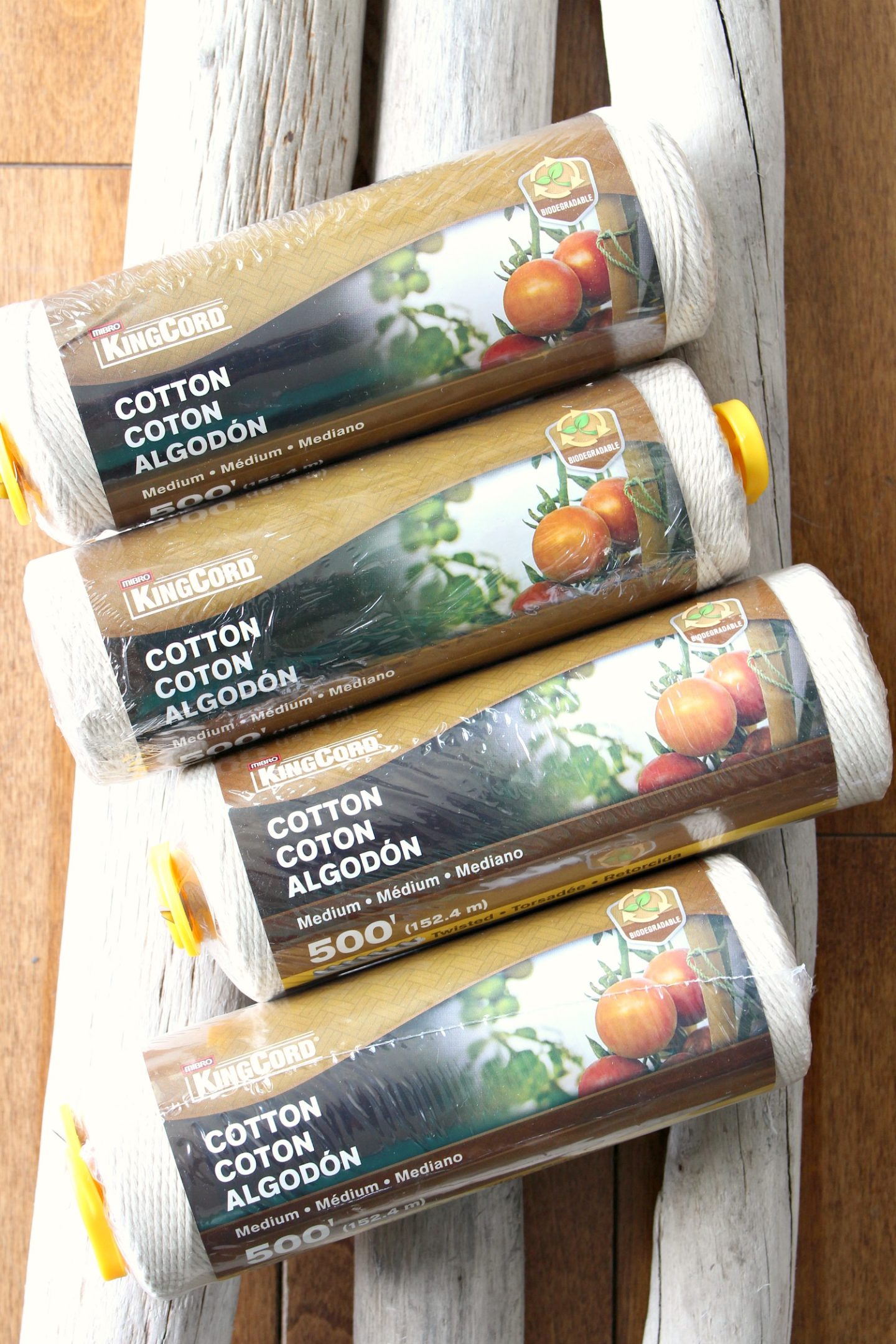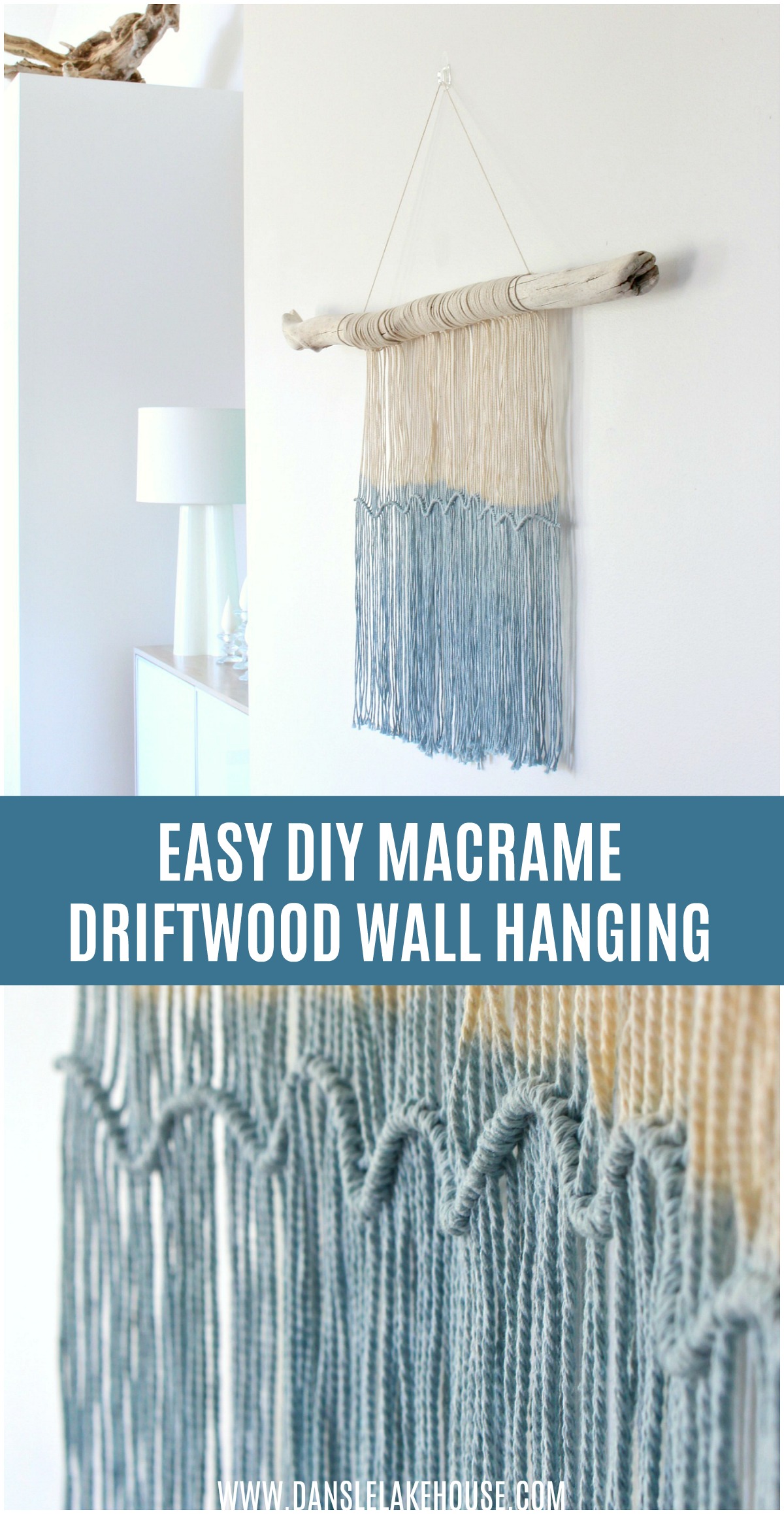 How to Make This Easy DIY Macrame and Driftwood Wall Hanging:
Loop the string around the driftwood. It's up to you how long to cut the string – play around with it and then keep one length of string set aside so you can use it as a template to cut more. Ultimately you want to cut it a bit more than twice as long as you want it to hang. Then take your length of string and fold it in half. Wrap the fold around your stick and thread the two ends though the loop and pull tight.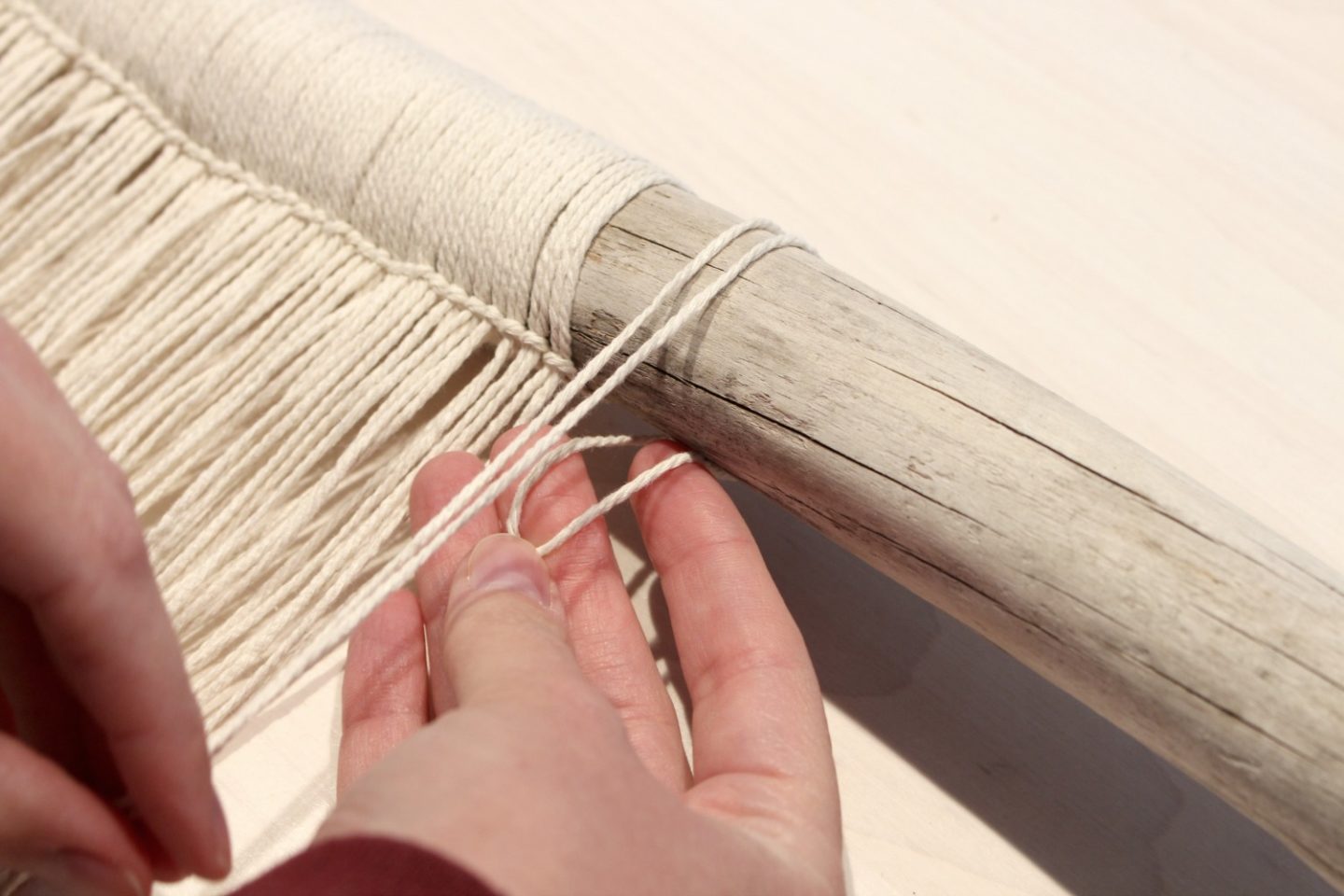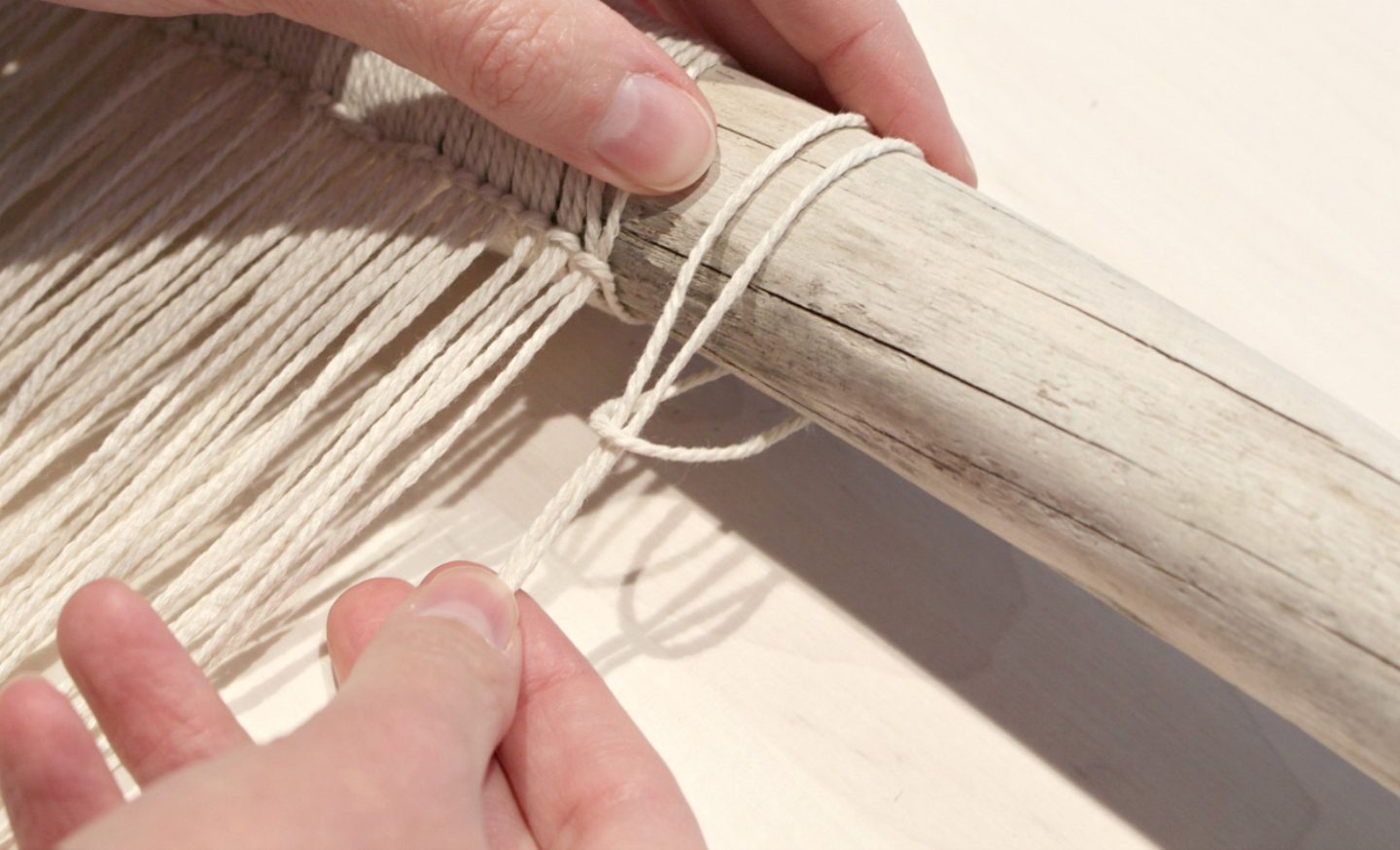 Repeat. This is what it looks like when you're done – but space your string out. I did it after, which is more difficult, so do it at this point: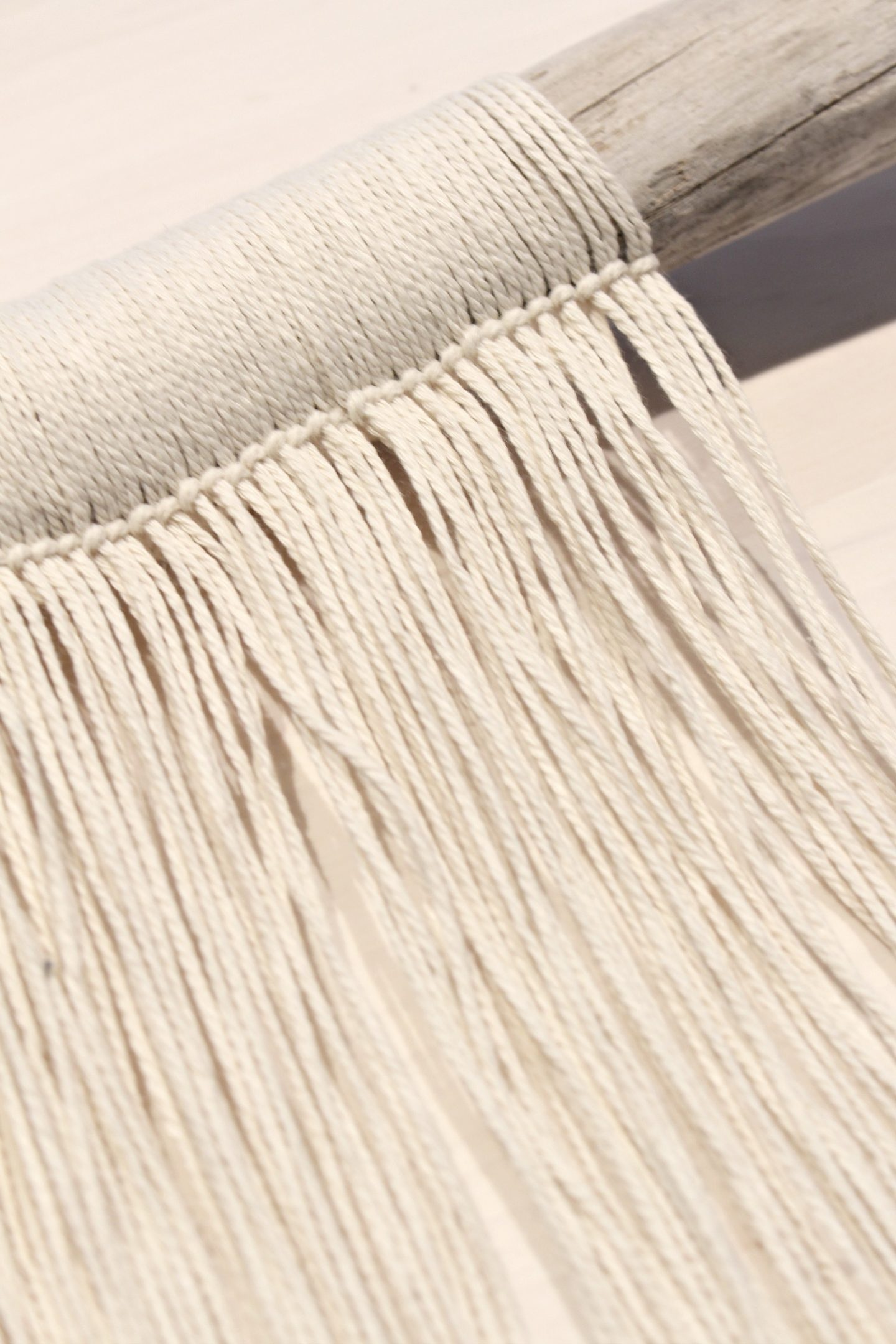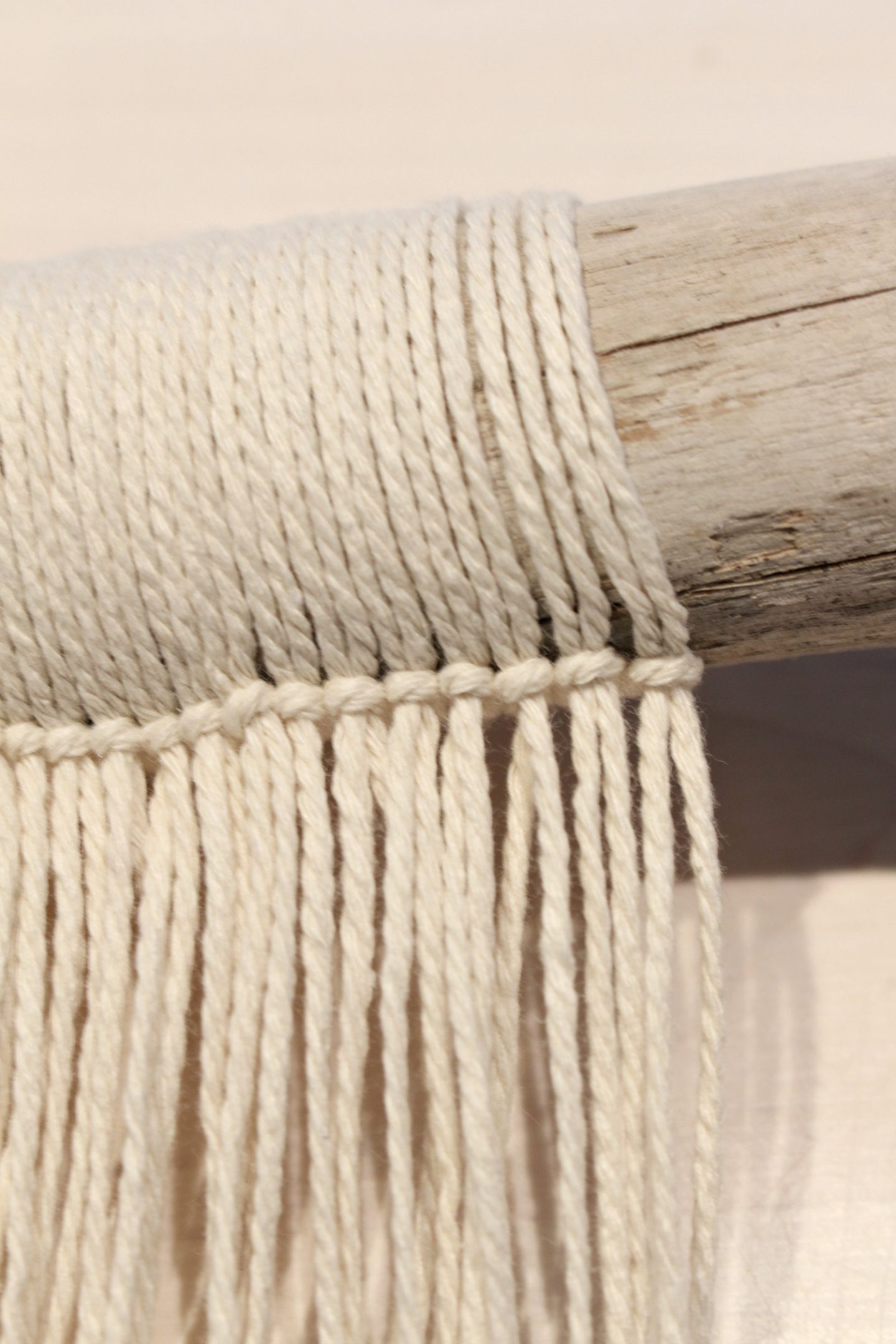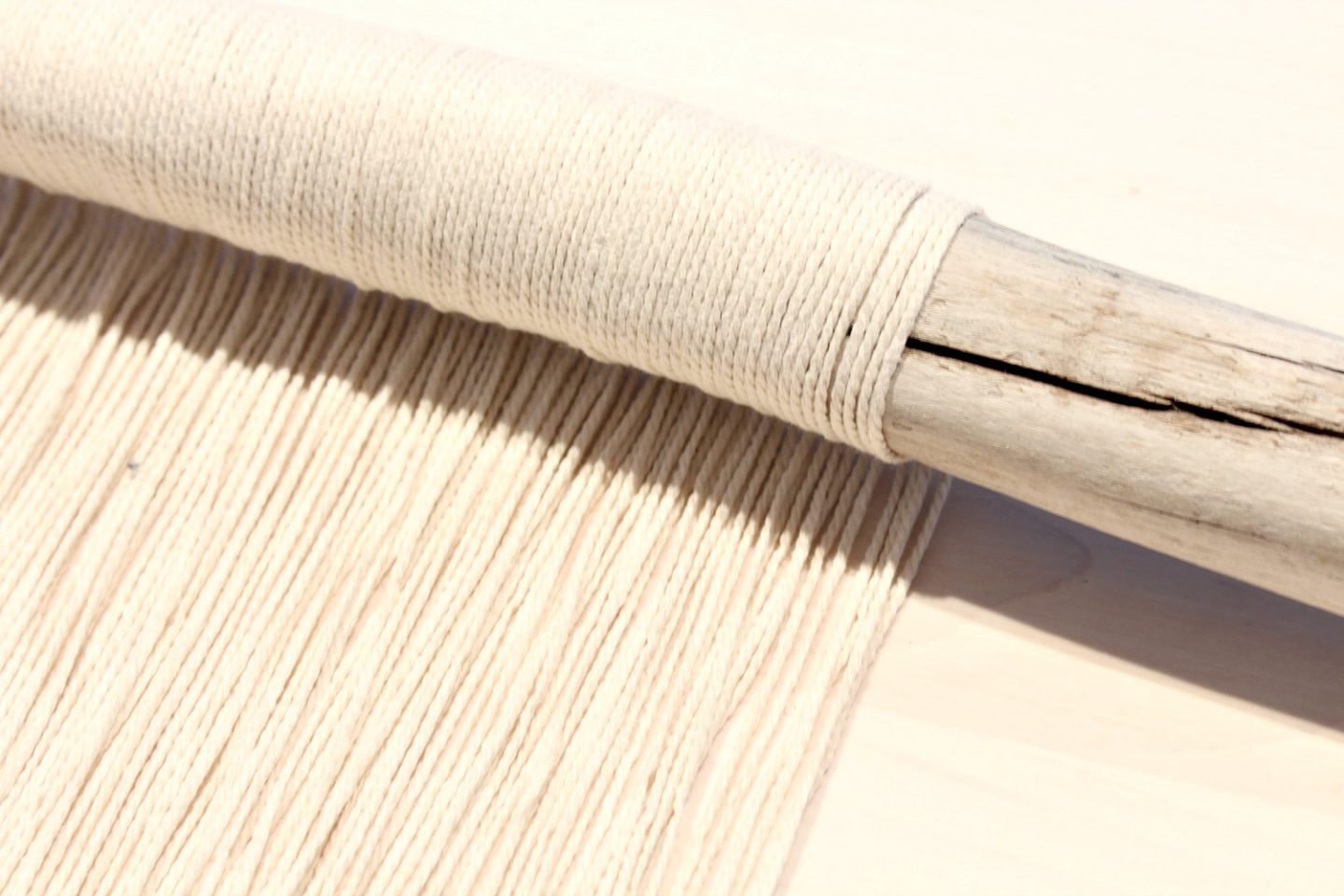 When all of my string was looped on, I cut another piece of string twice the width of the wall hanging. The way this knot works is that the vertical lengths of string are knotted around this horizontal piece as you work across the wall hanging. It's simple, but time consuming because you're knotting each individual string, one by one. If you want to Google it, the knot is called a clove hitch. There are tutorials online but I will try to describe it here (and scroll down for step-by-step photos). First, lay your horizontal piece of string on top of the vertical string pieces. Grab the end of the first vertical string and pull it over the horizontal piece and to the left of the upper portion of the same string and thread it back under the horizontal piece.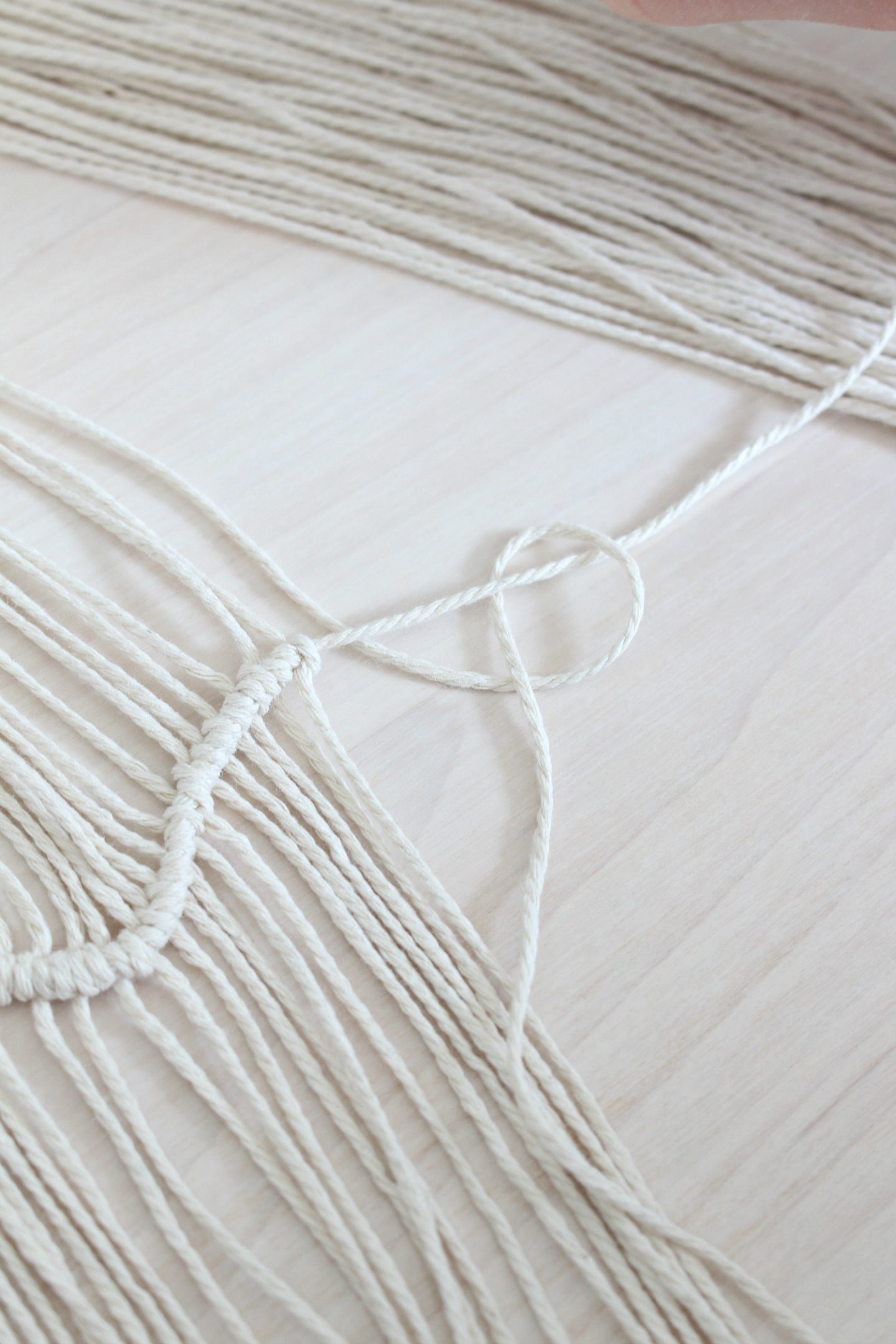 Next, take the end of the string and pull it up and over the horizontal piece again to the right of the last loop. Thread the end of the string back down towards yourself under the horizontal piece and immediately over the first loop you made with the vertical string.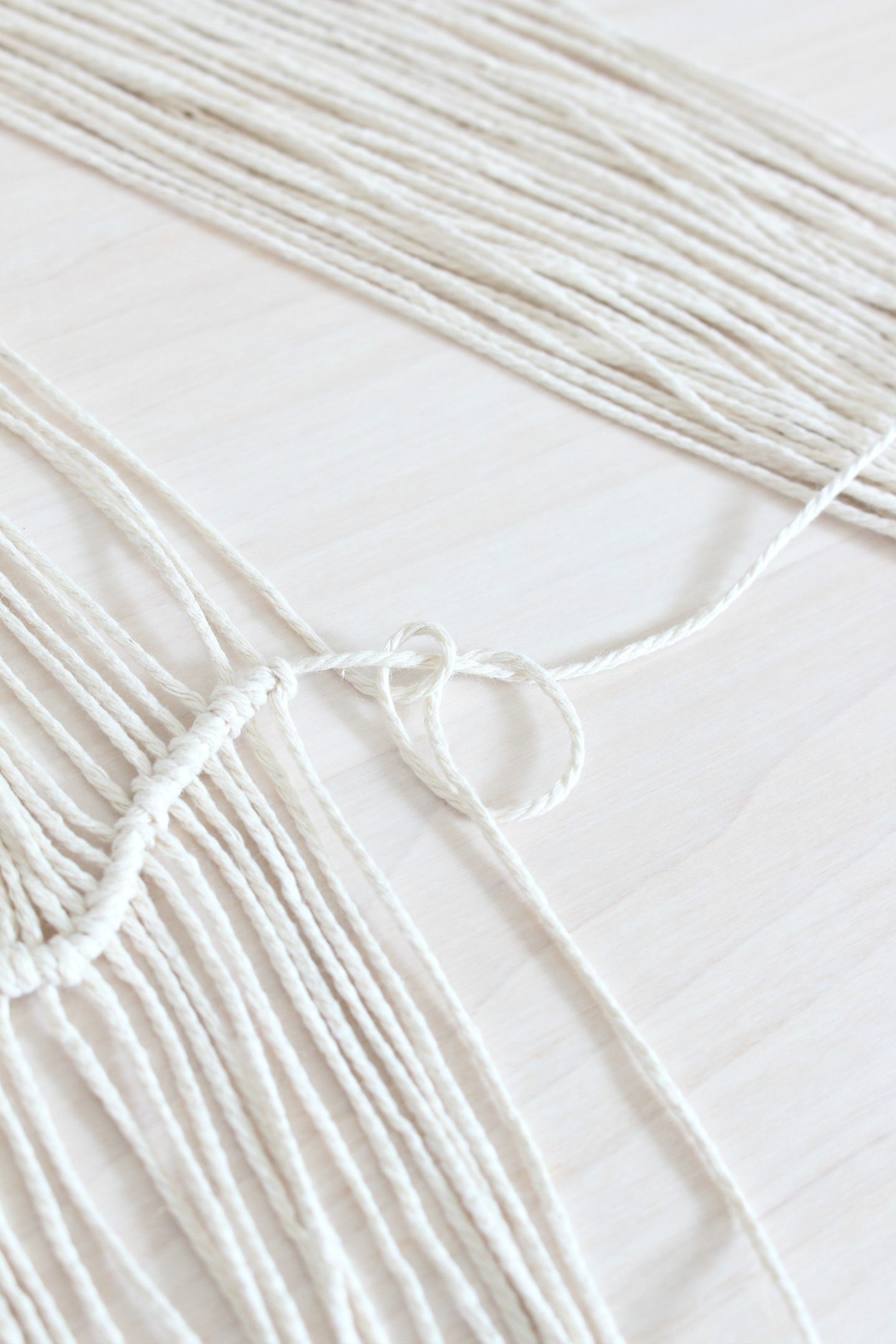 Then pull it tight and repeat!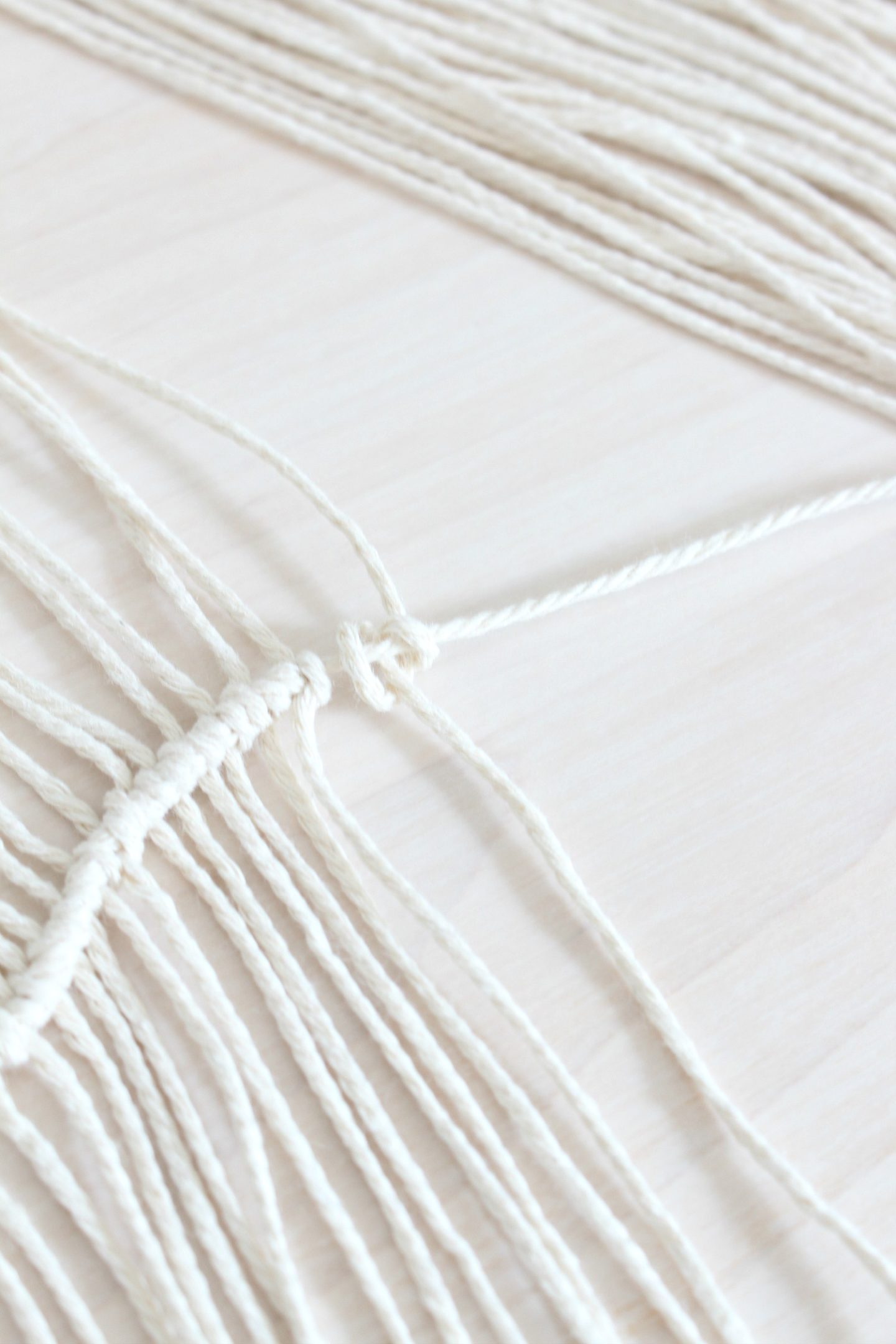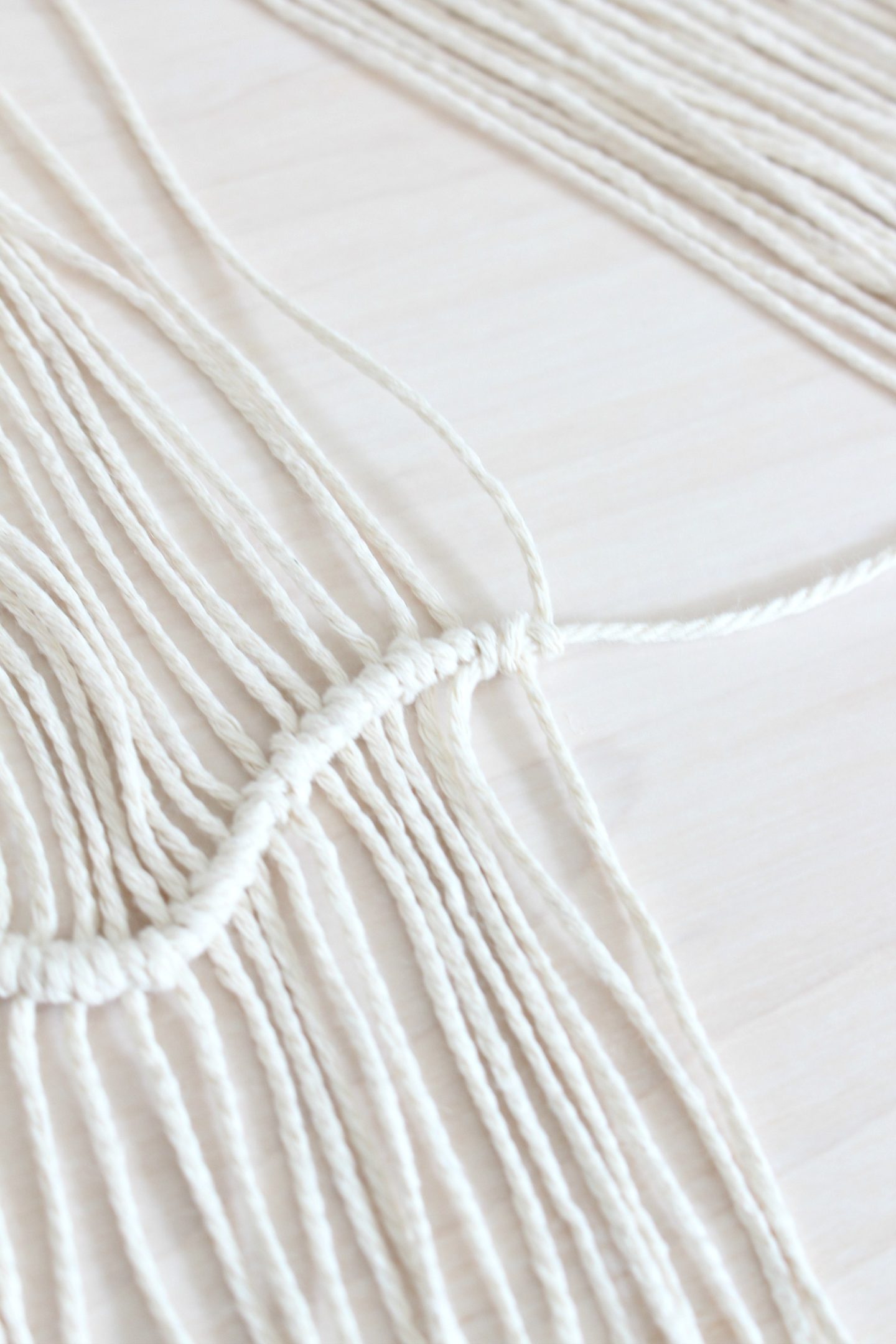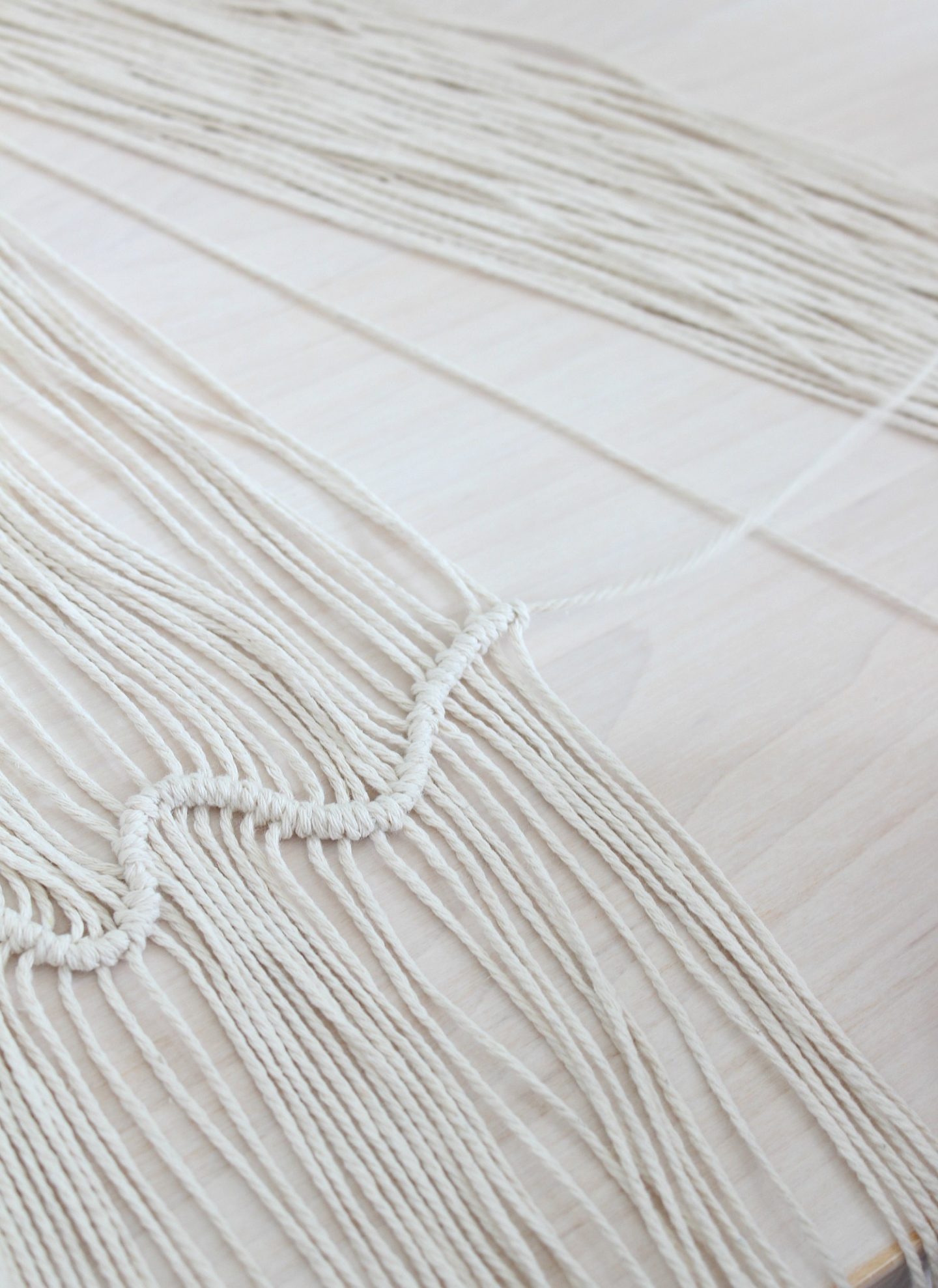 To create the wave, move the position of the horizontal piece – where on the vertical string the knot is tightened – each time, shifting it up and down: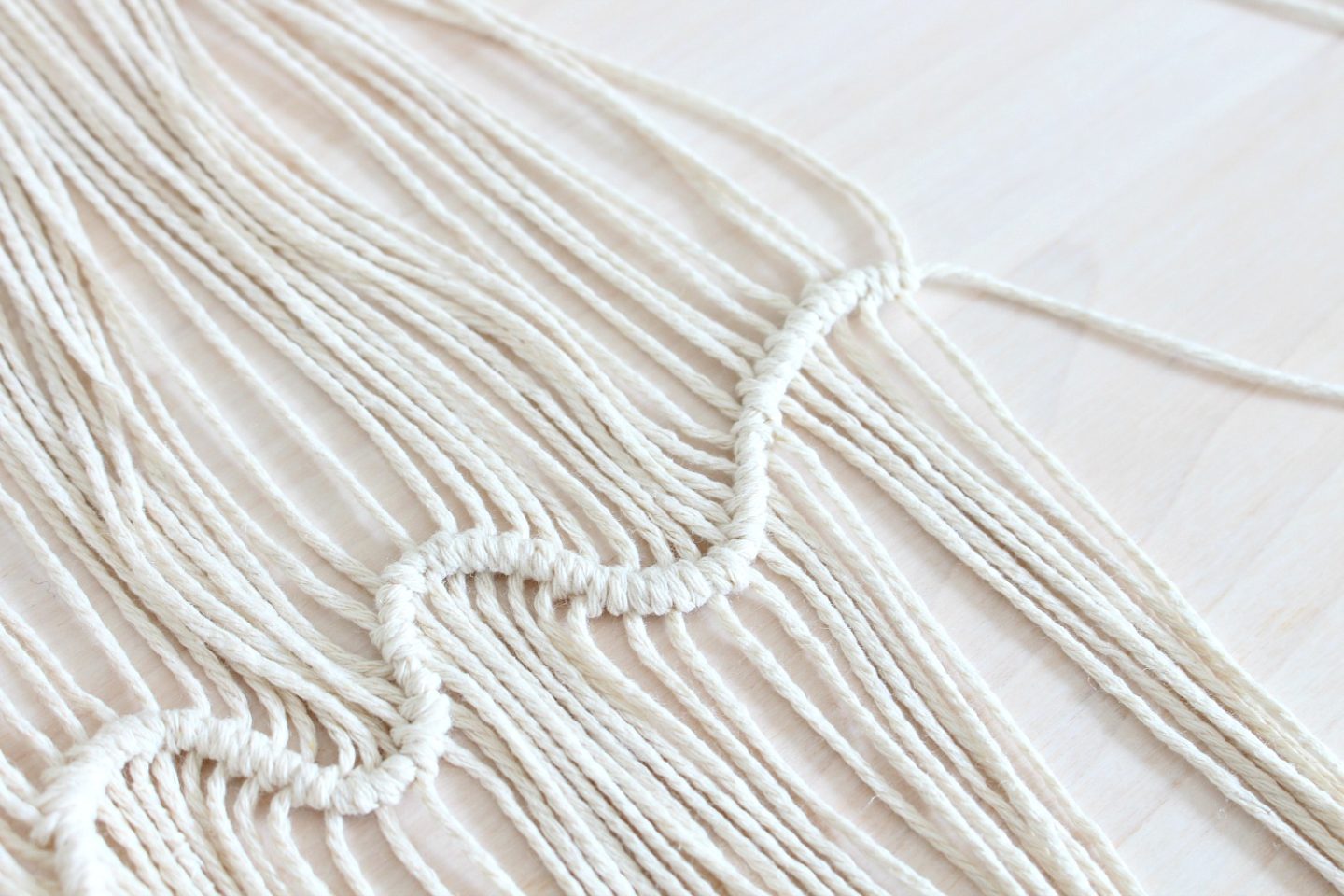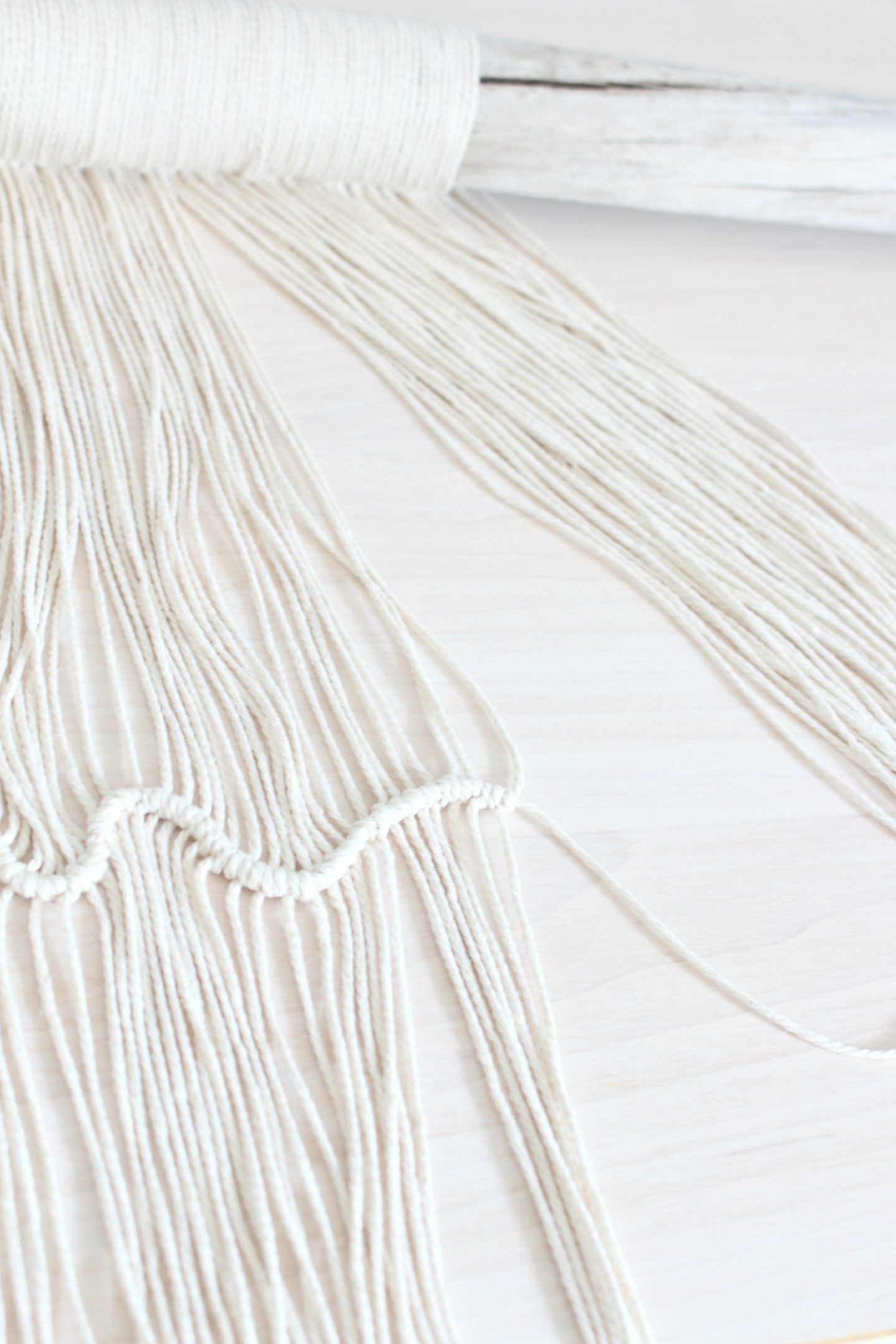 When I was done, my easy DIY macrame and driftwood wall hanging looked a little wonky so I spent a bit of time adjusting the spacing of the strings. To complete it, I just double knotted the horizontal string and trimmed – but a better idea might have been to start with an extra long piece, and then let the ends hang with the other vertical string pieces:
After completing the knots I trimmed it but I trimmed it having hubby hold it level. Instead, hang it how you plan to hang it on the wall and then trim it – you'll see in my "after" photos it's not as even as it was when I first trimmed it and that's because of how it's hanging.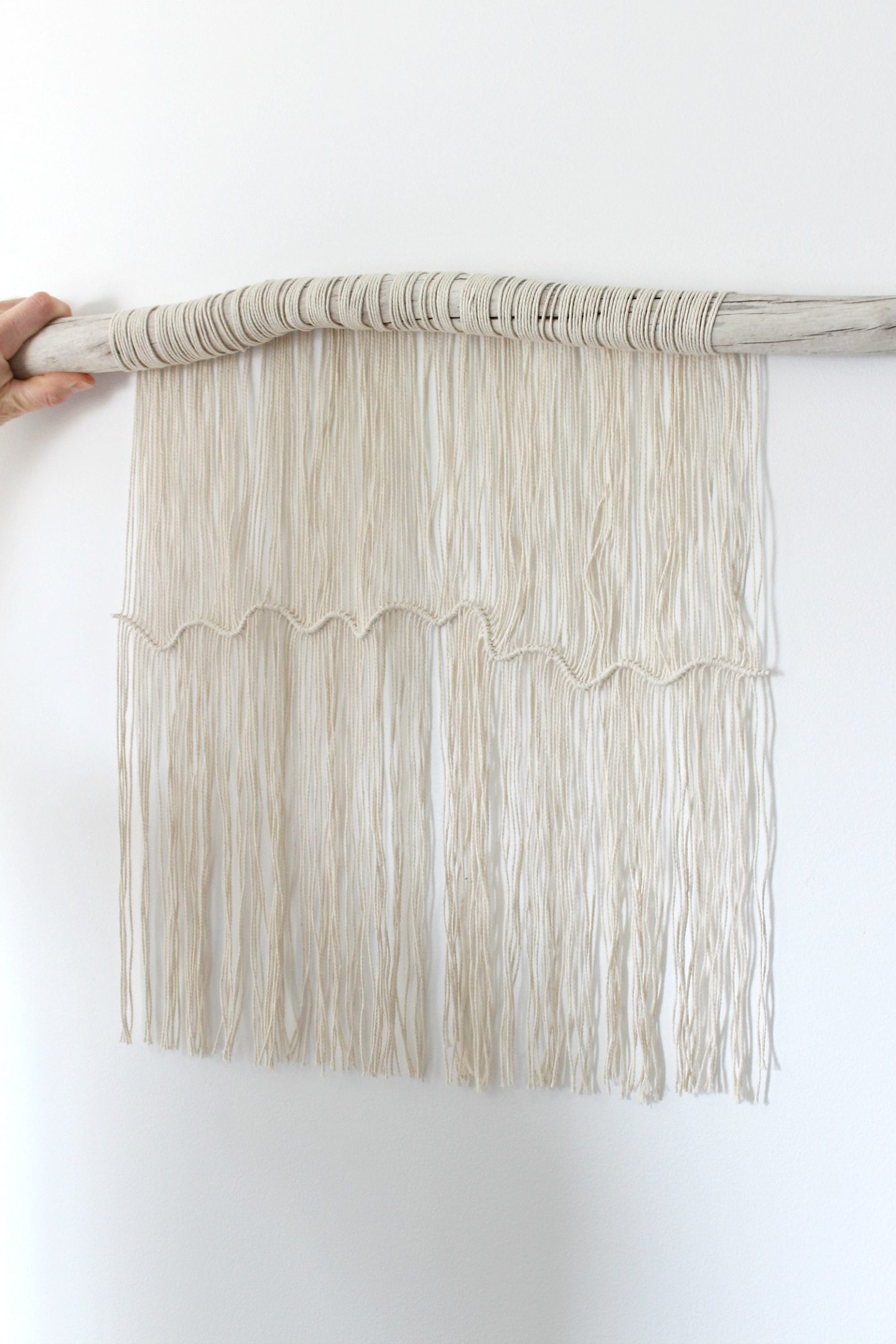 Dip dyeing is optional – I just mixed up a dye bath with leftover dye, wet the bottom of the string and dipped for about 10 minutes to create a light and airy dip dye.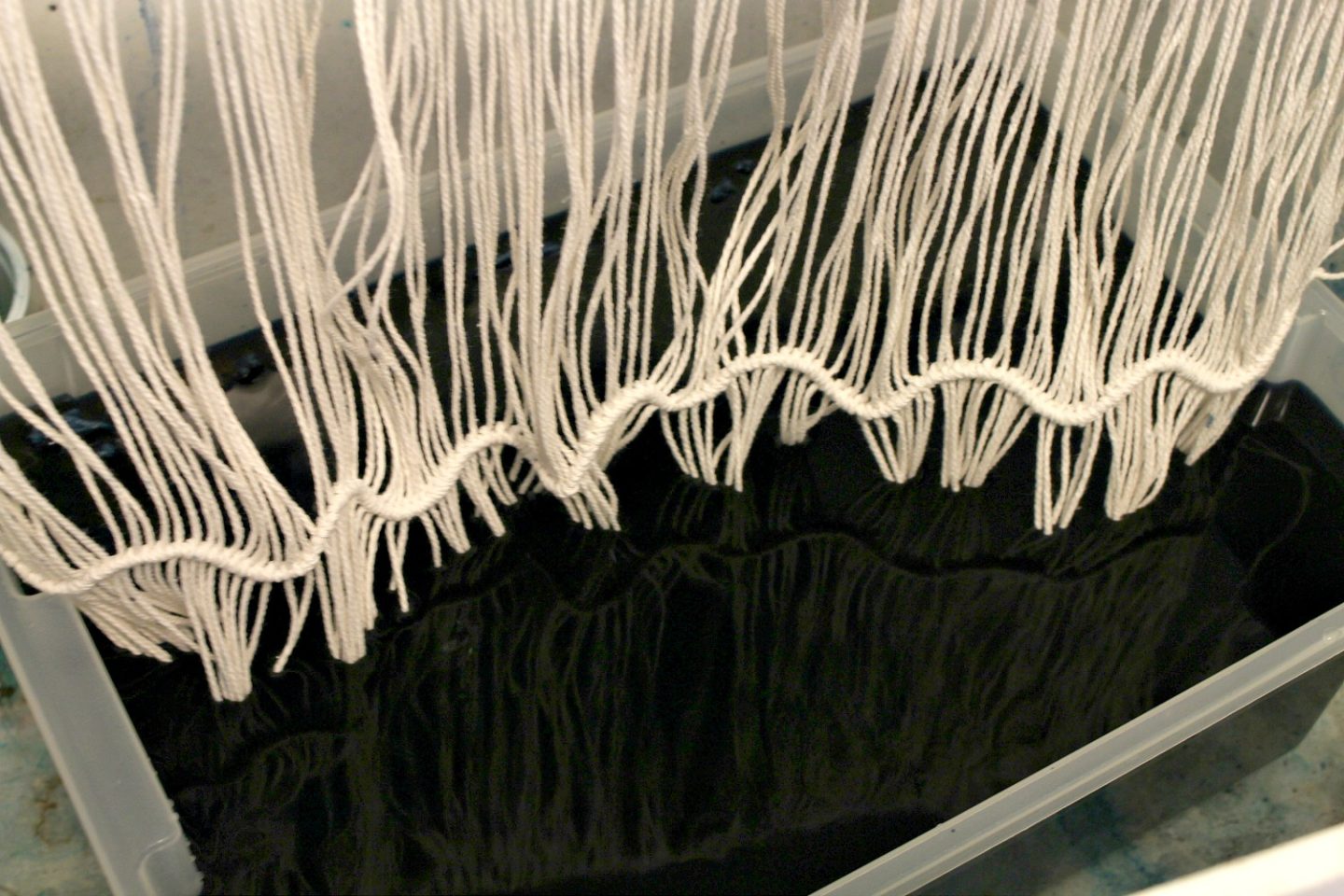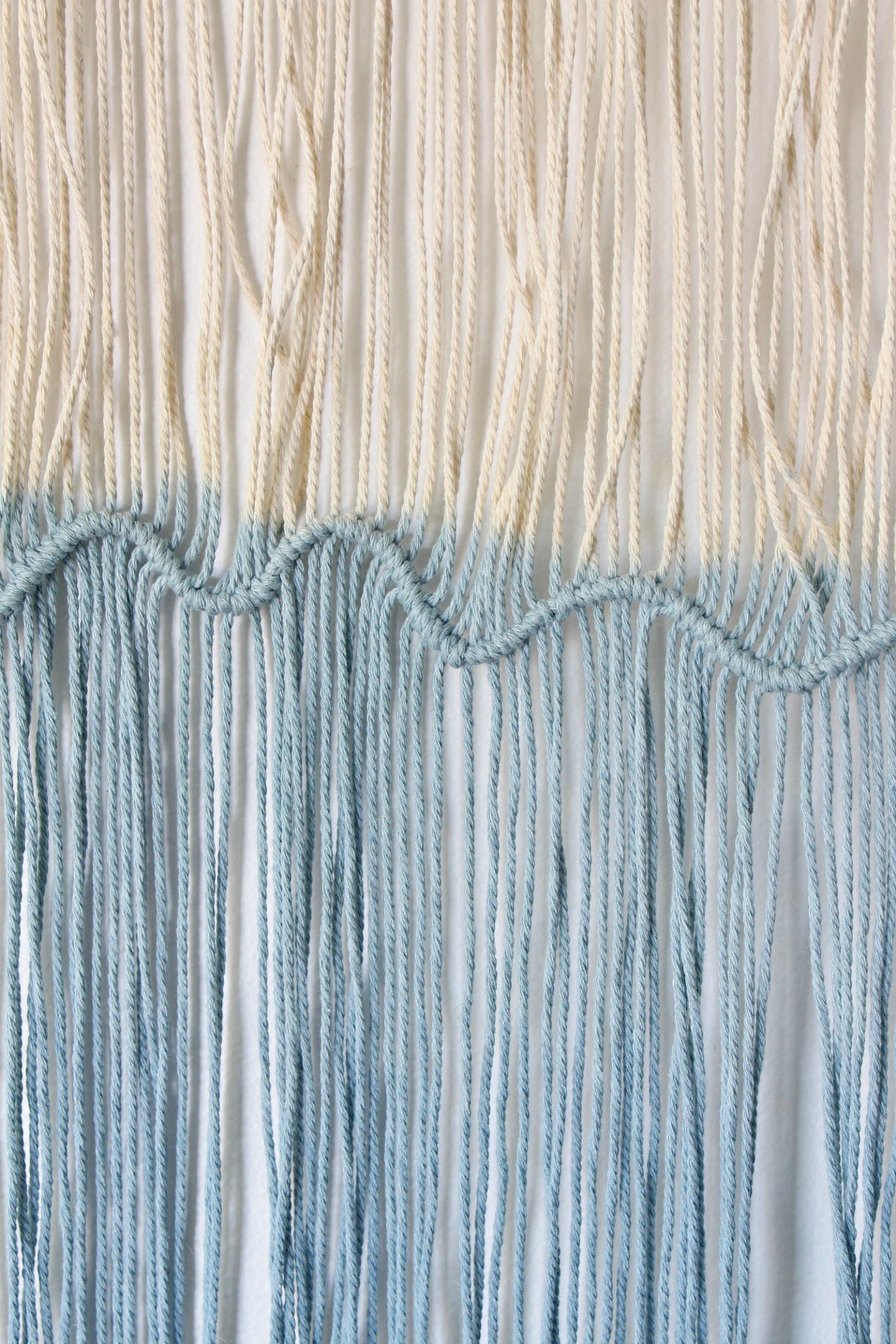 I'm going to go back and trim it again, but you have to be careful because this is like trimming your own bangs – it can quickly get to a point where it's TOO SHORT (and still lopsided, lol).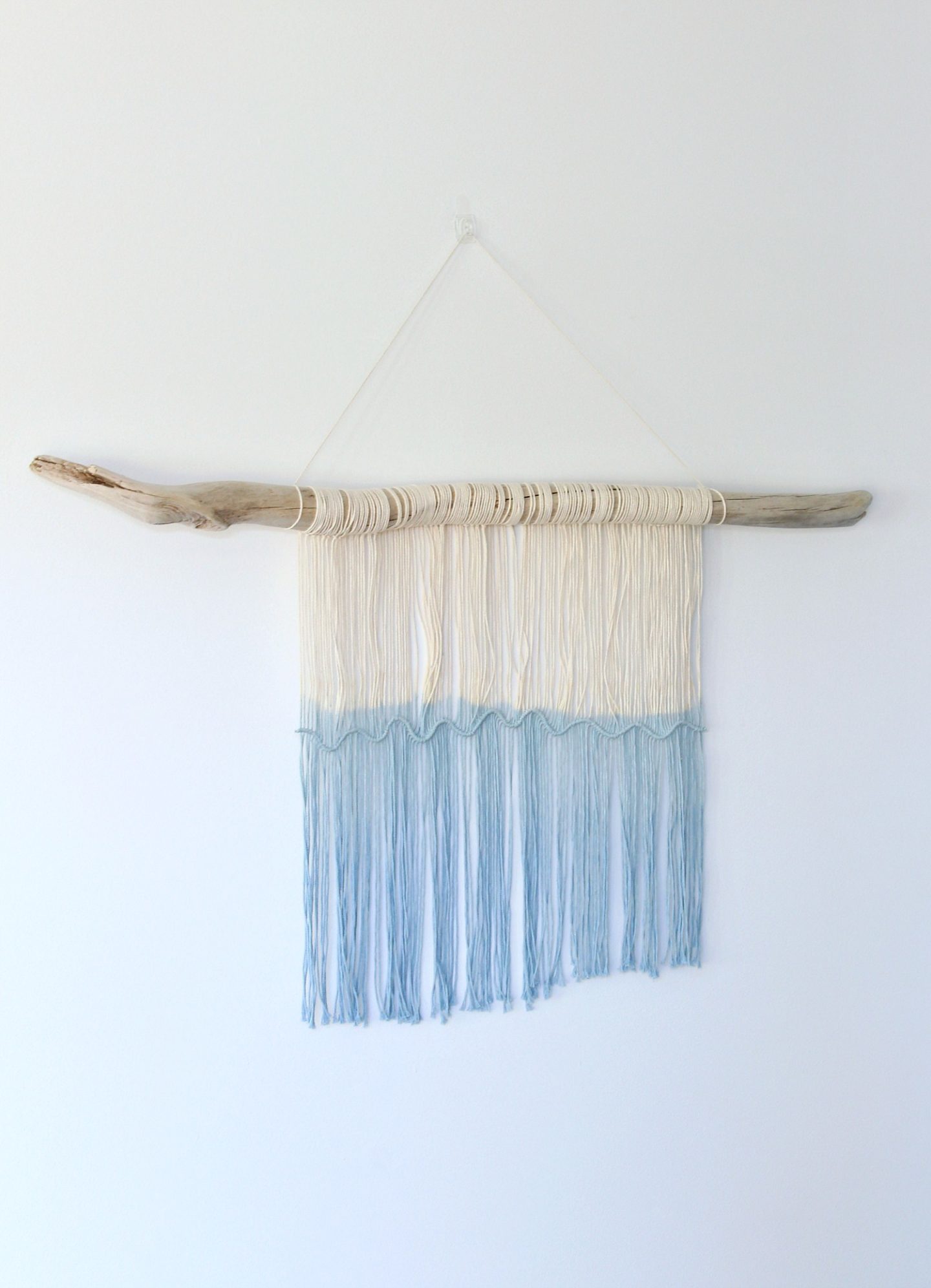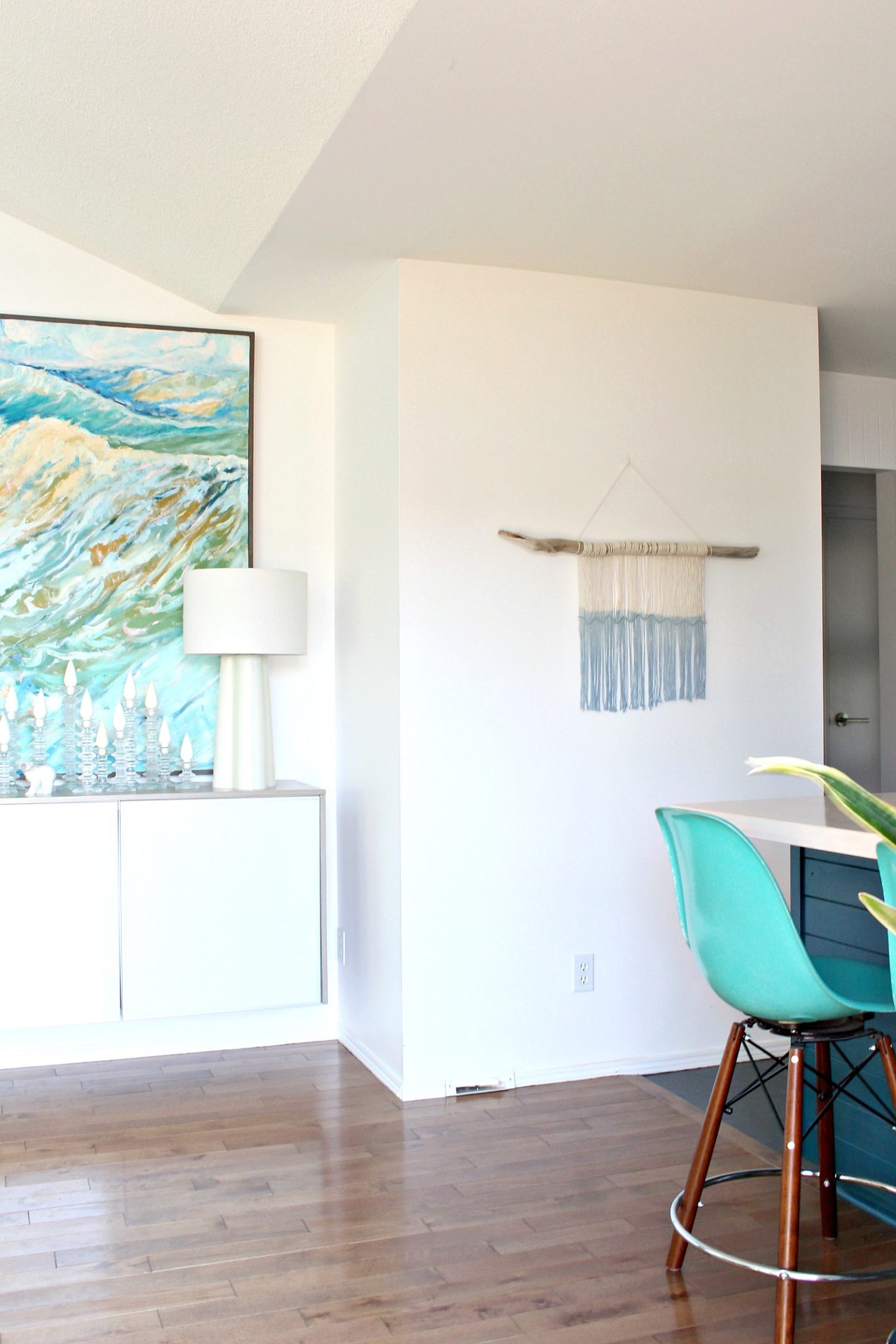 Still on the fence about my other plans for a larger wall hanging here (feel free to share your thoughts in the comments!), but I hope you liked this easy DIY macrame and driftwood wall hanging idea. The knot is simple and creates a cool wave which I loved.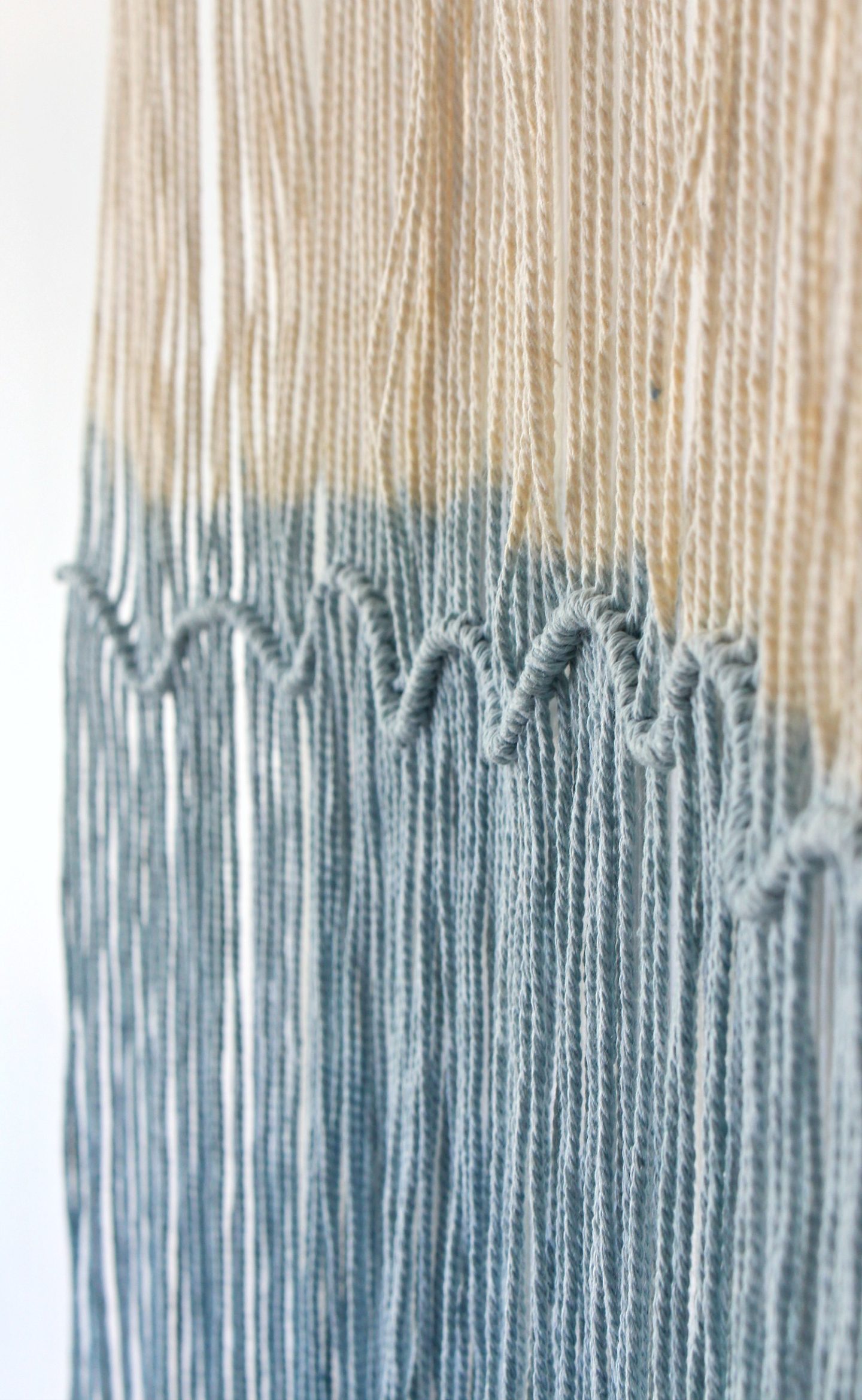 Today I'm joined by some of my blogging friends who are also sharing their Summer DIY/Craft ideas! Just click the links below the images to be taken to their post…
How to Seed a New Lawn from Scratch at The Happy Housie
DIY Palm Leaf Shadow Art Box (PB Knockoff) at Craftberry Bush
How to Make an Outdoor Pallet Tabletop at My Sweet Savannah
DIY Outdoor Planter with Candle at Clean & Scentsible
DIY Hanging Patio Garden at Tatertots and Jello
DIY Outdoor Candle Holders at The Handmade Home
DIY Painted Coasters at My 100 Year Old Home
Outdoor Tabletop Herb Garden at Inspiration for Moms
DIY Modern Sun Art at Cassie Bustamante
DIY Shell Candles at Finding Silver Pennies
DIY Beaded Garden Markers at Zevy Joy
Easy DIY Macrame and Driftwood Wall Hanging at Dans le Lakehouse
DIY Printed Fern Art at Satori Design for Living
DIY Criss Cross Outdoor Planters at She Gave it a Go
Coastal Coaster DIY at Rambling Renovators
Stamped Spoon Garden Markers at Life is a Party
Summer Porch Updates at Taryn Whiteaker Designs