I have some really fun news to share: Good Housekeeping magazine featured The Lakehouse in the May 2020 issue! I shared the news on Instagram already, but I wanted to share it here too because I'm just so, SO excited about it! Especially because it's right on the heels of my DIY kitchen cubbies getting featured in Better Homes & Gardens. If you'd like to see it, this is the issue to look for: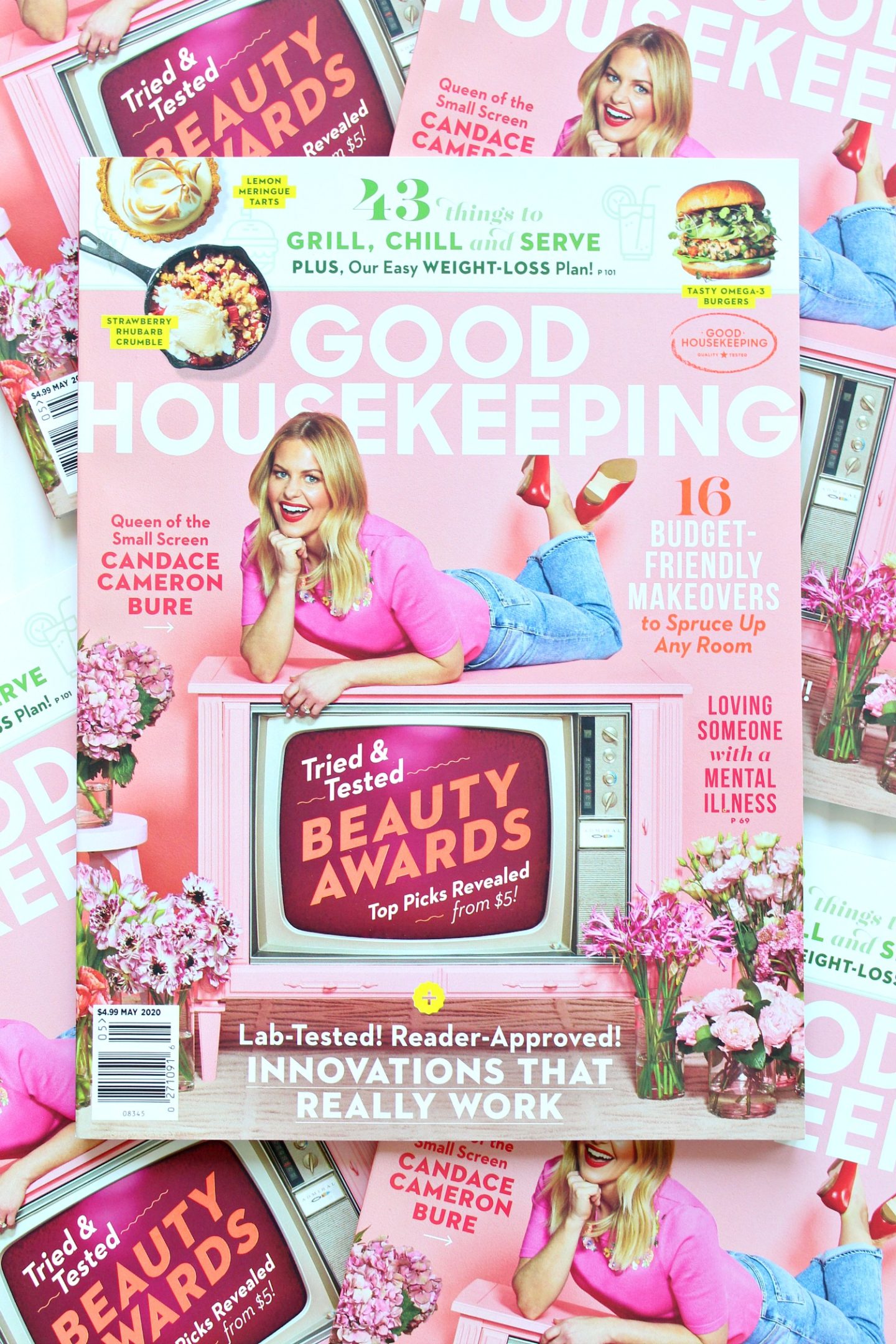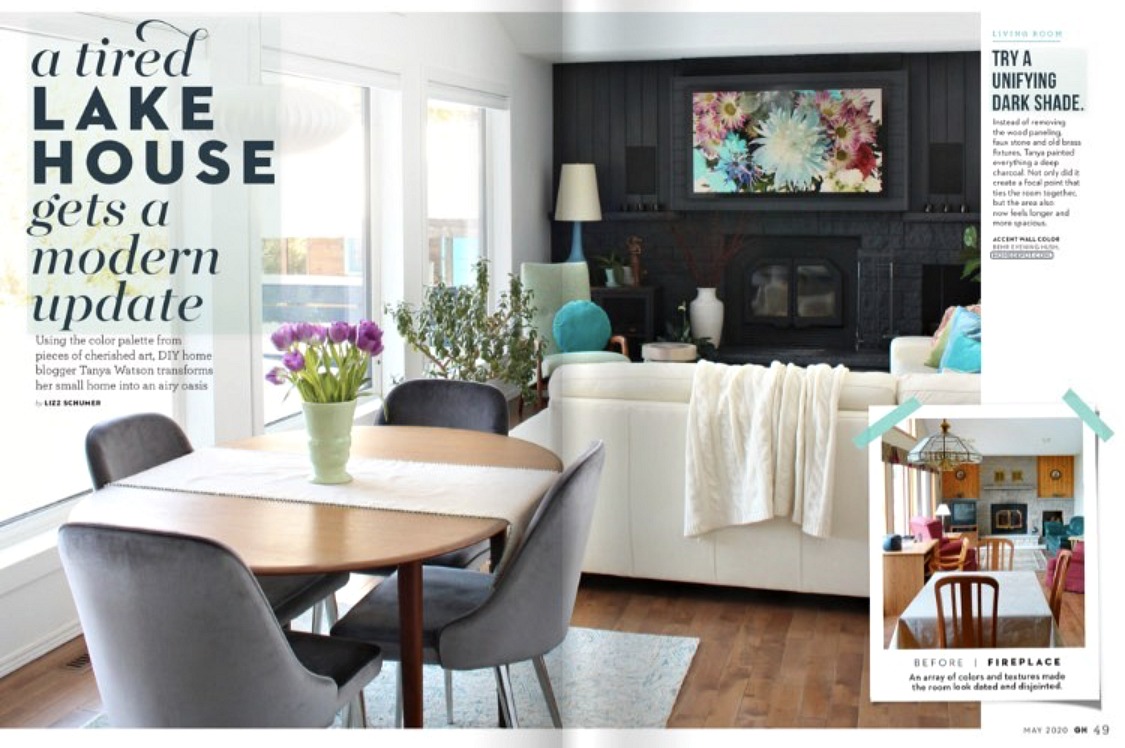 After sharing the news on Instagram, I received a lot of questions so I thought I'd answer them and share a little "behind the scenes" scoop, just like I did after my Better Homes & Gardens feature! I've bought and read so many home decor and lifestyle magazines over the years, I've always been fascinated by how they work.
How Did This Feature Happen?
An editor from Good Housekeeping magazine reached out to me a few months ago, asking if I'd be interested in having my home featured in print, in the May 2020 issue. I did not need to think about it, I immediately replied, YES! Well, actually my computer froze (as it does 18 times a day, these days, because I'm long overdue for an upgrade), so I stared at my frozen screen in agony for what felt like 100 years before I could reply, lol. It was midnight when I checked my email and read the good news, so I'm sure I woke the neighbors across the bay when I ran to find hubby, shook him a little too hard by the shoulders, and screamed at the top of my lungs, "GOOD HOUSEKEEPING MAGAZINE WANTS TO FEATURE OUR HOME, IN PRINT". Then I called my Mom, the late hour be darned, and screamed the same thing at her. I can't remember, but I'm fairly certain I hung up on her and then bunny hopped down the hall to scream the same things at the dogs.
I was very, very excited. (The dogs seemed excited for me too, they love any reason to get riled up).
The editor in chief of Good Housekeeping magazine, Jane Francisco, had started following me on Instagram from her personal account awhile back (maybe a year? Maybe more?), so that had piqued my interest. Jane used to be editor of Chatelaine magazine, a Canadian publication, which I subscribed to for years and I loved reading her letter from the editor. She shared so many personal stories and details that I felt like I really got to "know" her. The magazine was amazing under her leadership, she really revitalized it. So when I saw her follow me, I knew immediately who she was and felt really cool that I had caught her attention.
I had used the #thatsgoodhousekeeping hashtag from time to time, so perhaps that's how I was first found? My wreath cake was featured on the Good Housekeeping Instagram feed during the holidays (I can't remember if it was last year or the year before). Plus some of my spaces were shared on the Good Housekeeping website (you can see my press page for links). So I knew I was sorta, kinda on their radar, but didn't think anything more would come of it. But then an editor reached out, noting that Jane was a follower, and everything happened very quickly after that!
Who Took the Photos?
The photos printed are mine and that was super stressful because I'm not super confident about my photography skills. I always work to improve them, but sometimes I'm in a hurry and don't use a tripod. Plus I've been using my Canon Rebel t5i for years and sort of reached the best I can do with that camera/lens so I actually bought a Nikon D8500 camera and an awesome lens last year. It was a crazy big investment and, the funny thing is, I told hubby it was a good purchase because, I reasoned, with better photos The Lakehouse could be featured in magazines. Well, it was, but the photos were taken on my old camera, lol! And I can see the mistakes and things I should have edited out. But I'd like to applaud the magazine because these are REAL photos. I didn't style or stage – this is how I live and it's pretty, but imperfect. I have often felt like my home isn't "good enough" because it's a lot of DIY, a lot of temporary fixes and creative solutions. I own a lot of thrifted, handmade and affordable things. So to see a home like mine in a magazine really makes me feel proud! It's silly, but I do, I feel proud that I made it into a print magazine without a fancy renovated kitchen and with a chair I heaved from a trash heap.
Back to the photos: they asked for certain angles/photos that were either in my lakehouse tour or on Instagram and I offered to re-shoot anything they wanted and do better: tipod, lighting kit, maybe some de-cluttering and cleaning, haha. They took me up on my offer to re-shoot a few angles, which I did – but none of those photos ended up being used! I wasn't 100% sure which photos would make it in the magazine, so it was such a fun surprise to see which ones were featured. The main photo – spread across two pages – is a quick snap I took for Instagram. It's kind of funny because I decided I'd relax my photo taking and not stress if my floors are scrubbed or windows cleaned. I've never really been into staging photos for Instagram or the website, but if I plan on taking photos I do often clean the floors and dust. But I decided to be a bit more impromptu with my photos and that living room photo is a product of me just taking a photo because I felt like it. I had bought my weekly flowers, put them in my Mama's chipped vase, and took a quick photo – I hadn't even finished taking down my holiday decor, that's why there are still dogwood branches in my vase.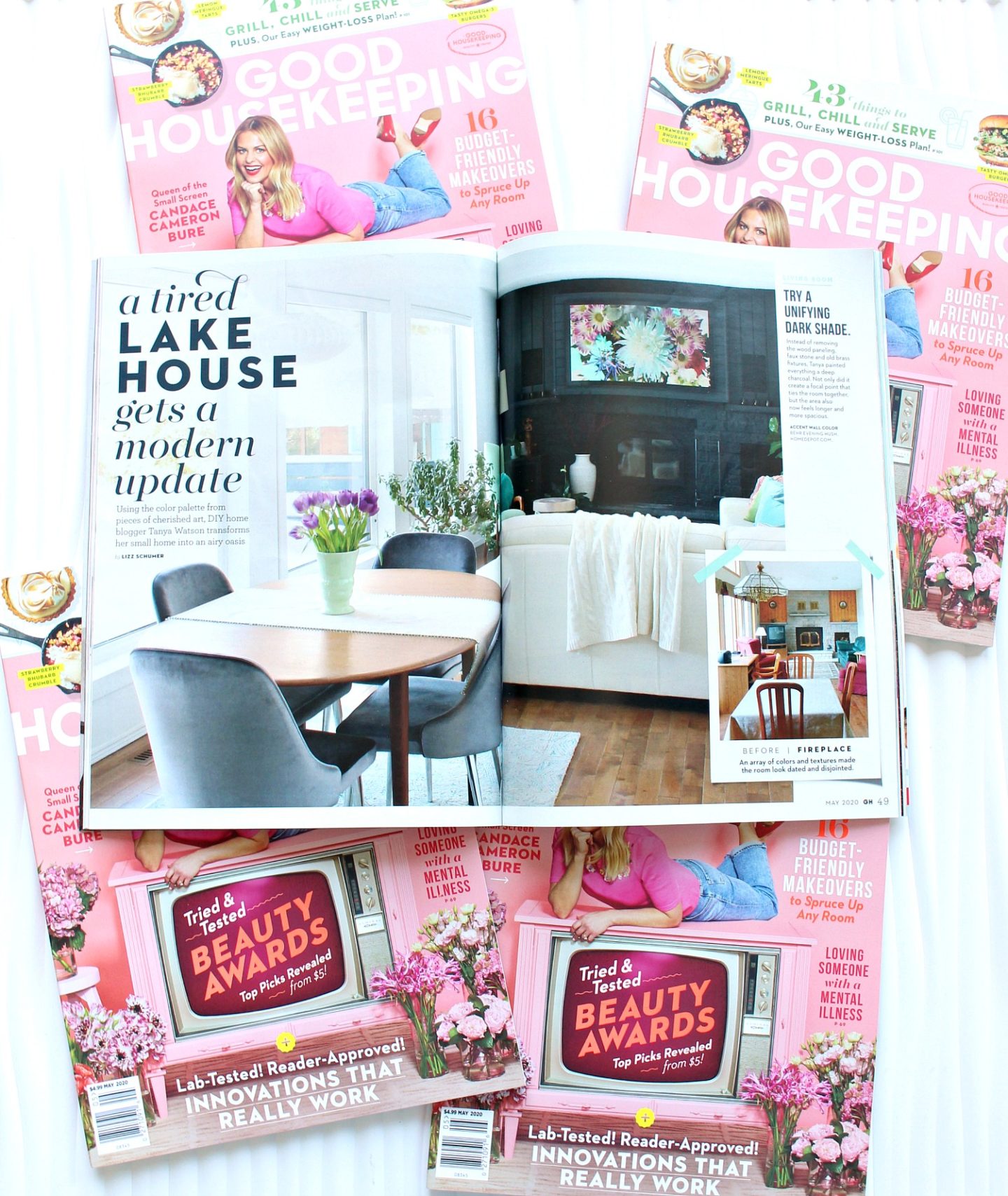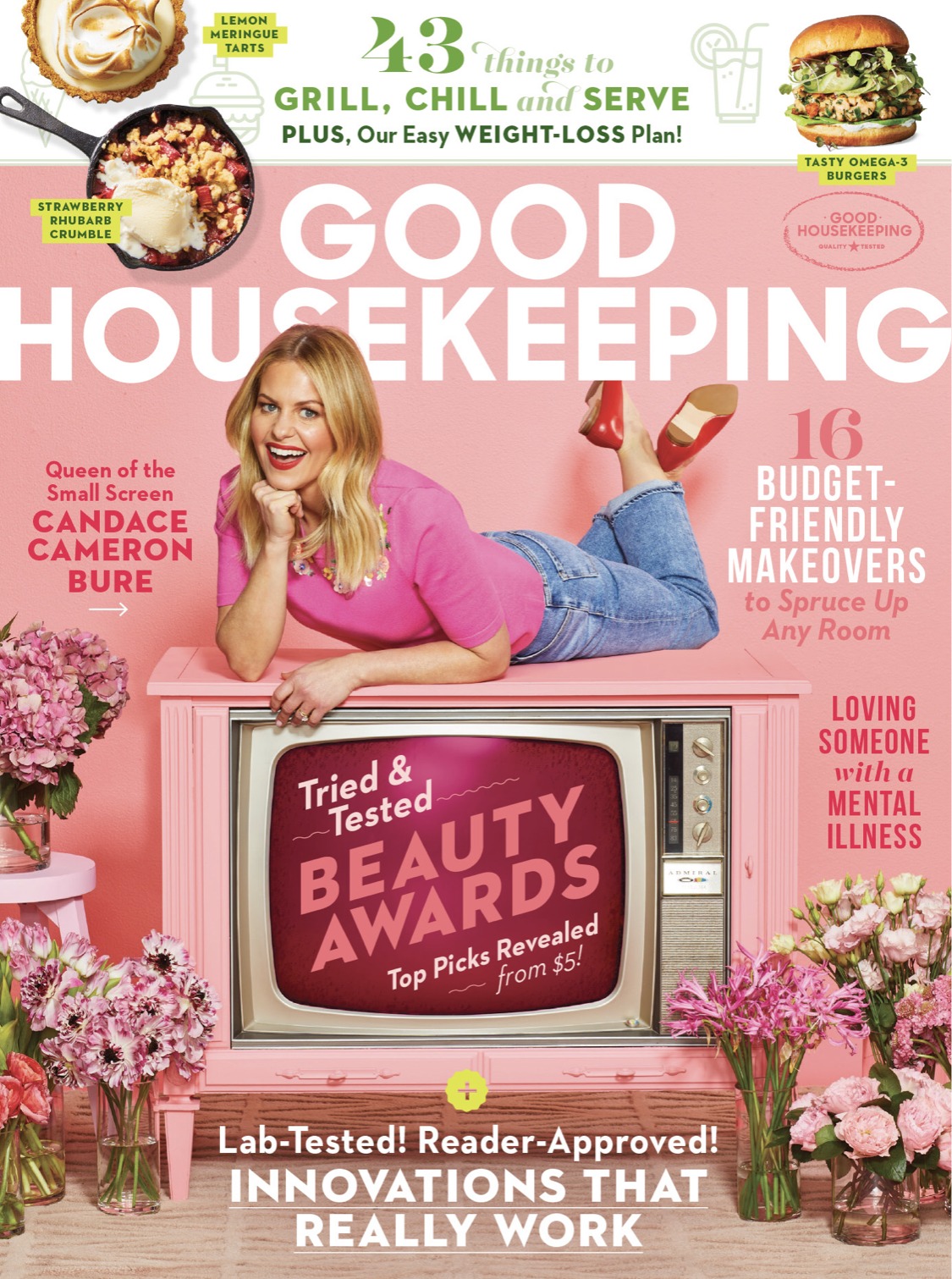 What Was the Interview Like?
I was interviewed on the phone by the Lizz Schumer, who wrote the lovely article. She is absolutely THE nicest, most warm and bubbly person, and this experience was such a confidence boost because everyone I interacted with (Lizz, the editor who reached out, and the fact checker who followed up) were so complimentary. I love talking about home decor and DIY, so just getting to chat about the house and the process was fun, but being told my home is beautiful and I've done such an amazing job was honestly the ego stroking I needed – I'll be honest! When you put yourself "out there," you open yourself up to feedback, good and bad, and sometimes internet commenters forget there is a real human, with emotions and insecurities and bad days, behind the computer screen, gamely sharing her home and DIY tutorials not as fodder for criticism, but to inspire people to create their dream home on a small budget. After years of blogging, I'm really tough and comments never rattle me, but it's still so nice to hear lovely, flattering things about the home I've poured my heart into and lovingly created. So I appreciate the confidence boost, it was a nice perk!
The interview was about a half hour-ish and unlike an email interview which I can edit and re-edit, this was me – unvarnished! So that's how one funny quote, which I sort of regretted the minute I said it, ended up in the article. Lizz and I were chatting about my color palette and I very eloquently explained how I streamlined my palette when we moved here from The Townhouse. There I had embraced more color and pattern and struggled, at times, because things didn't always "go" when I wanted to move something around. So in The Lakehouse, inspired by Hubby's Grandpa's art, I created a much tighter color palette which actually made decorating so much easier because I can move things around from room to room and it works. The house has great flow and cohesiveness, which I've always wanted. Since moving here, I have a clearer vision and a palette for the decor and have narrowed down my style so when I'm shopping or thrifting, I am not tempted by things that won't work. After saying this, I joked: "I can just toss something in the air, and wherever it lands, it'll look great". As soon as I said it, I knew that would be the defining quote, lol. And I knew real interior designers, not hobbyists like me, would cringe – but I stand by it! I have moved furniture and art and decor all over my house and it always works because my color palette is so cohesive. That has been very liberating for me, especially in a small home, because it affords me flexibility and makes the house feel more spacious too, because the rooms work together and everything flows. FLOW was my main goal when we moved here. But I still laugh about which quote made the article – it's very "me".
Anyway, I loved the interview process and I think the article captures me and the home so perfectly. I'm very, very flattered and I think Lizz did an amazing job. The homage to Hubby's Grandfather and his art also made me so happy. I shared his website with everyone at the magazine, and after looking at his body of work, Lizz referred to him as a "renowned painter". Her words, which made me smile. I am so proud to have his work in my home, he was an amazing painter and such a chill, cool guy – he passed away, but I hope he's happy that I am trying my best to share his art with the world!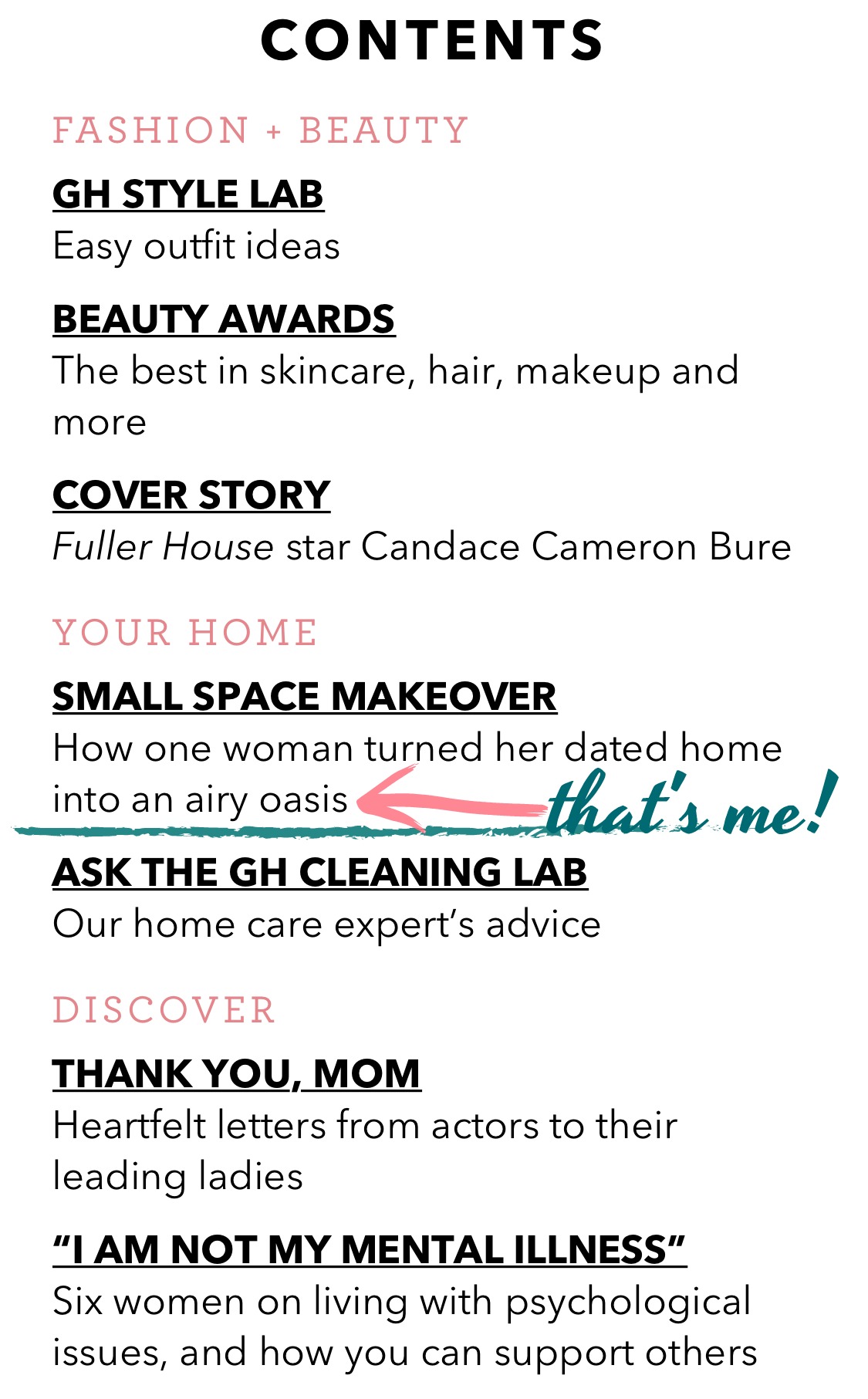 What Rooms Were Featured and How Did The Magazine Choose?
I don't actually know the selection process – photos of more/different spaces were also requested, but the following spaces made the cut: the living room/fireplace makeover, a corner of my home office with my "garbage chair," the kitchen with my DIY cubbies, the turquoise powder room I tackled for the One Room Challenge, the hallway/entryway which we recently updated with IKEA shoe cabinets (everyone LOVED that idea), and the exterior. Here's a look: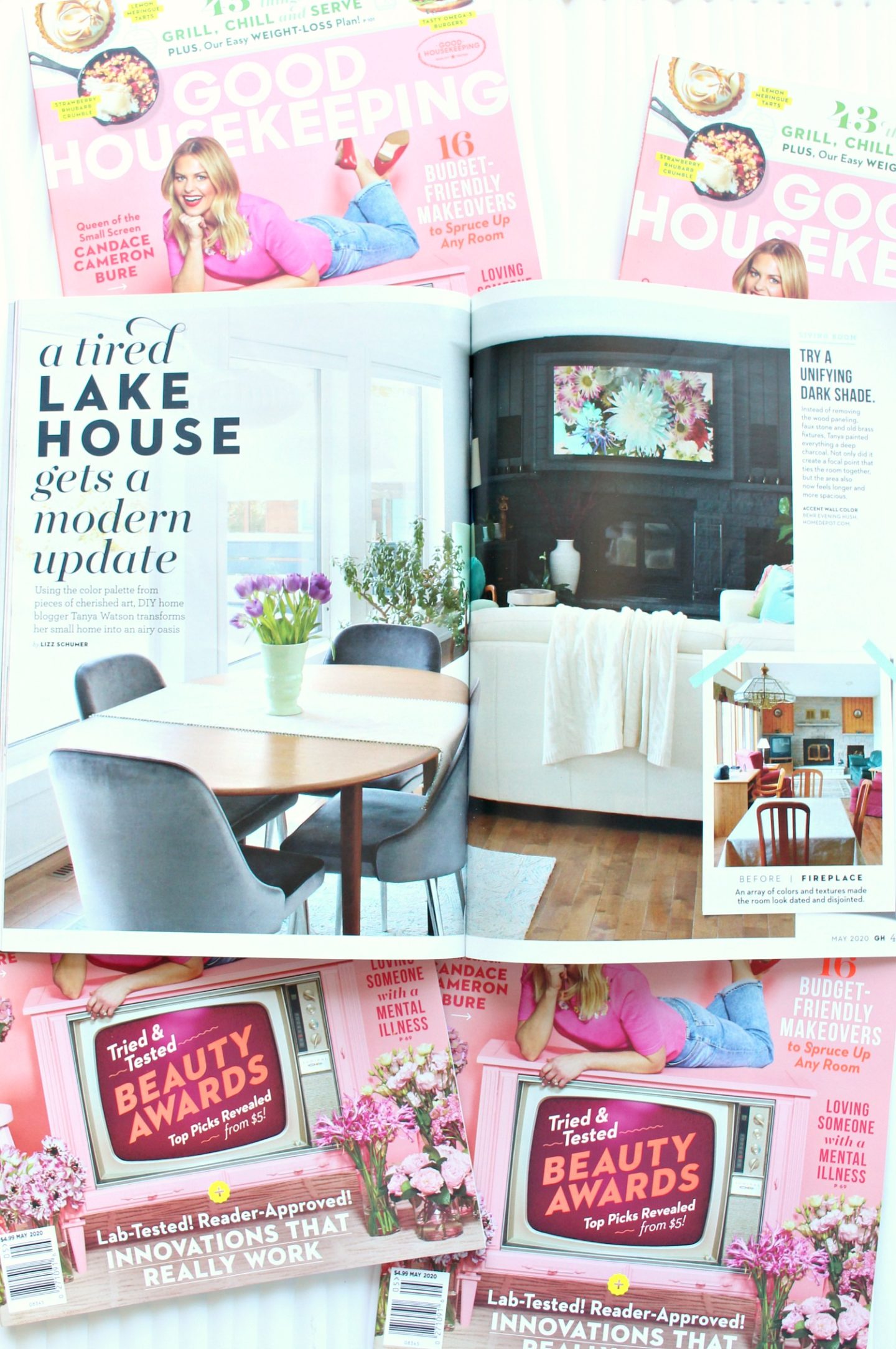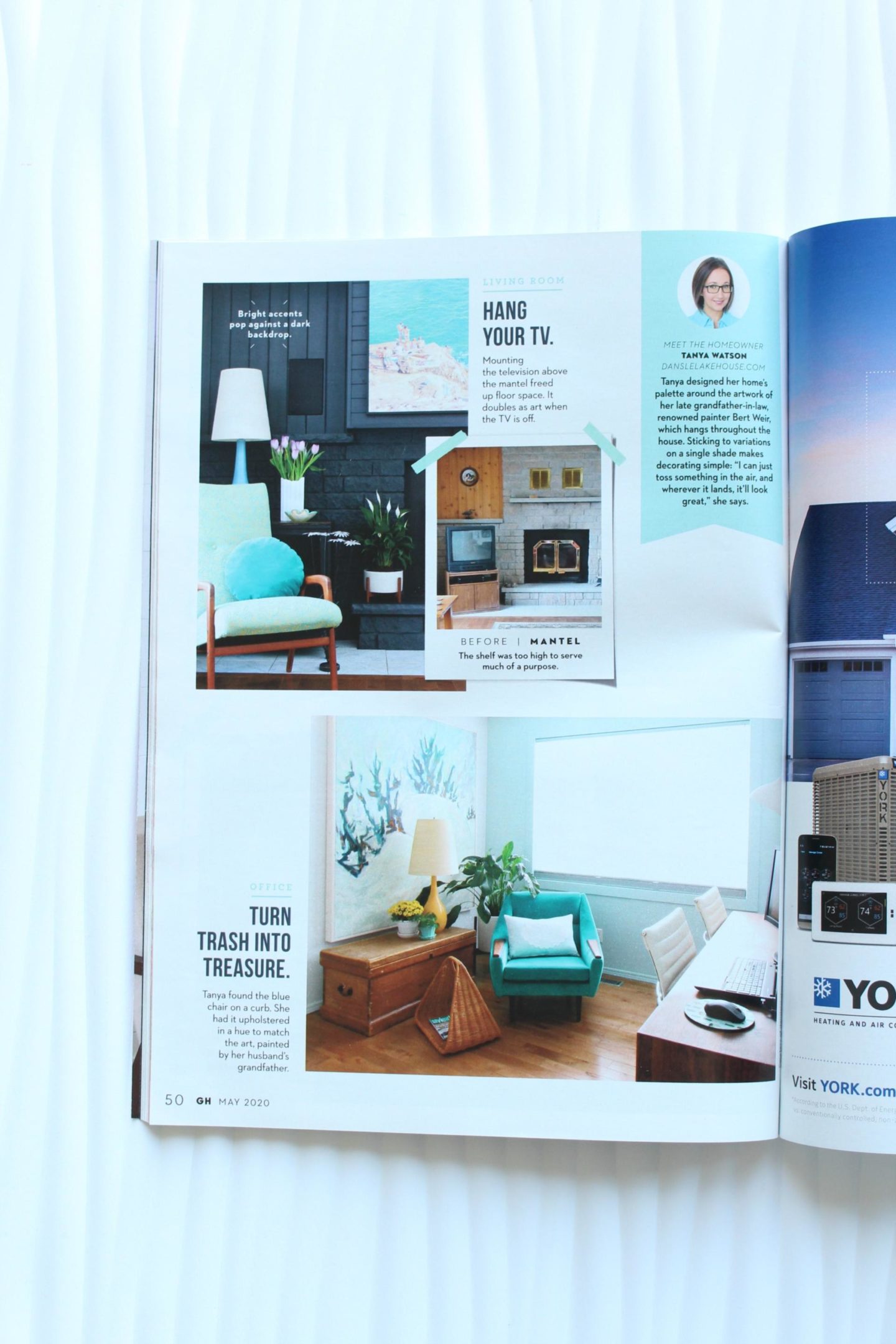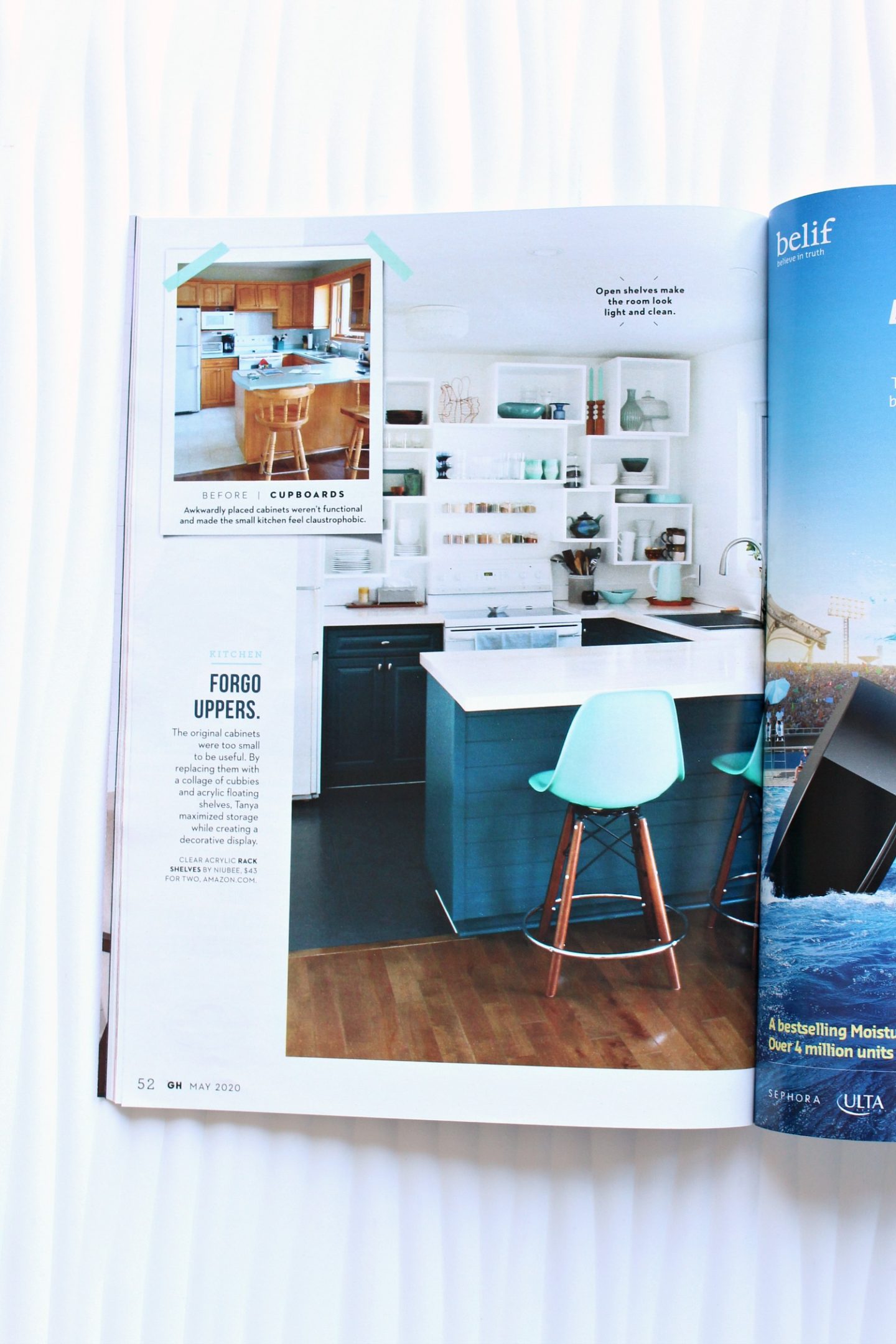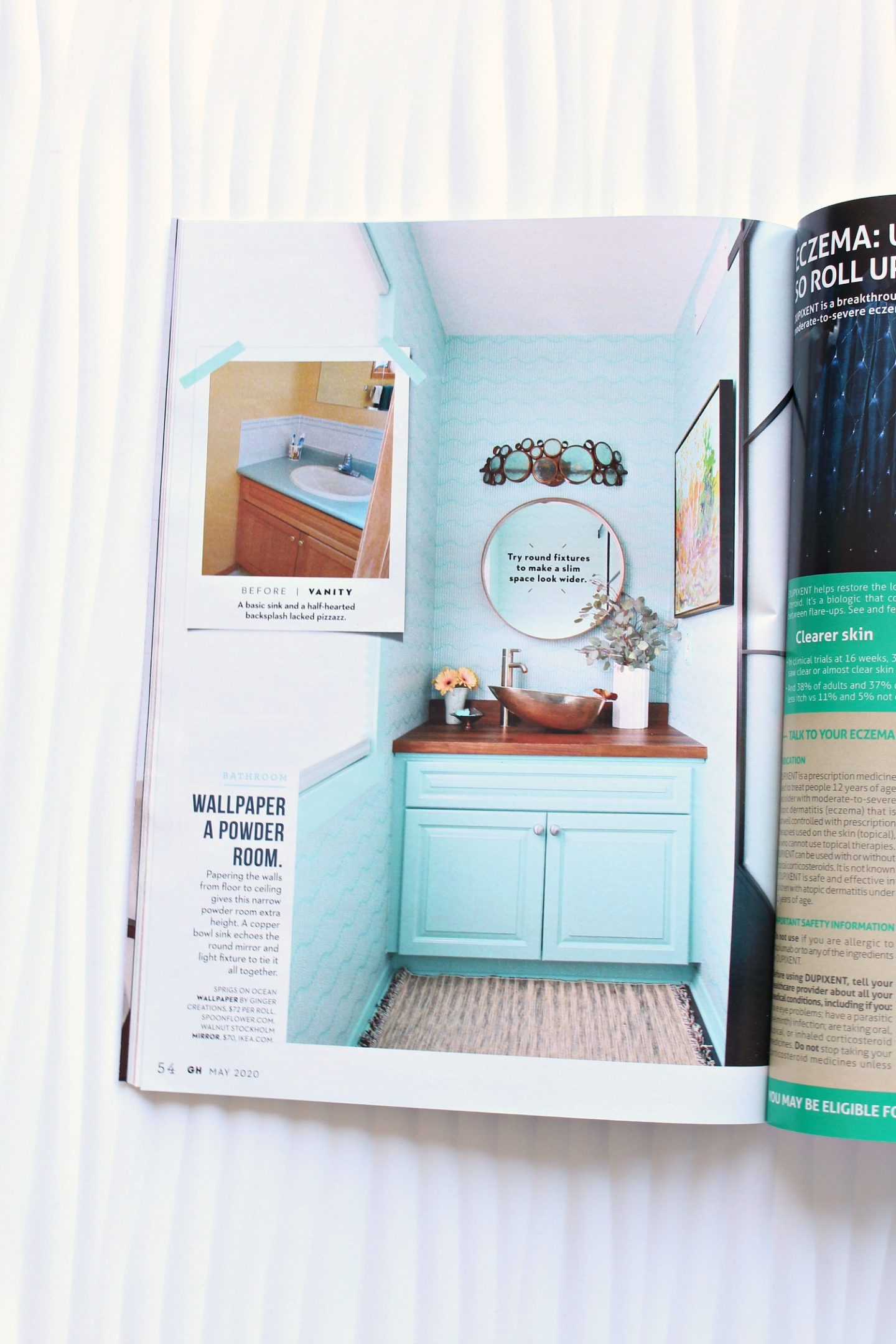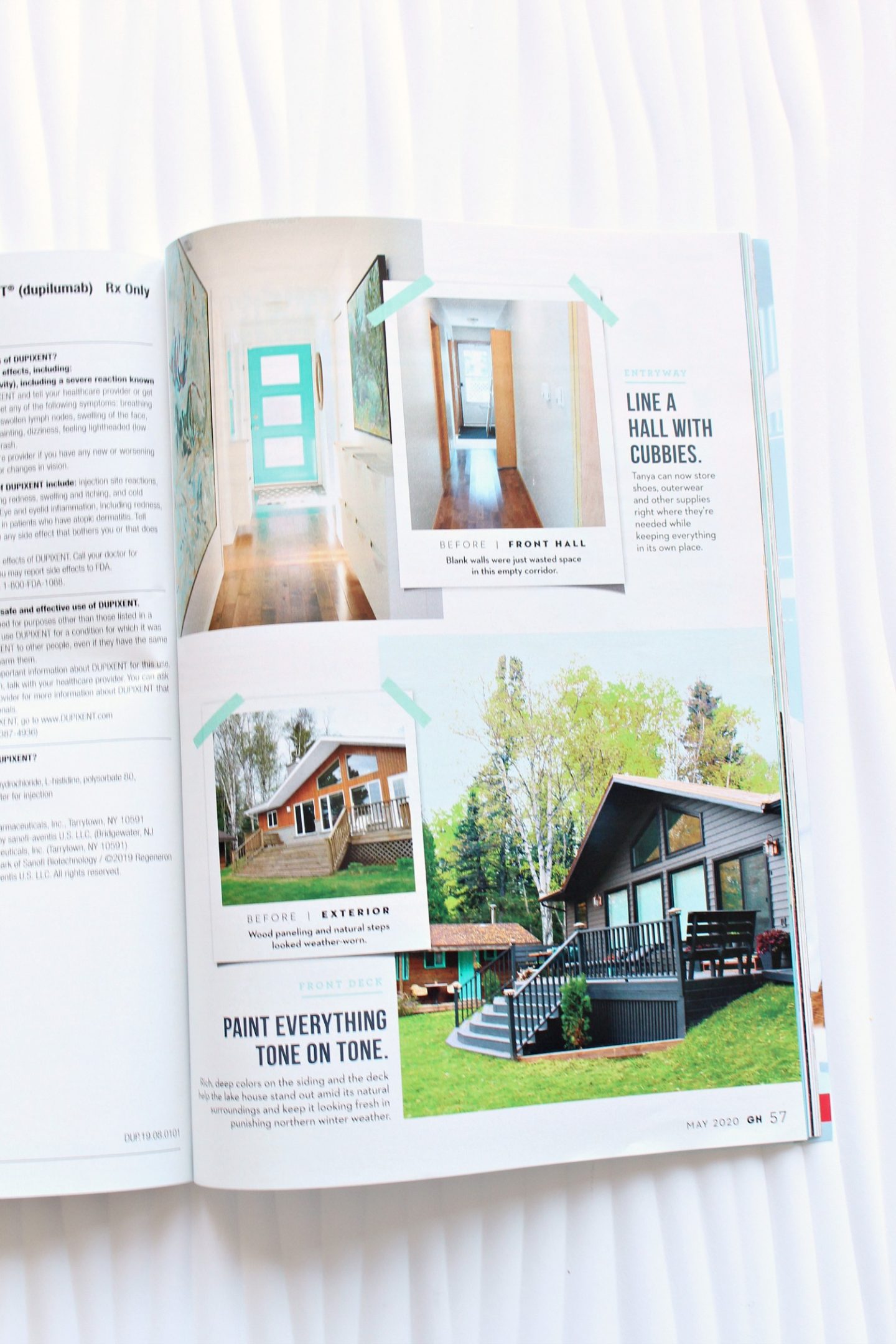 Was I Paid?
Nope, but I don't mind because I am still so excited to see my home – so much of it! – in a magazine. I've had lots of online features (for which I'm so grateful) and some print features before, a room here or there, but this is the first time my house has been featured in a spread like this!
Final Thoughts:
I LOVED the article and it made me so happy. I loved everything about it: the layout, how pops of turquoise were used on the text and the "tape" graphics for the before photos, what ideas or DIYs were featured – even the fonts. I'm really, really thrilled. Hopefully you don't mind all of this bragging – I have not tried one bit to feign nonchalance or hold back my excitement. I am utterly thrilled and it was a fantastic and fun experience – although I really, really need to learn how to use my new camera!!
Thanks for letting me share this bit of good news with you!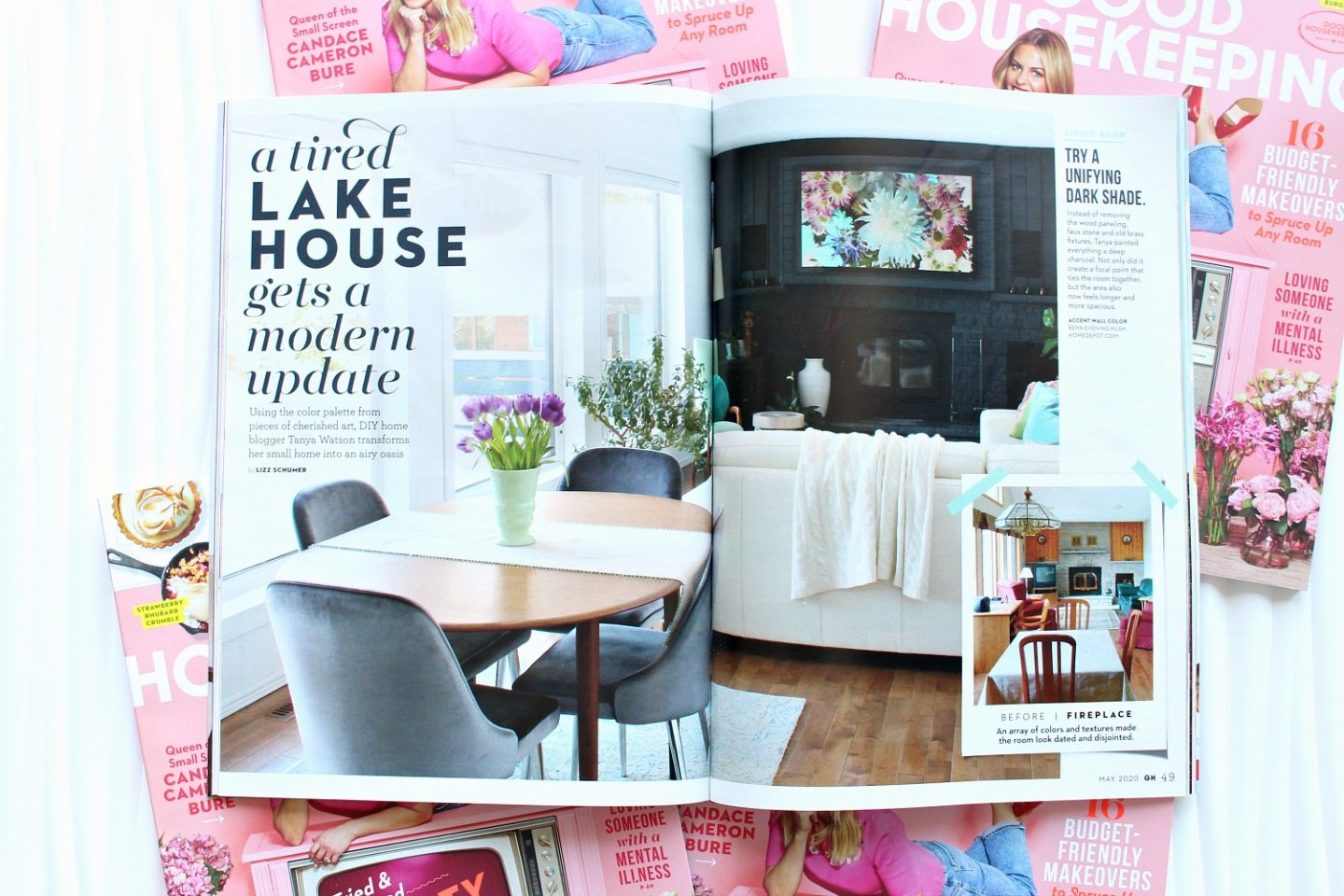 Fun fact: a profile photo of me holding a chicken was not allowed, but I don't have many photos of me without chickens, and time was tight, so they used this head shot Hubby snapped of me awhile ago. They're right – the chicken would have been cropped anyway, haha.