The spring One Room Challenge was postponed, but has officially started up again. I probably won't be able to keep pace with everyone because the room I'm tackling is at my Mom's and, with everything happening right now, I'm not sure when I can safely get there to make this project happen. We picked her dining room, and a bit of the living room, to redecorate and the changes are all cosmetic (because she's in an apartment), and the spaces are small, so I'm confident we can knock out this challenge pretty quickly. I already had everything lined up and delivered a long time ago – except for one (kind of critical) item, so I'm feeling pretty confident. Mostly.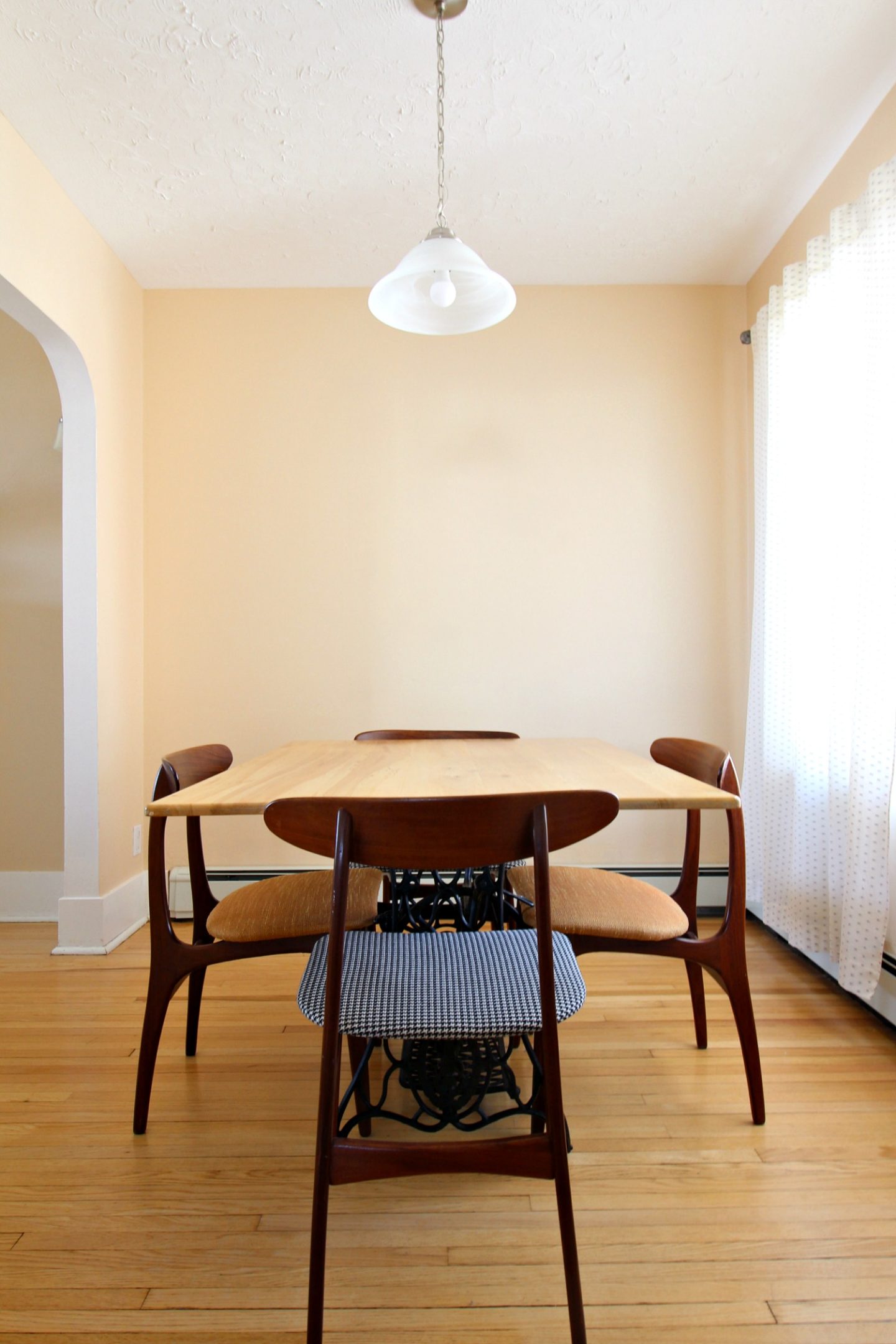 Many of my longtime readers remembered that my Mom used to live in a house (we tackled a budget-friendly kitchen makeover in the house, back in 2016) and privately messaged me to ask what happened when I started mentioning Mom's apartment. She no longer owns that home, which was my childhood home, and it's a sad story I'm not ready to talk about. But her new apartment has some lovely perks, so I'm excited to create a really beautiful space for her, where we can enjoy meals together.
Here's a good look at the before – I took lots of photos because I never take enough before photos. This time I probably took too many. The space is super small, but I used my wide angle lens to better capture it and it made it look unnaturally spacious. But small is nice; small it's cozy (and easy to wallpaper, yes!). And there are other cozy details, like a fireplace in the living room.
The Before: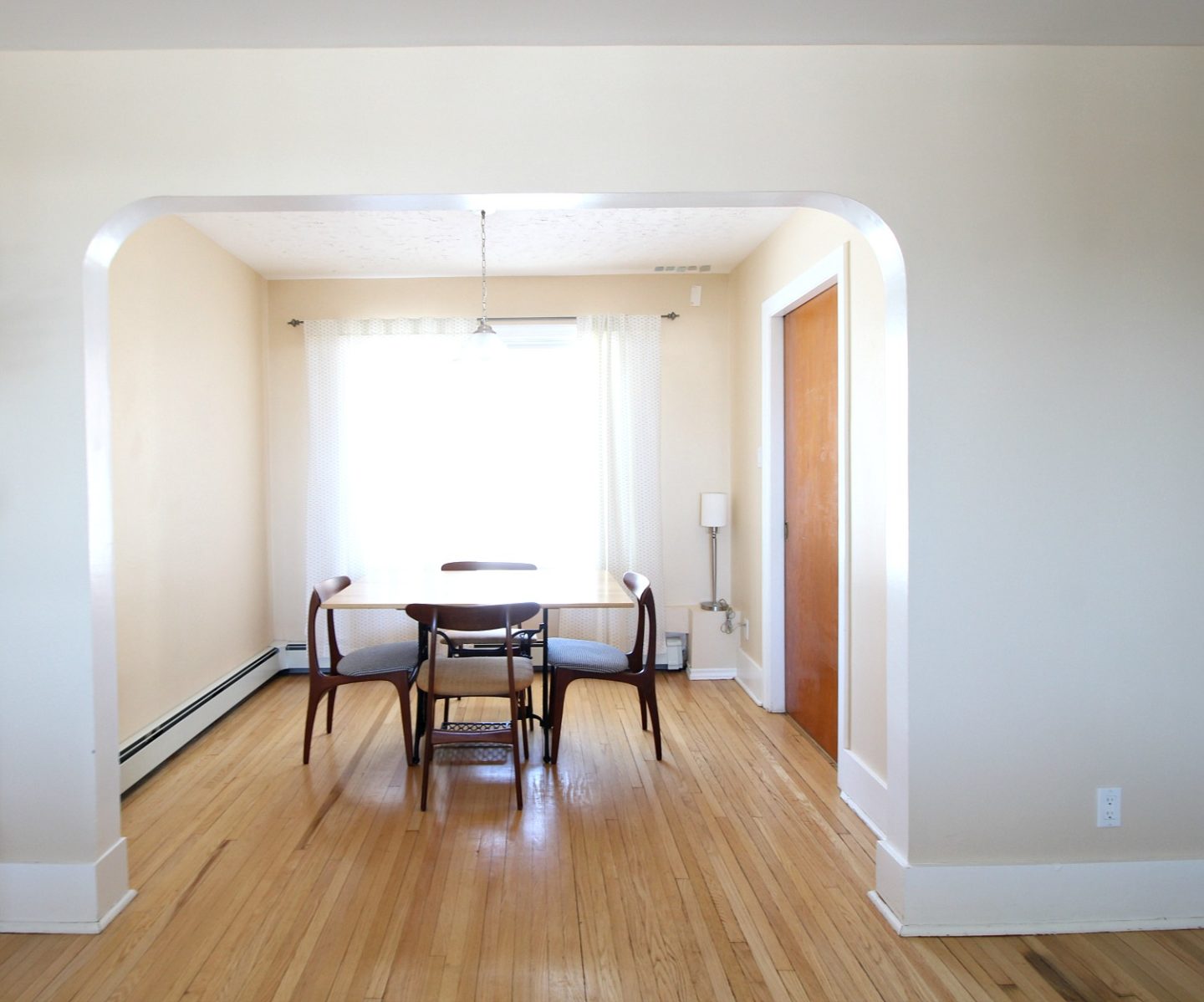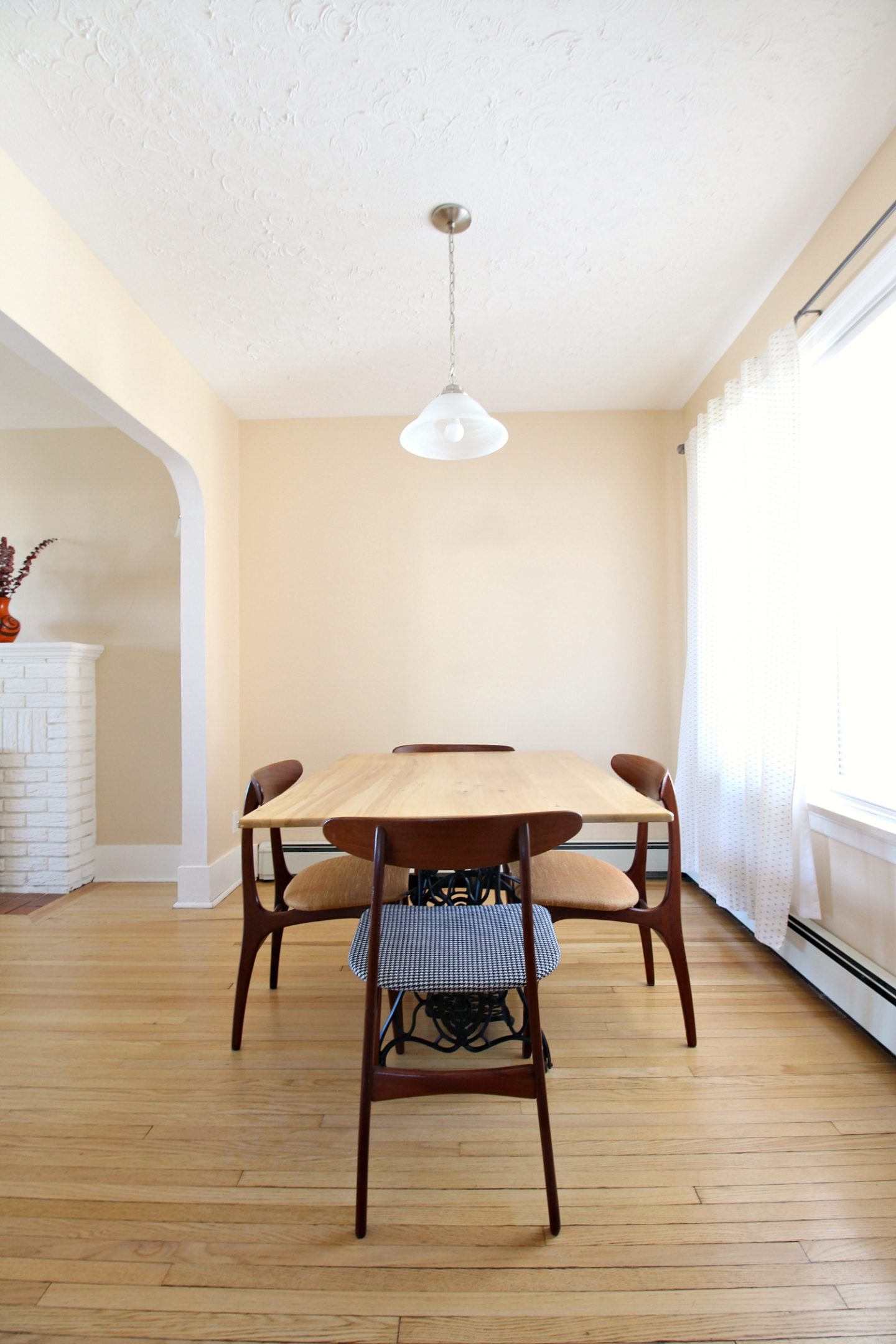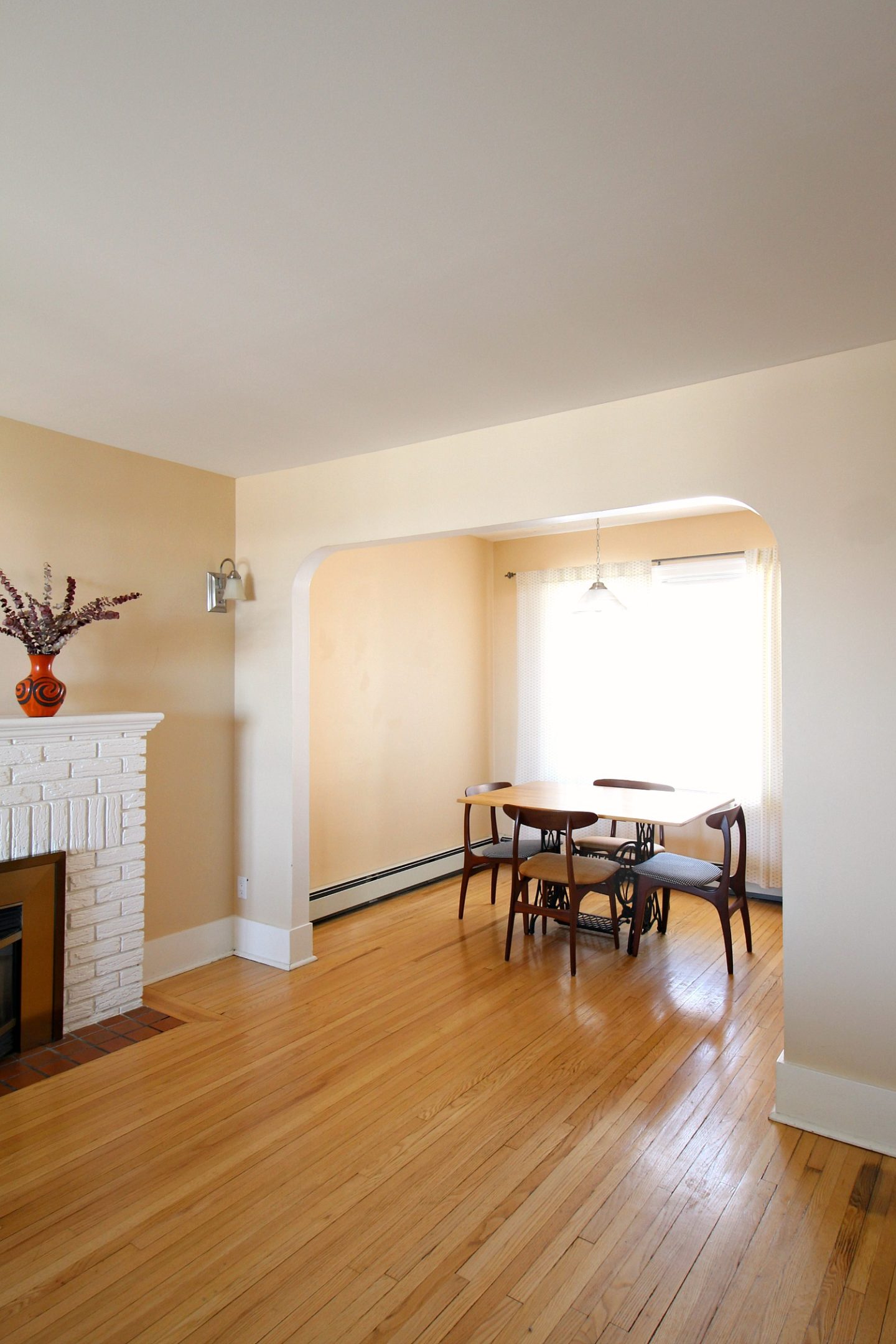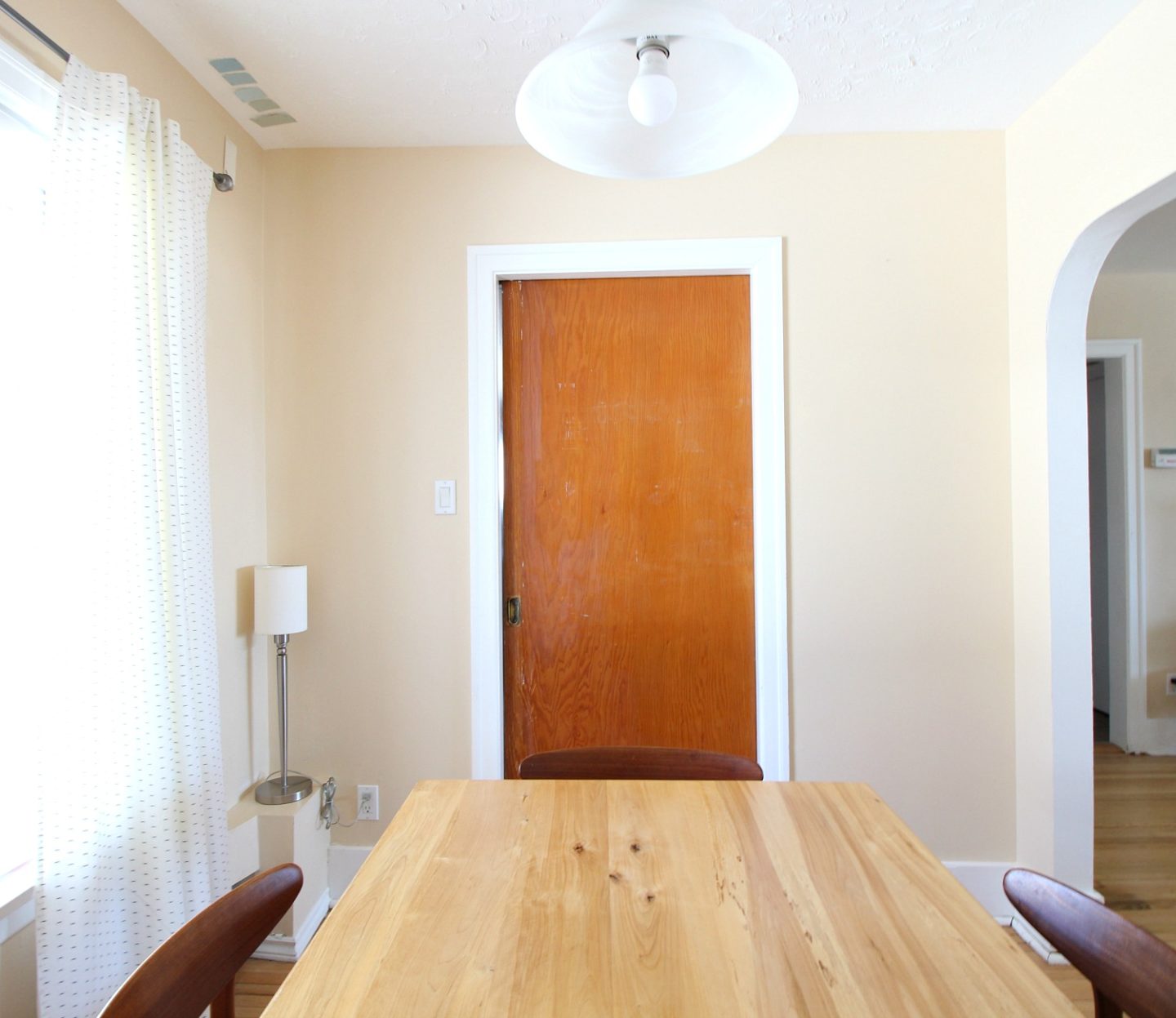 The Lighting:
Kichler generously provided a new light of our choice and I chose the Pim™ 40″ 5 Light Round Chandelier with Satin Etched Cased Opal Glass Fox Gold because it has such a gorgeous mid-century modern feel. Mom and I share a love for all things MCM – and Mom loves brass and gold, whereas you know I prefer silver (or copper) so I thought that using brushed gold in this space would not only complement the teals we plan to incorporate, but also be something a little different for Dans le Lakehouse!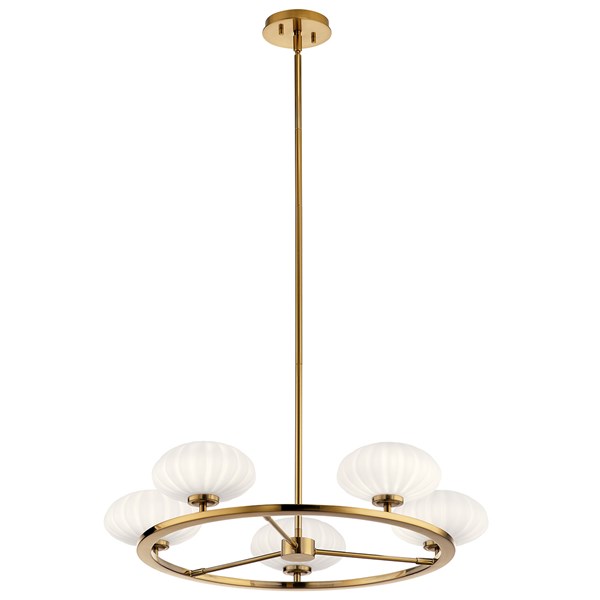 I'm very excited to switch out her current light fixture and if/when my Mom moves she can take the fixture with her to her new place! There's nothing particularly wrong with the existing light, but we can't wait to update it and highlight the ceiling, which I think is kind of cool.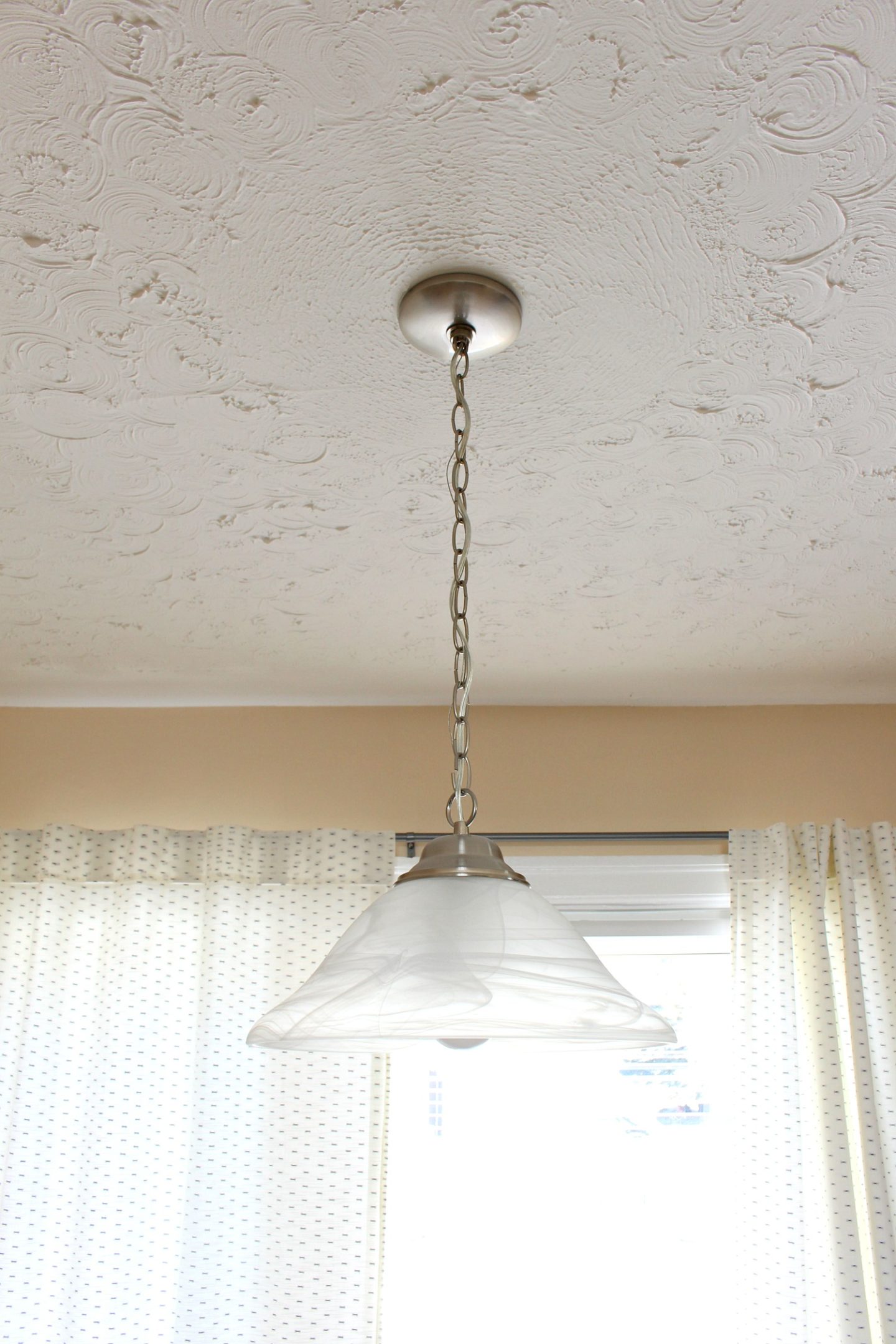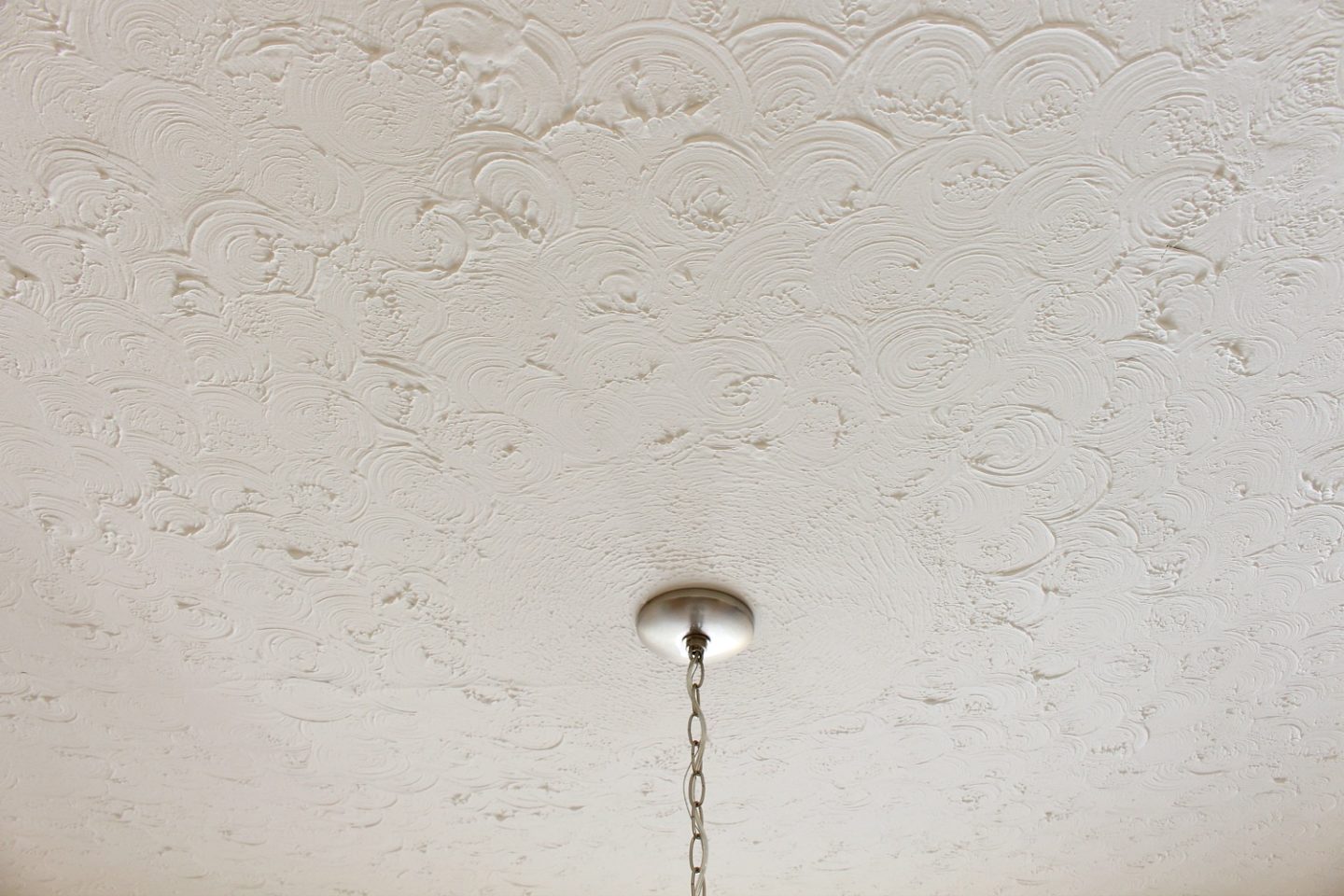 The Paint:
Sherwin-Williams generously provided paint and we chose a pretty blue for the ceiling… can you guess which one? I don't want to give too much away, I should leave a little mystery, right? I've always wanted a pale aqua painted ceiling and Mom was game.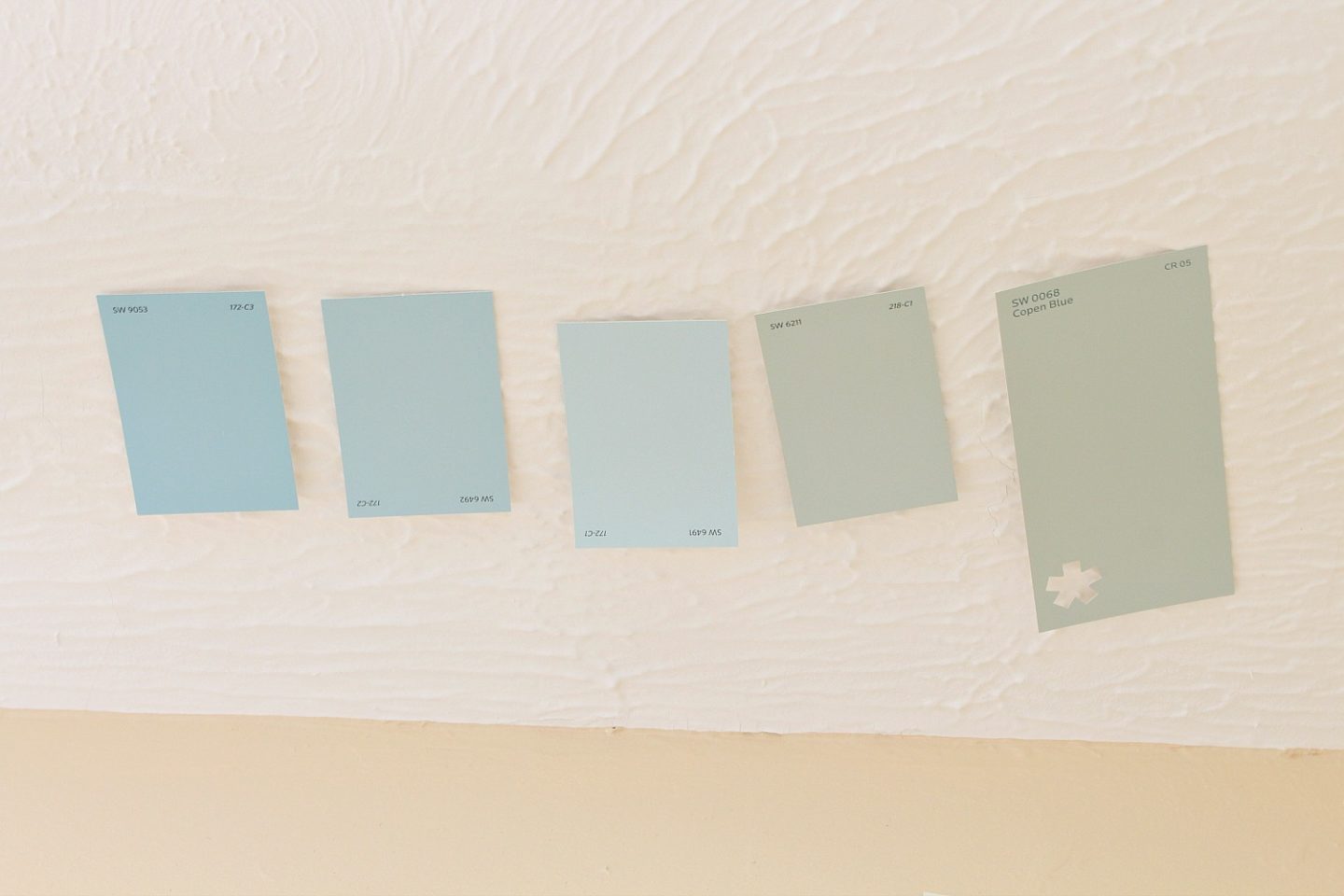 Okay, I'll tell you (I'm not very good at keeping secrets): we chose the middle sample, SW-6491 Open Air.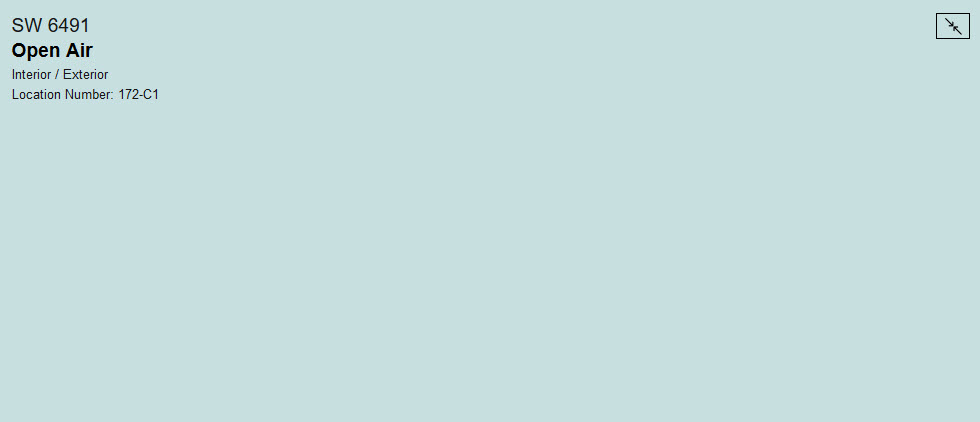 I originally loved the sample to the very right, Copen Blue, but on the ceiling it suddenly looked much more beige/green. It's so important to put samples on the plane you plan to use them because taped up on the wall, these samples all looked wildly different. Mom picked the middle sample because it was crisp, almost like the sky. Neither of us have tried a painted ceiling before, so this will be an experiment! For the trim and to carry into the living room where the credenza will be, we matched the perfect creamy color to the wallpaper: SW 7566 Westhighland White.
The Curtains:
These curtains are getting replaced with some DIY silk drapes we plan to sew – scroll down for the beautiful silk, provided by Online Fabric Store. I think we'll re-use the white curtain rods I used to have in the lake house to save money, or maybe I'll DIY something? I'm not 100% sure yet – the old curtain rods I have are chunky and white, and the wallpaper is creamy so we might have to paint them (gold?) if we do use them.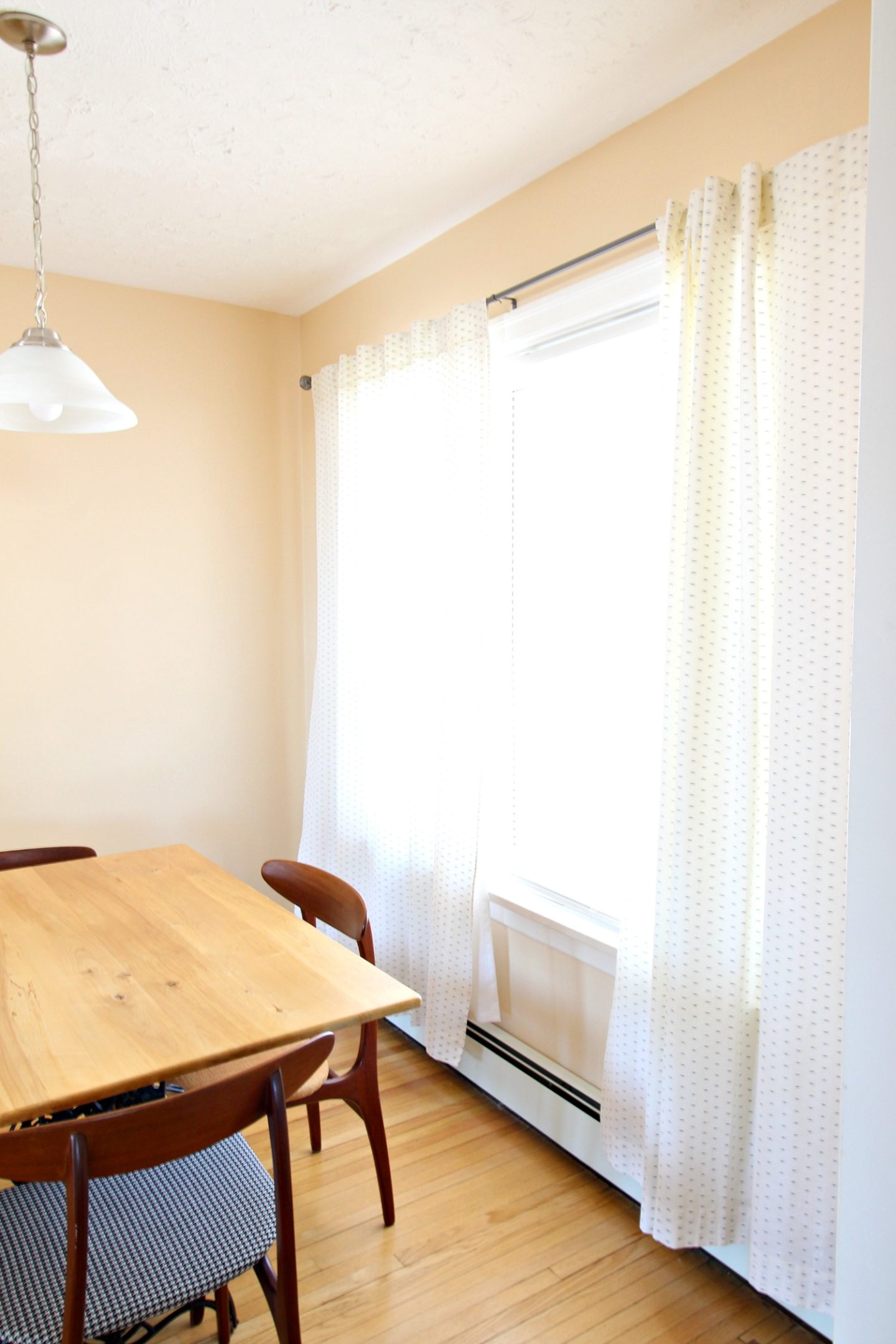 Here's a peek at the fabric: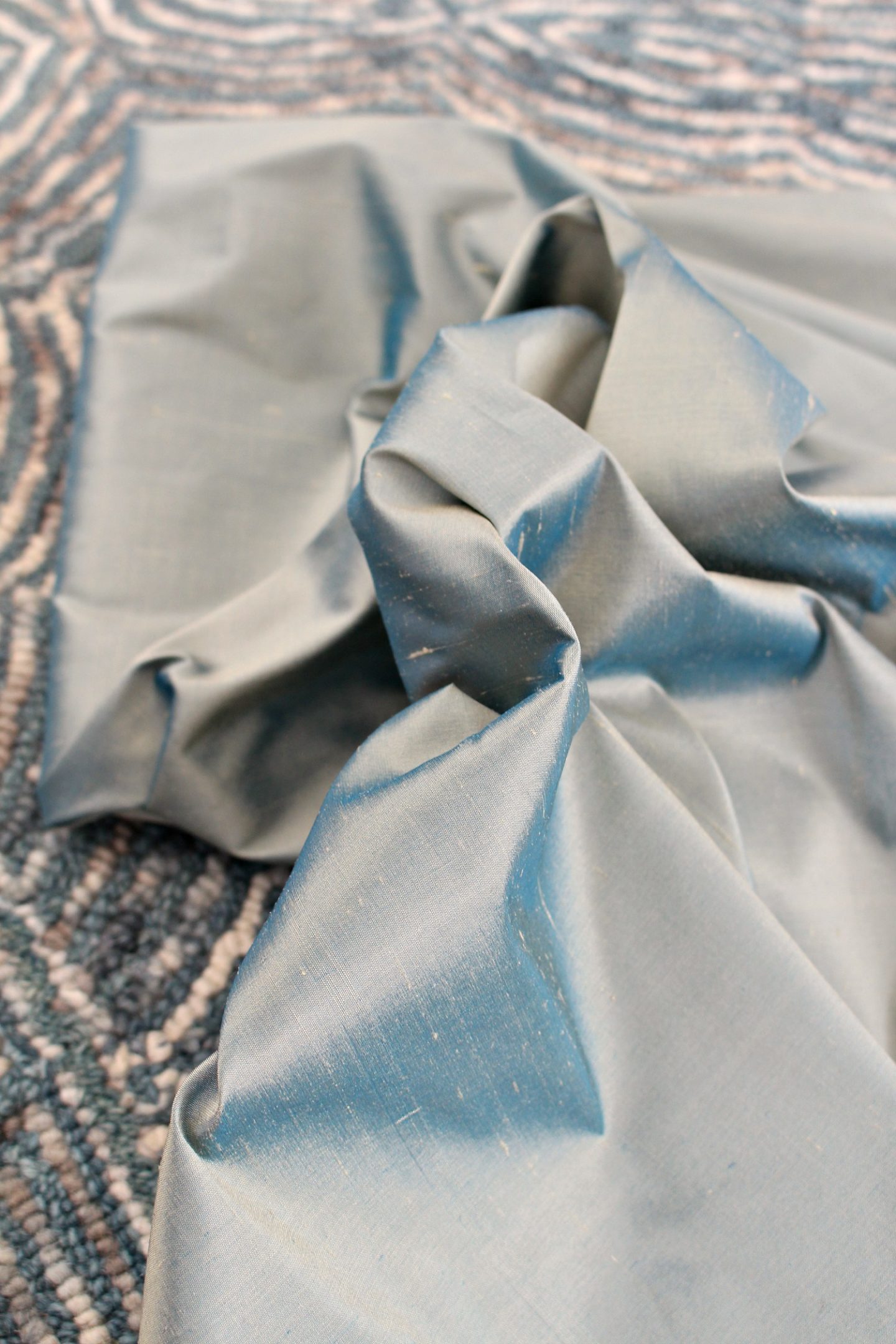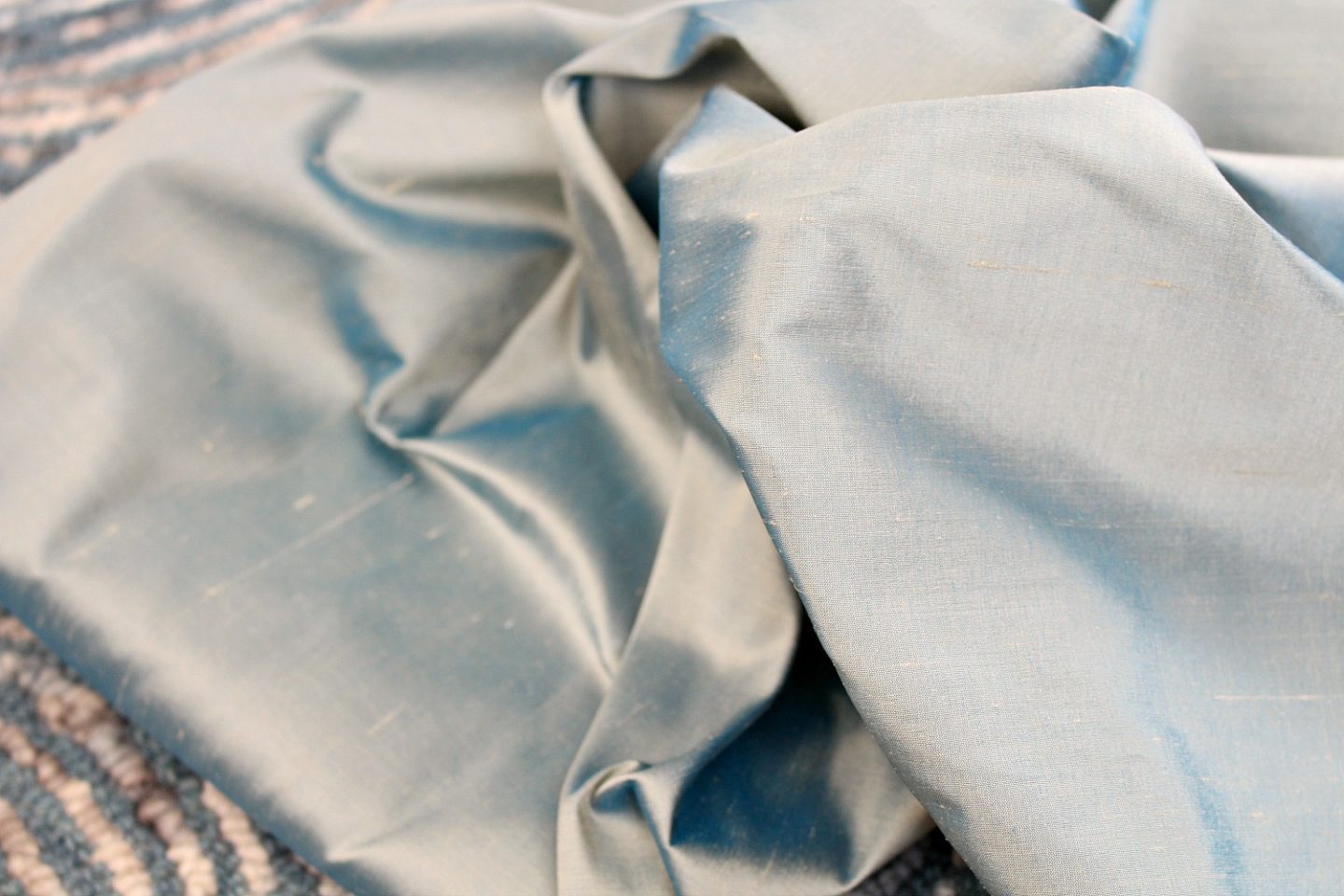 The Walls:
We are WALLPAPERING! Her landlord is pretty chill (remember the bold makeover he let us do in her stairwell?) and we loved wallpapering my powder room, so we decided to go for it! But we didn't want to pick anything too loud, because it will probably stay up for the next tenants so we choose Bloom in Taupe, generously provided by Hygge & West. Mom favors neutrals more than I do so although she gamely considered some bolder, more colorful options (you can see them all saved in an Instagram Story highlight, labeled ORC 2020), ultimately she loved loved loved this pattern, which has a mid-century feel and a warmth this apartment needed.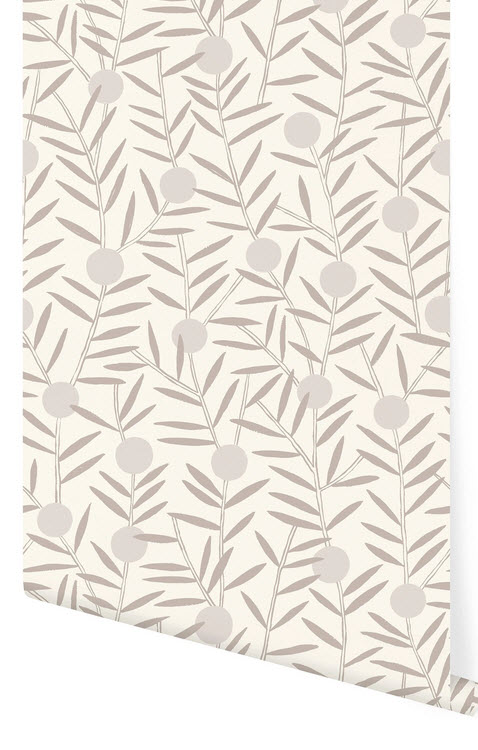 But I think with the bold teal rug, painted blue ceiling, and shimmering teal drapes, this room will still have some depth and color.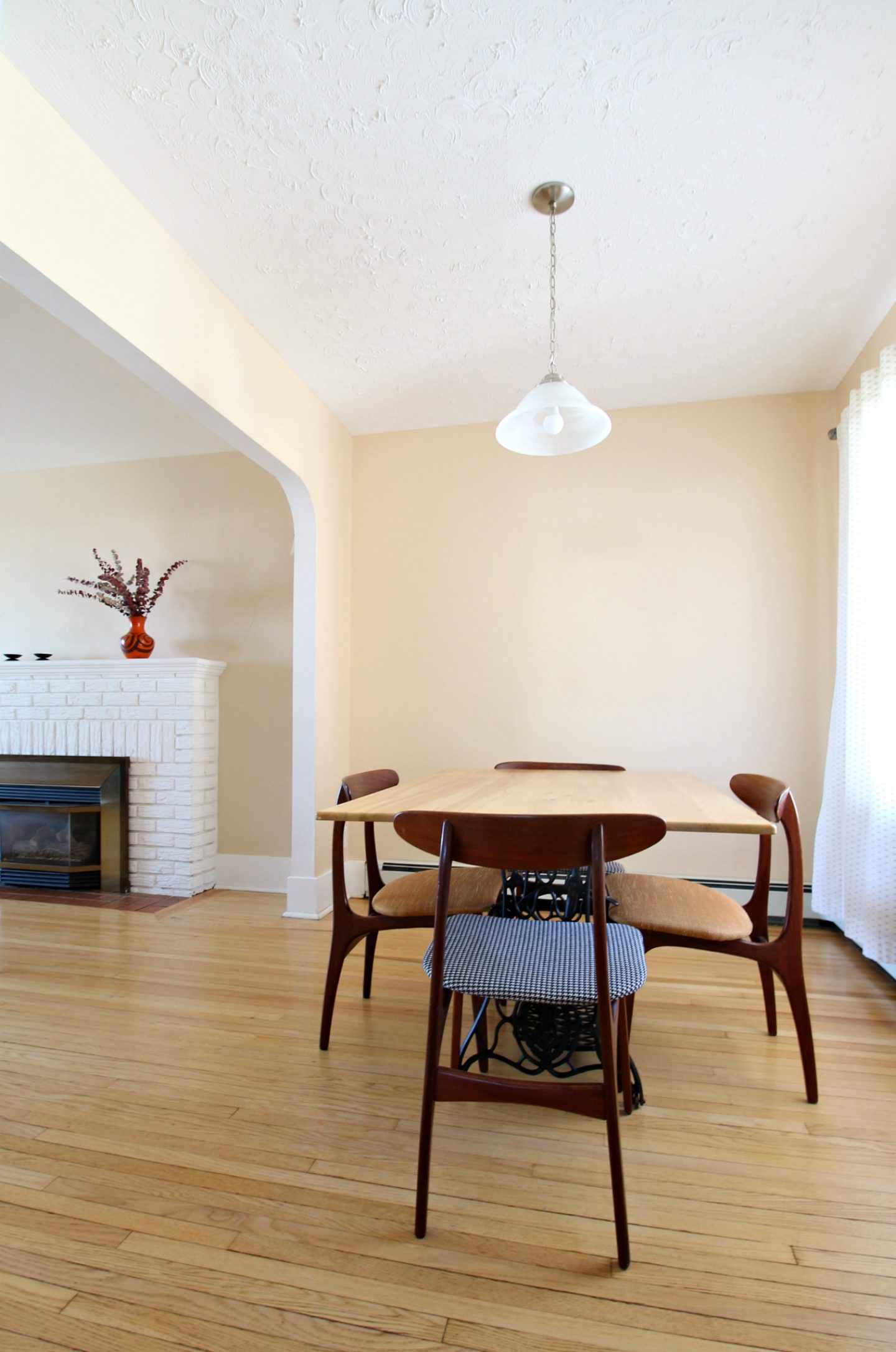 We can't paint the pocket door, so let's just ignore it and appreciate the wood…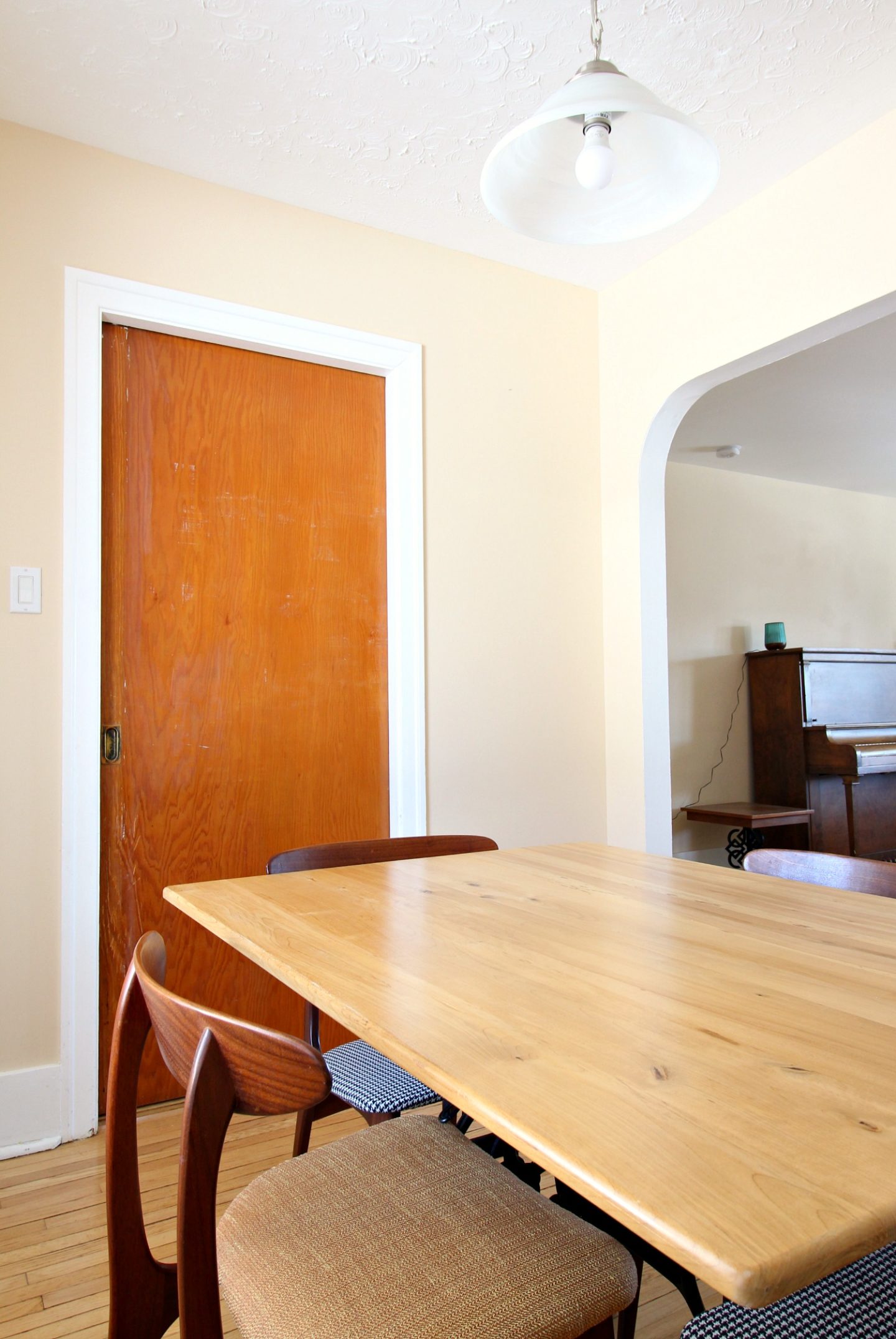 The Fireplace:
I want to paint the fireplace and wall a deep teal and we need to come up with a hack for those sconces because we can't replace them but they're so awkwardly placed – really wide set from the fireplace. So we plan to build a cover and help it blend into the wall. If our nutty plan works, it will be genius. If it fails, I have no Plan B…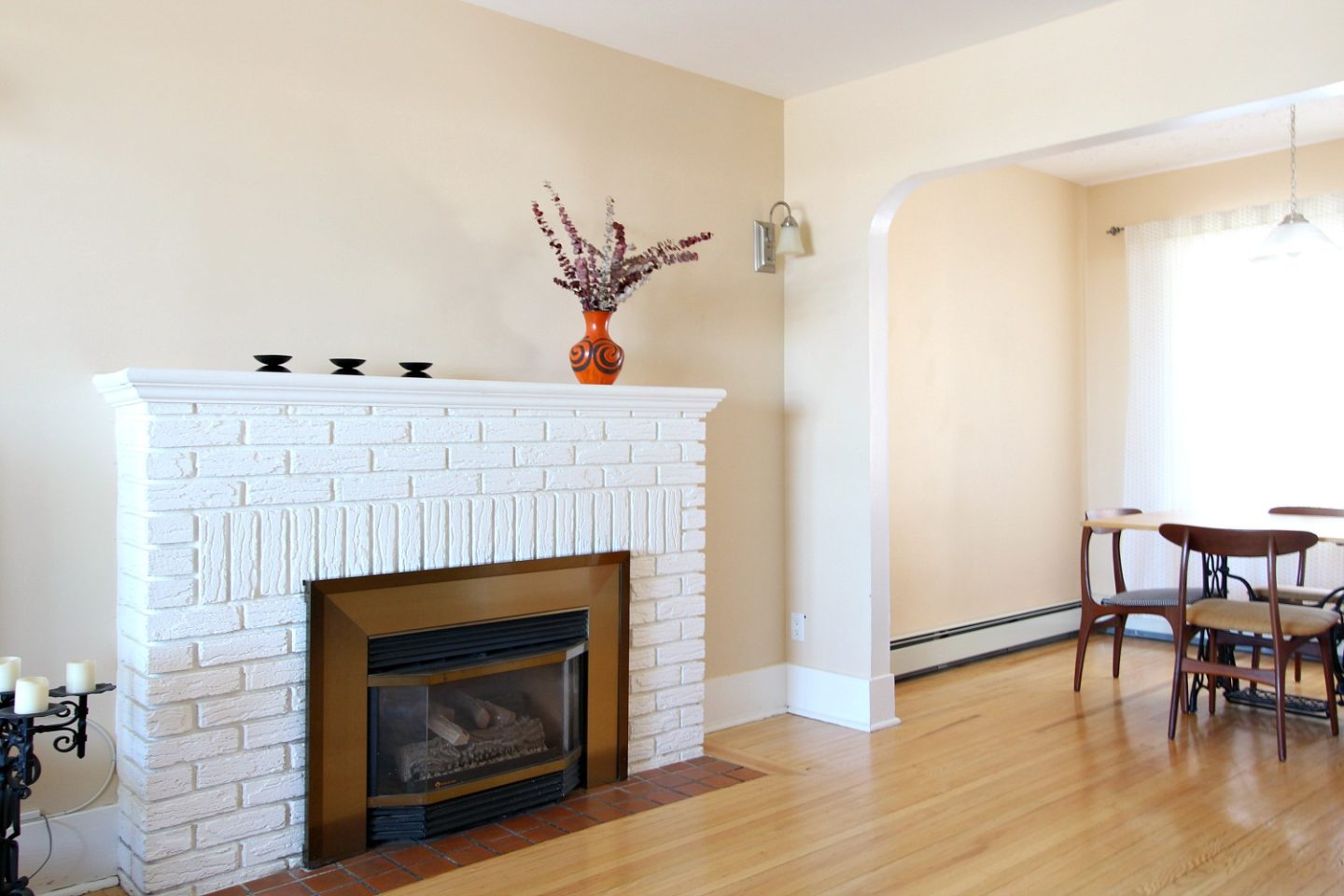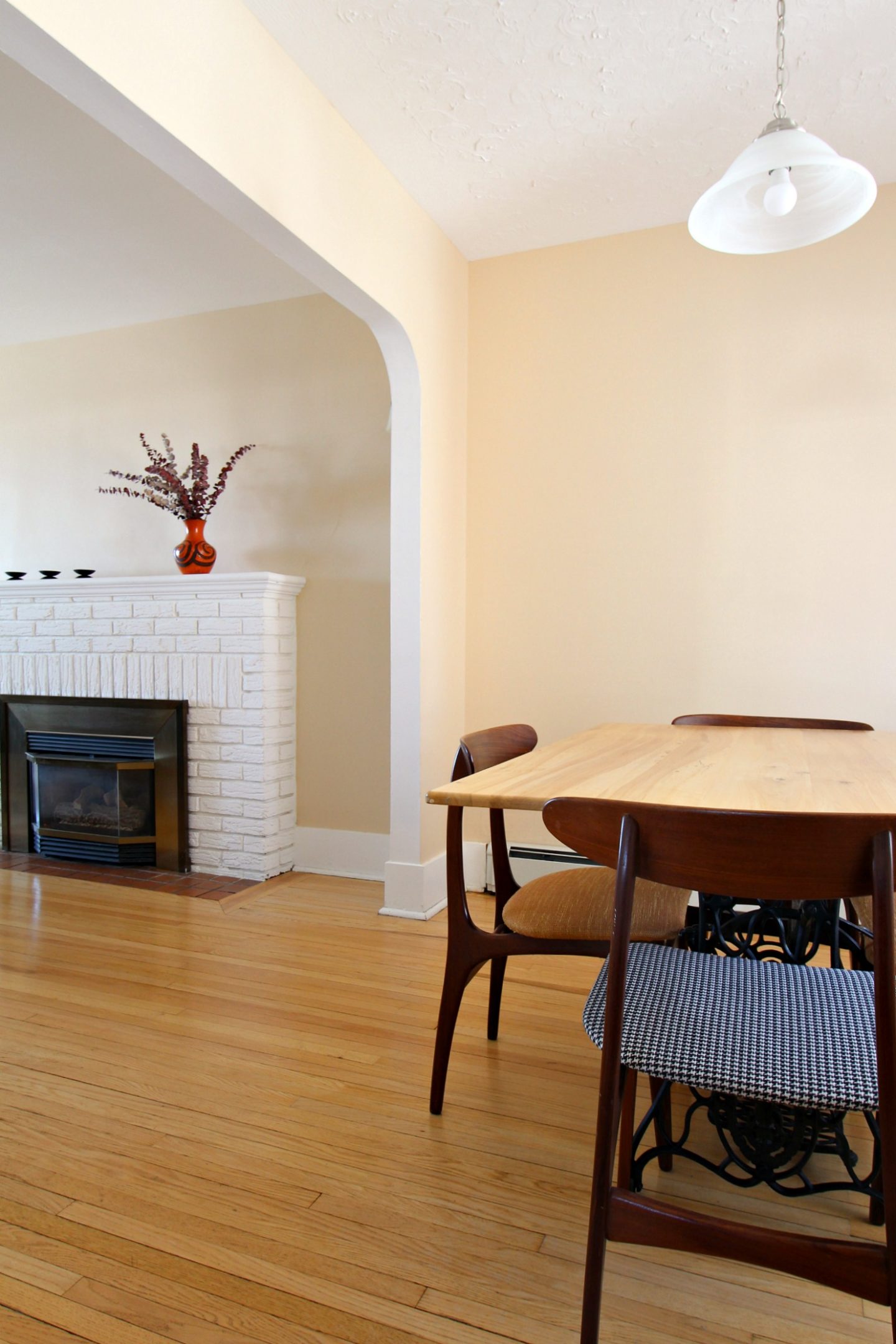 The Art:
I'm planning to make a big piece of art for this wall, but inspiration hasn't struck yet (oops). So I might need a Plan B option here as well…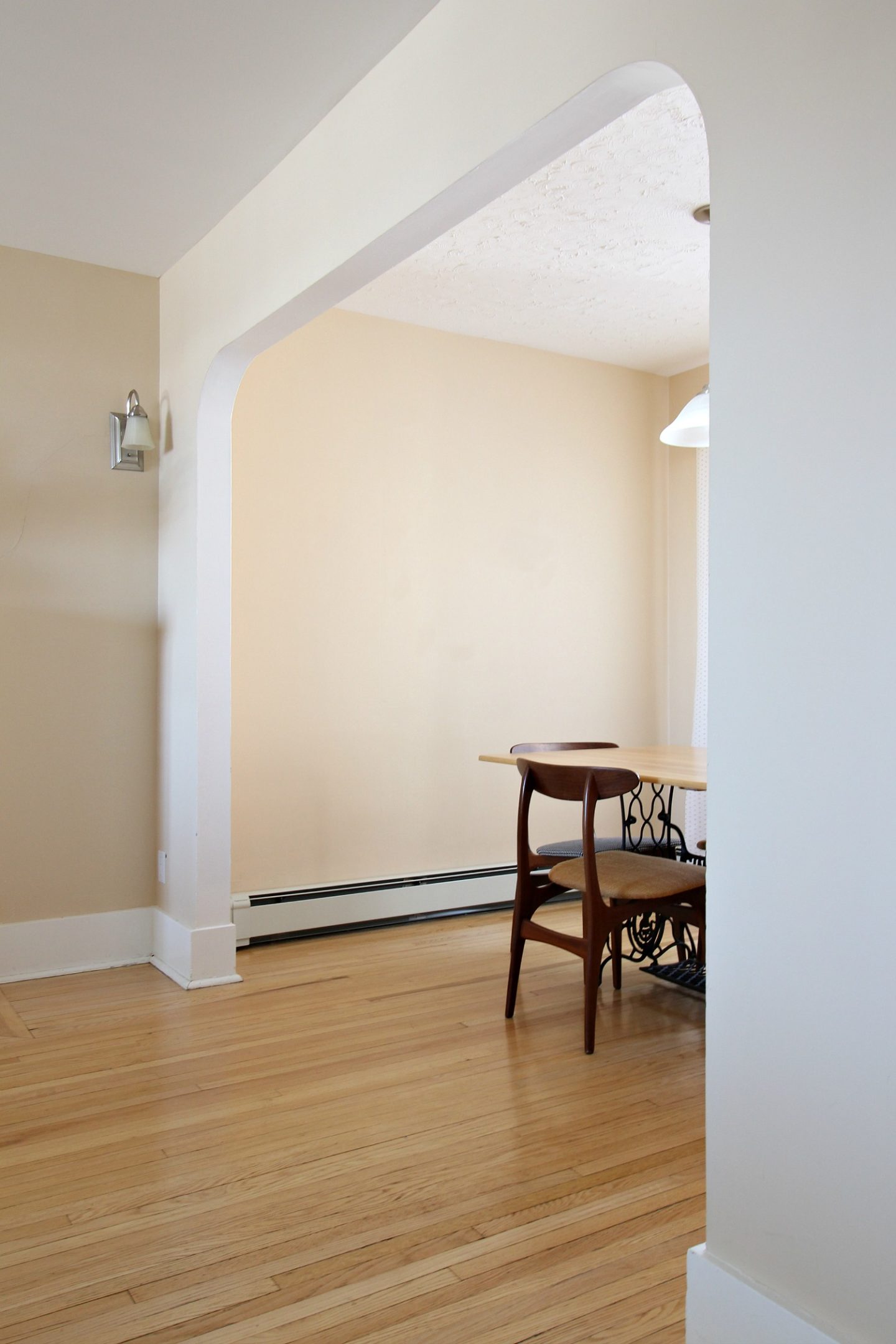 The Table and Chairs:
Soooooo….. I had a brand lined up that was going to provide a really gorgeous set of mid-century modern inspired table and chairs, but they were the only sponsor that had to back out because of the current climate. I was really disappointed and I don't have a Plan B right now. Maybe I'll find something secondhand? Or give my Mom my teak table, because we've been hoping to build something a little less fussy for our dining room. Right now she's using my old treadle desk, which isn't ideal, but we'll figure something out! We have time…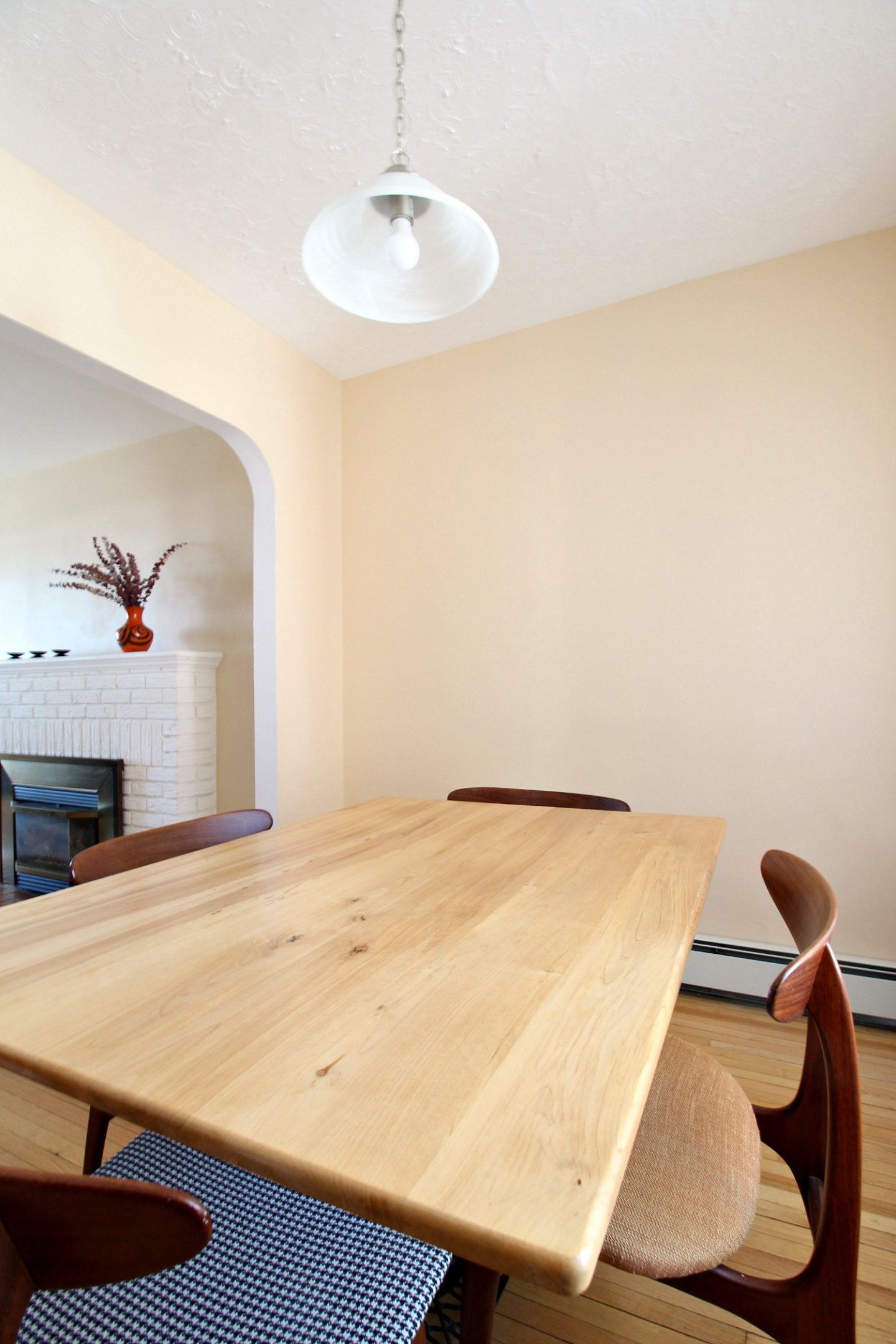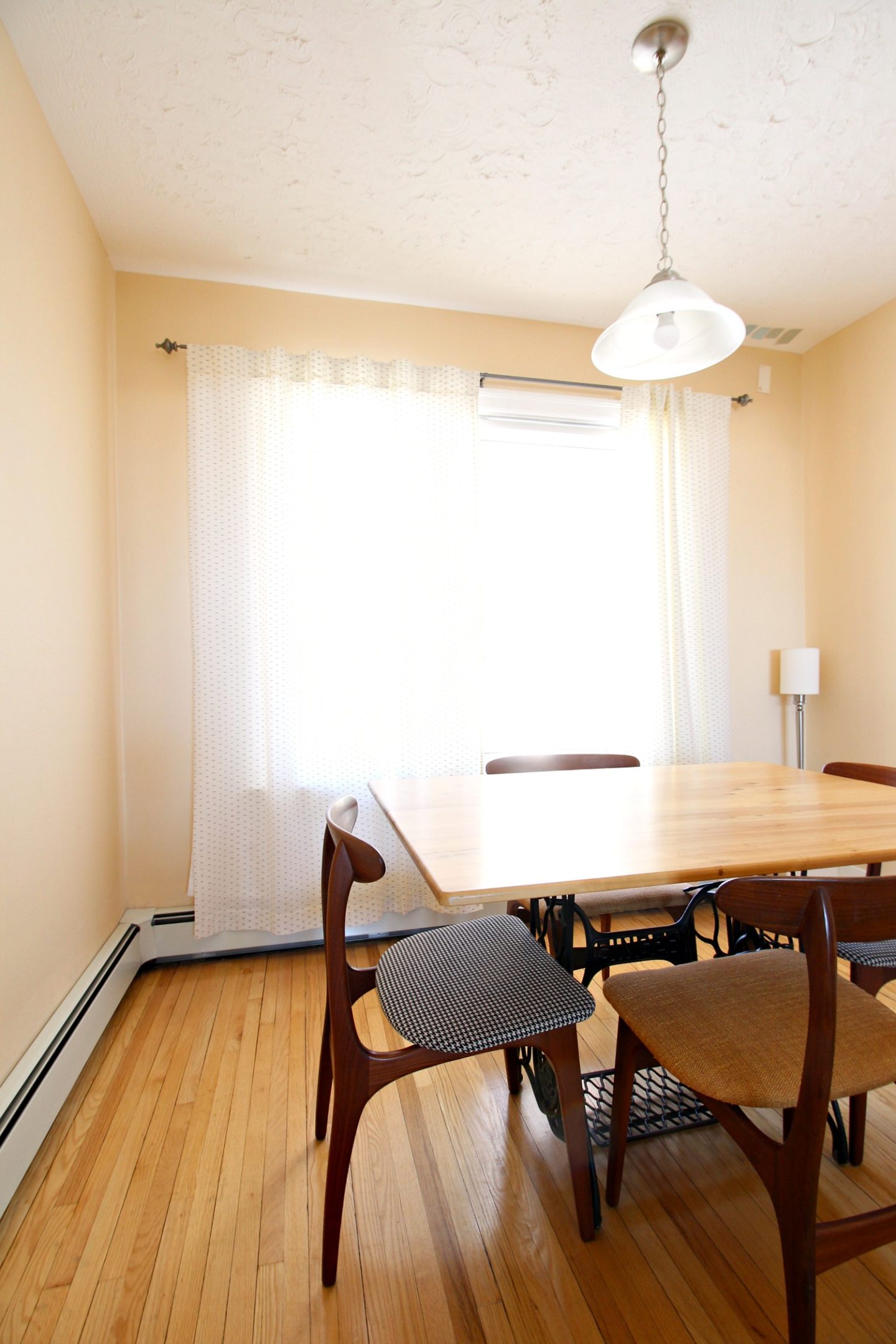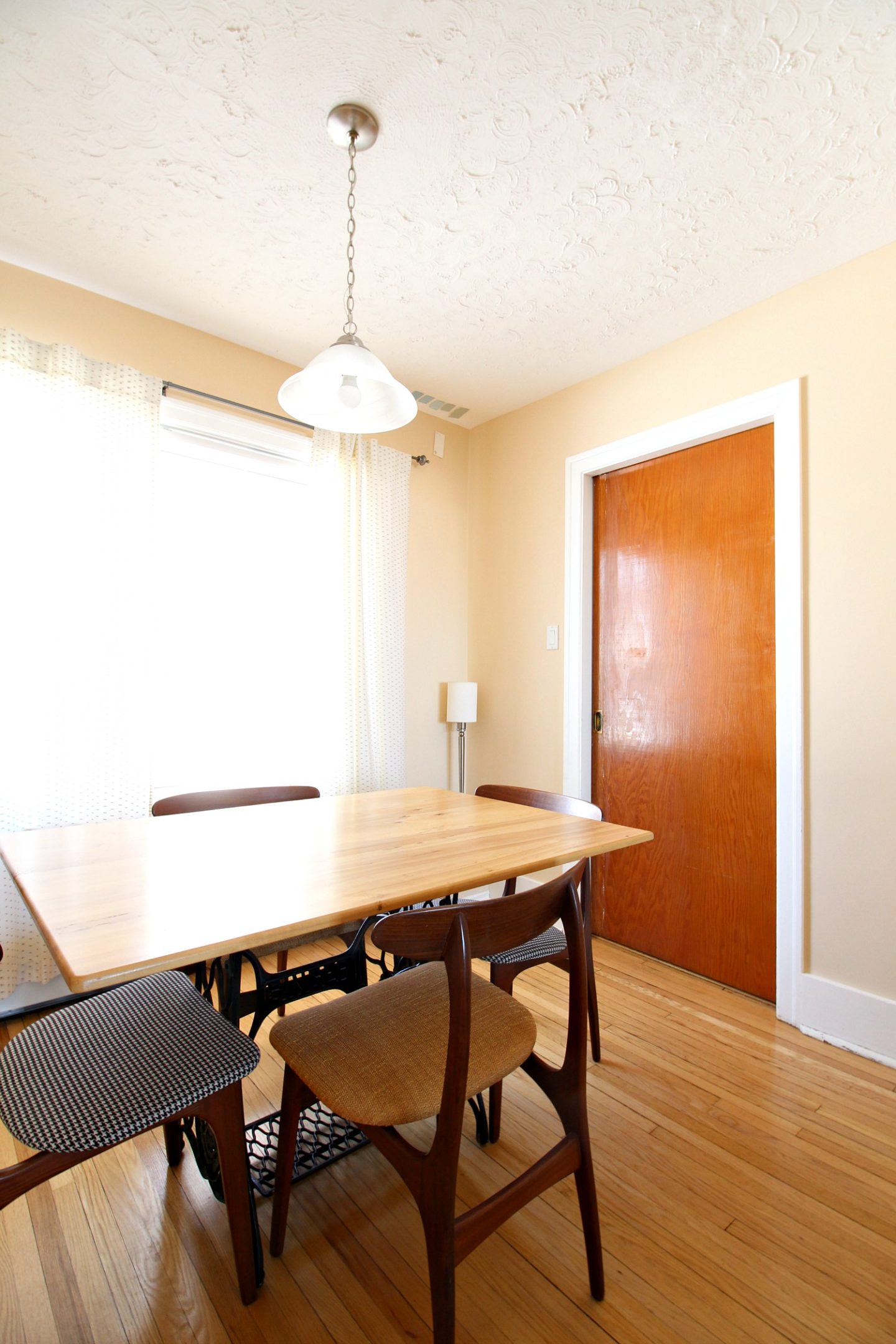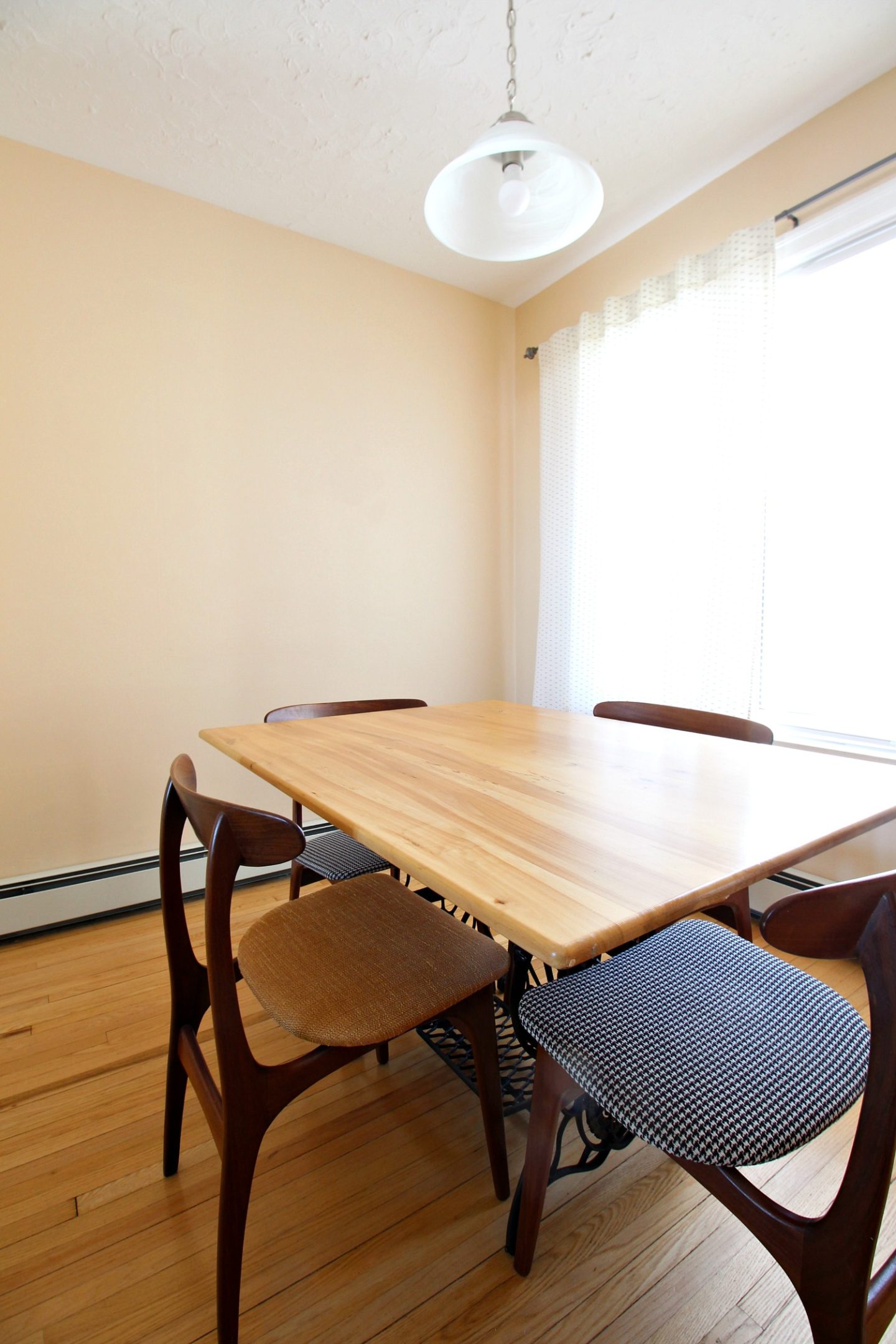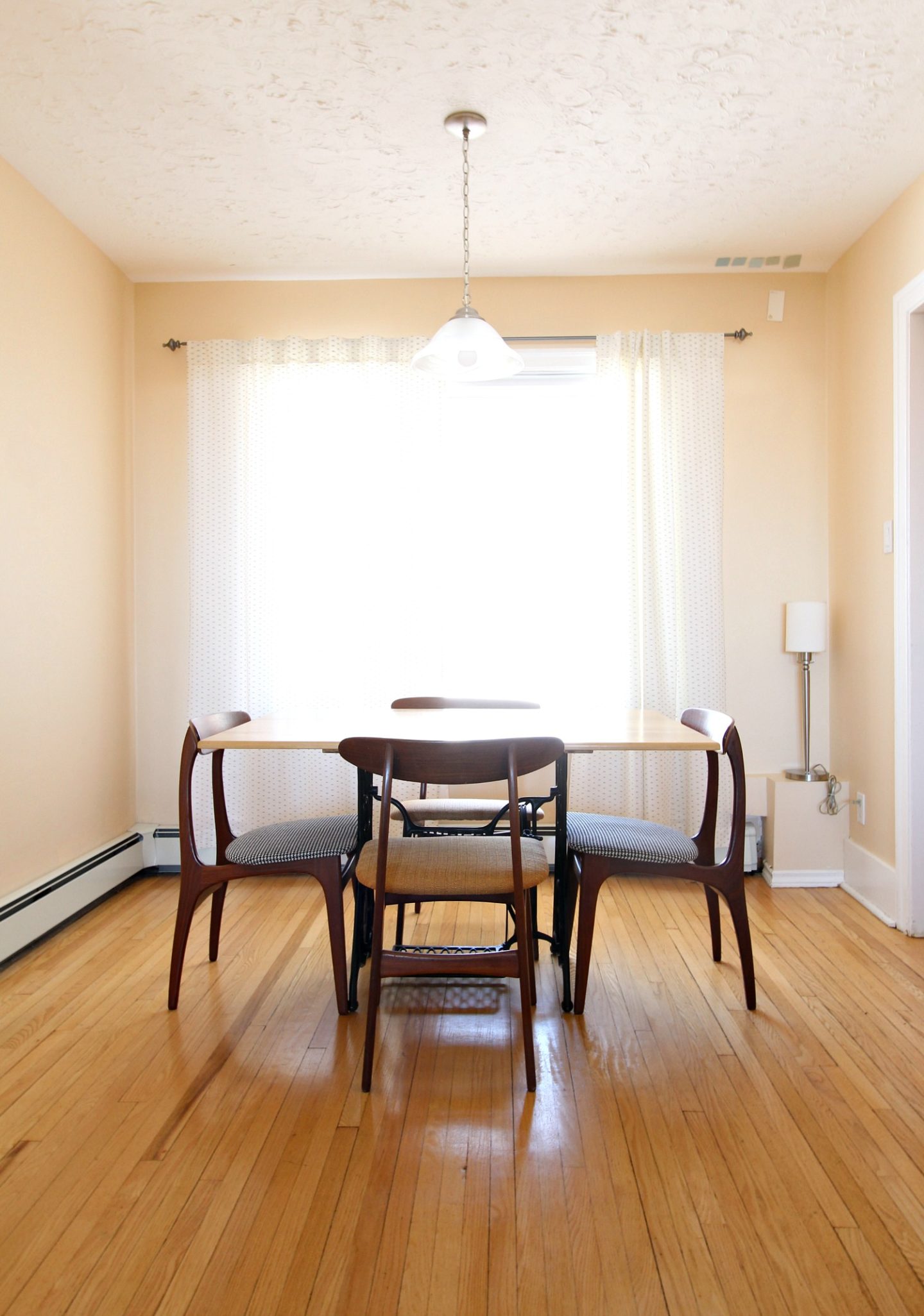 The Weird Bump Out:
There's this weird little bump out we have no idea what to do with. Probably wallpaper over it to try and disguise it!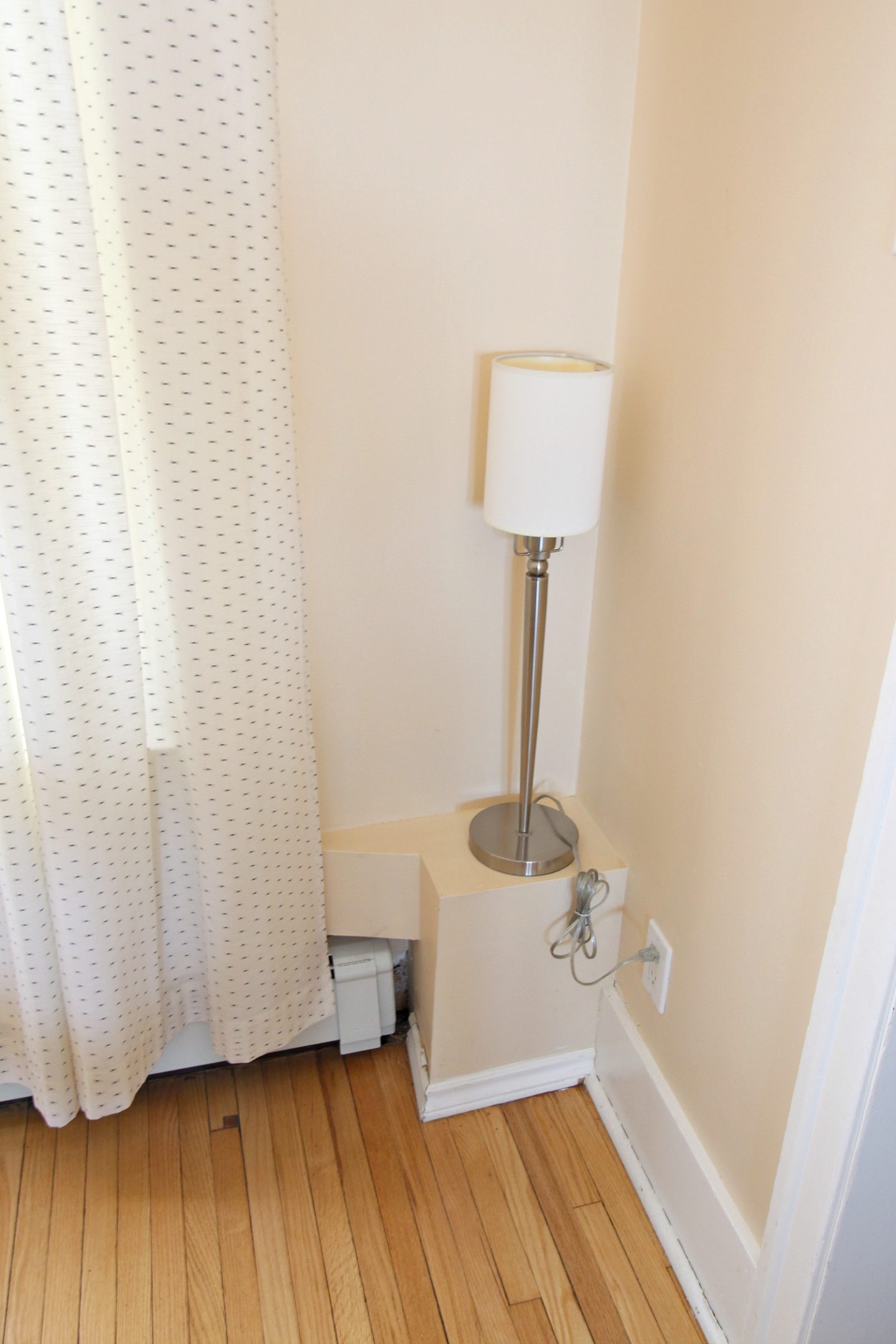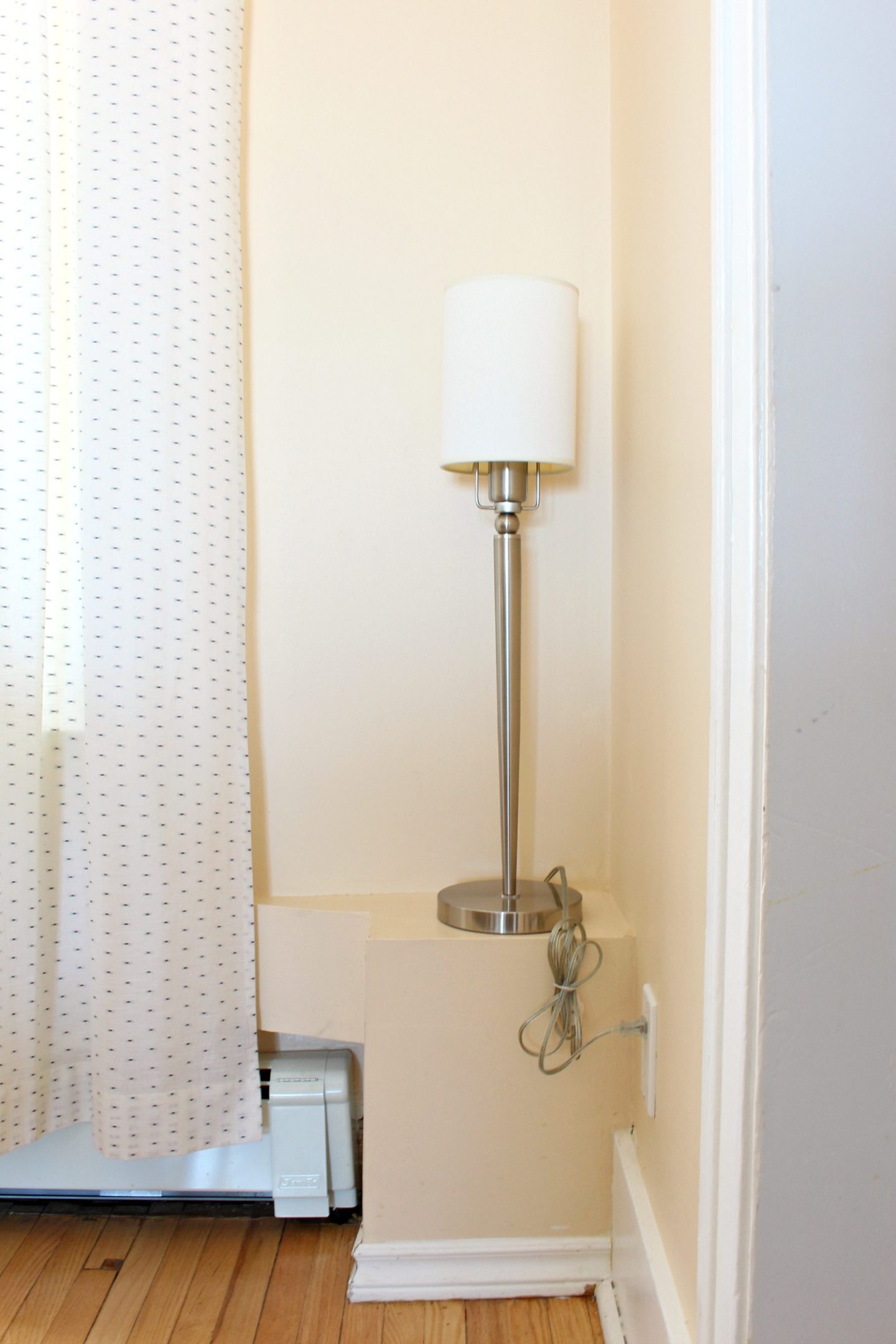 The Rug:
My Mom has loved my Loloi rug, so I reached out and the company generously provided one for my Mom's space (it's from the Ziva collection, ZV-04 Denim – you can also find it for sale on Amazon). It's the same hand tufted wool pile as my dining room rug, but in a richer and moodier color palette. Mom LOVES it! It will be a great way to define the space and cover the slightly beat up wood floors.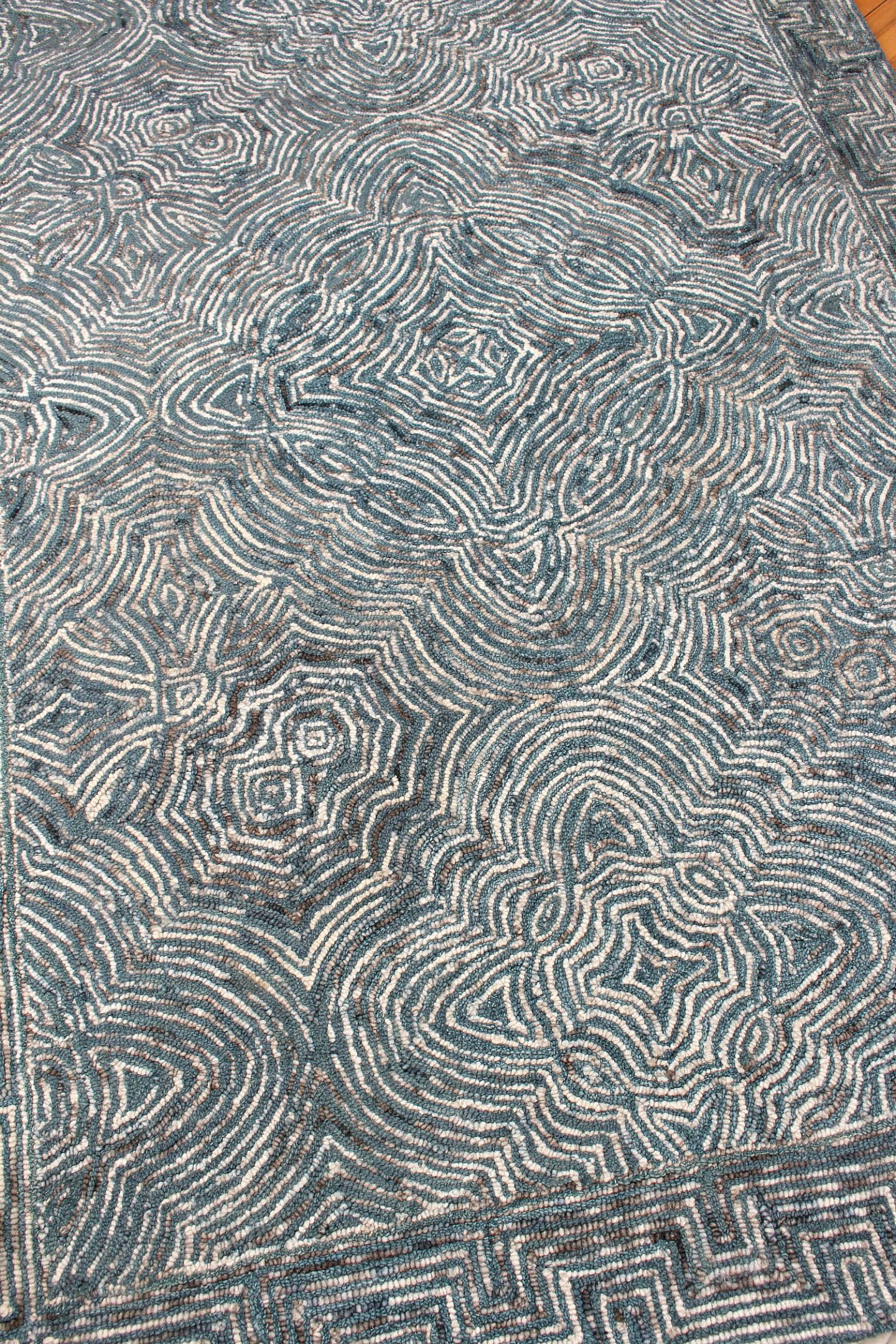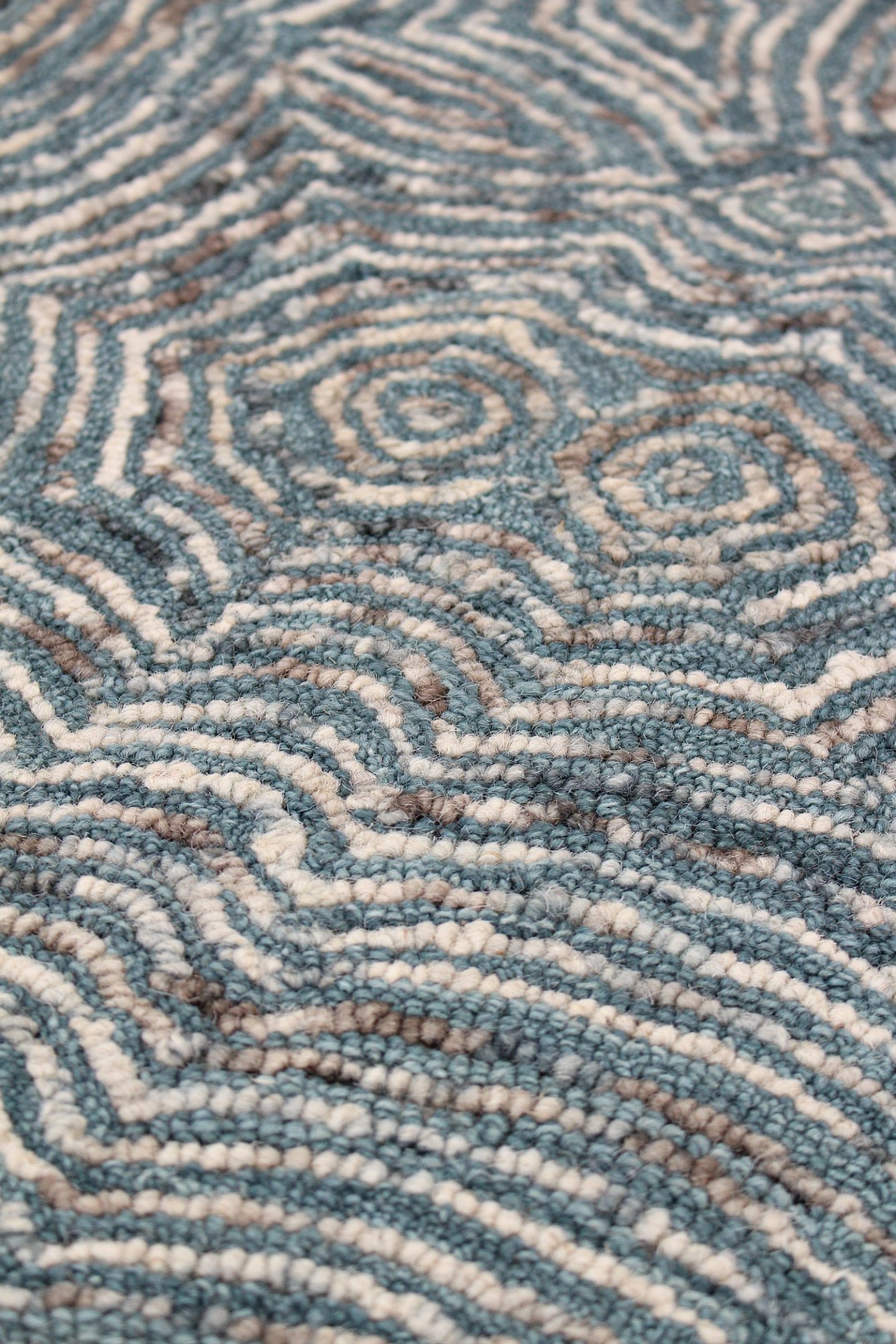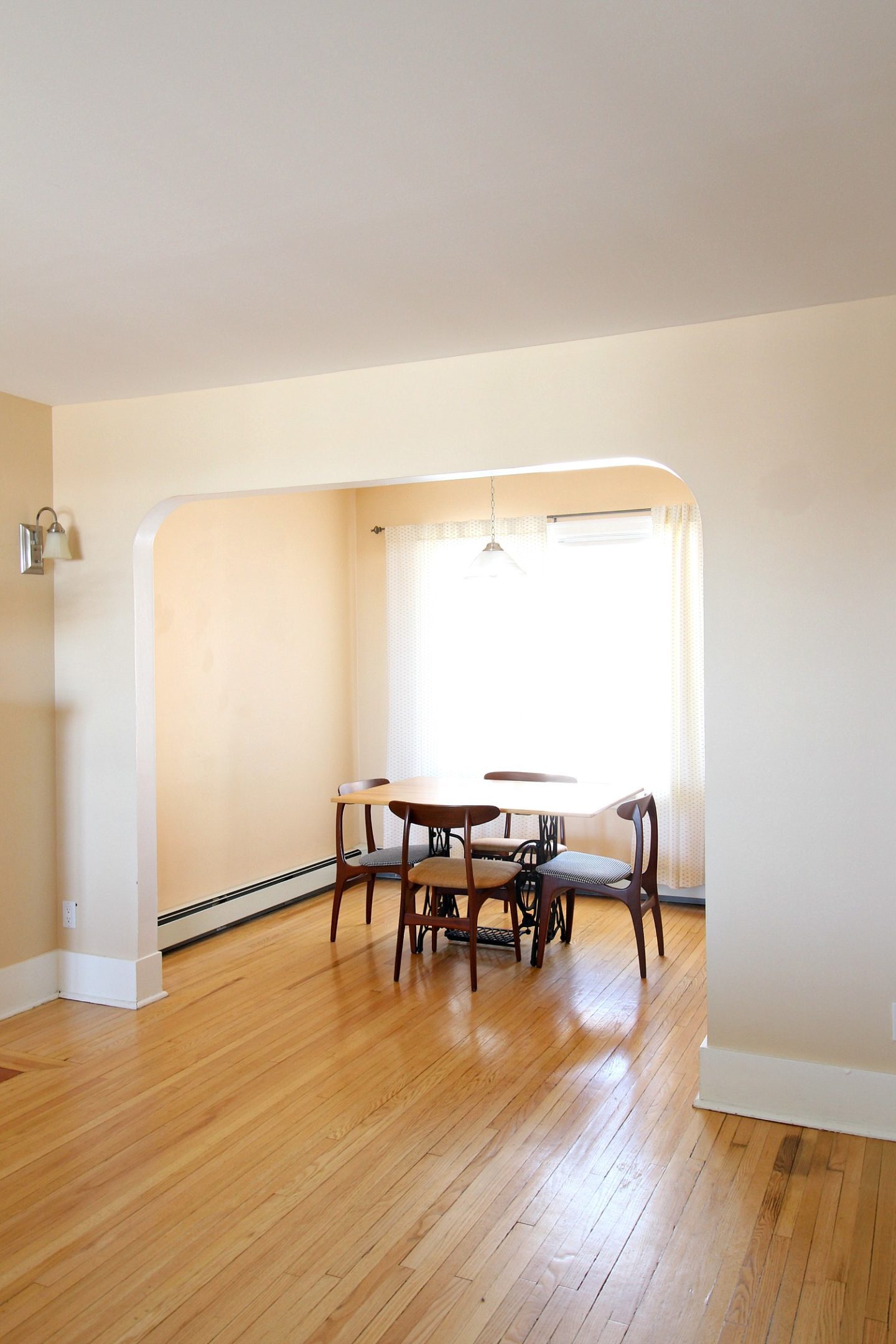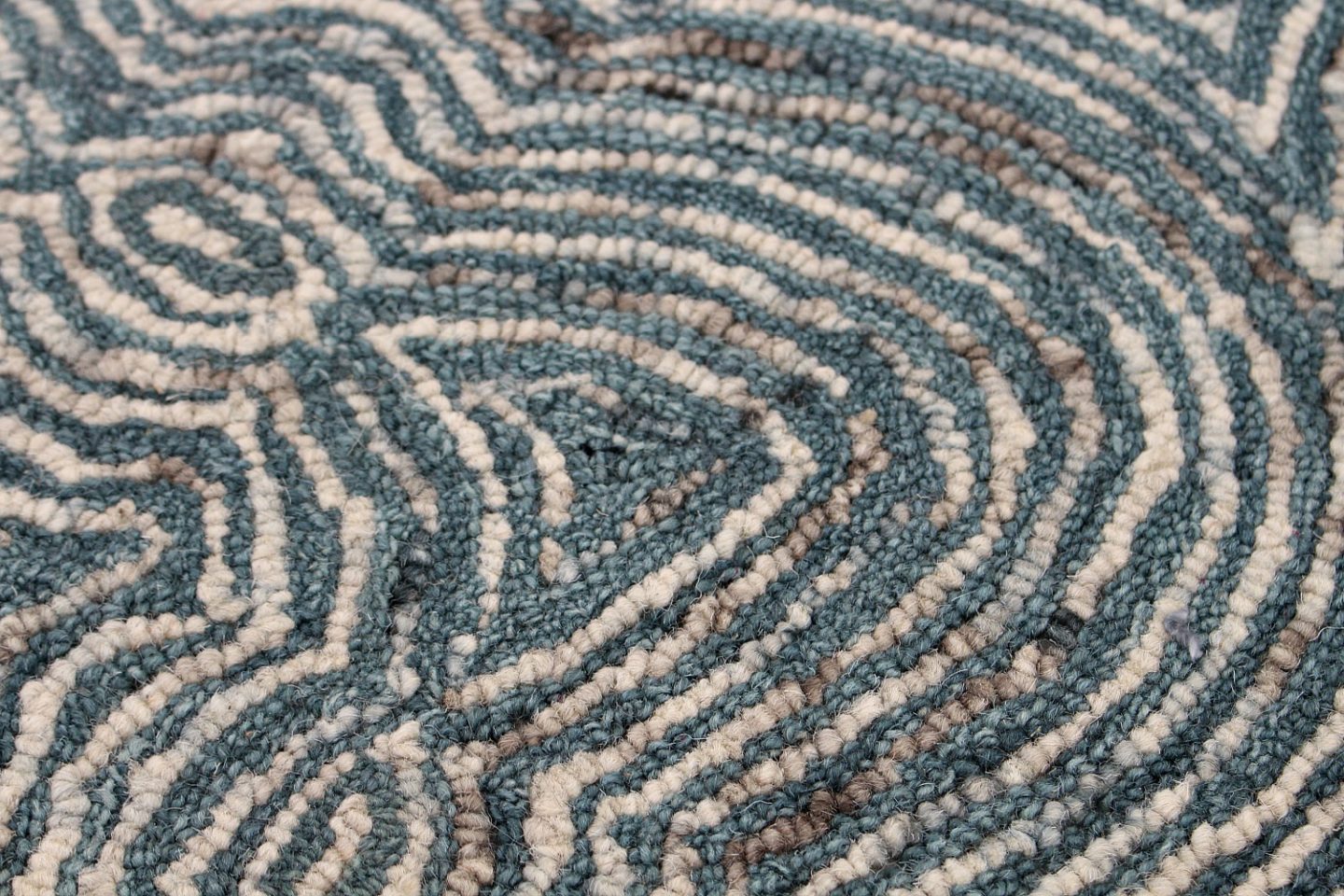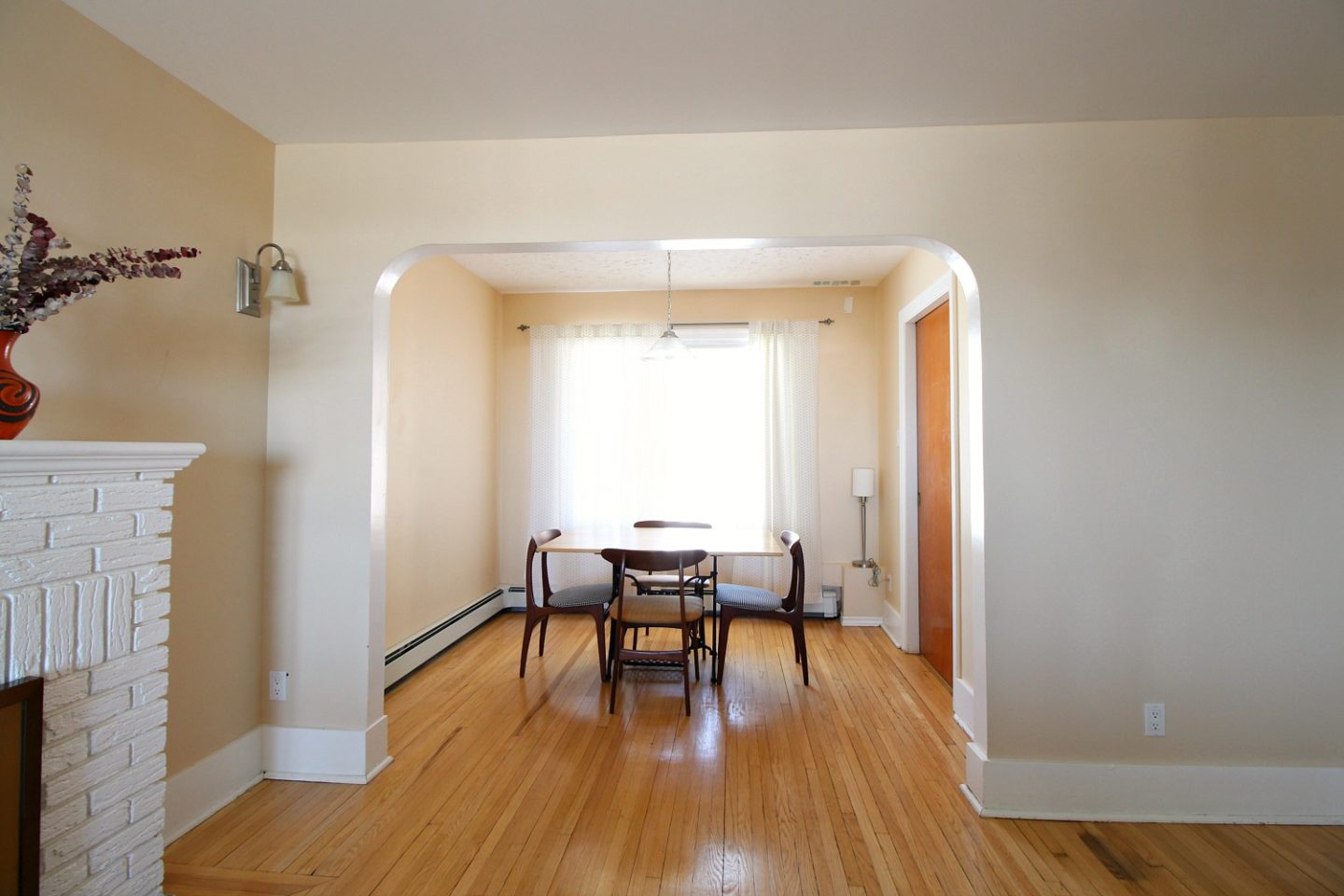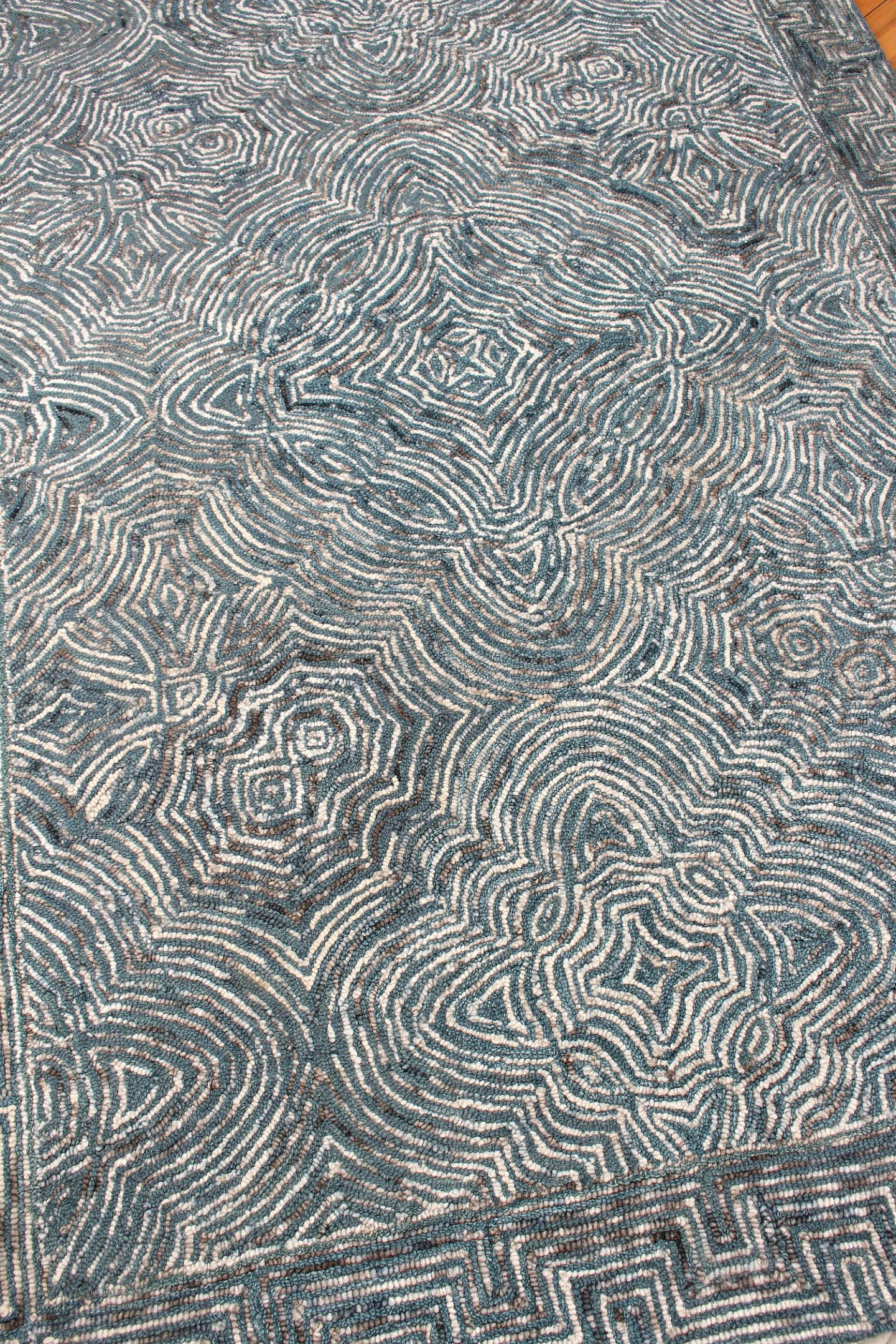 The Credenza:
Is imaginary, lol. The dining room itself is too small for any furniture except a table and chairs so this wall (which looks bigger in this photo than reality) will be home to some kind of cabinet or storage, for plates and linens. We planned to thrift something cool but thrift stores have been closed for ages, so we might shop the house (her house or mine, haha) or make something, I'm not sure yet. Looking at these photos, I need some art for here too. Hmmmm… I better get busy. Maybe a driftwood wall hanging? Maybe I'm not as prepared as I thought, but it wouldn't be a ORC Dans le Lakehouse if I wasn't figuring things out on the fly and last minute!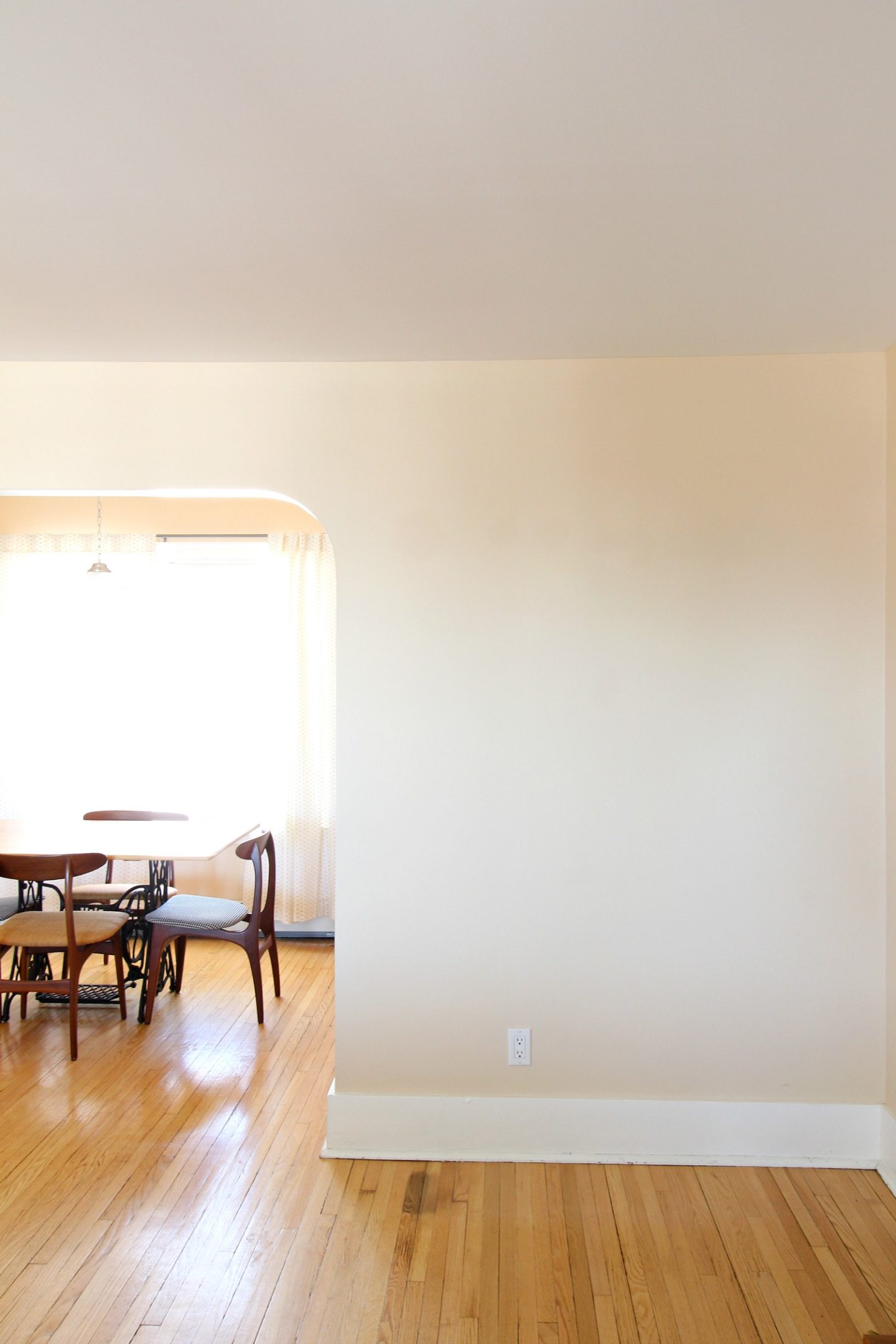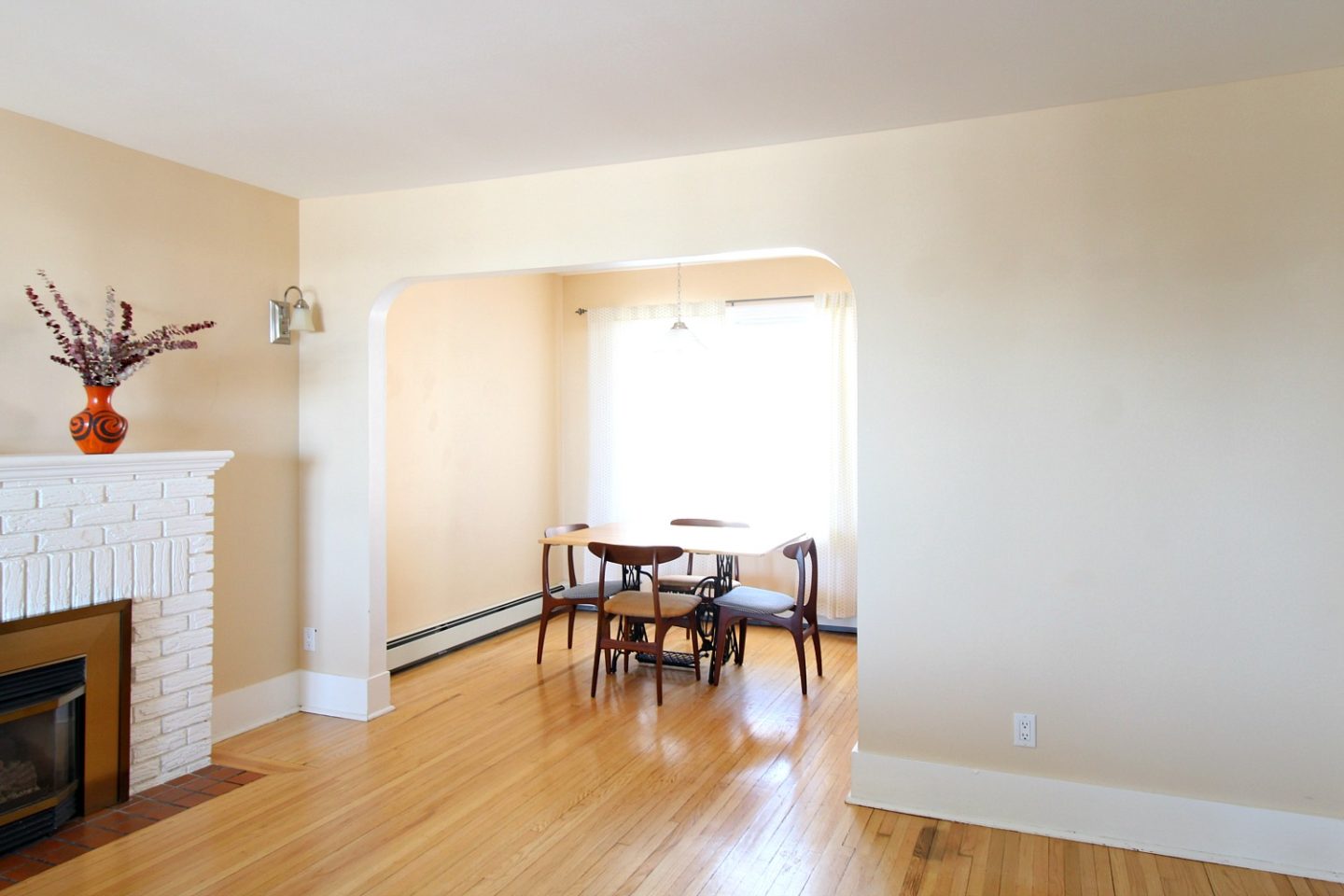 So that's the "before" and my plans for my Mom's dining room makeover! It's not too complicated (just a lot of painting, sewing, and wallpapering) and I just hope we can knock it out some time in the next six weeks. I still have some up in the air plans and roughly formulated ideas, so let me know what you think and if you have any ideas of your own! Like where to find a table… 😉