I'm so excited to show you how we built our new DIY cold frame garden beds with a super cool shou sugi ban (wood burned) finish.
The Benefits of Cold Frame Garden Beds
I have wanted to try gardening for years but I worried that my poor little plants would get hit by a sudden cold snap in May and perish. Our growing season is so short here on Lake Superior! So when I heard about cold frame garden beds as a way to extend the growing season, I thought it would be a great solution for us.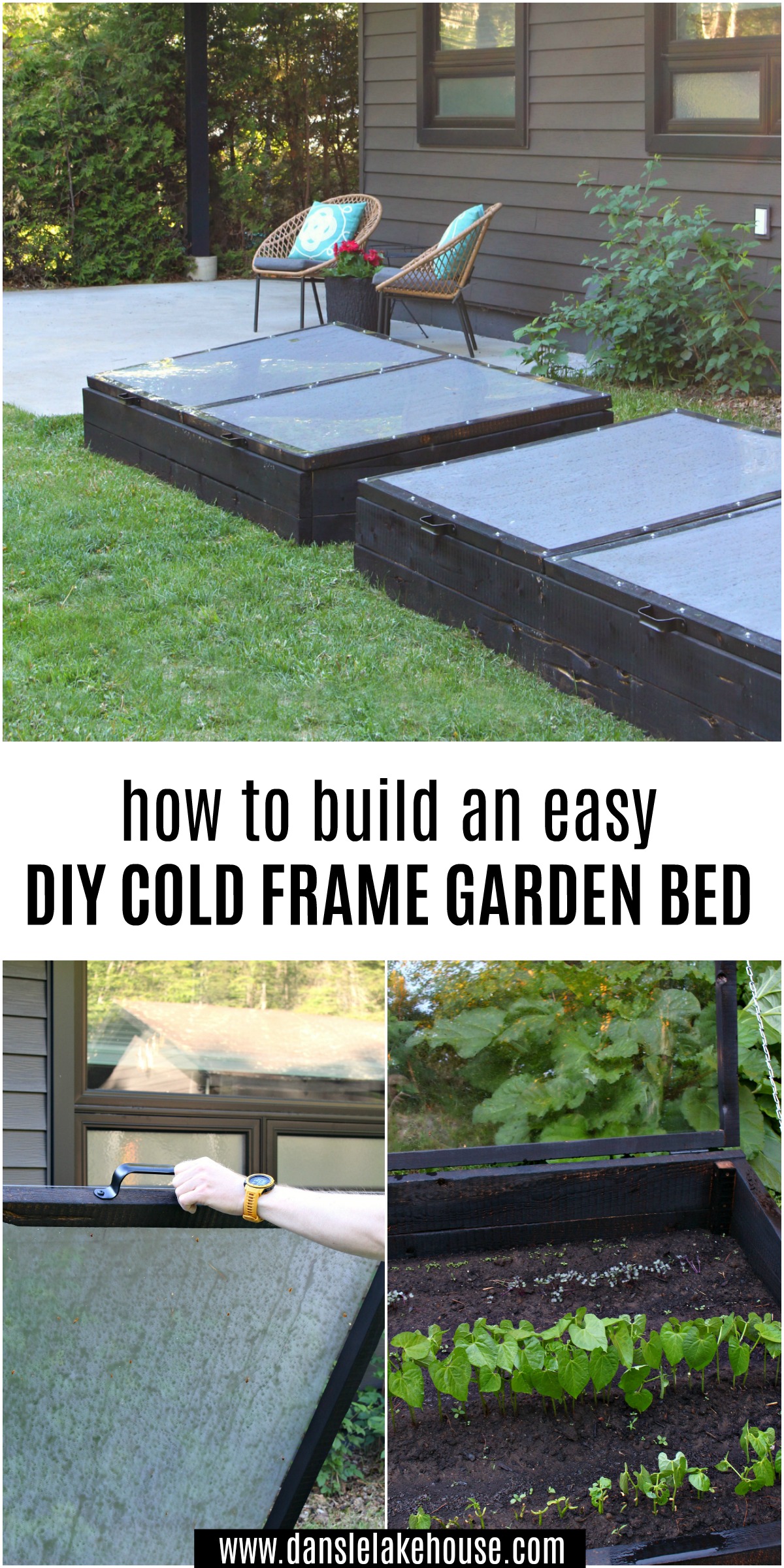 Supplies for DIY Cold Frame Garden Beds:
Below is a list of everything we used to make these awesome DIY cold frame garden beds. Hubby found a small, local saw mill through a friend and we bought some 2″x6″x8′ rough hewn lumber for our cold frames, but you can use a different wood if you prefer.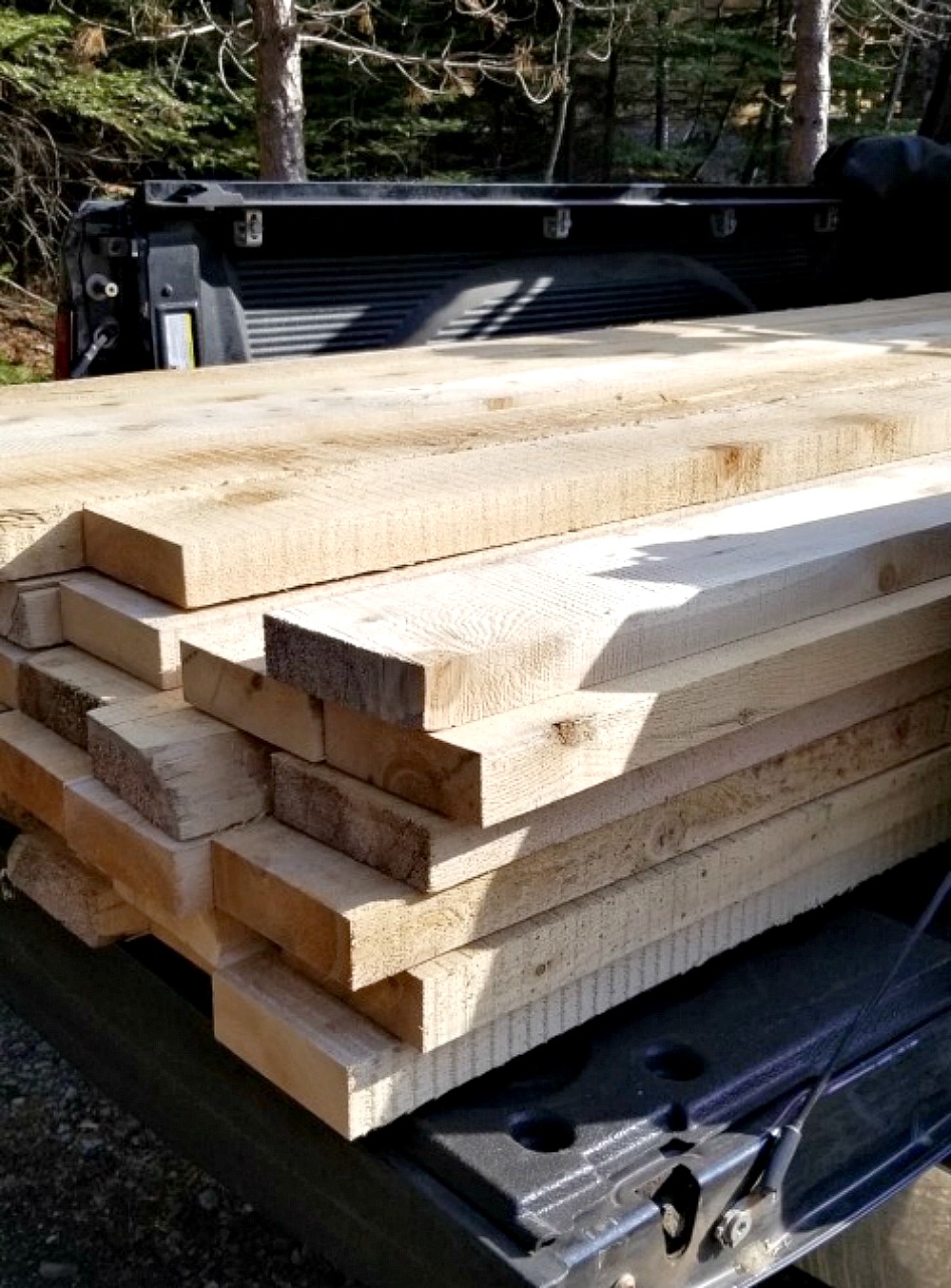 How to Build a Simple Cold Frame:
I'll start with how to build the cold frame garden beds and then share the tutorial for how to wood burn these garden beds and how to build a cold frame lide. The actual garden bed boxes are super simple to build.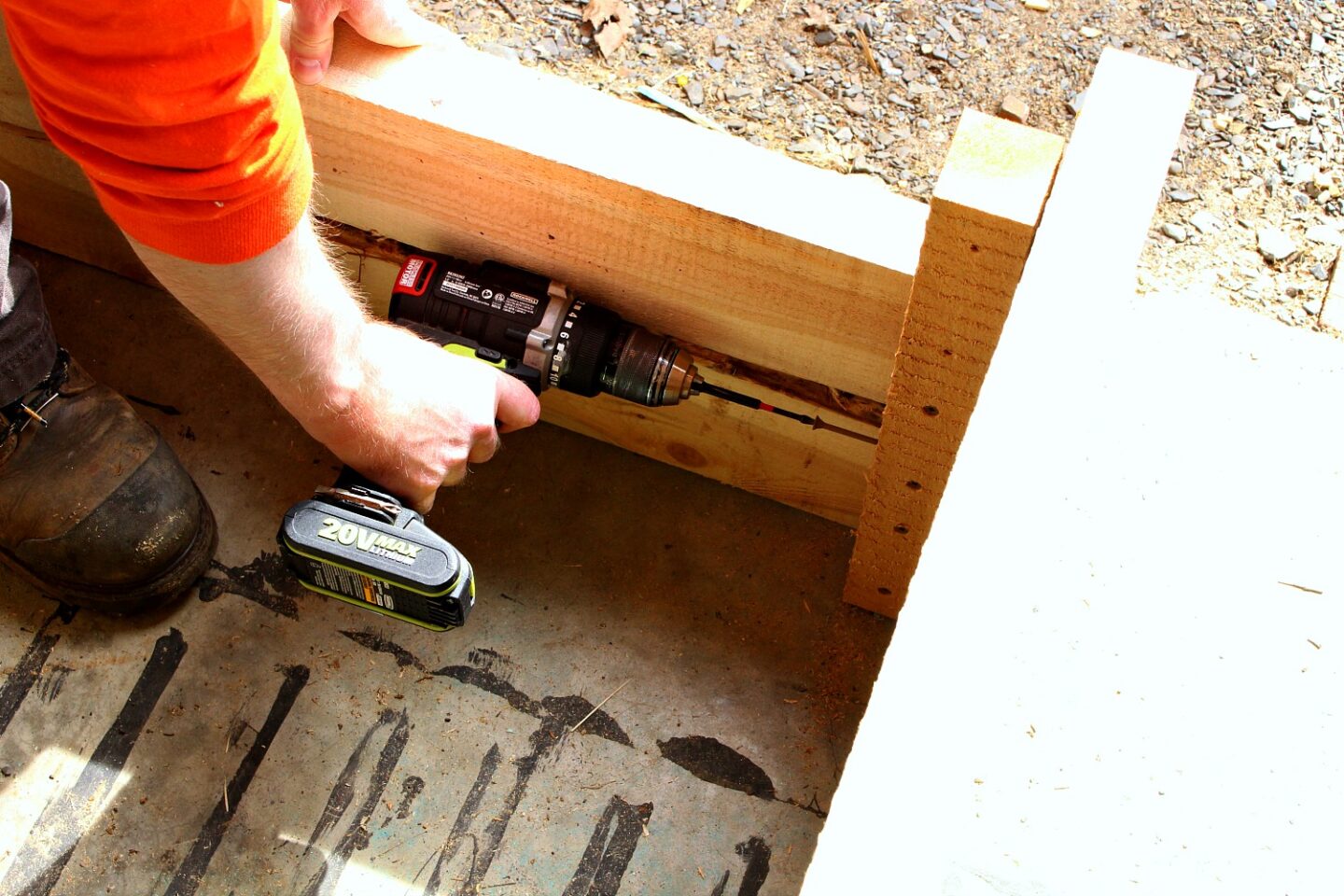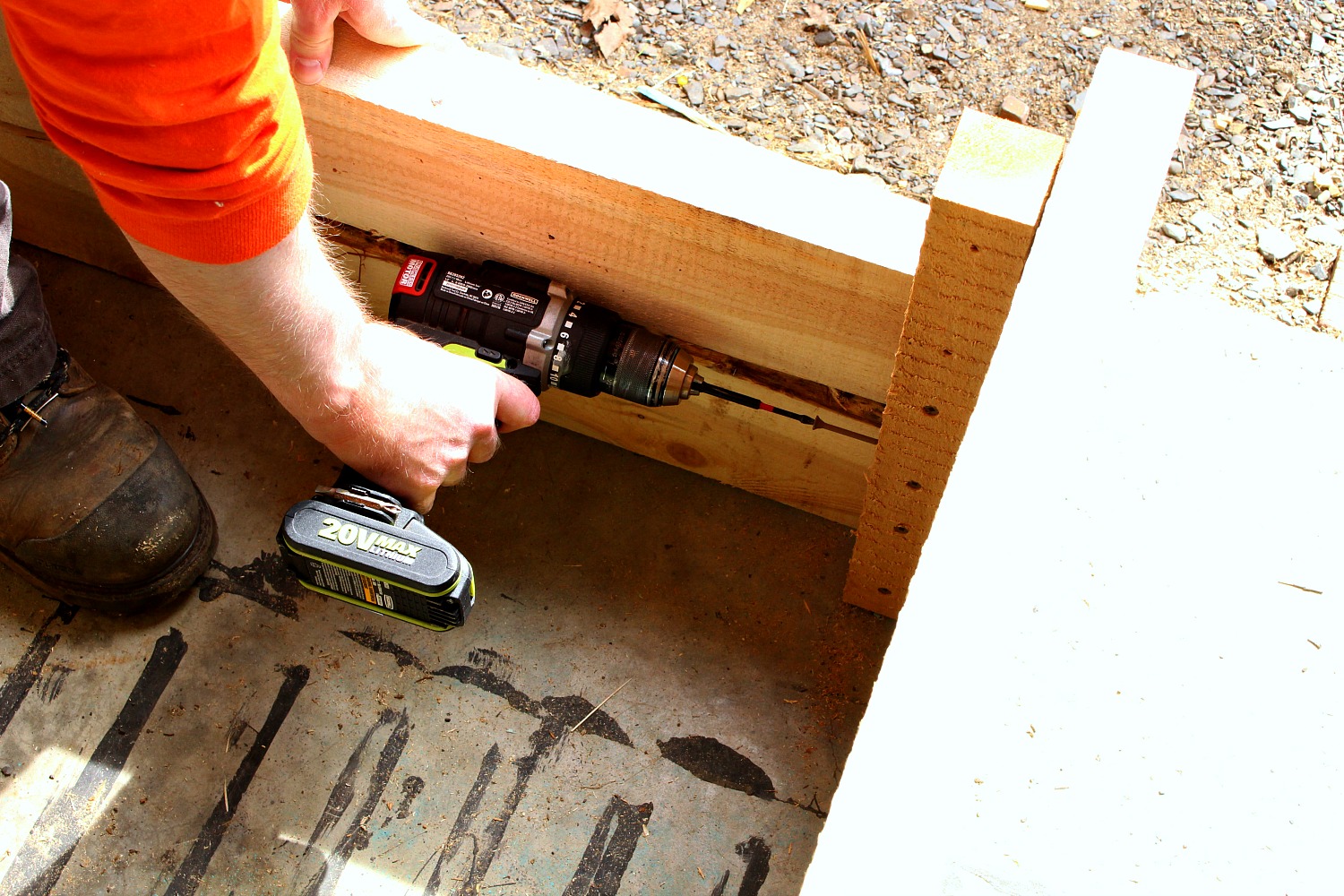 First we cut the boards for the four sides, using a sliding miter saw. To make it simple, the boxes are 4'x8′.
We then cut the vertical support pieces to length from the same lumber and ran them through a table saw to cut them to width (approx 2″x2″).
We pre-drilled holes and used deck screws (because they can withstand the elements) to put it all together (we found that assembling the front and back first was easier).
First we laid three boards on the ground, placed the vertical support pieces and screwed in all together
Once the front and back "sides" we put together, it was easier to add the side boards one by one. We stood up a board and screw from the inside, one board at a time.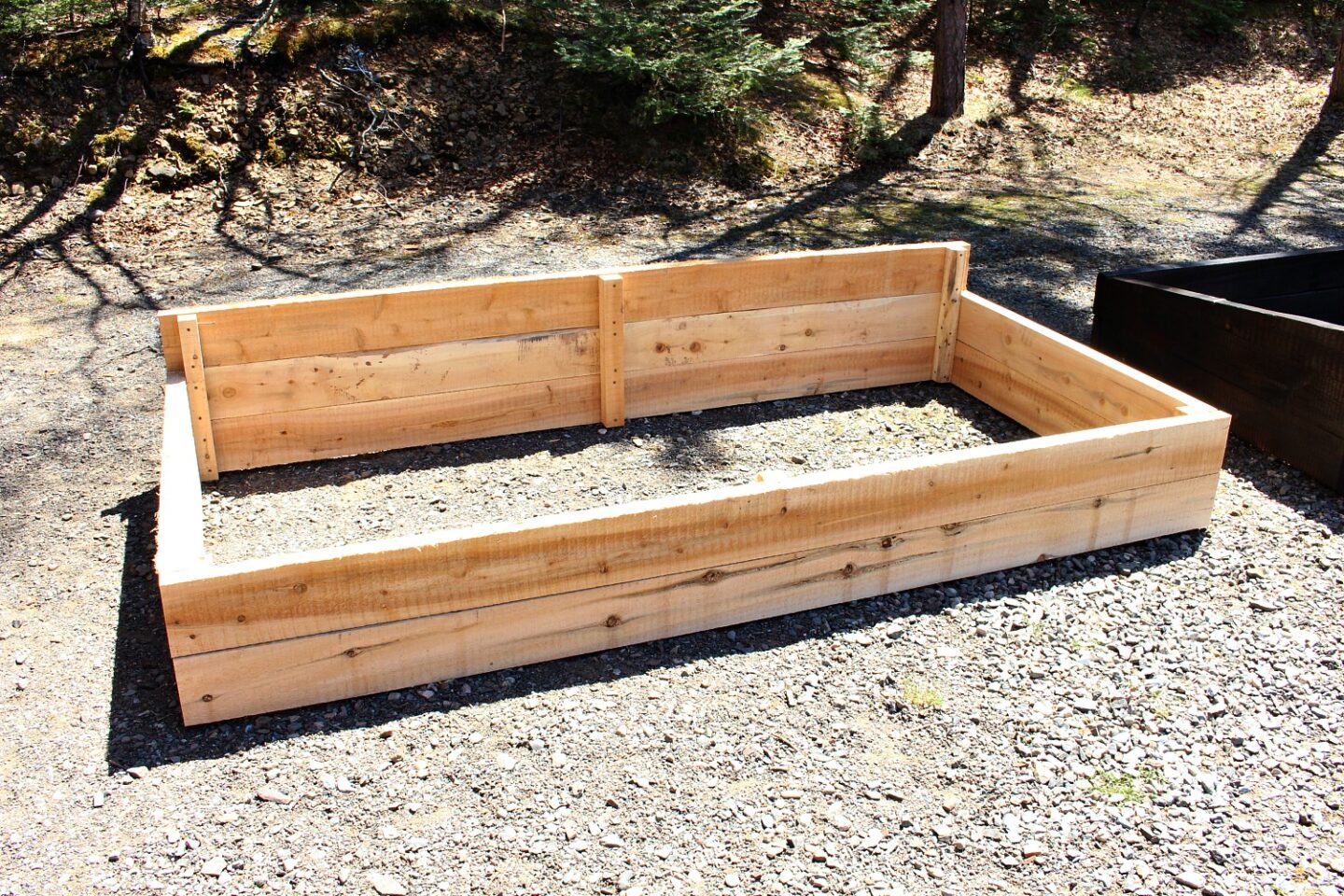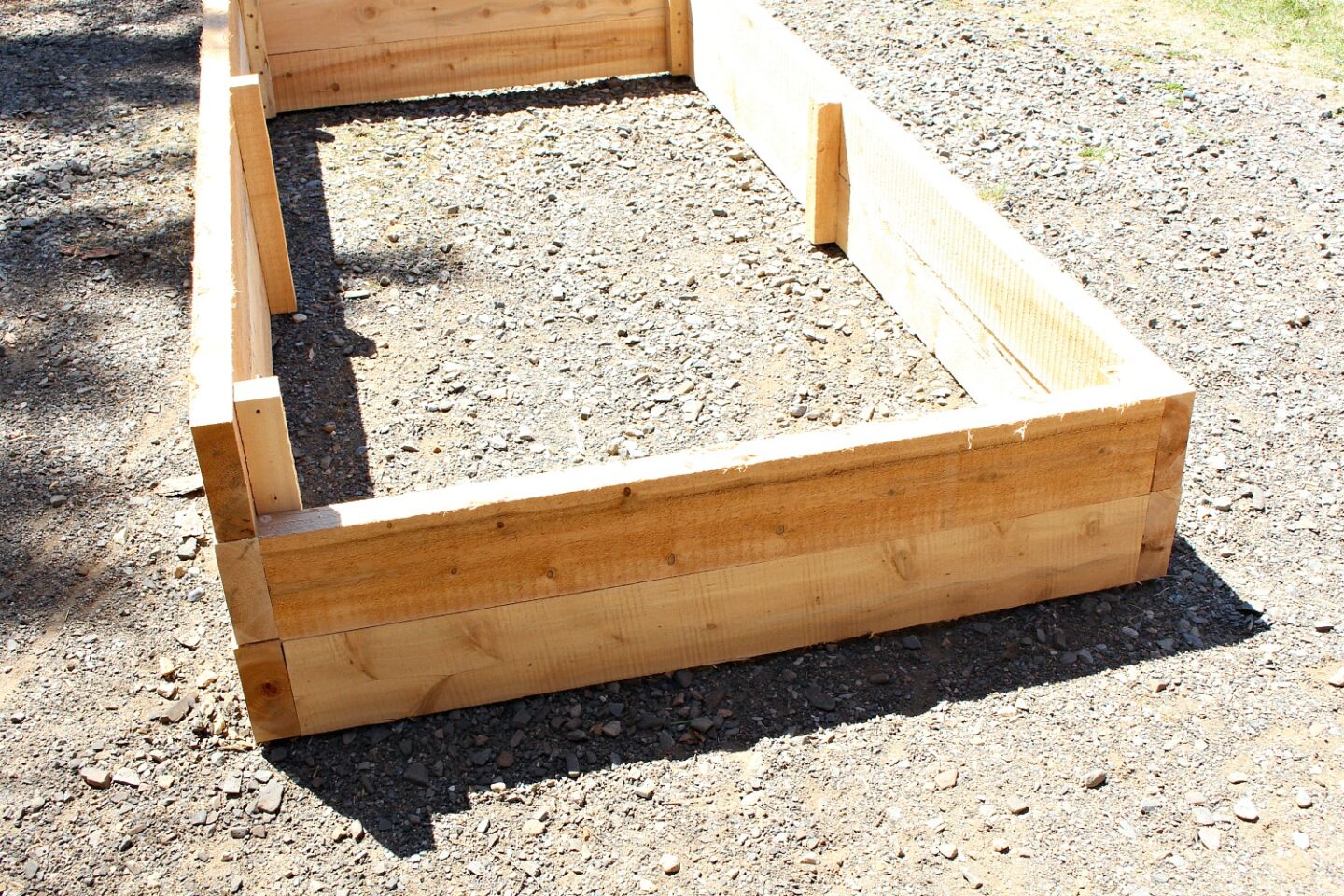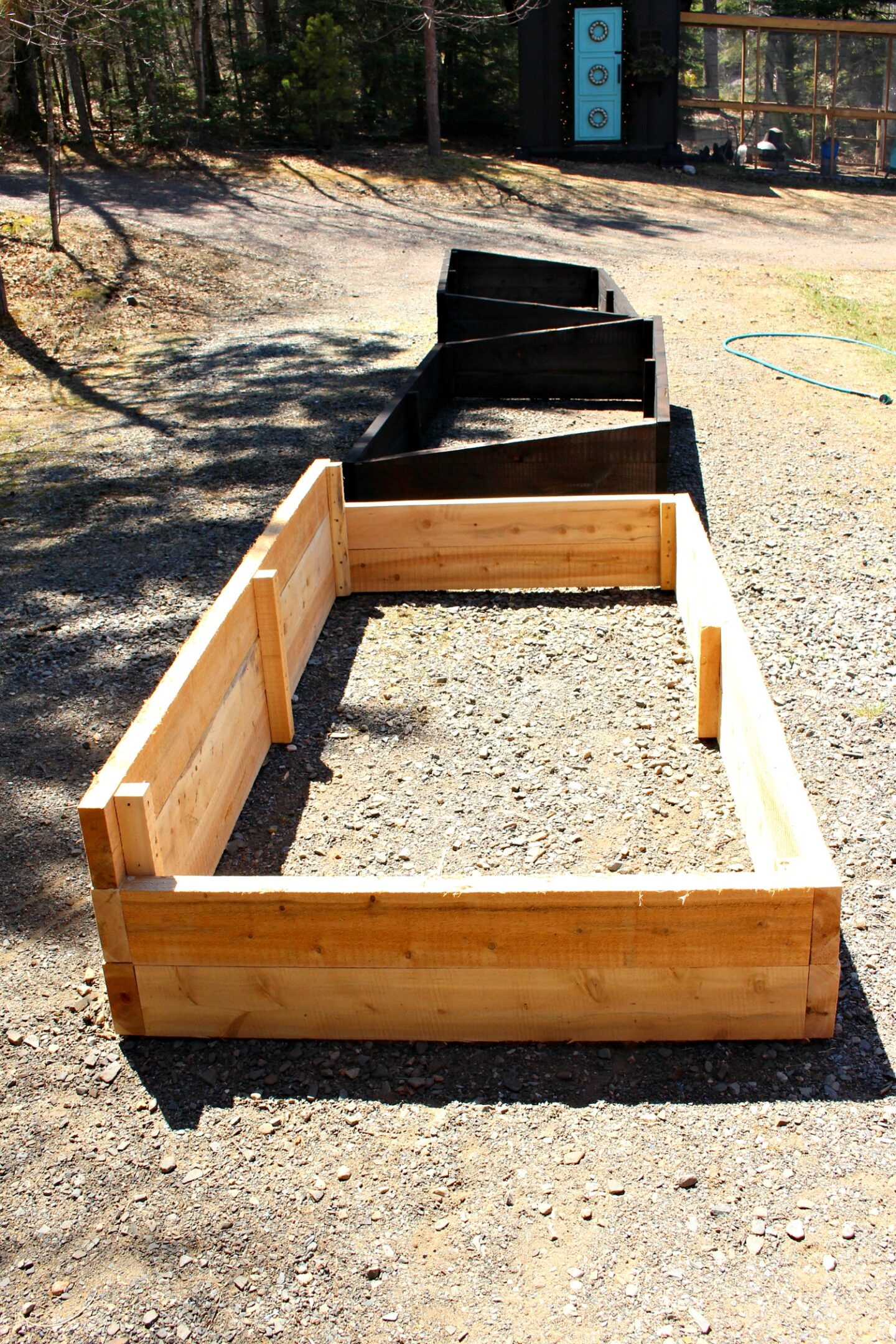 To create the slanted shape, we took a board that was cut to length for the sides and divided it in half with a straight edge pencil line to make two triangles. Using a jigsaw we made the cut and then attached it to the top of the garden bed, on either side.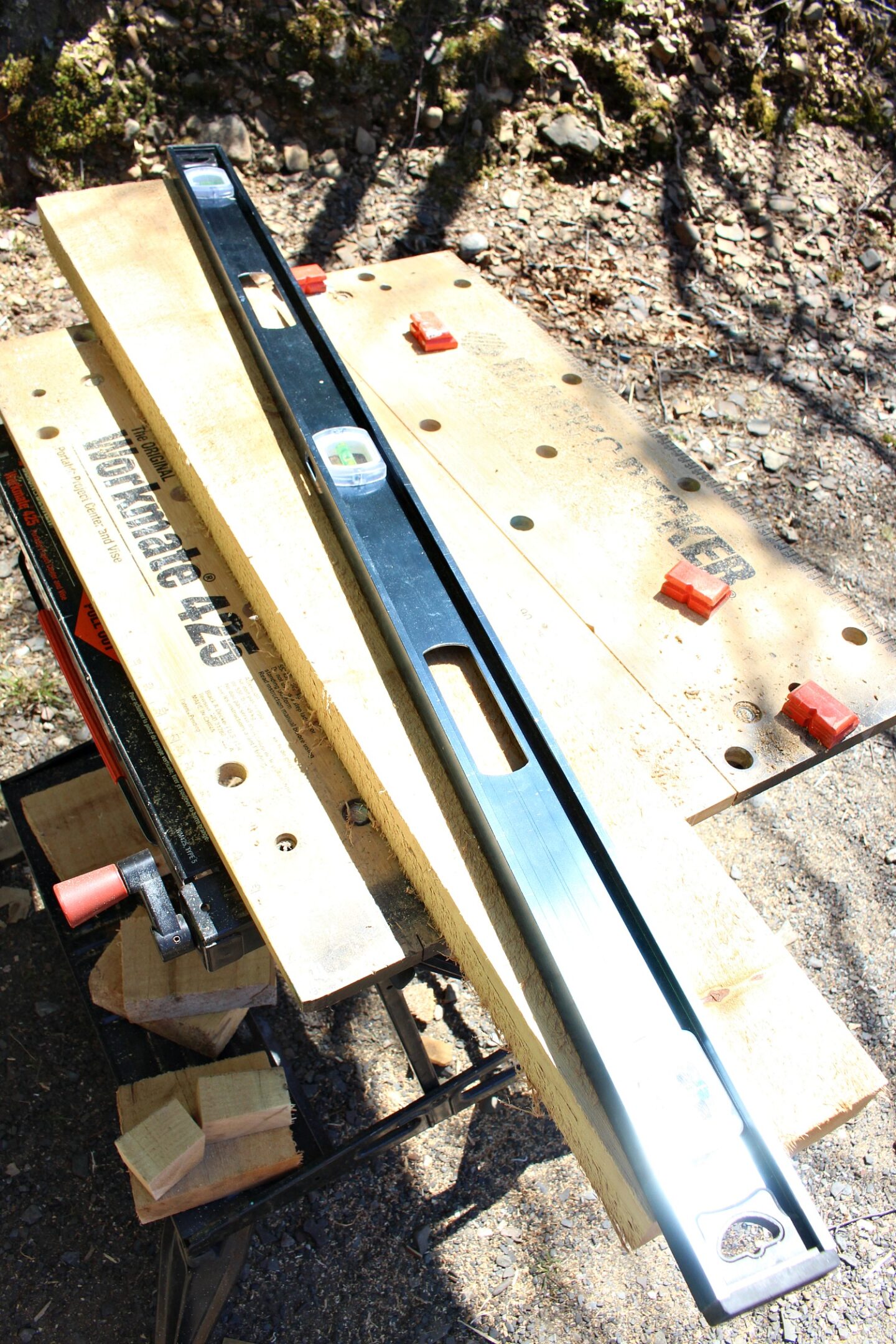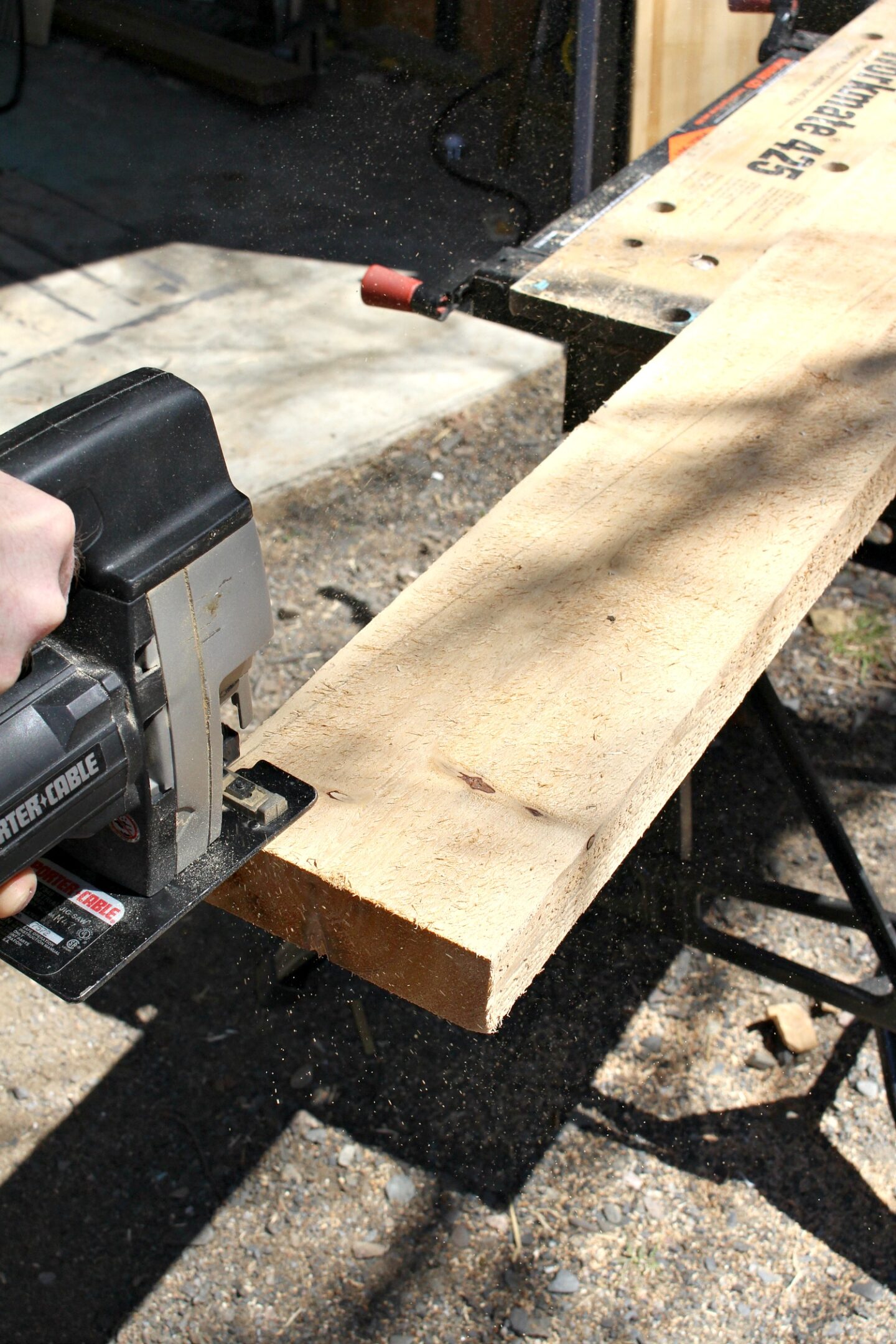 Here's a closer look at the construction of these DIY cold frame garden beds: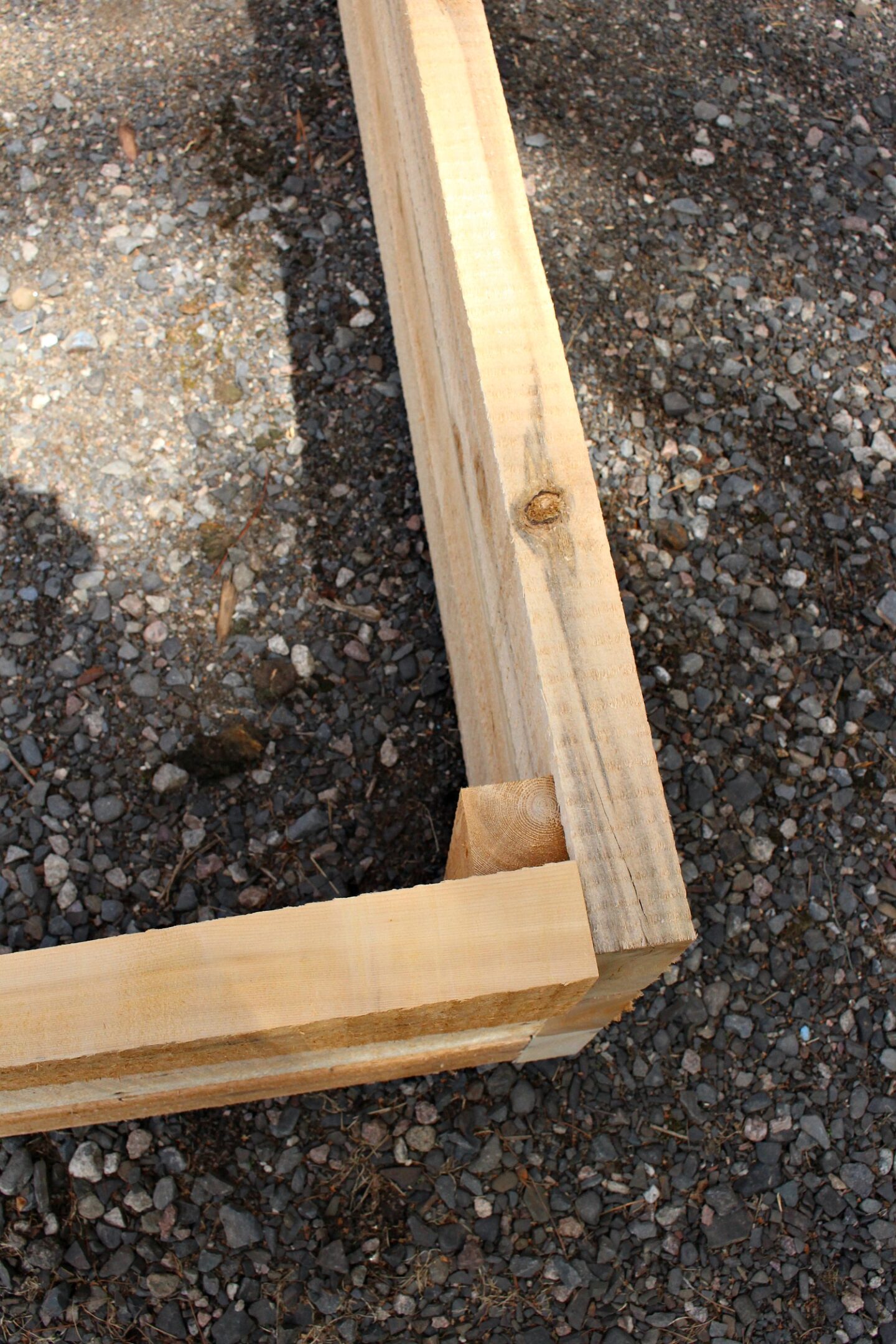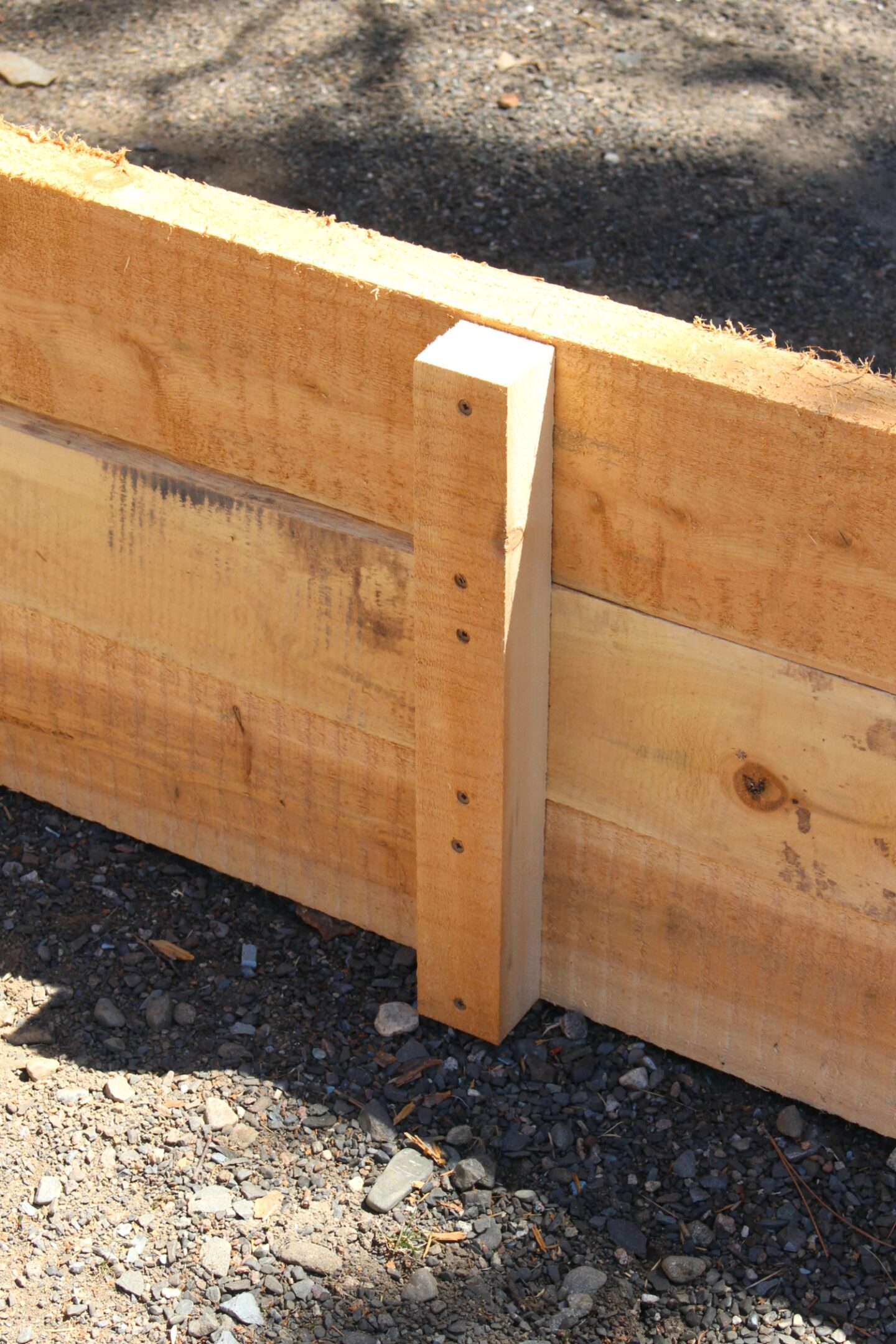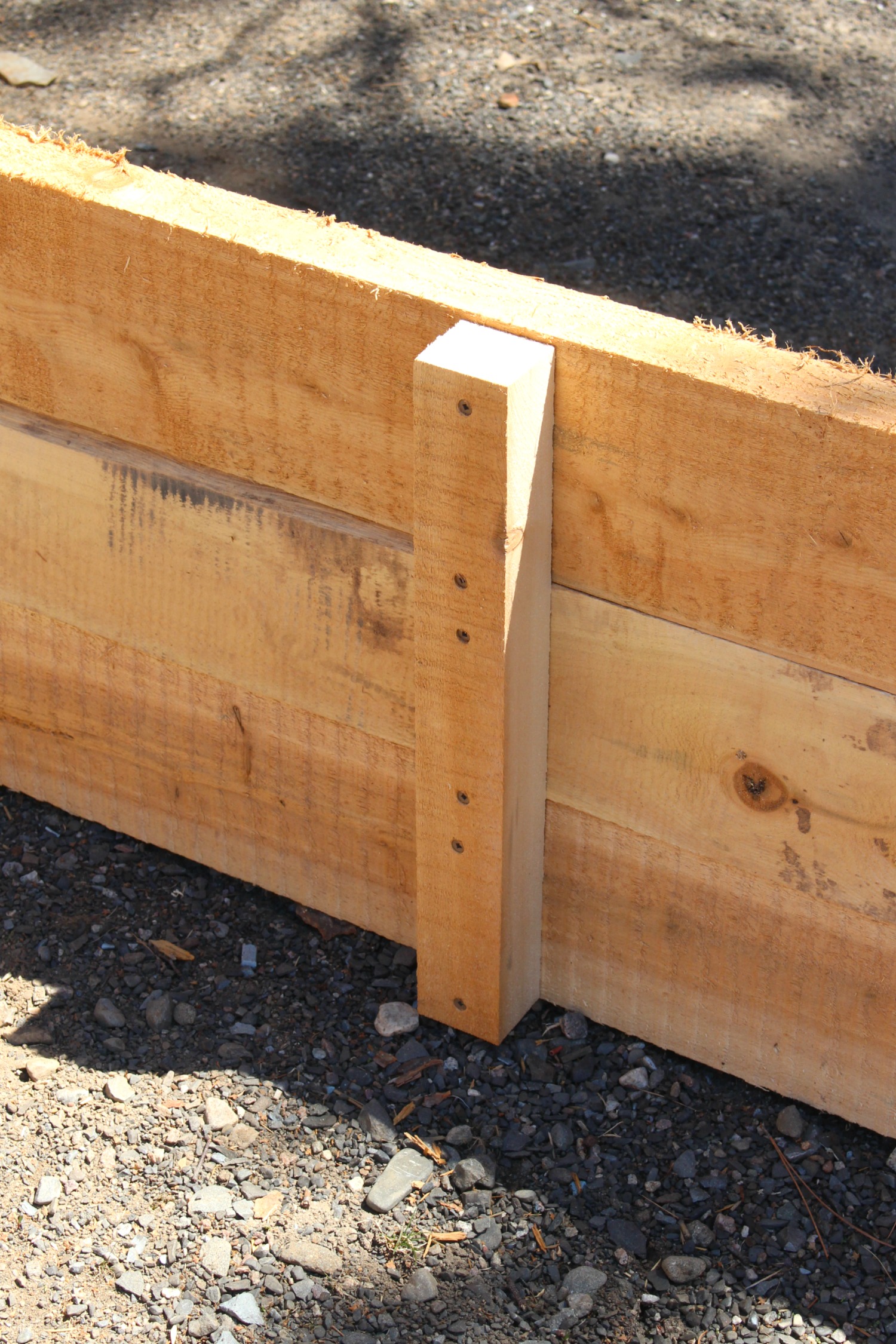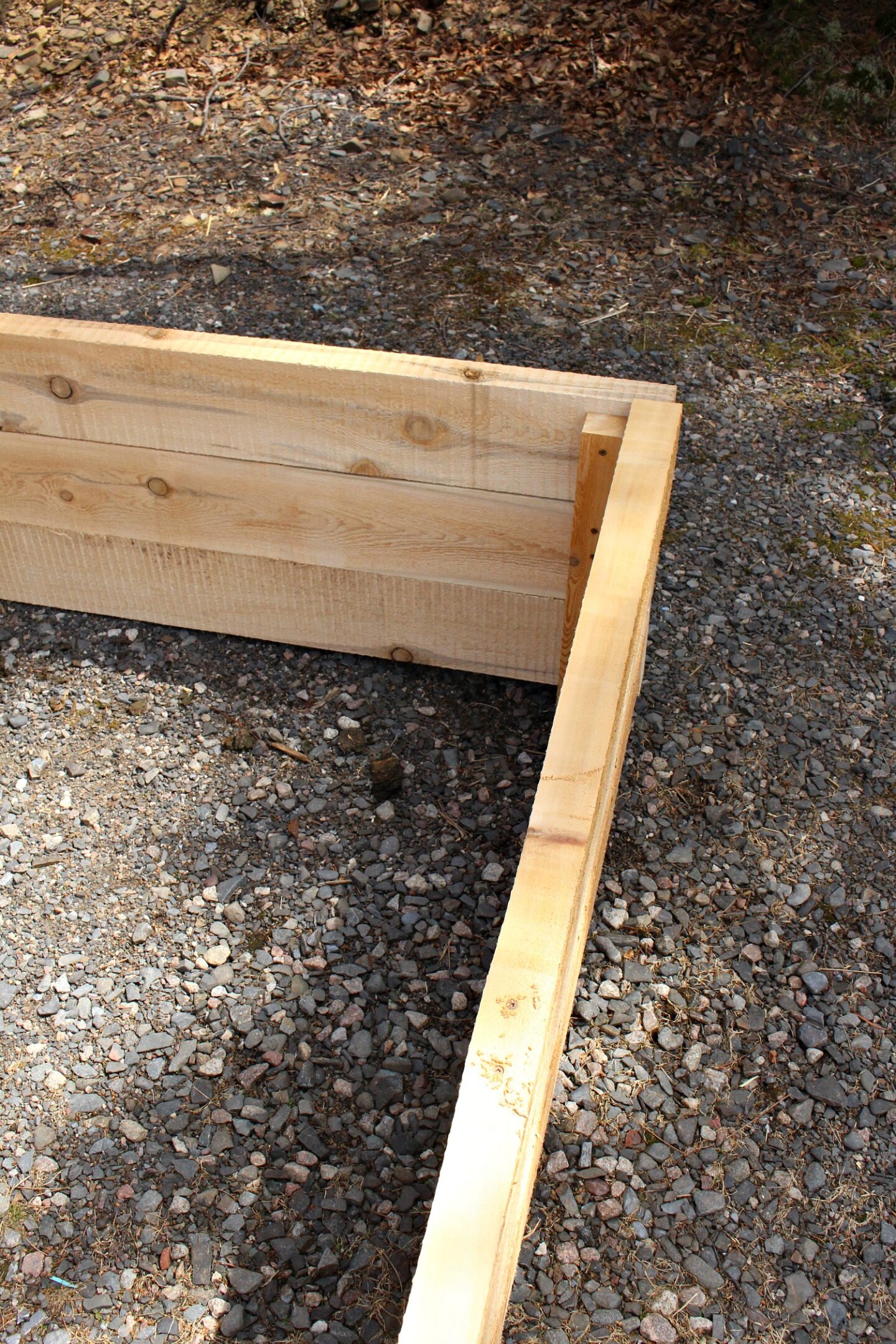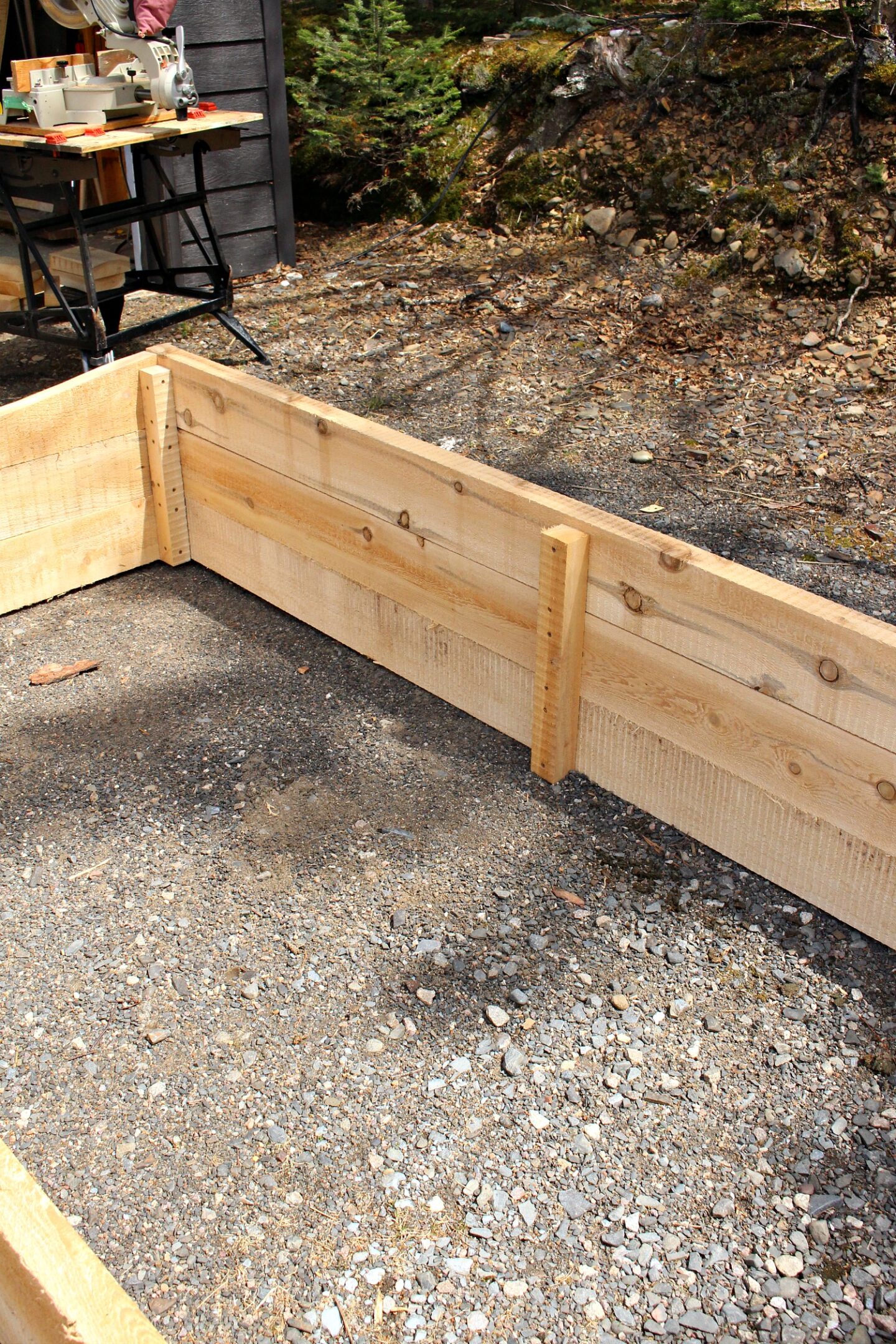 You can skip the slanted design for a simple garden bed without the lid. Or add more wood boards to make it taller.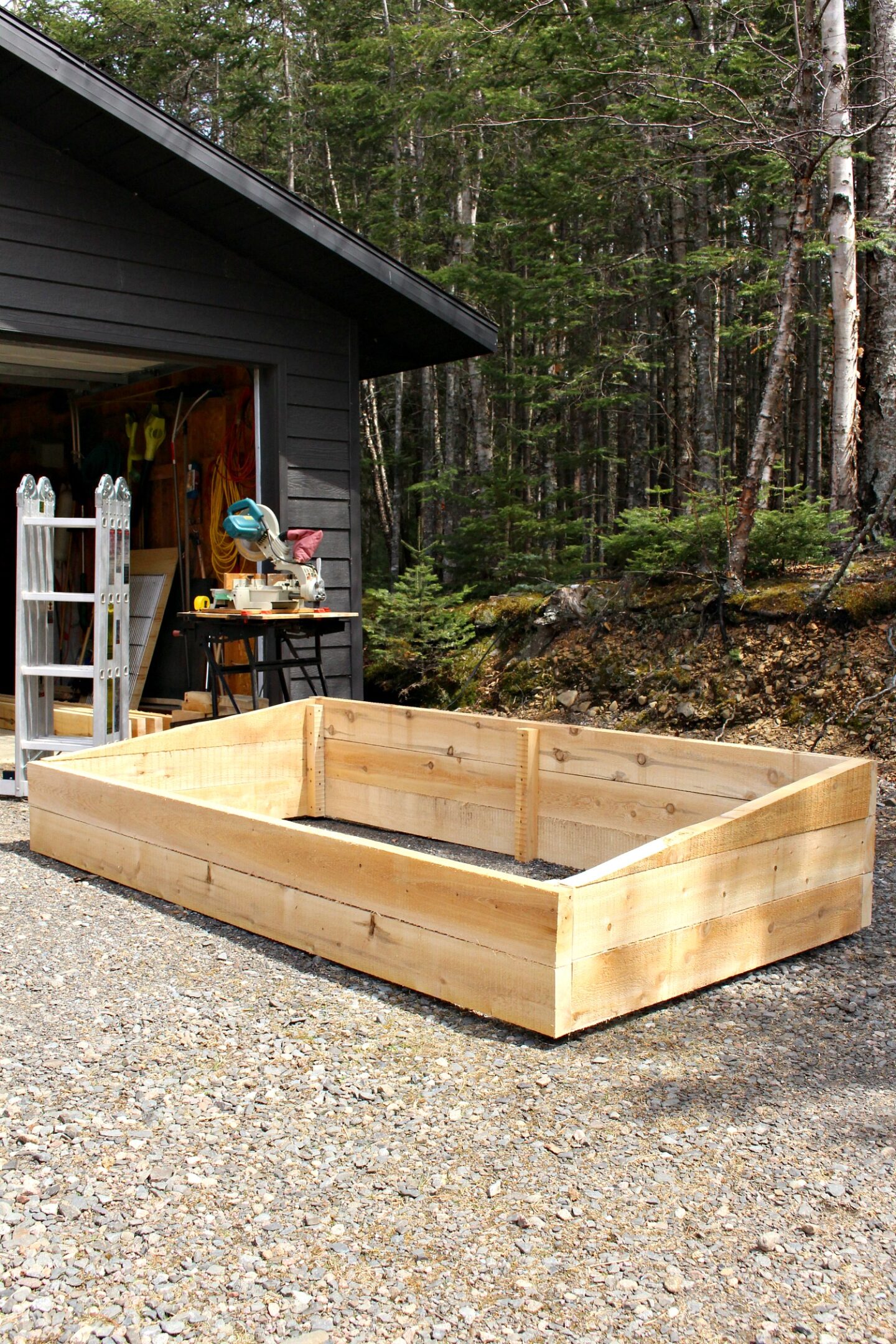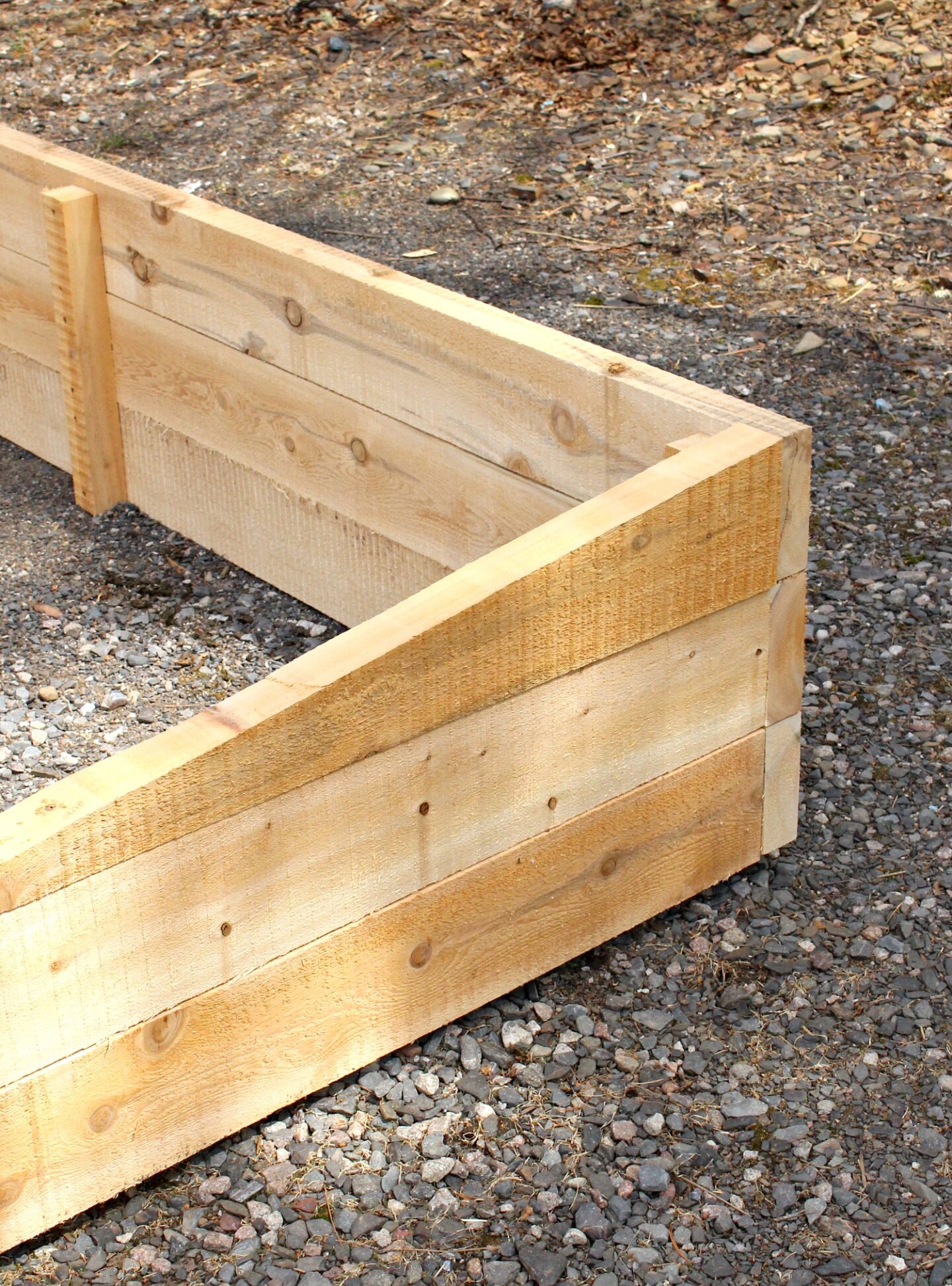 How to Shou Sugi Ban the Garden Beds:
I decided to use my favorite technique: shou sugi ban, for finishing the wood. Cedar is rot resistant naturally, but charring it adds even more weatherproofing to the wood. Plus, because the new house exterior is a dark grey/brown, the charred wood garden boxes blend in more.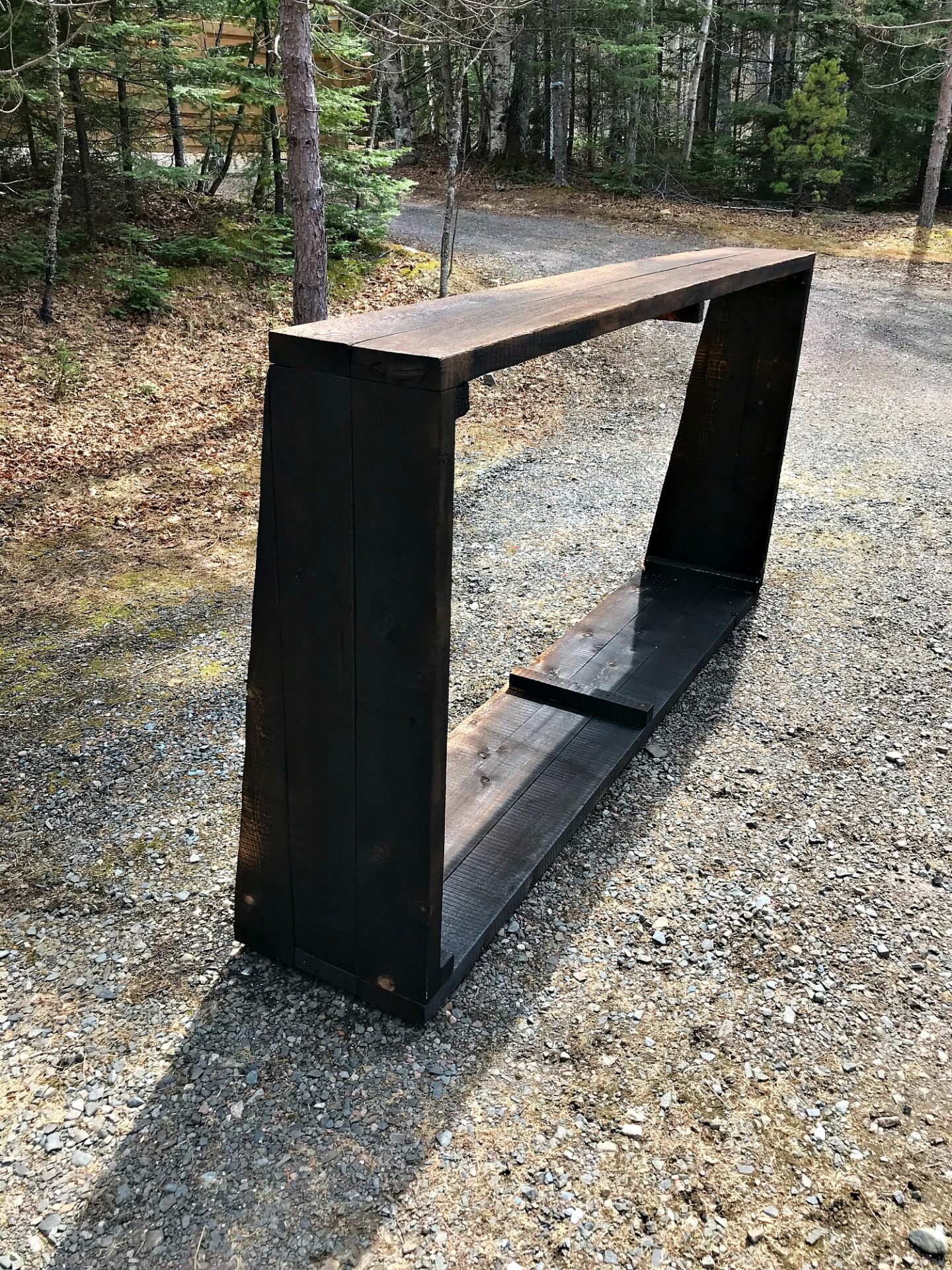 For this wood burned project, I upgraded my tools and bought a 500,000 BTU propane torch. It's AWESOME! You can char much more wood at a time than the smaller handheld propane torch I was using. This is far more effective for a larger project like this. (And way more fun).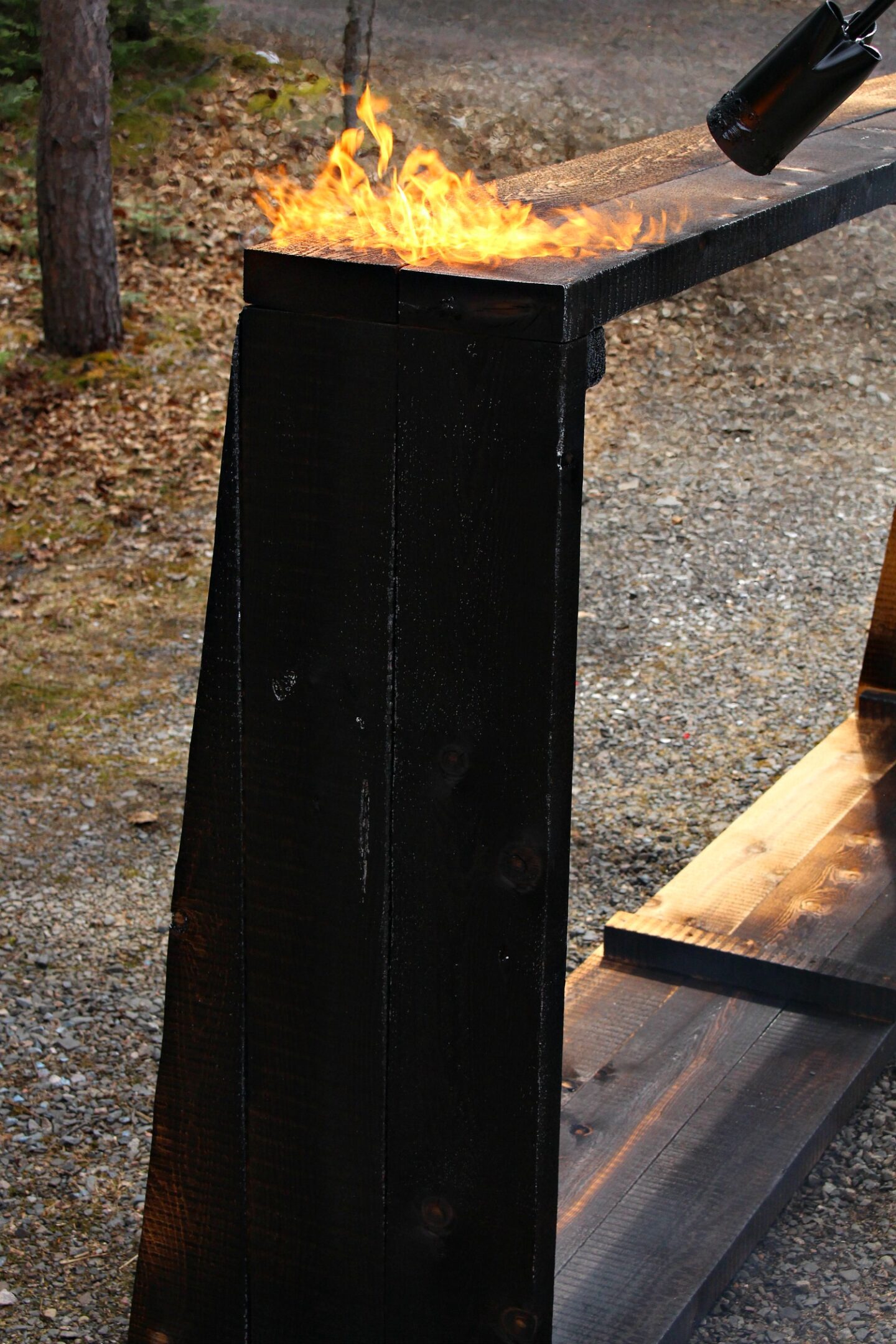 I also wore my fire gear – but you don't need it, lol! I originally just wanted to see if my bunker gear still fits. My municipality finally sprang for my own custom turn out gear, but that was back in the winter. Once I had it on, I thought I should wear it for awhile because it's so heavy and we don't have many fire calls, so I'm really not used to wearing it. You'd be fine in some coveralls, gloves and work boots. It DOES get hot (it's fire!), so please DIY safely.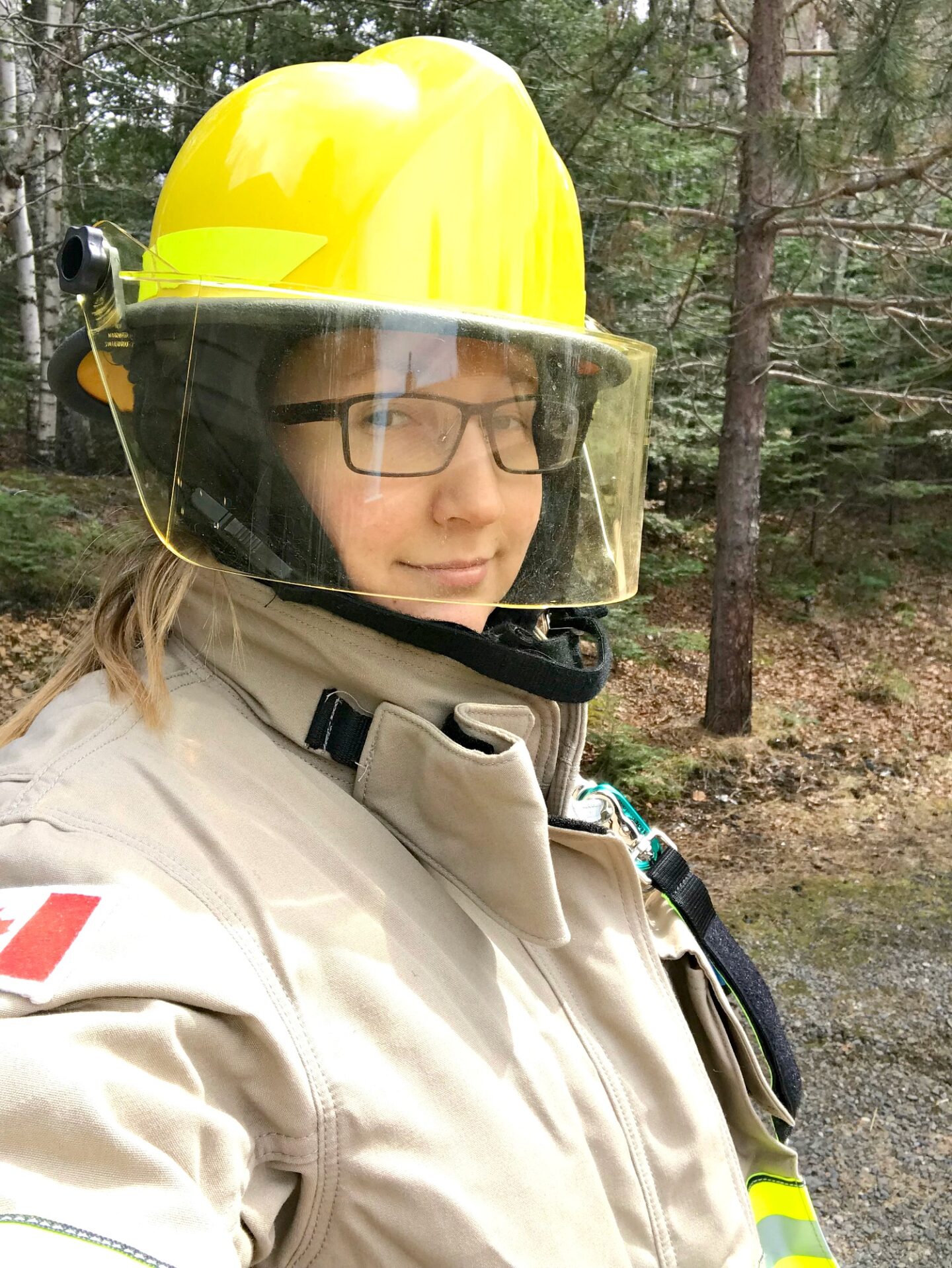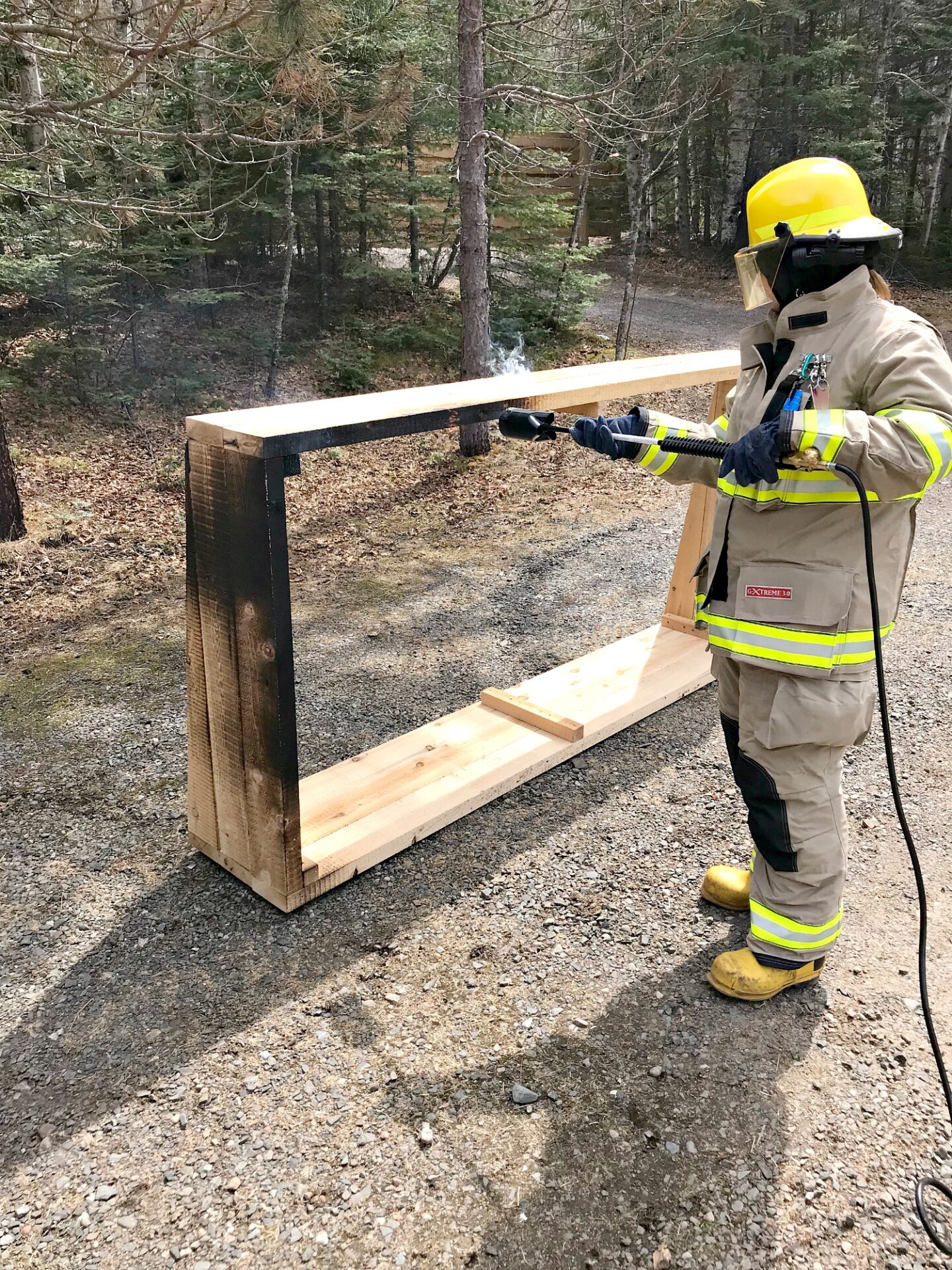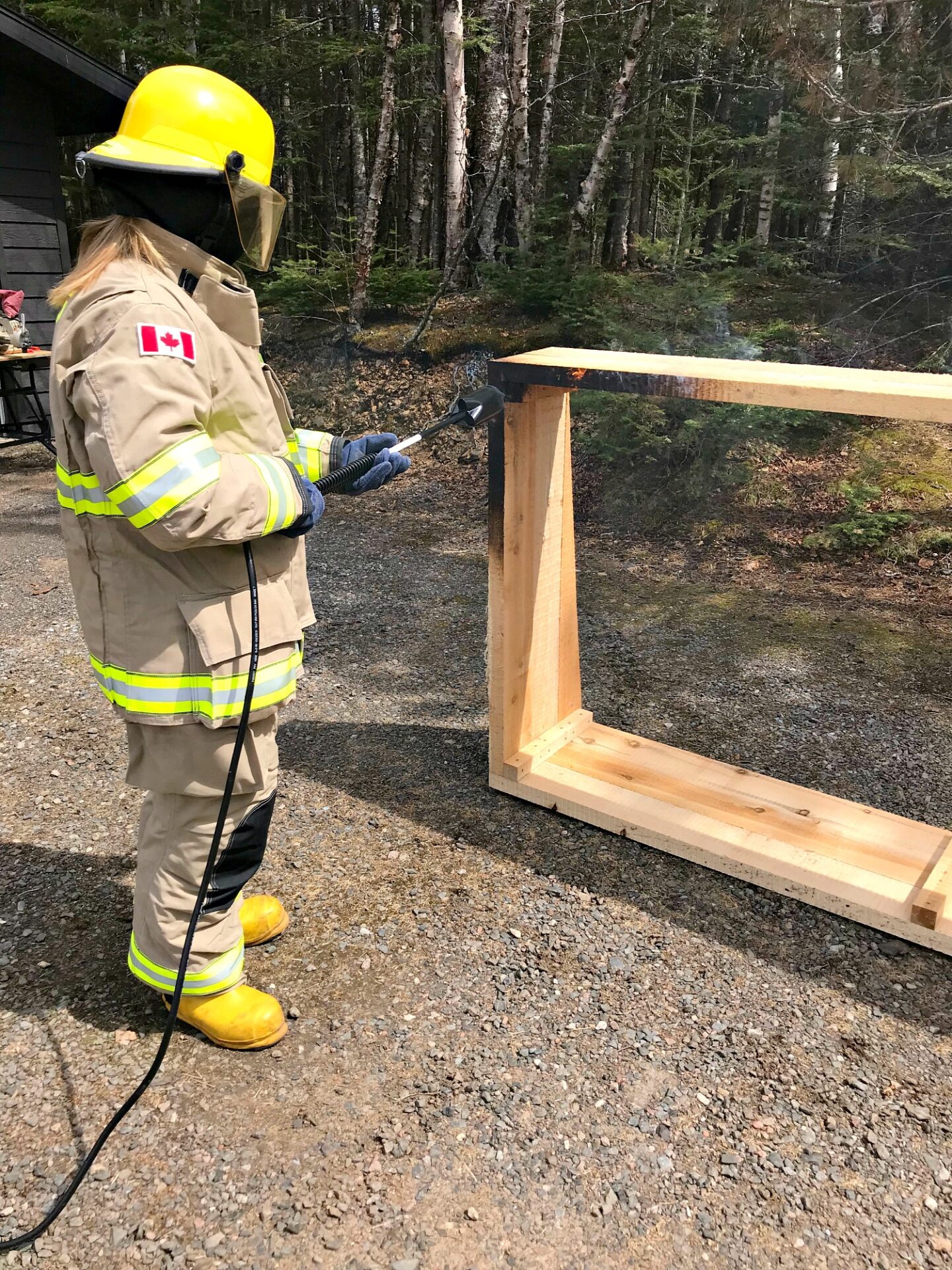 Charring the garden boxes is easy to do. First, bring the garden boxes to an area that is NOT flammable – stay away from grass. Gravel or concrete is safer. Then soak the nearby area with a hose so if an ember flies the area surrounding it is wet and less likely to catch fire. This has NEVER happened to me, but it's better to be safe. Keep the hose nearby just in case. Treat it with the same safety you would a bonfire!

You can get better coverage if you char the wood before it's assembled (otherwise it's difficult to char between the boards) but this way is EASIER – you don't need to handle the charred boards or prop them up anywhere. But it always looks better to char wood before it's made into something.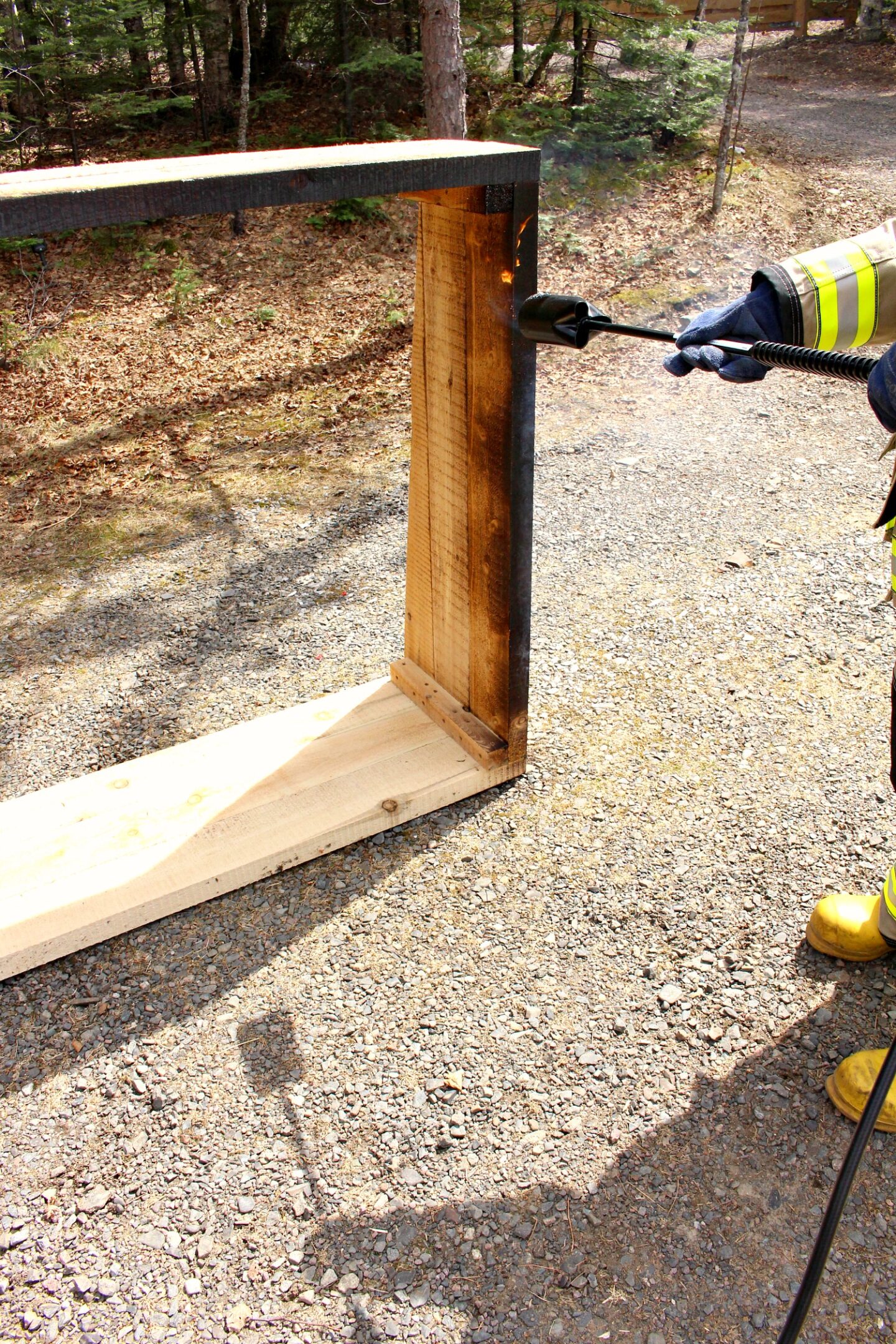 Once you have your own PPE (personal protective equipment) and have soaked the area, all you need to do is set up the propane torch and start charring! Work in sections and char really dark (it will lighten up). Basically, just burn the surface until it looks black! I pointed the torch at the wood and used sweeping motions to char and moved from spot to spot, working my way around and being careful not to char the hose or get too close to the propane tank with the flame. Once you've charred an area, the flame will disappear. It won't light on fire! But if an area stays lit with a little flame, just give it a tiny spray of water. See more of my shou sugi ban experiments here and here.
Traditionally – and for indoor applications – I use a stiff plastic brush to remove the soot off, and char some more, and then brush again, and finally seal. That method, although labor intensive, creates a dark finish that won't shed charred wood. But this is a garden bed! It won't be touched as much and it will live outside where it will see rain and snow. So once I was done charring the whole bed, I soaked it with a garden hose to remove an loose bits. No brushing! Then the next day I charred any areas that still looked light. But I skipped the brushing!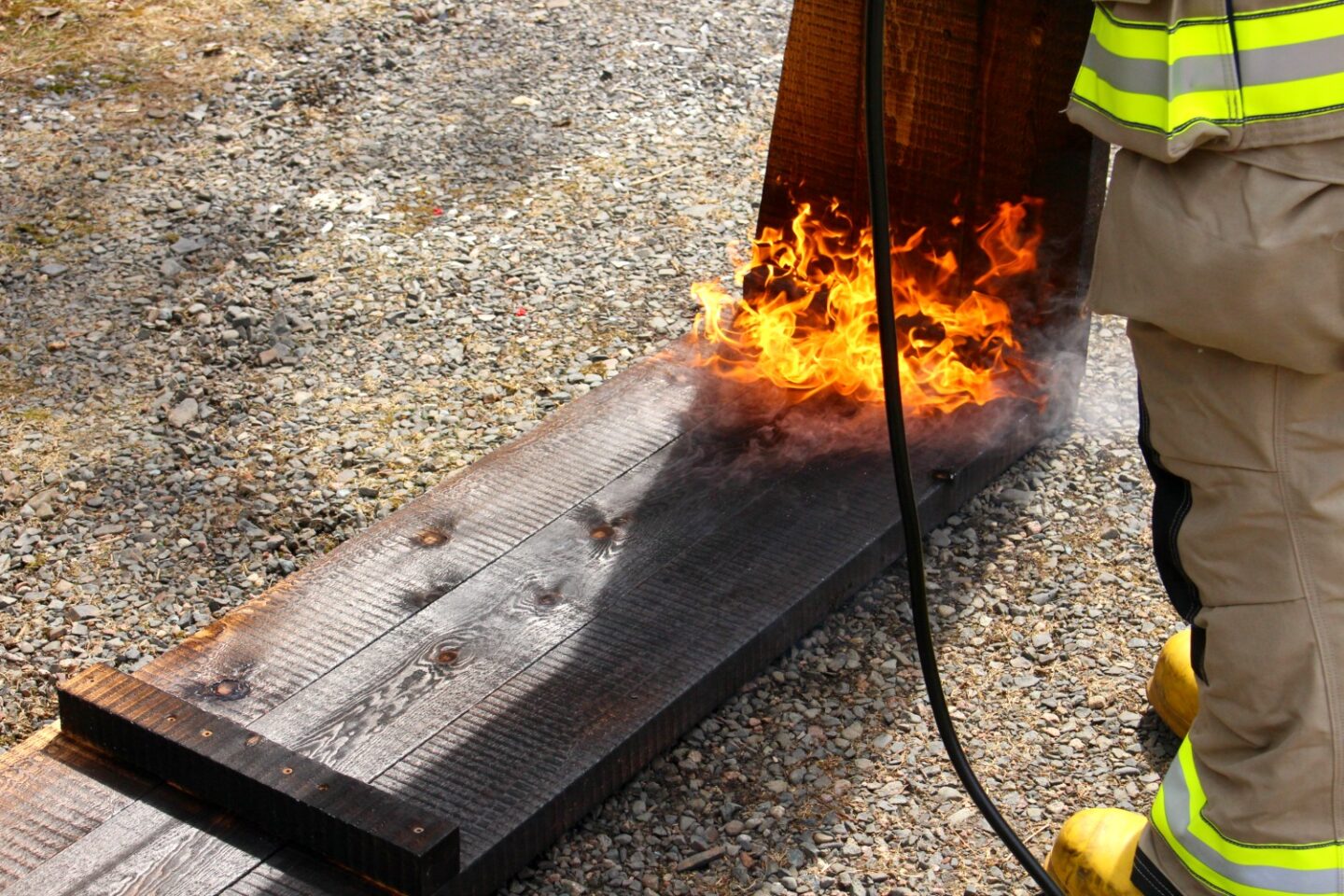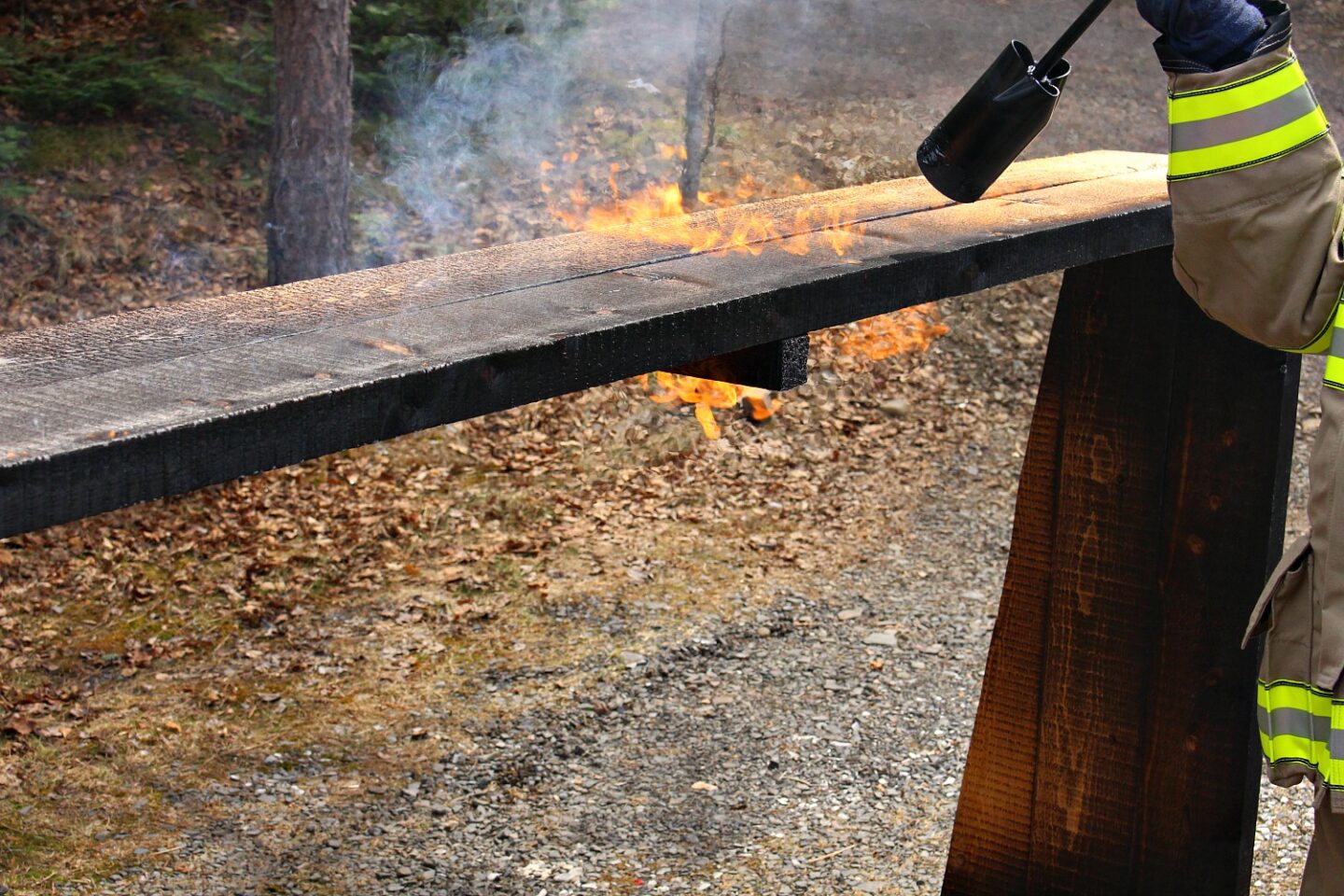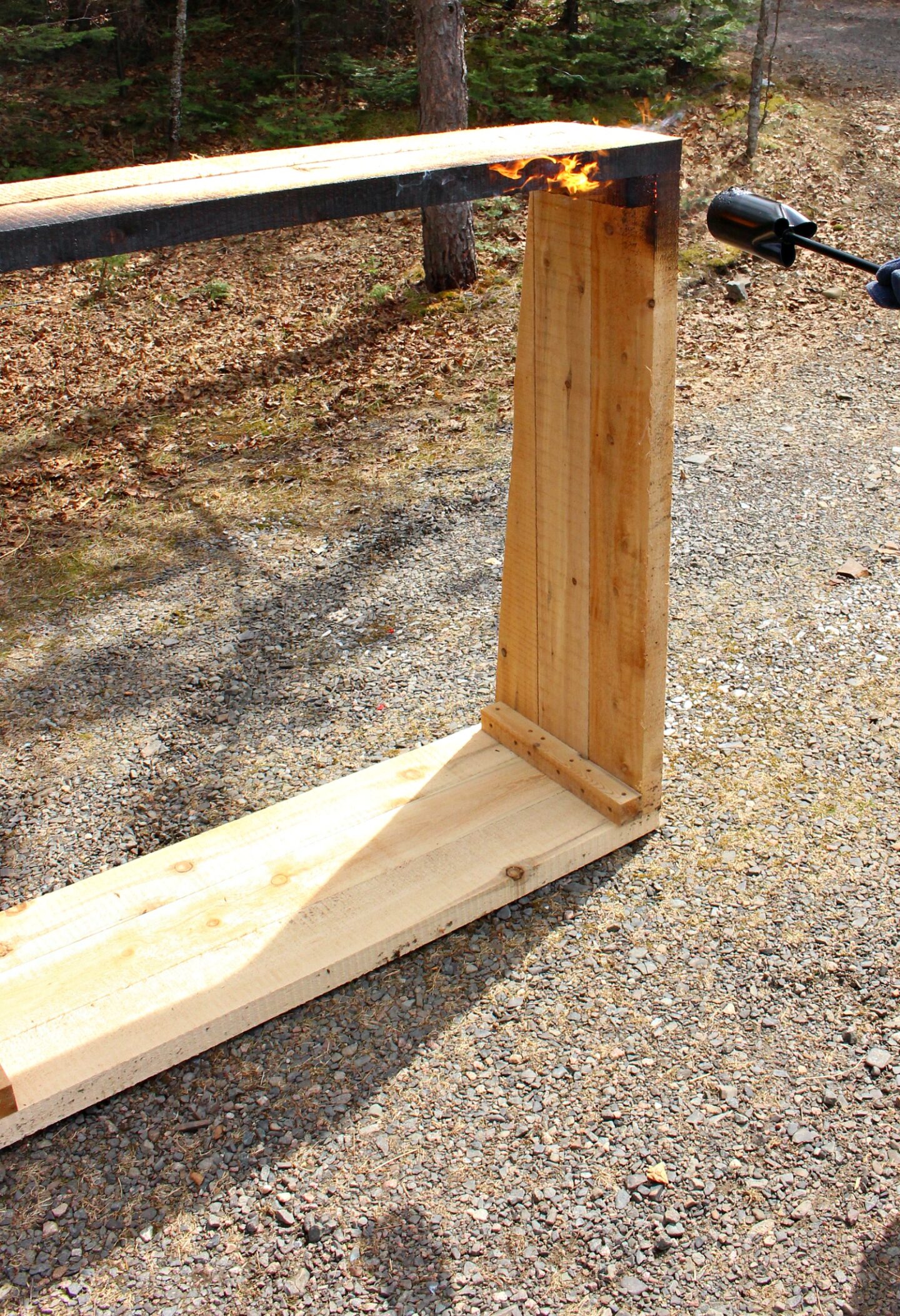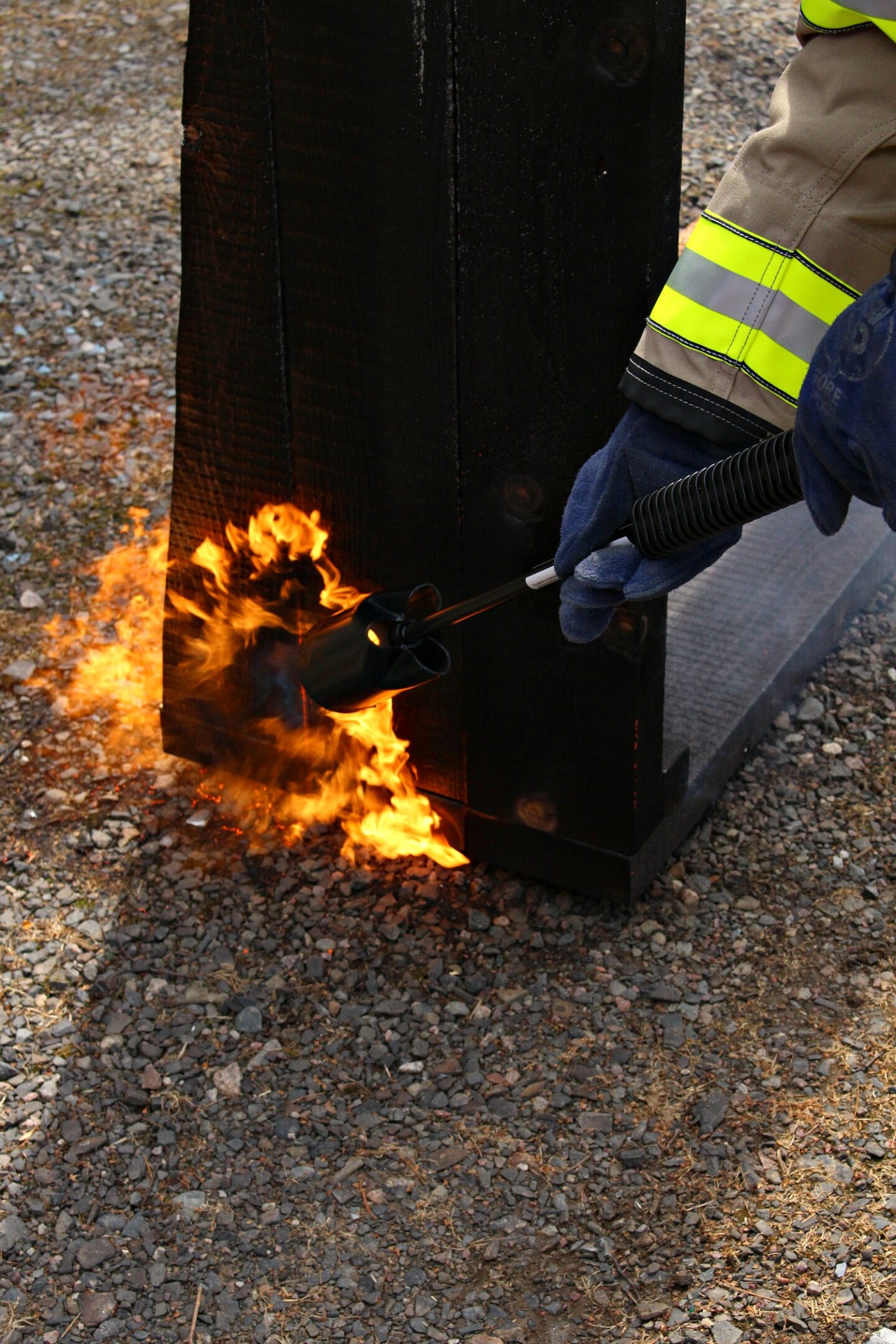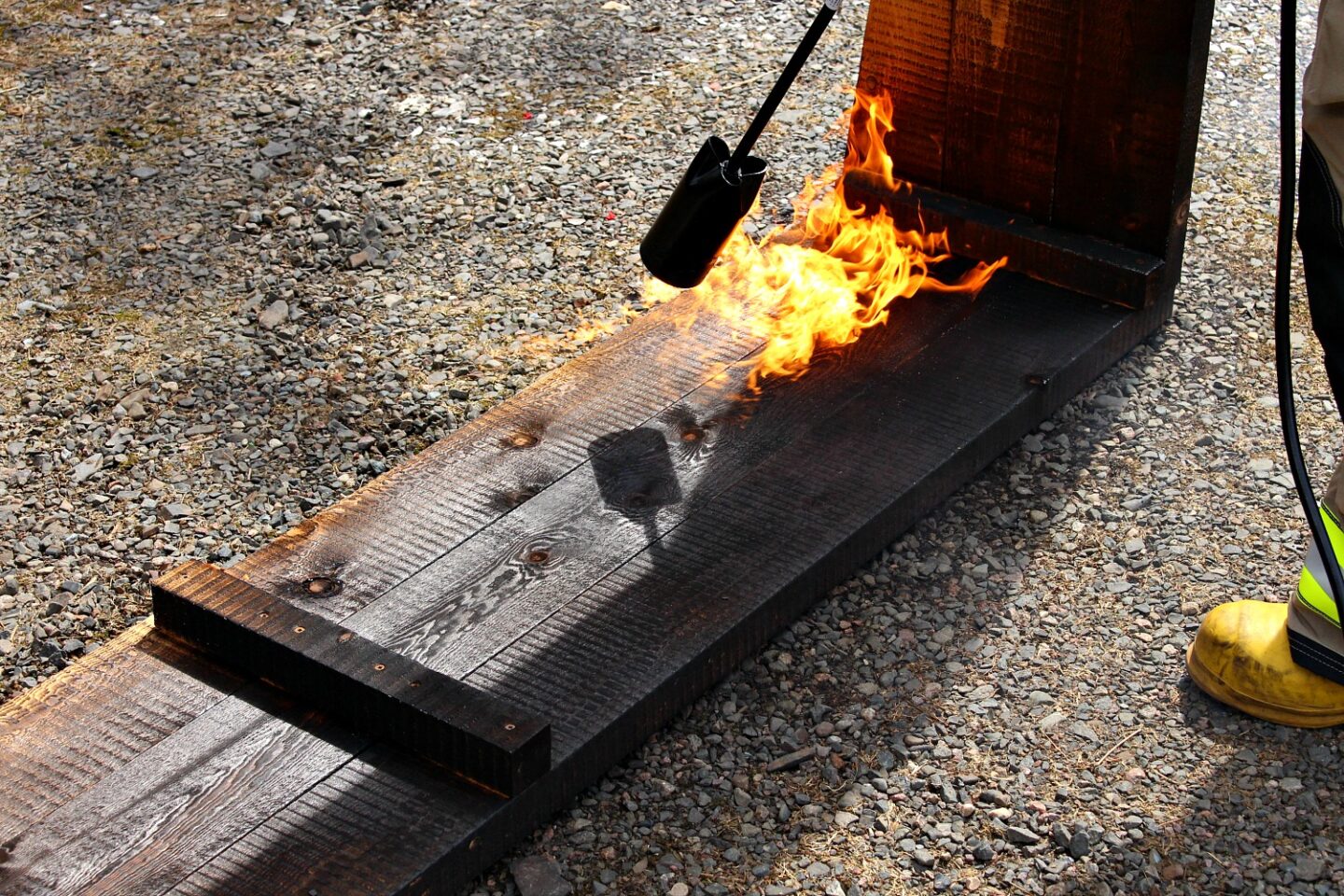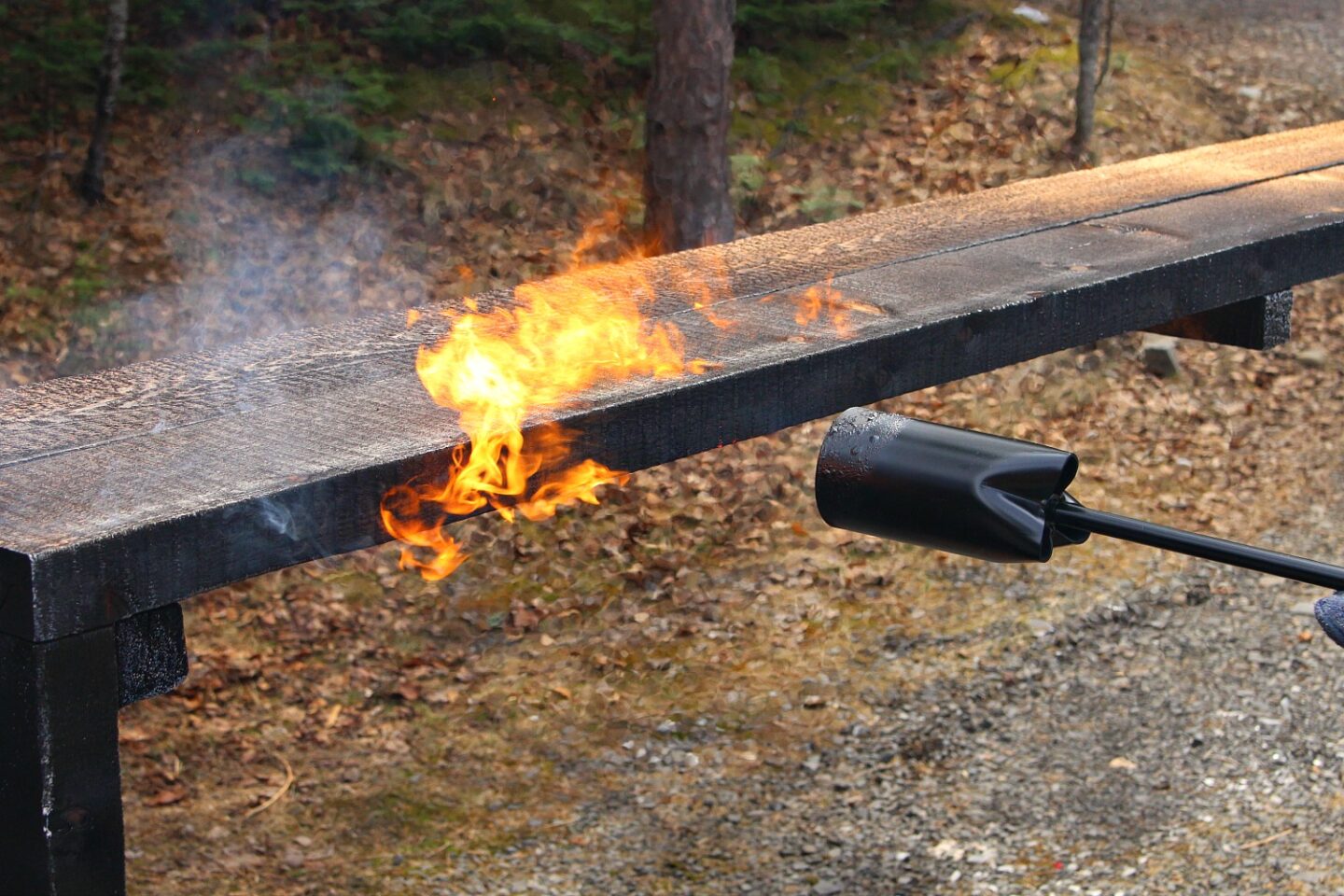 Wood Charred Cold Frame Garden Boxes
I spread this over a few days because it was SO HOT in my fire gear, lol, but you could probably knock out building and charring all three garden boxes in a weekend. When the wood was charred, and hosed off, the DIY cold frame garden beds looked like this!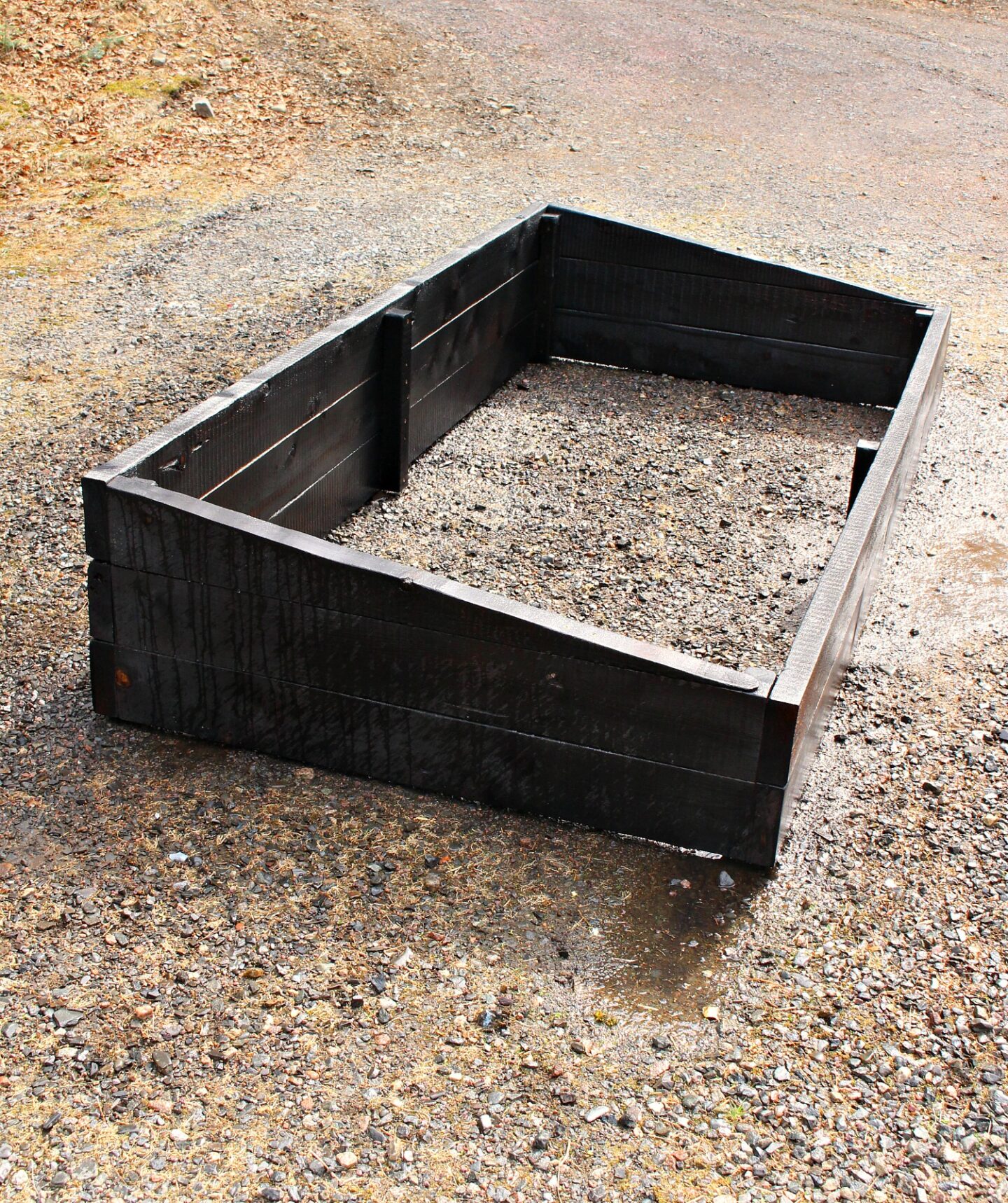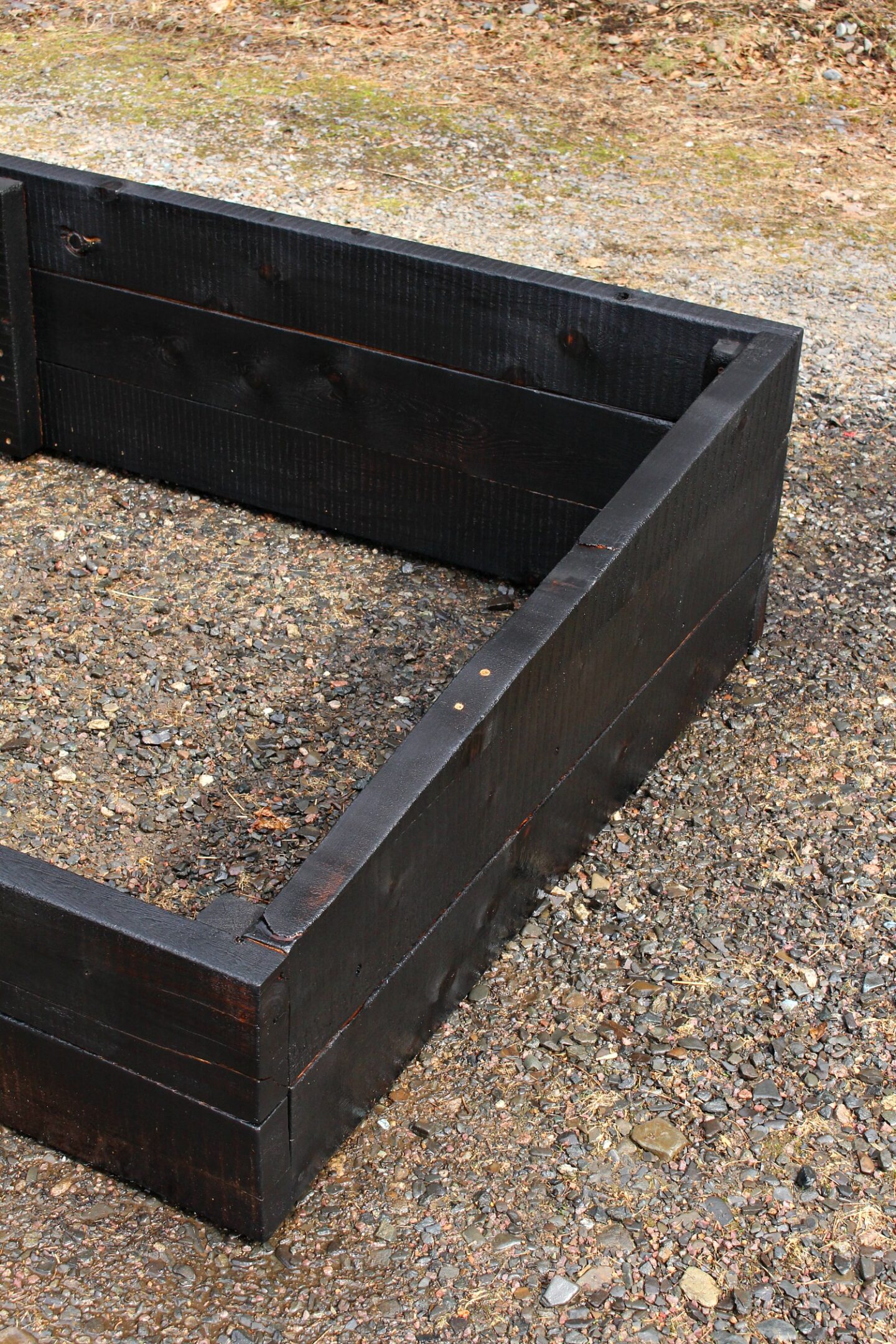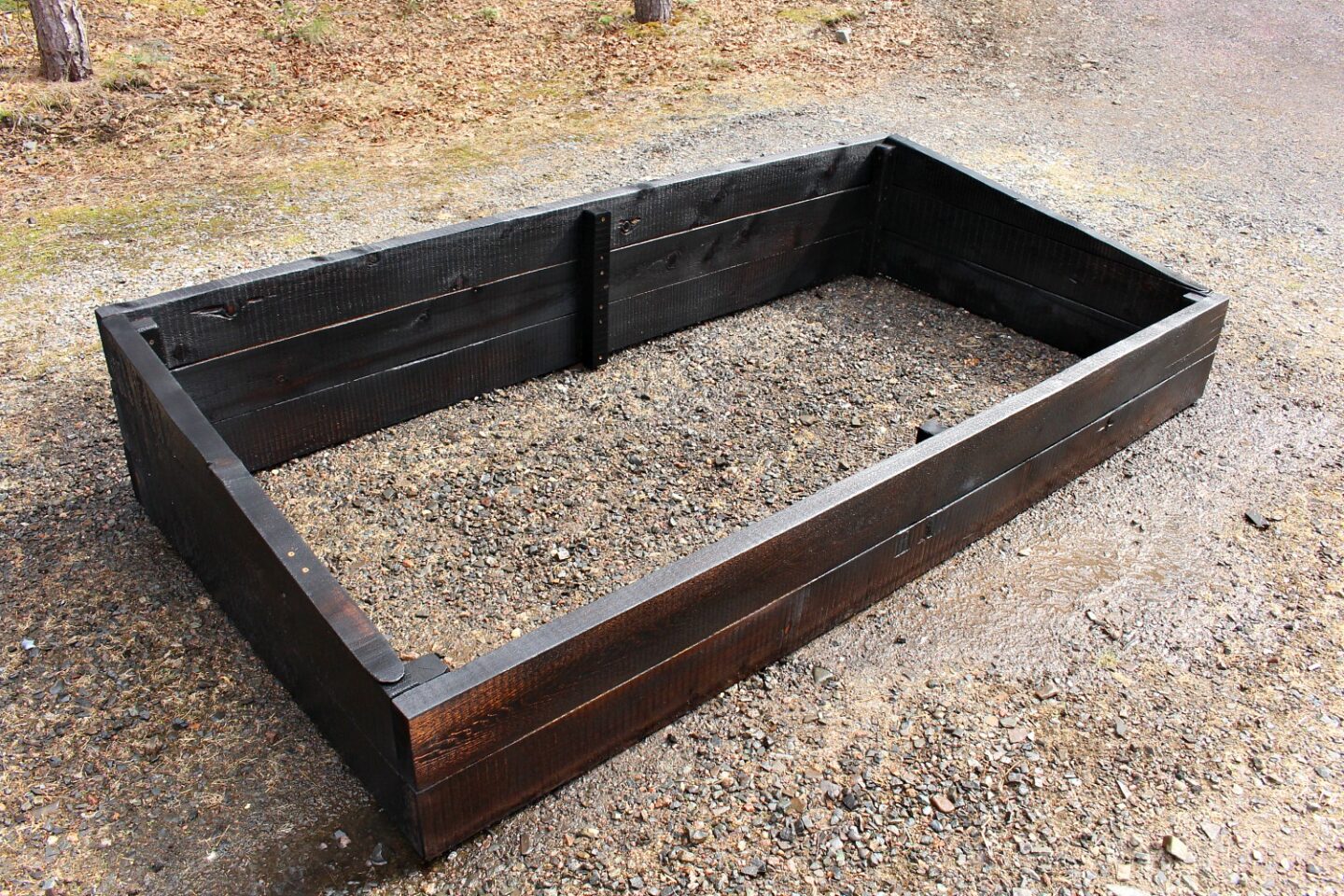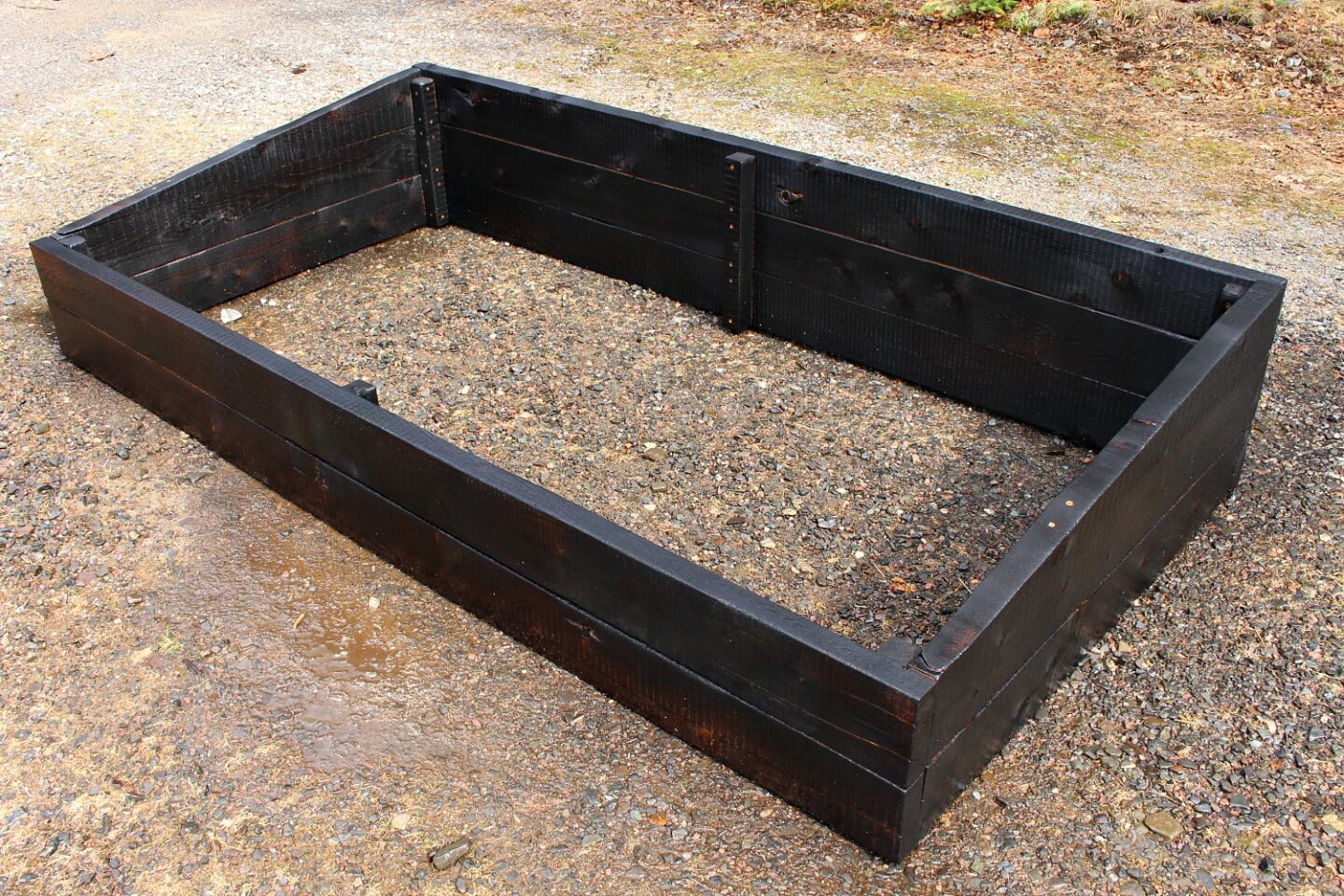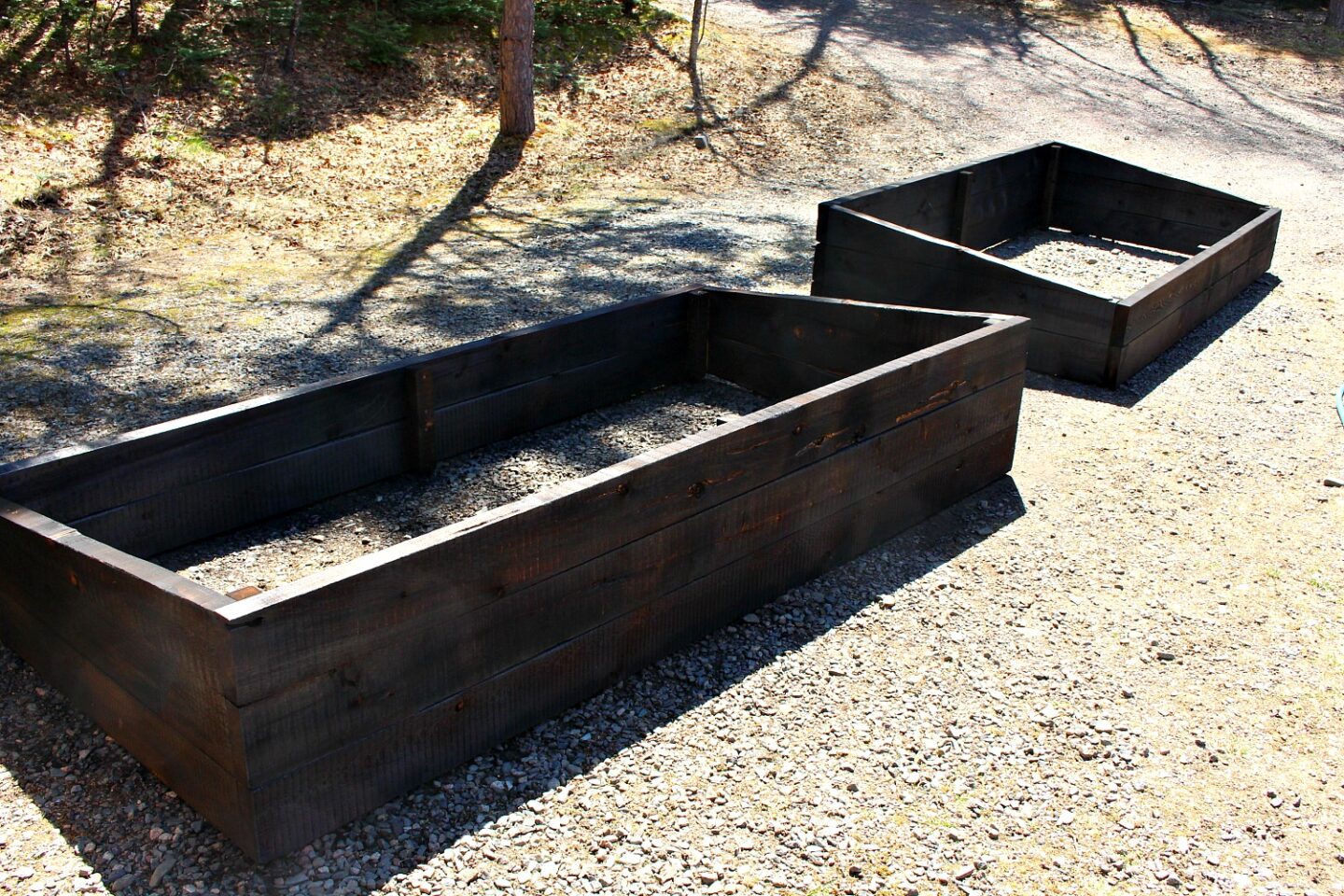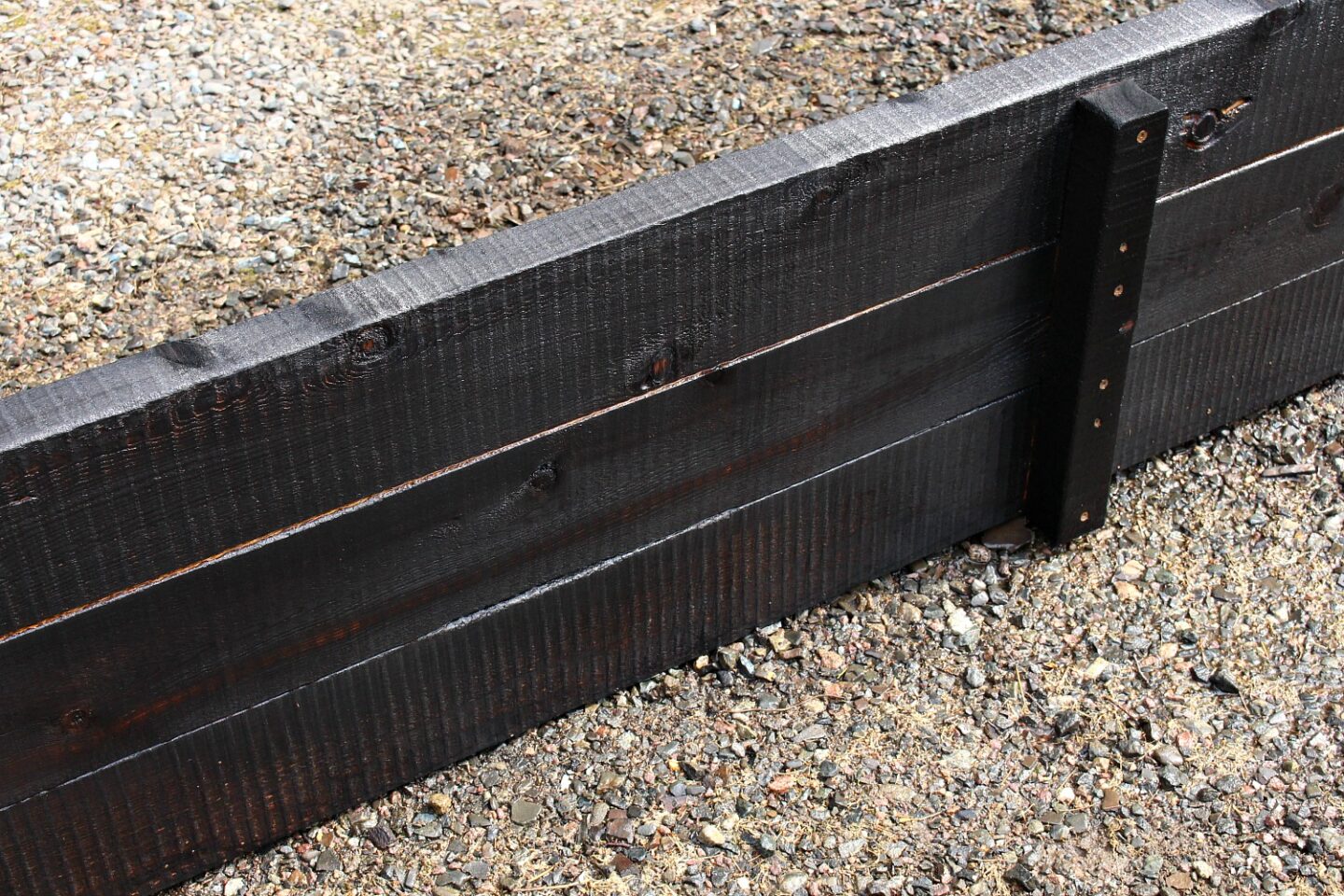 The cool thing about the wood burning is that it burned off the roughness. We would have had to pay extra for planed wood but because it's just for garden beds, we decided to buy the cheapest and rough hewn was really affordable. It had these rough little bits though, which I didn't like, but all of that got totally burned off and the charring created a smooth, sliver-free finish which is an awesome benefit of this wood burning technique! I would rather burn than sand, that's for sure!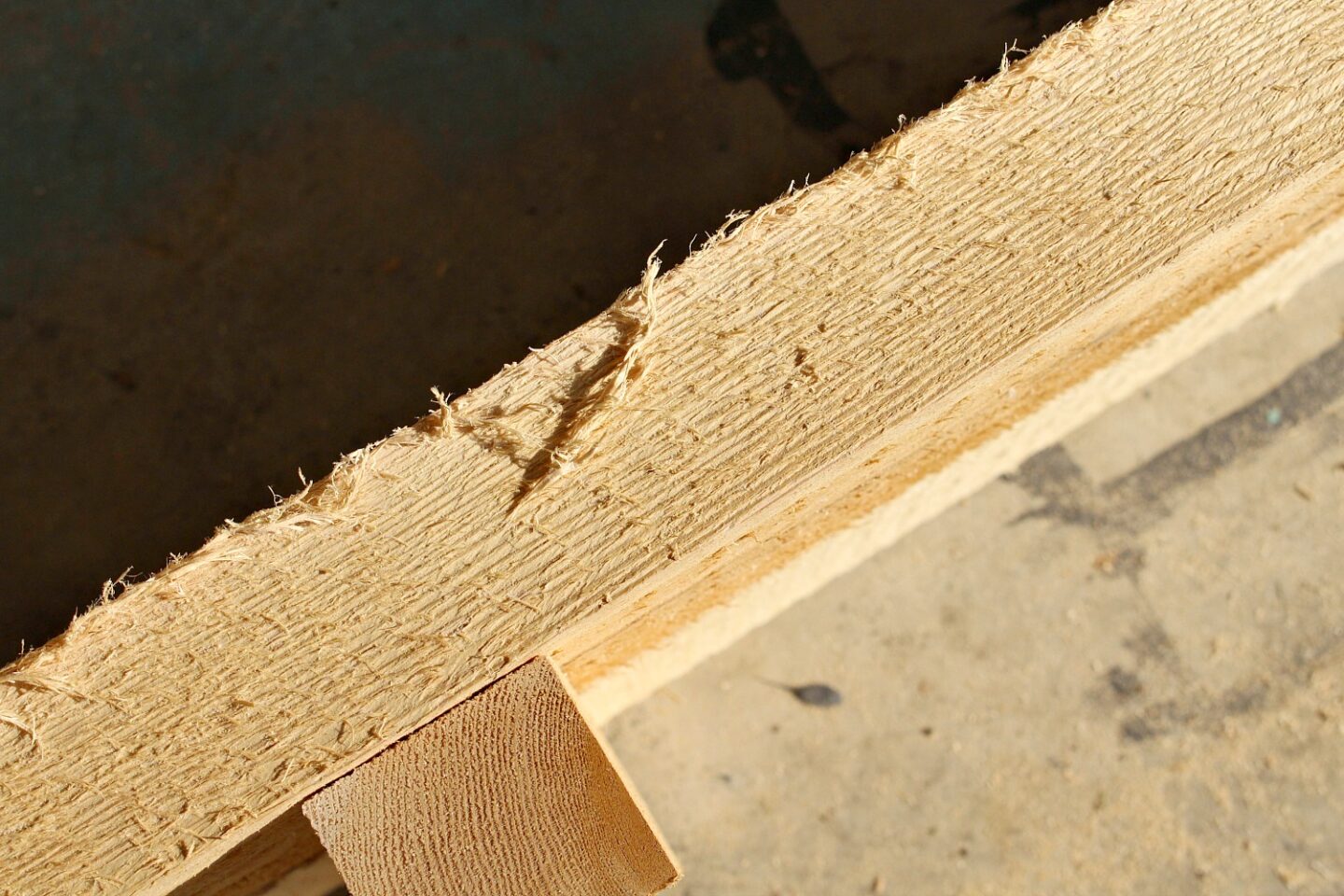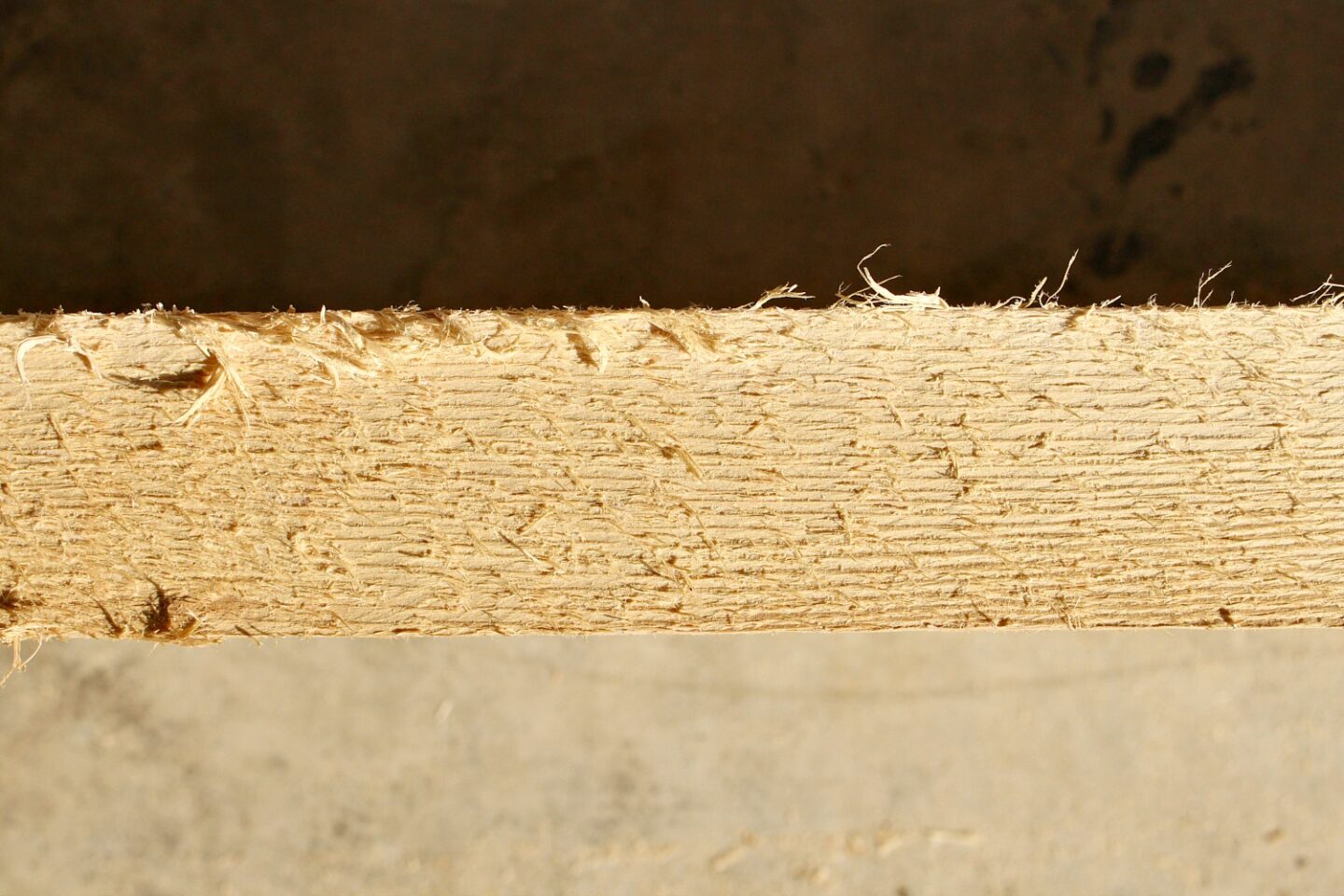 How to Seal Shou Sugi Ban Garden Beds:
I wasn't going to seal my shou sugi ban DIY cold frame garden beds, but people asked me if it was going to rub soot off if you touched it. After being in the rain and sun for weeks, there was very little soot even if I rubbed a shirt against the edge, but I decided to seal it anyway so I could test it out for people who really get in there and garden. I used an old t-shirt and rubbed tung oil over the outside sides and top edge (not the inside – no need). I used another clean rag to wipe off an excess. One coat of that and I can handle it now, although I don't because the lids have handles and I don't kneel on the ground and lean over (too scared of ticks) so I stand and bend over to reach any rogue weeds. But the tung oil sealed the charred wood beautifully and it's all natural, so appropriate for a DIY garden bed – linseed oil is another option but it cures much more slowly and boiled linseed, although a quicker curing formula, contains small amount of lead. So tung oil, because it's safe to use and cures quickly, seemed like a good choice and I have no complaints about it.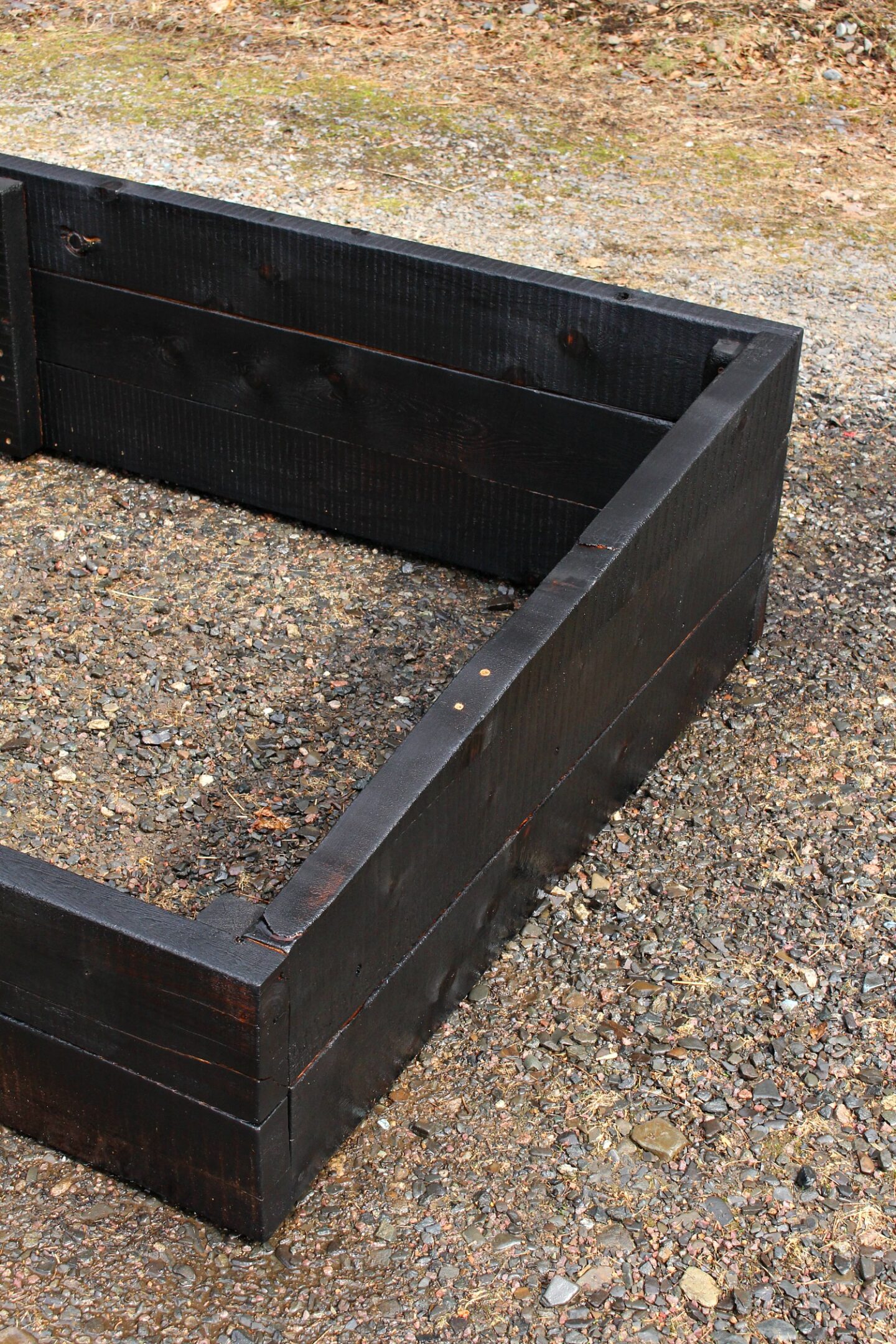 How to Position DIY Cold Frame Garden Beds:
After soaking them with the hose, we left the DIY cold frame garden beds on the driveway overnight just in case there were an embers (again, an abundance of caution). In the meantime we marked where we wanted them to be and then dug up the sod. I made sure I left enough room between them to fit my lawnmower and enough space behind them (and my raspberry bushes) to pick berries and weed back there. I waffled about laying down landscape cloth and at first I wasn't going to but underneath the sod is rock hard clay anyway so it's nothing my plants could use. Se we laid down the landscape cloth to prevent grass and weeds from poking through.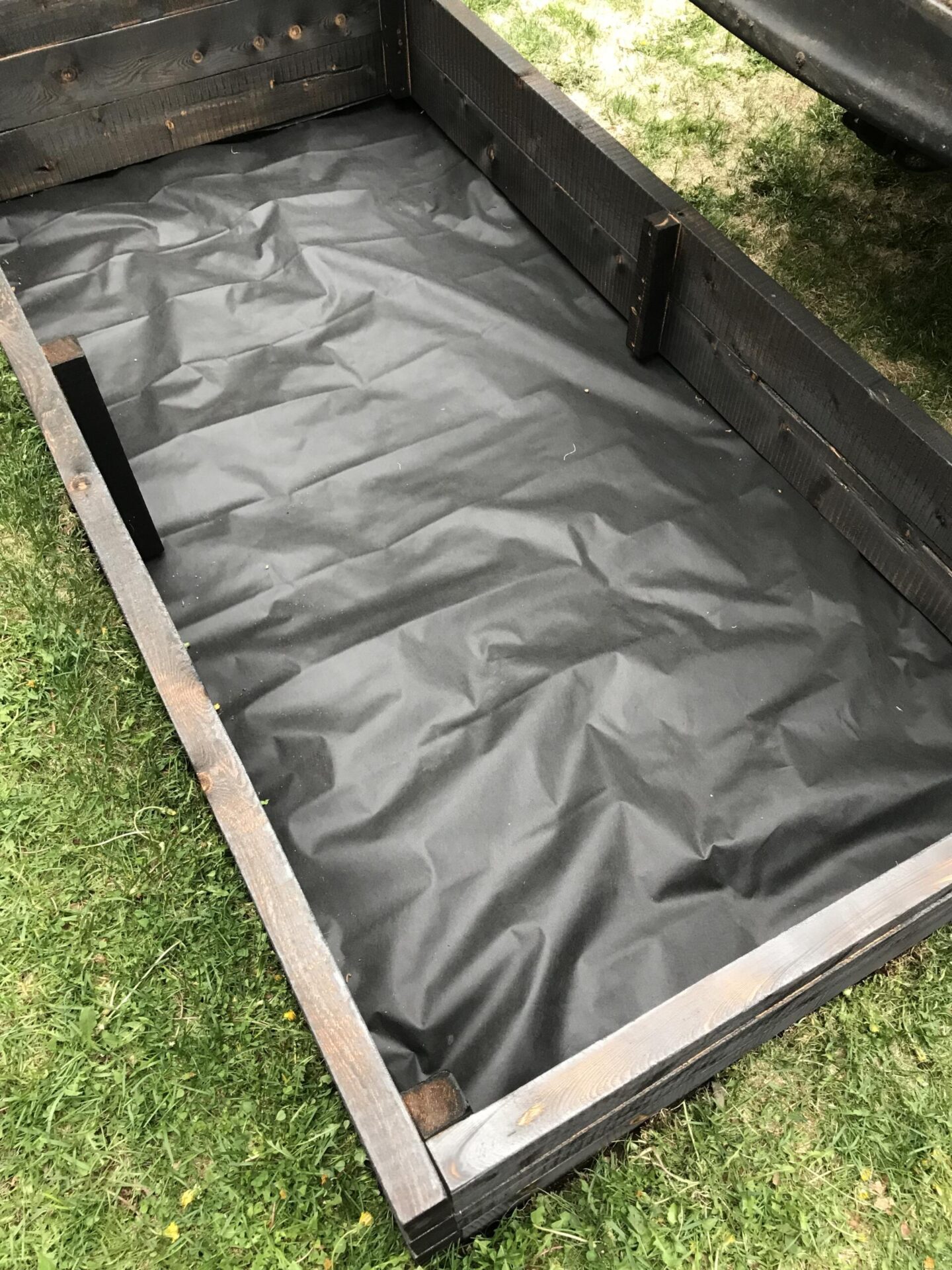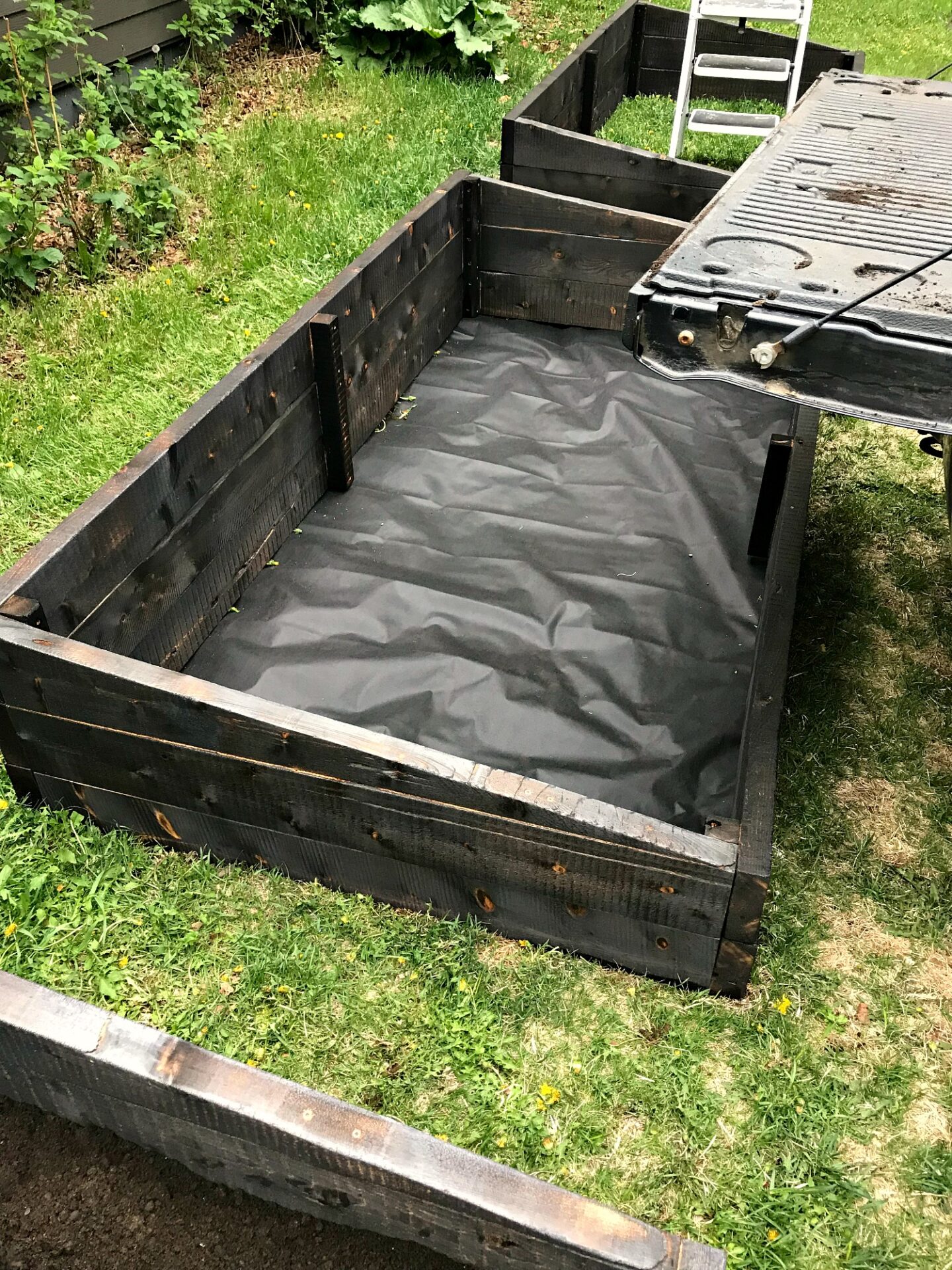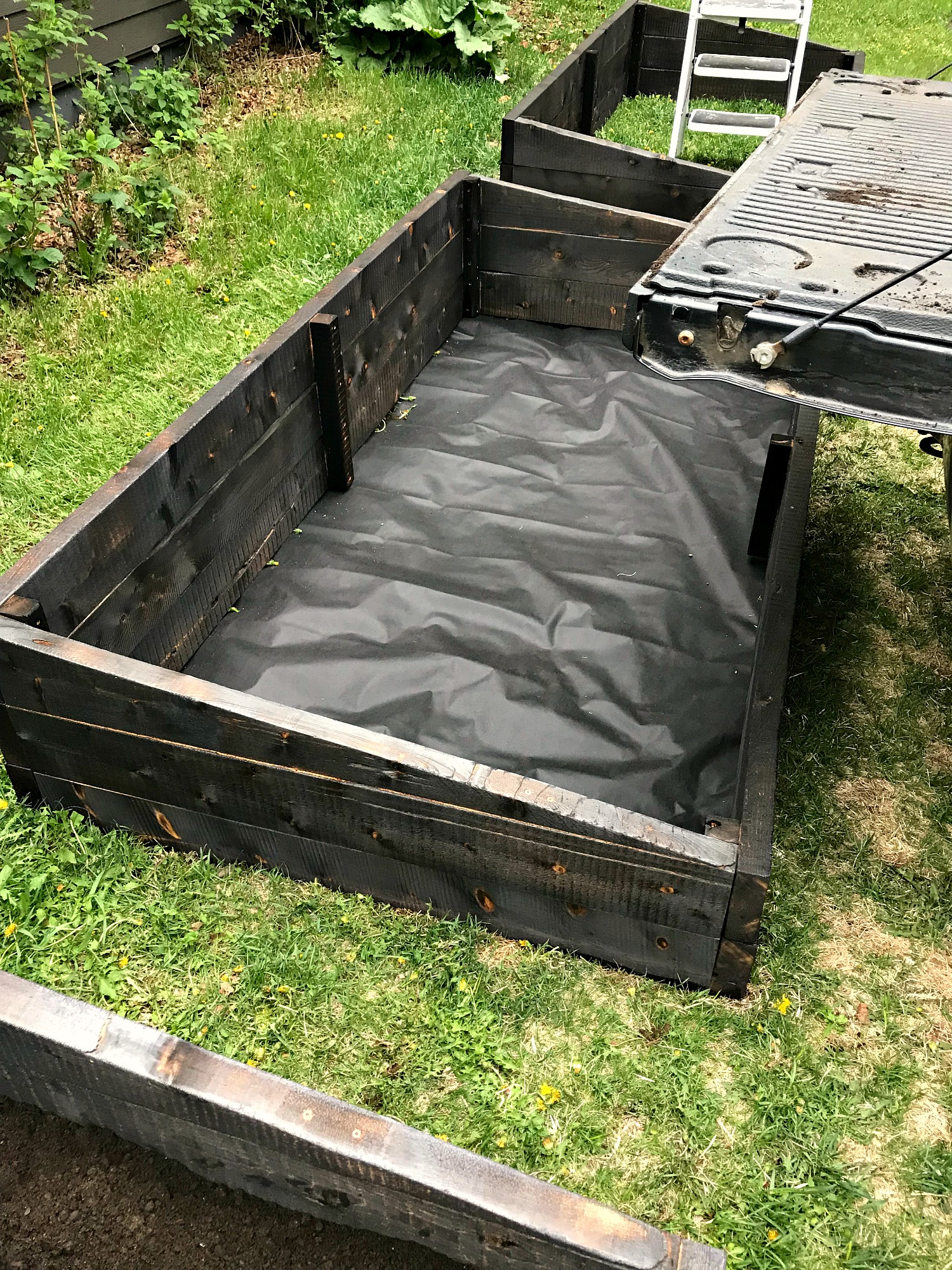 Then I shovelled a 3/4 tonne truckload of topsoil. Every project requires I shovel something out of the back of my truck.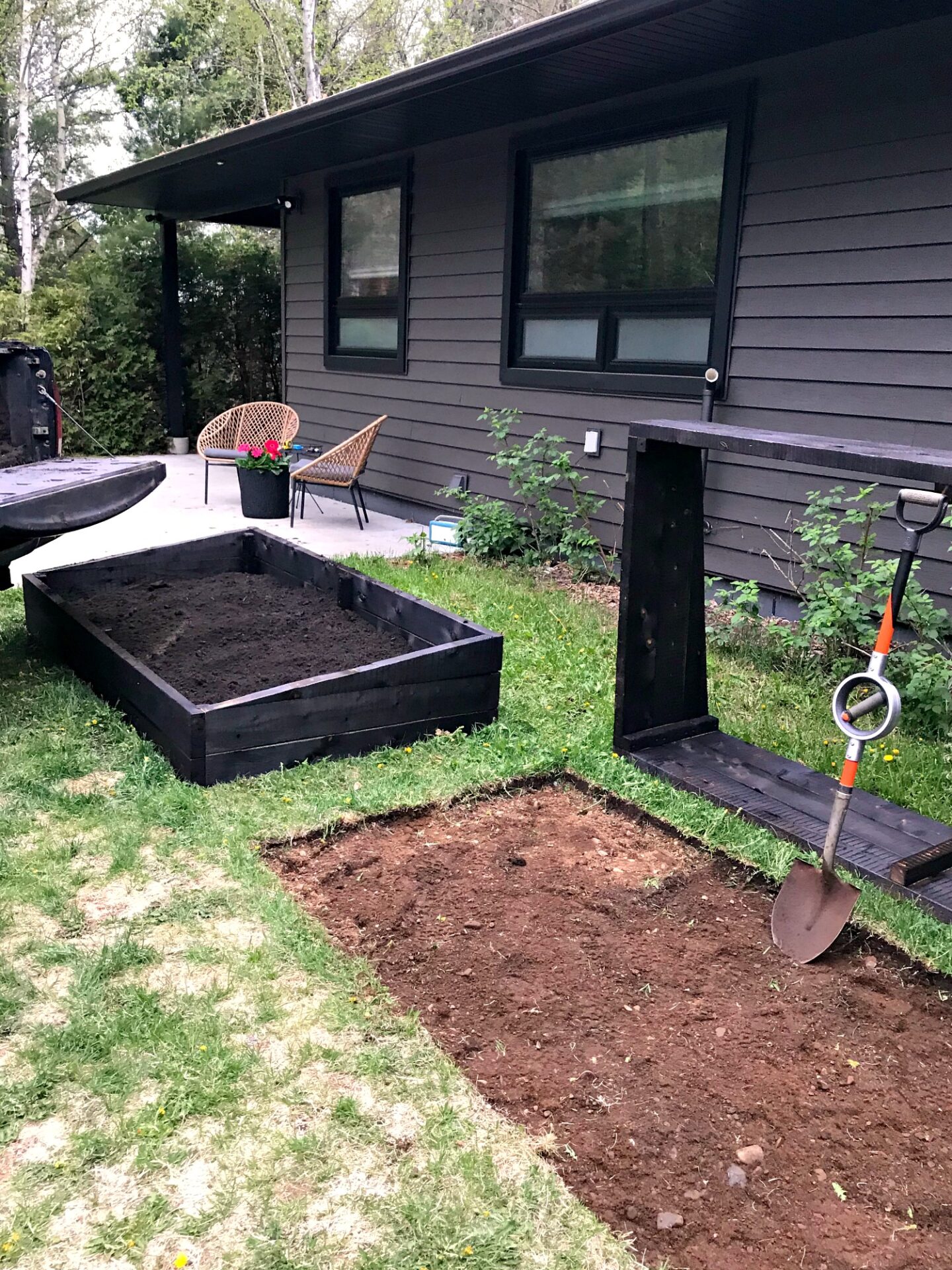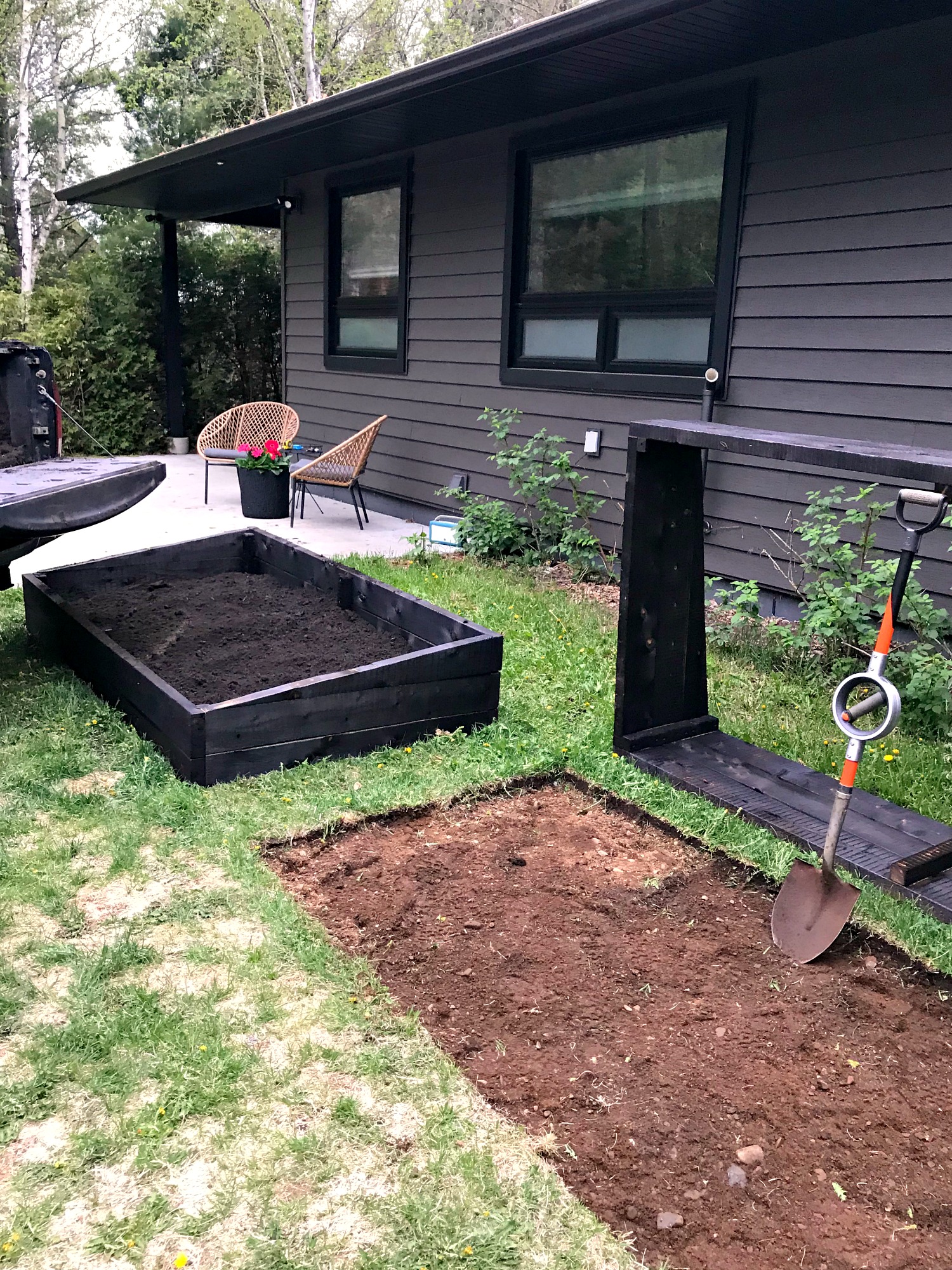 Unfortunately, even if we had wanted to, we couldn't leave our garden beds without lids lol: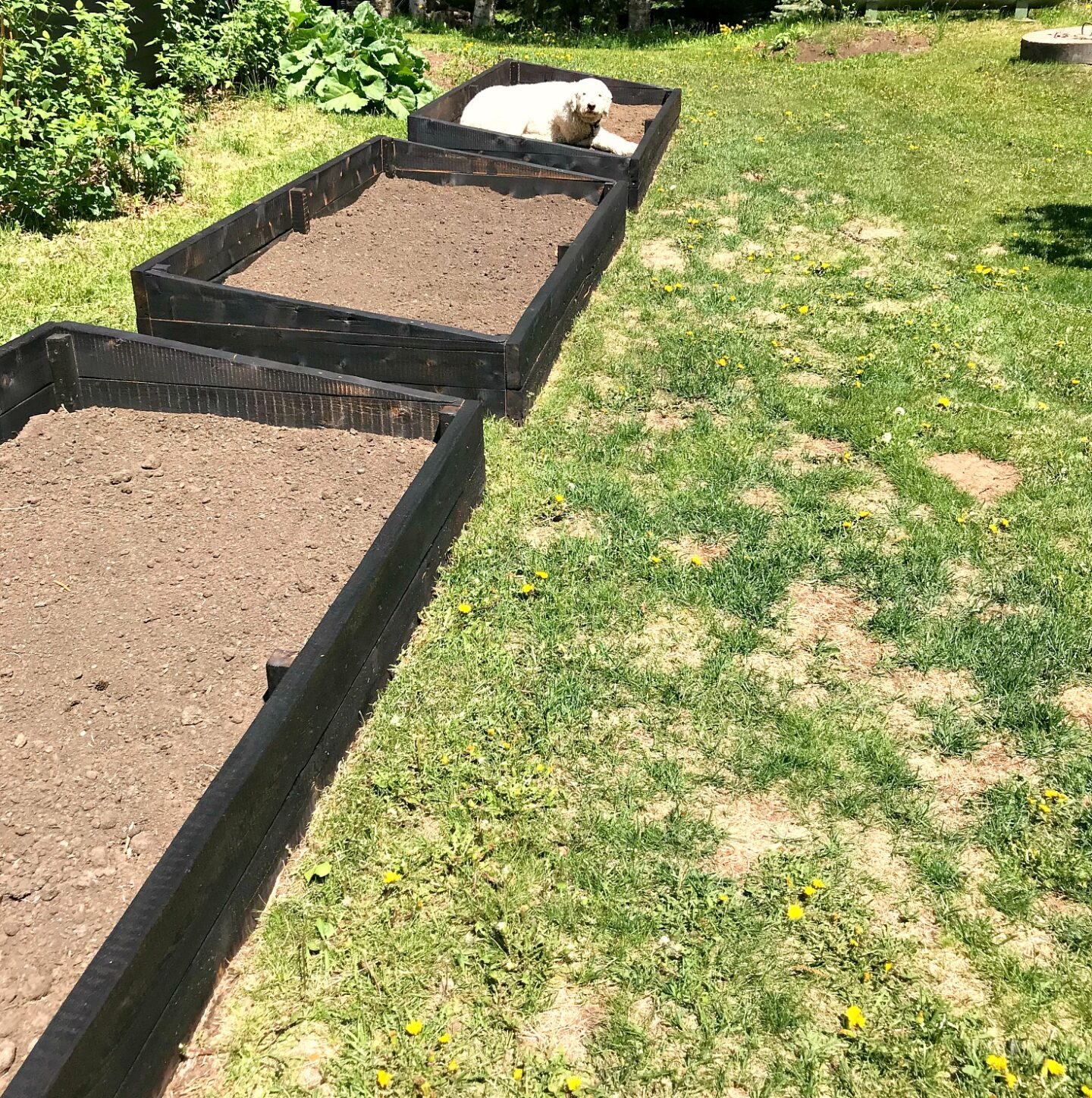 Look at that guilty face of Szuka's. And Hynda was right in there too: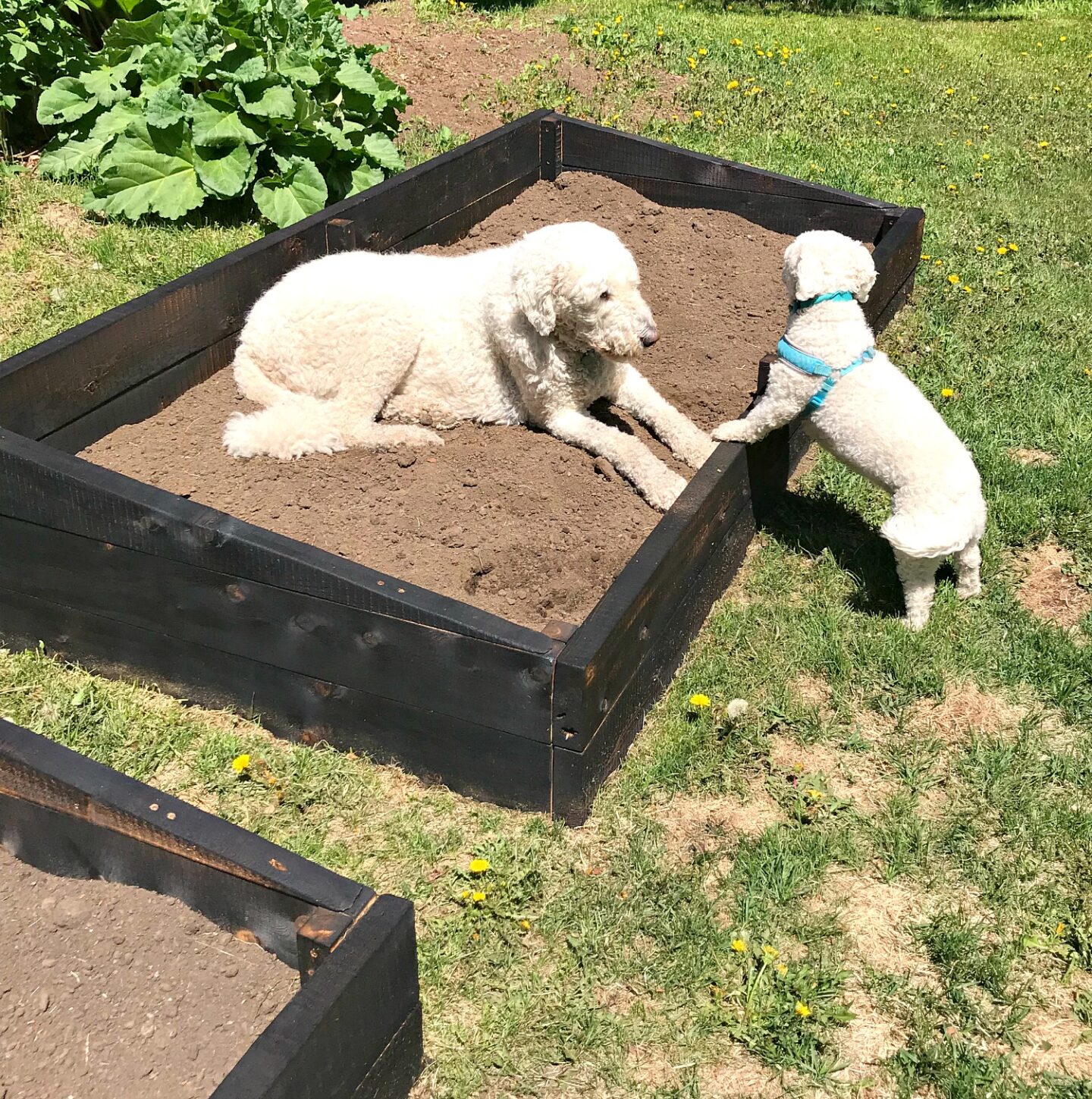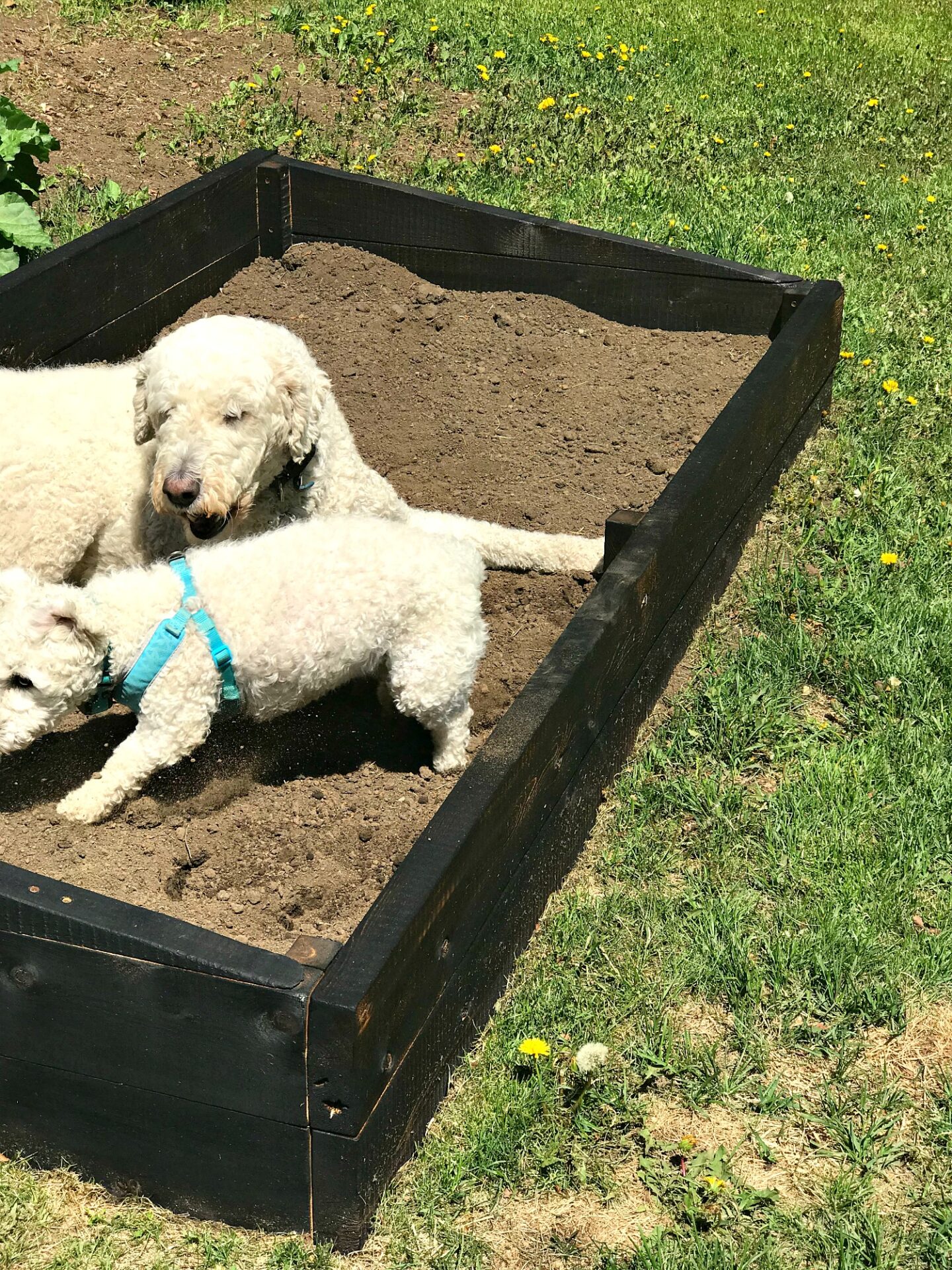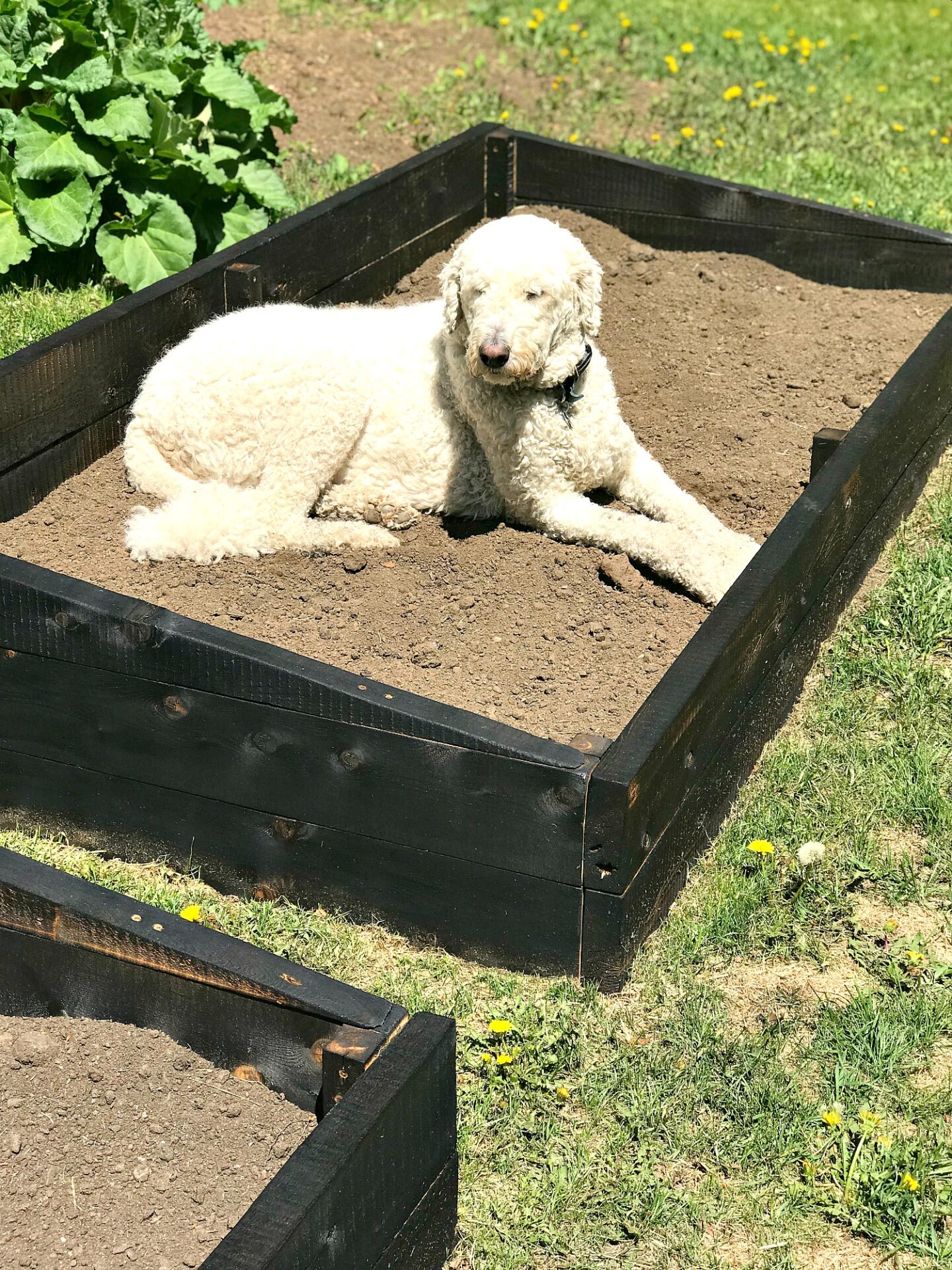 How to Make a Cold Frame Lide:
For the lids, we knew they'd be heavy so we made two individual lids to make it easier to lift – and also for less weight for the hinges, which automatically raise a lid when the garden bed gets too hot. We created the frames using more of the cedar we bought, ripped into 2″x2″ boards and screwed together with deck screws. Then I charred them and sealed them, just like the garden boxes.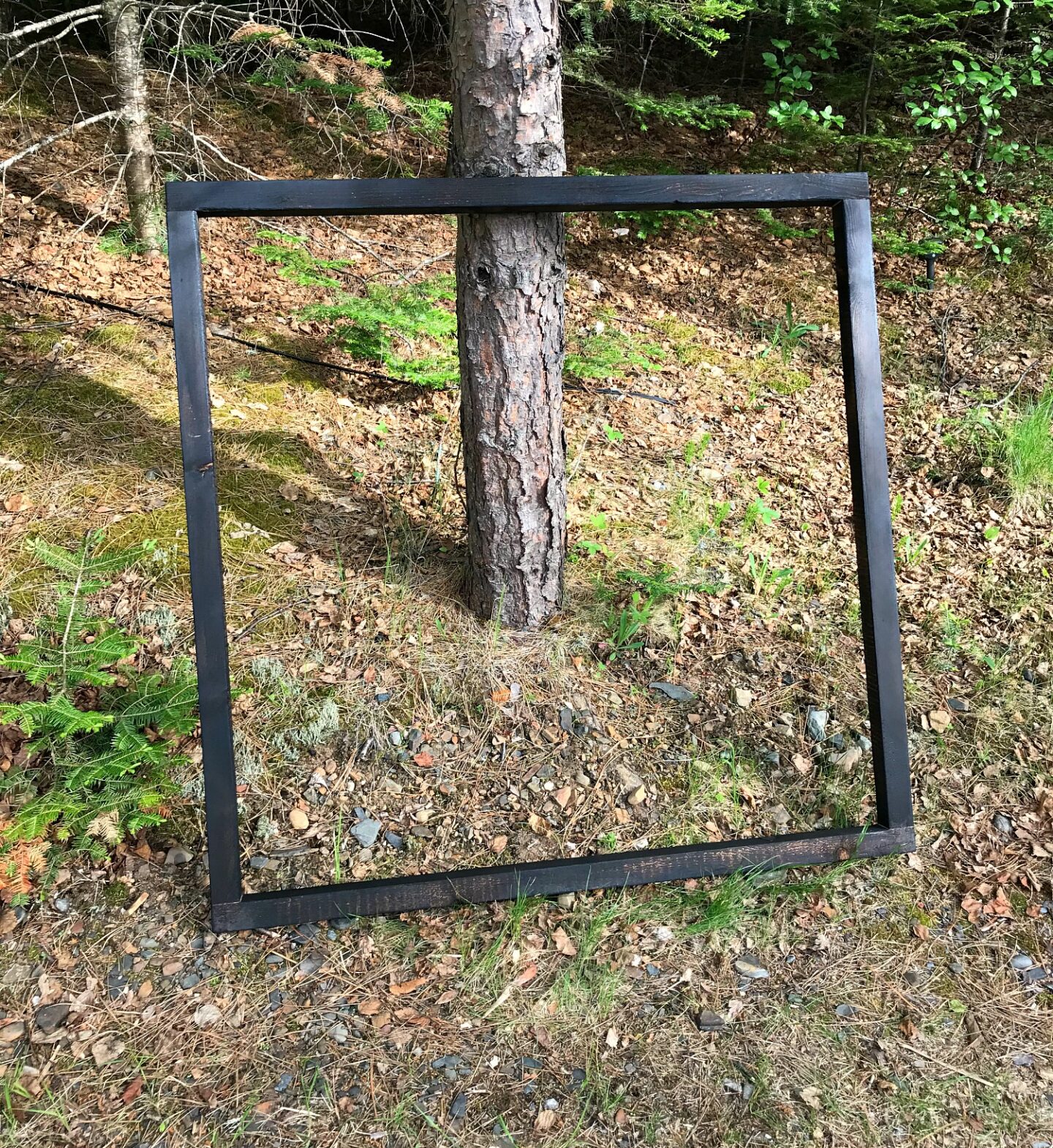 We chose Lexan for the lids because it's safe to use in extreme cold exterior applications (it won't get brittle or discolor). And if a snow heap falls off the roof, we won't get broken glass everywhere – but you can also use old windows, etc. We cut the Lexan with a jigsaw to fit over the two lid frames we built for each box.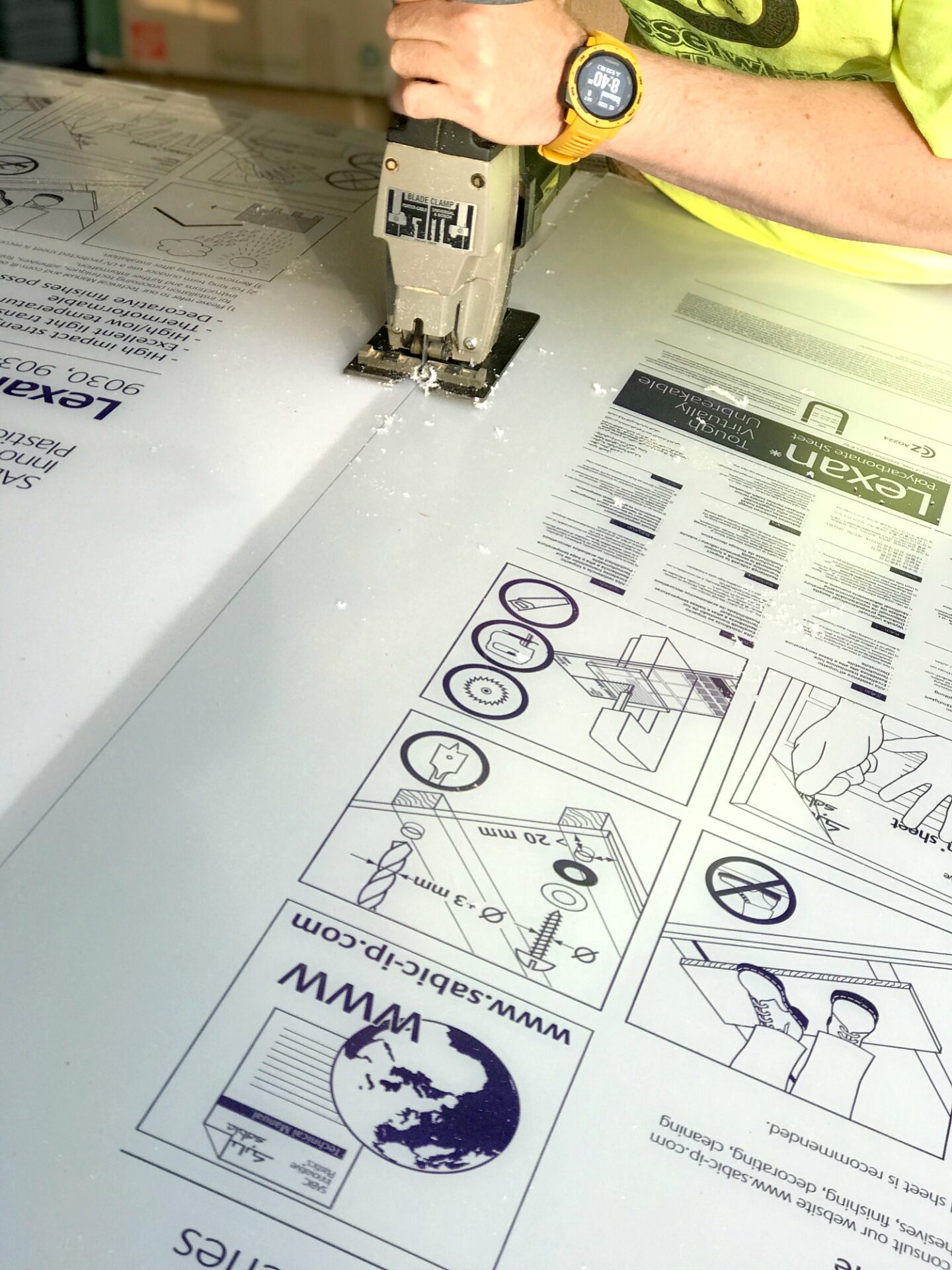 We screwed the Lexan on top, using 1″ screws and washers.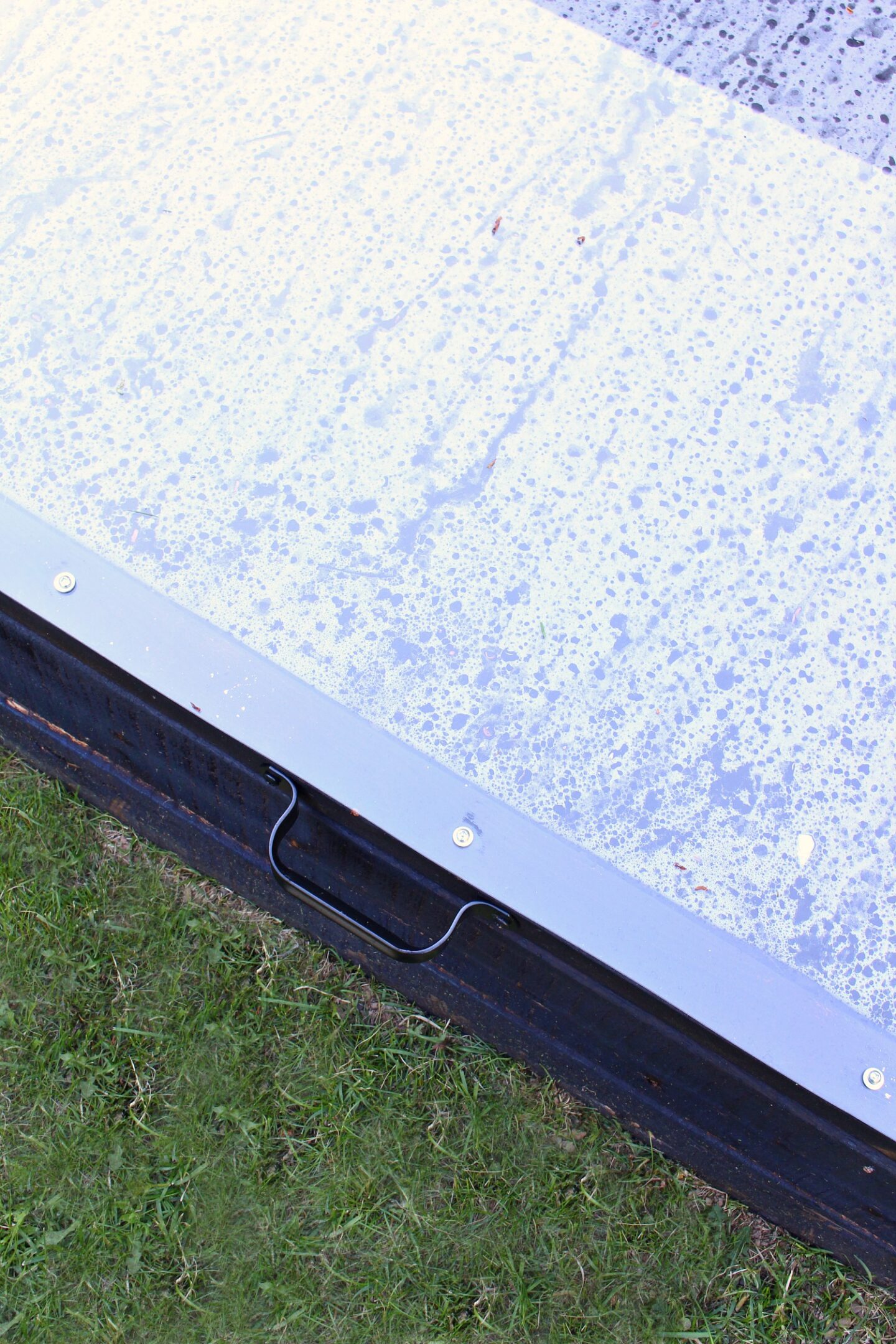 Then it was time to attach the hardware! We used these hinges to affix each lid to the garden box: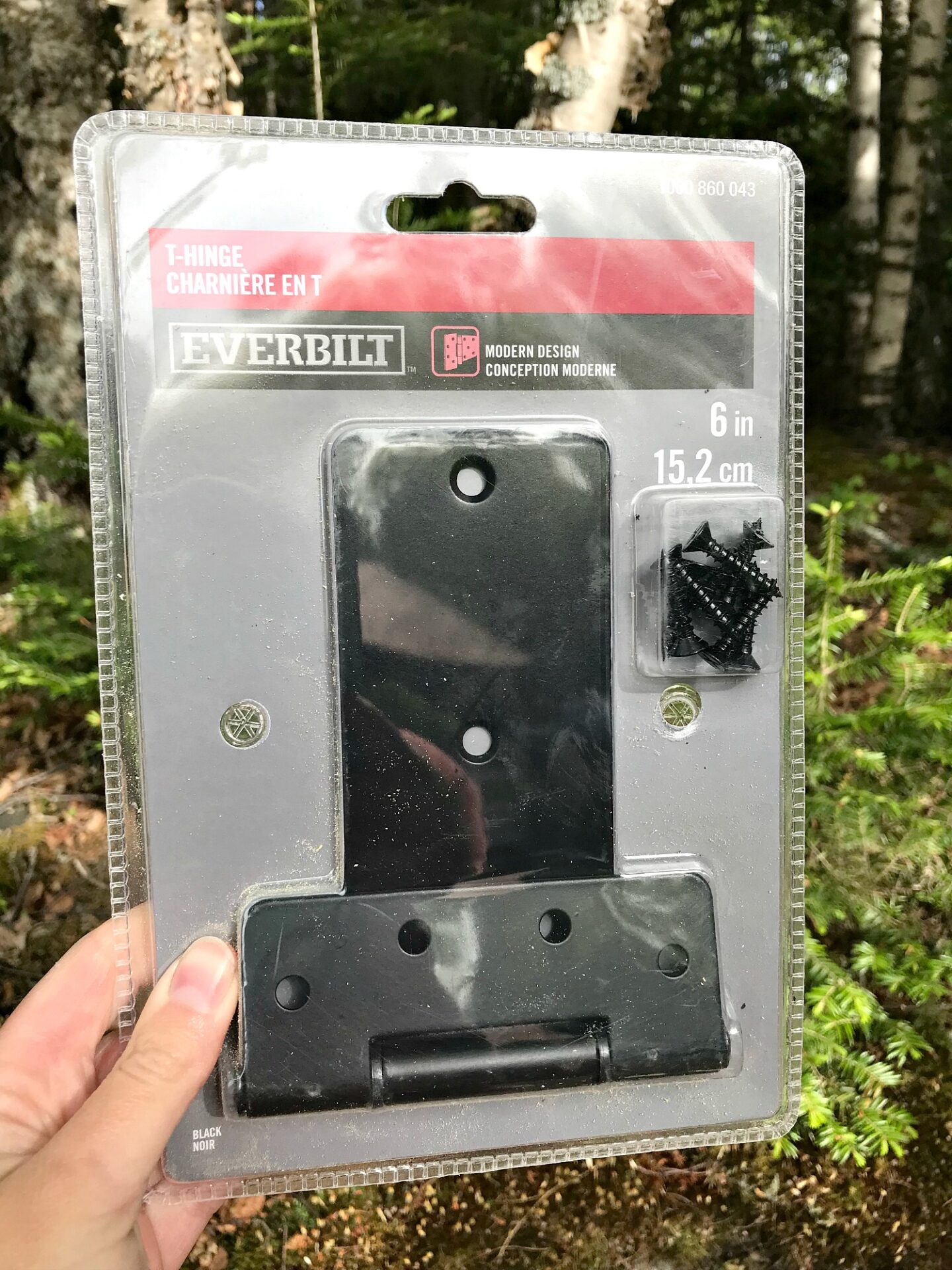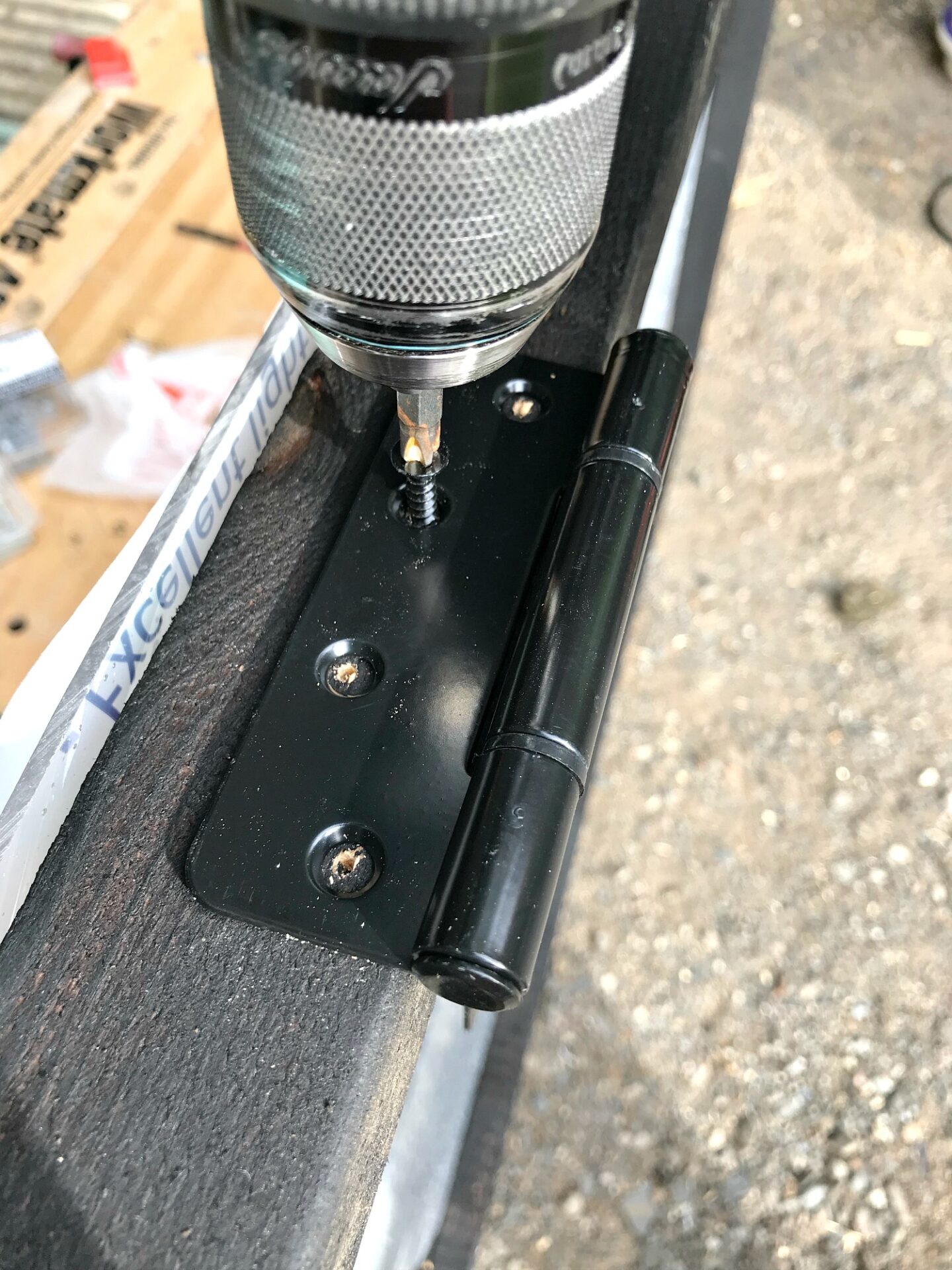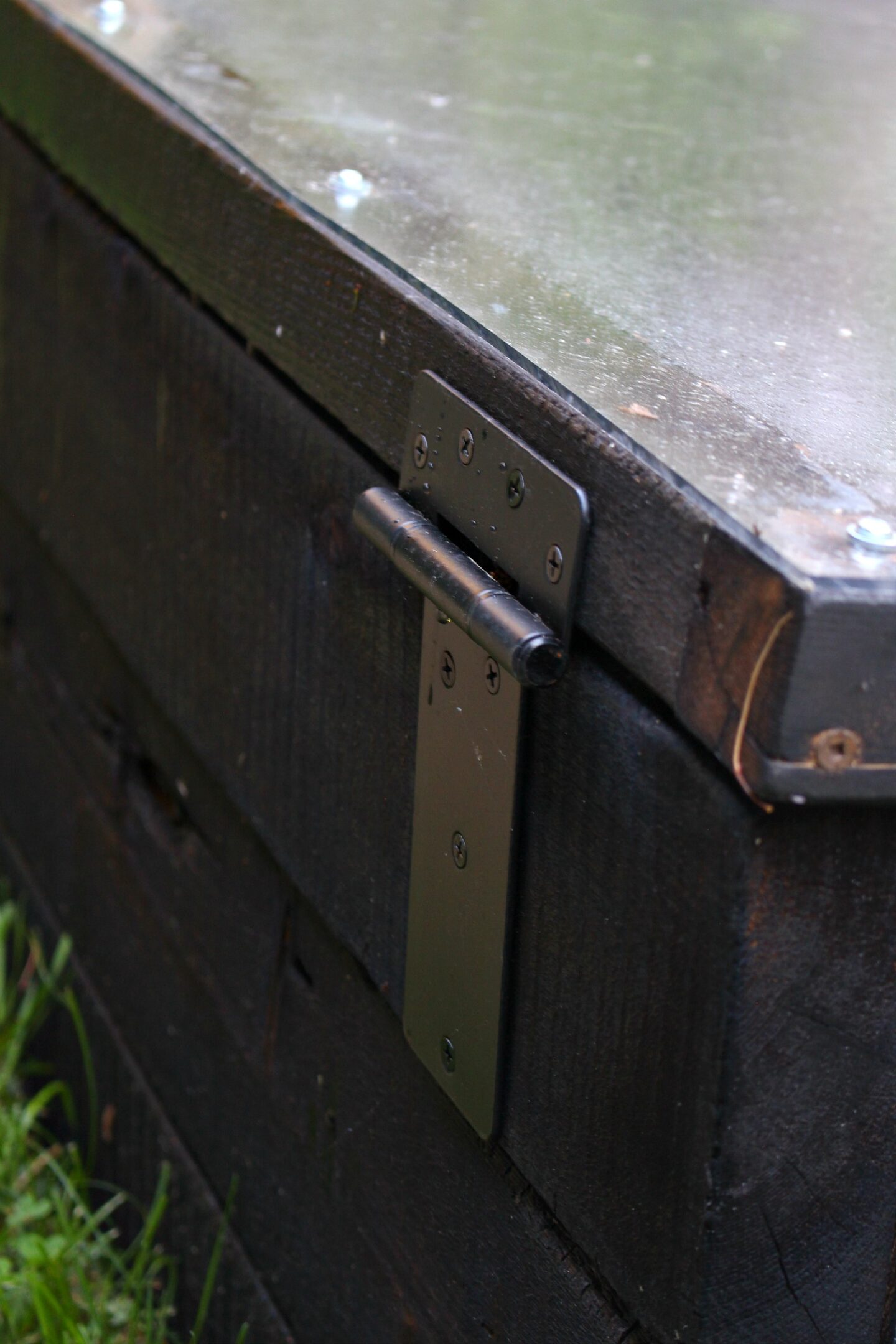 Finally, we added shed pulls for handles to each lid and some chain attached with screws and washers, so when the lids are open all the way they're supported.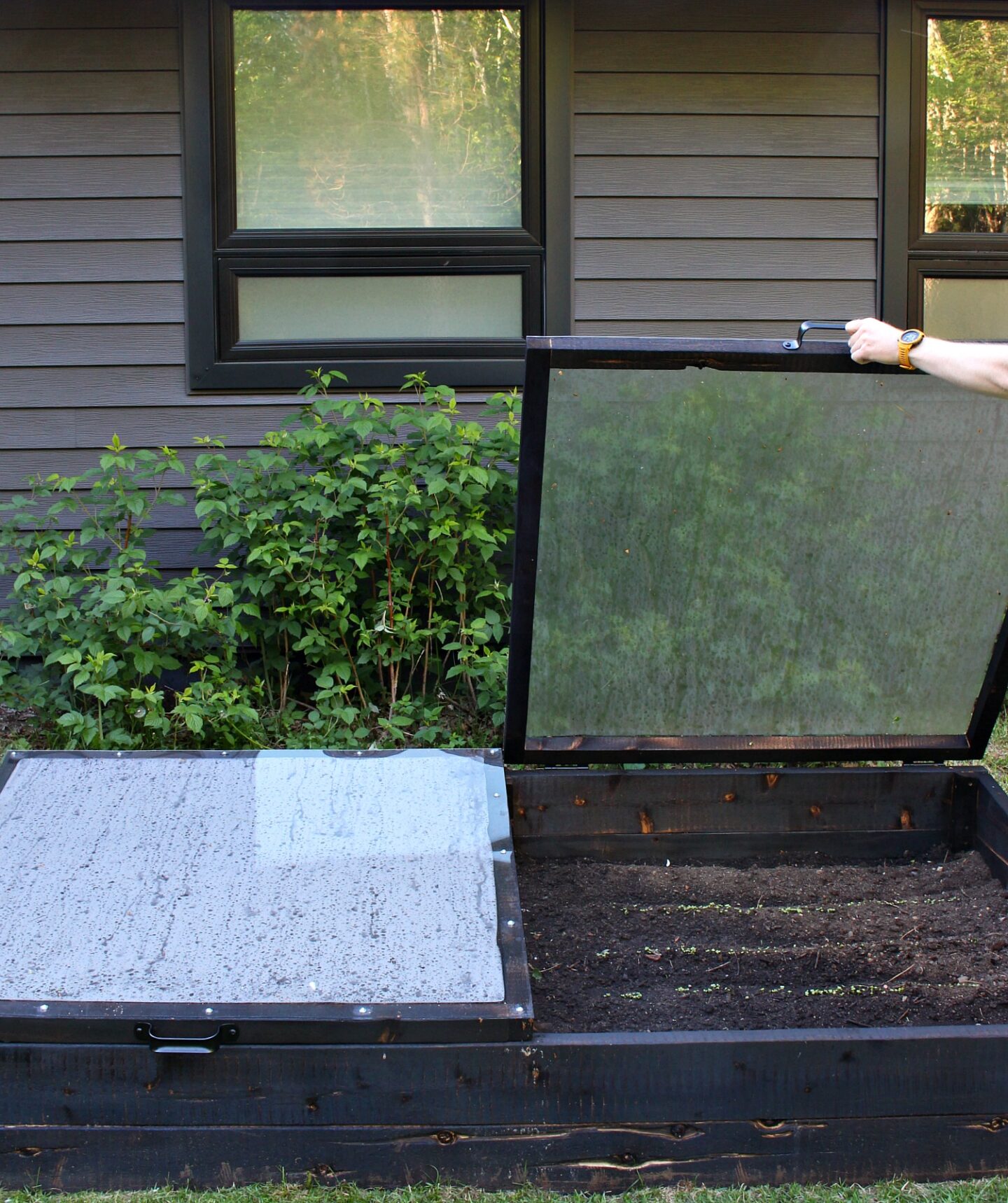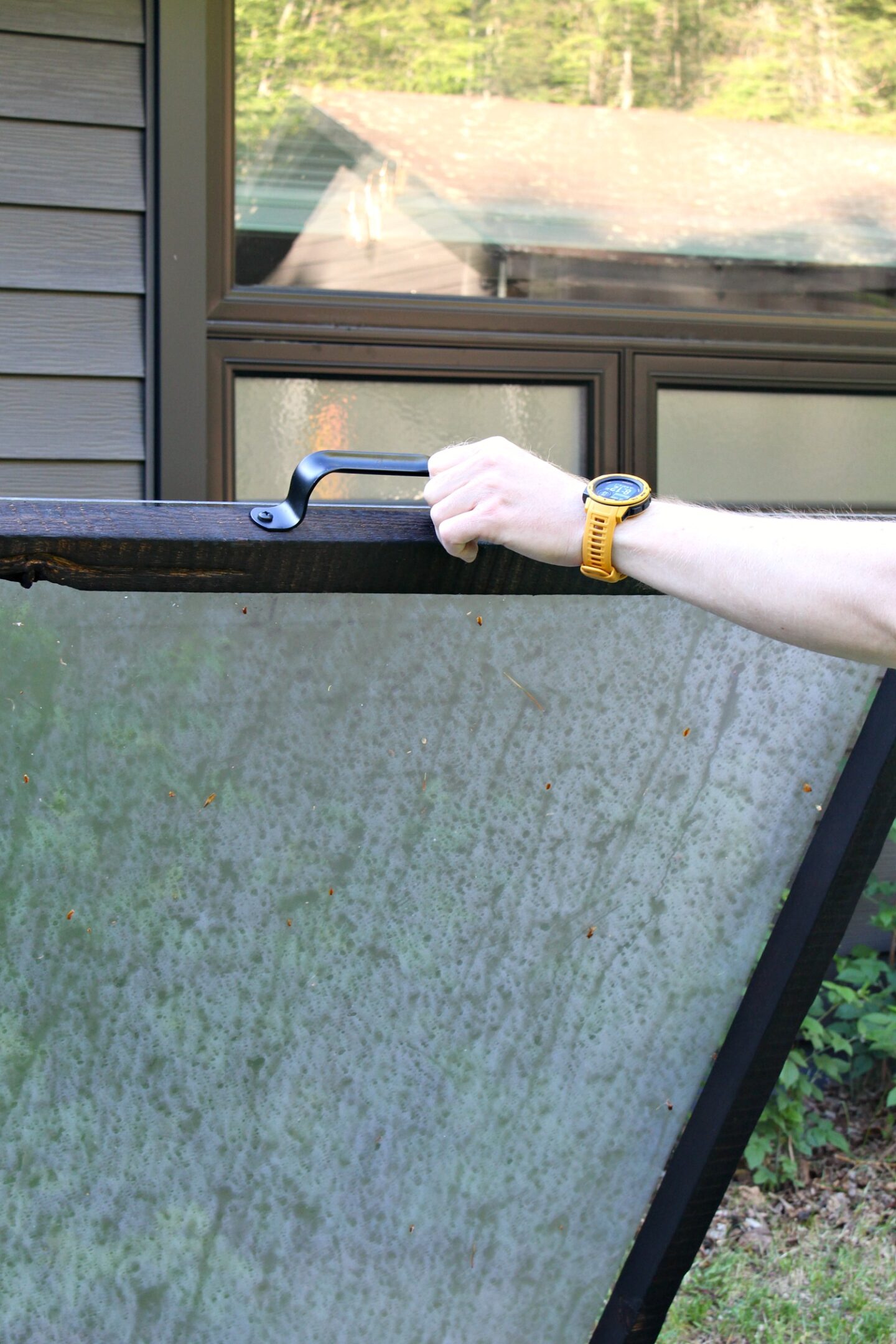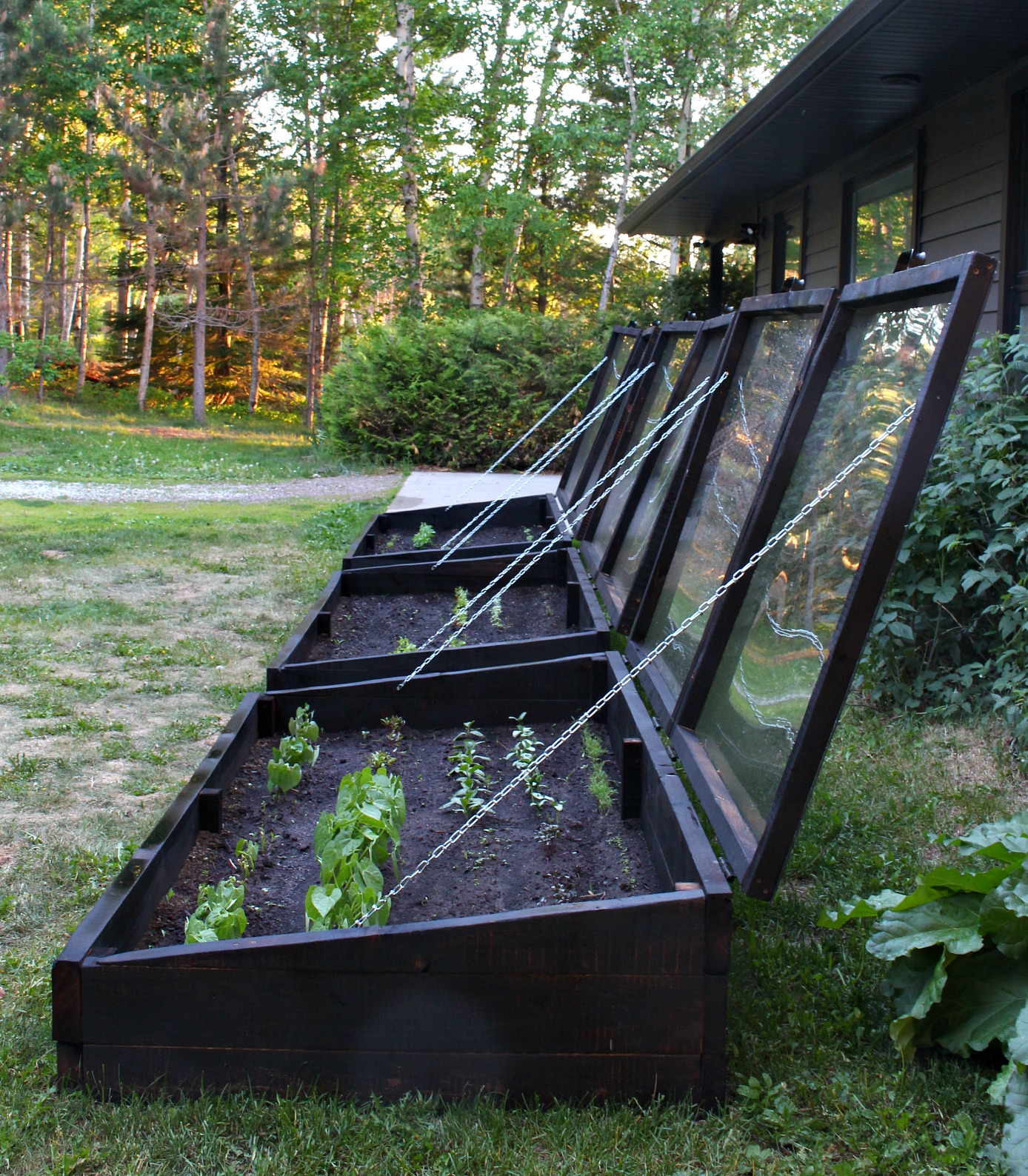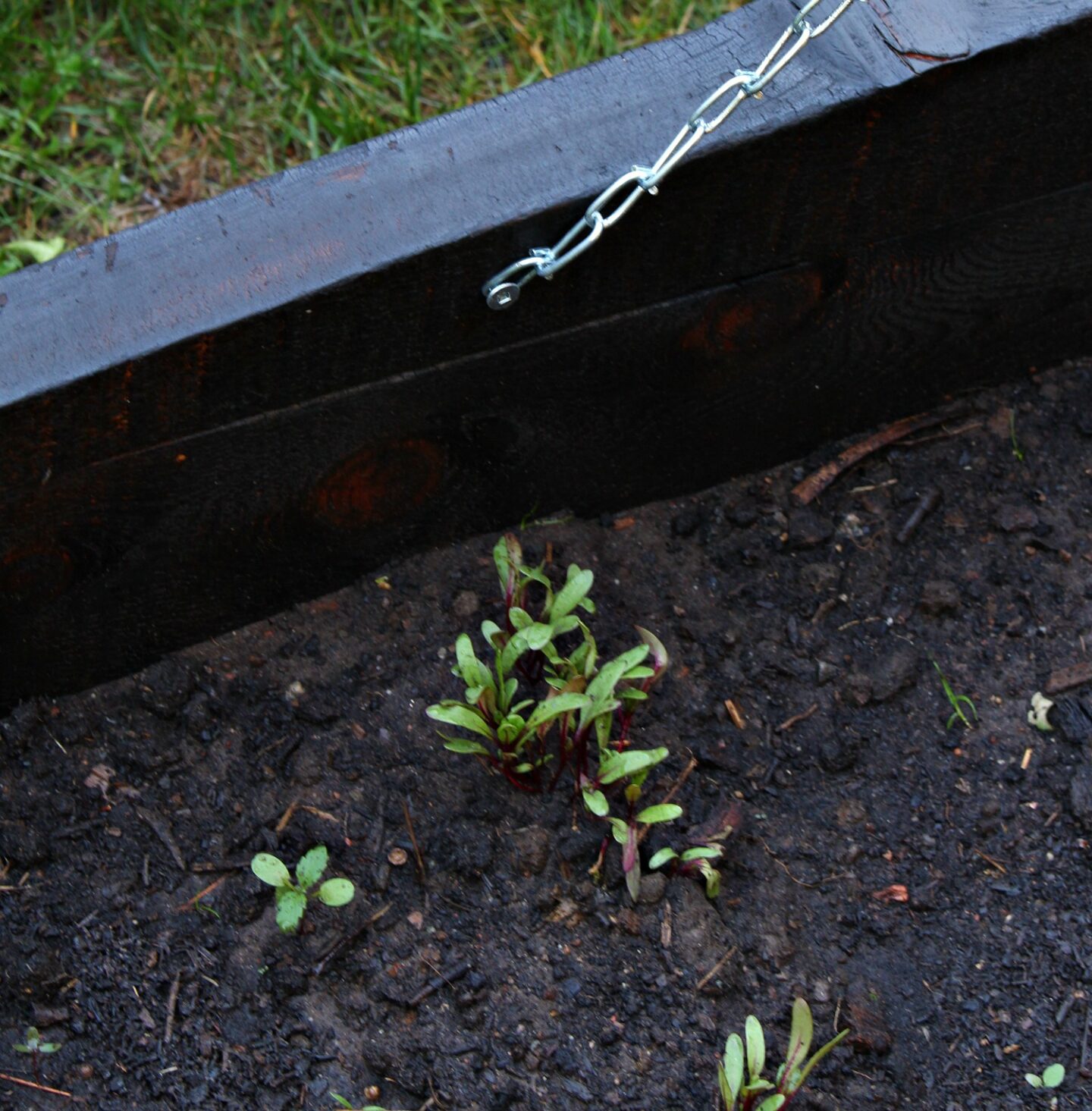 That way I can open them all up and water at once – or if it's super hot, let them air out. I'm still getting the hang of gardening in the cold frames, but it will be awesome for extending the growing season here on Lake Superior! Here's a look at our finished DIY cold frame garden beds…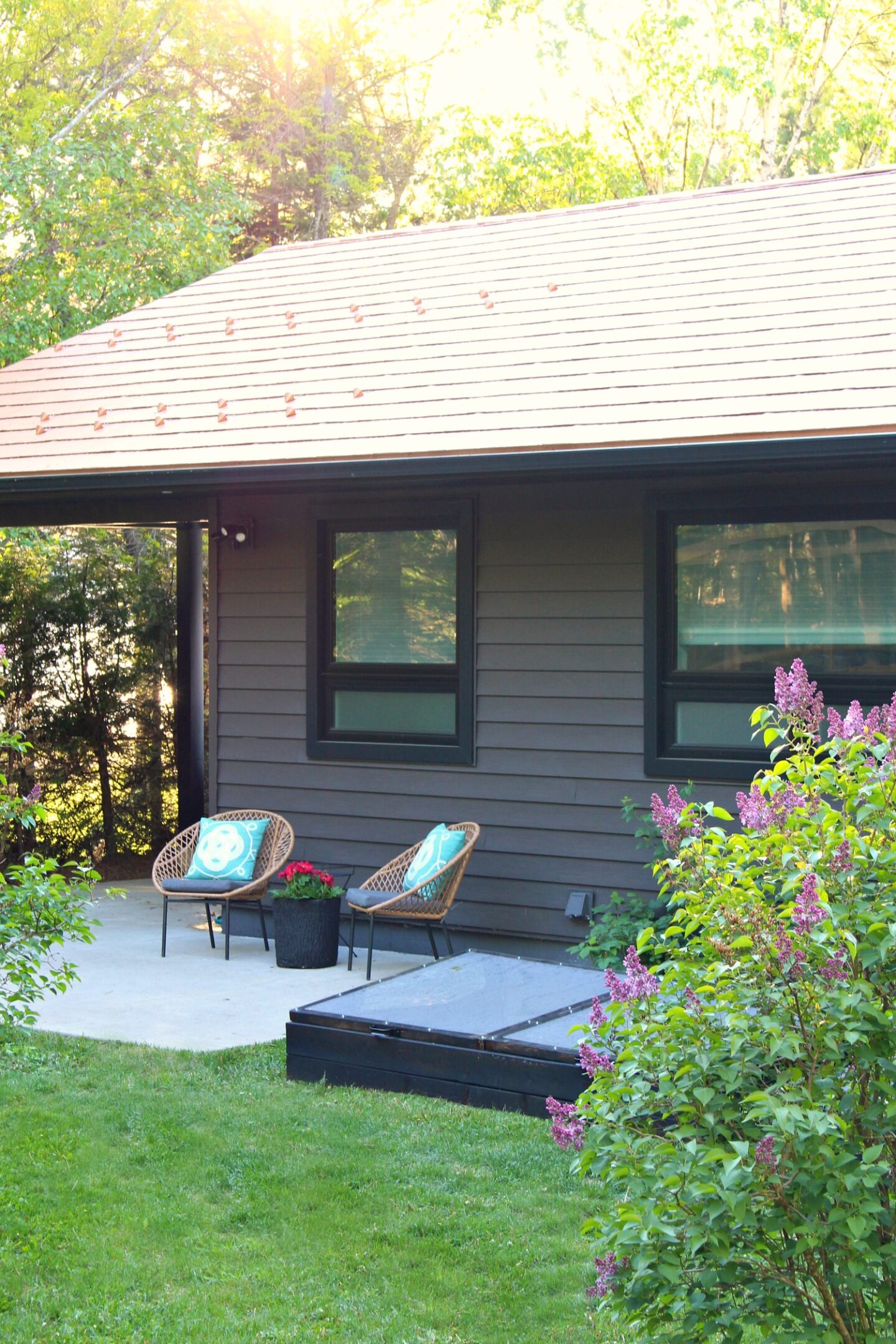 The Finished DIY Cold Frame Garden Beds: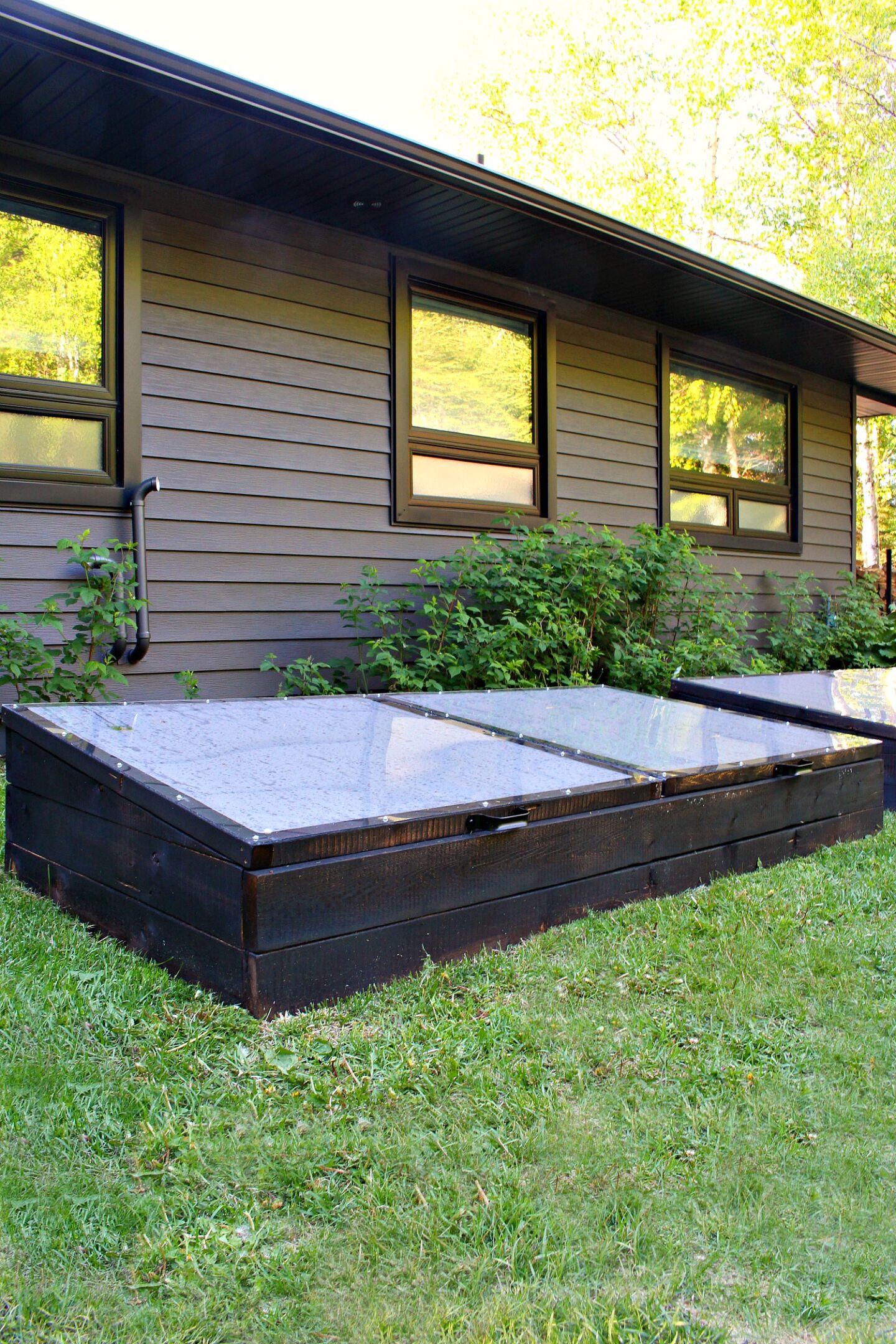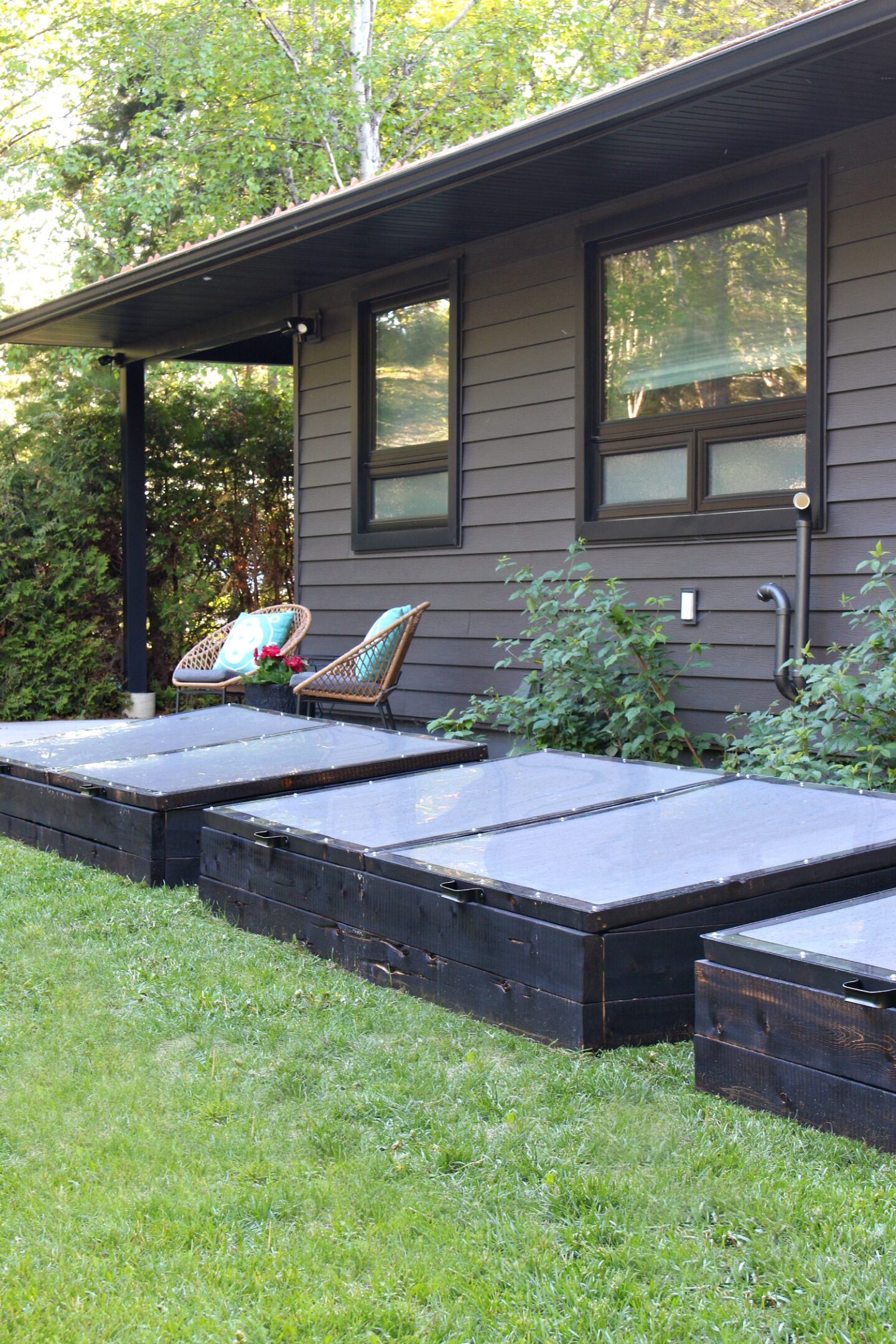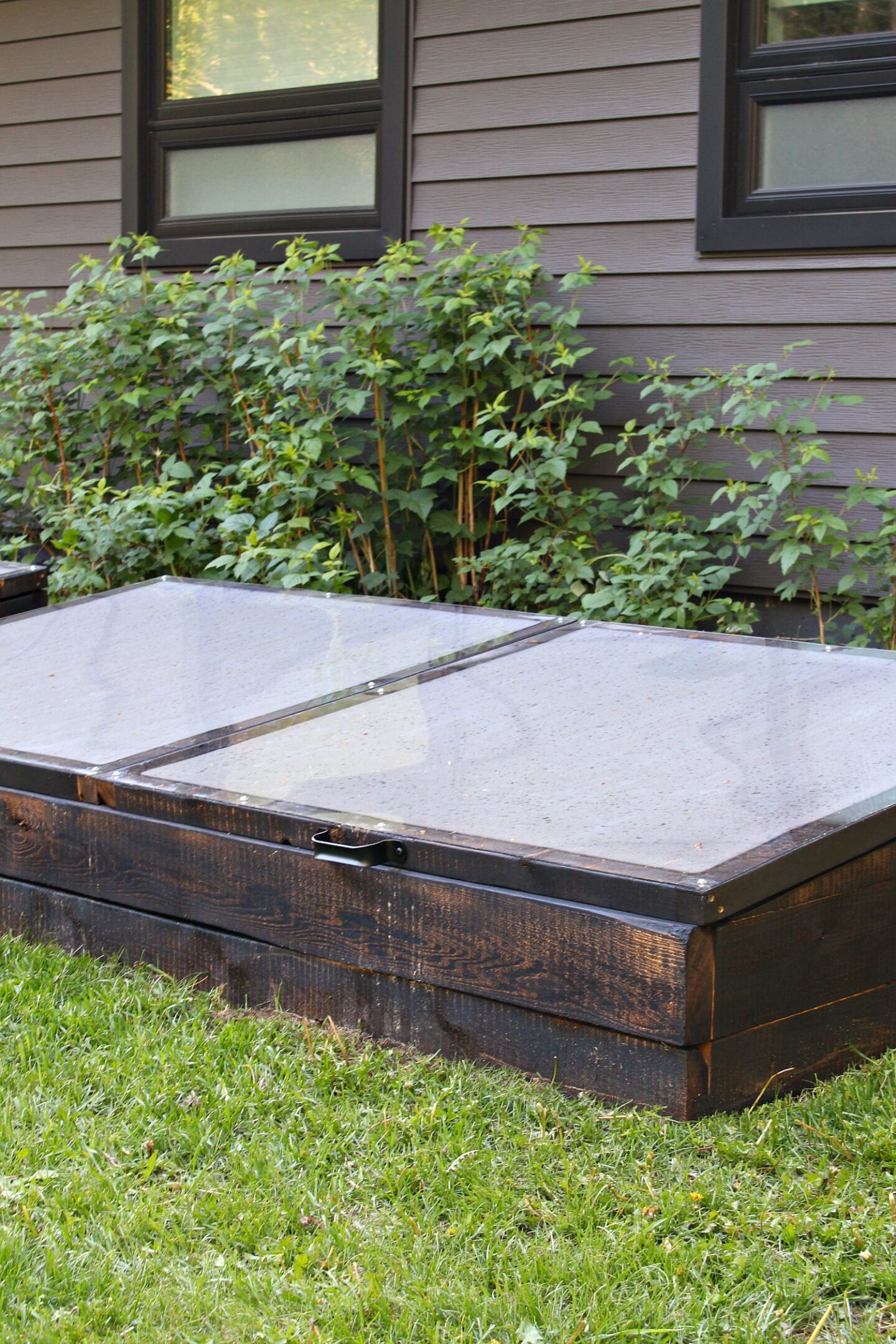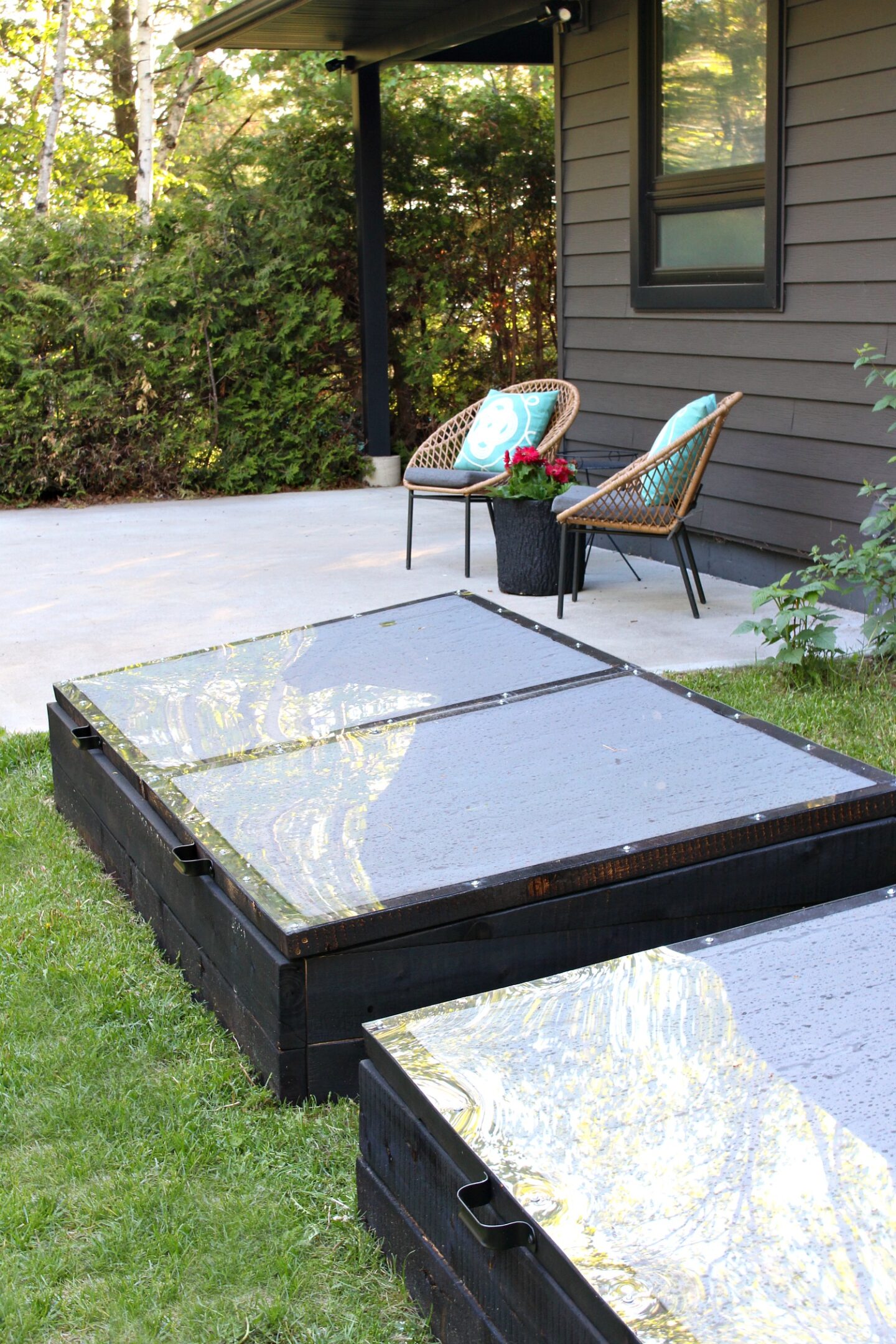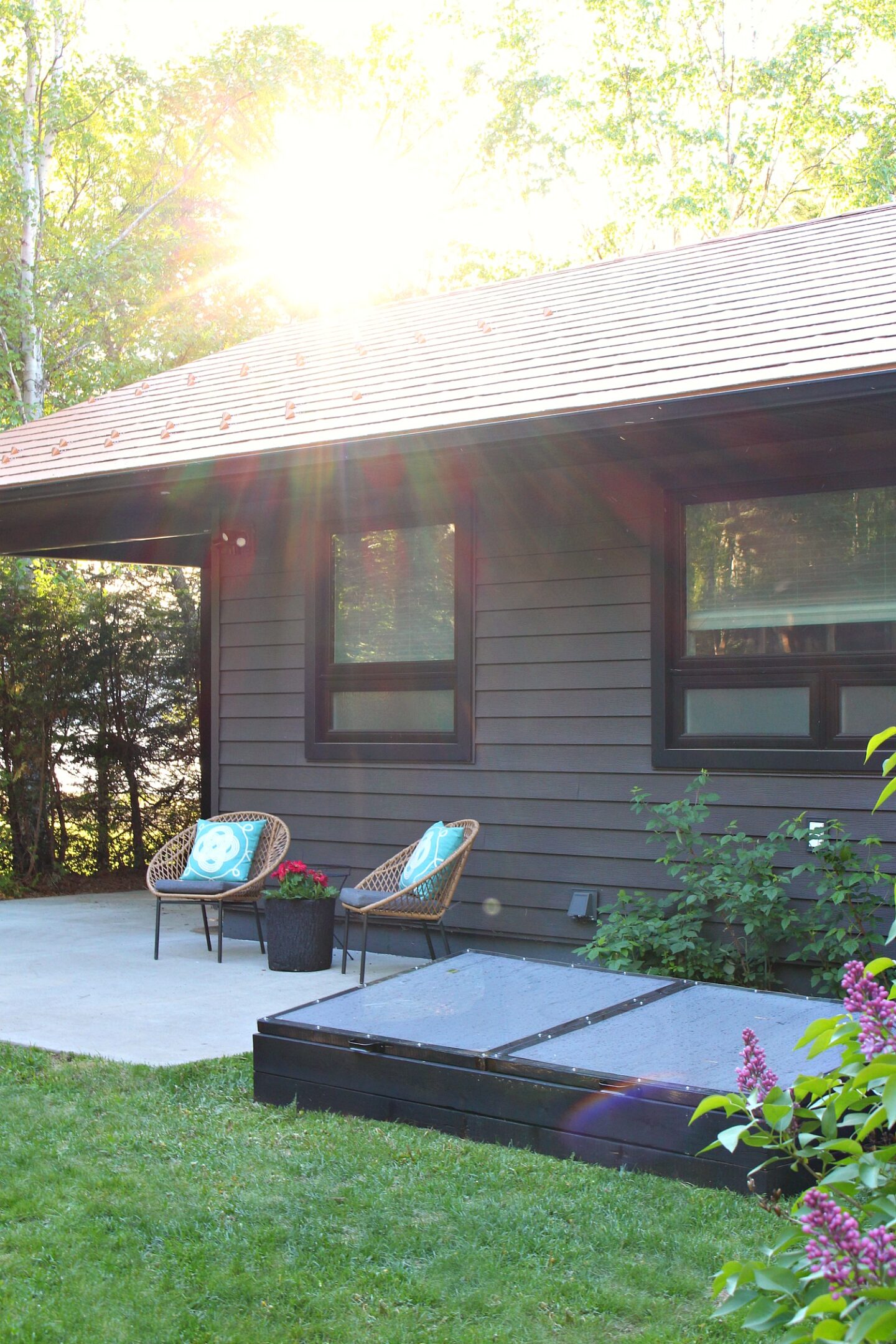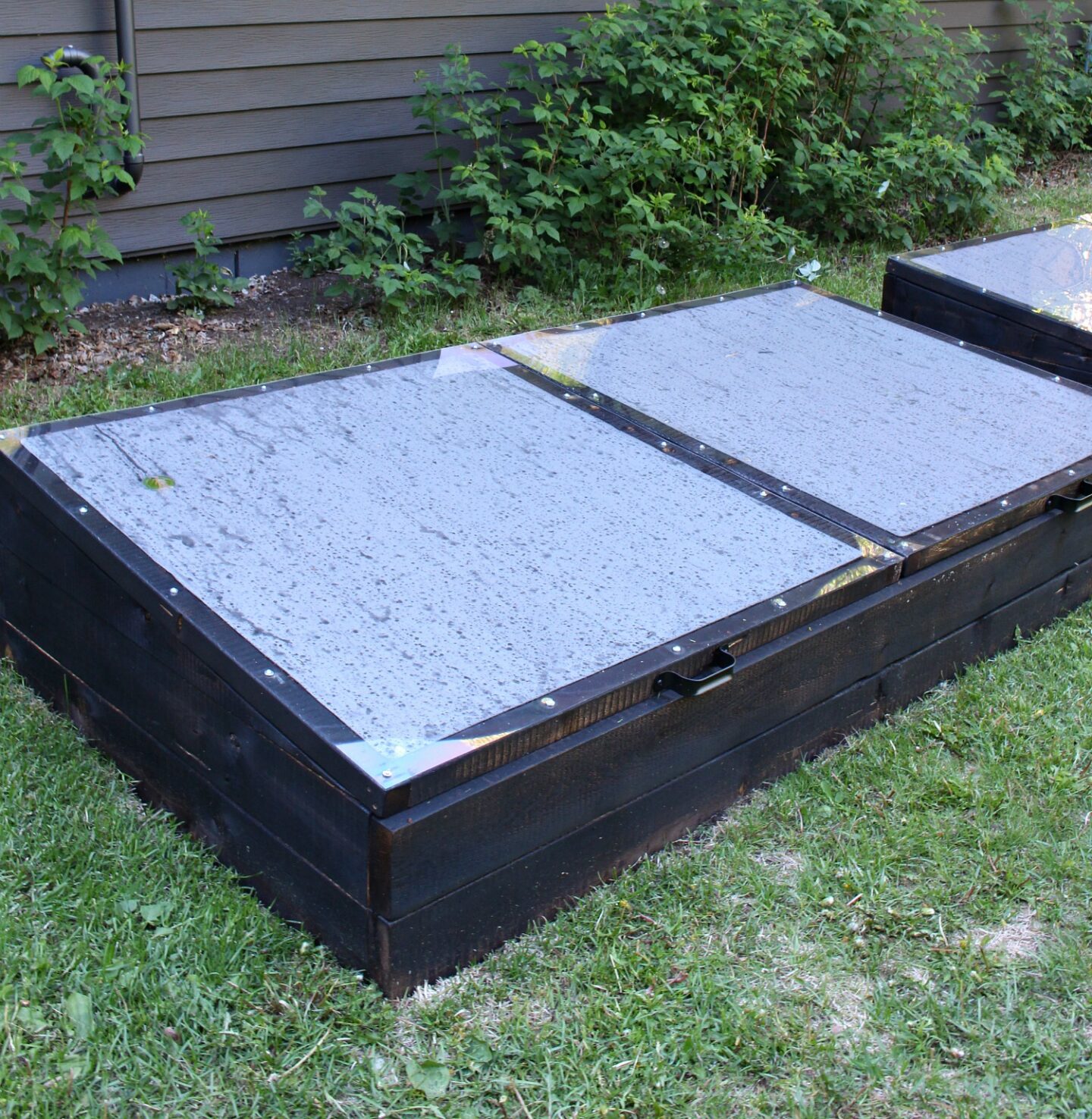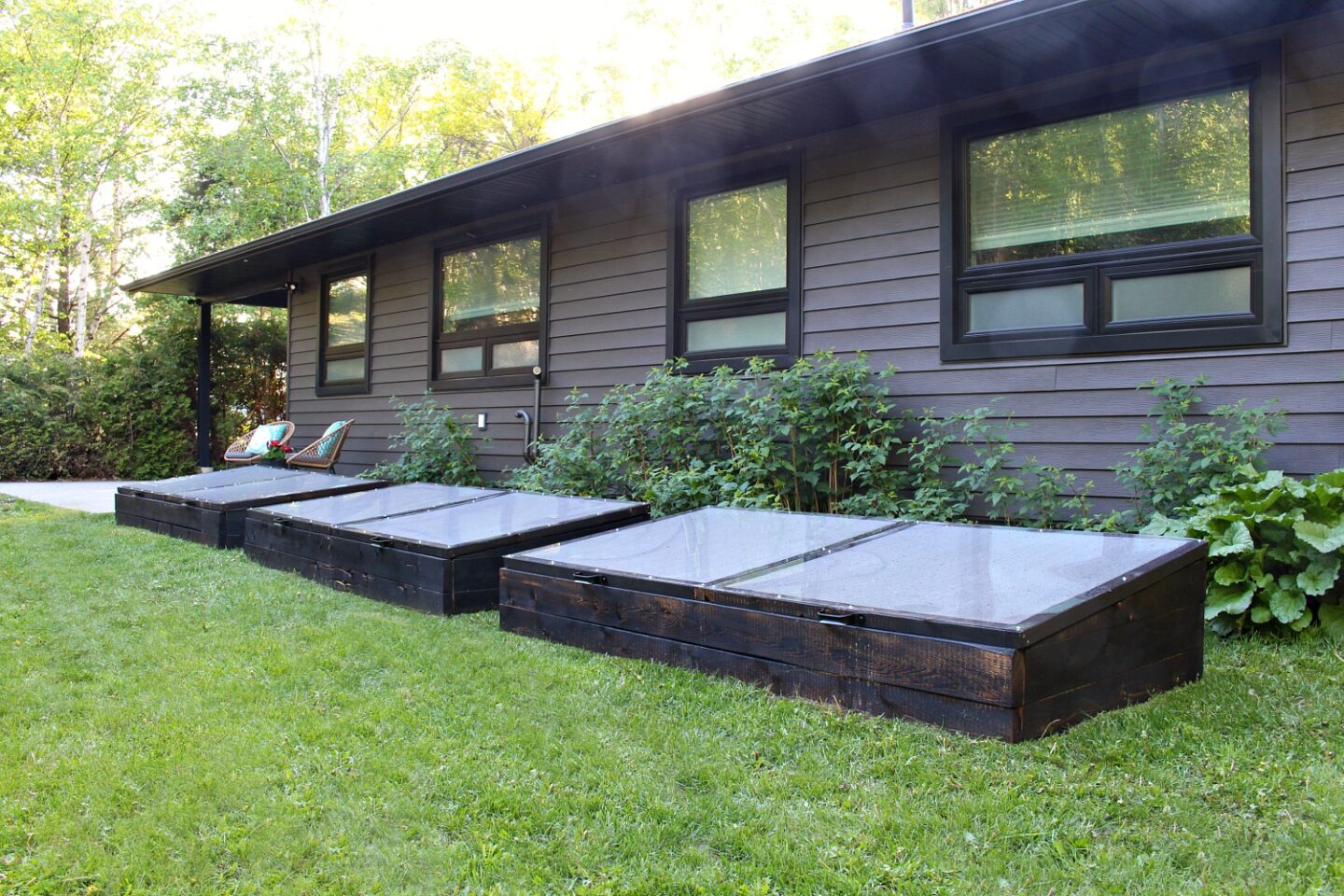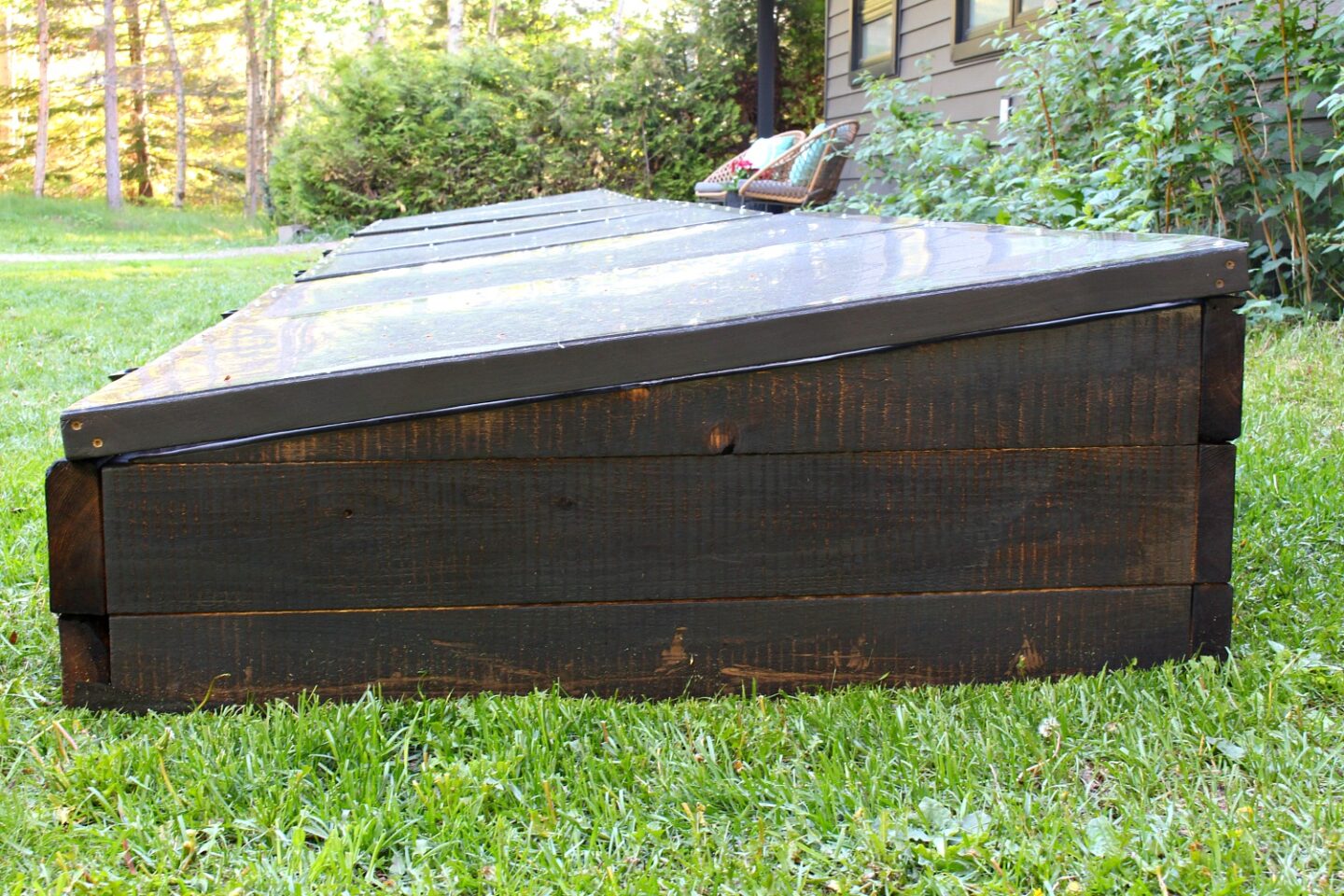 And here's a peek at my little garden growing! It's growing more and more each day but I'll share what I planted – and what actually ends up growing – a little later.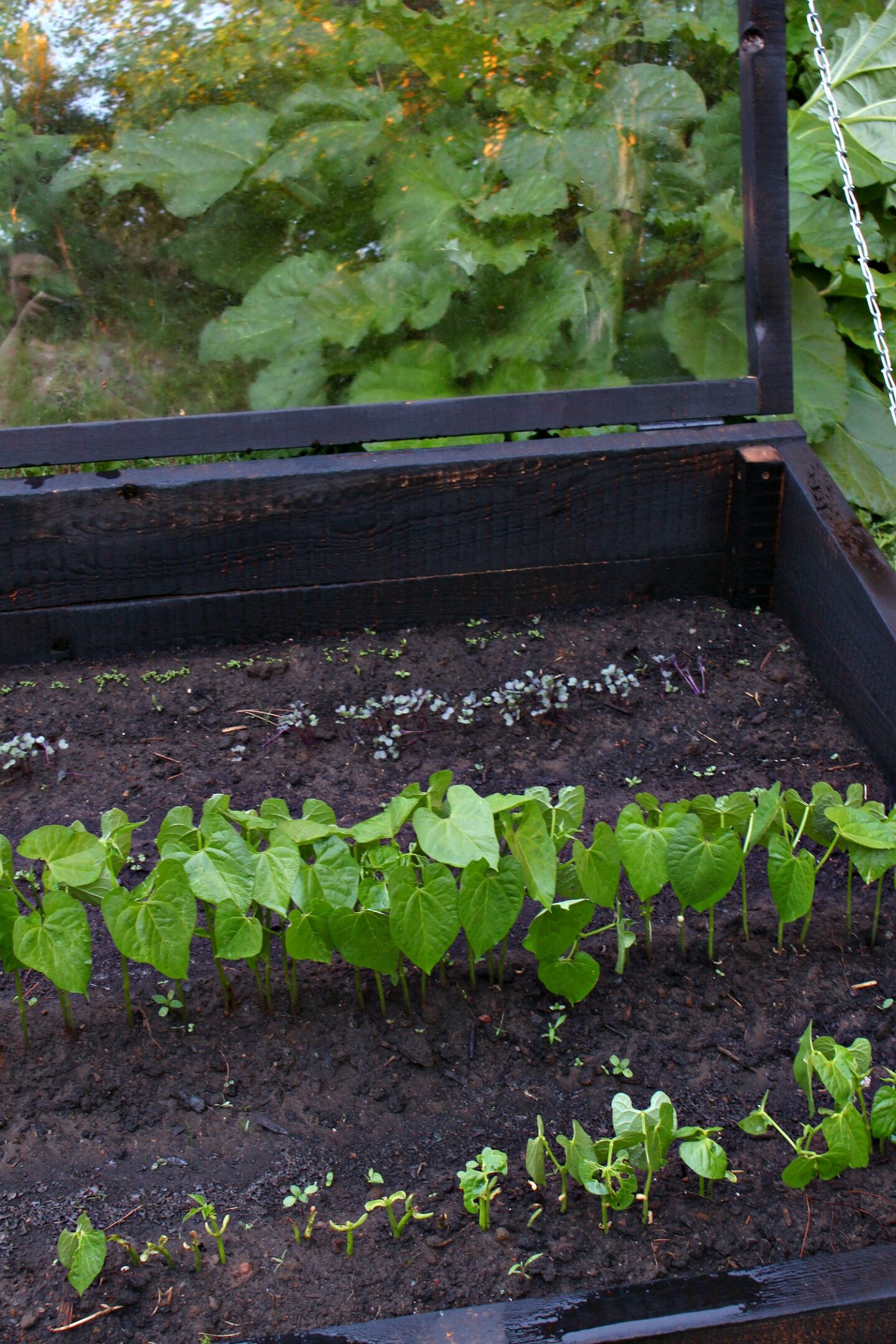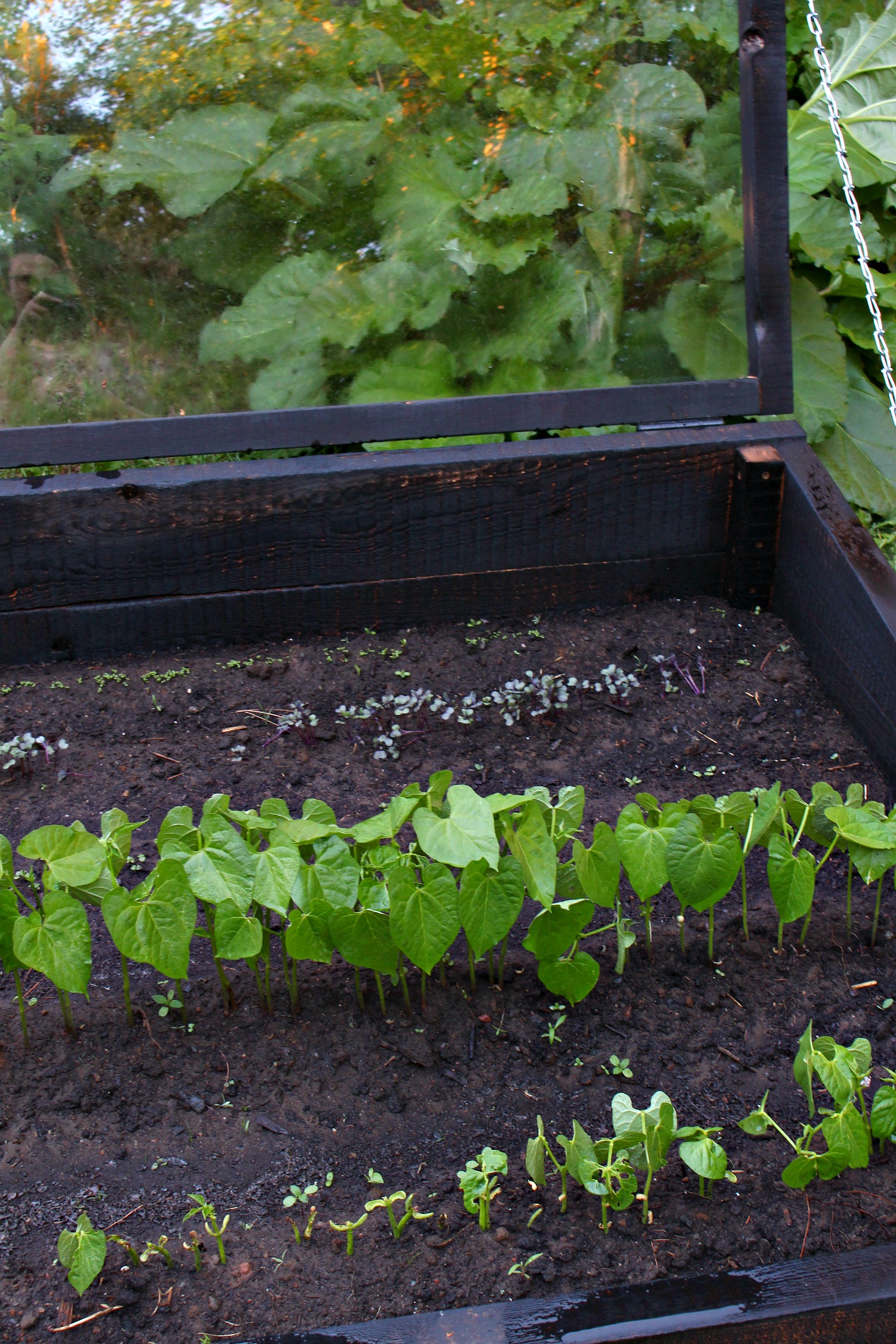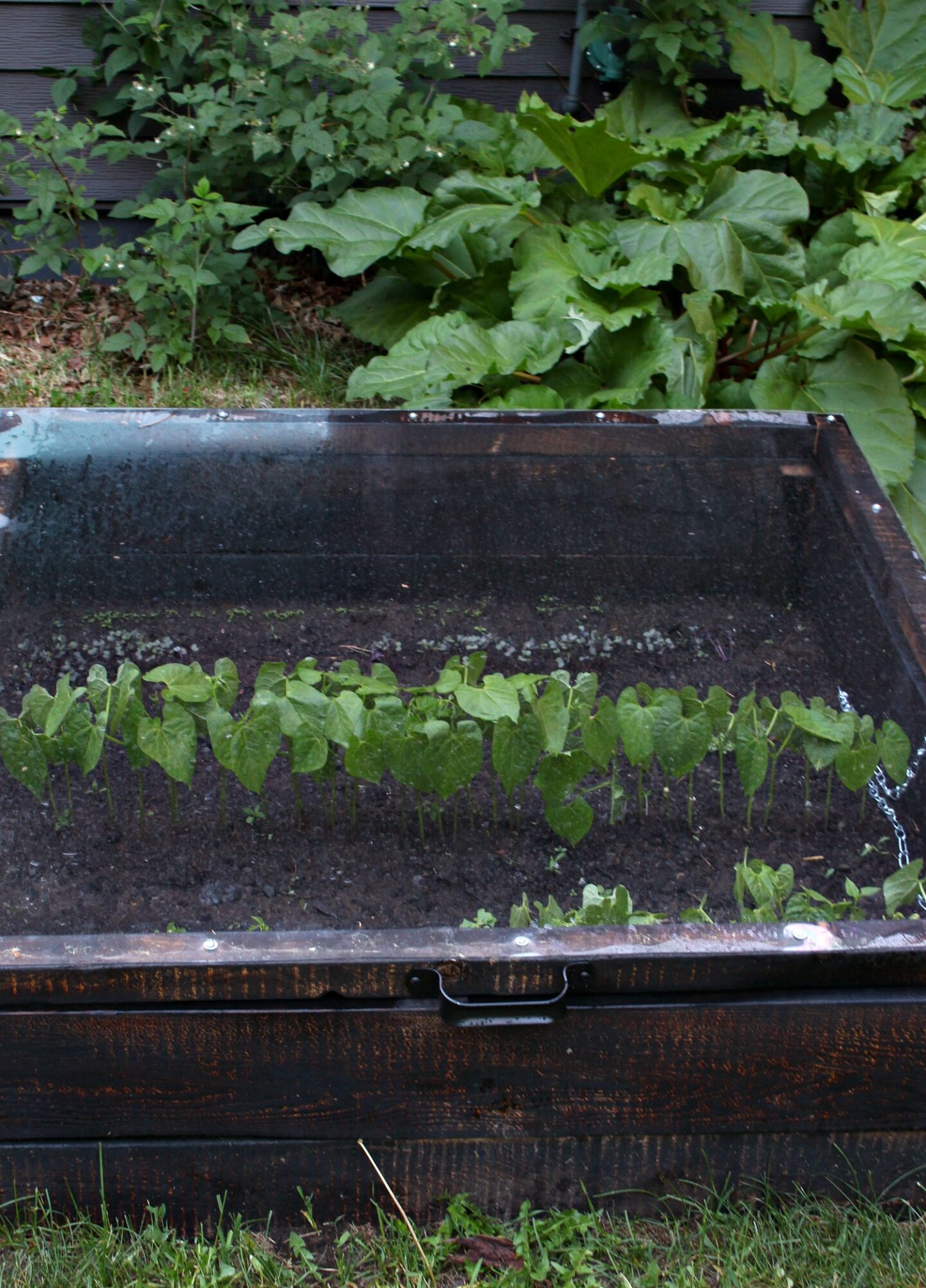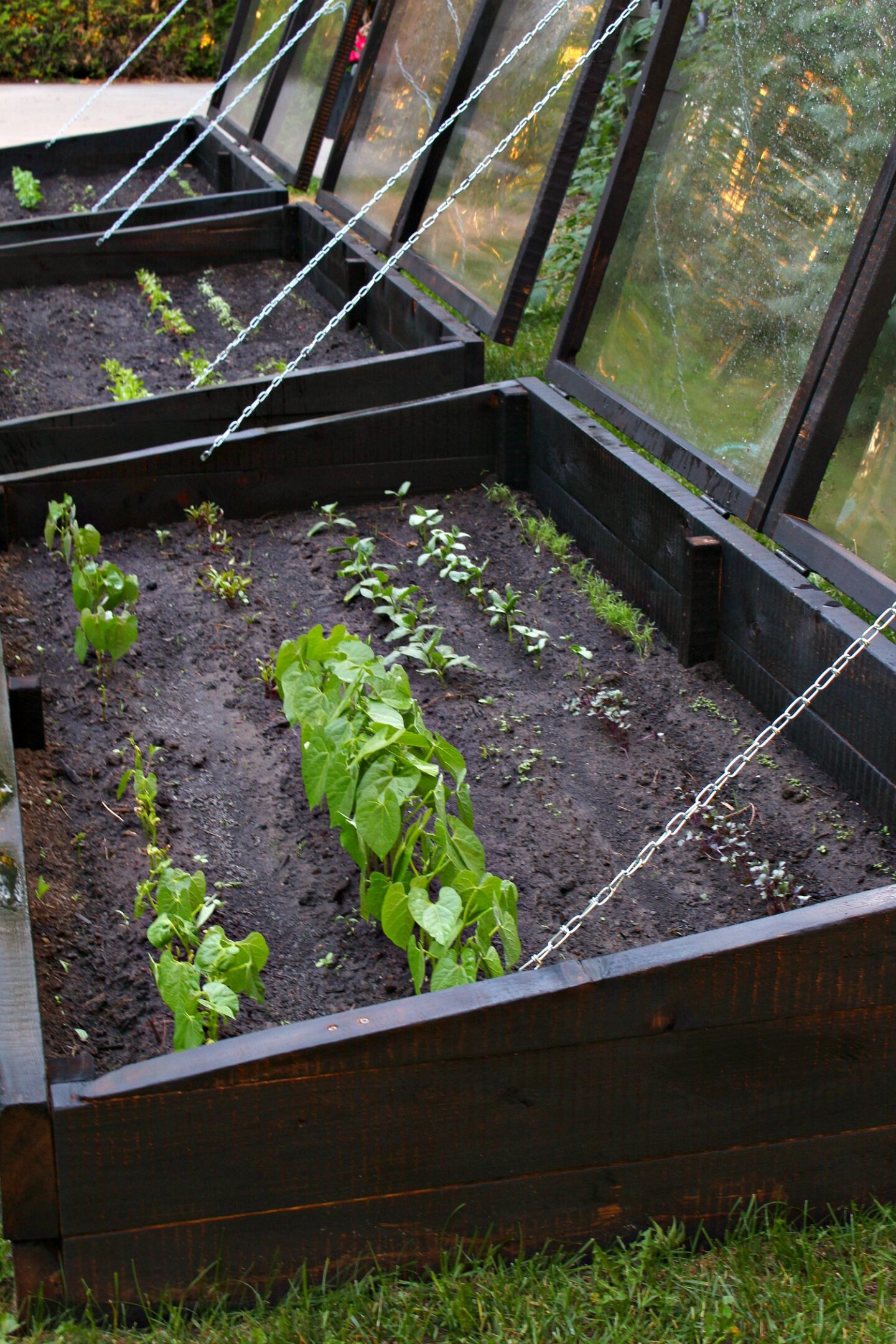 I'm so excited that our DIY cold frame garden beds are finished! I got started a little late with planting my seeds this year but next year I'll be all set and I hope to be able to garden a little later into the fall/winter – I'll keep you posted! I don't have a green thumb but I'm going to try.