After I shared my DIY iron-on vinyl shirt for chicken lovers, I received so many questions about my new Cricut Joy so I wanted to share another project – this DIY driftwood wreath with Cricut Joy welcome sign. Hopefully this will help demonstrate just how easy it is to make beautiful things with the Cricut Joy. (This is a sponsored post written by me on behalf of Cricut. All opinions are 100% mine.)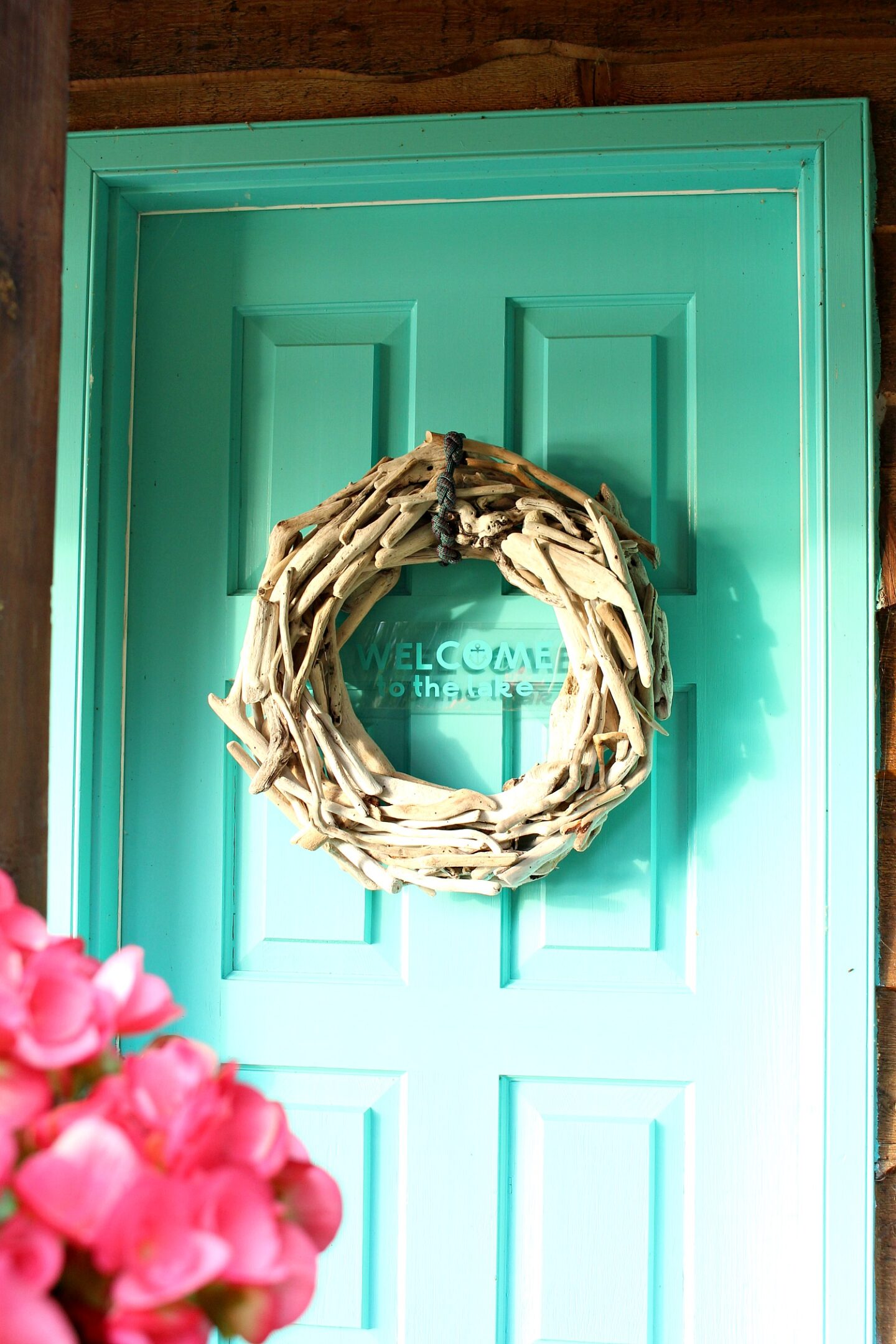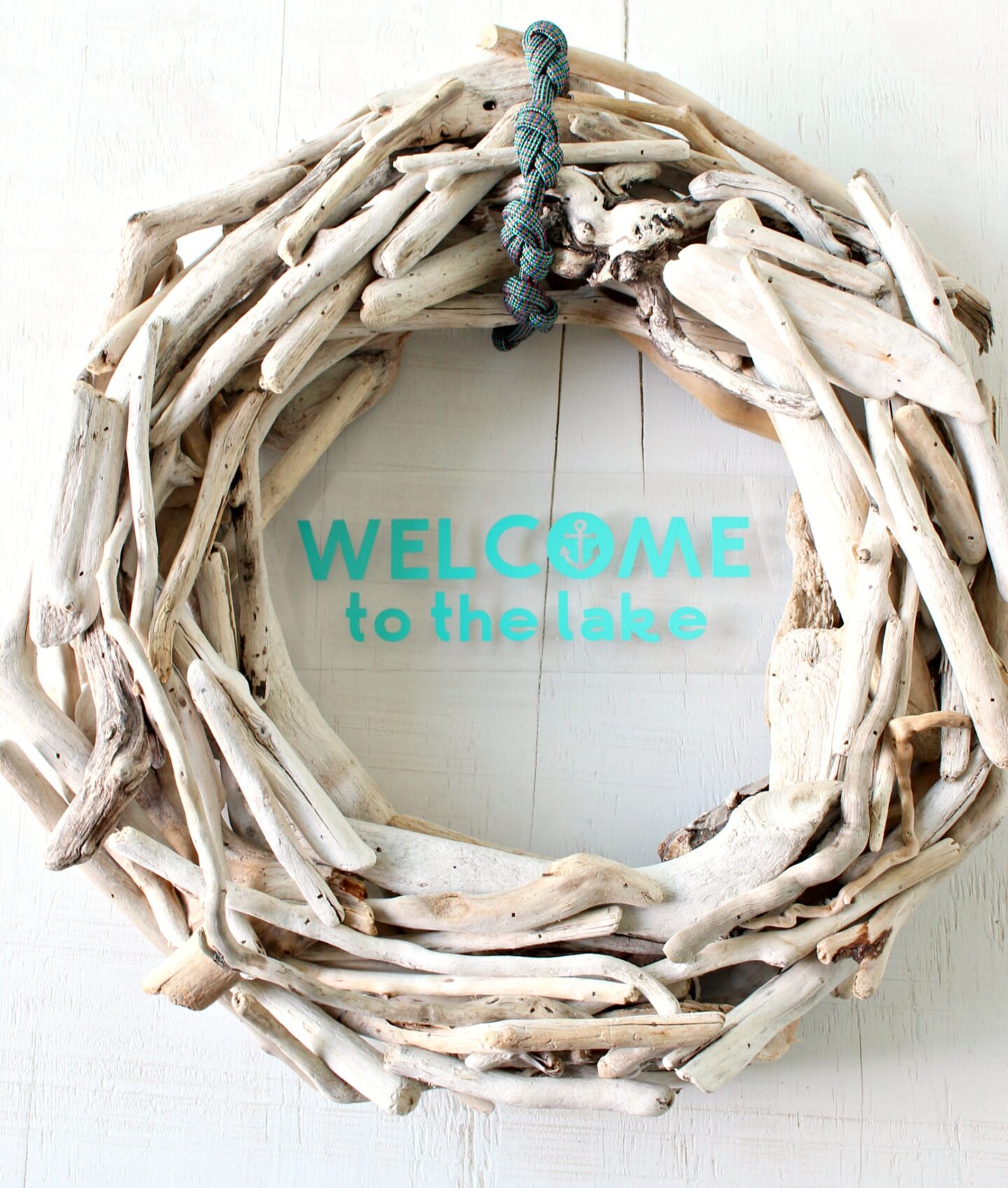 So many of you expressed fears about the machine being difficult to use or hard to set up. Many people compared it to a sewing machine and asked if it's that tricky to set up and use. Definitely not!! Sewing machines can be such a nightmare, but the Cricut Joy takes five minutes to set up out of the box, and then you can immediately start crafting and making things. There are lots of cool advanced things you can do with Cricut, but right out of the box you can basically click and "cut" and create your first project in minutes. When I first received my Cricut Joy, I used the sample vinyl included to experiment a little, to get the hang of it, but then I immediately dove into my first Smart Iron-On project, so this is only my second official project.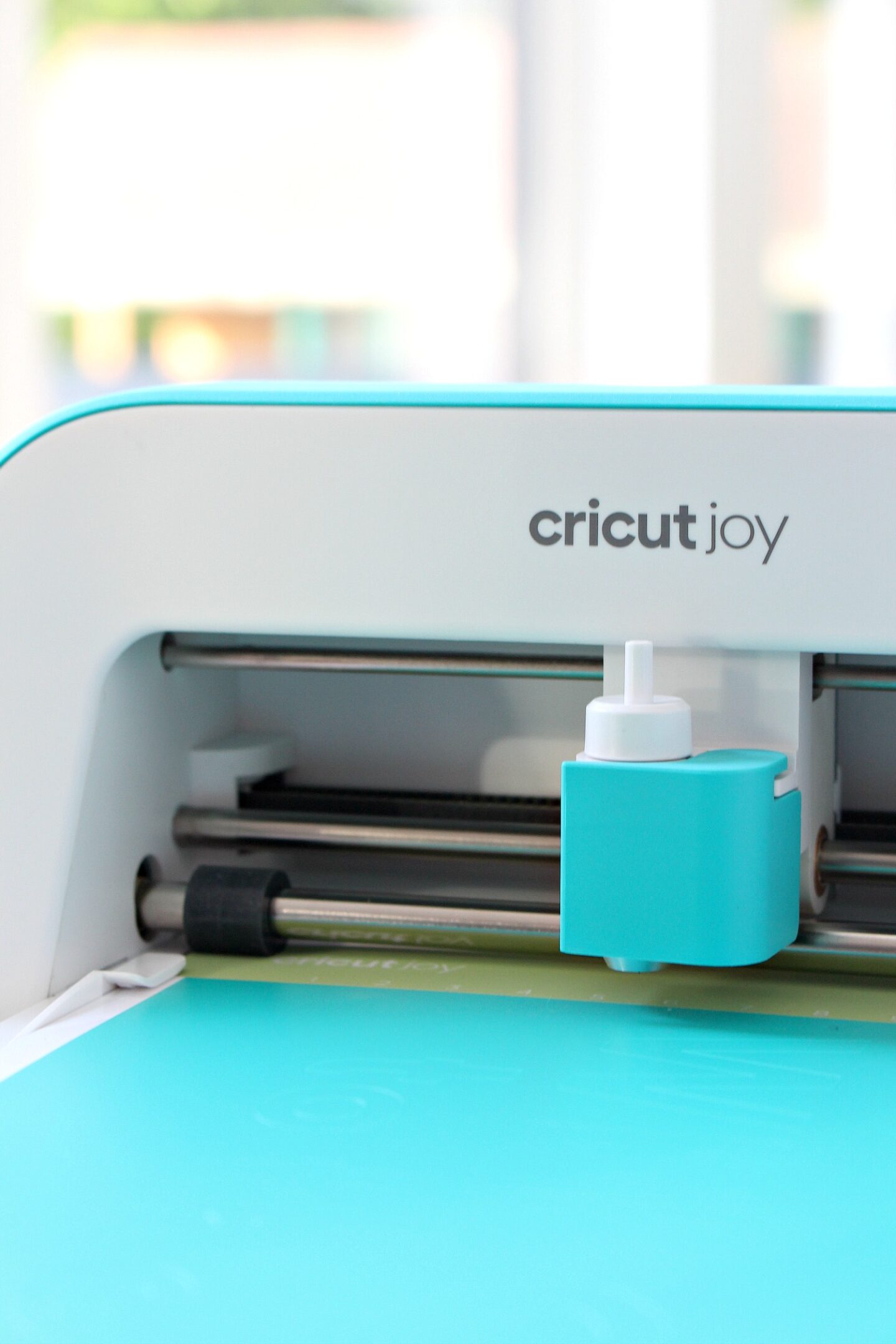 And both of my projects have turned out really cute, if I do say so myself!
I promise you, the Cricut Joy is super easy to set up and with Design Space, creating beautiful designs is super easy. Plus the Cricut Joy is small and light, and uses Bluetooth, so it's super portable and works offline. You can even buy a little carrying case for it! Not sure where you'd bring it? Think customizing products at craft shows, bringing it into a classroom, or a weekend craft night with friends at the lake. The possibilities are endless and from the moment you unbox it, you can start creating and personalizing.
You'll definitely want one as soon as you see more of my adorable DIY driftwood wreath with welcome sign!
Supplies
Cricut Smart Vinyl (I used the Hydrangea Sampler pack, but the Mint is cute too)
Cricut Design Space
Driftwood
Air Nailer and Compressor
1″ and 1.5″ nails
Rope (for hanging)
Sheet of Lexan, plexi-glass or even scrap wood
Screws and drill
How to Make a DIY Driftwood Wreath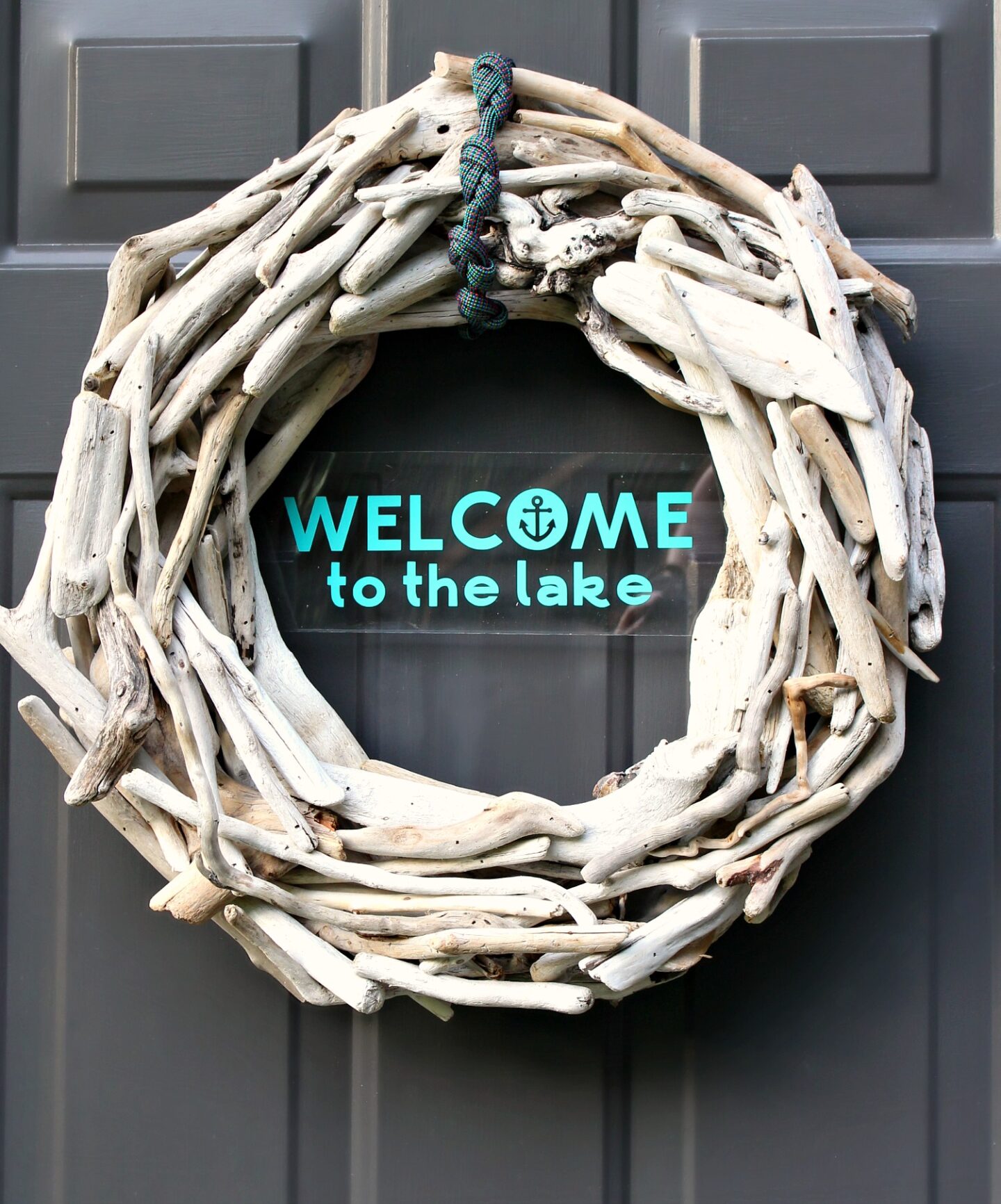 First let me share the tutorial for my easy DIY driftwood wreath. The first thing I did was collect some driftwood! We get some driftwood washing up on our shore, but not a lot so we took a boat ride to my favorite beach where I filled our boat with driftwood. I looked for smaller pieces, with a curve or interesting knot. Having lots of extra pieces and variety made it easier to piece together this driftwood wreath, so collect twice what you think you will need (here are some ideas for what to do with the excess).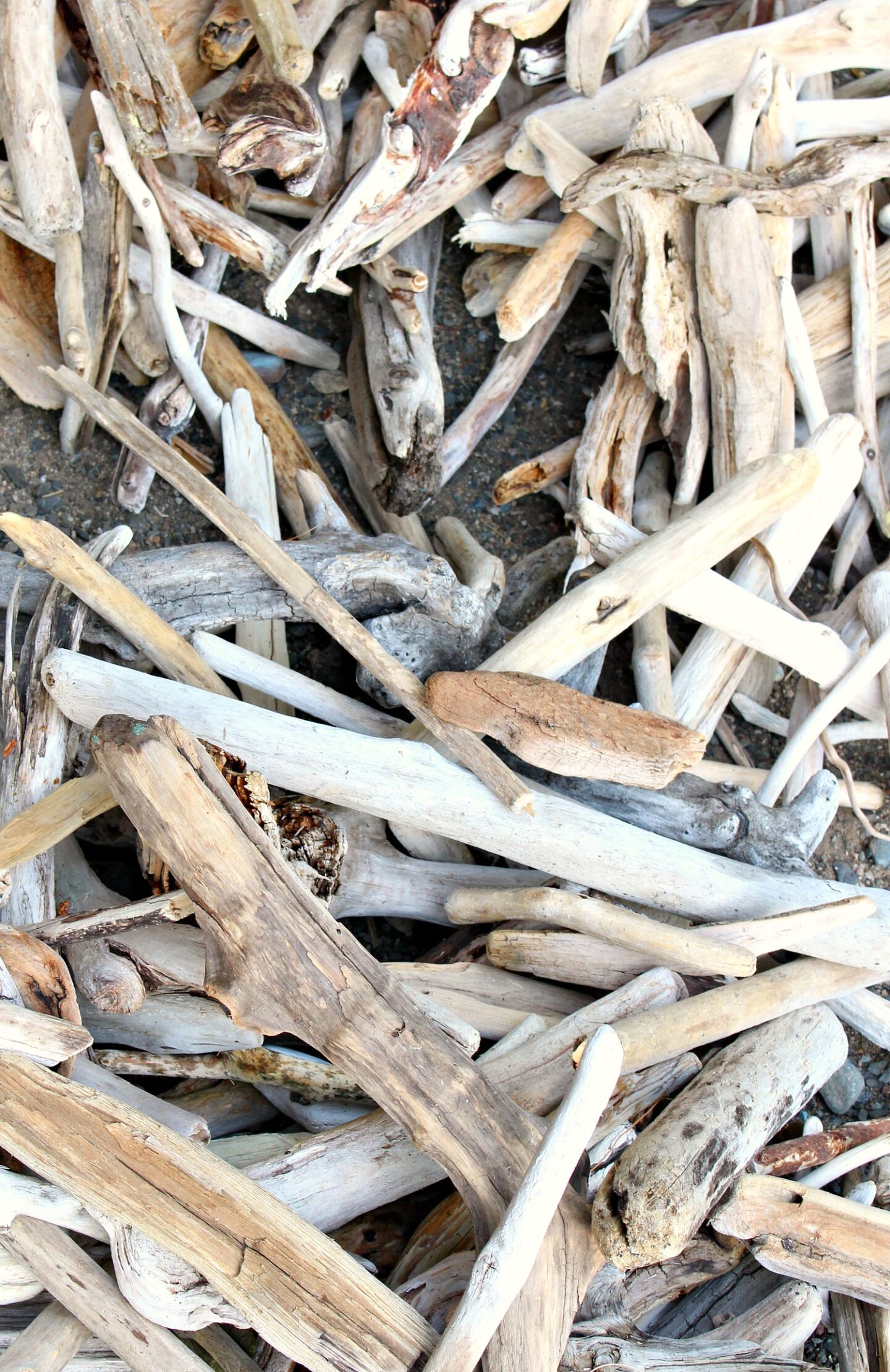 To make the wreath, I set down a bucket that was approximately the size I wanted the inside diameter of my DIY driftwood wreath to be. It's important to work on a flat surface so your wreath back can lay flush against a flat surface like a door.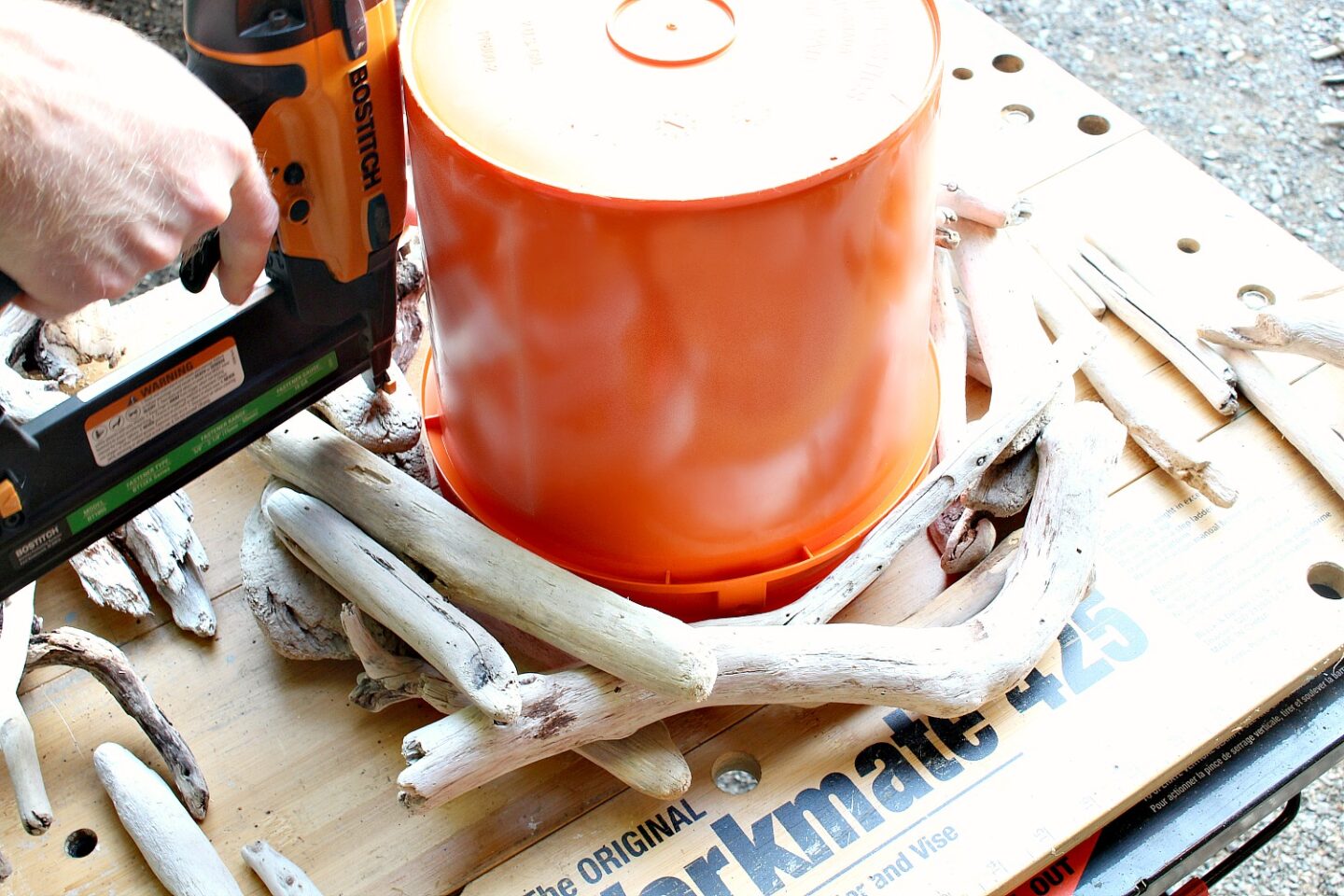 I positioned some driftwood pieces to form the "bottom". Once I was happy with the layout, I added a few more pieces on top and hubby air nailed them into place. In the beginning, it was helpful to have two sets of hands so I placed the pieces and hubby nailed them. But once the wreath was 50% done, I took over and continued placing and air nailing the driftwood. I just worked around and around, adding each piece one at a time, and checking every now and then to make sure it stayed round. It was surprisingly easy!
The individual pieces were each nailed in two or three spots for strength, using a combination or 1″ and 1.5″ air nails as needed. You can see the air nails but it's really subtle and lost against the busy-ness of the weathered driftwood pieces.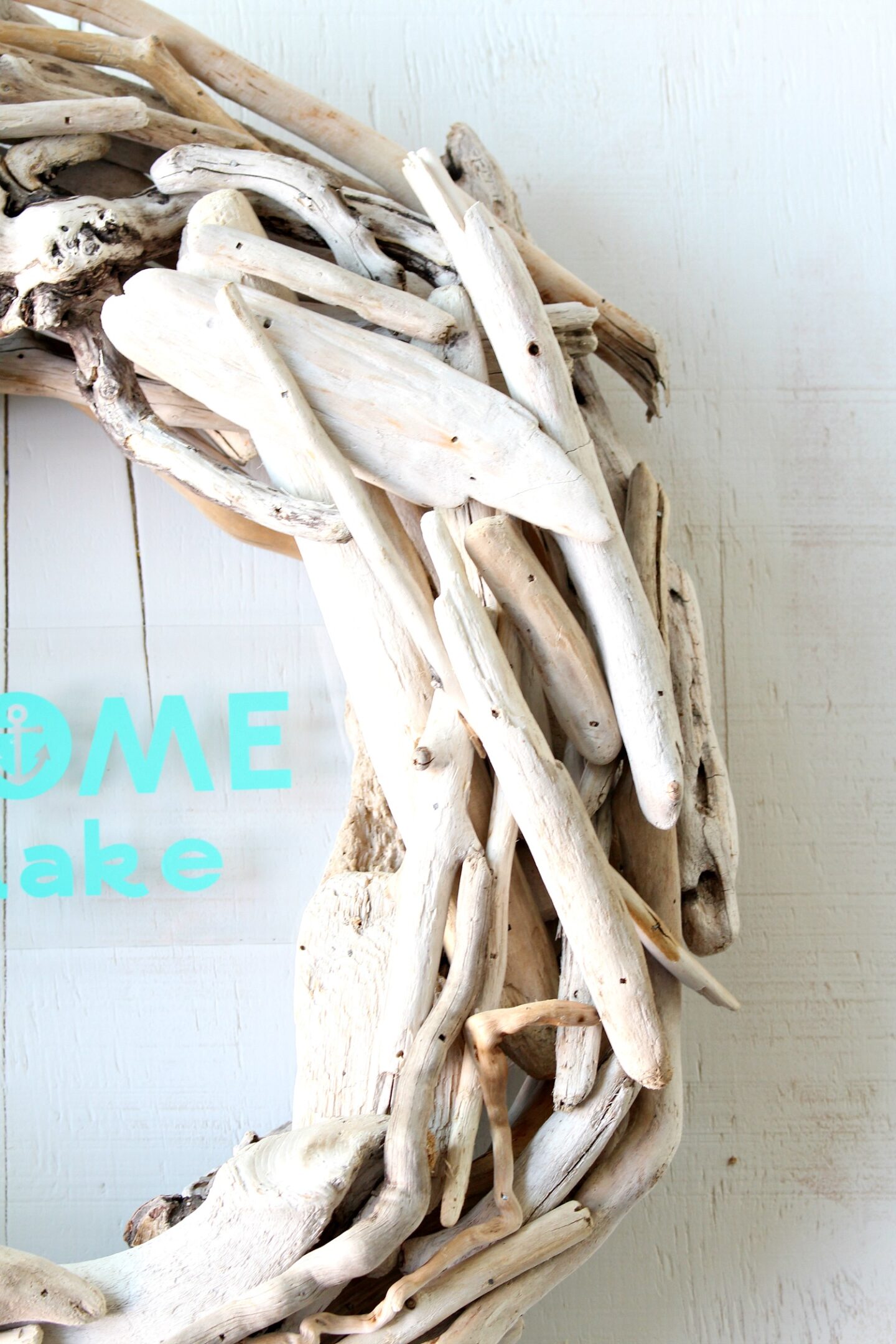 The end result is really sturdy!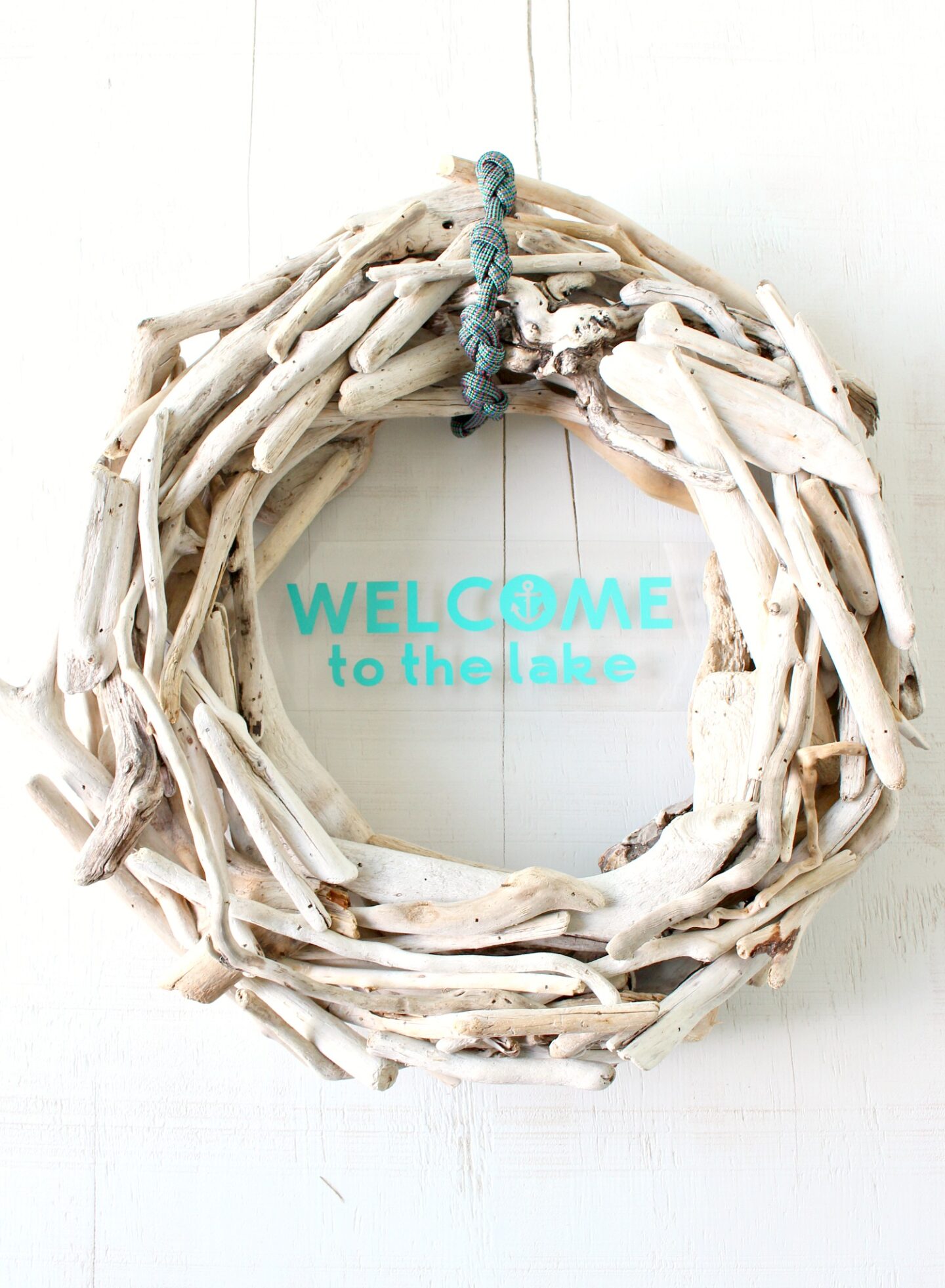 It only took an hour or so to assemble my DIY driftwood wreath and I love how it turned out but I wanted to make it even more unique and personalized. I had some leftover Lexan (like plexi-glass) from the cold frame garden beds we built (we also used it for winterizing the coop in Canada), so I cut a small rectangle out using the jigsaw.
Designing & Making My Welcome Sign with Cricut Joy
Then I got to the really fun part: making the welcome sign with my Cricut Joy!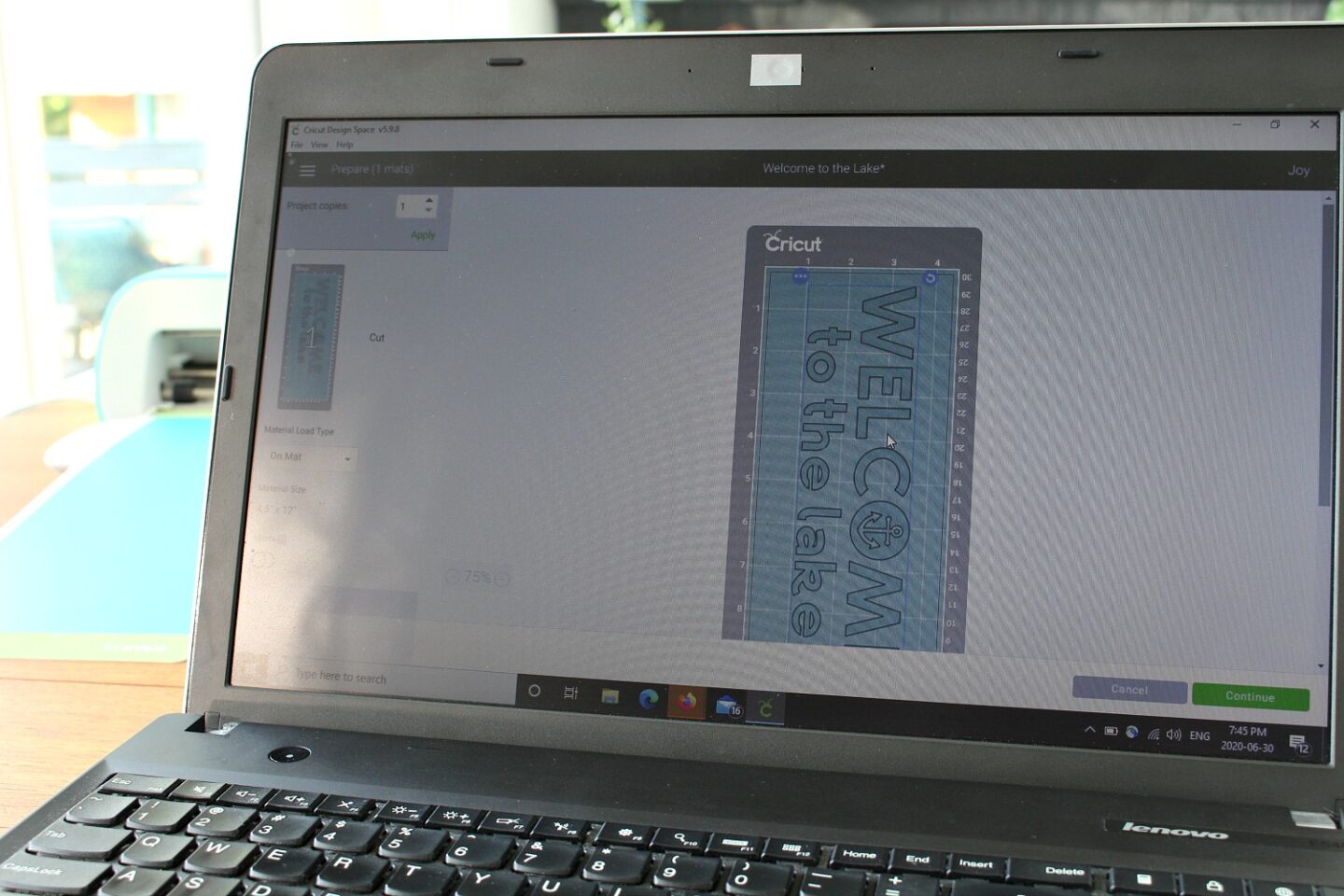 I created my sign in Design Space (which is available for desktop or mobile), using a Cricut font (called "Cricut Craft Room Basics"). I also found a pretty anchor within a circle, so I used it to replace the "O". You can find and use my exact design here. But making your own is super simple! I just clicked the "Text" button, on the left side of the screen, typed in "WELCOME," leaving 4 spaces for the new "O". Then I added text again and typed in "to the lake". I looked through images in Design Space and searched "anchor," but filtered through Art Type for "cut only". I found my perfect anchor design and then clicked it and clicked the "Insert Images" button. I positioned it where the "O" should be and centered the bottom text. I drew a box around the design to "group" it (then clicked "group" – top right hand), so I could move everything around as one design, not three elements, and then finally, clicked "attach: (bottom right) to make sure the design printed as one whole design and not individual pieces. I clicked "make it" and fed the vinyl into the Cricut Joy. Everything is laid out so perfectly in Design Space, it's really easy to create something and set it printing. All of the set up and design process took less than 10 minutes, and then the Cricut Joy did the work and cut out my design. I didn't realize this at first, but you don't even need a mat with the Smart Vinyl – you can feed it directly into the Cricut Joy!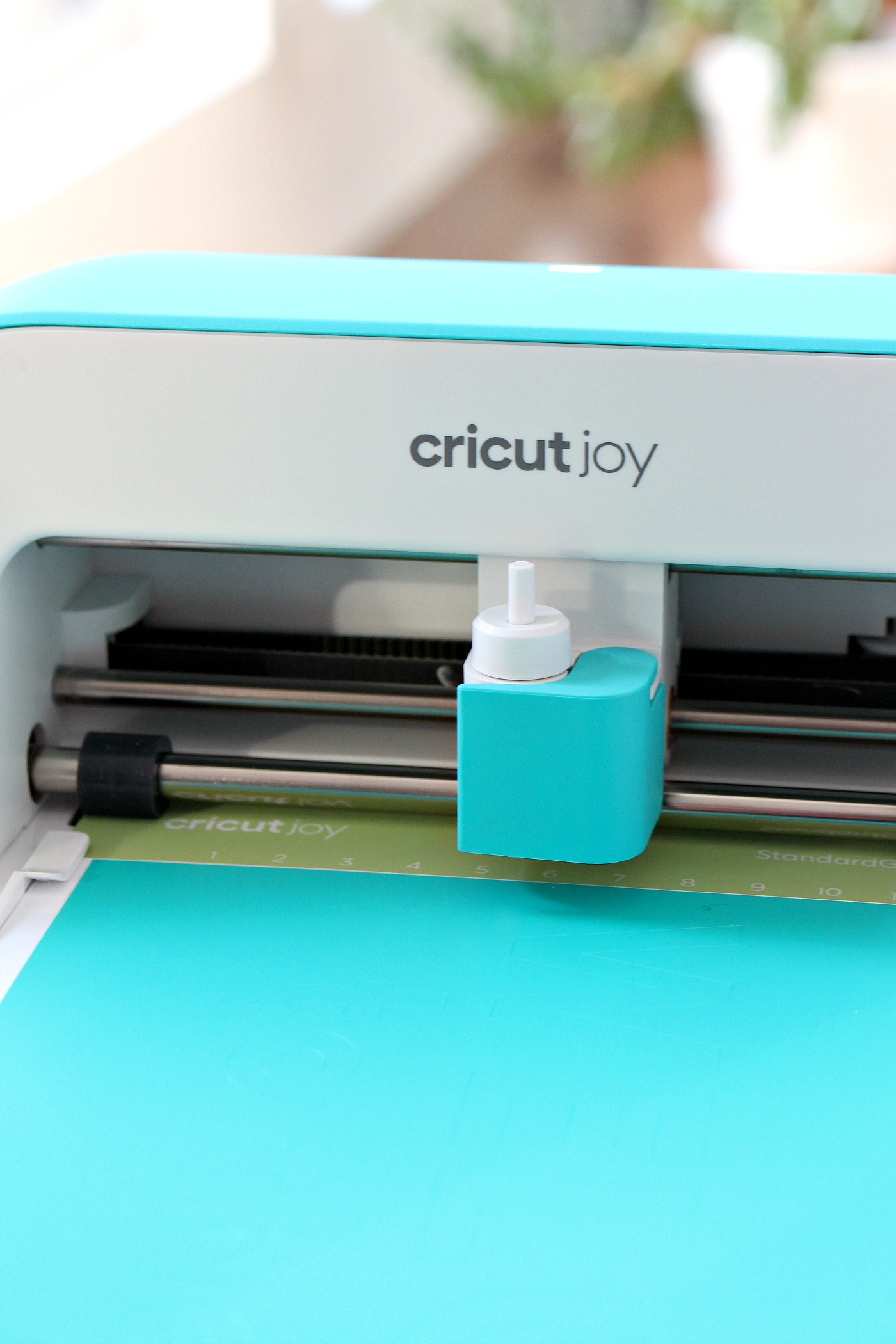 It's small and portable, which is great because I set up my laptop and my Cricut Joy in the dining room so I could enjoy the lake view while I was working on my lake-inspired home decor project.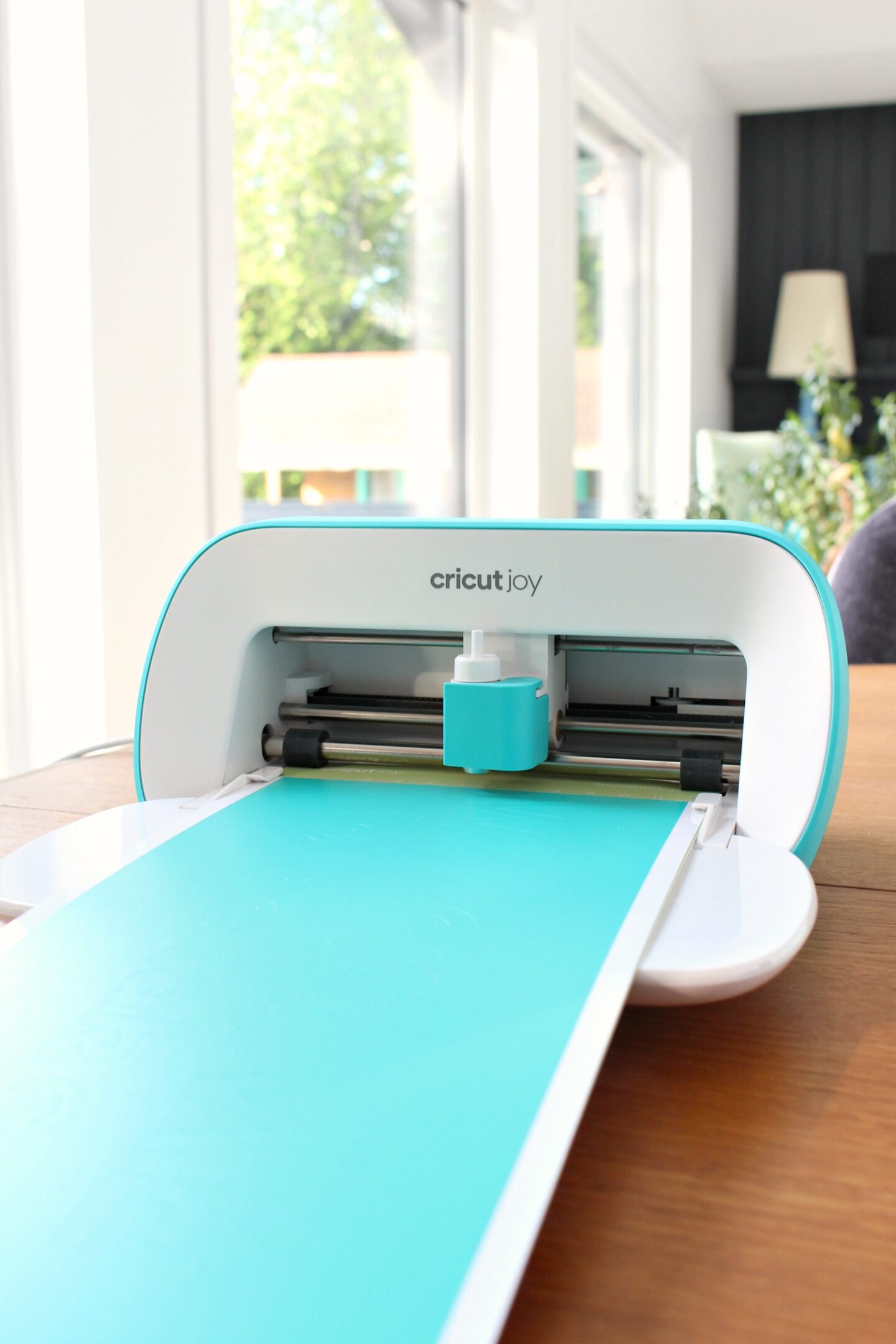 When the design was printed, I peeled off the excess vinyl: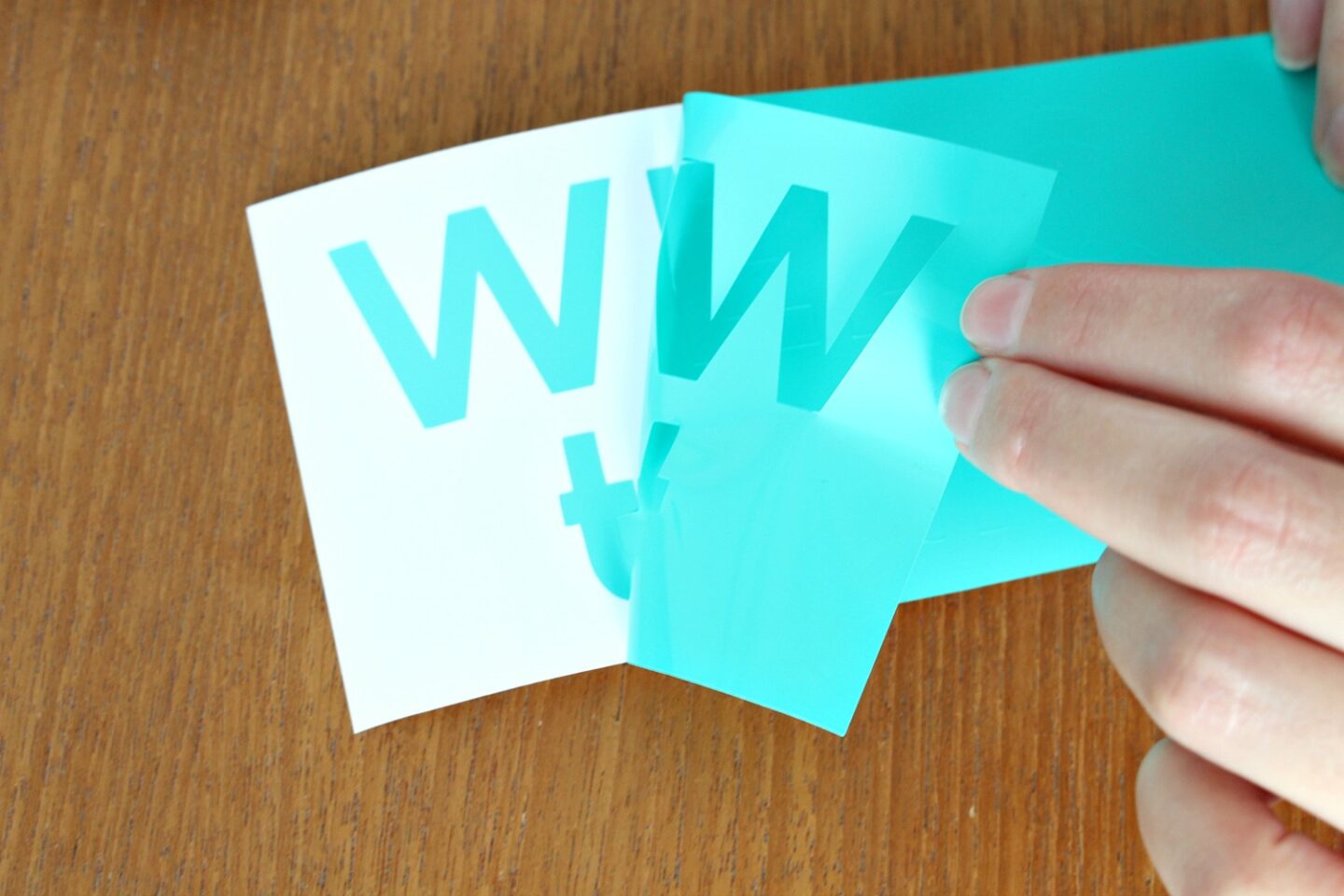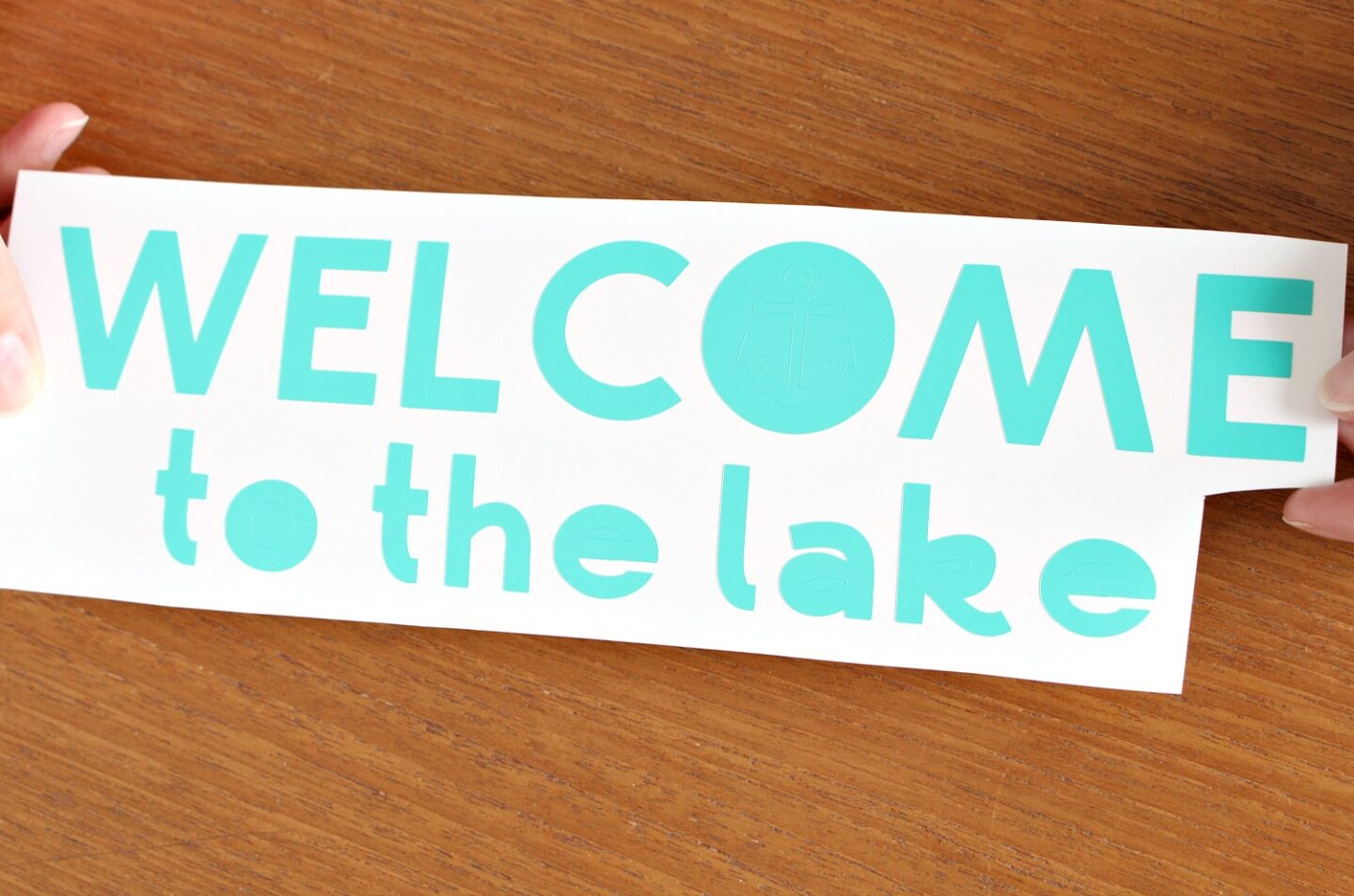 A weeder tool is helpful to help "weed" the design (remove the lingering bits of vinyl in some of the letters and around the anchor):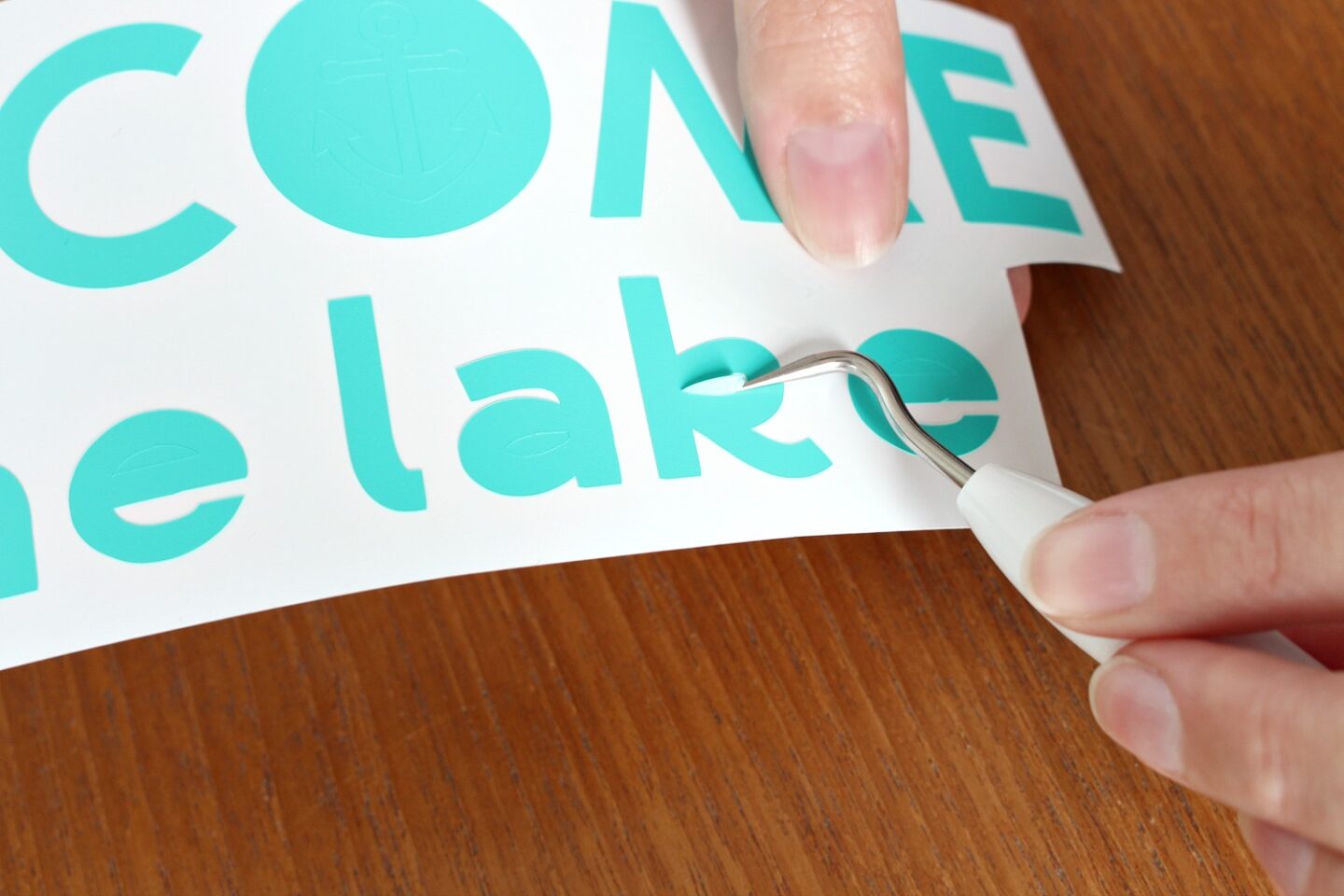 Next I applied my Cricut Transfer Tape to my vinyl design – this tape picks up the vinyl and helps transfer it so that everything stays perfectly in place and aligned. Once you apply the tape, rub each letter with the scraper tool to make sure the tape grabs all of the vinyl.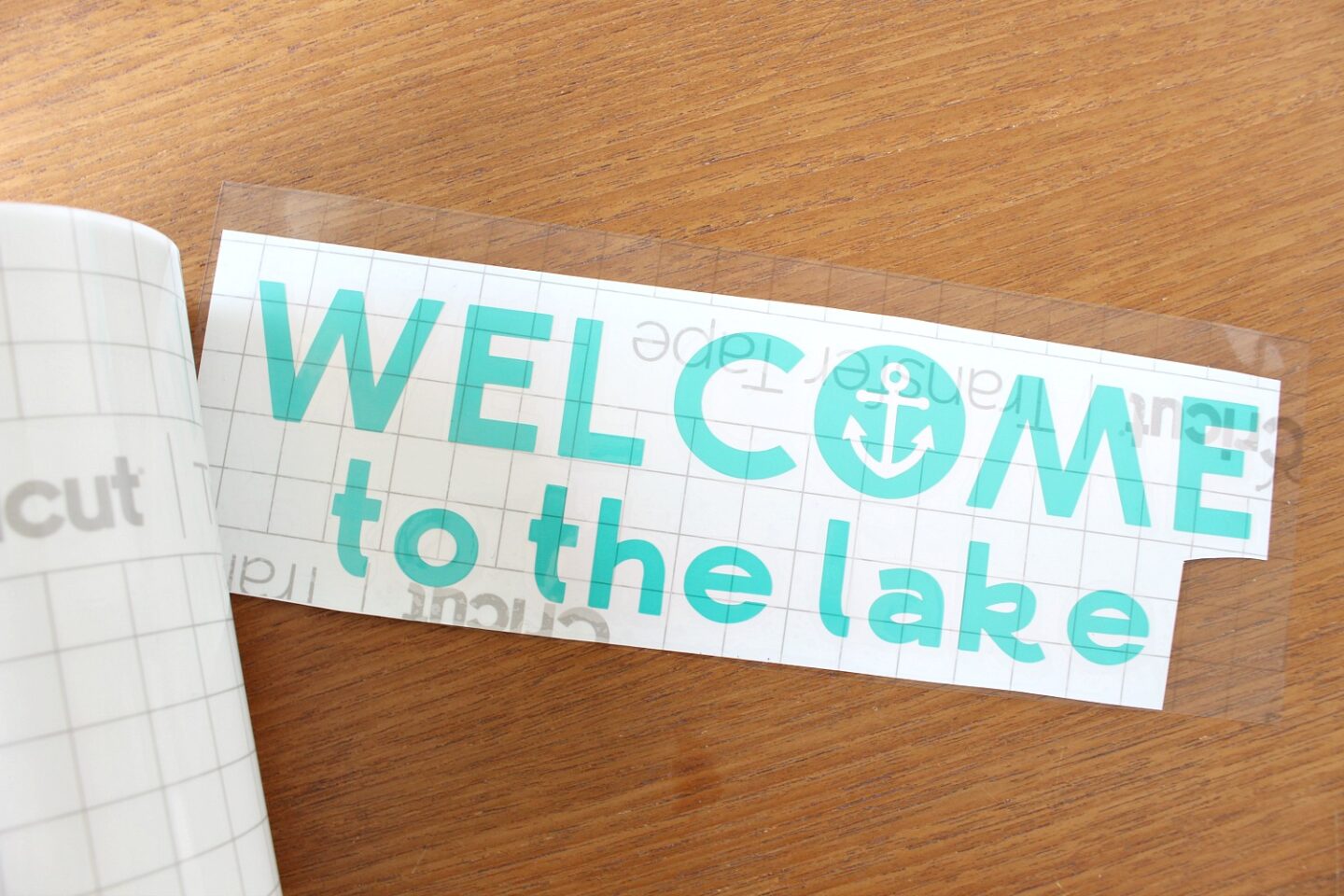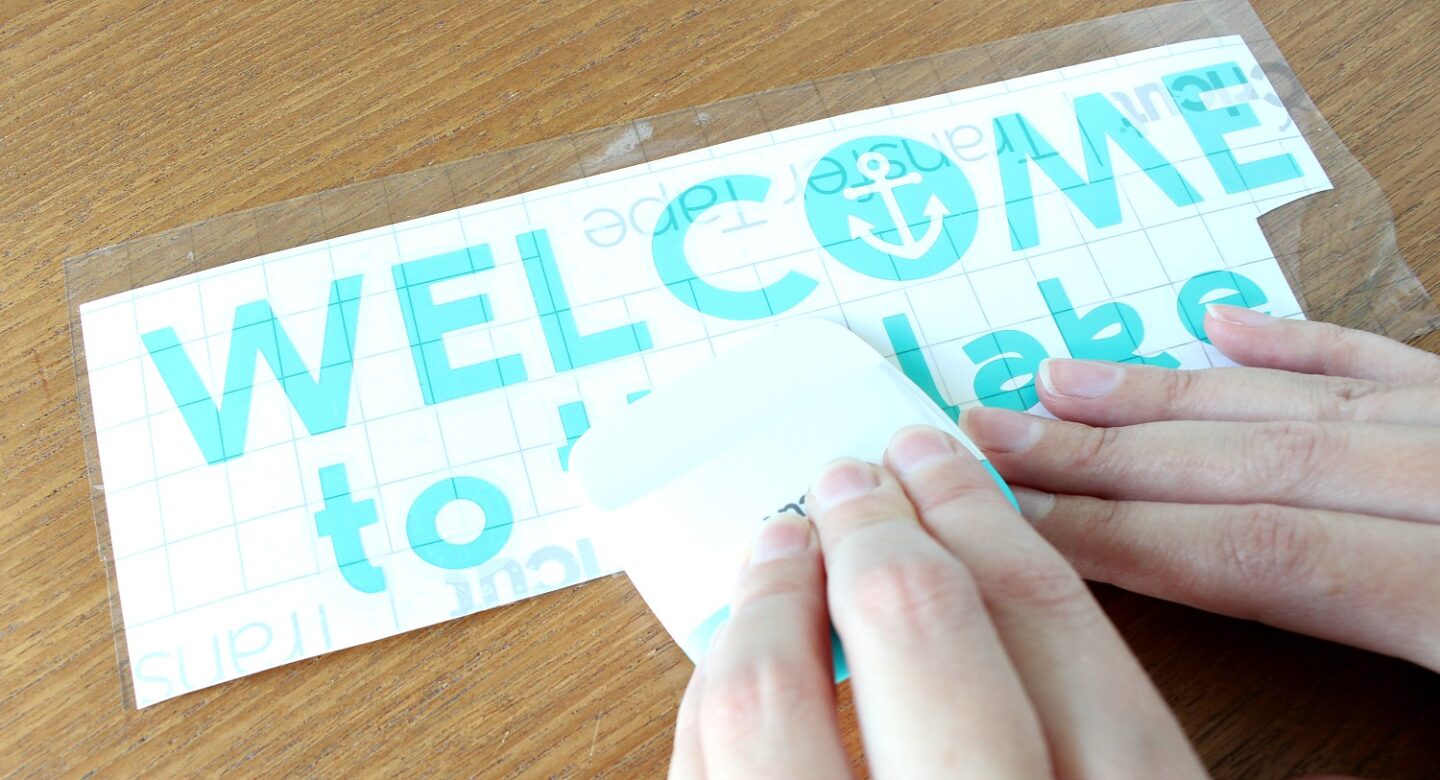 The I peeled off the Transfer Tape, which grabbed the vinyl design too, and positioned it on my piece of Lexan. To release the vinyl from the transfer tape and make sure it stay put on the Lexan, I used my scraper again and rubbed all of the letters.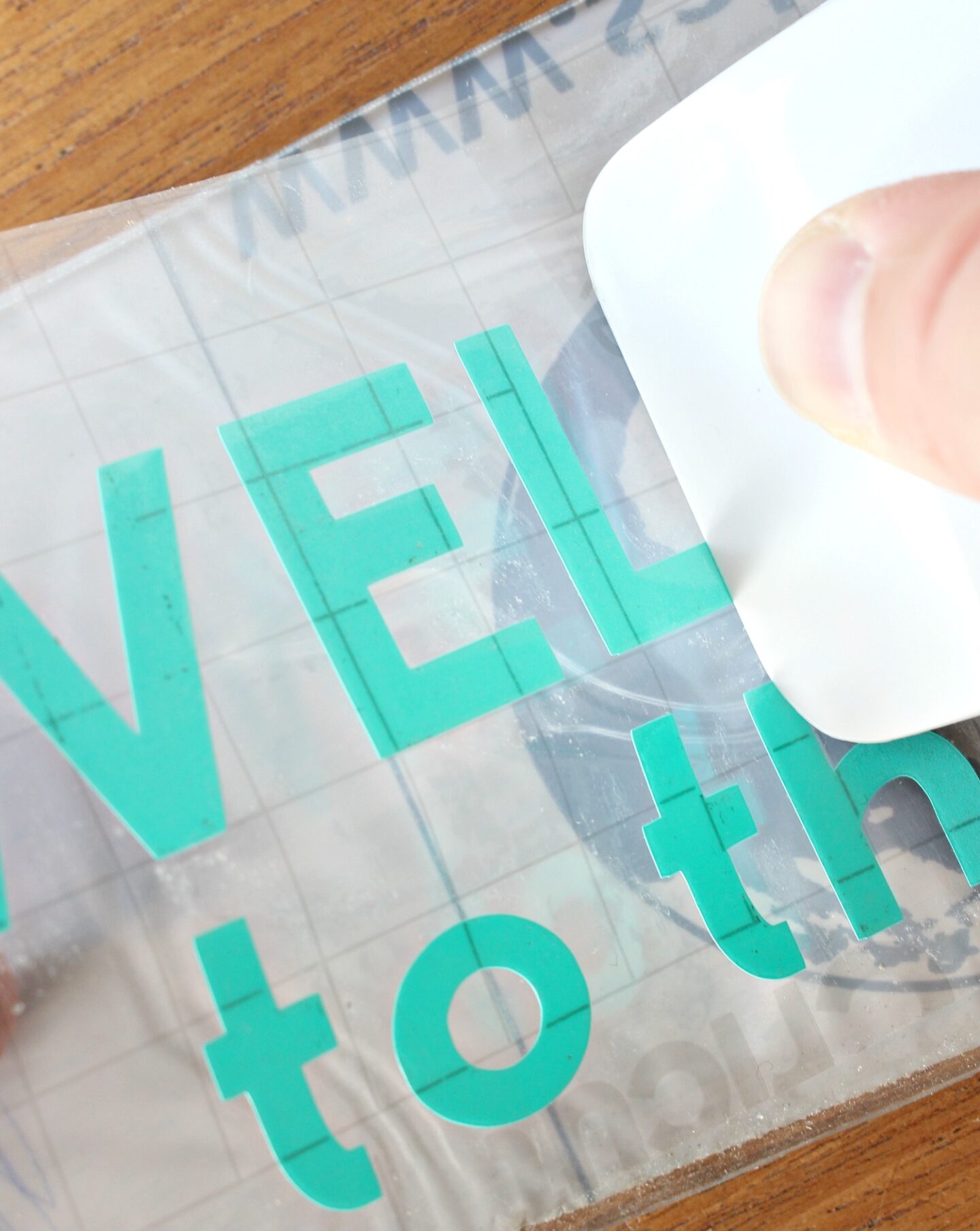 Ta da! The vinyl looks so good on the Lexan and the design is crisp and sharp! Plus this shade of teal is perfect.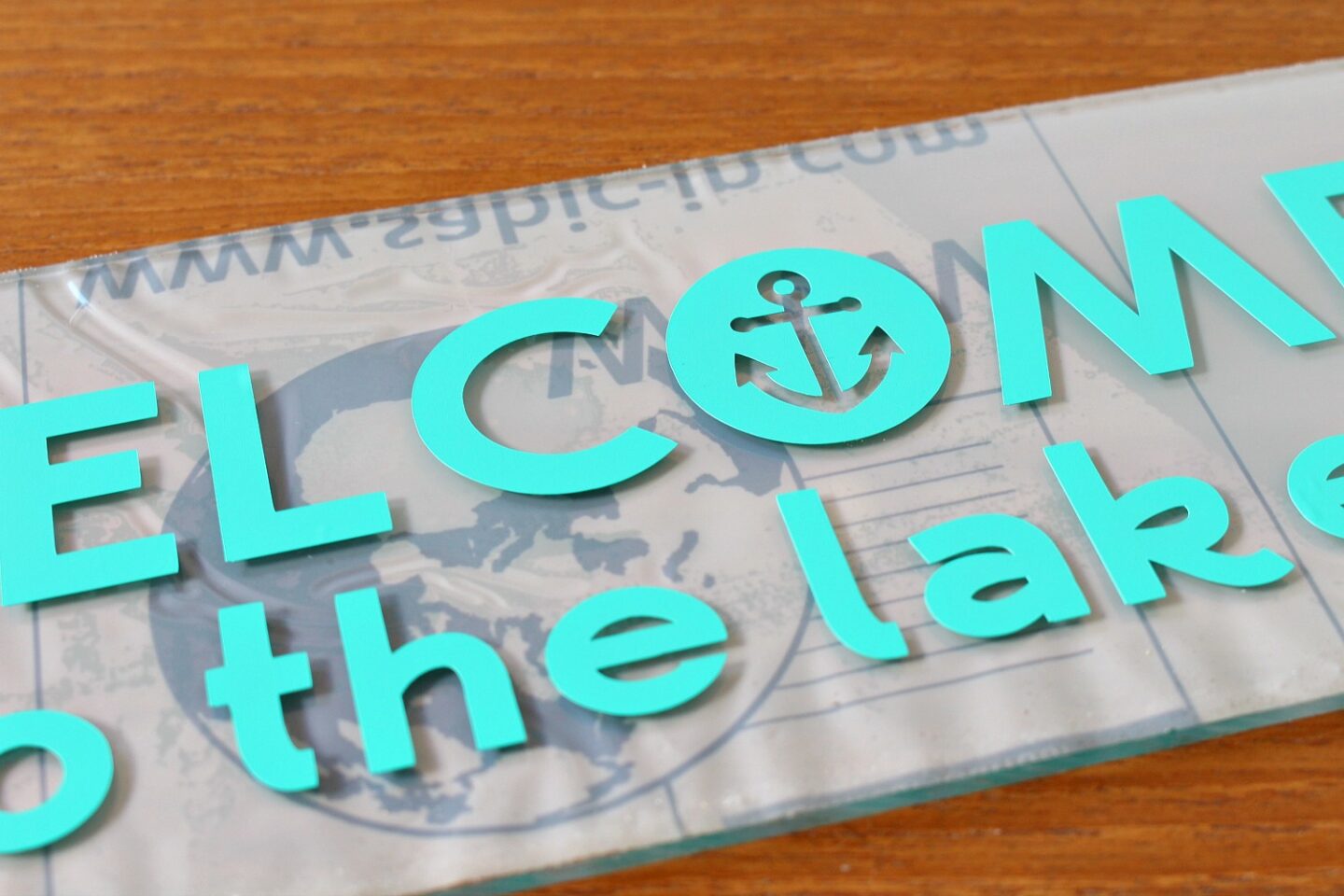 To affix the Lexan, we pre-drilled four holes into the Lexan and then used screws to anchor it to the back of my DIY driftwood wreath: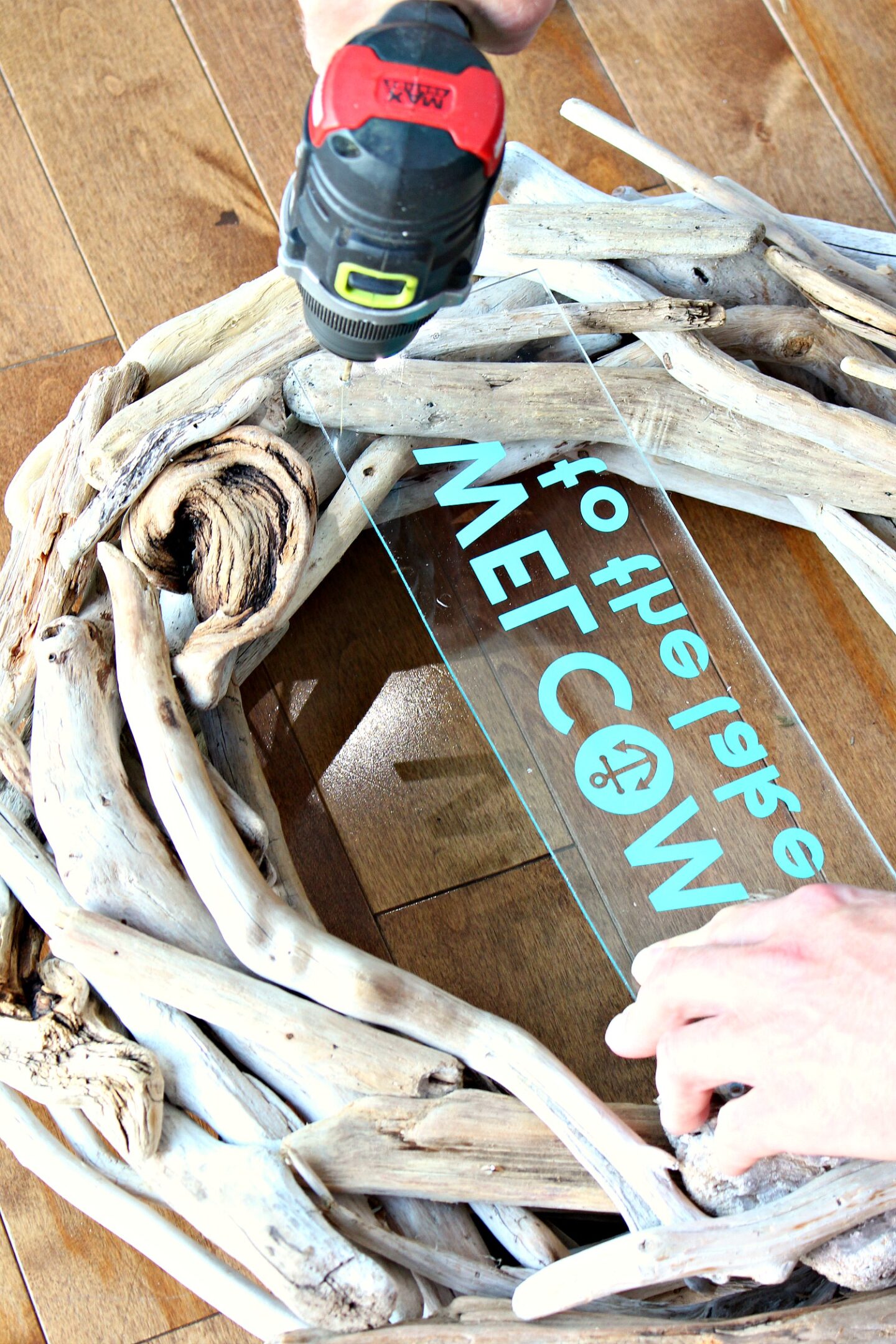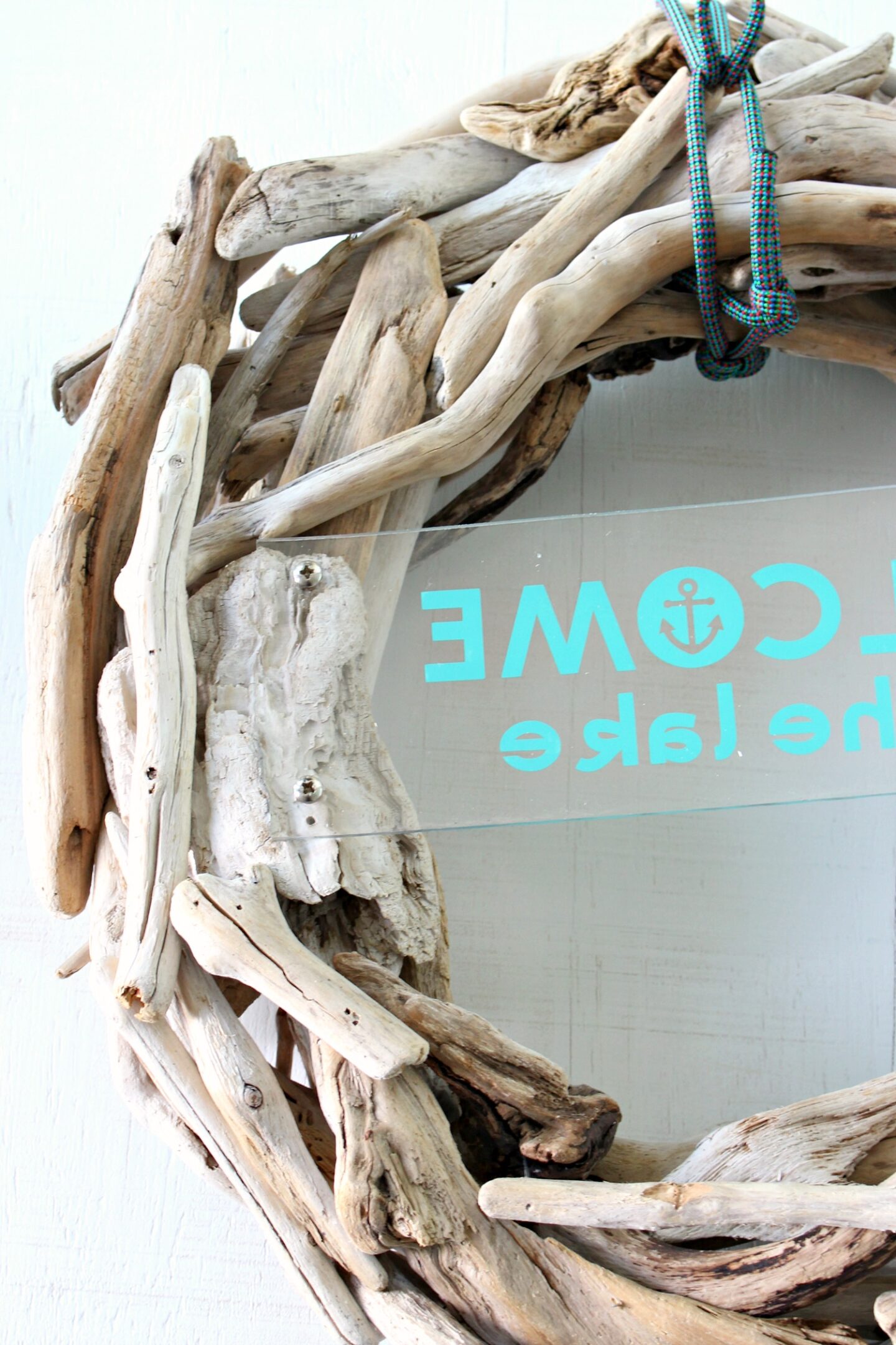 To hang my wreath, I didn't want to put pressure on any individual pieces of driftwood, so I used some knotted rope to add to the nautical vibes while creating a sturdy way to hang this wreath.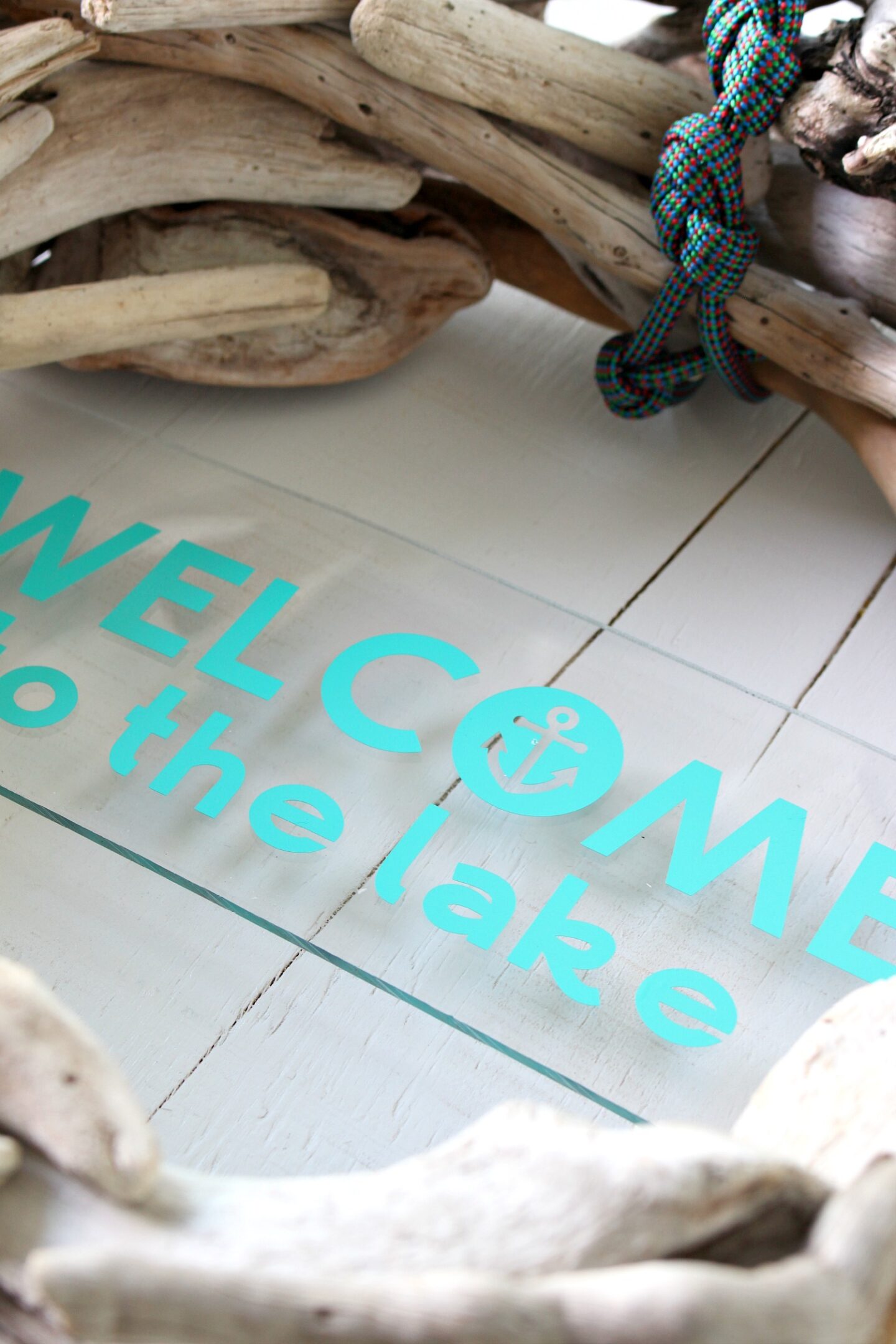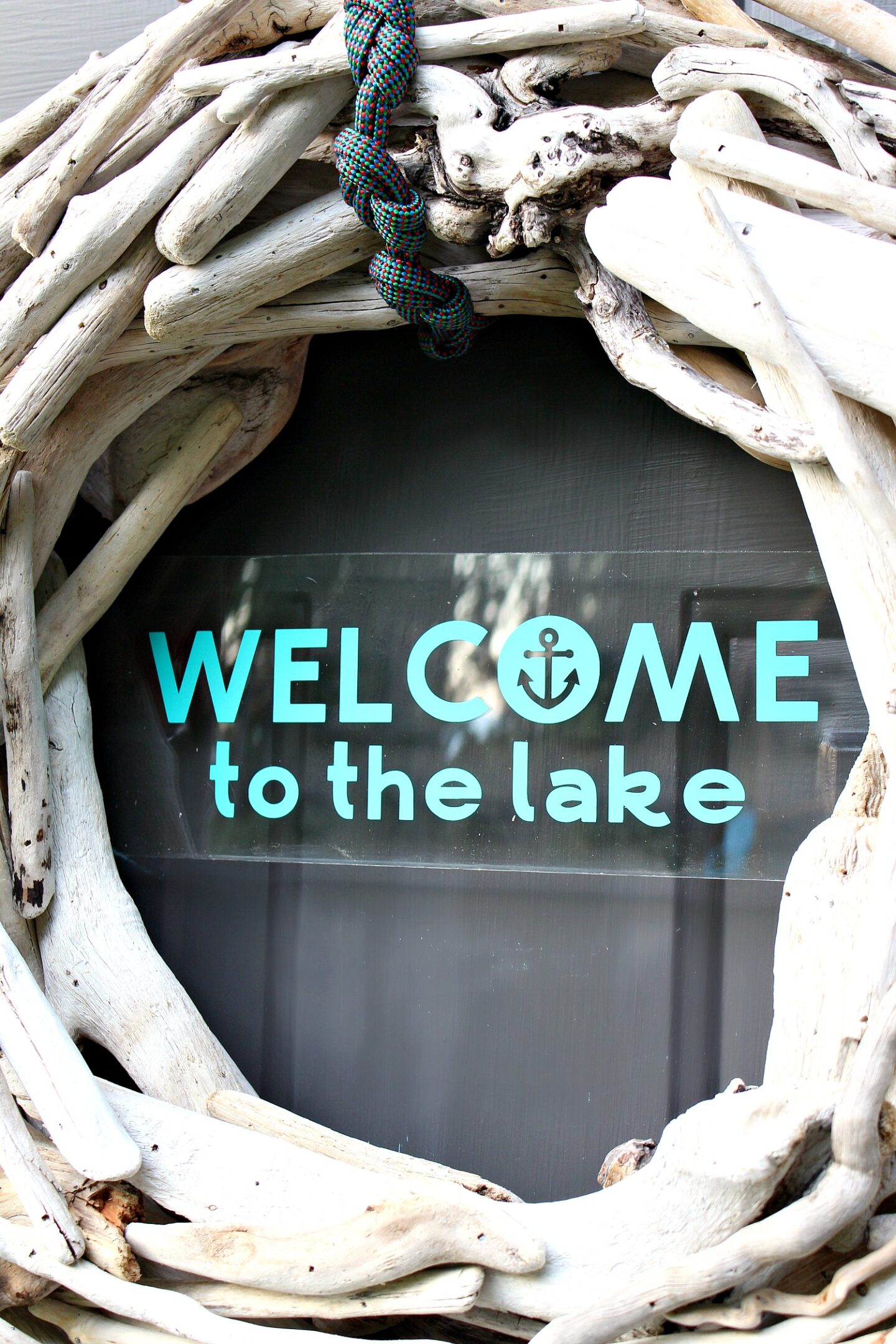 I LOVE how my driftwood wreath turned out, but the welcome sign made with my Cricut Joy just makes it so much more special! I love how the vinyl design looks like it's floating – and have I mentioned how much I love this shade of teal? It came in a box of Smart Vinyl in pretty pastel hues (petal, coral, mint, teal, and lavender) and I can't wait to try out the other colors, which are the perfect beachy colors!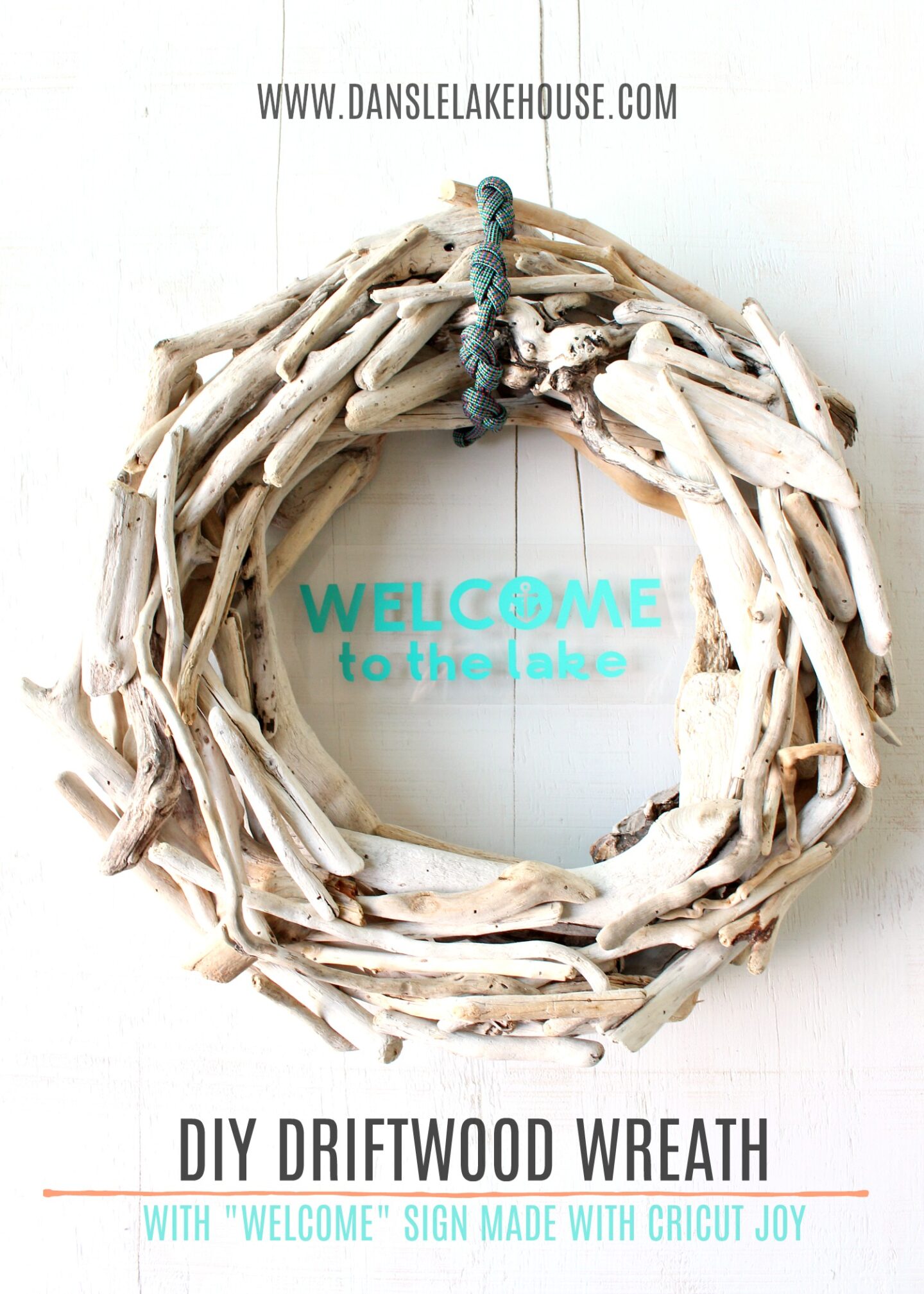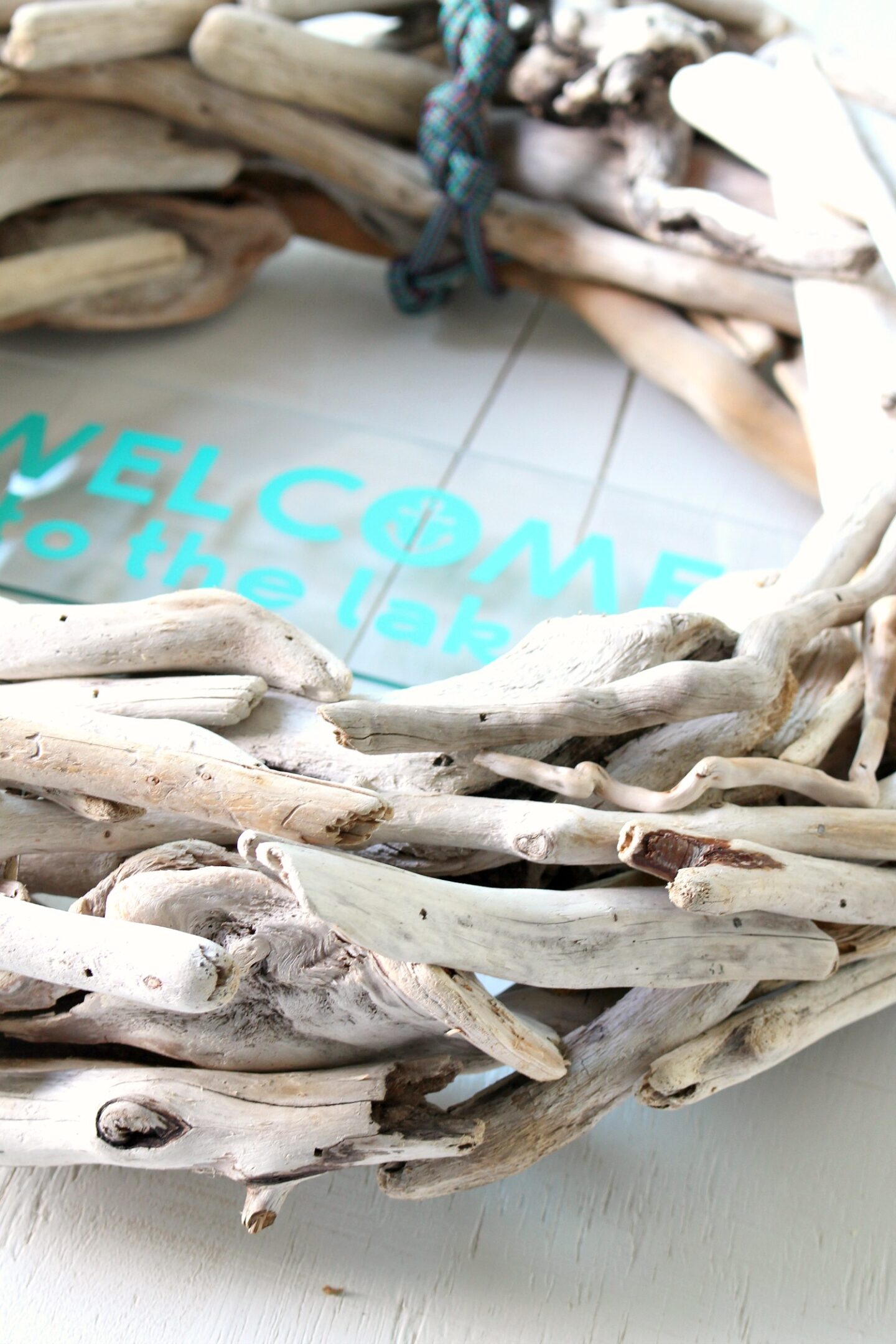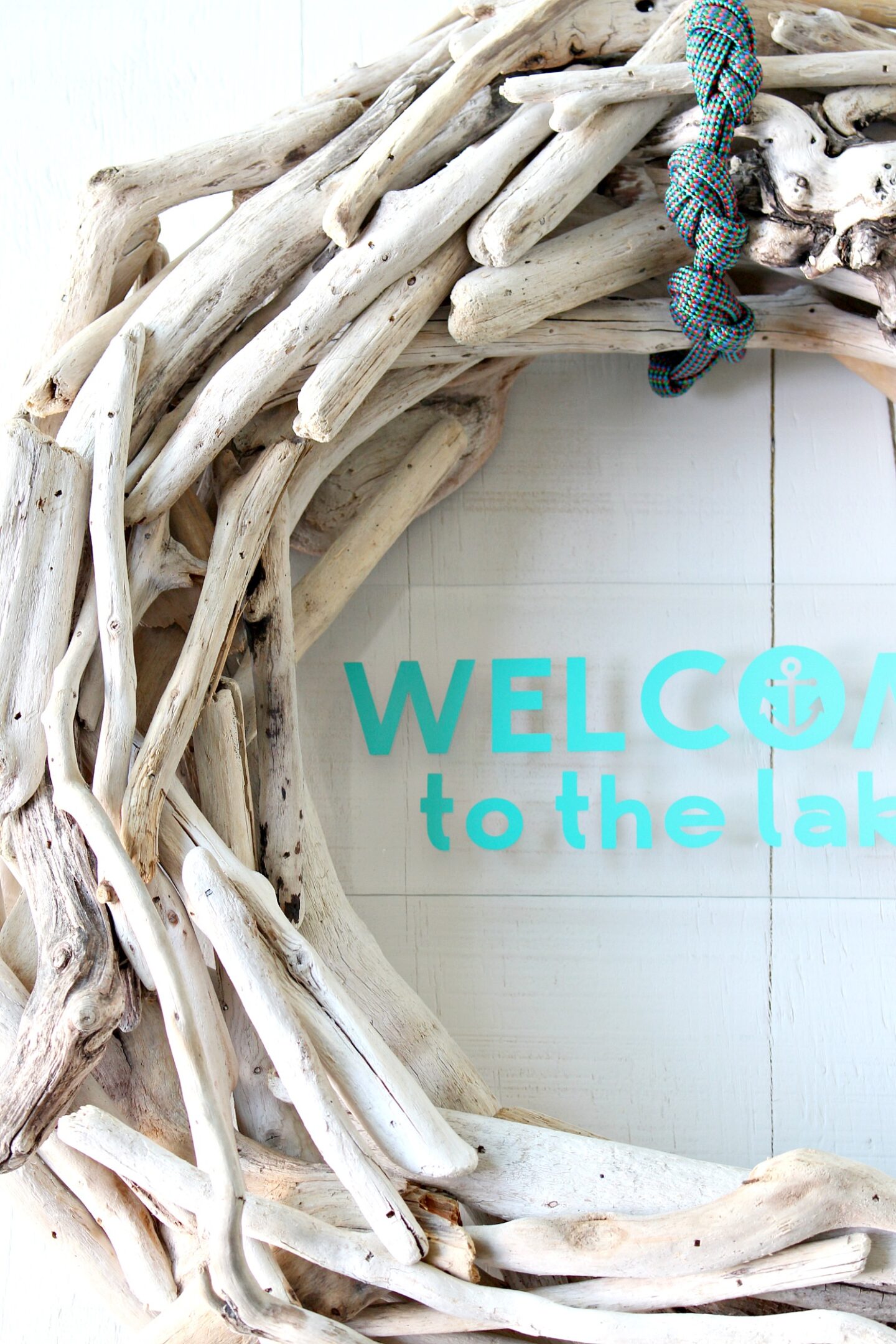 The teal vinyl really pops against my dark grey/brown garage door (and the garage still boasts it's beachy mural on the larger door too!):
But I also love it against the turquoise guest bunkie door: it becomes really subtle then, and you have to actually be a guest to see it!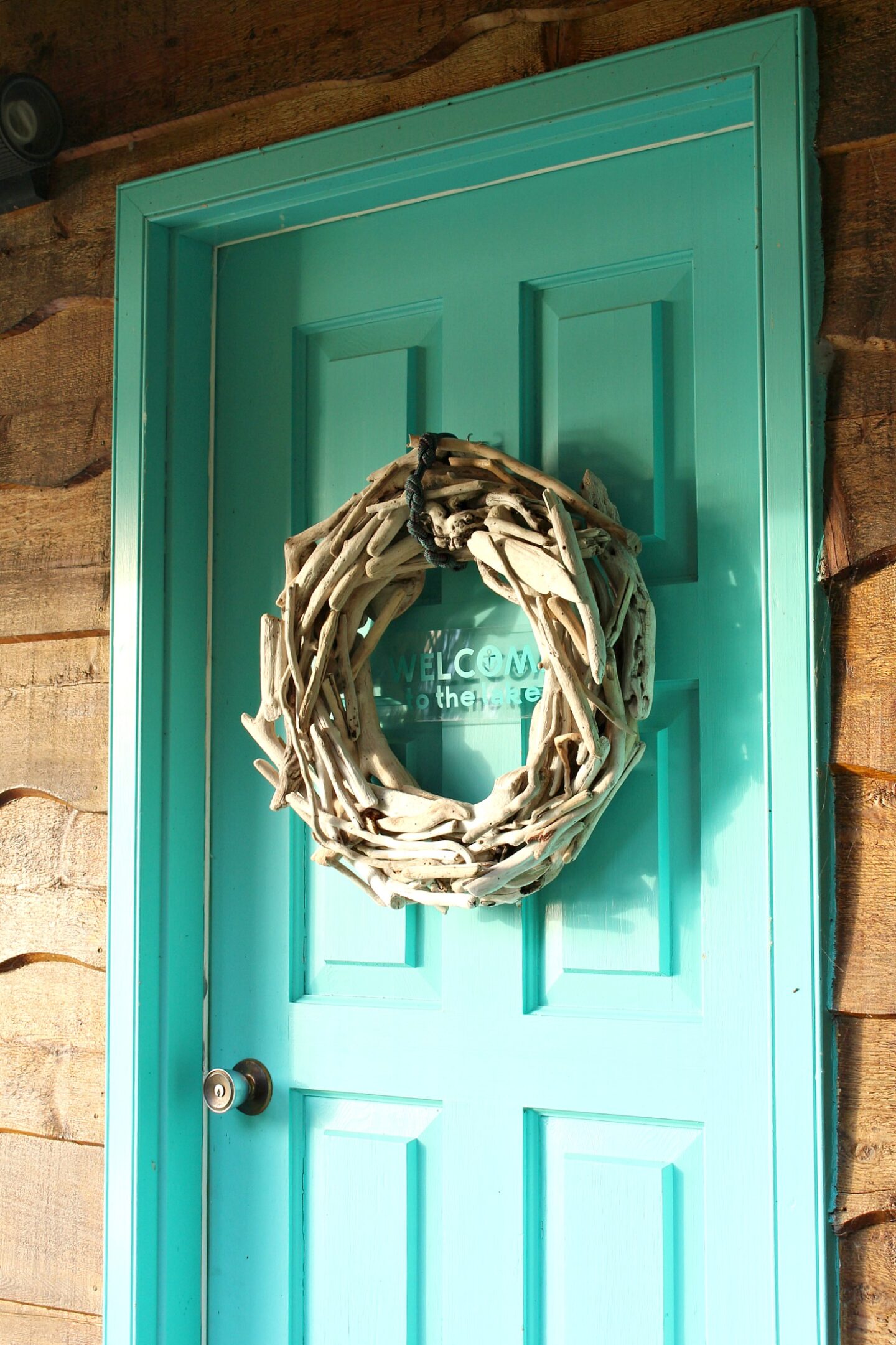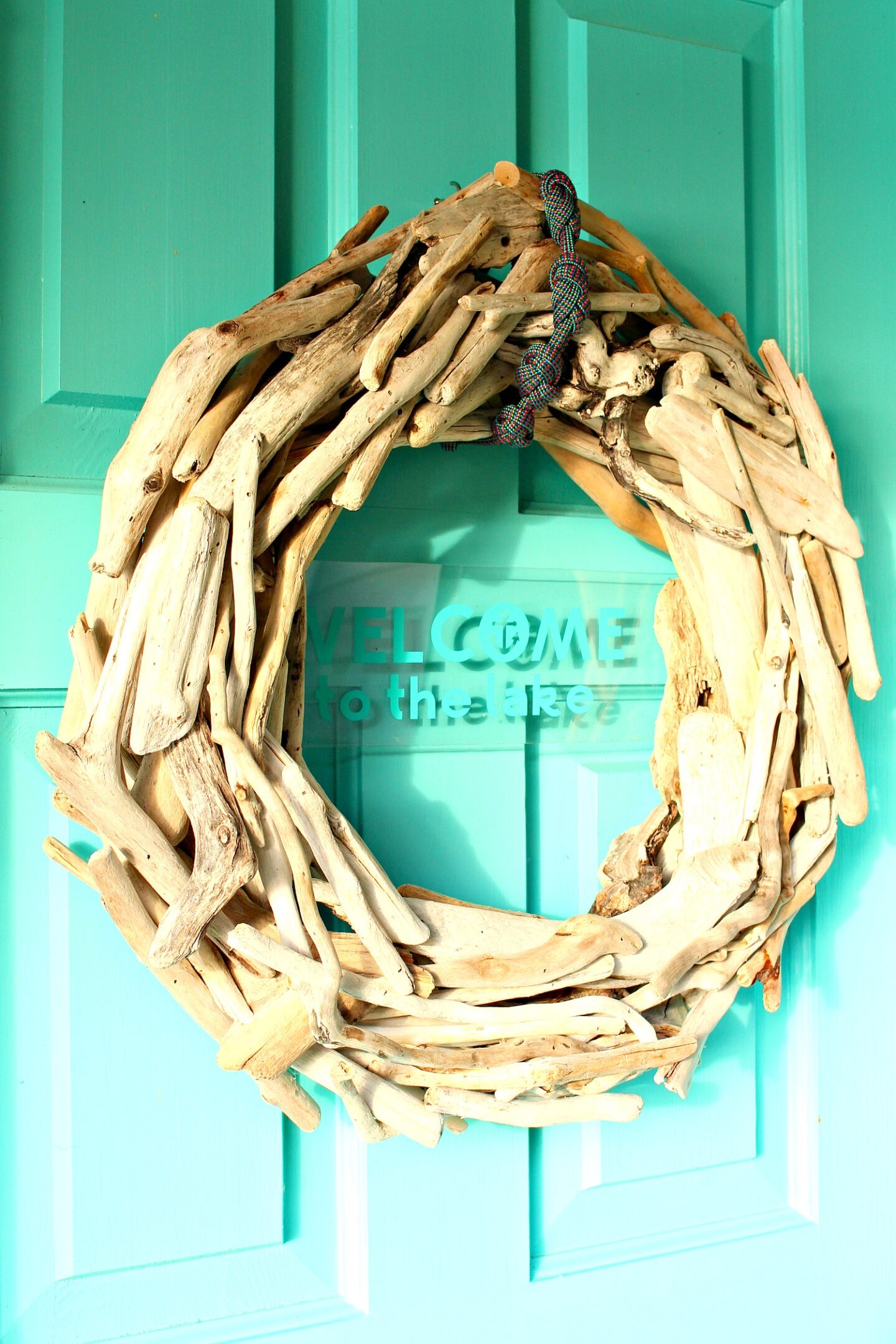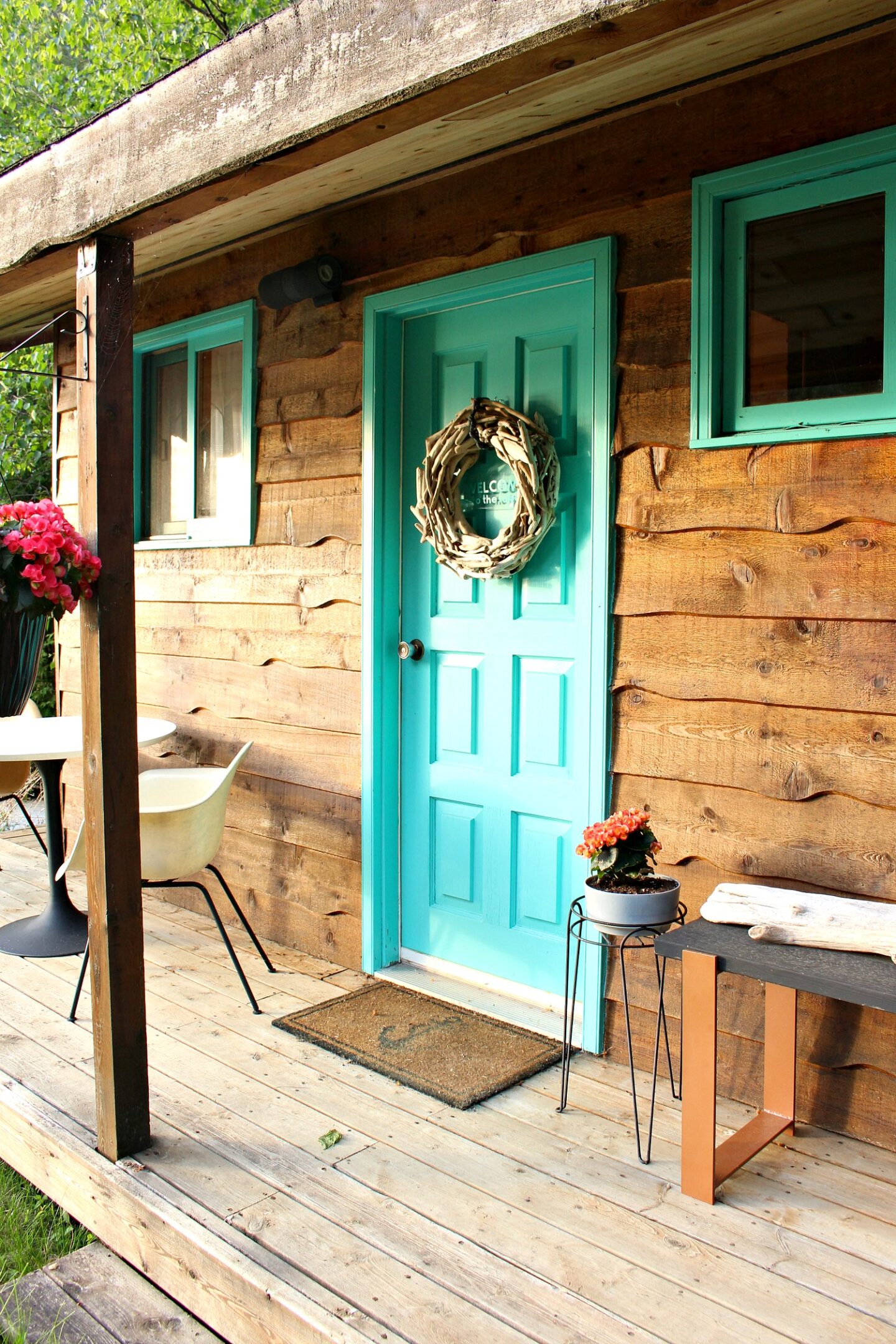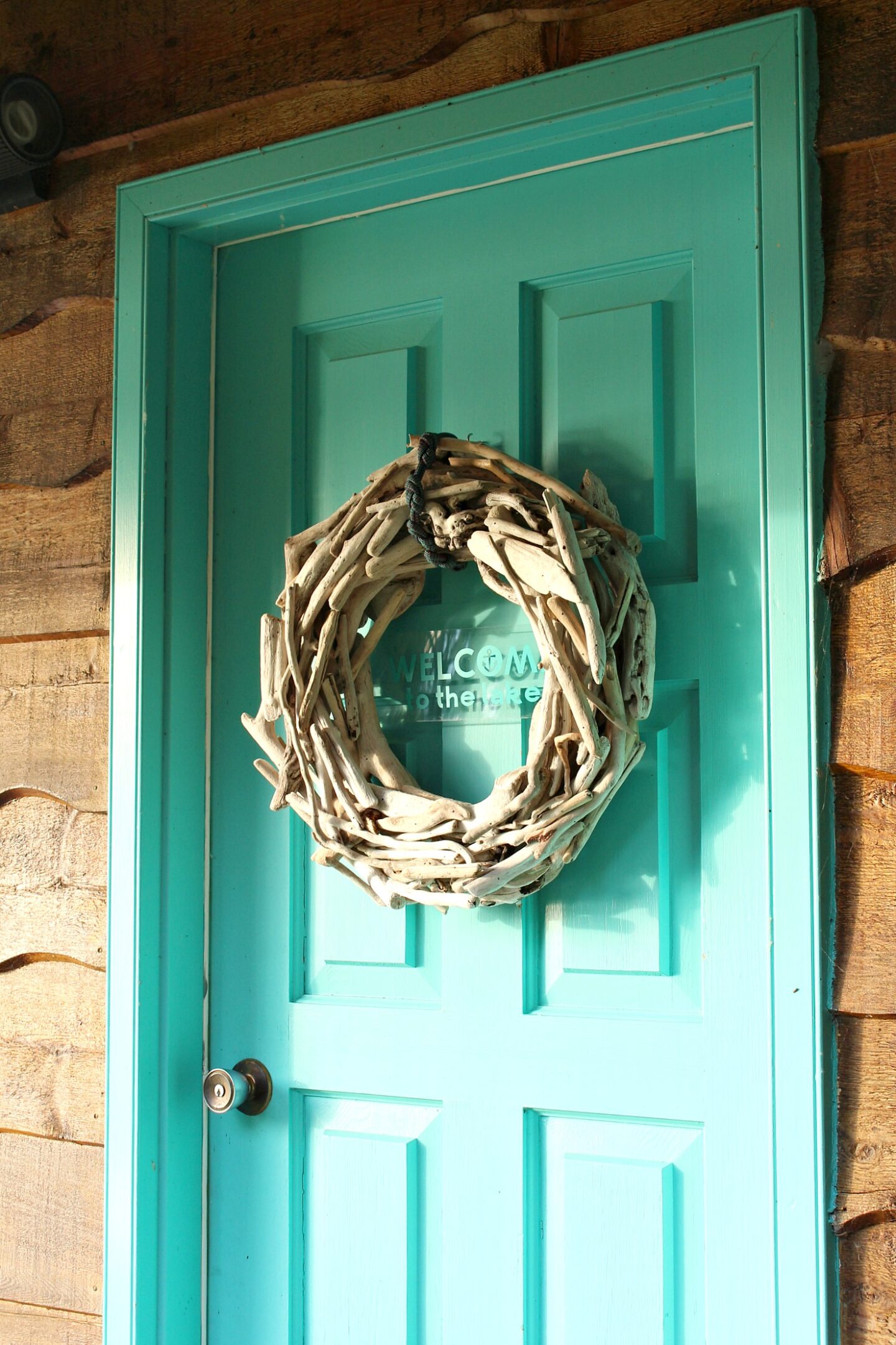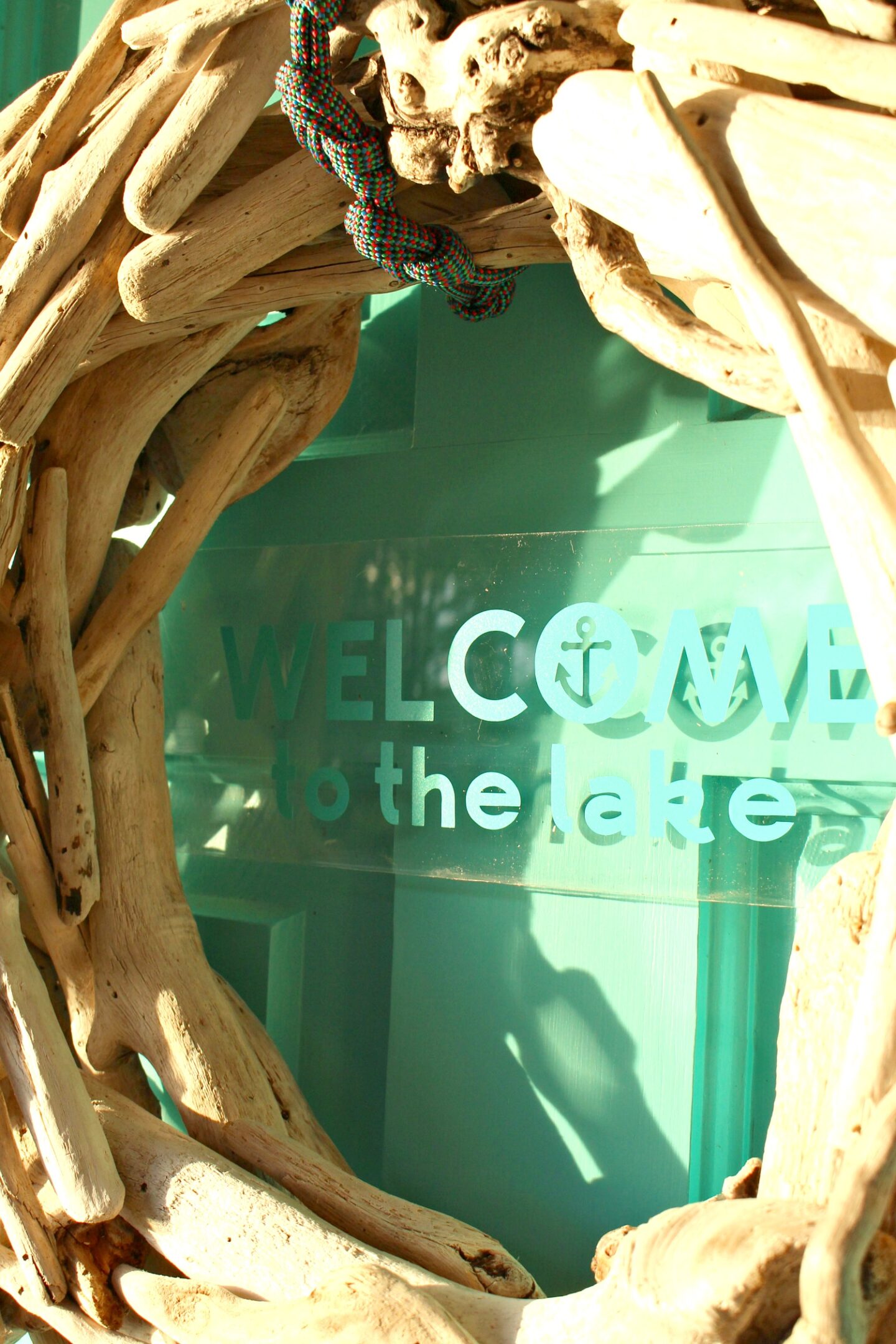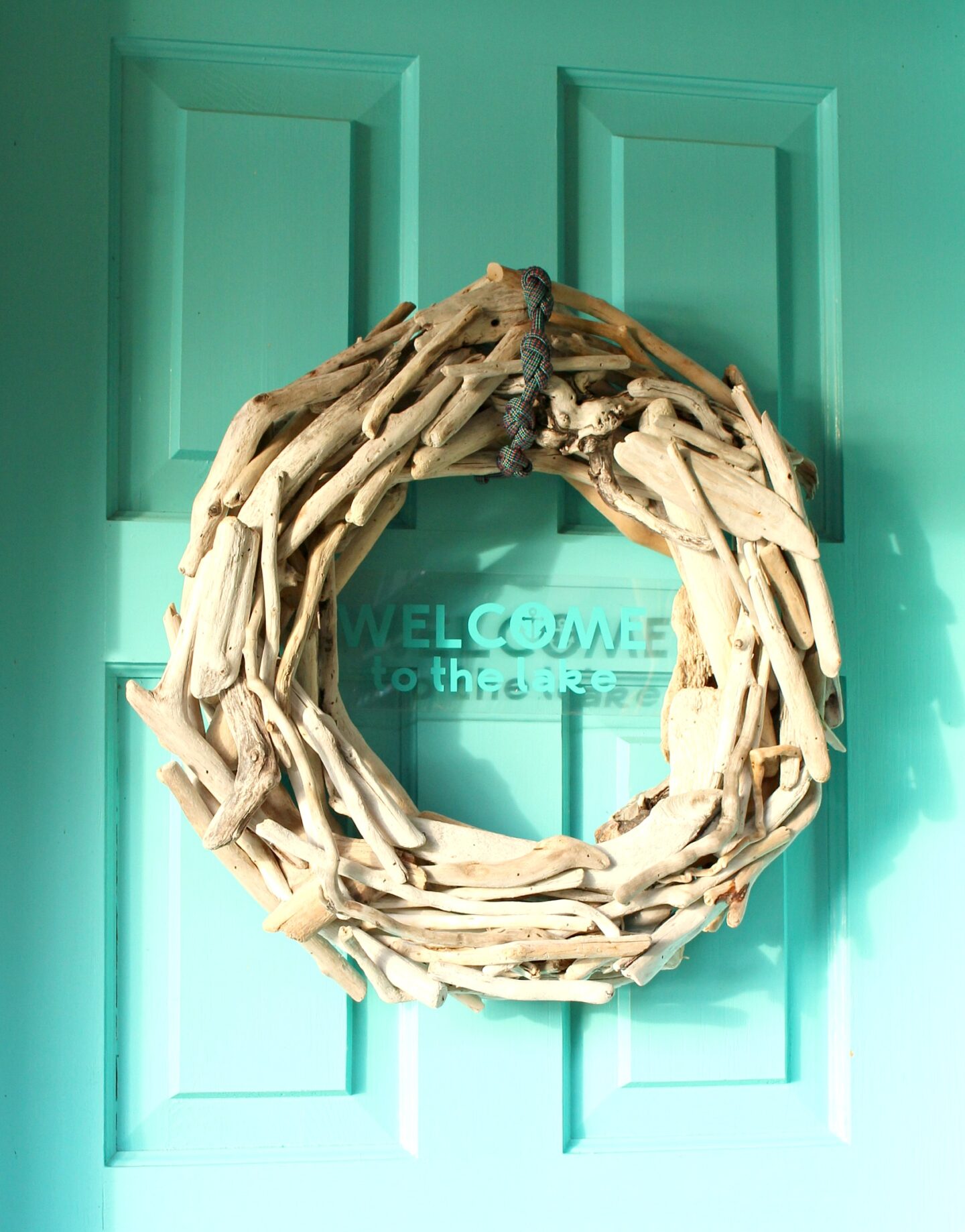 We really should have named our lakehouse, because then we could put the name on the Lexan little plaque and hang one of these on our gate!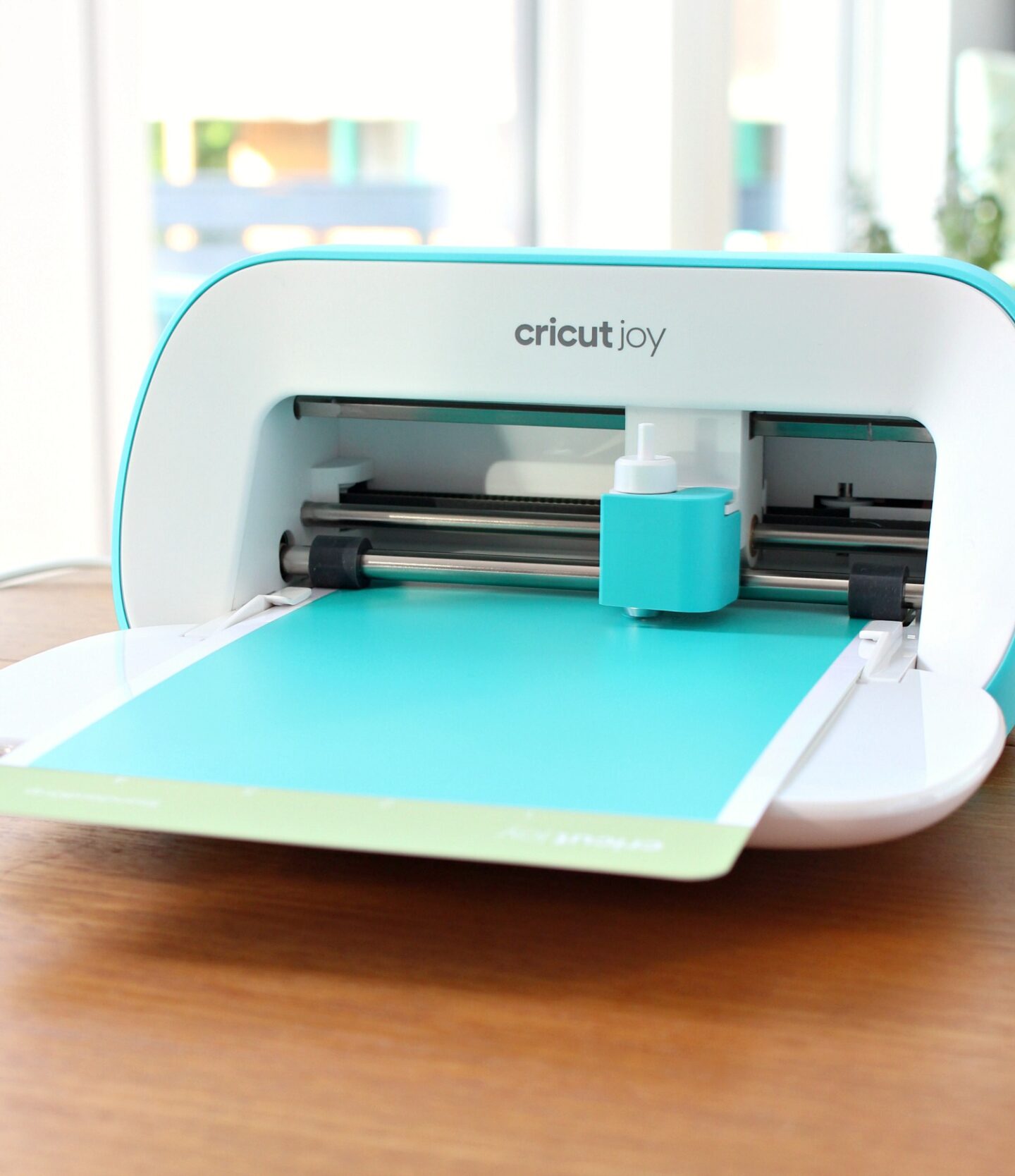 If you've been nervous about getting into Cricut cutting machines, hopefully I've convinced you by showing you how easy it is to use my Cricut Joy! I am a serious Cricut newbie and I am so thrilled with my first two projects and how beautifully they turned out. I can't wait to try more ideas. In fewer than 15 minutes, I personalized my cute driftwood wreath and created beautiful and unique front door decor. Because the Cricut Joy is so compact (it's the smallest smart cutting machine ever!), it's easy to store and use. I keep it on a shelf in my closet and grab it when I want to craft – I don't even need to plug it into my computer because it's got Bluetooth! It sets up instantly and is ready-to-use, which makes working on projects like this so quick and easy.
Looking for more Cricut ideas? Click here to find all of my Cricut projects!
Don't Forget to Pin for Later: