Today I'm answering the question, "does Restor-A-Finish really work?" and sharing a mid-century table and chairs makeover! You might remember that my plans for my Mom's dining room makeover were a tiny bit derailed. I was so disappointed because I was really looking forward to updating my Mom's dining room furniture, which was a mix of my old DIY treadle sewing machine desk and the mid-century chairs that match my current dining table: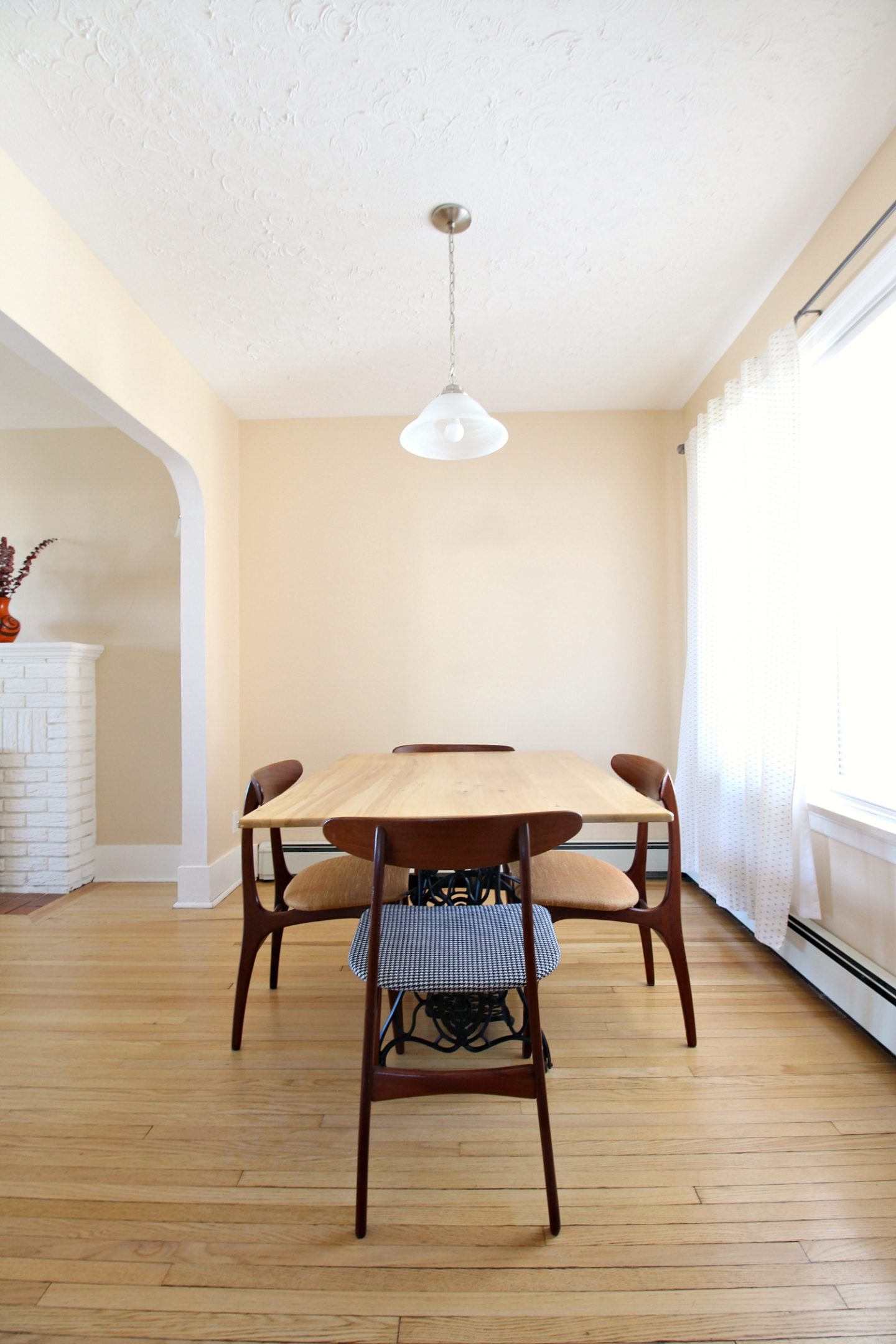 Had I known the brand would back out, I would have been searching for months for the right set for Mom's small budget. Unable to thrift because at that point everything was shut down, I trolled Kijiji every day and finally found the cutest set for a really good price! Ta da (and here's a sneak peek at some dining room progress, too):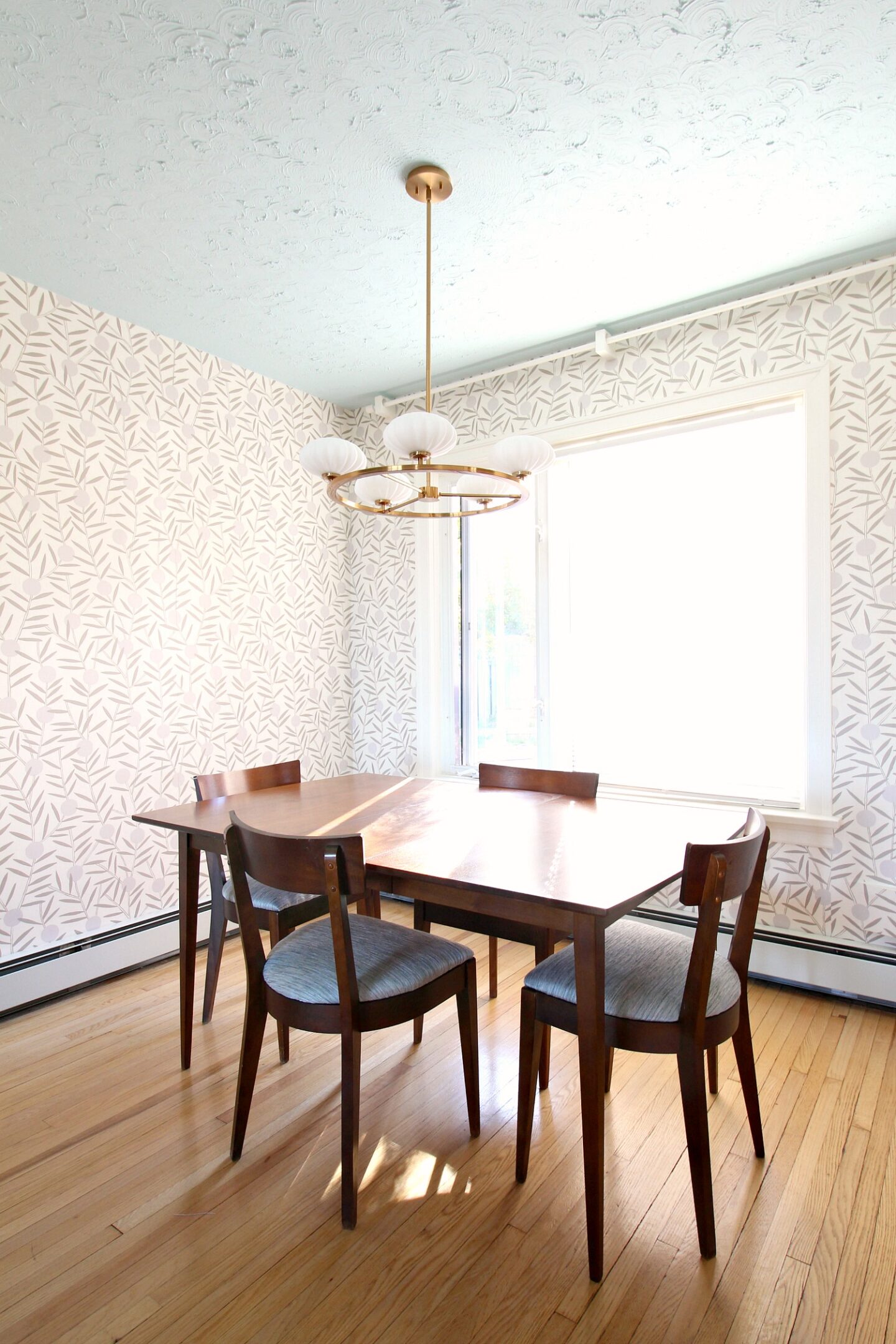 Who needs big box retailers when there are beautiful, quality-made vintage pieces to still be found? This set is made by Kaufman, which was produced in Collingwood, Ontario (here's some more info on the company if you're curious)! I believe this set is walnut, because it's what the company typically used. Sometimes it makes me sad to think about how many things used to be made in Canada.
Here's the credenza (before), which happened to fit this wall perfectly!! The dining room is actually too tiny for any furniture other than the table and chairs, but this wall between the dining room and living room is a perfect spot for the credenza and a great place to store linens. It will be home to my great-grandmother's dishes, so my Mom can enjoy them even when they aren't in use!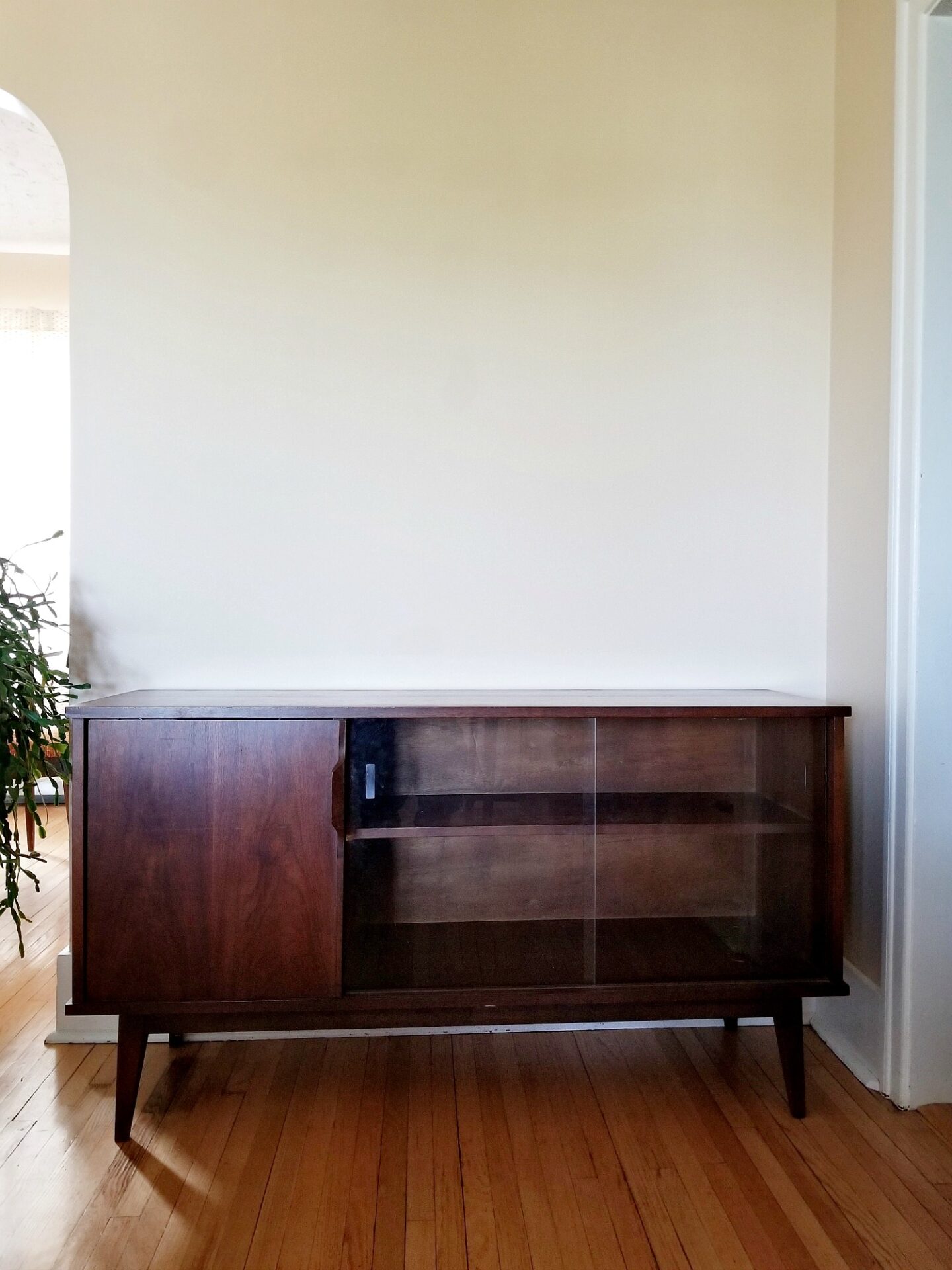 And here's the sweet table and chairs (before):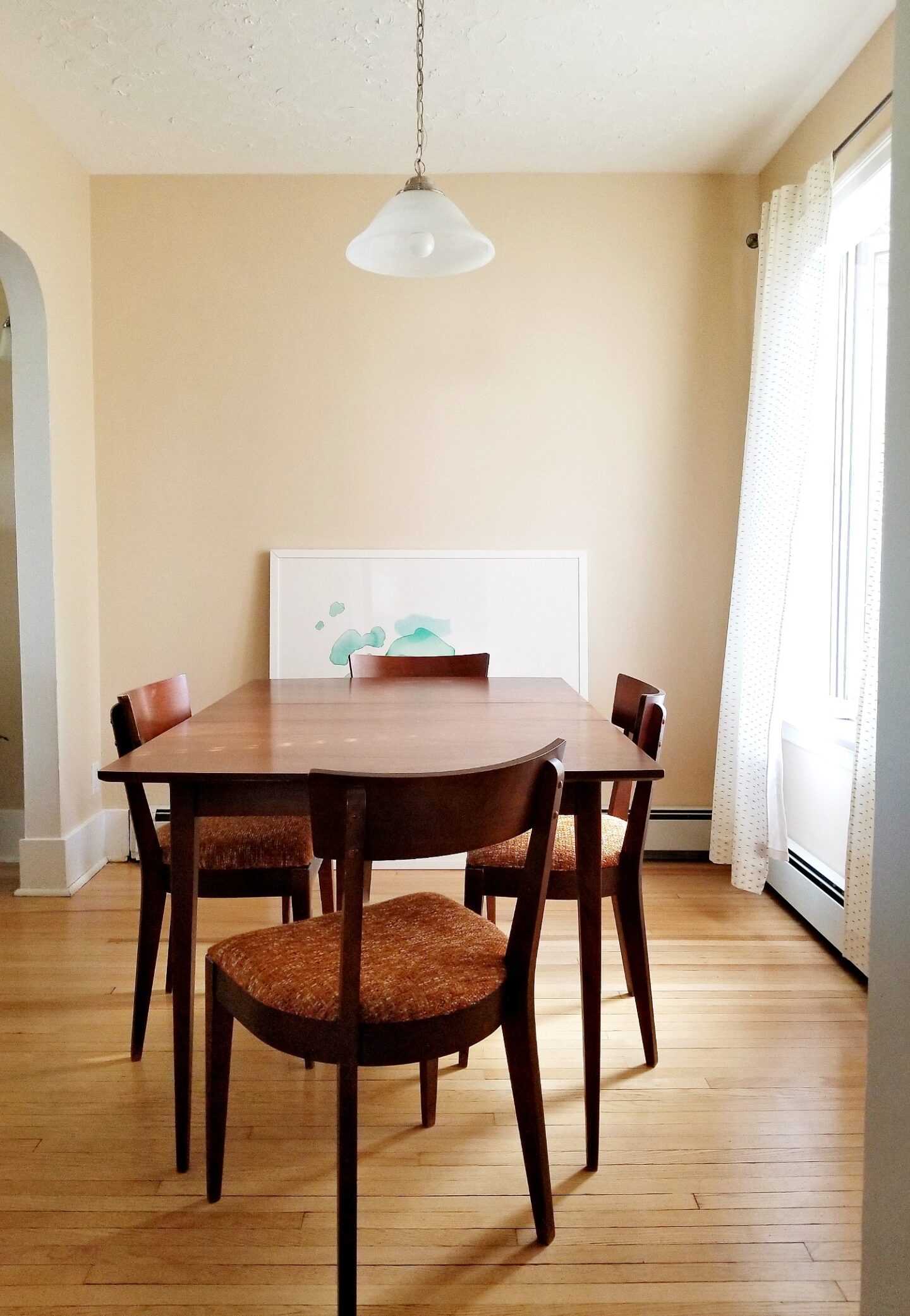 I love the shape of the mid-century chairs that were there before, but we all HATE them. They are so uncomfortable – they tilt back and drive the banana shaped back into your spine. These chairs, although they have a similar vibe, are more upright and so much more comfortable! Plus I love a good set! I know it's trendy to mix and match but when you've already got so much mixing happening, having a few things that match pulls together a space and looks really polished and intentional.
The Table Surface Before:
The set was in really nice vintage condition, but there was some light wear. I didn't have my regular camera with me at the time – I had forgotten it because I also needed to remember to bring my laundry to my Mom's apartment, because our washing machine had broken (since fixed! yay). So I remembered the dirty garbage bag of clothes but not my camera, haha, which is why these photos were taken with my cellphone, which picks up the flaws even more. The table had light wear – no water stains but some areas where the stain/finish had just worn off from use, along with some light scratches.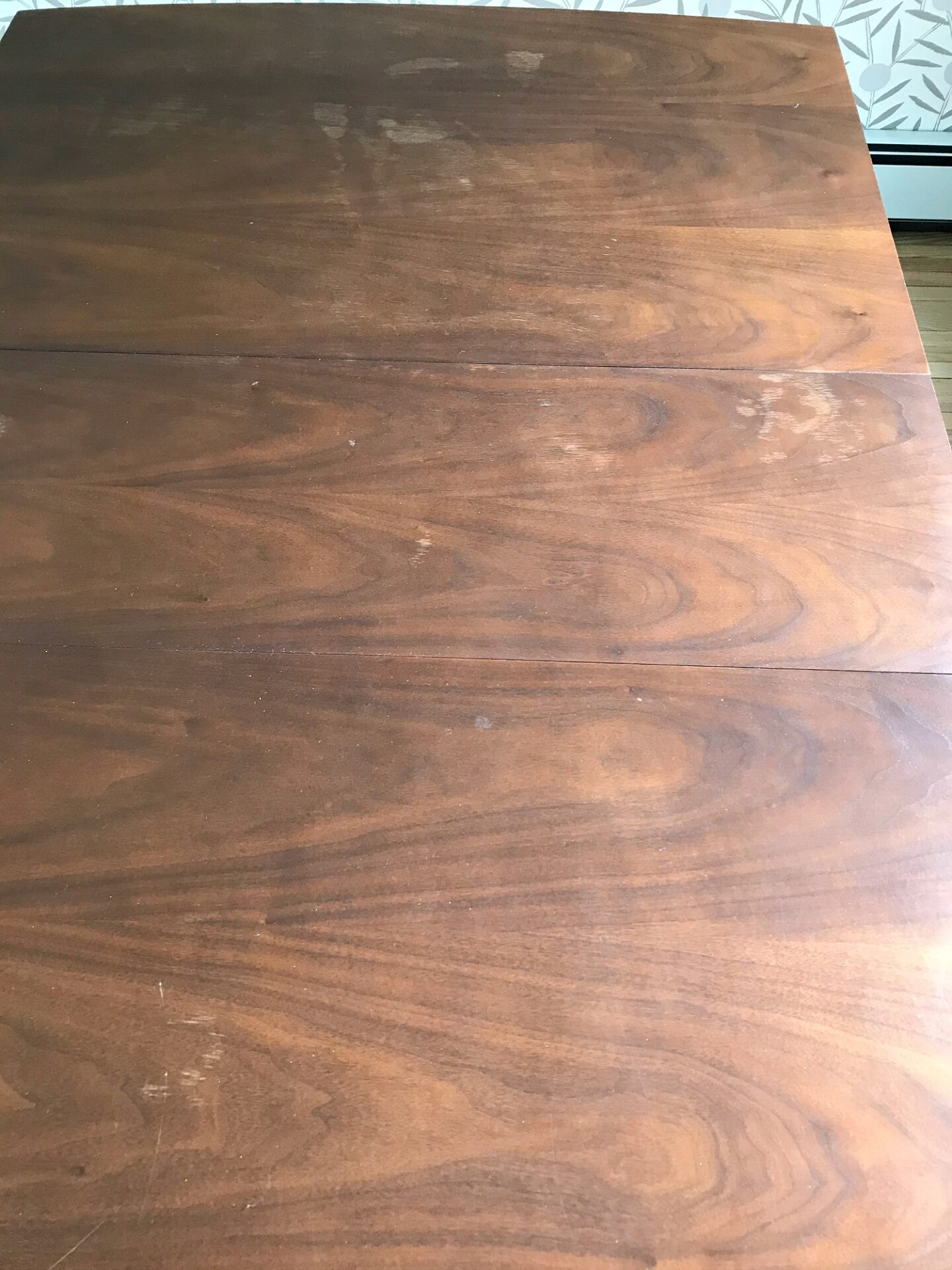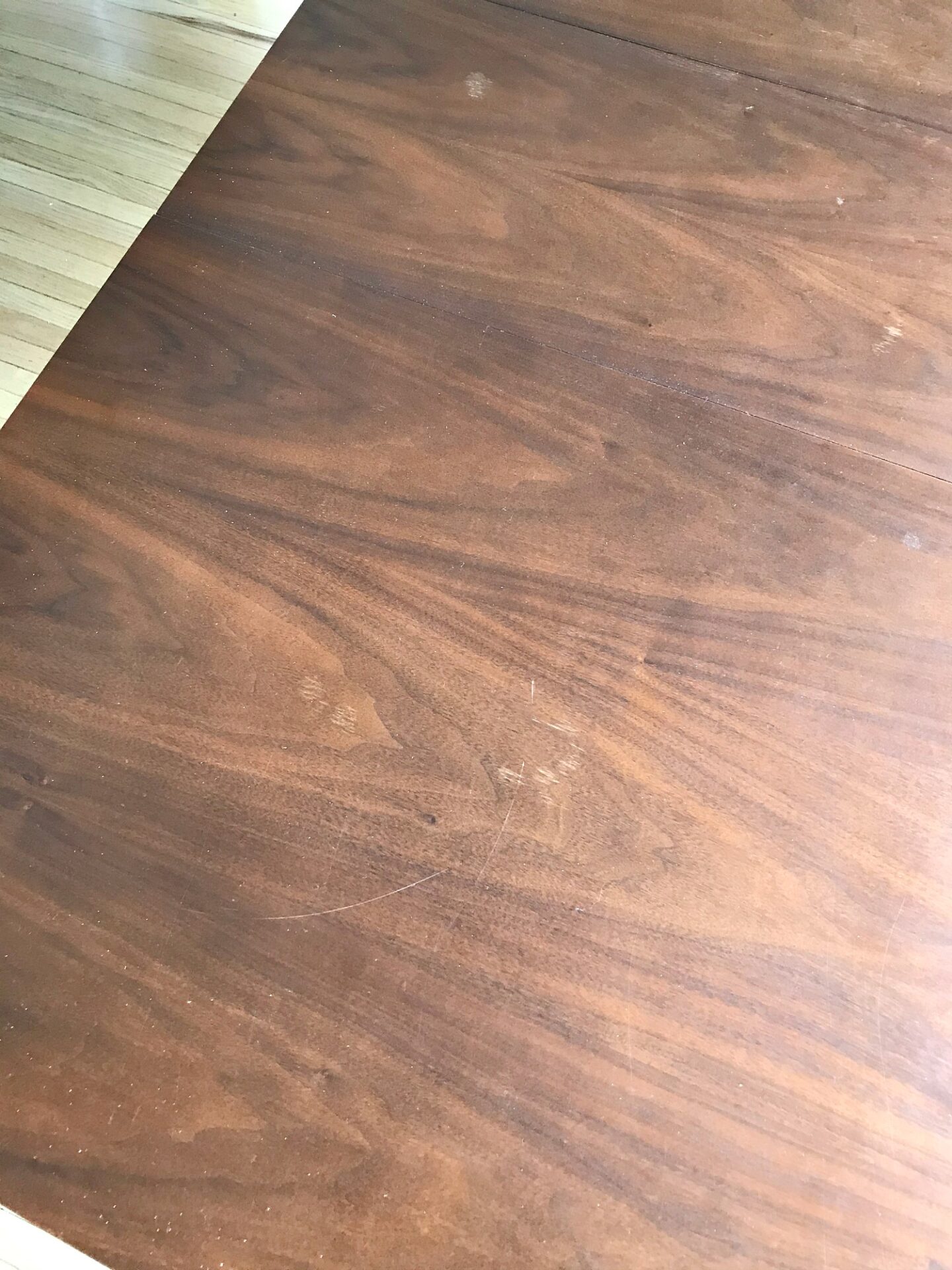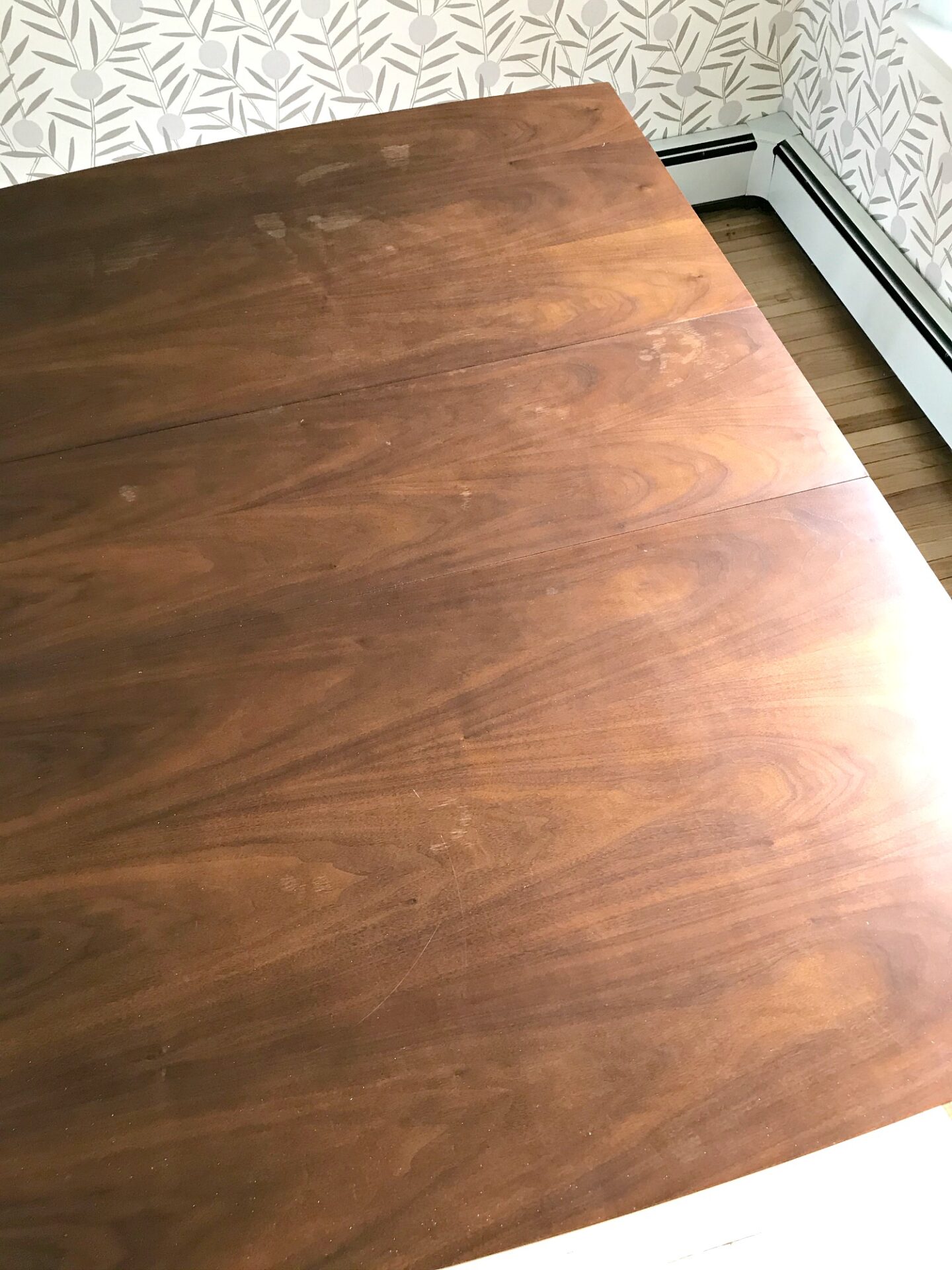 Using Restor-A-Finish:
I had been wanting to try Restor-A-Finish for a long time. I would see it somewhere and think, "does Restor-A-Finish really work?" It seemed to good to true! Luckily Mom let me experiment on her new set. It had what I think was the perfect amount of wear for a quick solution like this: just a little, nothing major.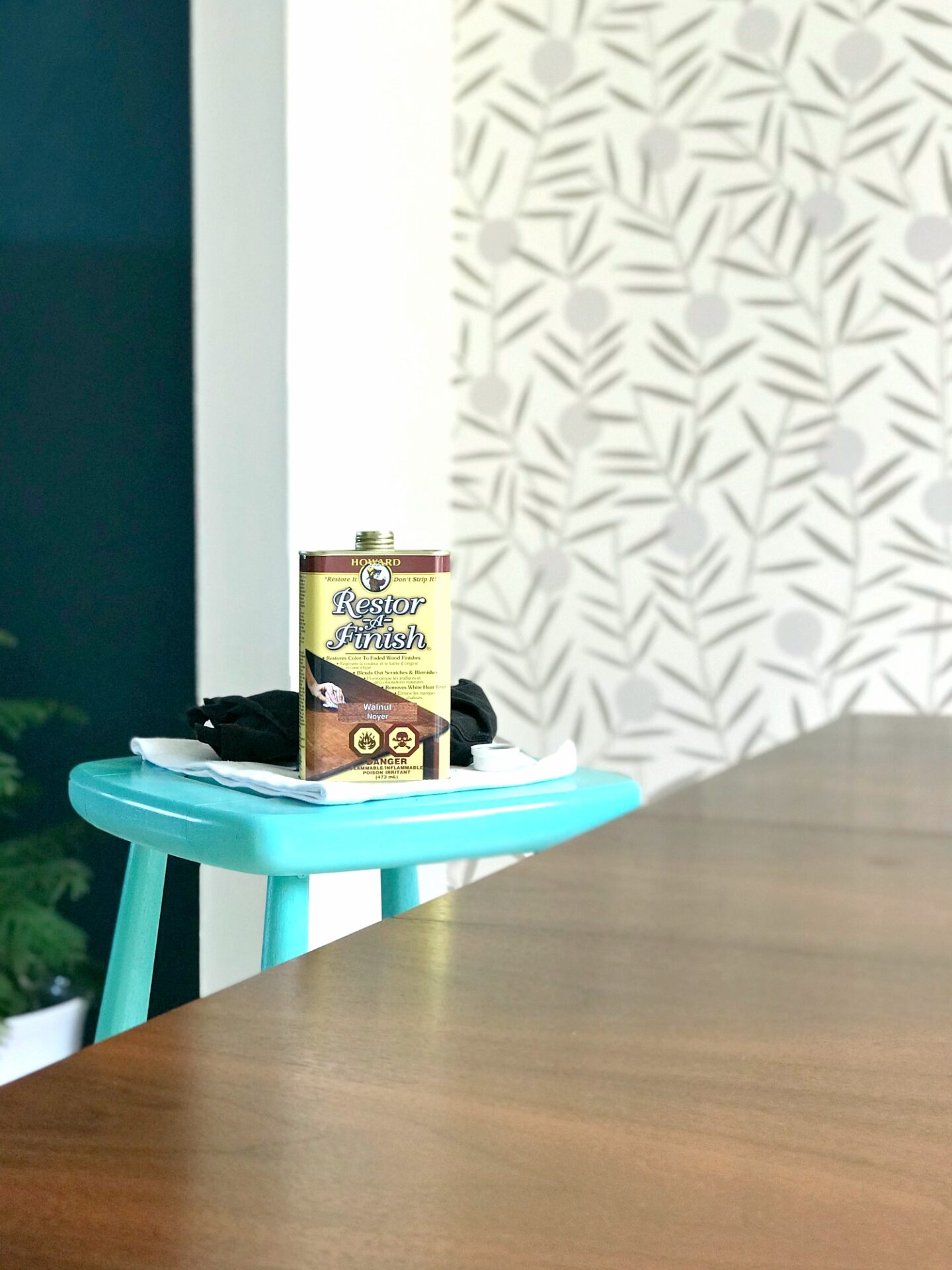 Restor-A-Finish comes in nine different finishes and I chose Restor-A-Finish Walnut. If you've never heard of it, it's a formula that penetrates stain/varnish and restores wood. The company claims it will blend out minor scratches, blemishes and abrasions (including white heat rings, water marks, sun fade, oxidation, smoke damage, etc). It's a wipe on, wipe off type of finish that apparently restores your wood furniture without needing to strip or sand or remove the old finish.
Sounds too good to be true, right?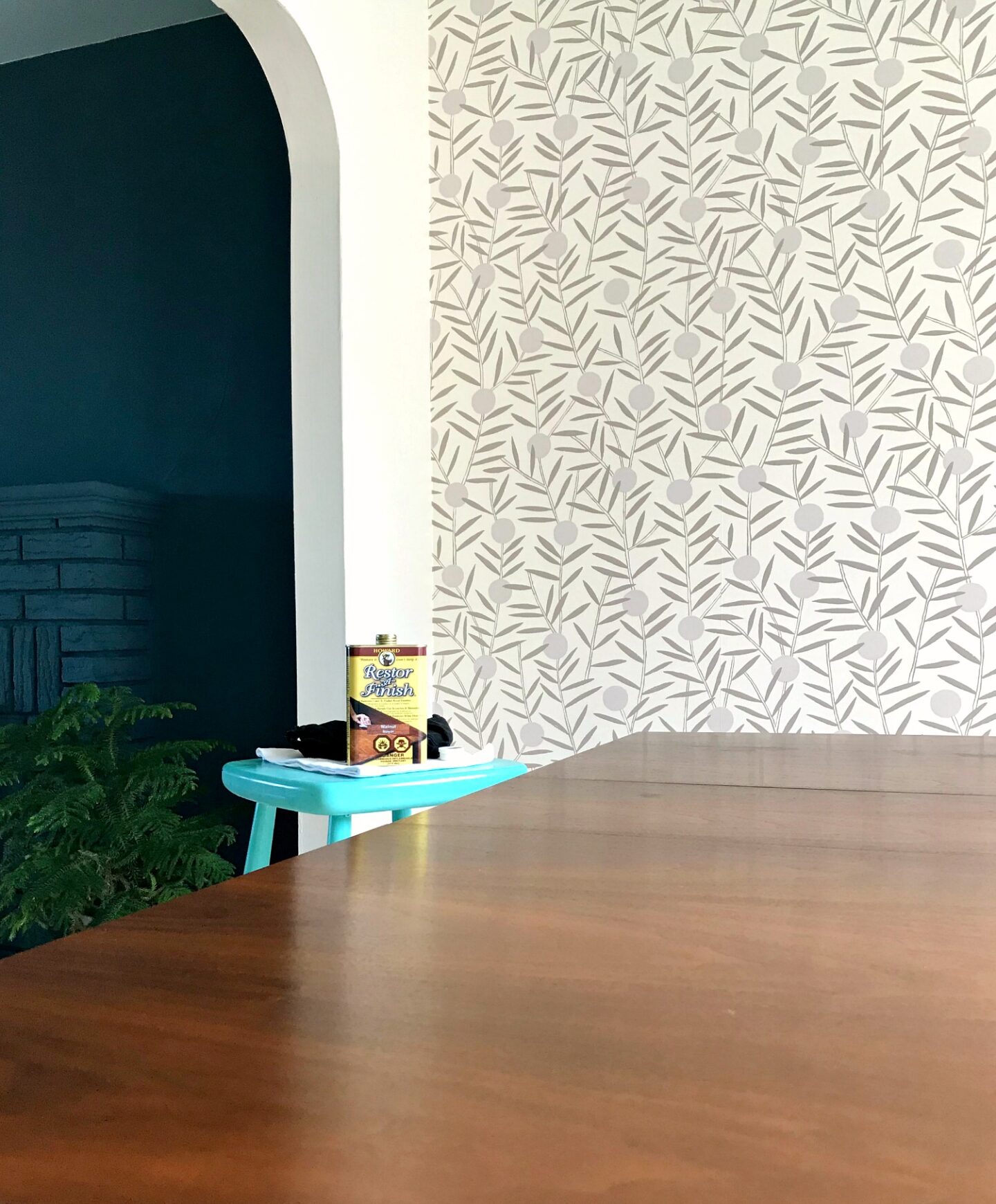 Using Restor-A-Finish was simple: using a lint-free cloth, I wiped it on and then wiped off any excess. Here you can see the difference it made in two seconds (top has Restor-A-Finish, bottom doesn't):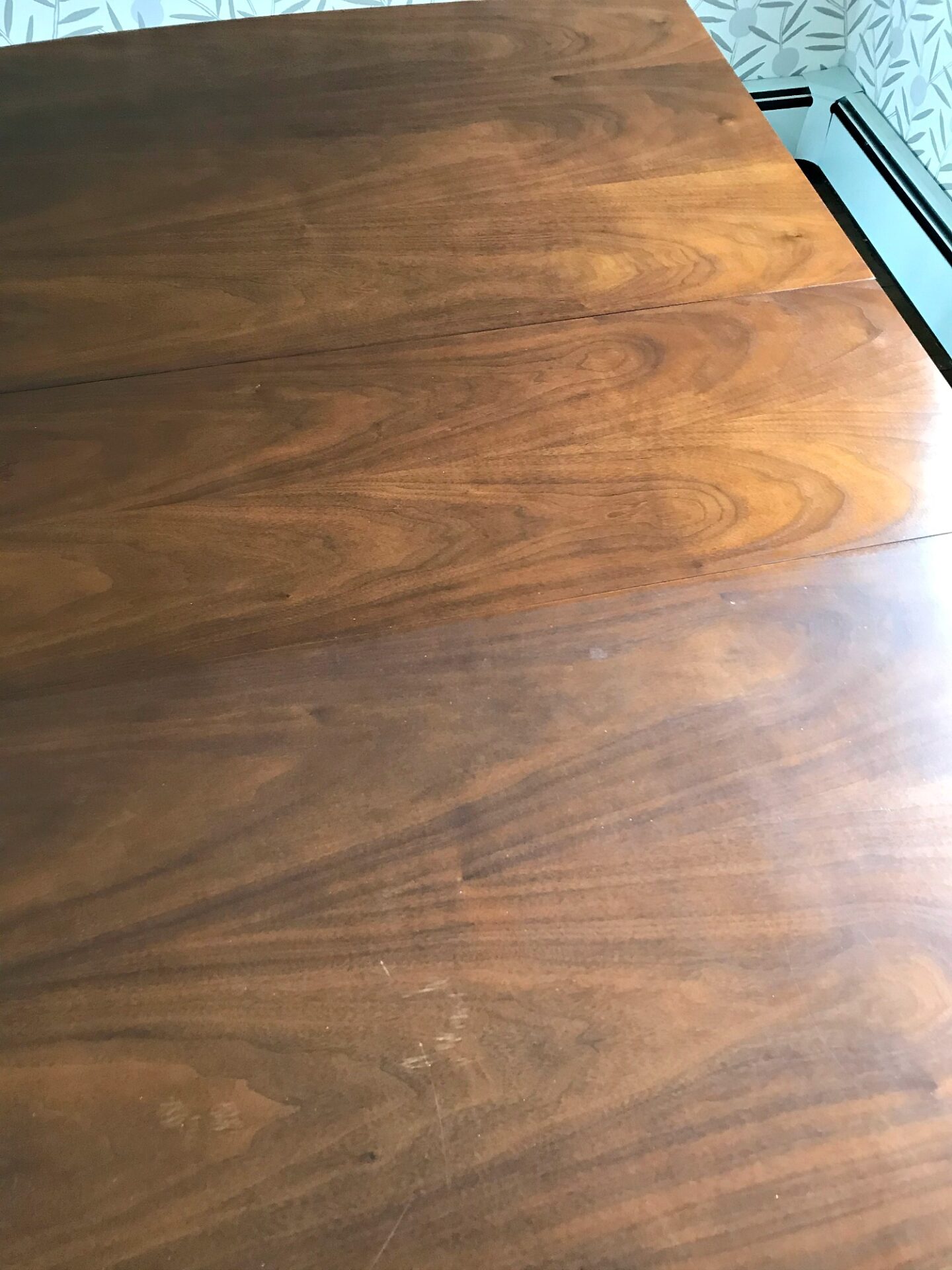 The Table Surface After:
Restor-A-Finish instantly revived the wood! Lighter areas were hidden, the sheen was restored. I used my cellphone again, so the photos are a fair comparison, and you can see that the surface has far fewer flaws and signs of wear:
After I applied one coat, I still noticed some light areas so I applied a second coat and that really soaked into some of the exposed wood and create a darker patch here or there. It is really difficult to see, so I worked hard to take a photo that made it super obvious: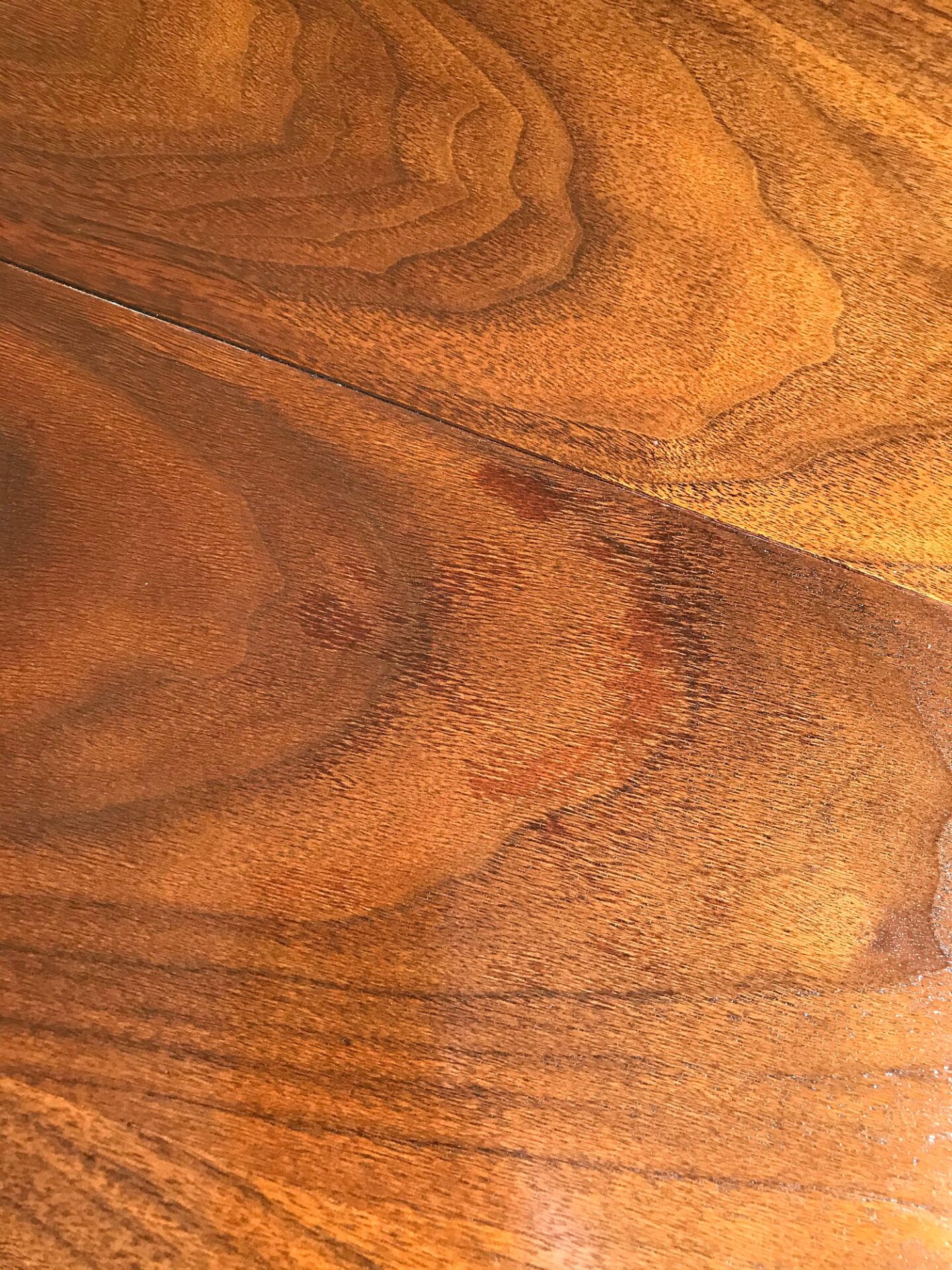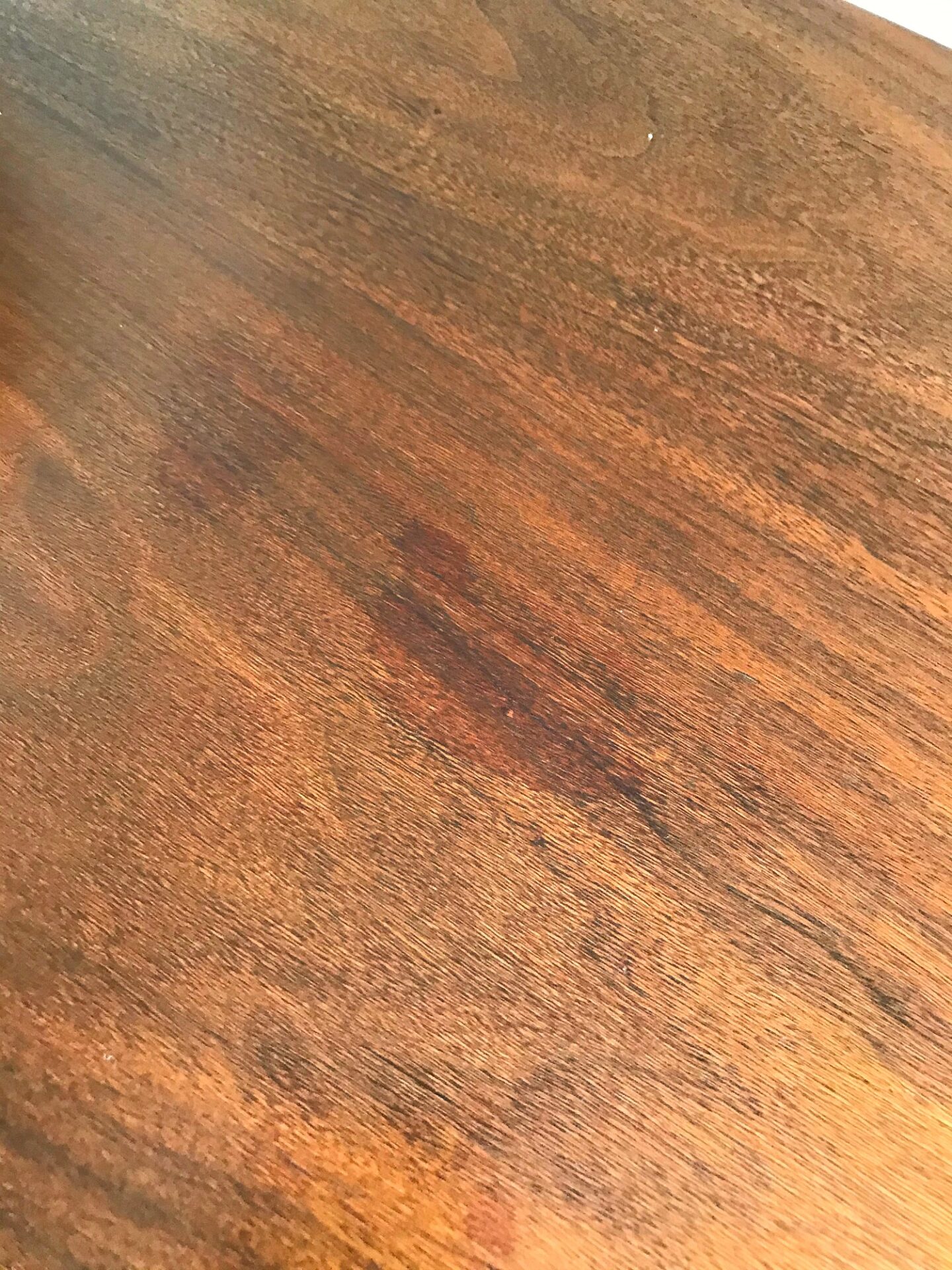 In hindsight, I should have left it at one coat and seen what it looked like the next day.
So… Does Restor-A-Finish Really Work?
The million dollar question, haha.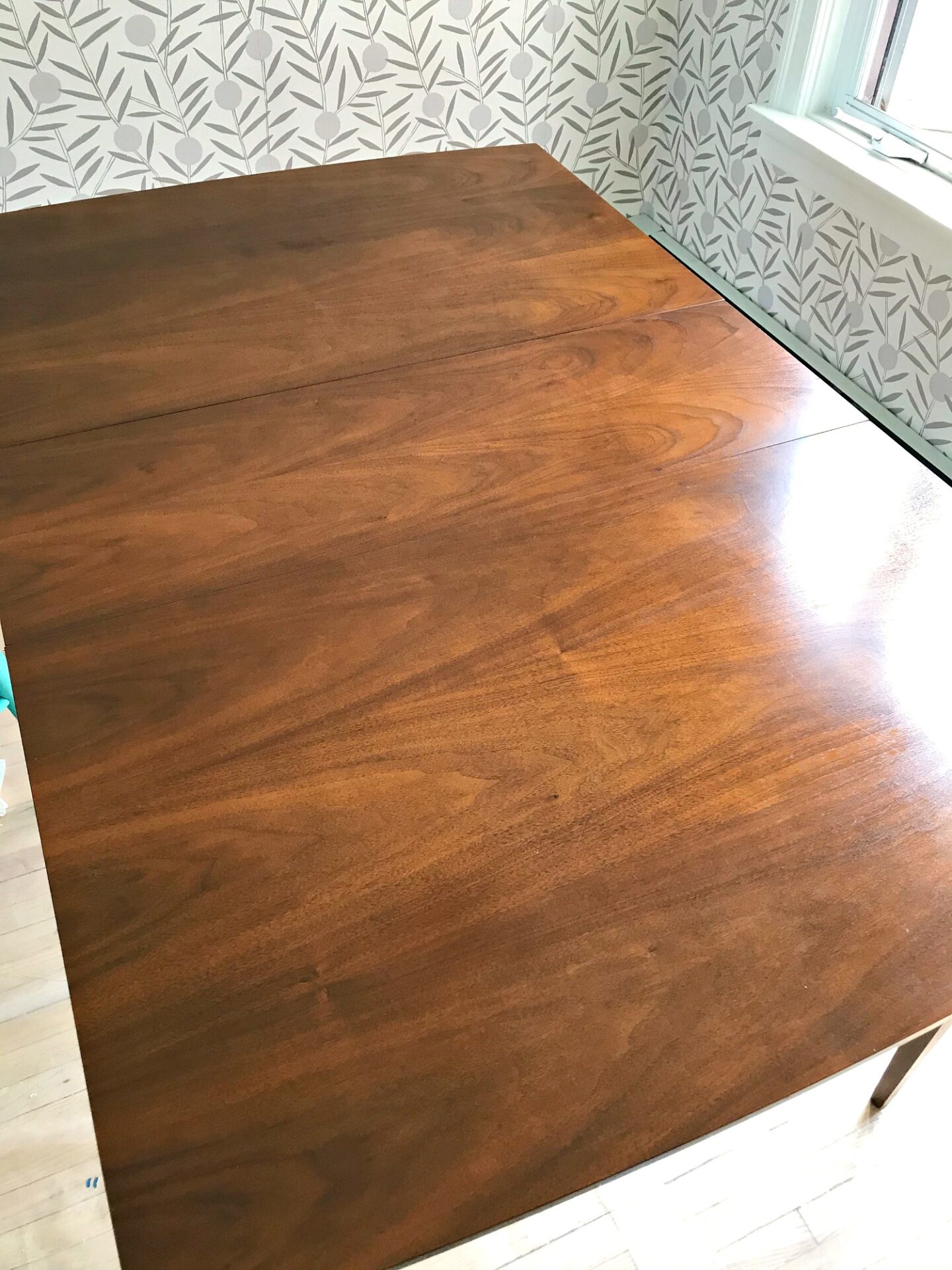 Overall, if the table surface condition was previously rated a 7/10 (am I being too generous?) now it's an 8.5/10 – not perfect, but much more refreshed. The luster and sheen was really restored and the wood gleams now. The lighter areas were covered up. Scratches were made less noticeable, but are still there. I ended up using Restor-A-Finish on the credenza and chairs as well, but this time did only one application, which was perfect. I wish I had photographed the credenza shelves before and after because there were parched and dry, with very little finish left on them and now they shine and gleam. I am super impressed but I think you need the right piece: nothing too damaged, just something in need of a little revival. This doesn't replace a good strip, sand and re-finish job but it does shave off years of wear. It's like a time machine for furniture. The only thing it didn't fix was the extreme wear at the very bottoms of the chair legs. My Mom says she can't even see but I notice it – I thought about "dipping" the legs in gold paint? Or trying a stain pen… I'm still going to experiment a little.
Here's a look at the refreshed table and chairs, taken with my proper camera!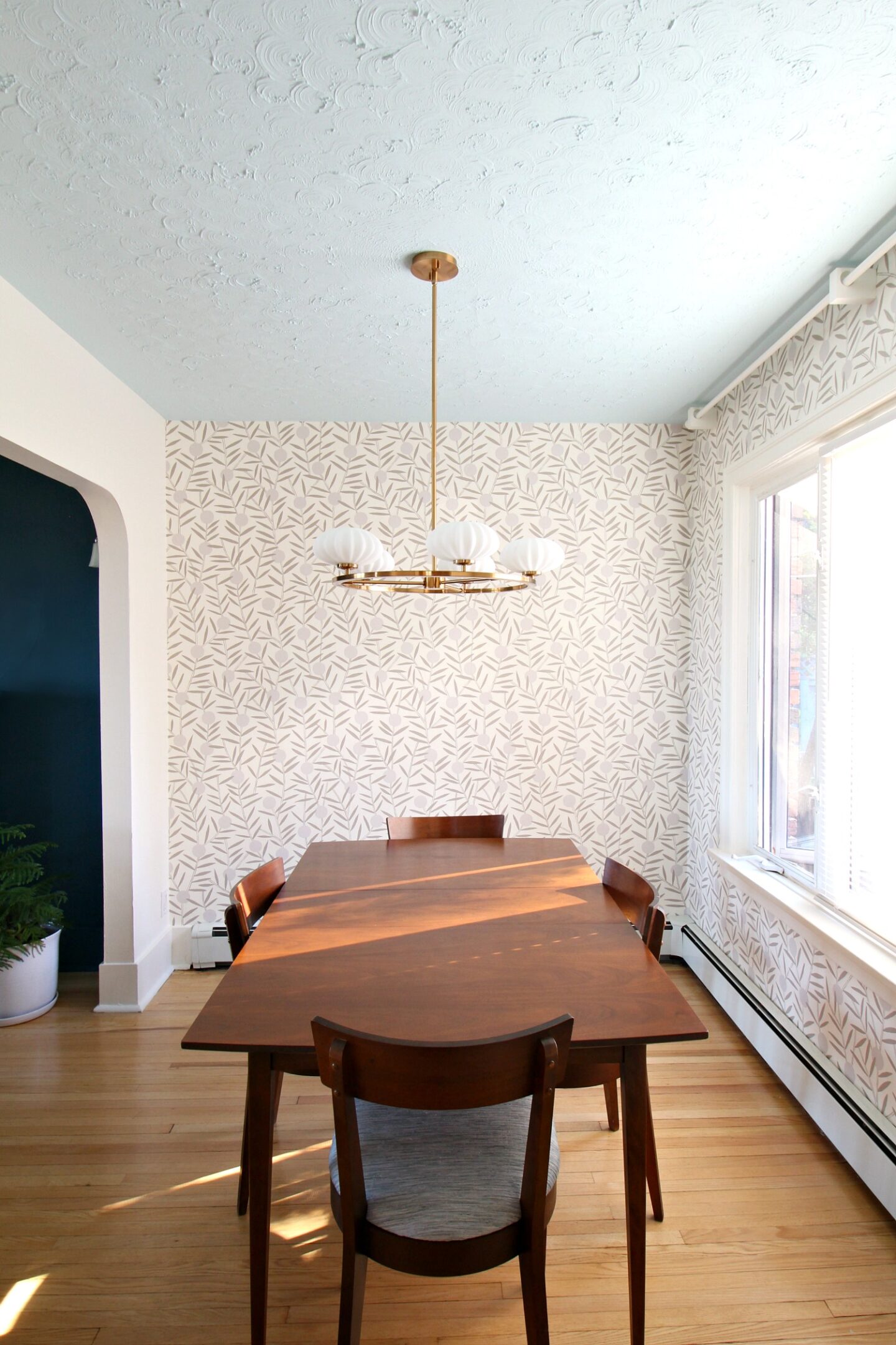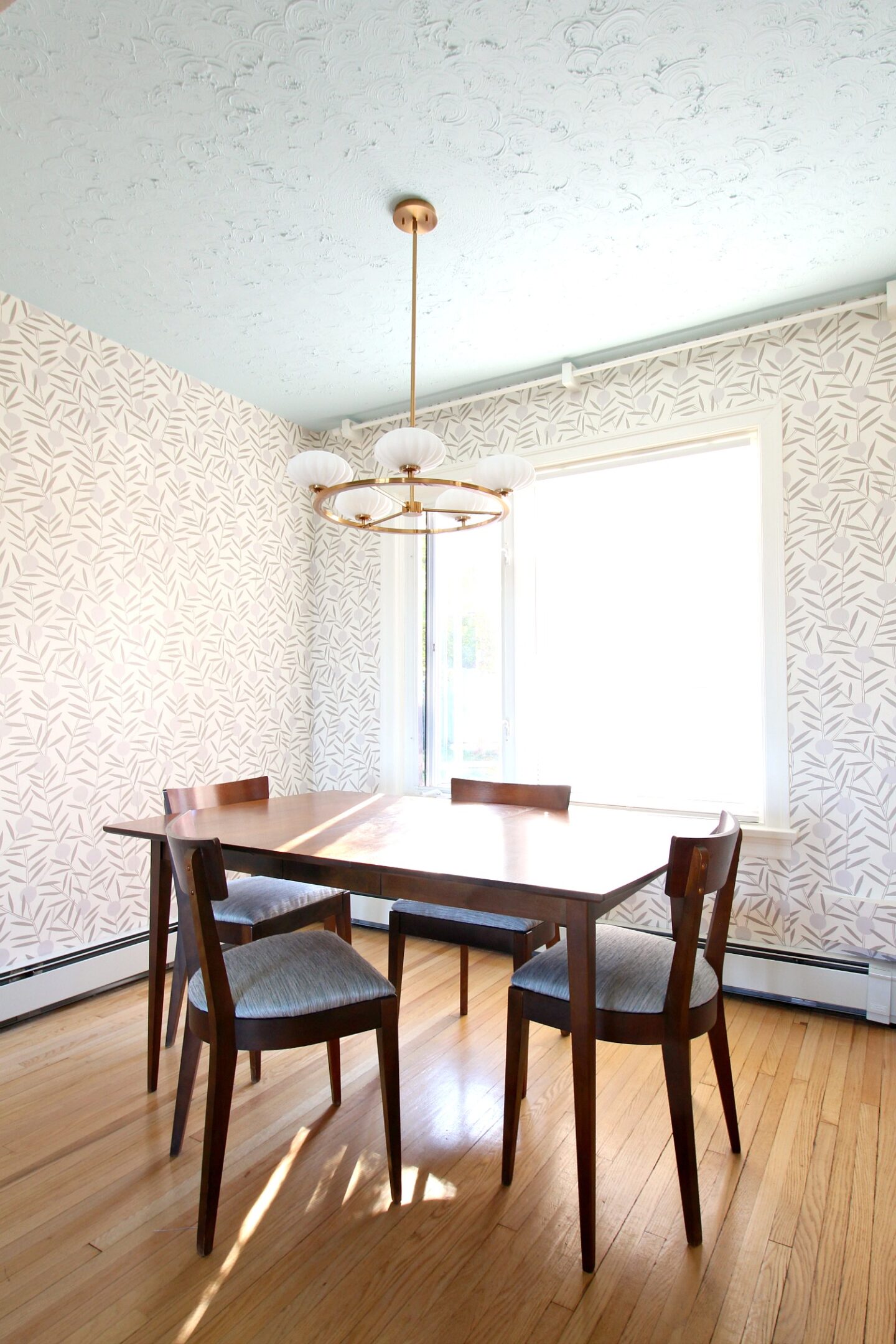 The set looks so good and I would definitely recommend Restor-A-Finish if you have some wood furniture with light wear and want it to look refreshed and revived but are okay with a bit of imperfection. Collecting vintage, you get used to it! So I think my Mom and I tolerate a little bit more imperfection in the surface. Overall, I'm impressed! It's not the magic I thought it would be, but Restor-A-Finish definitely brought the life back into this dining room set. I still have some, so I'll do a little more experimenting. Maybe I can sneak it into my purse and try it out on some really horrible pieces at the thrift stores, lol (do you really think people would notice?).
So that's my little (unsponsored) Restor-A-Finish review, I hope it's helpful.
The Chair Makeover:
Did you spot the chair makeover too? It had very lovely orange tweed upholstery but it didn't work with my design for the dining room, so we replaced the orange tweed with a gorgeous linen blend fabric we scored awhile back for $3/meter: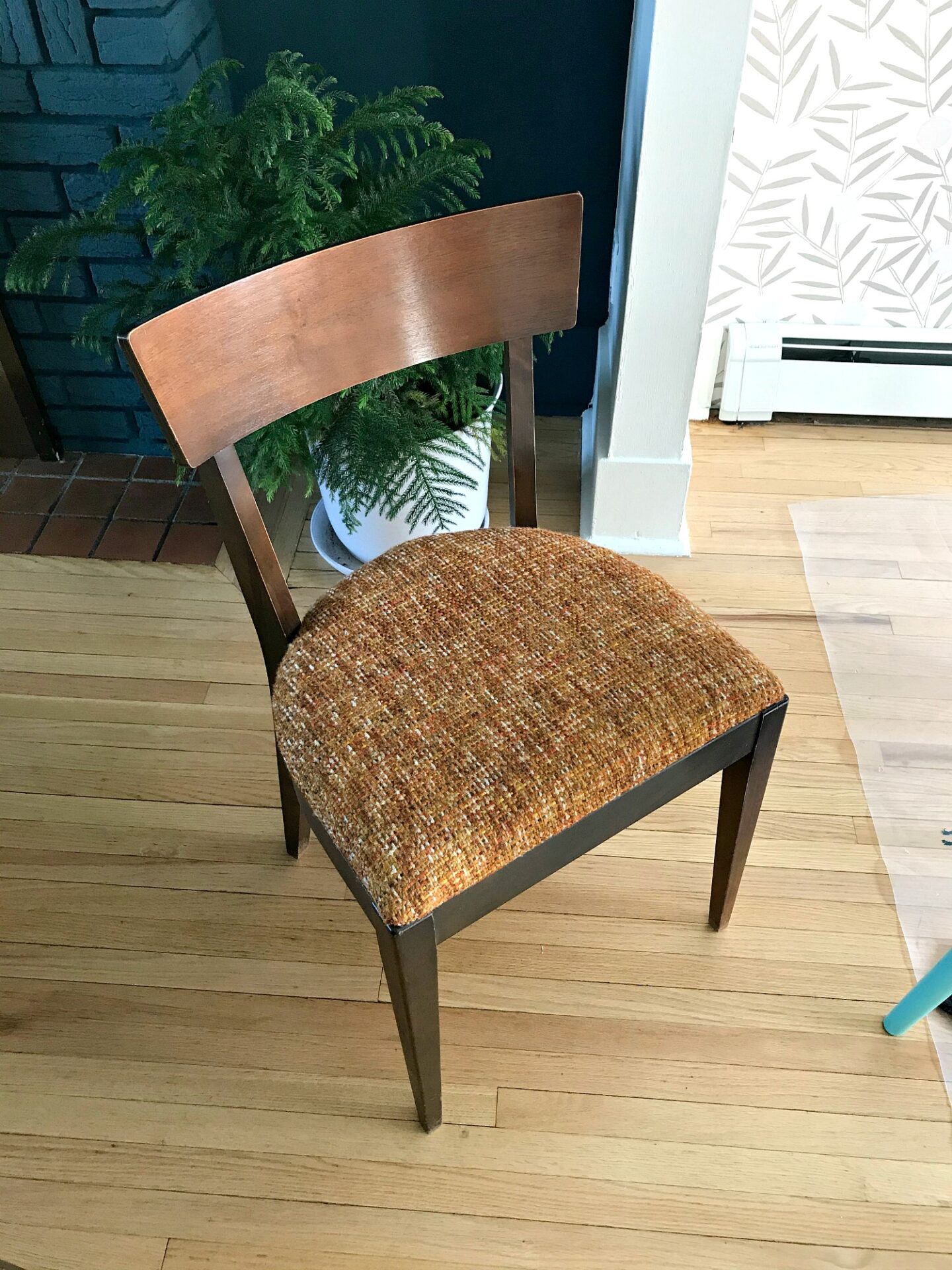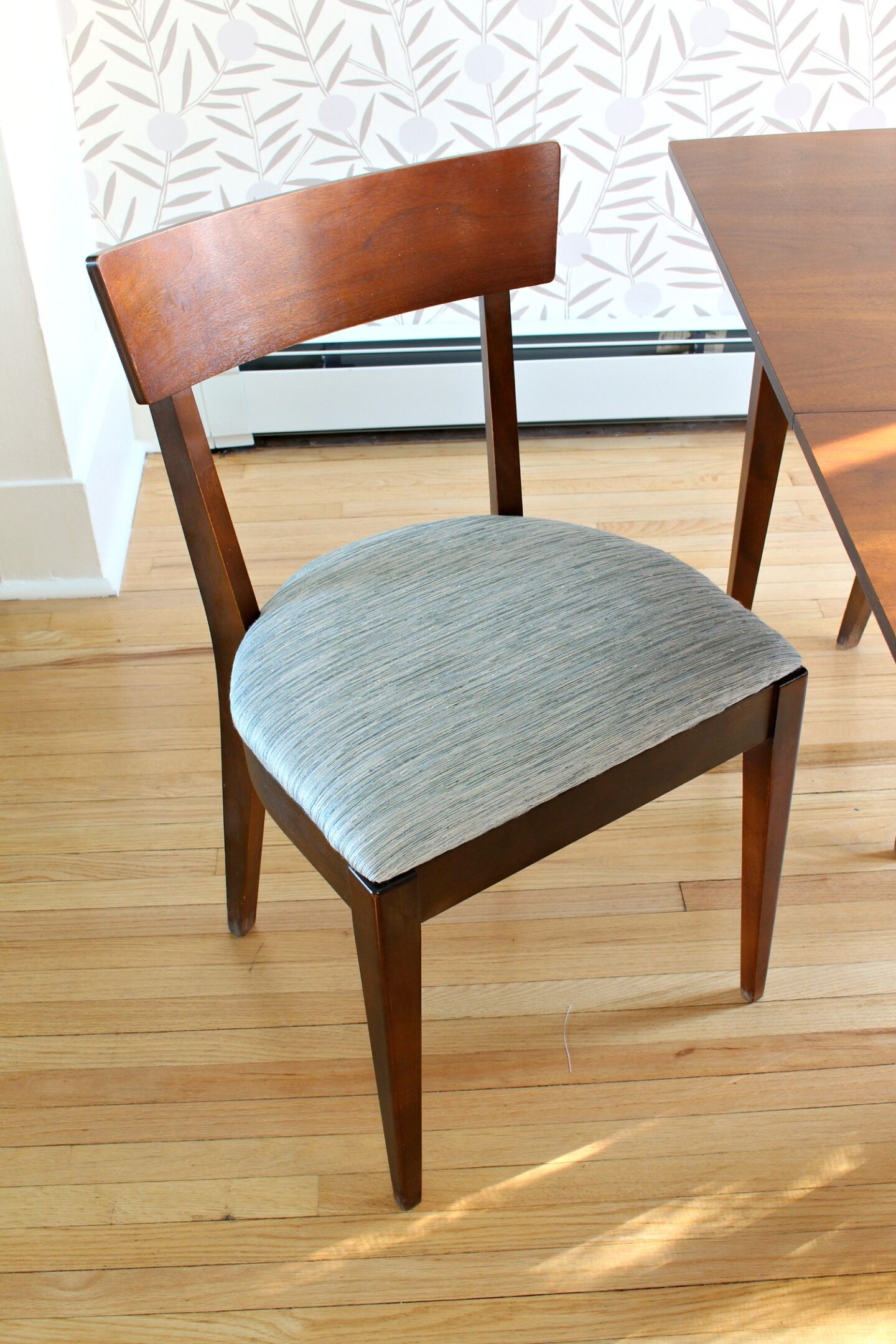 The new fabric still has a mid-century feel, but with a more coastal color palette. If you've never reupholstered chairs before, check out my tutorial for how to reupholster dining chairs.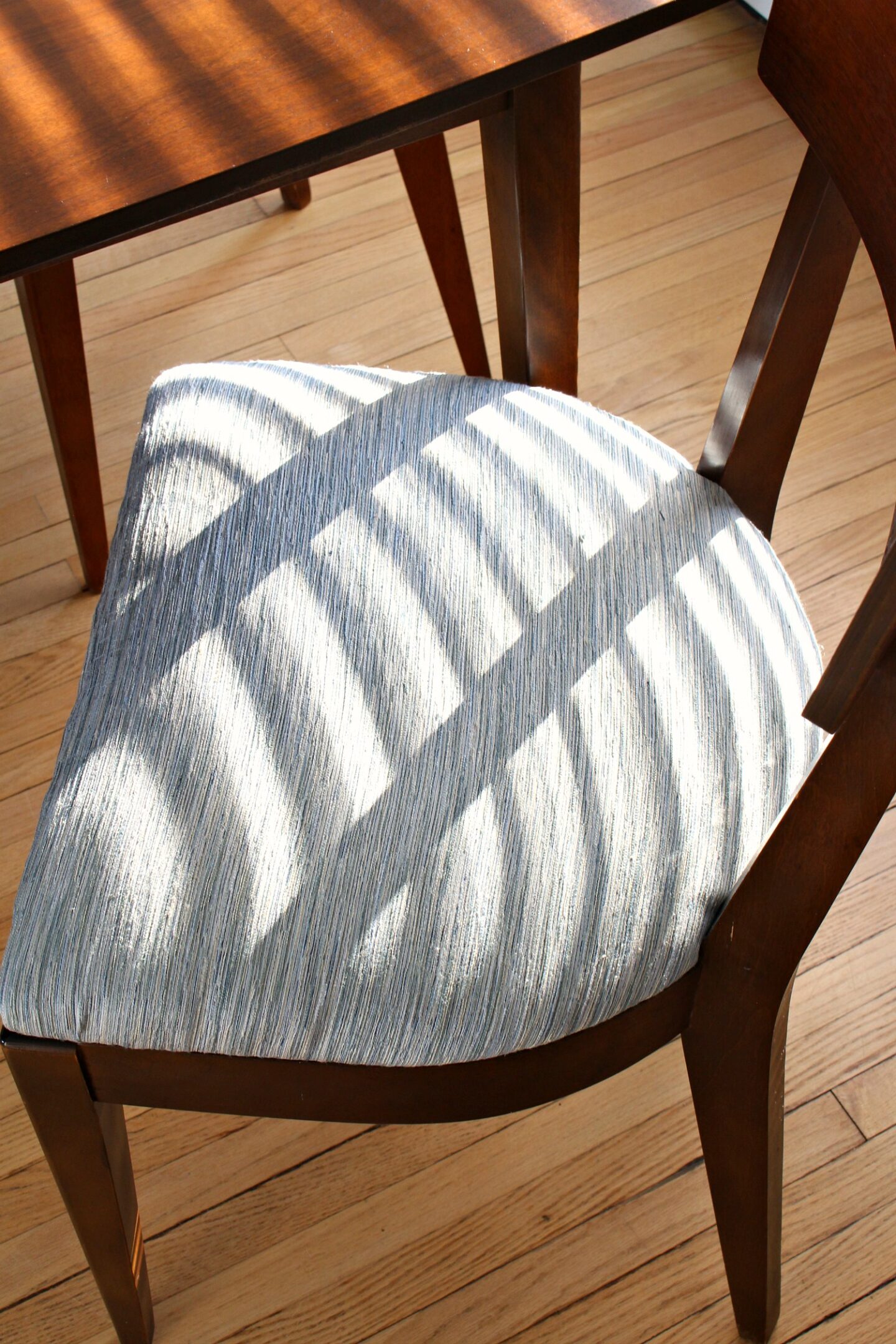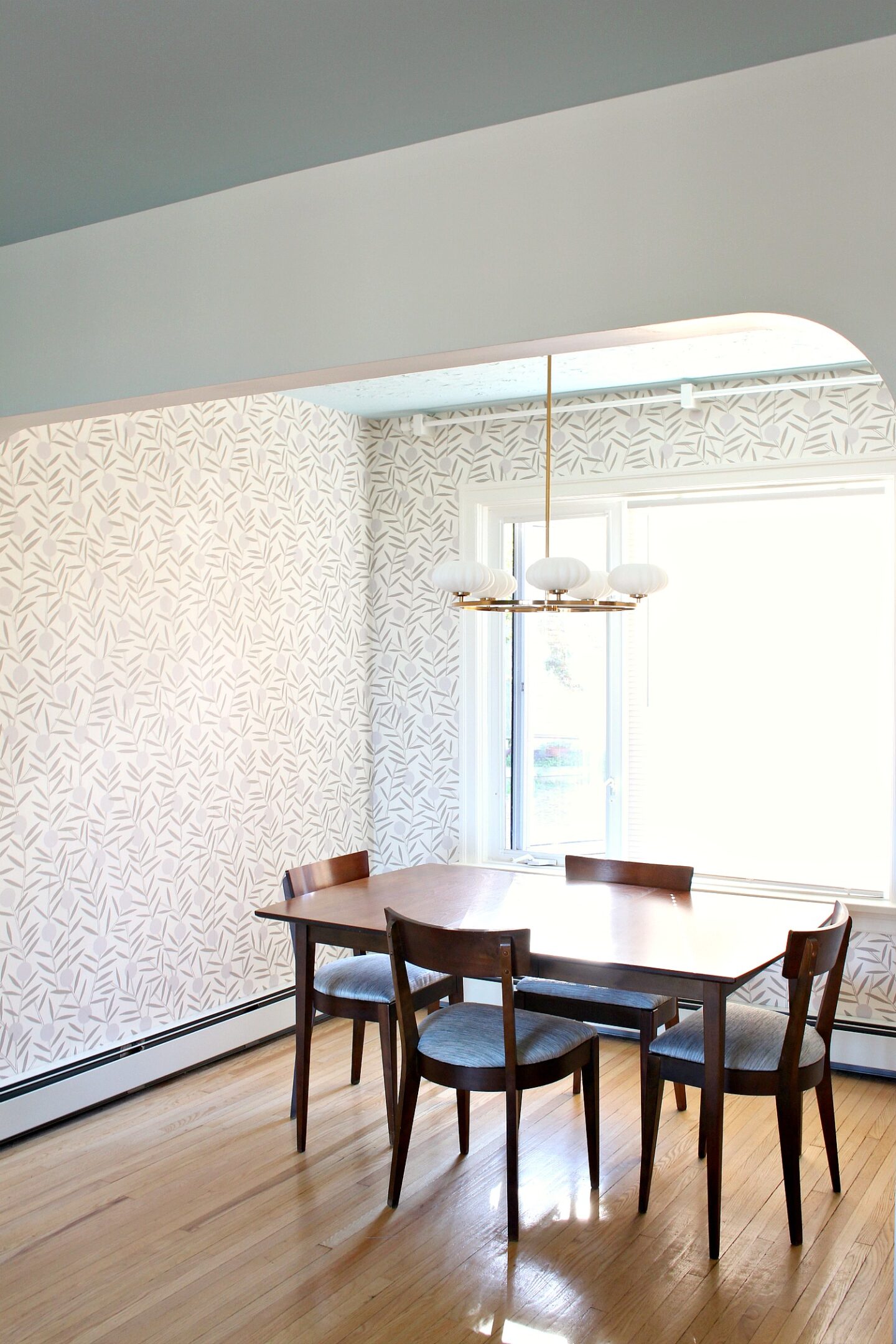 Stay tuned because I'm sharing more projects from my Mom's dining room makeover and I hope to share the final reveal very soon! This is a half-finished look and just wait until you see the rug and curtains and artwork – and the dark teal/blue fireplace makeover!!