I've been wanting to make this DIY concrete bowl with embedded amethyst for years! The little bag of amethyst that I earmarked for this project has literally sat on the garage workbench this entire time. What was I waiting for?! This concrete bowl turned out so cool! And now I want to make more, because it was so fun and easy. I'm hoping to drive out to the amethyst mine later this month with hubby. You sort of "pick" your own and it's $4 per lb., so get ready for DIY concrete bowls with amethyst chunks in every room. Before I get too deep into my new obsession, I wanted to show you how to make a concrete bowl (with or without the bling).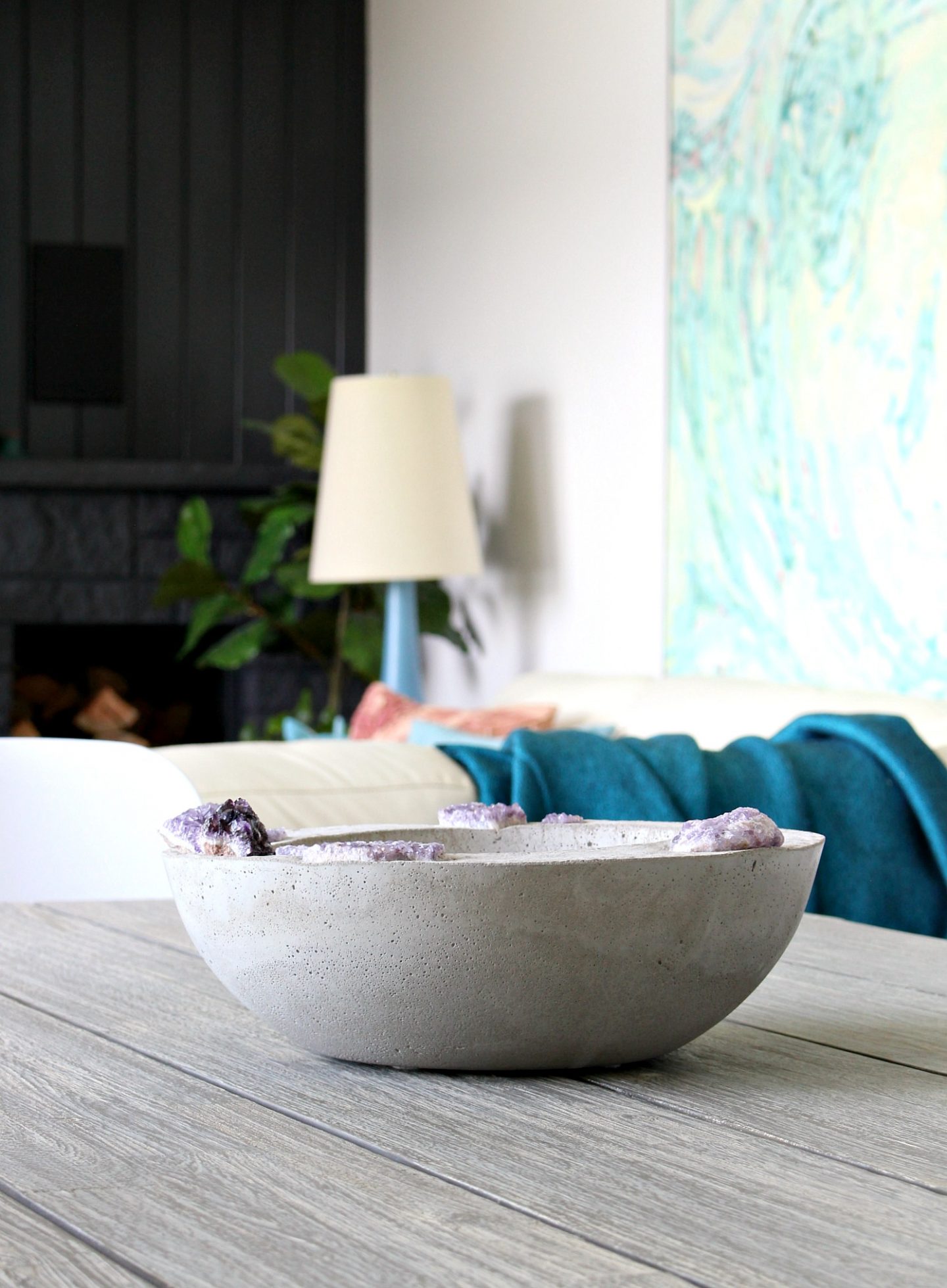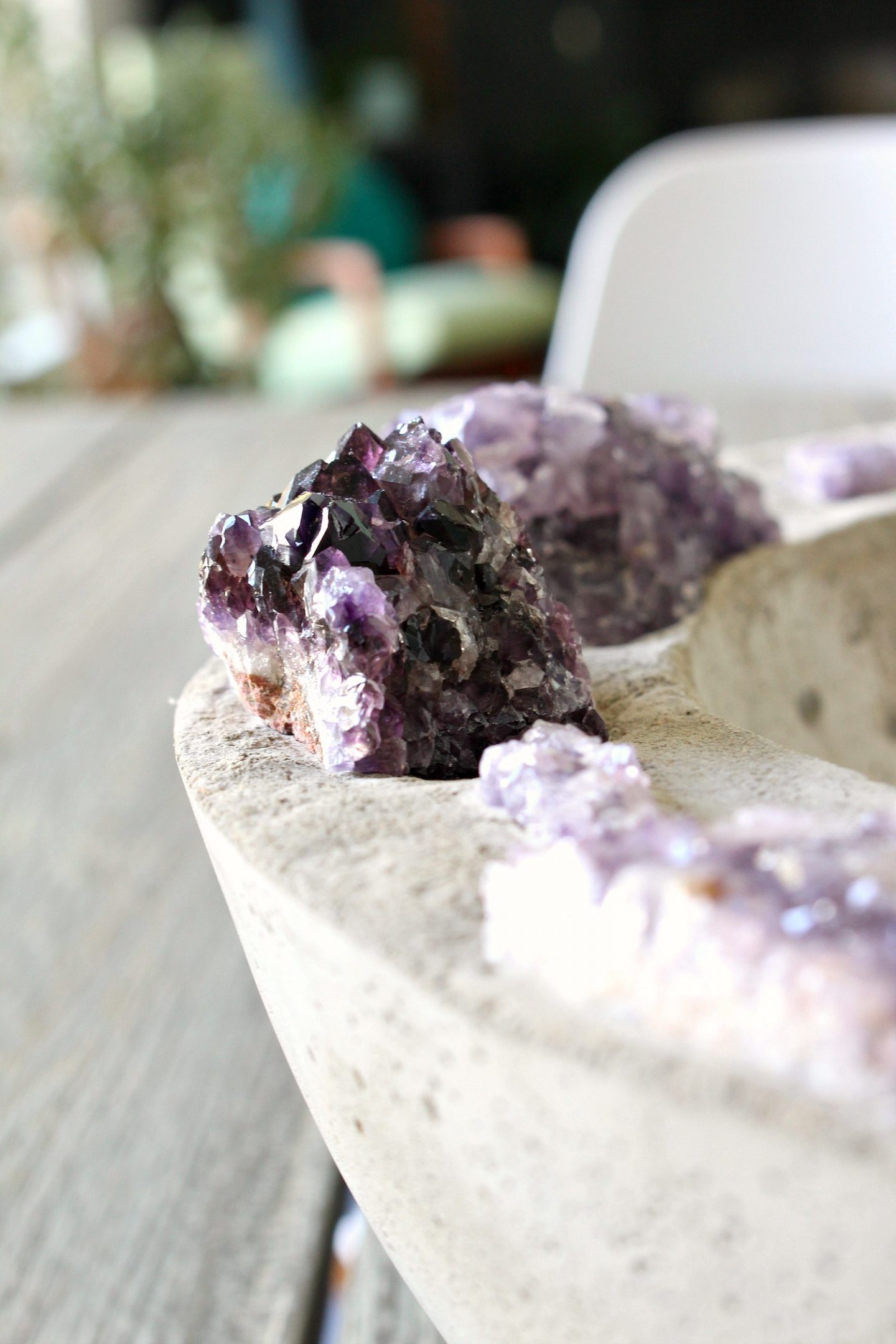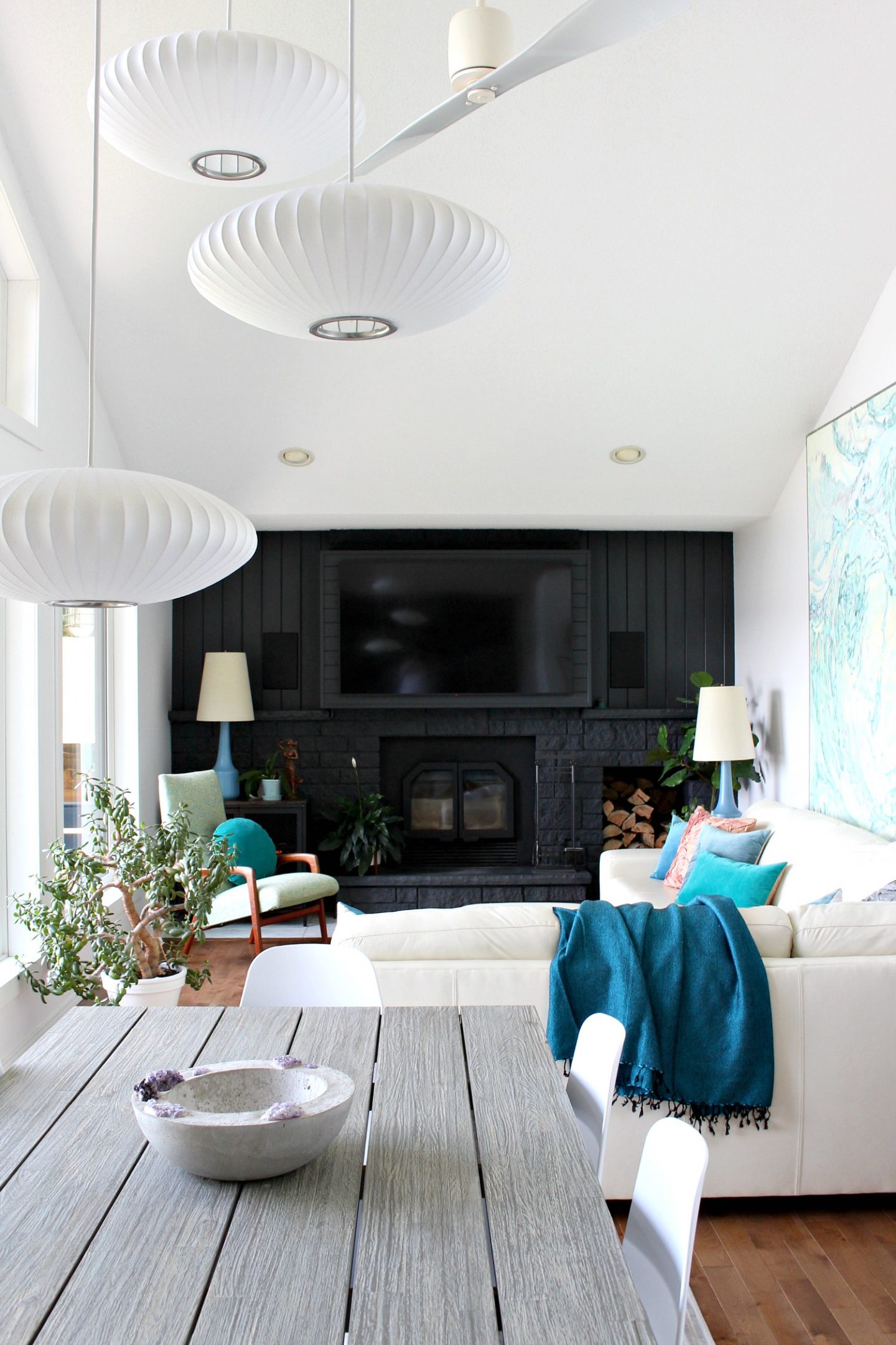 Amethyst has always been a special stone for me because it's mined locally and always reminds me of home. It's so bizarrely plentiful here. My Mom was gardening and literally just found some chunks in the ground. Maybe at one point there was a retaining wall made of it (it used to be common around here), or a kid buried it? In any case, my city has an abundance of this beautiful, semi-precious stone.
Supplies:
Concrete (approx. 15-20 pounds to make a bowl this size, I used 17)
Small spade to mix concrete
Garden hose/water
Two bowls
Pile of rocks
Amethyst or beach stones or other stones to embed
Spray cooking oil (I had some expired stuff, worked perfectly)
Small putty knife (width should match up with thickness of bowl edge)
Fine grit sandpaper (optional)
Adhesive felt feet (optional)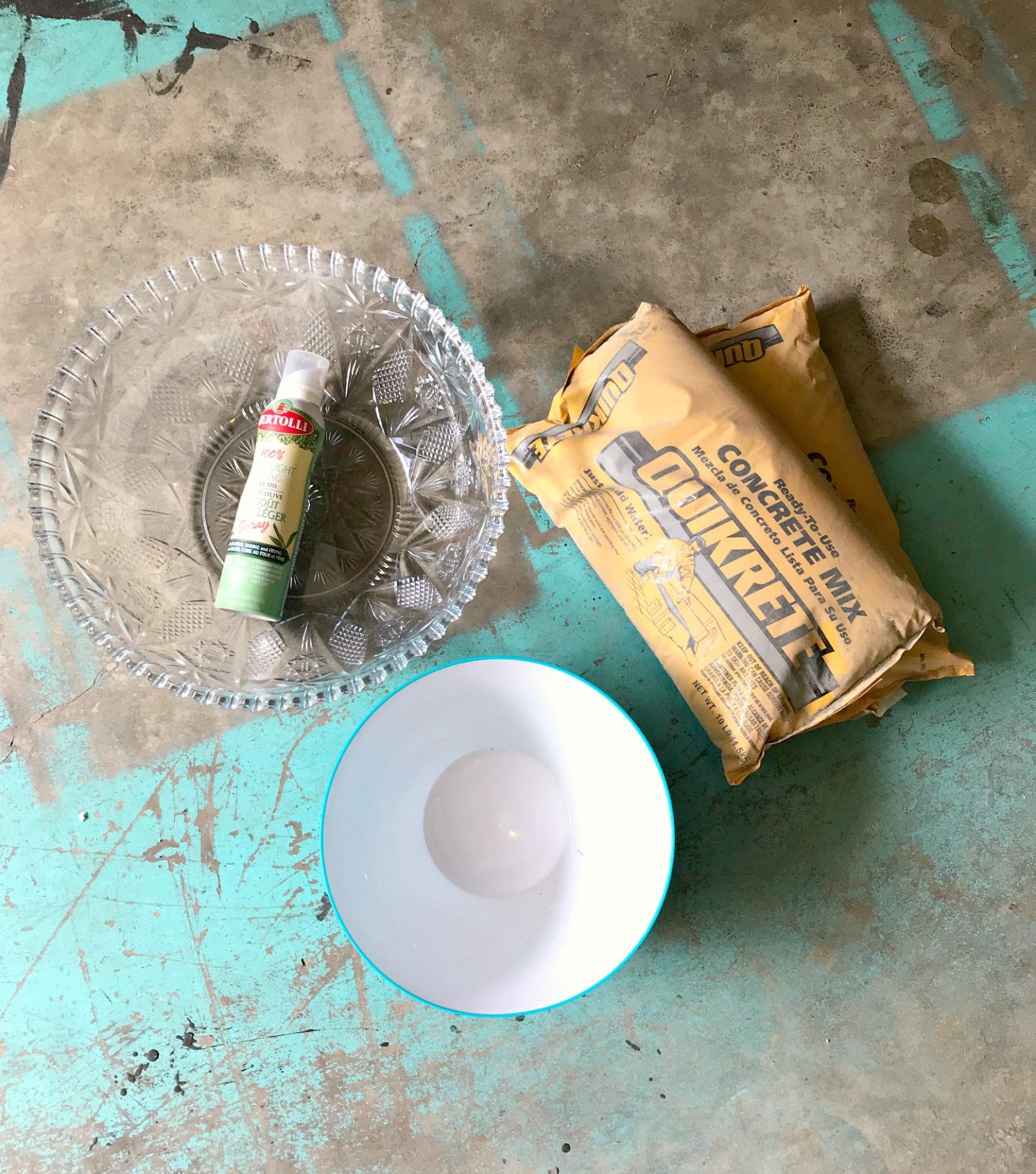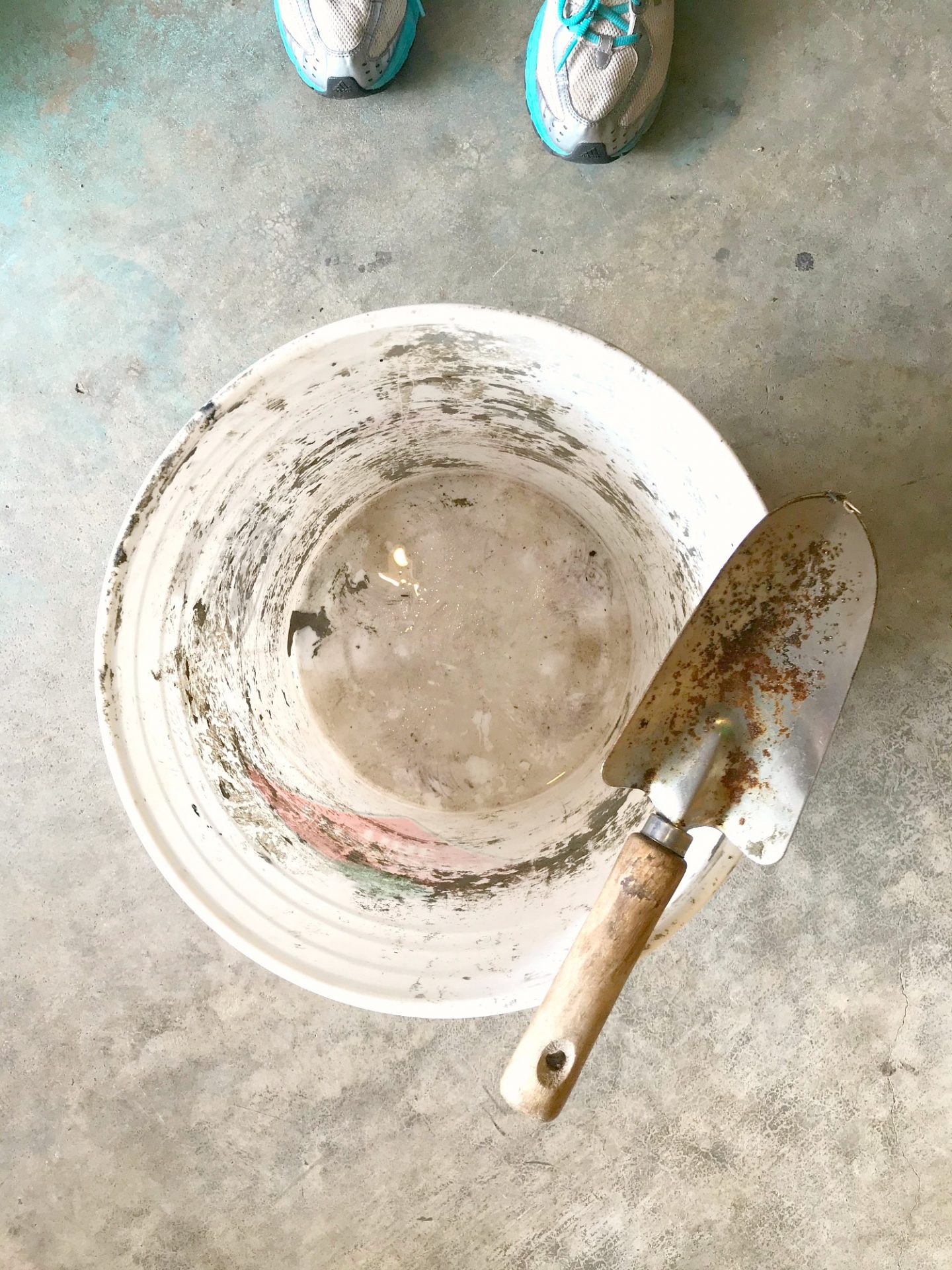 Notes on Supplies:
Concrete: I tried to find quick setting concrete but it was sold out EVERYWHERE locally so I bought this exact concrete, which has a setting time of four hours. If you use quick setting concrete you'll have to adjust the time and embed the stones much earlier.
Bowls: I found my bowls at the dollar store – look for a shape you like and pay attention to the interior of the larger bowl and the exterior of the smaller bowl because that will ultimately shape the "style" of your finished bowl. An interior bowl with a little flex makes this easier, so I chose plastic for both bowls and the concrete popped out easily. My larger bowl has an approx. diameter of 13″ and is 4″ high, while the inner bowl has a diameter of 9″.
Amethyst: I rounded up a few links to affordable-ish chunks of amethyst, but check out Etsy, Amazon, or local gem shops. Pay attention to the size and make sure the amethyst will fit into the edge of the bowl you're creating. Many of my pieces ended up too large so I broke one with a hammer (wear eye protection!) to create smaller chunks, but the others I have to ear mark for another project. Some amethyst options: $2.40 per piece | $18.95 for 3 big pieces | $4.95 per big chunk | $10.93 for mini set | $11.49 for 1lb.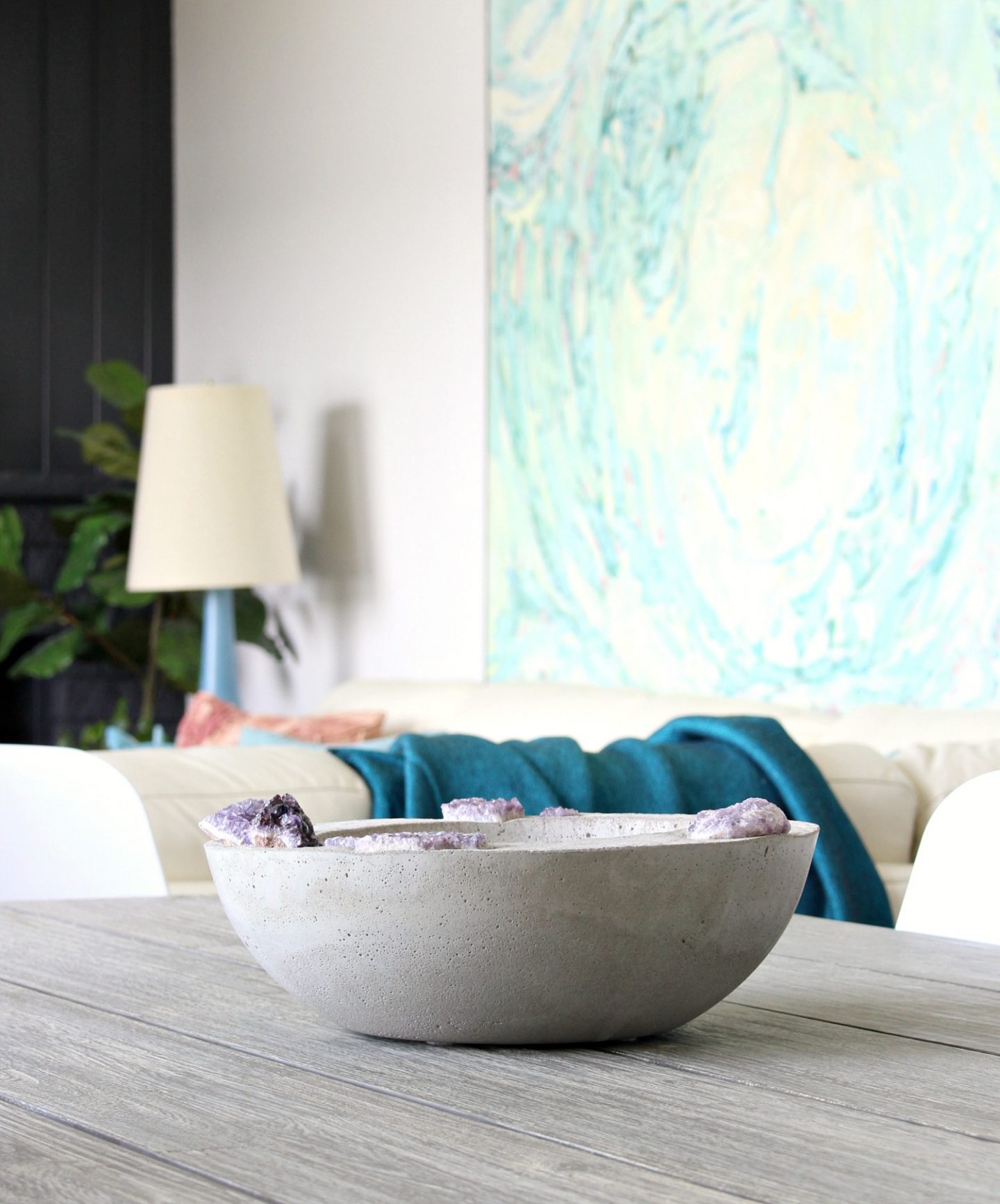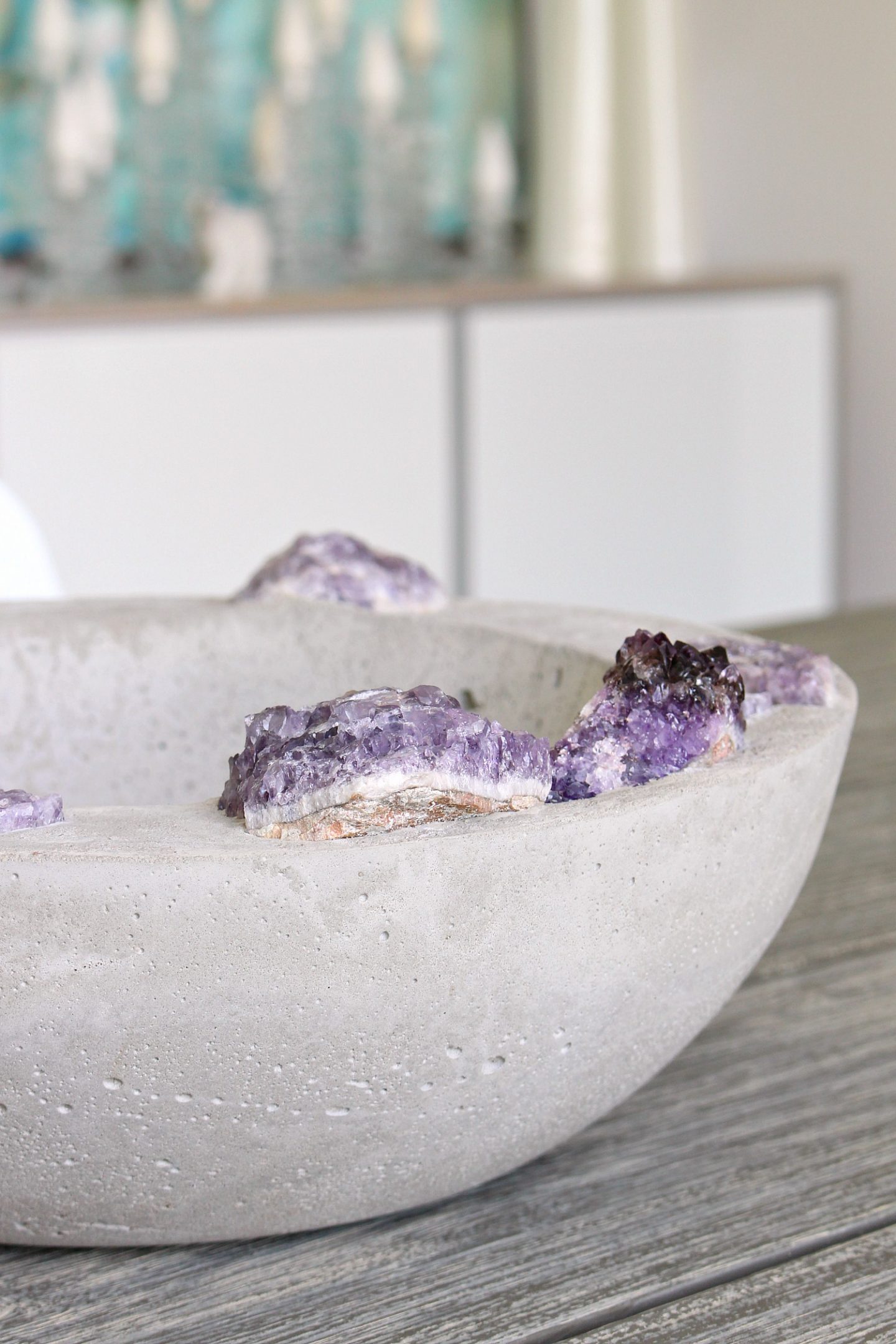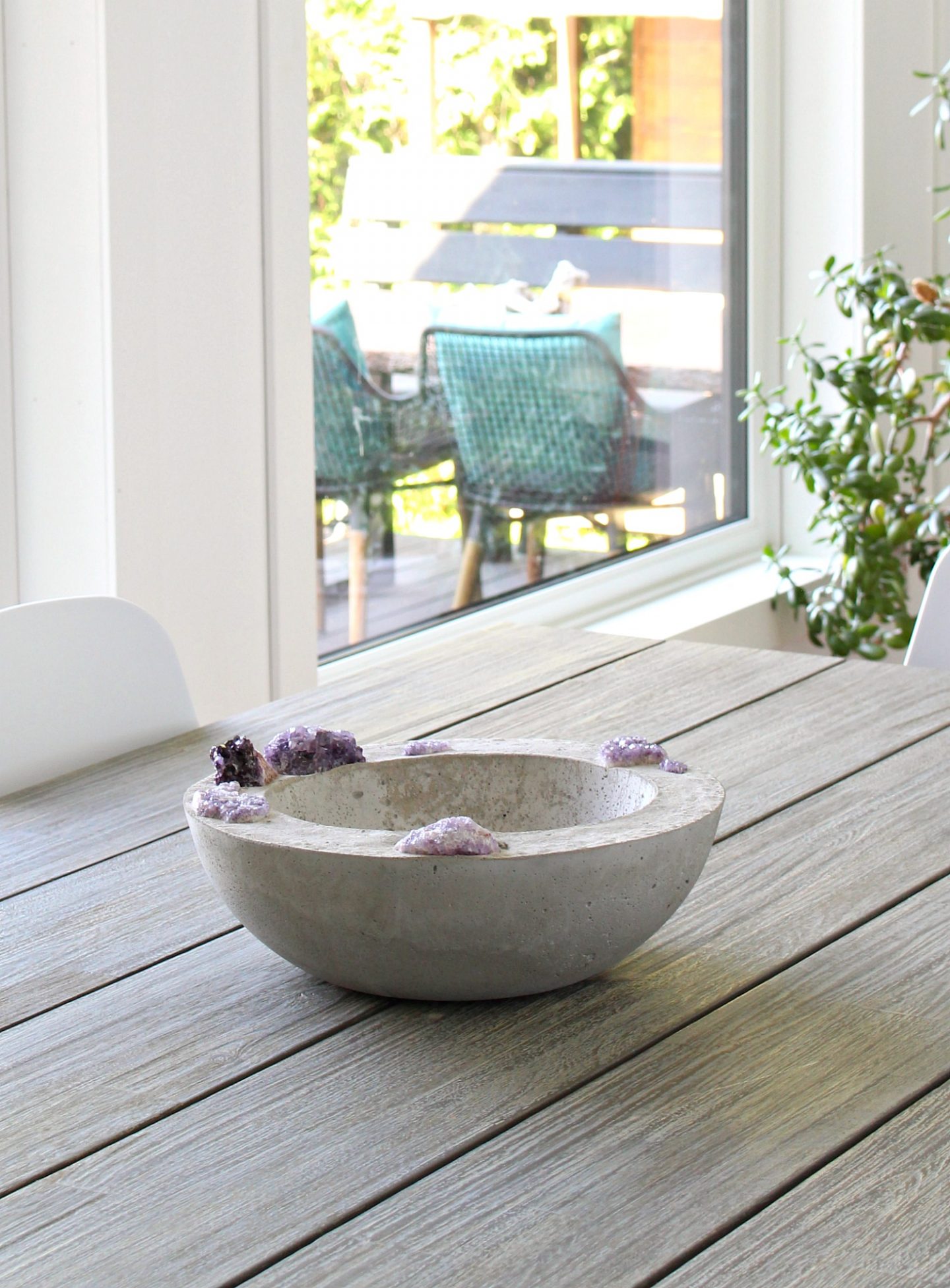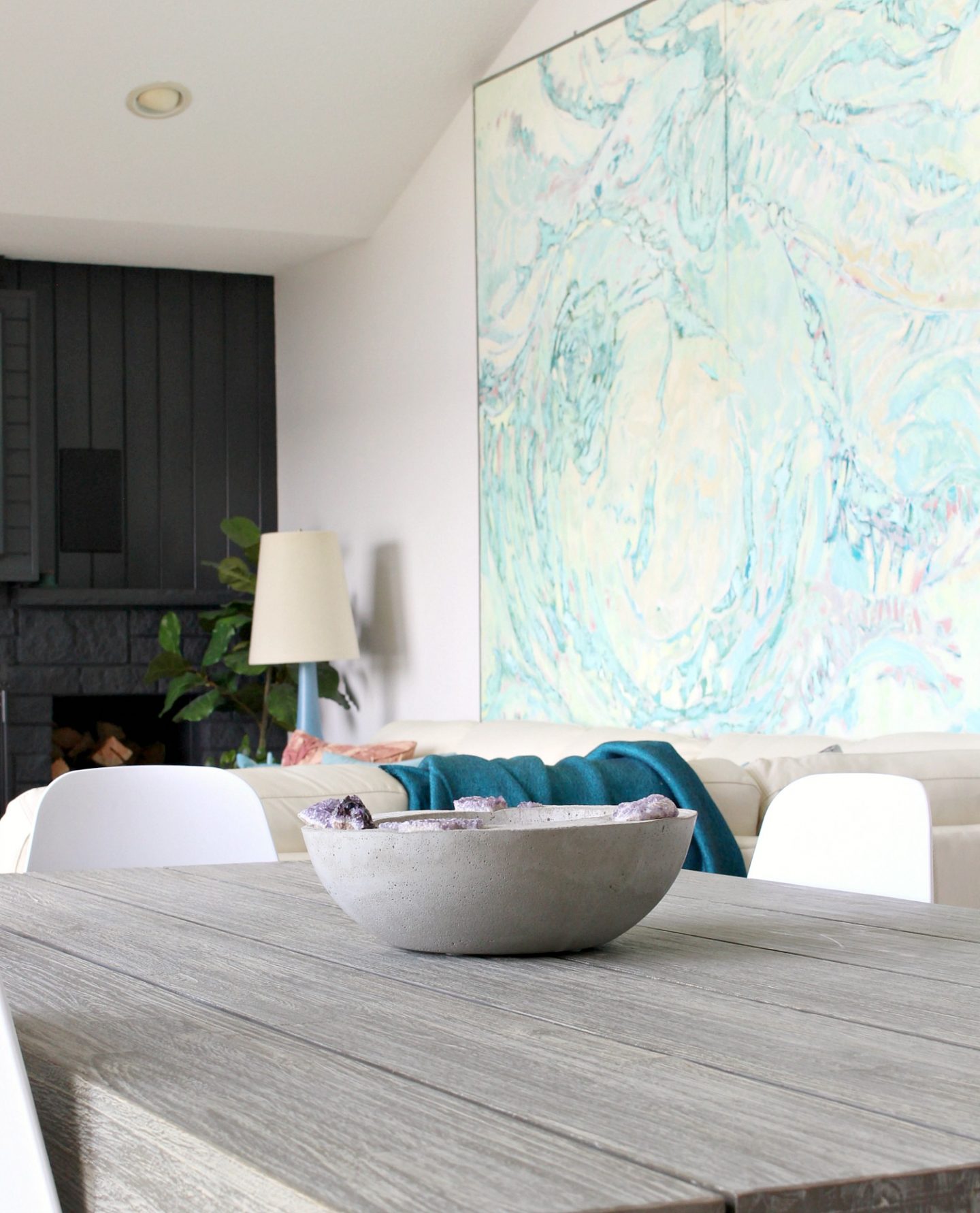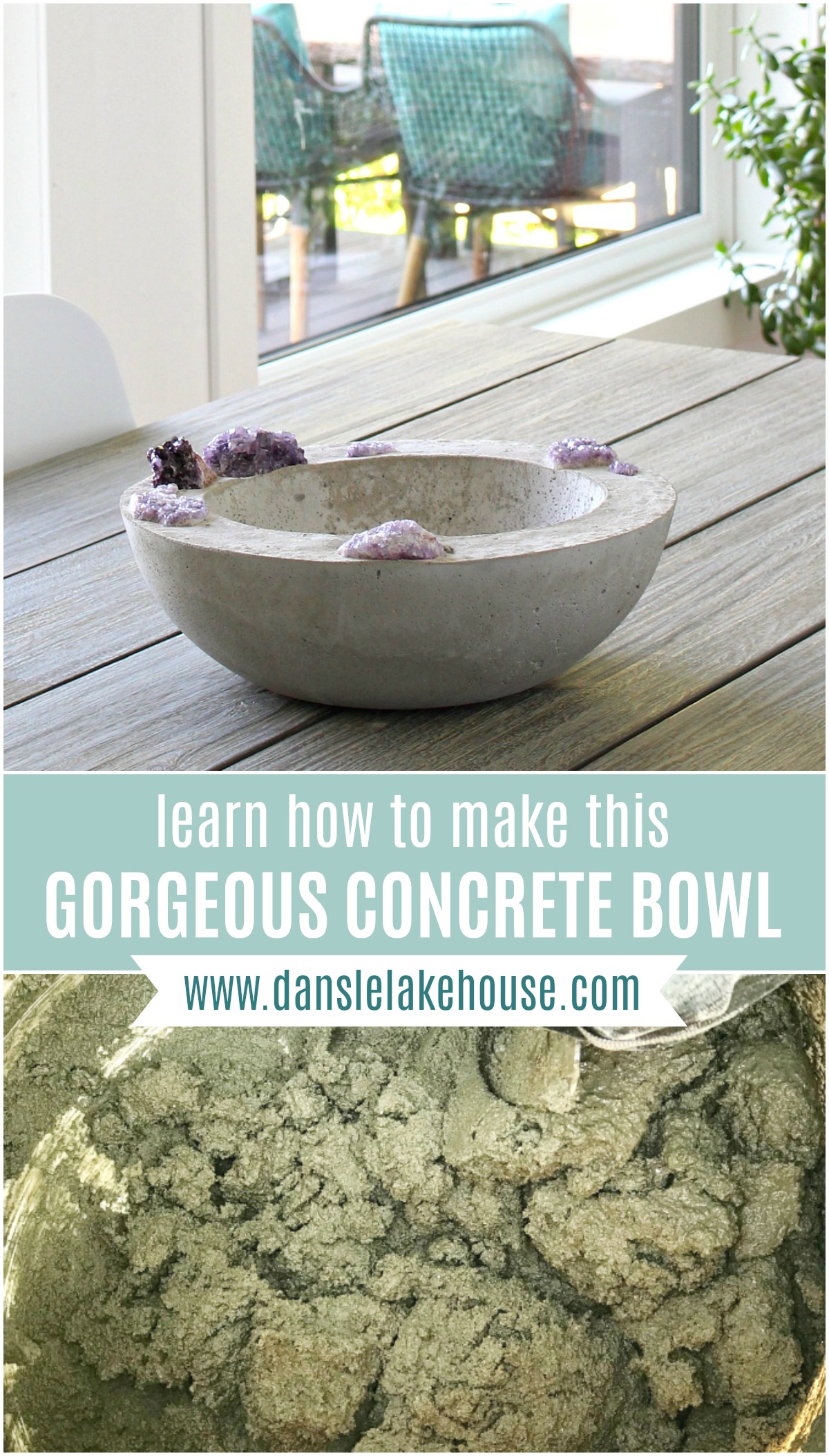 How to Make a DIY Concrete Bowl:
First, coat the inside of the larger bowl and the outside of the smaller bowl with a thin coat of cooking spray. Don't do this on your concrete garage floor (trust me) – do it outside on the lawn. I almost bit it when I slipped on the over spray running to get something from the back of the garage.
Mix up the concrete according to the instructions on the bag, adding extra water if needed – you want the consistency of pancake batter.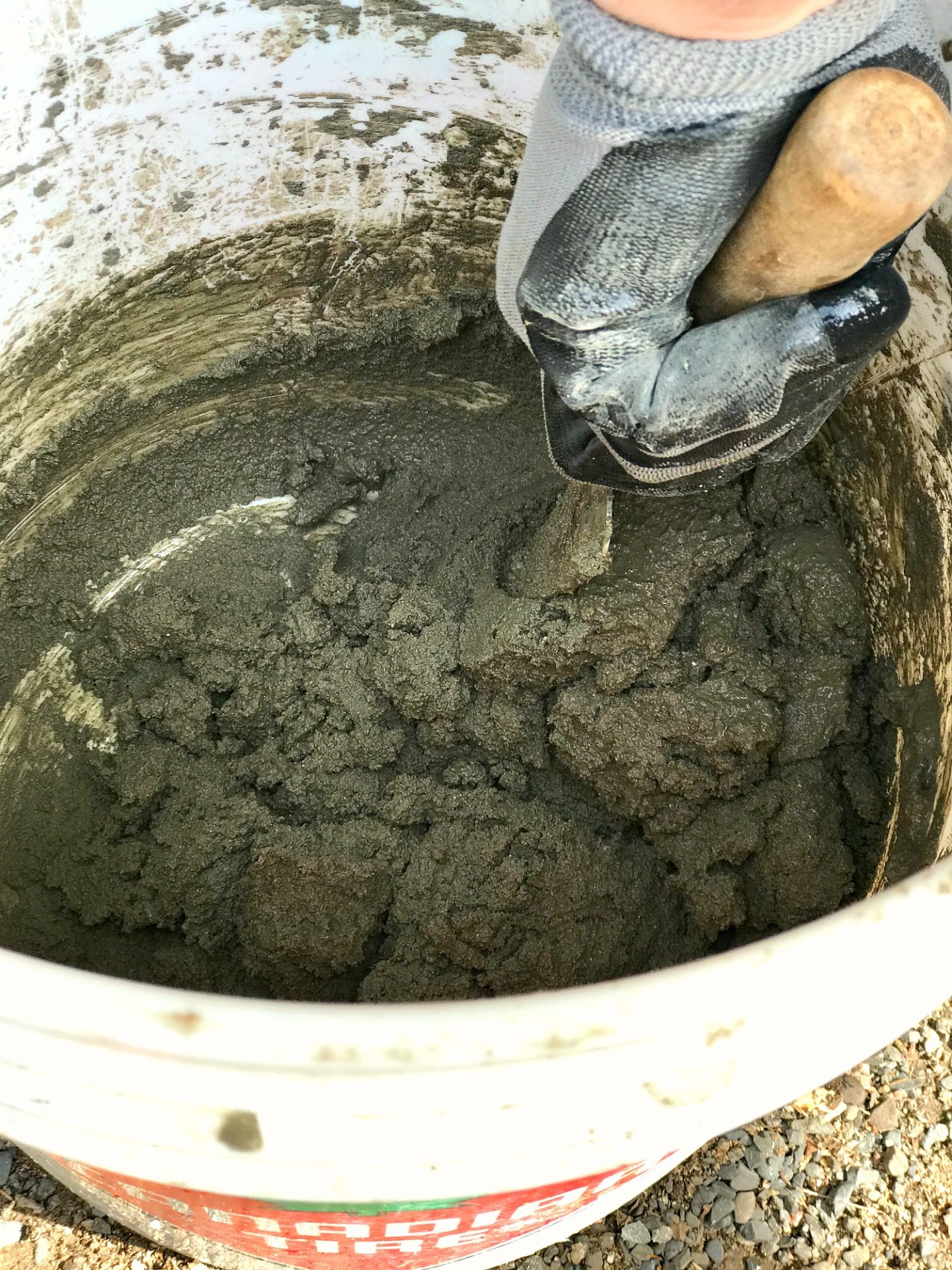 It can't be too stiff or chunky because it needs to be able to be poured and then level itself in the bowl.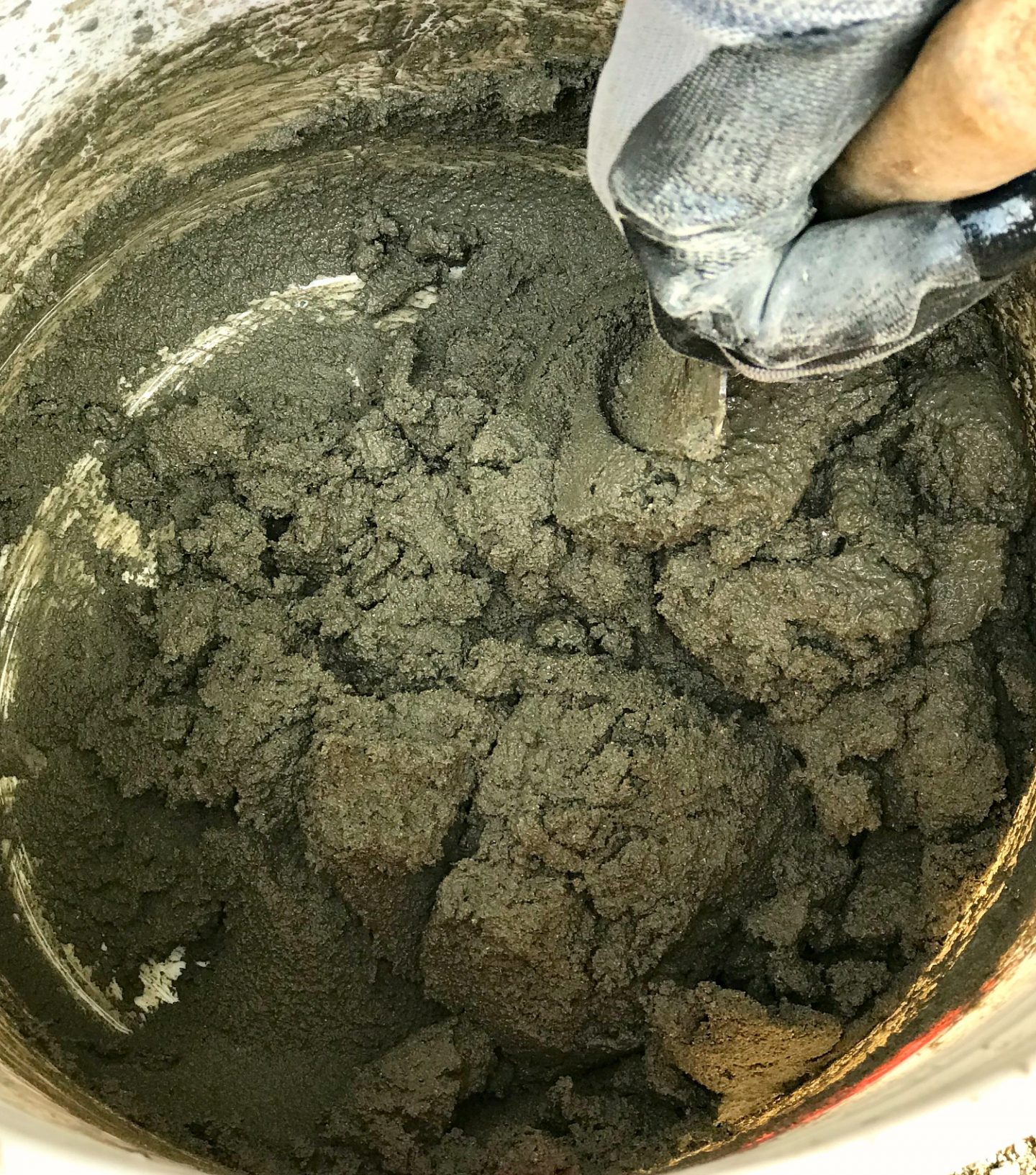 Pour the concrete into the larger bowl, approx. 3/4 of the way.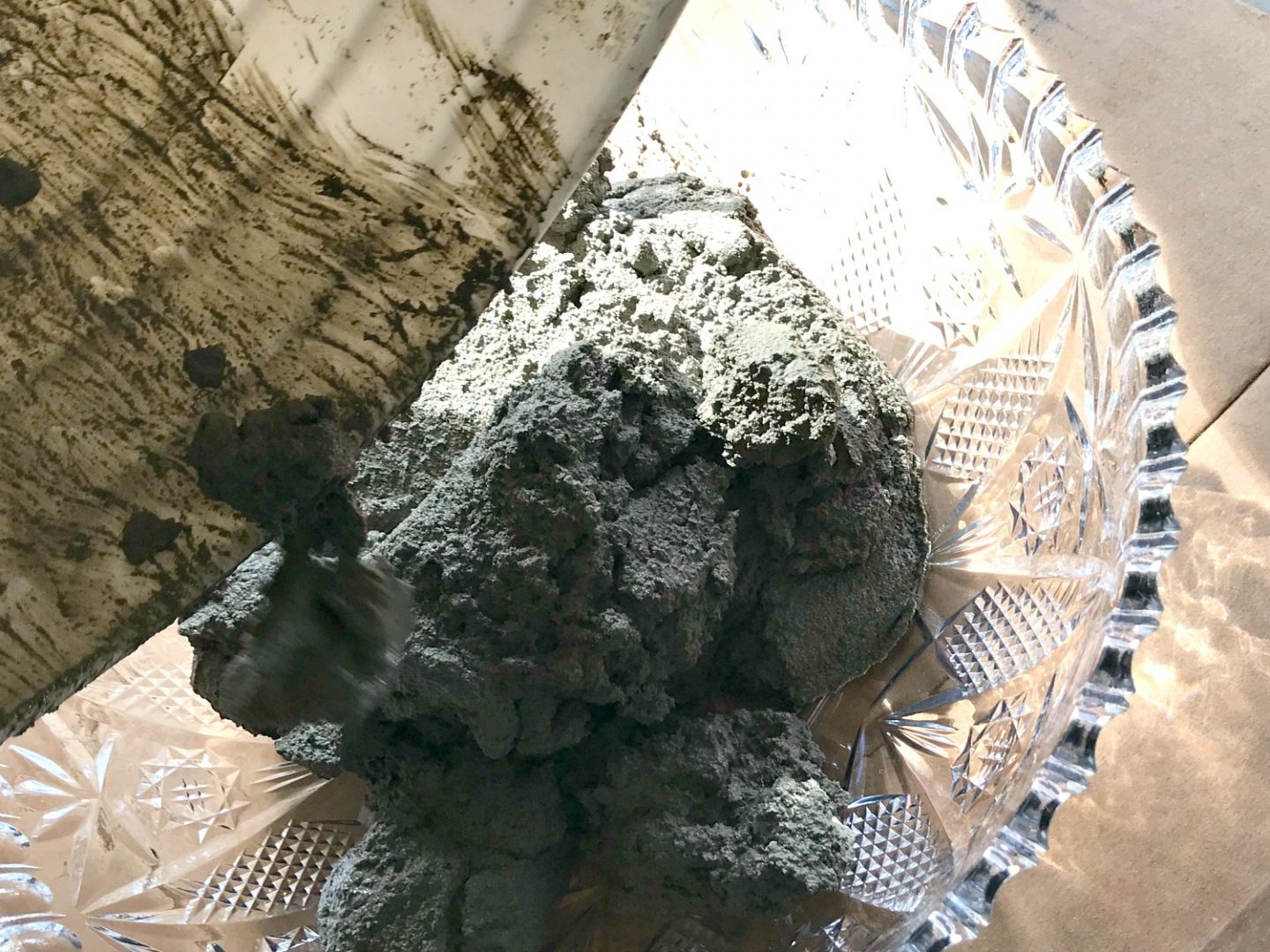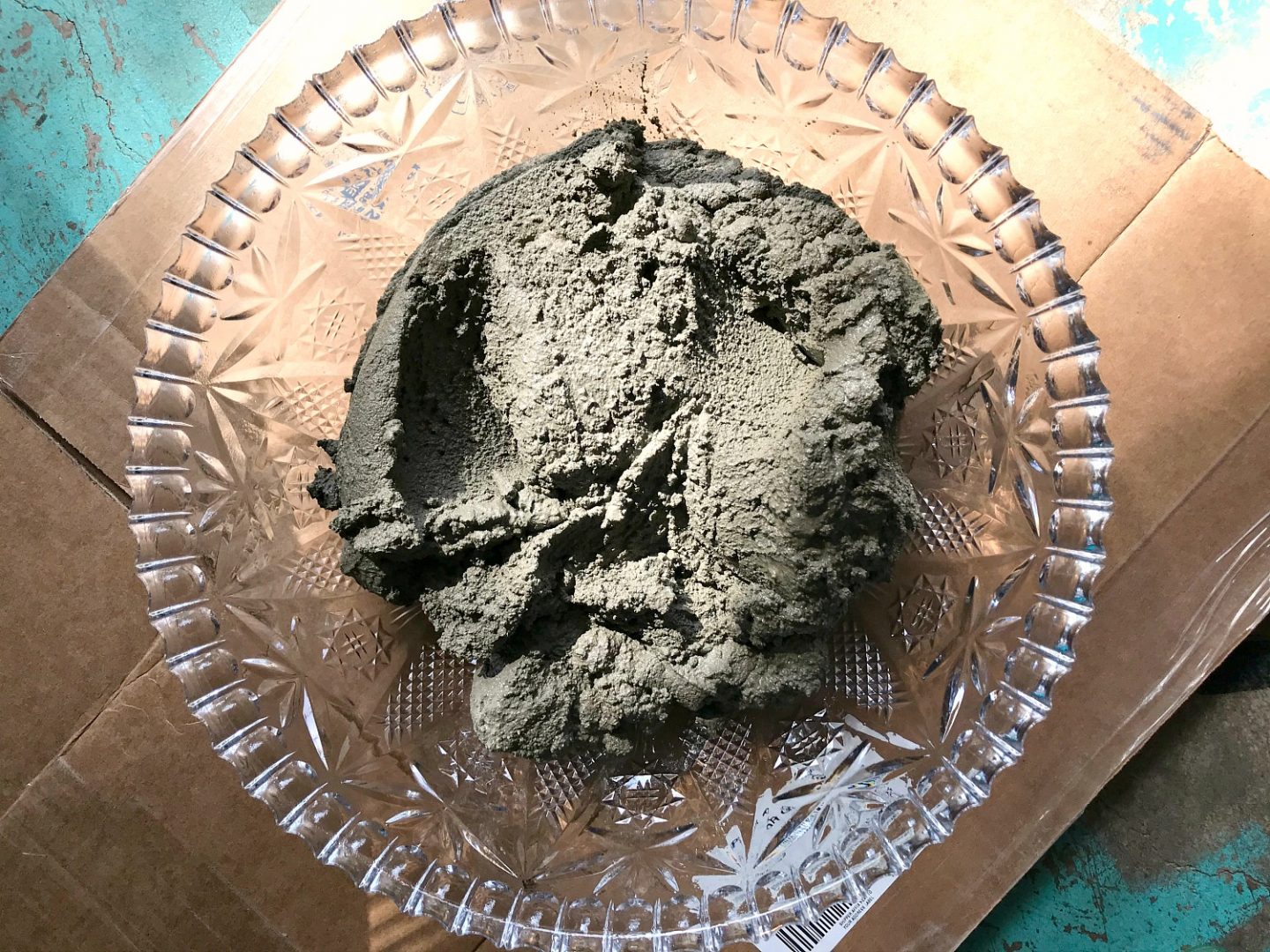 Press the smaller bowl into the concrete and weigh down with rocks. Before you mix the concrete, experiment with the depth of the smaller bowl and mark the outside so you know how much to press it into the concrete – you don't want a super thick or super thin bottom. Truth be told, I eye-balled it, but I suggest figuring out the depth ahead of time.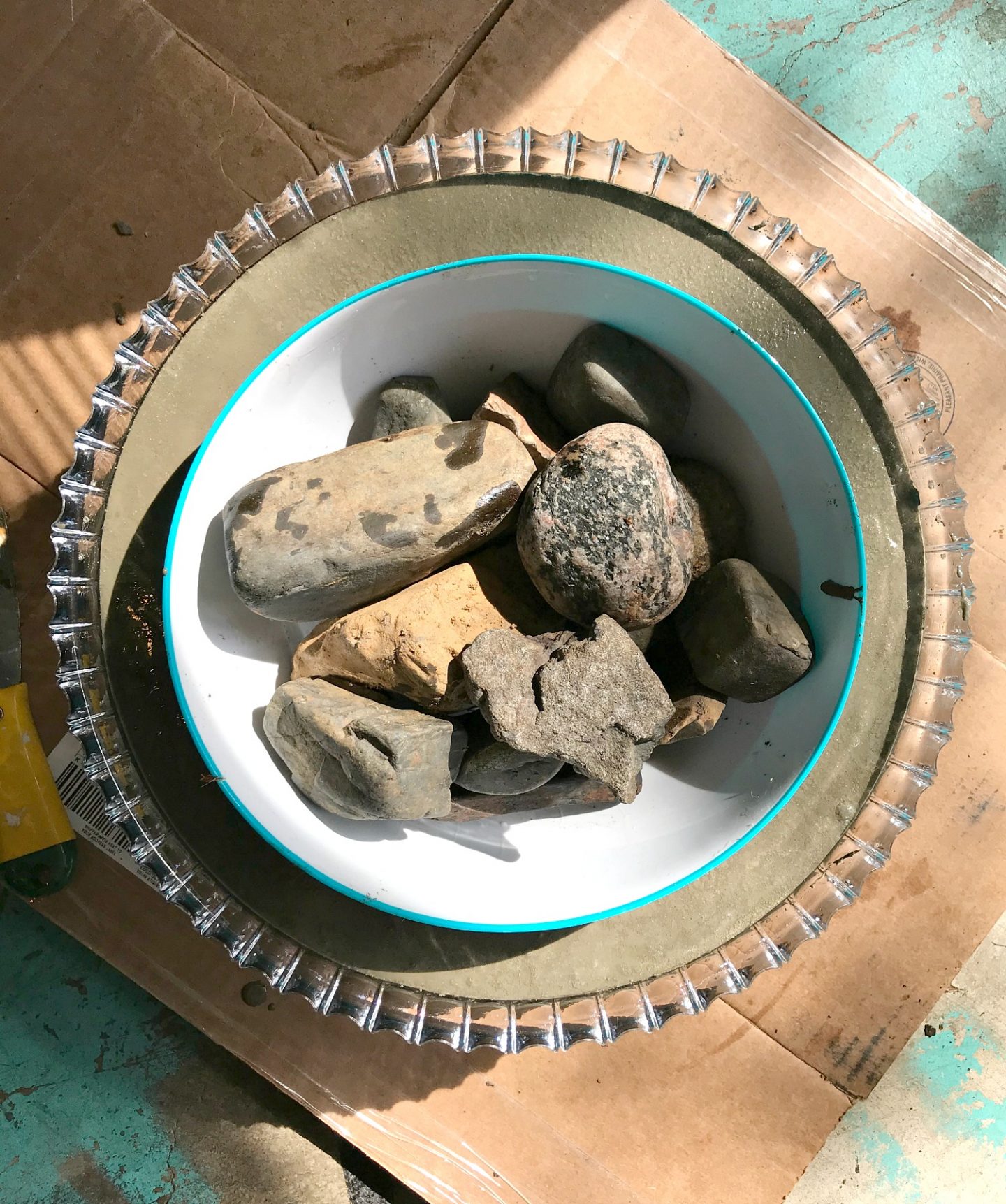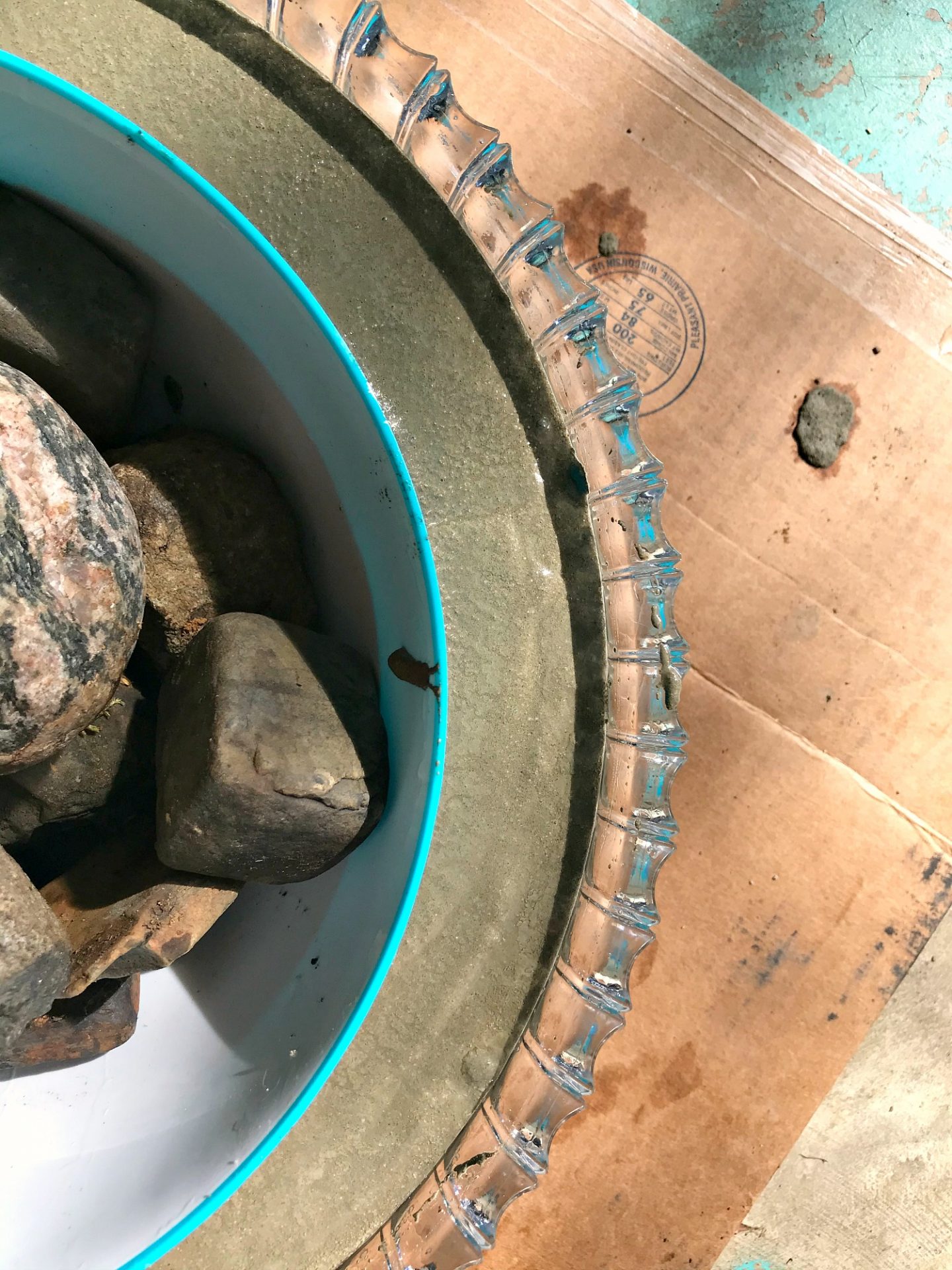 Use the putty knife to smooth the top edge of the bowl.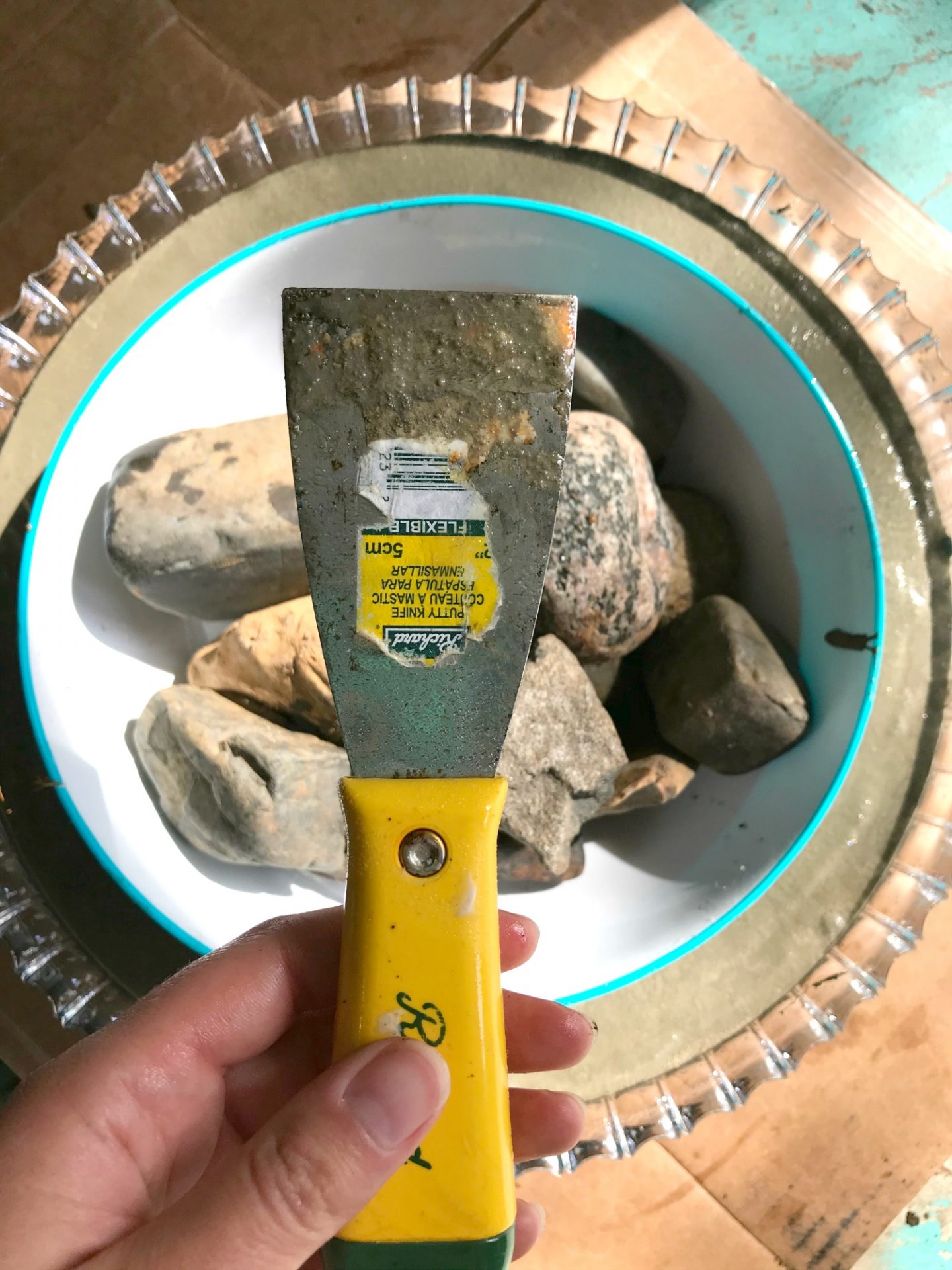 Tap the bowl to help remove bubbles – you can bang it on a surface to really remove them, but I didn't want to risk shattering my plastic bowls – and I wanted air bubbles anyway. I think the bubbles and imperfections add to the aesthetic here.
Let the DIY concrete bowl set for approx. 1.5-2 hours (dry times might vary if you live somewhere hotter/dryer) before adding the amethyst. For me, where it's pretty dry and it was a warm-ish day, two hours was the max. You want the concrete firm enough that it will hold the amethyst and it won't sink. Gently press the amethyst into the edge of the bowl. I gently tapped the outside of the bowl again to help things settle back into place.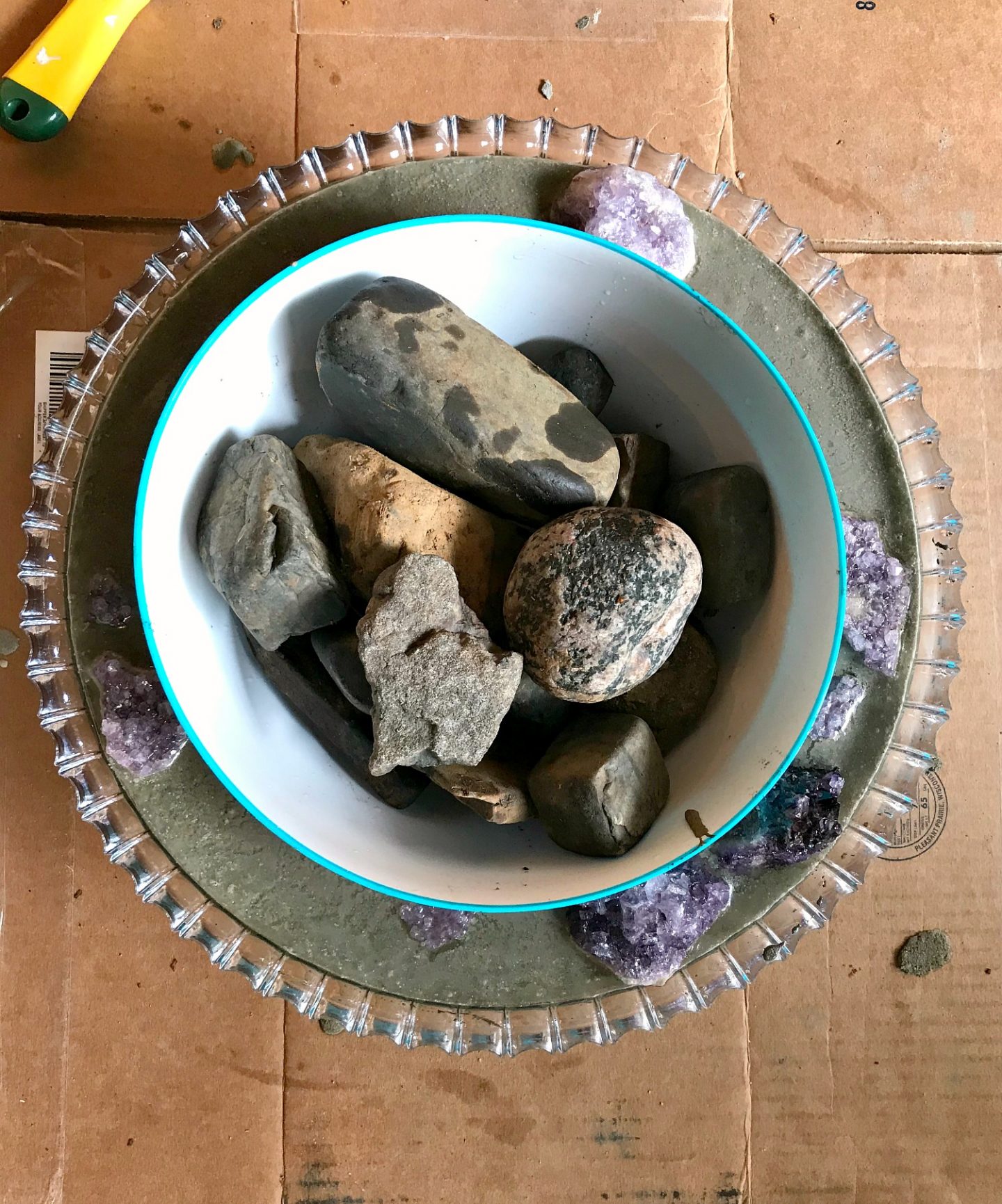 Let the DIY concrete bowl sit, undisturbed, overnight.
The next morning, remove the rocks from smaller bowl and wiggle it gently to remove it – the smaller bowl should slip right out. Flip the concrete bowl upside down onto a surface (like the lawn or sheet of cardboard) and gentle lift off the bottom plastic bowl.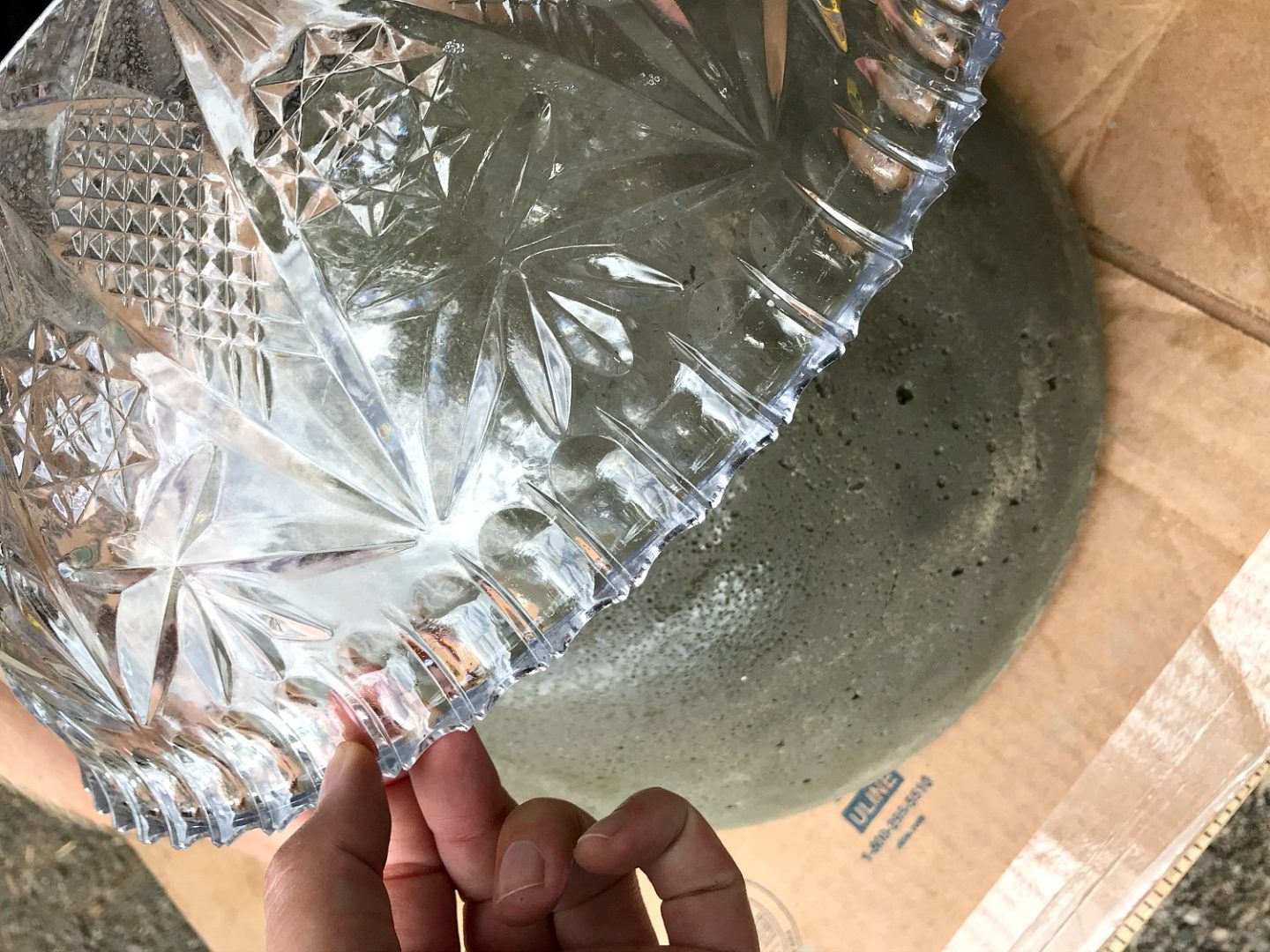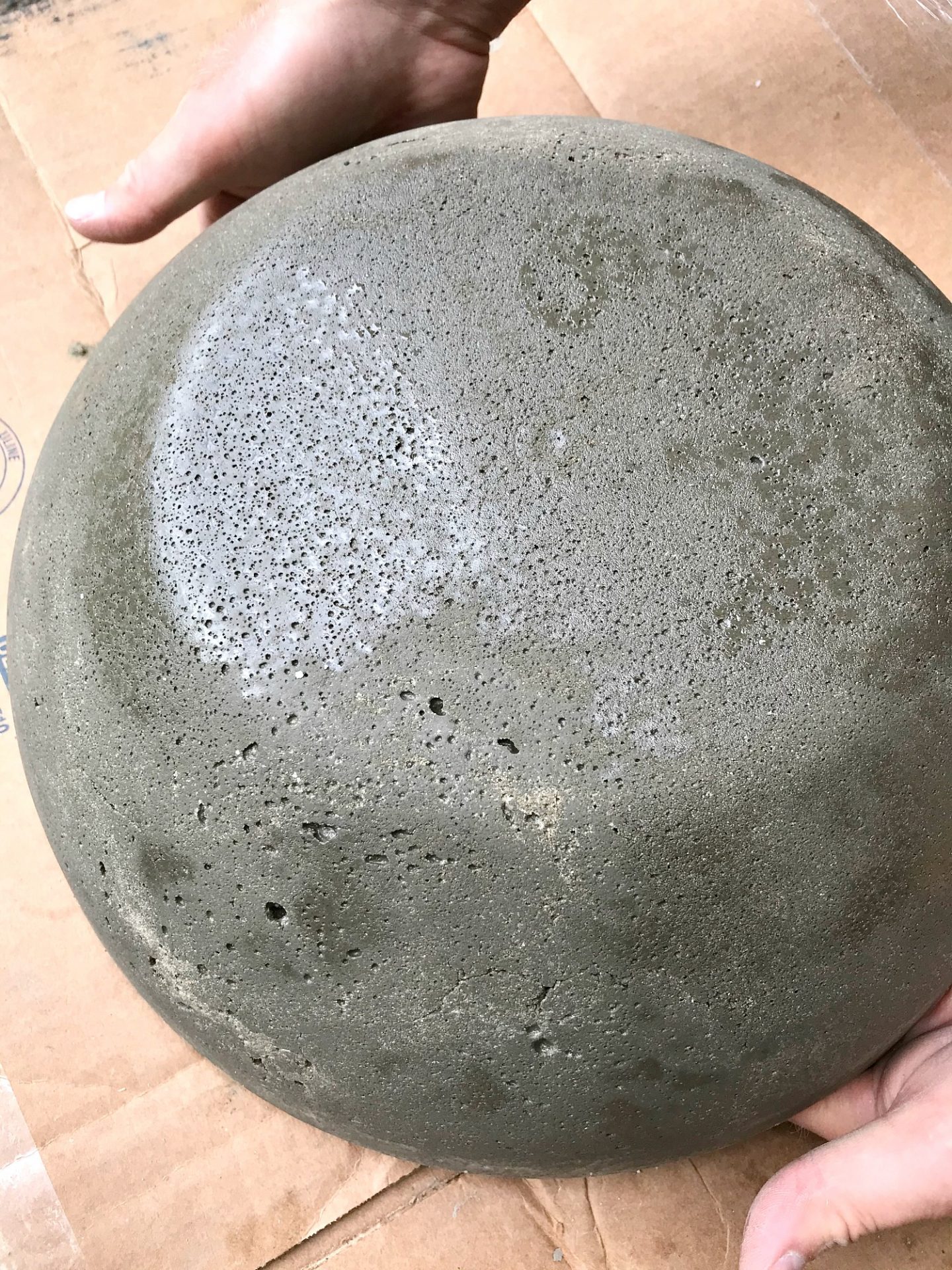 Sand the edges lightly for a smoother finish (optional). Rinse off the finished bowl with a hose to remove any residual oil spray and concrete dust.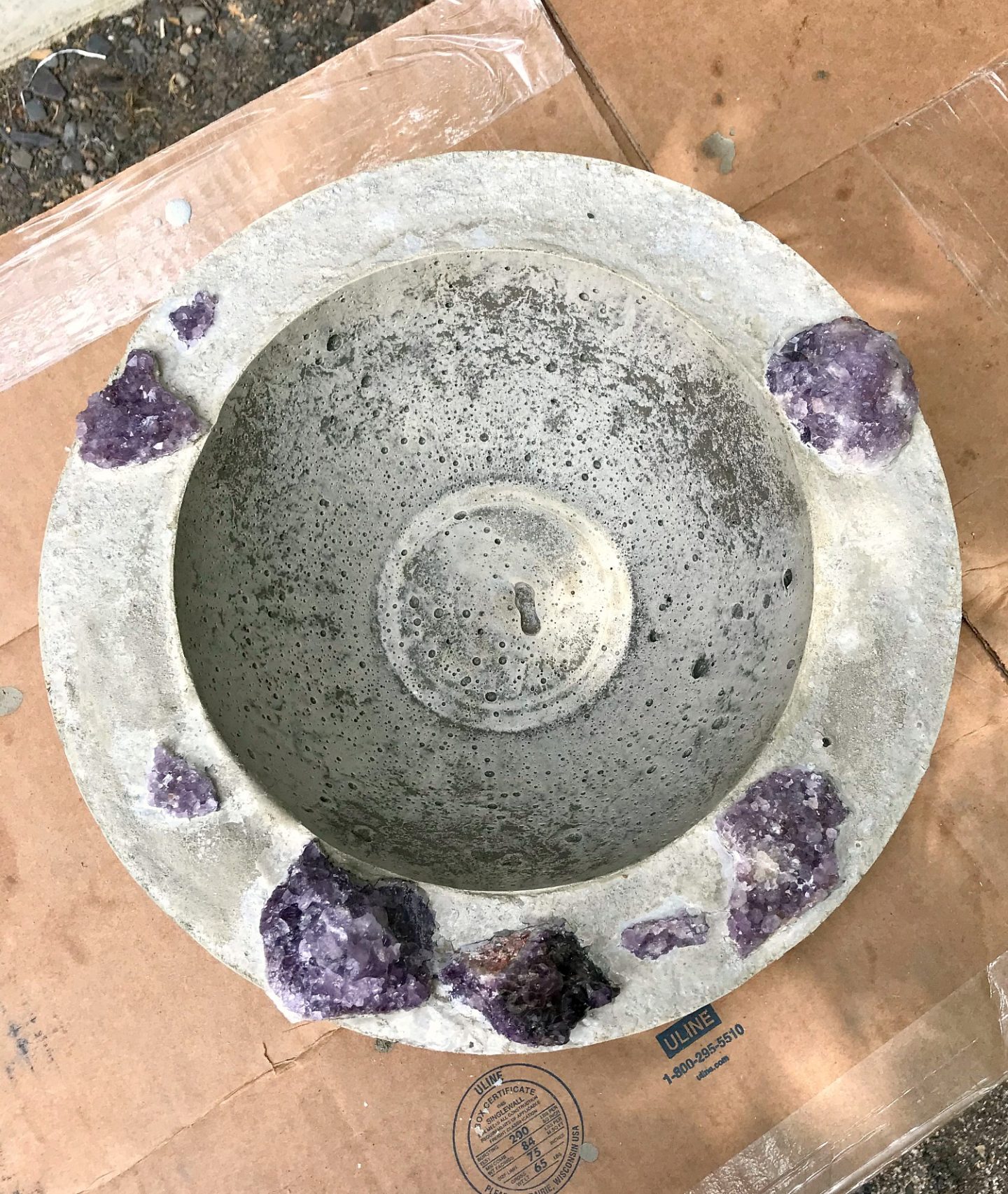 Let dry in the sun. I let it dry overnight again, because concrete can be very porous and I wanted to make sure it was 100% dry before placing on my dining table. I also attached felt feet to protect my table surface, although the concrete is super smooth so I'm overreacting but I have ruined many tables with pots and planters.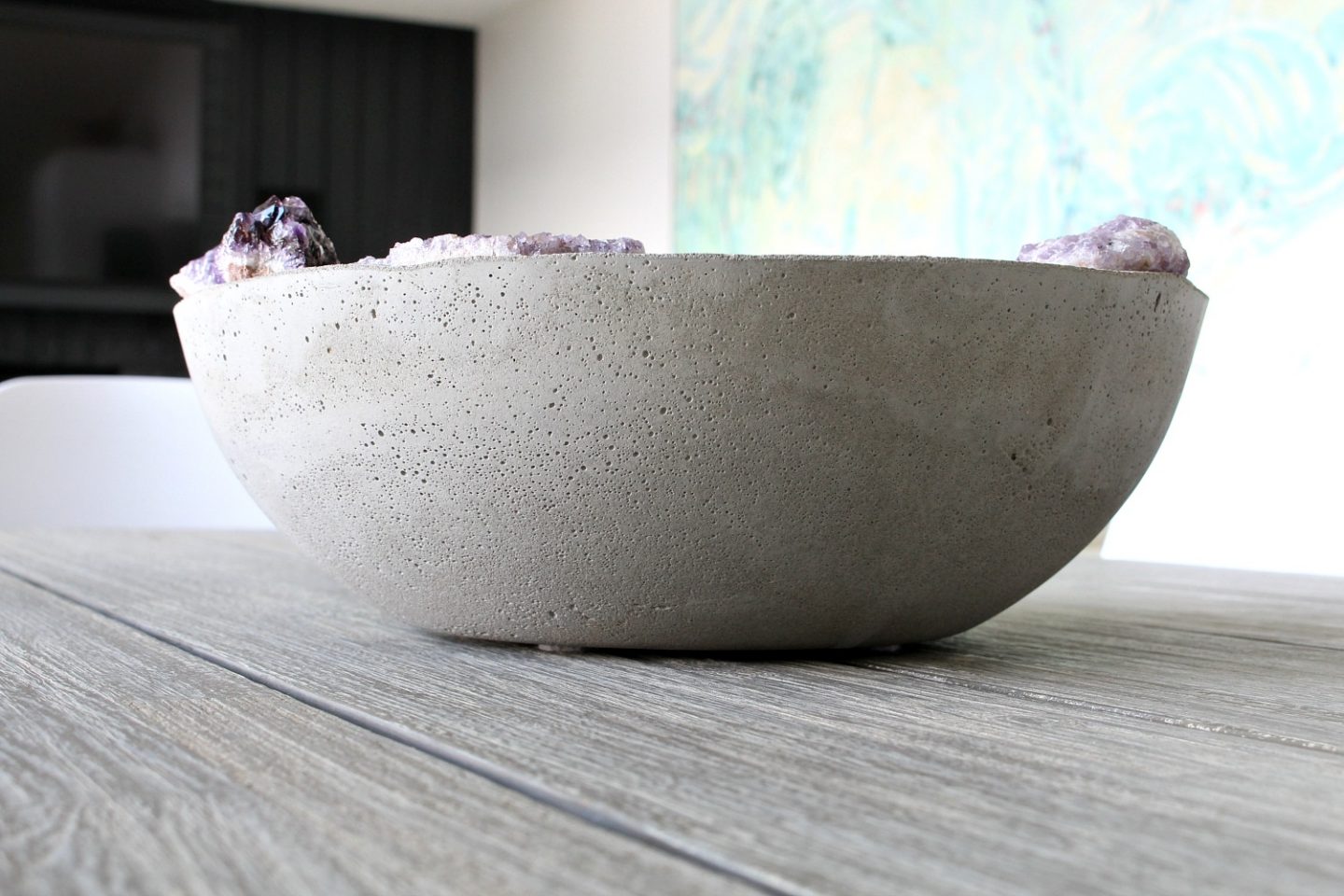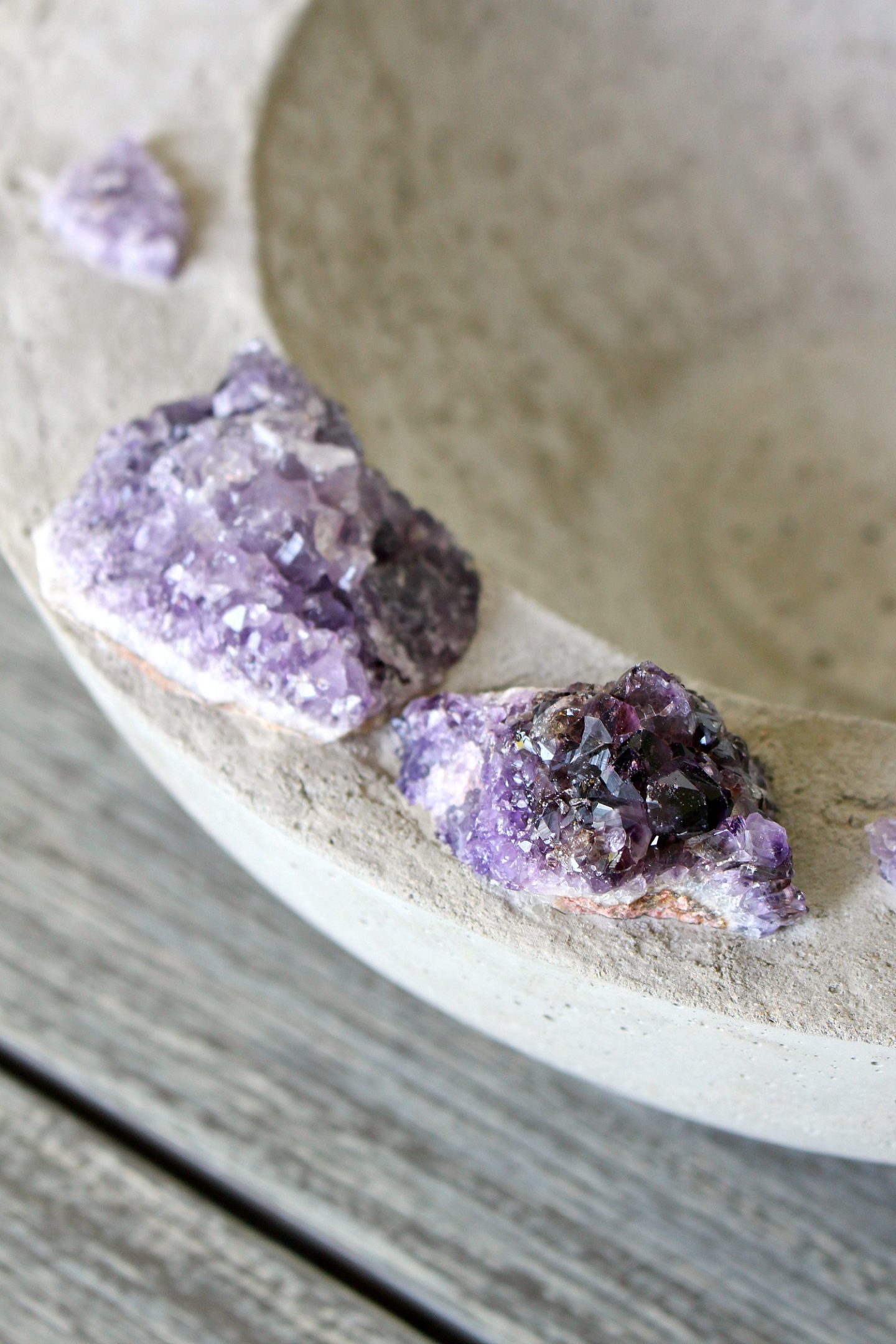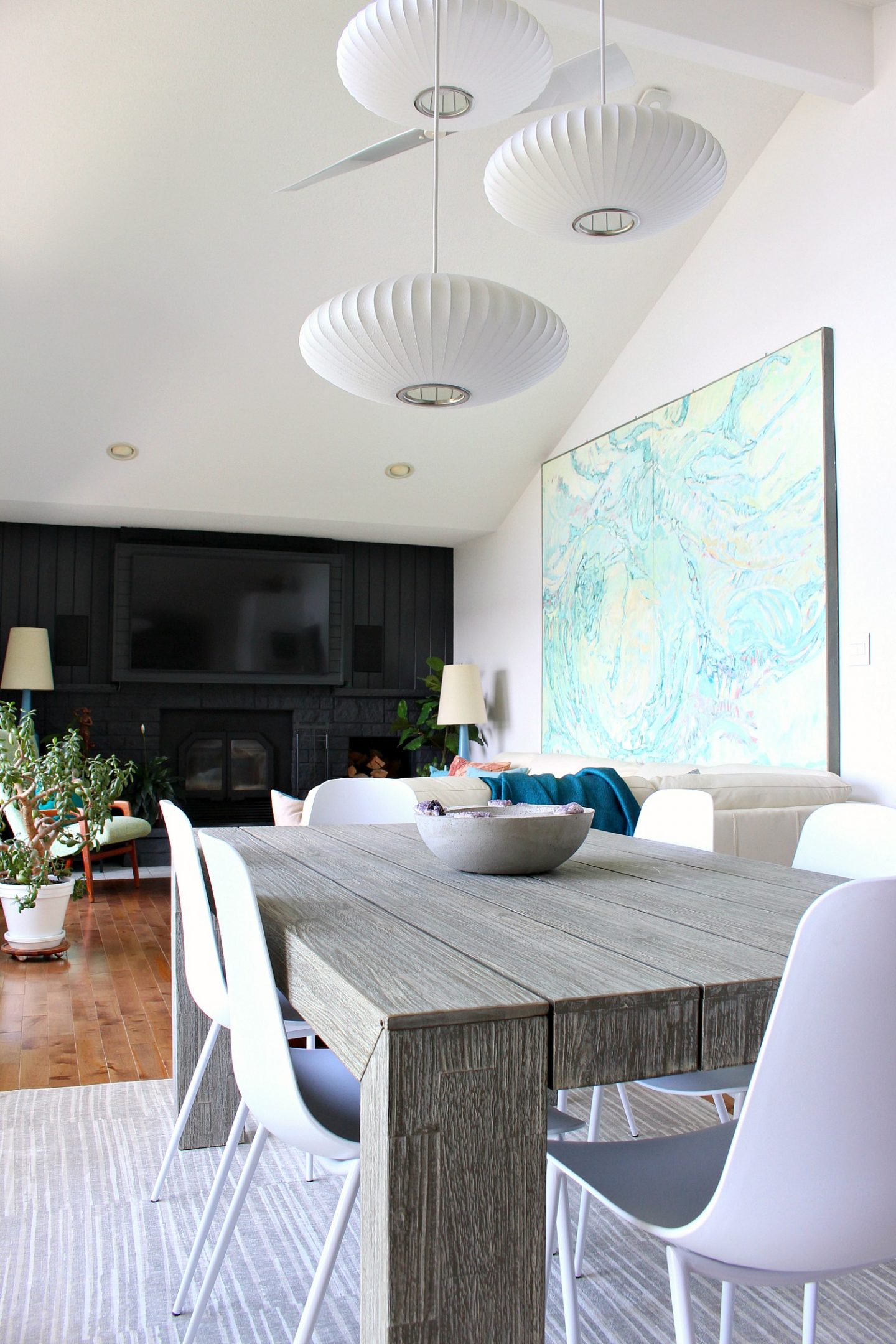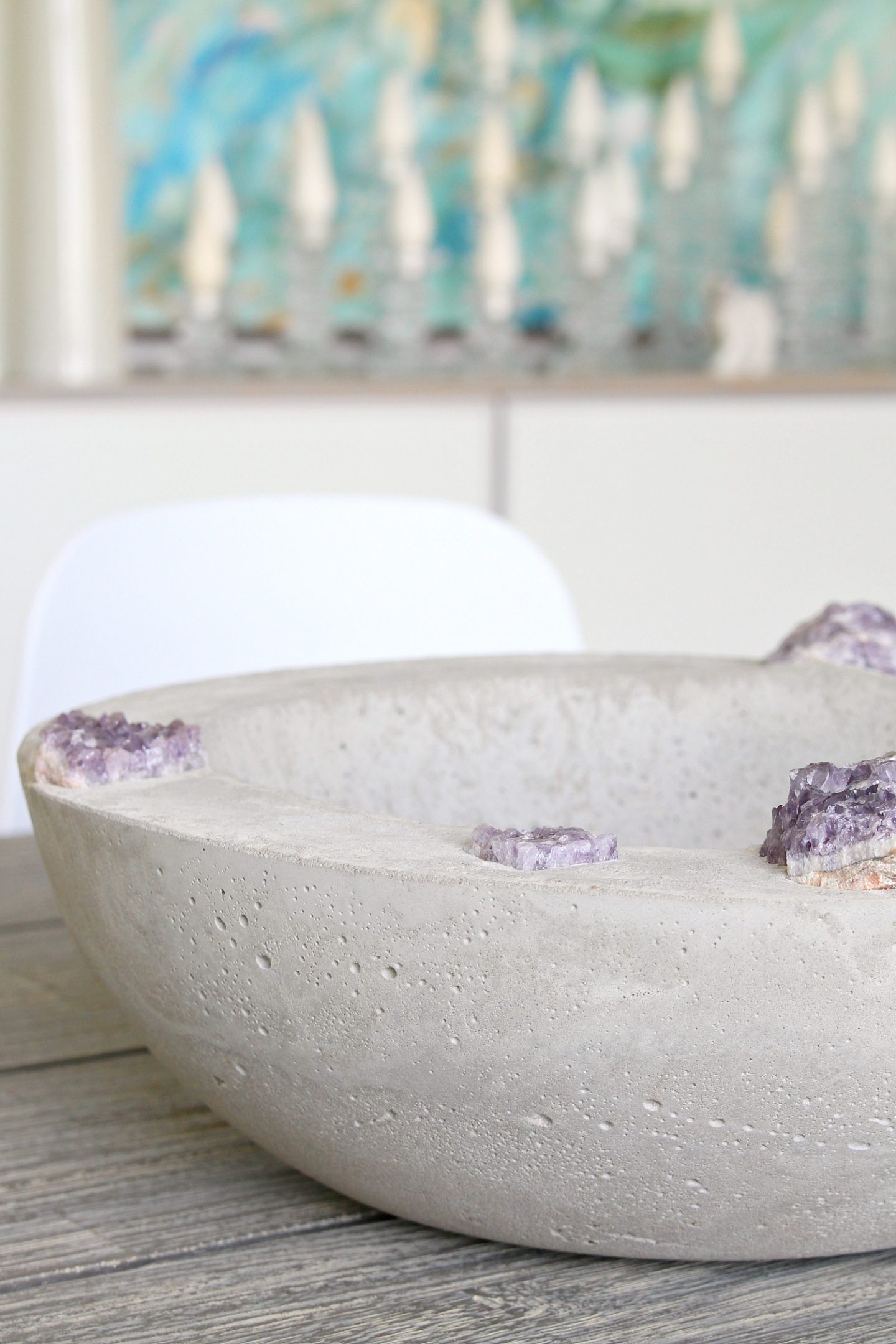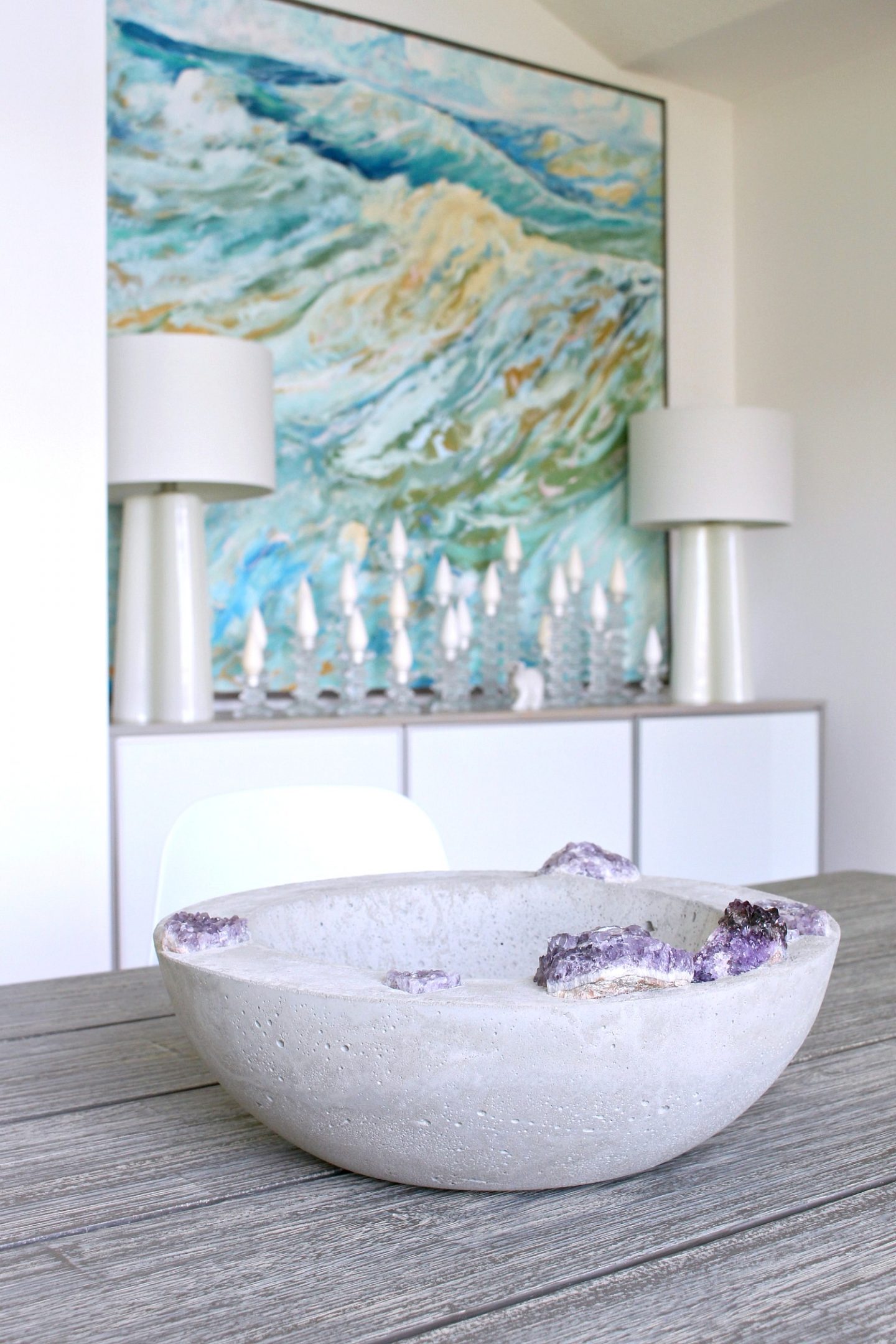 Display your new DIY concrete bowl with embedded amethyst somewhere sunny, and watch the amethyst sparkle in the sunlight!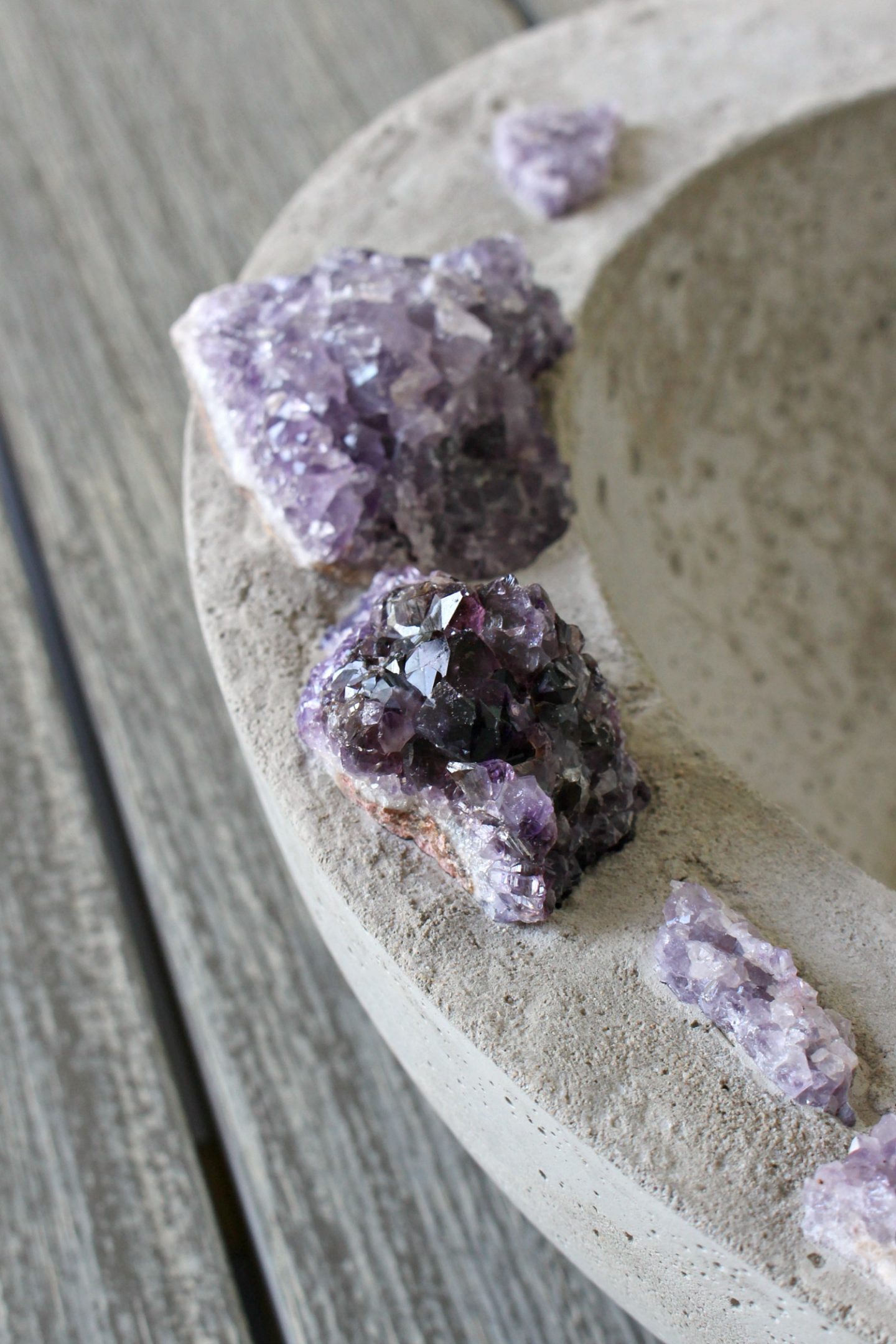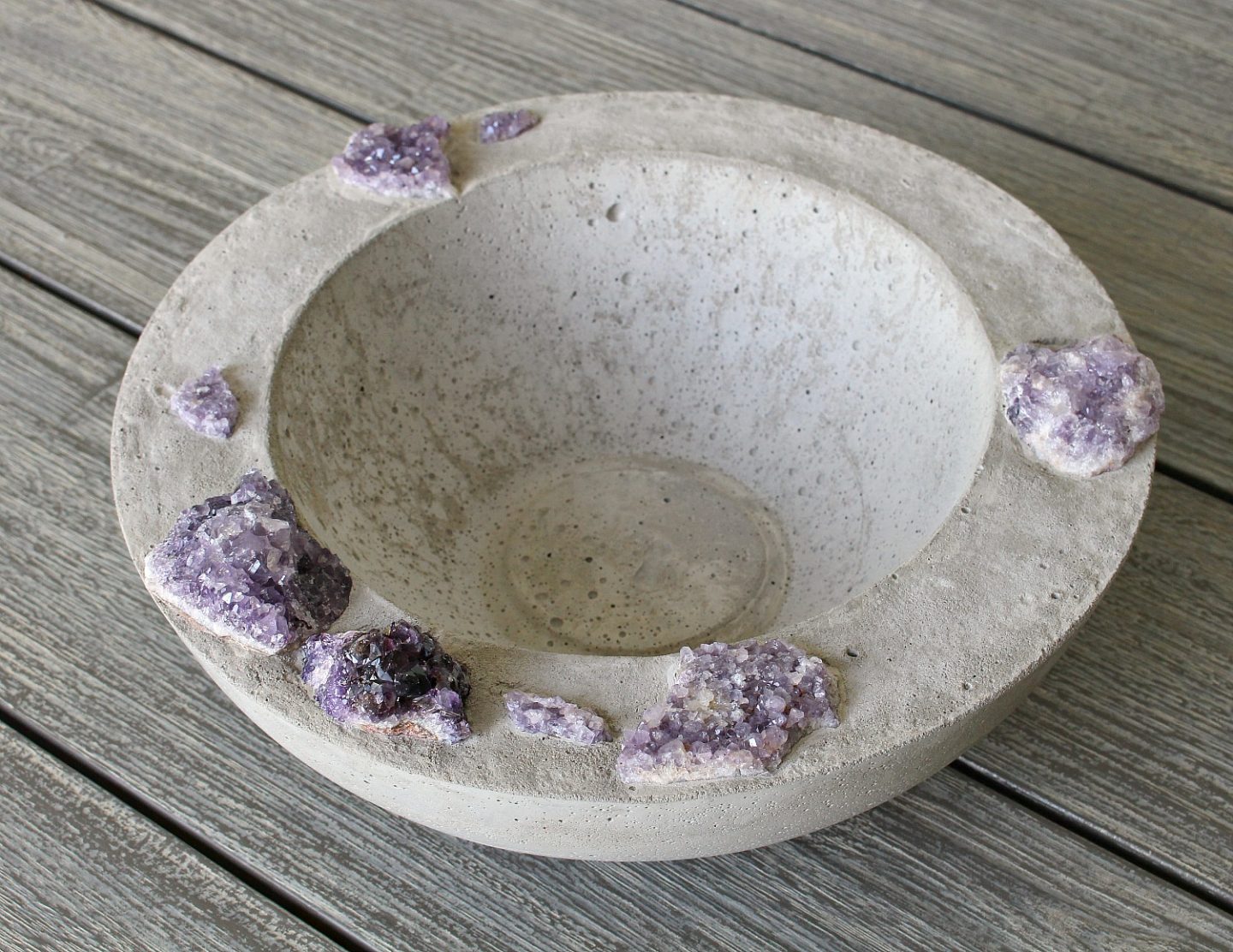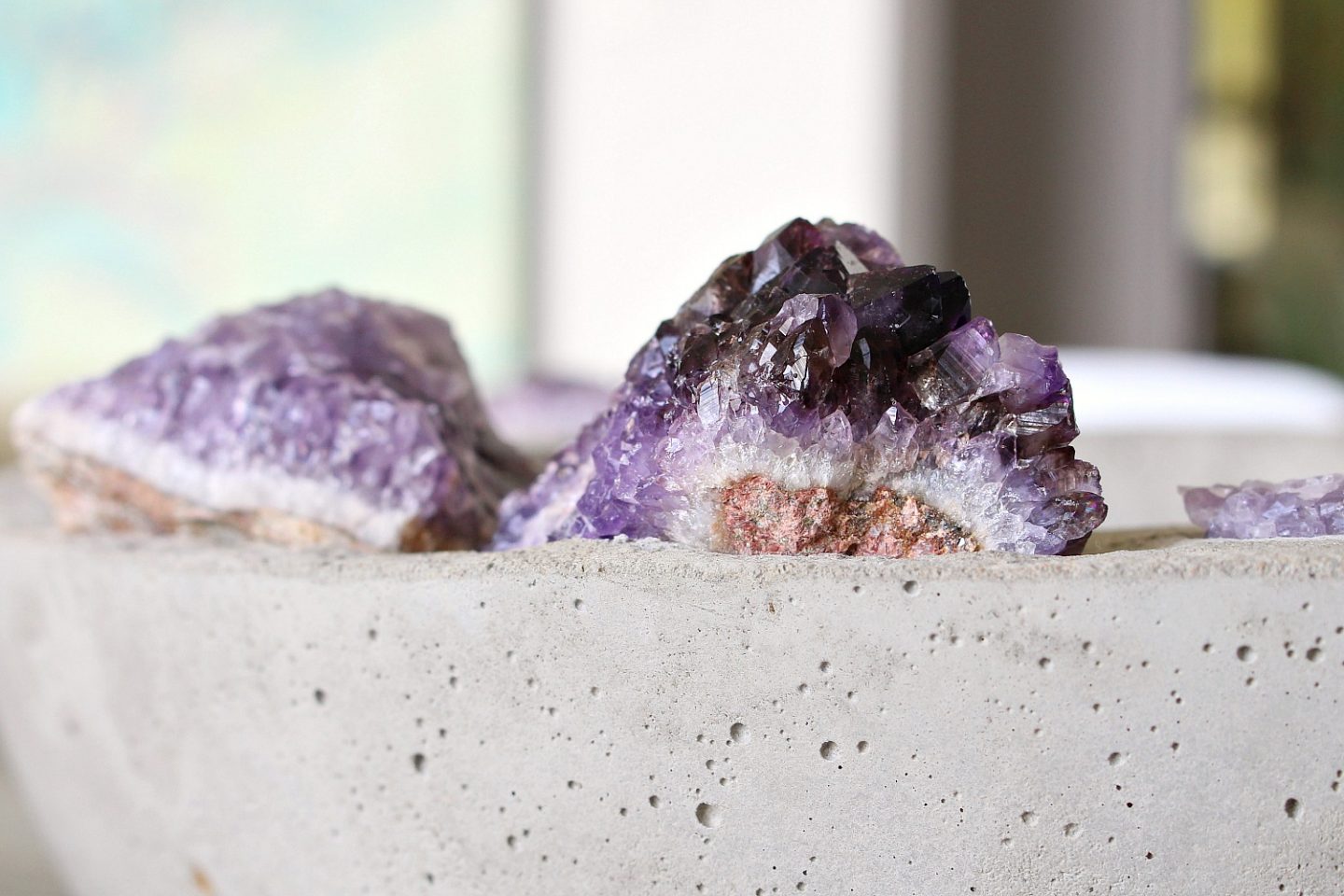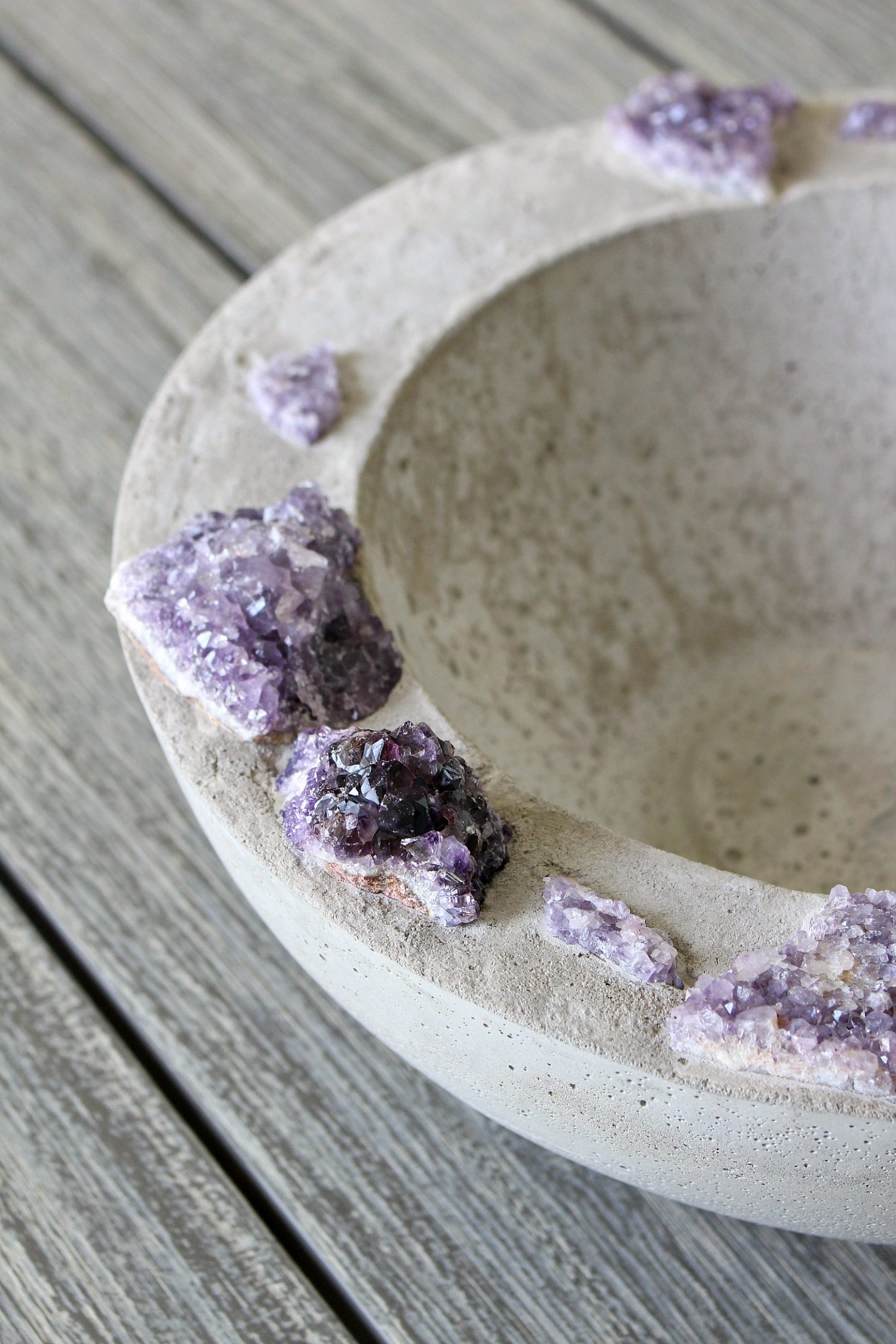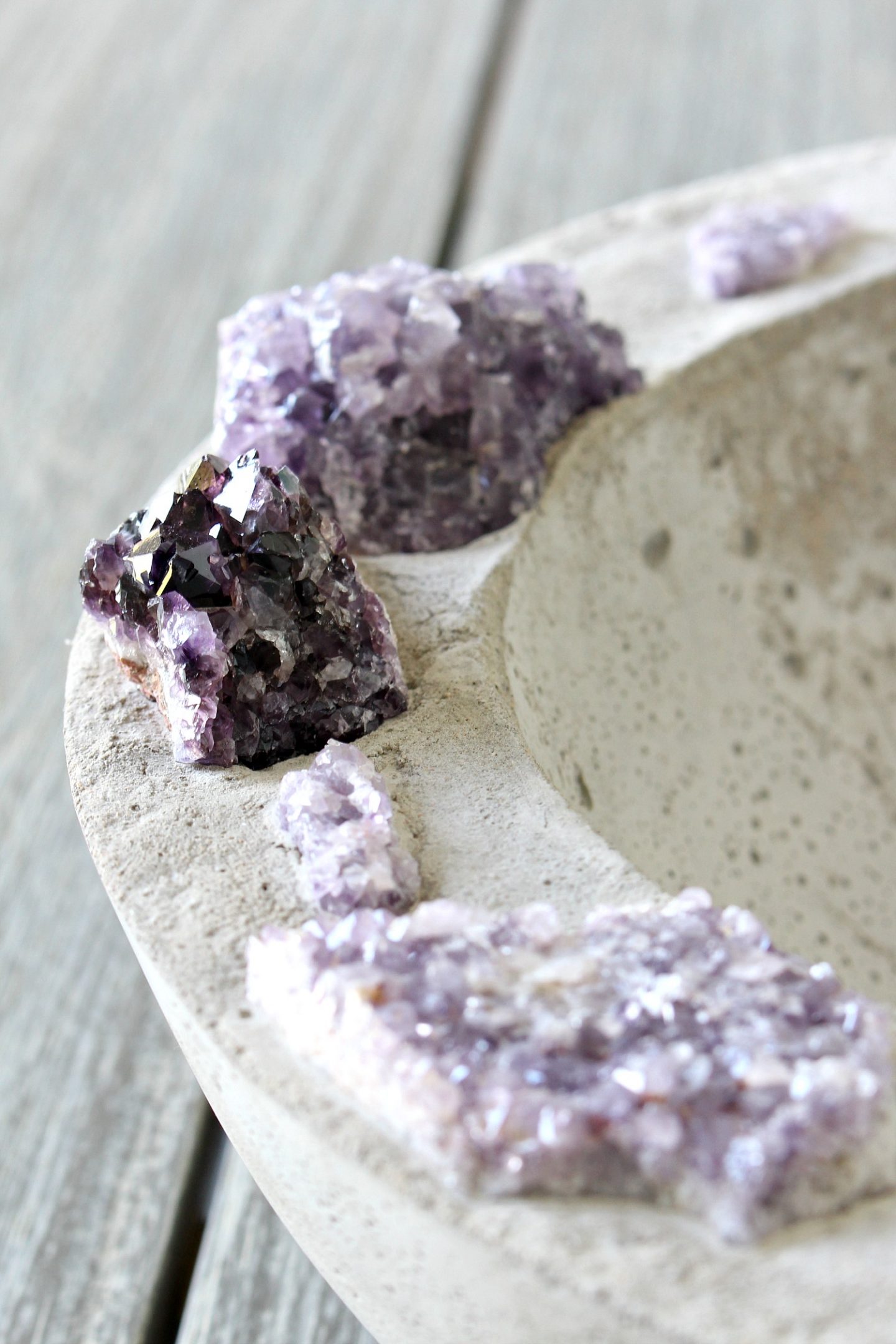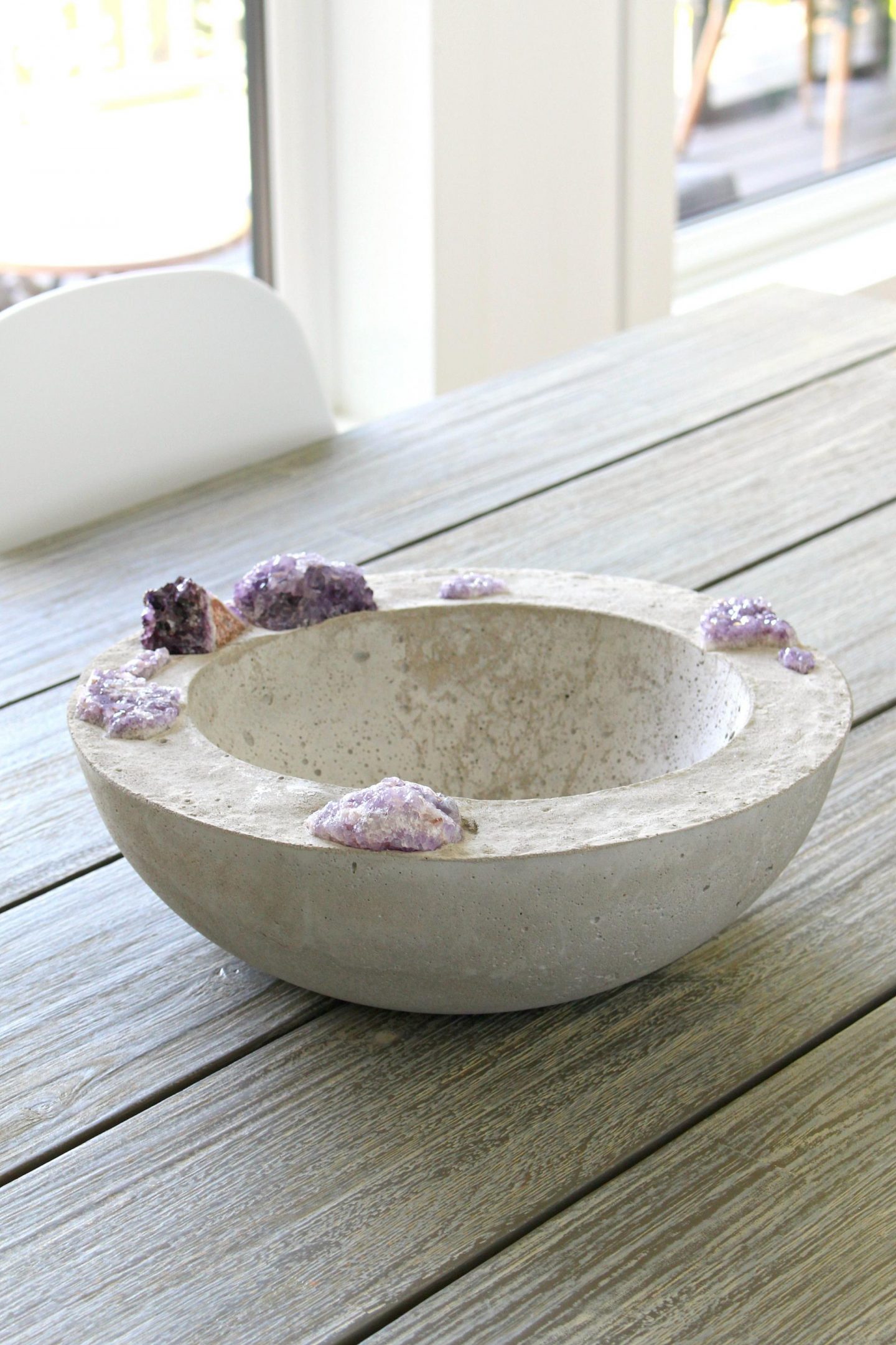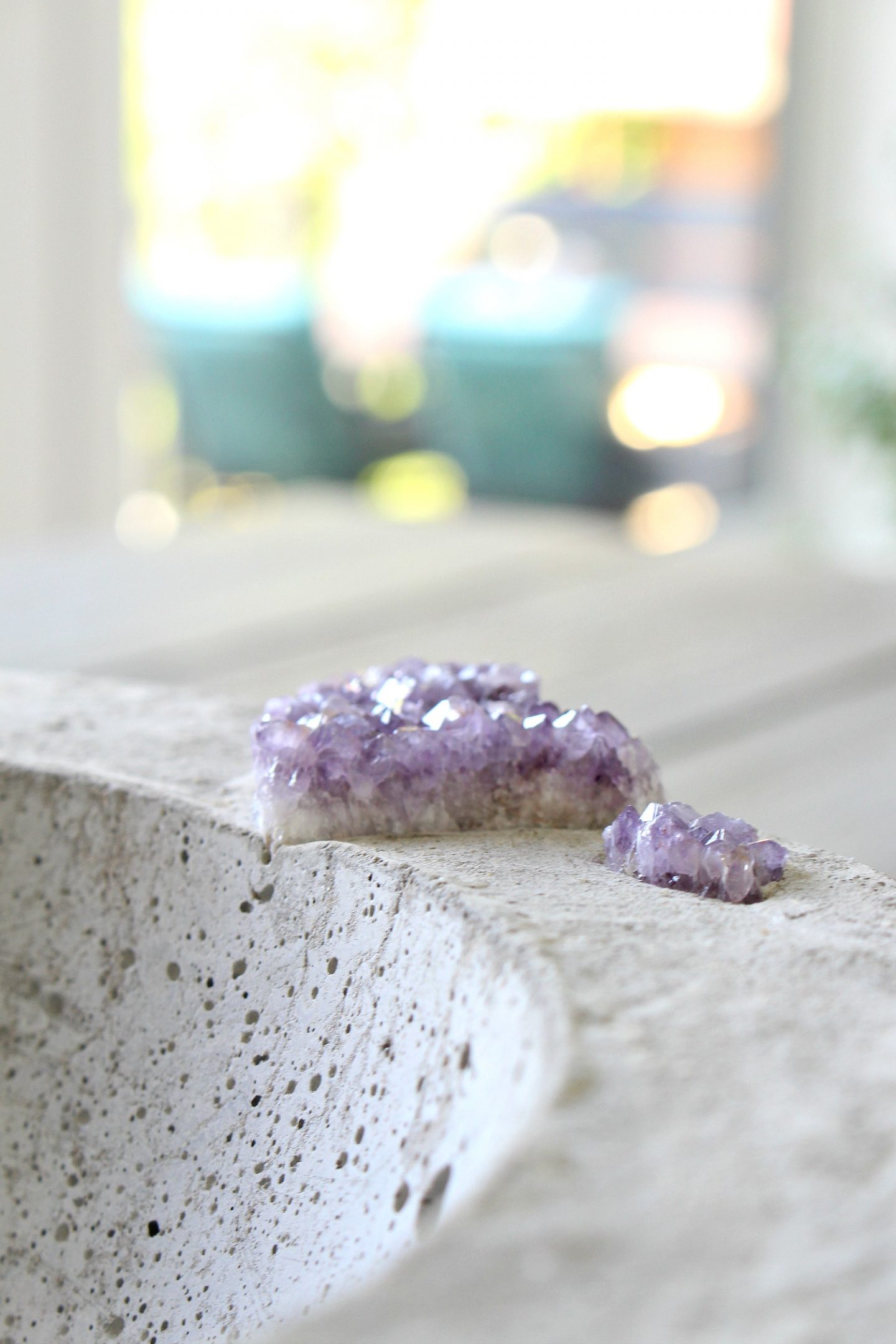 This tutorial seems like it involves a lot of steps, but it's honestly super simple to make this DIY concrete bowl with embedded amethyst. It was also a really quick process in terms of work involved, but it required a lot of drying time and patience.
Here's a quick video:
View this post on Instagram
Because I picked up the amethyst for cheap, and the concrete is super inexpensive too (plus I can re-use the plastic bowls!), this DIY ended up being really affordable.
I hope you enjoyed this tutorial for how to make a concrete bowl – and I hope you try making one! The end result looks super cool – I think the stones add a lot of interest and make the bowl look more sculptural and Kelly Wearstler-inspired (she uses a lot of raw crystals and pretty stones in her home decor pieces). Plus you know how much I love rocks!
More Rock Inspired DIYs
If you're a rock collector too, check out these posts: DIY gemstone soap, how to stylishly display a rock collection, DIY framed agate slice art, DIY agate slice wreath, DIY borax crystals, and glam gift wrapping idea with a crystal point.
P.S Don't Forget to Pin For Later!