This summer we started using an outdoor table as a dining room table and it has been life-changing for us – I love our easy breezy new coastal dining room table and chairs!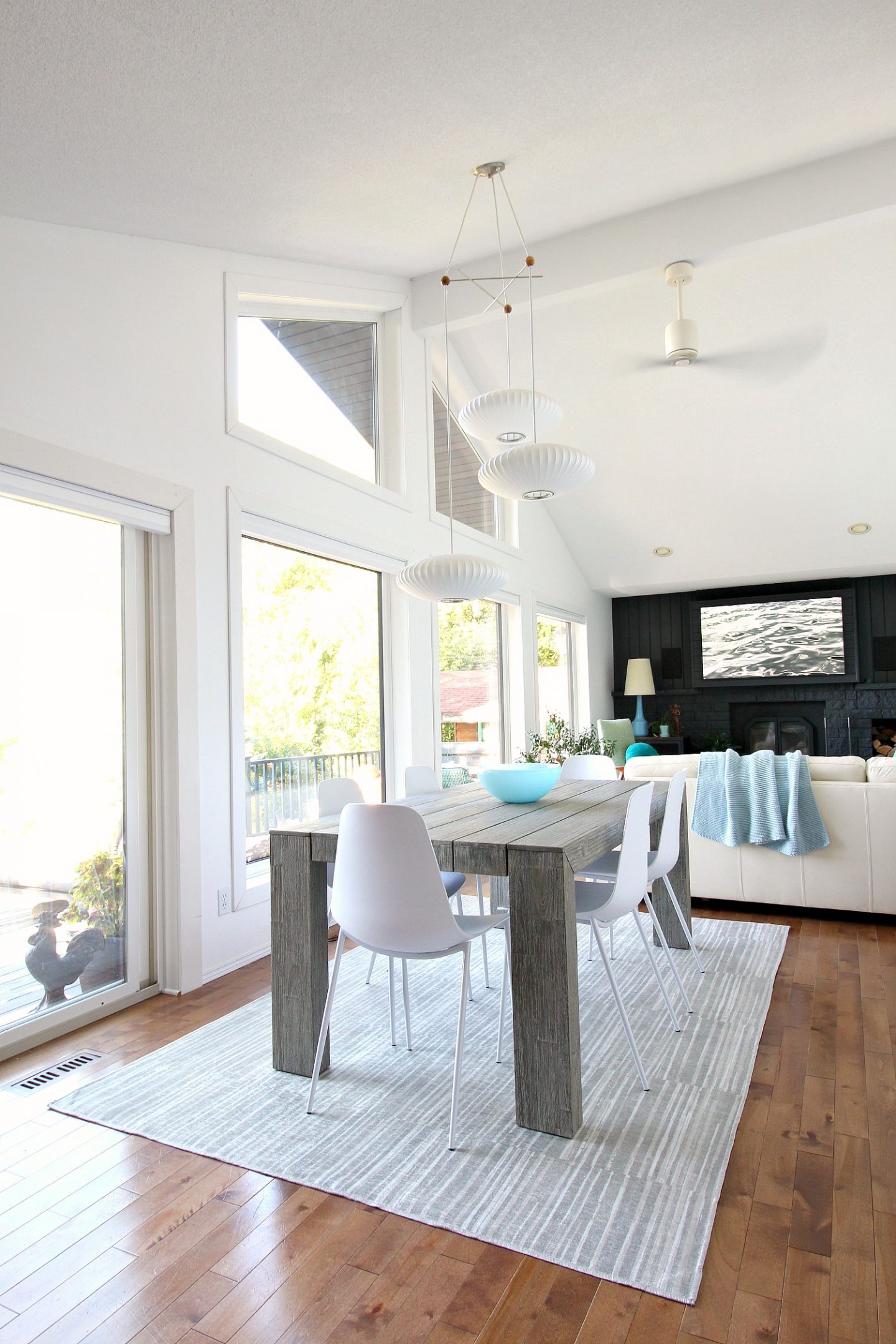 You might have already spotted on Instagram – or this Ruggable review post or my recent Halloween DIY concrete skulls tutorial – that the dining room suddenly got a new look!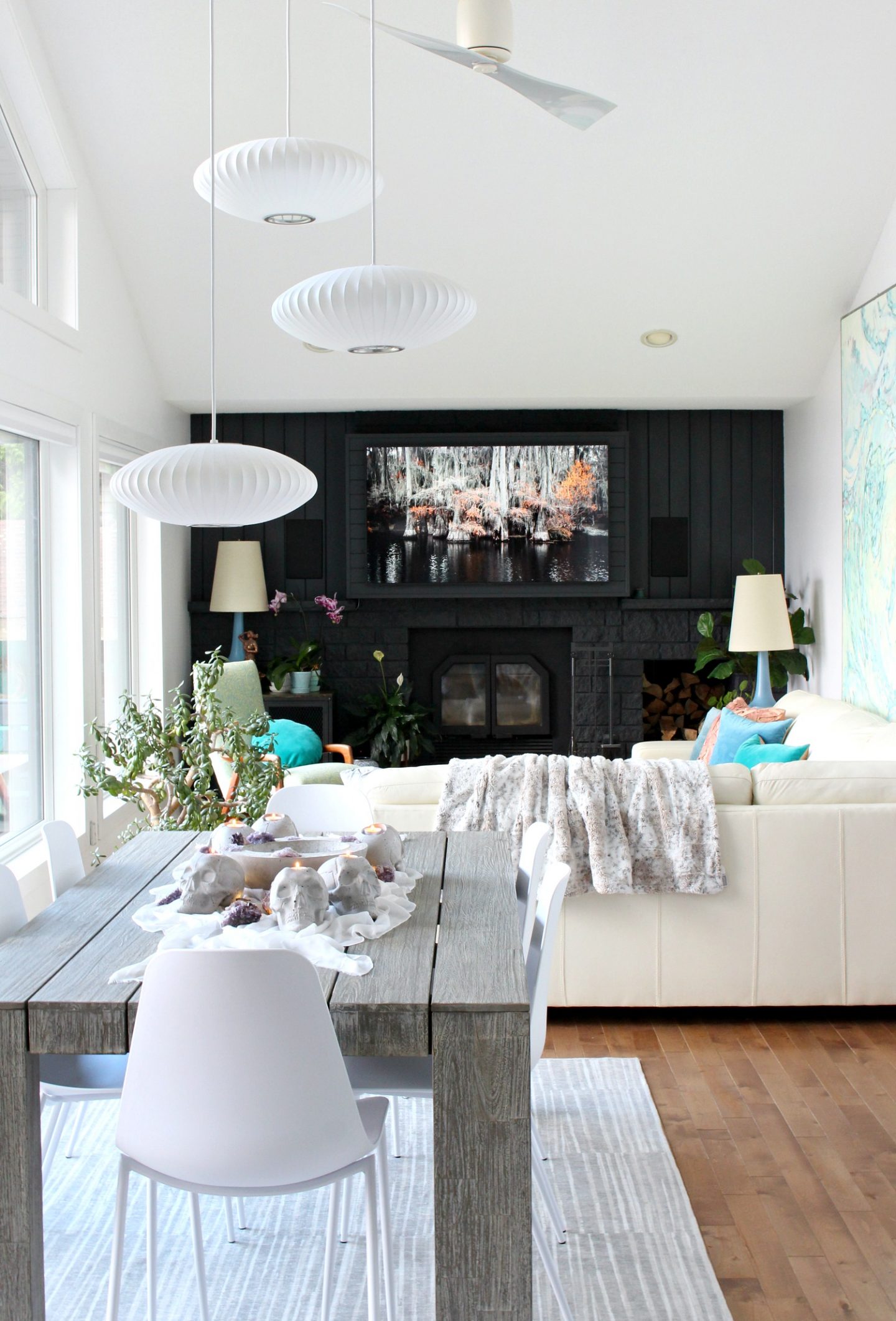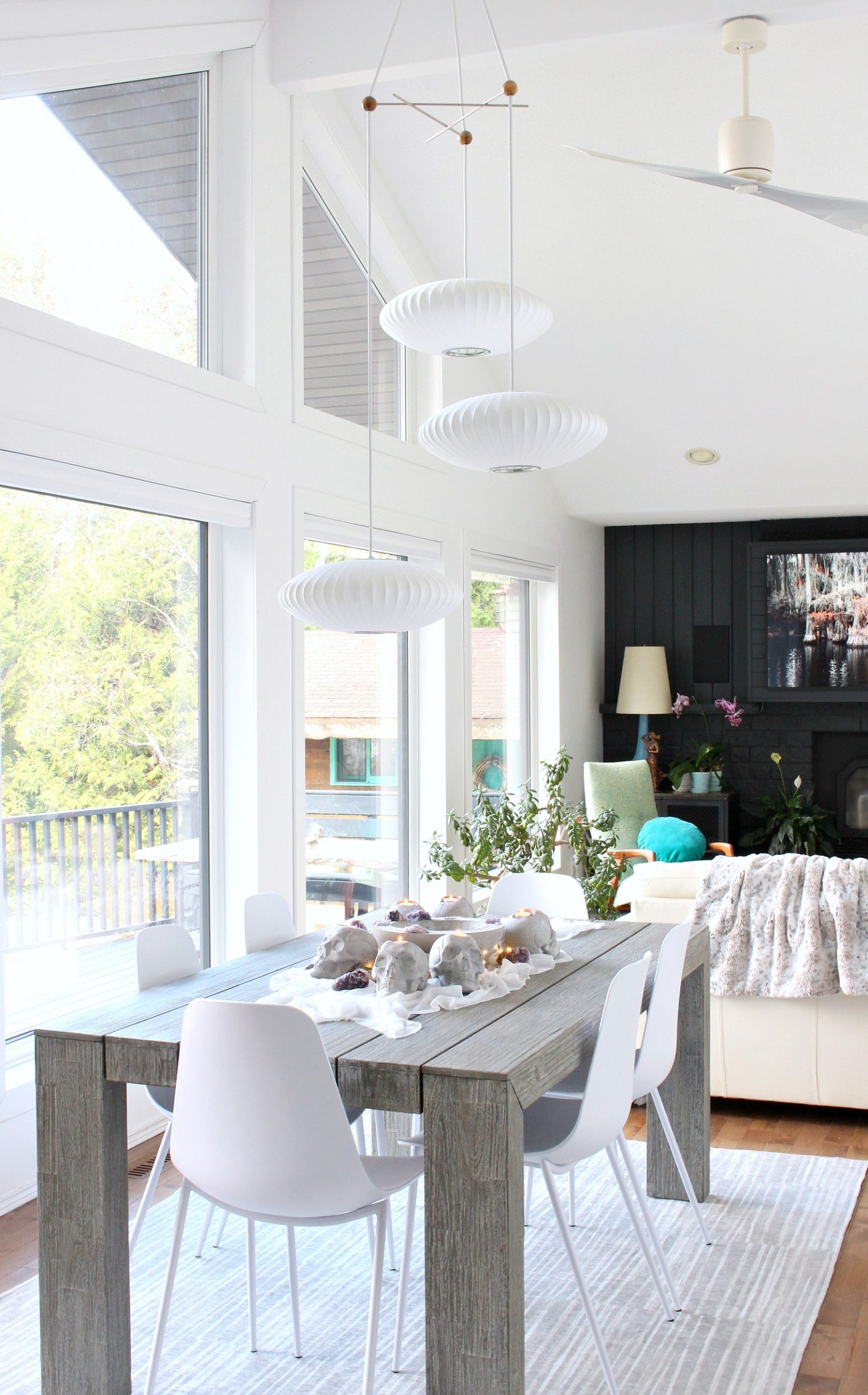 I had been pining for a new dining room table and was waffling between building or buying when I was given the opportunity to work with Article (a furniture brand based in Vancouver, Canada), on a Pinterest campaign (I was not asked or required to share this review). In exchange, I was offered my choice of furniture and I immediately zeroed in on their beautiful dining room tables. I chose the Article Atica table with six white Svelti dining chairs. Both the table and chairs are designed for outdoor use, but are stylish and polished enough that they can be used indoors as well. We've been enjoying my new coastal dining room furniture for a few months now, so I wanted to share my honest review, along with my reason for switching out the mid-century teak table we'd had for so long. And, just for fun, I decided to dig up some (really!) old dining room photos and share a look back at all of my different dining room designs, from 2007-2020!
How My Dining Room Decor Has Changed (2007-2020):
The Apartment Dining Room Table Struggle:
Hubby and I moved in together in 2007. We had both just graduated and were moving to a new city so I could attend grad school. We had no idea how we'd make rent, but I was so excited about living together so I spent many months before the move shopping for great deals on things we'd need. I found our dining table secondhand. It was a little 80's chunky, but I loved that it was large and solid wood and inexpensive – plus the detail on the legs was really pretty. I'd been on a real furniture-refinishing kick and I pictured it painted a shimmery pearl white I had seen in a Martha Stewart magazine. But that paint was SO expensive, so I bought plain white paint instead. The table looked AWFUL – like cheap melamine. My Dad felt so bad for me that he set up some work lights and immediately helped me strip and sand that table late into the evening. Eventually we removed all of the white paint and I just slapped on a clear coat, restoring it back to square one. It was better than the white, but I didn't love it. In hindsight, I should have white washed/stained it – that would have been so cute because the grain was so pretty! Here's a look at how our apartment dining room looked with that table (this was pre-blog):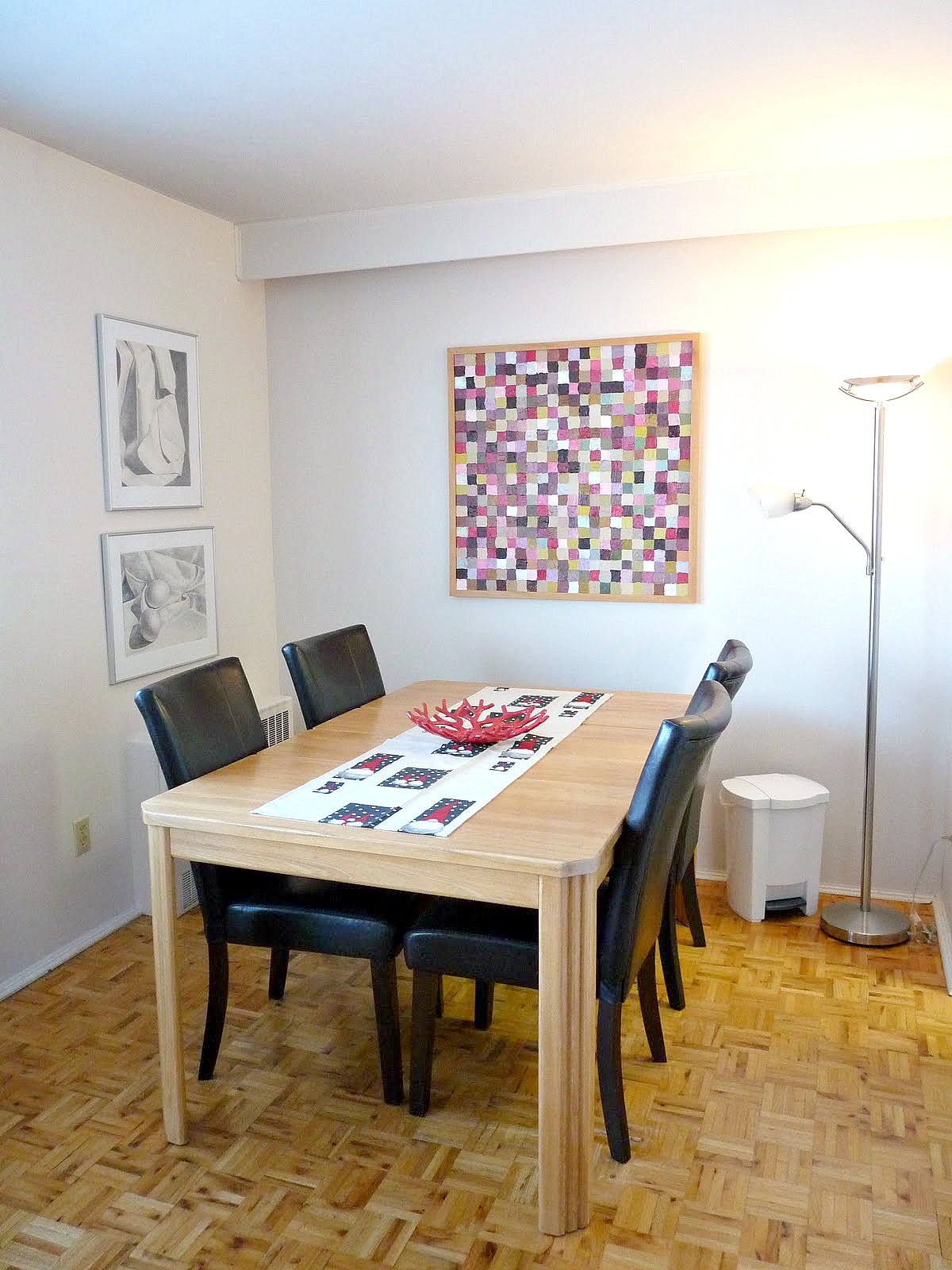 The problem with that table was I couldn't find chairs that looked good with it. I eventually just settled for these super inexpensive (and ridiculously comfy) faux leather chairs and called it a day. Two years later, I scooped a great mid-century teak dining table in the classifieds and by the time we bought our townhouse, the old dining table was relegated to life as a basement craft table: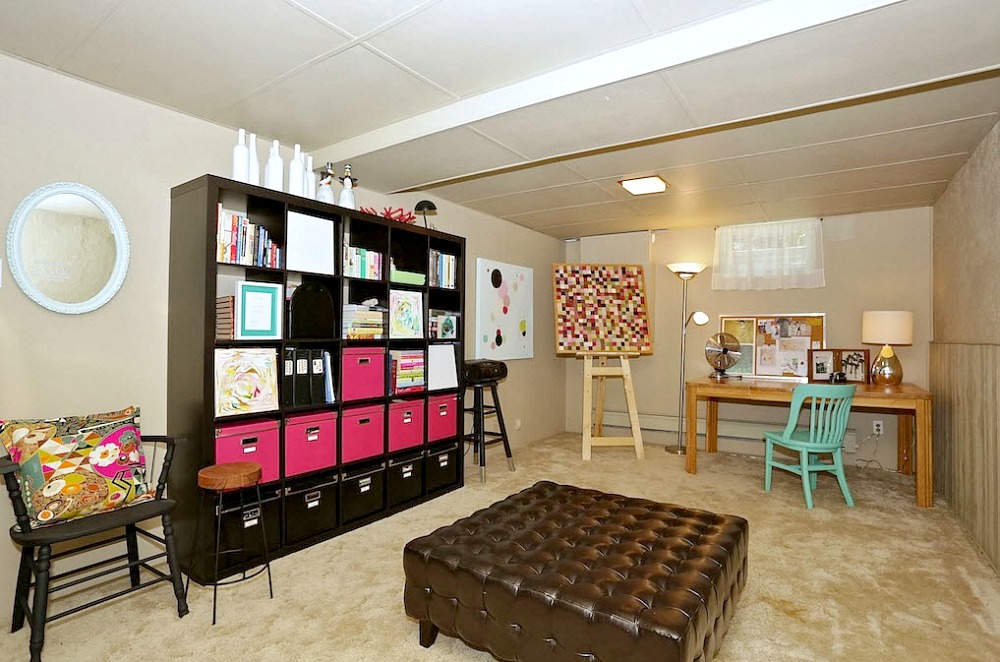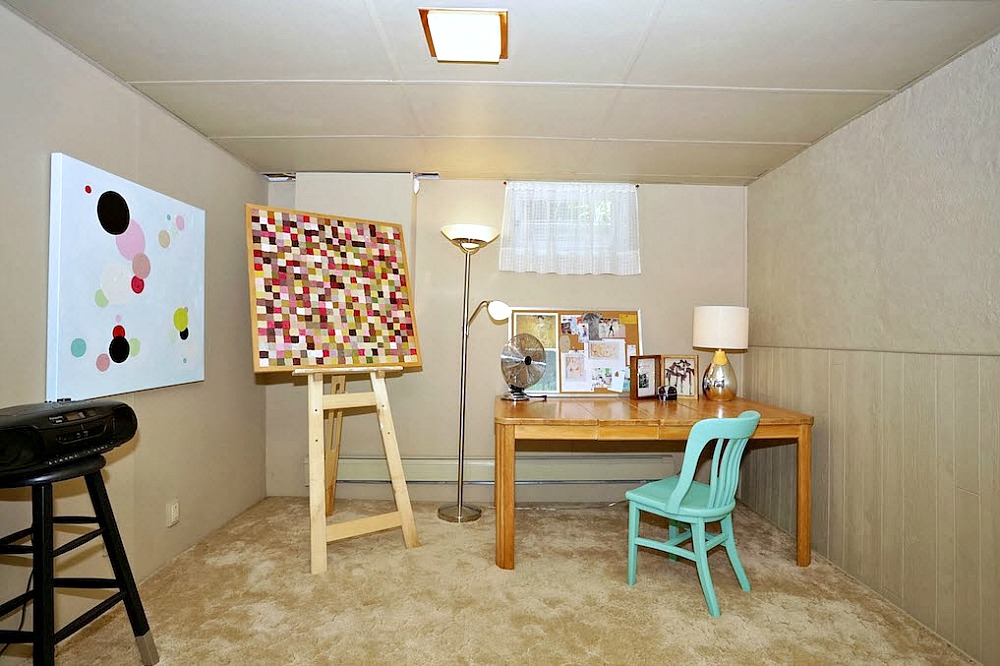 The Townhouse Dining Room Evolution Toward MCM:
Since 2009, we've used the beautiful, vintage teak dining room table that I bought for $500 shortly before we moved cities again and bought our first house. When I found this teak table, it had a set of chairs that came with it, but we didn't find them comfortable, so I paired it with the faux leather dining chairs we had already been using. I also bought an inexpensive teak credenza secondhand to "match".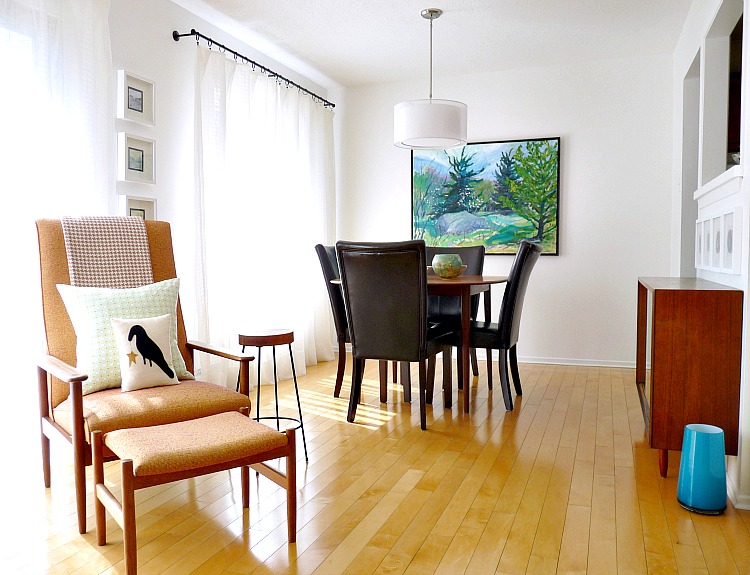 I recovered the chairs that came with the dining table in a chic black and white houndstooth and we used them in our eat-in kitchen with another vintage (Danish) teak table I scored from the classifieds. It was silly that this house had an eat-in kitchen two steps from the dining room, but it was convenient to plonk down here for breakfast. I also tutored students here, and sometimes marked papers because it was closer to snacks than my second floor home office, lol. I loved the fabric with the black and white tile floor, and the mid-century teak looked great with my vintage poster art.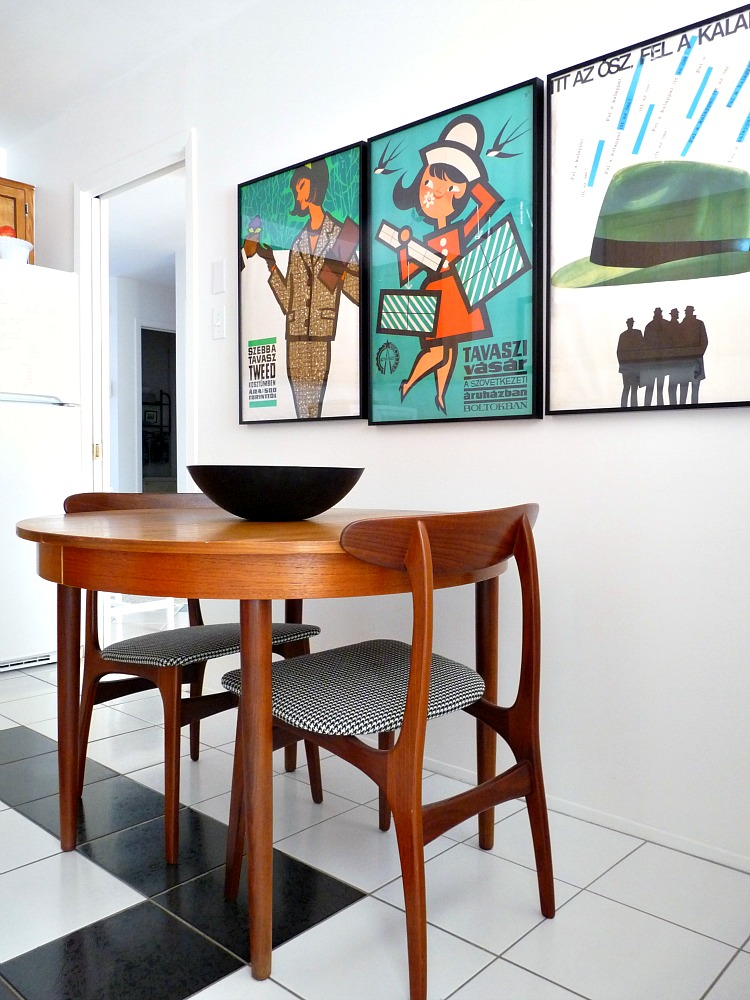 The Move to the Lakehouse and Subsequent Dining Room Evolution:
When we moved to the lakehouse, we downsized to one dining area and that was a lovely change! I kept the dining room teak table, which was in better condition and sold the other teak table when we moved. The oval dining room table worked in the lake house dining room space and I loved the matchy-matchy look of the teak table with the similar tone of the wood floors. My only splurge at this time was the triple bubble light fixture.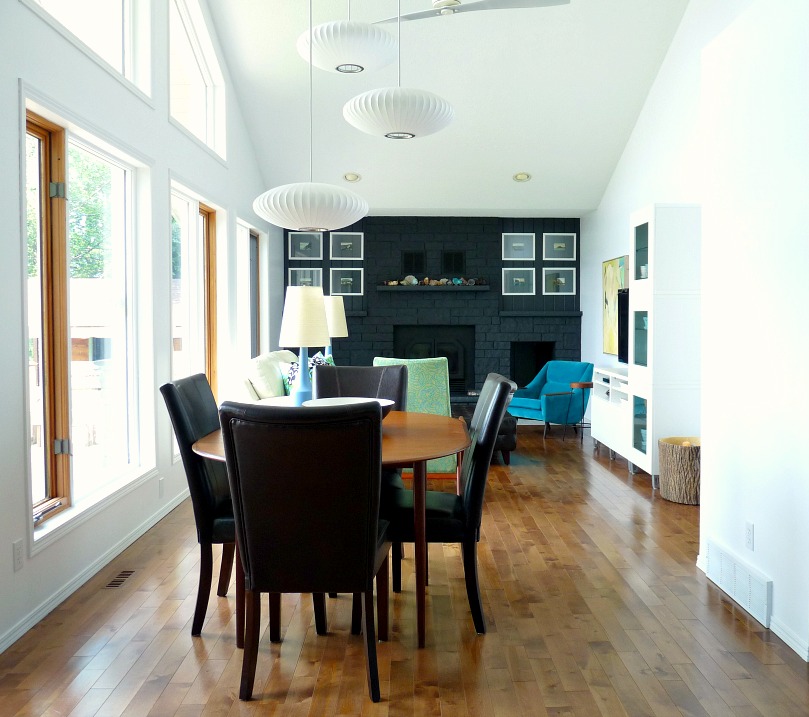 I kept those pleather chairs, even though I started to dislike the brown, because they were so, so comfy! And, despite being cheap, they were in such good condition. Eventually I changed the chairs when I found a great blue tweed set for a great price. Hubby is very, very particular about dining chairs so in between deciding to change them and actually buying new ones, there were years and years of "butt tests" at various stores, lol. Plus our budget was still small – although I did get a tiny bit of money when I sold our pleather chairs.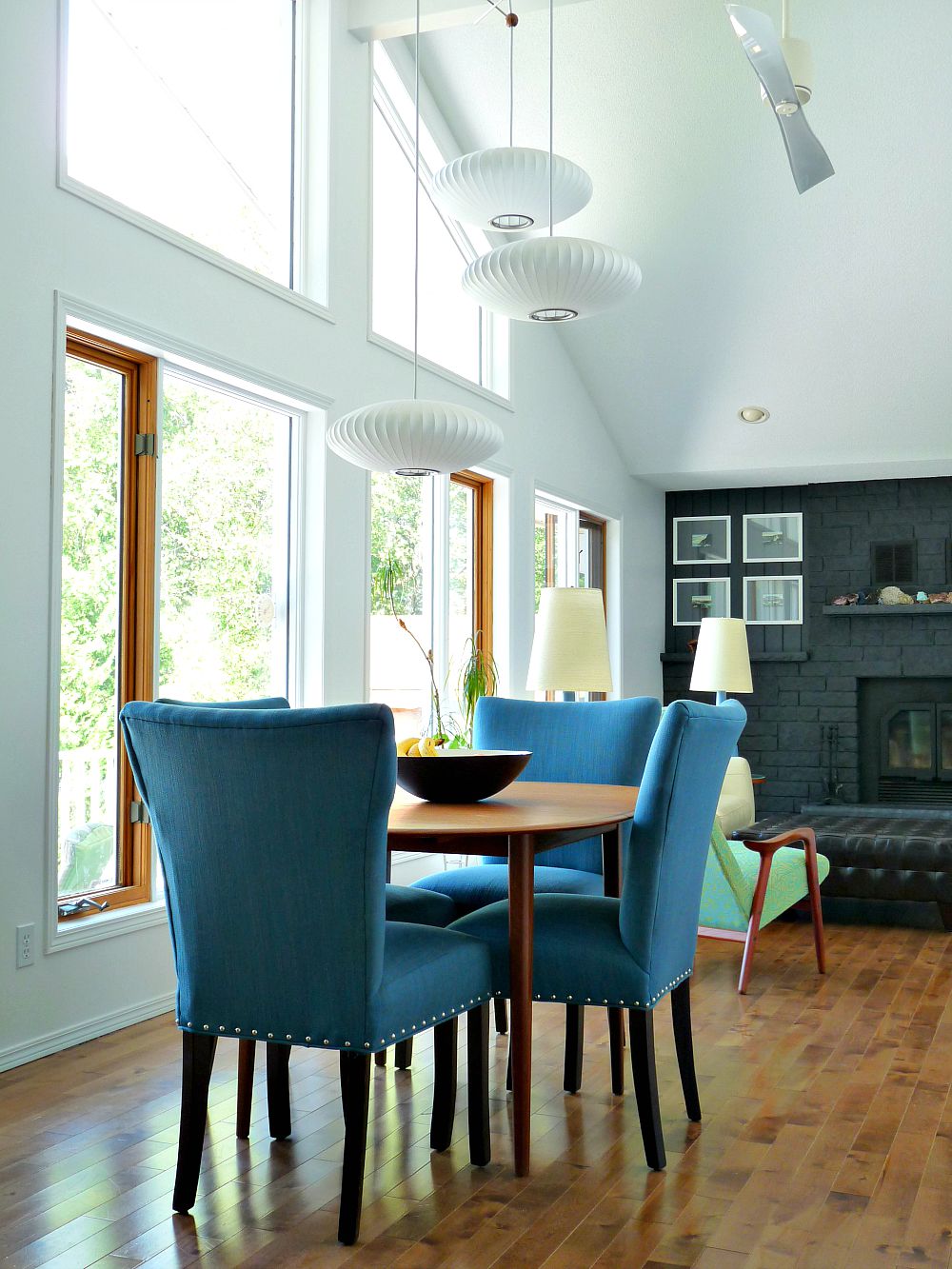 I liked the blue tweed dining chairs because they were such a pretty color. I didn't 100% love the espresso legs or the shape or the furniture tacks, but the color was gorgeous and they were almost as comfy as the brown, but much lighter! The whole room seemed bigger when we switched out the chairs. The problem was that Szuka LOVED these tweed chairs also, and so she rubbed against them all the time. She deposited her fur and skin oils and I constantly had to clean them. I started to think about getting something that wasn't upholstered but anything without upholstery didn't pass the Hubby butt test. One magical day at the Good Neighbor Shed (aka a shed at the landfill), I found a set of dining room chairs I had seen in homes on Instagram and fallen in love with: the classic Cesca chairs with cane backs. I was so excited! These were made in Italy! I dragged them home and couldn't wait to test them out but – surprise! – Hubby did not find them comfortable at all. Frankly, neither did I. But I loved the look and I pictured the chair seats recovered in teal velvet.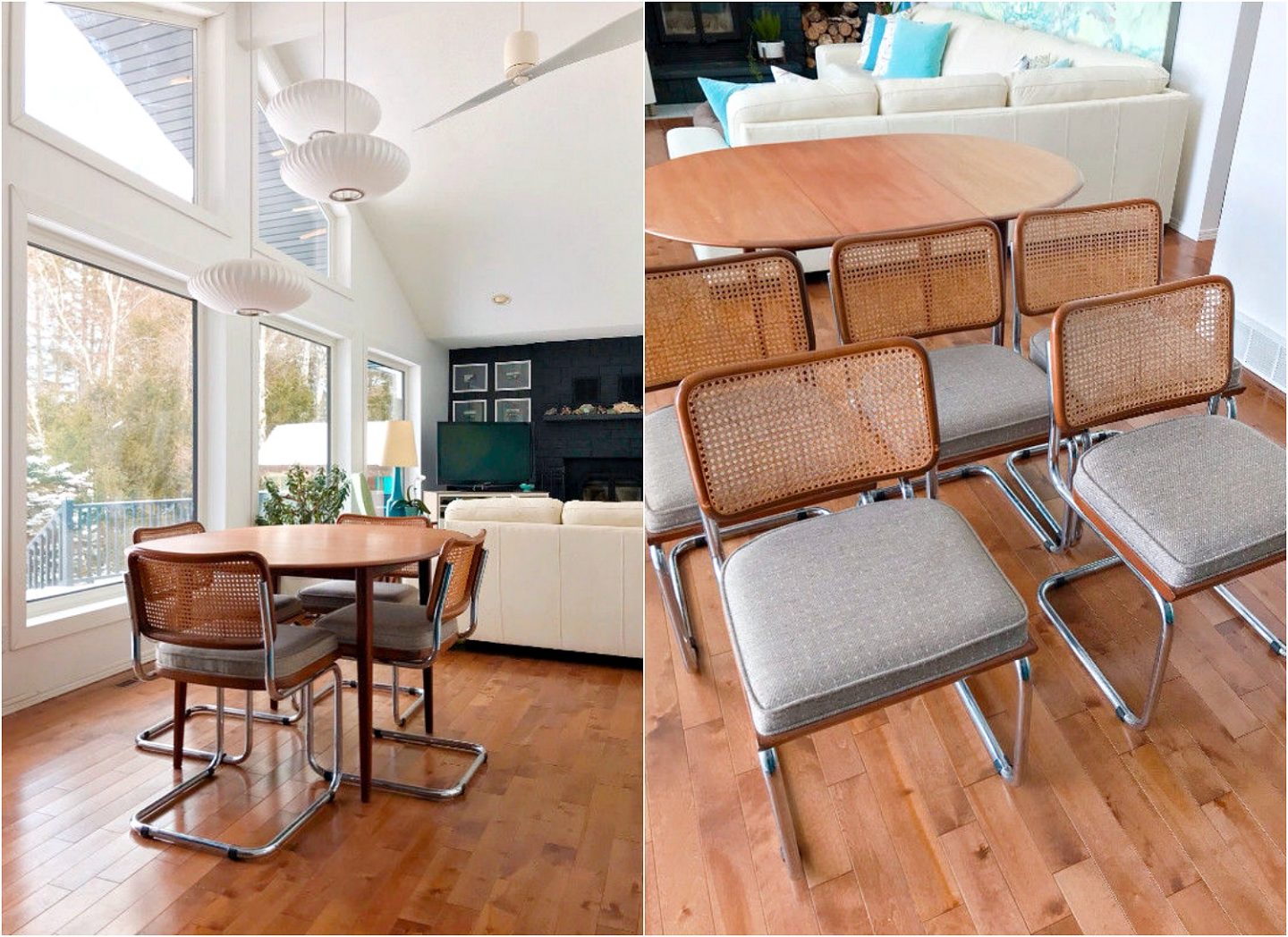 But then I found a set of grey velvet chairs, which were comfy and had a more mid-century modern shape, which really complemented the teak table. Goodbye chunky espresso toned chair legs! I gave the blue tweed chairs a good clean and sold them, along with my landfill find. With both sets of chairs sold, I was able to fund 100% of the purchase of a set of grey velvet dining chairs.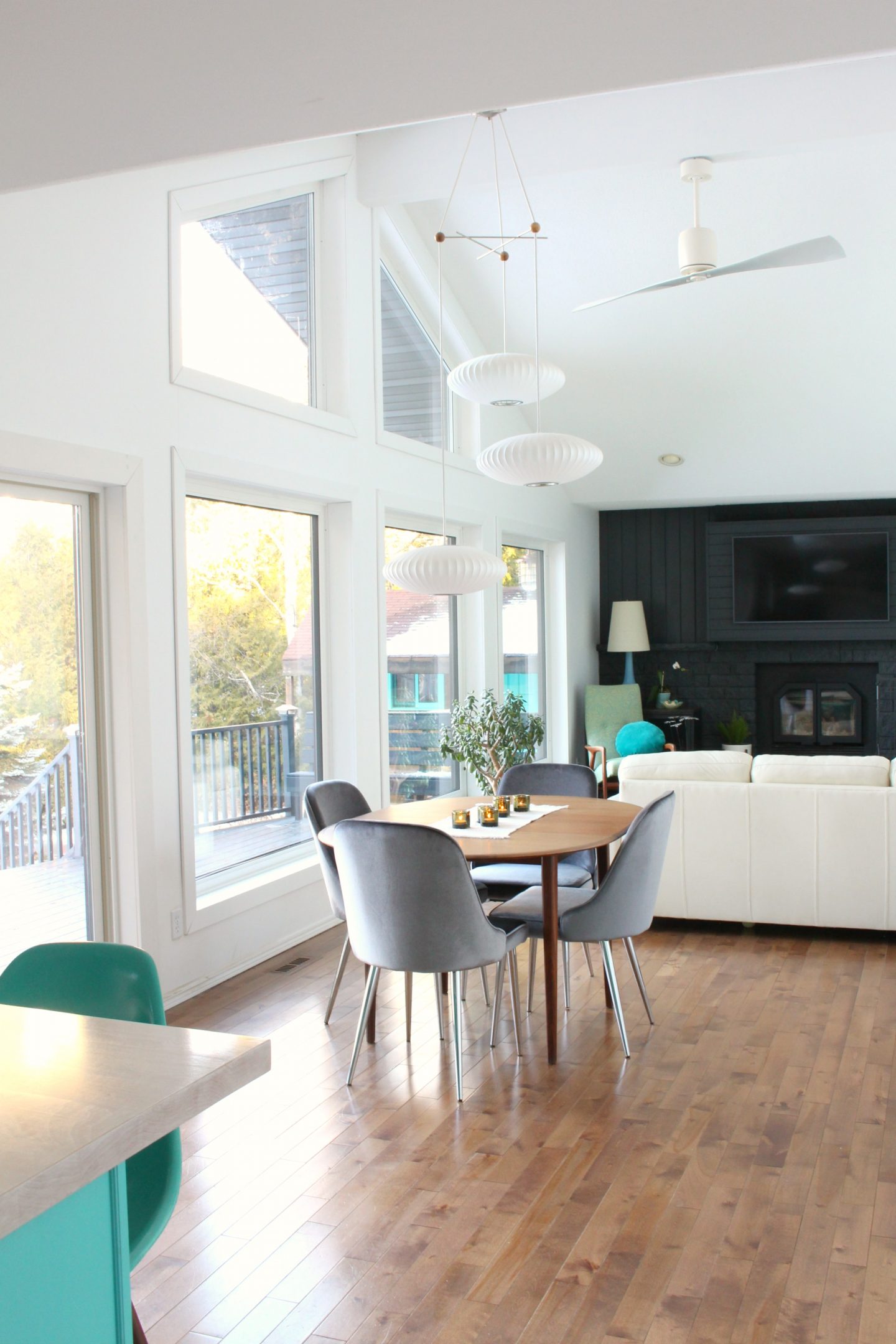 They had lower backs than our blue chairs, which made the whole dining room set up seem smaller somehow. The scale was a bit off, like everything was too small for the space… On the bright side, although they were comfy and Hubby butt approved., Szuka hated the feel of them, so she stopped rubbing against them. Even if she had liked them, the grey velvet hid her fur and dirt really well anyway. Trying to balance the smaller scale of the new chairs, I decided to finally add a rug. A softly colored wool rug from Loloi completed the look and helped define the dining room, which floats in a random spot between the kitchen and living room. I had fought a dining room rug for so long because I hate cleaning them, but I finally conceded that it helped helped anchor the space and suddenly the scale of the chairs felt perfect.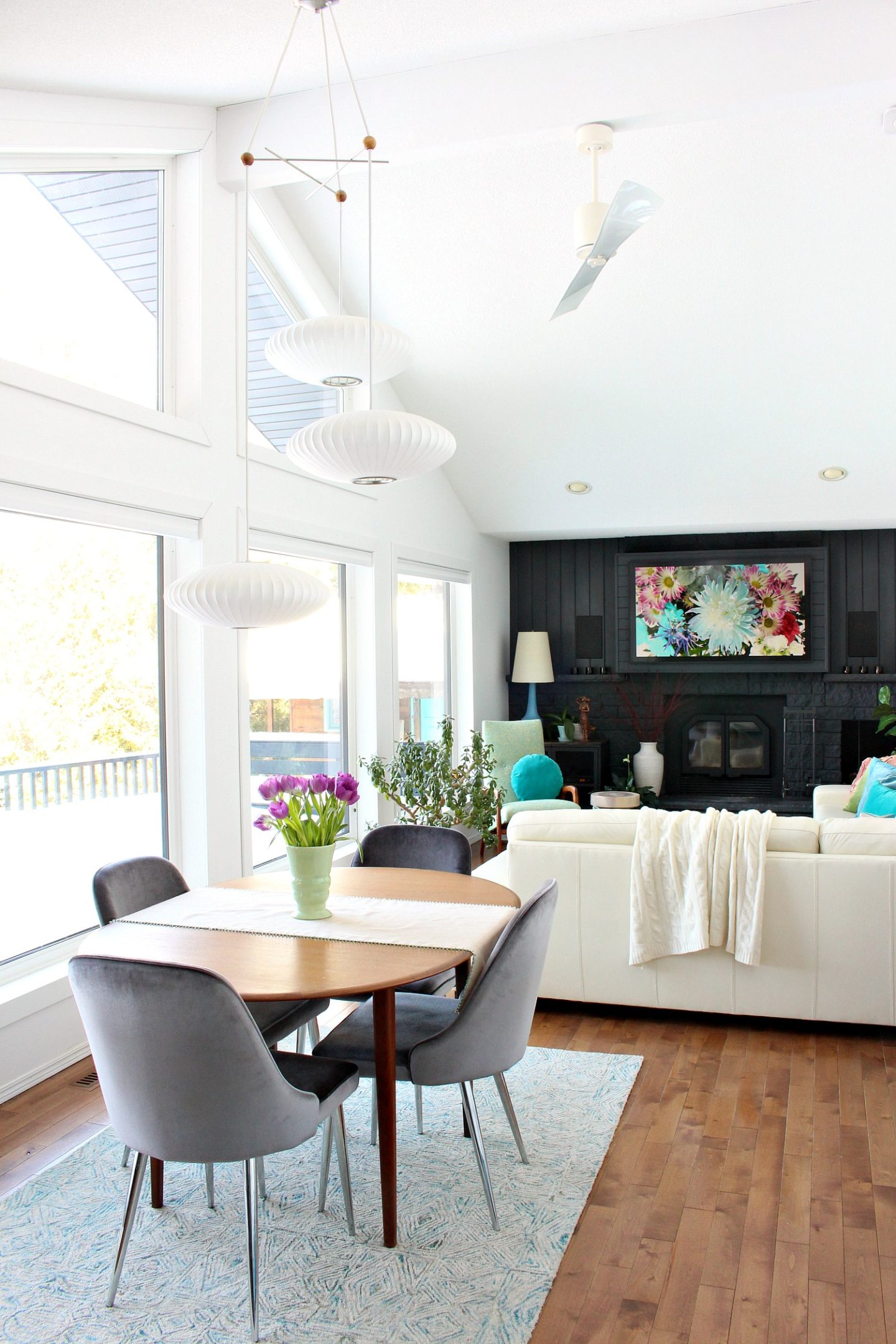 Unfortunately, the dogs also LOVED the rug and it was vomited on repeatedly. I spot cleaned and spot cleaned and one day there was an epic 2:00 am vomiting incident straight out of a horror movie and in the mad dash to clean, I accidentally bleached the rug. We said goodbye to the rug. And I decided I was ready to say goodbye to the teak dining table as well. Teak needs to be oiled regularly and I had fallen behind, so our table had become susceptible to water spots and stains. It's also really susceptible to scratching and since being promoted from a used occasionally dining room table to a used daily kitchen/dining/craft/laundry folding table, we had also left some scratches. We always used place mats to protect the table from rings and stains, but it was a hassle and sometimes we forgot or spilled something off the place mat region, lol. It was also a bit stressful to entertain because guests could not be trusted with the teak, so I'd have to put down a waterproof tablecloth liner and then a fabric tablecloth. Otherwise a party would end with wine stains and rings galore.
The Current Dining Room Design:
Since moving to the lake, I've craved more simplicity. I wanted to just come in from the lake, dripping wet, and set down a sloshing mug of something. I also wanted something with a chunkier, coastal vibe. We had swapped out our petite sofa for a large and comfy sectional years ago and also added massive paintings created by Hubby's grandpa. Because the space is open concept, I envisioned a new dining table that would balance the scale of the new larger pieces and help the space feel more cohesive.
I had been picturing a chunky, grey stained table and the Article Atica table was almost 100% what I had envisioned. I was really drawn to the coastal style of the table and the size – a bit larger than our old table – was perfect. Plus now we can seat two extra people (yay!) but, more importantly, Hubby and I can also both sit on the side facing the lake, which is really nice.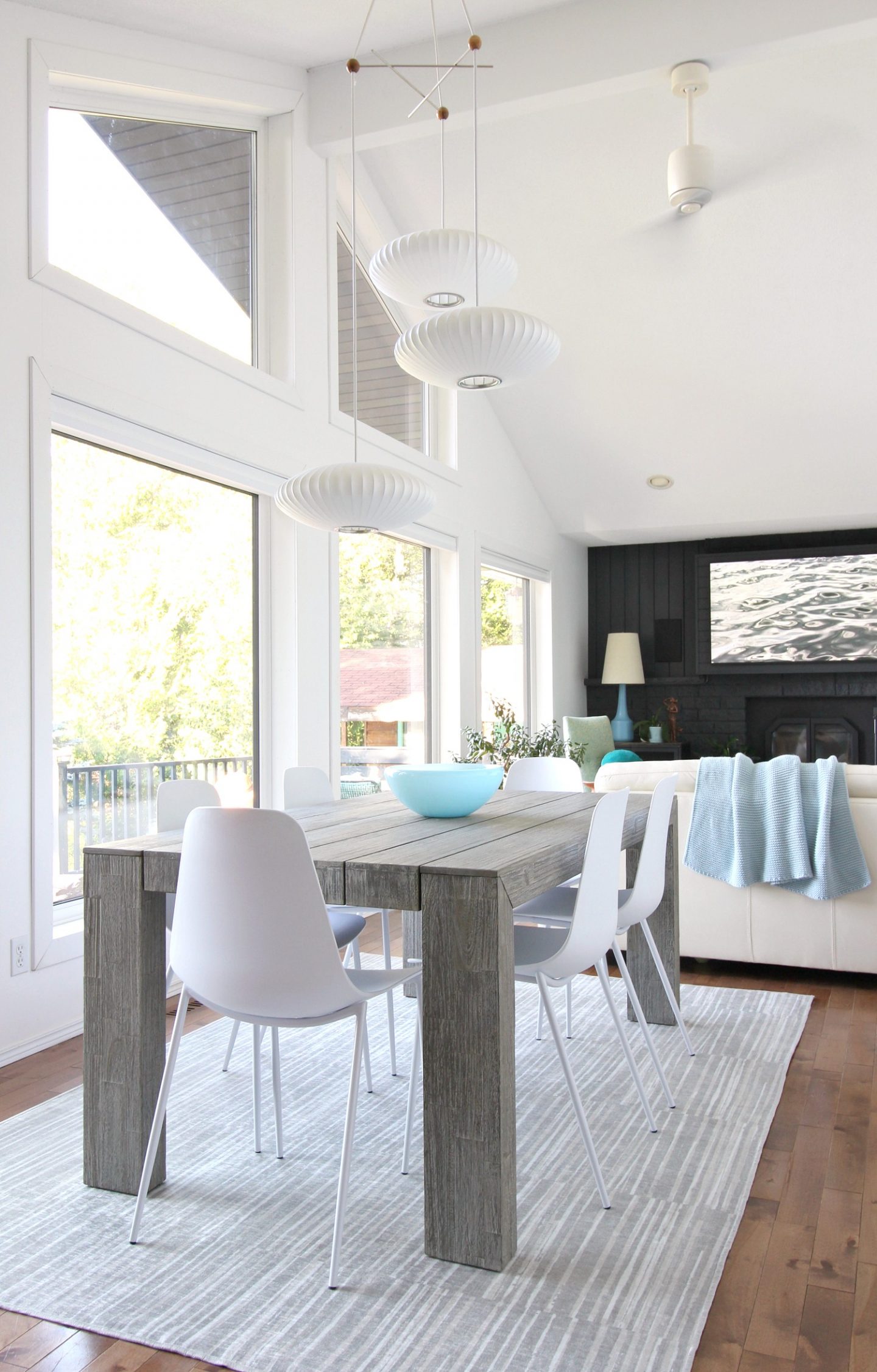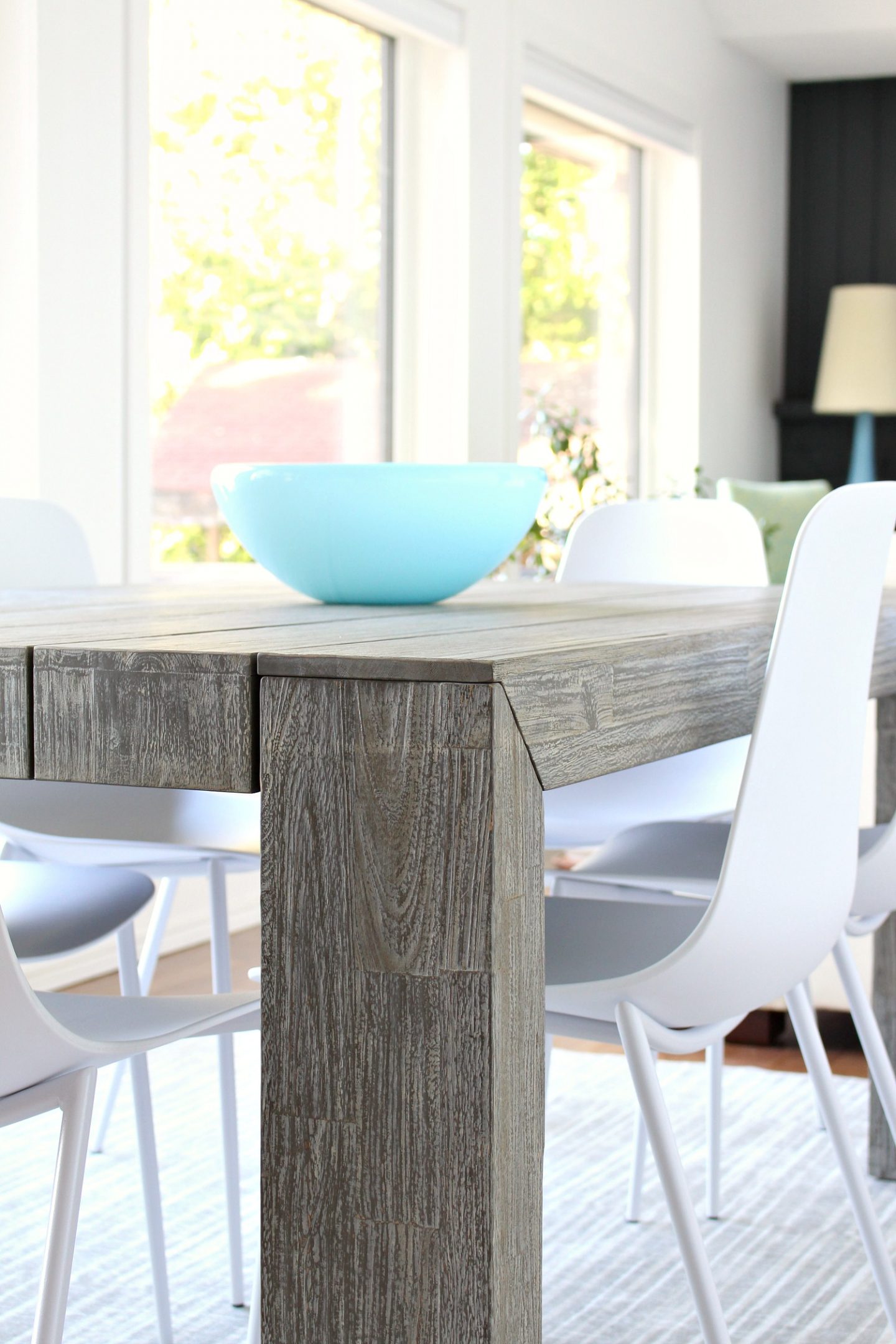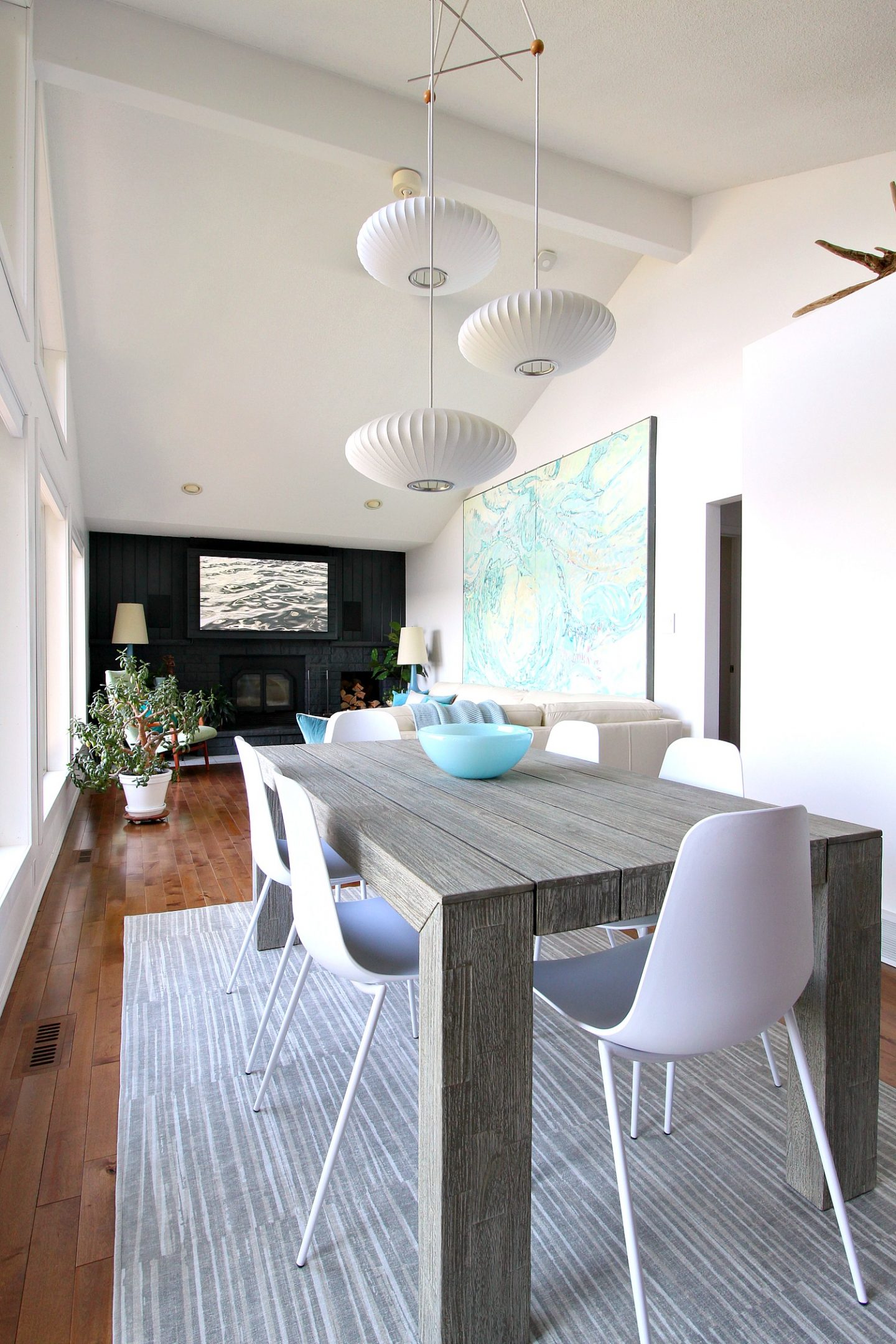 Article Atica Dining Table & Svelti Chairs Review:
I also chose six of the Svelti chairs. The chairs surprised me the most because they're incredibly affordable, so I thought there had to be a catch. I figured they would be nice to clean, but was worried I'd crave the comfort of my old grey velvet chairs (which actually look cuter with the new table than I thought). While these are obviously not cushy, they are comfy! They are wide and deep and curved – basically shaped and sized to generously fit a real, human bum. They also have flex, so they don't feel hard and rigid. They are excellent value for the money (which explains why they have hundreds of excellent reviews)! My only complaint is that they are REALLY white. My walls are basically un-tinted white paint, but these chairs make them seem dingy in some light. The chairs are truly a brilliant white. I did consider the green, but the white has that coastal vibe I am loving right now – although the style definitely has hints of mid-century in the design.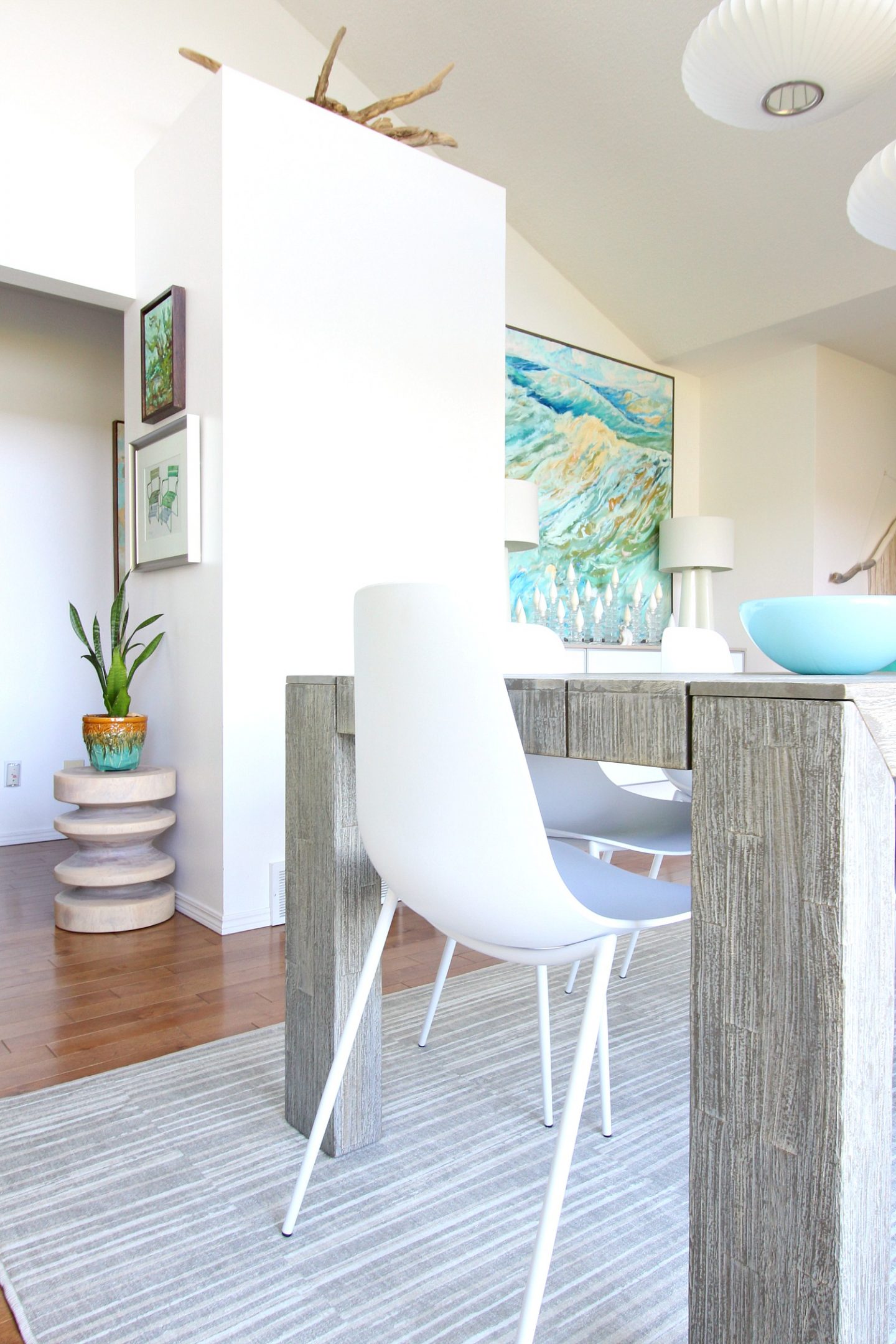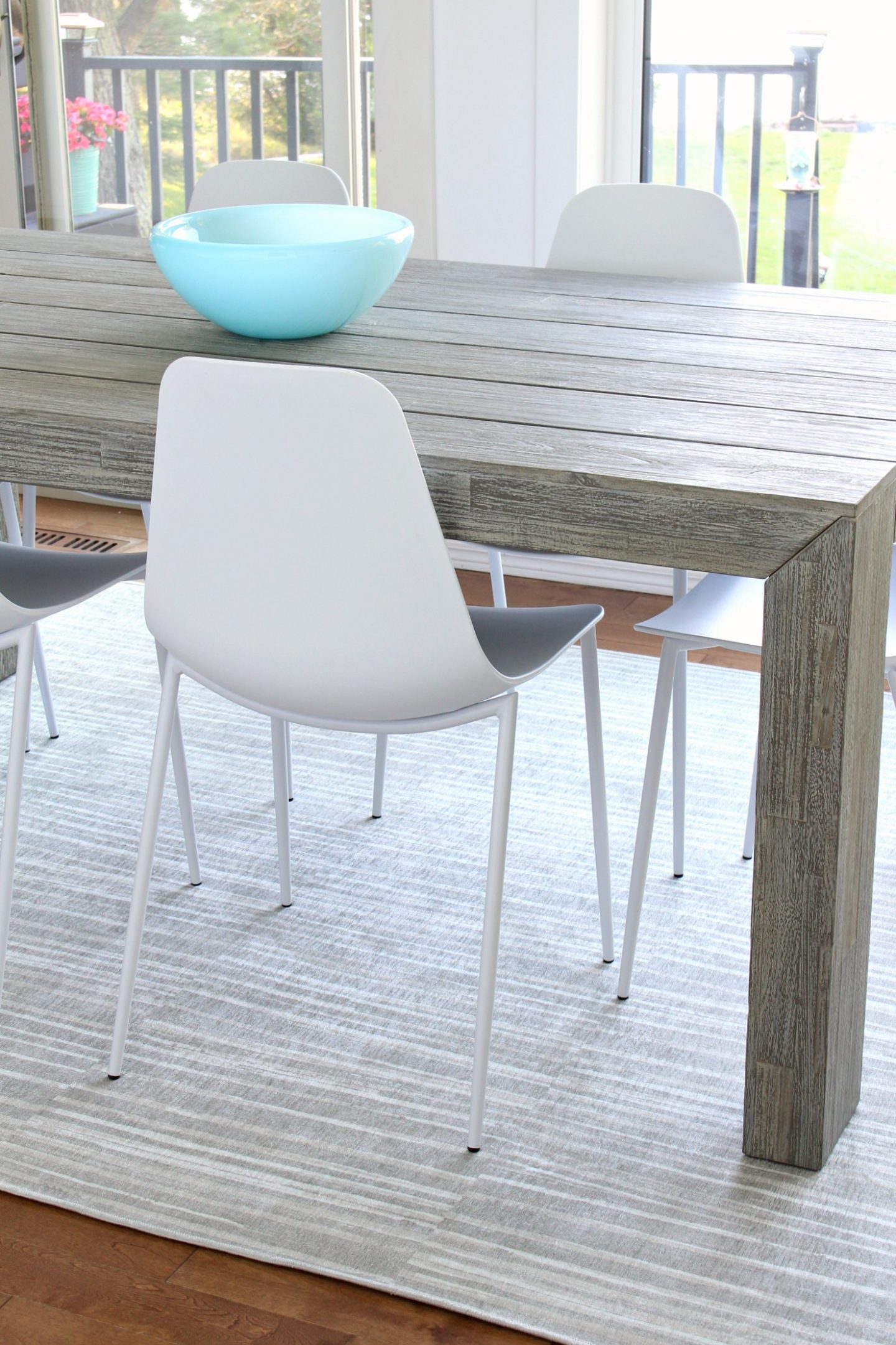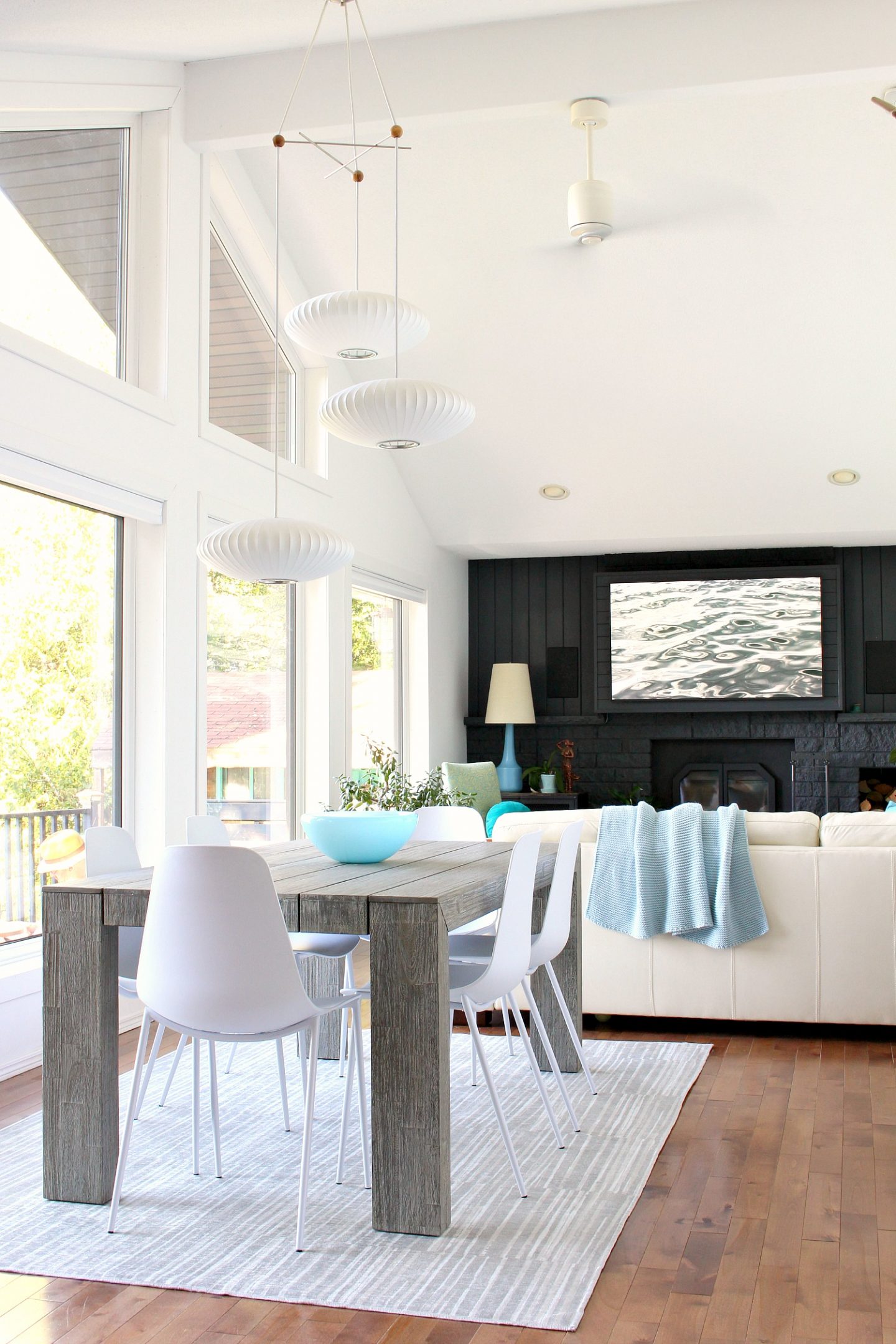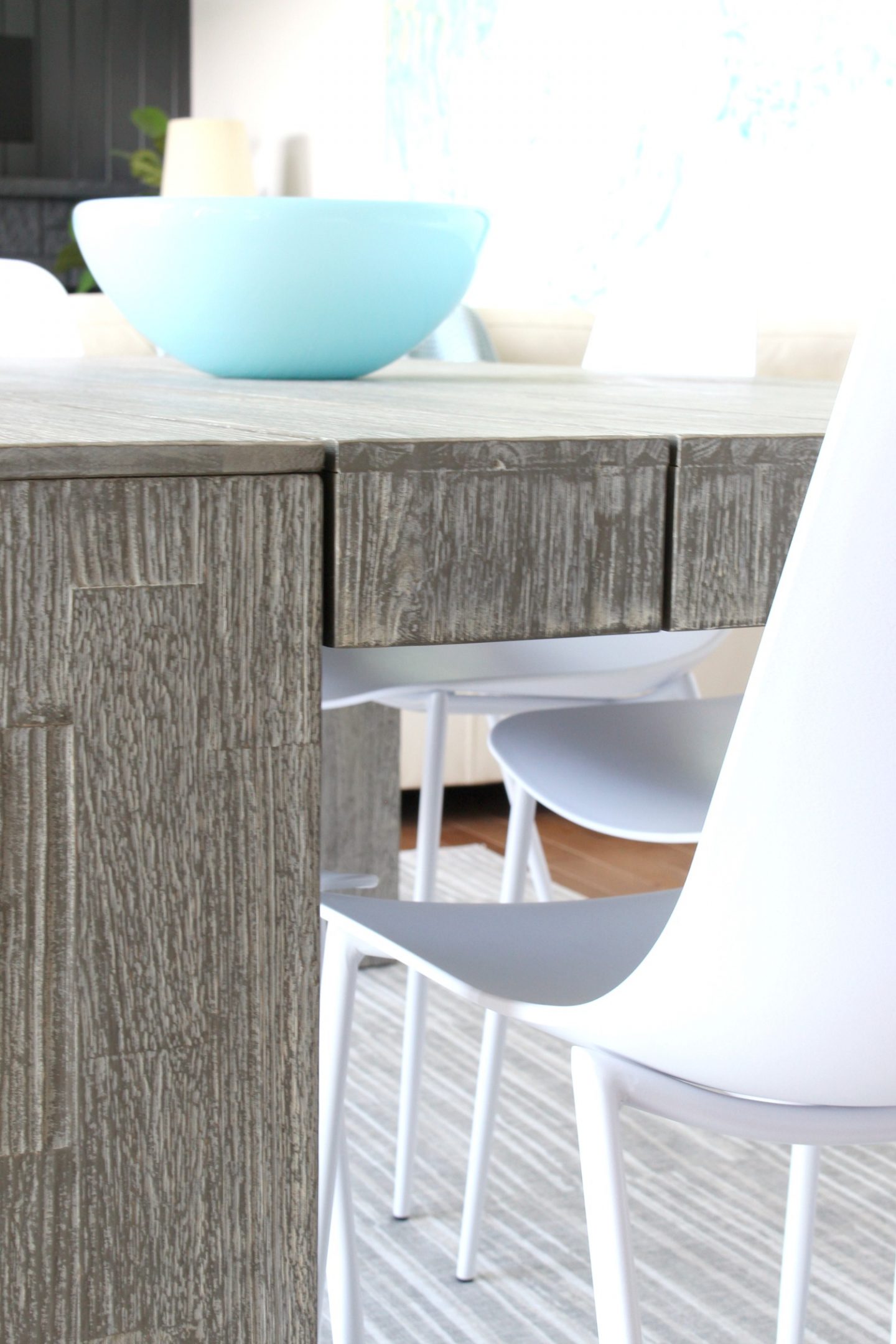 Overall, we love everything: the coastal dining table, the mess-friendly chairs, the rug! It's been really life changing that now we can come in from the beach and sit down without worrying about ruining anything – this dining room is now 100% washable and water resistant, lol! Even the rug can be tossed in the washing machine. Because it's designed for outdoor use, this coastal dining table is exactly what I wanted: no muss, no fuss! We no longer have to use table cloths or place mats. We have been using this table and chairs for three months and I am amazed at how durable the finish is. But even though it's an outdoor table, it feels incredibly smooth to the touch and looks beautiful. There are intentional irregularities in the design of the finish, which lends a weathered, coastal vibe I love. I think the weathered finish will wear well and hide any mishaps that may happen as we use this table. Plus this table is solid Acacia wood, which adds to its durability!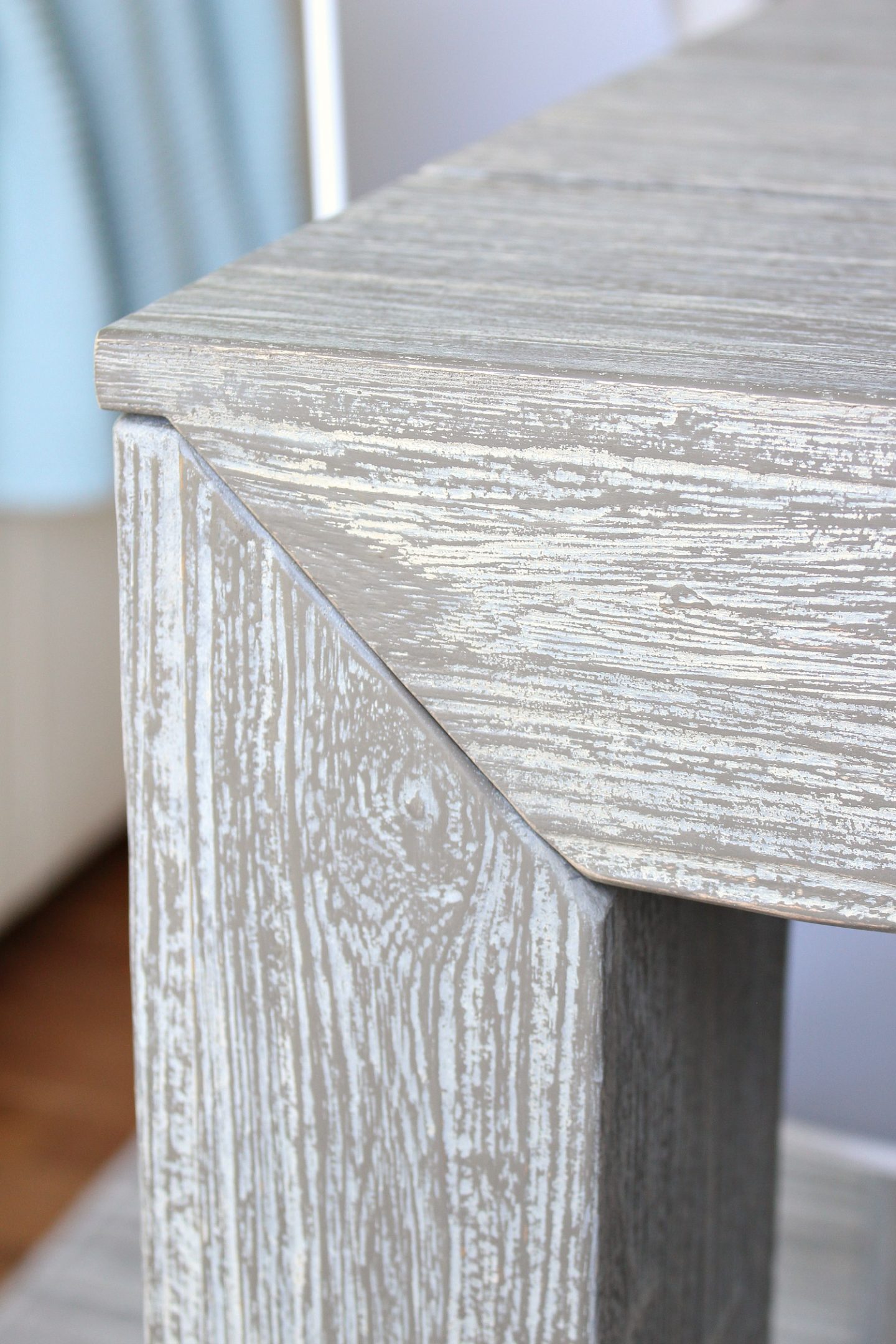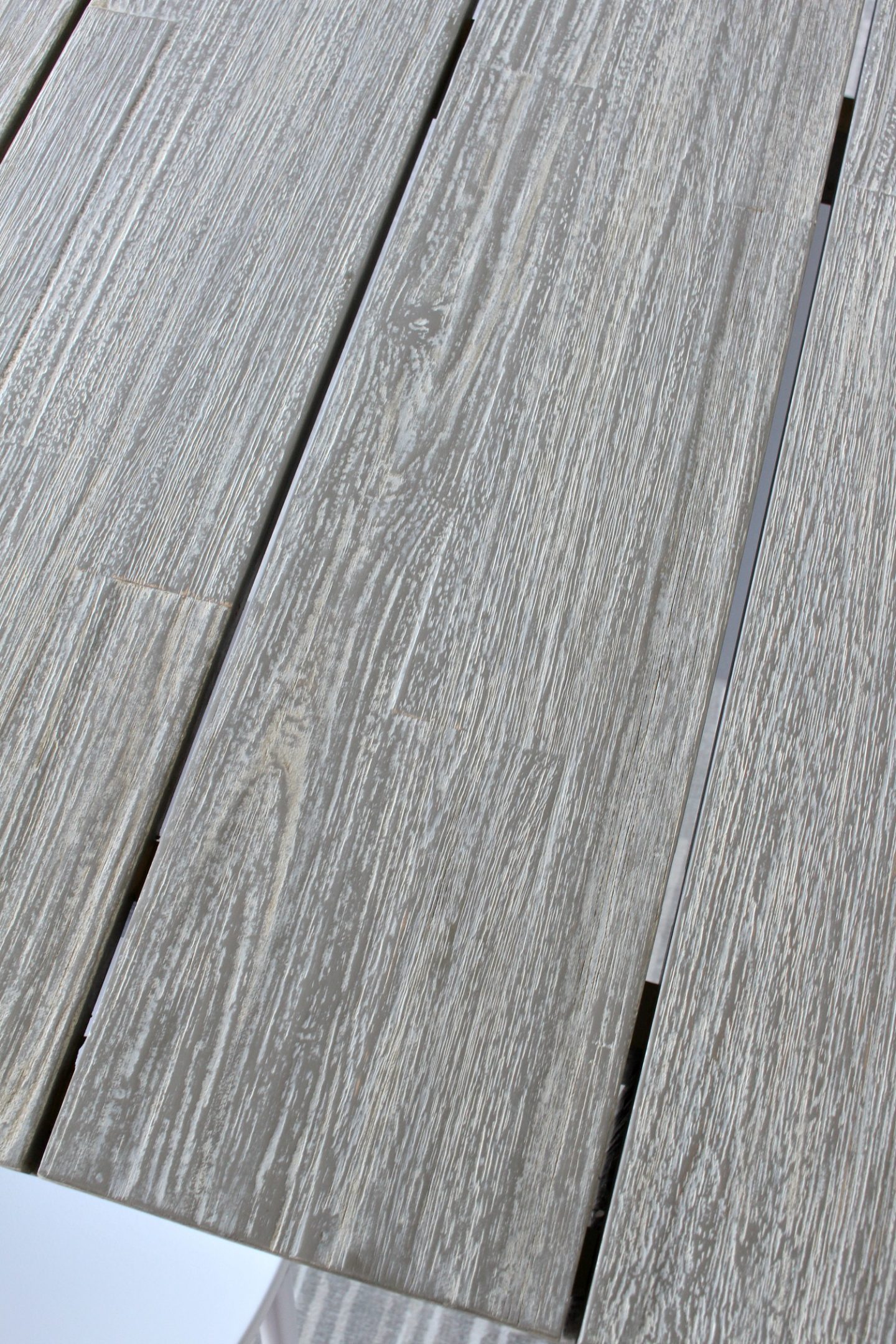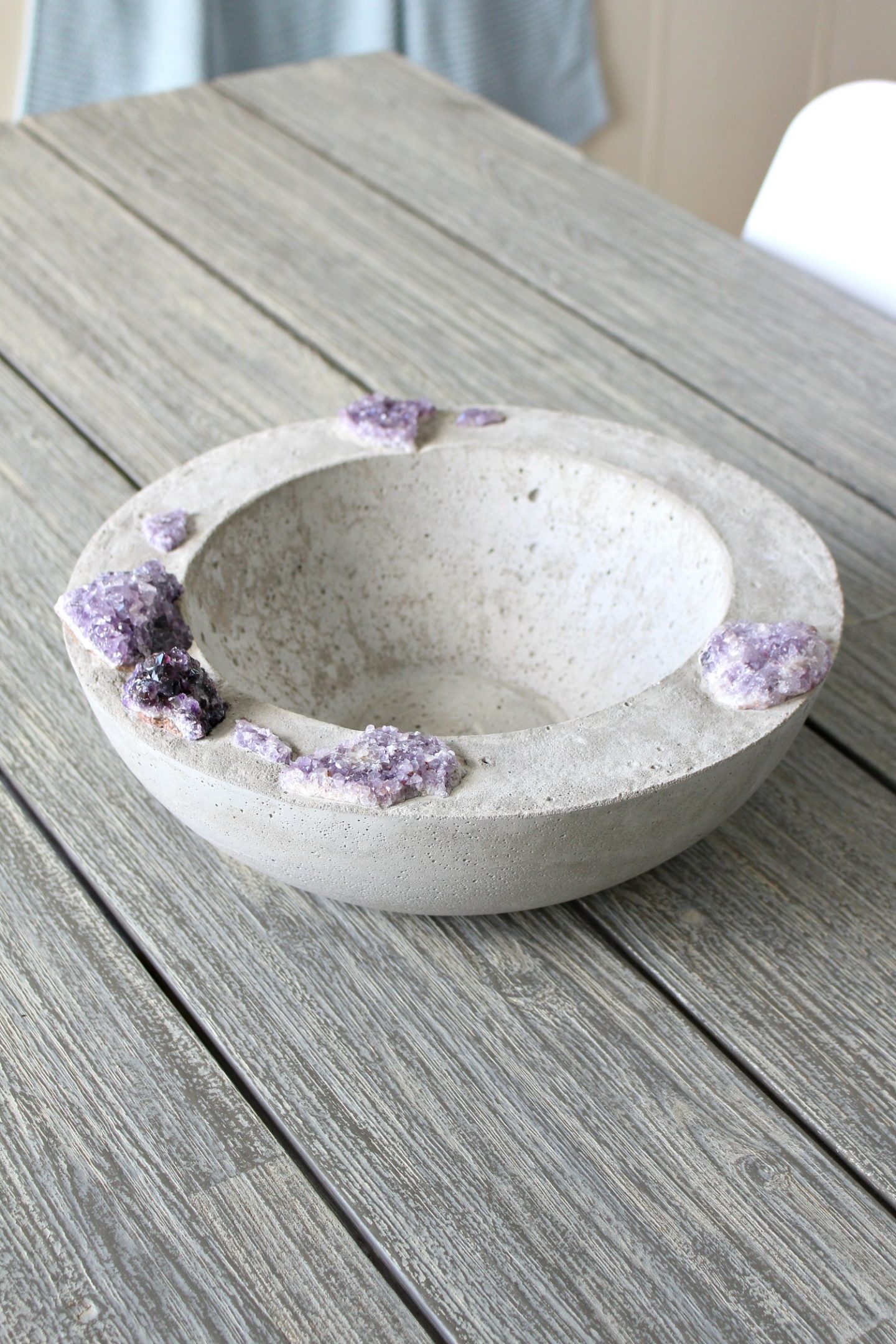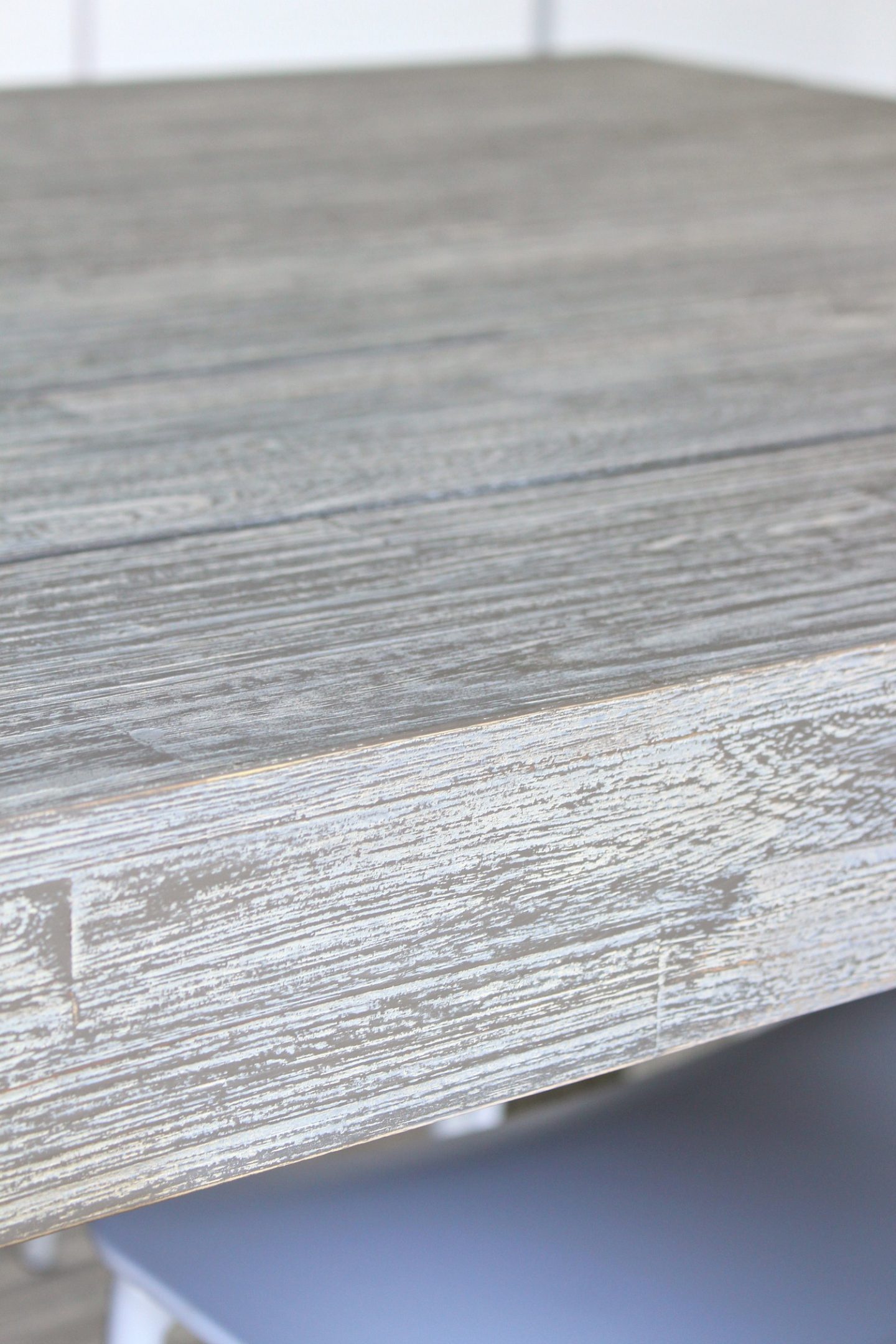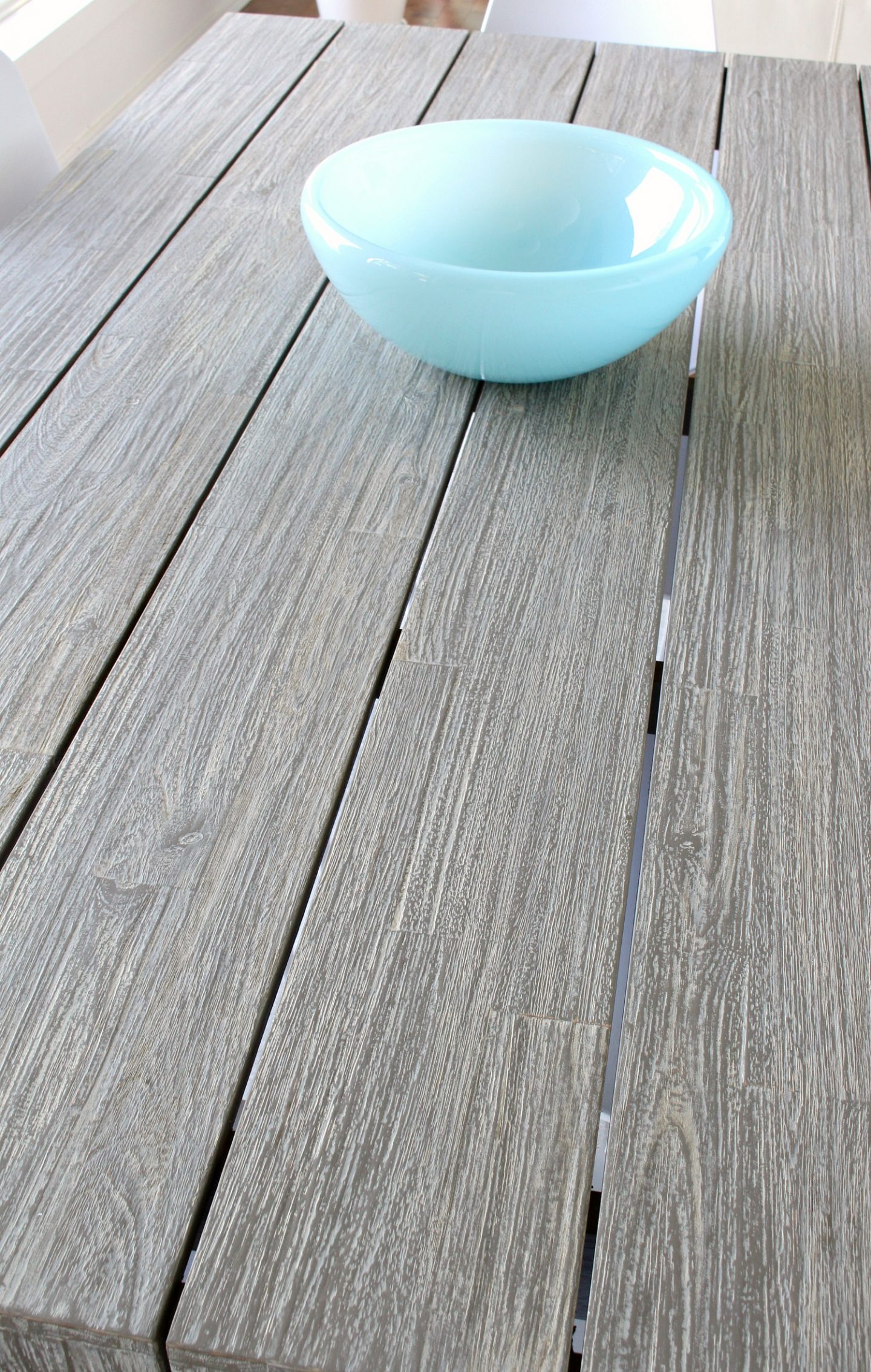 There are gaps between the planks of wood, because it's intended for outdoor use, but it doesn't disrupt the look or function of this table. That was my one concern, but it hasn't been an issue at all.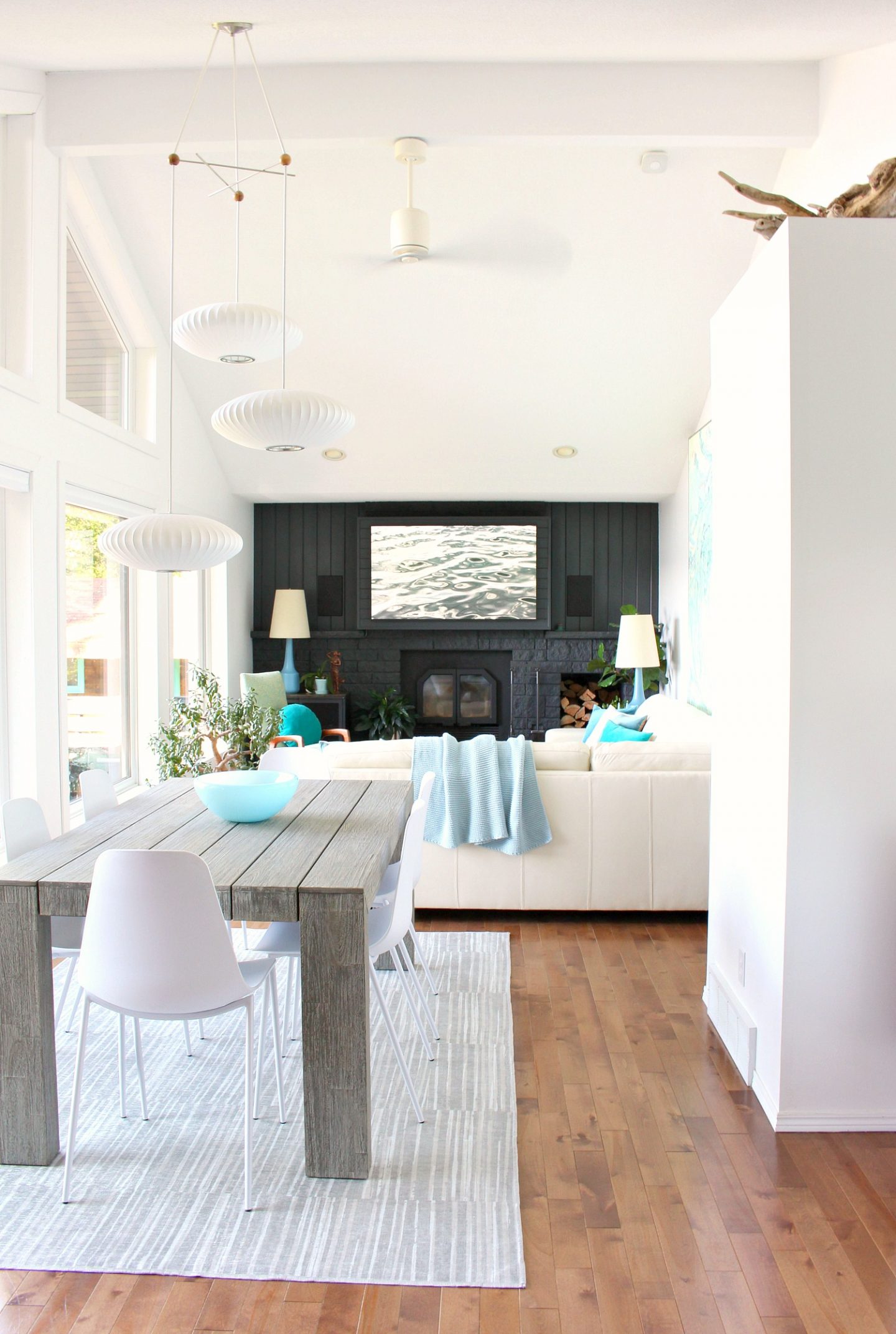 The new table, chairs, and rug has been quite the dramatic change! The light fixture, artwork, and floating credenza we hacked stayed, and work really well with the new furniture, keeping a bit of a vintage vibe but coordinating well with the new beachy aesthetic.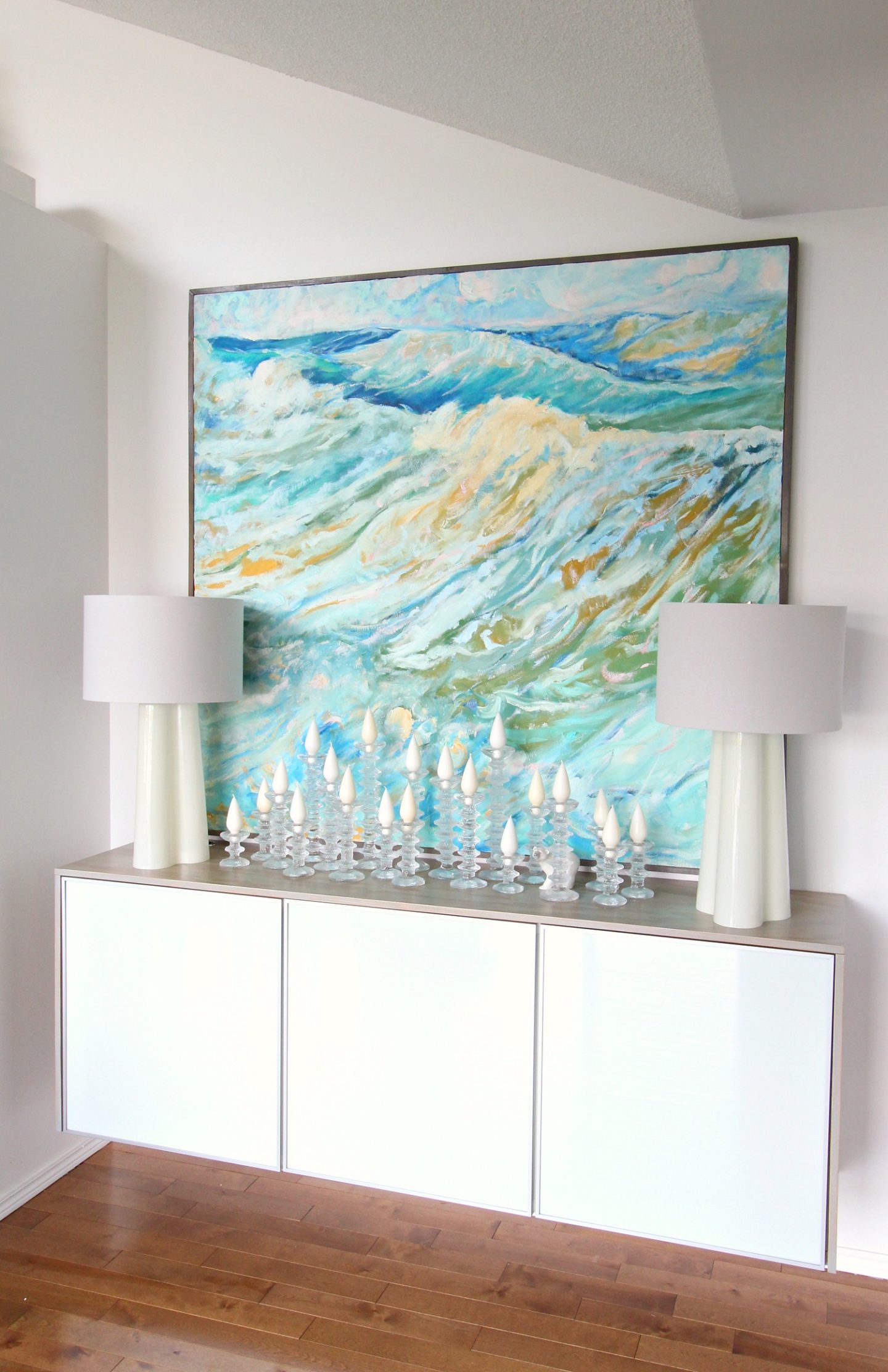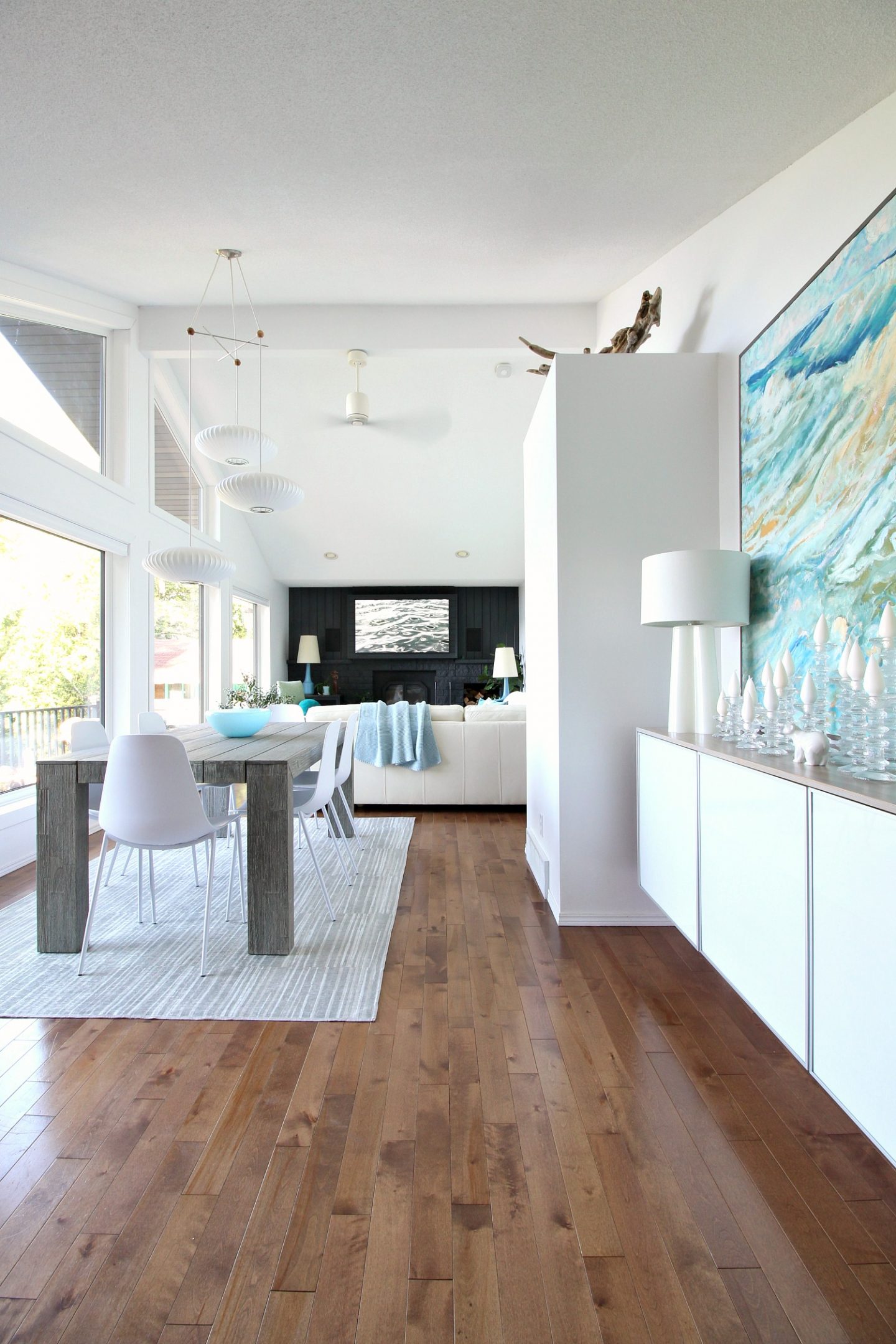 I will never give up my love of vintage and mid-century modern – and the house still has many warm wood tones of teak and walnut – but I love mixing in a little bit of this driftwood grey wood stain and a beachy aesthetic to pay homage to my lakeside location. After seven years, it feels great to have a dining room designed specifically for this lakehouse and how we live.