You probably knew this was coming: a DIY chicken Christmas ornament project should surprise no one because I am obsessed with my backyard chickens! In fact, I curated an entire chicken Christmas tree theme with tree skirts, ornaments, and garland right here.
Whether you're a backyard chicken keeper yourself, or looking for gift ideas for backyard chicken keepers you know, this handmade clay chicken ornament is a sweet project idea.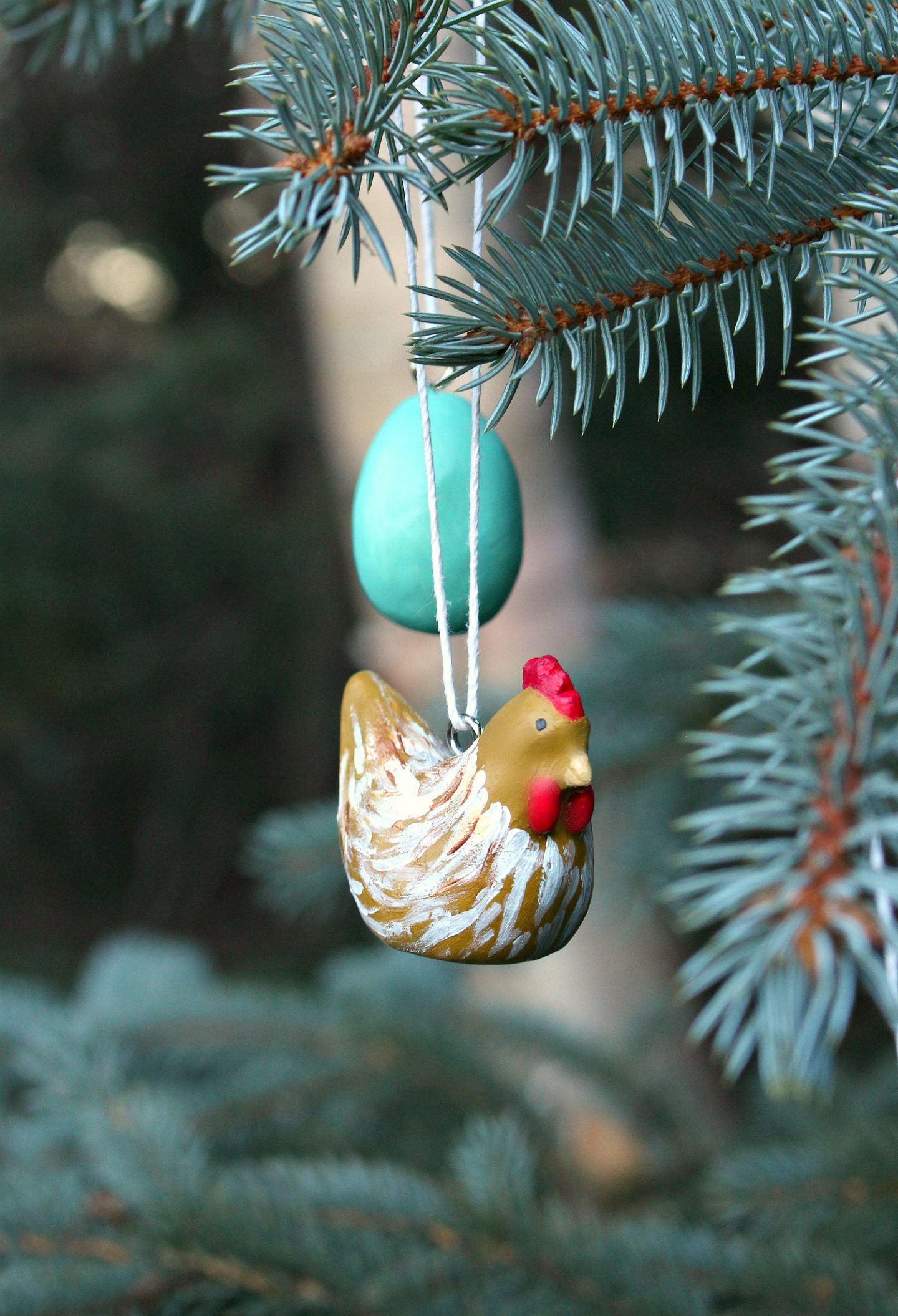 I used Sculpy clay to make the chickens and then painted them with acrylic paint. It was a simple project and kids can totally get in on the fun (with supervision)! I kept the shape/design of my chicken simple, because I had never worked with polymer clay before. I think with some practise, I could make very realistic clay chicken ornaments, but my first attempt was more abstract, lol. I also painted them in colorful combos and then repainted them when inspiration struck.
Do some of my chickens maybe have a little wonky face? Sure, lol, but they were fun to make and super adorable!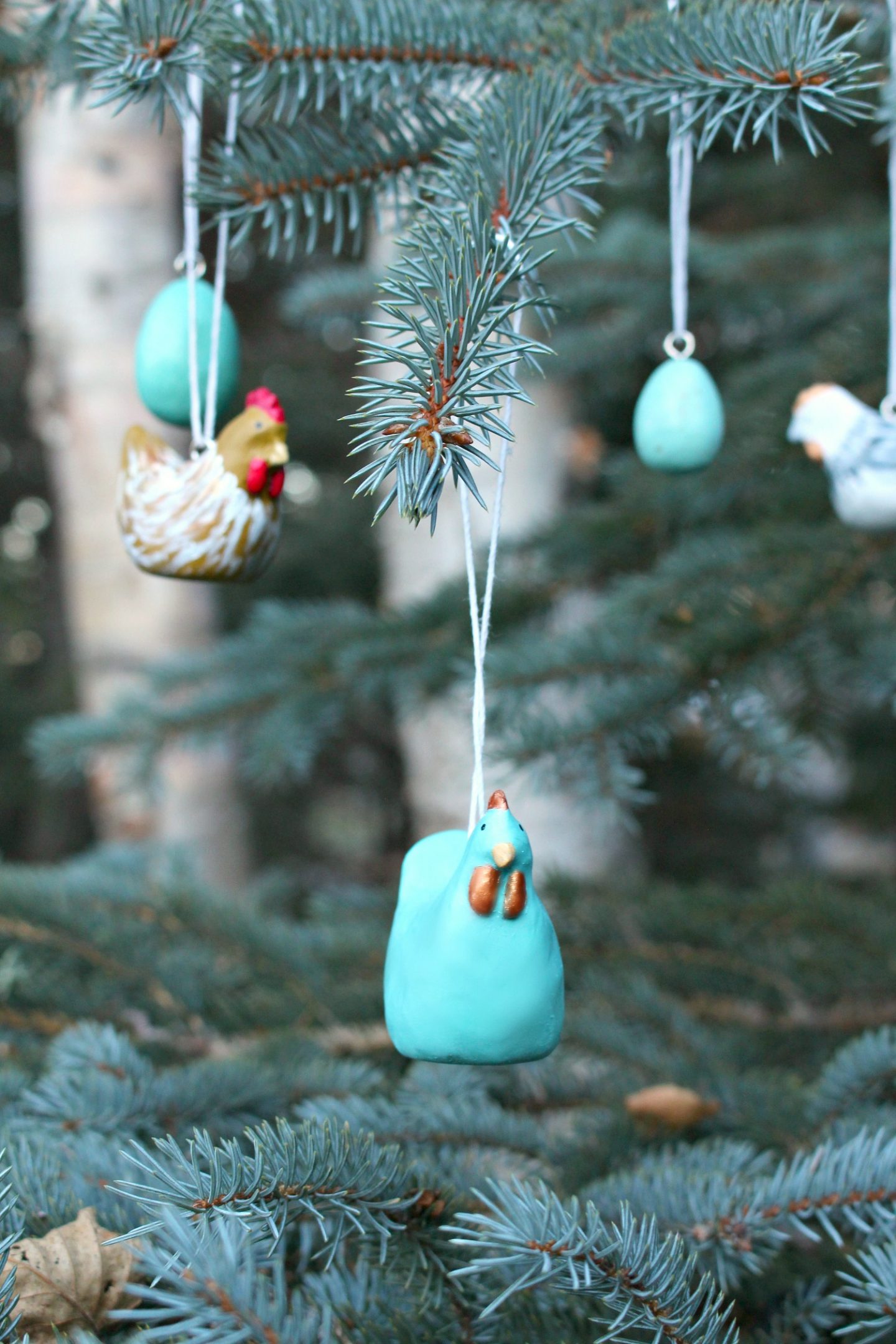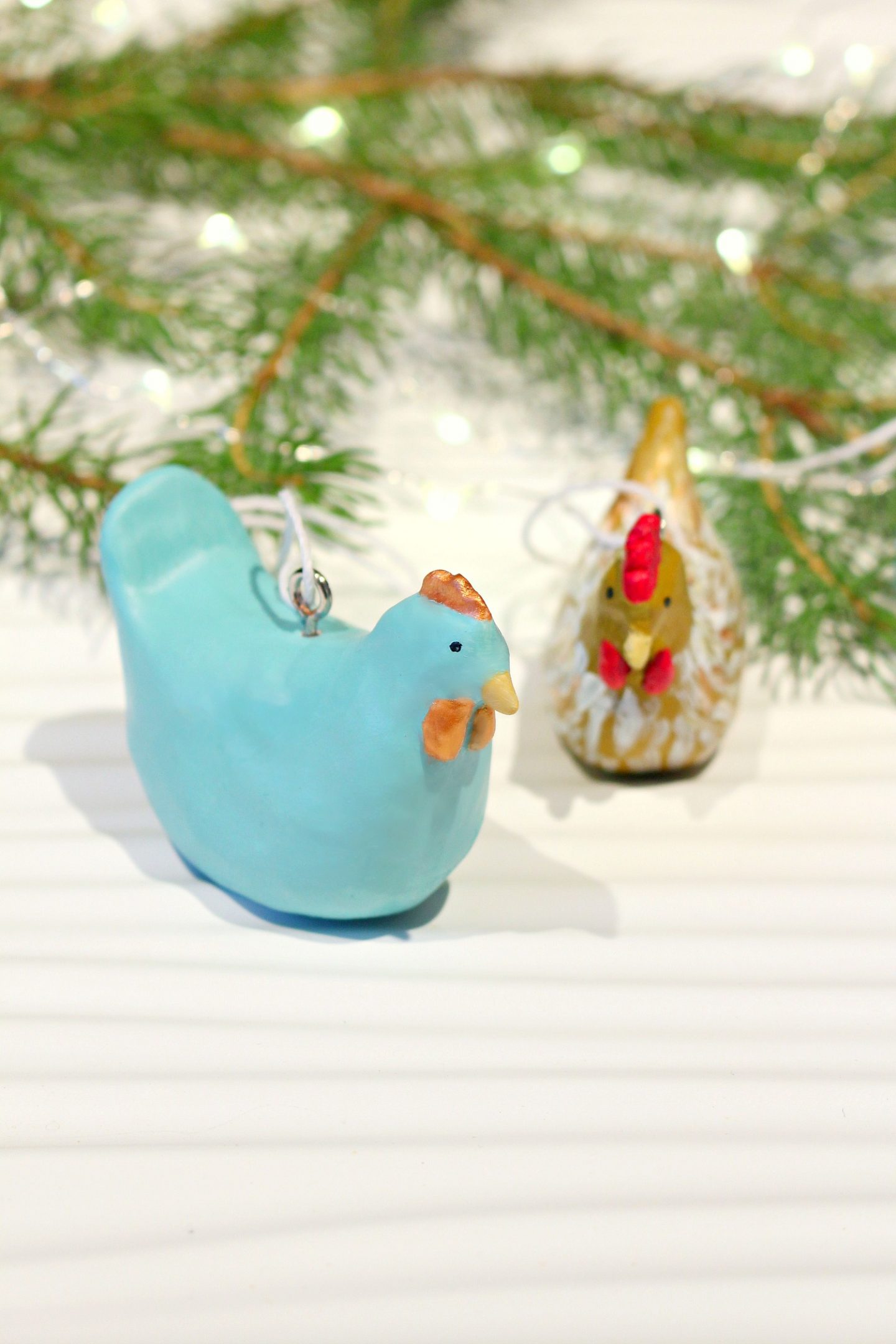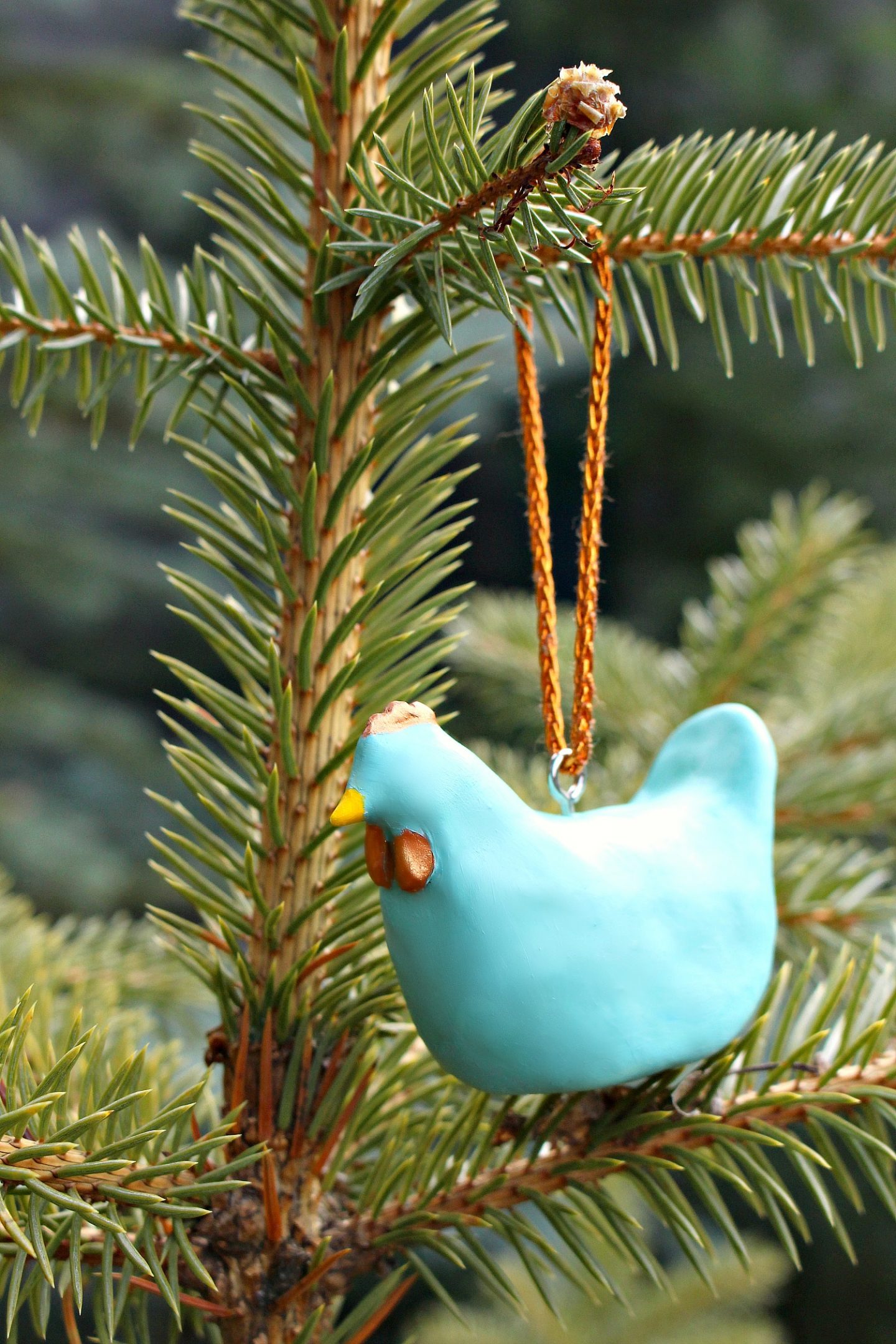 Supplies for DIY Chicken Christmas Ornament:
Sculpy clay (I bought a 1lb block each of white and black)
Acrylic paints (the good kind) or craft paints
Large plastic mat or old cutting board to protect surface
Knife to cut Sculpy clay
Small putty knife, plastic fork, palette knife etc to smooth (optional)
Glass baking pan
Oven and timer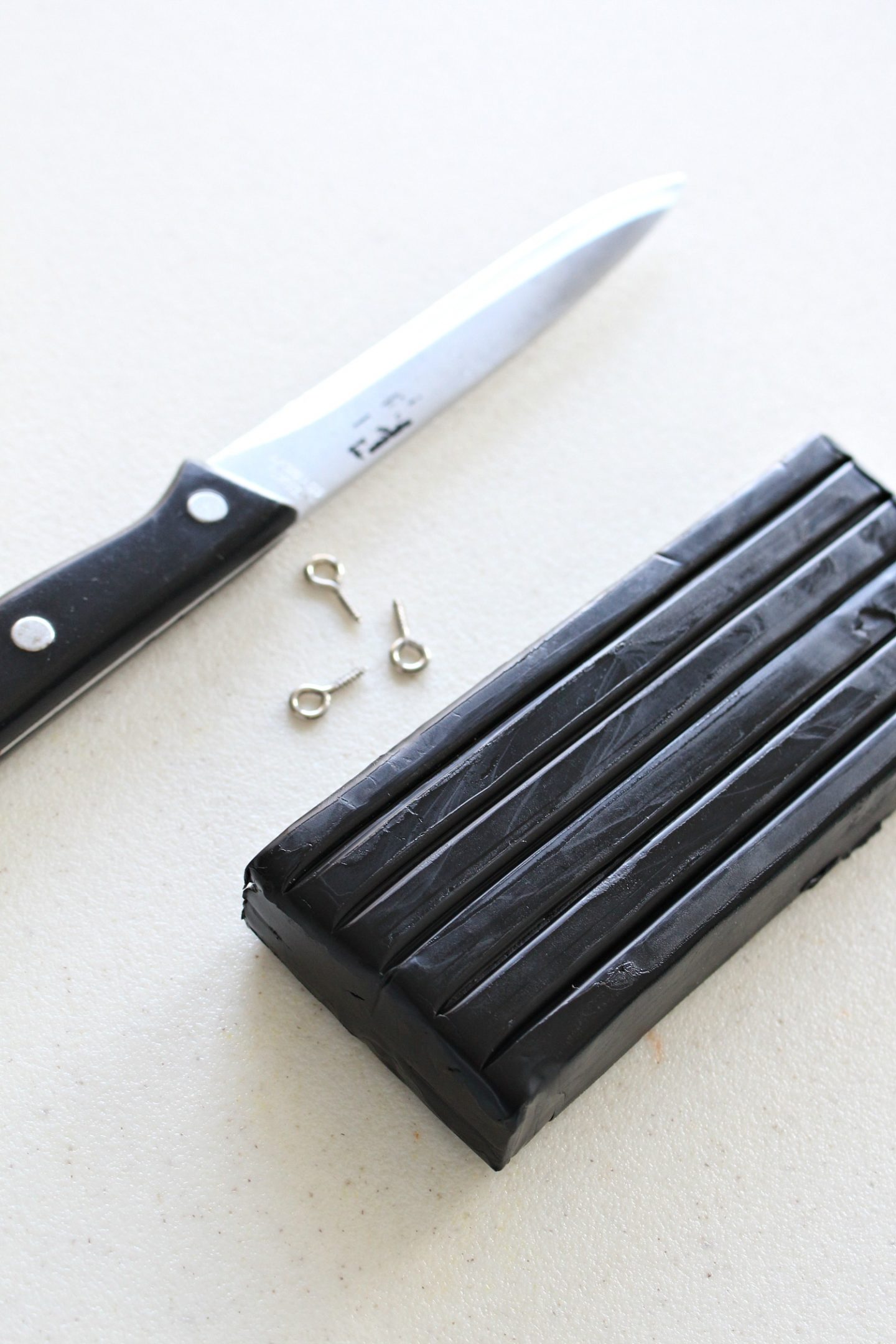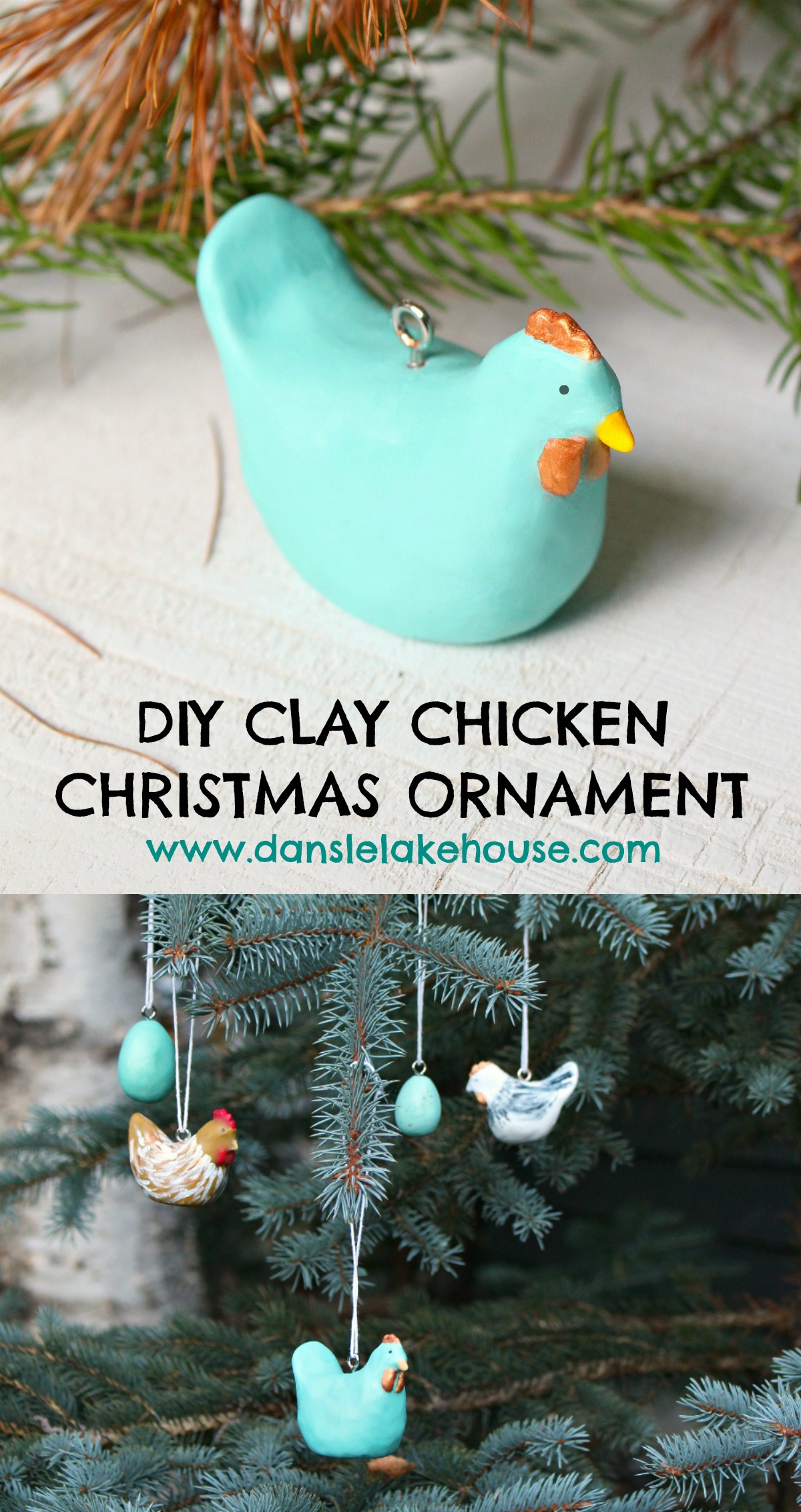 How to Make These DIY Christmas Chicken Ornaments:
Note: the painted chickens in this post were made with white clay. After experimenting, I had a system so I made some new ones with black clay, and photographed that process, so you can see a step-by-step tutorial. The black clay is only seen in the tutorial (I'm baking it today, haha).
First, cut off small sections. I divided each 1 lb. block into five chickens, but you can adjust the size. It helped to cut apart the Sculpy clay into equal parts right away.
Then take the one lump and break off a tiny amount to set aside for the comb and wattles. Knead the remaining Sculpy clay to make it soft and malleable. Roll into between your hands in a ball to soften it. Then roll into a tube shape: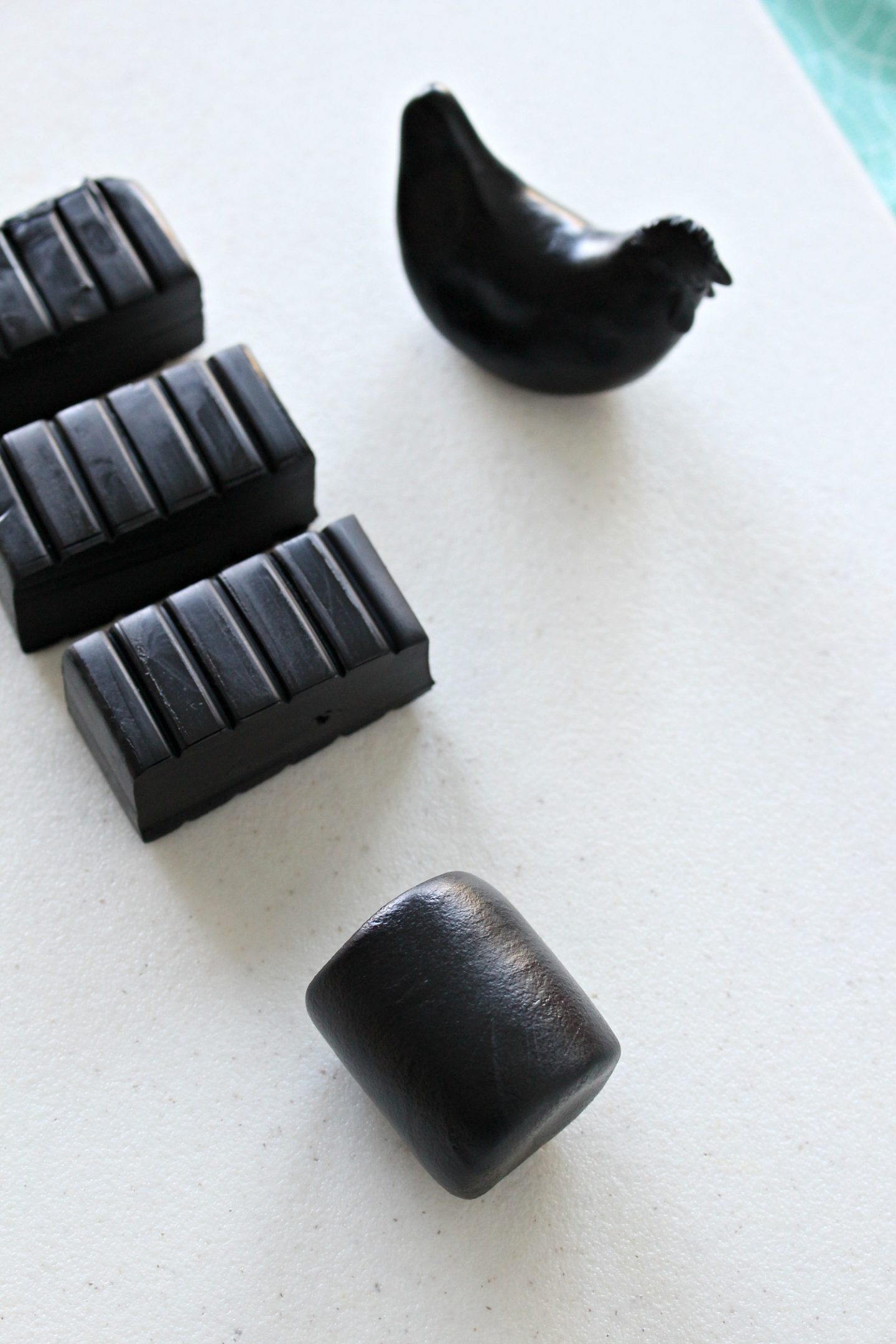 It helps to have a picture of a chicken sculpture on your phone to guide your shape. I can honestly forget what a chicken looks like when there's pressure to paint or sculpt one. With your image in mind, start to flatten one end of the tube to form the chicken bum, like this: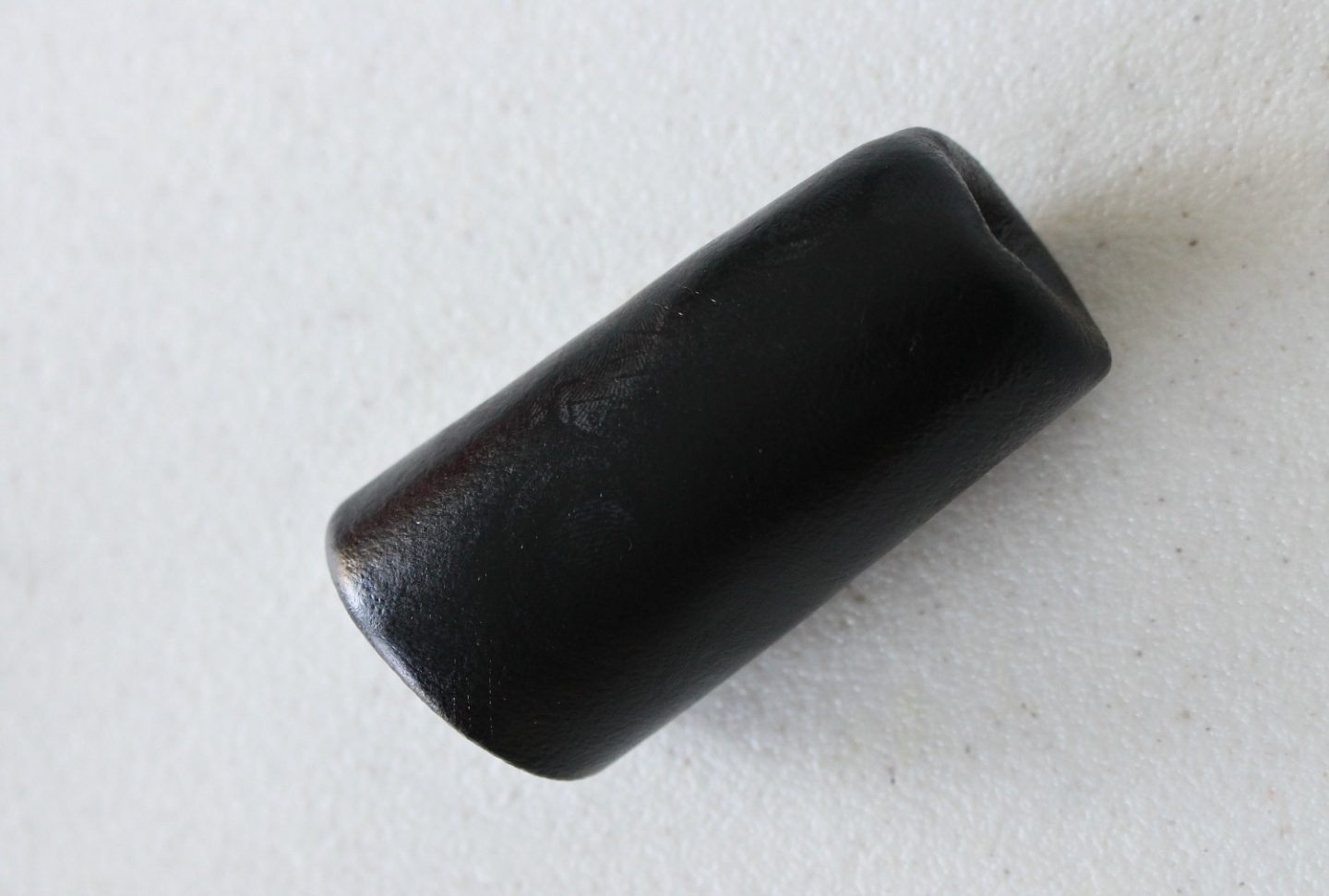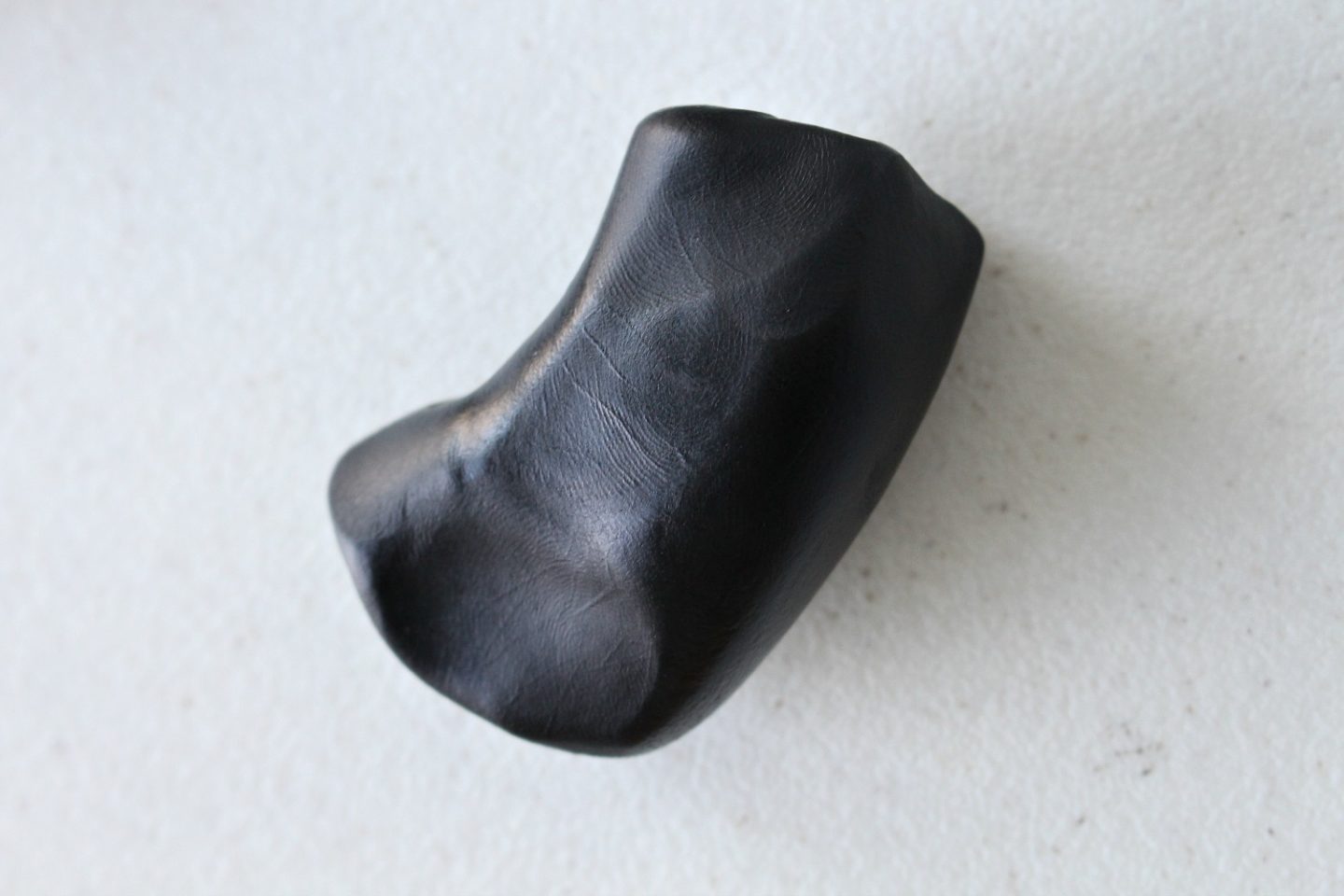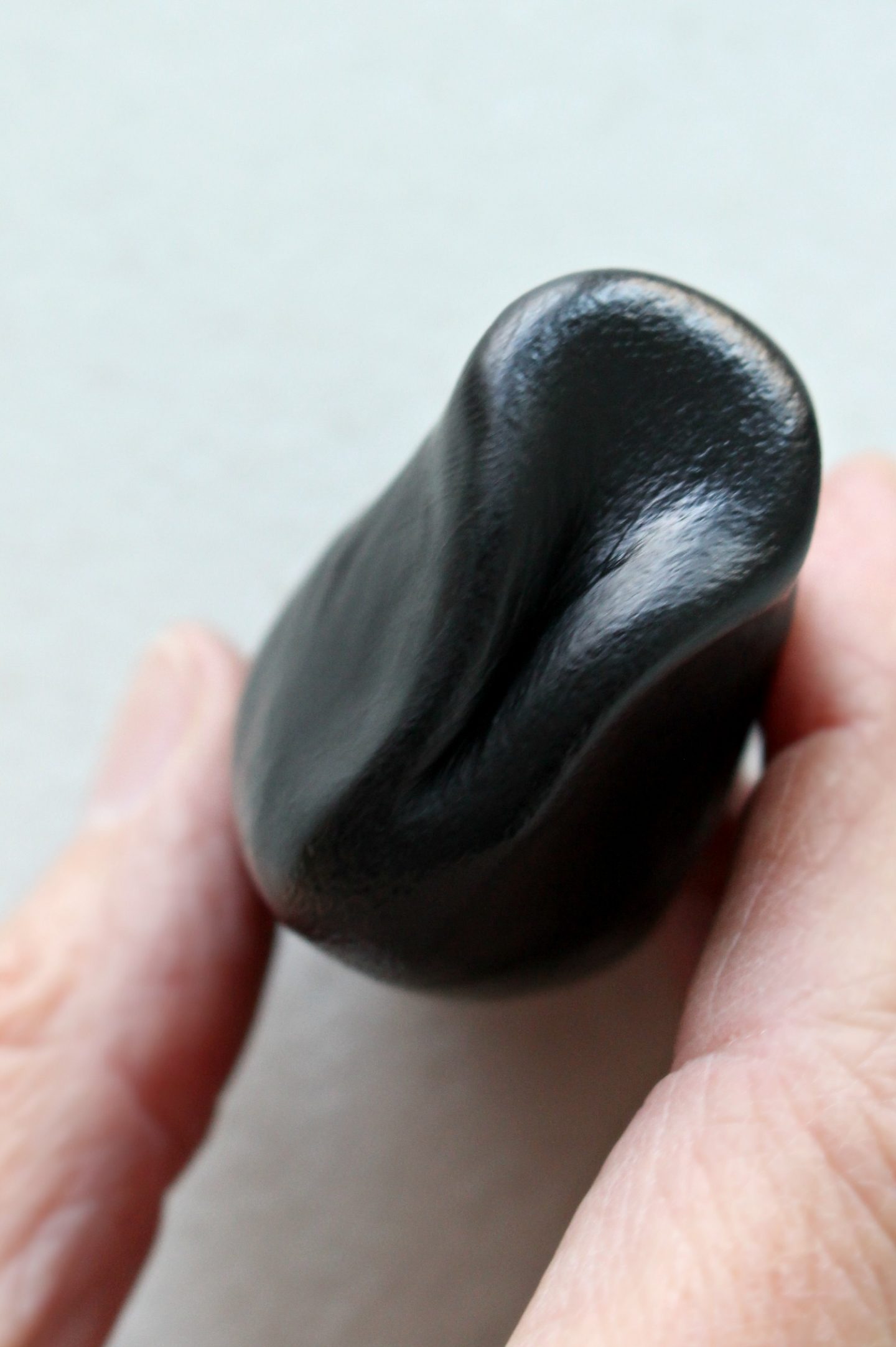 Then shape the tube into almost a crescent moon shape: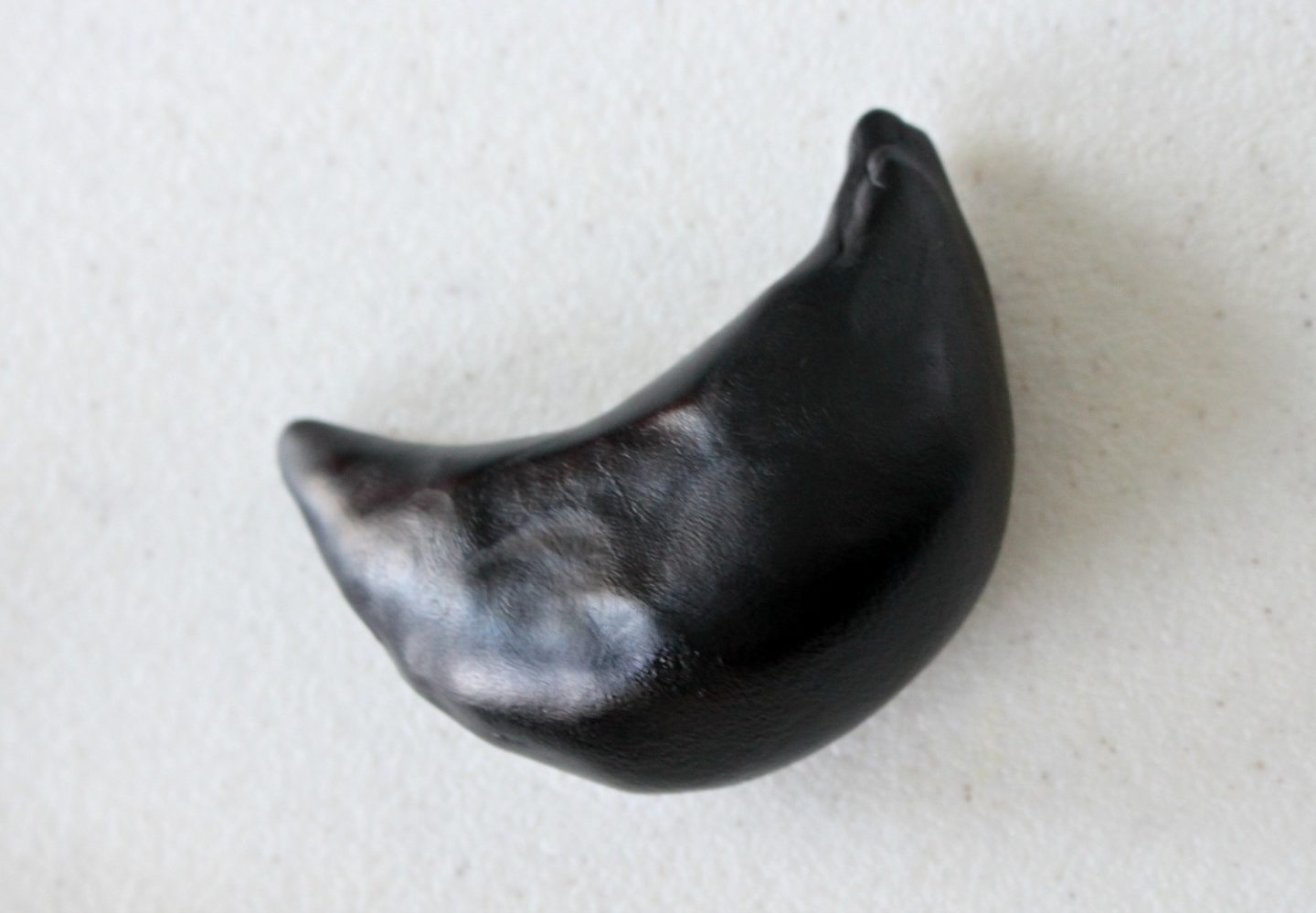 From the end you didn't form into the bum, gently pinch and tease out the shape of a head: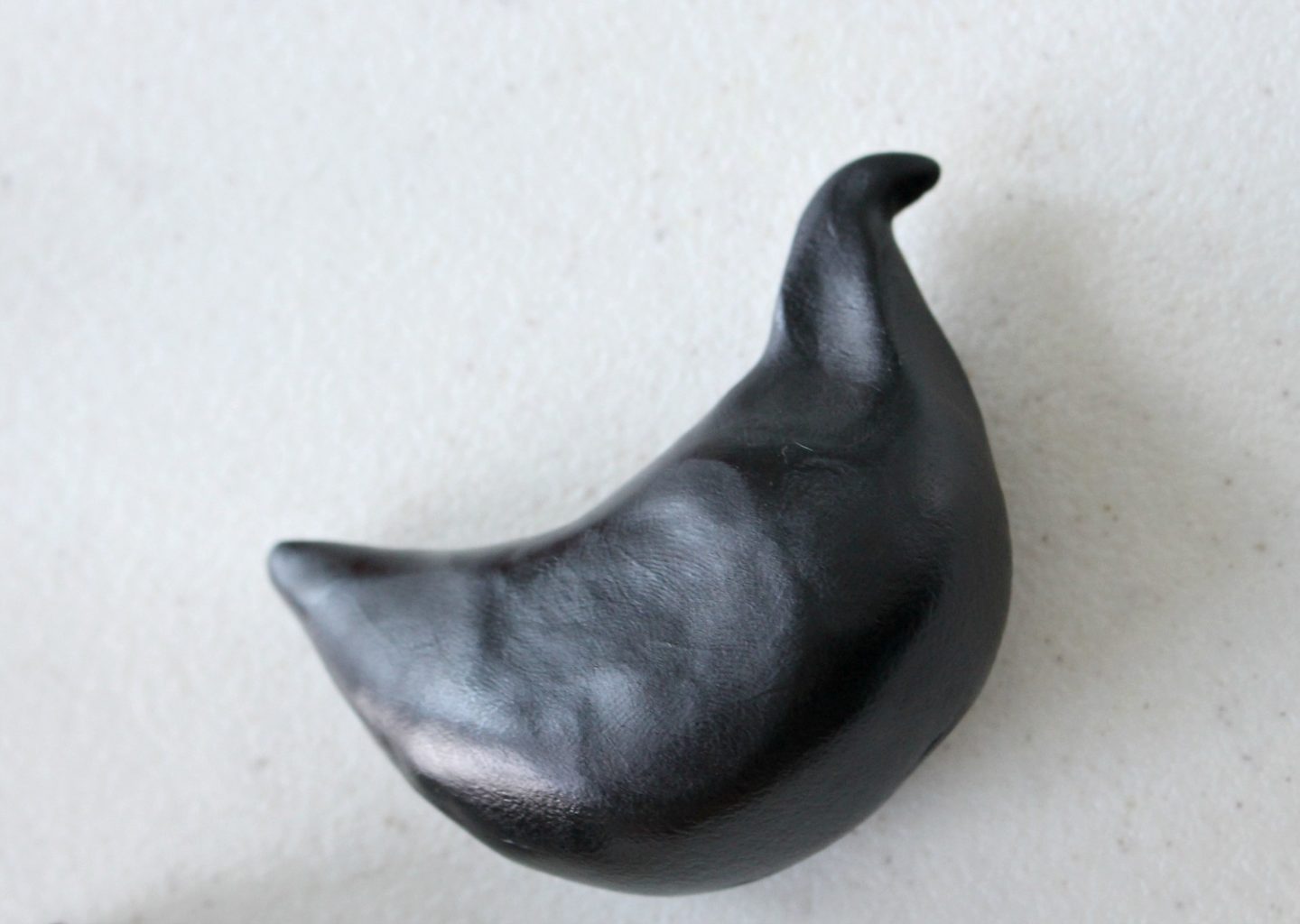 If the head does not seem large enough you can add a thin layer of the clay, shaped like a collar, and then smooth it down with a small putty knife and your fingers to blend it into the body of the figure: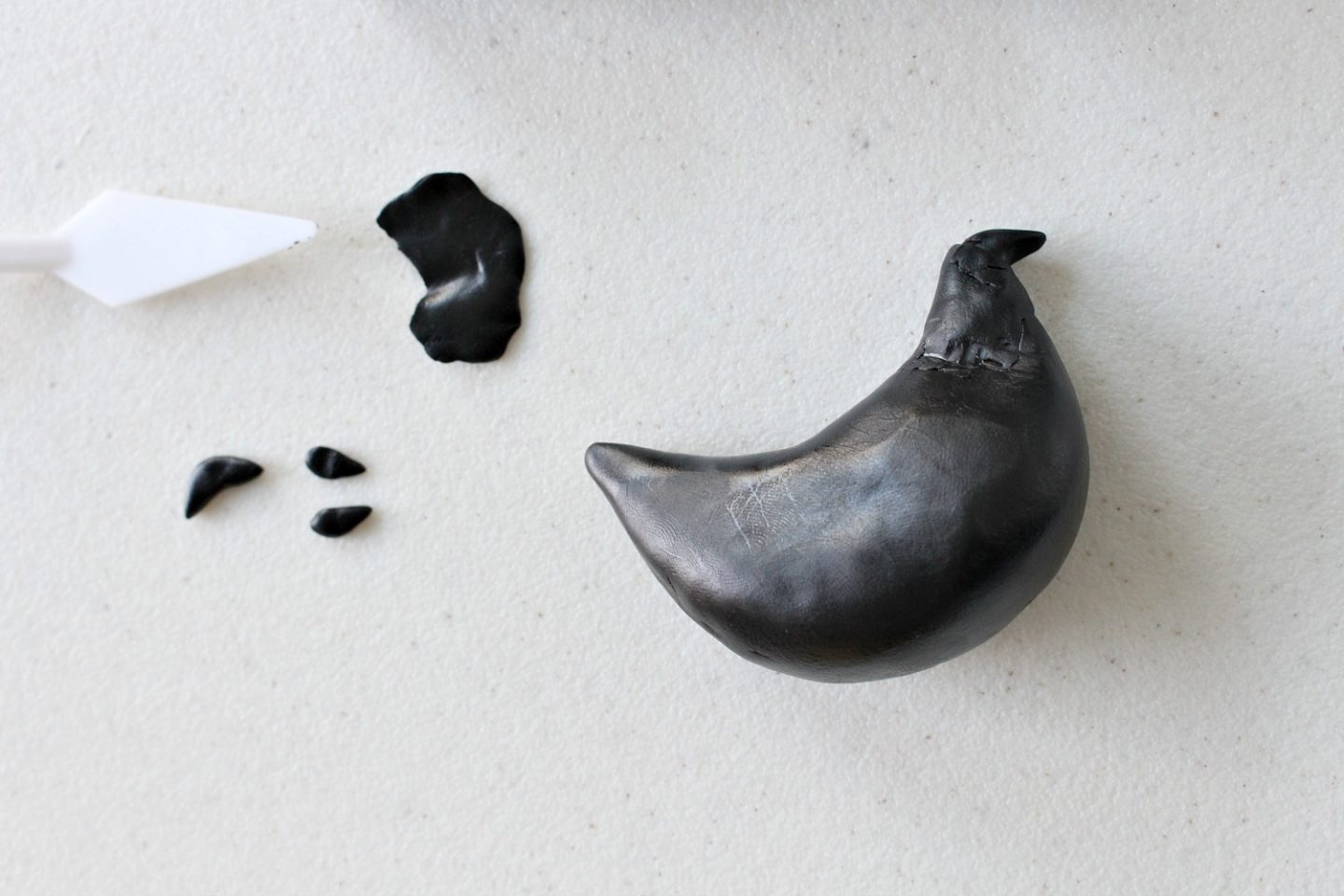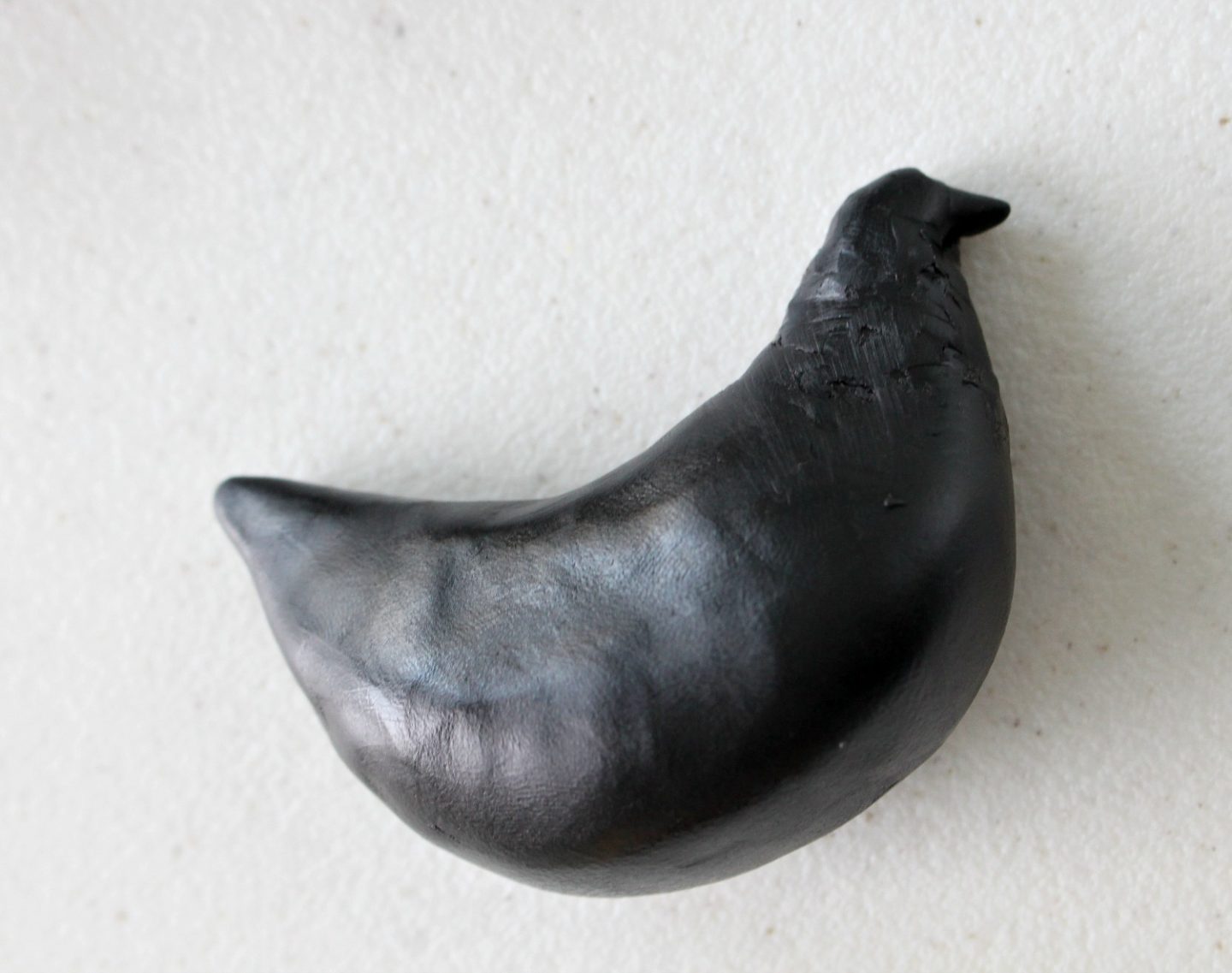 You can use your fingers to smooth the joints and the surface, or something like a palette knife:
Now affix the comb! Shape one bit of clay you left out into a crescent/half circle shape and affix to the top of head, smoothing into place: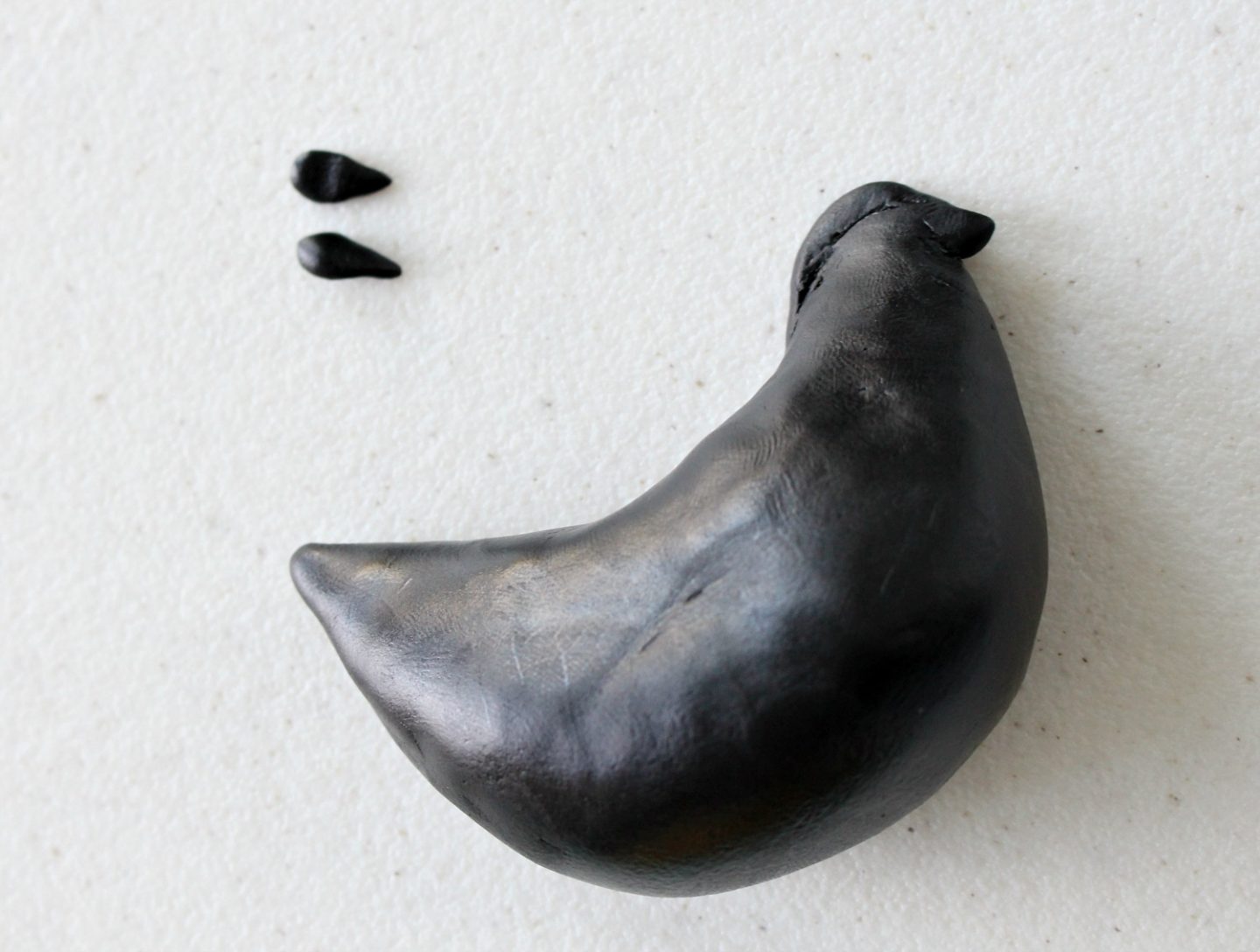 Use a knife, your finger nails, or any flat edge to create indentations in the top of the comb: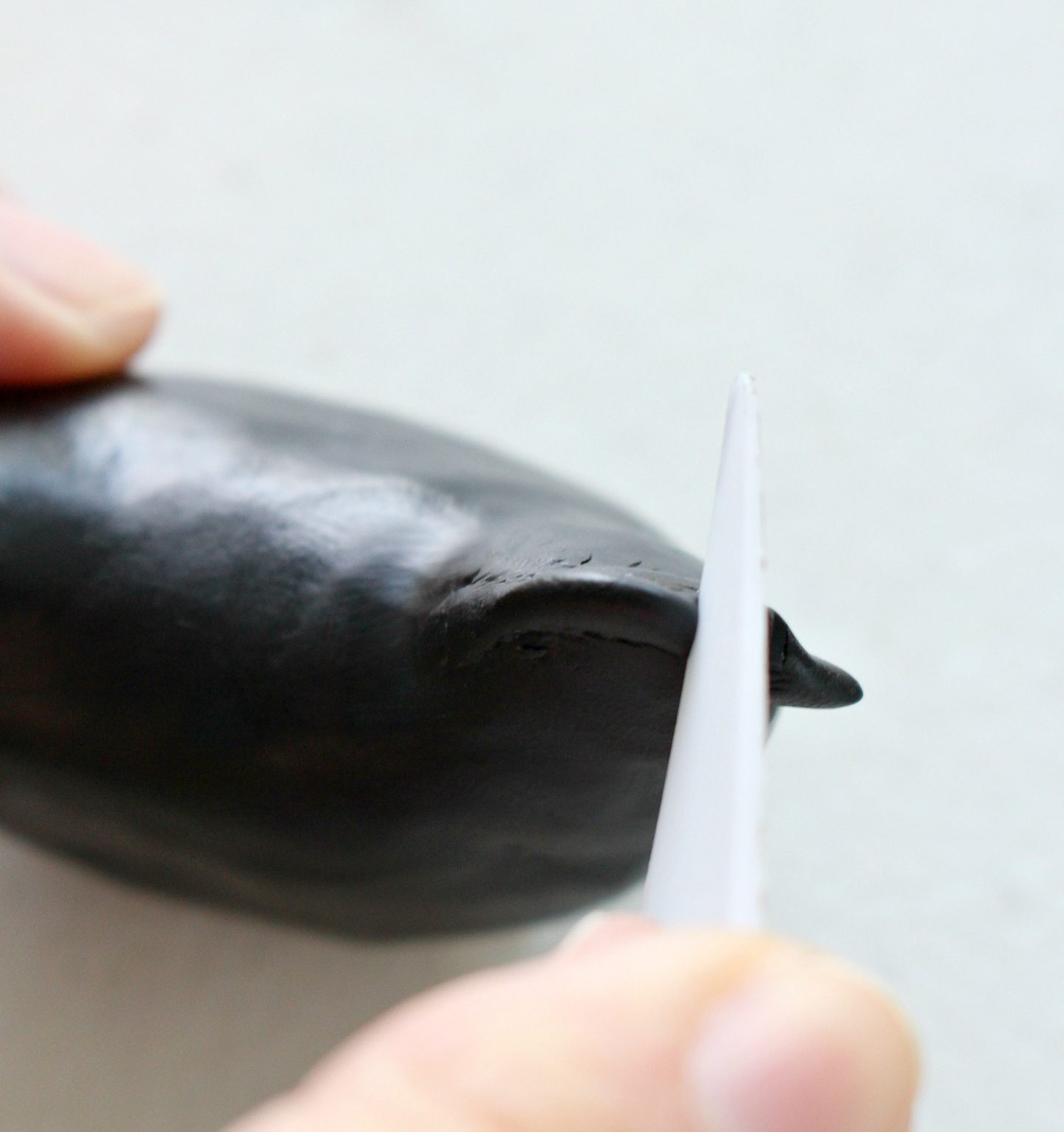 For the beak, pinch out a little cone shape from the head. For the waddles, take the remaining clay you set aside and make two apple seed shapes. Press them on to the chicken and smooth the "seam" where they are attached: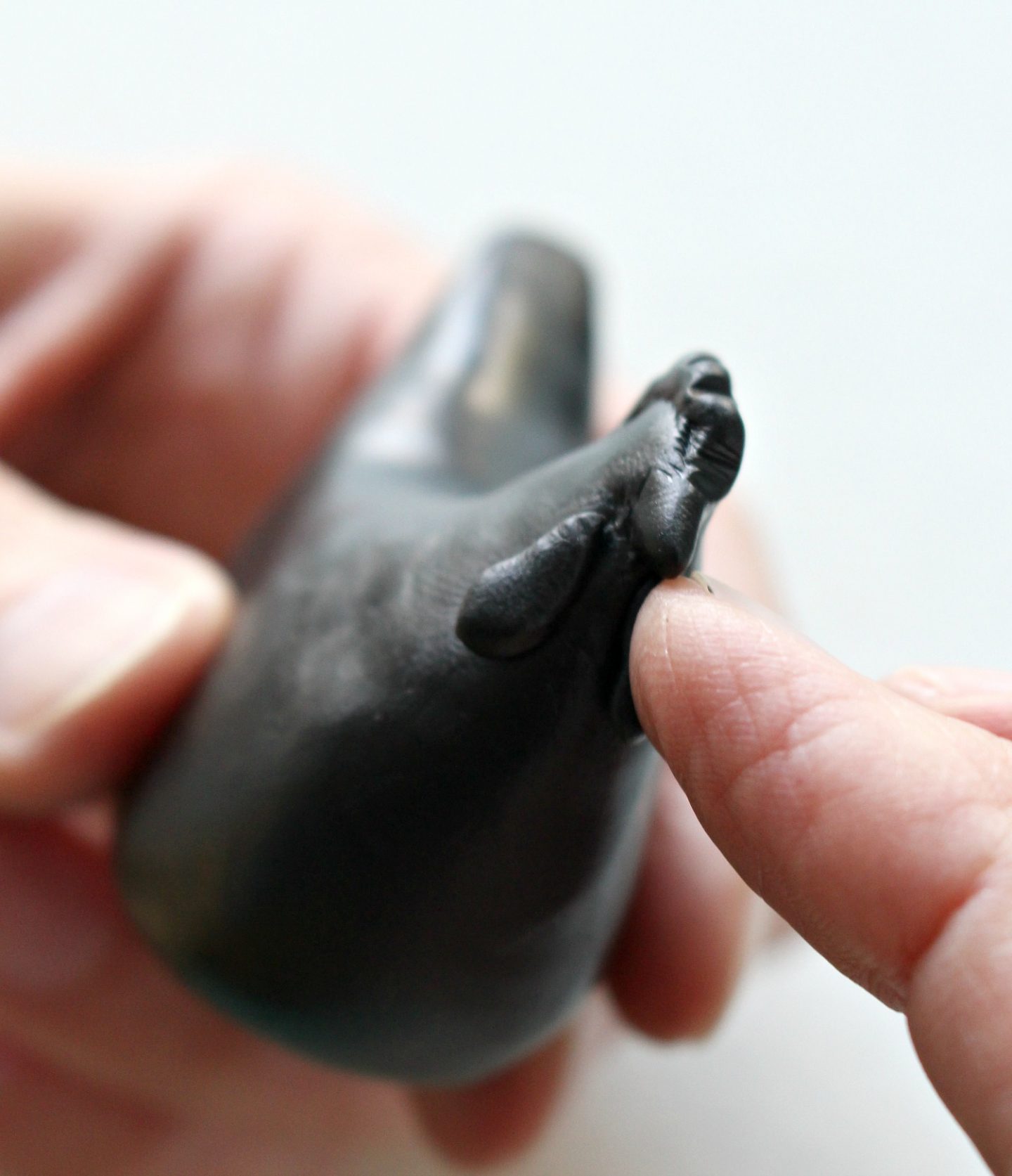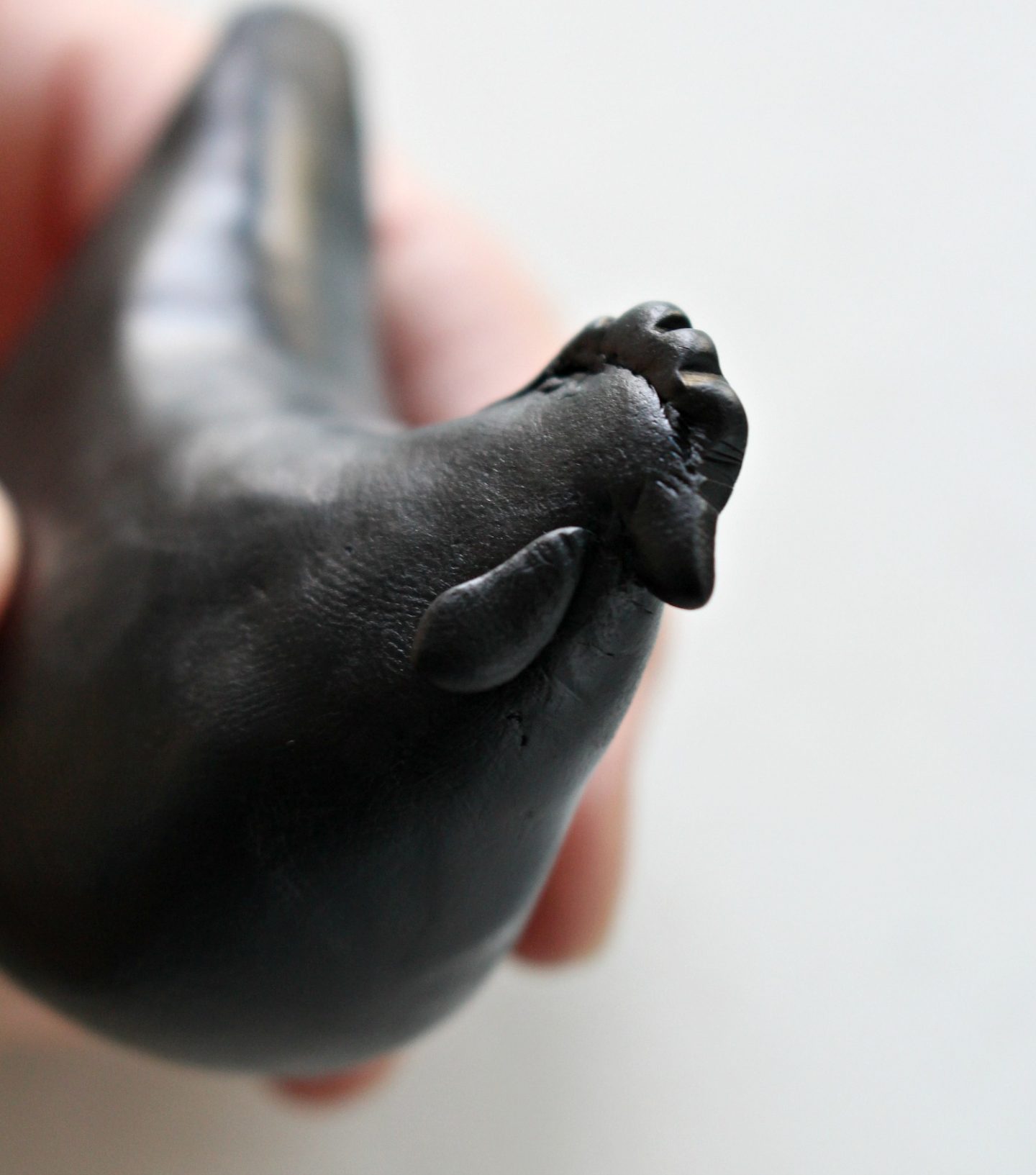 Repeat for the other wattle: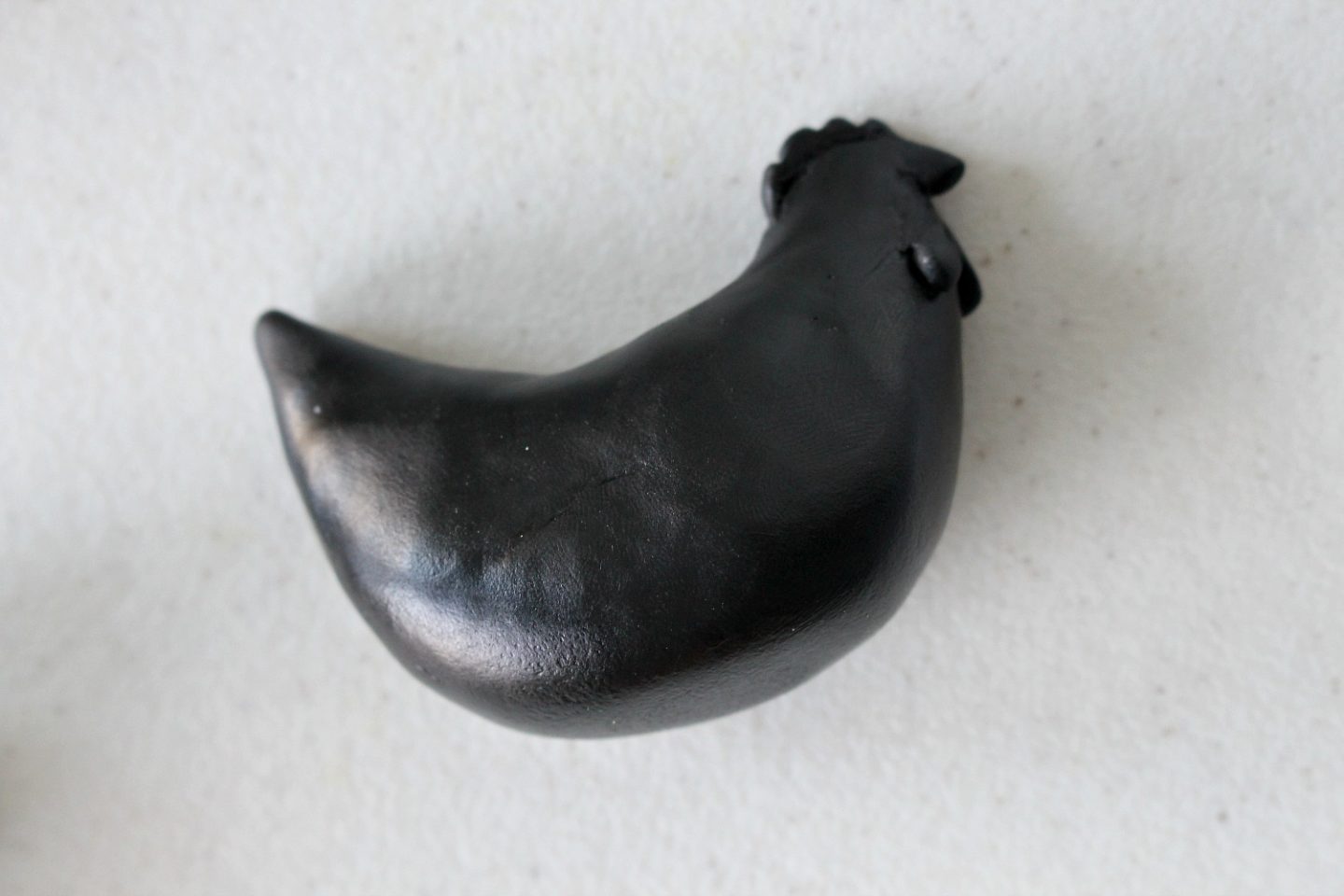 And ta da! Your clay chicken has materialised from a lump of clay. This clay is forgiving. If you hate it, ball it up and start over, or push and pull areas to form the shape. If you're happy with your chicken shape, gently screw in a screw eye into the middle of the back.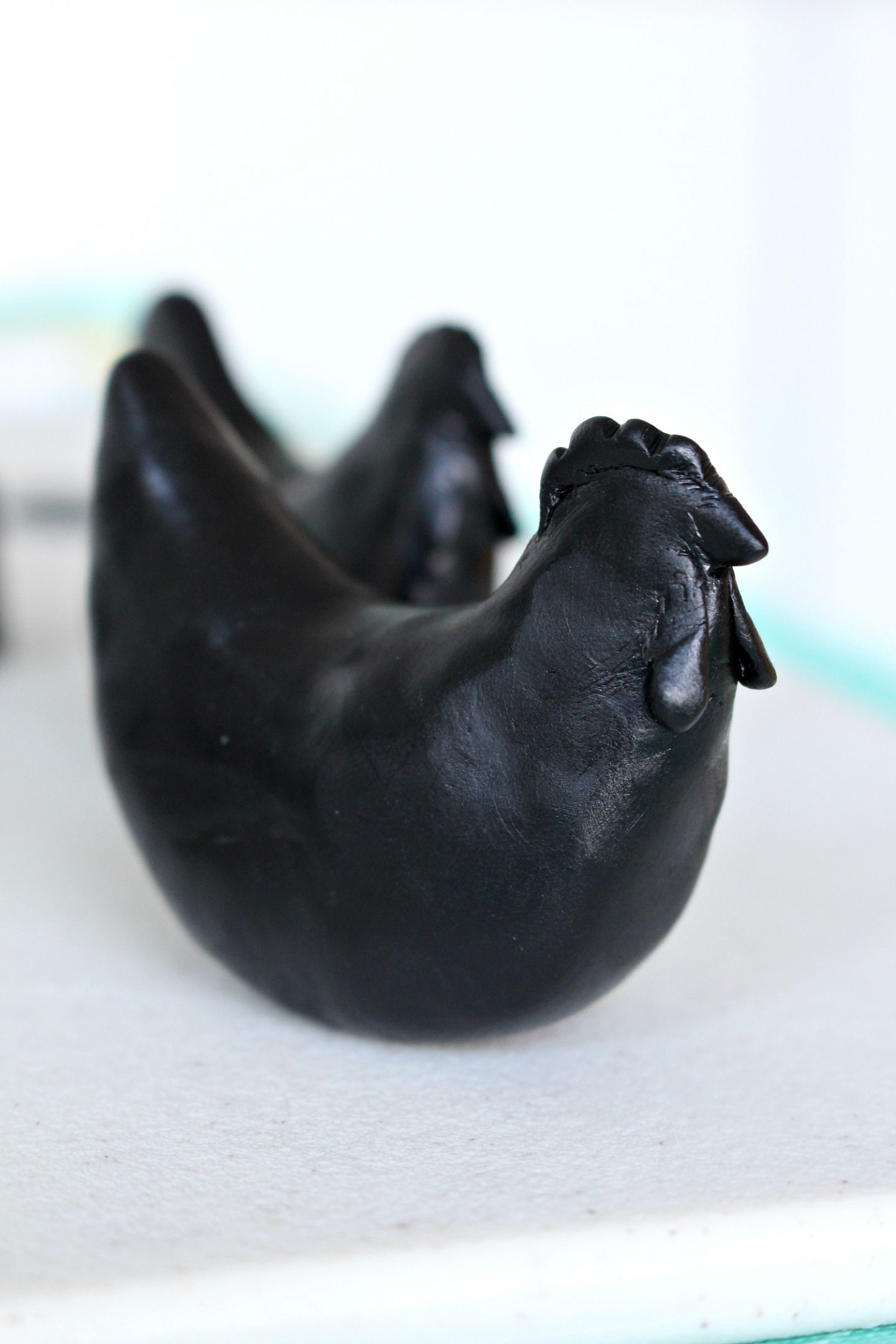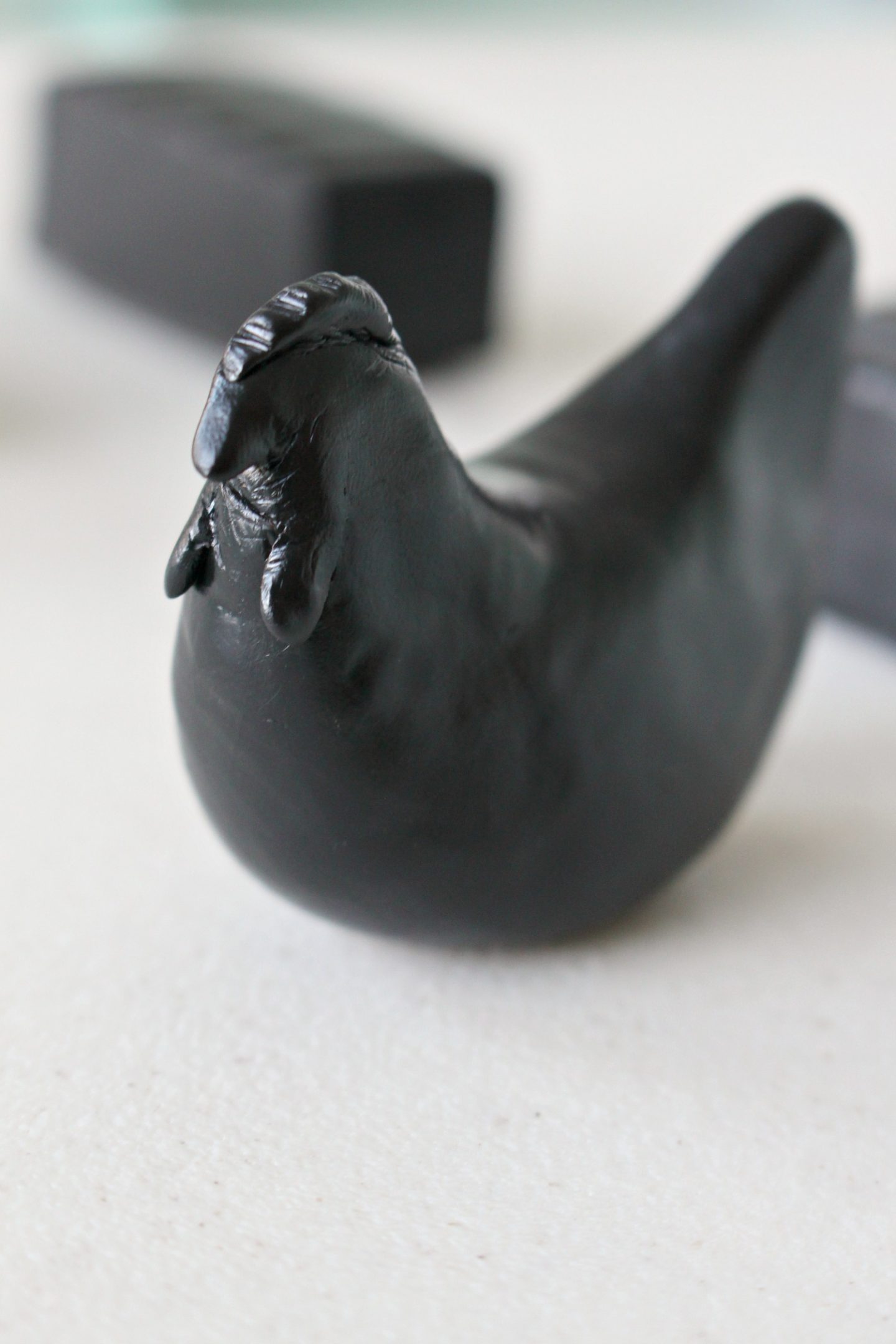 You can shape them a little differently and try different bum shapes, lol, and beak styles! Get creative and keep trying because it gets easier to work with the clay as you experiment. It won't dry while you're working with it, so feel free to keep going until you're happy with your clay chicken ornaments – there's no rush to get it right, this clay stays malleable for a long, long time.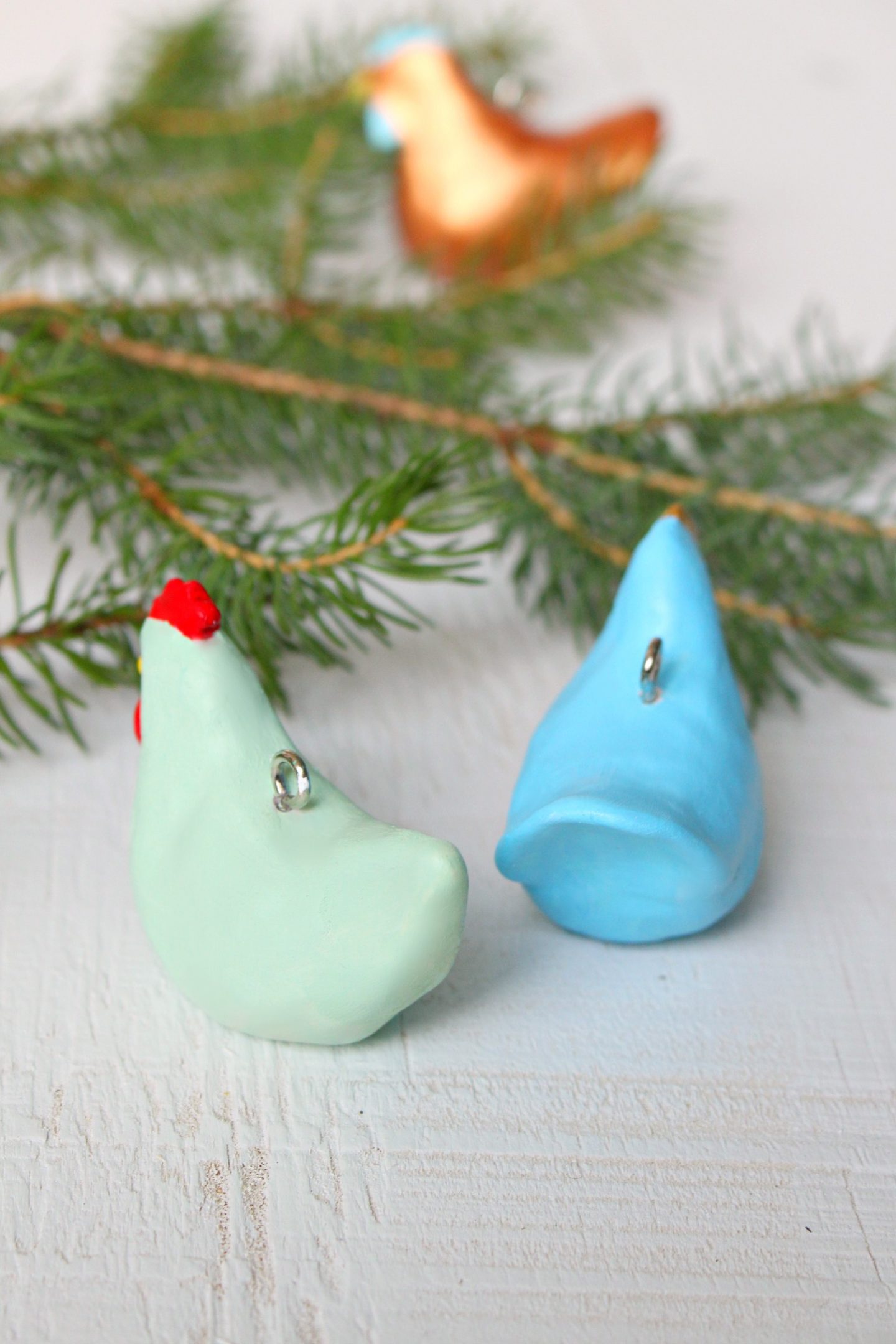 Bake according to manufacturer's directions. We used a glass Pyrex baking dish and baked the chickens for approximately 2-3 hours at 275 degrees F (135 C), but the time will depend on the thickness of your clay and the accuracy of your oven heat.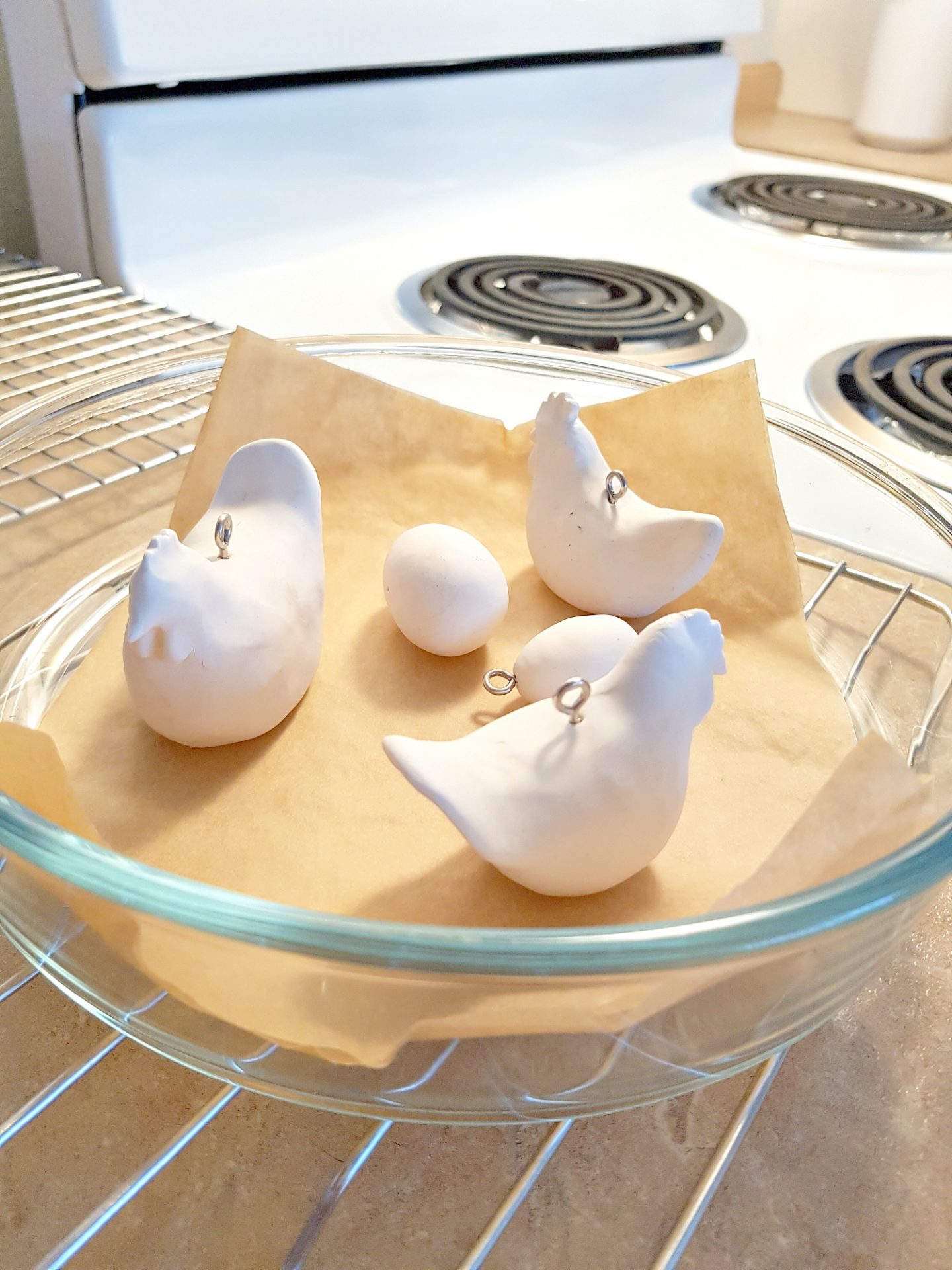 The rule is approximately 15 minutes per 1/4″ of clay. Start with half an hour and work in small increments, keeping an eye on the clay to make sure it doesn't burn.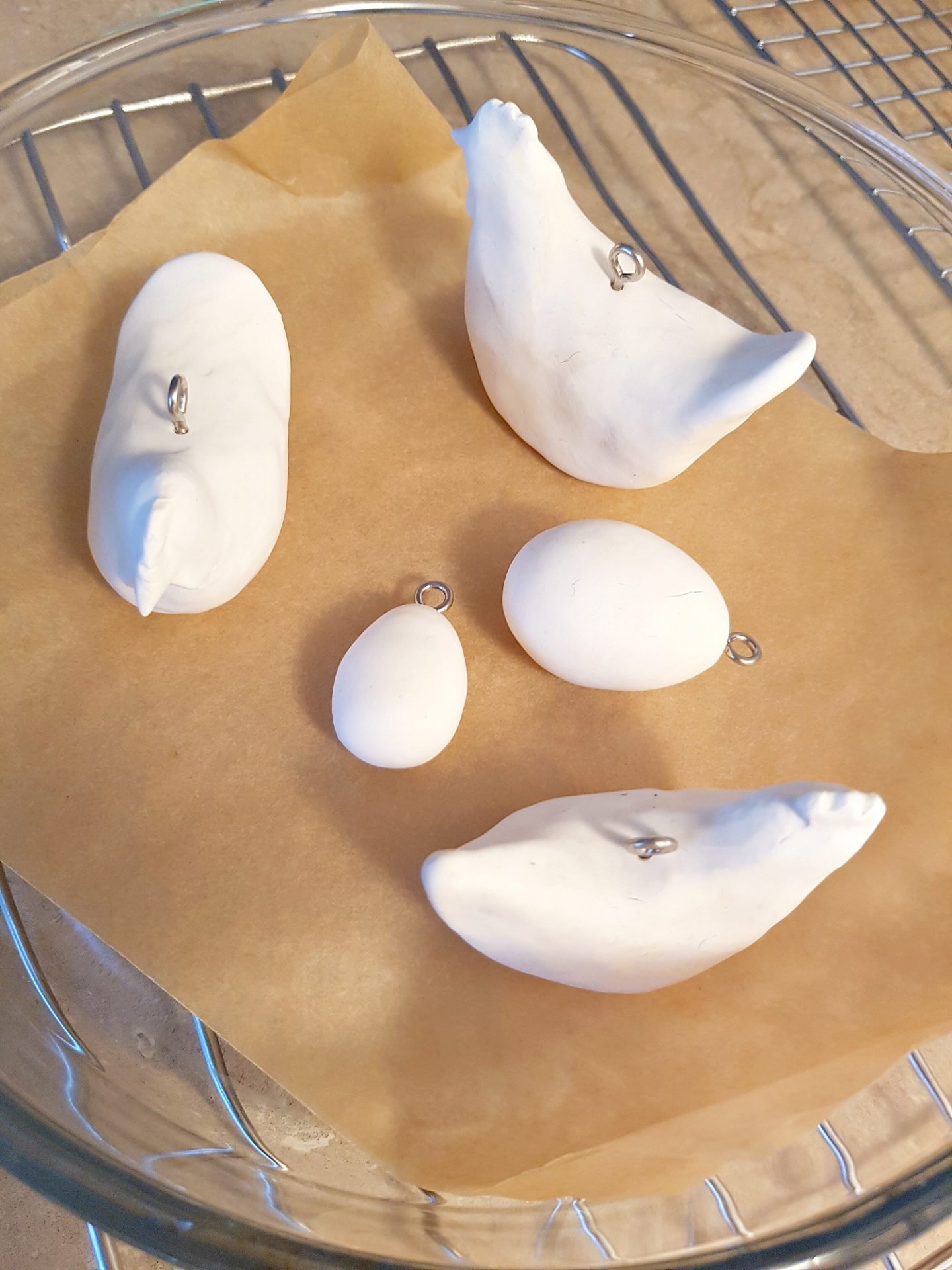 Let your clay chickens cool overnight. Then use acrylic paints and small brushes to paint your DIY chicken Christmas ornaments!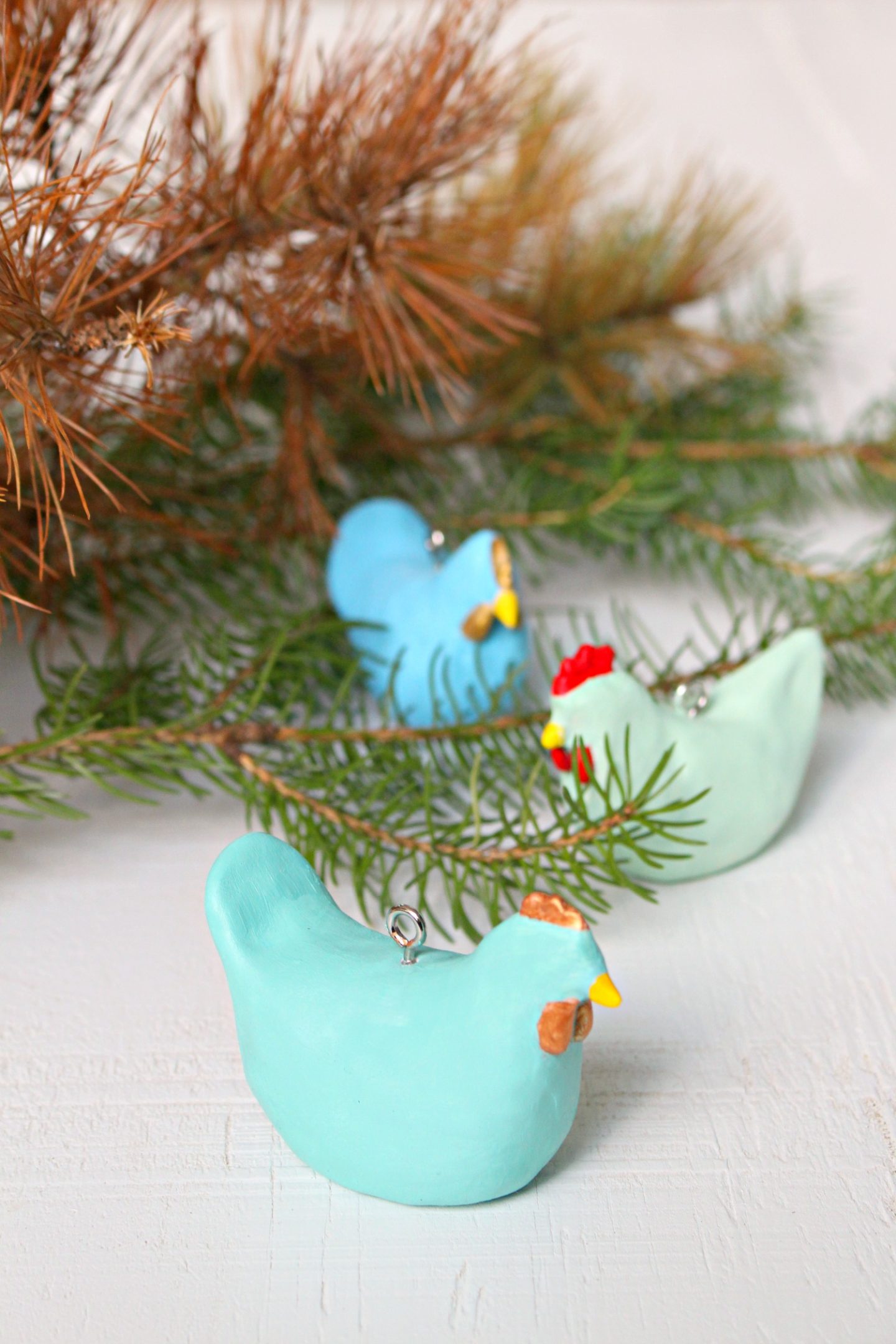 Make them realistic or abstract! You can use any craft or acrylic paints, but I found that better quality acrylic paints (in the small tubes, lol) as opposed to the bigger, cheaper ones worked better. Don't forget to paint the bum because you will see the underside if you hang this DIY chicken Christmas ornament up high.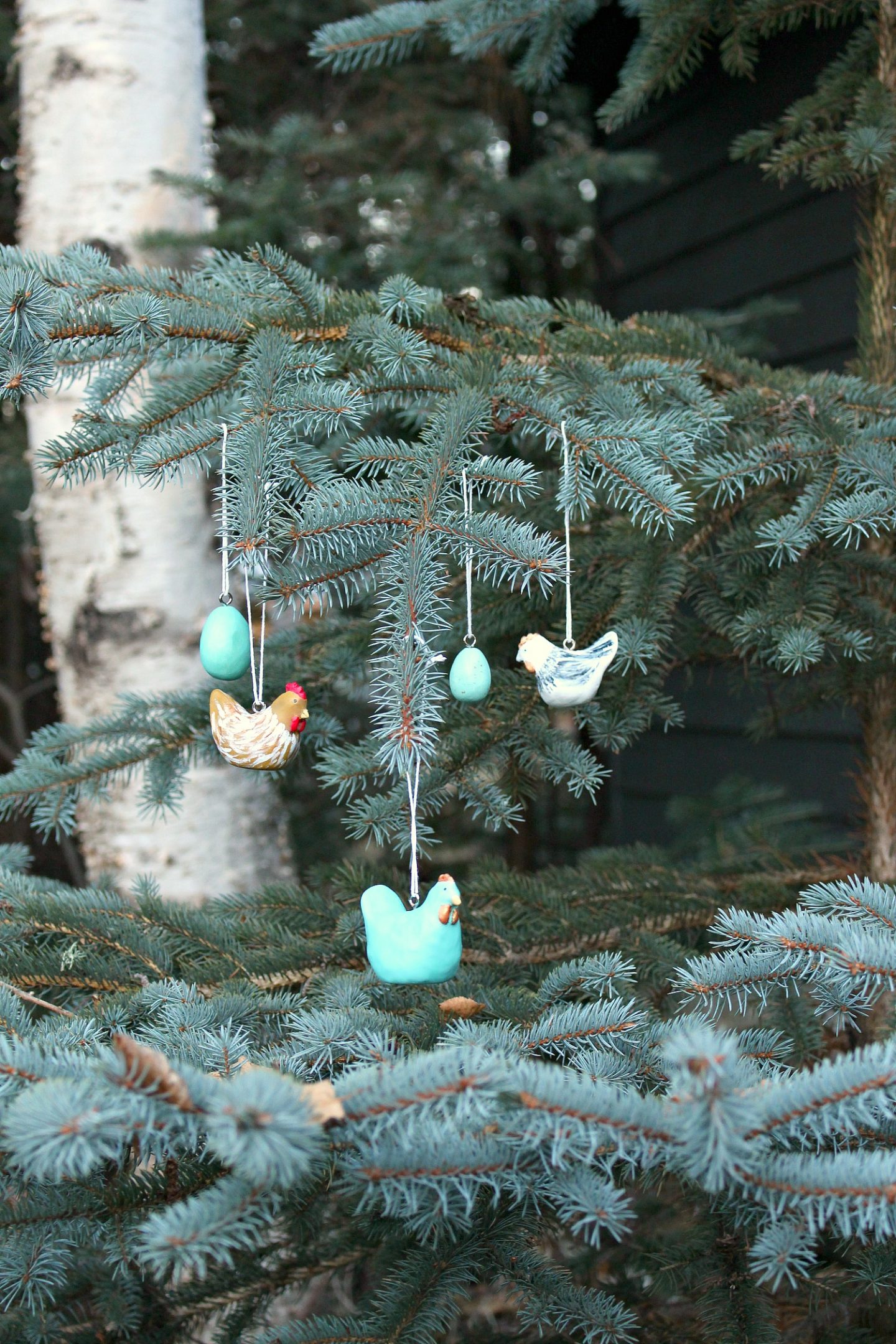 Let the paint dry overnight. And you're all done! A little cutie pie chicken Christmas ornament – an adorable hand gift idea for backyard chicken keepers! I first painted a cute set of pastel chicken Christmas ornaments and then repainted some to look more real. The white clay was really easy to paint!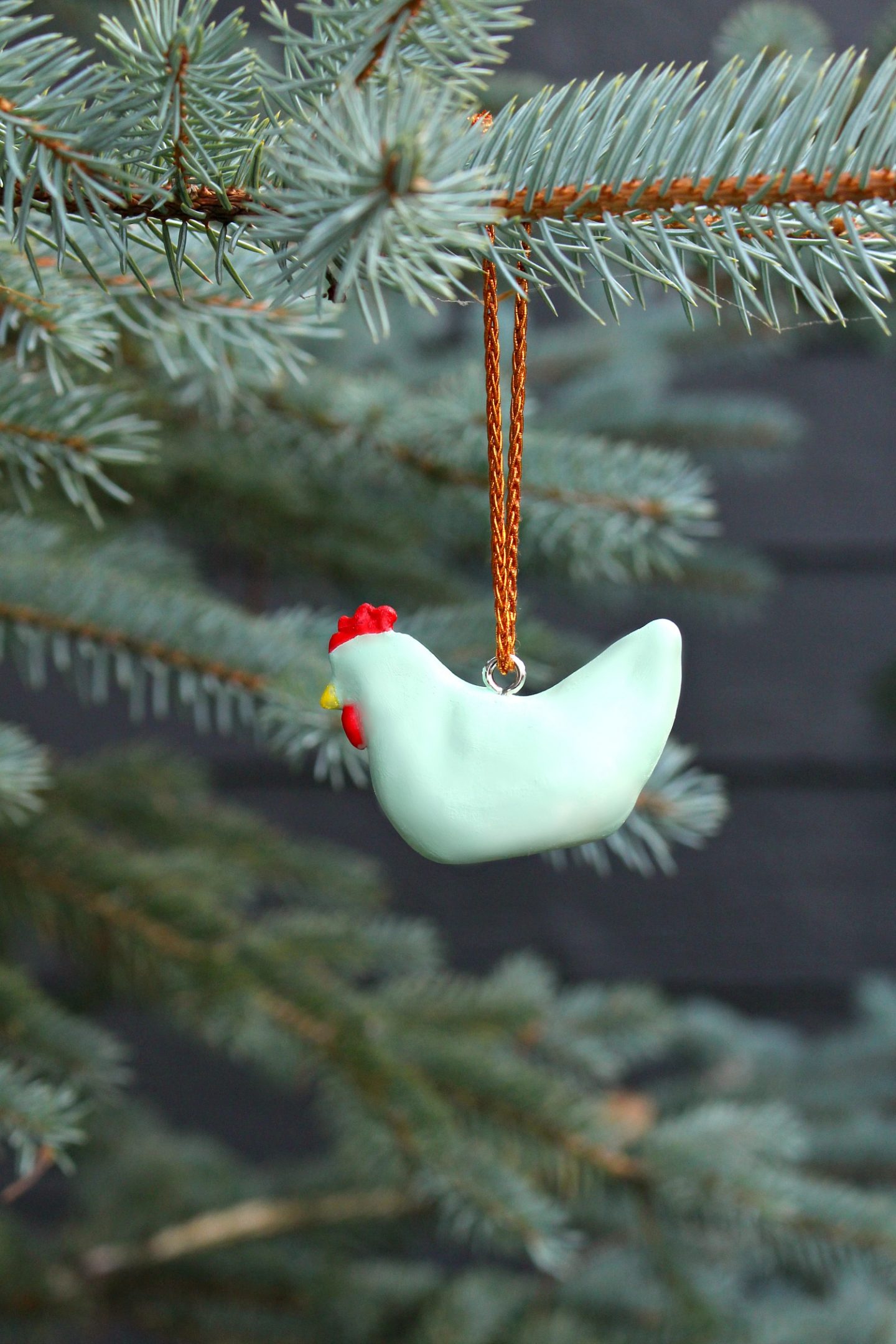 I also made a couple of little egg Christmas ornaments and they're the cutest!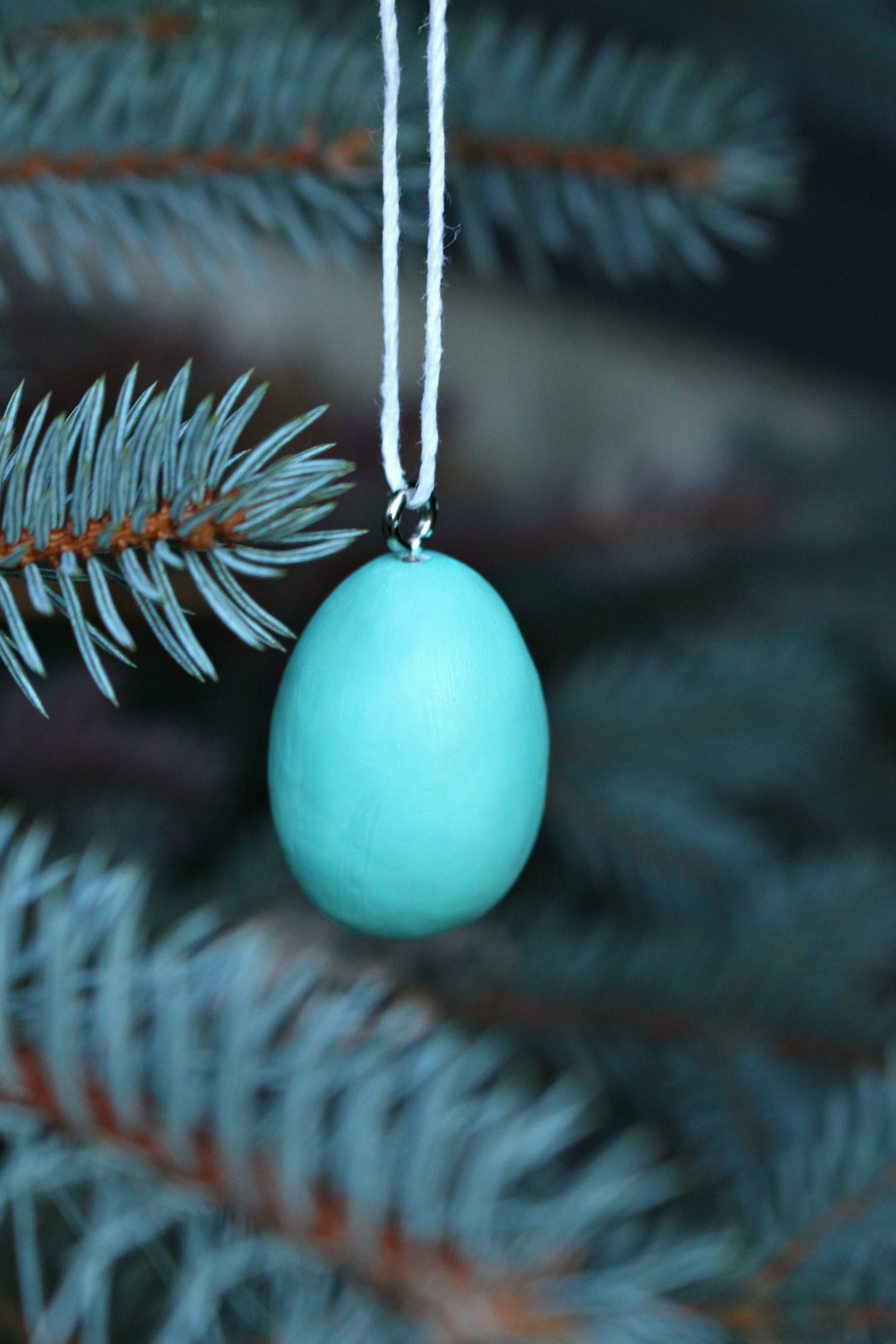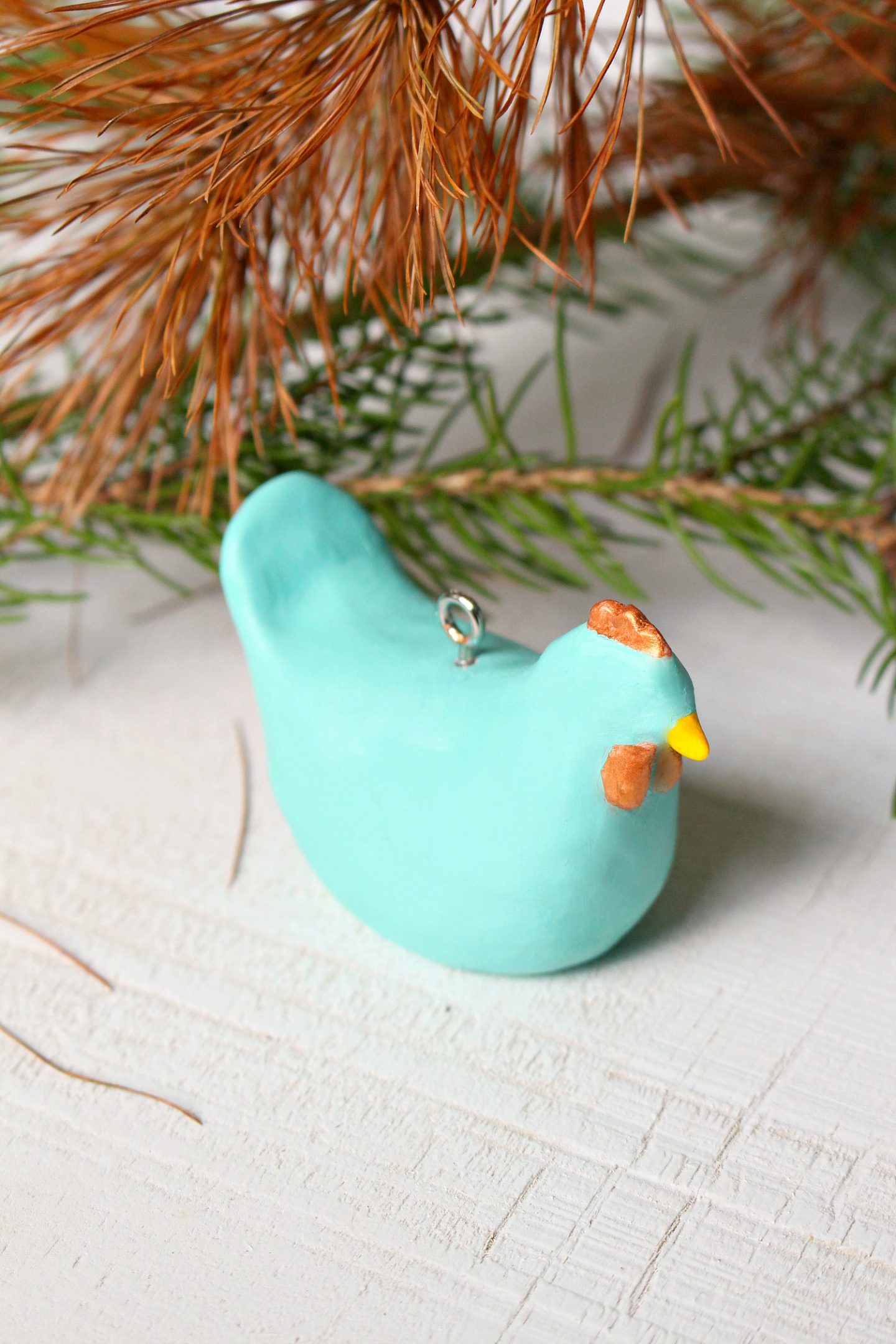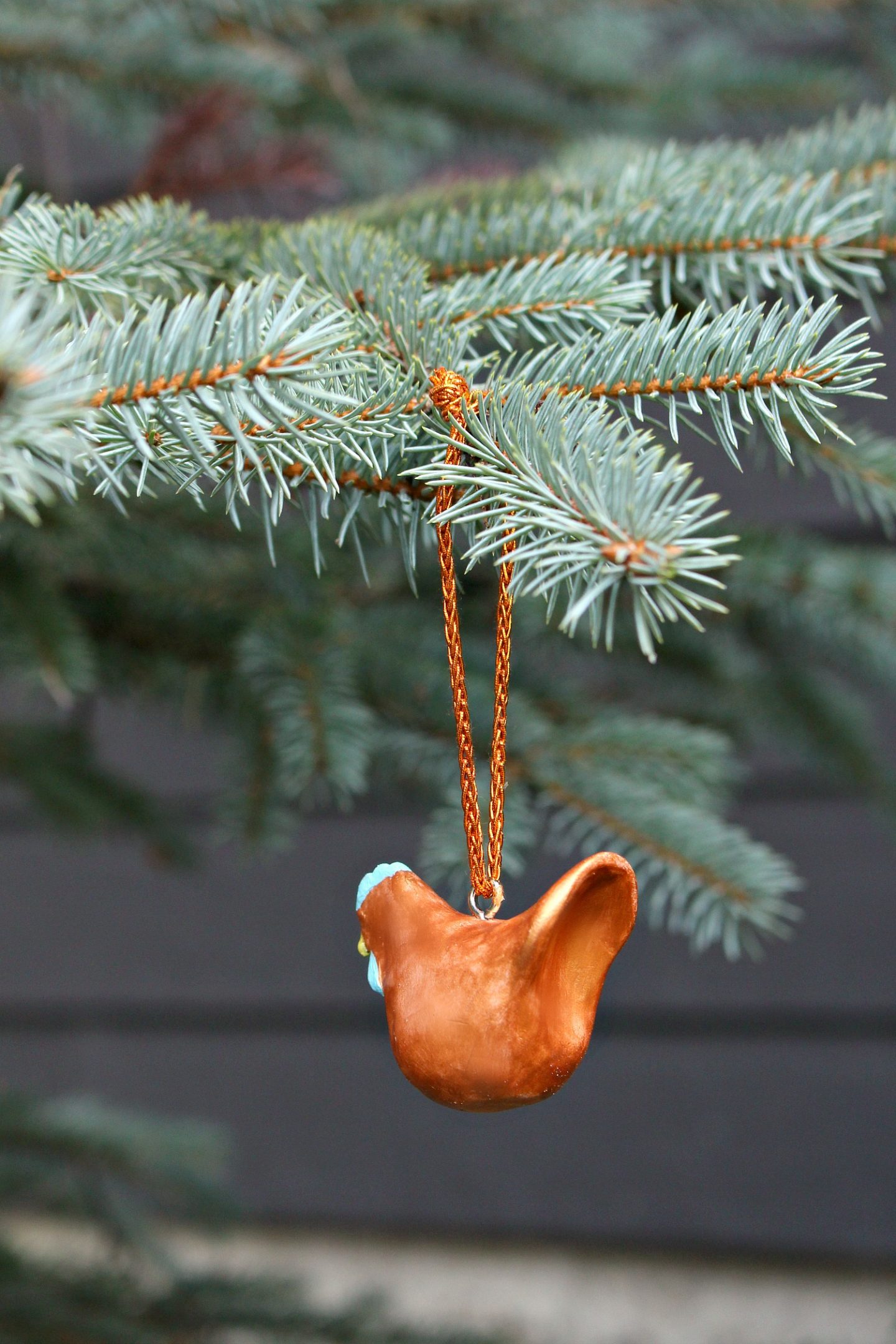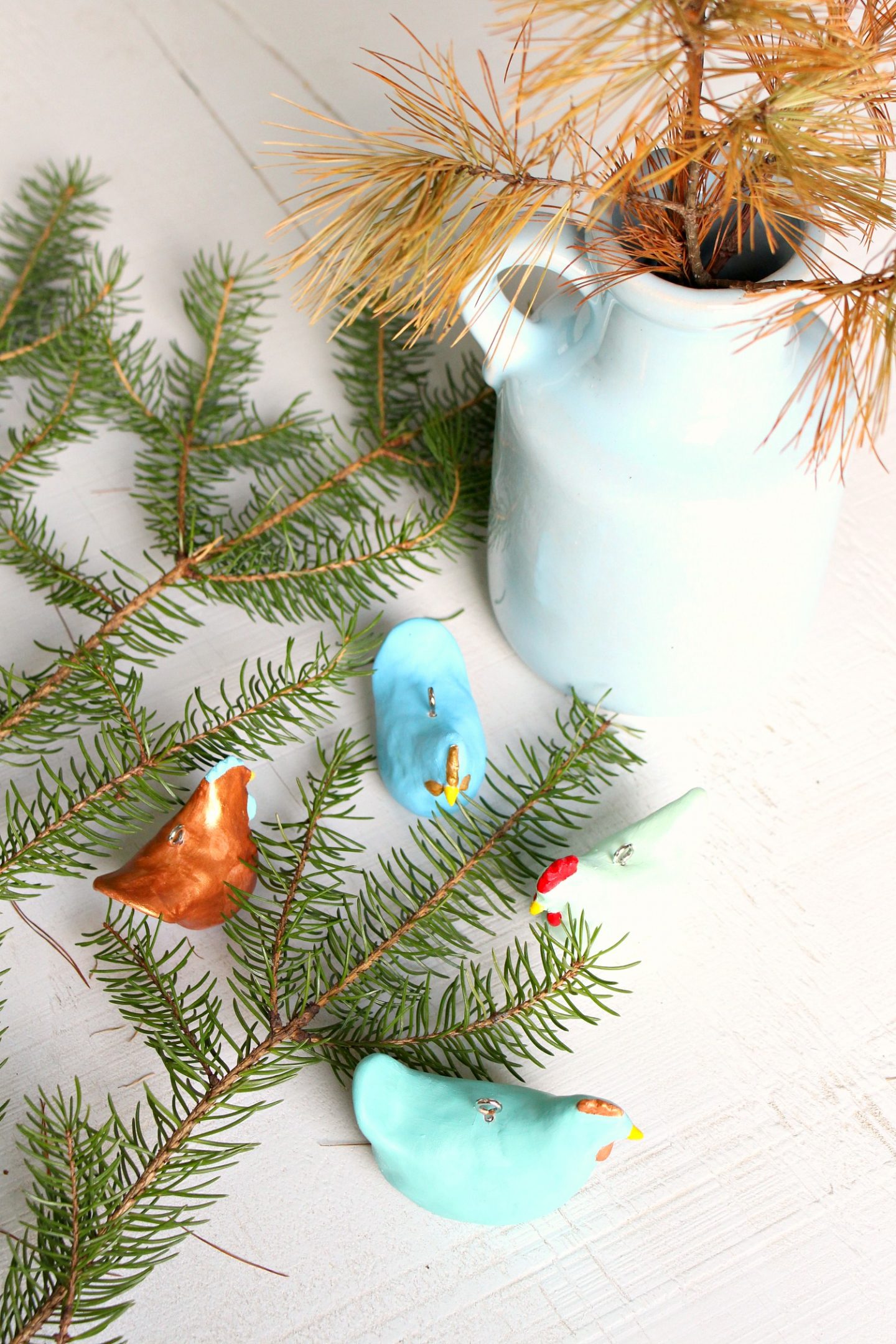 I had a lot of fun experimenting with Sculpy clay and making these DIY chicken Christmas ornaments.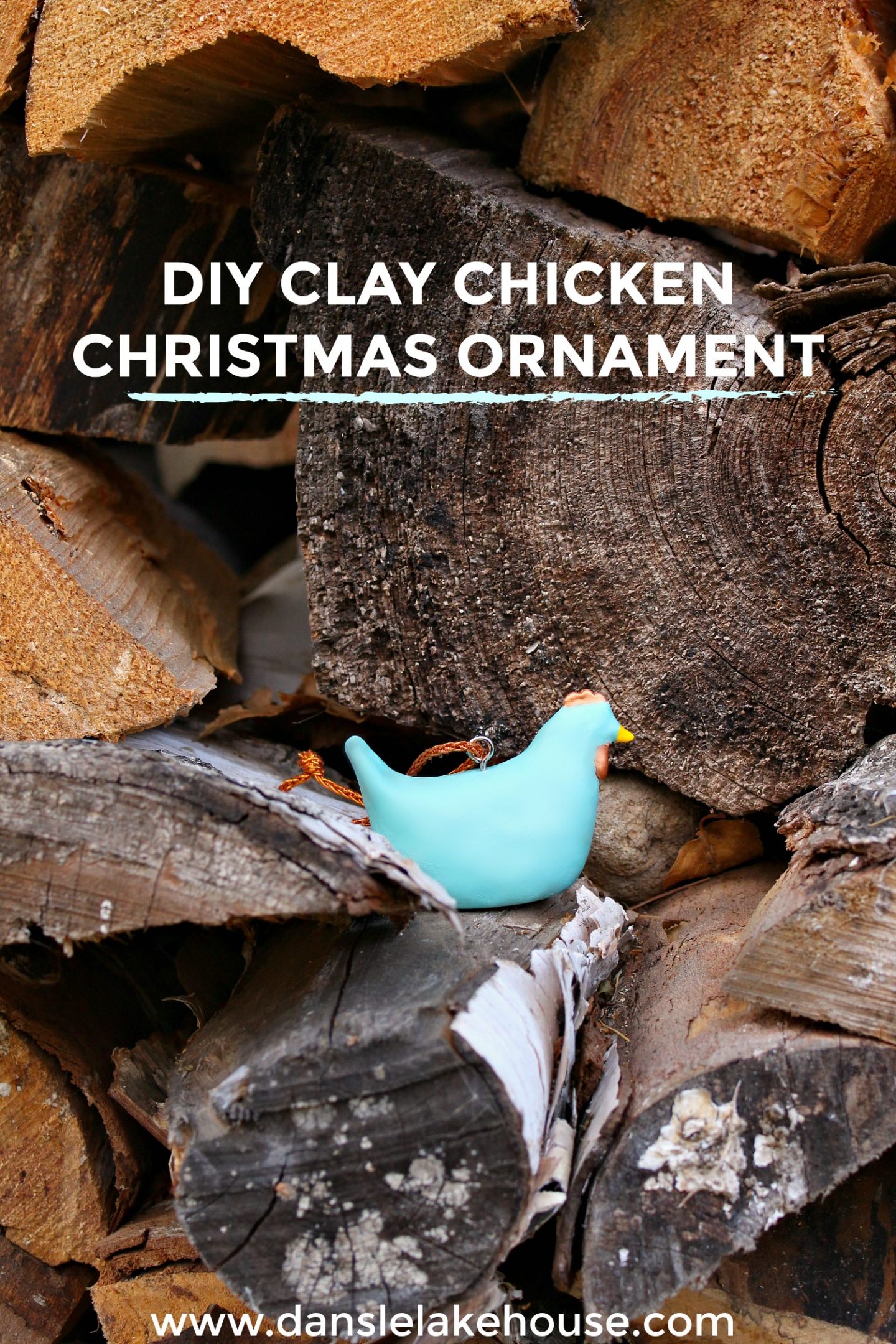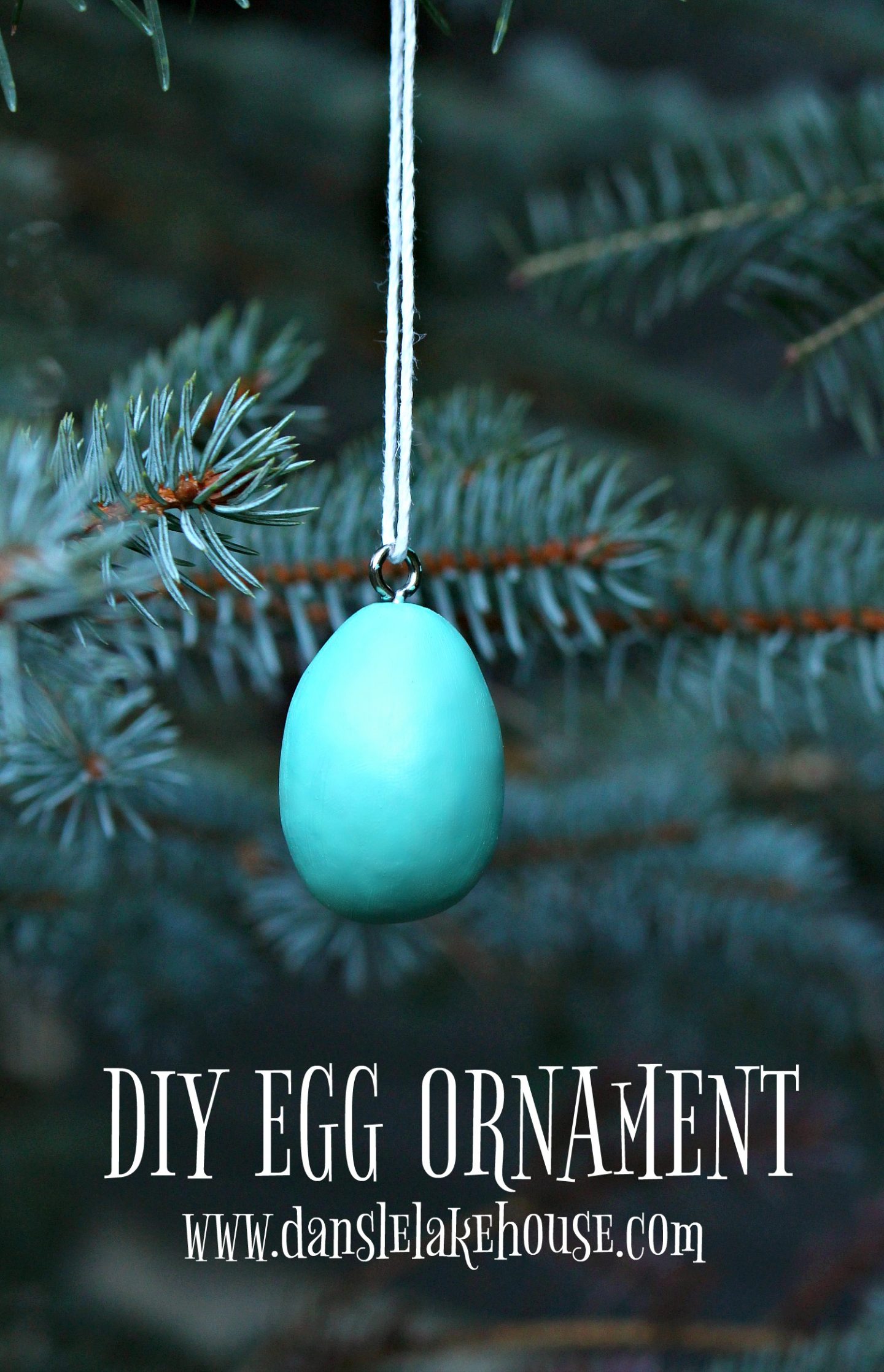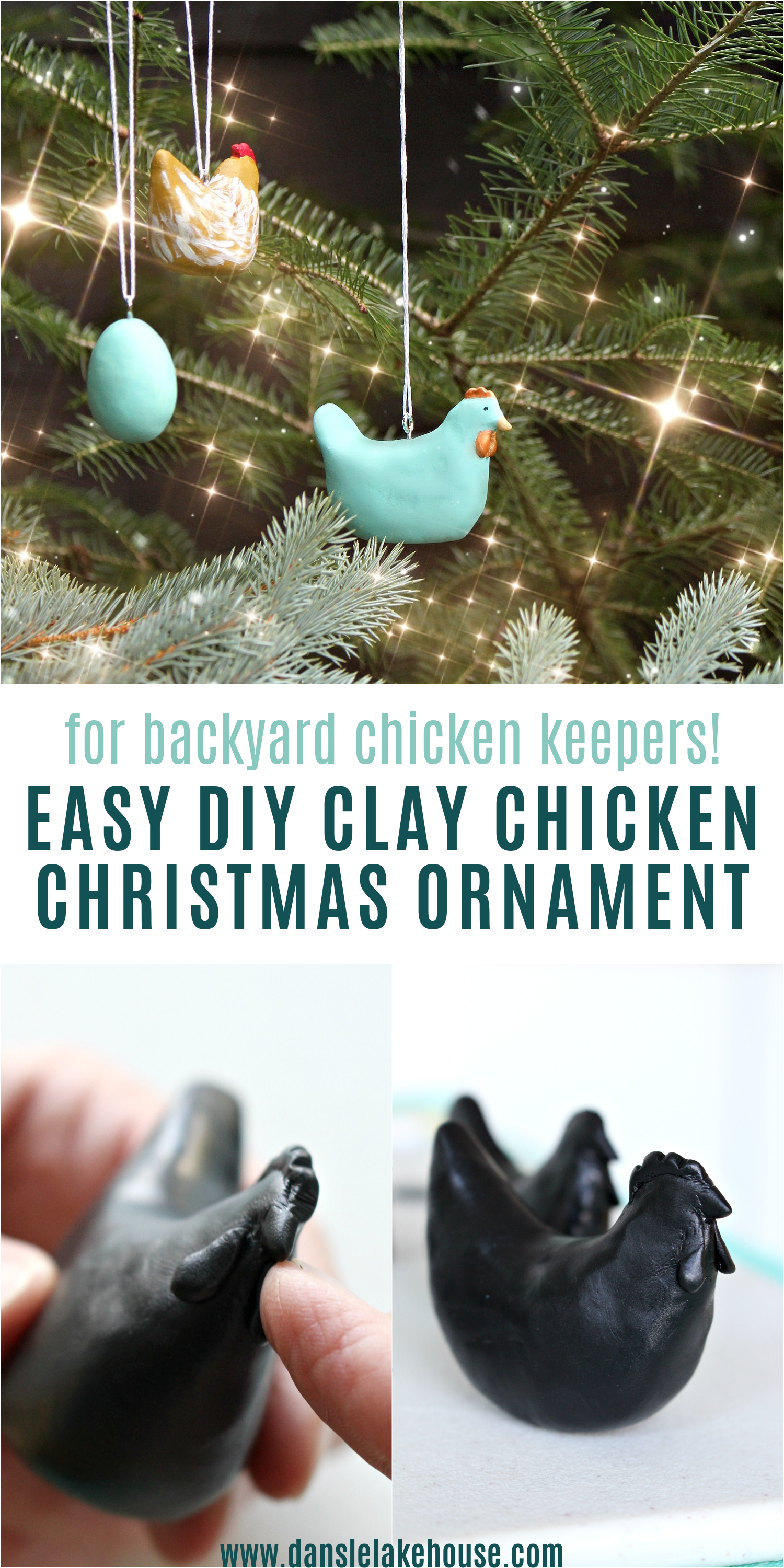 Today I'm joining some of my talented blogging friends for the Christmas Seasonal Simplicity Series. We're all sharing our DIY Christmas Ornament ideas with you today! Be sure to check out these fabulous ideas by clicking on the links below each image.
Simple DIY Wood Bead Ornaments at The Happy Housie
Rustic No-Sew Mitten Ornaments at Home Made Lovely
Easy DIY Christmas Ornaments at Clean & Scentsible
DIY Salt Dough Ornaments at Jennifer Maune
Anthropologie Inspired Vined Monogram Ornament at Craftberry Bush
DIY Stamped Christmas Ornament made with Clay at The DIY Mommy
Ikea Hack Keepsake Photo Ornament at Fynes Designs
How to Make a Gingerbread House Ornament at My Sweet Savannah
Baking Soda Scandinavian Painted Ornaments at Tatertots and Jello
DIY Leopard Print Christmas Ornaments at Love Create Celebrate
Easy DIY Christmas Sleigh Ornaments at A Pretty Life
DIY Stone Christmas Ornaments at Cherished Bliss
DIY Nordic Christmas Ornaments at This is Simplicite
Gingerbread Salt Dough Ornaments at Modern Glam
DIY Snowflake Ornaments at The Handmade Home
DIY Anthropologie Inspired Felt Letter Ornament at Zevy Joy
DIY Chicken Christmas Ornaments at Dans le Lakehouse
DIY Wood Finial Ornament at The Turquoise Home
Boho Orange Slice Ornament at Cassie Bustamante
DIY Star Garland at Life is a Party
Coach Gift Christmas Ornaments at Just a Girl & Her Blog
Upcycled Pine Cone Ornament at She Gave it a Go