I hope you like these DIY painted birch slice ornaments, inspired by Canadian folk artist Maud Lewis. It was a lot of fun to light a fire on a cold winter's day and paint these with my Mom.
The Inspiration:
This year my Mom decided she wanted a Christmas tree – which surprised me, because we stopped celebrating Christmas many, many years ago. In fact, we no longer had tree ornaments. But because I knew it would make my Mom happy, I helped load a live tree into my truck and then set about quickly making some ornaments so my Mom's tree wouldn't look empty and sad. Because I recently painted her fireplace blue, and the rest of her apartment is definitely a moodier take on my palette of teals, I decided to make a few sets of ornaments with a theme that's very "Dans le Lakehouse". I settled on a "cottage in winter" theme: there's a mix of sparkly glass and pearl ornaments ("ice and snow") and also my DIY alcohol ink ornaments. Plus these DIY painted birch slice ornaments, all featuring woodland/cottage/nature themes – and inspired by a recent exhibit of Maud Lewis' work that my Mom and I saw at the local art gallery.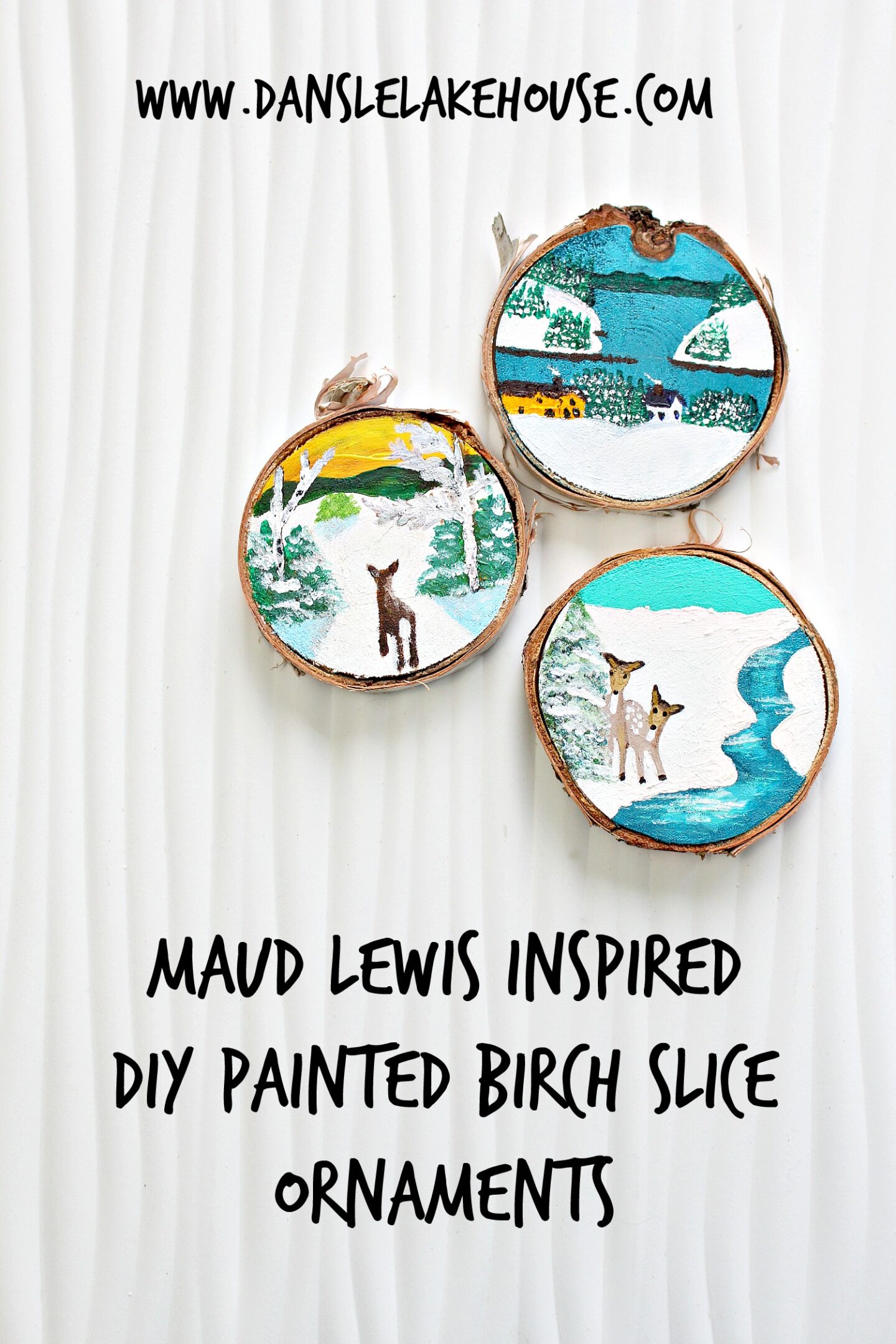 Who is Maud Lewis?
My Mom and I saw the Maud Lewis exhibit on Black Friday, which was genius because we had the gallery to ourselves. We loved her work so much, I thought we could paint little birch bark slice ornaments in the same folk style Maud was famous for. If you're not familiar with her work, find more info here or click here – and definitely watch the beautiful and moving (sometimes heartbreaking) film about her extraordinary life and work! Here's a little peek at the exhibit (you can also find her artwork in this beautiful book):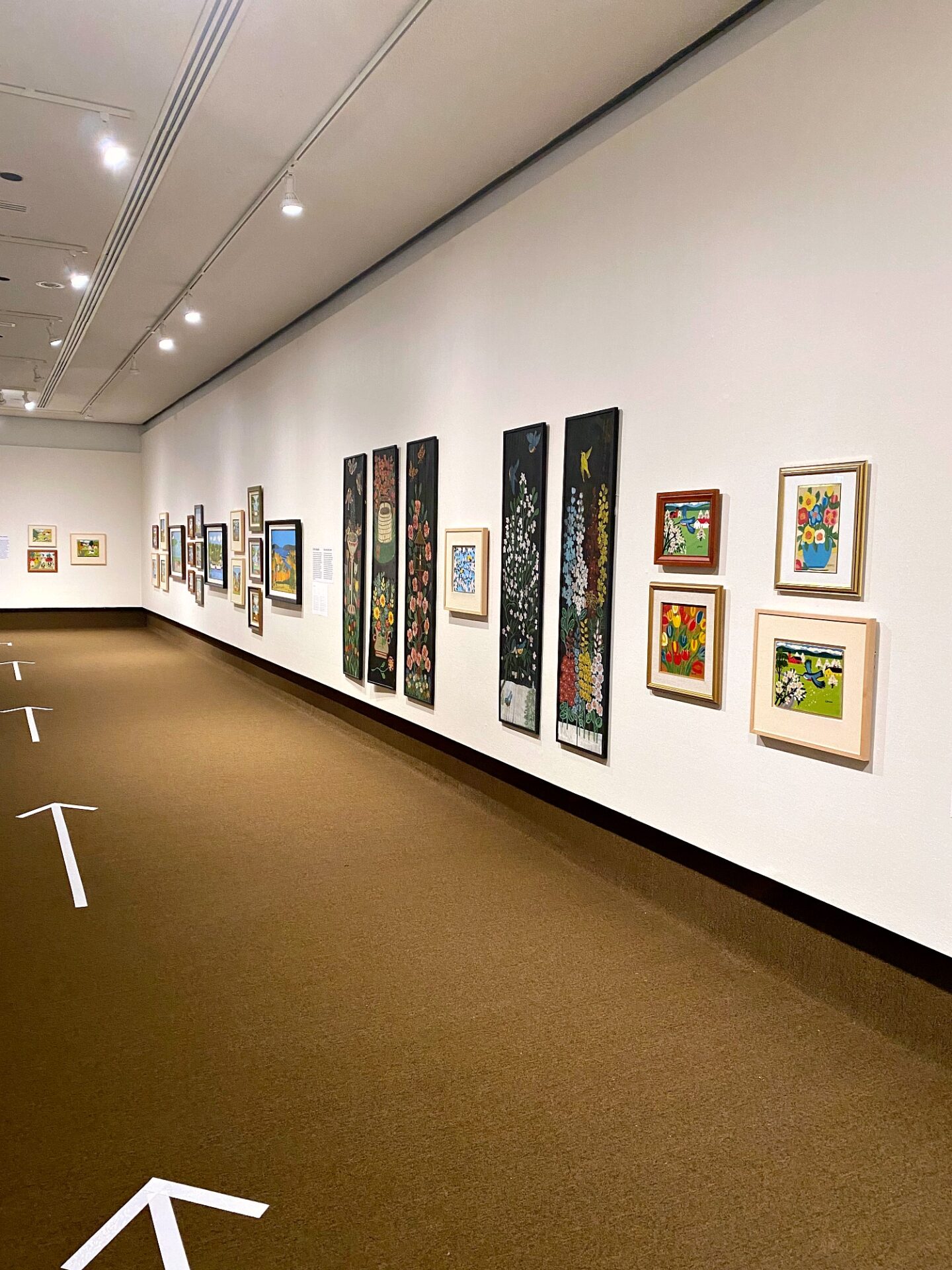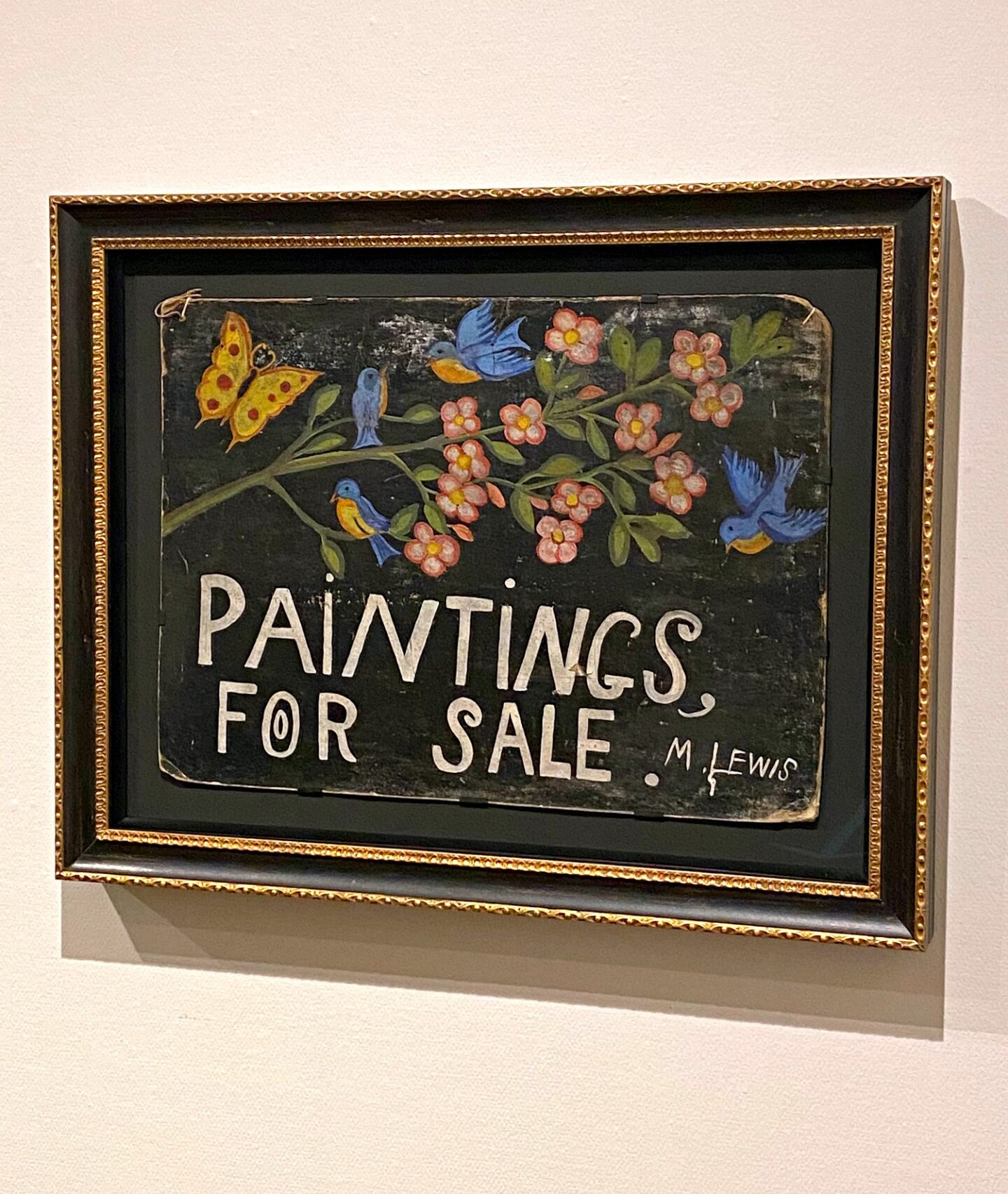 You could take a "selfie with Maud":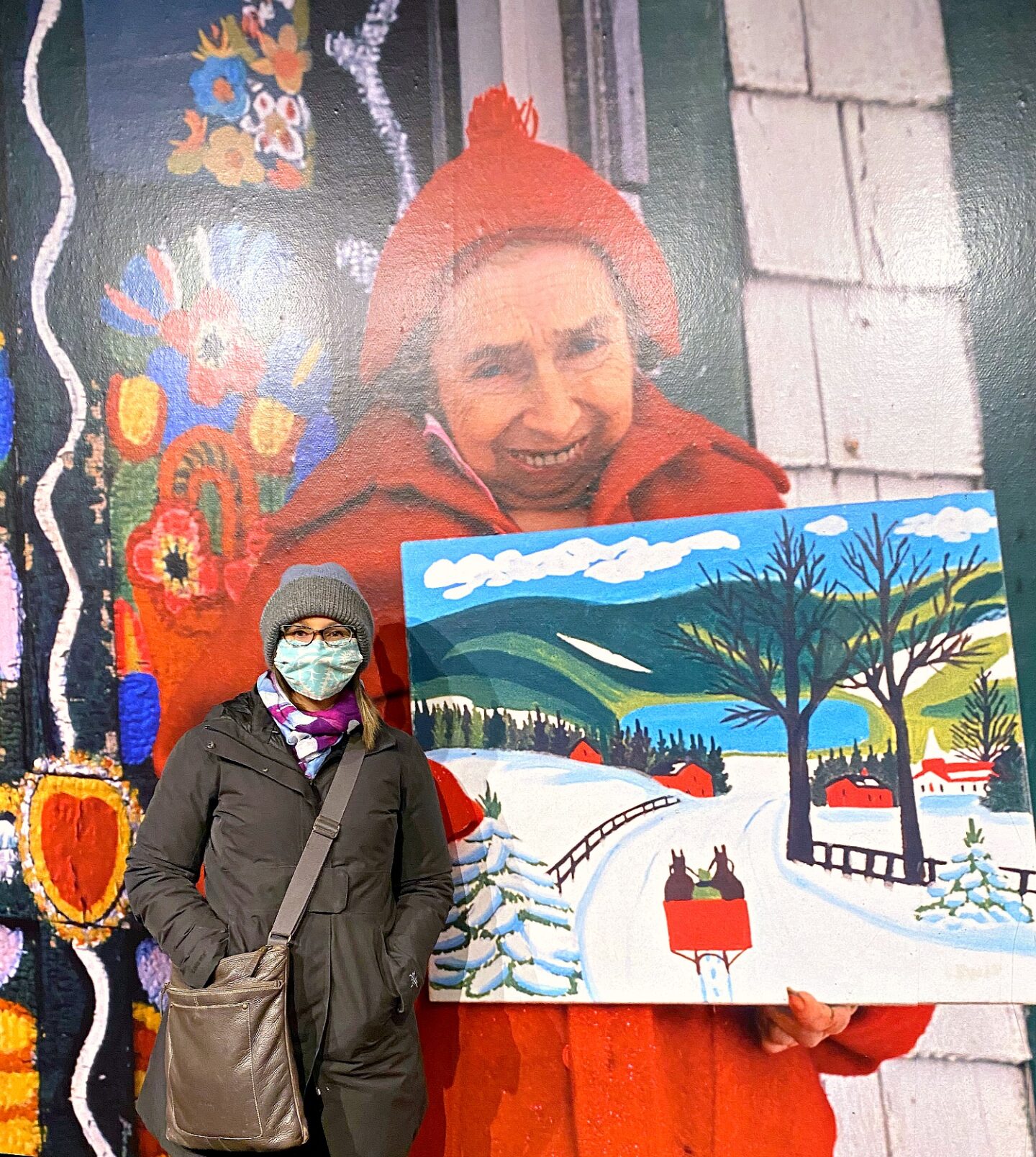 The deer painting on the bottom was one of my absolute favorites – it's an older piece of hers, and really different from what became her characteristic style.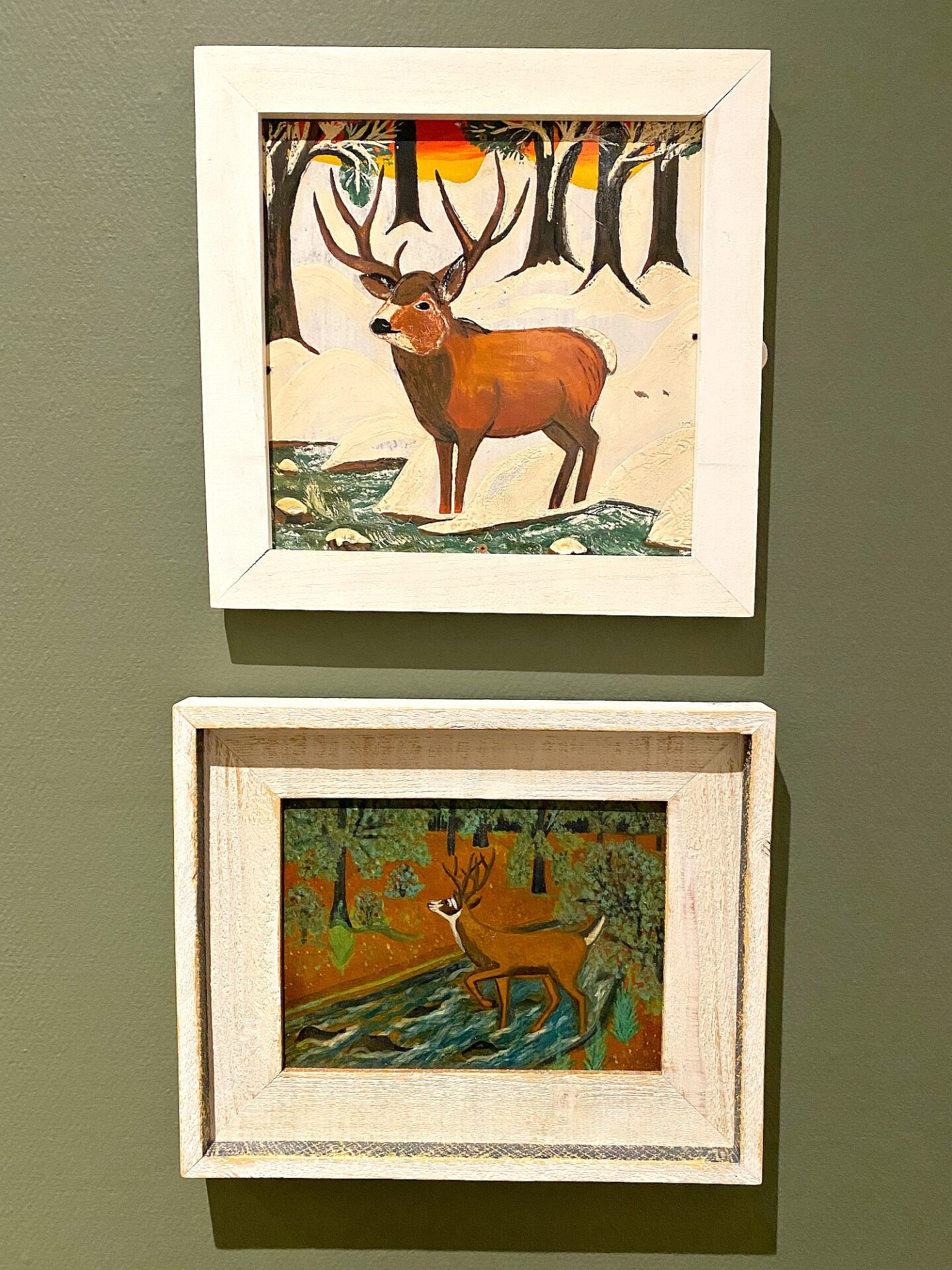 I loved this one, of course!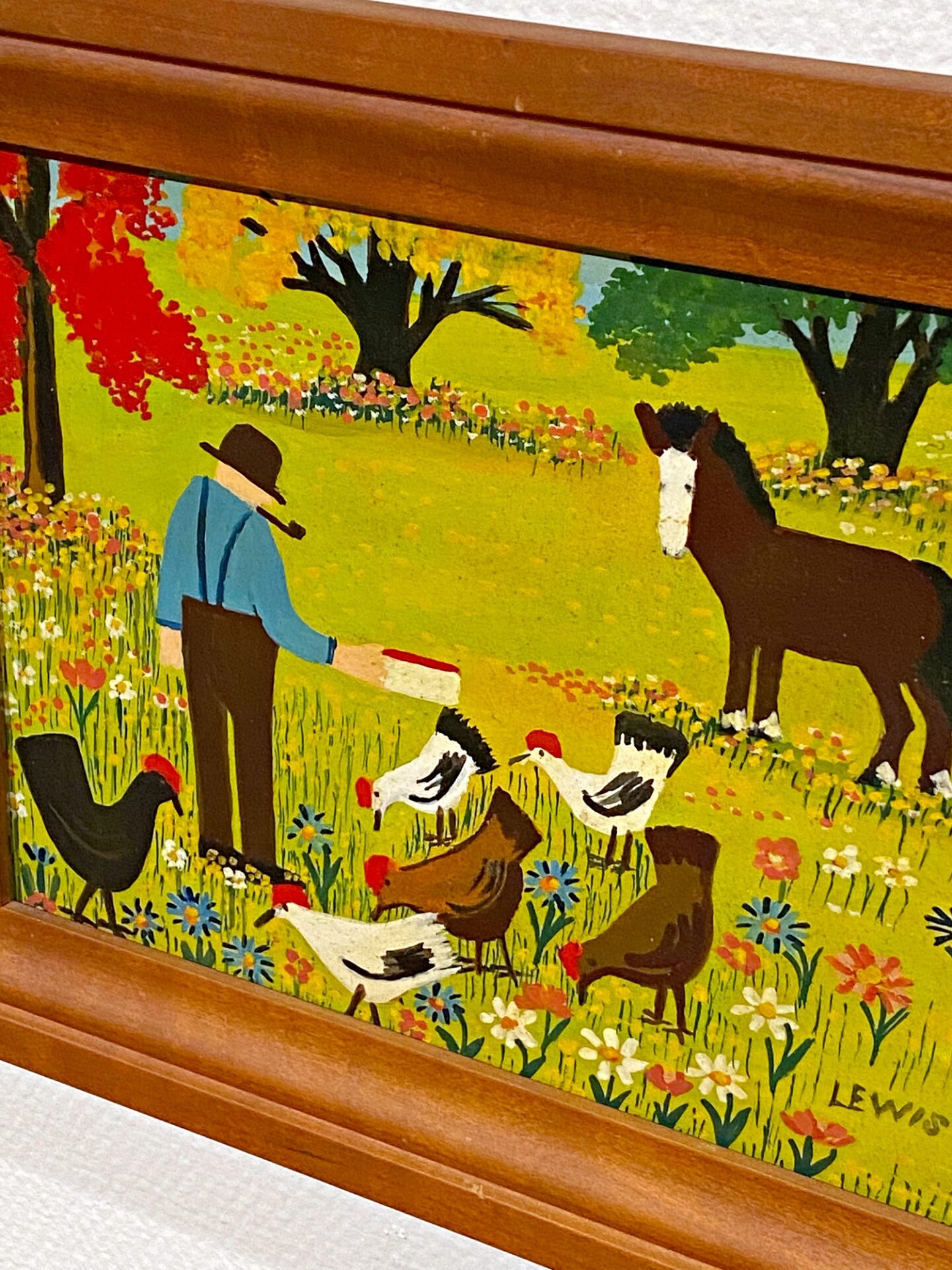 This painting on glass was so beautiful I caught myself contemplating if I could grab it and make a run for it. How fit are the gallery employees, I wondered? (Kidding, of course!):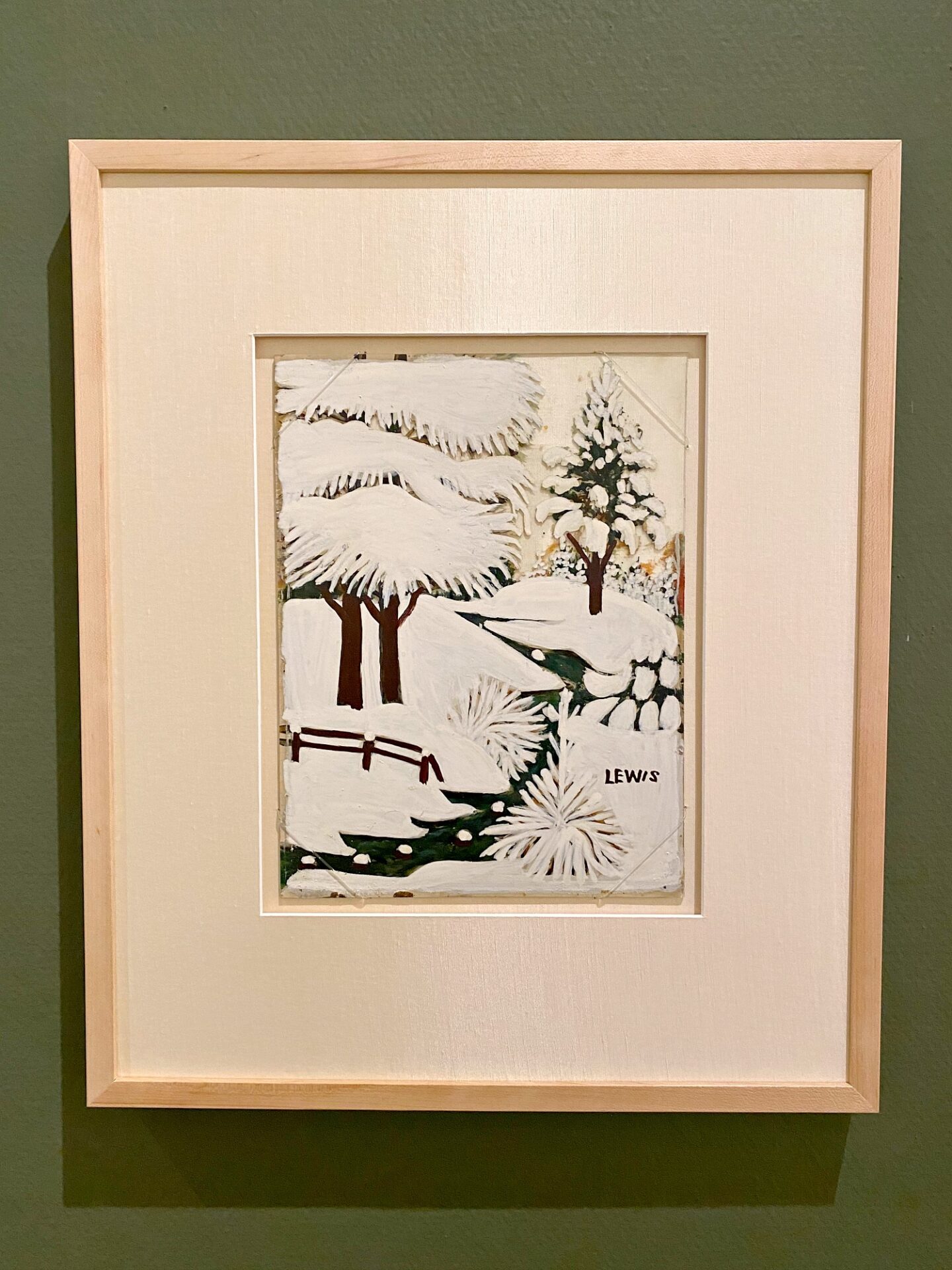 It was her coastal paintings that I kept looping back around to see: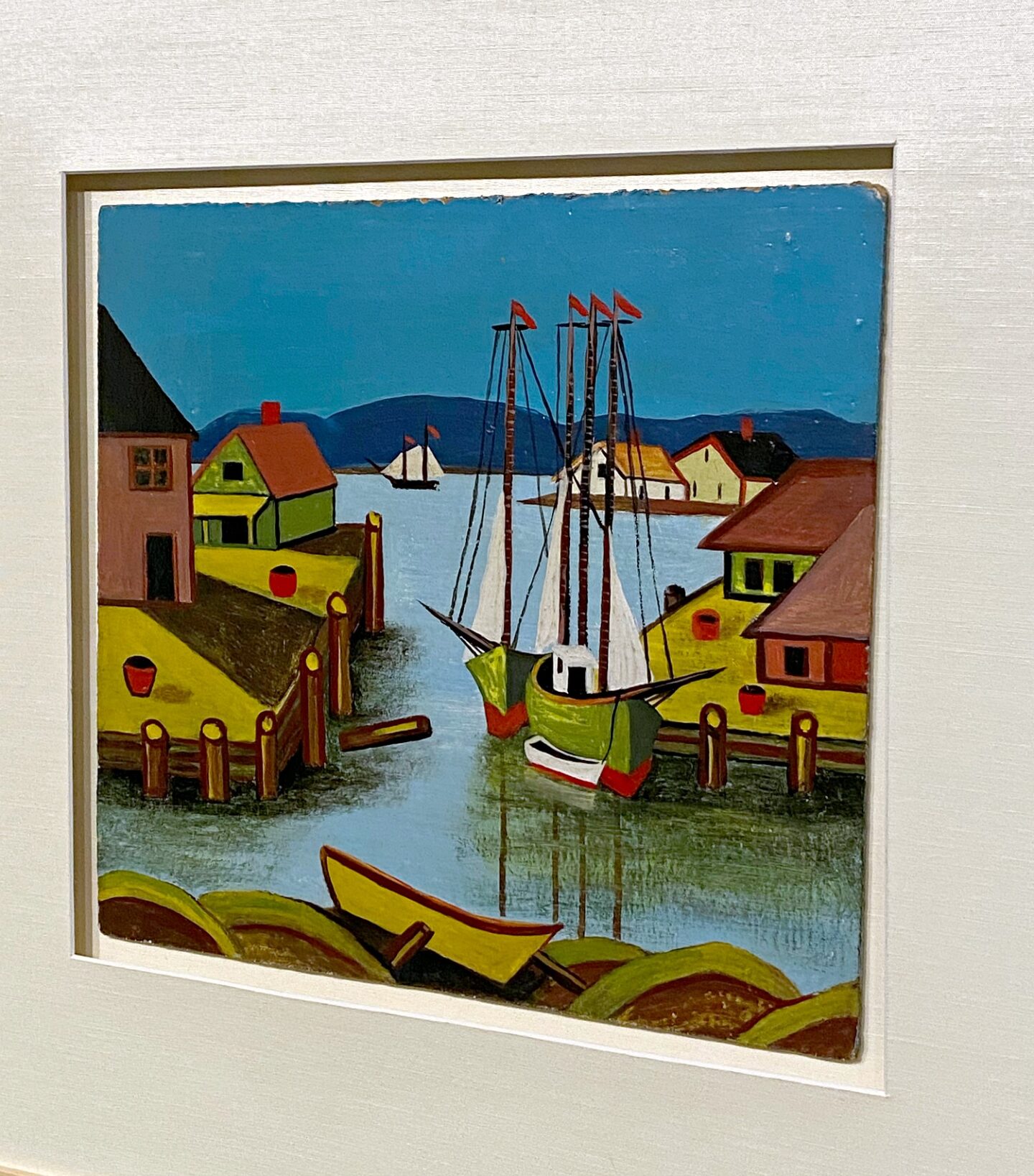 With her sweet paintings fresh in our minds, we created some of our own Maud Lewis inspired ornaments: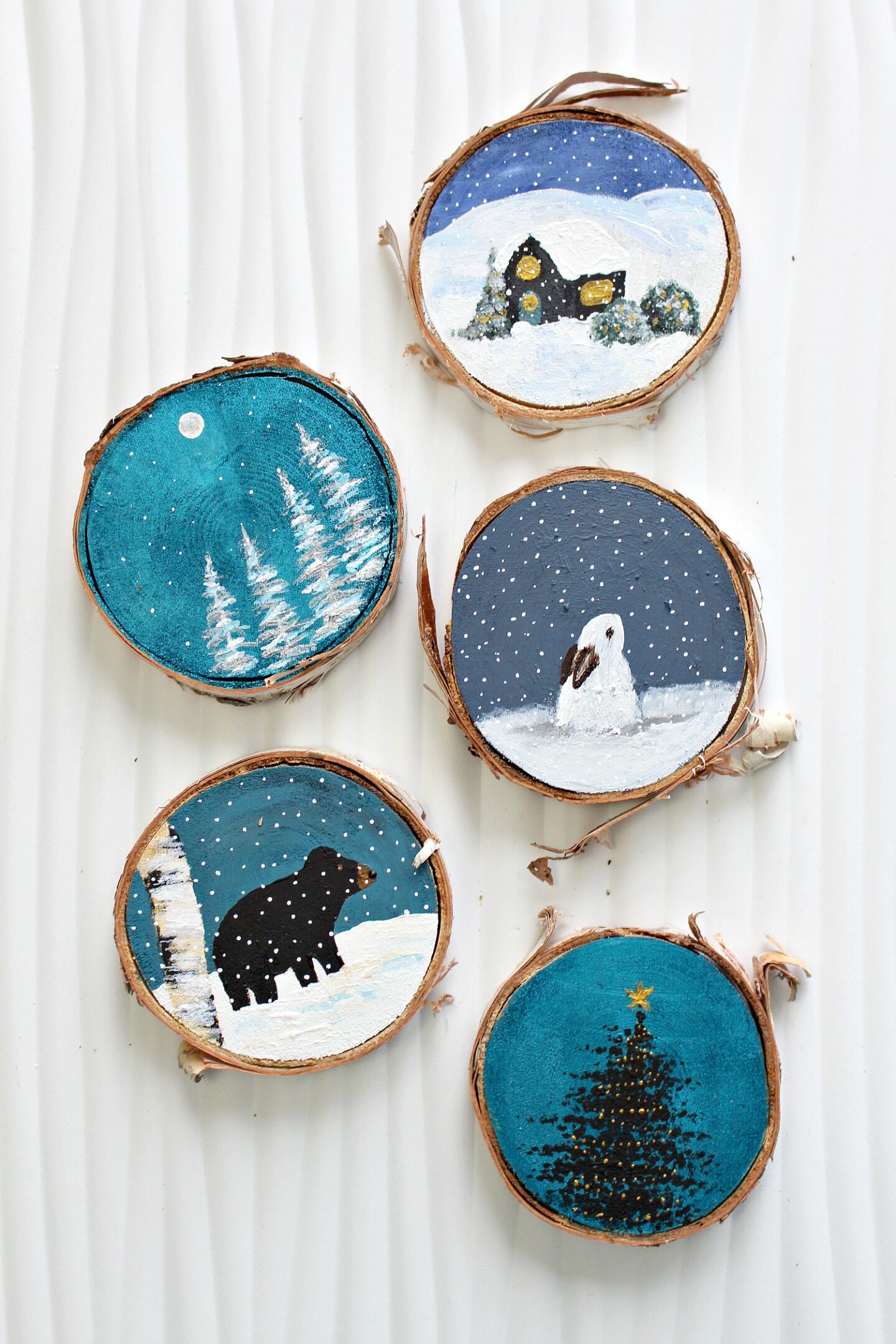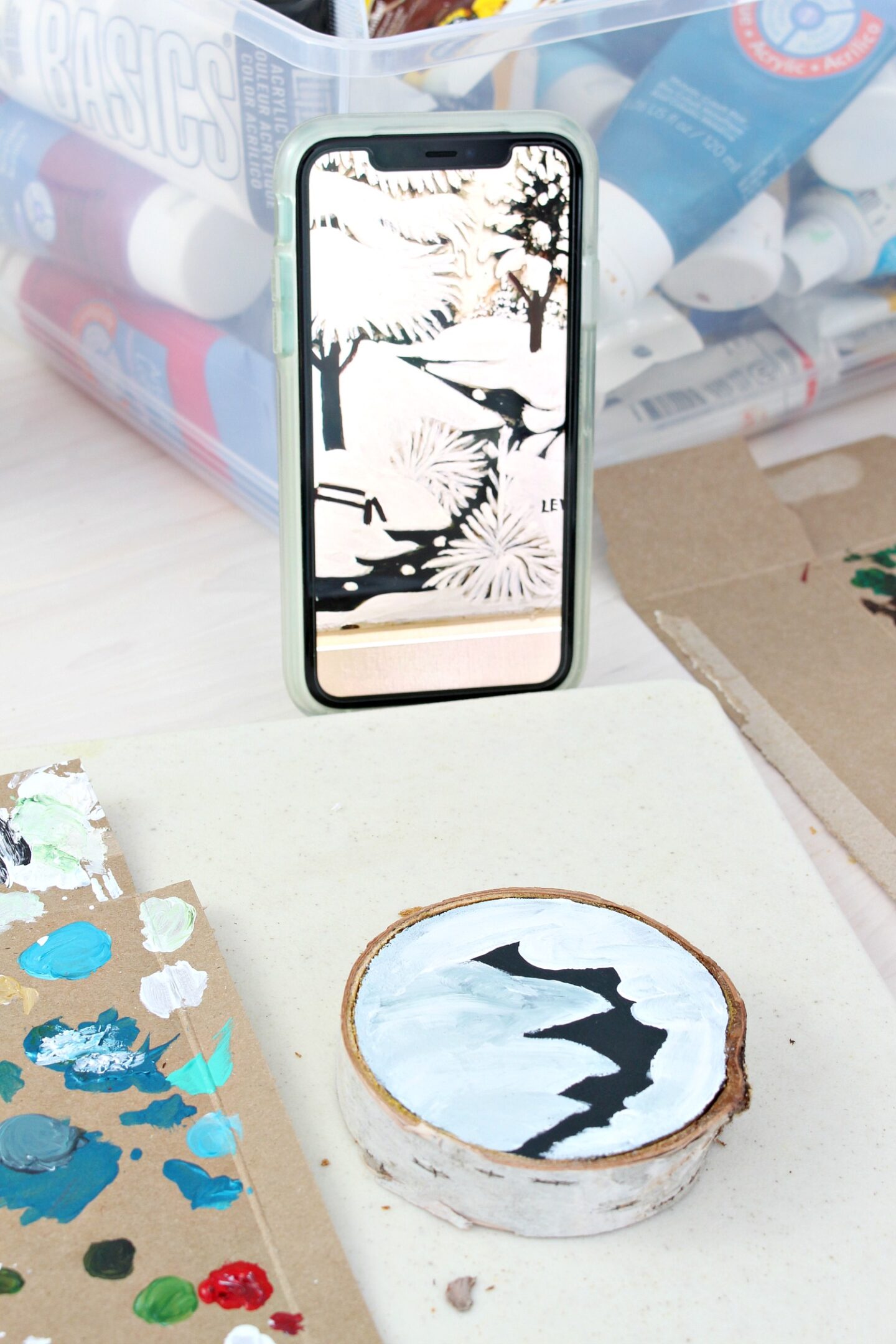 Supplies for DIY Painted Birch Slice Ornaments:
Birch slices (you can slice and sand them, or just buy them)
Small paint brushes (mine are from Dollarama)
Pencil
Drill and bit (if not purchasing the pri-drilled slices)
Small piece of wire (for dotting on "snow")
Drop cloth or large cutting board to protect surfaces
Empty plastic container filled with water to clean brushes between colors
Piece of paper towel to wipe damp brushes
Printed inspiration or just a cellphone to display "inspiration photos"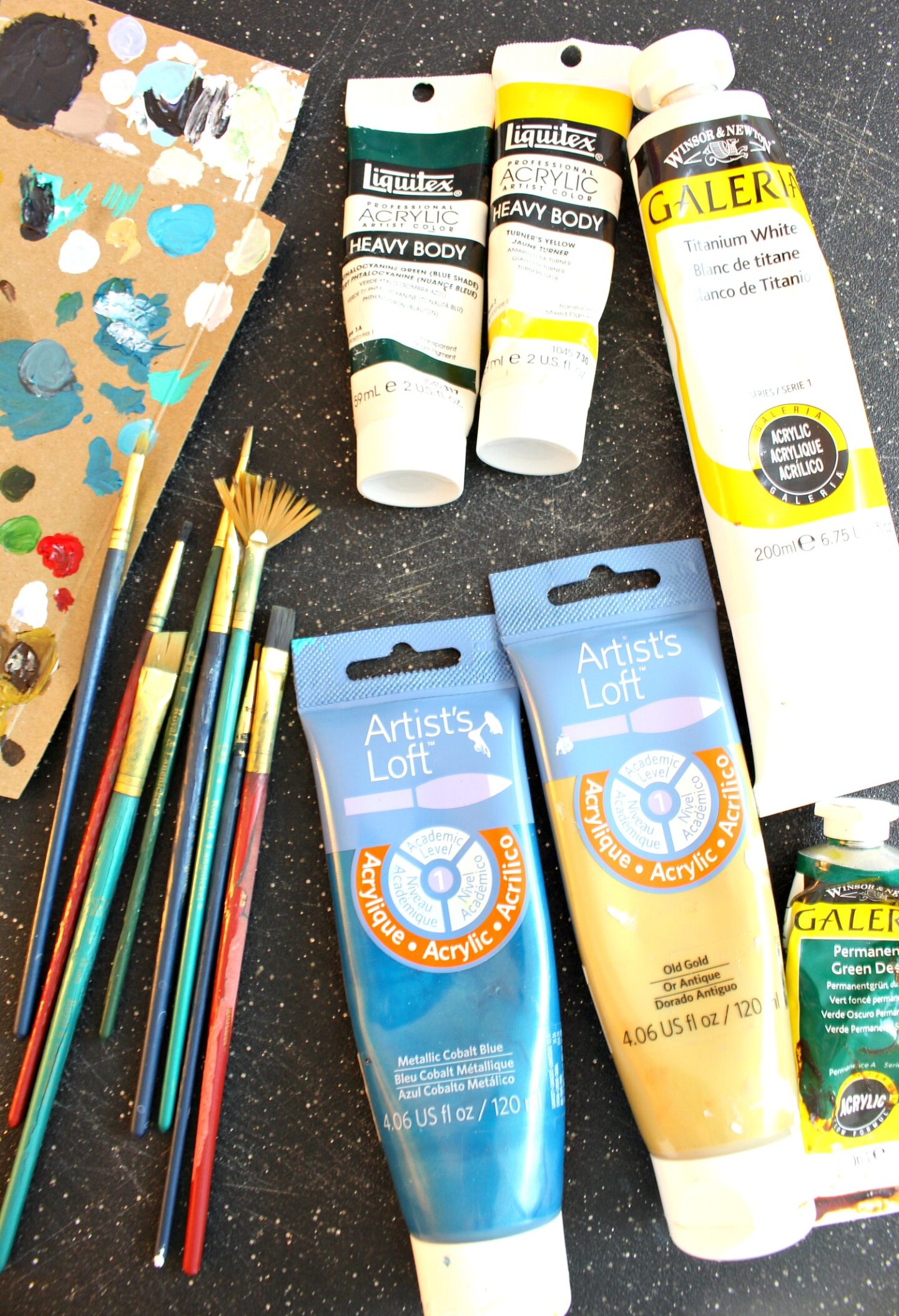 But First, a Disclaimer:
Ummmm, so, it's really difficult to make a Maud Lewis inspired painted ornament! First, the birch bark is not an ideal canvas for fine art, lol, and, also, Maud Lewis was incredibly talented. You think her paintings are simple, but they are not – there is depth and perspective and beautiful composition. There's a reason her small paintings now fetch over $100,000 at auction! But the important thing is that my Mom and I had a lot of fun painting these ornaments! And, nestled among the branches of her tree, they don't look too shabby. So if you'd like to make your own DIY painted birch slice ornaments, here are my tips! But, of course, things went swimmingly until I decided to photograph one step-by-step – it's the least successful one.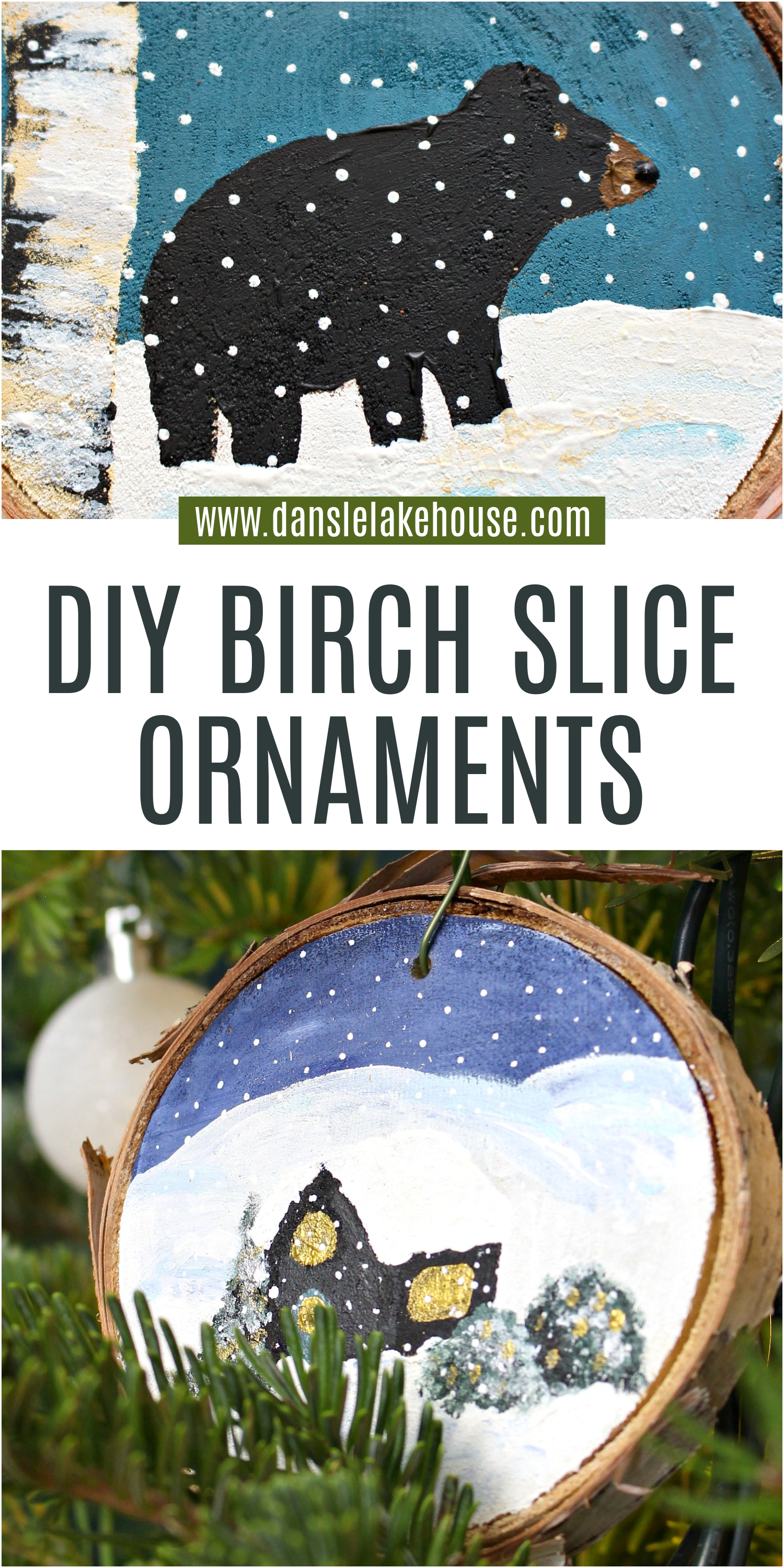 How to Make DIY Painted Birch Slice Ornaments:
First, find your inspiration: a photo, a painting, a cartoon (or just paint from memory)! Print it or have it ready on your cellphone screen for reference. You could, if you really don't trust your skills, trace it using this graphite transfer paper. But I'm confident that you can do it freehand! You also don't have to use your inspiration in its entirely – you can take just a small piece, like I did.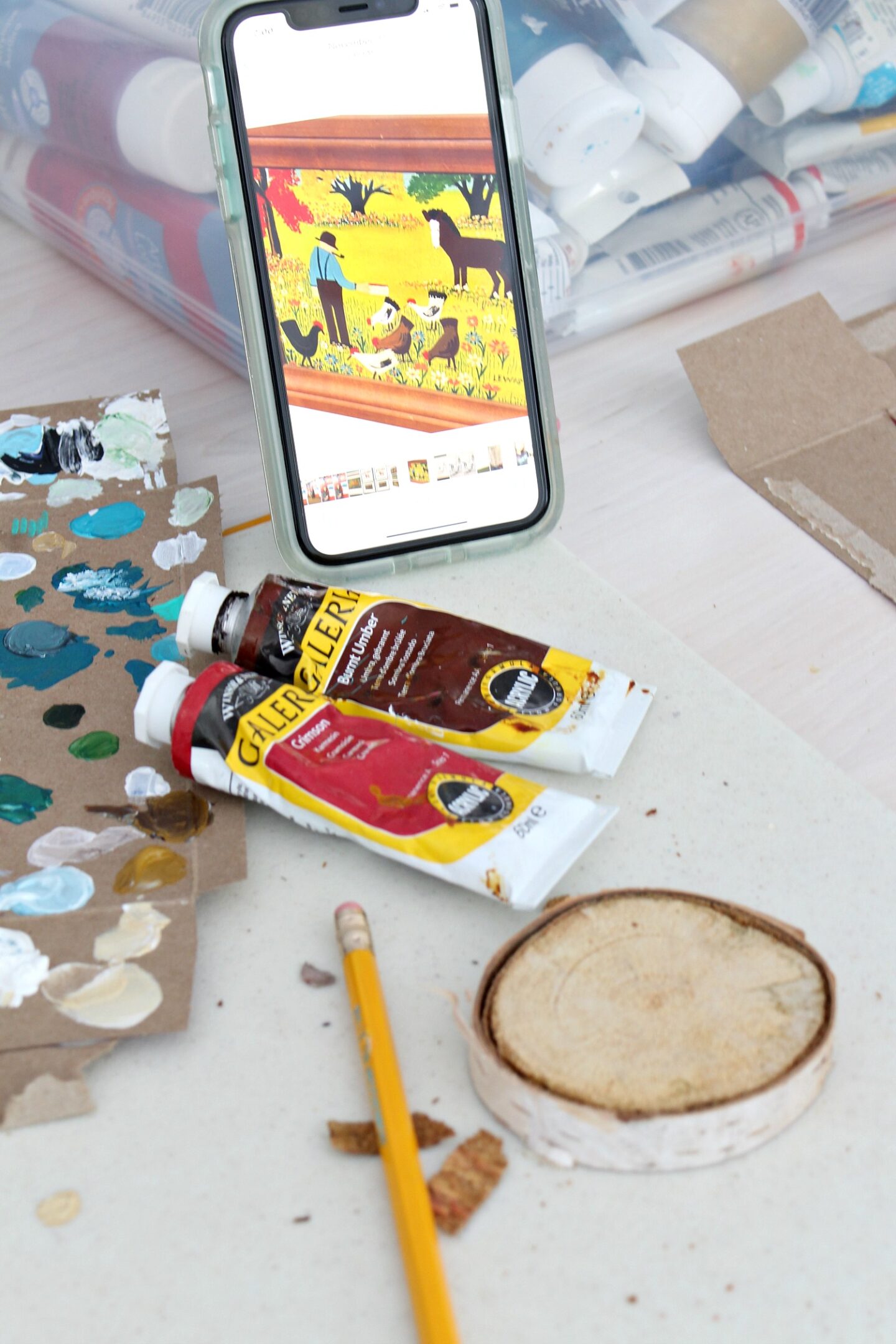 Draw a rough outline of your design on the birch bark slice with a pencil: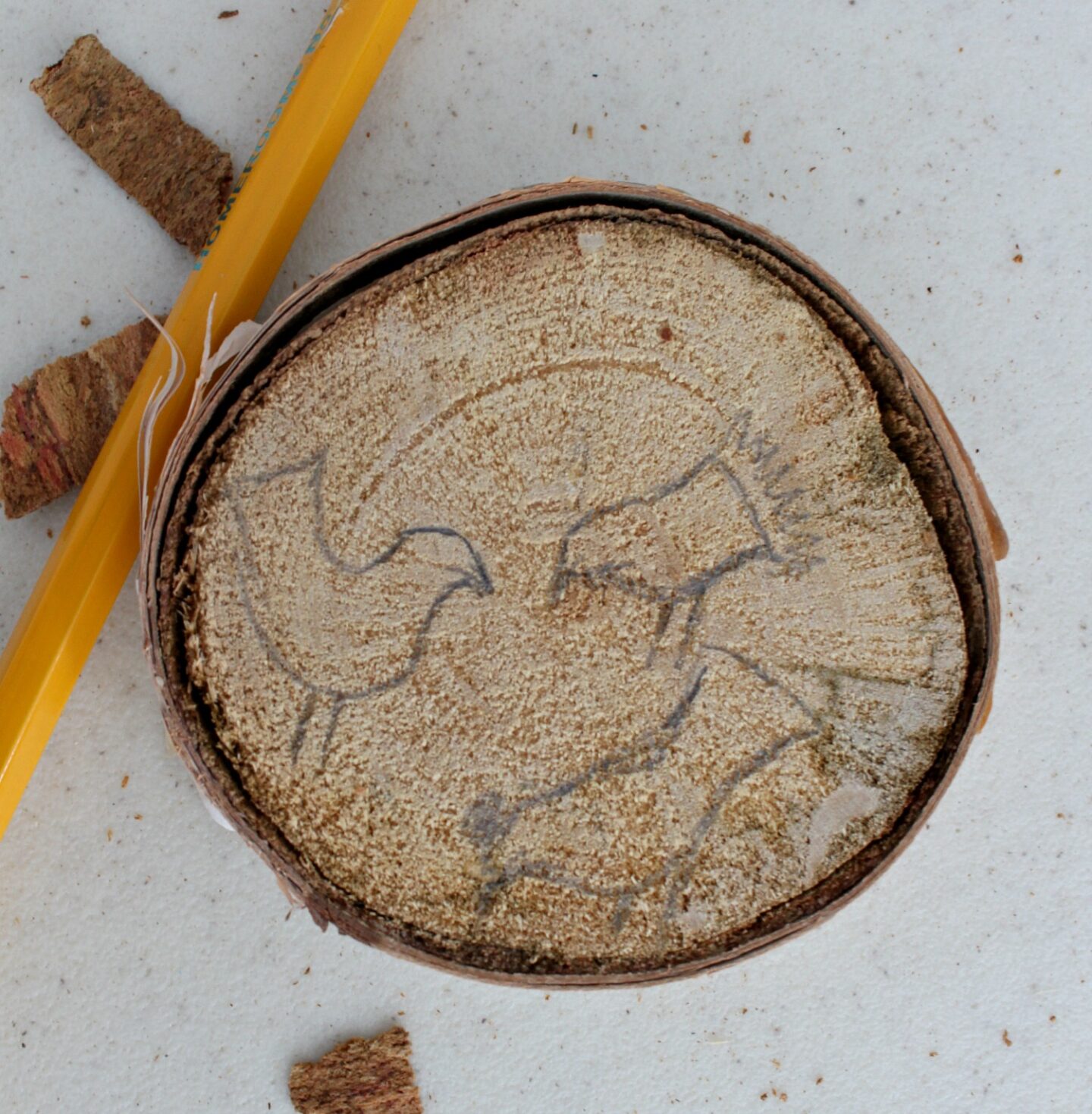 Now paint the background, keeping the paint very smooth and flat – don't add any texture at this point: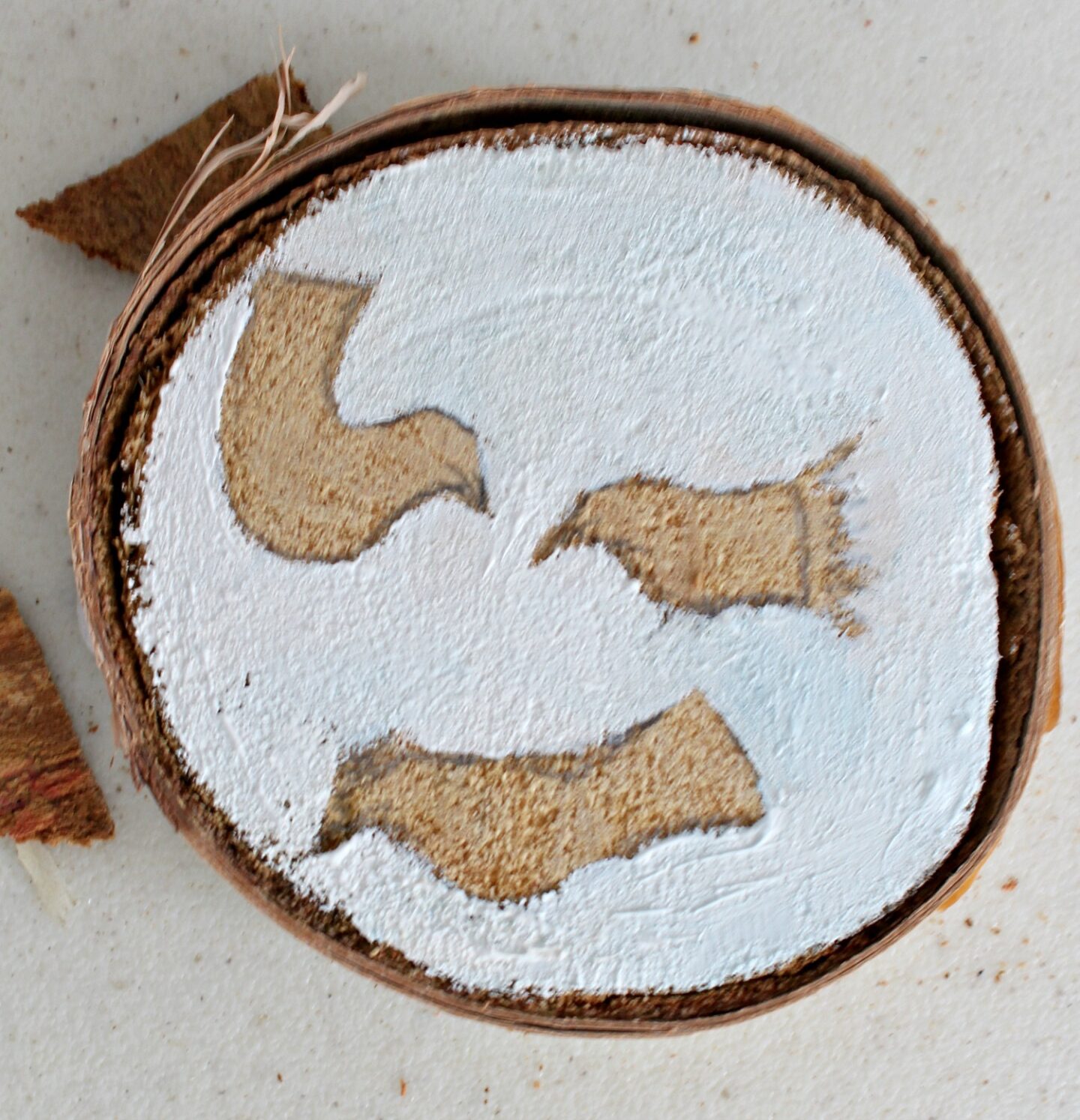 Now start to block in some color, working from the background forward. So paint a rough brown shape of a chicken, for example, then move to the other chickens and when the first has dried, start to layer on some color and feathers and wings.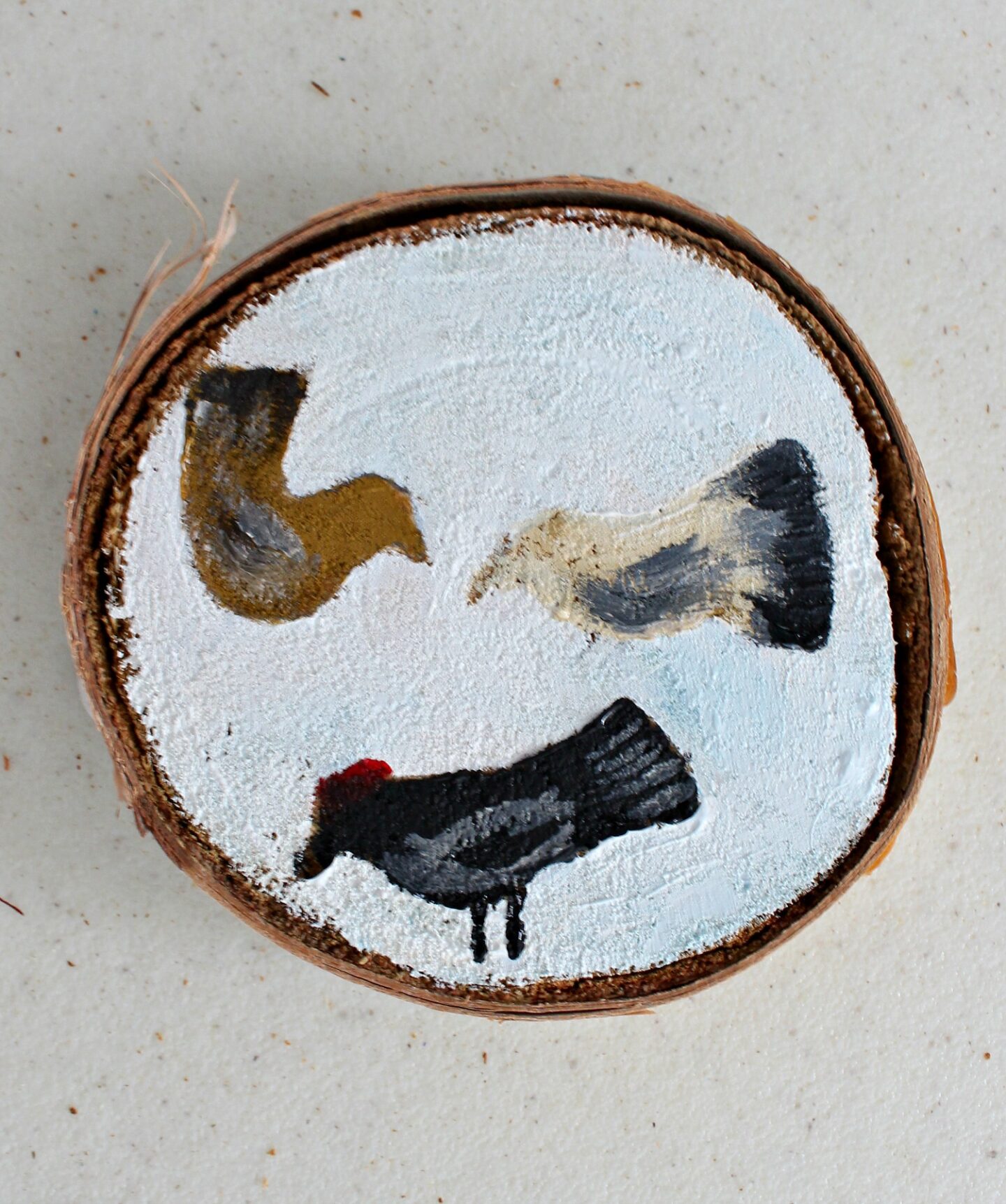 Keep adding details and if the paint is flat, you can always paint over an area you don't like and touch it up!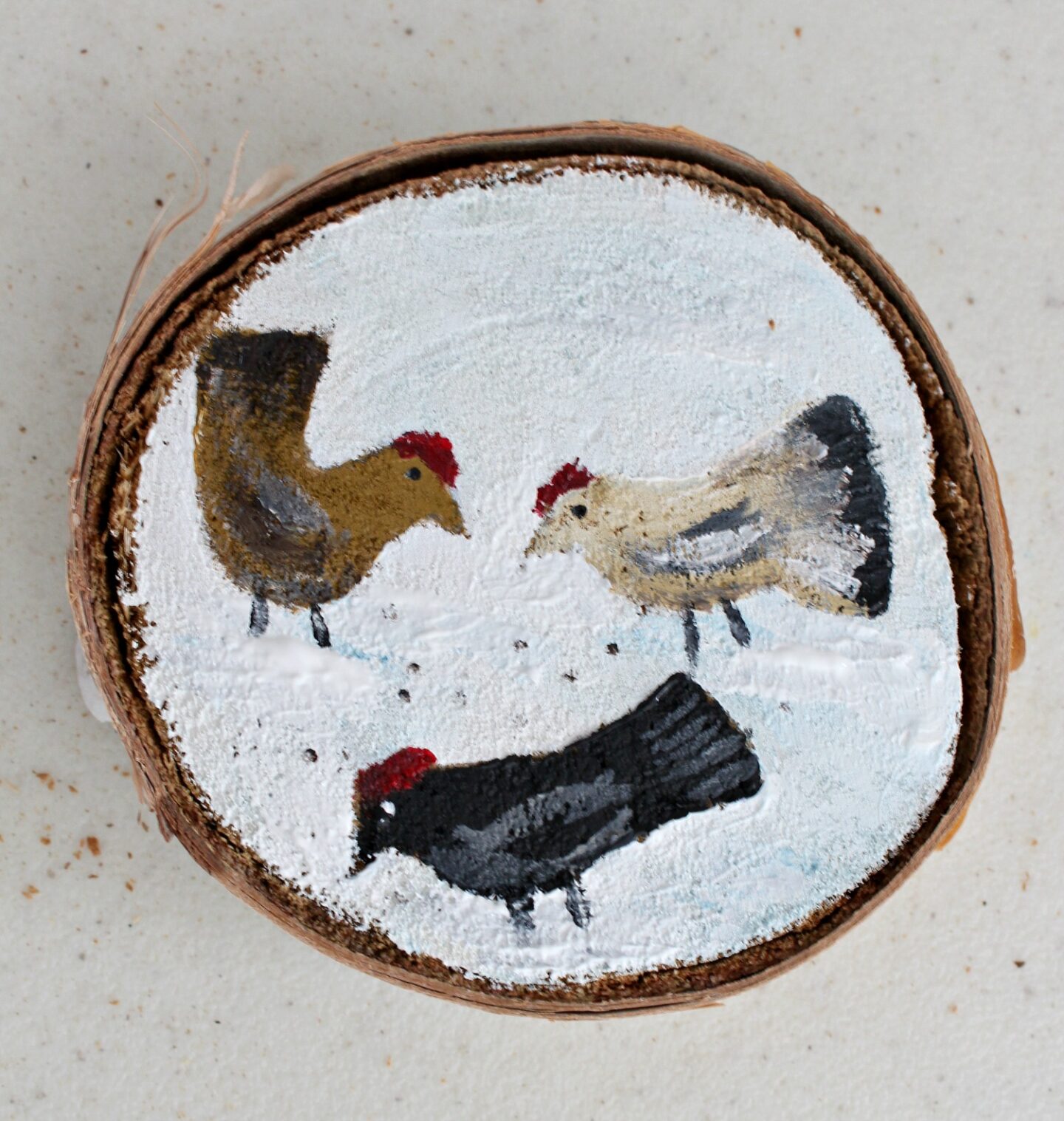 For the final layer, you can add some texture if you want (like around the snow):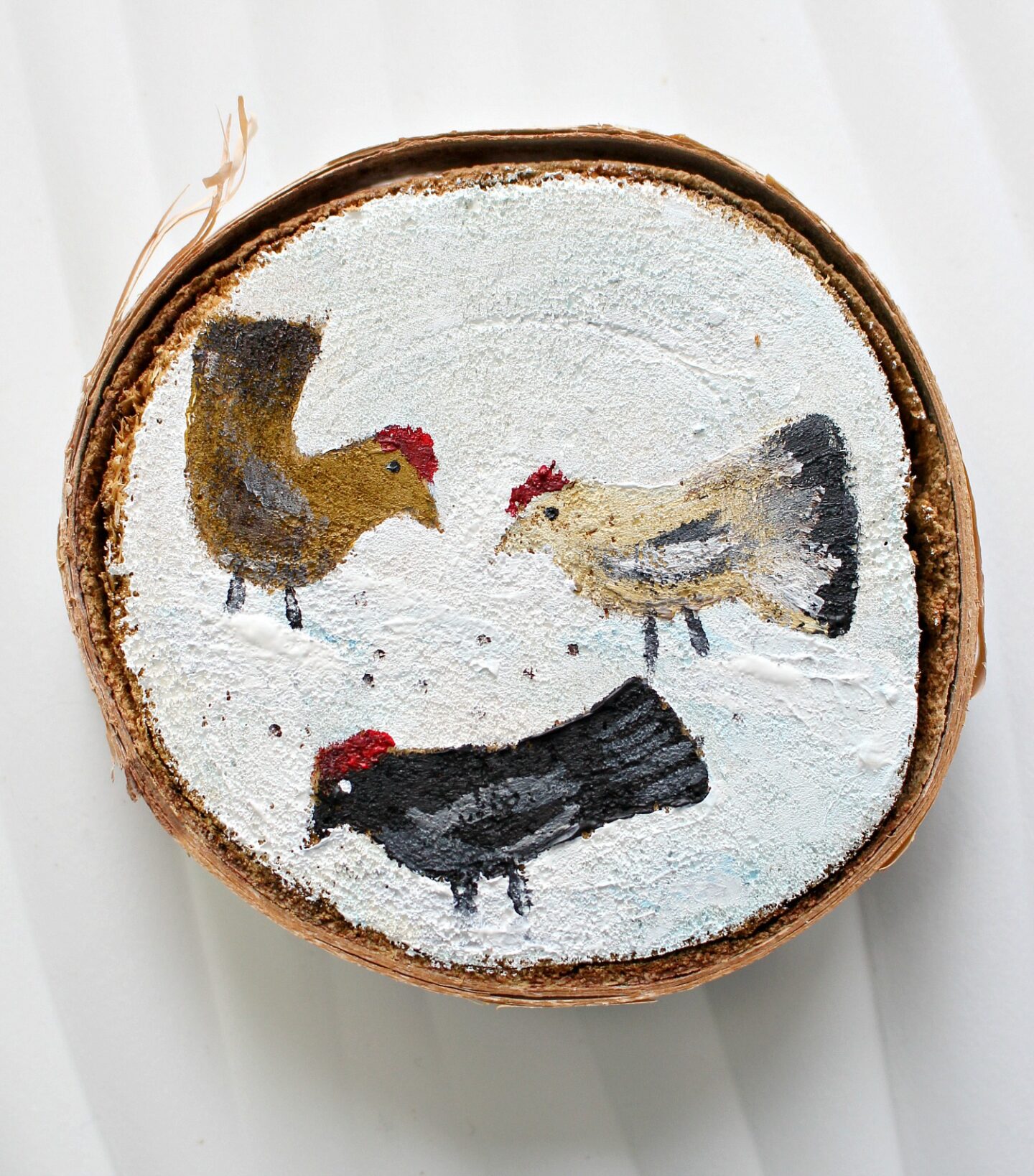 Yikes, see? This is my roughest one, lol. But all of the others were tackled the same way. Just FYI, for the "snow" or "stars" on some of my other painted birch bark slices, I used a piece of wire instead of a paint brush. I dipped it in paint and dabbed, it was a cleaner dot than a brush.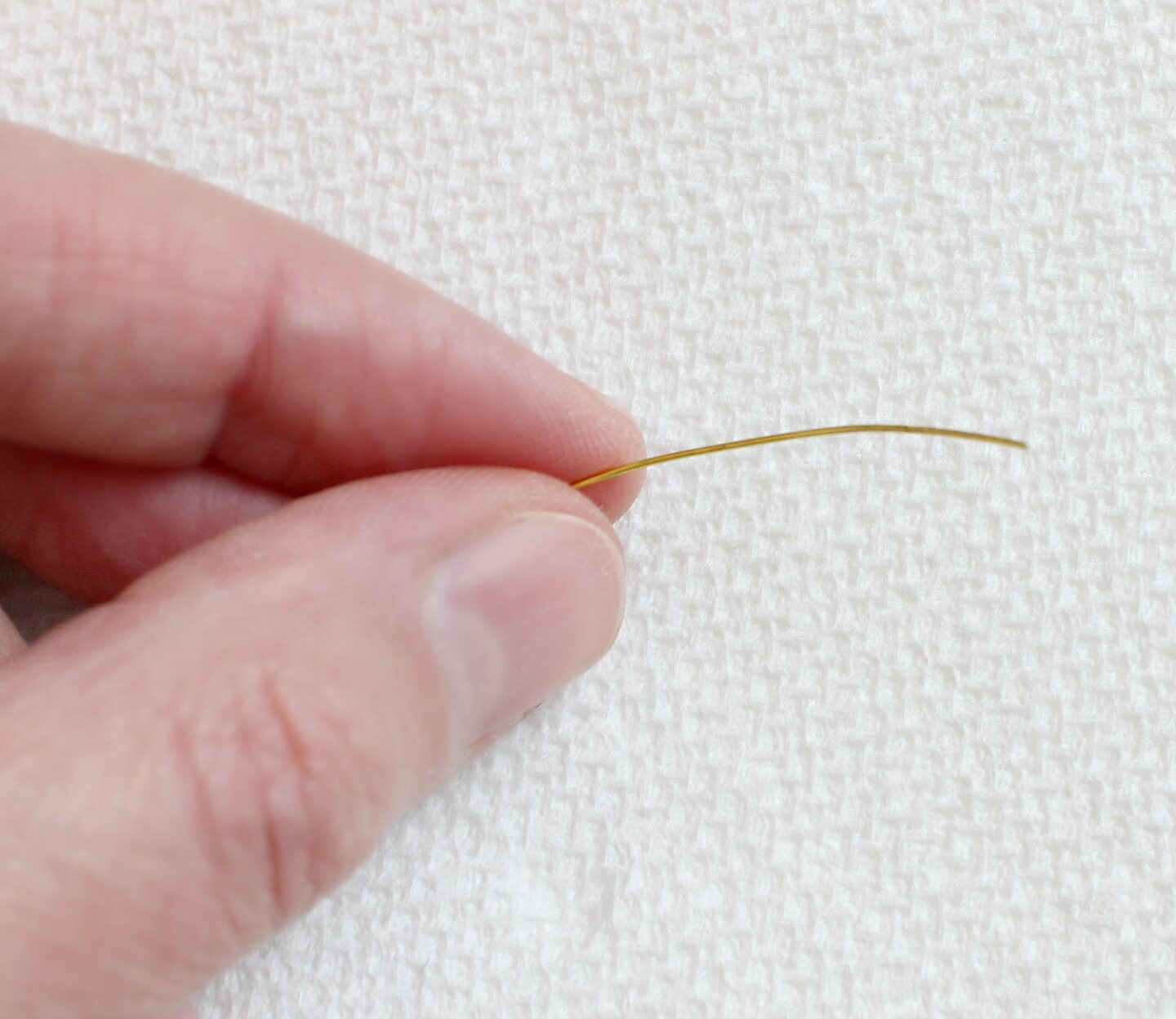 Here's my Mom working on another DIY painted birch slice ornament: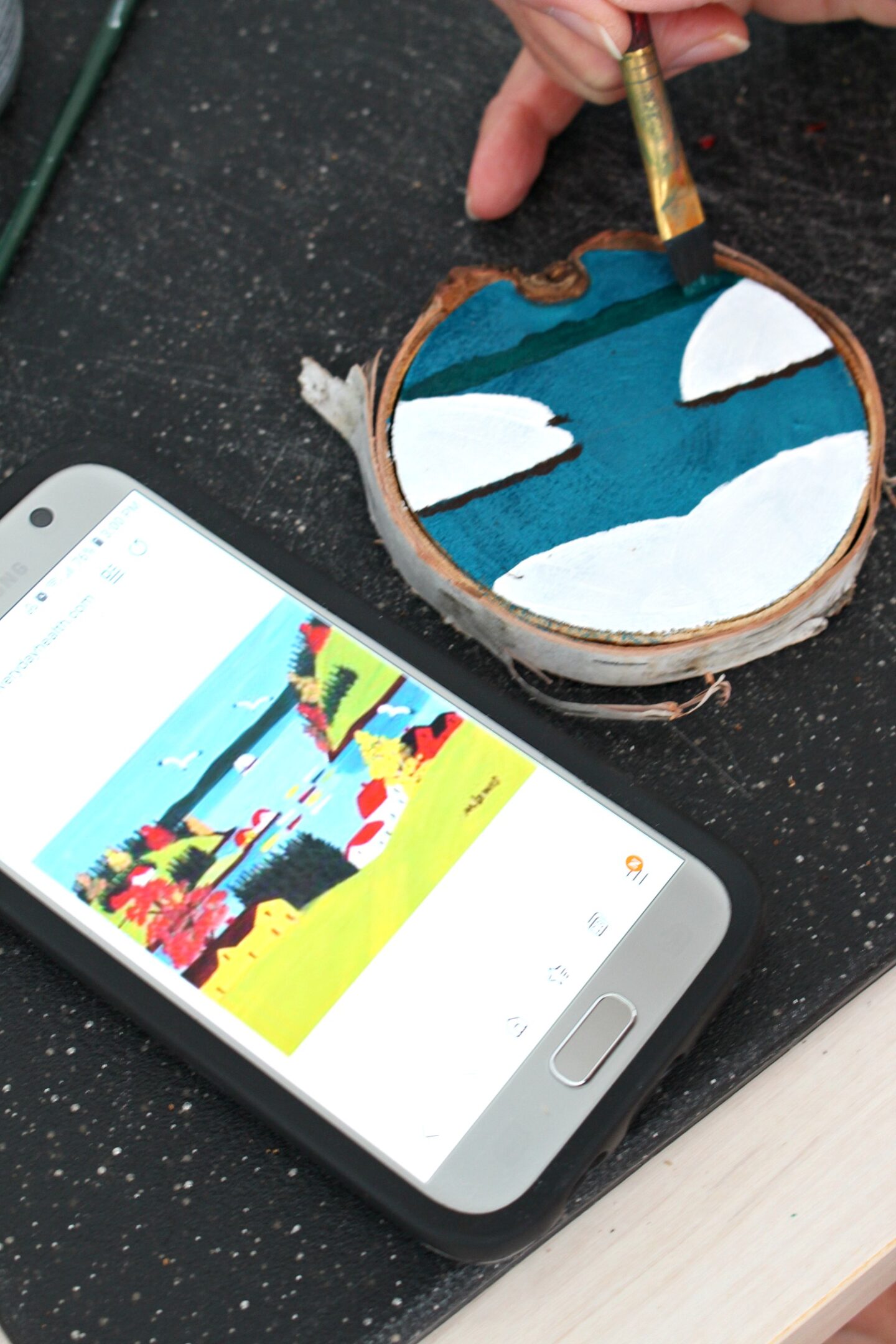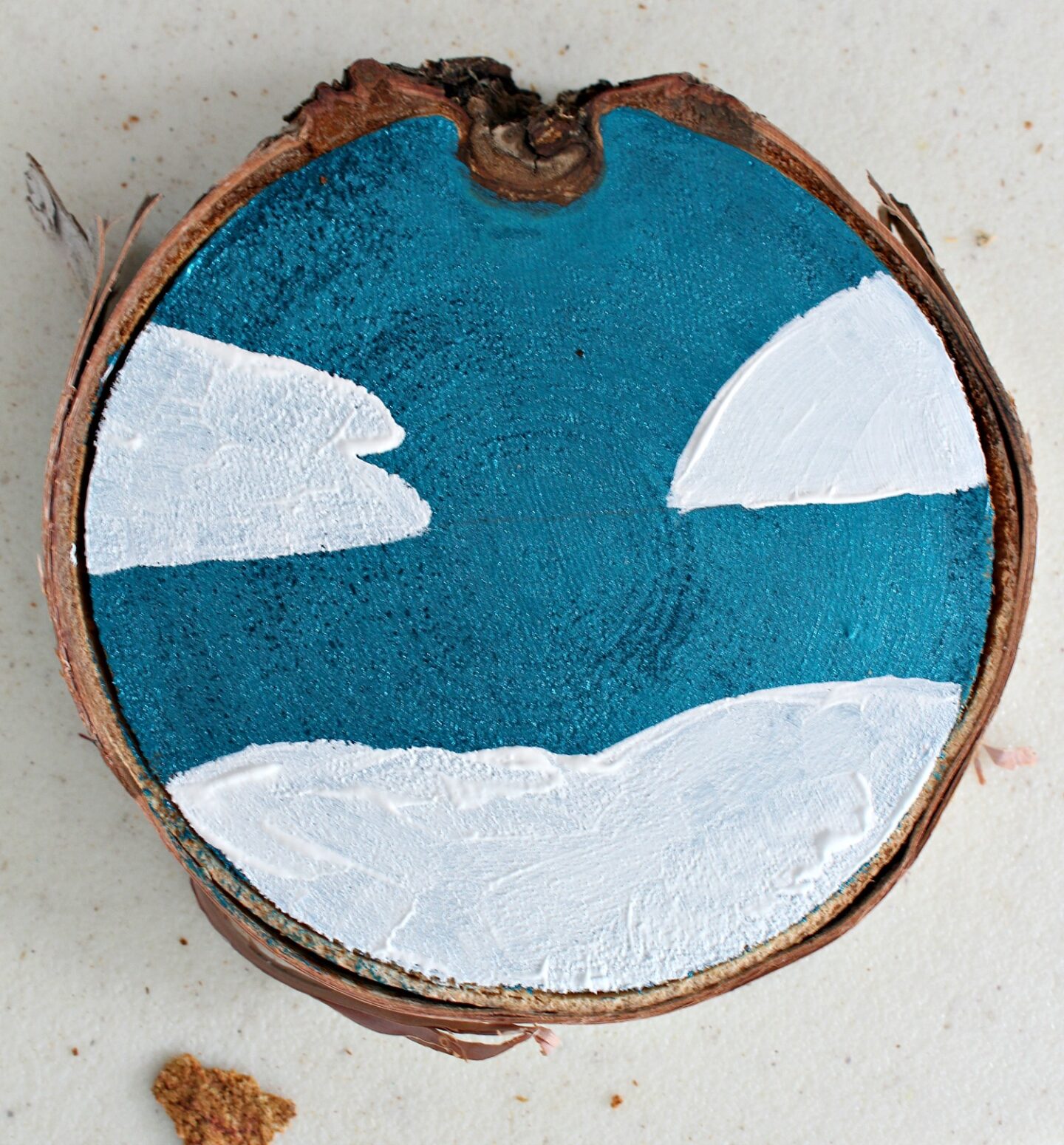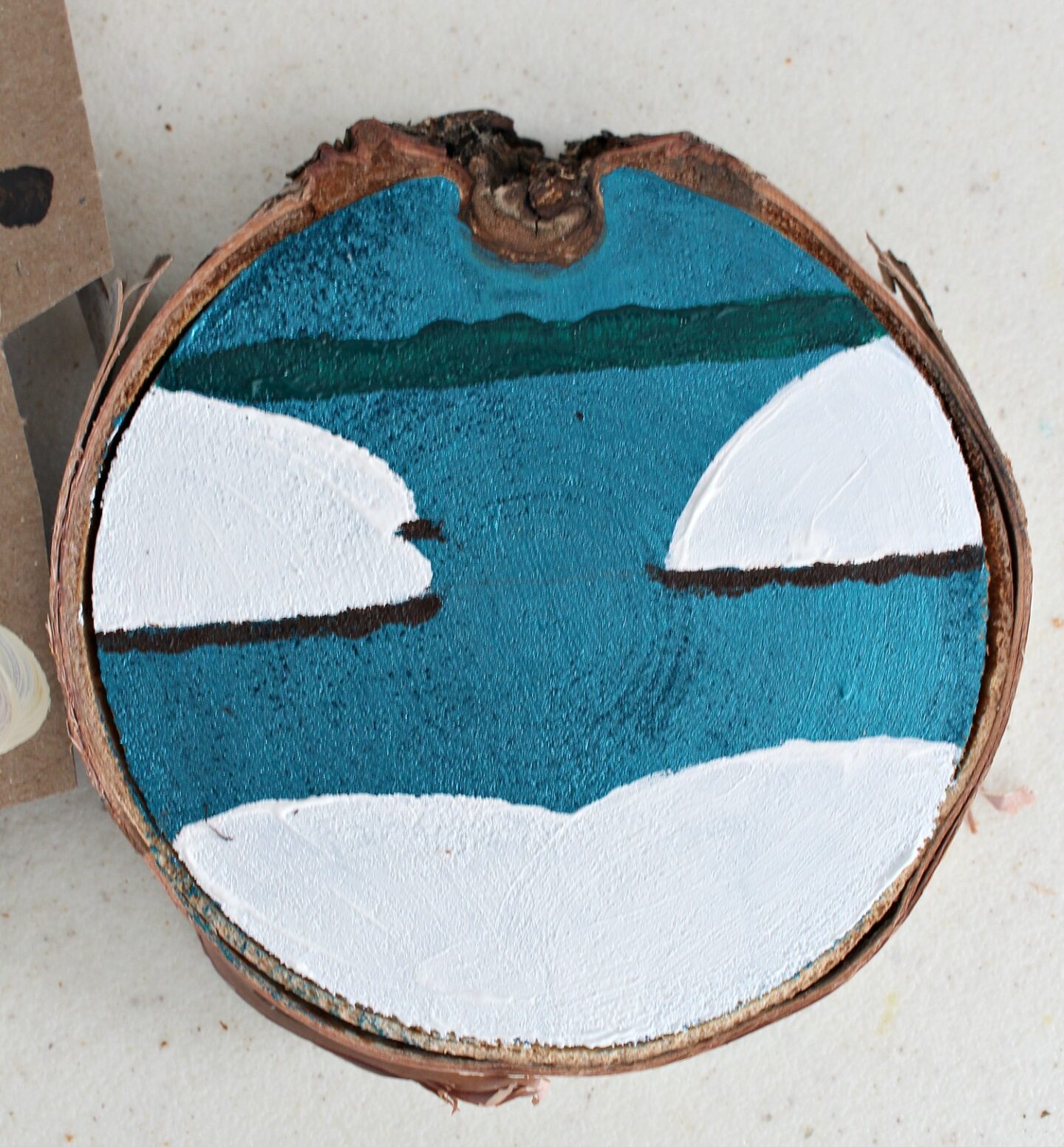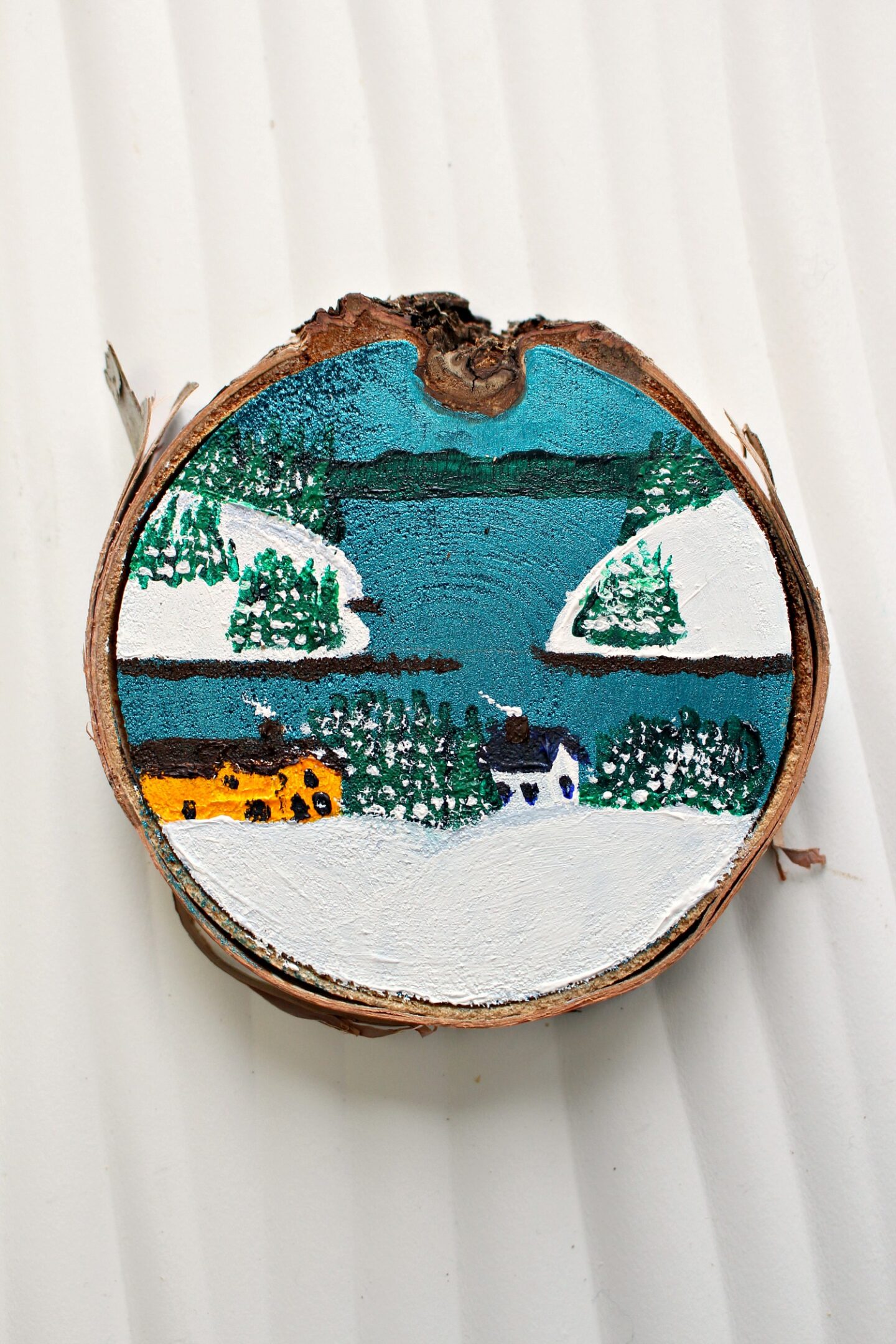 This DIY painted birch slice ornament I could hang through a knot, but for the rest I just drilled a hole near the top and hung with an ornament hook: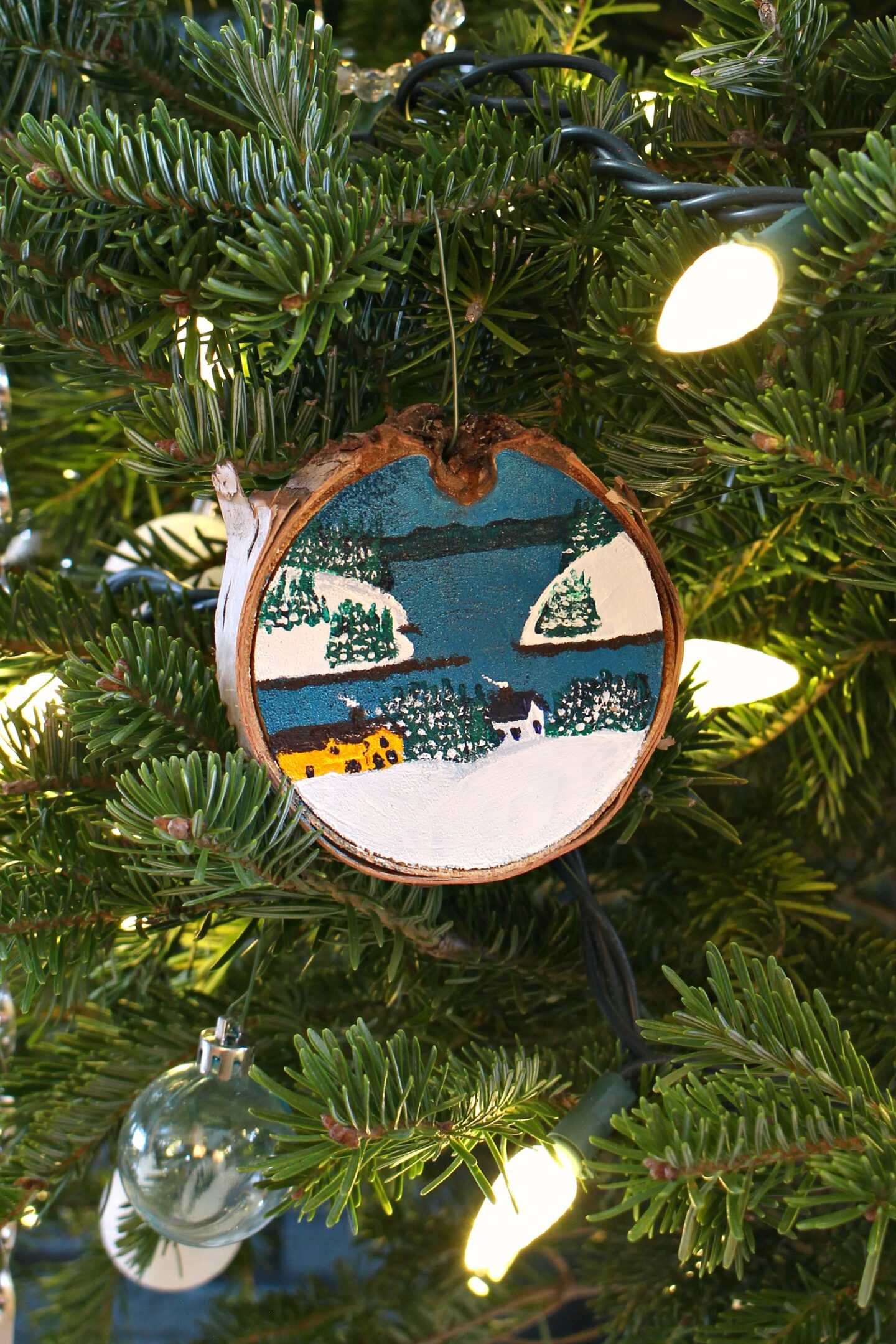 We painted quite a few! Here are all of our finished DIY painted birch slice ornaments. They all have a woodland, wintry sort of theme.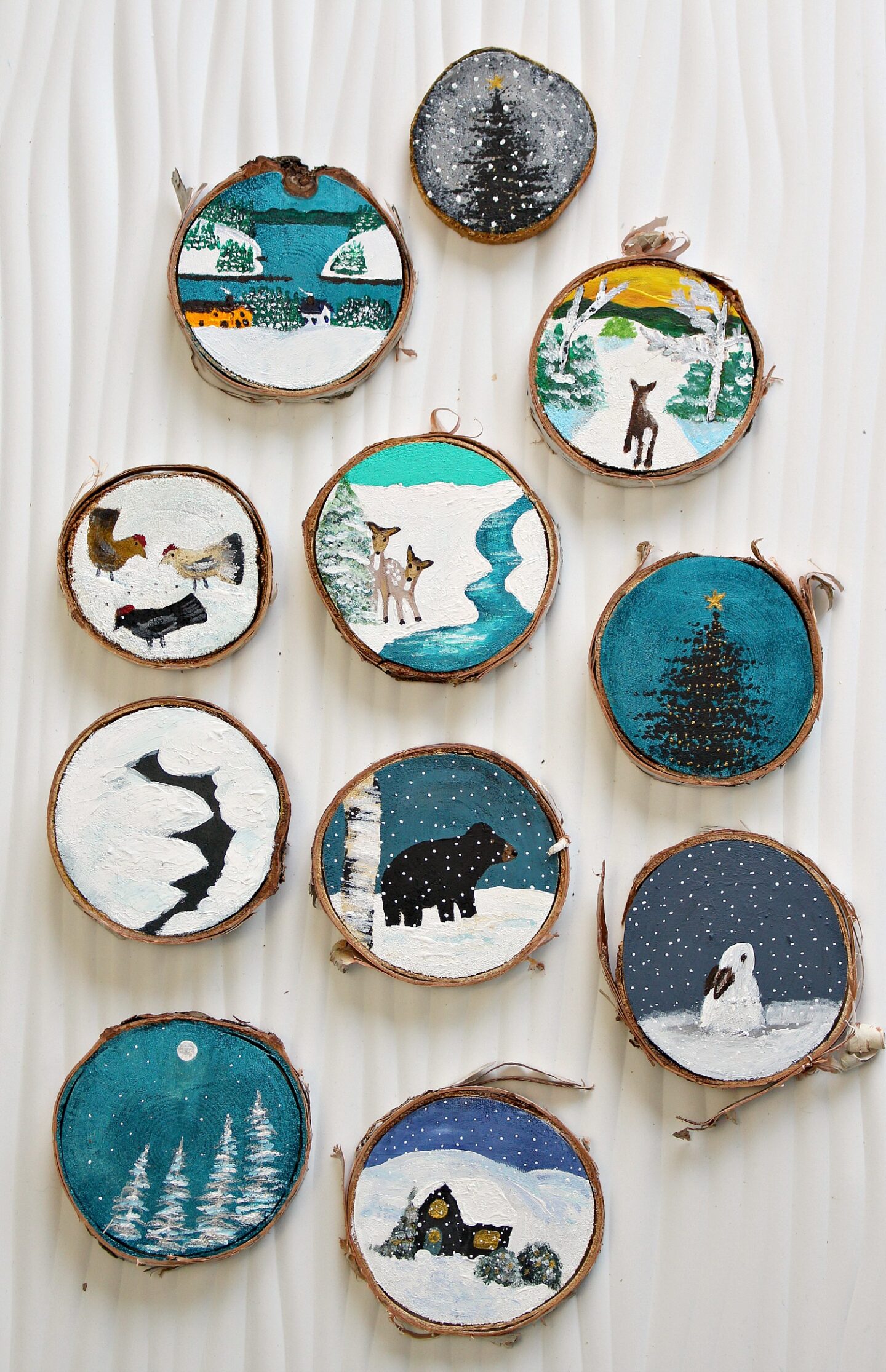 I'll show you a closer look at some of them. The DIY painted birch slice ornaments in the two photos below were the most inspired by Maud Lewis. We looked at a painting of hers we liked and then borrowed a small section. Ultimately we changed the colors and composition a bit, but the inspiration came from her folk art.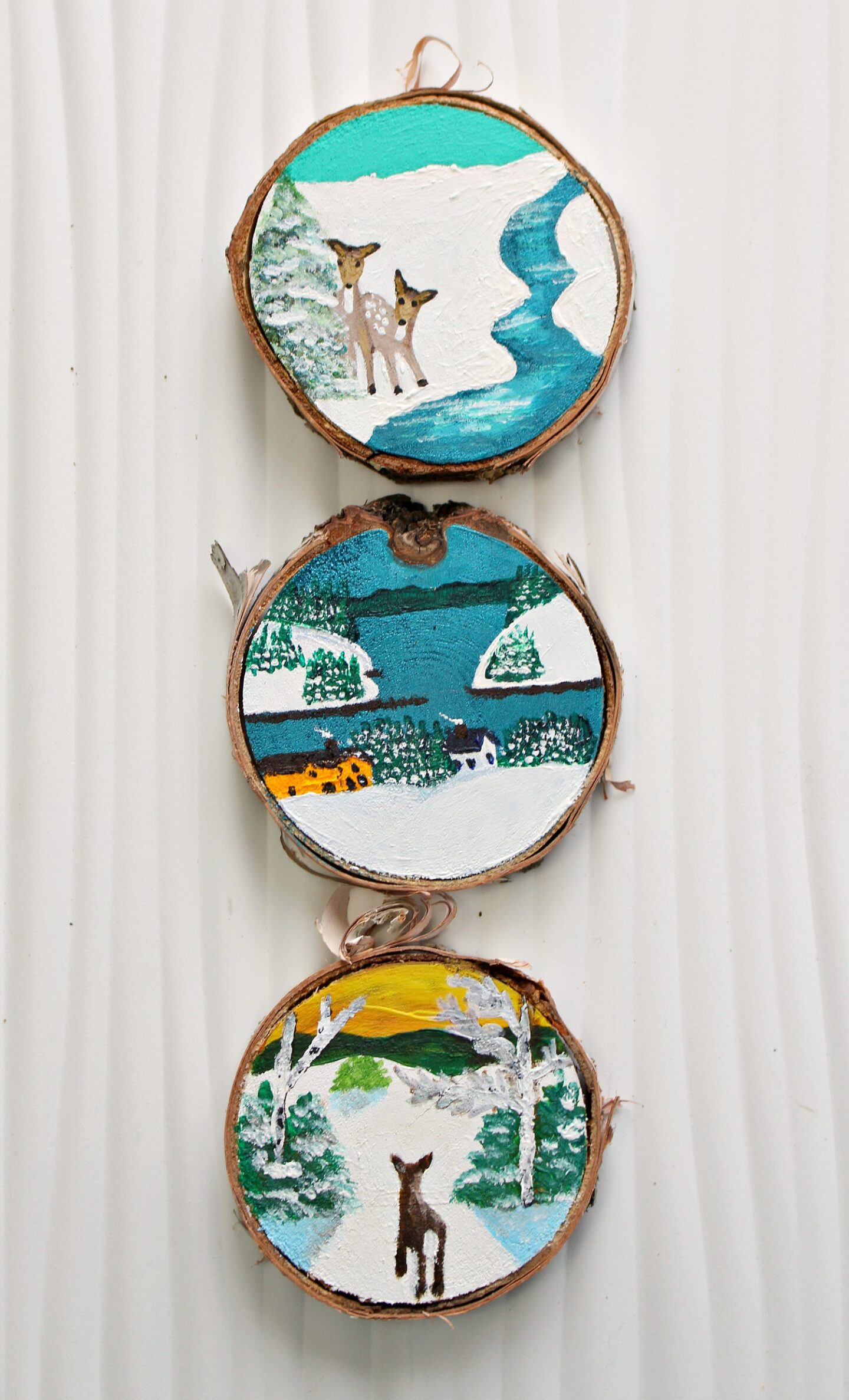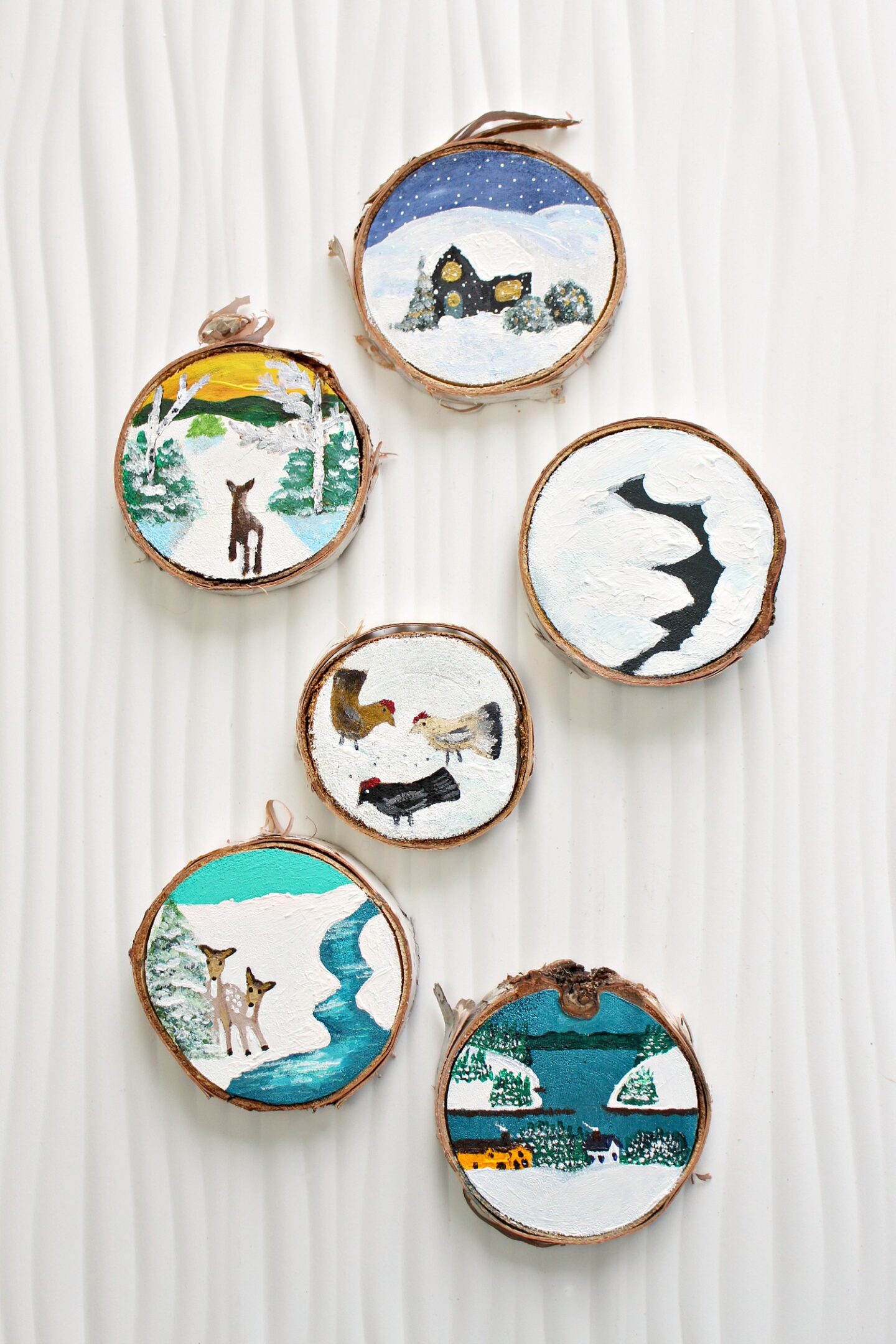 Maud Lewis painted a lot of deer and they look adorable on DIY Christmas tree ornaments. My Mom painted this one: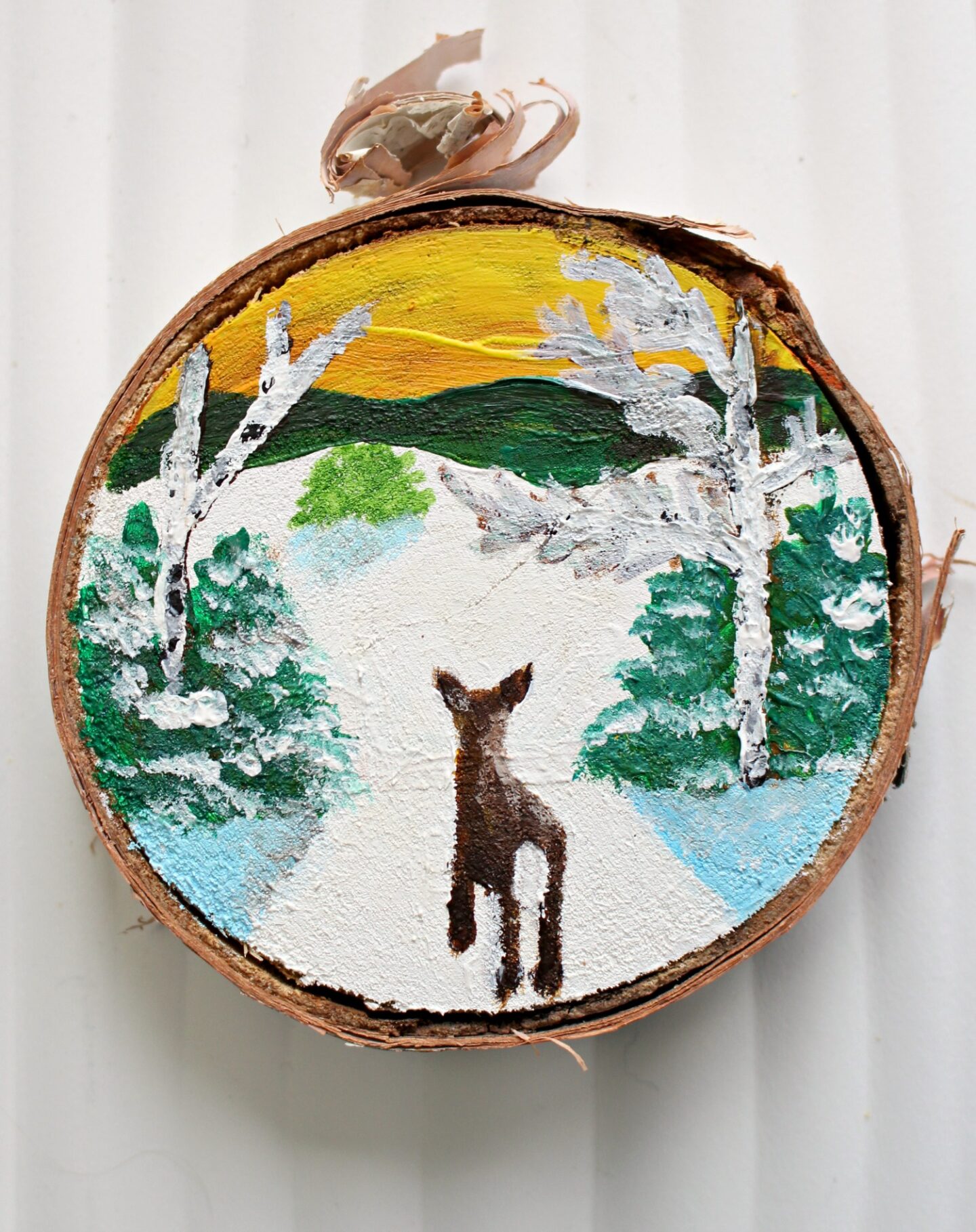 And – you can probably tell from the aqua sky – I painted this one: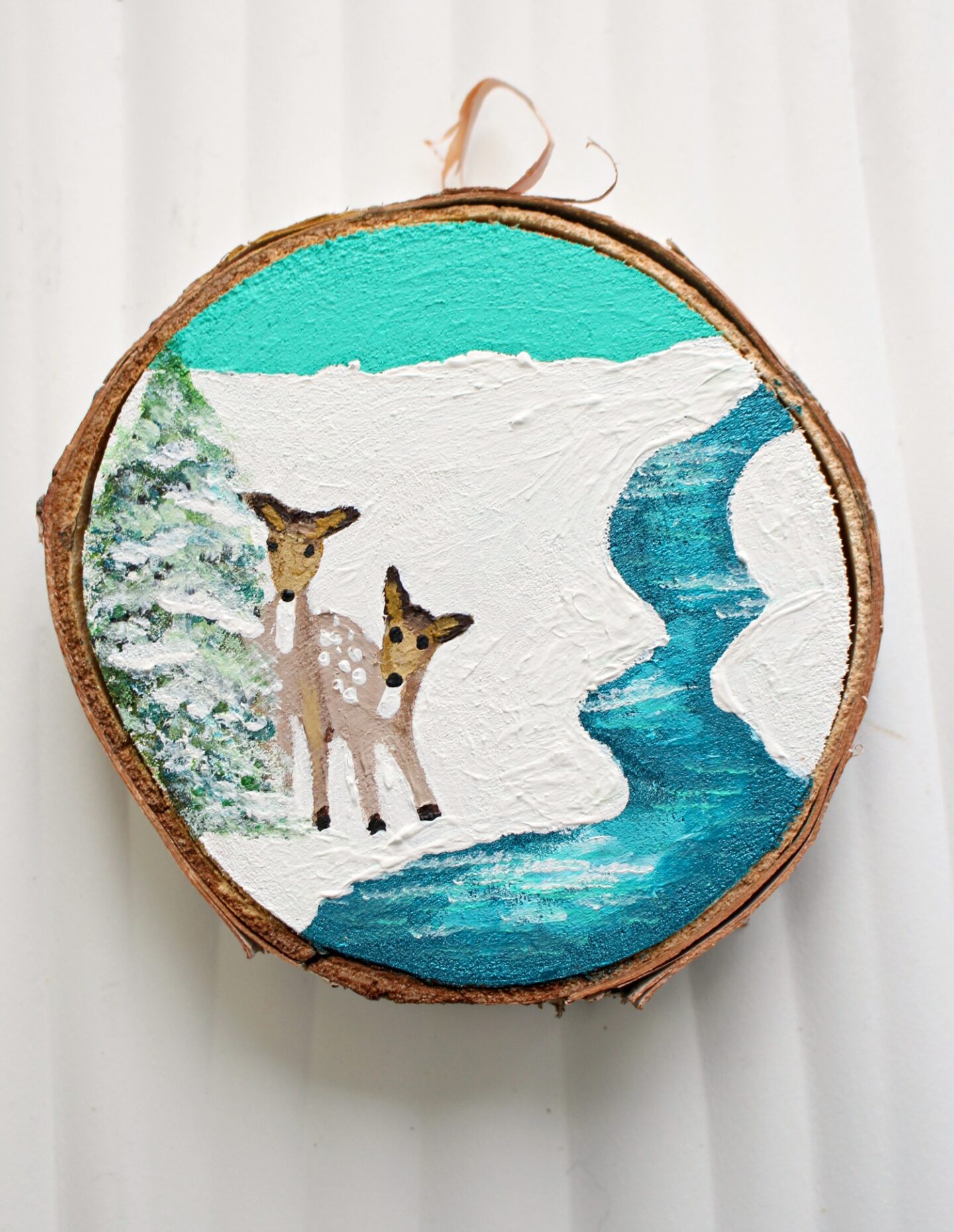 I was also loosely inspired by Maud Lewis with this one, although the painting I had found online had many cabins and I just took a simplified approach and painted the one: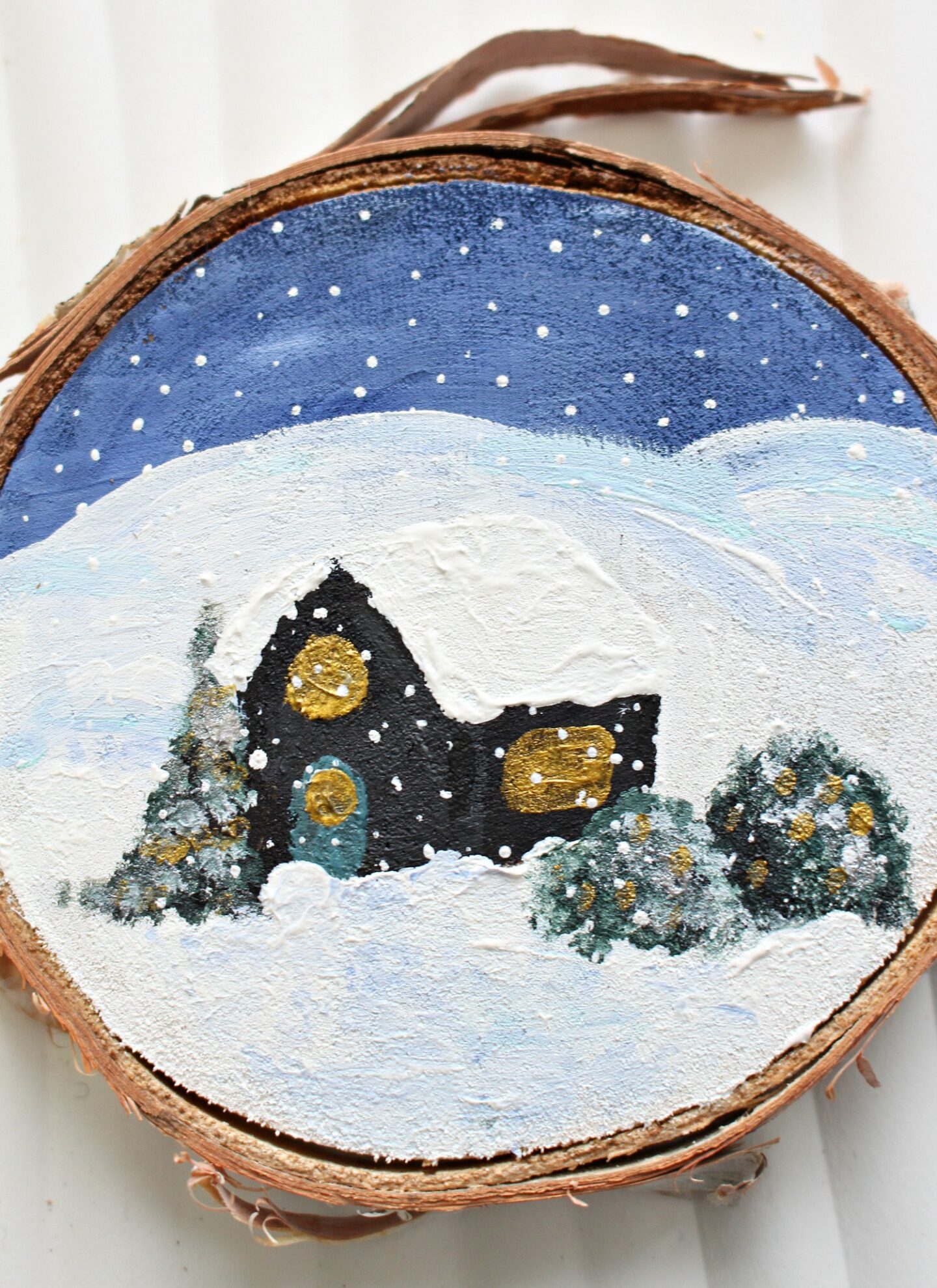 Quickly realizing that we can't hold a candle to Maud Lewis, we "branched" out a little (pun intended) and started creating our own little woodland themed images: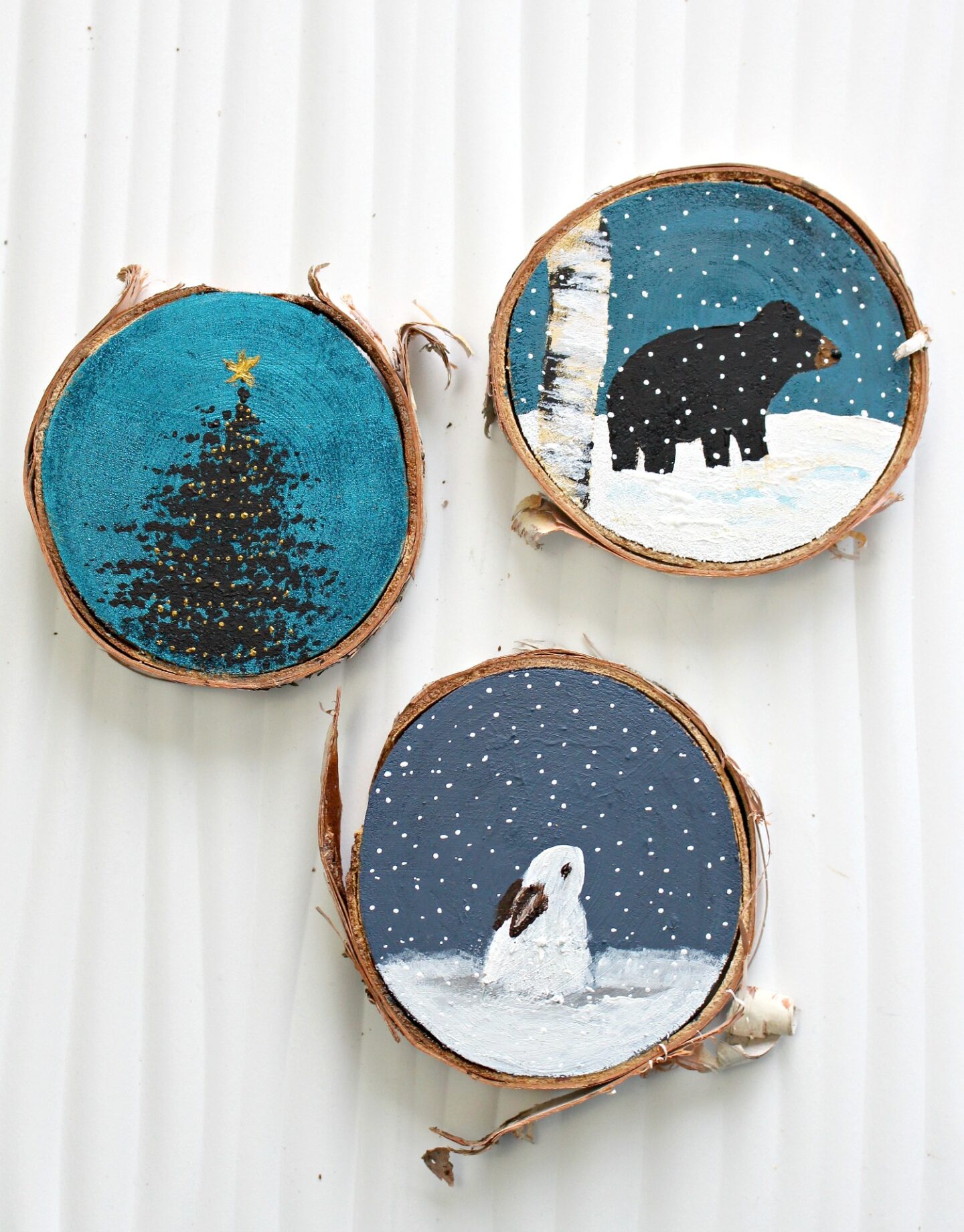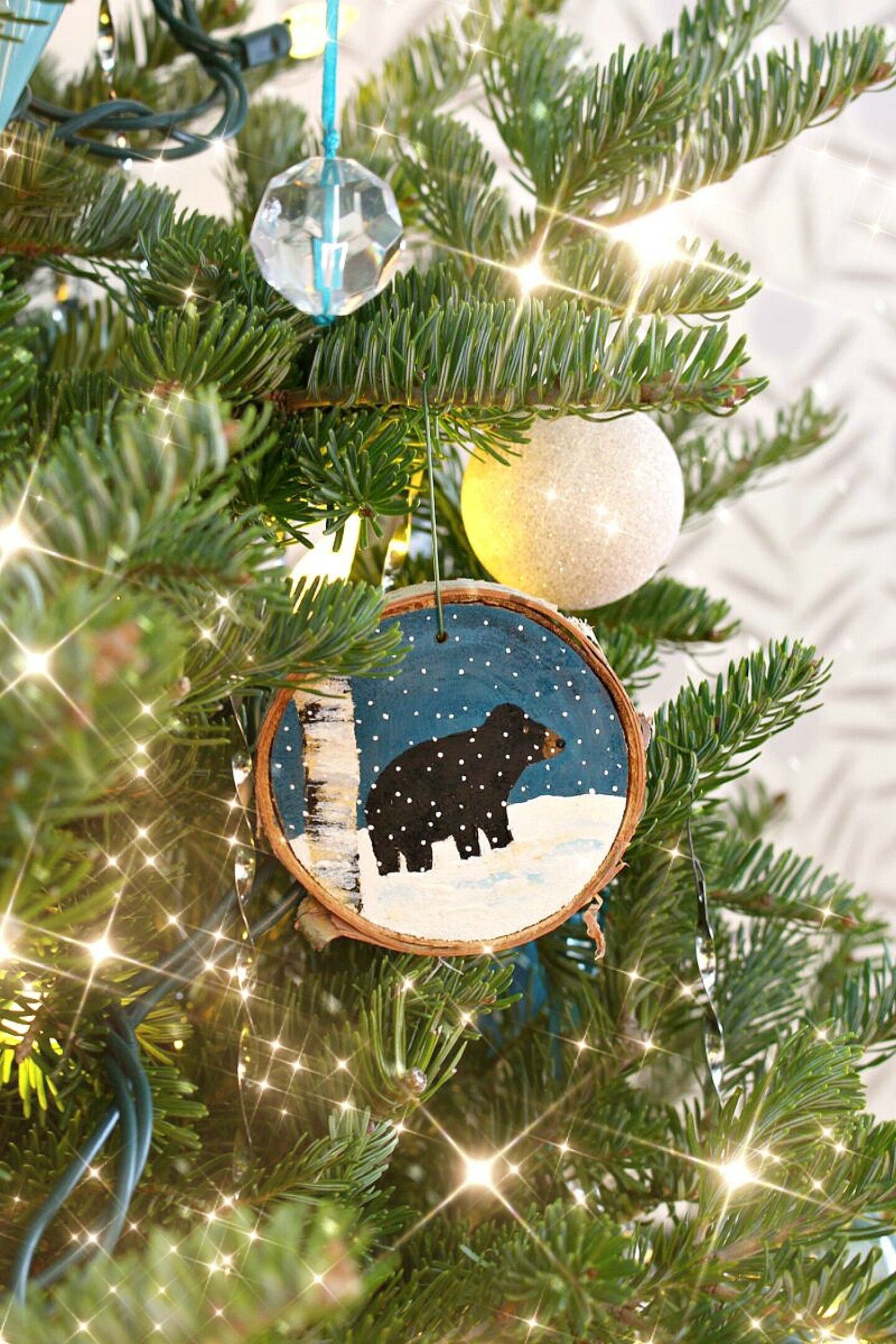 I had to paint a bear, of course, as an ode to the black bear family that terrorized me this fall: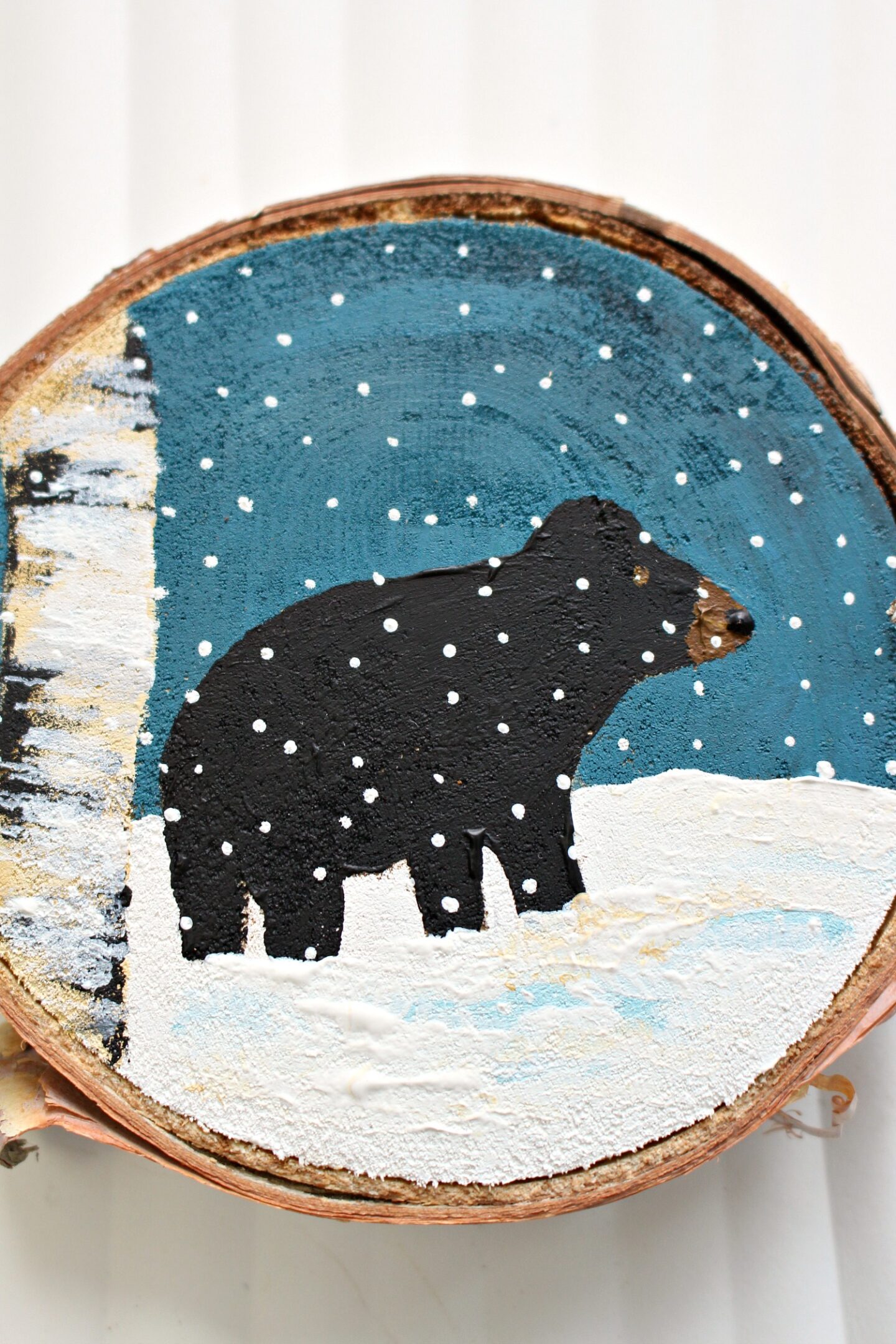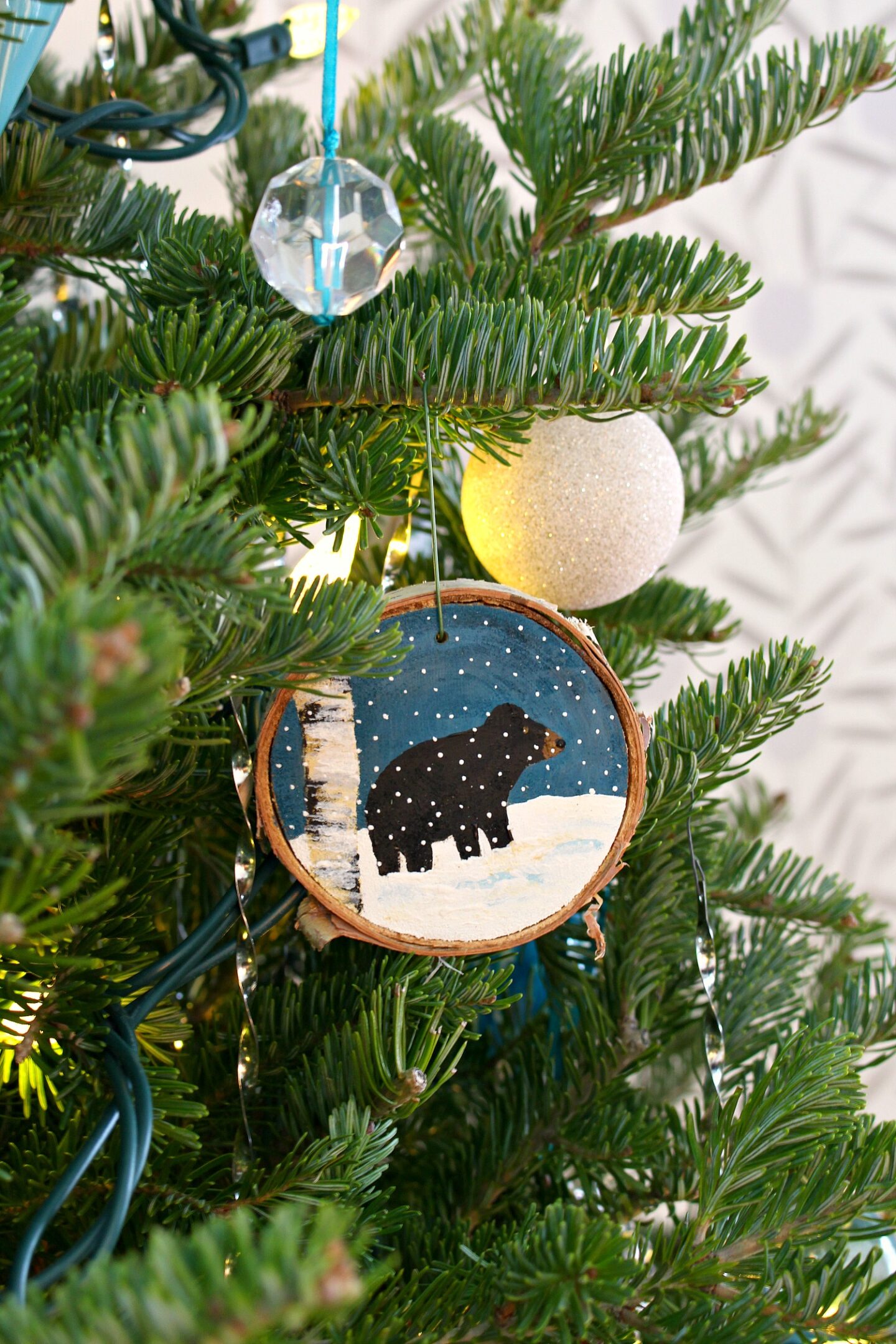 My Mom painted this one and it has a shimmery metallic teal background so it really glows on the Christmas tree. She did a series of shimmery silhouetted trees.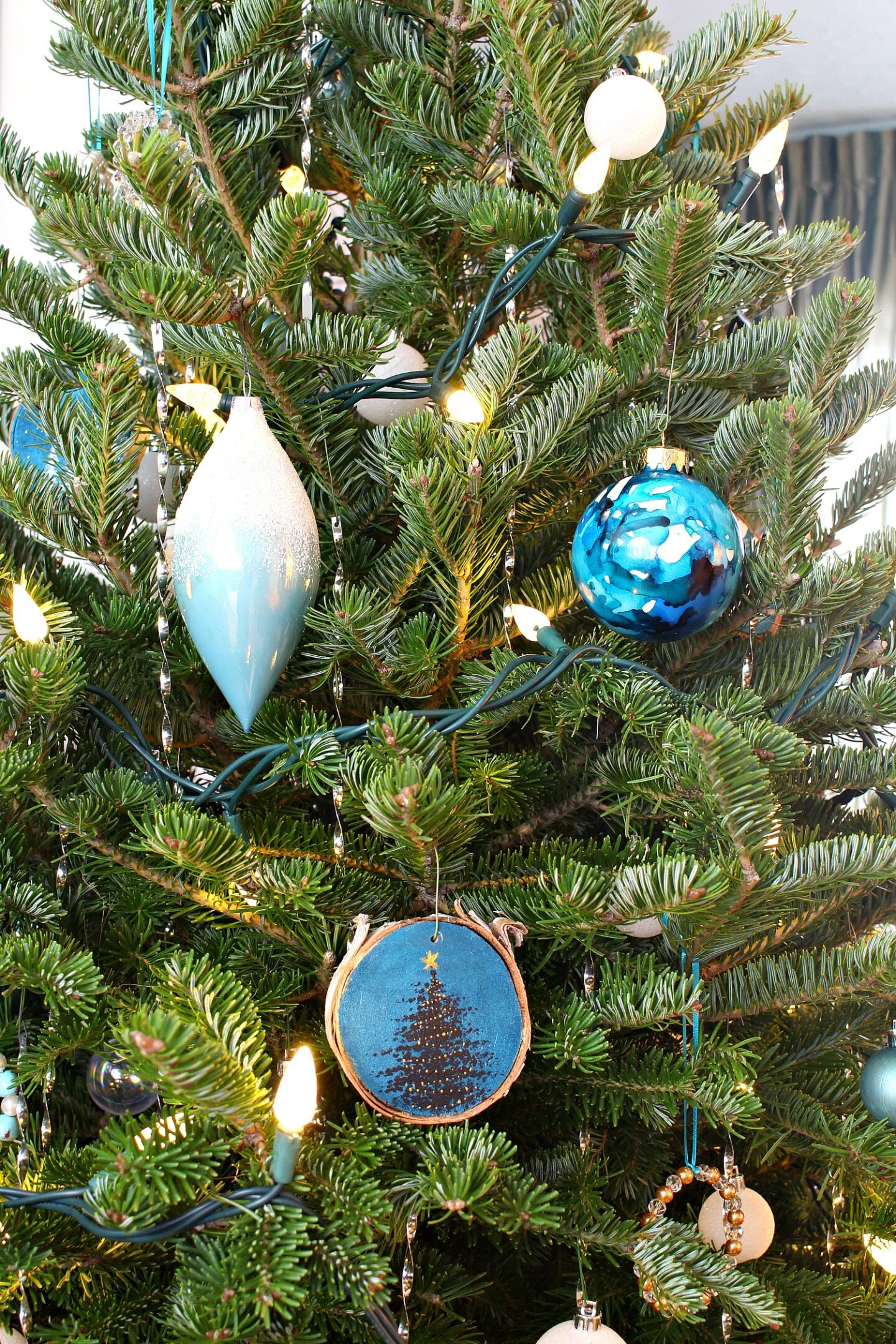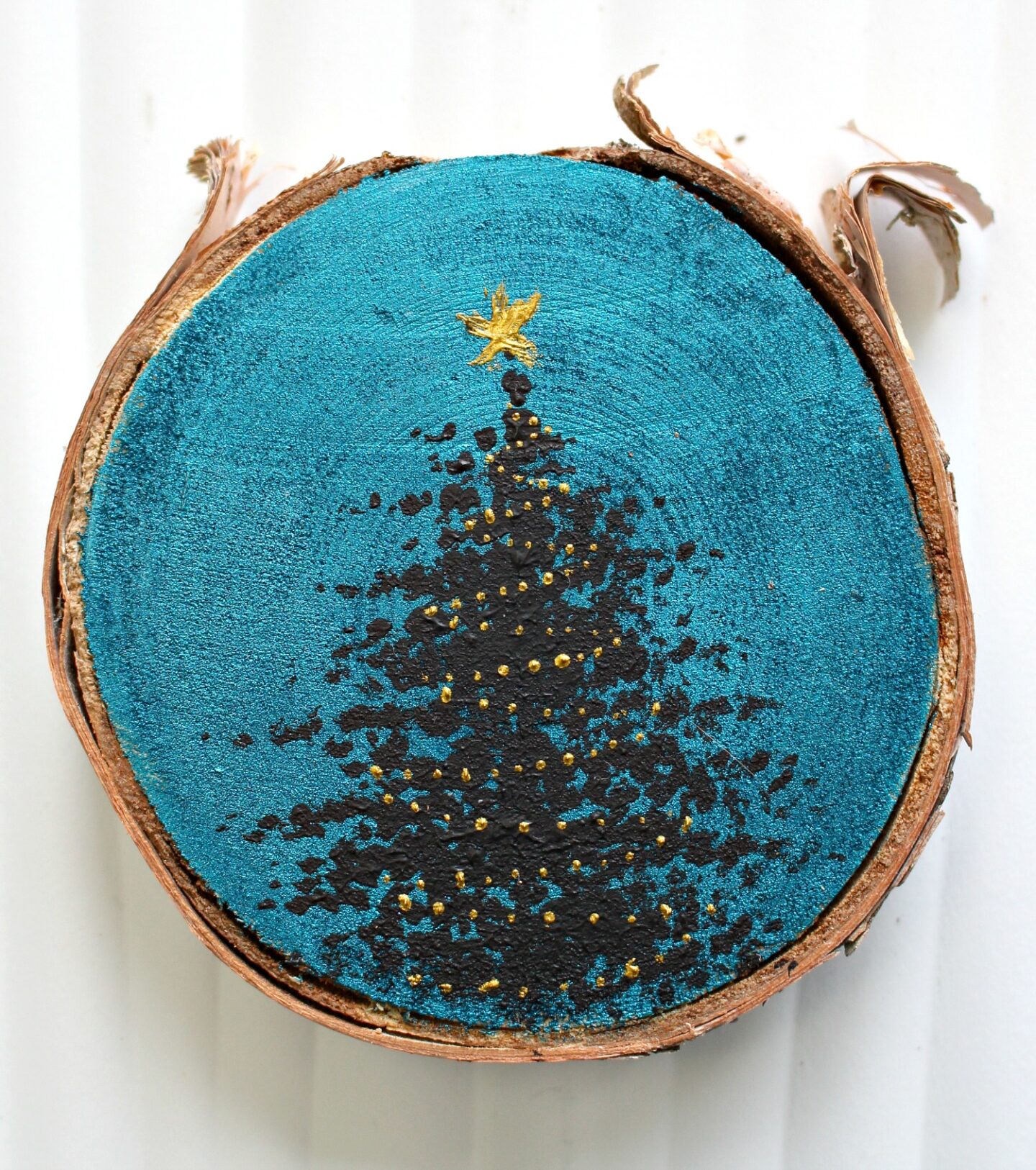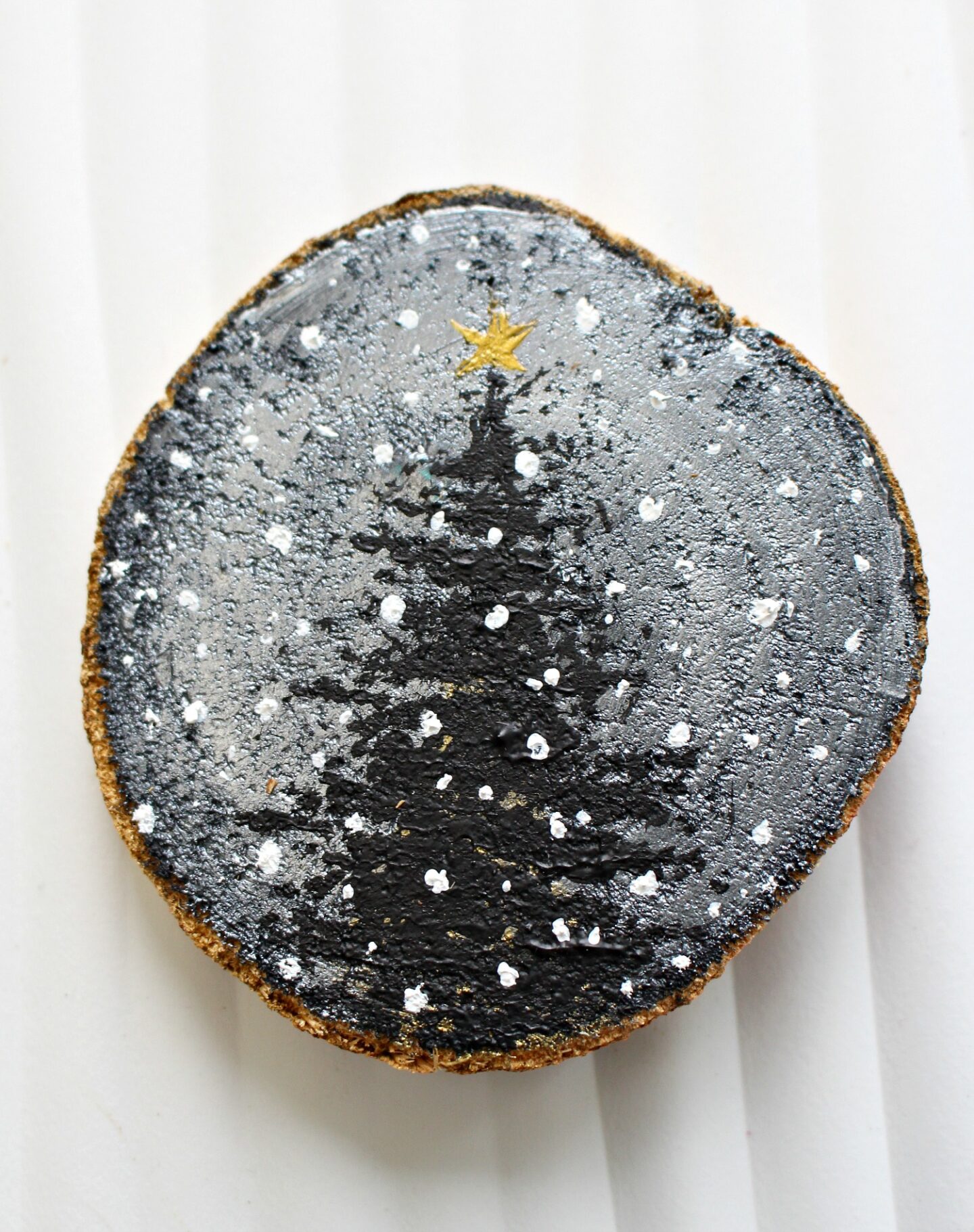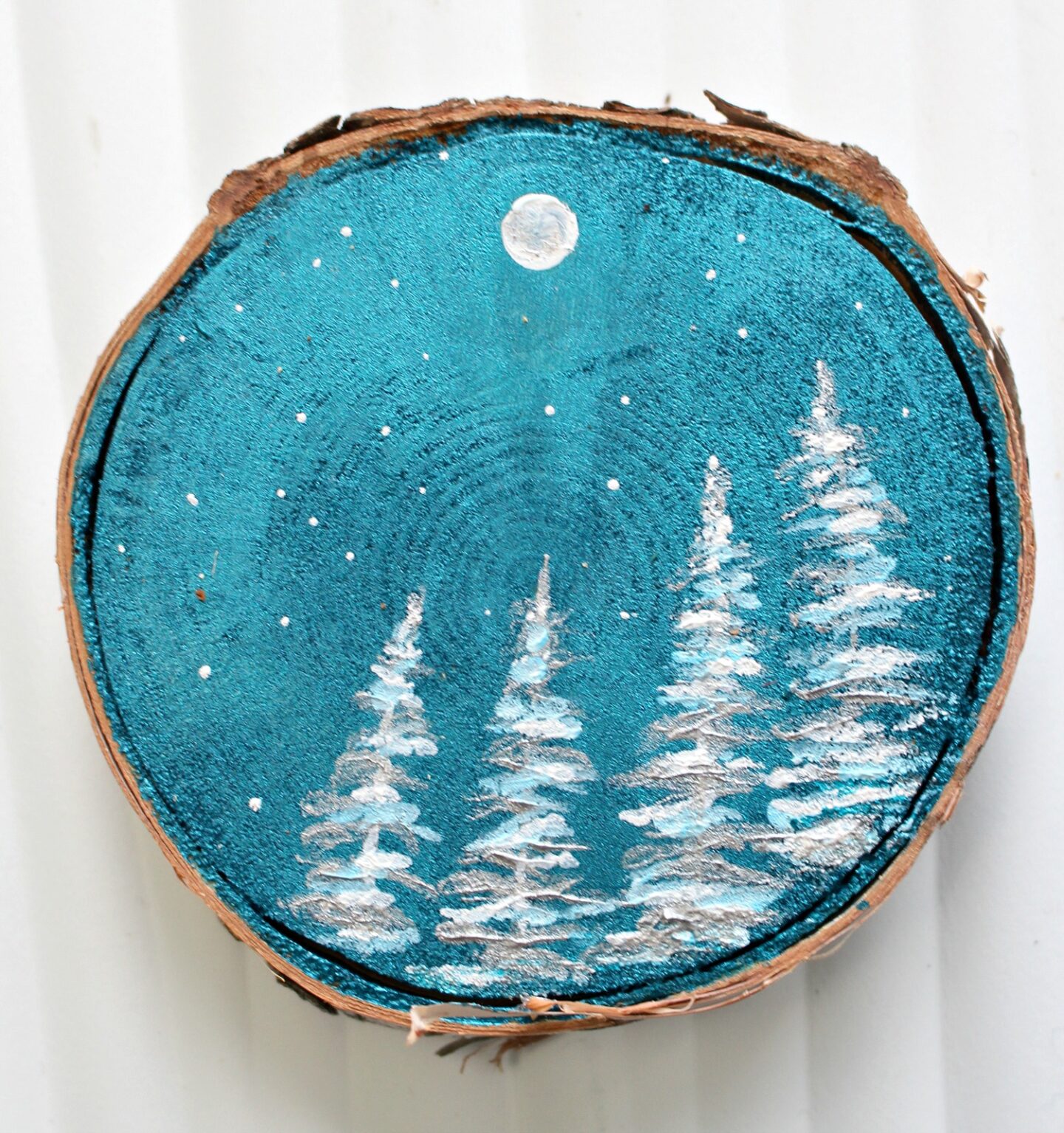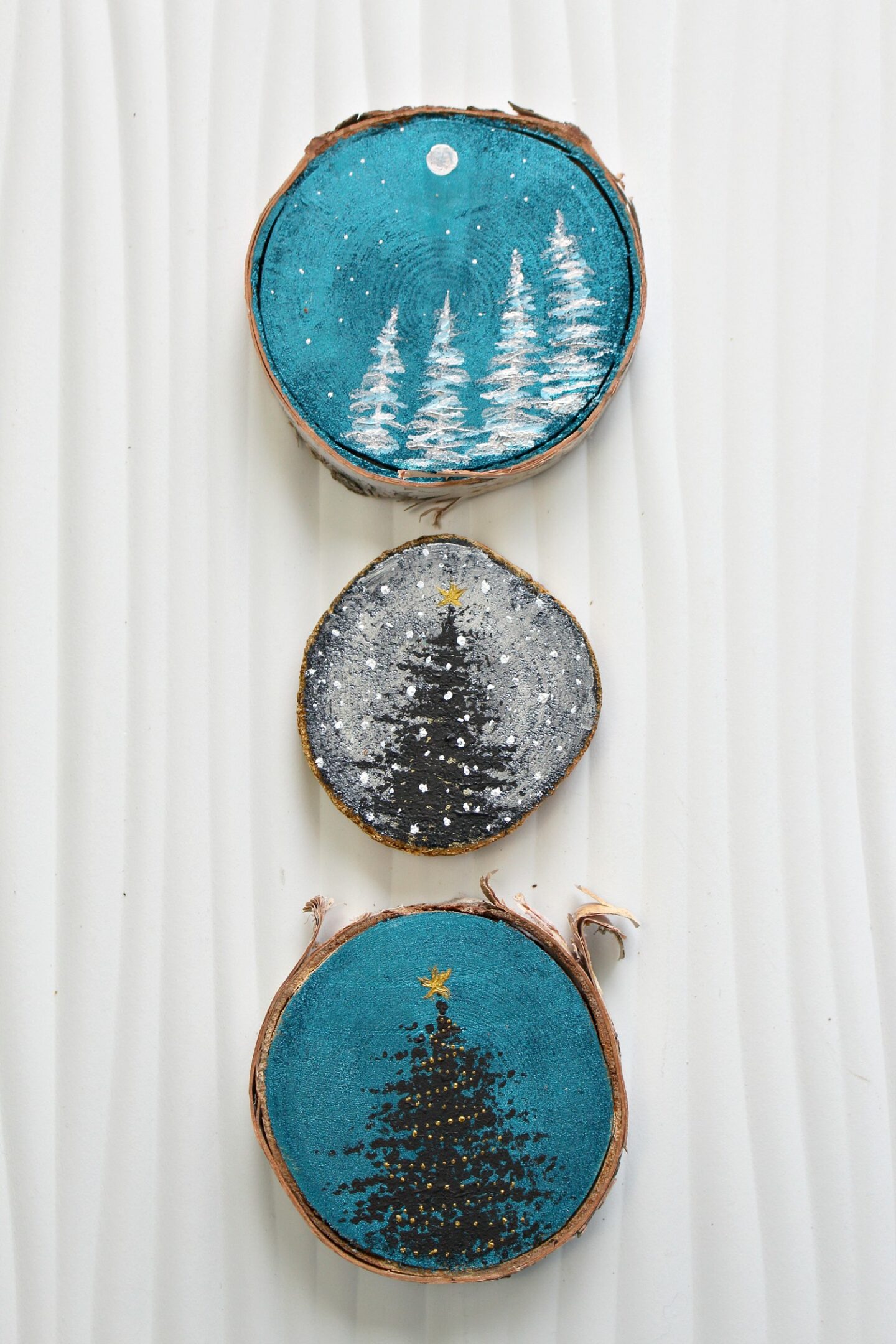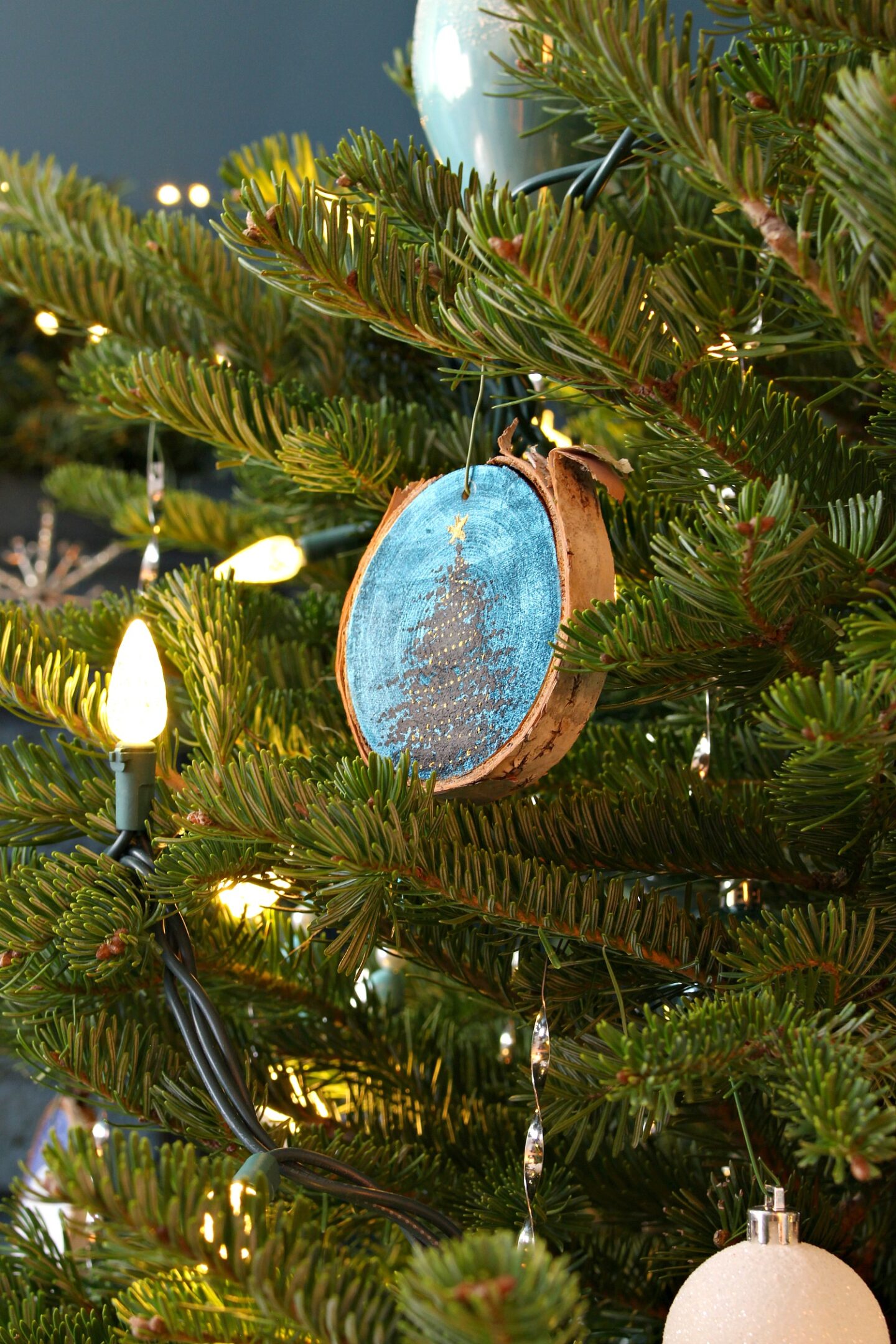 My Mom also painted this little bunny and I think it might be my favorite!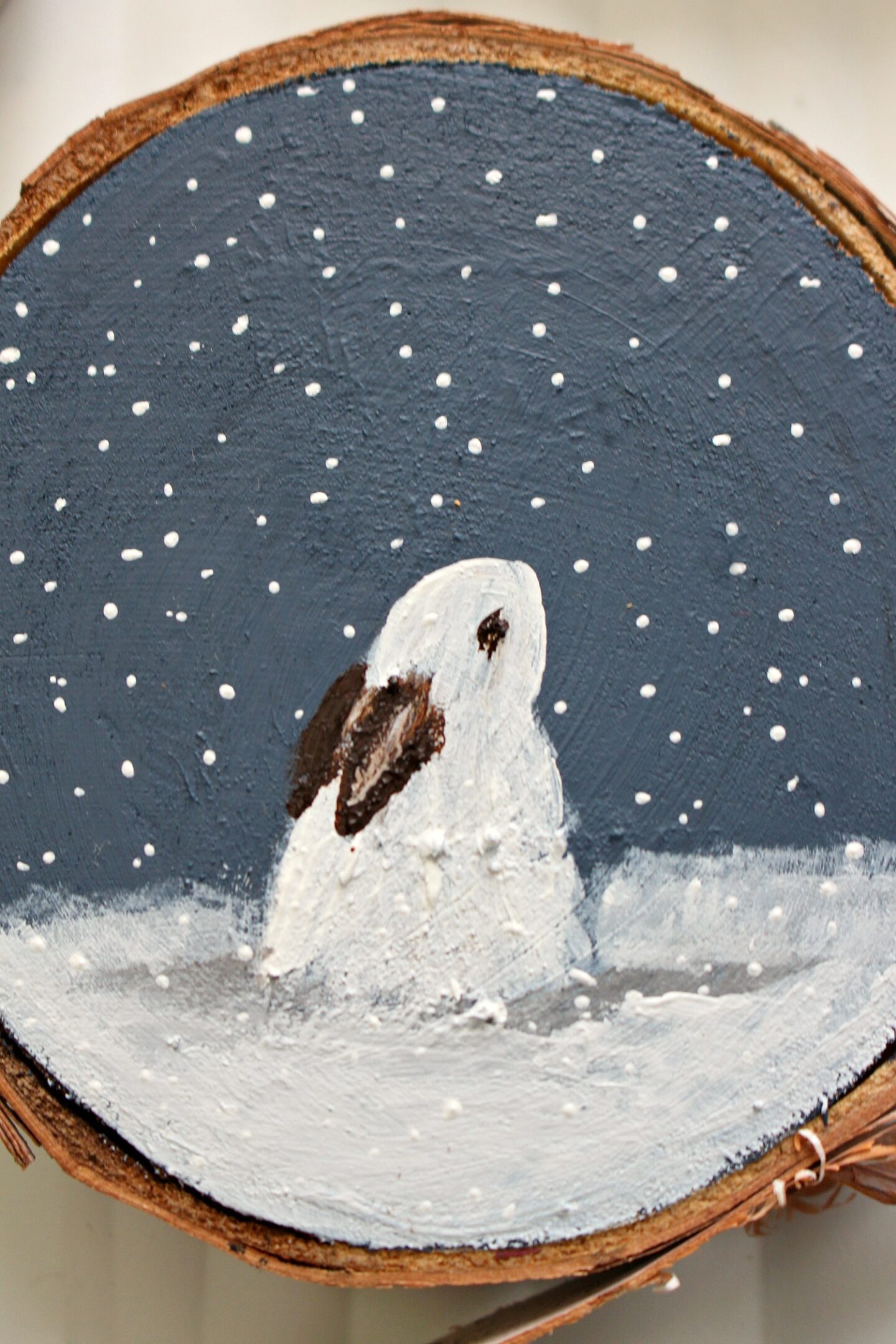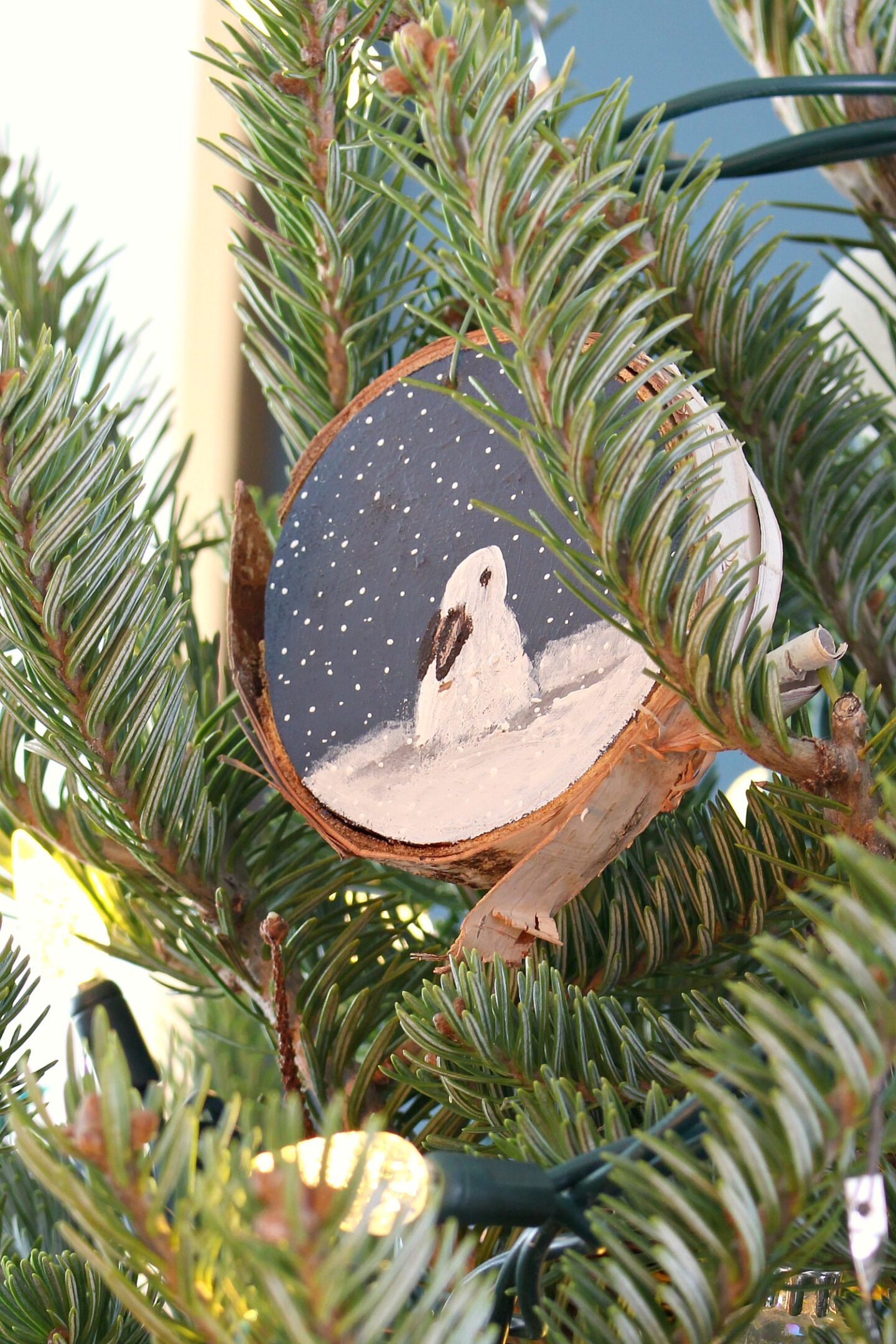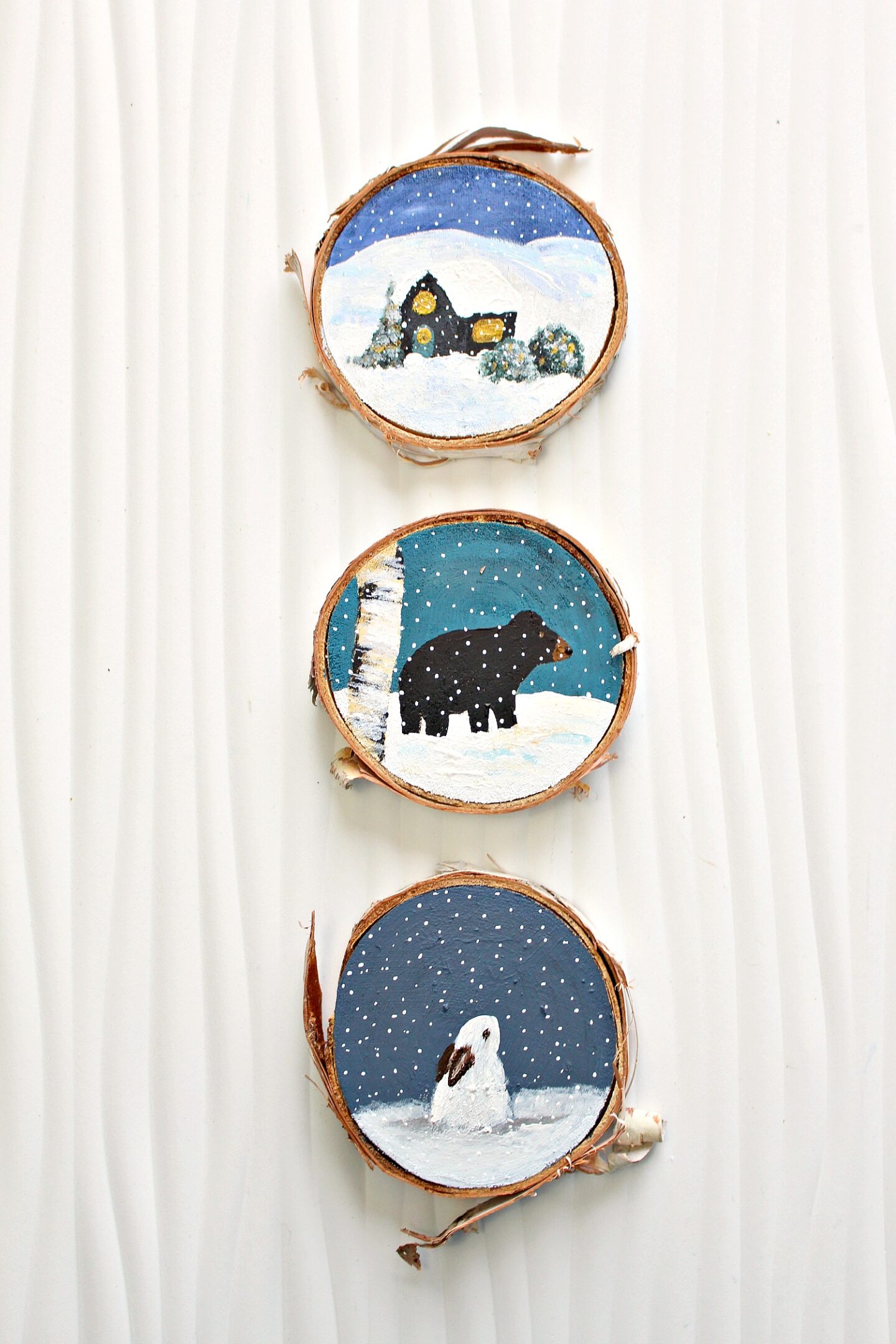 I hope these DIY painted birch slice ornaments inspire you to paint some of your own! Once they're on the tree, the deficiencies we saw in our painting abilities disappeared because amidst the other ornaments, nestled among the branches and glowing in the warm light of the tree, these look lovely. And, as with most homemade ornament, the real value is the time we spent together painting them. It was peaceful and stress relieving and whenever I see these, I'll be reminded of that time we spent together.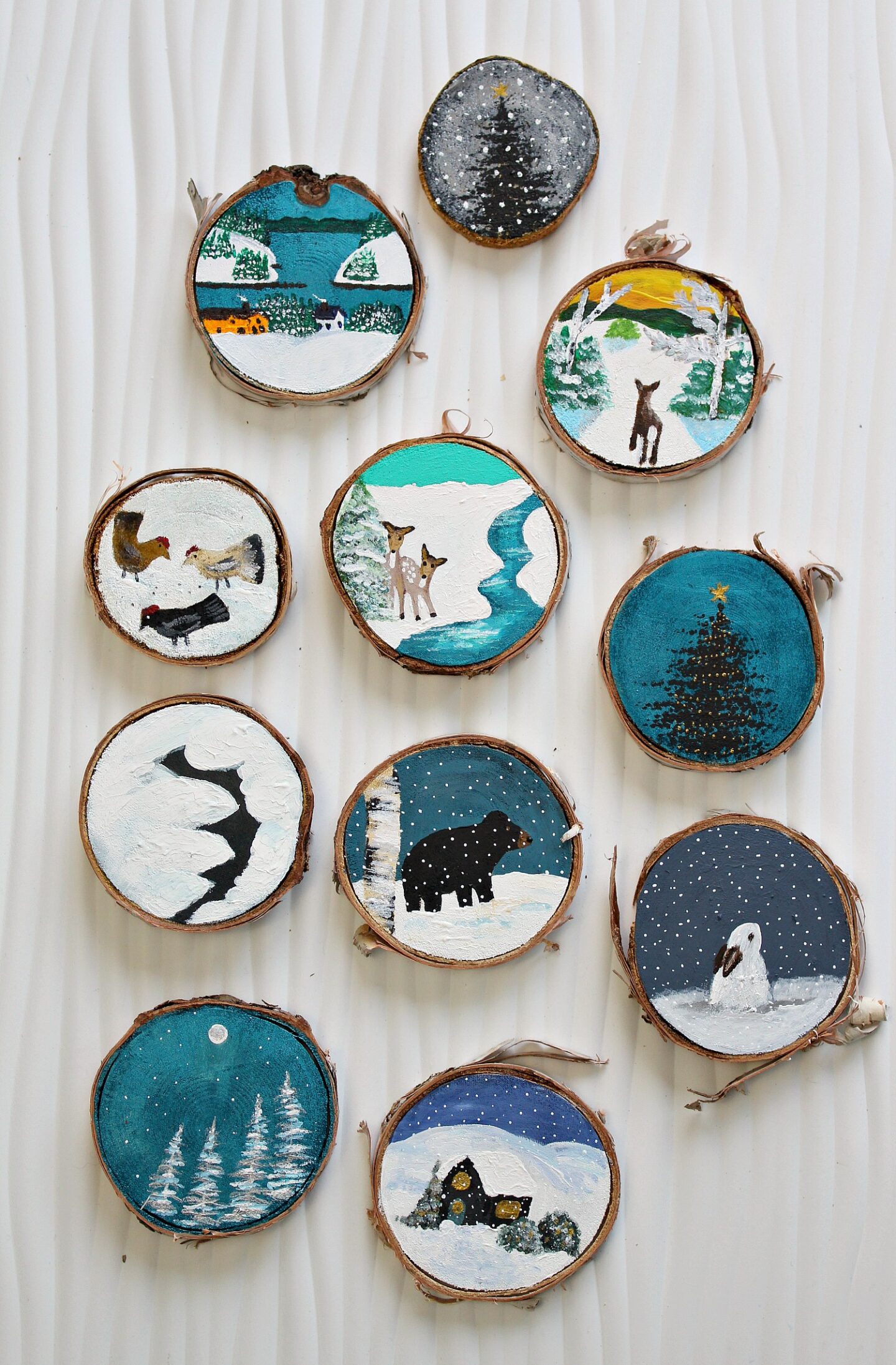 Interest in More Birch Slice Crafts?
Here are a few more ideas for birch slice crafts – including another birch slice ornament – that you might like!
P.S. Don't Forget to Pin for Later!