I am so excited to show you this DIY wool felt leaf garland I made with my Mom! It's so beautiful, and we cut up a really worn out cream wool blanket we thrifted, so the wool is really thick with a lovely, plush quality. This old blanket was also reincarnated as a felt wool runner for under my DIY wood trees, as well as some cup cozies my Mom makes and sells at a local shop. We've also hoping to make some art and maybe also some tea cozies.
I'll admit, at first I was a little grossed out because it was my Mom who decided to thrift (and then wash) a used wool blanket. I love vintage and secondhand, but I draw the line at things that have touched people's naked bodies (so bedding, towels, underwear – you get the picture). But she talked me into this and now I want to buy every single ratty wool blanket I find because it was so nice to craft with this quality wool. Plus this cream color is really beautiful and perfect for creating some wintry decor.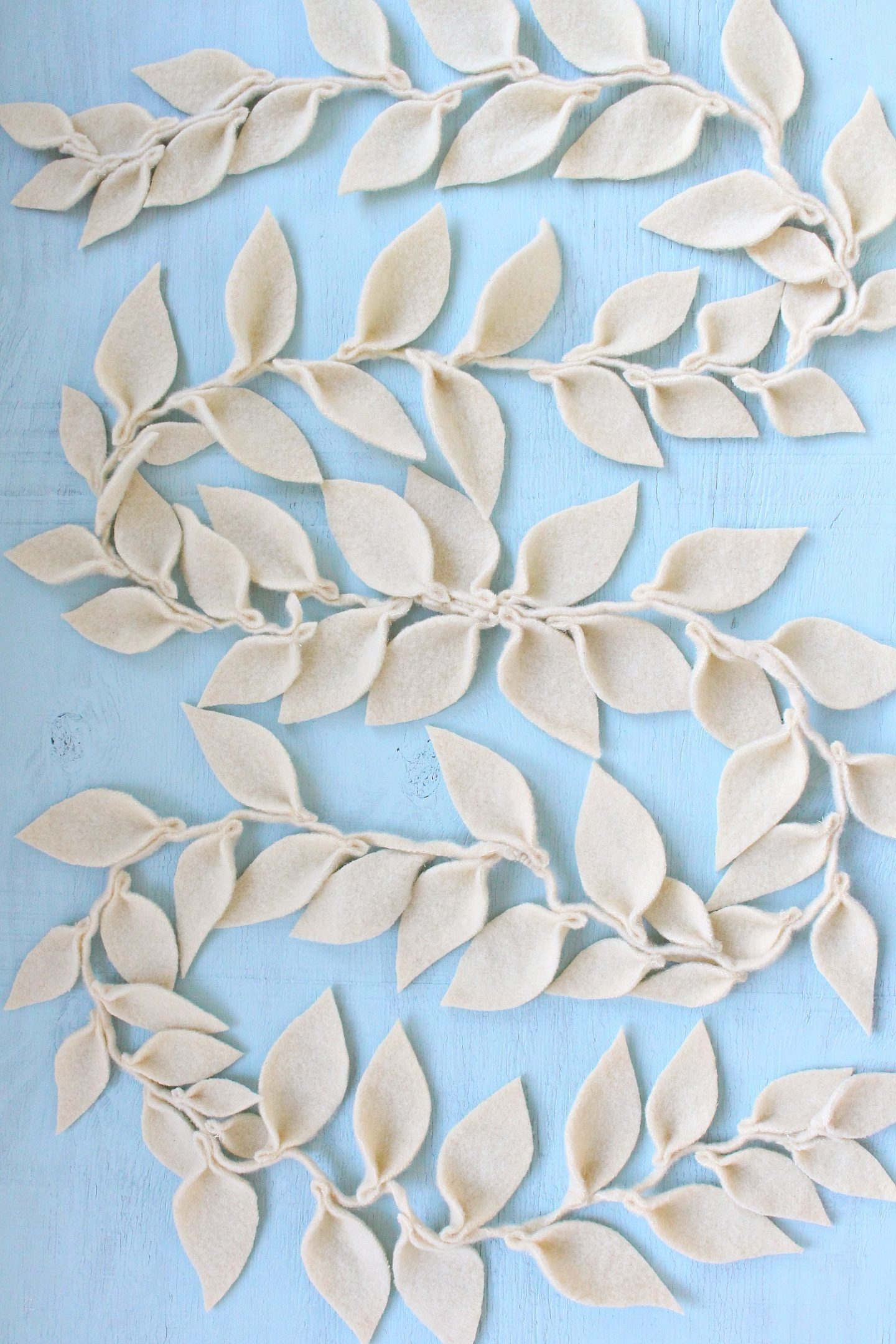 Making this DIY wool felt leaf garland was really easy, but it takes a little patience.
Supplies for DIY Felt Wool Garland:
Wool felt (you can felt old wool sweaters, scarves, or find blankets to keep this project eco-friendly)
Sewing needle
Thicker thread, like a carpet thread
Sharp scissors (we used Fiskars Fabric Shears and they're AWESOME)
Sweater shaver (optional)
Clothing iron (optional)
Prepare Your Wool:
If you're buying an old blanket, wash and dry – this might felt it a bit more, but that's good, that's what you want. Then take a sweater shaver and remove any pills, if necessary (here's how that works, plus a before & after). I also ironed the blanket, on the wool setting, because it had lines from being folded after laundering. If you're worried about singeing it, use a press cloth or even a tea towel between the iron and the wool – and use the wool setting on your iron.
If you are buying wool from the craft or fabric store, you can skip these steps. These are just my tips if you're going to use some kind of upcycled wool.
Figure Out the Length:
Okay, let's get to crafting and make this DIY felted leaf garland! First, figure out how long you'd like your felt leaf garland to be, and cut off a thin strip (or more) of the blanket/wool to make the base of the garland. This is a great use for the binding that may edge your blanket and, if your blanket or piece of wool isn't long enough – don't worry! – just stitch multiple lengths together, end to end. It won't be noticeable.
For reference, my finished DIY wool felt leaf garland is approximately 9 feet long.
Cut Out the Leaves:
I cut out a very basic leaf shape and tried to vary the sizes a bit. I suggest cutting out one or two, until you like the shape and size, and then making your own template using a piece of cardboard. OR just wing it like I did, for every single leaf! For reference, my garland has approximately 90 leaves and each leaf is approximately 4-5″ long with a width of 2″ (at the widest point).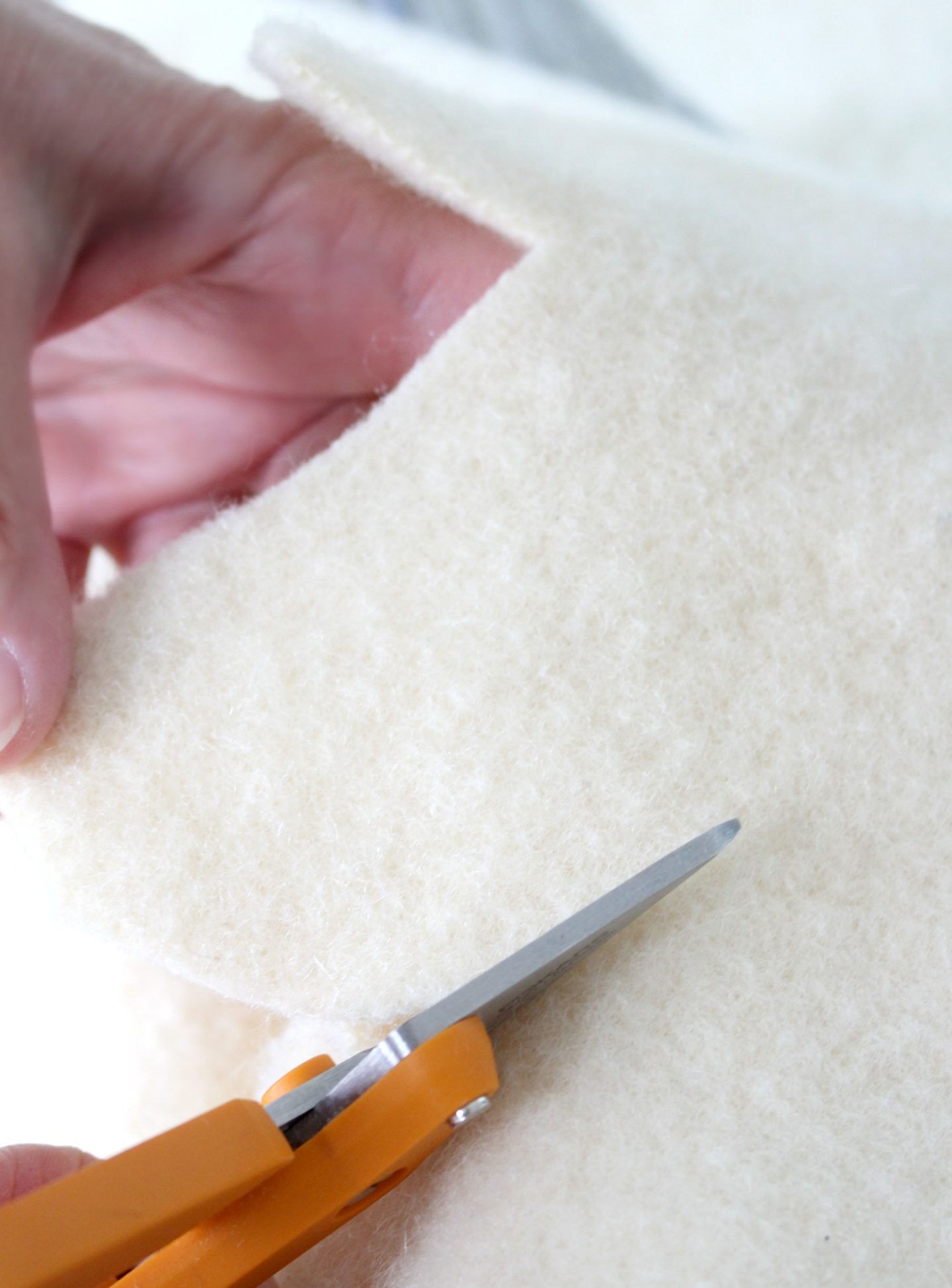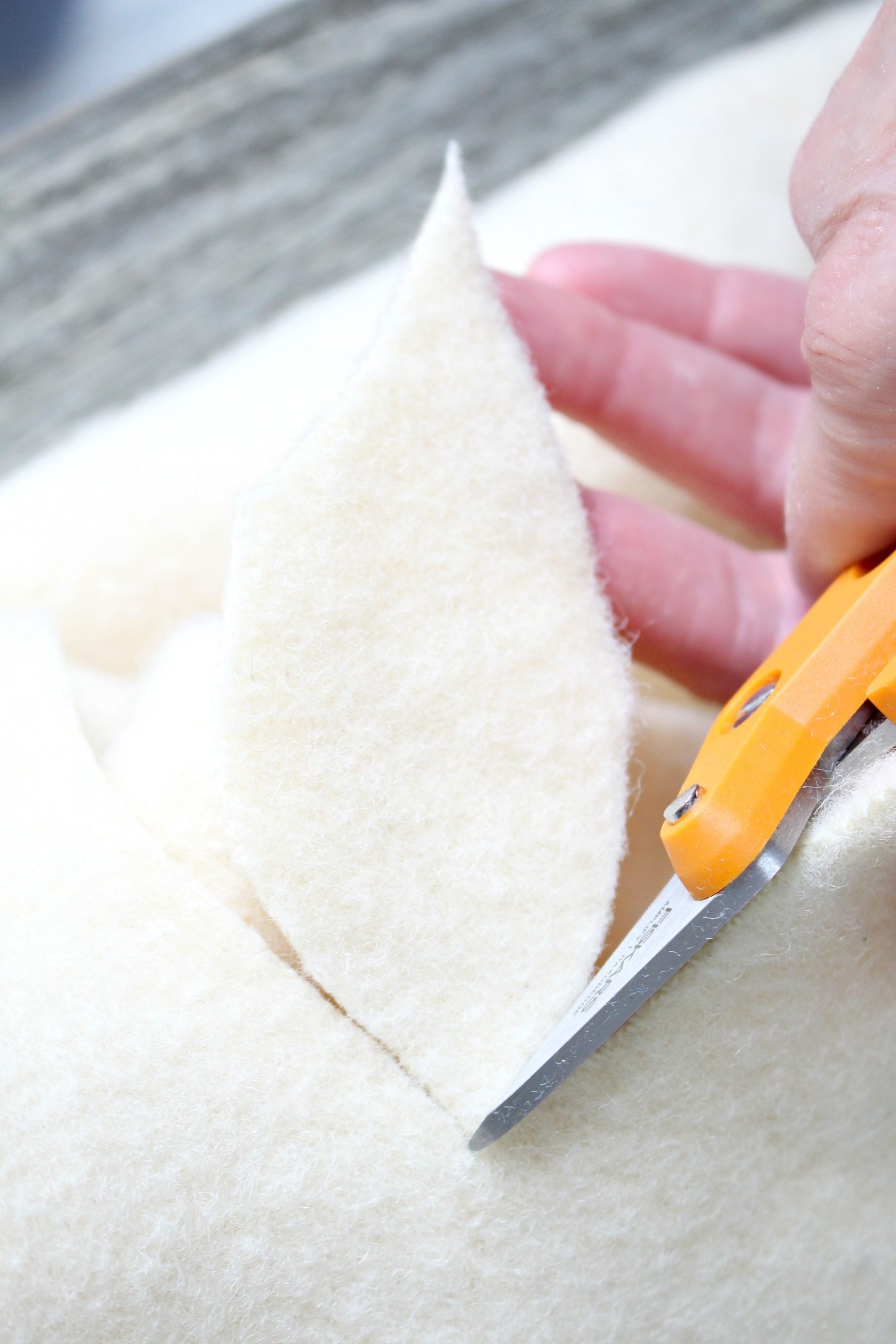 Don't be afraid to trim/fix up the shape a little if any felted leaves turn out wonky – they don't have to all look identical for this DIY wool felt leaf garland to look pretty.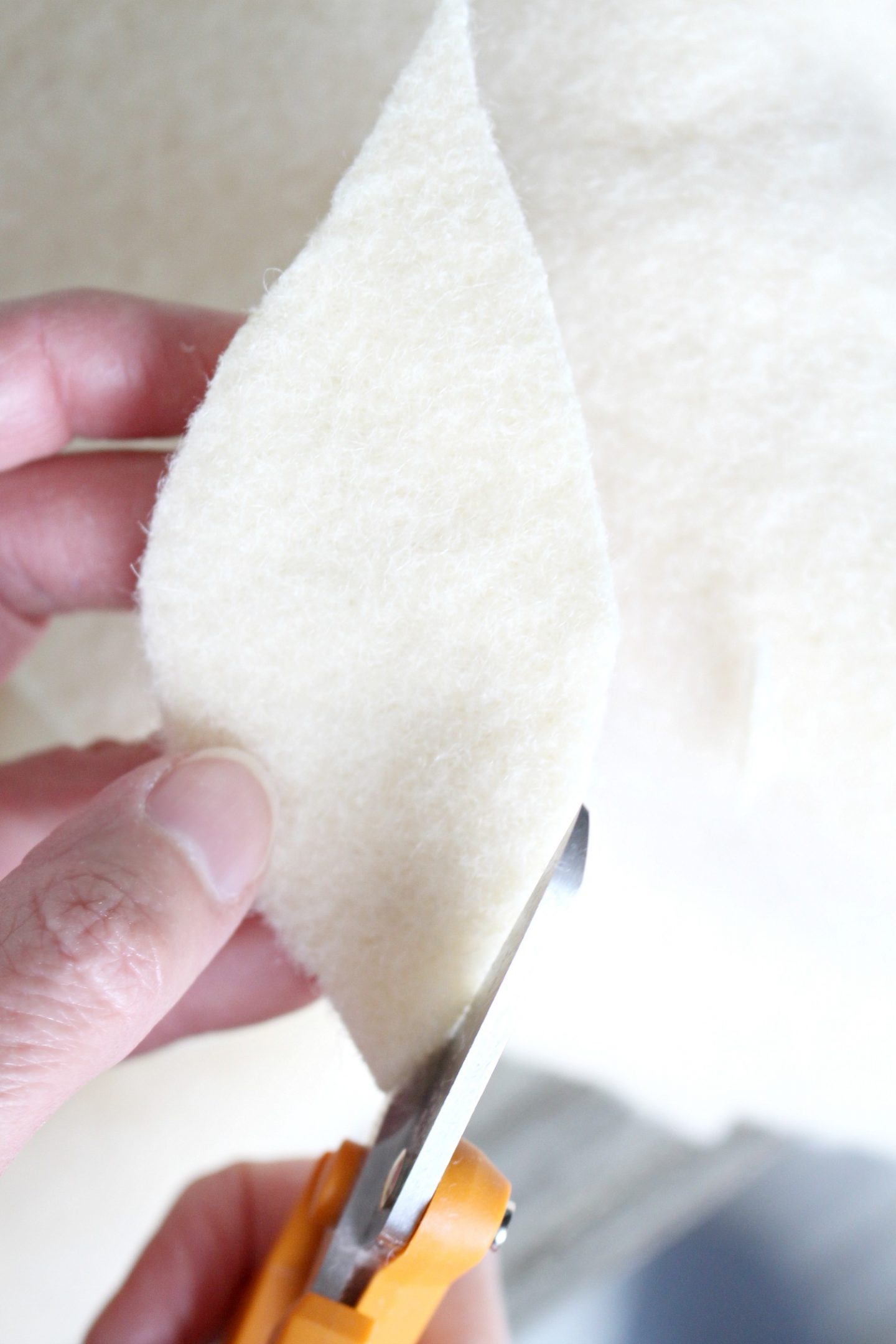 Pinch & Sew the Leaves:
With the leaves all cut out, pinch together one end and stitch – this little pinch creates a lovely subtle leaf shape and adds the dimension this felt leaf garland needs.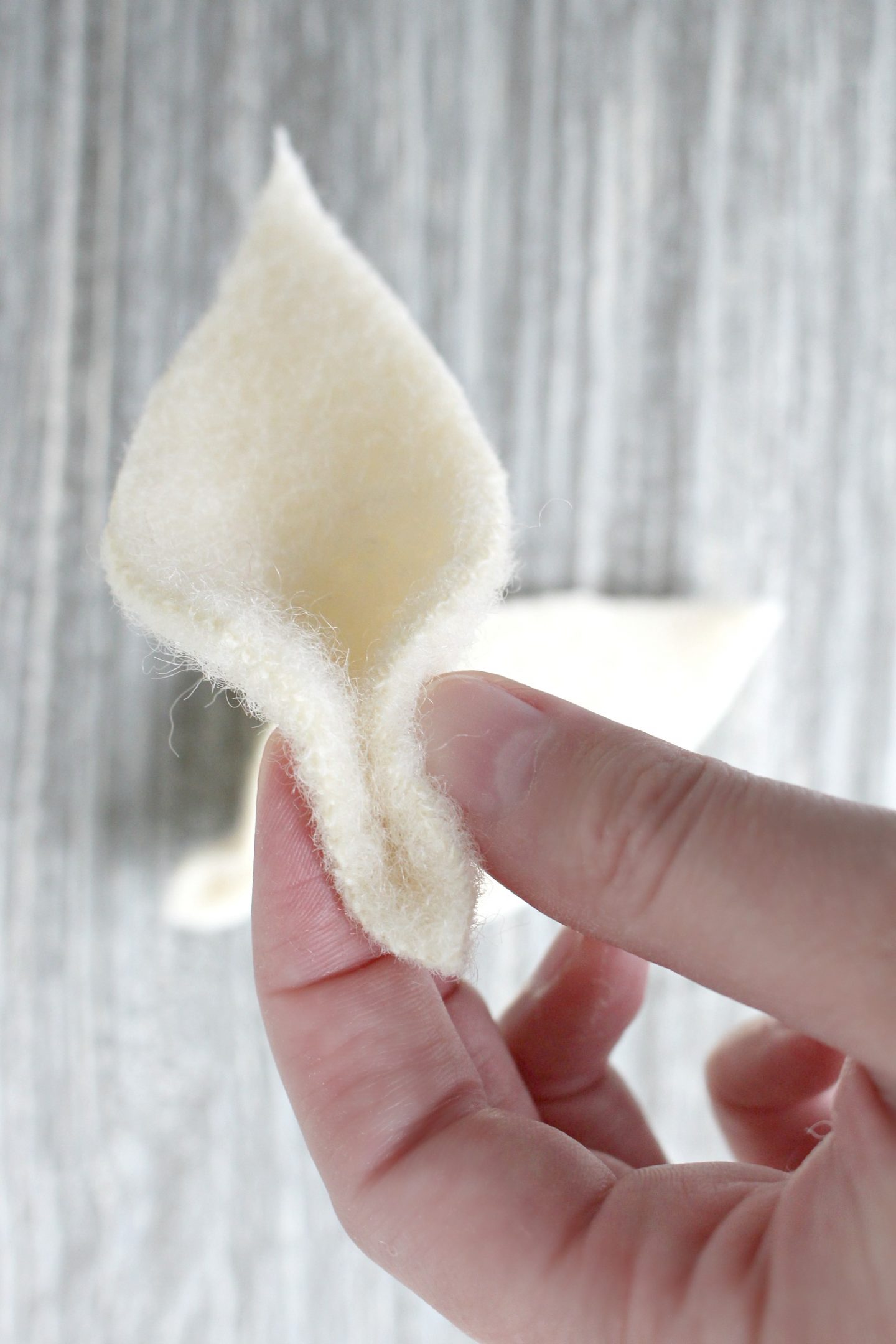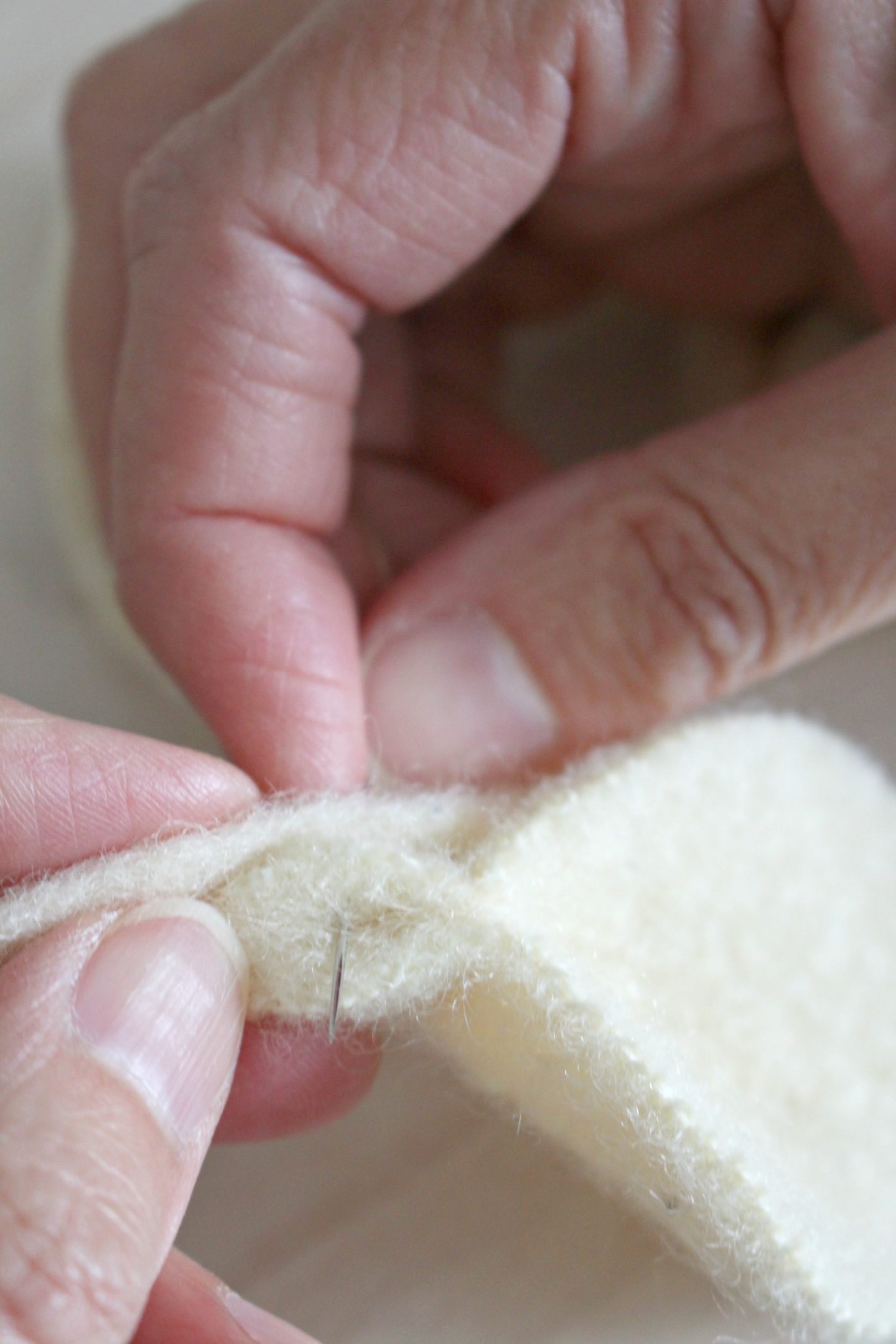 In the photo below, the top leaf is pinched and sewn, while the bottom if freshly cut – you can see that a simple leaf shape gets so much "oomph" from just that one little stitch.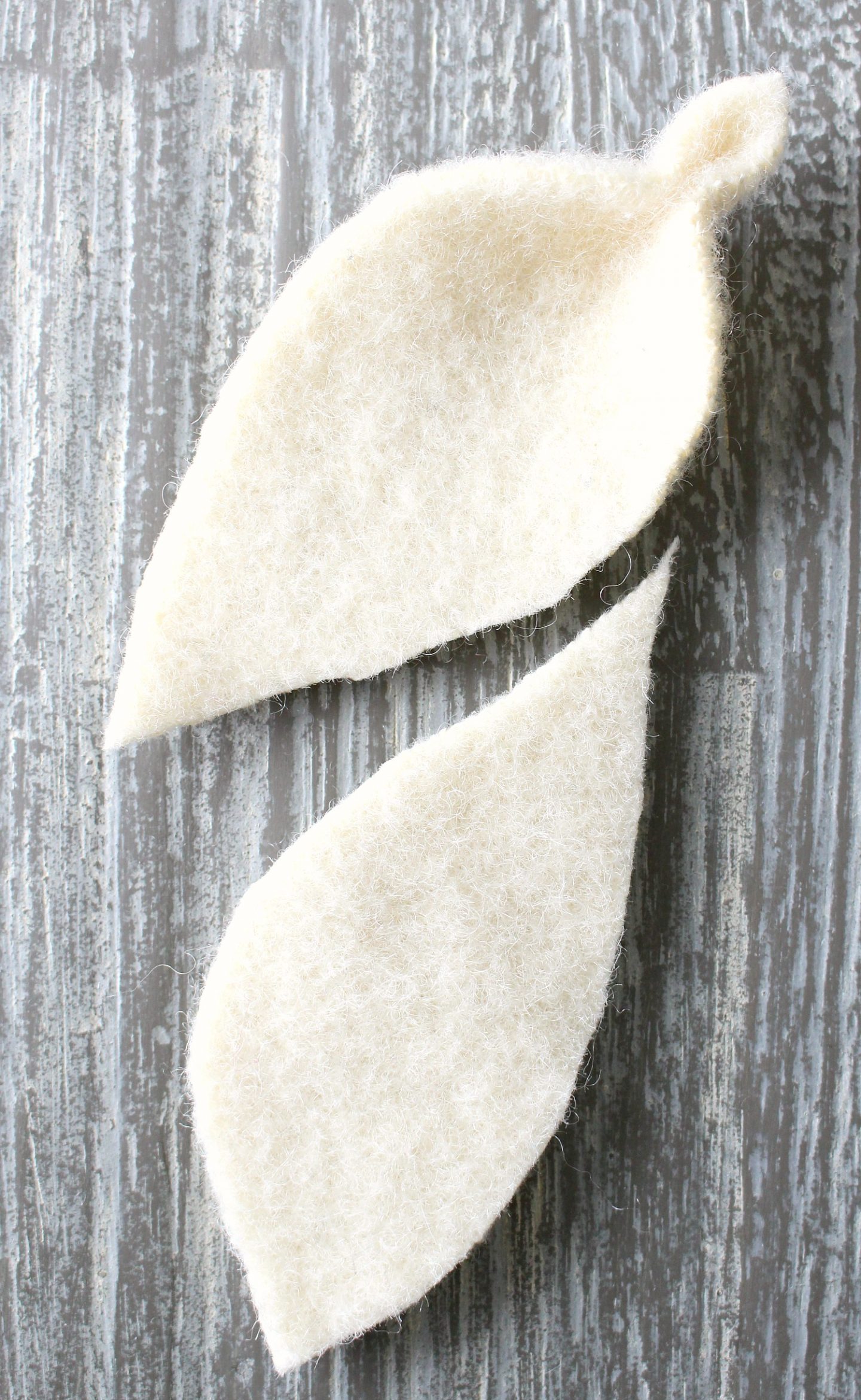 Now repeat a million times, lol.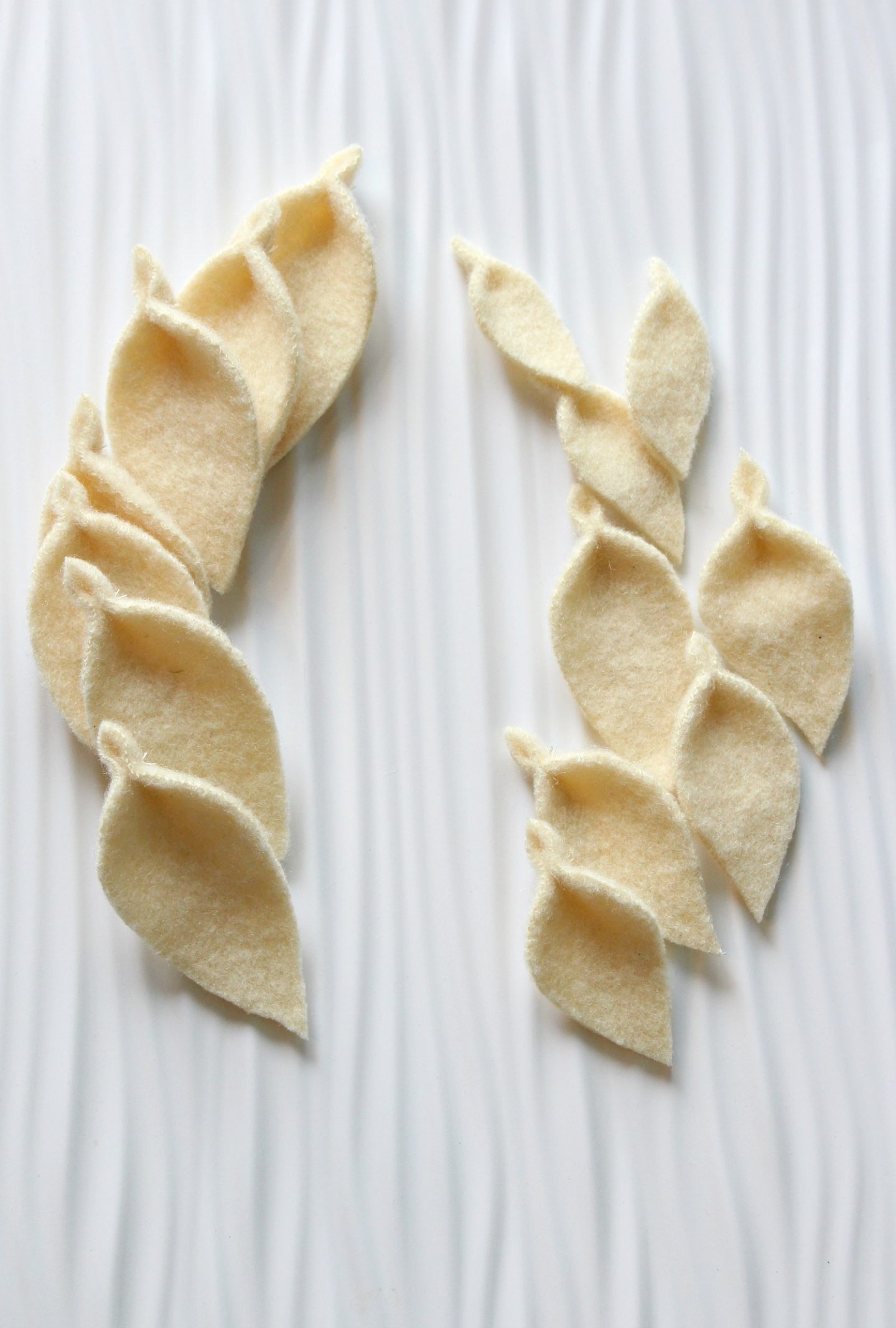 Sew the Leaves onto the Garland:
Using a sturdy thread, like a carpet thread, in the same color as the wool, hand stitch each leaf to the strips you cut out and sewed together in the first step. Make sure you have a "front" and a "back" and that you keep attaching the leaves facing the same way.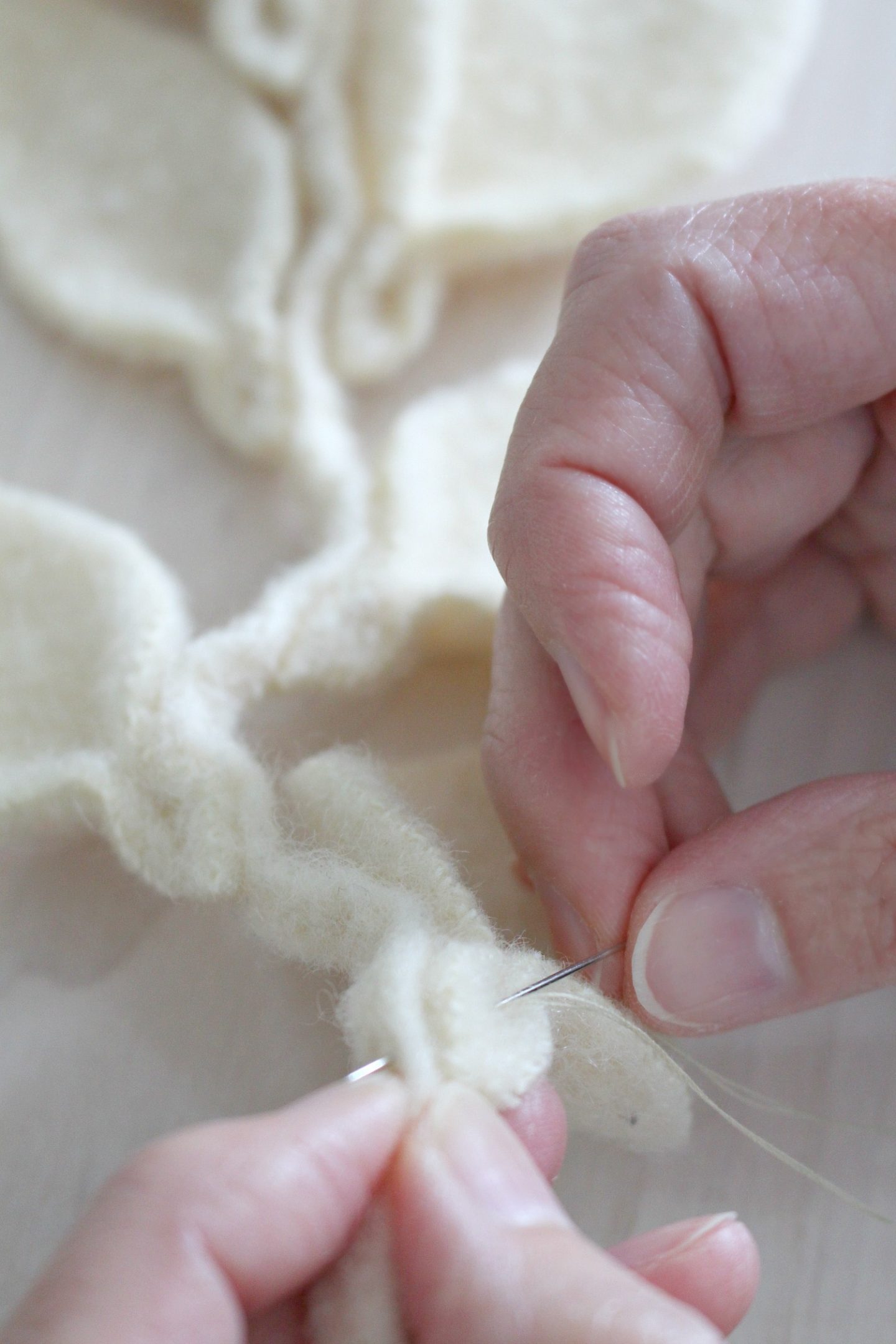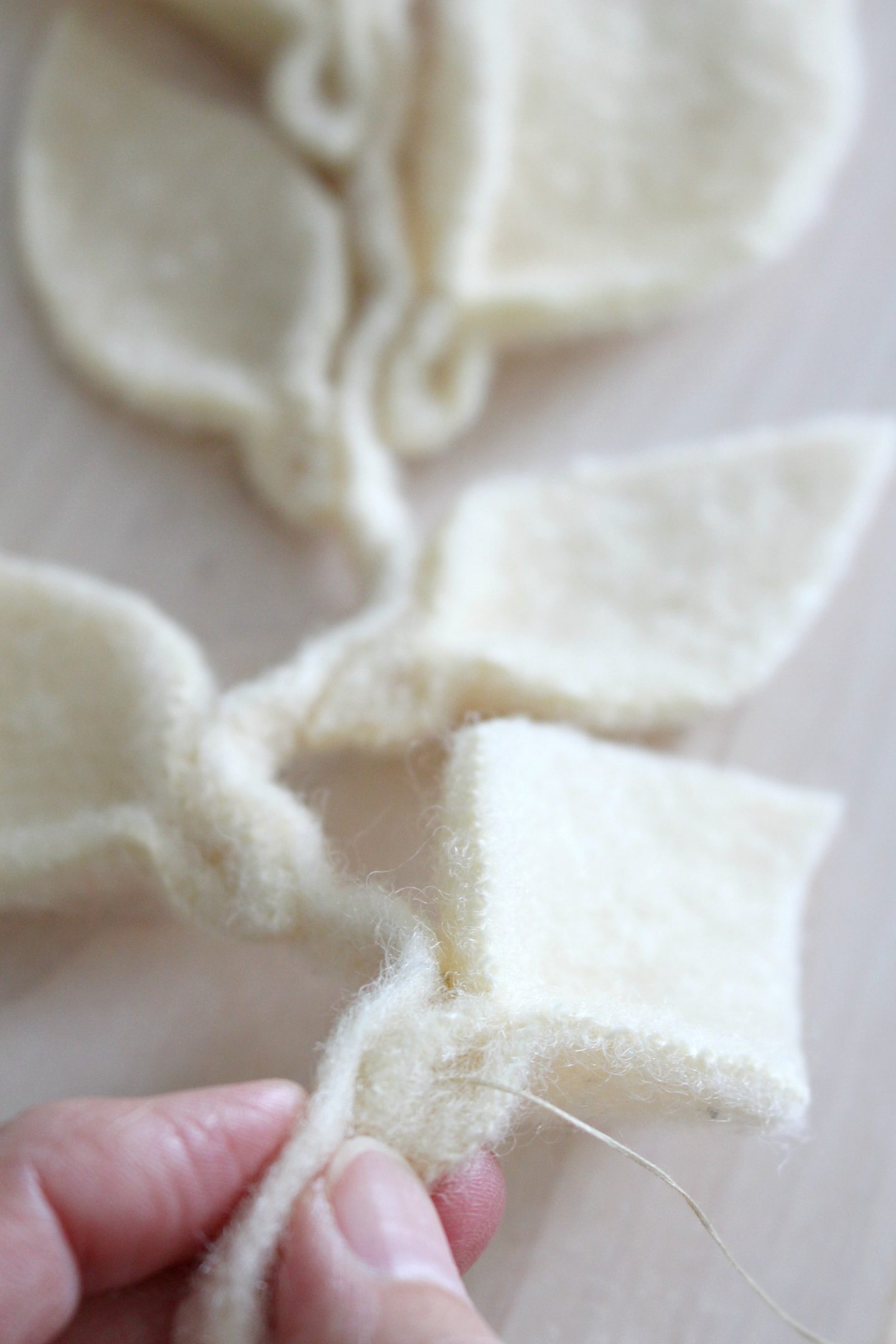 One Tip for Attaching Leaves:
Because I wanted to use my DIY wool felt leaf garland on the window, we reworked the garland once we were done so it would drape better.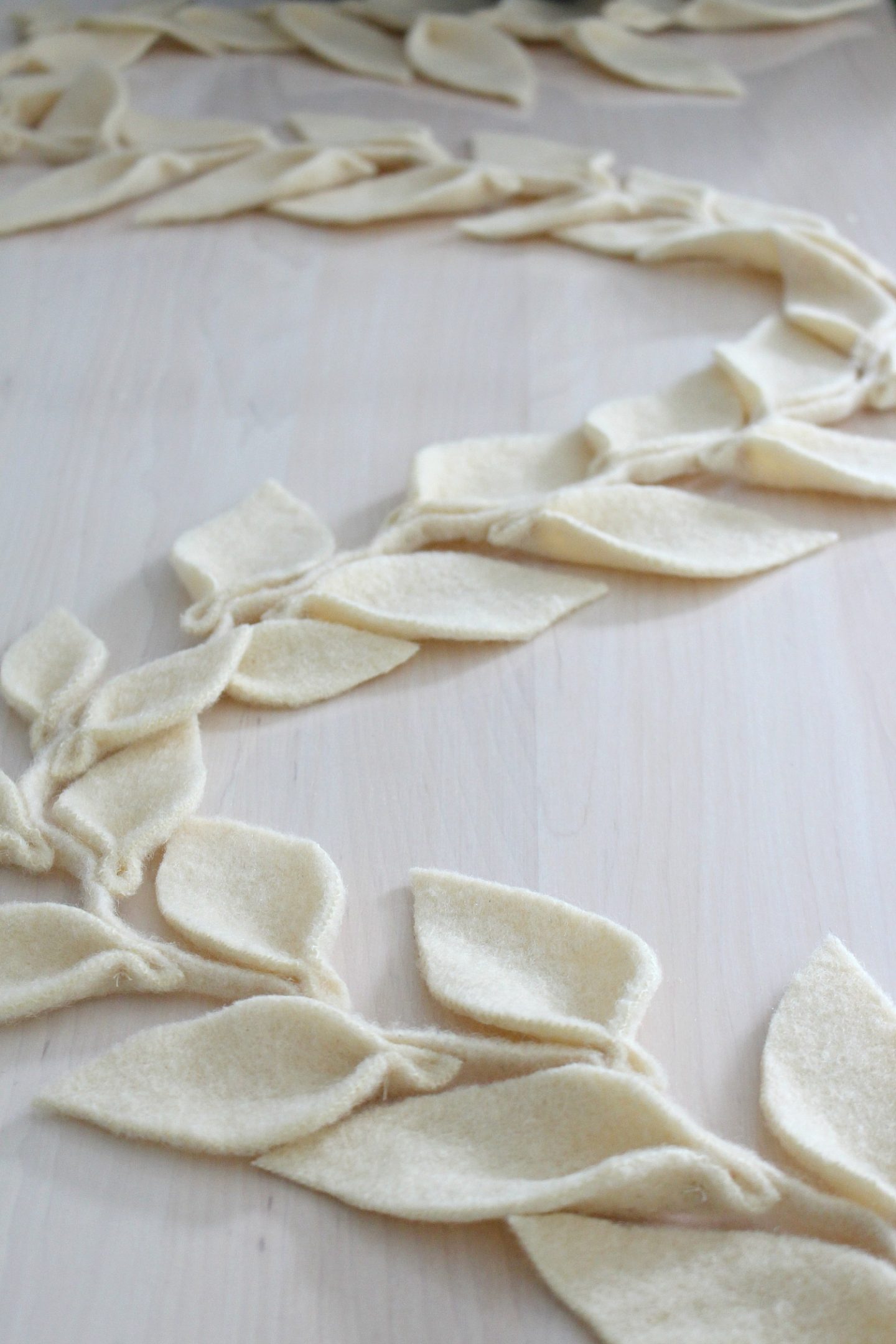 At first, we had the leaves all going in the same direction – which would have meant some would have ended up hanging upside down once I hung the DIY wool felt leaf garland around my window. So we cut it and sewed together the wool strip of the garland a different way. For the second version, we had a "middle," with the leaves facing in the direction facing away from that middle on either side of the garland. That way none of the leaves droop upside down when hanging down the sides of my window. You can see the difference comparing the photo above (same direction) and below (has a center), but you'll really see the difference when you look at this felted leaf garland hung on my window.
If you're using this as a mantle garland or decoration on a table, around some candles or something, you can face the leaves all in the same direction.
Hanging the Felt Leaf Garland:
I had originally planned to hang my wired faux evergreen garland from last year, then place this felt leaf garland on top and add some sparkly lights but that green garland really annoyed me this year. It wouldn't lie flat and the force kept popping off my 3M hooks. I eventually gave up and tossed it into the driveway out of frustration, lol. Turns out, I prefer the simplicity of just the DIY felt leaf garland anyway. It drapes beautifully on its own and has a lovely homespun, but modern quality. Kind of a Nordic or Scandinavian Christmas inspired vibe happening. Once I had hung it, I realized that with my new lighter cabinet color, it works really nicely keeping that light and airy feel.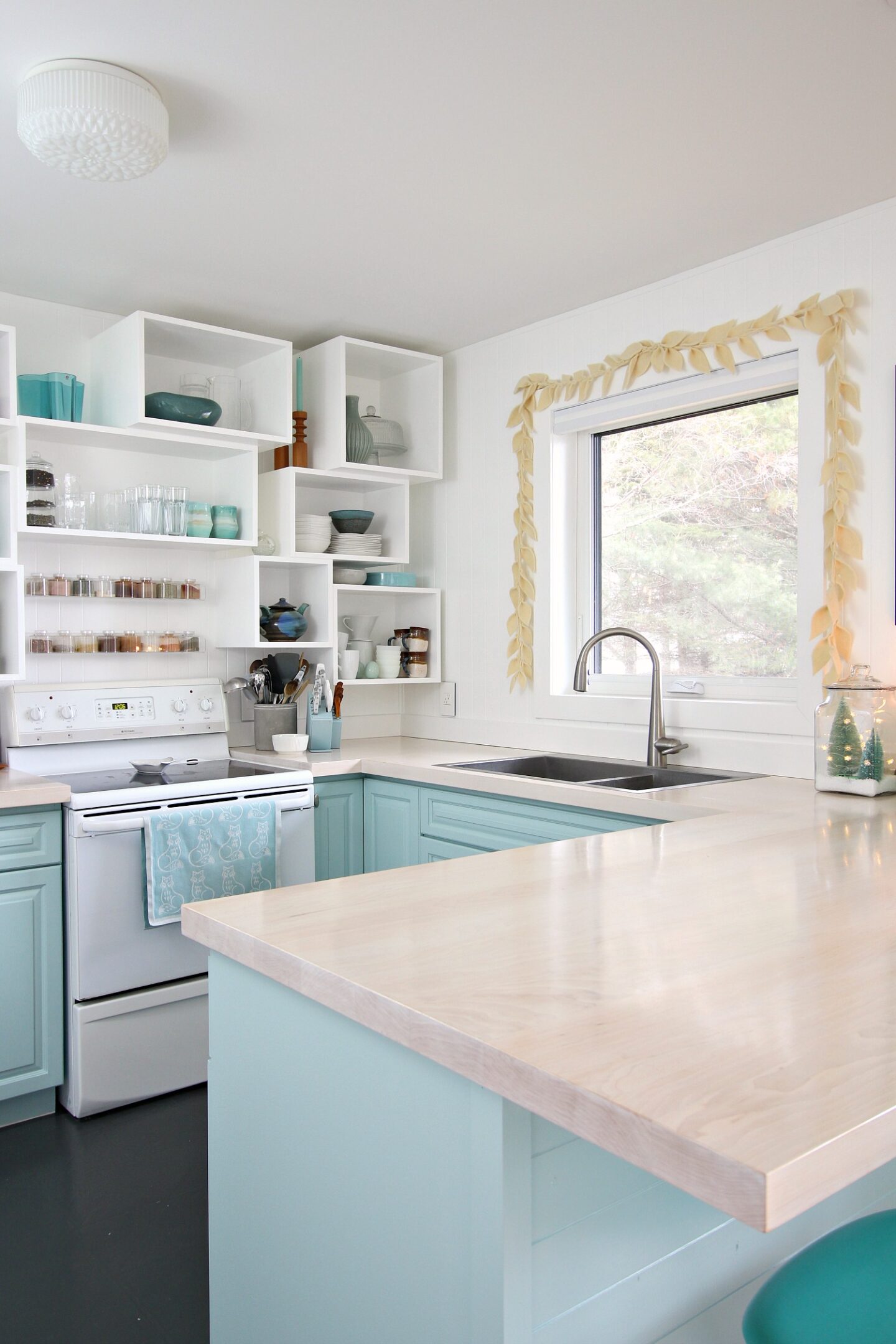 I used two clear 3M hooks at the outer corners and then one in the middle, above the window. You can see here what I meant about making a "center" for my garland and having the leaves face away from that center: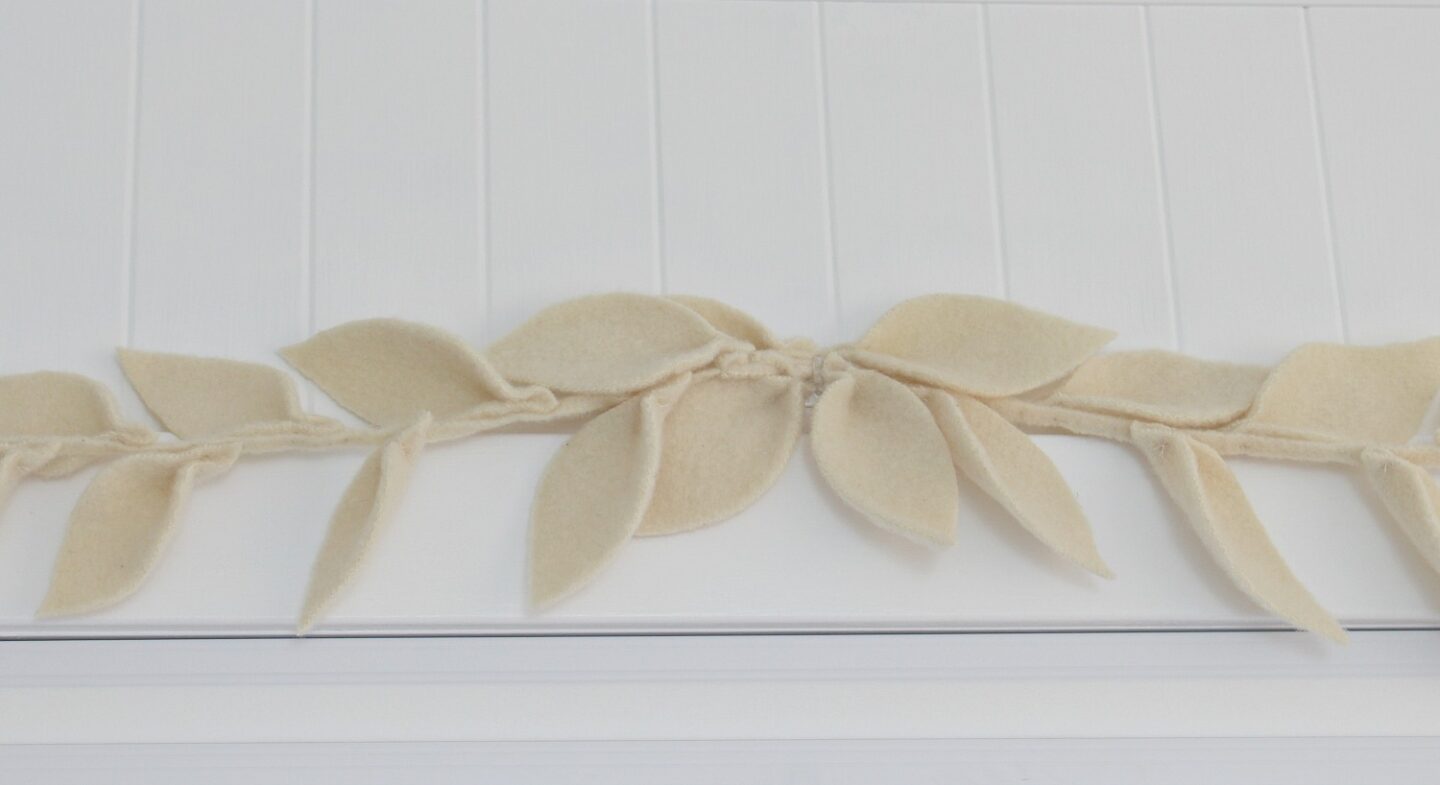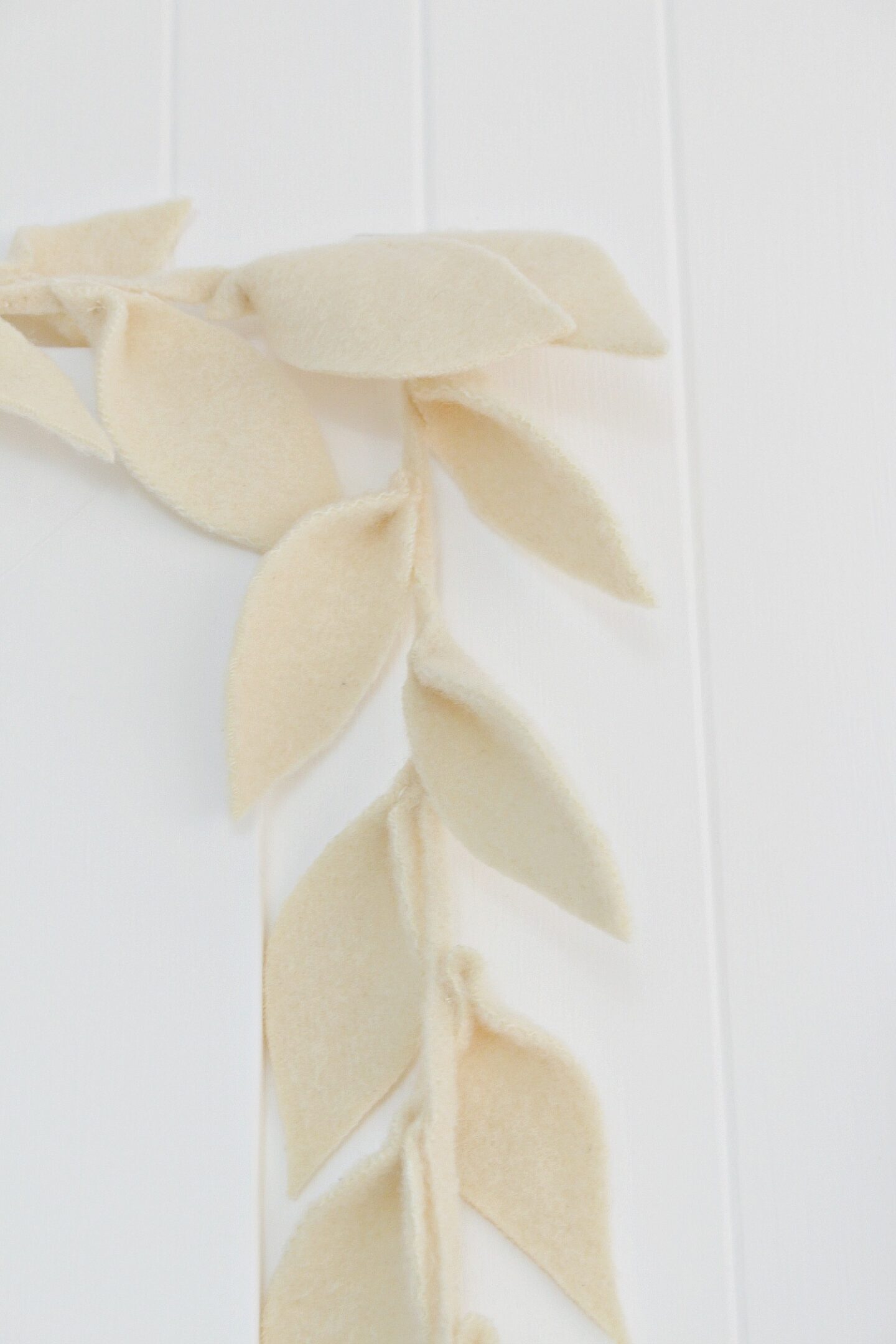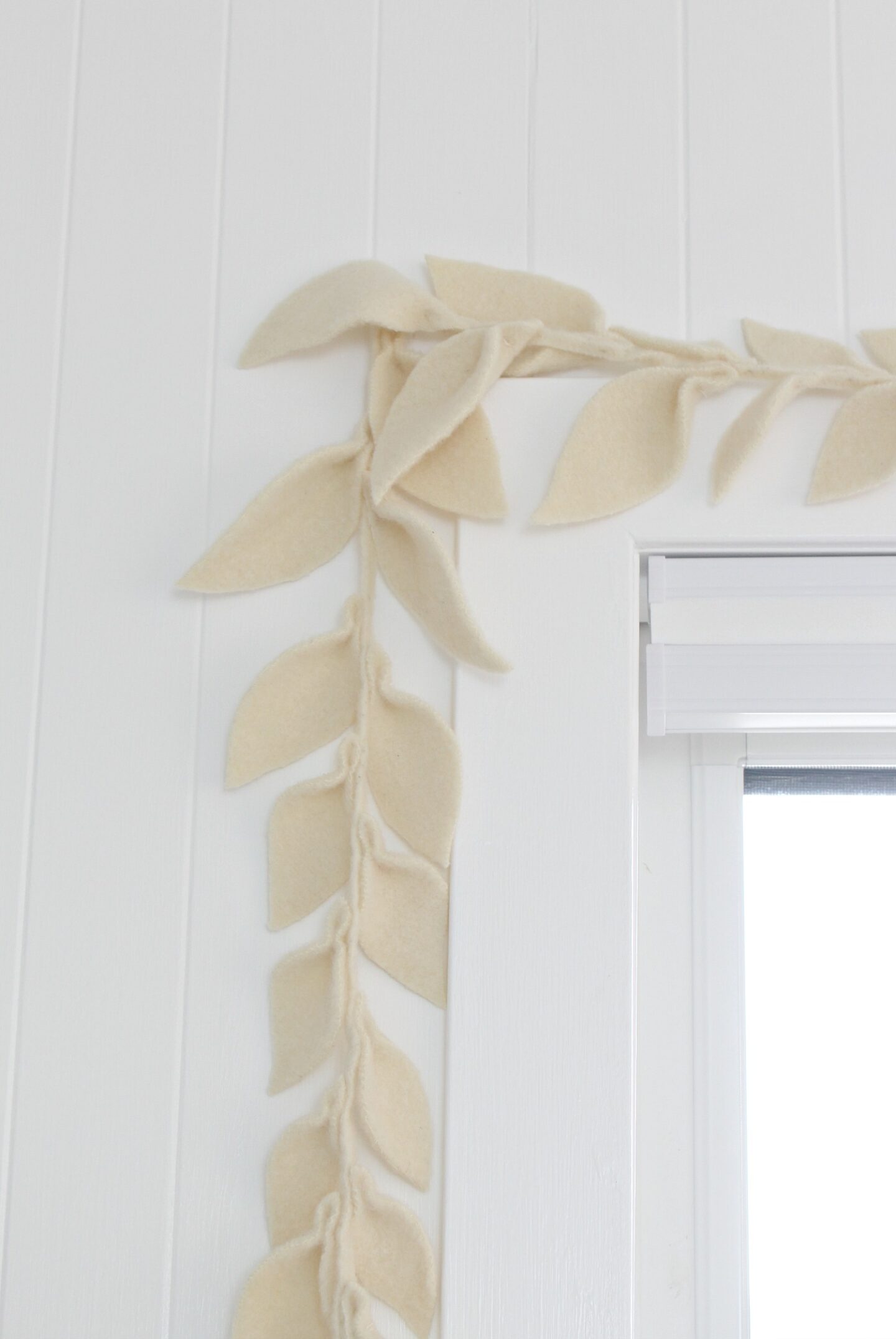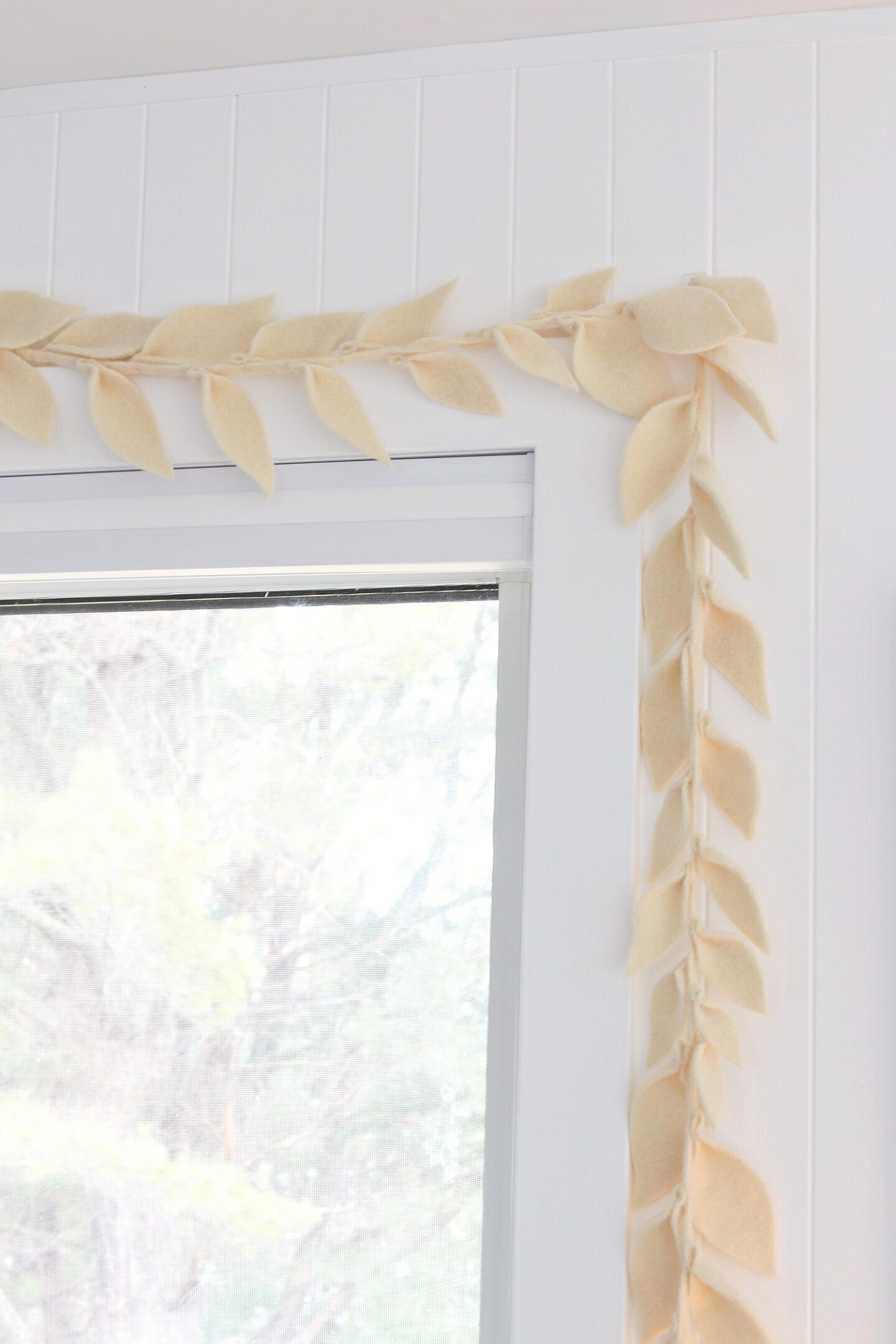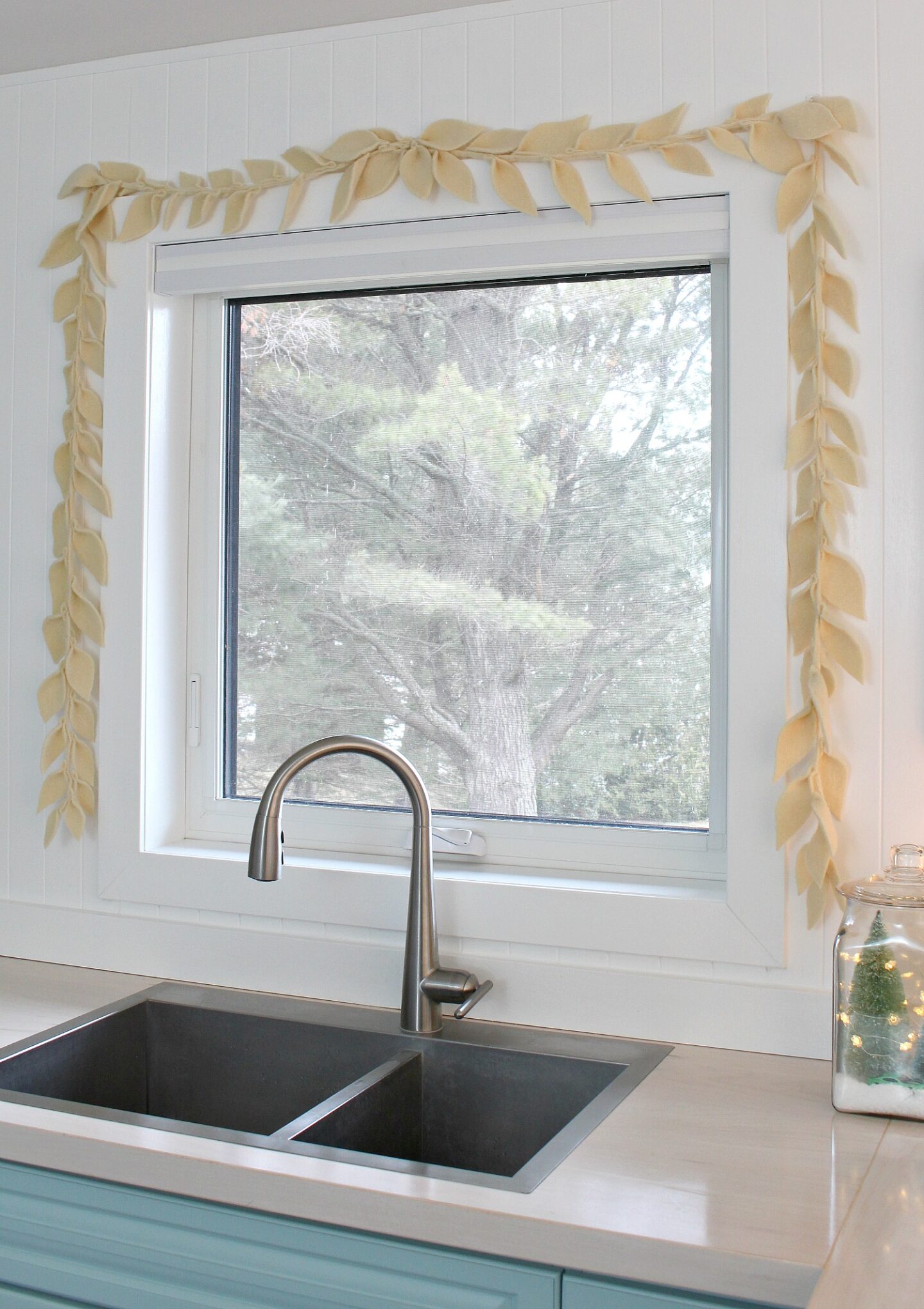 Click here if you missed the rest of my minimalist Christmas home tour. This year I just craved simplicity, but I can never shake that urge to create! I love this new DIY felt leaf garland and I'm excited to decorate with it again – it will look great on a table tablescape or on my credenza or as a mantel garland. So much potential!