Today I'm rounding up some great DIY and BIY (buy-it-yourself) options for affordable coastal art work. One of the most commonly asked questions I field is: "where did you get your art?"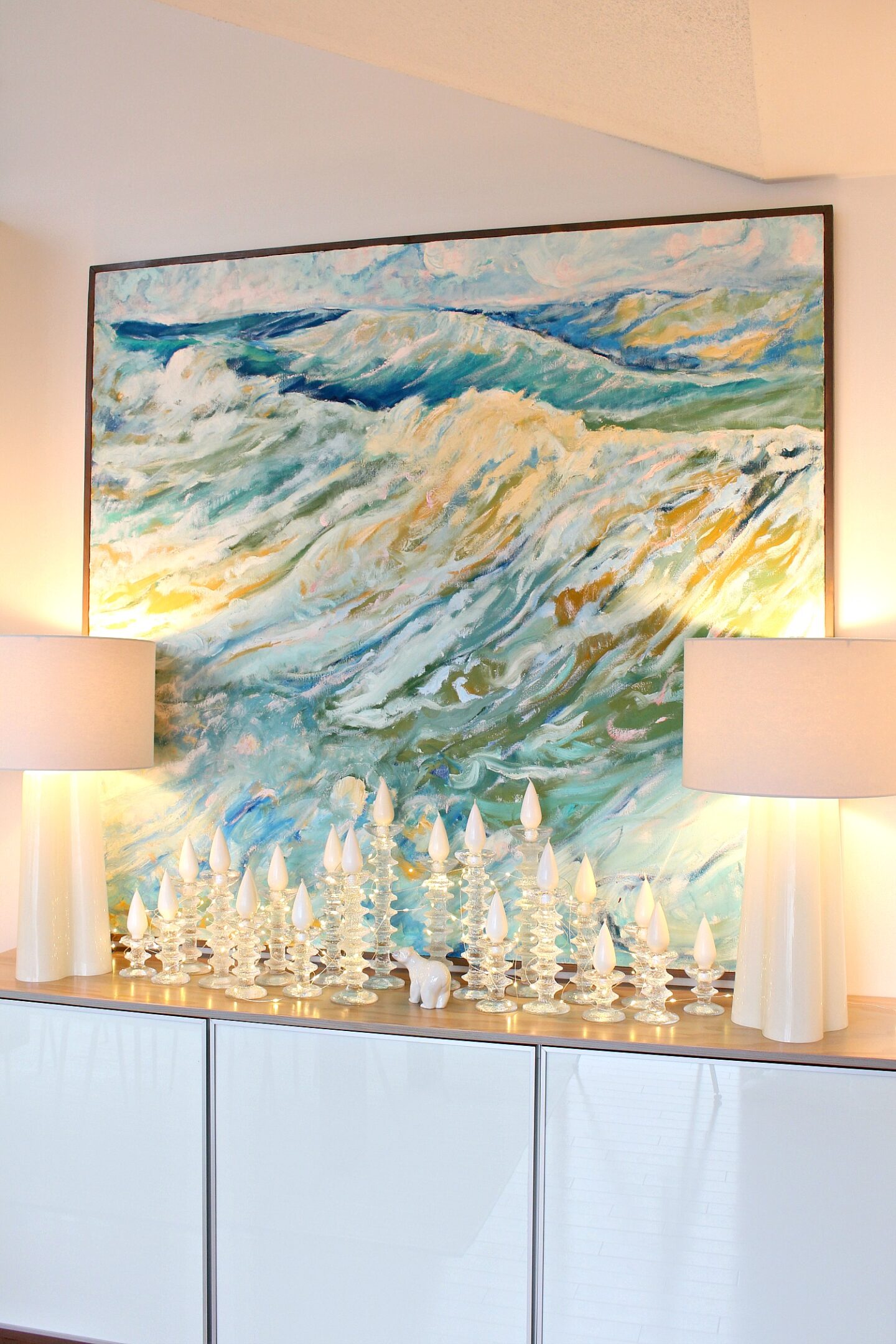 I am so thrilled that the artwork in my home sparks so much joy for so many people. Most of our artwork is original and was painted by Hubby's talented grandfather, who has since passed away.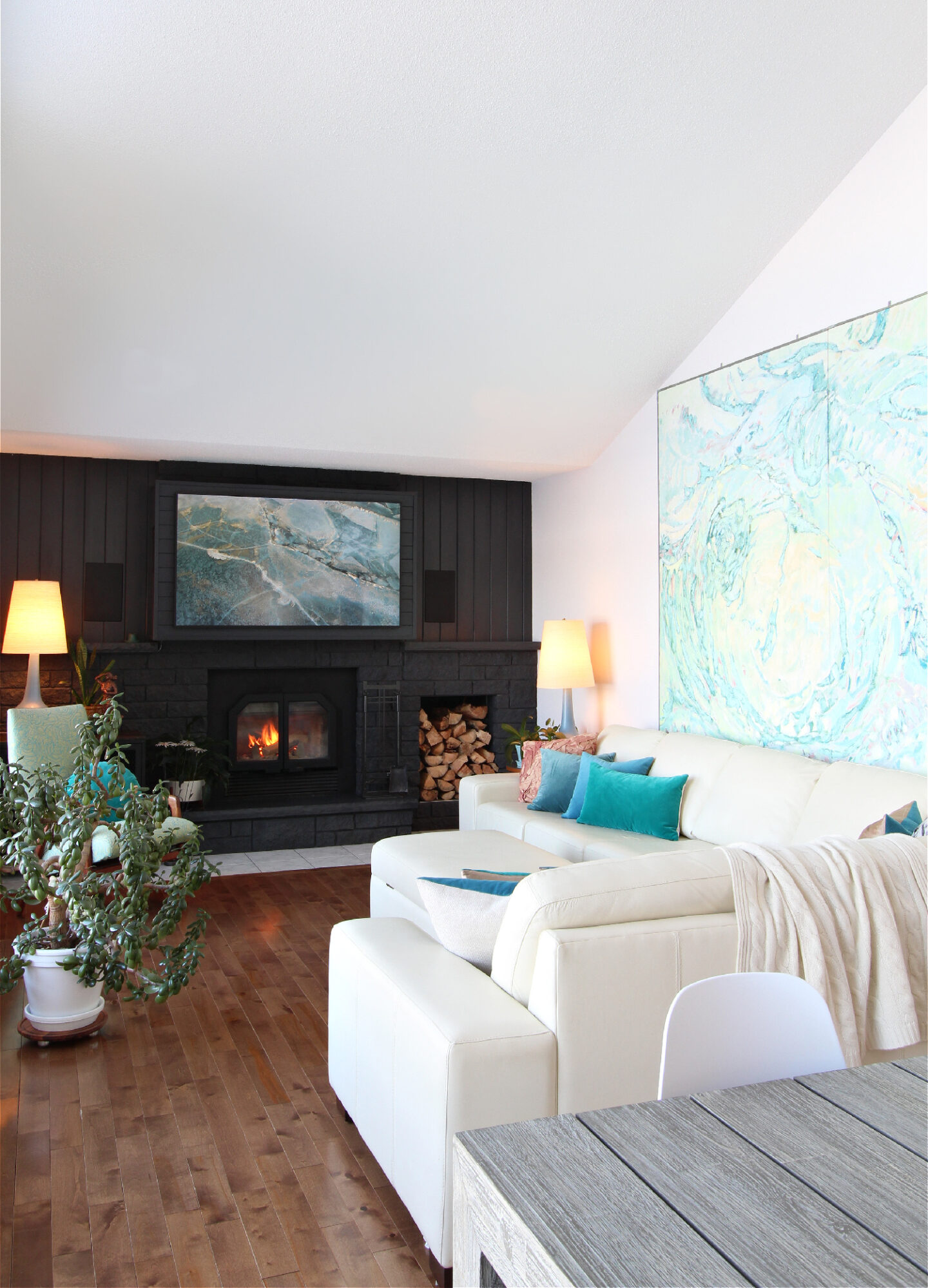 Because you can't buy the artwork in my home, I decided to put together this post and pull together a list of suggestions for coastal artwork that captures a similar mood or energy or features a similar color palette. Because this is primarily a DIY website, I've rounded up some easy DIY art ideas to inspire you to create your own coastal artwork! First, here are some tips for you to find coastal art. My top suggestion is to shop local and support artists – but I know that's not feasible for everyone.
Where To Find Coastal Art:
Explore your local art galleries to find original art
Check out student art exhibits – my Mom regrets not buying a beautiful, large abstract from a local artist whose work was under $1000 when she was a student but is now $$$.
Search Instagram to discover new artists (try hashtags like #coastalart and #coastaldecor)
Explore Etsy (try searching "Original Coastal Art")
Try Minted for beautiful prints in large sizes, framed and unframed
I found lots of coastal art from these retailers: Serena & Lily, Wayfair, Anthropologie
Check out thrift stores and antique stores for vintage coastal paintings
Try high end furniture stores or local decor stores – they often have surprisingly good art
Pay attention to your local coffee shop or restaurants – they often feature great art
Visit a coastal town or lakefront city and check out their art galleries and touristy shops
Paint or make your own!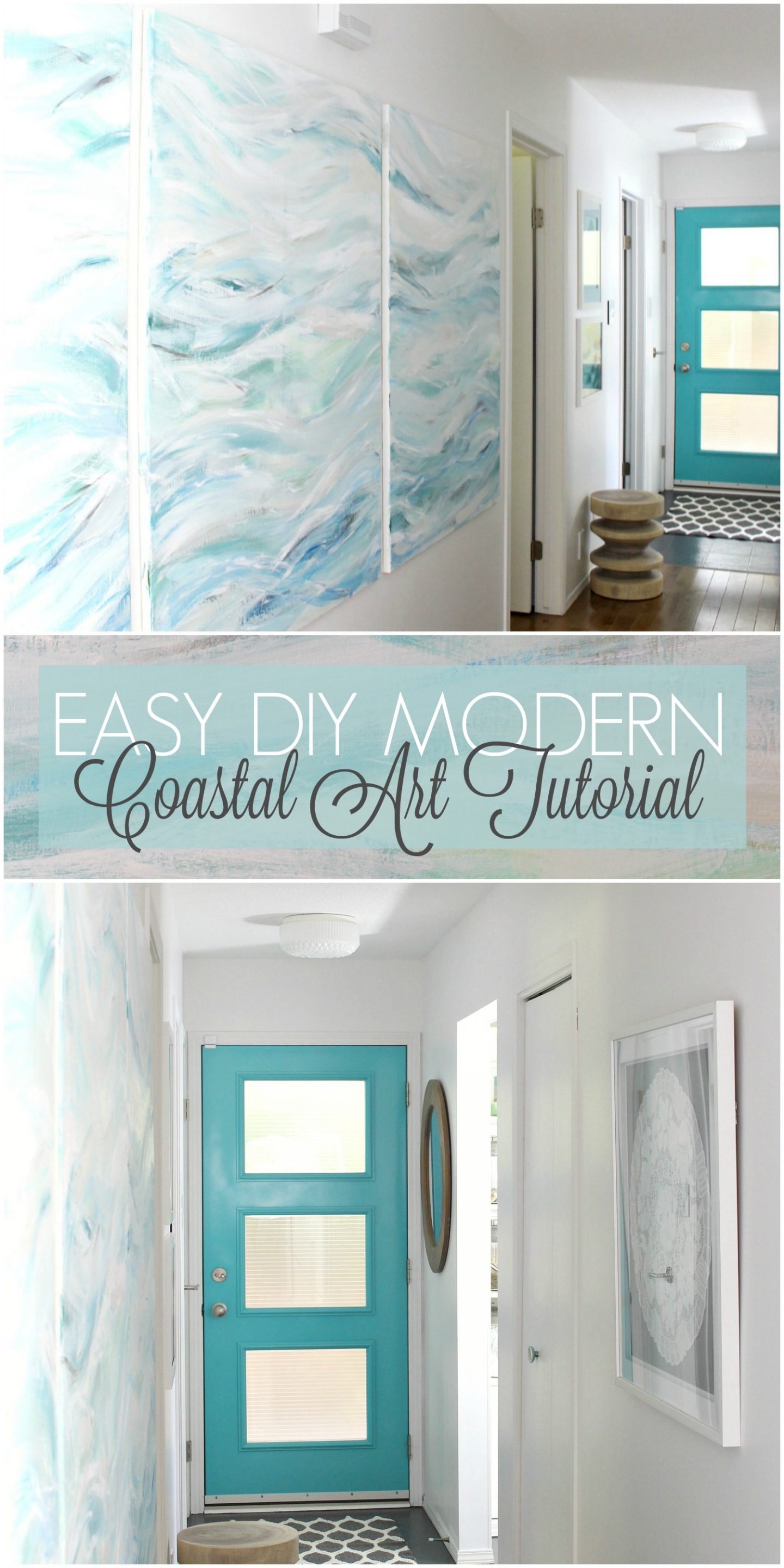 Check Out These DIY Coastal Art Tutorials & Ideas:
I encourage you to consider making your own DIY coastal artwork, if you can't find anything locally! Here are some tutorials and ideas to get those creative energies flowing…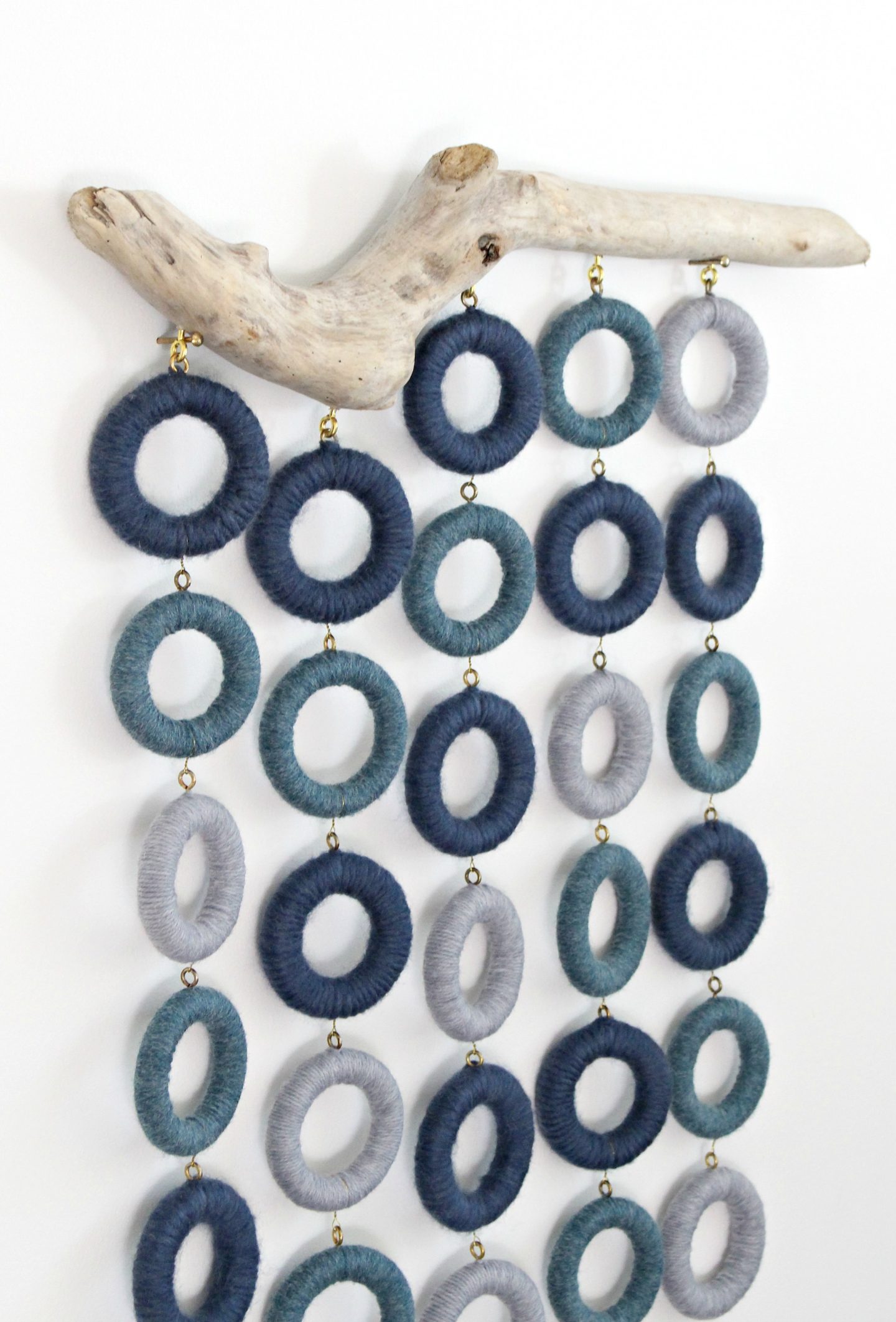 Consider These Beautiful Coastal Art Pieces:
If DIY isn't your jam, then here's a round up of some beautiful prints, most of them available in large sizes (my fave) to help bring a soothing, beachy vibe to your walls!
This Wave Expression Series is a beautiful piece – I love the shades of blue and the movement. It is a giclée print of a painting by Mary Elizabeth Peterson, measuring 61″W x 46″H x 2.25″D and sold separately or in set of two. Used for fine art reproductions, giclée printing involves transferring millions of tiny drops of ink to archival-quality paper, capturing the fine nuances of the original – including tone, shade and brushstrokes. Lined in white linen, set behind plexiglass and framed in solid wood with matte white finish.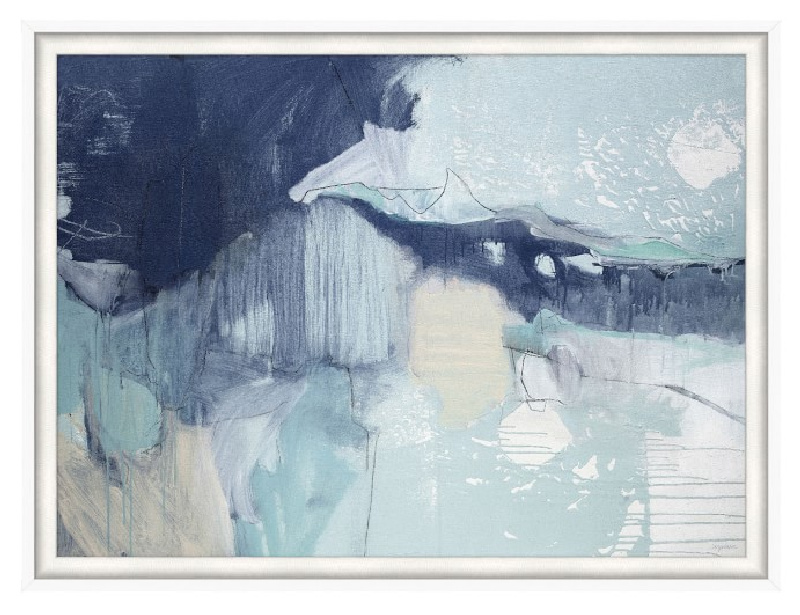 This print from Minted has a gorgeous composition, and can be purchased with various frame styles (or without a frame) up to 44″x44″. It was inspired by the beachy vibe of Santa Cruz, California and has a modern and sophisticated aesthetic. Would pair well with walnut tones and a vintage/coastal style like what I favor.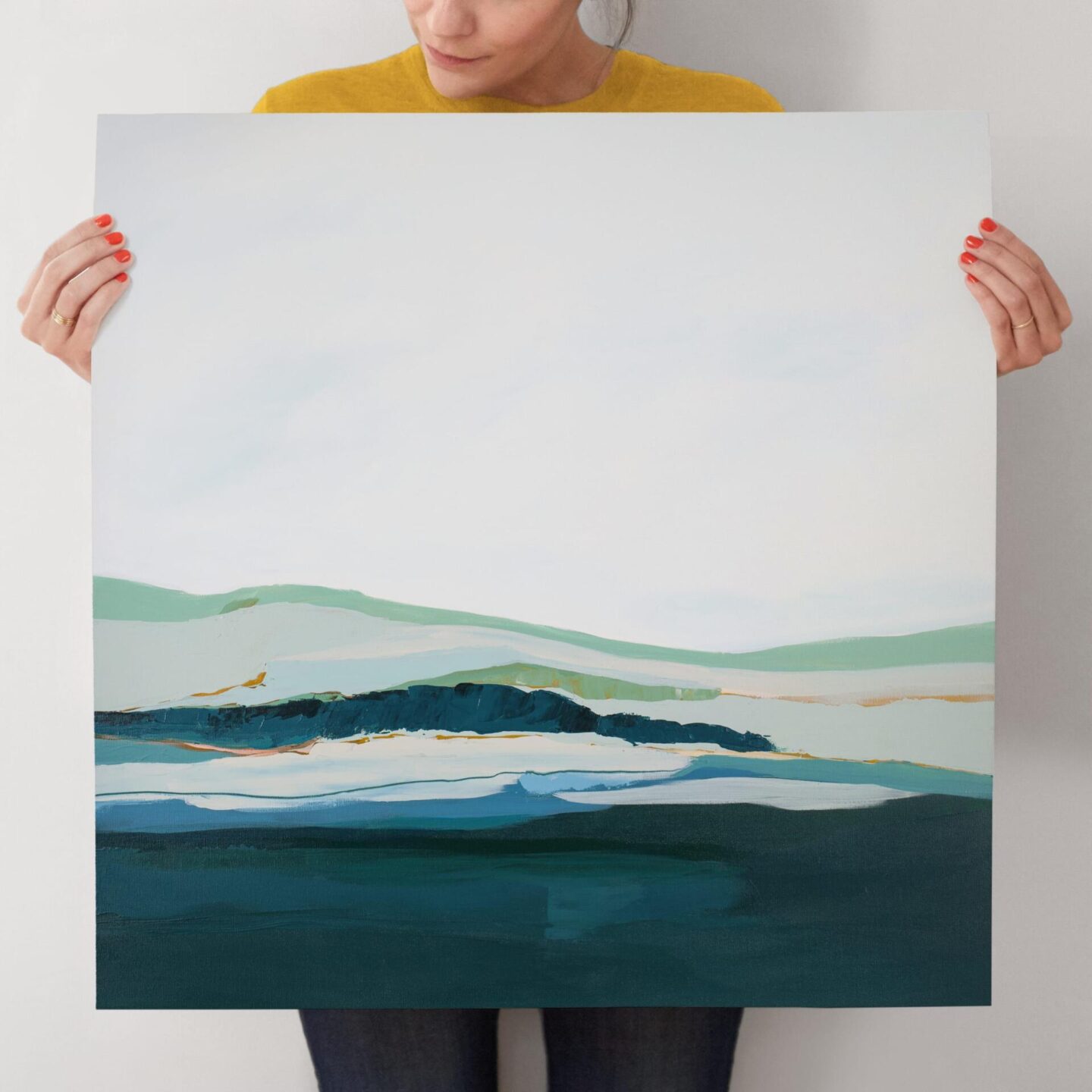 Cloudy Coast is a printed canvas with an acrylic gel finish. This pale blue piece is gorgeous and evokes a feeling of weightlessness. It comes in a wood frame and is 40″x50″.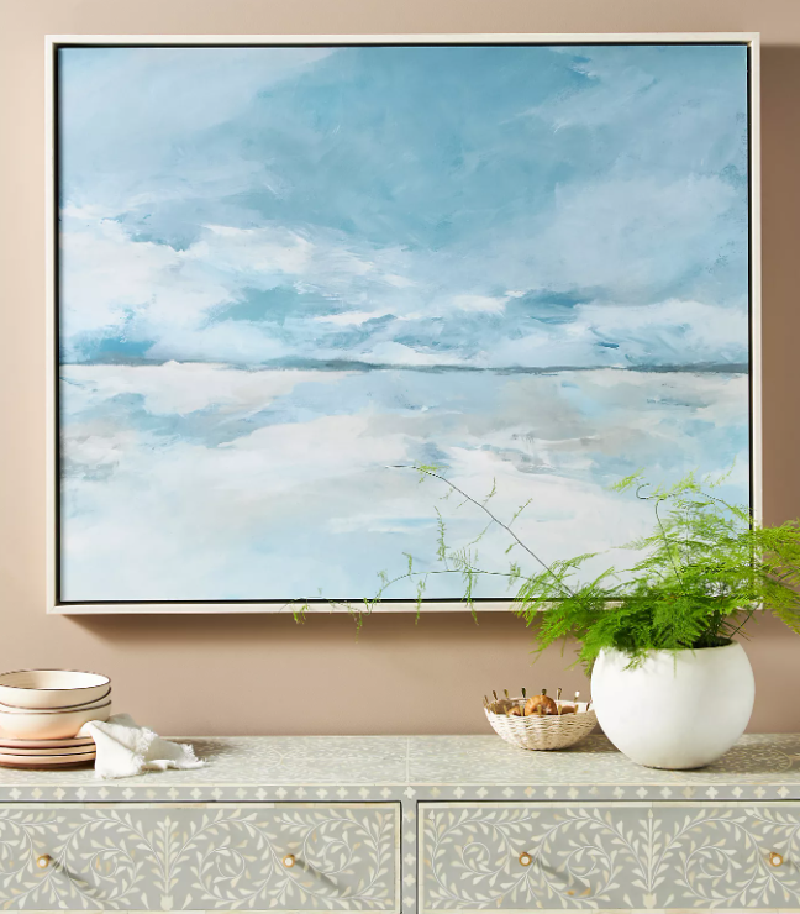 Fish in an archival photographic print and the beauty of the details and the rich but beachy colors is really eye catching. It's a smaller piece, but is really dynamic.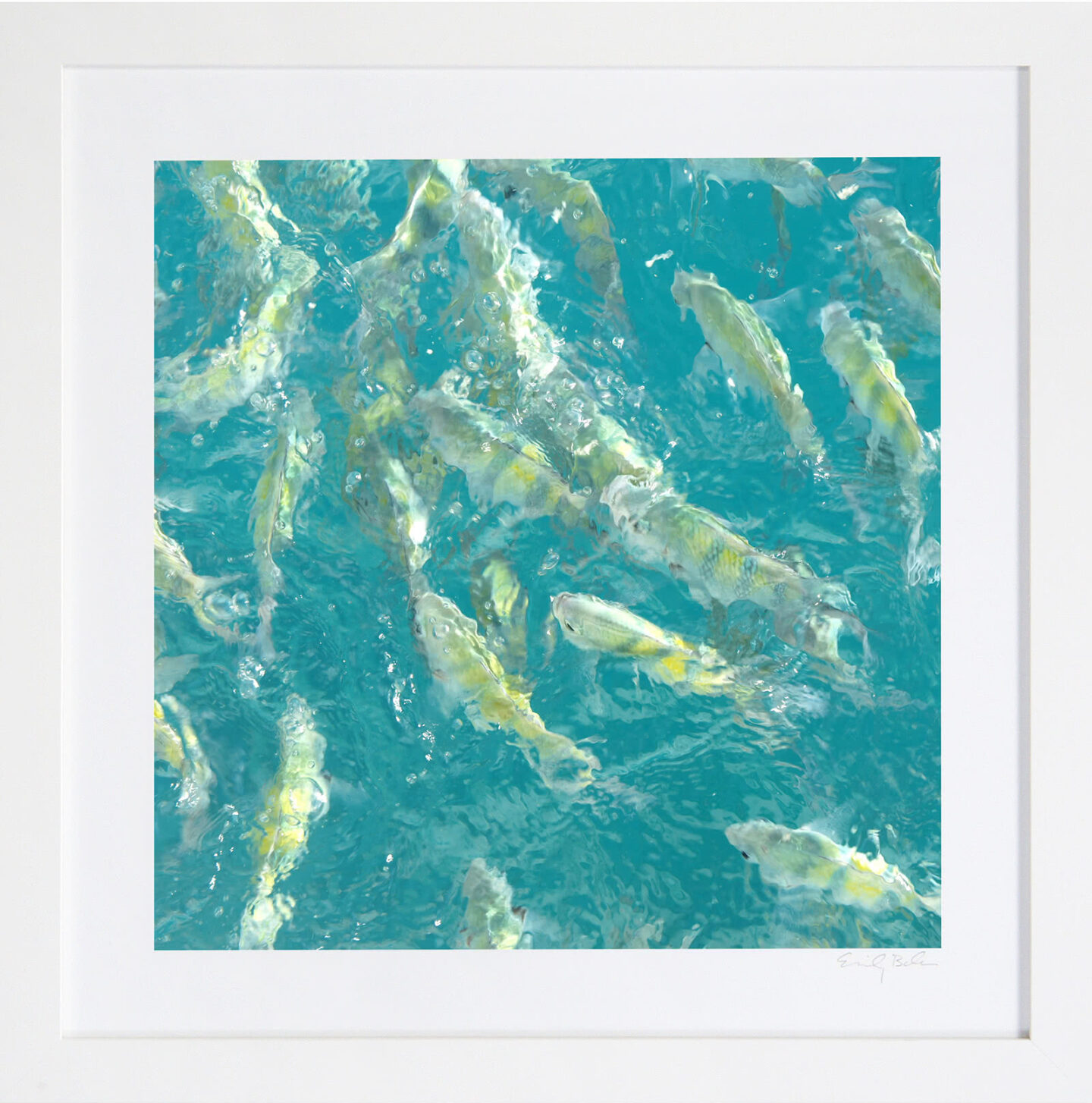 Translucent Blue Print with Hand Applied Layered of Tissue Paper:
This is another giclée print on archival canvas – with a twist! There are subtle specks of hand-applied tissue paper, which lend both visual and textural interest. Click over to see more detailed photos of this piece. It is already in a floater frame so it's also read to hang (it's 61.5″W x 41.5″H x 2.25″D). I love the deep inky teal of this painting – the canvas looks almost dipped. And the inky hue gives way to a frothy cream – it looks like you're inside a wave, almost, and I like the feeling of not knowing if this is sky or water.
This is not a strictly "coastal" piece of art (although I'd argue the color palette works) but this does remind me of some of the landscape type paintings we have by Hubby's grandpa (in my home office and in the powder room). This could be a scene beside a body of water… Artist Holly Van Hart paints abstracted forests, trees, fields and flowers and this intriguing print features a field of wildflowers with petals that appear to sway in the wind. This is also a giclée print from original painting on canvas and ready to enjoy in a wood frame.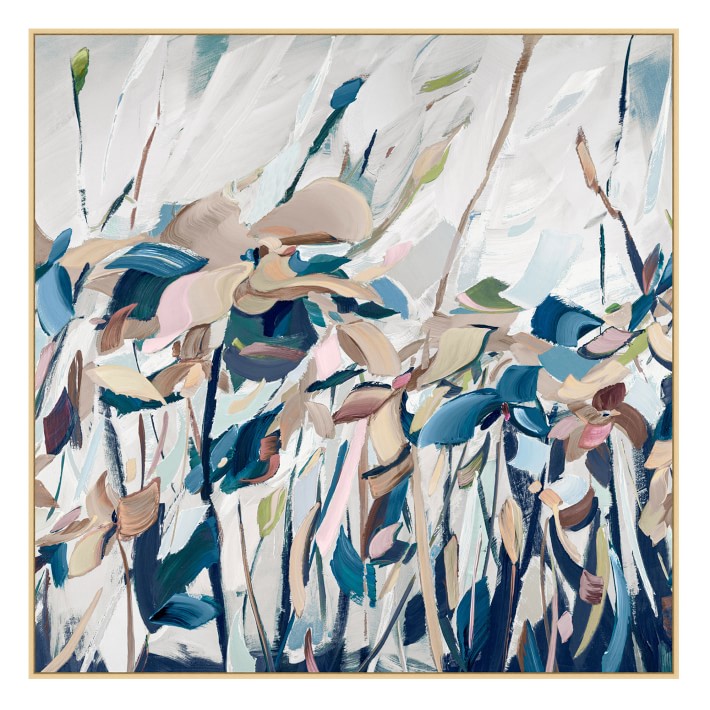 Slip is a print of a painting available in up to 40″x45″, framed or un-framed, and it's a beautiful detailed depiction of rippling water.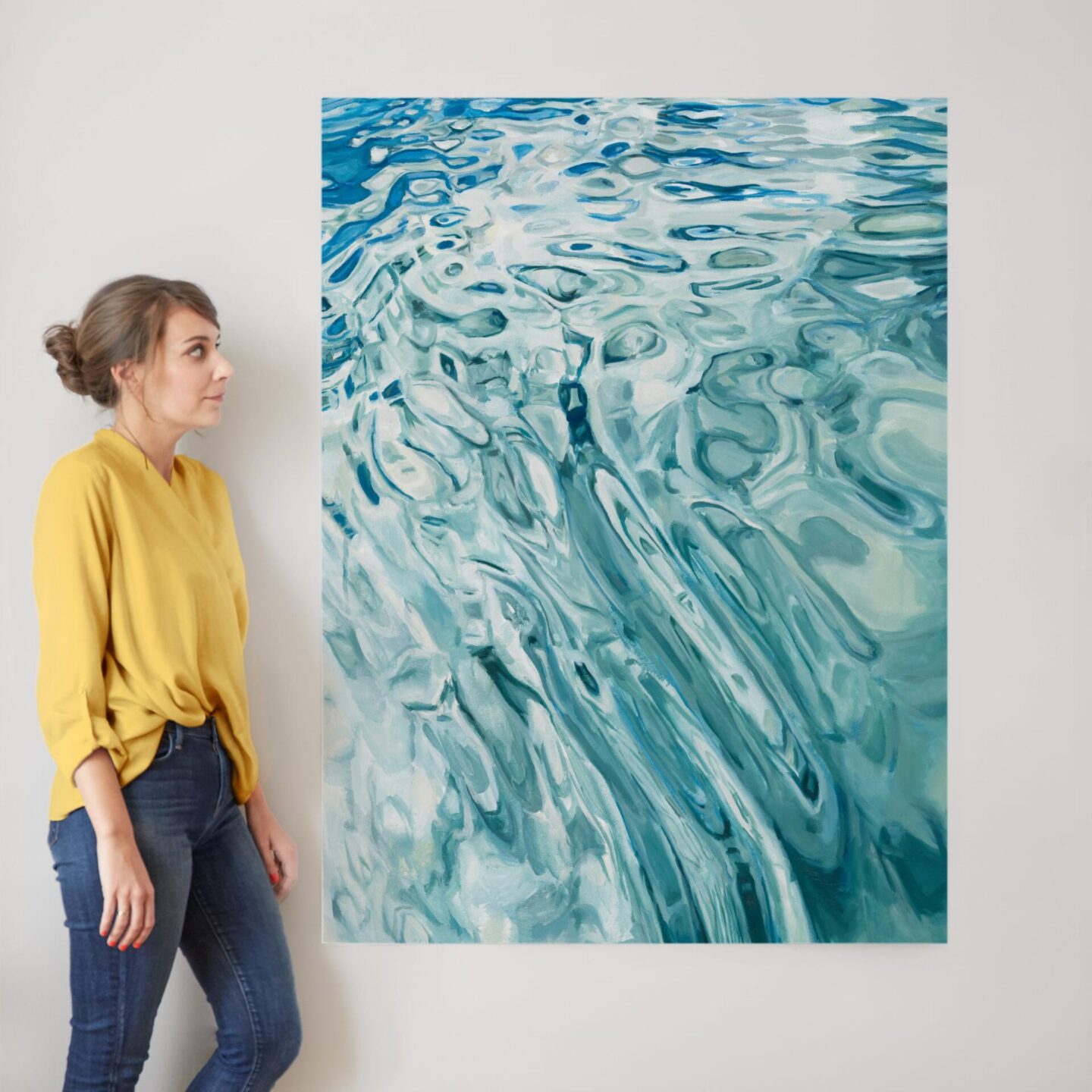 A bit different than a typical coastal print, Dance caught my eye because of the beautiful turquoise and the calming pattern. According to the artist, this particular piece represents light dancing on water so that's why it spoke to me when I was shopping for coastal art!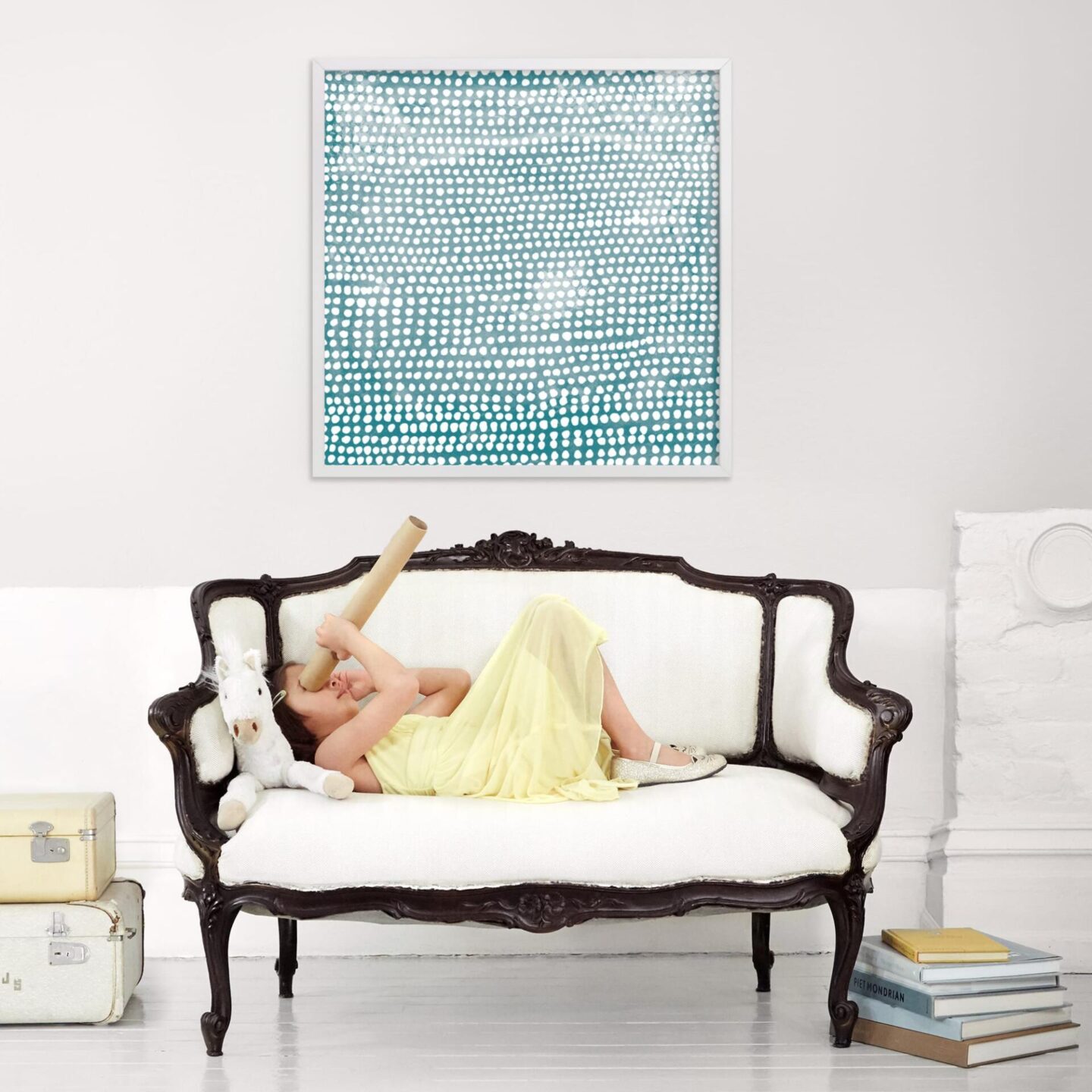 The Pacific is a another print available in larger sizes and I love the soft, calming feel of this one. The artist says it was created to capture the contentment that would wash over her after a day in the water and that's exactly the mood it captures, in my opinion!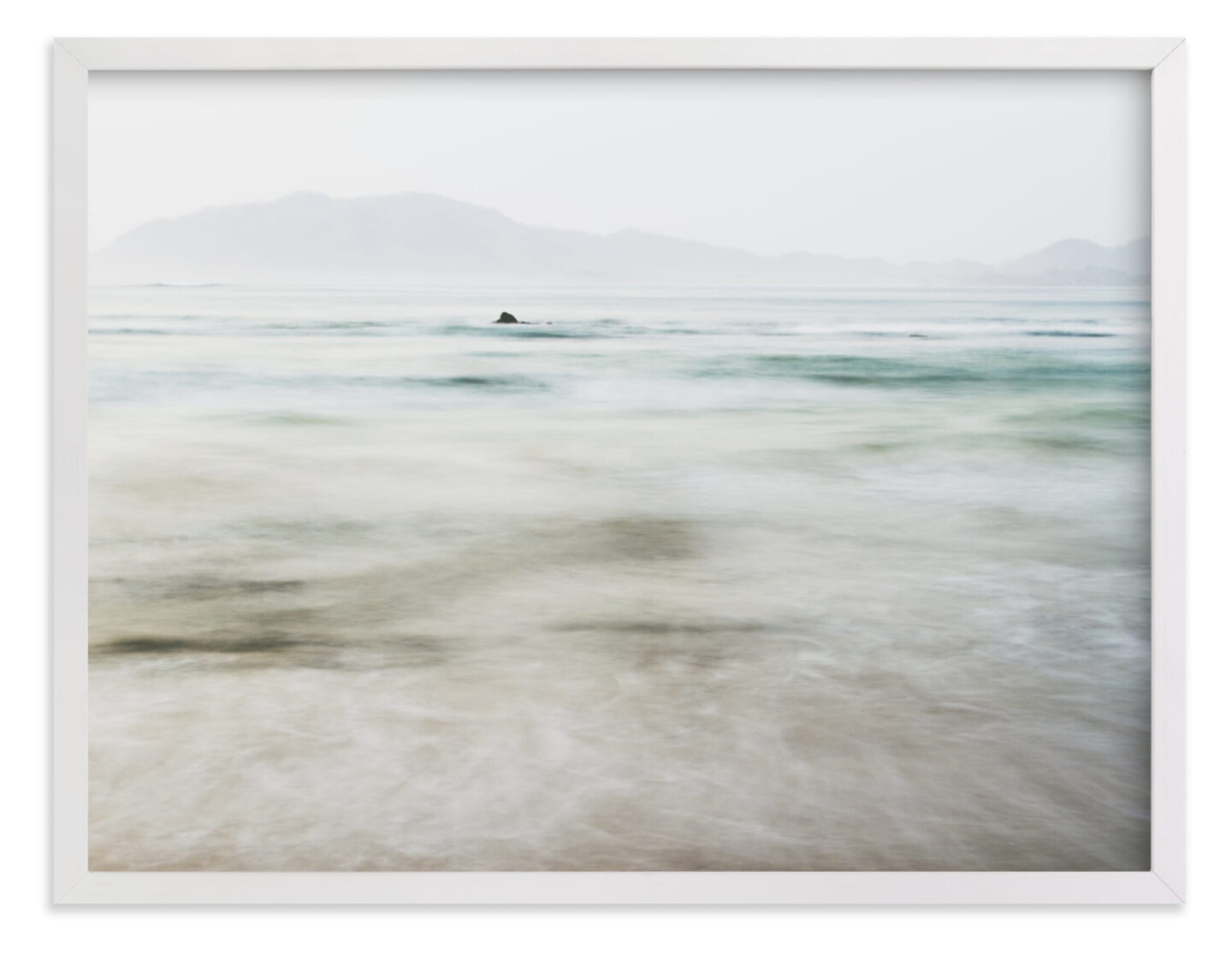 Original Sea Abstract Painting:
Large scale original art is typically very expensive but I found a source on Etsy that is more afforable – the art is a handmade oil painting, but it is shipped from China… But a 45″ x 64″ painting is only $540. I will always recommended supporting artists and visiting your local galleries and art shows, but if your budget is tiny and you want something big, this is a way to get it.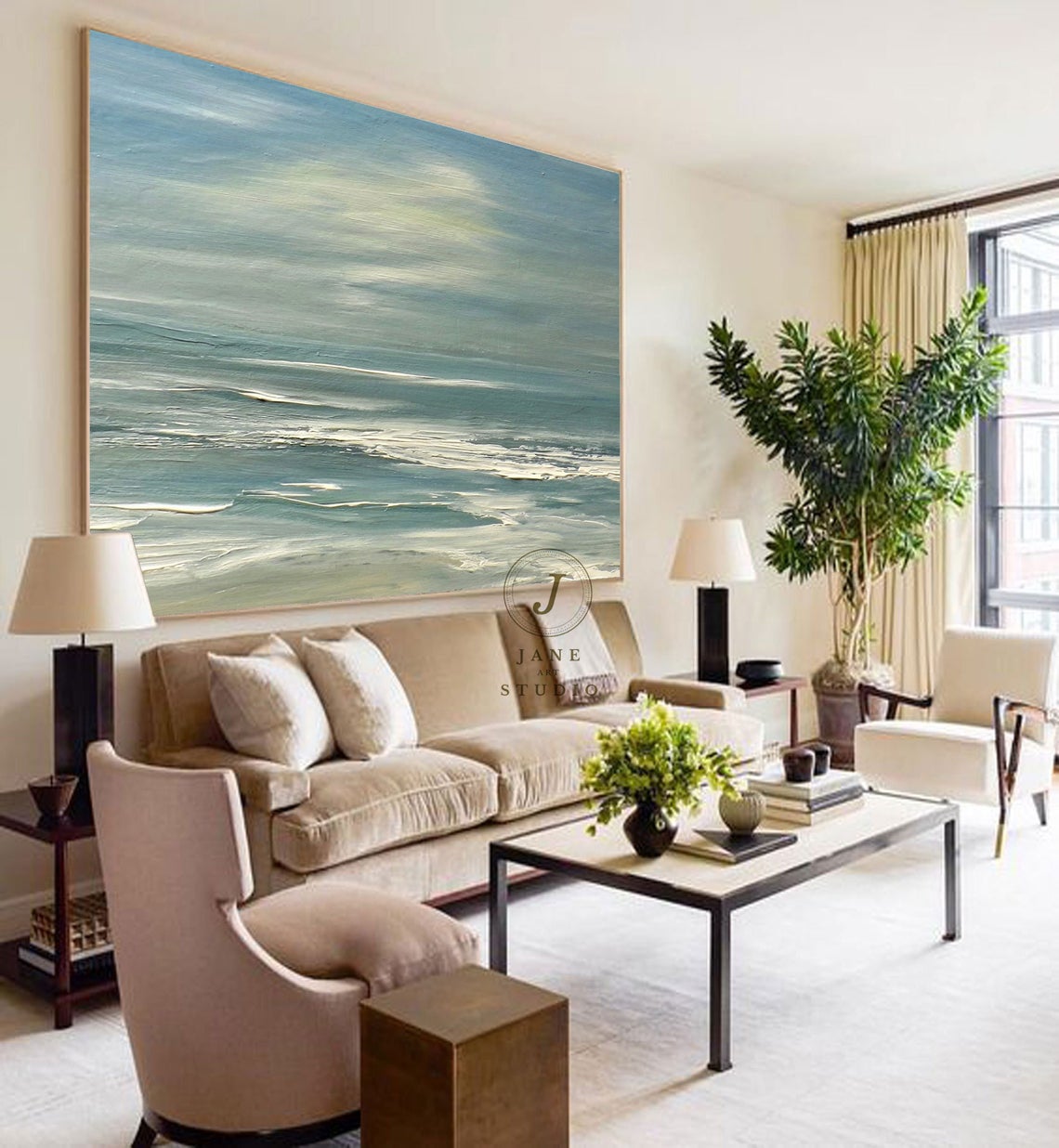 This wrapped canvas print comes in framed options also (but only for smaller sizes), and at $138 for a 40″x 40″ piece, it's very affordable for a beautiful piece this size. Plus it's made in the USA, and is custom made, one at a time. It's a hand stretched premium giclee print so I think could be nice quality even at that price point!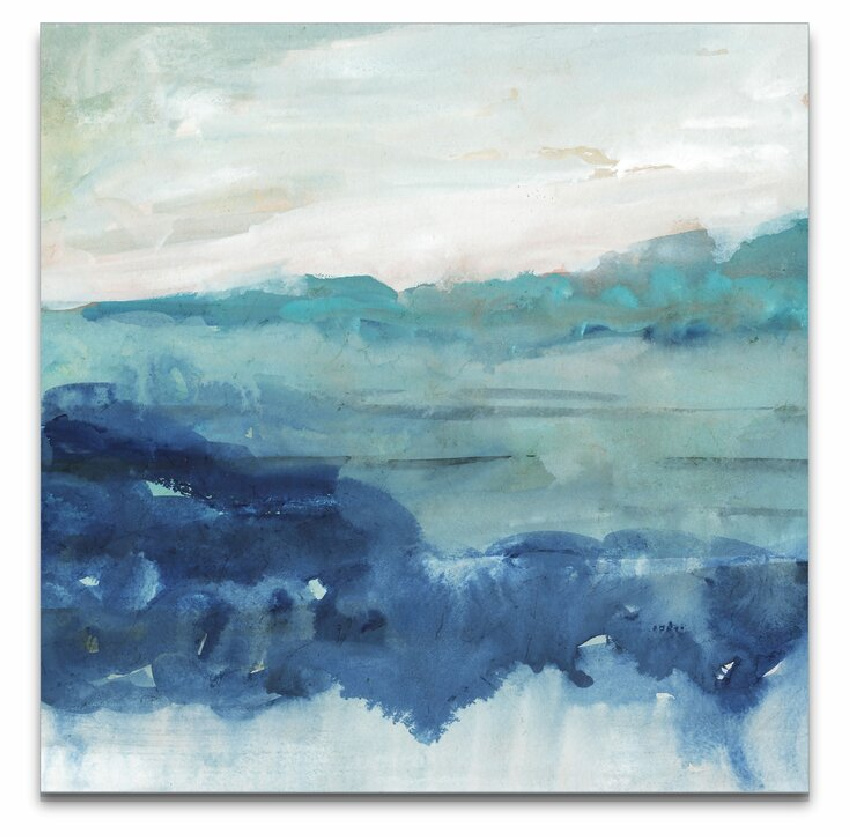 You can order this print in up to the 24″ x 30″ size. I love the bold turquoise and while it's not abstract, like what I usually favor, it definitely has some strong coastal/nautical vibes with a simplicity that keeps it from being too theme-y or campy.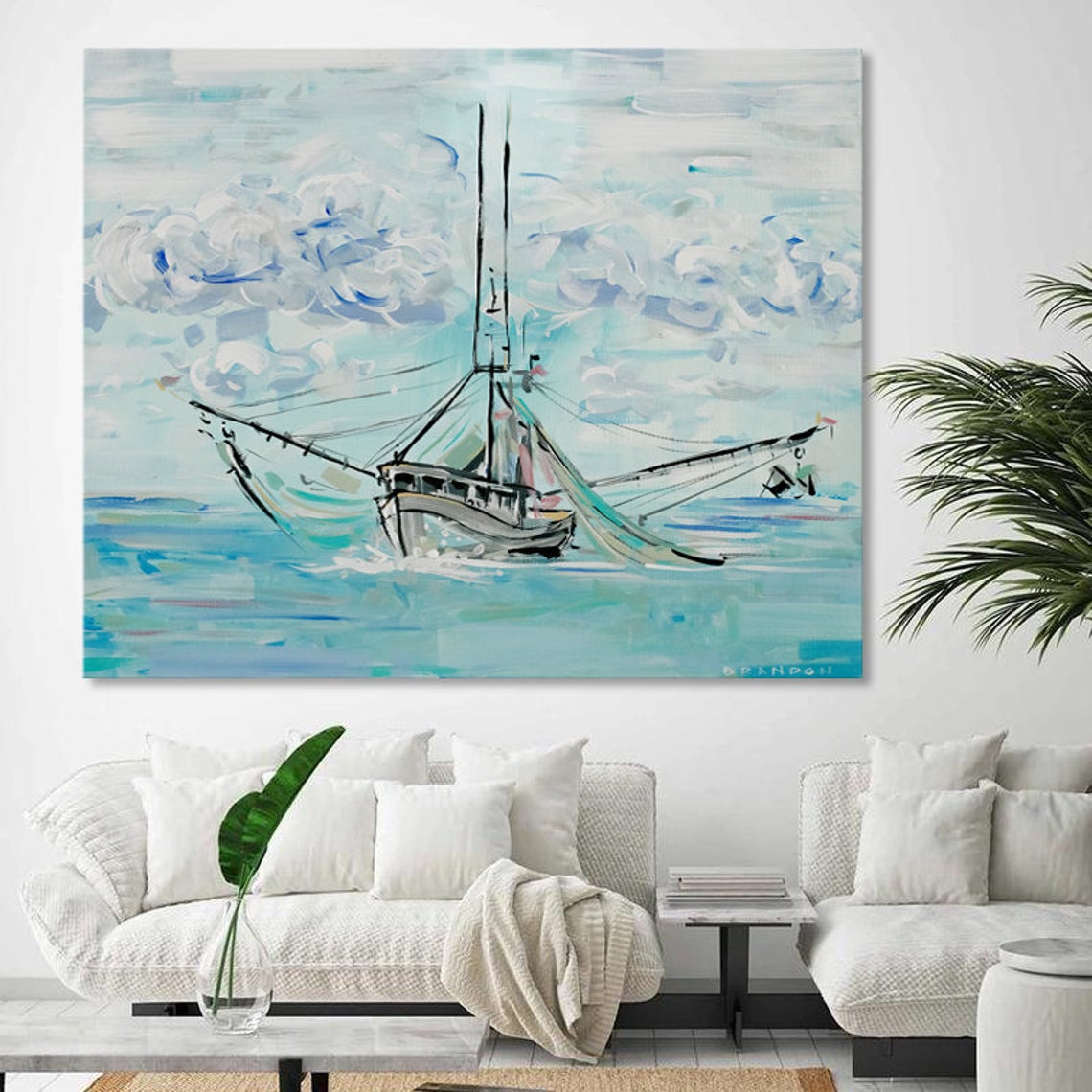 The kaleidoscope of textures and colors beneath the water in this photo print captures the eye and definitely works in a modern coastal space.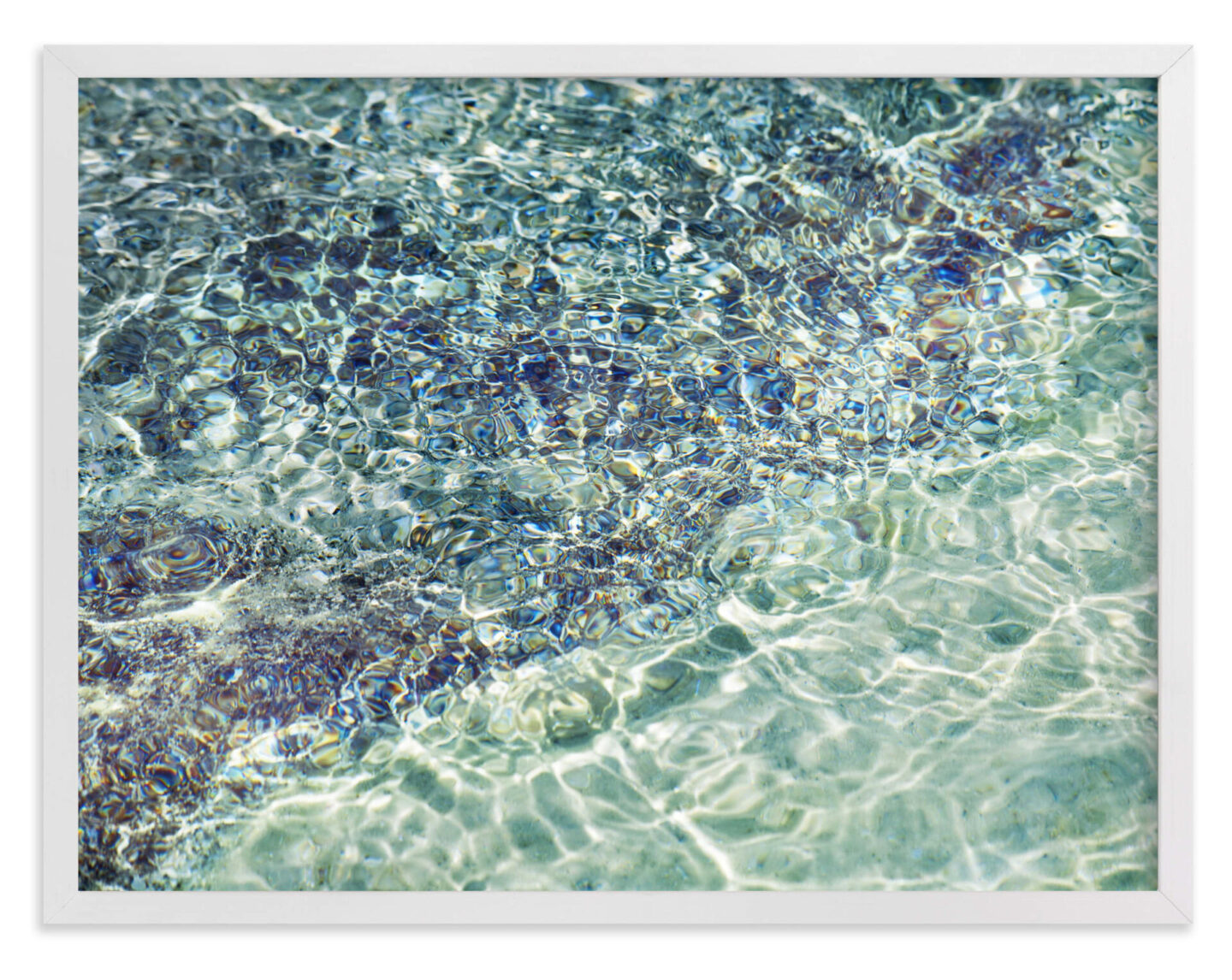 Symphony at Sunset is a gallery wrapped cotton canvas, enhanced with handpainted acrylic paint and sold already framed in a wood frame. I love the warmth and glowiness depicted in this marsh sunset scene. It loosely reminds me of the paintings by Hubby's grandpa in my office.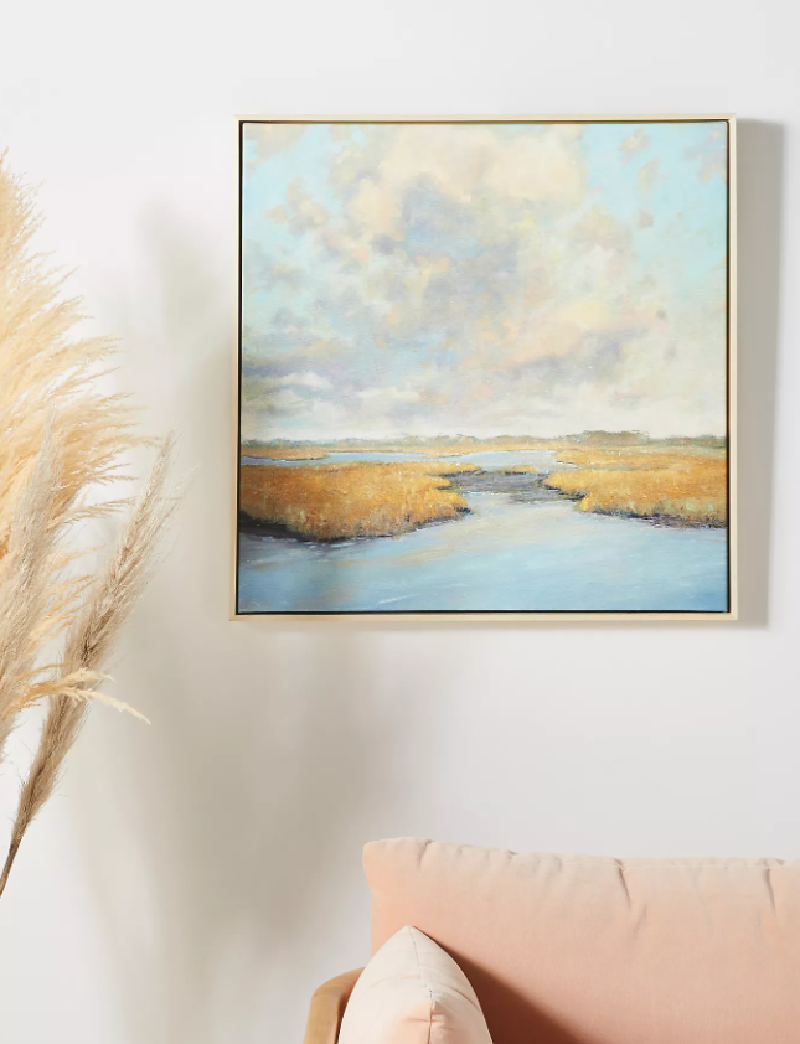 Late in the Day is a beautiful print – look at those clouds billowing above the coastline! It's available in up to 54″ x 40″ and can be bought framed or un-framed.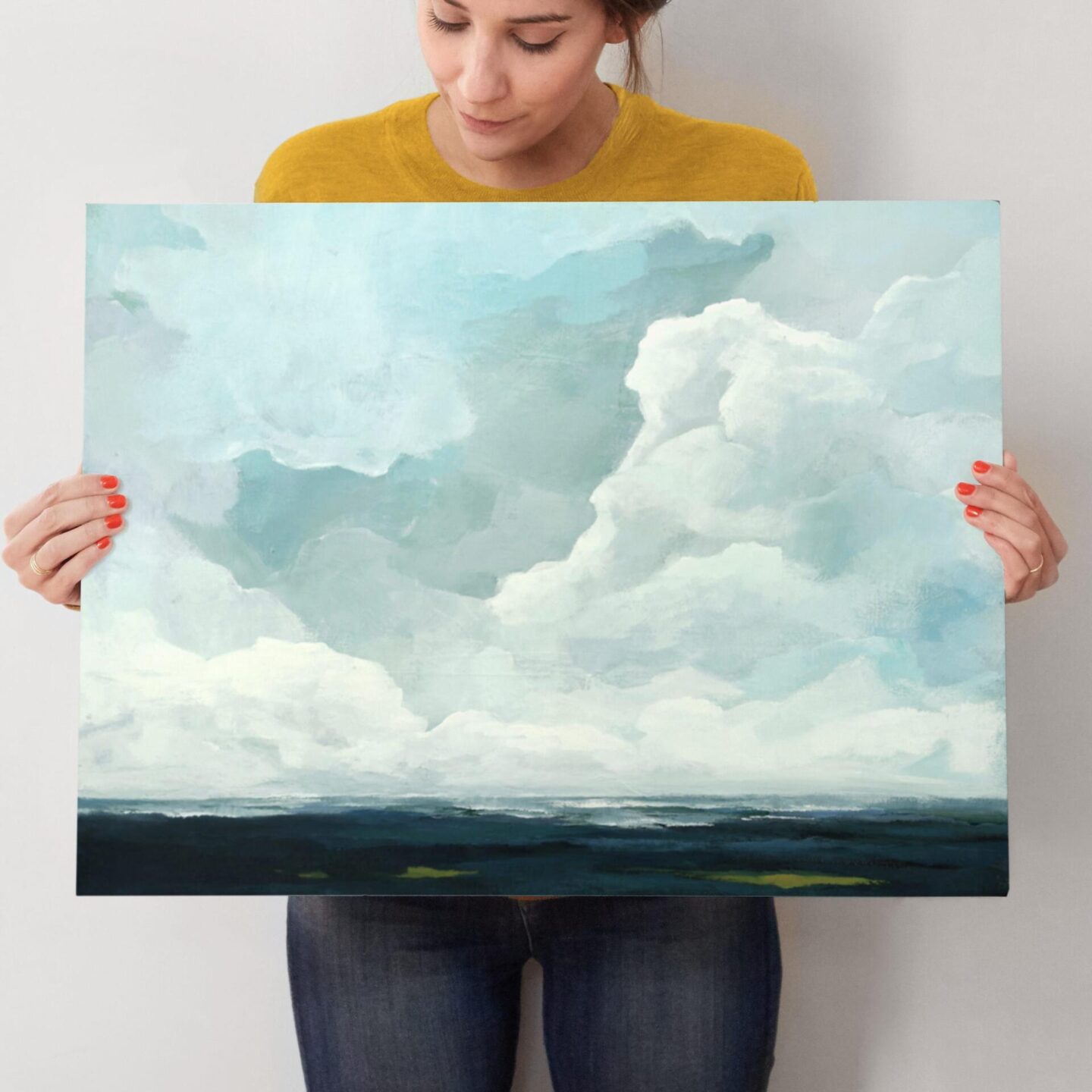 I hope you like this round up of coastal art! Any of these would be a beautiful addition to your walls and help evoke that relaxed and beachy vibe, without feeling to kitschy or themey.
Don't Forget to Pin for Later: