I'm so excited to show you the DIY Cricut garden markers I made (this post is sponsored by Cricut, but all thoughts and opinions are my own).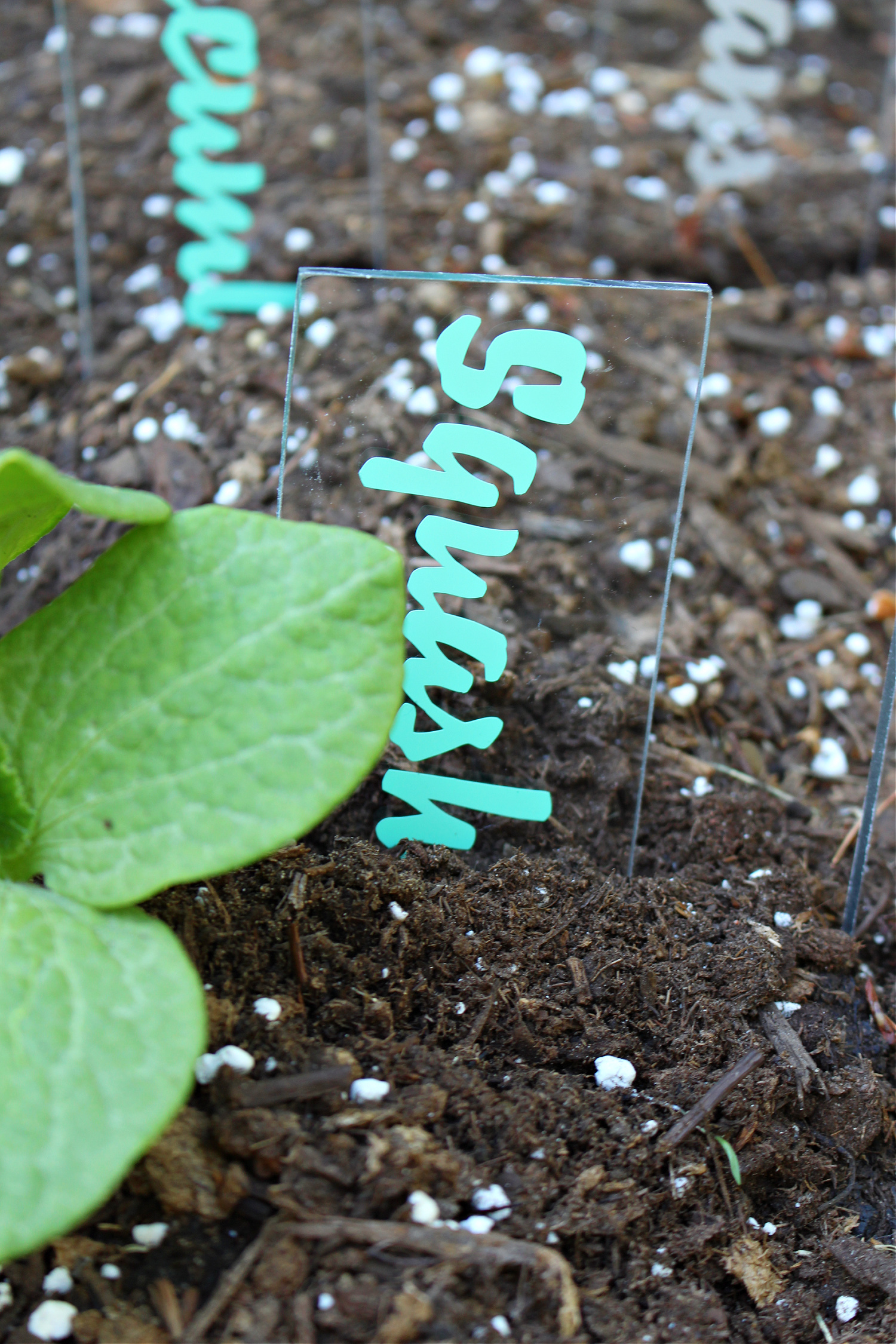 You might remember that last year, during my first foray into vegetable gardening, I wrote down what seeds I planted in the first two cold frame garden beds but then when I got to the third, I must have forgotten. But I didn't realize until little leaves started to pop up, and hubby kept asking me, "what's this, what's that?" and I had no idea. I had kept the seed packets, so I sort of worked out what was what, but there was still a little muddled confusion so we just enjoyed the surprise.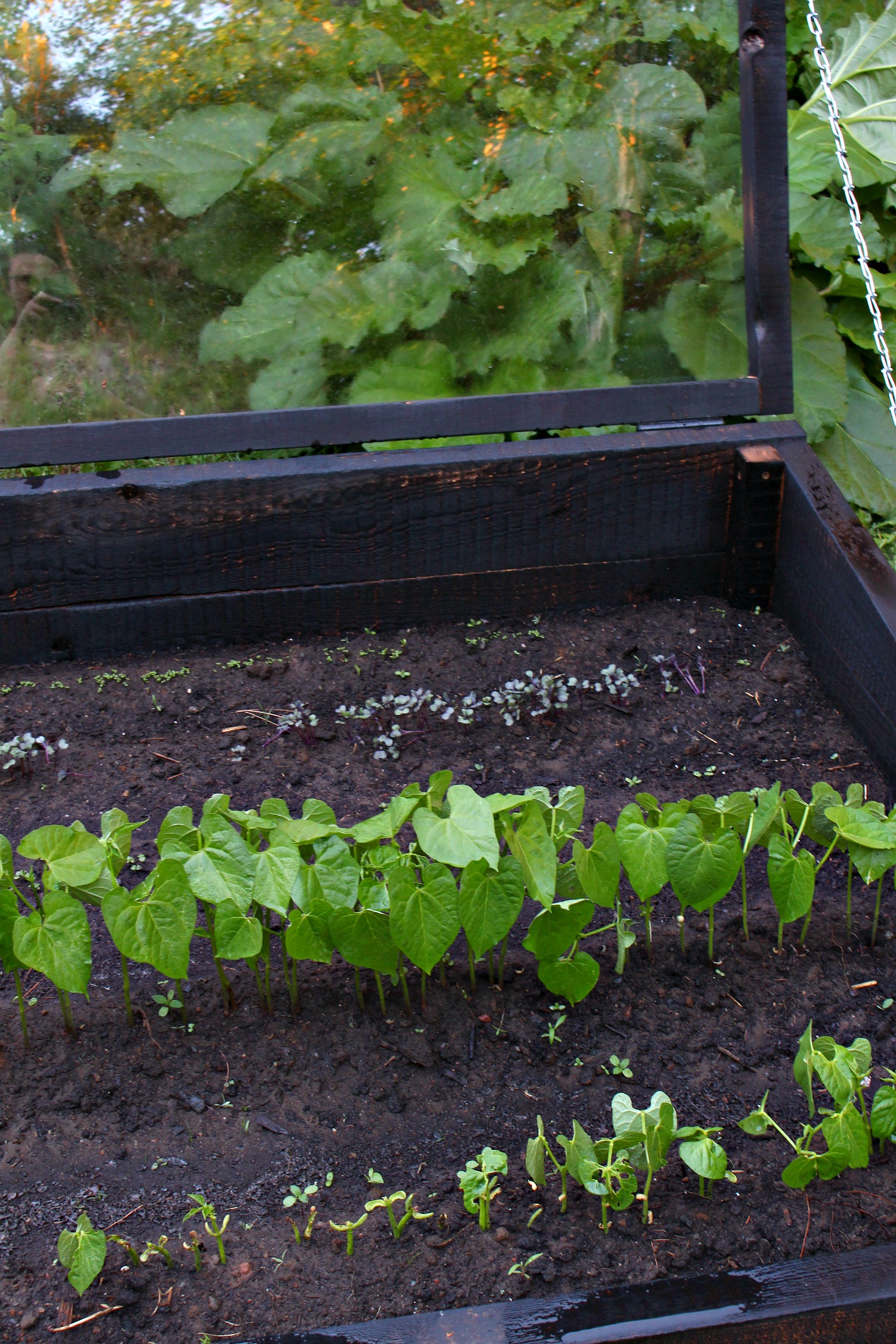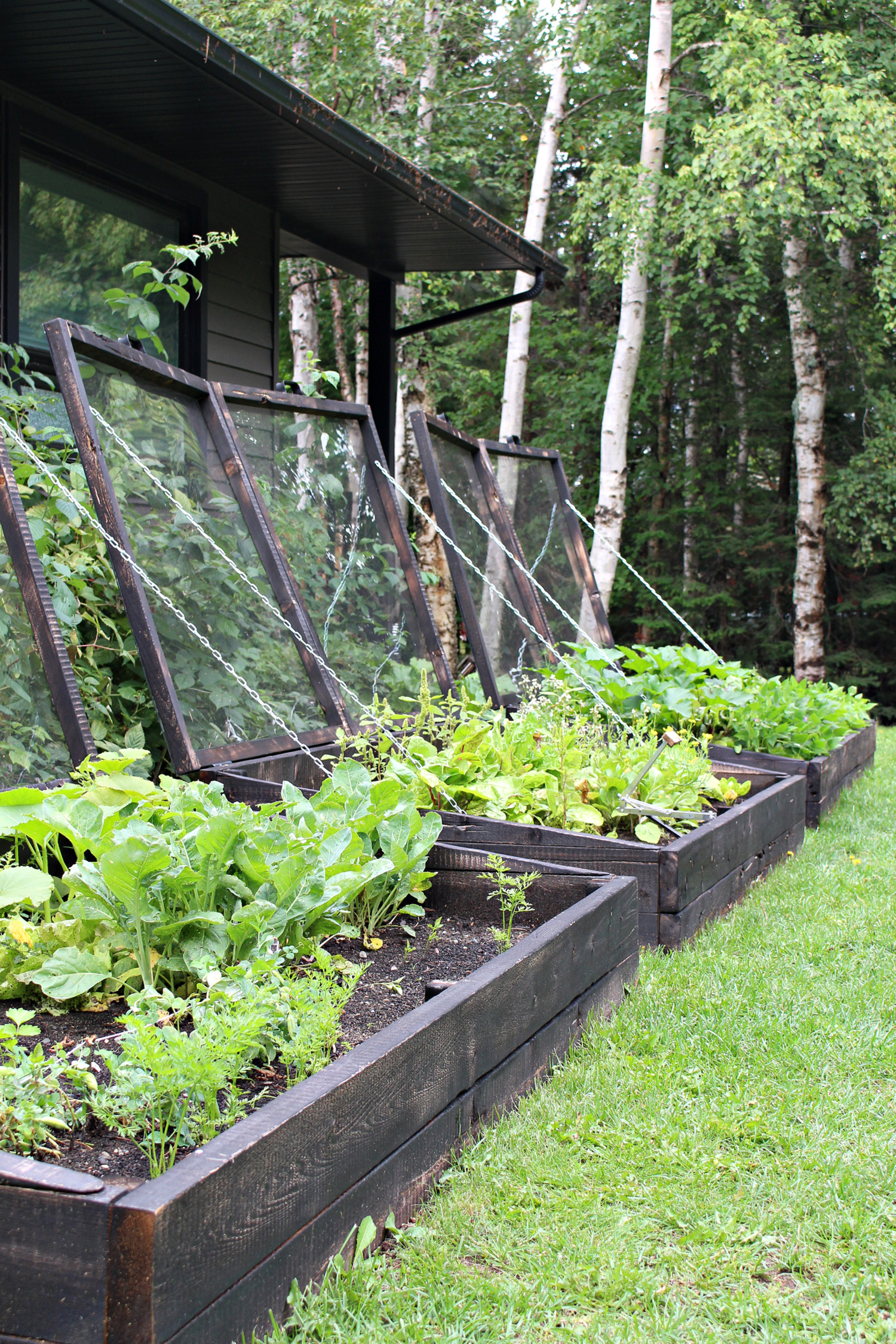 This year I checked three times to make sure I properly recorded what I planted where (in all three cold frames!) – and then I also took photos of the seed packets beside each corresponding row, before filing them away to keep them dry. But Hubby still asks me, "what's this?" and I don't know. I have to find my phone and access the list to be able to identify most things at this stage.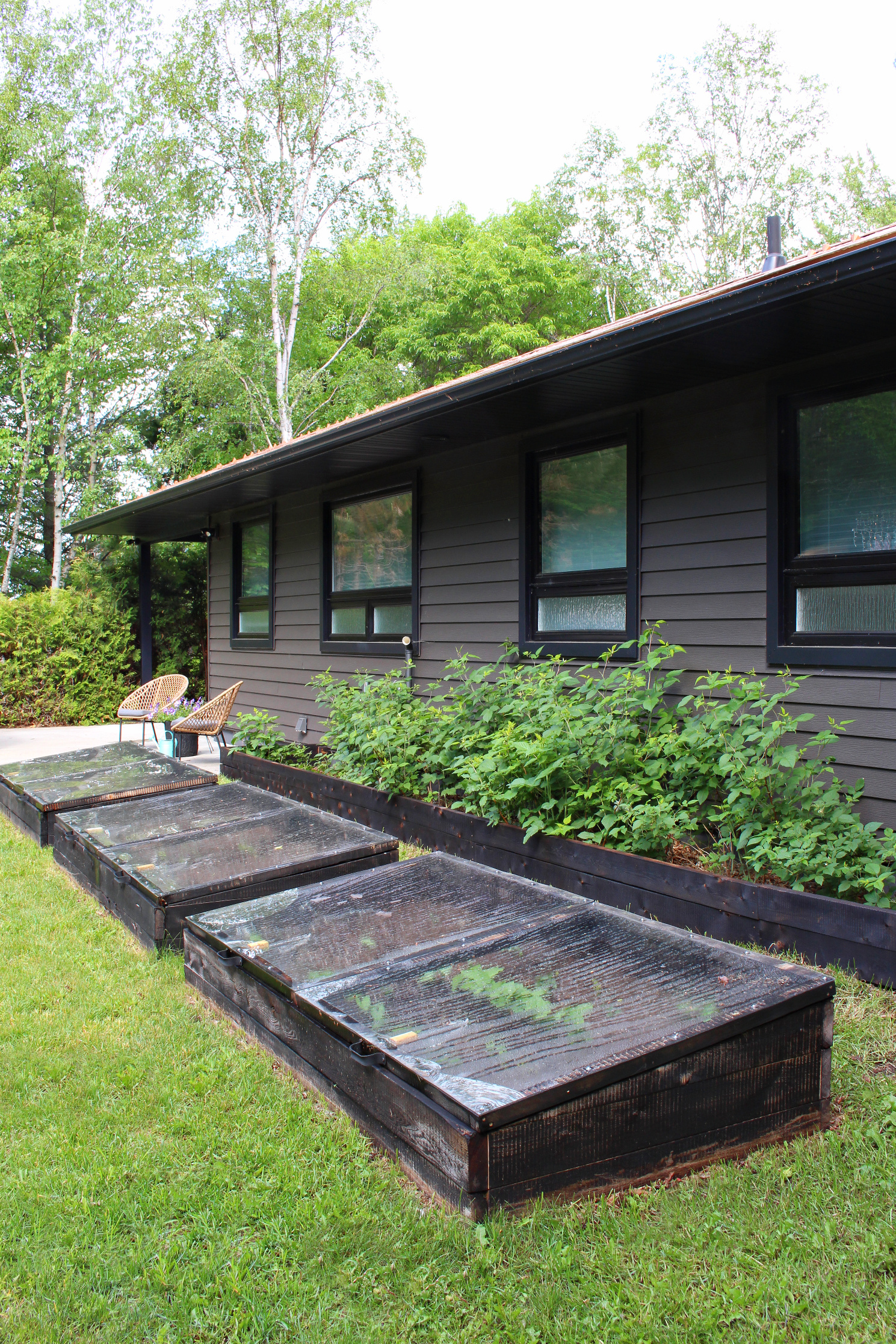 I see clearly now the wisdom in garden markers, so Hubby and I made a set of the prettiest DIY Cricut garden markers. I used leftover clear Lexan (the same material we used for the cold frame lids) and then used permanent Cricut Joy™ Smart Vinyl™ in pretty, beachy colors: Powder Blue (glossy), Light Blue (shimmer), White (glossy), Mint (glossy), Silver (shimmer).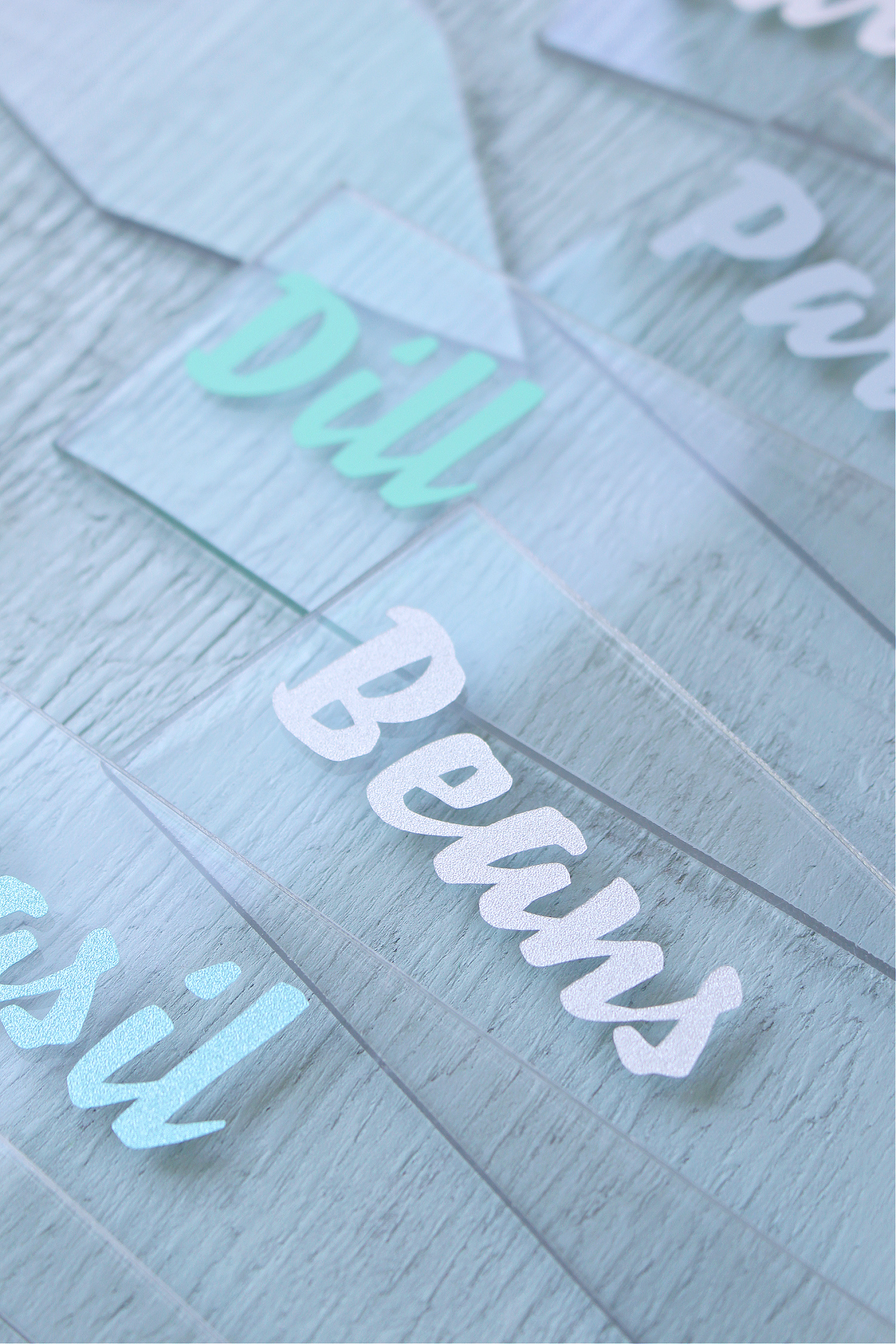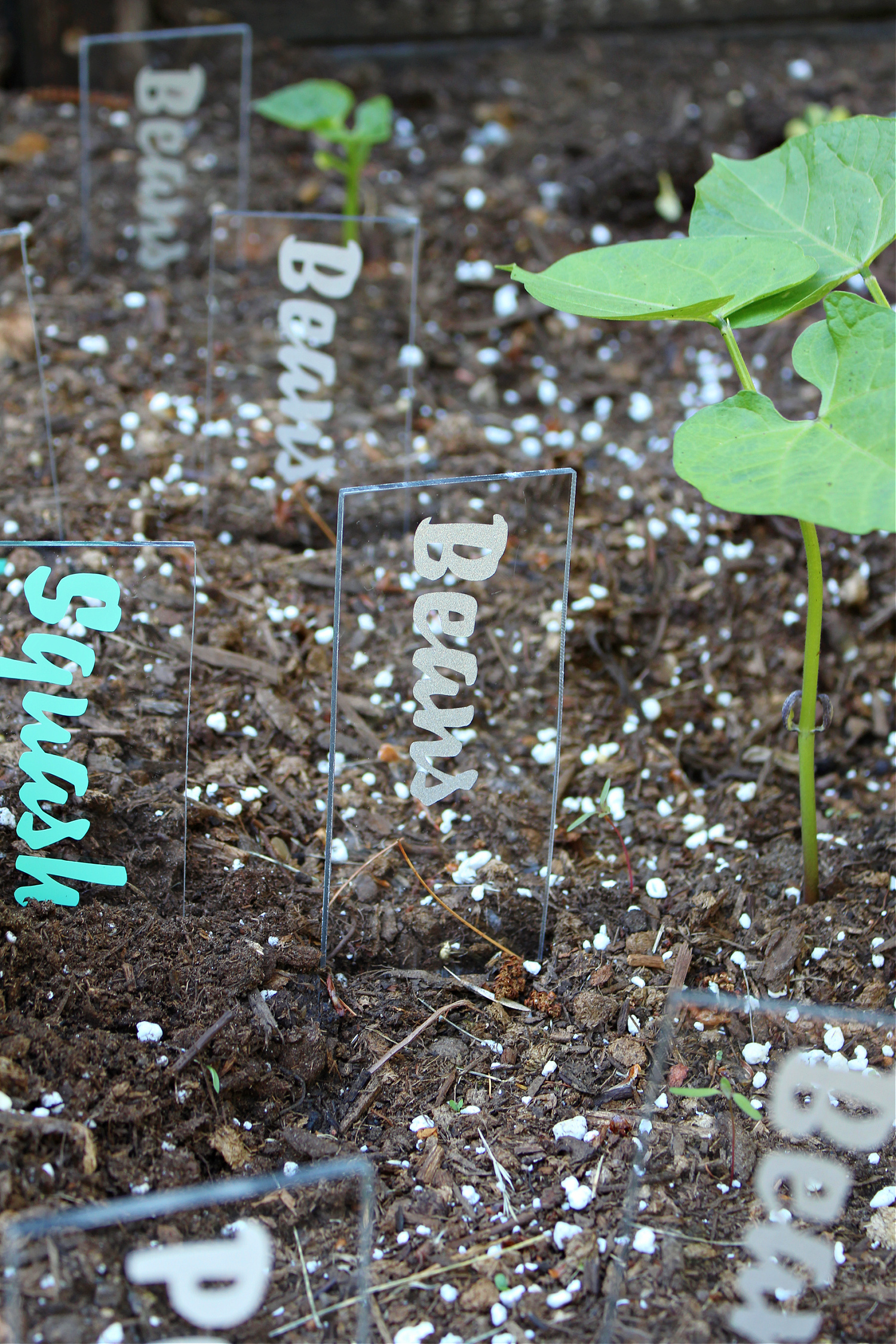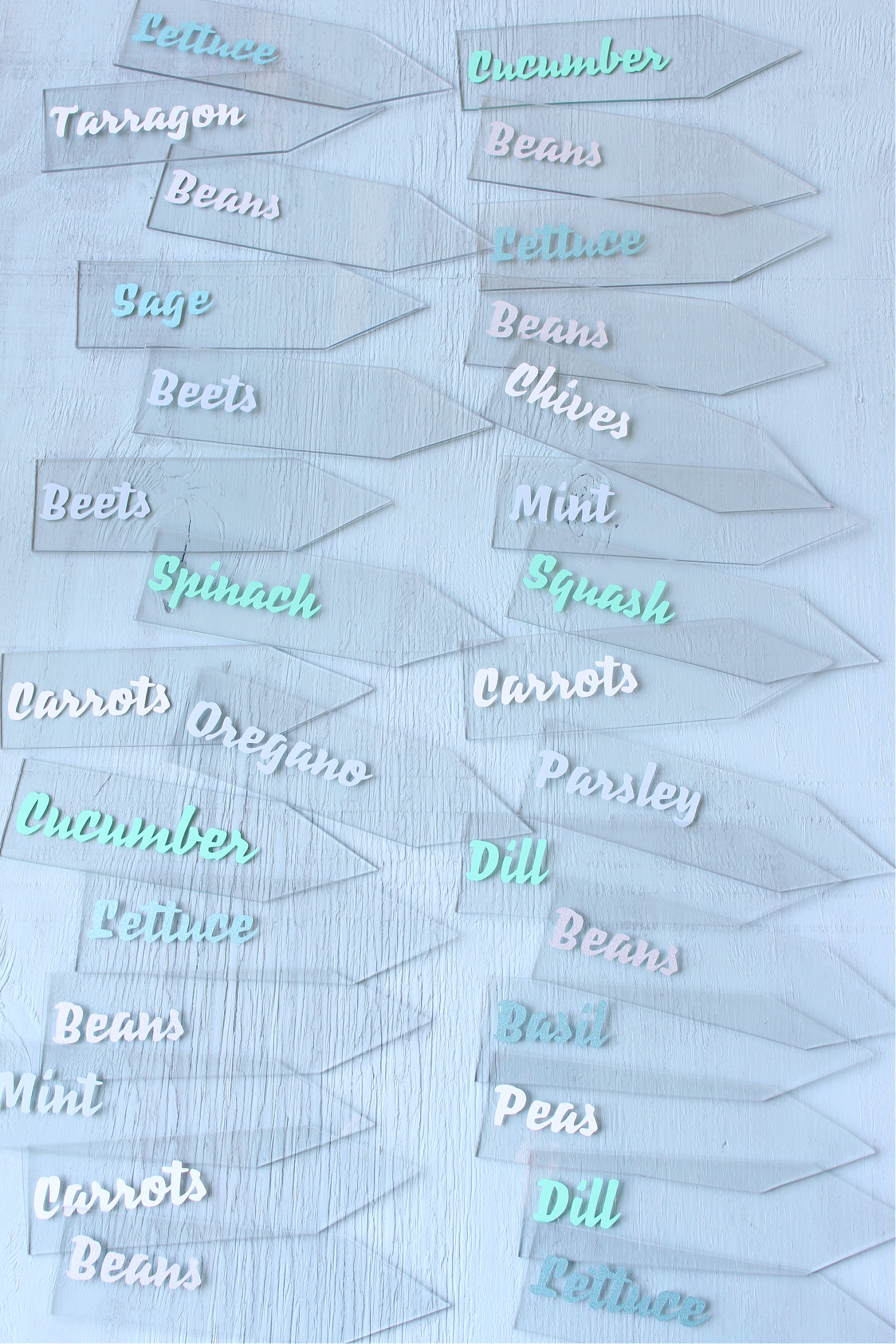 Last year we used the same permanent Cricut Joy™ Smart Vinyl™ to label our mooring ball out on the lake. We need to put our address on it, so we used my Cricut Joy to make that label and it withstood an entire season of bobbing in and out of the water, mostly submerged. When we pulled out our mooring ball at the end of the summer season, the lettering looked absolutely brand new. So I am incredibly confident that these DIY Cricut garden markers will be waterproof enough to withstand a little water in the garden.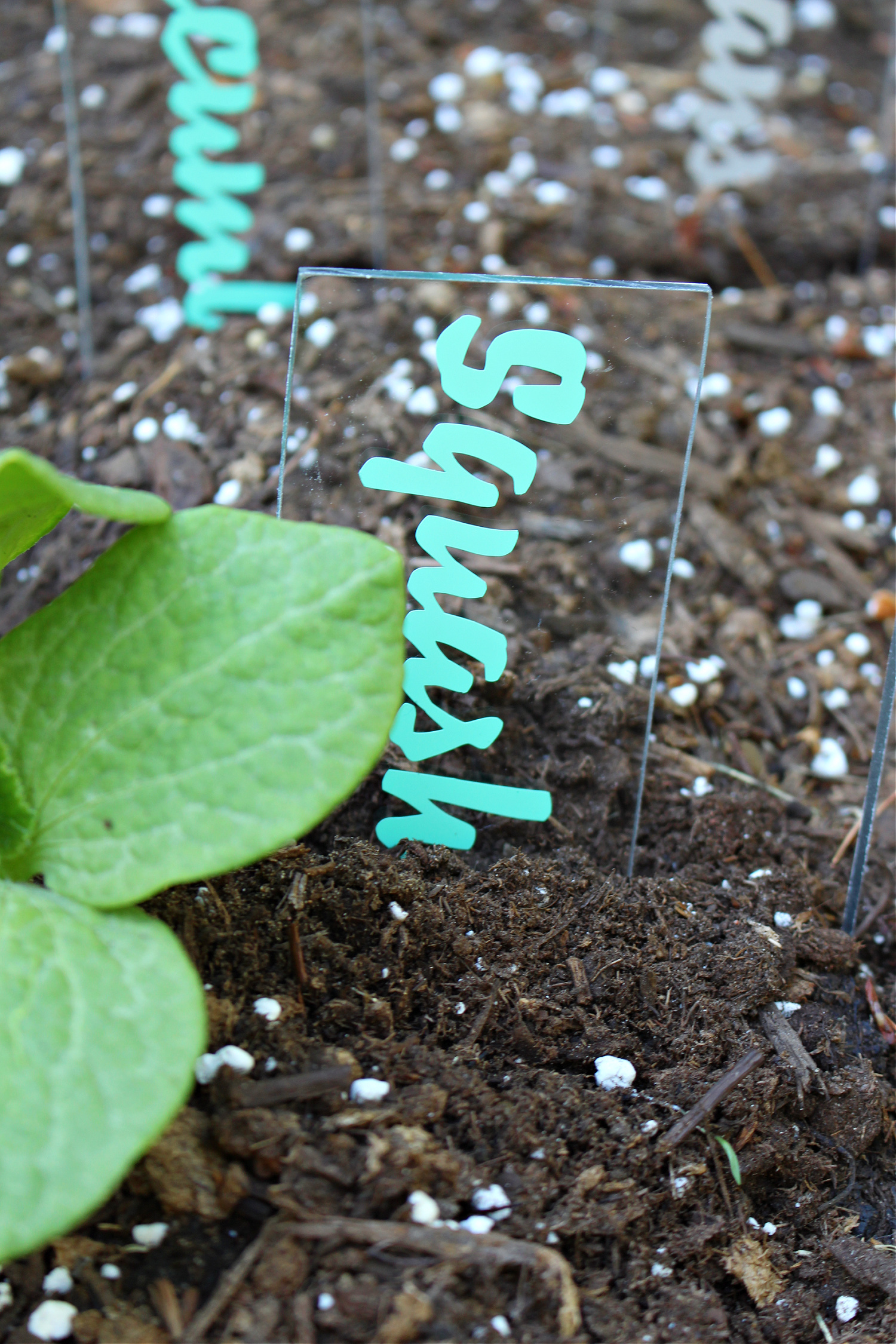 Today I'm going to show you how I made these DIY Cricut garden markers, and also share a little tutorial for how to make the easiest raised garden beds, so if you haven't gotten into gardening yet you'll be all set – and you won't make the same mistakes I made, haha.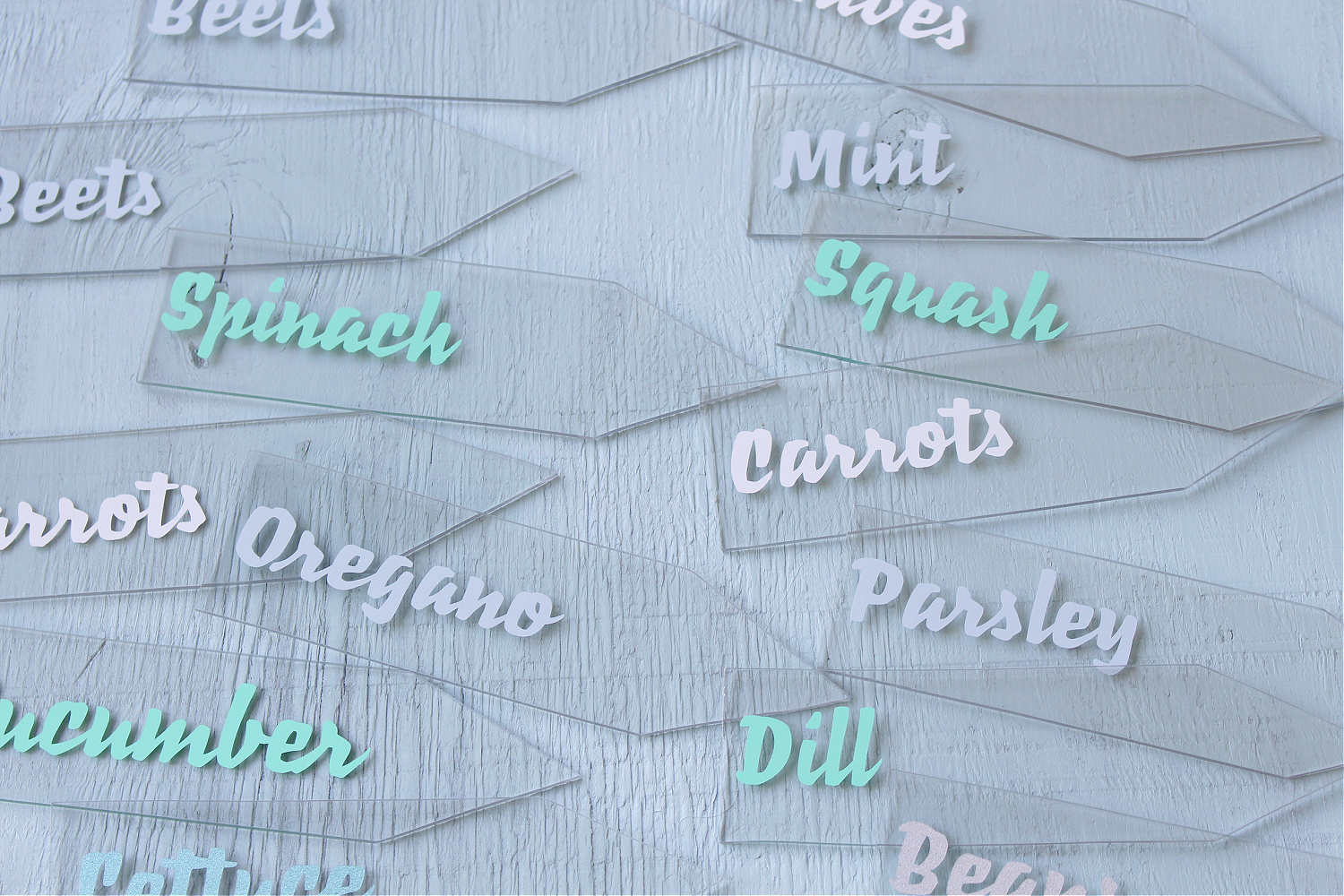 Supplies for DIY Cricut Garden Markers: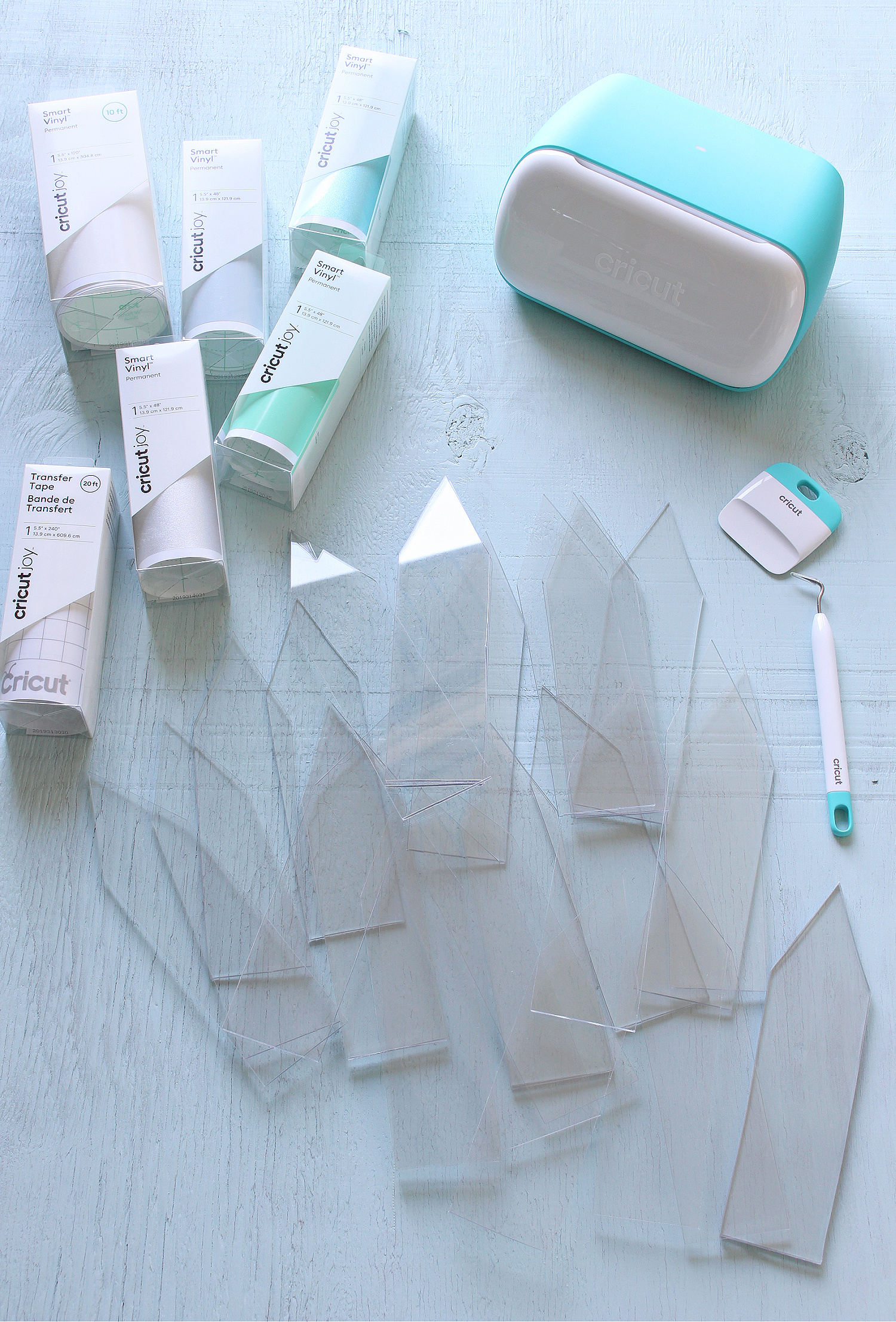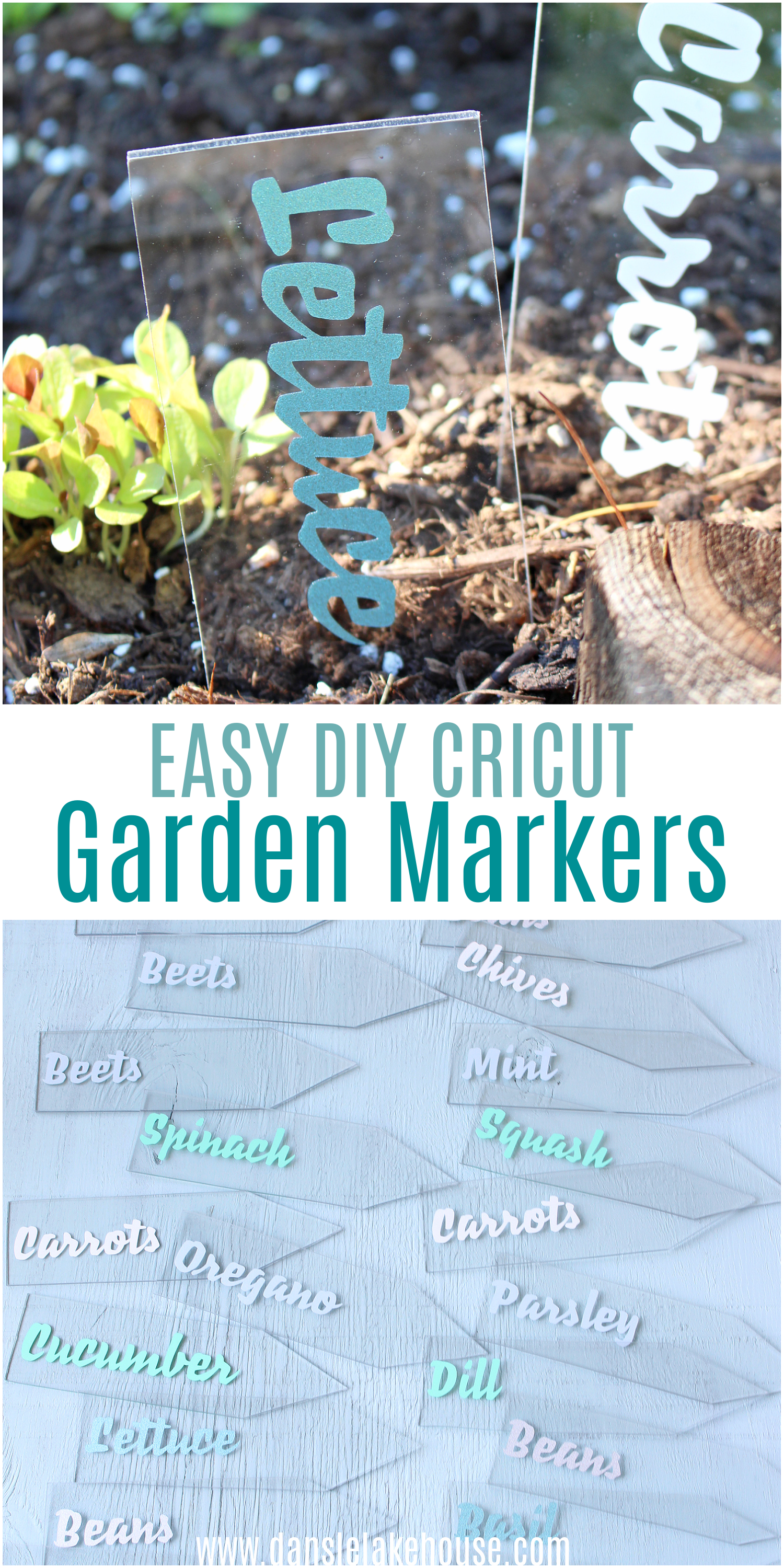 How to Make the Lexan or Acrylic Markers:
I had leftover Lexan, a trademarked term for polycarbonate sheeting. I bought it locally, from a place that sells custom glass and mirrors, for the lids to my DIY cold frame garden beds and also as permanent shelter for my chooks in the chicken run. It comes in large sheets and I used the scraps for the DIY Cricut Welcome wreath I made last summer and now this project. If you can't find polycarbonate sheeting you can also use acrylic for this project, which is much easier to find for crafting applications, or you can substitute thin wood or plywood for your DIY Cricut garden markers. You can also find garden marker blanks, in a variety of materials, and then use your Cricut to make the labels.
We figured out the size we wanted the garden markers to be (6″ long, plus the point, by 2″ wide) and then drew the shape and size on to the Lexan (which comes with a protective cover you can draw on it and then peel off). Once we had the first garden marker drawn out, we cut it out using a jigsaw and then used it as a template to trace out the others.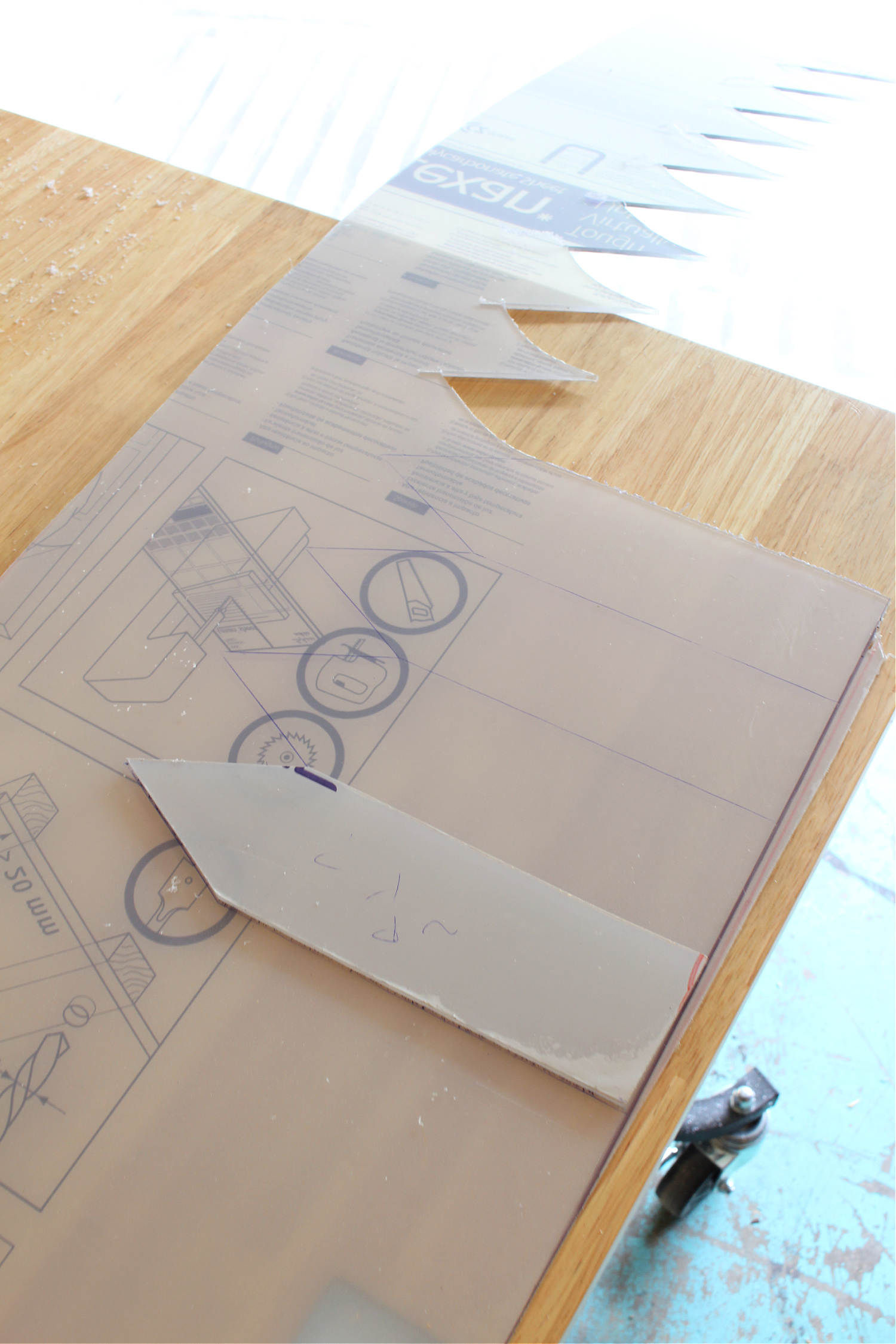 In total, Hubby and I cut out 30 garden markers.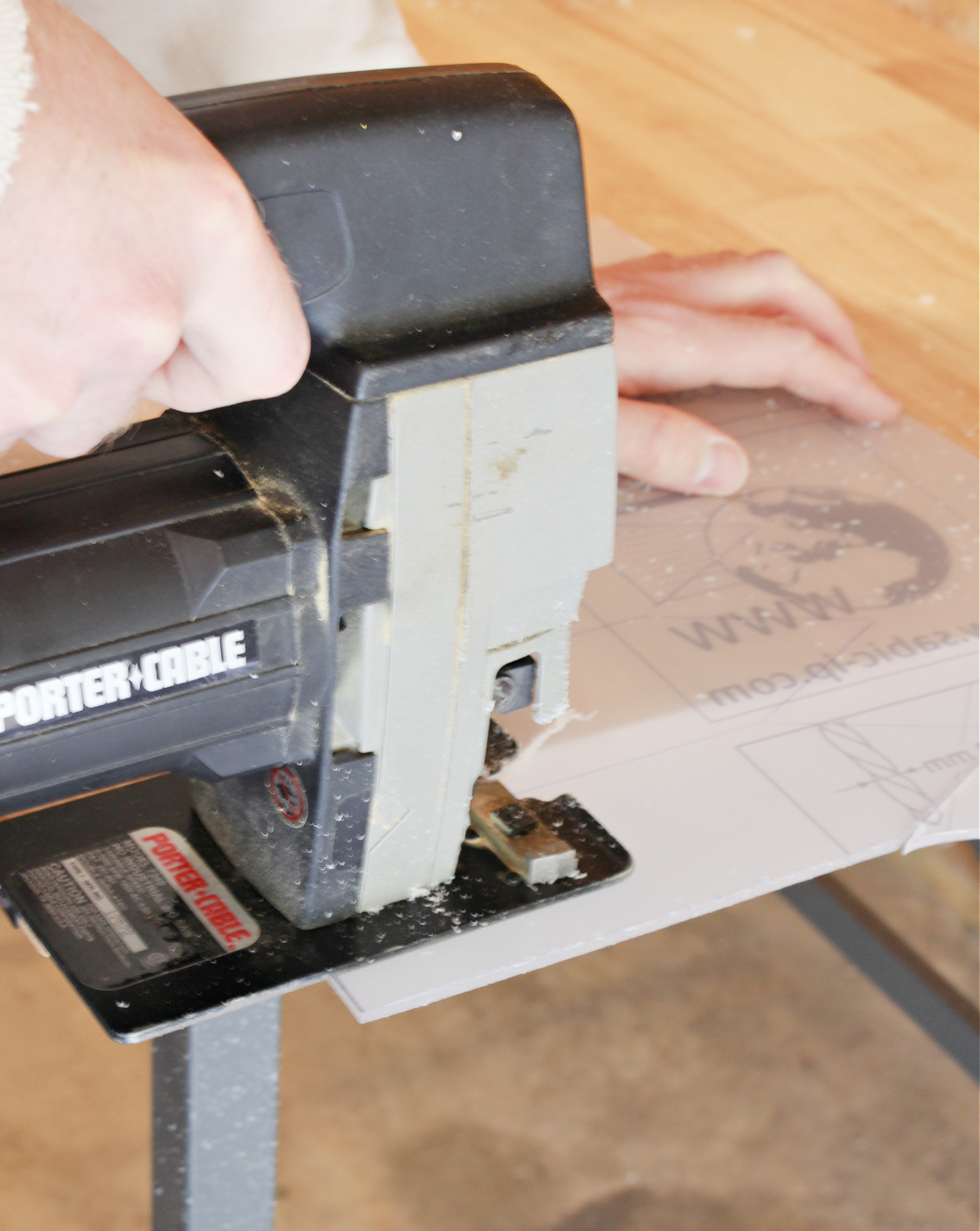 Once the garden markers were cut out, I peeled off the protective film and then very gently and lightly sanded the edges with a fine grit sandpaper. The surface can mar, but the edges need to be sanded because after cutting they can be a bit rough or sharp. I found it easiest to lay the sandpaper on a surface and rub the Lexan marker along it. A quick pass along the sandpaper, and the edges were perfectly smooth.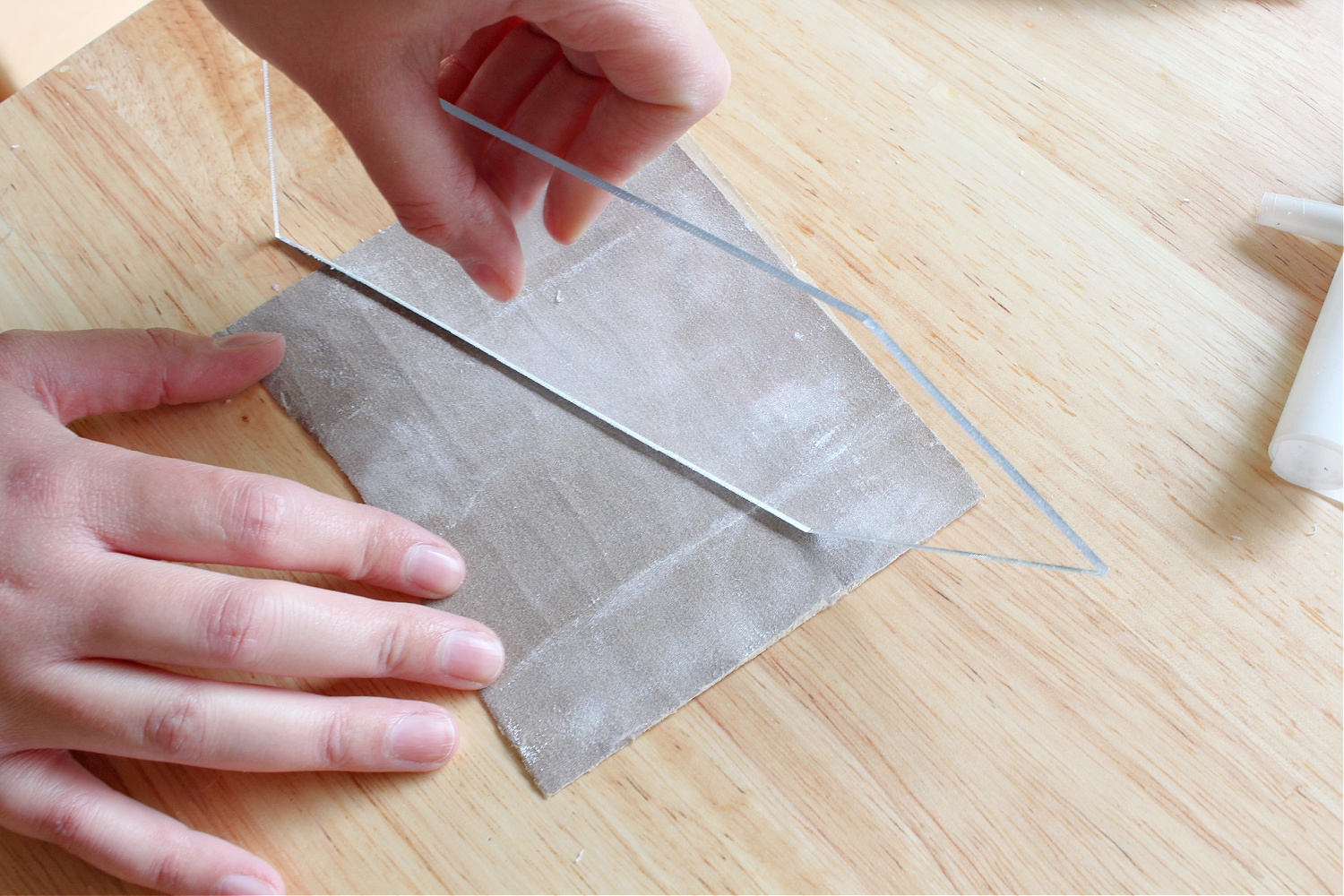 Then I rinsed off the markers and dried them right away to avoid water spots. It took a few hours to cut out and sand all 30 garden markers, but they will last forever and I can enjoy them year after year.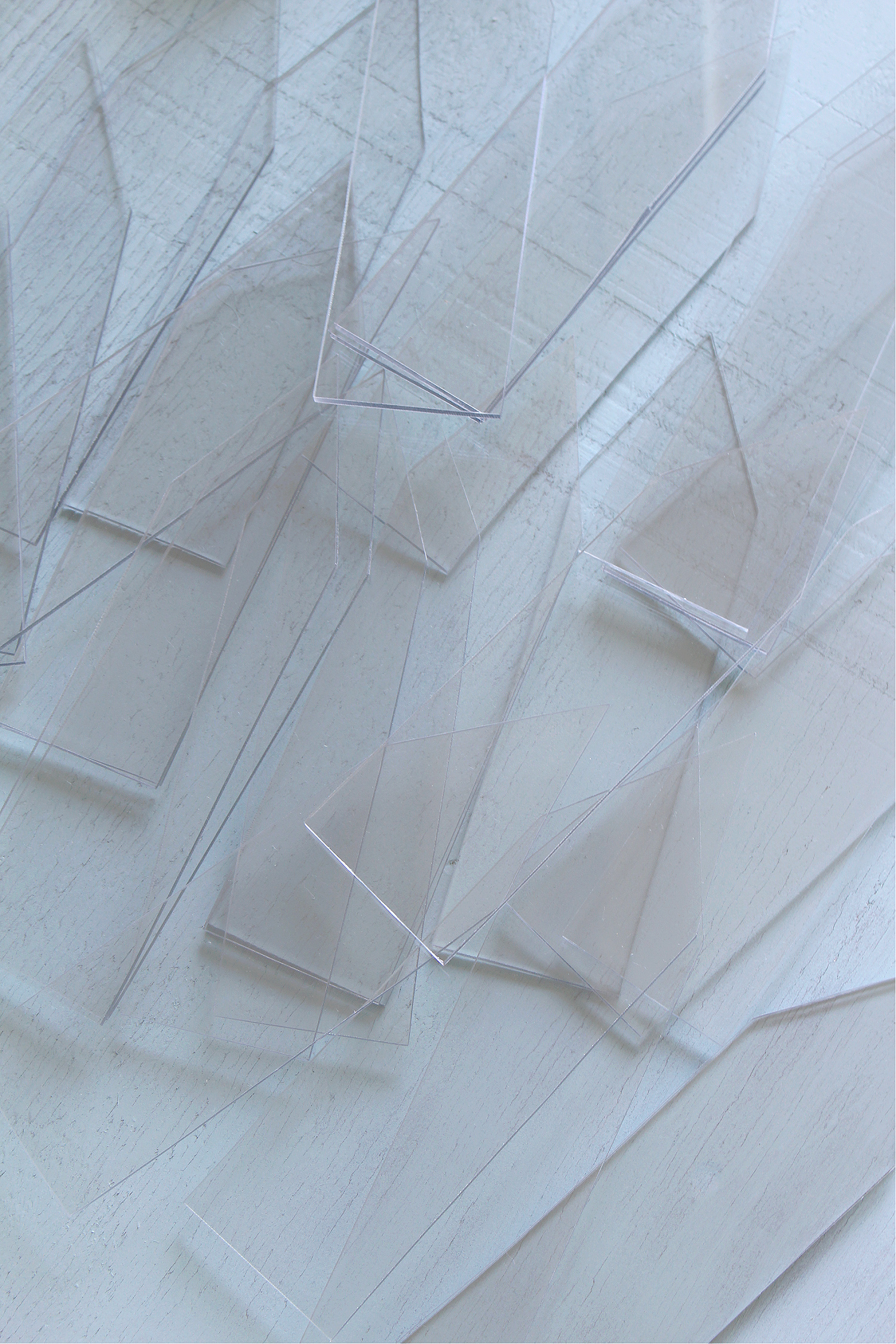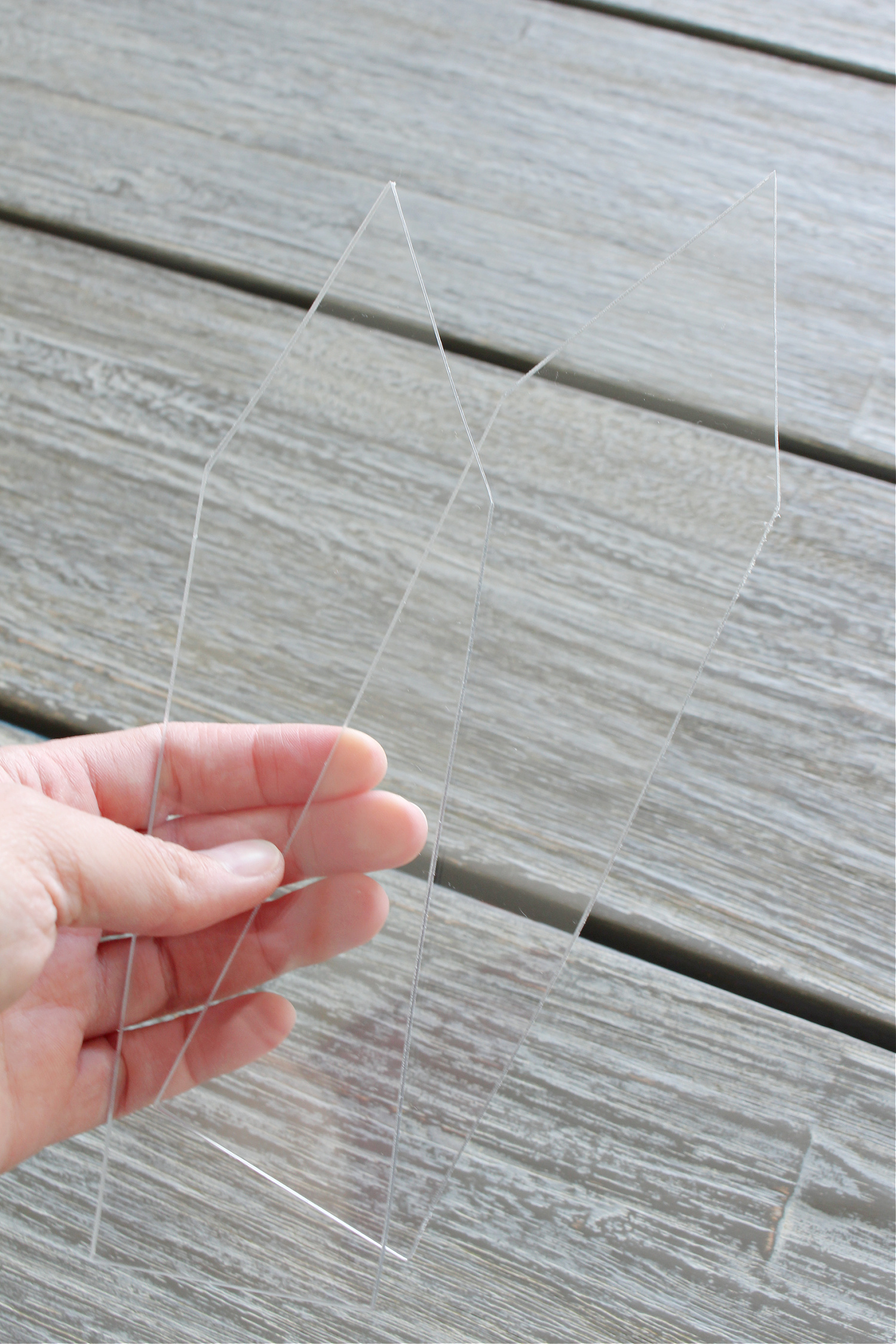 How to Make the Cricut Labels:
With the Lexan garden markers cut out, I pulled out my Cricut Joy™ and made the labels. The hardest part was choosing the colors! White stands out really well, but I also wanted to try some fun colors. If you're buying vinyl to make your DIY Cricut garden markers, you can easily cut all of the labels from one sheet if you'd prefer to do the same color for all.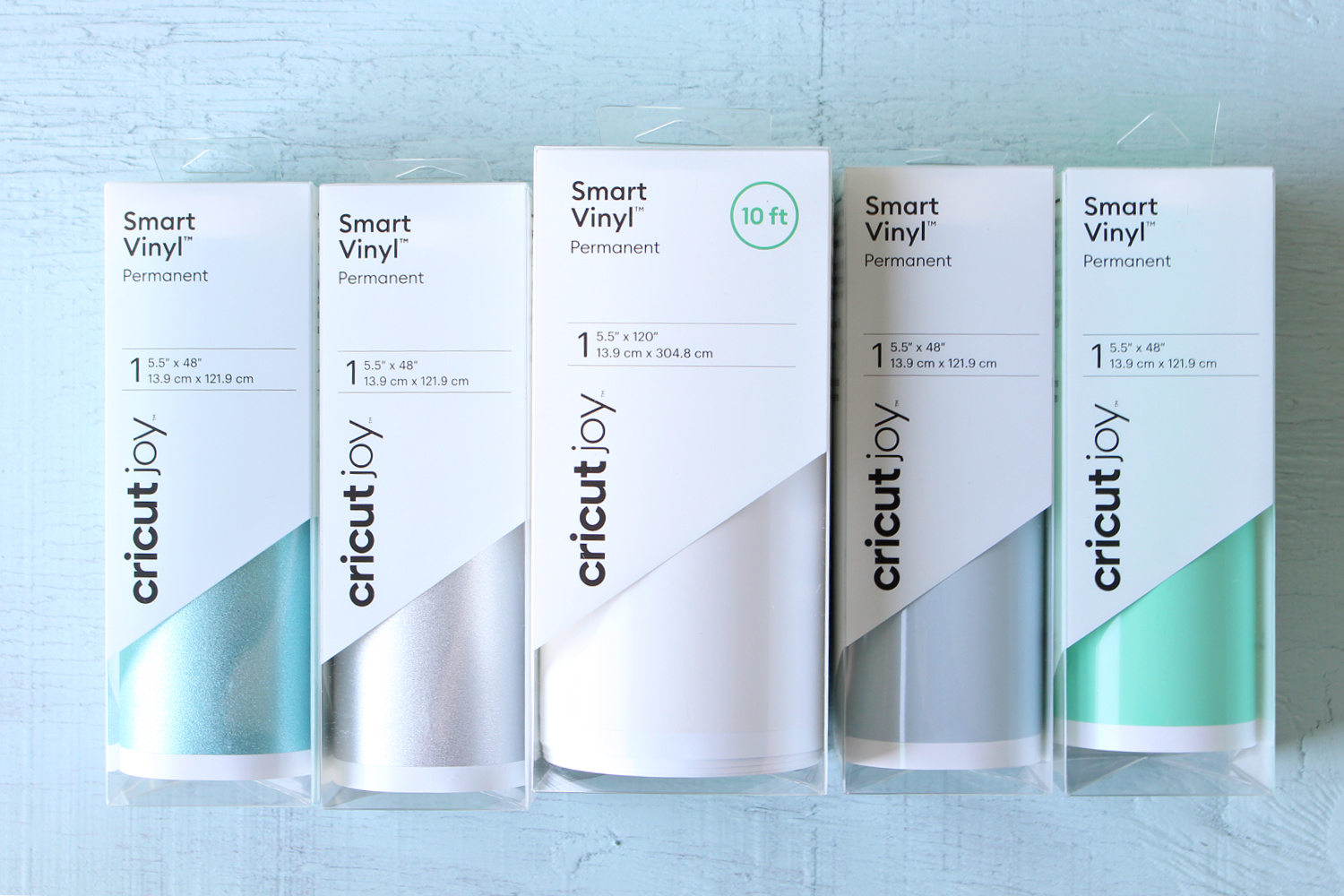 I chose Powder Blue (glossy), Light Blue (shimmer), White (glossy), Mint (glossy), Silver (shimmer) and cut out six labels in each color. I selected a softly scripted font that is thick and still easy to read. I started with the longest word and determined the maximum length that would fit on my marker. Once I made the longest word to fit, I knew what font size to use and kept the size the same for all of the markers. Using Cricut Design Space is a breeze: I just add my text in the chosen font, re-size as needed, and repeated for each set of labels in each color way. Then I clicked "make it" and Cricut Design Space positions it for me. Then I just followed the prompts – using Cricut Design Space is so straightforward.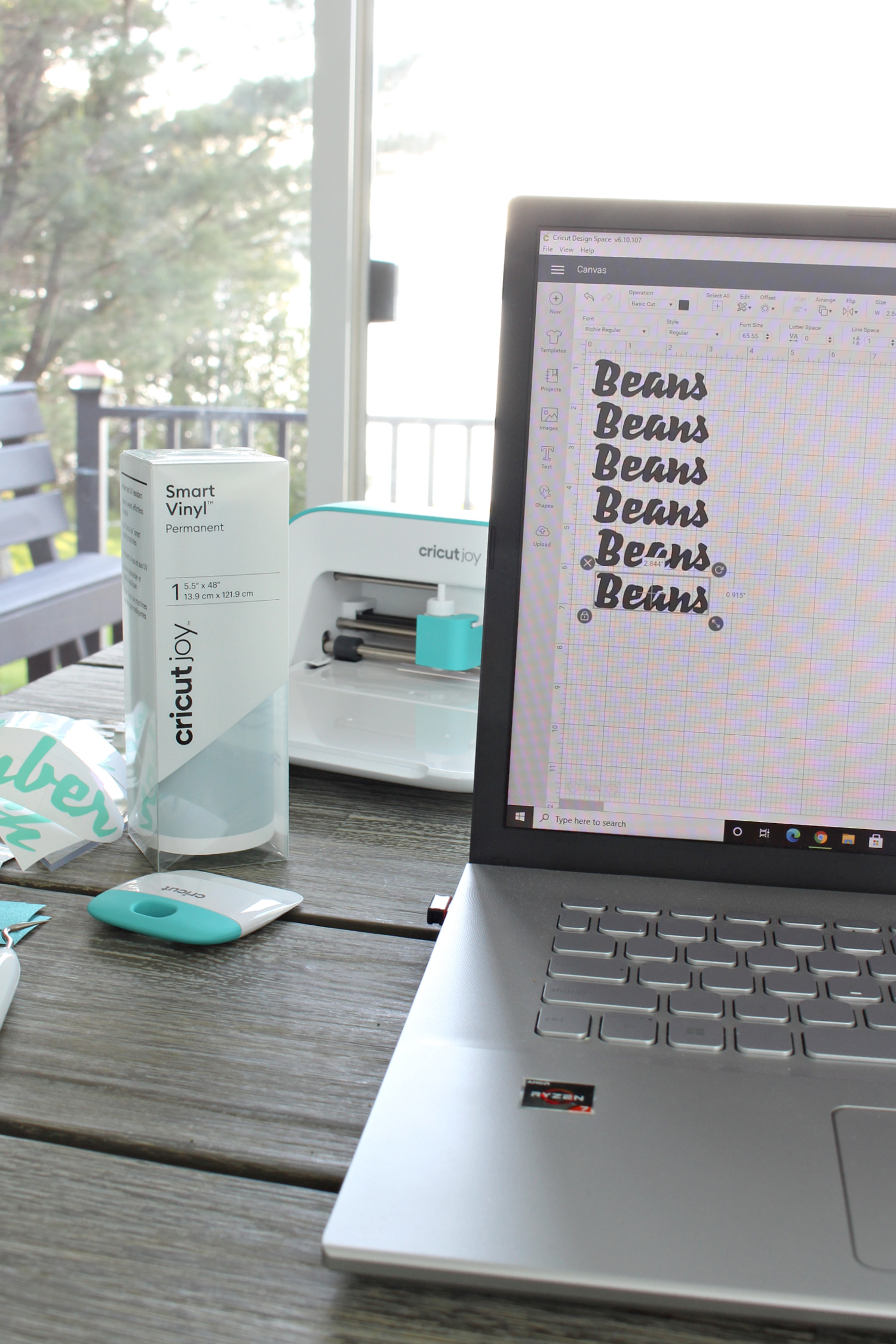 There's no mat required for the Cricut Joy™ Smart Vinyl™ so I just fed it into the Cricut Joy and it started cutting out my designs. I love my Cricut Joy because it's so easy to use – I just pull it out of the box and it connects via BlueTooth to my laptop and I can start creating in seconds.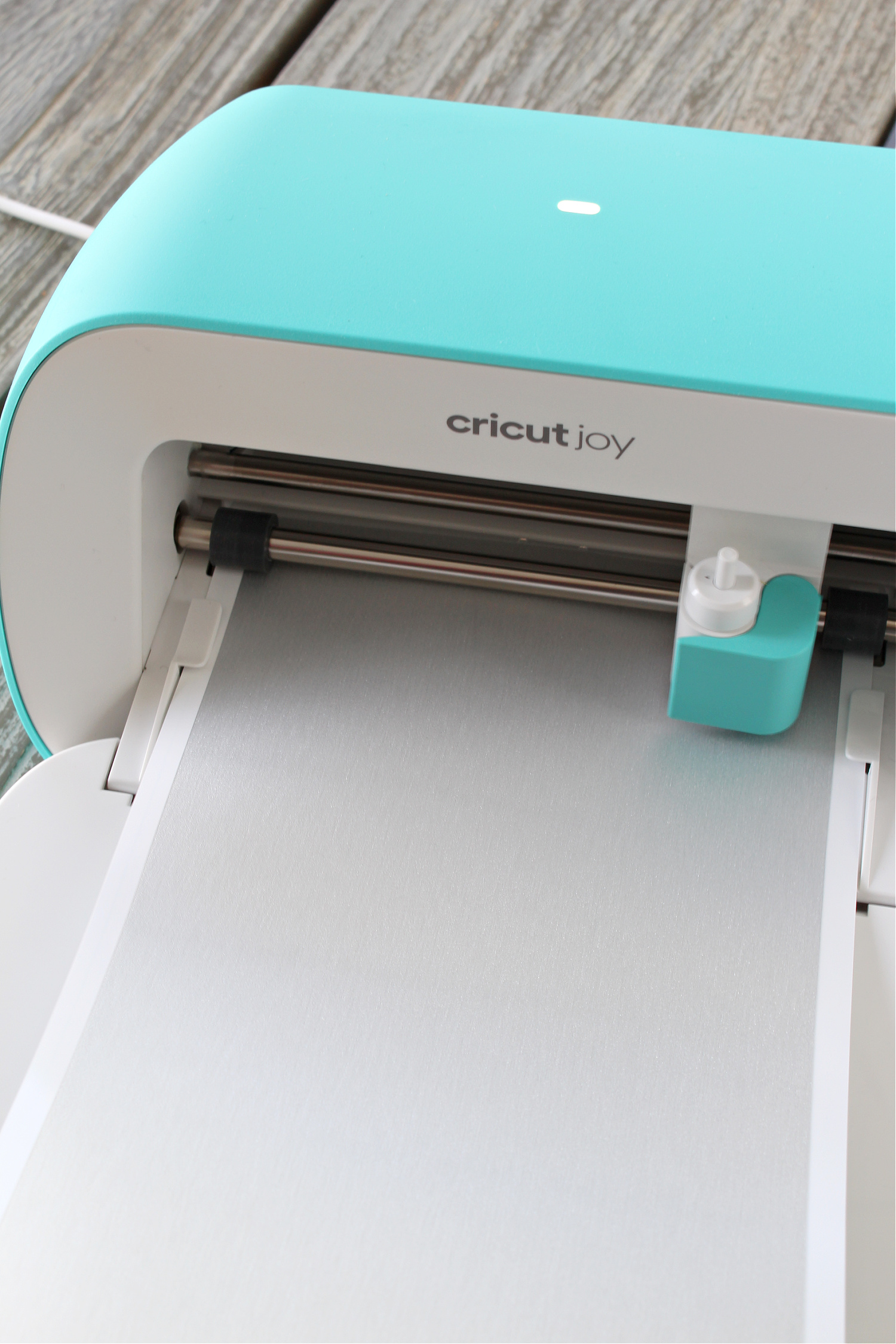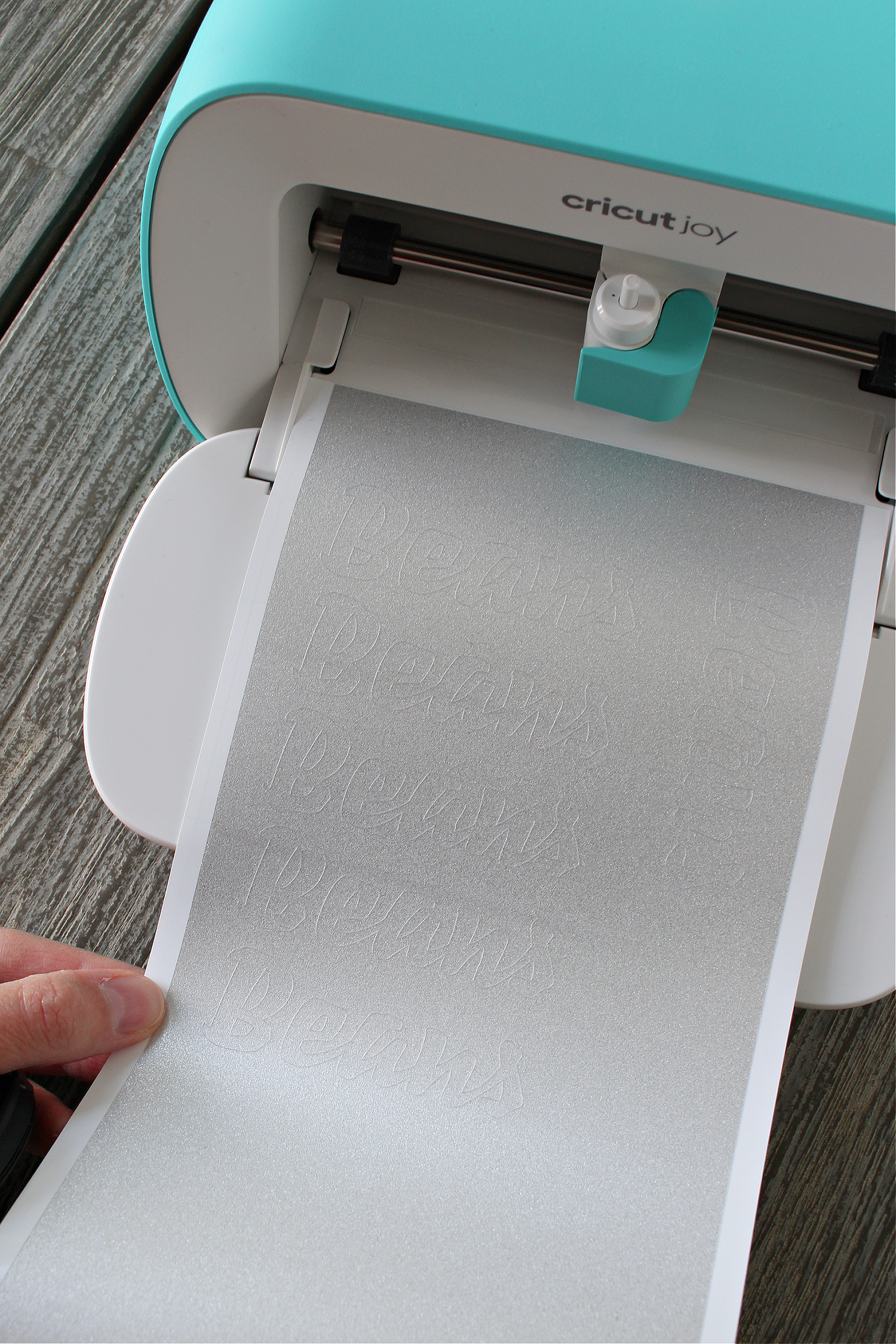 Once cut, I trimmed around each word with scissors just to make it easier to handle. Then I peeled off the extra vinyl from around the lettering and used the Cricut weeding tool to quickly pick any smaller pieces inside letters.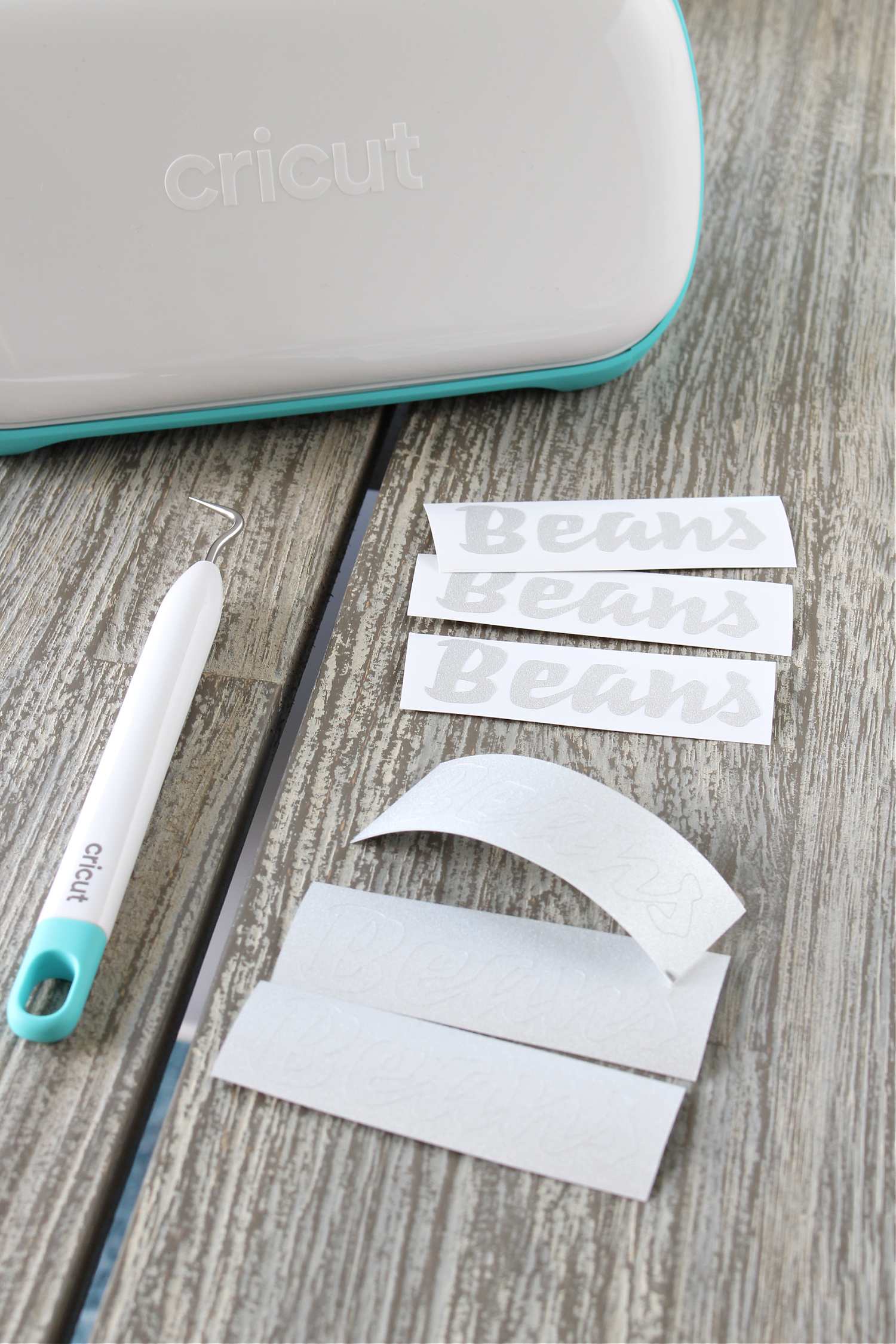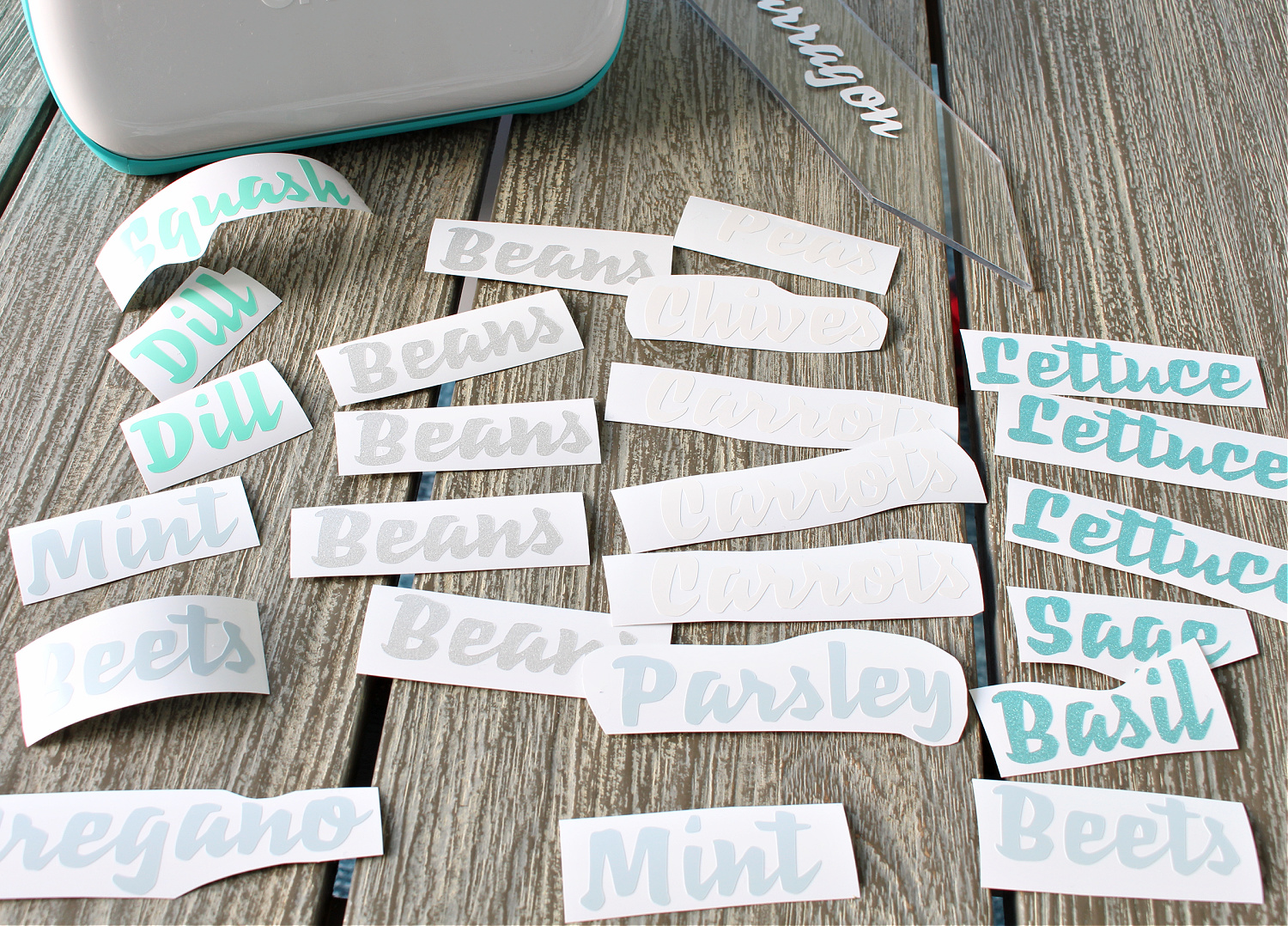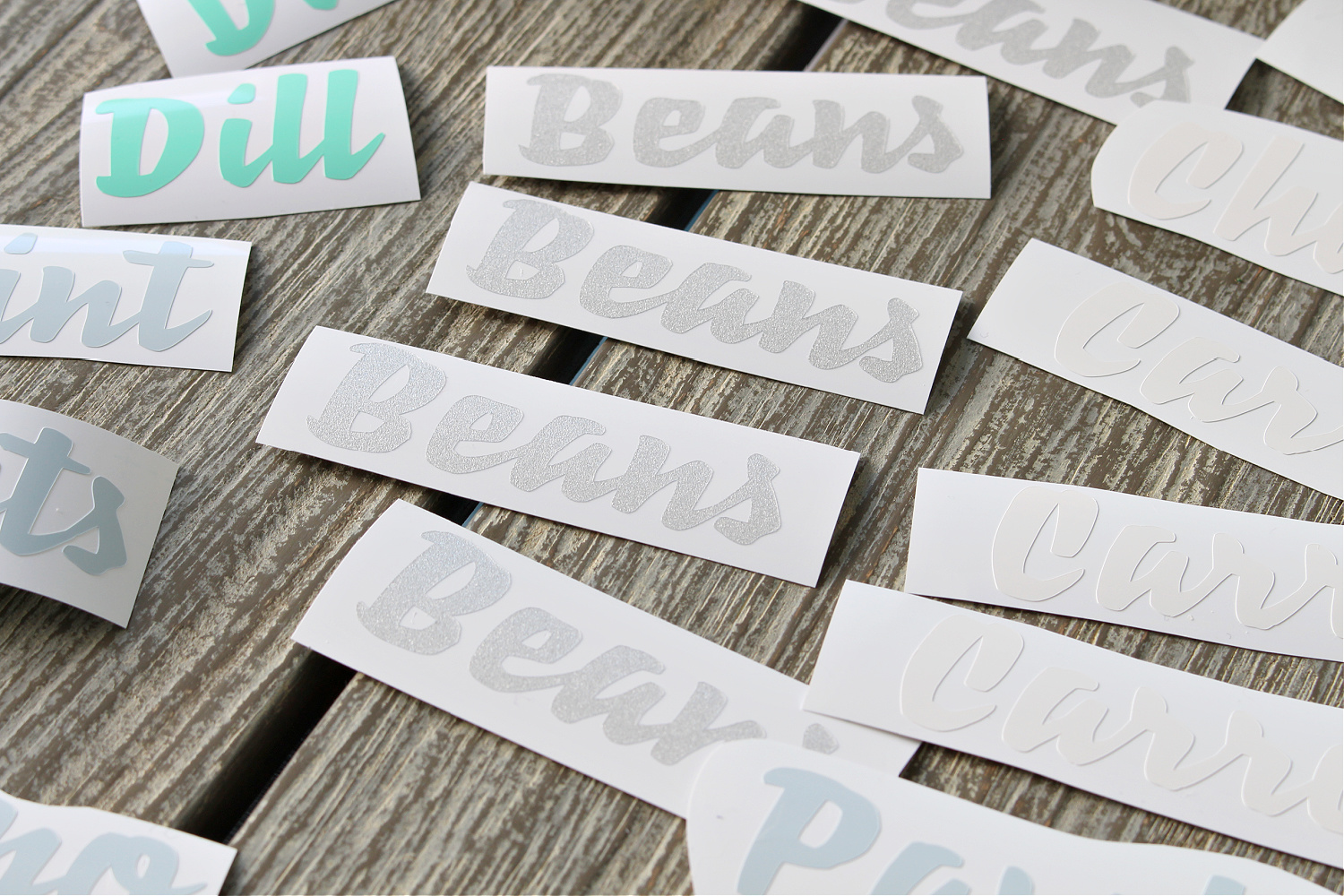 I cut a piece of transfer tape to size and applied it, using my scraping tool to press it on to the lettering, so it was grabbed by the transfer tape.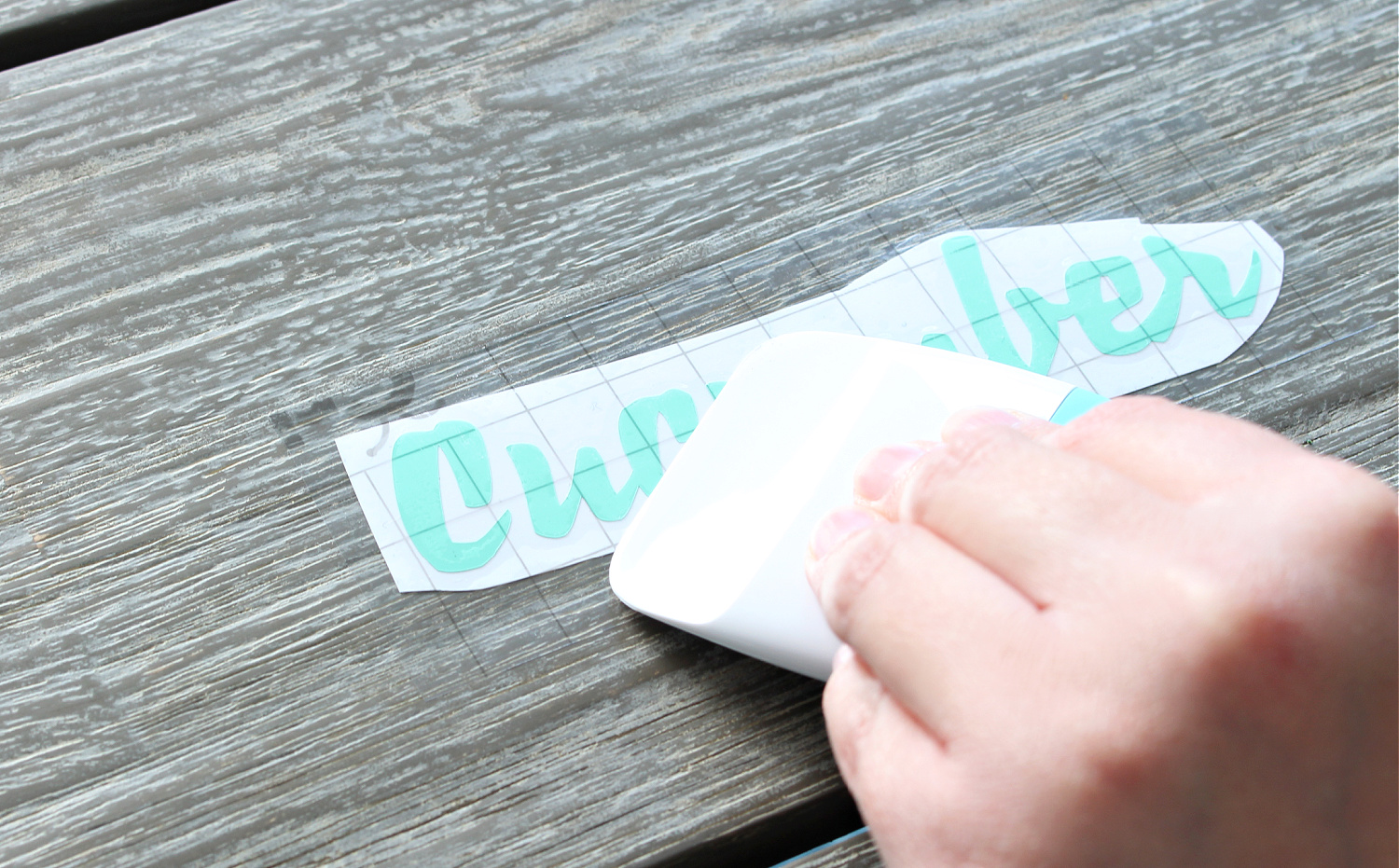 Then I used the transfer tape to move the lettering to my garden markers and positioned it where I wanted the labels. Then I used the scraping tool again and smoothed down on the lettering to make sure it adhered to the Lexan. I removed the transfer tape and admired my finished garden marker!
I repeated for all thirty and in total it only took a couple of hours to cut and apply all of the labels for my DIY Cricut garden markers. I chose permanent vinyl because I will always grow these basics (carrots, lettuce, beans, etc.,), but I have cut some extra Lexan garden marker blanks and can use removable Cricut Joy™ Smart Vinyl™ to make markers in the future, for produce I think I might only grow once or twice. I used removable vinyl for my outdoor wreath and, after a year of exposure to the elements, it's still holding strong, so I know the removable vinyl will weather a season of gardening just fine, but allow me to change up some of my markers as needed.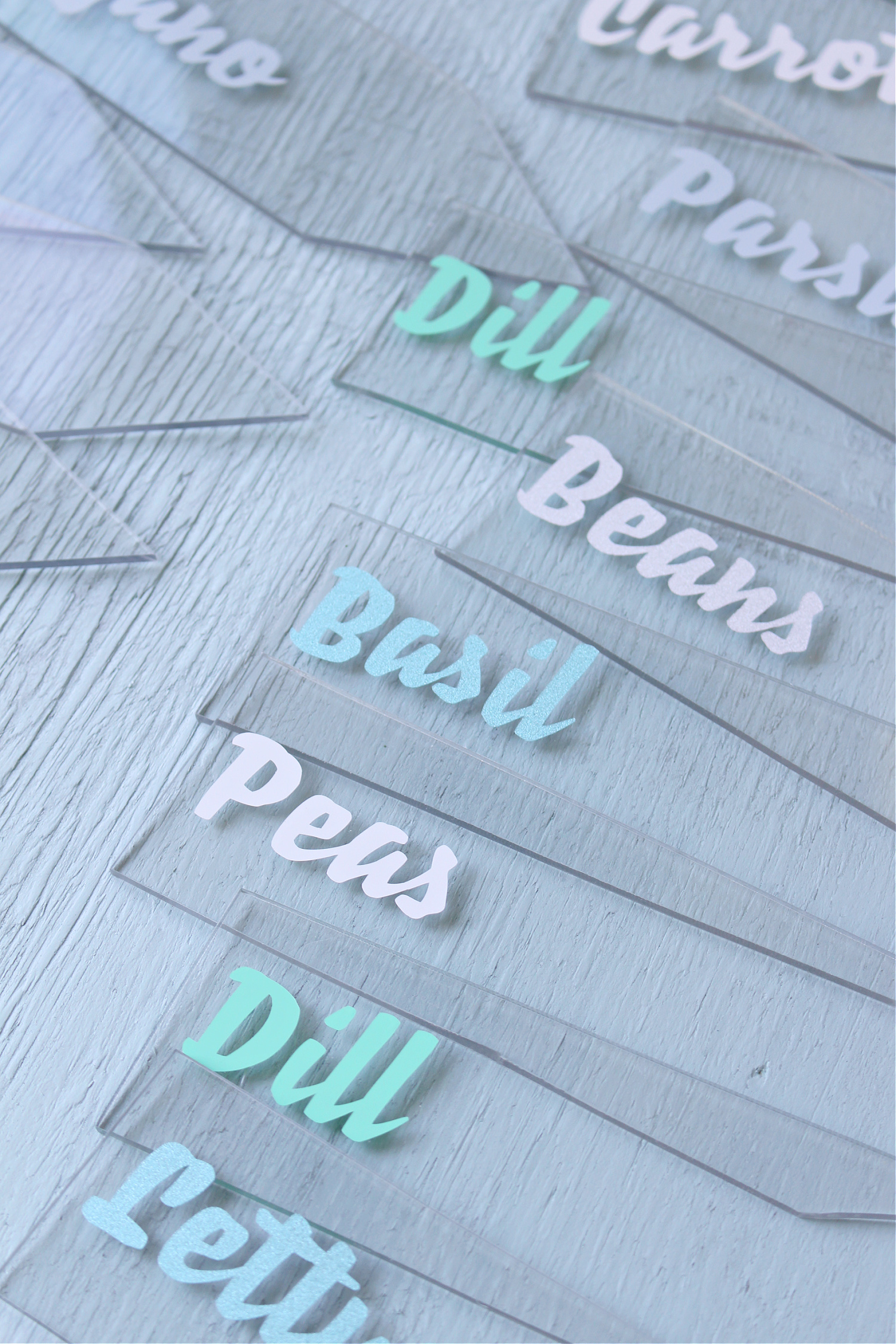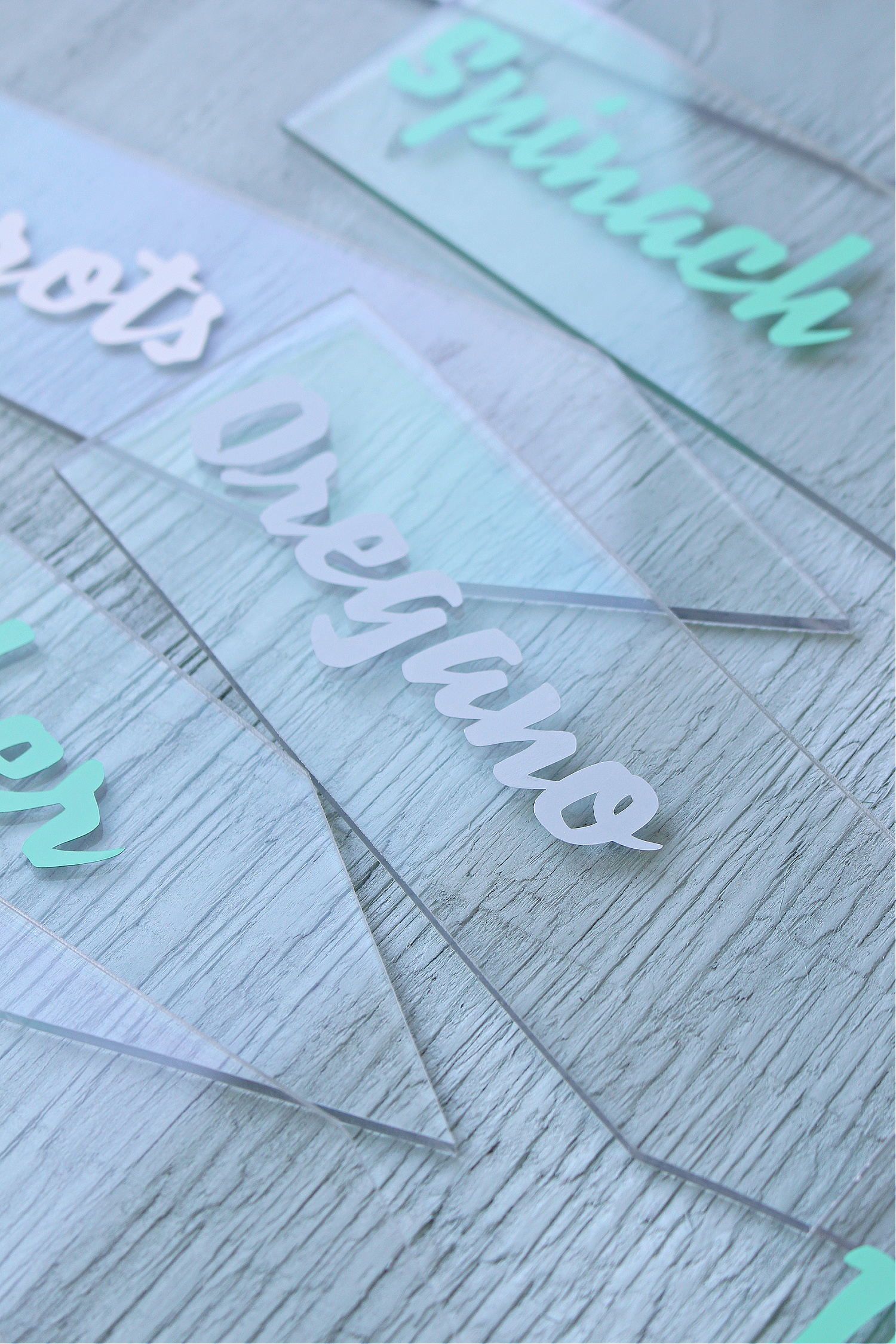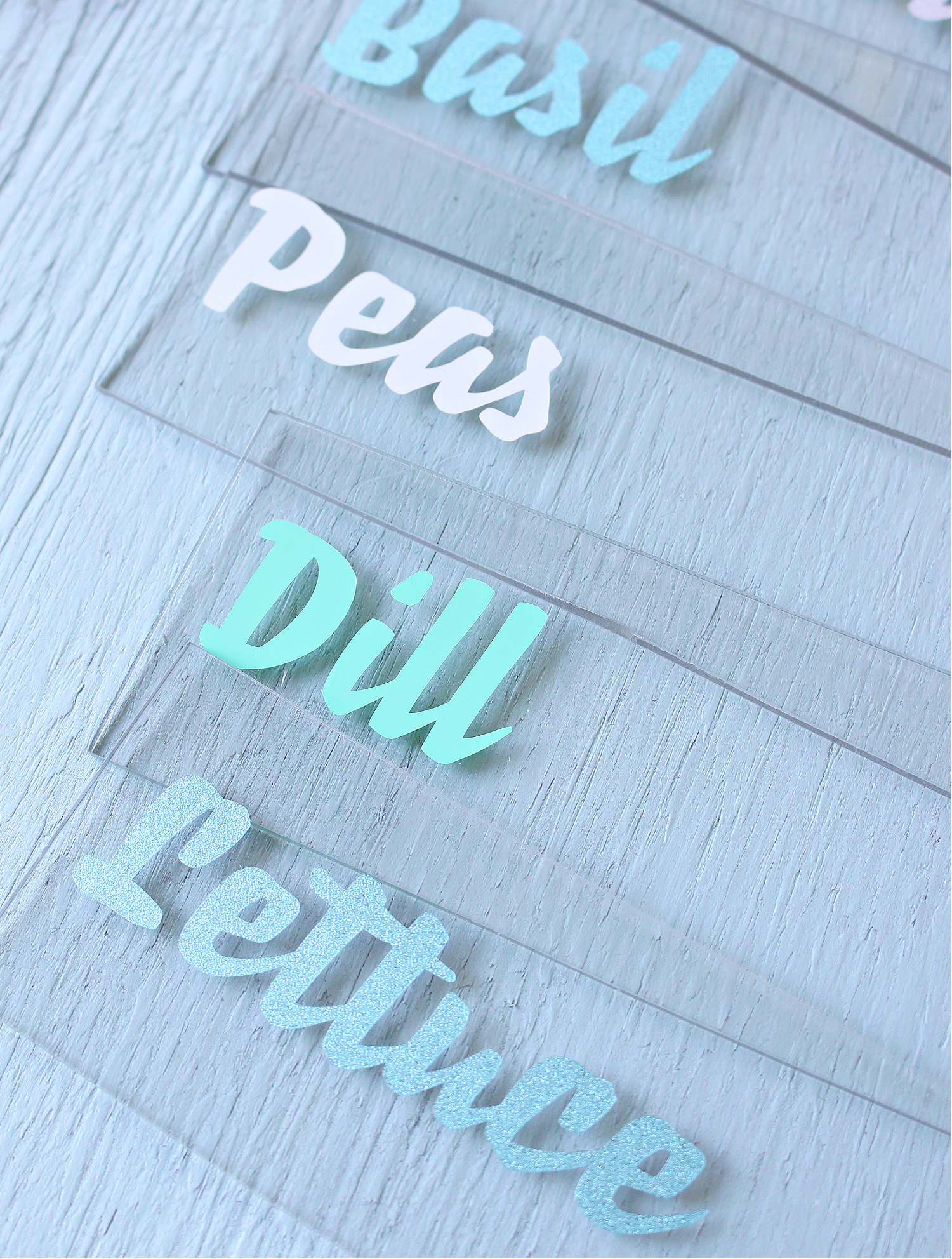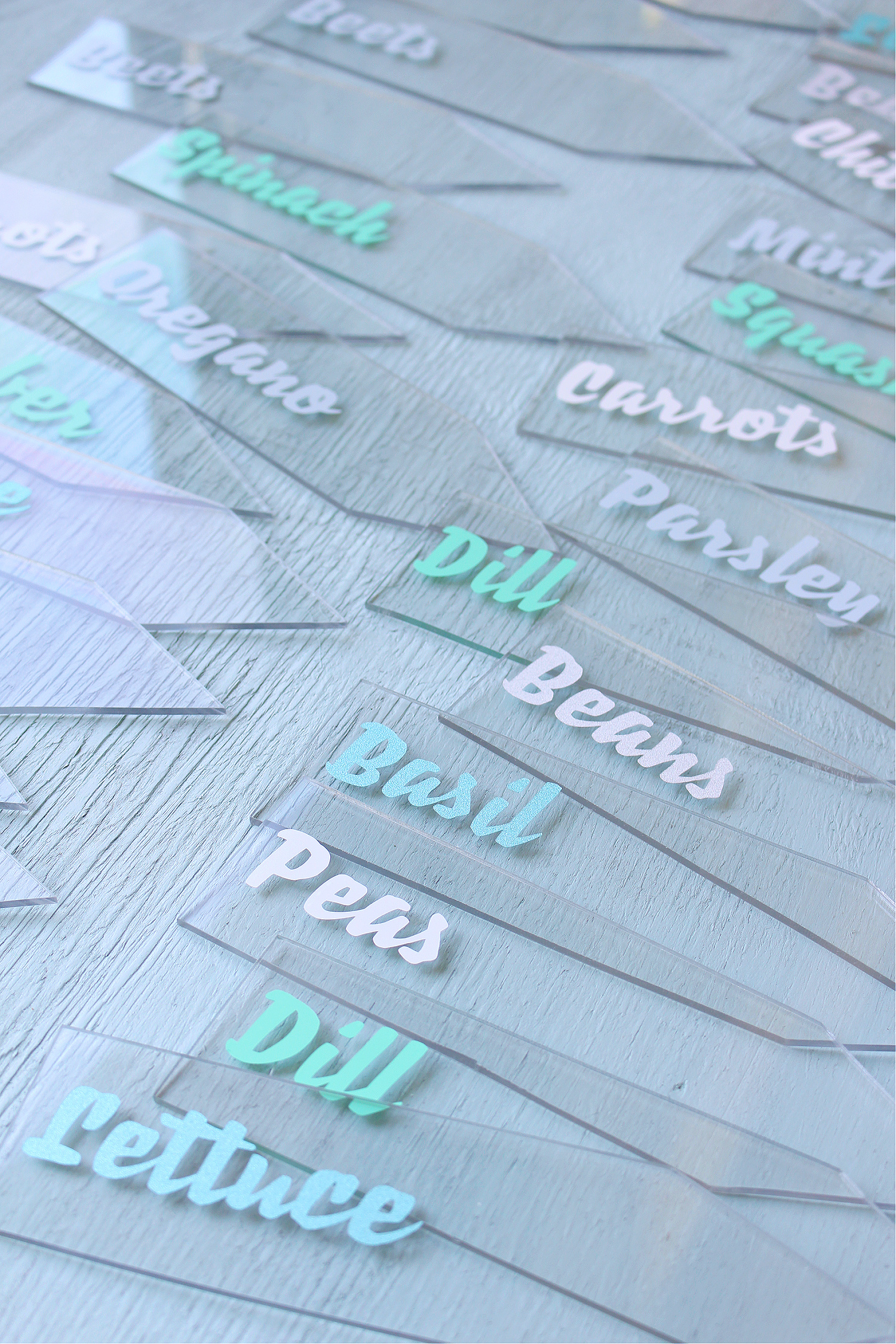 Here are my new DIY Cricut garden markers in my cold frames (my plants are just starting to come up). I love creating with Cricut because not only can I create beautiful crafts, I can also beautify and add function to my outdoor spaces and bigger build projects, like these raised garden beds.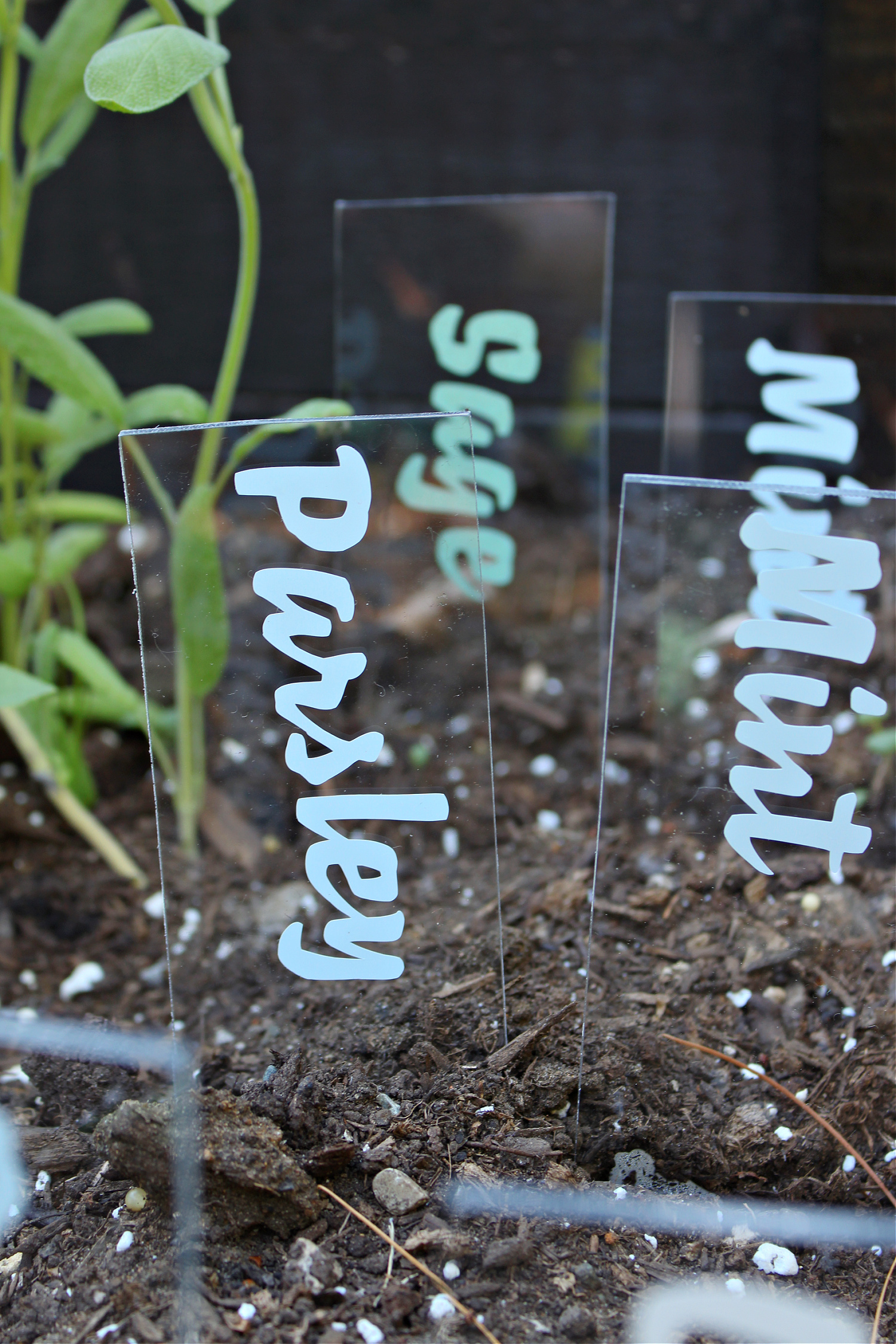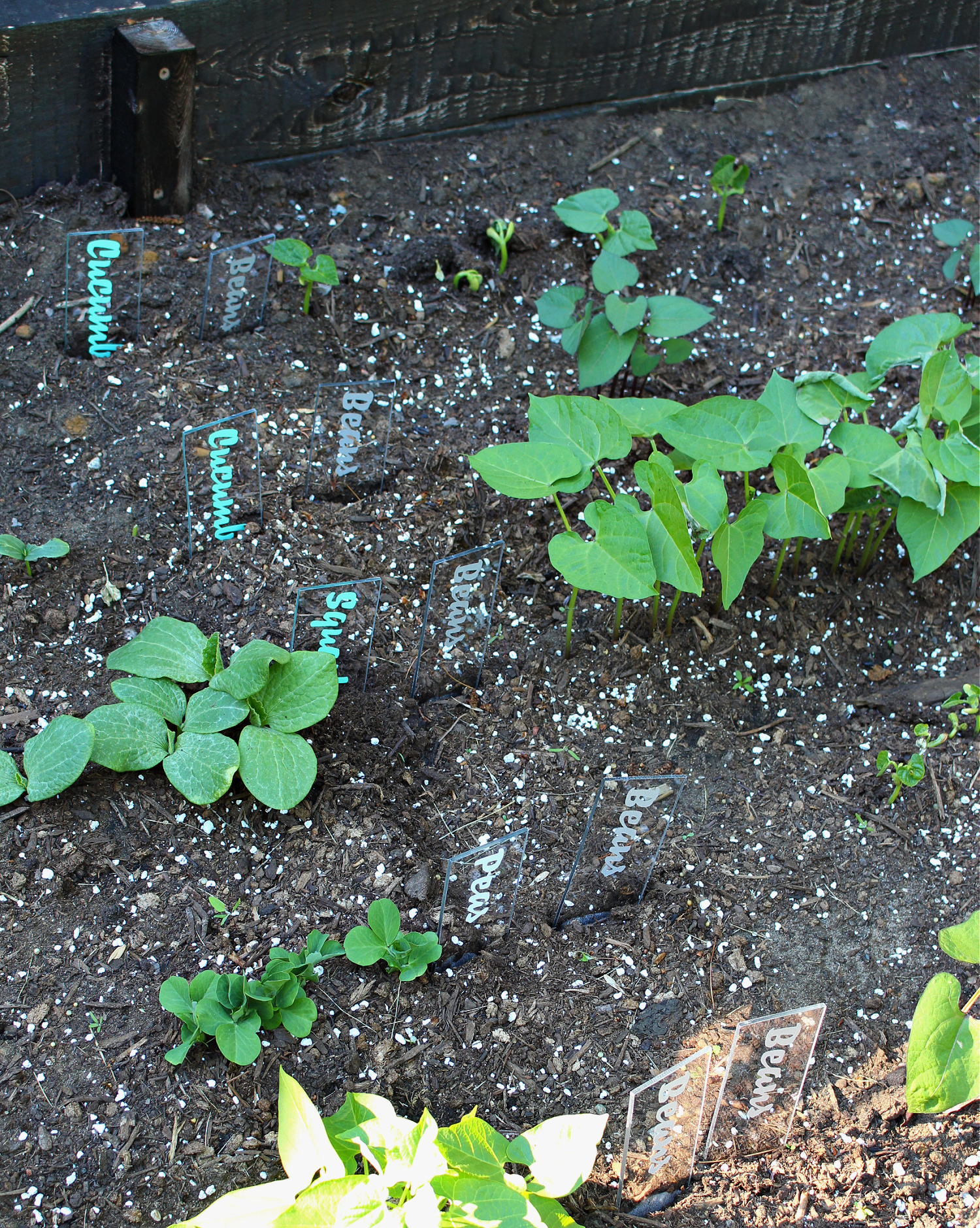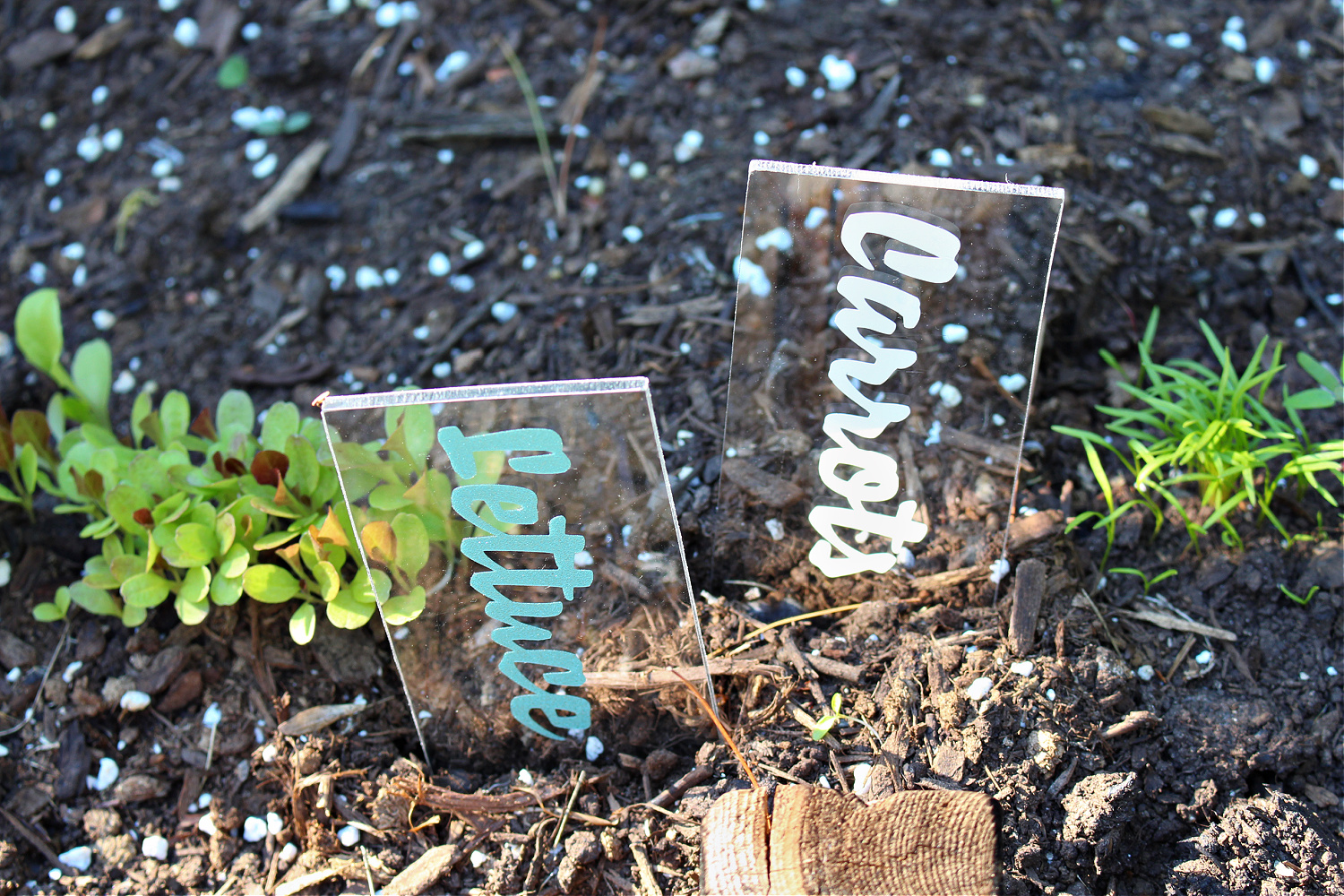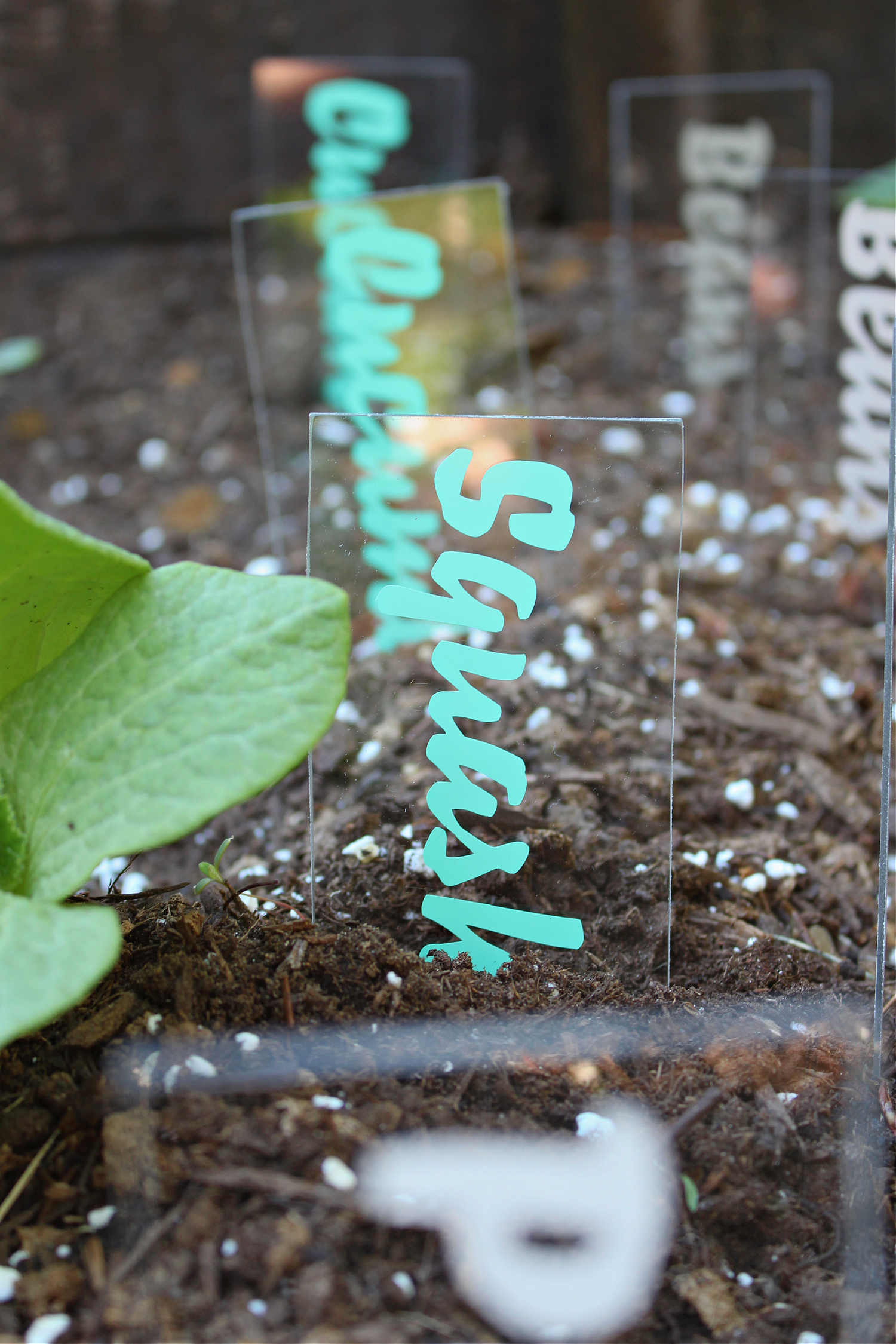 Supplies for DIY Raised Garden Beds:
Deck screws (they're more weather resistant)
Drill and drill bit
Cedar 2×6's (we used rough sawn, you can use whatever wood in whatever size is available)
Miter Saw
Table Saw
Here's How to Make a Simple Raised Garden Beds:
Last year Hubby and I built and charred these raised DIY cold frame garden beds. This year, we built a matching raised garden bed for the raspberry bushes behind and I wanted to share some photos and a brief step-by-step because if you don't have a raised garden, but now you've seen these cute DIY Cricut garden markers, I have a feeling you might be tempted to create a little garden of your own – and now you'll have all of the know how to do it.
For the DIY raised garden bed we just built, we built it two boards high to keep the dogs out of the raspberries, but you can also built it one board high – or three, four boards high. It depends what height you'd like to work at when gardening, and how deep a soil bed you need for what you're growing. For this bed we measured the total length and width we wanted and used full length cedar boards leftover from last year's cold frames. The only boards we cut to length were the last piece to make up the overall length we wanted, and then the pieces for the width. We used pieces of the same cedar screwed to the planks to secure them together. You can, of course, cut your boards to any length and width.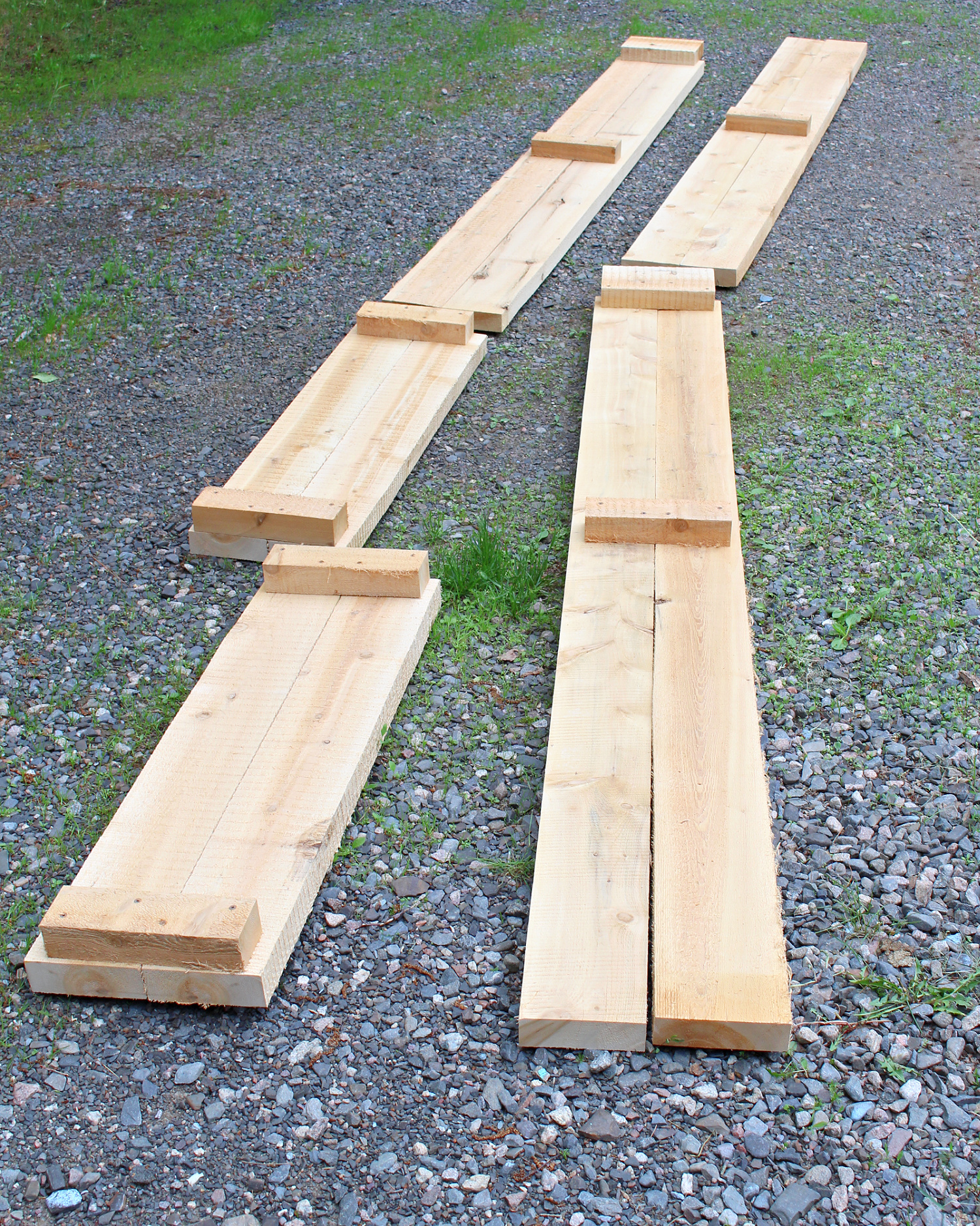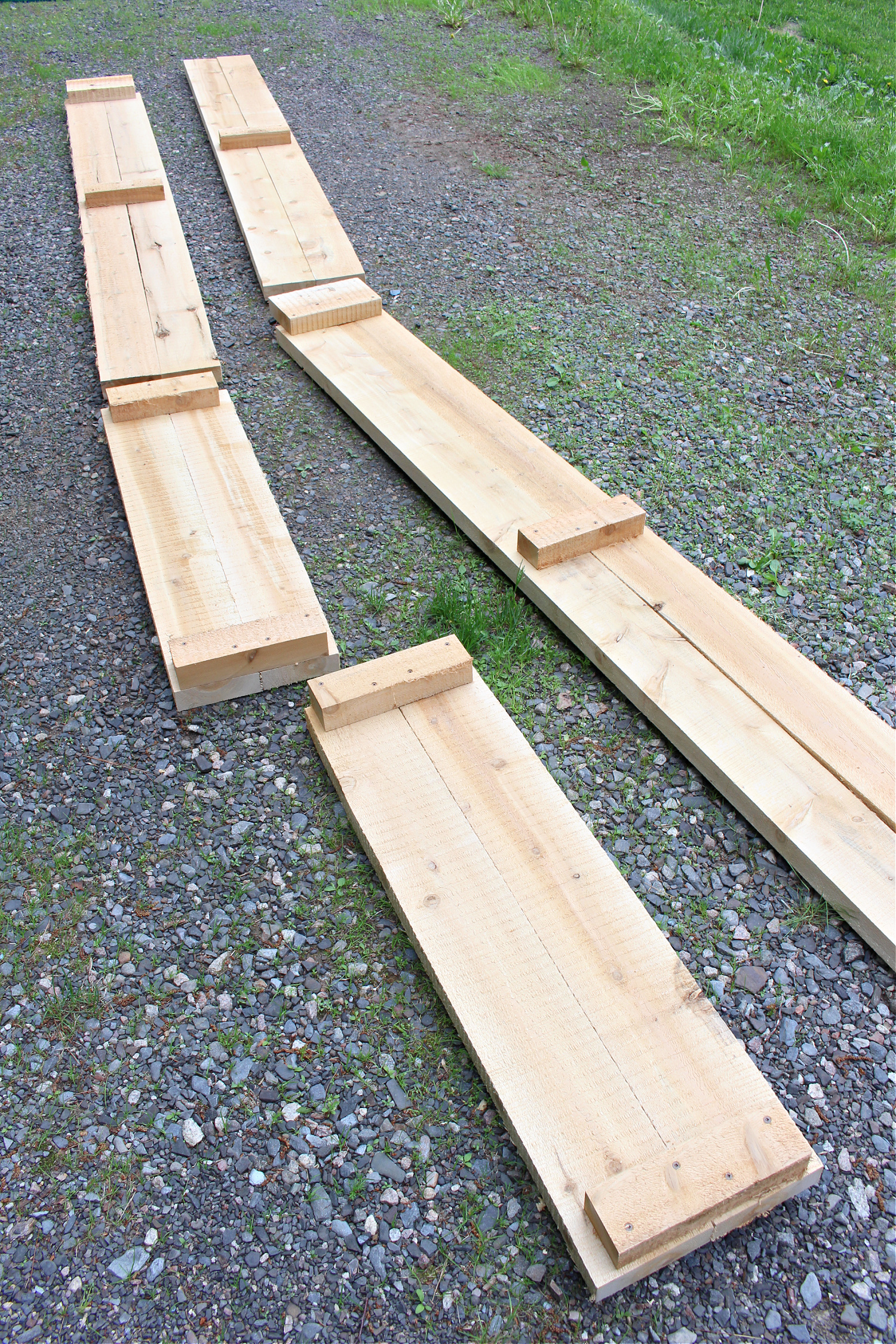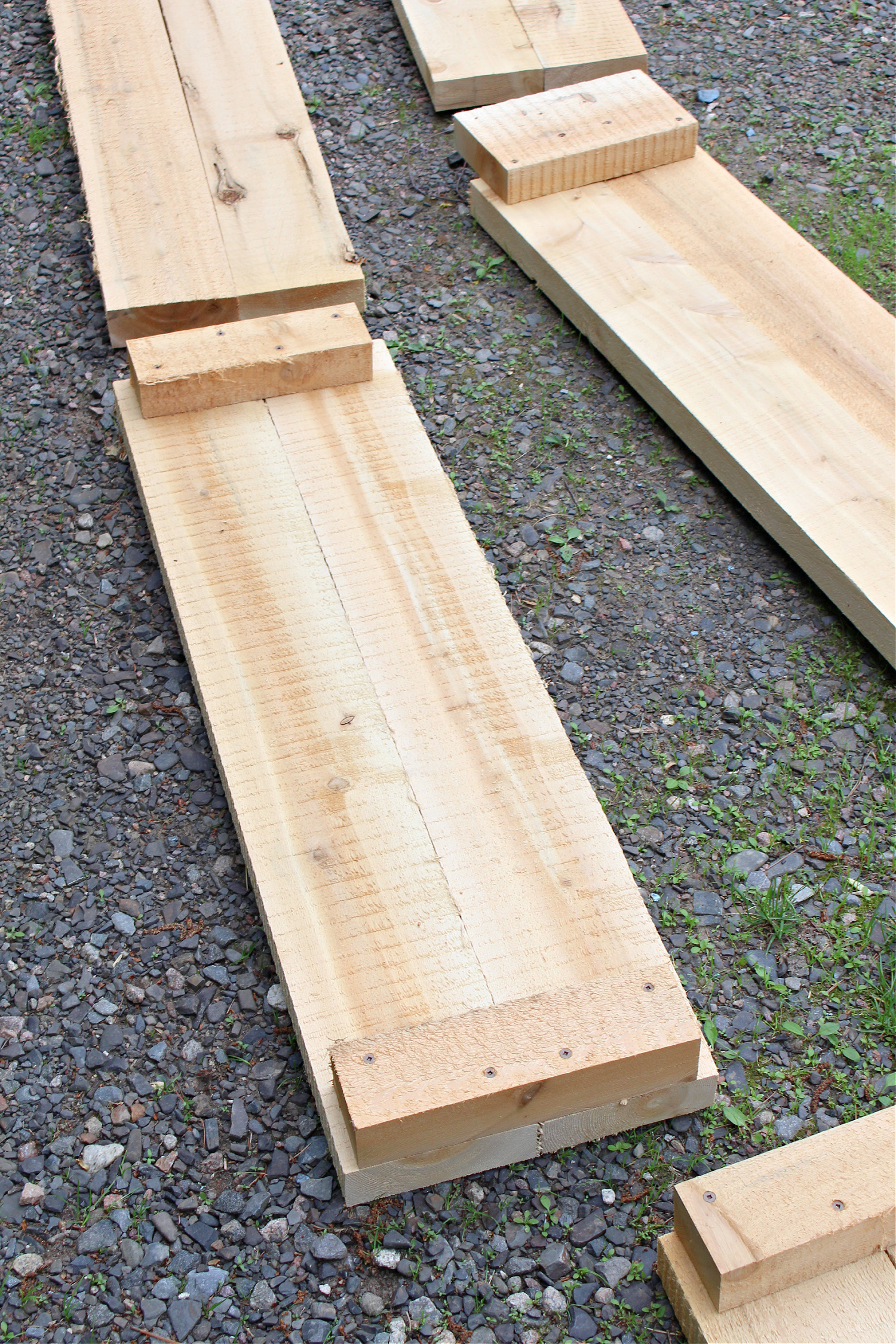 For the corners we cut the cedar wood to approximately 2×2 and then to hold the ends together, we kept the width of the wood and cut the height to just below the top of the beds. So for our garden bed, which is 12″ tall, we cut wood 10″ tall to secure it from the back. We built it in pieces, securing sections together by screwing the boards to the smaller pieces. Then we charred the wood (optional), and moved the sections over to the raspberry bushes where we screwed all of the sections together.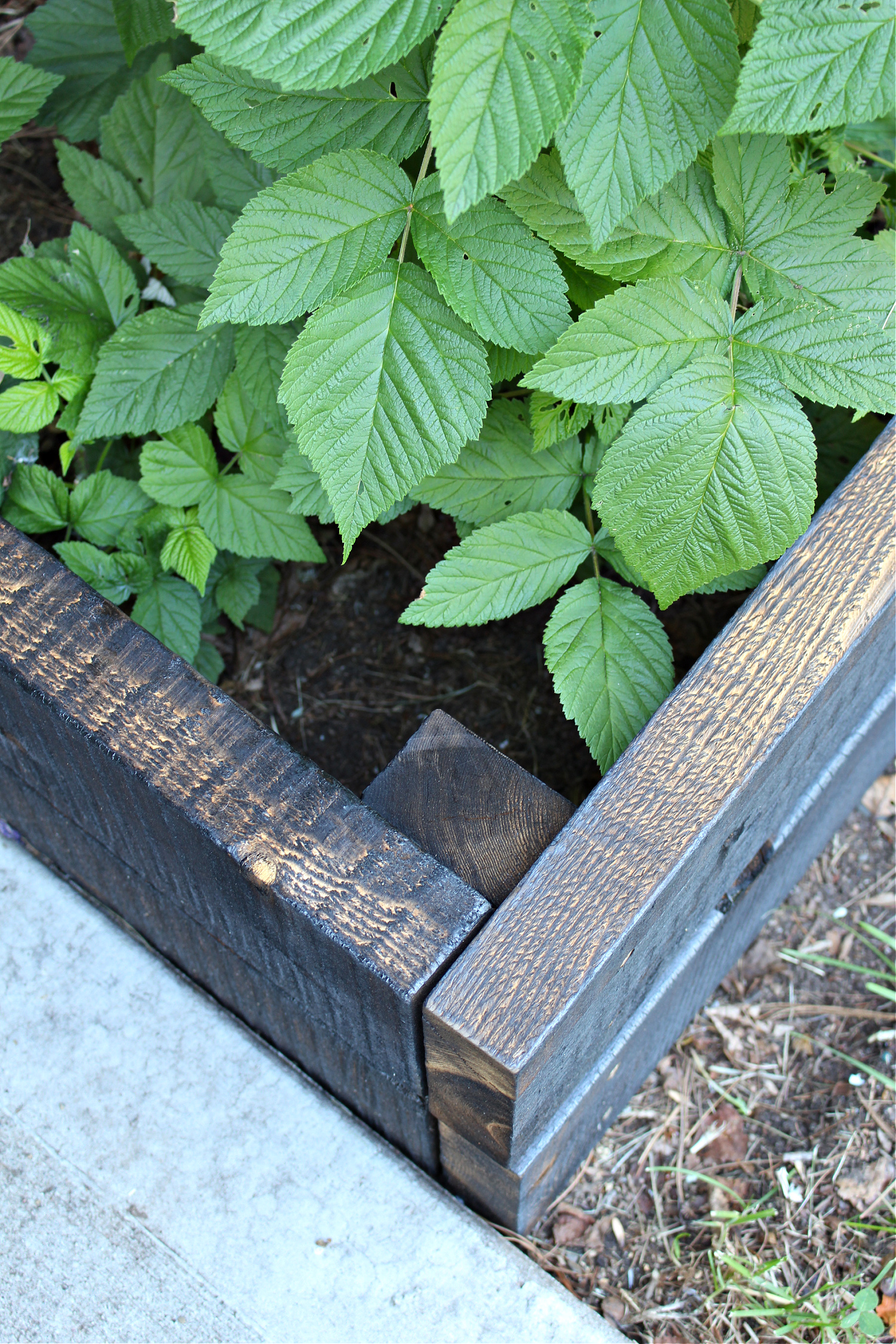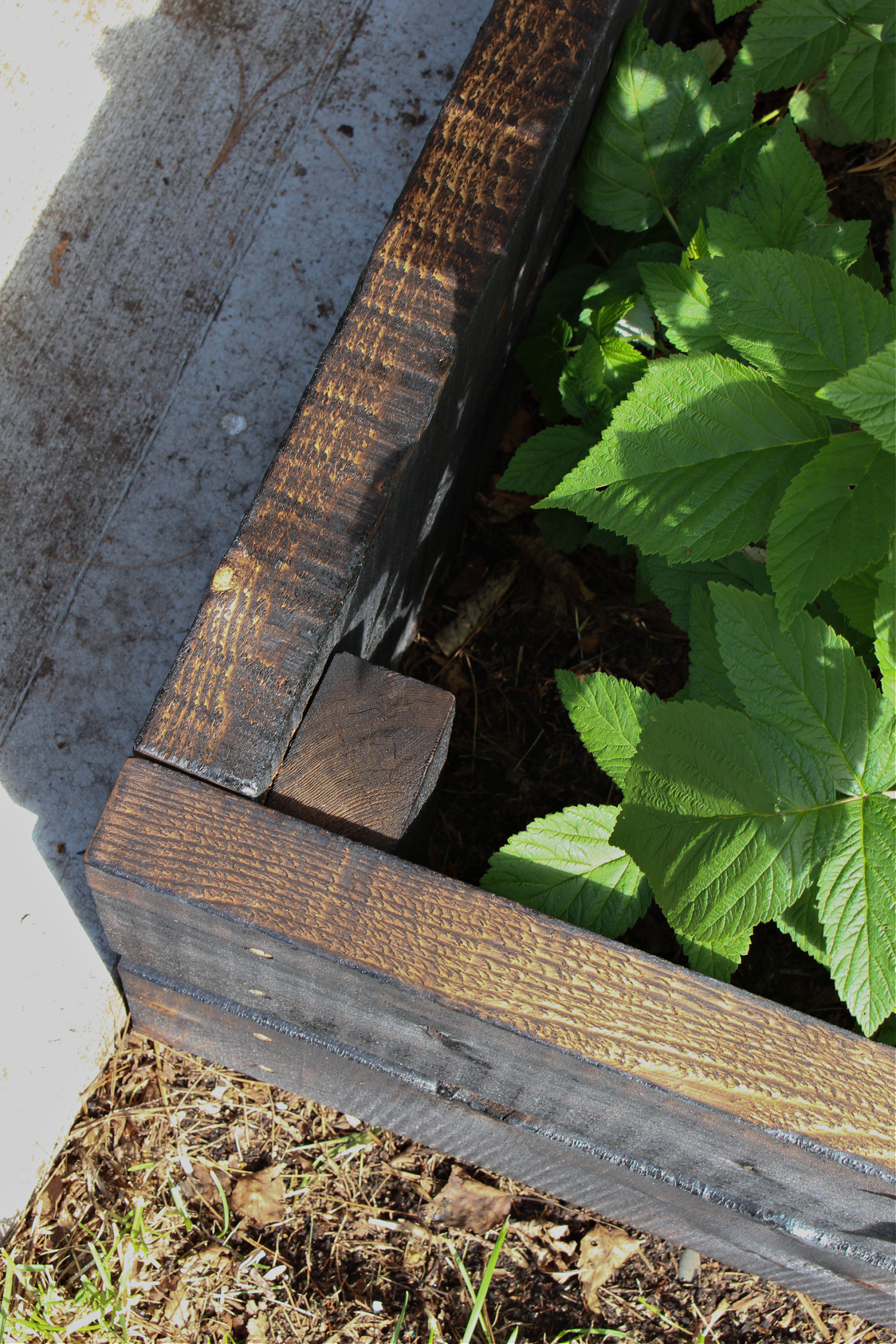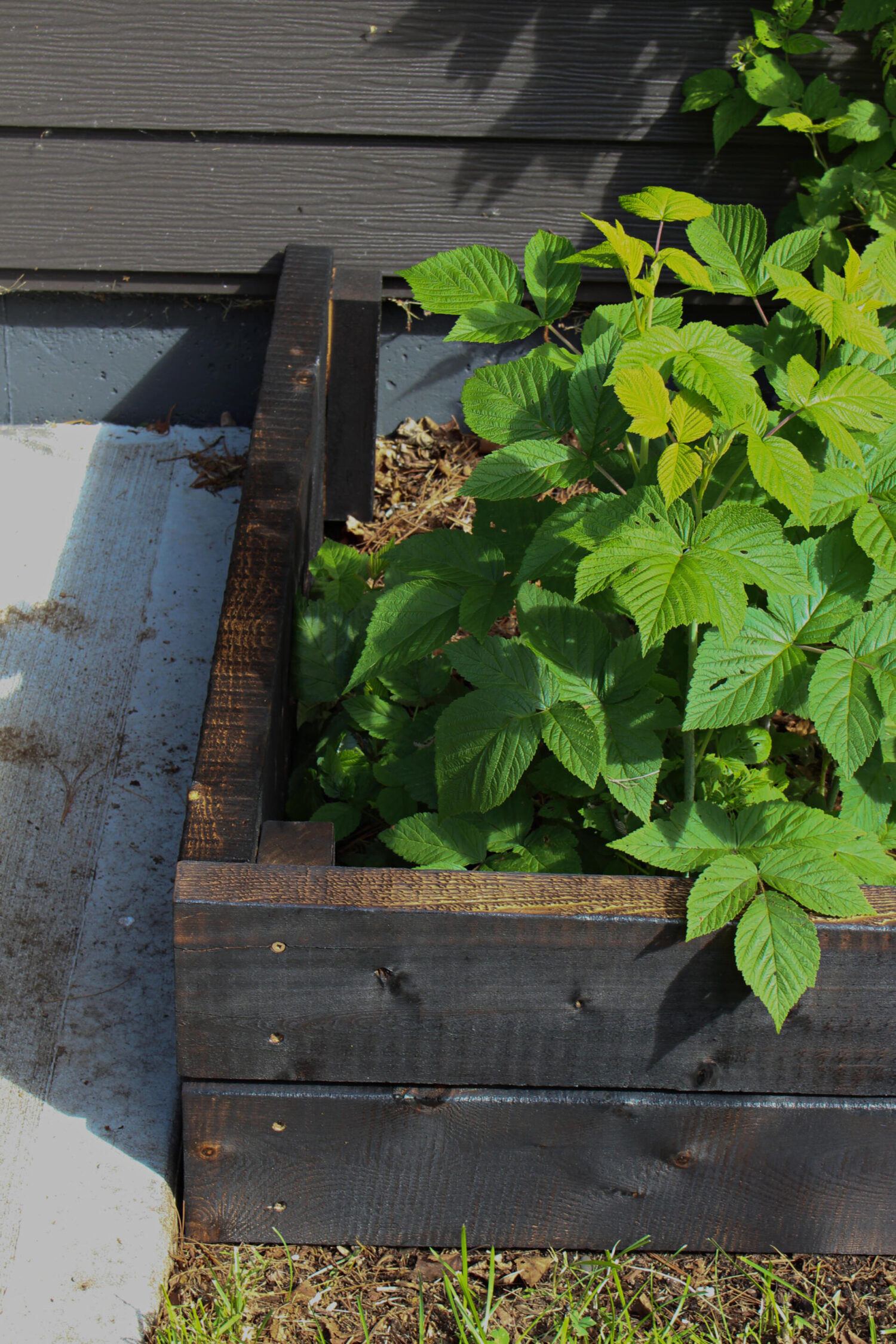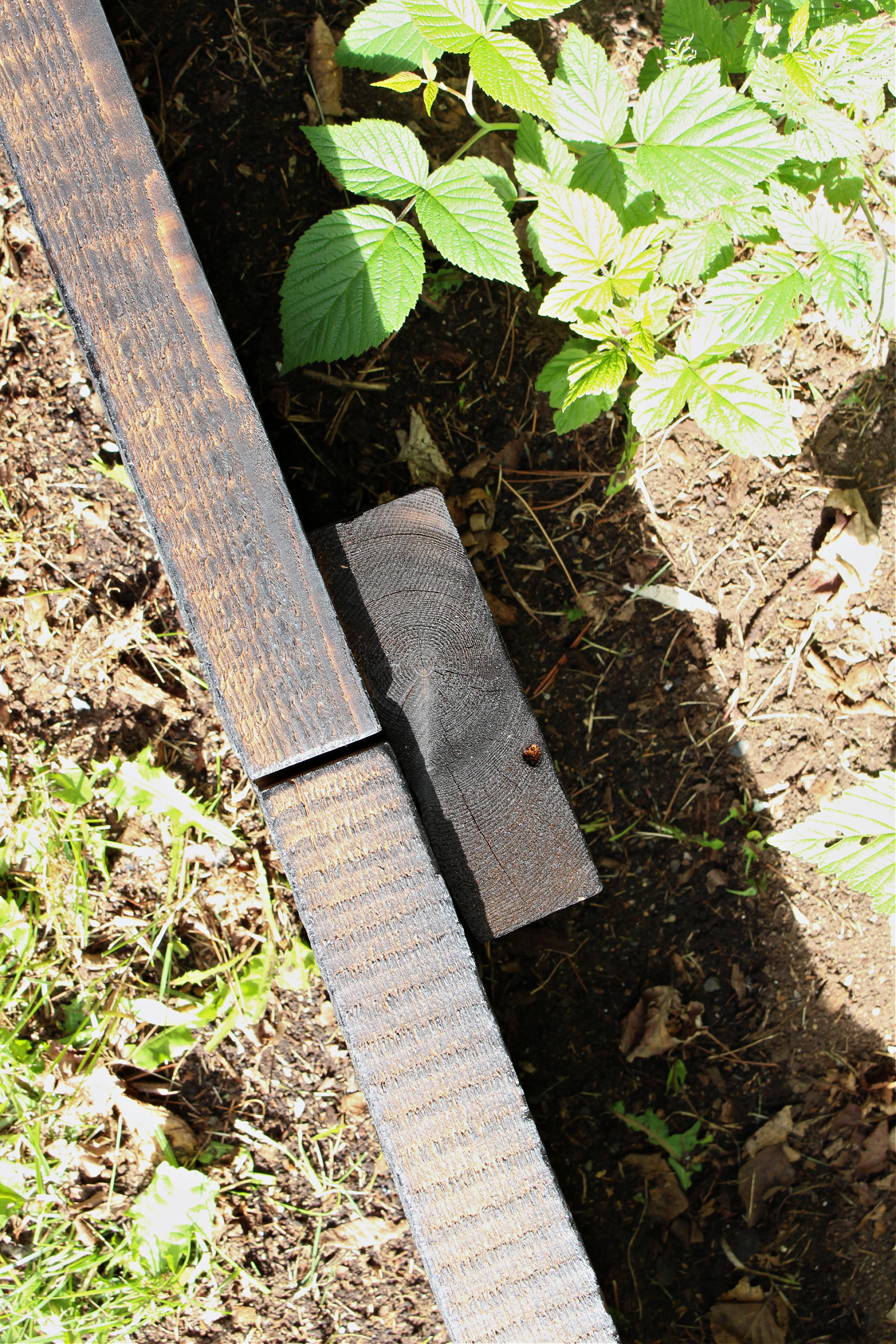 It's really this easy to build a DIY raised garden bed: planks of wood, secured using durable deck screws, in the corners and middle with leftover pieces of wood. We did a three sided raised garden bed, because it's against the house, but you can create one with four sides. Just secure it in each corner with wood, and then in the middle of each length of the garden bed.
Underneath the soil you can use a variety of materials: I used landscaping cloth under my cold frames and then filled with topsoil, supplemented with manure and also a potting soil designed to help produce more growth. My soil here is not good for gardening so a raised garden bed that I filled with fresh soil was a better option for me. I charred my garden beds, as you can see (find the tutorial here), but you can also find many food safe finishes design for raised garden beds, to help the wood last longer.
Happy Gardening!
This is my second year vegetable gardening (you can read about my first year's experiences here) and I'm excited about it because I have a slightly better handle on how to keep my garden healthy. Already my seedlings are doing better than last year, let's hope I didn't jinx it, and now when Hubby asks, "hey, what's this?" I can just point him towards these DIY Cricut garden markers…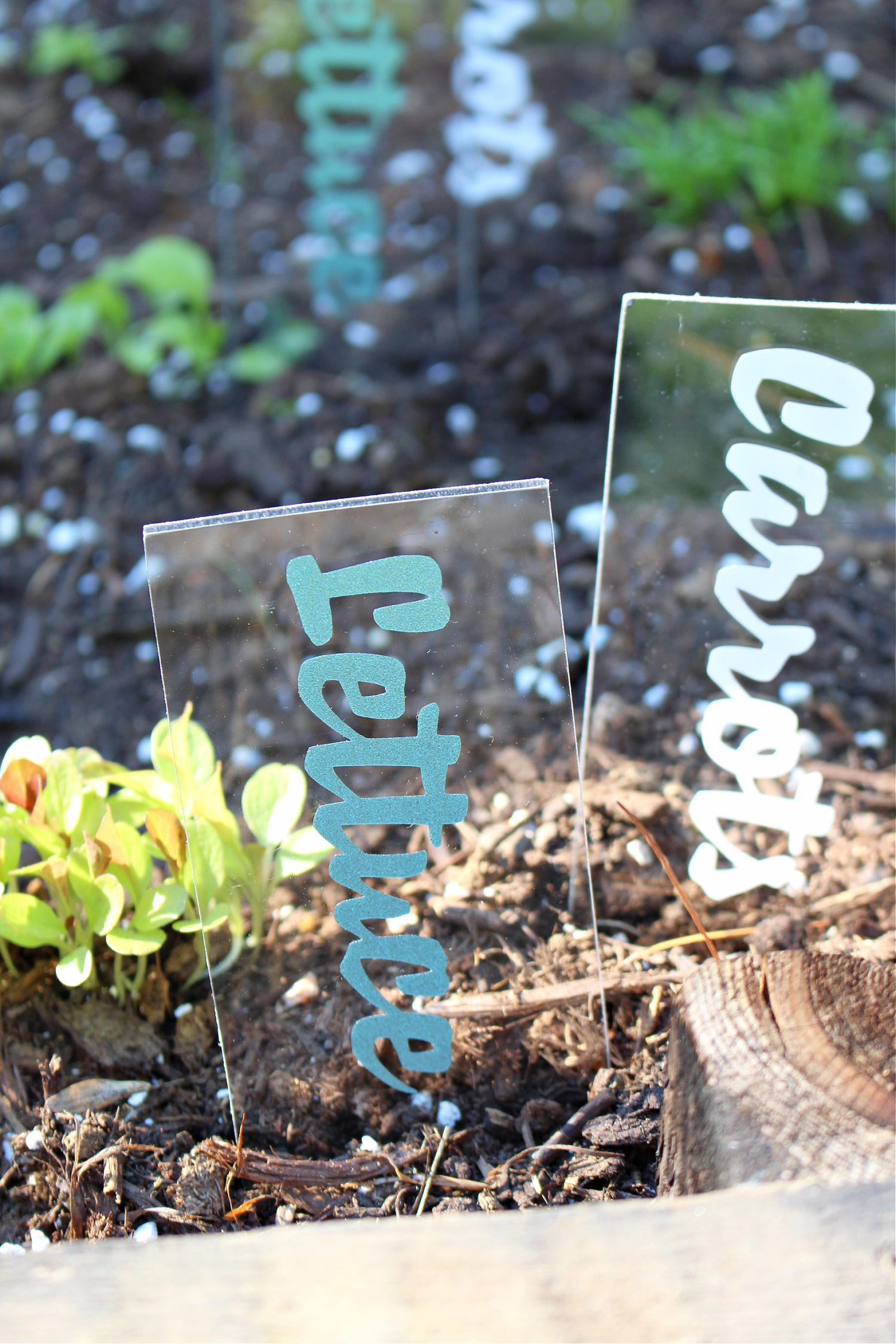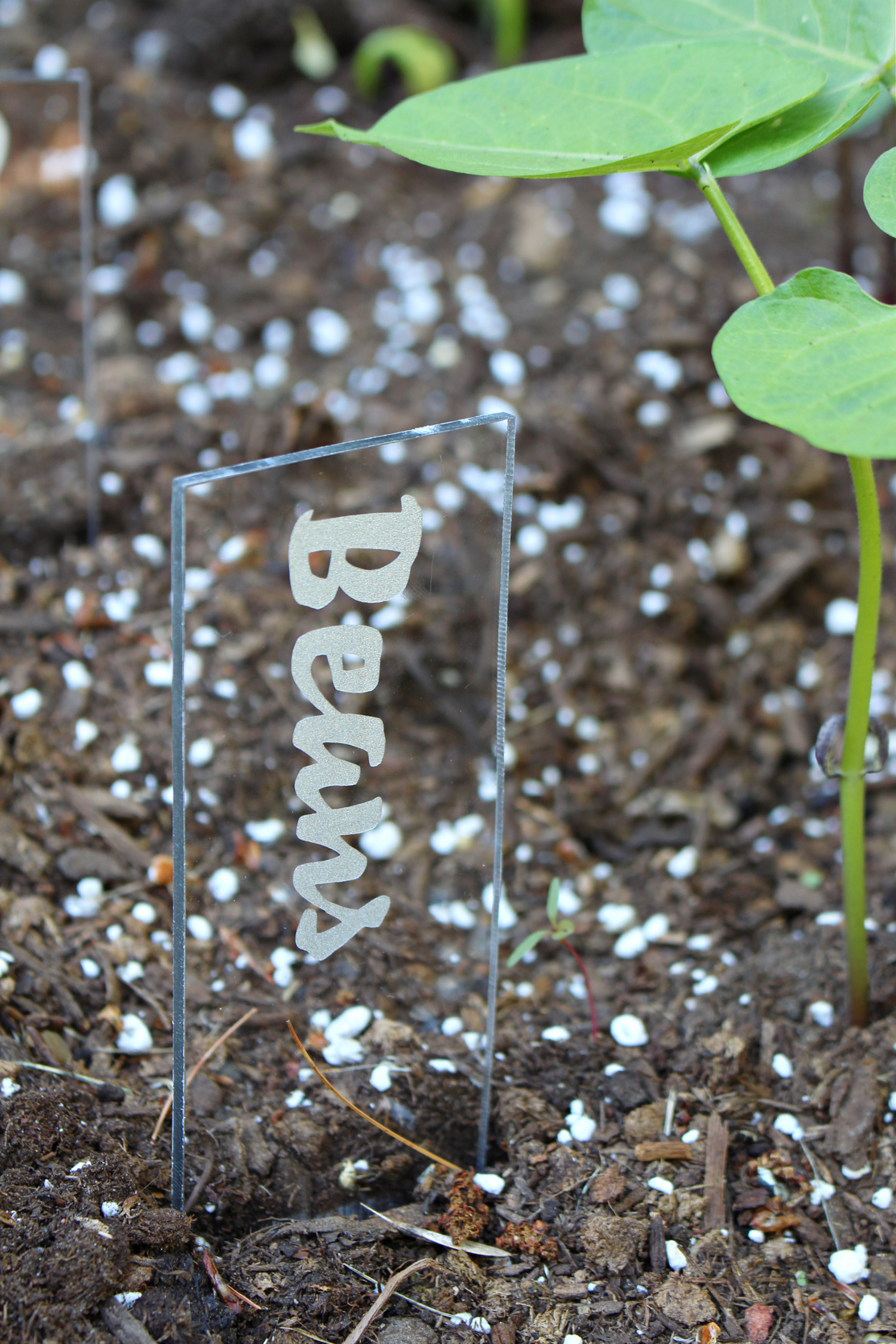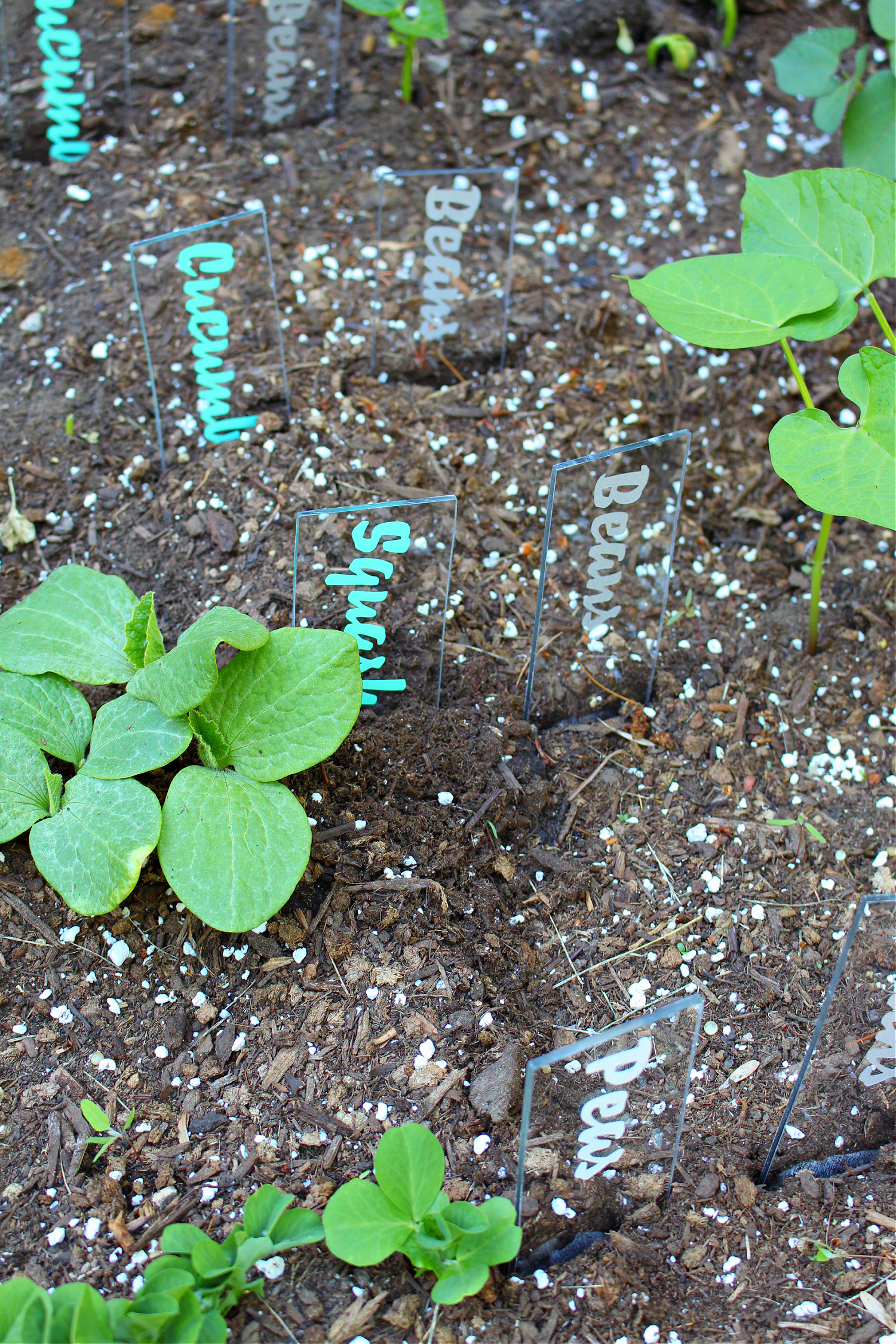 Here's a fun little video I made of the process:
View this post on Instagram
P.S. Don't Forget to Pin for Later: