My friend Kara, from Husk Milk Ceramics, introduced me to the concept of egg shell art when she sent me the Instagram account of artist Elisa Sheehan – and I was immediately smitten with the idea of making my own DIY egg shell art. I usually prefer to support artists over borrowing their ideas, but I just really wanted to make art with the egg shells from my own hens. Inspired by Elisa, but also Ruby Silvious, another artist who uses egg shells as a canvas, and Lily Ardor, who created a really cool piece of DIY egg shell art, I made my own mini work of eggshell art: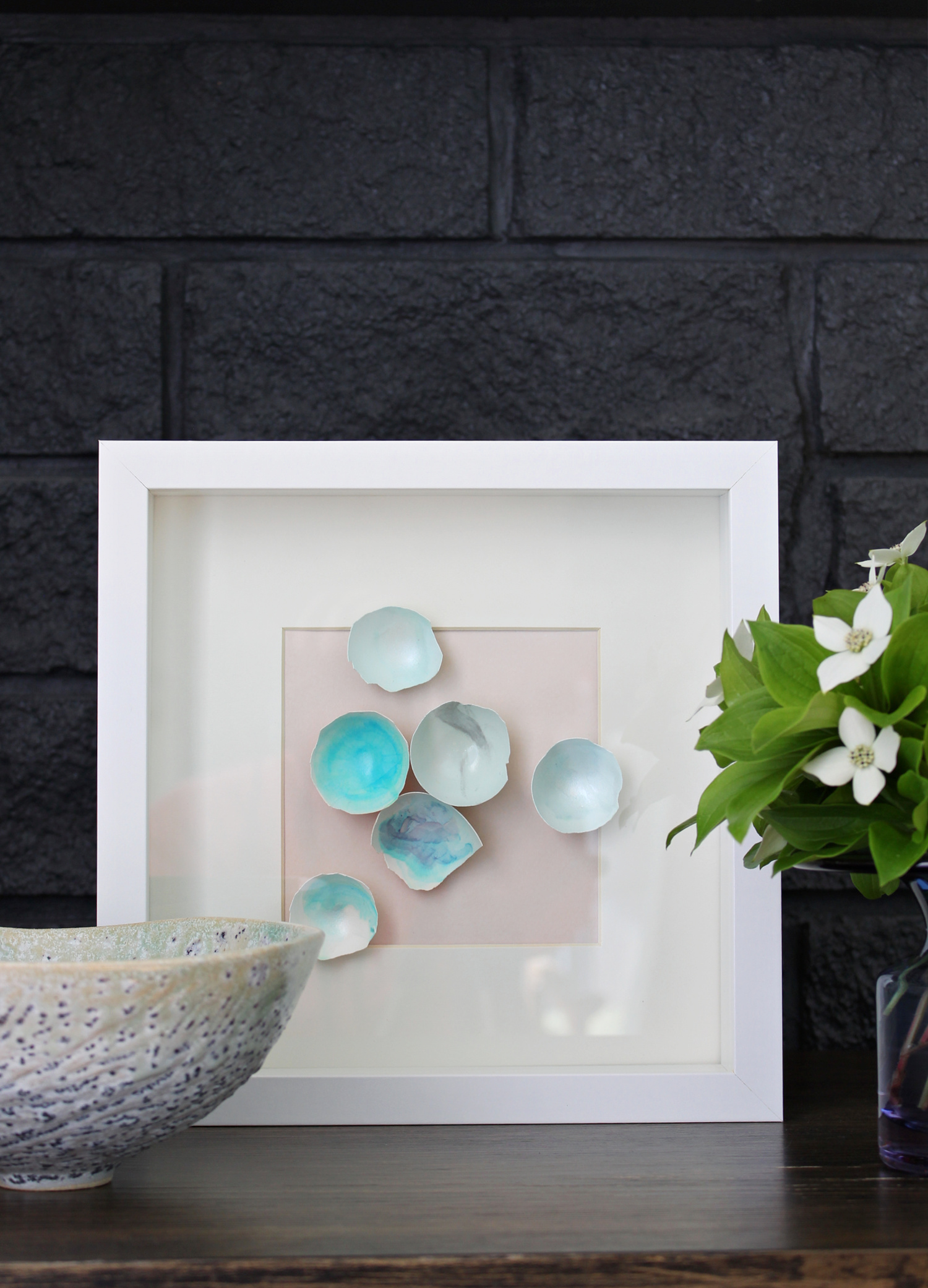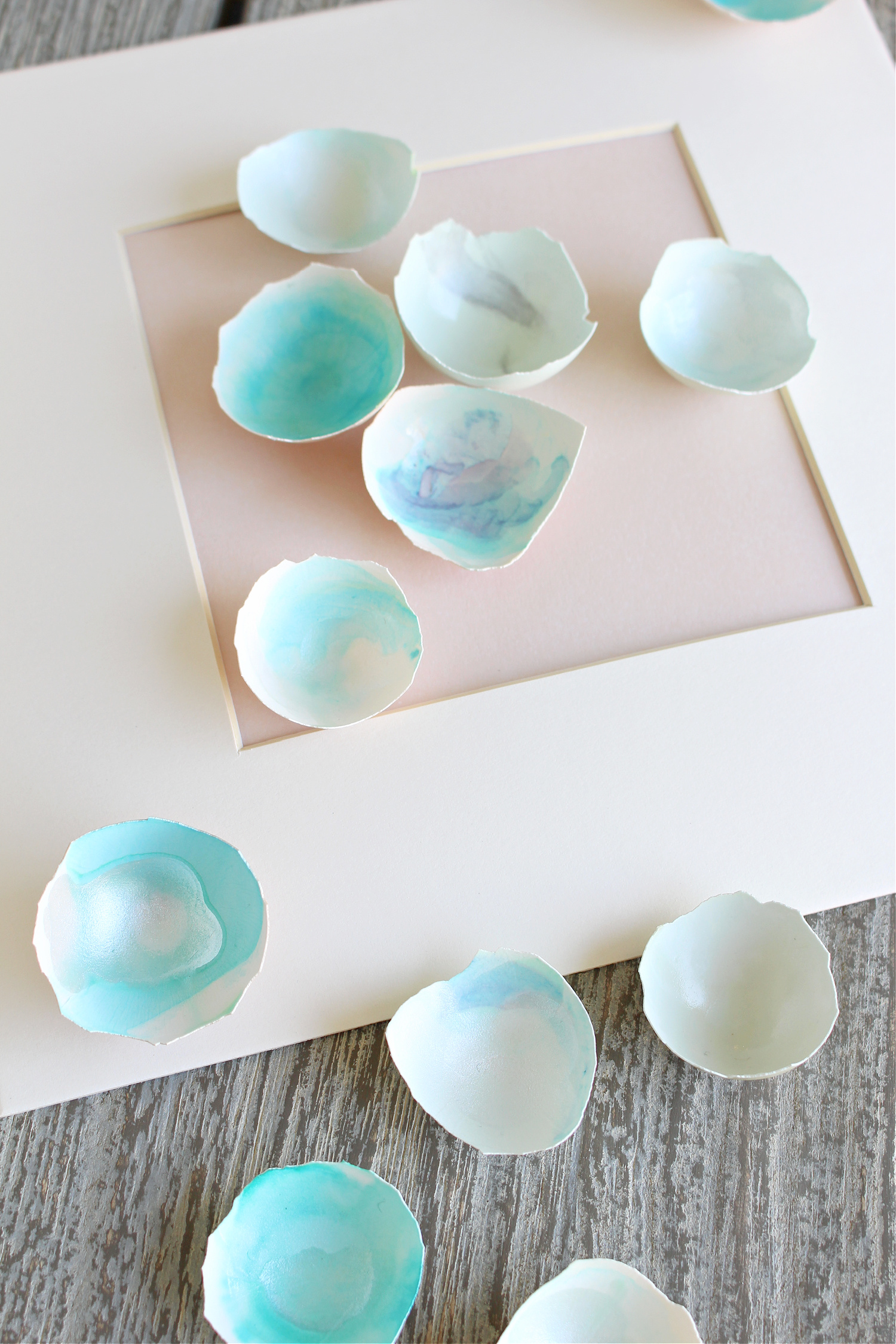 Eventually I plan to make a large piece of eggshell art. I found this acrylic frame with linen backing that I think will be perfect (although I'll admit it's kind of expensive – any ideas for a cheaper source?). But I had quite a few IKEA shadowbox frames in the basement, so I decided to take some of my painted eggshells and make this mini for summer decorating. To be honest, painting eggshells is incredibly fun so I think I'll probably be making a lot of these – big and small.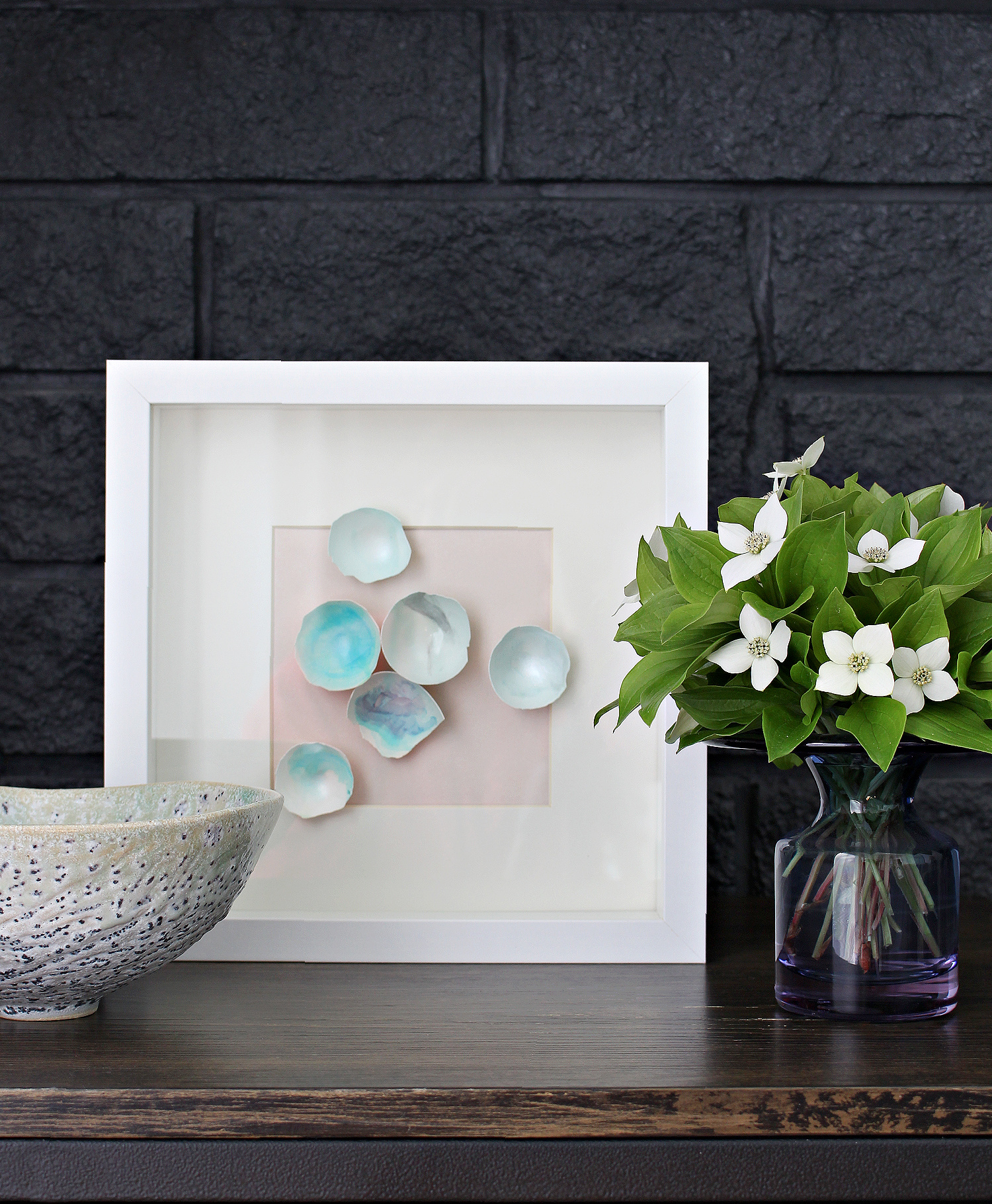 Not knowing how those artists made their egg shell art, I experimented with different mediums and found two clear winners for creating the watery and ethereal painted eggshells I envisioned: alcohol ink and (surprise!) nail polish! Alcohol ink, as you know, is one of my favorite mediums to work with. I've made DIY alcohol ink art, DIY alcohol ink note cards (and Valentine's Day and Easter cards), DIY alcohol ink coasters, DIY alcohol ink ornaments, DIY alcohol ink Easter eggs, and DIY alcohol ink upcycled china.
Alcohol ink loves a smooth surface and while I was worried the egg shells might be too porous, the alcohol ink swirled beautifully and created the kind of ethereal designs I had in mind. Painting the egg shells with acrylics worked too, but the result was more vivid and opaque. They looked more painted, basically. But if that's what you have on hand, that works too! I'd suggest watering them down a bit more than I did, if you like the watery aesthetic of my egg shell art. Here are some of my first painted egg shell experiments, using acrylic paints: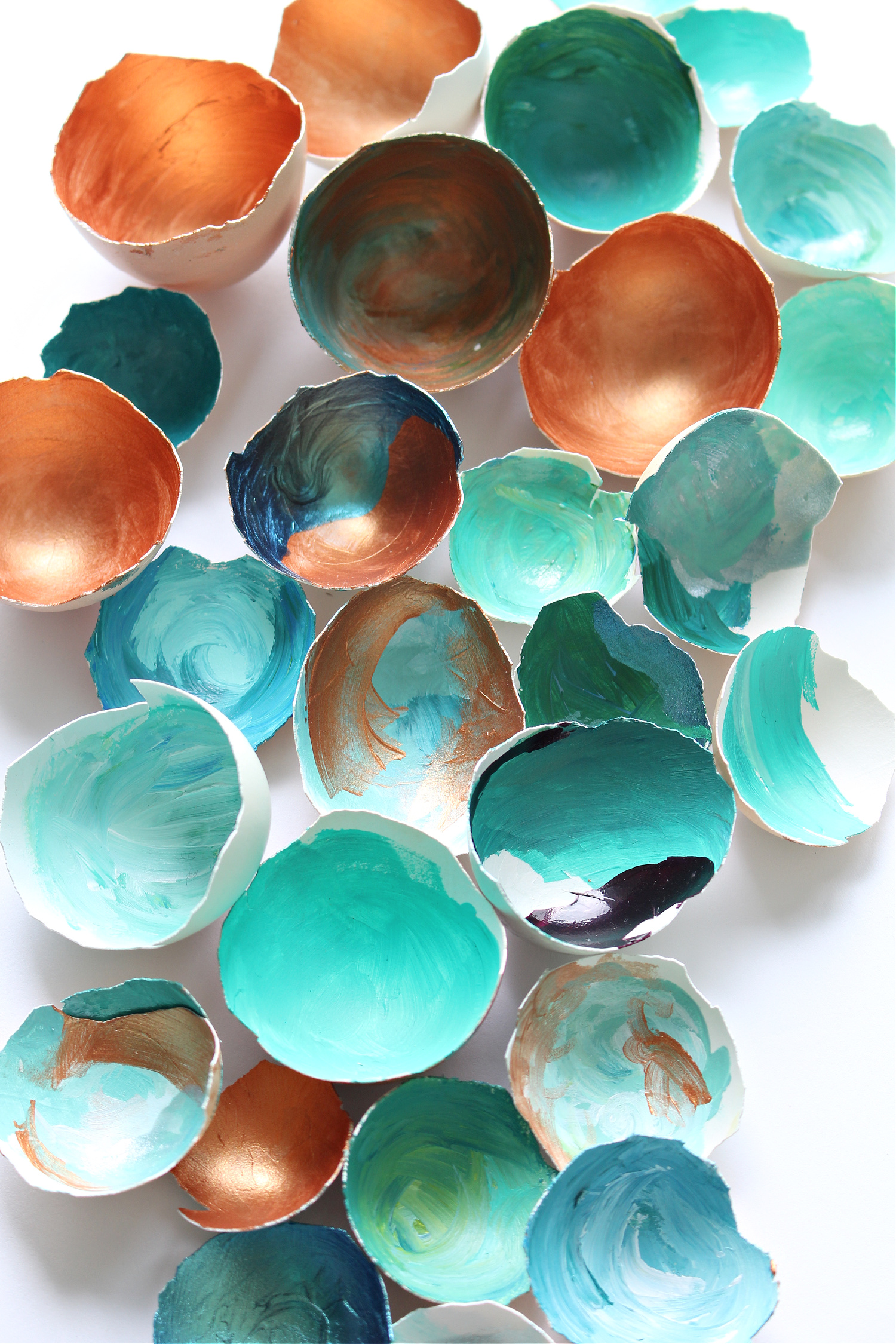 Alcohol inks, on the other hand, sort of fuse with the egg shell and you can't tell where the natural color of the egg shell (most of mine are aqua, inside and out) end and the ink begins. Next I'll experiment with watercolors, but for now I'm enjoying using alcohol inks – and I highly recommend investing in some metallic inks because the shimmer and sparkle look so good. My favorite is Pearl, which I used on so many of my painted egg shells as a shimmery top coat or to dilute the color. I actually used an entire bottle and had to order more!
I'm also still experimenting with how to seal them. I considered mod podge and also the sealant I use for my alcohol ink projects (this one). But I happened to have SO many cans of Watco Clesr Lacquer, so I decided to experiment and try that. It worked perfectly to give the egg shells a little extra gloss and durability, but if you need to buy something for this project, I recommend either mod podge or the Krylon. But if you'd an avid DIYer like me, with tons of cans of various varnishes and sealants, don't be afraid to use what you have on hand. They're just egg shells, after all!
Supplies to Make DIY Egg Shell Art:
How to Make DIY Egg Shell Art:
Clean the Egg Shells:
First, clean and dry the egg shells. It's easiest to clean egg shells when they've just been used (they can dry out quickly). Peel off the inner membrane as best you can – it impedes the alcohol ink. Rinse under warm water and let air dry. I suggest saving them up for awhile because once you get started you'll want to paint a lot of them! And also some will break by accident so it's nice to have lots of extras on hand.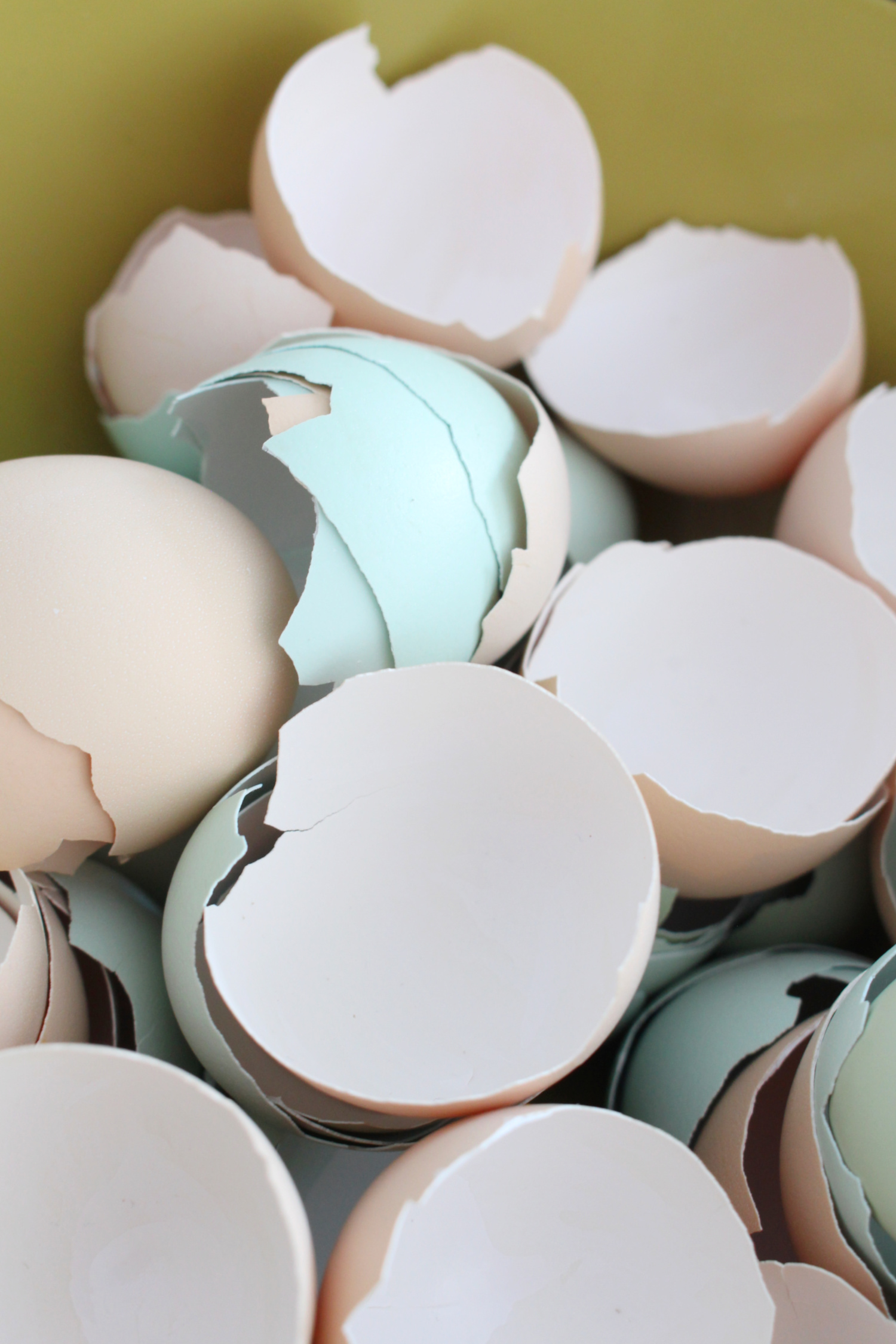 I trimmed the edges of some to create a flatter surface or to make them more regular. Basically I just worked around the edge, breaking little pieces off. This is optional.
Paint the Egg Shells:
To paint the egg shells, I covered a work surface and put on a pair of rubber gloves (except for when I took photos, lol). Then I added a drop of ink inside an egg shell and swirled it around. I found that using only a couple of colors kept the egg shell canvas from becoming too muddied. To create a lighter look, I added a drop of alcohol/alcohol ink blending solution or Pearl metallic alcohol ink and swirled it around.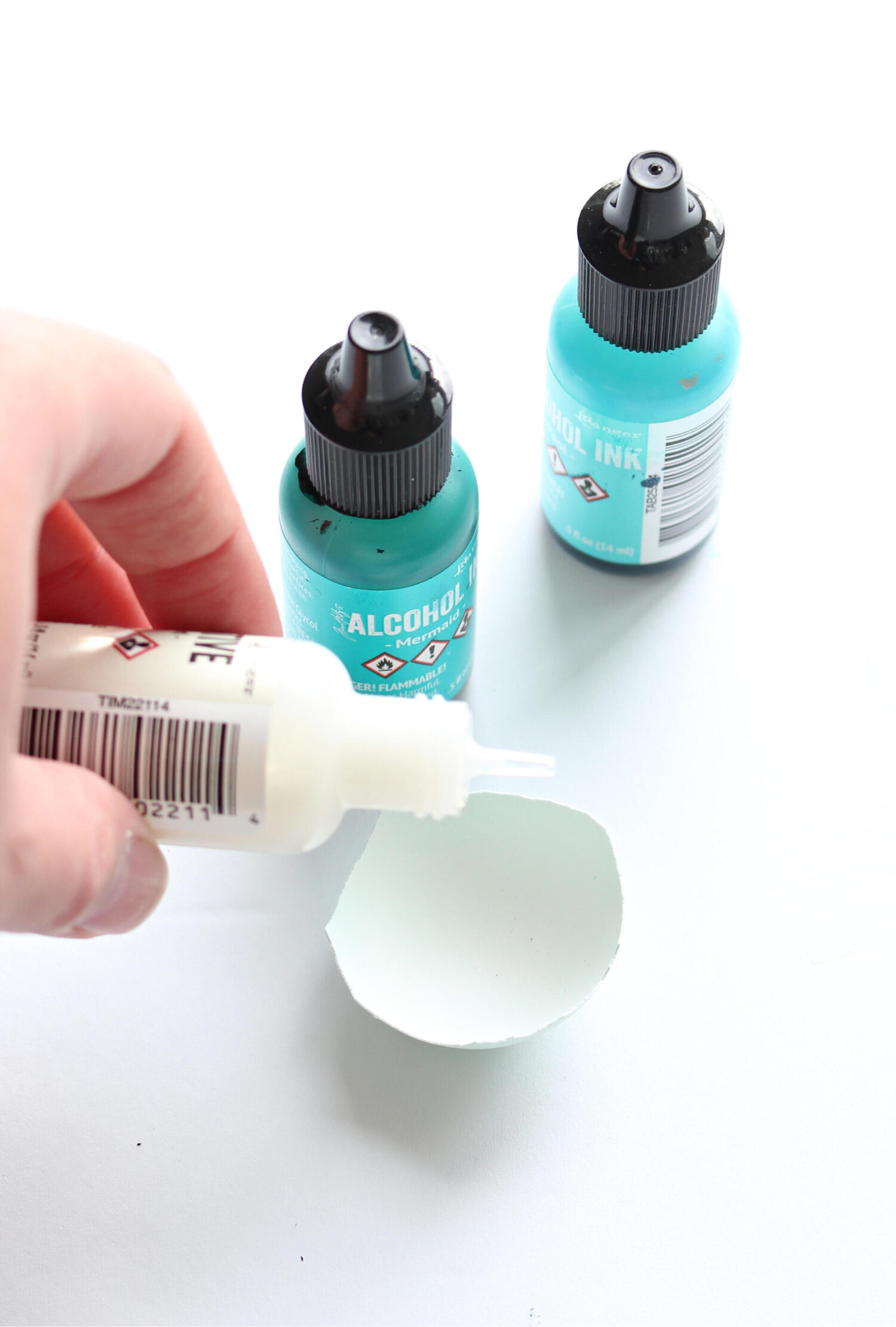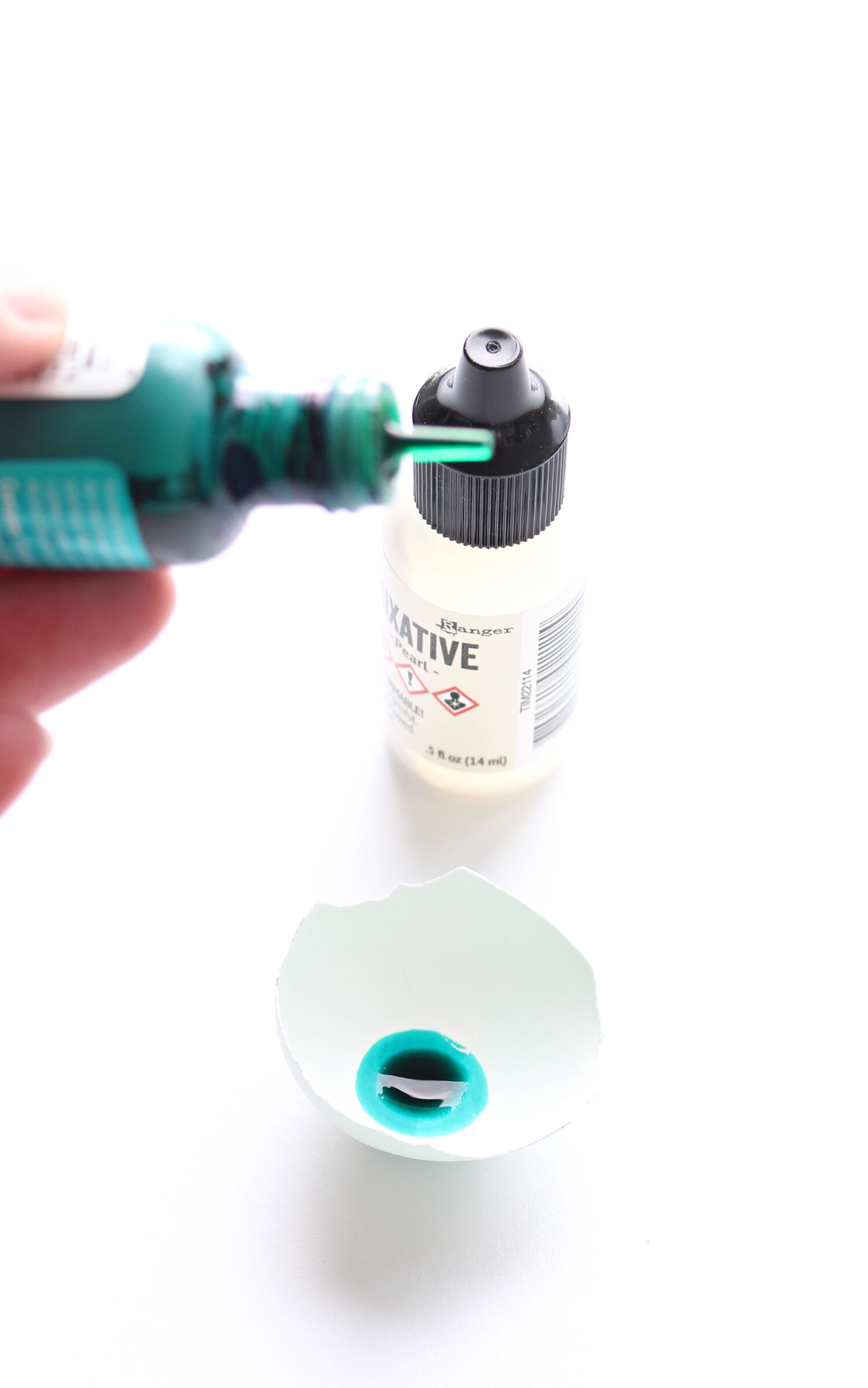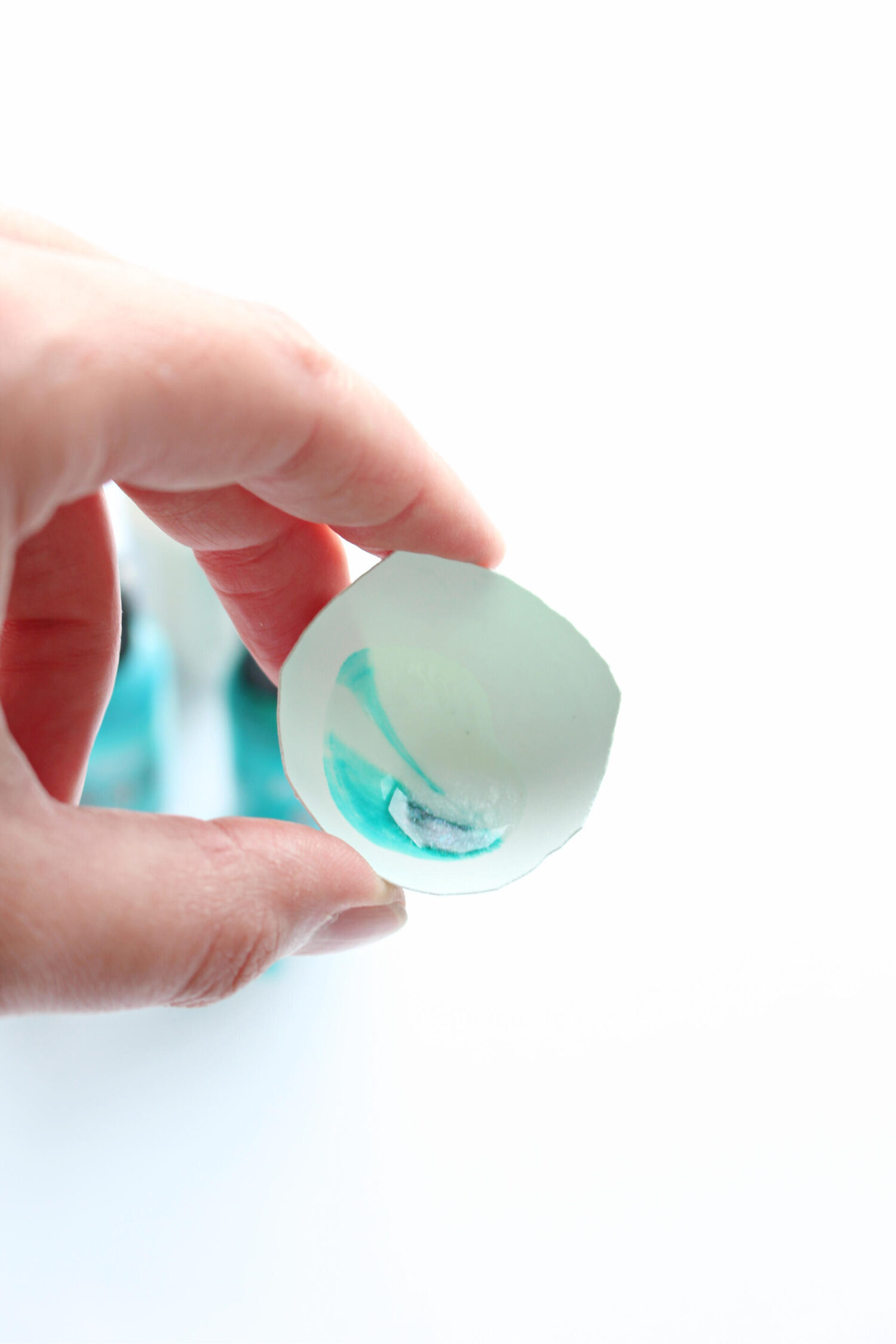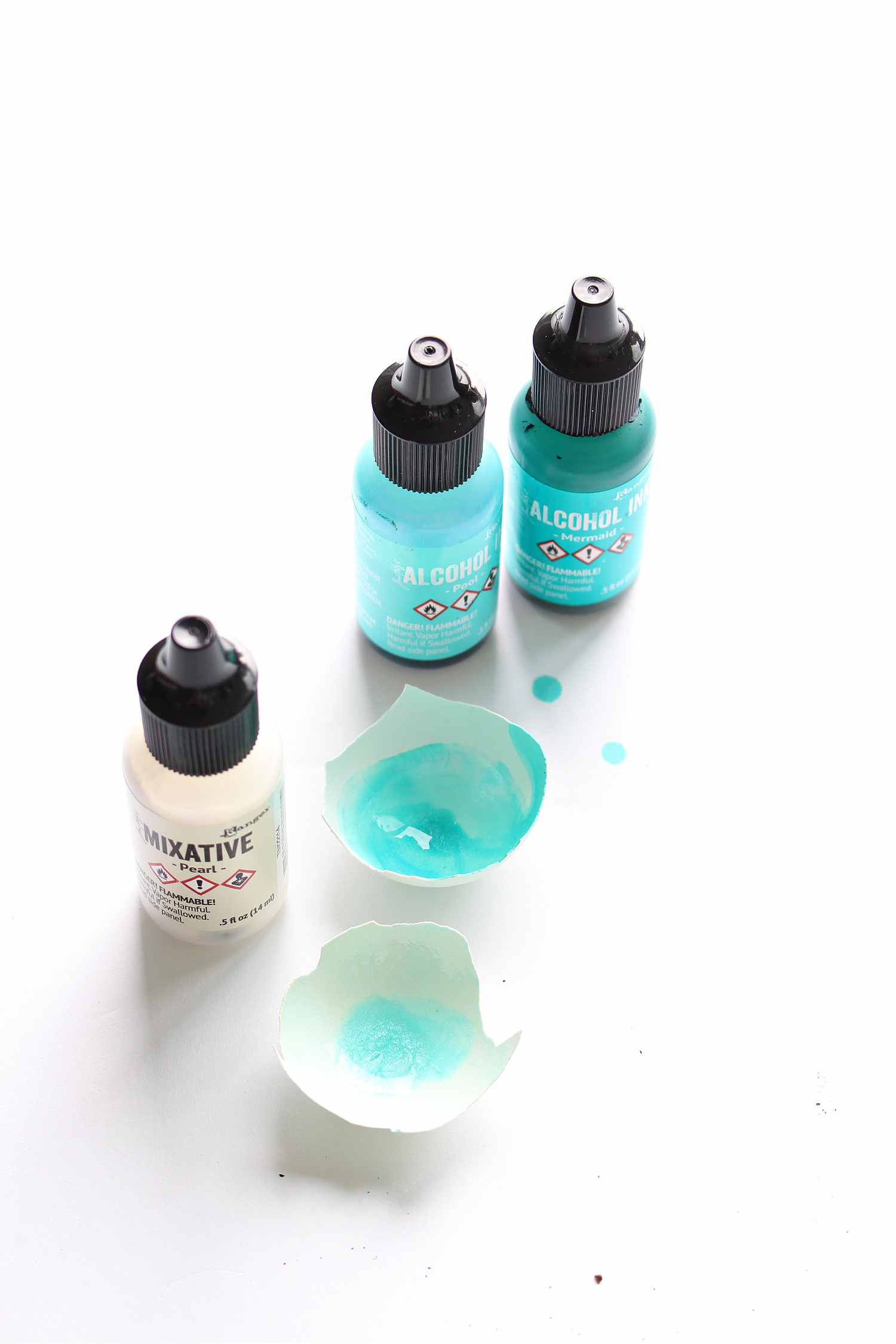 To get a really airy look, I pour a few drops of alcohol ink into an old ice cube tray and then use a small artist's paint brush to apply a tiny speck of color. Then I just played! I tried painting on a stripe of glittery nail polish (so pretty!), adding in deeper alcohol ink colors.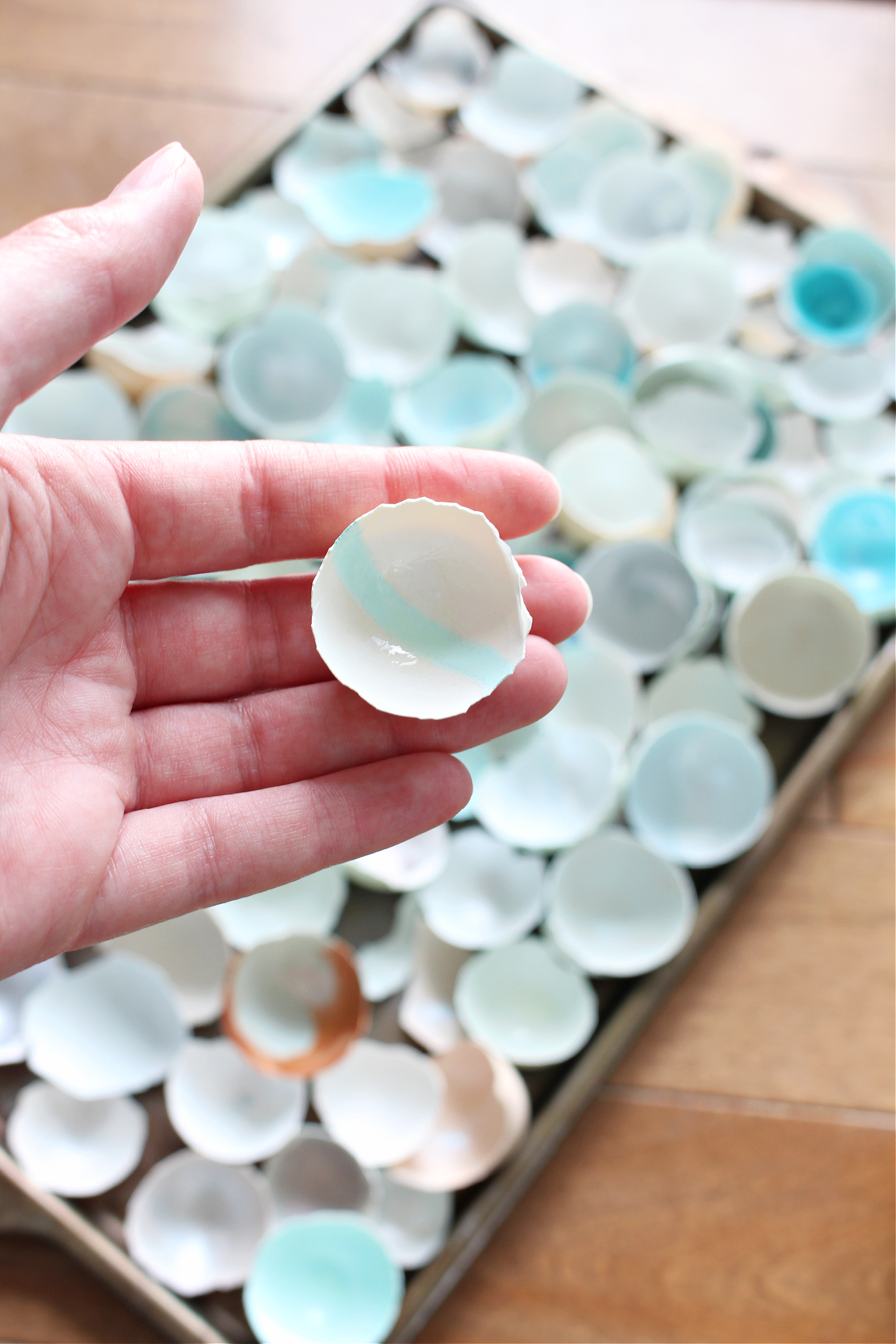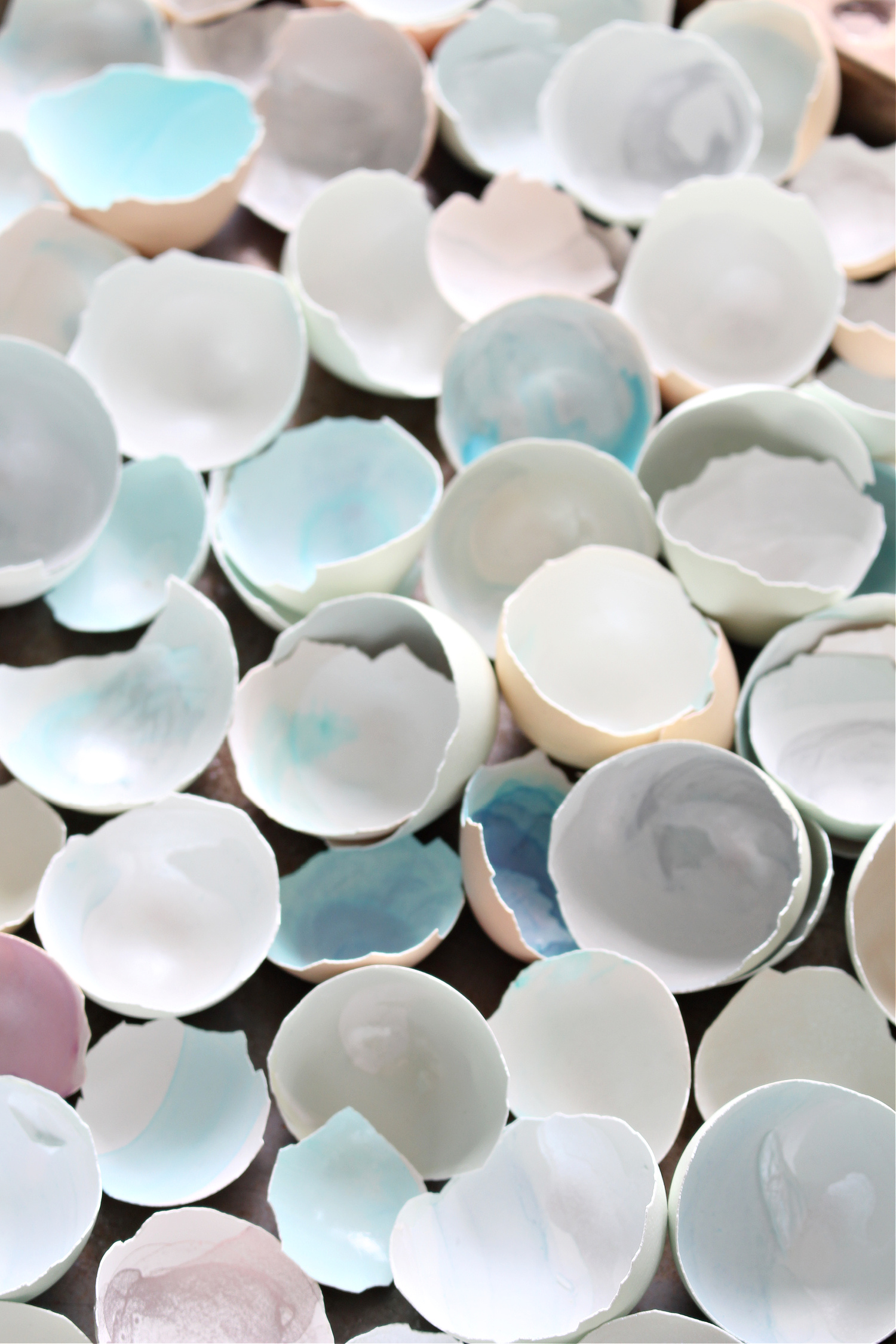 I also tried letting the color sit more, or moving it around the surface more. I also blew on the inks to move them around, or swirled the egg shell itself. I let some dry and then went over them with shimmery nail polish or metallic alcohol ink.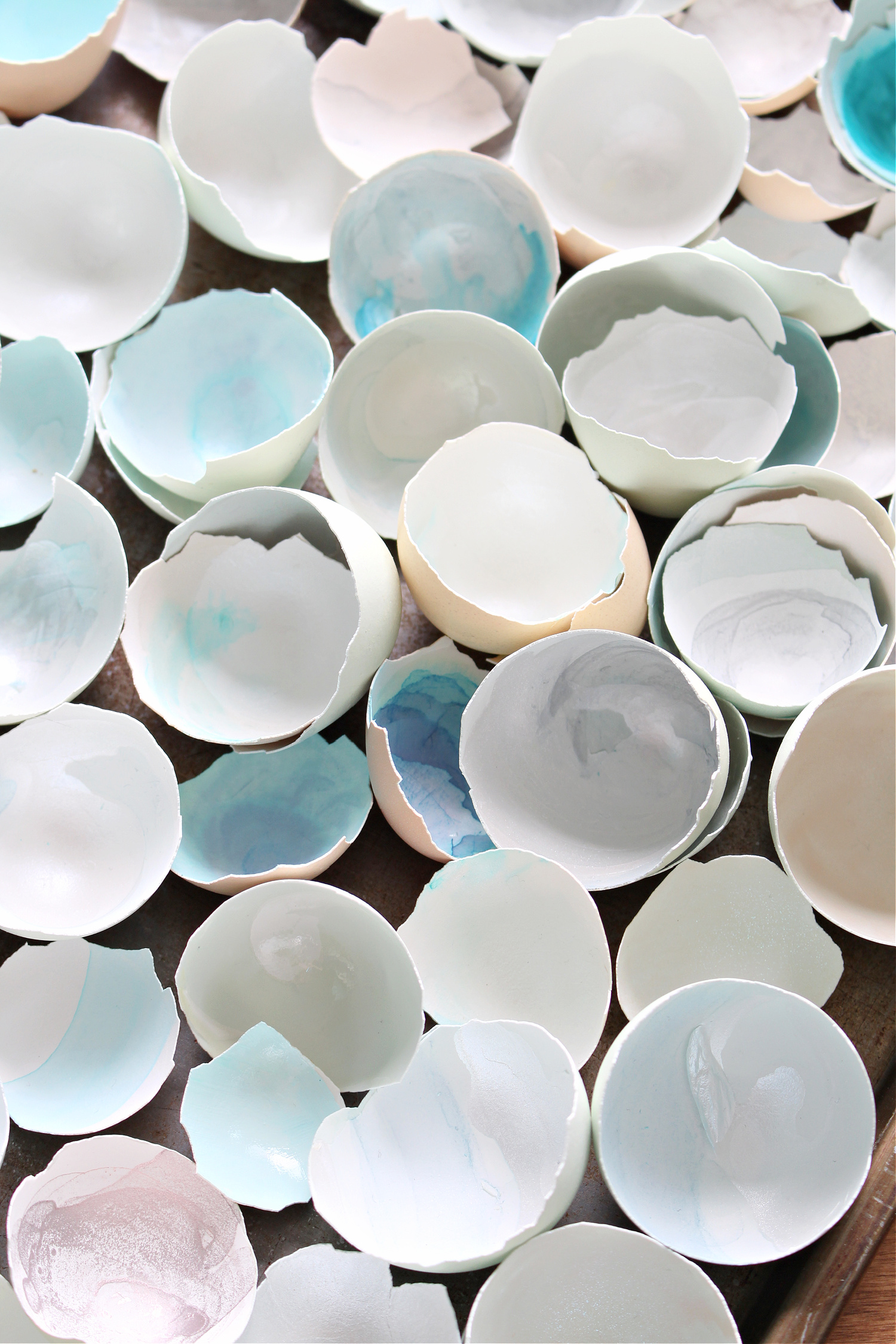 Experiment and don't be afraid to use what you have on hand: inks, watercolors, acrylic paints, leftover house paint or stains, markers. Get messy!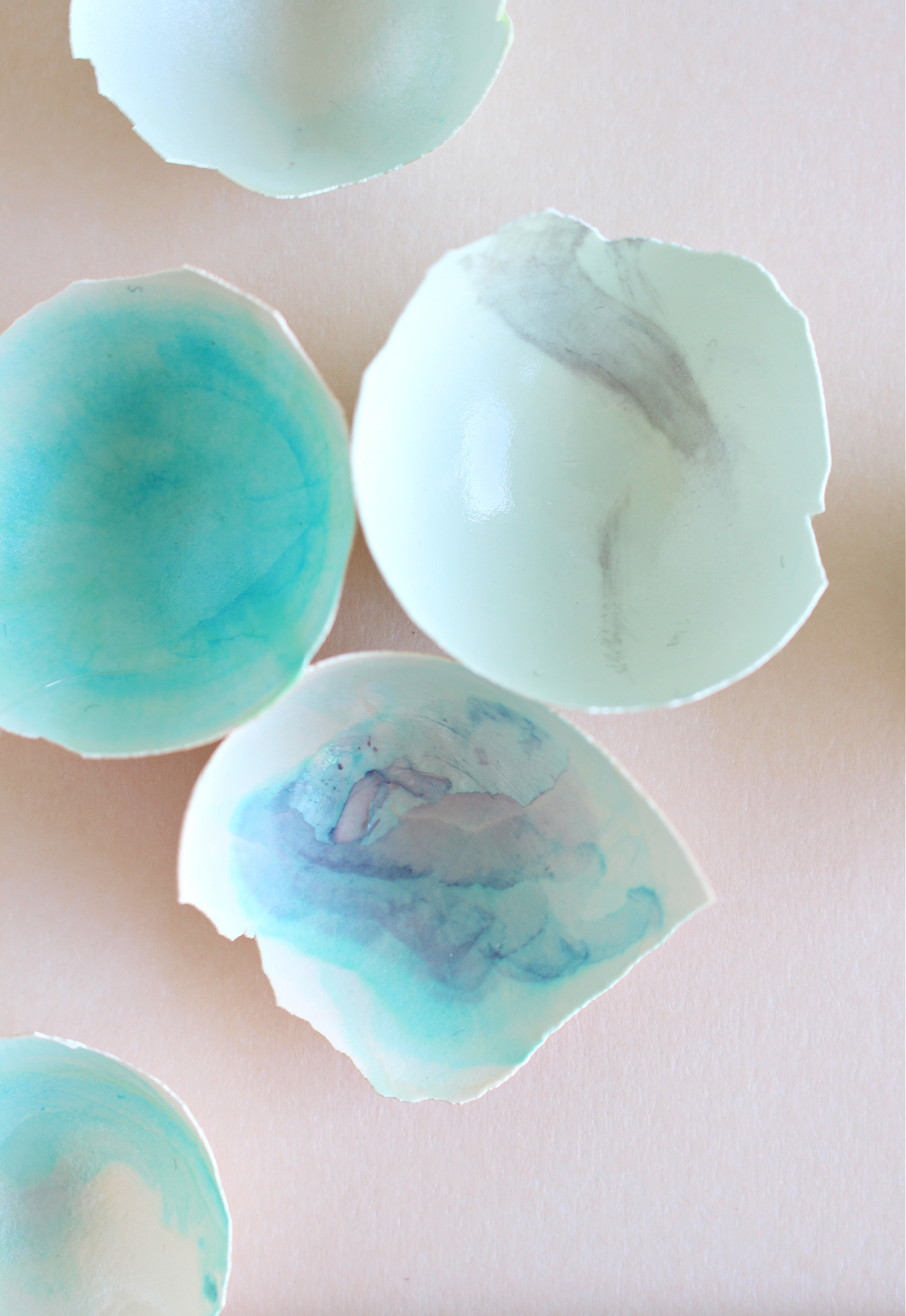 Seal the Egg Shells:
When I was done painting my egg shells, I set them aside to dry overnight. Then I placed them inside an empty cardboard box, painted side up. I sprayed them lightly with my sealant. Then I flipped them over right away, to prevent the sealant from pooling at the bottom of the egg shells, and then I sprayed the backs.
I let them dry overnight.
Frame the Egg Shells:
I grabbed a piece of shell pink cardstock and placed it inside the mat that came with my IKEA shadowbox frame. I wanted the egg shells to look like they were going to spill out onto the matting, so that's why I placed it inside the mat first. Then I dry fit the placement before gluing the egg shells in place, with my hot glue gun, and putting my frame back together.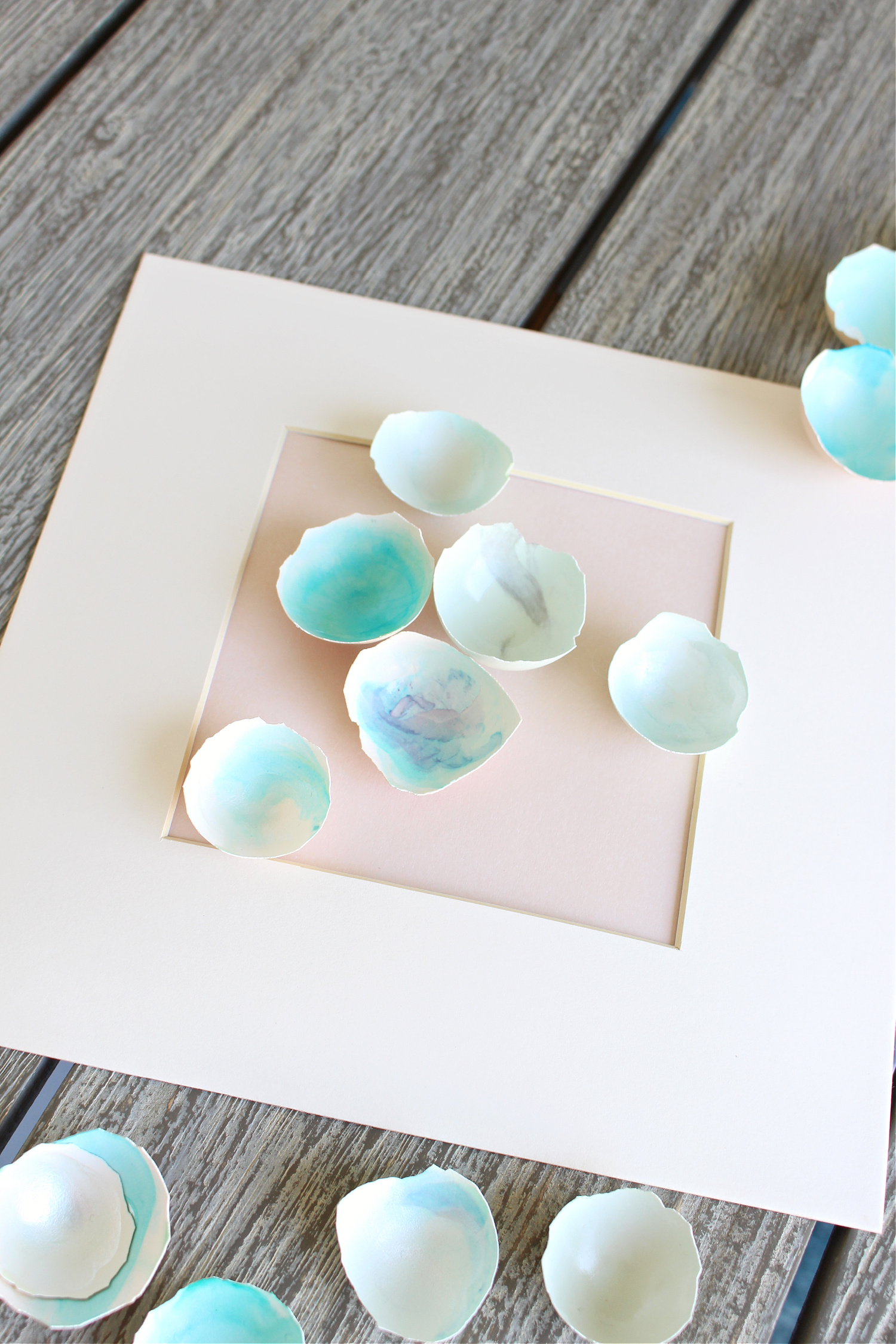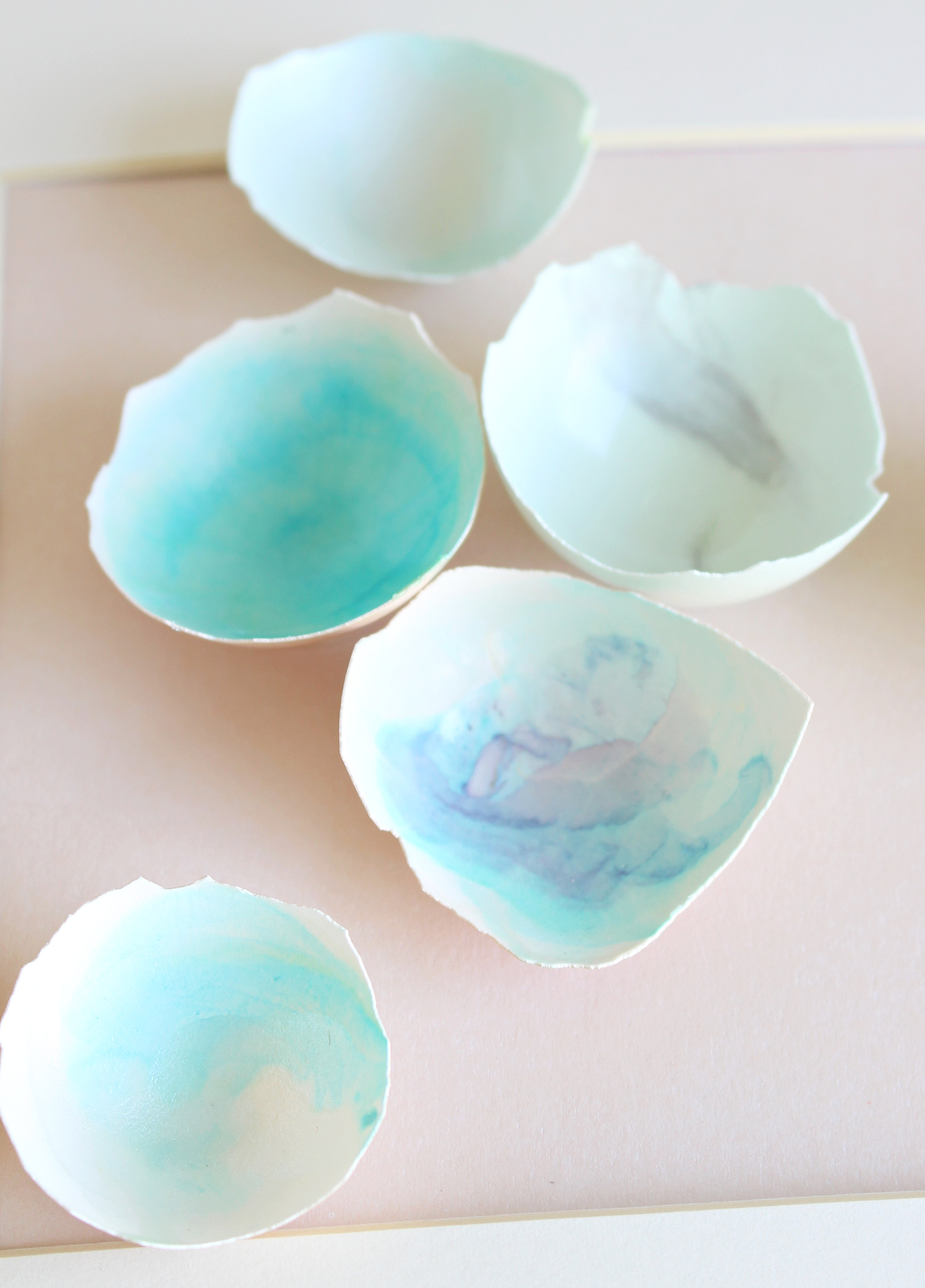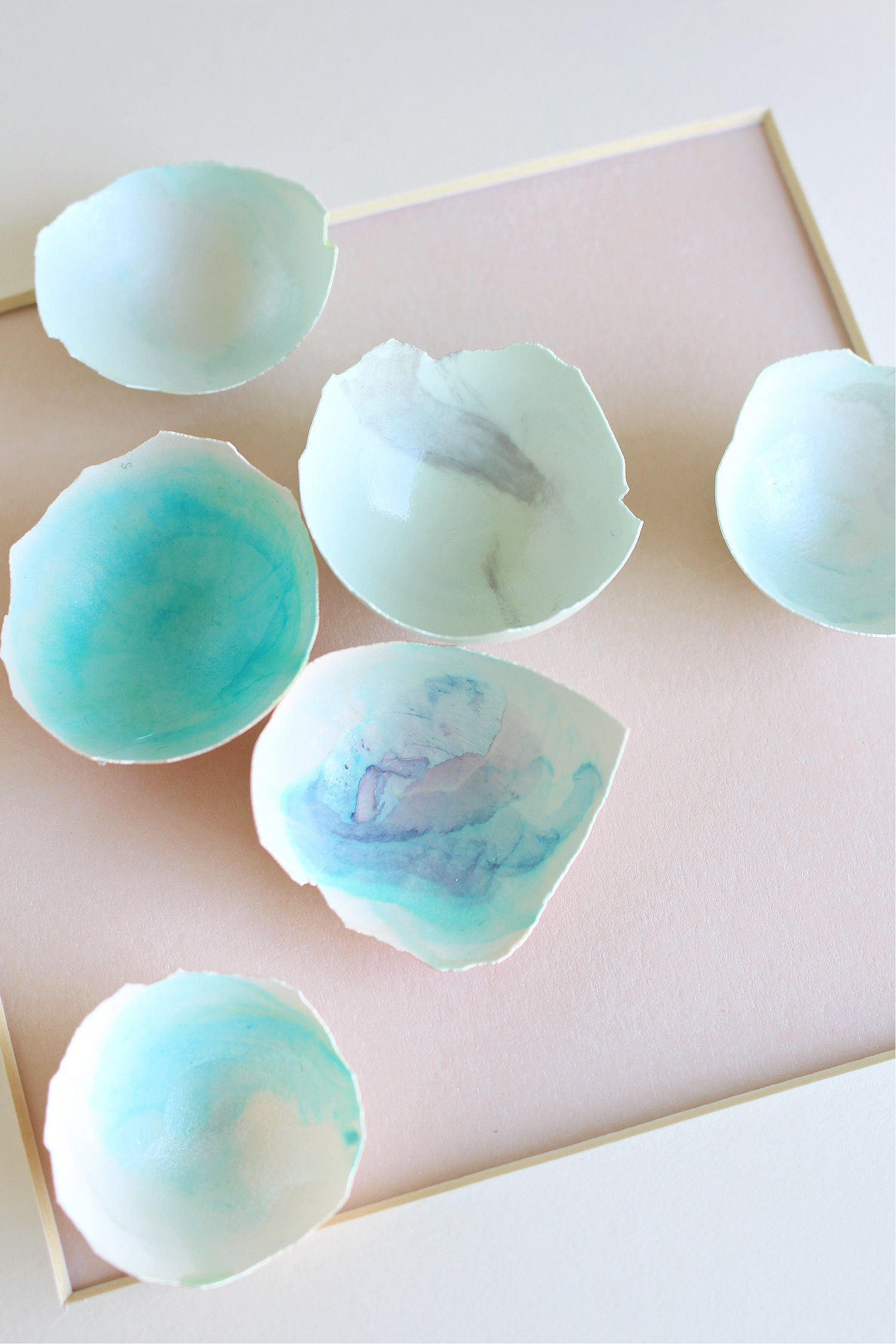 I love how this DIY egg shell art turned out! And it looks do good against my nearly black fireplace – the soft pastels really pop. I chose summery colors – mostly watery blues – so this is a really cute idea for switching up art to lend some summer vibes to your decor.
Don't Forget to Pin For Later!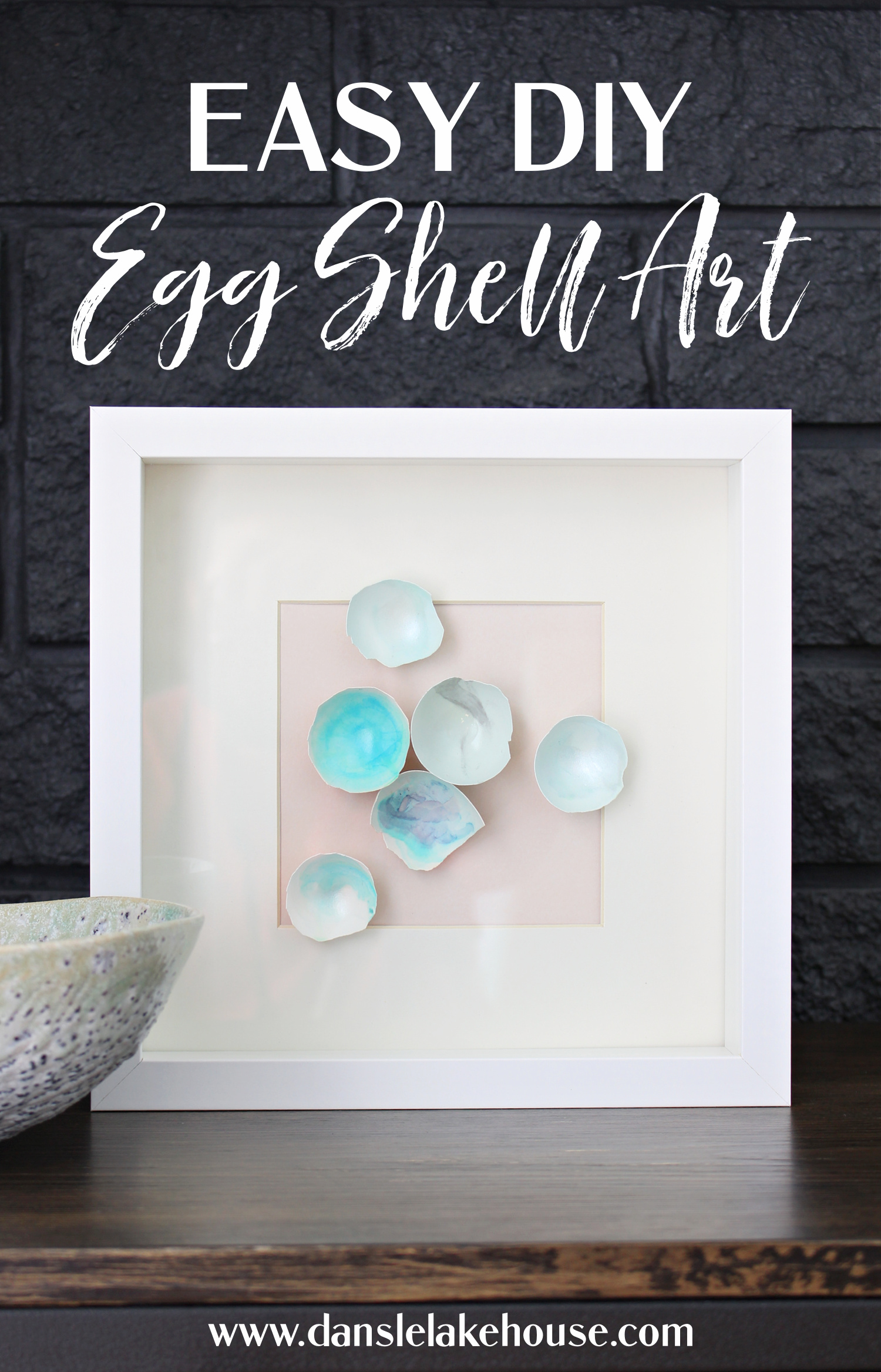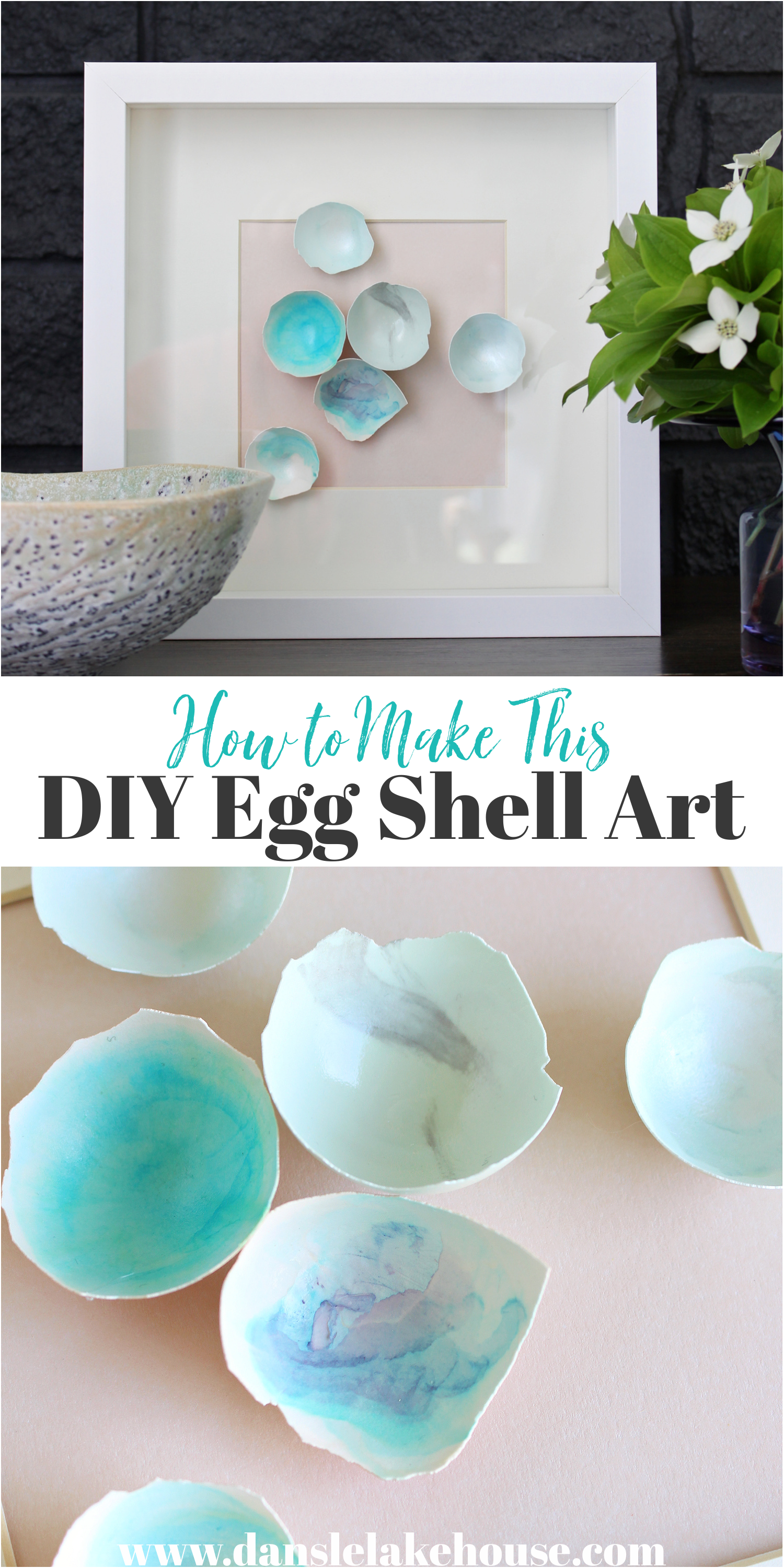 This week I'm joining some of my talented blogging friends for the Summer Seasonal Simplicity Series: DIY/Craft Project Hop. Be sure to check out all of the creative summer DIY ideas by visiting the links under the images below.
DIY Crate Succulent Planter at The Happy Housie
Poppy and Fern Front Door Planters at Inspiration for Moms
DIY Beaded Garland at She Gave it a Go
DIY Tic Tac Toe Board Game at Modern Glam
Summer Decoupage Concrete Coasters at Tatertots and Jello
Popsicle Stick Picnic Tables at Clean & Scentsible
Summer Basket Wreath from a $3 Thrift Store Find at Confessions of a Serial DIYer
DIY Custom Hoodies for Summer Fun at Rambling Renovators
DIY Pedestal Bowl at Paint Me Pink
Dollar Store Hacks at Hallstrom Home
DIY Velvet Mushroom Cap at Life is a Party
Free 4th of July Printable at My Sweet Savannah
DIY No Sew Outdoor Tablecloth or Picnic Blanket at A Pretty Life
DIY Egg Shell Art at Dans le Lakehouse