I partnered with Carpet One Floor & Home to share 10 Flooring Trends for 2021, as well as a coastal moodboard – perfect for designing a kitchen or bathroom.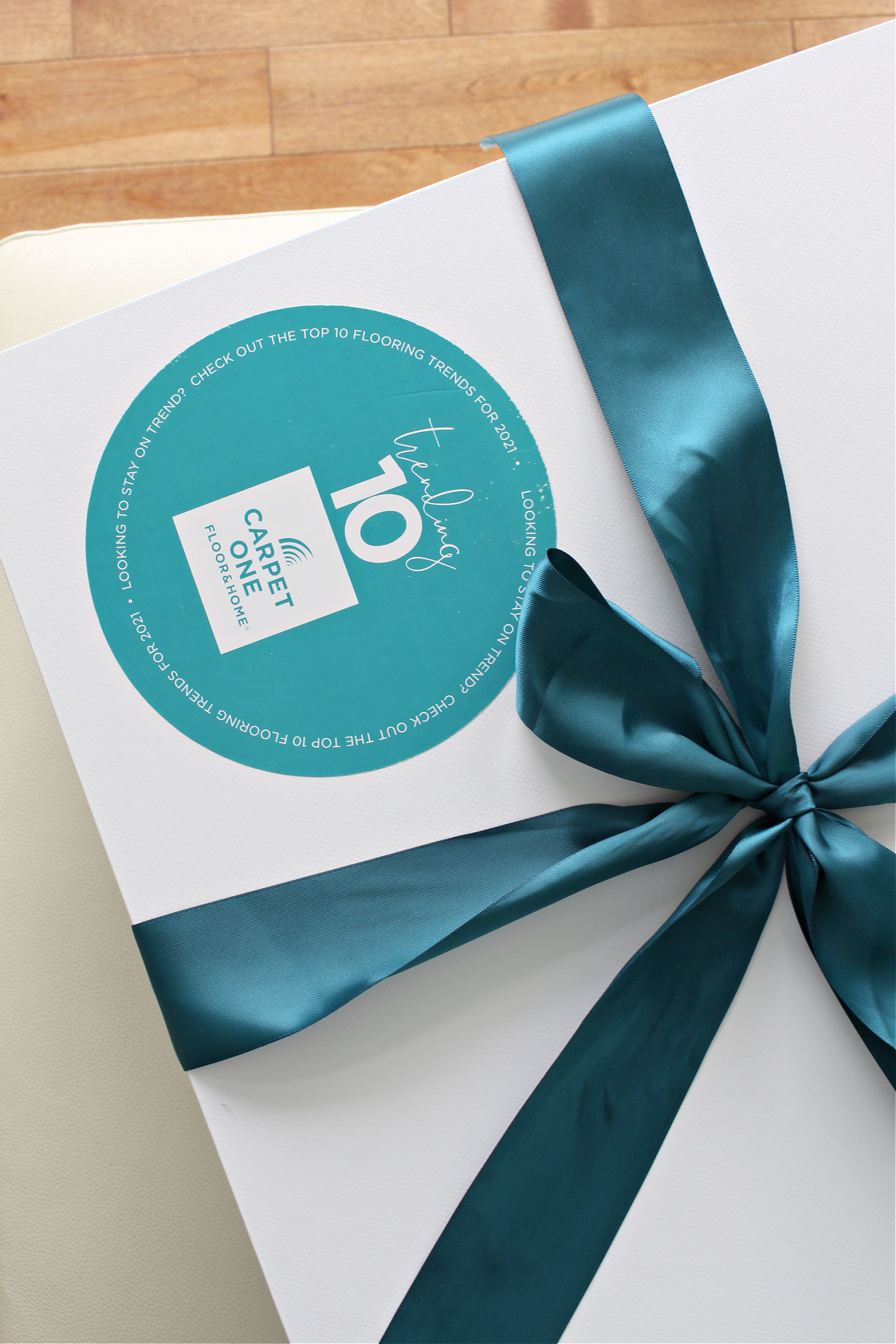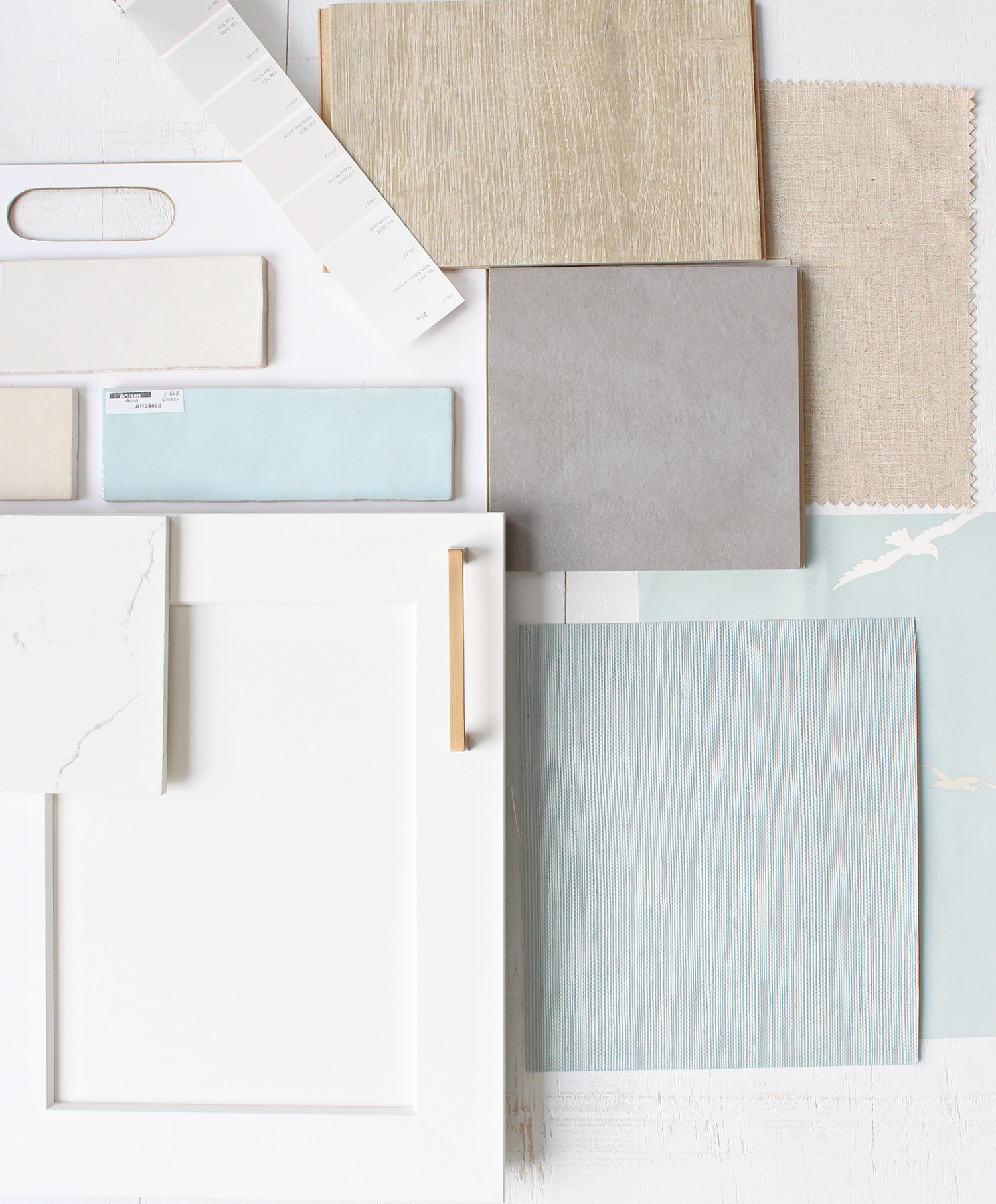 Carpet One Floor & Home 10 Flooring Trends for 2021
Carpet One sent me a mystery box to inspire my moodboard – you can watch me open it below. You'll see some fun things, like paint swatches and a candle, but the real stars are the 10 flooring samples – which are Carpet One's ten trending products for 2021. I was asked to use one of them in my moodboard but I couldn't, because there were too many beautiful flooring options!
View this post on Instagram
My Two Favorite Flooring Samples
Although I loved all of the flooring samples, two immediately caught my eye and I decided to use both in my modern, coastal design:
Bel Terra Tile – Power Grey Matte | BOTTOM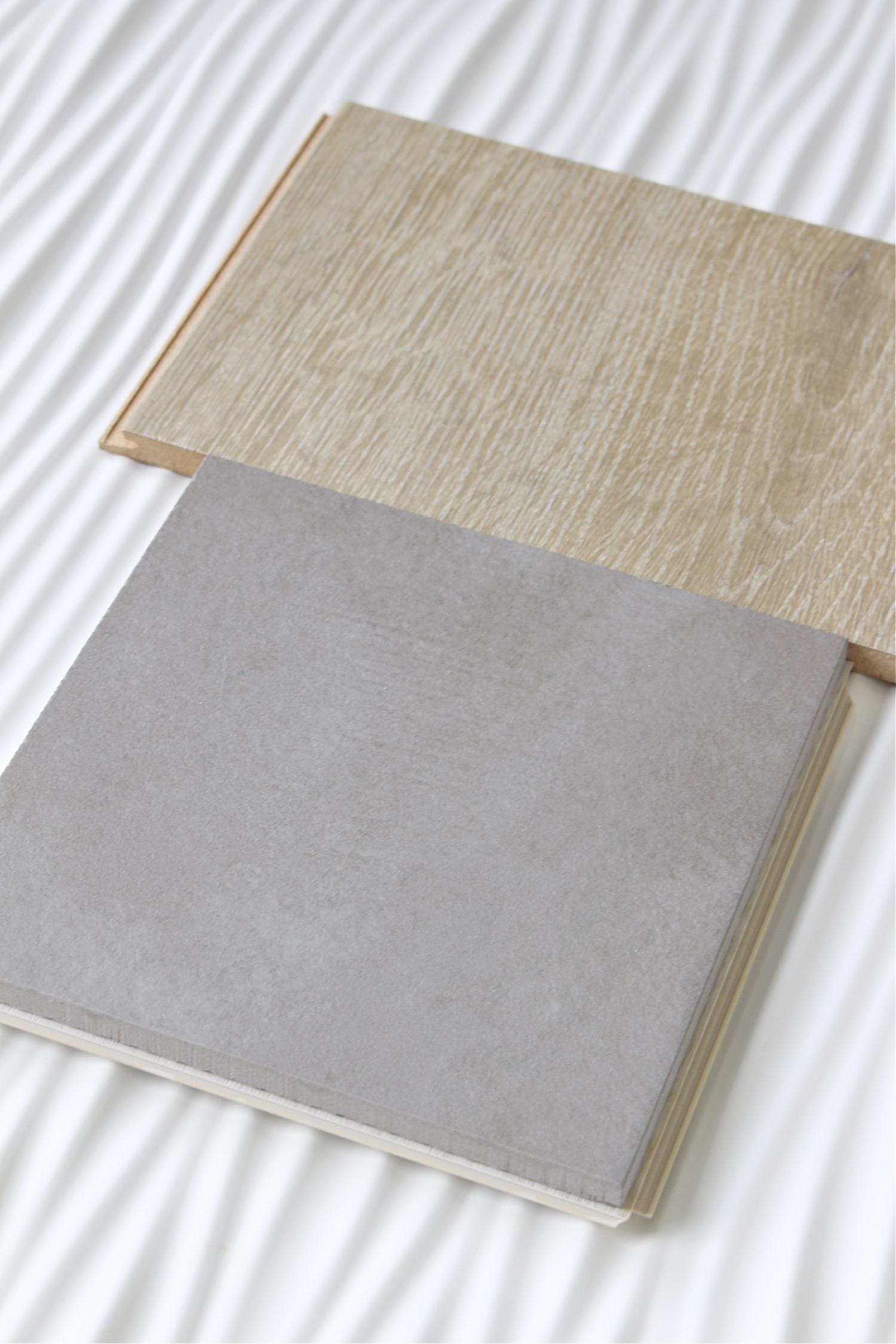 A Beautiful Concrete Floor Alternative!
I have always loved the idea of concrete flooring, but I've been warned that it's messy to install and not comfortable to walk on in a home. The Bel Terra Tile in Power Grey Matte offers the same look, but without the mess or discomfort! I love the look of this matte tile, and it immediately had me dreaming of coastal inspired kitchen and bathroom renovations. I put together the moodboard below for either space, with the complementary light toned Mirror Lake Performance Flooring, in the style Enchanted Lake and color Creamy, as the flooring I envision for an adjacent dining or living space. I promise I don't just love the lake-inspired name! It's a really durable wood-look flooring that embodies coastal and lake living: beautiful but effortless! It can handle nearly anything that gets thrown at it – and still look gorgeous. Both flooring choices have a very light and beachy quality, with a lot of beautiful texture – the perfect springboard for my coastal moodboard.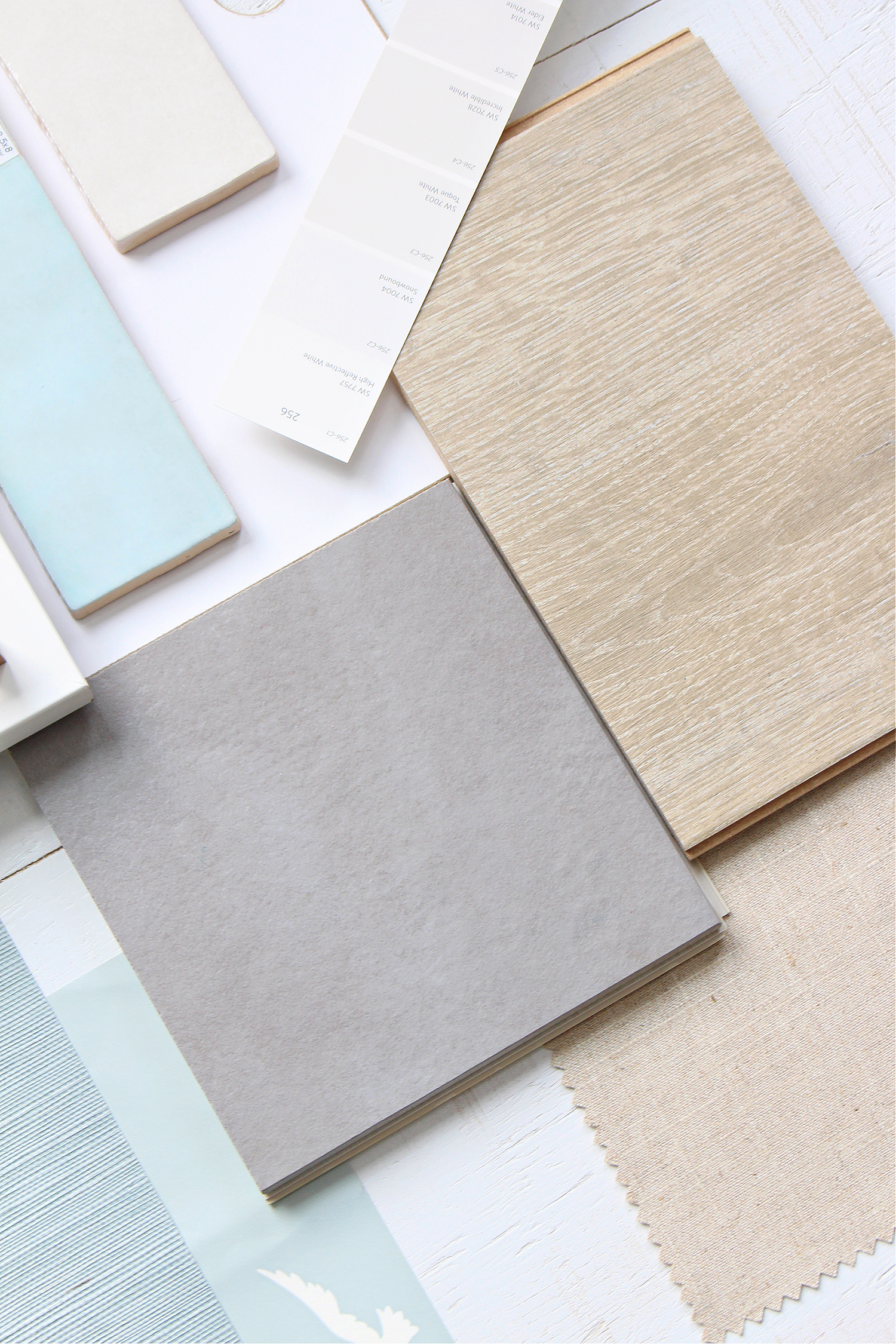 Light & Airy Coastal Moodboard:
Here's a better look at my moodboard, featuring warm white walls, simple white shaker style cabinetry, white quartz counters, a soft watery aqua tile, coordinating wallpaper options, and natural linen fabric. I absolutely love the look of Bel Terra Tile – it is a beautiful, warm grey tone with a subtle texture that lends an organic quality to any space. Here, it grounds the light walls, cabinetry and counters, without darkening the coastal vibes. It's the perfect, warm grey.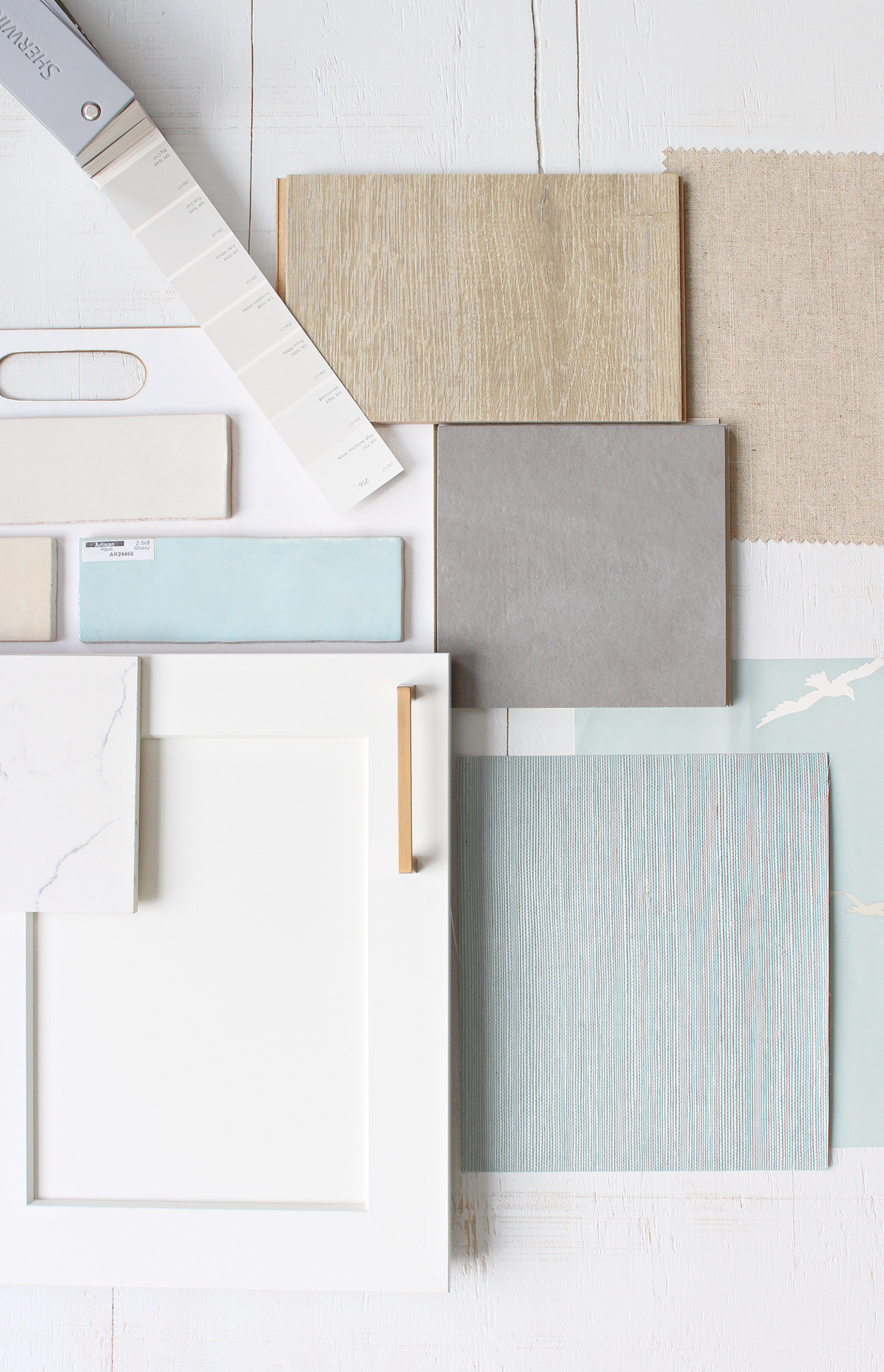 Watery Aqua Wall Tile
I pictured the soft aqua wall tile (which I'm officially obsessed with) looking equally good as a kitchen backslash or tiled shower surround. Once installed, this tile has an earthy irregularity with a beautiful glossy gleam. It echos the subtle texture of the floor tile, but in a glossier, more colorful finish. I think these two tiles work really effortlessly together.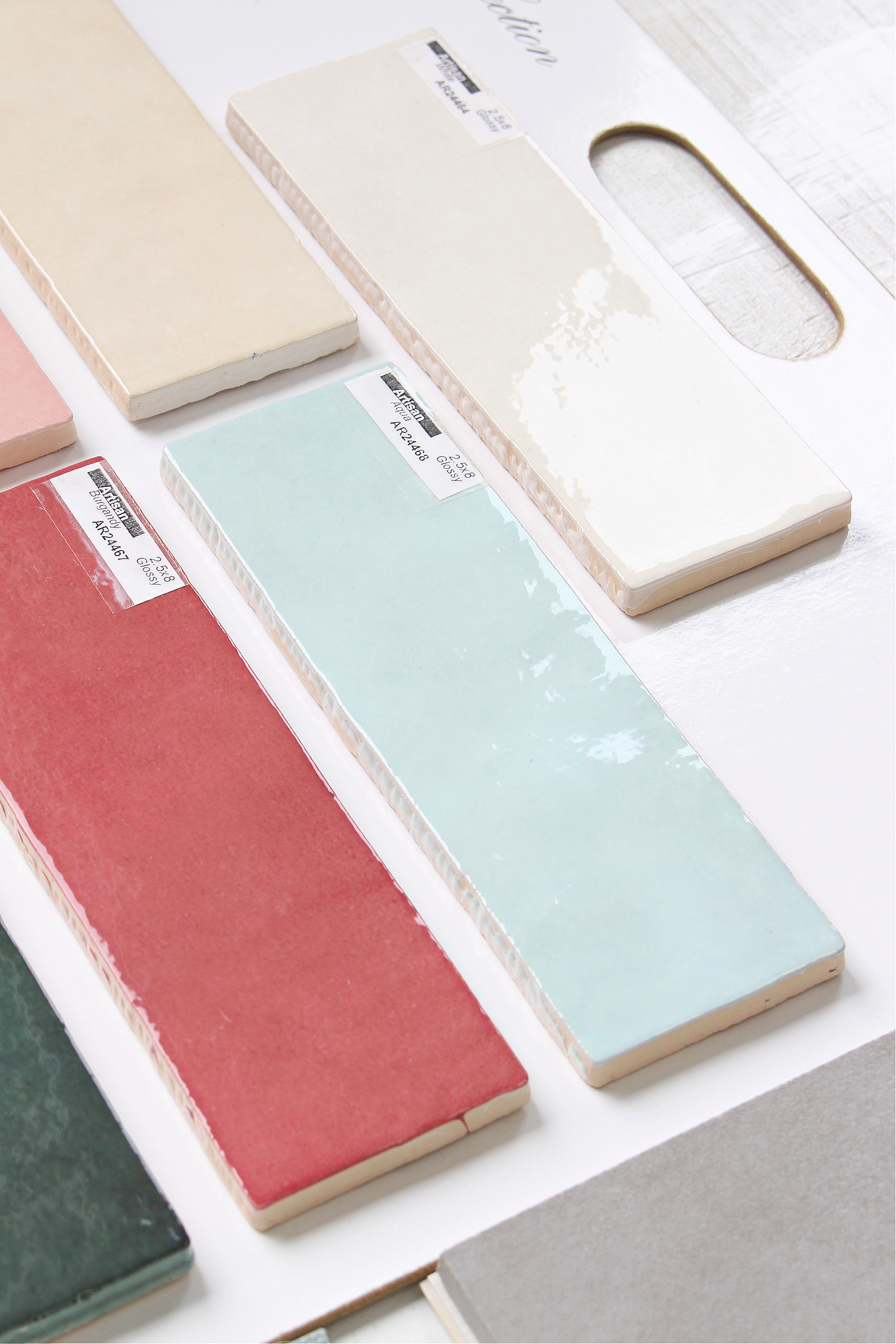 Brass Toned Hardware
Although this palette has the typical coolness I favour, the Mirror Lake Performance Flooring, in this creamy, wood-toned color, paired with the natural linen fabric and brass hardware, add warmth and sunshine to this design. I originally picked a chrome and lucite handle, but in the end I went back to the store for brass hardware. This choice might surprise you because I don't use brass in my own home, but the light, golden-toned flooring was begging for some brass. I think sometimes people will force trends to work for them, but they really need to make sense for the space – and here it complements, rather than fights with, the design elements. In the larger design, I'd pick up the brass again in coordinating faucets and fixtures.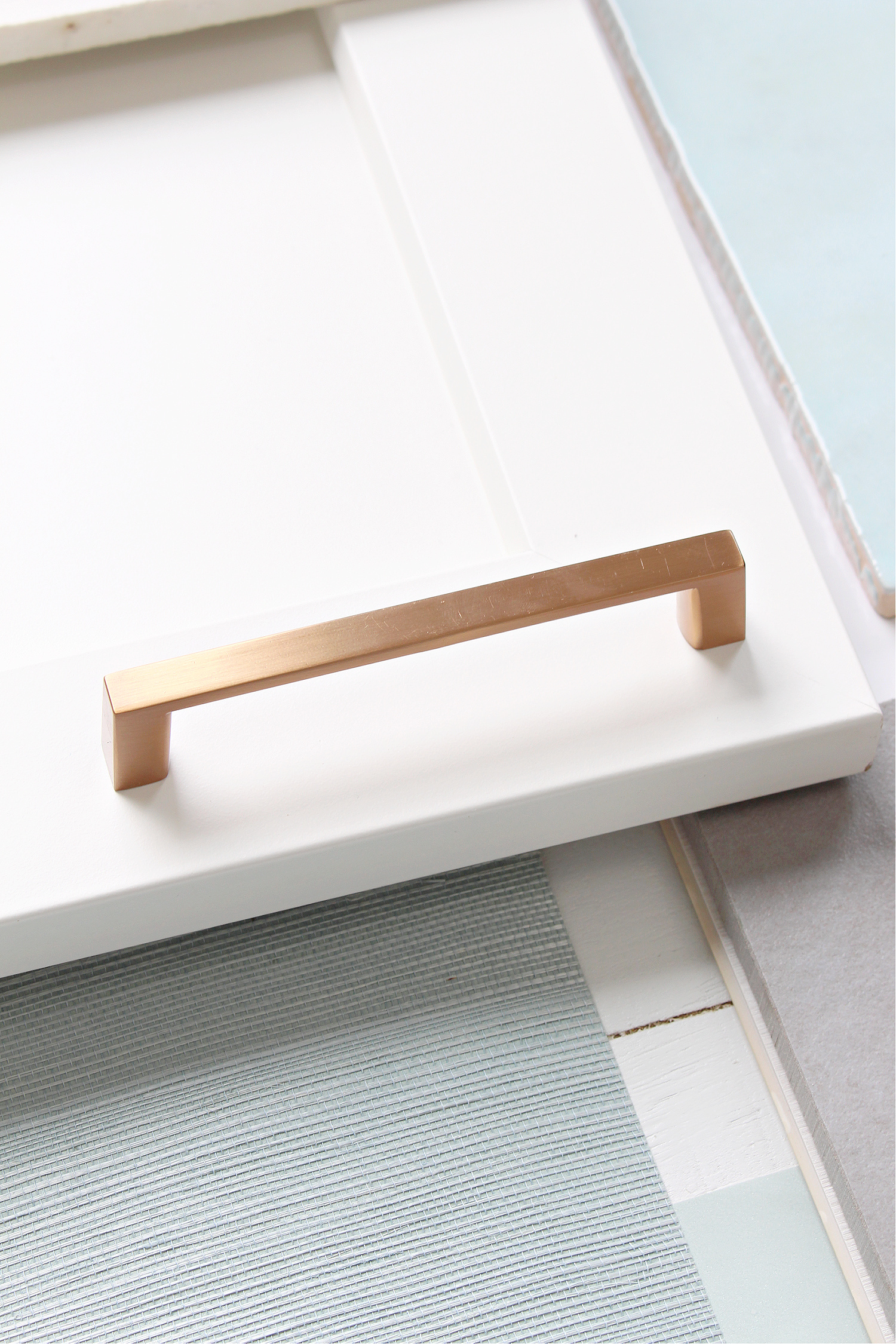 Natural Linen Fabric
I think I really was subconsciously inspired by the candle in my box sent to me by Carpet One! The linen fabric has the same natural color as the candle packaging – you really can find inspiration anywhere. I pulled a few different fabric swatches, but ultimately I love how this earthy natural linen warms up the color palette and also plays up the natural textures. This fabric would be perfect as a custom floor to ceiling shower curtain if this design was implemented in a bathroom, or as roman shades in a coastal kitchen. For more drama, it could be used as floor to ceiling drapes in the dining nook or dining room of this coastal kitchen I am envisioning – or even as upholstery for a set of vintage Cesca cane dining chairs.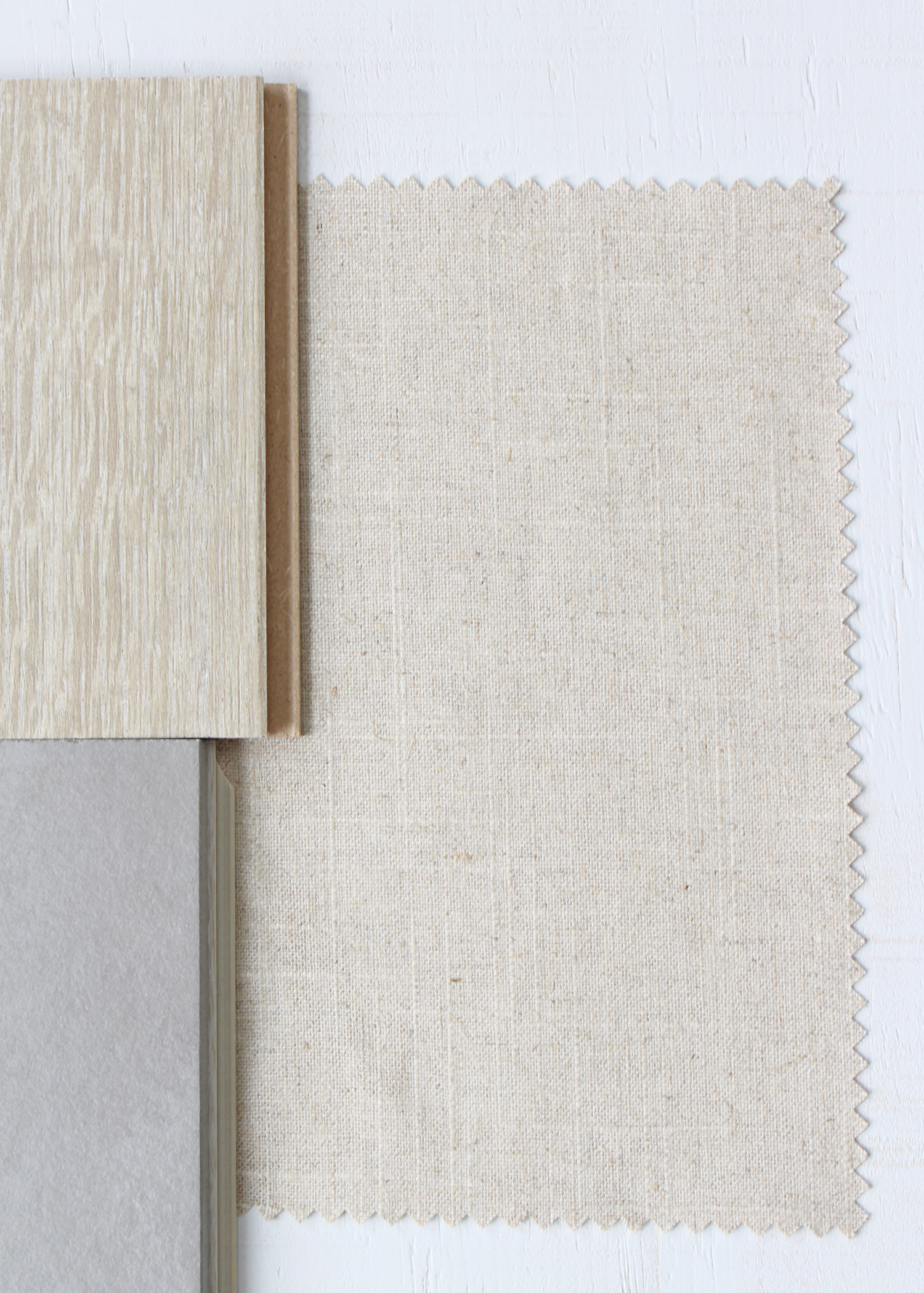 Beachy Wallpaper Options
I couldn't decide between two wallpaper samples, which complement each other so well. In a kitchen, I'd love to see one as an accent wall and the other in a nearby dining nook. The grasscloth has a texture that is so beachy and pairs so well with linen and the textured tile choices. But the other design, with a pretty seagull pattern, injects this otherwise calm space with a little whimsy – while keeping with the coastal style.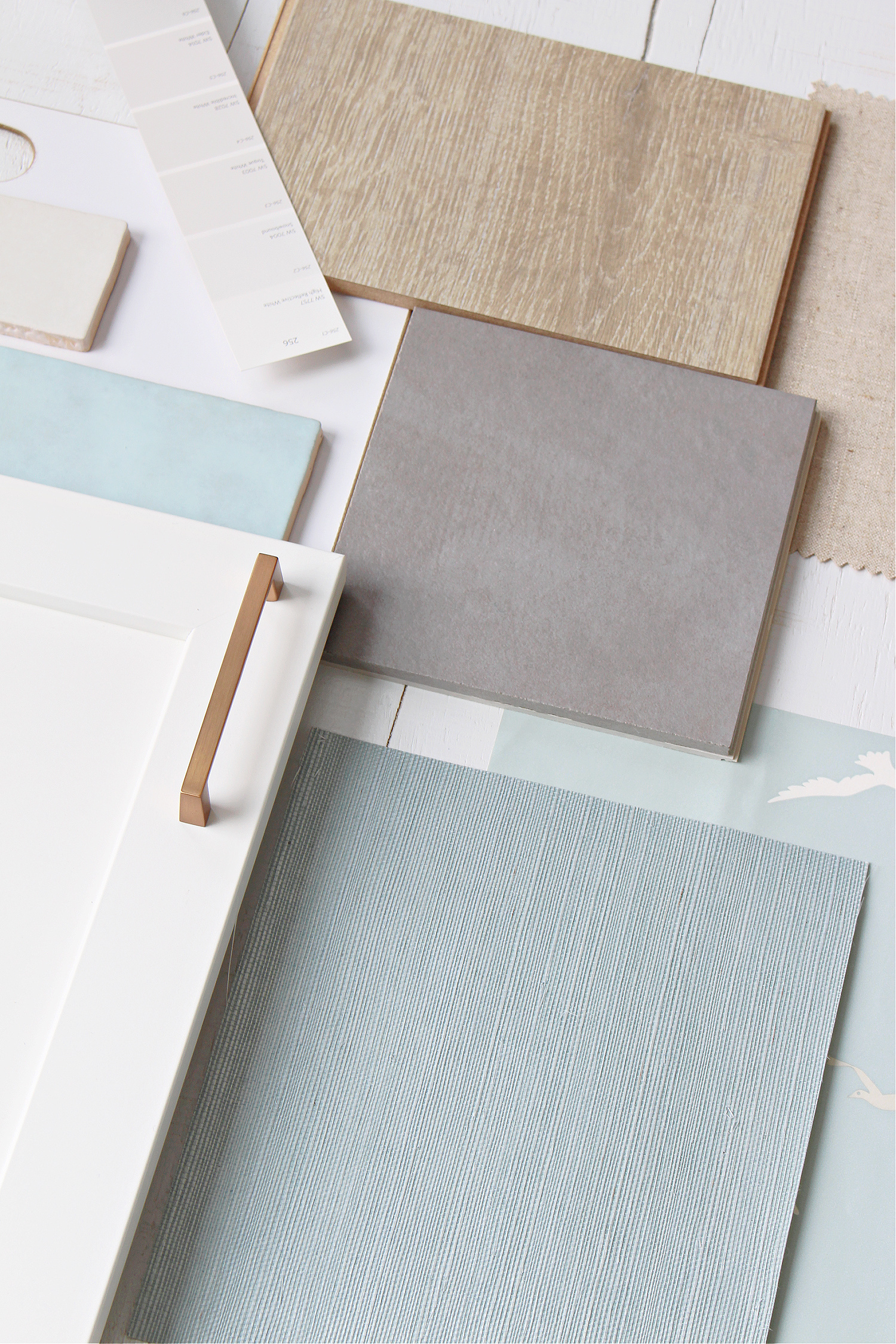 Subtle Quartz Counters
For counters, I personally prefer to go with natural materials, like stone or wood, but I couldn't resist this engineered quartz counter sample because the grey was so perfect with the flooring. With greys, you have to watch out for the undertones – I pulled another counter sample that ended up looking so indigo when I brought it home , so it didn't work with the flooring. But this soft white quartz, with the subtle grey veining, is the right tone and works beautifully. Together, the counter and floor complement one another and lend a softness to this space.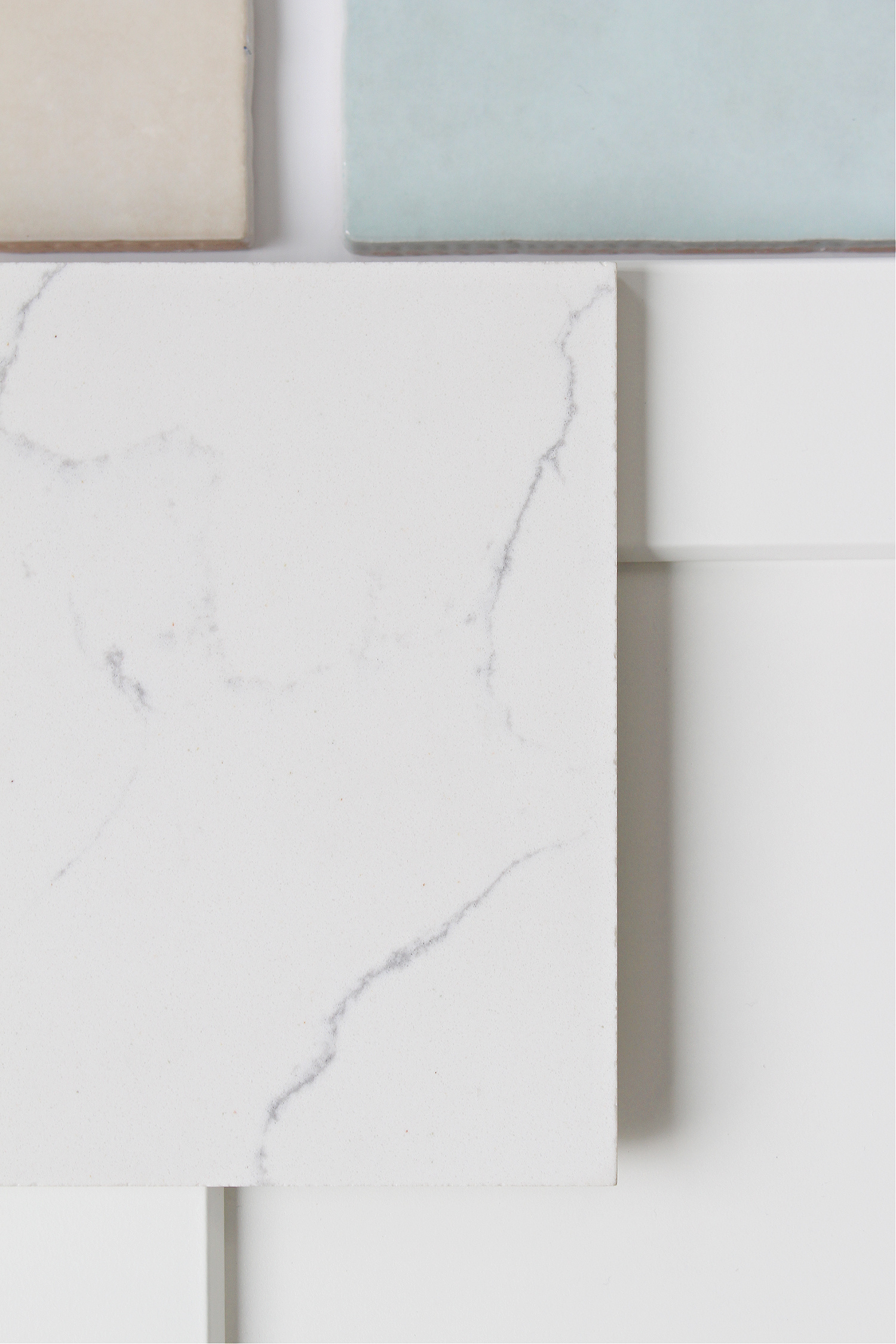 I had so much fun designing this coastal moodboard with Carpet One Floor & Home. When we purchased our lakehouse, it came with walnut-toned hardwood floors, which I've worked with in my designs. It's a beautiful option (there's even a similar one you might have spotted in the un-boxing video: a vinyl tile called Ralston Creek, in the color Charleston), but if I get the chance to renovate my next home, I think I'd prefer to pick a lighter option for the living spaces and bedrooms, like the creamy Mirror Lake Performance flooring. I genuinely love the concrete inspired flooring – that is basically my dream flooring for kitchens and baths, realised in an easy to install option! On a practical note, that shade of grey (which I had in my last home's bathroom) is PERFECT for hiding dust! Almost too good, haha. It's definitely a beautiful and practical choice, with so many design possibilities.
I hope you enjoyed this coastal moodboard – and getting a peek at 10 trending flooring options for this year.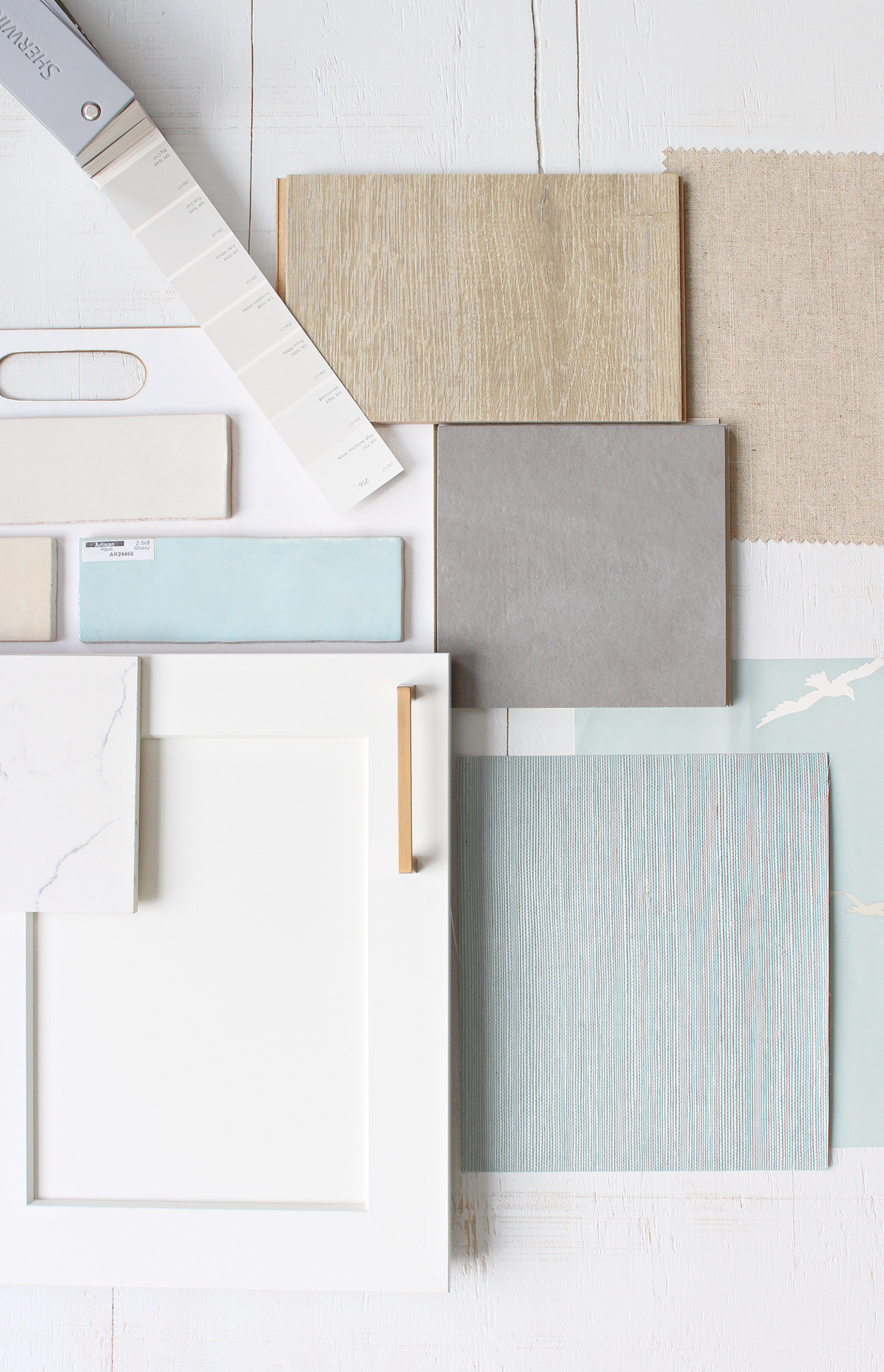 This post was sponsored by Carpet One Flooring & Home but all thoughts, opinions, and design choices are my own.