I have been collecting naturally shed chicken feathers for a couple of years, with the plan to make this DIY feather wreath.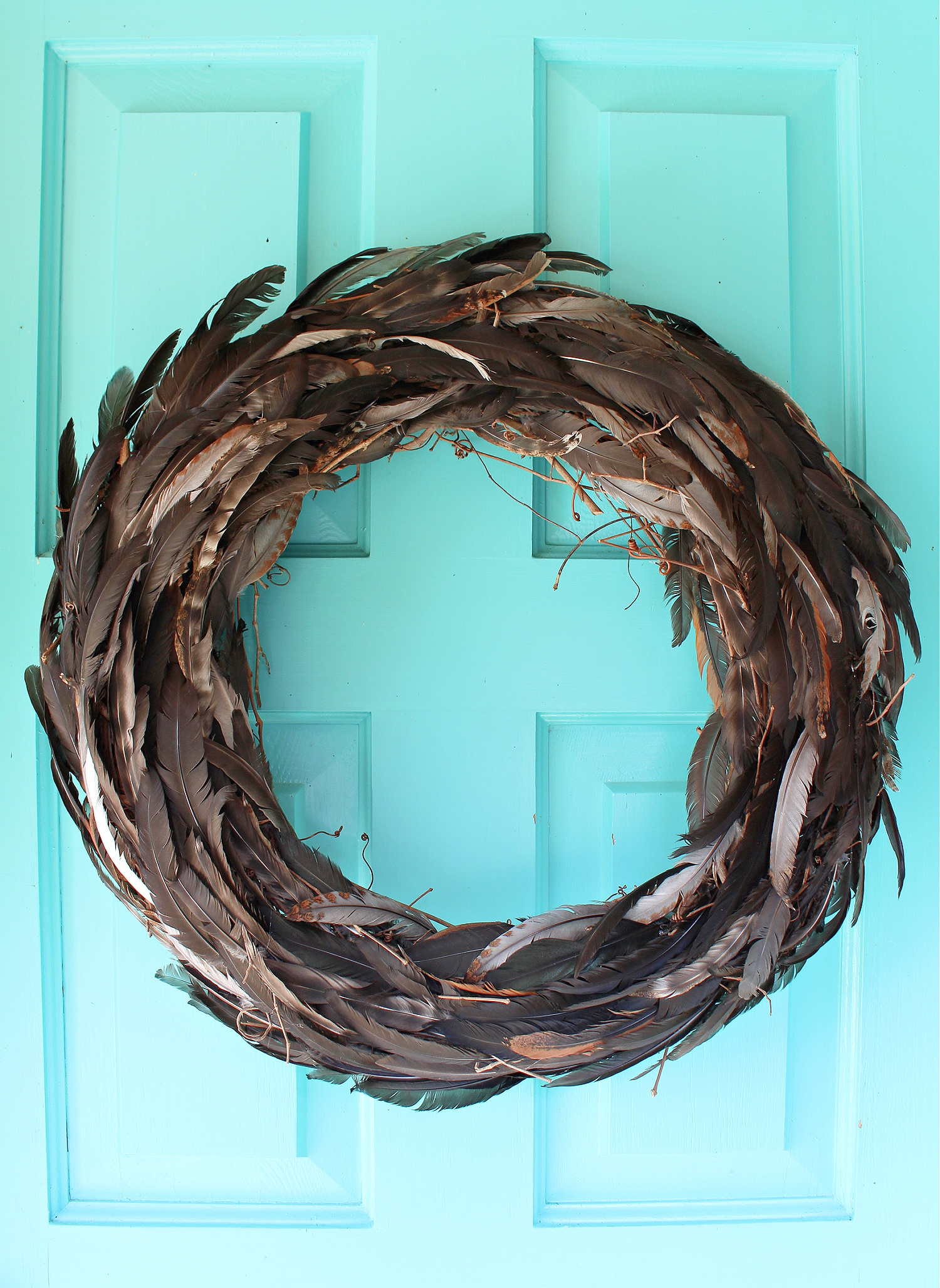 Sometimes I wonder when I'll cross the line from totally normally backyard chicken keeper to complete weirdo. Then I wonder if I crossed it already?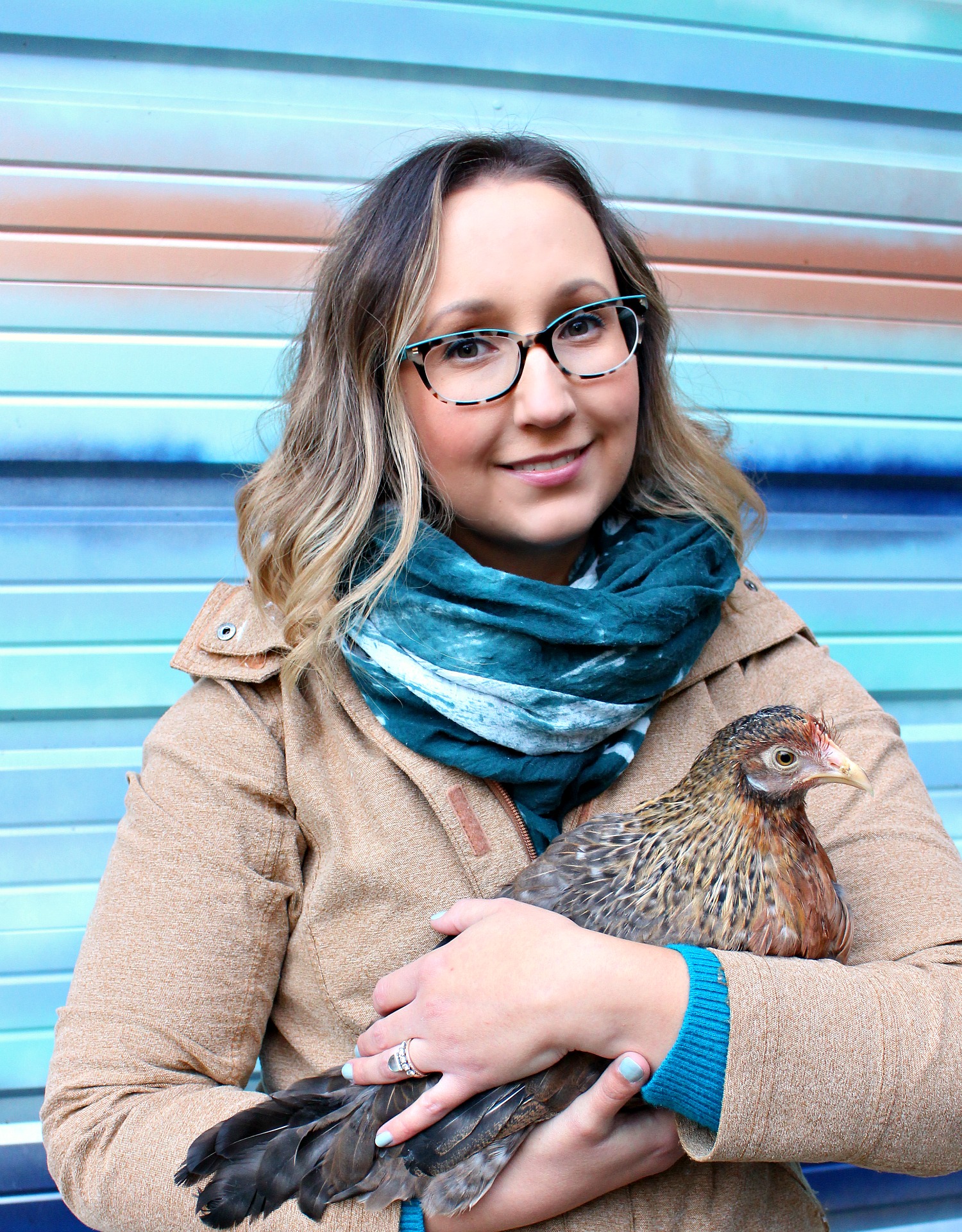 Maybe with the painted eggshell art? The other day I was standing in the yard in my pyjamas, holding Mama Hen. I had just moved her chicks into the mini coop we keep them in during the day and I was moving Mama over too, but I paused to snuggle her. I was holding her, sort of nuzzling her if I'm being honest, softly whispering, "you're doing such a good job, I'm so proud of you" when I heard a rustling. I looked up to see a guest of my neighbor, a few feet away, just staring at me, mildly horrified and thoroughly confused. And I wonder if maybe that was the moment, lol? Meh, let's not think too much about it and just enjoy my latest chicken themed craft project!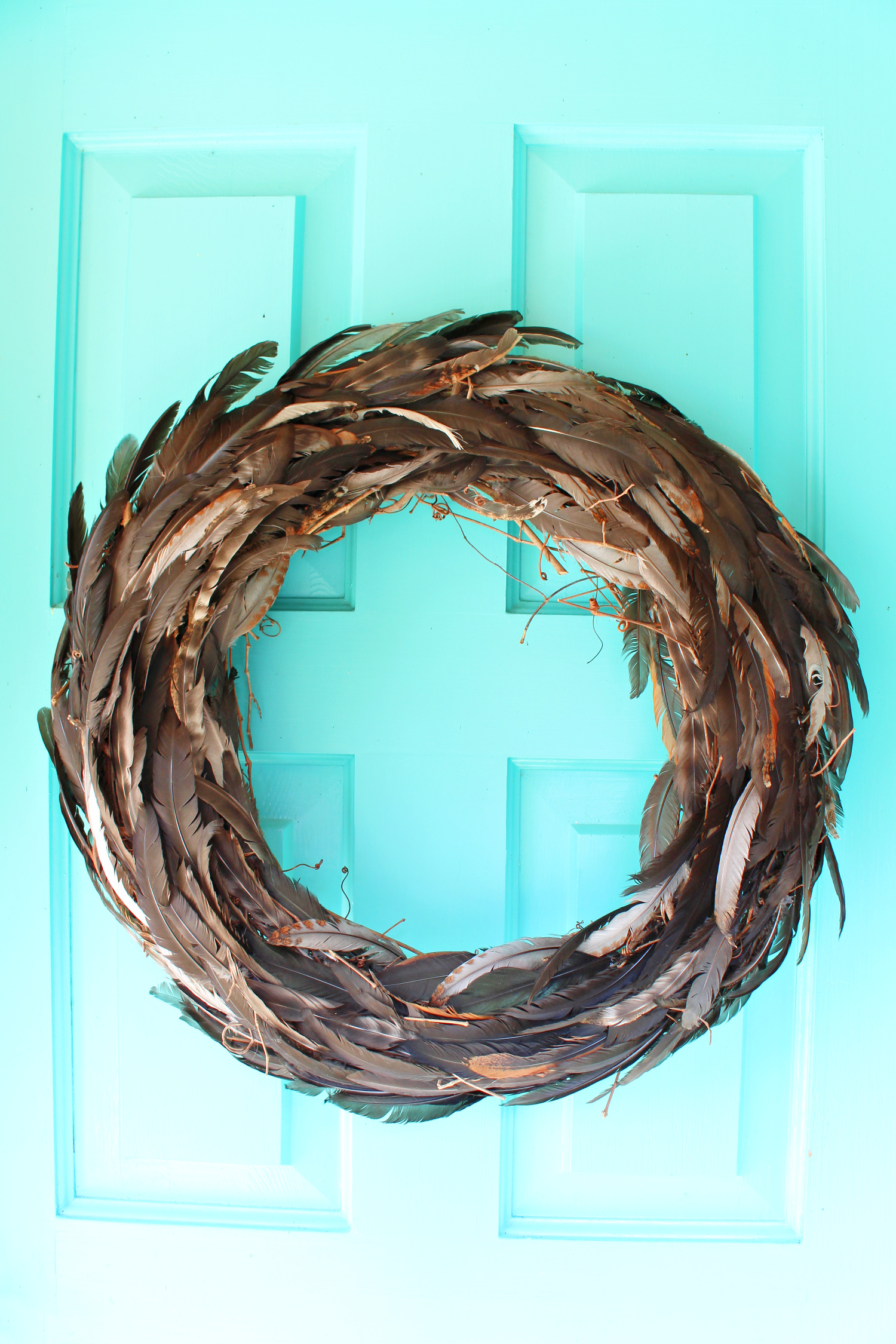 This DIY feather wreath is so cute for fall decor. I love how you can see all of the variation of chicken feathers (they're very autumnal). I started collecting these when my first batch of chicks molted for the first time. FYI, it's surprisingly difficult to collect a decent bunch of feathers – this wreath's worth took me two years! I think a lot of the feathers get blown out into the yard, or buried deep in the muck.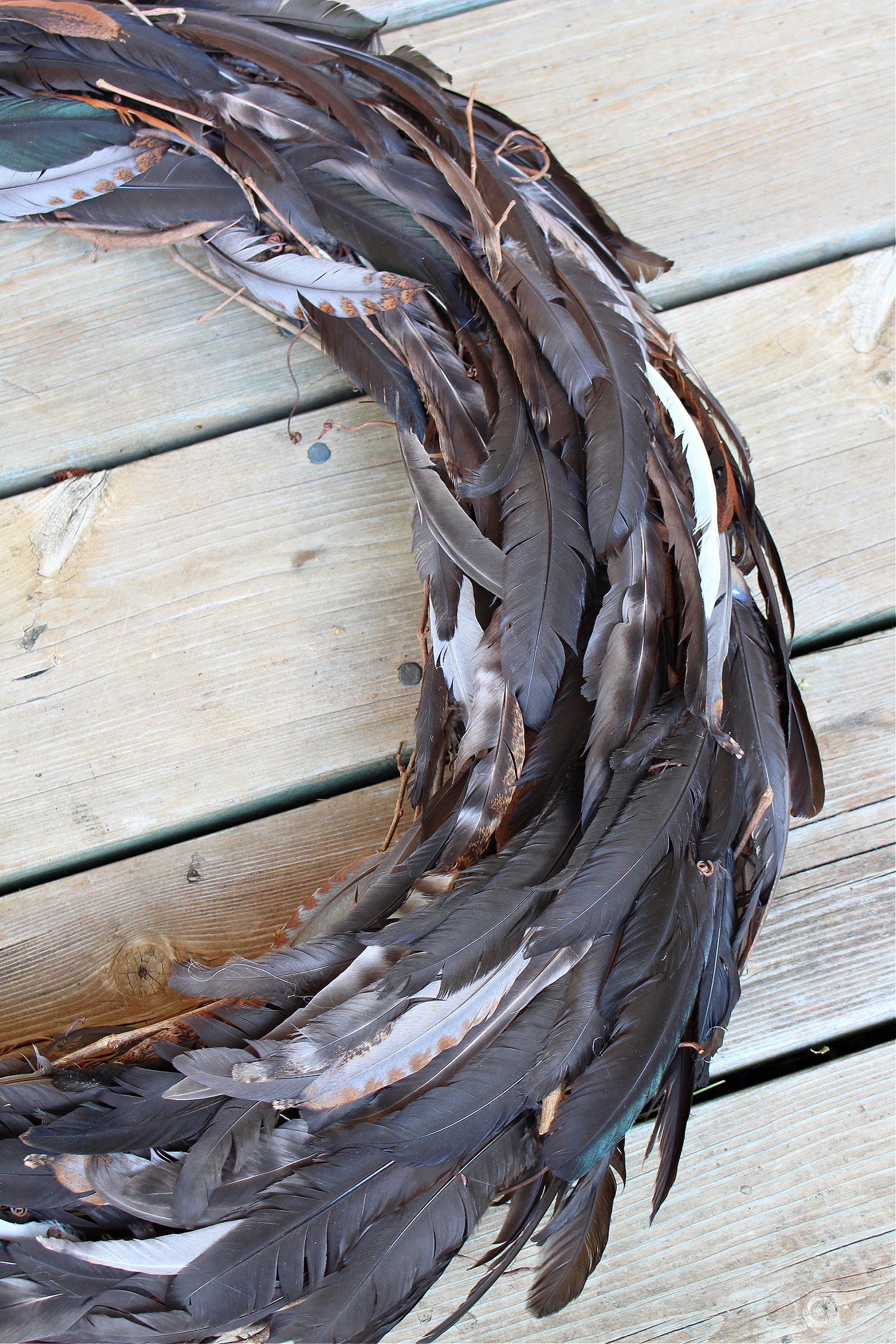 Supplies for a DIY Feather Wreath:
Feathers (ethically sourced, please!)*
*Geese shed a LOT of feathers, so if there are any parks or beaches near you where geese flock, search there. I collected a ton of goose feathers for this project, but decided to use only my own chickens' feathers in the end. But that's a great way to find free feathers!
How to Make a DIY Feather Wreath:
First, gently wash the feathers, if you have collected them yourself, because they may have poop on them! I filled a sink with water and dish detergent and let them soak. Then rinsed each off and placed it on a towel to dry.
Next, sort the feathers by the direction in which they curve. When I held them, some curved left and some curved right and I used right-curving ones for the main top side of the wreath, and then the other ones for the edges of the wreath. If they're differently colored, sort the feathers by color too, to make sure you can mix up the colors in a pleasing way. I liked to save the pretty, non-black, patterned feather for the front surface. I had more black than any other color (my first batch of chickens was all-black).
Then I simply applied a bead of hot glue to the base of the feather, tucked it into the grapevine and held it there until the glue dried. I worked backwards applying my feathers, to cover up each section of glue. It was super easy!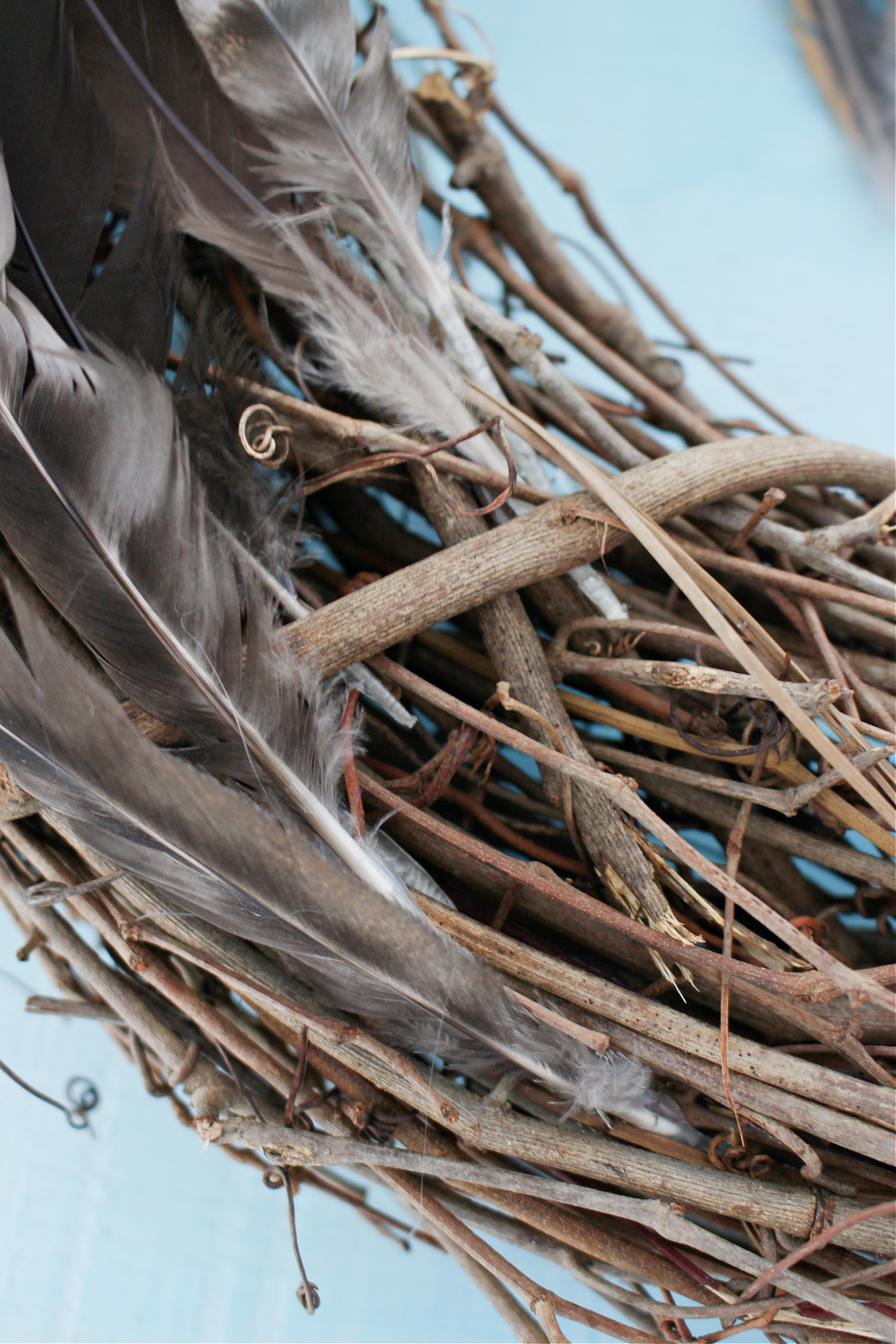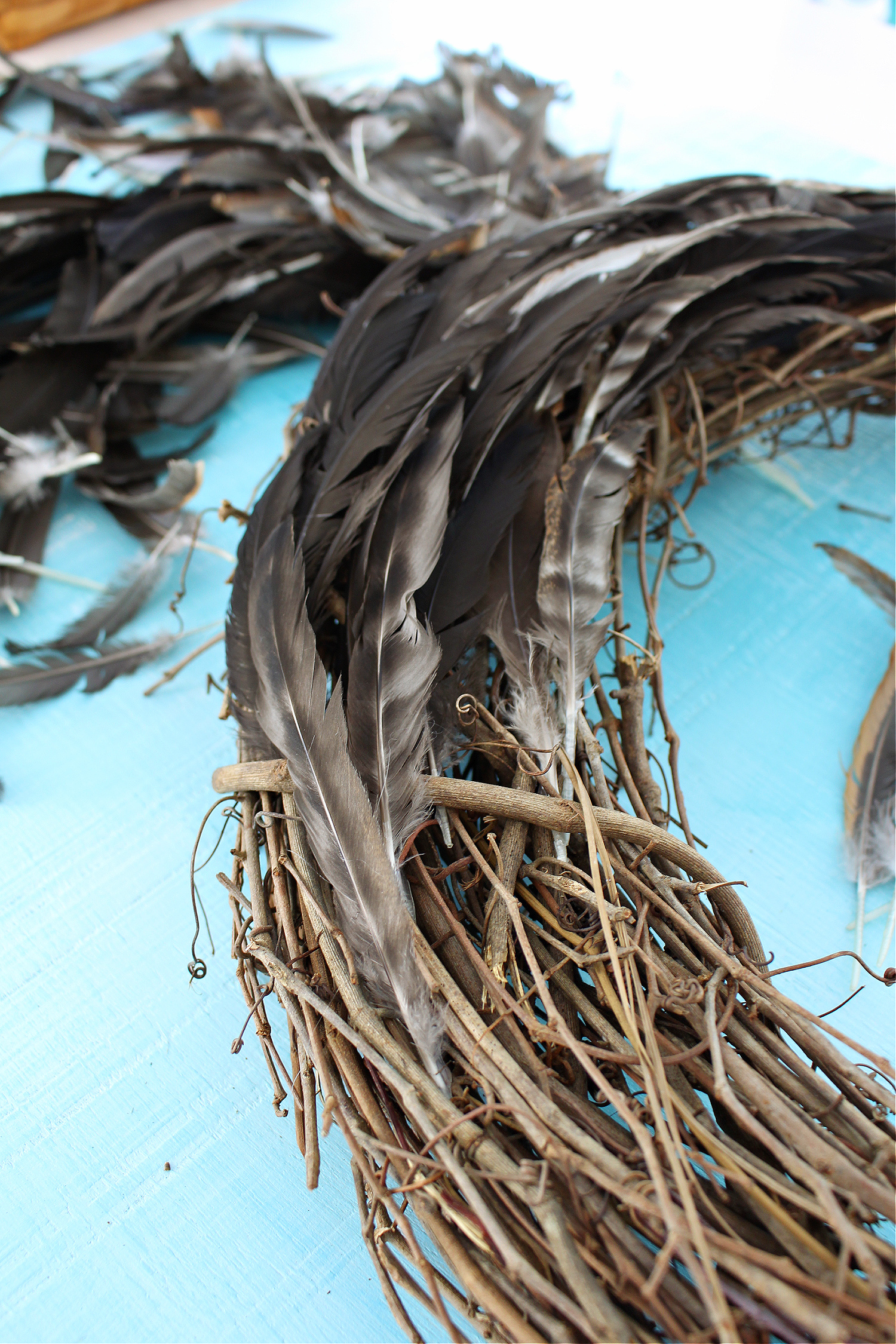 Here's a closer look at my finished DIY feather wreath! I think this will look super cute on the door to the chicken run – I just hope my chickens aren't traumatized by this feather wreath I made. Hopefully they see it as an homage and not an ominous threat, lol. Chickens are surprisingly smart. Whenever a chicken is re-homed, or dies and is buried, we transport it in a cardboard box. When they see a cardboard box now, they're totally petrified. Oh – and when I first tried to put Mama's chicks in a cardboard box (just to move them from the coop to the mini coop), she FREAKED out! She knew exactly what a box meant. Now, after weeks of using a cardboard box to transport them to the main coop at night and the mini coop for daytime fun, she's more relaxed. But chickens are smart and not to be underestimated!

Want some less weird DIY fall decor ideas? This week I'm joining some of my talented blogging friends for the Fall Seasonal Simplicity Series. Today we are sharing our Fall DIY and Craft ideas with you! Be sure to check out all of the beautiful inspiration by visiting the links under the images below.
DIY Textured Vase at The Happy Housie
DIY Fall Frame Wreath at Confessions of a Serial DIYer
Dried Floral Cloche at Deeply Southern Home
Fall Wreath How-to at Hallstrom Home
Fall Dried Flower Arrangement at Modern Glam
Elevated Toilet Paper Pumpkins Free Craft at Tatertots and Jello
DIY Inexpensive Fall Wreath at The Happy Happy Nester
How to Make a Fall Wreath at A Pretty Life
Air Dry Clay Leaf Twinkle Lights at Clean & Scentsible
Embroidery Insects at Life is a Party
Dried Florals for Fall at Lemon Thistle
DIY Feather Wreath at Dans le Lakehouse
DIY Fall Wreath Tutorial at She Gave it a Go
How to Make a Succulent Table Runner at My Sweet Savannah
DIY Fall Harvest Nut Wreath at Sincerely, Marie Designs
DIY Fall Cutting Board with a Cricut at The DIY Mommy
P.S. Don't Forget to Pin for Later!